Earning at Digital Marketplace in 2022 – A Detailed Guide from MasterBundles
In this article, we're going to discuss the concept of the marketplace and how designers could earn at the digital marketplace. We will share with you some secrets of how to work at a marketplace to really earn money, not just to upload your products and wait for maybe nothing. Also, we will cover some ways to promote your designs because it's very, very important.
This article is based on a free webinar that we do regularly on our YouTube channel. So stay tuned to our MasterBundles blog in order to catch all the important information as quickly as possible.
Free Webinar: How to Make a Fast Buck Working at MasterBundles Marketplace in 2022
You're very welcome to join Anastasiia (Chief Content Manager at MasterBundles) with her live webinar. With us, you will walk through the entire process: from choosing a theme and a type of product to uploading it to your account. 
What is a design marketplace?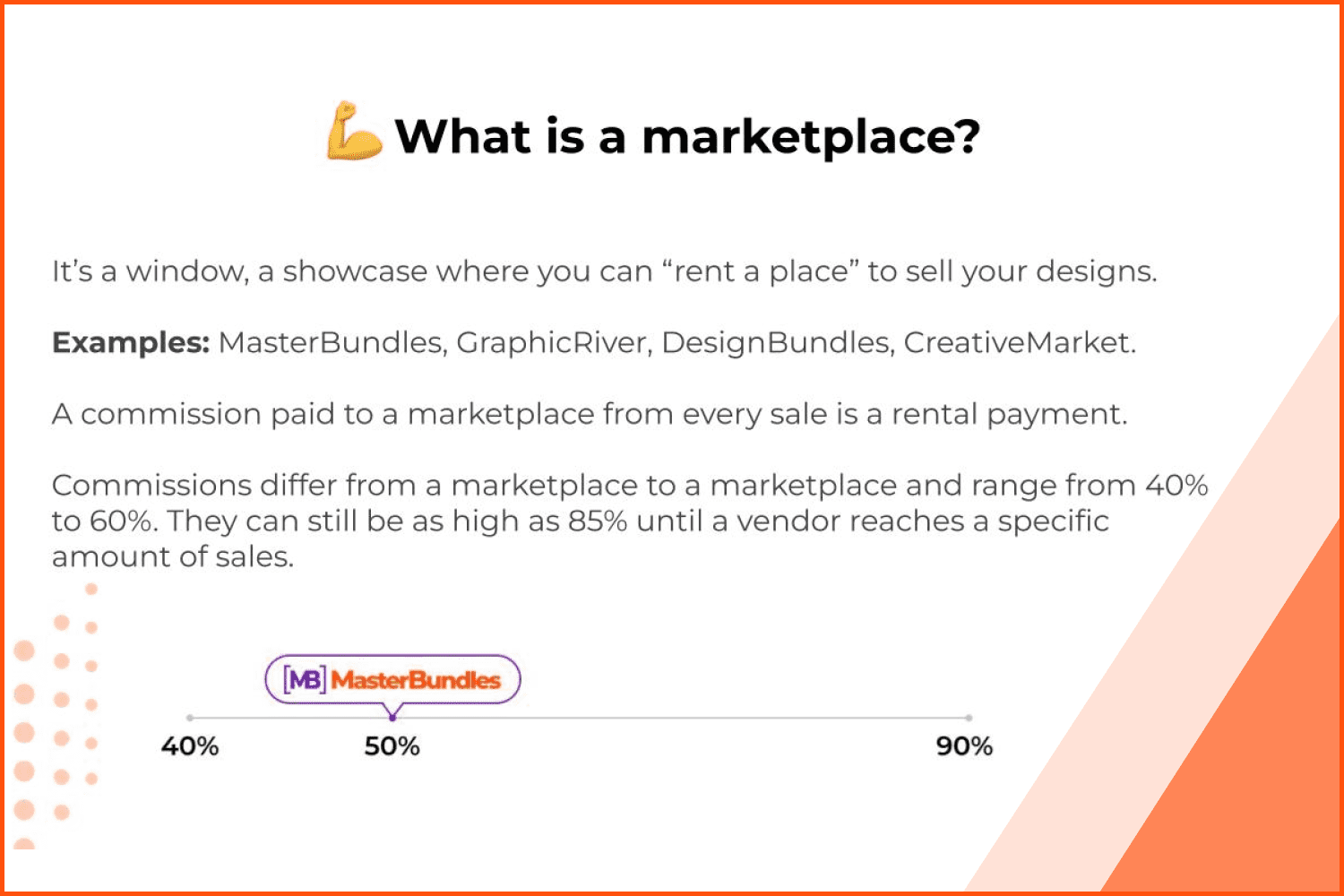 In simple words, a marketplace is a window; it's a showcase where you can bring your designs and sell them. You don't have to launch your own website because someone already did that, but you can become a vendor – "rent a place" and just sell your designs.
To have your place in a marketplace, you have to make a rental payment. Usually, it's a commission that you pay to a marketplace.
The size of the commission always differs from marketplace to marketplace. Usually, it ranges from 40% to 60%. Here at MasterBundles, those who sell have to pay 50% commission from every sale, but there are marketplaces where a person pays 85% until he or she reaches a specific amount of sales.
Besides MasterBundles, there are such marketplaces as GraphicRiver, DesignBundles, CreativeMarket, and others of course.
That's really it, in a simple word.
Who and why should you join a marketplace?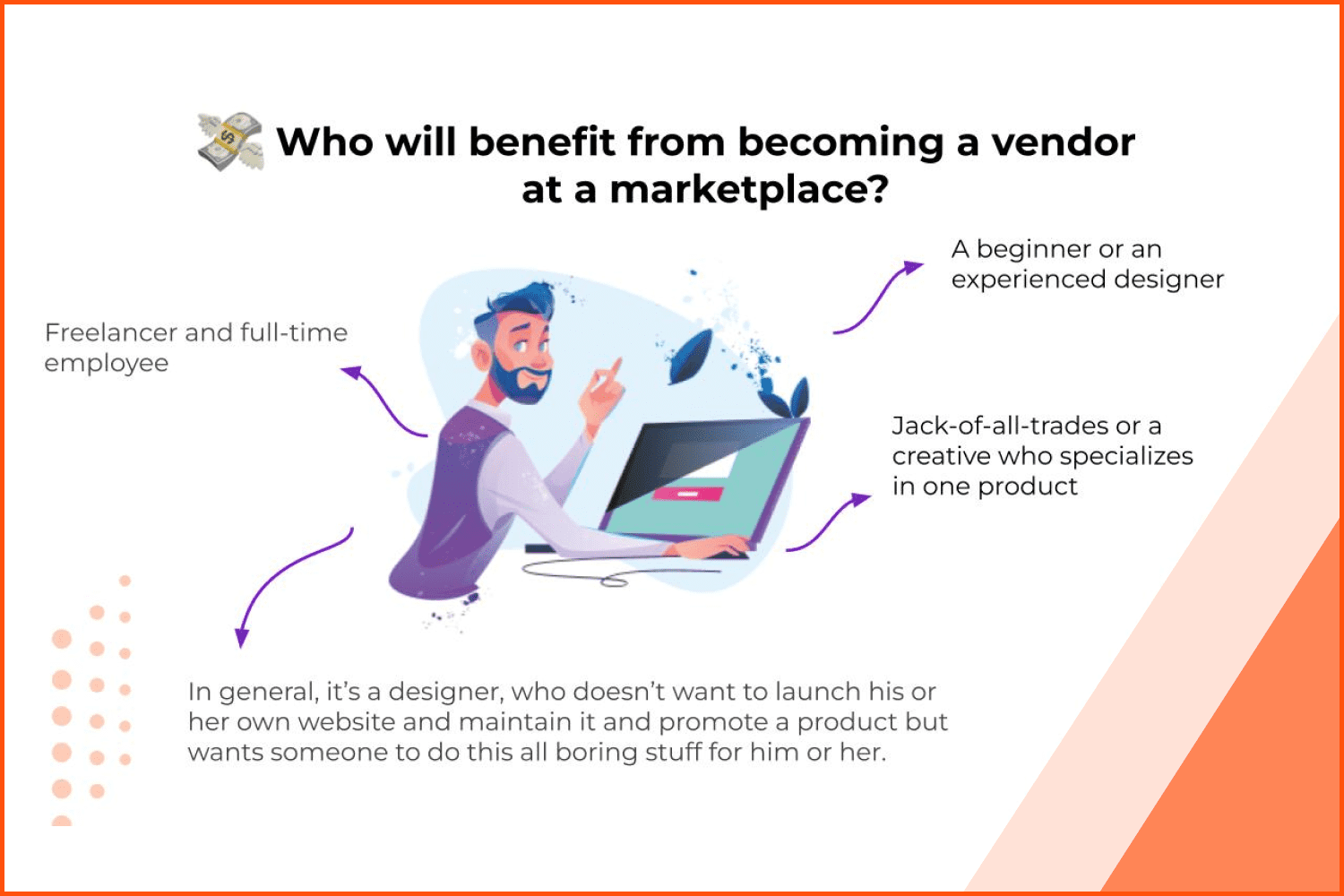 Basically, everyone. A marketplace can be suitable for every designer: it can be a beginner, it can be an experienced designer, it can be a freelancer, it can be a full-time employee who is searching for some additional source of income, it can be a jack-of-all-trades – a designer who creates fonts, clipart, or presentations. Also, it can be a niche designer who creates, for example, fonts for memes or fonts for subtitles only. Anyway, with the right approach, you will find your audience and we will tell you the right approach to finding your place.
In general, a perfect marketplace resident is a designer who doesn't want to create a website, maintain it, optimize it, and what is more important, promote his or her products. It's a person who wants to simplify the story and who wants to entrust promotion, marketing, and other not really creative tasks to someone else.
Before joining the marketplace, you have a choice: you can become a vendor or you can do it yourself. What perks will you get if you become a vendor at a marketplace?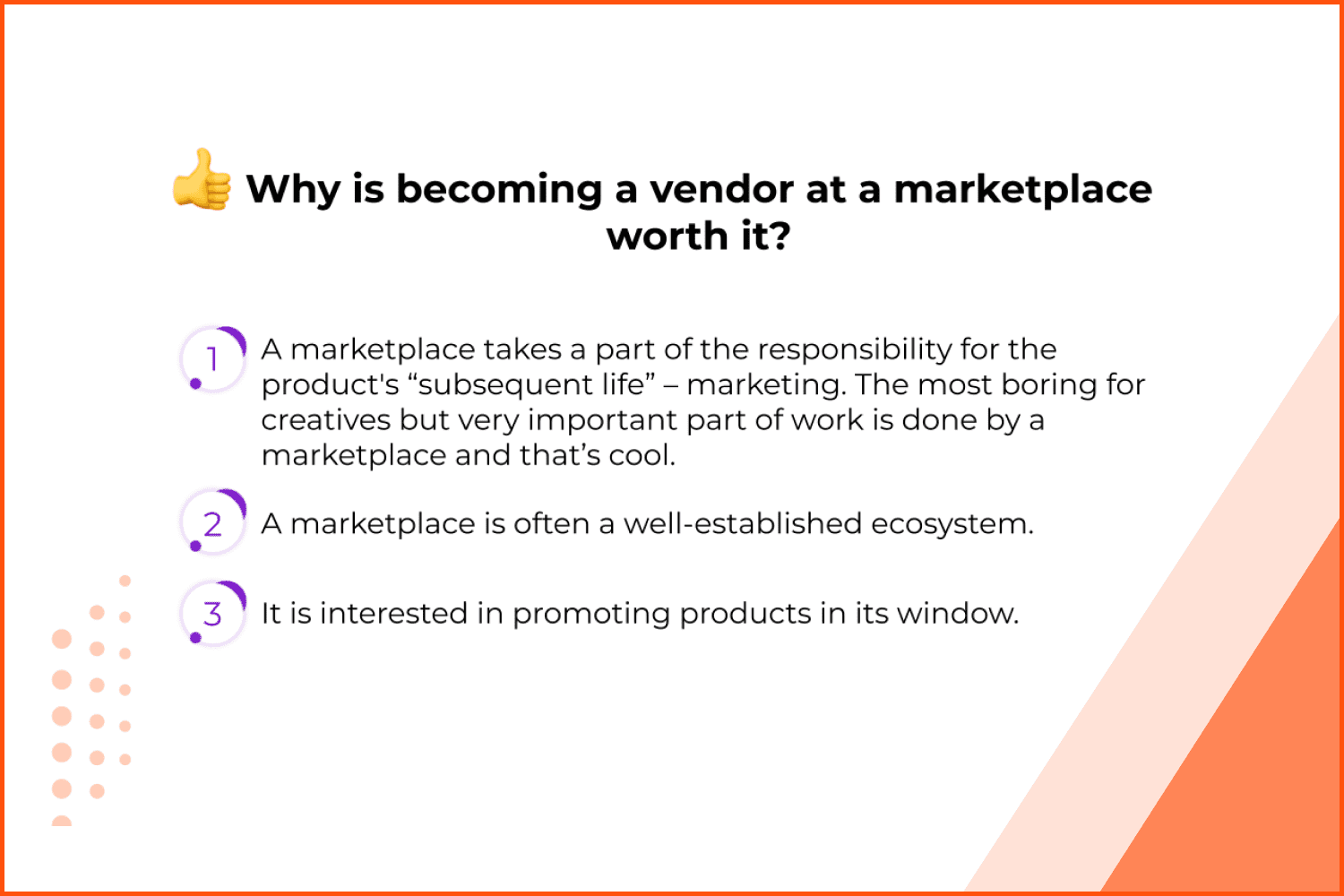 It's important to understand that a marketplace takes a huge responsibility, a big part of the responsibility for the product's so-called "subsequent life," namely marketing. Maybe for creatives, it's the most boring part of the activity. But it's very important because if you don't speak about yourself, there are big chances that the product will remain unnoticed.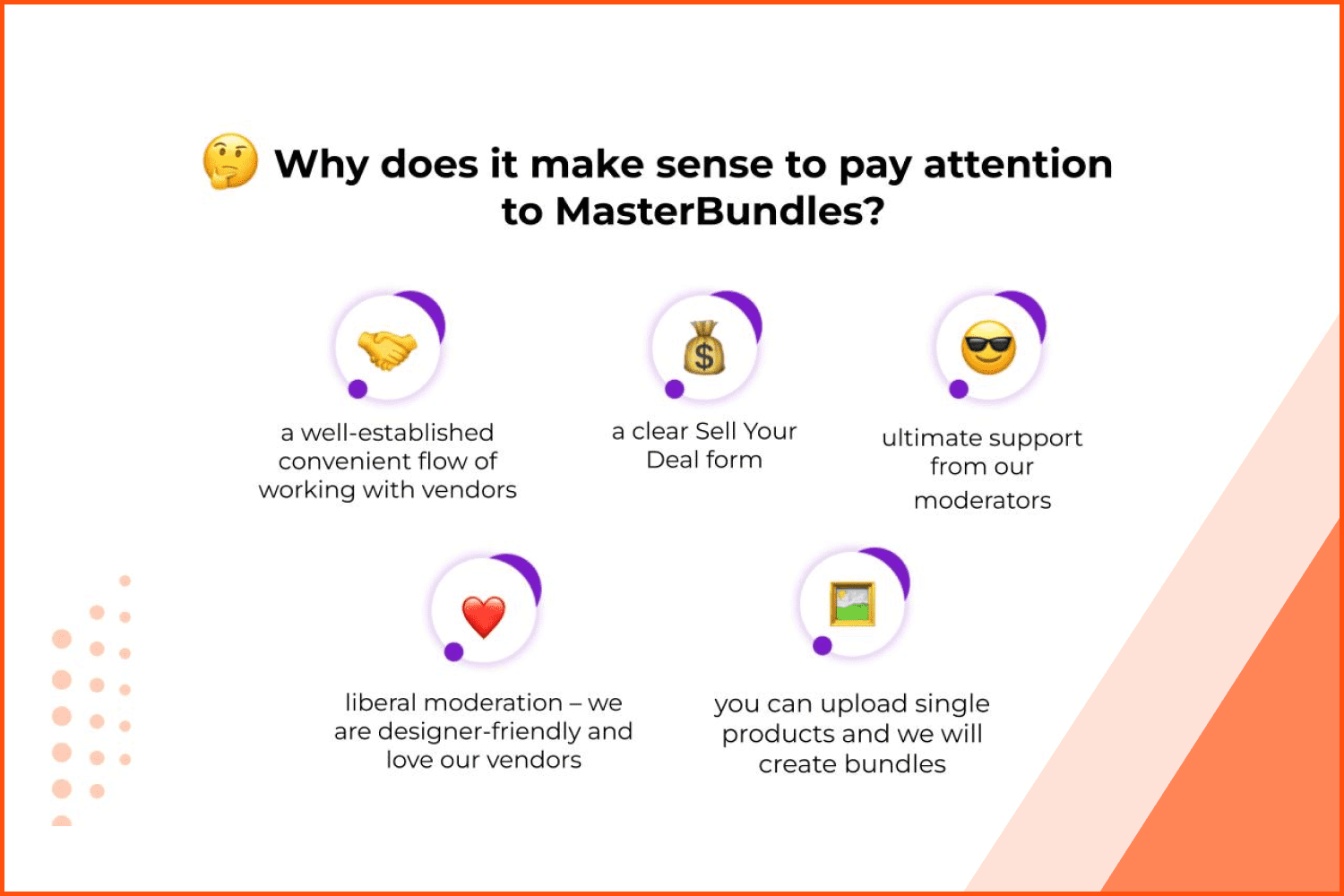 And by the way, the marketplace is interested in promoting your design and in promoting the platform itself in general, because it takes a commission from every sale. The more sales, the more revenue for the marketplace itself. And the marketplace is often a well-established ecosystem where the processes flow smoothly and you just entrust your designs and you don't worry about anything.
How to work at a marketplace in 2022 to make a buck?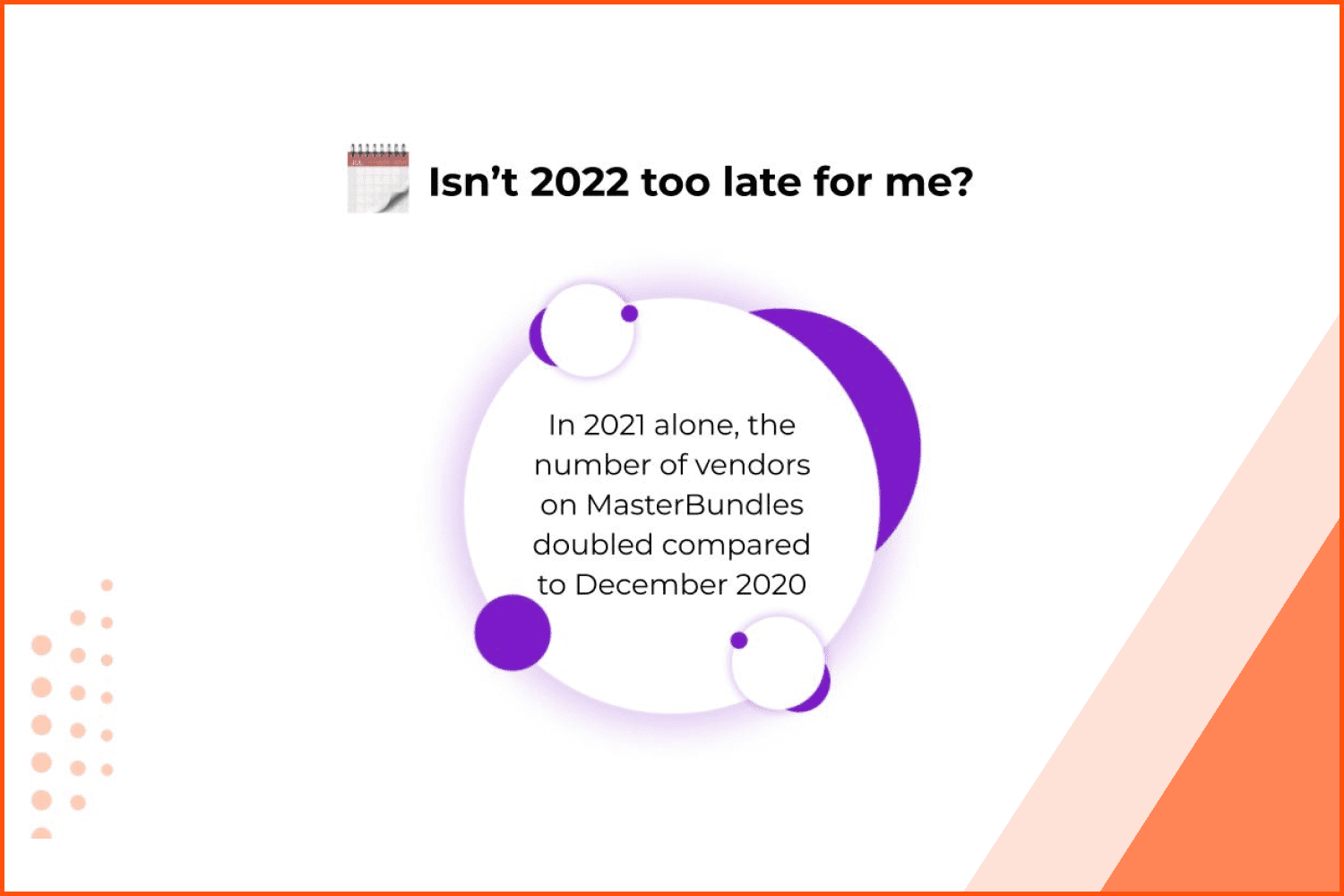 There are so many marketplaces, and there are so many designers. Is it a place for you in 2022? Of course, there is a place, and it is never too late to design and to join the marketplace. What we observe: this sphere is evolving, and the pace at which it is evolving is very rapid, and there is always both a supply and demand. The supply is not always very good, and there is always space for improvement, and space for more players. So it's never too late.
What is important is to have a strategy for every marketplace. Because without a strategy, without some steps that you make, your activity at a marketplace cannot be that efficient, and it could leave you wondering, "Am I effective or am I efficient?"
Now, we would love to share some tips to make your strategy effective and efficient and how to make money as a graphic designer.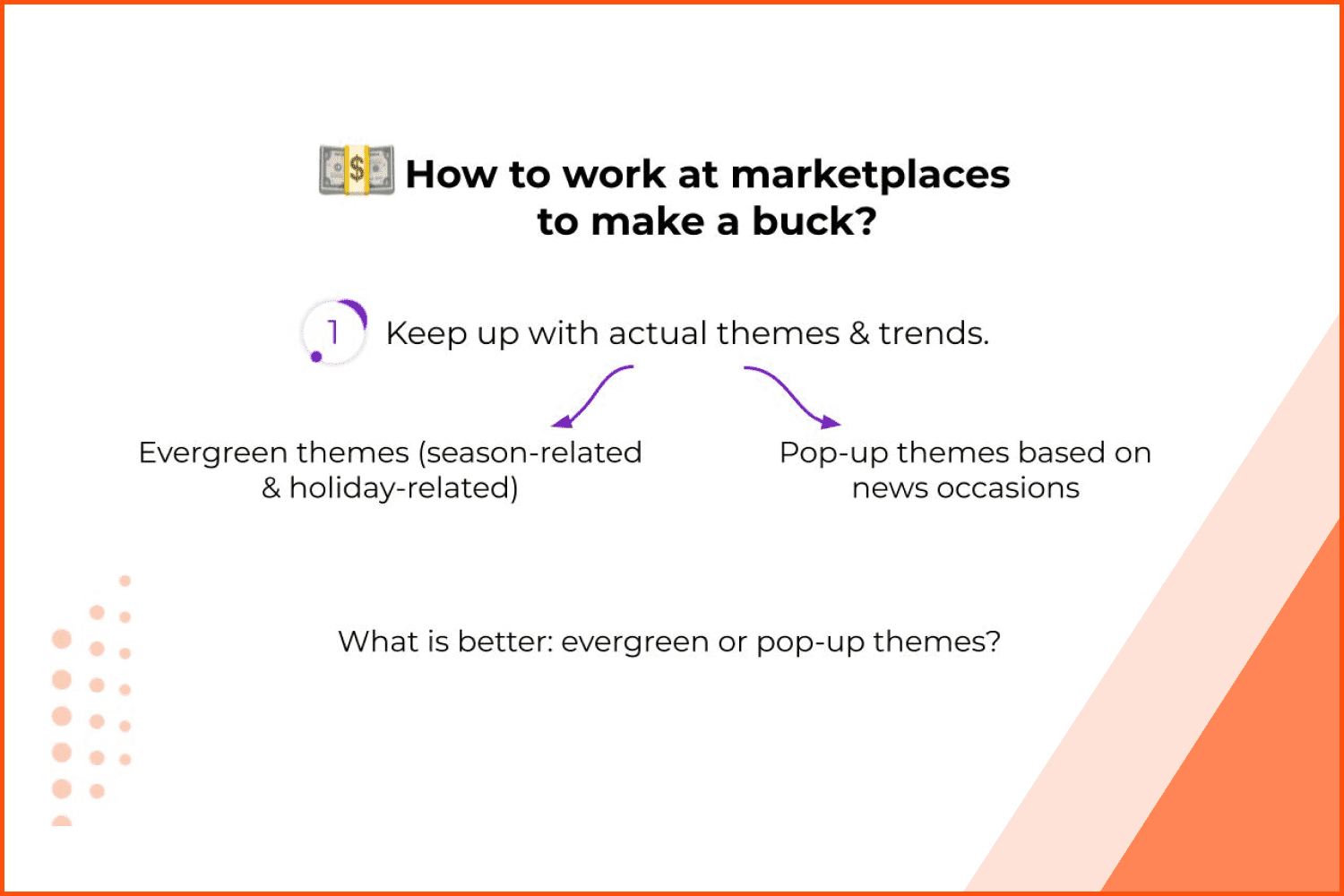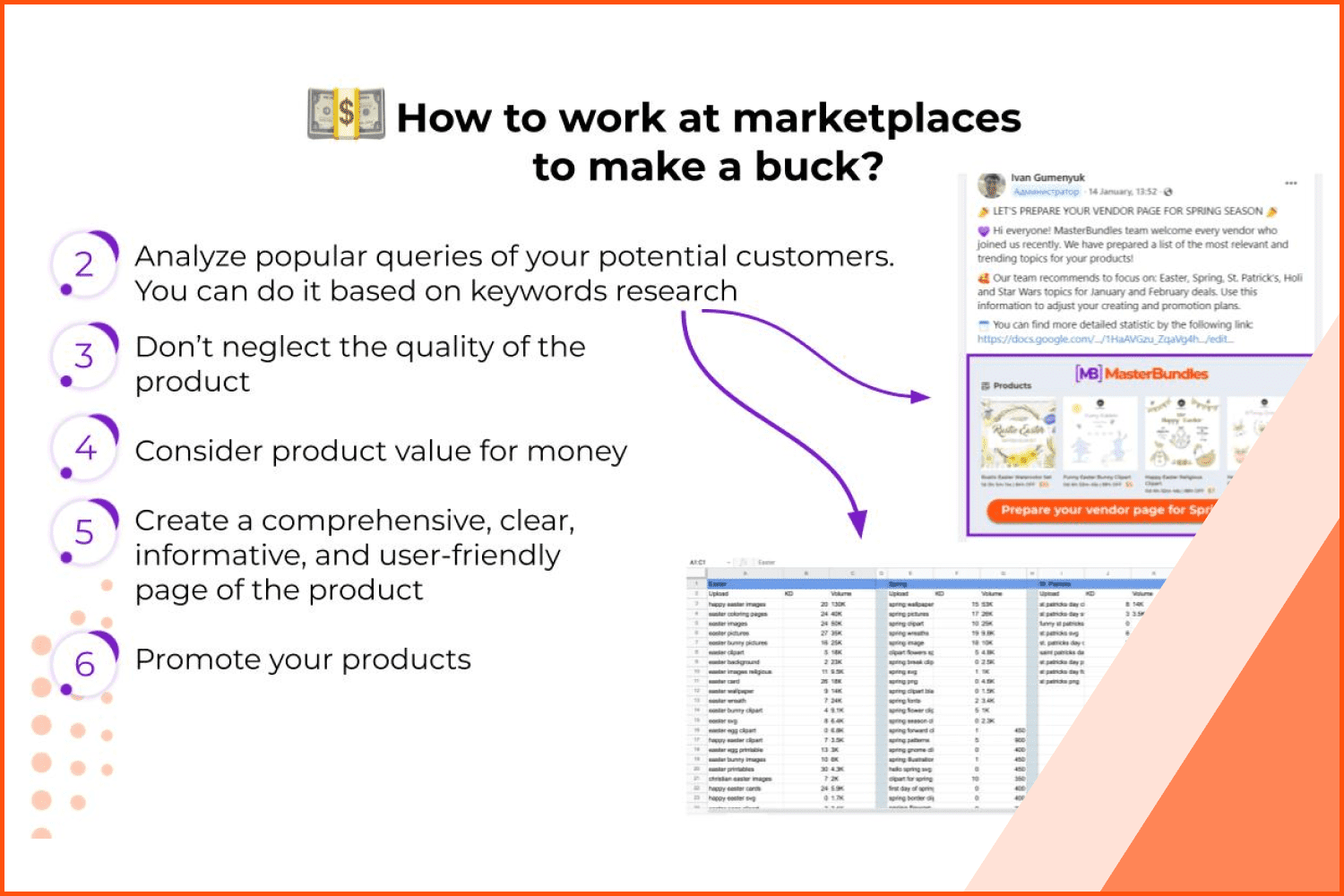 Keep up with actual themes and trends
There are evergreen themes such as season-related themes (floral textures for spring or falling leaves backgrounds for autumn). There are also holiday-related designs or themes (Christmas designs, Christmas clip art, or Easter images and fonts) and there are pop-up themes based on special occasions.
A few months before the release of the Spider-Man: No Way Home movie, stickers with Spider-Man were really, really popular because they could be used for promotions among the fans. Creating such stickers would be reasonable a few months before the event. When SpaceX launched a rocket into space, the designs with space or spaceships would also be very, very popular. These themes we call pop-up themes.
A really good question is, what themes are better for designers? There is no definite answer because whatever option you choose, there will be pros and cons. If you choose an evergreen theme, you know that there will be demand for the theme, but the competition is also high because this is a so-called safe option and probably more people will go for it rather than risking an unexplored area or option.
With some niche designs or, let's say, pop-up themes, there are more chances that you will occupy this sphere and then you can occupy more space and be really good at it, and there is lower competition, but there is still demand for these designs. The choice is up to you. We would go for both options, test them, and see what will bring you the best results.
By the way, you can download this guide in PDF format and never miss this information! Of course, it's free of charge 🙂

Analyze popular queries of your potential customers
How do you do that? For example, you can analyze keywords, so you can do some keyword research. I won't explain how to do it because we have already done it for you. You can visit our design community on Facebook. There, we post the Google spreadsheet with keywords for January and February.
What does this mean? It means that people are more likely to search for these designs in January and February. It means that it's better to have these designs uploaded in January. For example, if you look at this table, you will see that already in January, people are looking for Easter designs because they need some time to create their designs.
Why is it worth it to visit our community from time to time? We will supplement the list of keywords for the following months regularly, so you will have a chance to keep up with all these trends and understand what designs are most valuable, when to create them, and when to upload them.
We also created a free calendar with themes for products to design and to promote in a particular month. Check it out and plan your work wisely.
Don't neglect the quality of the product
This is very, very important. What we mean by the term "quality" is the attention to details and the variability of the product (the number of slides in the presentation or the number of different formats in your local bundle). The more variable the product is, the more chances that it will be used by more people for more purposes.
Consider product value for the money
It's very crucial to evaluate yourself and your product correctly and to fall under the right price category. Moreover, it's important to create a comprehensive, clear, informative, and user-friendly page of the product.
Besides some psychological issues, an informative page inspires trust and increases chances that the person will look through it and think "Okay, this is exactly what I was looking for." Because if you give a detailed description, the person can see something that he or she was looking for.
Promote your products
It's so hard to go unnoticed among all of the designs because there is a huge number of awesome designs. But when you promote your products, you increase your chances of being noticed.
The workflow covered: from an idea to a published design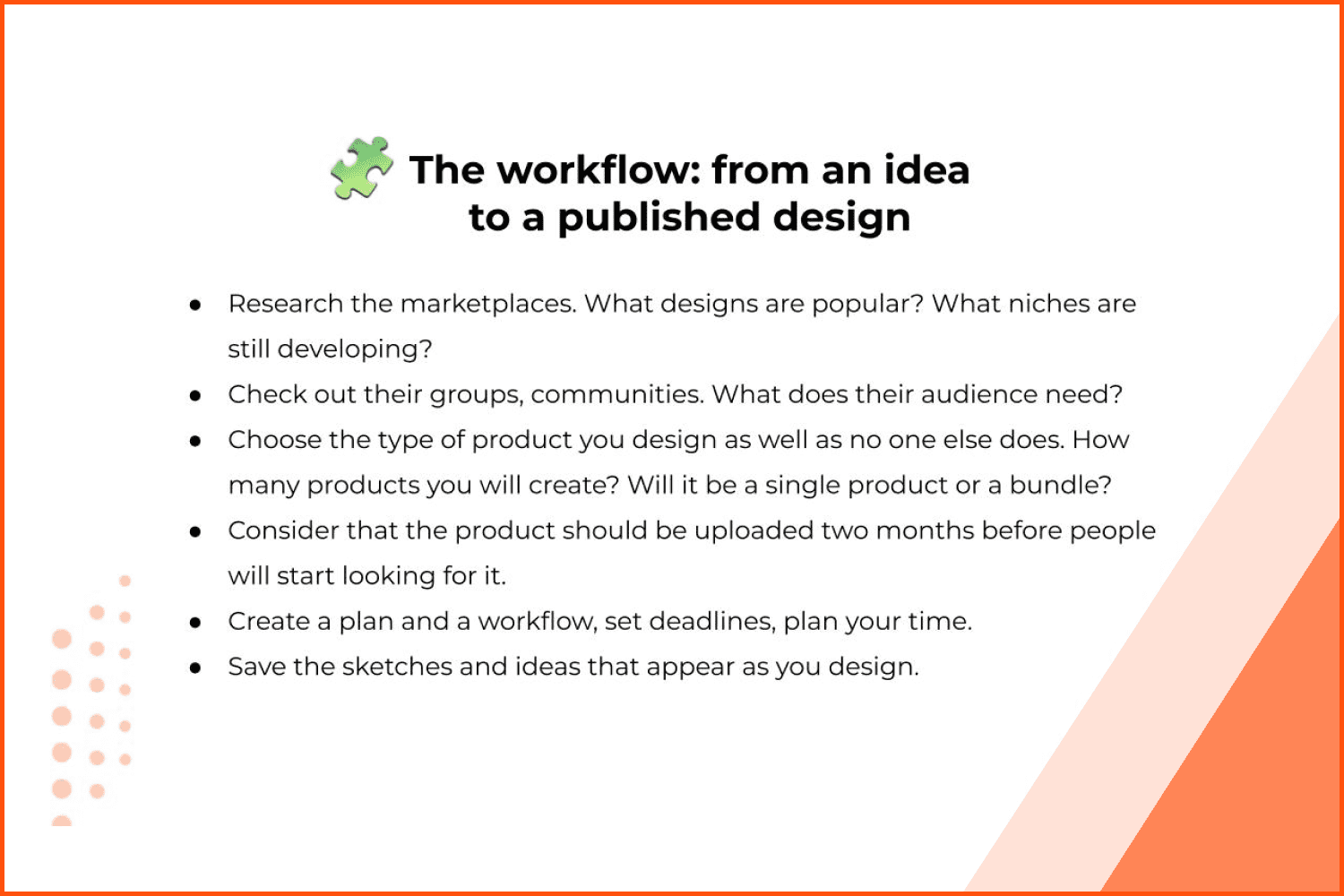 Okay. Now, let's look through the workflow, what to do when you have an idea, and how to implement it in real life.
Research the marketplaces
What designs are popular? What niches are still evolving? Should you go for the designs—for the category that has many designs or should you occupy a very narrow niche? By the way, on our website, we have categories and we have sub-categories of the products, and you can explore them and see what categories have the most products. Maybe you can upload products to these subcategories and be the best in this category. Ideally, a person who's specifically looking for Thanksgiving Day patterns will find it and buy it.
To research the marketplaces, it's important to check out their groups and communities because there are more chances that you will understand them—you will see who their audience is, and who your potential clients are. What do they need? What pains do they have? What products are they looking for, but can't find? And maybe you can offer something they are looking for.
Choose the type of product
It's important to understand how many products you can create. And will it be a single product or a bundle? Why is this important? It's important to plan your working process because you should consider that the product should be uploaded two months before people start looking for it.
What we noticed at MasterBundles is that people start looking for Christmas designs in October. It means that you should start creating Christmas designs in August (it depends of course on your working speed and on your load). If you're swamped with work, maybe you should start earlier, but anyway, consider that you need more time to create the product and to upload it, so other people can buy it and still have time to use it.
Create a plan
What is very important, you should create a plan and a workflow, you should set deadlines, and plan your time. This sounds really obvious but some people just don't take it into account.
We would also recommend saving the sketches and ideas that appear as your design. Why? Because you can use them when you upload the products and in the future as well.
Upload your products to the marketplace
The marketplaces have a vendor account. Each marketplace has its own nuances, but in general, the process of downloading designs is not very different. MasterBundles, for example, has a convenient Sell Your Deal form and a tutorial that explains how to use it to the maximum.
How to promote your designs to get them noticed
It's not enough to just upload your creations and wait for customers to find and buy them. To get more profit from selling your products and making money as a graphic designer, you need to learn how to promote your arts.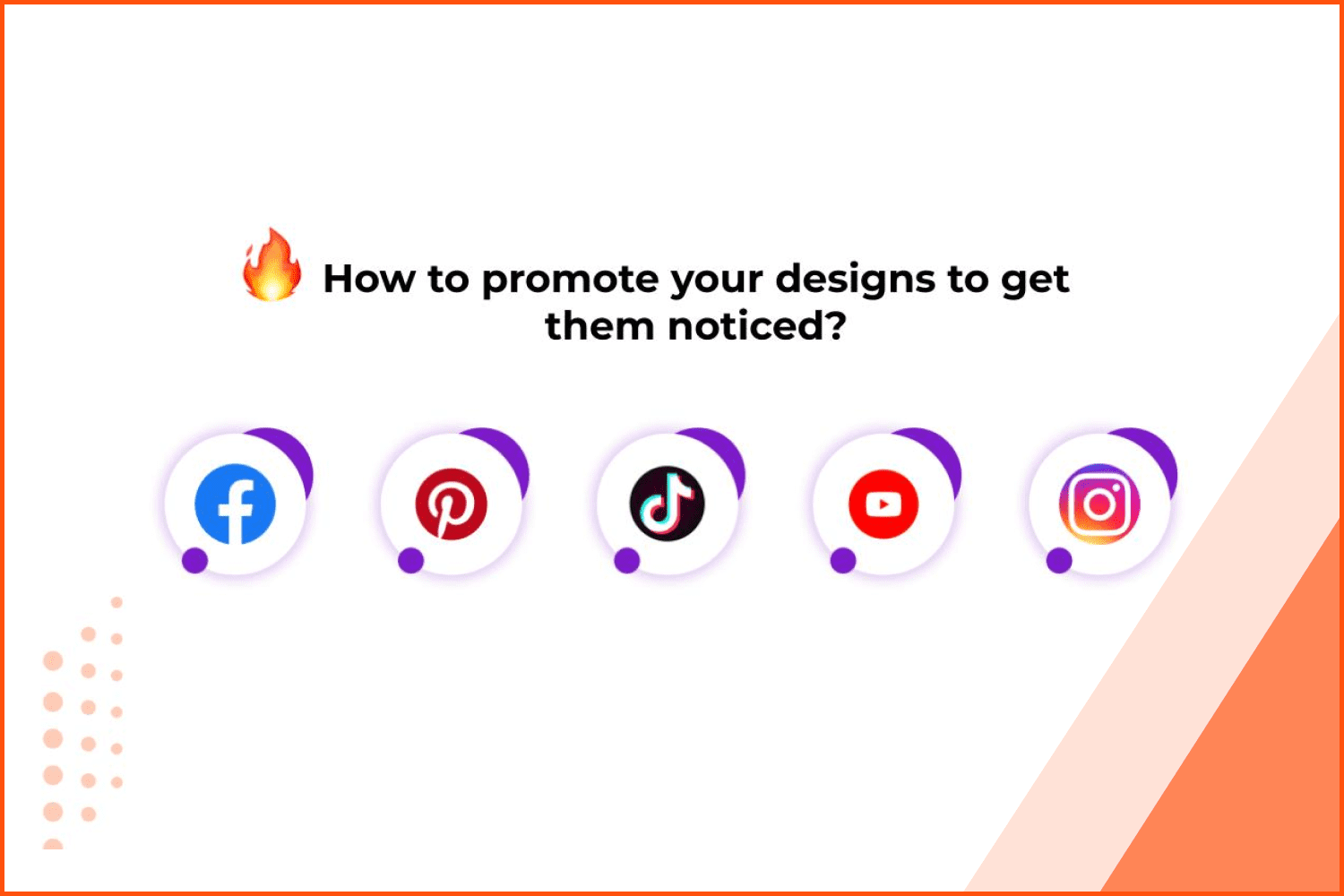 You can, for example, do it on Facebook. This is a good method that really works. Why does it work? It works because there are plenty of design communities on Facebook and they're free, and the concentration of designers is very high. For example, you can check out the comments and see that a person can't find watercolor clipart for postcards. If you create them, you can send a link to your product page and say, "Hey, you can find great clipart here! This is just what you were looking for!" Perfect match!
Pinterest
Pinterest, of course, is a very important channel for promotion. For MasterBundles, Pinterest brings 50% of social media sales. It works, of course, if you use it correctly.
By the way, check out a few super useful posts on how to use Pinterest to promote your work and how to use keywords on Pinterest to get your content found. Check them out and make the most of Pinterest.
TikTok
TikTok is a cool instrument where you can offer different formats of content. For example, you can showcase your working process, create useful "How-to" videos, or you can just have fun. It will also invite different audiences to your channel, but don't forget to switch to a pro account to have an opportunity to post links because, in your bio, you can leave some links to your product page or Behance account.
YouTube
This is a very good option for promotion. Of course, you will need more time to produce high-quality content, but it can lead to a long-term relationship with your subscribers or watchers, with your audience, and with long-term revenue.
Logo Design Trends 2022

Today we brought to you a new video about "Logo Design Trends 2022" 
BASIC WEB DESIGN SOFTWARE: Free Web Design Course 2020 | Episode 2
This is the best software for web design that I use and that I'd like to share with you in this Free Web Design Course so you can learn how to design websites. 
By the way, we also have a YouTube channel. We post useful videos there – you are welcome to check it out! If you have any ideas for collaboration with us, just email to deals@masterbundles.com, and we will consider it with pleasure.
Instagram
Despite changing rules and algorithms, this platform is quite understandable and somewhat easy to work with. It's still a good tool to showcase your products and working process
Upload your designs to MasterBundles and start earning money!
Of course, you can benefit from joining any market—okay, not any marketplace, but most of the marketplaces because there are many guys who really do a great job. But let's talk about MasterBundles because we know all the ins and outs of the process.
Here, at MasterBundles, we have a very well-established convenient flow of working with vendors. Our team has well-defined roles and everyone knows who is responsible for what and it simplifies and speeds up the process of working with vendors. We have a very clear Sell Your Deal form. You can upload your designs yourself and control all these processes. Moreover, you have ultimate support from our moderators. If we find an issue with the product or how it is packaged, we will definitely contact you and resolve this issue together, or we will resolve this issue ourselves if it's something small. And our moderation, in general, is very liberal. We welcome designers of different skills, even if you're just starting your journey. Just come to us and we will help you get noticed.
We also welcome any product (if the product doesn't violate moral and ethical principles:) ). We're bundles-oriented, and we noticed that products in bundles sell way, way better. But if you create single products, no big deal, we will take your single products and create a bundle, and it will increase the chances of higher revenue. So you're welcome to join our marketplace.
The Bottom Line
For now, you have almost all the necessary keys to build a career as a graphic designer at a marketplace in 2022. Every product starts with an idea and ends with a promotion. Everything in between is covered in this article above.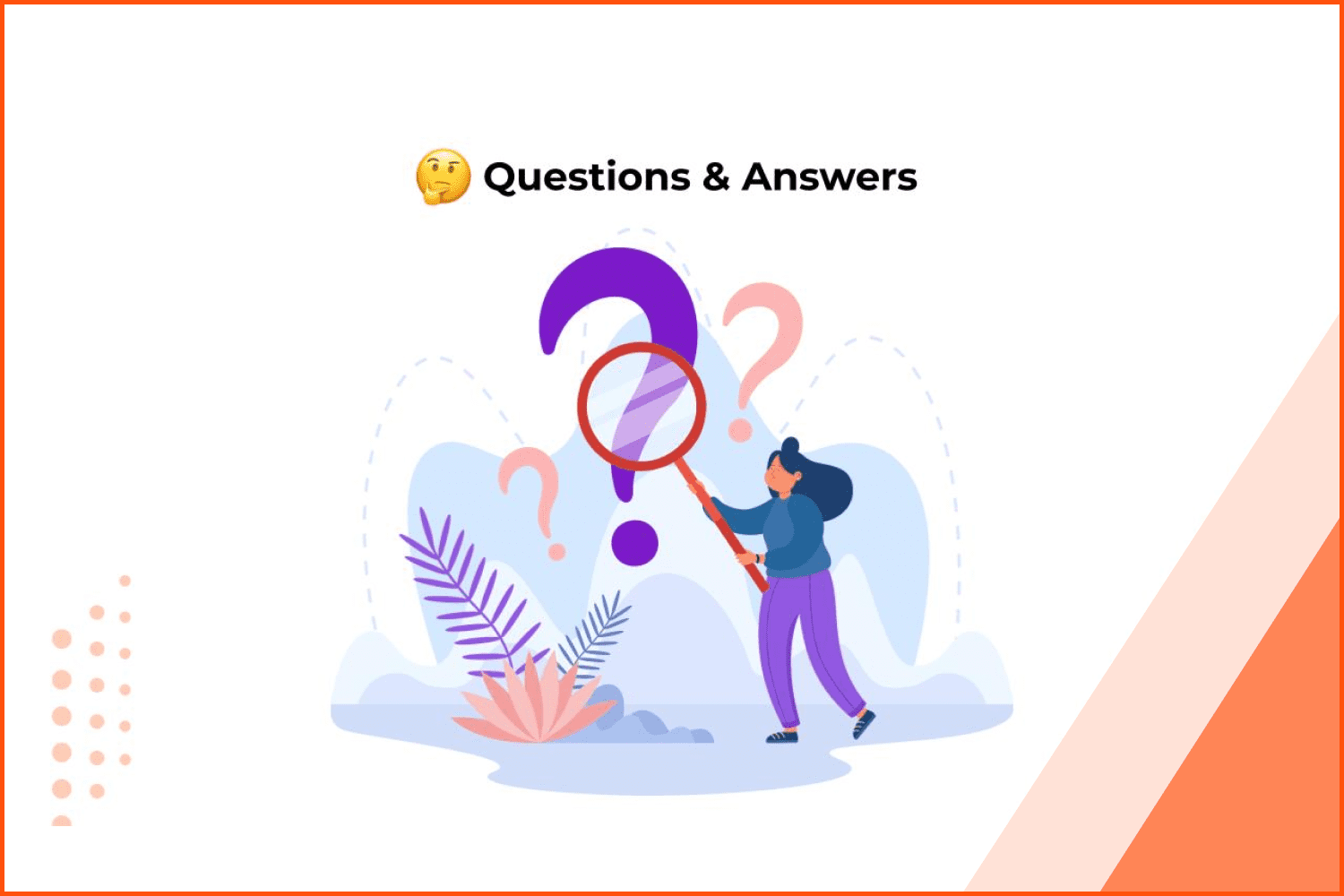 FAQ
What is the best marketplace for a beginning designer?
Besides MasterBundles, there are also other marketplaces such as GraphicRiver, DesignBundles, CreativeMarket, and more.
What commissions do marketplaces usually charge?
The size of the commission differs from marketplace to marketplace. Usually, it ranges from 40% to 60%.
How much can I earn at a marketplace?
There are no limits. It all depends on the number and quality of your products, and promotion, of course.
Can the marketplace substitute a full-time job?
Sure. But only if you are ready to create original products constantly and work on the promotion of your products.
Please Take a Moment to Pin this Post to Pinterest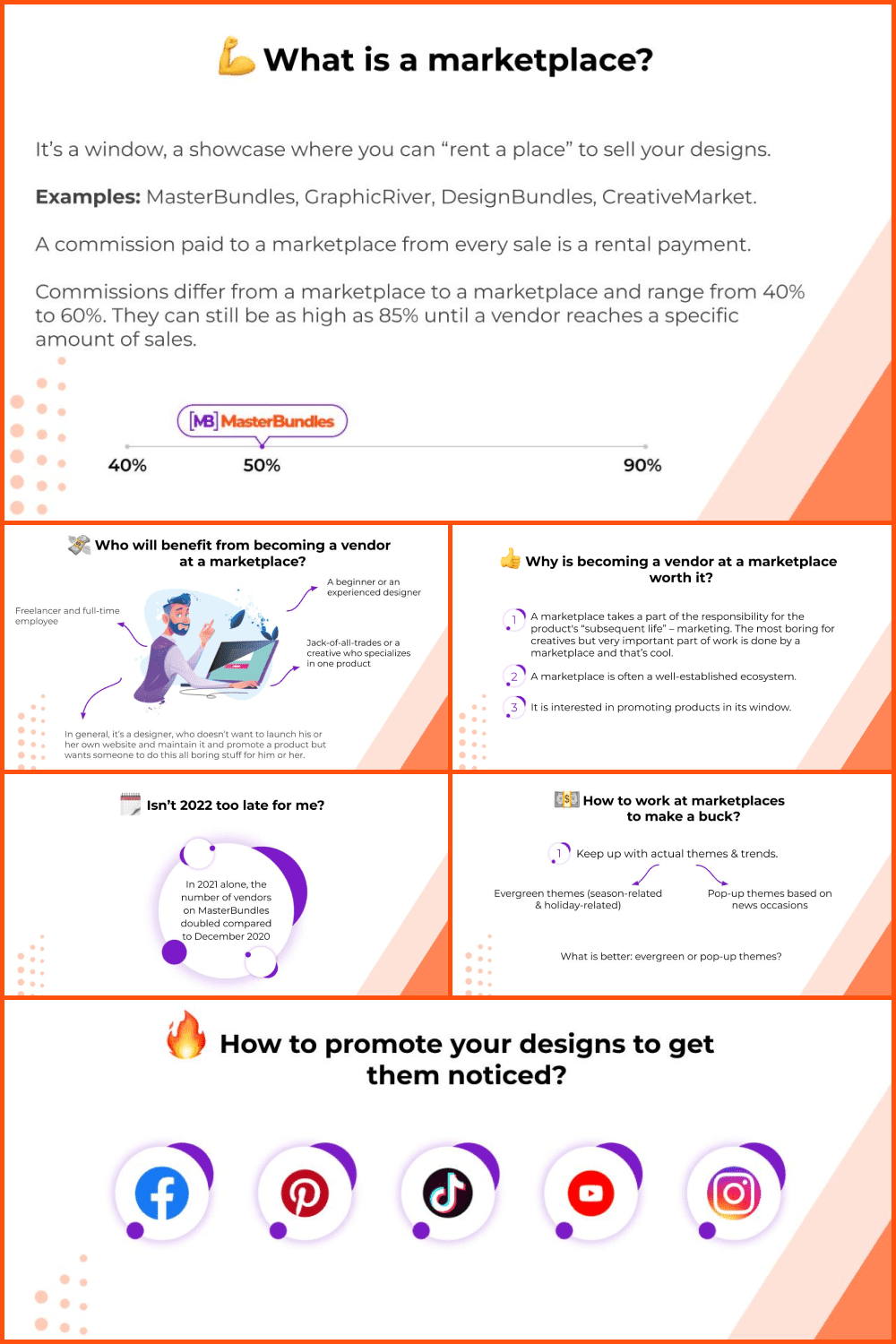 Was this page helpful?
We will be happy if you decide to share this article with your friends on Facebook. Just click on the button and you're done
What are your concerns?
Thanks for your response!
You have already left your review.
Disclosure: MasterBundles website page may contain advertising materials that may lead to us receiving a commission fee if you purchase a product. However, this does not affect our opinion of the product in any way and we do not receive any bonuses for positive or negative ratings.