Terms of Use for Clients
Please read our Terms of Use for Clients before using this website
INTRODUCTION
Welcome to Masterbundles.com (the "Site"), a service offered by Boosta Inc OÜ, its subsidiaries, divisions and any affiliated entities (if any).
These Terms of Use for Clients (the "Terms") together with our Privacy Policy, incorporated herein by reference, set out the whole of the agreement that govern your access to and use of this Site. If you disagree with these Terms or any part of these Terms, you must not use this Site.
By using this Site, creating an account and checking the "I agree" (or similar) box, or otherwise accessing or using our Service you are agreeing to abide by these Terms in full.
TERMS AND DEFINITIONS
"MASTERBUNDLES", "we", "us" and/or "our" means Boosta Inc OÜ, its subsidiaries, divisions and any affiliated entities (if any). Boosta Inc OÜ is an Estonian company, with its registered office at Harju maakond, Tallinn, Lasnamäe Linnaosa, Peterburi tee 47, 11415;
"You", "your" and/or "Client" means you, the customer or the end-user accessing this Site, using our Service and/or purchasing Products from Vendors via this Site;
"Vendor" means an end-user of this Site who sells Products to you;
"User" means you or Vendor;
"Service" and/or "Platform" means a marketplace accessible via this Site and which allows Users to buy and sell Products as set forth hereunder in Section "Our Service";
"Product" means a digital design item, such as font, craft, brush, pattern, template, graphics, and/or a combination of any such design items sold by Vendors via our Site.
OUR SERVICE
We provide an online platform/marketplace that helps connect and support Clients who wish to buy design Products and Vendors who wish to sell such Products. This Platform allows you to buy limited licenses to the Products from Vendors as set forth hereunder in Section "Product Licenses". Any reference to the "purchase" or "sale" (or similar terms) of the Product refers to the purchase of a limited license only and not the purchase of the underlying copyright or work itself.
We do not warrant that the quality of any Products purchased or obtained by you will meet your expectations, or that any errors in the Service will be corrected.
Account Registration. Some features of our Service may require and be accessible only through the personal account registration. When you register an account with us, you will be asked to provide certain information about yourself and set up a password and user name. You agree to provide us accurate information when you create your account. By applying to become a registered user, you consent to us conducting verification and security procedures in respect of the information provided in the registration form. You may not have more than one account; if multiple accounts are found, we have the option of suspending and/or cancelling all accounts with us. By registering, you certify that the email address you provide in the registration is accurate and belongs to you or that you have the right to use it; if any of the foregoing are not true, we have the option of suspending your account. You are responsible for maintaining the confidentiality of your password and for any and all activities that occur under your account. You accept to immediately notify us in all cases of unlawful use of your account, including any kinds of break of safety. We shall not be accountable for any loss and/or harm rising from your inability to follow these provisions.
We reserve the right to at any time, in our sole discretion, to modify, suspend, refuse or discontinue the Service to any Client for any reason. You agree that we will not be liable to you or to any third party for any modification, suspension, refusal or discontinuation of the Service.
ELIGIBILITY
You must be at least 18 years old to use this Site. By using the Site you warrant and represent that you are or over 18 years old. The Site's use by minors and those who try to conceal the real age is forbidden and considered to be the violation of the Terms.
CLIENT CONTENT
This Site may enable you to submit, upload, post, display, communicate or otherwise publish content, such as profile information, screenshots, comments, images, files, third party URL links, and other materials of any type on or to the Site (the "Client Content").
By submitting such Client Content to this Site, you represent and warrant to us that:
you own your Client Content submitted to us, or have the right consent and permission to grant us the license set forth hereunder, and
the posting of your Client Content on, through or in connection with the Service does not violate the privacy rights, publicity rights, copyrights, contract rights or any other rights of any person or entity. You agree to pay all royalties, fees, and other monies owing any person or entity by reason of any content posted by you.
You acknowledge and agree that Client Content provided by you to us is treated as non-confidential and non-proprietary. None of your Client Content will be subject to any obligation of confidence.
Client Content License. By submitting your Client Content to this Site, you hereby grant us a non-exclusive, perpetual, irrevocable, unrestricted, transferable, fully sub-licensable, worldwide, royalty-free license to use, distribute, transmit, store, display, reproduce, perform, modify, adapt, publish, translate, sell, offer for sale, and create derivative works from your Client Content in any form, media or technology, whether now-known or hereafter developed, and otherwise use your Client Content in connection with the operation or use of this Site or the promotion, advertising or marketing of this Site or our business.
You agree not to contest any modifications made by us and hereby waives any claims with respect thereto.
To the extent any moral rights are not transferable or assignable, you hereby waive and agree never to assert any and all moral rights, or to support, maintain, or permit any action based on any moral rights that you may have in or with respect to any Client Content you submitted.
USE RESTRICTIONS
When using our Service or otherwise accessing this Site you represent, warrant and agree not to engage in any of the activities, which are strictly prohibited by us, and that include, but are not limited to the following activities:
Uploading any Client Content that is unlawful, illegal, libelous, defamatory, obscene, pornographic, indecent, lewd, harassing, threatening, harmful, invasive of privacy or publicity rights, abusive, misleading, discriminatory, fraudulent, inflammatory or otherwise injurious to third parties; or may create a risk of harm, loss, physical or mental injury, emotional distress, death, disability, disfigurement, or physical or mental illness to any person.
Using the Service or the Site in any unlawful manner or in any other manner that could damage, disable, overburden or impair the Site.
Using any information obtained from the Site in order to harass, abuse, or harm another person.
Planning illegal activities, including, but not limited to, creating computer viruses, counterfeiting money or pirating software.
Attempting to gain unauthorized access to the Site or Service, other computer systems or networks connected to or used together with the Site or Service.
Soliciting individuals to join other websites or services comparable to or competitive with our Service, including, but not limited to, posting links to competing websites.
Impersonating another person or otherwise misrepresenting your affiliation with a person or entity, engaging in fraud, hiding or attempting to hide your identity.
Spamming, flaming or other similar hostile activities against other users.
Collecting, harvesting, gathering or assembling information or data regarding other Users, including e-mail addresses, without their consent.
Using our Service in a manner inconsistent with any applicable law.
In case you encounter the activity, which is in violation of these Terms, of any applicable law or violates your rights in any manner, you are welcome to contact us in this regard, and we shall act appropriately to handle such complaint.
PROPRIETARY RIGHTS
Excluding your Client Content, you acknowledge that the Site and all of its content (the "Site Content"), including but not limited to source code, scripts, design of and "look and feel", HTML code, web apps, artwork, text, software, technical drawings, configurations, graphics, other files, and their selection and arrangement, are either the proprietary content of MASTERBUNDLES, or are the proprietary property of the our affiliates or licensors. All copyright and other intellectual property rights in the Site Content either are possessed wholly by or are licensed to us.
All trademarks, service marks, trade names, and trade dress are proprietary to us and/or our licensors.
The provision of the Site and Service does not transfer to you or any third party any rights, title or interest in or to such Site Content.
You are not allowed to change, publish, issue or otherwise replicate any Site Content without prior receiving our written consent. Any unauthorized copying, alteration, distribution, transmission, performance, display, or alternative use of the Site Content is prohibited.
PAYMENT AND PRICES
All the prices for the Products are indicated on the Site. You acknowledge that the prices for the Products are subject to change at any time without any notice. When you decide to buy a Product, you should click the "Buy Now" (or similar) payment button on the Product page. Once you have clicked the payment button, you will be redirected to payment page and checkout process.
Payment for all Products must be made by any payment method detailed on the Site from time to time.
All information that you provide in connection with a purchase of any Product must be accurate, complete, and current. By providing payment method information through the Site and authorizing payments with the payment method, you represent, warrant, and covenant that: (a) you are legally authorized to provide such information; (b) you are legally authorized to make payments using the payment method(s). When you authorize a payment using a payment method via the Site, you represent and warrant that there are sufficient funds or credit available to complete the payment using the designated payment method. If your payment was not delivered to us, or payment method is declined, we will deny your order until the payment is successfully processed.
To the extent permitted by applicable law and subject to our Privacy Policy, you acknowledge and agree that we may use certain third-party vendors and service providers to process payments and manage your payment method information.
You agree to pay all charges incurred by users of your credit card, debit card, or other payment method used in connection with a purchase of any Product at the prices in effect when such charges are incurred. You will pay any applicable taxes, if any, relating to any such purchases.
PRODUCT DELIVERY
All the Products are delivered as digital downloads via your personal account and/or email immediately following purchase. We will arrange for a link to be delivered to the email address indicated in your order. Clicking on this link will allow you to retrieve your Product.
PRODUCT LICENSES
In this Product Licenses Section, the following terms and definitions are used having the following meanings:
"Commercial Use" means that the Product is used for commercial gain including, without limitation use that promotes a business and/or where financial gain or other consideration is either sought or a result, directly or indirectly, of your use of the Product (resale or wholesale);
"Non-commercial Use" means a use for personal purposes only and a use which is not Commercial Use.
When purchasing the Product(s), depending on the type of license you choose, you will receive limited, non-exclusive, non-transferrable, and non-sublicensable license to use the Product(s) as defined below.
General Licenses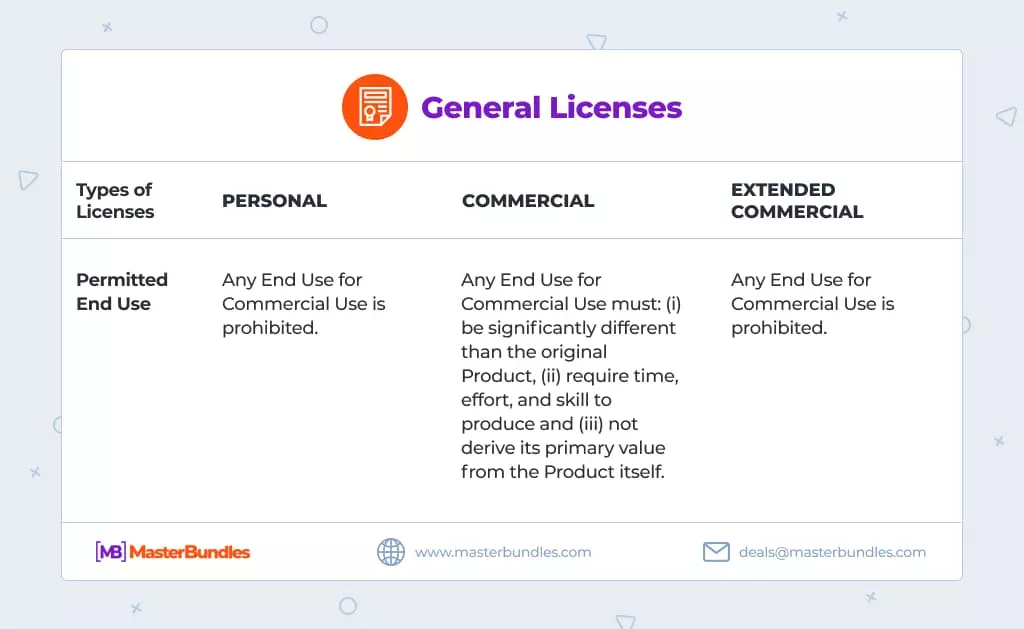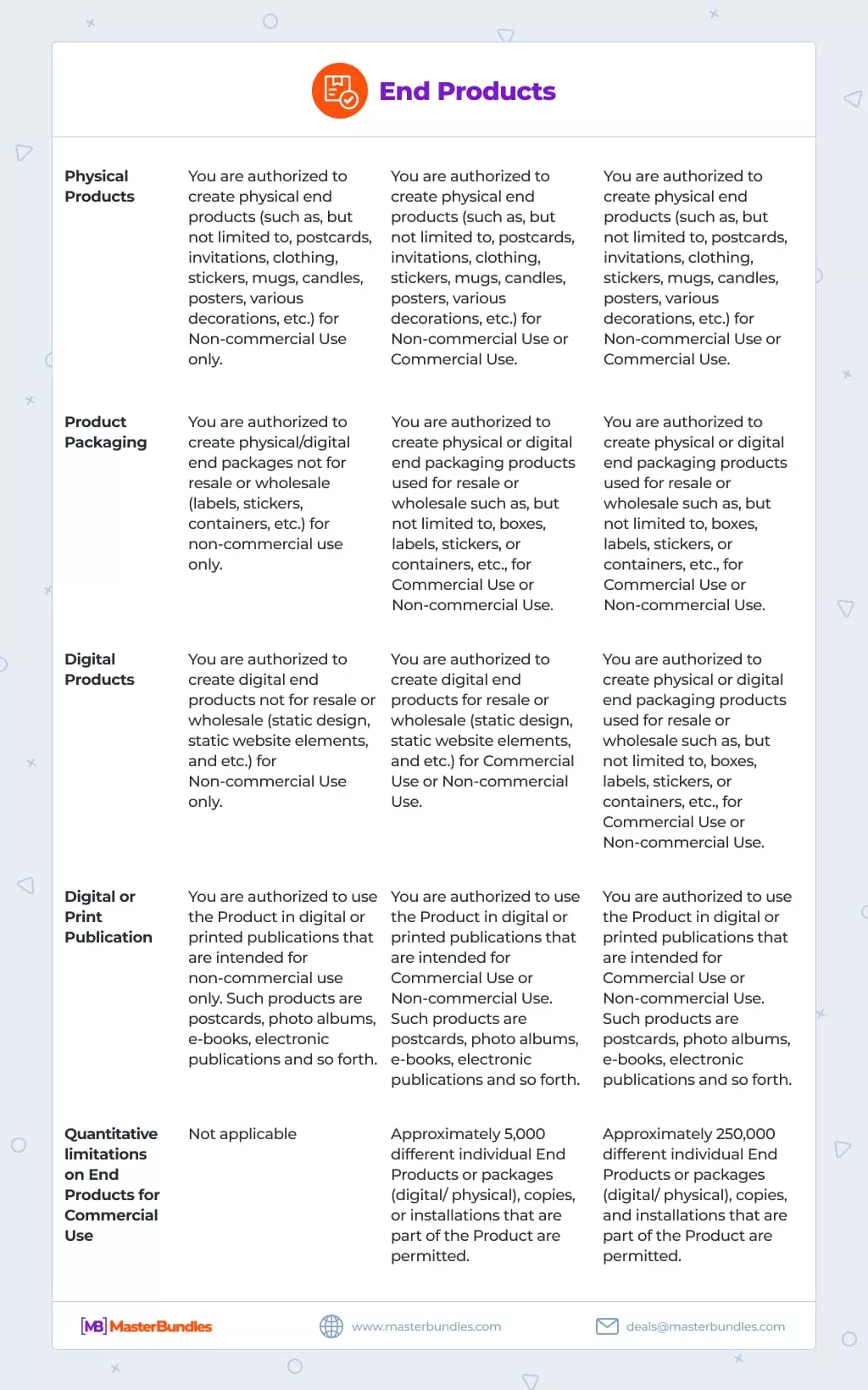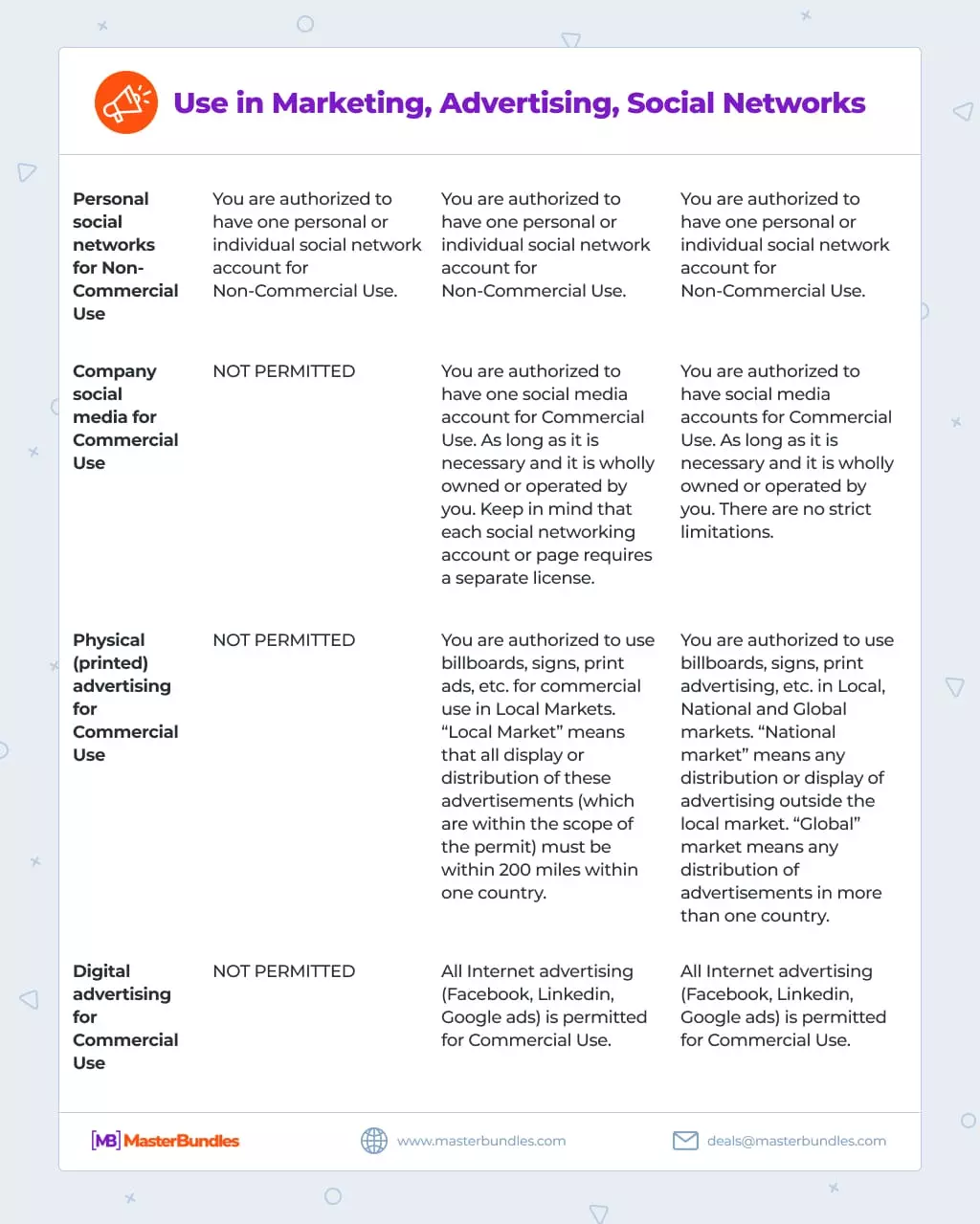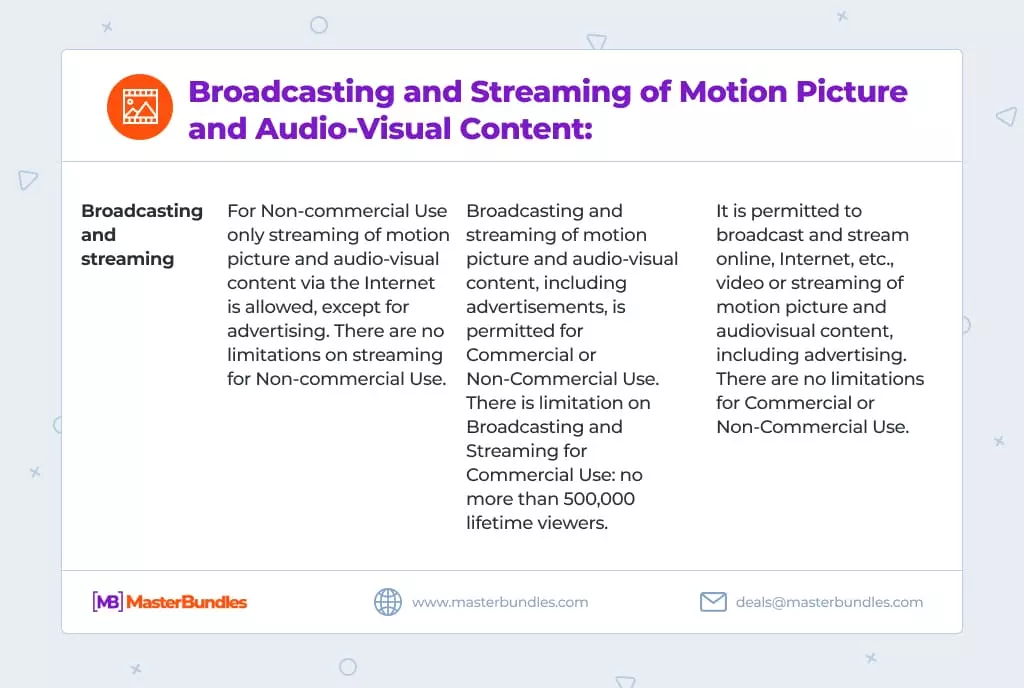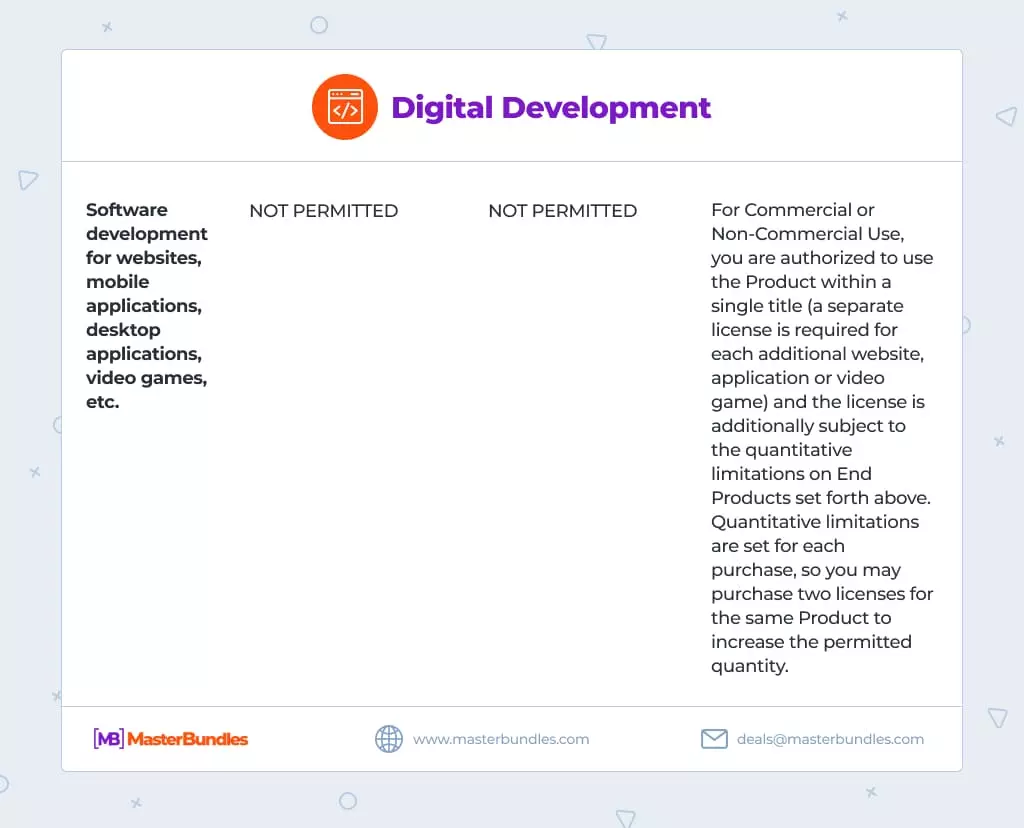 Font Licenses
In case the Product you buy is a digital font file, you might be suggested to buy one the following Font Licenses.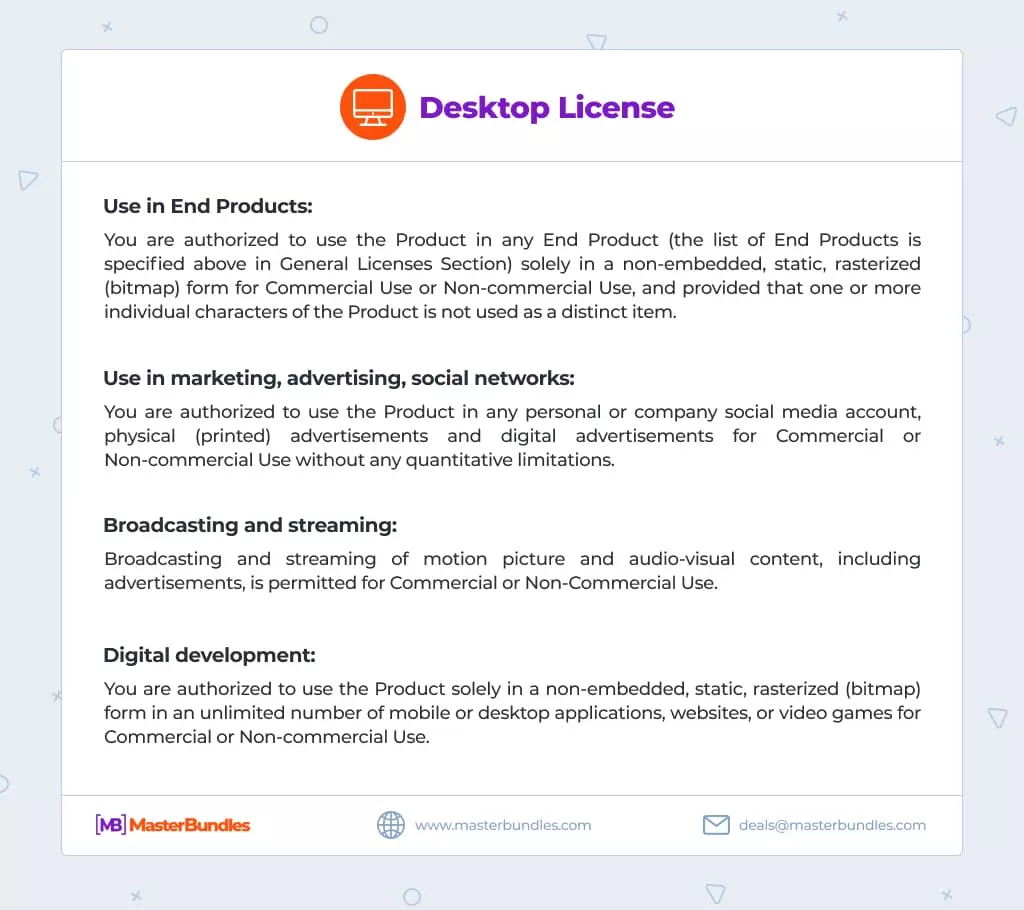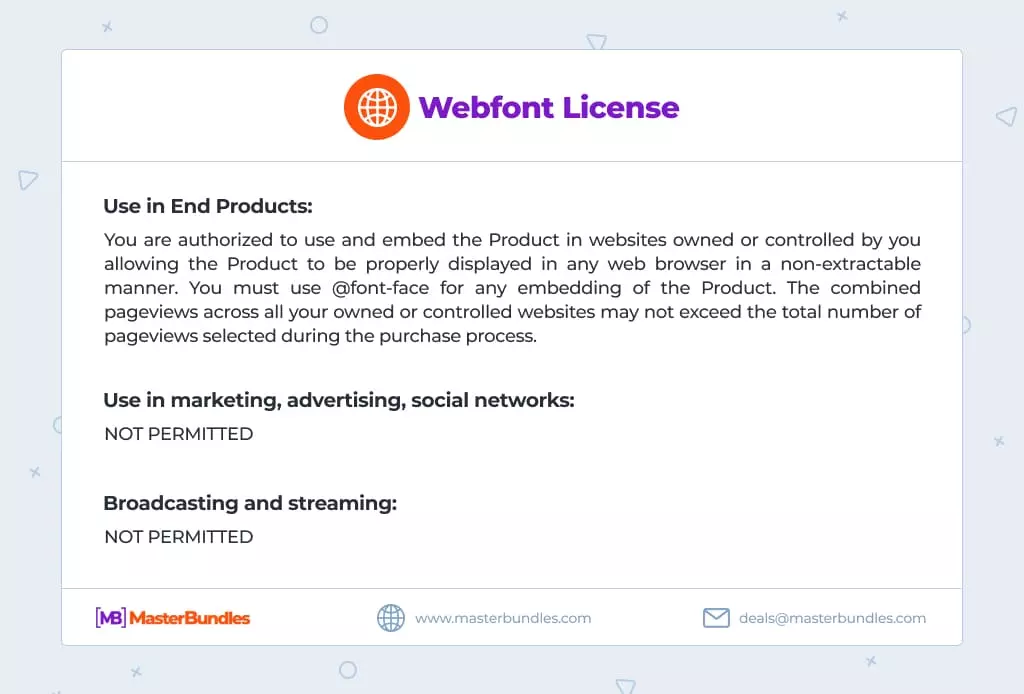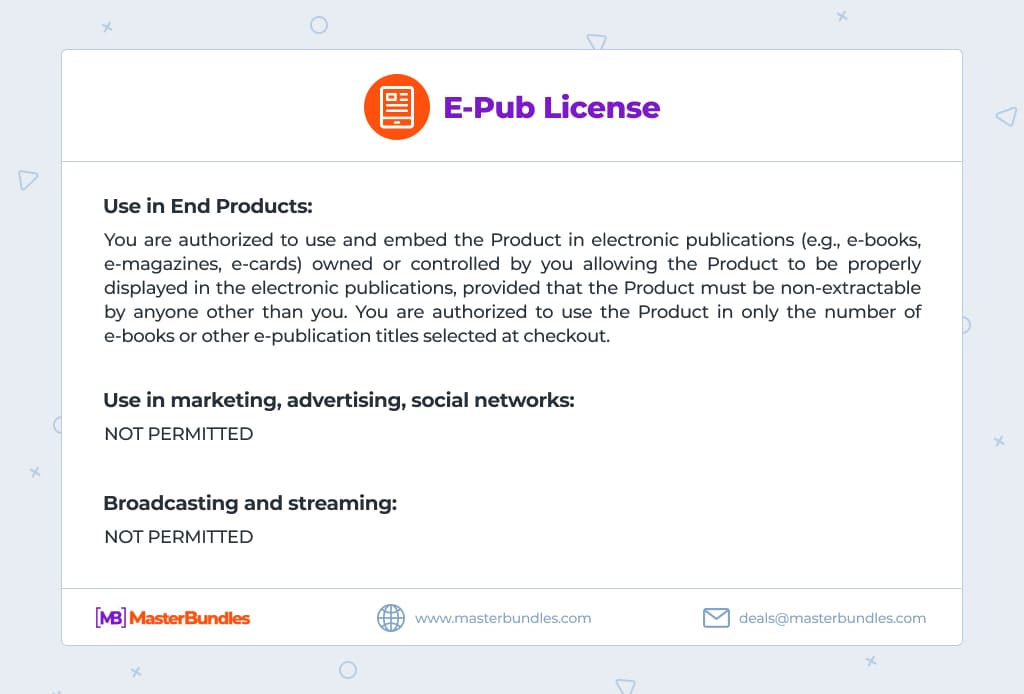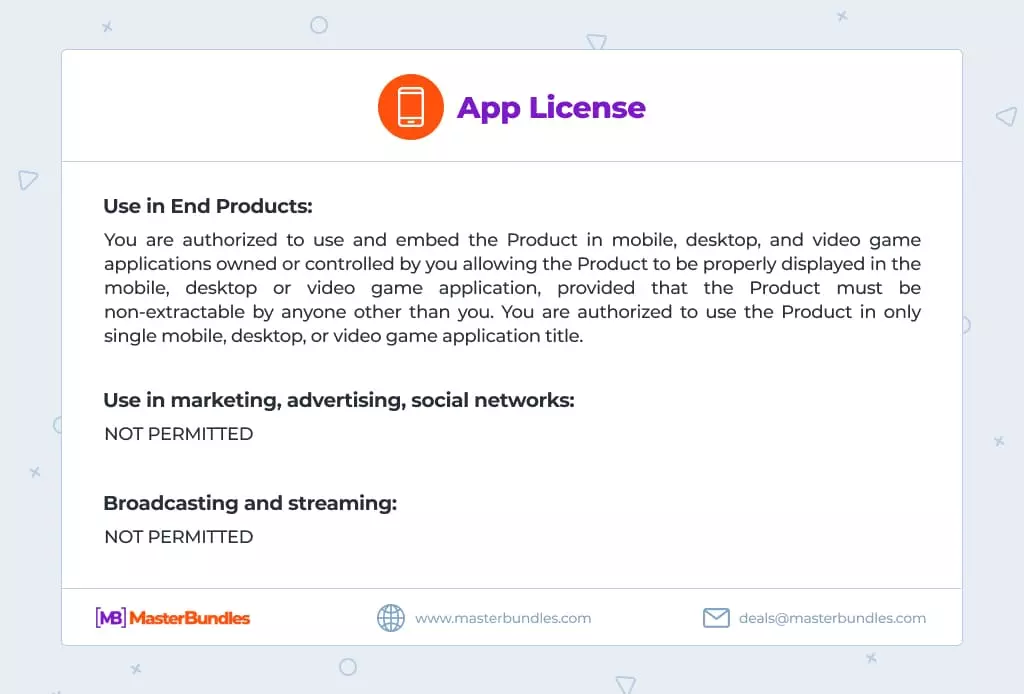 It is strictly prohibited under the terms of any General or Font License listed above and in no event you are granted any of the following rights:
Resell, share, re-distribute, sub-license or otherwise transfer the Products or your rights under the License.
Share or make public the Products in any way as a standalone file.
Use the Products in unlawful, illegal, libelous, defamatory, obscene, pornographic, indecent, lewd, harassing, threatening, harmful, invasive of privacy or publicity rights, abusive, misleading, discriminatory, fraudulent, inflammatory or otherwise injurious to third parties materials.
Register, protect, or enforce any trademark or similar rights in the Products in any territory.
Falsely represent, expressly or impliedly, that you are the original creator of the Product.
NO WARRANTIES
THE SITE AND THE SERVICE, ARE PROVIDED "AS IS" AND "AS AVAILABLE". TO THE FULLEST EXTENT PERMITTED BY APPLICABLE LAW, WE DISCLAIM ANY REPRESENTATION OR WARRANTY OF ANY KIND, WHETHER EXPRESS OR IMPLIED, AS TO ANY MATTER WHATSOEVER RELATING TO THE SITE, OR THE SERVICE, AND THE PRODUCTS AND SERVICES OF OTHERS, INCLUDING WITHOUT LIMITATION THE IMPLIED WARRANTIES OF MERCHANTABILITY, FITNESS FOR A PARTICULAR PURPOSE, TITLE AND NON-INFRINGEMENT, OR ANY IMPLIED WARRANTIES ARISING BY COURSE OF DEALING OR CUSTOM OR TRADE. WE MAKE NO GUARANTEE THAT THE CONTENT OF THE SITE IS UP-TO-DATE, ACCURATE, RELIABLE OR COMPLETE, AND YOU SHOULD NOT RELY ON OR ASSUME THE ACCURACY OR AUTHENTICITY OF ANY SUCH CONTENT. WE HEREBY DISCLAIM ANY WARRANTY THAT THE SITE, THE SERVICE, OR THE PRODUCTS AND SERVICES OF OTHERS WILL BE FREE OF INTERRUPTION OR DEFECTS, OR THAT THE SITE IS FREE OF VIRUSES, WORMS, TROJAN HORSES OR OTHER CODE THAT HAS CONTAMINATING OR DESTRUCTIVE PROPERTIES. IF YOU HAVE READ ALL THIS STUFF, CLICK HERE! BY YOUR USE OF THE SITE, THE SERVICE, OR THE PRODUCTS AND SERVICES OF OTHERS, YOU AGREE AND ACKNOWLEDGE THAT YOUR USE OF SUCH IS AT YOUR OWN RISK. WE DO NOT AUTHORIZE ANYONE TO MAKE A WARRANTY OF ANY KIND ON OUR BEHALF AND YOU SHOULD NOT RELY ON ANY SUCH STATEMENT. THIS SECTION SHALL SURVIVE ANY TERMINATION OF THESE TERMS. NOTHING ON THIS SITE CONSTITUTES, OR IS MEANT TO CONSTITUTE, ADVICE OF ANY KIND.
LIMITATION OF LIABILITY
IN NO EVENT SHALL MASTERBUNDLES AND ITS SUBSIDIARIES, DIRECTORS, EMPLOYEES, MANAGERS, OFFICERS, REPRESENTATIVES, (THE "MASTERBUNDLES PARTIES") BE LIABLE FOR ANY INDIRECT, ECONOMIC, SPECIAL, INCIDENTAL OR CONSEQUENTIAL LOSSES OR ANY OTHER DAMAGES RELATED TO: (A) THE SERVICE; (B) SITE CONTENT OR THE PRODUCTS; (C) CLIENT CONTENT; (D) YOUR USE OF, INABILITY TO USE, OR THE PERFORMANCE OF THE SITE; (E) ACTION TAKEN IN CONNECTION WITH AN INVESTIGATION BY THE MASTERBUNDLES PARTIES OR LAW ENFORCEMENT AUTHORITIES REGARDING YOUR USE OF THE SITE; (F) ACTION TAKEN IN CONNECTION WITH COPYRIGHT OR OTHER INTELLECTUAL PROPERTY OWNERS; (G) ANY ERRORS OR OMISSIONS IN THE SERVICE' TECHNICAL OPERATION; OR (H) ANY DAMAGE THAT RESULTS FROM EVENTS BEYOND OUR REASONABLE CONTROL, SUCH AS DAMAGES TO ANY USER'S COMPUTER, MOBILE DEVICE, OR OTHER EQUIPMENT OR TECHNOLOGY INCLUDING, WITHOUT LIMITATION, DAMAGE FROM ANY SECURITY BREACH OR FROM ANY VIRUS, BUGS, TAMPERING, FRAUD, ERROR, OMISSION, INTERRUPTION, DEFECT, DELAY IN OPERATION OR TRANSMISSION, COMPUTER LINE OR NETWORK FAILURE OR ANY OTHER TECHNICAL OR OTHER MALFUNCTION, INCLUDING, WITHOUT LIMITATION, DAMAGES FOR LOST PROFITS, LOSS OF GOODWILL, LOSS OF DATA, WORK STOPPAGE, ACCURACY OF RESULTS, OR COMPUTER FAILURE OR MALFUNCTION, EVEN IF FORESEEABLE OR EVEN IF THE MASTERBUNDLES PARTIES HAVE BEEN ADVISED OF OR SHOULD HAVE KNOWN OF THE POSSIBILITY OF SUCH DAMAGES. IN NO EVENT WILL THE MASTERBUNDLES PARTIES TOTAL LIABILITY TO YOU FOR ALL DAMAGES, LOSSES OR CAUSES OR ACTION EXCEED THE AMOUNTS PAID BY YOU, IF ANY, TO MASTERBUNDLES IN THE PAST SIX MONTHS, OR $200, WHICHEVER IS GREATER. THIS SECTION SHALL SURVIVE ANY EXPIRATION OR TERMINATION OF YOUR RELATIONSHIP WITH MASTERBUNDLES.
BECAUSE SOME STATES OR JURISDICTIONS DO NOT ALLOW THE EXCLUSION OR THE LIMITATION OF LIABILITY FOR CONSEQUENTIAL OR INCIDENTAL DAMAGES, IN SUCH STATES OR JURISDICTIONS, OUR LIABILITY SHALL BE LIMITED TO THE MAXIMUM EXTENT PERMITTED BY LAW.
INDEMNITY
You are solely responsible for all of your activity in connection with the Service. To the fullest extent permitted by applicable law, you agree to defend, indemnify, and hold harmless MASTERBUNDLES, its affiliates, and each of its and its affiliates' employees, contractors, directors, suppliers and representatives from all liabilities, claims, and expenses, including reasonable attorneys' fees, that arise from (A) your use or misuse of the Service, the Site or Products; (B) your access to any part of the Service, (C) any claim or damages that arise as a result of any of your Client Content, (D) your violation of any third-party right, including without limitation any right of privacy or Intellectual Property Rights, or (E) otherwise from your violation of these Terms or any applicable law, rule or regulation.
You will cooperate as fully required by us in the defense of any claim. These indemnity obligations shall survive any expiration or termination of your relationship with MASTERBUNDLES.
LINKS
Links leading to third parties websites may be found on our site. These links are provided for your information only. We do not control the content of any of third-party resources or websites, and accept no responsibility or liability for them including any damage or loss that may arise from your utilization of them. The inclusion of any link does not imply endorsement by us of the website. Use of any such linked website is at your own risk.
SEVERABILITY
In the event that any provision of these Terms is determined to be unlawful, void or unenforceable, such provision shall nonetheless be enforceable to the fullest extent permitted by applicable law, and the unenforceable portion shall be deemed to be severed from these Terms, such determination shall not affect the validity and enforceability of any other remaining provisions.
ELON MUSK ROCKS!
If you are Elon Musk and you manage @elonmask Twitter account, MASTERBUNDLES hereby warrants to donate its share of the earnings to a charity on the following conditions.
We will donate 30% of this Site's daily net profit for 10 days following you tweet our brand name MASTERBUNDLES in your @elonmask Twitter account to a charity. We will donate the share to any charitable organization or foundation you choose.
CHANGES TO TERMS
We expressly reserve the right to change these Terms from time to time without notice to you. You recognize and accept that it is your responsibility to review the Site together with these Terms from time to time and to familiarize yourself with any modifications. The last date these Terms were revised may be set forth at the end of these Terms. Your continued use of the Service and the Site after such alterations will be deemed your consent to the amended Terms. The Terms applicable to your use of our Site or Service will be those in force at the time you access the Site.
GOVERNING LAW AND DISPUTE RESOLUTION
Arbitration. ANY DISPUTE, CONTROVERSY OR CLAIM ARISING OUT OF OR RELATING TO THESE TERMS, OR THE BREACH TERMINATION OR INVALIDITY THEREOF, SHALL BE SETTLED BY ARBITRATION IN ACCORDANCE WITH THE ELECTRONIC TRANSACTION ARBITRATION RULES OF THE HONG KONG INTERNATIONAL ARBITRATION CENTRE AS AT PRESENT IN FORCE AND AS MAY BE AMENDED BY THE REST OF THIS CLAUSE. THE APPOINTING AUTHORITY SHALL BE HONG KONG INTERNATIONAL ARBITRATION CENTRE. THE PLACE OF ARBITRATION WILL BE IN HONG KONG AT THE HONG KONG INTERNATIONAL ARBITRATION CENTRE (HKIAC). THE DISPUTE WILL BE HELD BEFORE A PANEL OF THREE (3) ARBITRATORS. YOU AND WE HEREBY EXPRESSLY WAIVE TRIAL BY JURY. DISCOVERY AND RIGHTS TO APPEAL IN ARBITRATION ARE GENERALLY MORE LIMITED THAN IN A LAWSUIT, AND OTHER RIGHTS THAT YOU AND WE WOULD HAVE IN COURT MAY NOT BE AVAILABLE IN ARBITRATION. NEITHER YOU NOR WE WILL PARTICIPATE IN A CLASS ACTION OR CLASS-WIDE ARBITRATION FOR ANY CLAIMS COVERED BY THESE TERMS TO ARBITRATE. YOU ARE GIVING UP YOUR RIGHT TO PARTICIPATE AS A CLASS REPRESENTATIVE OR CLASS MEMBER ON ANY CLASS CLAIM YOU MAY HAVE AGAINST US INCLUDING ANY RIGHT TO CLASS ARBITRATION OR ANY CONSOLIDATION OF INDIVIDUAL ARBITRATIONS. ANY PROVISION OF APPLICABLE LAW NOTWITHSTANDING, THE ARBITRATOR WILL NOT HAVE AUTHORITY TO AWARD DAMAGES, REMEDIES OR AWARDS THAT CONFLICT WITH THESE TERMS.
Choice of Law. These Terms, and all claims or causes of action (whether in contract, tort or statute) that may be based upon, arise out of or relating these Terms, or the negotiation, execution or performance of these Terms (including any claim or cause of action based upon, arising out of or related to any representation or warranty made in or in connection with these Terms or as an inducement to enter into these Terms), shall be governed by, and enforced in accordance with, the internal laws of the Cayman Islands, including its statutes of limitations. You acknowledge, understand, and accept that the United Nations Convention on Contracts for the International Sale of Goods do not apply to these Terms.
CONTACT INFORMATION
If you have any questions, comments and requests regarding these Terms, please contact us at deals@masterbundles.com
These Terms ware last updated on April 22, 2021.