Free Google Slides Themes. Many of us tremble upon even thinking of making a presentation: standing before the audience, making inspirational speeches, following the logical structure of the talk. All this requires some good preparations. If you want to rock the public, you need to spend a bit of time to find and structure the info you want to present.
Fortunately, we have available tools for this, not even one. Users can choose what they like best. For years Microsoft PowerPoint has been the most popular instrument for making presentations. Also, lately we observe that Google provides its loyal users with any tool they may need. So PowerPoint analog is not an exception. And it's called Google Slides.
So, now that the Internet is an integral part of our lives, finding the relevant info and an appropriate tool for presentation is not a problem at all.
Still, we might have a lack of time, so even with having a program, there's a problem with getting into the navigation or designing a visual part of slides. But even this is not a problem since there are PowerPoint templates. And they are so popular that you can search a little and find free ones, not even talking about premium templates.
Top Premium Presentation Bundles
| Product Image & Rating (Out Of 10) | Product Name | Price |
| --- | --- | --- |
| | Google Slides Templates for Teachers in 2020 | |
| | Voodoo Presentation v2.5 – Templates | |
| | Star Wars Powerpoint Templates | |
| | Technology Powerpoint Templates in 2020 | |
| | Modern PowerPoint Templates in 2020 | |
Best Google Slides Themes 2021
Clean Style Pitch Deck
Price: $13
This one was created in a very modern, simple, unique and original style. The teal color theme helps your presentation look very light and clean.
21 different slides;
editable icons;
designed to be used in Google Slides, Keynote, PowerPoint;
100% editable, easy to customize.
Nature Google Slides
Price: $15
This cool design comes with a great variety of colorful illustrations and schemes. It was created to make your presentation very simple to understand and remember. It includes different icons in addition to maps to add a special natural zest to your presentation.
50 different slides;
16:9 screen layout;
easy to customize colors, text, pictures.
Google Newspaper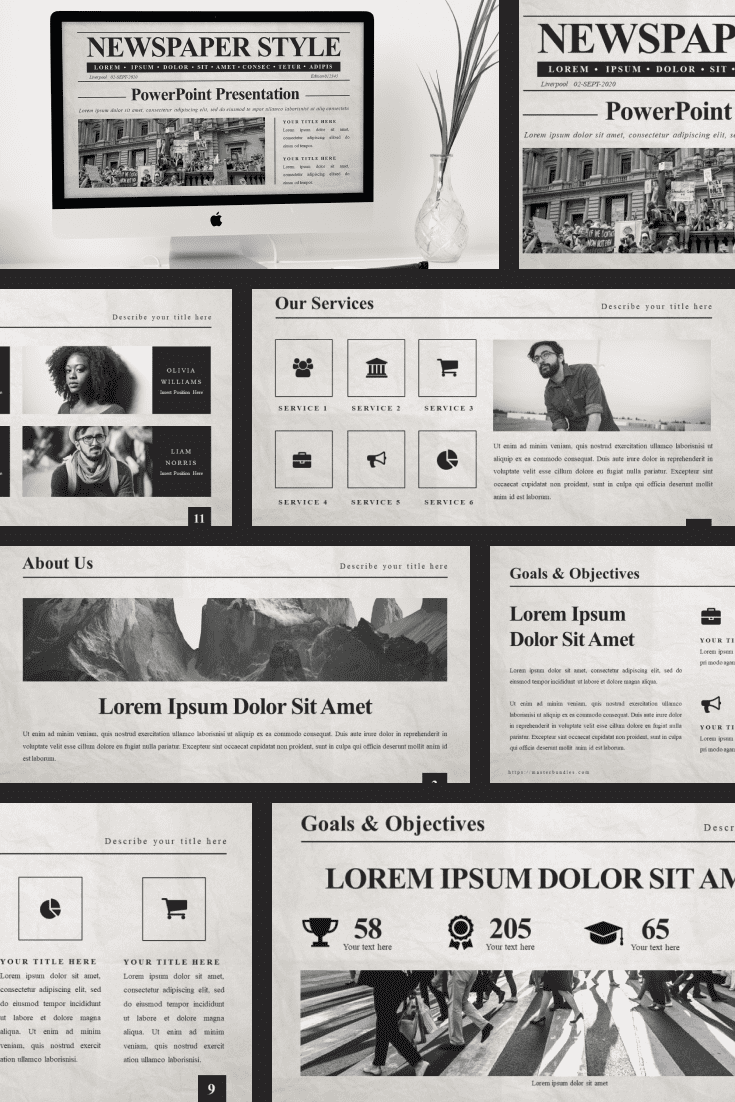 Price: $25
This originally styled design will totally suit a creative presentation of any kind. The slides are made in the style of an old newspaper. You can easily use it for a history lesson, for example.
16:9 screen layout;
different icons and other infographics;
samples of styles for graphical elements, tables.
MOSY Minimalistic Google Slides


Price: $15
This template, created in minimalistic style, perfectly fits 2021 trends for a winning presentation. This stylish color theme will make your fashion presentation or portfolio look outstanding.
56+ unique, modern, simple pages;
vector devices (phone, tablet, watch, notebook) in slides included;
620+ icons.
GoGreen Google Slides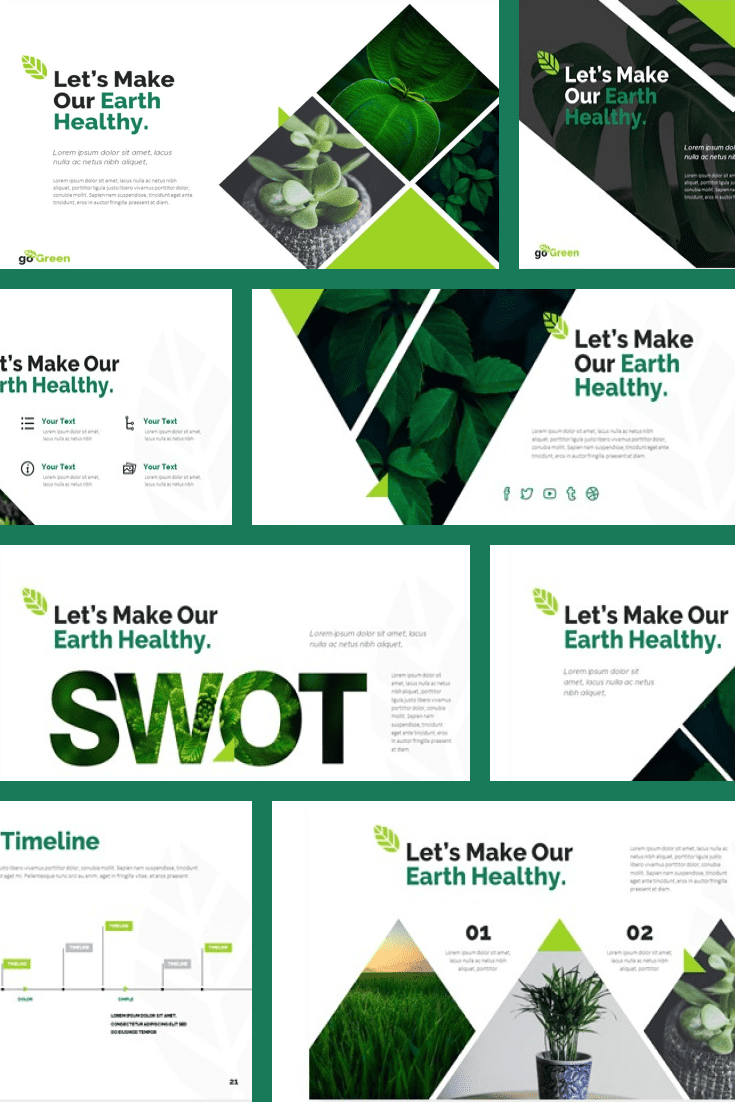 Price: $13
The next simple green template is for eco-lovers. Its modern design will help you talk about ecological topics more productively.
150+ total slides;
5 color themes.
AnnualReport Smooth Animated Presentation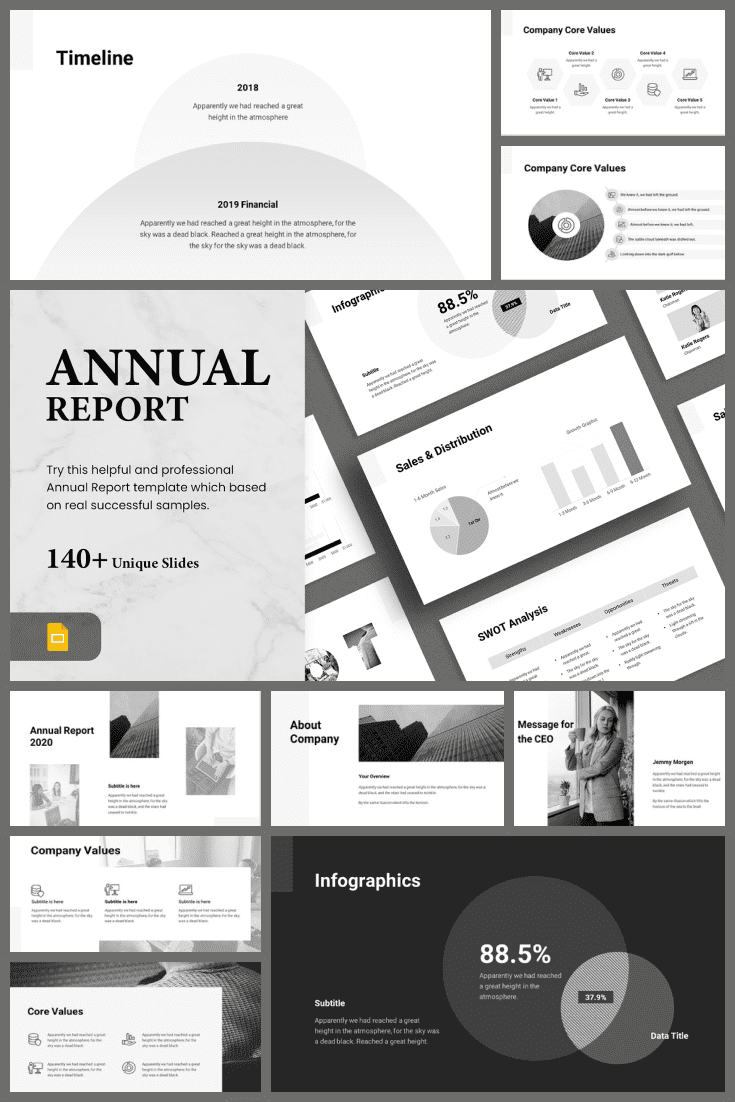 Price: $15
Your presentation will have an aesthetic look with this clear monochromatic template. You can try this one for a business report and make your colleagues fall in love with your presentation 🙂
More than 140+ unique pages;
works on both Apple and Windows;
dark & Light versions included;
50+ theme color option;
super smooth animation.
LAKE Google Slides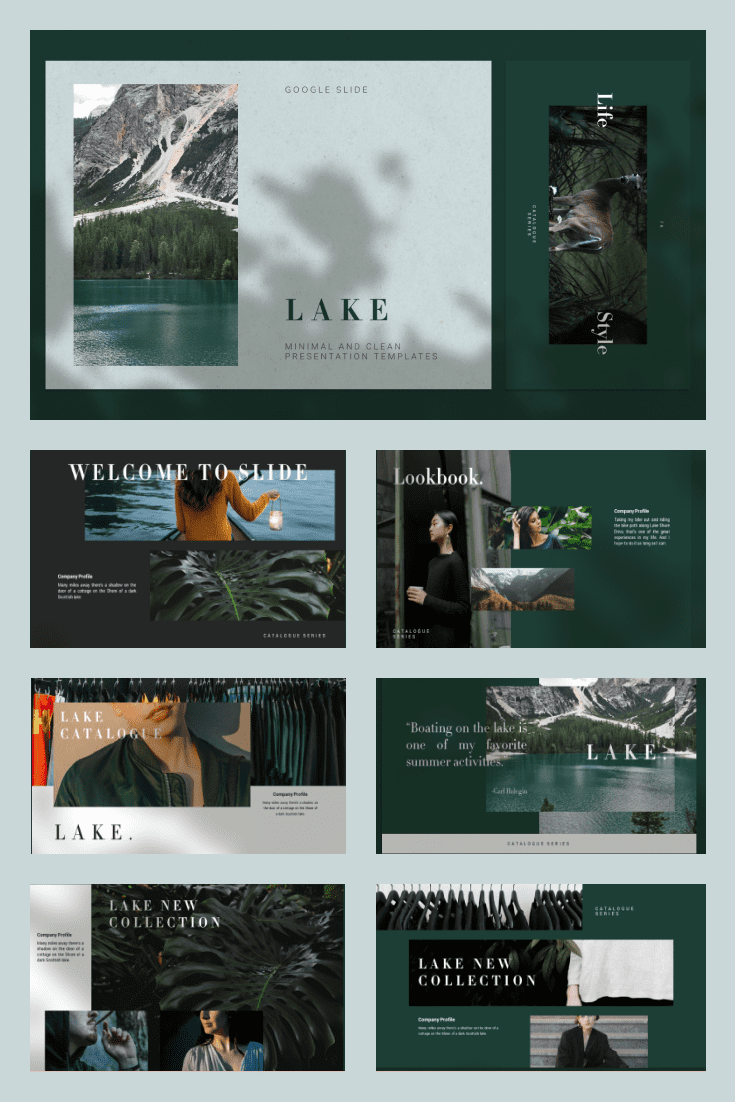 Price: $17
This very natural design is pleasant to the eyes because of the perfectly chosen color scheme. The basis for this design's intense forest-green color makes the viewer feel peaceful and steady. You will get a perfect combination of unique minimalistic slides as well as smooth animation.
ALLEN Google Slides
Price: $17
The pastel color palette of this template will help to emphasize the brightness of your images. It is a perfect choice for an aesthetic look book, fashion-industry business presentation, or an outstanding portfolio. Consider this unique design with its great number of charming slides, perfect fonts, and simple animation. Create your special fashionable presentation right now.
Hexagone Google Slides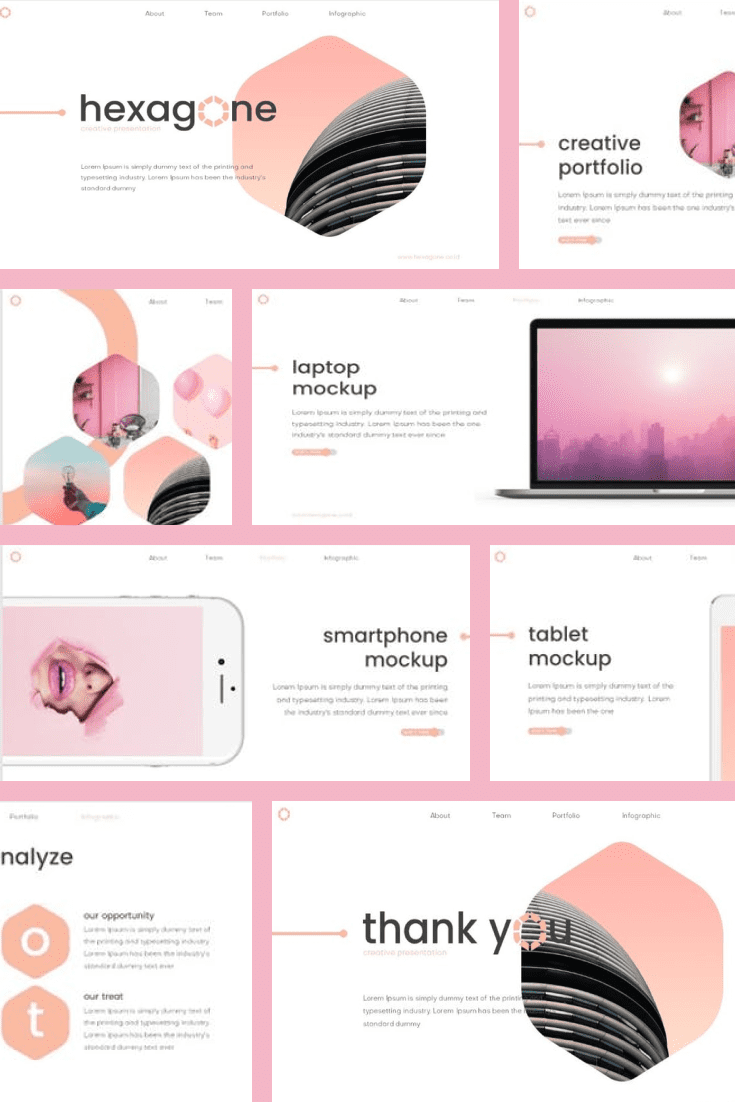 Price: $17
Just look at these perfect shapes and fresh pastel colors. If you like to not only tell the information in a simple and creative way, but also make a good impression on your audience, choose this one without any doubts.
30 modern, creative, unique slides;
5 color schemes;
Based on Master Slide;
Vector-based;
Fully editable.
Clean Google Slides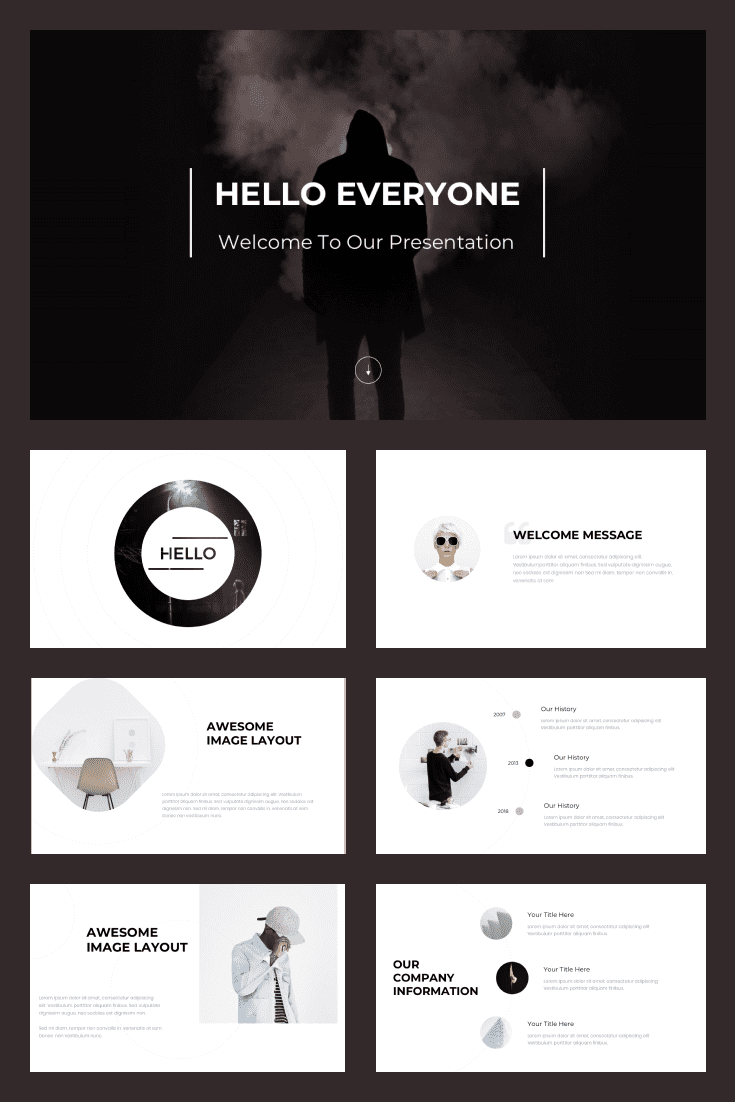 Price: $17
If you were searching for something minimalistic and innovative, congrats, you've found the perfect option. These pages do not contain any unnecessary details that will distract the attention from your main topic.
5 unique themes;
Editable icons and vector shapes;
Puzzle diagram infographics.
Niki Google Slide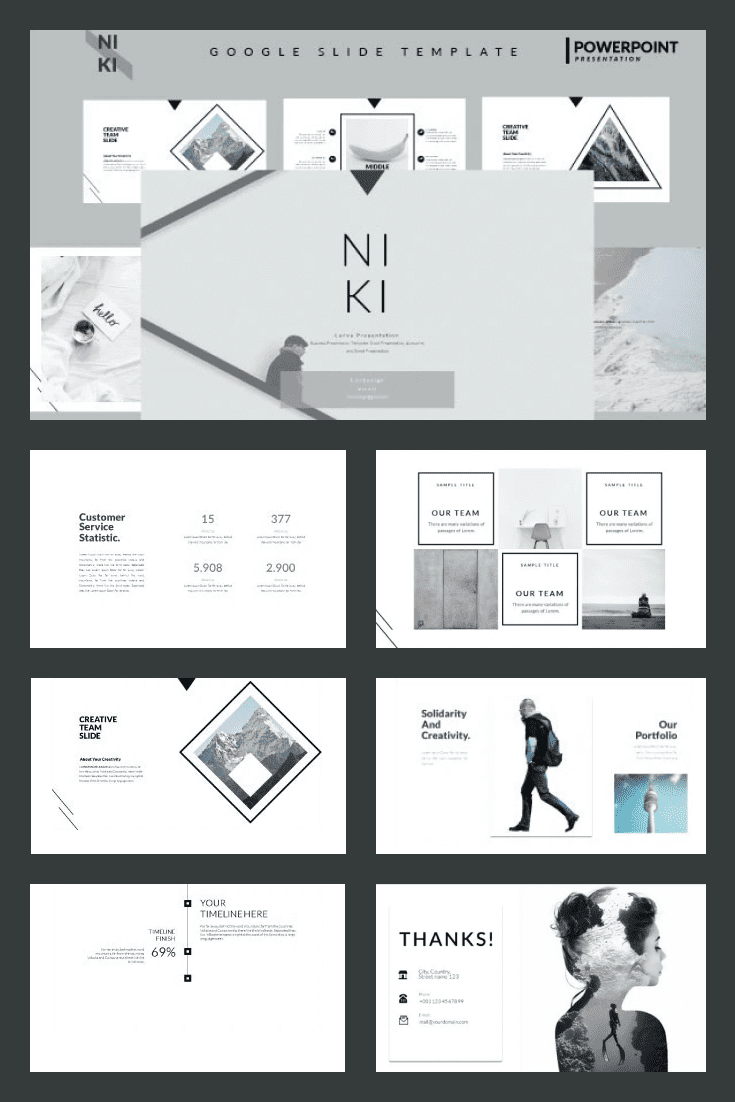 Price: $16
This template is a perfect combination of minimalistic geometric shapes and pastel colors. Such a simple and at the same time very powerful tool will blow up your presentation.
Fully editable text, photos, shapes, and other elements;
Unique, clean, creative custom pages;
Strong focus on typography and usability.
do 2.0 Google Slides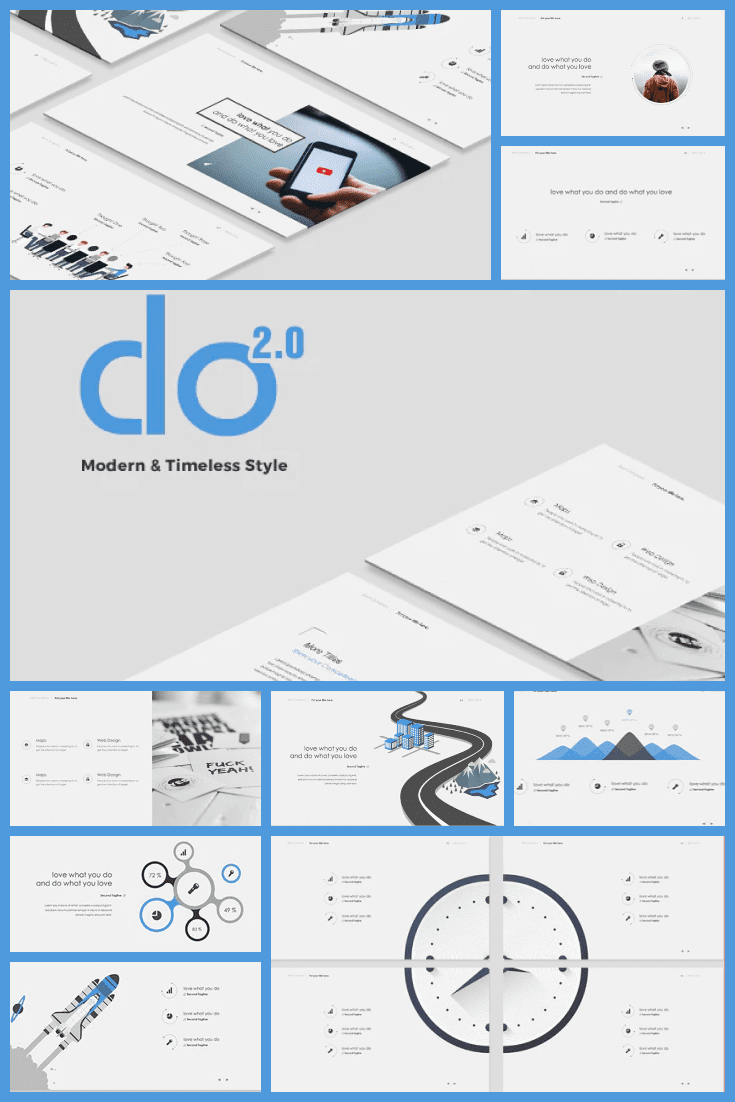 Price: $16
Do is a light #1 option for those who are used to doing everything perfectly and right on time. It is very simple and it makes things look really cool and modern.
180+ modern and unique pages;
Device mockups included;
700+ editable icons;
Tons of maps & infographic shapes.
Frozen Team Presentation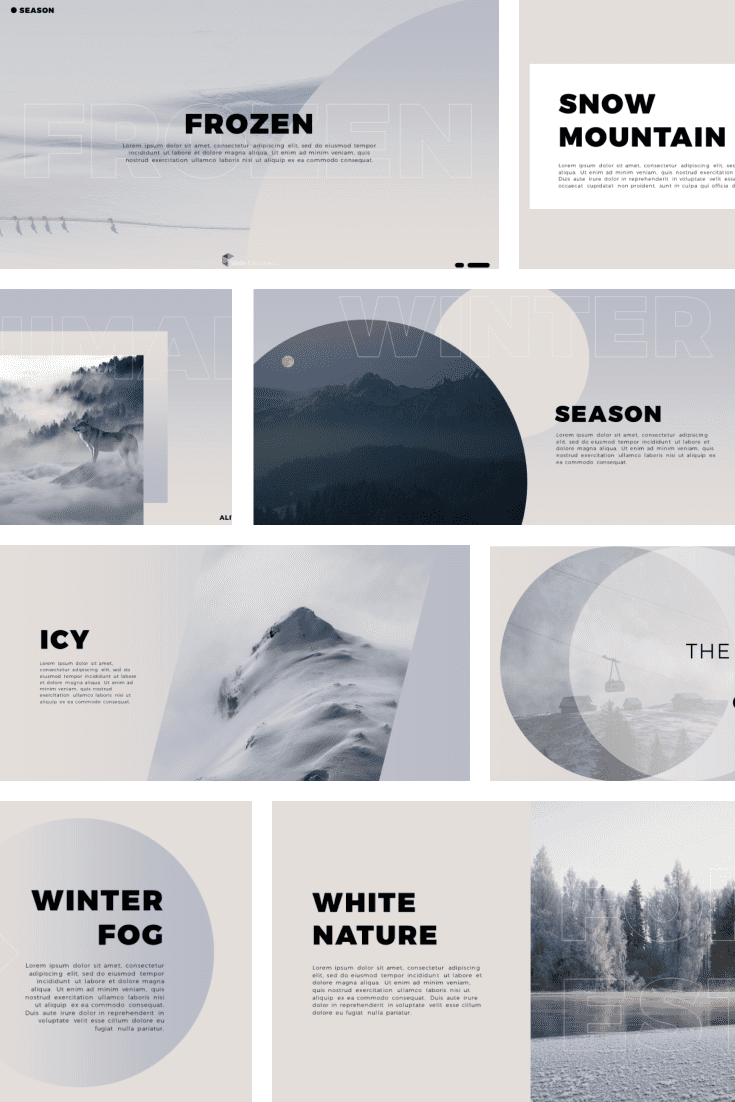 Price: $9.99
This pack of 40 awesome slides has an interesting and original design that will perfectly suit your presentation on any topic. The color scheme is very calm and light.
Free Minimalist Google Slide Themes
Autumn Harvest Leaves Free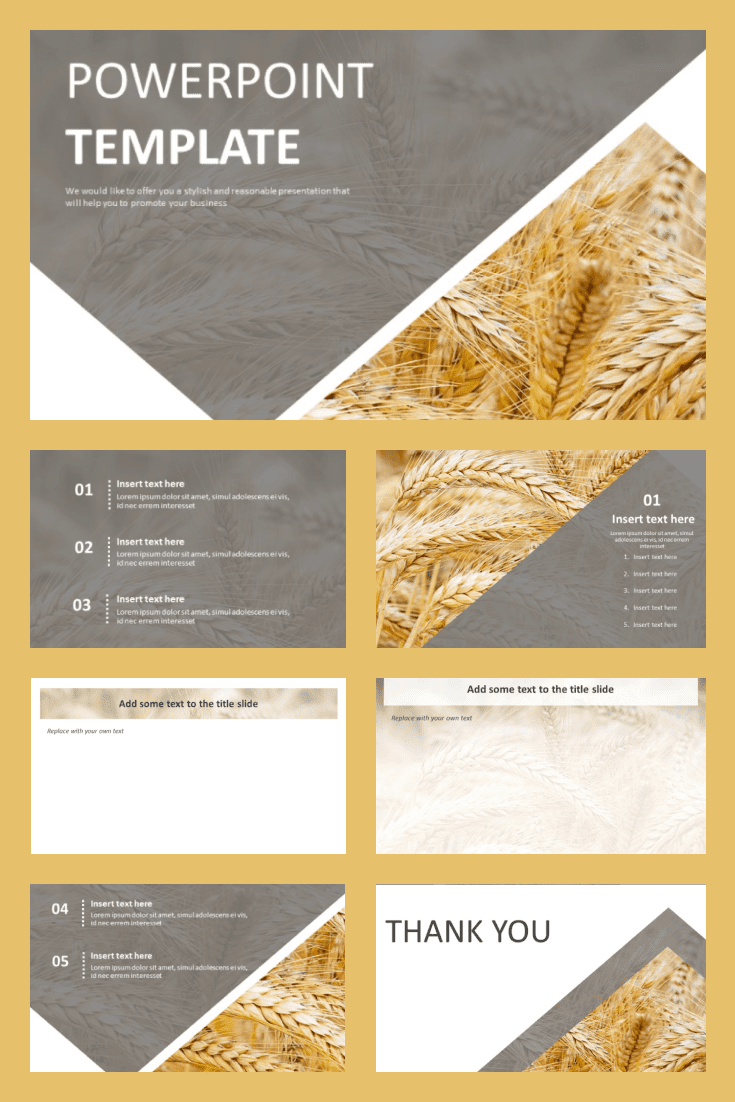 This minimalist design will be perfect for simple and short presentations. Its clean and creative design will make your information stand out.
Success is Not Final Simple Presentation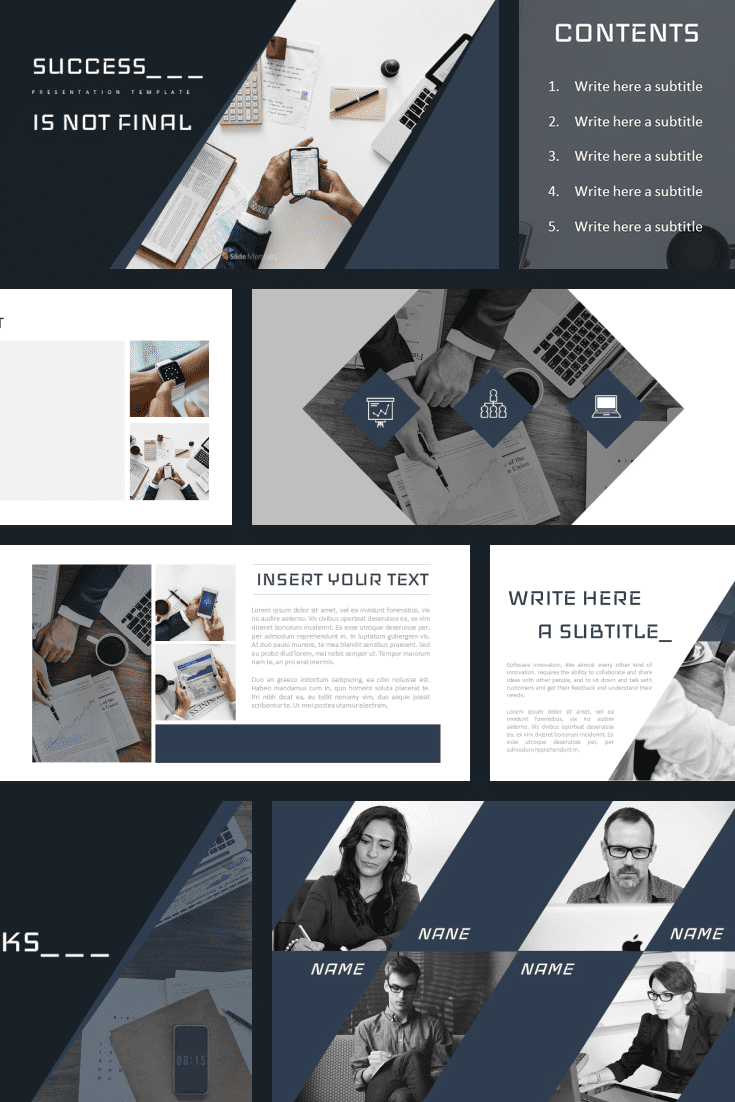 This modern template inspires you for success. It has everything you need to make a presentation of a high quality level. Choose it and make your ideal business speech.
BaristaBlend Google Slides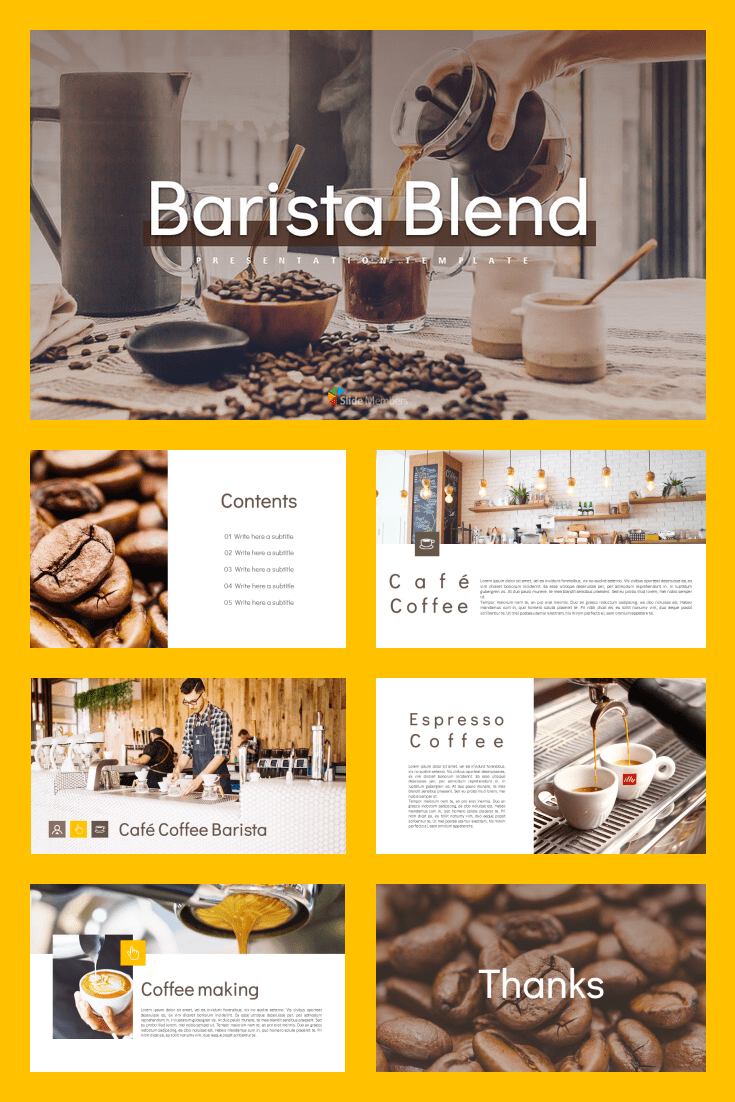 This template, with its simple and aesthetic design, will help you make a good impression on all the coffee fans in any conference room. It has a very warm and cozy style because of the right choice of colors and awesome fonts.
Google Slides online free Kitty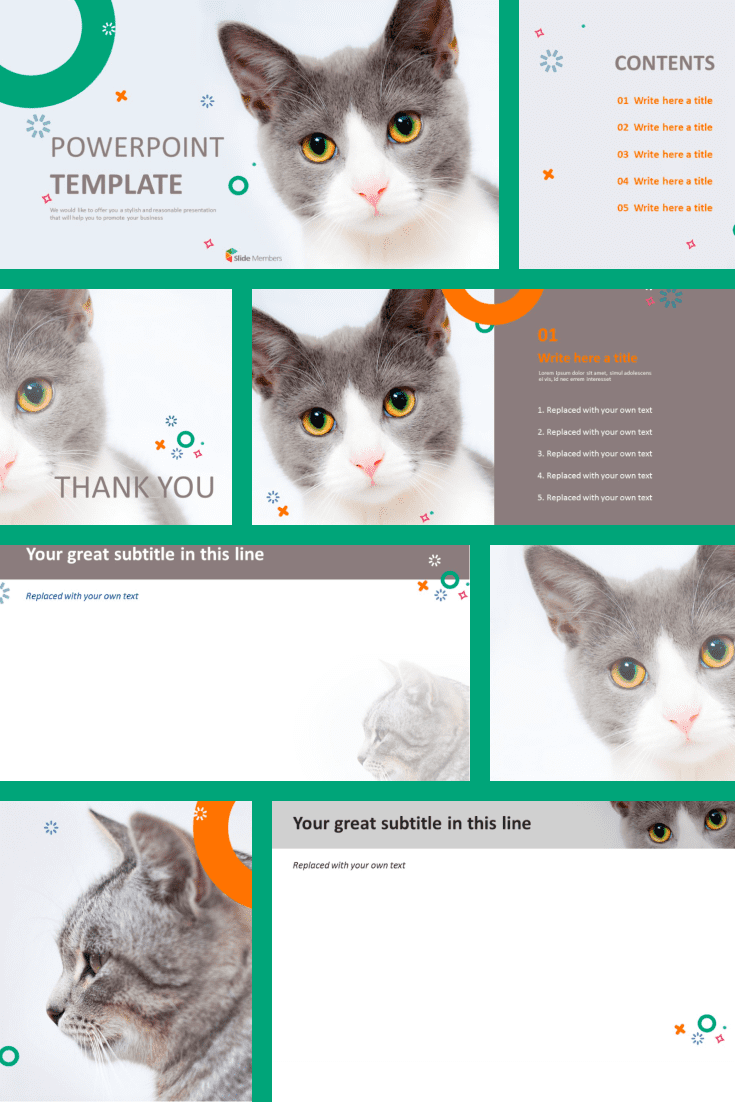 Everyone loves kittens! Such a cute presentation will truly make a positive impression on the public. Don't hesitate and start preparing your creative today.
Vacom Pitch Deck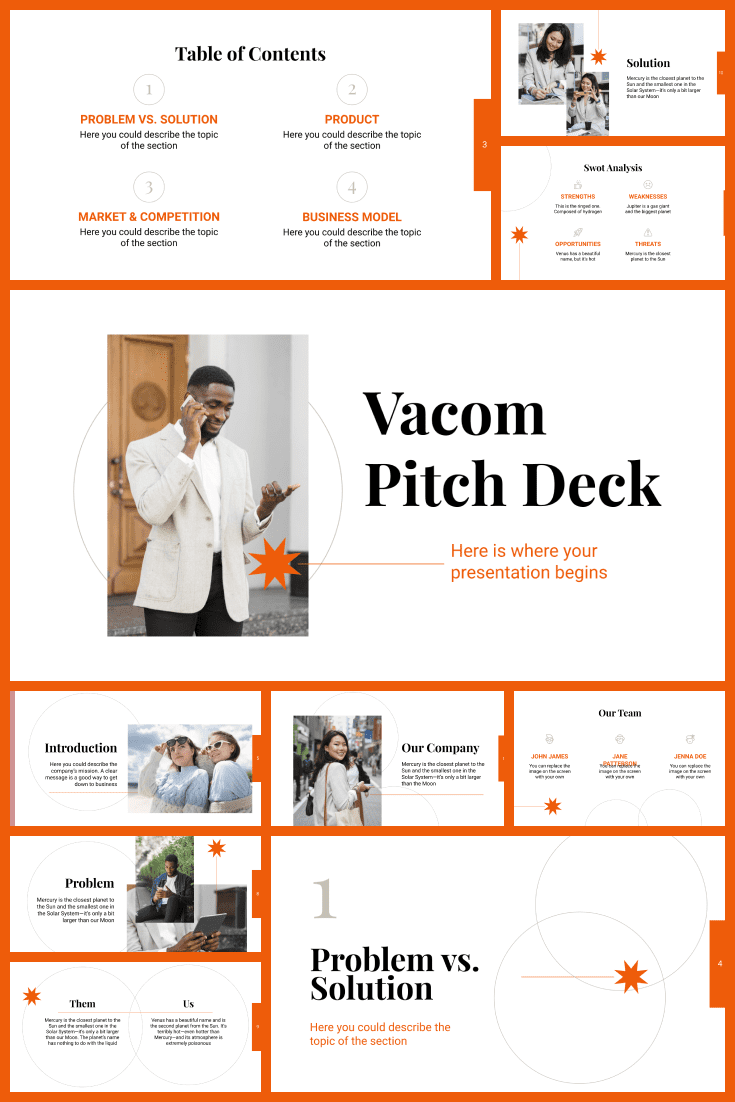 If you are downloading this template, you are a lucky one. It will help you create a cool presentation, for sure. The white and orange color combination is always a winning choice.
Giany Free Template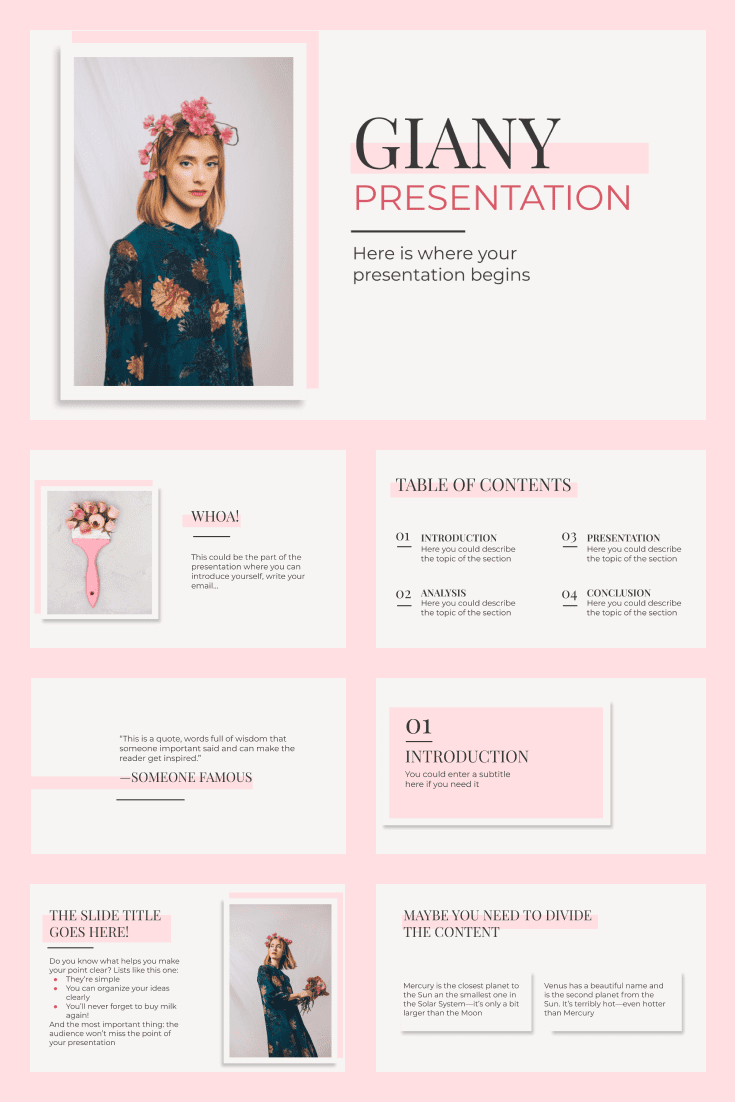 The cute design of this template will add a drop of spring mood to your creative presentation. Besides, you will have all 33 slides to impress your audience for free.
Minimalist Aesthetic Slideshow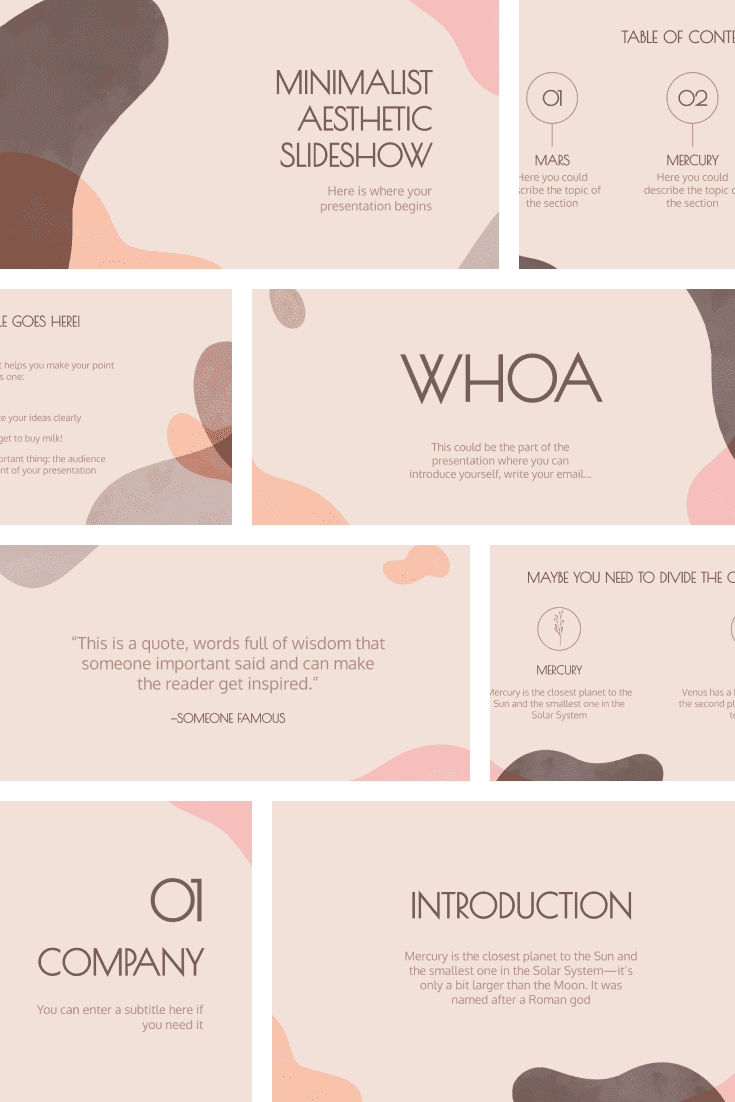 A perfect combination of pastel colors: beige, peach, and brown, in addition to abstract shapes will definitely bring you success. This multipurpose Google Slides design consists of 32 unique pages.
Simple Calendar 2021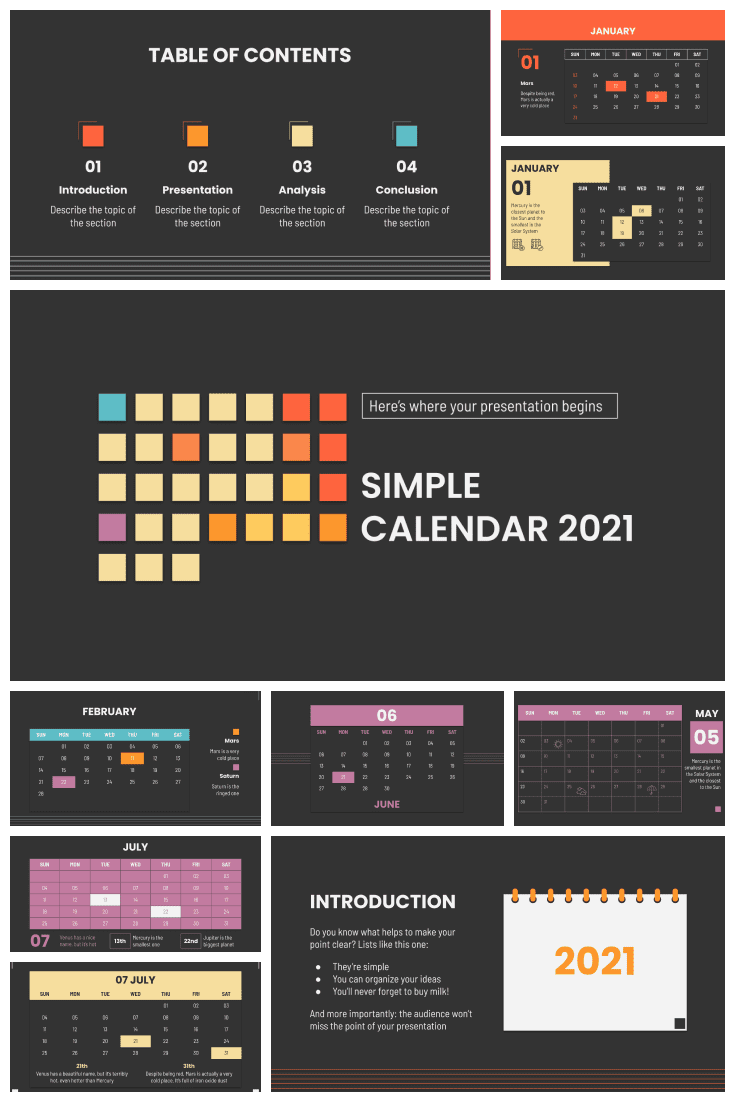 The very simple eye-catching design of this amazing template will add an additional drop of style to your presentation. Includes 35 different slides and 500+ icons that will be of great help to your creative process.
Minimalist Project Proposal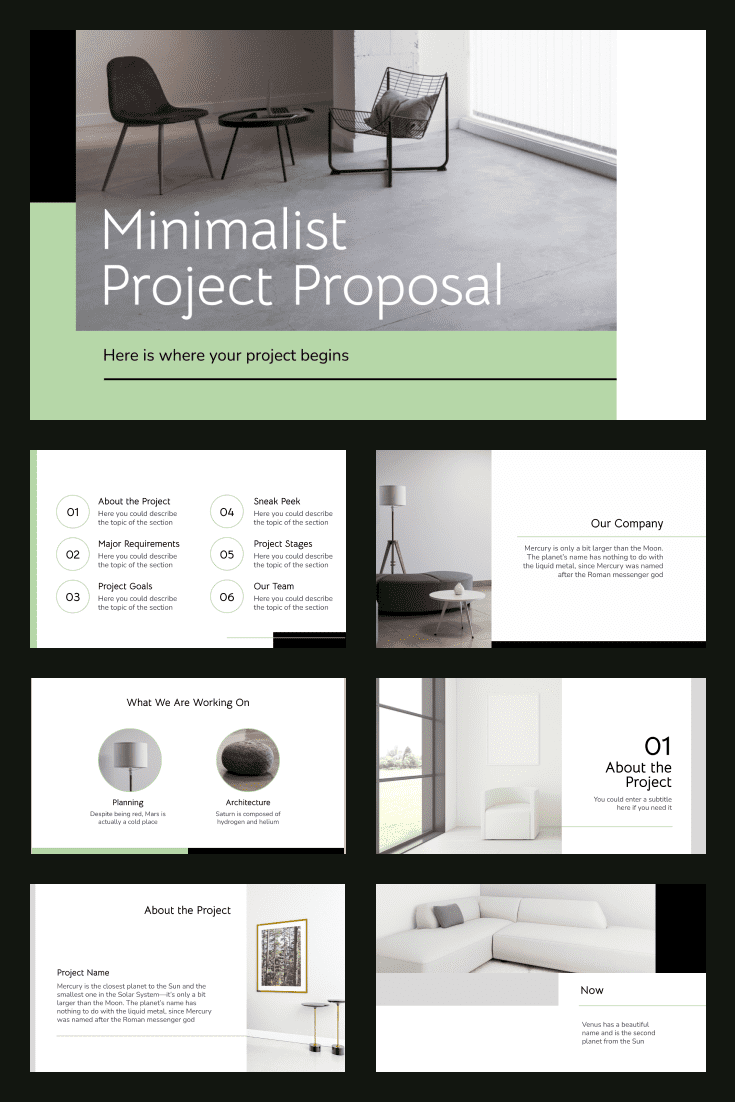 This minimalist template in white and mint colors was created to help you organize all the information in the best way. The pages of the presentation are very easy to customize as you need.
Simple Google Slides Themes
An eye-catching design is 50% success of pretty much any type of product or project and your presentation is definitely not an exception. In fact, people are more likely to pay attention to graphic material and design rather than to your surely extremely important text or statistical data, which you placed right in the middle of your slide so people could read it. The truth is – nobody would read it, so instead of long passages of text on a plain white background you might want to use a few keywords and a fancy template. The best thing about pre-made templates is that there is a whole bunch of free ones, so you will not have to spend a penny on those. Well, why don't you try some fancy themes then? So for those of you who are interested in getting a lovely free template, here are some cool examples that I managed to find for you.
Salisbury
Futuristic, stylish, and simply gorgeous are the three words that perfectly describe Salisbury. Such a template would work for various types of projects, so no matter whether you are a student, teacher, or startup founder, Salisbury is going to work for you.
Aumerle
Aumerle is a simply adorable template that will be rather useful for a dietician or fitness trainer. This very theme will help you create multiple useful projects on the topics of healthy nutrition, fitness, and a healthy lifestyle. Well, if this is what you need, then go ahead and download it.
Dion
Dion is an elegant option, which will be super helpful for environmentalists as well as pretty much anybody who is interested in nature, environment, climate change, or even geography. Well, do not waste your time any longer and give this very freebie a try.
Creative Magic
Well, for those of you who feel like they need a little magic in their lives, I've got this very beautiful theme. Creative Magic will back you up in pretty much any sort of situation, so just follow the link above, download it, and start using it today.
Red Aesthetics
Elegant, mysterious, and a little bit spooky, Red Aesthetics is no doubt the way to go for those of you who dare to utilize unconventional solutions. Well, go ahead and grab it because this gem is surely a must in your templates collection.
Free Elegant and Feminine PowerPoint Template or Google Slides Theme
A classic minimalist option that has literally everything you might ever need, so make sure to check this one out.
Free Art PowerPoint Template or Google Slides Theme
A truly mesmerizing option that will simply take your breath away, so if you are looking for something really special, then this is the very theme you need.
Simple PowerPoint Template or Google Slides Theme with Professional Design
A truly mesmerizing option that will simply take your breath away, so if you are looking for something really special, then this is the very theme you need.
Minimalist, elegant, and professional, this very template is no doubt something you need in your life.
Free Green PowerPoint Template or Google Slides Theme with Environmental Design
Another lovely solution for all the environmentalists and climate change activists out there. Well, if you are one, then go ahead and get this very theme.
Free PowerPoint Template or Google Slides Theme with Sketchy Borders
A sweet and simply adorable solution for your lovely projects, so follow the link above in order to take a closer look at it.
Fun Google Slides Themes
In case you feel like you need something truly bold and one-of-kind, you are definitely going to be interested in some fun Google Slides themes. Bright, colorful, and bold templates will immediately draw your audience's attention to the information you want them to remember. Certainly, fun options will not work for every type of presentation yet there are cases when it is the only way to make things work. For instance, colorful fun templates are perhaps the best way to go for a teacher because bright images and fun design is the only way to keep the kids interested in what you are trying to teach them. Well, without further ado, here are some fun themes that you definitely need in your life.
Gems Choice Board Template for Google Slides or PowerPoint
A great solution for those who work with little kids. The colorful and bright design of this very theme will no doubt draw kids' attention to your presentation.
Cinema Choice Board or Daily Activities Slides for Google Slides or PowerPoint
A fun freebie for pretty much all occasions, so if you feel like this is something you would benefit from, go ahead and just download it.
Capri Free Template with Curvy Shapes and Summer Colors for Google Slides or PowerPoint
Another colorful option, which is actually one of my favorite ones, so make sure to have a closer look at it.
LegoMania a Google Slides Template for Math Lessons Inspired by Lego Blocks
The one that will no doubt win the hearts of all the Lego fans out there, so if you are one, go ahead and get this simply hilarious option.
Party Challenge Board an Interactive Template for Google Slides or PowerPoint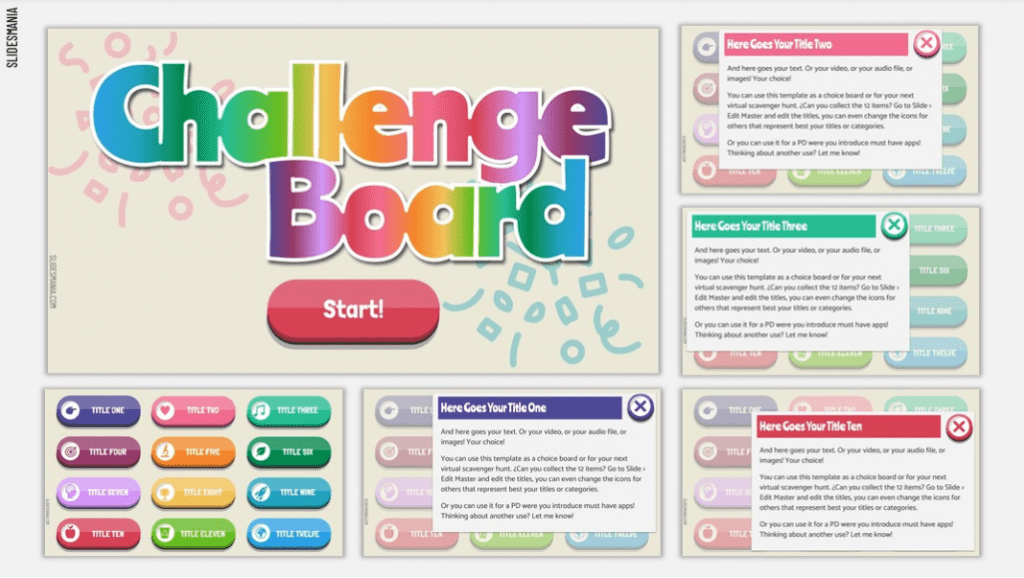 One more playful option that will be a perfect choice for those of you who would like to add some fun vibes to their projects.
Stay Creative Presentation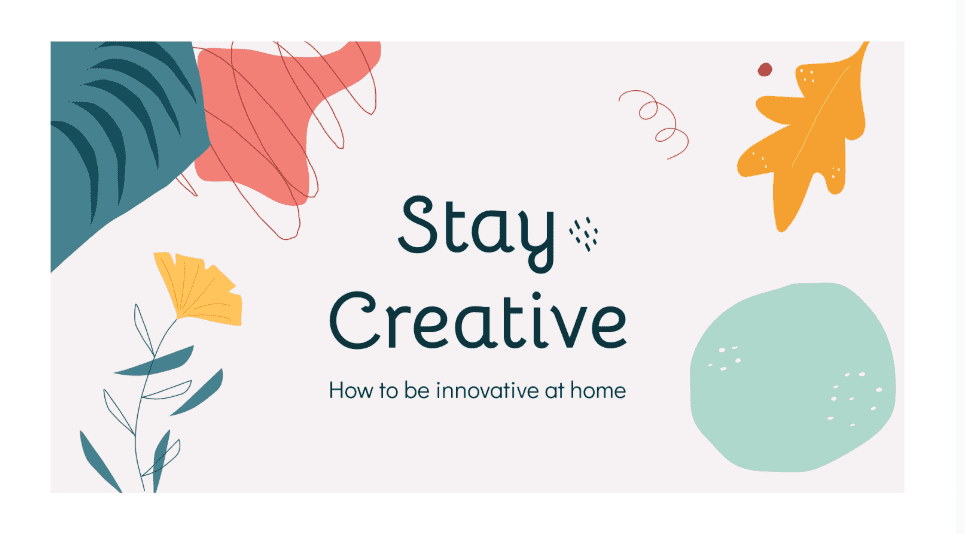 A stylish yet still bright and playful option for those of you who like being fun but do not want to seem silly.
Orange Memphis Presentation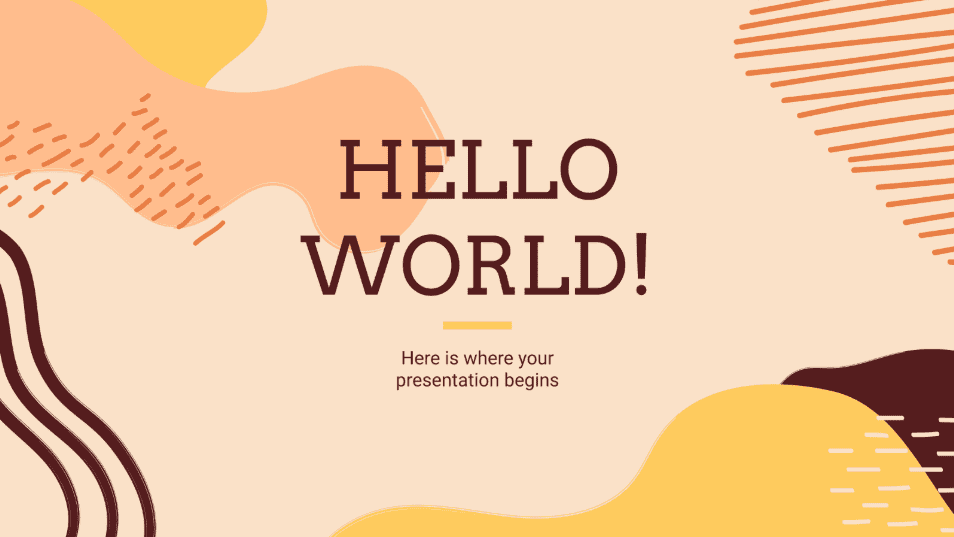 Vivid and eye-catching, this one is definitely the way to go for confident people who are not afraid of experimenting with colors and styles.
Education Idea Bulb Google Slides-PowerPoint Presentation
A little bit more traditional but still bright and eye-catching option that will perfectly fit multiple projects of yours.
Launch Space Rocket Google Slides-PowerPoint Presentation
The very freebie that will be your love at first sight, so stop hesitating and take a closer look at it.
Computer Mouse with Red Background Google Slides & PowerPoint Presentation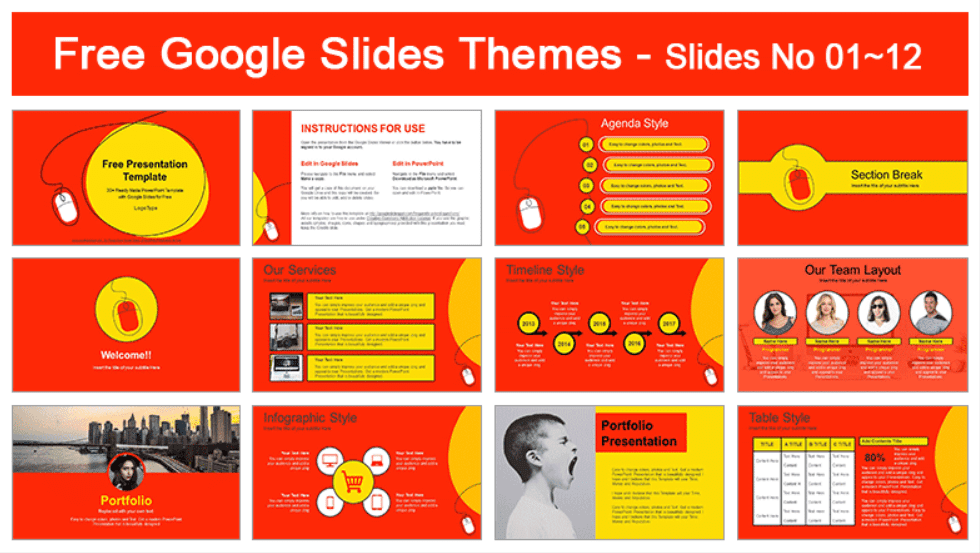 Bright and bold, this one is surely something you want to have.
Google Slides Themes for Education
Online education has been around for a while and with each academic year, it becomes more and more popular all over the world. It goes without saying that presentations are an essential part of online classes, so having some educational themes is surely a must for both teachers and students. If you are a student, eye-catching design will distinguish your project among your classmates' works, which may lead to a higher grade.
In case you are a teacher or college professor, a lovely design will guarantee that your students will pay attention to the information you want them to remember. Well, in order to save our precious time, let us check out some fancy educational themes that you are definitely going to fall in love with.
Math Lesson Presentation
The one that will make even the toughest math topic easy to comprehend and digest, so if you are a math teacher, go ahead and download this cutie.
Sketchnotes Lesson Presentation
A multipurpose option that will be super handy for both teachers and students, so leave all your doubts behind and just get it, it's completely free.
Botany Lesson Presentation
A truly sophisticated option for all the aesthetes out there.
Solar System Lesson Presentation
Astronomy is perhaps the most exciting subject ever and this very theme has a superpower to make it even more fun. Well, follow the link above and just get it.
Geography Lesson Presentation
Another elegant freebie that has a magical power to make even the most boring school subject exciting and interesting.
Revolution — History Lesson Presentation
A bold solution, which will make your history classes super fun. Well, if you are a history teacher who struggles to keep their students interested in your subject, then this very option is no doubt the way to go for you.
Scrapbook Free Template for Google Slides and PowerPoint
One more fun way to make your students pay attention to all the important information you want to give them, so just give it a try, it's totally worth it.
Digital Notebooks for Google Slides or PowerPoint
The one that will make your students feel like they are actually in your class.
Potter Free Template for Google Slides or PowerPoint Presentations
This one is perhaps the only way to go for those teachers who adore writing on the blackboard.
Bulletin Board Free Template for Google Slides or PowerPoint Presentations
Finally, a lovely freebie for pretty much all occasions.
Best Free PowerPoint Template
If you've never worked with PowerPoint presentations or have never seen templates for such presentation, why don't you get familiarized with this free business PowerPoint template as an example?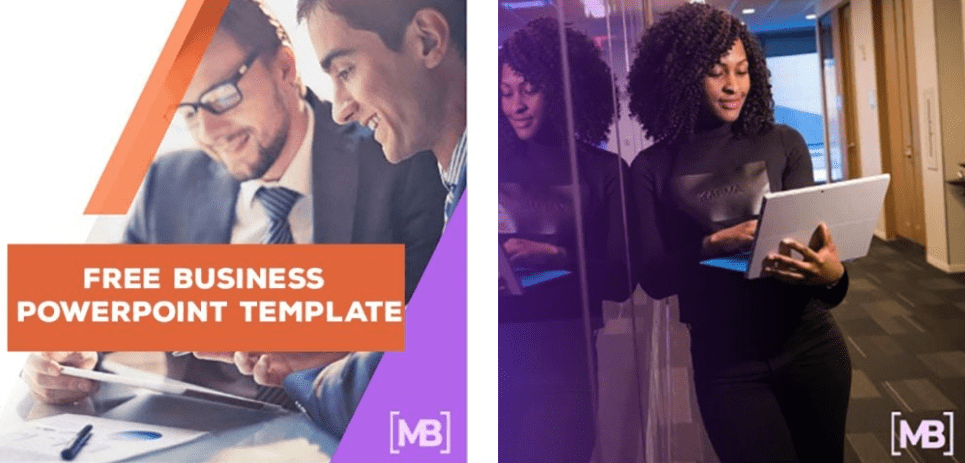 As it goes from its name, this template is a perfect tool for business presentations. The slides are stylish and neat. Also, you don't need to search for the pictures to visualize the material, as they are included in the template. And the most important thing: you don't necessarily follow the exact example provided here. You are absolutely free to chance fonts, pictures, structure and the sequence of slides. So it fits good for anybody: either you want to use your own vision, or you don't want to change a thing.
10 slides stylishly designed;
perfect for business presentations;
versatile fonts;
images included.
Top Premium PowerPoint Templates
Now that you've learned what a great tool PowerPoint templates is, and how helpful, I think you are ready to look closer at some premium templates. I've chosen 10 best on my opinion PowerPoint templates, so you can choose what fits you best.
Blue Waves – PowerPoint Template
This beautiful PowerPoint bundle draws our attention with its bright and fresh colors. Only looking at these slides is enough to make us feel calm and relaxed. This set is good for touristic presentation or vacation planning. If you're looking for the presentation template for a trip, that's just it. Blue Waves includes editable vector maps and map charts. If you own a travel agency, this bundle is exactly what you need.
107 unique slides;
3300 vector icons;
400 mockups;
50 editable vector maps.
Medical PowerPoint Templates Bundle
If you deal with the medical sphere somehow, then this Medical PowerPoint bundle might be of great help. If you are a med student, a doctor or even head a hospital, one day you might need to make a presentation for your team, your project, for investors or to present pharmaceutical products, whatsoever. Infographics, services, prices, statistics, – all this you'll be able to include within the presentation to make your point.
25 Animation Instagram Stories
All Instagram fans will appreciate this bundle since it contains 25 awesome designs for your stories or posts. Minimalistic, stylish and modern, these models will make your profile look extra descent. If you work with clients through Instagram, you need to your posts and preferably stories as well to look similar in design. In that case, you cannot do without a template.
25 Files (AI, EPS10, PPT);
Free fonts;
Optimized for Instagram Stories;
Editable;
Provided with the instructions.
Best Seller PowerPoint Templates
This bundle contains ten awesome bundles in one. Let's look closely at some of them one by one.
Wava
Wava is a stylish PowerPoint template designed mainly in dark colors. That adds a specific elegance to your presentation and makes you look a reliable professional who knows what he's talking about. It includes dark and clear display options and more than 8000 slides.
Deal
Deal Ultimate Template is a bundle of 7200 slides, 60 colors with 63 files within. Variety is very important when it goes about creativity. Moreover, you can use this bundle for any purpose. The slides are easily editable and include a PDF printable version. The support is also provided.
Inertia
As you can see, this beautiful template is very bright and full of colors. Use this move to emphasize the most important points of your presentation and place the focuses. 100 colors, 6800 slides along with the great support won't disappoint you.
This bundle includes 7 more awesome templates and each of them includes thousands of slides and are easyly editable.
Totally you get almost a million slides, lots of colors, font icons, infographics, maps, charts, galleries, and sections. And they are easily editable.
Google Slides Themes MasterBundles
Don't you forget about Google Slides, since there are Google Slides templates as well. I encourage you to consider this Pastel Google Slides Bundle. The colors are just beautiful. With these, you'll easily make your presentation eye-catchy and lovely. In case you will want to change colors, there are 5 more color schemes to choose from. Lots of additional items, like icon sets and maps are also included.
100+ Slides;
6 Color Schemes;
dark & Light backgrounds;
maps;
picture Placeholder;
600+ Vector Icons.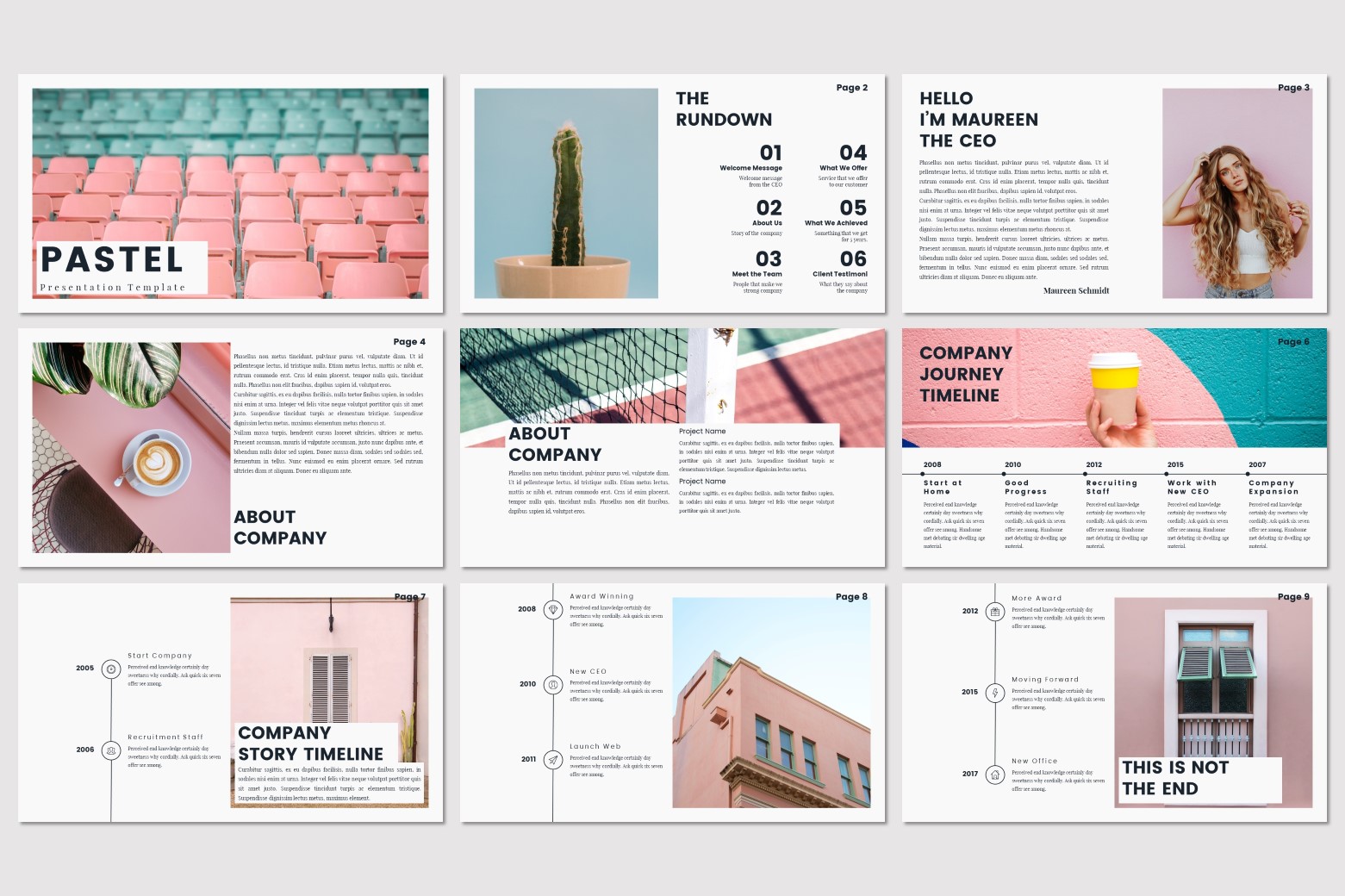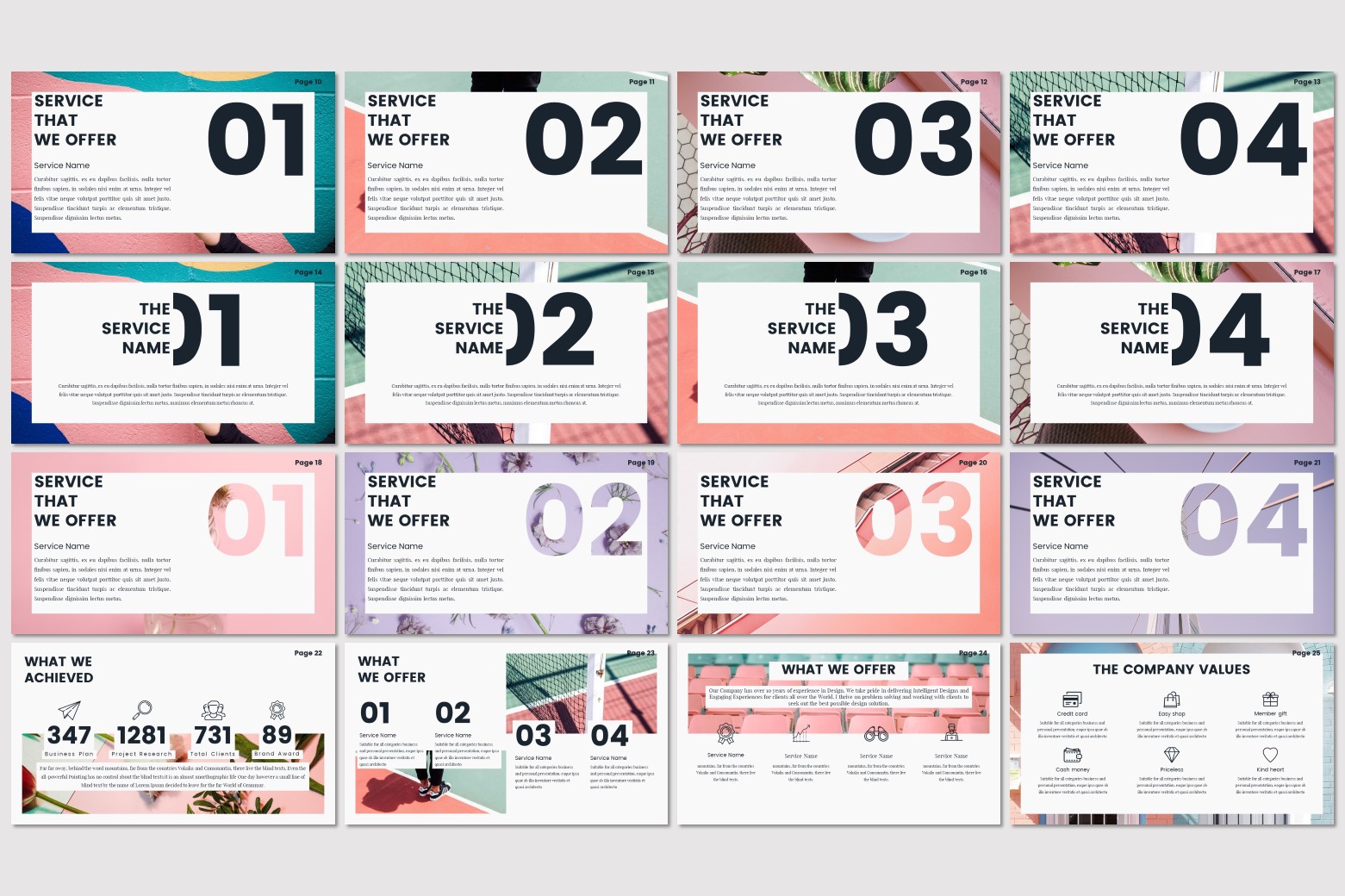 Now that you've chosen a template, just put there your information and the main part is done! Good luck with your presentation!
Some Awesome Video About Google Slides Themes
Best 62+ Free Google Slides Themes & Presentation PowerPoint in 2021

After watching this video, you will learn about free popular google slide themes.

6 Google Slides Features You Probably Didn't Know About

I take you through 6 features of Google Slides that will help the presentations you create and showcase for the rest of your life.
How To: Quick Tutorial for New Google Slides Presentation

This video will show you how to use Google Slides like a Google App expert!
How to Create Drag and Drop Activities on Google Slides

There is a feature in Google Slides task bar that helps to make the locking process easier. You can use the Master of the Slide to set the background so that it does not move. You can find the Master by looking in View or Slide on the Task Bar. In 'View' drop bar, look for Master. In 'Slide' drop bar, look for Edit Master. You can set the task as a master slide, then add it to the slide by clicking the drop down arrow by the + sign and add it to the slides. You can create as many different background as you need there without having to save as an image then insert. as a background.
Top 3 Popular Questions About Free Google Slides
🖥 What is a good example of a decent educational template?
🖥 Is it worth to purchase a premium option if there are so many free ones?
Premium options are usually fancier yet if you are on a budget, a free one will do.
🖥 Where can I distribute my own themes?
If you create templates or any other graphics yourself, you can try and sell those at MasterBundles Sell Your Deal. Just upload your products and start making money.
Please take a moment to pin this post to Pinterest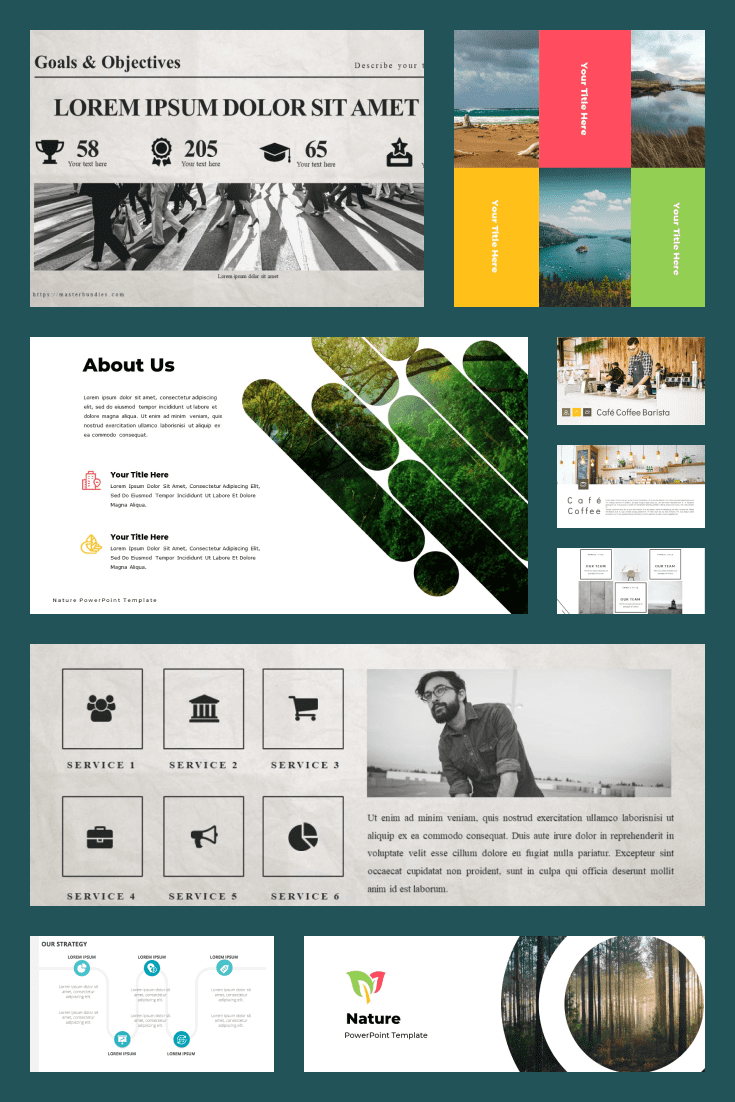 Was this page helpful?
We will be happy if you decide to share this article with your friends on Facebook. Just click on the button and you're done
Thanks for your response!
You have already left your review.
All the data and information utilized in this article comes from the following sources:
Anderson, Gail, Steven Heller. The Graphic Design Idea Book: Inspiration from 50 Masters. Laurence King Publishing, 2016.
Dabner, David, Sandra Stewart, Abbie Vickress. Graphic Design School: The Principles and Practice of Graphic Design. Wiley, 2017.
Draplin, Aaron James. Draplin Design Co.: Pretty Much Everything. Abrams, 2016.
Disclosure: MasterBundles website page may contain advertising materials that may lead to us receiving a commission fee if you purchase a product. However, this does not affect our opinion of the product in any way and we do not receive any bonuses for positive or negative ratings.