Cute Google Slides Themes. Have you ever thought about what a perfect presentation looks like? Of course, you might say that there is no such thing as perfection when it comes to presentations because you cannot cater to the needs of every audience member. Yet, there's an ultimate trick to pleasing everyone watching your presentation – go with cute Google Slides themes. Even the hardest nuts to crack cannot withstand an influx of cuteness. So, we will cut to the chase and provide you with a list of the best cute Google Slides themes to use when capturing the hearts and minds of every single spectator in the audience.
7 Premium Cute Google Slides Themes to Melt Your Audience's Hearts
We will get to discussing the free cute Google Slides themes very soon in this article. We could not have missed this opportunity to help you step up your presentation game by showing you a couple of premium Google Slides templates. While paying a reasonable price, you get a splendid set with Google Slides that feature a set of benefits, like iconographic sets, editable presets, etc. So, without further ado, let's plunge into the world of the best Google Slides presentations.
Patriotic Google Slides

Price: $15
Is there actually something cuter than being a patriot of your country? You might ask what is so cute about patriotism: nobody can detest it. Being a patriot or not is your choice. Meanwhile, nobody can judge you just because you love your country. So, in this set of 50 slides that are fully editable, you get a wonderful opportunity to get your audience on your side as soon as they see the first slide.
Raspberry Rhapsody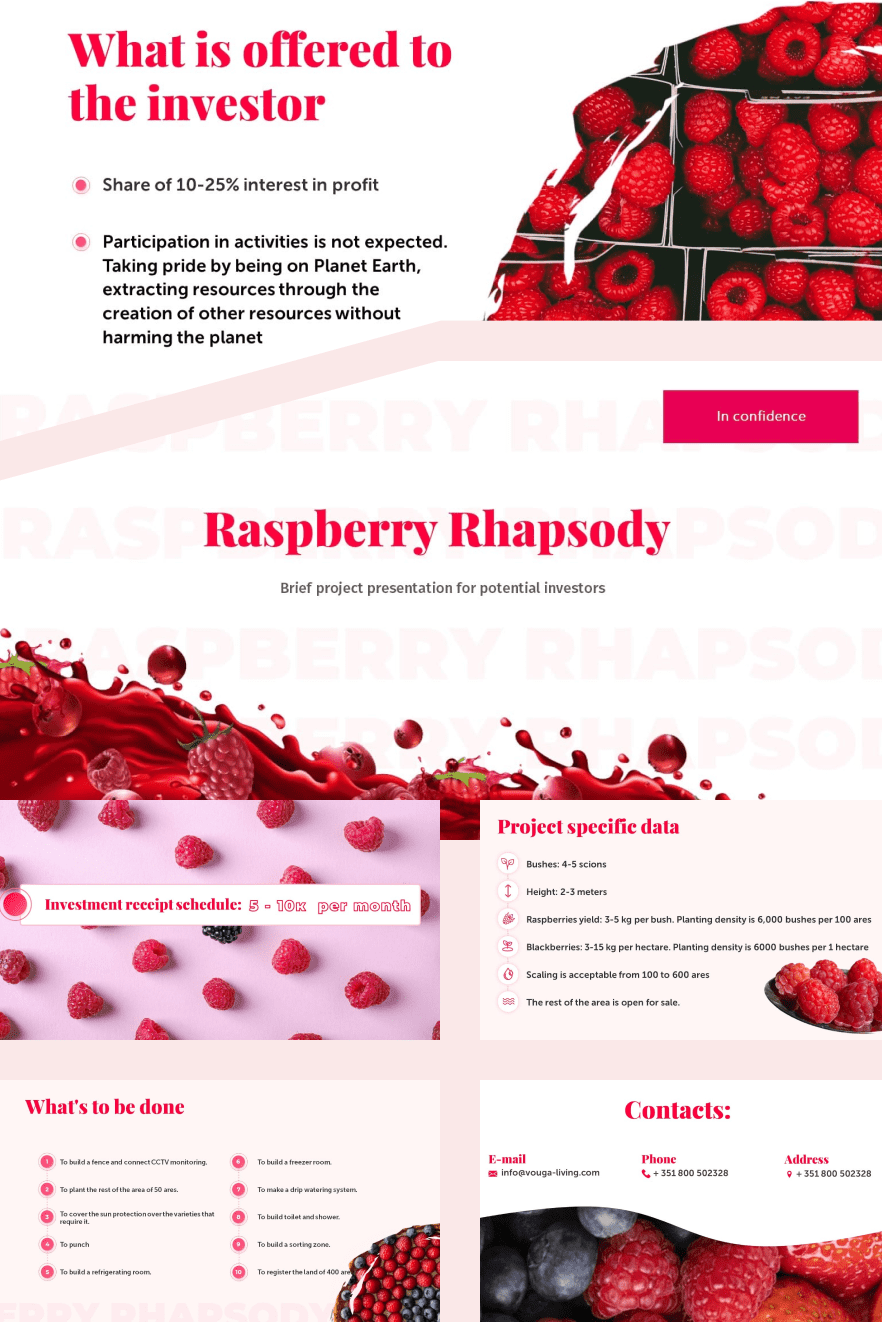 Price: $15
A wonderful mix of raspberry tins renders this presentation as one of the most tender and cute you have ever seen. There are 23 slides with 5 color schemes to choose from in this set of Google Slides that will make any audience go "ohhh…" This template is fully editable and can be adjusted to your personal presentation goals.
Disney Presentation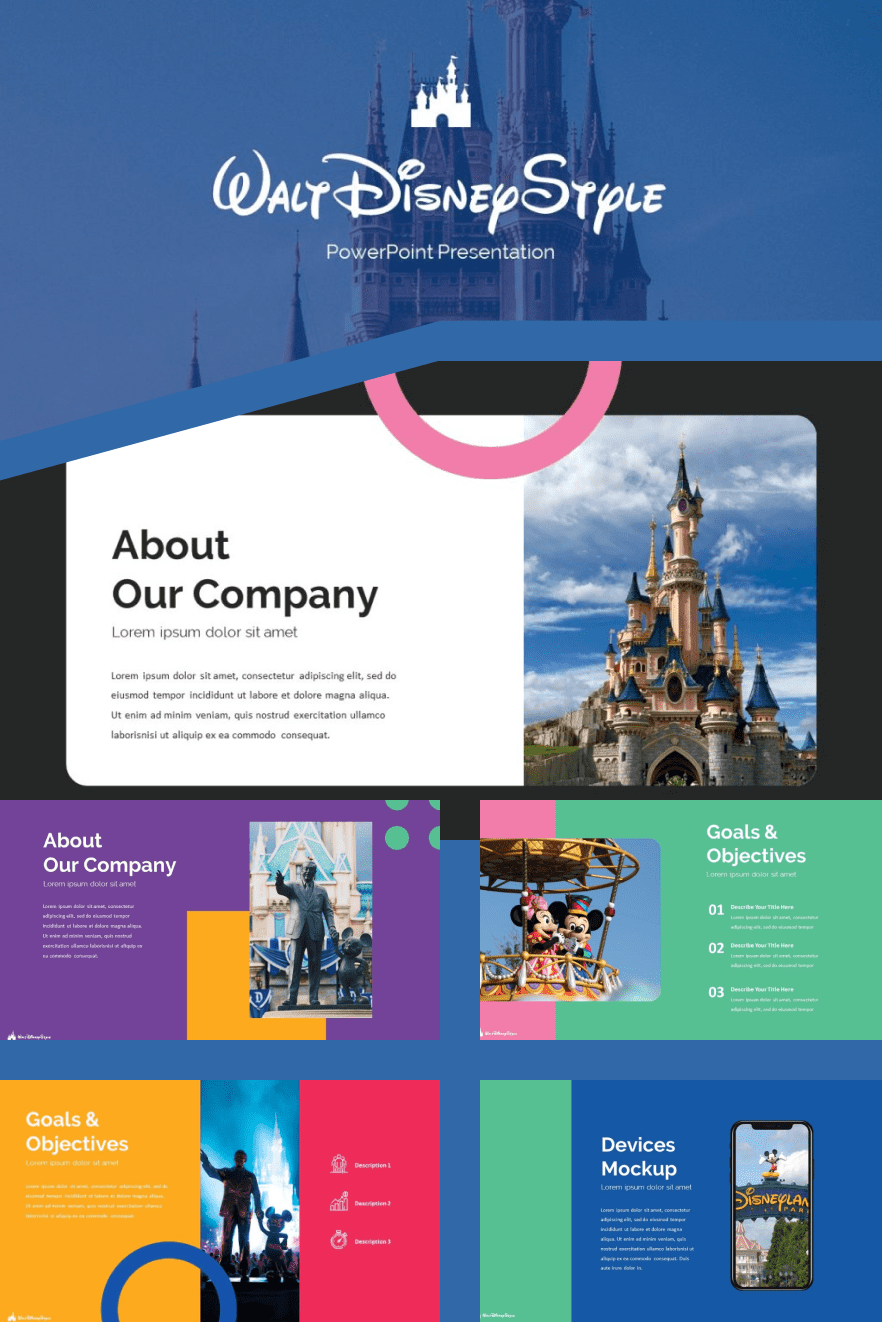 Price: $15
Is there anything that Disney makes that is not cute? Exactly! This presentation is probably the cutest of them all, as it features 50 Disney-themed slides that are fully compatible with Google Slides, PowerPoint, and Keynote. The characteristic blue background with the Disney logo is surely something to melt your audience's hearts.
The Newspaper Template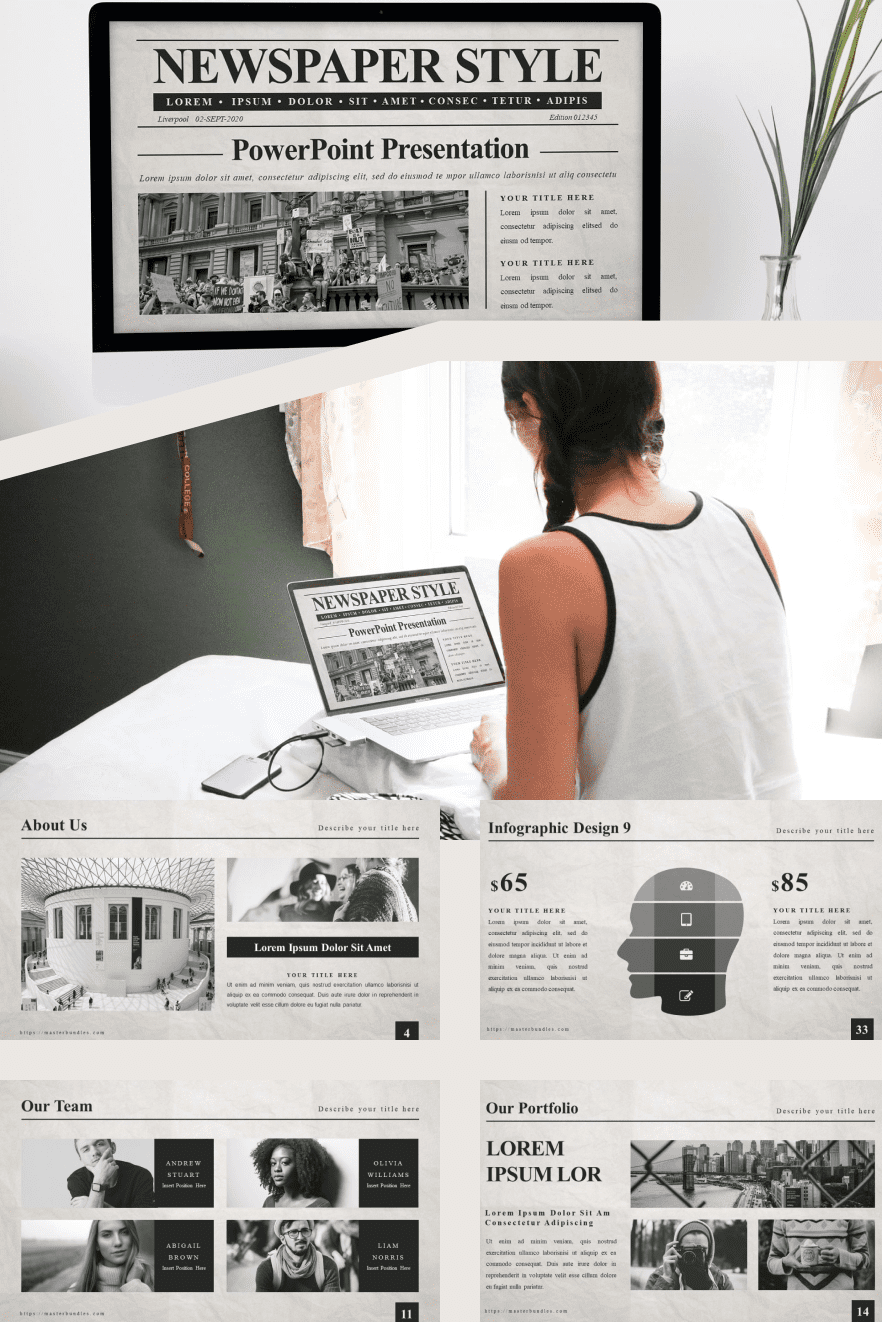 Price: $25
What can be better than to pour yourself a cup of coffee and read a fresh newspaper in the lazy longitude of a Saturday morning? Let your audience plunge themselves into the pensive rhythm of a relaxing presentation with this astonishingly cute Google Slides template. Get 50 top-notch fully editable options at your disposal within this bundle.
SWOT Analysis Template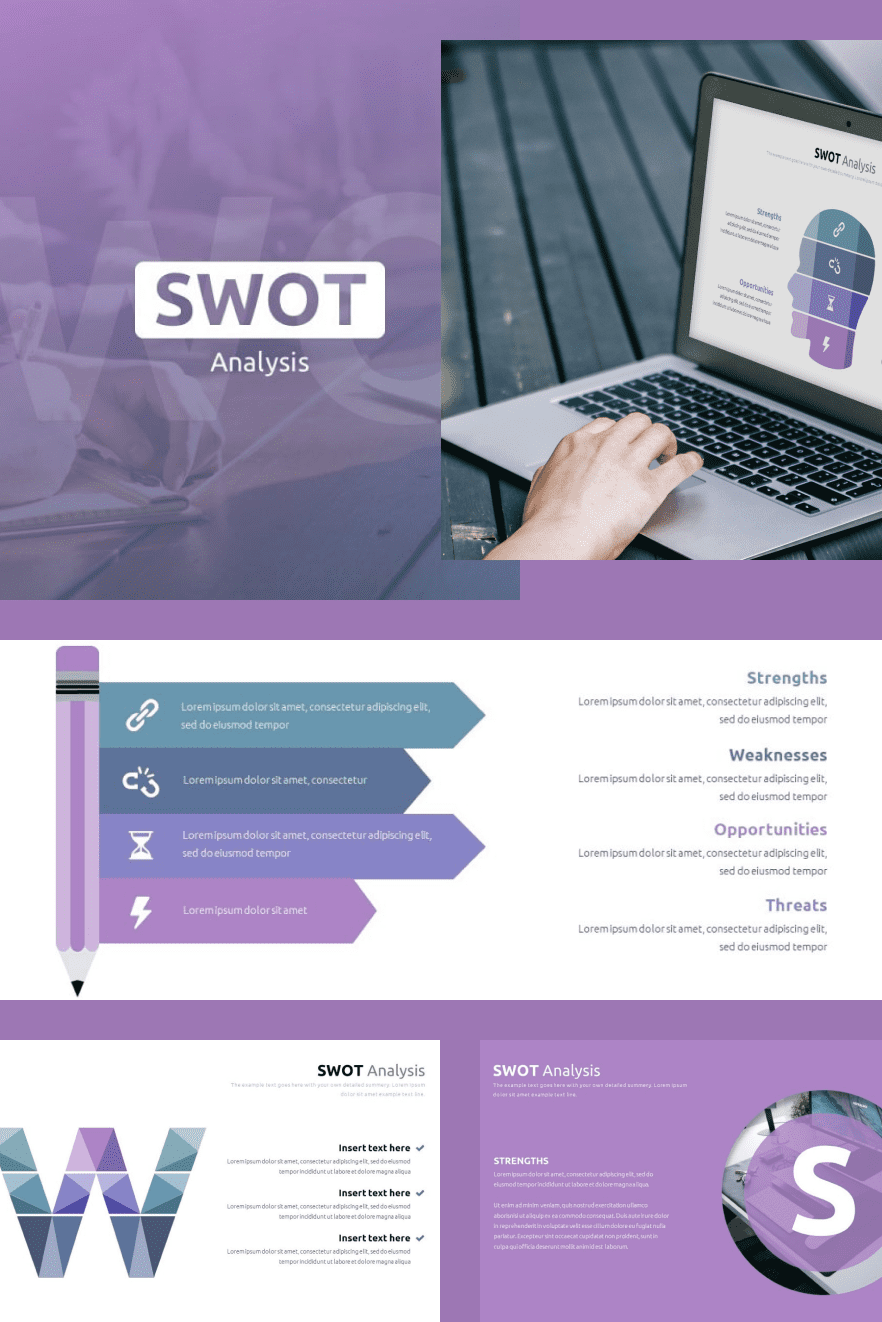 Price: $15
Believe it or not, business matters can also be cute. This set of 50 options with tons of editable and adjustable graphic elements is a perfect decision to harness when you need to turn a serious SWOT analysis presentation into a cute show of commercial prowess.
Best Science Template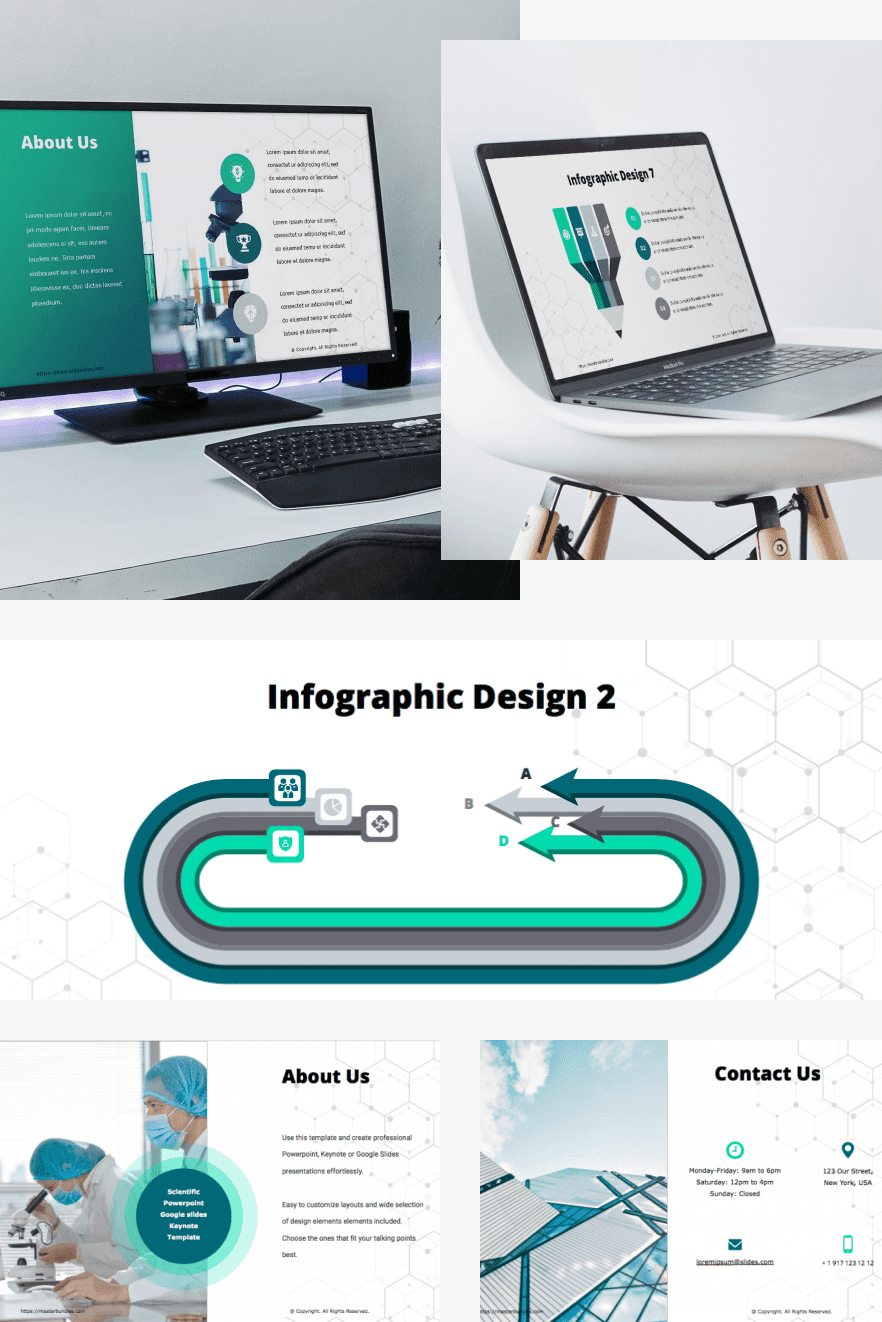 Price: $20
They say, if you cannot explain to a six-year-old rocket science in a simplistic manner, without losing any sense from your message, you, sir, are a charlatan. This template for presenting scientific topics is as cute as they come, and it won't bore your audience but would rather motivate them to listen and follow carefully.
Cream Puff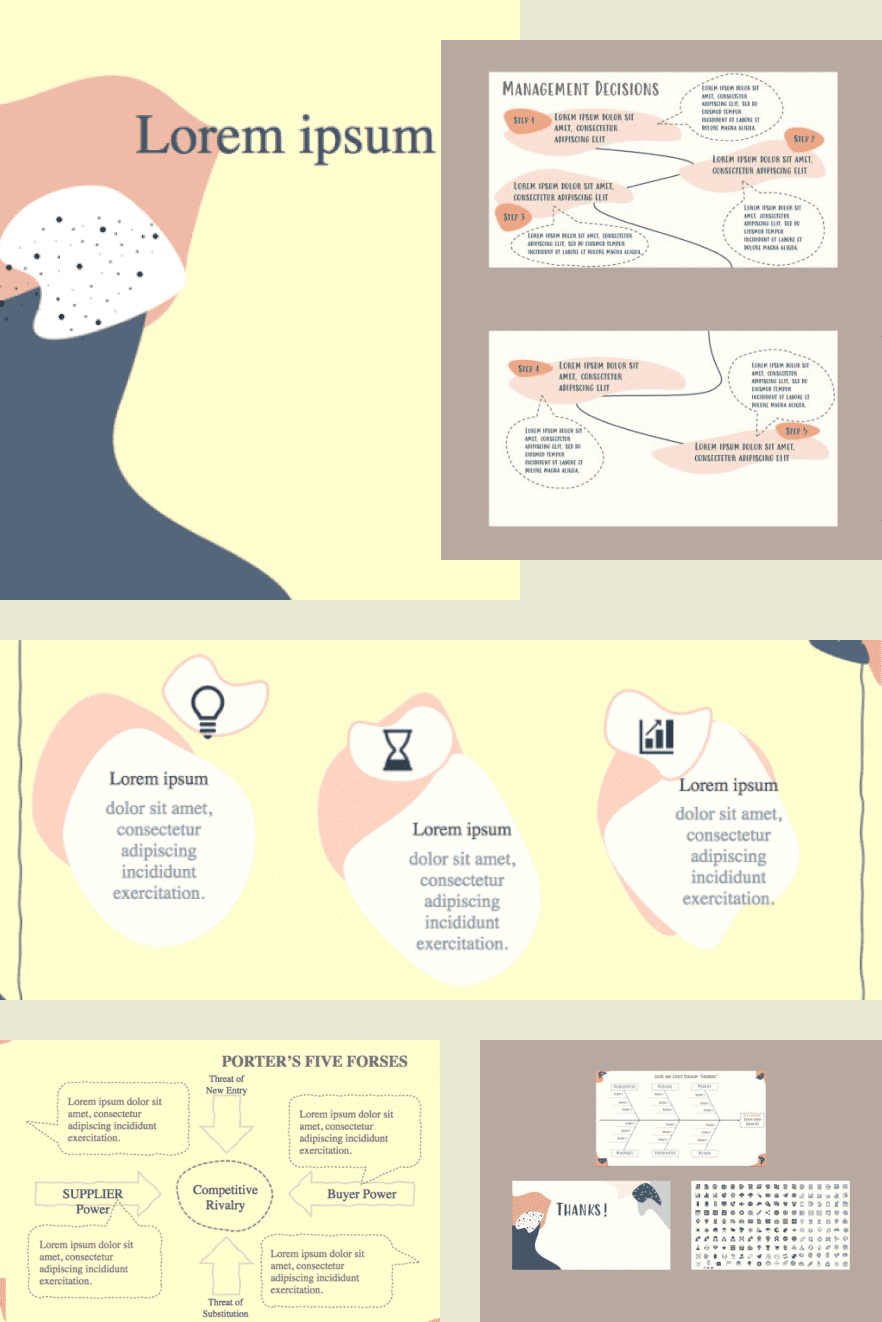 Price: $13
There are things in our life that we cannot expect to happen. For example, we always think that business and commercial presentations are meant to be strict and styled in a particular manner. Nonetheless, this template, consisting of 30+ unique slides in 16:9 aspect ratio, will help you present your idea in pastel tones associated with calmness and wisdom.
Free Google Slides to Use and Impress
Just as we promised, enjoy this list of some of the best ideas for Google Slides to make your presentations look lively, joyful, and impeccable.
Fun Tastic Business Google Slides Template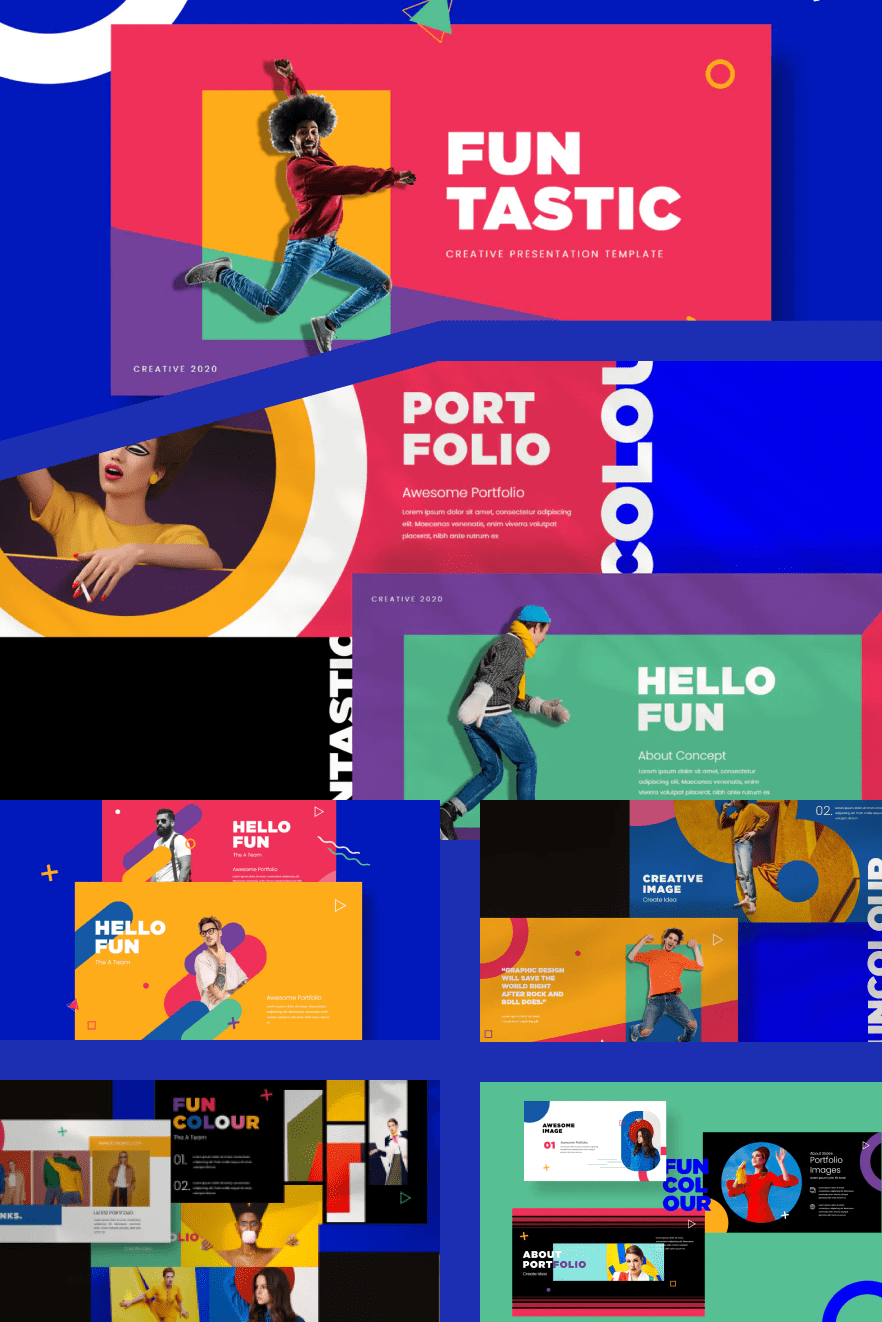 A uniquely creative Google Slides template is there for you to enjoy such features as drag-and-drop, theme color alterations, media placeholder, etc. This template is editable, as you can change literally anything in it, except how cute it is.
International Day of Happiness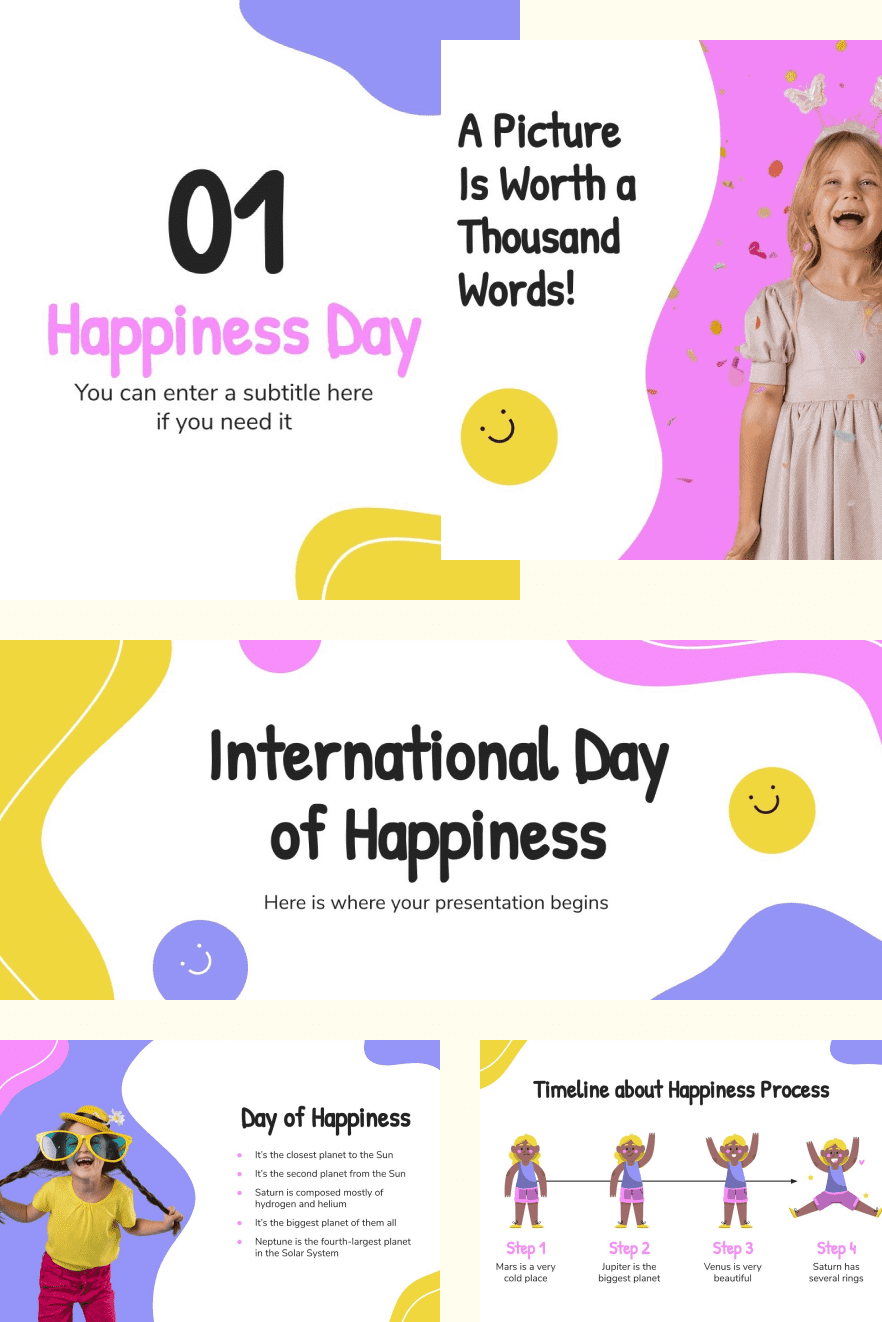 It seems like there is nothing to add here, as this is a presentation about the International Day of Happiness. Remember, we all have our own day of happiness, so why not make it the day of your presentation? There are 33 slides, 500+ icons, and 16:9 widescreen format waiting for you in this template.
Pastel Scribbles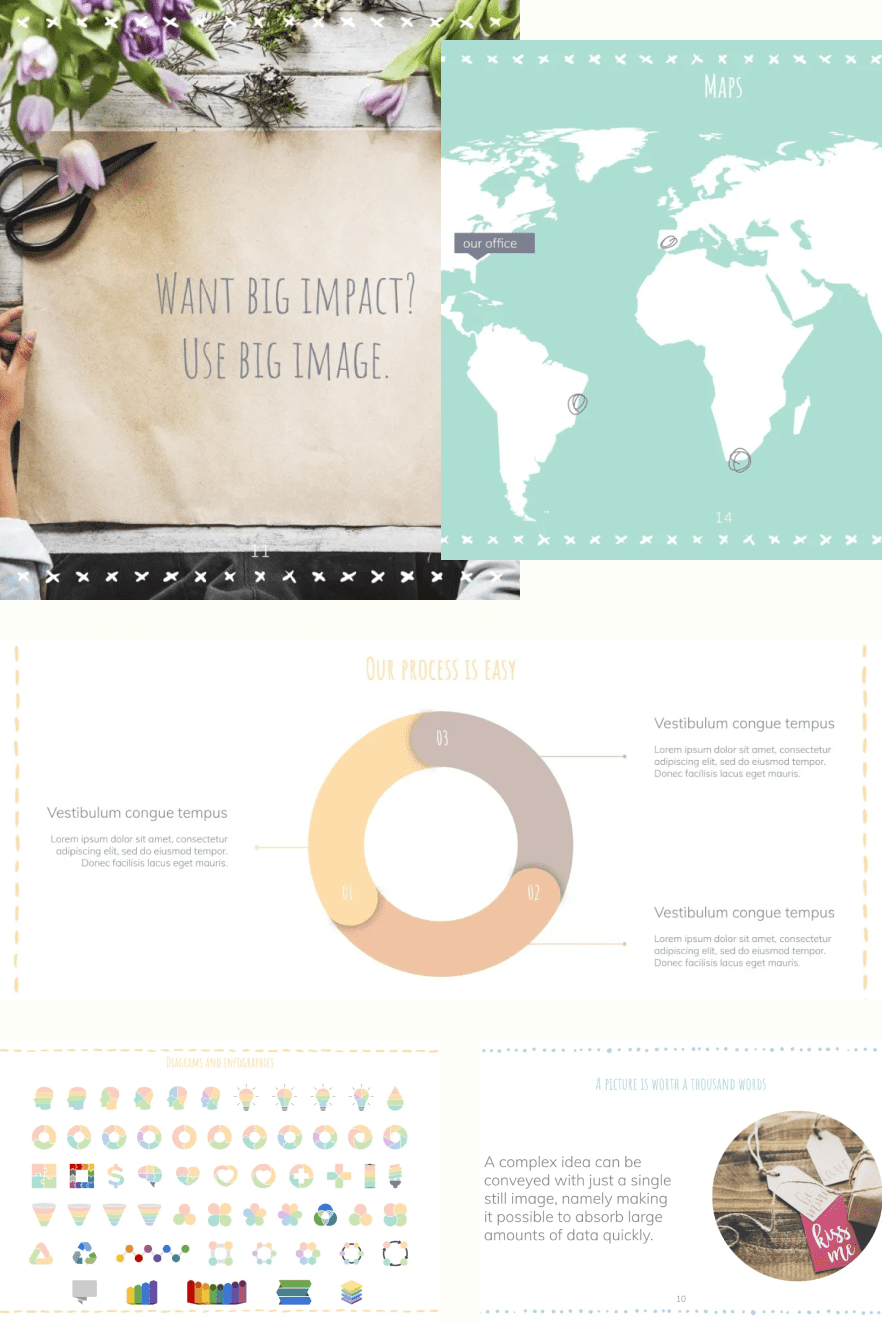 Simplicity is cute as well. Hence, you have to understand that the more simple your presentation is, the higher the chance for delivering a successful presentation. There are 25 fully editable slides waiting for you to bring your ideas and creativity to the table.
Clean Teamwork Slides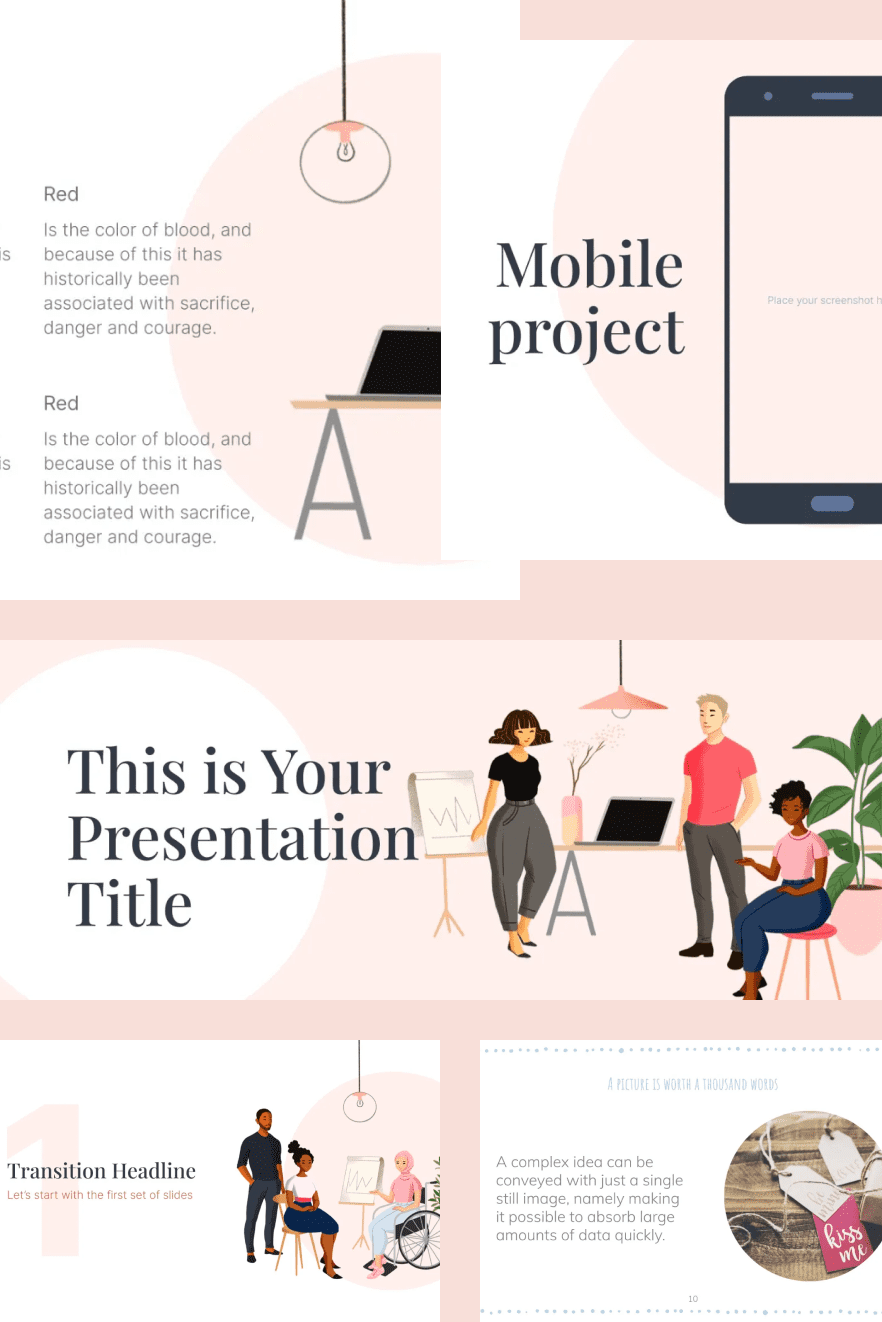 Regardless of how awkward it might sound, teamwork is cute. Everybody wants to be part of a team that excels. Get a splendid chance of visualizing people's dreams with your presentation. There are 25 editable slides that include tips on how to make your presentation even more captivating.
Colorful Fruits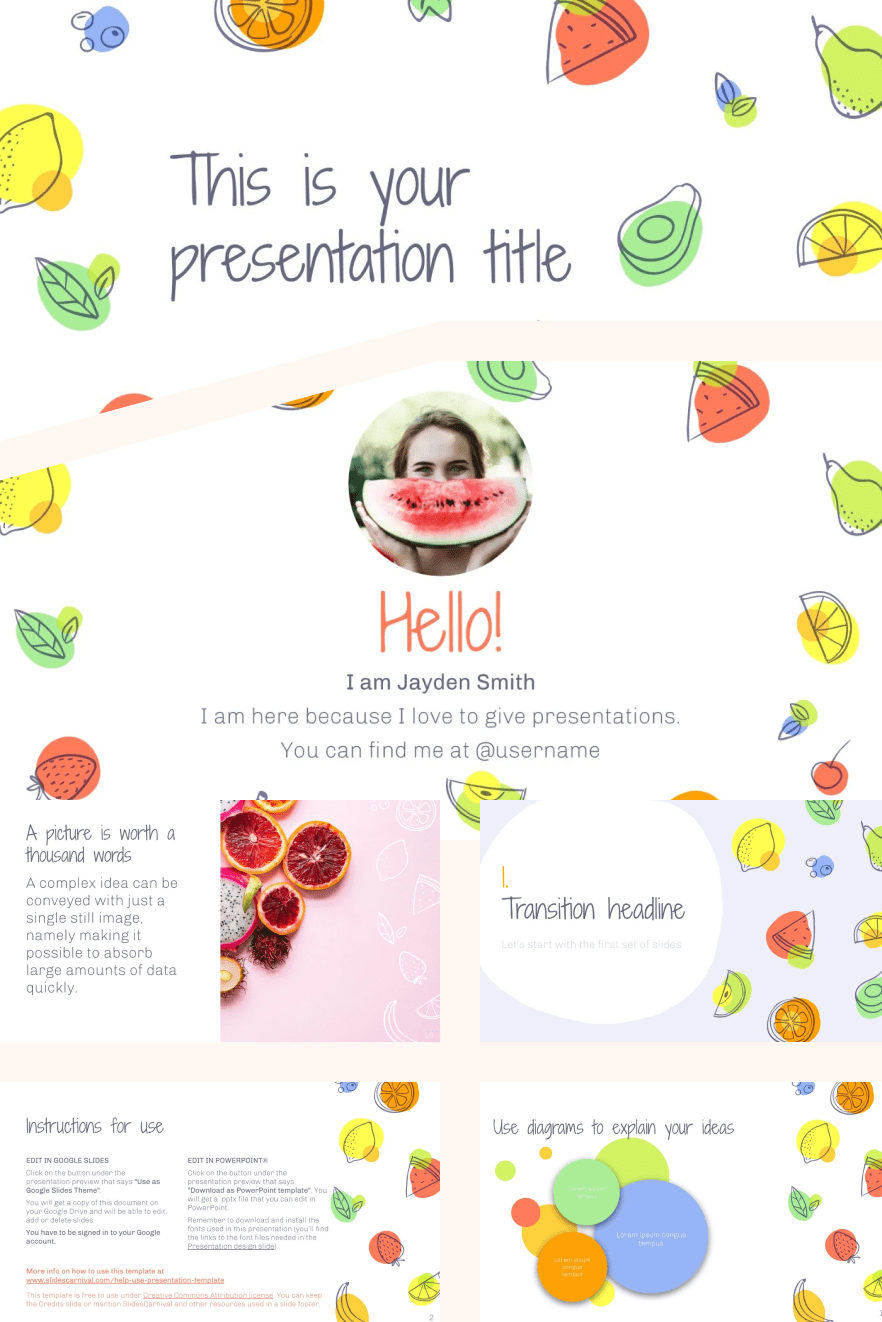 The Colorful Fruits Google Slides template has been designed and created to help people present their ideas unobtrusively and smoothly. Get 25 unique free Google Slides with a plethora of icons and other graphic elements to work with.
Floral Drawings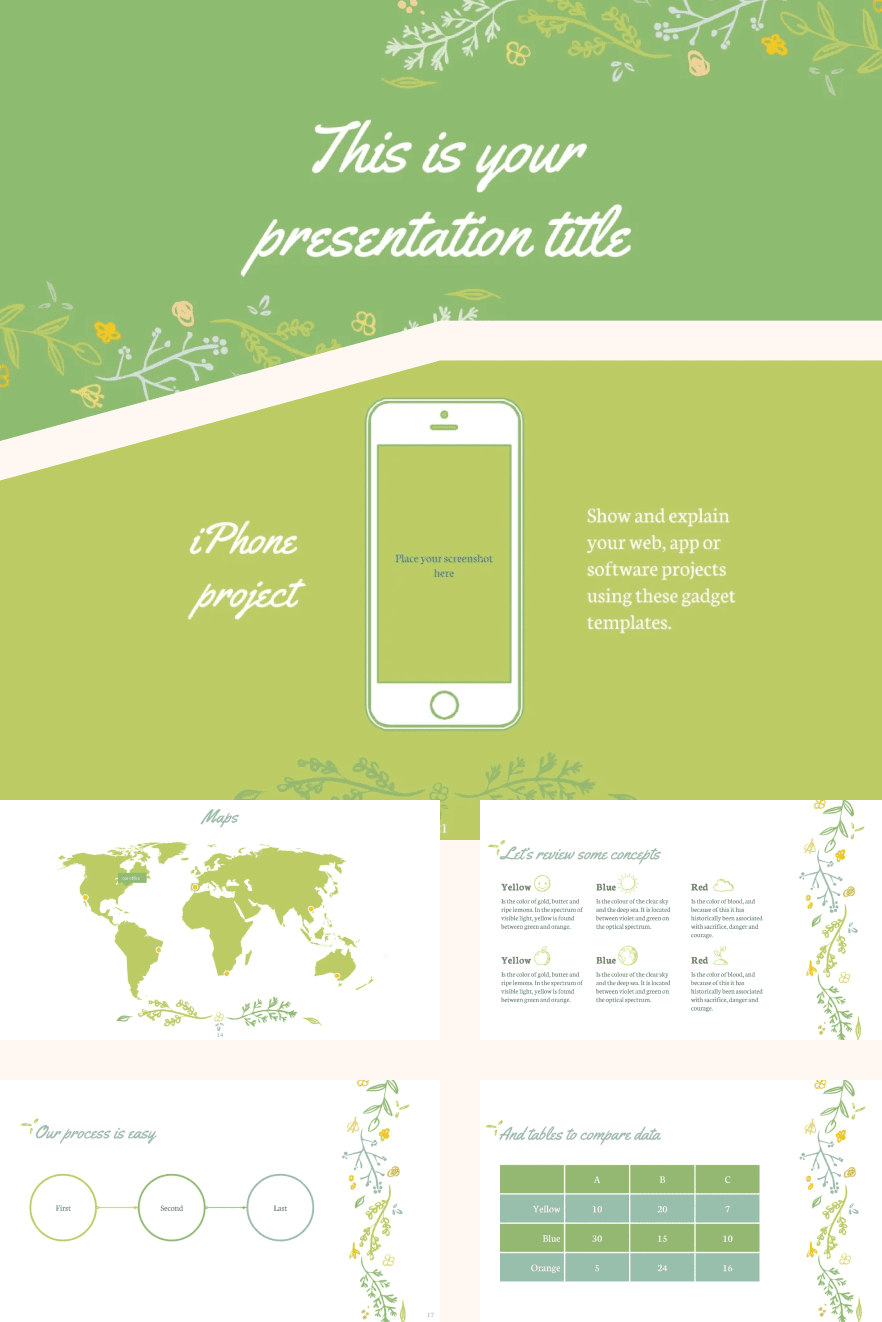 It has been psychologically proven that green is the color of calmness and happiness. Combine this with floral drawings and you get the utmost level of cuteness. This theme features 24 slides full of beautiful artistic elements and tips on how to make your presentation better. What is more, there are several layouts to choose from.
Cute Pets Presentation Template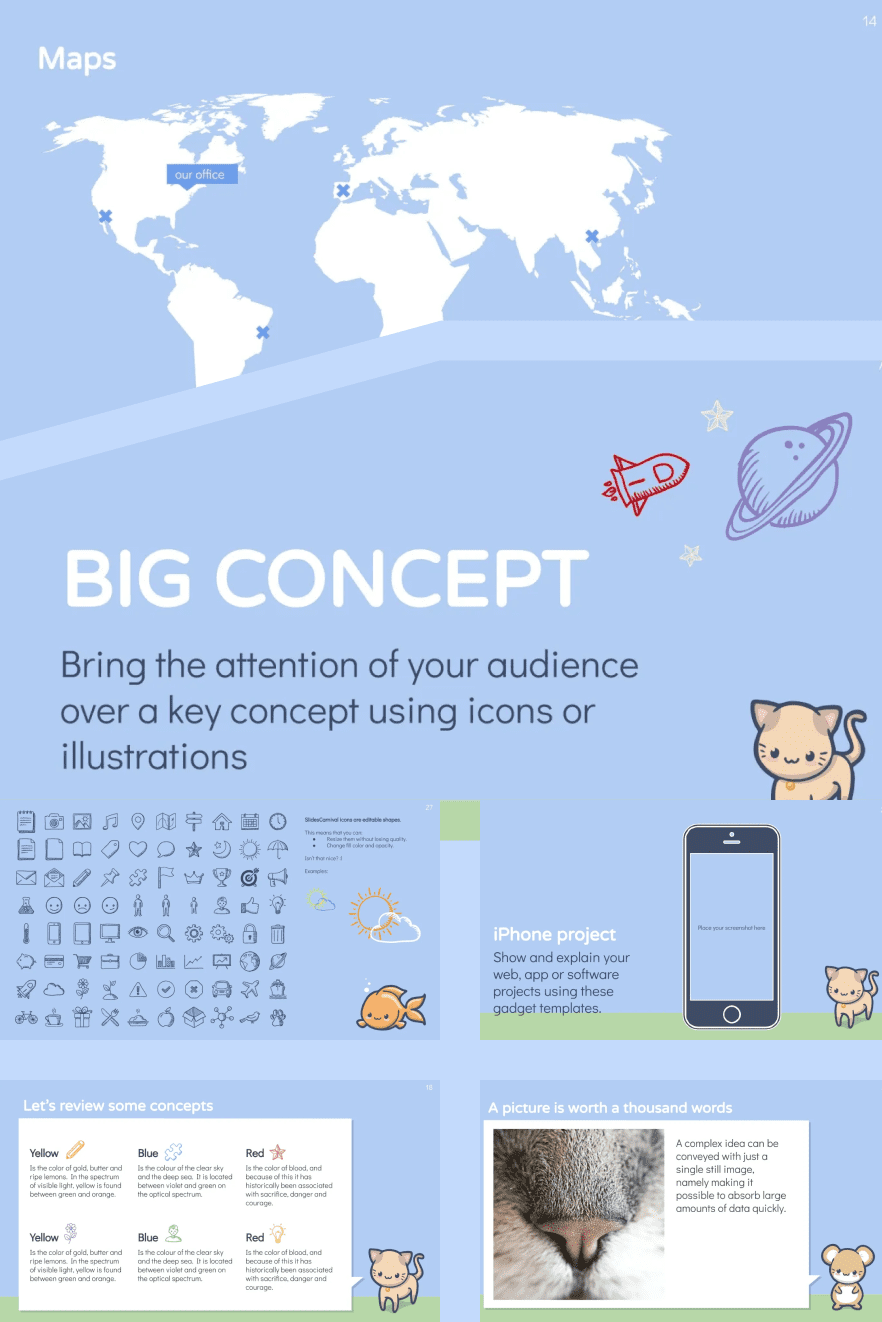 There is hardly anything cuter than pets. Everybody loves animals, and if they don't, this presentation will cause them to. Furthermore, this set of 25 slides will help you create cool Google Slides to turn every presentation into a success.
Friar Presentation Template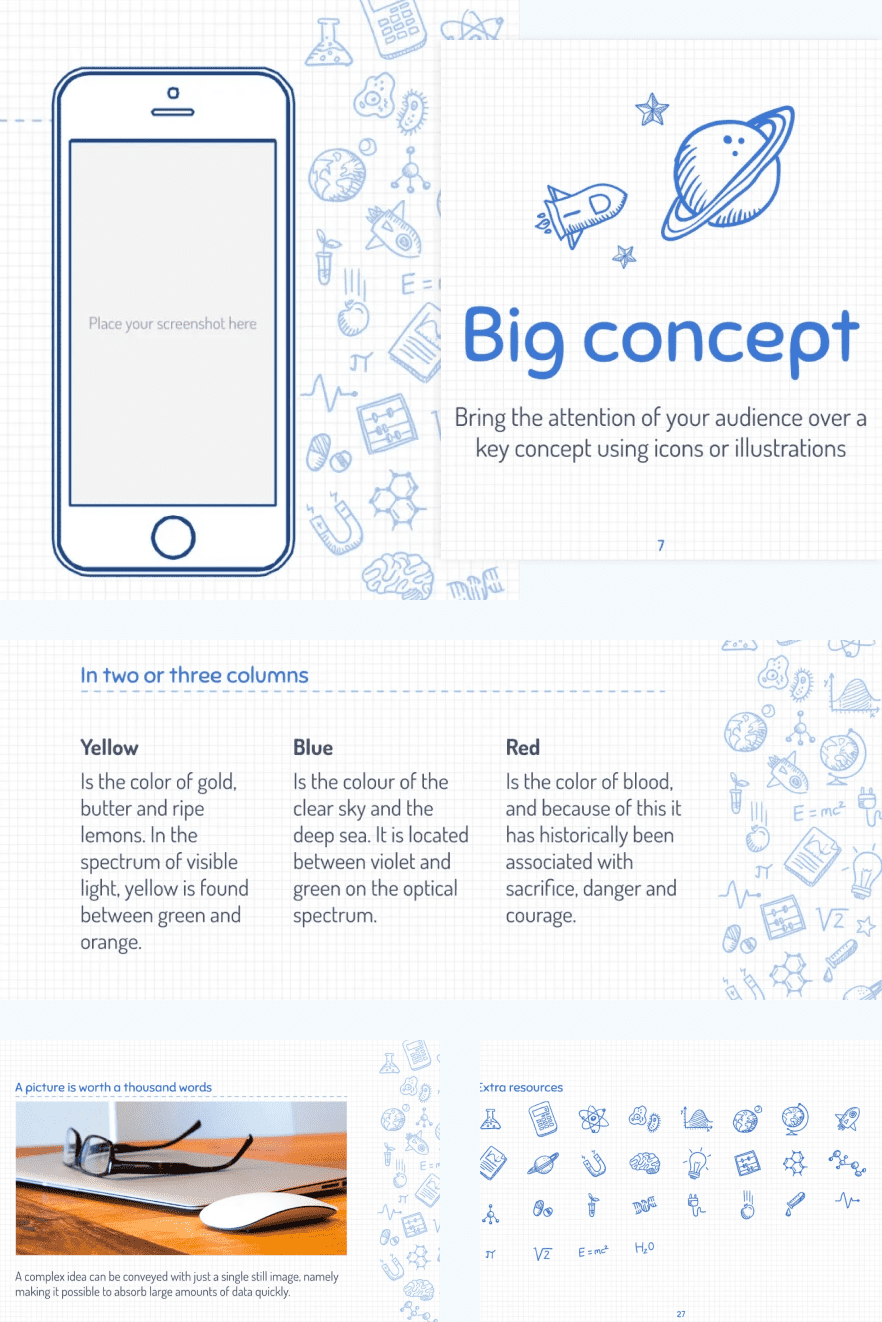 We all remember our good-old sketches in the copybooks that we used to draw on the blank page spaces back in school. Bringing people good memories is always cute. Hence, if you've been looking to deliver a presentation that is as cute as can be, this collection of 25 different options are there for you with charts, tables, and other graphical elements to be used when crafting an amazingly cute presentation.
Colors Google Slides Presentation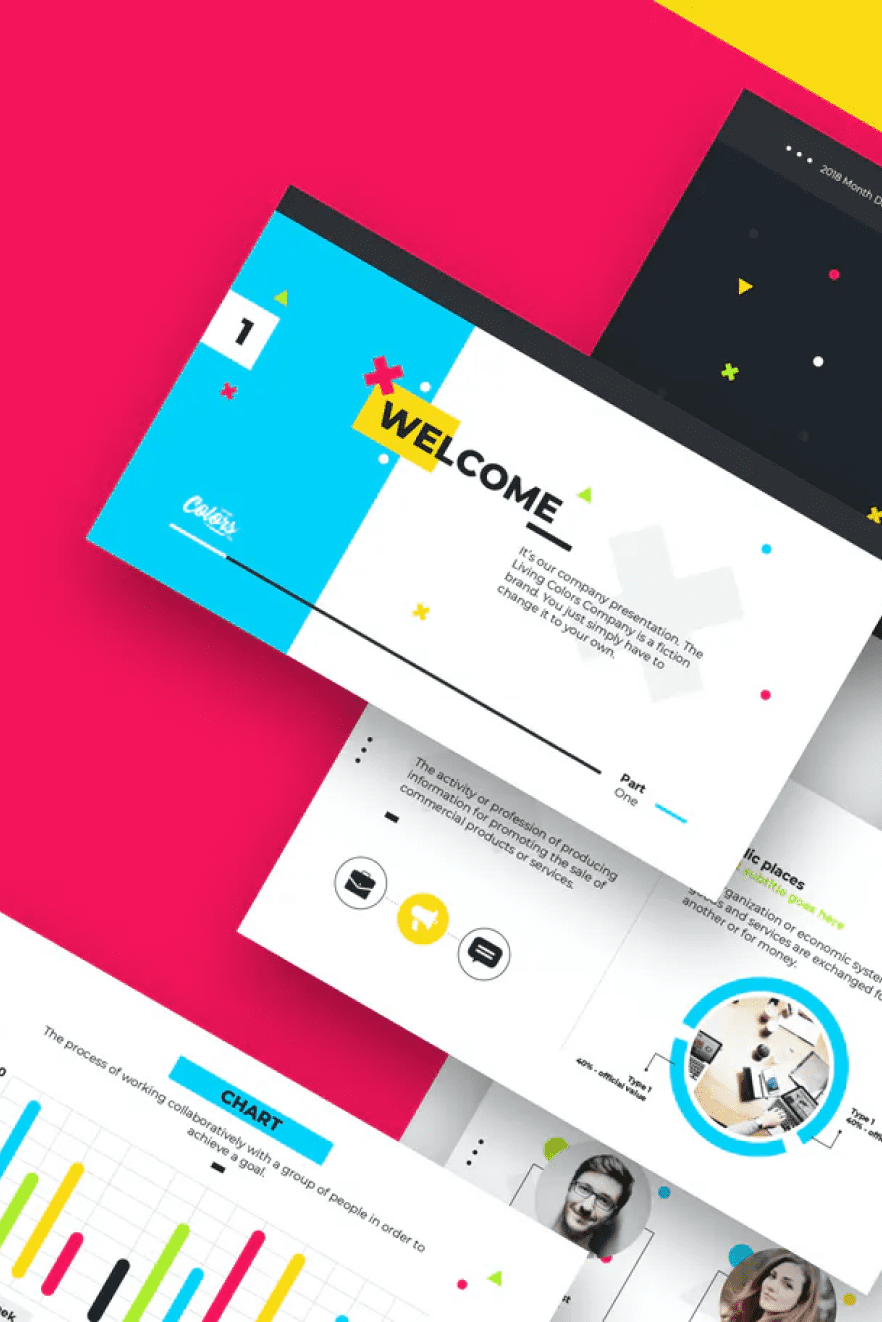 Compatible with both Google Slides and PowerPoint, this template features a set of 20 fully-editable slides that contain photos, shapes, texts, and other graphical elements to adjust and use.
Nicee – Colorful Google Slides Presentation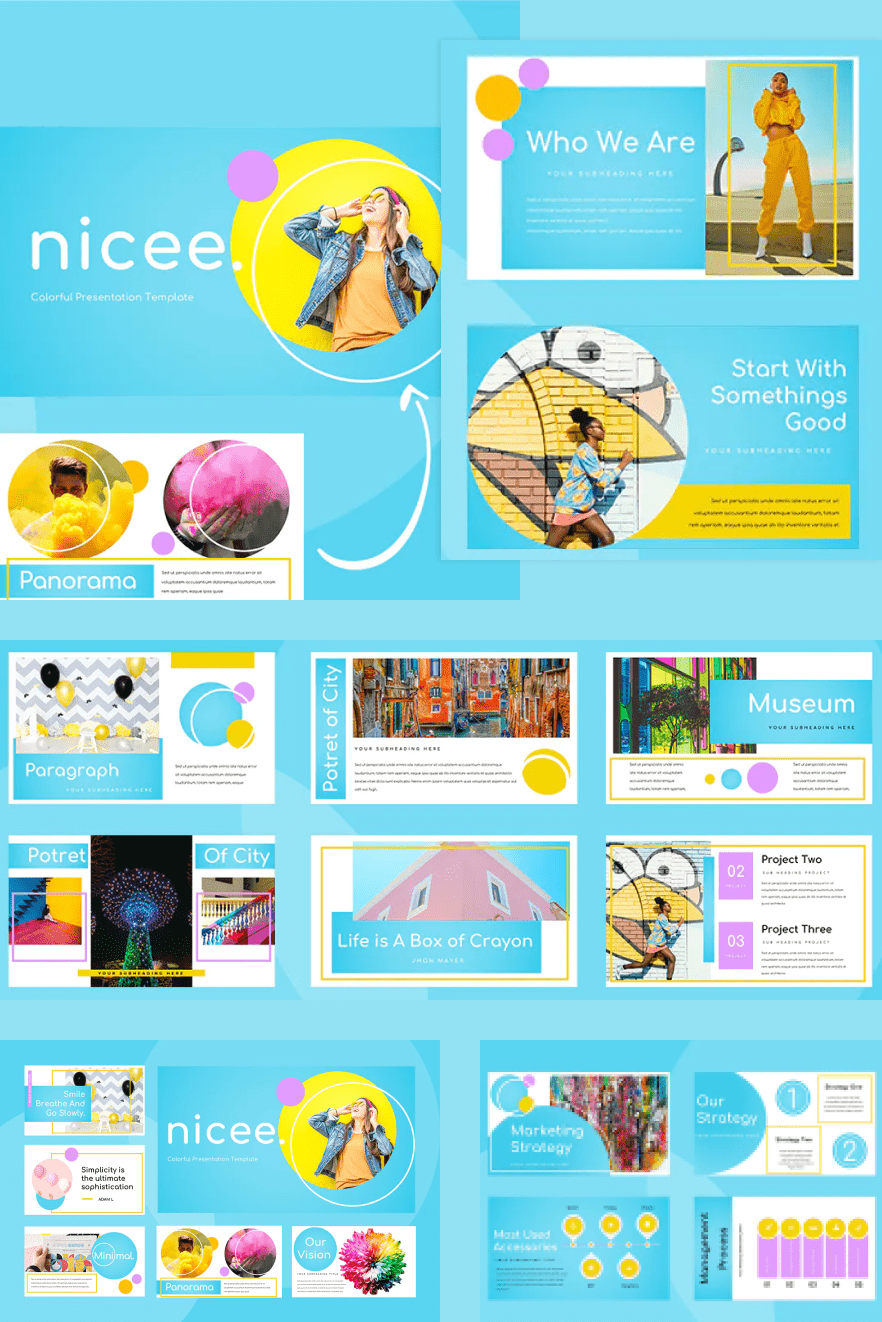 Just as this template's title says: it is really nice. Everything in this bundle, including fonts, texts, images, and graphical items, is free to use. Yet, if you feel like the images embedded are not good enough, enjoy the chance to drag-and-drop the ones you like.
Popsicle – Colorful Google Slides Template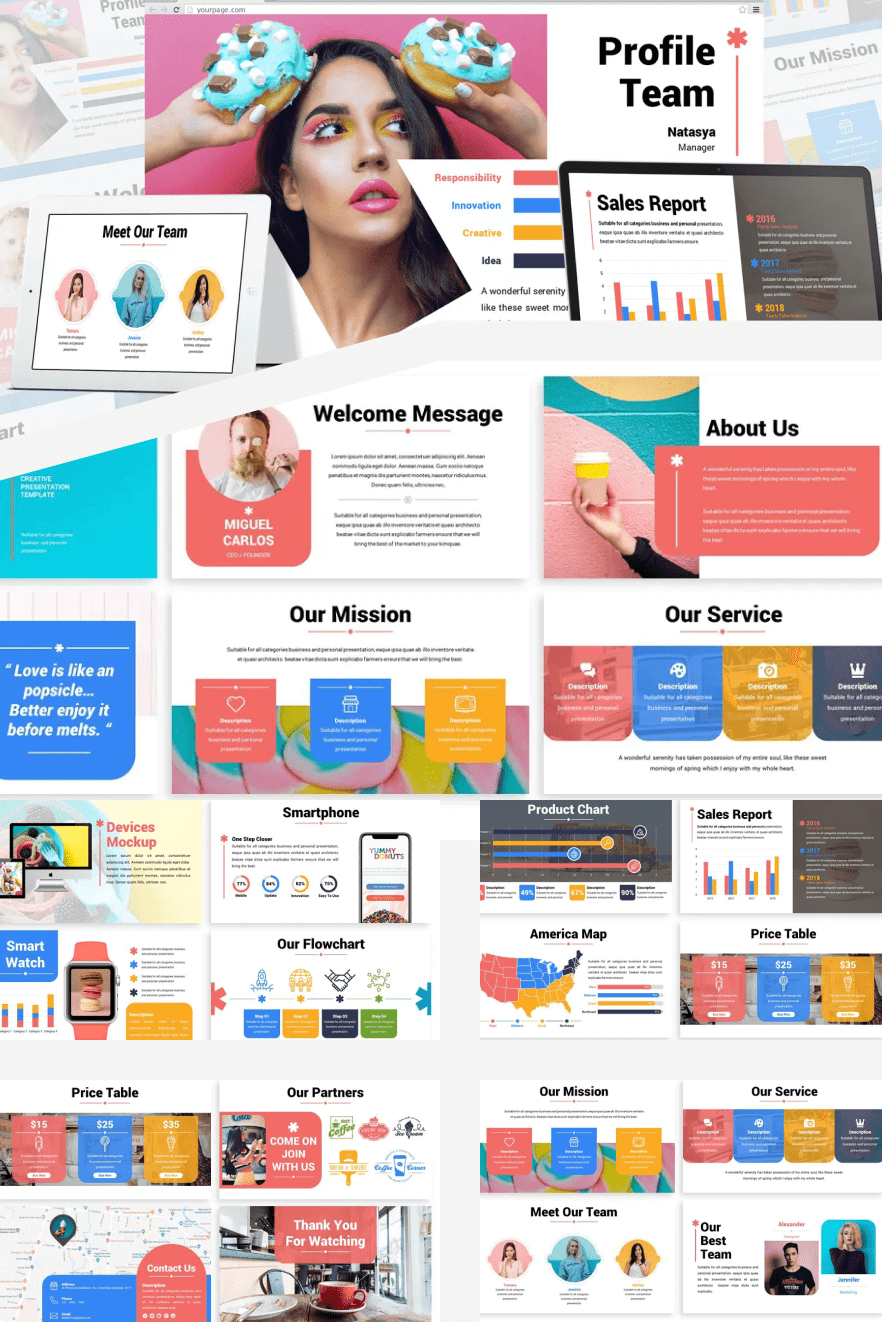 While this template is a relatively small one – it features only 12 slides – there are 3 premade color themes to make the most of it. Enjoy the possibility of creating stunning presentations in both light and dark versions.
Catton Cute Pastel Google Slides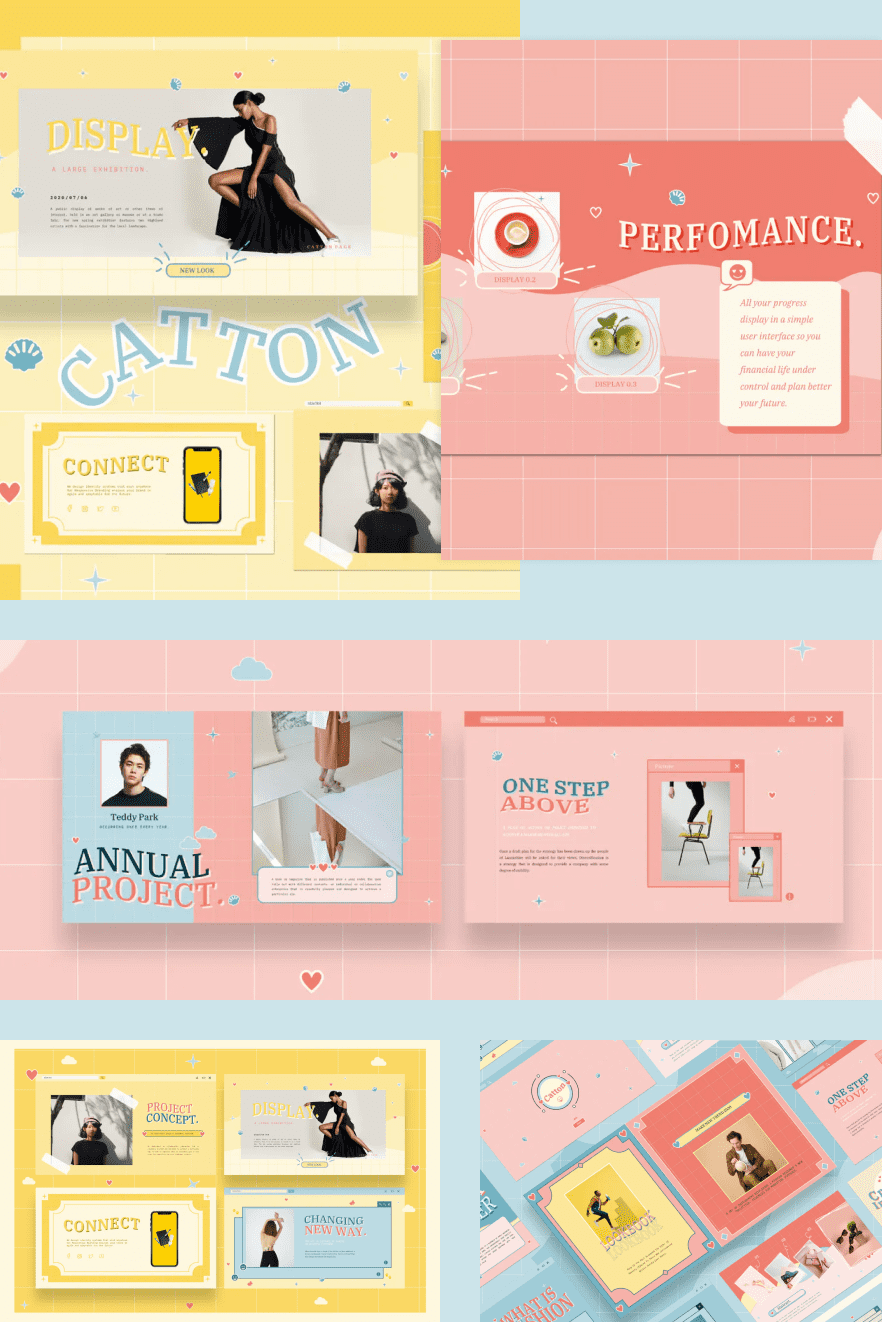 There is not much to say about this template, as this is simply a combination of unique slides with predefined fonts and a unique theme color that will leave no one in the audience indifferent.
Virtual Campaign Template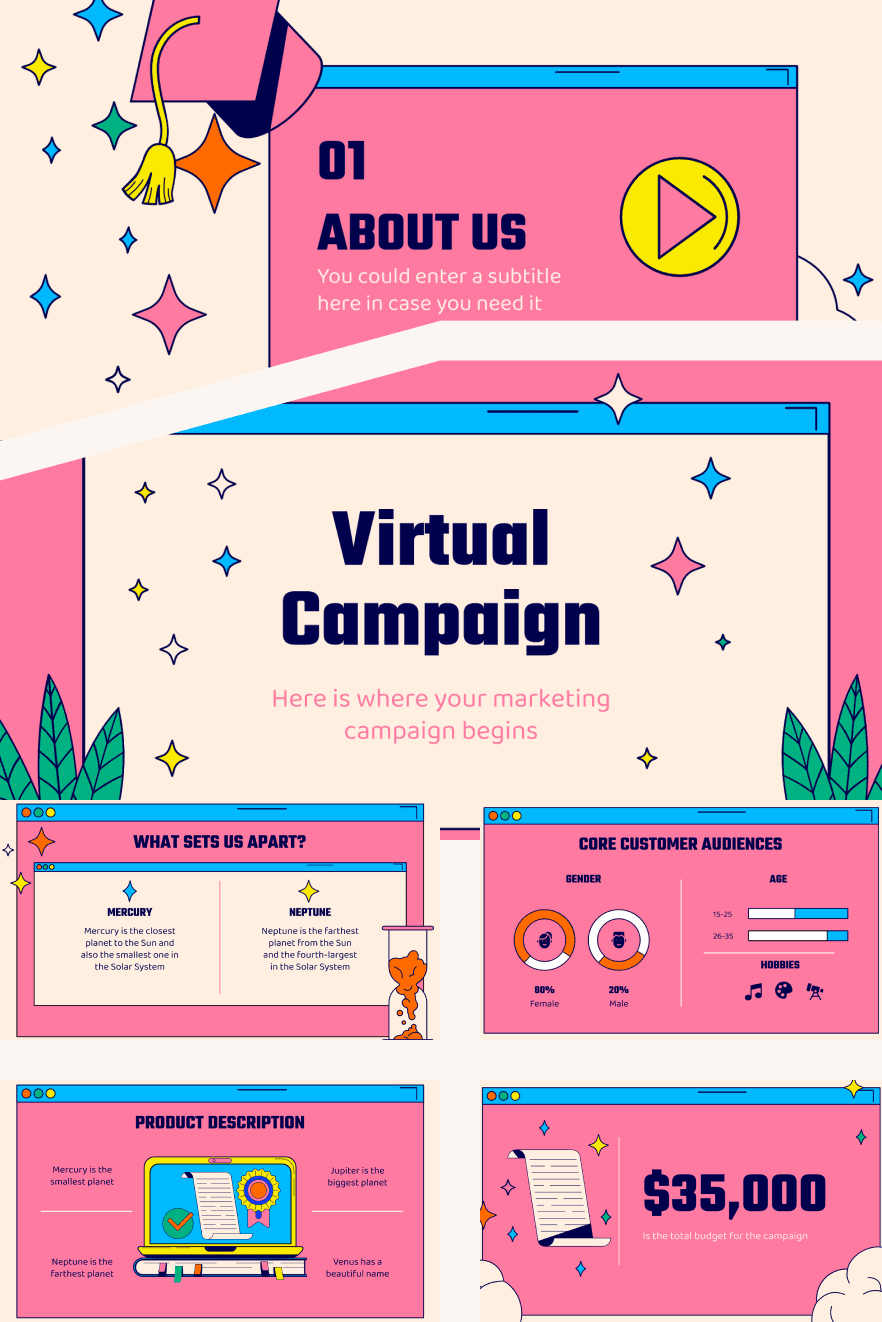 This template for Google Slides is immensely creative, as it has been designed to help you present a virtual concept. It takes a lot of creativity and prowess to create a product like this.
Holiday

Going on a holiday is cute. Letting the others plunge into an atmosphere of relaxation while listening to important information is even cuter. Here, you'll have 35 unique editable slides. Furthermore, they are coupled with vector icons that come as a pleasant bonus to anyone eager to download this template.
Estival Flowers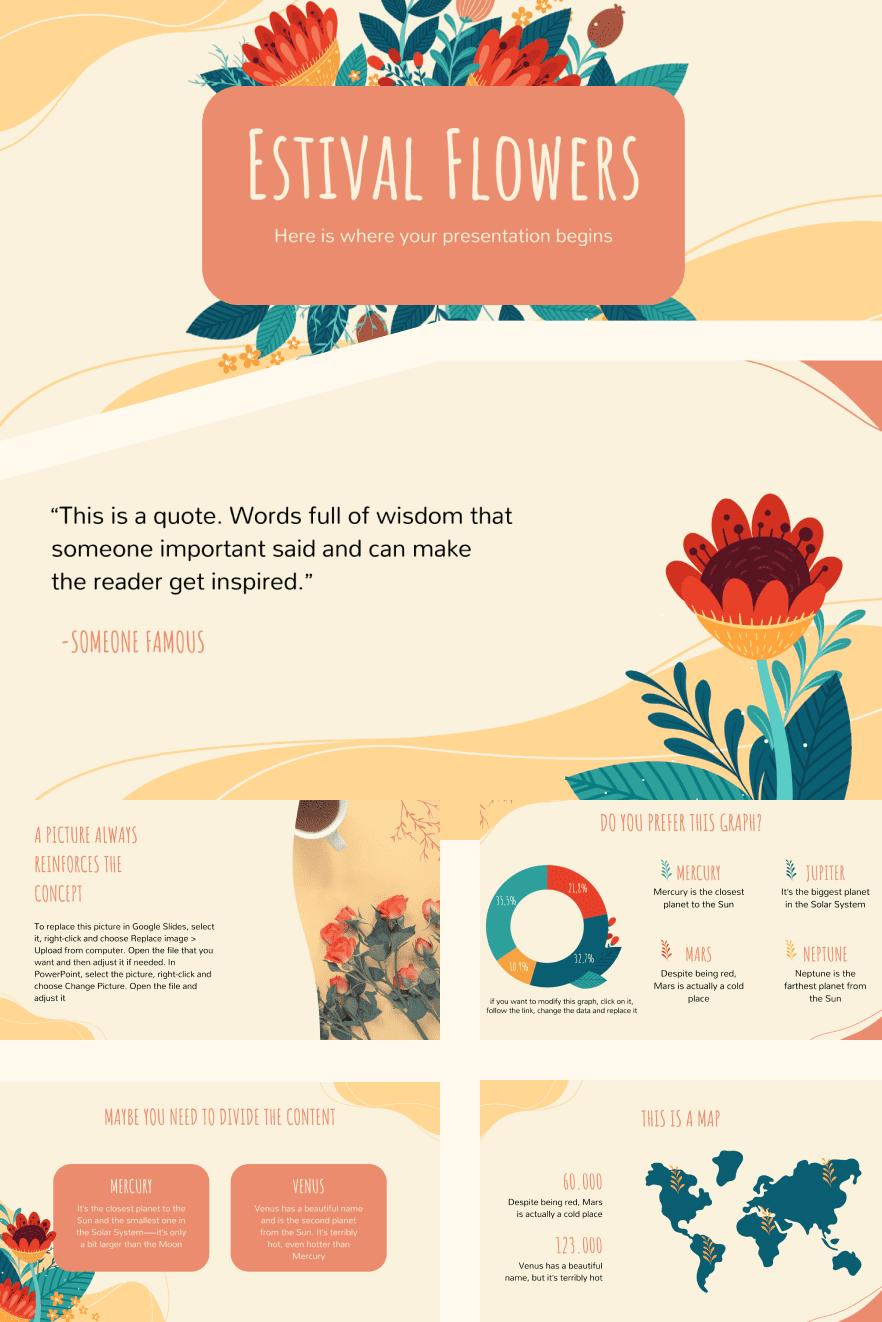 Flowers are a joy to watch, especially when they accompany a presentation. Get the full advantage of this summery design of 30 absolutely different slides to provide a jaw-dropping effect.
Corkboard Template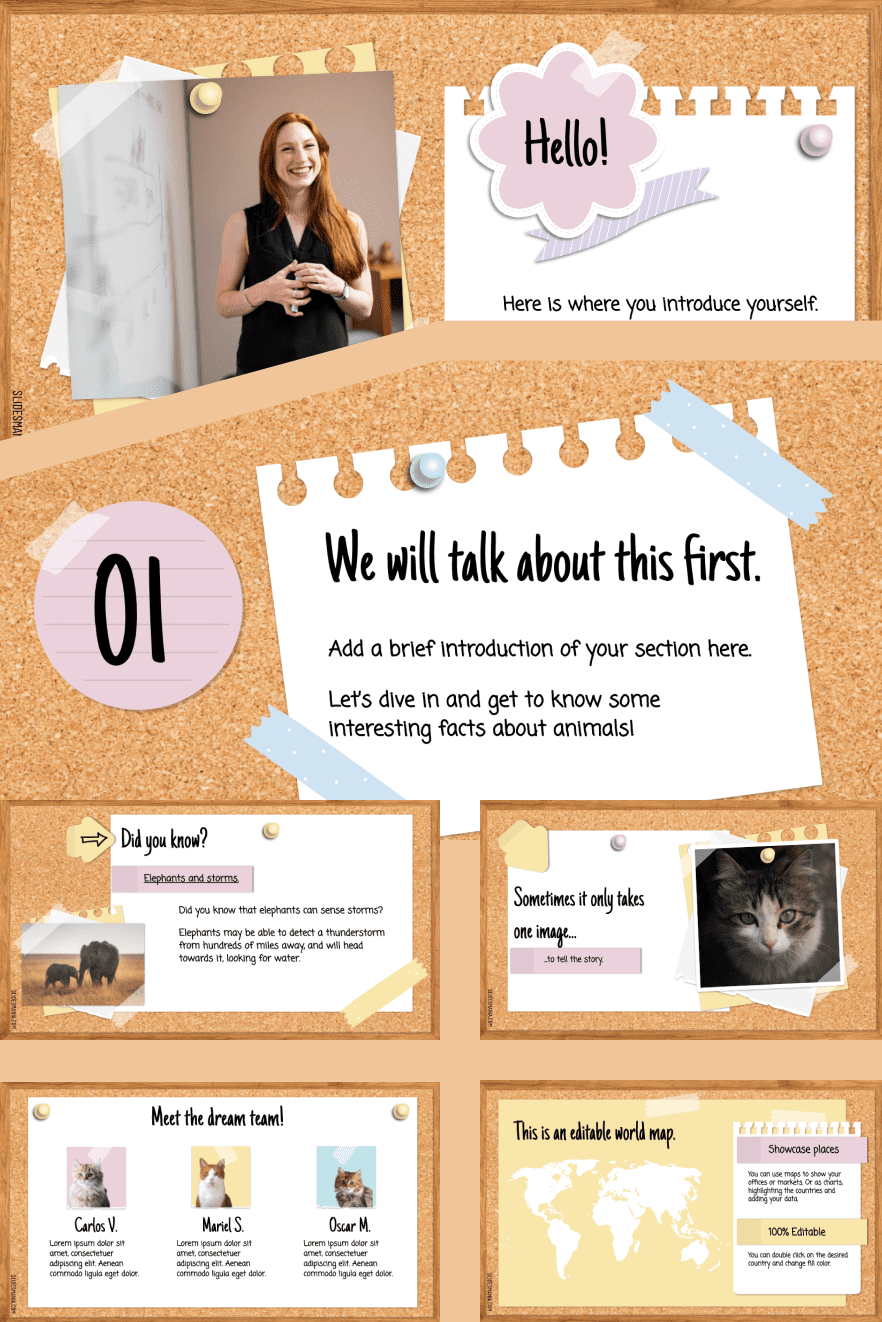 The corkboard template is as simple as they come. Nonetheless, its cuteness reaches the utmost levels with 25 slides with a perfect combination of simplicity and cuteness to be used for presenting information in a viable and efficient way.
Unbox Your Ideas Template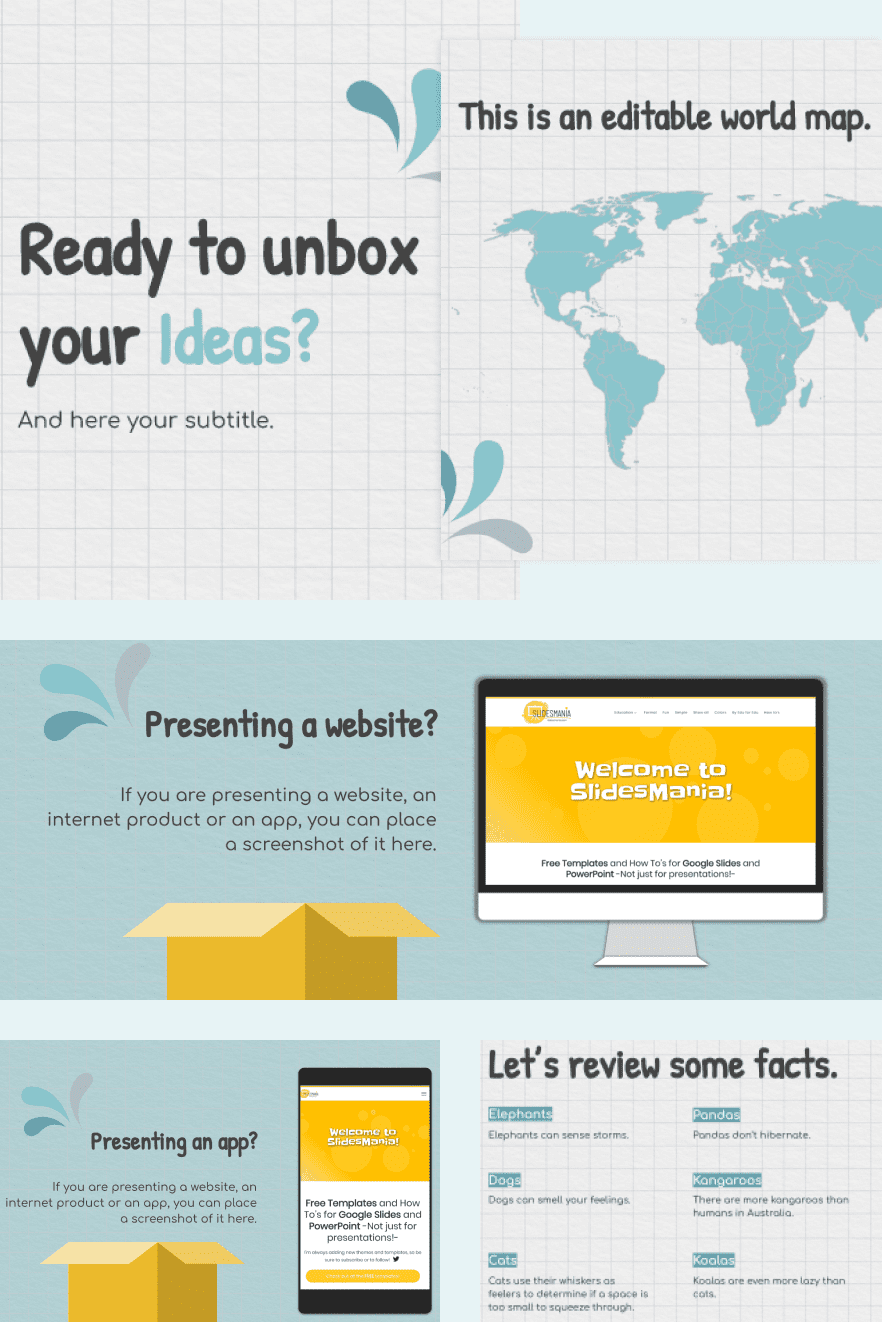 This is the perfect Google Slides theme to use when presenting a new idea to an unknown audience. There are 25 fully-editable slides with graphic elements waiting for you to take charge of the creative process.
Cute Cartoon Kids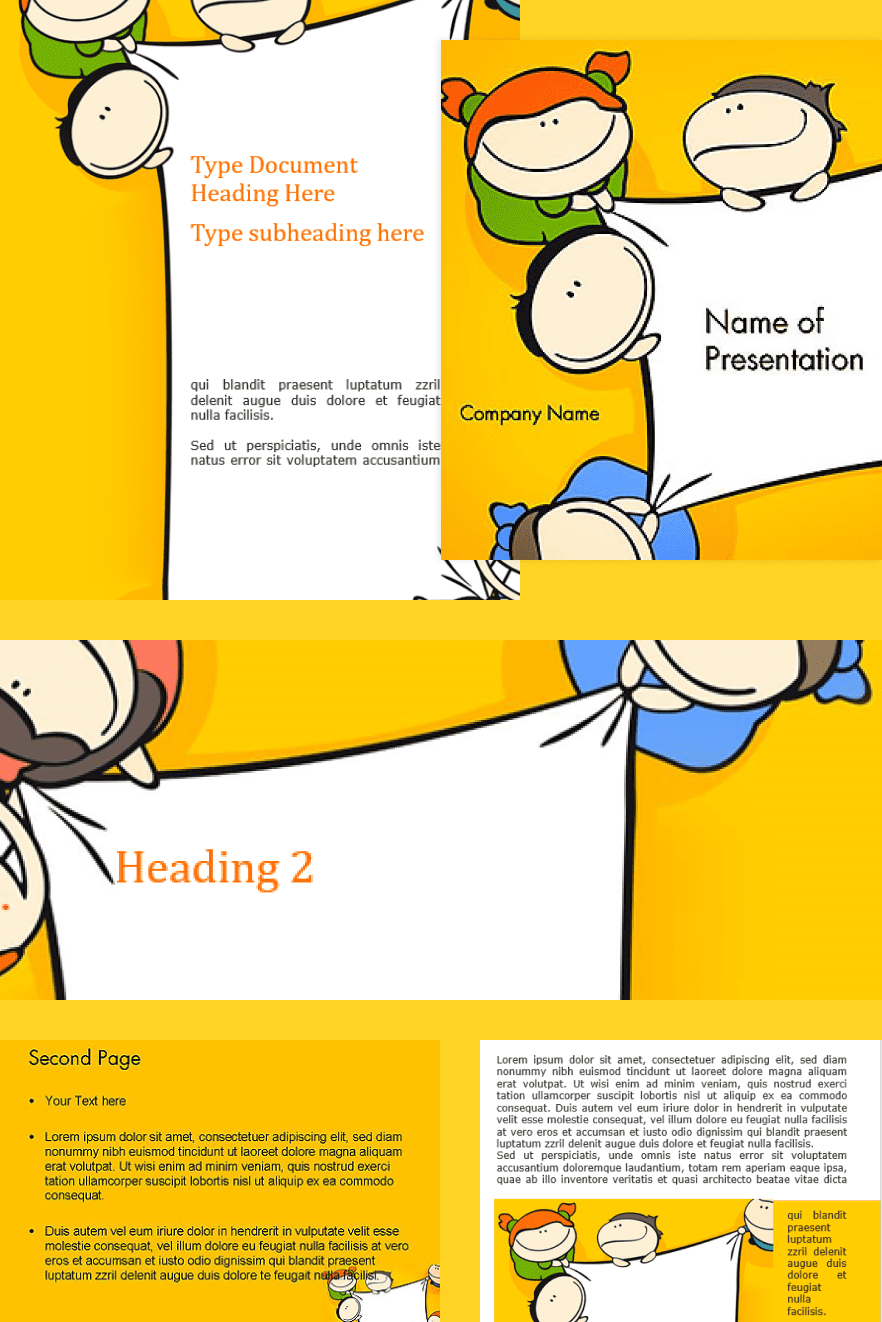 Nobody can resist the cuteness and sincerity coming from the children's eyes. Use this template when you want the idea presented to look fresh and clean. Choose among 20 unique slides that you can change to bring your audience the unforgettable feeling of being presented something in a truly cute manner.
Cute Puppy Portrait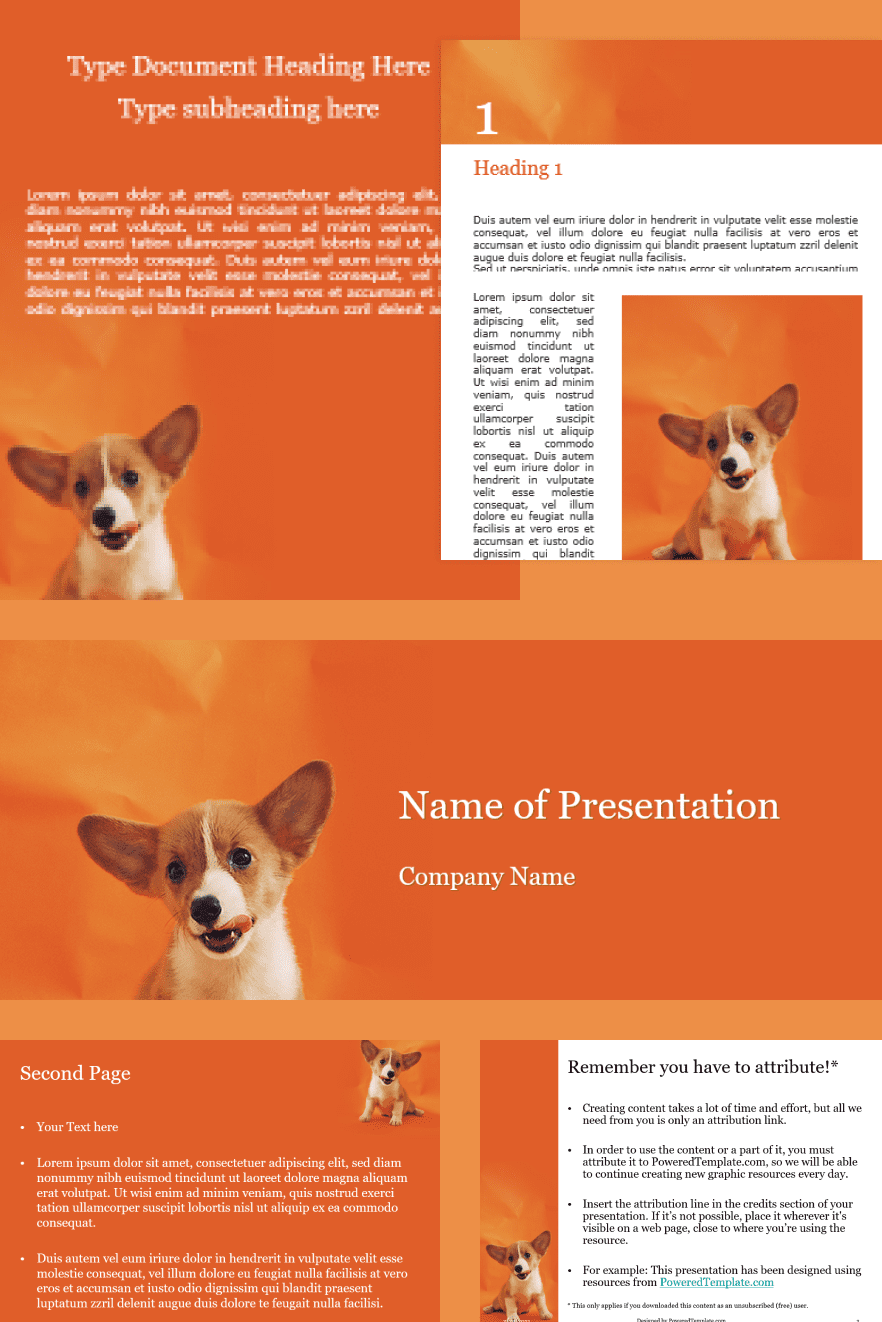 Everybody loves puppies. We love petting them, and we love watching them. This set of Google Slides is a perfect example of how a glorious corgi can become your presentation buddy and help you win over the minds of your spectators.
Cute Maternity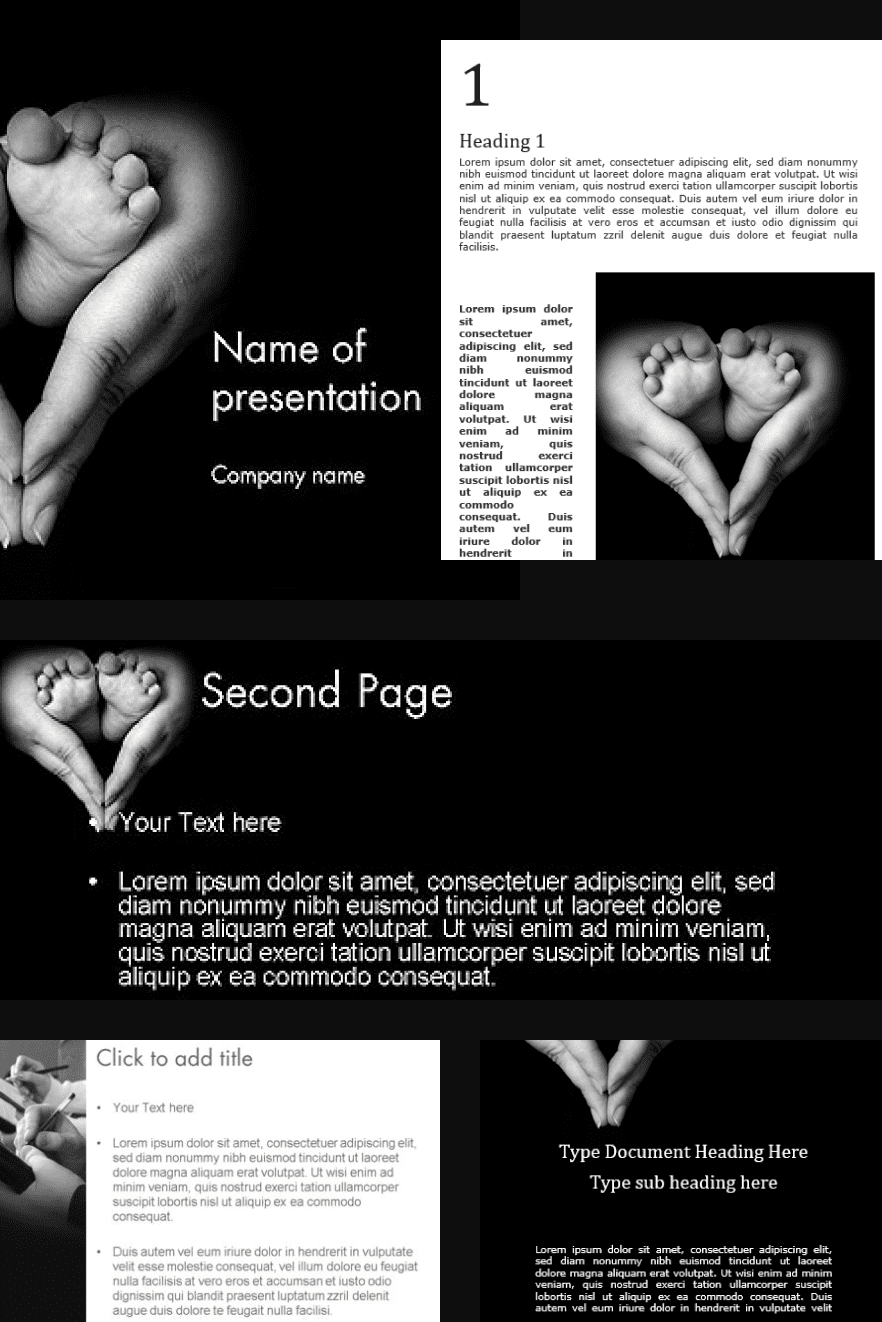 Motherhood. Is there anything in this world associated with more warmth and grace? Sure enough, there is nothing to compete with maternity in this domain. If you want your presentation on any social matters or a rising idea to look cute and serious at the same time, use this template. The symbolism of a mother raising a child is unbearably powerful.
Global Recycling Day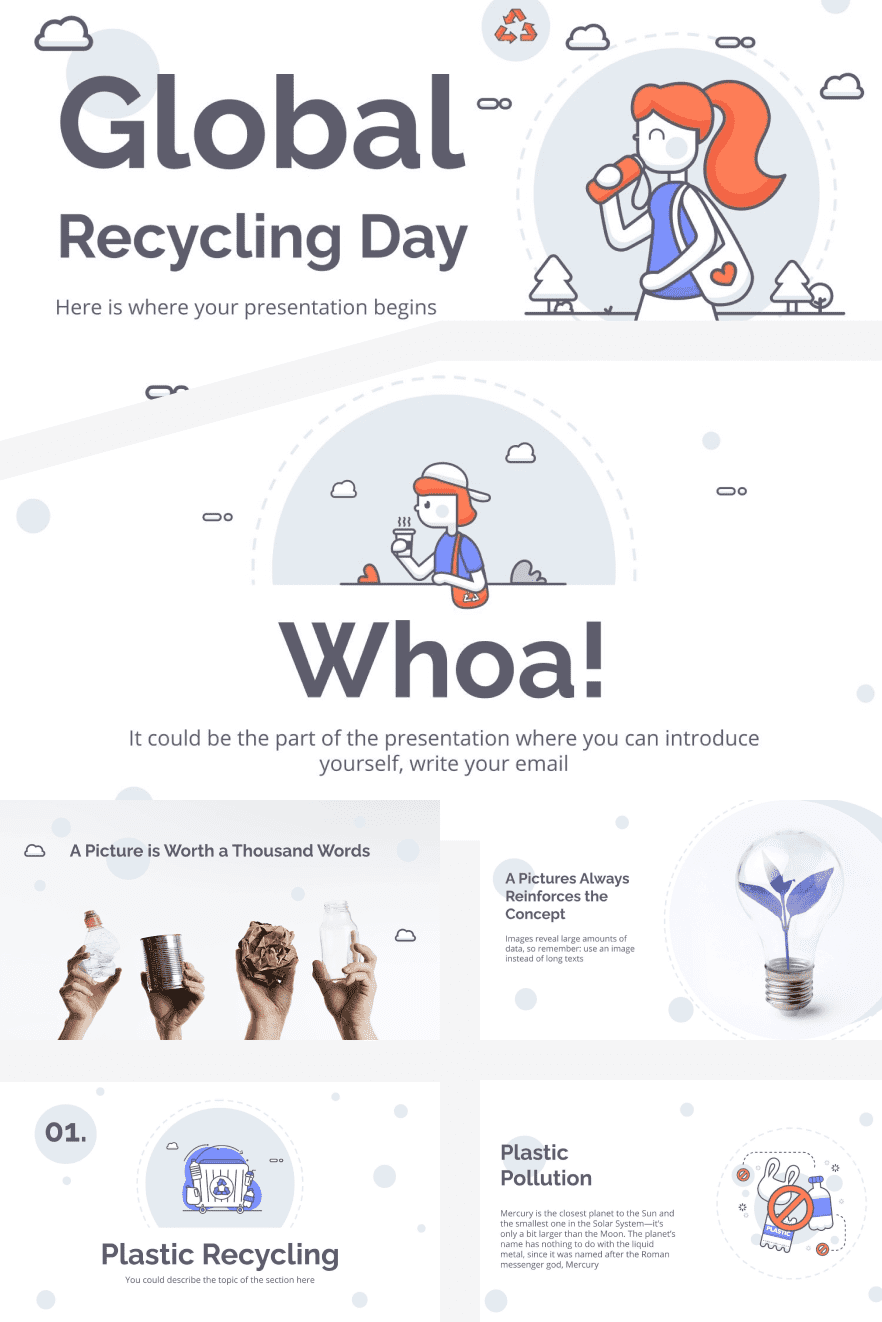 Taking care of the planet's environment is cute, and nothing can deny this fact. In this bundle, you get 31 free Google Slides to cover extensive presentation needs. All the slides are 100% editable and include more than 500 icons and Flaticon extensions, which you can use to make your slides even cuter.
Reading Workshop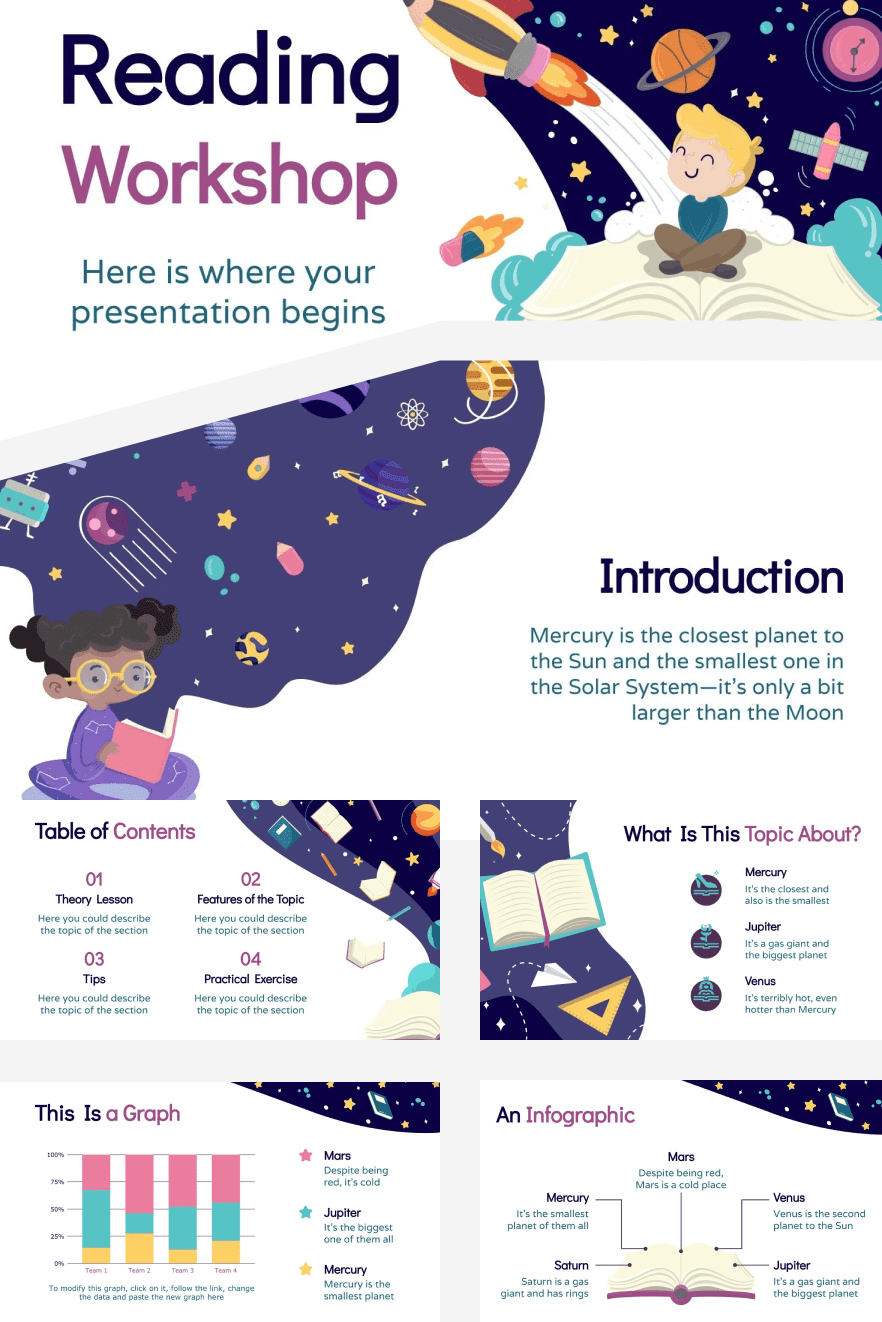 It does not matter whether you're getting ready for a reading workshop or not; this presentation template will help you achieve success and win the audience's approval. With this template, you can change the colors, choosing among red, orange, green, blue, and purple. There are 20 editable offers with tons of graphical elements to use in the manner you find necessary.
Roses Template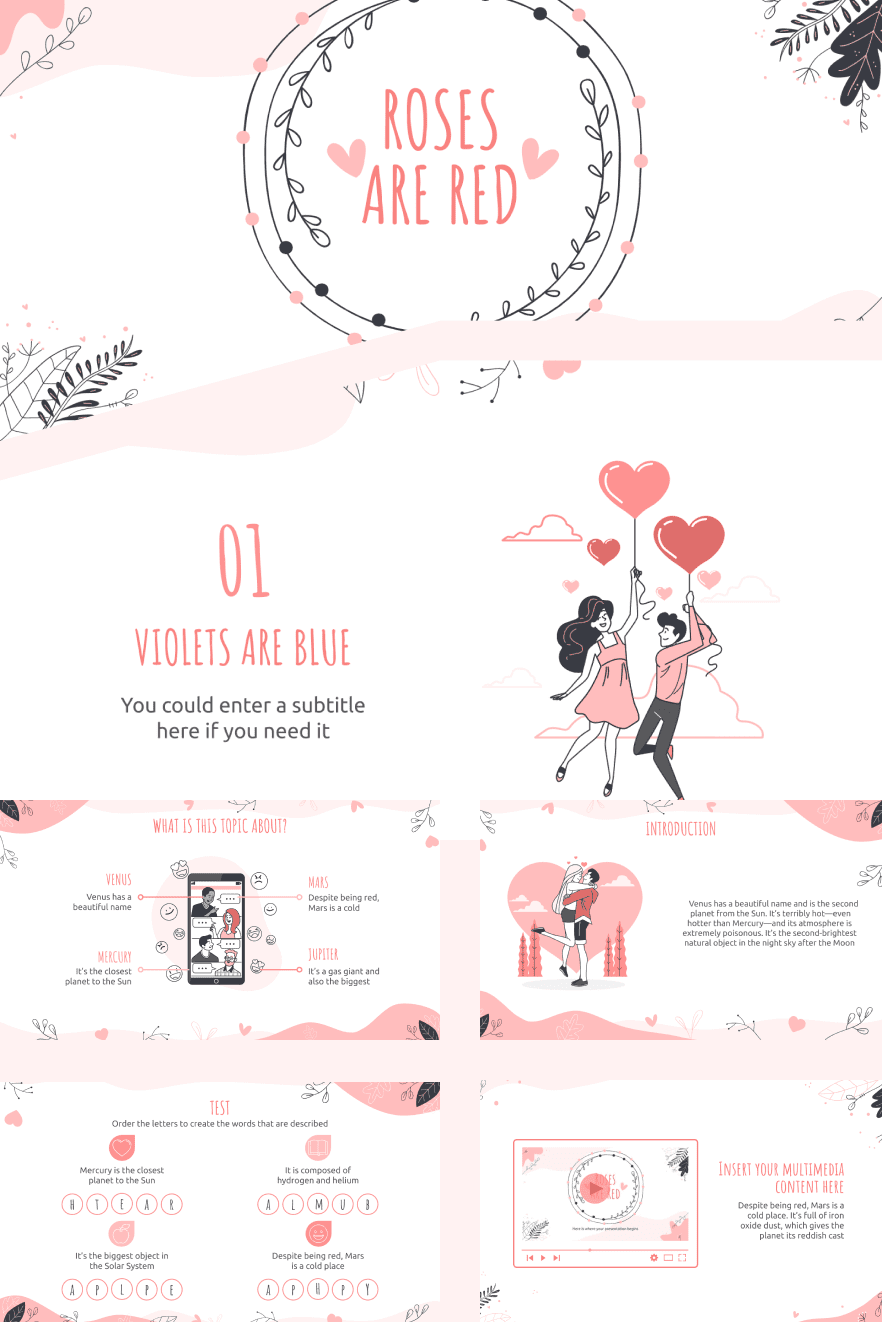 Love, smiles, cuteness—all of these feelings are inevitably associated with flowers. Besides a lovely color scheme and graphic elements, this template with 31, 100% editable, slides also contains a set of graphic elements, e.g., tables, maps, infographics, mockups, timelines, etc. that are also easy to edit.
Some Awesome Videos About Cute Google Slides Themes
Free & Premium Cute Google Slides Themes 😍 – MasterBundles
How to Make CUTE Google Slide Presentations

This video will walk you through how to make CUTE Google Slide Presentations that are sure to capture the attention of your students.

FAQ
👨‍💻 Why are cute Google Slides a universal template?
Cuteness is a universal topic and background that resonates with any kind of audience. Therefore, if you aim to get your spectators' attention and use the whole scope of perks presented by a template, you should definitely opt for a cute one.
👨‍💻 How do you make a cute slide on Google Slides?
Given that one's vision of what is cute and what is not is a purely individualistic one, it can be stated that downloading a cute template for Google would be the best way to do it.
👨‍💻 How do you make Google Slides look aesthetic?
Of course, you can try doing it all yourself, but the best way is to go online and download an aesthetic, cool template that has been masterly created for you. You can choose between free Google Slides or premium bundles that come at reasonable prices.
👨‍💻 What is the advantage of Google Slides?
There are a lot of advantages associated with using Google Slides. Google Slides presentations are easier to create and handle while being compatible with any platform of your choice.
Please take a moment to pin this post to Pinterest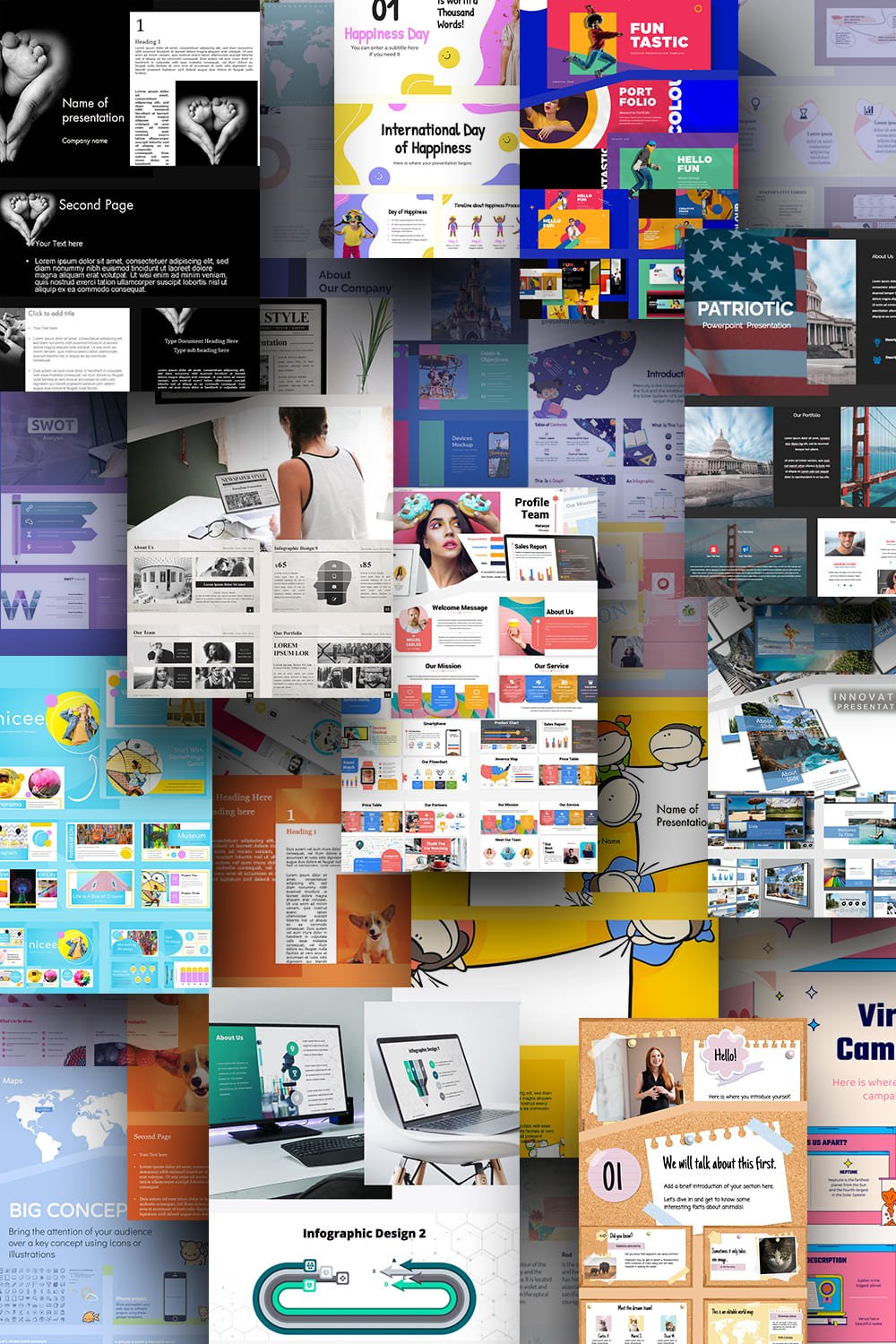 Was this page helpful?
We will be happy if you decide to share this article with your friends on Facebook. Just click on the button and you're done
Thanks for your response!
You have already left your review.
When crafting our articles, we follow the ultimate goal of making them reliable. Hence, we want our readers to come to our website and leave with the answers to their questions—answers that bring solutions rather than more questions. This is why we are extremely conscientious when it comes to choosing the sources we get information from.
Google Slides. (2021). Retrieved 17 February 2021, from https://en.wikipedia.org/wiki/Google_Slides
Kate, S. (2021). 17 Pros and Cons of Google Slides! (Should You Use it?). Retrieved 17 February 2021, from https://artofpresentations.com/advantages-and-disadvantages-of-using-google-slides/
Kim, J. (2021). 5 Reasons to Replace PowerPoint with Google Slides | Inside Higher Ed. Retrieved 17 February 2021, from https://www.insidehighered.com/blogs/technology-and-learning/5-reasons-replace-powerpoint-google-slides.