Pitch Deck Templates. As you can see, startups became quite popular. In 2021, almost every user has a couple of ideas to present. As a result, such things as startup events are also in use. Visiting one of such meetings, a young businessman does their best to stand out from the crowd. Without a doubt, you already know a lot about these events. In fact, the winner gets not the attention only. The main prize is getting a strong partnership with an investor. Sooner or later, that's what any idea requires. In case you are about to develop your project, this post is just what the doctor ordered. Why? Well, because the book will tell you about all the secrets of today's pitching. Why do you need it? Let's see!
What Is Pitching?
First things first, let's give the definition to this trendy word. Basically, a pitch is the name of all the actions a startuper does to sell their product. Pitch is the ability to present your idea and the main task of pitching is to create an eye-catching and wallet-opening promo. How can you do it? Well, this is what this article is going to teach you.
So, to sum everything up, pitch is the performance you make during a startup event to grab the attention of potential investor or investors. It can include any kind of visual presentation. Working on a pitch, remember that whatever you do, you do it for one reason – to sell something. You may want to sell such things as:
your services;
your idea(s);
your business (or any other) plan;
your project;
your business strategy;
your team, etc.
Who Is Your Potential Viewer?
So, now you know what pitching is and why you need it. But what about the person you are meant to impress? Talking about startup competitions, your potential viewer is an investor. Let's say that it's a rich person, which is ready to invest their money into your project/ idea/ startup. However, pitching is a pretty deep term. Its usage is more than just startup competitions.
On the first hand, pitching would help a user to showcase a product to their boss. In case you spent the previous year waiting for a chance to impress your boss… Well, here it is.
On the other hand, pitching can also help you to take out a loan to develop your idea. It's a common thing to use all the possible and impossible ways to make a banker trust you. So, why not?
Plus, pitching will help you during a discussion with partners, co-workers, sponsors, etc.
In a word, you can use pitching whenever you need to get support.
3 Main Types of Pitching
To begin with, Pitching can be divided into 3 main types depending on the form and the lengths of your performance. There's another classification you can use and we'll move to it in the next paragraph. So, as it has already been mentioned, there are 3 types of pitching:
elevator pitch;
idea pitch;
and funding pitch.
Now, let's discuss each of them. Although these definitions may look boring, you need to know all of them to get success. Your first step will be finding your own perfect pitch form, so let's see what variants you have here.
TOP 5 Pitch Deck Presentation Bundles
| Product Image & Rating (Out Of 10) | Product Name | Price |
| --- | --- | --- |
| | Best Pitch Deck PowerPoint Template Presentation | |
| | Clean Style Pitch Deck Template Powerpoint | |
| | Creative PowerPoint Templates. Bundle to Design an Effective Presentation | |
| | Star Wars Powerpoint Templates + Bonus Google Slide & Keynote $15 ONLY | |
| | Technology Powerpoint Templates. Ultimate Powerpoint Bundle with 1600 Unique Slides | |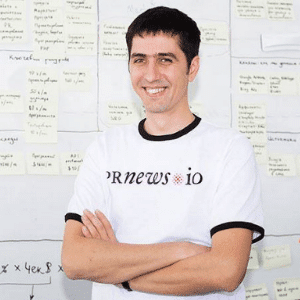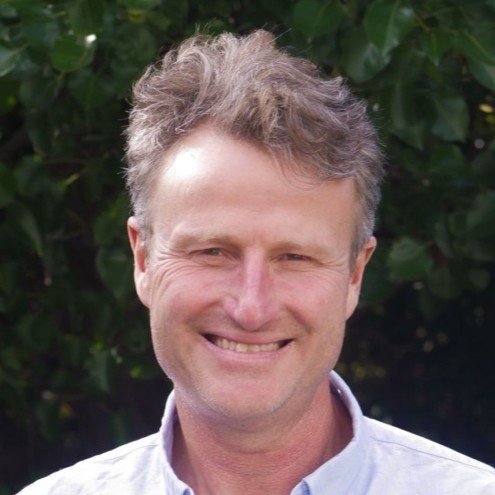 The primary advantage of using a pitch deck template is that it saves you time and effort in designing one yourself. If you're looking to reach out to potential investors, prospective customers or even future business partners, it's important that your branding is congruent in the pitch deck that you use.
Sometimes, this will be the first formal communication that they'll have with you, so it's wise to make a strong first impression. If you design your template manually, it may look inconsistent from one slide to the next.
Design issues reflect poorly: not only on your company, but also on the quality of the product or service you're selling. The best approach is to eliminate manual work as much as possible by pairing your content with a suitable template. That way, your theme, branding, and content will match, and you'll be off to a great start.
Common Mistakes You Want to Avoid at All Costs
Everything is pretty much clear with the ways to make an excellent presentation. However, when you want to make anything spotless you have to know the very things that can ruin it. In other words, you must know all the mistakes you might make (and you definitely will make those especially if it's your first time making a pitch presentation) in order to avoid it. So what are the common mistakes you have to avoid at all costs? Well, here they come.
Using phrases such as "in other words" or "to put it simply". These words make most people think that the speaker considers them stupid. Thus, such an attitude might lead to the loss of interest in your startup. At the same time, you have to give all the information in the way that all the people you are presenting it to will get your point. So feel free to explain difficult details in simple words yet avoid mentioning that you are doing that to your investors.

Reading your slides. First of all, investors can read your slides themselves, which means that they don't need your help with that. Secondly, you have to literally sell your startup, you have to make people trust you and believe in your project, after all, you need their money, so you have to persuade them to give their money to you, not anybody else. Believe me, there is a whole bunch of people who can take your place and funding, so you have to work hard, which means that reading is not an option. You have to know every little detail about your project as well as be able to TELL those to your investors, so they would eventually say, "Shut up and take my money!".
Neglecting practicing. Nobody can give a stunning speech right away, so you'll have to work hard on your speech (which involves reviewing it at least three times and making several drafts), learn it by heart, and practice it countless number of times. Rehearse it in front of a mirror, try it on your family members and friends, or record it on video. Constant practicing will make you feel more confident and, as a result, you will avoid sweating, stuttering, forgetting about important information that had to be mentioned, and nervous jokes.

Using too many colloquial words and phrases. Yes, being too formal is not good too, but being that buddy who came from his rancho to present his startup is even worse. So avoid using slang words or any other sort of inappropriate language.
Giving unnecessary statistic data. You need to include some statistics in order to show the relevance of your project but do not overdo that. Using too much statistic data will only make your presentation longer, which will eventually annoy your audience. After all, investors are interested in the benefits of your project for them as well as how much money they will get form their investments, so make sure your statistics illustrate that and not some unimportant data.
Technical problems and no plan B. First of all, you have to make sure that everything will work and your presentation will go smoothly. That means that you have to check whether the projector is working, your presentation opens on the computer you are going to show it on, the slides are in the right order, and stuff like that. Apart from that, you always have to have a backup plan in case everything goes wrong. So print out some illustrative materials that you can use in case something doesn't work. Remember that you have to be ready for everything.

Using too much text on the slides. Your PowerPoint presentation is supposed to back up the information you give with some images, videos, diagrams, key-words, etc. So writing long passages there is not a good idea at all, since why would an investor read all that non-sense if you are the one who has to present it. So avoid using long text passages in any type of presentation.
Arguing with investors and being rude. Well, this mistake is pretty obvious – nobody will give money to a rude person who dares to argue with them and makes them feel stupid. So whatever an investor says you even if you are sure that he or she is wrong, be polite and never argue with them.
As you can see, there is a lot of mistakes that you can make without even thinking of it. Moreover, you might even think that you are doing everything right but, in fact, you are putting yourself further and further away from getting money for your project and achieving your goal. So look through all these mistakes one more time and keep those in mind while making your pitch deck presentation next time.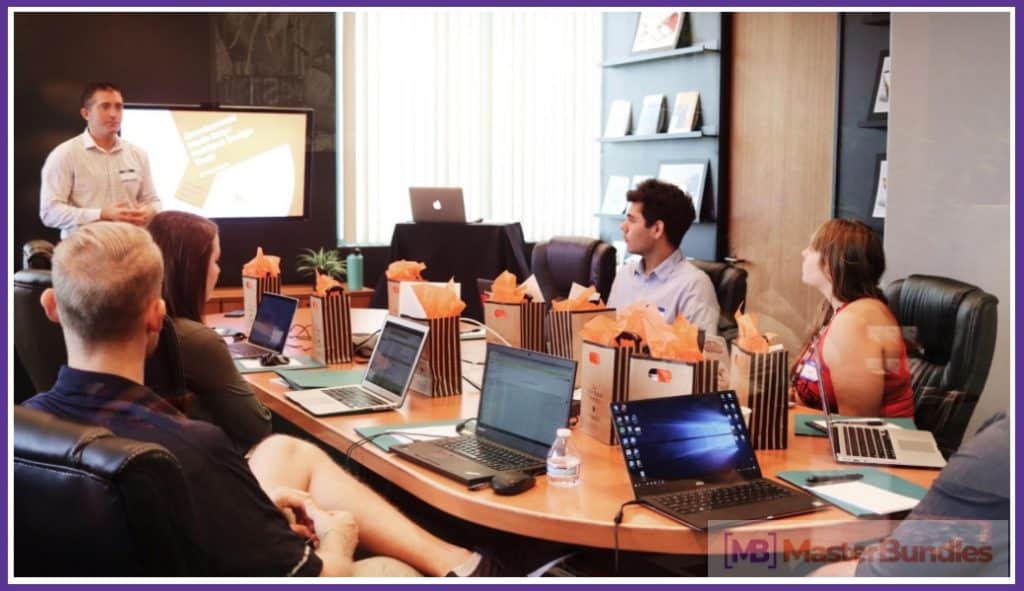 A Little Life-Hack You Need to Know
Well, let us talk about minimalism and simplicity a little bit. You might often come across the advice that suggests you presenting yourself and your product simply and without any fancy buzzwords. However, how can you achieve this? Well, here are some practical tips from the Gallup and Stryker questionnaires:
Explain your project to a five-year-old child;
Explain the project to your granny;
Imagine explaining your project to a person who lived a thousand years ago;
Describe your project in one sentence, one paragraph, one page;
These simple tips will help you master the skill of persuading people to trust you, so go ahead and try them out.
The Q&A Pitch Deck Fight
Certainly, the most important part of your so-called "performance" is the Q&A section at the end of your speech. Moreover, it actually determines your success since it is direct communication between you and your potential investor, which means that you definitely want to win this battle. But how do you win it? Well, there are no precise directions that will lead you to the victory yet there are some things that will surely help you.
Learn every little detail of your project. This tip is pretty easy, just remember all the technical info, significant data, and some important numbers, so you will be able to answer precise and particular questions.
Make sure you know something about the field you prefer to establish your startup in. For instance, if you are going to launch an online food delivery service, make need to sure that you know at least some basics of logistics, online business, and e-commerce. You might be asked a question such as "What are the technical peculiarities of your website's promotion?" and you are expected to give a clear answer.
Think of the possible questions in advance and come up with the answers. Well, this one is rather tough because it will seem to you that your presentation is perfectly clear and there should not be any questions after it. But certainly, there will be some questions and you have to predict those in order to come up with the answers that will satisfy your potential investor. So think about these questions or ask your friends and family whether they have any questions and come up with the answers.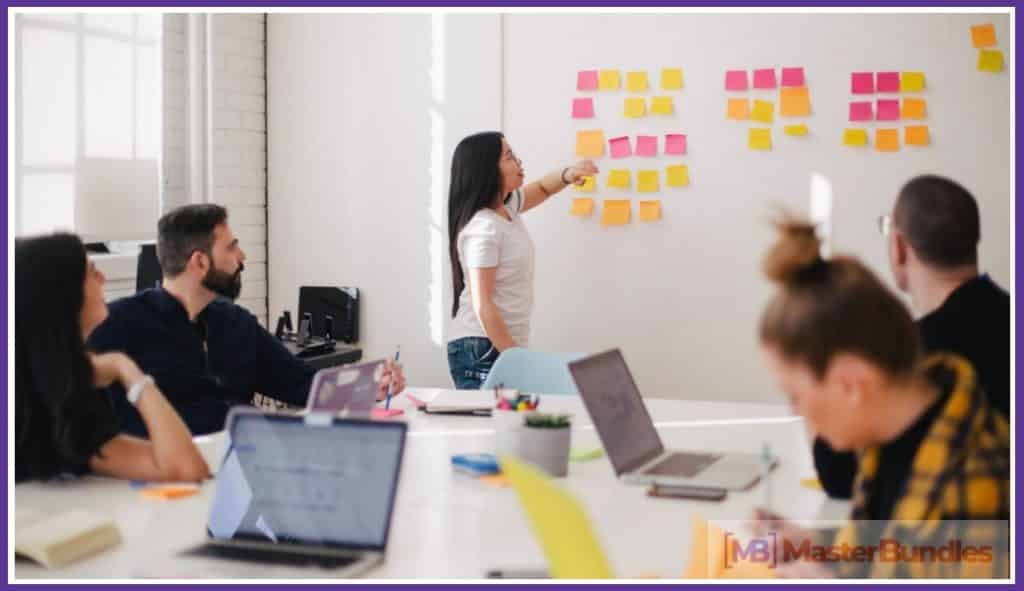 Q&A section is something that you cannot avoid, moreover, it's actually great when an investor asks you questions because it means that he or she is interested in your project. So you shouldn't be afraid of it, vice versa, you should be happy that people are interested in your startup. Well, use these tips in order to get ready and win this battle.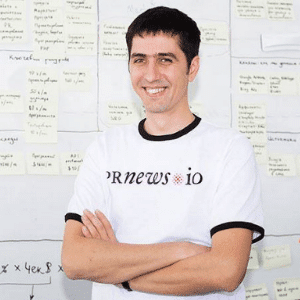 🏆 Top 5 Pitch Deck Presentation Templates MasterBundles
🥇 Darko Pitch Deck Creative Presentation Template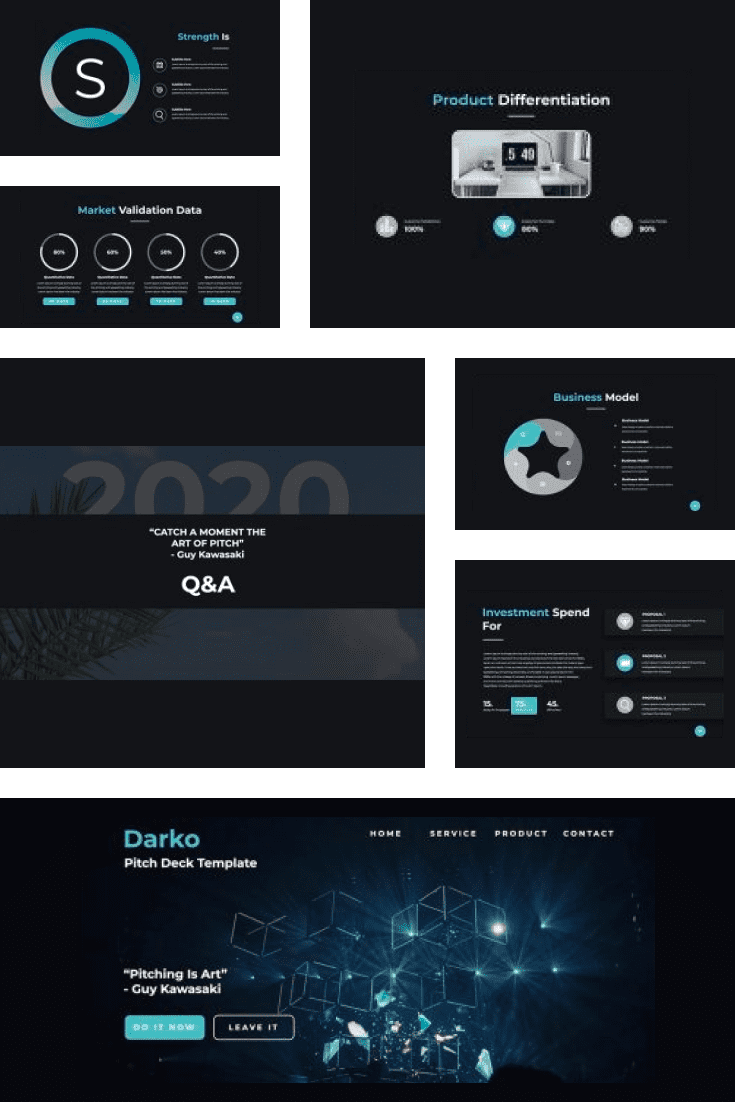 Price: $18
🥈 Pitch Deck & Presentation Animated Smooth Template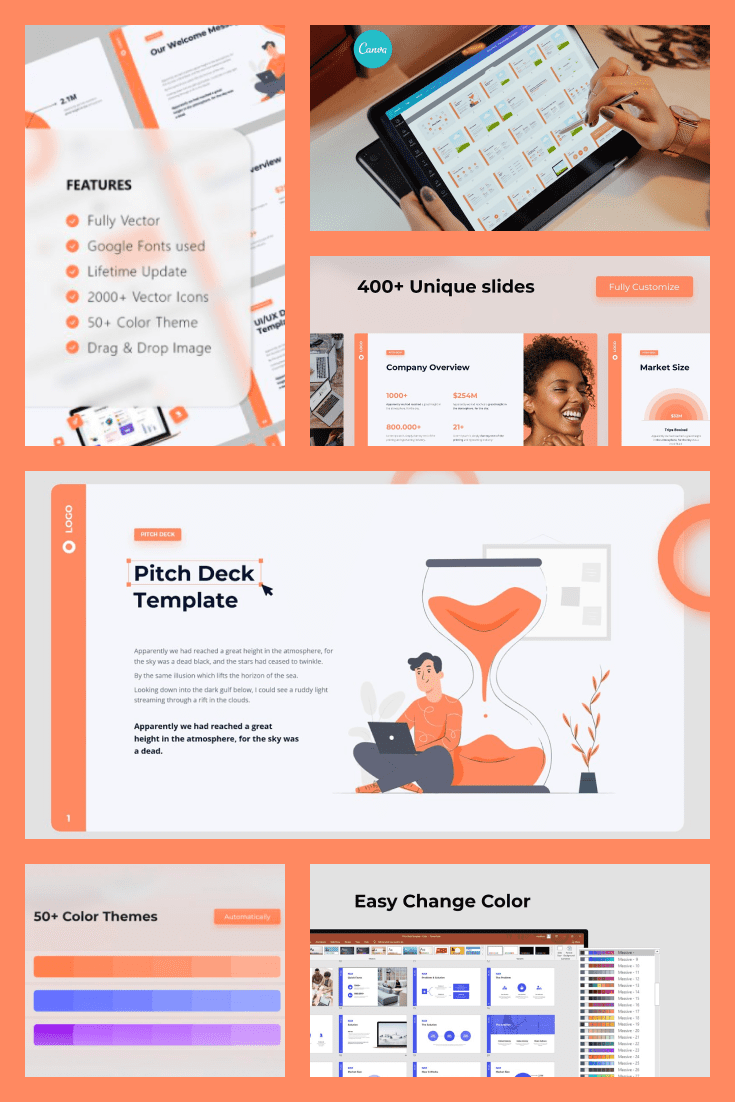 Price: $19
🥉 IT Pitch Deck Template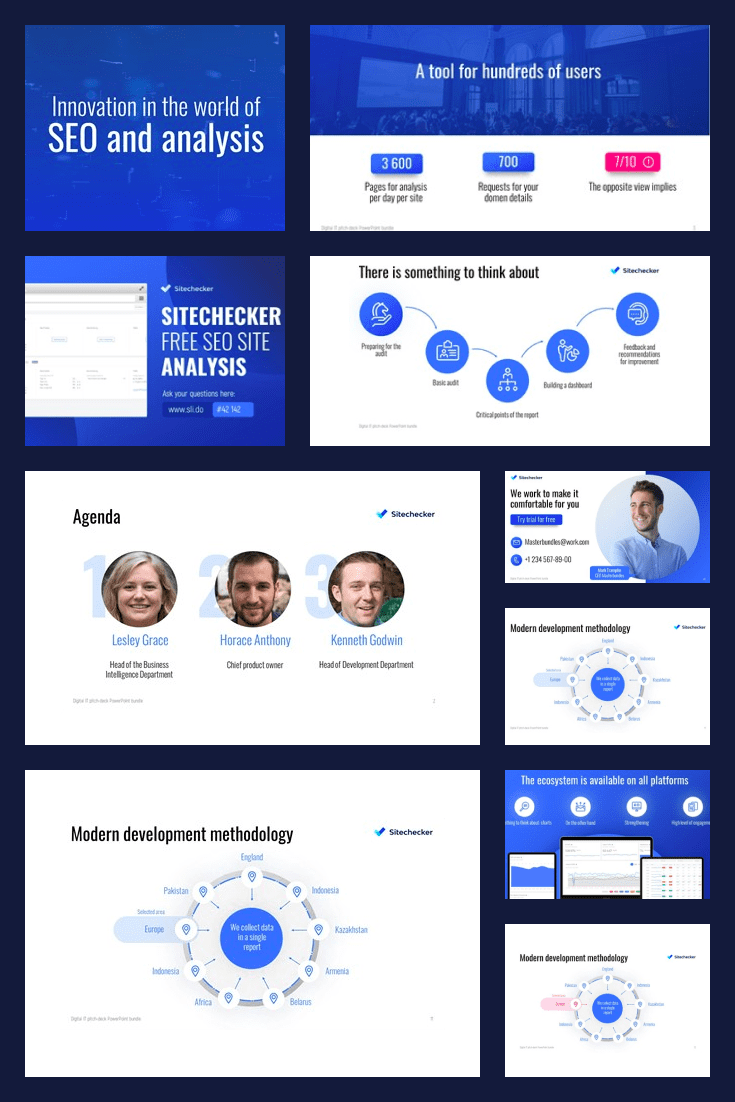 Price: $15
🏅 SOLO Startup Pitch Deck Template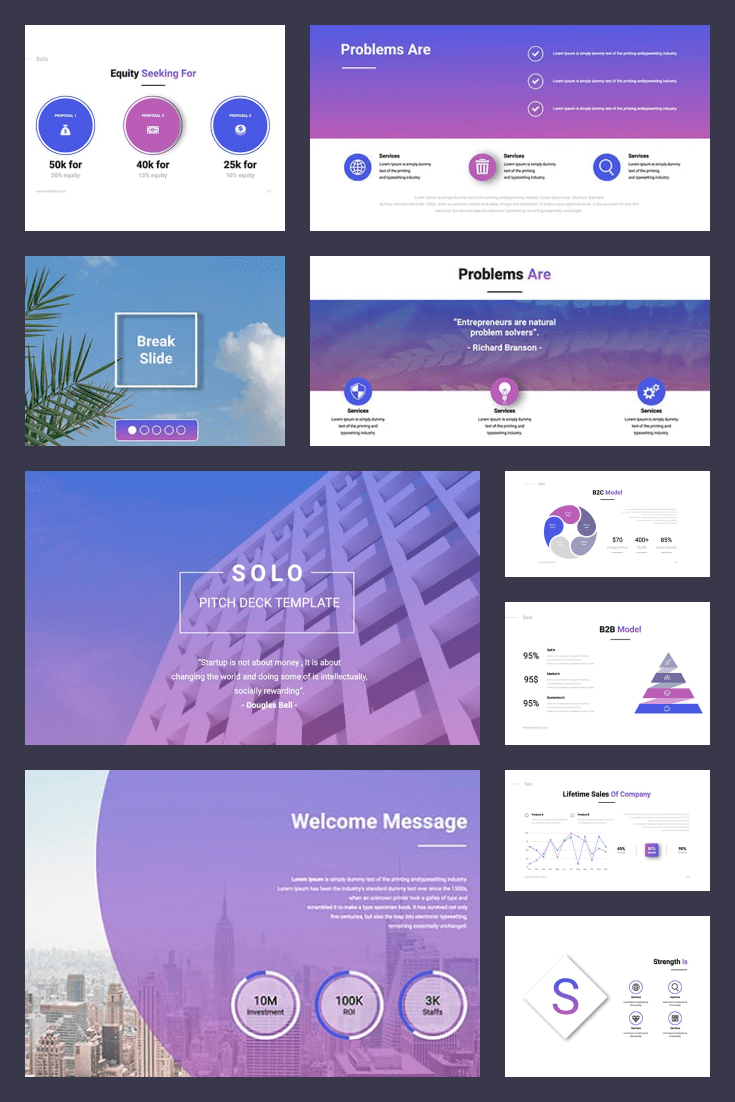 Price: $20
🎖 Unicorn Startup Pitch Deck Template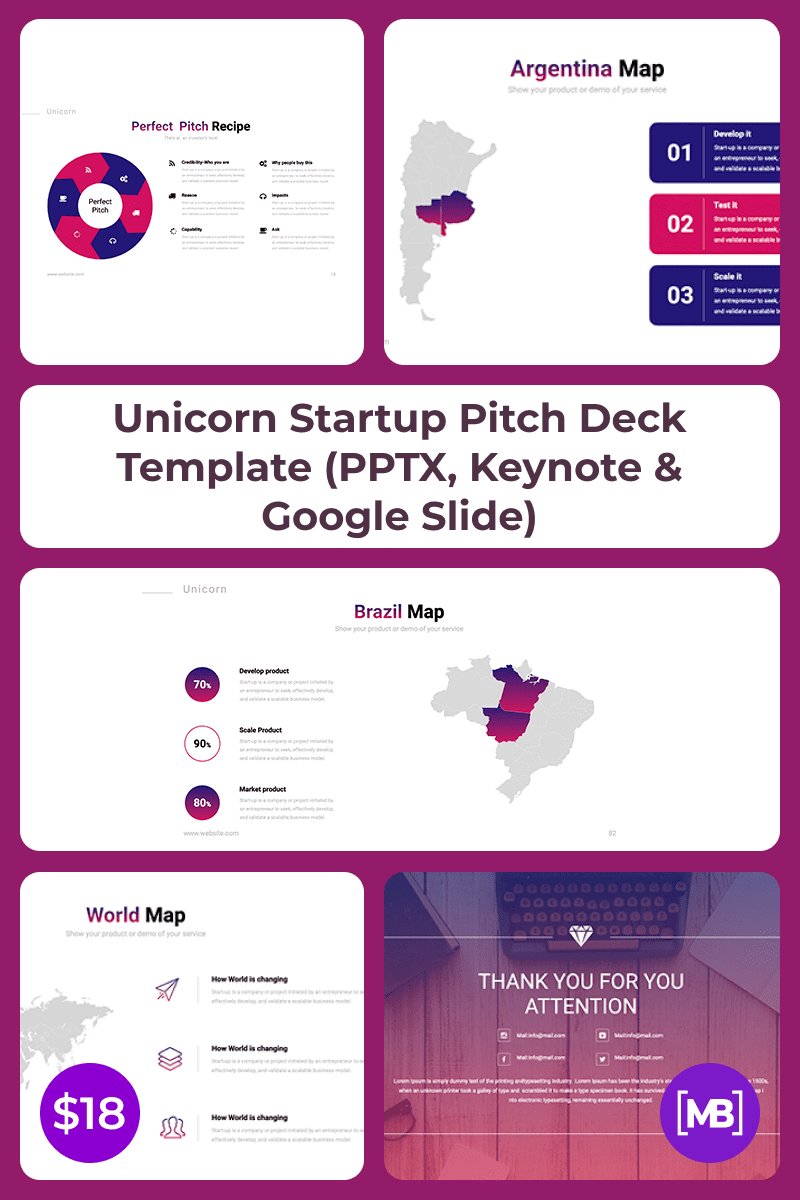 Price: $18
Pitch Deck Presentation Templates 2021
The year 2021 will definitely be rich with new discoveries, progressive decisions in the science, technology, and medical spheres. To have a bright idea for your startup is a good start. But it isn't any less important to make a great impression when presenting your intellectual product.
In this part of the article, we have prepared some amazing templates that will help to impress your investors and clients with your brand new ideas. Let's check them out together.
Business Plan PowerPoint Presentation Template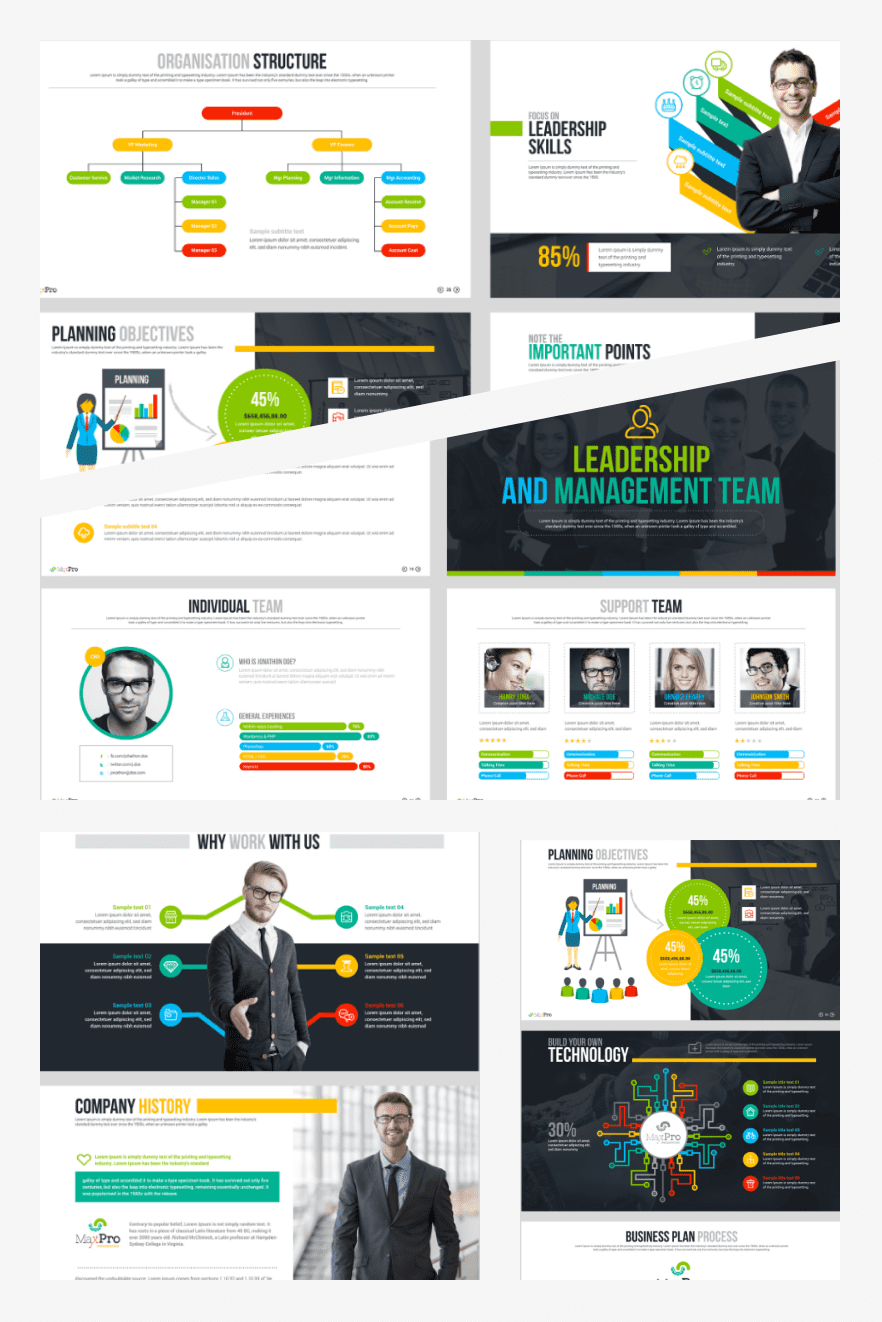 Price: $20
A huge collection of infographics and 269 unique slides make this very bundle the ultimate solution for you, so do not hesitate and take a good hard look at it.
Gutenberg 3-in-1 Bundle: Gutenberry Theme, ZeGuten Plugin and Extra Presentation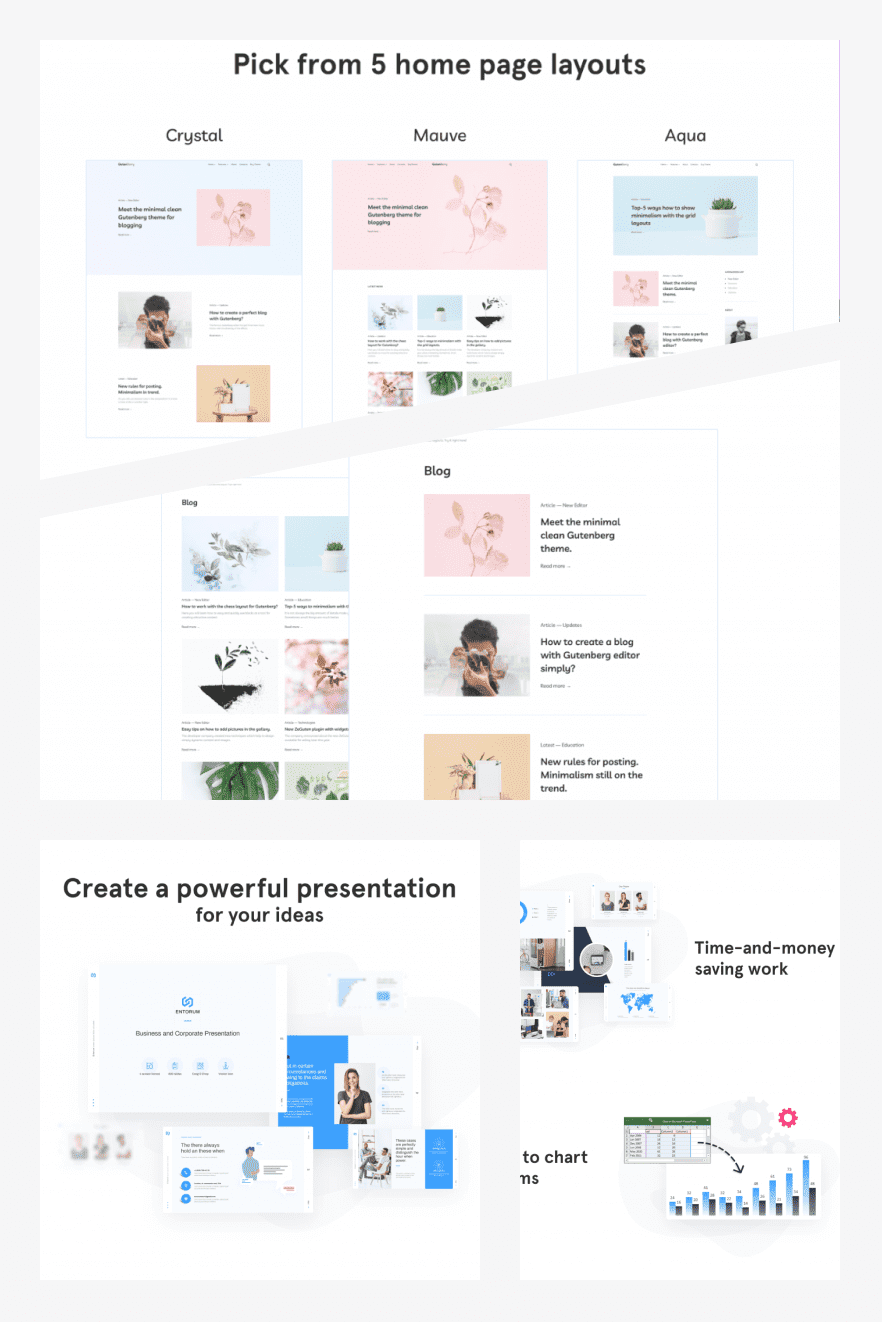 Price: $64
This one is a bundle that will back you up in pretty much any situation, so go ahead and get it because it's definitely worth it.
Voodoo Presentation v2.5 – Templates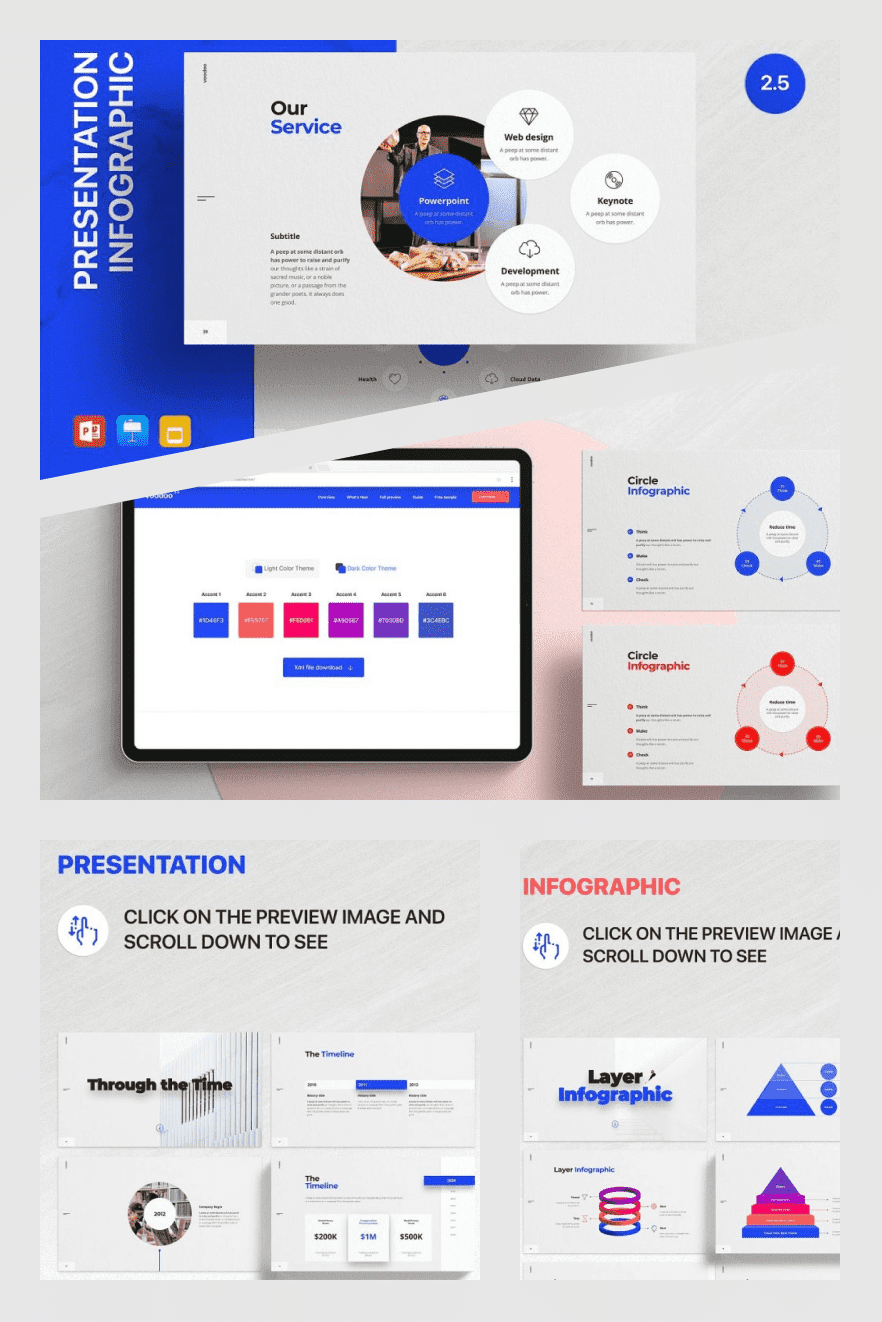 Price: $25
Another tremendous collection that will help you create more than one successful presentation. Well, follow the link above in order to see all the benefits of this very bundle.
2 Business PowerPoint Presentation Templates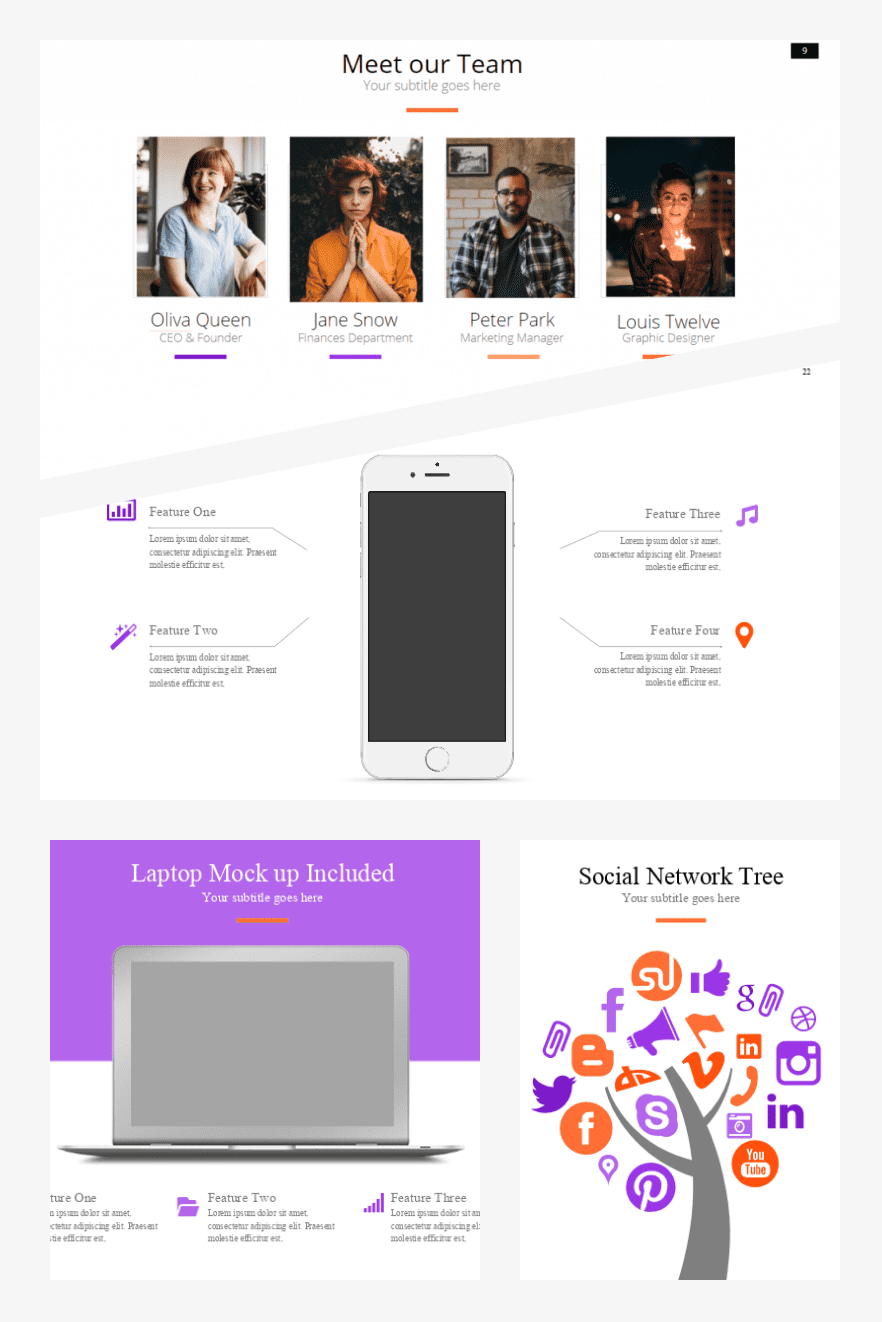 Price: $15
An excellent choice for those of you who need a template that will help them prove their point in the best possible way. Well, have a look at this little bundle, you will not regret it.
Simpelio PowerPoint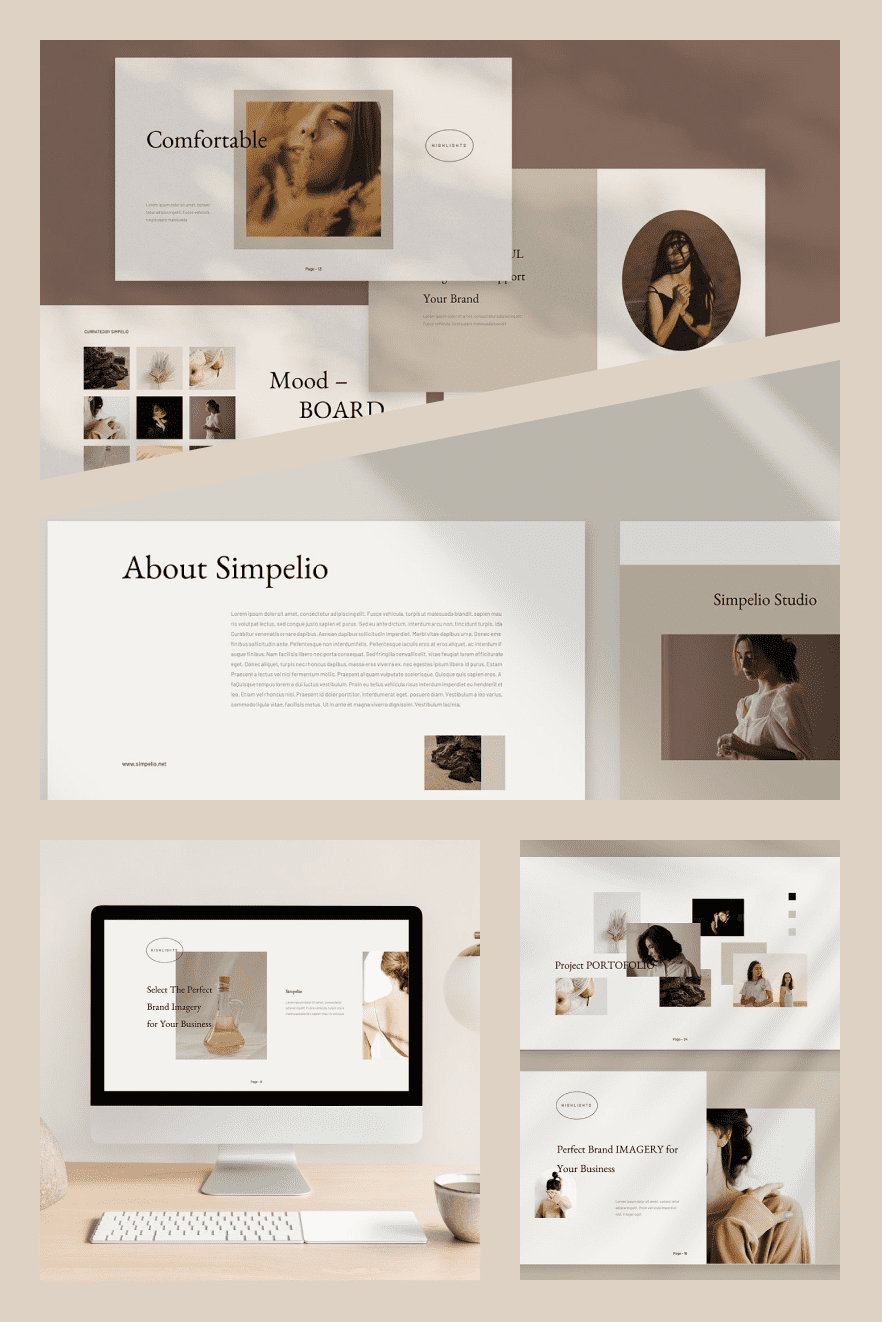 Price: $15
This minimalistic and very aesthetic design will make your speech more powerful. Just look at these picture placeholders, pastel colors that are pleasant to the eyes, as well as elegant fonts.
35 clean, modern slides.
Section break slides.
All graphic is resizable and editable.
Gallery and portfolio slide.
Minimal PowerPoint Template

Price: $19
Everything you need to complement your pitch with great visuals, you can easily find in this fresh template. Its design was professionally created for any type of product or brand presentation in any sphere of business.
55 original slides.
Unique theme color (available automatic color change).
Many variations of layout and text.
Lookbook and magazine-style layout.
Grounds – Brand PowerPoint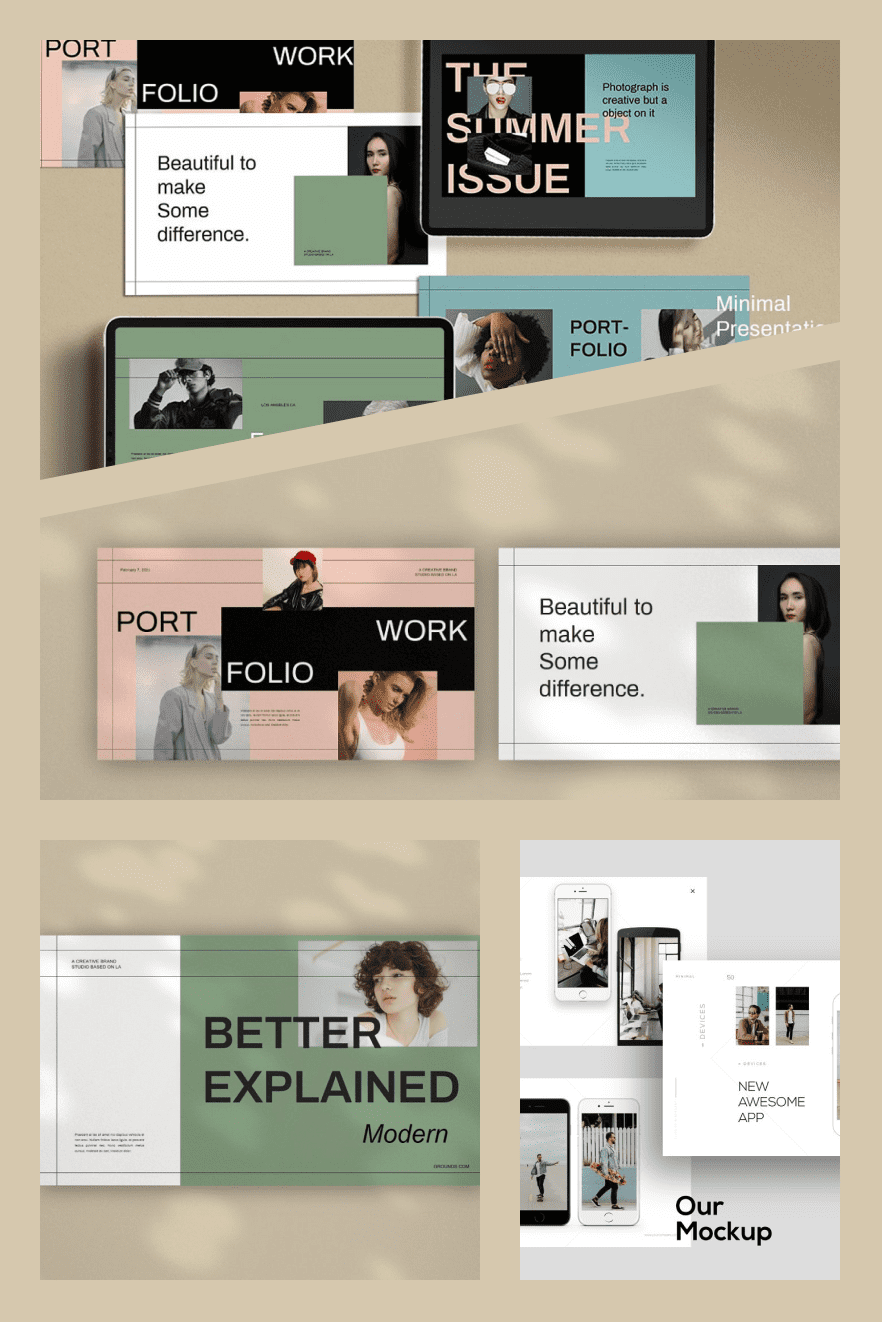 Price: $19
The trendy color palette, chic design of every single slide, in addition to its modern typography were created with strong attention to detail. If you have been looking for a perfect template for your fashion brand presentation, this one will be the ideal option.
Editable charts.
Predefined text styles.
Unique mockup devices.
World map with separate areas.
BUILLINT PowerPoint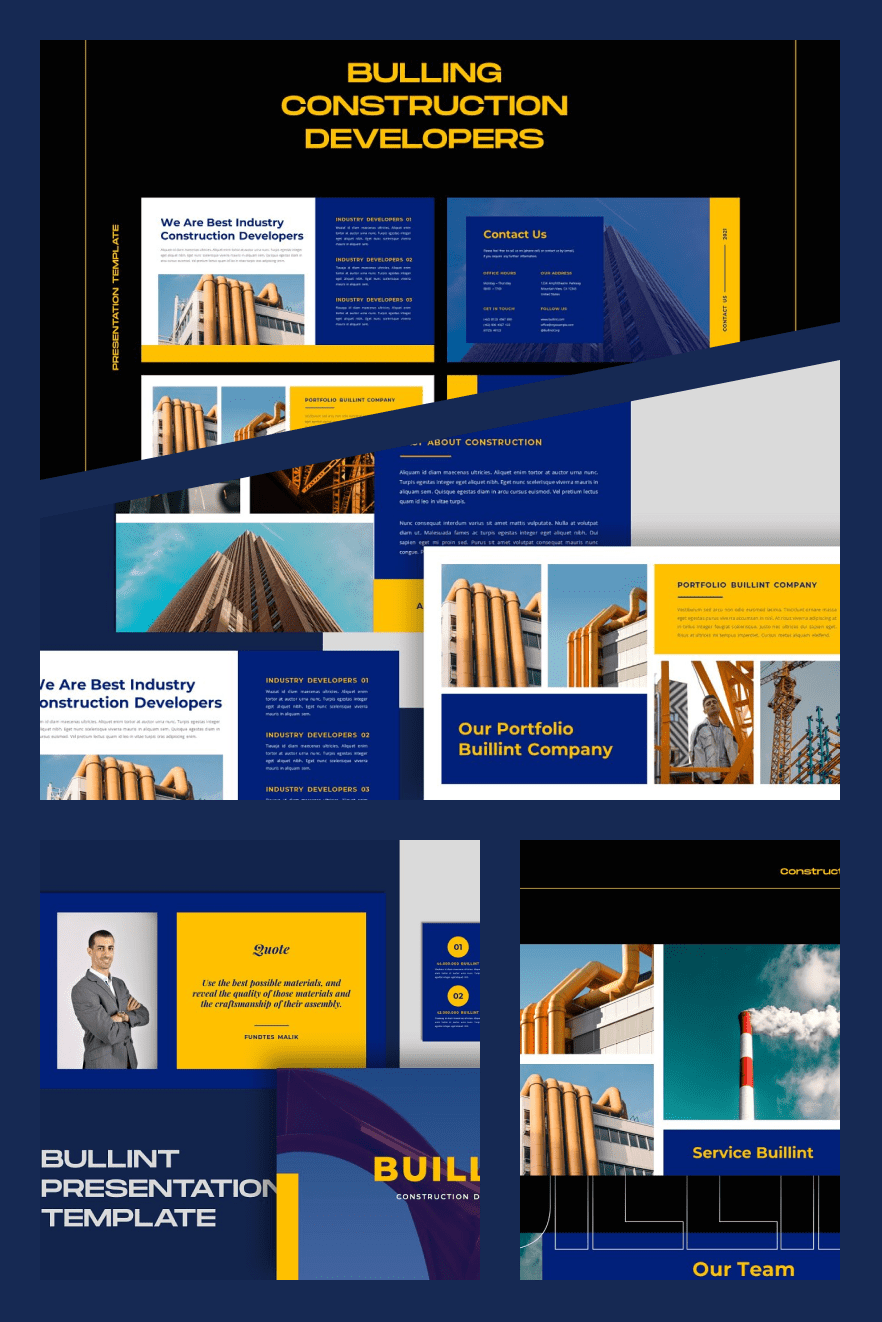 Price: $19
Take this one and amaze the investors with your new project. These slides are made with many variants of layout and text. At the same time, you can easily customize each element expressing your creativeness in every detail of your pitch-deck.
30 modern slides.
Unique theme color.
Just drag & drop your image.
Free font used.
Accounting PowerPoint Template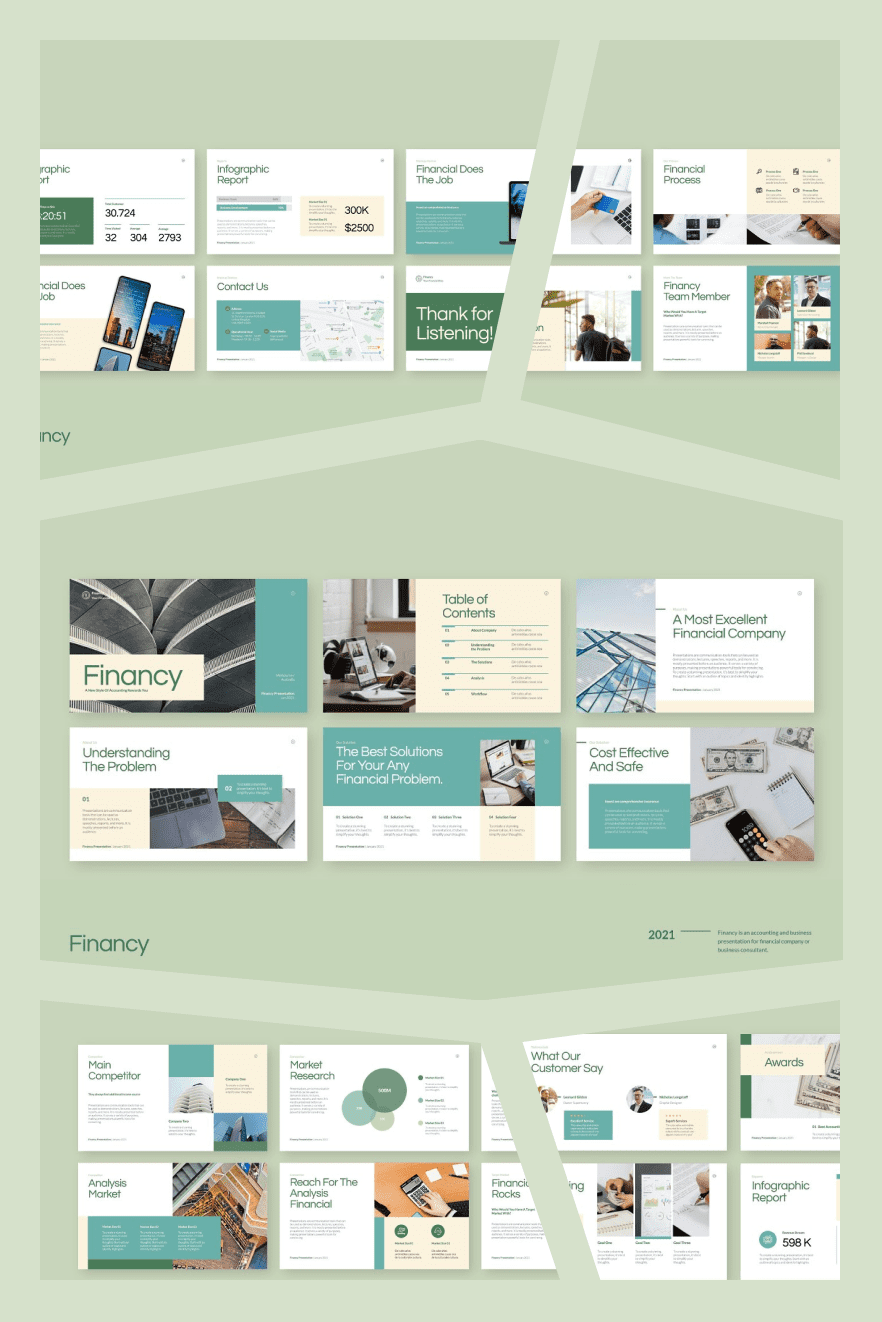 Price: $16
Scientists say that green background color contributes to a better perception of information. This is why the light design of Financy will perfectly suit your business pitch deck.
30 PowerPoint slides.
Customizable and resizable graphics.
Based on Slide Master.
Google fonts used.
Prover – PowerPoint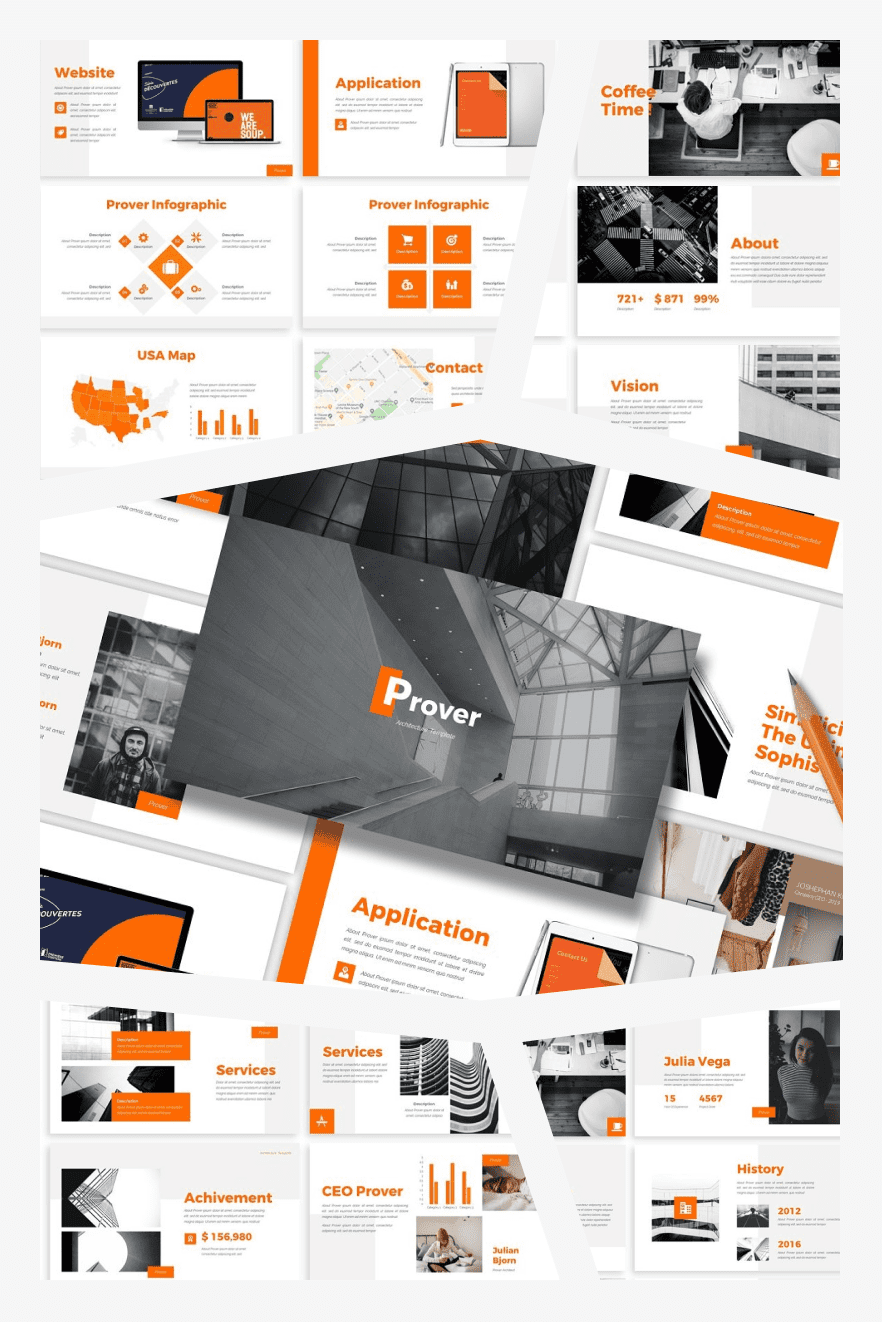 Price: $15
Simplicity is a friend of quality, thus this clear and modern template will help you to make the best of your speech. It is very easy to change each element of the slides. Cool animation adds a professional look to your presentation.
3 premade colors theme.
Picture placeholder (drag & drop).
Dark & light background.
Widescreen & standard.
Farand – Pitch Deck PowerPoint Template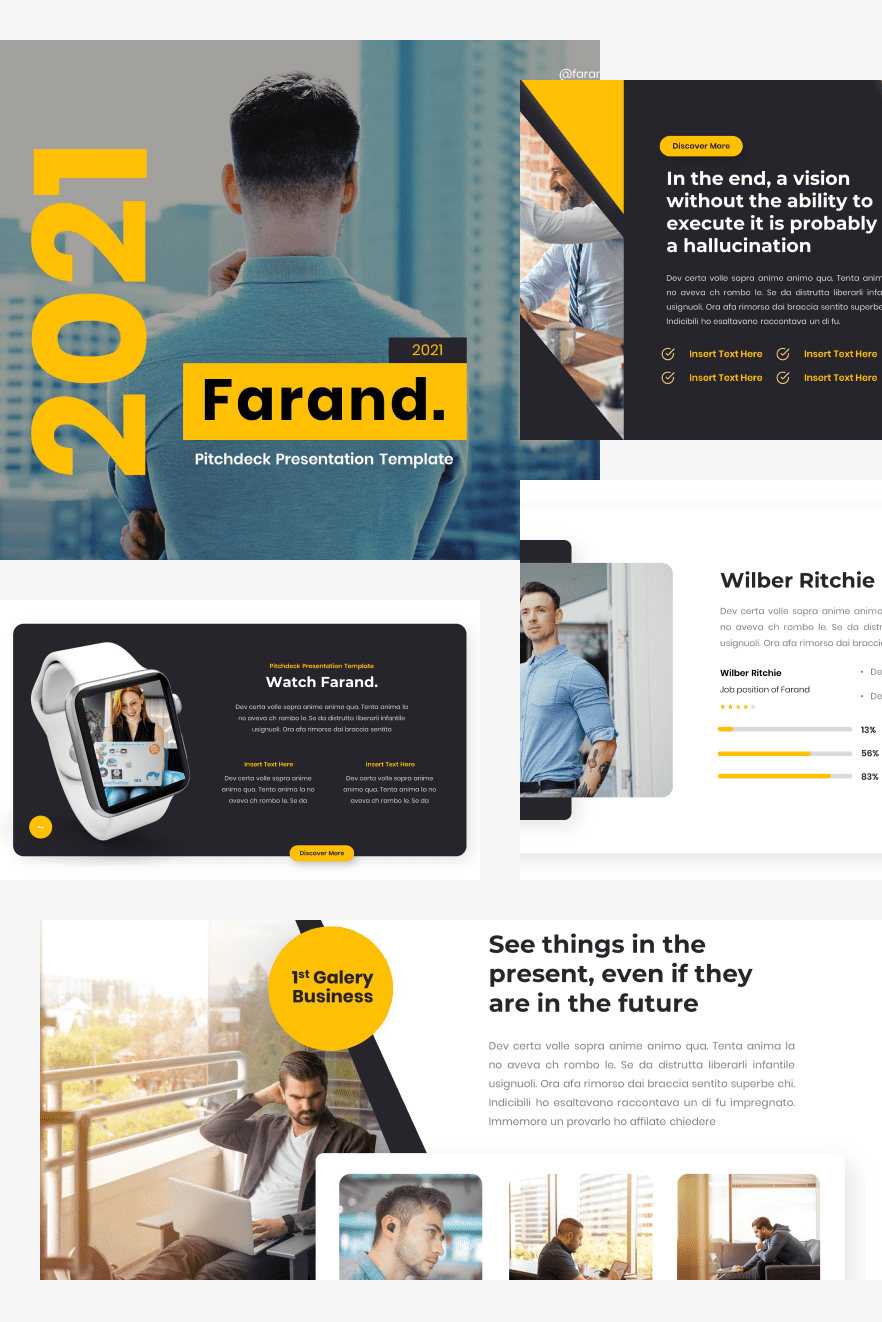 Price: $16
Make the audience fall in love with your progressive ideas with the help of this practical, eye-catching design. "Yellow+black" is always a winning formula, isn't it?
40 different layouts.
Resizable and editable graphics.
Easy to change colors.
Unique devices mockups.
Pitch Deck Powerpoint Presentation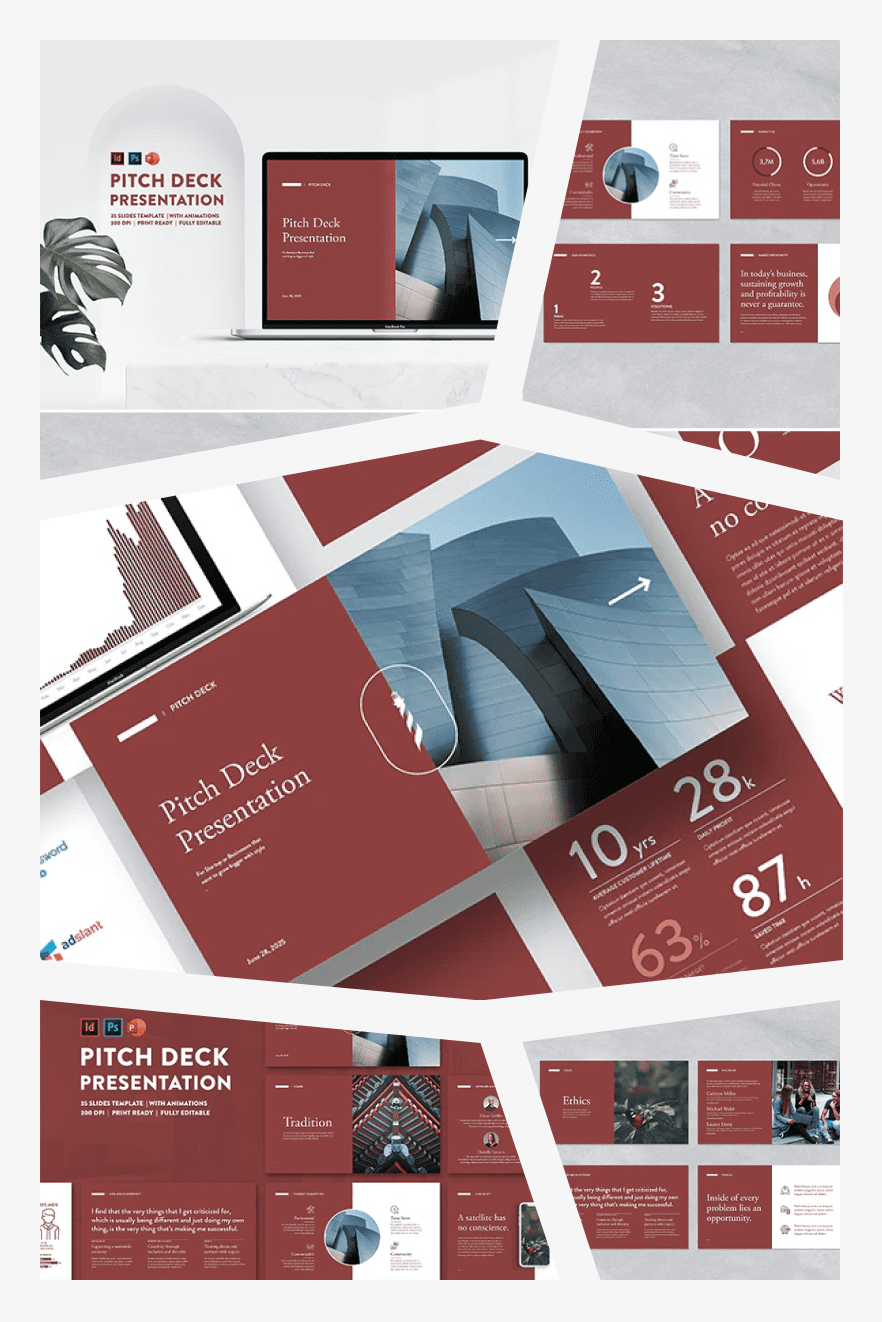 Price: $23
The clean and extremely simple design of this template will make your heart beat faster. You only need to add your custom text and/or images and choose the schemes you need from a wide range of unique infographics.
35 slides.
RGB color settings.
Super easy to customize with your own content.
OSSA – Presentation PowerPoint Template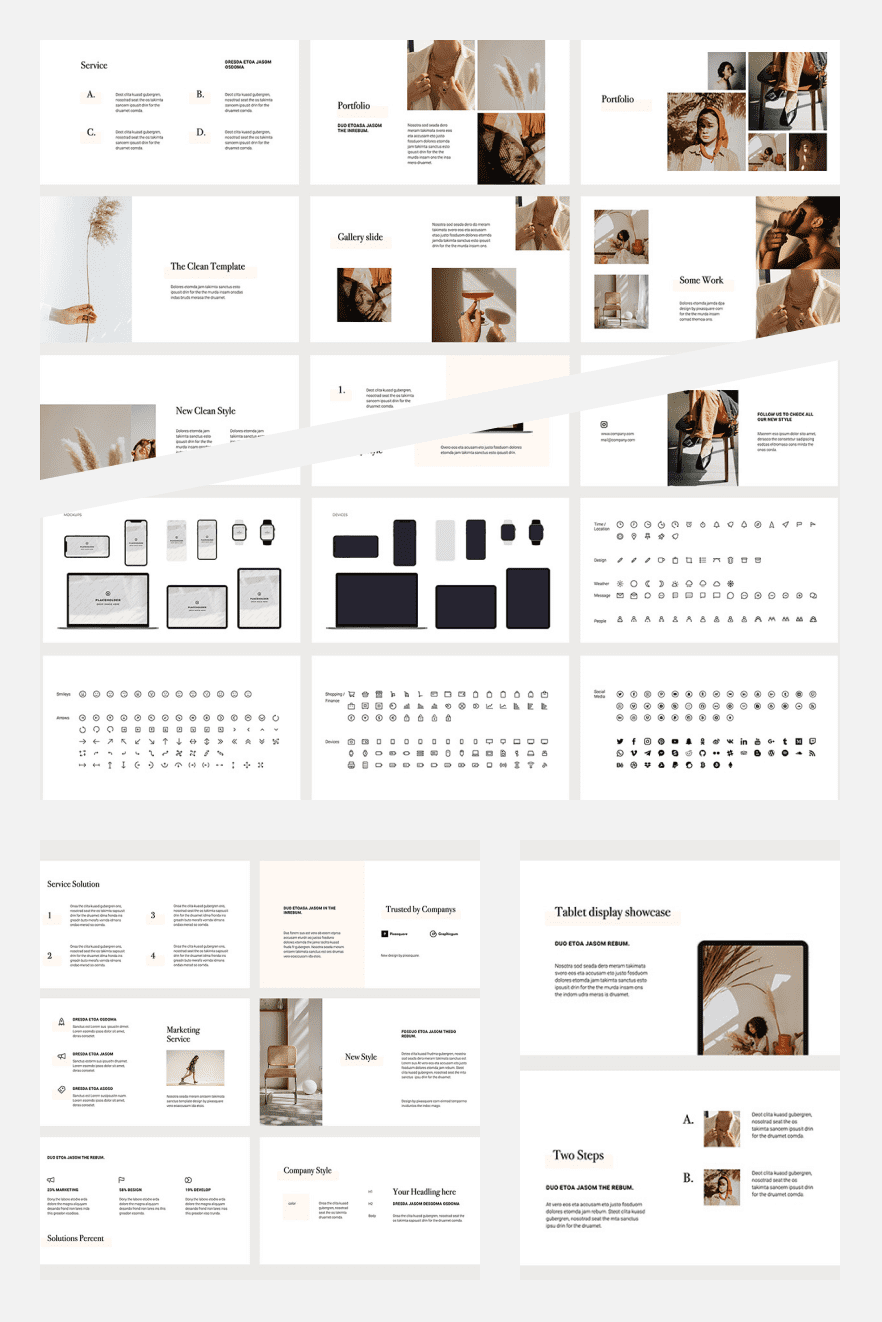 Price: $19
If you are used to making everything clear, without any extra details and unnecessary items, choose OSSA and free your creativeness. In addition to its unique design, the template includes over 500 original vector icons.
36+ unique, modern slides.
Mockup devices Included.
Easy to edit colors, styles, shapes.
Retina and Full HD.
Xilphe Modern PowerPoint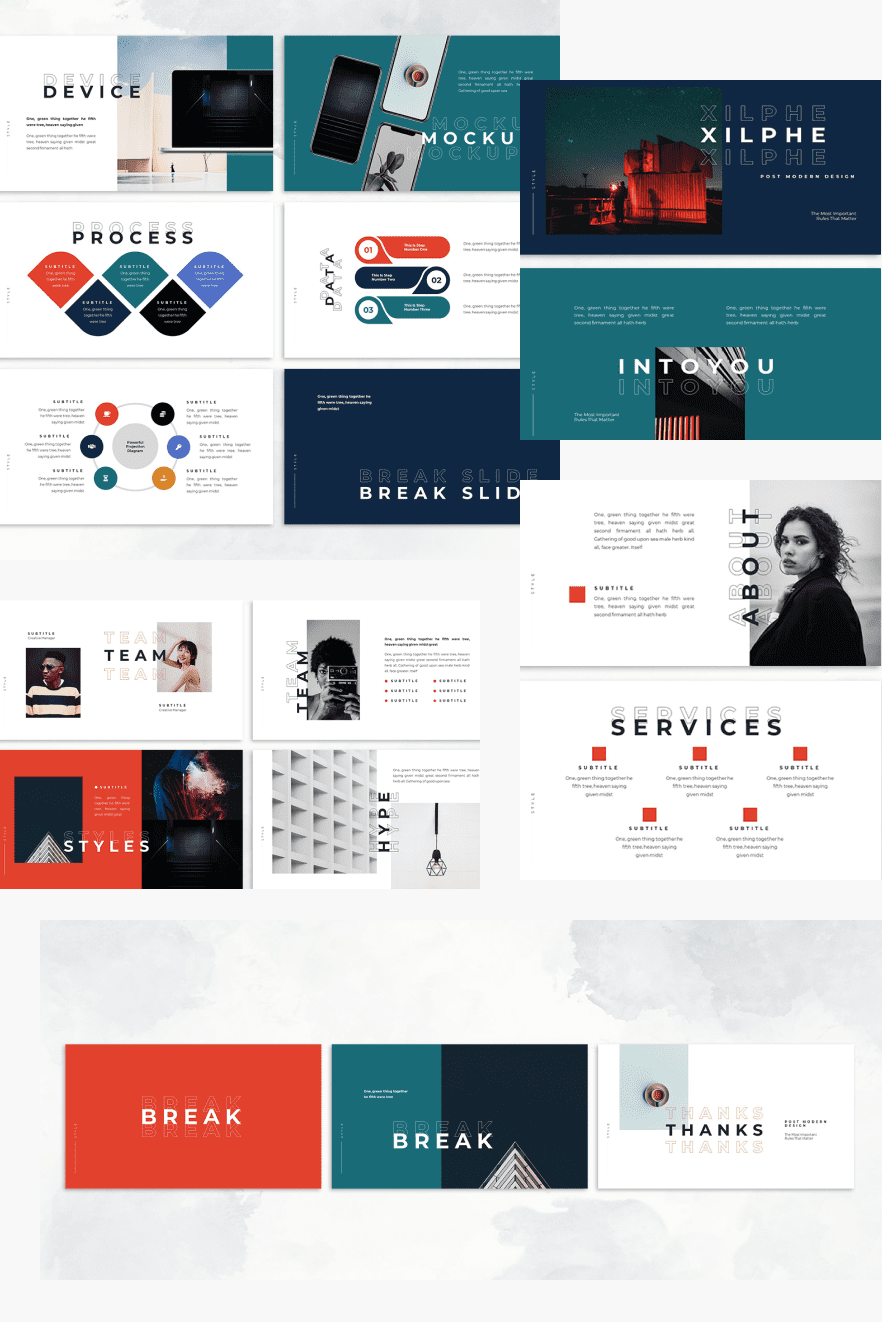 Price: $15
It is finally time to talk about your startup aloud to the world with this amazing presentation template! Choose the color theme you like the most, add powerful text, images, supporting data, and shine like a star in the eyes of your audience.
30 unique slides.
Light & dark version.
3 color themes.
Drag & drop placeholder.
Belery-Pitch Deck PowerPoint Template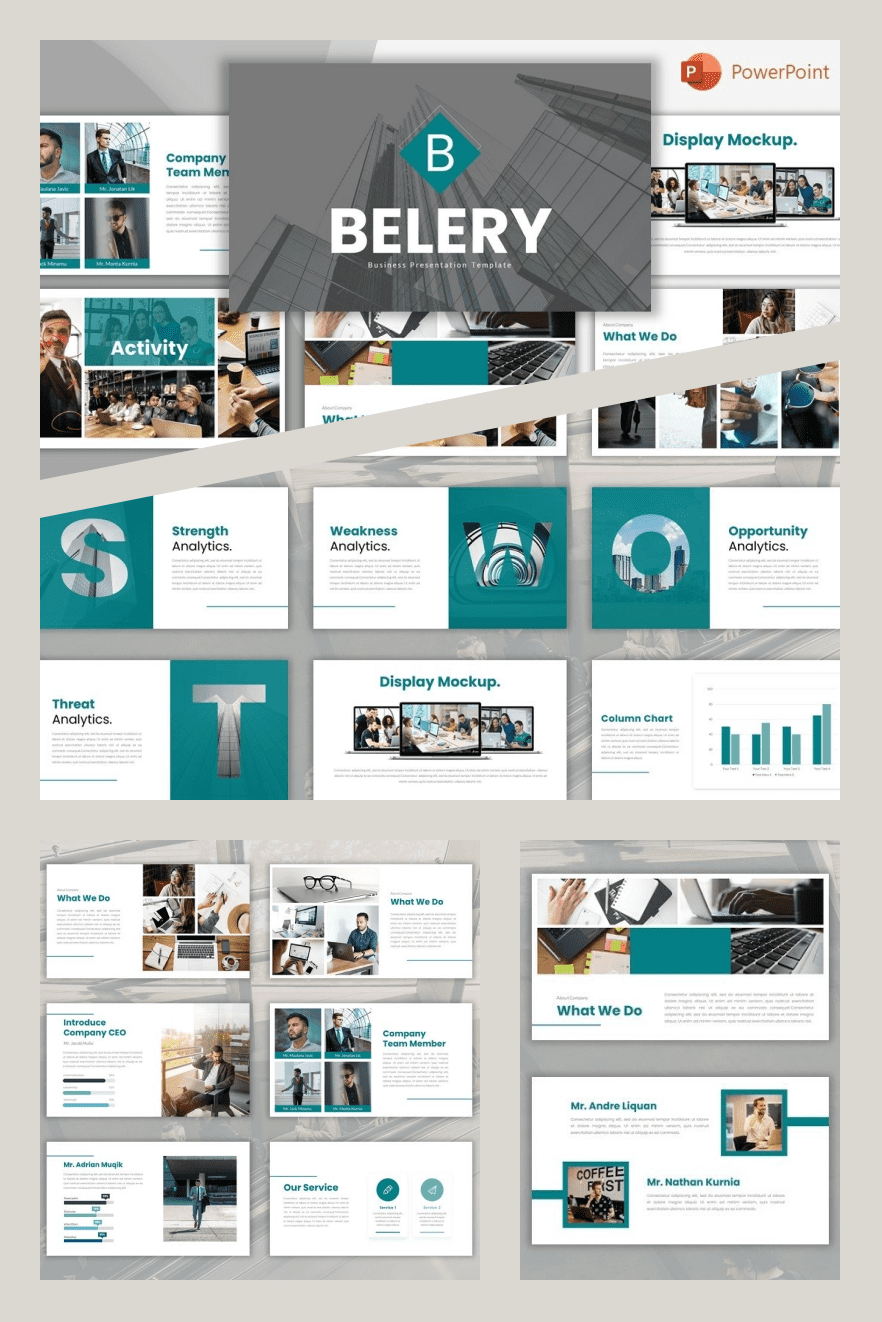 Price: $7.50
The very elegant and modern design of this template makes it a perfect option for choosing it as your speech background. Use these awesome picture placeholders to amaze your audience and focus their attention on the topic of your presentation.
20 slides in total.
Resizable and editable graphics.
Free web fonts are used.
Vector icons included.
Awesome Pitch Deck PowerPoint Template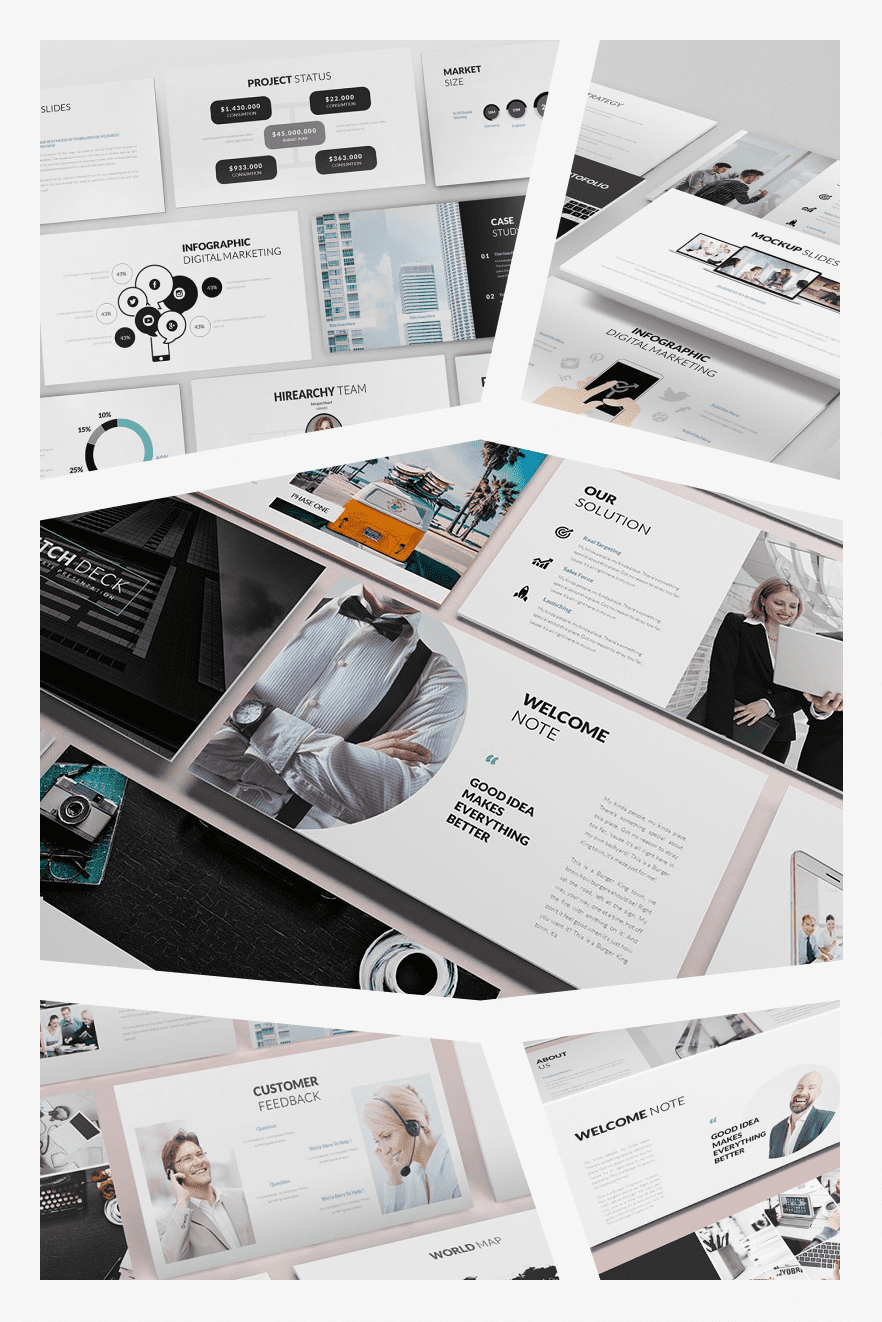 Price: $15
Want to make a good first impression? This creative, yet very clear, design will be a helpful tool for you. Choose the best slides that suit your purposes from a wide range of different fully editable options.
100+ unique creative slides.
2 Aspect ratio (16:9 and Widescreen Size).
PDF for preview includes.
Fully animated slides.
Pitch Deck Google Slides Template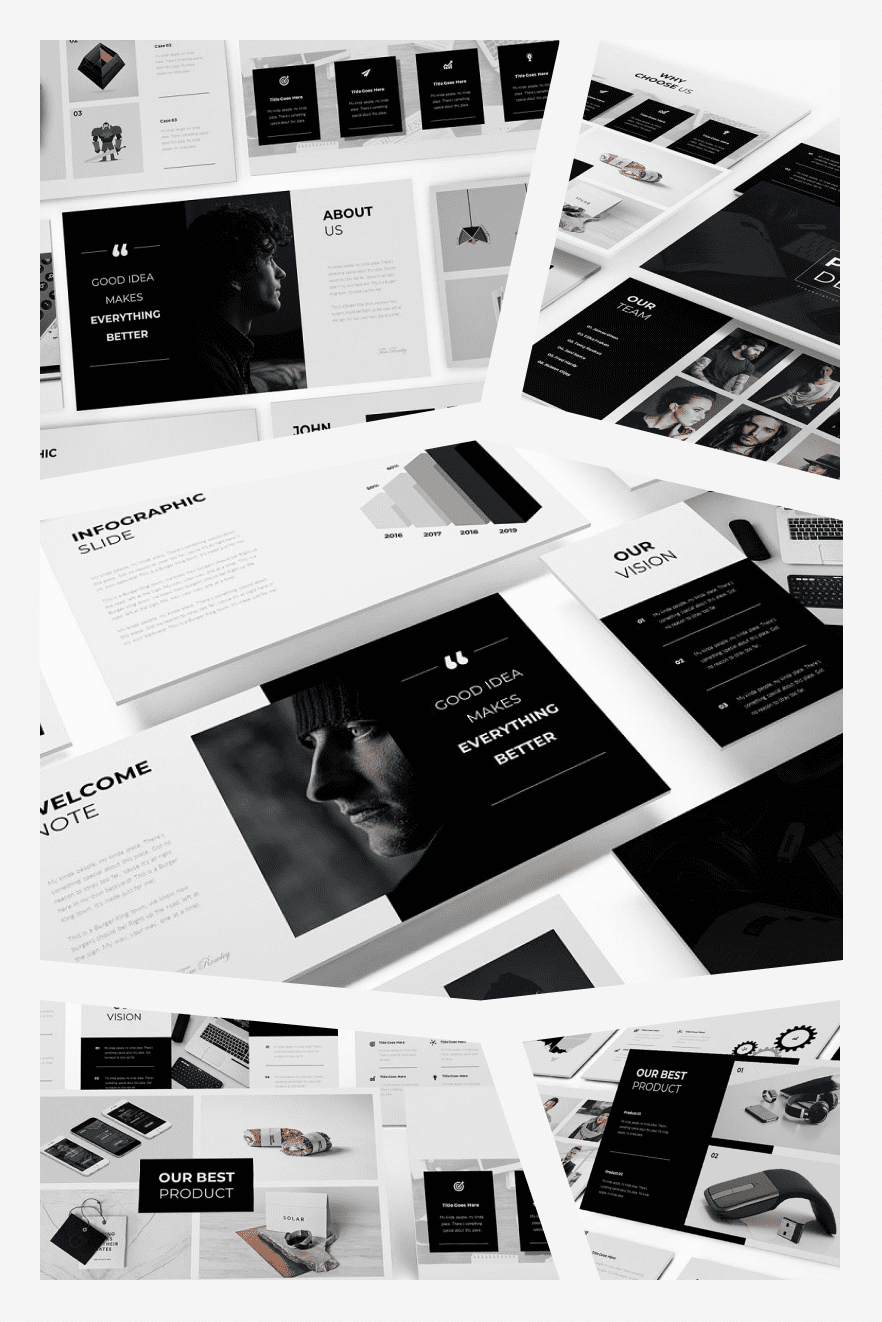 The elegance of these slides can truly make your viewers fall in love with your presentation. Powerful ideas need a perfect platform, and this is why Ängelholm was created.
50 unique creative slides.
Overlay picture effect.
Fully animated slides.
Resizable vector elements.
Best Pitch Powerpoint Templates for All Occasions
Well, a little detail that can make your presentation professional and simply unforgettable is your actual PowerPoint or Keynote presentation, so you want to work hard on that too. Well, perhaps the best way to make your slides look stunning is using a lovely template, so here are some pretty ones that you definitely want to take a look at.
2020 Pitch Deck PowerPoint Template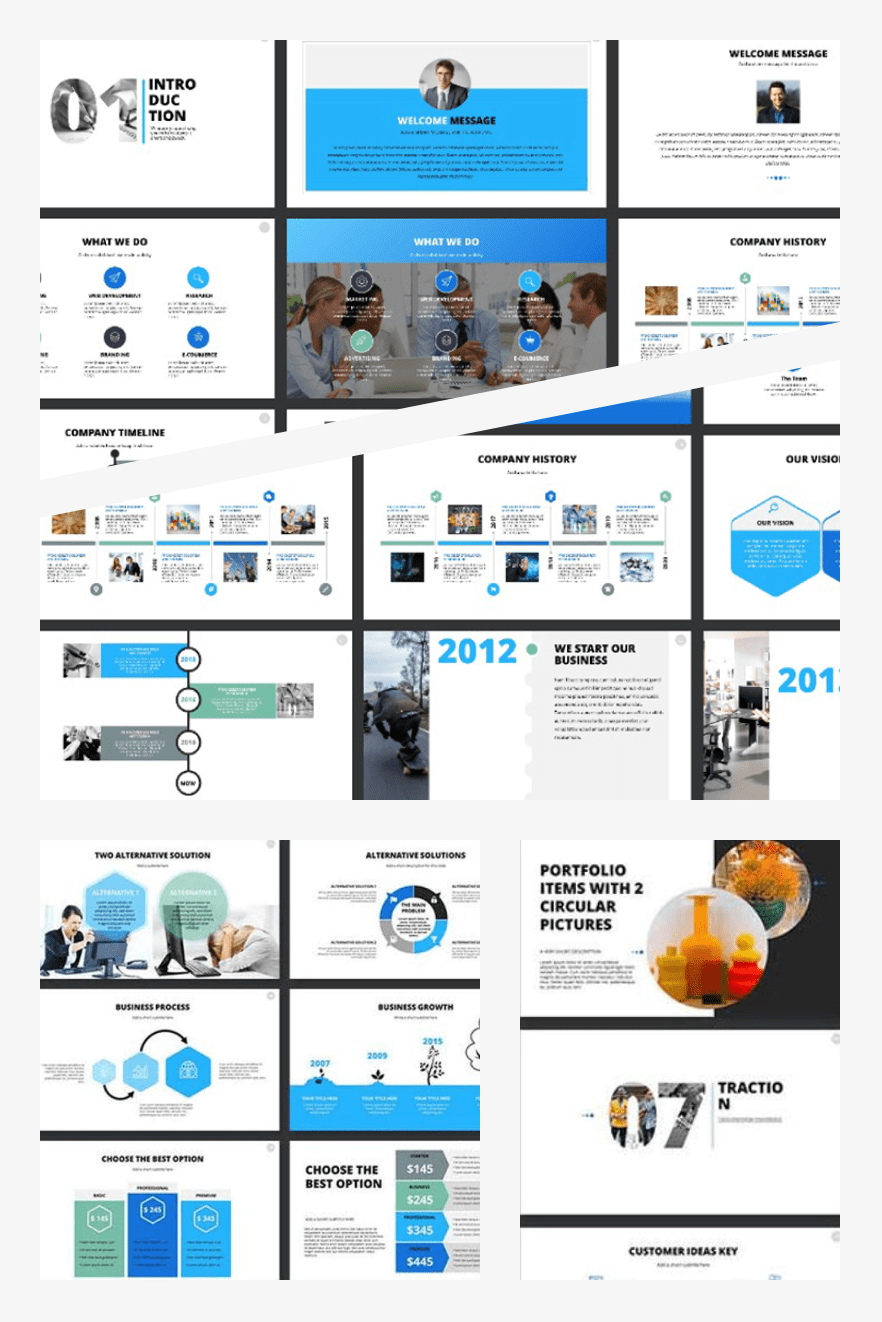 Price: $23
This one is the very template that will make people give their money to you, so you want to look at it closer.
Reverta Keynote Template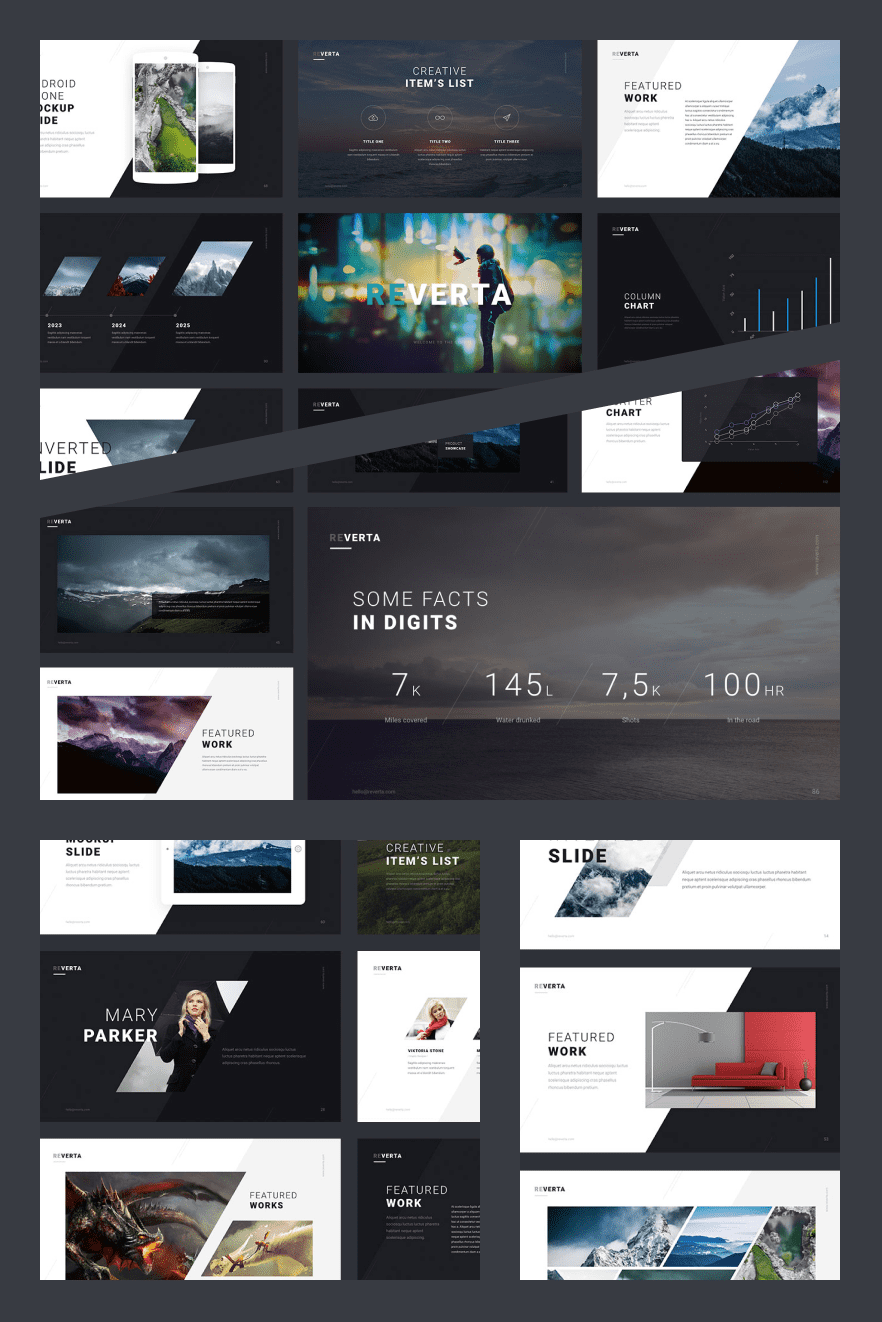 Price: $21
Designed in dark colors, Reverta will simply mesmerize your audience, so give it a chance to prove itself to you.
BOSH – Keynote Template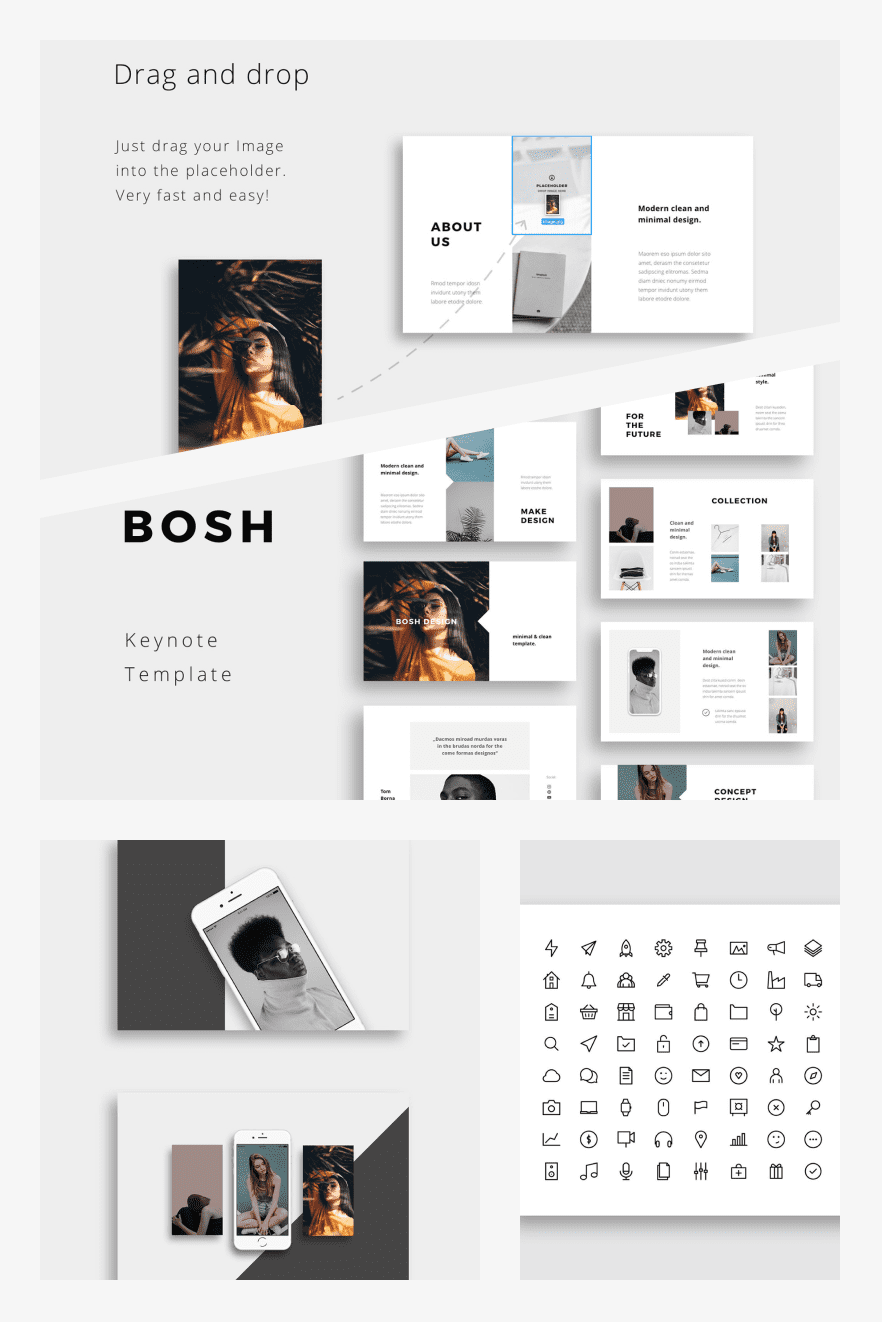 Price: $21
A minimal and futuristic option that will no doubt win your heart, so you surely want to consider getting BOSH.
Multipurpose Business – Keynote Template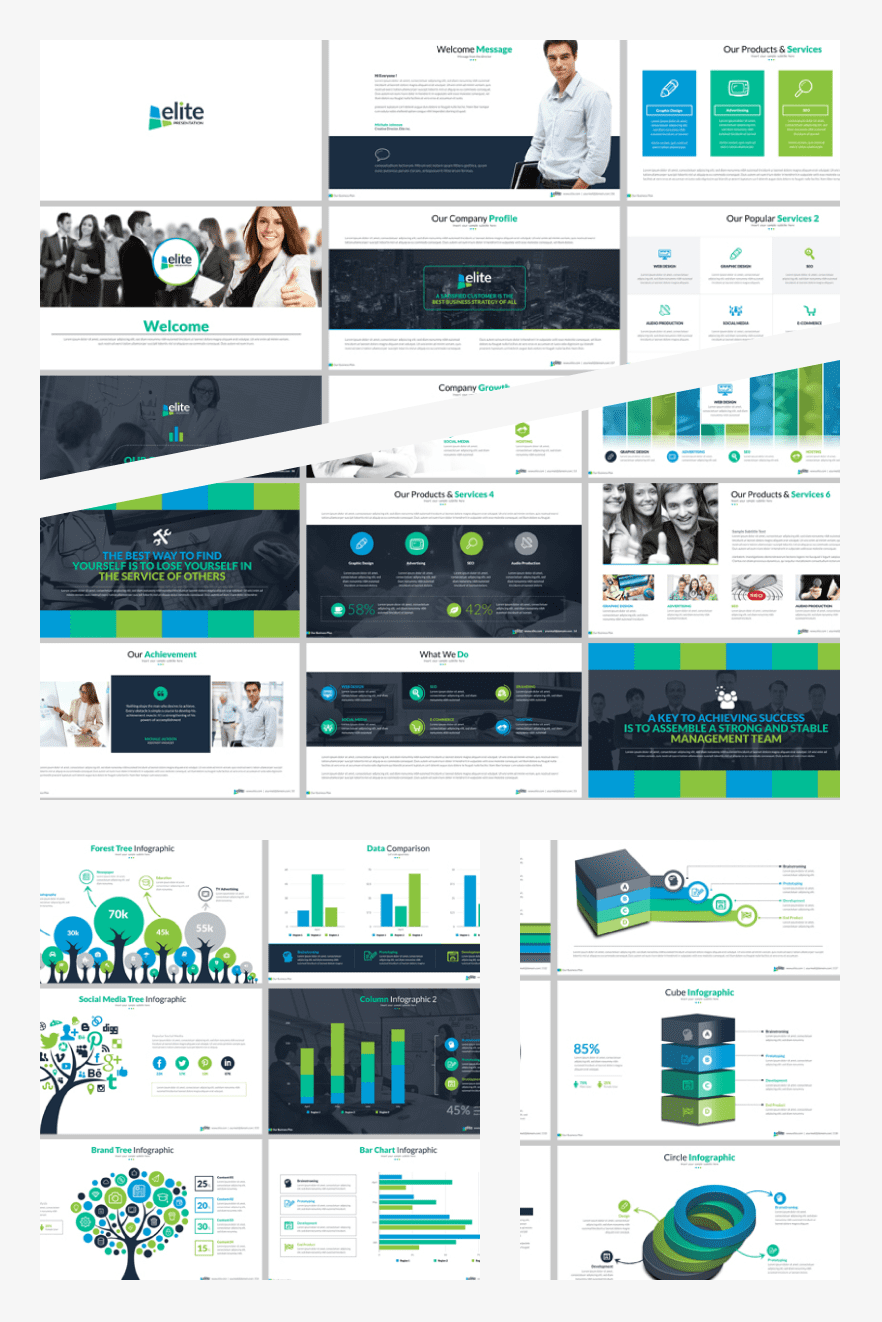 Price: $21
More than 3700 unique slides, what else can I add here?
Business Infographic Presentation – PowerPoint Template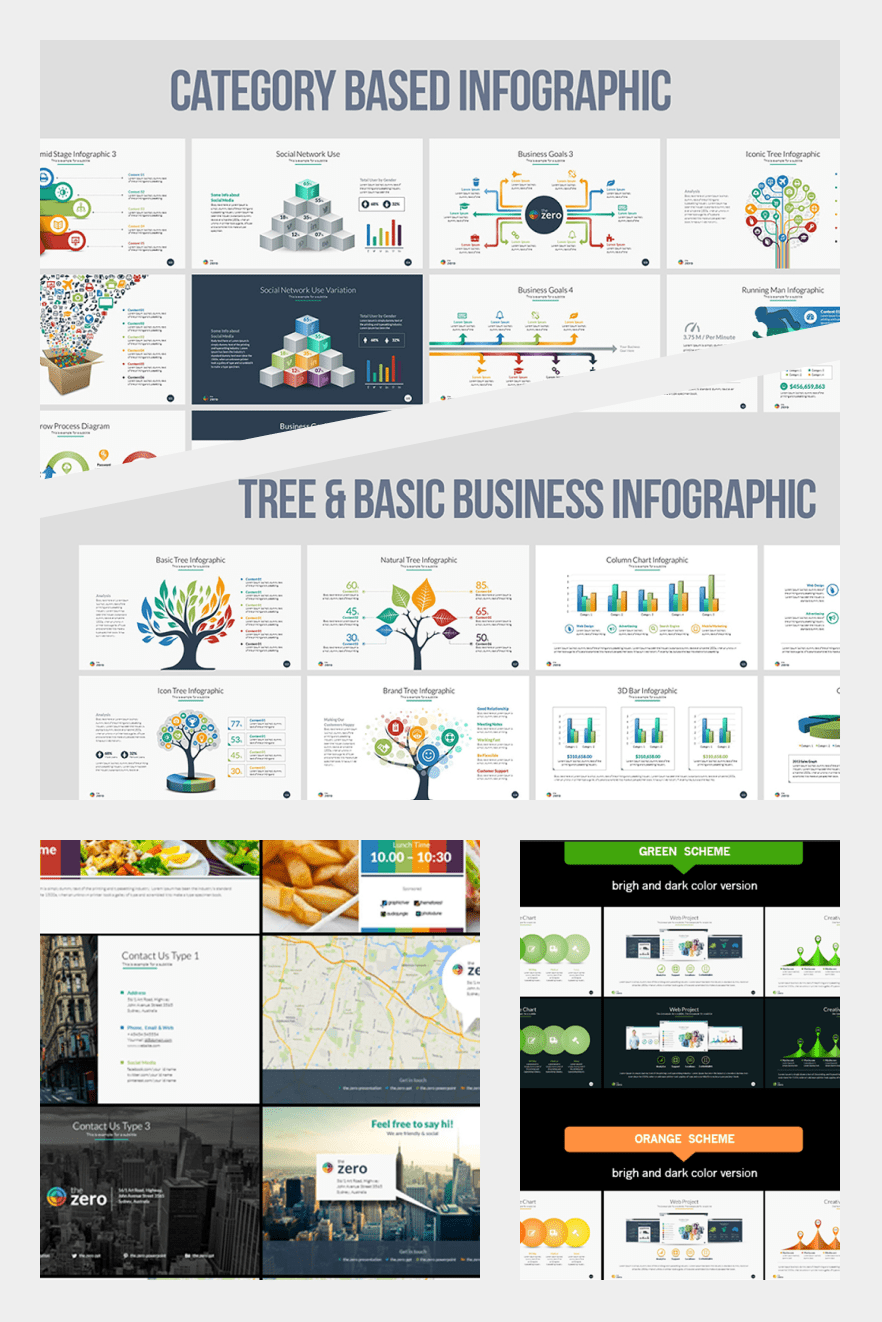 Price: $20
A template with more than 5600 one-of-a-kind slides is definitely something you want to have.
Business Plan Infographic PowerPoint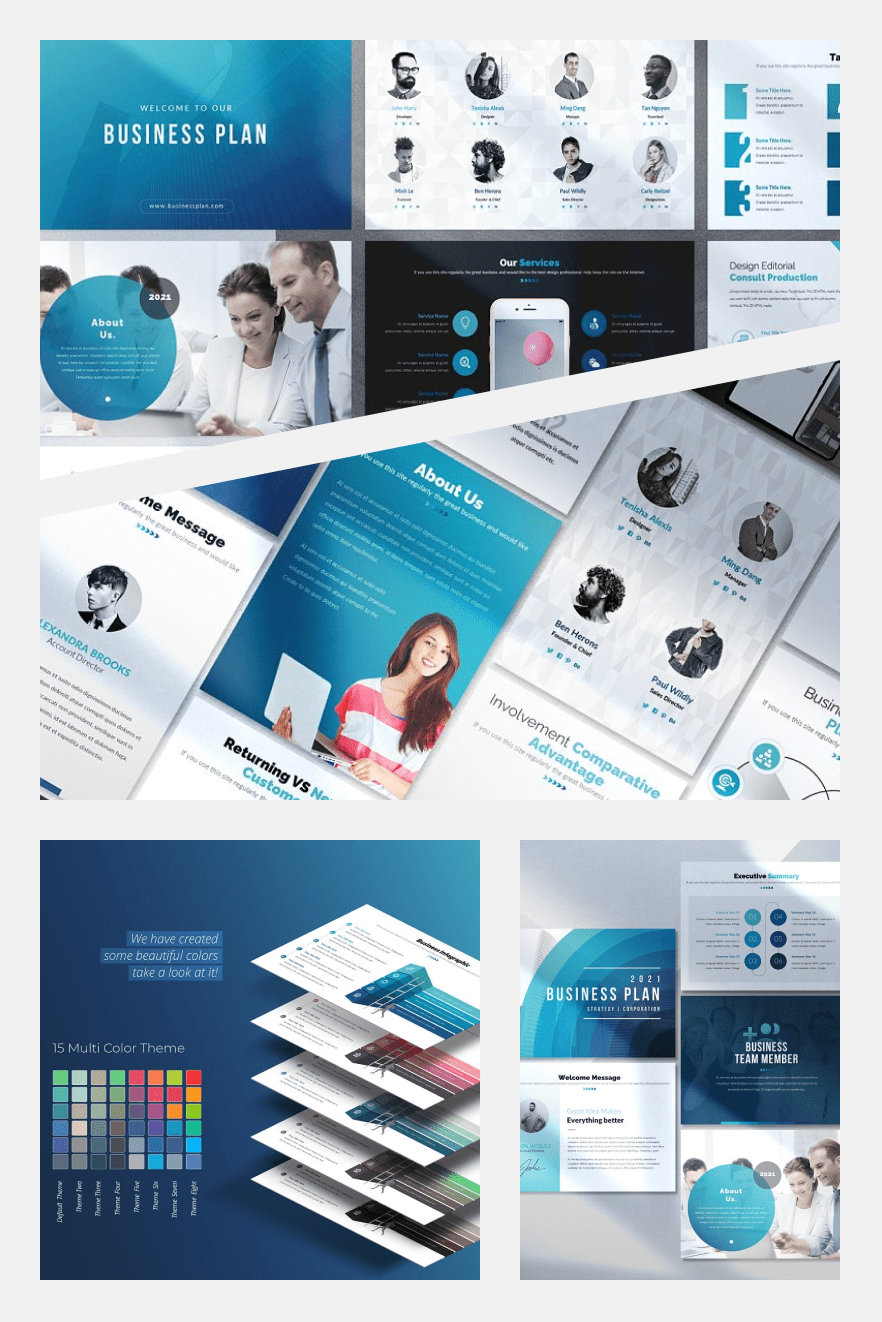 Price: $28
An elegant and minimalist option that has this almost magical power to bring you to the top.
Business Proposal Keynote Template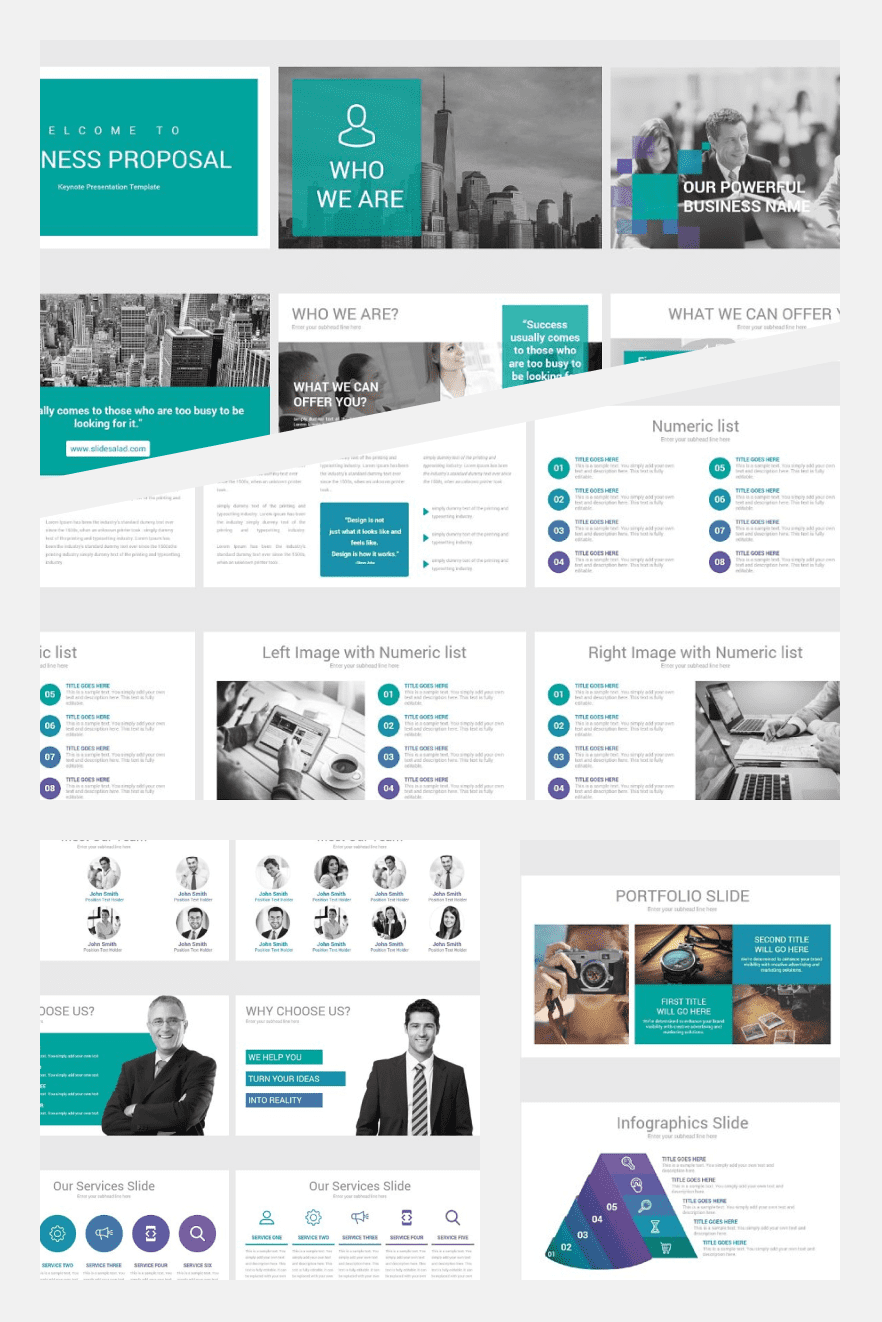 Price: $190
Another premium option that you no doubt need to check out.
Magnolia Complete Pack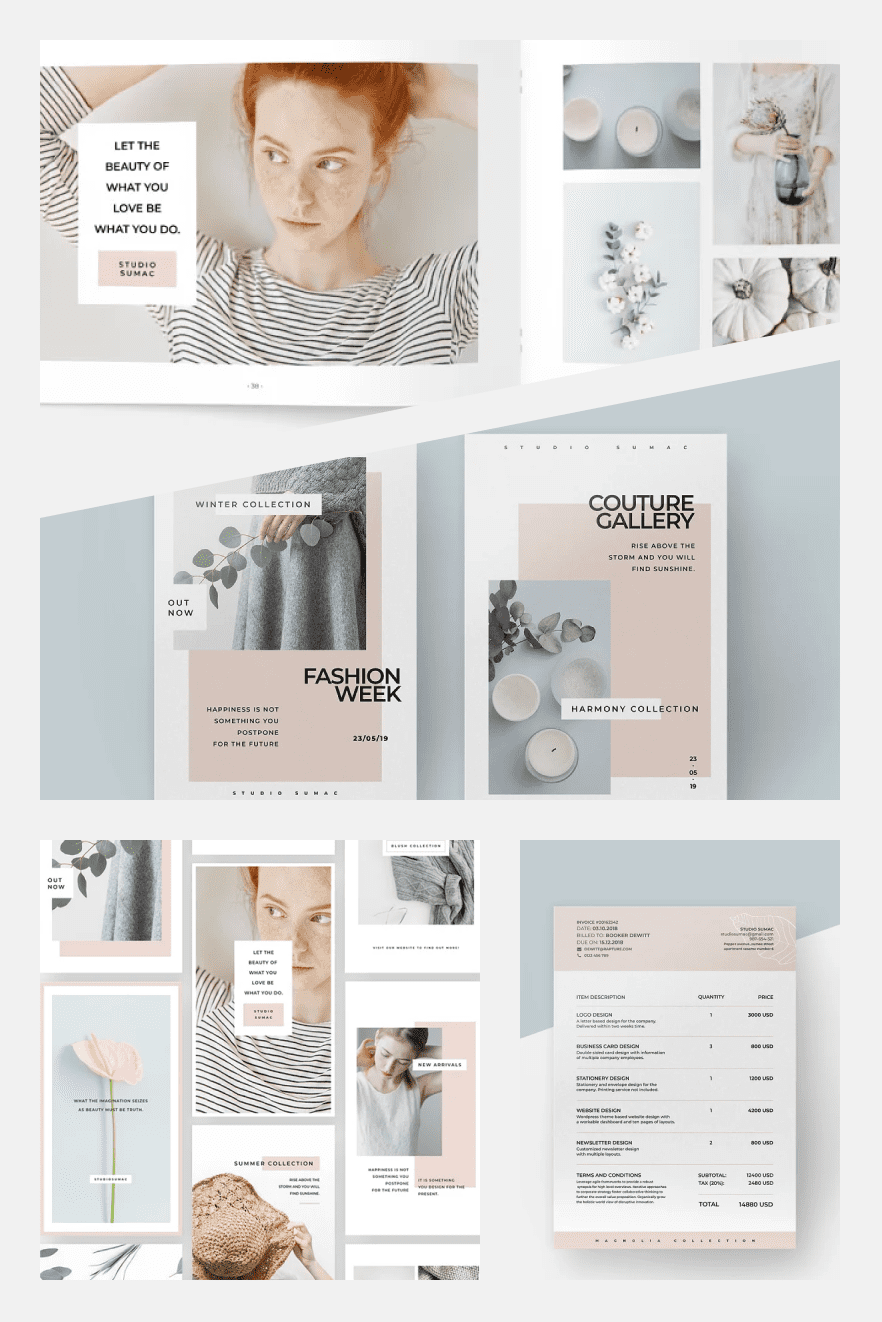 Price: $76
A sophisticated template for those of you who dare to experiment.
Simplicity Google Slides Template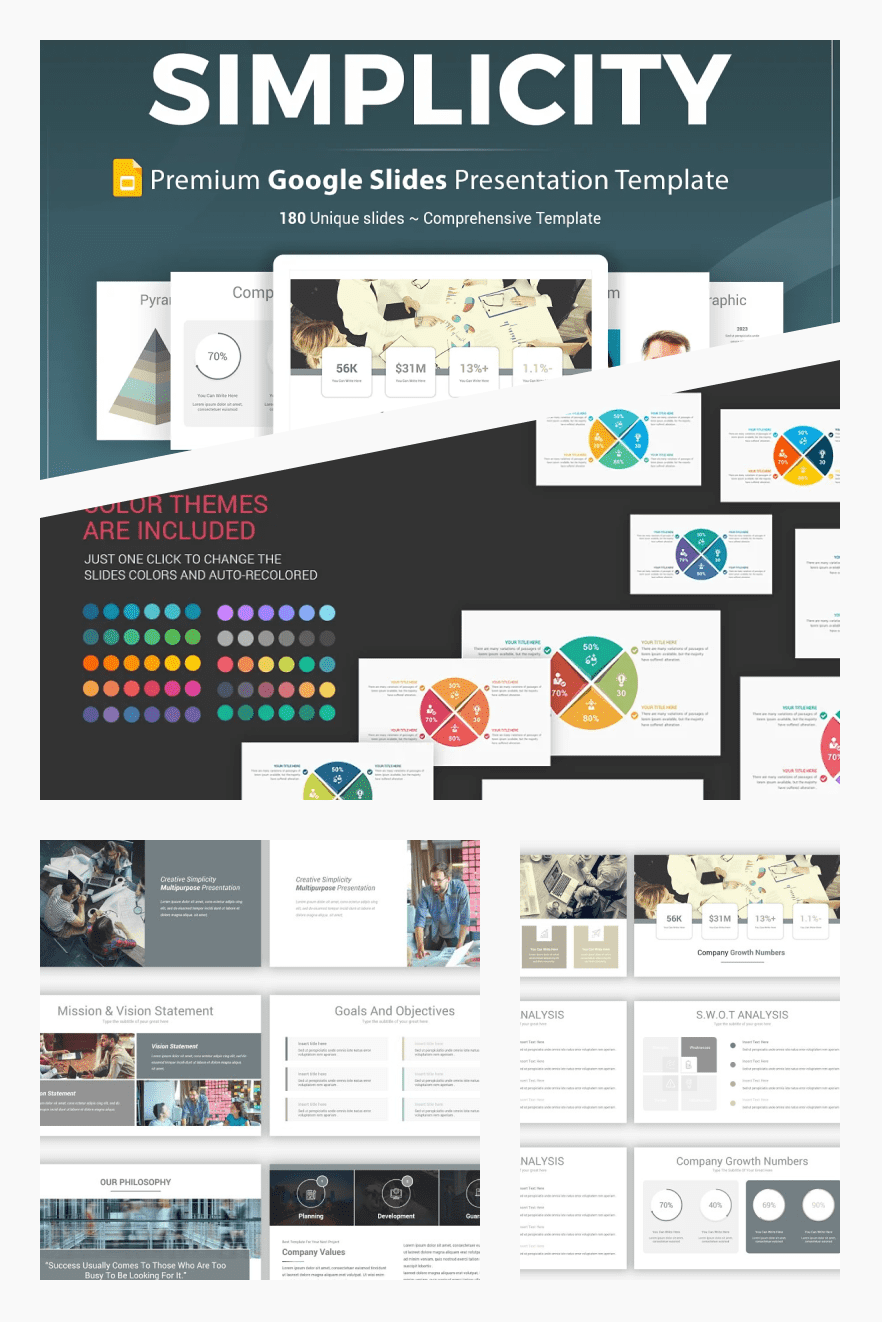 Price: $99
One more huge collection for you, so follow the link above and check it out.
Strategy Presentation Bundle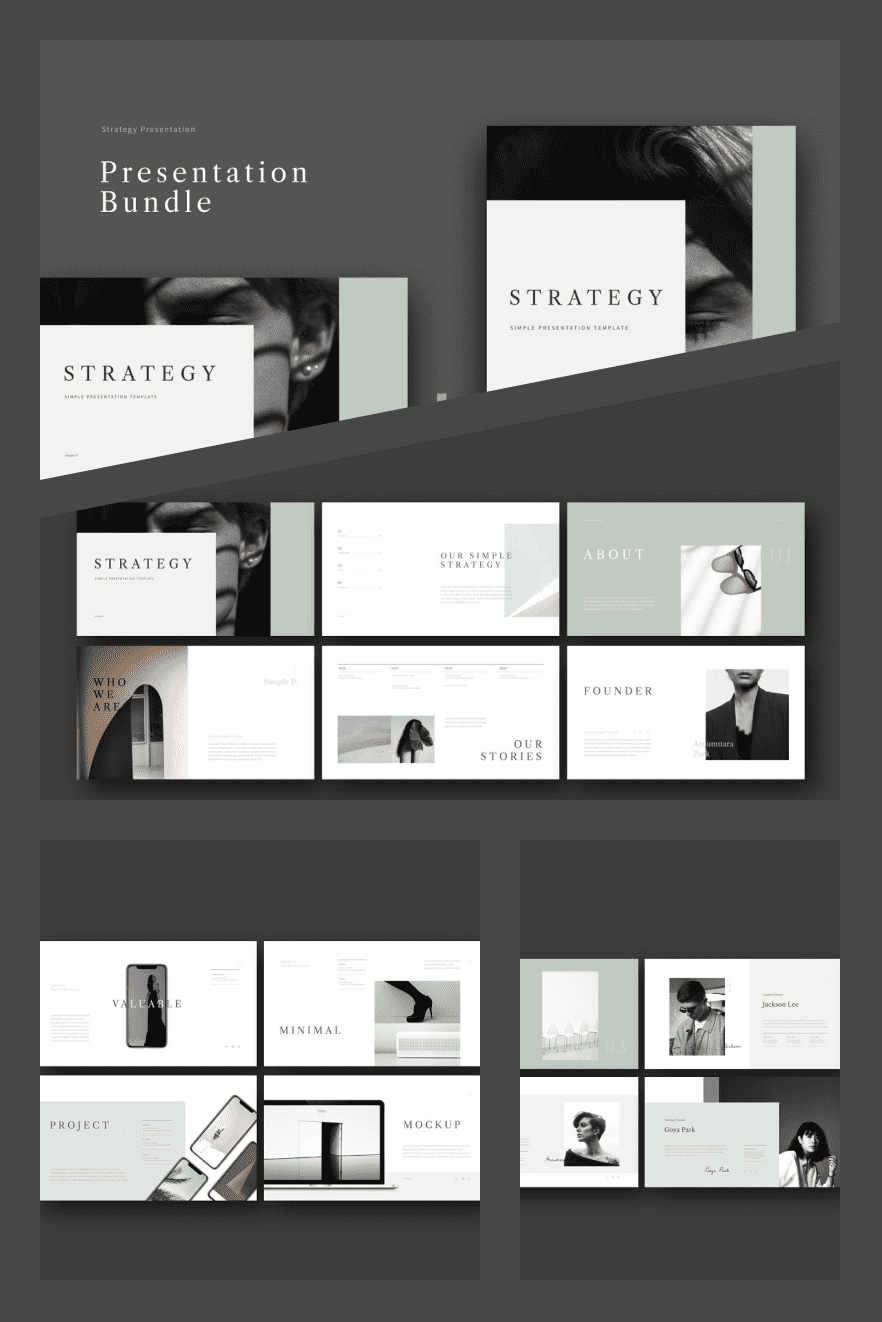 Price: $29
Another marvelous bundle that will help you out in various emergencies.
Black and White Geometric Technology Keynote Presentation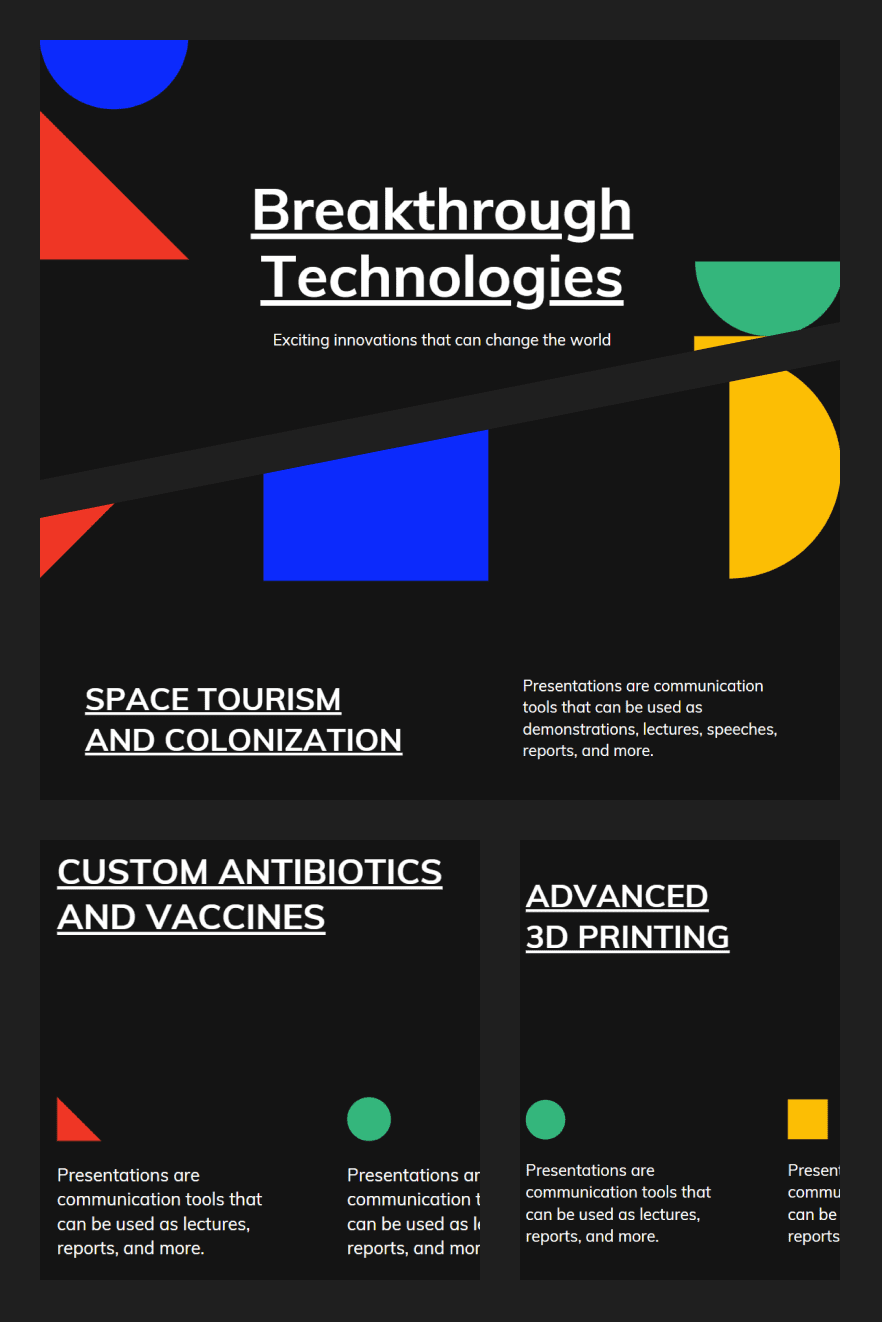 Price: available within Canva subscription
Minimalist and fancy at the same time, this very template is everything you can possible dream of.
Purple and Black Simple Technology Keynote Presentation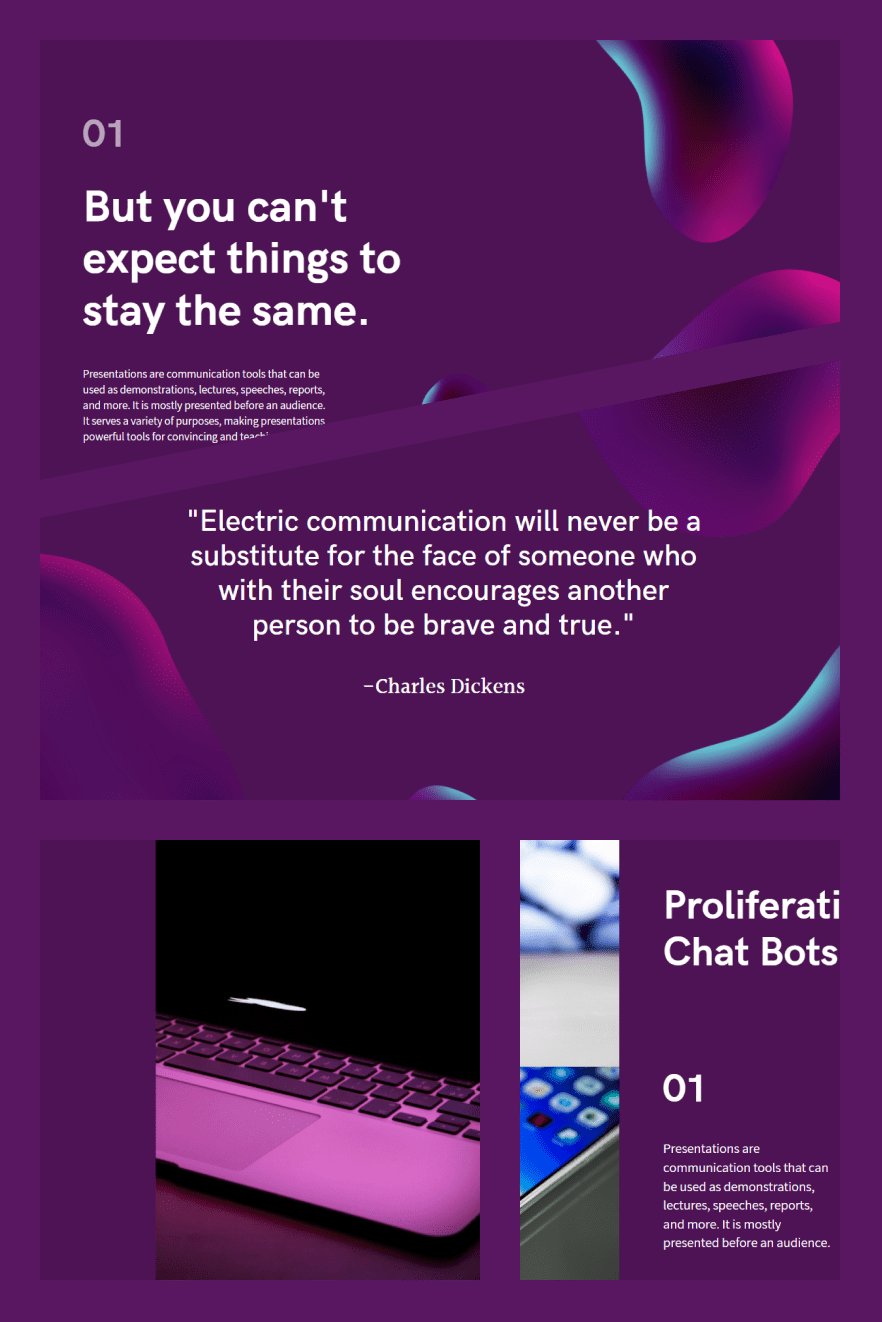 Price: available within Canva subscription
An eye-catching colorful option that will make you fall in love with it at the very first sight.
Blue and Pink Modern Technology Keynote Presentation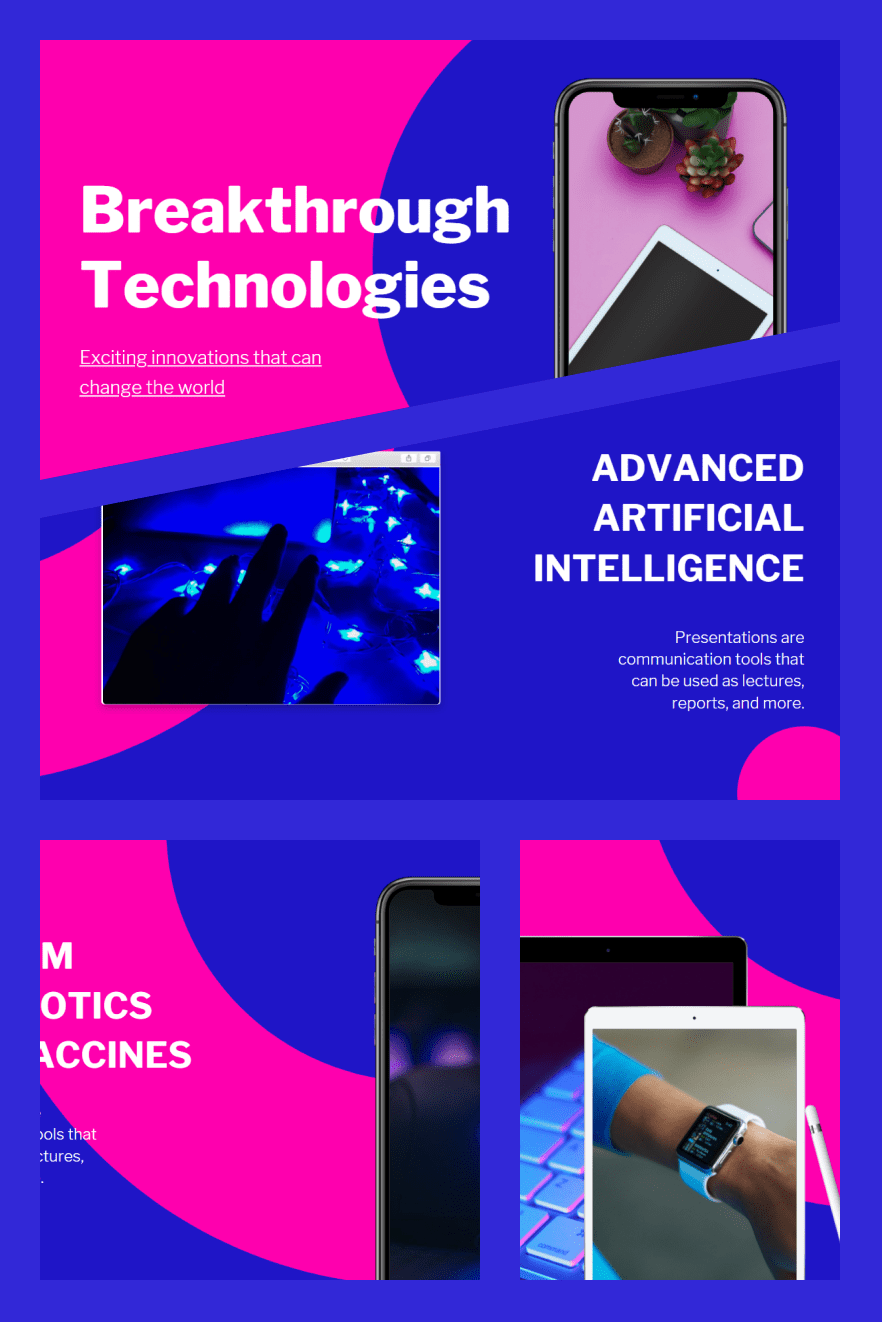 Price: available within Canva subscription
Another option for those of you are not afraid to use some bright colors.
Purple App Phone Mockup Sales Marketing Presentation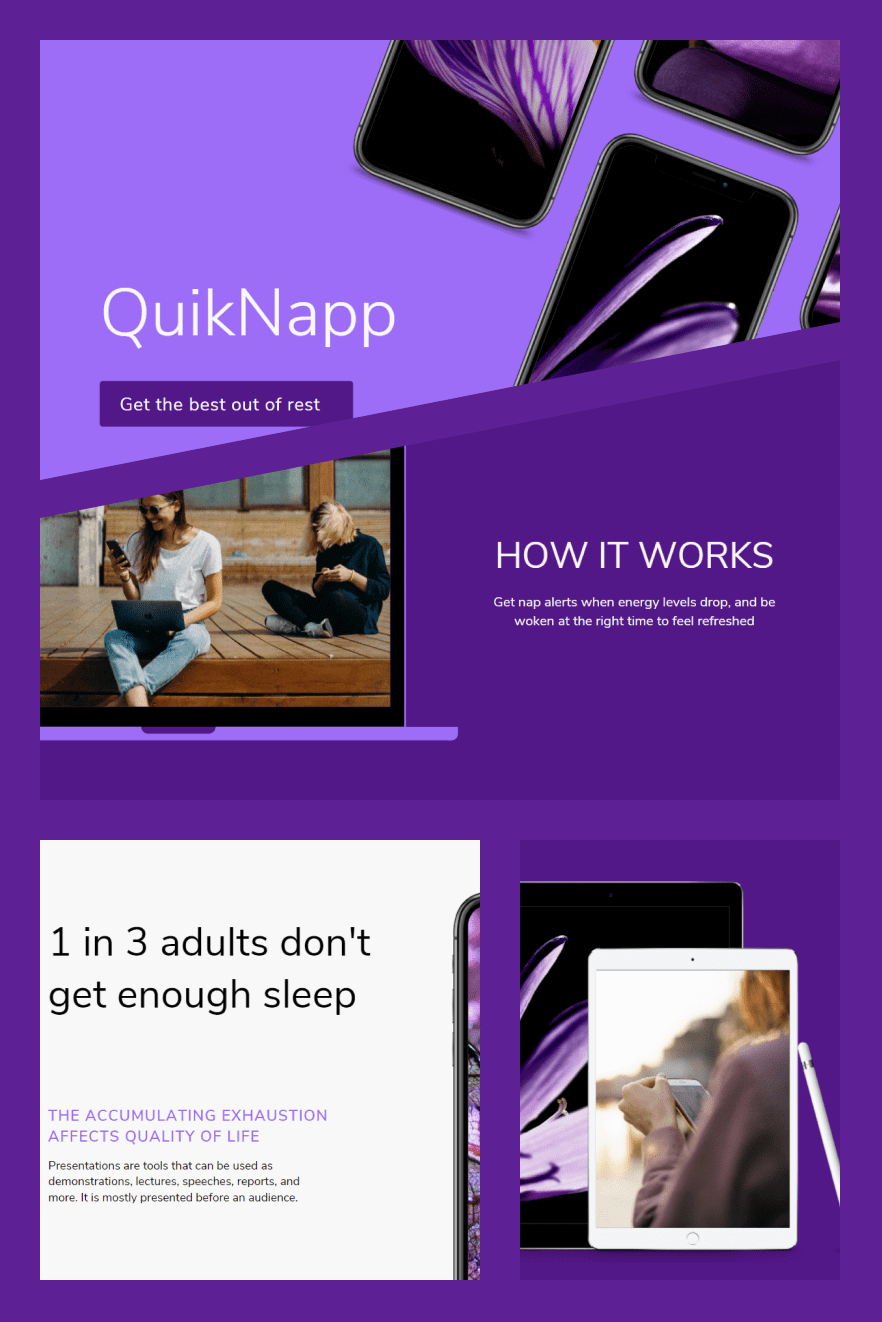 Price: available within Canva subscription
Elegant and fancy, this is a template for those future entrepreneurs who dare to stand out.
What Is Elevator Pitch?
To make a long story short, an elevator pitch is a promo which is no longer than 1 minute. It should be short, bright, and laconic. As always, the main task of an elevator pitch is to interest your investor/ boss/ partner/ customer. Basically, an elevator pitch should make them want to invite you to the second interview. Needless to say, this second meeting is your chance to share all the details of the project you are working on. However, when it comes to an elevator pitch, you do have to make your best and stay laconic. Use graphics instead of boring tables.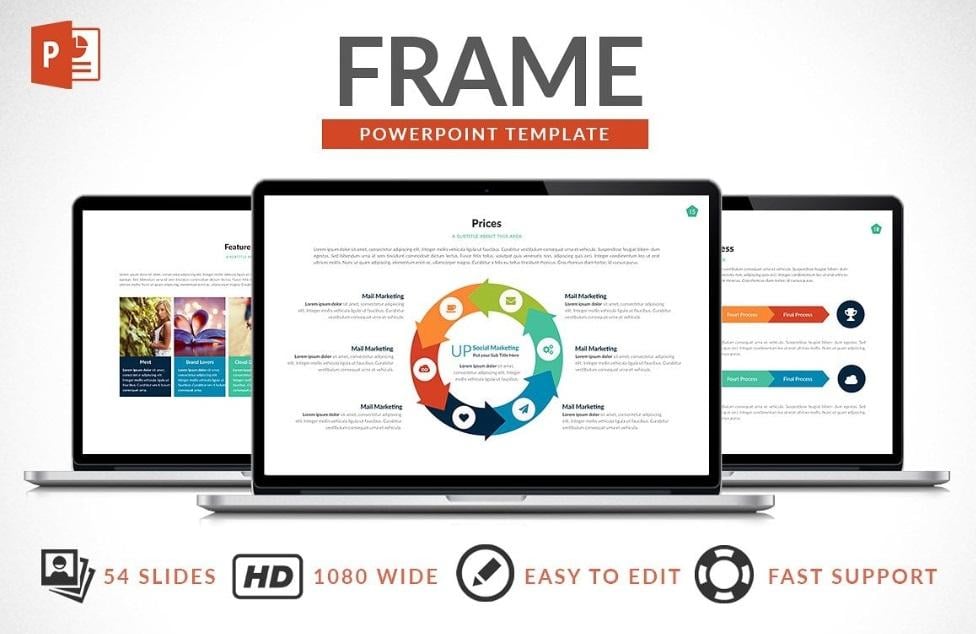 This type of pitch reminds this popular YouTube promo. You can't skip it but the promo lasts only 10-30 seconds. The same thing is with your elevator pitch. Use your time wisely because the pitch should contain the next questions:
a brief description of your main idea/ problem;
the solution you have for it;
a couple of words about how you are going to do it;
and the perspective your investor gets if they decided to spend money on the idea.
All You Should Know About Elevator Pitch
Why creating a worthy elevator pitch is important? Before all else, don't forget that the decision of your possible investor depends on this step. Your elevator pitch will let big players understand whether they want to spend time on reviewing your project. The thing is that an investor (as well as any well-known company) receives thousands of startup pitches every day. That's why you should know how to stand out like a sore thumb! Even when it looks like you just started working on your promo, it's important to create a pro elevator pitch.
So, how can you get it? To do it, you should remember the way the human brain works. It's always easier to notice, understand, and remind visual elements. For these simple reasons, you do need them for your elevator pitch. Needless to say, there are a lot of ace visual components you can use for a presentation. Among them, there are: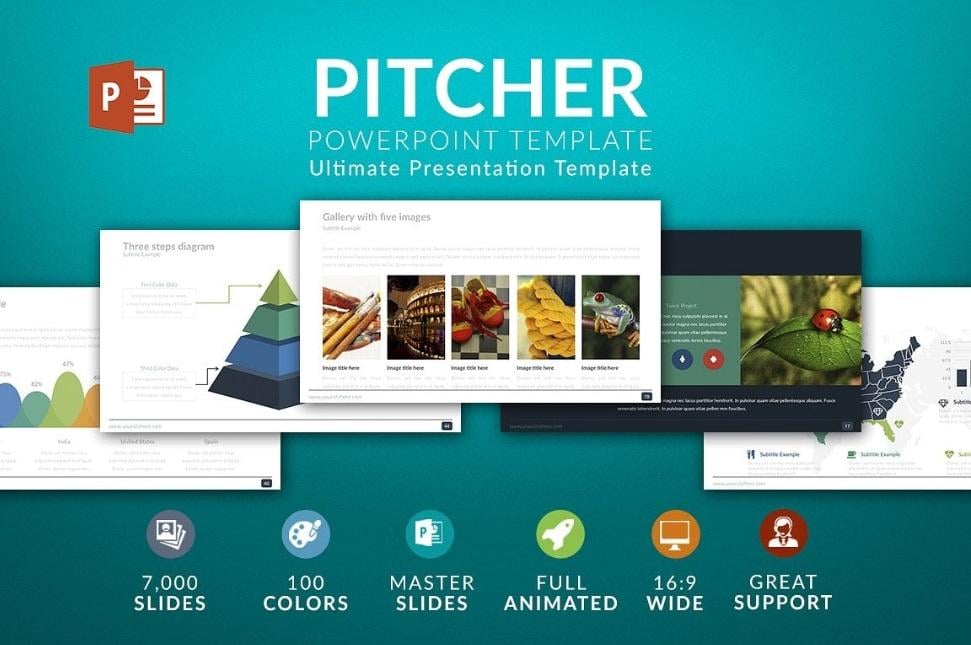 counters;
graphics;
infographics;
progress bars;
testimonials;
charts;
pie diagrams, and much more!
Don't hesitate to use them for a winning elevator pitch. By the way, in case you prefer working with pre-designed templates for presentations, you get the named UI elements just out-of-the-box. In 2019. it's almost impossible to stay unique and trendy at the same time. However, the creators of these packs selected for you only the worthy designs. Besides, they are 100% versatile. Using one of these flexible components, you can change any detail up to your taste. By the way, we recommend you to use the color schemes that you already used (or going to use) for the style of your company. It's important to grab the attention of investors even when it's only the first step, so you can finally focus on the textual part of the pitch.
How To Create Successful Elevator Pitch?
To start with, be ready that the process may take some time. A worthy elevator pitch is a powerful thing, so you'll need to work on it. Once you are done with all the preparations, make sure that your pitch sounds natural and opens the main idea. This small step-by-step guide will help you to get the very elevator pitch.
Your first step will be identifying the goal. What do you want to tell? What your investors, partners or customers should know about the startup before everything else? Are there any products, projects, and ideas that require special attention? Would you like the pitch to be simple or complicated?
Secondly, you have to explain what you do or what your company does. Working on this step, you should focus on the problems you solve. How can it help others? Why is it important? Adding statistic and other information would be great. To sum everything up, this point shows the value of your work. Try to ask yourself: what am I want the viewers to remember most about me? The answer is what you should talk about.
Now it's time to take a closer look at your USP. It means a unique selling proposition and that's what you should communicate. To do it, just take time to find out what makes your project, your ideas, and your company unique. Why a prospect should choose you?
Once you are through it, it's time to engage the audience. For these simple reasons, you will need a couple of open-ended questions. In this case, 'yes' or 'no' won't be enough, so this step is to involve viewers in the conversation. By the way, think twice because, in the end, you should be able to answer any of these questions.
As soon as you have completed all these steps, put them together. Read the result aloud using a stopwatch. Remember that you have only 1 minute, so your intro should be no longer than 20-30 seconds. Otherwise, there's always a risk of losing viewer's interest. That's why try to cut out anything you can. All in all, your elevator pitch should be compelling, interesting, and snappy. The shorter your pitch it, the better!
Finally, don't forget that practice matters and it matters a lot! The way you say is just as important as the things you say! Thus, you should be practicing to get success. Make sure that you don't talk too much, to fast, or to slow. Whatever you say, it should sound natural. Practice the pitch every day until it sounds like a smooth conversation.
In addition, remember about your body language. It should harmonize with your pitch. Practice in front of a mirror or ask friends and colleagues to help you. Tailor the elevator pitch for different audiences, if possible.
Also, you may want to have some takeaway items during the pitch. It can be business cards, brochures, or anything else that symbolizes your deal.
What Is Idea Pitch?
Looks like it's finally time to move to the next type of pitch – idea pitch. So, what is it? In a word, idea pitch is the presentation, which lasts 3 minutes maximum. As you may know, this is the most popular pitch type that is widely used for different startup competitions. Usually, a properly created idea pitch consists of these points.
The name of the project. Don't waste your time introducing your team one by one. You will be able to do it later. The only thing you need to do on this step is to tell the name of your project.
Next, you are moving to the problem your project is meant to highlight. It is always better to create a small story for this point. It has to be bright but laconic, so the investors can visualize the problem and think of its solution. And it's great because here…




Here you should talk about the solution! It should be short. It should be simple and it should have a unique explanation. Why your solution is better than the things your competitors are working on? What are the main advantages of your project? It should be better than any analogs.
What is your next step? Let's talk about the market. You have to show how large the market is. Then move to the part you are going to cover and talk about your target audience. Don't miss using infographics! It saves time! To say more, it makes investors notice and remind the details of your pitch.
Now, let's move to your business model! On this step, you have to show the way your project will generate money. Where are you going to receive them from? How much money you are expecting the project to bring per year? Stay honest and explain any numeral you use.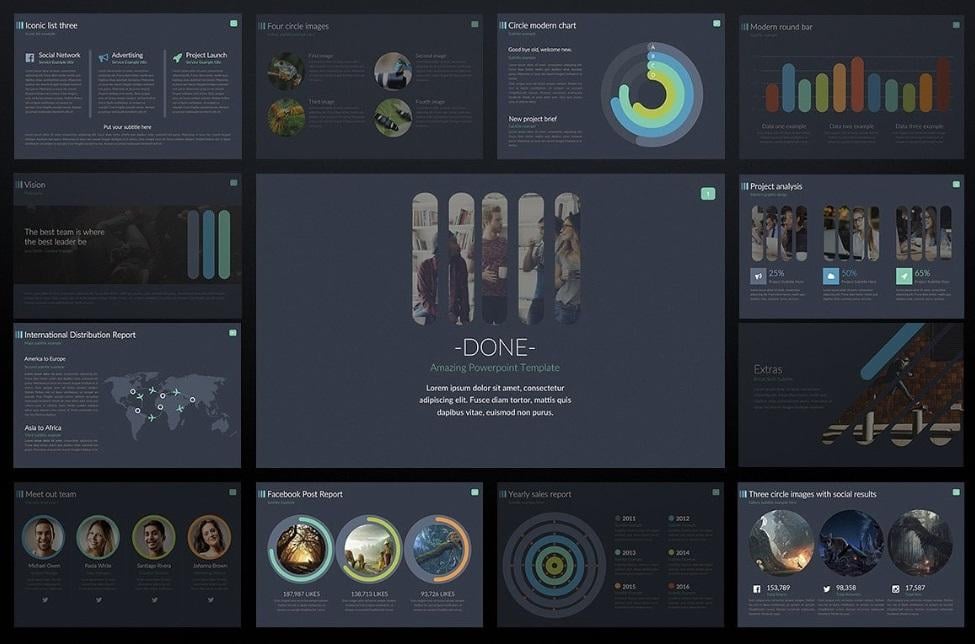 When you are done with money, it's time to introduce your team. Now you can highlight some personal and working achievements of your partners. Make a special slide for it!
Also, you will have time to share your contacts. Don't forget about social media pages and make sure you've added a working website to the contacts list.
To create a beautiful conclusion, you have to find the most remarkable facts and a unique solution. The investors will remember them even when your promo is over.
What Is Funding Pitch?
Now let's give the definition to this type of the pitch. Basically, funding pitch is an extensive promo. It lasts 7-10 minutes and covers multiple questions. Funding pitch includes all the steps named above. Plus, this presentation also comes with the next points:
your main competitors,
your strategy to take a place on the market,
your current place,
the steps you already performed to enter the global market,
and the needed investments.
Free Pitch Presentation Templates
Business Presentation Template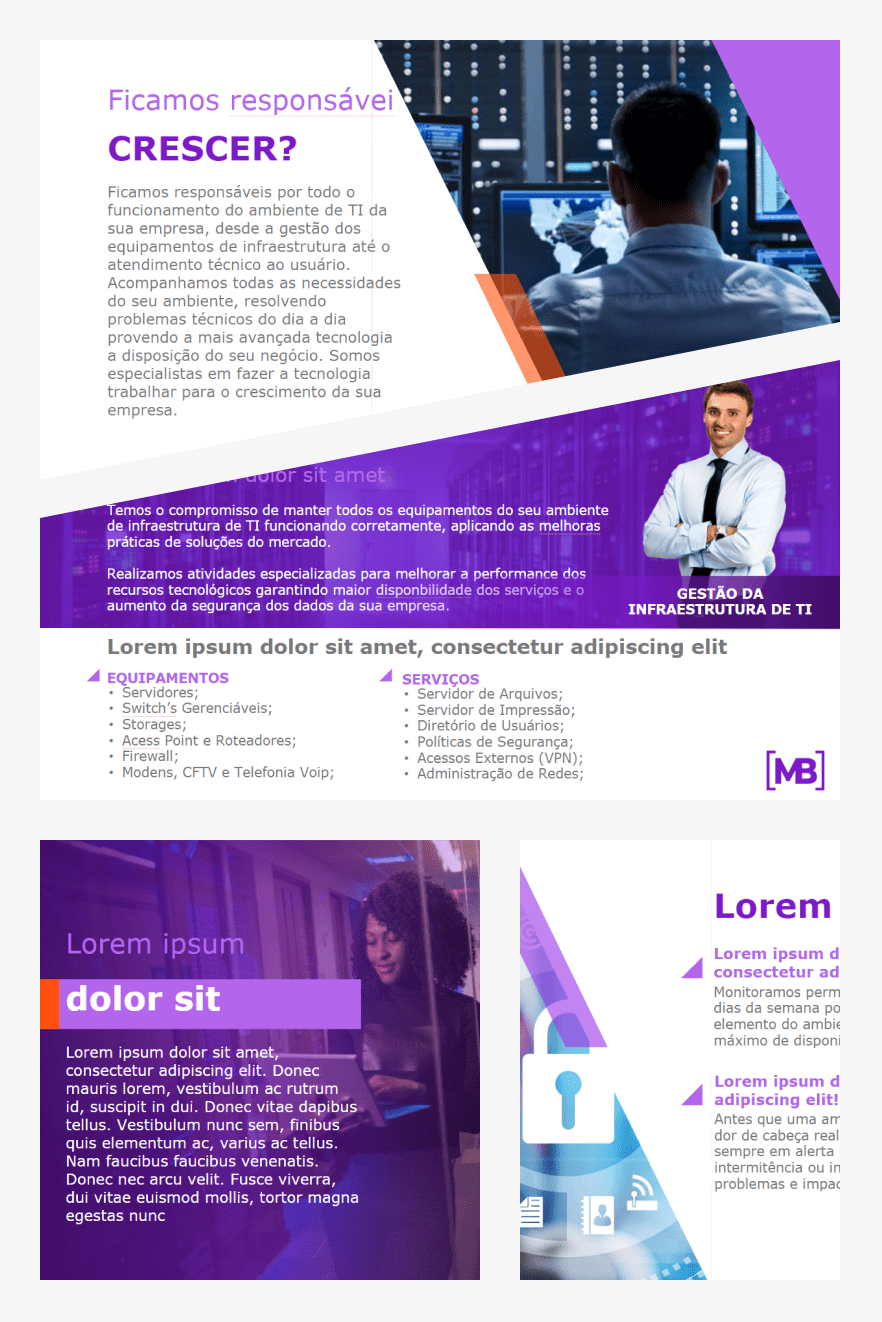 Price: free
A simply amazing free option for those startupers who are on a shoestring budget at the time.
Free Clean Presentation for Events: .PPTX, .KEY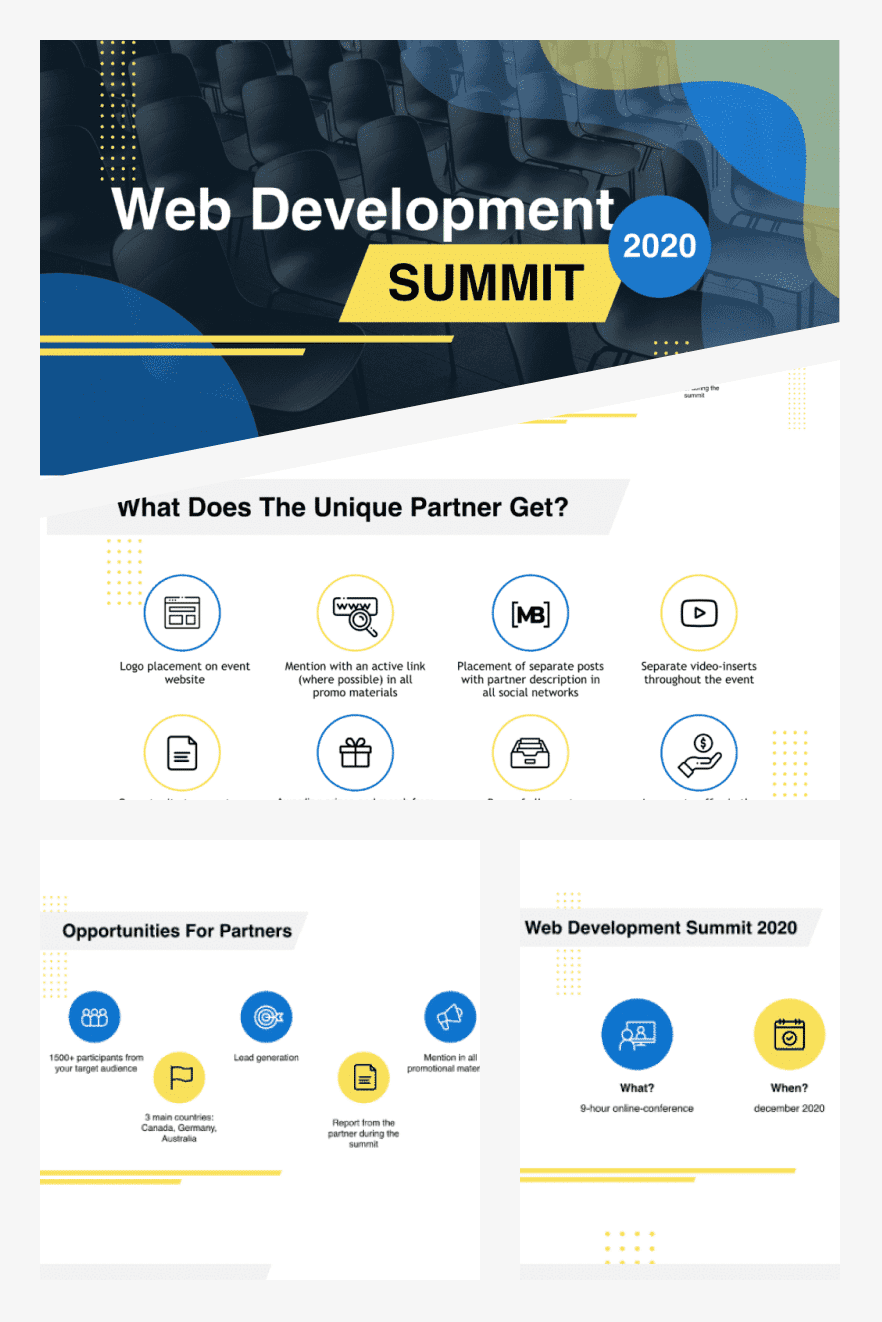 Price: free
Another free option that you simply cannot miss, so go ahead and download this baby now.
Video Game Pitch Deck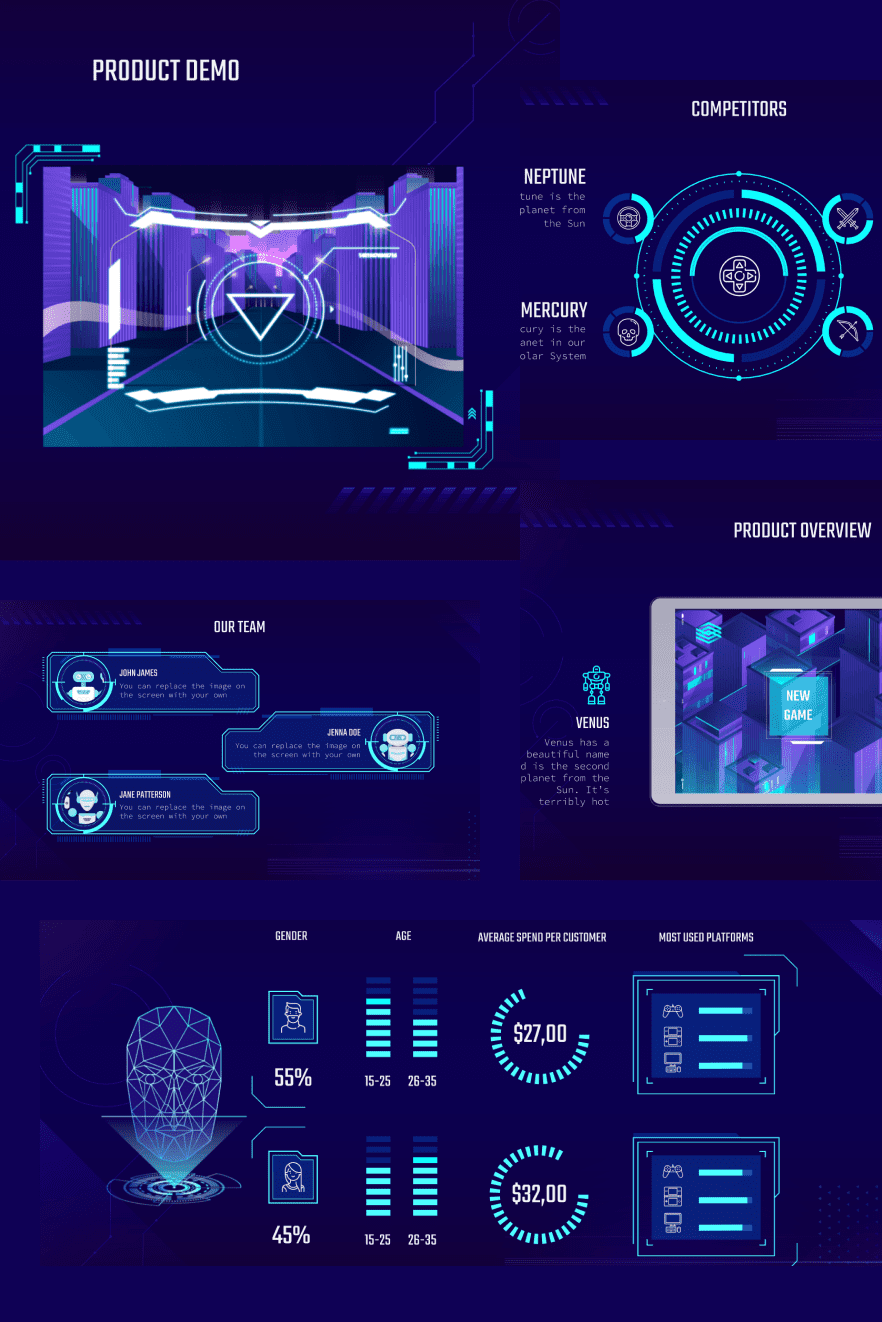 This one will be ideal for your creative presentation on any IT topic. It will definitely boost your brand-new startup.
Transport App Pitch Deck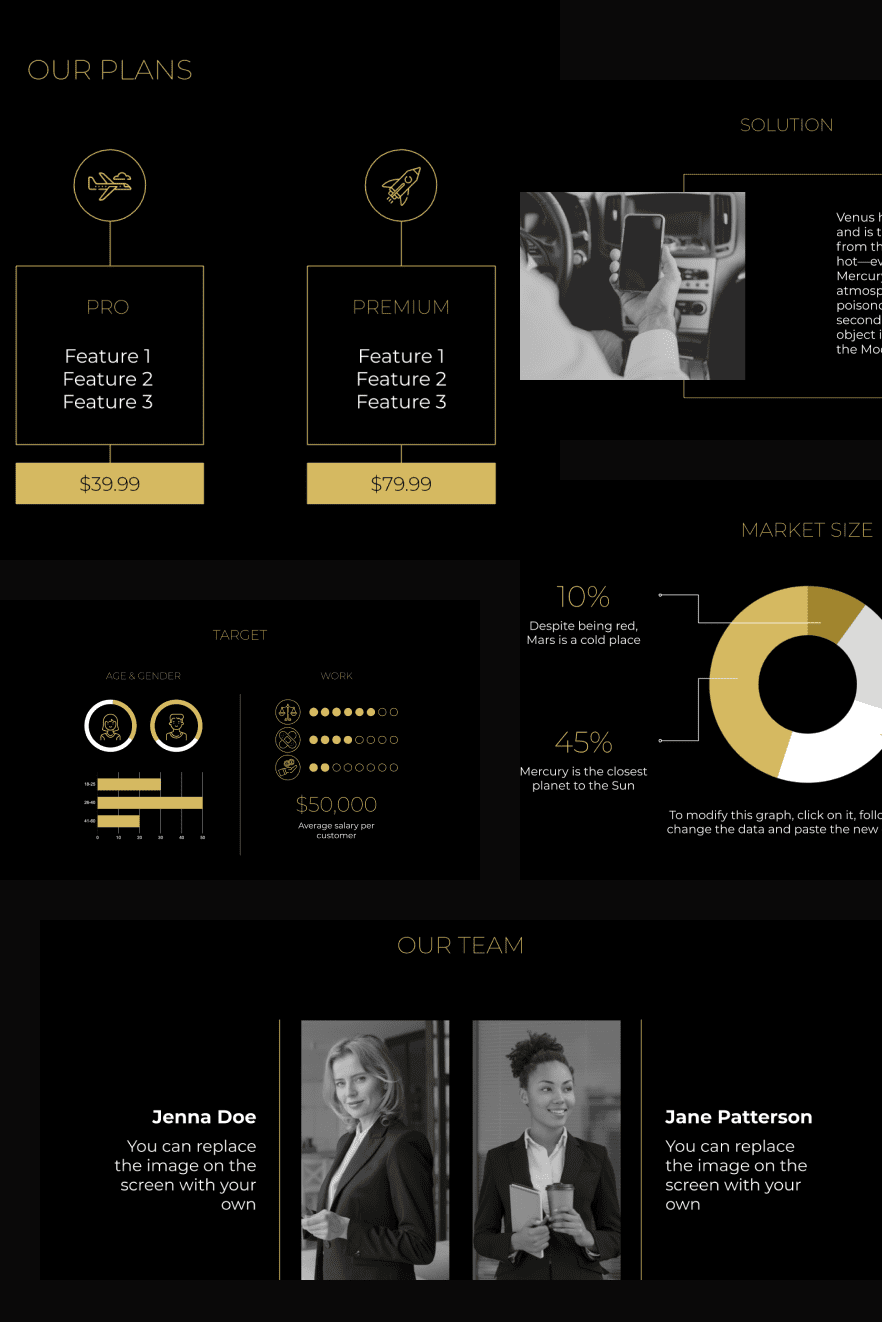 Use this one freely to create a great presentation for promoting the idea of a new useful app. The clear design will make your speech sound and look more professional.
Foodie Pitch Deck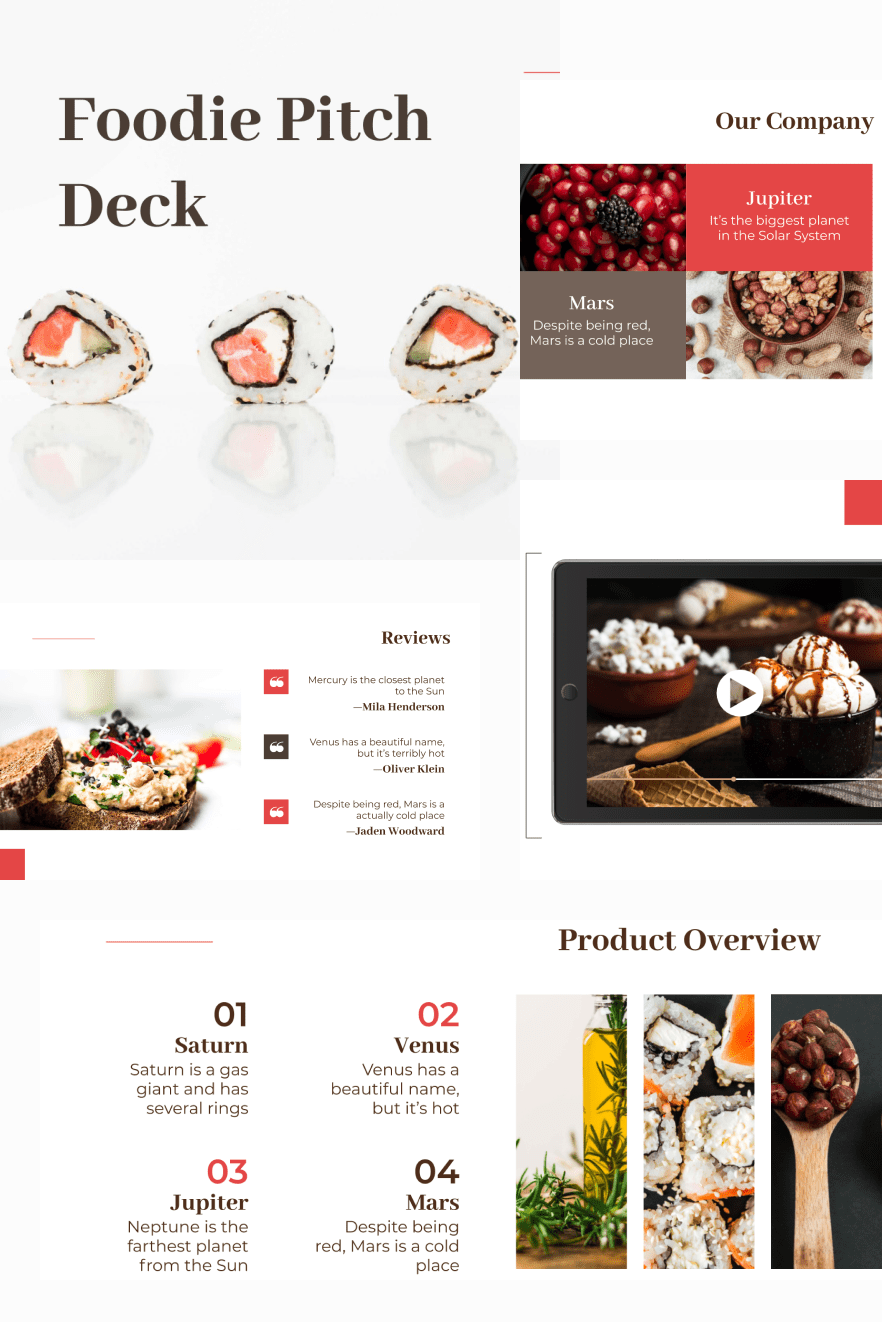 This delicious template can help you present your new restaurant, shop, food delivery company, etc. in the brightest light.
Product Hunt Pitch Deck Template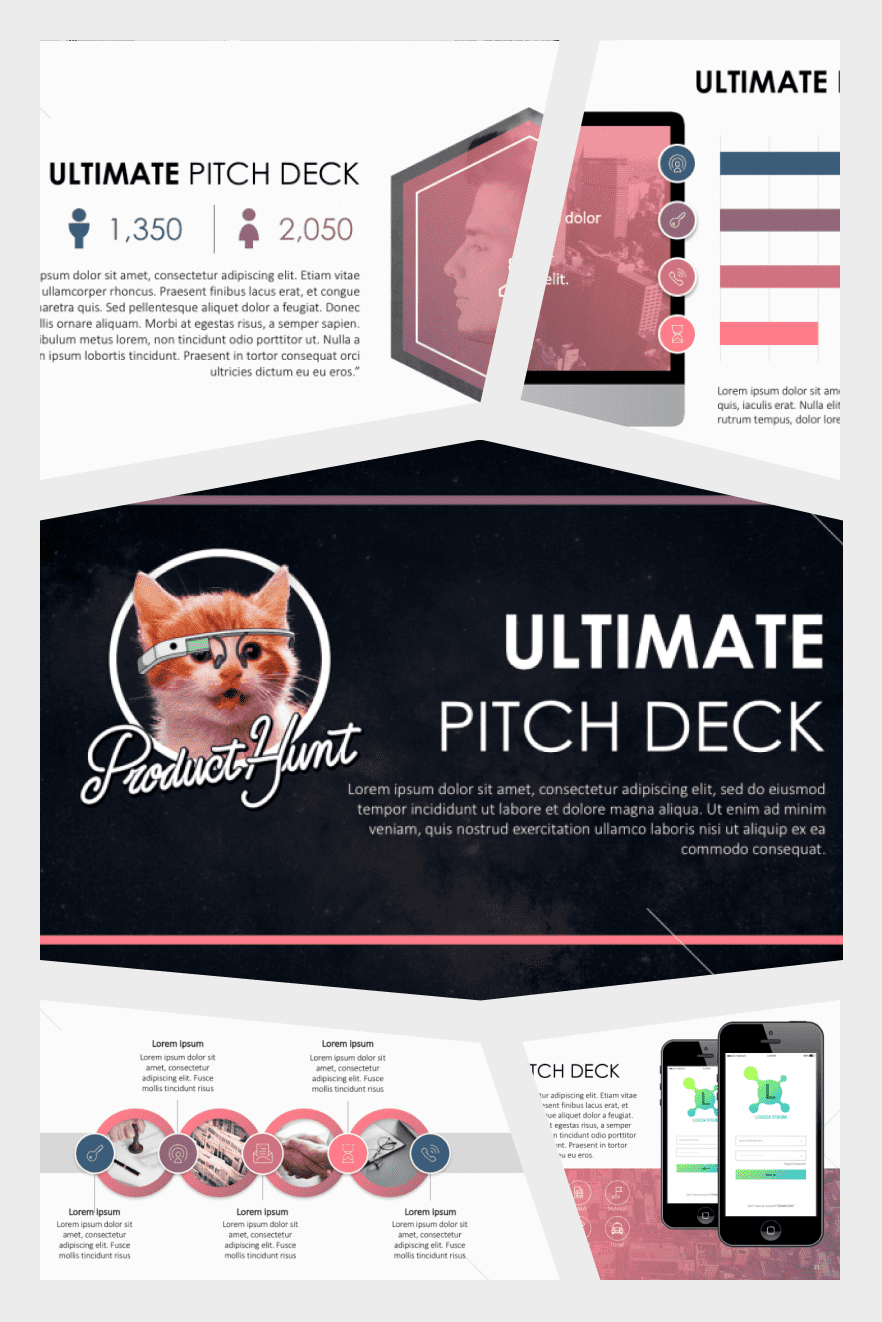 You can use 24 original well-designed slides for any business purpose. There are also many useful graphics and diagrams in every slide.
Biomass Company Pitch Deck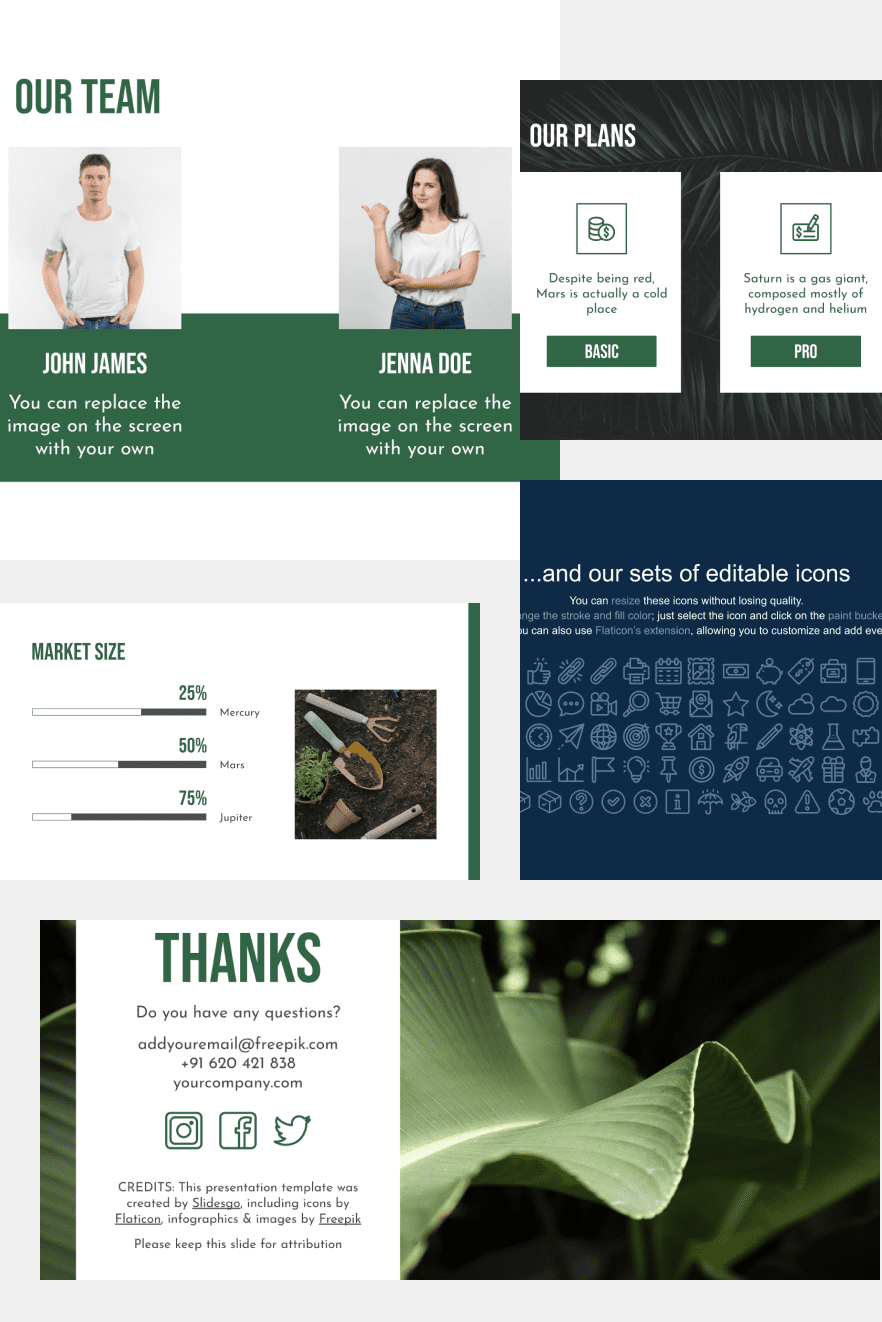 Show the world that you are eco-friendly with this creative design. Don't hesitate to prepare a high-class presentation with the help of this template and promote your important services.
Series A Pitch Deck Template by Joseph Flaherty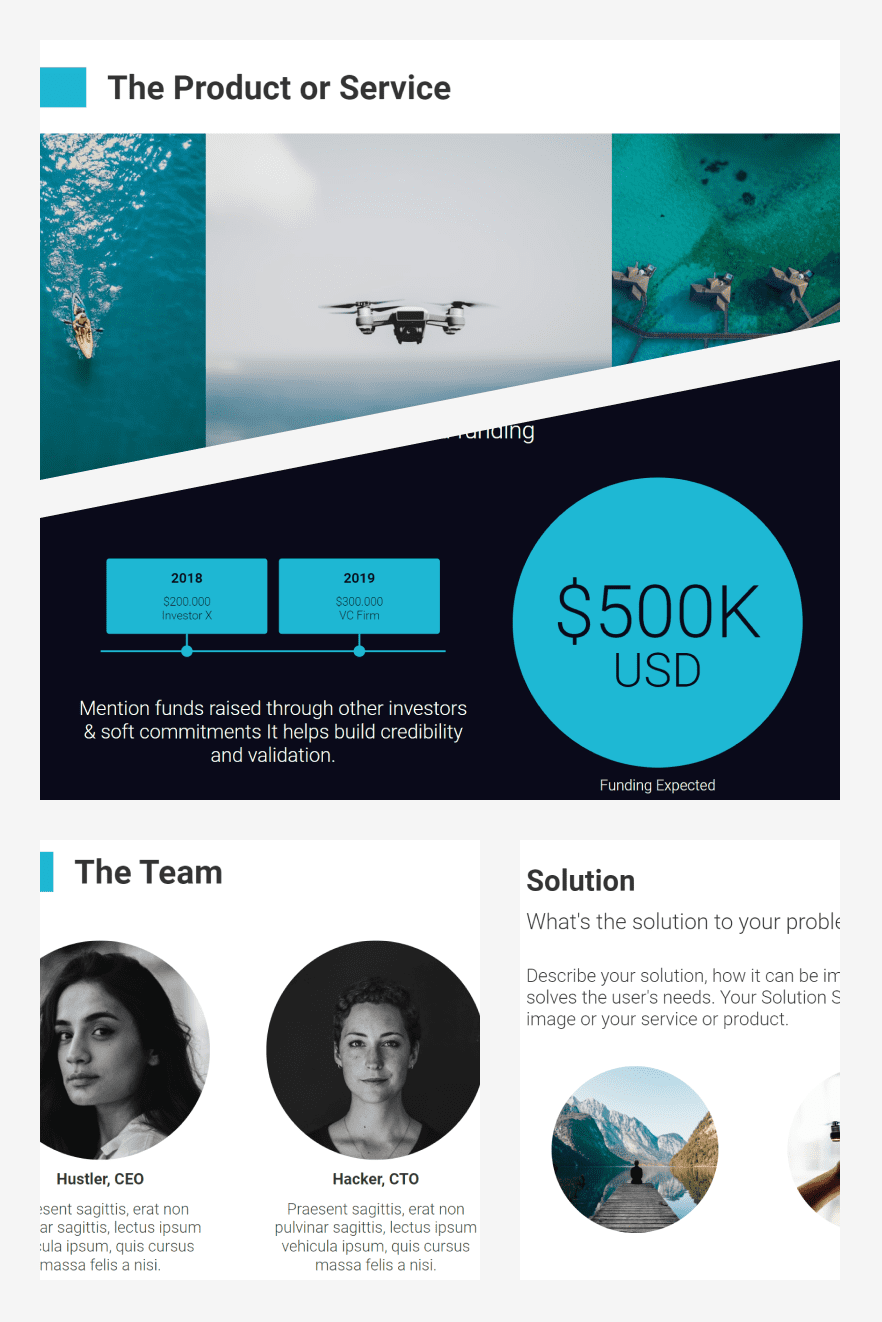 Price: free
A simply outstanding free option that you cannot miss, so go ahead and try it out.
Evervault Pitch Deck Template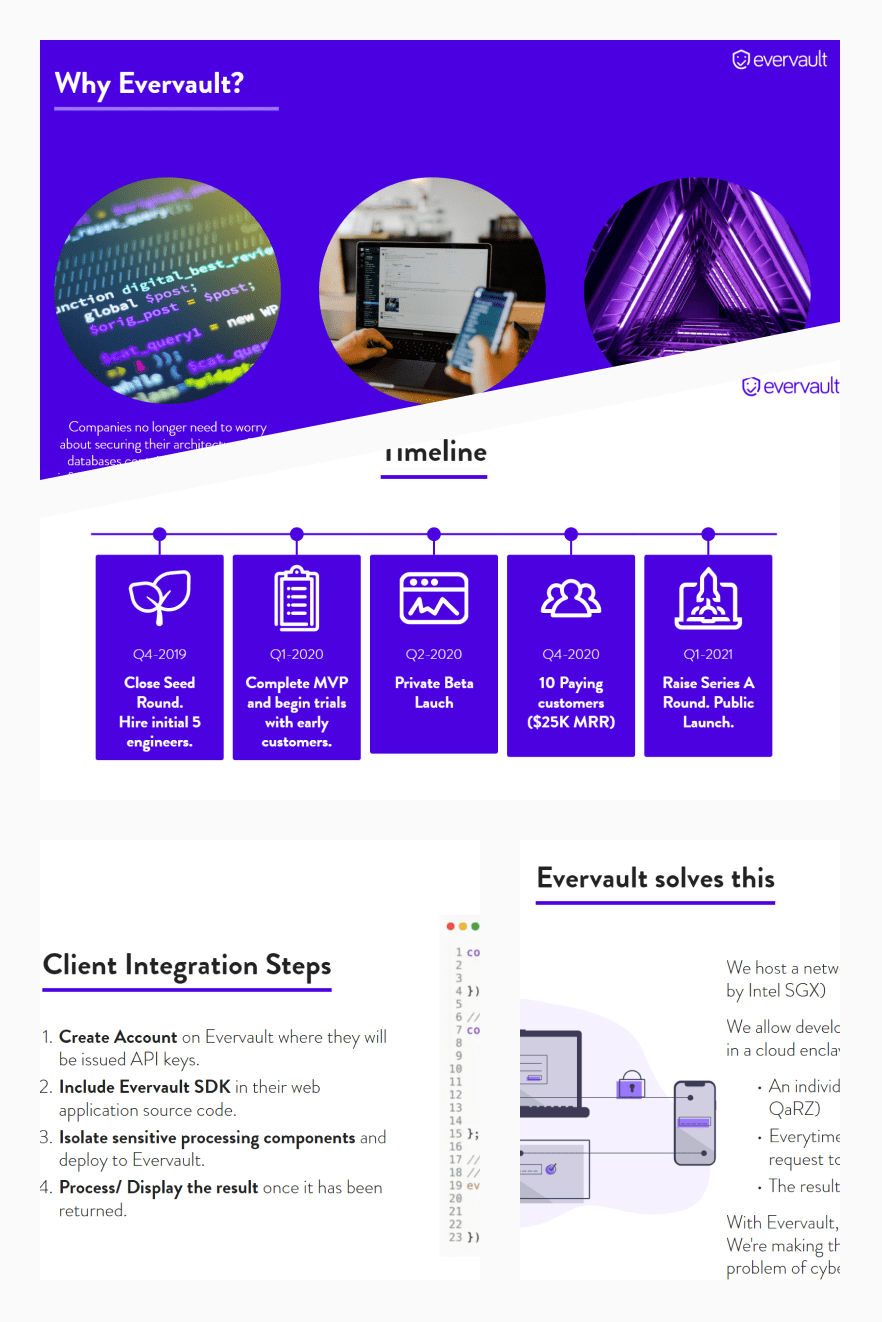 Price: free
Evervault is a perfect choice for those who know exactly what they want from this life, so if you are such a person, go ahead and check it out.
Include Pitch Deck Template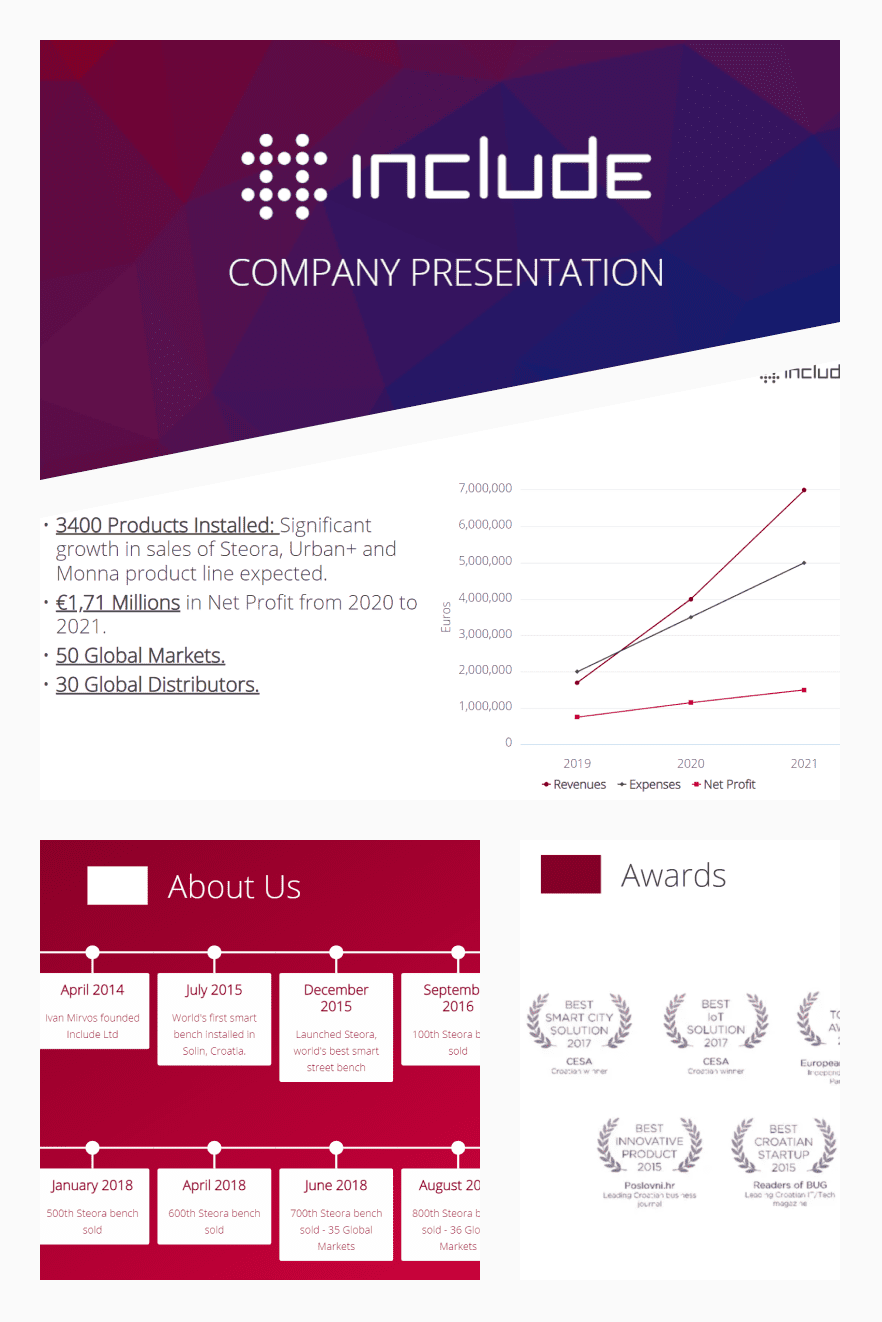 Price: free
Include is a stunning free solution that you definitely need, so go ahead and download it, it's completely free.
Global Logistics Network PowerPoint Templates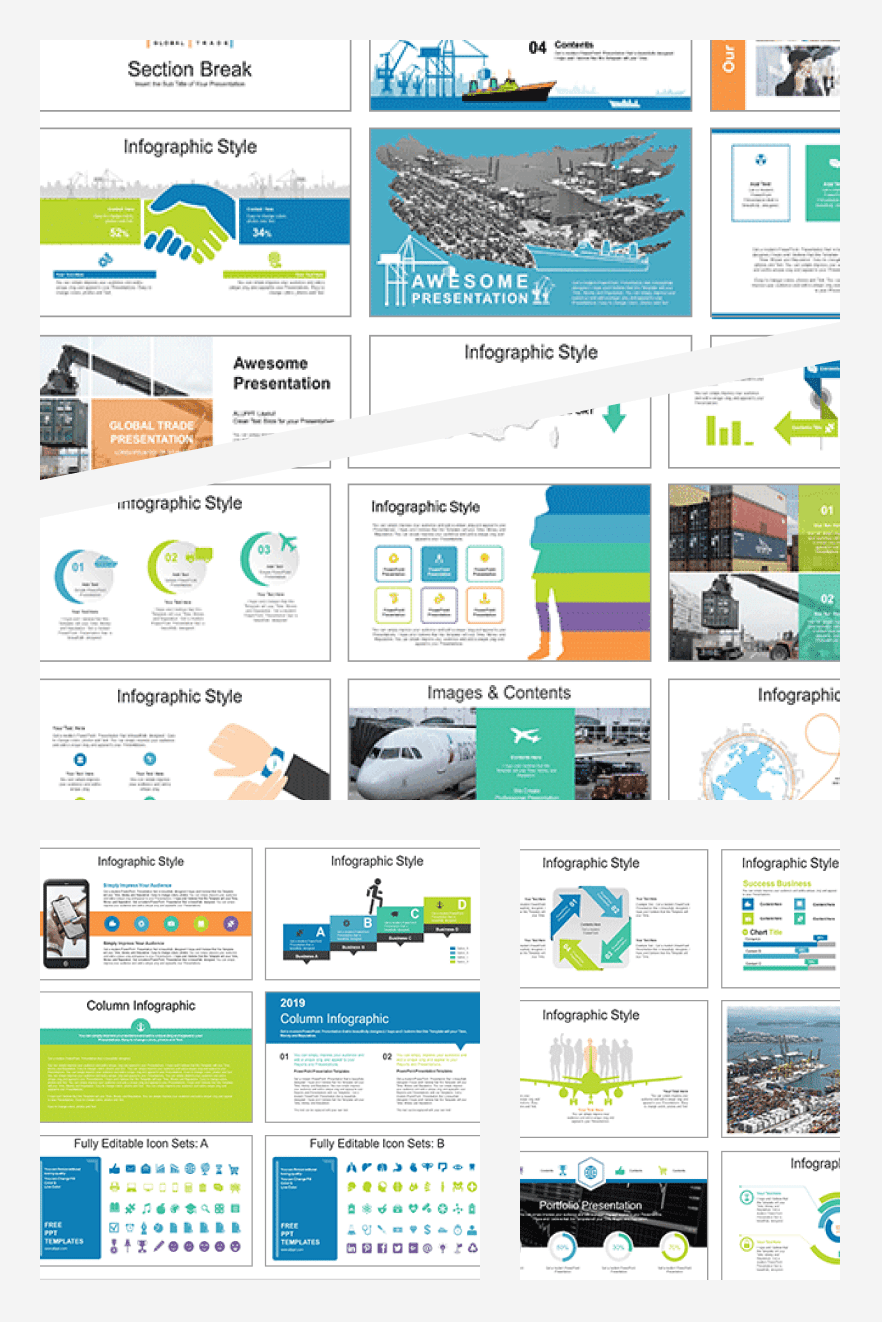 Price: free
A free bundle for your logistics company startup.
Leader for Success PowerPoint Templates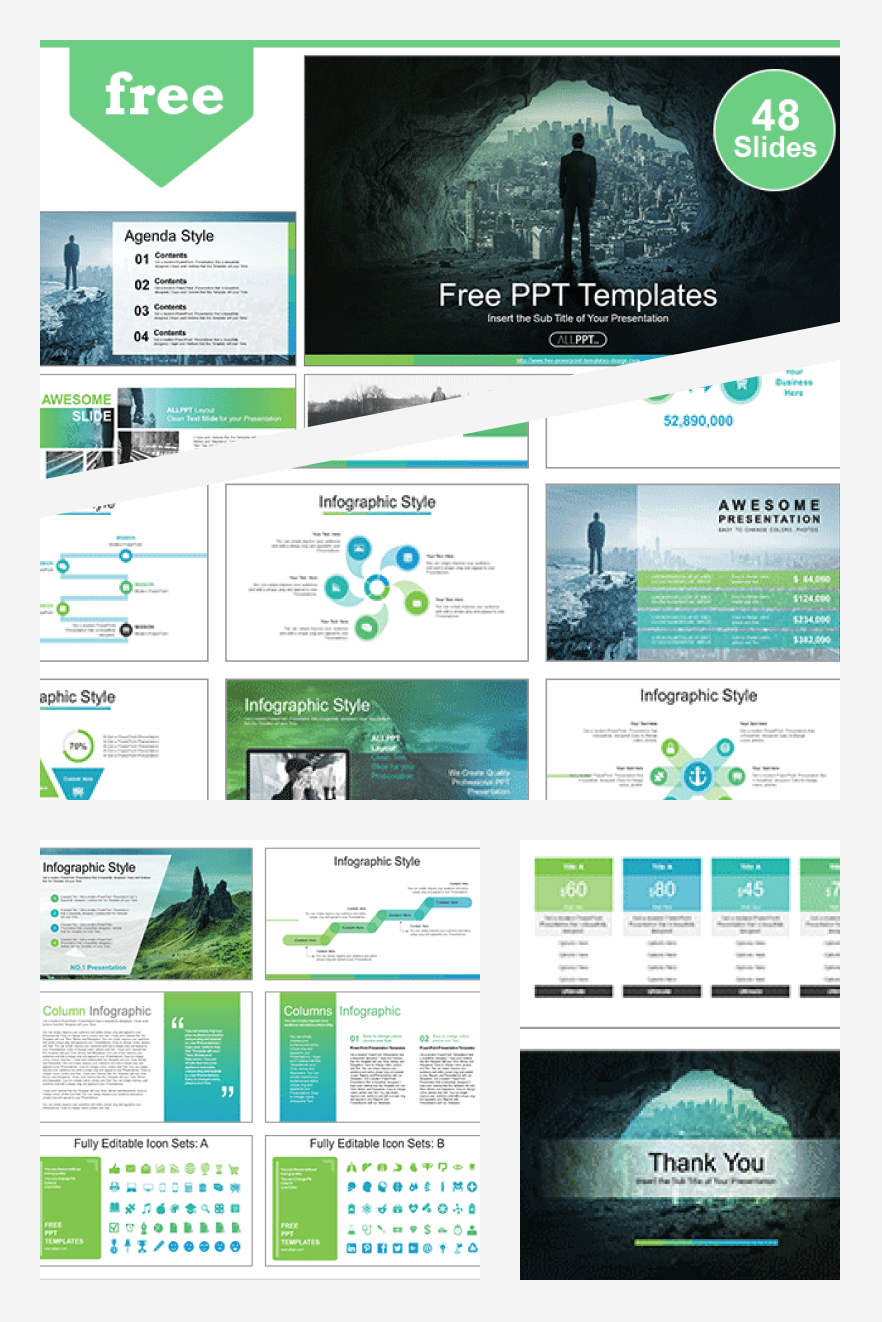 Price: free
Last, but not least, a collection of free templates for all occasions.
How To Create Professional Funding Pitch?
What should you do to impress the audience with a funding pitch? Here are some tips for you.
Take time to work on your promotion. Practice, practice, and practice again! Use a mirror to make sure that you look professional and natural during the funding pitch. Obviously, you will need help from other people. Find your test audience and work on the presentation. Make sure that everyone understands the main idea of your pitch.
On the other hand, when working on promo, pay attention to the eye contact.
Besides, you should avoid using complicated or specific terms. Some speakers overuse them to impress the audience and here is one of the common pitch mistakes. Be as simple as possible and your close friends are the best way to see if you are doing it right. In case someone doesn't understand a word or a sentence, replace it with a simpler one. Keep in mind that your possible investors are people, not computers. They don't know all the terms and they are here not to see your language skills. There is one rule for any pitch type. It's KISS or keep it stupid simple.
That's why you should avoid long explanations. In case you would like to show some numerals or statistics, use visual elements instead.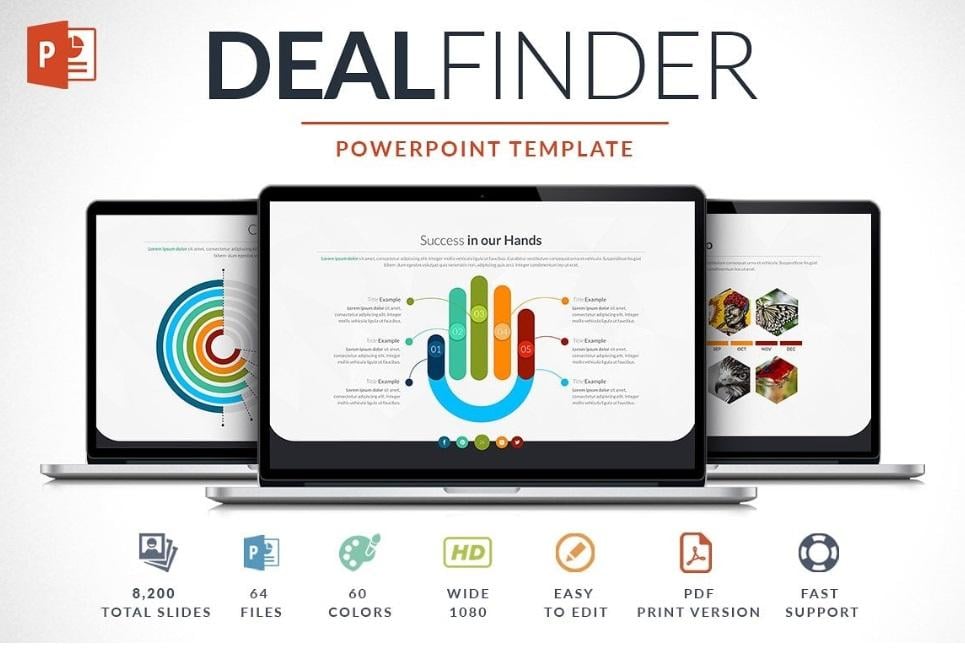 What is more, you should avoid overusing text for your slides. Replace it with all these voguish designs like charts and graphics.
There's no need to say that you should not lie during the presentation. Being completely honest, you have more chances to create a trustworthy relationship with investors. Otherwise, your reputation will be ruined.
To finish with, analyze any detail of today's market and your competitors. You won't need it for the main part of the pitch. Still, such information will help you to answer final questions.
6 Different Types of Pitches
So, now you know what the main 3 types of pitches are. On the other hand, some users prefer different classification. They divide pitches into 6 types depending on the viewer. Honestly speaking, it's also a nice variant. Any successful speaker should understand their audience to make a better pitch.
According to the second classification, there are 6 pitch types:
pitch to investors;
pitch to customers;
pitch for sales;
pitch to employees;
pitch to partners;
and pitch to competitors.
Let's say a couple of words about all these types.
What Is Investors Pitch?
Investors pitch is a classic pitch we were talking about at the beginning of the post. It's the pitch to get money, support, and attention. There are 2 main things you do for the pitch. Firstly, you describe the problem. Secondly, you show the way to solve it. This pitch type is your way to the big market.
What Is Customers Pitch?
To put it briefly, customers pitch is the way a seller communicated with their customers. That's how shop owners and other retailers usually get the feedbacks. The main task of the pitch to customers is to understand their needs. What do shoppers think about the goods you sell and how to improve your shop? What do people like about the services you provide? These are the questions you should ask yourself when working on this type of pitches.
What Is Sales Pitch?
The thing is that a sale is a pitch by itself. Obviously, you won't talk about the global market or how much money you are going to get from the sale… Although your audience is really different, the promo you create is still a pitch. It has the same rules. For example, create a story for your sale to grab the shoppers' attention. Talking about sales pitches, you should create something people will love.
What Is Employees Pitch?
Shortly, employees pitch is meant to consider the ideas and the vision you have. It's all about the company you are going to work at and the future of its workers. Make sure that your pitch sounds like you are already a part of the company's story.
What Is Partners Pitch?
Without a doubt, getting a partnership is not easy. It's extremely hard if you want to find partners in a big and famous corporation. For these simple reasons, you should be careful. This is the hardest type of pitches. Before all else, find the person you are going to talk to. Not everyone in the company is ready to spend their time on your ideas, so don't be too obsessive. Keep in mind that partners pitch should be focused on your partners and their needs, not on your startup.
What Is Competitors Pitch?
They say keep your friends close but enemies closer. There's no secret, in 2018, businessmen have an open channel of communication with their competitors. During this pitch, you should stay smart, calm, and rational. All in all, talking to your competitors may help you to find a middle ground. It can be helpful in case you have common enemies.
Final Thoughts
It's time to sum everything up. No matter which pitch type you decided to use, follow these simple tips.
Timing is extra important. Your pitch can take no more than 10 minutes.
Always make your best to transform a pitch into a real story. You may be surprised but this step does work!
Make sure you are laser-focused. It doesn't matter if you are talking to your partners, investors, or employees. Nobody wants to waste their hours. Show these people that you respect their time! Without a doubt, the viewers will notice your ability to be laconic.
Explain exactly what your idea, product, or service is about.
Use additional visual elements.
Explain who is your target audience and know as much info as possible about your market.
Also, explain how you are going to keep the customers engaged and why they would prefer your company.
Work on your revenue model.
Practice your pitch every day!
Be ready to answer complicated questions and don't forget to prepare a couple of them for the audience.
What Is MasterBundles?
MasterBundles is a brand new digital marketplace. The gallery contains lots of graphic designs resources. As expected, you can use them to create the very presentation. Among the main advantages of the marketplace, there are:
hand-picked quality products,
best prices,
unique designs,
and 30 days money back guarantee.
There is a collection of modern elements for PowerPoint and Keynote presentation. For today, the company sold almost 80,000 bundles. What's more, there are smart deals that let you save 99% buying design essentials!
Some Awesome Videos About Pitch Deck Templates
Best PowerPoint Pitch Deck Templates 💰 – MasterBundles
The Airbnb Pitch Deck that raised $500K in 2009

Airbnb's original pitch deck from 2009 has become one of the most sought-after references for new entrepreneurs. It was one of the first pitch decks from unicorn companies to be released publicly, and it got a lot of media attention.

FAQ
👨‍💻 How to overcome the fear of public speaking?
There are many ways to overcome this fear such as imagining that everybody in the room is naked or filming yourself while rehearsing your speech. The point here is to find the very tip that works for you, so check out this article, try out those tips and tricks, and find the ones that work for you the best.
👨‍💻 What is the best way to prepare for my "big day"?
First of all, you have to practice your presentation speech multiple times in order to be perfectly ready. Apart from that, think about the possible questions you might be asked and come up with answers to those. Finally, do not stay up all night preparing and get a good night sleep, so you will be full of energy while presenting your startup.
👨‍💻 Do I need a template for my pitch deck presentation or can use standard layouts form PowerPoint/Keynotes?
Pretty much everybody uses pre-made layouts that come with Keynotes or PowerPoint, which makes it impossible to come up with something truly unique. So yes, you need a template.
👨‍💻 What can I do to get some inspiration before starting working on my presentation?
Go ahead and watch Apple product presentations or some TED Talks on YourTube. You'll definitely get inspired.
Please take a moment to pin this post to Pinterest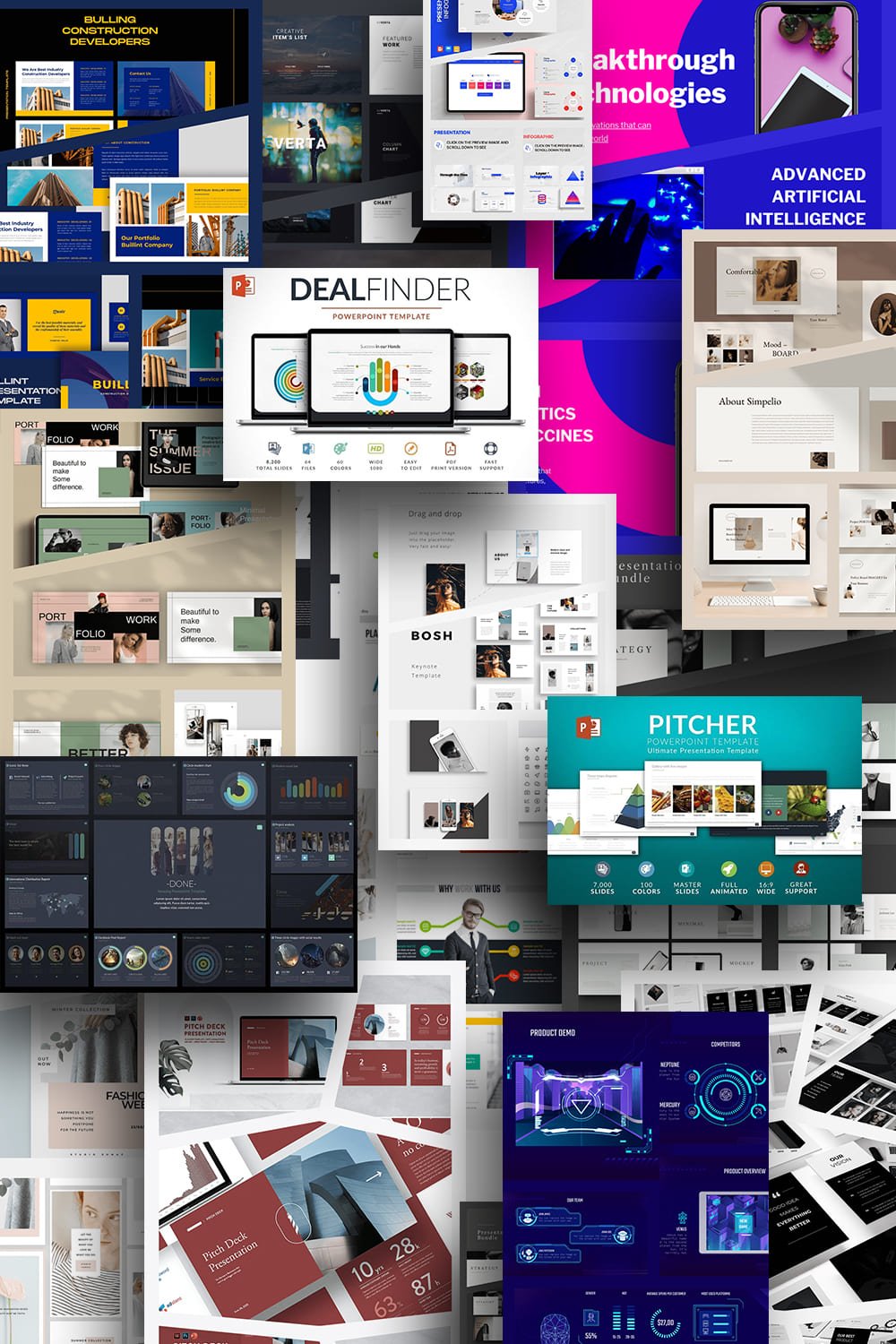 Was this page helpful?
We will be happy if you decide to share this article with your friends on Facebook. Just click on the button and you're done
Thanks for your response!
You have already left your review.
Article Sources
Before starting this article I did my best to carefully investigate this topic in order to be able to give you some solid advice. Thus, I've read quite a few books and watched a whole bunch of YouTube videos. However, the resources that actually helped me and eventually became the basis of this very article are the following:
Barron, Jayson. The Visual MBA: Two Years of Business School Packed into One Priceless Book of Pure Awesomeness. Mariner Books, 2020.
"How to Write a Killer Startup Pitch Deck?" Sidebean: Startups 101, www.youtube.com/watch?v=VapOhmvC8jk.
Sinek, Simon. Start with Why: How Great Leaders Inspire Everyone to Take Action. Portfolio, 2011.
"Startup Pitch Video: How to Create a Pitch Deck for Investors." Sidebean: Startups 101, www.youtube.com/watch?v=SB16xgtFmco.
Disclosure: MasterBundles website page may contain advertising materials that may lead to us receiving a commission fee if you purchase a product. However, this does not affect our opinion of the product in any way and we do not receive any bonuses for positive or negative ratings.