Table of contents:
As you can see, startups became quite popular. In 2019, almost every user has a couple of ideas to present. As a result, such things as startup events are also in use. Visiting one of such meetings, a young businessman does their best to stand out from the crowd. Without a doubt, you already know a lot about these events. In fact, the winner gets not the attention only. The main prize is getting a strong partnership with an investor. Sooner or later, that's what any idea requires. In case you are about to develop your project, this post is just what the doctor ordered. Why? Well, because the book will tell you about all the secrets of today's pitching. Why do you need it? Let's see!
What Is Pitching?
First things first, let's give the definition to this trendy word. Basically, a pitch is the name of all the actions a startuper does to sell their product. Pitch is the ability to present your idea and the main task of pitching is to create an eye-catching and wallet-opening promo. How can you do it? Well, this is what this article is going to teach you.
So, to sum everything up, pitch is the performance you make during a startup event to grab the attention of potential investor or investors. It can include any kind of visual presentation. Working on a pitch, remember that whatever you do, you do it for one reason – to sell something. You may want to sell such things as:
your services,
your idea(s),
your business (or any other) plan,
your project,
your business strategy,
your team, etc.

Who Is Your Potential Viewer?

So, now you know what pitching is and why you need it. But what about the person you are meant to impress? Talking about startup competitions, your potential viewer is an investor. Let's say that it's a rich person, which is ready to invest their money into your project/ idea/ startup. However, pitching is a pretty deep term. Its usage is more than just startup competitions.

On the first hand, pitching would help a user to showcase a product to their boss. In case you spent the previous year waiting for a chance to impress your boss… Well, here it is.
On the other hand, pitching can also help you to take out a loan to develop your idea. It's a common thing to use all the possible and impossible ways to make a banker trust you. So, why not?
Plus, pitching will help you during a discussion with partners, co-workers, sponsors, etc.

In a word, you can use pitching whenever you need to get support.

3 Main Types of Pitching

To begin with, Pitching can be divided into 3 main types depending on the form and the lengths of your performance. There's another classification you can use and we'll move to it in the next paragraph. So, as it has already been mentioned, there are 3 types of pitching:

elevator pitch,
idea pitch,
and funding pitch.

Now, let's discuss each of them. Although these definitions may look boring, you need to know all of them to get success. Your first step will be finding your own perfect pitch form, so let's see what variants you have here.

What Is Elevator Pitch?

To make a long story short, an elevator pitch is a promo which is no longer than 1 minute. It should be short, bright, and laconic. As always, the main task of an elevator pitch is to interest your investor/ boss/ partner/ customer. Basically, an elevator pitch should make them want to invite you to the second interview. Needless to say, this second meeting is your chance to share all the details of the project you are working on. However, when it comes to an elevator pitch, you do have to make your best and stay laconic. Use graphics instead of boring tables.

Details
This type of pitch reminds this popular YouTube promo. You can't skip it but the promo lasts only 10-30 seconds. The same thing is with your elevator pitch. Use your time wisely because the pitch should contain the next questions:

a brief description of your main idea/ problem,
the solution you have for it,
a couple of words about how you are going to do it,
and the perspective your investor gets if they decided to spend money on the idea.

All You Should Know About Elevator Pitch

Why creating a worthy elevator pitch is important? Before all else, don't forget that the decision of your possible investor depends on this step. Your elevator pitch will let big players understand whether they want to spend time on reviewing your project. The thing is that an investor (as well as any well-known company) receives thousands of startup pitches every day. That's why you should know how to stand out like a sore thumb! Even when it looks like you just started working on your promo, it's important to create a pro elevator pitch.
So, how can you get it? To do it, you should remember the way the human brain works. It's always easier to notice, understand, and remind visual elements. For these simple reasons, you do need them for your elevator pitch. Needless to say, there are a lot of ace visual components you can use for a presentation. Among them, there are:
">
Details

counters,
/
graphics,
infographics,
progress bars,
testimonials,
charts,
pie diagrams, and much more!

Don't hesitate to use them for a winning elevator pitch. By the way, in case you prefer working with pre-designed templates for presentations, you get the named UI elements just out-of-the-box. In 2019. it's almost impossible to stay unique and trendy at the same time. However, the creators of these packs selected for you only the worthy designs. Besides, they are 100% versatile. Using one of these flexible components, you can change any detail up to your taste. By the way, we recommend you to use the color schemes that you already used (or going to use) for the style of your company. It's important to grab the attention of investors even when it's only the first step, so you can finally focus on the textual part of the pitch.

How To Create Successful Elevator Pitch?

To start with, be ready that the process may take some time. A worthy elevator pitch is a powerful thing, so you'll need to work on it. Once you are done with all the preparations, make sure that your pitch sounds natural and opens the main idea. This small step-by-step guide will help you to get the very elevator pitch.

Your first step will be identifying the goal. What do you want to tell? What your investors, partners or customers should know about the startup before everything else? Are there any products, projects, and ideas that require special attention? Would you like the pitch to be simple or complicated?
Secondly, you have to explain what you do or what your company does. Working on this step, you should focus on the problems you solve. How can it help others? Why is it important? Adding statistic and other information would be great. To sum everything up, this point shows the value of your work. Try to ask yourself: what am I want the viewers to remember most about me? The answer is what you should talk about.
Now it's time to take a closer look at your USP. It means a unique selling proposition and that's what you should communicate. To do it, just take time to find out what makes your project, your ideas, and your company unique. Why a prospect should choose you?
Once you are through it, it's time to engage the audience. For these simple reasons, you will need a couple of open-ended questions. In this case, 'yes' or 'no' won't be enough, so this step is to involve viewers in the conversation. By the way, think twice because, in the end, you should be able to answer any of these questions.
As soon as you have completed all these steps, put them together. Read the result aloud using a stopwatch. Remember that you have only 1 minute, so your intro should be no longer than 20-30 seconds. Otherwise, there's always a risk of losing viewer's interest. That's why try to cut out anything you can. All in all, your elevator pitch should be compelling, interesting, and snappy. The shorter your pitch it, the better!
Finally, don't forget that practice matters and it matters a lot! The way you say is just as important as the things you say! Thus, you should be practicing to get success. Make sure that you don't talk too much, to fast, or to slow. Whatever you say, it should sound natural. Practice the pitch every day until it sounds like a smooth conversation.
In addition, remember about your body language. It should harmonize with your pitch. Practice in front of a mirror or ask friends and colleagues to help you. Tailor the elevator pitch for different audiences, if possible.
Also, you may want to have some takeaway items during the pitch. It can be business cards, brochures, or anything else that symbolizes your deal.

What Is Idea Pitch?

Looks like it's finally time to move to the next type of pitch – idea pitch. So, what is it? In a word, idea pitch is the presentation, which lasts 3 minutes maximum. As you may know, this is the most popular pitch type that is widely used for different startup competitions. Usually, a properly created idea pitch consists of these points.

The name of the project. Don't waste your time introducing your team one by one. You will be able to do it later. The only thing you need to do on this step is to tell the name of your project.
Next, you are moving to the problem your project is meant to highlight. It is always better to create a small story for this point. It has to be bright but laconic, so the investors can visualize the problem and think of its solution. And it's great because here…
Here you should talk about the solution! It should be short. It should be simple and it should have a unique explanation. Why your solution is better than the things your competitors are working on? What are the main advantages of your project? It should be better than any analogs.
What is your next step? Let's talk about the market. You have to show how large the market is. Then move to the part you are going to cover and talk about your target audience. Don't miss using infographics! It saves time! To say more, it makes investors notice and remind the details of your pitch.
Now, let's move to your business model! On this step, you have to show the way your project will generate money. Where are you going to receive them from? How much money you are expecting the project to bring per year? Stay honest and explain any numeral you use.


Details

When you are done with money, it's time to introduce your team. Now you can highlight some personal and working achievements of your partners. Make a special slide for it!

Also, you will have time to share your contacts. Don't forget about social media pages and make sure you've added a working website to the contacts list.

To create a beautiful conclusion, you have to find the most remarkable facts and a unique solution. The investors will remember them even when your promo is over.

What Is Funding Pitch?

Now let's give the definition to this type of the pitch. Basically, funding pitch is an extensive promo. It lasts 7-10 minutes and covers multiple questions. Funding pitch includes all the steps named above. Plus, this presentation also comes with the next points:

your main competitors,
your strategy to take a place on the market,
your current place,
the steps you already performed to enter the global market,
and the needed investments.

How To Create Professional Funding Pitch?

What should you do to impress the audience with a funding pitch? Here are some tips for you.
Take time to work on your promotion. Practice, practice, and practice again! Use a mirror to make sure that you look professional and natural during the funding pitch. Obviously, you will need help from other people. Find your test audience and work on the presentation. Make sure that everyone understands the main idea of your pitch.
On the other hand, when working on promo, pay attention to the eye contact.
Besides, you should avoid using complicated or specific terms. Some speakers overuse them to impress the audience and here is one of the common pitch mistakes. Be as simple as possible and your close friends are the best way to see if you are doing it right. In case someone doesn't understand a word or a sentence, replace it with a simpler one. Keep in mind that your possible investors are people, not computers. They don't know all the terms and they are here not to see your language skills. There is one rule for any pitch type. It's KISS or keep it stupid simple.
That's why you should avoid long explanations. In case you would like to show some numerals or statistics, use visual elements instead.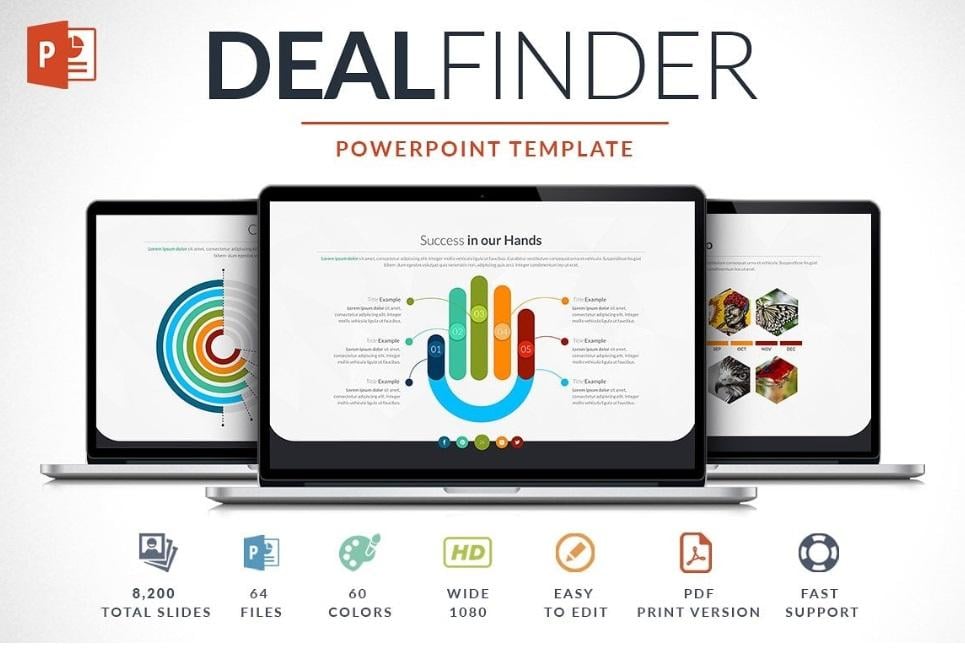 Details
What is more, you should avoid overusing text for your slides. Replace it with all these voguish designs like charts and graphics.
There's no need to say that you should not lie during the presentation. Being completely honest, you have more chances to create a trustworthy relationship with investors. Otherwise, your reputation will be ruined.
To finish with, analyze any detail of today's market and your competitors. You won't need it for the main part of the pitch. Still, such information will help you to answer final questions.
6 Different Types of Pitches
So, now you know what the main 3 types of pitches are. On the other hand, some users prefer different classification. They divide pitches into 6 types depending on the viewer. Honestly speaking, it's also a nice variant. Any successful speaker should understand their audience to make a better pitch.
According to the second classification, there are 6 pitch types:
pitch to investors.
pitch to customers,
pitch for sales,
pitch to employees,
pitch to partners,
and pitch to competitors.
Let's say a couple of words about all these types.
What Is Investors Pitch?
Investors pitch is a classic pitch we were talking about at the beginning of the post. It's the pitch to get money, support, and attention. There are 2 main things you do for the pitch. Firstly, you describe the problem. Secondly, you show the way to solve it. This pitch type is your way to the big market.
What Is Customers Pitch?
To put it briefly, customers pitch is the way a seller communicated with their customers. That's how shop owners and other retailers usually get the feedbacks. The main task of the pitch to customers is to understand their needs. What do shoppers think about the goods you sell and how to improve your shop? What do people like about the services you provide? These are the questions you should ask yourself when working on this type of pitches.
What Is Sales Pitch?
The thing is that a sale is a pitch by itself. Obviously, you won't talk about the global market or how much money you are going to get from the sale… Although your audience is really different, the promo you create is still a pitch. It has the same rules. For example, create a story for your sale to grab the shoppers' attention. Talking about sales pitches, you should create something people will love.
What Is Employees Pitch?
Shortly, employees pitch is meant to consider the ideas and the vision you have. It's all about the company you are going to work at and the future of its workers. Make sure that your pitch sounds like you are already a part of the company's story.
What Is Partners Pitch?
Without a doubt, getting a partnership is not easy. It's extremely hard if you want to find partners in a big and famous corporation. For these simple reasons, you should be careful. This is the hardest type of pitches. Before all else, find the person you are going to talk to. Not everyone in the company is ready to spend their time on your ideas, so don't be too obsessive. Keep in mind that partners pitch should be focused on your partners and their needs, not on your startup.
What Is Competitors Pitch?
They say keep your friends close but enemies closer. There's no secret, in 2018, businessmen have an open channel of communication with their competitors. During this pitch, you should stay smart, calm, and rational. All in all, talking to your competitors may help you to find a middle ground. It can be helpful in case you have common enemies.
Final Thoughts
It's time to sum everything up. No matter which pitch type you decided to use, follow these simple tips.
Timing is extra important. Your pitch can take no more than 10 minutes.
Always make your best to transform a pitch into a real story. You may be surprised but this step does work!
Make sure you are laser-focused. It doesn't matter if you are talking to your partners, investors, or employees. Nobody wants to waste their hours. Show these people that you respect their time! Without a doubt, the viewers will notice your ability to be laconic.
Explain exactly what your idea, product, or service is about.
Use additional visual elements.
Explain who is your target audience and know as much info as possible about your market.
Also, explain how you are going to keep the customers engaged and why they would prefer your company.
Work on your revenue model.
Practice your pitch every day!
Be ready to answer complicated questions and don't forget to prepare a couple of them for the audience.
What Is MasterBundles?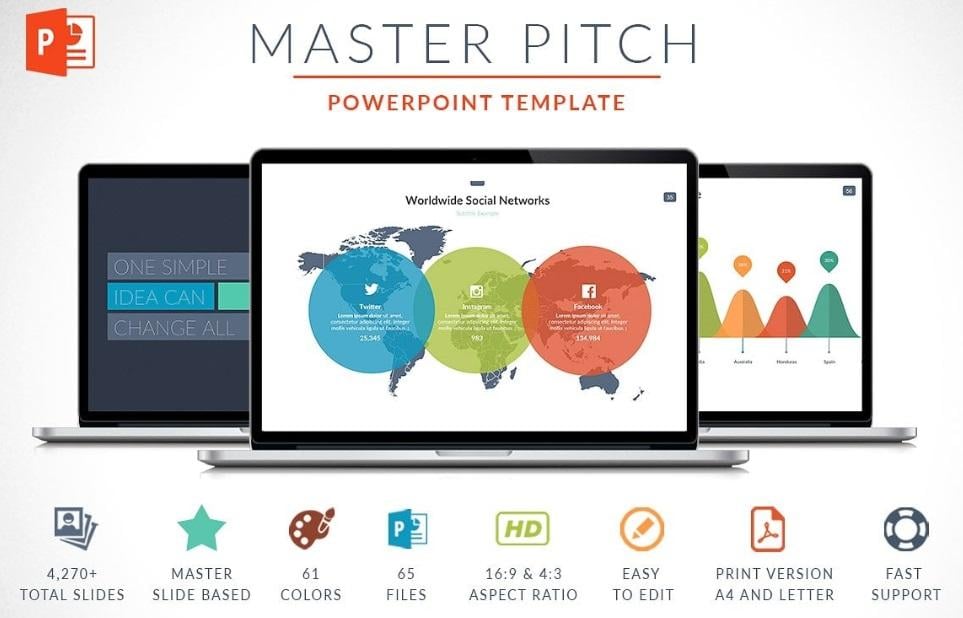 Details
MasterBundles is a brand new digital marketplace. The gallery contains lots of graphic designs resources. As expected, you can use them to create the very presentation. Among the main advantages of the marketplace, there are:
hand-picked quality products,
best prices,
unique designs,
and 30 days money back guarantee.
There is a collection of modern elements for PowerPoint and Keynote presentation. For today, the company sold almost 80,000 bundles. What's more, there are smart deals that let you save 99% buying design essentials!
Video About How To Create The Powerpoint Presentation? Pitching As An Art…