Don't underestimate the visual concept of your PowerPoint presentation. It is as important as the points you are about to communicate to the audience. A good PowerPoint presentation should speak for itself through its design. This is why it's important to come up with the right visual solutions for your slides.
You must be asking yourself how to make a good PowerPoint presentation. Well, we are ready to share some smart PowerPoint design ideas with you down there. Hopefully, they will point you in the right direction.
Idea #1: Use Only Images
No matter how radical it sounds to you, it may actually work. People are visual creatures by their nature, so they perceive the surrounding world visually. So, why not give them what they want? If most of your content consists of images, you will have a great opportunity to develop your explanative skills instead of just reading points from the slides. Don't forget to use only high-quality visuals. Otherwise, you will turn your presentation into a cheap performance.
Idea #2: Create an Eye-Catching Background Image
Visual presentation ideas are the most effective when it comes to catching your audience's attention. This is why you should consider placing a compelling image in the background. This can be a color gradient or a landscape picture that goes along with the topic of your presentation.
Idea #3: Ask Questions When Needed
The best PowerPoint presentations manage to intrigue the audience. To achieve this result, you should consider using some questions. This way, you will balance the presentation rhythm and make the right accent. You will also turn a passive story into an active quest where the correct answers need to be found. By feeling involved in your presentation, the audience will stay focused on your slides.
Idea #4: Use Infographics
This is one of those PowerPoint presentation ideas that make your work look smarter. The spacing, layout, and format used in your presentation can be transformed into an infographic. Not only will it make the content more perceivable it will also inspire action in your audience.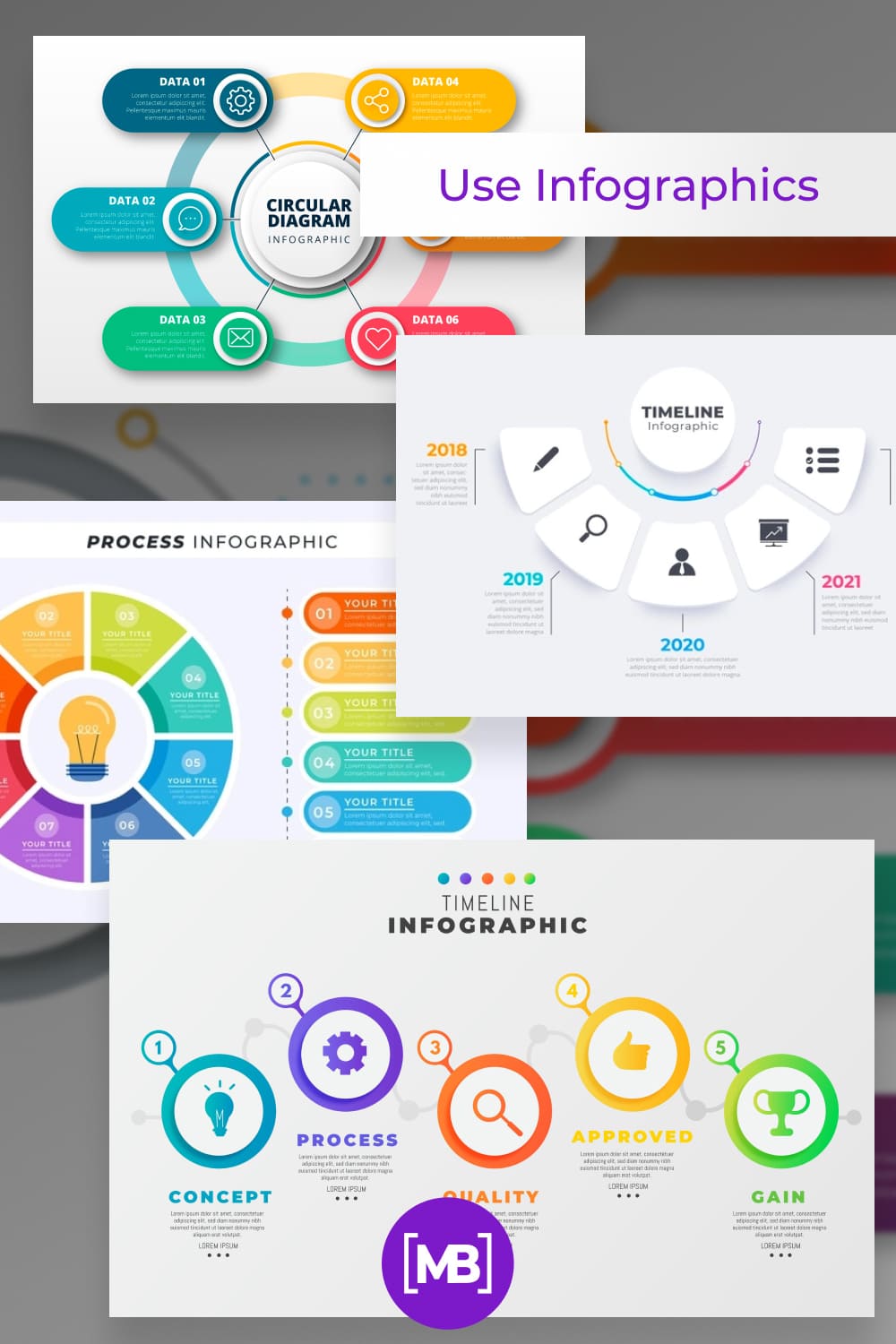 Idea #5: Use One Chart or Graphic per Slide
Making each slide overloaded with information can hardly contribute to the visual clarity of your content. While trying to figure out the mess in your presentation, your audience will just lose focus on your words. To make your slides look lighter, you can use graphs, charts, and tables.
Idea #6: Add the Element of Humor
Cool presentation ideas always include some humor. Even when it comes to the totally serious stuff, a couple of jokes will never hurt. But instead of saying something nasty, you can make a cheerful suggestion or mention a funny story.
If humor is not your strong side, you shouldn't worry about it. On the web, you can find a lot of funny PowerPoint ideas. Choosing funny memes and using them sparingly can get the right emotion from your audience, without distracting them from the work.
Idea #7: Choose a Color Palette for Each Idea
Using a different color for each point is one of the interesting presentations ideas you should consider. It can be an extremely powerful nonverbal tool that you can use to guide your audience. When you switch from one point to another, you will make it easier for the audience to follow you. You can also use color to highlight each point on your list or guide.
Idea #8: Use Inspiring Quotes
While presenting PowerPoints projects, you want to look and sound smart. Inspiring and powerful quotes by influential people will surely make this task easier for you. By grabbing someone's attention, they usually stay in the memory for a while. However, you should make sure that the used quotes actually have something to do with your topic.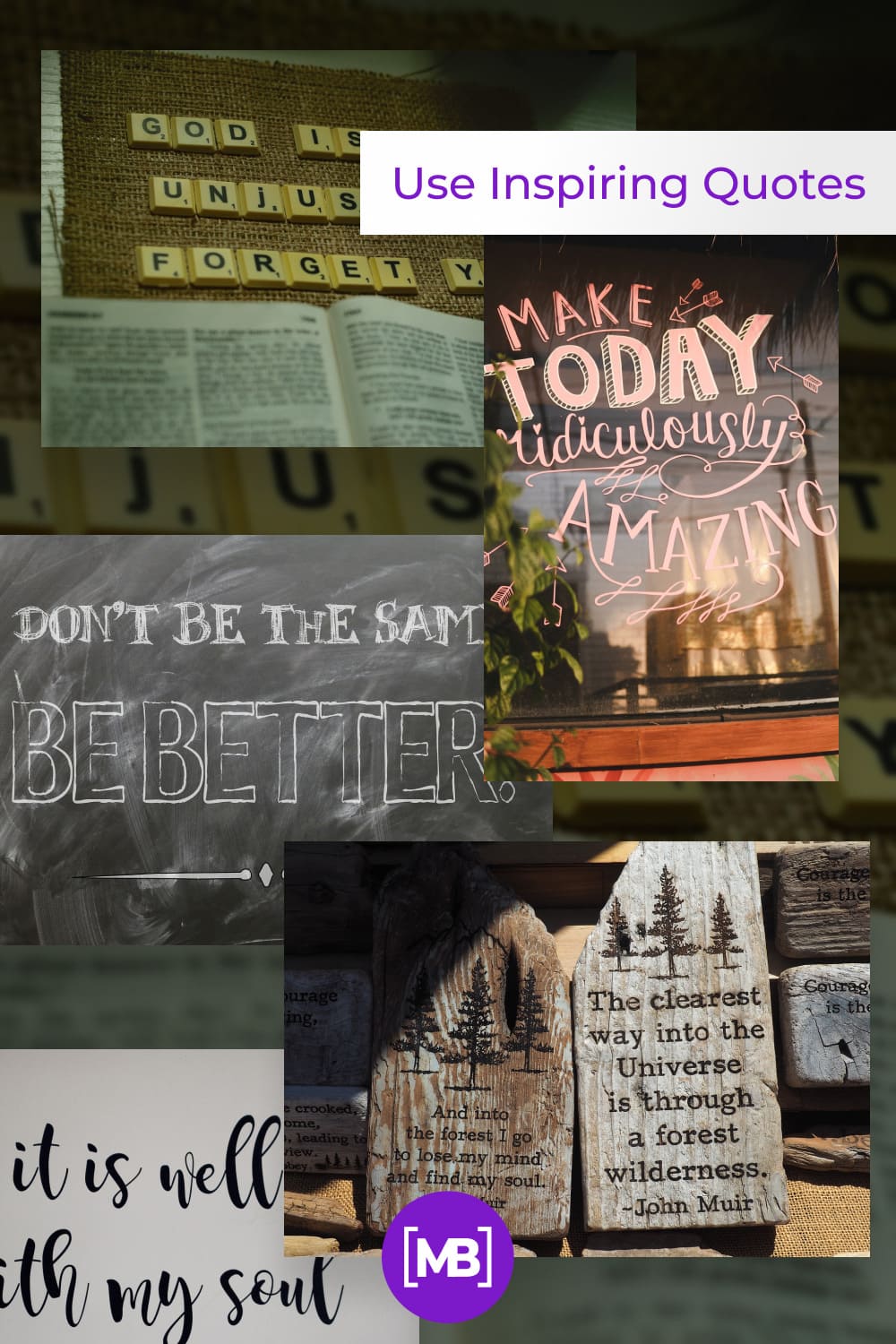 Idea #9: Include as Many Examples as Possible
The best PowerPoint presentation should be clear to the audience. If you are introducing a complex topic, you should support every point with one or several examples. Instead of guessing the meaning of your words, your listeners should understand everything from your examples. Don't be afraid of adding several examples as long as they don't seem repetitive.
Idea #10: Include Some Personalized Examples
Unique presentations ideas always help you personalize your talk. Whether you are standing in front of your classmates, prospective clients, or potential investors, you should adjust your content to their needs and expectations. By giving personalized PowerPoint presentations examples, you will make things more interesting and engaging for your audience. Once people realize that something resonates with them directly, they start paying attention!
Idea #11: Create Shareable Artifacts
When you want to know how to make a good PowerPoint presentation, you should take an extra step in your endeavors. Watching slides may not be enough for a better understanding of your subject matter. If you have some artifacts to share before or/and after the presentation, you will get more scores from your audience. This is especially the case when some graphics, charts, and tables are used. While checking this data on the screen, it can be hard to see all the details. Once people have it in a printed format, they will follow your narrative easily.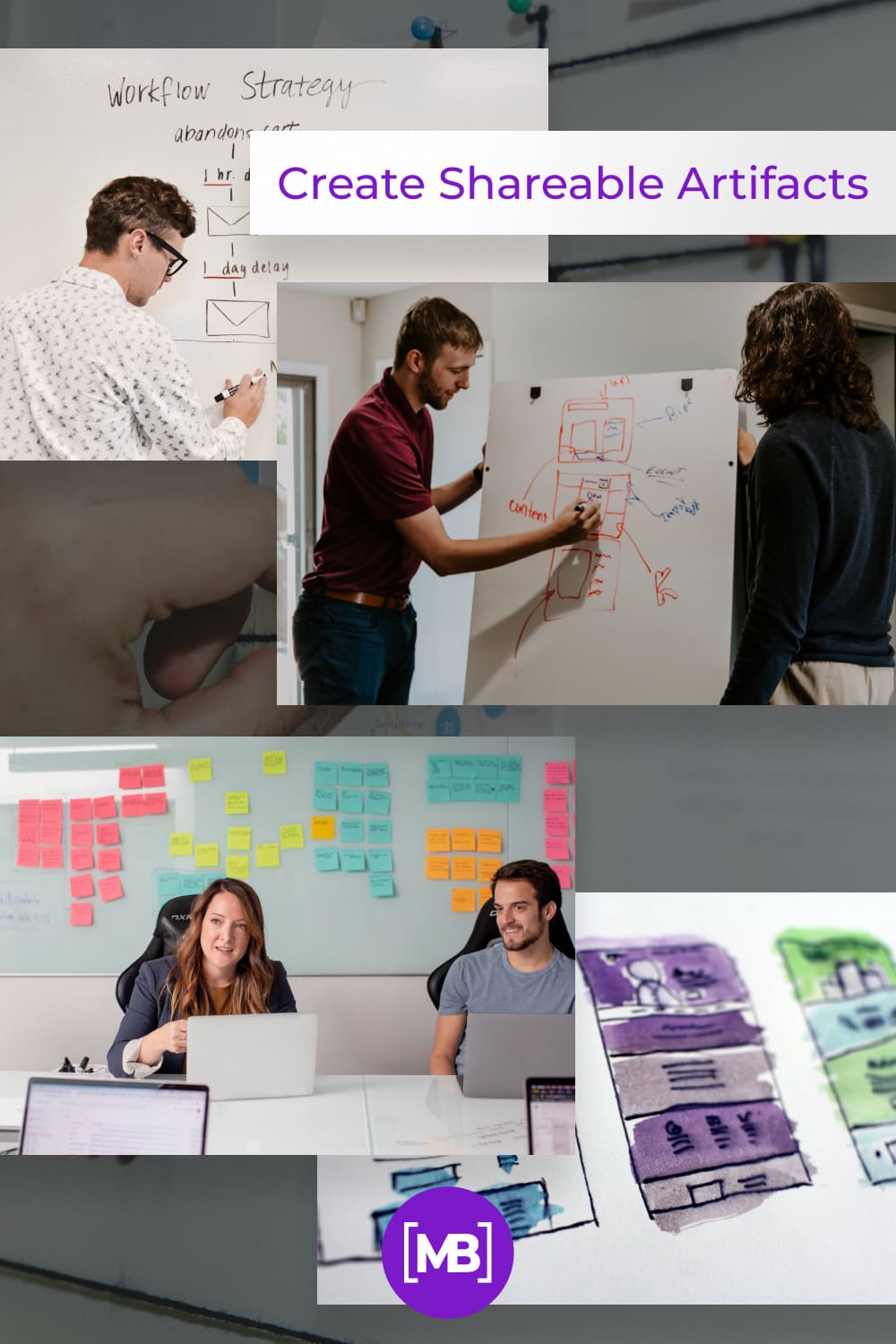 Idea #12: Make It Actionable
At the end of your PowerPoint presentations, you should have a call to action. After wrapping everything up, you will tell them what comes next. The presentation with a string ending slide will be more memorable for the audience. In fact, it will keep them excited and even intrigued for a while.
Idea #13: Replace Text with Image
You shouldn't take this kind of design ideas PowerPoint literally. Your slides can't consist of images only. But it should take around 40%-50% of the total space. Compared to endless and boring text, an eye-catching image will certainly have a better effect. Moreover, you can use both text and image on the same slide. After all, our brain can process images 60,000 times faster than text. Just keep this in mind while creating your presentation.
Idea #14: Personalize Your Slides
Throughout your presentation, you should relate to your audience as much as possible. If you're discussing the growing crime rates in Latin America, make sure to provide actual statistical data on this issue. Starting from a PowerPoint introduction slide, the major topic should be pretty obvious to the people who are sitting in front of you.
Idea #15: Know Your Audience
Before you start working on your PowerPoint presentation, you should have a clear understanding of your target audience. Take some time to research whom you'll be presenting your points to. Who are they? What are their interests? How are they connected to you? The answers to these questions will allow you to deliver more relevant content.
Idea #16: Practice before Making Your Presentation
Practice makes perfect. And this is true when it comes to the presentation in front of the big audience. No matter how smart your content is, you should be able to introduce it confidently. Thus, you can practice your presentation in front of the mirror. You can engage your family and friends in the process to get a second opinion. Also, you can record your presentation on your smartphone. By knowing how to make a cool PowerPoint, you will fix the mistakes while playing the record back.
Idea #17: Stick to a Consistent Design Concept throughout Your Presentation
Before you start developing a presentation, you should think of a visual concept. Once you have it, you should stick to it while creating every single slide. For example, your presentation uses squares as a visual concept. The same square icon is used in various colors to add an edgy touch to the design. This will help you make your presentation cohesive.
Idea #18: Don't Read from Your Slides
Your project needs to be laconic and clear at the same time. Instead of having volumes of text on each slide, you will mention just major points there. Thus, you won't have a chance of reading your slides. Instead, you will have to speak more from yourself. Among all creative PowerPoint presentation ideas, this one will give you more control over the process.
Idea #19: Use Bullet Points
Bullet points happen to be a popular method used in different types of written content. It can help you systematize the information by making it look more appealing to the audience. Bullet points help you not to read your words. Instead, you will have to expand on them in a more natural way.
Idea #20: Add an Interactive Slide Show
A great PowerPoint presentation must have some visuals. Why not organize them into a slide show. Scrolling, album, turn, fade, zoom or 3D flow types will make your presentation shine with totally new colors. Eventually, it will arouse the audiences' interest. And this is exactly what you need to make a successful presentation.
Idea #21: Create a Timeline
How to present a PowerPoint in an easy way? By adding a timeline, your viewers will navigate the content conveniently. They will jump from one point to another by following sharp images, shapes, and icons. This will surely raise the dynamics of your presentation. You may even create a wow-effect on your viewers.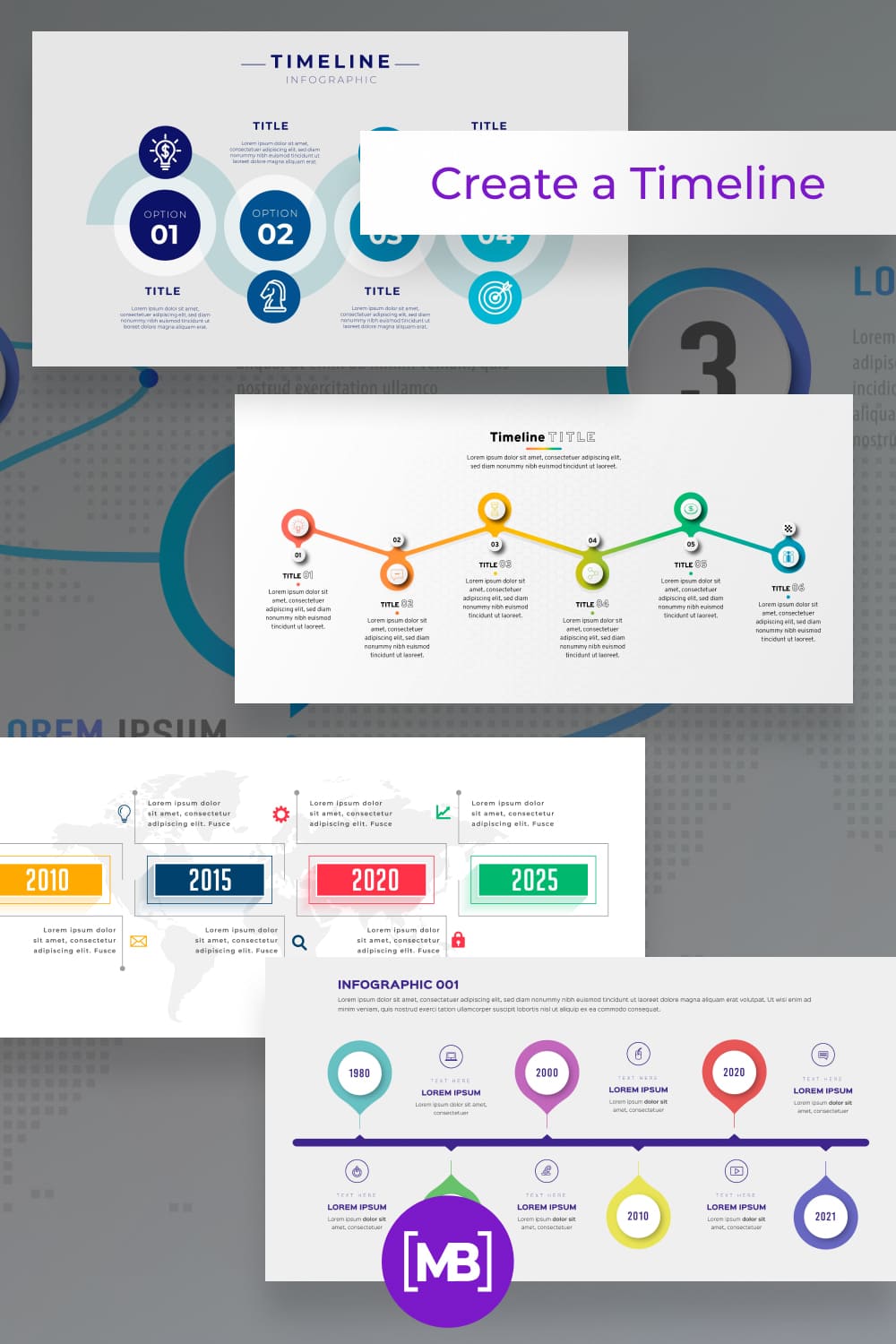 Idea #22: Put One Story per Slide
Depending on the general size of your presentation, you should try to make every slide complete. Don't try to put all the available information on a single slide. It won't do any good to your presentation. Let's say that you are discussing the crime rates in New York. Then, you will need to introduce the problem, provide statistics, mention the consequences, and offer legislative measures separately. Basically, you should stick to one story per slide.
Idea #23: Use the Proper Fonts
Various PowerPoint ideas are better realized with the proper fonts. Even though your presentation doesn't include a lot of text, you should still pay attention to every single letter. Make sure that your content is legible and readable. While Arial and Helvetica are the most common fonts for presentation purposes, you may play around a bit by using Cambria or Verdana. Don't be scared of experiments.
Idea #24: Be Careful with Animations
All slides in your PowerPoint presentation can't be the same. Each of them will contain a unique piece of information. By adding animations to some slides, you will make it easier for your audience to follow your steps. This idea for presentation design can help you introduce each point with a cool flourish.
Idea #25: Choose Well-Designed Templates
A good PowerPoint presentation can be created in accordance with the selected template. It will help you communicate your points in a frictionless way. On MasterBundles, you can find tons of PowerPoint templates with different designs. They work for different types of presentations. Once you find a suitable option, you won't have to struggle with visual design anymore.
Idea #26: Visualize Your Points with Icons
Using icons is one more way to appeal to human nature to perceive the surrounding world through visuals. Icons easily communicate a central idea of your presentation by providing visual support. You can even mix several icons to create custom illustrations for your slides.
Idea #27: Avoid Over-Formatting
It may sound obvious, but many people forget about it while creating presentation slides. They capitalize every word of the bullet points and underline every title, which makes slides look overwhelmed. Creative design can still be simple. So, keep your formatting rush under control.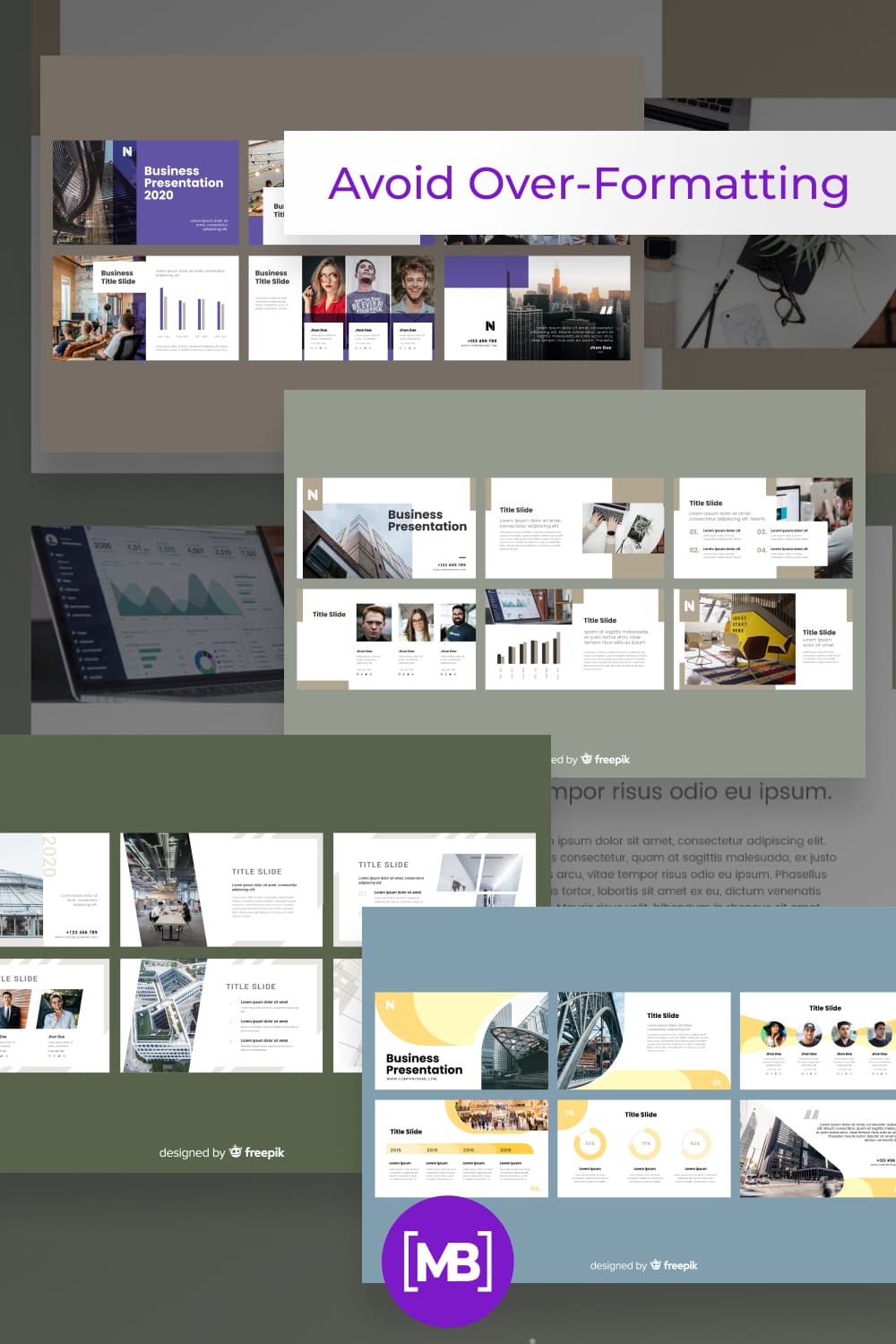 Conclusion
Now that you know how to get design ideas on PowerPoint, you won't have a shortage of inspiration in your next presentation. It's crucial to bring something new, unusual, and dynamic to your project, so your audience feels some excitement about it.
Using just some of the above ideas will take you to a better place. So, you have everything to make your presentation the best the audience has ever seen.
Some Awesome Video About Creative Presentation Ideas
31 Creative Presentation Ideas to Delight Your Audience

Think outside of the box during your next presentation! Stop creating boring PowerPoints.
How To Create a Modern PowerPoint Template

How To Create a Modern PowerPoint Template in 2021.
Disclosure: MasterBundles website page may contain advertising materials that may lead to us receiving a commission fee if you purchase a product. However, this does not affect our opinion of the product in any way and we do not receive any bonuses for positive or negative ratings.