Modern PowerPoint Templates. PowerPoint has been the preferred presentation platform for over 500 million people globally for quite some time now, thanks in part to its user-friendliness. These modern, premium and free PPT templates are ideal for any type of business because they are customizable. If you hope to achieve a professional yet simplified look at data and information for a campaign, these PowerPoint slides make it possible. You can use them for business or personal presentations and address various audiences. Check out our list of 60 beautifully-designed modern templates.
4 Best PowerPoint Bundles
| Product Image & Rating (Out Of 10) | Product Name | Price |
| --- | --- | --- |
| | Feminine Presentation: Raspberry Powerpoint, Google Slides, Figma & Keynote Templates | |
| | Nature Powerpoint Template and Google Slide Theme – Bonus: Keynote Template | |
| | Disney Presentation: Powerpoint, Google Slides & Keynote Templates: 50 Unique Slides | |
| | Best Book Presentation: Book Powerpoint Template and Google Slide Theme – Bonus: Keynote Template | |
Elegant Modern Premium Themes
Feminine PowerPoint Template
This presentation bundle brings the beauty of nature to your personal and business presentations. These modern PowerPoint templates have 50 slide layouts with pre-selected color variations, but you get to customize them to your liking. The slides have 5 color schemes and are fully editable with graphs, tables, and charts. They can be converted to Google Slides for a wider range of presentations, and you get a bonus keynote template with the bundle.
Elegant PowerPoint Template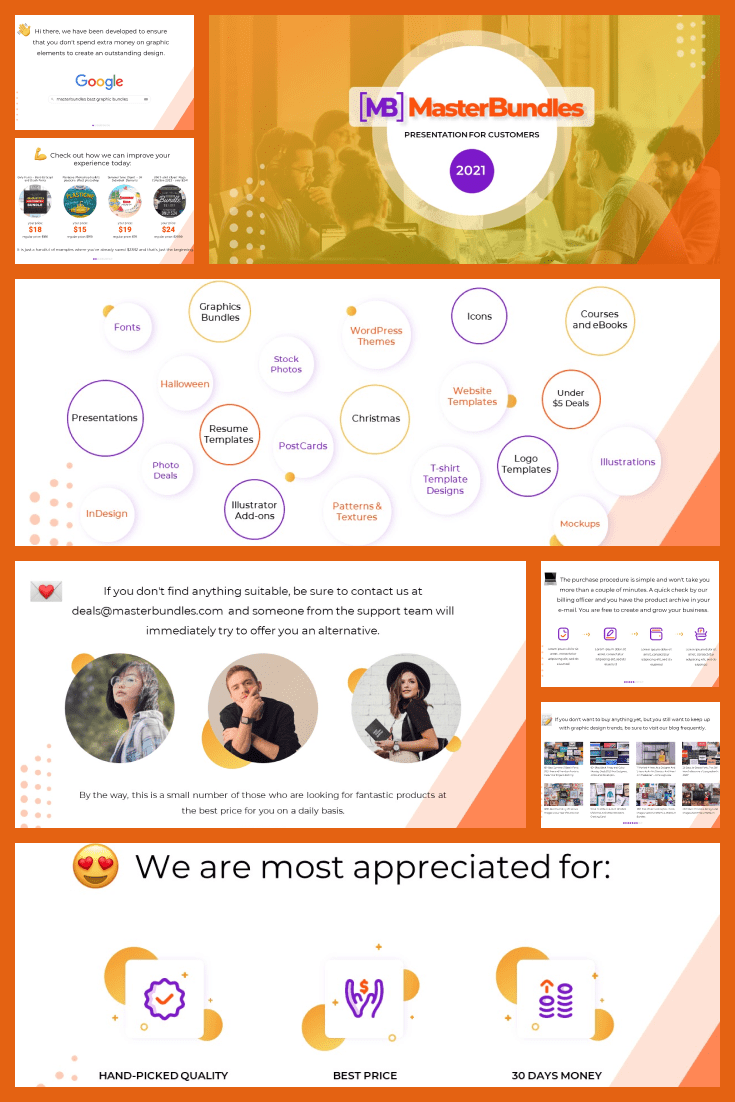 If you are looking for an elegant theme for your personal projects, this covers it perfectly. This easy-to-edit free PowerPoint template is playful and gives you the freedom to edit it using the information you want to present. Data is presented in charts and tables and you get a clean final product that you will be proud to show. It is being offered at a 100% discount.
Feminine Raspberry PowerPoint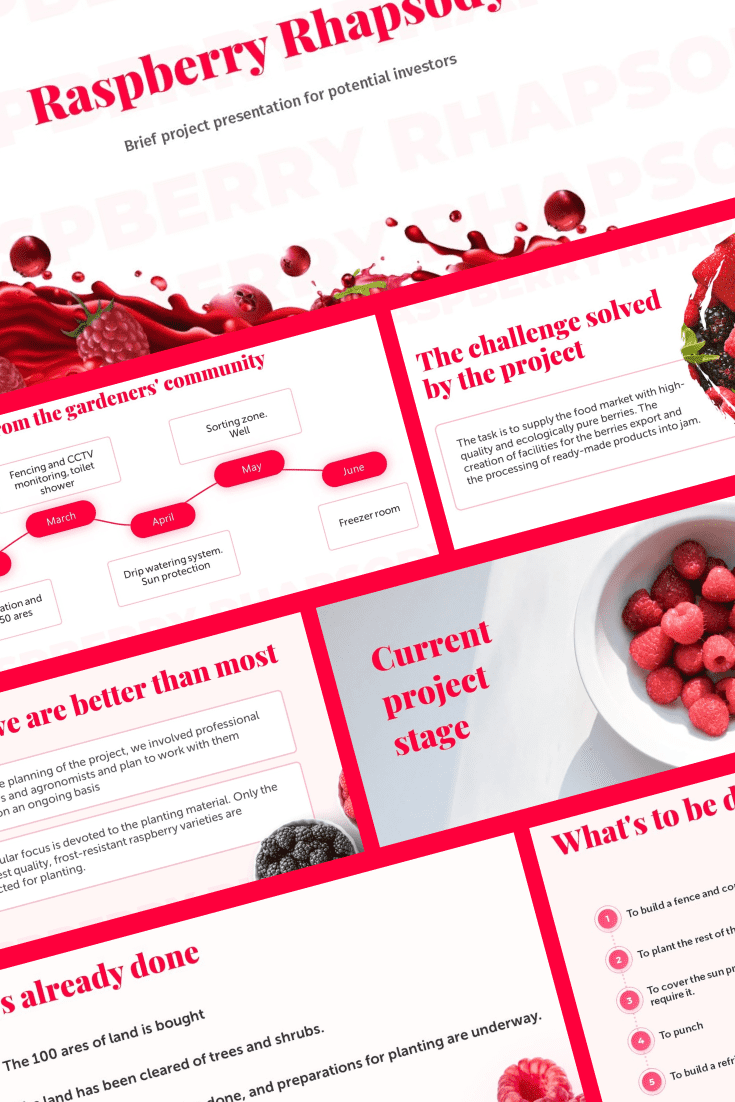 If you are looking for a clean, colorful modern PowerPoint presentation that reminds you of food, then this one is ideal. The images are clean and fully editable, and even better is the ability of these slides to be converted to Google Slides. The Raspberry design stays in the background while allowing you to customize your presentation as you wish—with maps, icons, graphs, and charts.
Bolet PowerPoint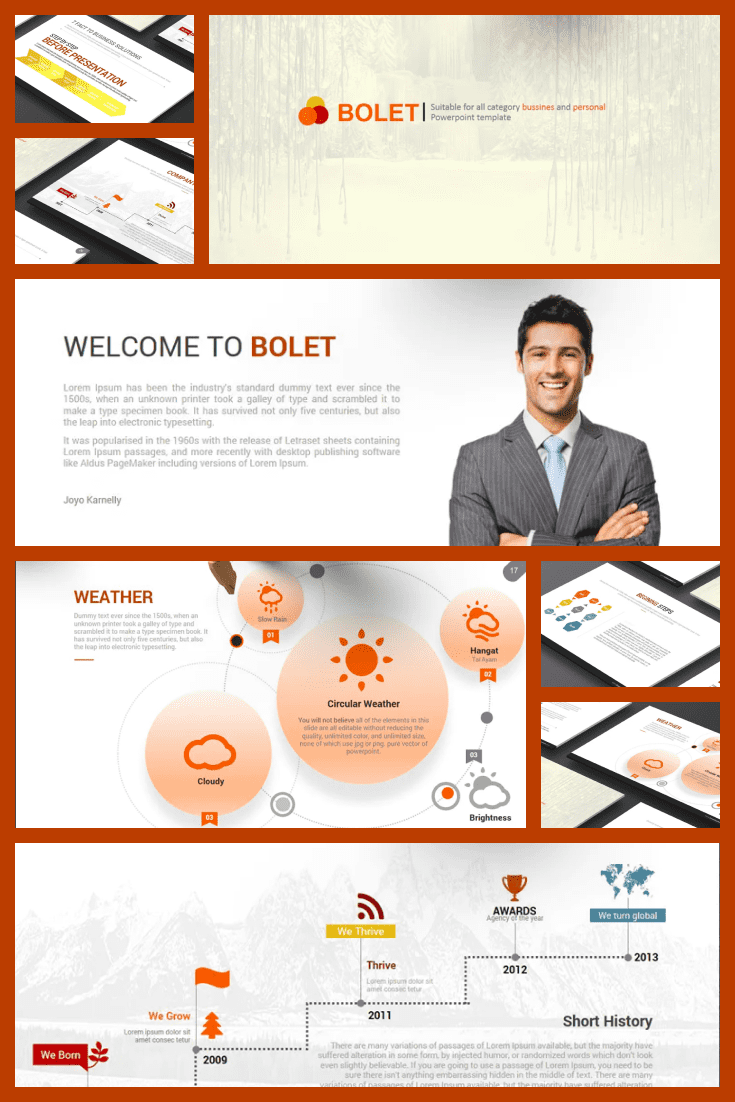 With this creative template, you get 30 slides to play with for any type of project, from business to art. The background is clean with 50 color files, clean and dark, and several free fonts to get your message across. There are thousands of icons on the platform, with 30 ready-to-use and a widescreen to make as much use of it as possible.
MATE PowerPointTemplate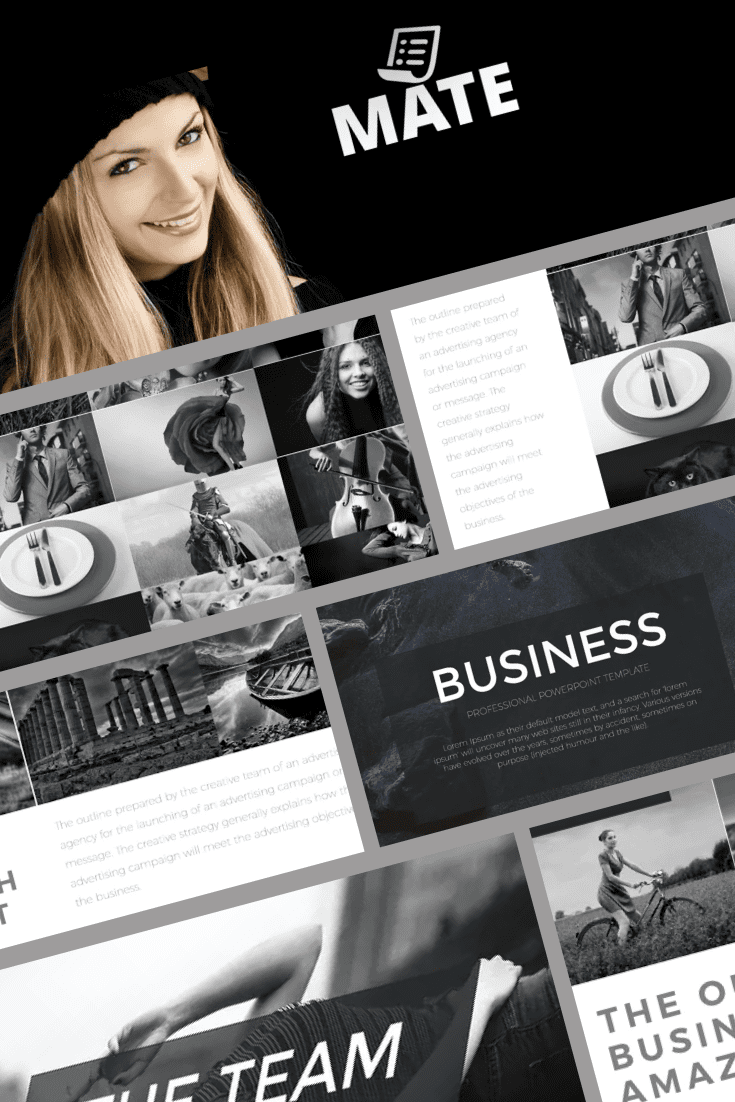 Mate is the ideal template for teaching, creating business proposals, and just about anything you can think of, thanks to its features. It has puzzle and tree diagrams, infographics, editable maps, charts, and tables. You can use it for social media, too, because the interactive design makes it so. You edit the charts and tables via Excel.
Technology Premium Templates
Timeline Presentation Templates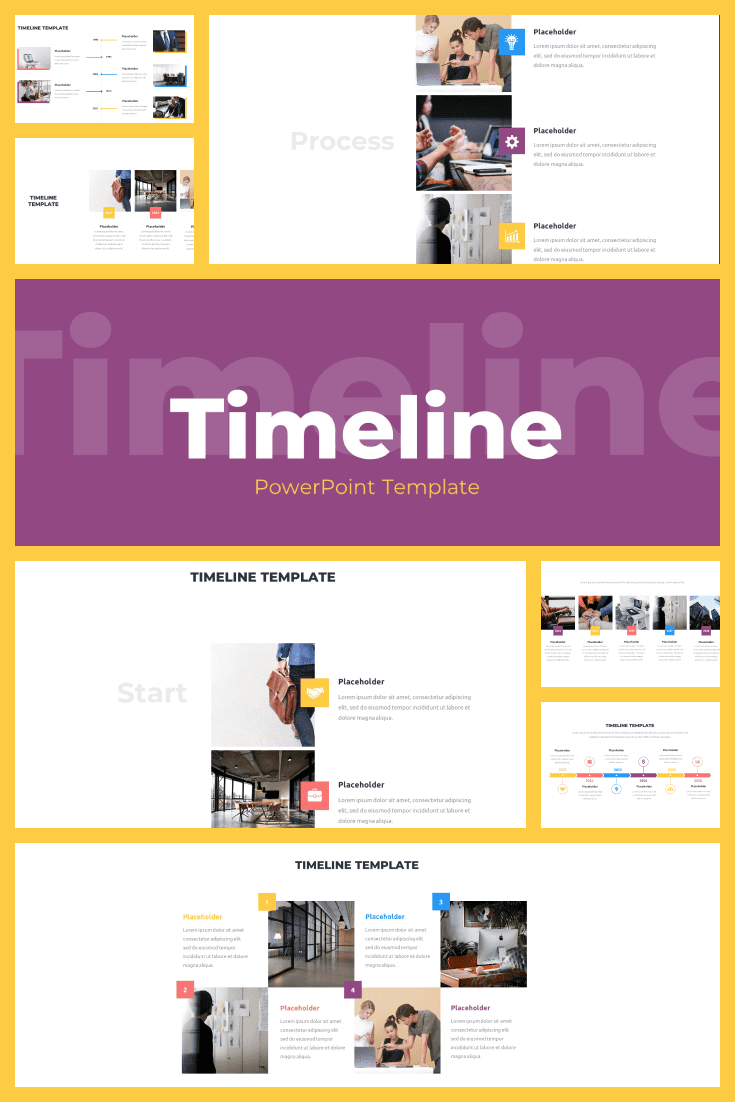 This editable 36-slide template allows you to present your information and data in a sophisticated manner. It is neat since the design is minimalist, and you can change the text or colors or even add personal images as you wish. It has a 16:9 screen layout and a timeline visualizer for events and milestones. This design allows you to use icons and maps, too.
Technology PowerPoint Template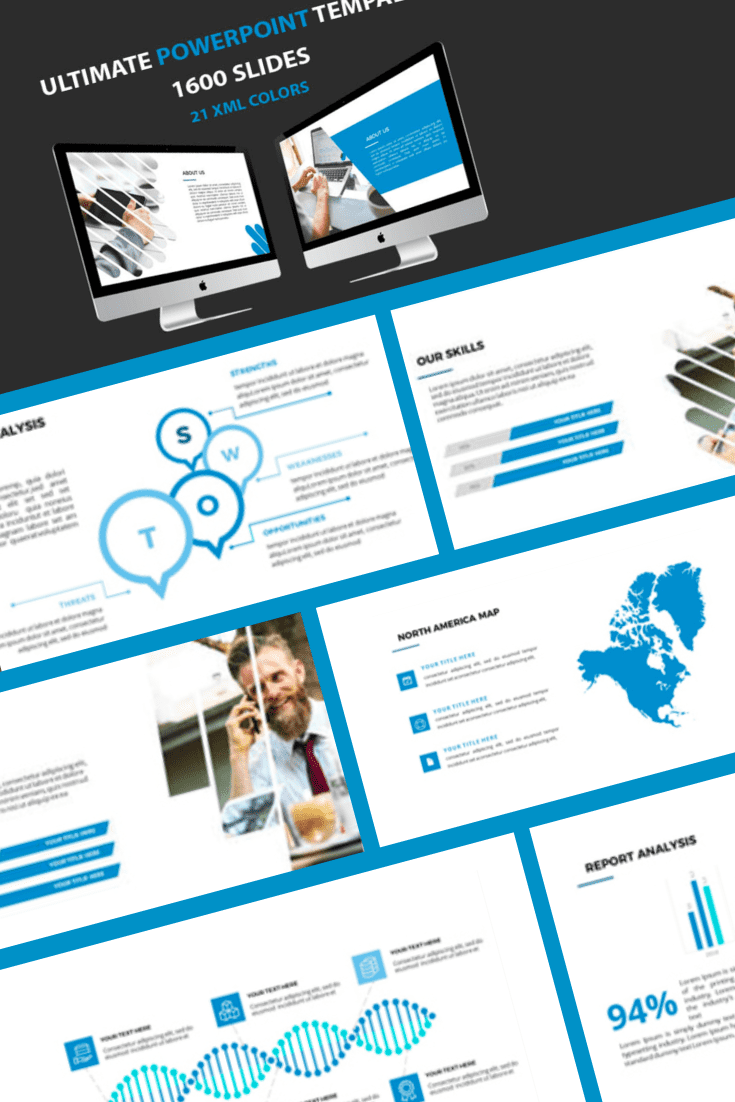 This technology PowerPoint presentation template shows your work-in-progress for your projects, teams, and your vision. Everything is presented in a tech-friendly environment, including color schemes with 200 unique slides that you can customize to your liking. The theme is dark and light to give you options. Choose between formats 4:3 and 16:9. The bundle comes with two free fonts.
Data Charts PowerPoint Presentation Template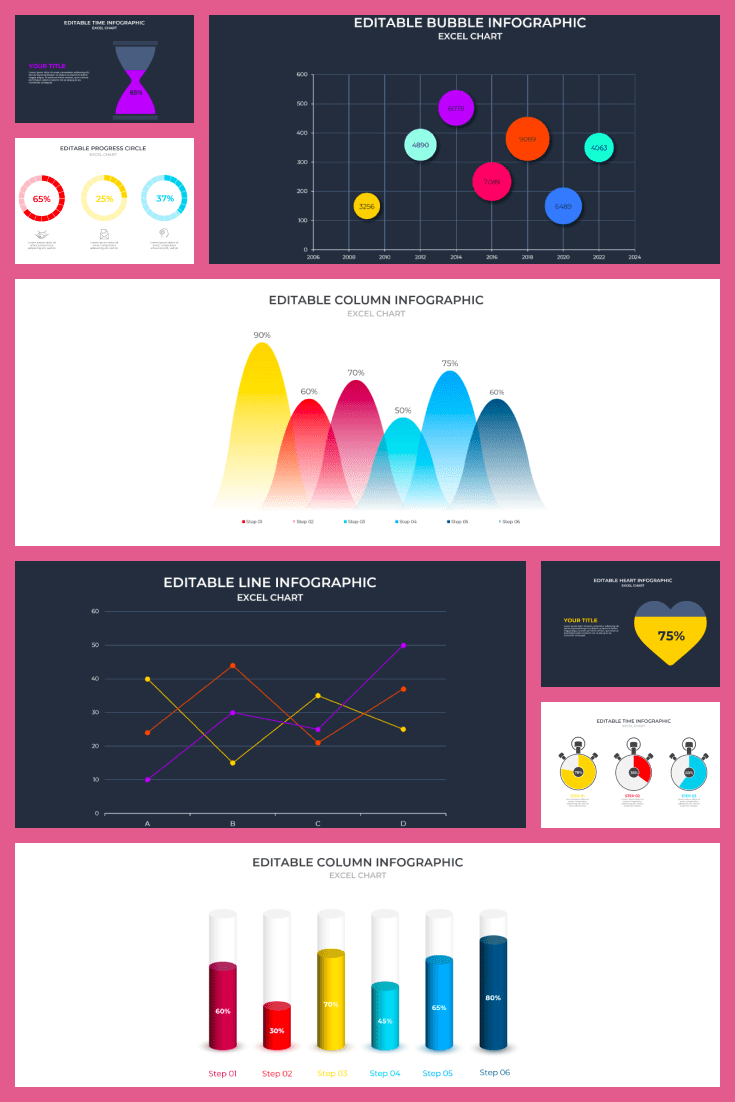 If you have too much data with few words to present, then this is the template you should choose. It is simplified so that everything is customizable and editable in Excel. You have charts, Venn diagrams, and tables to present this sort of information easily. You get free fonts with a background available in a dark theme too.
NeoTech IT Solution and Technology PowerPointtemplate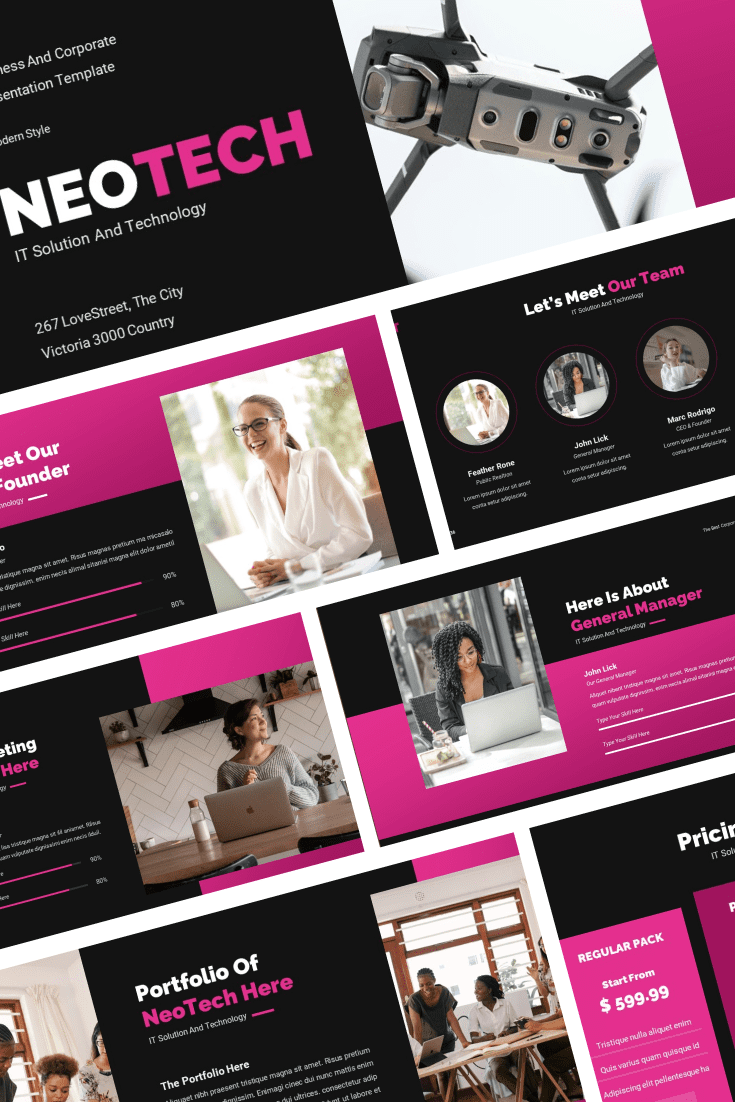 Not all tech projects have to be dull and dark. This template, with a shock of pink and a range of other warm colors, will catch anyone's attention and make the presentation fun. It is designed to enable the use of infographics and its widescreen slide format makes editing pure bliss. You have over 330 vector icons as a bonus and free fonts for customization.
Business Premium Templates
Business Ethics PowerPoint Template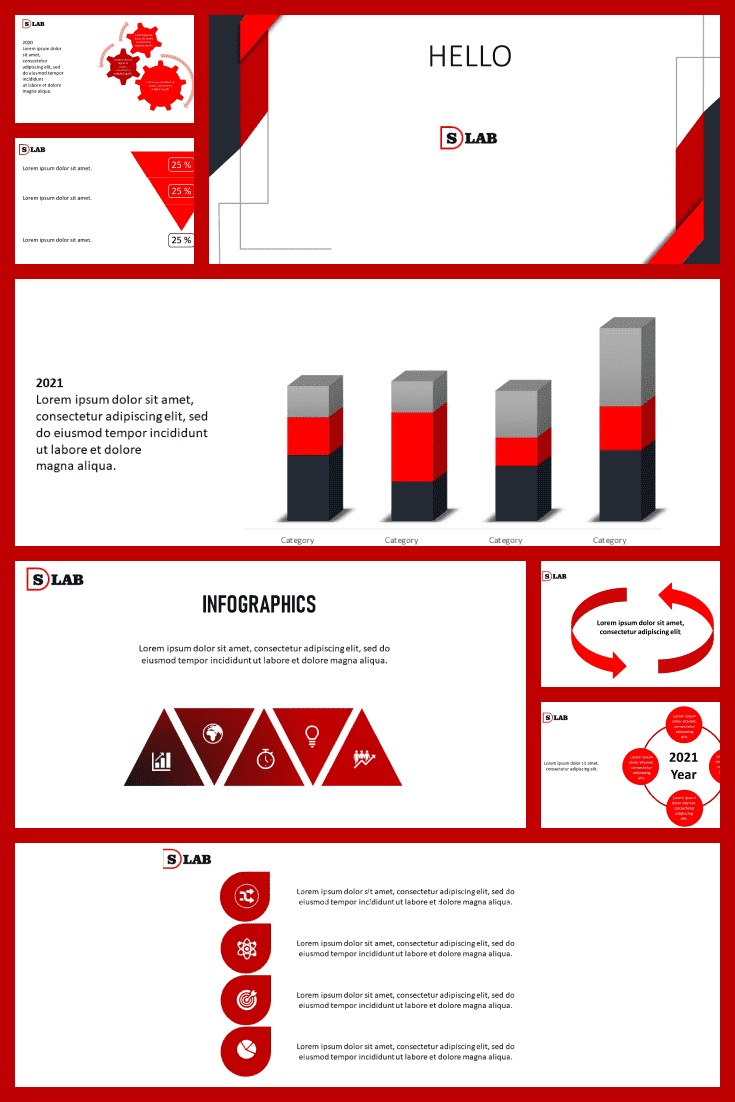 This business bundle gives you the ideal way to present a strategy to your business partners. Offering 81 slides, all with variations of the 5 color schemes that make up this template, you can break down your content into several categories. There are options for company history, financial projection, sales strategy, distribution, and several other titles. You can customize infographics, incorporate the font options available, and use all the tools here.
Digital Communication Premium PowerPoint Template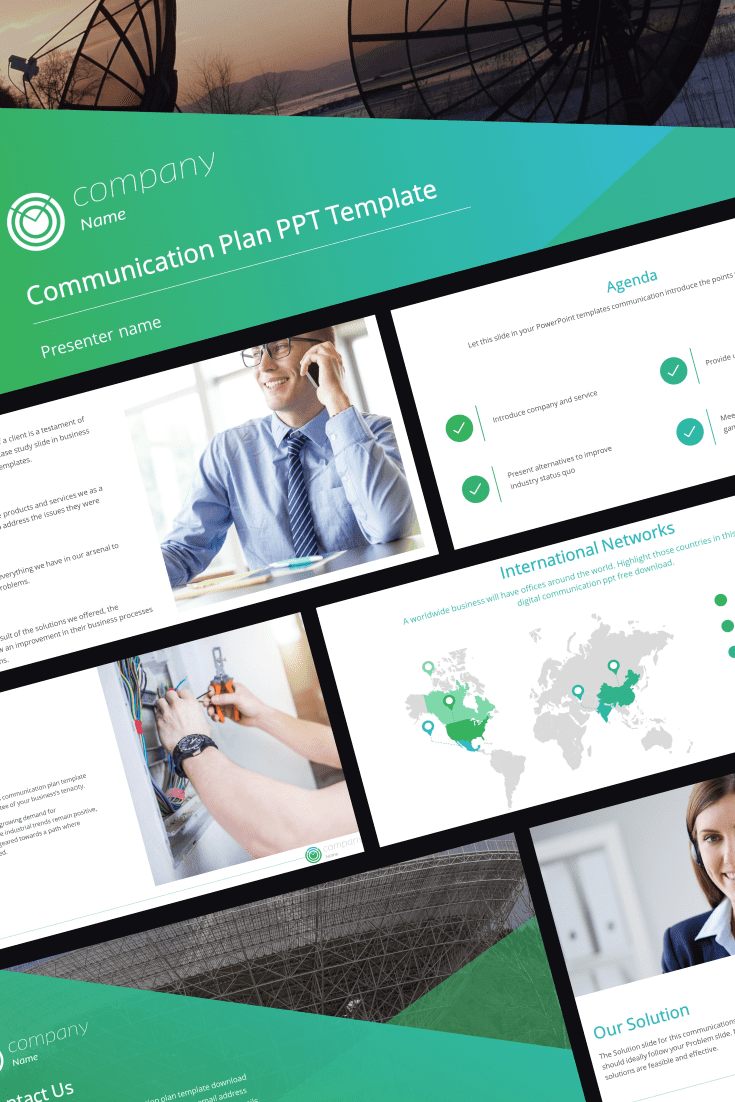 Get graphs, agenda slides, and other features with this template that is ideally designed for business. All of the slides can be rearranged, so you can place them in a way that suits you best, and they can be edited to perfection. Use free fonts and create a bold, interactive color scheme and background.
Strategy Evolution Template PPT PowerPoint Presentation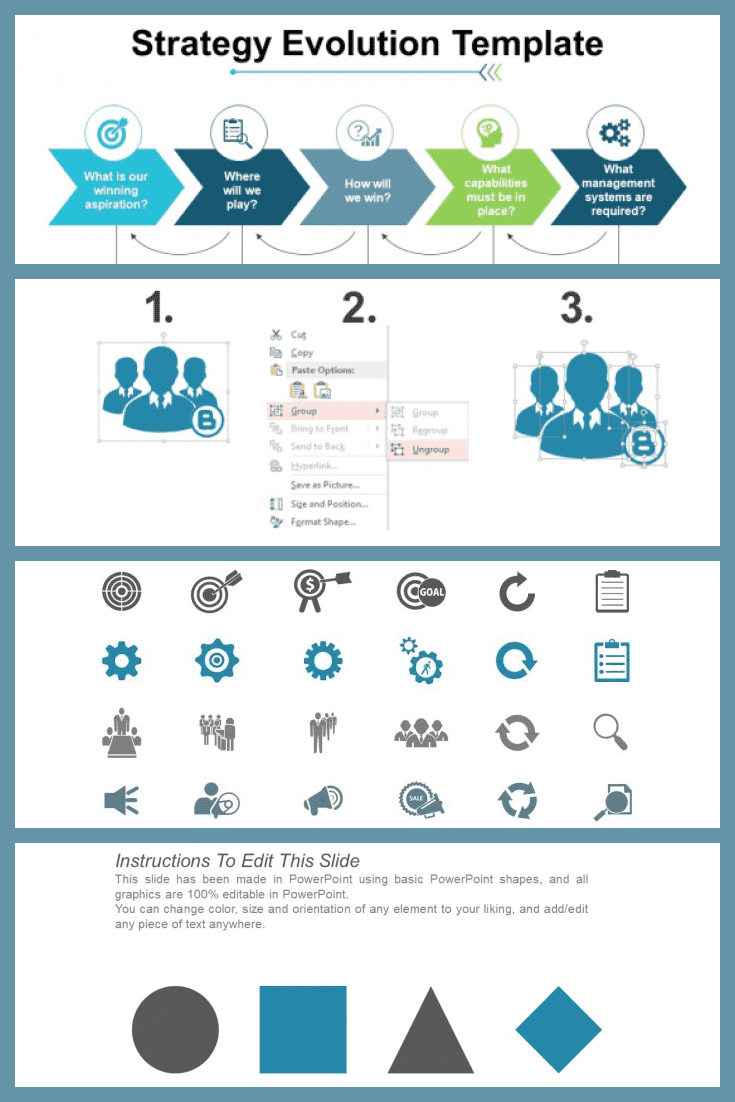 You want to be able to get straight to the point when presenting strategy with this template. The slides are simple, yet able to deliver the message as clearly as possible. Since they are predesigned, all you have to do is add your information and data to each slide and arrange it however you prefer.
Investor Pitch Deck PowerPoint Template
Some of the things investors want to know when they are pitched include competitor analysis, financial projections, business model, the problem and solution, and how the deal suits them. All these and more are addressed with this template and expounded in ways that you will not need to add any other designs to the slides. Everything is customizable.
Simplistic Modern
Verzus Minimal PowerPoint Template
For elegance, you simply have to use the Verzus template. Minimalist design, easy to edit, with a range of colors to choose from, and 3000 vector icons as a bonus when you purchase this offer. It is impossible not to impress your audience when making a presentation. It is ideal for presenting a budget, pitching ideas, presenting something in class, and business meetings.
Guava PowerPoint Template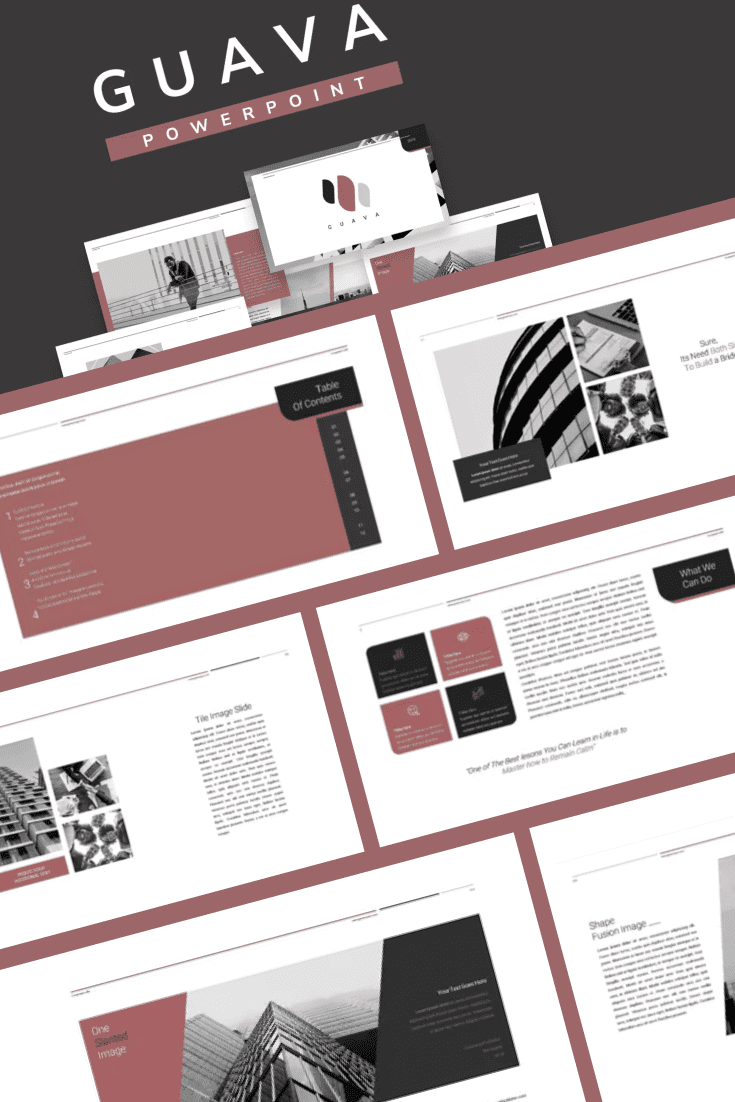 This template gives you a gallery and portfolio slide that you can resize as per your liking. Its minimalist approach to the design makes it ideal for pitches, look books, business proposals, and art. You can drag and resize your images as well as the charts, graphs, and tables used here. The 50 clean, modern slides can be arranged any way you choose.
Sweyn PowerPoint
If you are looking for a clean and effective way to present something, this template allows you to express yourself fully. The 35 slides on this are editable and easy to customize, while the section breaks allow for freedom when expressing new points. The background is light, with an option to go dark. The designer presents a number of images you can resize and use.
Elena – PowerPoint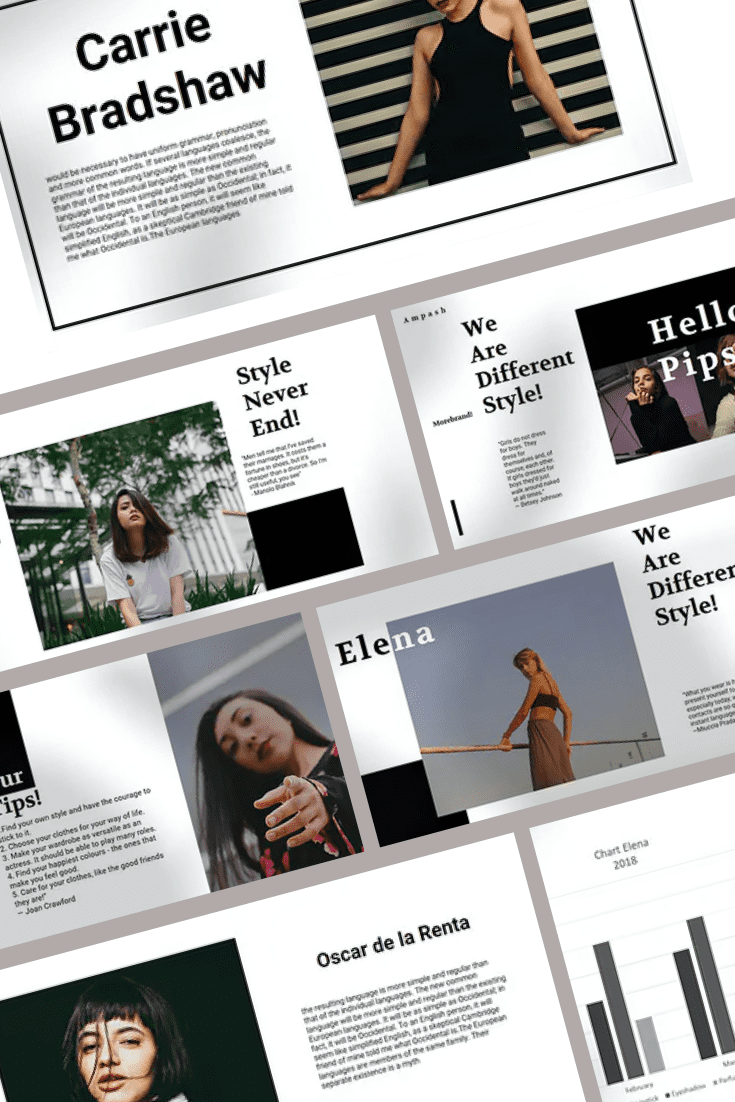 When introducing a new product or making a pitch, you want a clean background that allows your product to have as much space to speak for itself as possible. That's made possible by Elena's elegance and minimalist look. The 50 beautiful slides with a 16:9 aspect ratio is editable with data presentation tools to complete the look. No images are included, but you can insert your own.
Eighty 6 – PowerPoint Template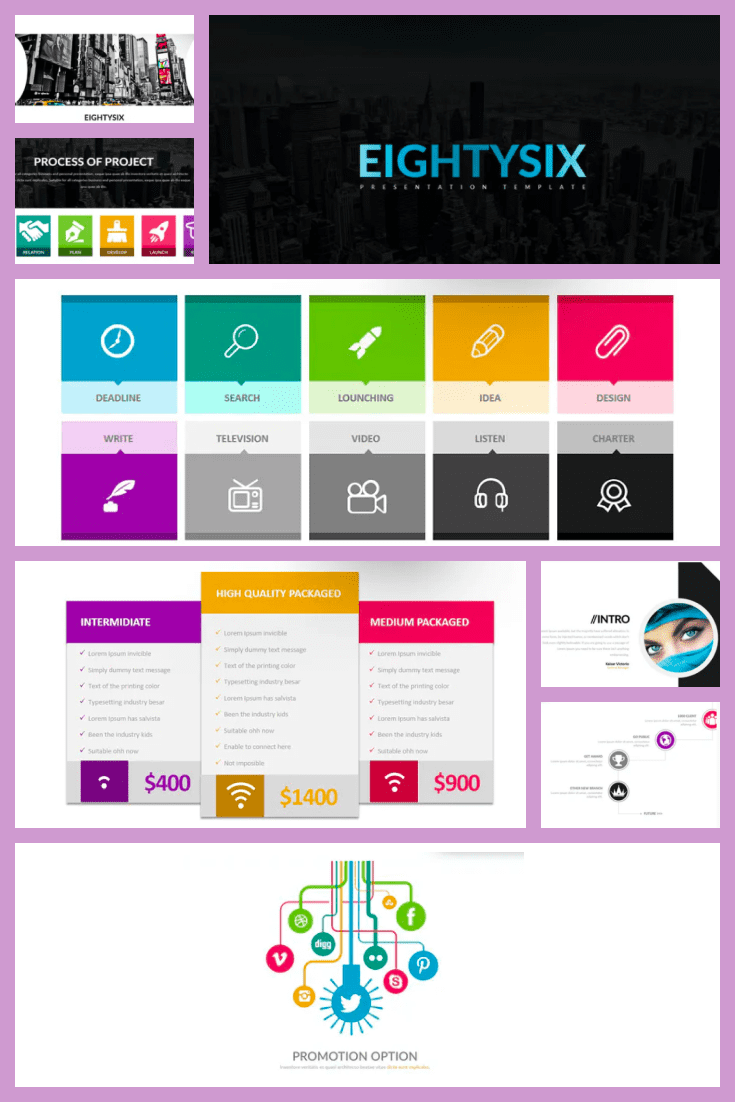 Choose between dark and light themes for the background, then check the network for icons that you can use for editing this template. You get 60 unique slides that you arrange as you wish to accommodate your needs and then save your file as a PPT. You can even upload it to Google Drive to use as a slide.
Timeline Roadmap with Milestones PowerPoint Template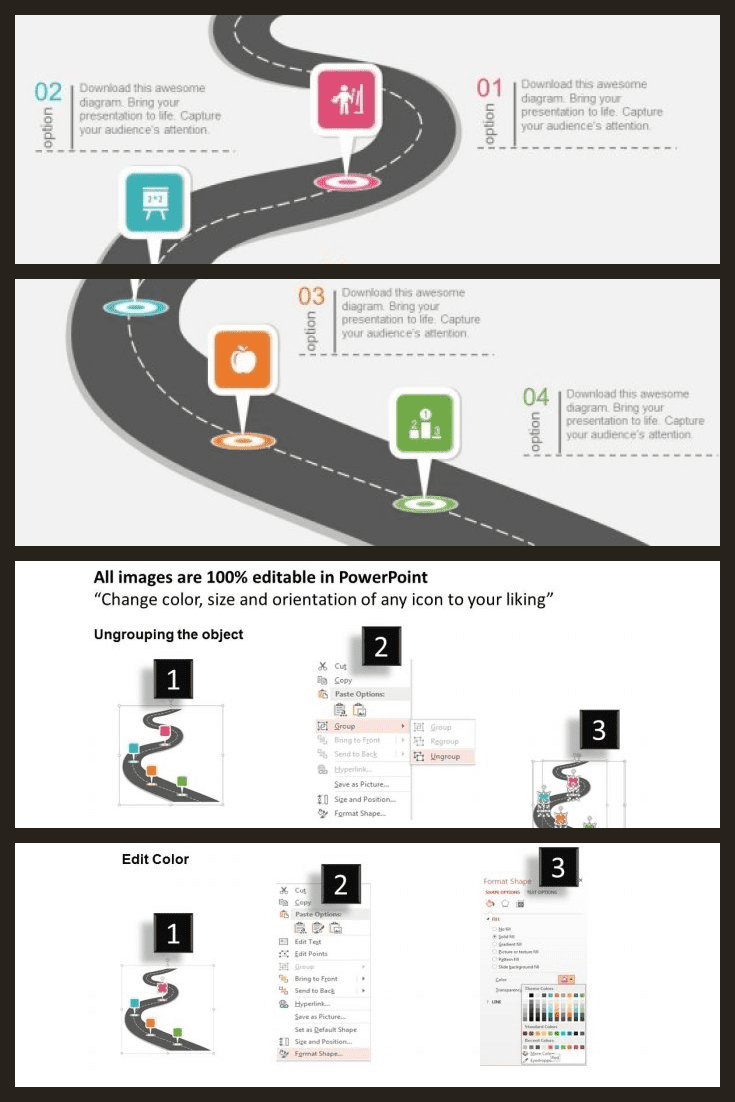 You want to mark progress on projects with a template that is already predesigned as such to save time, and this is a good choice for any kind of project. It has 50 slides and is designed to show four stages of a project, but you can add more depending on your preference. This template is ideal for projects on infrastructure, an investment plan, and even education.
Averia Marketing Pitch PowerPoint Template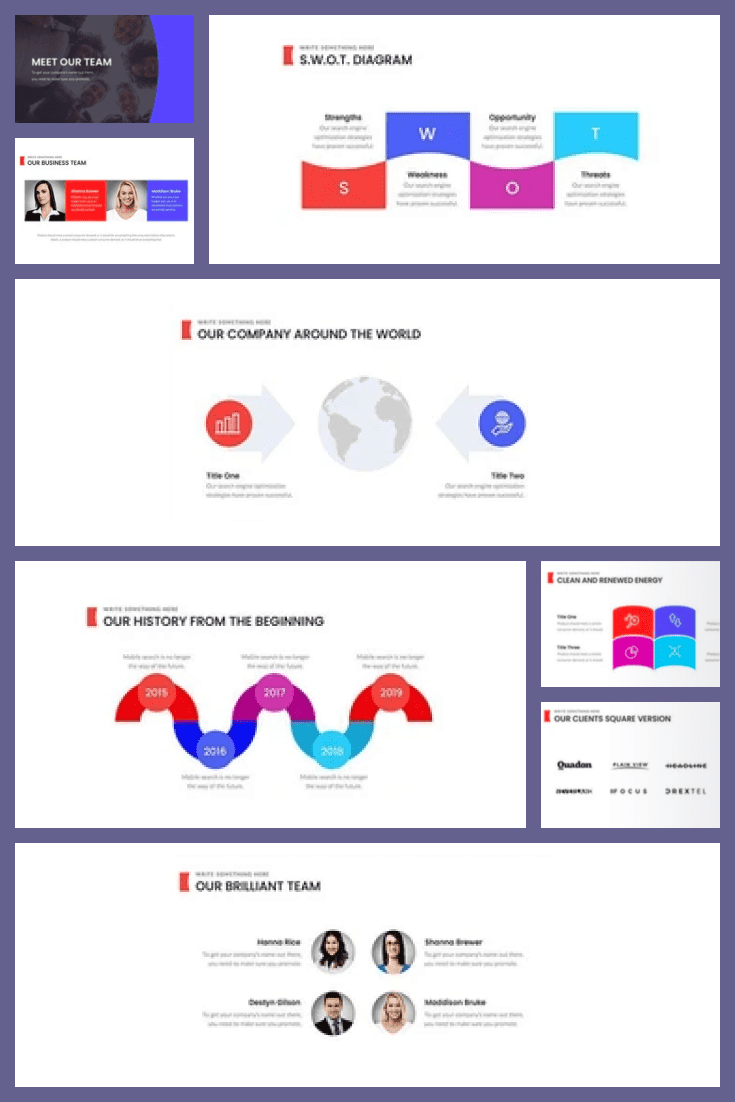 You can edit the color, text, and size of slides with this template that is aptly designed for business and marketing pitches. With this purchase, you get a bunch of vector icons as a bonus, free fonts, infographic templates, and theme colors to use for customization. It has several categories, including About Us, Meet our Team, Our Services, Portfolio, Gallery, and Maps.
Motagua – Multipurpose PowerPoint Template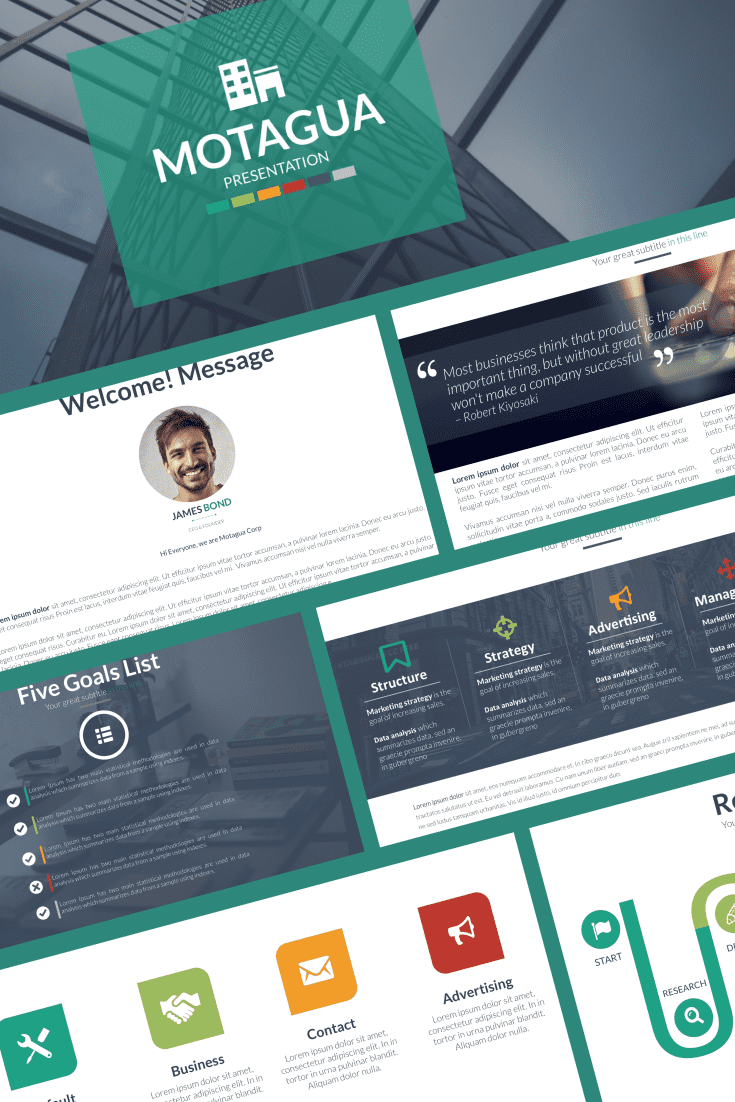 The Motagua template has over 50 color schemes, among them dark and light. It is clean and simple, with a simplistic background that has as little clutter as possible to avoid sabotaging the message. There are project analysis steps, infographics, data analysis tools, and editing tools. You get to use images and drag them to edit within a slide. Since everything is done for you, editing and completing your proposal shouldn't take too long.
Free Templates
Business Modern Templates
Paradox Free PowerPoint Template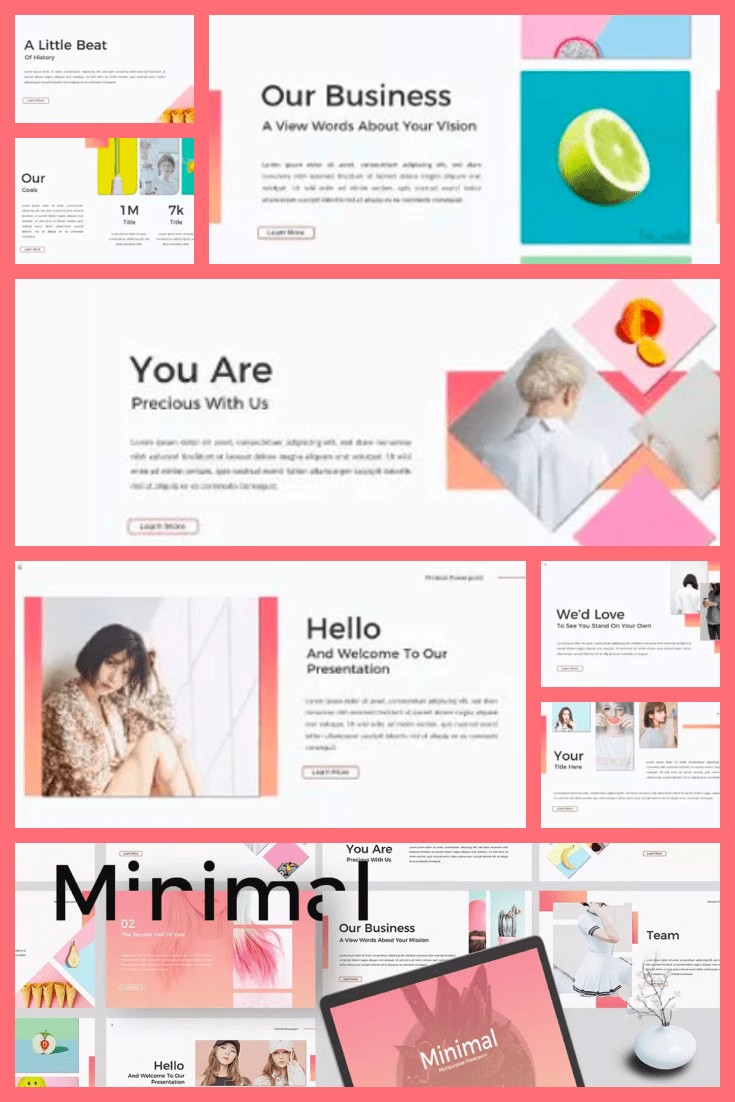 The minimalistic approach works best for those who do not want to crowd their work, so this template is meant to do just that. It is made up of 15 creative slides designed to be rearranged however you wish so you can present your work your way. It is fully editable with a beautiful assortment of colors and free fonts.
Balance PowerPoint Template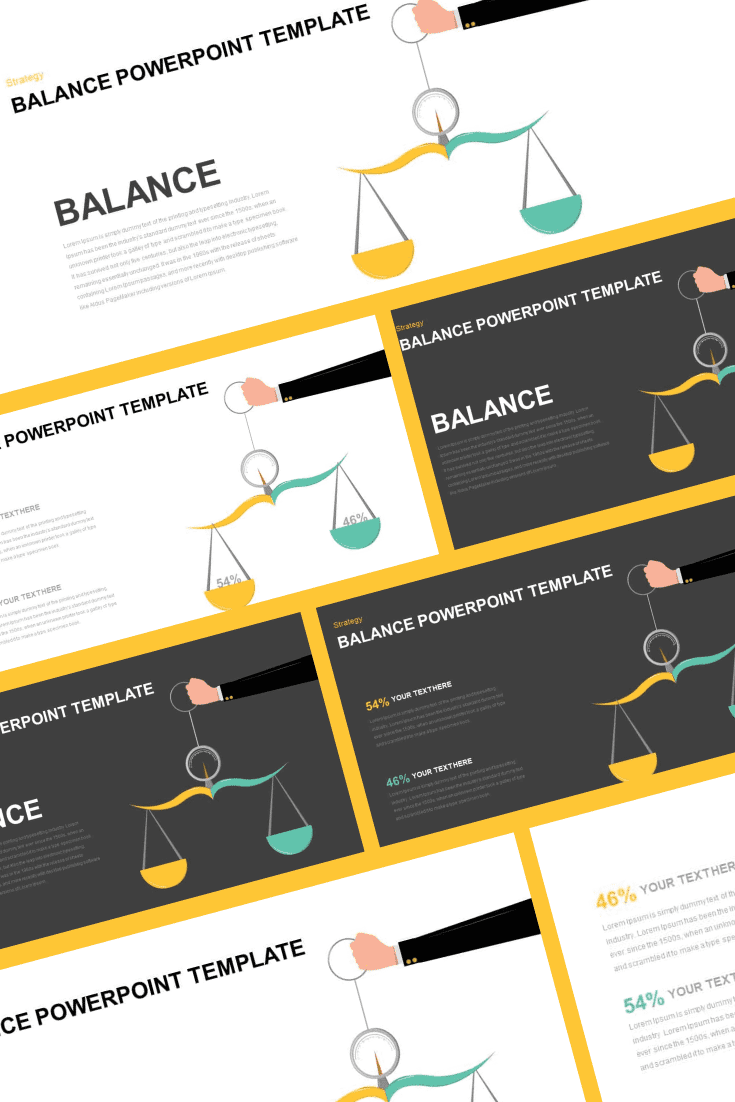 This animated template presents the cost and value concept that is quite popular with hedge funds. It not only shows the profitability of these hedge funds but also how they benefit the masses. The symbolic balance of power is demonstrated ideally and explained at every step.
Kula Minimal PowerPoint Template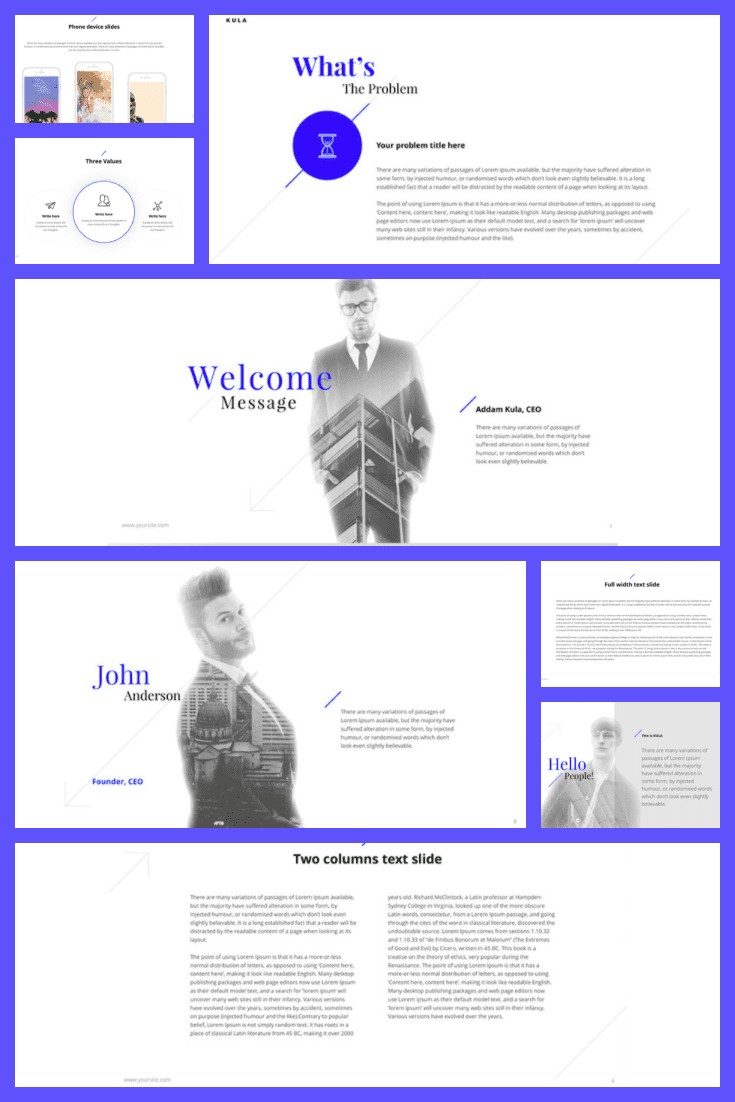 There is not much to this template since it lives up to its name. The background is grey to take away any noise that might crowd the content, and you get to customize the slides onto anything you want. Color themes exist, while free fonts help you make it look as attractive as you want.
Balance – Free Minimal PowerPoint & Keynote Template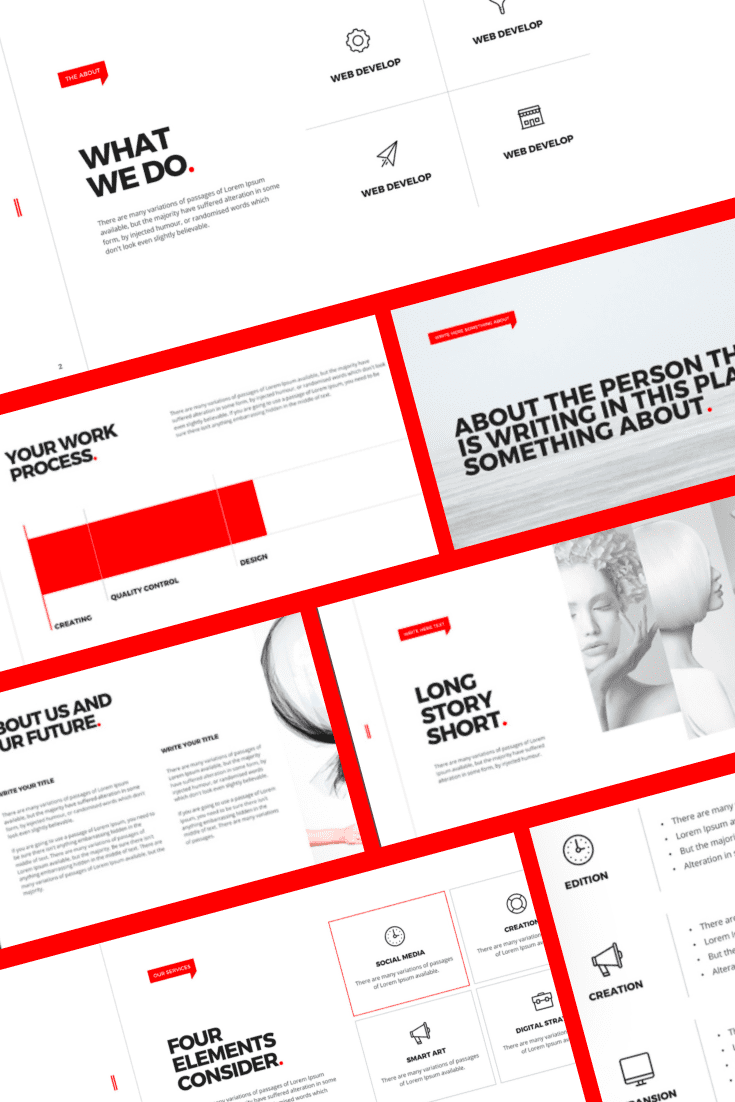 The colors on this template are bold, and the balance they create with the background makes this option stand out. You get 150 editable slides to present your work, with every area of a business provided for, including social media.
Free Comparison Chart Template PowerPoint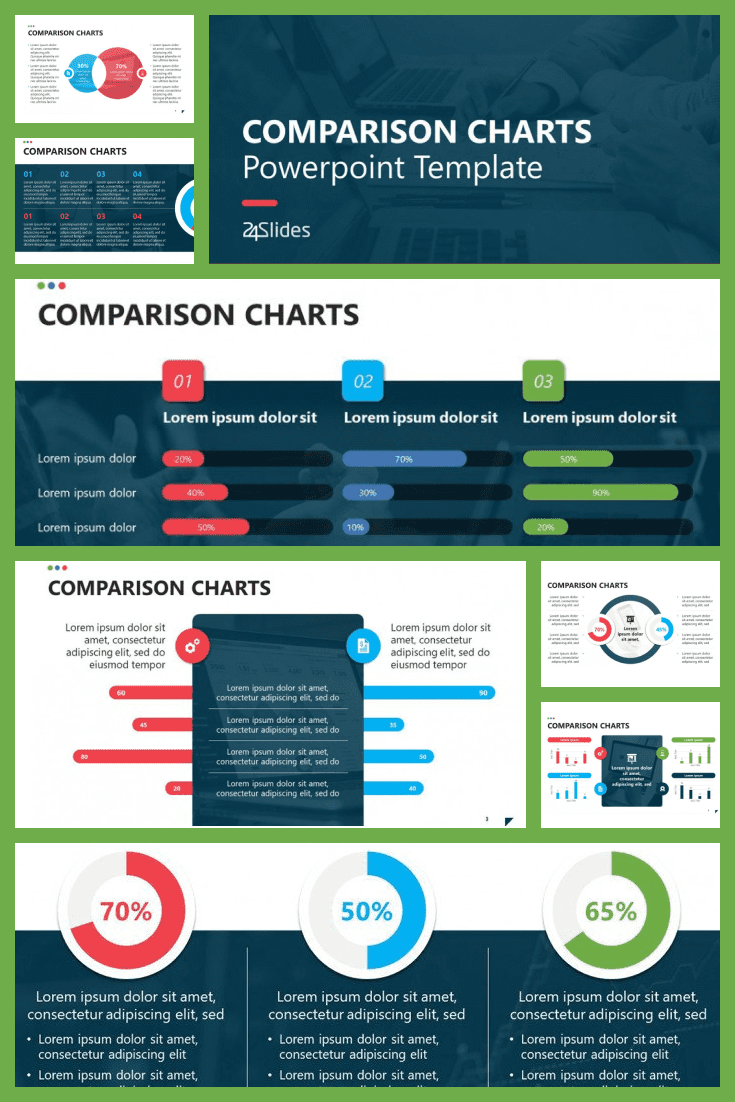 When presenting two or more teams' performance, you need charts and tables to show how they each did. This template includes these tools so that all you have to do is enter and edit information in Excel to present it. It is simple and futuristic, thanks to an unusual background, and it also has slides with pros and cons.
Dark PowerPoint Backgrounds for your Business Presentation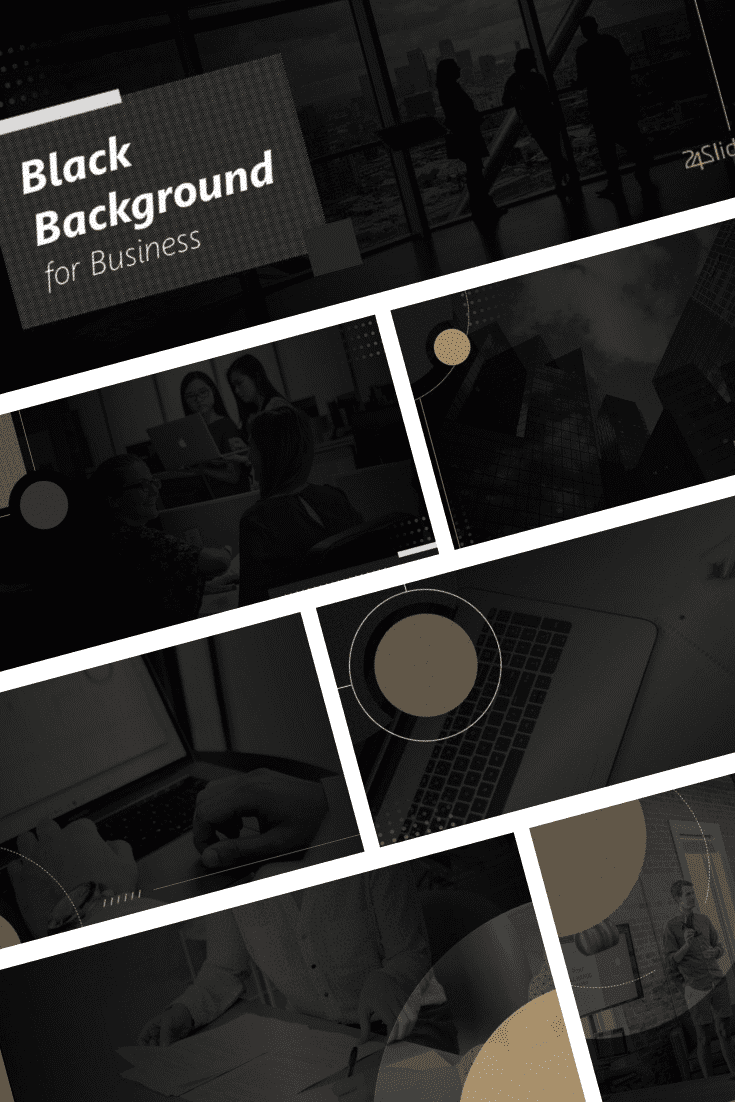 A dark and minimalist background makes this template stand out for business presentations. It contains all the necessary tools—charts, graphs, and tables—and the geometric shapes in the background quiet the noise to make the content as loud as you want it. The solid black background is perfect for the selection of fonts on set, and you can even place images to edit.
Add Multiple Quotes in your PowerPoint Presentation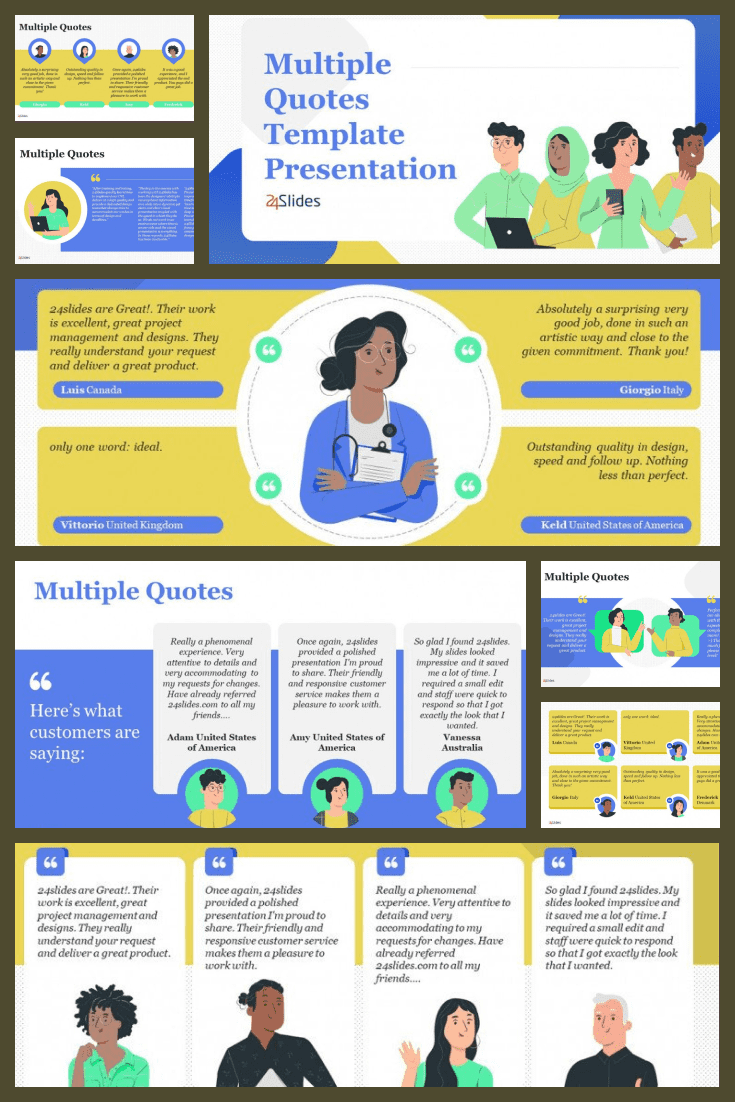 You need slides with minimal distraction when presenting multiple quotes, and this one is perfect for that. The background is minimalist, yet creative, making it ideal for artsy presentations. Social media influencers could use this perfectly.
Achor PowerPoint Template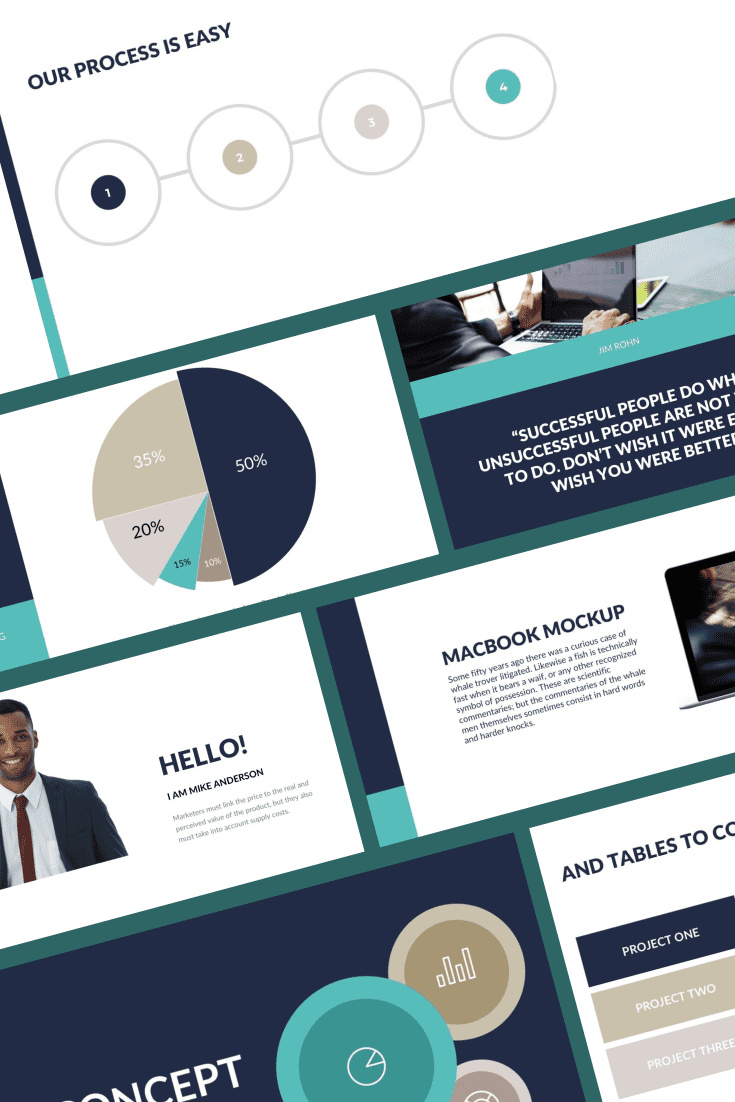 Present your professional report in the best way using Achor's 23 slides with their unique color scheme and a wide range of pro fonts. The clean, well-organized slides are ideal for business and corporate events with their predesigned images, tables, flowcharts, and graphs. Each slide is fully editable, and the background color professional. You just need to download the PPT file to edit on your computer.
Orange Corporate Project PowerPoint Template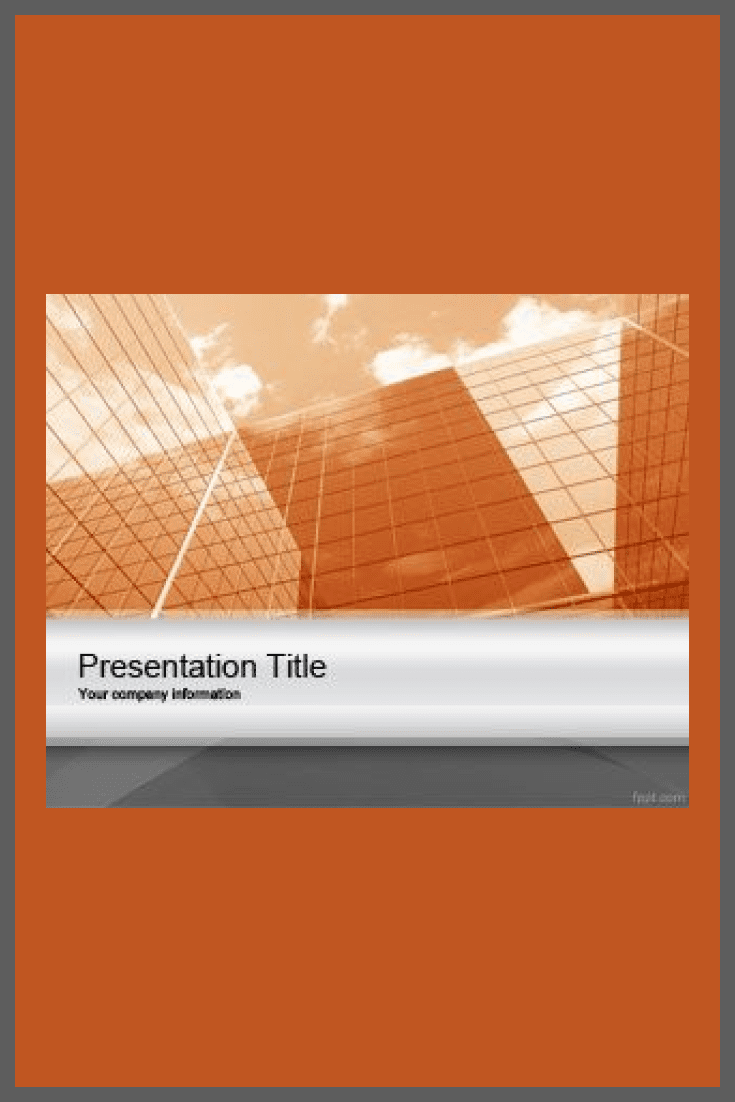 Show off your business presentation in style with this orange background that brings some warmth to even the most unconventional pitch. You get a bunch of colors that you can coordinate with the background and several fonts that suit the nature of your pitch. Since the color allows it, you can use this template for business, art, and anything else that needs a warm presentation.
Big Idea PPT Diagrams PowerPoint Template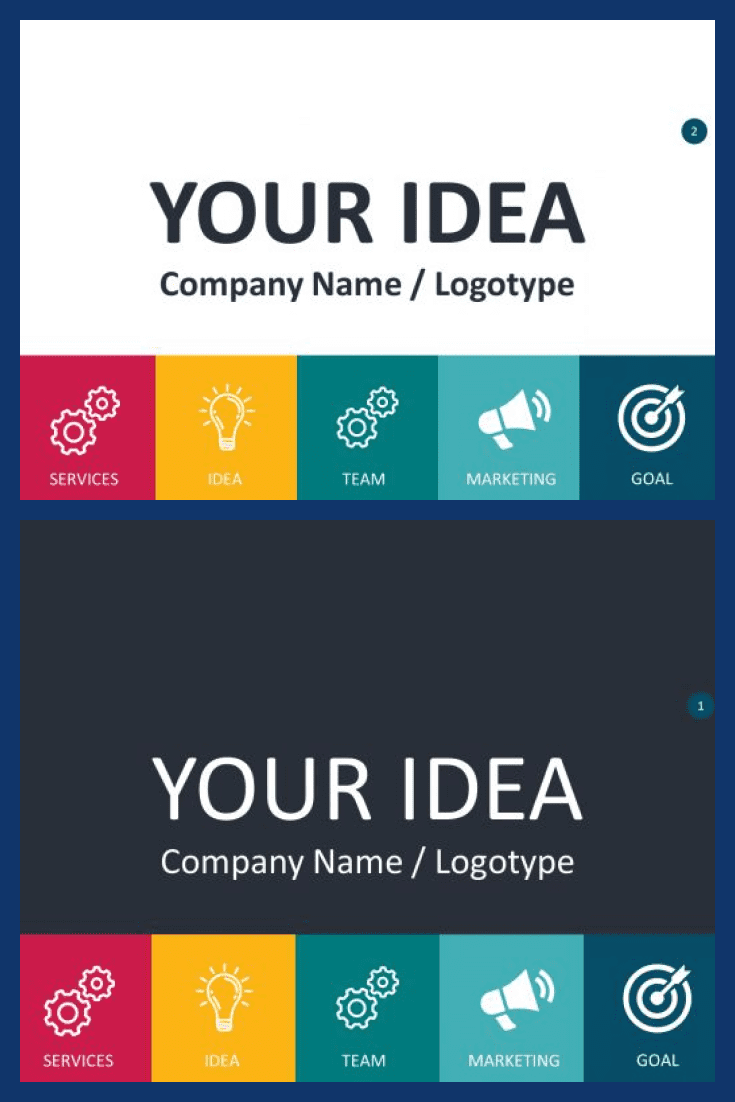 Whether you want to present a business plan or a personal project, this template has everything you need. Its dark background scheme gives off warm vibes while its large editable screen opens up endless possibilities when driving a point home. You can create charts, graphs, and tables and export them to a variety of platforms. Also, you can rearrange the slides as you wish.
Escalus Pattern PowerPoint Template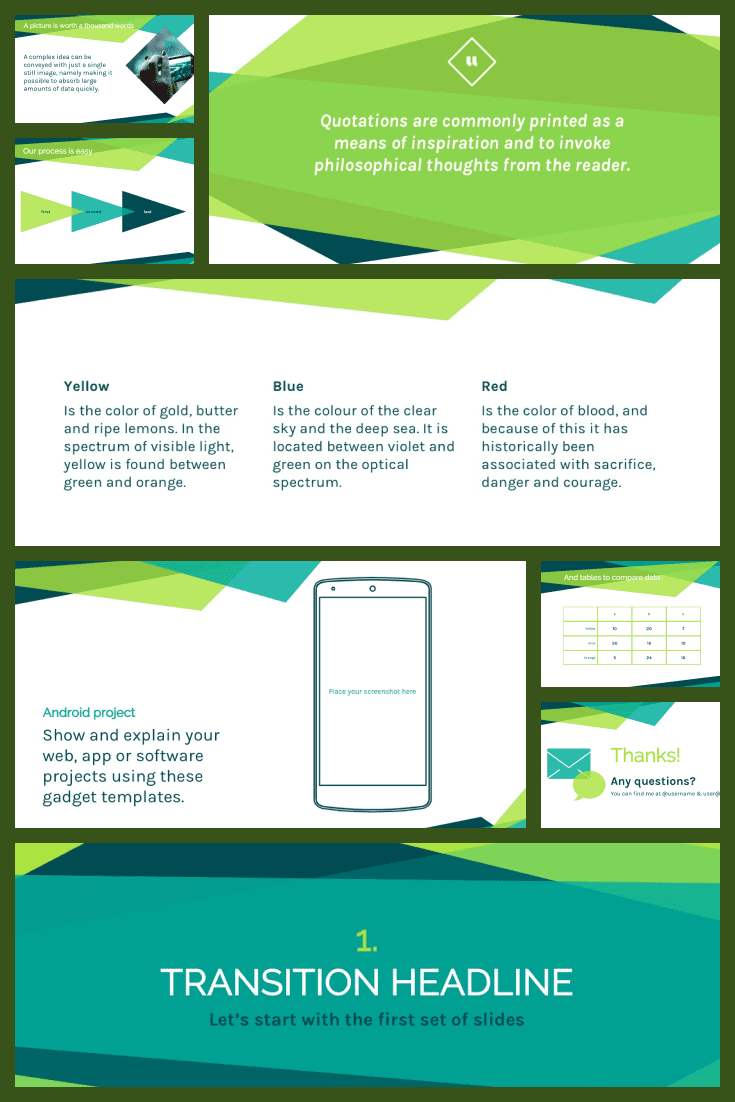 You know you are in good company when your template allows you to use blue, violet, and green on the background. This template's geometrical patterns make it unique, while each of the 23 slides is customizable to your liking. There are no limits to how you can use it, whether for art, business, or an informal presentation with friends.
Application Mockup Screens Free PowerPoint Template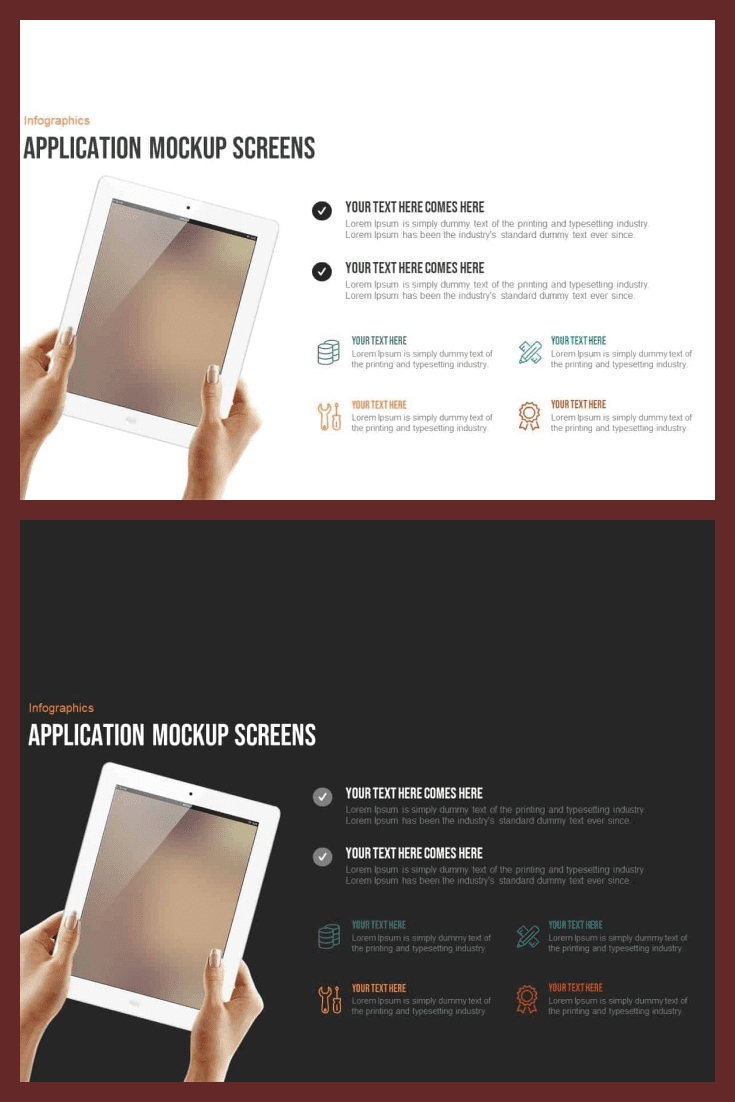 The beauty business is big business, and it makes sense when you have a professional, yet simplistic presentation when pitching investors. This template has slides that can be edited on a 16:9 wide screen. Place your images in marked parts and edit them to fit the screen while selecting all the colors provided for free. You also have free fonts to make customization easy.
Elegant Themes
Free Luxury Brand PowerPoint Template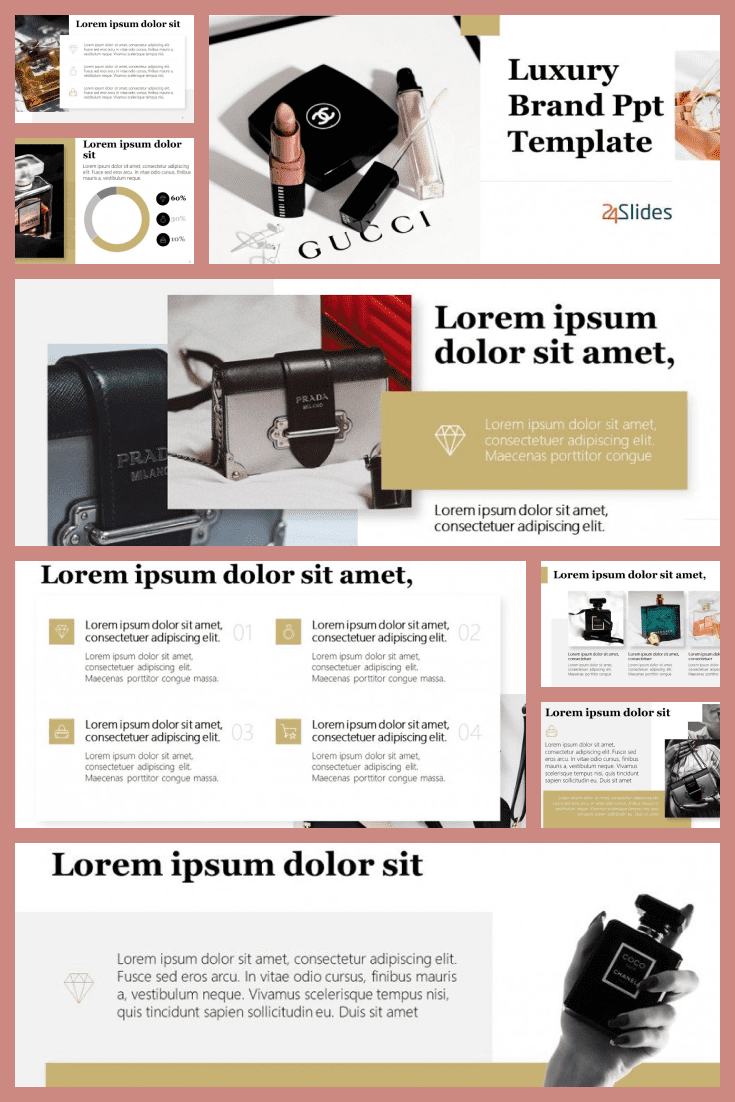 This elegant design will make your products stand out so that your presentation is purely about the products, not the words on the screen. This template has 24 slides that can easily be edited and images placed in provided places to be perfected for their fit. This template is ideal for business proposals, art projects, and pitches.
Night Fireworks Photo Album and PowerPoint Template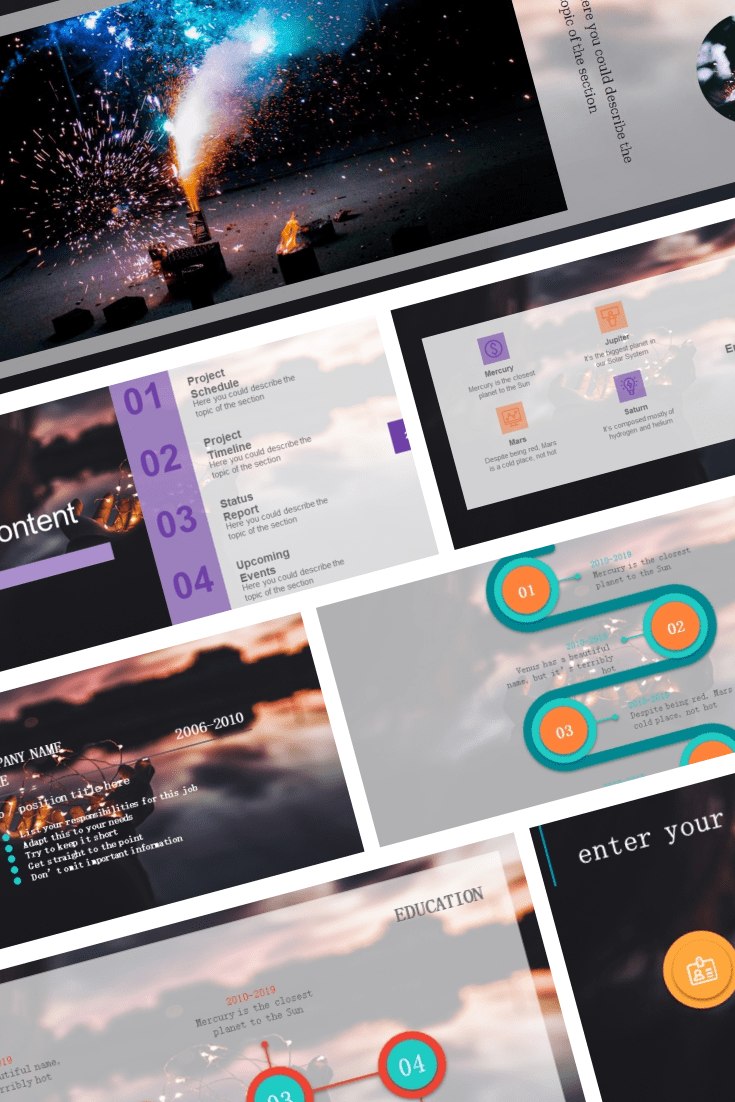 Color and elegance are some of the things that a beauty brand targets when making its presence, and they are represented in this template. The starry background is soft and elegant while throwing a feminine vibe. The slides are editable and customized for beauty brands to reduce the amount of work you have to do when preparing for a presentation.
Home Workout PowerPoint Template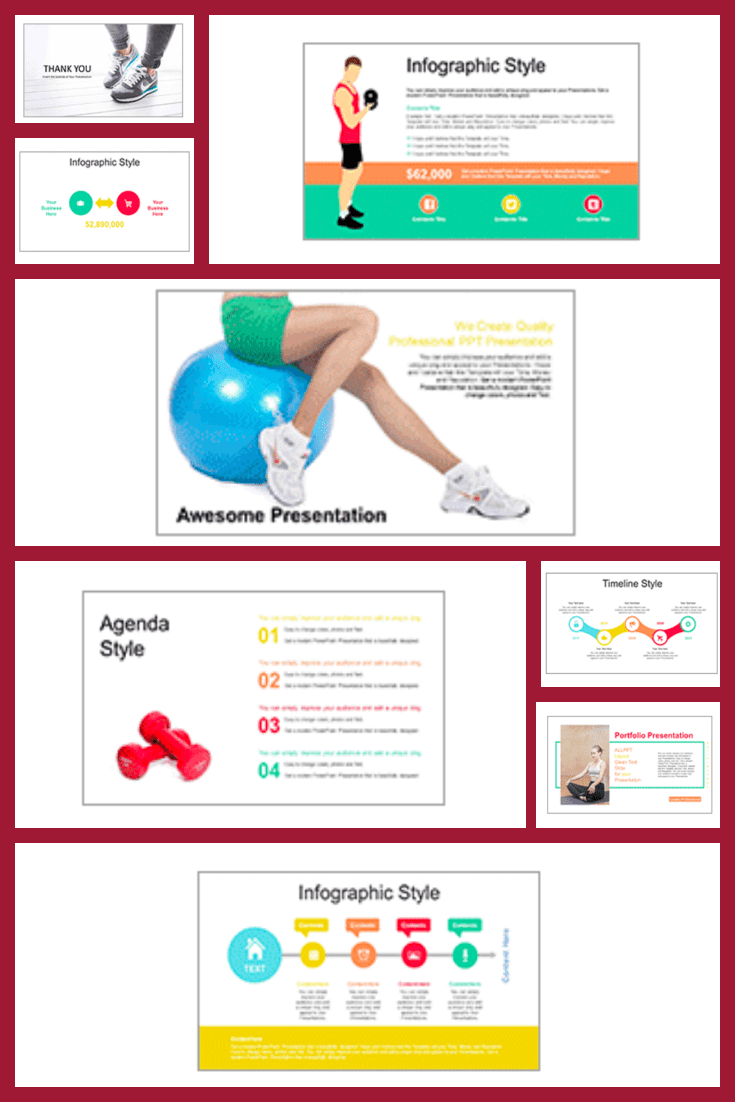 You want a simple template with editable slides to present a home workout plan to your clients. This template comes with 135 free icons, a color scheme, a clean elegant background, and tools to edit images. There are also data-driven charts that you can edit in Excel.
Free Blue and Brown PowerPoint Template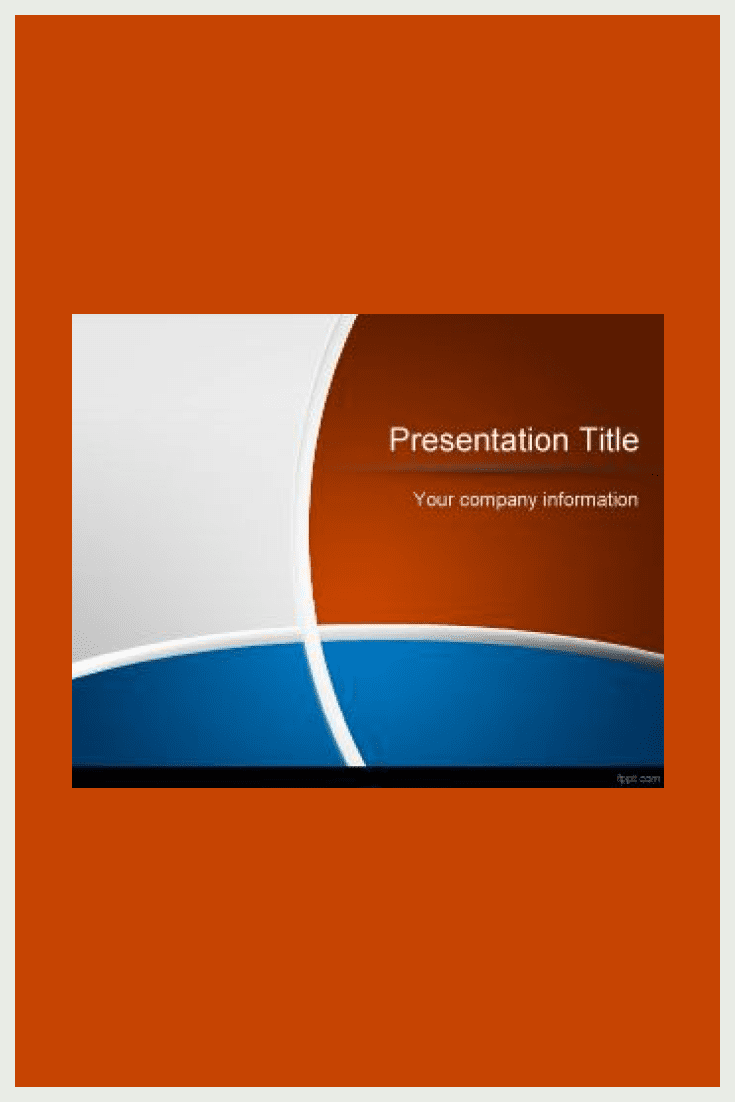 Preparing sales pitches requires that the content take center stage, and that's what this template does. The background is simple to allow for brainstorming and minimal distraction. The slides are editable, and you can use free images that you can drop-and-drag and then crop to fit. With a clear background and free fonts, this template is ideal.
Photography Presentation Template Design for PowerPoint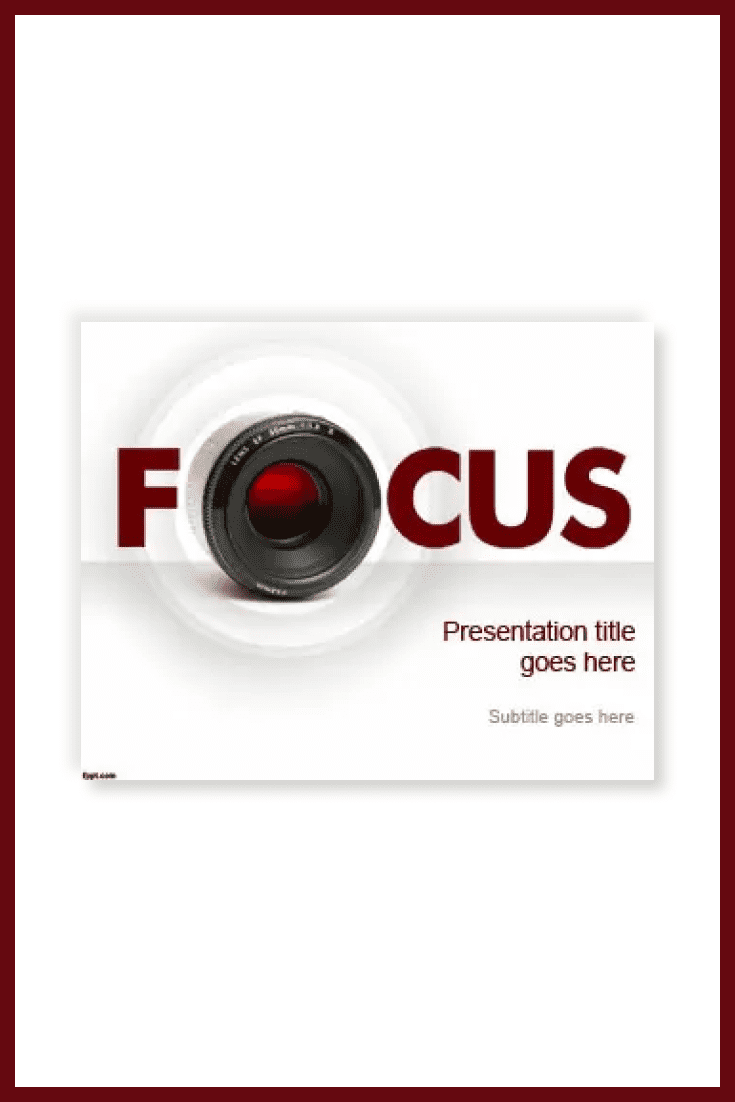 This is the era for online studies, and how else do you present your work when teaching a class than through an elegant PowerPoint presentation? This template is made for the photographer that wants to teach a class in a concise way. Beautiful colors, various free fonts, and rearrangeable slides is what you get for free.
Education Plan PowerPoint Templates
Elegant, colorful, and an uncluttered background are some of the advantages of using this template for educational presentations. It is editable, has an image holder, and a screen aspect ratio of 16:9 that allows for easy content creation.
Look Elegant PowerPoint Template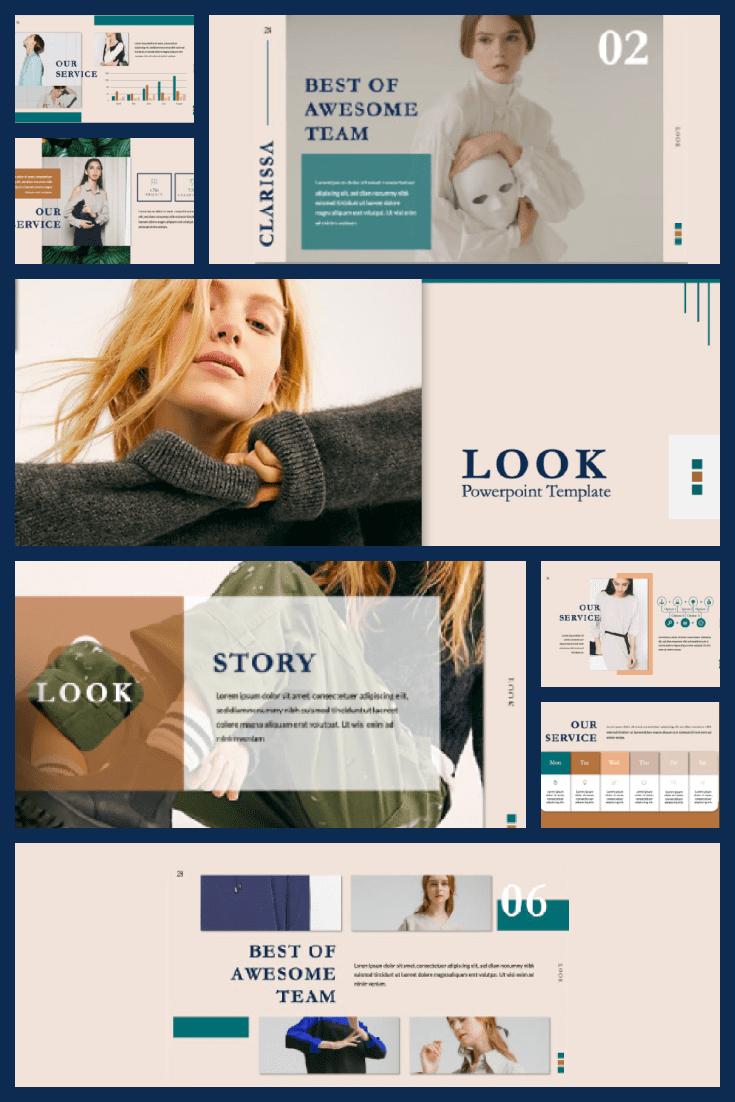 This elegant presentation contains 55 creative slides, a full HD 16:9 screen, duo colors—green and red—and free fonts. It is free and ideal for personal use.
Dela PowerPoint Template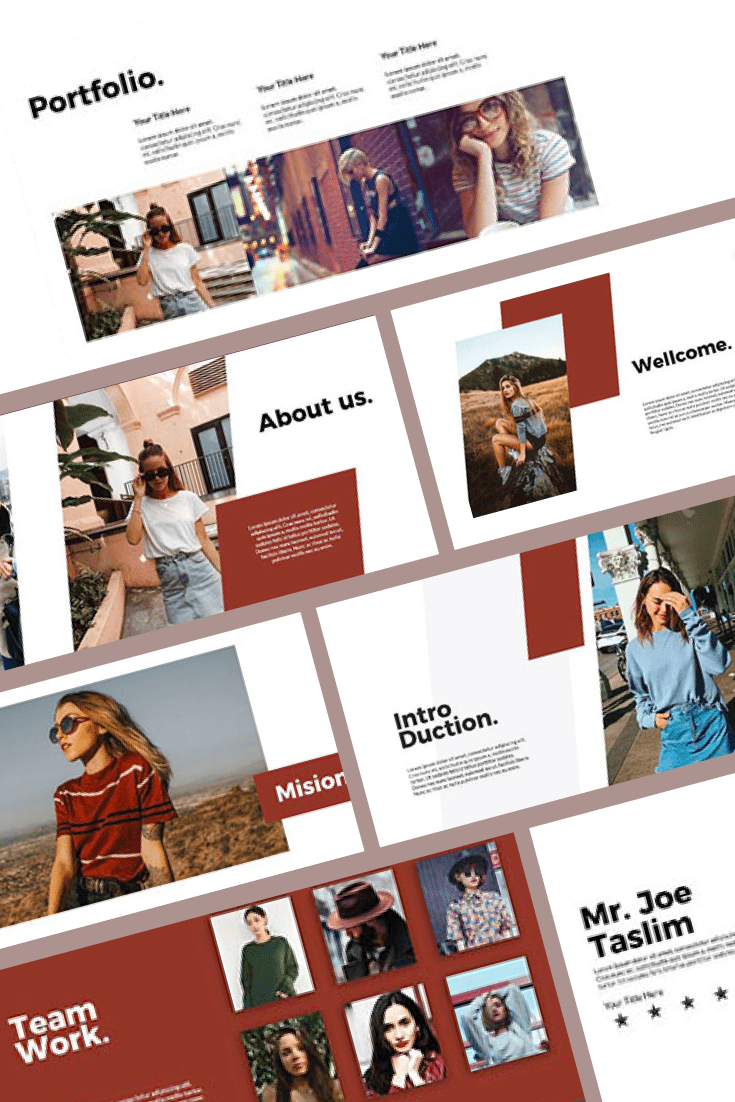 Choose this impressive Modela PowerPoint presentation template if you want to make your work stand out. You get 12 unique and fully editable slides on a widescreen layout with images and flowcharts that make presenting numbers and data pure bliss. The high-quality design makes these templates perfect for professional presentations.
Technology Modern Templates
Free Voice Recognition PowerPoint Template
This one-of-a-kind template uses speech recognition technology to create presentations from speeches. The slides are editable and colors used are free as well as fonts that are provided. There are presentation tools for data, and each slide allows you to drop and crop images. There are shapes and icons, and the text is animated.
Duo Tone PowerPoint Template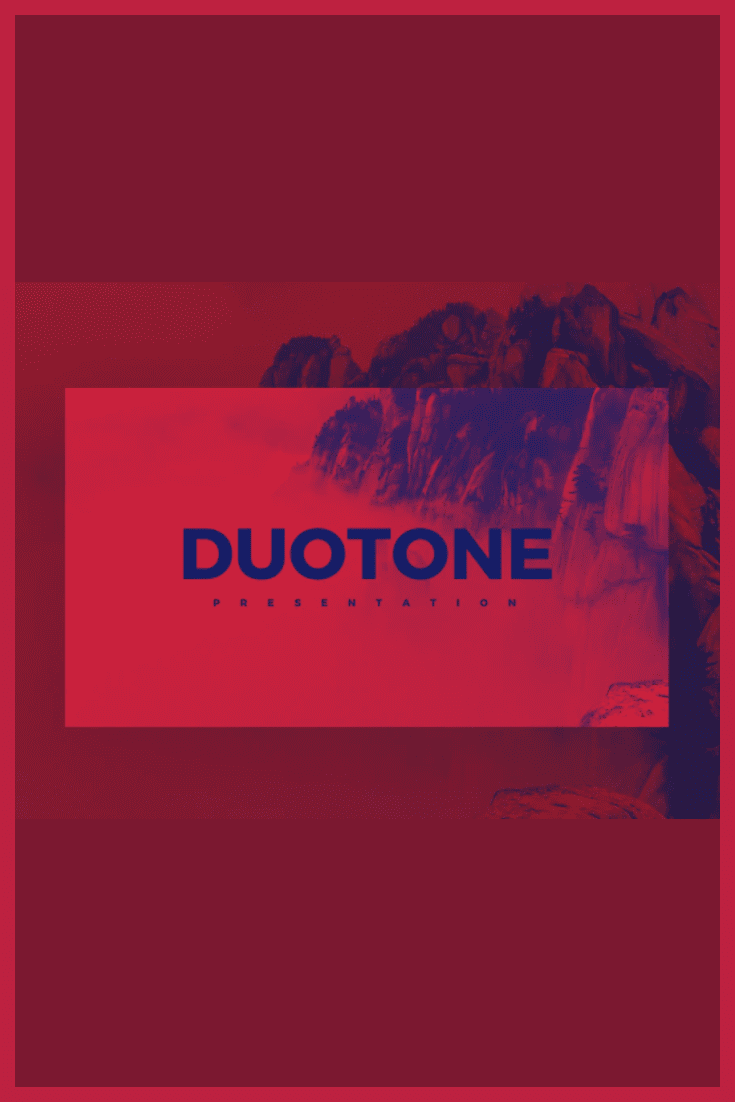 As the name suggests, Duo Tone is designed with two color tones: blue on the background and red text. It is bold and catchy, making it ideal for any presentation that could use some drama. All 40 slides are editable, and you can drag-and-drop images freely. Fonts are free and web-friendly.
Free Pitch Deck PowerPoint Template for Modern Presentations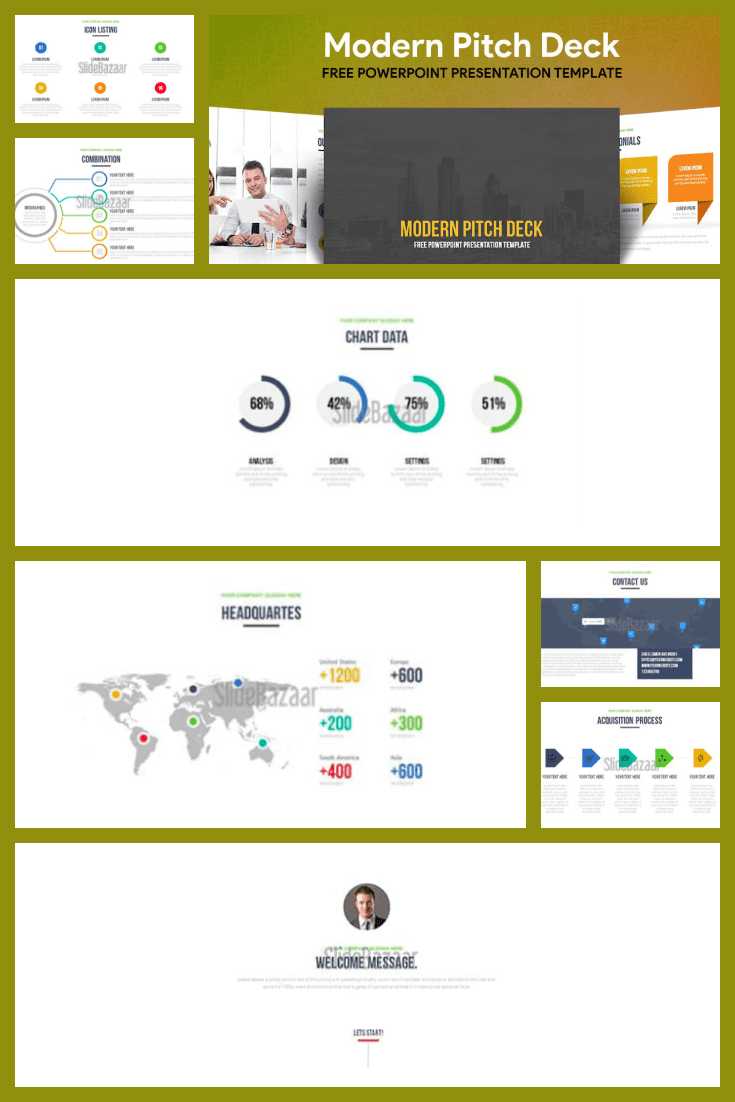 Modern and easy to edit, this template makes it possible to present your pitch to investors in a clean, dark background that makes your content the center of attention, as it should. Each of the 24 slides on this template is editable, and you can drag-and-drop your images for more options. The screen is wide enough for presentations and slides predesigned for investor pitching.
Data Privacy PowerPoint Presentation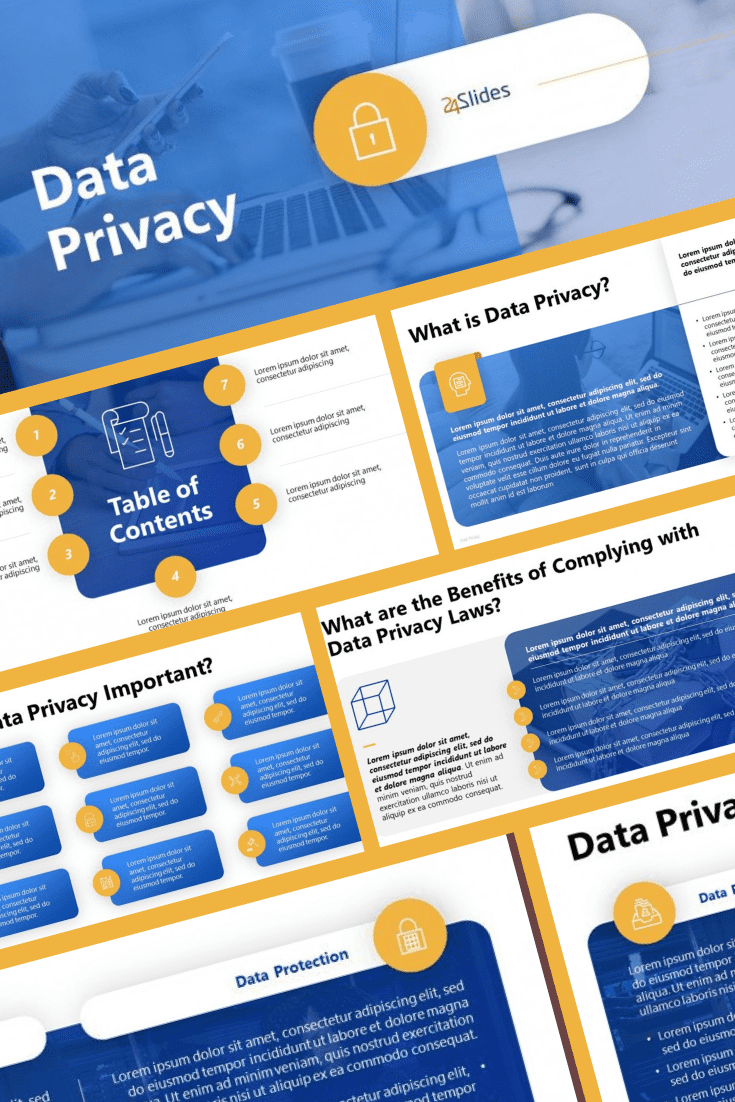 Data should be handled with care lest it falls into the wrong hands, which is why this template includes all the important aspects to ensure safety. Each of the 24 slides presented here is editable with a color scheme to allow you to customize it as per your liking. The background is dark and clean, making it easy to showcase your work.
Chevron Dialogs Timeline Template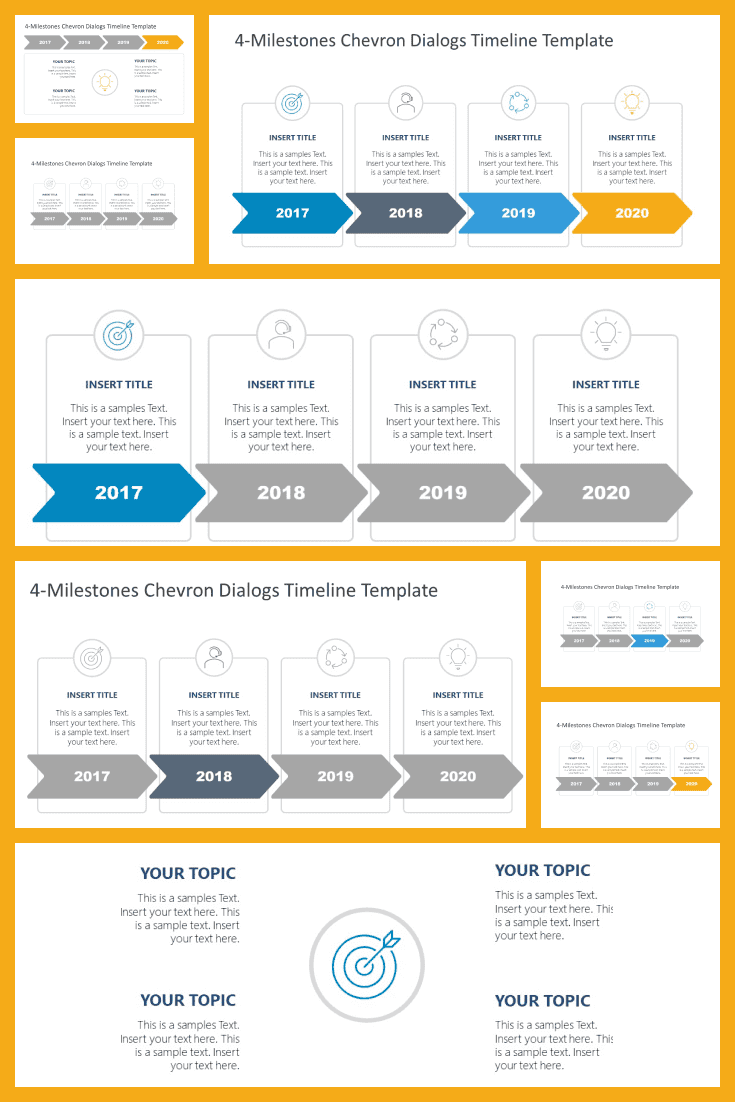 When you have data and information ranging a number of years, you want to present it in a simple, effective manner with all the information in the timeline represented. This template is ideal for showing a product or business's lifecycle, progress made over years, projections, and goals. The slides are editable with a range of colors and tools for image editing.
Pliant General-Purpose PowerPoint Template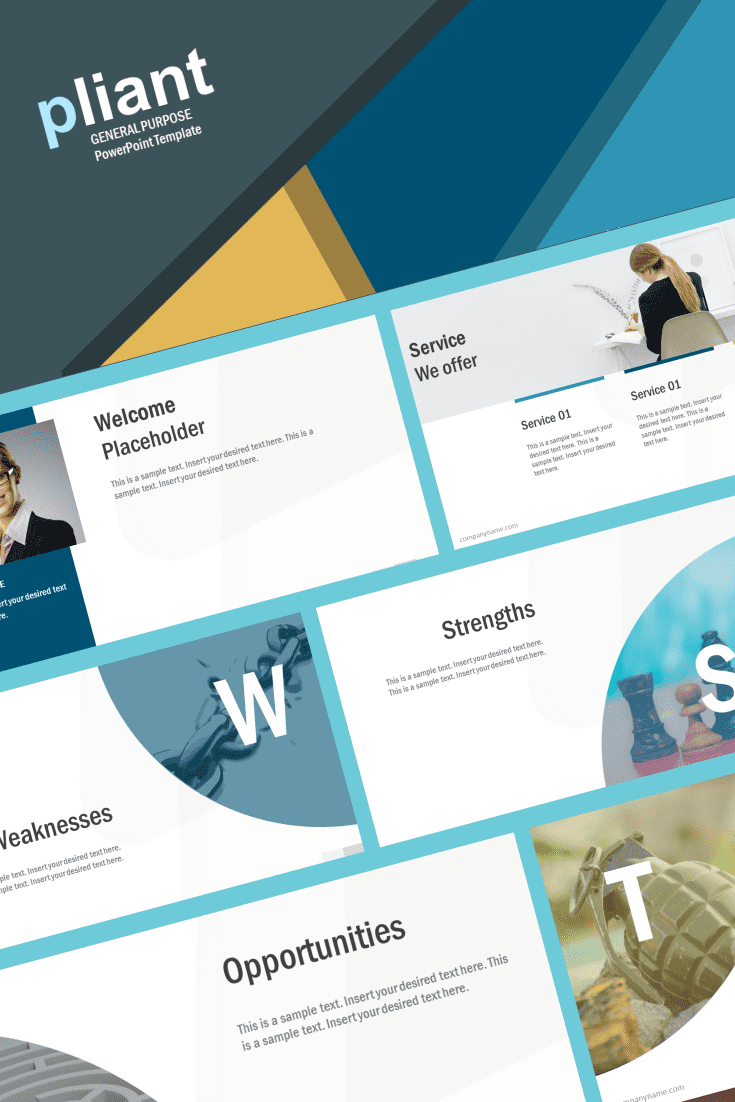 This template contains 11 editable slides with free fonts and image editing tools. There are vector shapes and graphics to make the presentation of data clean and effective for a business presentation. It makes use of bold colors on the background, and you can select whatever font you want to make your message stand out.
Bitcoin Finance PowerPoint Template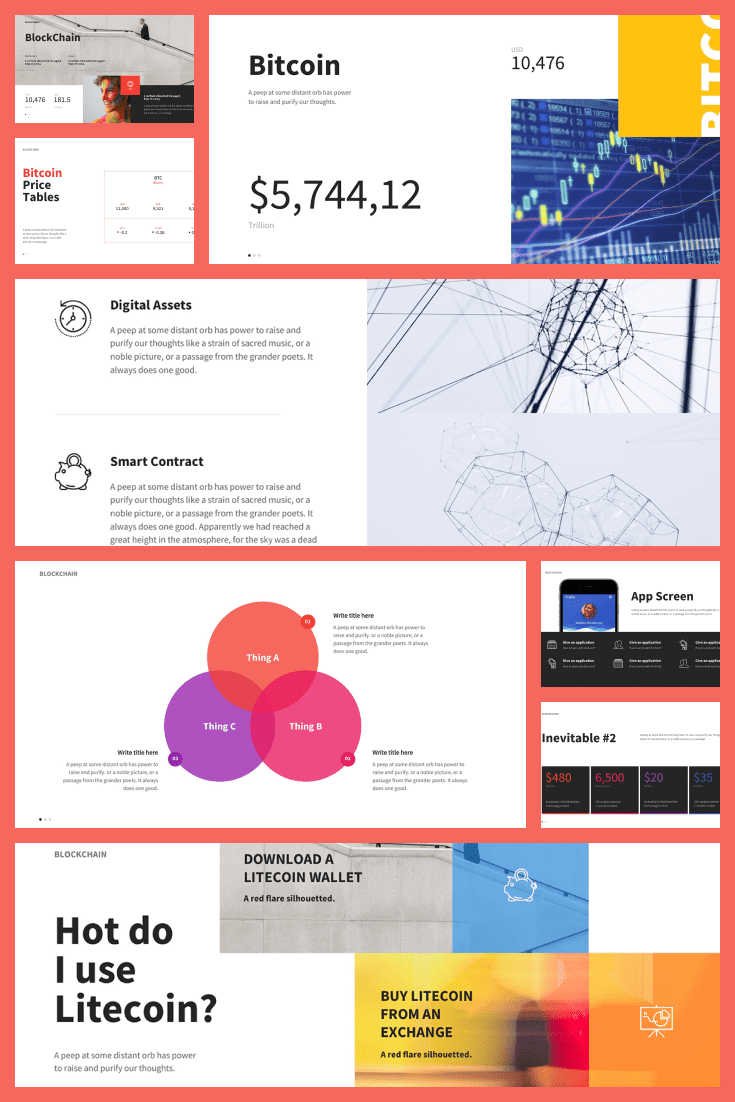 Cryptocurrency has taken the world by storm, and so it is only right that designers come up with templates that speak for the platform. The colors used here are bright and a bit shocking to the dull background, while the high-quality vector graphics change the way data is presented. The 9 unique slides are editable and have graphs already predesigned. They can be rearranged to suit your presentations.
Simplistic Modern Templates
Download Free Simple Product PowerPoint Template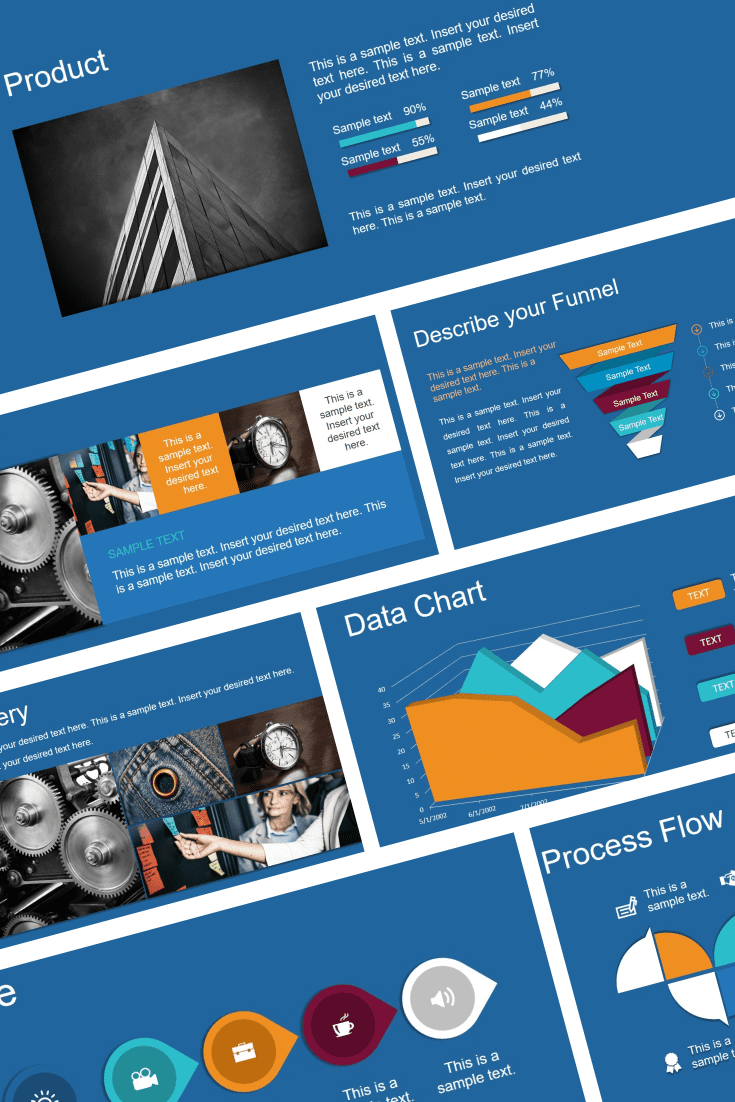 This simple template allows you to edit each of its seven slides as you wish with the wide variety of colors presented. You can also use free stock images to place in the allowed spaces and edit as you wish. The screen is available in two formats, normal and wide, and all the fonts provided are free.
Free Social Media Report PowerPoint Template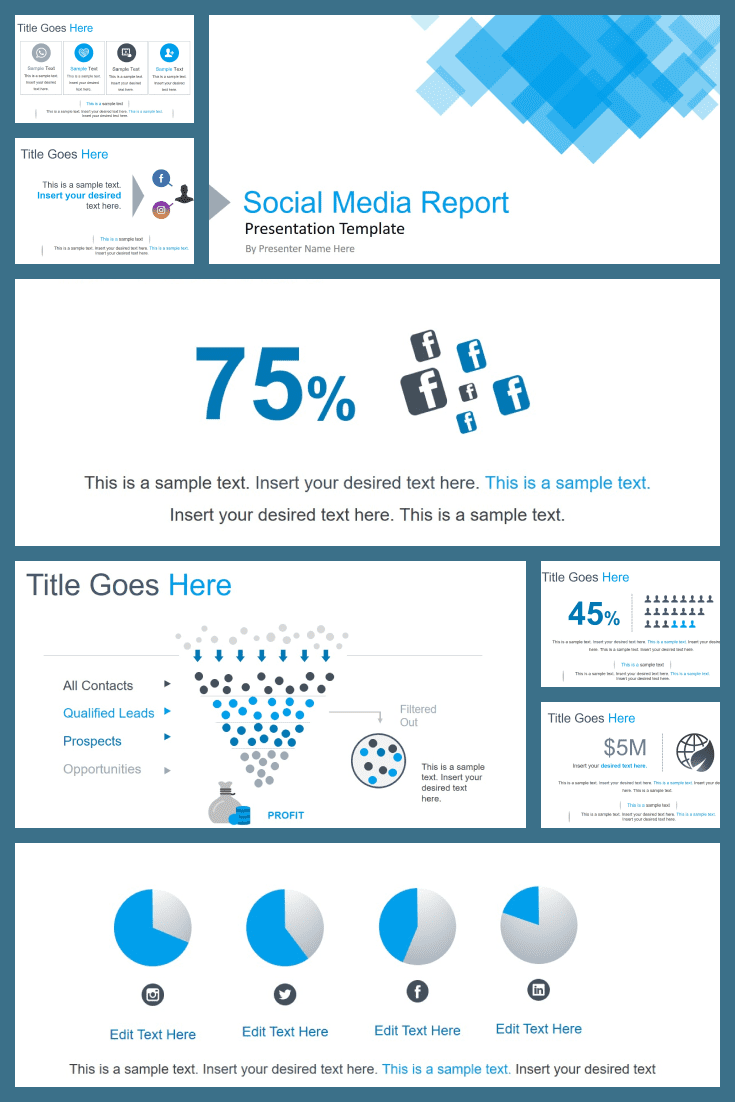 If you want to keep tabs on your social pages, this template provides the cleanest way. The tools in this template are much like management dashboard sections. You have funnels, pie charts, bars, and progress bars for a clean presentation. It is simple yet effective, and the slides are rearrangeable so you can easily present the occurrence of events.
6-Step Infographic Diagram PowerPoint Template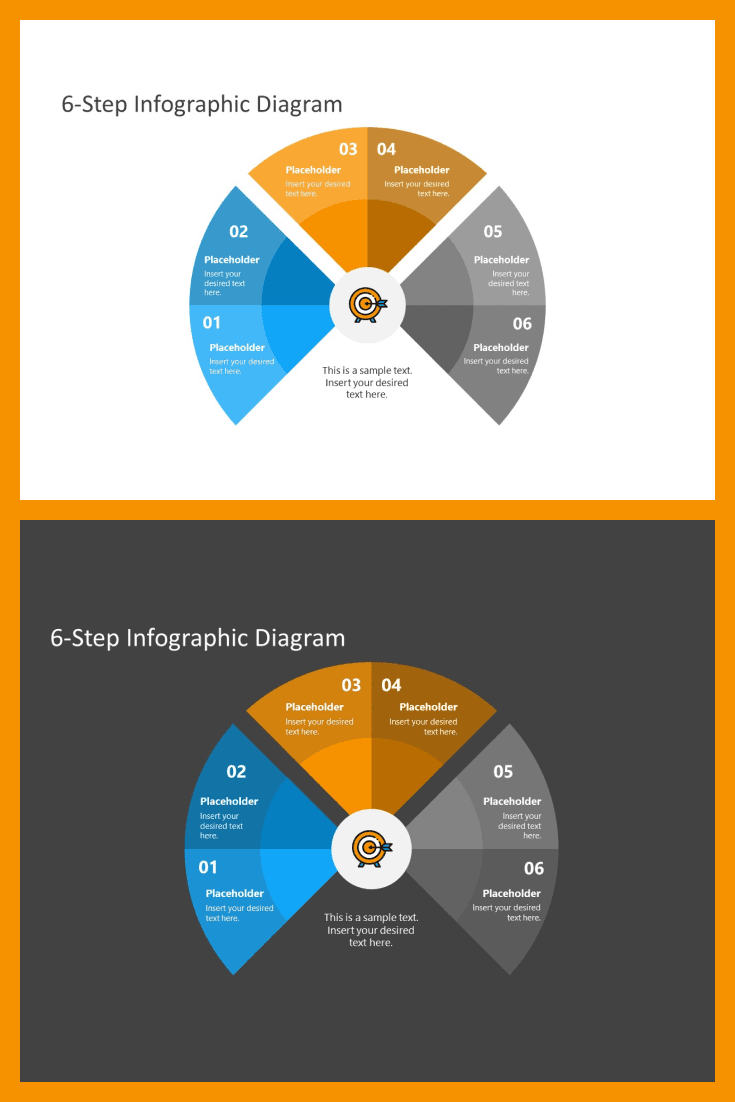 When looking for a simple, yet effective way to present an infographic, this template is ideal. It has a 6-step 2×3 fan-shaped design that is ideal for presenting such information as genealogy mapping that needs to be shown in the generational hierarchy. You can open it using other online platforms other than PowerPoint.
Running Lane Goals PowerPoint Template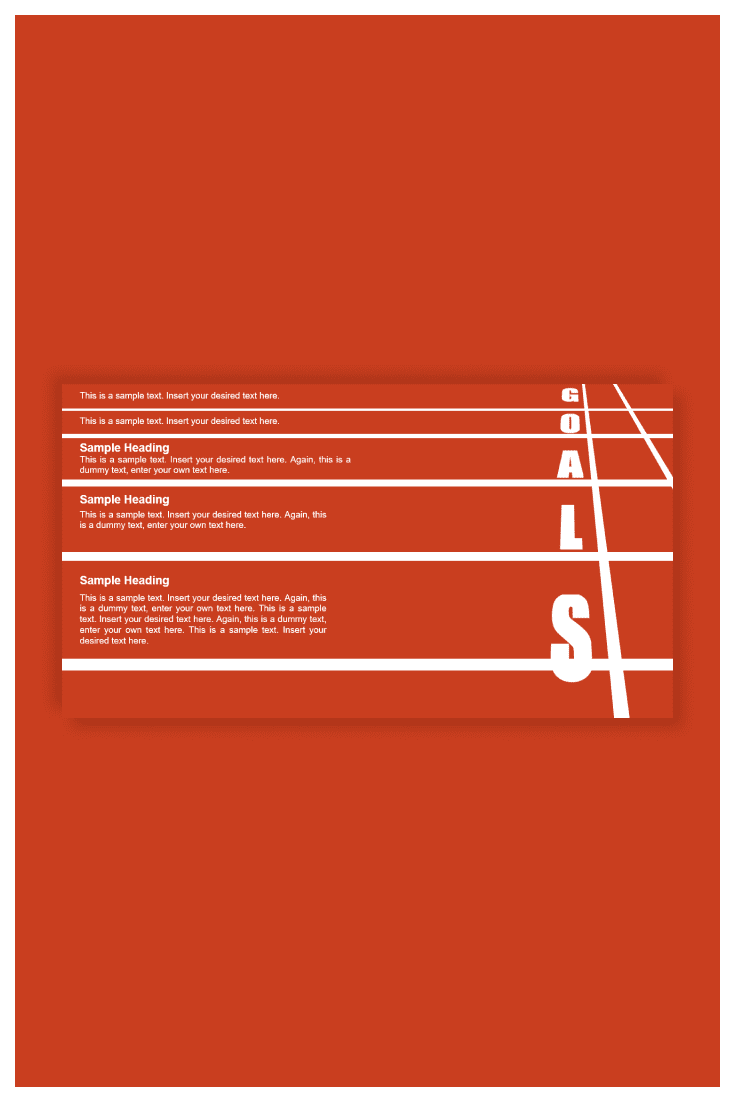 Even personal goals need to be presented in elegance, which is what this template provides. The background is red and bold, while you get a large sample of free fonts to make it how you prefer. The color scheme presented gives you options for the presentation since the light background is your playground.
Free Earth PowerPoint Template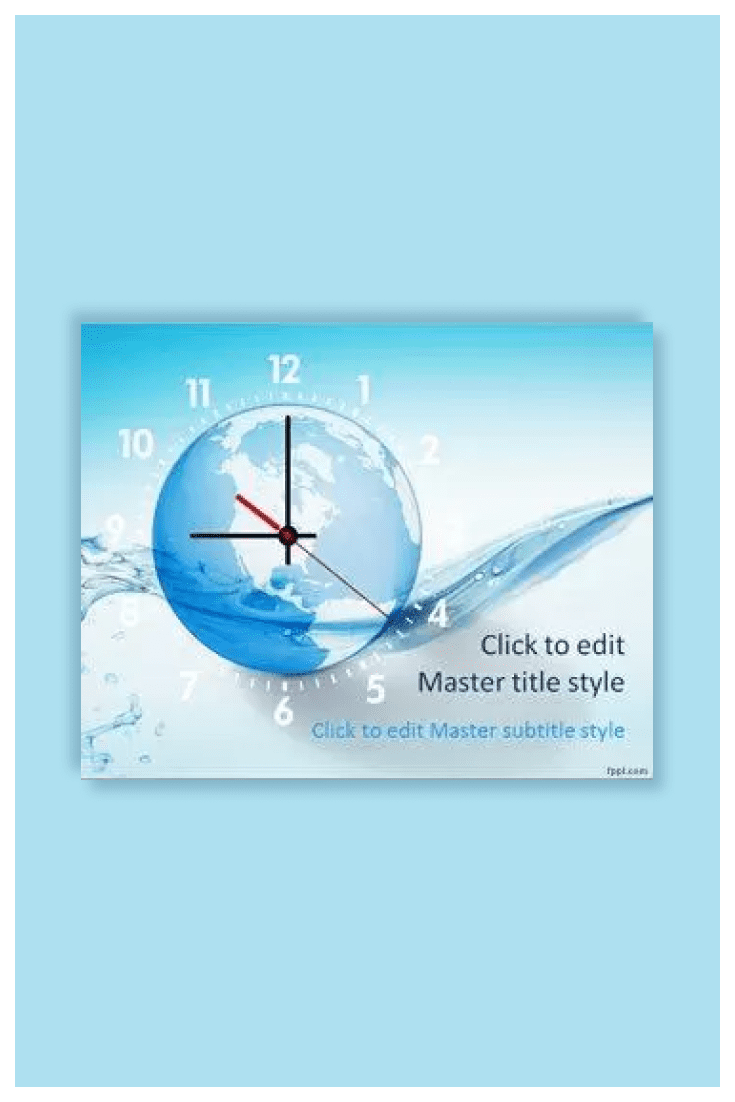 When making a presentation to a global audience where time is essential, this template is what you need. It is super simplistic since the background is light with the image of a watch showing the time of the city the presentation is being made. It is especially great for shows about productivity.
Free Molecule PowerPoint Template
Even teachers need creative presentation slides for their work, and this one is made for physics. The pinkish tone on the background is ideal but subtle enough to draw the attention of the person receiving the presentation. You are able to get the content out clearly with molecules showing why "chemistry rocks."
Grant Proposal Presentation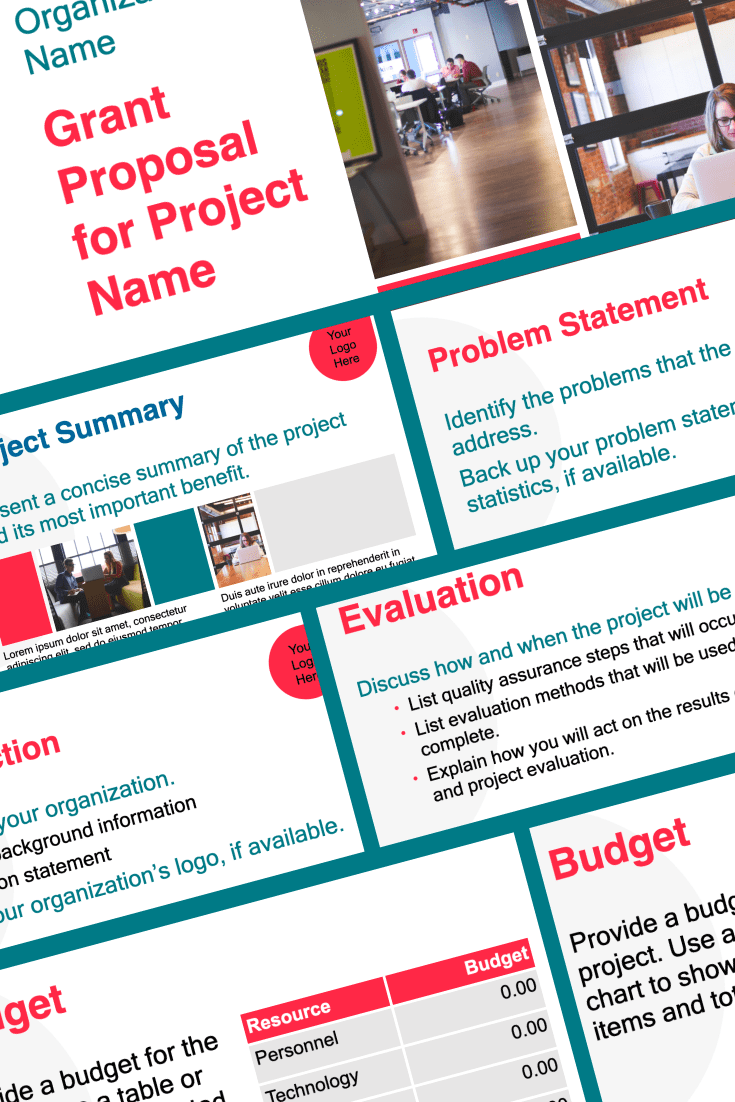 You won't want to create everything from scratch when you can work with this predesigned template. With a clear introduction, summary for the project, statement of your work, and all the vital parts of a grant proposal, every slide is editable and easy to use. Great color selection and free fonts are ideal for this kind of presentation.
Diet Fitness Sports Concept PowerPoint Template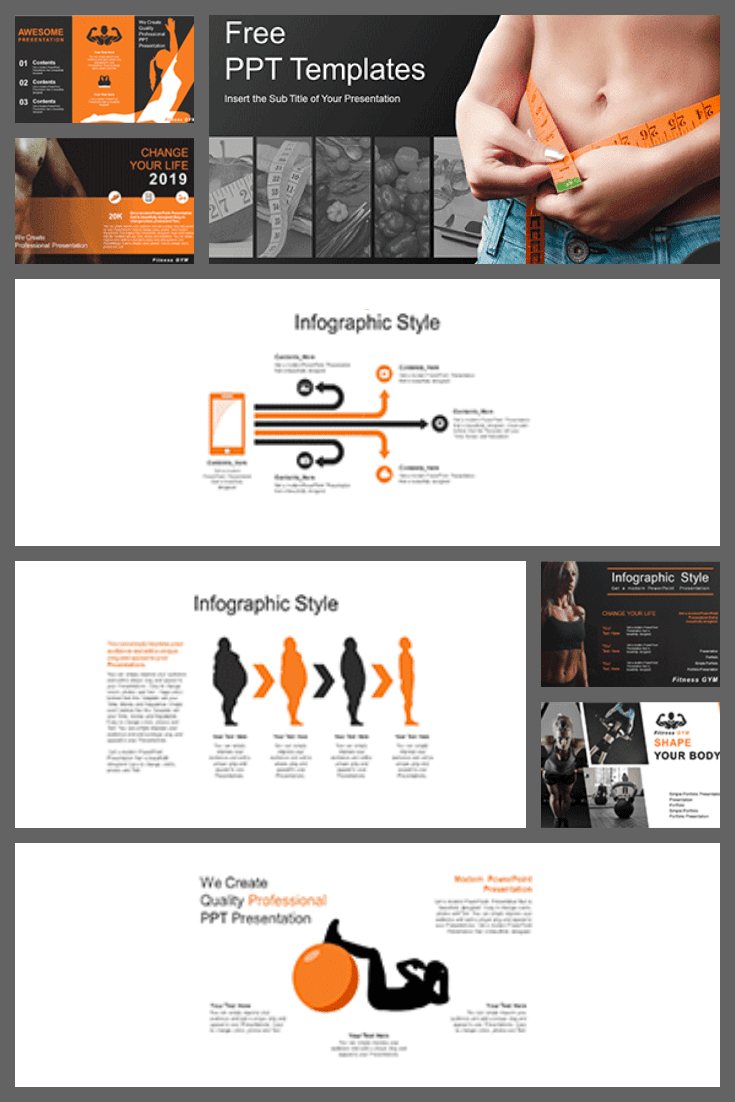 Diet and fitness themes require some level of creativity and nothing represents this better than a good template. The slides are easily editable, colors are easy to change, and you have an image holder where you can drag-and-drop. Editable data-driven charts that you can easily work on in Excel allow you to elaborately present your client's data.
Coffee PowerPoint Template with 48 slides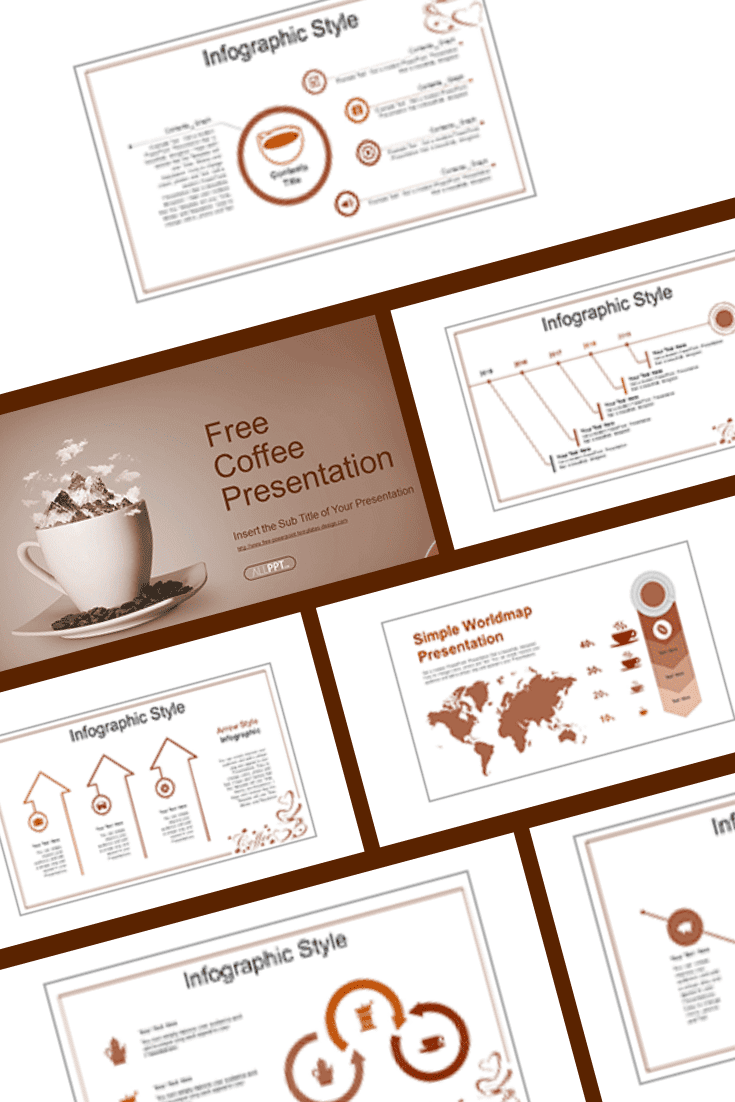 Coffee is a great pick-me-up, and so is this template. The background is light, while 135 different icons are something to look forward to when hoping to make your content stand out. There is a placeholder for images that you can use for free stock pictures. The charts are ideal for data presentation.
Travel and Vacation PowerPoint Template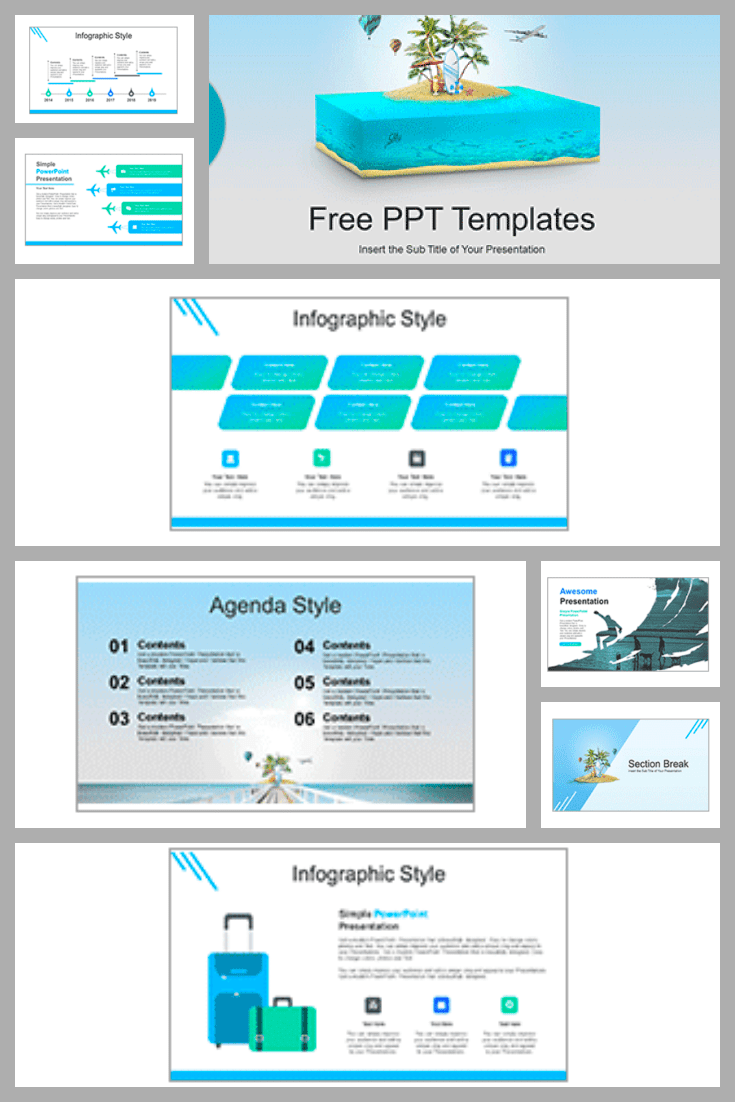 You get 48 slides with this template, with each being fully editable with free icons. You can select how to place the slides so they suit your content, and you can use images from Pixabay.
Free Comic Book Template for PowerPoint & Keynote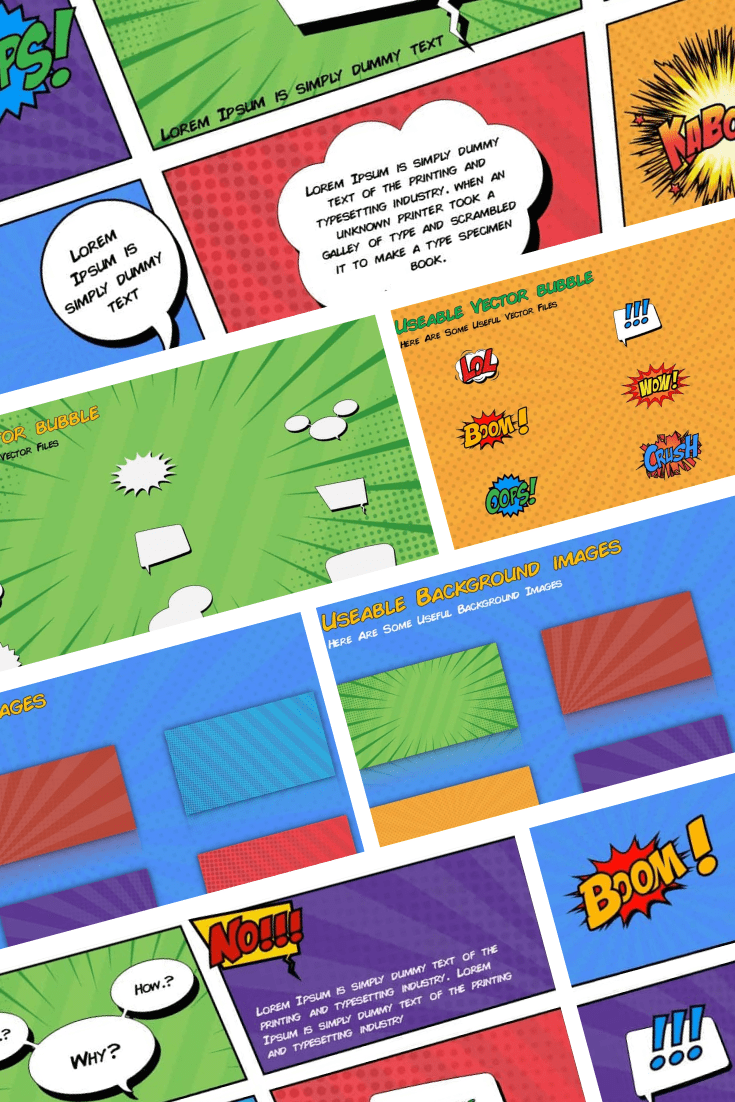 This colorful comic template covers up to 9 topics with witty captions and easy editing. The color scheme is vibrant and bold, while the fonts are provided free. Designs are customizable, colors are easy to change, and image placement is breezy. This template is ideal for storytelling, so art teachers have an easy time presenting their work to kids with short attention spans.
Skywalker PowerPoint Template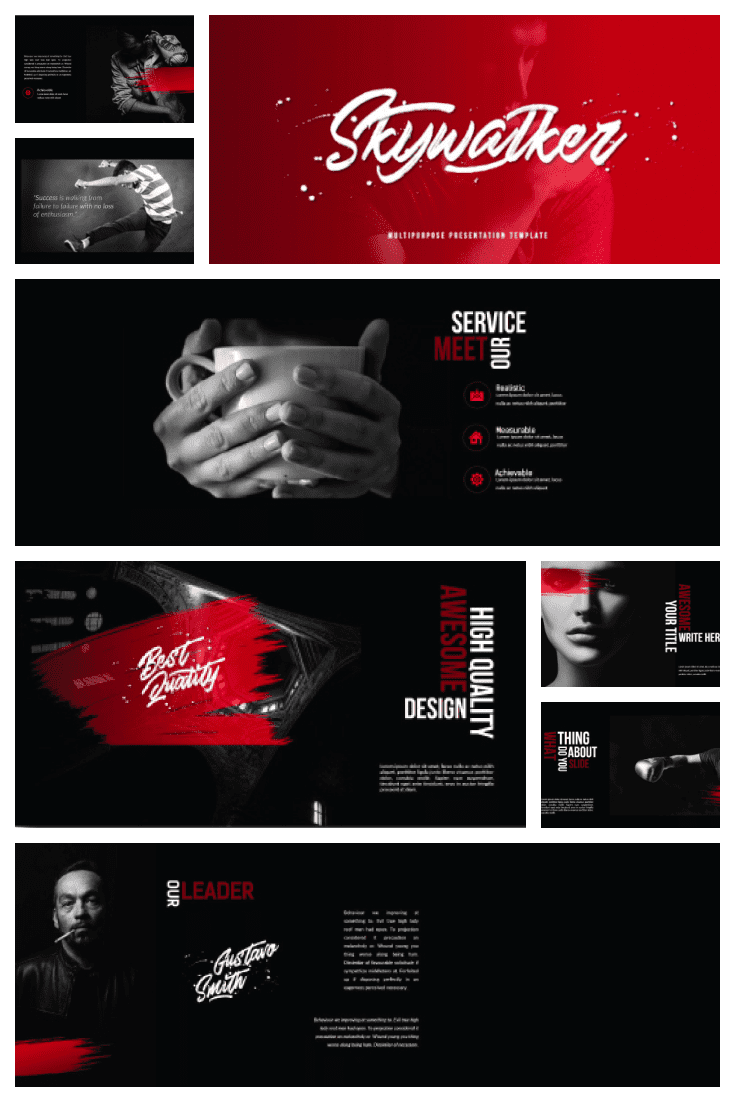 You are covered if you are looking to make bold presentations with popping colors and a variety of font styles. The background is stark black, while the rest of the template is presented in a contrasting red. The two colors create a dramatic appearance that is bound to catch the attention of your audience. This combination is ideal for a youthful, artful presentation.
Simplicity PowerPoint Template by Louis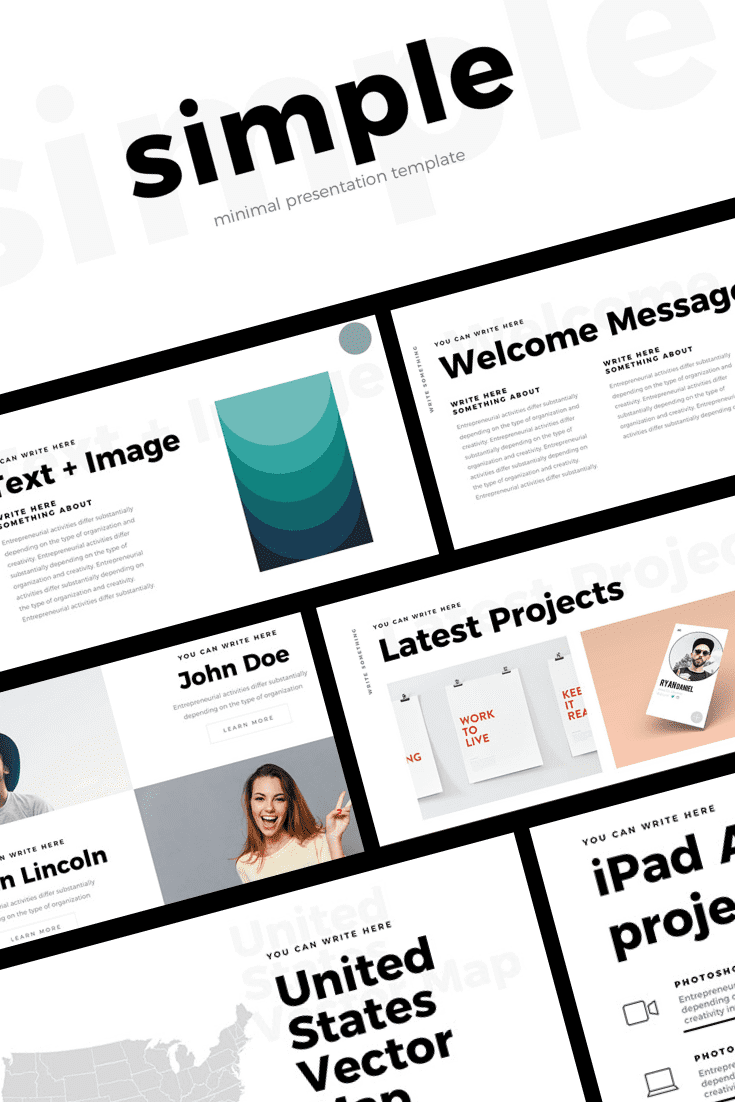 Minimalistic and modern is what is in today, and this template presents just that. You get 40 grey-toned slides that keep the message simple and to the point, with as little distraction as possible. You get the ability to edit images. The background makes this design ideal for business projects, pitches, and school work.