700+ Web Development and Graphic Design Resources: Tools, Services, Jobs, and Courses You Can't Miss in 2023
To all lovers of long scrolls and awesome web development and graphic design resources, freebies alert! Here's a long list of some awesome resources and tools for you. In this hand-picked selection, you will find only the tools that web design experts use and love.
se
Do not hesitate to bookmark this page and use it as a go-to resource.
Come back to it when you need help with your design projects. Also, make sure you mark the apps you like the most and add them to your toolkit immediately.
In 2023, no one can afford to ignore technology. Especially when it's free, like the resources we are offering you in this article.
You can be sure that your competitors are already using these tools, and your potential audience is expecting to see similar functionalities on your website.
We know that every web professional needs a set of awesome tools to get the job done right. We've made for you an ultimate list of the latest and most powerful tools and resources that are all free!
In case you want to add a resource to this selection, drop a link to the comments and we will check it out.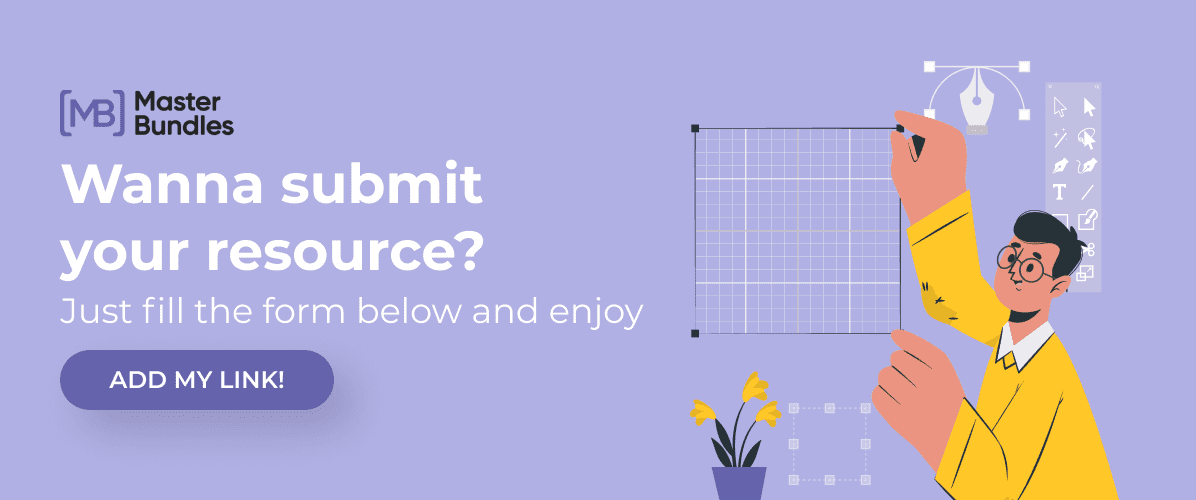 Goodies for Web & Graphic Designers
Here you'll find important website design resources that you should always have at hand: photos, icons, color pickers, fonts and typography, and logos for branding. These resources will help simplify and speed up your workflow.
Color pickers
Material Palette – Material design examples.
ColorSnapper – A very handy tool, because with it you can easily define any color you want. After you first select a color, it is fixed to the work panel for convenience.
Material UI – Color palette creator in Material style.
147 Colors – A comprehensive pallette of 17 basic colors and 130 CSS color names.
Happy Hues – Here you will find a large collection of different shades and real examples of their application.
Flat UI Color Picker – Best colors for flat interfaces.
LOLColors – Very simple and enjoyable tool with a fascinating interface.
Flat UI Colors – Nice flat style colors with a possibility to choose color format.
Coolors – Fast color schemes generator for designers.
Bootflat – Flat UI color picker which gives you the perfect colors for flat designs.
Skalacolor – An extraordinary color picker for designers and developers.
Couleurs – A simple app for grabbing and tweaking the colors you see on your screen.
Colorful Gradients – Gradients automatically created by a computer.
Adaptive Backgrounds – A jQuery plugin for extracting dominant colors from images and applying it to its parent.
Brand Colors – Official color codes for the world's biggest brands.
Paletton – Create an eye-candy color scheme.
0to255 – A simple tool that helps web designers find variations of any color.
COLOURlovers – A creative community where people from around the world create and share colors, palettes and patterns, discuss the latest trends and explore colorful articles.
Adobe Color – Color combinations from Kuler community.
Colorrrs – Hex to RGB converter.
UI Colors – Search for colors that fit your interface.
Colllor – Color palette generator that helps you create consistent palettes just in a few clicks. It offers multiple variations to each color and allows using color names in English or Hex versions.
Palette for Chrome – Create a color palette out of any image.
Coffee Cup – A color palette Manager for front-end designers and webmasters who want to make mobile-friendly sites and newsletters.
Gradients.io – Gradients are always trendy. You can have your gradients made by the program with a HEX code for each of them.
HueSnap – Take a photo and use this application to snap a color palette from it automatically. After you create a palette,change it, add complementary colors, and extract the results.
Colordot – This app for creating palettes is very simple and user-friendly. When you want to change the hue – move the mouse back and front. If you go up and down with the mouse – you will adjust the lighting. Also, use the scroll to tweak the saturation.
Khroma – With this resource, you will be able to search, explore, and save separate colors and color combinations for your next web design. The app uses artificial intelligence. First, you choose from among 50 colors to train the AI, then it gives you color combinations that will take your breath away. All the hues that might annoy you will be sifted away automatically. You can also use a library of color combinations, types, swatches, gradients, and what not.
Eggradients – This is a gradient color palette containing +200 gradient background color. As you have probably guessed from the app name, each color is displayed in an egg-shaped module.
Design Wizard– This is an excellent graphic design tool which allows you to personalize high-quality image and video in seconds.
HTML Color Picker – This is a complex color defining tool from w3schools that have not only, actually, a picker but also a huge number of additional tools like a color mixer, shades, converter or gradient.
Imagecolorpicker – Here's an app where you can download your picture and then define the hex code of every pixel's color.
Color Codes – Another set of color defining tools that contains a picker, chart and color names, as well as different tutorials.
Hex Color Picker – This is a simple color defining app from WebFX.
Color Picker Tool – This app was created by Mozilla team and it allows not only to pick but also compare and mix colors
Google Color Picker – This team of developers created an easy-to-use toolset for other developers which contains several different color defining apps.
Just Color Picker – This is a free offline app that you could download and install to your computer. It will allow you to pick colors even without internet connection.
PineTools Image Color Picker – This nice app allows you not only pick the color of the pixel from the photo, but it also allows you to do some actions with that image, like inverting the colors or changing brightness.
Image Color – Image color picker and palette generator
Combinecolors – Mix colors online

Icons

freepik – Completely free icons for personal and commercial use.
Uxwing – Free Icons for commercial use
freeicons – Another source of free icon sets, gathered according to a certain theme.
Iconstore – On this website you will find lots of icon sets that could be downloaded 100% for free
TheNounProject – This resource provides icons for any purpose, both free and paid ones.
Iconshock – Here you will find not only free icon sets but also premium designs and different bundles.
ICONFINDER – A resource for finding icons, with free and paid content.
Iconninja – You definitely need one more search engine for icons. It supports SVGs and PNGs. There are also detailed descriptions for every icon.
Webalys – 4000 icons that follow the official Google Material Design guidelines. Perfect to use with Android, websites and desktop apps.
Google Material Design Icons – 750 glyphs from Google Material Design pack. Equally useful when building for the web, Android or iOS.
Fontello – Icon fonts generator.
Flat Icon – The largest database of free vector icons.
Perfect Icons – The easiest way to create resolution independent social icons.
Iconfinder – More than 100 000 icons in one place.
Yummygum – 60 free vector Photoshop icons perfectly suitable for iPhone & iPad apps or your new web project.
App Icon Template – A free Photoshop resource for making icons. Edit a single object and it'll automatically render out all the various sizes required on iOS & Android.
IconArchive – Archive of unusual and cool icons.
Ego Icons – New vector icons designed with a radical angular style.
Icons8 – Choose an icon and drag it to the editor window – that's how easy you create icons with this application. The collection is huge, it supports various formats, and works for Windows, Android, IOS.
Vector.me – There's a collection of free photos, fonts, vector backgrounds, and icons.
Vector4free – This is a rather small collection of 1500 icons. We love them for their high quality and detailed descriptions. You can use the icons freely for your personal projects.
FIND ICONS – Find unusual and beautiful icons.

Fonts Typography

Urbanfonts – Whether you can afford a premium font or would like to get a free one, this website will help you.
Collletttivo – Best free Open-Source typefaces in one place.
FontFabric – Big, modern and clear website which offers different types of fonts and some of them even for free.
Awwwards Free Font Collection – A large collection of cool and unusual fonts from authors all over the world.
Free Typography – A nice website where designers share their fonts for free, a great platform for a beginner developer.
Befonts – Here you will find great free fonts for either commercial or personal use.
Freebiesbug – It is obvious from the title, this website offers you different free fonts and typefaces.
Font Squirrel – The best free fonts for commercial use. Just download and use them for your next commercial project.
GraphicPear – This website gathers not only fonts but also different useful stuff for designers, like mockups, icons, and infographics.
Type Genius – Find the perfect font combo for your next project.
Type Wolf – A great resource available for everything related to typography on the web.
Font Space – A huge categorized library of fonts that are fit for every occasion. There are 35k+ items with detailed labels. Note that you are getting fonts made by over 200 professional designers. Make sure you use them for your personal projects only.
Fontface Ninja – Browser extension for displaying fonts used by web site.
Google Fonts – Free fonts optimized for websites.
BeautifulWebType.com – A showcase of the best typefaces from the Google web fonts directory.
Dafont – A collection of free fonts.
1001 Free Fonts – One of the largest font collections online.
Fontasy – An archive with a nice user experience and 1000+ free fonts. You can use them for commercial projects after you get in touch with the authors and obtain permissions.
Font-To-Width – A script by Nick Sherman and Chris Lewis that takes advantage of large type families to fit pieces of text snugly within their containers.
Edge Web Fonts – The free, easy way to get started with web fonts.
Abstract fonts – A nice archive with a clean user friendly interface, 14k fonts, and a cute preview option.
Typekit – A limited collection of fonts for websites and apps.
Font Freak – Here you have 9000 free fonts and 125 k commercial ones. The items come in two versions – for Windows and Mac. More than 400 designers are adding fonts on a daily basis.

Logos Branding

Turbologo – When you enter the website you are asked to define the name of the company, choose the industry and colors. The system will then generate you a few logos and you can just choose one and use it.
BrandCrowd Logo Creator – First of all, you can get some inspiration here, the first thing you will see there will be different logo variants. And then you will be able to create something by yourself.
Hatchful – This website is powered by Shopify and affords you a set of tools for logo creation, as well as aspirational examples.
Placeit – There's not only a logo maker on this website, but it can also offer you lots of other useful tools.
Hipster Logo – Hipster logo generator.
Designimo – If your project already has a name, it will get an amazing logo with this free service. Just enter the name and pick a design choose from the options offered. If you want to go high-resolution, you'll have to pay. Otherwise, the tool it's free.
Tailor – Logo design made simple. Instant custom-made logos. Try it for Free
Logomakr – The resource has a free low-resolution version with a huge archive of icons and fonts to use on a logo. You will pay only if you want to get professional help with your logo.
Free Logo Design – Here you can create a low-resolution free logo that is still big enough to be used for different purposes. There are nice free logo templates to help you out.
Logo of the day – Great resource for inspiration and self-development for both newbies and pros. Every day, new and unusual logos are published here that surprise and inspire.
Vectr – A simple online platform to create not only logos, but also other elements.
Looka Logo Maker – Make your logo online in just a few clicks with this tool.

Photos

Fyuse – Fyuse 3.0 – An app for creating 3D photos. Very simple. Works both with Android, and iOS.
stock.xchng (SCX) – This is a convenient and simple free service for selecting photos. There are over 350,000 images, so it's easy to find the right one for any project.
Negative Space – CCo licensed photos available for free use. The archive is huge, and it is growing every week. There's a smart filter to help you navigate.
Stock Up – Searching 10,332 free stock photos across 26 websites.
MorgueFile – A small but cool image search service for creatives, by creatives.
LibreShot – Welcome the collection the belongs to Martin Vorel. It features impressive architecture and florals. If you need unique free photos, this resource is for you.
All the Free Stock – Get all the Free Stock Images, Videos, Music and Icons in one location.
PikWizard – А huge service for selecting bright and high-quality images for any project.
Unsplash – Free high-resolution photos. 10 new photos every 10 days.
Splash Base – Search & discover free, hi res photos & videos.
Startup Stock Photos – Free photos for startups, bloggers, publishers, websites, designers, developers, creators, & everyone else.
Jay Mantri – Free pics. Do anything (CC0). Make magic.
Pexels 2.0 – The best free stock photos in one place.
Moveast – Free photos from a Portuguese guy journey.
Travel Coffee Book – Beautiful travel moments. All photos are listed under cc0.
Designers Pics – Free Hi-Res photos for your personal & commercial use.
Death to the Stock Photo – Stock photography website run by two rogue photographers.
Fancy Crave – This collection of free stock photos gets updated every day. All the authors are asking is never display the photos as your own.
Foodies Feed – Free food pictures.
Mazwai – Free photos and videos.
Jeshoots – Stylish modern photos.
Videvo – Free HD stock footage & motion graphics for any project.
Super Famous – Photos by Folkert Gorter, a designer from Holland.
Picography – Free hi-resolution photos. Use them however you like.
Freepik – Freepik helps you to find free vector art, illustrations, icons, PSD and photos for using in websites, banners, presentations, magazines.
Magdeleine – A free hi-resolution photo every day.
Snapographic – Free stock photos for personal and commercial use.
Little Visuals – Sign up to get 7 hi-res images zipped up in your inbox. Use them anyway you want.
Splitshire – Download high quality free stock photos without copyright, do whatever you want. Updates everyday.
New Old Stock – Vintage photos from the public archives.
Picjumbo – Totally free photos for your commercial and personal works.
Life of Pix – Free high-resolution photos, no copyrights restrictions. New photos added weekly.
Gratisography – Free high-resolution pictures you can use on your personal and commercial projects.
Getrefe – Free abstract, business, foodstuff, home, lifestyle, nature, outdoor, transport and travel photos.
Cupcake – All photos here are licensed under the CC0, which means that you can copy, modify, distribute and perform the work, even for commercial purposes, without asking for permission.
Public Domain Archive – New 100% free stock photos. Every single week. Everything you need for your creative projects, all public domain images.
ISO Republic – High-quality, free photos for creatives.
Kaboompics – Great place to get breathtaking free pictures for business or personal projects / License.
MMT – Free photos for commercial use by Jeffrey Betts. CC0 license.
Pjrvs – Free high-resolution photos.
Raumrot – Stunning lifestyle imagery for modern creatives.
Bucketlistly Photos – A free creative common collection of travel photos anyone can use.
Free Digital Photos – Download free and premium stock photos and illustrations for websites, advertising materials, newspapers, magazines, ebooks, book covers and pages, music artwork, software applications and much more.
MorgueFile – Free photo archive by creatives for creatives.
Public Domain Pictures – A bunch of public domain pictures.
Stock Vault – The website that loves to share photos.
Image Free – Get an image for free.
Dreams Time – Free images portfolio.
Free Images – 387 857 free photos and illustrations.
Free Range Stock – Good photos. Totally free.
Stock Snap – Hundreds of high resolution images added weekly.
Free Nature Stock – Royalty-free nature stock photos. Updated daily.

Clipart Design Elements

Old Design Shop – A lovely collection of vintage clip art and textures for all things old and beautiful.
Pixel Scrapper – A community site for digital artists and scrapbookers offering thousands of free images, templates, PSDs, kits, and tutorials.
Designer Candies – This is a project created by designers, for designers. They produce high quality graphic design resources for you to use in your design projects.
MediaMilitia – This is the home of some top-notch graphics, PSD files, vectors, tutorials, and much more. All of the free design resources on Media Militia are for personal and commercial use.
Brusheezy – This is the place to share free Photoshop brushes and other Photoshop-related resources.
Free Pik – More than 3 millions free vectors, PSD, photos and free icons. Exclusive freebies and all graphic resources that you need for your projects.
Graphics Fuel – It is home to a range of free and premium design resources, and inspiration to help you have fun creating awesome design stuff.
Designermill – A collection of free PSDs, Sketch files, free Fonts and other resources for designers.
Fotor.com – A platform with cool and unusual clipart.
Clker.com – Make your own clipart in just a few clicks and use it in your projects.
1001FreeDownloads.com – Awesome cliparts and other items for designers.

Free Mockup Templates

Granite Stationery Bundle – It is a mockup PSD bundle, free to use for commercial and personal use. All of the images were created in Cinema4D and rendered with Octane Render. Brought to you generously by American designer Aaron Covrett.
Screely – This service instantly turns your screenshot into a beautiful design mockup. Without using Sketch or Photoshop templates. They do not upload or store any image on their servers.
MacBook Pro Photo Mockup – Showcase your work professionally using an elegant and classy professional presentation for your project, application, WordPress theme, startup or artwork.
Free iPhone 5 Photo Mockup – Need to display a design on an iPhone? No problem. Here's another great free resource from Show It Better – a website that offers loads of decent mockups to help you showcase your professional work.
Futuramo – This resource for graphic designers offers 45,000 UI icons (with 3,000 icons in 16 styles) that are ready to mix and group together in dedicated sets.
Placeit – It is absolutely great instant mockup generator. You can get free access not only to 600+ product mockups, but also place the app screenshots into the given mockup by simple drag-and-drop.
Designmoo – It is a vibrant community that provides a tremendous number of free mockups for graphic designers. Besides that, you can discover and share the other free UI kits out there, including vectors, fonts, patterns, textures, PSDs and more.
Pixeden – Pixeden came to life with the idea of creating a one-stop place for all the tools that a modern designer might need in its day-to-day routine. This service is hard at work providing quality web resources. You can download all their free web and graphic design templates.
Graphic Burger – GraphicBurger is a buffet of premium quality design resources offered for free to the community. This is the right place if you are looking for quality design resources like mockups PSDs which are created by Graphic Burger and other industry-leading designers.
Mockup World – If you are searching around the whole web for the best mockup for your work, Mockup World should be your only stop. This is the biggest source of free photo-realistic mockups online.
Premium Pixels – Premium Pixels is a collection of free design resources created and curated by UK based Web Designer Orman Clark. Beautiful sketch templates, icons, patterns, brushes and textures, and much more are available there.
Barnimages Freebies – Barnimages was created with the hope of redefining traditional stock imagery. Free design resources, including free mockups, fonts, templates, graphics are waiting for you there.
Smartmockups – It is trusted by thousands of people and companies worldwide. 1700+ ready-to-use product mockups are right inside your browser.
Mockuuups – This is a Drag-and-drop tool for creating beautiful app previews and marketing materials. Impress your clients today with a growing library of mockups.
Pixel Buddha – The source offers a selective collection of free mockup resources. Each of them can become a great start for building your work presentation. All mockup PSD templates featured here are designed using smart objects, what makes the use of them smooth and easy.
PSDMockups – Here's a large collection of mockups on various subjects for any projects.
Mockupworld – Quality and free mockups of Apple Watch, iPhone, fashion and apparel, signs, and billboards.
PSDCovers – 72 pages of different layouts in PSD format: cups, books, jars, and more.

Web Design Software

GIMP – Whether you are a graphic designer, photographer, illustrator, or scientist, GIMP provides you with sophisticated tools to get your job done. You can further enhance your productivity with GIMP thanks to many customization options and 3rd party plugins.
Color Wheel – This color tool absolutely deserves a spot on any list of best web design software. It's all web based and entirely free. Adobe Color simply helps you to avoid any problems like that by calculating the best fitting colors in the color scheme based on the seed color provided by you.
Balsamiq – It is a wireframing tool that allows users to sketch and share user interface mockups for web, desktop and mobile apps.
Lightshot – The fastest way to take a customizable screenshot. Simple interface, nothing useless and light weight.
WAMP / MAMP – These abbreviations describe a fully functioning setup used for developing dynamic Internet web pages. The products can be installed under macOS and Windows with just a few clicks.
Wix.com – It offers a complicated website building services including registration, website design, website administration and modification.
Squarespace – It is the all-in-one platform to build a beautiful online presence. Trusted by the world's best, Squarespace empowers people with creative ideas to succeed.
Vecteezy – An editor for working with vector graphics directly in your browser.
Pixlr – A photo and graphic design editor that is available online and on mobile devices.
Canva – A simple and convenient graphic design resource with many templates for any project.
TOWeb – The responsive website creation software. Create all by yourself a modern website compatible with all devices. Without programming. Without subscription.
PSPad – This is a tool that is loved by programmers, though it can adequately be used for anyone that is interested in web design.
CoffeeCup Free HTML Editor – Its philosophy has always been to create web design software and services so you can make better websites.
Mobirise Website Builder – It is a free offline app for Windows and Mac to easily create small/medium websites, landing pages, online resumes and portfolios. 1500+ beautiful website blocks, templates and themes help you to start easily.
Open Element – This software enables you to edit your web design, so that you can modify anything that you are not comfortable with so that your website is a true reflection of your personal style.
Net Objects – This is powerful website design software that has earned critical praise and worldwide recognition as one of the fastest, easiest ways to build, manage and promote websites.
Digital Trends – The software allows to start creating your website from scratch and end up with a unique result.
SelfCAD – SelfCAD is an easy-to-use 3D designing software that has been designed for both beginners and professionals. In addition to being a 3D modeling software, it comes with a powerful 3D rendering engine that users can use to generate photorealistic renderings easily.

Backgrounds + Textures

Pattern8 – The resource was created to make it easier to find a high quality free seamless pattern. Pattern8 keeps things simple and allows searching by color. You will find lots of free pixel patterns here.
Texture King – This is a great place of free high resolution, high quality textures for personal and commercial use.
Patternico – This resource allows to create your own free seamless patterns and backgrounds online fast and easy. Try their pattern generator – it is totally free! No Photoshop, no Illustrator required.
Subtle Patterns – High quality resource for anyone in need of quality textured patterns, free to use. The subtle pattern backgrounds are perfect for adding a slight hint of patterns in the background without taking too much attention away from the main content.
Lost and Taken – L+T provides free textures for use in your next project. They are absolutely perfect for adding just a hint of grunge and texture goodness to your work.
Graphic River – Whatever kind of graphic assets you need, you will find plenty in their collection. High-quality graphic assets are guaranteed on GraphicRiver.
Wegraphics – This is an online community for designers, and a marketplace for high-quality free graphic design resources. Everyone can access the community's resources by signing up as a free member.
Blog Spoon Graphics – The aim of the resource is to help you create cool stuff by sharing tips, inspiration and resources to fuel your creative passion. Hopefully, you will find some useful stuff.
Rawpixel – It is smashing stereotypes to create design resources that reflect today's society as it really is. They are having the most diverse stock photos in the industry and they want to do more.
Textures – There are over 65,000 different textures in here, worked on by a team of photographers.
FreeStockTextures – Here are the unique creators of the site's textures, which they create themselves.
TextureMate – Here is another successful personal free graphic resource, with great textures for those involved in 3D modeling, graphic design, and web development.

Other

SVGito – the .svg files commonly are manually optimized before using somewhere. This app does everything automatically in one click, making your life sufficiently easier.
Designity – A platform for the top 3% US-Based Creatives to collaborate on projects.
Squoosh – original images are often too big to place them on the website. To compress them and don't lose the quality use of this online app.
Anime – want to add some animation effects to your design? This online service will help you.
LinkSplit – to understand what website design will work better developers use A/B testing and this app will help you with that by splitting the traffic to both variants.
URL to PDF – this simple tool allows you to convert an HTML file to PDF.
Bonsai – Explore freelance rates.
CoDrops – Looking for hints about how to do things? This tutorial resource is for you. The resource features the best designs of the week and many professional blueprints.
Window Resizer – View your website on the screens with different resolutions.
Sonics – Sonics is a library of 175 UI sounds and sound effects.
Design Pickle – Unlimited graphic design help. Unlimited requests & revisions. One price every month.
Nicely done – Here you will find lots of inspiration for digital projects, websites, and apps. If you're keen on digital aesthetics, visit this website to spend an amazing time scrolling through the resource.
Dribbble – It's a great service if you need a boost of energy and inspiration. Enjoy the work of other designers and save the usefulness for yourself.
Typography.guru – A fascinating forum on typography with useful ideas.
Pttrns – A cool service for those who work with mobile app designs. Lots of interesting and unusual ideas to be inspired by.
Katesecondo – A resourceful team, who will create web design and branding for your small business.
Meetanders – A team of graphic designers, who promise to increase your brand's awareness.
Find many useful ready-made items for designers on MasterBundles. They simplify your work and save you time. You can choose the right one for you in a few clicks and easily customize it to your taste. Ready-made templates, graphic elements, add-ons, and stock content will help you in creating a great visual and simplify your work.
You cannot only buy ready-made elements, but also sell them. Vendors on MasterBundles can quickly upload the necessary element to the marketplace using the Sell your deal form. This way, vendors get a passive income without the hassle. MasterBundles is a godsend for designers, because here you cannot only buy cool ready-made elements, but also make money!
Graphic Resources Databases
Resources for Coding and Web Development
Here are 50+ valuable web development resources to help you become an expert in Coding Web Development. You'll be able to build websites and applications, work with WordPress, find issues, and more.
Helpful Web Development Resources
Resources for Productive Work & Efficiency
If you want to learn how to effectively organize your workflow, keep these resources handy. Here you'll find the perfect music for concentration, resources for web designers for personal discipline, and platforms for finding remote work.
Background Music for Concentration
Self-discipline & Joint Activity

Tools for Remote Work

Time-saving Web Design Resources
Awesome Video Resources
If you often use video clips in your work, this collection will be very useful. It contains the best resources with free and paid videos that will help make your project bright, unique, and unusual. The footage and clips are sure to impress you and your audience.
Helpful Resources For IT Business Owners & Managers
This is a collection of useful resources for everyone involved in the IT field. These services simplify the work of your team and business, and help you find the right solutions.
Big Little Helpers
Invoices

Legal Docs

Managing Ideas

Project/Business Name Generators
Galleries For Web Design Inspiration
Looking for inspiration? Then you'll definitely like these resources. This is a collection of the best galleries that inspire, give you ideas, and help you with your work. Keep them handy so you can always stay inspired.
The Best Marketing Resources for the Designer
Marketing is an important part of a designer's job. That's why it's important to know it and use it correctly in your work. Here are the best resources for learning about marketing and how to use it.
Resources for Learning Marketing
Content Marketing Reference Library – This blog evolved into a highly profitable company with 8 figures in annual revenue thanks to useful content, smart copywriting, and exceptional products and services.
The Beginner's Guide to SEO – You will get the most out of this guide if your desire to learn search engine optimization (SEO) is exceeded only by your willingness to execute and test concepts.
Social Marketing Success Kit – Discover how to drive new business and revenue through various social media channels with the Marketo Social Marketing Success Kit.
Social Media Calendar – Social media managers around the world are leveraging the social media calendar to grow.
The Moz Local Learning Center – Local SEO is all about increasing search visibility for businesses that serve their communities face-to-face.
HubSpot Social Media Blog – Check out this resource that will help you develop the skills needed to be effective on social media.
Creating Content That Converts – This guide will explain why and show you step-by-step how to create content that does (i.e., content that drives opt-ins, leads, and revenue to your business).
Marketers are struggling to streamline distribution efforts across all of their digital channels. They created this template as a step-by-step guide to multi-channel distribution through content pillars.
The Beginner's Guide to Social Media – Whether your current sentiment leans more toward enthusiasm or trepidation, there's no way around the fact that social media is a far more complex field than it first seems. You will find this to be one of the most comprehensive social media resources available.
212 Blog Post Ideas – A find for texts who regularly do social media and need inspiration. Here are 212 unusual, creative, and cool ideas for social media posts.
Coursera – Learn about marketing and more with online programs from universities around the world.
CoSchedule's Resource Library – Here are some unique resources that are very valuable to those who study marketing, including marketing templates, worksheets, manuals, and infographics.

Guides Courses

Primer – Primer is a fast, easy way to learn new marketing skills. You can take their bite-sized lessons wherever and whenever you have 5 minutes free.
Customer Lifetime Value Book – This book includes a whole bunch of best practices, tips, tricks, and techniques to not only help you retain your customers, but also maximize your Customer Lifetime Value.
Email Marketing Best Practices – Learn email marketing best practices and understand everything from traffic generation to email optimization.
First Site Guide – The beginner's guide to successful blogging.
The Ultimate How-to Marketing Guide – You'll get 20 engaging and useful marketing lessons that cover all aspects of marketing: social media, seo, mailing lists, etc.
The Definitive Guide to Content Marketing – A cool guide for those just starting out in marketing. You'll learn how to develop your social networks to attract customers.
Marketing Guides – A great guide to everything you need to become a marketing guru.

Blogging Tools

ZenHub – All the ZenHub features you love. Now for Firefox users.
Hemingway – Hemingway App makes your writing bold and clear.
Zenpen – A minimalist writing zone, where you can block out all distractions and get to what's important. The writing!
Grammarly – Grammarly makes you a better writer by finding and correcting up to 10 times more mistakes than your word processor.
Editorial Calendar – The Editorial Calendar makes it possible to see all your posts and drag and drop them to manage your blog.
Story Wars – Joint story writing.
Hootsuite – A great social media management dashboard that will make your blog profitable. Use it to spread your content across all major social media platforms.
WP Hide Post – Enables you to control the visibility of items on your blog by making posts/pages hidden on some parts of your blog, while still visible in other parts.
Social Locker – Helps increase social media presence by asking visitors "to pay" for your content with a tweet, plus one, or a like.
Egg Timer – A simple countdown timer.
My Hours – This time tracker will help you see how much time you spend writing every piece of content. Very useful for freelance bloggers.
Wattpad – Whatever you're into, it's all free on Wattpad: the world's largest community for readers and writers.
Headline Analyzer – This free blog post headline analyzer will score your overall headline quality and rate its ability to result in social shares, increased traffic, and SEO value.
UpWorthy Title Generator – Do you want your posts to go viral? Of course you do. With this title generator you will create highly clickable and shareable headlines.
Hemingway Sharethrough – This is a very usable headline analyzer powered by the Hemingway app. I offers nice instant suggestions for better results.
Bitcatcha Server Speed Checker – Readers will always prefer a fast-loading blog to a slower one. Use this tool to check the speed of your websites and have it compared with 10k other sites on the Internet.
A5 – Just down your text there, when you will come back it will be still where you left it.
SEOPressor's Title Generator – Here you will make amazing posts titles and get inspired for creating new viral content.
Summarizer – Summarize any text online in just a few seconds.
Title Generator by TweakYourBiz – This is a unique tool that will offer you so many title options that it will take your breath away. Don't use this tool is you have difficulties with making fast choices.
Medium – Medium is a community of readers and writers offering unique perspectives on ideas large and small.
Gravatar – Every blogger needs show themselves to the audience through avatars. This is a globally used network of avatars that will help you make your face know to your readers across all platforms all over the world.
JasperAI – Indispensable service for writing posts, content, and mailings.
Bluehost – A convenient hosting service for blogging.
Divi – Find simple and easy to use WordPress themes that will work well for beginner bloggers.

Resources for Content/Ideas Search

zipBoard – Content review and bug tracking tool that allows you to collaborate with internal and external stakeholders by seeing feedback in context.
Title Maker – Content idea generator.
Google Trends – Showing the latest hot searches in United States.
Buzz Sumo – Analyze what content performs best for any topic or competitor. Find the key influencers to promote your content.
Topic Generator – Blog topic generator.
Trends 24 – Explore popular content from Youtube, Imgur, Twitter, Google+, and Google books.
Content Strategy – Content strategy feed on Quora.
Portent's Content Idea Generator – Many authors adire this tool. Enter your keywords and you will get many content ideas that are trendy and engaging.
Reddit – Get to know what's discussed on reddit.
Twitter – Popular platform where you can find new interesting trends, ideas, and news from the world of design.
Feedly – A great place to find news on design and other topics. Here you can find the most unusual ideas, news, and stories.
Pocket – Find interesting articles, save them, and read them at your convenience.

SEO and Analytic Resources

Quick Sprout – Quick Sprout is the easiest way for you to make better content so your audience and traffic continue to grow.
WordPress SEO – Improve your WordPress SEO: write better content and have a fully optimized WordPress site using Yoast SEO plugin.
SEO Site Check Up – User-friendly analysis and monitoring of your site's SEO.
Grader – HubSpot's marketing grader. Grade your marketing. Make it better. Outpace your peers.
SurferSeo – If you want to improve your content and SEO optimize it, this service will suit you.
Yoast SEO – Lots of useful tips and tools to help you better understand SEO.
BUZZSUMO – Here you can follow your competitors and see what kind of content they're creating. This will help you be competitive in the marketplace and attract new customers.
Rank Checker – Free keyword rank checker & SERP checker.
Open Link Profiler – The freshest backlinks, for free.
Keyword Tool – Keyword tool which helps you find the keywords that people are typing into Google search box.
Google Analytics – Improve performance across your sites, apps, and offline marketing. Google's analytics solutions can help you turn customer insights into action for your business.
Keyword Planner – Search for keyword and ad group ideas, get historical statistics, see how a list of keywords might perform, and create a new keyword list by multiplying several lists of keywords together.
Google Webmasters Tools – Search console from Google helping you manage your online property.
Trends – Explore the trending stories by categories and by countries.
Nibbler – Nibbler is a free tool for testing websites. Enter the address of any website and get a report scoring the website out of 10 for key areas, including accessibility, SEO, social media and technology.
BROWSEO – A web app that allows to view any webpage without distractions caused by styles. It also highlights parts of a page that are relevant for SEO.
Google Sitemap Generator – Find broken links, redirects & site crawl tool.
Copyscape – Search for copies of your page on the web.
WooRank – Instant website review. From SEO to digital marketing, use WooRank to analyze and optimize unlimited websites.
PageSpeed – PageSpeed insights. Make your web pages fast on all devices.
GTmetrix – Analyze your site's speed and make it faster. GTmetrix gives you insight on how well your site loads and provides actionable recommendations on how to optimize it.
Local Search – Check your listings on Google, Bing, and other local search engines.
XML Sitemaps – Build your Site Map online (XML, ROR, Text, HTML).
Validator – Validate a document online.
Shopify Tools – Free tools to run your business.
Easyredir – Redirect people to your message. Concentrate on your content and let the company handle the technology (from 7$/month).
Ahrefs – Track your backlinks, keywords, brand mentions and know what your competitors are doing (free 14 day trial).
Alexa – Alexa has traffic metrics across the web. It is an invaluable source for competitive intelligence and strategic insight (free trial, from 9.99/month).
Moz – Develop a high quality inbound link profile. Research backlinks, find link-building opportunities and discover potentially damaging links with Open Site Explorer (free trial available).
Similar Web – Measures every website and mobile app, reveals the complete picture and provides insights which marketers, analysts, and industry leaders can rely on in their work (some services are free).

Image Optimizers

Tiny jpg – Compress JPEG files with a perfect balance in quality and file size.
Tiny png – Advanced lossy compression for PNG images that preserves full alpha transparency.
Compressor – A powerful online tool for reducing drastically the size of your images and photos whilst maintaining a high quality with almost no difference before and after compression.
Web Interface – Web interface — file uploader.
Image Optimizer – Resize, compress and optimize your image files.
WP Smush – Reduce image file sizes, improve performance and boost your SEO using the free WPMU DEV WordPress Smush API.
Optimizilla – Here's a convenient and simple application that allows you to optimize up to 20 images simultaneously in JPEG and PNG formats.
Optimole – This is a convenient and useful image compression and optimization plugin.
Trimage – This awesome tool will help you remove EXIF and metadata from images.

Image Editors

Fotor – simple and really understandable online app that allows you to edit photos, create designs (like a design of a postcard or a poster) and make collages.
Online Image Editor – a 100% free editing app with a set of simple tools that will help you to transform your photo without downloading a full-size software.
BeFunky – it could be the best online editor ever (or at least it states itself so). The editor is quite easy-to-use and doesn't demand any additional efforts to learn how to work with it.
Lunapic – a nice picture editor that could work not only with uploaded images but also with image URLs, which could be convenient for web use.
iPiccy – this excellent online image editor has all the tools you can possibly need to transform your photo into something really awesome. It also has a collage maker and different designs creator, which makes it a little similar to the Fotor app.
Giphy – Make hilarious GIFs or engaging product displays and use them in your next web design project. Such element increase user engagement and boost conversion rates.
Pixlr – Reliable online photo editor.
Infogram – Create awesome infographics for your website and presentations with this free tool. It offers 37+ templates and multiple interactive elements.
Skitch – Get your point across with fewer words using annotation, shapes and sketches, so that your ideas become reality faster.
Piktochart – If you need more infographics and posters on your website, check out this resource. Even if you sign up for a free account, there will be no limitations to the number of your creations.
Easel – Create and share visual ideas (infographics).
Favicon Generator – Create optimized images for social media.
Place It – Thousands of Free iPhone, iPad, iMac and Macbook Mockups. No Photoshop needed.
Imgflip – One more generator allowing to make GIFs from images and videos.
Meme Generator – The first online advice animal meme generator.
Pablo – Create beautiful images that fit all social networks perfectly.
GIMP – A photo editor that is good for advanced users. With it you will be able to create high-quality and professional projects.
InPixio Photo Studio – Perfect for quick one-click photo editing.
PhotoPad – A handy photo editing tool that includes frames, color correction, crop, and rotation.
BrandDesign – A service for creating a custom logo design.

eMail Services (Collecting & Sending eMails)

Batch – They deliver your emails at times you specify, so you can focus on what matters.
Contact Form – Just another contact form plugin. Simple but flexible.
MailChimp – Join more than 10 million people who use MailChimp to design and send 600 million emails every day.
Many Contacts – Get a free Contact Bar on your website.
Hello Bar – Get more email subscribers with Hello Bar.
List Builder – List Builder lightbox makes sure your customers subscribe to your email list and come back for more.
Scroll Triggered Box – Scroll Triggered Box will boost your conversion rates. The plugin displays a pop-up box with customizable content.
Scroll Box – Politely grow your email list with Scroll Box.
Mandrill – A reliable, scalable, and secure delivery API for transactional emails from websites and applications. Ideal for sending data-driven transactional emails, including targeted e-commerce and personalized one-to-one messages.
Mail Gun – The email service for developers. Powerful APIs that enable you to send, receive and track email effortlessly. 10,000 emails free every month.
Send Grid – Delivering your transactional and marketing email through one reliable platform.
SendinBlue – SendinBlue was created to become the simplest, most reliable and cost-effective marketing platform.
Mail Track – Know who read your emails and when.
Canned emails – A minimal site with prewritten emails.
Spark – This is a smart assistant for your mail. It helps you categorize your emails and also helps you comment on emails when working in a large team.
Postbox – This is an email client, allowing you to store email accounts, work in a team, and manage the interface.
Microsoft Outlook – It integrates your mail and calendar. It also allows you to schedule with Microsoft To Do and integrate document and spreadsheet work.

Social Media, Communities Management, Polling

Playbuzz – This is an awesome free online tool for advertisers and publishers. Use it to create quizzes, lists, polls, and other interactive content. The platform will also help you increase your content coverage.
Coschedule – Create beautiful Click To Tweet boxes in your blog posts.
Pin It Button – Add a "Pin It" button over your images, so users can add it to Pinterest easily.
SharedCount – Track URL shares, likes, and more.
How Many Shares – Count how many times URL has been shared on popular social networks.
Crowdfire – By the power bestowed upon you by Crowdfire, you can manage your Twitter and Instagram accounts far more effectively.
RiteTag – RiteTag browser extensions for scheduling & productivity.
Social Analytics – Analysis of any page from the viewpoint of social platforms (the quantity of likes and so on).
Crowdriff – Get Twitter engagement, interest and activity analytics in real time to make interactions more personal and more meaningful.
Buffer – Social media management for marketers and agencies.
Bitly – The company is committed to unleashing the power of the link. They shorten nearly half a billion links per month as an integral part of social, SMS, email efforts (and more) from brands, marketers, publishers, government organizations, non-profits and individual users.
Add This – Promote your site with the best social tools on the web.
Sumome – Share makes it stupid-easy for your visitors to share your content to their friends, family, and others. The more people share your site and content, the more viral traffic goes back to your site.
Disqus – Build a community of active readers and reviewers.
Thinglink – Create annotations for every video or image with this awesome online tool. Adding links and interactive content to videos helps increase website conversions.
Press Kit Generator – Generate a simple Press Kit for your app consisting of app icons, screenshots and a document with your app's description and other relevant info like genre, price, developer, website etc.
Survey Creator – Make a free survey to know your users. Create a survey, get feedback straight in your mailbox.
Wirewax – Do you remember what's worth a thousand images? A great video! Add hotspots to your videos and make them more engaging and clickable.
Post planner – Plan your social media posts with this handy and concise planner.
AdEspresso – Manage your social media advertising with this handy tool.
Google Adsense – This free tool can boost your brand awareness and your revenue.

Clients Support and Polling

Type Form – Free online polling and forms constructor.
Batch – Use your data to send personalized push notifications.
Help Race – A personalized help desk and user feedback portal in a remarkably simple customer service platform.
Happyfox – It converts customer requests through email, phone, chat, and web into help tickets.

A/B Testing Growth Hacking Tools

Petit Hacks – Learn the tricks websites do to get more of your clicks, money, time and attention.
Optimizely – Test, personalize, and optimize. One easy-to-use platform for the web and mobile apps.
Growthhackers – Powerful collaboration, ideas and learning resources for marketing and growth teams.
Hello Bar – A tool for A/B testing.
VWO – With this tool, you will be able to A/B test your content, strategy, and product features.
Omniconvert – A handy app for A/B testing, and website personalization features.
Kameleoon – A/B testing platform for designers, product managers, and marketers.
Online Learning Platforms and Resources
To remain an expert in design, you need to learn regularly and improve your skills. In this selection, you'll find valuable and useful resources to deepen your marketing knowledge and gain new skills.
Froggy – Froggy is a game where you help Froggy and friends by writing CSS code.
Uideo – 490 talks for designers from 66 UX/UI conferences all over the world.
Casestudy Club – Get acquainted with multiple theme researches dedicated to many product types. Study the investigations on UI, UX, branding and many other topics.
Codesign – Visual feedback on everything.
The Tiny Designer – Understand design and what it can do. (5-week email course).
Design Lab – Learn design by doing, with hands-on projects & mentorship.
Hack Design – Newsletter that teaches you design via 50 curated courses.
Product Hunt – Discover and geek out about apps, games, podcasts, and books, every day.
Design Research Technique – Huge repository of design techniques for every project stage.
Beta List – Discover tomorrow's startups, today. Get early access to the newest startups.
Startups List – Collections of the best startups in different places.
ErliBird – ErliBird provides quality real-world usability testing and beta testing with the community of 70,000+ global testers.
Cofounders Lab – Largest community of entrepreneurs online.
Founder2Be – Find a co-founder for your startup. Join tech co-founders, designers, marketers, developers, etc.
Skillshare – Learn new creative skills. Join over 1 million students learning across thousands of online classes.
Khan Academy – You can learn anything. For free. For everyone.
Coursera – Free online classes from 80+ top Universities and organizations.
Codecademy – Learn to code interactively, for free.
Itunes – How to start a startup podcast.
Startup Class – Everything they know about how to start a startup, for free, from some of the world experts.
Startup Notes – Here are doodle notes of the most inspirational and actionable advice from each speaker.
Design for Hackers – Free 12-week email course to teach design to hackers.
Rocketship – Learn from successful entrepreneurs each week about strategy, growth, and so much more.
Udacity – Steps needed to build a successful startup.
Mixergy – Learn from proven entrepreneurs.
Hack Design – An easy to follow design course for people who do amazing things.
Email1k – A free 30 day course to double your email list. Learn from experts who've grown email lists over 10 million subscribers.
Design for Hackers – New (free) email course design pitfalls.
Startup Digest – The personalized insider newsletter for all things startup around the world.
Matter Mark – A hand-curated newsletter compiled daily to bring you first-person accounts of entrepreneurship, investment and other insightful reflections from the startup ecosystem.
Pricing Course – A free, 9 lesson course that has helped 15,475+ freelancers learn how to charge more.
Product Psychology – Get free lessons on user behavior.
The UX Newsletter – Gather the information. Make sense of the information. Share the information. Discuss the information.
UX Design Weekly – Join 12,000+ subscribers & get a hand picked list of the best user experience design links every week. Curated by Kenny Chen & published every Friday.
Foundrs – Startup equity calculator – to get started.
Qwilr – Ad spend calculator for healthy business: by Qwilr.
How Much to Make an App – Easily calculate the cost of a mobile application using this handy tool.
Pitcherific – Sharpen your message and become well-prepared for a pitch.
Startup Equity – Figure out how much equity to grant new hires in seconds.
LinkedIn Learning – Free online courses for beginners and pros who want to gain new knowledge and skills.
SkillShare – A useful platform where you can learn marketing, art, development, and other skills.
TreeHouse – A cool online learning platform that focuses on teaching programming and development skills.
The Best Online Flipbook Makers
Here you will find awesome Flipbook Makers that will definitely be useful to you in your work as a designer.
Was this collection useful? Please let us know in the comments. We are very eager to receive your feedback.
BTW, if you think that something needs to be added to this digest, drop some links into the comments below or fill out this Google form.
Submit your project!