Today there are many alternatives to Adobe Photoshop. They all have the same functionality, and sometimes turn out to be even more convenient in use. However, not everyone knows about them. Therefore, for informational purposes, here is a list of the best free online Photoshop alternatives in 2021.
Top Free Photoshop Alternatives
Photoshop is something every graphic designer, photo editor, or visual artist requires for his/ her job. And Adobe Photoshop is considered the industry-standard software at this rate. Yet it does not correspond to everyone's needs. For instance, it is quite expensive and incomprehensible for beginners. Some people do not like it at all.
As long as Adobe is the most known tool for image editing, it is not the only one. There are numerous photoshop alternatives on the Internet. Today we would like to talk about those.
As was said before, there are a lot of them. And most of these applications are not at all inferior to Adobe's software in terms of power and quality of the final outcome, yet they might be much cheaper or even totally free. That is why they are worth exploring.
So, let us dive right into a world of the best free photoshop alternatives.
Tool #1 Photopea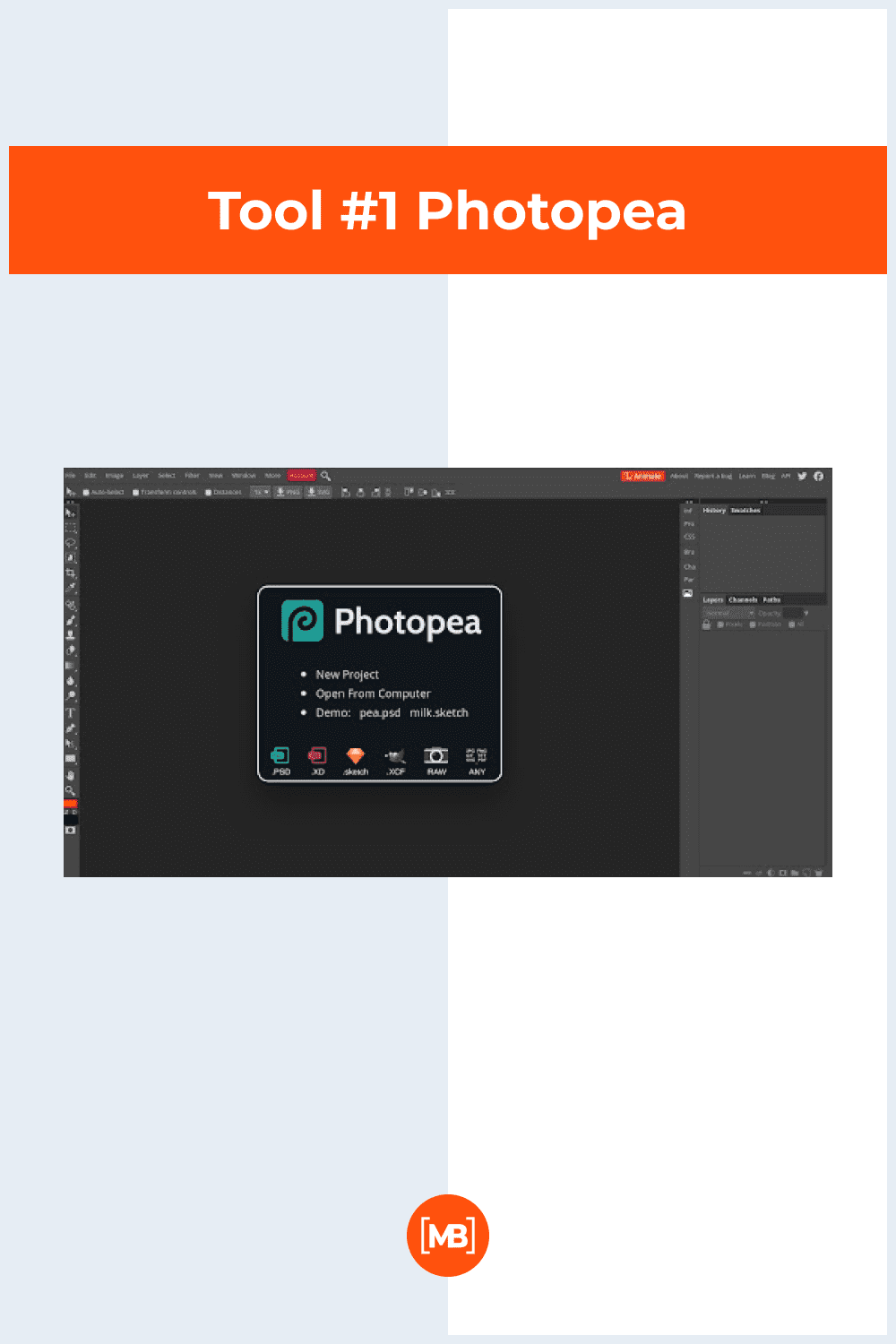 Photopea is much alike Photoshop, but free. When you visit the site, you can immediately start working on your project and apply for help of many primary tools. It allows a lot of photo manipulation: crop images, change colors, blur, add texts, and so on. After you are done, you can download a result in one of the suggested formats, among which JPEG, SVG, PNG, and many more. Photopea is considered to be the closest program to Photoshop.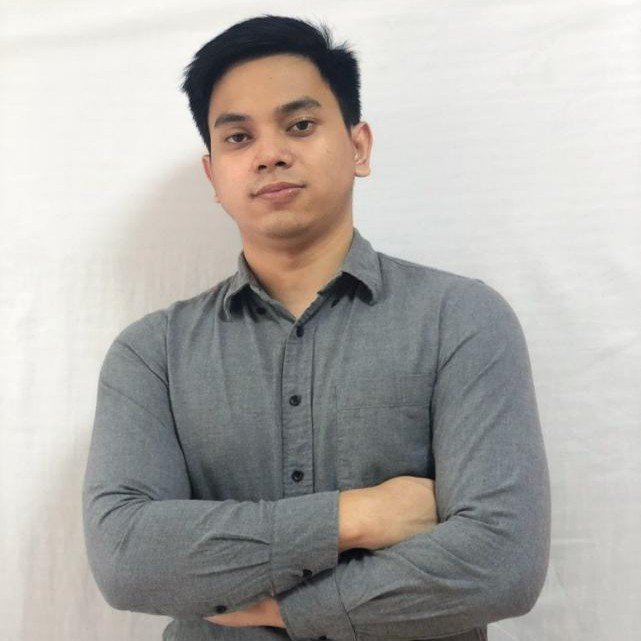 Notable Photopea Features Include:
File type reconcilability.
Advanced functions.
Lots of filters.
Pricing model: Free of charge.
Pros:
Payment is not required.
Does not require the creation of a personal account.
Has a compelling set of tools, both basic and advanced.
Allows exporting the final result.
Cons:
It is web-based. No opportunity to use it offline.
Ad-driven.
Tool #2 GIMP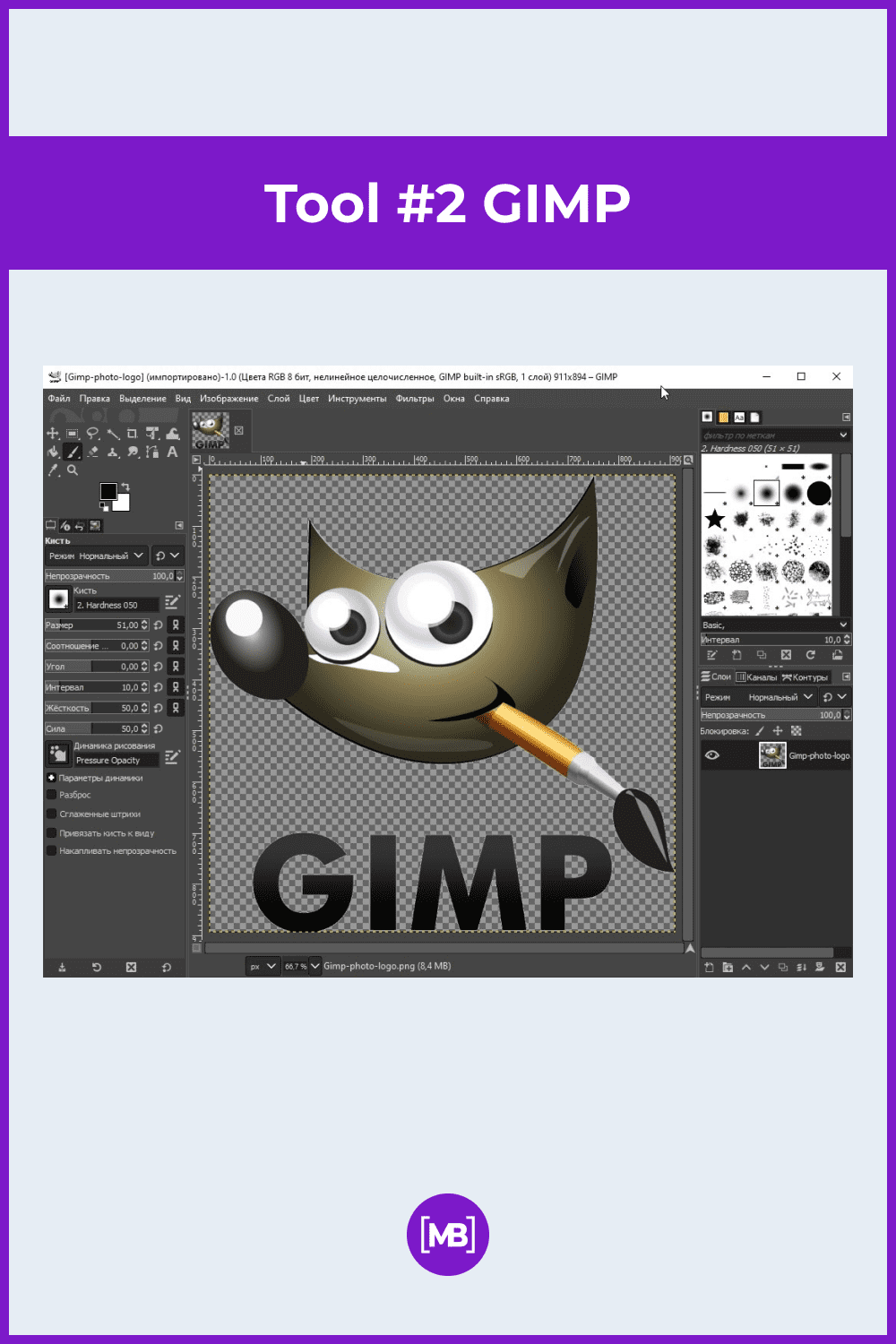 The next tool is GIMP. It provides the opportunity to create graphics and edit images. Also, it supports various codes, so that you could utilize your design across websites with no customization limits. Here you will find a wide range of top photo editing features that allow adding filters, putting right some moments of favorite photographs, or customize interface.
Notable GIMP Features Include:
Drawing capability.
Range of advanced functions.
Opportunity to handle files.
Animation.
Extensibility.
Pricing model: Free of charge.
Pros:
Payment is not required.
Suitable for GNU/Linux, OS X, Windows, and more operating systems.
Very customizable interface.
Overwhelming number of functions.
Raw and PSD reconcilable.
Expands without difficulty.
Cons:
Outdated UI.
Some items require additional applications to be downloaded.
Sophisticated interface.
Steep learning curve.
Can be slow.
Tool #3 PhotoWorks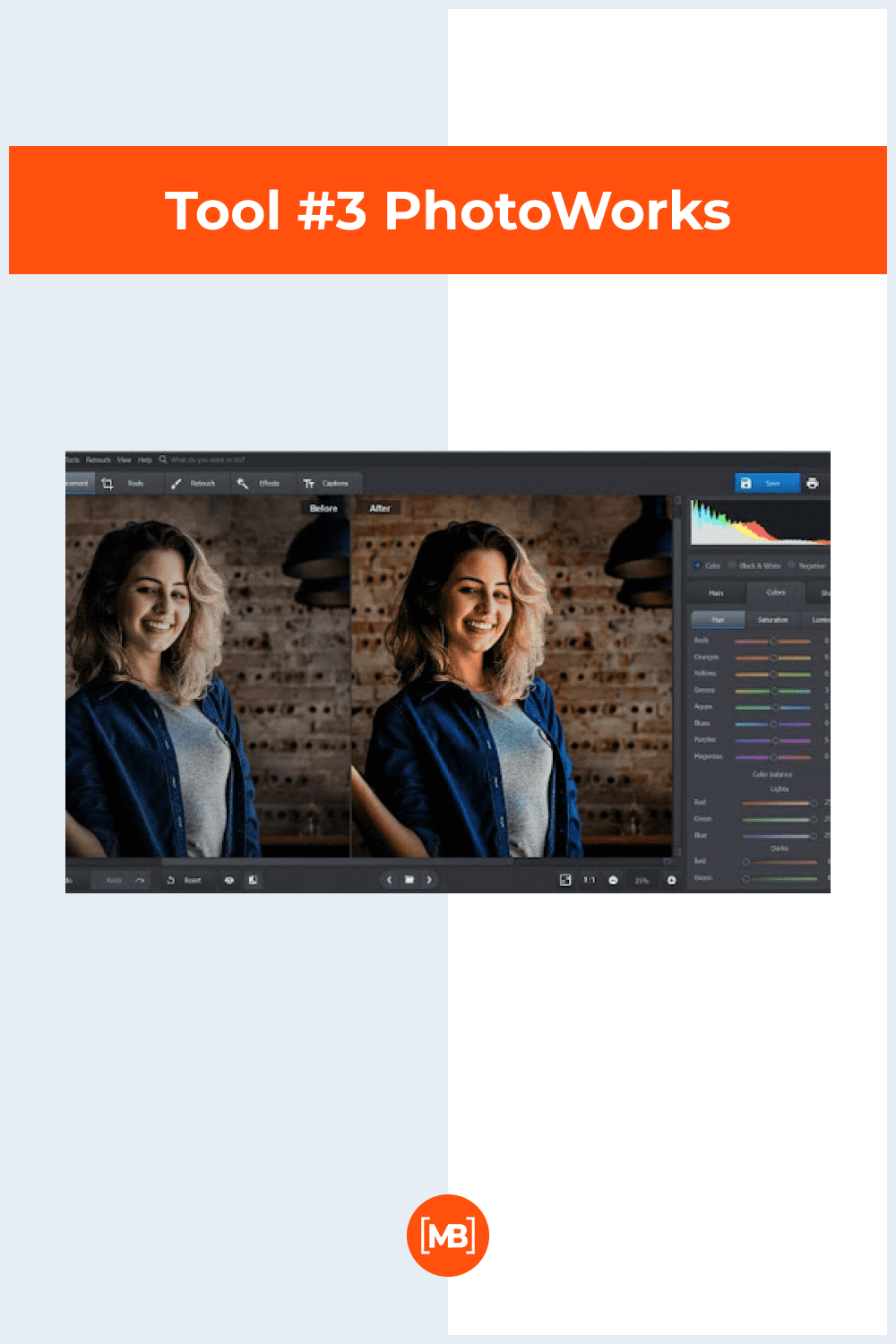 PhotoWorks is an excellent photoshop like program. Not only it impresses with high functionality, but with its user-friendly position as well. Provides wonderful high quality photo editing features and some other niche tools – from basic to advanced. Due to its easy-to-use software and serviceability, it will do great for both beginners and professionals.
Notable PhotoWorks Features Include:
Improve the image quickly.
Simple retouching of portraits.
Restore old photos.
100+ fabulous filters.
Auto-correction.
Color grading.
Change backgrounds.
Objects removal.
Pricing model: 5-day free trial.
Pros:
Simple in use.
Undemanding to equipment.
AI-driven tools.
Multiple features.
Almost 500 RAW formats support.
Offers some pro-level tools.
Has plenty of tutorials.
Cons:
Requires payment.
Supports Windows solely.
Opportunity to draw is absent.
Does not allow the use of PSD format.
Insufficient amount of layer tools.
From time to time, some tools may run slowly.
Tool #4 PhotoScape X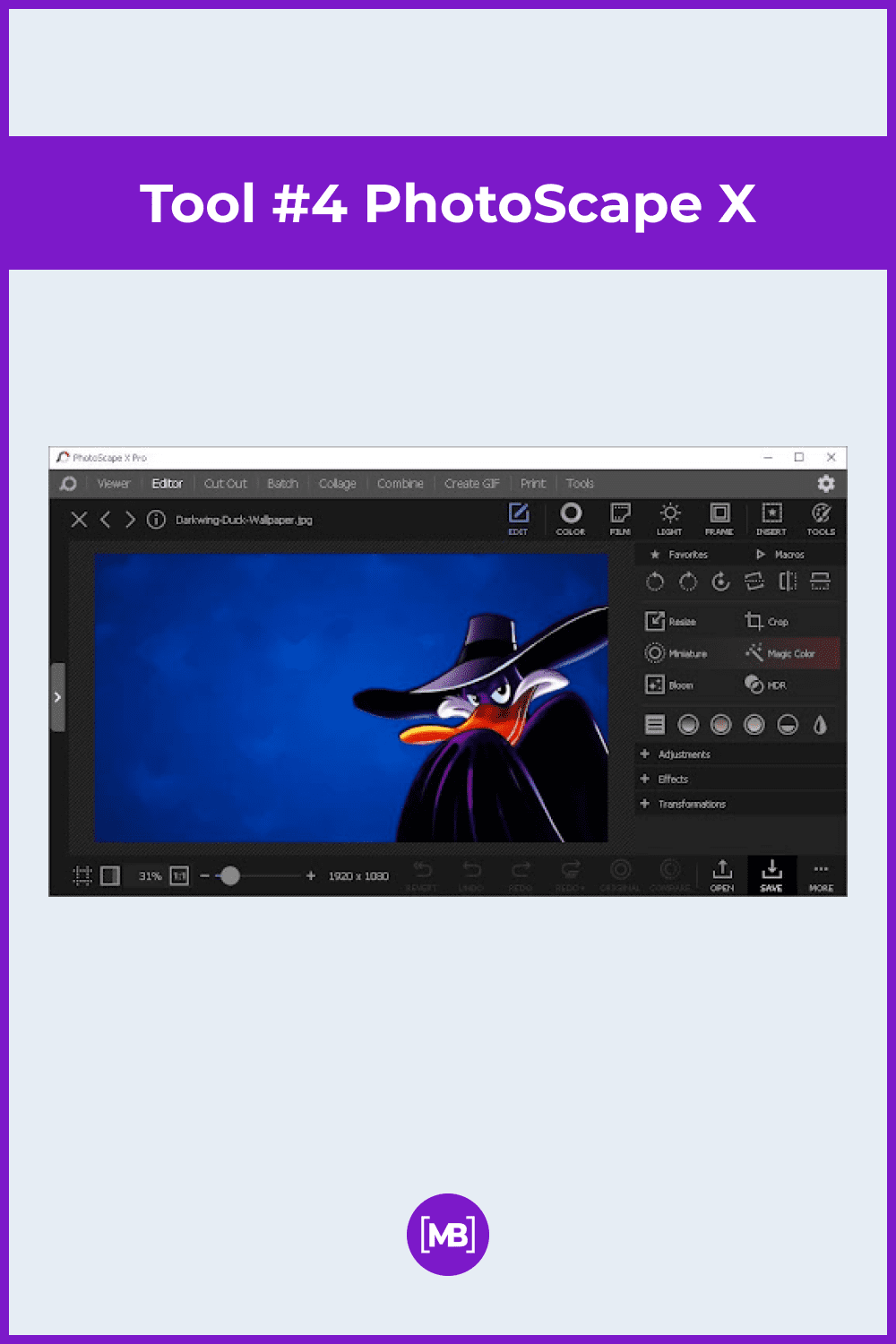 PhotoScape X is another image manipulation program to choose instead of Photoshop. Allows adding of filters, brushing, cropping, resizing, changing of backgrounds, colors, and formats. Here you can both touch up an image and create some graphics from scratch.
Notable PhotoScape X Features Include:
Edit photos.
Screen Capture.
Supports the RAW format files.
Opportunity to find resembling faces on the web.
Pricing model: Free of charge.
Pros:
Payment is not required.
Supports both Windows and Mac.
User friendly, suitable for a beginner to learn.
Ability to edit both RAW & JPG files.

Cons:

Limited tools.
Does not support layers.
Tool #5 Paint.NET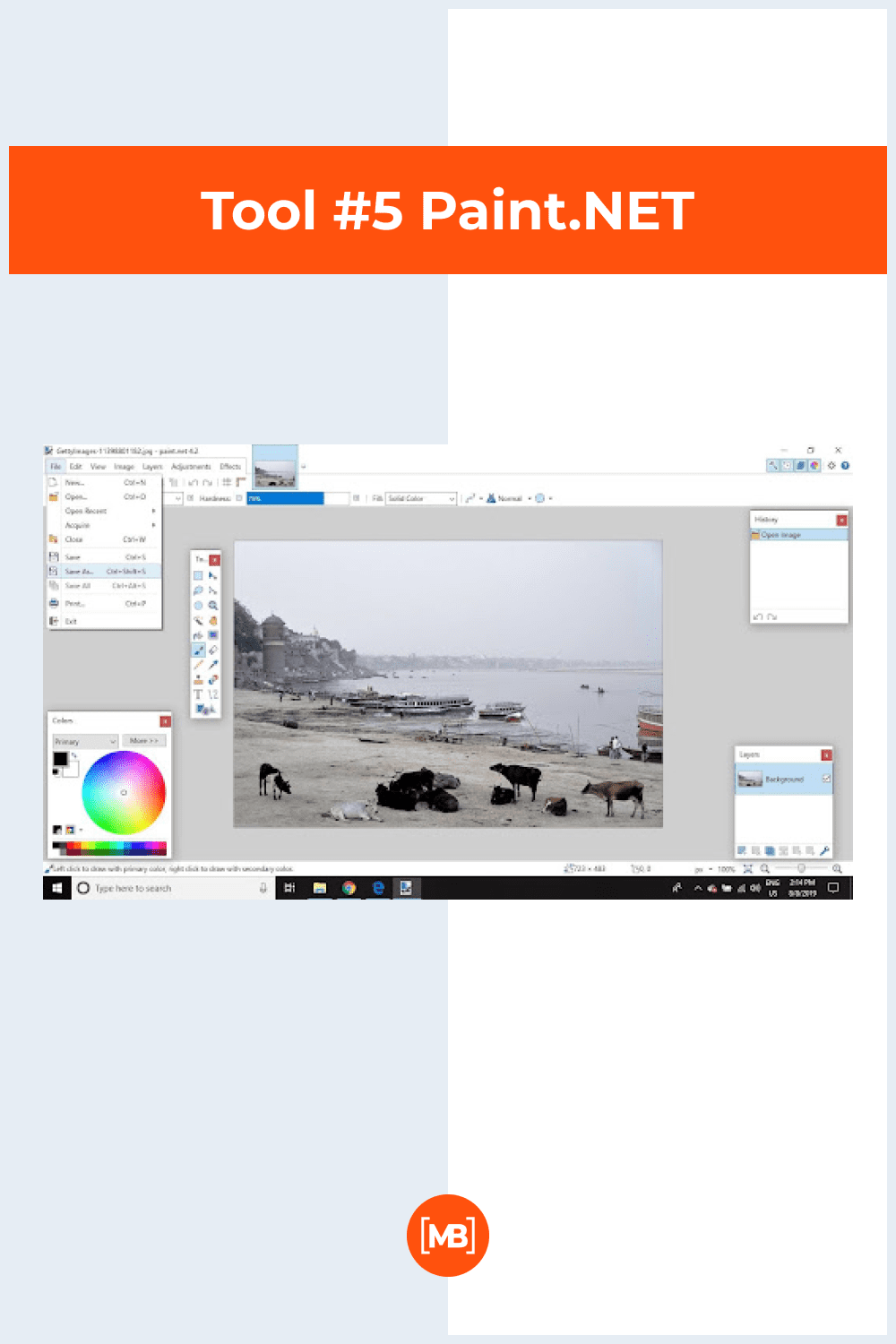 In the beginning, Paint.NET was planned as an enhancement to the Microsoft Paint tool. so don't be surprised to see a lot of similarities. maybe it cannot be considered equal to Photoshop, but it might still be useful, especially for beginners. It supplies lots of basic features including blending and layers modes. Also, Paint.NET has a history tool.
Notable Paint.NET Features Include:
Here you are given the ability to open and design multiple images simultaneously.
Painting and gradient capabilities are presented.
Provides you with the opportunity to layer and blend.
It is possible to do limitless undo's, since it has a history tool.
GIF, BMP, JPG, PDN, PNG, DDS, TGA, and TIFF – those are the formats it supports.
Automatic updates.
Pricing model: Free of charge.
Pros:
Payment is not required.
Simple in use.
Great support platform.
History tool.
Layer and blending mode.
Cons:
For Windows only.
Does not support RAW or PSD formats.
Outdated UI.
Does not have a healing tool.
Tool #6 Pixlr Editor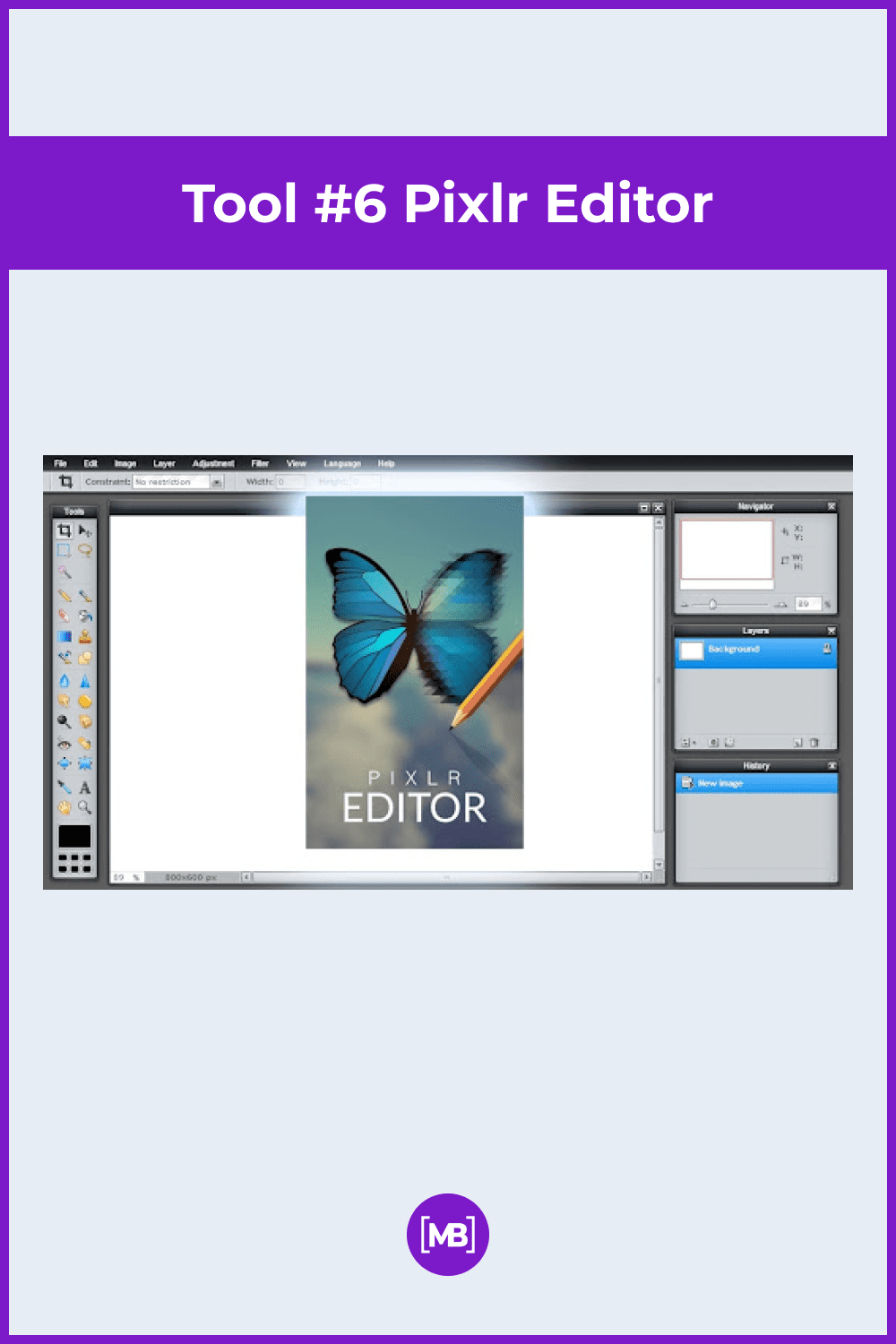 Pixlr Editor is a browser-based alternative to Photoshop. Nevertheless, it is still as powerful. Pixlr Editor was founded by AutoDesk, which is known for its activity in computer-aided design. It is available in divers versions and contains a lot of helpful tools, among which is blur, curves, levels, etc. it also offers brushes, stamp and healing tools, and fills.
Notable Pixlr Editor Features Include:
Offers several preset image ratios for cropping.
Opportunity to rotate and straighten the photographs.
Support for a great text tool, with a variety of stylish font sets.
Beautiful filters, worth even Instagram.
Extensive layer and blending modes support.
Ability to set highlights, shadows, and vibrance.
Pricing model: Free of charge.
Pros:
Does not need any payments.
Obtainable from any gadget on any of the platforms.
Provides blending and layering tools.
Does not cover history and healing tools support.
Has a customizable interface.
Cons:
No offline capabilities, since it is web-based.
Need a pen tool? No, you won't find it here.
Run out of guiding.
Lack of file support.
Tool #7 FireAlpaca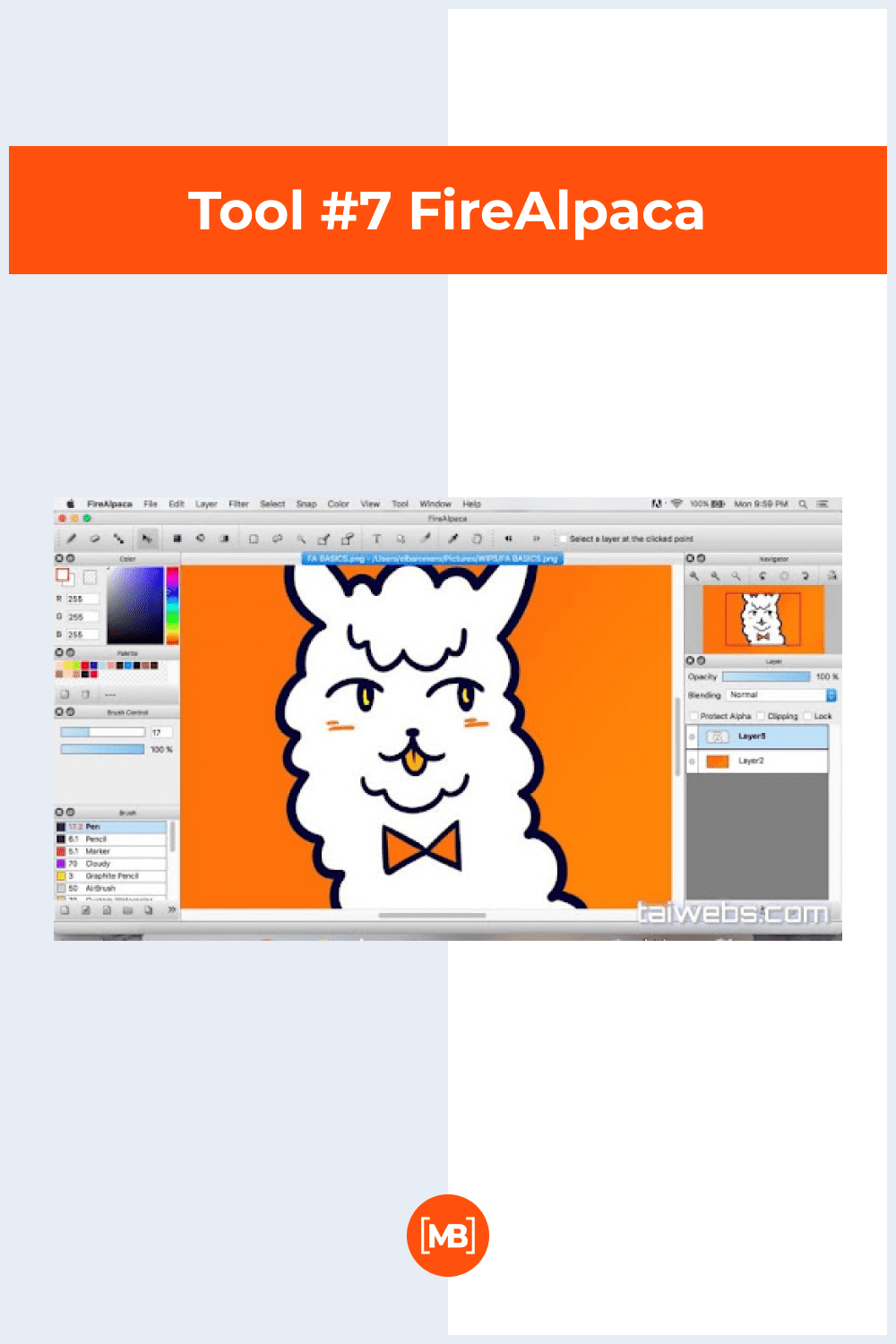 It is a paint tool. Thus, FireAlpaca's main functionality consists of creating graphics. Here you can both create designs from scratch or apply for aid of ready-to-use templates. It allows 3D view, as well as other multiple views. Out of editing tools here you may find airbrush, blur, or pencil. It is a nice free editing program and far less complex than Photoshop.
Notable FireAlpaca Features Include:
3D perspective.
Original brush.
Multiple tools: text, gradient, layers.
Templates.
Pricing model: Free of charge.
Pros:
Does not need any payments.
Suitable not only for Windows but IOS too.
Is simple in use. Has navigation tabs.
Multiple image editing tools.
Cons:
Only general editing tools.
No default palettes.
Might not have the features you're looking for.
Tool #8 Photo Pos Pro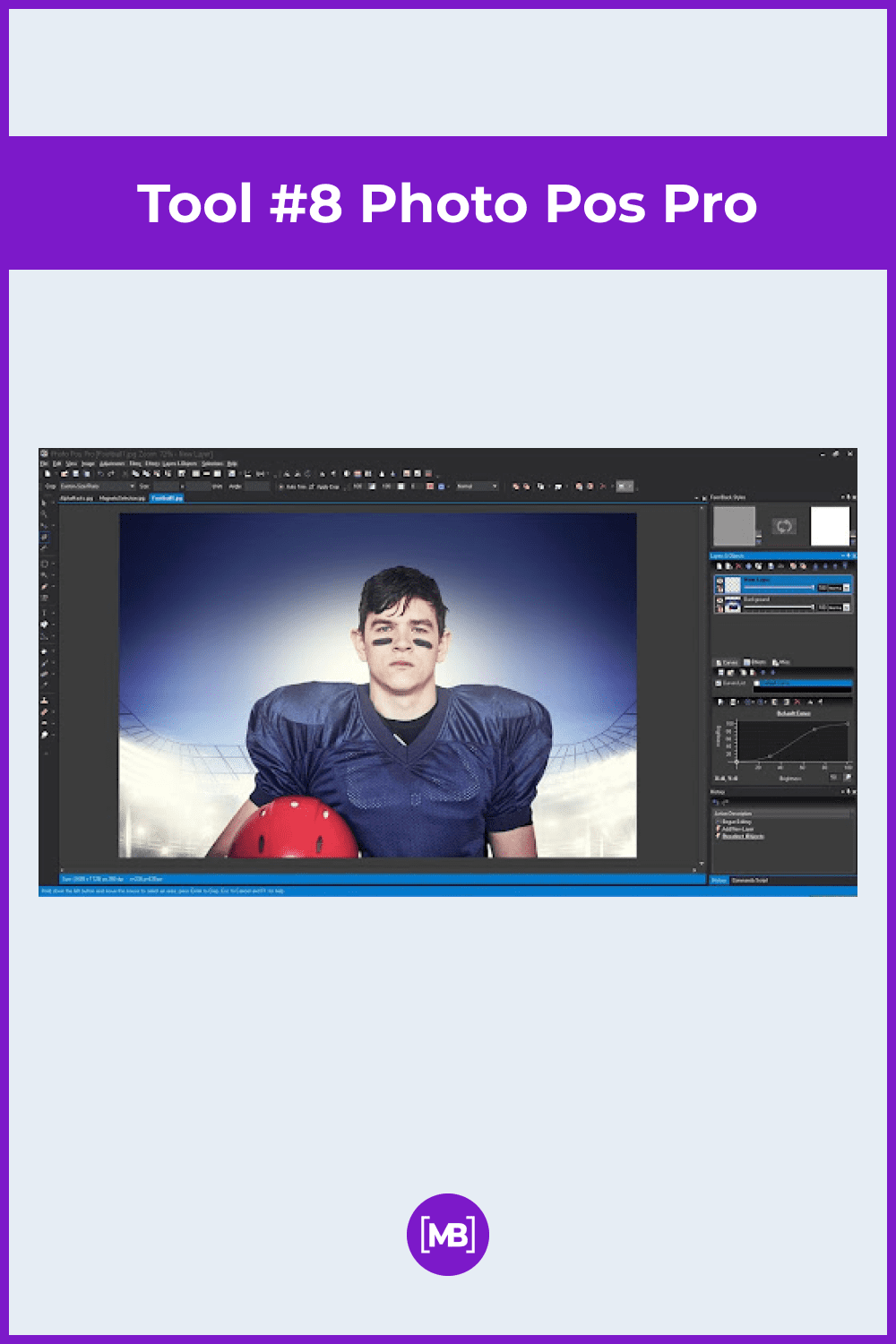 They say, the top of best free editing tools alternative to Photoshop heads Photo Pos Pro. Neither it yields to it in power, nor in advanced equipment. Yet it does not cost as much. At Photo Pos Pro you will discover lots of tools, among which are layers, healing and clone brushes, and script options.
Notable Photo Pos Pro Features Include:
There is a very convenient erasing element.
Ability to design collages and frames.
Creating masks and layers.
Great expansion possibilities.
User-friendly customer support.
Pricing model: Free of charge.
Pros:
Payment is not required.
Wide functional selection.
Layers and masks support.
Resembles Photoshop a lot.
Customizable interface.
Cons:
Not that simple in usage.
The exported file size is limited.
Tool #9 Rebelle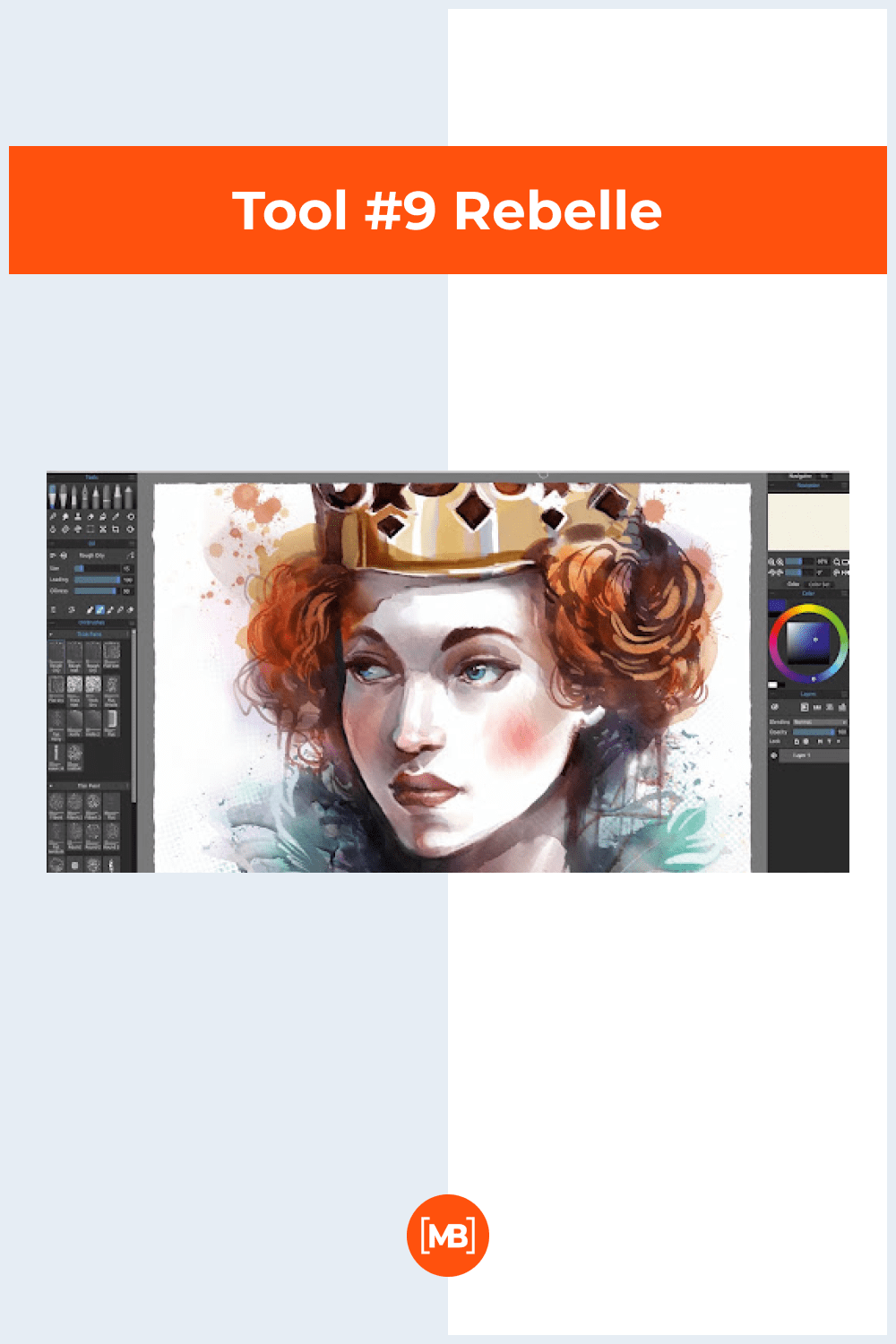 Rebelle is a painting program. If you prefer traditional true-to-life drawing techniques, you surely have to give this tool a try. It allows achieving wonderful effects like watercolor or drops of color being blown and running in different directions. Also, here you might come in possession of more than hundred brush presets, brush stabilization, oil effects, and much more.
Notable Rebelle Features Include:
Basic tools that work extraordinarily.
Fabulous oil tool.
Incredible number of brushes.
Impressive glazing watercolors.
Pricing model: Free trial (demo version).
Pros:
For various platforms (Windows 7, 8 and 10; OS X 10.11+).
Extensive collection of tools.
It offers discounts for students, teachers, and educational institutions.
Cons:
It is paid (but suggests trying the demo version for free).
Tool #10 Photoshop Express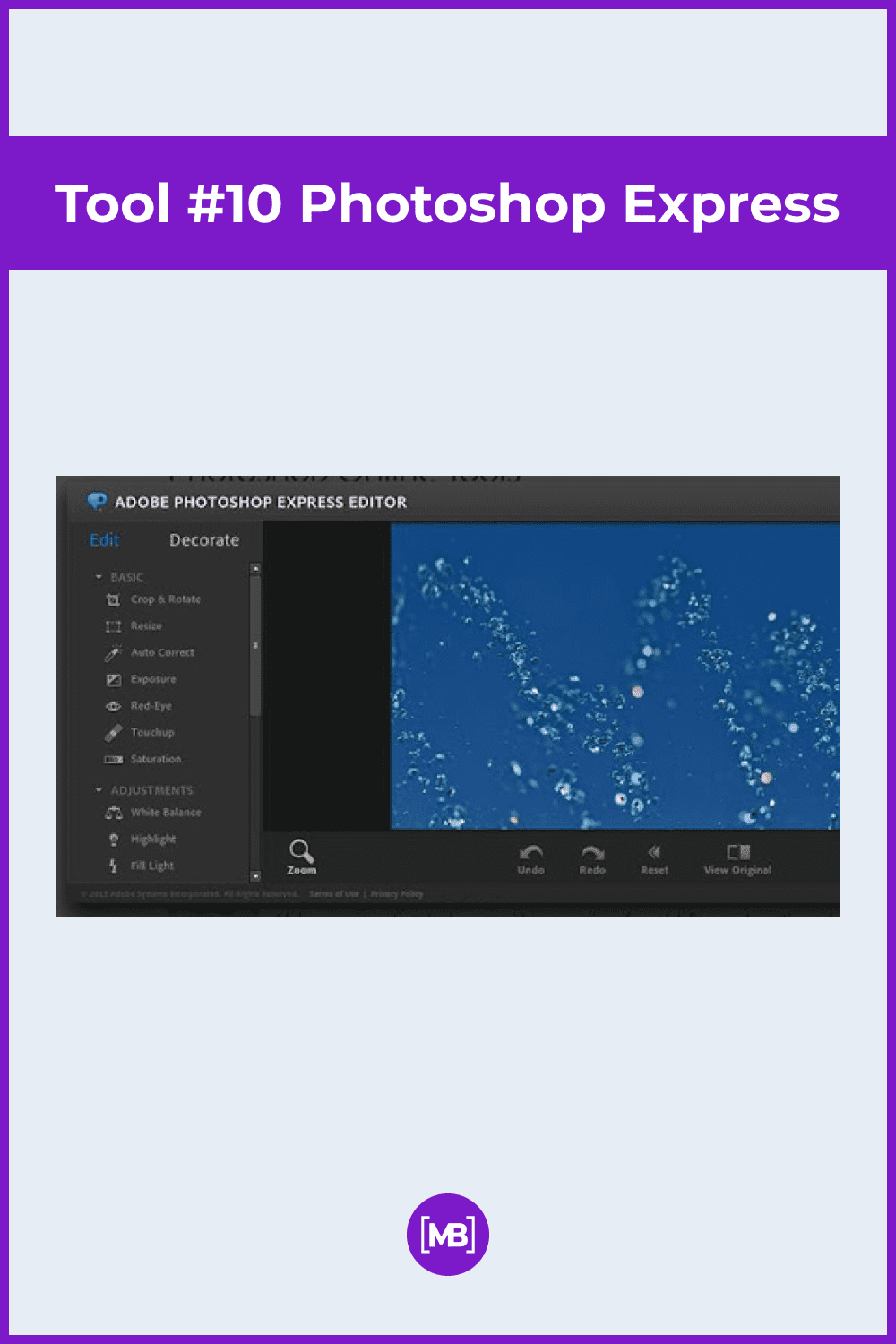 The next free image manipulation program to talk about is Photoshop Express,created by developers of Adobe Photoshop itself. But, as you probably already guessed, the performance and interface are largely inferior to it. Unlike other, aforementioned applications, Photoshop Express is available for mobile phones based on Android. With its auto-fix, robust filters and effects, and spot healing, it might be a good option when creating content for social posting.
Notable Photoshop Express Features Include:
Basic features: crop, rotate, add filters, adjust hue, saturation and luminance.
Create collages.
Use on mobile phones.
Share your photos to other apps directly (to Photoshop, Dropbox, Creative Cloud, Google Photos, Lightroom, or Facebook).
Pricing model: Free of charge.
Pros:
Payment is not required.
Built for iOS, Windows, and mobile app Android.
Mobile lite.
High-quality photo importing and sharing.
Quick fix.
Cons:
Very narrow function capability.
Does not support background change.
Summary
In such a way, there are a lot of free online photoshop alternatives, which will help you to gain visible improvement to your images in no time. They vary at different points: all have their advantages and disadvantages, some have unique features, some are sites and some are applications. There are quite a few of them, and this comprehensive amount gives us the opportunity to research and choose the best.
Our choice can be influenced by various factors: from the fullness of software to the operating system, and, of course, it should be easy to learn and use. If you choose the best two, then it will probably be Photo Pos Pro for Windows users and web-based Pixlr Editor.
Please take a moment to pin this post to Pinterest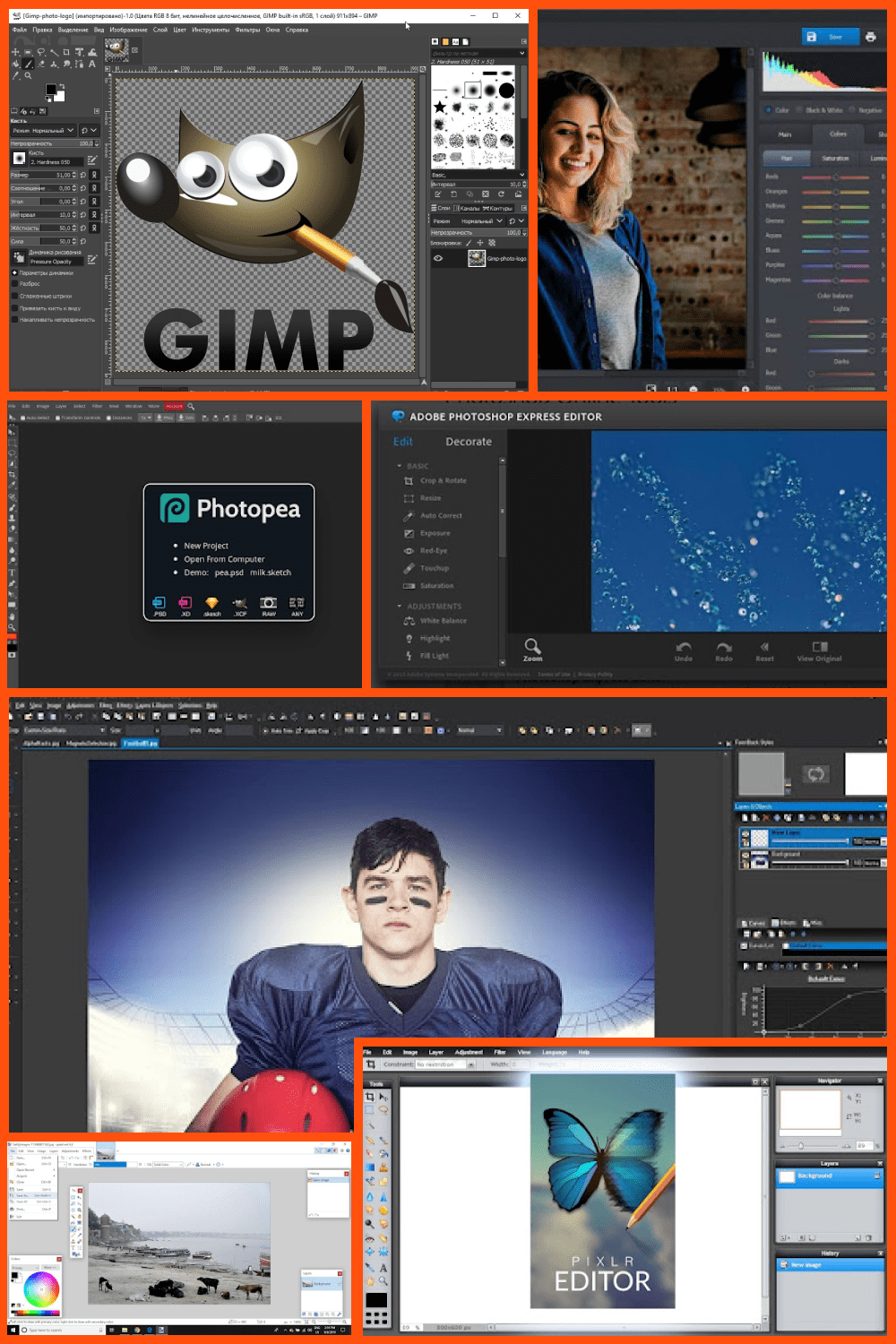 Was this page helpful?
We will be happy if you decide to share this article with your friends on Facebook. Just click on the button and you're done
Thanks for your response!
You have already left your review.
Disclosure: MasterBundles website page may contain advertising materials that may lead to us receiving a commission fee if you purchase a product. However, this does not affect our opinion of the product in any way and we do not receive any bonuses for positive or negative ratings.