30+ Graphic Design Movies Every Designer Should Watch for Inspiration
Movies are an integral part of our everyday life. Throughout the history of cinema, an incredibly large number of films have been created—both good and bad ones. When it comes time to choose a movie for the evening, it can be very easy to get lost among the huge, almost immense, catalog of cinematic products. Especially if we are talking about quality films for creative people.
If you're a graphic designer, you should be primarily interested in form, not plot. Because a film usually consists of many small (but equally important) elements, you need to pay attention to each of them in turn. Among them, we should highlight color schemes—the choice and skillful use of color palettes, the choice of setting and decorations, costumes, the use of graphic elements, animation, etc. Next, we move on to fonts, answering the question of whether the titles at the beginning and end of the film fit organically enough, and whether they support the overall stylistics of the picture.
In addition to feature films from which you can get ideas, techniques, and tools for visual art, there are also many documentaries about various directions and representatives of graphic design and art. Harmonious, coherent, and impressive motion pictures should be sought from experienced directors, as a rule.
We have prepared a collection of cool (both in content and form) graphic design movies that will help the graphic designer to develop new ideas through viewing trends in the field of visual art.
We're open to suggestions! If you have movie recommendations or if there are movies that you believe must be on this list, contact our ССО anastasia.content@masterbundles.com.
Cinematography is writing with images in movement and with sounds - Robert Bresson
Bauhaus: The Face of the 20th Century, 1994
---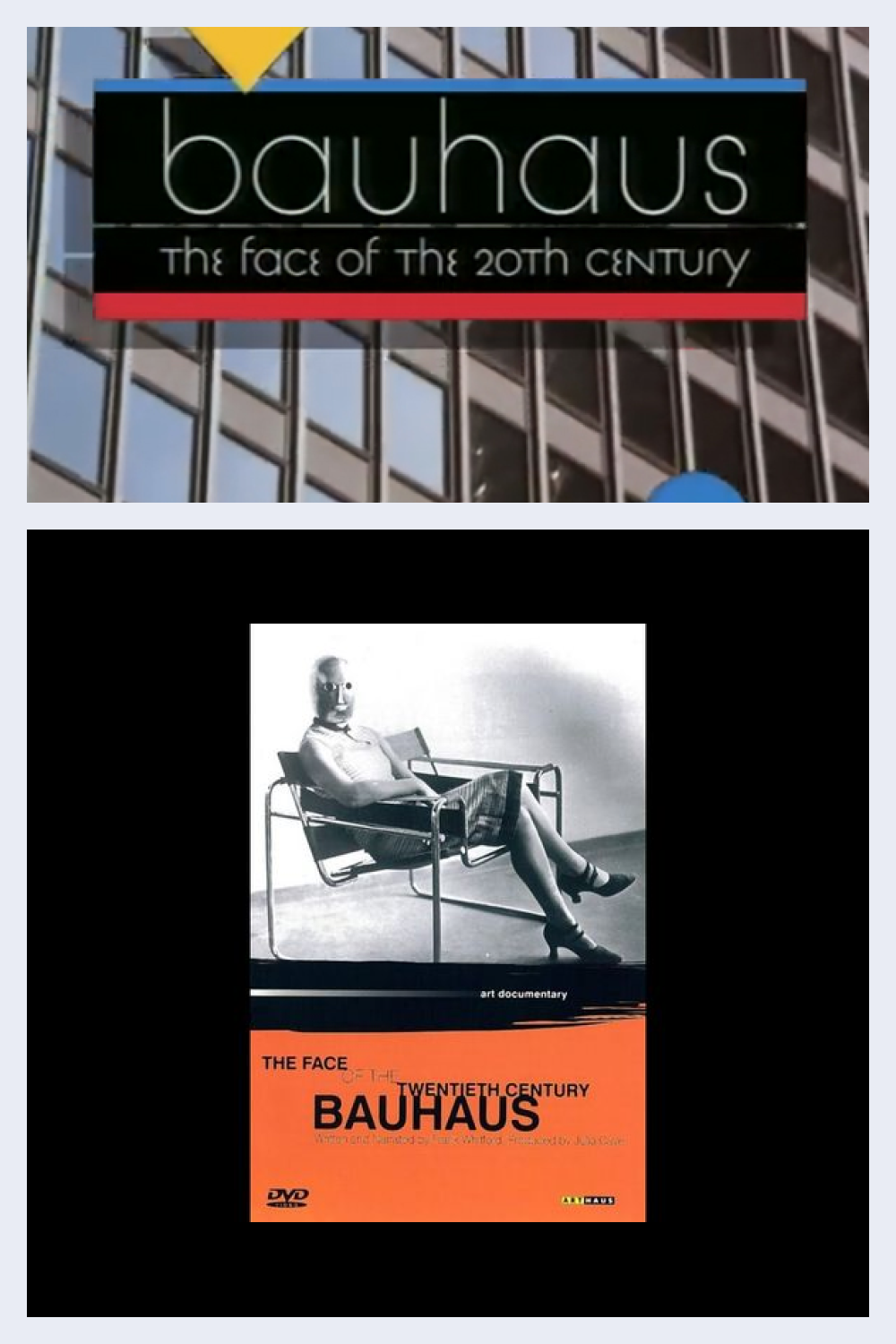 This is a no-brainer when it comes to choosing the best design documentaries and every design student has seen this masterpiece at least once. For those interested in the Bauhaus movement and how it impacted modern art, design, and architecture, this movie is a perfect choice. "This is an art documentary depicting the visual science generated from the outpouring of avant-garde ideas of this innovative educational undertaking." – Letterboxd
Graphic Means: A History of Graphic Design Production, 2017
---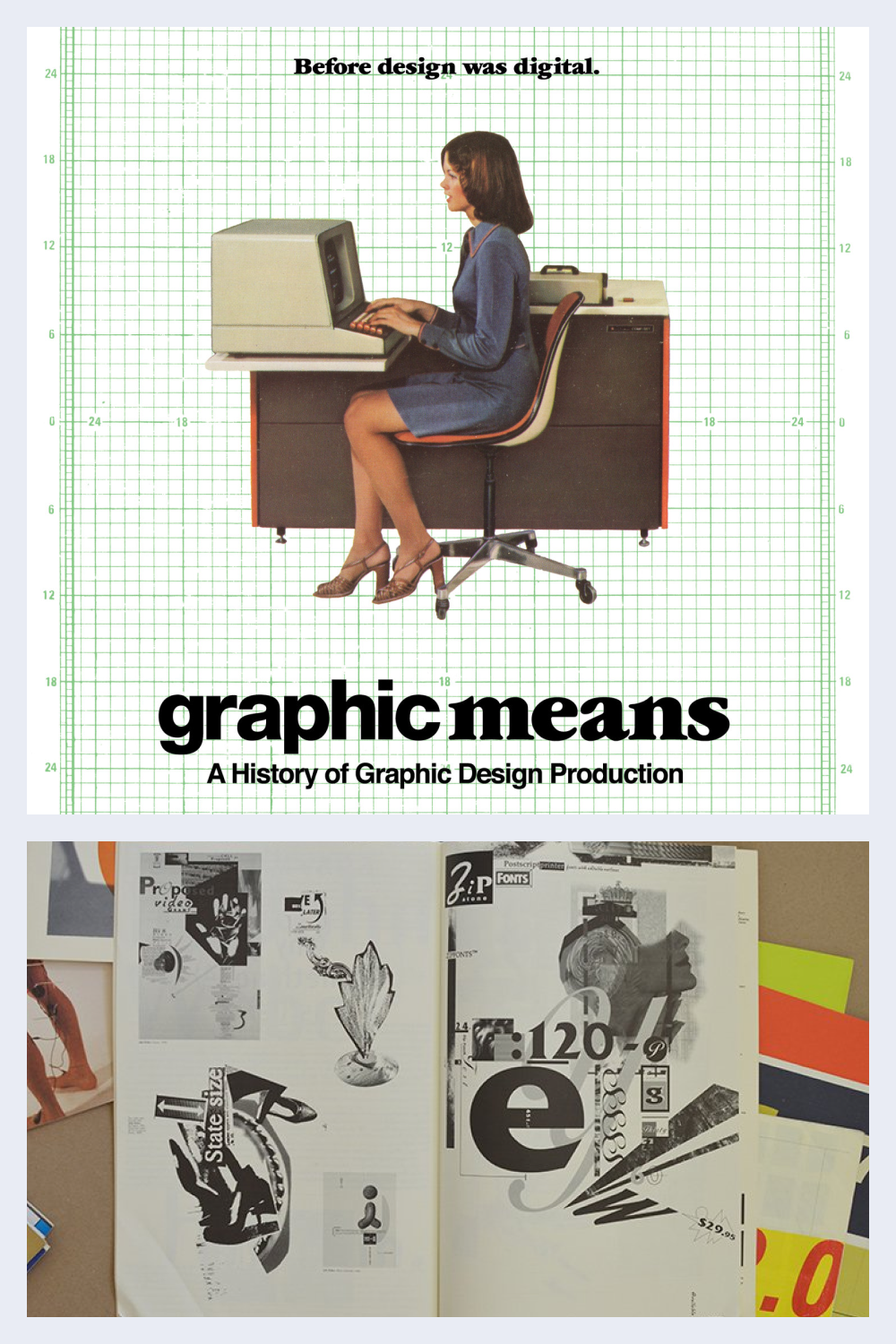 One of the greatest movies about graphic design of all times, "Graphic Means" is both a historical document and a design reference. This movie tells us the history of graphic design from the 1950s to the 1990s. Directed by Briar Levit, it shows all the stages that design went through before computers were invented and is probably the best graphic design documentary to date.
Exit Through the Gift Shop, 2010
---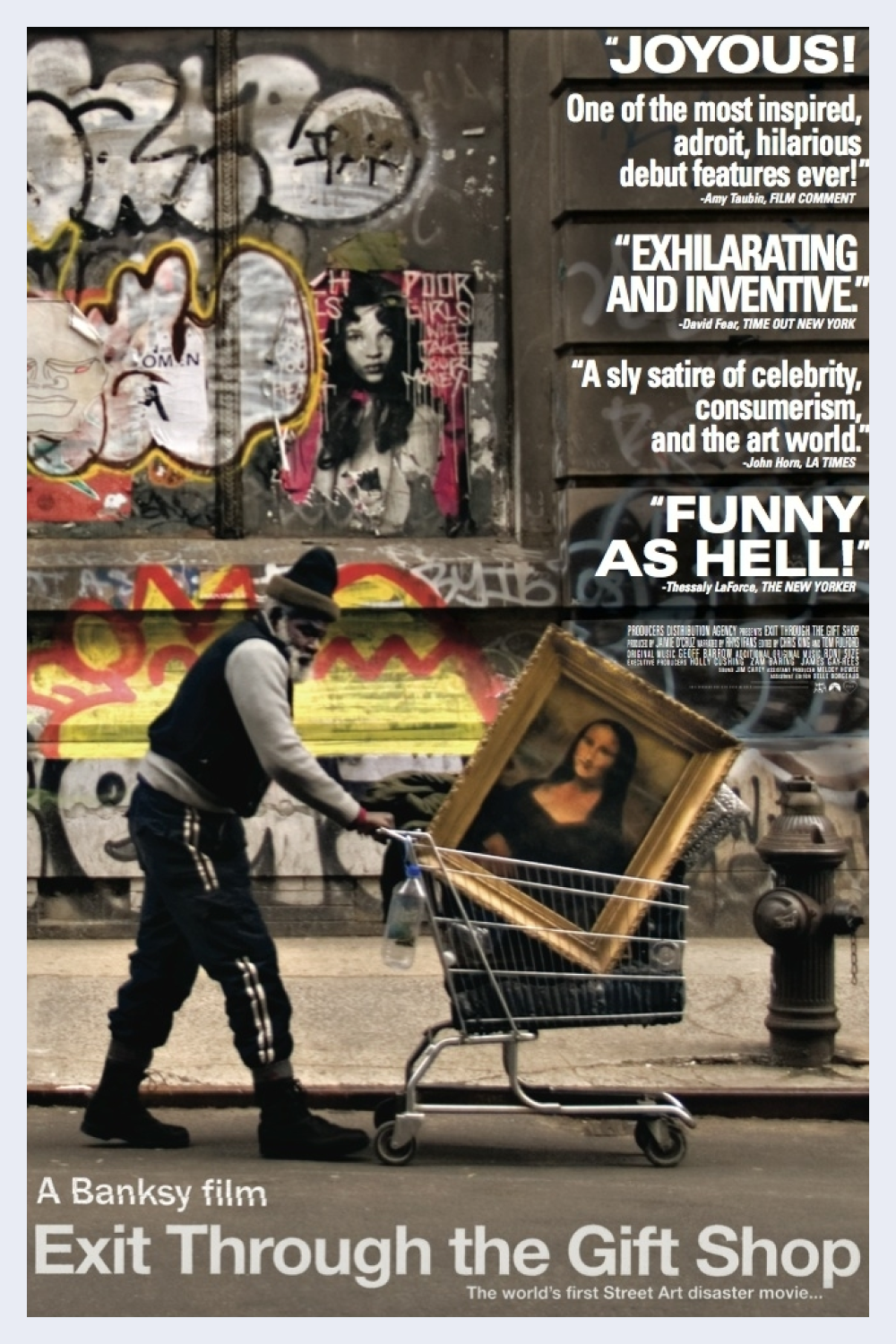 Even though this movie talks about street art, any designer will enjoy it and the way the subjective nature of art is portrayed. Made by a legend, – Banksy, this documentary tells the story of L.A. thrift shop owner Thierry Guetta and how he evolved from street art documentarian to street artist, and then to pop artist. A great graphic design movie with unexpected appearances of artists like Space Invader, Shepard Fairey, and Banksy.
Milton Glaser: To Inform And Delight, 2008
---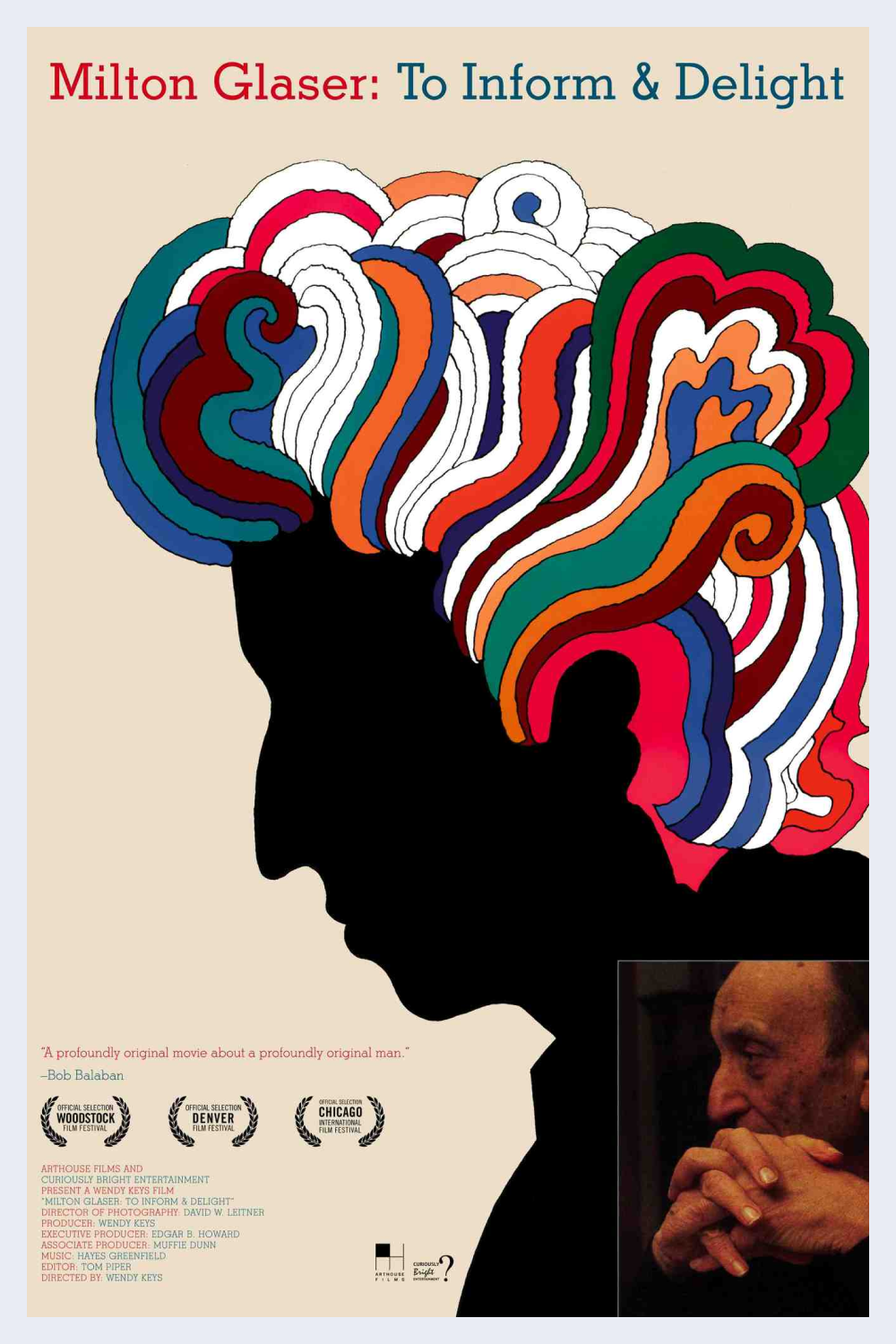 This is a story about one of the most legendary designers of the 20th century: Milton Glaser, an author of the iconic "I Love NY" campaign. If you seek inspiration and motivation, this is one of the graphic design documentaries you should watch.
Ex Machina, 2014
---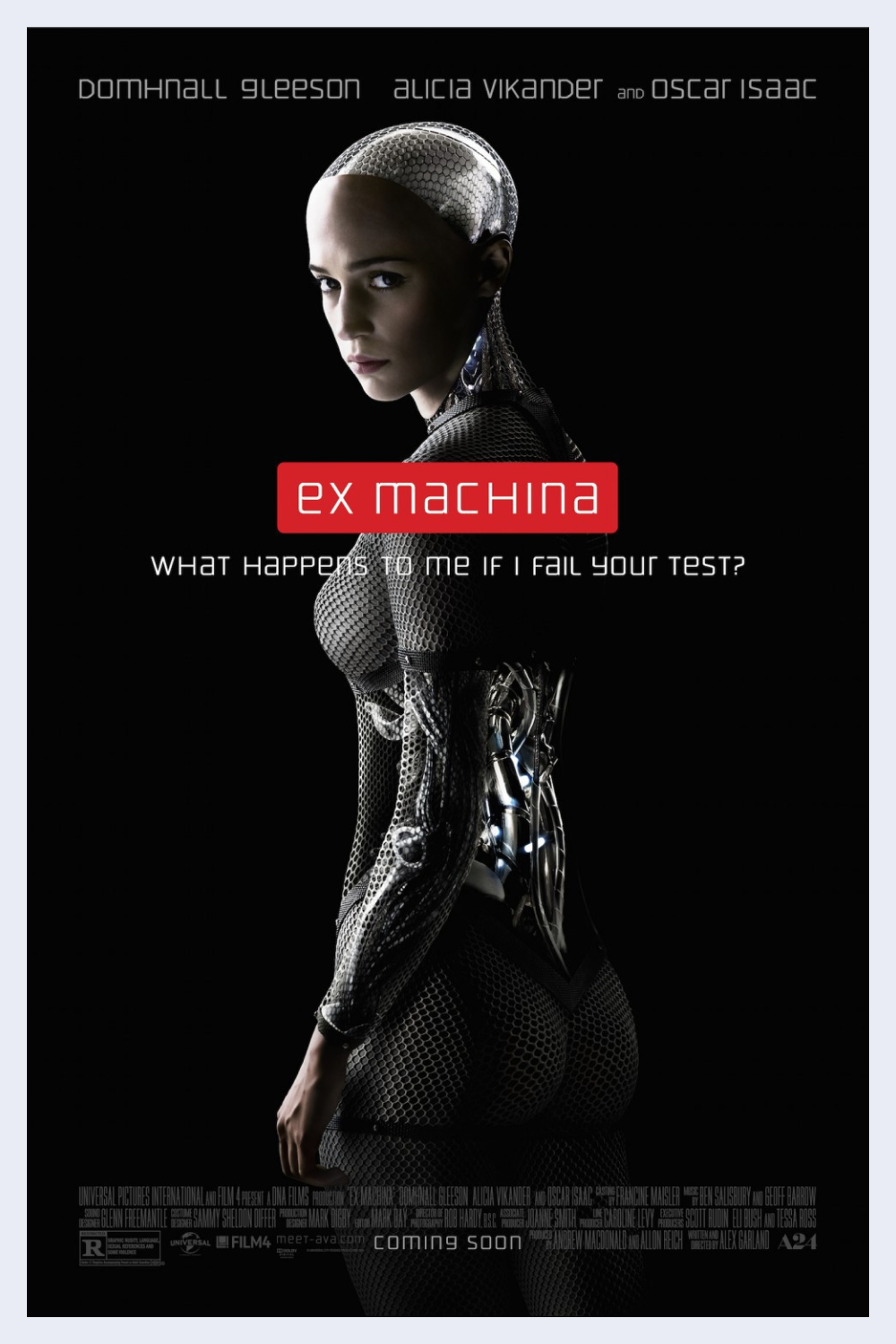 Recognized as a stylish and cerebral thriller, Ex Machina portrays human-machine interaction with artificial intelligence. Graphic design in movies can be breath-catching and this movie is a proof of that. Filled with beautiful landscapes and impressive hi-tech interior design, this movie will keep you wondering up to the last minute. For those who love hi-tech and interior design Ex Machina is definitely a must-to-watch.
Amelie, 2001
---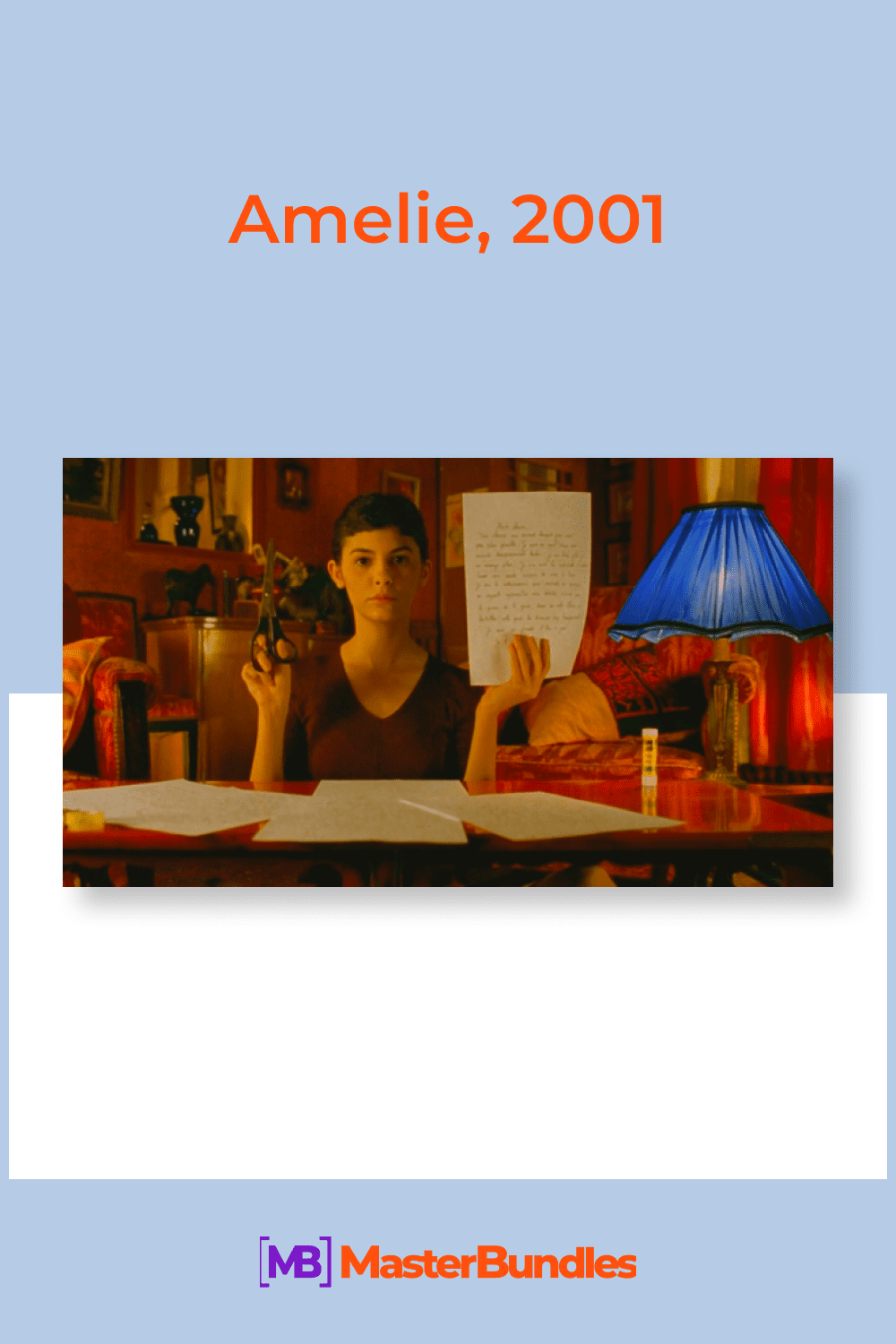 There is no doubt that everyone has seen this film, but it is simply impossible not to include it in the list of must-watch movies for designers. French director Jean-Pierre Jeunet has created such a vivid, attractive, delicious love story that modern aesthetics is simply unthinkable without it. Amelie is a perfect blend of color, rhythm, music, and inspiration with an off-the-charts concentration of charming weirdos per square meter of film. Amelie is the beauty, only written in different letters.
Shirley: Visions of Reality, 2013
---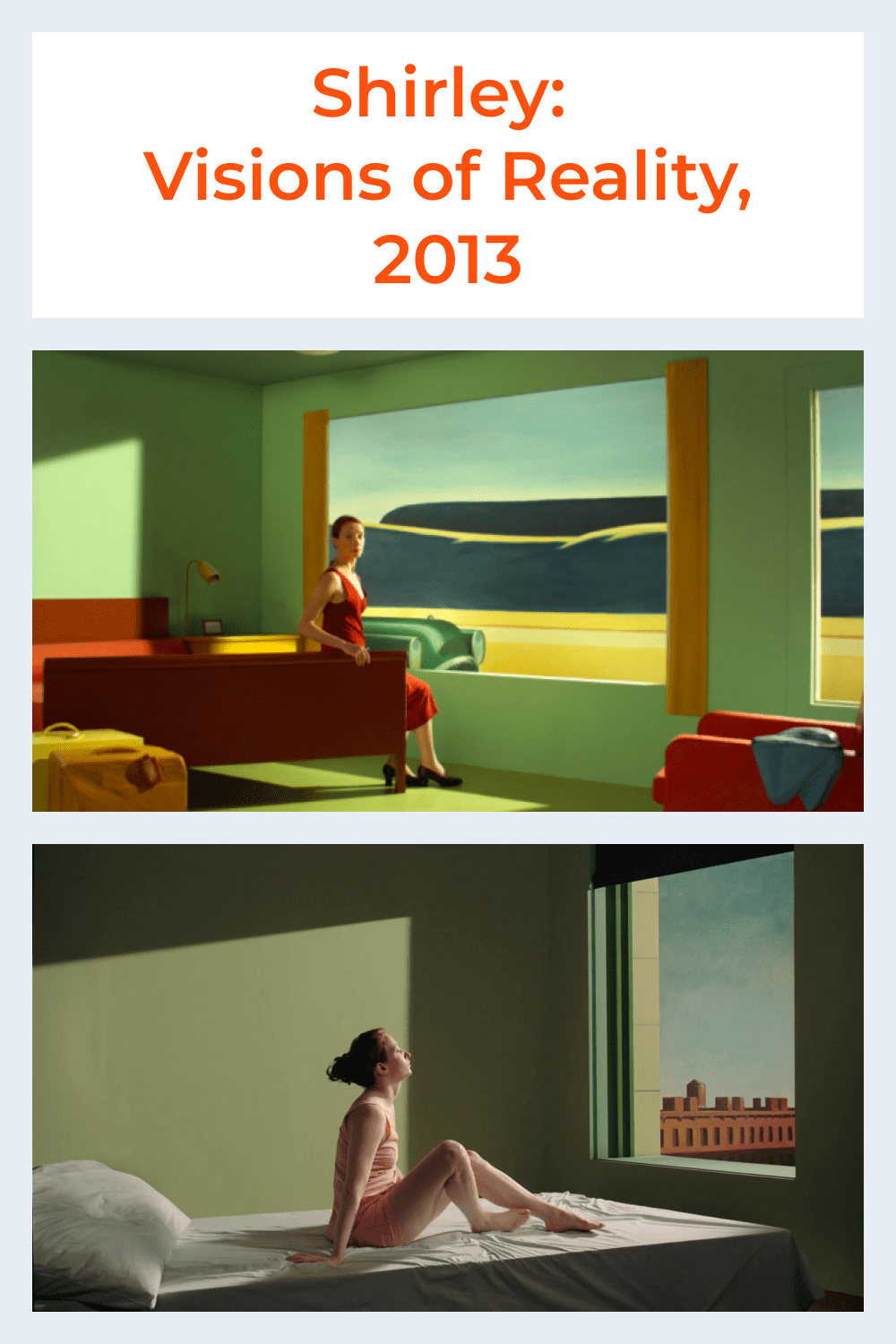 The film consists of scenes from the life of a girl named Shirley. Each of them is one of the brought-to-life paintings of the American artist Edward Hopper. Hopper combined the style and ideas of the Impressionists and the Realists in his work. His paintings are not elaborate in detail but they convey a mood of the peaceful solitude of a deserted city. Hopper aimed to portray reality as it is. The artist's paintings help us see the aesthetic of geometry in urban spaces. His paintings often serve as inspiration for filmmakers. For example, Ridley Scott used Hopper's work in Blade Runner to create an atmosphere of loneliness.
The Sacrifice, 1986
---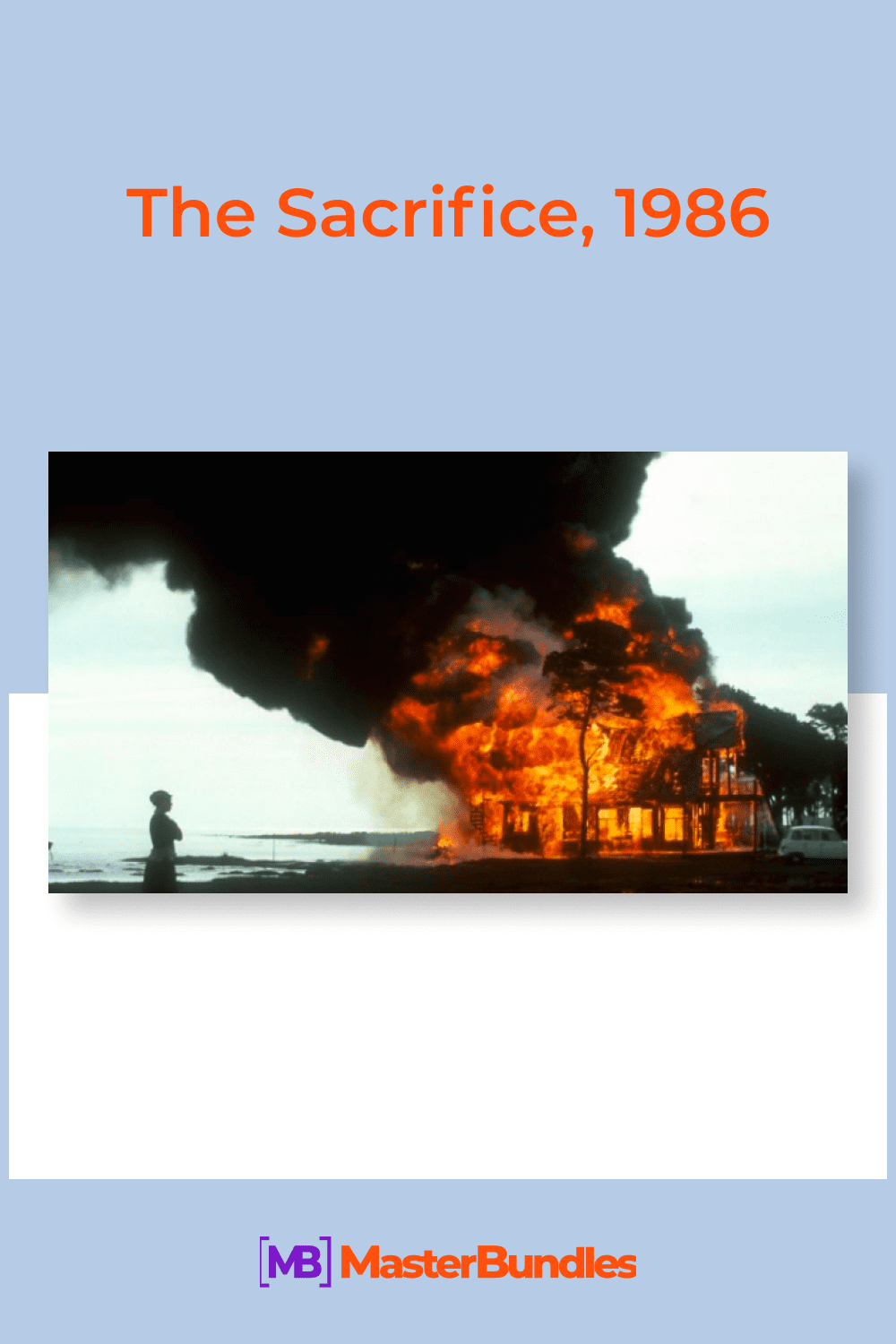 The Sacrifice was Andrei Tarkovsky's last film. He shot this work in Sweden with a Scandinavian gray landscape as a backdrop. There are almost no complex compositions or architecture in the film. At the same time, behind each—even the almost empty—frame is great artistic work. The Sacrifice is also famous for the scene with the burning house, which had to be filmed twice because of a camera malfunction.Definitely one of the most recommended graphic design films to watch.
Interstellar, 2014
---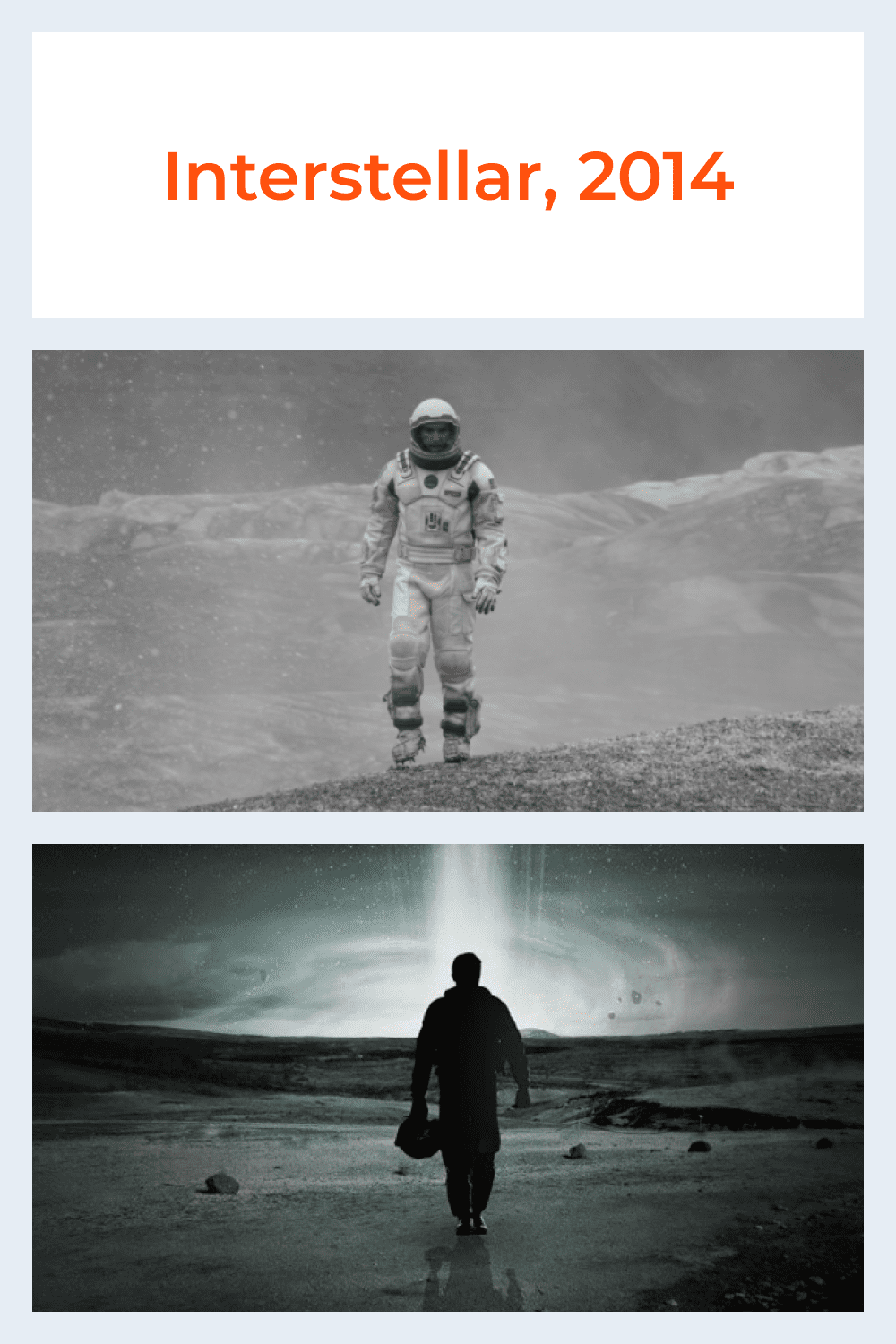 The film's color palette is dominated by cold hues and tones that convey all the longing and loneliness of the astronauts. Through color correction, Nolan shows us that the passengers feel the hopelessness of their situation and that of all mankind. However, when the passengers arrive on the planet, the colors fade into warmer tones that convey to us the emotion of hope.
Dead Man, 1995
---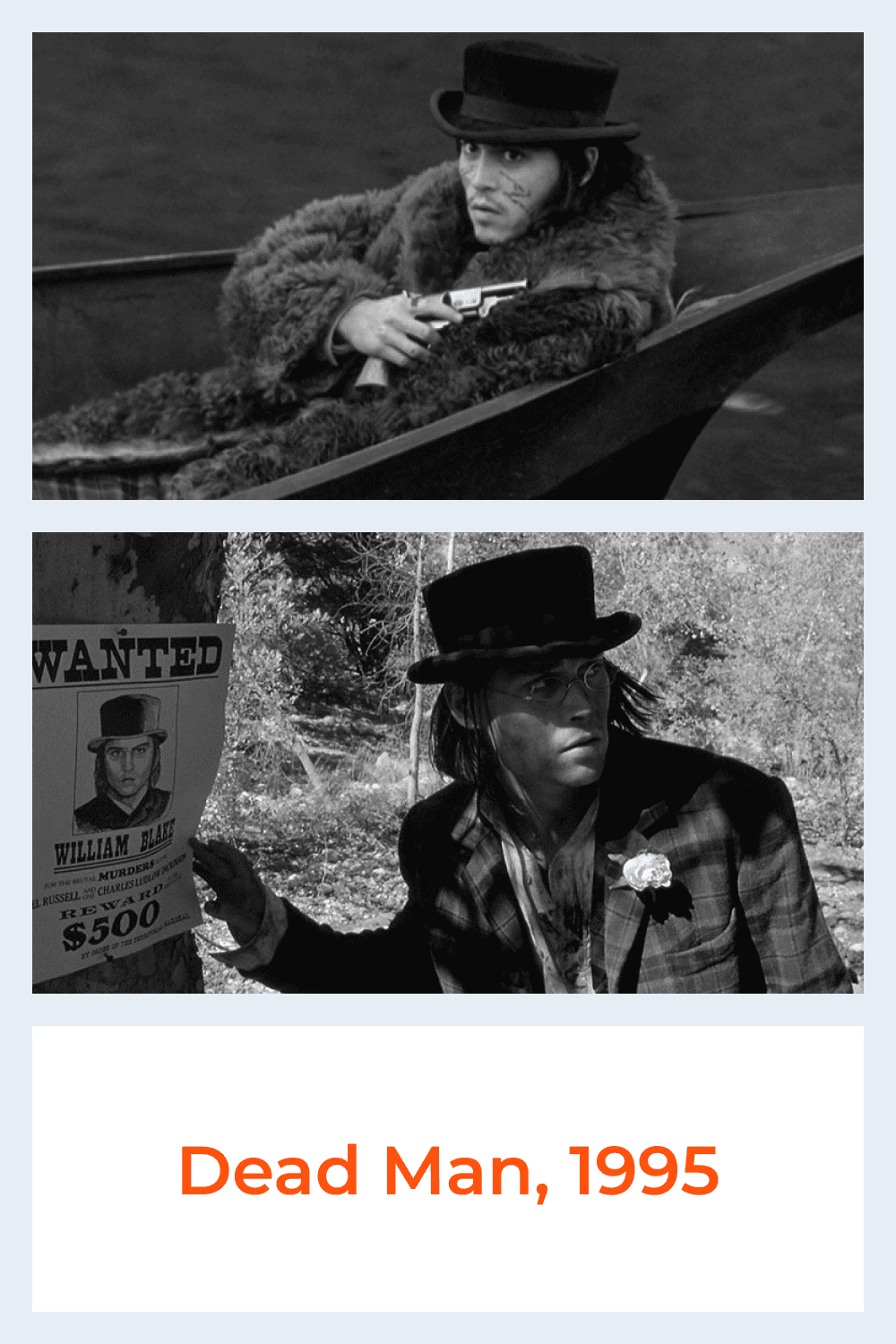 Dead Man is an iconic Jim Jarmusch film that combines a philosophical parable, a road movie, a western, and a mystical ballad. Young accountant William Blake (Johnny Depp) travels through the Wild West with a strange Indian named Nobody. They leave the filthy industrial city behind and head toward the ancient spiritual center of the Indians. The journey is also an inward journey—melancholic landscapes, almost zen-like dialogues, and black-and-white laconicism make every viewer go through this voyage together with the characters of this amazing motion picture.
The Colour of Pomegranates, 1969
---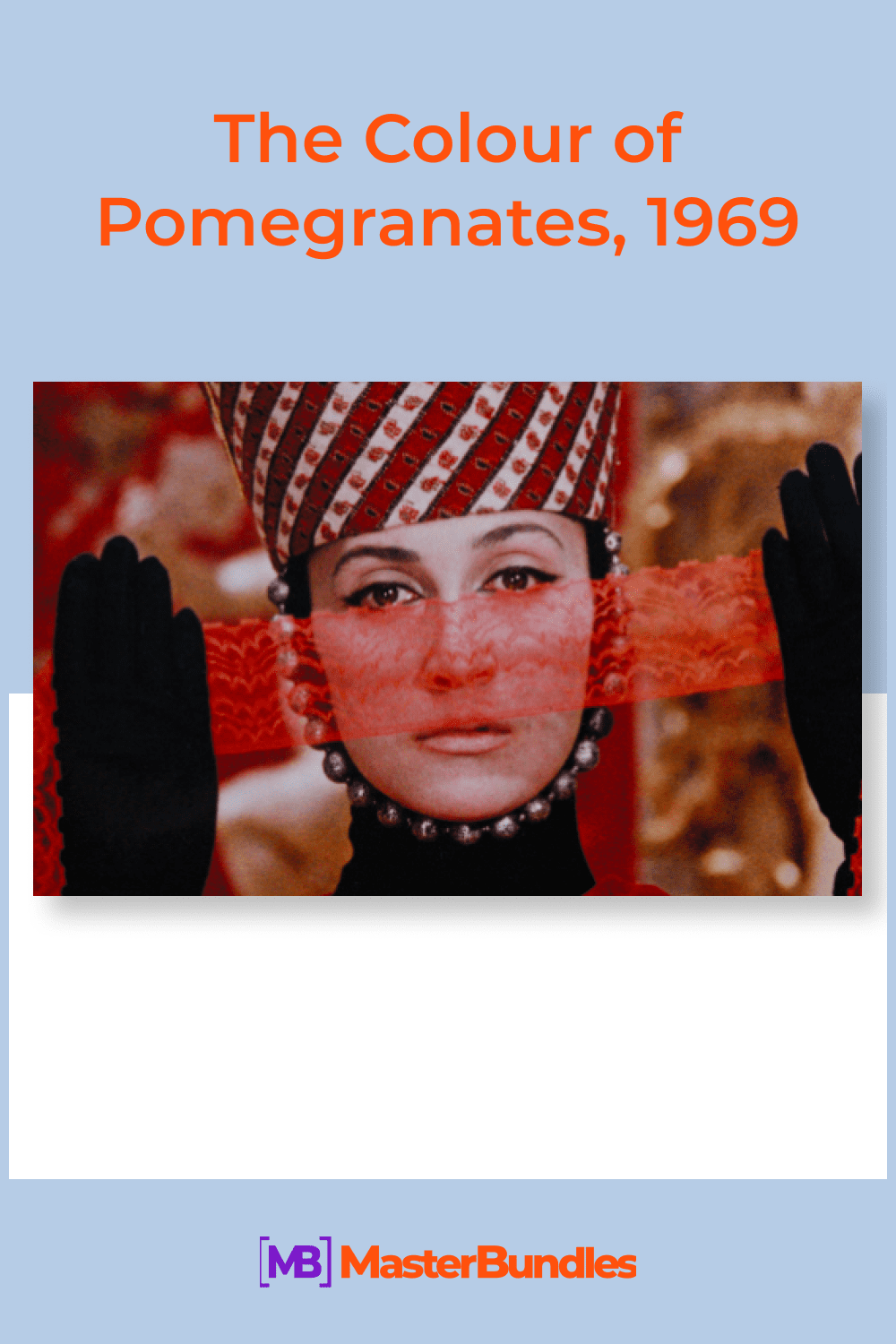 This is not a film, but a visual poem, a fantastic figurative motion picture meticulously written by director Sergei Paradzhanov. There is no plot in the film. All the action is a sequence of images inspired by the writings of Armenian poet Sayat Nova. To bring his poetic universe to the screen, the director created a new remarkable cinematic language, thanks to which the film has entered the golden fund of world cinematography.
Wes Anderson Movies
---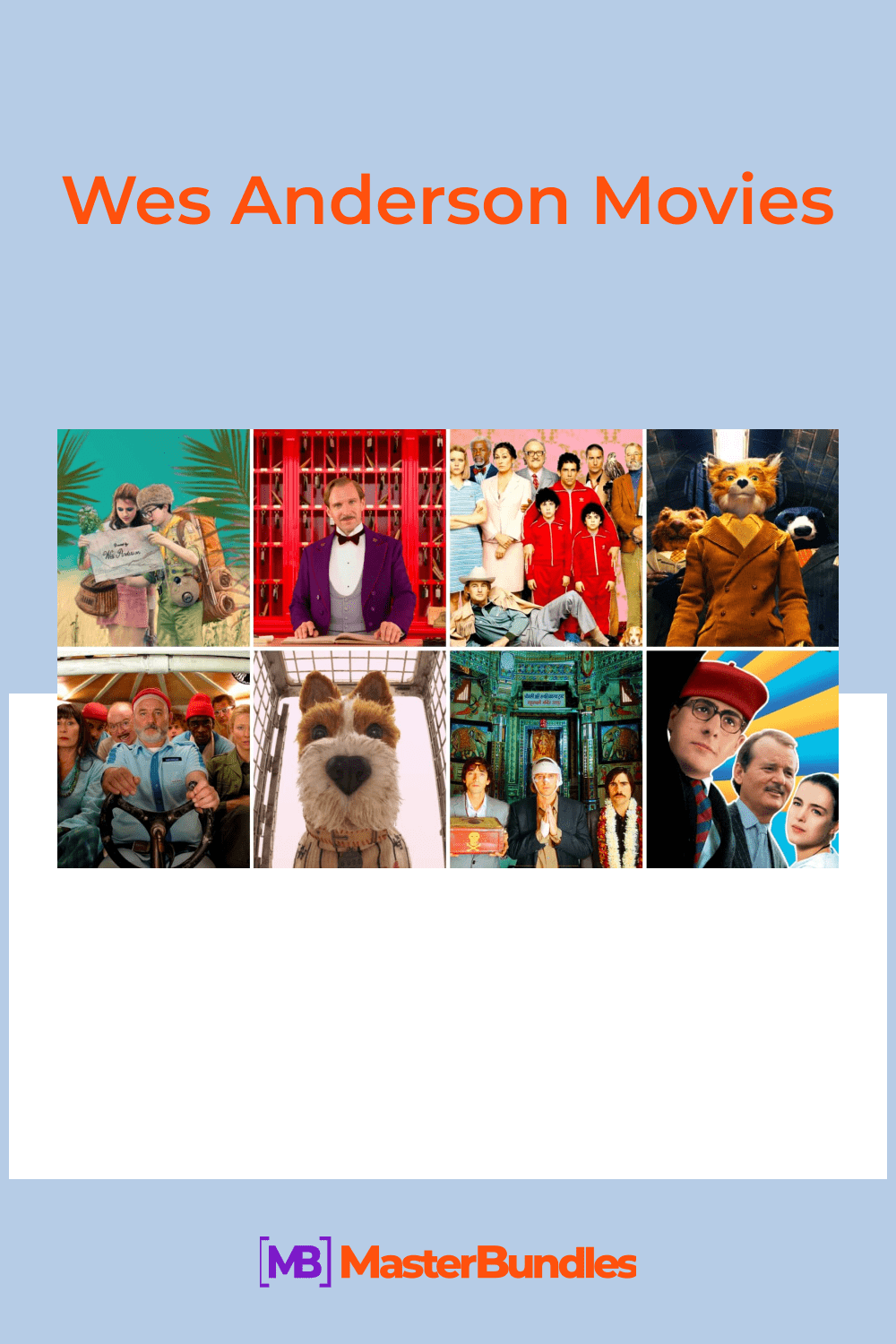 Everyone knows Wes Anderson as a very meticulous director, particularly in the method of arranging the shots in his films. They have a clear geometry and are almost always symmetrical. The color scheme of Anderson's paintings seems to play an even more significant role than it usually does in films. Pink conveys the naively bohemian atmosphere in The Grand Budapest Hotel, and gray tones in The Isle of Dogs convey the desperation of abandoned pets in a junkyard. Among the films of greatest artistic interest, in addition to those already mentioned, are The Fantastic Mr. Fox, Moonrise Kingdom, and The Royal Tenenbaums.
Memoirs of a Geisha, 2005
---

The story revolves around a little girl, Chiyo, who is sold by her fisherman father to a geisha house at age 9. Although the film is set in America, you can't help but get the feeling that this is the real Japan. The cameramen did a tremendous job of showing the beauty of the area. The richness of the colorful landscapes, the ancient art of "tea houses," and the equanimity of a brave Japanese girl with amazingly colored eyes make the film incredibly beautiful, and the gripping plot makes it "in the same breath" to watch.
Mad Max: Fury Road, 2015
---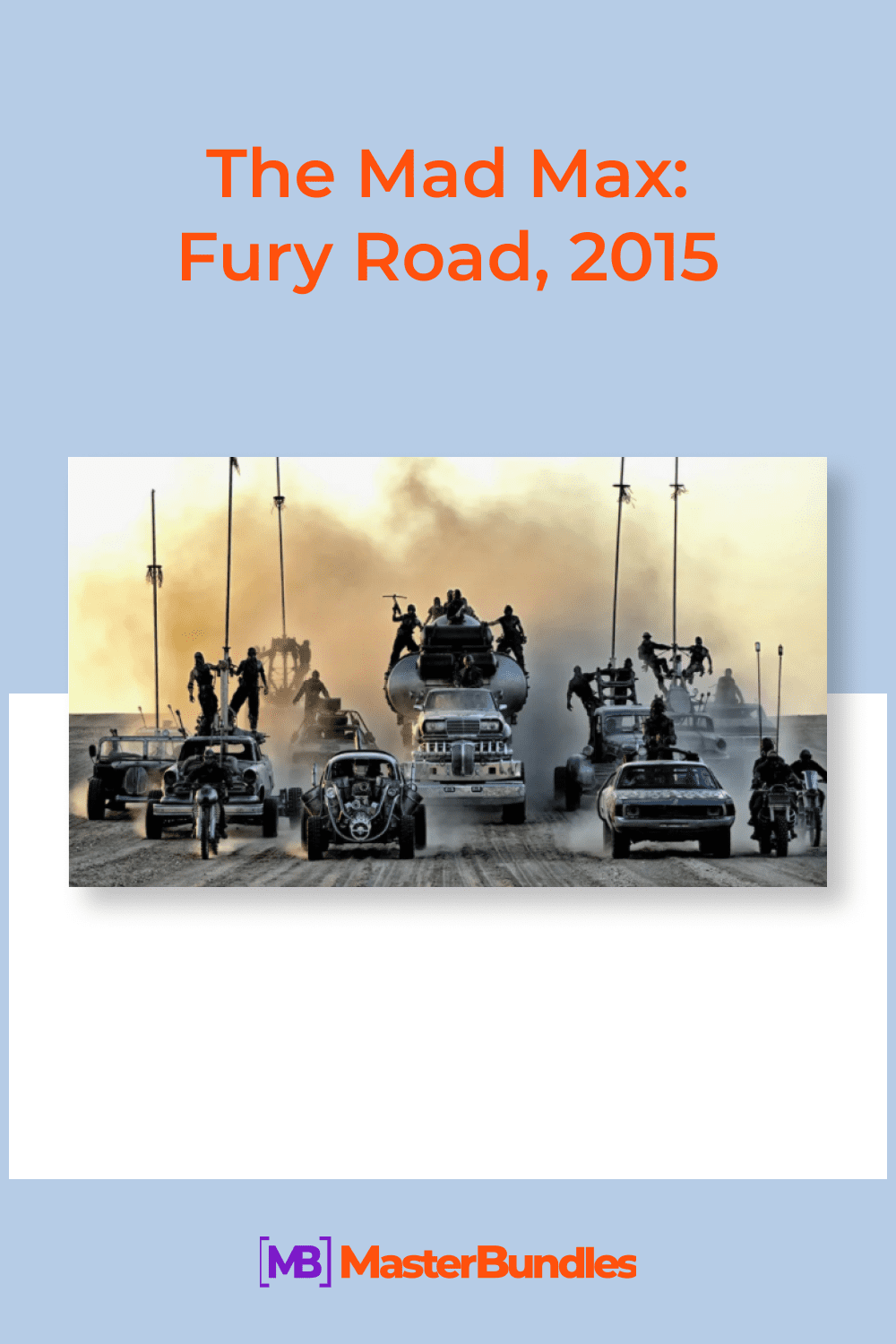 Desert landscapes, memorable stunts, a real fleet of unusual cars, and impressive special effects make this one of the best films about the post-apocalypse. It is an iconic film about the adventures of Max Rockatansky, wandering around a scorched planet all alone. Mercenaries from the Citadel manage to capture him, from which he tries his best to escape.
Only Lovers Left Alive, 2013
---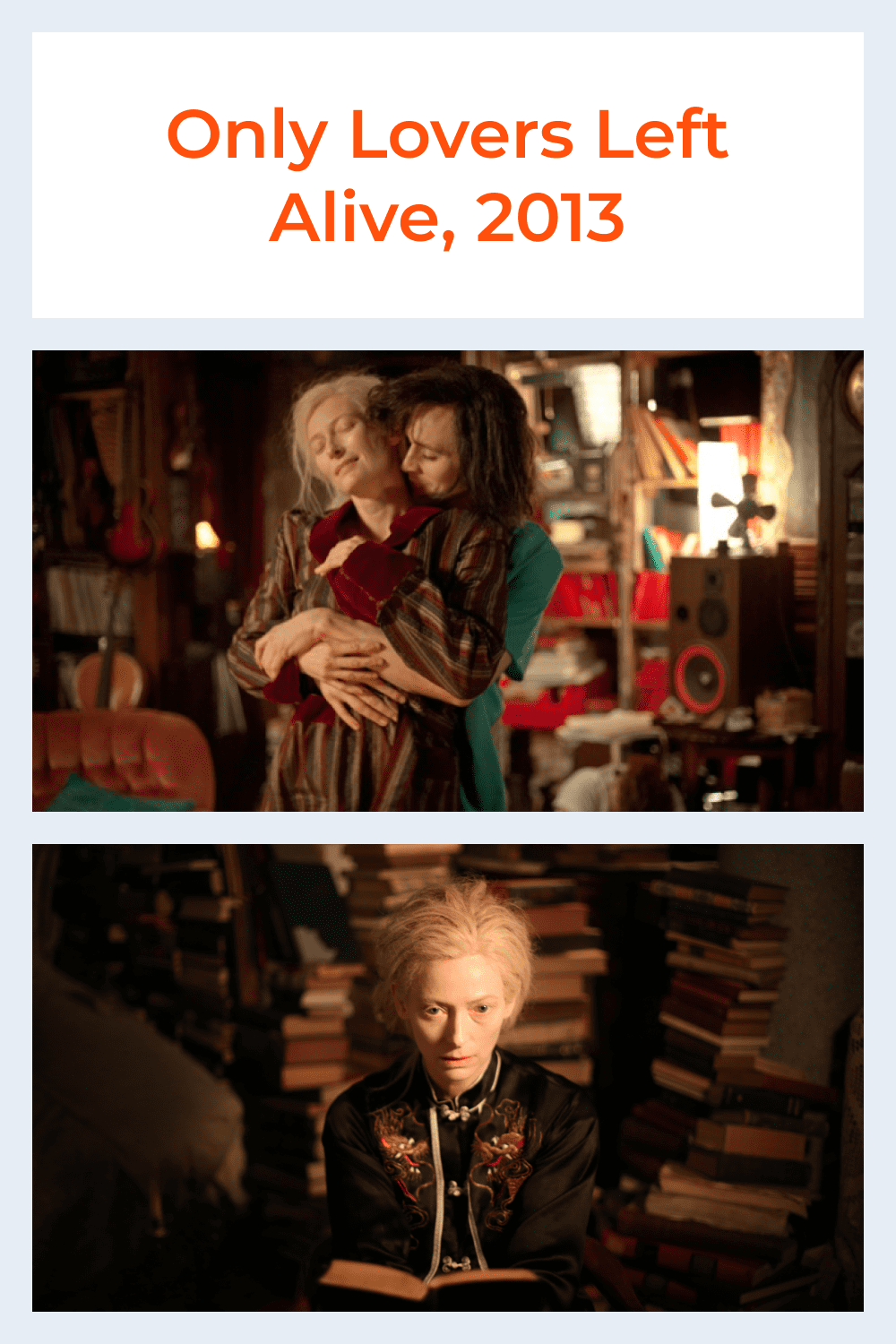 When you watch this movie, it is easy to forget what it's about because it's so damn beautiful. It is the atmosphere that counts, not the details of two ancient vampire aesthetes dining on blood and gazing into each other's eyes in love. This film flows like a river, and neither its characters nor its viewers have a choice of whether to swim or not.
Ying Xiong, 2002
---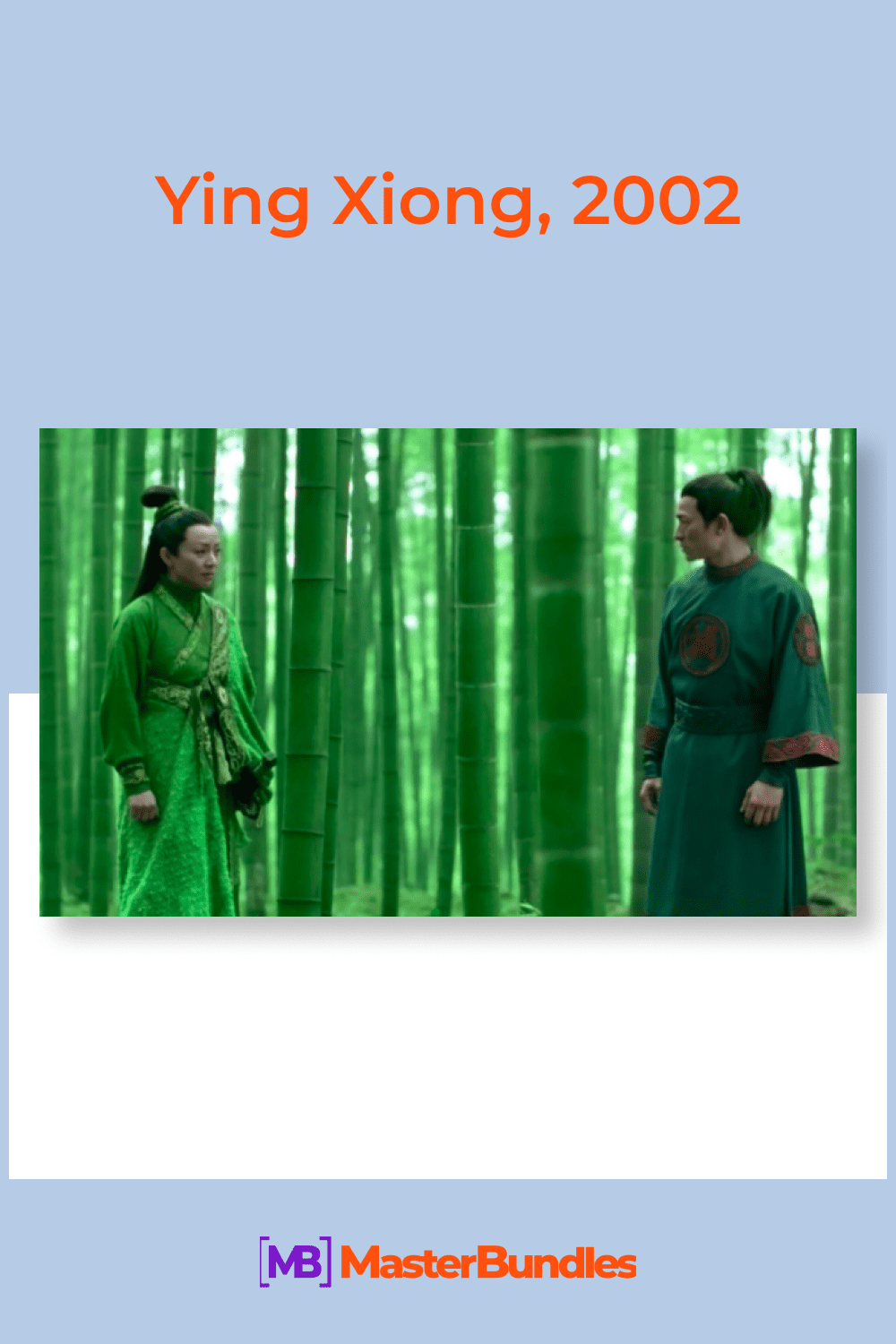 Red is a lie, blue is a delusion, and white is truth. Three colors, three philosophical parables, and three blockbuster masterpieces in one film by Chinese director Zhang Yimou.An unnamed hero arrives at the emperor's castle and tells him about his three victories over the enemies of the throne. The whole film is a living painting on the theme of an ancient Chinese legend, as beautiful as it is wise. If you're a connoisseur of graphic design in movies, Ying Xiong is a good recommendation for you.
Stealing Beauty, 1996
---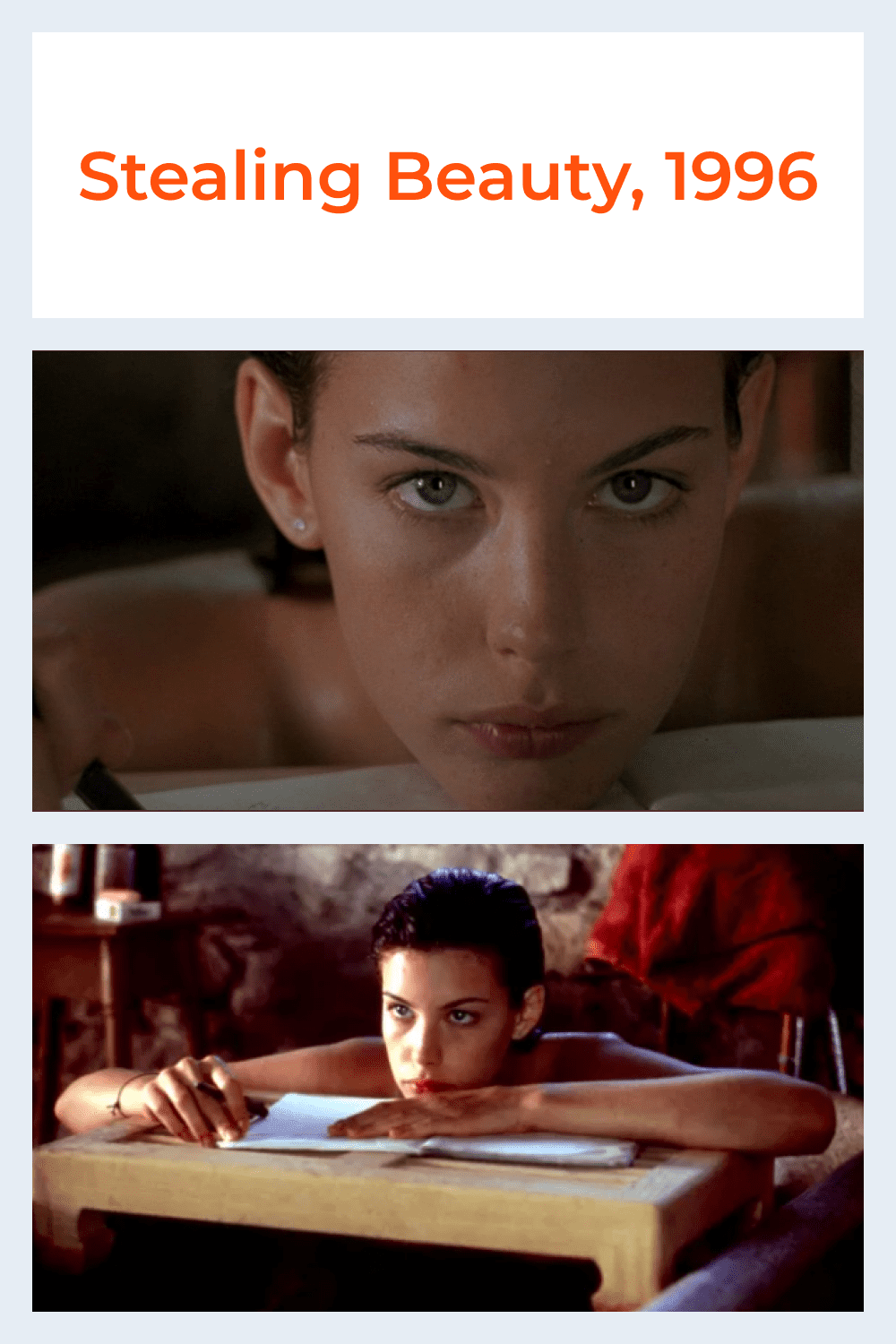 This film falls under the definition of aesthetic cinema by all parameters. There are Bernardo Bertolucci's masterful direction, the incomparable Liv Tyler in the leading role, the picturesque Tuscan scenery, as well as the piercing and pure feelings. All these things make it one of the most beautiful and touching films in the history of Italian cinema. Graphic design in film has never been more impressive.
The Neon Demon, 2016
---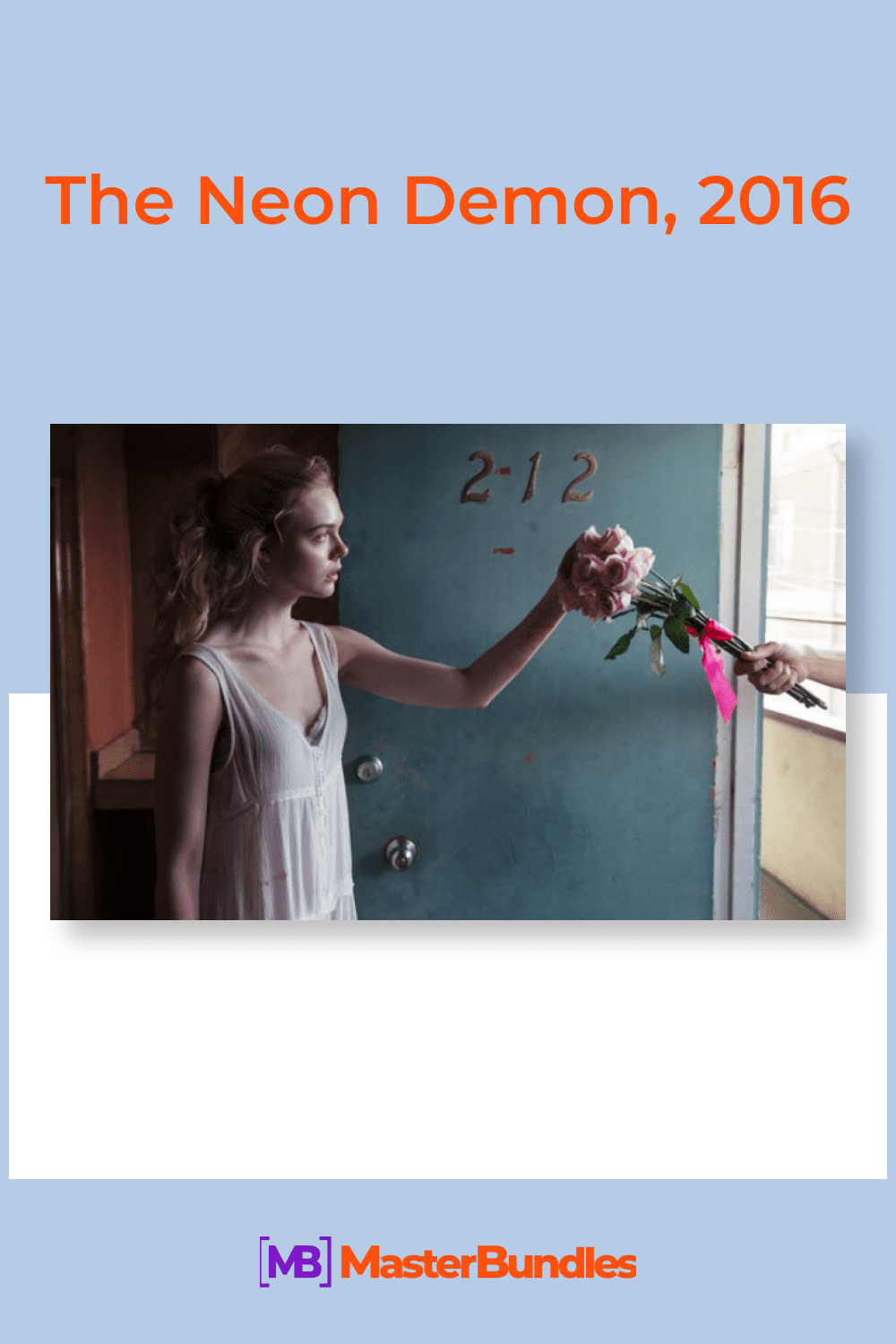 This is a very beautiful film, but not the most pleasant and sometimes rather cruel. It will not appeal to those who think you should only make movies about good things. However, it will be to the taste of those who are ready for shock and provocation. The film is stylishly shot and resembles pictures from fashion magazines.
Maleficent, 2014
---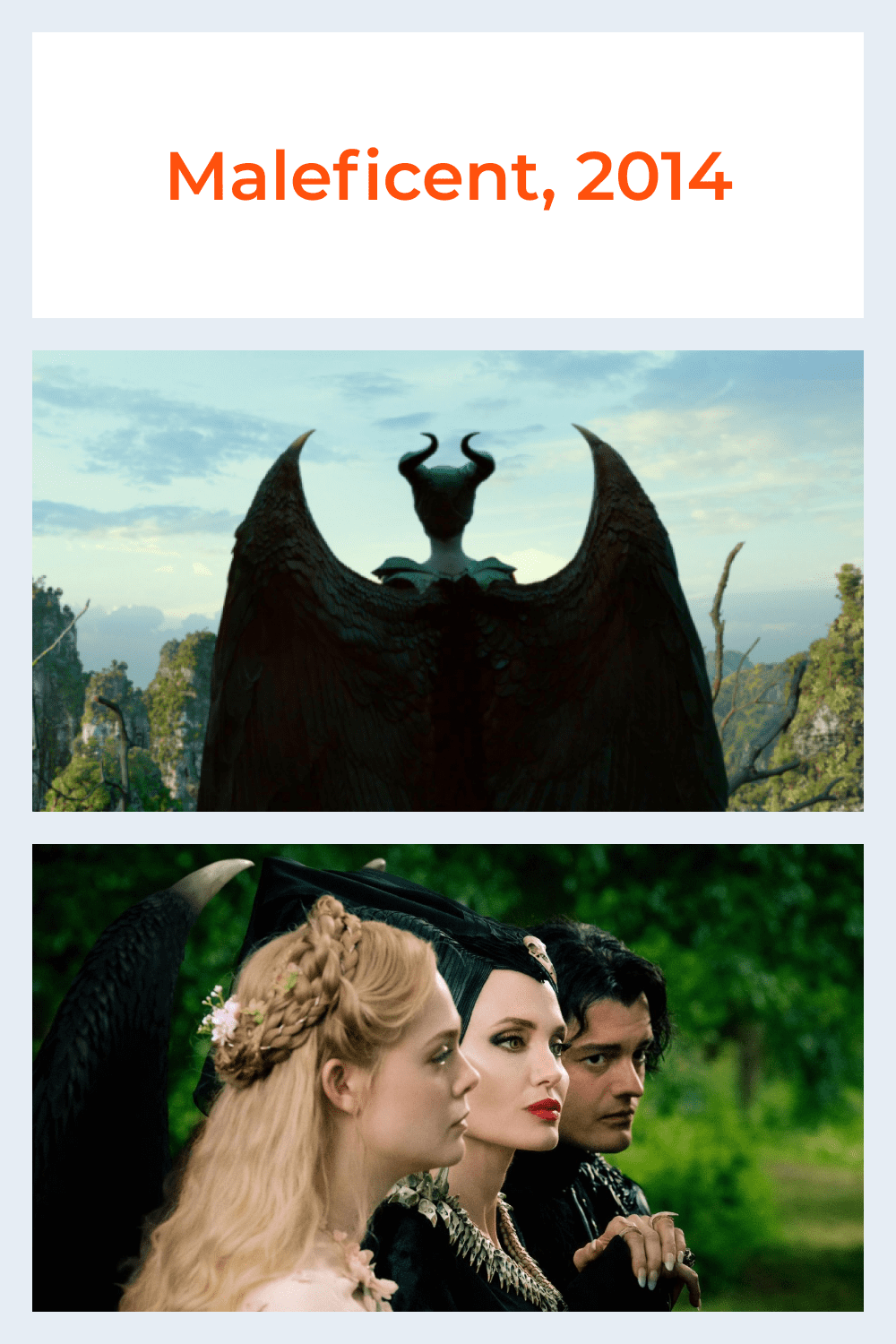 The color and lighting throughout Maleficent are gloomy and moody, except for those moments when Aurora appears. Robert Stromberg used many dark colors as a base: black, gray, dark brown, green, and blue. This palette made the scenes look eerie. In addition to this, the director only used enough light for the happy moments. Through the palette of the film and the light, he conveyed to us the character of the protagonists, their intentions, and feelings.
Crimson Peak, 2015
---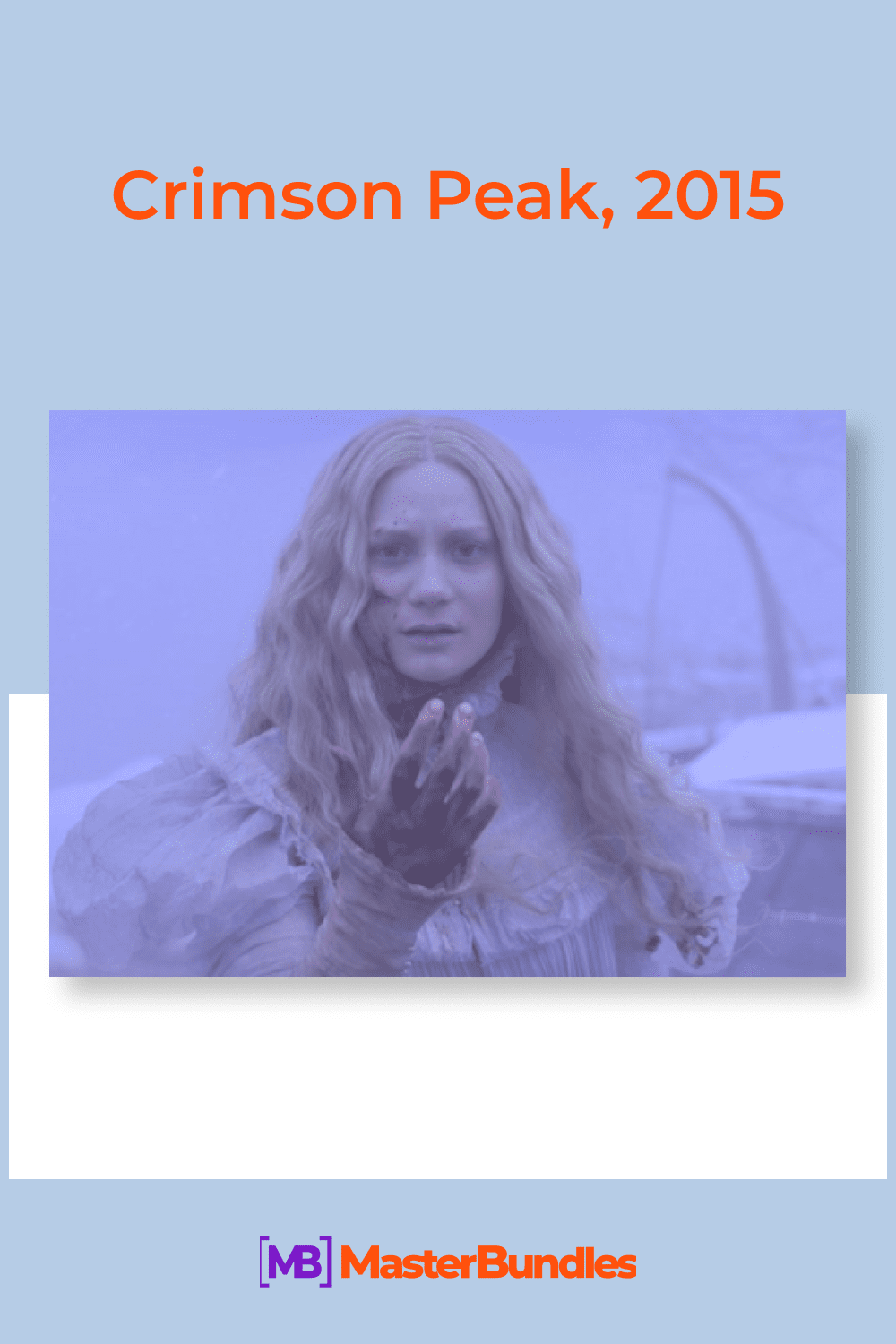 "Crimson Peak is my most beautiful movie," assures director Guillermo del Toro. And it is. The costumes of the characters look so stylish as if they were taken from some photoshoot for Vogue magazine, and the scenery looks like it was transferred from some ancient aristocratic manor. Every frame is beautiful, precisely verified, and brought to perfection.
The film is created according to all the canons of gothic melodrama: there are ghosts, an old mansion, and the frightening presence of some scary mystery. Also, Guillermo del Toro has another mesmerizingly beautiful picture – The Labyrinth of Faun – which is also worth seeing.
Abstract: The Art of Design, 2017
---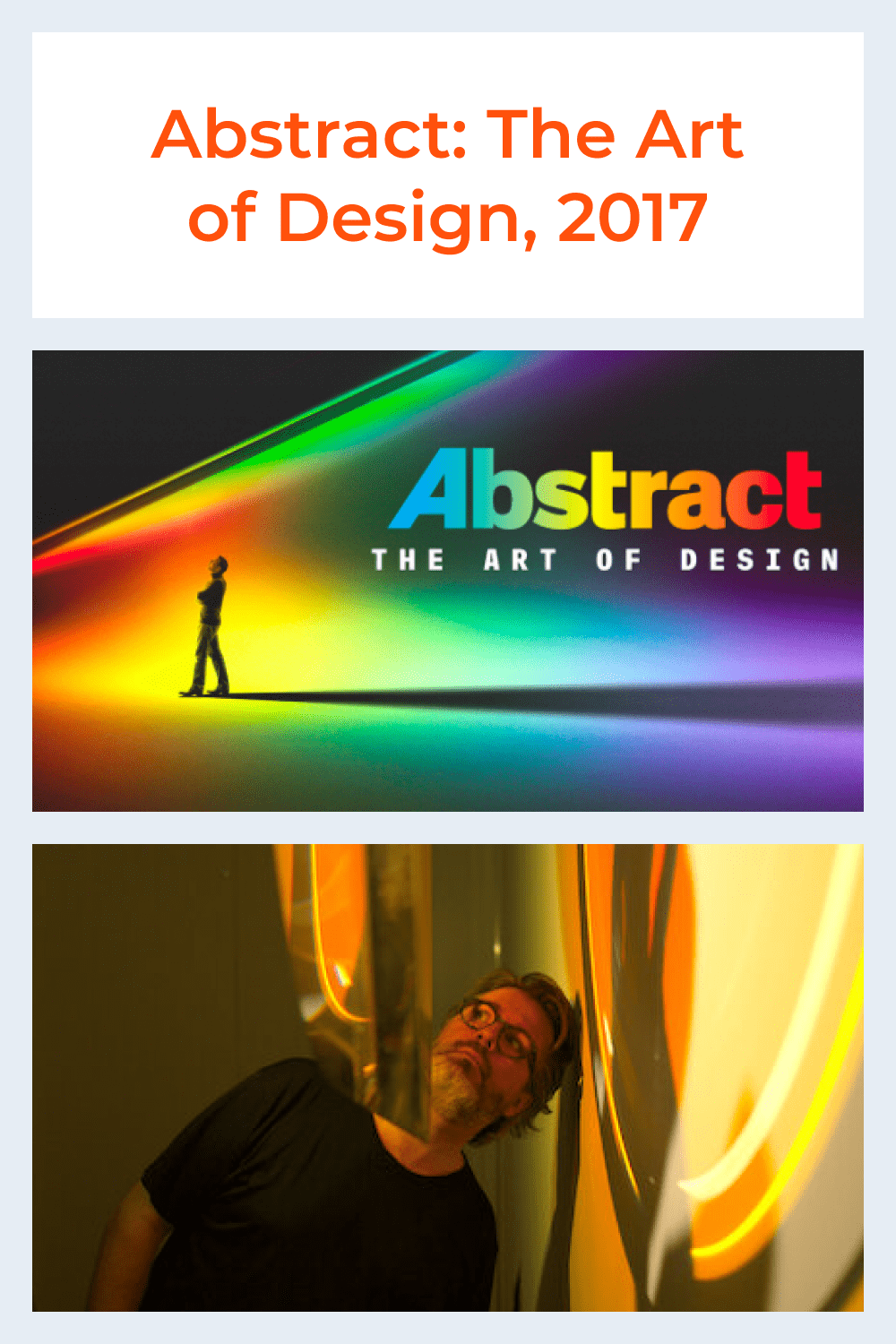 Abstract: The Art of Design is a series on Netflix. Each series focuses on one designer. It stars graphic designer Paula Scher, production designer S. Devlin, and architect Bjarke Ingels. They talk about their work and how they make artistic decisions. Interestingly, the series shows not only their professional paths but also how tightly design is connected to our lives and how much it influences us.
In Vogue: The Editor's Eye, 2012
---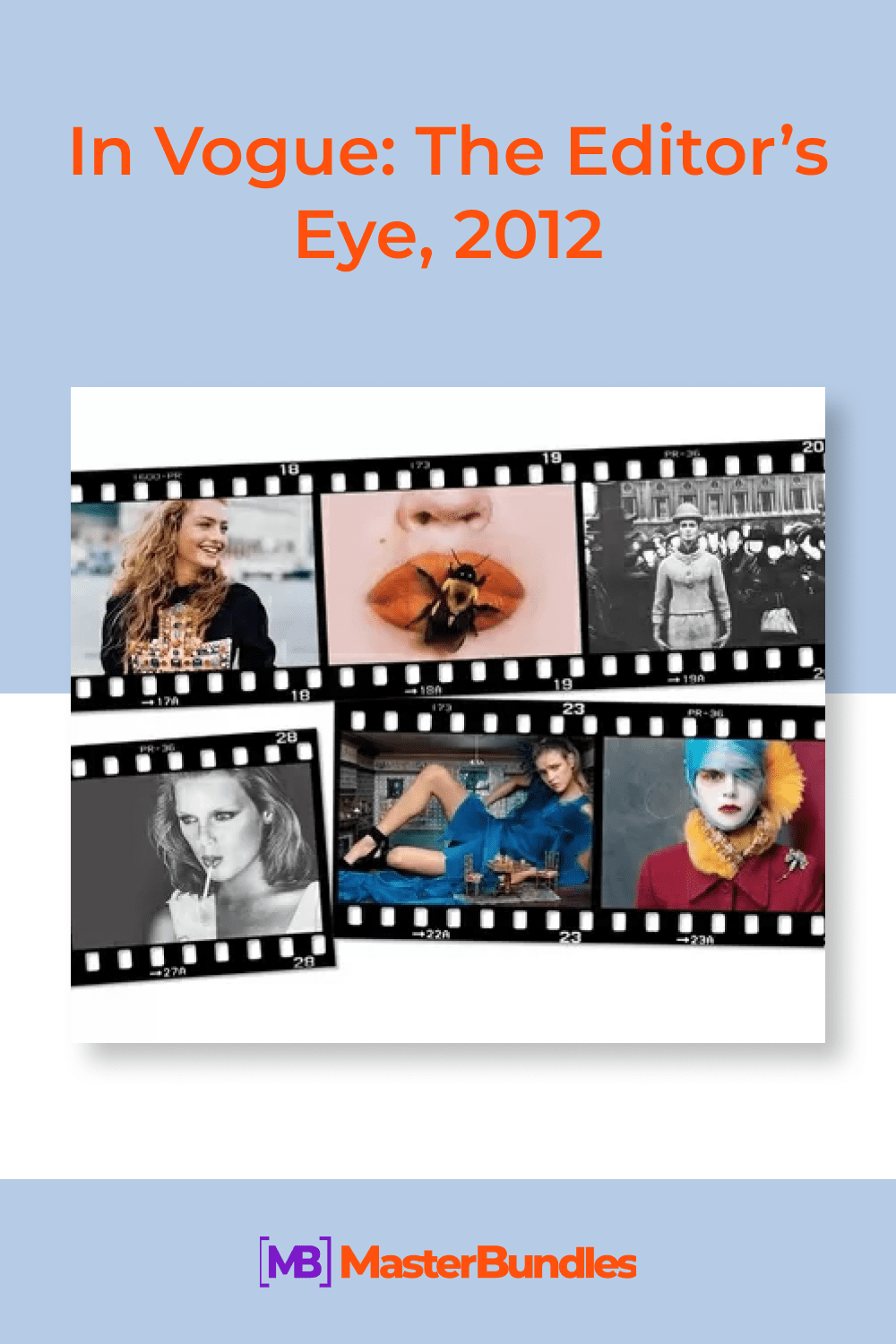 The film is a behind-the-scenes look at the creation of one of the planet's most popular publications, celebrating its 120th anniversary in 2012. This first-person documentary reveals the story of the changing world of design—from fashion to illustration and layout techniques—from a few of the women who loved their craft more than anything else in the world. Fenton Bailey and Randy Barbato, who are known for cutting pop culture "alive," such as their film Club Mania, were the directors of this documentary. Initially, they thought all the Vogue staffers would be like the girls in The Devil Wears Prada, but they turned out to be ordinary women with whom the crew became friends during the project.
Helvetica, 2007
---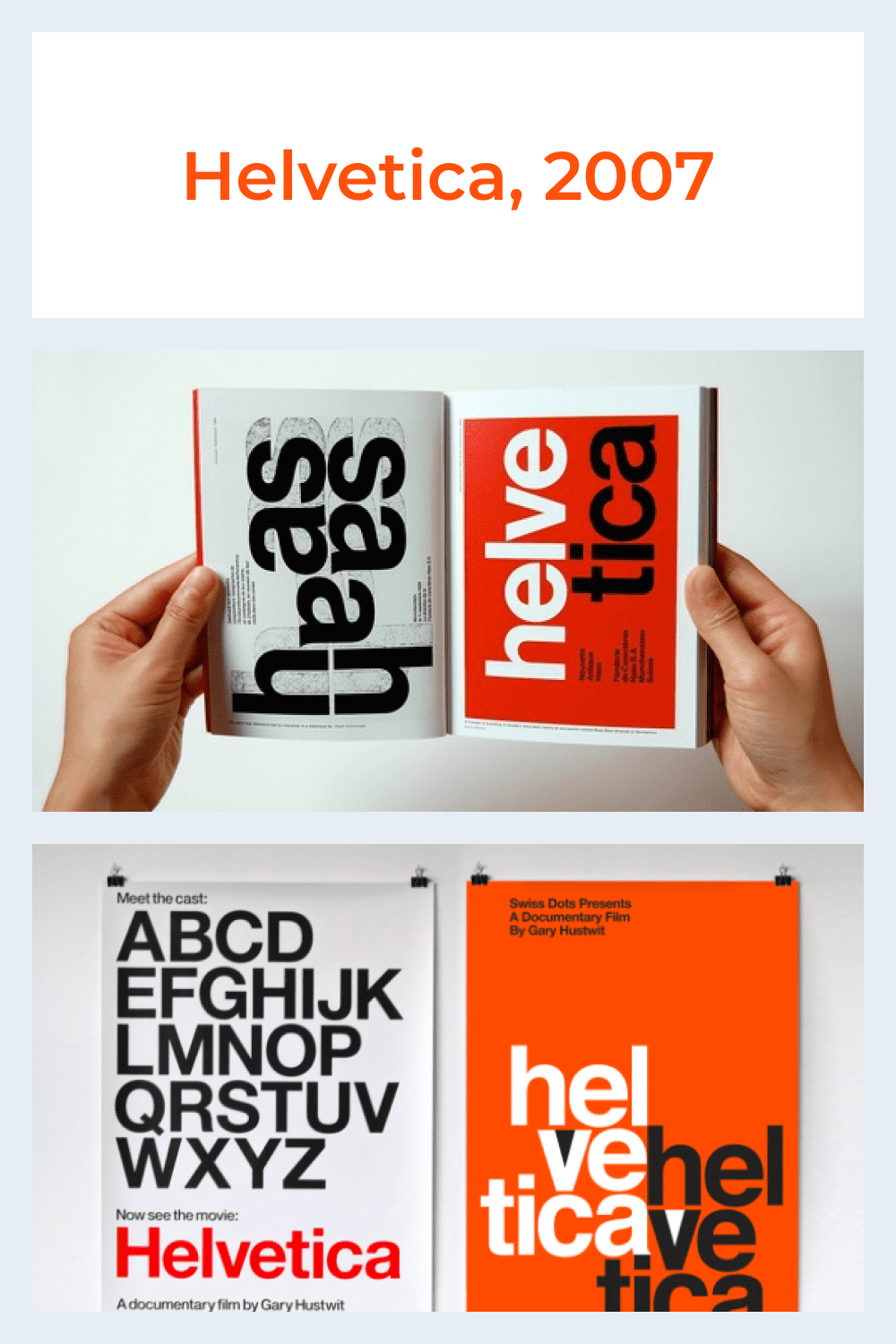 The film reveals a simple idea: lettering can completely change our lives. Its purpose is to illuminate the personalities behind the creation of this type—a seemingly invisible but indispensable thing for everyday people. After watching Helvetica, you'll wonder, "What do fonts mean in today's world?" and "Why did this ad work for me and this one not, even though the message was the same?" Recommended for viewing by designers and advertising workers, as well as their loved ones, so that they finally understand what their soul mates and significant others "breathe."
Why Man Creates, 1968
---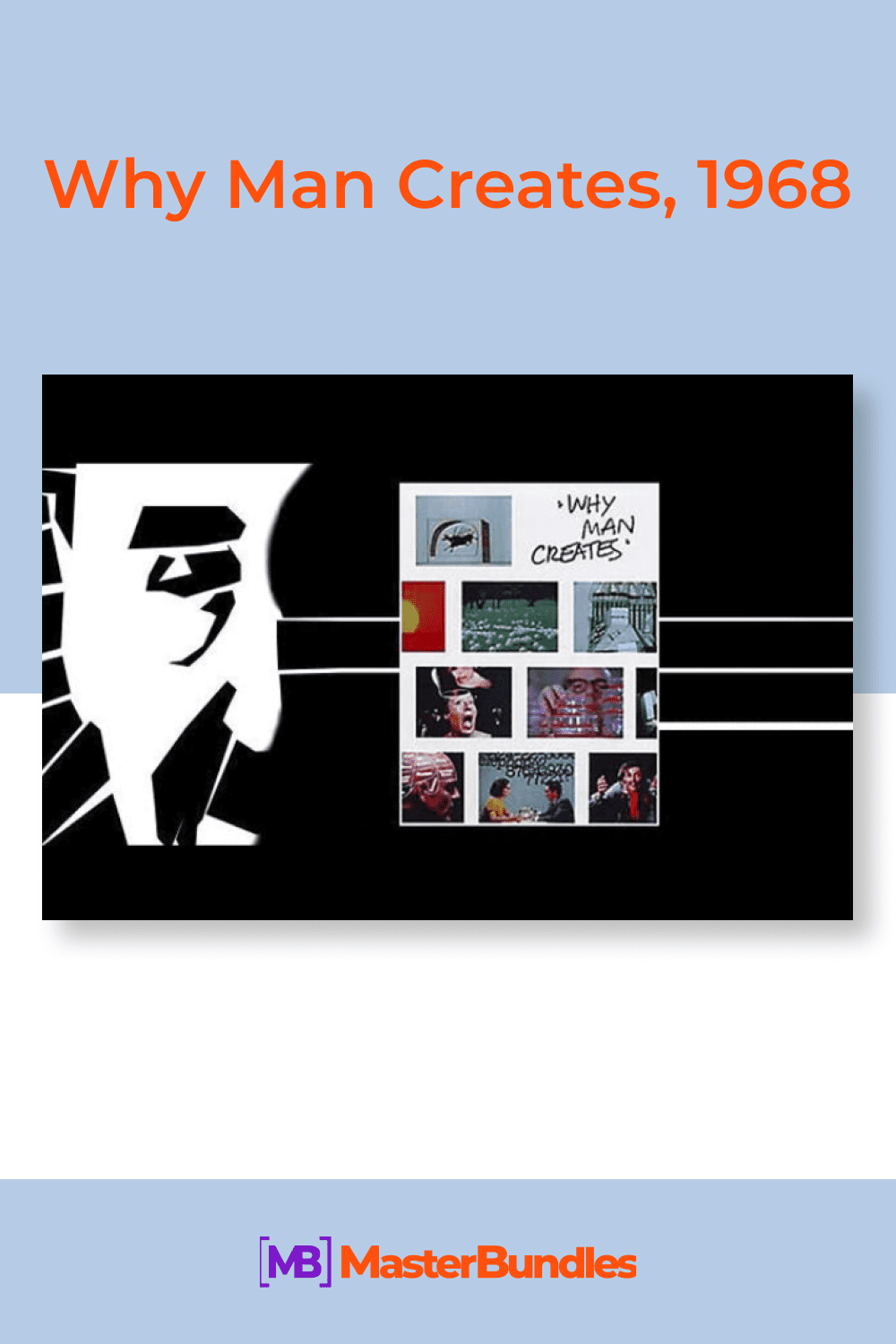 A rather old animated short film that mesmerizes with amazing graphics and raises a question that applies to all art people: "Why does man create?" It is worth including if only to find out what George Lucas was doing before he created Star Wars, as the renowned director took on the role of cameraman here. The graphic designer of this short movie is the famous Sol Bass, who worked with Hitchcock, Kubrick, and Scorsese. He was responsible for the logos of AT&T, United Airlines, and Warner Communications.
The Universe of Keith Haring, 2008
---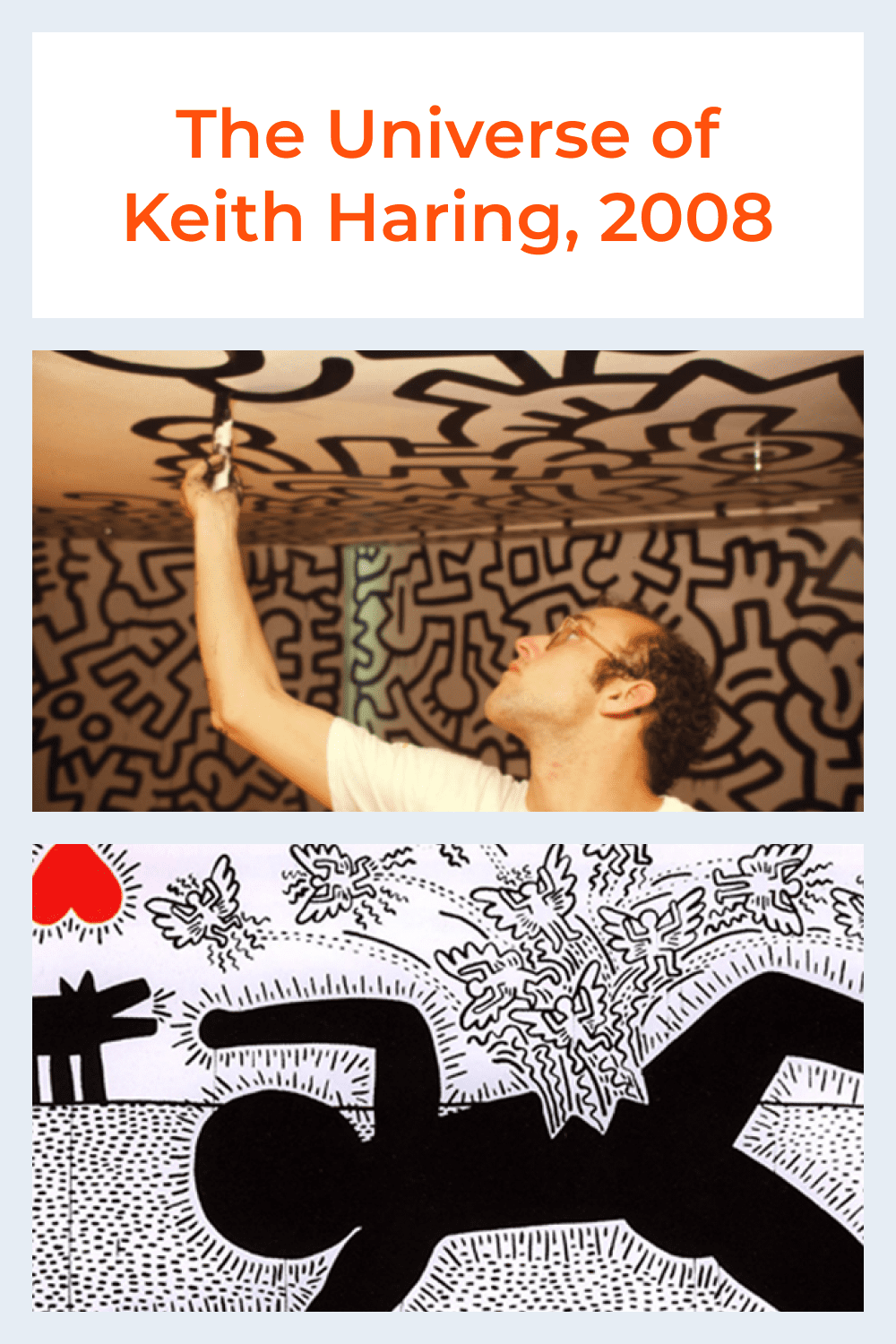 As the title tells you, the film is about Keith Haring, the face of American provocative design in the 1980s. Everything you wanted to know about this artist is in this film: what motivated him to make such striking pictures, and how he became friends with Madonna, Yoko Ono, and Andy Warhol. As you watch this movie, you'll get a taste of the spirit of New York in the '80s. And afterward, you'll be infected with new ideas that break stereotypes.
Sky Ladder, 2016
---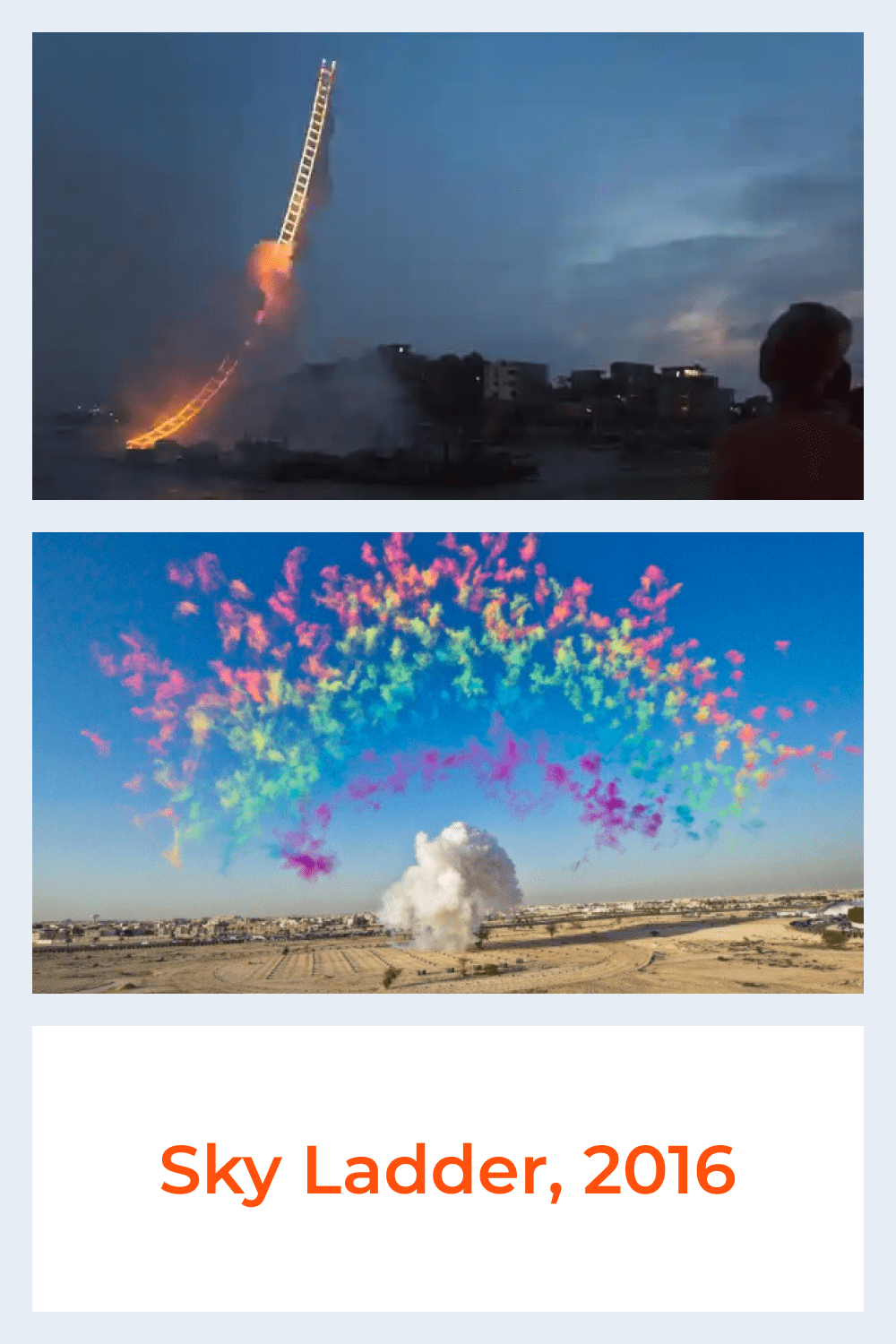 Cai Guo-Qiang is an artist who combines East and West, high art and everyday life, centuries-old traditions, and modern strategies in his art. Sky Ladder is the story of the life and work of China's most famous artist, a carefully crafted portrait that is not only worth watching, but also listening to. The sound artists did a great job: the viewer will be immersed in Cai Guo-Qiang's world by the penetrating rustle and whistle—an integral component of the artist's works.
Sneakerheadz, 2015
---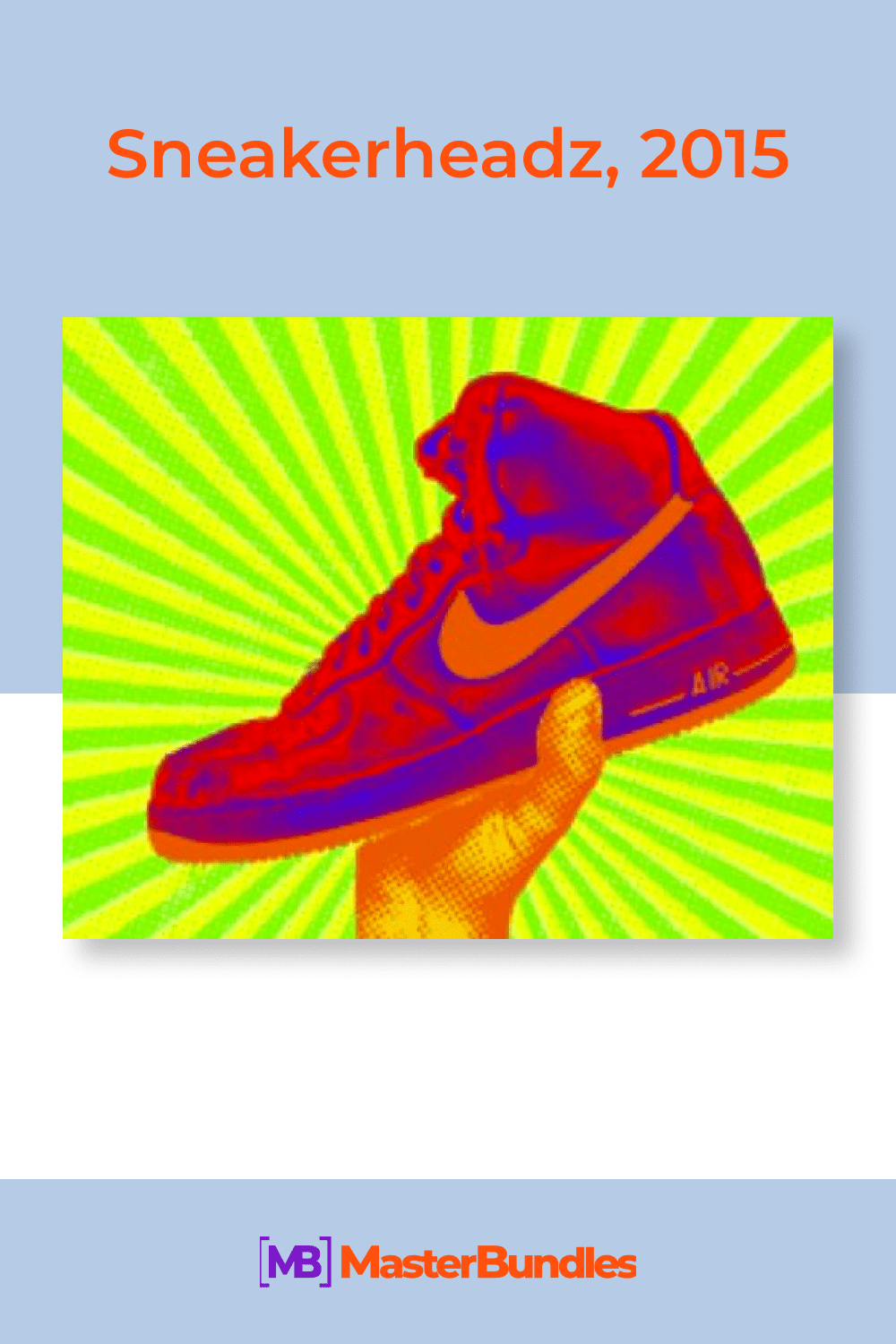 Sneakerheadz is a gift for fans of street fashion. It is made up of conversations with designers, store owners, and sneaker fans. Important historical footage like clips from music videos, journalistic stories, and sports matches are interspersed with beautiful footage of shoes and stories about the origin of the word "sneakers," Michael Jordan and Nike, Run DMC and Adidas collaborations, and nightly camping outside stores. The film is full of interesting statistics, including some that are very sad. Did you know, for example, that there are over 1,200 murders every year because of sneakers? That's about 20 a week.
Ways of Seeing, 1972
---

The four-episode series Ways of Seeing, made for the BBC in 1972 from a script by writer, art historian, and artist John Berger, raises questions about the traditional Western aesthetic culture by critiquing them. The picture raises questions about the modern viewer's perception of classical images, the role of the female body in art history, how images have ruled the mass consciousness over the centuries, and finally how modern advertising has mastered the tools that were developed within the artistic tradition. A book was then published, of which the Sunday Times critic wrote: "Berger not only opens our eyes to the way we see works of fine art, he almost certainly changes the viewer's perception of art itself."
The Genius of Design, 2010
---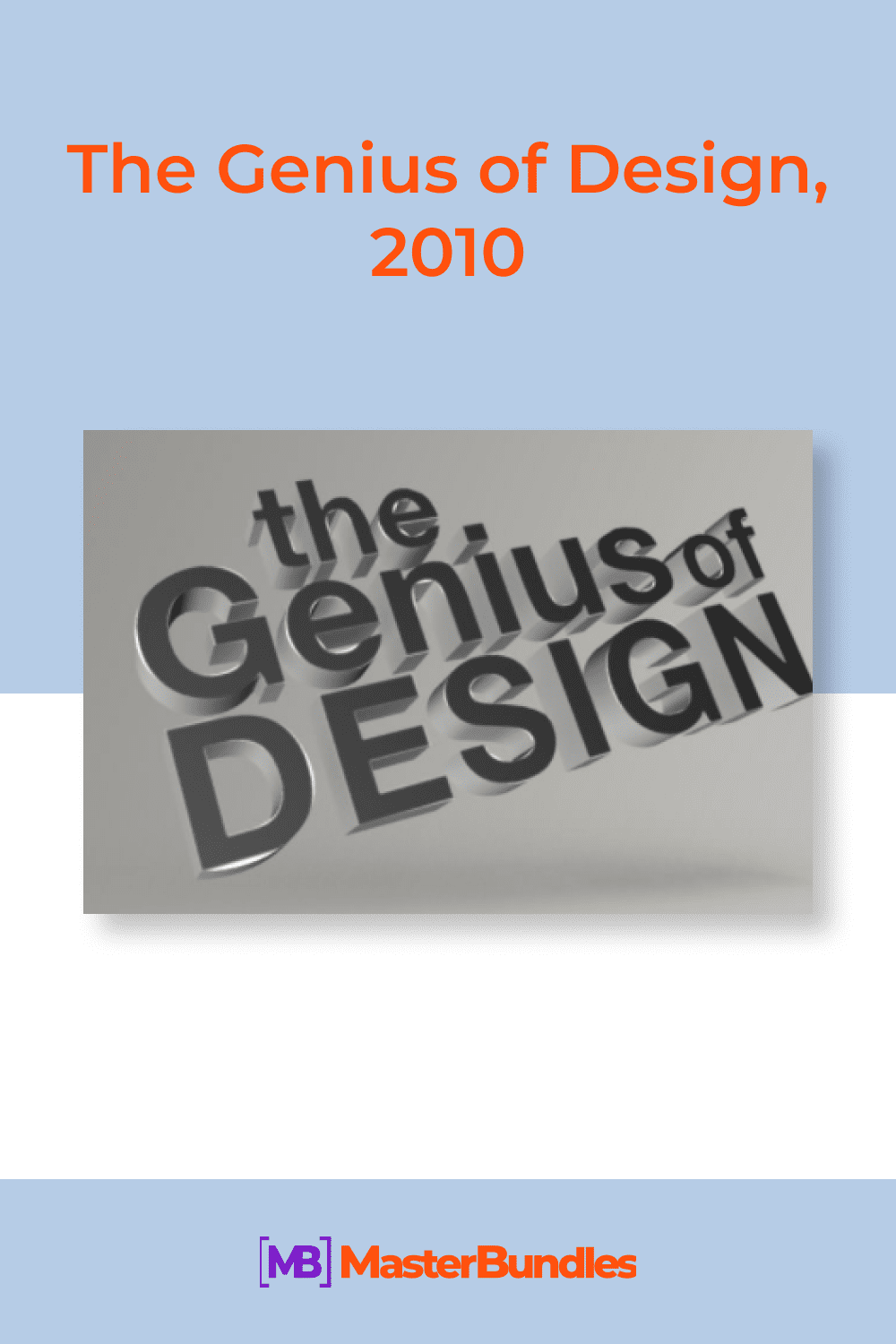 This is a series of short films by the BBC about the emergence of design in the age of industrialization to its development today. The last of the five episodes is about simple objects that have changed our lives fundamentally (like the built-in metal ear for opening a tin can or the spring in a clothespin). The purpose of design has since changed, according to the creators of the film. If it used to be focused primarily on the needs of the consumer, now that we have everything, it's about fulfilling dreams.
Helmut Newton: Frames from the Edge, 1989
---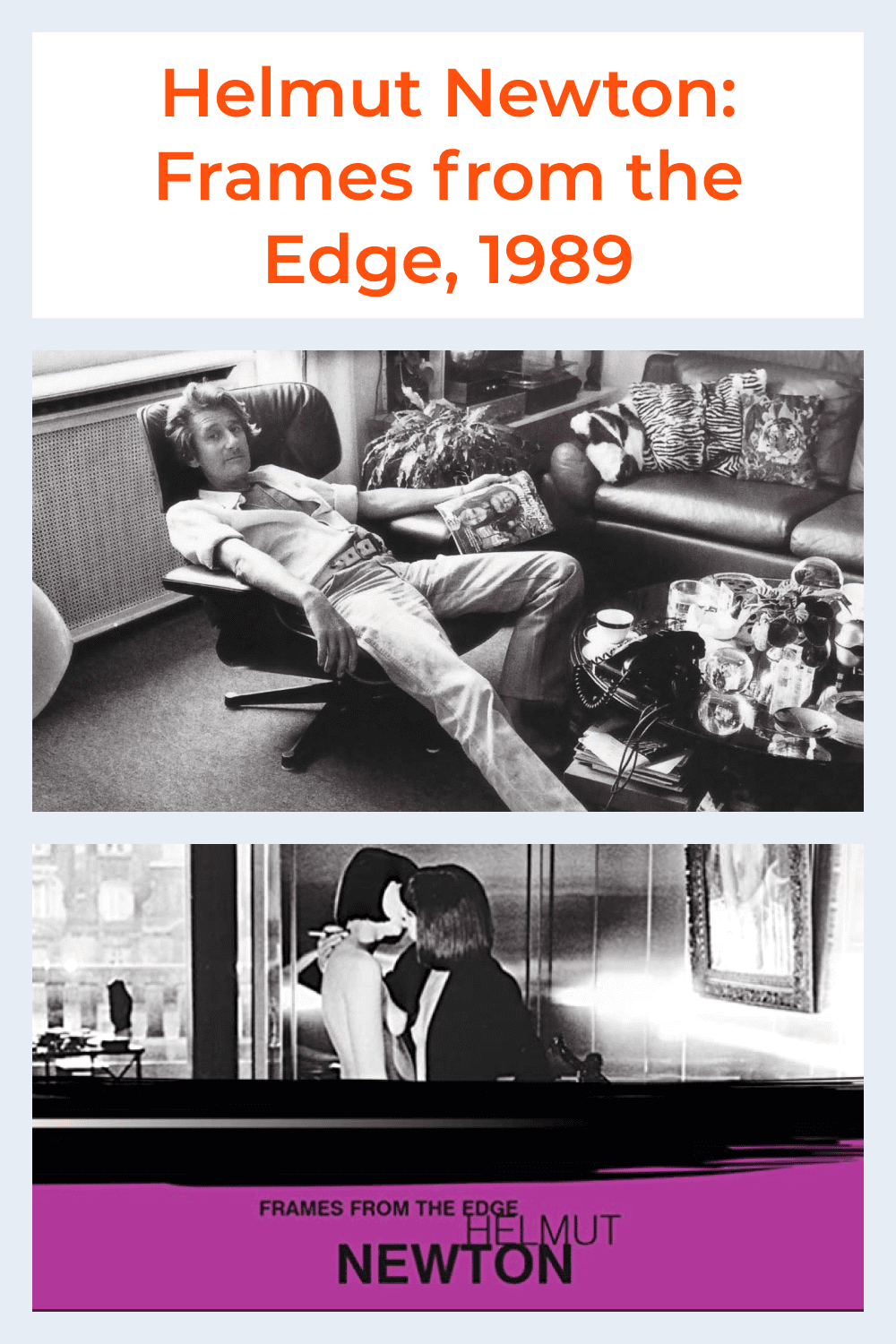 The film tells the story of the German-Australian photographer and artist Helmut Newton, who was very prolific and often imitated. His provocative erotic black and white photographs never faded from the pages and graced the covers of Vogue and other publications. The eroticism of his work balances at times on the verge of shocking revelations, but that is what has made the photographer an international celebrity.
Beauty Is Embarrassing, 2012
---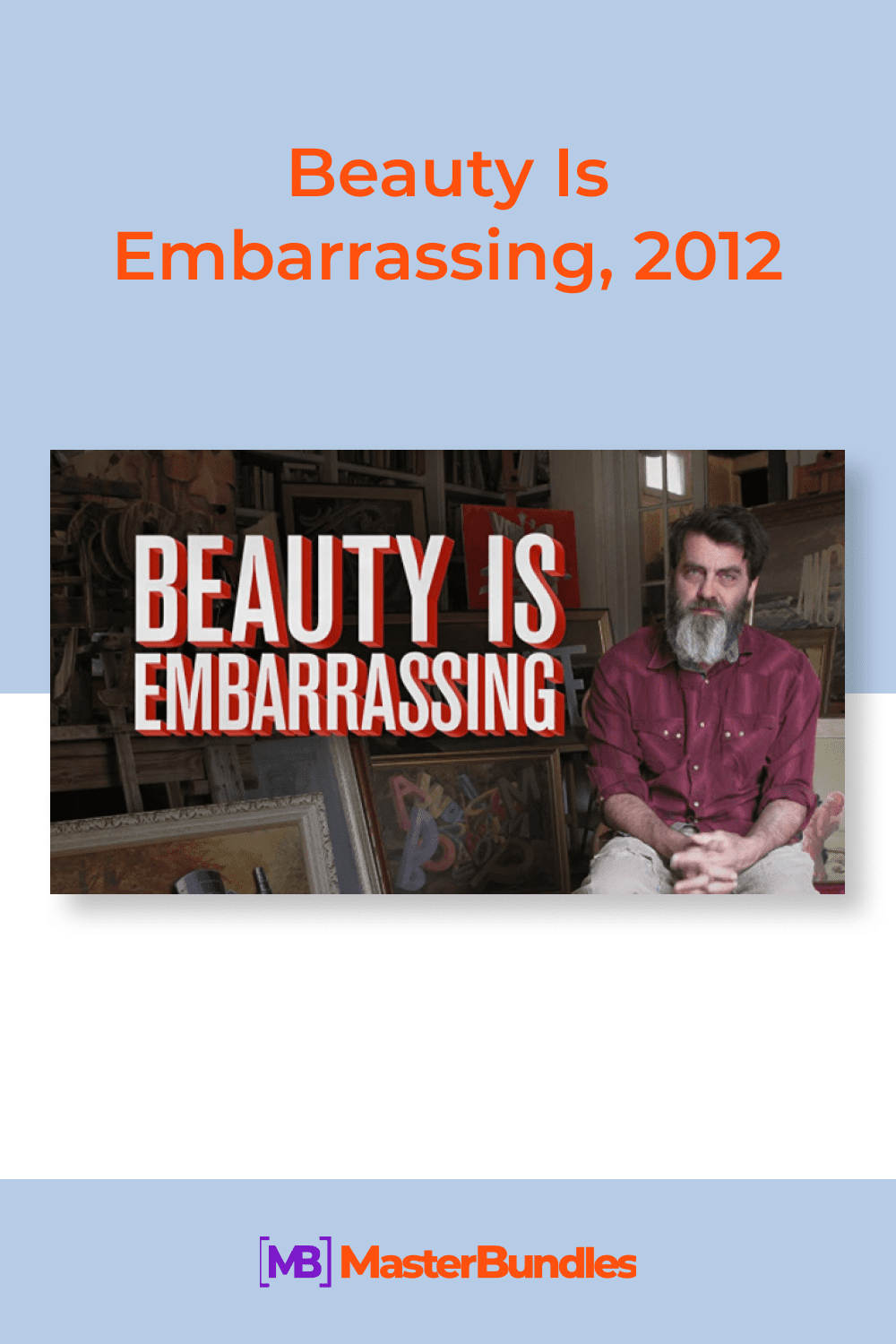 A witty and entertaining documentary exploring the life and work of Wayne White, and his journey from underground East Village cartoonist to co-writer of a famous multi-Emmy Award-winning television show. White has created images and concepts that have become an integral part of pop culture. Whether or not the world recognizes the results is irrelevant.
PressPausePlay, 2011
---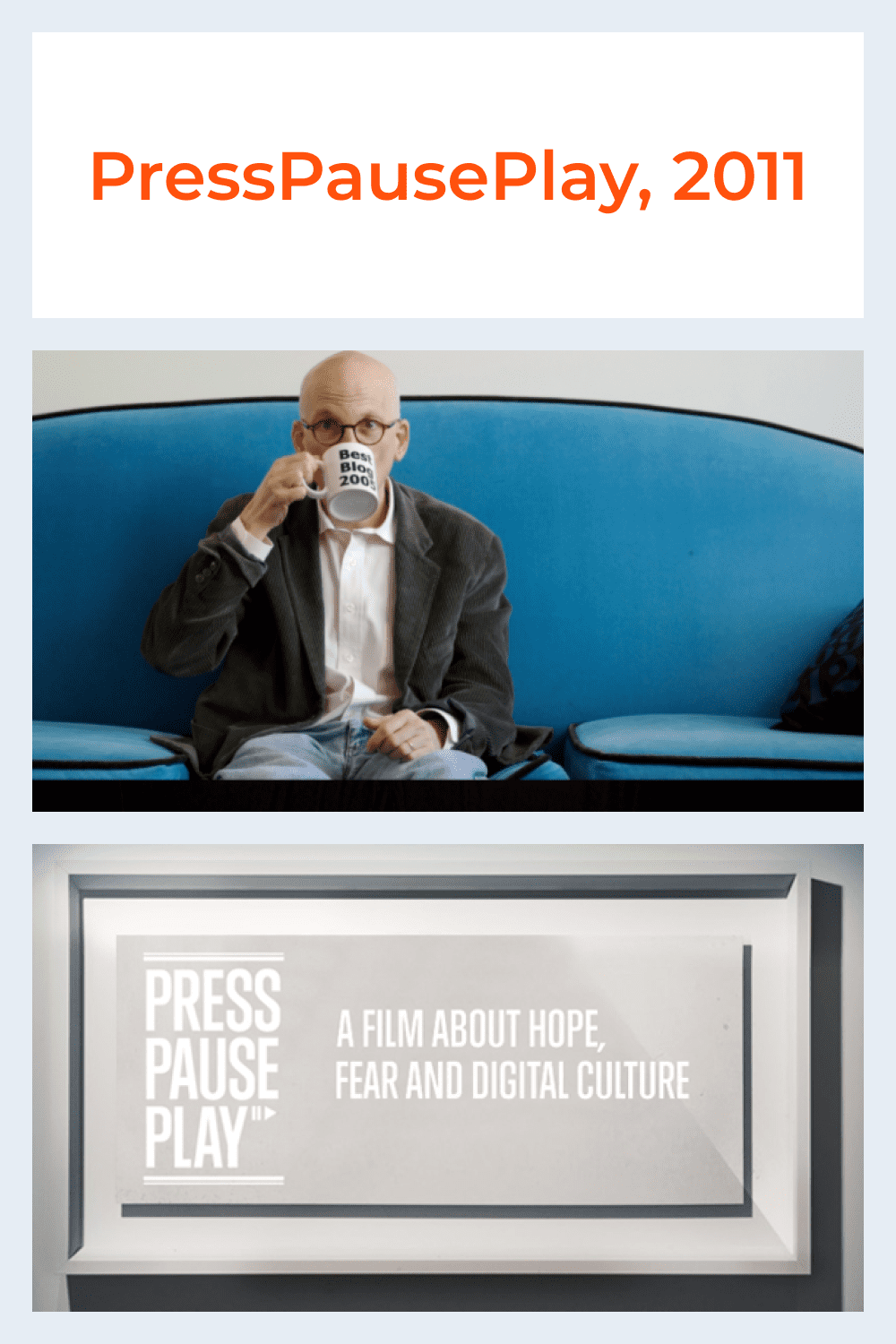 PressPausePlay is a documentary about what is happening in music and film today. It is about the digital revolution of recent years, which has led to the fact that now everyone has a chance to show his talent. Everyone can make movies and music. With limitless possibilities for creativity, and the democratization of culture, does it make art better, or is it now more likely that true talent will drown in mountains of "trash?"
Moby, Hot Chip, Robyn, Seth Godin, Pitchfork editors, and other art influencers explore this topic.
Urbanized, 2011
---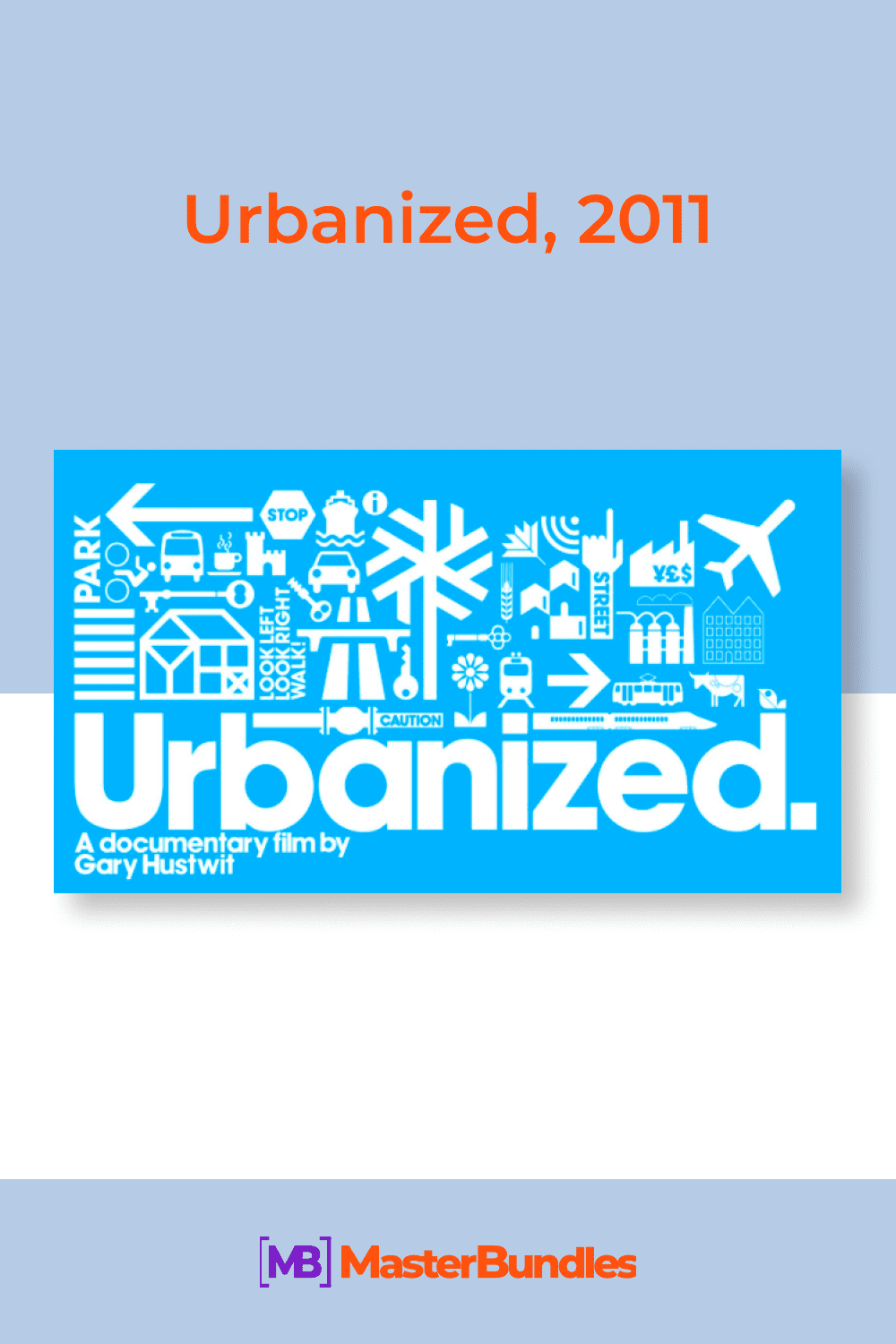 A full-length documentary about city design that looks at urban design issues and strategies. It examines some of the world's leading architects, planners, policymakers, builders, and thinkers. More than half of the world's population lives in urban areas and 75% will live in cities by 2050. While some cities are experiencing rapid growth, others are shrinking. Exploring a variety of urban design projects around the world, the film articulates a global discussion about the future of the city.
Art & Сopy, 2009
---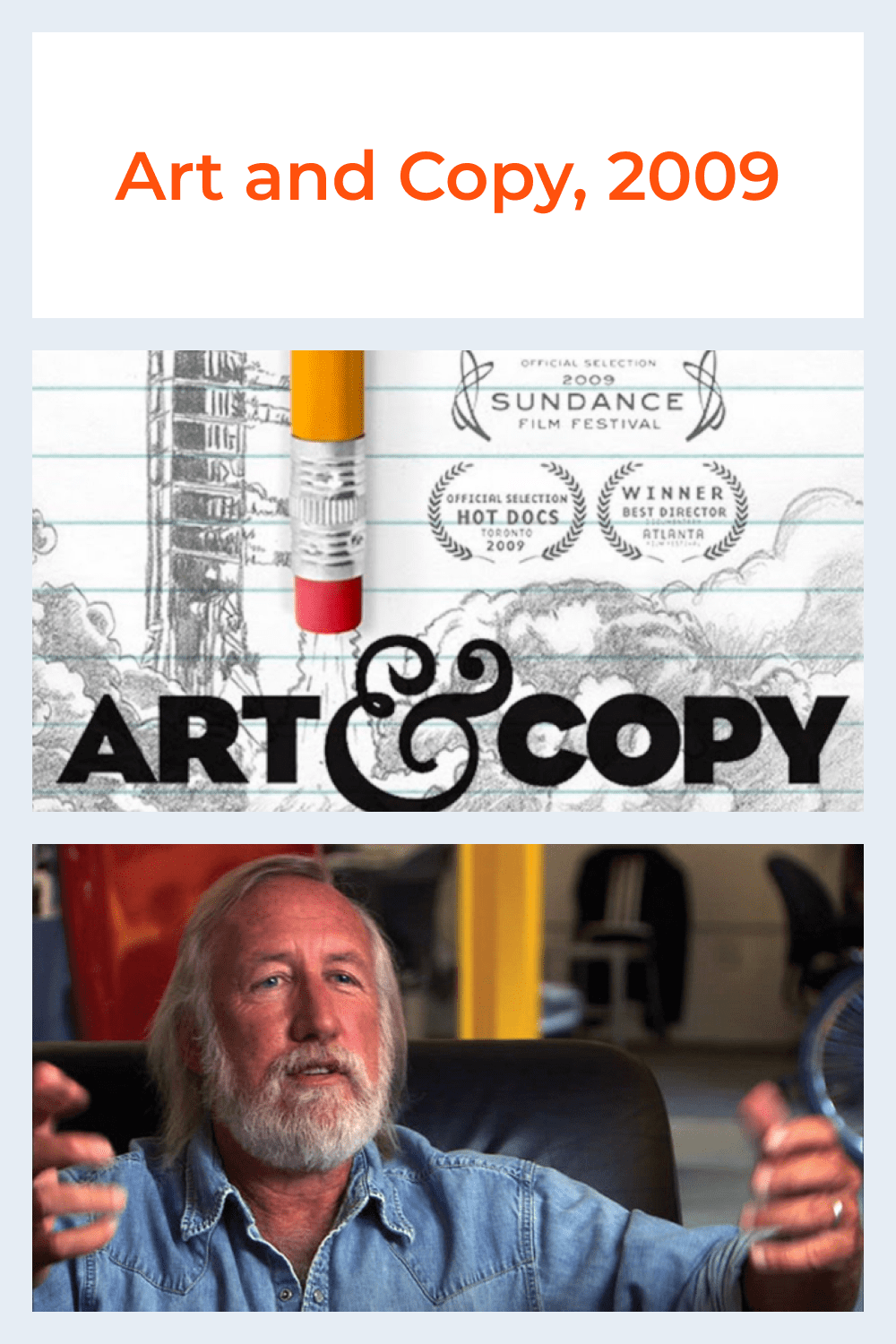 This is a film about the art of advertising and inspiration. It is also about the work of the most influential advertisers—people who have had a major impact on contemporary culture, yet are completely unknown outside their profession. Thanks to the explosive power of the "creative revolution" of the 1960s, advertisers and copywriters brought a rebellious spirit to their work in what was most often associated with mediocrity or manipulation. It was the advertisers who were able to capture the attention of millions of people and really excite them.
Design & Thinking, 2012
---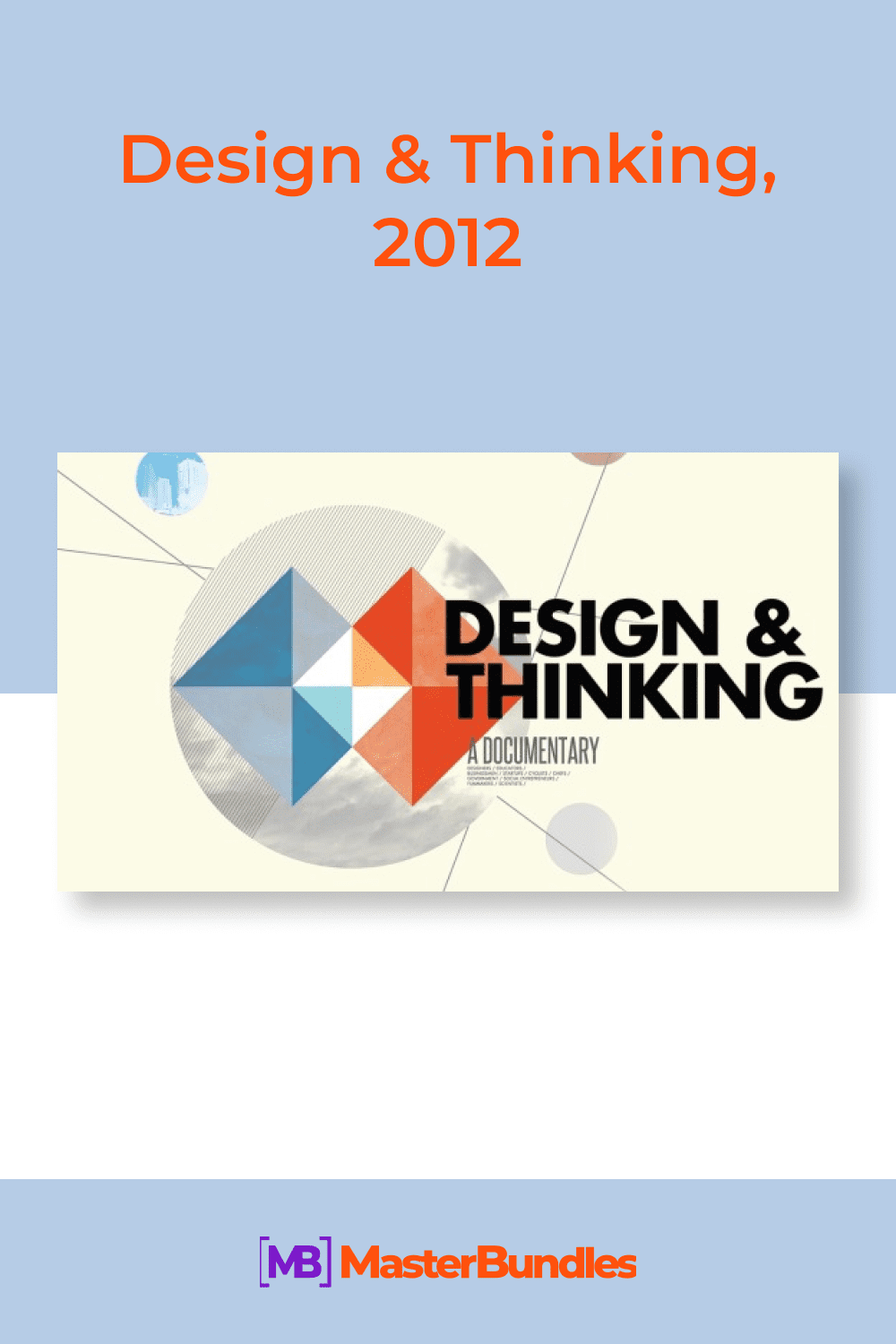 Inspired by the values of design thinking, this documentary reveals the views of businessmen and designers on the challenges of the 21st century.
What is design thinking? How are design thinking principles applied to business models? How can people change the world around them with creative thinking? This is a challenge to mediocre minds, a call to transform in a changing world.
Milton Glaser: To Inform & Delight, 2008
---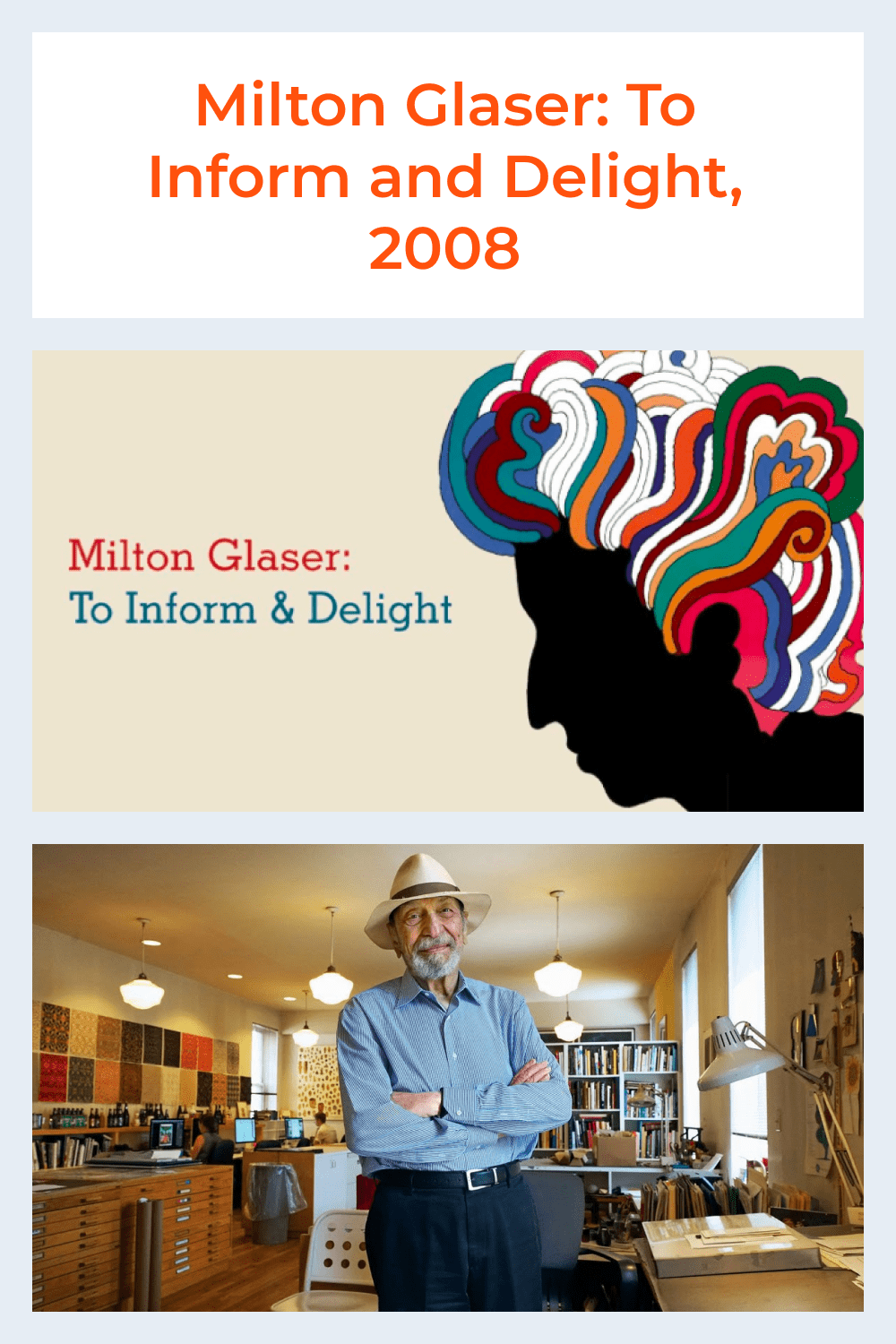 This film explores the full range of work by Milton Glaser, a distinguished designer who, for many, is the epitome of American graphic design. From newspaper and magazine design to interior design, logos and icons, famous prints, drawings, posters, and paintings, the film covers the entire scope of the great designer's work. Deftly directed by Wendy Keyes, the film immerses the viewer in the daily moments of Glazer's personal life and captures the designer's immense warmth and humanity as well as his boundless depth of intelligence and creativity.
Sign Painters, 2013
---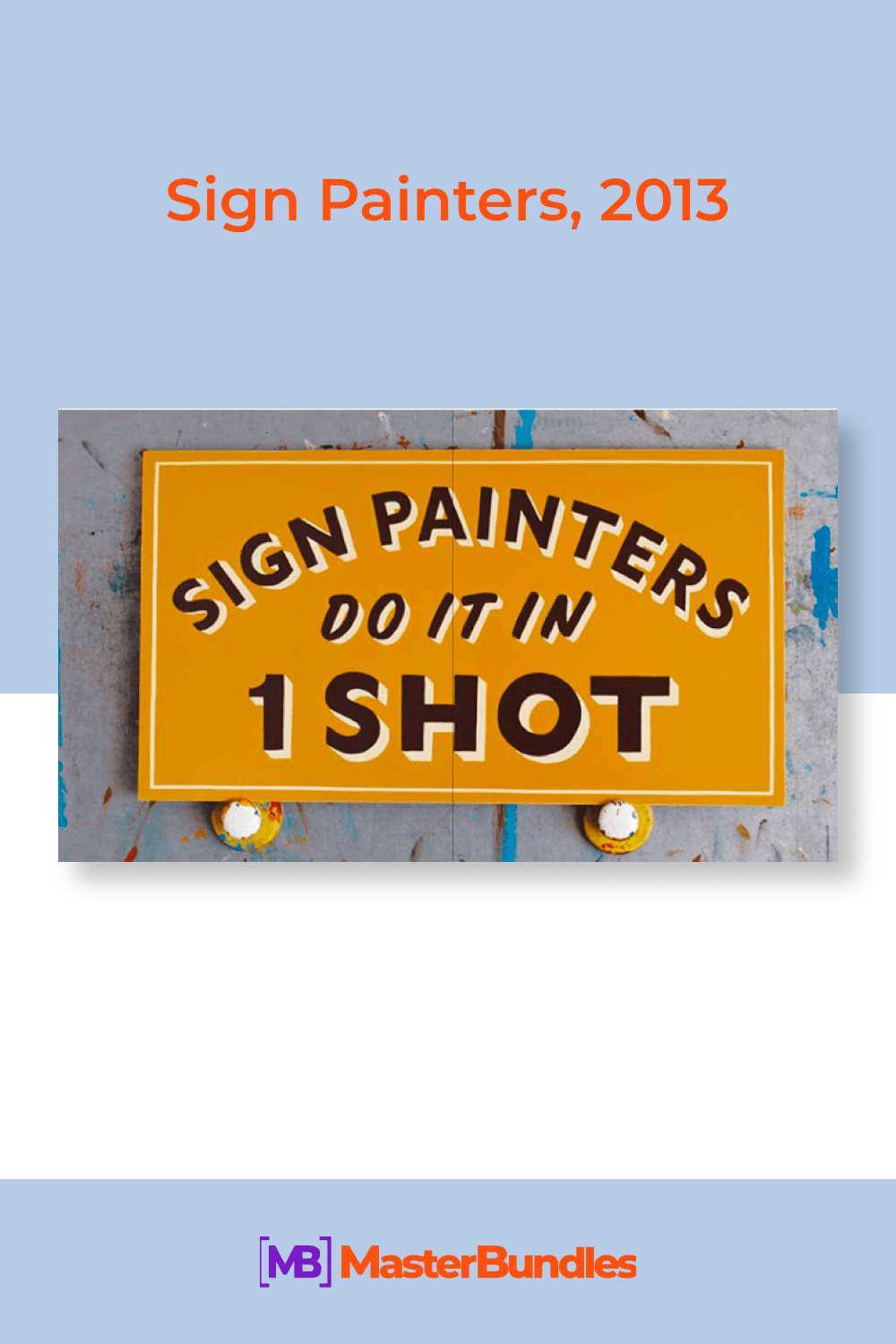 This film is about signboards. We see them every day, but often don't pay any attention to them. Time-honored, hand-drawn signs are the product of a fascinating 150 years of American history. It was once an ordinary job, but now the labor of the artist who draws signs has become highly specialized, requiring unique skills combined with technological complexities. The film explores this little-known art through short episodes-interviews with the artists—Ira Coyne, Bob Dewhurst, Keith Necht, Norma Jean Maloney, and Stephan Powers. This avant-garde of invisible originality leads to a resurgence of a passion for creativity and illustrates the success story of the American working class. The film emphasizes that there is a balance between art and commerce.
Conclusion
We hope that these movies will make your evenings full of bright images, creative wind, and inspiration. Learn from the greatest artists, and don't forget to listen to your creative mind and unique designer's soul. 🙂
Some Awesome Video About Movies for Graphic Designers
Top 5 Netflix Documentaries for Graphic Designers
Top 5 Netflix Documentaries for Graphic Designers.
TOP 5 MOVIES THAT EVERY DESIGNER SHOULD WATCH | DEZAYNERS
Graphic designers draw inspiration from many sources. Watching spectacular and visually appealing graphic design movies is one of the best ways to take creativity to the next level. Web design documentaries, feature films, or real-life stories can trigger inspiration and result in creating something new.
Was this page helpful?
We will be happy if you decide to share this article with your friends on Facebook. Just click on the button and you're done
What are your concerns?
Thanks for your response!
You have already left your review.
Disclosure: MasterBundles website page may contain advertising materials that may lead to us receiving a commission fee if you purchase a product. However, this does not affect our opinion of the product in any way and we do not receive any bonuses for positive or negative ratings.