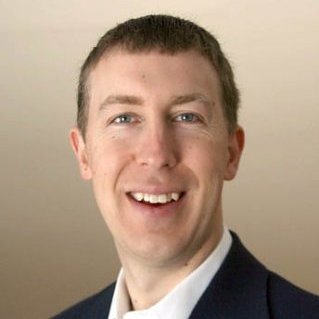 Article reviewed by
on May 31, 2020
★ Helping Great Businesses Grow ★ Inbound Marketing Expert ✓ Online Lead Generation ✓ WordPress Marketing Strategist
Learn about comment
What is Web Hosting and How Does It Work?
"Web hosting server is the lifeline of every website. It should be up and running 24/7.
Dr. Chris Dayagdag
How to Host a Website? Creating a web resource is a set of actions that combine the development of design, informational content, utilization of web and marketing technologies to meet the needs of visitors and owners of the future site.
Building a website requires choosing a website hosting and domain. The concepts of "domain name" and "hosting" are inextricably linked. The domain name is the address of the website where your web resource is located. Hosting is a physical placement of the site on the server of the service provider.
With that said, website hosting is an online service that allows you to launch your website or web application on the Internet. When you are purchasing a hosting service, you actually rent space on a server where you can store all the files and data necessary for the proper functioning of your site.
A server is a physical computer that runs without interruption to ensure availability of your web resource 24/7. Your hosting is responsible for maintaining the server, protecting it from malicious attacks, and transferring your content (text, images, files) from the server to the browsers of your visitors.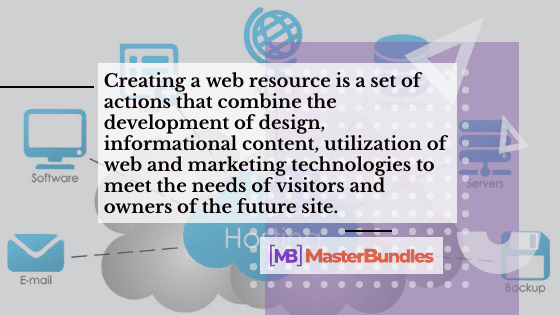 When you decide to launch a new site, you will need to find a hosting company that will provide you with resources on the server. Whenever someone enters your domain name into the address bar of their browser, your host sends all the files needed to process the request.
In fact, you do not even need any programming knowledge while hosting your own website. Hosting accounts have a graphical user interface where you can manage all the settings of your website. For example, you can upload HTML files to the website server, install content management systems such as WordPress, access your database, and create backups for your site.
Here is a short list of what you should expect from your hosting provider:
Domain registration
Website builder to create a website with no hassle
Email hosting
Basic technical and CMS support
There are a number of factors that you should pay attention to when thinking about websites hosting and choosing your hosting provider:
Technical capabilities of the provider. Make sure your hosting provider is able to cover your technical needs not only at the moment, but it will be possible to expand the range of resources in the future.
Pricing package. The hoster has to provide you with an acceptable tariff plan and the necessary additional agreements.
Technical support. 24/7 technical support, along with a constant and continuous communication with an operator is an important point when working with a hosting provider.
Backing up. The ability to backup and restore data in case of an accident will ensure the most reliable operation of your project.
The speed and workload of the channel. These parameters are most important when implementing large solutions and large web portals.
On-stream time without failures. This parameter indicates the percentage of time while your website (hosted by the provider) was available. Although a lot of services can measure this parameter, you can get its real value after you begin working with the provider.
As of May 2021, the total number of domains hosted worldwide is 154,608,076, while the total number of web hosting services providers is 338,561. (WebHosting)
Hosting can be either full-featured or with limited functionality. The latter includes the following:
File hosting
A hosting provider offers you to store information in the form of files and ensures its security, remote access, etc.
Mail hosting
This is a service that provides a private mail system, which has no advertising banners, and offers a certain protection against spam, has one or more own domain names and works due the most common mail transfer protocol (SMTP, IMAP, Pop3).
DNS hosting
This is the hosting service that provides a system for storing domain name records.
Wiki hosting
This is the service which provides website host servers with tools to create and manage their own independent wiki pages.
Game hosting
It is providing various types of servers for the organization of multiplayer network games.
Speed in 2020
Page speed is basically the amount of time it takes to load a single page from the moment you clicked on a link and to the moment the last image is loaded. Certainly, there is a more technical definition for this term but the point is pretty much the same. So you may wonder why is it so important and I'll try to explain that.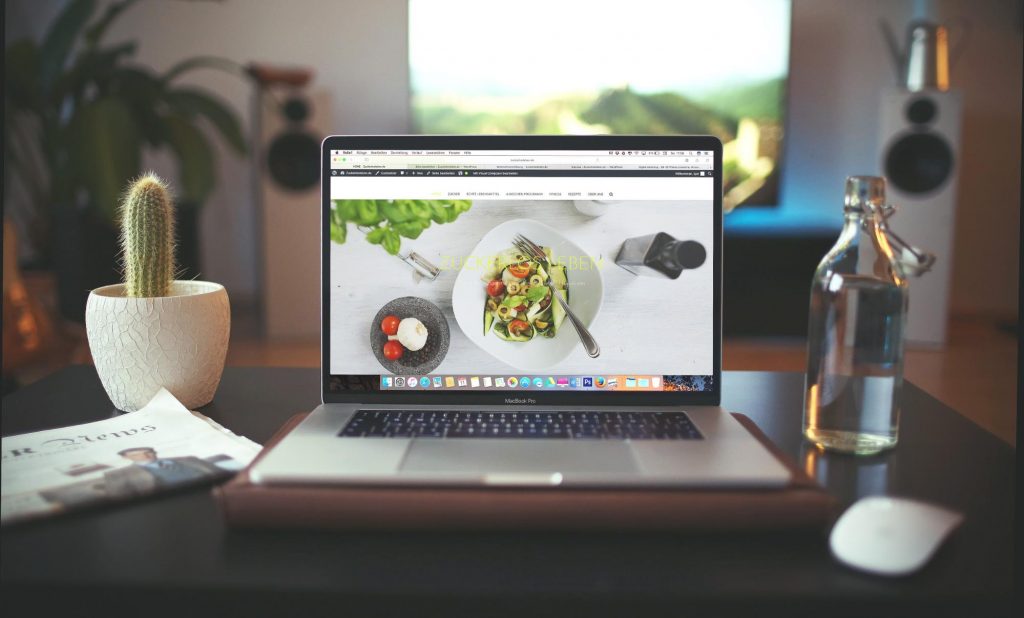 Fortunately, in 2021 we can download video games that weight about 20 GB in less than an hour and watch movies in full HD from online streaming services such as Netflix. Well, I might shock many of you right now, but these things were not possible just fifteen years ago. For example, if you find videos that have been uploaded on YouTube more than 10 years ago like old music videos, you'll see that most of them are of a rather low quality. Certainly, the reason for that is not the quality of an actual video but the fact that it took ages to upload a video and watching one online in HD was not possible at the time. So you might consider yourself lucky to live in the age when the internet is fast and allows you to do so much interesting stuff.
Well, how are these improvements connected with the importance of your online store, blog, or personal website's page speed? First of all, you need to know that now you have an opportunity to make your site perform fast and flawless. Secondly, modern users are used to the smooth performance of web pages and videos, so whether you want it or not, you have to keep up with these demands because nobody is going to wait for your online store to load, they would go to your competitors instead. The acceleration of the work of the worldwide web has changed the users' idea of how a website should work. They expect it to be fast and you have to provide it.
Thus, here are some tips that will help you accelerate the loading process:
Clean code
Removing redirections
Getting rid of render-blocking JavaScript
Enabling compression
Optimizing images size
Utilizing CDNs
As you can see, it's not that hard to make your site work smoothly and flawlessly, yet it is extremely important since in 2021 users expect online stores, blogs, or any other websites to load instantly.
Mobile-First Index
Before mobile devices became a part of our everyday life, the search engines scanned the desktop versions of websites and collected the data for the analysis. It definitely made a lot of sense back at that time simply because the vast majority of users accessed the Internet through desktop computers. Since 2016, the situation has drastically changed and the amount of mobile users exceeded the number of desktop ones. Thus, the more people access the Internet from smartphones and tablets the less useful ranking desktop-based sites become.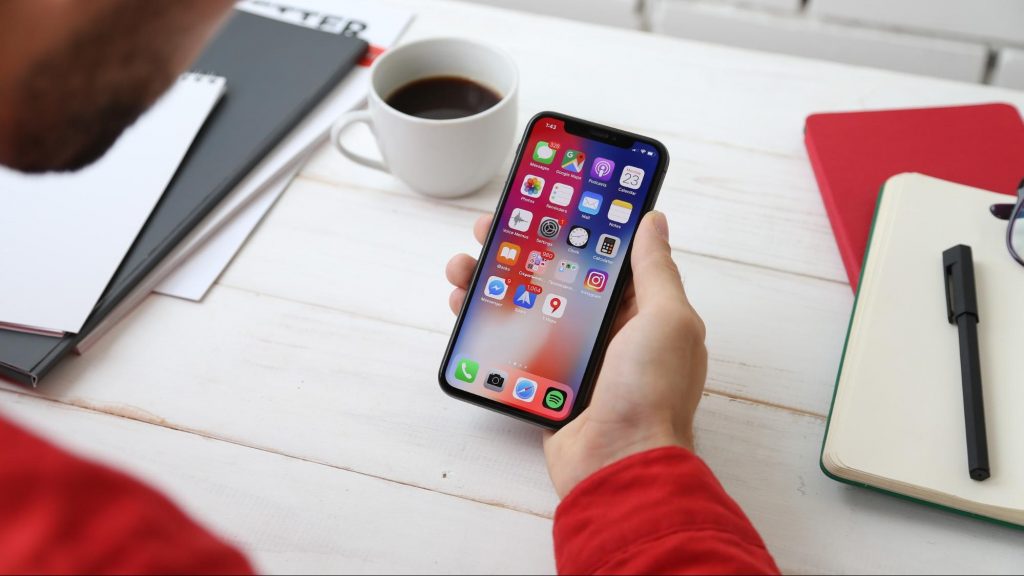 So this is how mobile indexing becomes a big deal. According to its principles, the search engine scans the mobile version of the site and uses this data to create a ranking. Those resources that do not have an adaptive or mobile version are automatically sent to the last pages of mobile issuance. Thus, let us take a look at the algorithm, which search engines utilized before the popularization of mobile devices:
Scanning the full version of the site
Using information to rank all versions of the site
Mobile version data was a so-called "bonus"
Nowadays, everything has changed and a new algorithm has substituted the previous one. So today, most search engines work using the following algorithm:
Scanning a mobile version of a site
Using this information for ranking
Accessing the desktop version, in case the mobile does not work or doesn't exist at all
You can see, that having a mobile version of a website is a must today not only because it makes the user experience better for those who access your website from mobile devices but also because it improves your conversion rates.
In terms of hosting arrangements, you have to make sure that you pick a plan that covers your mobile version as well. Luckily, most marketplaces offer the plans that already include sustaining a mobile version of your site.
Desktop Version of a Website
Even though the mobile-first index is way more important for any website than a desktop one, you still cannot do without a traditional desktop version of your site. I guess the reason for that is pretty obvious – people still use computers and they need to somehow visit your site from desktop. In addition to that, a nicely structured desktop version is a great way to improve your conversion as well. Thus, you have to take care of all the versions of your website and make sure that both mobile and desktop versions load equally fast.
Website SSL & Speed Test
In order to make sure that everything works perfectly fine and your pages load almost at the speed of light, you might want to use a free Website SSL & Speed Test designed by MasterBundles. Just insert your site's URL and click on a button and just in a couple of seconds, you'll know whether there are any issues with your SSL certificate as well as how fast does your site loads. The tool checks desktop and mobile versions of your site and gives accurate information about the possible problems. Besides, it will also show you whether your hosting plan is good enough for your site. Note that the tool only checks the speed of one particular page, not the entire website.
Website SSL & Speed Test
Certified Verification Technologies
Website SSL & Speed Test
Good luck to you and your projects!
Check one more website
Checking SSL...
Checking mobile clients...
Checking desktop clients...
Checking hosting speed...
Types of Hosting
Each site requires a different amount of resources, so there are different types of hosting. They vary in memory size, functionality, and pre-installed software. There is a good choice of various hosting types, but I will point out five main types of hosting.
Virtual hosting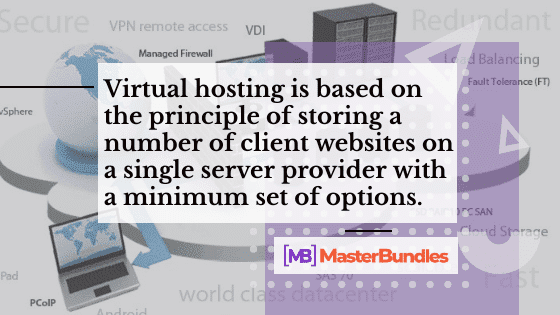 Virtual hosting is based on the principle of storing a number of client websites on a single server provider with a minimum set of options. Thus, you are getting some amount of disk space, a limited amount of RAM and some control panel of your site.
Virtual hosting can be compared to an apartment building. Its residents have a single system of heating and water supply, single entrance and parking. But some residents have more housing space, while others have less. All the users use the resources of a single server. So if someone uses too many resources, it will affect other sites. To prevent this from happening, hosting providers impose restrictions. Such website hosting is widely used for small web projects that do not require powerful resources.
This type of hosting is suitable for an online business card, promo page, portfolio, blog, or a small online store.
Cloud hosting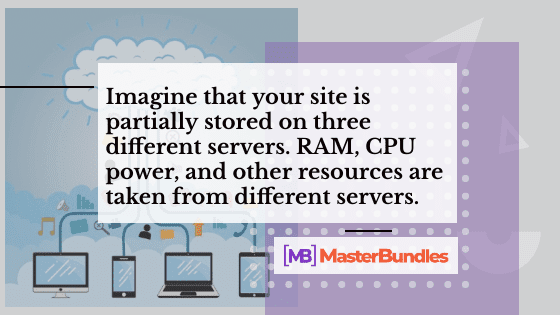 This type of hosting is based on the cluster use of resources and cloud computing. In other words, you are provided with all the necessary computing resources to solve your specific problems, and you are charged according to the actual power consumption.
Imagine that your site is partially stored on three different servers. RAM, CPU power, and other resources are taken from different servers. This helps the hosting provider to better distribute the load on the equipment.
In case one day, you will need more hosting resources, then you will not have to switch to another tariff plan. Since you use the resources of several independent servers, and you can change the number of resources when you need them.
Cloud hosting is currently the most reliable solution on the market as it works smoothly. This type of hosting is suitable for a media publishing site, online store, application, and etc.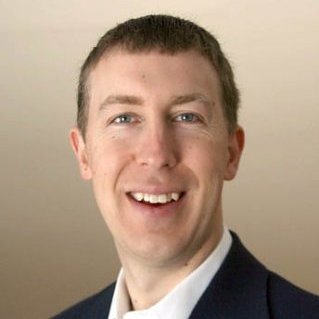 ★ Helping Great Businesses Grow ★ Inbound Marketing Expert ✓ Online Lead Generation ✓ WordPress Marketing Strategist
Dedicated server hosting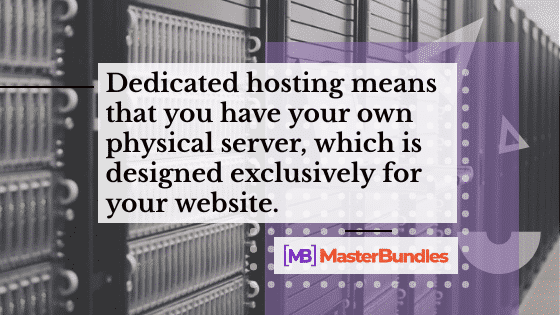 Dedicated hosting means that you have your own physical server, which is designed exclusively for your website. Thus, dedicated hosting gives you incredible flexibility. You can customize your server to your liking, choose the operating system and software you want to use. You are customizing the entire hosting environment to suit your needs.
The administrator of the dedicated server gets full access to the software and hardware. This means that you will control the operating and file systems and even be able to buy "hardware" if necessary.
This type of hosting is suitable for a game server, social network, banking site, a large online store, or an application that requires a lot of resources.
Virtual private server (VPS) hosting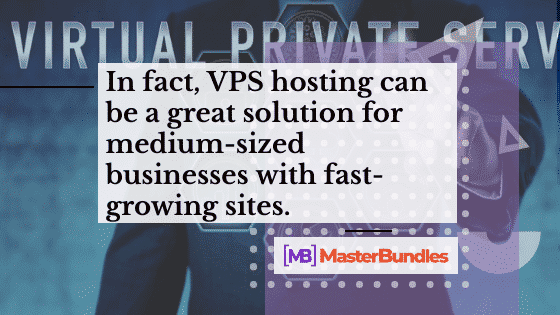 This is a type of hosting when the physical server is divided into several independent parts and leased separately. There can be dozens of virtual servers on a single physical server.
VPS has no restrictions, like virtual hosting. It can be easily customized to meet your project needs. You can even install your own software.
Like virtual hosting, multiple virtual servers are hosted on the same physical server. Each of them is isolated from each other. If one virtual server consumes a lot of resources, it will not affect other users.
In fact, VPS hosting can be a great solution for medium-sized businesses with fast-growing sites. This type of hosting is suitable for an online store, a forum with a large number of visitors, an application, or a corporate site where customers and employees have accounts or personal mail.
Colocation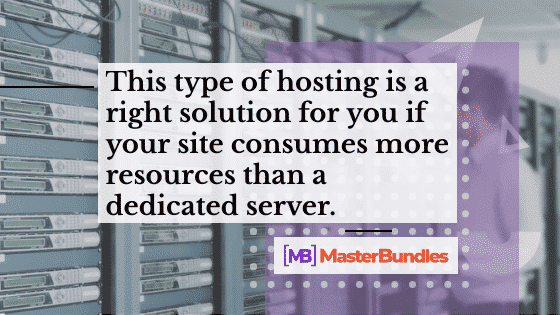 This is a type of hosting in which the user co-locates his servers by renting the space from the hosting provider. Usually, the price includes a minimum set of services: rent and protection of the equipment space, electricity and Internet connection, cooling, etc. Also, you can get some additional services, such as data protection and backup.
This type of hosting is a right solution for you if your site consumes more resources than a dedicated server. Each month, paying for a few dedicated servers will be more expensive than buying your equipment and renting some space for it.
Web Hosting Prices. Free Hosting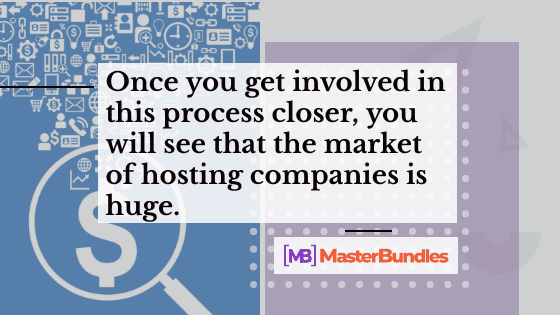 Each webmaster has to choose a hosting provider and domain name for his website. This process requires maximum attention since the performance of the resource, speed of access for users, development of the project, and its growth depend on the quality of hosting services.
Once you get involved in this process closer, you will see that the market of hosting companies is huge. They offer both paid and free services. The more features and options your hosting provider offers, the more expensive his service will be.
The price depends on many factors:
quantity – disk space, amount of traffic, number of databases, mailboxes, RAM;
quality – availability, and speed of technical support, server remoteness, speed of information loading, and data transfer.
Also, the price depends on the type of hosting services you are choosing for your website. You need to find not only the right features and prices but also to choose a reputable hosting provider.
Virtual hosting is the cheapest option. With this type of hosting, your site receives the necessary disk space and server resources. Server rental is the most expensive way to host sites as you will get the maximum functionality.
So, what is the price of hosting? To get a general idea, take a look at a few examples below.
Shared host pricing: $2-$10/month
Dedicated server pricing: $100+/month.
VPS host pricing: $20-$60/month.
Cloud host pricing: $30+/month.
The main advantage of free hosting is no fee, which in most cases is the key factor. Along with it, a third-level domain name is provided free of charge. Another advantage is the availability of free templates and website builders that are suitable for novice users to quickly create a website without special programming knowledge.
Free hosting has a number of disadvantages and limitations. For example, since a website will use the third-level domain, it will be worse indexed by the search engines. If you are building an e-Commerce website, the domain can be one of the key factors of the popularity of your site. Then, your website will not have any backups, so if you have any failures of the resource, you can lose everything. This is evident that a free hoster wants to make some profit also. This results in unwanted advertising: banners of your hosting provider, contextual advertising, and so on. No need to say, you will encounter limitations of free hosting functionality.
Free hosting is still very convenient for users' home pages, simple non-commercial projects, as well as for sites that can be transferred to paid hosting in the future.
Web Hosting Tutorial for Beginners: Domain Registration, DNS & How to Host a Website Explained
Have you thought, what is web hosting? In this tutorial, I'll explain how domains & web hosting work together with DNS settings to host your website. By changing the nameservers at your domain registrar, you "point" your domain to any web hosting company.
I would like to draw your attention to an excellent deal from a popular paid hoster – BlueHost Hosting with 63% OFF + Free Domain and Theme Installation! BlueHost hosting is one of the most fast-growing, respected, and trusted hosting providers. InMotion offers the perfect combination of low price and technical innovation. You can expect excellent speed, performance and technical characteristics when you become BlueHost customer.
I am sure you will enjoy getting ".com" domain, infinite disk space, and professional support. Do not hesitate to use the promo code and follow the instructions suggested in the article. Take the most of this exclusive offer!
Web Hosting Providers Comparison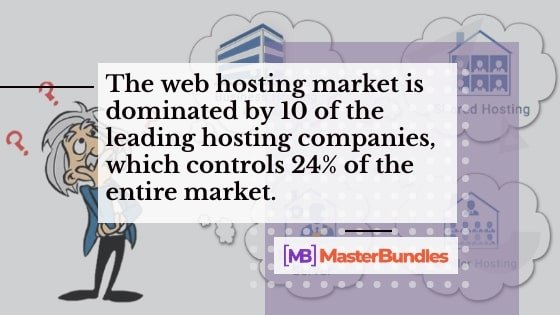 The web hosting market is dominated by 10 of the leading hosting companies, which controls 24% of the entire market.
Let's take a closer look at a few of them and compare.
Pros
Cons
Pricing/month
Bluehost

Excellent server speed and operation;
the best hosting for WordPress;
detailed documentation and tutorials;
daily backup and restore;
a perfect choice for a novice;
flexibility.

Expensive server updates and additional features;
unlimited hosting due to the different usage policies;
price increase after updating the plan.

Virtual hosting – $2.95
Cloud hosting – $6.95 -$15.95
VPS hosting – $19.99 – $59.99
Dedicated servers – $79.99 – $119.99
InMotion

Exceptional server performance;
great customer support;
free site migration service;
45-day money back guarantee;
free account activation;
one plan for all the hosting features.

Prices are increased after the initial registration;
you need to pay for 36 months in advance.

Launch plan – $6.99
Power plan – $8.99
Pro plan – $15.99
GoDaddy

Round-the-clock support;
unlimited bandwidth;
great choice of thematic turnkey templates;
simplified cPanel;
low prices;
good WordPress web hosting.

A good number of options may confuse beginners;
random errors with WordPress;
too many updates are sold.

Web hosting – $2.99
WordPress website hosting – $4.99
Business hosting – $19.99
VPS hosting – $19.99
Dedicated servers – $89.99
SiteGround

High-level security system updates;
support of PHP;
free migration of sites for new users;
one of the best web hosting for WordPress;
advanced server speed technologies;
60% discount for the first time customers.

StartUp and GrowBig plans do not offer instant backup;
cost changes after the first payment;
no live chat support for technical and billing systems.

Virtual hosting:
StartUp plan – $3.95
GrowBig – $5.95
GoGeek – $11.95
Cloud hosting – $80.00+
Dedicated servers -$269 – $729
HostGator

High hosting performance;
fast server;
45% discount for the registration for the first time users;
free website migration;
convenient control panel;
24/7 support.

Limitations by server restrictions;
expensive update fee;
inflated website manufacturers.

Virtual hosting:
Hatchling plan – $2.75
Baby plan – $3.95
Business plan – $5.95
Hosting with a built-in site builder – $3.84+
Cloud hosting – $4.95 – $9.95
Special pricing plans for WordPress sites – $5.95 – $9.95
VPS hosting – $29.95+
Dedicated server – $119.00+
REG.com

Wide range of services;
high reliability;
a single hosting, mail, domain management center;
professional 24/7 support.

Budget plan – $1.29 – $2.78
Speed plan – $2 – $5.02
+Power plan – $8.37 – $14.89
Get 1 year of free hosting with a limited time offer.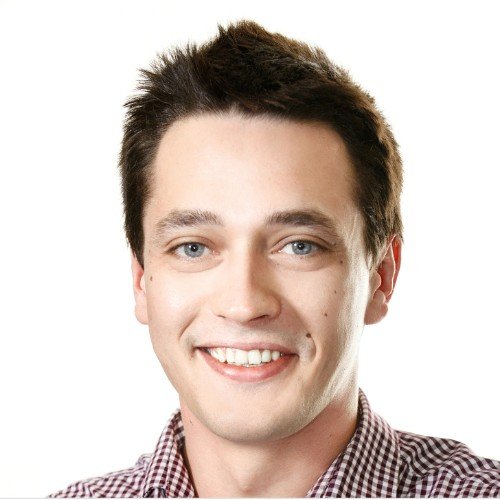 SEO/Content Marketing Project Manager at Hostinger International
Hosting companies in 2021 should be absolutely customer-obsessed. From the cart to the website going live, the experience has to be smooth, easy, and fast. You have to know your customers, understand where potential bumps may be waiting for them, and create an onboarding and management system that irons every detail out.
And of course, above all, the service itself MUST be bulletproof. Anything less than 99.9% uptime is unacceptable, whatever hosting type you're offering to clients. Hosting as a service should be affordable. At this point, the internet is a right, not a commodity. That means people from all walks of life and corners of the world have the right to having their voices heard through blogs or their businesses flourishing online.
A good hosting company recognizes that and offers just that – great value for an affordable price while putting their customer first. Meanwhile, users can save on hosting by getting exactly what they need. Avoid buying into upsells, do your research, and opt for packages and services that you really will need. Don't let adverts fool you, decide on what's a must for your project, and scale when you're earning a profit.
Conclusion
Hosting a website is important. It is a huge industry that now has about a billion websites, and millions of people around the globe are entering this new world. The web hosting process can be intimidating and confusing at first, but once you dig deeper, you will understand how it works.
Now you know enough about website hosting to start working on your new website. You got the answers for such questions as "How do websites work?", "What is a website hosting?", "How to Host a Website?", "Where is my site hosted?", and etc. Remember, launching a website gives you incredible benefits, allowing you to easily reach millions of users around the world.
Good hosting allows you to seamlessly serve your content on the Internet, provide your visitors with an excellent user interface, and attract new users to your site.

Top 4 Popular Questions About Web Hosting
🔍 What influences a website's speed?
There are a lot of factors that might influence how fast your website works such as the hosting plan you picked, the size of images you use, as well as how clean your code is. So take care of all these possible issues and your site would perform smoothly and faster.
🔍 How can I improve my site's speed and its general performance?
A fast website has to have a decent hosting plan, clean code, no redirections, no render-blocking JavaScript, enabled compression, optimized image size, and CDNs. So make sure you have all of these and you'll immediately see the improvements.
🔍 Why does the size of the images matter?
The bigger the picture – the more time it takes to load, so if you would like to make your site fast, make sure that you do not utilize huge images on it.
🔍 Is clean code a guarantee for the fast speed of a website?
Yes, it is. Clean code is the key factor for pretty much anything, so this is the very first thing you have to take care of.
Please take a moment to pin this post to Pinterest
Article Sources
This very article was inspired by a vast variety of other bloggers' posts and videos. Thus, it is primarily based on the following articles, books, videos, and blog posts:
"Getting Your PageSpeed Score Up." Google Developers, 2014, www.youtube.com/watch?v=pNKnhBIVj4w. Accessed 21 Apr. 2020.
Mueller, John. "Announcing mobile first indexing for the whole web." Google Webmaster Central Blog, 2020, webmasters.googleblog.com/2020/03/announcing-mobile-first-indexing-for.html. Accessed 21 Apr. 2020.
"Page Speed." Moz, moz.com/learn/seo/page-speed. Accessed 21 Apr. 2020.
Pollock, Peter. Web Hosting For Dummies. For Dummies, 2013.
Rockefeller, J. D. Web Hosting Guide for Beginners. Kindle Edition, 2016.
Disclosure: MasterBundles website page may contain advertising materials that may lead to us receiving a commission fee if you purchase a product. However, this does not affect our opinion of the product in any way and we do not receive any bonuses for positive or negative ratings.
How to Host a website in Google Drive with custom Domain
Learn to host a website in google drive with your custom domain, and save hundreds of dollars per year.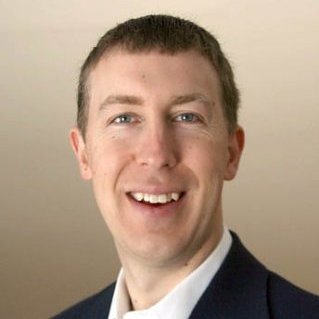 Article reviewed by
on May 31, 2020
★ Helping Great Businesses Grow ★ Inbound Marketing Expert ✓ Online Lead Generation ✓ WordPress Marketing Strategist
Learn about comment