We believe illustration straddles art and design – Studio Muti
Presenting MUTI, a creative studio based in the city of Cape Town, South Africa, under the shadow of Table Mountain! The studio was originally founded in 2011 by Clinton Campbell and Miné Jonker. In 2013 Brad Hodskiss joined and the three have been inseparable ever since.
Now, they are a dedicated team of illustrators and designers (14 caffeine-fueled men and women!) who are passionate about producing original and inspiring artwork, from lettering to icons, digital painting to animation.
Their office is a beautiful and inspiring location, surrounded by art and a vast collection of houseplants that enjoy the abundant natural light, where bikes are much welcome and there is always time to play a game of ping pong. In this uplifting studio, they develop amazing artworks that stand out for its enormous versatility, creating illustrations and animations in diverse and well-defined styles, from hyper-realistic portraits to vector illustrations, intricated maps, lettering, children's characters, vintage-inspired art, and much more!
Some of their most relevant clients across the globe include Google, Facebook, Uber, Airbnb, Nike, Goop, Fortnite, Gates Ventures, Red Bull, Uniqlo, Samsung, Virgin, Adobe, TIME, British Airways, Monocle, ESPN, Lonely Planet, The Washington Post, Adweek, Wired, Timeout, Forbes, Fast Company, Nobrow, Sports Illustrated, GQ, National Geographic, Huffington Post, and Men's Health.
What's the hardest part of running your own studio?
Choosing who does which project! We have the opportunity to work on some commissions that have left the team frothing at the month and desperate to be involved. When it's a one-man job it's tough to make a call sometimes!
What is the first thing you do when starting a new project, and how do you know when the job is complete?
First priority is getting all of our ducks in a row. References, resources, a solid brief, clear deliverables. These are the foundation of every project we work on.
We know we're finished when our clients and collaborators are happy!
A series of editorial illustrations for Harvard Business Review, around managing your work-life balance.
What were some of the key moments in the studio's professional career?
Muti recently turned 10, which is a massive milestone for us. We're so honoured to have been able to be a part of over 2000 projects from all over the world with big and small clients alike.
We also really loved the opportunity we had with Visual Playground in 2019 to share our work and lead an incredibly fun workshop with conference attendees. It's a special feeling to be able to share your work in a setting like that!
We've taken part in exhibitions and festivals, been featured in magazines, and blogs and received a few very nice nods from the curators on the various platforms we host our work on.
I loved your African Pinups series! How much of South African culture influences your graphic style or the themes of your illustrations?
Thank you! We had a lot of fun creating them!
We all grew up in South Africa, so the various cultures and aesthetics are just part of everyday life for us. It's difficult not to be influenced by something you are surrounded with constantly and we suppose all of us have been influenced by that in one way or another.
African Pinups is a series of 3 classic pinup posters with an African twist. The artworks were displayed at M Contemporary gallery in Sydney, Australia.
Lettering illustration is an important part of your work. Have you ever developed a typeface?
We love lettering! It's always been a favorite of ours. We've created custom lettering sets for some projects but we have not as of yet dabbled in creating a working font. It's on the to-do list!
In your portfolio you have very diverse graphic styles, from realistic portraits to monotone line art, almost like tattoos, and also geometric vector drawing. Does each of the team members have their own defined style or do you all do a bit of everything?
Each member of the team has certain skill sets that they are masters of but we all dabble in styles and methods outside of our comfort zones. Play in unfamiliar fields is always valuable.
How do you define which of these graphic styles is best suited for a project?
Of course, we all have artistic styles and references we hold dear, but a lot of the time our work is driven by what our clients are hoping to achieve. Sometimes clients come to us with a visual direction in mind, other times we are the guides in that area, but whatever direction we head in it's always about what is best for the project and its goals.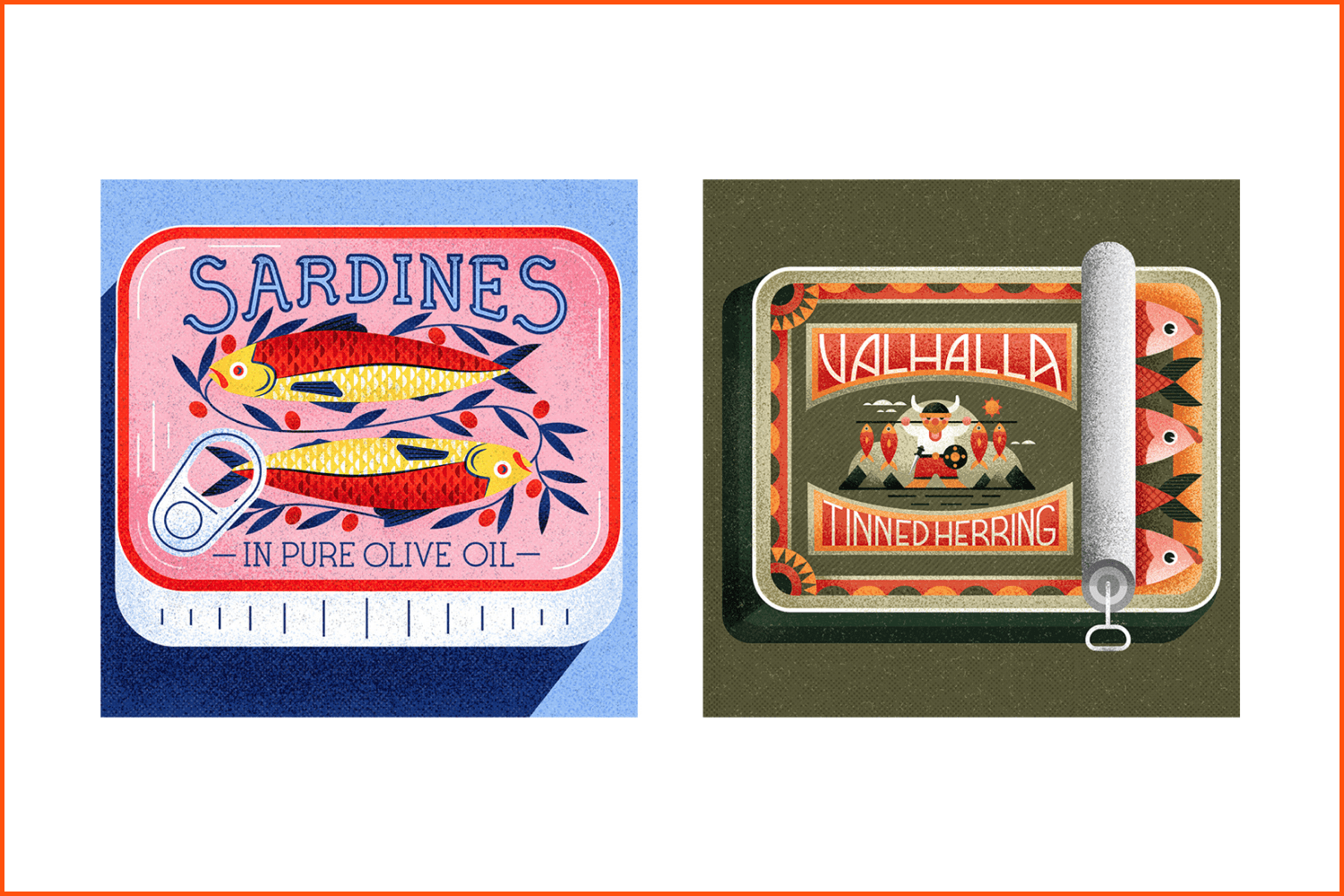 Vintage Vantage, a collection of textural illustrations drawing on the nostalgia of vintage packaging
What inspires you?
This is such a large question! The projects themselves (and the work and reasoning behind them) are always the biggest inspiration and motivation to us. We are, first and foremost, driven and inspired by collaboration with the various businesses, agencies and individuals we work with.
Do you think habits help (or hinder) creativity?
It's a bit of both! Habits can lead to mastering a skill or style while being a bit looser and less habitual can bring some exciting insight and growth. We tend to think you need a bit of both.
What is the hardest part of creating an illustration?
Starting! Even after 10 years, a blank page can still be a bit daunting.
Do you believe illustration is a form of art?
We believe illustration straddles art and design. It depends a lot on the context and intention of the illustration itself. Sometimes it's more design, sometimes more art but any illustration contains glimmers of both.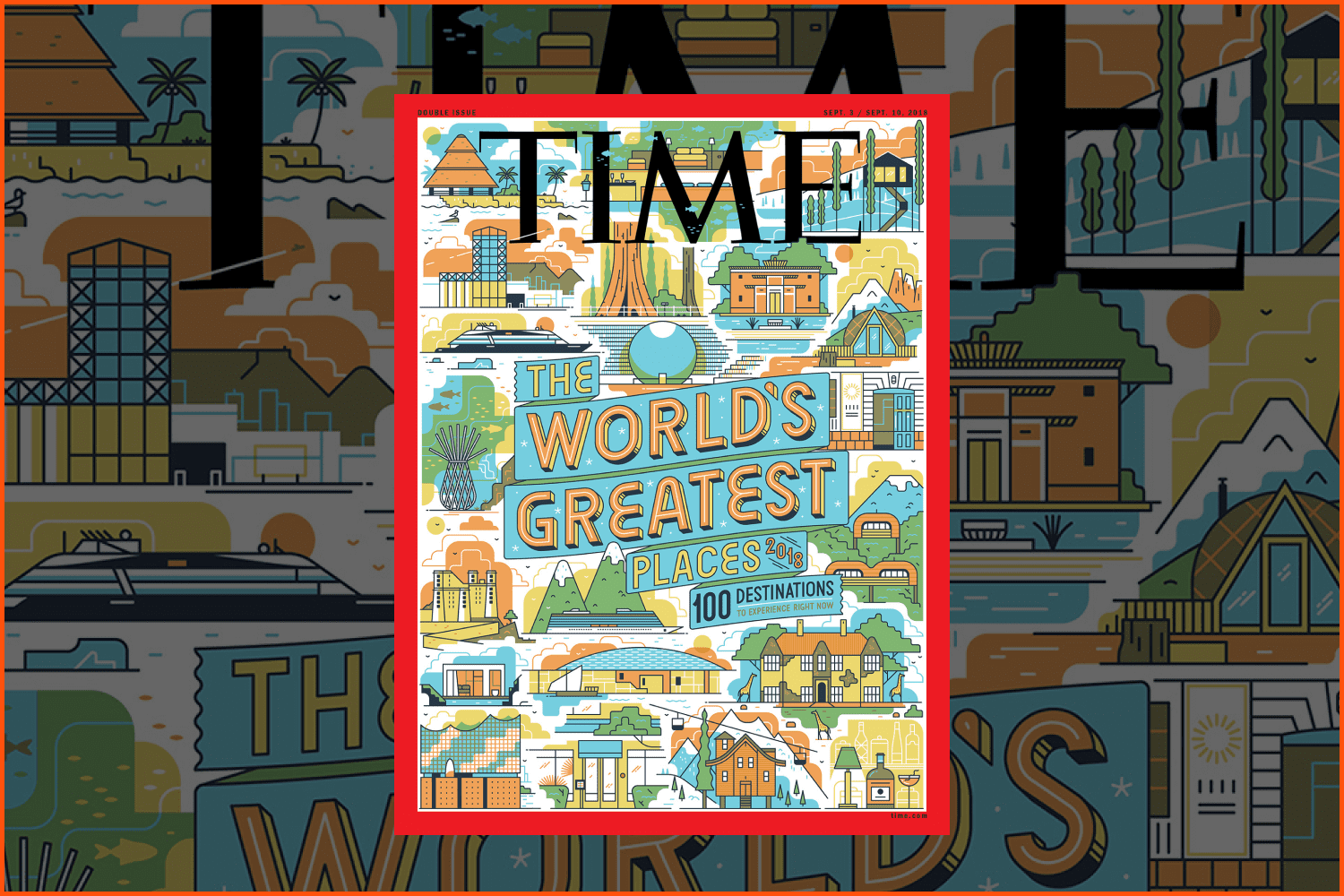 Cover of TIME Magazine, featuring some of the destinations which made their top 100 list.
Who are your biggest influences? Designers, artists, writers, friends etc
With 14 people on the team, this would be a long list!
We each have our own influences and we use them in different ways. They're also constantly changing and developing as we grow and learn (both from each other and the various influences in our lives). That development and change in influences is kind of exciting. Keeps us interested and on our toes!
What illustration software are you familiar with?
We mainly work with Adobe software though we do like to test out and sometimes complete entire projects in other software like Clip Studio and Affinity Designer. Blender is something we're playing with a little as well.
How do you learn about new techniques and tools?
We all learned to use Adobe software first (though some of the older members of the team remember the good old days of Macromedia Freehand!) from there we've played with what we were curious about. If a piece of software works for us it works. We're not purists.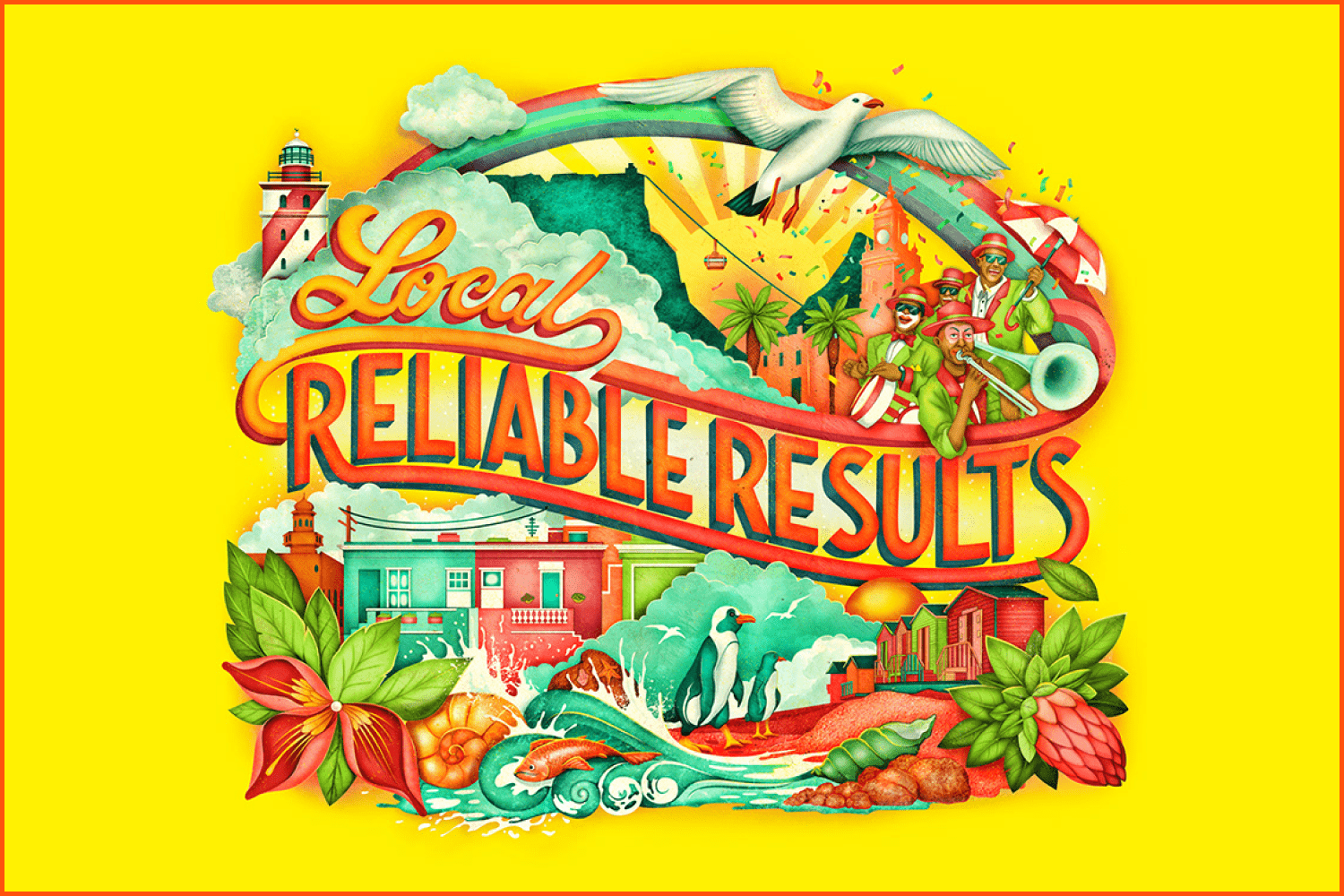 Cape Town, part of a series of 19 illustrated covers for Yellow Pages South Africa. Each cover was inspired by the different landscapes, animals, activities and culture of the region.
How has your practice changed over time?
We think the biggest change has been in the style in which we work and how those have developed over the years. We're still the same people, doing the same things, just a little differently each time as we grow and learn.
What's the best piece of advice you've been given?
Walk tall and carry a big stick!
What work do you most enjoy doing nowadays?
We can't say we prefer any one type of work over the other. Every project has something special about it. It could be returning to an older style we've missed doing for a while, it could be a new challenging style, it could be a project from an exciting new client or one of our regular clients we've worked and grown with over the years, it could be a small mom and pop shop that's commissioning their first illustration.
Has it ever happened that a client continually rejected your presented drafts? How do you handle this situation?
Touch wood, this has never happened but we're not too proud to say it never will. If or when that time comes we'll take it on the chin and work with the client to solve the problem together.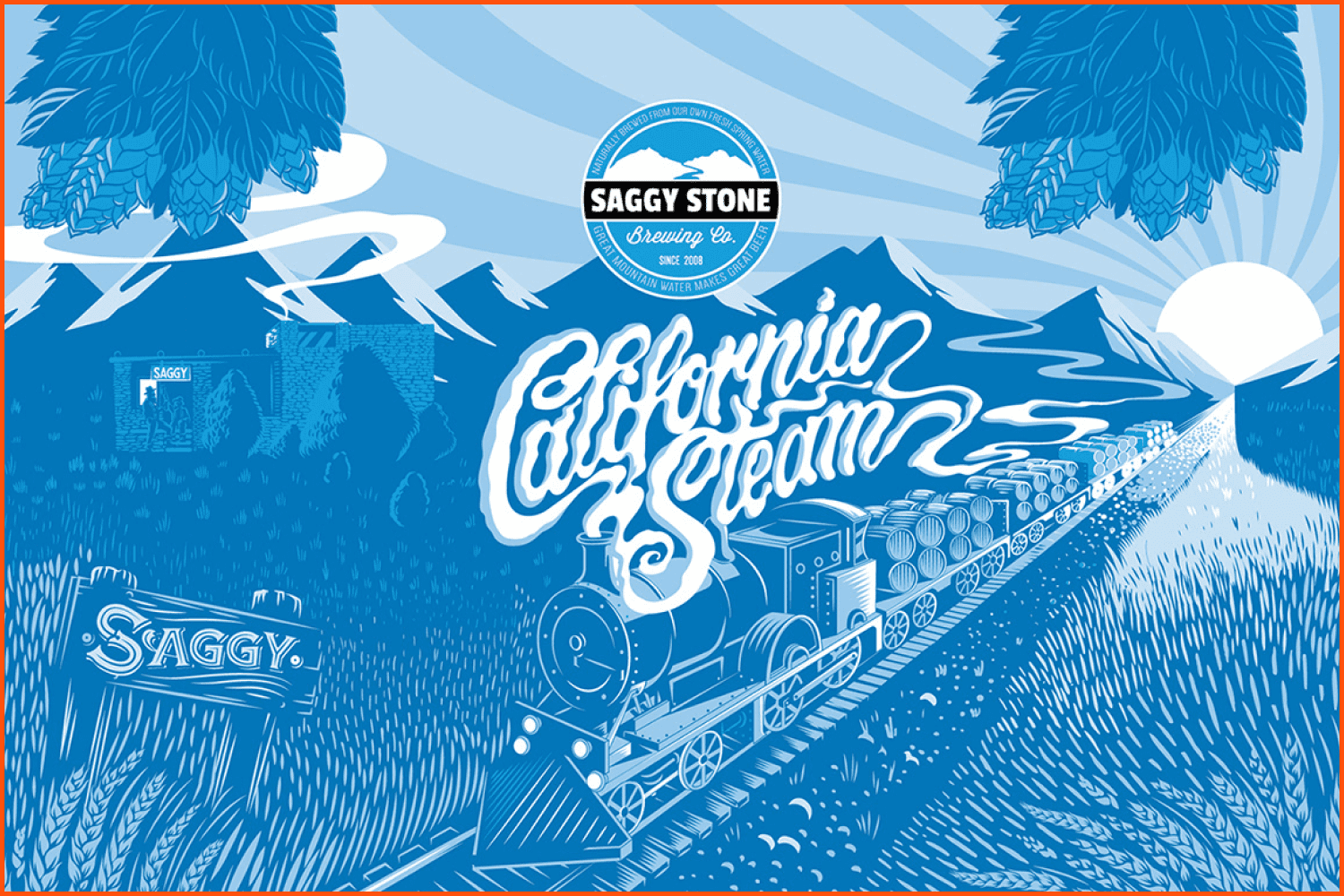 Illustrations and lettering for Saggy Stone's range of beer cans.
Do you have a network of designers with whom you collaborate? How do you support each other?
Muti is all in-house. The team works full time with the studio and tackle all projects with our dedicated team of 14.
Have you heard of MasterBundles before? What do you think about this project?
We can't say that we had until you reached out! But we like the idea of affordable bundles making illustration more accessible to all kinds of folks. We love illustration! If there's ever a chance for it to be used and appreciated by more people then we're all for it.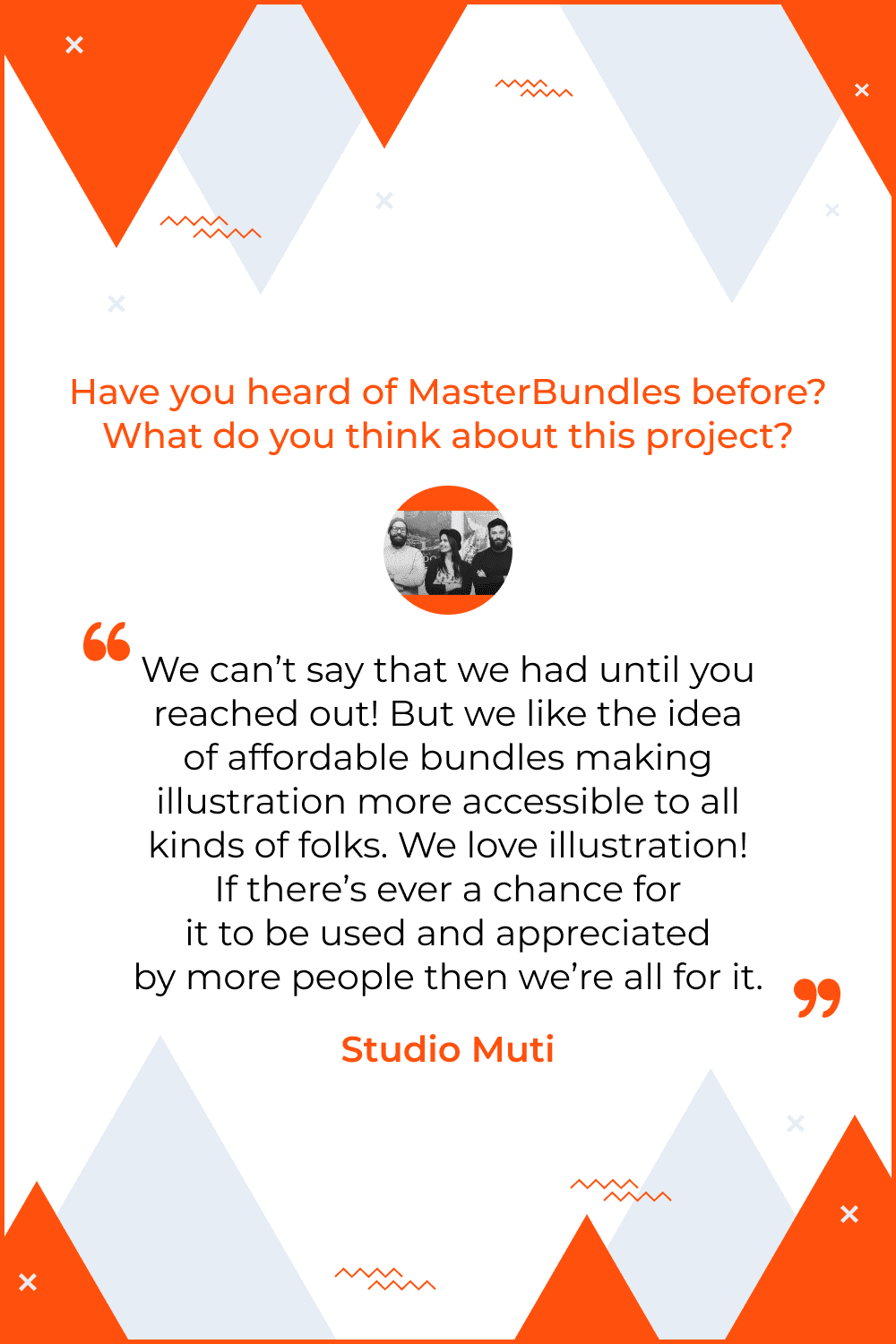 Recommended Posts For You
MUTI studio

MUTI is a creative studio based in the city of Cape Town, South Africa, under the shadow of Table Mountain.
 
Was this page helpful?
We will be happy if you decide to share this article with your friends on Facebook. Just click on the button and you're done
What are your concerns?
Thanks for your response!
You have already left your review.
More Interviews with Famous Designers