First is the desire to create. Then, the desire to learn – Nadiia Chaban
Christmas is coming and (at least in the northern hemisphere) you can already smell the aroma of firewood and see the first snowflakes falling. While we are palpitating the arrival of Santa Claus, we are honored to present a fabulous illustrator who has developed a beautiful Christmas project.
Nadiia Chaban is an Ukraine-based self-taught artist, although she is currently attending drawing classes to improve her skills and get more experience. Her style is a bit minimalistic and neat, she loves line drawings and complicated colors: flat graphic design with simple forms.
Her work is mainly focused on children, developing posters, illustrated books, and infographics for kids, where the cutest animals teach us about the fauna of the world, how to take care of our planet or to understand more about our emotions.
For this holiday season, she developed for Mir Wonder an educational poster for children ages 3 to 8 years old, where reindeer, gingerbread men, and Santa all appear to say hello! It is designed to encourage little artists to place their stickers to its coordinating spot on the poster. All stickers are removable, and the posters are wet-wipeable, to be used over and over with water-based markers.
If you want to know more about this artist and her Christmas inspiration, keep reading!
What life events influenced your decision to become an illustrator?
I am also a rock climber and during a significant period of time, my main focus in art was inspired by mountains and outdoor activities. Since 2013 and until my second child was born, I've created clothes with my prints for people who love mountains. Then I've found much inspiration in children's illustrations. Since that time I've illustrated three books for kids, educational posters, table games, and maps.
What's been your most challenging project to date?
Mir Wonder posters. I had to draw a World Map and a Christmas poster, create sheets with stickers for each poster, and also design a package. Honestly, I feel myself a part of Mir Wonder, as so many milestones, discussions, video calls, and experience sharing we had during that time with Jennifer, the owner. I keep my fingers crossed for this project!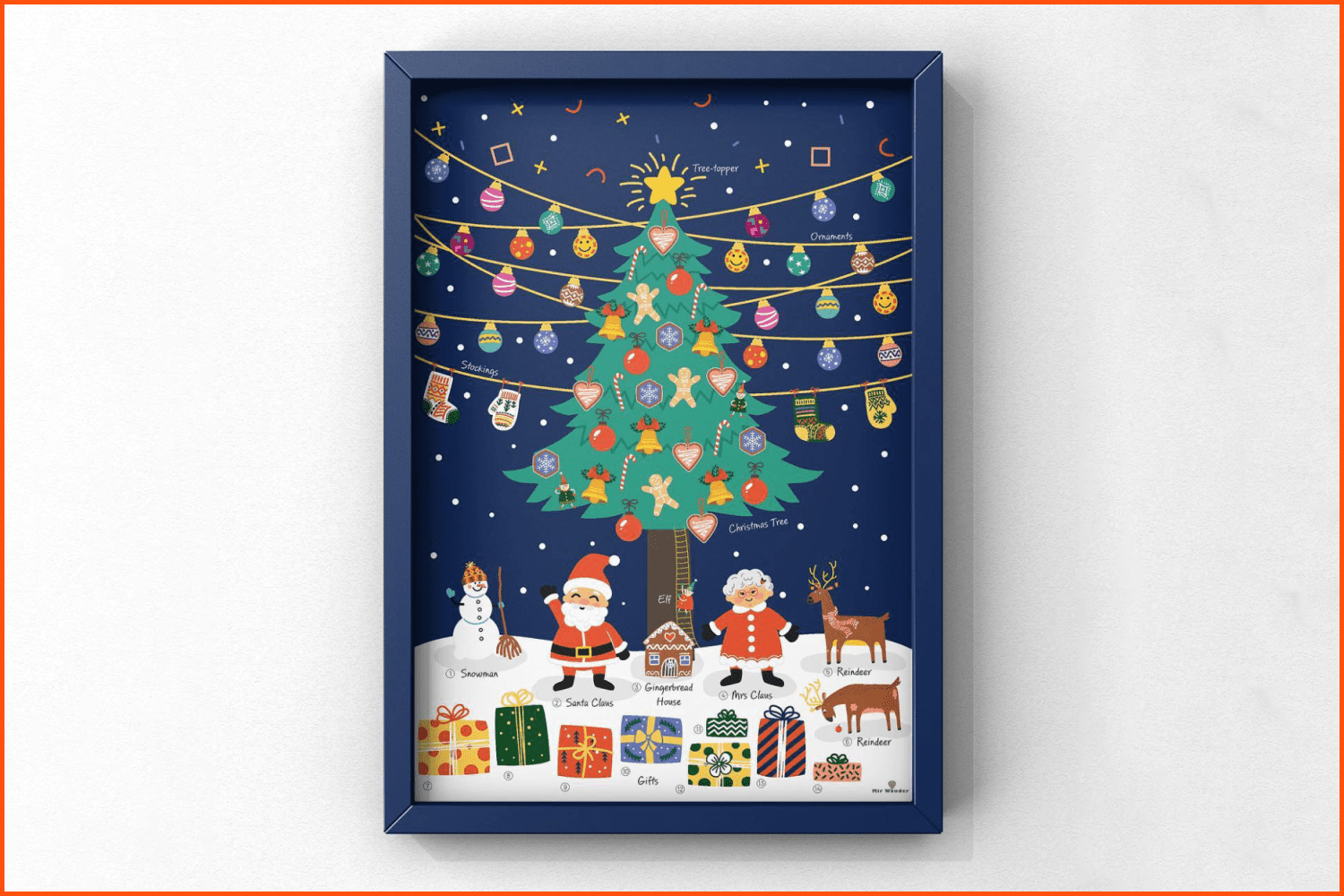 Christmas poster for Mirwonder.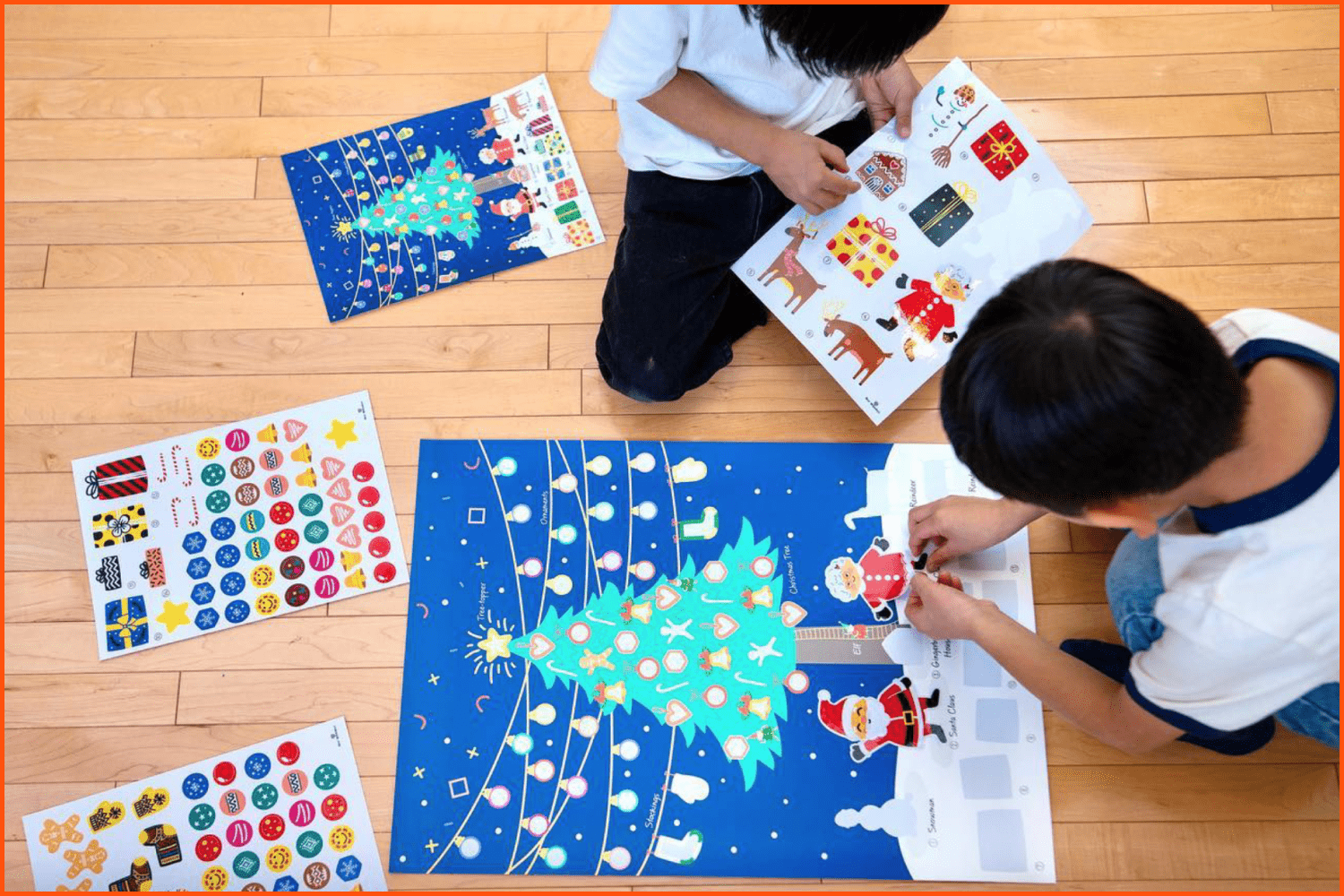 This educational poster comes with sheets of removable stickers, so kids can develop their own wall art.
Tell us about the book you illustrated for Sarah Brunel. What is the idea behind this collection? Was it the first time you illustrated a book?
It was such luck for me to illustrate this book. Yes, it was the first significant children's book for me and moreover, it was about outdoor activities! So I was totally happy while illustrating it.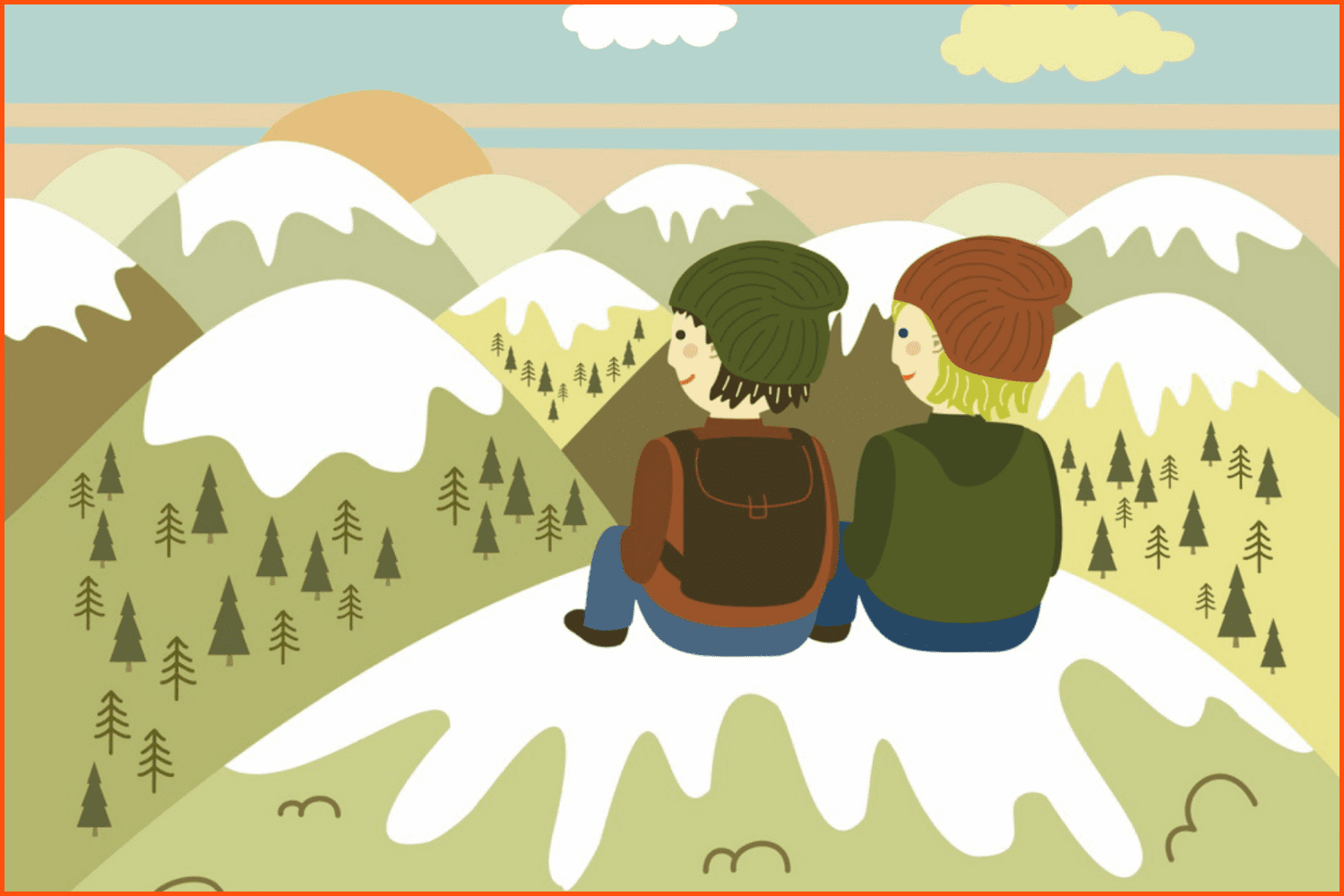 One of the inner illustrations for 'Aimer Le Plein Air', a book for kids aged 1-6 years old who want to learn French.
Many of your illustrations, commissioned works, and products for sale are aimed at a children's audience. How did your interest in that audience begin? What do you like most about developing children's products?
As I said earlier, I have two kids. I read a lot of children's books and find a lot of beautiful and inspirational illustrations in them. My kids also inspire me to create new educational posters. In particular, my elder son is interested in maps and my daughter likes my emotions posters.
How did you come up with the idea of exemplifying emotions using cats and dogs? What was their impact on the public?
I wanted to experiment with the cat's facial expressions. Then I've googled so many funny cat photos and decided to create a poster with these funny cats explaining different emotions. After I posted it on my Instagram, the dog-lovers immediately asked me to draw the same poster but with dogs. And now I'm creating another feelings chart with different animals and thinking about dinosaurs 🙂
I'm so glad that with the help of the cats' and dogs' emotions parents can talk about feelings with their kids.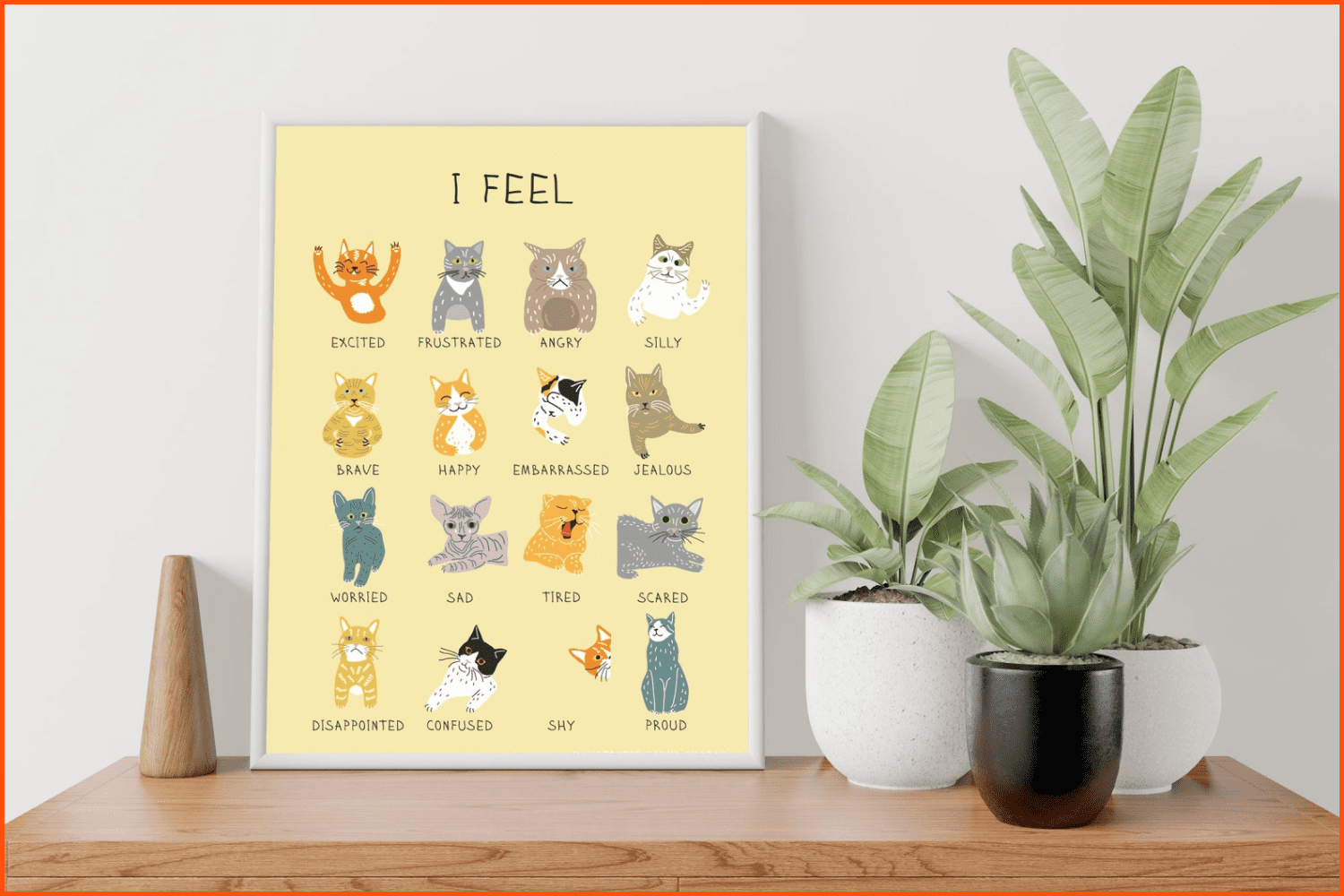 I feel Cats Poster is a feelings and emotions chart for kids.
How did you start working as a freelance illustrator?
My friend, an architect, asked me to create 2d graphics for her interiors and that was the reason why I registered on Upwork freelancer platform.
What do you like and dislike the most about being a freelancer?
I like the variety: every new job is different, the clients are different from all around the world. Books, maps, posters, family portraits, website graphics, cartoon illustrations, even line art for ceramics – so many different jobs I had this year.
But on the other side – some weeks I can have up to three projects to be done, and others I have nothing. And I have to scroll the Upwork feed to find some exciting work, which takes a lot of time. But during those quiet days, I find opportunities to study new techniques or to draw illustrations for my Etsy shop.
What jobs have you done other than being an illustrator?
I was a climbing coach, a study-abroad advisor, I have an online shop of clothes with my prints (I was also the designer of these clothes). And I knitted beanies!
What skills should an illustrator have?
First is the desire to create. Then, the desire to learn.
What do you do to overcome a creative block?
I travel a lot! Seriously, my trips (mostly rock climbing trips) and being in nature refill me and give me so many fresh ideas. And of course, my Instagram feed also helps me.
What techniques and resources did you use to design your last few pieces?
The Shapes poster was created after I saw Teresa Bellon's artwork. Her bright illustrations, simple forms, and dark background inspired me to create this poster. I wanted bright colors on dark blue! I wanted my Shapes to have emotions also. That is why now we have an excited circle, a confused hexagon, a proud star, etc.
I'm thinking about how kids will enjoy looking at these funny shapes and will learn them easily.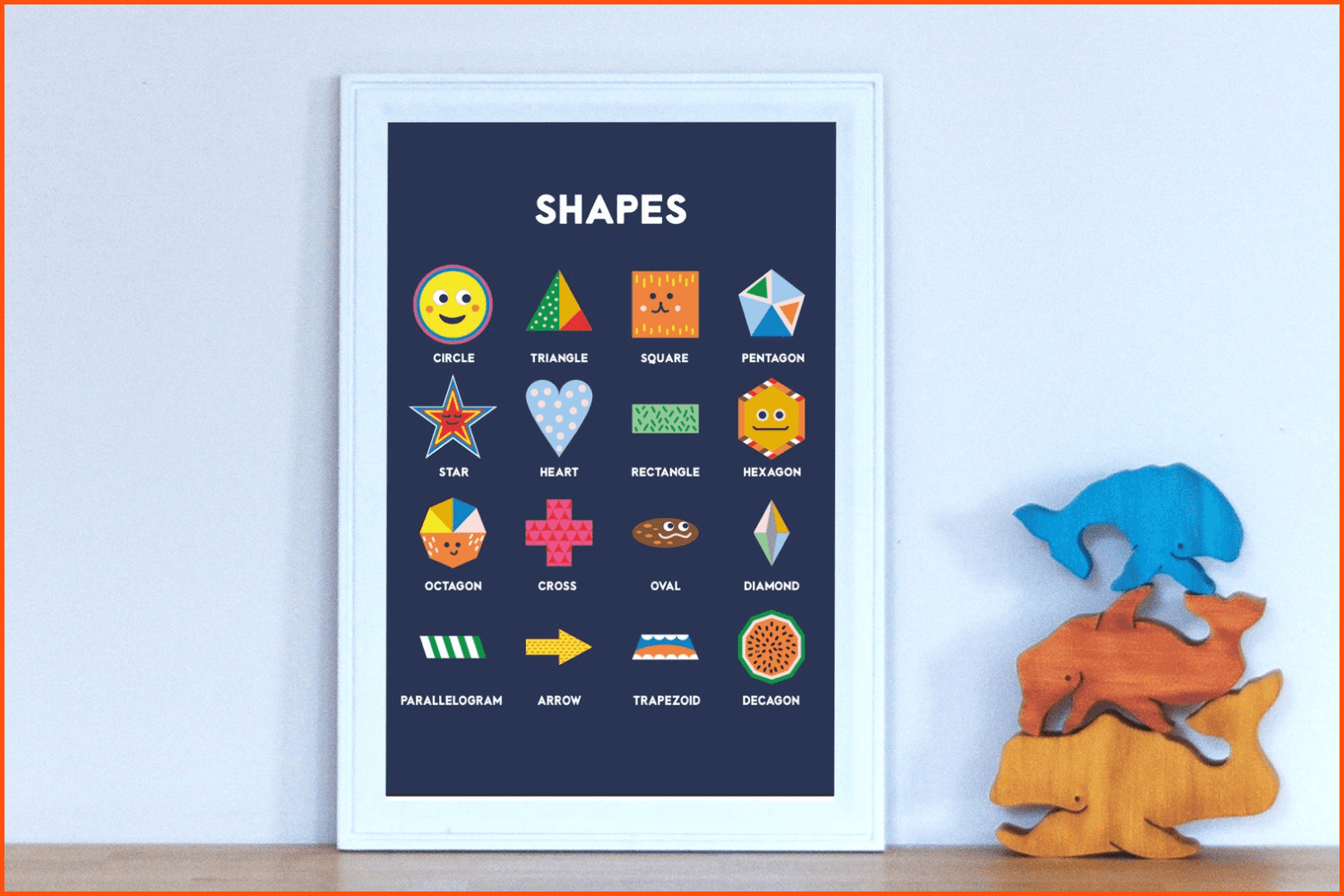 Shapes poster. Learn shapes and have fun with colors and facial expressions.
Have you ever found that someone has copied your work or used it without your proper permission? What do you think should be done in this circumstance?
I've never found a rough copy of my work, but if I'd found it, I would write this person a message.
What's your workday like?
I work 2-3 hours when my young daughter is sleeping or is outside with a babysitter. And in the late evening of course.
What type of design work do you enjoy the most: print or digital? Why?
I like when it's printed. Do you know what I bought on Black Friday sale? Two photo books with printed photos from our 2021 big trip.
What are your professional goals?
I want to create not only digital illustrations but also hand-drawn, using paints and pencils. That is what I'm learning right now in my drawing classes!
Could you share with us some ideas for design or illustration trends for 2022?
There are so many trends (I've googled them). And I would mention two that are interesting for me to try:
Riso-Print style: when you create the design as if it was screen printed with its vivid colors, some slight imperfections, and rough textures.
Paper-Cut style: when the illustration looks like it is cut from paper. Very beautiful effect. I've created a Skull poster in this style already, but want to do more.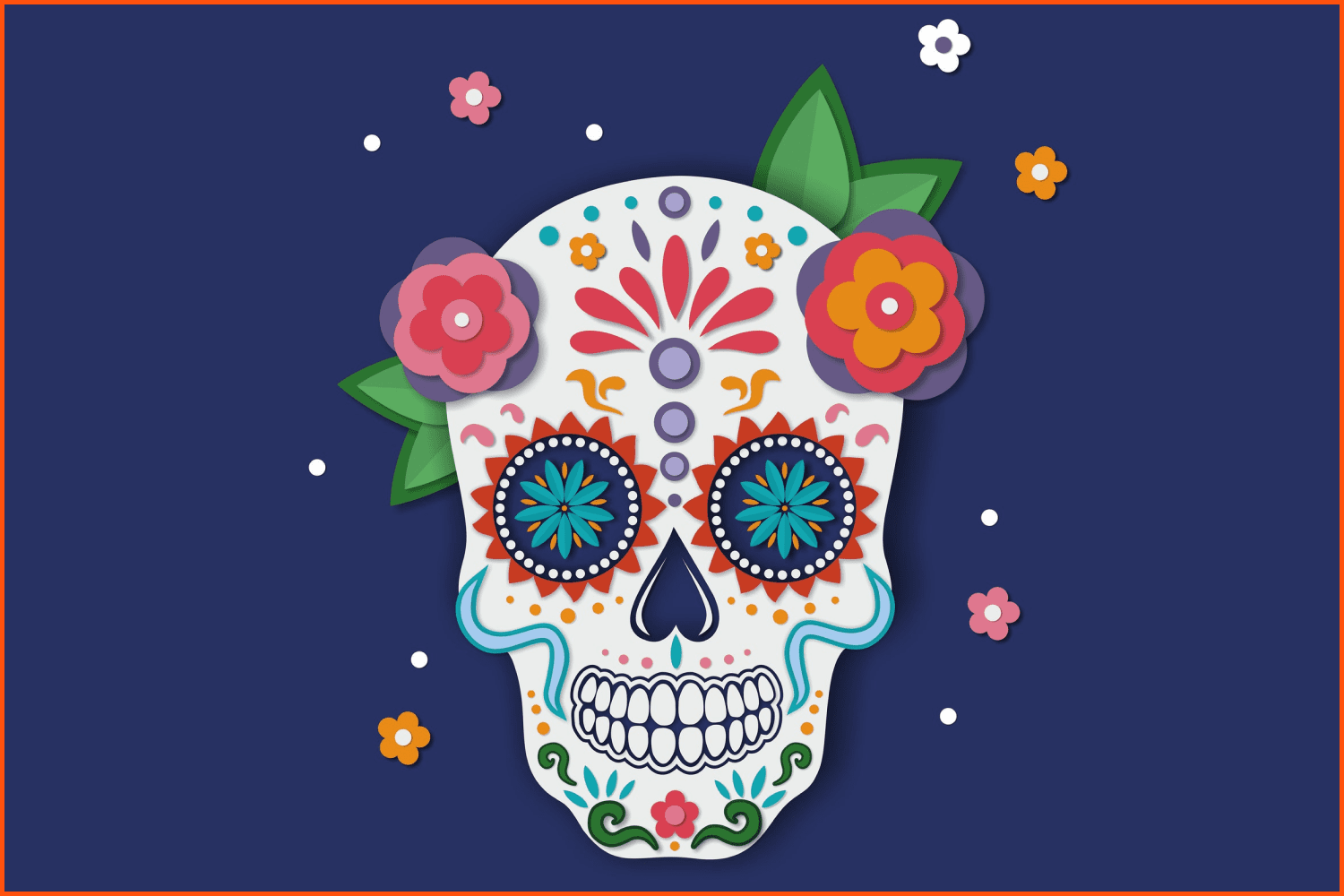 Skull poster using the paper-cut style technique.
Skull poster using the paper-cut style technique.
What blogs, artists, or magazines do you follow to keep up with trends?
I check children_illustrations feed on Instagram and scroll Behance a little
What do you think is the best feature of our project MasterBundles?
I haven't heard about MasterBundles before but now I've checked the website and it seems to be useful for designers and for all those who want to create a good visual appearance.
Have you heard of MasterBundles before? What do you think about this project?
Yes! I love your templates 🙂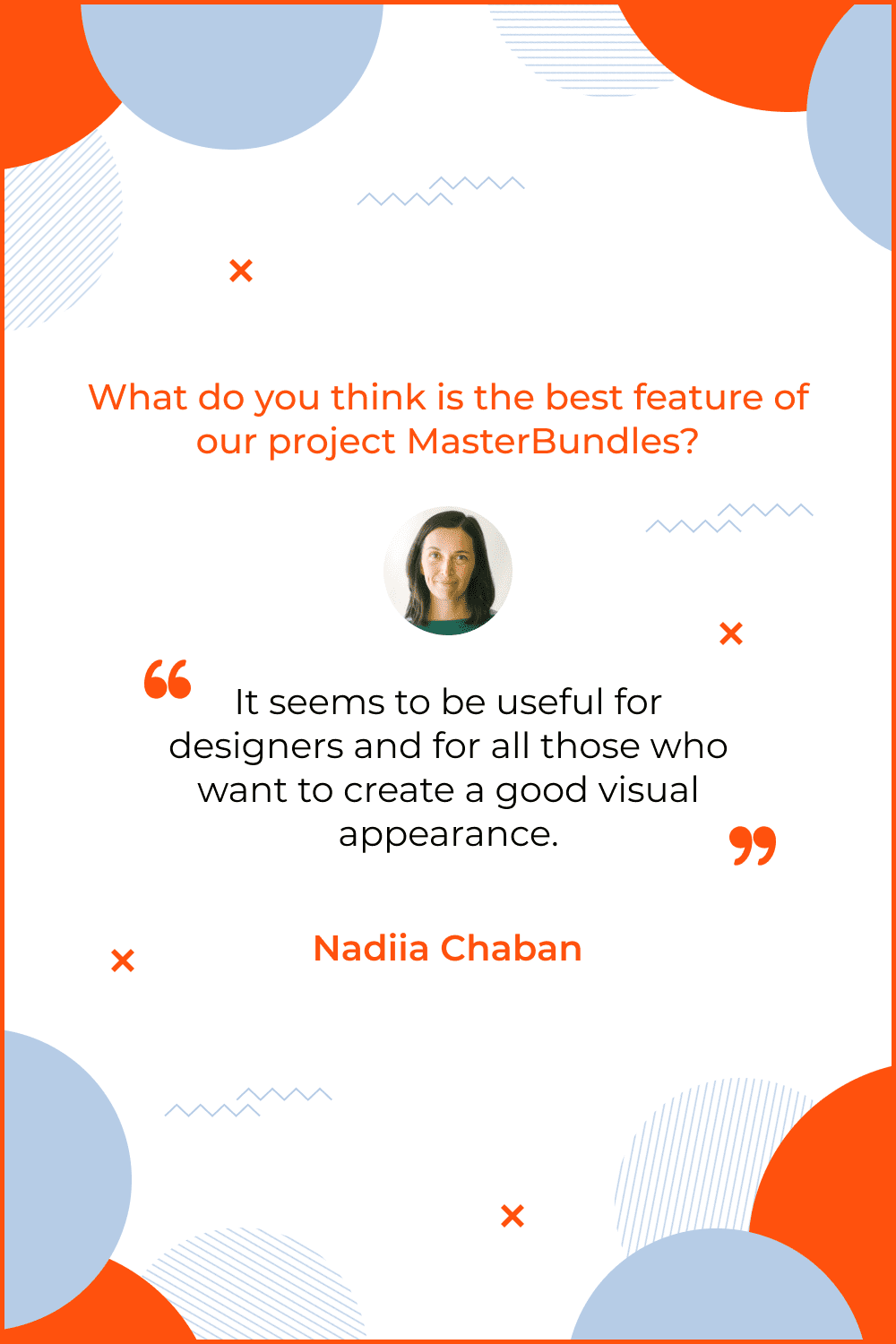 Recommended Posts For You
What to Write to a Client when you apply for a freelance job?

Nadiia Chaban is an Ukraine-based self-taught artist, although she is currently attending drawing classes to improve her skills and get more experience.  
Was this page helpful?
We will be happy if you decide to share this article with your friends on Facebook. Just click on the button and you're done
What are your concerns?
Thanks for your response!
You have already left your review.
More Interviews with Famous Designers