📝 "I'm not comfortable with settling and that helped me to challenge myself " – Lucian Radu
Lucian Radu is an award winning logo and brand identity designer, one of the top 20 romanian designers on Dribbble, founder and art director at UNOM.
UNOM design is a brand identity & graphic design studio based in Romania, currently working with clients and creatives all over the world. From small start-ups to big clients, they create strong brand identity design for over 500 clients since 2013.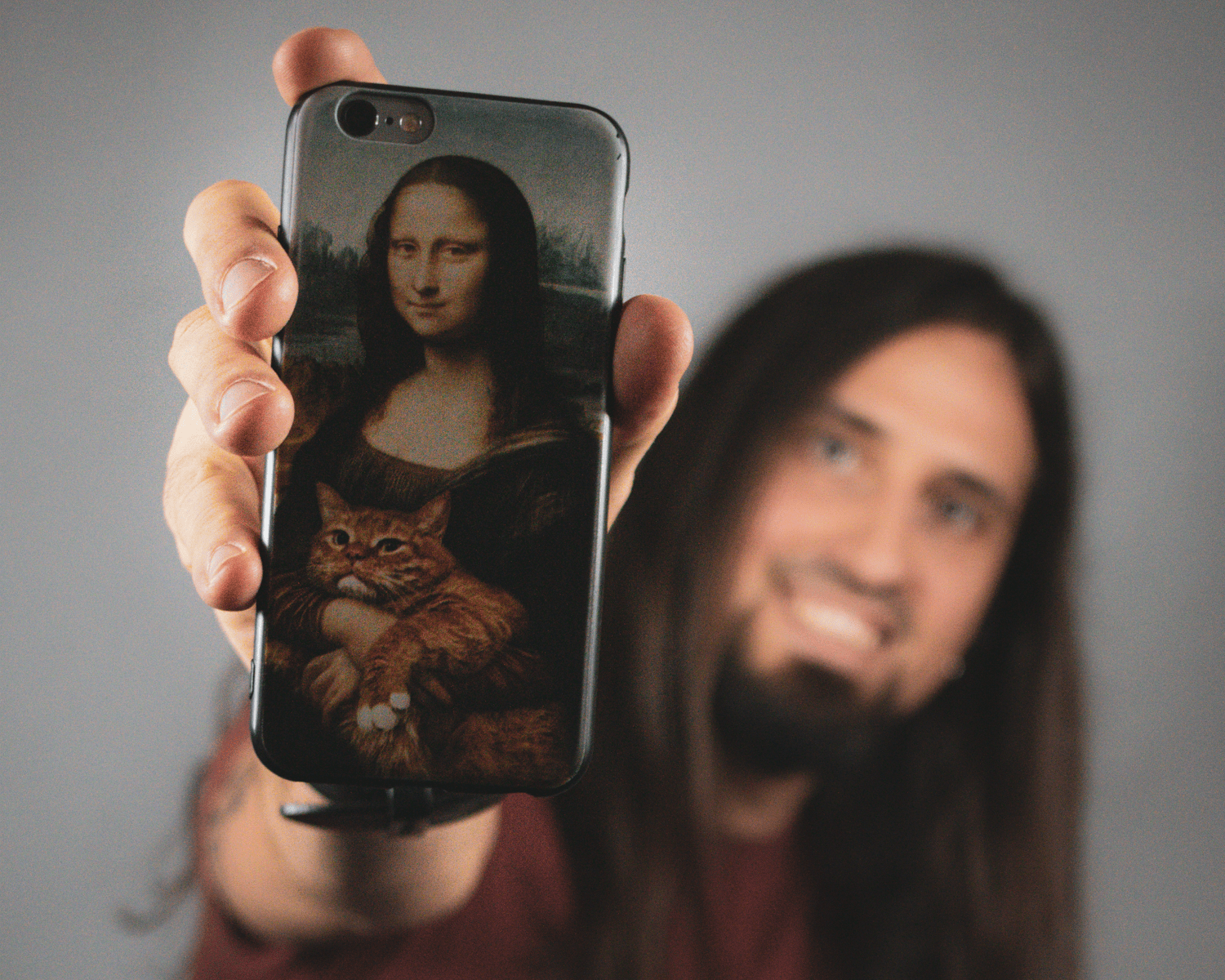 Lucian likes to work closely with his clients and build strong relationships, constantly evolving and adapting to go wherever briefs lead him and his team. He admits he enjoys "obsessing about the details".
By doing this, they build recognizable and loved brands because they have the belief that is one of the most valuable assets a company owns. They also believe that great design is clear and engaging and has the power to move people.
Do you want to know how he creates beautiful, fresh and timeless design solutions? He kindly agreed to answer some questions for Master Bundles, so keep on reading!
Where are you currently living?
I'm Romanian and I'm still living in Bucharest, Romania. While I like to travel, I love this place and I don't think I'll leave soon.
How did you decide to become a professional designer or illustrator? How long have you been doing this?
I think I've been doing this all my life in a way or another. From the silly things I drew as a child to my work now as a professional, I always felt close to this kind of art.
I remember scribblening things on notebooks in school and now I realise they were monograms or minimalist logo designs and I didn't even know back then.
So there wasn't a decision to be made, it was in me all my life. But to do it professionally, that started 9 years ago when I received a drawing tablet as one of my birthday presents and started to learn how the design world works.
How would you define yourself at work?
Since I love what I do and I am really passionate about my work and the creative process, I would describe myself as focused and motivated. It's always great to look at the results at the end of the day, no matter if these are actually designs or new skills learned. I'm not comfortable with settling and that helped me to challenge myself on a daily basis.
What are the key moments in your professional career (or which are the projects you are most proud of)?
Even if there were multiple key moments, I can think of two of the most important ones: The first one was working on my first big rebranding project, an US based city, City of Greensburg. It was a complex project and I have learned a lot with the help of Daniel Fayette, one of the greatest creative directors I worked with.
The second was my own rebranding and founding of UNOM design, that was the moment when I stopped playing in the little league and started talking and working with the big clients.
That also led me to collaborate with brilliant designers, a thing I always wanted to do.
So how did you decide to take this huge step of creating your own design studio?
Since I was a freelancer for some time and worked with hundreds of clients, I was feeling prepared for this step. I learned from other studios successes and failures and of course, I started small. That allowed me to take risks and be realistic, but I never stopped thinking big.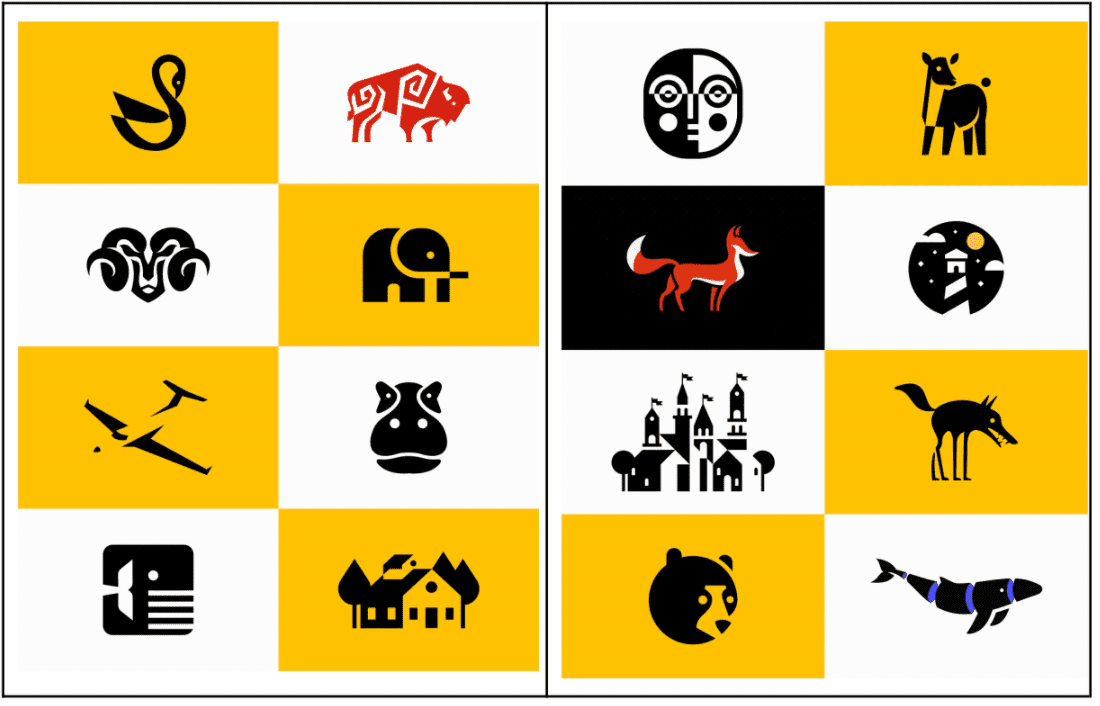 Where can we find your work? (publications, exhibitions, products, etc.)
Well, since I worked with hundreds of clients, you might see my work anywhere, from the drink you are holding to the t-shirt you are wearing. The awesome thing in brand identity/graphic design, the entire world is your exhibition.
What inspires you or motivates you to create?
The first thing would be staying inspired. With everything I create I get more inspired and other ideas come to join the ones I already have. Of course, I get inspiration from other creatives too.
In fact, the idea of creation is something we are born with. You see different things that you like and feel the desire to copy that at some level. So, inspiration can be a feeling, a word, an object, an animal, anything.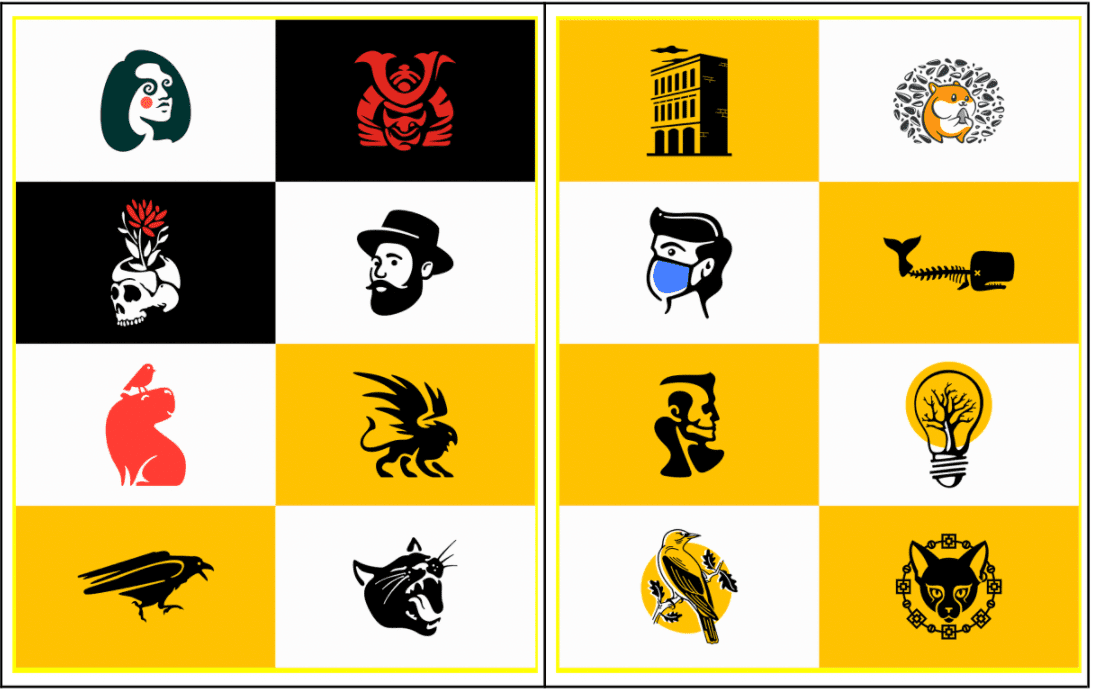 A Song:
"Lotus" by Soen.
A book:
"1984" by George Orwell.
A city:
Bucharest.
A happy memory:
The first time a client contacted me and offered me a project. Of course I asked for little money and did extra designs for free (was totally unprofessional on my part, but I was a rookie). After some time spent on crowdsourcing platforms and little to no marketing, with designs that were far from good, not even decent (from my standards now), this was a confirmation that things will be good in the future and this design thing can be more than a hobby.
What techniques or tools do you use in your work?
I used many techniques along the way, but my favorites are: scratchboard style, Minimalism and Geometric.
Regarding the tools, I love CorelDraw, but I also use Adobe Illustrator and Adobe Photoshop.
What features of CorelDraw make it your favorite tool vs. Adobe Illustrator, which is quite similar?
Even though these two are similar in many ways, I started with CorelDraw and it was always closer to my heart. Sure, the Adobe family is known as the best industry-standard tool for vector editing and illustration, but I still feel that CorelDraw is more user friendly.
Have you ever found that someone has copied your work or used it without your proper permission? What do you think should be done in this circumstance?
Sure, that happens all the time and it's sad that some people have so little respect for our work as designers. To resolve this I first contact them and try to solve this in a friendly manner, since many times the people using my design don't even know that is copyright infringement, they just have been tricked by a copycat and paid for stolen artwork.
If they don't remove it or don't answer to my request, I fill a DMCA takedown notice.
Were you ever worried about how people would react to your work?
Not really, since my work was not quite controversial by this point. Of course, there are times when someone says "That is not a very good design" or "I can do that in 5 minutes", but you can't make everyone happy all the time, so I easily move on.
Who are your biggest influences? Designers, artists, writers, friends etc
There are a lot of people that influenced my life as a designer/human being, some of them are: George Bokhua, Chris Do, Ben Burnes, Doris Gray, Ben Stafford.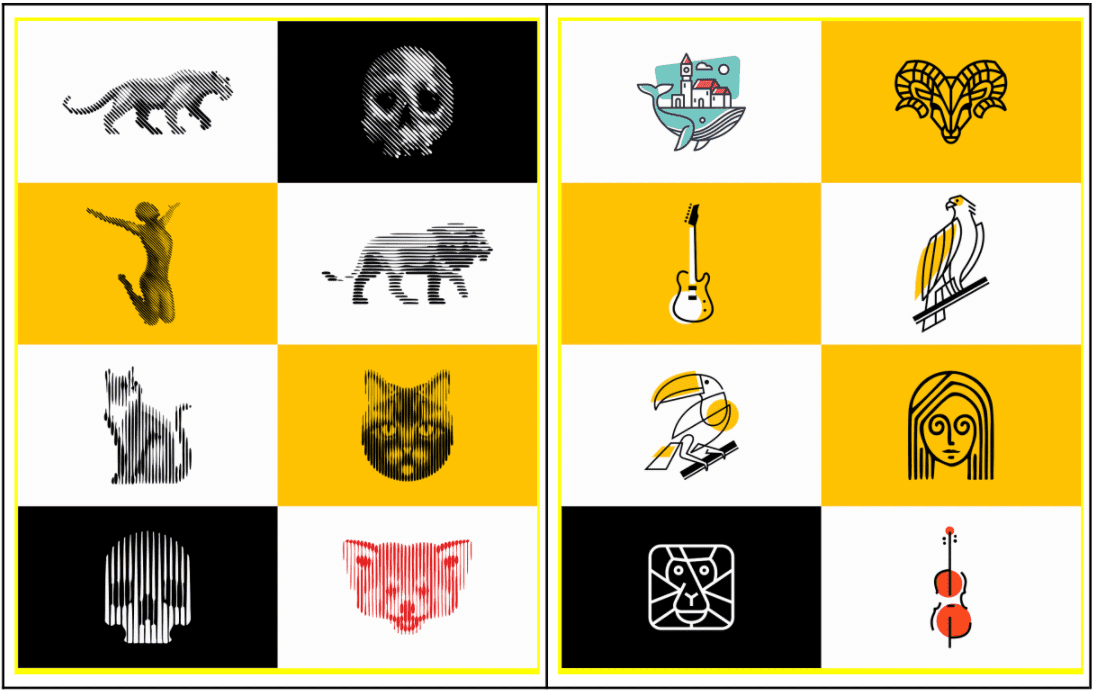 What jobs have you done other than being a designer?
I did a lot of those back in the day, some of them are: Barista, Receptionist, Photographer, QA Consultant.
What memorable responses have you had to your work?
Ha ha, I get a lot of those, the most annoying one goes like this: "I'll know what I want when I see it", without any other feedback about what he likes or doesn't like.
What is your dream project?
My dream job is a brand identity design project with a big client (like Coca-Cola or Google) where I get the chance to design their logo from scratch in my minimalist style, with enough budget to try as many ideas as we need to create something memorable.
Is budget usually a problem when doing rebranding work? Do you think that, in general, it is an undervalued job?
I think the budget is the biggest problem when it comes to branding/rebranding. A lot of potential clients (sometimes big ones) have very small budgets and are disappointed when hearing the actual numbers.
We have here two kinds of people: the first one are the clients that don't think this is such an important thing, even if through strong brand identity you can build a recognizable brand and that is one of the most valuable assets a company owns.
The second ones are the clients that know the value of the brand identity, but believe that it shouldn't be that "expensive", after all it's "just a logo and a brand guide". So, yes, this is most of the time an undervalued job.
What role does the designer have in society? Or describe how you think design is fundamental to society.
Like Irene Au said, "Good design is like a refrigerator—when it works, no one notices, but when it doesn't, it sure stinks." In other words, design is important and it's in our everyday lives. Everything around us was designed by someone, and if that someone didn't do a very good job, that affects us all.
Do you have a network of designers with whom you collaborate? How do you support each other?
My first and strongest network of designers is Dribbble. I'm there since I wasn't that good and the fellow designers helped me through feedback and answering questions to become a better designer and, why not, a better human being.
How do you manage a work-life balance? Has this changed during the pandemic?
It was difficult for me as a freelancer to balance these two, but I think I have now reached an equilibrium. It's tricky because your mind tells you that you do what you love, so why wouldn't you do it all day long?
Regarding the pandemic, I tried to take advantage of the quarantine to grow my business, promote my designs and learn new skills that helped me to do better work. That way I got more leads and became a better designer in this year and a half.
Have you heard of MasterBundles before? What do you think about this project? Do you think it could help beginners to earn money?
I never heard of MasterBundles before, but it looks like a very good idea. Especially for the new designers that have a hard time in connecting with paying clients, but not only for them. I applaud any platform that connects the creatives with the customers, helping the designers with the hardest part of their job: marketing.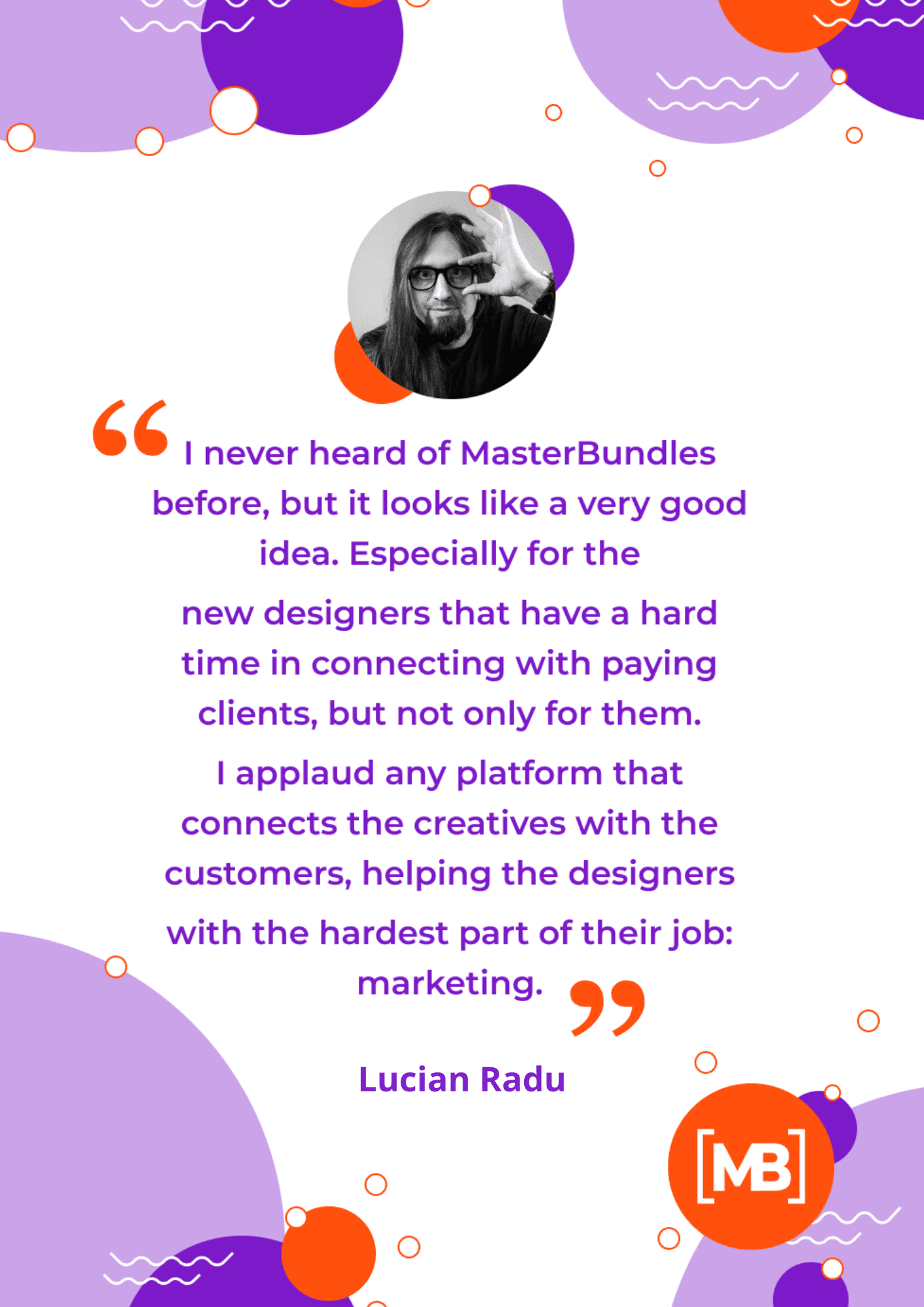 Have you had any experience in packing products into bundles?
I haven't until now. I recently started to sell some of my artwork, but only one by one as unique logo designs, but I might consider it in the future, who knows?

Recommended Posts For You
Was this page helpful?
We will be happy if you decide to share this article with your friends on Facebook. Just click on the button and you're done
What are your concerns?
Thanks for your response!
You have already left your review.
Disclosure: MasterBundles website page may contain advertising materials that may lead to us receiving a commission fee if you purchase a product. However, this does not affect our opinion of the product in any way and we do not receive any bonuses for positive or negative ratings.