Being a designer is fascinating – you can express your feeling and thoughts. You can always create something amazing, a piece of art that will amaze people. However, design can be profitable as well. In this case, you need to find someone who wants to buy your design. Luckily, the internet gives you a wonderful opportunity for selling your artwork worldwide. There are many websites where you can sell your design.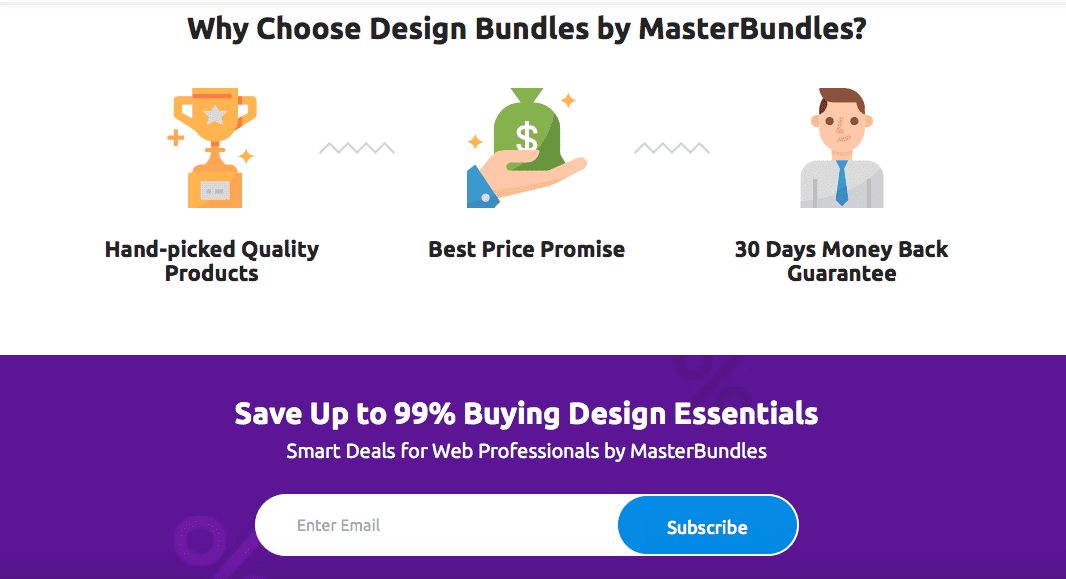 This is the place that you need, whether you just starting selling your designs or you an experienced designer and you look for new customers and opportunities. The user-friendly UI helps you to find everything you need. It has many deals, which are great both for designers and customers. It also has different awards that will help designers find new clients. The starting page has images of the products so a potential customer will immediately see what they can buy.
2. Creative Market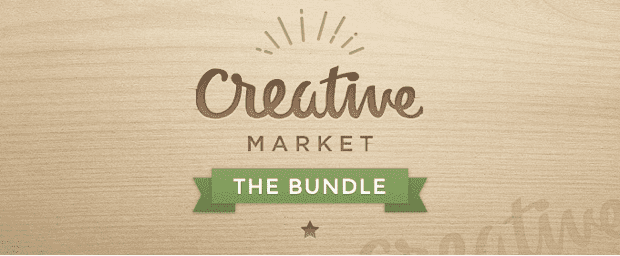 This is a popular website where a designer can sell various products, such as photos, templates, web themes or even 3D objects. The website has a free section and a user-friendly support center. It also has a blog where you can learn something new and become a better designer.
3. Big Cartel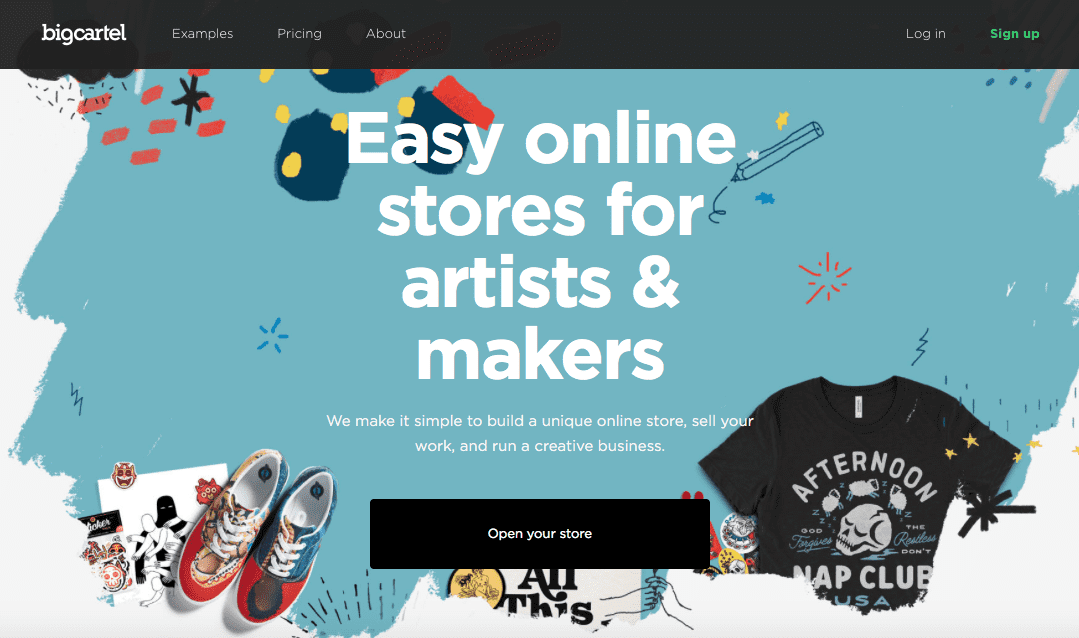 This platform allows you to create your store using a simple-to-use tool. Therefore, you can create a unique store with the design you like. This platform has three plans starting with $9.99 per month. There are plans which will cost you $19.99 per month and $29.99 per month.
4. Zazzle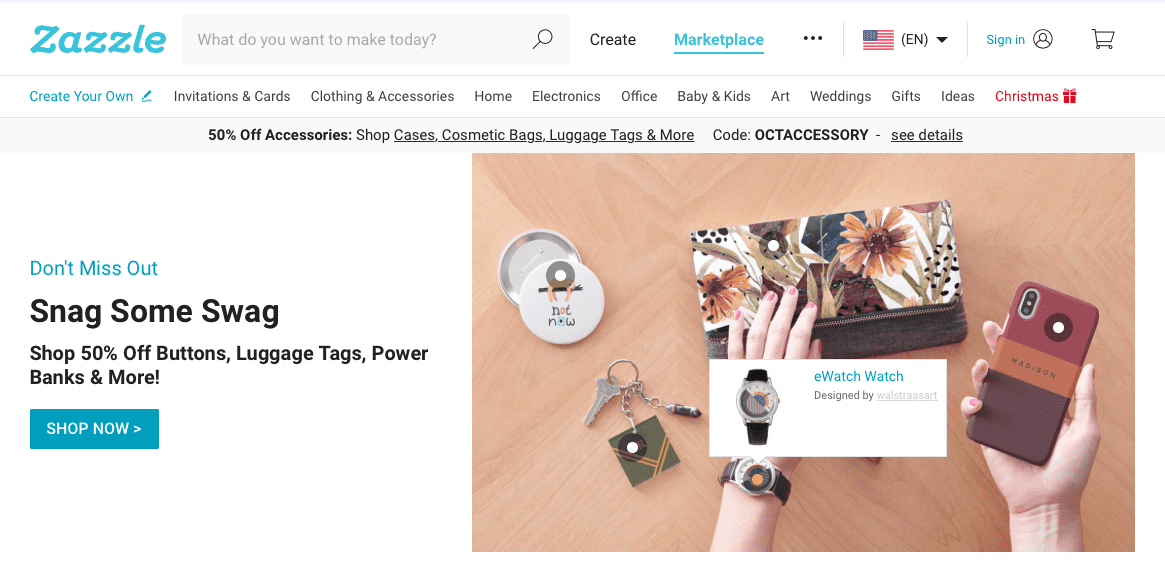 This website is quite large and you can sell various products here, like gifts, cases, cards, invitations, etc. It also has an "idea" section where you can find inspiration for your future design. Zazzle has a special application that will help you with managing your account.
5. MyFonts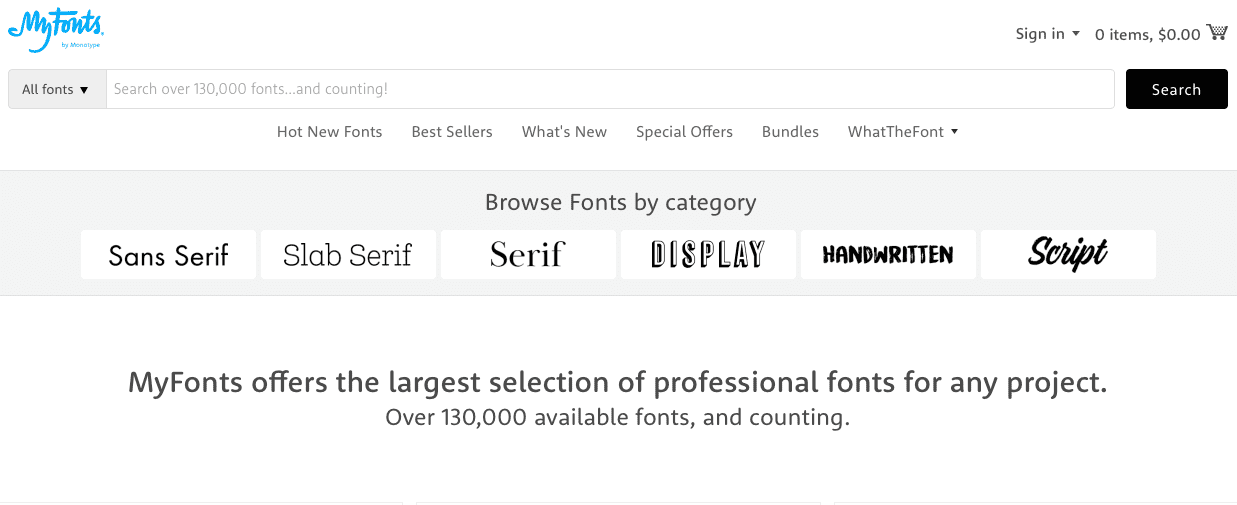 Here is a narrow-specialized platform that would be perfect for designers who want to sell fonts. Therefore, this website is optimized for fonts only. It has several sections which allow customers to find the font they need.
6. Design By Humans (DBH)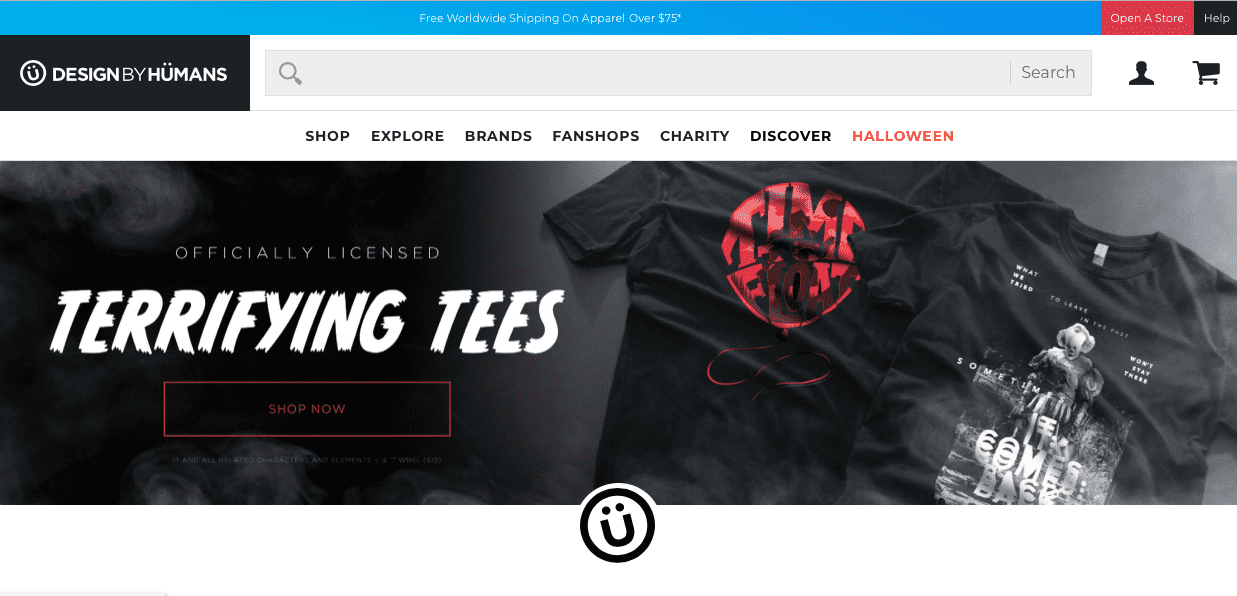 DBH is a good platform for illustrators – it has various categories that may help you find your niche. Design By Humans also has an Ambassador program. However, it has a strict payment schedule (it uses the PayPal system). This platform also sells licensed products.
7. Society6

You can sell almost anything here – benches, bar stools, cutting boards, mugs, posters, metal prints, etc. It's a very versatile platform. It also has a blog where you can find useful information. the website is available in English and German.
8. CafePress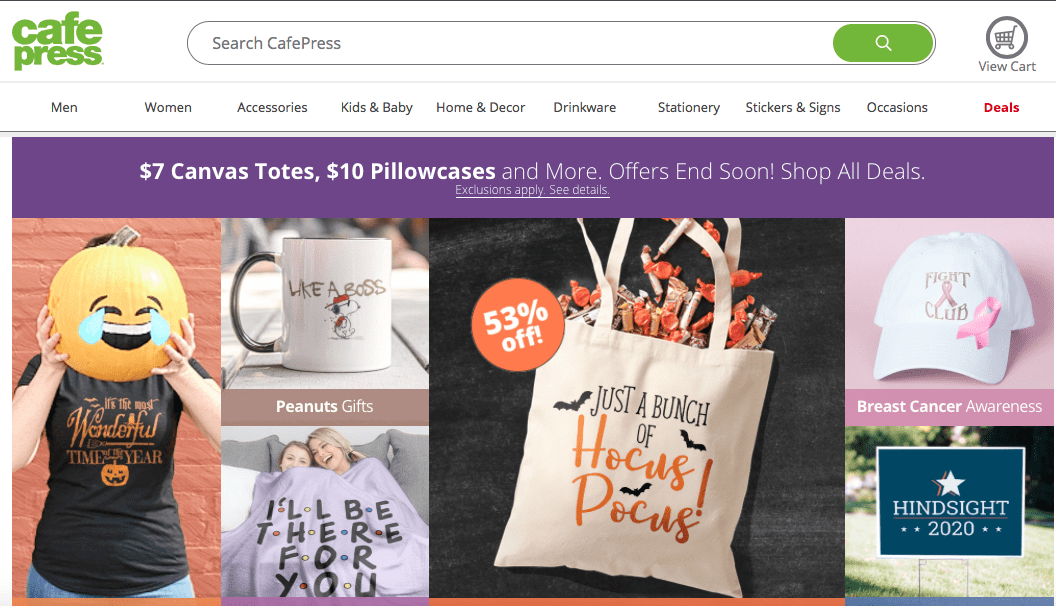 This is another platform that lets you sell various products, like pillows, clocks, t-shirts, etc. It has various sections so you can create a design and make it easier to find, especially if you create something politics- or holidays-related. It also has a detailed "help" section so you can find all the necessary information there.
9. Saatchi art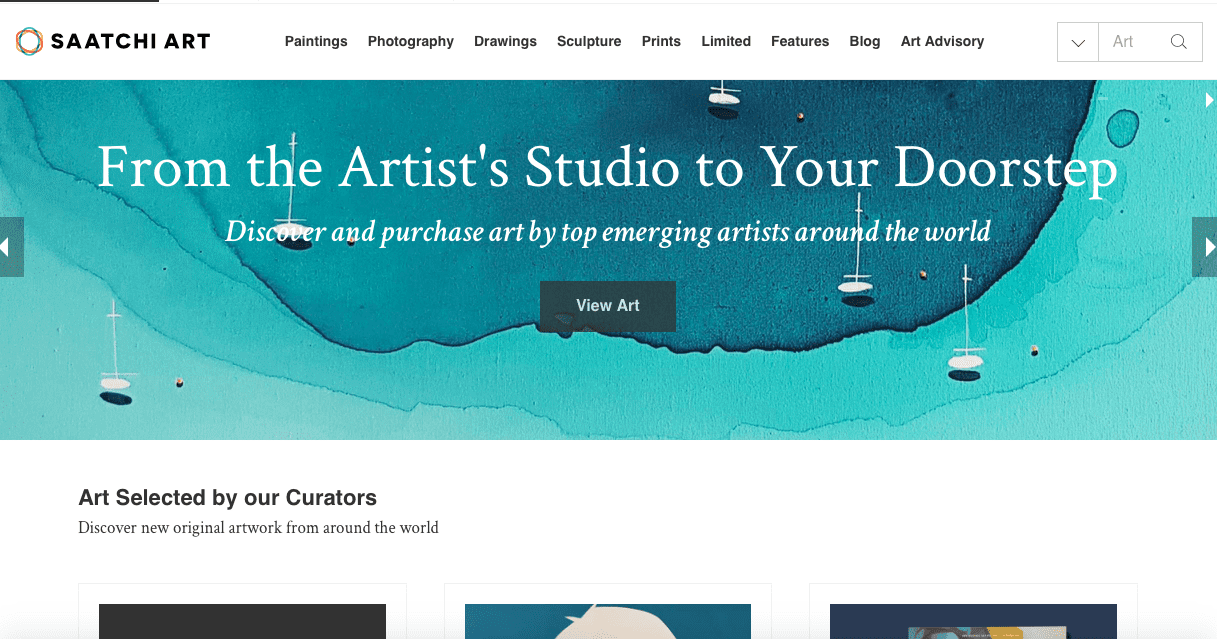 Saatchi is the place where you can sell original art. If you are an artist, then this is the website for you. It has a nice store where a customer can find your art. You can sell paintings, photos, drawings and sculptures here.
10. Pixapp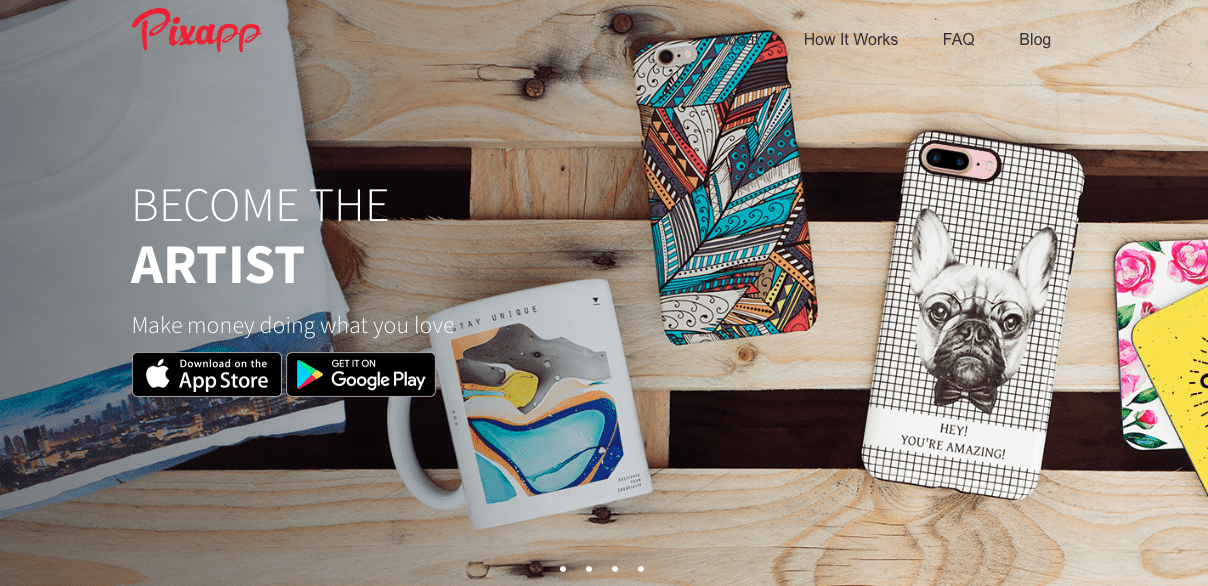 You can sell various products here, like canvases, tote bags, phone cases, etc. It has a nice application that allows you to manage your account. This website has a blog where you can find inspirational articles. The FAQ section is also very detailed.
11. GStock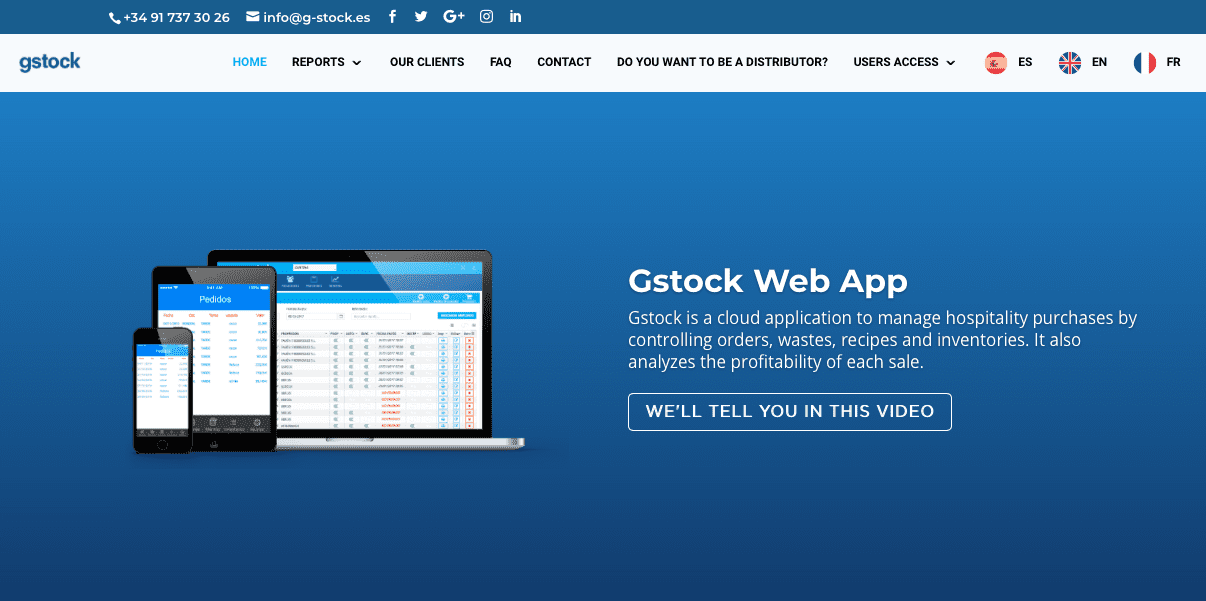 You can sell your images here. A seller has a flat 40% commission rate and payouts are available when you earn $50. It has several categories and it's all about images. It doesn't have many sections.
12. GraphicRiver

This is a large marketplace where you can sell various products, like print, web-elements, vectors, icons, fonts logos, photos, 3D files. You can also sell video, code (plug-ins, scripts, etc.) and audio. Overall, this is the place if you are a creative person. It has a tutorial section where you can find useful information.
13. ArtFire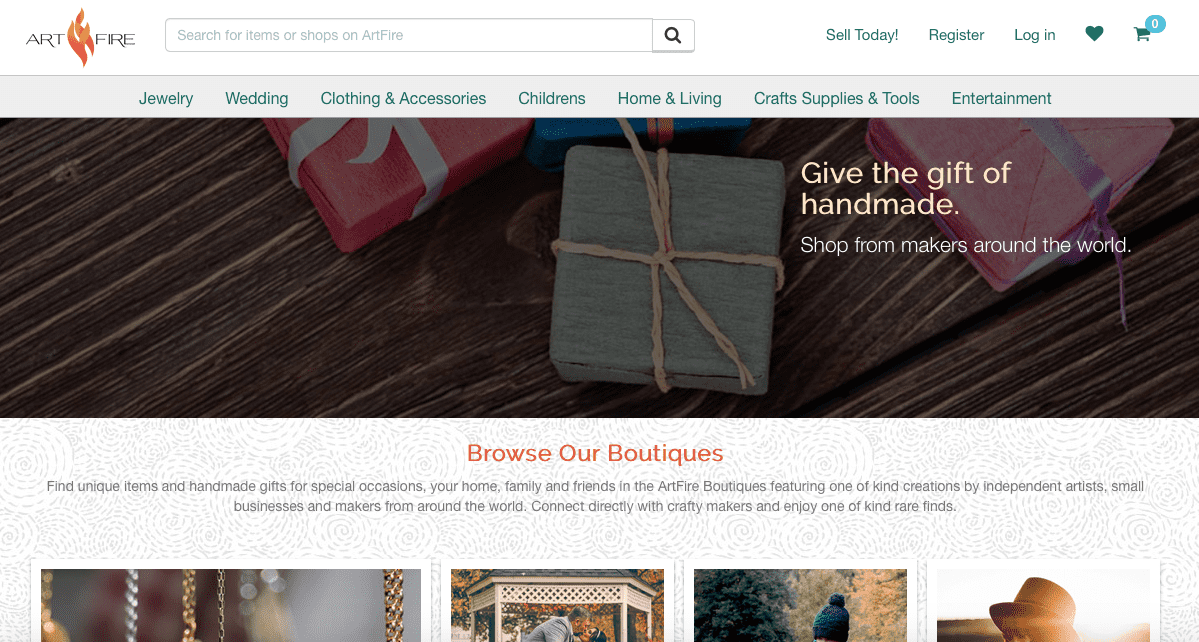 It allows you to create your web-store and sell various products. It has three plans for your shops – the "standard" will cost you $4.95 per month, the "popular shop" plan price is $20.00 and the "featured" shop plan costs $40.00 per month. However, the website promotes your products and it will make it easier to find using popular search engines.
14. RedBubble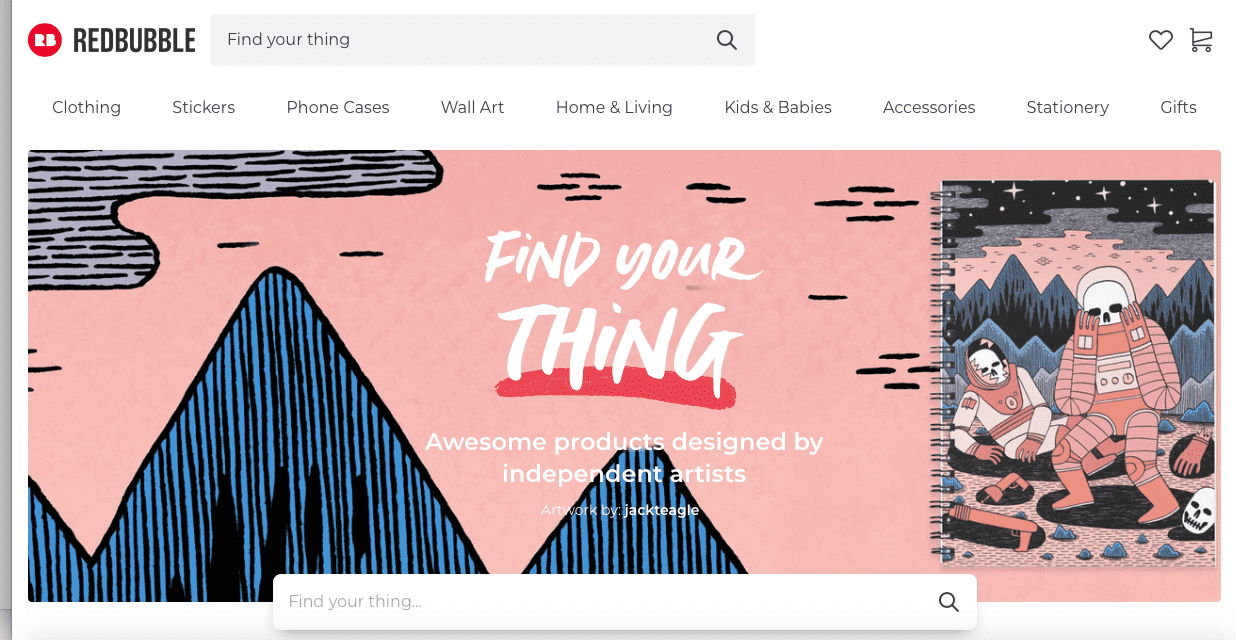 Here's a good place to start selling your design. You can sell your art that will be used with stickers, phone cases, wall art, accessories, etc. This platform has a friendly support center that will help customers and artists. This platform is quite easy to use.
15. Threadless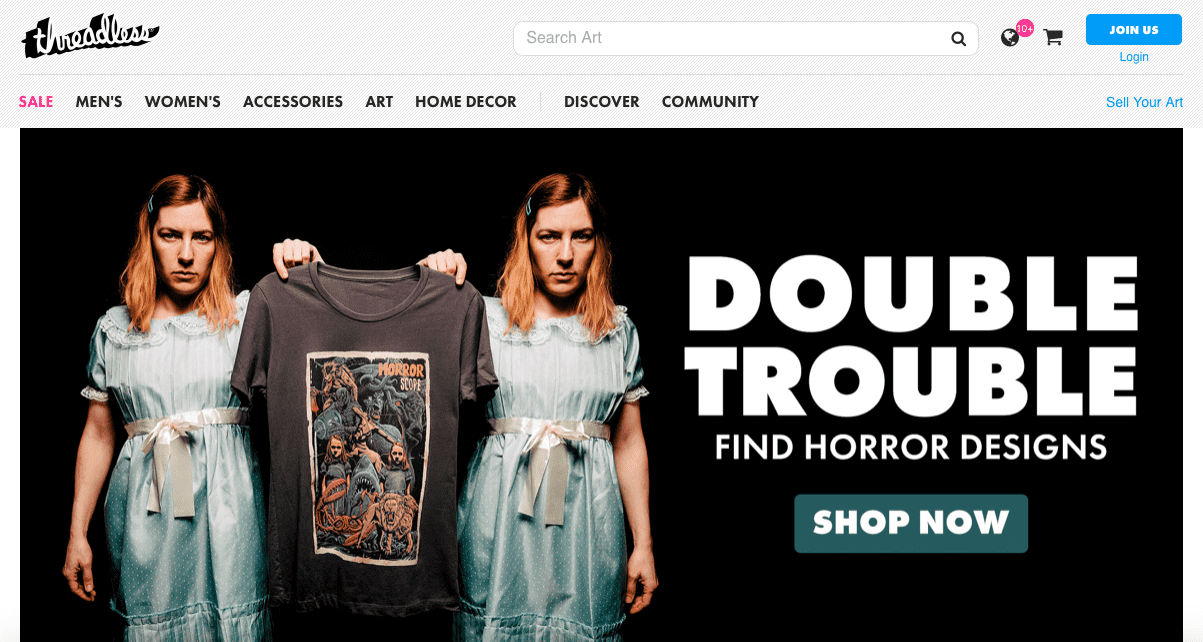 It's mainly about clothing, bags, curtains, blankets, etc. (but you can sell mug designs here as well). The website is easy to use, so it wouldn't be difficult for a customer to find your art. It has a community section, where you can find a forum, a blog, and podcasts that will help you become a successful designer.
16. Art Web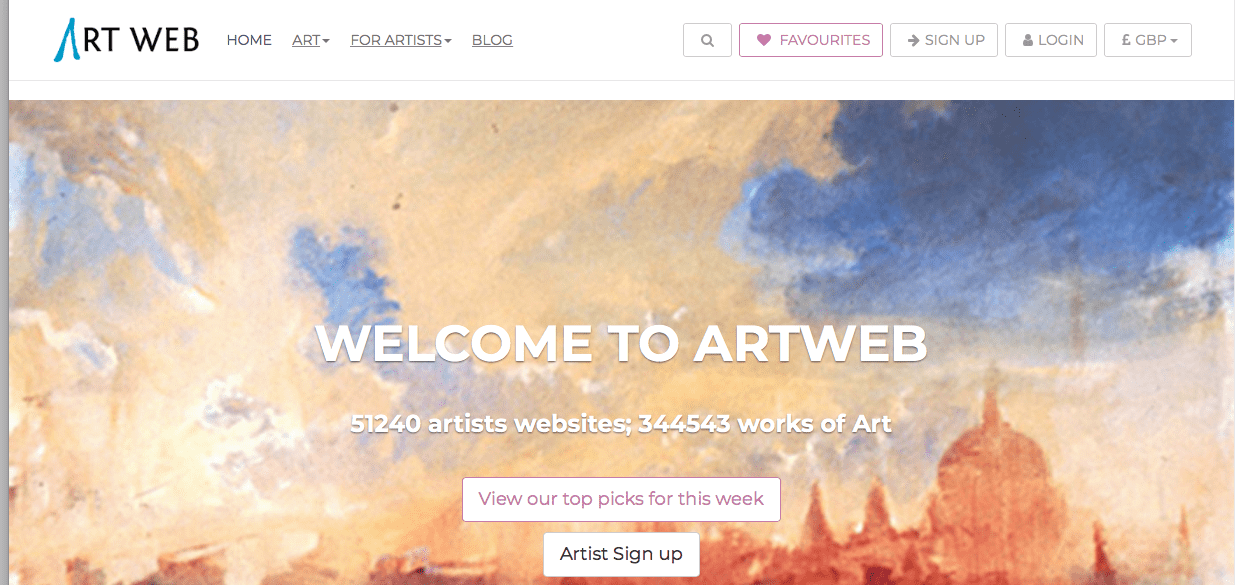 This is a great platform for artists. It has a website builder tool that allows you to create a shop with your unique design. It has a free plan, a basic plan (£4.79 per month) and a pro plan (£8.13 per month). You can sell here ceramics, digital art, drawing, mosaics, paintings, etc.
17. Etsy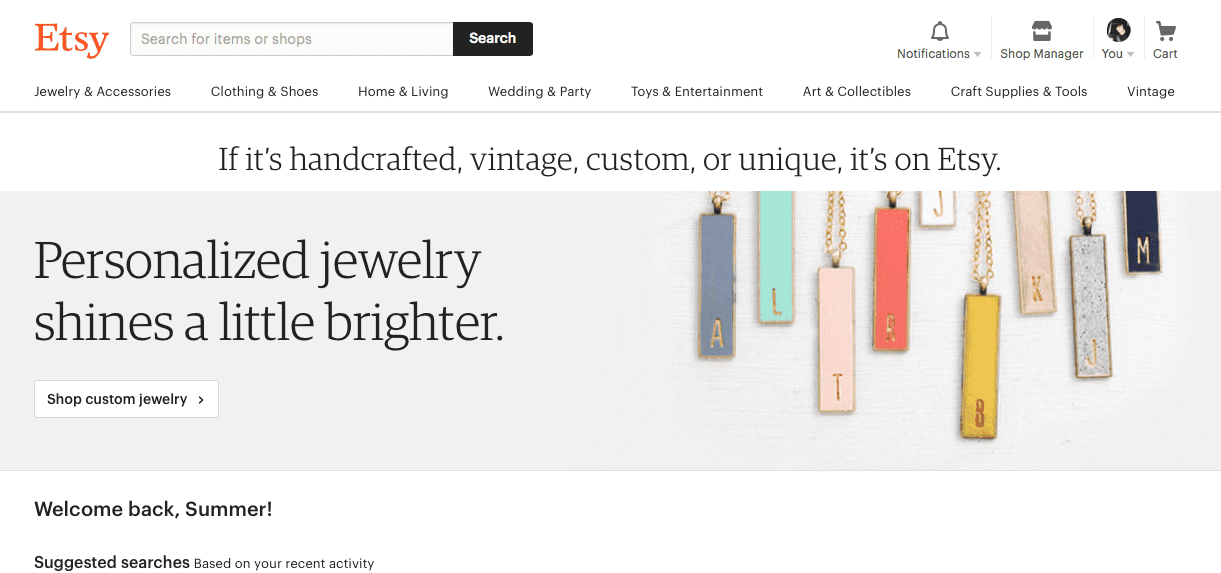 Etsy is a large-scale marketplace for creative people. You can easily find your customers here. You can sell here almost everything from clothing and toys to jewelry and accessories. You can open your store and this platform has a set of powerful promotion tools.
18. Artplode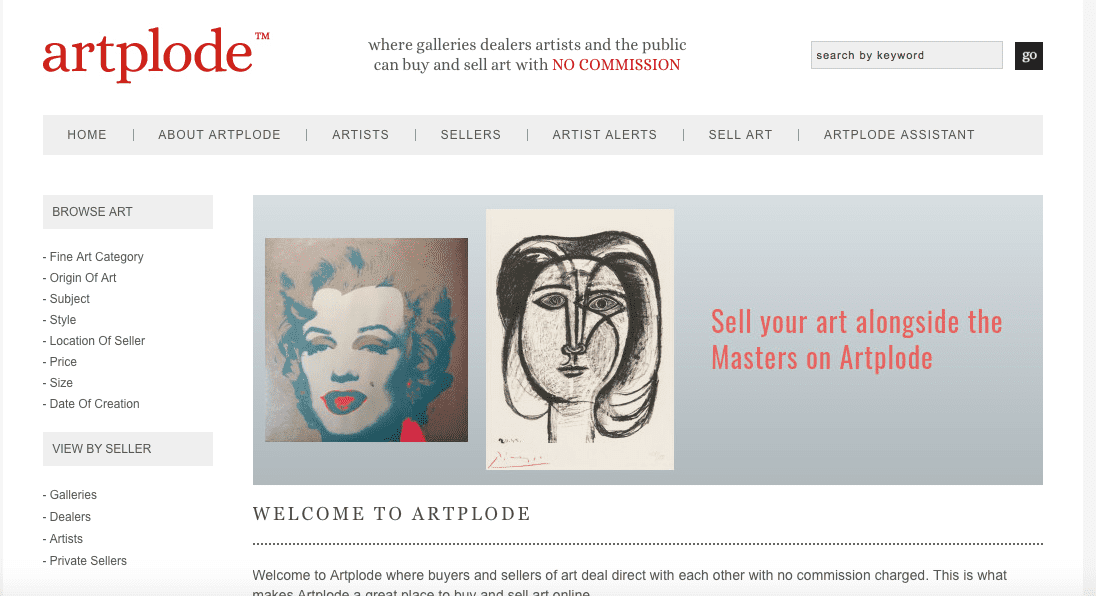 It's an online gallery that has a flexible system of interaction with customers and sellers. However, the platform charges a low one off flat fee of $60 to advertise each artwork.
19. Artfinder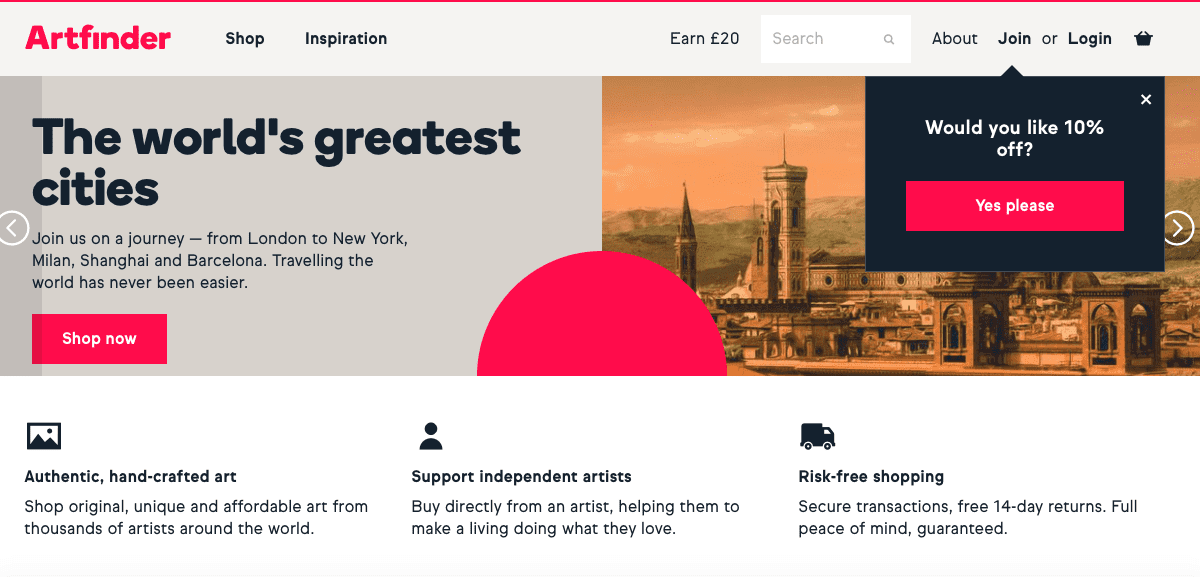 This is a great place for artists who want to find new customers. It's a global project that reaches over 600,000 art lovers all over the world. You can create your store and control the prices on your own.
20. Design Cuts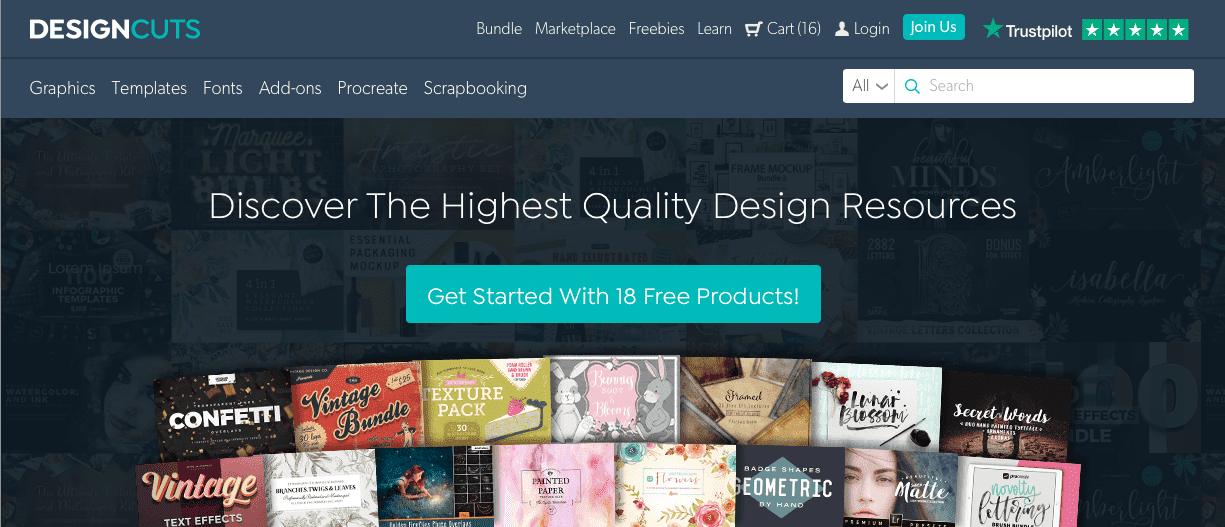 Here's a good platform to sell various art and graphics-related products, like Photoshop and Illustrator brushes. It has a nice design so a customer will find your art fast. You can sell icons, photo packs, patterns, templates and many more here.
21. This is a Limited Edition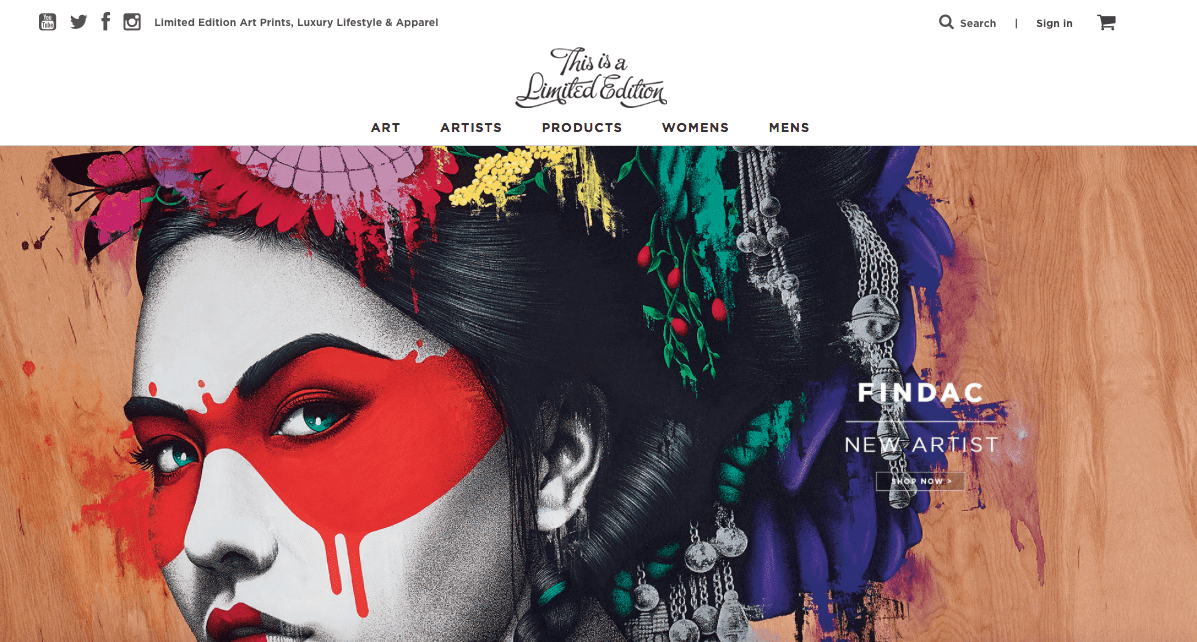 This platform is for experienced designers who can amaze with their art. The This is a Limited Edition team searches for designers and artists on their own (it uses the invitation system), but you can send an artist application using the form on the website and they may start cooperating with you. Give it a shot.
22. INPRNT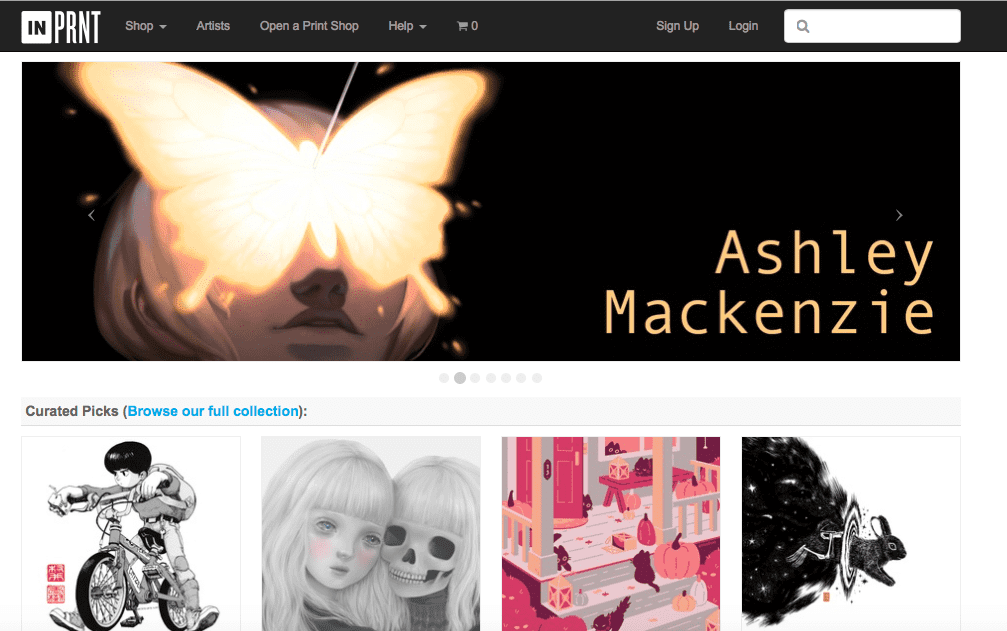 It lets you open a print shop and sell your designs. As an online shop owner, you can create promo codes and control your sales. You can sell art cards, phone cases, fine art, illustrations, photos, etc.
23. Not on the High Street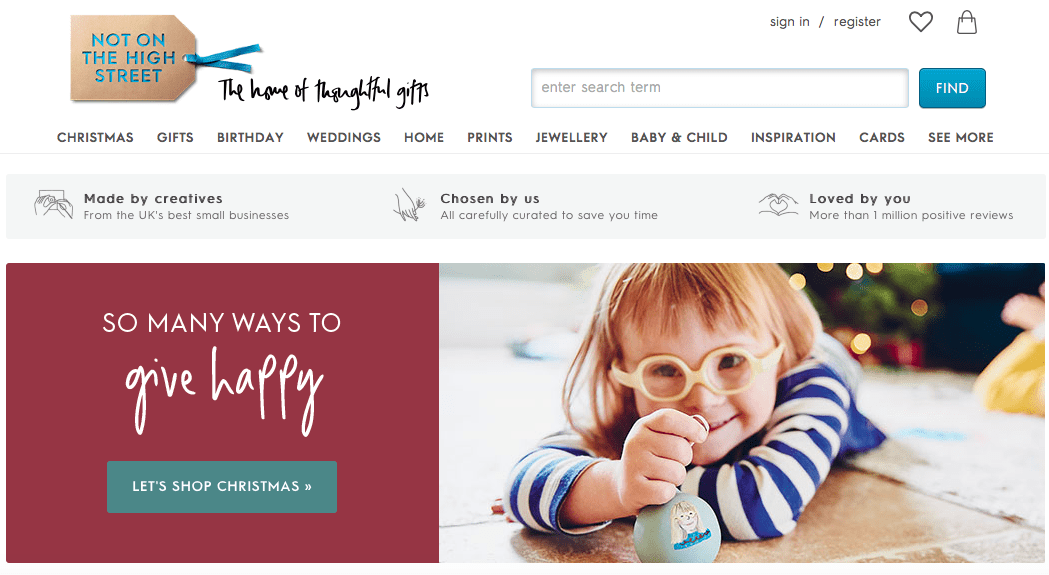 This is a large marketplace where you can sell art. This website has to offer jewelry, wedding gifts, prints, etc. It has transparent seller-website cooperation so you can clearly understand what you can and what you can't do.
24. Storenvy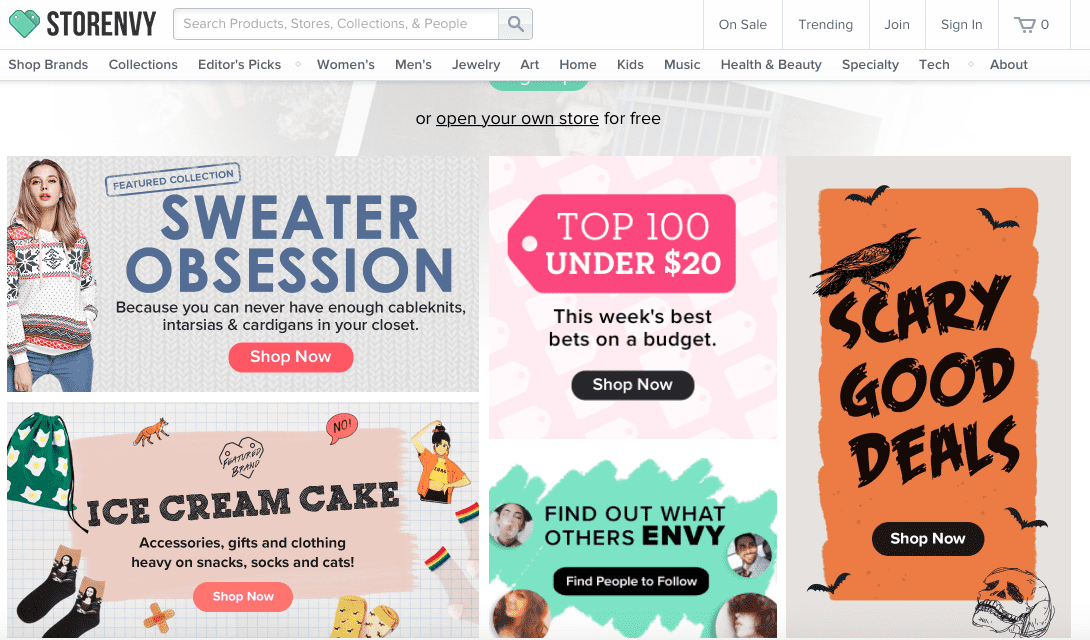 You can sell your products here and the list of the products is quite large. You can sell photos, sculptures, jewelry, etc. You can also sell gadgets here. You can sell your products using a customer store or a marketplace.
25. CASETiFY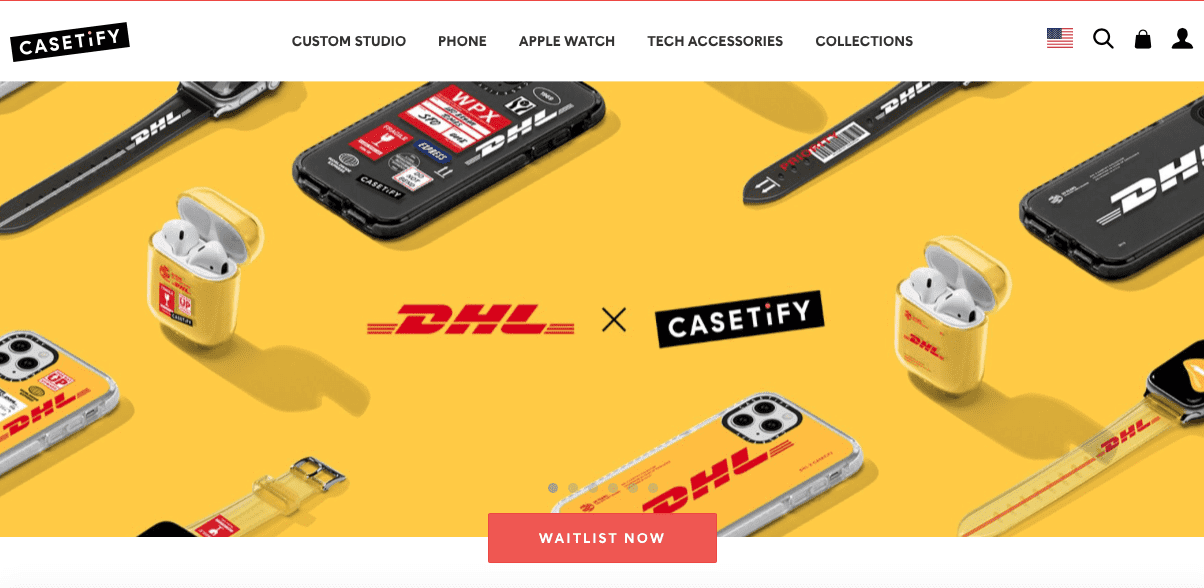 This is the platform for people who create a design for cases of phones or smartwatches. It has powerful tools that help you to make your design look as it should when it's printed.
26. Sellfy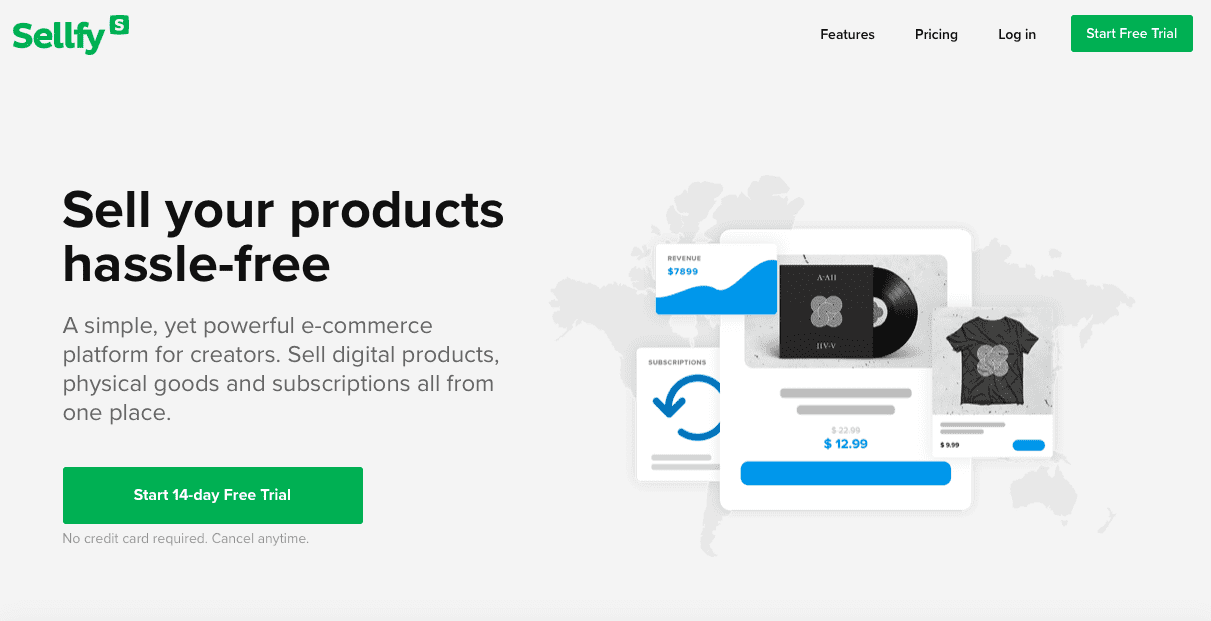 This resource will help you create your online store and start selling your digital art. It has three plans. The Starter plan costs $19 per month, the Business plan price is $39 per month and the Premium will cost you $89 per month. It has a detailed FAQ section, where you can find useful information.
27. Shopify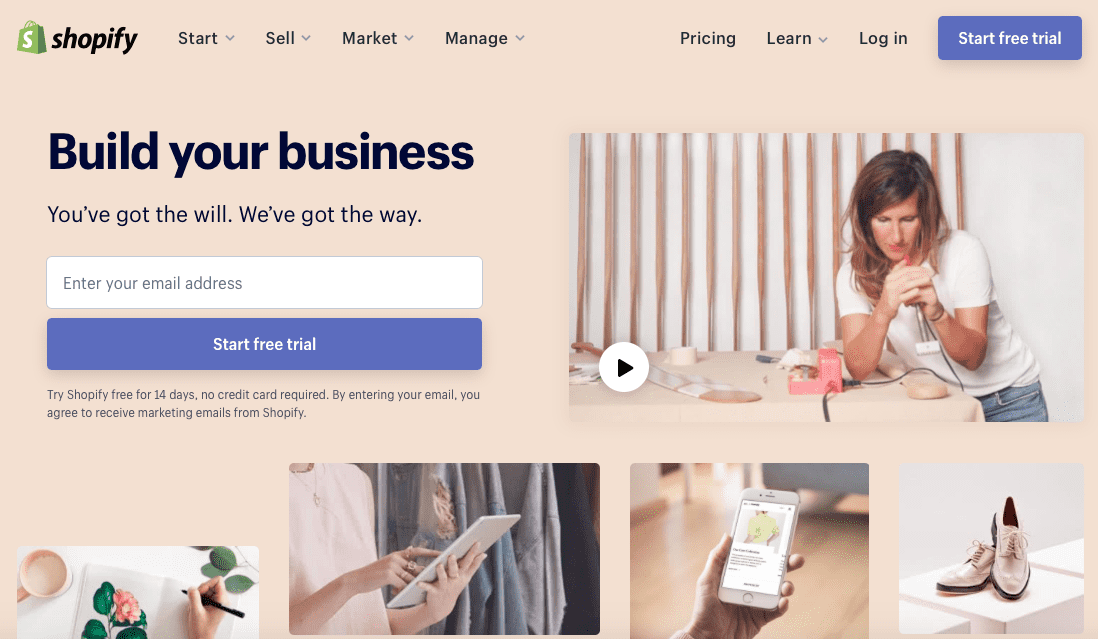 Shopify is a platform that allows you to create an online shop. It's not all about art, you can create different shops. You have some freedom here and it may be a good option when you already have some loyal customers.
28. Amazon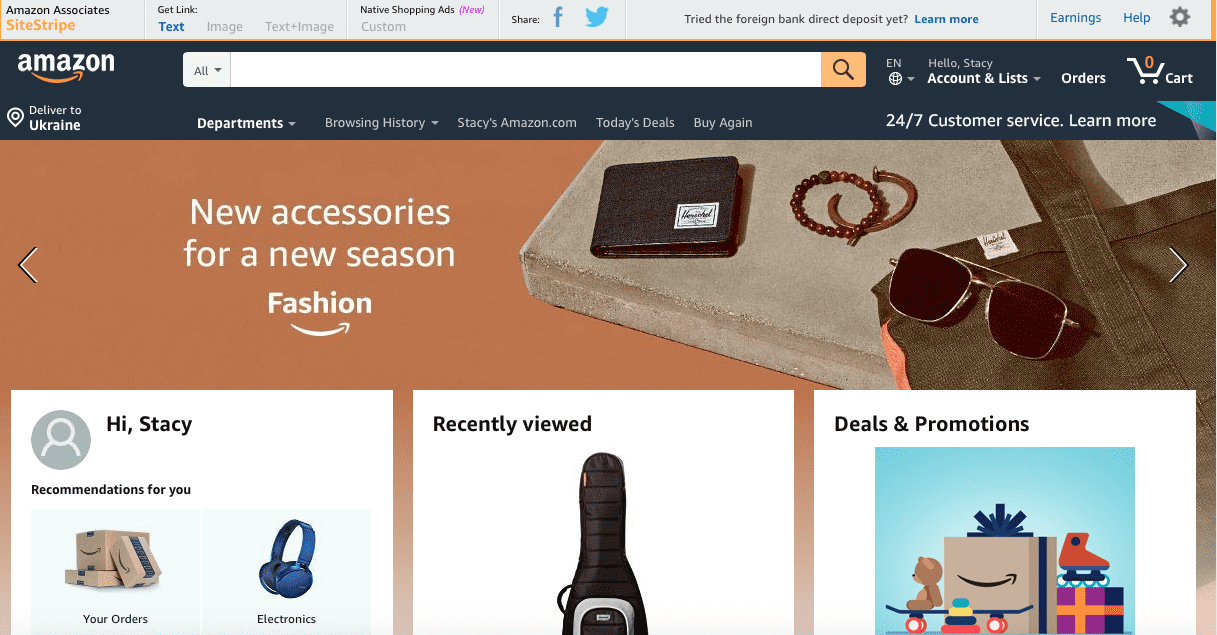 It's the largest platform that allows you to sell almost everything, including your art. However, it may be difficult for a customer to find your product. This can be an option if you have a blog or a personal website where you can add a link that leads to Amazon.
29. eBay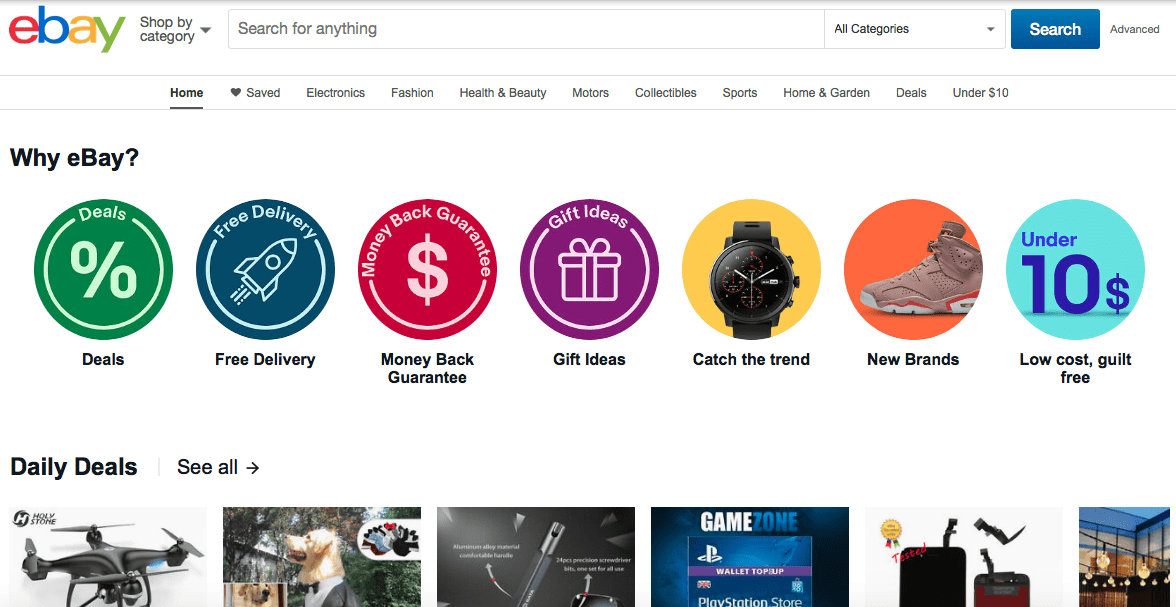 eBay is like Amazon, it allows you to sell your products, but potential customers may have difficulties finding you.
30. Create your website
This would be an option for people who have loyal customers. Creating a website can be quite expensive, but you will have total freedom here.