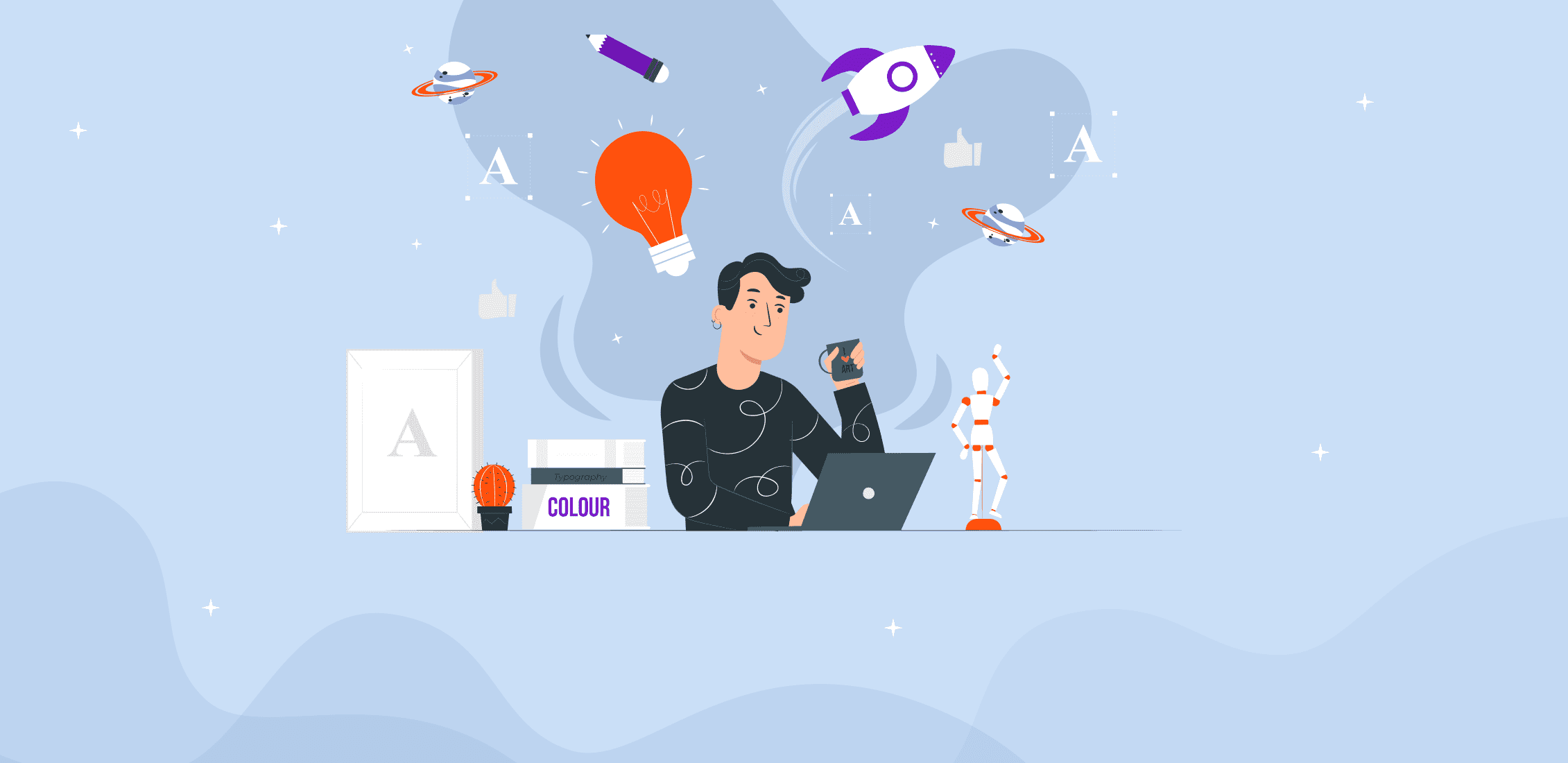 30+ Best Websites to Sell Your Design Works in 2022
May 3, 2022
May 20, 2022
10 min
Being a designer is fascinating—you can express your feelings and thoughts about many things. You can always create something amazing in a piece of art that will impress people. However, design can be profitable as well so this means you'll want to sell your design work online. In this case, you need to find someone who wants to buy your design. Luckily, the internet gives you a wonderful opportunity for selling your designs worldwide.
MasterBundles has made a wonderful selection of the best websites to sell your designs. Let's check them out together.
MasterBundles
First things first, we need to tell you about our marketplace because it has many sweet benefits. This is the place that you need to go, whether you have just started selling your designs or you are an experienced designer already and you are looking for new customers and opportunities. The user-friendly UI helps you find everything you need. It has many deals, which are great both for designers and customers. It also has different awards that will help designers find new clients. The starting page has images of the products so potential customers will immediately see what they can buy.
How to Become a Vendor
To become a vendor you just need to register on the MasterBundles site and upload your products with the help of a super clear and easy Sell Your Deal Form. You can also use this detailed tutorial to make the process even easier.
Today we recommend to download products on the following topics:
Registration Vendor
Please note: after registration, you will be redirected to Submit Your Deal page. IMPORTANT. You need to press the submit button again to upload your product.
Thank you!
Thank you for your bundle. It has been sent.
Promotion
Of course, you cannot imagine a successful designer or artist without any promotion. But you need to do it effectively, don't you? Thus, this video webinar including SEO tips for product pages will help you to make everything you need in the proper way. In addition, we have many free guides on how to promote your designs on different social networks that you can find in the MasterBundles blog.
Extra-bonuses
On top of that, MasterBundles constantly promotes the best bundles via newsletters as well as including them in the different collections and various blog posts.
While many marketplaces take from 60-70% of the artist's sales, MasterBundles takes only a 50% commission from each bundle you sell through it. As a bonus, all vendors from Ukraine will receive 100% from selling graphic designs until June.
So, let's review all the bonuses you get by becoming a vendor on Master Bundles:
low commissions (compared to other marketplaces)
promotion boost
clear and easy registration and art uploading through Sell Your Deal form
quick moderation
accepting various skills levels and artistic genres
Best Places to Sell Digital Design Online 2022
Apart from MasterBundles, there are plenty of other platforms to sell your works. Let's find out more about them!
Adobe Stock
Adobe is almost the largest creative community in the world. There you can sell your designs of any kind: stock photos and videos, vector illustrations, various templates, and many many more! By the way, they also promote Ukrainian artists very hard at the moment. And you can easily join the marketplace through your Adobe ID, which is very convenient.
Behance
Over the past few years, this platform has become very popular. It is not like a typical marketplace, where you can put your graphic designs up for sale. It is a place where you can create a great portfolio with links to the site(s) where a customer can buy your works.
TurboSquid
This is the right place for you if you specialize in 3D modeling. TurboSquid gives visitors opportunities to discover thousands of different 3D models on various topics—from machines and anatomy to landscapes and robots.
Balthasart
This is a cozy place where designers can sell their traditional works: such as paintings, canvas, sketches, watercolor drawings, etc. as well as photography and other media. The marketplace promises a European audience of 500,000 people per month to each artist and only a few clicks to make a portfolio page.
Kickstarter
Any creative soul can find her niche here. This is a huge marketplace of designs, technologies, ideas, and so on. Kickstarter warmly welcomes everyone who wants to realize ambitious projects in visual arts and design.
YOUWORKFORTHEM
Here you can sell fonts, graphics, photos, and videos. This marketplace has an easy to use interface and is trusted by the creatives at such big companies as Apple, BuzzFeed, Creative Network, and many more.
Creative Market
This is a popular website where a designer can sell various products, such as photos, templates, vector art, web themes, or even 3D objects. The website has a free section and a user-friendly support center. It also has a blog where you can always learn something new to become a better designer.
Big Cartel
This platform allows you to create your own store with a simple-to-use tool. Therefore, you can create a unique store with the design you like. This platform has three plans starting at free, $9.99, and $19.99 per month.
Zazzle
This website is quite large and you can sell various products here, like gifts, cases, cards, invitations, etc. It also has an "idea" section where you can find inspiration for your future design works. Zazzle has a special application that will help you with managing your account.
MyFonts
Here is a narrowly-specialized platform that would be perfect for designers who want to sell their fonts. Therefore, this website is optimized for fonts only. It has several sections which allow customers to find the font they need.
Design By Humans (DBH)
DBH is a good platform for illustrators—it has various categories that can help you find your niche. Design By Humans also has an Ambassador program. However, it has a strict payment schedule (it uses the PayPal system). This platform also sells licensed products.
Society6
You can sell almost anything here — benches, bar stools, cutting boards, mugs, posters, metal prints, etc. It's a very versatile platform. It also has a blog where you can find useful information. The website is available in English and German.
CafePress
This is another platform that lets you sell various products, like pillows, clocks, t-shirts, etc. It has various sections so you can create a design and make it easier to find, especially if you create something that is politics- or holidays-related. It also has a detailed "help" section so you can find all the necessary information there.
Saatchi Art
Saatchi is the place where you can sell your original art. If you are an artist, then this is the website for you. It has a nice store where a customer can find your art. You can sell paintings, photos, drawings, and sculptures here.
GStock
You can sell your images here. The seller's receive a flat 40% commission rate and payouts are available when you earn $50. It has several categories and it's all about images. It doesn't have many sections.
GraphicRiver
This is a large graphic design marketplace where you can sell various products, like print, web elements, vectors, icons, fonts, logos, photos, and 3D files. You can also sell audio, video, and code (plug-ins, scripts, etc.). Overall, this is the place to be if you are a creative person. It has a tutorial section where you can find useful information.
RedBubble
Here's a good place to start selling your design. You can sell your designs that will be used with stickers, phone cases, wall art, accessories, etc. This platform has a friendly support center that will help customers and artists. This platform is quite easy to use.
Threadless
It's mainly about clothing, bags, curtains, blankets, etc. (but you can sell mug designs here as well). The website is easy to use, so it wouldn't be difficult for a customer to find your works. It has a community section, where you can find a forum, a blog, and podcasts that will help you become a successful designer.

Art Web
This is a great platform for artists. It has a website builder tool that allows you to create a shop with your unique design. You can sell ceramics, digital art, drawing, mosaics, paintings, etc.
Etsy
Etsy is a large-scale marketplace for creative people. You can easily find your customers here. You can sell almost everything you can think of, from clothing and toys to jewelry and accessories. You can quickly and easily open your store and this platform has a set of powerful promotion tools.
Artplode
This is an online gallery that has a flexible system of interaction with customers and sellers. However, the platform charges a low one-off flat fee of $60 to advertise each work.
Artfinder
This is a great place for artists who want to find new customers. It's a global project that reaches over 600,000 art lovers all over the world. You can create your store and control the prices on your own.
Design Cuts
Here's a good platform to sell various graphics-related products, like Photoshop and Illustrator brushes. It has a nice design so the customers will find your work fast. You can sell icons, photo packs, patterns, templates, and many more here.
This is a Limited Edition
This platform is for experienced designers who can amaze with their projects. The team at This is a Limited Edition search for designers and artists on their own (it uses the invitation system), but you can send an artist application using the form on the website and they may start cooperating with you. Give it a shot!
INPRNT
INPRNT lets you open a print shop and sell your designs. As an online shop owner, you can create promo codes and control your sales. You can sell art cards, phone cases, fine art, illustrations, photos, etc.
Not on the High Street
This is a large marketplace where you can sell design. This website offers jewelry, wedding gifts, prints, etc. It has a transparent seller-website cooperation so you can clearly understand what you can and can't do.
Storenvy
You can sell your products here and the list of the products is quite large. You can sell photos, sculptures, jewelry, etc. You can also sell gadgets here. Sell your products using a customer store or a marketplace.
CASETiFY
This is the platform for people who create designs for phone cases or smartwatches. It has powerful tools that help you make your design look as it should when it's printed.
Sellfy
This resource will help you create your online store and start selling your digital design. It has four plans. There is a detailed FAQ section, where you can find useful information.
Essential Tips to Earn More as a Graphic Designer in 2022
Besides studying the best places to sell design online in 2022, it is extremely important to use various techniques to improve the promotion of your account and products. In simple words, a successful promotion can really boost your profits.
First of all, we propose that you check out the MasterBundles blog regularly because we post many articles containing useful information and free guides that can help you learn how to sell designs and earn more from your favorite job like this one, for example.
In addition, we have prepared some great tips for advice that will help you sell designs online. You can read them below.
Evaluate Your Arts Properly
Frequently, young talented designers underestimate their abilities and skills. Thus, they evaluate their designs at very low levels. Ask your friends and relatives how much they would pay for this or that piece of work, and don't be too shy. Usually, creating designs takes a lot of time and time is always money. Give your time a proper price.
Improve Knowledge and Skills
In 2022 you have no reason to be stuck in the same place. You need to constantly learn new information, improve your professional skills, experiment with different styles to stay in tune with trends and enrich your portfolio. The more variable your skills will be (don't forget to include the best works in your portfolio), the more different clients you will attract.
Nowadays there are many online courses, webinars, conferences, and meet-ups for creative people. Some of them are even free to visit.
Consider SEO Tools
SEO stands for Search Engine Optimization and this is the one thing you cannot ignore if you want to get new clients and increase sales. While uploading your designs to any marketplace, do some research. Look for the most frequent keywords, think clearly about the names of your bundles, and so on. This video will help you learn more about SEO tips for graphic designers:
SEO Tips for Product Pages: Maximise Your Product SEO Visibility

We're going to talk about SEO Tips for your product pages. Our friendly speaker will share a bunch of insights on how to maximise your product SEO visibility.

Study The Competitors
The next important moment is to be involved in the artistic community. You can learn a lot by being in everyday communication with other designers and creators. Don't be shy to ask questions or look for inspiration in different creative spaces, online magazines, and social networks.
Join Communities
Join different online communities, such as Dribble and Behance that helps to fight the crisis of the idea, develop a designer mindset, and attract potential clients.
Comics and Graphic Novels are On Top!
Almost everyone is involved in this amazing world of comics, manga, and graphic novels. Thus, comic drawing is a billion-dollar industry. So if you feel the inspiration to draw comics, everything is in your hands. You will draw additional attention from comics and manga fans all over the web. Also, when selling comics as digital products you don't need to care about numerous problems that publishers usually face (such as payments for publication and physical shops, as well as shipping issues).
Go Freelance Full Time
This advice is for those who are afraid of devoting all their working time to design. If you decide to become a graphic designer, please concentrate all your creative powers and make sure that you have enough time to devote to your dream job. As Shillington writes: 'Freelancing gives you the ability to, over time, find better and better clients, and raise your rates accordingly.
This will bring you more income than going through the much slower pace of getting salary bumps or moving jobs.' Because you need time to create projects, to learn how to develop your skills, to promote, and communicate with your clients.
Make Catching Previews
According to Design Wanted, 93% of all our communication is visual.
Our brains pick up visual cues faster than they read a text. This is why text-based content performs worse than visual content. Colors play a large part in this equation, with stats showing that a signature color raises brand awareness by 80%. Use attractive typefaces, colors that are pleasant to the eye, and simple compositions.
Develop your creative superpower. MasterBundles wishes you to get the most out of the marketplaces you sell your designs through. Stay inspired and be happy 🙂
Some Awesome Video about Websites to Sell Designs
Best Websites To Sell Graphic Design & Make Money Onlines

Best Websites To Sell Graphic Design & Make Money Online