Sell Your Design Work Online. Being a designer is fascinating – you can express your feeling and thoughts. You can always create something amazing, a piece of art that will amaze people. However, design can be profitable as well. In this case, you need to find someone who wants to buy your design. Luckily, the internet gives you a wonderful opportunity for selling your artwork worldwide. There are many websites where you can sell your design.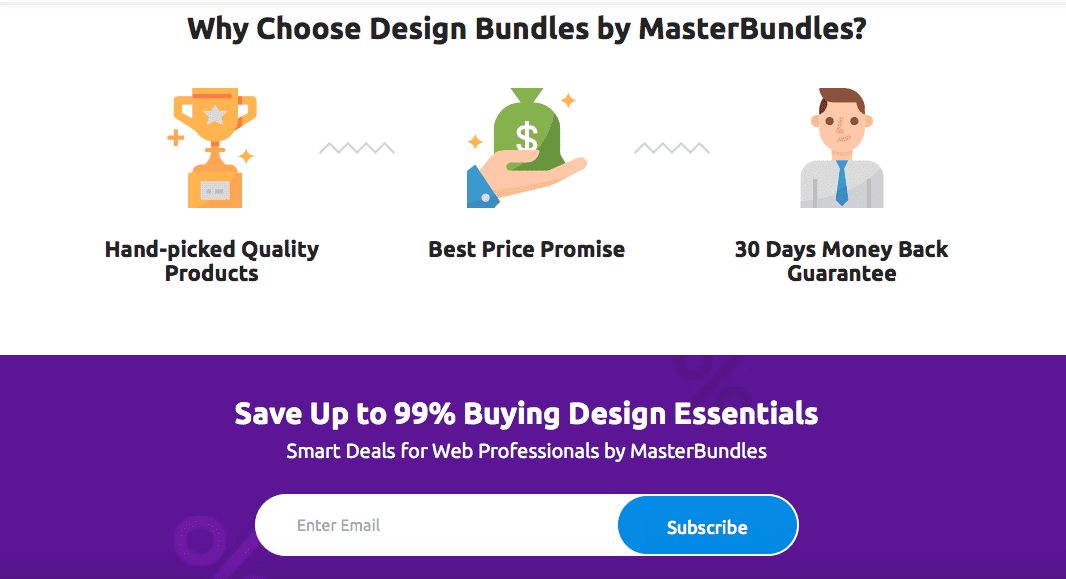 This is the place that you need, whether you just starting selling your designs or you an experienced designer and you look for new customers and opportunities. The user-friendly UI helps you to find everything you need. It has many deals, which are great both for designers and customers. It also has different awards that will help designers find new clients. The starting page has images of the products so a potential customer will immediately see what they can buy.
How to Sell Your Graphic Design on MasterBundles?
If you often work with graphic design and know what it is, and if you can make great graphic design and want to sell it on MasterBundles, it's totally possible! You can become a vendor on MasterBundles and often get discounts of up to 50%. Moreover, you can upload your materials by yourself! So, you don't need to wait too long for approvals and all this stuff. All you need to know about the process of uploading your graphic design you can find in the following steps. By the way, if you sell your graphics also somewhere else, don't panic, you can do it on various sources at the same time. Anyway, we can do it better and bring you more income and more customers. We're interested in graphics, fonts, stock photos and videos, prints, textures, postcards, cliparts, website templates, WordPress themes, Instagram templates, presentation and resume templates, and so on and so forth. So, follow these easy steps below on how to upload your graphics on MasterBundles, earn more money and get more clients with us!
First of all, visit the page Sell Your Deal on MasterBundles, and now you can work with this page and the following steps. Enjoy!
Step 1
Firstly, add your product title so that your customers can identify it from the long list of the other products. Then, upload preview pictures. The pictures should be in a high resolution of 690×690 pixels with the size not more than 350 KB.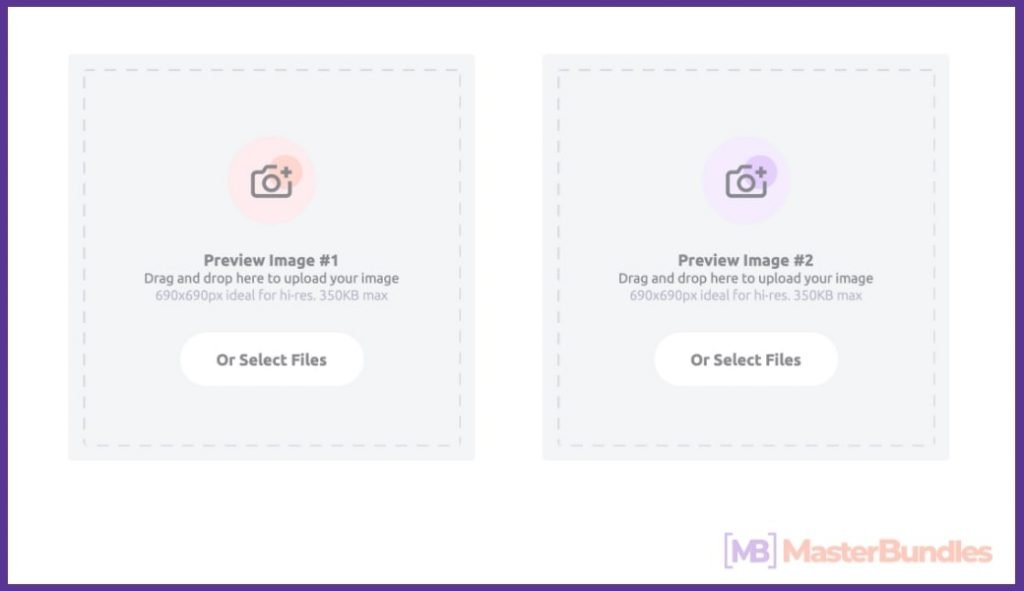 Check out how they would be displayed. As you can see, it's possible to upload two preview pictures. It's actually better to upload two of them, and when the first one contains the product title with some cool design, and when the second one has some main features of your product.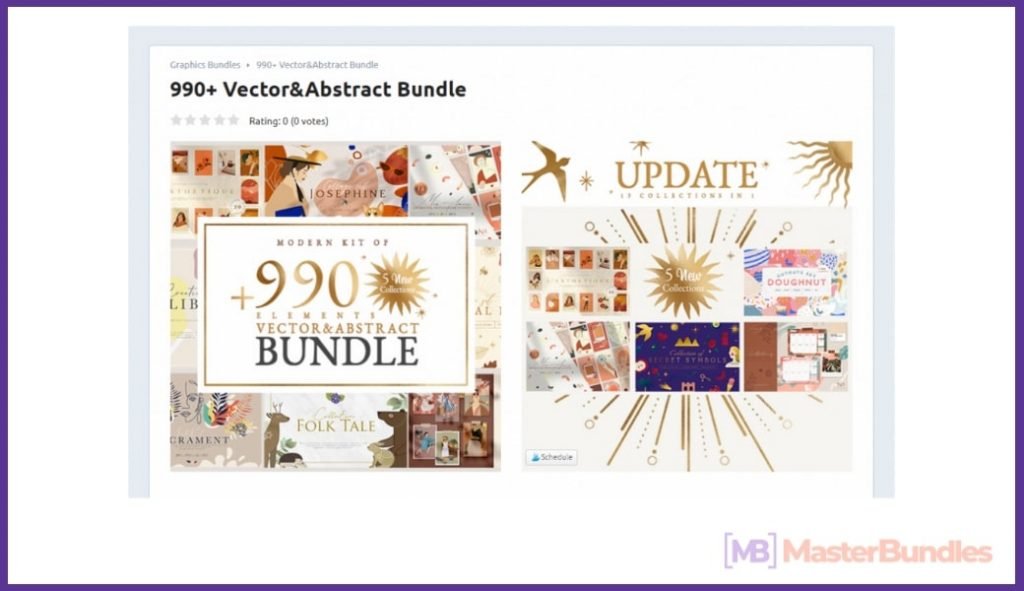 Step 2
If you want to upload some more pictures, videos from YouTube, Vimeo, etc, do it right here, in the Add Media section.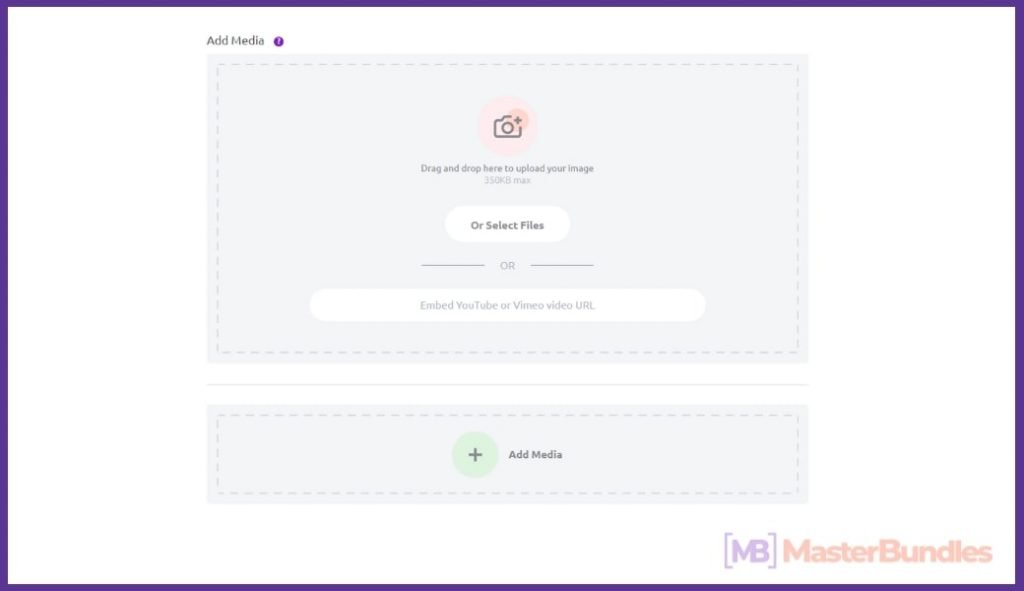 Don't forget to write a description of your product that should contain at least 150 symbols and be unique. If you're not good at description, ask any of your talented amigos to do it. A description of any product is important because it can grab the attention of the visitor and make him or her buy the product. Remember, you should write unique content. We're finishing with the left column and beginning to work with the right one.
Step 3
Finally, the time for uploading the product itself has come!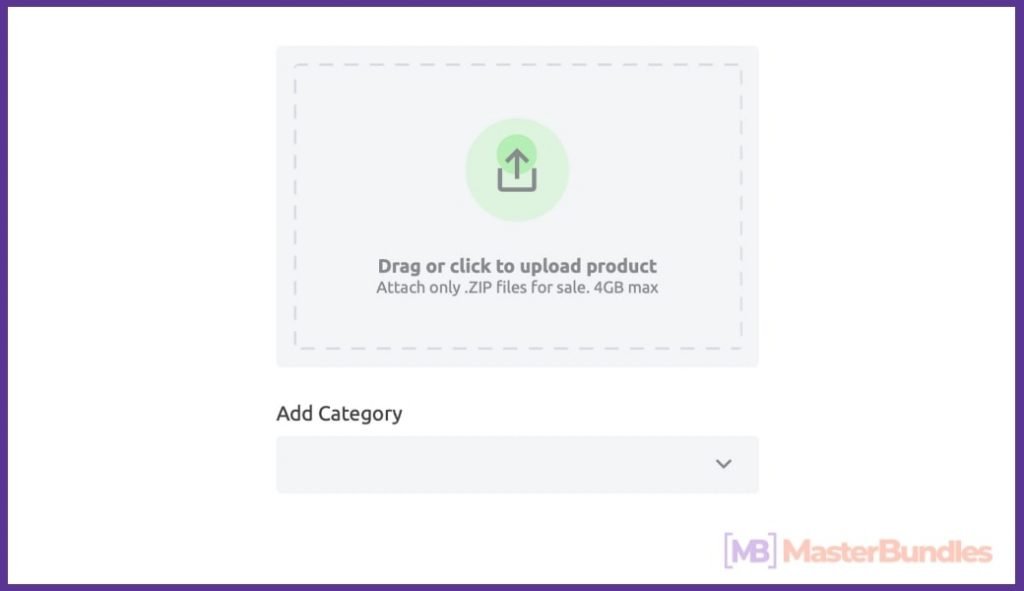 Drag or click to upload your item. Remember, the maximum size is 4GB and you can upload only zip files. Don't panic if the downloading takes a lot of time. It should be so. Make a cup of green tea or strong coffee passing the time.
No panic if anything doesn't work out. If you have some issues with downloading, write to us on [email protected]
Step 4
Then, add the category of the product. You can choose from the following now: All Deals, Christmas, Courses and eBooks, Fonts, Graphical Bundles, Halloween, Icons, Illustrations, Illustrator Add-ons, InDesign, Instagram Templates, Logo Templates, Mockups, Patterns and Textures, Photo Deals, PostCards, Presentations, Resume Templates, Stock Photos, Under $5 Deals, Valentine's Day, Website Templates, WordPress Themes, Other. As you can see, we have plenty of categories you can choose from. We're glad to receive any kind of products from these categories, promote and sell it.
Why do you need to choose a particular category for the product? It helps the customers to find what they're looking for. Choose the category, and your product will have higher chances to be found by a client.
Step 5
Time for money and your income! Now, set the price on your product. Of course, with the noblest intentions, you can give it for free, just switch to the "free" unit. To sell it, choose the "paid" unit. You can also set different prices: personal, commercial, extended commercial, old price. If you're not sure what price to choose, you doubt if it's too cheap or too pricey, try Auto Pricing. This function allows us to set the price based on data from across the website, so your product price won't be too expensive or too low.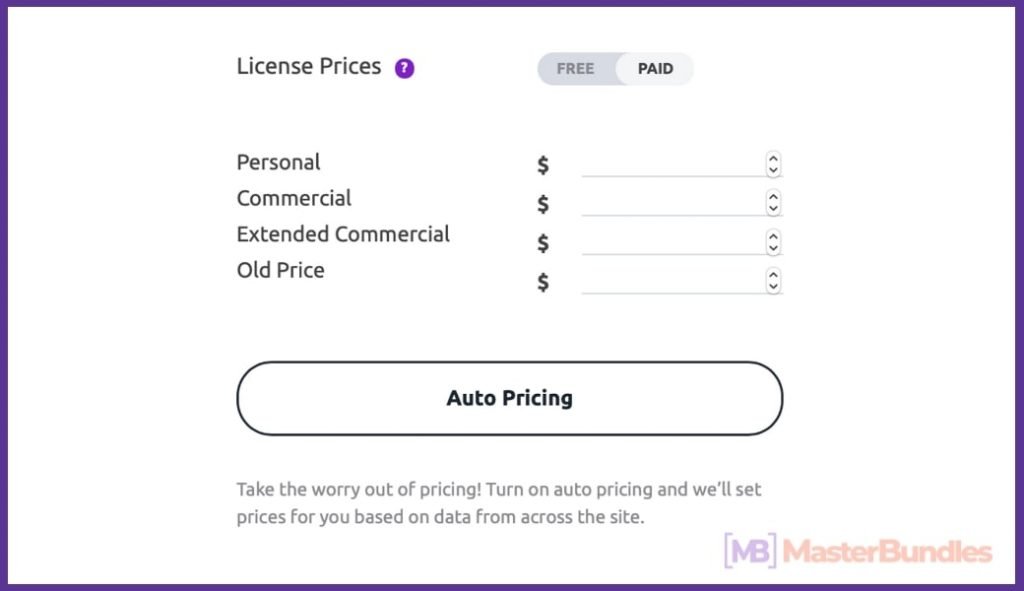 Step 6
It's not the end yet! You can also add some particular properties to your product such as file type and file size. It's possible to tick such properties as Privacy Policy and Terms and Conditions as well.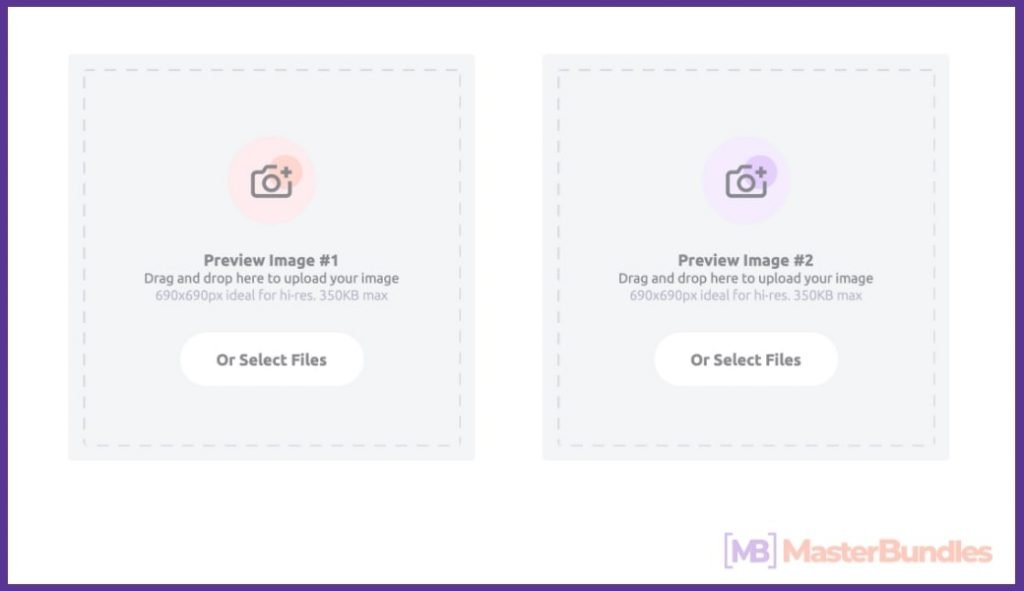 Step 7
Finally, you can press the Publish button! But remember, before pressing, check all the information you've written so far. Check the preview pictures, the description, the product itself, prices, the chosen category, etc. Then press the magical Publish button and in a while, your product will be seen by a lot of users. If you have any issues with uploading the product, don't have time to create previews, writing interesting and attention-catchy descriptions, whatever, we will definitely help you with any of those questions. Just write to us on [email protected] and we will make everything possible to help you with selling your graphic design.
Why is it beneficial to be a vendor on MasterBundles?
As I've already mentioned, a vendor can get discounts of up to 50%. Moreover, you can earn money by selling your products. The more you upload, the more you earn! The second reason you should sell your products on MasterBundles is high visibility. It means that a lot of people come across our website every day from all over the world. Your creations will be seen from different places of the globe by different people. Also, you can work sitting on your sofa and earning money. It's more pleasant than sticking to deadlines, requirements, etc. This job you can also consider passive income because once you created a product, it will be bought multiple times. Also, your content will be unique and exclusive to our Premium members. Plus, you can sell your graphic design on different platforms. We don't require you to be a vendor of MasterBundles only. You'll just see the difference and will be sure that we can sell it on better terms:)
So, as you can see, it's possible to be a vendor on MasterBundles and upload your products by yourself. It's quite easy following the steps above. We sell any kind of products, it doesn't matter if you want to sell bundles or single items. We can also sell services and deals with promo codes, just write to us on our e-mail [email protected] I hope that this piece of information and advice was quite helpful and interesting for you and you've found some useful tips on how to sell your graphics on MasterBundles. Create unique products and we'll help you to sell them on our great platform. Good luck with creations and have a great day or good night! Cheers!
It is time to earn! Do not hesitate to add your first product on Masterbundles
Today we recommend to download products on the following topics:
Top 30 Websites to Sell Your Designs Online in 2021
2. Creative Market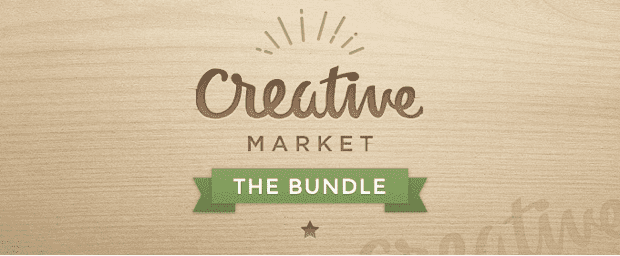 This is a popular website where a designer can sell various products, such as photos, templates, web themes or even 3D objects. The website has a free section and a user-friendly support center. It also has a blog where you can learn something new and become a better designer.
3. Big Cartel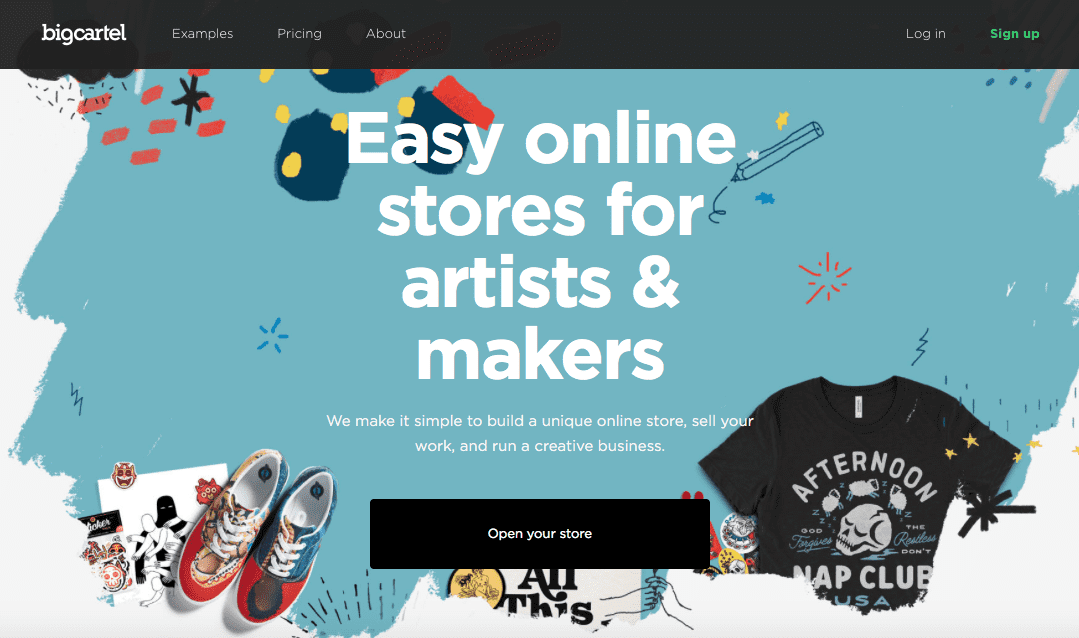 This platform allows you to create your store using a simple-to-use tool. Therefore, you can create a unique store with the design you like. This platform has three plans starting with $9.99 per month. There are plans which will cost you $19.99 per month and $29.99 per month.
4. Zazzle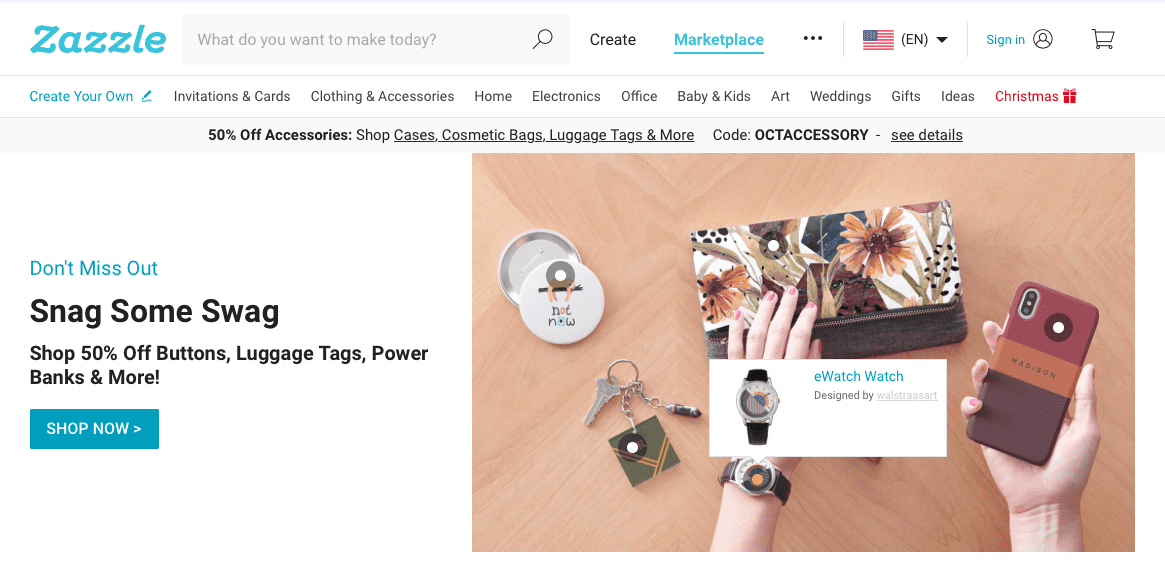 This website is quite large and you can sell various products here, like gifts, cases, cards, invitations, etc. It also has an "idea" section where you can find inspiration for your future design. Zazzle has a special application that will help you with managing your account.
5. MyFonts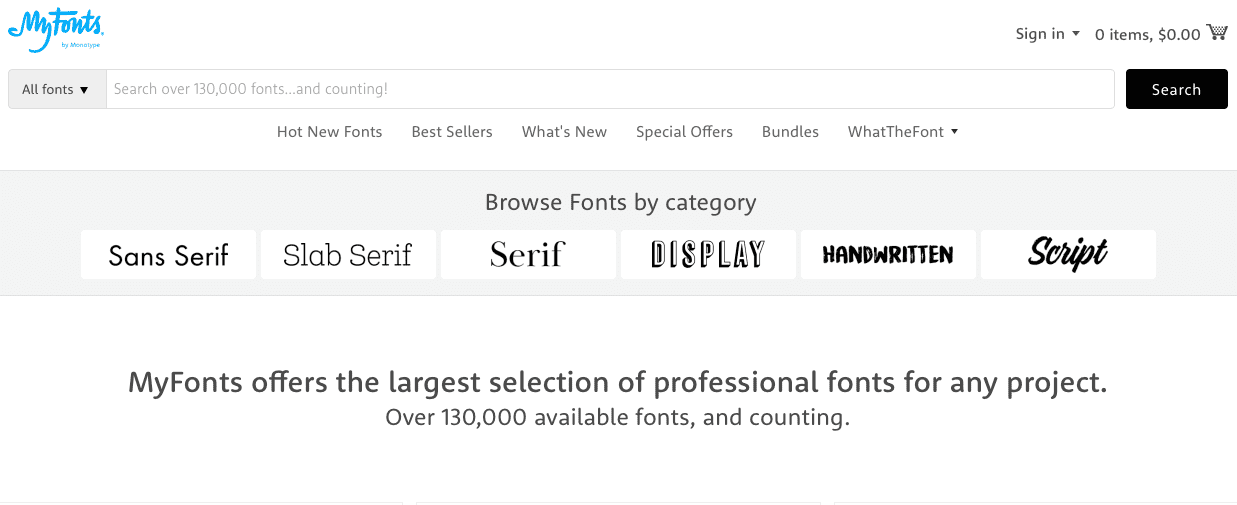 Here is a narrow-specialized platform that would be perfect for designers who want to sell fonts. Therefore, this website is optimized for fonts only. It has several sections which allow customers to find the font they need.
6. Design By Humans (DBH)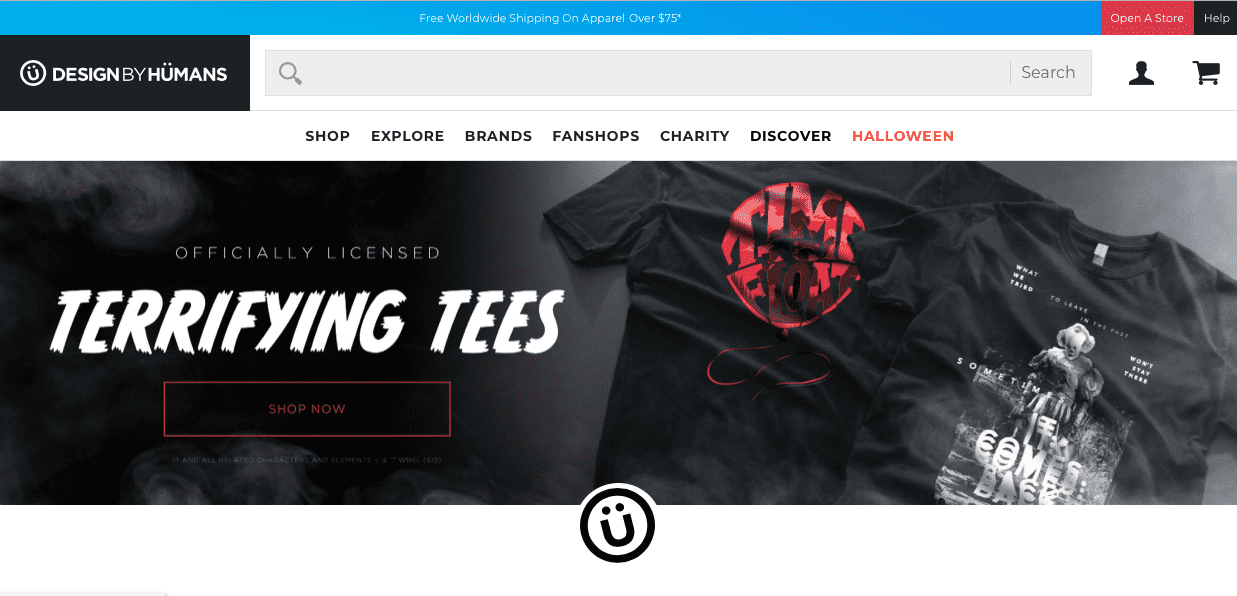 DBH is a good platform for illustrators – it has various categories that may help you find your niche. Design By Humans also has an Ambassador program. However, it has a strict payment schedule (it uses the PayPal system). This platform also sells licensed products.
7. Society6

You can sell almost anything here – benches, bar stools, cutting boards, mugs, posters, metal prints, etc. It's a very versatile platform. It also has a blog where you can find useful information. the website is available in English and German.
8. CafePress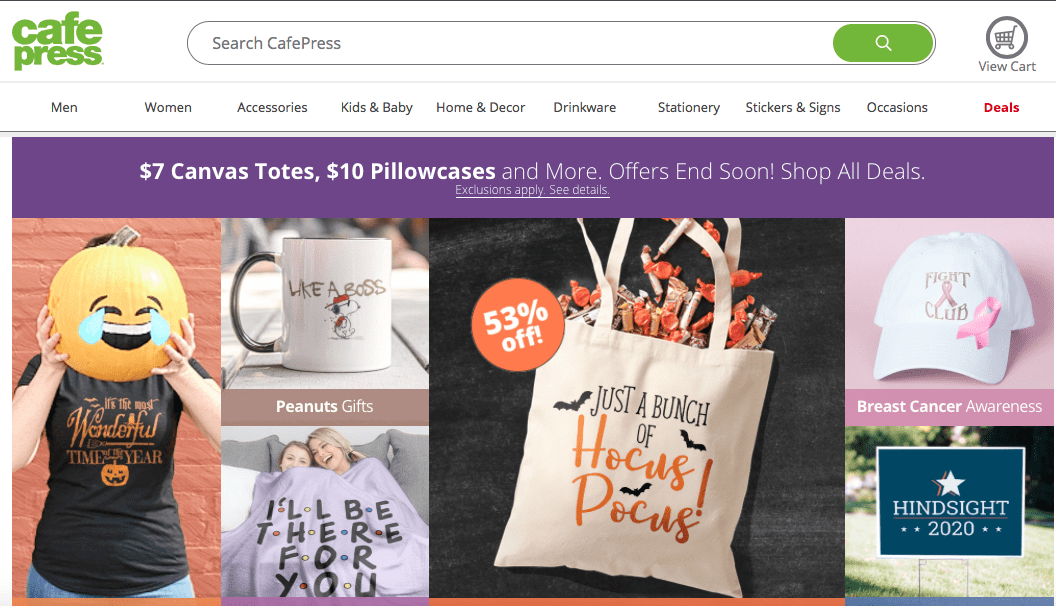 This is another platform that lets you sell various products, like pillows, clocks, t-shirts, etc. It has various sections so you can create a design and make it easier to find, especially if you create something politics- or holidays-related. It also has a detailed "help" section so you can find all the necessary information there.
9. Saatchi art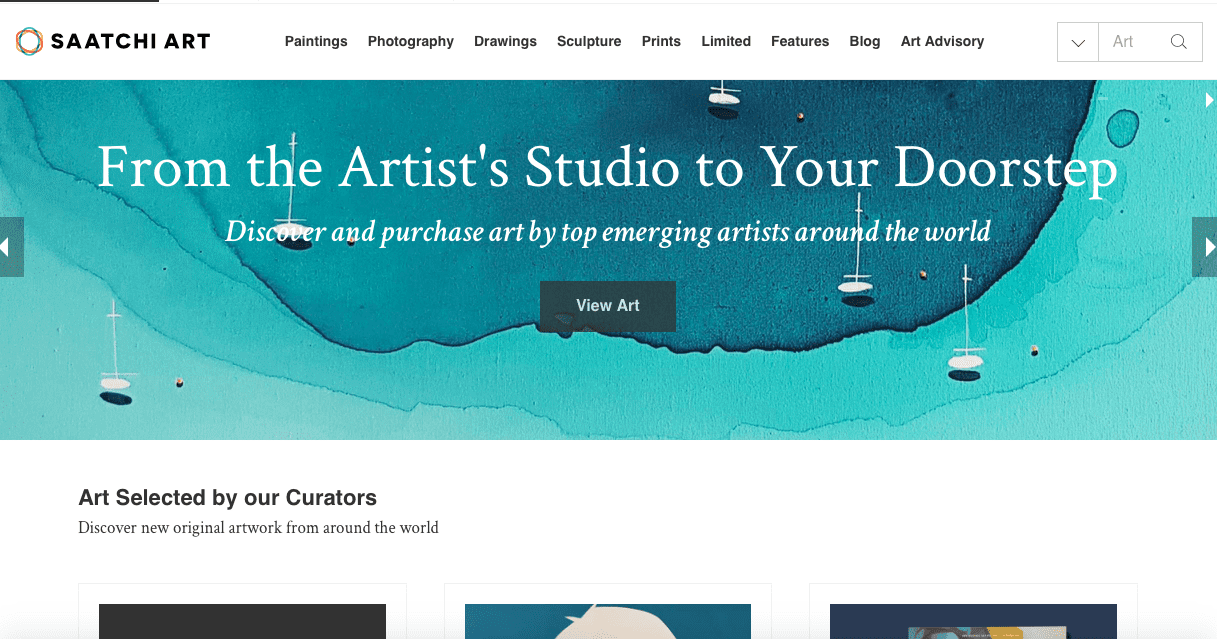 Saatchi is the place where you can sell original art. If you are an artist, then this is the website for you. It has a nice store where a customer can find your art. You can sell paintings, photos, drawings and sculptures here.
10. Pixapp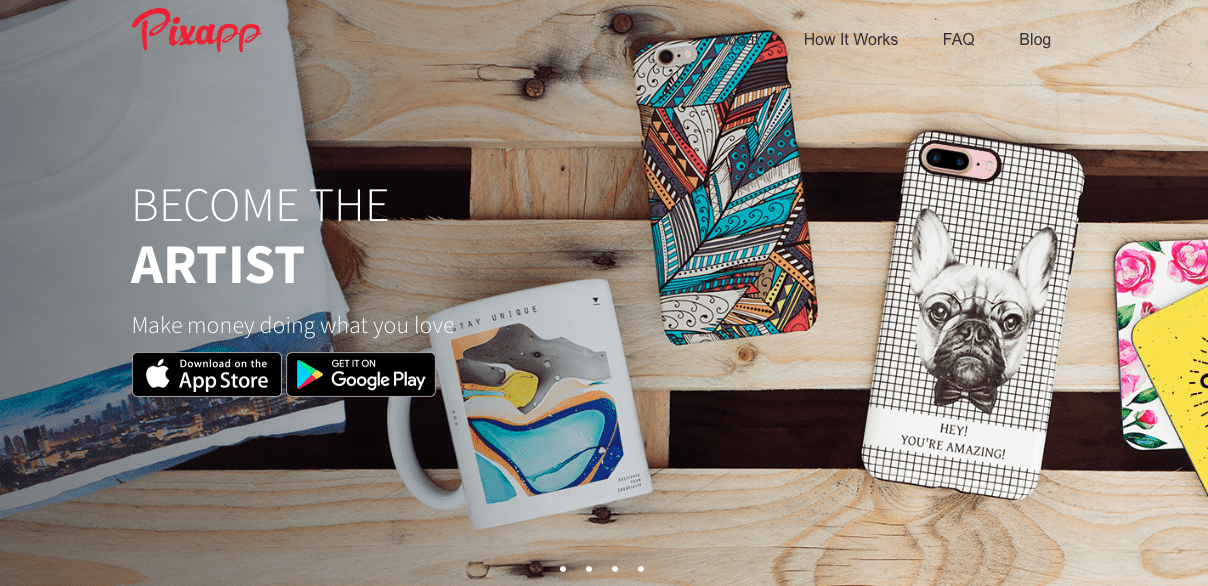 You can sell various products here, like canvases, tote bags, phone cases, etc. It has a nice application that allows you to manage your account. This website has a blog where you can find inspirational articles. The FAQ section is also very detailed.
11. GStock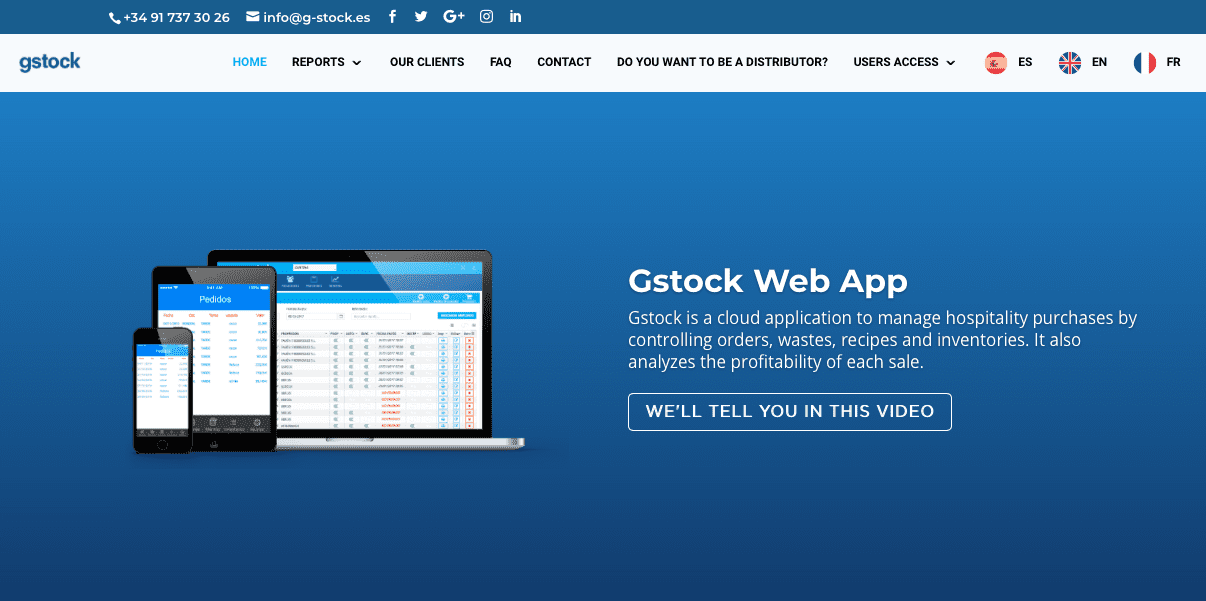 You can sell your images here. A seller has a flat 40% commission rate and payouts are available when you earn $50. It has several categories and it's all about images. It doesn't have many sections.
12. GraphicRiver

This is a large marketplace where you can sell various products, like print, web-elements, vectors, icons, fonts logos, photos, 3D files. You can also sell video, code (plug-ins, scripts, etc.) and audio. Overall, this is the place if you are a creative person. It has a tutorial section where you can find useful information.
13. ArtFire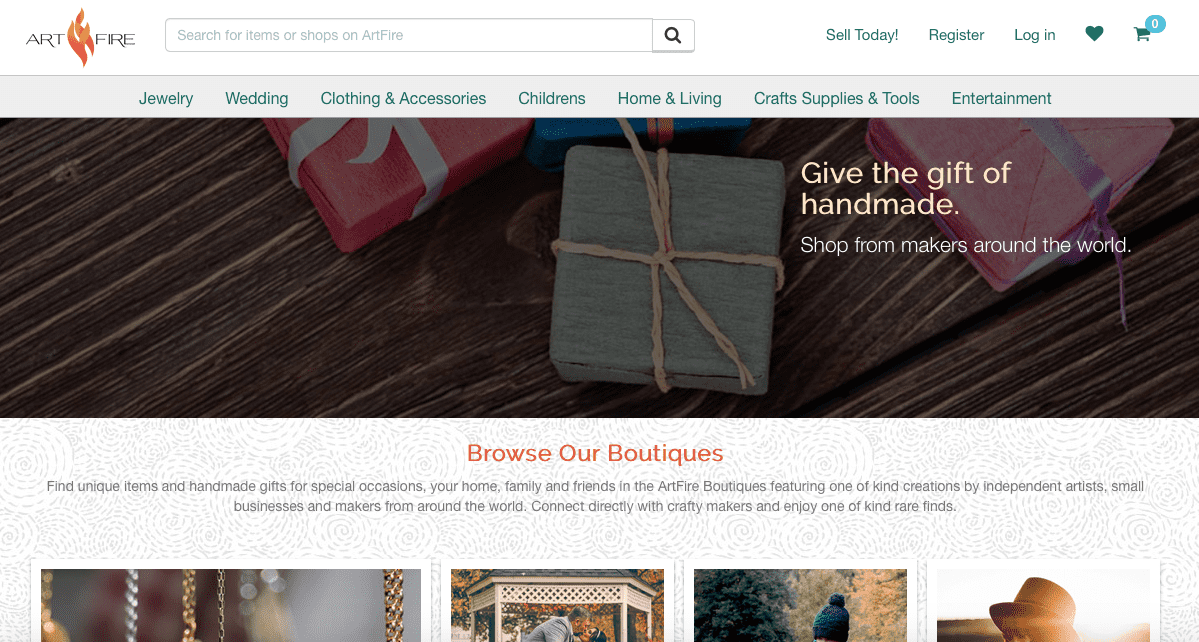 It allows you to create your web-store and sell various products. It has three plans for your shops – the "standard" will cost you $4.95 per month, the "popular shop" plan price is $20.00 and the "featured" shop plan costs $40.00 per month. However, the website promotes your products and it will make it easier to find using popular search engines.
14. RedBubble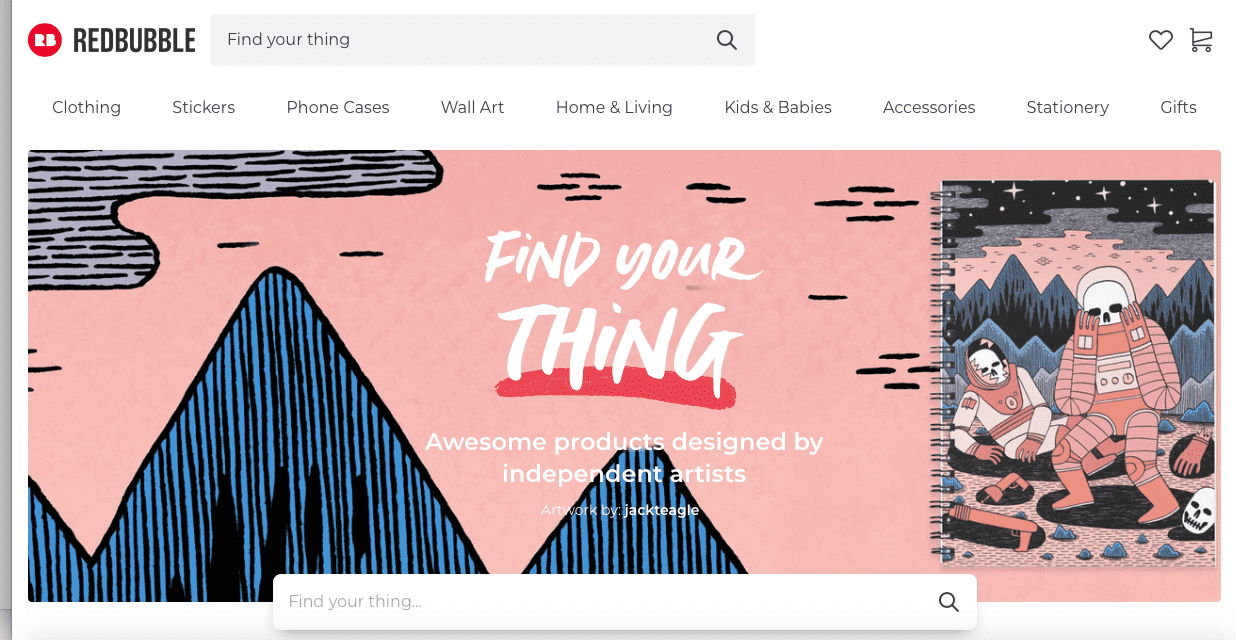 Here's a good place to start selling your design. You can sell your art that will be used with stickers, phone cases, wall art, accessories, etc. This platform has a friendly support center that will help customers and artists. This platform is quite easy to use.
15. Threadless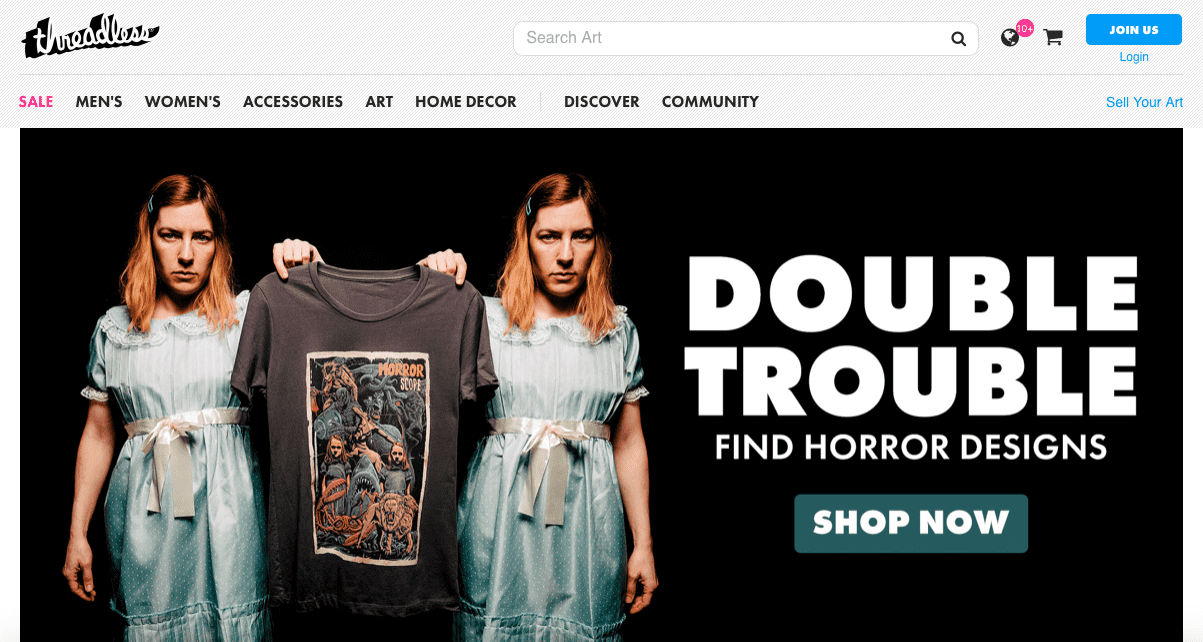 It's mainly about clothing, bags, curtains, blankets, etc. (but you can sell mug designs here as well). The website is easy to use, so it wouldn't be difficult for a customer to find your art. It has a community section, where you can find a forum, a blog, and podcasts that will help you become a successful designer.
16. Art Web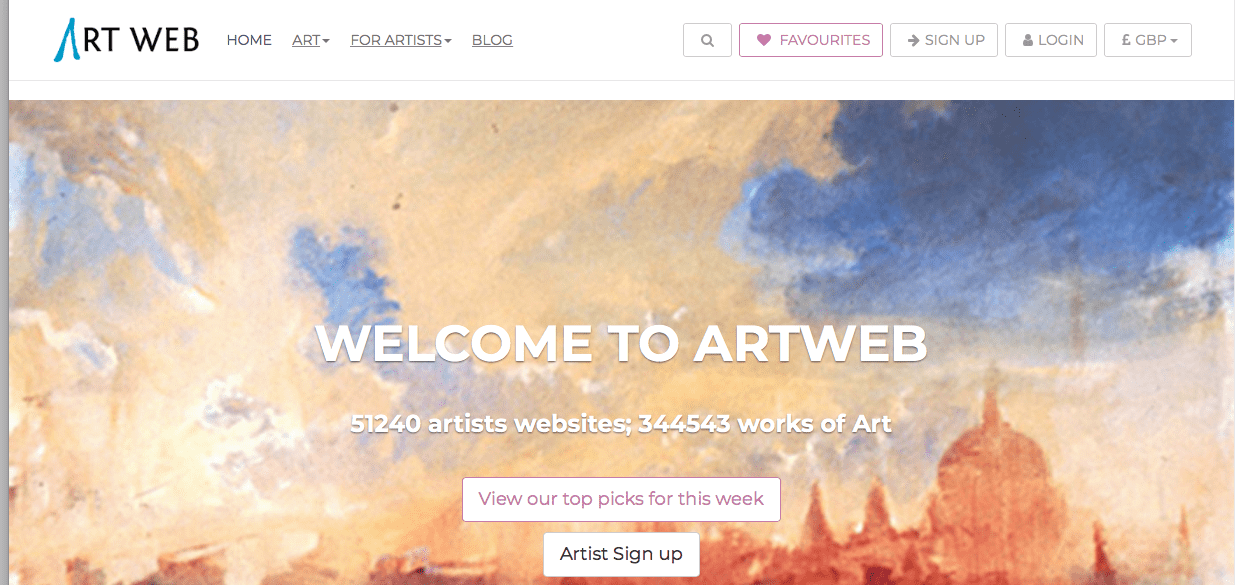 This is a great platform for artists. It has a website builder tool that allows you to create a shop with your unique design. It has a free plan, a basic plan (£4.79 per month) and a pro plan (£8.13 per month). You can sell here ceramics, digital art, drawing, mosaics, paintings, etc.
17. Etsy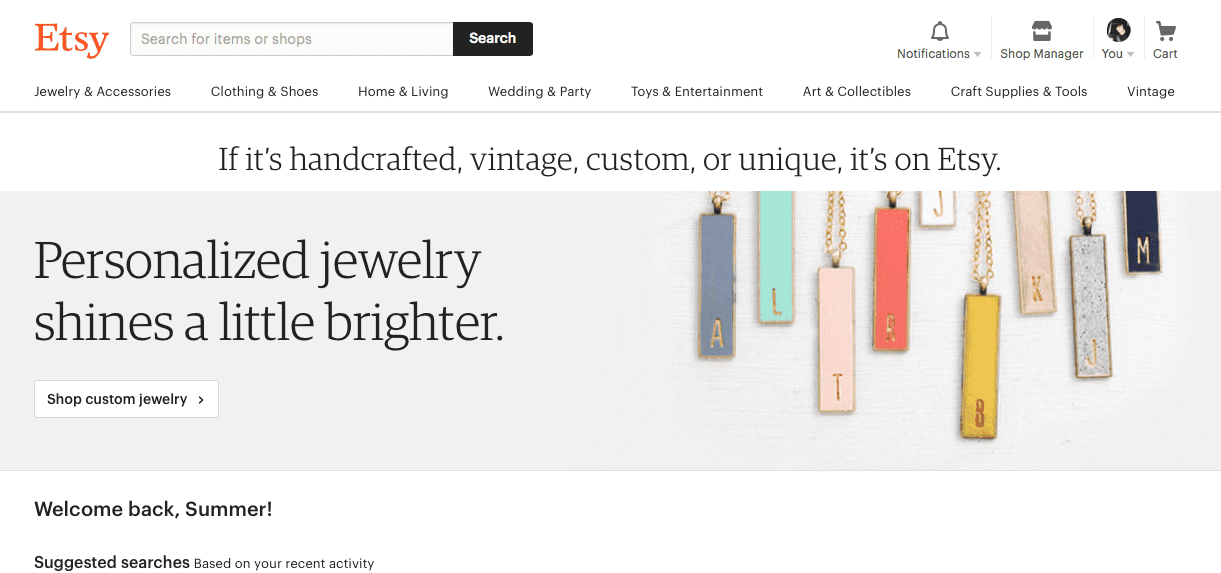 Etsy is a large-scale marketplace for creative people. You can easily find your customers here. You can sell here almost everything from clothing and toys to jewelry and accessories. You can open your store and this platform has a set of powerful promotion tools.
18. Artplode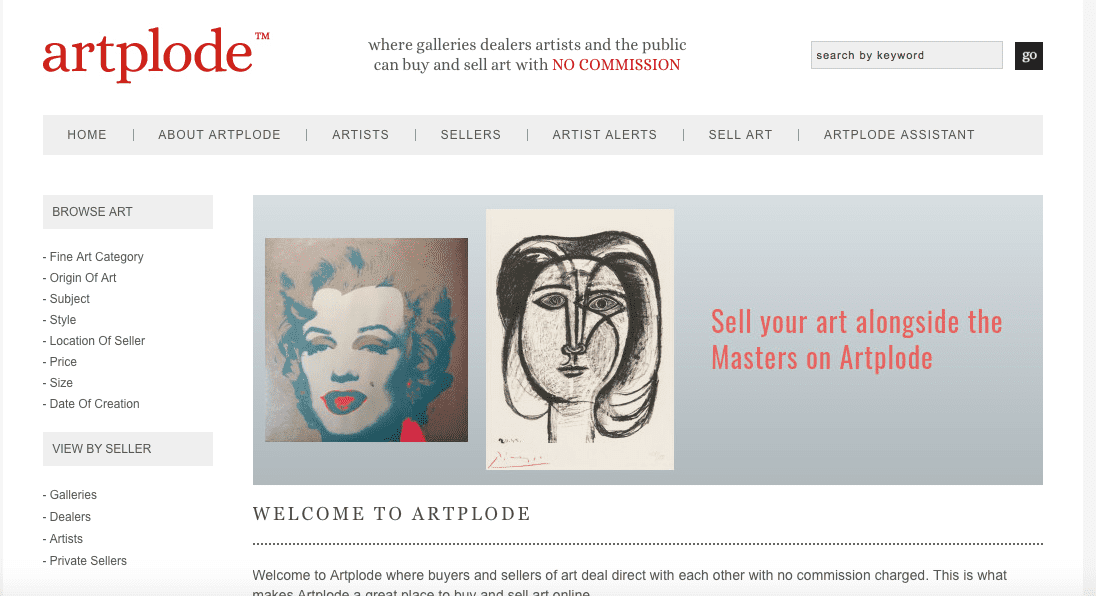 It's an online gallery that has a flexible system of interaction with customers and sellers. However, the platform charges a low one off flat fee of $60 to advertise each artwork.
19. Artfinder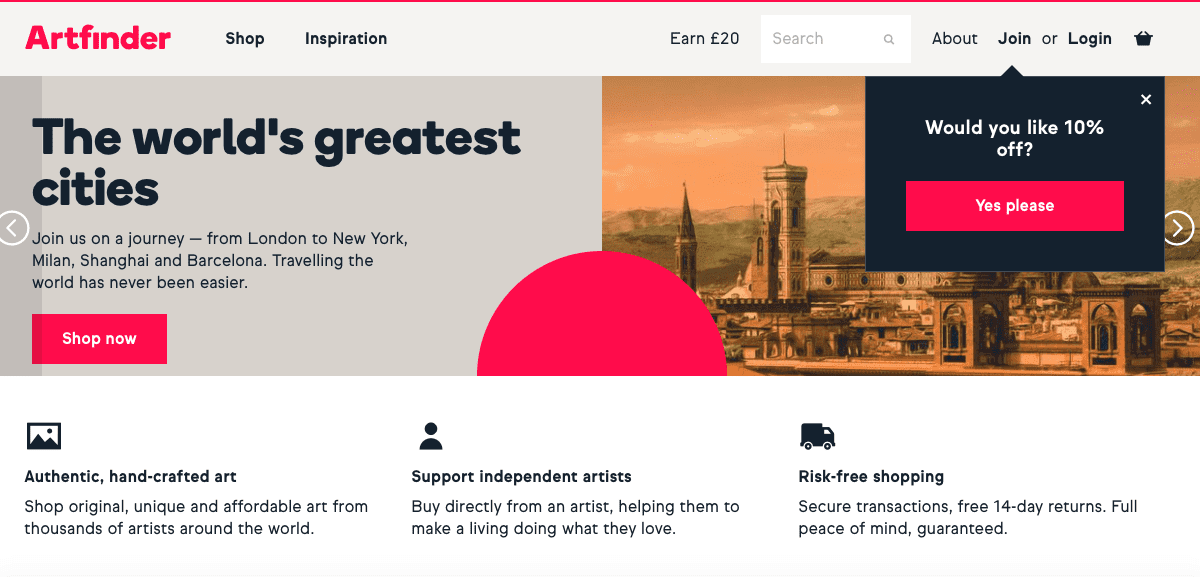 This is a great place for artists who want to find new customers. It's a global project that reaches over 600,000 art lovers all over the world. You can create your store and control the prices on your own.
20. Design Cuts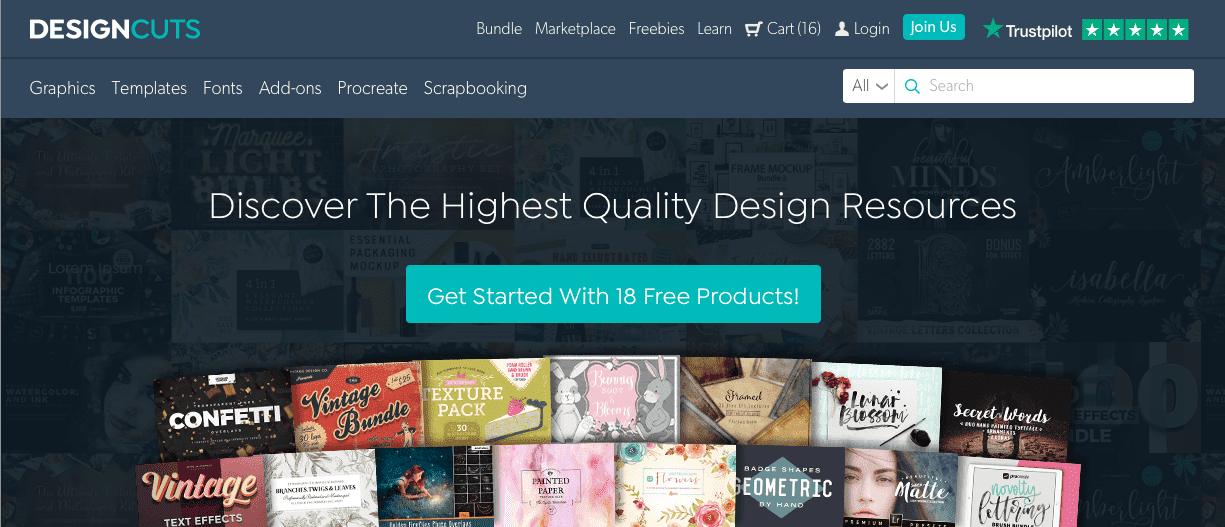 Here's a good platform to sell various art and graphics-related products, like Photoshop and Illustrator brushes. It has a nice design so a customer will find your art fast. You can sell icons, photo packs, patterns, templates and many more here.
21. This is a Limited Edition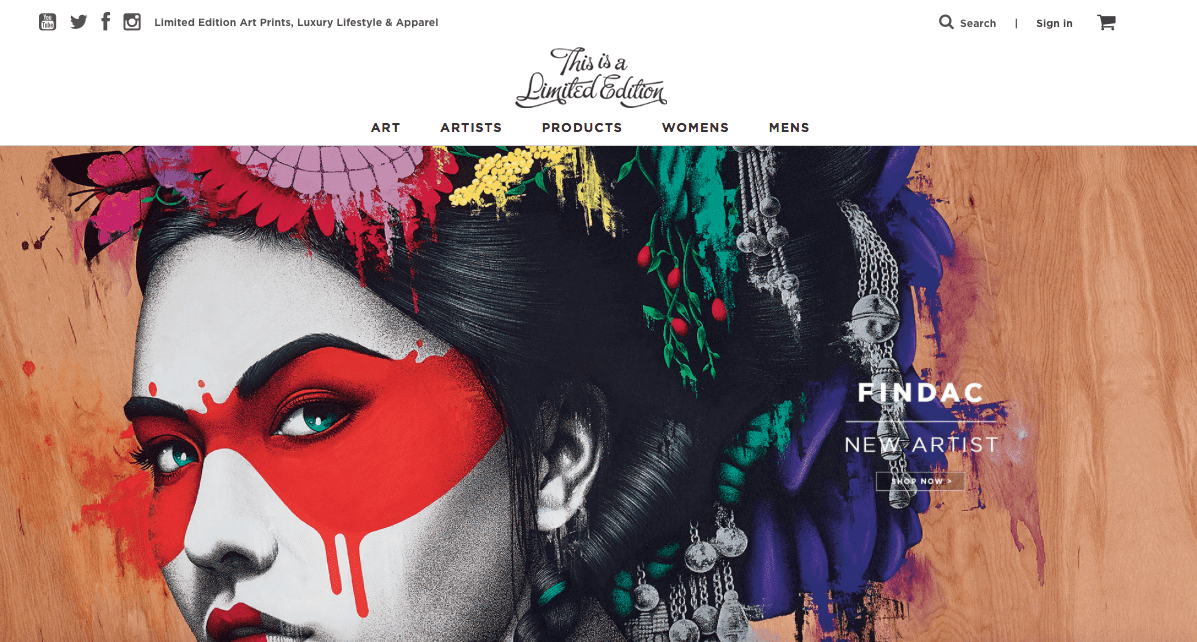 This platform is for experienced designers who can amaze with their art. The This is a Limited Edition team searches for designers and artists on their own (it uses the invitation system), but you can send an artist application using the form on the website and they may start cooperating with you. Give it a shot.
22. INPRNT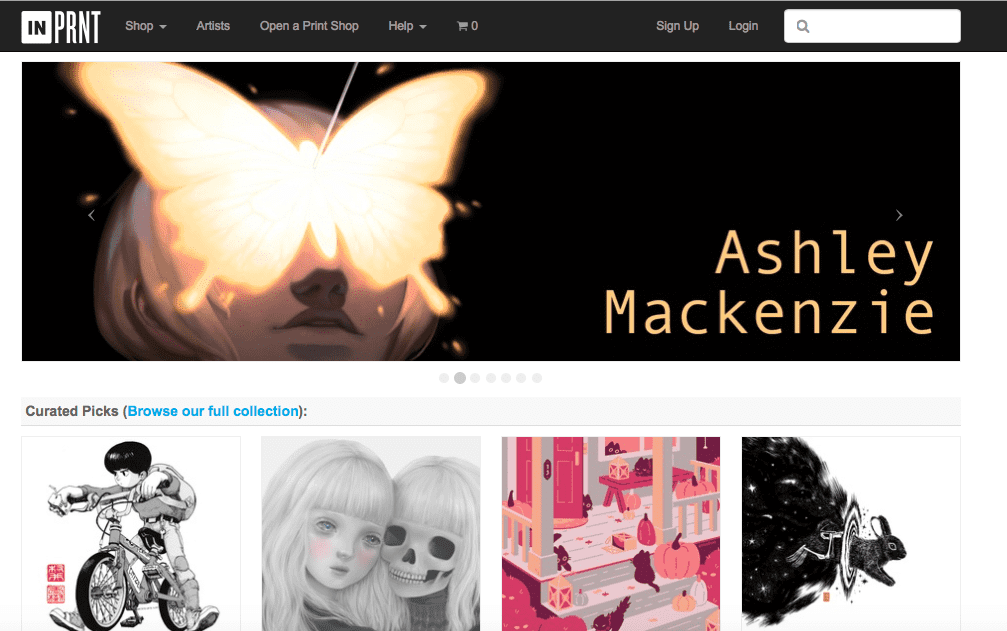 It lets you open a print shop and sell your designs. As an online shop owner, you can create promo codes and control your sales. You can sell art cards, phone cases, fine art, illustrations, photos, etc.
23. Not on the High Street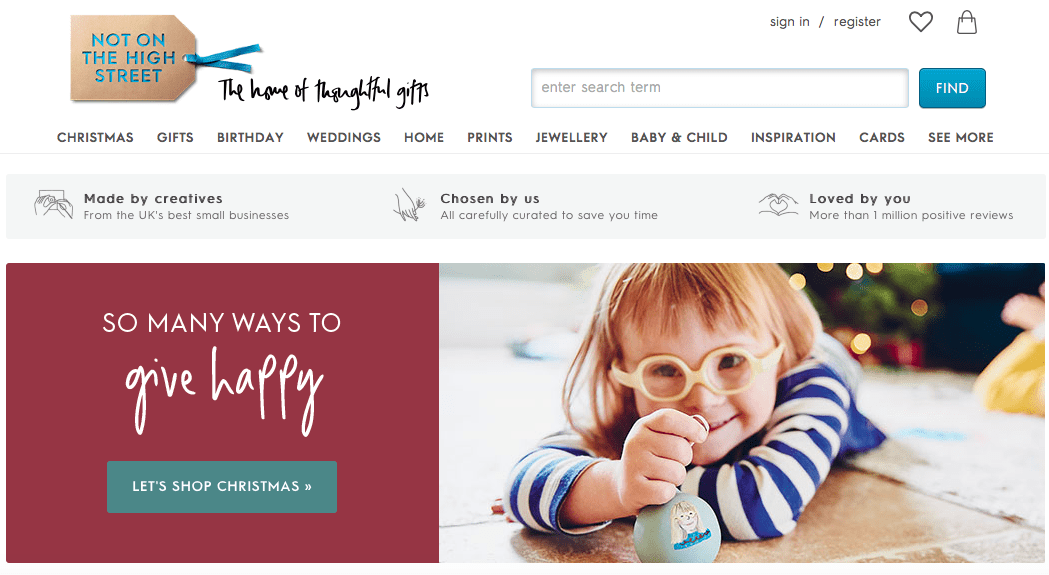 This is a large marketplace where you can sell art. This website has to offer jewelry, wedding gifts, prints, etc. It has transparent seller-website cooperation so you can clearly understand what you can and what you can't do.
24. Storenvy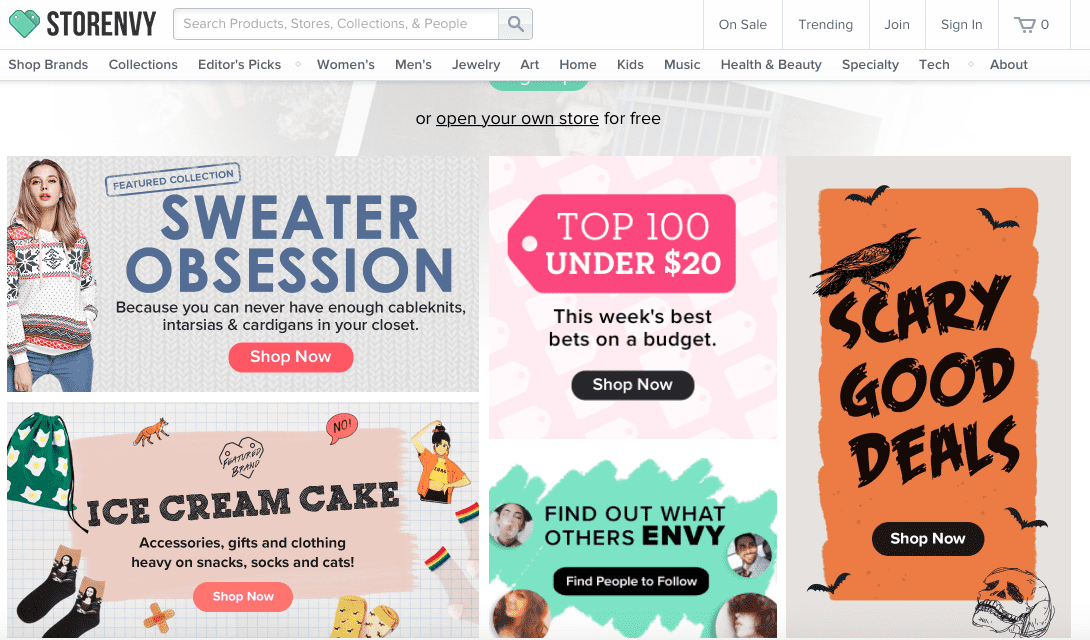 You can sell your products here and the list of the products is quite large. You can sell photos, sculptures, jewelry, etc. You can also sell gadgets here. You can sell your products using a customer store or a marketplace.
25. CASETiFY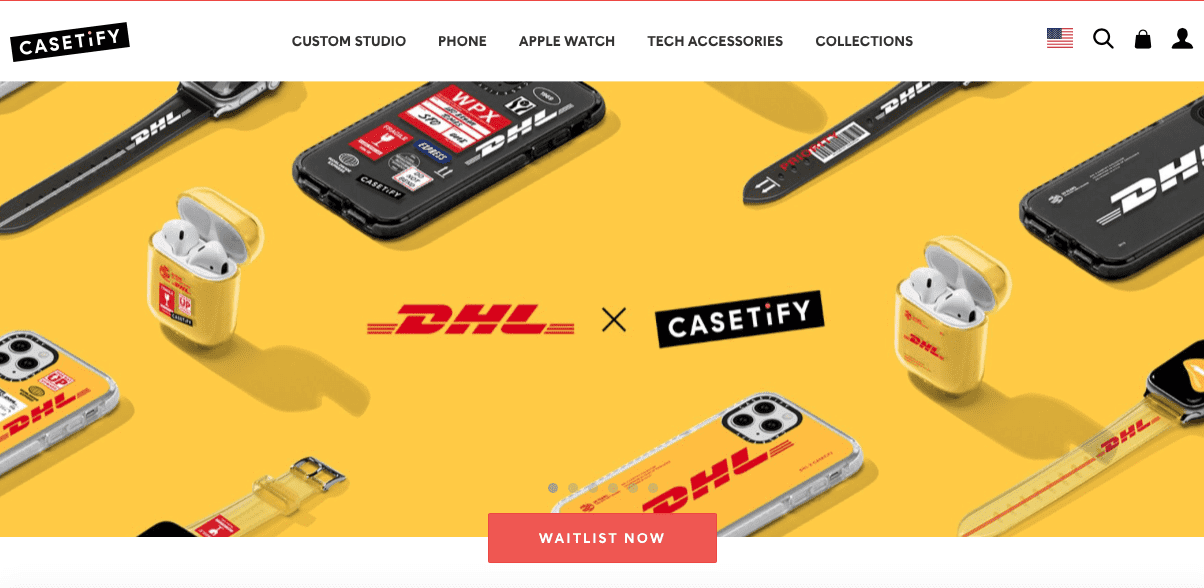 This is the platform for people who create a design for cases of phones or smartwatches. It has powerful tools that help you to make your design look as it should when it's printed.
26. Sellfy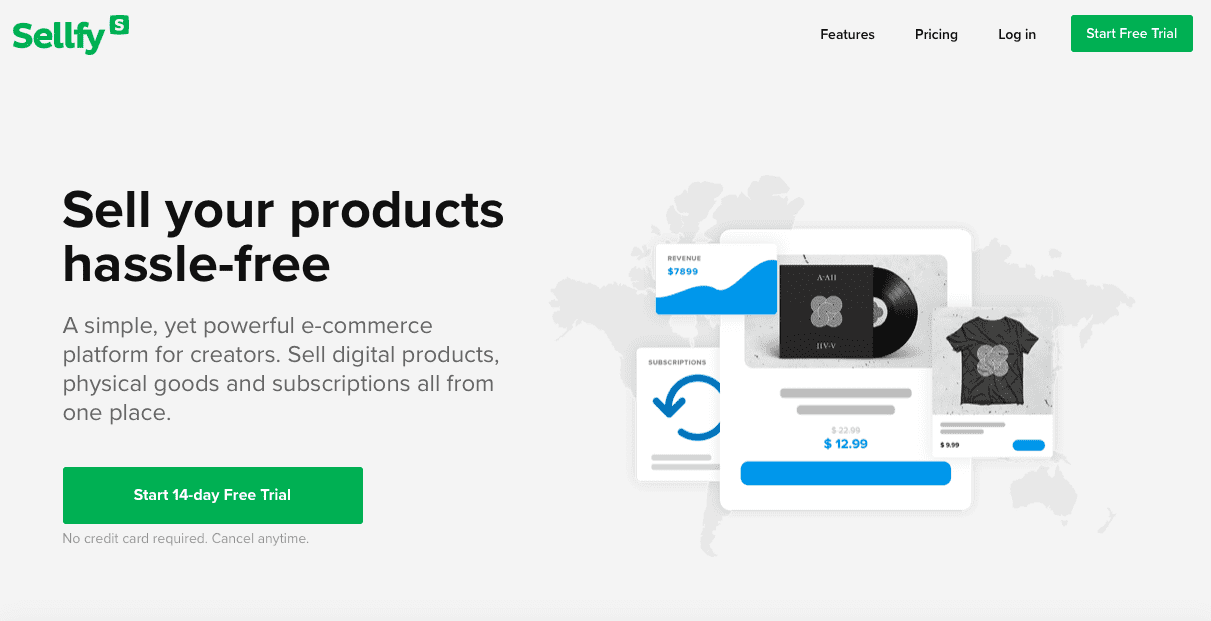 This resource will help you create your online store and start selling your digital art. It has three plans. The Starter plan costs $19 per month, the Business plan price is $39 per month and the Premium will cost you $89 per month. It has a detailed FAQ section, where you can find useful information.
27. Shopify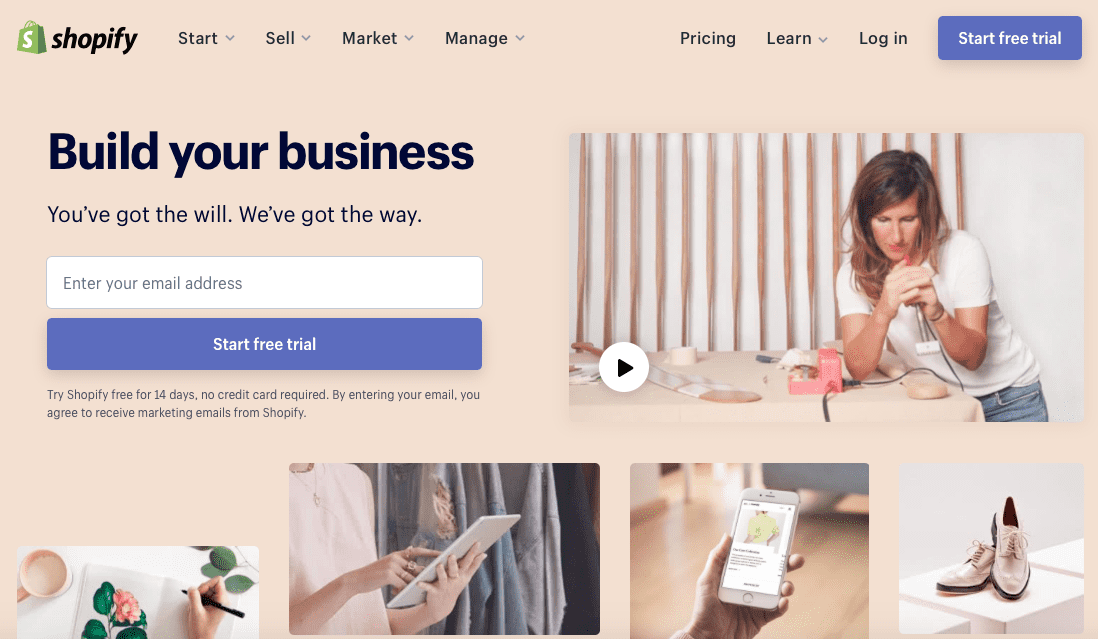 Shopify is a platform that allows you to create an online shop. It's not all about art, you can create different shops. You have some freedom here and it may be a good option when you already have some loyal customers.
28. Amazon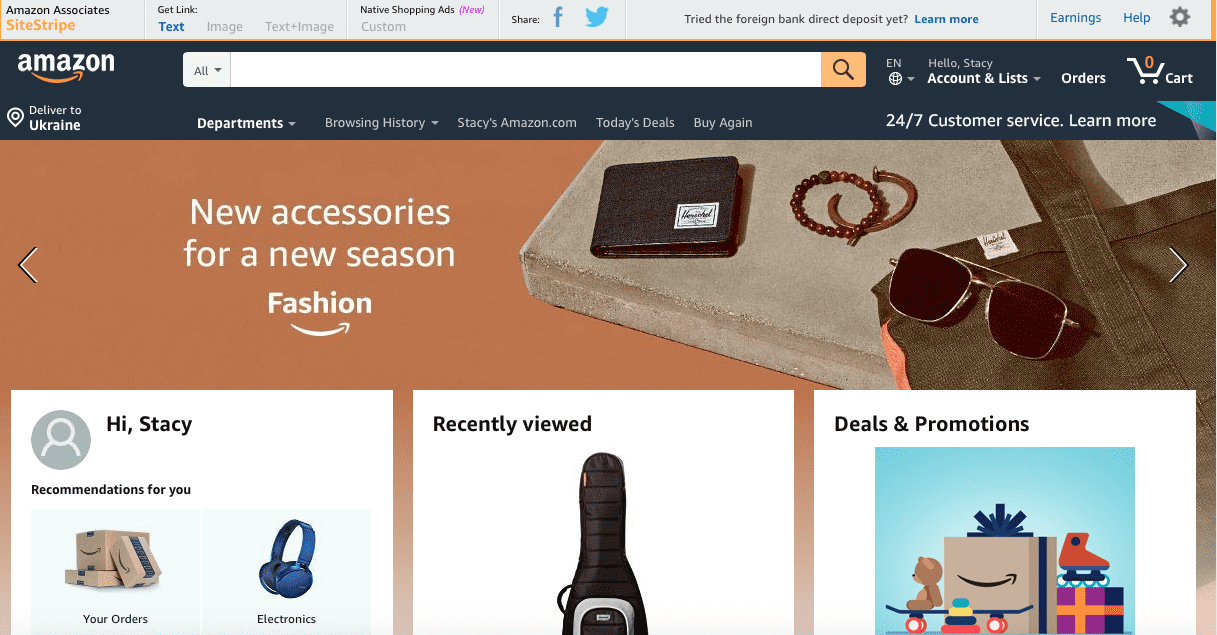 It's the largest platform that allows you to sell almost everything, including your art. However, it may be difficult for a customer to find your product. This can be an option if you have a blog or a personal website where you can add a link that leads to Amazon.
29. eBay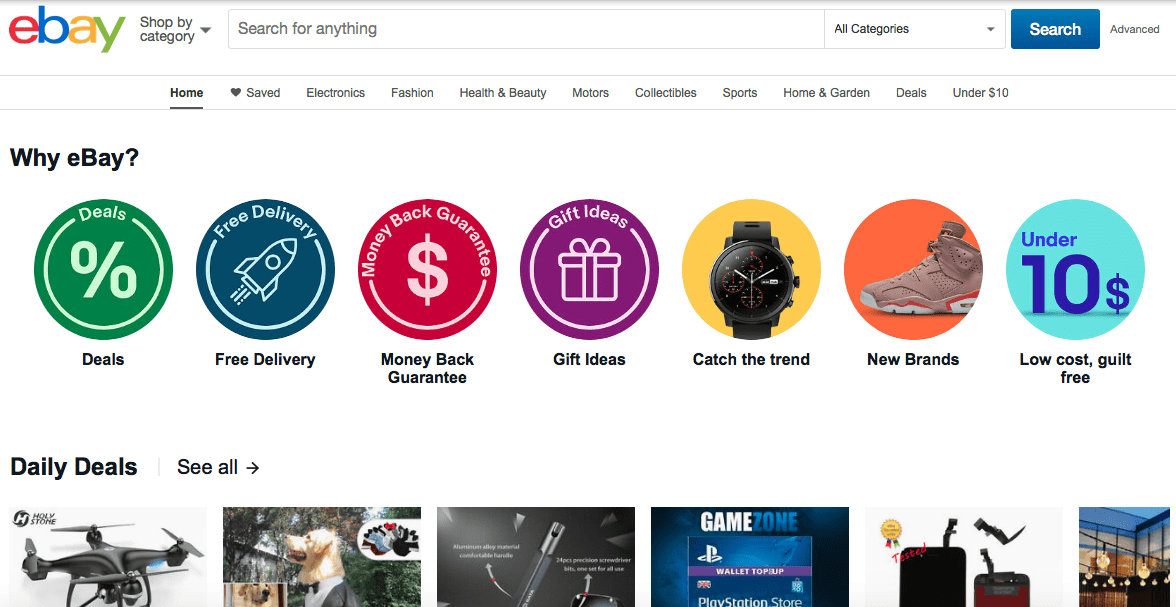 eBay is like Amazon, it allows you to sell your products, but potential customers may have difficulties finding you.
30. Create your website
This would be an option for people who have loyal customers. Creating a website can be quite expensive, but you will have total freedom here.
Please take a moment to pin this post to Pinterest.
FAQ
As a newbie, where should I go to add my design work?

Go to the page Sell Your Deal on MasterBundles and follow the steps suggested. You will be able to add the products and descriptions for them. If anything does not work out or you have any issues or concerns, write to [email protected] to get professional assistance.
What is the best way to decide on the price?
You can set various types of prices. Personal, commercial, extended commercial, old price options are available. Auto Pricing is also available if you are not sure about what price to set. This function allows you to set the price based on data from across the website, so your product price will not be too expensive or too low.
How long does it take to pass moderation?
Usually, it takes up to 3 days to pass moderation.
How to increase sales?
Do not be afraid to upload more design bundles. The more works you show, the better chances you have to get more deals. Keep in mind, MasterBundles is a great marketplace for any designer, but also many other resources are available out there. Add your works to various platforms to increase your chances of successful sales.
What design works are the most popular and in high demand?
It is difficult to give a clear-cut answer since various types of design products are in demand. That is not only templates, but also individual elements of graphic design, and any other products/tools for designers, marketing specialists, and developers. Fonts, icons, layouts, photos, elements, subscriptions to services, books, courses, polygraphy, and many other things are successfully sold at MasterBundles. Each professional will find something for himself, quicker do the work to earn even more money.
Web-designer is the one who starts the process of creating the site. He not only makes a beautiful design, but also analyzes user behavior.
The profession of designer itself is quite creative and requires constant inspiration and good imagination. It is for this reason, when writing this article I paid attention to all the subtleties of the profession and studied the materials that helped me to better understand all this.
Austin Kleon. Steal Like an Artist: 10 Things Nobody Told You About Being Creative. Workman Publishing; 2012.
Was this page helpful?
We will be happy if you decide to share this article with your friends on Facebook. Just click on the button and you're done
Thanks for your response!
You have already left your review.
Disclosure: MasterBundles website page may contain advertising materials that may lead to us receiving a commission fee if you purchase a product. However, this does not affect our opinion of the product in any way and we do not receive any bonuses for positive or negative ratings.