Cute Mandala Designs in 2023
Are you familiar with a kaleidoscope, a funny children's toy with colorful, intricate patterns that creates exciting pictures? The invention of the kaleidoscope belongs to the English physicist David Brewster in 1816. But the very basis of those pictures harks back to Ancient India and the technique of creating mandalas. Even though time has passed since these mesmerizing and magical patterns appeared, people still continue to look for mandala designs that inspire them and empower them with special energy.
What is a Mandala Pattern
A basic mandala is a complex geometric structure symbolizing the world order. It is nothing but a model of the Universe. This symbol came to the world from Eastern religious practices (Buddhism, Hinduism), where it was a sacred image of the world of deities. The word itself is translated from Sanskrit and means a "circle," "disk," and "center." This is a sacred diagram, usually round, square, rectangular, or triangular. It is widely used for meditation. It helps to achieve concentration and higher states of consciousness. Moreover, a mandala diagram is a powerful ritual for cleaning the space of any area (sand mandalas) and a source of cleansing and transforming the energy of space.
Simple types of mandala designs are used in many life areas. It is assumed that its design is visually attractive enough to absorb the mind so that annoying thoughts go away. The spiritual essence surrounds the person, which allows people to achieve higher consciousness.
Today, you can see beautiful mandala drawings everywhere, from tattoo mandala designs to postcards and fashion apparel. So, let's explore the world of this astonishing sacred talisman and spiritual symbol.
How to Draw Mandala Designs?
When mandala designers create their mandala, they try to imagine that it reflects their inner world. If you want to draw and paint a mandala, it can be a very empowering personal experience. You can create mandala art designs using online tools as well as different apps. A huge advantage of drawing without a sheet of paper is that you can delete lines, change their arrangement, etc. in a matter of seconds. Your main assistants are the built-in tools. As an example, try This is sand. Here you can draw with sand, choose its colors, or select changing color gradually by gradation. This kind of experimentation helps to create awesome mandala patterns and have a great time.
Try also Silk. This is an incredibly handy tool where 7 colors are available. You can adjust the number of points from which the rays will come, as well as the direction of their movement. Depending on the speed of the mouse, its direction forms mandala elements.
How to Create a Mandala in Illustrator?
The Illustrator software allows us not only to create interesting logos or vectors, but also to develop cute mandala designs. The program supports a huge number of tools that can be switched with a single mouse click. Anyone who is familiar with Adobe Illustrator knows that it's easy and fascinating to work with the application. The mandala is often a repetitive pattern, so you have to draw the base and then just copy and paste the shapes to create a project.
To draw a mandala yourself in Illustrator, check out this helpful tutorial – How to Create a Mandala and take your inspiring mandala design ideas step by step.
How to Make a Mandala in Photoshop?
Photoshop is another great software for creating beautiful and energizing colorful mandala designs. Thanks to a huge number of built-in instruments, it's easy to do that. For example, you can change the direction of mandala petals and their placement using the top grid. You can select symmetry parameters to make your artwork more original. The basic tools are Brush, Pencil and Eraser. You will need other elements while working.
We also suggest watching a short tutorial Create a Mandala in Photoshop. It allows you to make a beautiful modern mandala in only 3 minutes.
10 Supreme Mandala Designs from MasterBundles
Create Mandala Design: Mandala Creator Online
If you are willing to try something new and want to utilize mandala drawings in your current or future project, you might be interested in Mandala Creator Online. This is a tool that will enable you to create a perfectly beautiful mandala flower easily, quickly, and pain-free.
The tool is extremely simple and intuitive. No prior knowledge or specific skills are necessary. It allows you to draw your mandala by adjusting the number of sectors in the circle, and then choosing the appropriate background, brush colors, and line width. This Mandala Creator itself does not draw; you do the drawing work while specifying the particular parameters.
Pull up the background color choice to choose the best one for your mandala. Experiment with colors to express your creativity. Choose the brush color for the inner lines of your mandala. Move the scroller to set up the number of sectors. In addition to the brush color, you can adjust the line width. Just move the locator from the left to the right to increase thickness. Enable the mirror setting to keep your drawing symmetrical.
It is also worth mentioning the possibility of saving the pattern you draw. Click the floppy disk icon to get your mandala saved on the computer. You will find an 'Undo' arrow and 'Trash bin' icon to perform these actions accordingly. That's it — simple and easy!
Drawing mandalas online is a great way to focus attention, establish some 'space' in the mind and spirit, and meditate. Listen to the relaxing music and bring a sense of harmony and creativity into your life with mandalas!
More Mandala Creator Tools
Color Mandala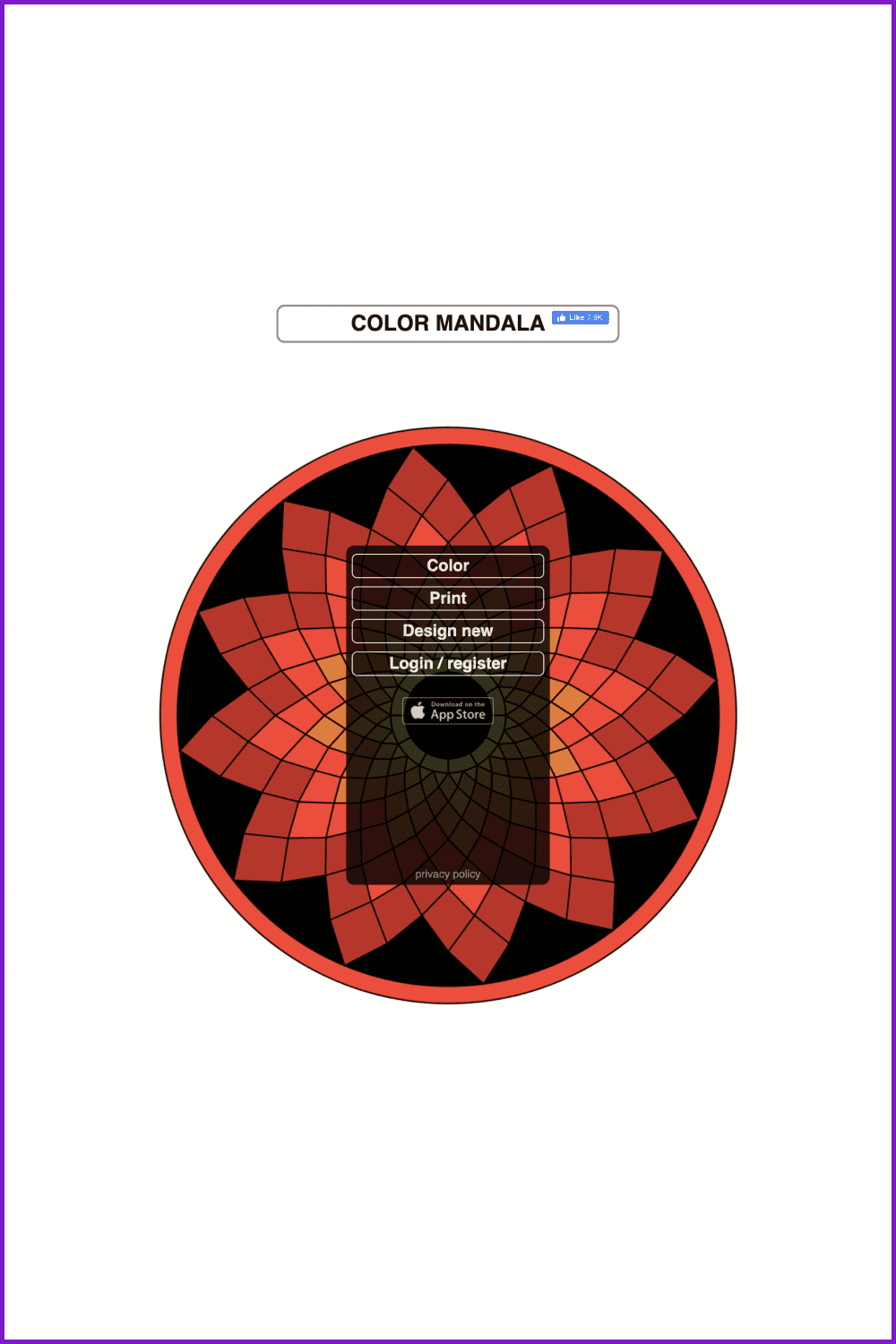 This is a mandala creator app that will allow you to color mandala patterns online for fun or for some creative projects you are involved in.
Mandala Gaba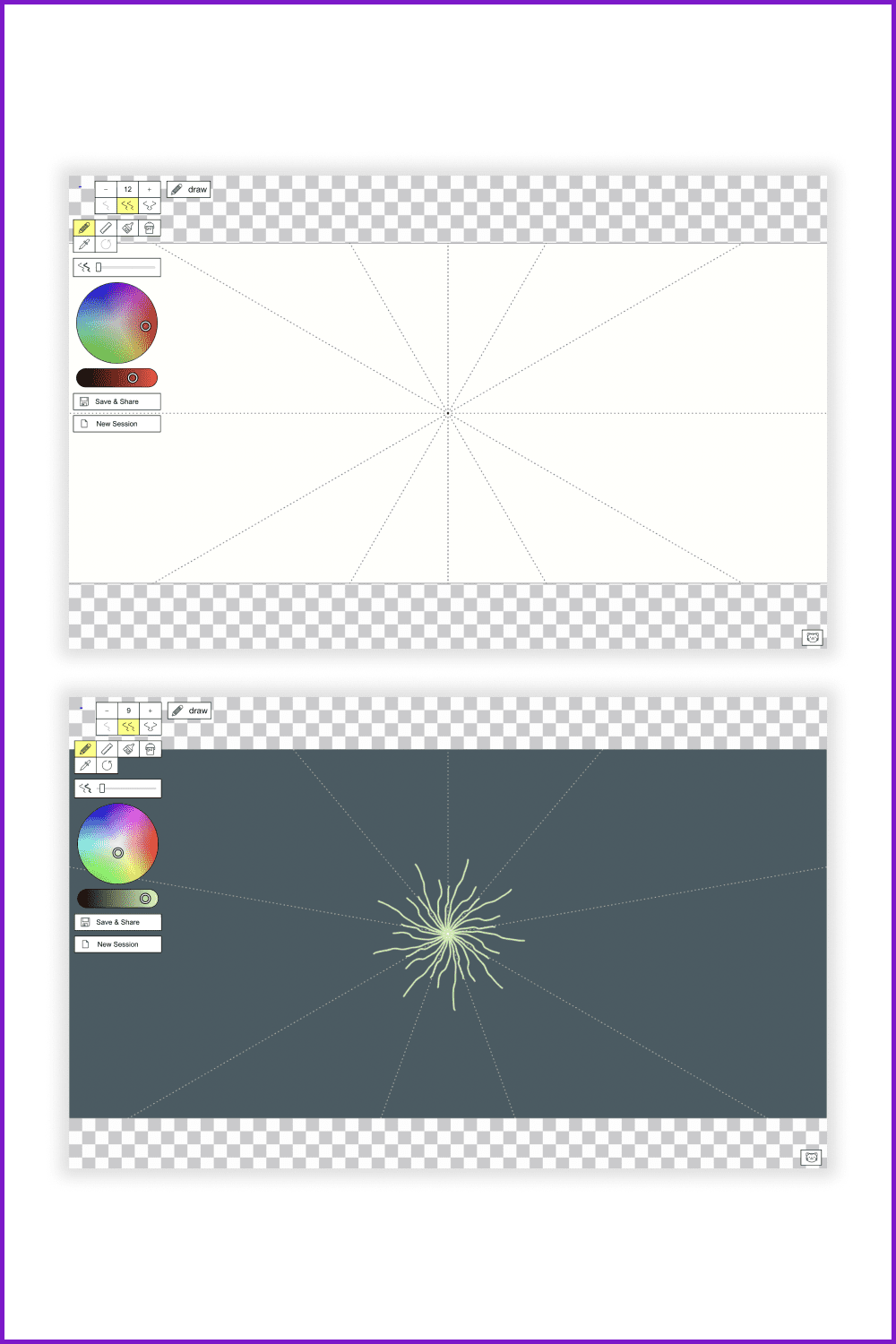 This one is another free online service for creating your own unique designs. Go ahead and give it a try.
Mandala Maker Online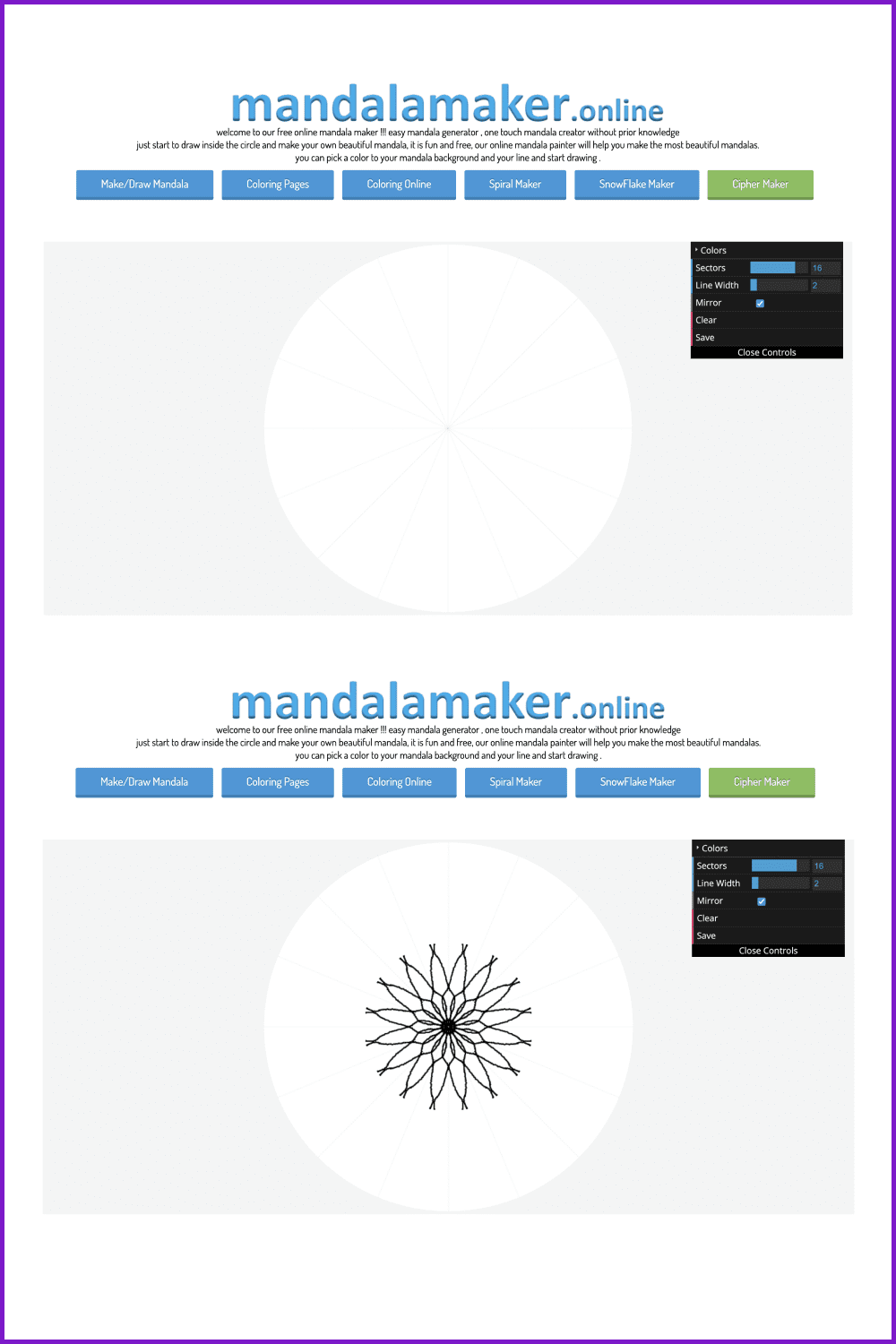 Last, but not least, is Mandala Maker. This very tool will help you create and color the flower of life that will live up to your expectations, which means that it's definitely worth a shot.
Best 30+ Mandala Designs in 2023: Clipart, Vector Images, Patterns
Mesmerizing mandala clipart perfectly works for various types of websites and multiple other design projects, which means that every self-respecting web developer or graphic designer has to have at least some of these gorgeous patterns and vectors in their elements collection. In case you still do not have these breathtakingly beautiful elements, or maybe you want to add some new elements to your library, here are some lovely mandala patterns that you simply cannot miss.
75 Circle Mandala by TSV Creative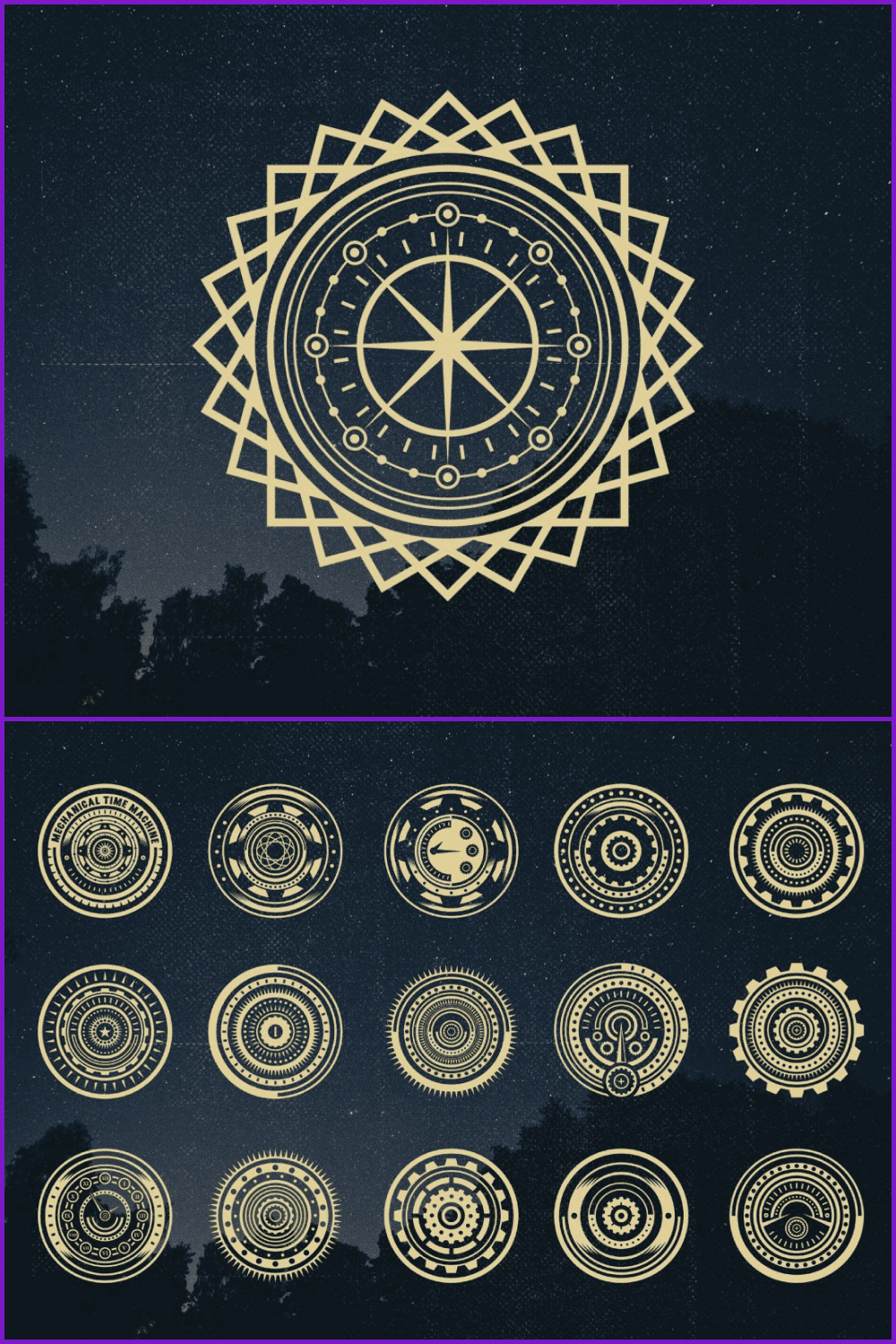 A mystical option that will turn any of your projects into a true masterpiece, so do not waste any more time and try these flower mandala designs.
300 Vector Mandala Ornaments by Pixaroma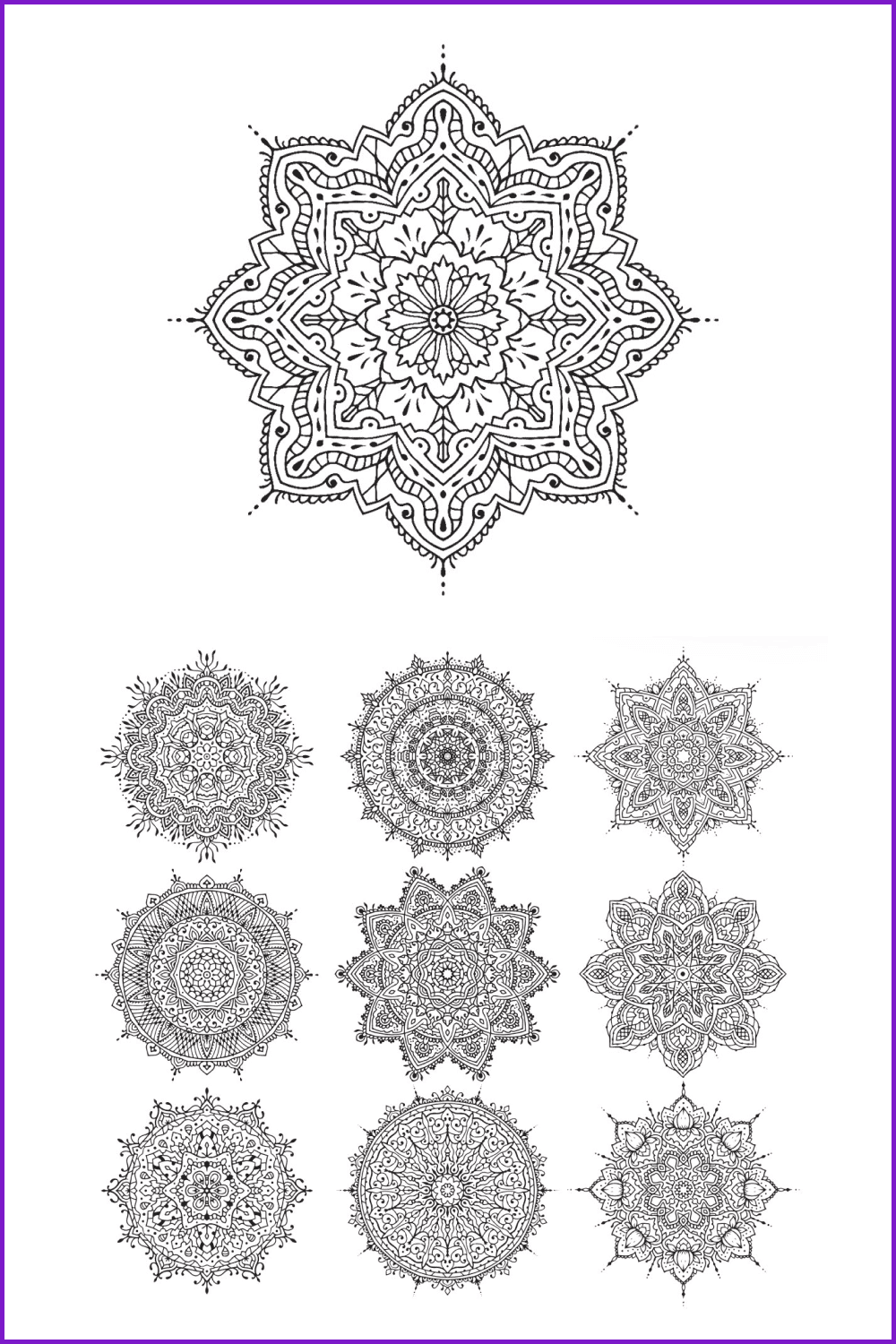 A huge collection of simple mandala flowers that will no doubt back you up in various situations. Well, if you are looking for something that will truly work for all occasions, then this one is definitely for you.
Mandala Collection [630 Elements] by Julia Dreams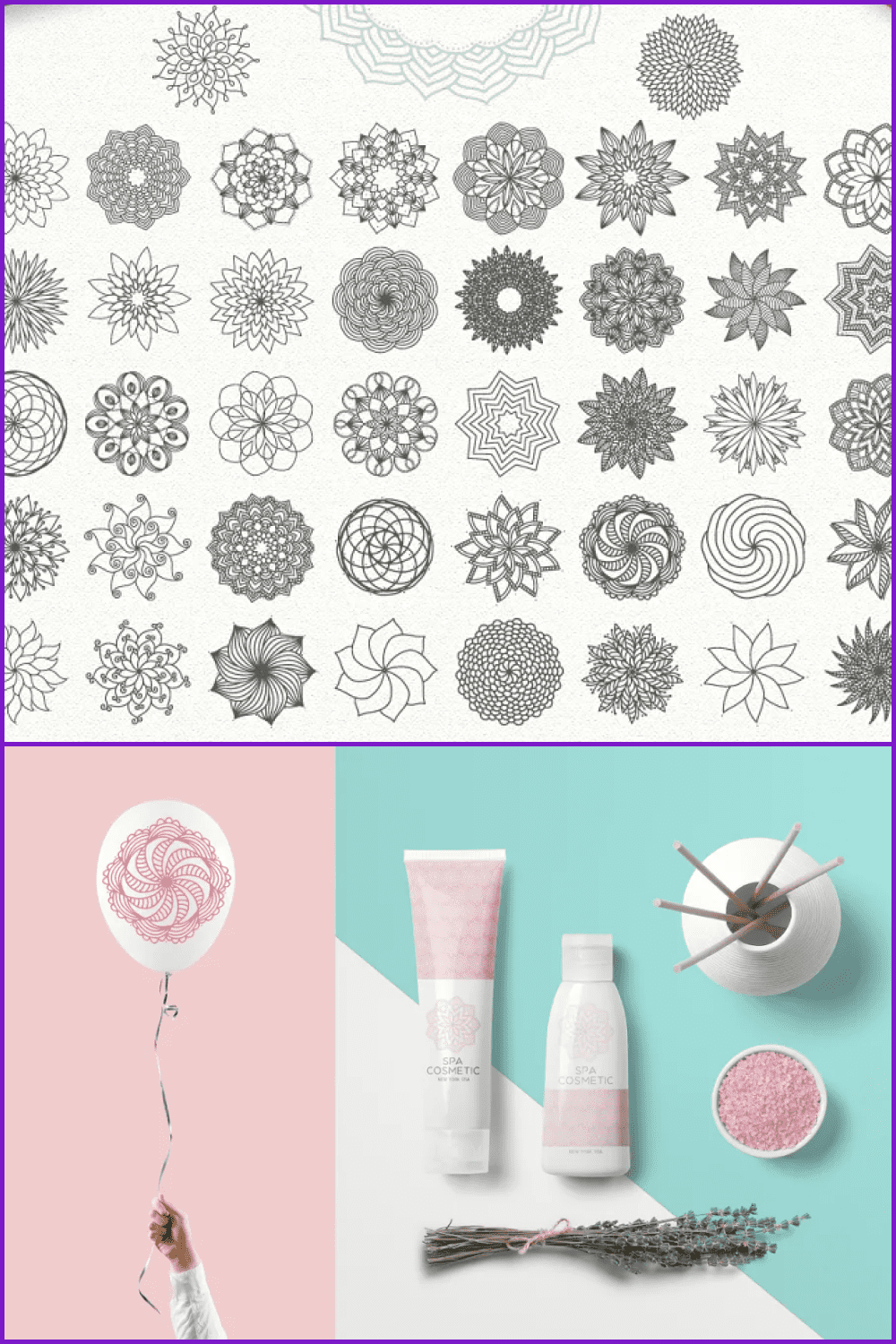 An even bigger collection of unique minimalist and colorful mandala designs for all your current and future projects, so take a good look.
Mandalas collection by Gulnara Sabirova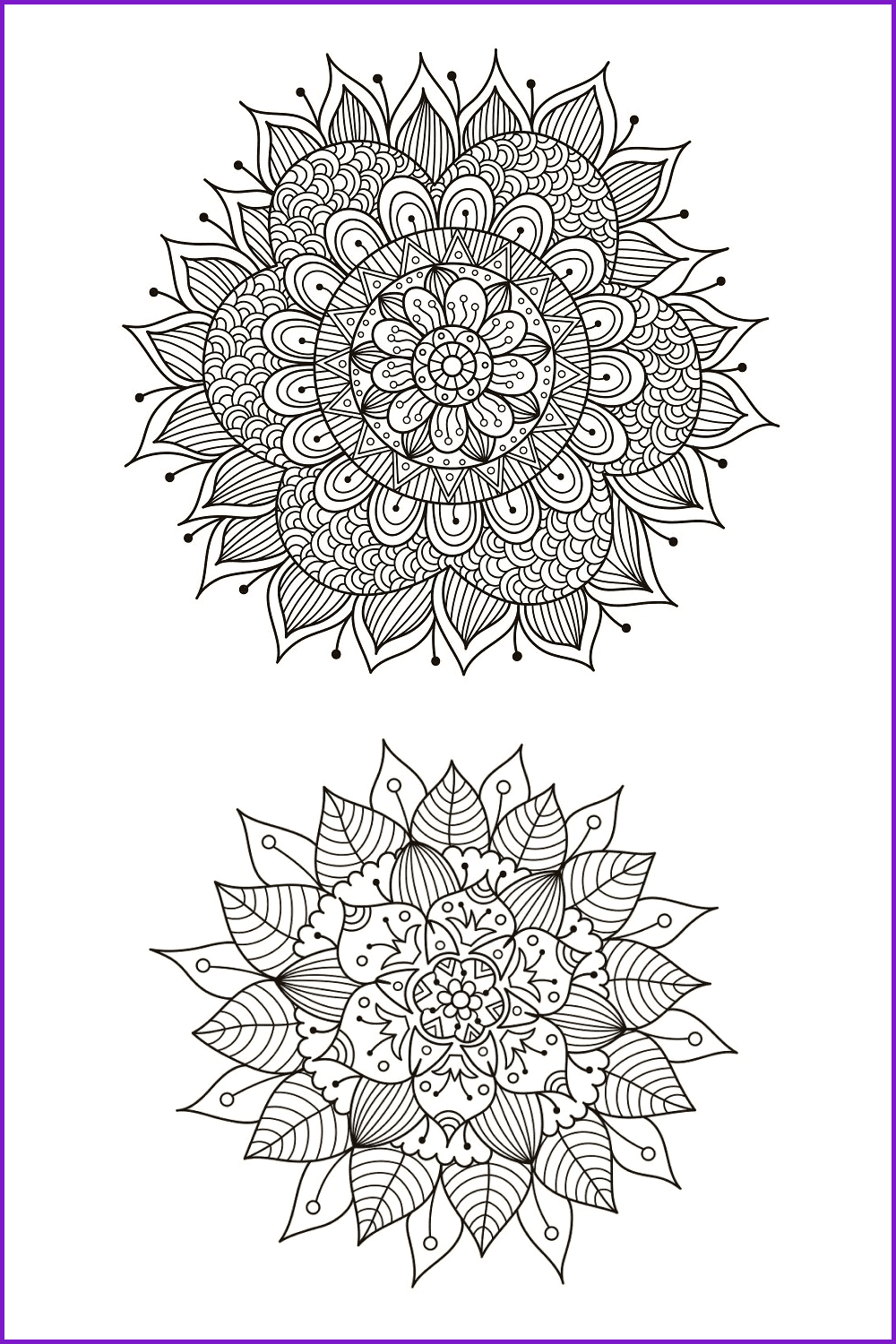 This one is a little collection that has the magic power to make all your dreams come true, so make sure to check out these simple mandala patterns.
9 Tribal Mandalas, Frames, Patterns by Marish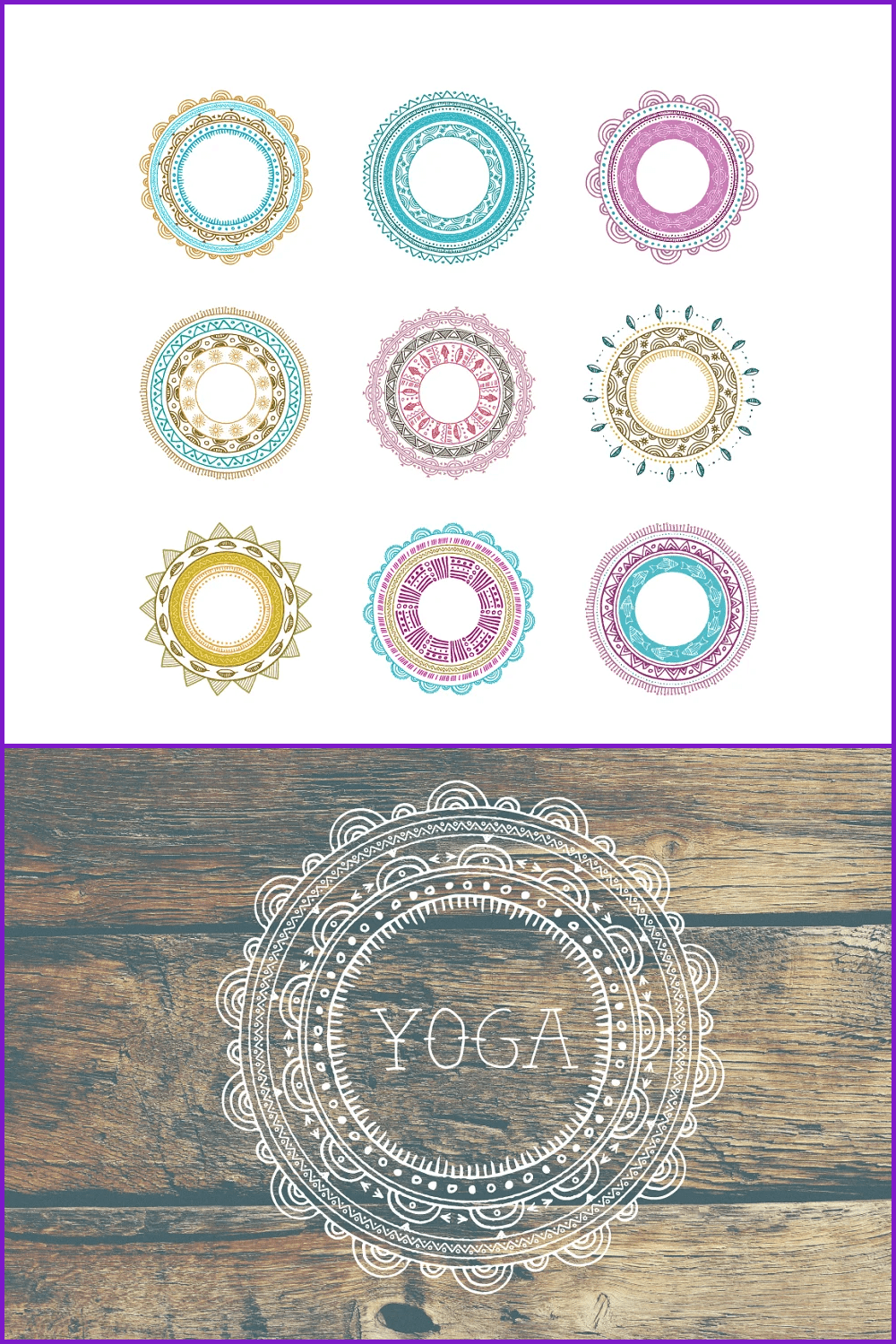 A minimalist option that will simply take your breath away. Well, if you are looking for something elegant and delicate, then this mandala design idea is no doubt the way to go for you.
Watercolor & Gold Hand Drawn Mandala by Papatongartist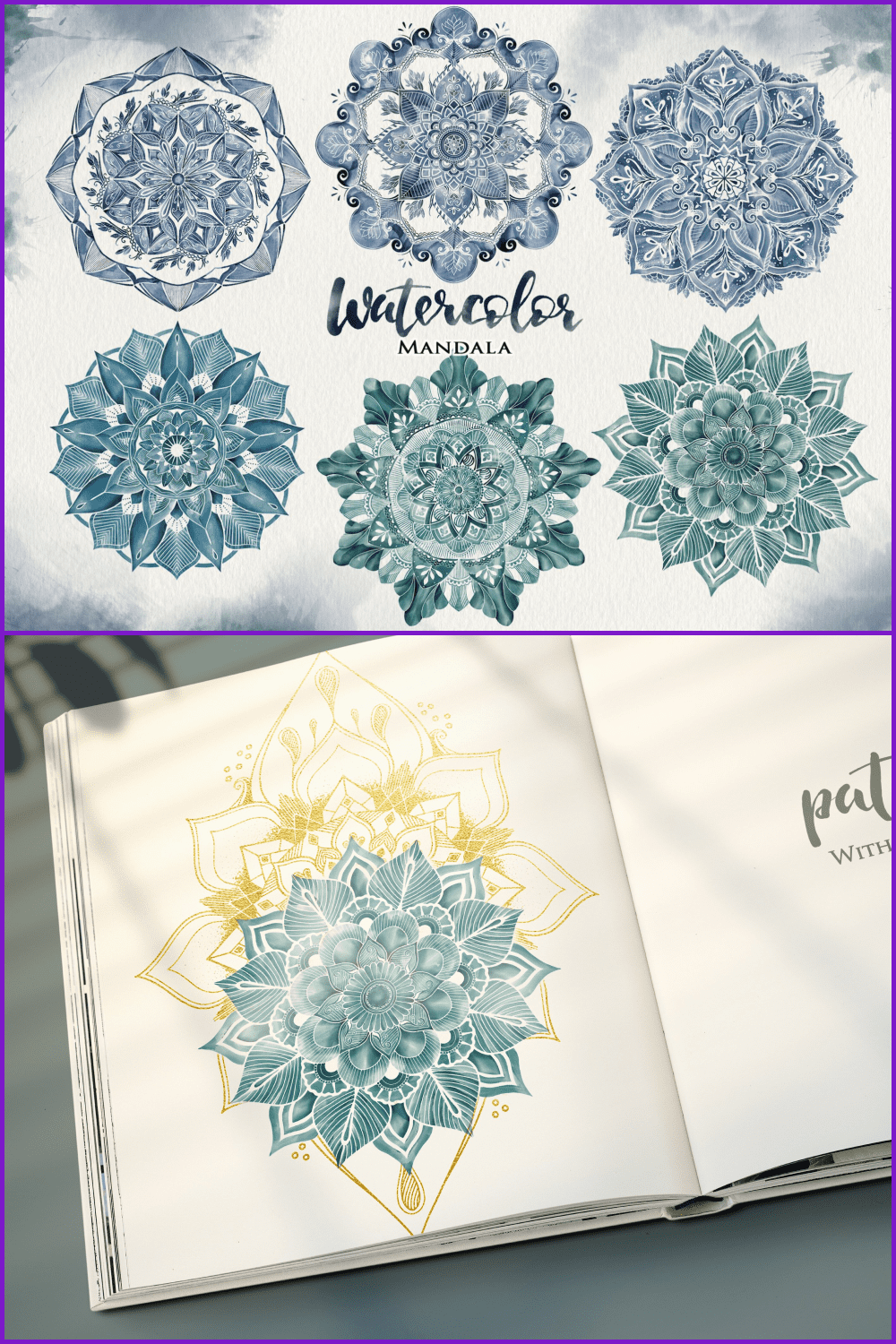 Well, a truly mesmerizing watercolor option for all the aesthetes out there. You just have to follow the link above and take a closer look at this very elaborate beauty.
100 Vector Mandala Ornaments by Pixaroma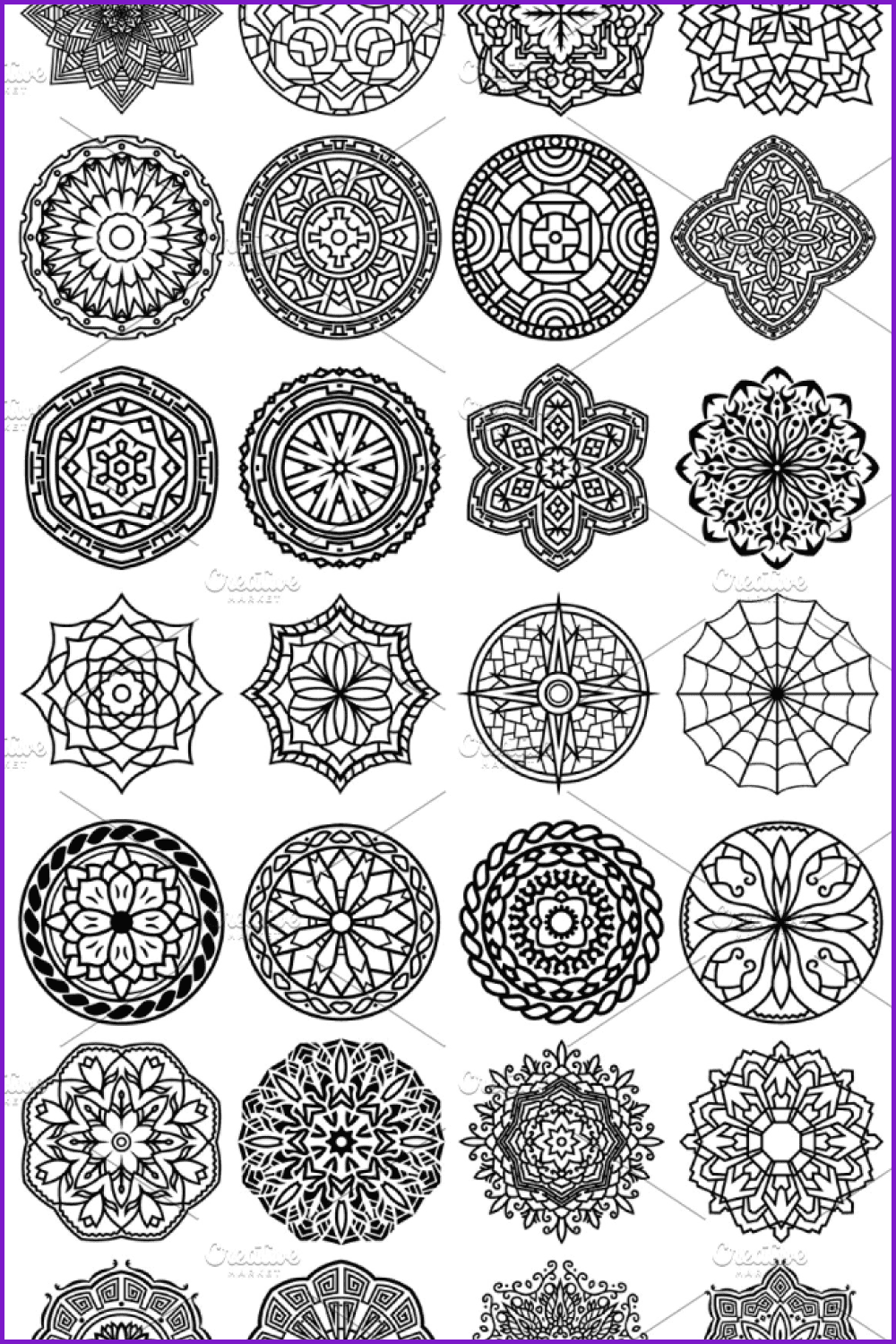 A classic collection of pretty mandalas, which will work for a vast variety of projects, so make sure to check this one out.
50 Mandala Designs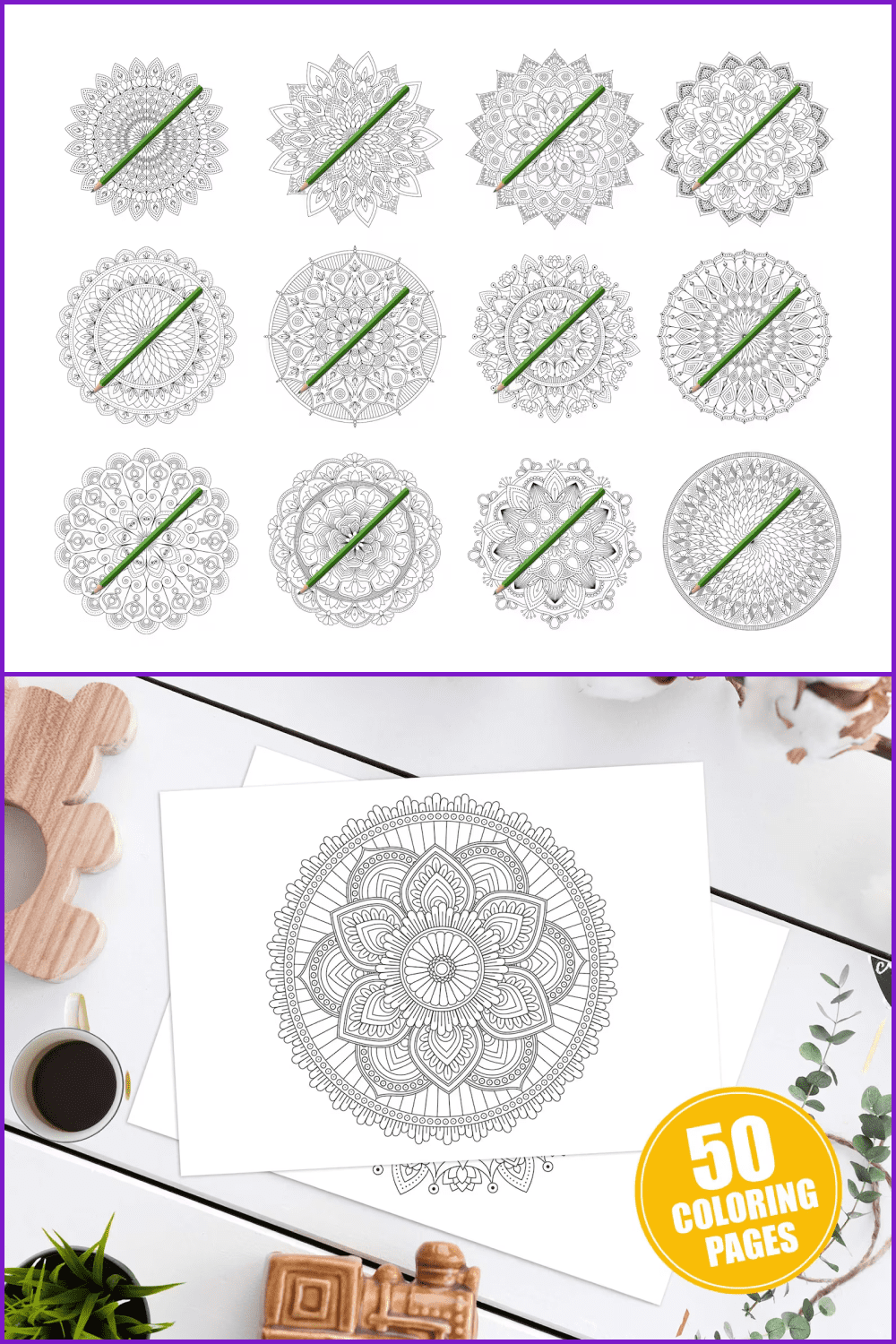 This is a set of simple and stylish mandala illustrations suitable for coloring and stress relief. The products are also fully printable.
Circular Pattern in Form of Mandala with Lotus Flower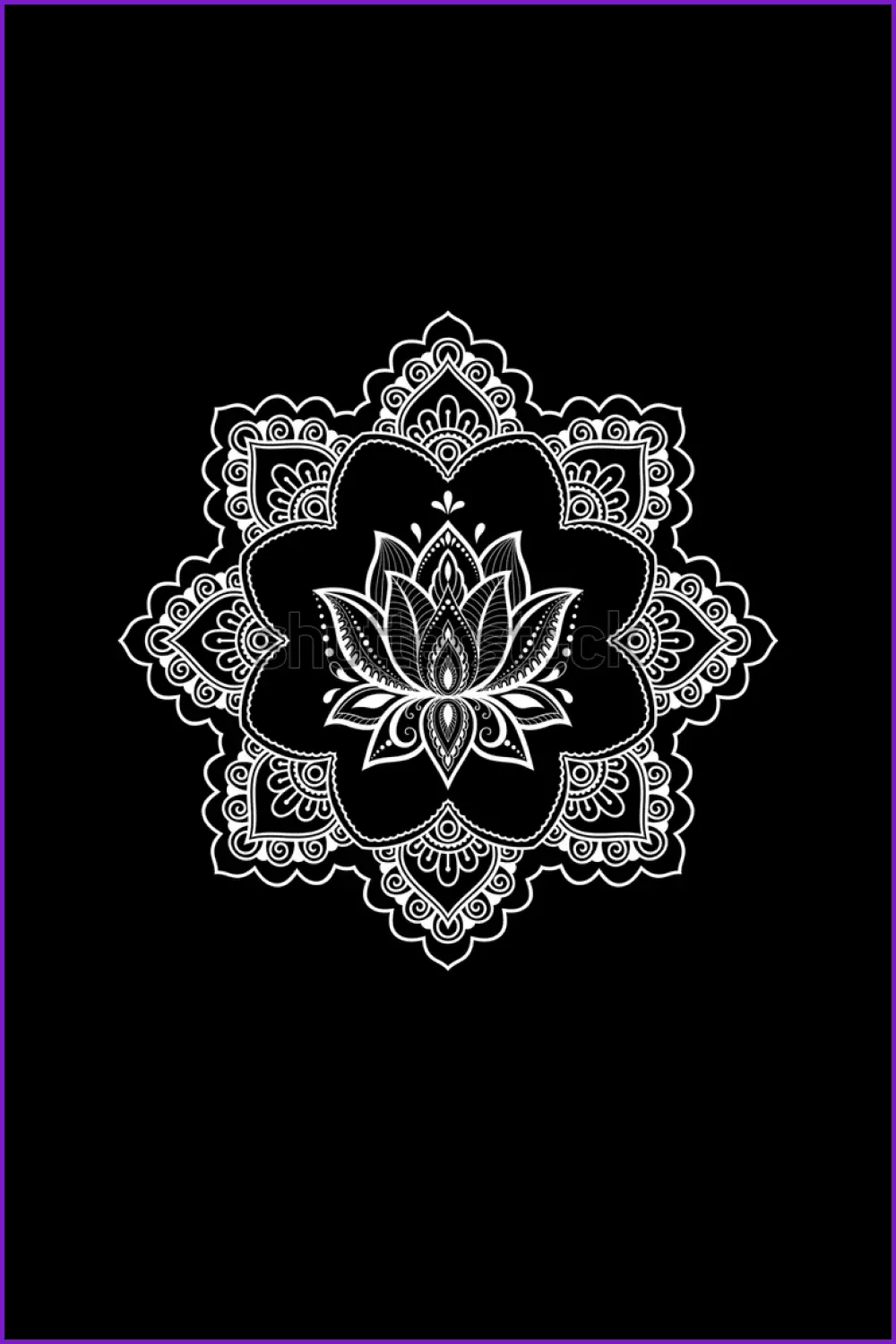 A truly stunning flower on a black background will no doubt hypnotize you with its minimalist yet elaborate beauty.
Mehndi Flower Pattern for Henna Drawing and Tattoo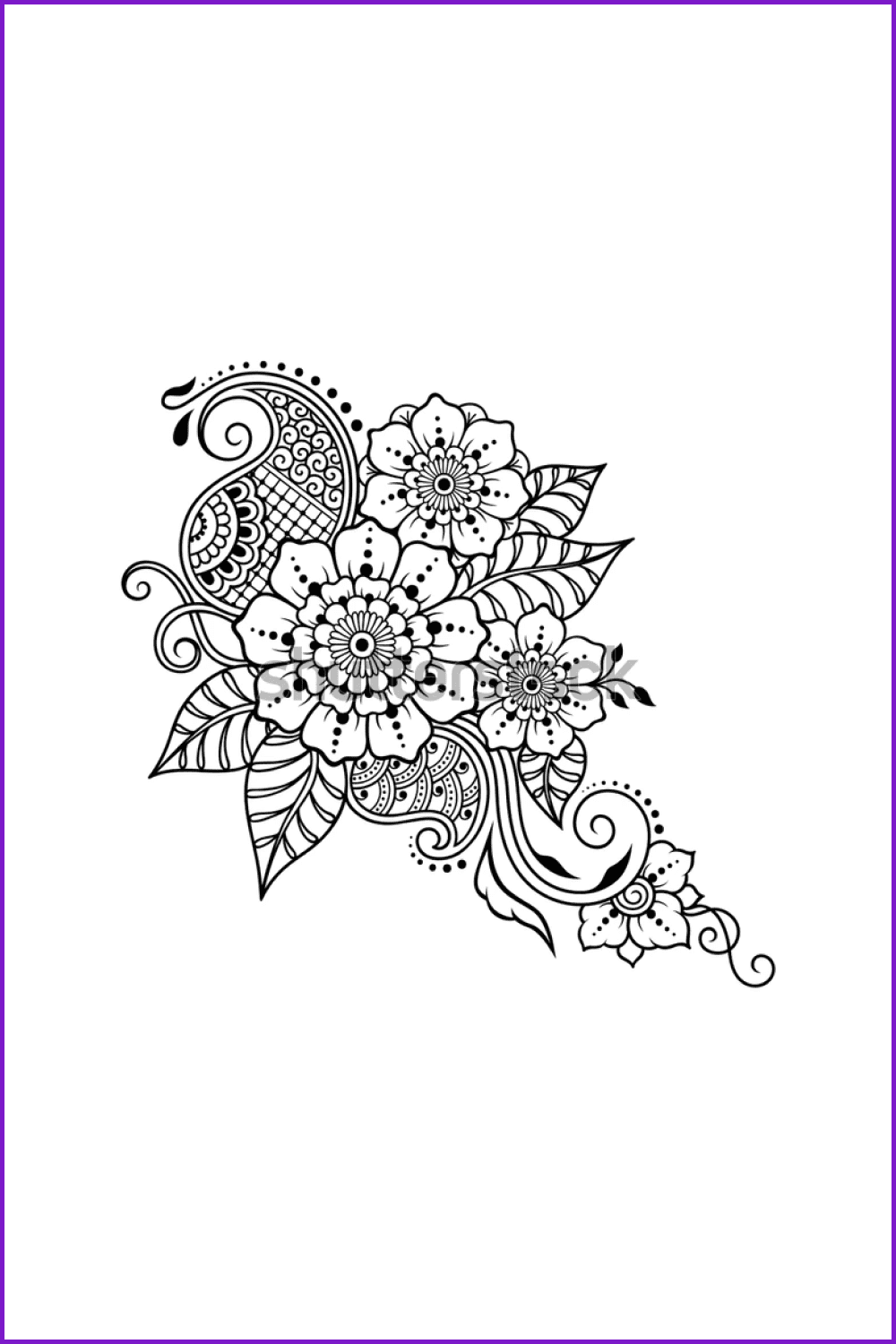 A slightly unconventional option for those of you who would like to experiment a little bit with mandala style tattoos.
Set of Round Gradient Mandala on White Isolated Background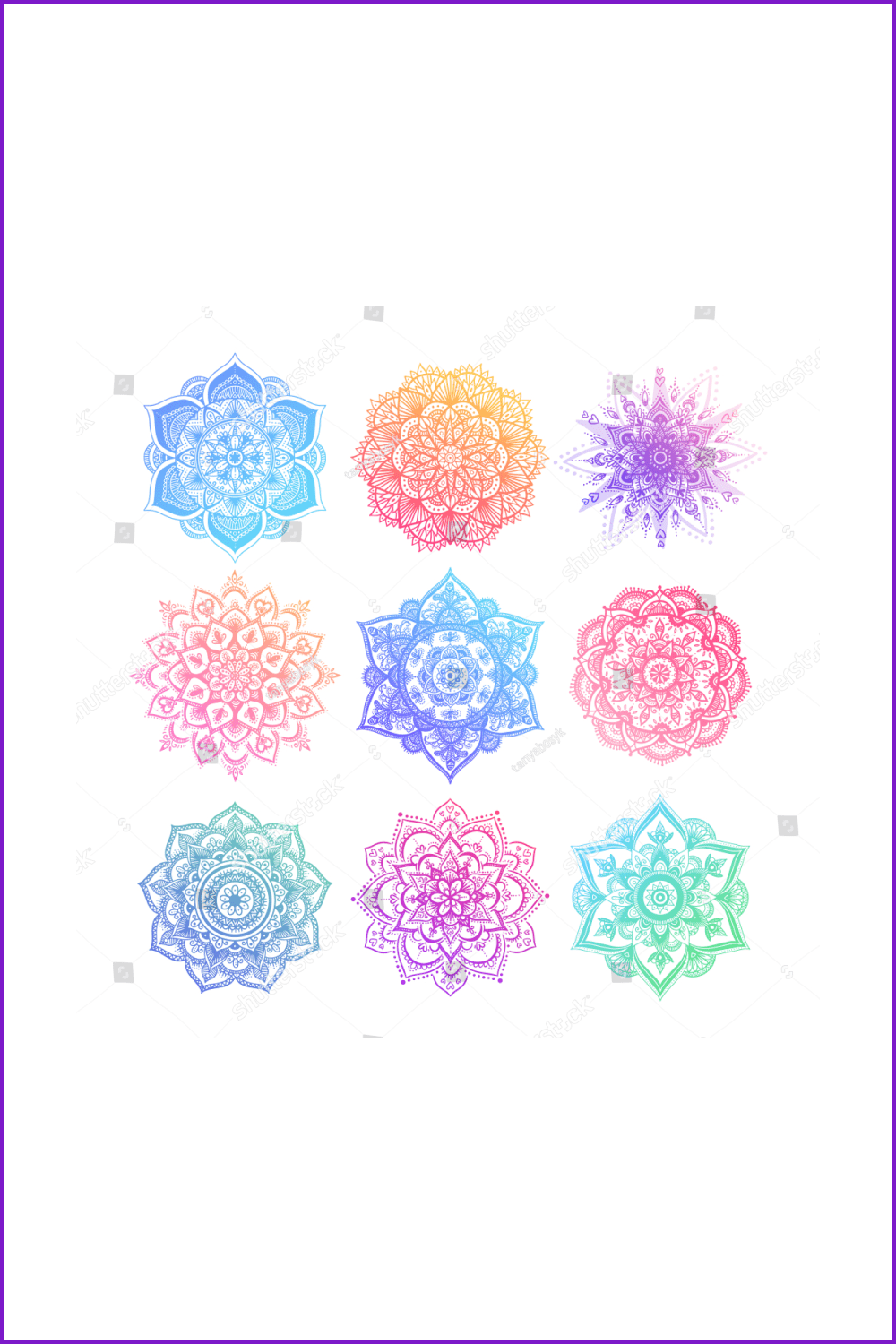 This cute mandala is a colorful option for those of you who love to use bright colors.
Mehndi Lotus Flower Pattern for Henna Drawing and Tattoo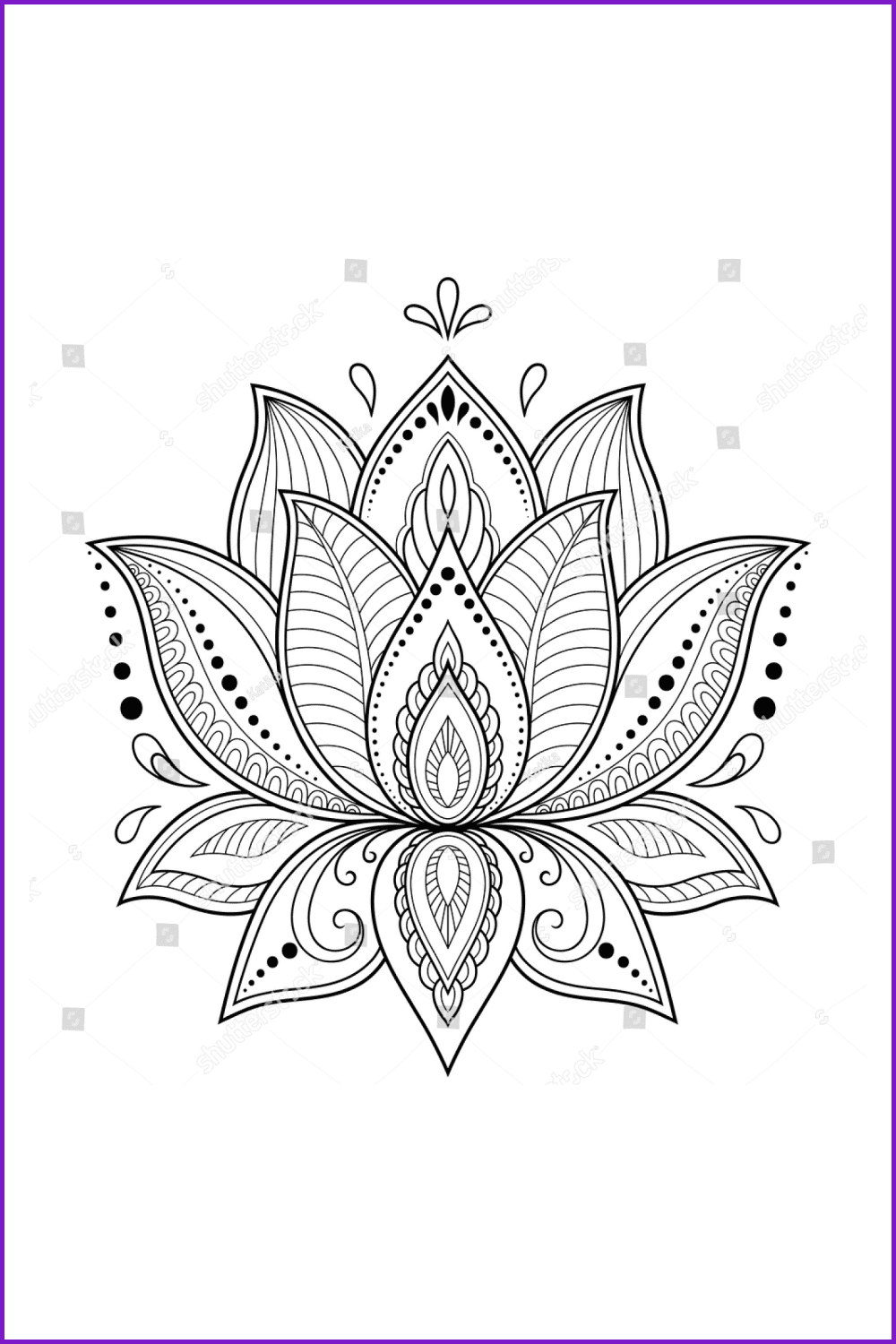 Another mesmerizing lotus, which has this magical power to turn something ordinary into something breathtaking.
A Set of Four Mandalas with a Gradient Fill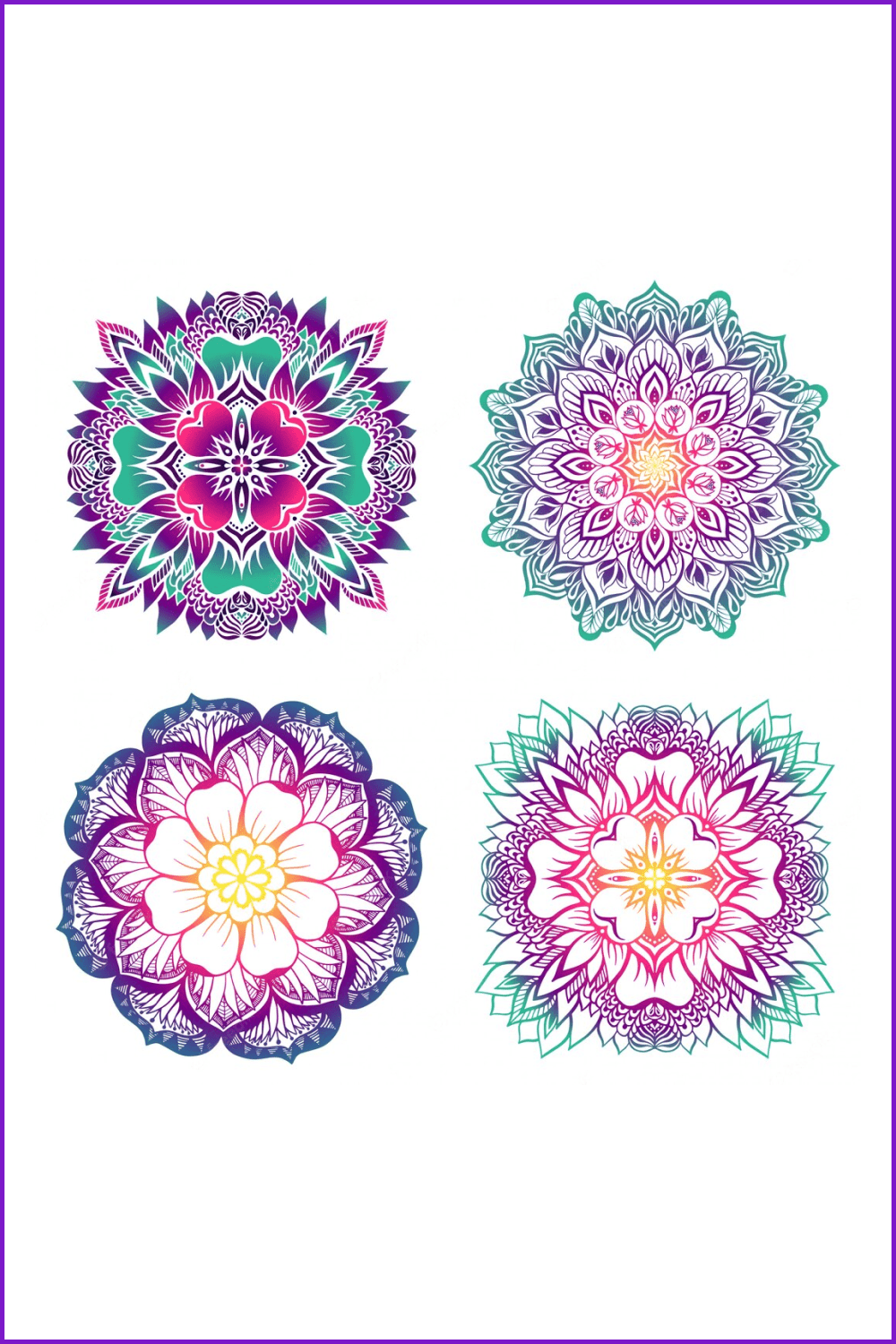 One more mandala color idea for you, so do not hesitate to take a closer look at it.
Luxury Mandala Free Vector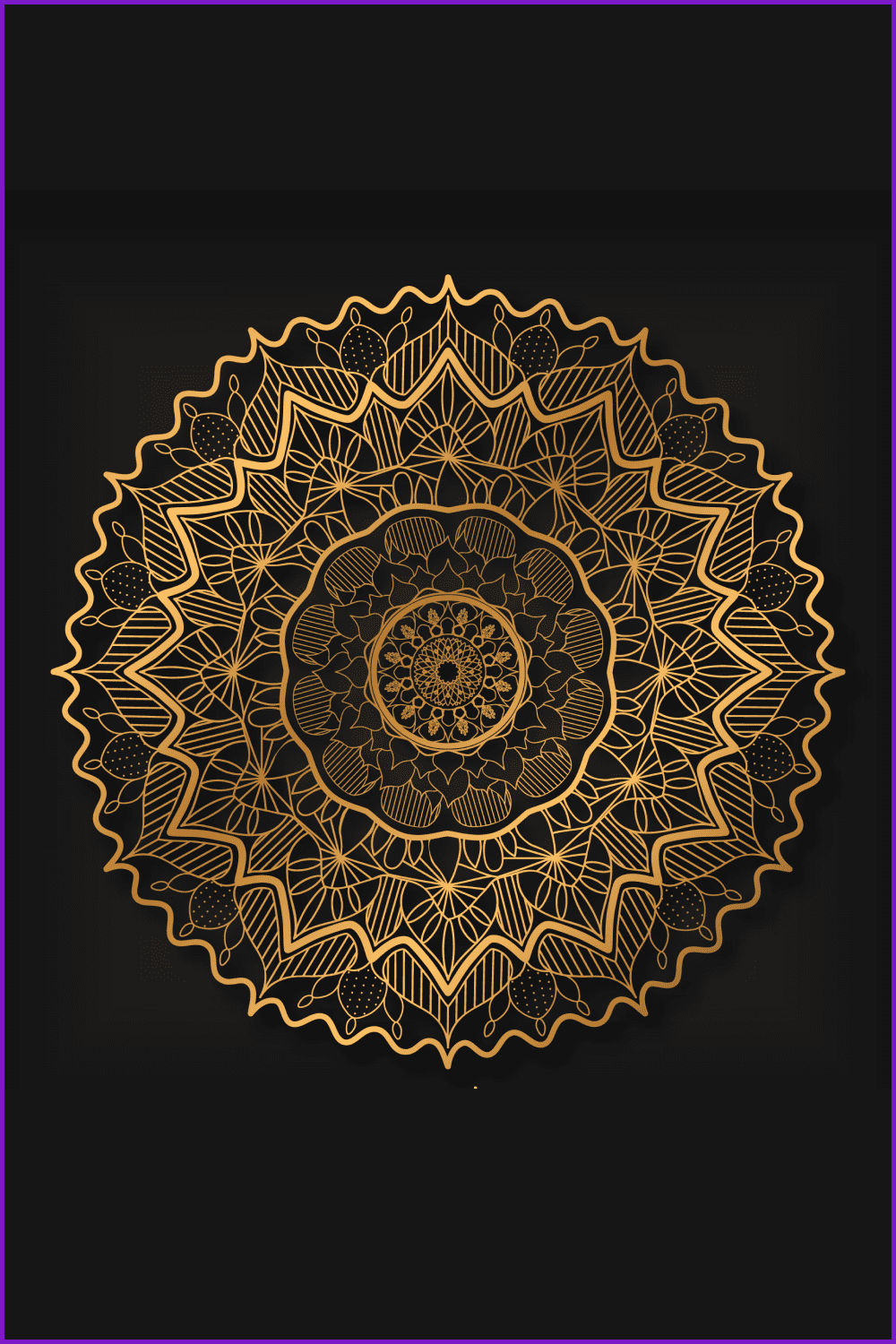 A luxurious free mandala pattern that will definitely win your heart at the very first sight. Well, why don't you follow the link above and get it? It's totally free.
Mandala Designs Collection Free Vector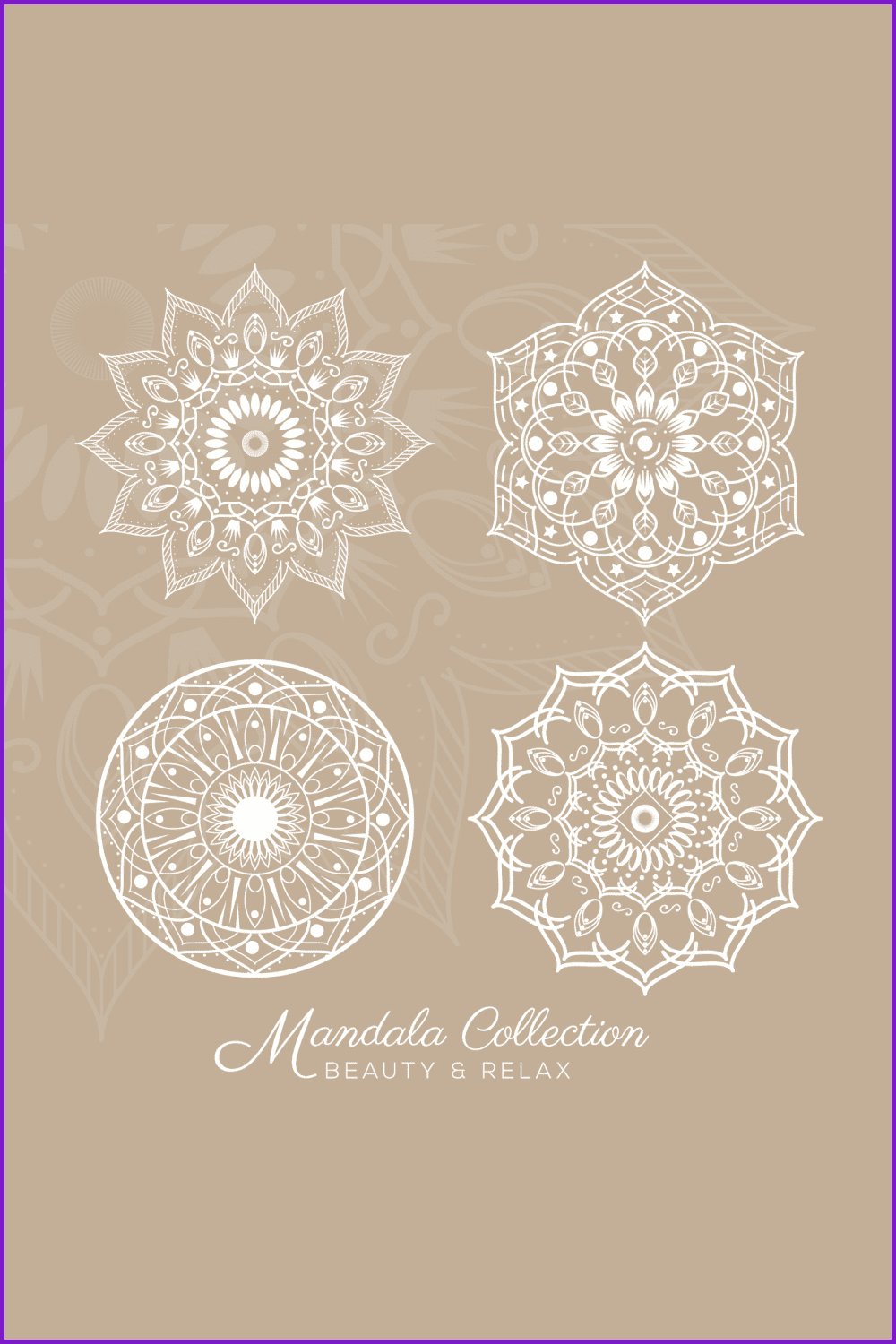 Another lovely free mandala design for those of you who are on a budget.
Flower Mandala Vector Image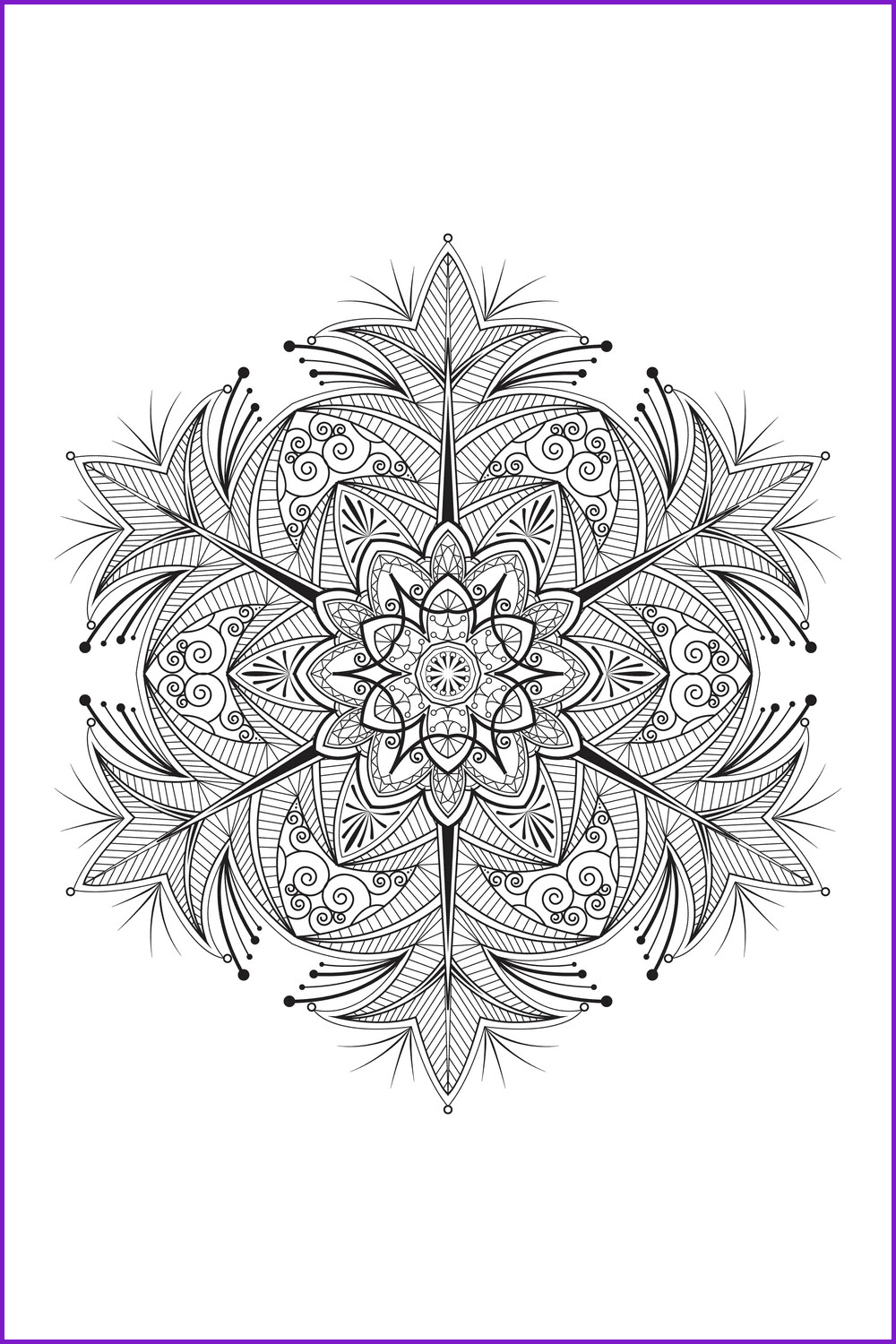 One-of-a-kind black and white mandala vectorial that will back you up in any situation.
Mandala Floral Flower Oriental Circle Vector Image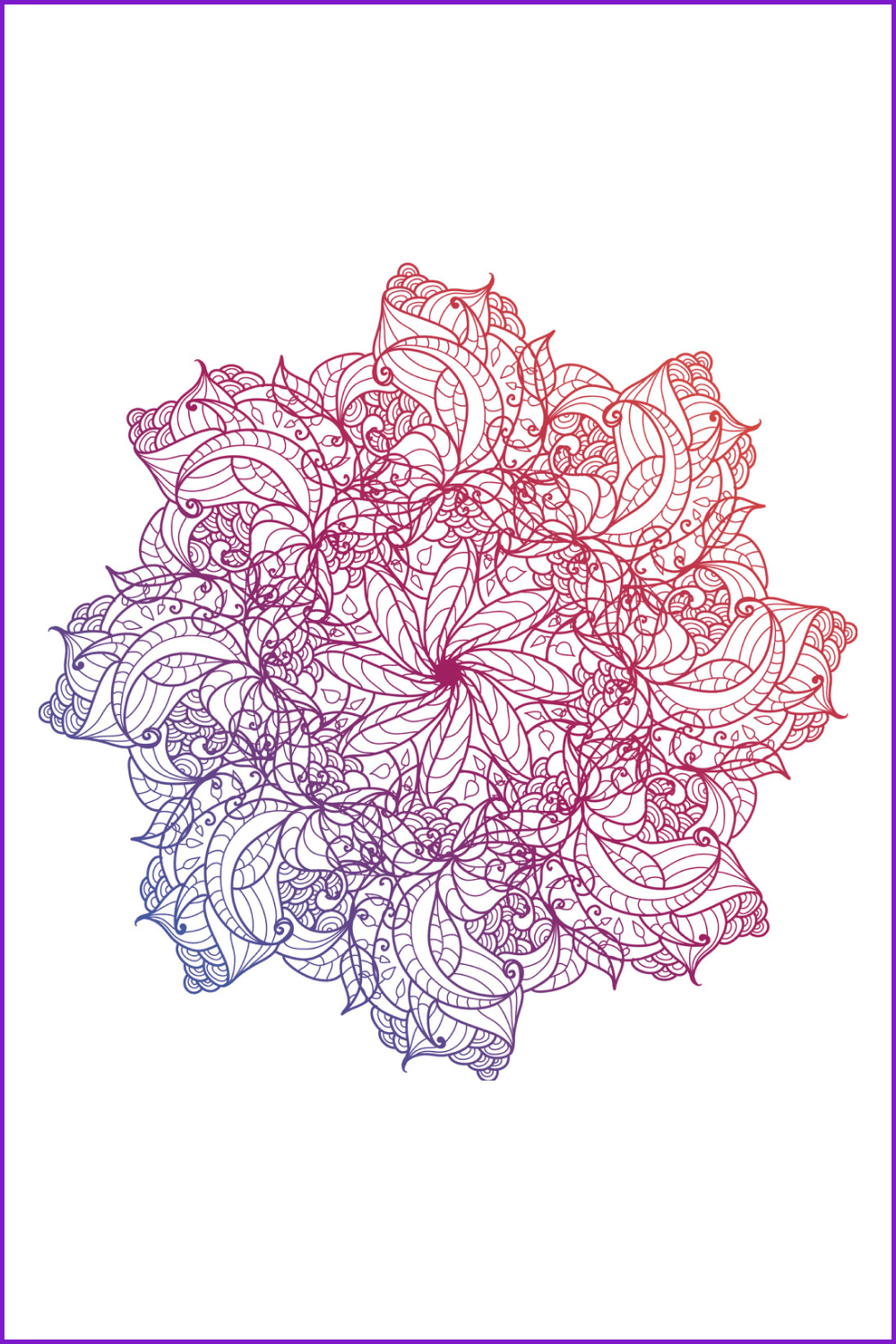 One more mesmerizing and eye-catching mandala design that will be a perfect tool for the creation of your masterpieces.
Mandala Sacred Geometry Vector Image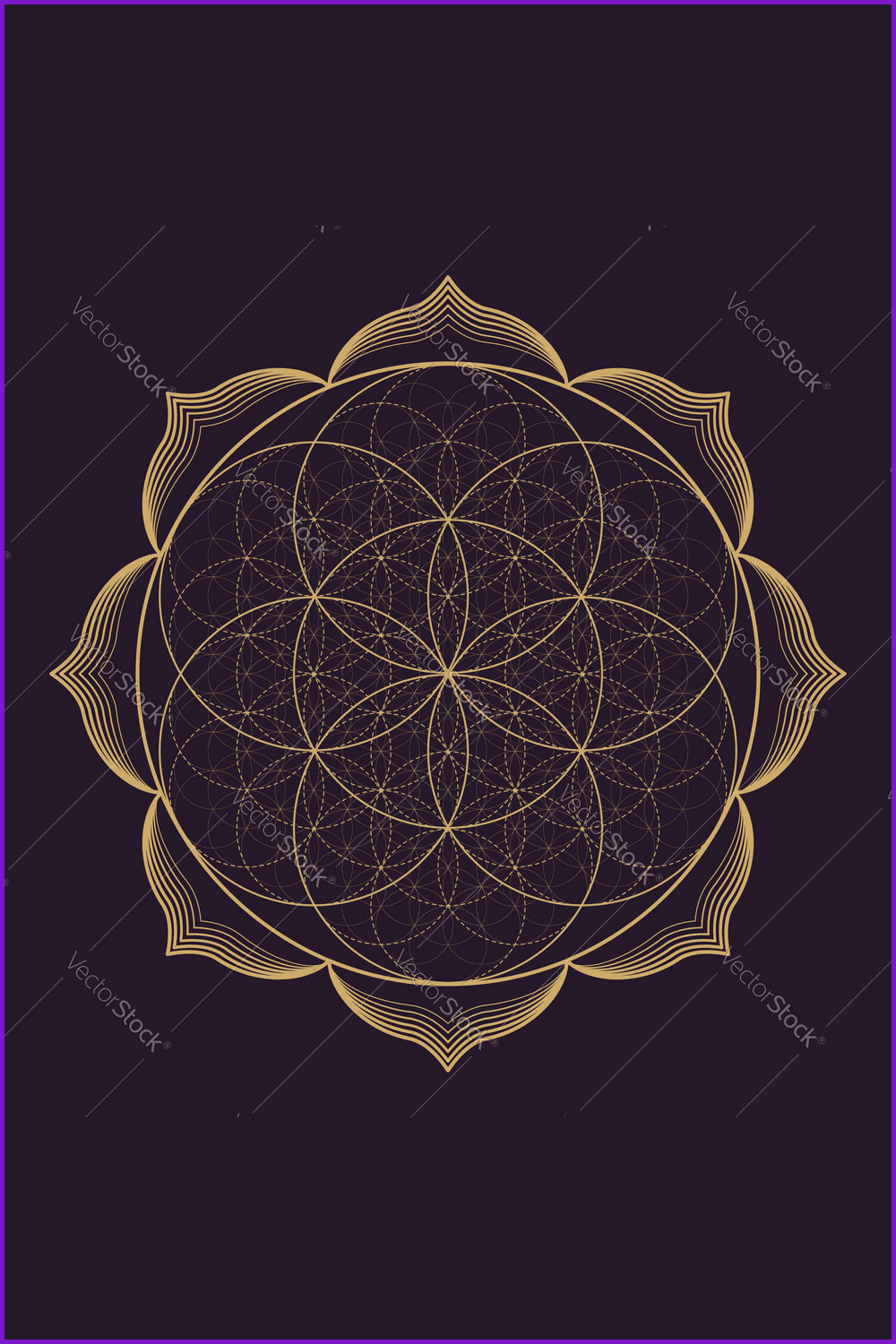 Another sophisticated flower on our list, so leave all your doubts behind and get it now.
Mandala SVG Files for Cricut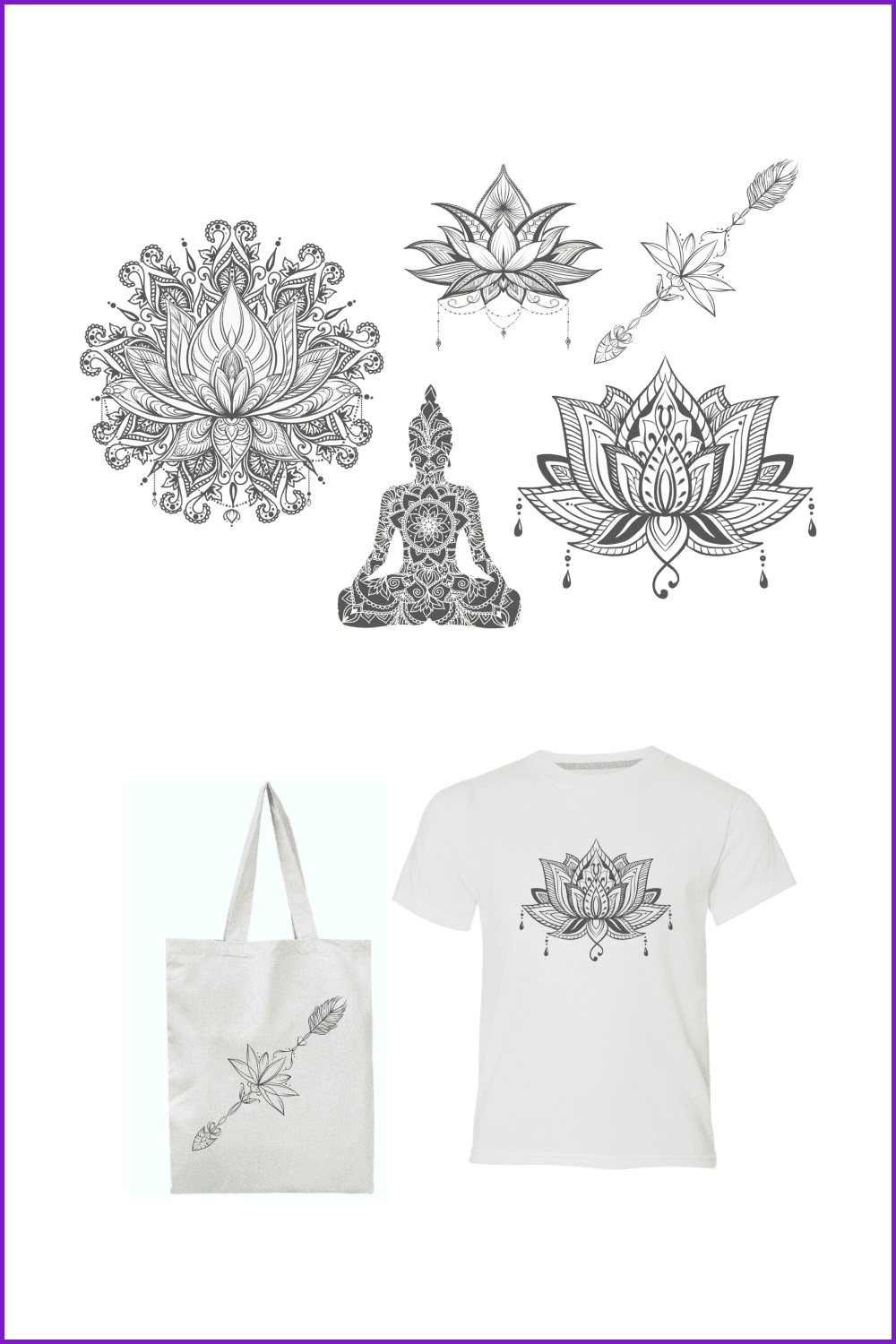 This is another great example of a floral mandala that is suitable for tattoo sketches.
Unlimited Pack, 340 Brushes, Flowers & Ornaments
This package contains ready-made sacred symbols, as well as various elements for creating a mandala.
Luxury Ornamental Mandala Design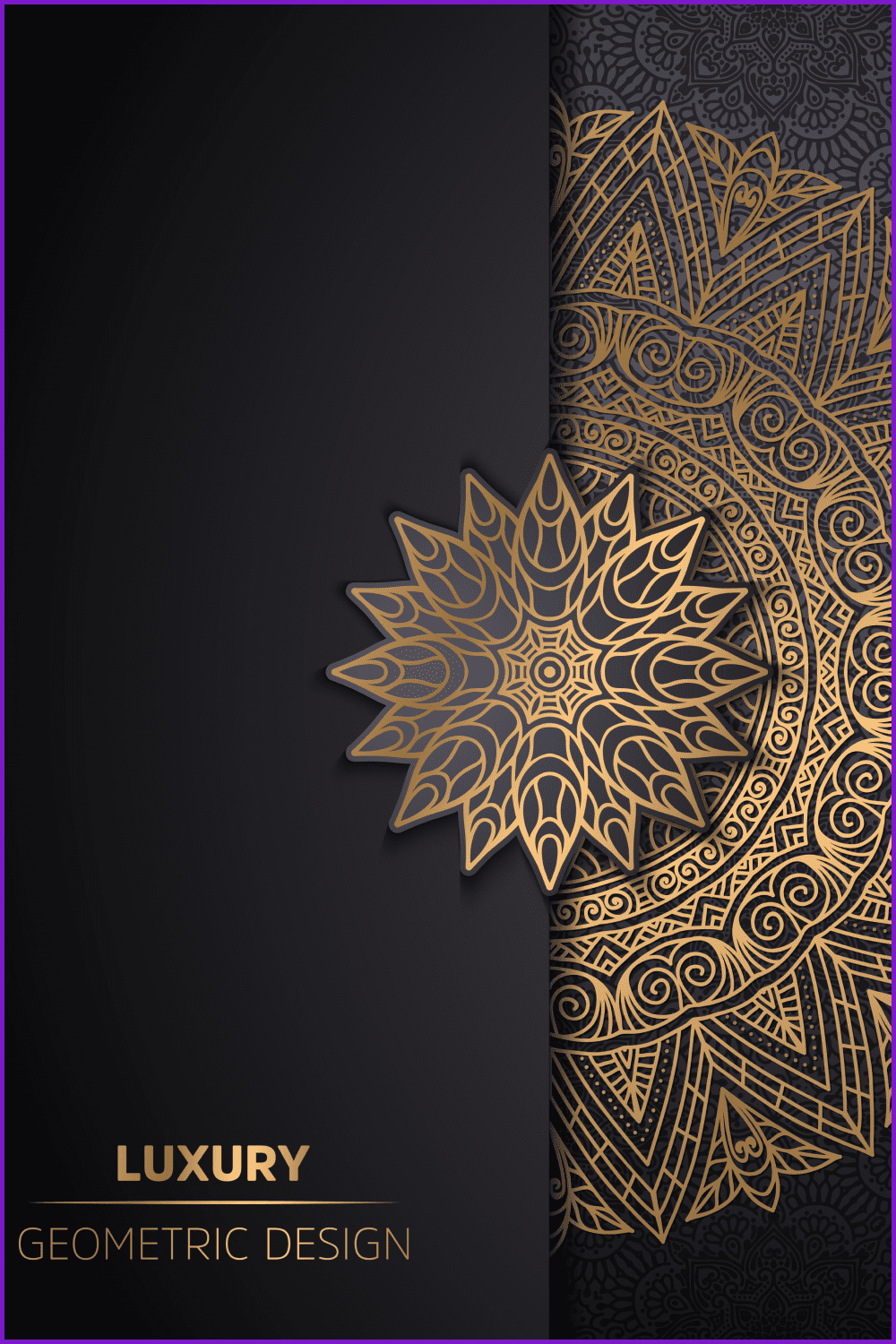 Here is another stunning mandala that will embellish any of your projects and may become part of a symbolic logo.
Mandala in Ethnic Style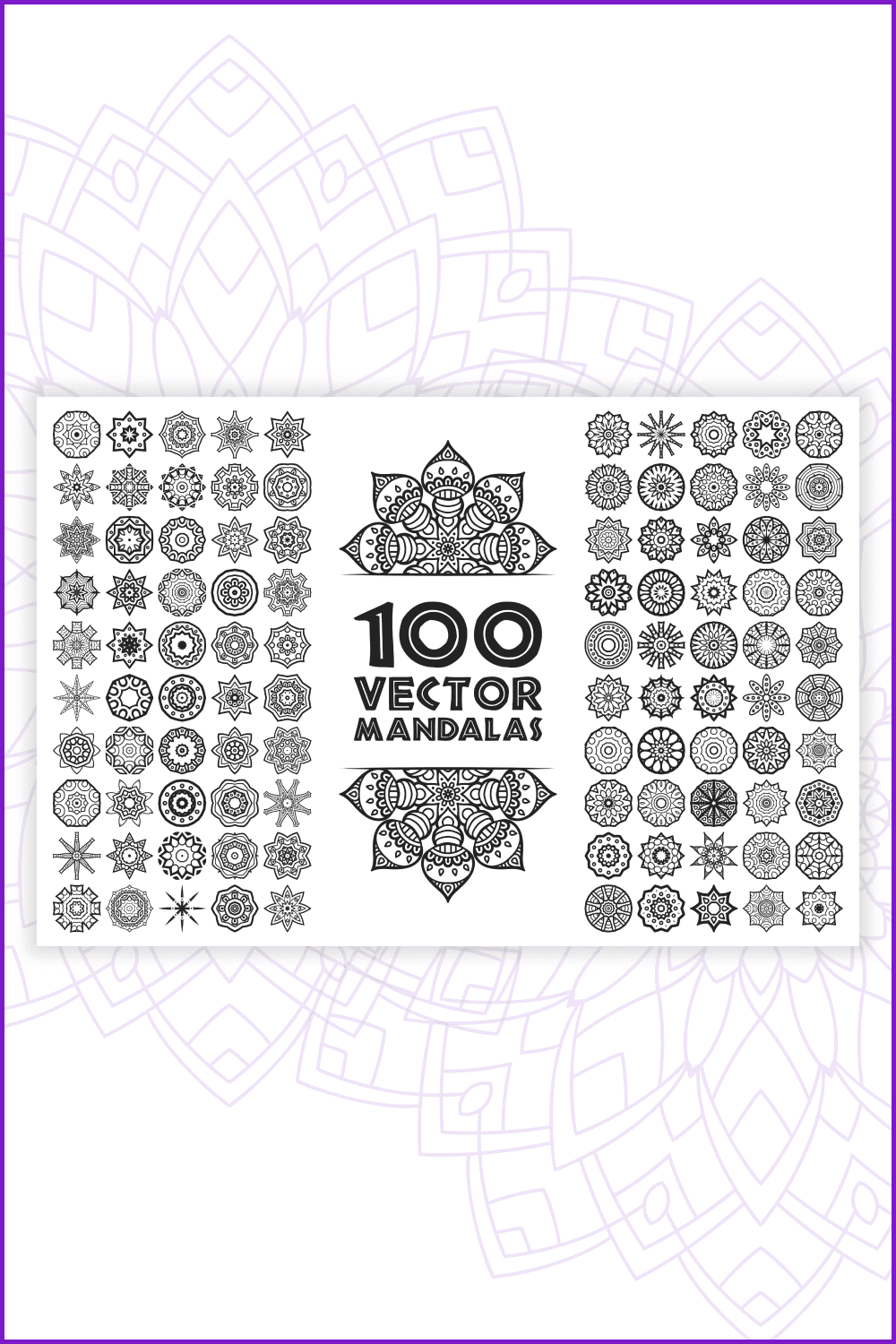 This set includes 100 pictures of mandalas that you can color, edit, and print.
MANDALA MONOGRAM 381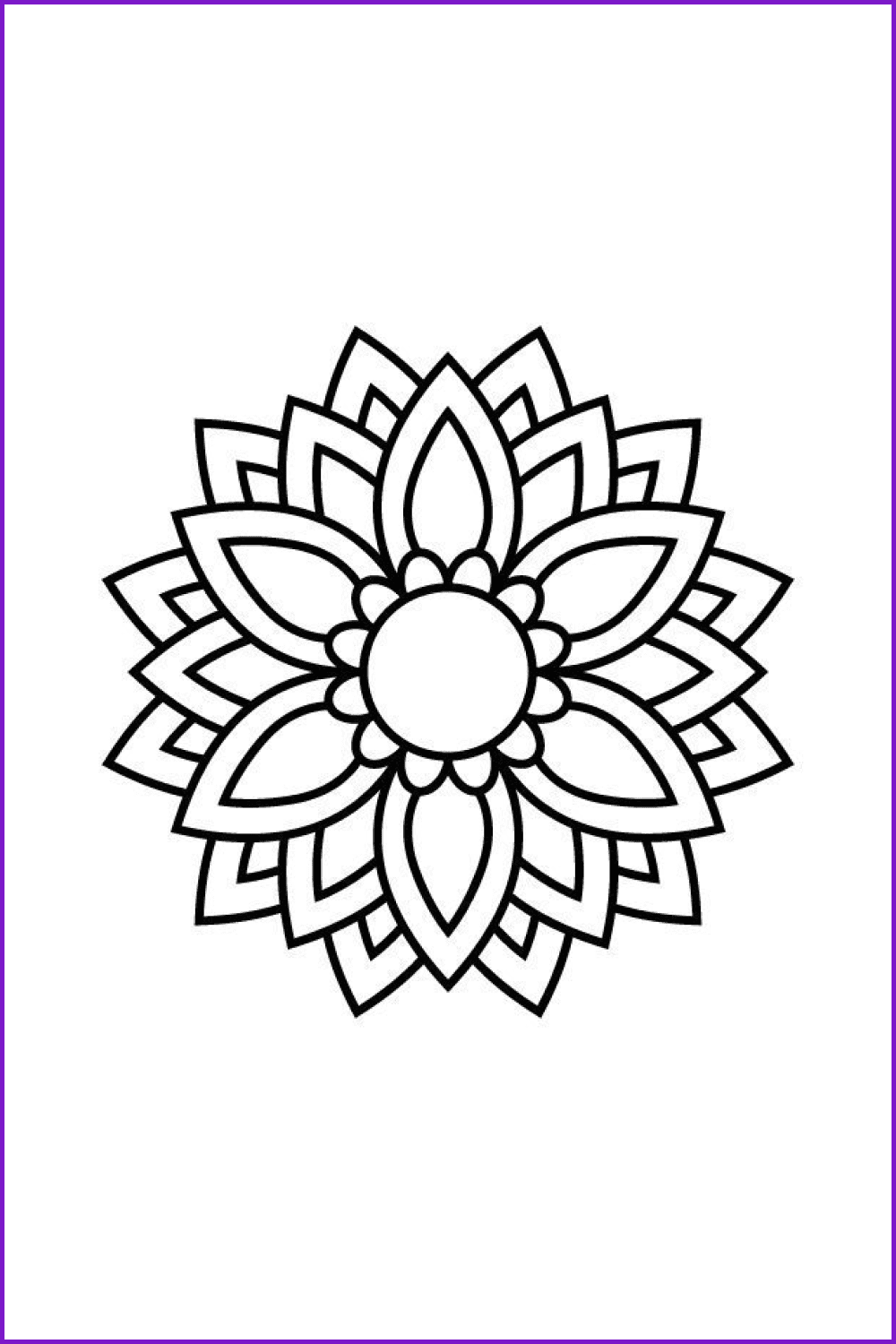 A lovely free mandala image for all occasions.
Mandala Monogram SVG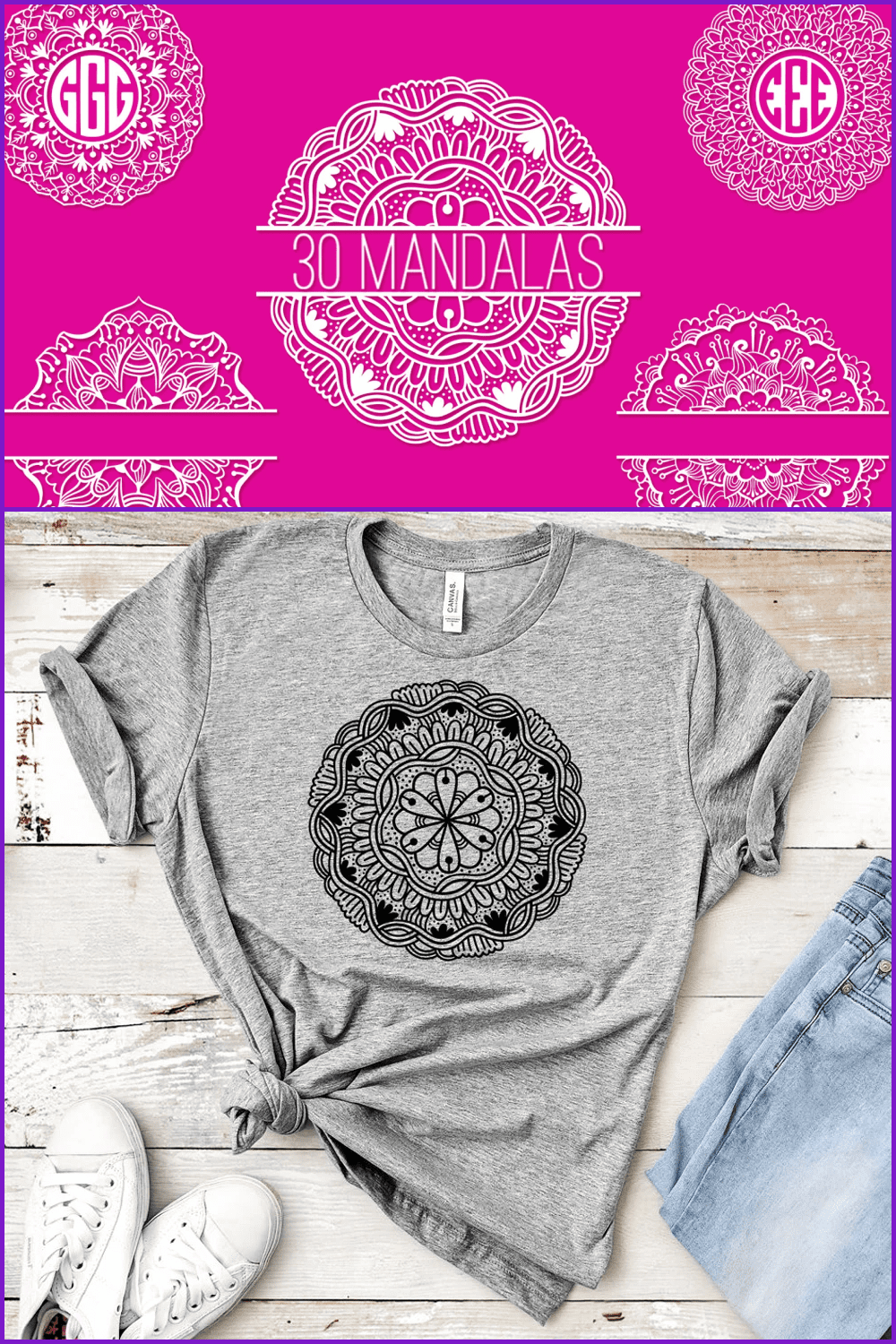 An elegant and affordable option that you will want to have a closer look at.
Mandala SVG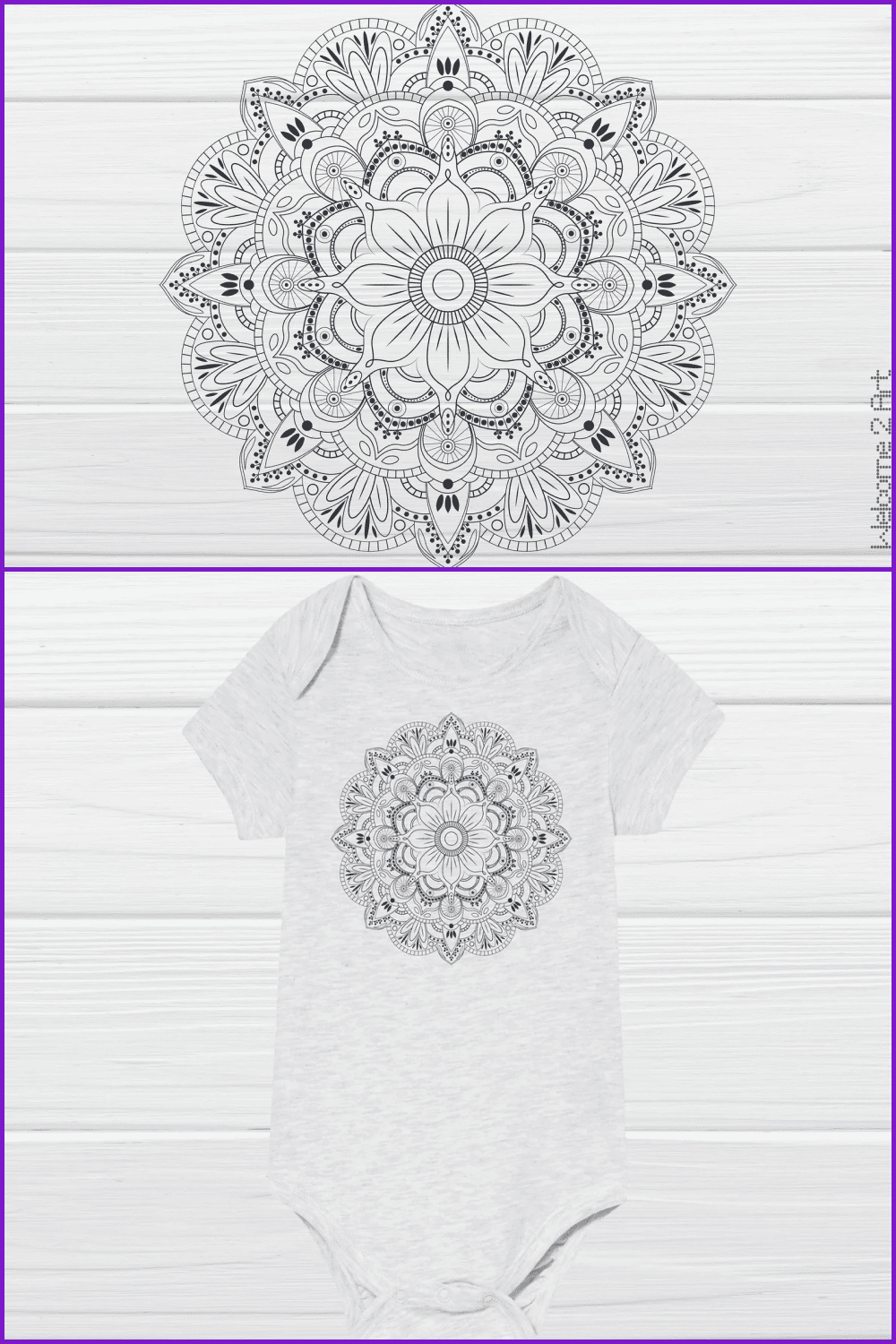 Elegant and minimalist easy mandala design for literally all occasions.
Mandala in SVG Format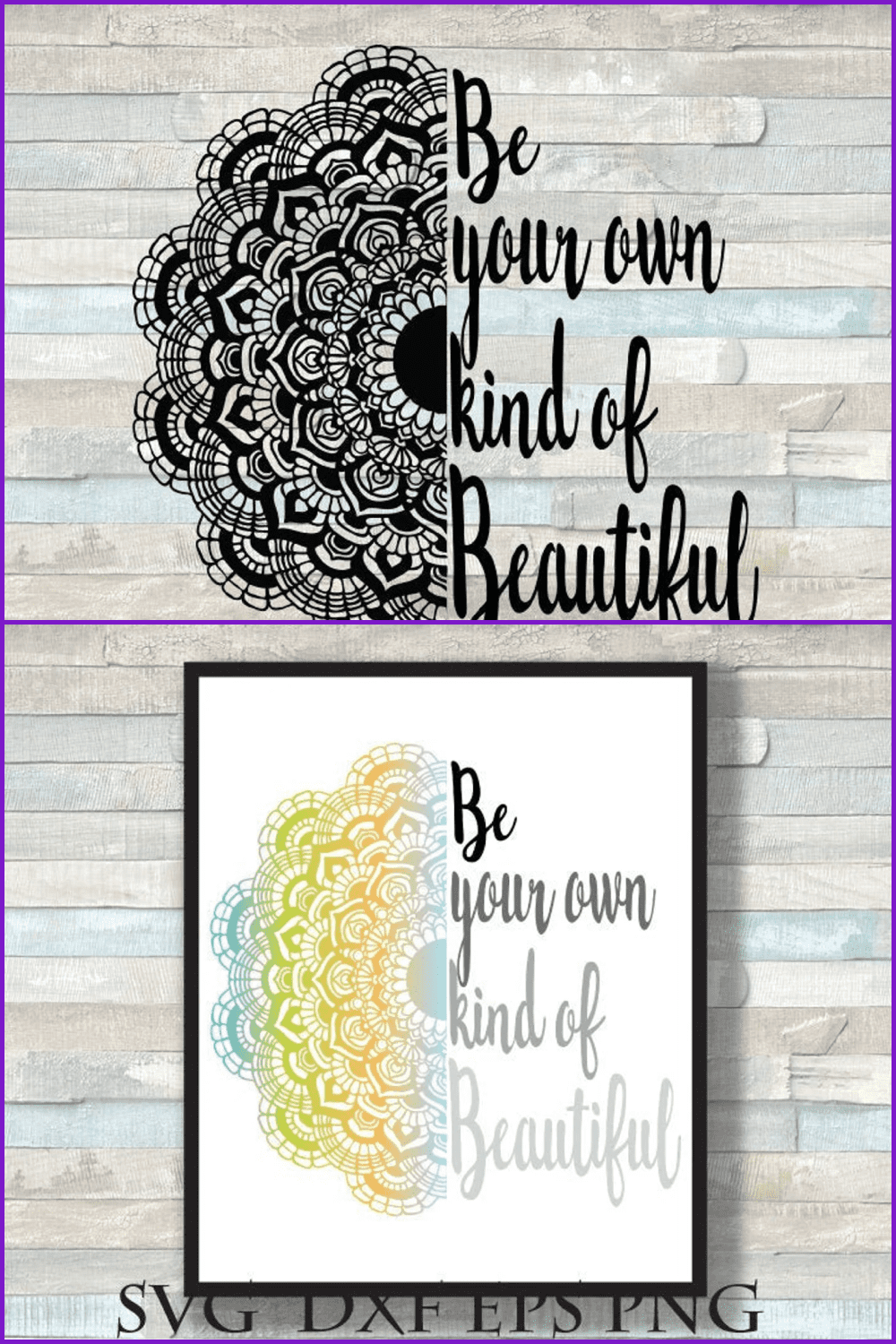 This one will fit pretty much any project.
Free Monogram Frame SVG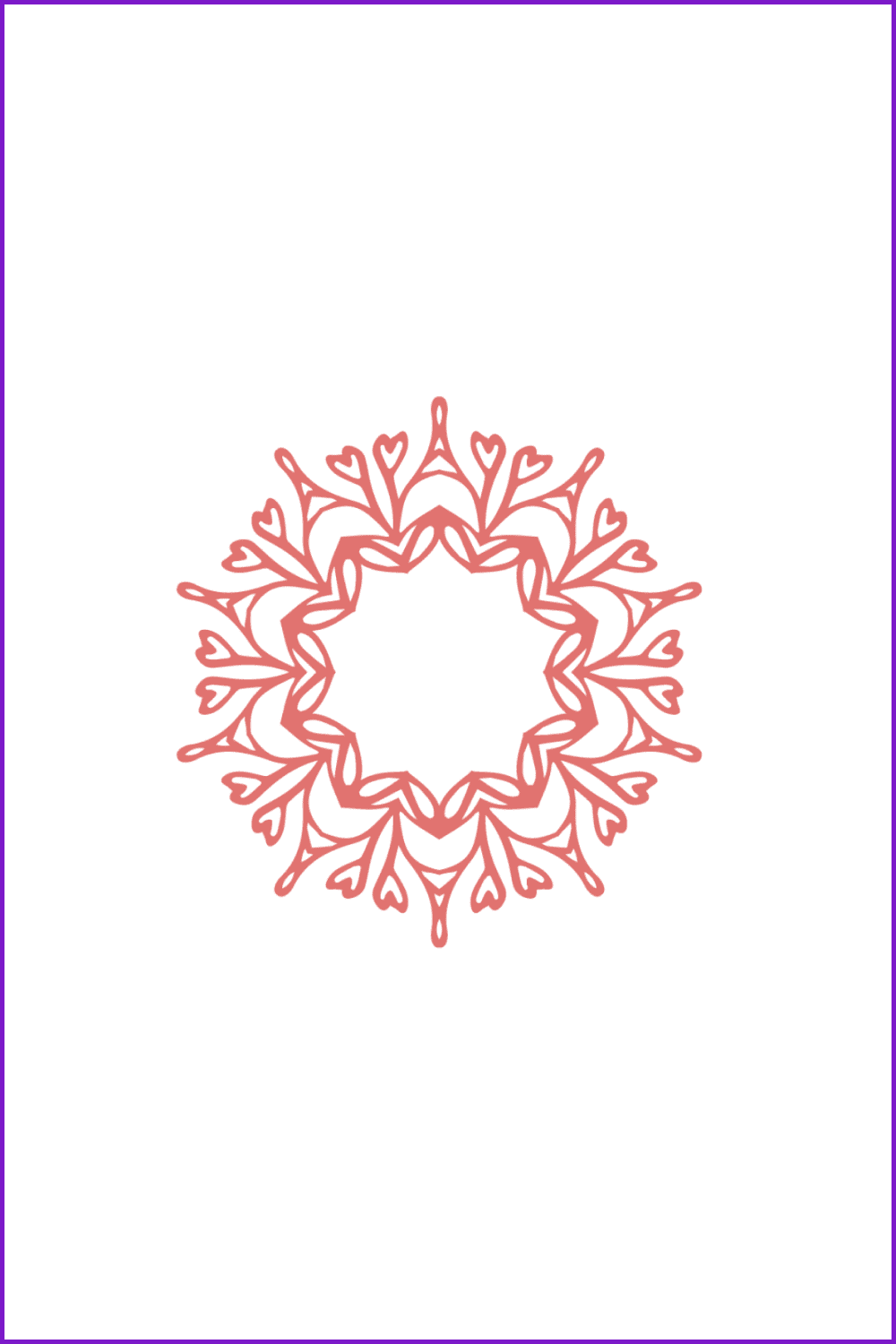 This is a completely free mandala monogram that is sure to catch your attention.
Monogram Mandala Frame Svg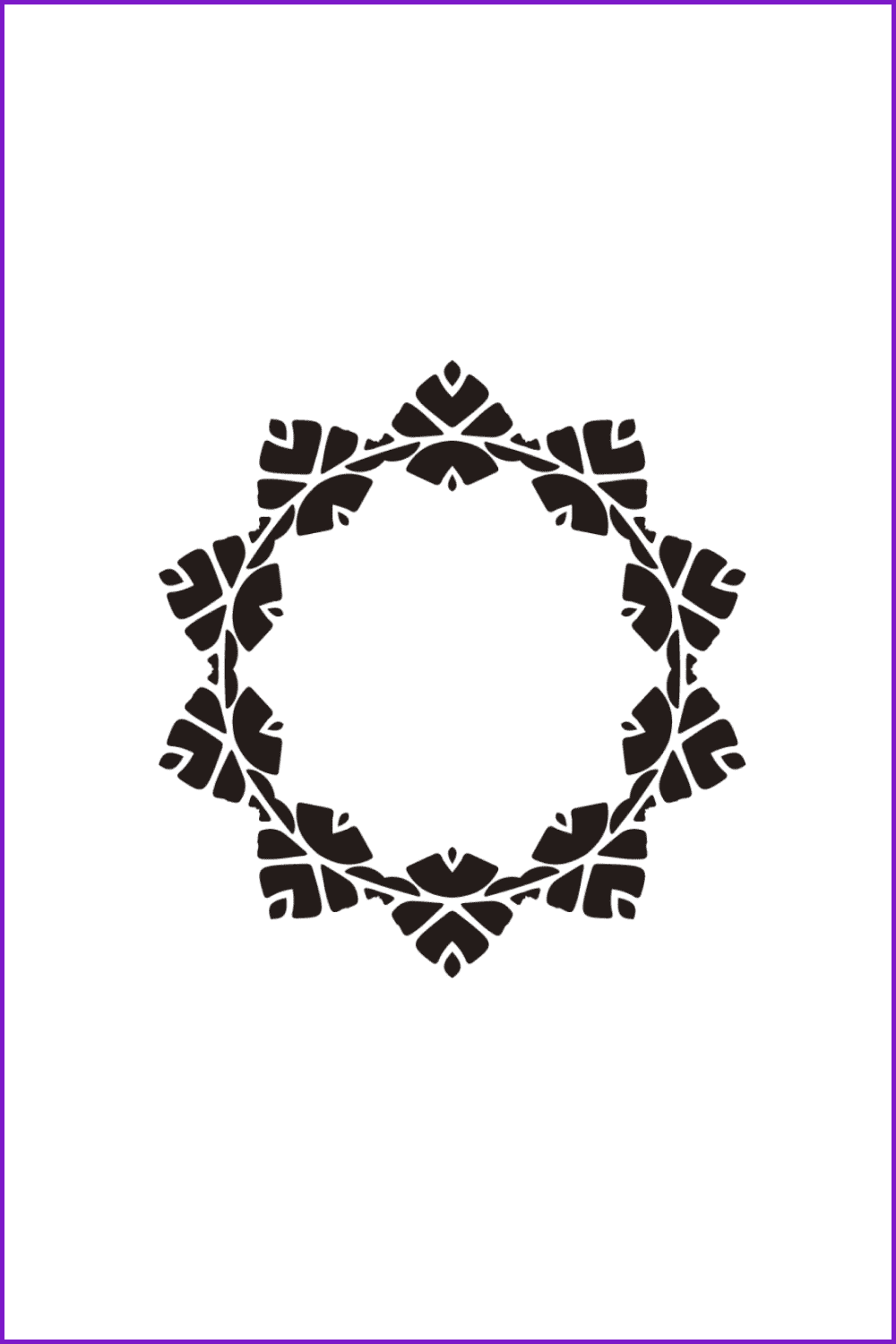 Here is a mandala style image that is easy to customize and completely ready to print.
Dinosaur Mandala Vector. Boho Style SVG
Do you want to diversify your collection of mandalas? Then you can paint these cute dinosaurs.
Black and White Mandala SVG Pattern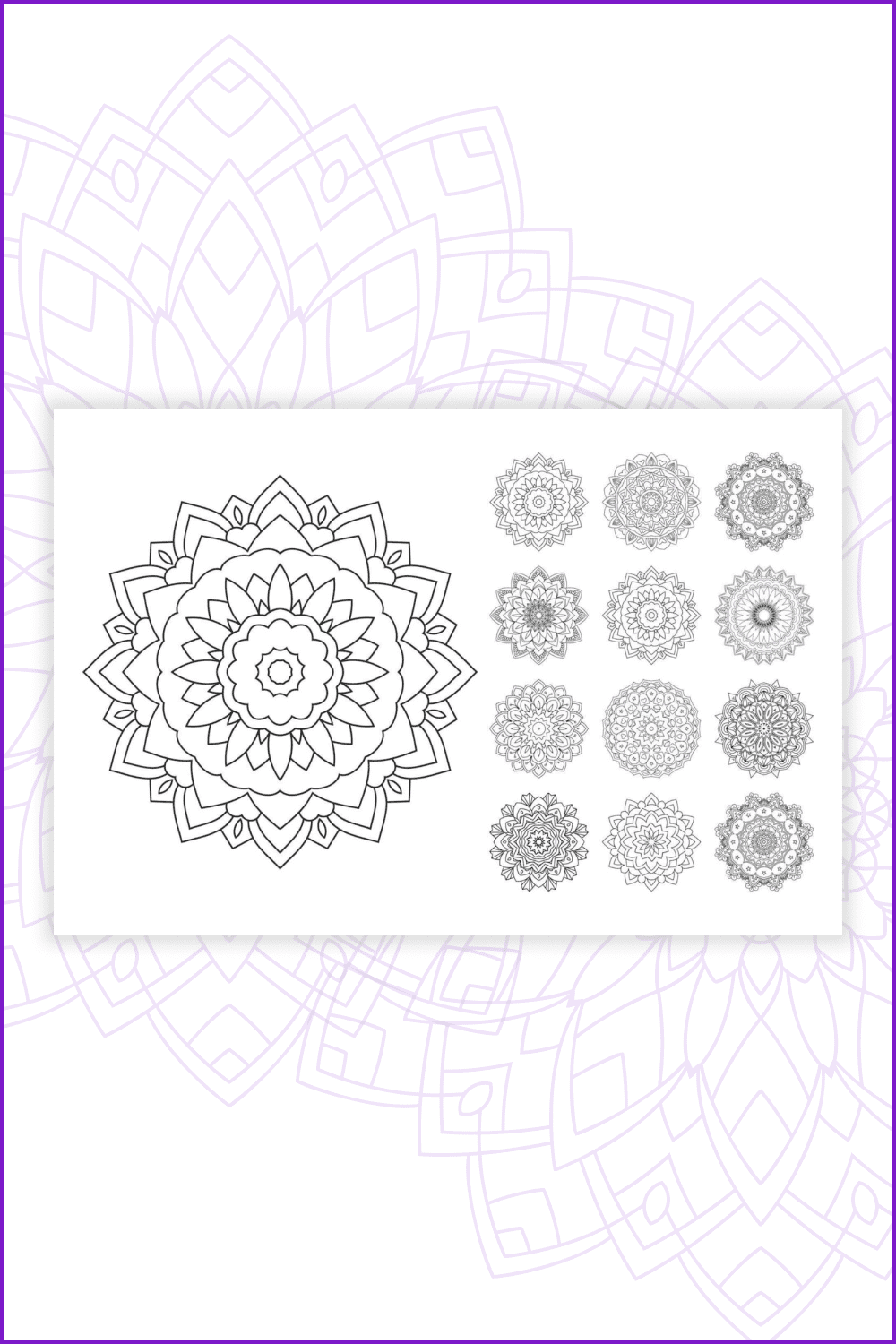 These gentle floral mandala patterns are great for creative works.
Dog Mandala SVG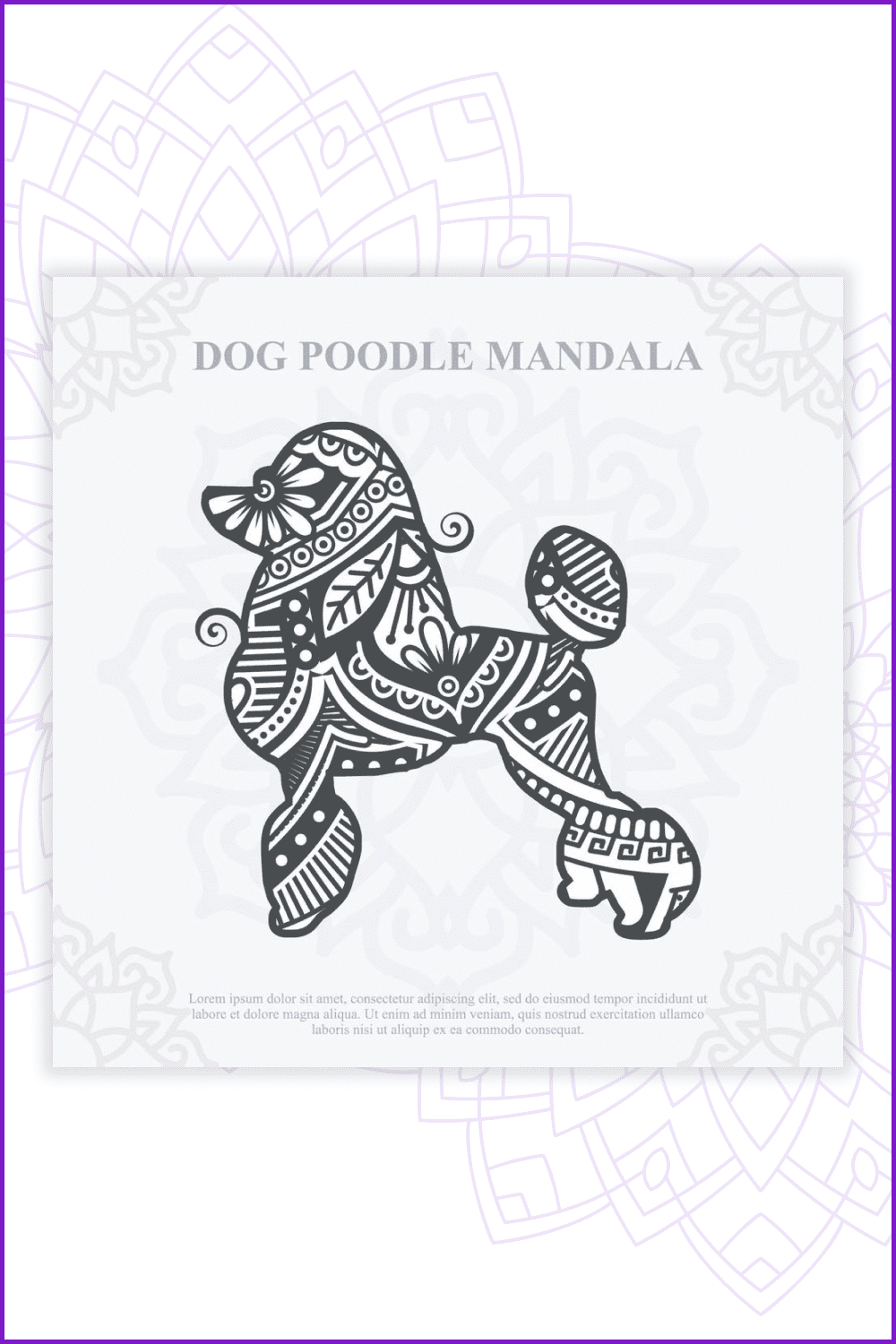 Enjoy this mandala art image which is great for drawing and familiarizing with the boho style.
Mandala & Animals Golden Bundle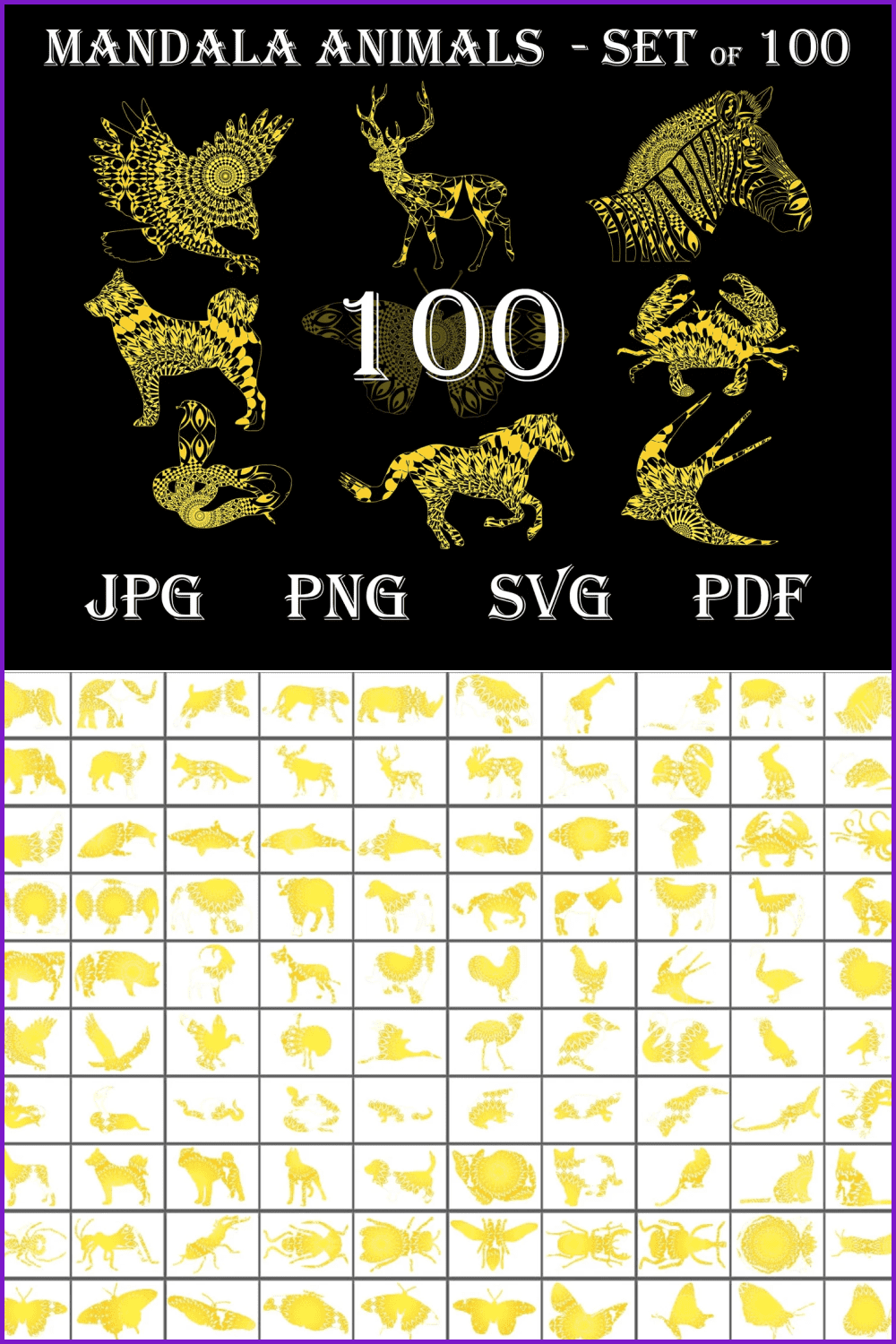 Mandalas are not only made in flowers and geometric shapes. You can also get excited about coloring different animal shapes.
Mandala Video Tutorials
The easiest way to implement mandala design ideas is to follow professional instructions. As practice shows, it is easier to draw by repeating the steps in the video. First, you know what the result will be. Secondly, you don't have to worry that the process will go wrong and you will have to redo it. Third, to draw mandala design patterns from ready-made videos is the best solution when you are new to software and don't know what tools to apply. And the final argument is that it is a good way to learn how to make your own designs.
How to Draw Mandala Step by Step
Try following the instructions in these videos to create your first beautiful mandala images. They are professional and intense. You can print them out and color them afterwards. Also, the tutorials are short, so you won't need a lot of time to work on them:
How to Draw a Mandala Zentangle
Zentangle is a technique for drawing repeating patterns that are then composed into an abstract image. Creating mandala coloring pages with this method is easy, especially if you use ready-made tutorials. The zentangle technique has very simple rules, and the following videos will definitely help you develop beginner simple mandala designs in a short period of time. Plus, we suggest you create this art inspiration by hand:
How to Draw Mandala Art
The mandala art is very delicate. Each element has a specific function and carries a lot of power. To find harmony and create truly original mandala designs resort to the following tutorials:
TOP 10 Mandala Elephant Vector Illustrations 2023
In case you feel like you need something more than just a flower design, then you are definitely going to be interested in these fabulous mandala elephants.
Elephant Head Colored Vector Image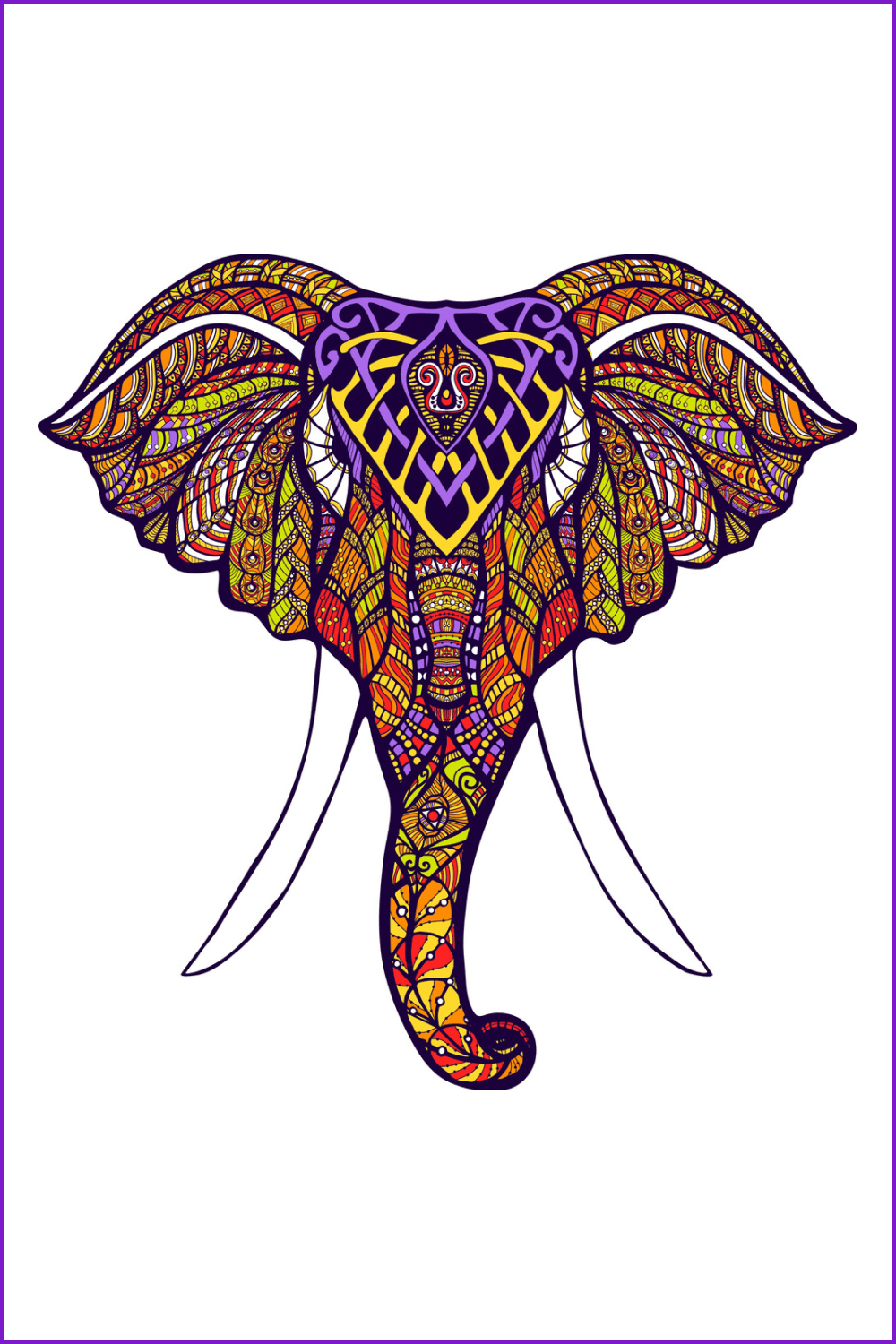 A colorful and hypnotizing mandala image for those of you who want to add some bright colors to their projects.
Color Decorated Indian Elephant Vector Image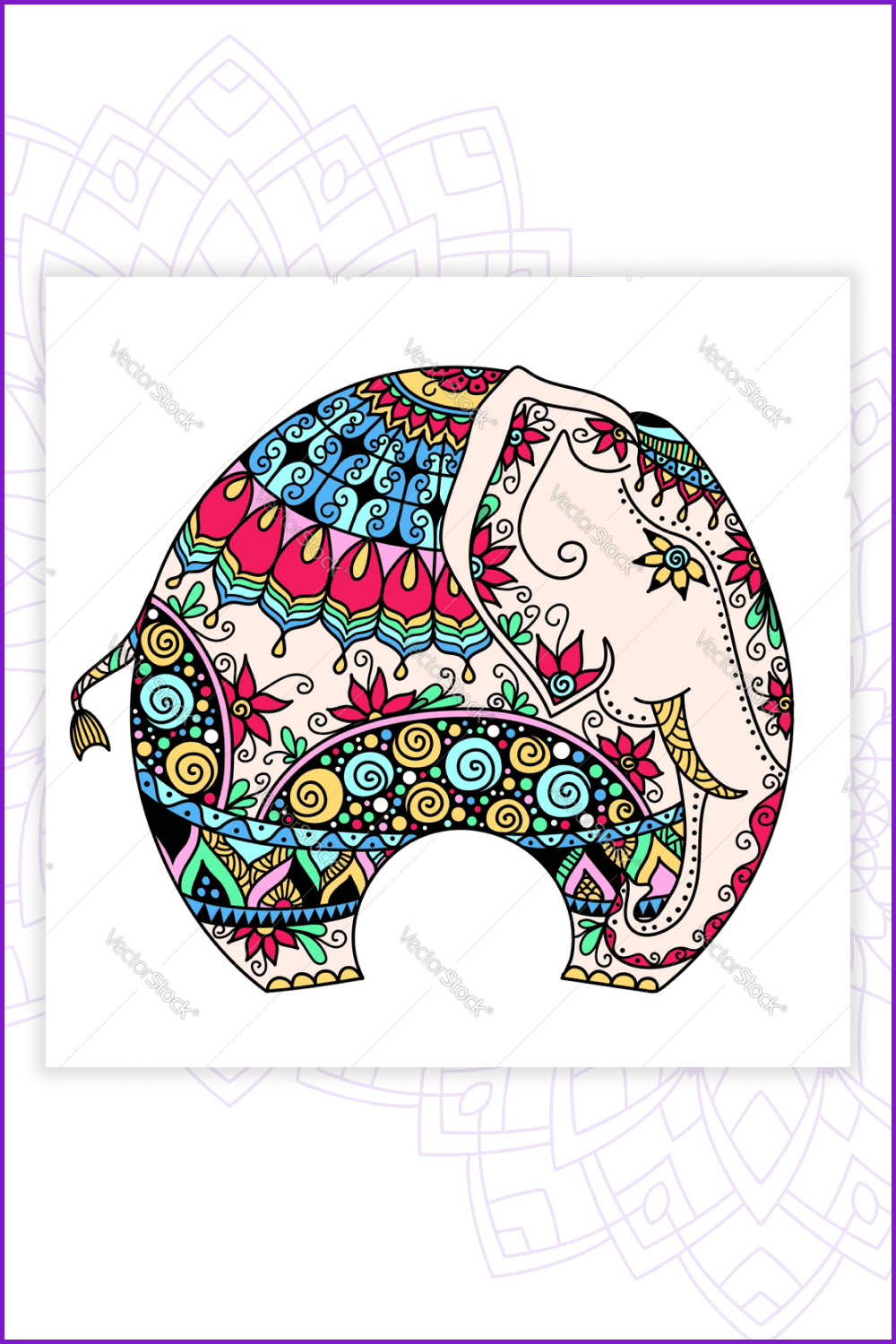 A little bit more playful option that will bring some fun vibes to your projects.
Dancing Ganesha Icon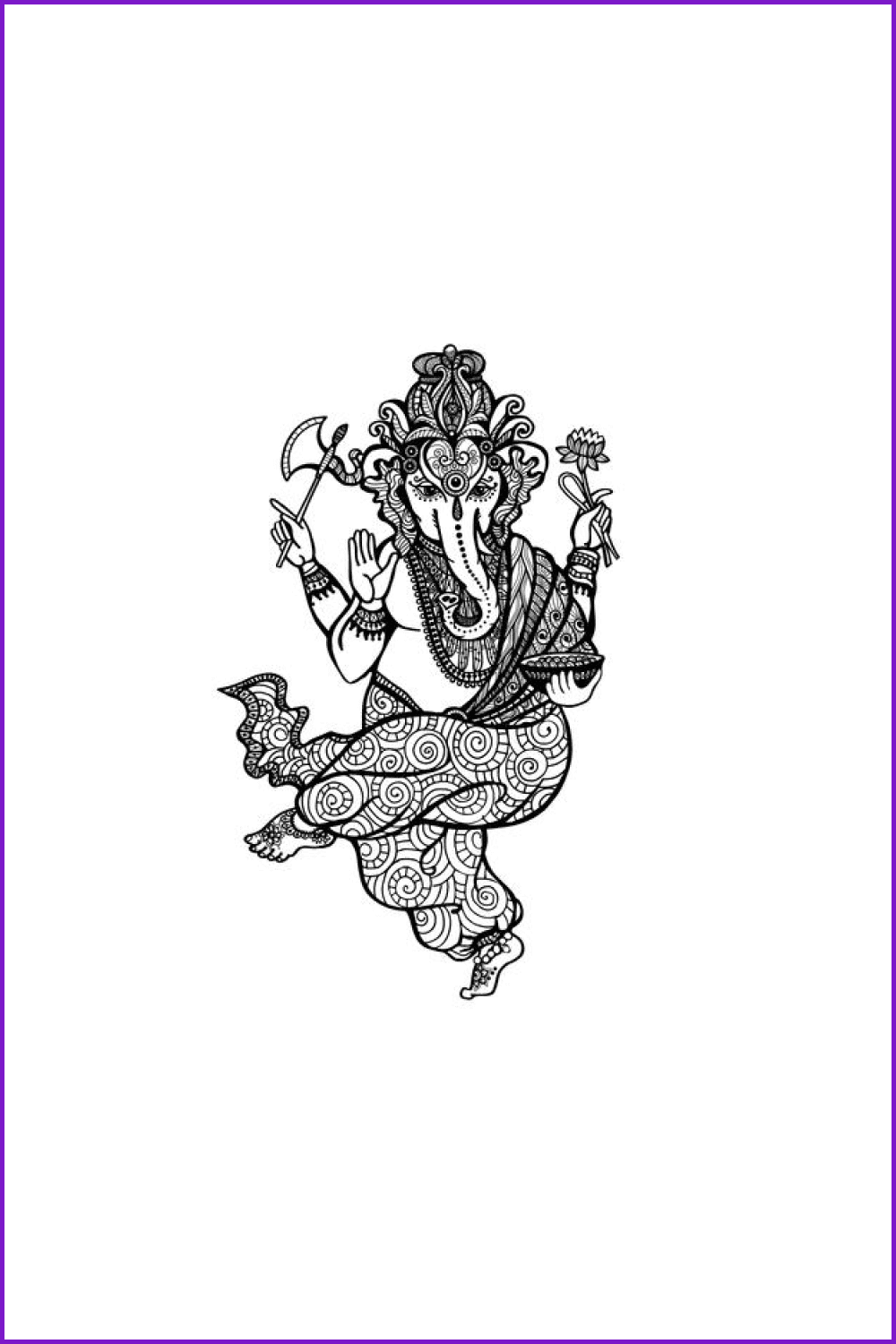 This one is a more traditional mandala design that will add some ethnic vibes to your design.
Ganesha With Ornate Mandala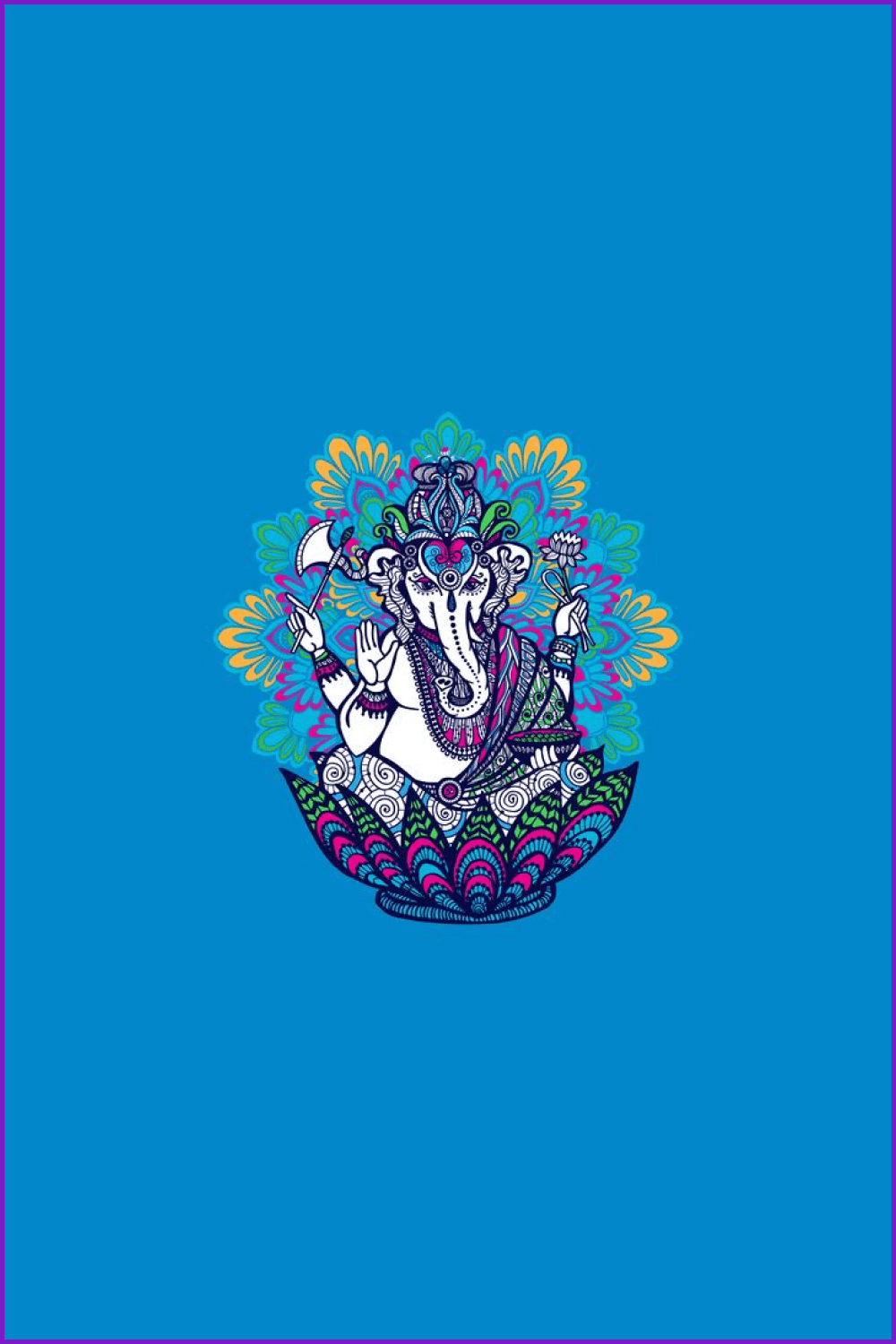 One more traditional variant for your eye-catching designs.
Elephant Mandala SVG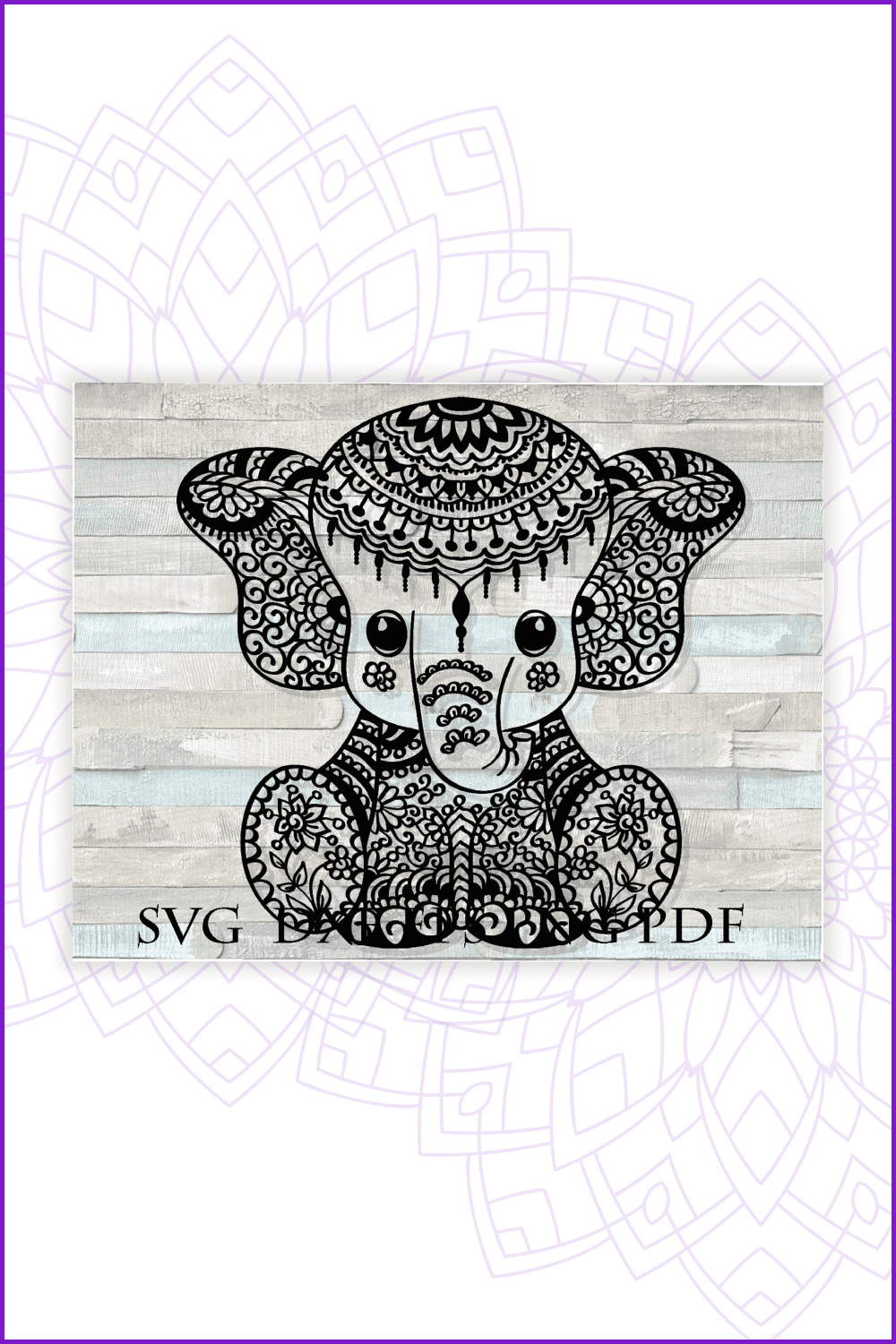 A cute baby elephant that will simply melt your heart.
Golden Foil Mandala Ornament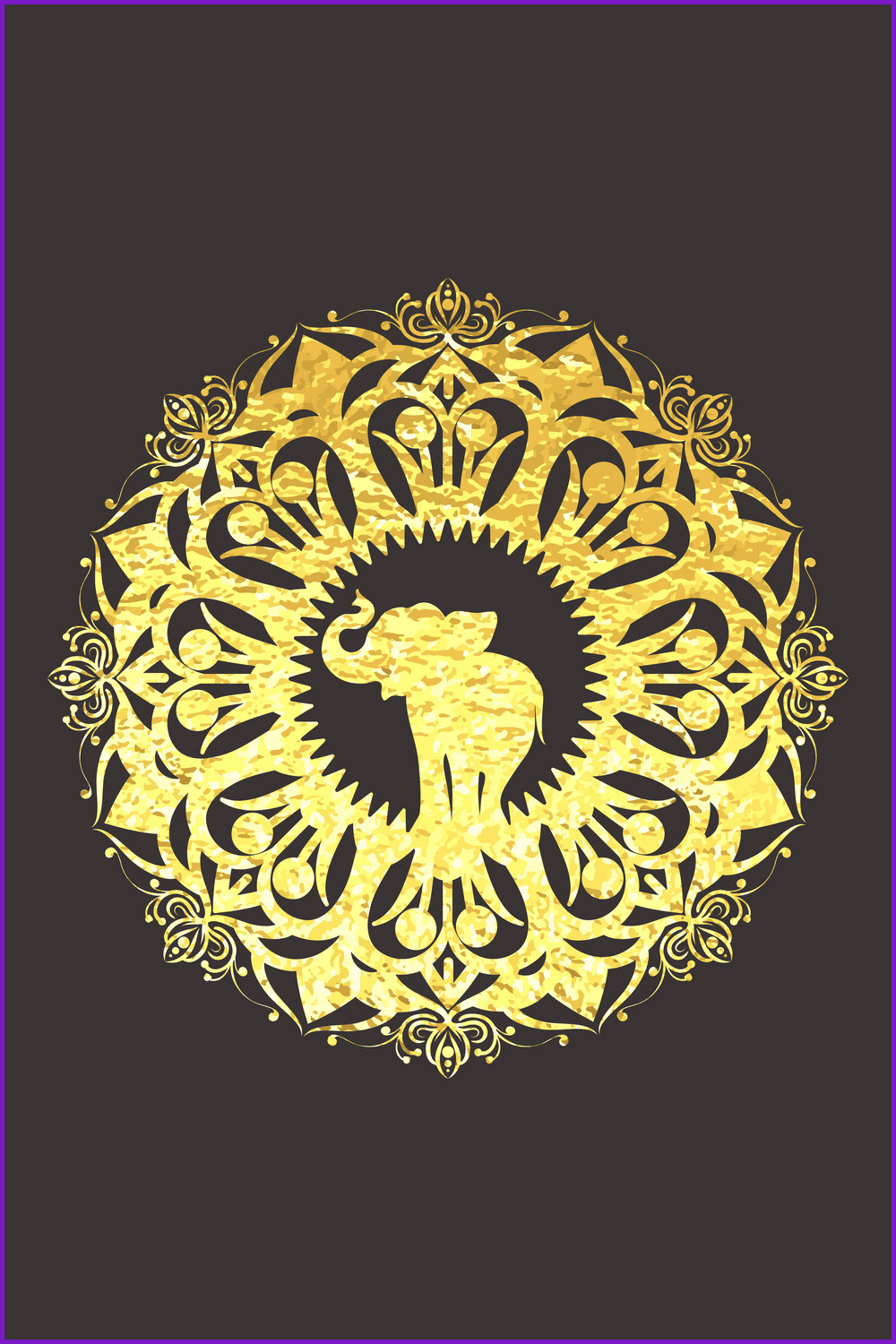 This design differs in the unusual combination of the standard mandala and the elephant inside the sacred symbol. The product is perfect for a logo.
Boho Elephant Pattern Floral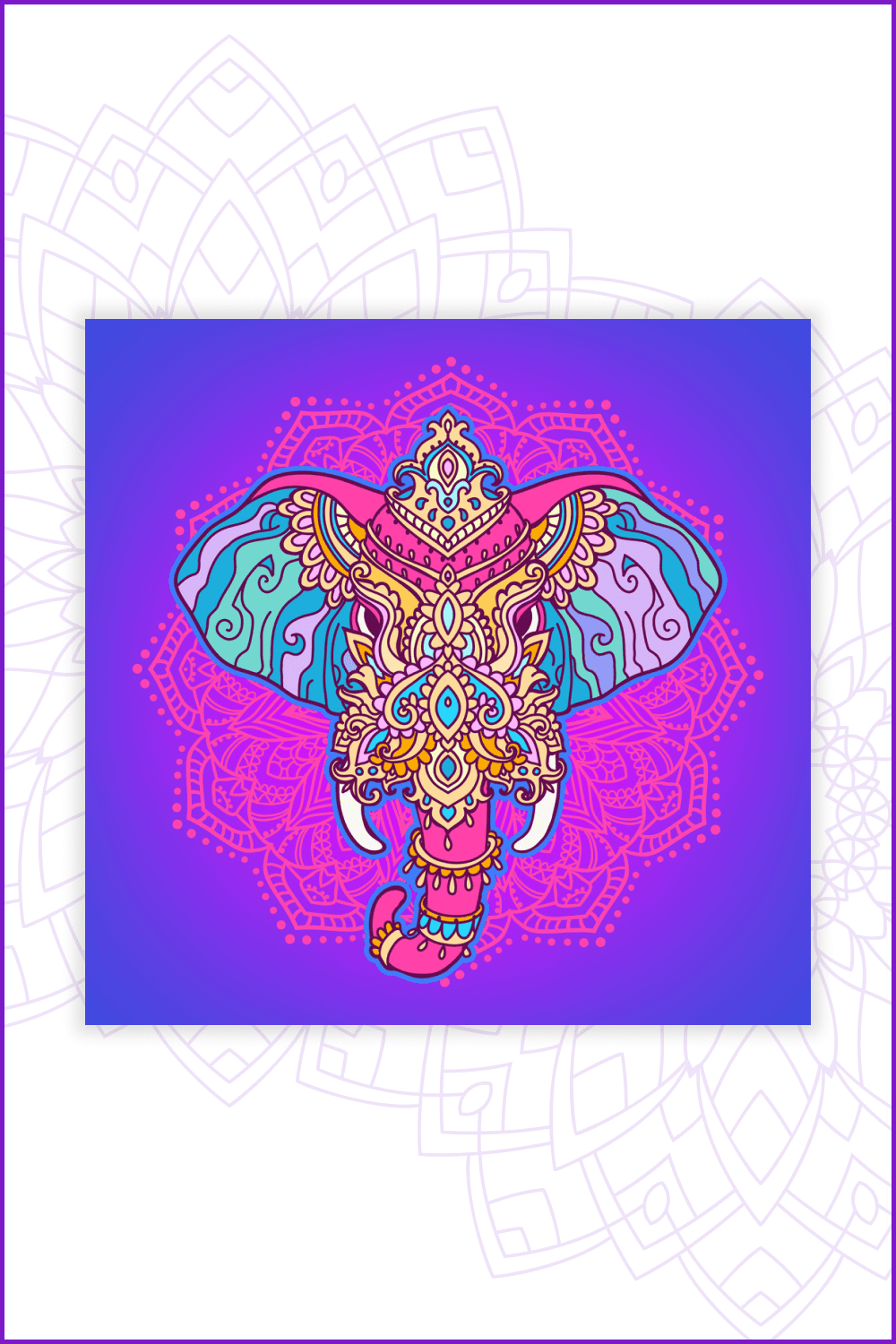 Enjoy this eye-catching and stylish mandala for prints and artwork.
Animal Mandala Bundle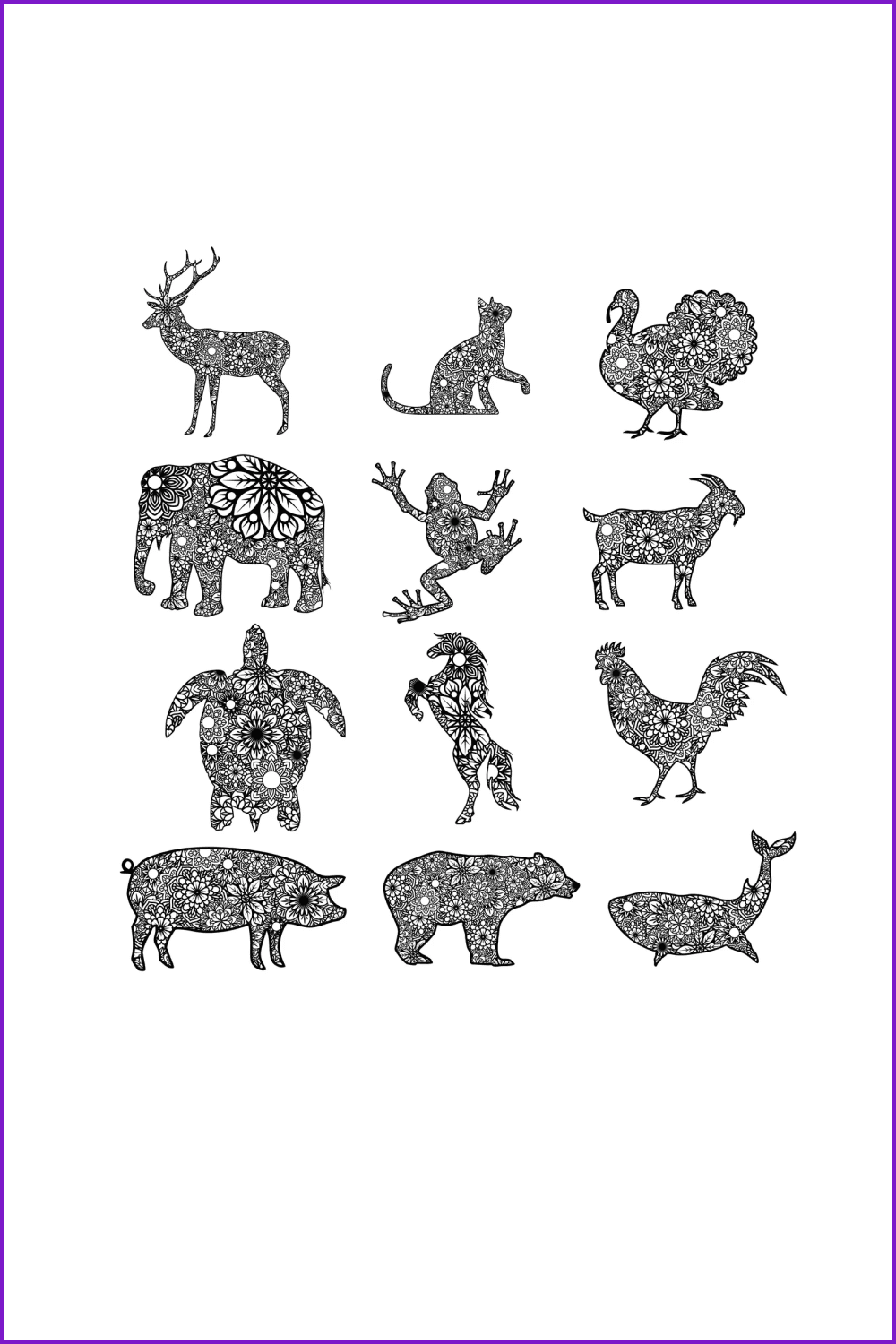 Here is a whole collection of animal mandala patterns. It is available in SVG, EPS, or PNG formats.
Mandala Elephant SVG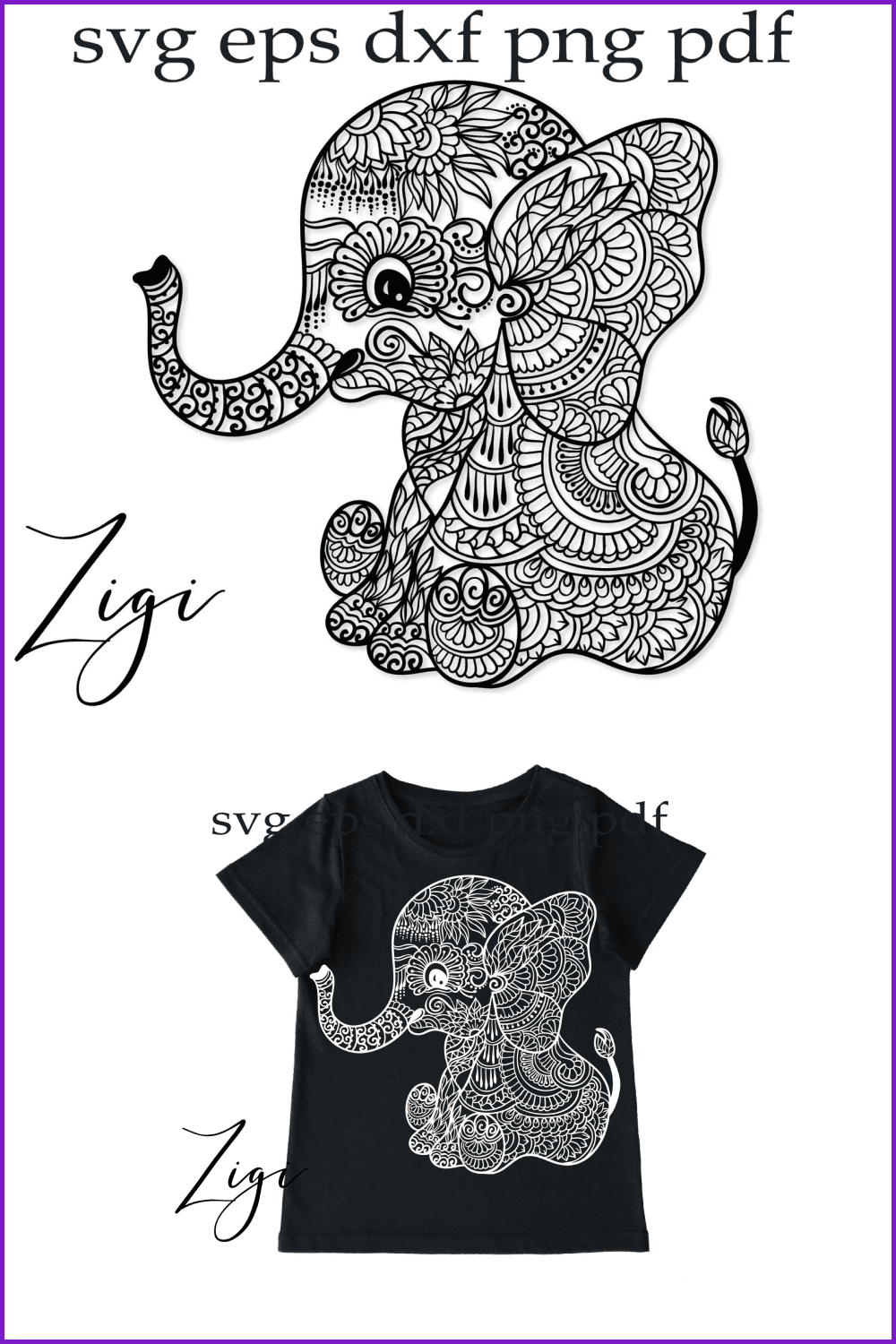 You can use this mandala in the form of a cute elephant for sketching and relaxing. The product will also be good for different projects related to spiritual development.
Mandala Elephant Coloring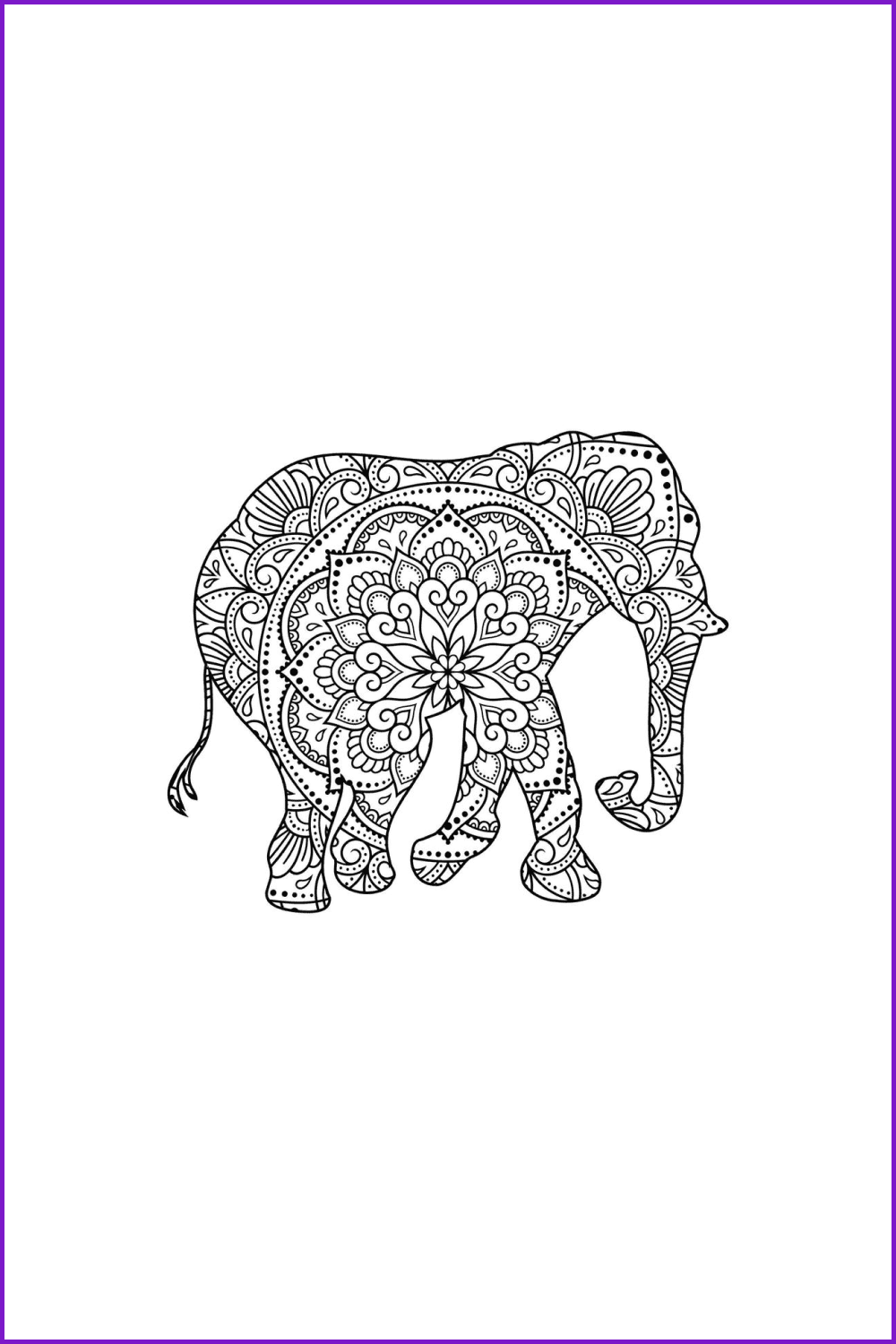 You can color this mandala illustration online, or print it out and enjoy coloring every detail.
Coloring Flower Mandala Postcards and Books
Coloring mandala designs help to look inside yourself and your feelings, to understand yourself, to be able to focus on something truly important and not to miss the details. Mandalas help to understand and realize the most essential things. The ultramodern activity of coloring all kinds of mandalas is not just a tribute to the symbols of Buddhist mythology, but a tool for the development of thinking for children and relaxation for adults.
It is desirable to get mandala designs colored in 4 colors: red, yellow, green, and blue. Of course, you can use other colors if you wish. By default, the picture is black and white, and any part of it can be left unpainted.
According to ancient legends, any man who starts coloring the mandala goes on a journey. By default, mandala drawing is considered perfect and therefore does not require any sort of corrections. You need to dive into the picture, paint the parts that you want, in any order or disorder, completely or partially.
Adults and children collect the full albums of colored mandala designs in the form of a postcard or a coloring book.
As an example, pay attention to a beautiful Mandala Coloring Book which is available at the discounted price now. You can easily download this book and get 12 EPS10 outline mandalas, 12 EPS10 colored mandalas, and 12 EPS10 quote pages. From easy mandala designs to more complicated ones – absolutely different mandala patterns are included in the package. It is still a great solution if you are looking for easy mandala designs to draw. The web is full of various tutorials and guides on how to draw mandala designs.
A mandala coloring book is a tool for the work on your inner world when only the process itself is important. There is no need to set any expectations; it is better to enjoy the process, and you will find much more than what you expect.
Mandala Design Trend — Where To Use
Mandalas are interpreted as a representation of space and the universe. That is why people decide for themselves how to use these mandala art designs. Some people paint it and calm down, others put deep meaning in the mandala, which not everyone can understand.
Nowadays, designers could not but react to the increasing popularity of mandala seeds. You can come across a large number of sophisticated mandala designs everywhere. Sometimes people don't even notice that they are surrounded by these sacred elements. Here are the main ways to use the mandala:
Tattoos
The mandala is a kind of energy concentrator. If such a magnet for positive energy is placed on your body, even in the form of a temporal tattoo, it is believed that it will begin to bring a person good luck, success, and prosperity. However, according to the saying, you should feel what exactly is your mandala.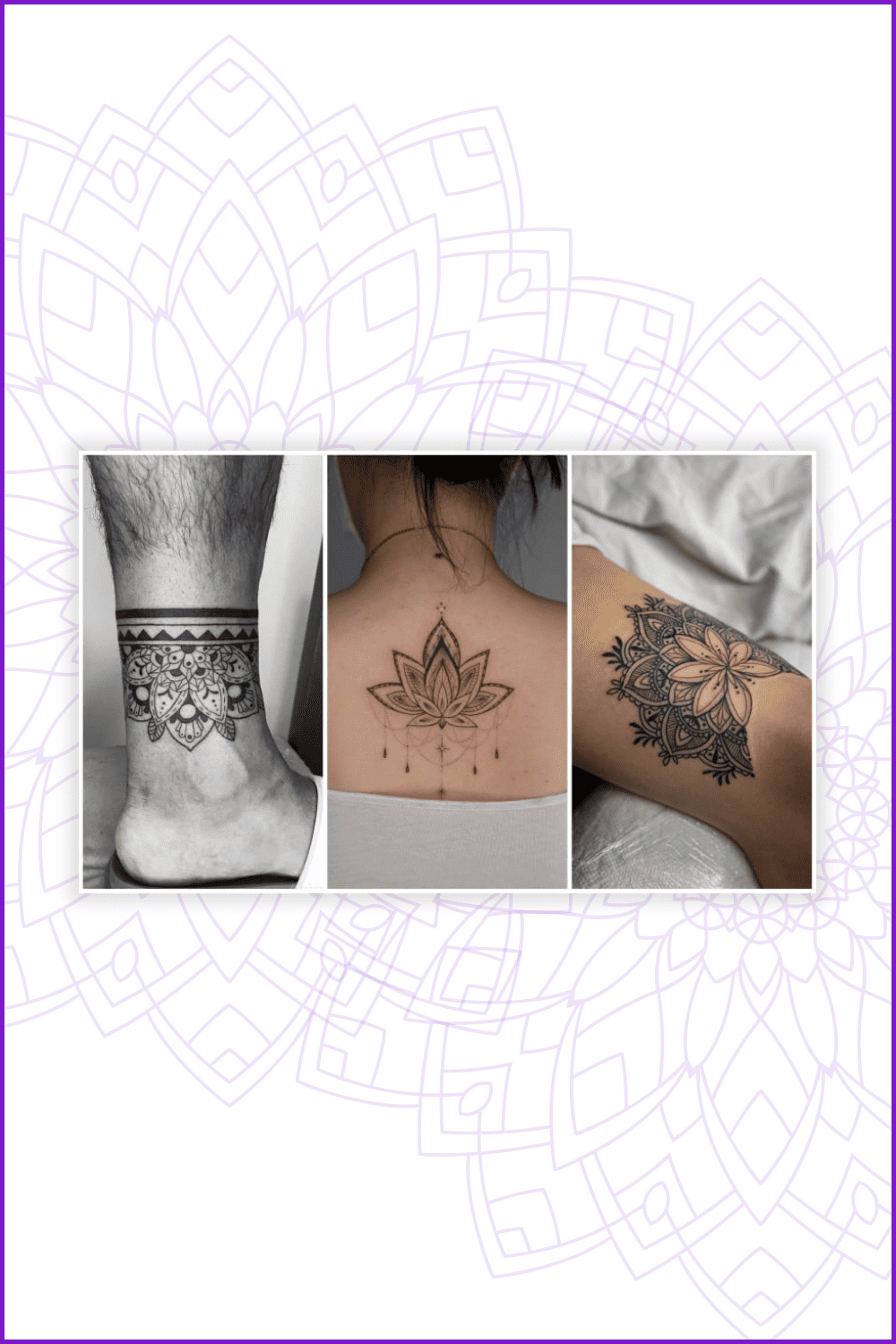 Harmonization of self and space
You can learn to weave a mandala of thread on your own. With this technique, the threads will begin to form unique patterns of squares and circles, thereby charging the space. Such a handmade mandala will let the energy of the space pass through, harmonize, and align it. It will help you find peace of mind. Your thoughts will come in order, your mood will be better, and short-term problems will seem to be not so serious.
Anti-stress
In a drawing created by someone, it is possible to understand their feelings and the degree of their anxiety. And if you manage to get carried away with the process of creating mandalas, the resulting benefit will be more than noticeable. But if you approach drawing mandalas through coloring as "anti-stress," where you need to add color to an already created drawing in black and white, then you will notice how thoughts are aligned. That's when the healing happens.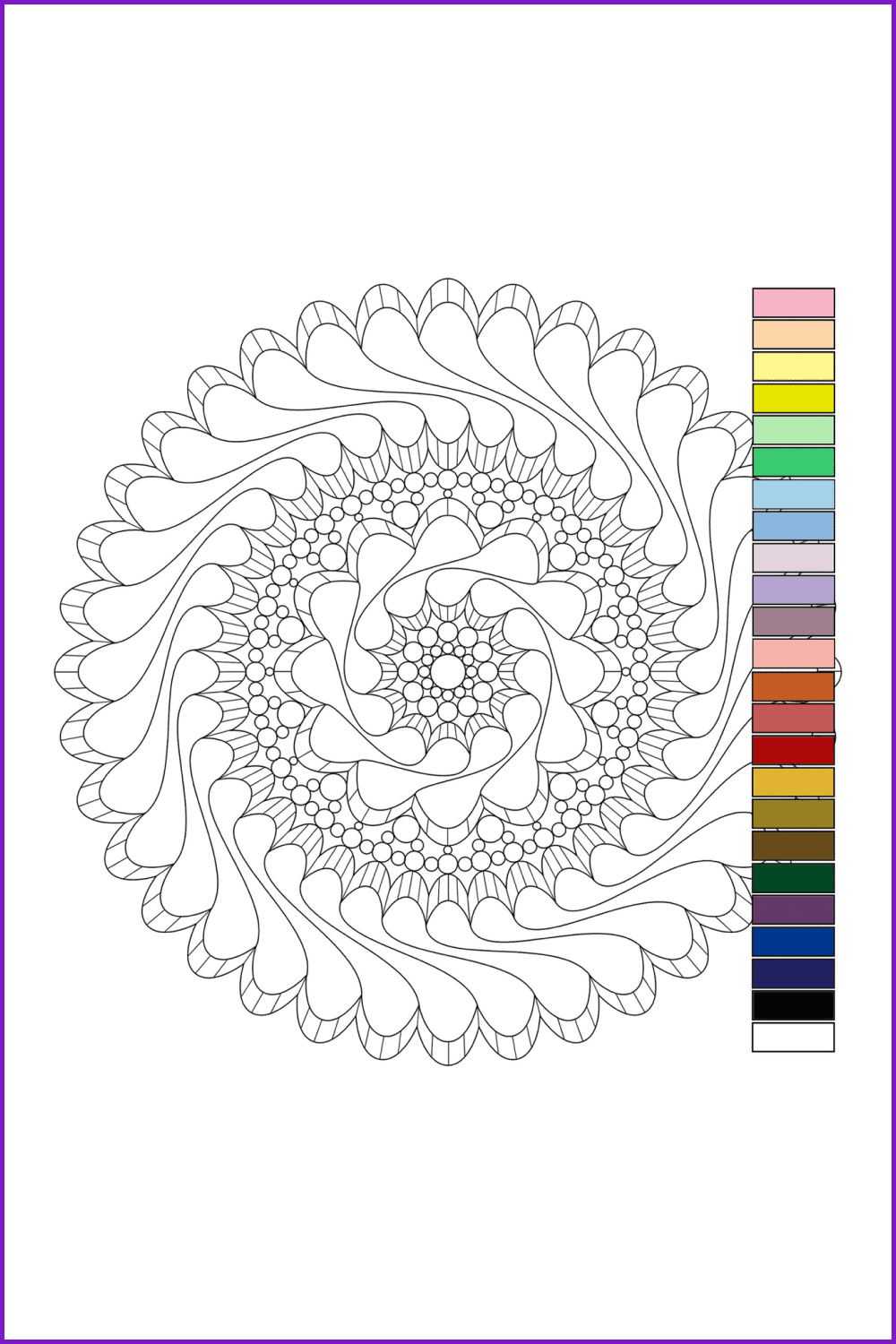 Prints
For many, the mandala is a kind of protection, so using this symbol around yourself can play to your advantage. You can create your own prints and put them on clothing. Also, be sure to buy ready-made phone cases, eco bags, t-shirts, and stationery with mandala patterns. The market for such goods is diverse, so you will definitely find a great alternative.
Mandala Tattoo Designs
Mandala tattoos or mandala henna designs are sacred symbols. It is a popular symbol of Hinduism and Buddhism, making it religious by nature. Various designs represent the sun, the universe, and the stars.
Henna mandala designs are not only about beauty and mystery, but it is also a magical talisman and magnet for good energy. That is why many tattoo lovers tend to decorate their bodies with this symbol, similar to the space map.
The tattoo has a form of a complex geometric symbol. It is often an outer circle inscribed in a square, which includes the second circle — the inner one. The square is oriented to the cardinal points, and in the center of the inner circle, the main sacred symbol is displayed. It can be a God, an animal, a flower, or some writing.
Mandala designs and meanings can be adjusted to each person individually. You can hide a maze, zodiac circle, or dial-plate in the wheel of the world in the small mandala designs. Basically, the mandala is built of patterns and symbols that each person chooses according to their taste and preferences. People add a piece of their soul and meaning to this intricate drawing. The main idea of cool mandala designs is to protect the inner world of a man. This talisman helps to preserve the integrity of the soul and find peace.
Mandala Tattoo History
For more than 2000 years, people have decorated their bodies with elaborate mandalas of various shapes and forms. Perhaps the most popular ones are Tibetan drawings since they have been (and still are) used in spiritual practices. According to the Tibetan sages, such patterns emit weak frequencies. They have a particular energy that helps to comprehend your inner self during meditations and connect with the spirits of nature or of those who have passed away. Nowadays, the mandala in a tattoo is believed to be some amulet that is supposed to help one find the right way in this life.
In fact, mandalas have been known since ancient times as images that help achieve the wisdom of consciousness. According to Buddhists, these drawings can even carry a therapeutic effect. Thus, one has to look at the image and consider all its symbols, and consequently, this very practice will help get rid of stress or a somatic disease. Moreover, this kind of treatment is valid for both children and adults.
The forms and shapes of mandalas differ from one nationality or tribe to another, but the most popular ones are circles, squares, polygons, and even labyrinths. What is even more interesting about this very talisman is that the Indians, the Celts, the Slavs, and other peoples all around the globe have their variations and interpretations of a mandala. Still, they mean the same in all these cultures—the integrity of the universe and its basic laws.
What Is the Meaning of a Mandala Tattoo?
As we have already mentioned, the meaning of such a tattoo is the connection with the universe, yet it slightly differs in various cultures. Thus, a Buddhist mandala tattoo for Tibetans is more than just an image of the universe since they believe that each little detail of the pattern is a tantra text encrypted with graphic symbols. That is why a mandala tattoo can be used for attracting luck, love, happiness, health, and other secular benefits that humans seek. However, only a person who understands the symbols can decipher the scheme, so one should seriously choose a sketch for such a tattoo.
For Hindus, a mandala tattoo represents the spirit and being. Just like in other nations, geometric figures mean the basic principles of the universe. A mandala can also protect against the negative influence and symbolize the center of the spirit and strength of a person.
Conclusion
In Buddhism and Judaism, mandalas mean a lot. They were the object of worship, symbolizing the universe. Ancient people painted them, embroidered them on clothing, made patterns of sand, and used mandalas for meditation and many other kinds of rituals.
Today, mandalas are very popular. They are used in interior design, "art therapy," and help to get closer to the fulfillment of desires. Thus, while coloring a geometric mandala pattern, people meditate and get their consciousness to a positive wave.
Play with your favorite mandala designs, use them for any life sphere, or just take colored pencils and go on a journey full of creativity and serenity!
Disclosure: MasterBundles website page may contain advertising materials that may lead to us receiving a commission fee if you purchase a product. However, this does not affect our opinion of the product in any way and we do not receive any bonuses for positive or negative ratings.