What is Mandala Designs
Are you familiar with a kaleidoscope, a funny children's toy with colorful, intricate patterns which create exciting pictures? The invention of the kaleidoscope belongs to the English physicist David Brewster in 1816. But the very basis of those pictures harks back to Ancient India and the technique of creating mandalas.
Mandala is a complex geometric structure, symbolizing the world order. In fact, it is nothing but a model of the Universe. This symbol came to the world from Eastern religious practices (Buddhism, Hinduism), where it was a sacred image of the world of deities. The word itself is translated from Sanskrit and means a "circle", "disk", "center". This is a sacred diagram, usually round or square, rectangular and even triangular. It is widely used for meditation, it helps to achieve concentration and higher states of consciousness. Moreover, a mandala diagram is a powerful ritual for cleaning the space of any area (sand mandalas) and a source of cleansing and transforming the energy of space.
Simple mandala designs are used in many life areas. It is assumed that the design of the mandala is visually attractive enough to absorb the mind in such a way that annoying thoughts go away. The spiritual essence surrounds the person, which in turn allows him to achieve higher consciousness.
Today, you can meet beautiful mandala designs everywhere from mandala tattoo designs to postcards and fashion apparel.
Mandala Design Trend. Where To Use?
Designers could not but react to the increasing popularity of mandala. Now you can come across a huge number of sophisticated mandala designs everywhere.
Mandala Tattoo Designs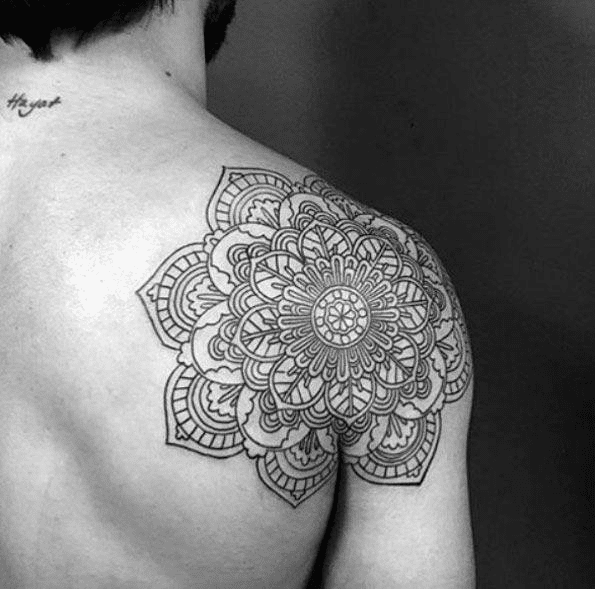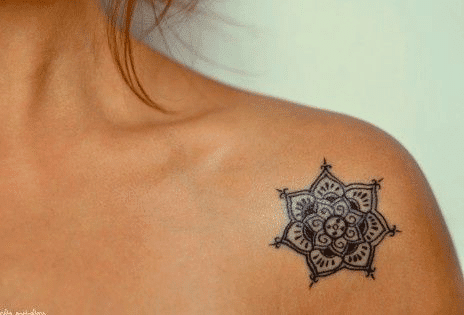 Mandala tattoo or mandala henna designs are a sacred symbol. It is a popular symbol of Hinduism and Buddhism, which makes it religious by nature. There are various designs that represent the Sun, the Universe, and the Stars.
Henna mandala designs are not only about beauty and mystery, but it is also a magical talisman and magnet for good energy. That is why many tattoo lovers tend to decorate their body with this symbol, similar to the map of space.
The tattoo has a form of a complex geometric symbol. It is often an outer circle, which is inscribed in a square, which includes the second circle — the inner one. The square is oriented to the cardinal points, and in the center of the inner circle the main sacred symbol is displayed. It can be a God, an animal, a flower, or some writing.
Mandala designs and meanings can be adjusted to each person individually. You can hide a maze, zodiac circle, or dial-plate in the wheel of the world in the small mandala designs. Basically, the mandala is built of patterns and symbols that each person chooses according to his taste and preferences. Everyone adds a piece of his soul and his own meaning to this intricate drawing. The main idea of cool mandala designs is to protect the inner world of a man. This talisman helps to preserve the integrity of the soul and find peace.
Mandala Flower Designs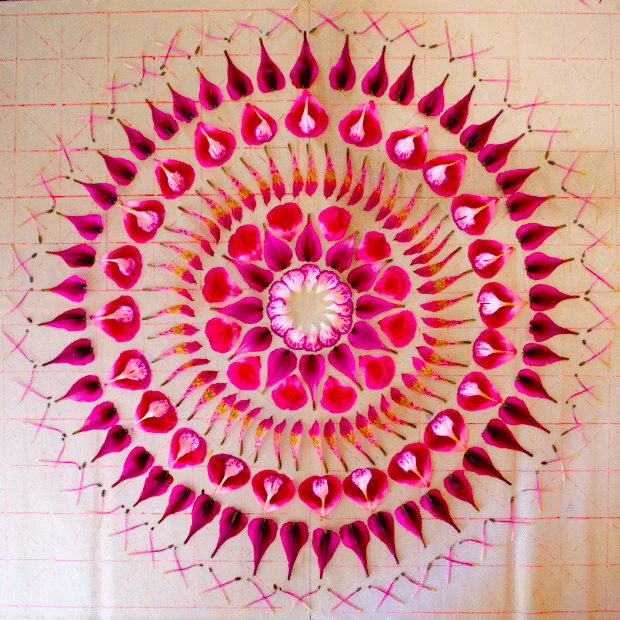 Sometimes we lack something light, calm, and beautiful. There are artists who use flower petals, buds and seeds of plants to create improvised mandalas. Various leaves, stones, cones, shells, and other objects of the plant world can be used. Of course, they do not lay claim to religious significance, but still pleasing to the eye with beauty and harmony.
Designers do not stay aside and use magnificent mandala flower designs in their projects. I am sure you have already seen colorful mandala designs in various types and forms. They might be created using either one flower or a collection of different ones.
What do they all mean? Such mandala flower designs are all about hope, empathy, love, development, and passion. You can easily discover this type of design in artwork, publications, E-media, and etc. Moreover, it is a popular design for clothing, leather accessories, kitchenware, tattoos, and other decorative needs.
Mandala Creator Collection includes over 800 patterns to create your own unique mandalas. Whether you like lotus mandala designs or any other type – you will find a great choice of possible patterns. Do not limit yourself and feel free to use these mandala designs for whatever you want to discover endless possibilities. Besides 800 patterns with unlimited combinations, you will get the detailed video tutorials for your convenience. No need to spend too much time to start everything from scratch – combine these graphic components, modify them, and construct an exclusive design to your taste.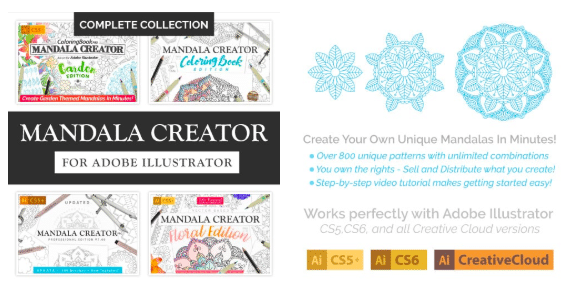 Coloring Flower Mandala Postcards and Books
Another use of mandala designs is a postcard that you can paint, give to friends, be inspired, and inspire others. Usually, such a card has an original mandala to color on one side, and an inspirational quotation on the other.
Coloring mandala designs help to look inside yourself and your feelings, to understand yourself, to be able to focus on something truly important and not to miss the details. Mandalas help to understand and realize the most essential things. The ultramodern activity of coloring all kinds of mandalas is not just a tribute to the symbols of Buddhist mythology, but a tool for the development of thinking for children and relaxation for adults.
It is desirable to get mandala designs colored in 4 colors: red, yellow, green, and blue. Of course, you can use other colors if you wish. By default, the picture is black and white, and any part of it can be left unpainted.
According to ancient legends, any man who starts coloring the mandala goes on a journey. By default, mandala drawing is considered perfect and therefore does not require any sort of corrections. You need to dive into the picture, paint the parts that you want, in any order or disorder, completely or partially.
Adults and children collect the full albums of colored mandala designs in the form of a postcard or a coloring book.
As an example, pay attention to a beautiful Mandala Coloring Book which is available at the discounted price now. You can easily download this book and get 12 EPS10 outline mandalas, 12 EPS10 colored mandalas, and 12 EPS10 quote pages. From easy mandala designs to more complicated ones – absolutely different mandala patterns are included in the package. It is still a great solution if you are looking for easy mandala designs to draw. The web is full of various tutorials and guides on how to draw mandala designs.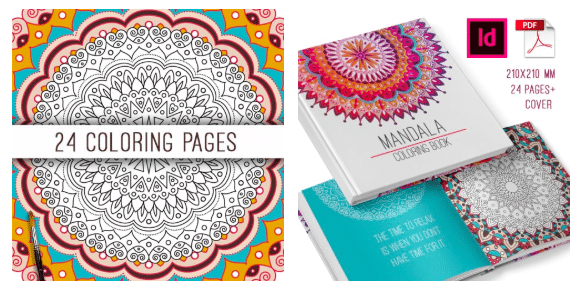 Mandala coloring book is a tool for the work on your inner world when only the process itself is important. Not need to set any expectations, it is better to enjoy the process, and you will find much more than what you expect.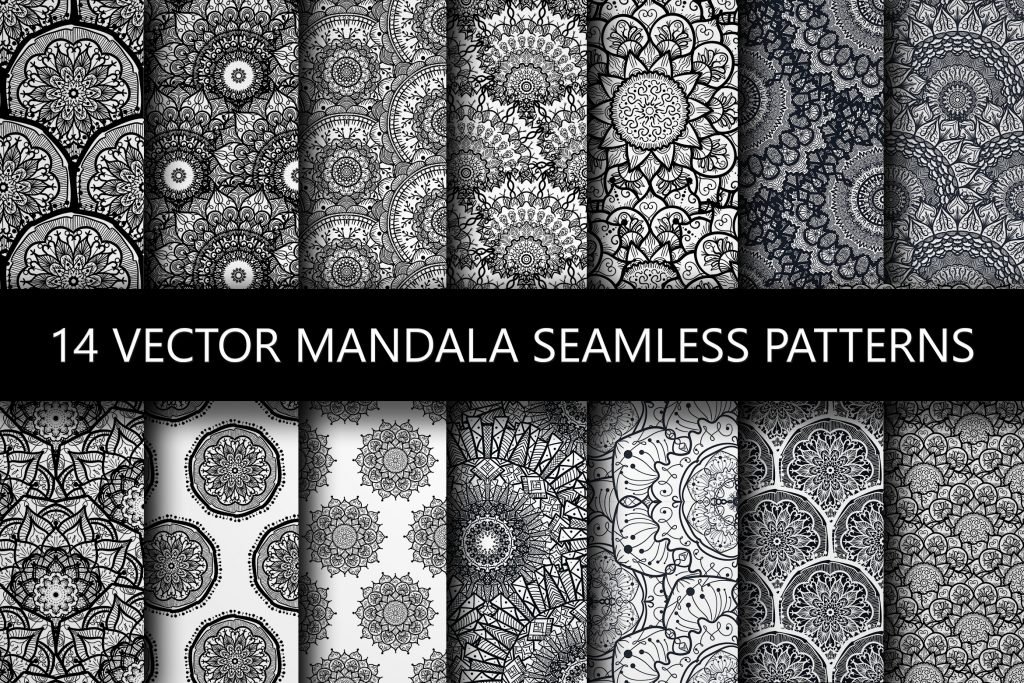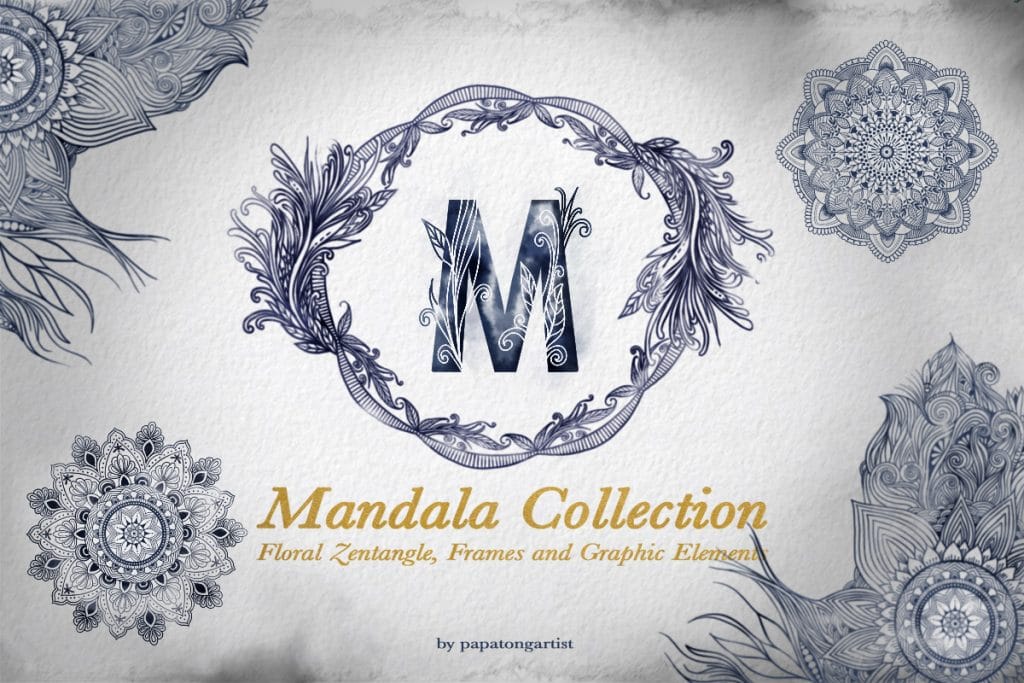 Black & White Mandala Patterns Collection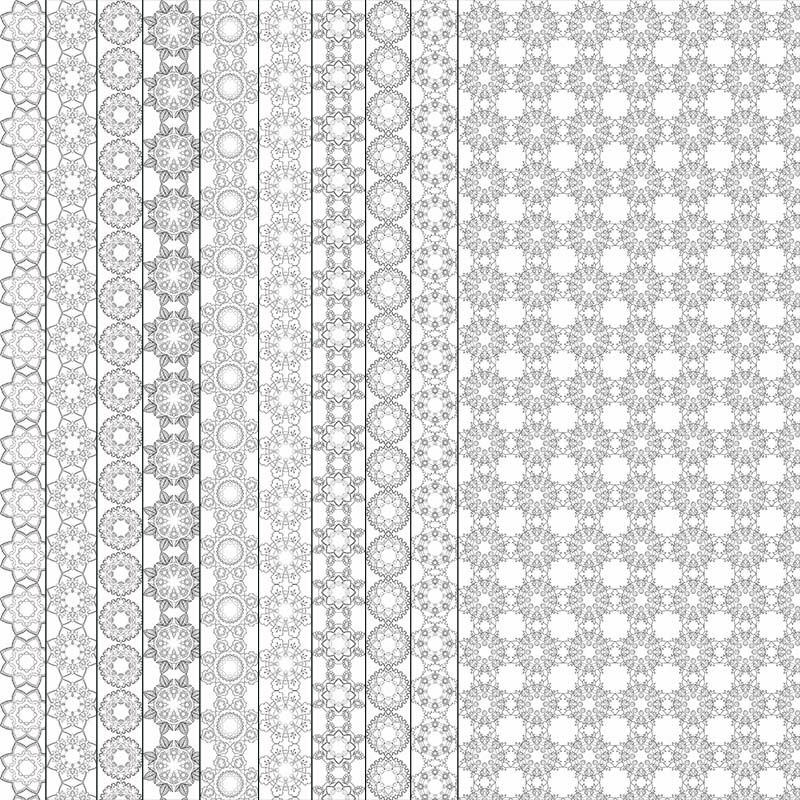 Conclusion
In Buddhism and Judaism, mandalas meant a lot — they were the object of worship, symbolizing the Universe. Ancient people painted them, embroidered on clothes, made patterns of sand, used mandalas for meditation and all other kinds of rituals.
Today mandalas are very popular. They are used in interior design, "art therapy", and help to get closer to the fulfillment of desires. Thus, while coloring a geometric mandala pattern, a person meditates and get his consciousness to a positive wave.
Play with your favorite mandala designs, use them for any life sphere, or just take colored pencils and go on a journey full of creativity and serenity!
Create Mandala Design: Mandala Creator Online
As it turned out, a mandala is a sacred circle, which has many positive aspects that affect a person. Drawing mandalas is useful for absolutely all people of any age. This creative activity is especially ideal for those who wish to calm and enlighten the mind.
The main thing in the concept of the mandala is the center of the mandala, from which concentric circles radiate around. Go to the water and throw a pebble into it. This means you have just created the simplest and most natural mandala. If you are willing to experiment with shapes and colors, start drawing your own mandala. No specific drawing skills are required. You can either grab some paper and a few colorful pencils or get acquainted with a free mandala drawing tool that will help you make the most beautiful mandalas.
The tool is extremely simple and intuitive. No prior knowledge or specific skills are necessary. It allows to draw your own mandala by adjusting the number of sectors in the circle, choosing the appropriate background, brush colors, and line width. This Mandala Creator itself does not draw; you draw while specifying the certain parameters.
Pull up the background color choice to choose the best one for your mandala. Experiment with colors to express your creativity. Choose the brush color for the inner lines of your mandala. Move the scroller to set up the number of sectors. Except for the brush color, you can adjust the line width – move the locator from the left to the right to increase thickness. Enable mirror setting to get keep your drawing mirrored symmetrically.
It is also worth mentioning the possibility of saving the pattern that you draw. Click the floppy disk icon to get your mandala saved on the computer. You will find 'Undo' arrow and 'Trash bin' icon to perform the actions accordingly. And that is it – simple and easy!
Drawing mandalas online is a great way to focus attention, establish some 'space' in the mind and spirit, and meditate. Listen to the relaxing music and bring a sense of harmony and creativity into your life with mandalas!
Some examples of mandalas designed with our Mandala creator: