Thinking about how I observe and express the world is more important than anything else – Eunjoo Lee
Presenting Eunjoo Lee, a Korean illustrator and graphic designer, who uses digital media to carry out projects like package design, advertisements, children illustration books, and textile design. She has been a scholar in Communication Design in BA Hongik University (2007-2012), scholar in Art Communication Design MA in Glasgow School of Art (2015-2017) and is studying Doctor of Design in Seoul National University since 2018.
Her client list includes several magazines in the UK and Korea, such as Counterpoint mag, So Young magazine, The Skinny magazine and Cine21 Korea.
Eunjoo's digital illustrations have a strong manual imprint, and a definite inspiration from her native country and her interest in textile art.
She has won several illustration awards, such as AOI World illustration award 2016, American illustration 35 2016, Creative Quarterly illustration 44 (2016), London International Advertising Award – Bronze Winner (2014), 1St Line Deco Artist Contest – Third Prize (2014) among others.
She kindly agreed to tell us more about what inspires such a prolific artist and what techniques she uses to develop her stunning pieces. Read on and don't miss her video, where she shows us her amazing inspiration sketchbook.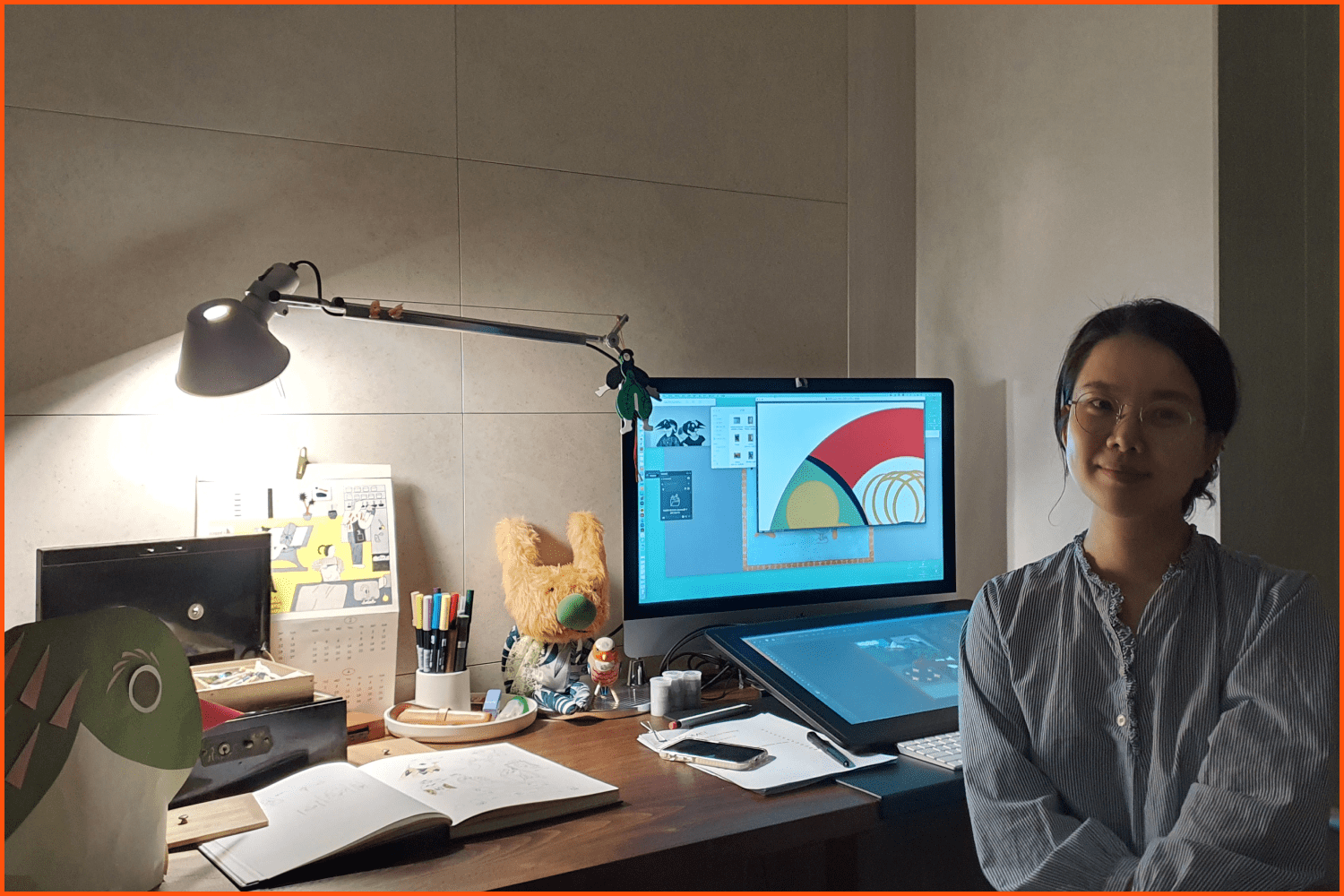 You've studied in Seoul and also in the UK, where are you currently living?
I live in Seoul. It's a very busy city. Seoul is also a city that inspires a lot. There are many things to be inspired by in terms of culture, and there are many people who work hard, and you can find many good illustrations and designs.
What life events influenced your decision to become an illustrator?
Since college, I have been interested in printmaking while majoring in visual design. And I thought I wanted to draw as my job. After graduating from university, I entered an advertising company. At first, I tried to draw while working at a company. But while working at the company, I didn't have enough time to draw. I wanted to focus more on illustration, so I quit the company and left for Scotland to study illustration. Fortunately, I learned a lot while working at the advertising company. In particular, I learned a lot about handling Adobe.
How would you define your illustration style?
There seems to be a lot of decorative things. I think I was influenced a lot because I was interested in textile designs.
How much does Korean culture influence your graphic style or the subjects you illustrate?
Looking at the same work as "Haetae" I drew, I think Korea had a lot of influence. In particular, a lot of my clients are Korean companies, so even if I work on commercial illustrations, there are often works with Korean themes or atmosphere. However, in terms of illustration expression, I try to express it in various ways by looking at references from different countries around the world.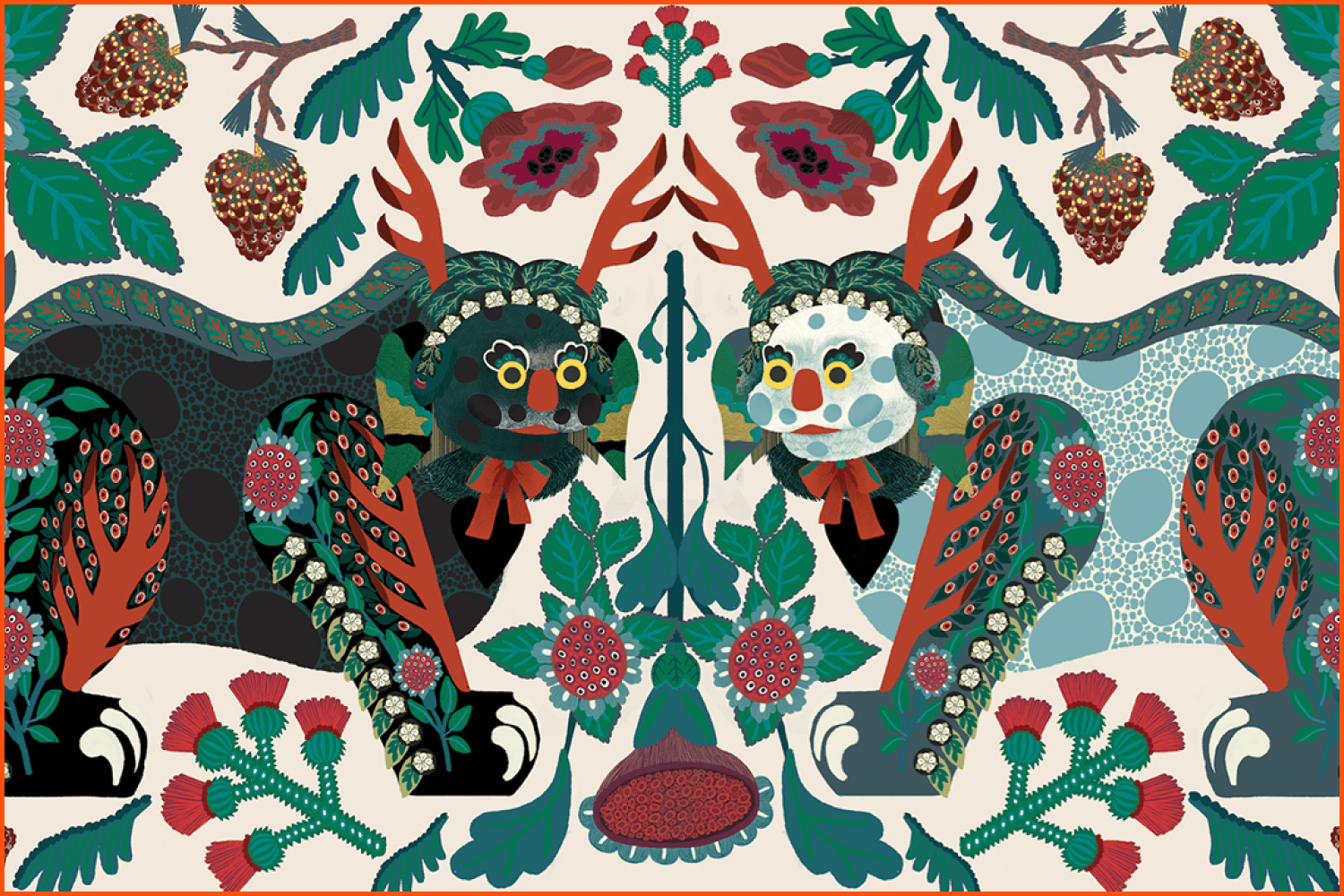 Hatae features the ancient Asian supernatural animal, a symbol of luck, with colourful and elaborated visual language of traditional motifs, including flowers.
Tell us about key moments in your professional career
The AOI award. It was also an opportunity to promote me globally, and in fact, it was my first career as an illustrator.
And as a project, I would say it's Deep web traveler. I was able to try various things, not only 2D work, but also textures, mask design, and videos about it were the most interesting and perhaps the most difficult projects.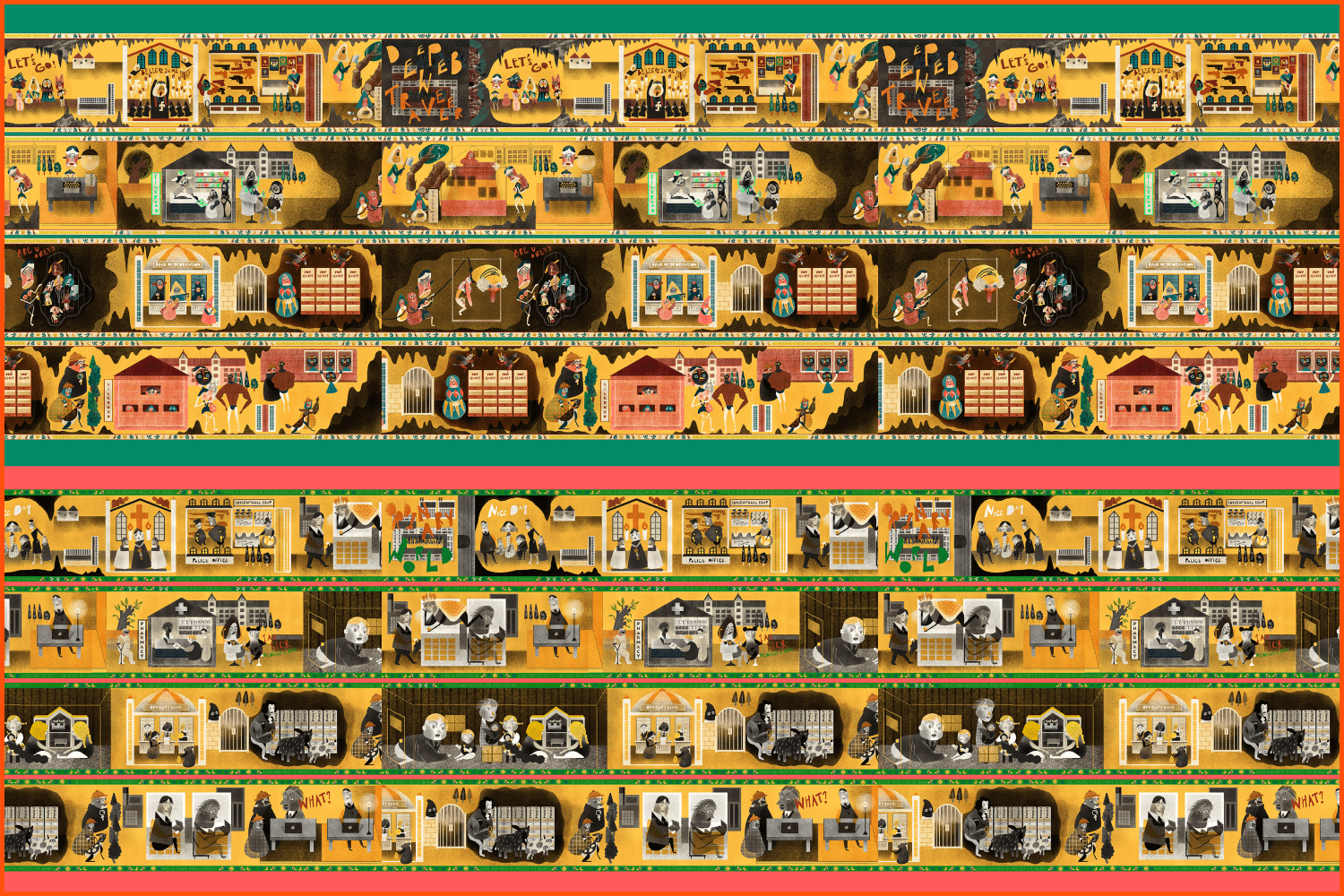 Deep Web Traveler tells the story of modern anarchists, and how they realize their own utopia.
How do you get inspired to produce a piece of artwork?
First, I look for various references. I also try to read a lot of books. And those references and books are not limited to illustrations, they are very diverse. It can be a photographic work, an image of commercial advertisements, a painting, etc.
What skills do you think an illustrator should have?
Drawing skills are important, but I think "thinking" about how I observe and express the world is more important than anything else. There are so many illustrators in the world, and in order to have my own color, especially this way of expressing based on my own perspective, seems very important. And for that, I can say it is the most important skill for an illustrator.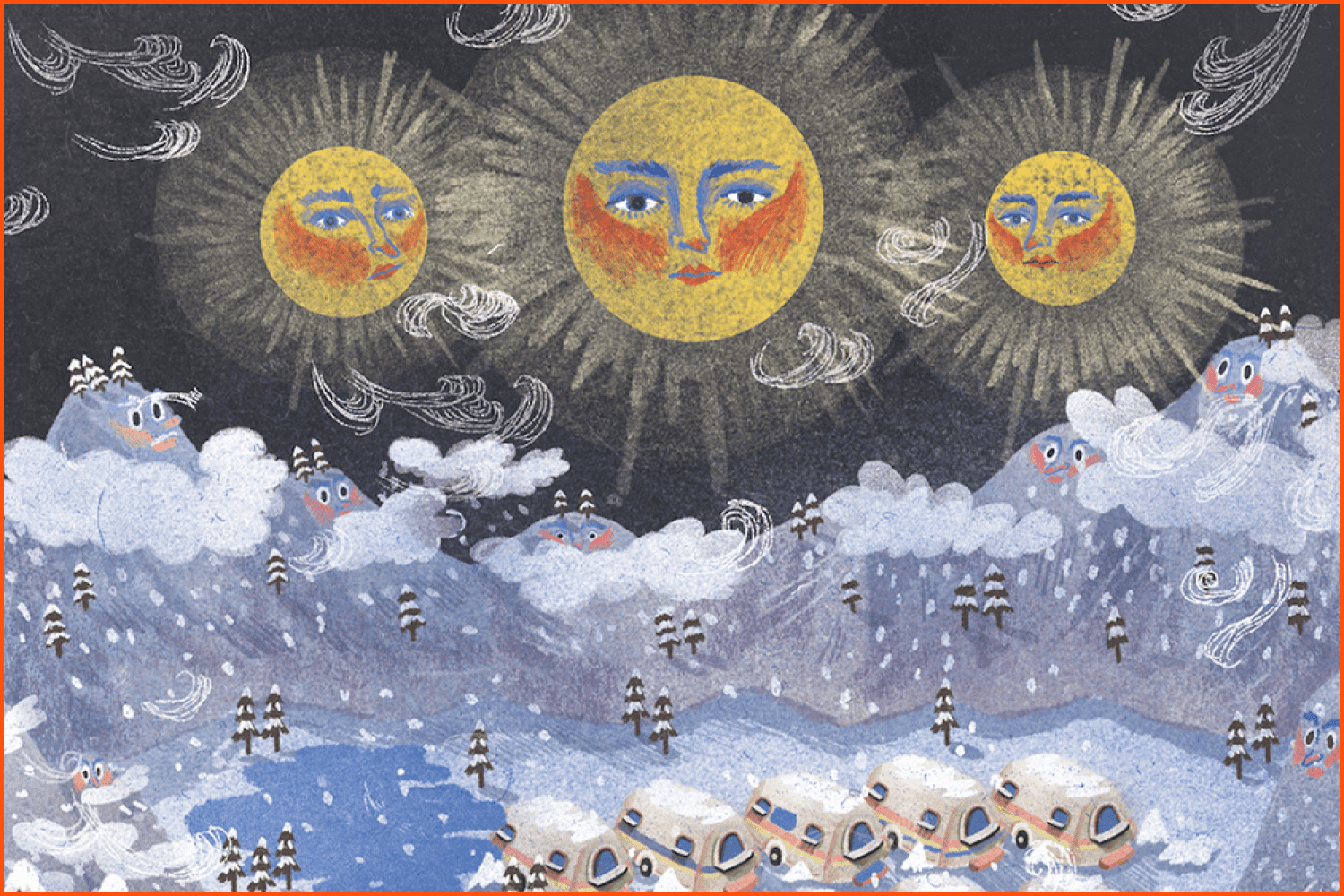 Art for Skinny magazine's book section, for an article about a new book called "Sunlight Pilgrims" by Jenni Fagan.
Which habits help you to expand your creativity?
I have a habit of collecting items. Pretty wrappers, tags, postcards, packages, stickers, etc. and these seem to inspire unintentionally. And I have a habit of recording anything that comes to mind. It can be an image or a story. Sometimes I record it on my cell phone before going to bed, and if there is something I can record immediately, I record it anywhere. These things help a lot when ideas run out later.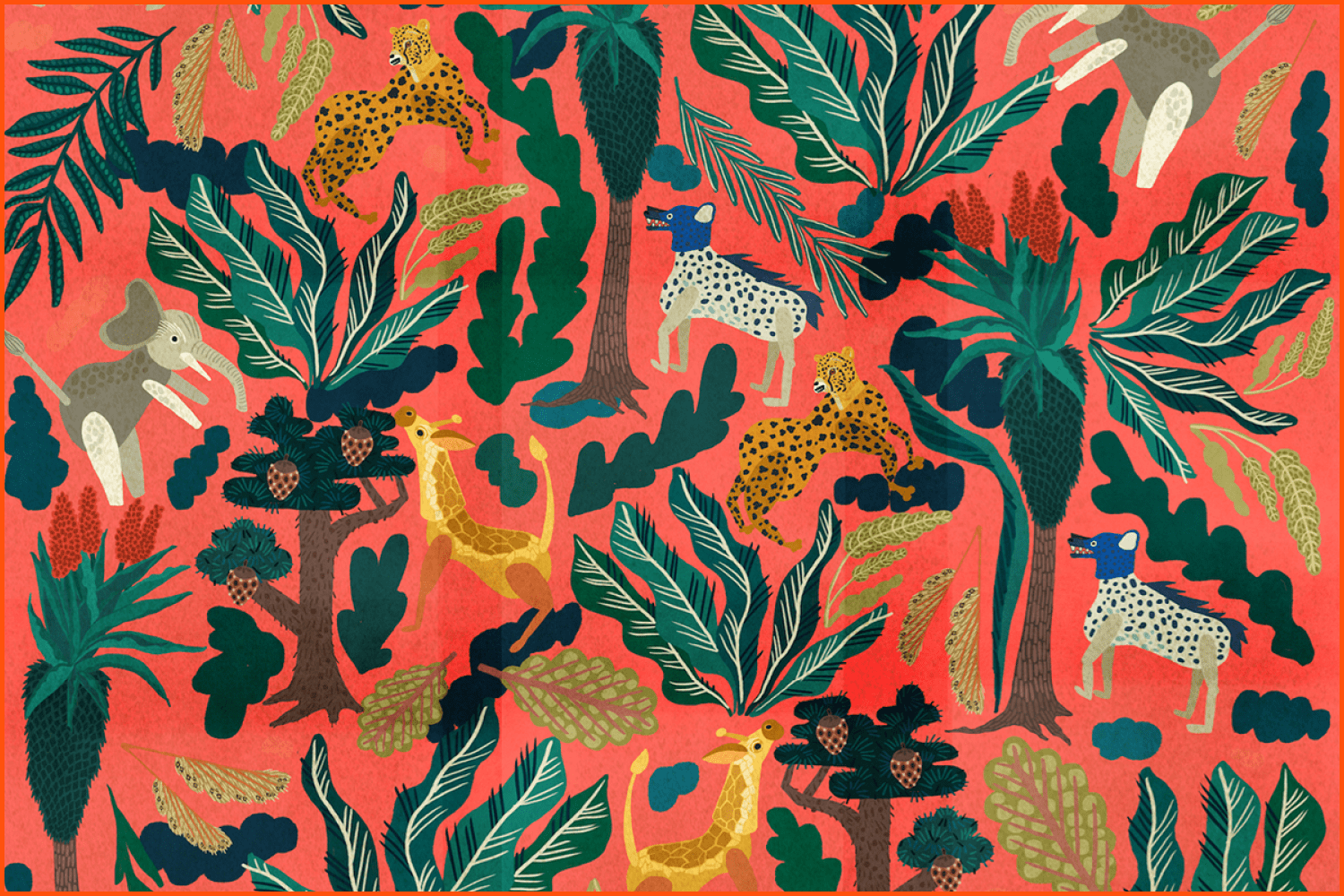 Art for Dogon fabric series.
What do you do to overcome a creative block?
I think I talk to my husband a lot these days. My husband is an architect, a furniture designer, and we work in a similar field, so he gives me a lot of support and inspiration. He also tells me creative stories about experts in various fields. They can be musicians, chiefs, and architects. And he sometimes introduces documentaries about them. As a result, I get inspired by them again, and I change my mind positively. And we can draw the future together and think of fun projects, so if we talk more, we can concentrate on creative thoughts again.
What do you like most about being an illustrator?
First of all, it has the advantage of being able to work from home. Because of that, I can use my time well. And it is possible to expand the field of activity: depending on what you print the illustration in, you have the chance to work in different fields.
What does success mean to you?
Being able to continue doing what you like, isn't that what success is? In fact, it may be difficult to continue doing what you like, however, I would try to keep doing what I like. And I think it's a success to be able to live while doing what you like without trying.
What techniques and resources did you use to design your last few pieces?
I usually work using Adobe Photoshop. Sometimes I make the digital texture like the Adobe brush by myself in an analog way, when I can't get the texture I like.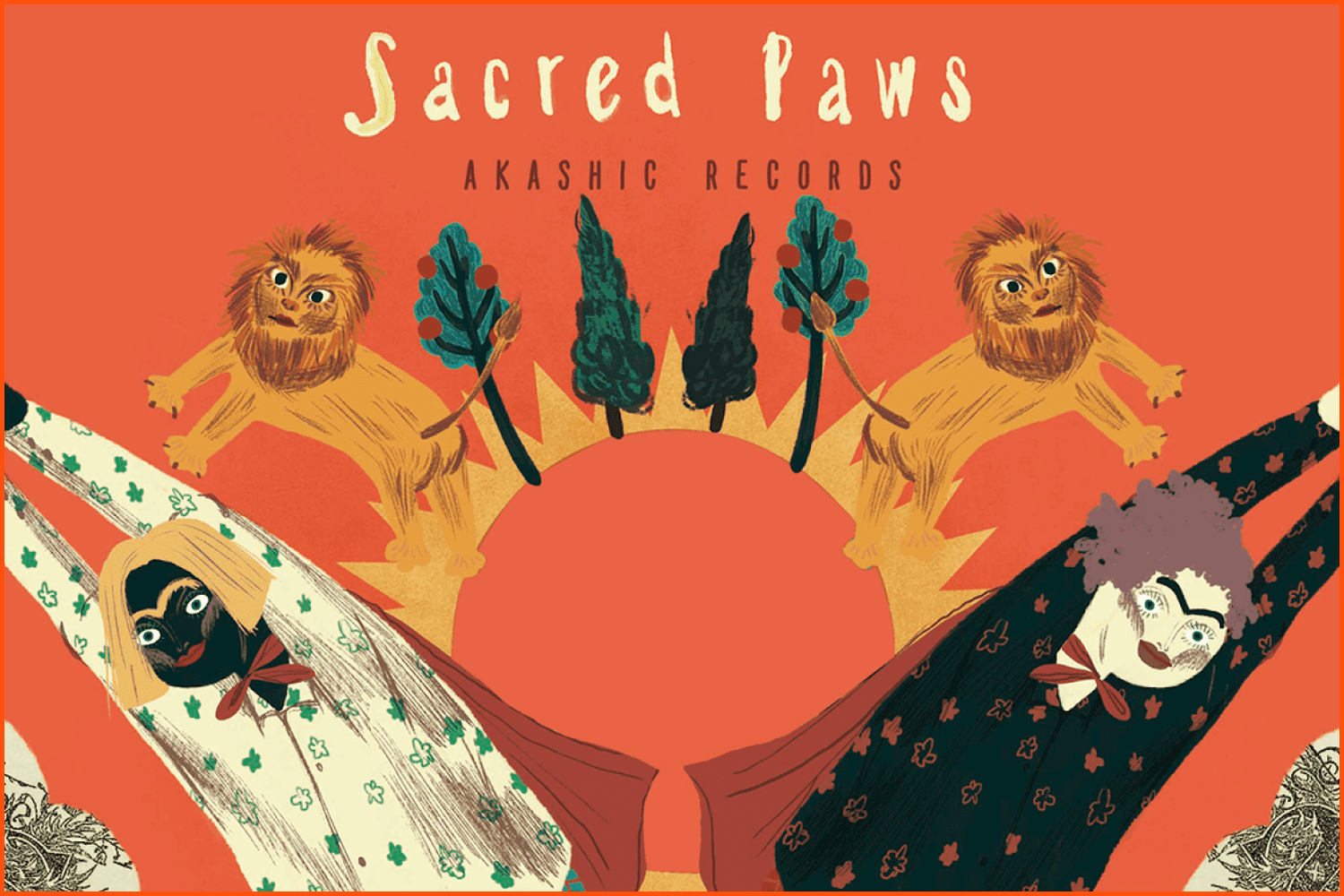 Sacred Paws EP album cover.
How do you learn about new techniques and tools?
In the case of computer tools like Adobe, I actively take online classes or look up YouTube. In the case of engraving or painting, I try it alone first. This is because there are many things I learn directly from experience.
Do you think that in today's market an illustrator must handle digital tools? Or is there still a place for the analog ones?
Personally, if you know how to handle digital tools, you will definitely be convenient as an illustrator. However, as an illustrator who mainly uses digital tools, there is something I envy when I see artists who mainly work on analog. These days, everything in the world is digitized, so there is a lot of demand for analog.
What jobs have you done other than being an illustrator?
I worked as a graphic designer a lot. Sometimes, I work graphic design even now!
What's your workday like?
I work at home every day!
What type of design work do you enjoy the most: print or digital? Why?
That's a hard question! Both are fun. However, I think it's attractive about print that you can hold the result with your hands.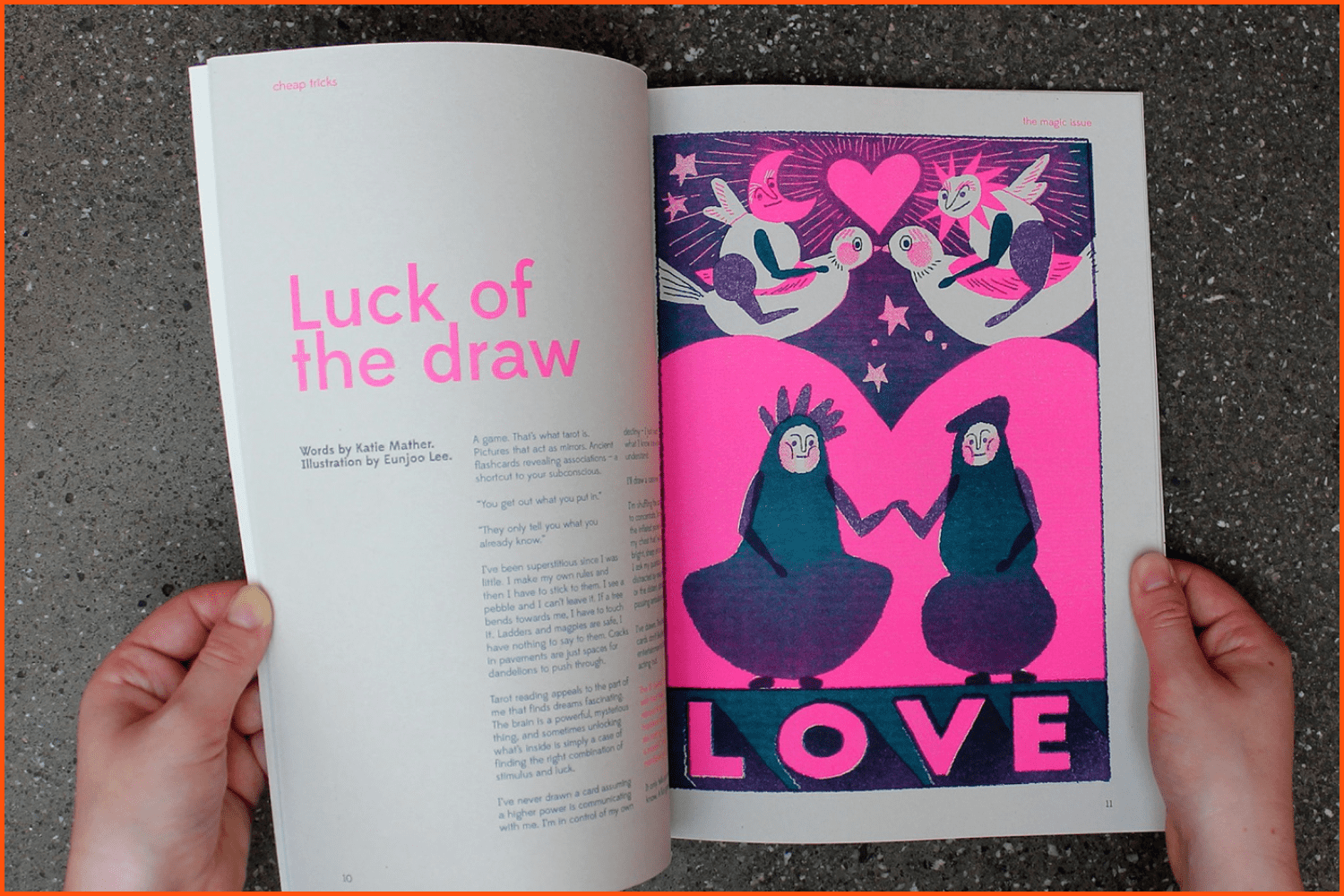 Artwork for Counterpoint magazine.
What's been your most challenging project to date?
Hybe collage work. It was my first time working on a collage, and I had to draw illustrations in harmony with pictures of characters. I had to deal with pictures as well, and I had to illustrate them accordingly. It was also a very time-consuming work, and I was even pregnant at the time.
How do you handle a client who isn't sure about what they want?
I ask what picture they saw before they contacted me. Then they look at the work they want and prepare a reference for me. Then I get a little outline of the direction they want.
What are currently your professional goals?
As I raised children, I became more interested in children's illustration books. It's a new area for me, but there's children's illustration book work in progress. I want to expand my illustration field as a children's book illustrator.
Do you have a network of designers with whom you collaborate? How do you support each other?
Hyun Woo-ri, an old friend and designer who I often work with. We are already friends who know each other too well, and it is very convenient to work because we know each other's design illustration styles. For example, I'm weak in communication, but he's good at communicating, so we play a very good role in that part. Therefore, it is possible to quickly catch what the client wants.
Have you heard of MasterBundles before? What do you think about this project?
Yes! In particular, in the case of companies, these platforms seem essential because they have to produce a lot of good designs in a short period of time.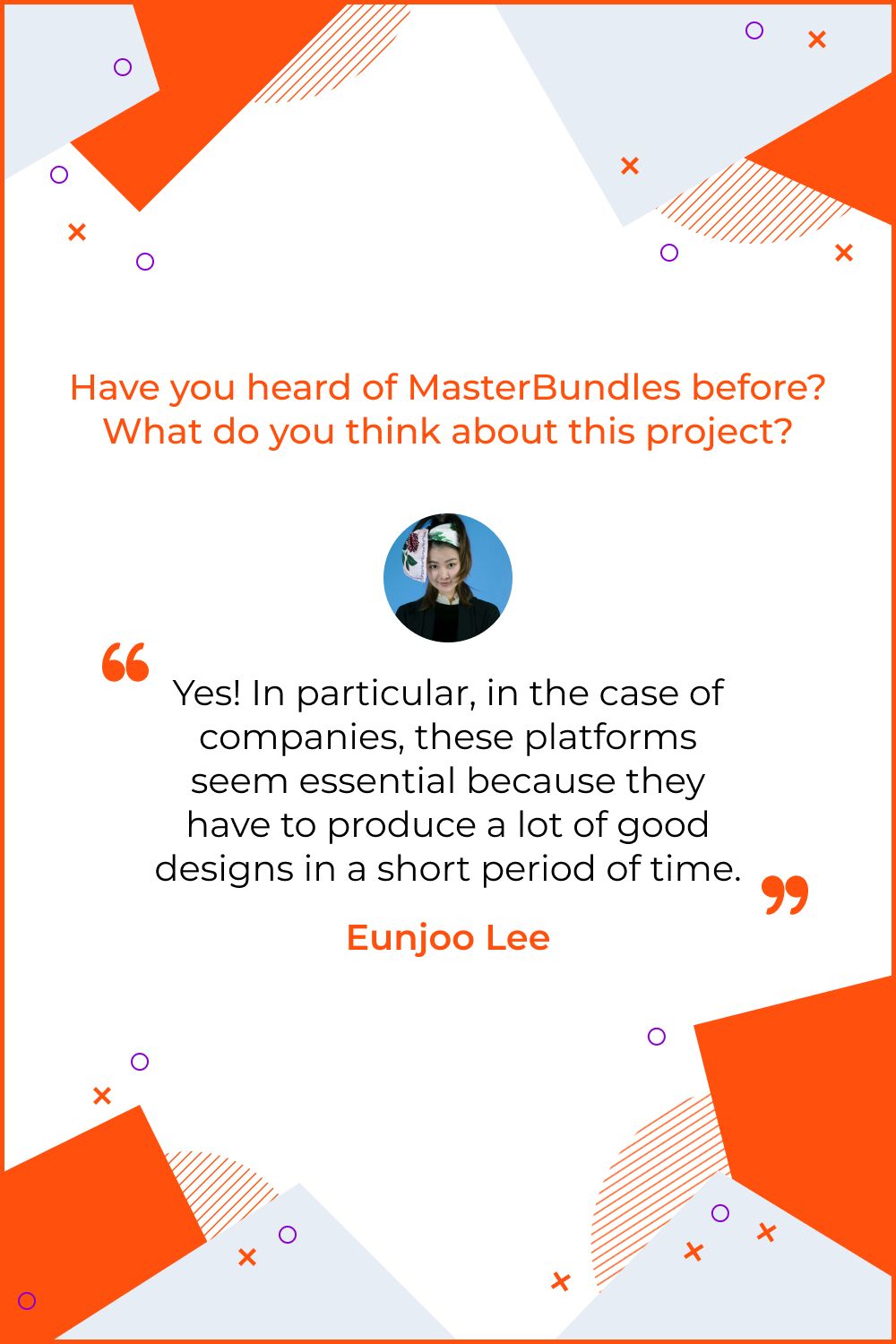 What tip would you give young designers?

Eunjoo Lee, a Korean illustrator and graphic designer, who uses digital media to carry out projects like package design, advertisements, children illustration books, and textile design.
 
Recommended Posts For You
Was this page helpful?
We will be happy if you decide to share this article with your friends on Facebook. Just click on the button and you're done
What are your concerns?
Thanks for your response!
You have already left your review.
Disclosure: MasterBundles website page may contain advertising materials that may lead to us receiving a commission fee if you purchase a product. However, this does not affect our opinion of the product in any way and we do not receive any bonuses for positive or negative ratings.