12 Best NFT Platforms to Sell Your Art. This year, the news from the NFT world was coming in hot and fast. There was the Christie's auction sale of the digital painting Everydays – The First 5000 Days for nearly $70 million, and a 10-second video clip Crossroad, which sold for $6.6 million. It is remarkable that the seller himself had purchased this video six months earlier and for about 100 times cheaper. Not as record-breaking in prices for individual lots, but much more numerous are deals for NFT that take place in the world of online games. This category continues to be the key to the entire market.
So how can you join this world, learn its laws, and maybe try to make money from it? This guide to NFT marketplaces will help you look at digital objects with NFT rights, find promising niches, and make your first transactions. Just don't forget to make yourself a crypto wallet.
Open Platforms
There are various marketplaces that host different types of NFT collections. These sites target audiences in a wide variety of niches, from general categories to a specific industry such as gaming or art.
Everyone can find something interesting on these platforms: from world-class NFTs created by famous artists to the less popular ones created by beginners.
OpenSea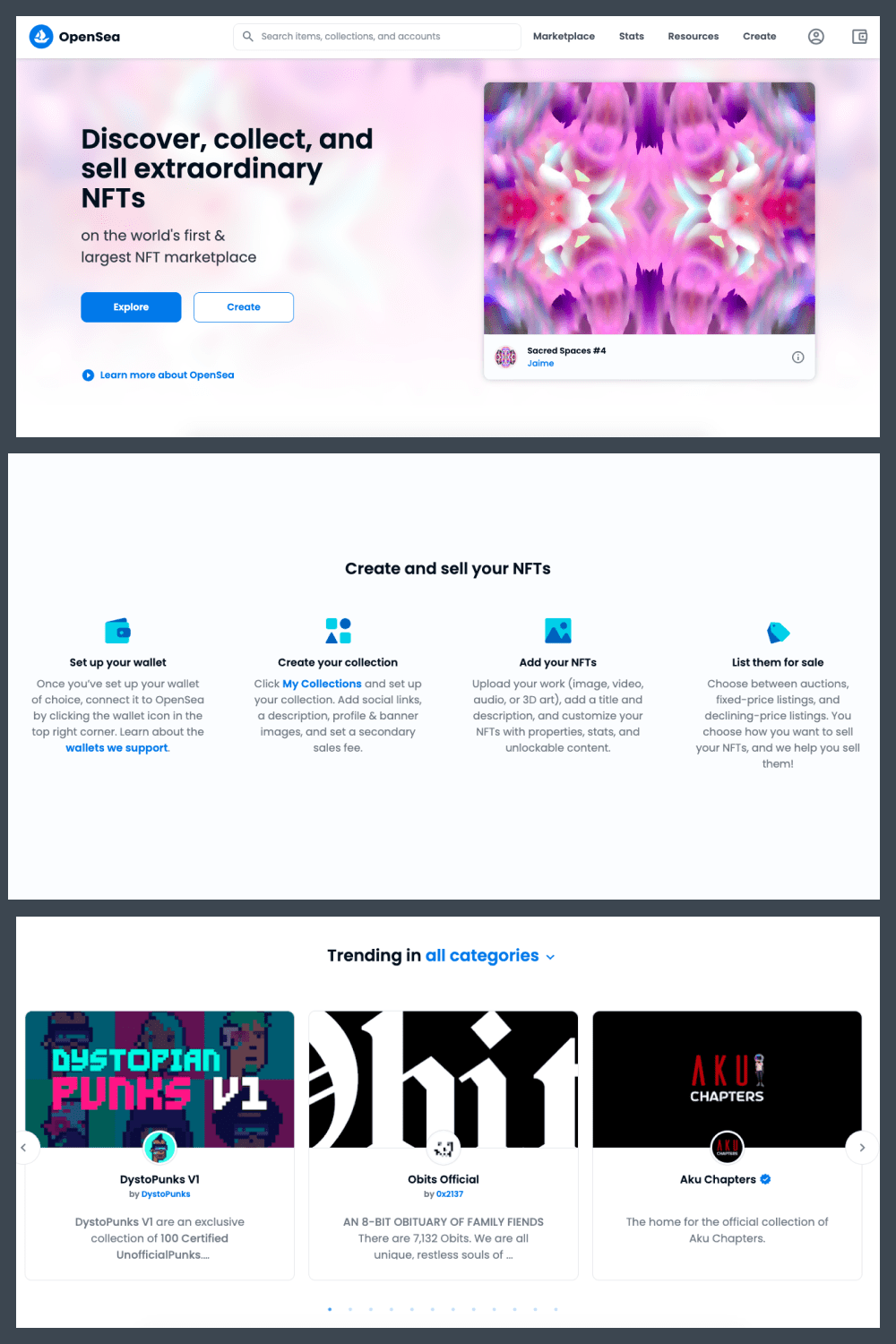 You can buy and sell all kinds of tokens on OpenSea. Not only art, but also domain names, virtual lands, game and sports cards, collectibles, and utilities. For example, in the Utilities category, you can buy memberships to the Bankless community by sponsoring it. Among the collectibles, you can find the popular CryptoCats.
OpenSea is not only a platform for selling tokens, but also an informative blog. It publishes articles about earning on the platform, relevant information about tokens, monthly NFT sales tops, and seller ratings.
To create a collection, buy a token, or post your work, you don't need to register. Simply log in through MetaMask.
Rarible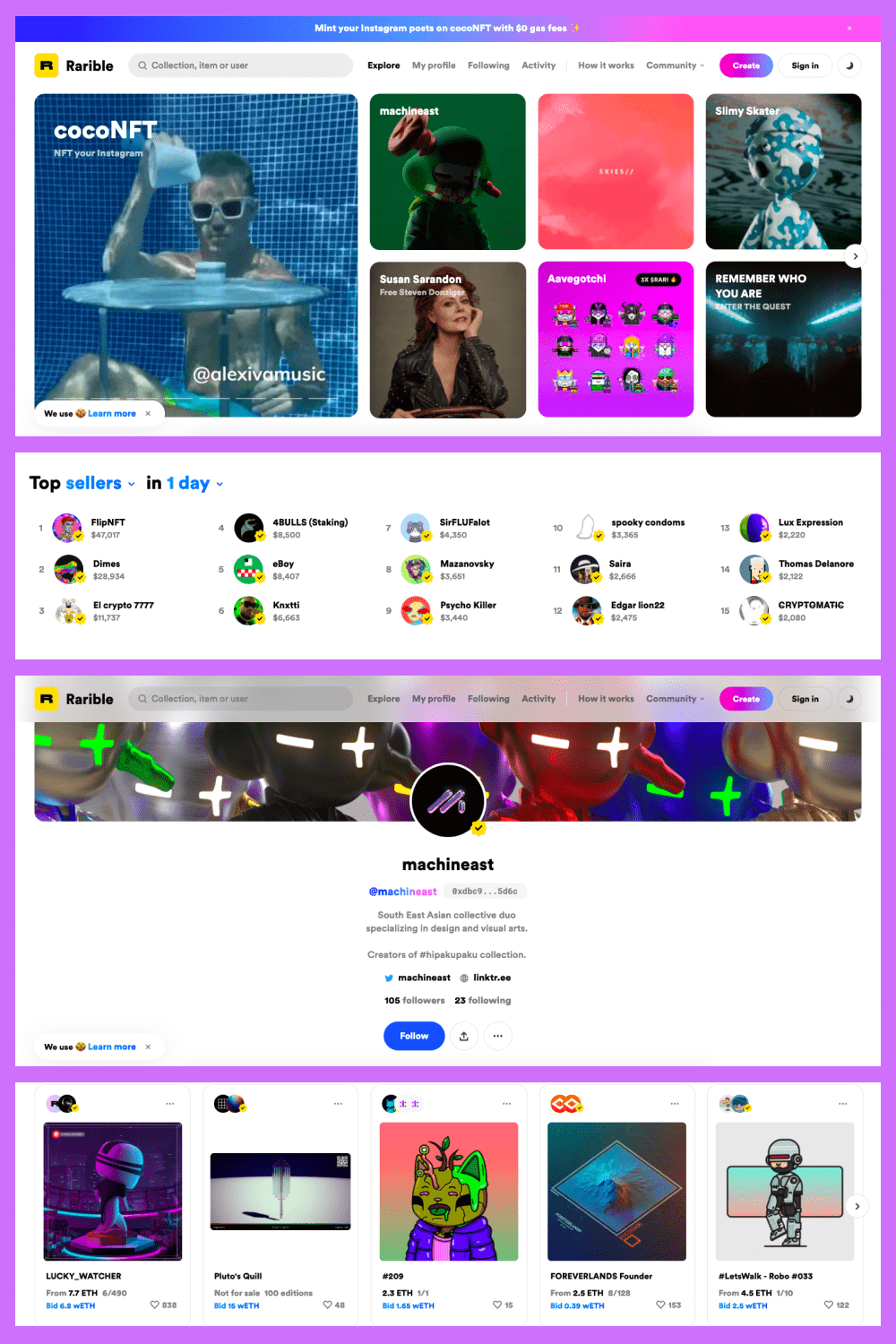 This is an NFT marketplace that has been operating successfully for more than a year and is attracting more and more attention. The site has several unique tools, which could not be found in the competitors of that time. One of these was a simplified interface for creating NFT tokens in a few clicks. Although the NFT system is still young, Rarible is already investing in transactions to create non-fungible tokens to fuel the platform's growth. In the future, the company plans to migrate to DAO. This is necessary to create a fully decentralized platform.
Rarible uses its own RARI token to reward active users. About 60% of RARI's assets are distributed to active buyers and sellers each week.
On Rarible, you can sell digital art as well as game cards, domain names, virtual lands, and even memes. For example, in the Memes collection, you can buy access to the private Telegram community of the Blockchain Summit in Los Angeles. To sell NFT you need to connect your wallet to Rarible. After that, it will be possible to create and sell NFT in the Create section.
You don't need to register in order to create a collection, buy a token, or post a work on Rarible. You can log in through MetaMask.
Mintable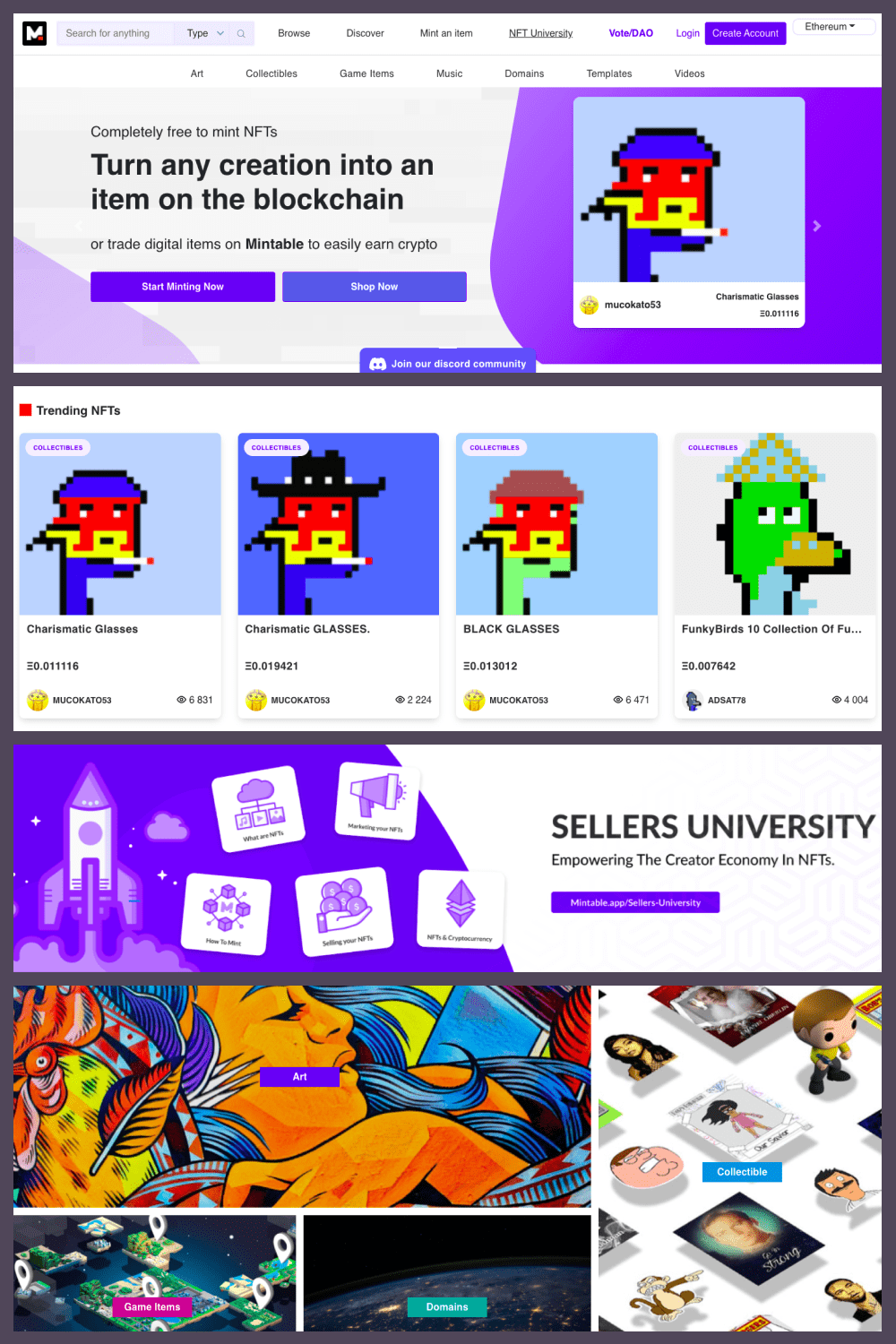 While other platforms create NFT collections , on Mintable you can create your own store with art tokens. The store is a smart contract for creating NFTs. You can sell digital paintings as well as domain names, collectibles, bits, videos, and patterns. Both music videos and pet videos can be found in the "Video" category.
To buy an art token on Mintable or earn money from the sale, you need to register on the site and link a cryptocurrency wallet to MetaMask, Trust Wallet, or Rainbow.
Nifty Gateway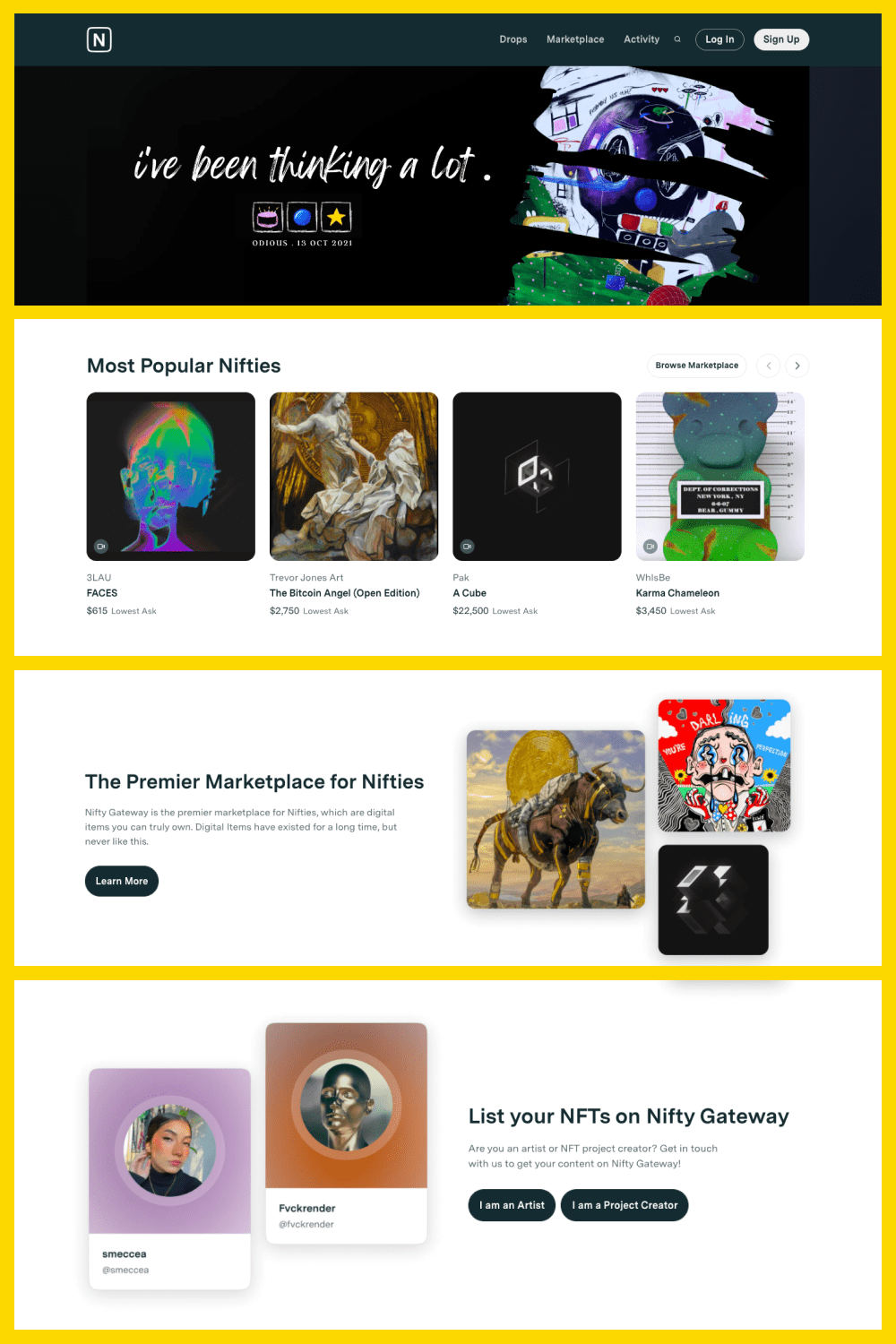 Nifty Gateway is owned by the Gemini cryptocurrency exchange. Users can log in and use a standard Nifties token to create a tokenized version of the artwork. The platform uses the Ethereum blockchain, which was created in 2018. The Beeple's artwork The Complete MF Collection was sold at a Nifty Gateway auction for $777,777, making it the most expensive encrypted artwork to date.
NFT Showroom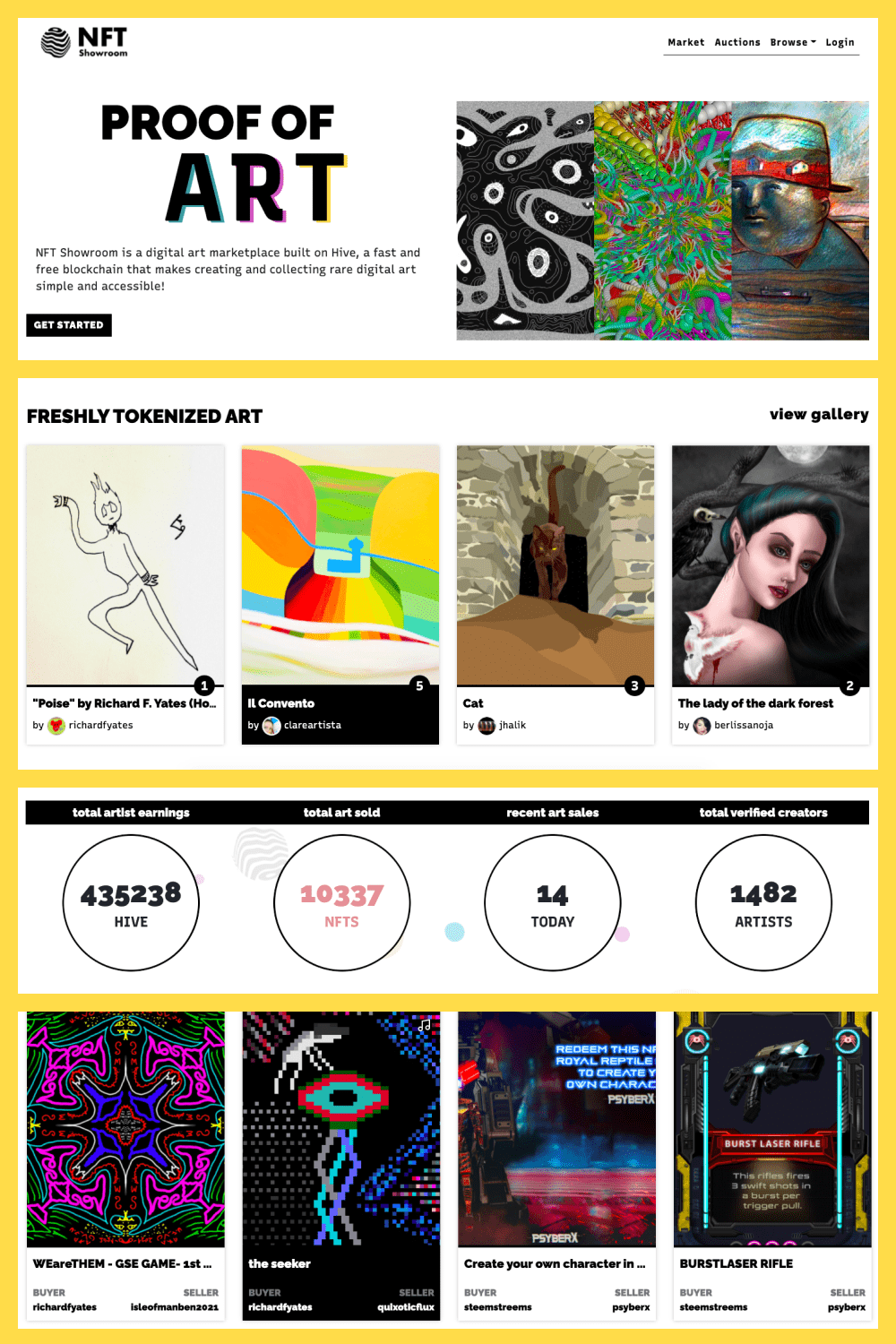 This is a tokenized art platform built on the HIVE blockchain. NFT Showroom allows artists to log in with HIVE accounts and use sidechain and smart contracts to tokenize artwork. The biggest advantage of the HIVE blockchain is that it provides free transactions, so there is no cost when the artist sends the created artwork to the network.
NBA Top Shot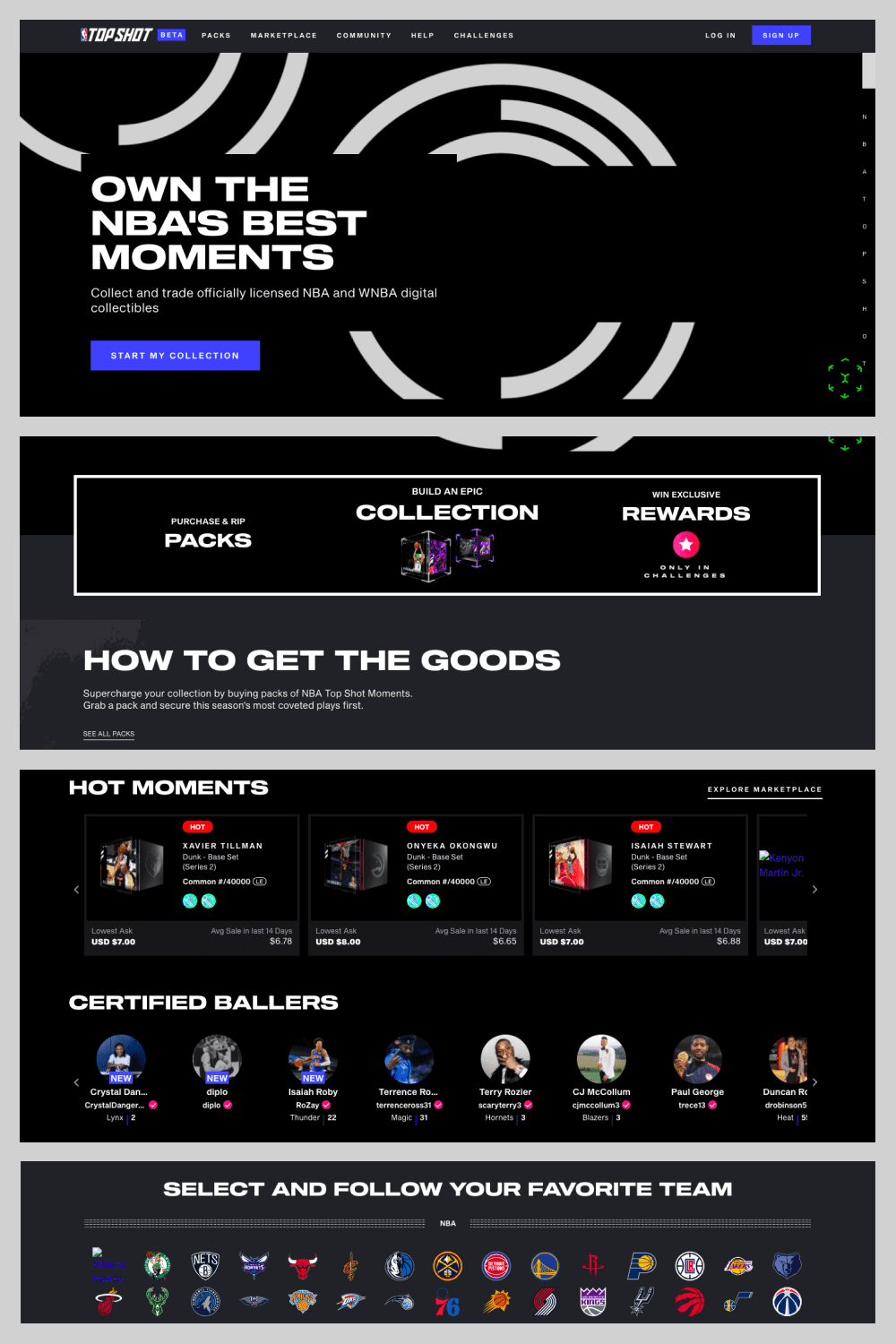 This marketplace is officially licensed by the U.S. National Basketball Association and offers its users, no more and no less, to buy and sell spicy moments in real historical NBA games.
The idea is clearly borrowed from baseball cards, but on a whole new technological level. Transactions here are done in dollars, and NFT transactions are recorded on the FLOW blockchain. The creators of NBA Top Shot themselves call the project nothing short of "a new era in fandom." Recently, in August, one user @Dubria sold a legendary Zion Williamson game moment to another user named @jerlevine for $79,999.
Invite-Only Platforms
SuperRare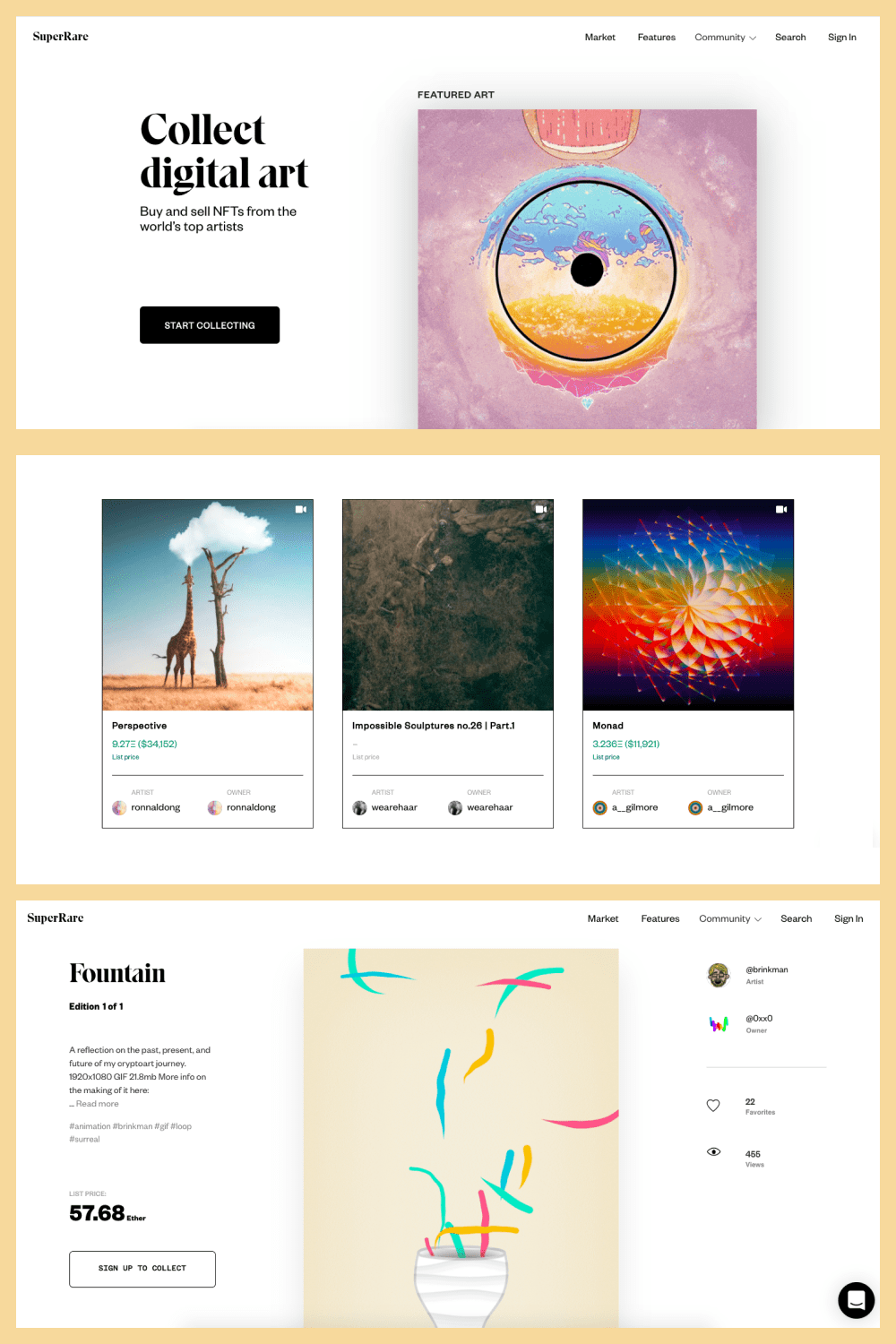 SuperRare is a marketplace for collecting and selling unique pieces of art. Only digital art is placed on the platform.
In order to buy artwork on SuperRare or add your own, you need to register on the site and link your MetaMask or Fortmatic cryptocurrency wallet. Before you can post your work on SuperRare, you need to be interviewed by the site's administration. For this reason,artists known in digital art are posted here and their works are valued higher than on Rarible and OpenSea.
Foundation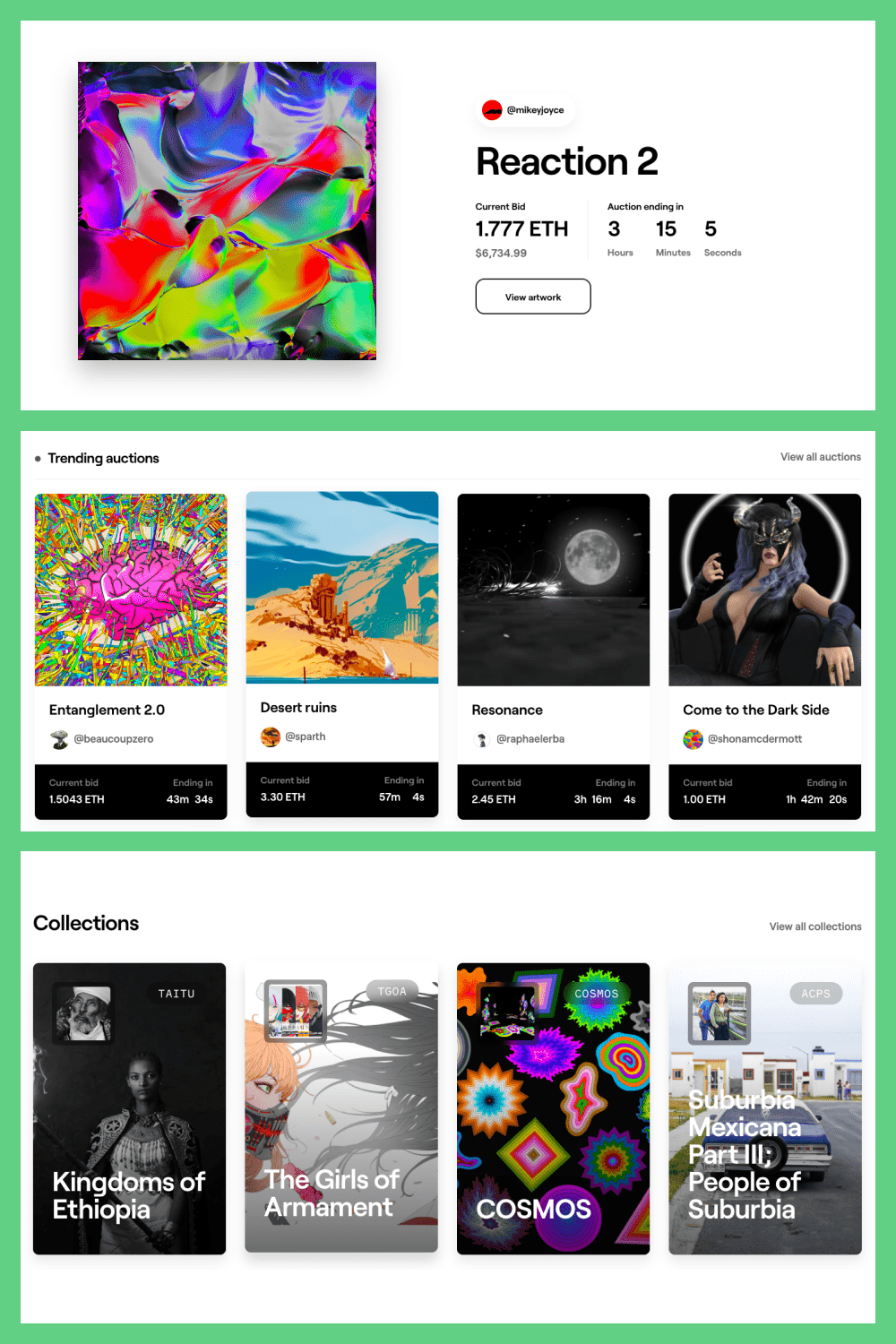 Foundation only hosts digital paintings. To buy an art token, you don't need to register on the platform. You can log in using MetaMask.
To become an author at the Foundation, you need to join the official community in Discord and share your work in the "intros-invites" channel. Also, you can find an artist you know on the Foundation and ask him for an invitation.
Here, the sale of tokens is done through an auction. The person who indicates a high price for a certain time gets the work. Therefore, when buying a token you should pay attention to two parameters—price and time.
Makers Place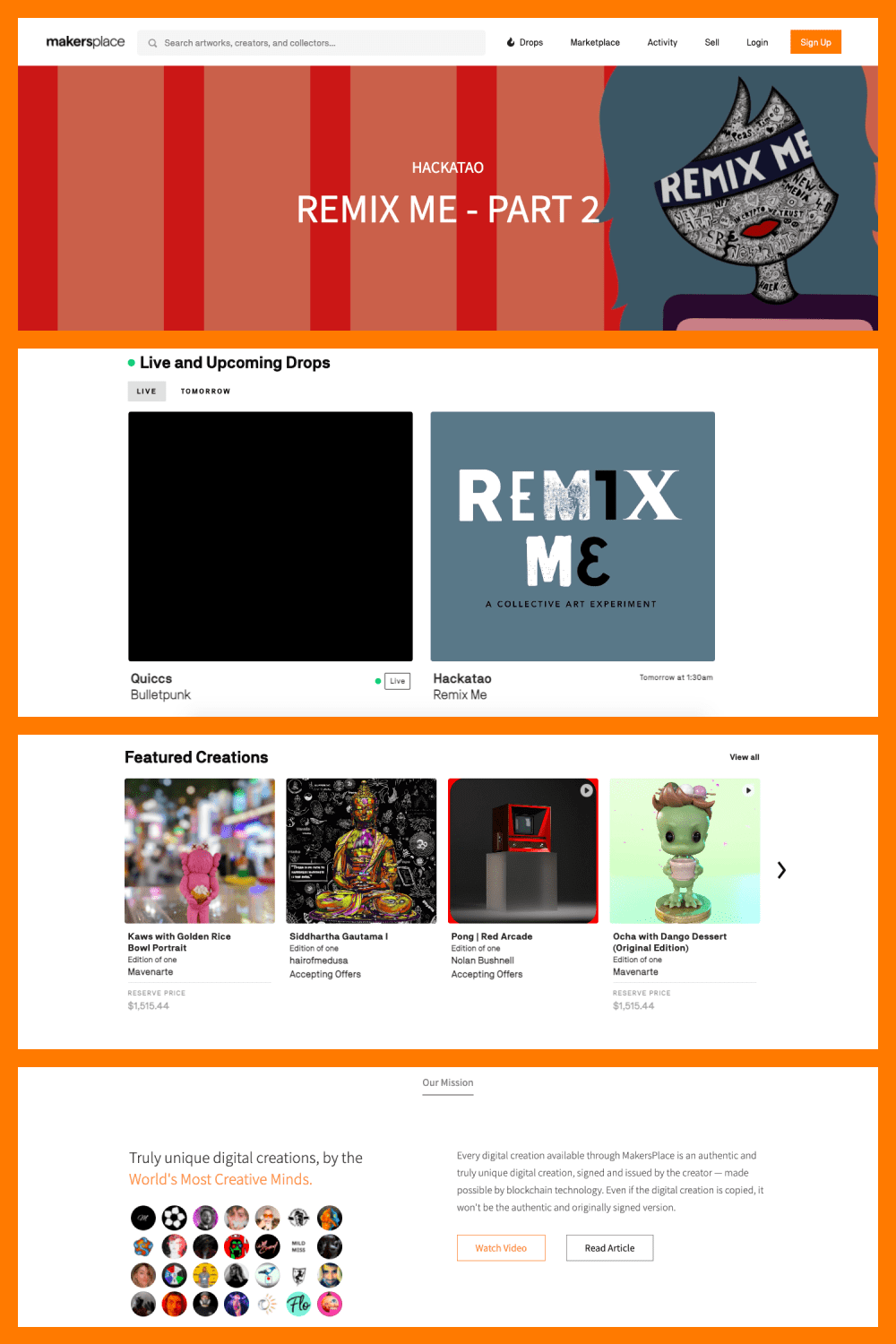 The Makers Place platform allows artists to sell their digital works to a wide audience. Only digital art is presented here.
To buy an art token on Makers Place, you need to register on the site. You need an invitation to post your work on the platform. You can get it in the platform's official Discord community.
Async art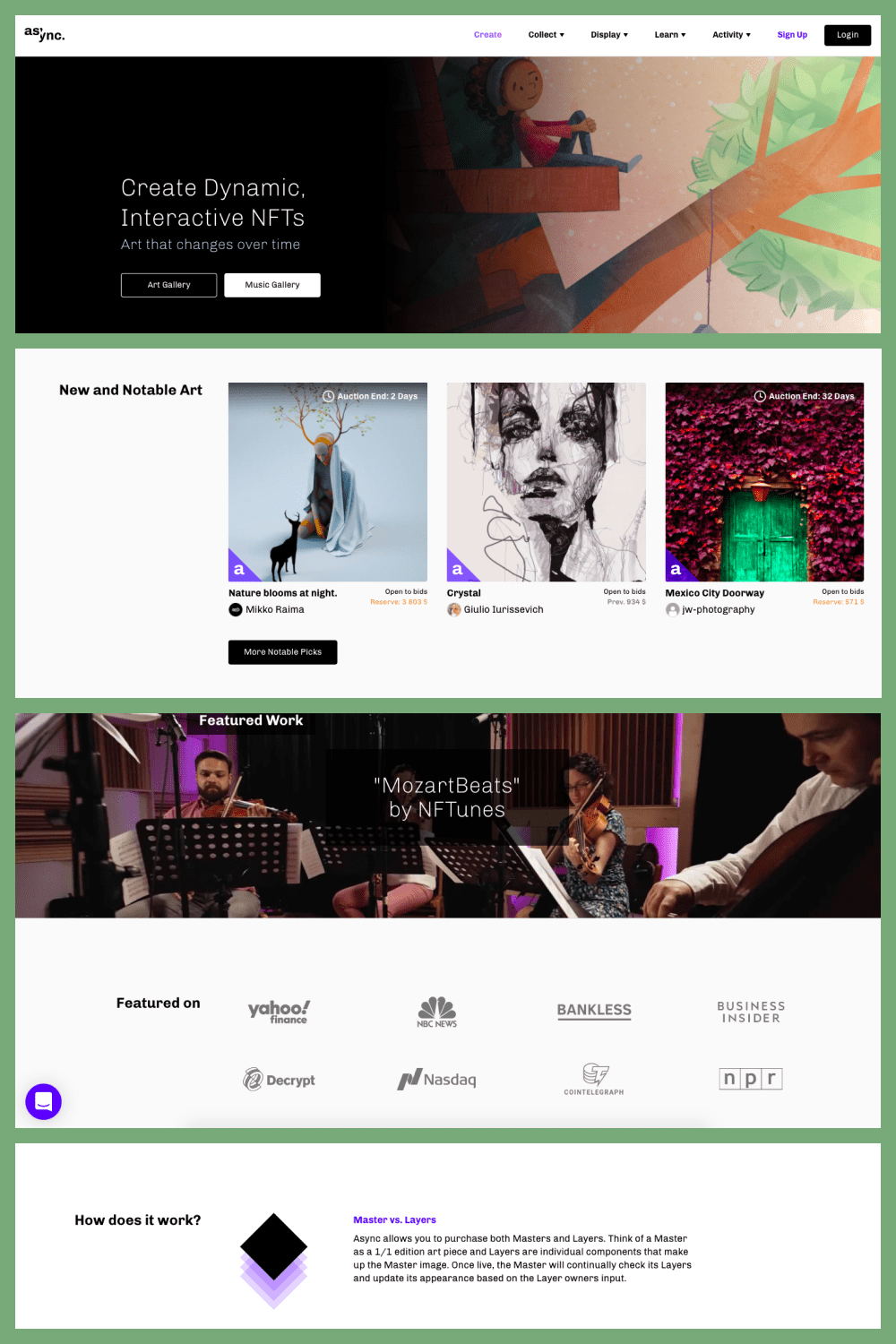 Only popular artists can submit their works to Async art. The platform is designed for digital art trading.
There is no need to register on Async art. You can log in through MetaMask. In order to upload your work, you will need to apply for approval of the artist's account in advance. A distinctive feature of the platform is that you can create art online using the Async Canvas tool. This allows you to sell your art as a whole or individually in layers.
Known Origin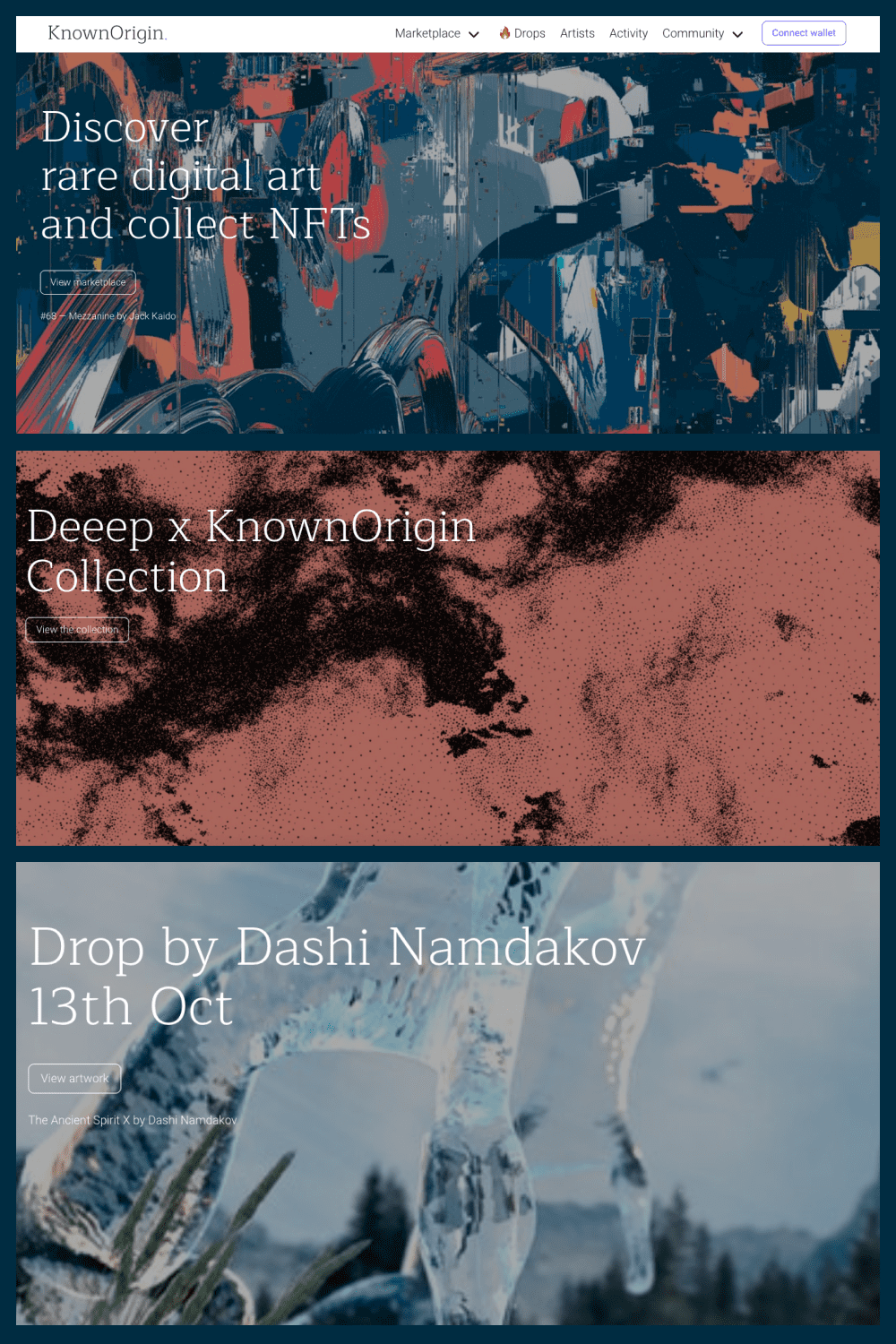 Over 18,000 works have been sold on Known Origin. Only digital paintings are posted here. The platform also has its own blog. There, you can find news about the platform, collaboration stories, interviews, and artist news.
On Known Origin, you don't need to register. Signing in through MetaMask is enough.
To post your work, you'll need to apply for artist account approval in advance. Known Origin has its own hall of fame, featuring the highest paid authors, paintings, and collections.
ArtBlocks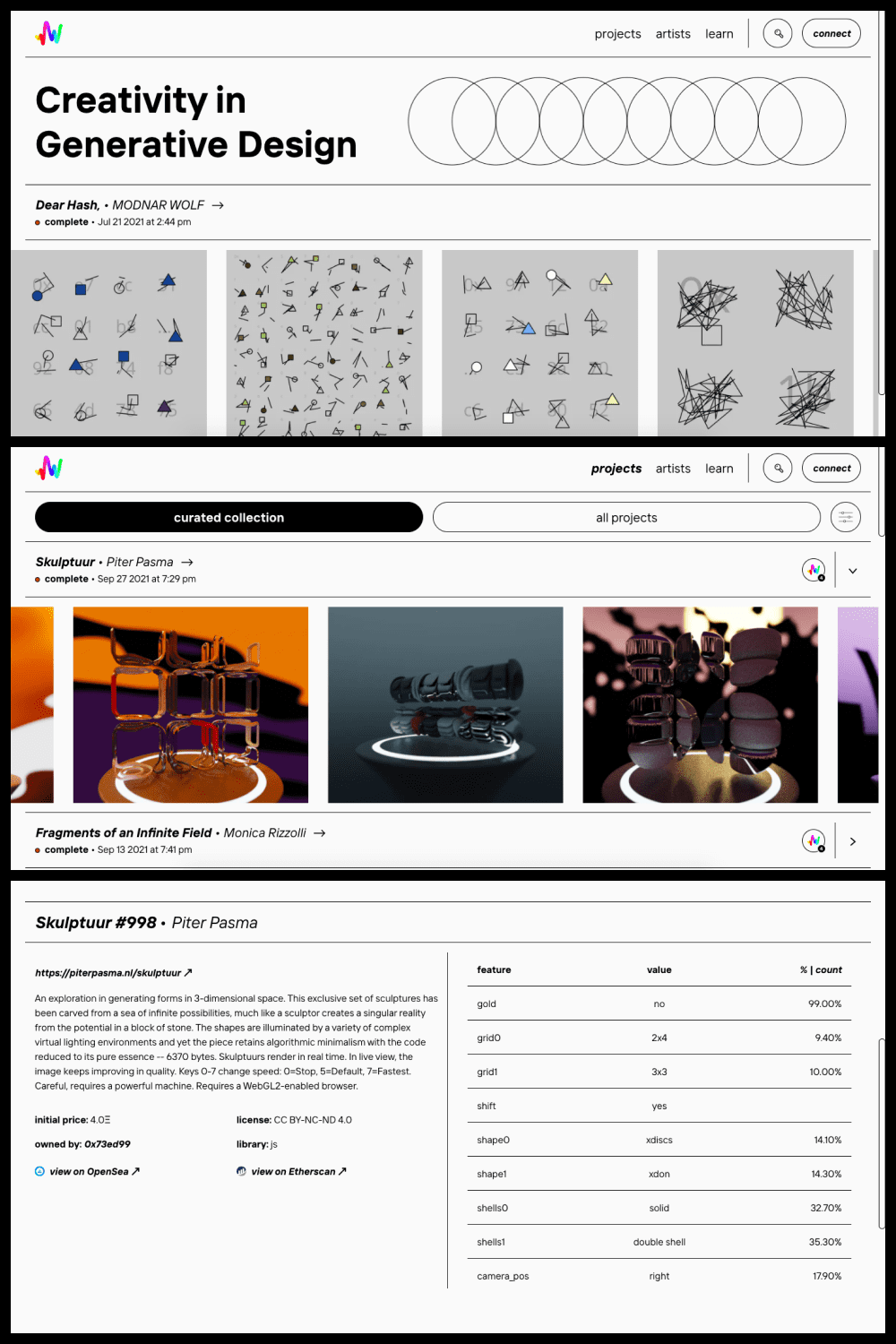 ArtBlocks generates a random token when an NFT is purchased and the user doesn't know what painting he is buying until the end of the transaction. He chooses the style in which the work is done and pays for it. The algorithm randomly generates NFTs based on the specified parameters and sends them to the user's account. The result is a static image, a 3D model, or a gif.
To buy the piece of art, all you have to do is log in through MetaMask and make the transaction. It's more difficult to post a work on the platform: you need to get an invitation or send an email to the site developers asking for collaboration.
The NFT field is only gaining momentum. Now is the best time to start working with a new asset class. Great prospects are opening up for those who want to become part of this field or just be involved in NFT collecting. As the field develops, more and more participants are involved.
If you want to sell NFTs quickly and profitably, the best way to do that is to work with MasterBundles and use the Sell-Your-Deal Form on the website. It is super easy to sell any of your original graphic designs through this tool! 🙂
Recommended Posts For You
Some Awesome Video About NFT Marketplace
The best NFT marketplaces

In this video you'll learn what the best NFT marketplaces are to buy and sell NFT art, music and collectibles. The video also explains what NFTs are and how they are minted.
Disclosure: MasterBundles website page may contain advertising materials that may lead to us receiving a commission fee if you purchase a product. However, this does not affect our opinion of the product in any way and we do not receive any bonuses for positive or negative ratings.