The Most Expensive NFT Sales. From virtual land in a game to collages and tweets: we've compiled a ranking of the most expensive NFT token sales.
Since the beginning of the year, the world has seen a real boom around NFT tokens—digital art objects that exist in a single copy and are linked to tokens based on the Ethereum blockchain.
Digital artist Mike Winkelman received $60.3 million for his work as an NFT token, and the Larva Labs team regularly sells NFT images of the 24×24 pixel CryptoPunks collection, with an average price of $7.58 million. If you missed this news or haven't fully figured out what NFTs are and why people buy them, read this article.
$69.3 million: Digital collage Everydays: The First 5000 Days by Beeple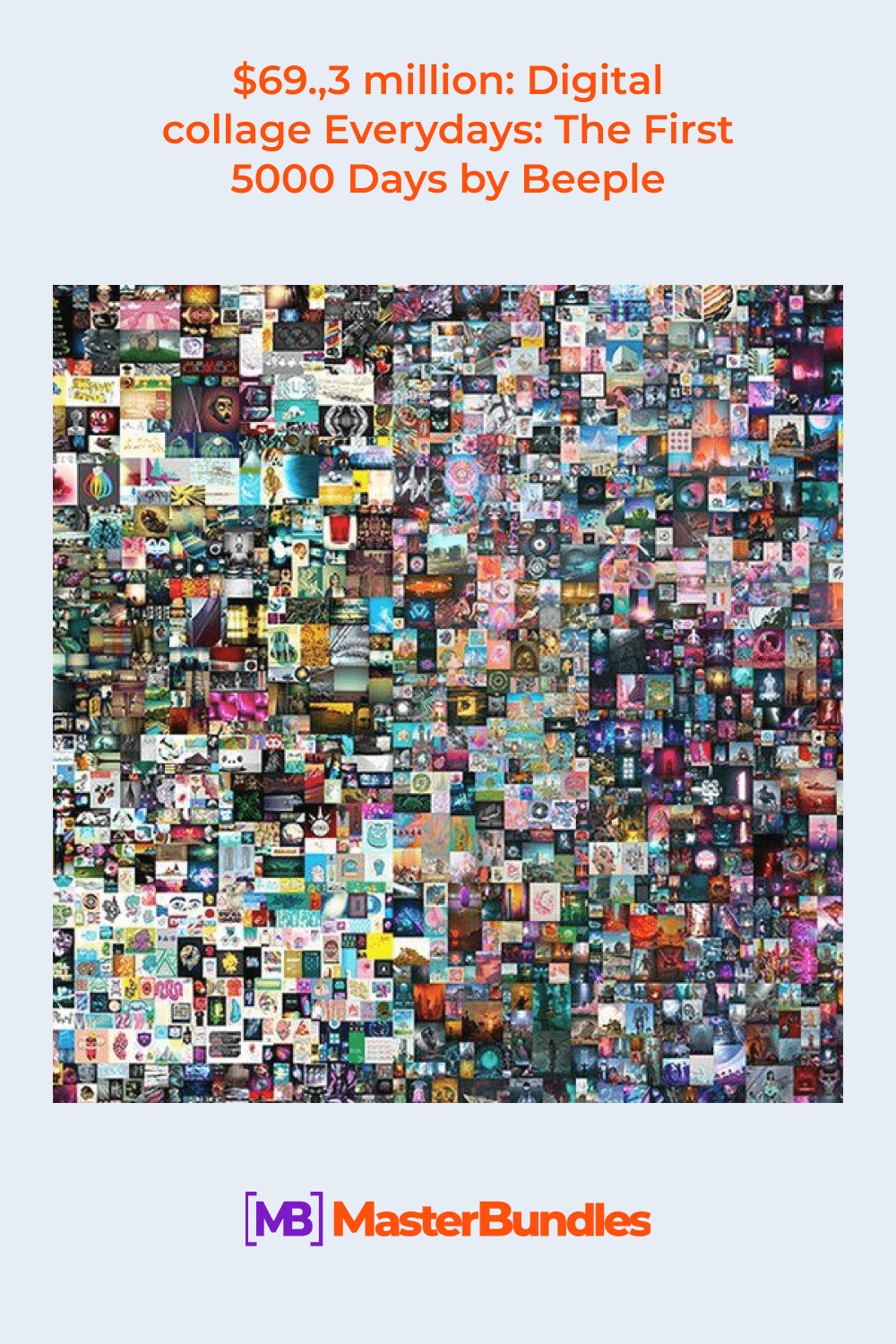 The creator of the most expensive NFT is the artist Mike Winkelman, known by the nickname Beeple. The final bid for his work was $60.3 million, but the price also included a commission. The auction ended on March 11 at Christie's.
Everydays: The First 5000 Days is a collage of thousands of works by Winkelman published online since 2007. The buyer of the NFT was the user Metakovan.
$7.58 million: CryptoPunks collection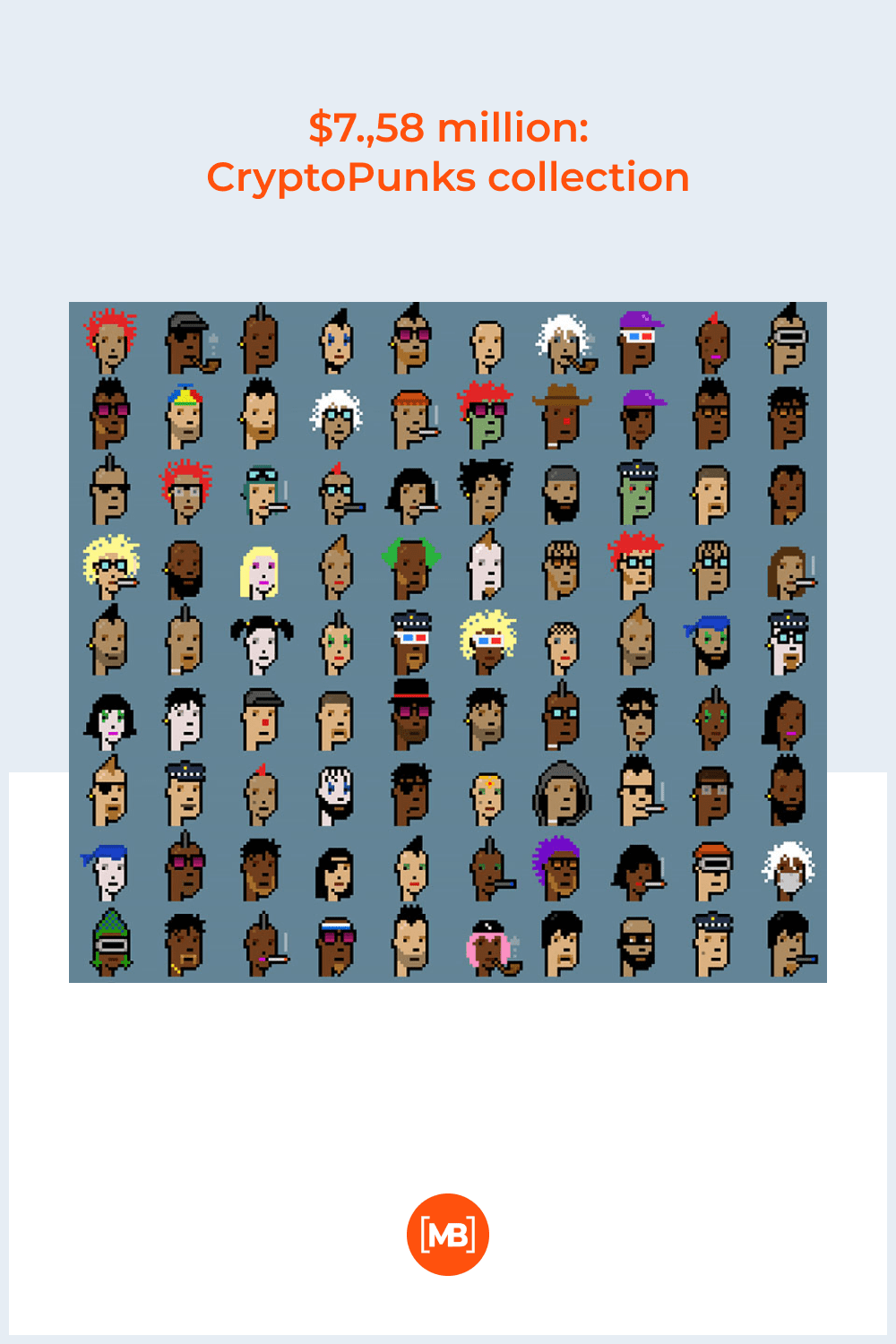 In 2017, the Larva Labs team launched the CryptoPunks project of 10,000 NFT images sized 24×24 pixels. Initially, many tokens from this collection were distributed for free.
On March 11, one of the nine alien CryptoPunks was sold for $7.58 million. Its current owner is unknown.
Another alien CryptoPunk #7804 was sold for $7.57 million. NFT was sold for the same 4,200 ETH as CryptoPunk #3100, but the Ethereum to U.S. dollar rate changed at the time of the sale.
$6.6 million: Crossroads by Beeple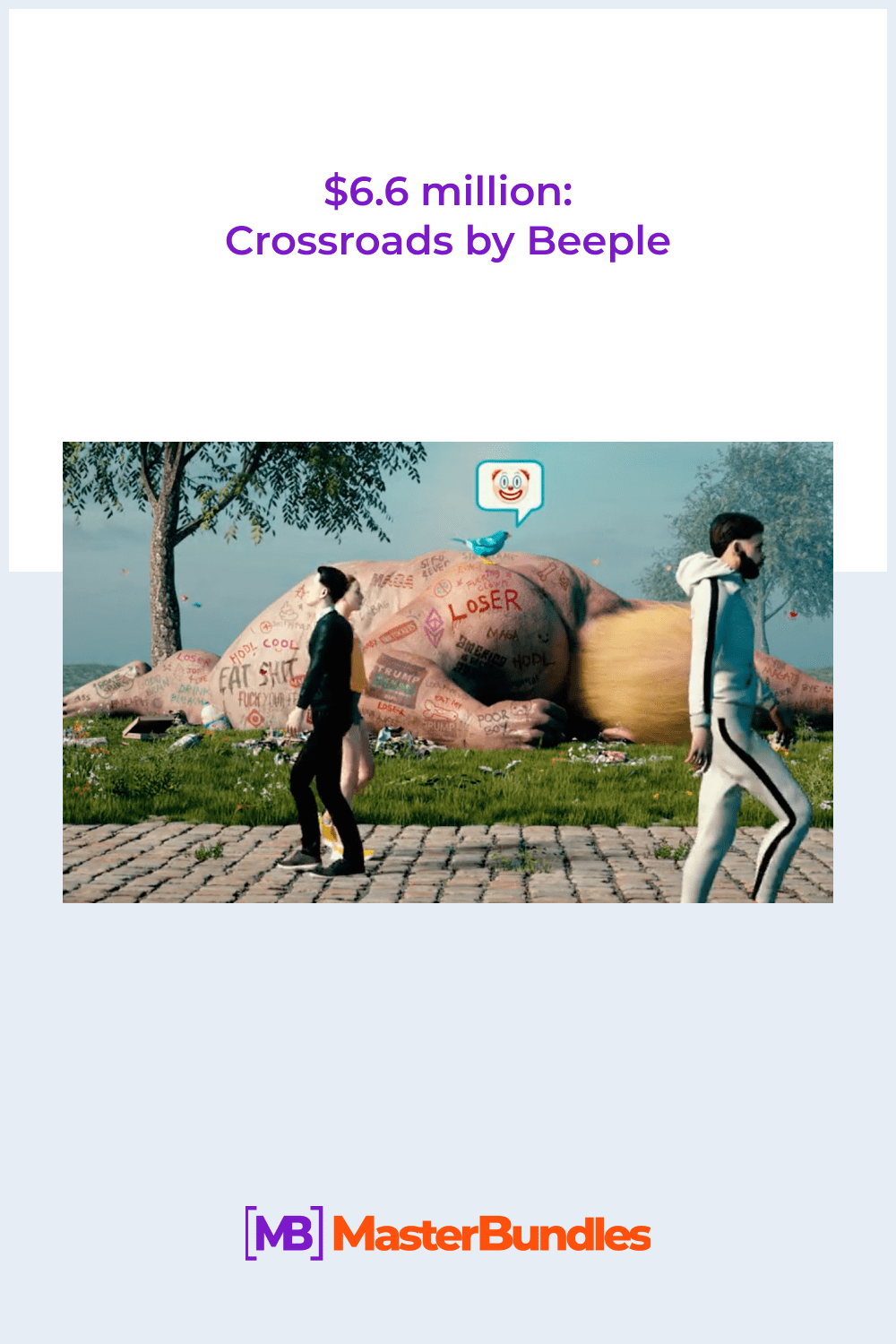 On Feb. 25, Winkelman's work, timed to coincide with the 2020 U.S. presidential election, was resold on the Nifty Gateway platform for $6.6 million. In December 2020, Beeple bought Crossroads for $582,000.
The artwork contains an image of ex-President Donald Trump, who lost the election, lying in a pile of garbage. According to the artist's idea, the NFT was supposed to change depending on the outcome of the election.
If Republican Donald Trump won, the token would have changed to a crowned sporty Trump stepping through the flames.
$5.8 million: War Nymph collection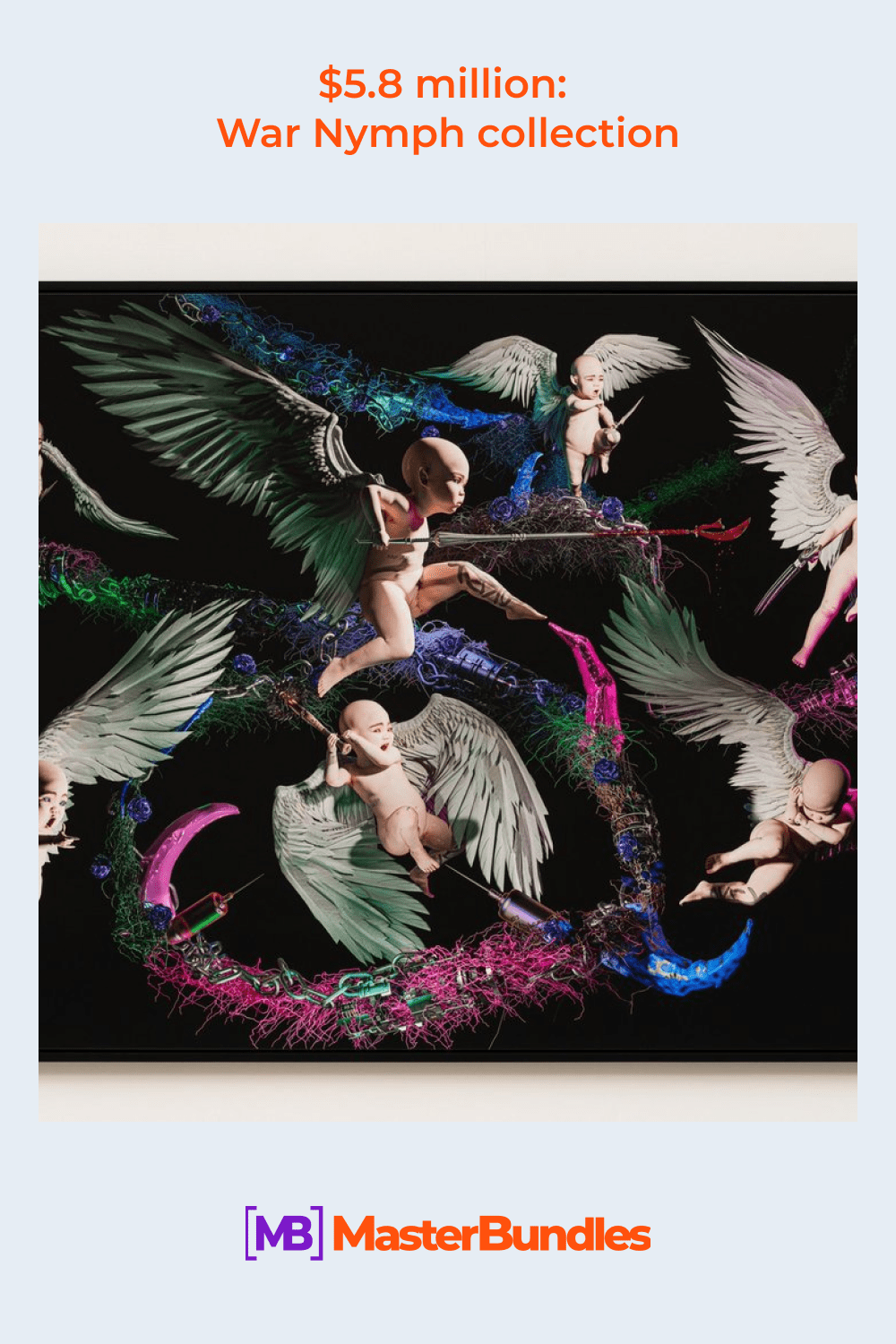 Canadian singer Claire Alice Bouchet, known under the pseudonym Grimes, made $5.8 million in 20 minutes by selling a collection of digital images.
Grimes used an NFT trading platform called Nifty Gateway to sell items she worked on with her brother, Mac Boucher.
The singer put on sale 100 copies of each picture. A random participant of the auction might become the winner, but not the one who offered the highest price.
$5.26 million: Stay Free by Edward Snowden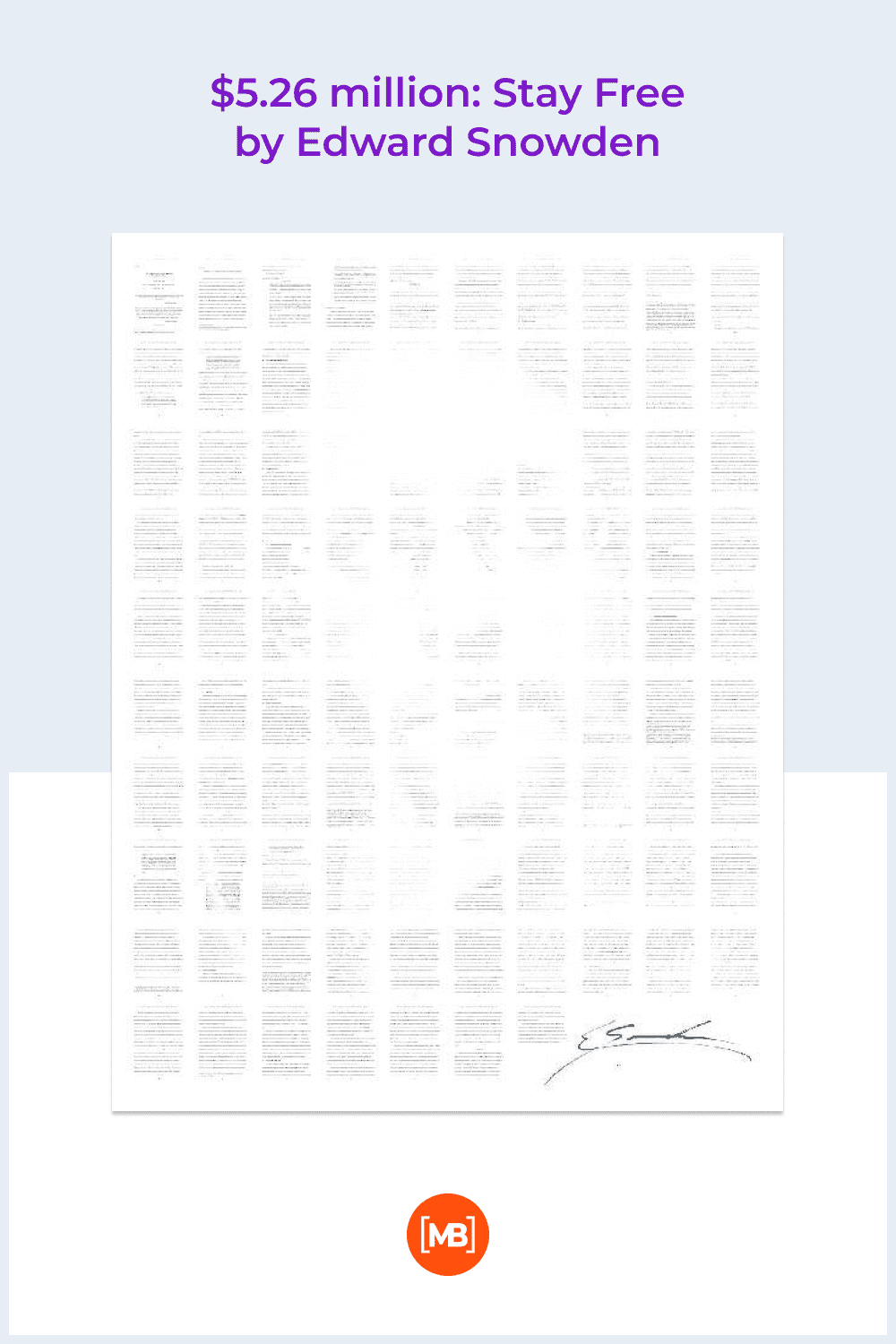 The only NFT to date created by Edward Snowden. It is a collage of the text of a court decision that ruled the mass surveillance of the U.S. National Security Agency illegal.
The NFT was created using open-source software.
$2.9 million: The Jack Dorsey's 1st Tweet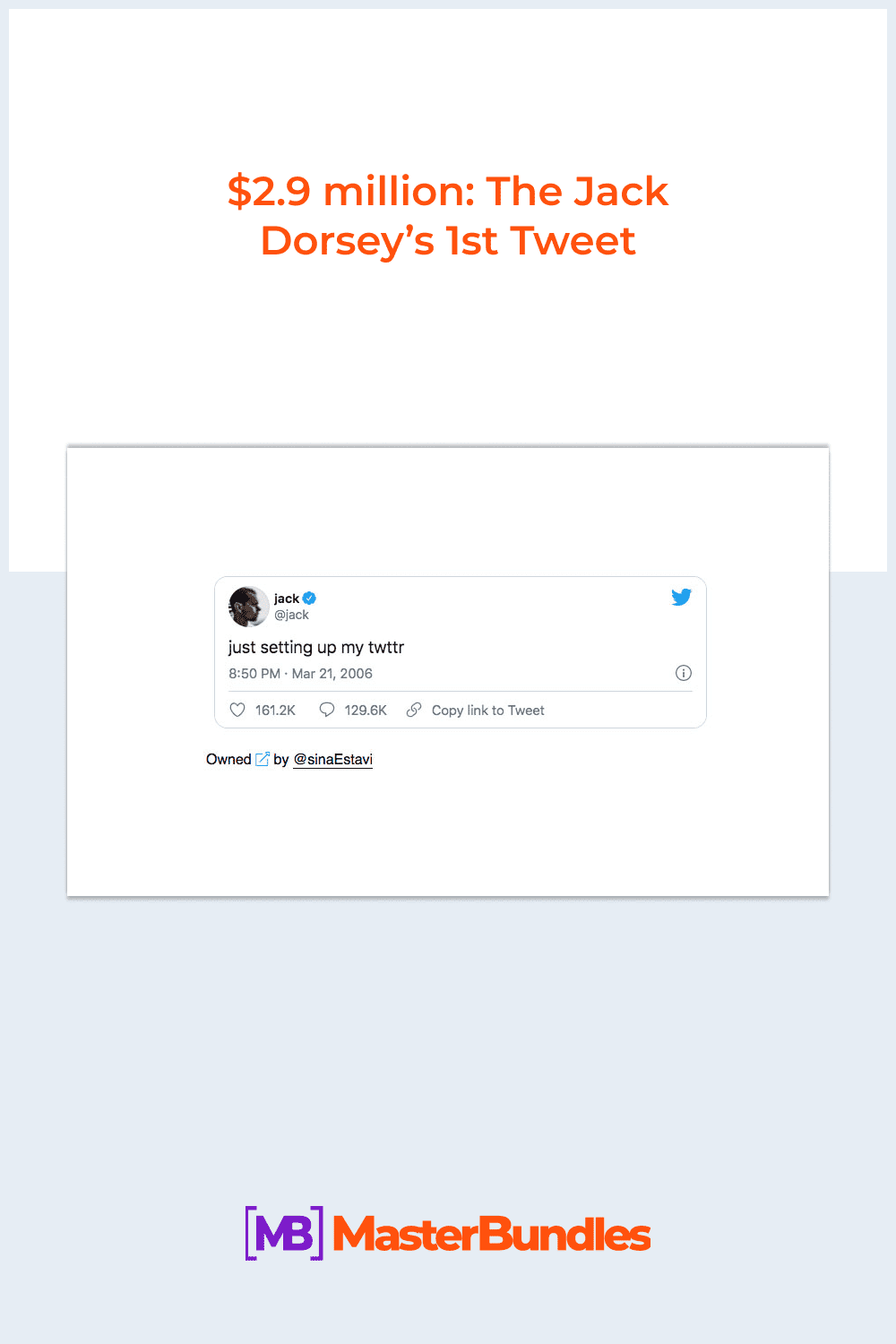 Not only art objects and virtual earth, but also the first tweet by a Twitter executive can be sold as NFT. The tweet was bought by Bridge Oracle startup CEO. The tweet was made on March 21, 2006.
Jack Dorsey planned to use the money he received for charity.
$1.36 million: The Pixel by Murat Pak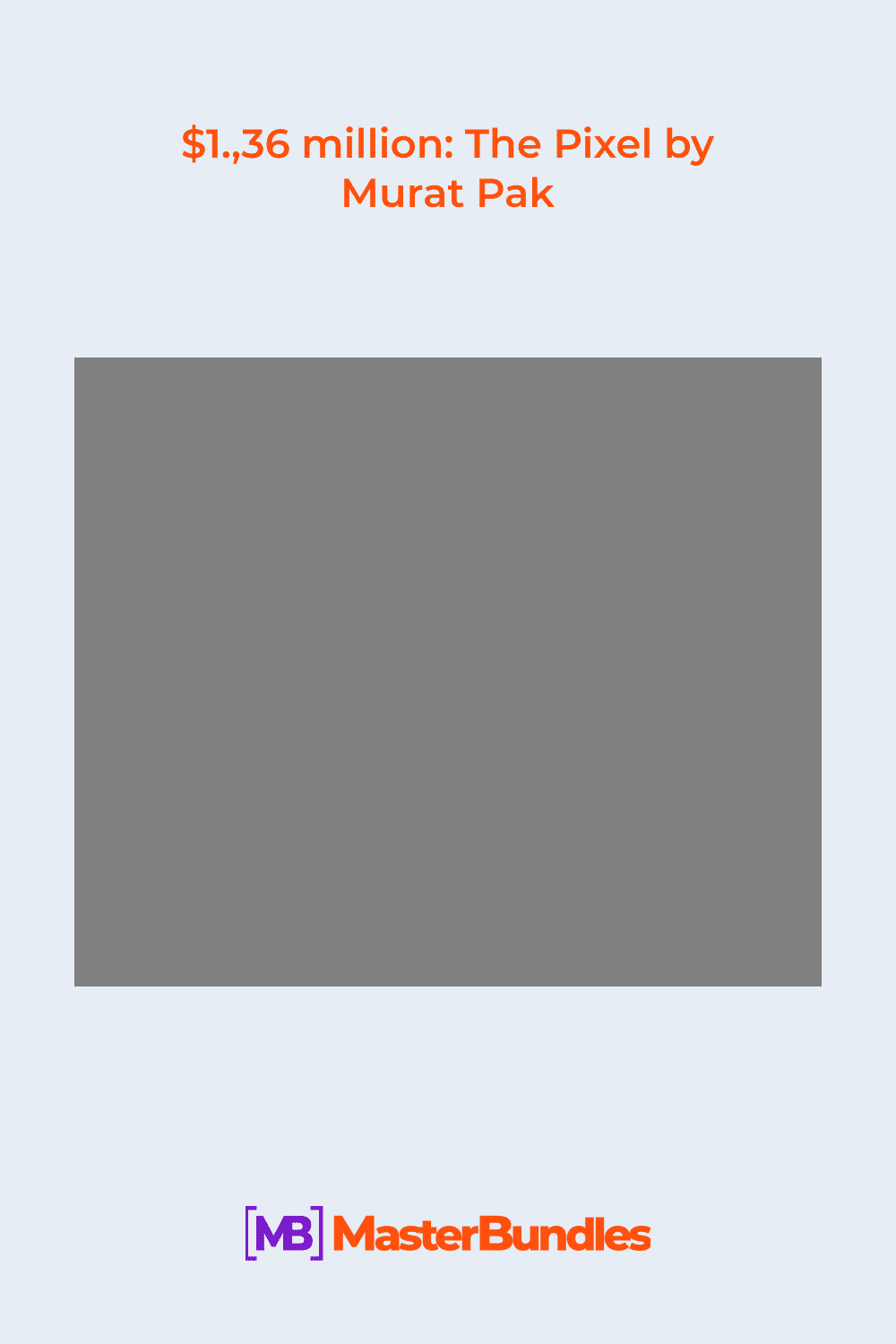 On April 17, an anonymous artist under the nickname Murat Pak sold a usual gray 1×1 pixel in the form of an NFT on the Nifty Gateway platform.
The irreplaceable token was part of The Fungible collection created in collaboration with Sotheby's, an auction house founded in 1744.
$1 million: Forever Rose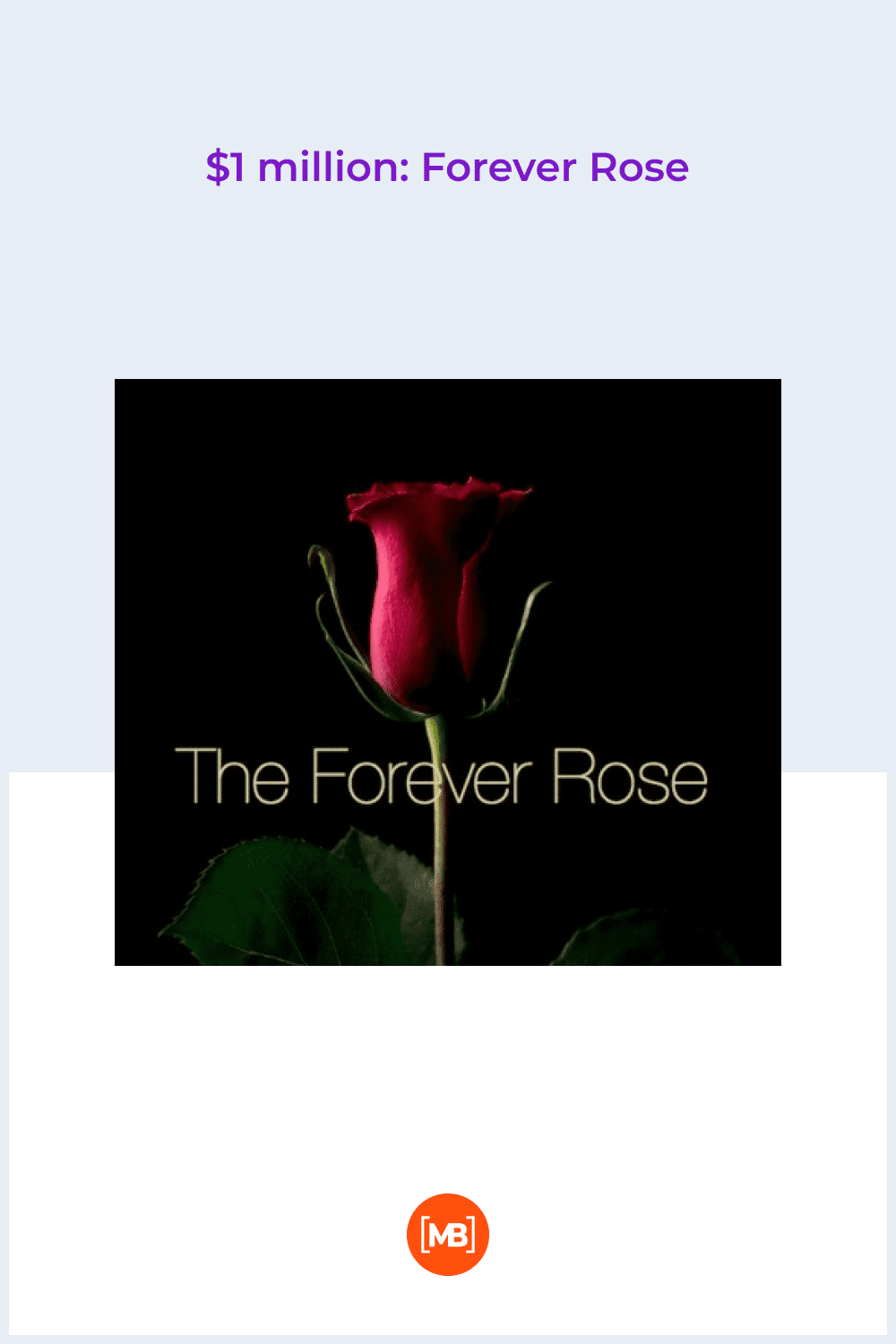 Kevin Ebosh is known for his conceptual artworks. Even before the digital craze, he managed to close several lucrative deals and even sold a photo of a potato for a million euros. On Valentine's Day 2018, Ebosh sold one of his photos for $1 million. At the time, the photo was the most expensive NFT in the world.
$904,000: Metarift digital art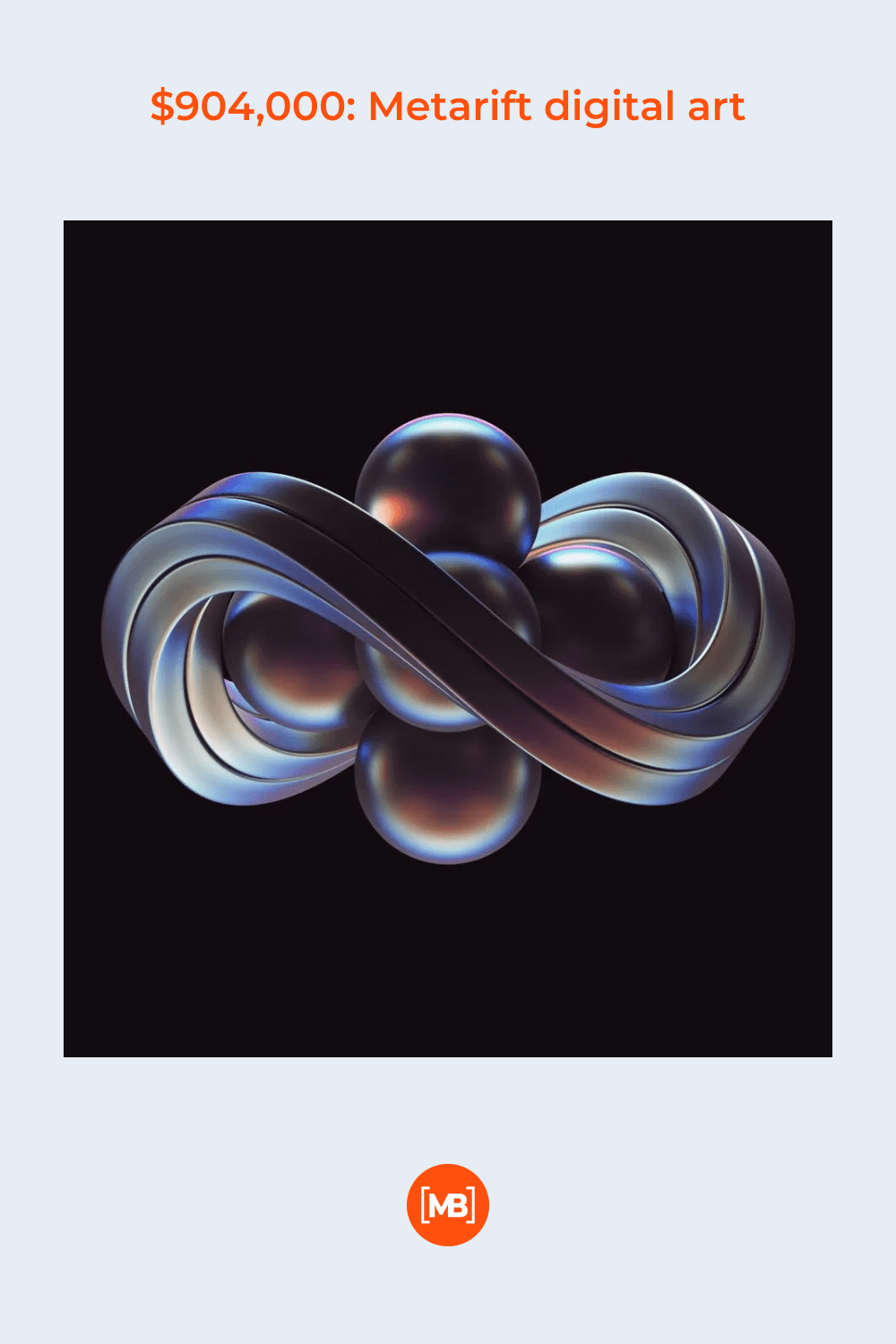 No one knows the author of this work of art. He uses the nickname Pak, but online he is often referred to as Satoshi of crypto-art (a reference to the anonymous bitcoin creator who uses the pseudonym Satoshi Nakamoto). Metarift is a set of spherical objects grouped together, surrounded by an infinity symbol.
$888,888.88: Hairy gif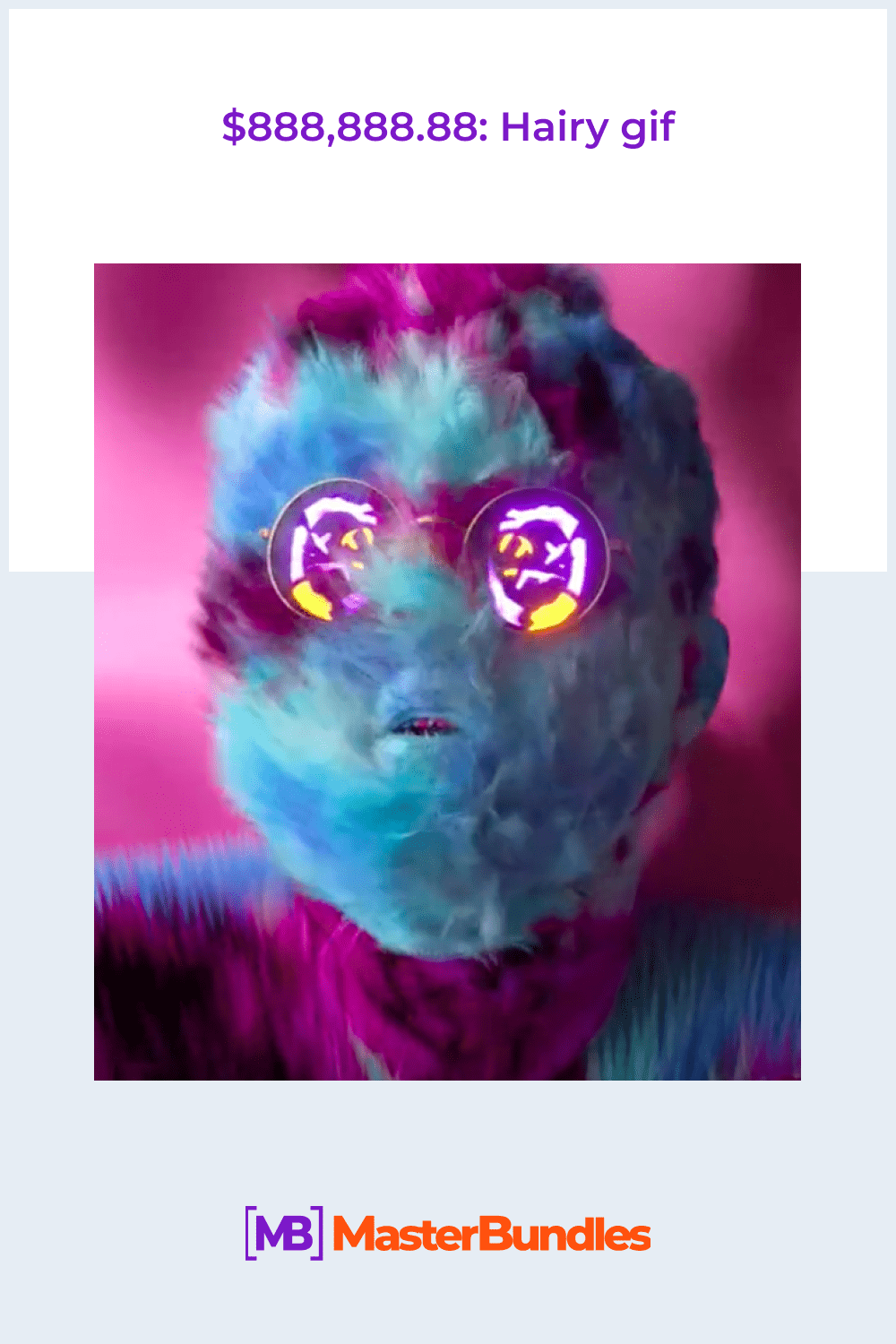 Electronic music composer Steve Aoki collaborated with 3D artist Anthony Tudisco to create the Hairy gif, dancing to Aoki's music. This NFT was sold on the Gateway platform in February for $888,888.88, which not only gives it special value but also makes it a record deal on the platform.
$590,000: Nyan Cat gif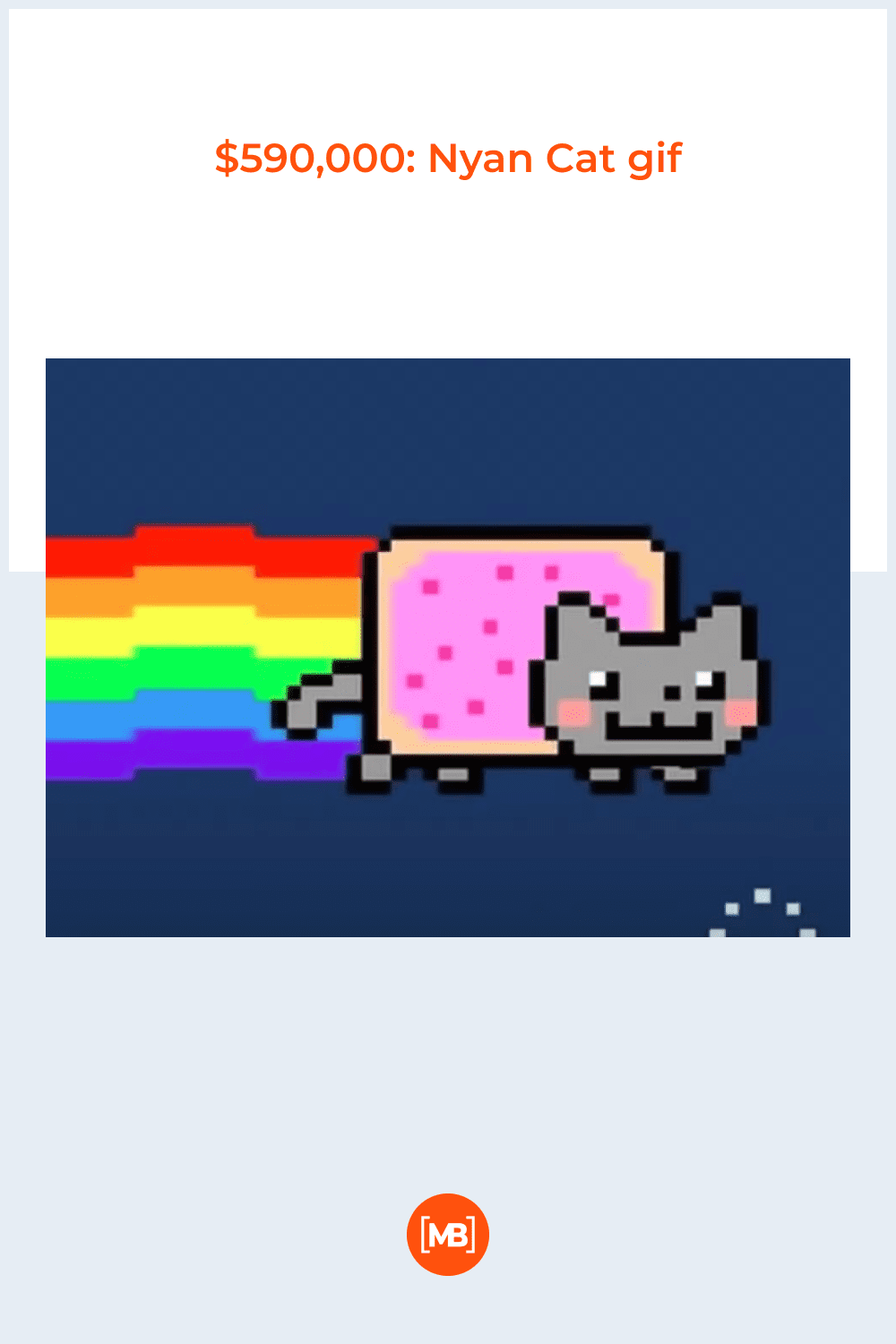 The legendary Nyan Cat meme is 10 years old this year. However, that didn't stop its author Chris Torres from tokenizing it and selling it at a Foundation auction for cryptocurrency – exactly 300 ETH or about $590,000.
As you can see from the ratings above, NFT tokens are very popular nowadays. Their advantages are the ability to monetize creative projects and easily buy and sell game items. In the future, NFT tokens could be used to certify ownership of real estate and register copyrights and patents. But this area still needs to be finalized. Due to the application of smart contracts, NFT tokens transactions are transparent and secure. Experts believe that now the market is oversupplied, and perhaps it is worth a little wait with investments in this asset. However, if your goal is to support the author or to get a favorite work in the collection, feel free to do this.
And if you have something to show to this world and want to earn some money, you are welcome to sell your creative works through Master Bundles Sell-Your-Deal Form on the website. It is super easy to sell any of your original graphic designs through this tool! 🙂
Recommended Posts For You
Some Awesome Video About NFT Sale
Top 10 Most Expensive NFT Art Sales

People are making shocking amounts of money thanks to this crazy new trend! For this list, we'll be looking at non-fungible token art and collectibles sales, both individual works and limited collections, that have fetched the highest prices as of early 2021.
Disclosure: MasterBundles website page may contain advertising materials that may lead to us receiving a commission fee if you purchase a product. However, this does not affect our opinion of the product in any way and we do not receive any bonuses for positive or negative ratings.