I believe that hard work and dedication lead to satisfying results – Ismini Teligioridou
Ismini Teligioridou is an artist, illustrator, and entrepreneur currently living and working in Thessaloniki, the second biggest city in Greece.
Born in 1990, she has vast studies in the subject of the visual arts, including studies in the Faculty of Visual and Applied Arts (Aristotle University of Thessaloniki), and a Master in Investigation in Art and Creation, (Facultad de Bellas Artes, Universidad Complutense de Madrid).
She investigates social, aesthetic, and cultural issues using portraits and representations of past times. Combining these traditional artworks with fresh and innovative imagery from a contemporary era, she aims to emphasize the dipoles: old-modern, conservatism-innovation, ugly-beauty and more. This dialogue between the past and the present is an artistic-cultural experiment that gives timeless value to the works created.
She participates regularly in art contests and her very particular style has earned her multiple chances to exhibit in prestigious museums and art galleries, such as Thanassis Frissiras Gallery; Artis Causa Gallery, Macedonian Museum of Contemporary Arts, Artforum Gallery, Art Thessaloniki International Art Fair, and State Museum of Contemporary Art. Her participation in "Versiona Thyssen IV" won the first prize in this well-renowned contest.
Pinky Finger is her own illustrated products business, where her audience can find t-shirts, decorations, postcards, and accessories. The amazing thing about this brand is that each piece is hand-painted, which means that her customers are not buying a reproduction of her art but a small piece of original art instead!
As well as discovering everything that inspires her in this interview, don't miss the video, where you can see the preliminary sketches she makes before each painting she creates.
What life events influenced your decision to become an artist?
There is no specific event that made me decide to become an artist. I have wanted it ever since I was a kid and fortunately, I have had all the support from my family ever since I expressed the will to do so.
You've developed a series of Christmas greeting cards. Tell us about your inspiration!
Regarding Santa on Vespa, I like bright colors and cheerful representations! I also like retro and vintage styles. I am a huge fan of the old times. I also like to give a humorous character to my illustrations in order to enhance cheerfulness.
The ornamented cards are inspired by the traditional Balkan and Scandinavian folklore patterns. I like the details and the decorative aesthetic of them.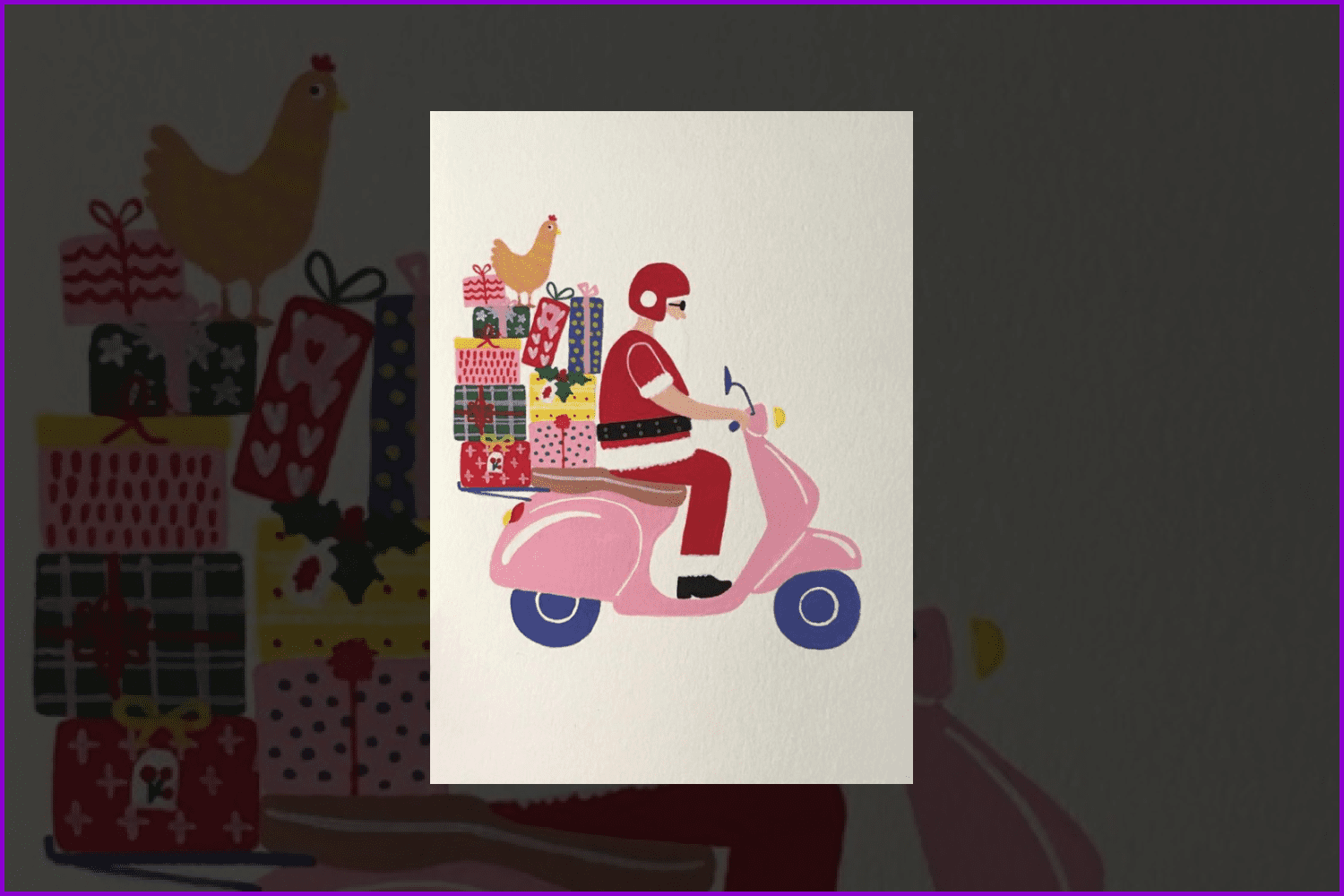 'Santa on Vespa' hand-painted wish card.
How do you develop the lettering for these cards? Do you rely on typographies, or maybe get inspiration from old postcards?
Lately, I have been experimenting with calligraphy. I have had an interest in calligraphy ever since I was a teenager. I have searched tutorials, various inks, pens, and markers in order to achieve the desired result. I already have a small collection of fountain pens which I am proud of. It is a relaxing and fun process, and the result is beautiful.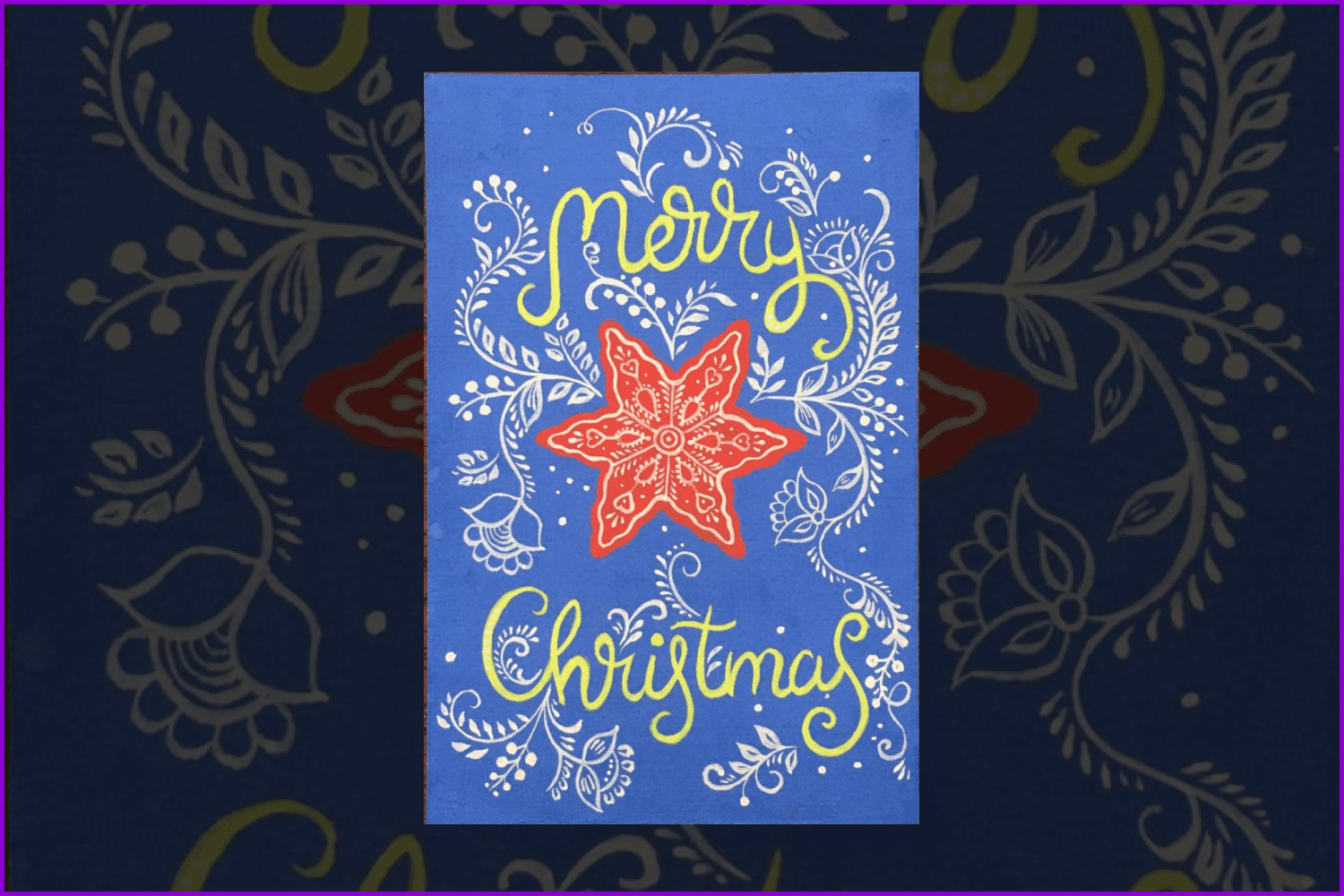 'Merry Christmas' postcard with Scandinavian inspiration and eye-catching lettering.
You had the opportunity to exhibit your art at the International Contemporary Art Fair in Thessaloniki and also at the Art Forum Gallery. How was this experience of exhibiting your art to the public?
My participation at the ''Art Thessaloniki'' Art Fair was for the ''Mataroa'' prize contest for young artists. I was happy to be selected as a participant and I was surprised by the level of the fellow artists exhibited. The exhibition at the ''Art Forum'' gallery was with some of the artists of the contests. In both exhibitions, it felt great to share my art with the public and meet other artists. I always enjoy the exhibitions I participate in. It is a great opportunity to communicate with the public and the artists and exchange opinions and views on art. It elevates my confidence as an artist and gives me a boost to keep on my work.
"Lick my lollipop" Watercolour on paper, 2021..
I was looking for a way to combine traditional art methods with commercial production. I first started by creating hand-printed garments for myself. Then I thought of taking it a step further and selling it to the public. I insist on traditional handmade products because it is what I know best! I am often asked "why handmade?". It is because each piece has an artistic value, is unique and mistakes are part of the production, which make them even more interesting! Furthermore, I enjoy the process of making things by hand, regardless of the time needed for each piece. Many of my customers use my products as artworks, framing them instead of using them as postcards or bookmarks!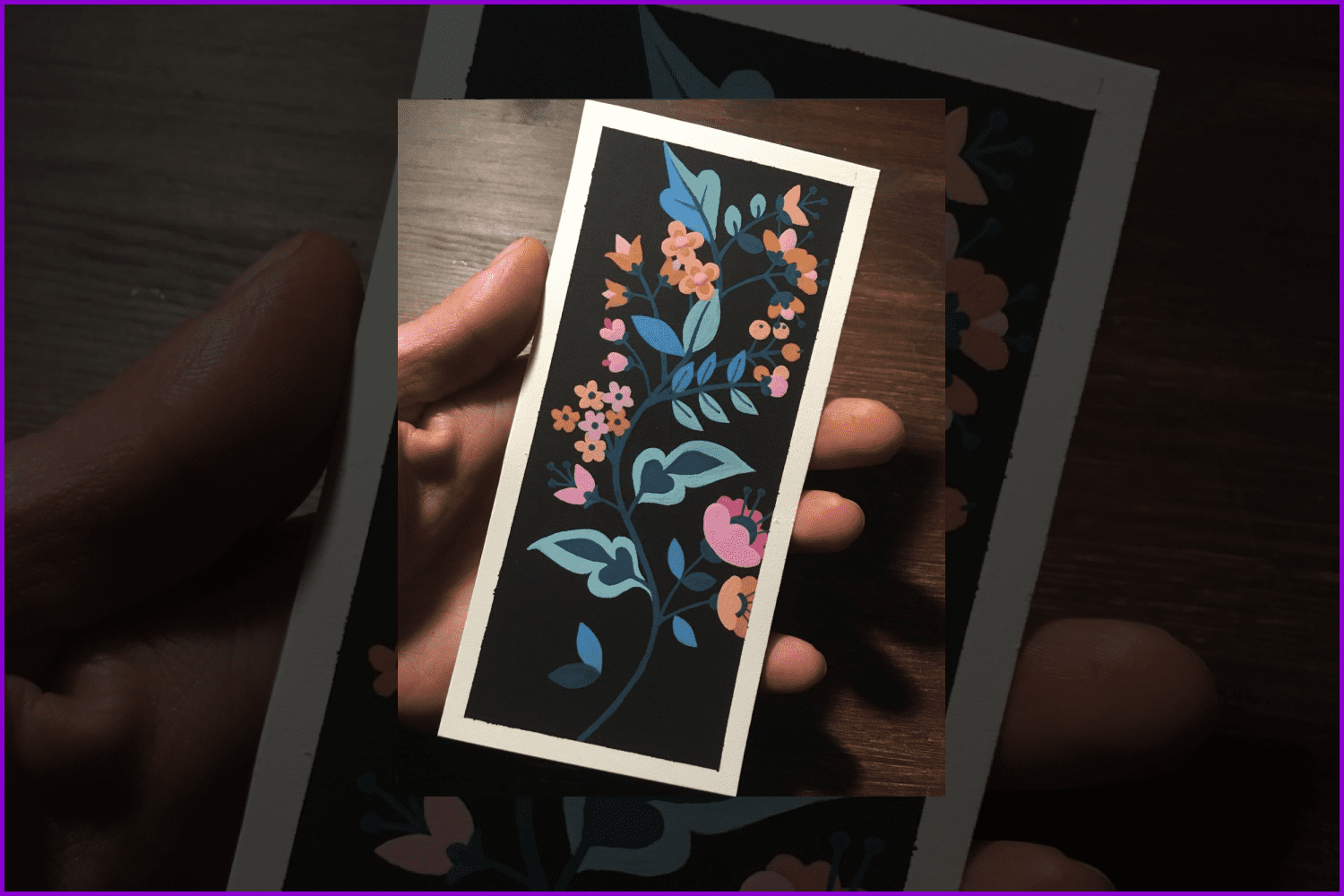 Several of your works embrace a "classic meets modern" style. Where does this interest come from?
I developed an interest in classic art when I was in my third year at the Fine Art school. At first, it started as an experiment to find my personal style. I remember searching my artbooks to find portraits in order to distort them. Later I developed a deep liking for the European renaissance and baroque art. In Greece we didn't experience the renaissance period as western Europe did, so the aesthetic of that era was unfamiliar to me. I am attracted to the art, the architecture, the clothing, and the philosophy of those times, so I introduce it in my art and combine it with modern elements. Using artworks of the past, I build a fresh and innovative image, in order to disintegrate the traditional view and emphasize the dipoles: old-modern, conservatism-innovation, ugly-beauty, and more. It is an artistic-cultural experiment and I try to give a timeless value to the works created, establish a dialogue between the past and the present, propose reflections and give rise to other ways of reading the works by comparing the different customs, eras, and traditions.
You use analog tools (gouache, watercolor, oil, even embroidery!) to illustrate. Have you ever tried to illustrate with digital media?
I am attracted to digital media. They are practical, with endless possibilities, and less messy than traditional media! I have used digital media in many cases, either for commissioned works or personal experimentation and I am willing to explore this area even more. Although my love for traditional media is stronger!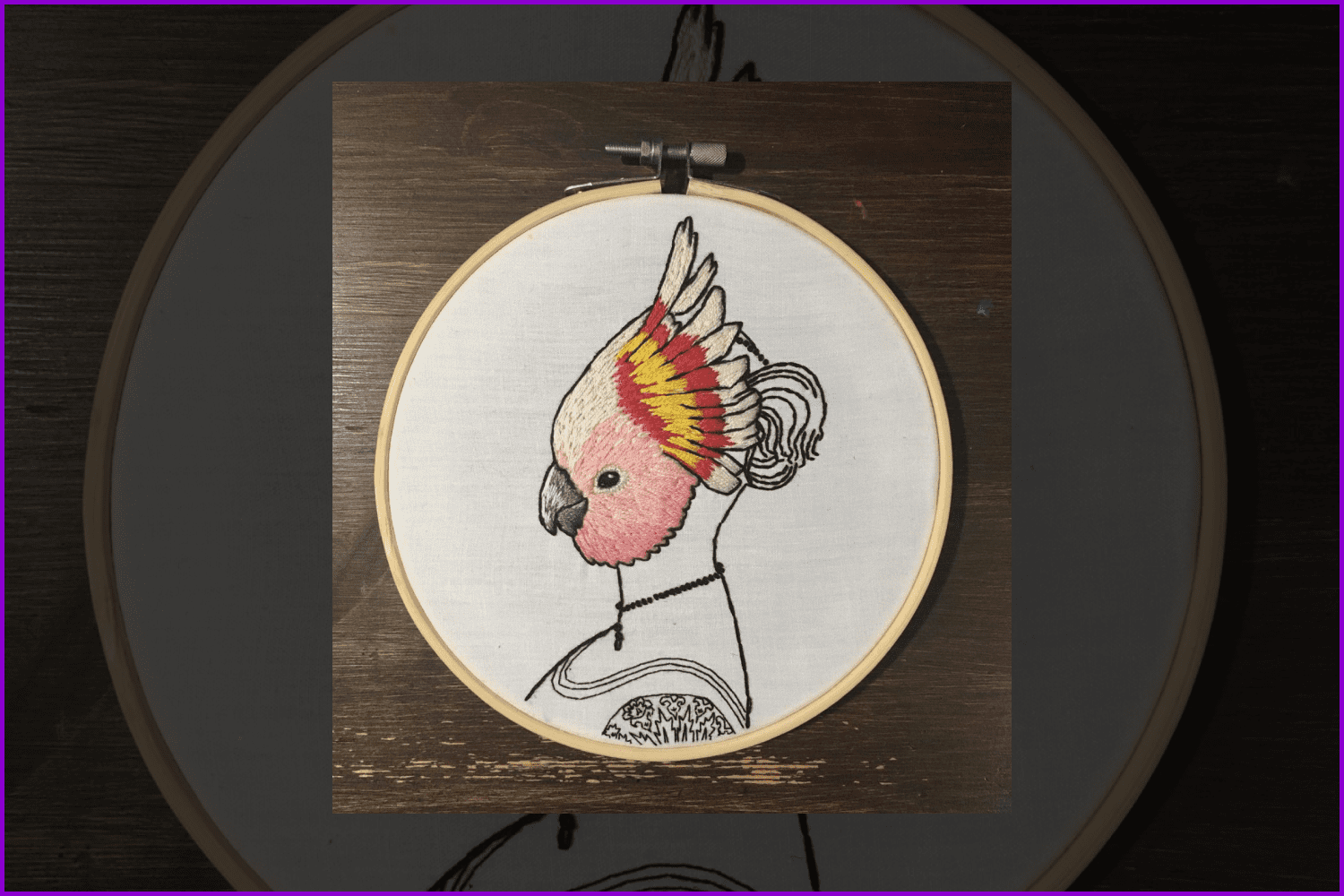 Renaissance figure with parrot mask embroidery.
How much does the workspace influence your process? What things can't be missing on your desk?
Although art can be made in any place, a personal workspace is always important. In my studio, organization and order are essentials. I cannot concentrate in an untidy workspace. I need all my tools clean and in order. Space is also important for my larger-scale artworks. I always have my digital devices around for inspiration and for a helping hand. My watercolors and gouache are also always on my desk. They are some of my favorite painting media that I mostly use in my work.
Tell us about an important moment in your professional career
One of the best moments I can recall is when a few years ago, I sent an application for a contest of the Frissiras Museum in Athens, the collection of which I admired ever since I was in art school. The next day, the owner of the museum called me on the phone in order to meet. Finally, I was not selected for the contest, but the meeting led to a collaboration that lasts until today and during which I have made some of the artworks I am most proud of. Another moment was when my artwork "You can call me he. You can call me she" was awarded at the "Versiona Thyssen" contest, an initiative of the Thyssen Museum of Madrid.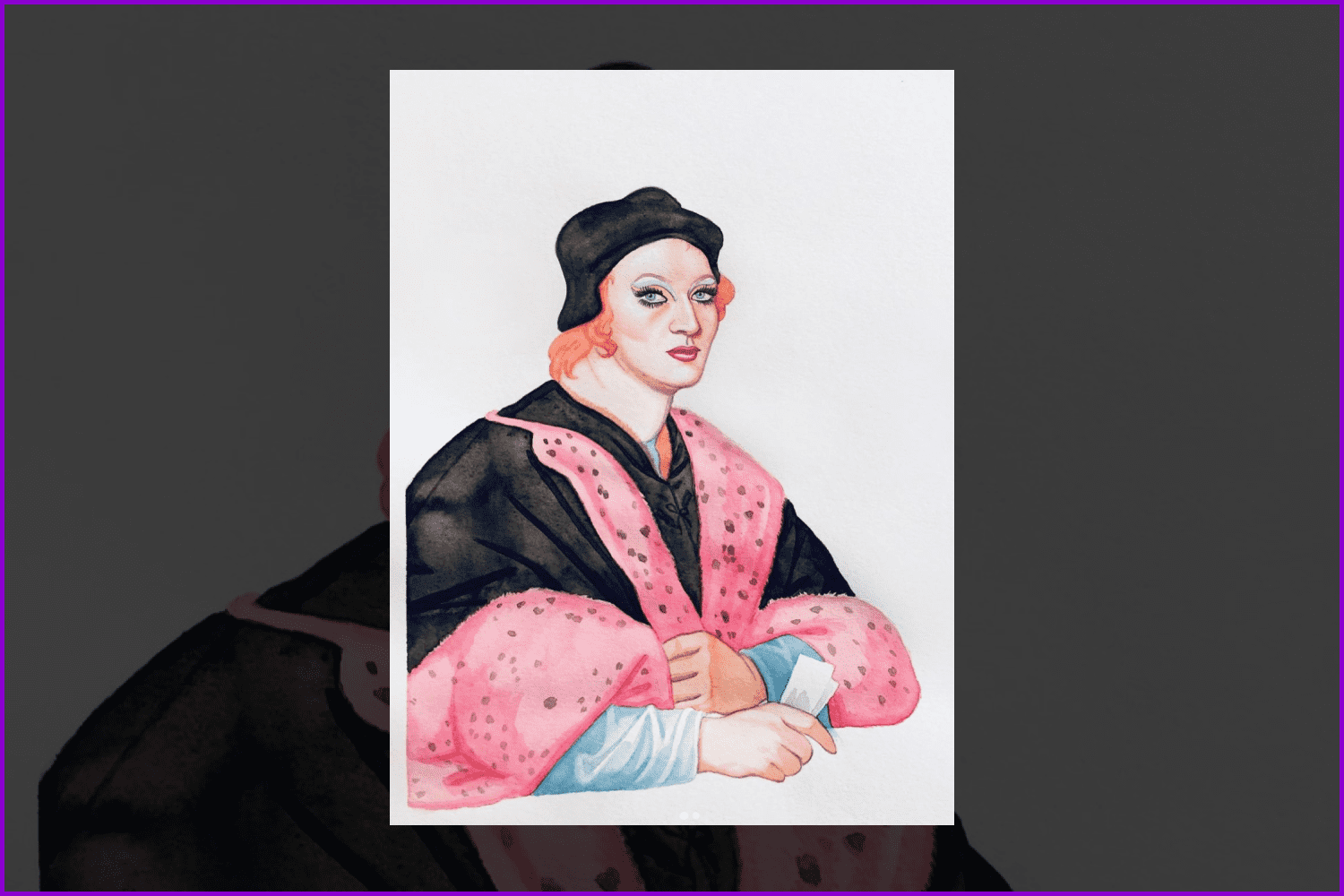 "You can call me he. You can call me she", Watercolor on paper, 2019.
What are your professional goals?
In a long term, I would most like to be able to live of my artistic work. It is difficult to achieve this goal, but I believe that hard work and dedication lead to satisfying results. I also have an idea of creating an art space, organizing workshops for any age group, teaching and promoting art forms, and at the same time using the space as a shop for my handmade goods.
On which projects are you currently working?
At the moment I am working on painting illustrated postcards, wish cards and bookmarks. At the same time, I am preparing proposals for a few painting and design contests, and as most artists do, I have a few uncompleted artworks that I am willing to finish.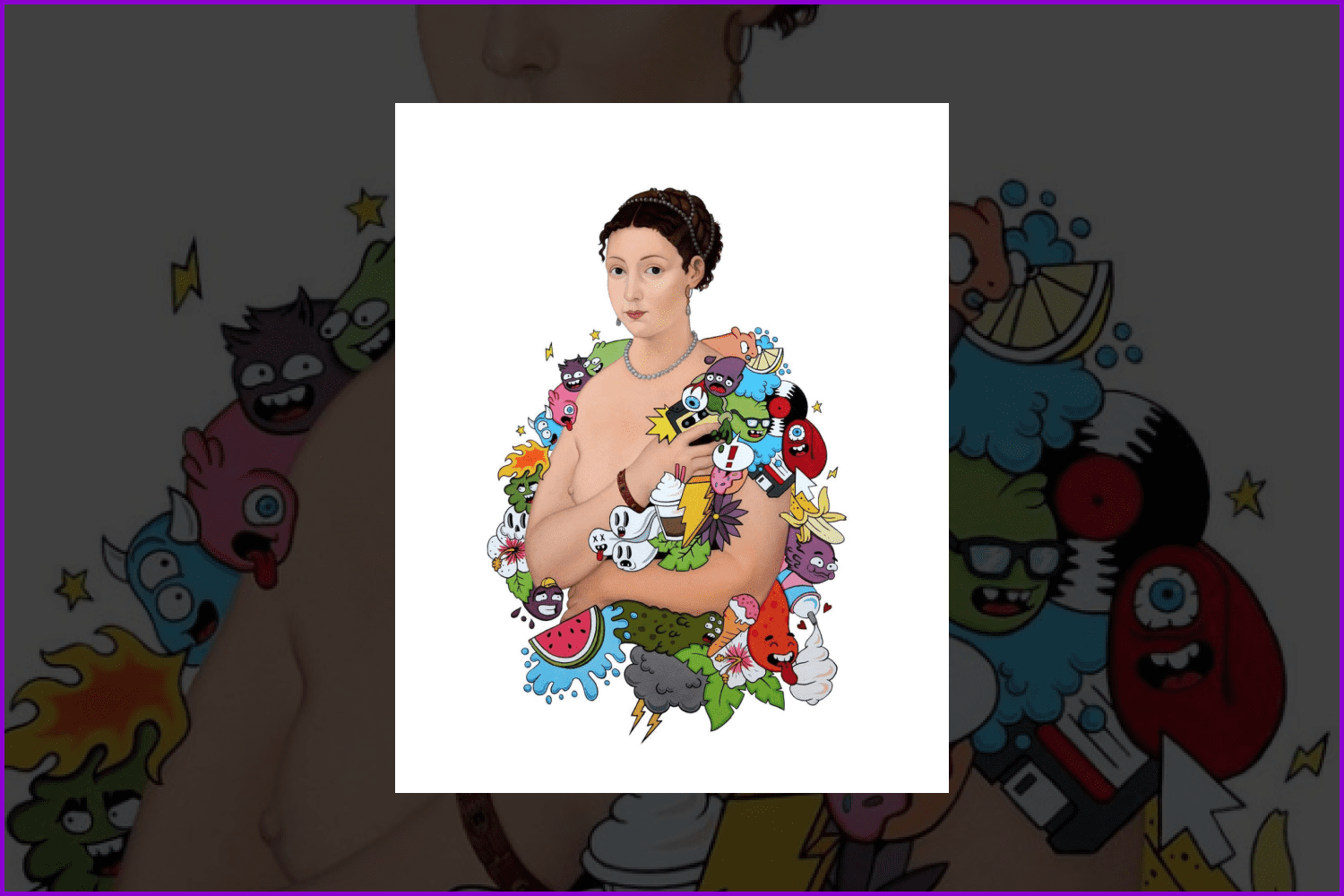 Untitled, oil on canvas, 2020.
What artists (designers, writers, film directors, etc) inspire you?
I am always inspired by the old masters of medieval, renaissance, and baroque times. I admire their technique, their subjects, and their aesthetics. One of my favorite artists of that time is Hans Holbein the younger. His technique is flawless and his portraits are mesmerizing. I also admire contemporary artists. John Currin has always been one of my favorite artists, as he also combines classic painting methods with modern subjects. I like the pop aesthetic of Mark Ryden, the colors, and his surreal compositions. I also admire many designers and illustrators I follow on social media, Marija Tiurina – a young illustrator based in London- being one of my favorites. Writers have also been a source of inspiration for me. Some years ago, I read Umberto Eco's "Baudolino" which led me to create my bestiarium series of artworks. Finally, Umberto Eco's ''On beauty'' and ''On ugliness'' books have been my holly bible for the past few years.
Could you share with us some ideas for art or illustration trends for 2022?
I am attracted a lot to pastel and neon colors lately. Fashion and food trends are also a source of inspiration, along with pop and internet culture elements. Technology and new media have influenced art a lot. Social, political, and cultural matters have also had an impact on art and illustration. Artists are concerned about issues such as human rights, gender equality, gender identity, technology, the pandemic etc, and such issues are hot in art production today.
Do you have a network of artists or designers with whom you collaborate? How do you support each other?
I have always worked on my own, although I have a lot of artist friends with whom we share ideas, opinions, help, and art opportunities.
What do you think is the best feature of our project MasterBundles?
I like the quality and the variety of the content featured on the MasterBundles project. It provides material for diverse interests. I was particularly interested in the interviews section that has motivated me already!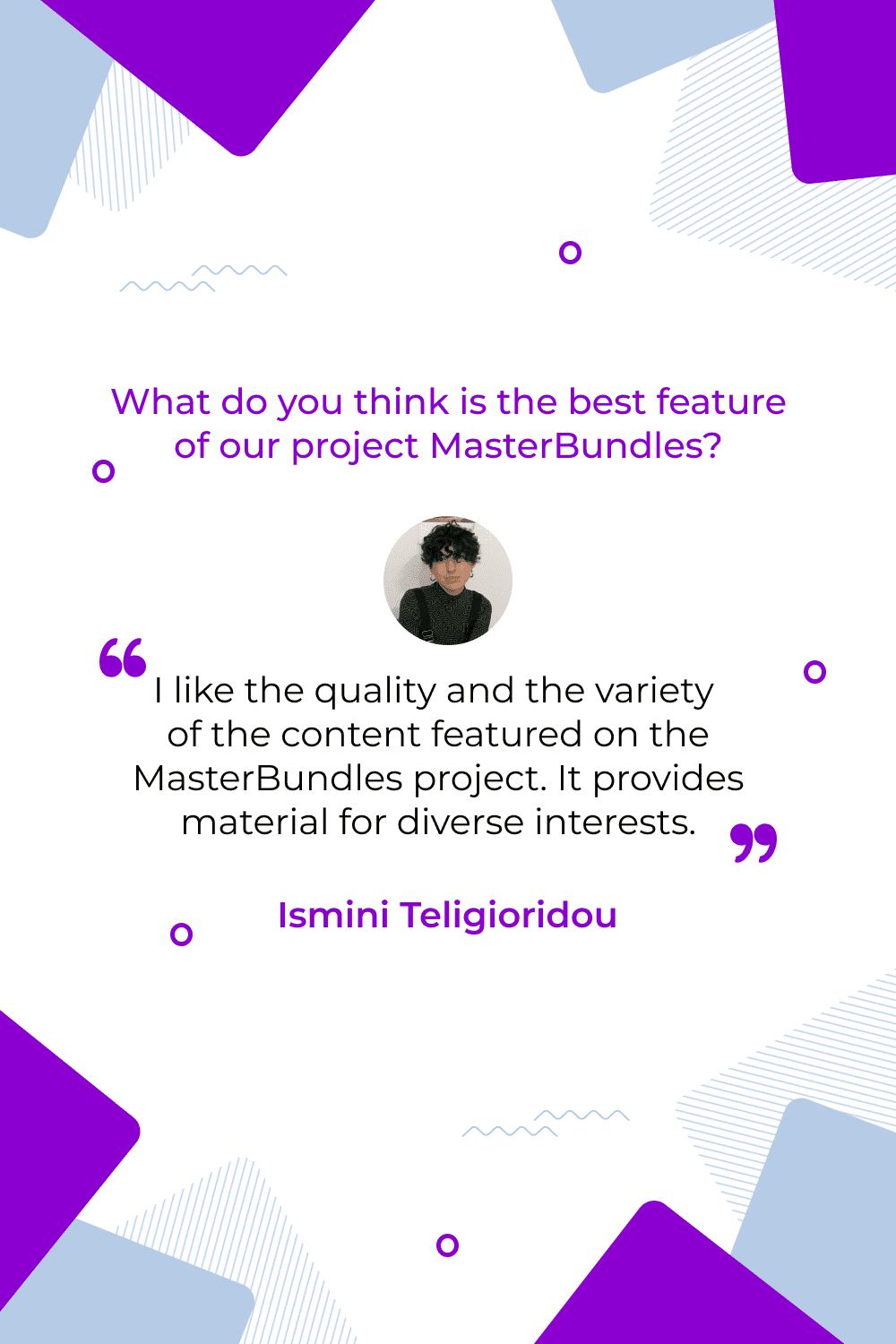 Recommended Posts For You
Ismini Teligioridou shares her sketchers

Ismini Teligioridou is an artist, illustrator, and entrepreneur currently living and working in Thessaloniki, the second biggest city in Greece.
 
Was this page helpful?
We will be happy if you decide to share this article with your friends on Facebook. Just click on the button and you're done
What are your concerns?
Thanks for your response!
You have already left your review.
More Interviews with Famous Designers