80+ Amazing Gifts for Artists in 2021!
Gifts for Artists. Creative people who constantly use imagination in their work are the most complicated category to choose a present for. Ordinary presents will be too boring for them and they won't like it. Of course, giving some cash as a present will be always suitable because such people have lots of expenses.
However, I, personally, love to think of interesting and surprising gifts. If you have a friend who is an artist and suffer to think of a present for him – here are some variants, I considered being interesting.
Disclosure: MasterBundles website page may contain advertising materials that may lead to us receiving a commission fee if you purchase a product. However, this does not affect our opinion of the product in any way and we do not receive any bonuses for positive or negative ratings.
5 Best Christmas Gifts for Artists
| Product Image & Rating (Out Of 10) | Product Name | Price |
| --- | --- | --- |
| | Scribbler 3D Pen | |
| | Bamboo Folio Digital Notebook | |
| | Adjustable Table | |
| | Softbox Light Tent | |
| | Art Set | |

15 New Year's 2021 Gifts for Artists
Artists are usually incredibly creative and sophisticated people, which is why finding a perfect gift for them is quite challenging. Luckily, we are always here to help you out and we have some dope New Year's gift ideas for artists that you are definitely going to like. So without further ado, here they come.
1. The Unemployed Philosophers Guild Brief History of Art Coffee Mug – History's Greatest Masterpieces from Da Vinci to Koons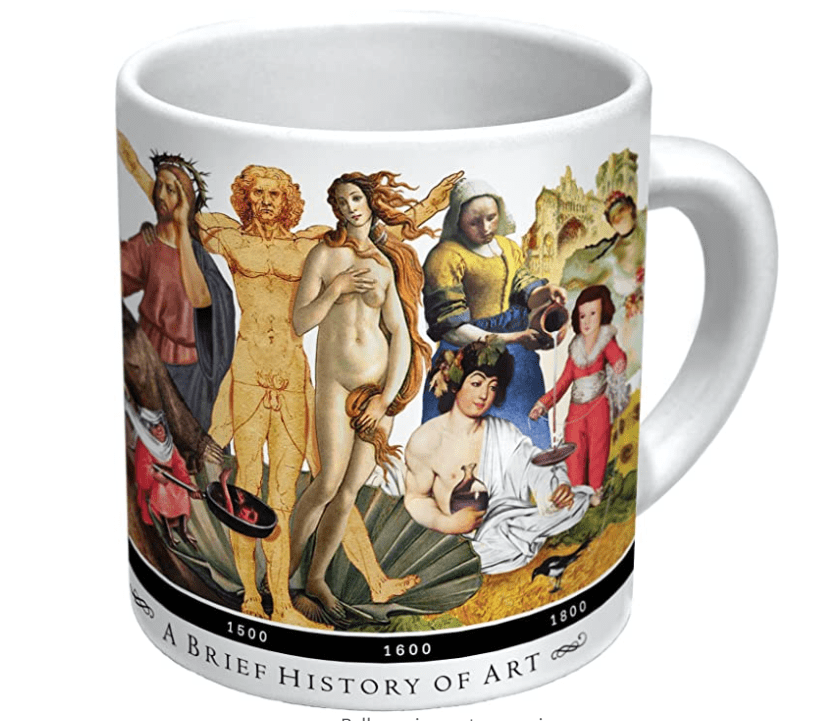 Price: $15.95
2. Professional Art Set 50 PCS Drawing and Sketching Set- Drawing, Sketching and Charcoal Pencils. 2 x 50 Page Drawing Pad! Kneaded Eraser included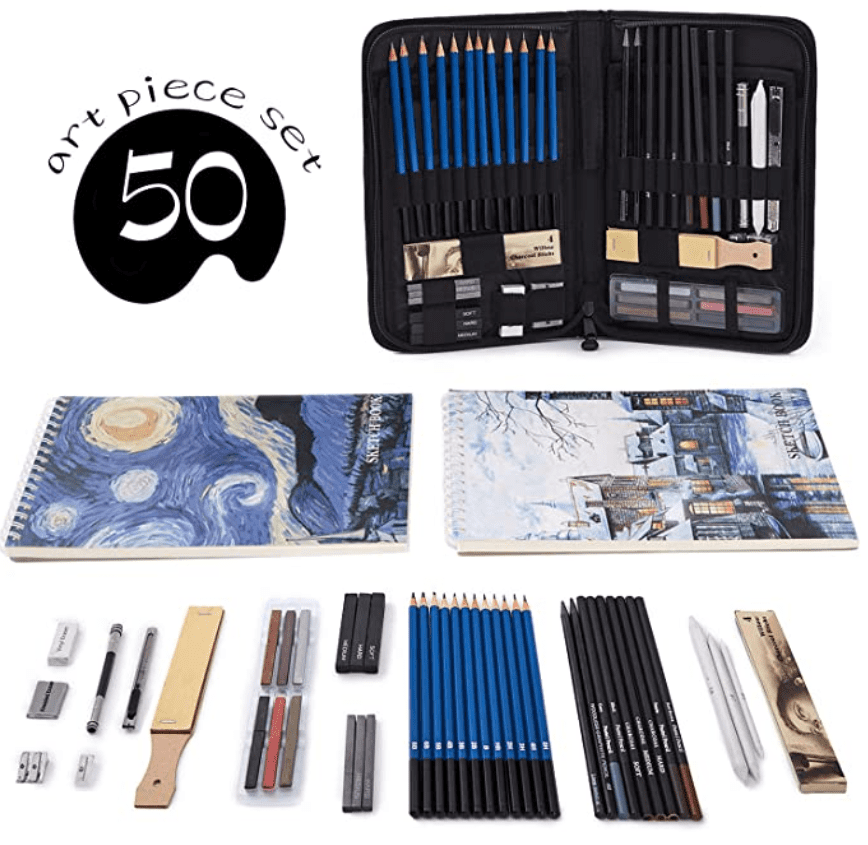 Price: $26.99
3. Adjustable Artist Apron with Pockets Unisex Painter Canvas Apron Painting Aprons for Arts Gardening Utility or Work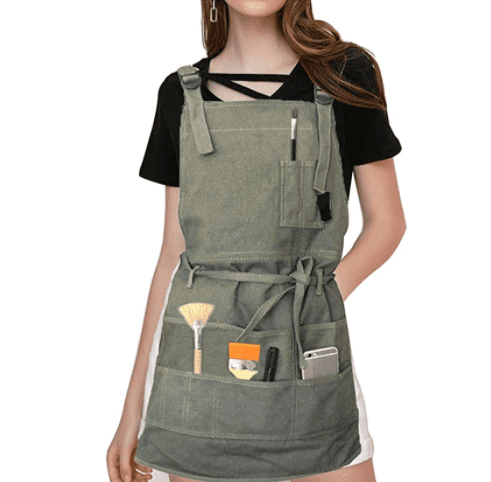 Price: $20.99
4. 3dRose The earth without art is just eh Mug, 11 oz, Black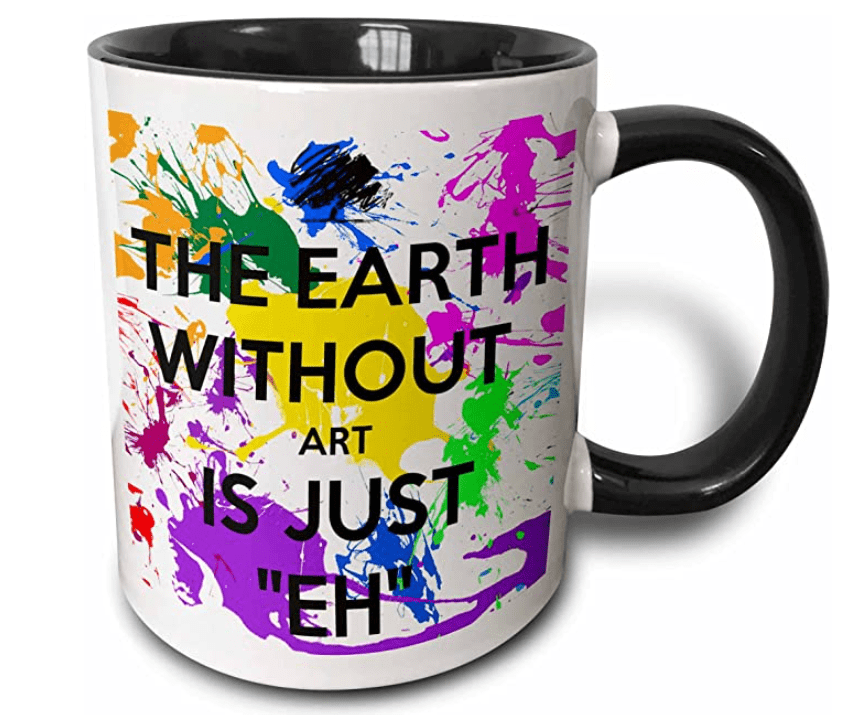 Price: $14.42
5. Leather Journal Travel Notebook, Handmade Vintage Leather Bound Writing Notebook for Men & Women, Unlined Travel Journal to Write in 320 Pages Medium Size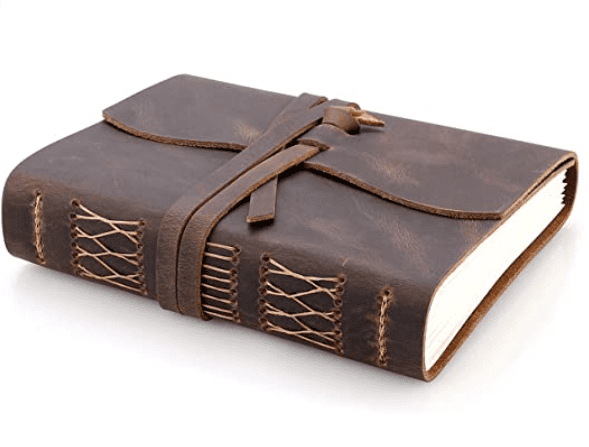 Price: $25.95
6. ZenART Professional Oil Paints Set – 8 x Large 45ml Tubes – Essential Palette for Artists, Eco-Friendly, Non-Toxic, and Lightfast Paint with Exceptional Pigment Load – The Infinity Series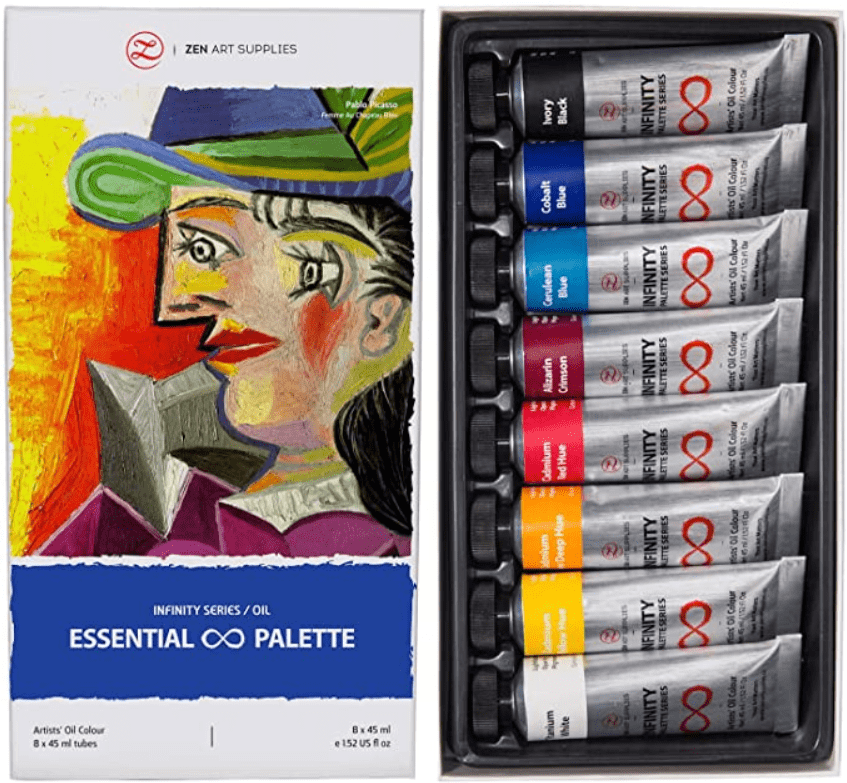 Price: $52.95
7. Benicci Paint Brush Set of 16 – 15 Different Shapes + 1 Flat Brush – with Pallete Knife and Sponge – Nylon Hair and Ergonomic Non Slip Matte Silver Handles – with Standable Organizing Case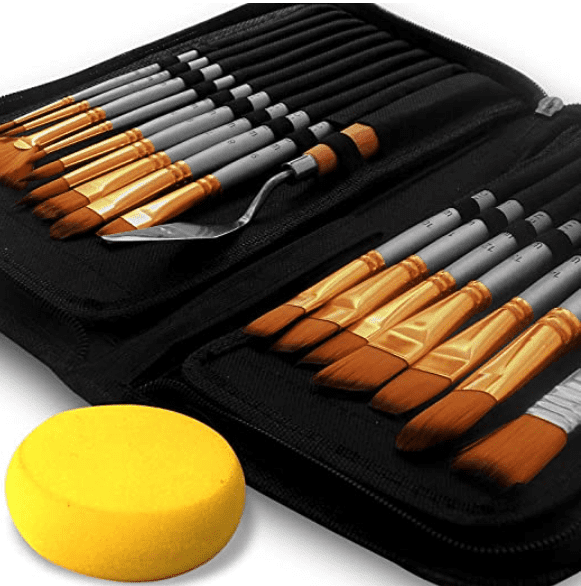 Price: $19.97
8. AOVOA Repeatable Water Drawing Board, Water Painting Board with Bamboo Brush and Stand, Inkless Water Drawing Set for Painting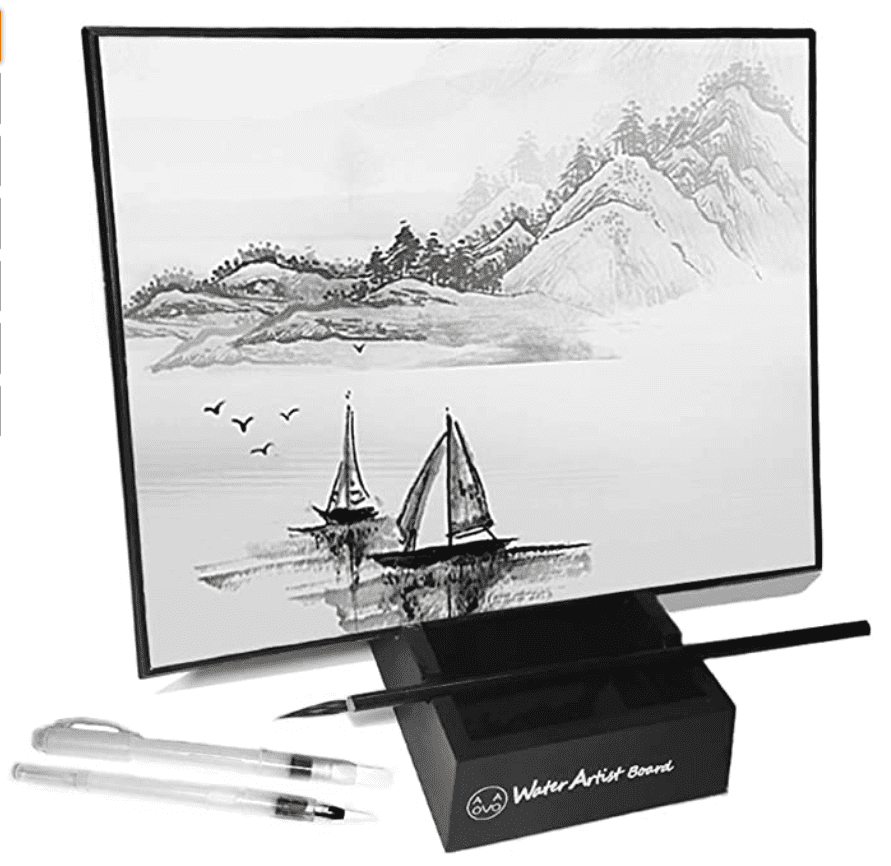 Price: $29.99
9. Detail Paint Brushes Set of 11 Artist Quality for Miniatures – Liners, Rounds, Flats for All Your Delicate Painting with Watercolors, Acrylics or Oils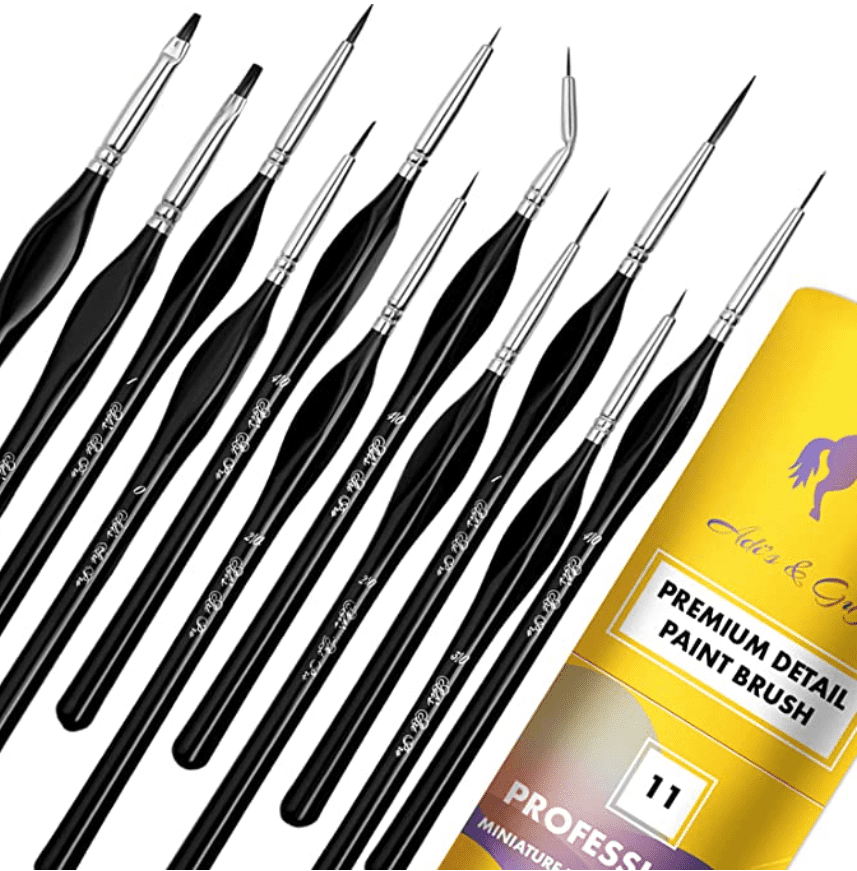 Price: $23.99
10. Acrylic Paint Pens for Rock Painting, Stone, Ceramic, Glass, Wood, Arts and Crafts Supplies Paint Pen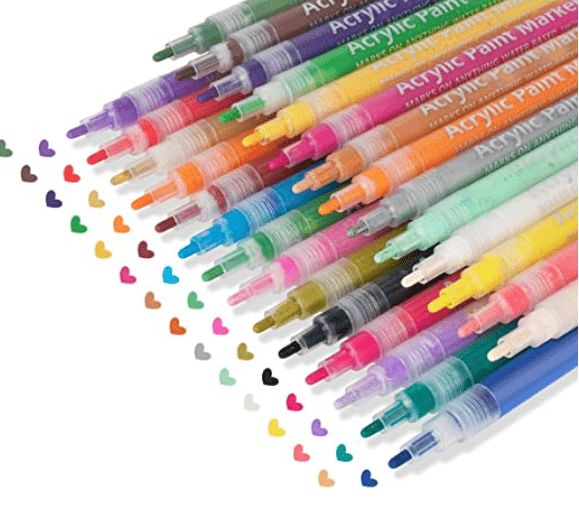 Price: $23.99
11. Shuttle Art 88 Colors Dual Tip Alcohol Based Art Markers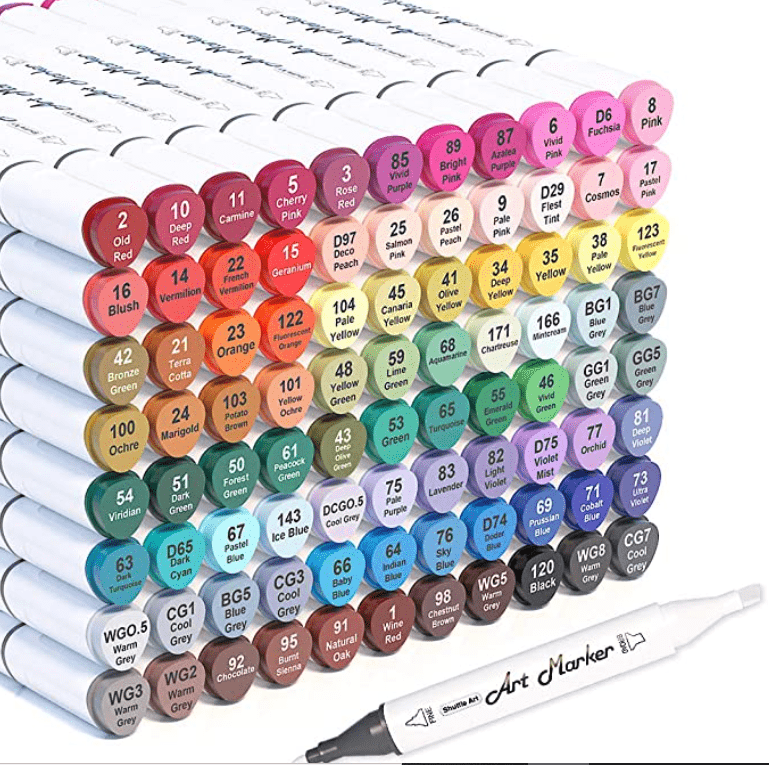 Price: $37.99
12. Women Artists: An Illustrated History by Nancy G Heller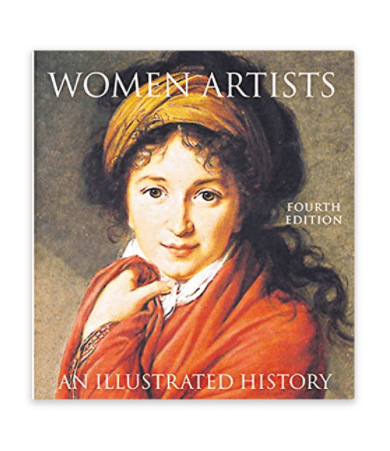 Price: $33.08
13. Eat Sleep Draw Repeat Art Funny Artist Creative Drawing Gift T-Shirt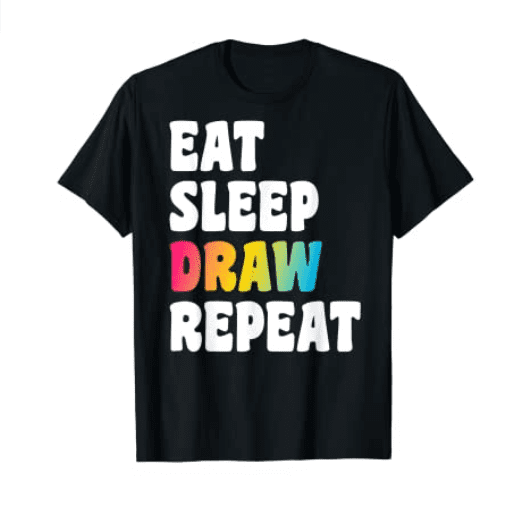 Price: $17.99
14. MEEDEN Acrylic Paint Set of 24 Colors/Pouches (120 ml/4.06 oz.)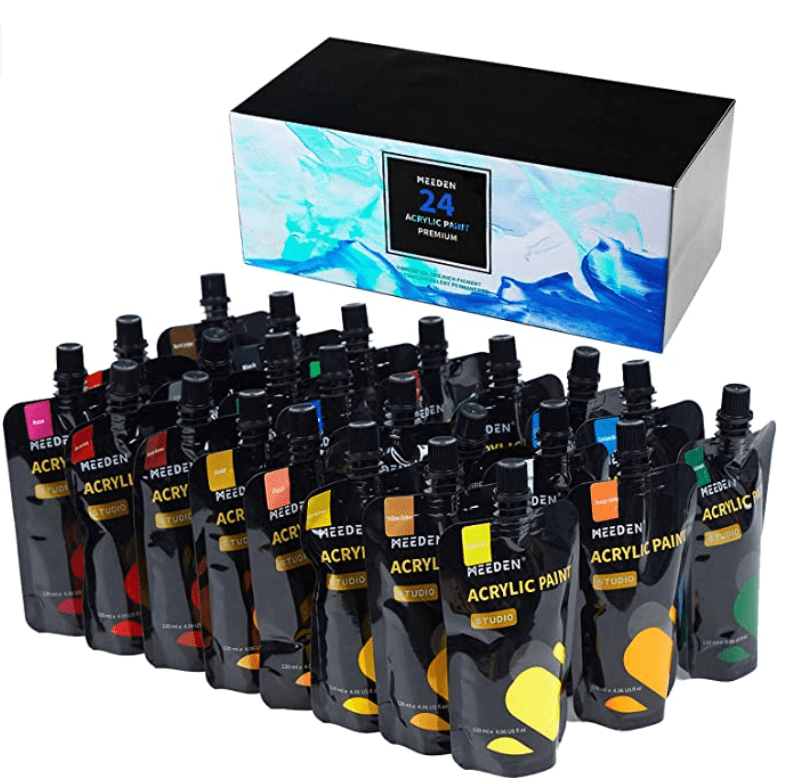 Price: $39.95
15. Paul Rubens Artist Watercolor Paints-Metallic Glitter Solid Colors-Pink Portable Metal Case with Palette-24 Color Set Sparkle Watercolor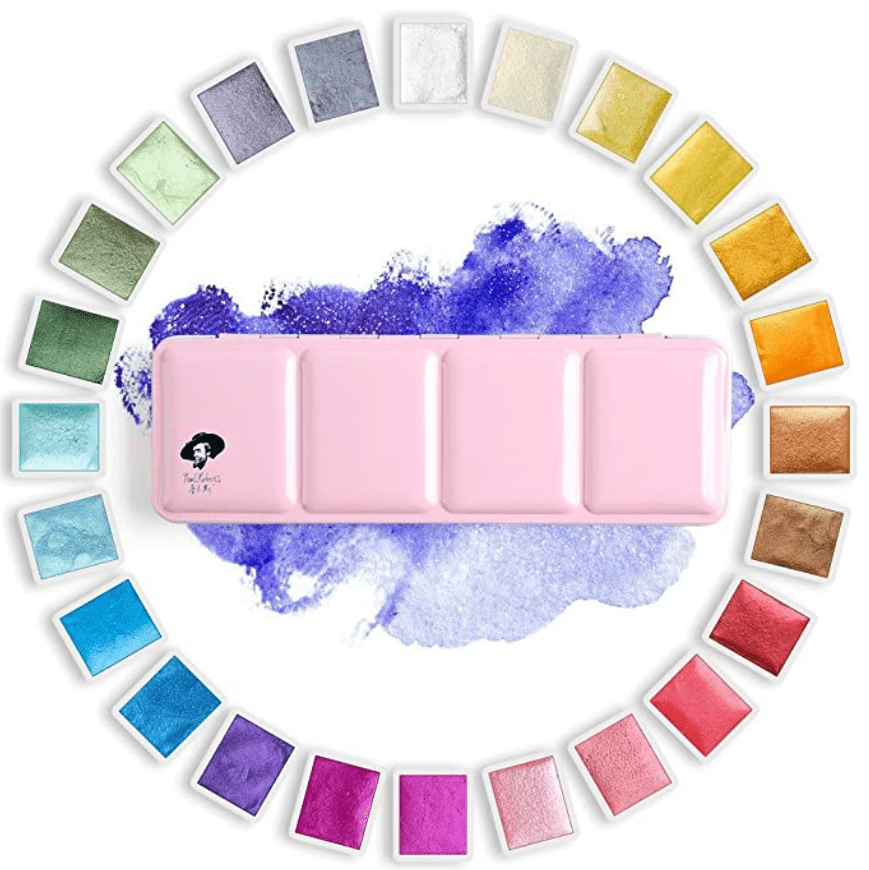 Price: $49.99
Gifts for Artists Under $20
We understand that due to the current crisis many of you cannot afford expensive gifts for their loved ones. At the same time, you shouldn't feel guilty or uncomfortable if your present isn't expensive. In fact, it's your attention that matters, not the price of a gift. After all, you are not obligated to give anybody any presents, so a simple desire to give at least a small inexpensive gift is already something your loved ones will no doubt appreciate. Therefore, if you are on a budget but you still want to give a meaningful gift to your artist, here are some ideas for you.
Let It Gogh T Shirt Vincent Van Gogh Artist Funny Image Gift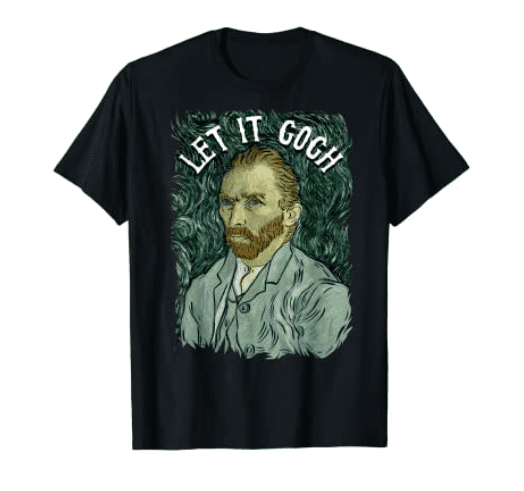 Price: $19.99
Chalier 4-6 Pairs Womens Fun Socks Famous Painting Patterned Art Socks & Printed Cool Novelty Funny Socks for Women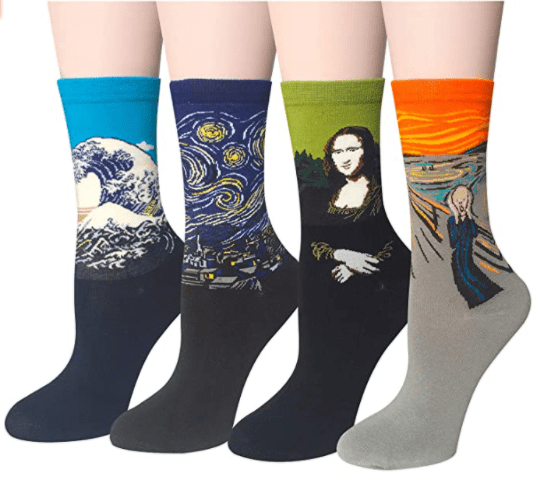 Price: $8.99
The Master Guide to Drawing Anime: How to Draw Original Characters from Simple Templates (Volume 1) by Christopher Hart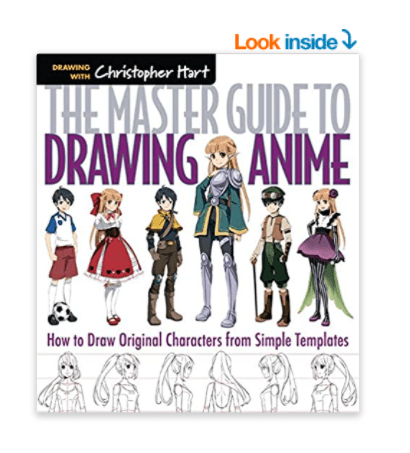 Price: $10.77
Artist Paint Palette and Brush Enamel Pendant Earrings Zinc Alloy Dangle Drop Earrings Delicate Gift for Painter Artists Women Girls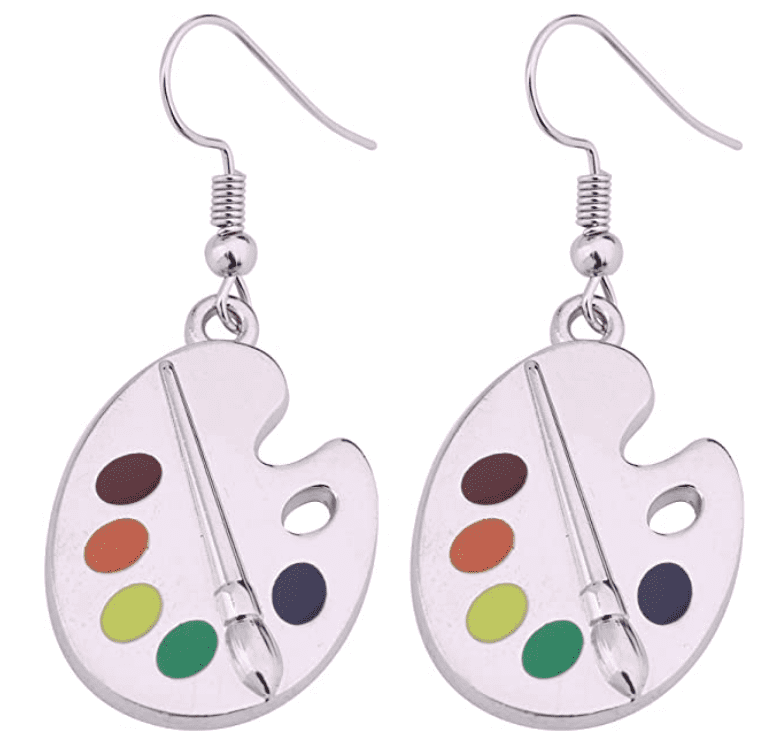 Price: $11.98
642 Things to Draw: Inspirational Sketchbook to Entertain and Provoke the Imagination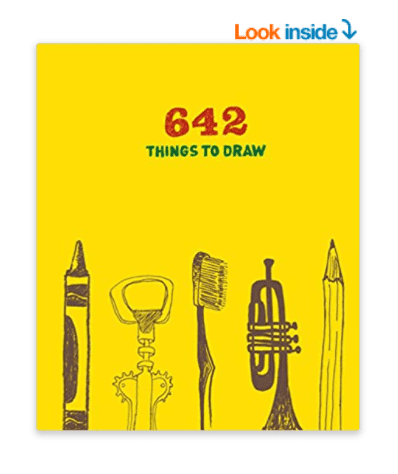 Price: $15.26
I Arted Shirt Funny Art Graphic Colorful Shirt Artist Gift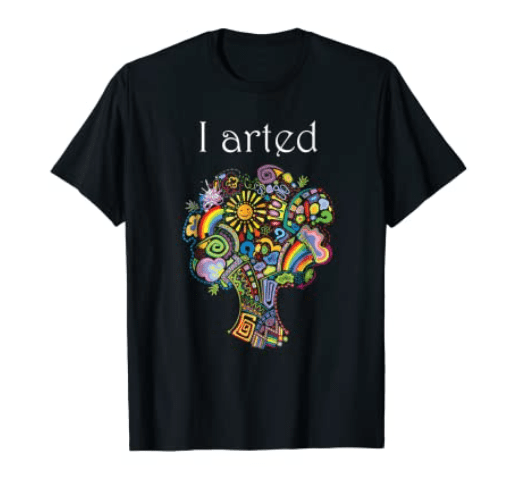 Price: $14.99
Artists Gifts for Women, Artists Fun Gifts, Artists Makeup Bag, Artists Make Up Pouch, Artists Birthday Gifts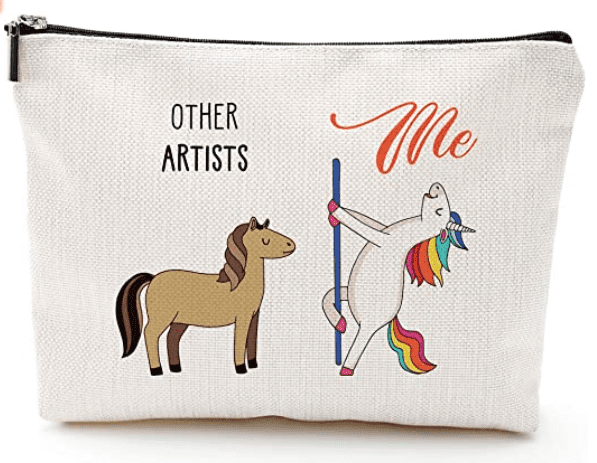 Price: $12.99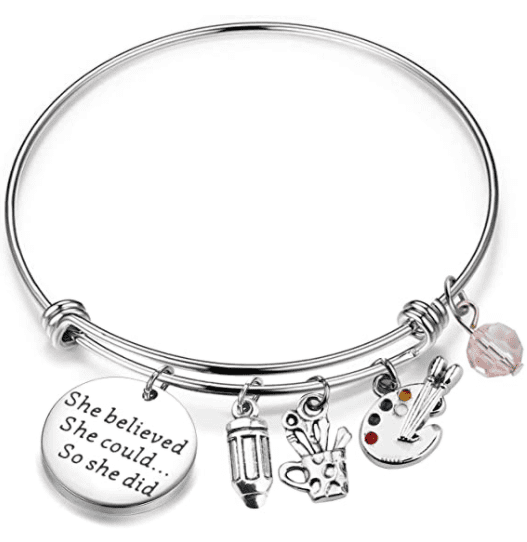 Price: $14.89
F Off I'm Painting Sarcastic Artist Appreciation Art Teacher Gift For Artist And Painter Original Artwork Lover Presents Coffee Mug 11 oz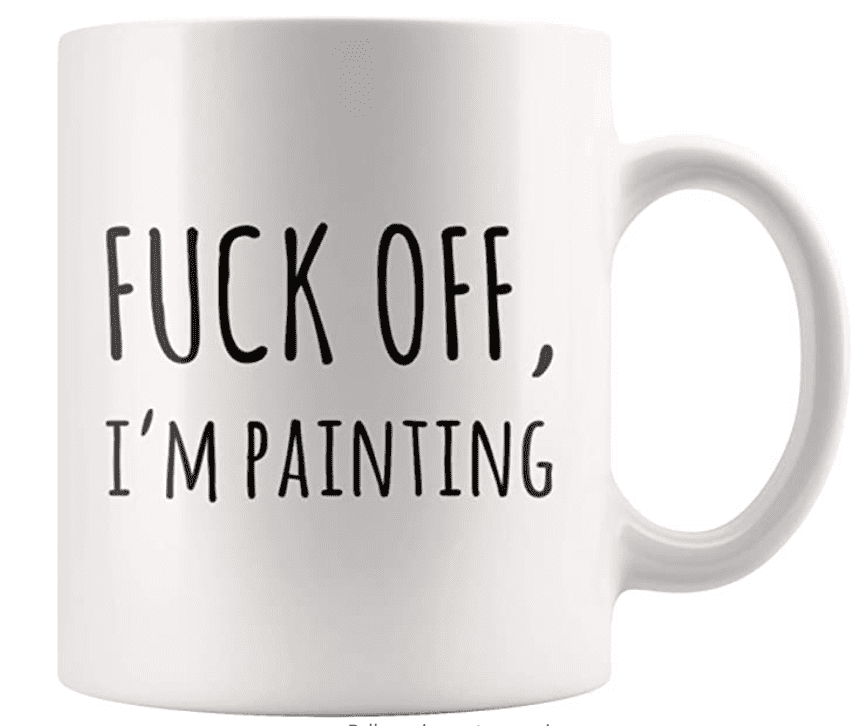 Price: $8.95
Cuff Bracelet Art Pattern Under Glass Dome Jewelry Handmade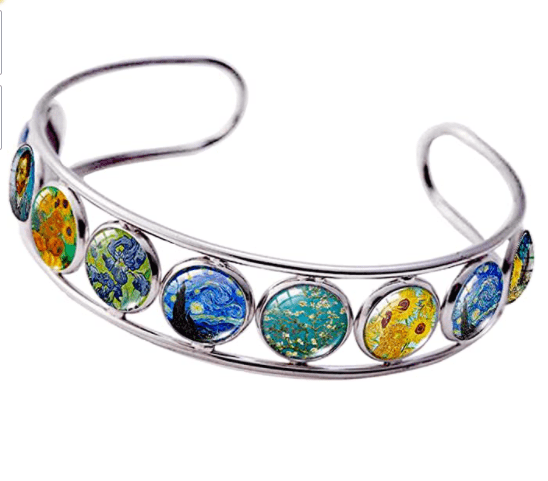 Price: $19.99
How to Find the Very Gift with the Help of Instagram Account
If you are still unsure about the gift for your artist, you can use a gift generator from MasterBundles. Just enter a person's Instagram user name, select the sex, and press the 'Find A Gift' button. In less than a second, you'll get nine cool gift ideas for your artist. Well, stop hesitating and just give it a try!

Birthday gifts for artists
Derwent Sketching Wallet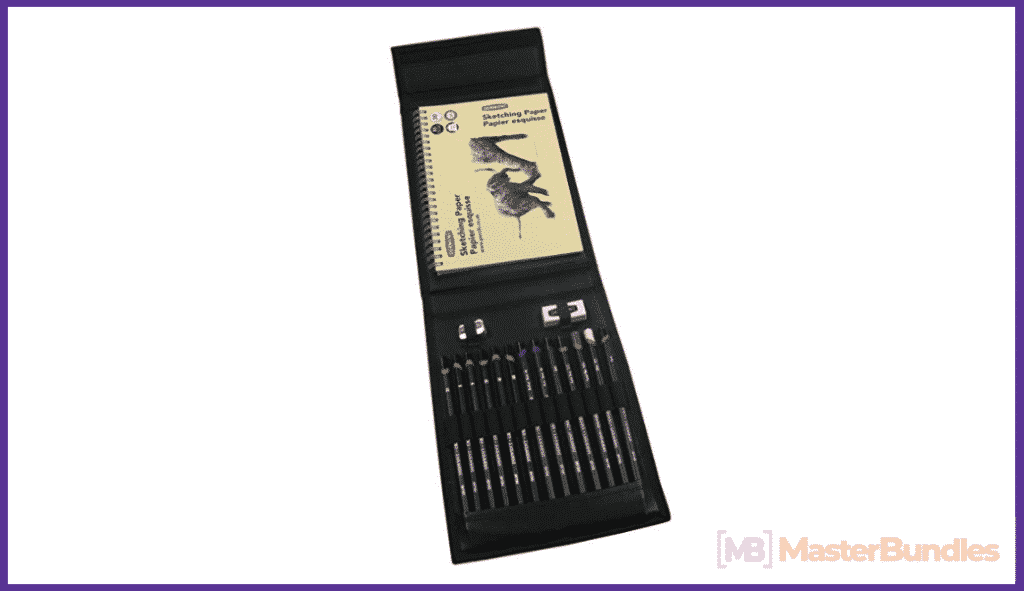 Price: $32,50
A nice present for a friend who loves to draw outsides. It is small, so it will fit almost any bag and it contains all the necessary stuff for drawing sketches. There are thirteen different pencils, a metal sharpener, an eraser, and a sketchbook. All those goodies are placed to a parcel, which is convenient – all the tools are fixed, are not damaged and the artists won't have to seek something for a long time.
Scribbler 3D Pen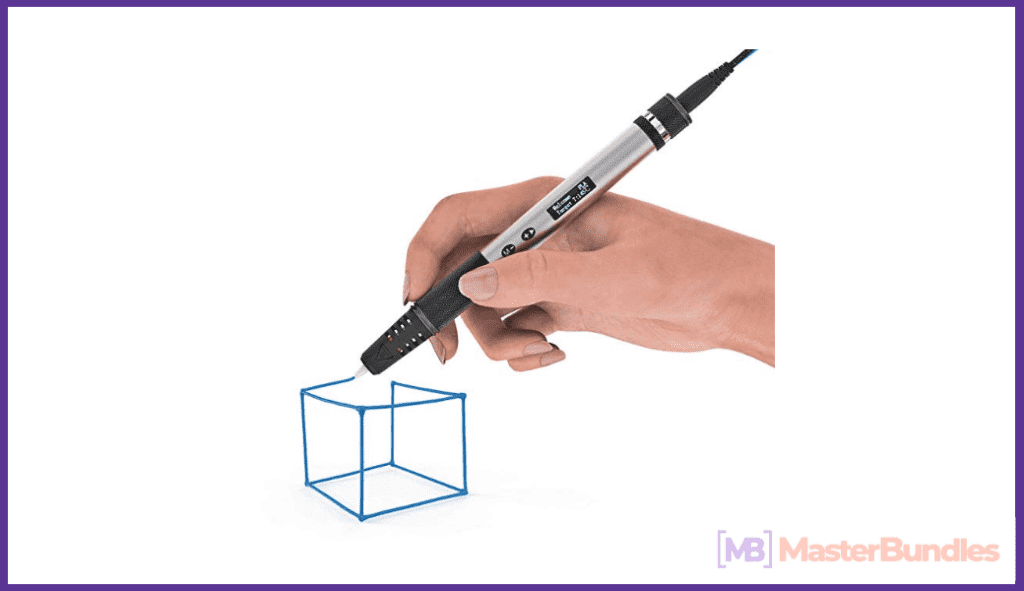 Price: $79,99
This little thing brings a craft to a completely new level. This 3D pen allows you to create shapes? Not only pictures. It is like a tiny The 3D printer that helps you to create something really unique. The pen goes with some plastic filaments in different colors, so the person you are going to give it will be able to start creating something right after opening the box.
Bamboo Folio Digital Notebook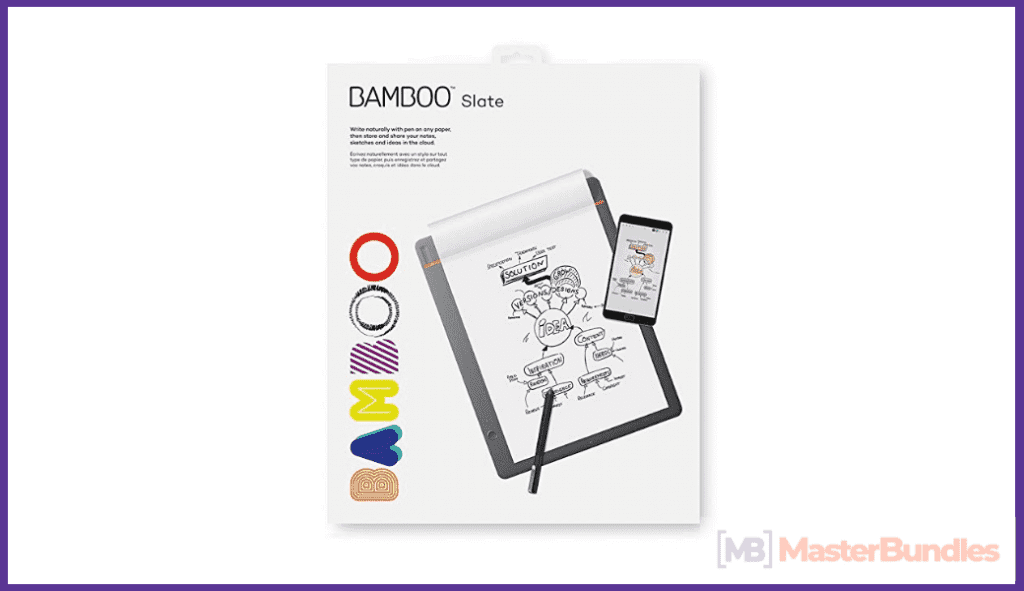 Price: $192
The sketches and text artists will make in that notebook will be easily transformed into digital editable document. It is very easy to use – the user just draws in it like in the ordinary sketchbook. Then you have to click only one button – and a digital copy is ready. It can be downloaded to the device and edited. The notebook has about 80 pages, so there will be lots of space for your friend artists' ideas.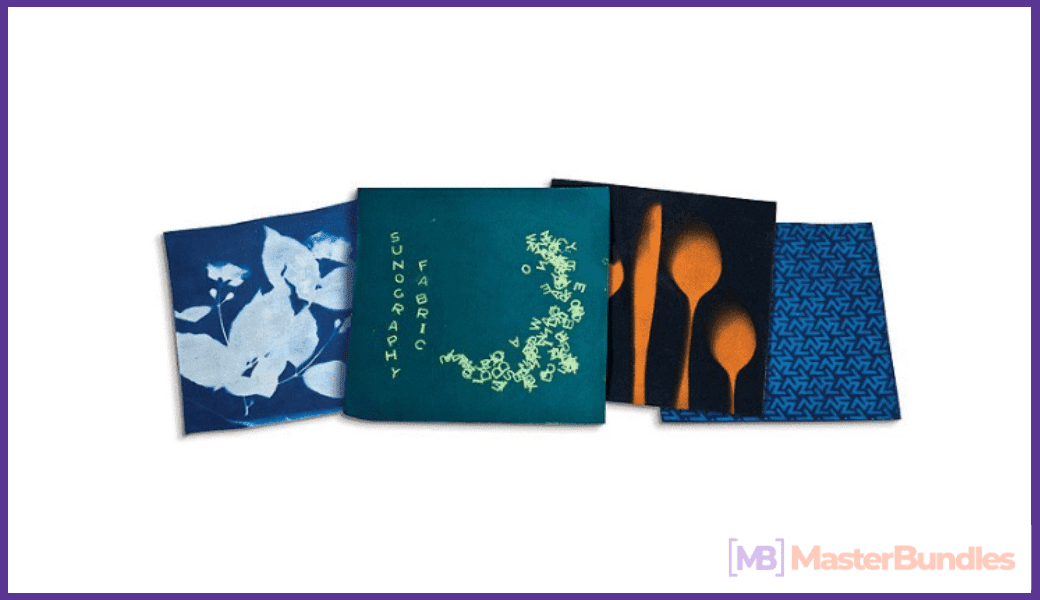 Price: $14.95
That is a very witty gift for an artist. It will bring your friend to the times when the first photography was made. The kit contains a set of special cloth or paper, that changes color when exposed to sunlight. To create a piece of art you only have to place some objects between the surface and the sun. Watching the picture appearing on the paper could be interesting and meditative.
Adobe Creative Cloud Subscription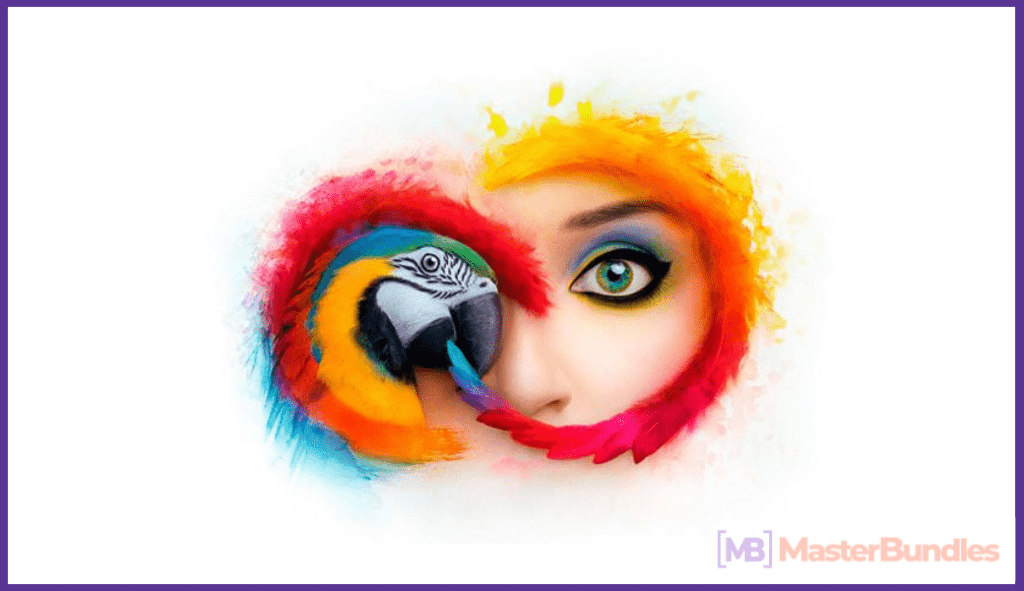 Price: from $19.99 to $52.99, depending on the plan
In plain language, Creative Cloud is a package of Adobe apps and services that you can buy all at once. Subscription plans are, generally, very profitable for web designers and artists – they allow us to save money. You don't subscribe separately for each of the services you want – you get them for a single fee. Giving this subscription as a gift you present your friend or loved one a bow of convenient tools.
Adjustable Table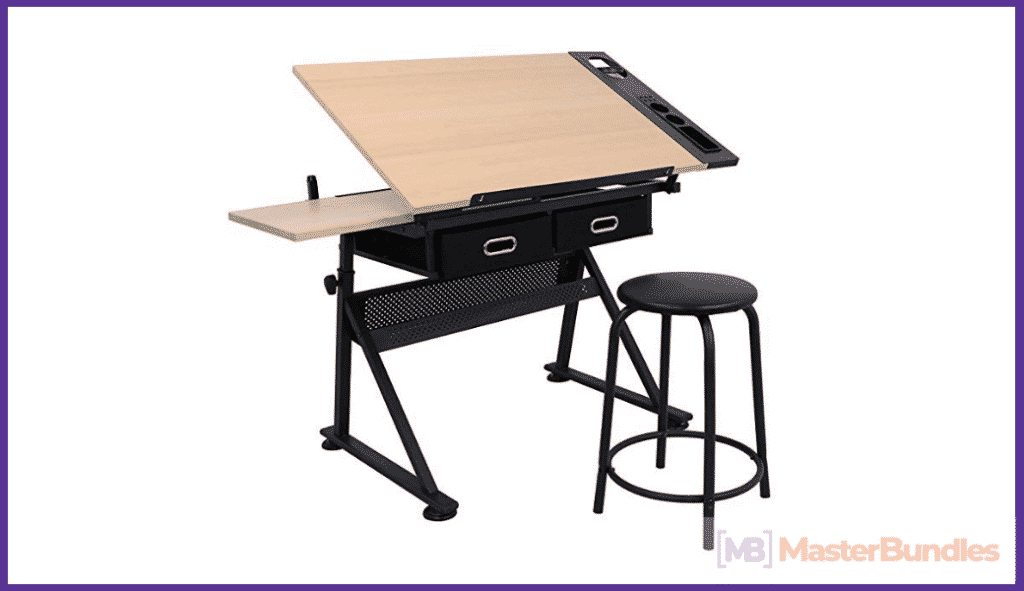 Price: $75.99
A comfortable working space is very important for an artist. Common tables are not always suitable for craft or drawing, so an adjustable table with a stool and holders for different craft materials will be a great gift for an artist. The table has 6 heights from 0 to 45 degrees and goes in different sizes. The surface is easy to wash, so there will be no limitations in crafting ideas.
Softbox Light Tent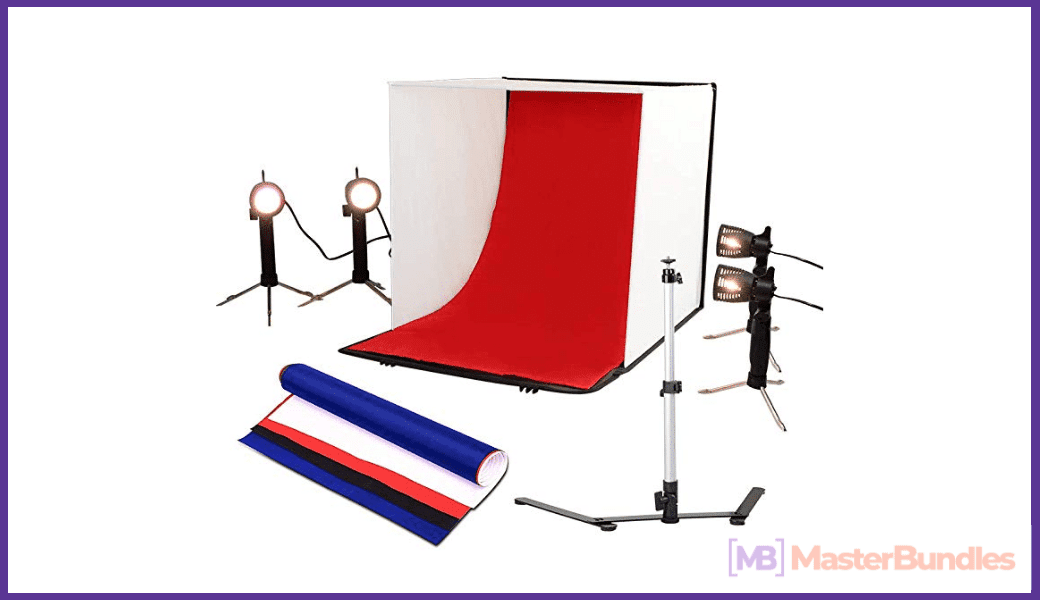 Price: $28.99
For a photographer, a lightbox is a crucial tool he needs to take pictures of products. However, commercial use is not the only one. Lightbox is also great to take pictures of the crafted goodies or interesting objects. If your photographer friend still doesn't have a lightbox – this variant will be a very useful and practical gift.
Animation Studio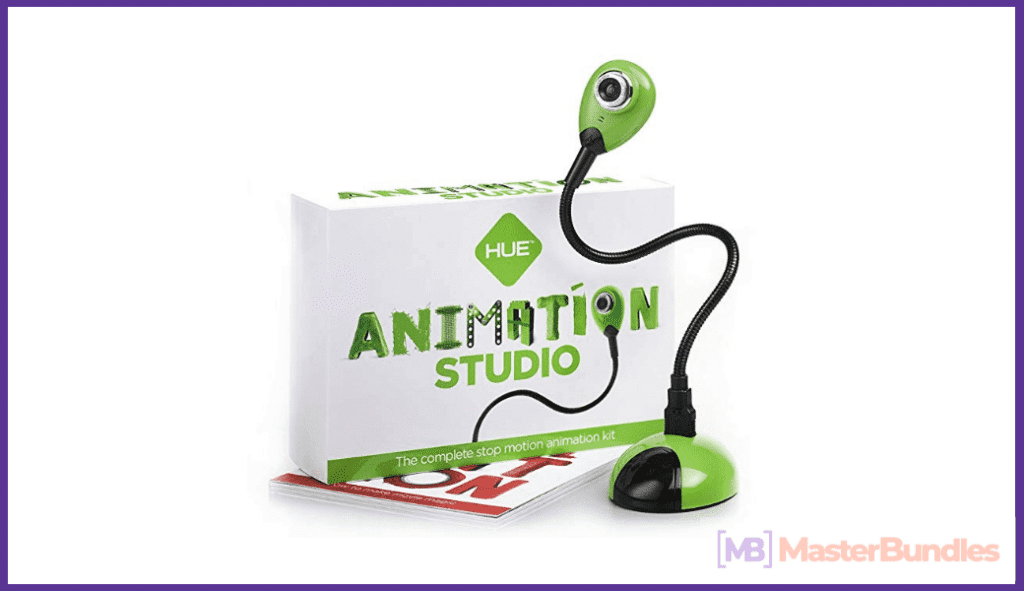 Price: $49.94
Have you ever dreamt about creating your own clay animation short? Like Tim Barton's Coralina or Night before Christmas? What about creating it with your friend or loved one? This kit contains everything you will need for filming the short: USB camera with microphone, books with instructions, a stage, stop-motion software, sound effects, and other stuff. Just unpack it and have fun!
Stylus Brush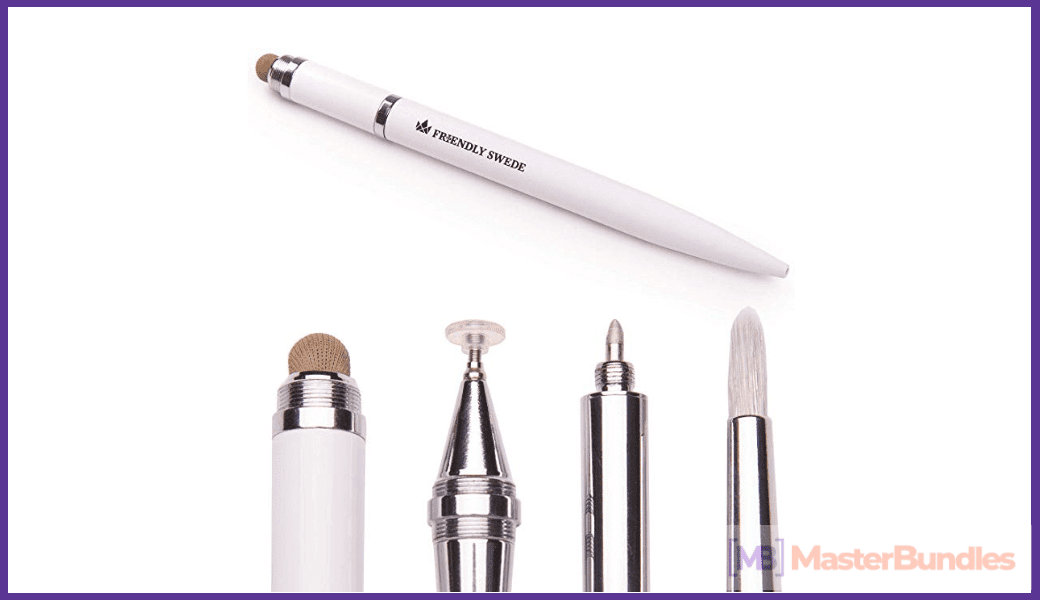 Price: $20.99
There are people who like tools that have only one purpose. However, there are many more of the artists who like multifunctional instruments. This Friendly Swede 4-in-1 stylus pen is a versatile tool for a digital designer – it gives you four different ways to draw on the tablet. All four tips can be replaced at any time you need which could be convenient when you are not working at home.
3D Scanner
Price: $749.99
Sometimes it could be easier to craft something with your hands and that digitalize it. A 3D scanner is a real treasure in such cases. If your friend-artist is modeling something – such a gift could give him lots of new options. And if combined with a 3D printer, this machine could help an artist to copy his creation multiple times.
Waterproof Notebook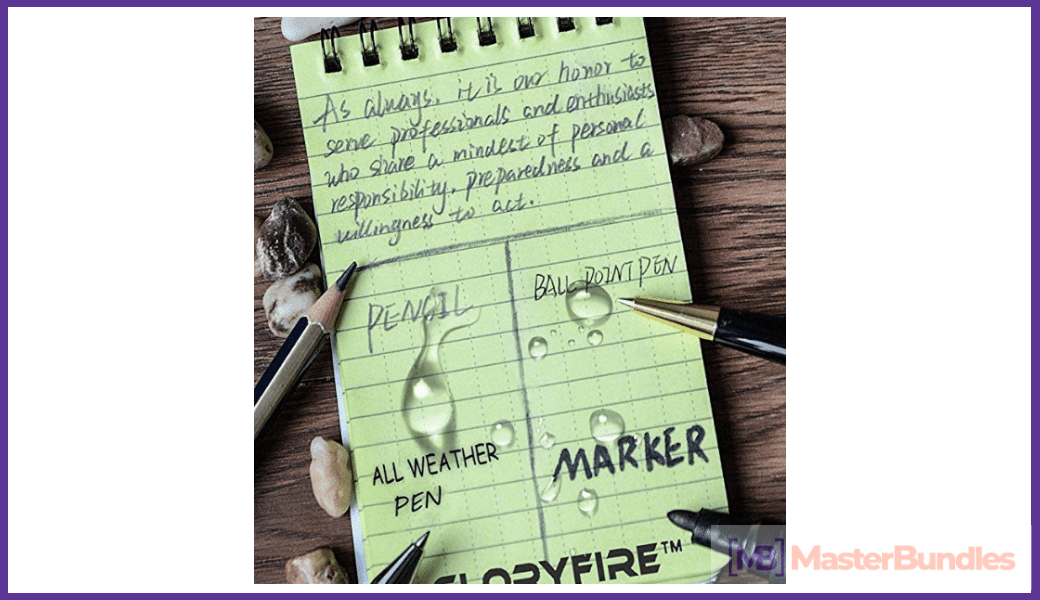 Price: $9.99
Just a fun little gift for an artist who likes to work outside. A notebook to write or take sketches that can't be damaged by sudden rain. You can write there with a pen, pencil or permanent marker and everything you write will stay there even if you wash it under the shower. Additionally, that notebook could be recycled, so when you will be finished – it won't harm nature either.
gift
Wood Burning Kit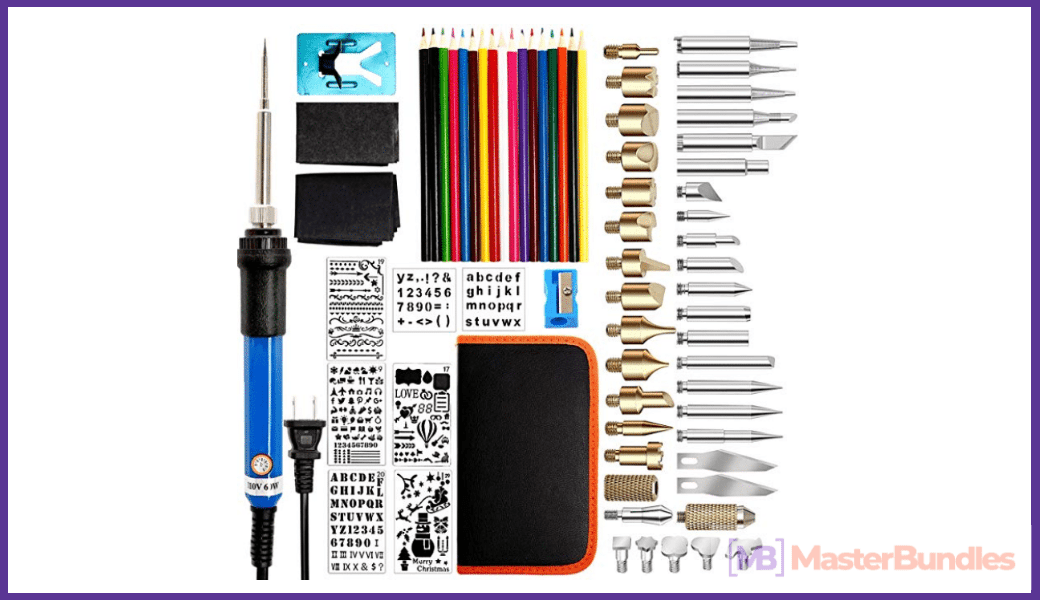 Price: $29.90
Another interesting way to boost creativity. It doesn't matter if your beloved one hasn't tried to do the wood-burning – this kit will help him to start. It includes 17 burning tips and 13 carving tips, as well as pencils, templates and other stuff. Things made from wood by hand will always be popular, so your gift will also always be useful and interesting to play with.
Art Set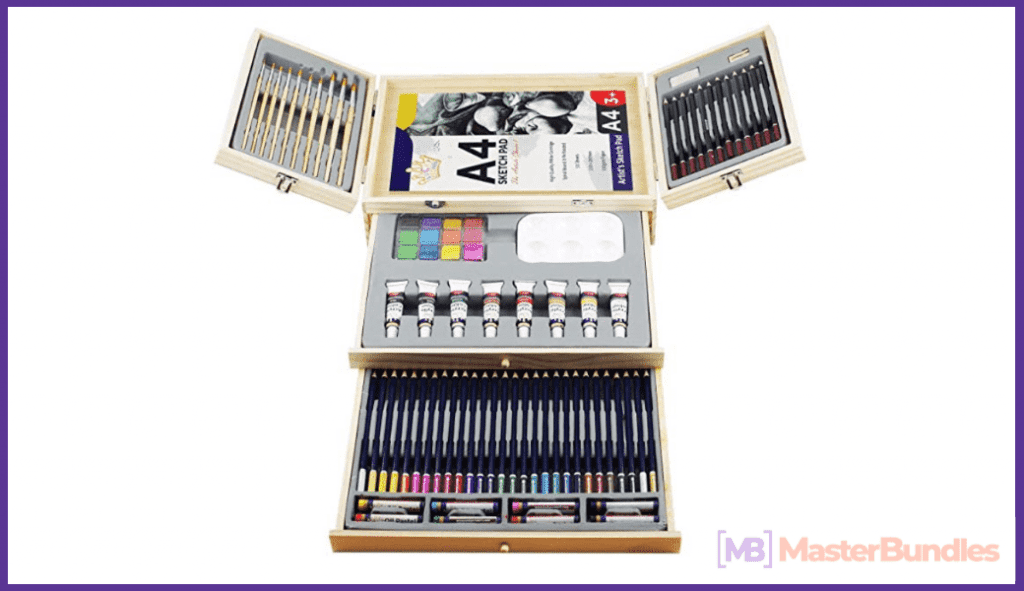 Price: $32.99
A collection of 83 pieces in the nice wooden box – what artist won't like to get such a gift? The set contains pencils, paints and all other stuff for creating a drawing in almost any style. When the filing will be used – the box will be convenient to use as storage for all other artistic supplies, so you won't have to search for them all over the house.
Apron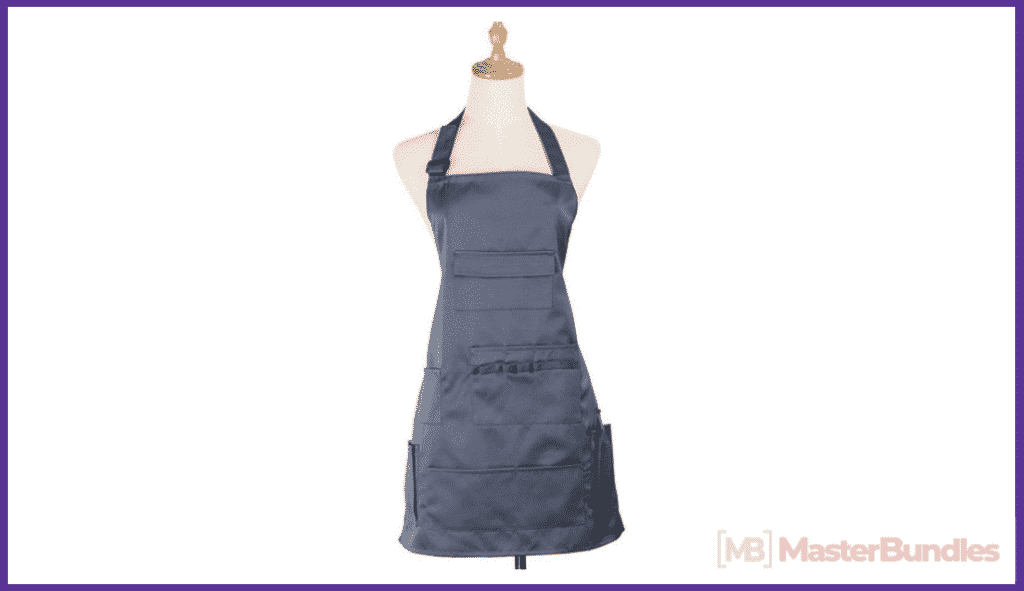 Price: $25.99
Tools are not the only thing that an artist needs. Clothes that make the creating process easier are also very useful. Apron with numerous pockets where the artist could place all his tools for the fast reach will be a great present. This one is made of solid polyester cotton, that water, paint or any other dirt can't easily penetrate. Practical and well-thought-out gift.
Self healing Rotary Mat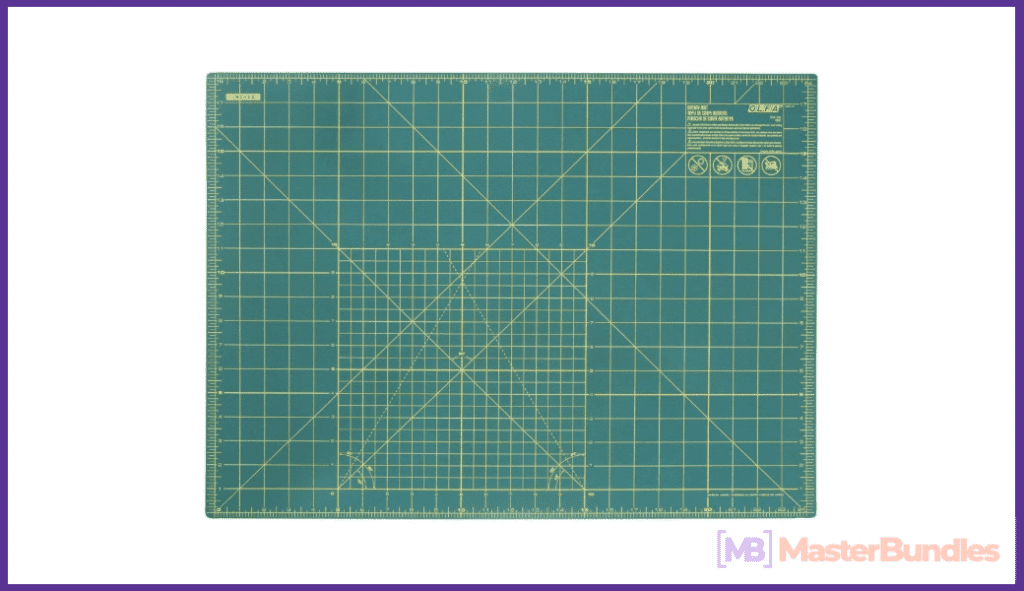 Price: $38.09
This thing is a must for every person who crafts something – from clay, foam, paper or polymer plastic. This mat has a convenient grid on it that could help in modeling. It protects the surface of the table and also expands the living time of the blades used for crafting.
Embroidery Pen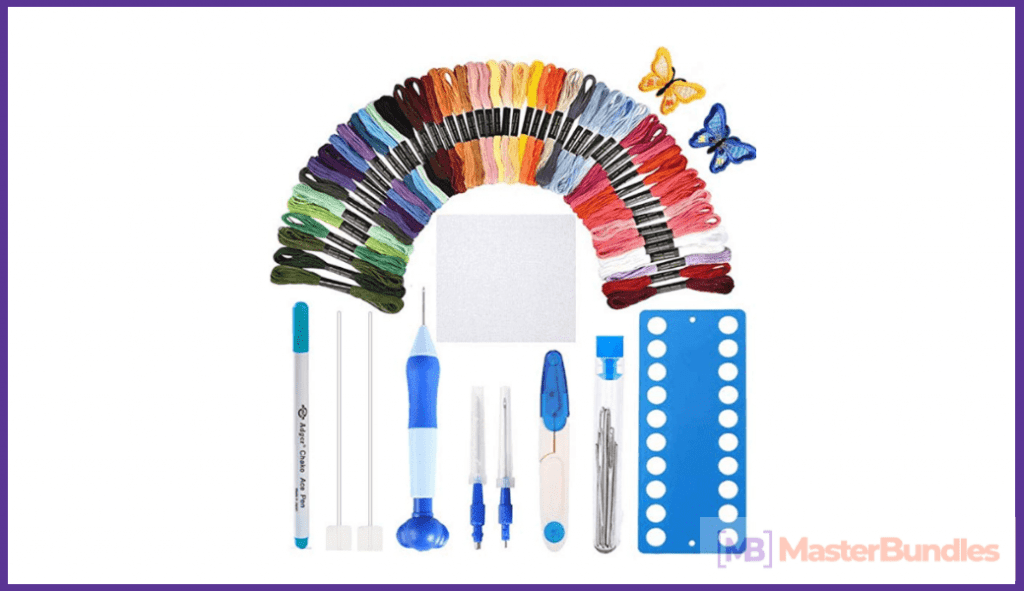 Price: $17.99
Embroidery is not a simple activity, it needs calmness and preciseness. However, punch needle embroidery pen makes it much simpler and a lot more fun. This tool is called "pen" because with it the process of embroidery looks very much like drawing. The kit contains everything that one could need to start – cloth, needles, threads of 50 colors. Would it be a picture or a decoration for clothes – this gift will give the artist all he needs for the work.
Steal Like An Artist 10 Things Nobody Told You About Being Creative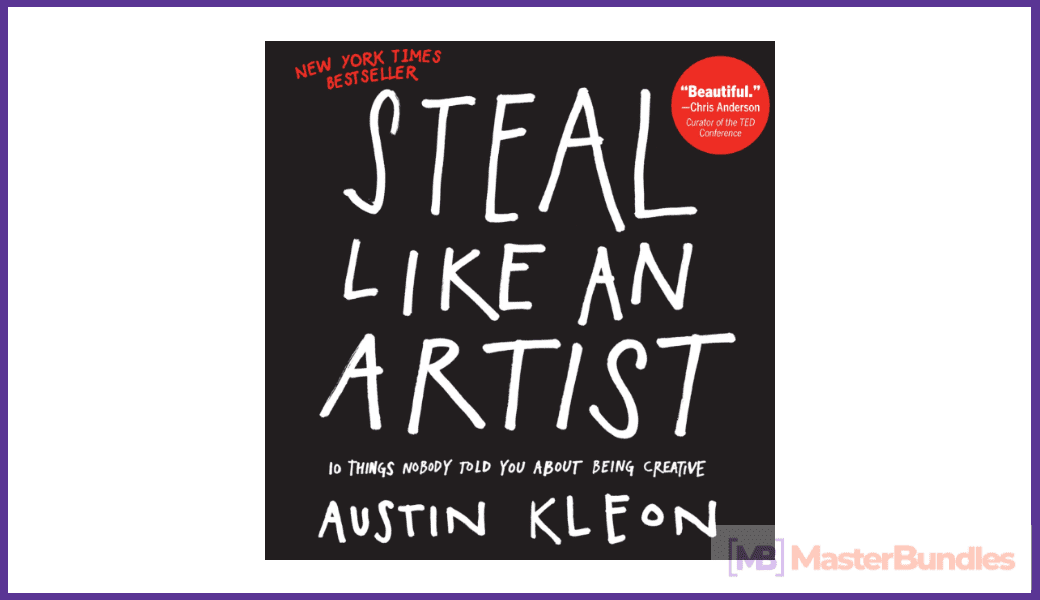 Price: $7.11What could be
The book is the best gift ever but only if it is a really good book. What book could be better as a gift for the artist then "Steal Like An Artist: 10 Things Nobody Told You About Being Creative" by Austin Kleon? It is kind of a bible for all creative people, and if the artist you are seeking a present for doesn`t have it – it will be a great idea to give it to him.
Fineliner Pens Set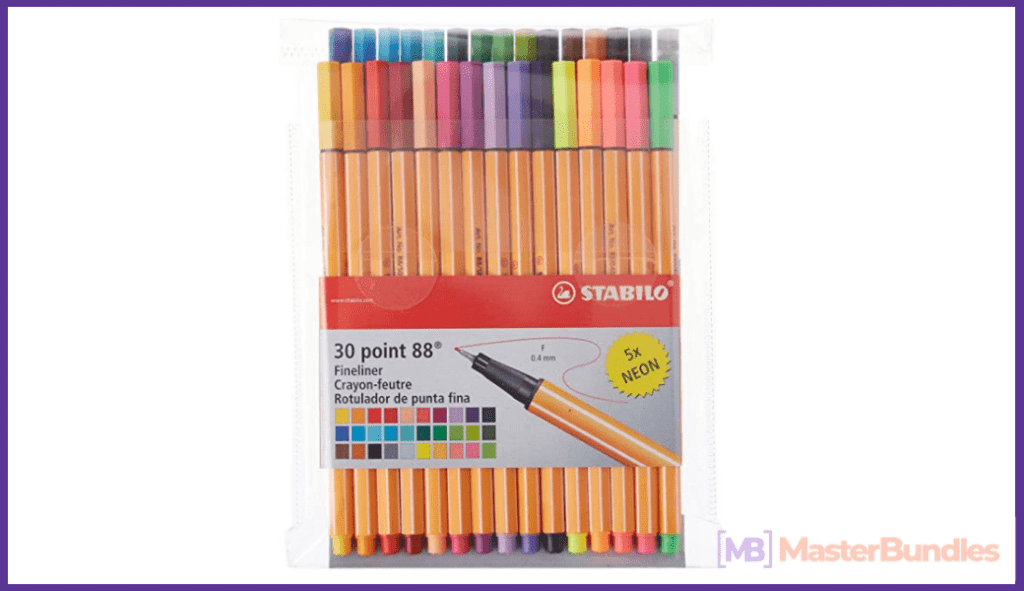 Price: $20.80
The number of different supplements for crafting – paints, pencils, liners, in never enough. Every artist who likes drawing will be happy to receive some more high-quality drawing tools as a gift. This set of 30 Stabilo liners will be a perfect addition to any artist's collection of supplements. Even if your friend or beloved one doesn't draw – they would still come in handy for craft or just writing down something.
Lens shaped Mug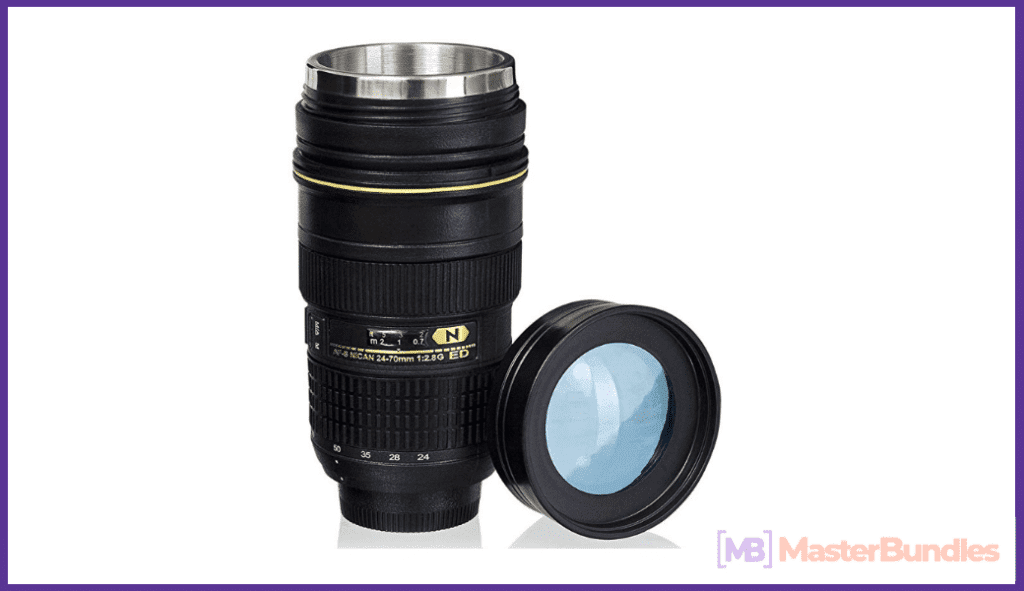 Price: $15.99
A perfect, funny and witty present for a photographer. This mug in the shape of the big lens looks almost like a real lens of Nikon camera. This mug was made of high-quality plastic and steel, so you can be sure it won't harm. It also has a silicon environmental ring and anti-slip. This cup is a convenient and versatile gift that could come in handy it office or outdoors.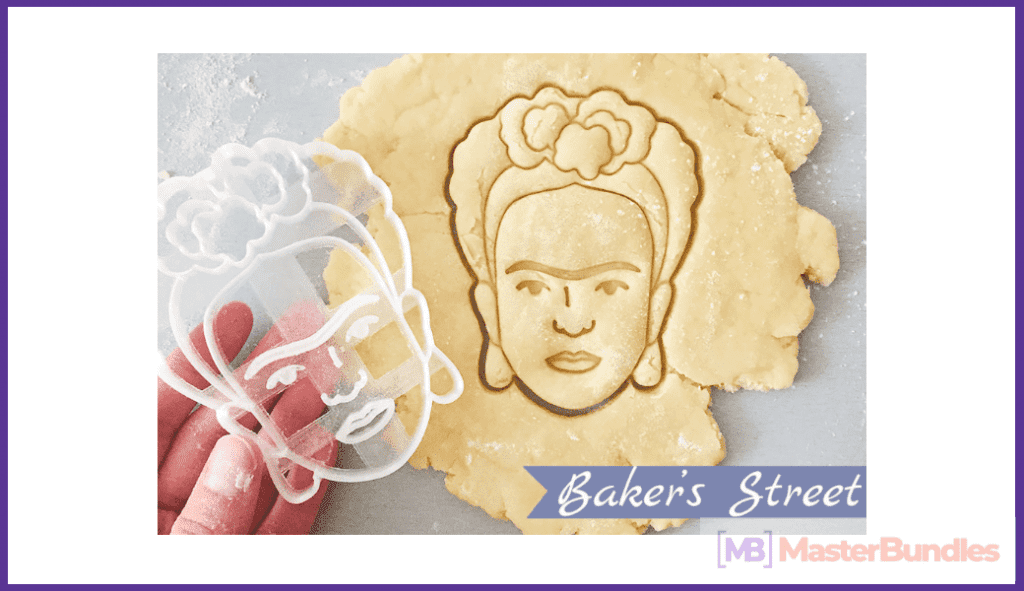 Price: $9.95
Do your friends love to cook? Do they love cookies? I bet they do come on, who doesn't like cookies? This custom cookie cutter in the shape of Frida Kahlo's head could make ordinary cooking more interesting and attractive. There's even a dough receipt that goes with this cutter, so you won't have to seek for it.
Cricut Explore Air 2 Machine Bundle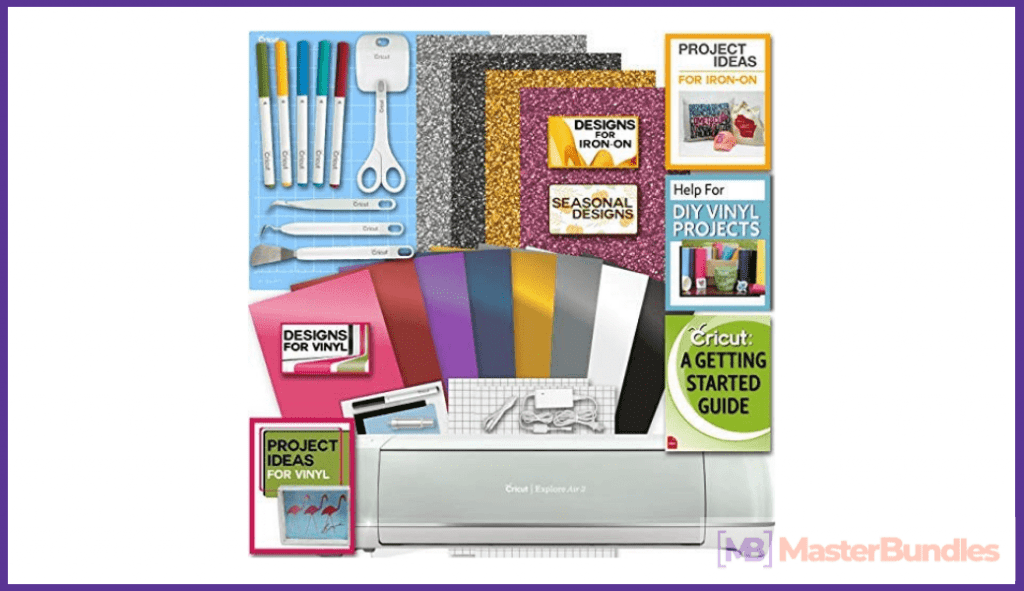 Price: $289.99
Cutting through some sorts of material could be troublesome, especially when you want to curve a nice shape. But this tool, Air2, could make it easy as a piece of cake. You just choose the picture – and this machine will cut that picture through the material. It works with about 100 of materials – from cardstock to vinyl.
Art Case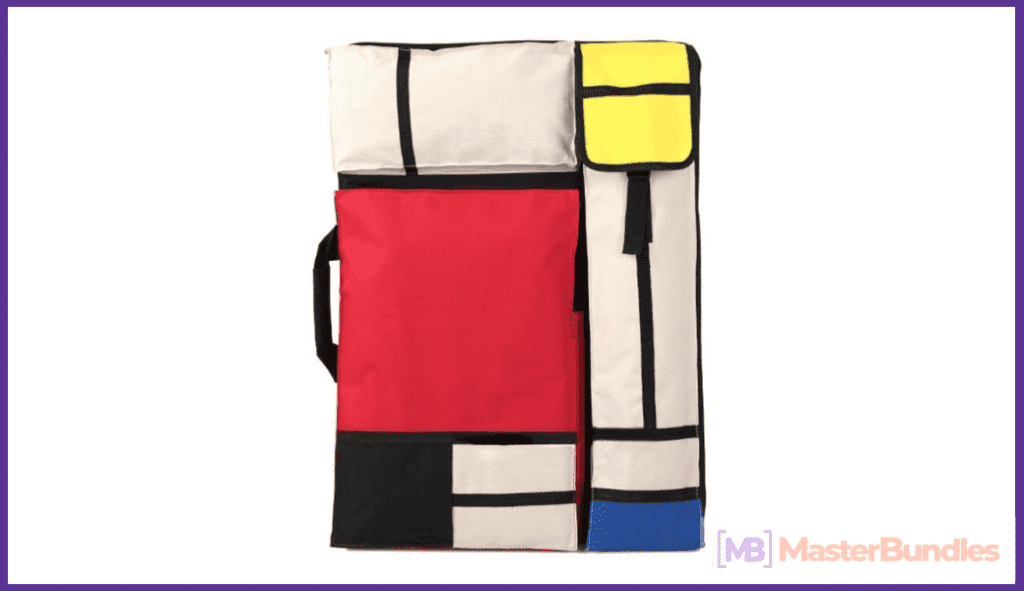 Price: $15.99
A big convenient backpack where the artist could put all of his tools and supplements and go outdoors painting – is a very useful gift. This case is made of oxford fabric and has a waterproof coating inside. There are several big pockets to sort the tools and carry them separately. It also has a special handle to carry it as a handbag.
Pen Brush Kit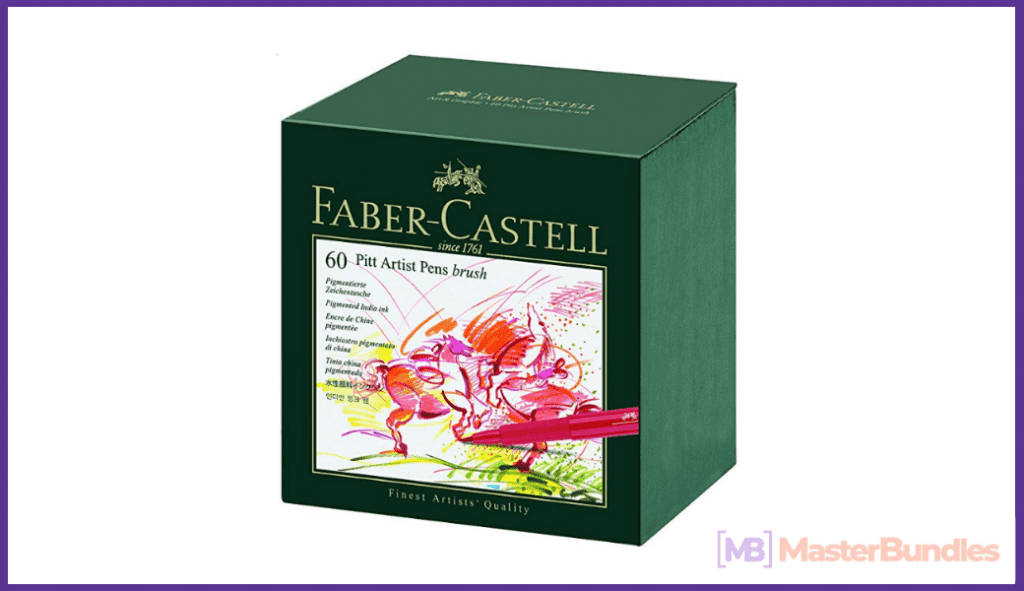 Price: $147.39
Faber Castell is an old and very solid firm that makes supplements for artists who love to draw. Their marker pens and pencils are very popular among professionals so giving a box of high-quality goodies to your friend-artist will be a great idea. This gift box contains 60 pieces and they are convenient to store and use.
Calligraphy Pen Set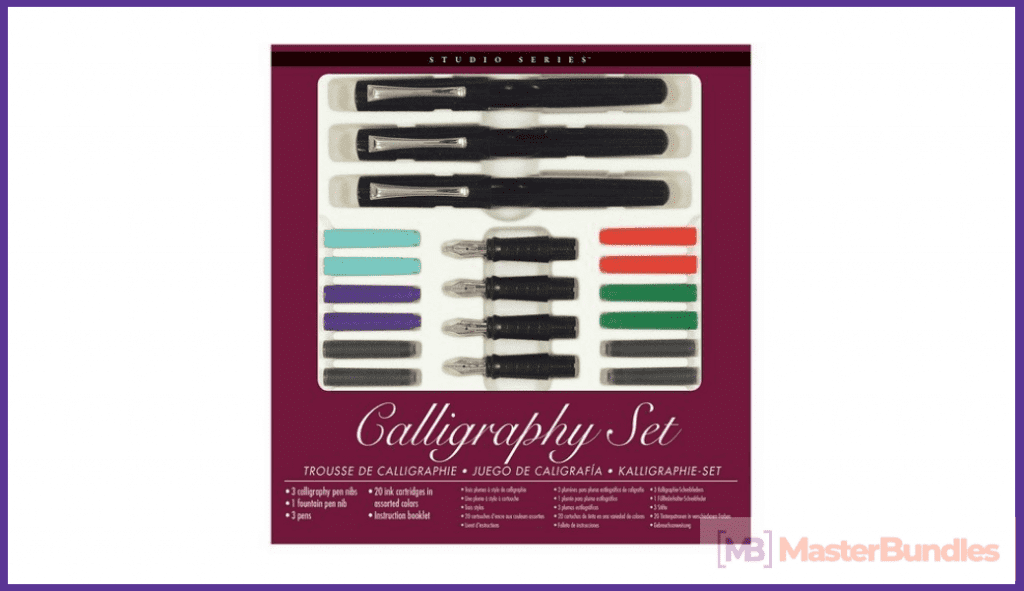 Price: $20.13
Calligraphy is a very meditative process that needs lots of practice and accuracy. Creating different various fonts comes from the art of calligraphy, so a digital designer who creates fonts should at least once try it with some real pen. This calligraphy set is created just for that purpose – to try it. There are 4 different nibs and 20 ink cartridges with ink in different colors.
Brush Cleaner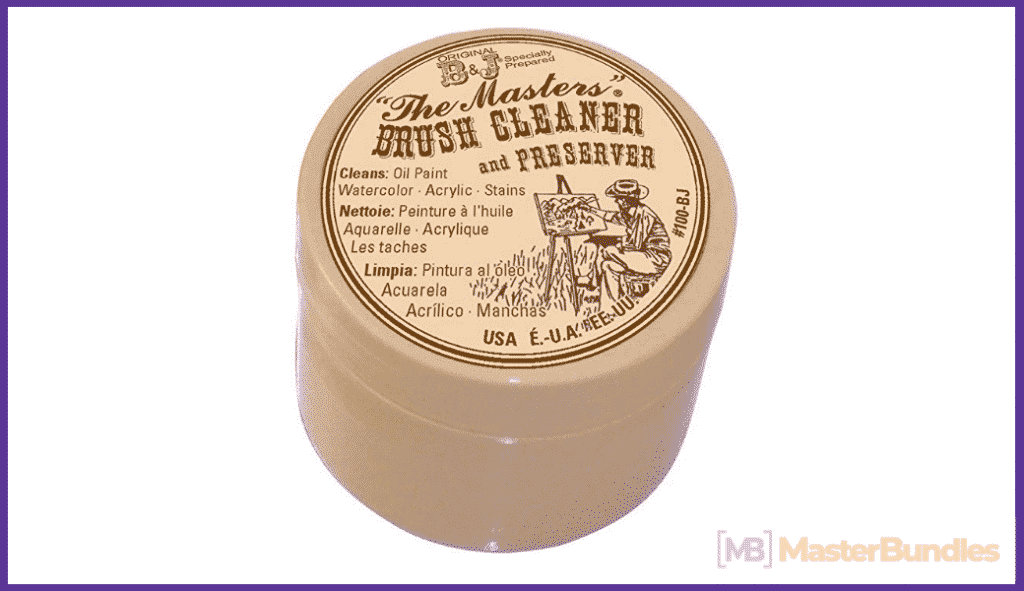 Price: $8.30
Cleaning and preserving tools make them stay functional longer. This substance helps an artist to remove oil and acrylic paint from brushes, as well as paint stains on surfaces and cloth. The cleaner can even remove the dried paint, so the brushes will be saved. A jar of such a cleaner will be a great and practical gift for an artist.
Mini Iron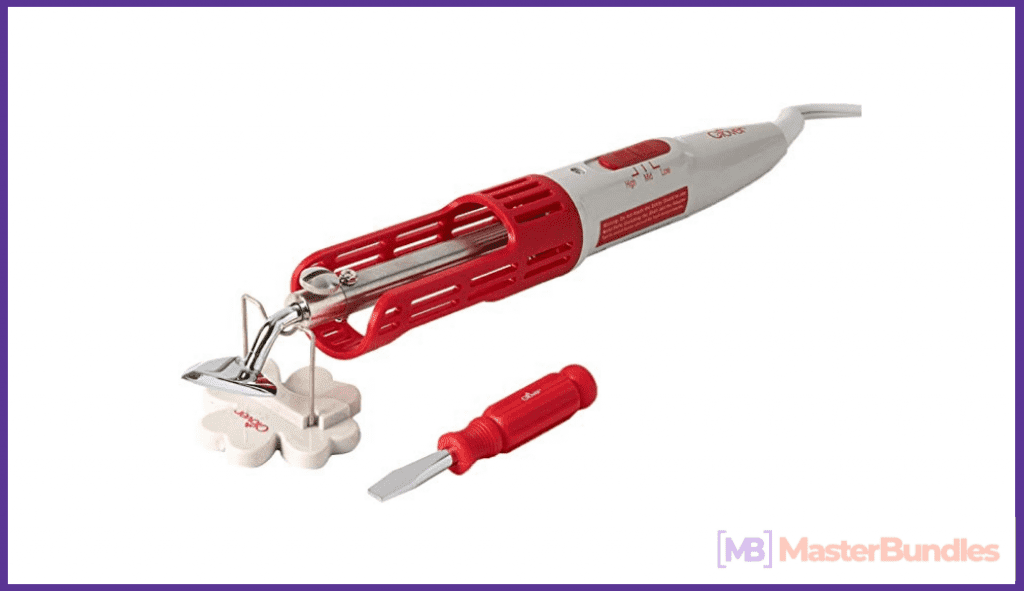 Price: $31.45
The normal-sized iron is too big for lots of craft things like ribbons or cloth flowers. The artists who create something of fabric or wool need sometimes a tiny iron to polish the look if their crafts. This Clover mini iron will be a nice present for such crafters. It goes with the iron stand and a screwdriver and has a few temperature settings.
Color Matcher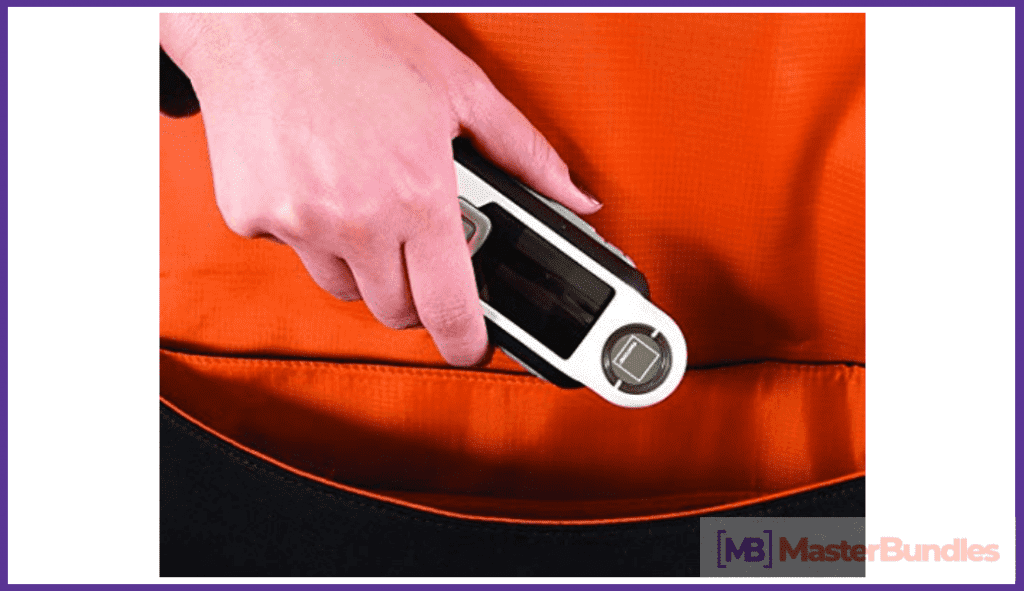 Price: $674.99
This tool is not crucial for the work of a designer – it is possible to pick up the color without it. However, it could make artists' life a little easier. Seeing a vibrant color that he sees fit for some of his projects he could just pick it up with Matcher. It even defines up to 4 major colors in the pattern. The Matcher is perfectly compatible with Adobe Creative Suite and QuarkXPress, which makes it even more convenient to use.
Creative Workshop 80 Challenges to Sharpen Your Design Skills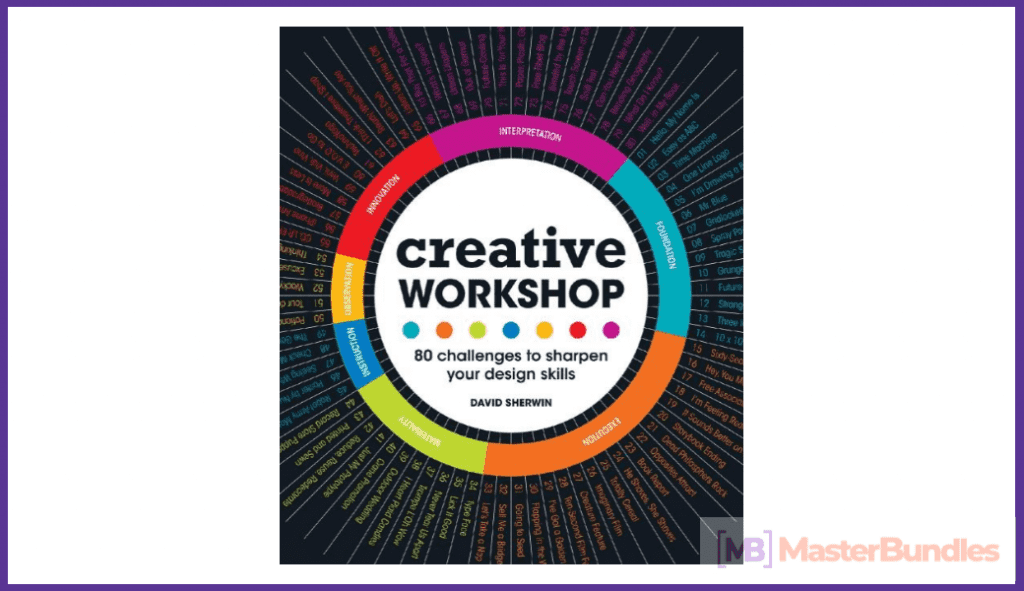 Price: $10.56
Constant self-improvement is what every artist does just doing his job. However, meeting challenges could help to level-up quicker and see the results. If you have ever heard of Inktober – you know what I mean. This book contains 80 challenges for artists who want to become better in what they do. Challenges could be fun – and this book could offer you lots of them.
Trackball Mouse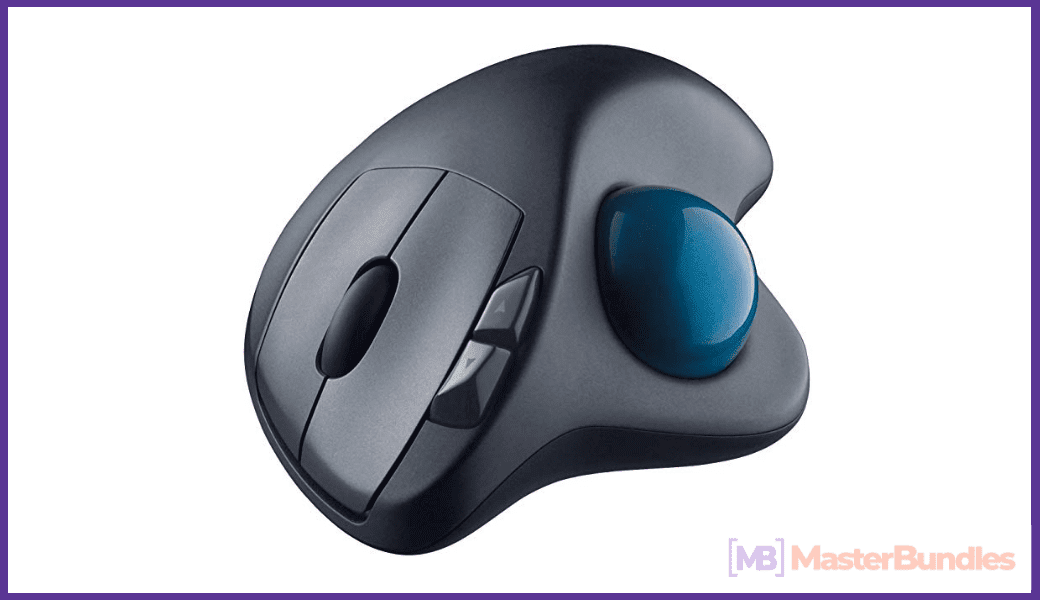 Price: $26.98
Does it look a little weird to you? Even if it does – believe me, that trackball mouse is very convenient if you get used to it. It allows you to move the pointer without moving the hand and that makes your movements much more precise. Accuracy is very important for artists, especially web designers, so if you will give it to your friend as a gift – he will definitely be happy.
Is your friend or loved one who happens to be an artist throwing a birthday bash? Choosing a creative present won't be an issue. Whether you're looking for expensive gifts or you're on a tight budget, there's always an option you could use. In the collection of birthday gifts for artists, we have picked a range of items that will suit any need and budget. Tune in for awesome ideas!
Bellroy Classic Pouch
Price: $49.99
Size: 8.8" x 5.5" x 2.3"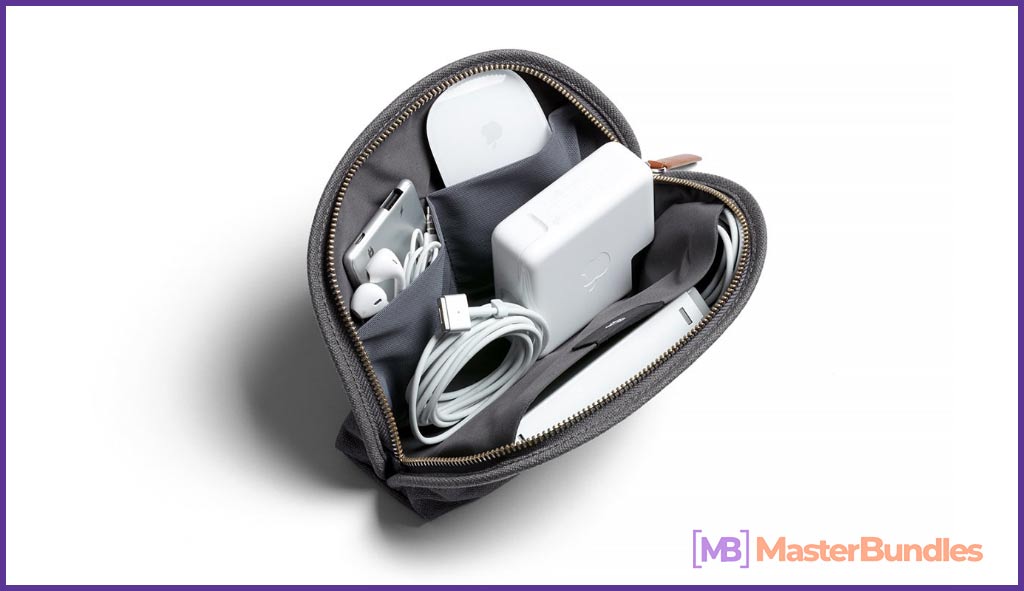 Creative people tend to get messy when it comes to their daily essentials. Still, there is a solution to keep everything in place with a pouch! It doesn't matter if you need to put your tools, cables, cosmetics, or toiletries in order. Bellroy classic pouch is made of waterproof fabric and has mesh inside pockets plus a discreet side pocket.
UltraWide Curved IPS Display
Price: $549.99 (Prime subscription)
Size: 32.7" x 17.7" x 15.7"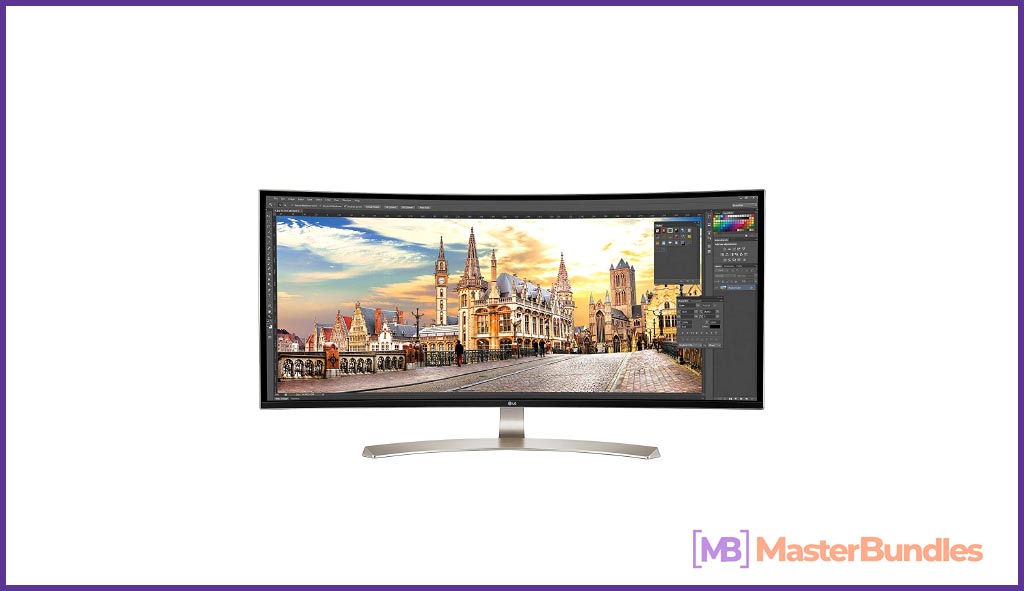 This 38" 21:9 UltraWide curved IPS display is a birthday gift every digital artist would die for. Ideal for photographers, designers, producers and other creatives who need to see a bigger picture. Features:
WQHD+ Screen Resolution
USB Type-C & USB 3.0 Quick Charge
Bluetooth audio with LG's Rich Bass function
sRGB over 99% coverage
LG Screen Split, etc.
IDRAW Comics Sketchbook and Reference Guide
Price: from $73
Size: 0.8" x 5.8" x 8.5"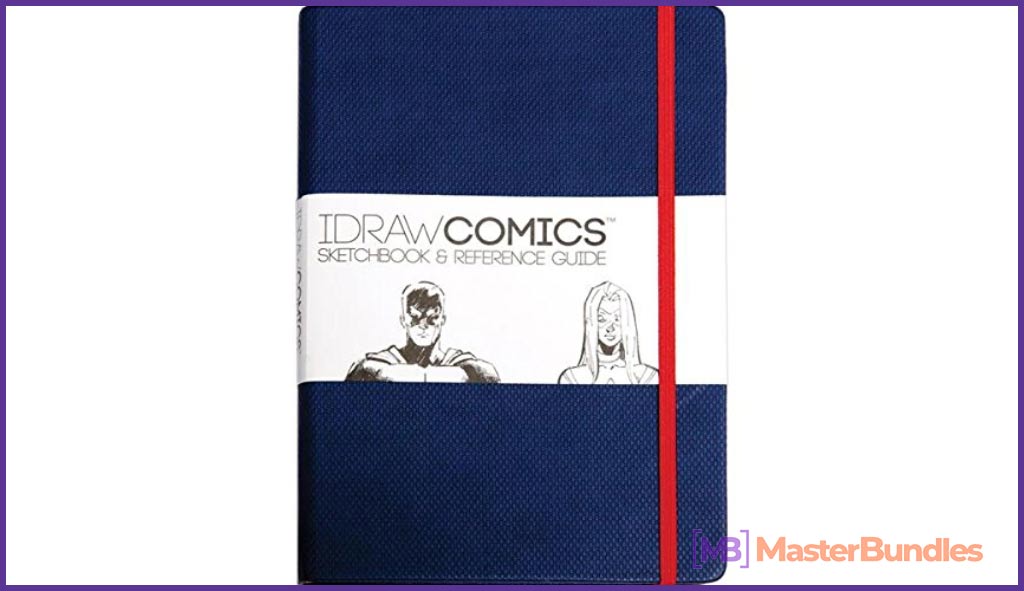 If you want to make a really useful birthday gift, choose IDRAW 8-1/2×6 comics sketchbook with a reference guide. This is the best tool for a comics artist to practice illustration and storytelling.
Apart from providing the opportunity to practice, IDRAW suggests superb reference materials!
Light Box For Tracing
Price: $24.97
Size: 13.2" x 9.25" x 0.14"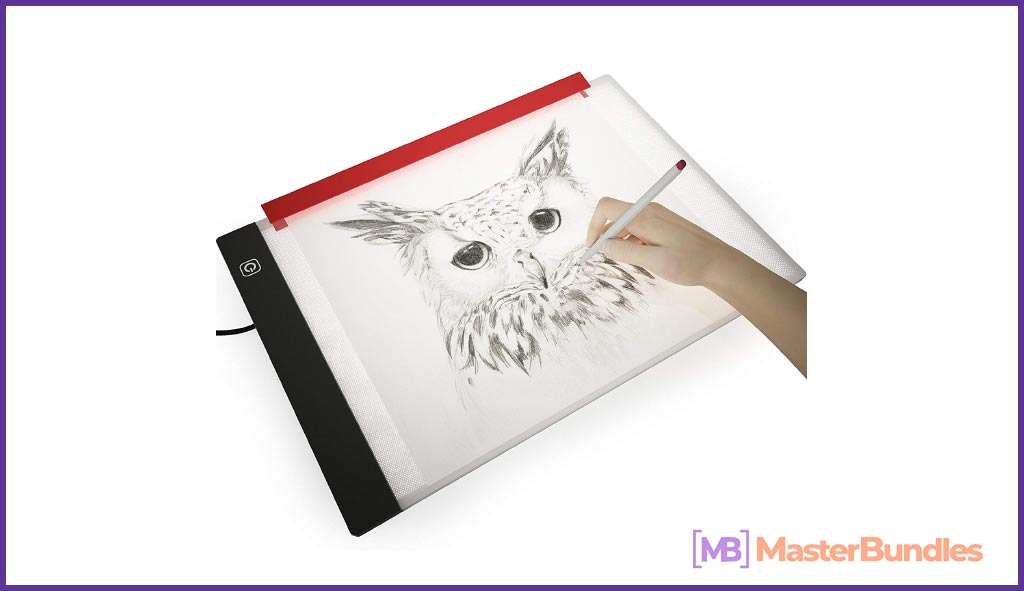 This ultra thin light box is a great tool for drawing and tracing. Special light pads designed to help you easily trace sketches and images onto 8.5" x 11" tracing paper. The package includes tracing paper with paper holder ($7.99-worth). This is an out-of-the-box solution: just plug the 6ft USB cord into a compatible device or power outlet and start working.
Decorative Dali Melting Clock
Price: $15.99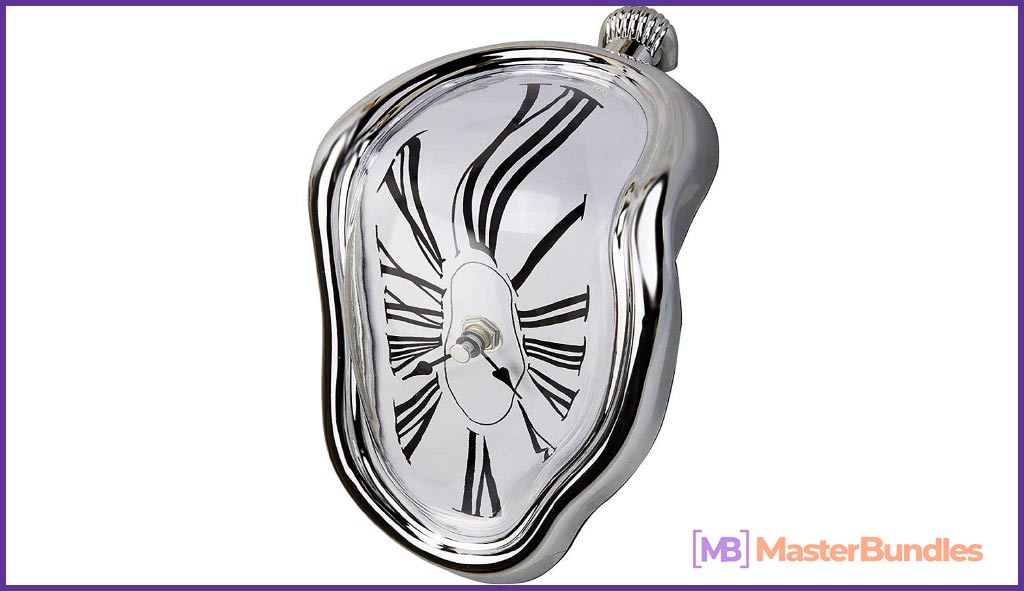 Artists and art enthusiasts will be happy to get Dali's iconic melting clock. This battery-powered hanging clock with Roman numerals and two manually adjustable hands. Any room will benefit from this stylish accessory which can also be used as a bookstop.
Christmas gifts for artists
Christmas is a time for luxury presents. They don't have to be very practical and useful – only attractive, fun or interesting. That's why for this part of the gifts list I've chosen the good-looking or witty (or both) stuff. One way or another they will definitely make the person you will give it a smile.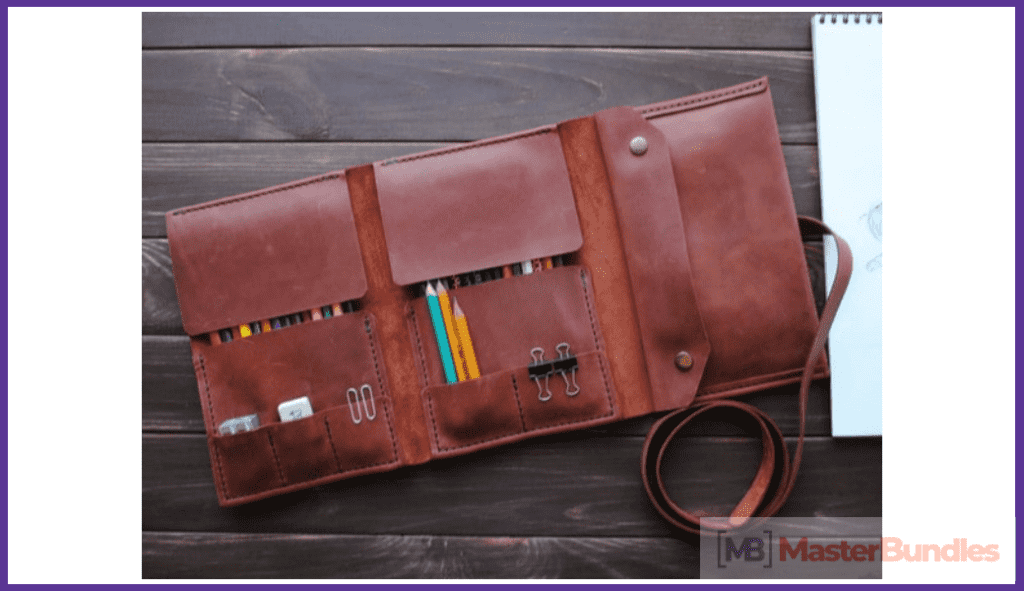 Price: $45
This beautiful piece will make the artist feel himself a popular and expensive painter of the 18th century. A leather pencil case could be compared to a leather bad or leather wallet – a real luxury. It is also really convenient – the pockets allow to put all the tools together, don't damage or miss them in the bag or backpack.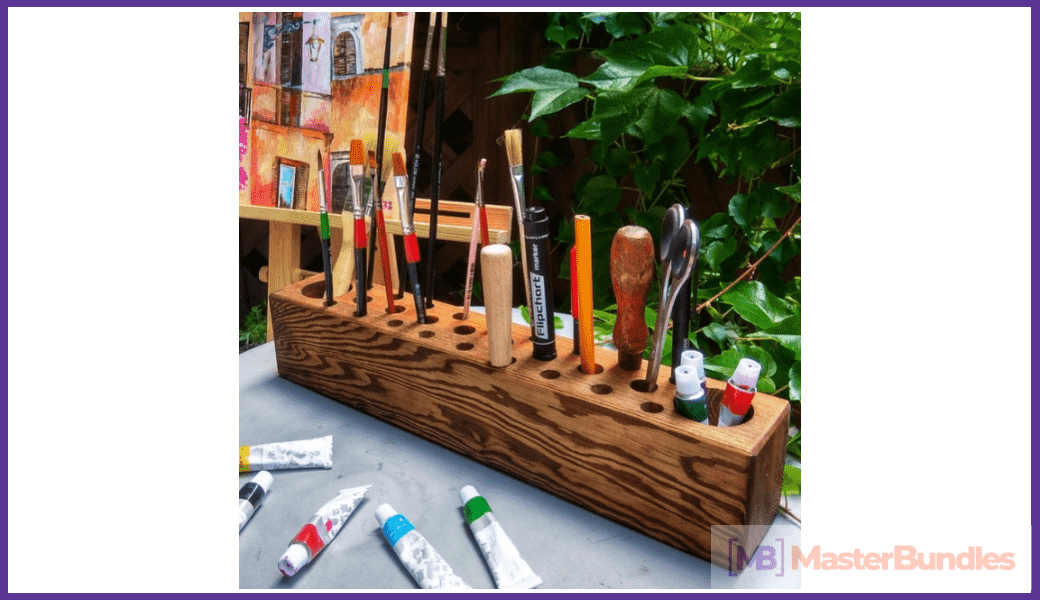 Price: $56
When you are painting something it is very convenient to put the brushes or pencils into a special holder. That will prevent them from damaging and making a mess. This wooden holder looks attractive enough to use it as a home decoration or to store some instruments, so it will be a nice gift for an artist one way or another.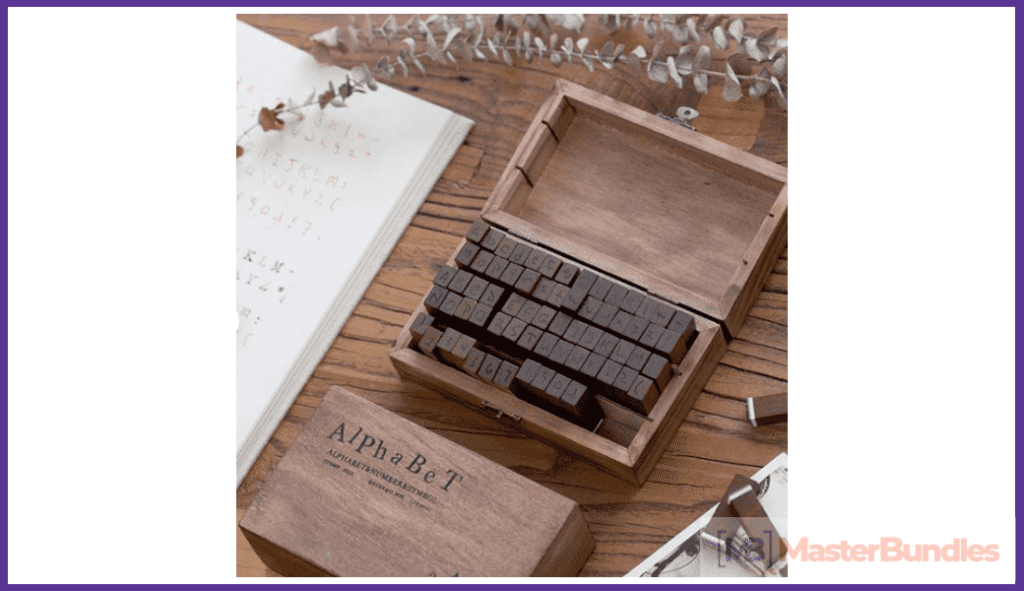 Price: $17.03
Creating cards with Christmas wishes would be much more fun with the alphabetic stamps. Writing best wishes with just a pen would be certainly faster, but stamps will make the greetings look a little more vintage. The ink pad doesn't go with the stamps but it will be easy to get it later. A lovely gift foran artist who likes crafting from paper.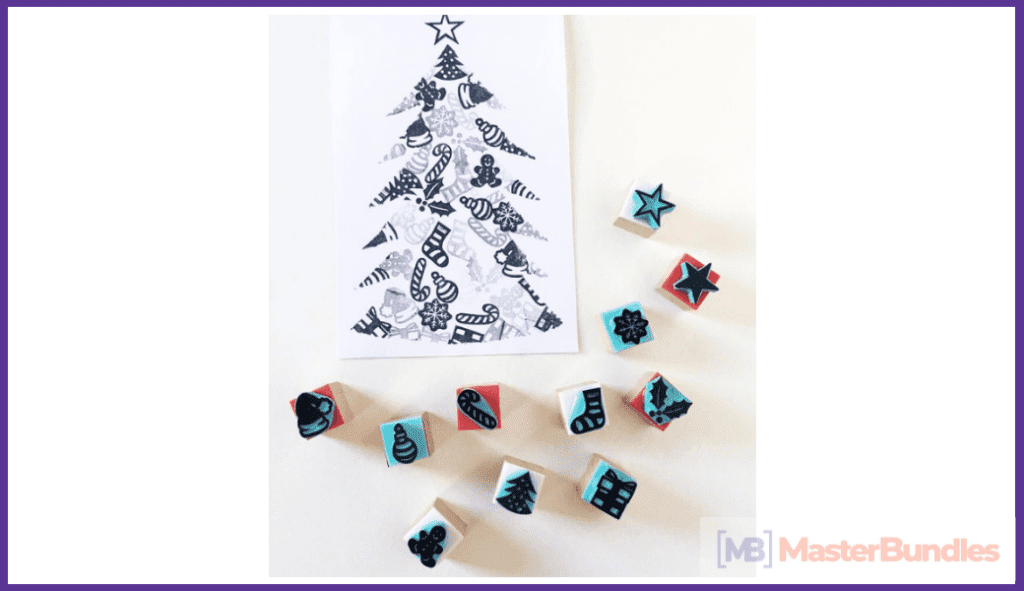 Price: $11.51
This is another set of stamps but this time they are made of rubber and used only for decoration. Postcards or Christmas cards, invitations, eve clothes – you can add some Christmas scent to them with these stamps. If you combine them with the previous set of alphabetic stamps – your friend or beloved one will be able to create some nice pieces of art.
Art Socks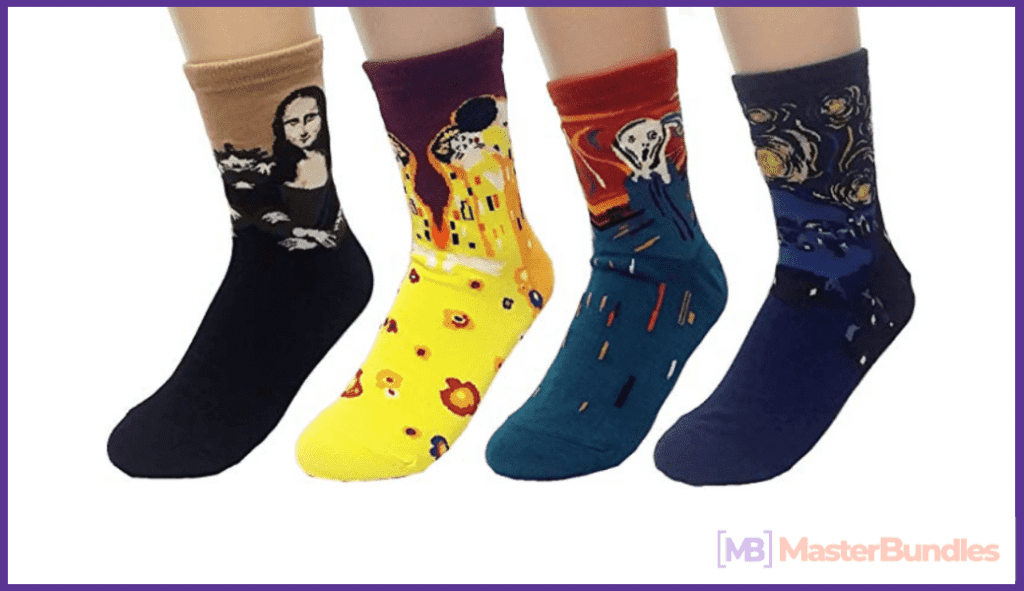 Price: $10.98
What Christmas gift is more popular than socks? I guess none. There never will be enough socks, so people love to give them to each other. To make this present a little more personalized for an artist you can choose these socks with the images of the famous paintings. Even the people who didn't study art deeply will recognize those pictures.
As artists keep facing creative challenges at work, it's crucial to make them feel loved at home. It's not easy to generate a bunch of decent Christmas gift ideas for artists. But you don't really have to strain yourself – just go on Amazon! It's festive season, so you can find lots of nice present options for artists that are a real bargain. To make the task easier, we at MasterBundles collected the 5 budget gifts for artists. These lovely presents will show how much you care!
Christmas to Color
Price: $12.34
Size: 10" x 0.3" x 10"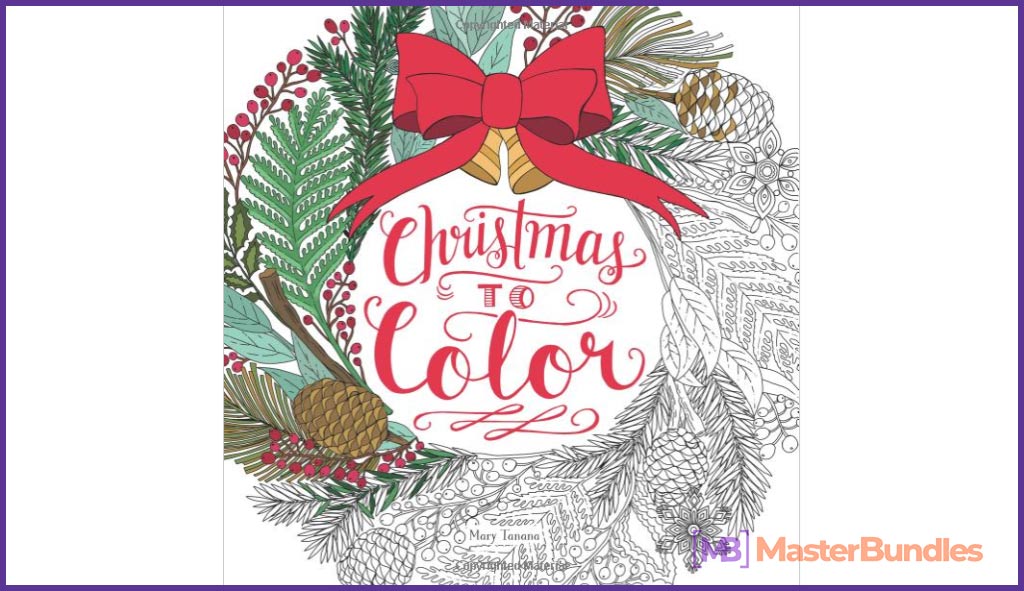 Everyone loves color books for being a great stress-relief. Illustrator Mary Tanana created a magnificent wintry wonderland and put it in a color book. All the Christmas attributes are here – snowflakes, reindeer, stockings, wreaths, etc. Whole 96 pages to color! An artist will adore this beautiful gift!
Christmas Cards Boxed Set
Price: $14.99
Size: 4.25″ x 5.5″ (A2)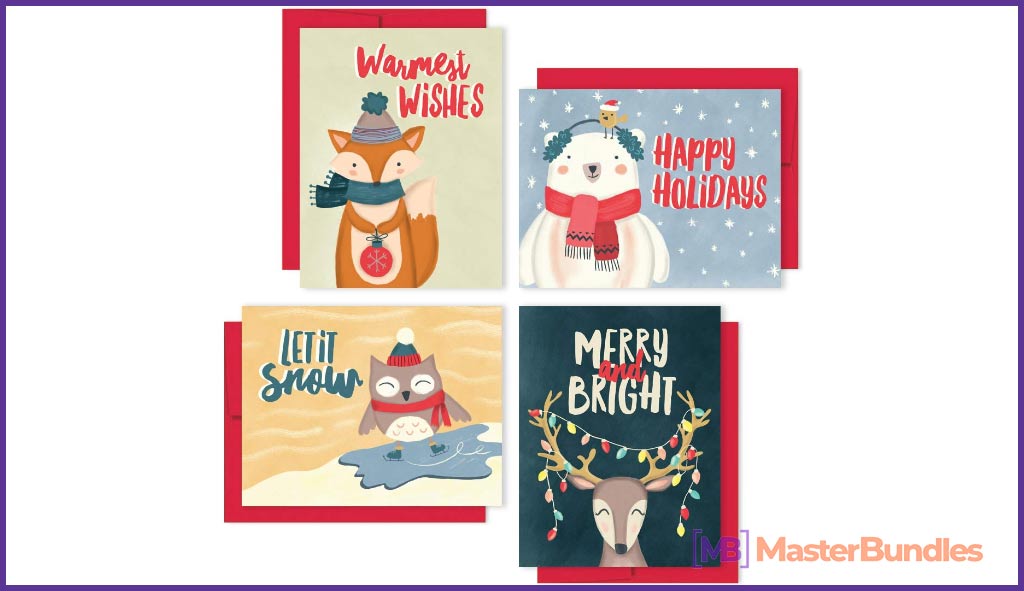 Festive greetings are beyond important to show love and affection to your family and friends. So, purchasing a creative Christmas card set is a must! This card pack contains 4 unique Christmas designs with red envelopes. The card set is also available in bulk (12 and 36 pcs).
Watercolor Brush Pens
Price: $20.97
Size: 13.9" x 6.5" x 0.6"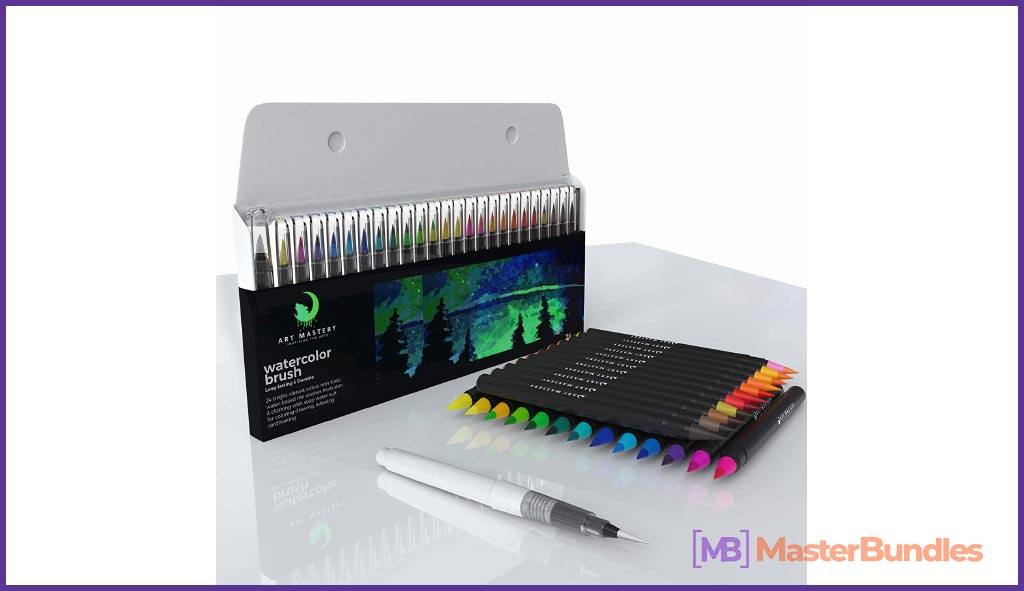 This set of 24 multi color pens plus 1 blending water brush will be a great Christmas gift for adults and kids likewise. Using these multi color pens, artists can create high detailed shapes and fine lines. Flexible bristles and exquisite ink quality will contribute to the creation of real masterpieces!
Good Days Start With Gratitude: Gratitude Journal
Price: $6.99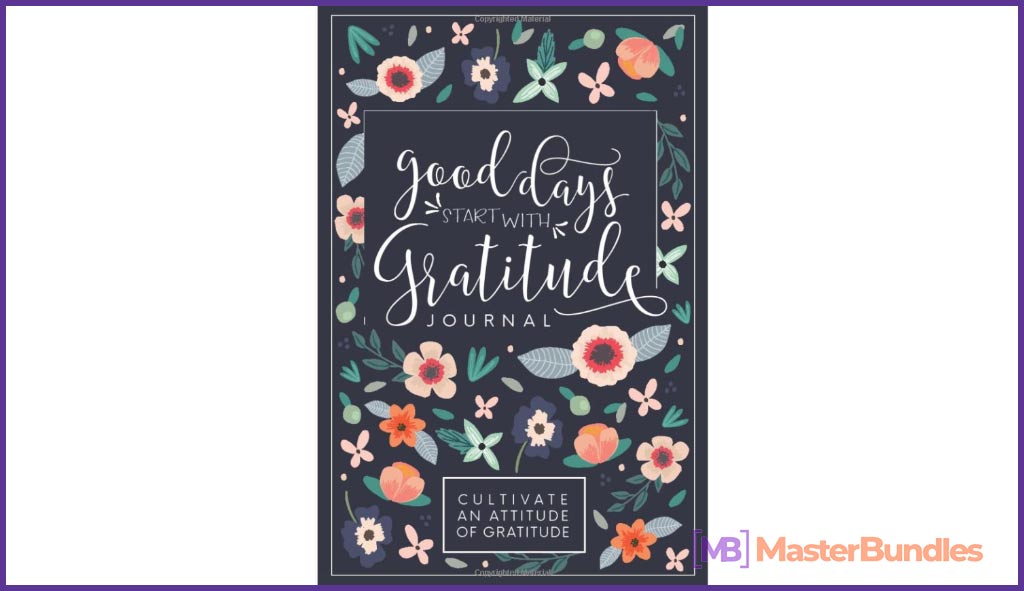 "Good Days Start With Gratitude" is a unique guide that will help cultivate an attitude of gratitude for a year! Practicing gratitude every day is a great habit, so this 118-page gratitude journal will present you an opportunity to adopt one. This can be a great gift for an artist before the New Year begins.
I Am The Artist Elf T-Shirt
Price: $17.95
Package dimensions: 10" x 8" x 1"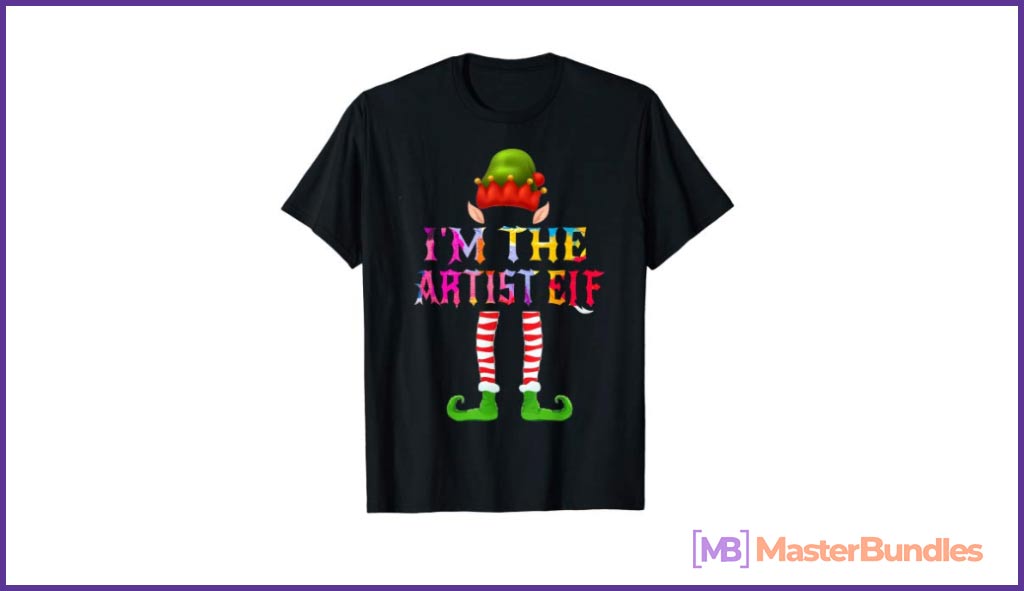 A Christmas themed tee is what any artist would appreciate. Available in ten color options, this "I'm the Artist Elf" t-shirt will put a smile on the face of any artist, illustrator or designer! Lightweight, classic fit, 100% cotton for solid colors.
Valentine's Day gifts for artists
If your beloved one is an artist, you will certainly want to choose a unique and fitting gift for him. Of course, the best gift is always your love for him but still, a present will never harm. Here are a few lovely presents for artists that will be perfect to give on Valentine's Day.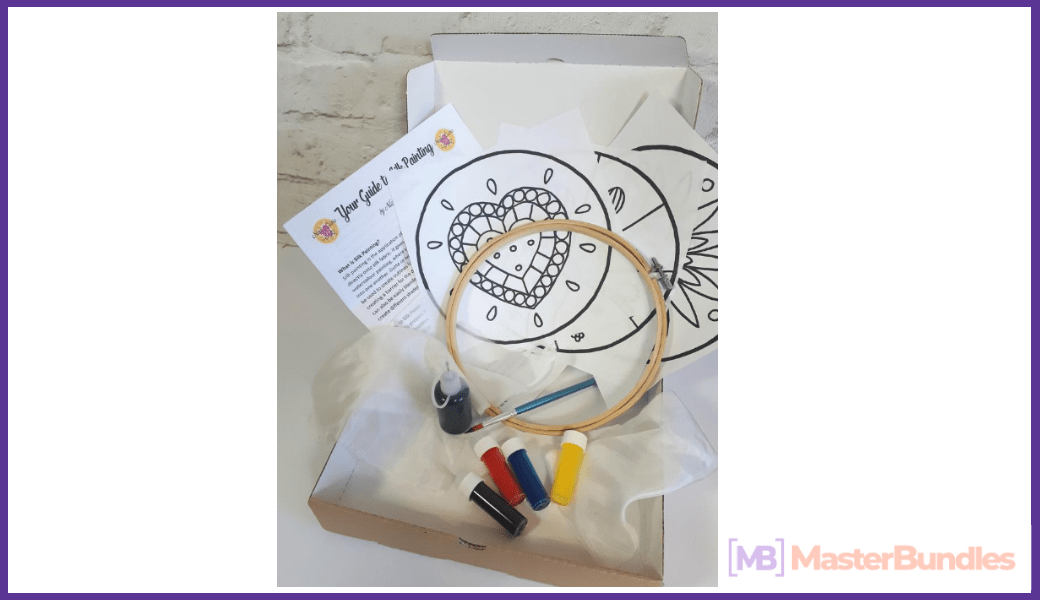 Price: $19.52
The silk suncatcher is a small picture on silk that looks especially good when sunlight shines through it. This kit contains a piece of silk, ink, brush, wooden embroidery hoop and a few templates. It fact, you can use any picture you would like to – just print it and use it as a template. This is a simple and pleasurable craft you can do together with your Valentine.
Dip Calligraphy Pen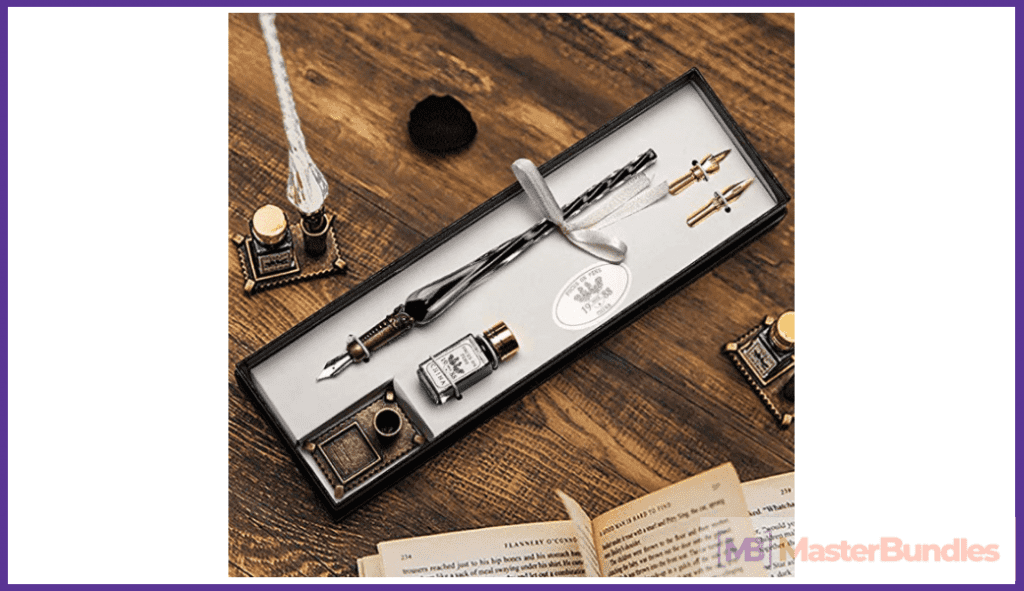 Price: $14.99
This pen was created to write love letters – just look at how beautiful it is. Your beloved one could use it not only to try and practice calligraphy but even just to decorate the desk – this pen looks like a piece of art. The kit includes two additional nibs, ink, and a stand, and all that stuff is packed to a beautiful gift box.
WatchamaDRAWit Game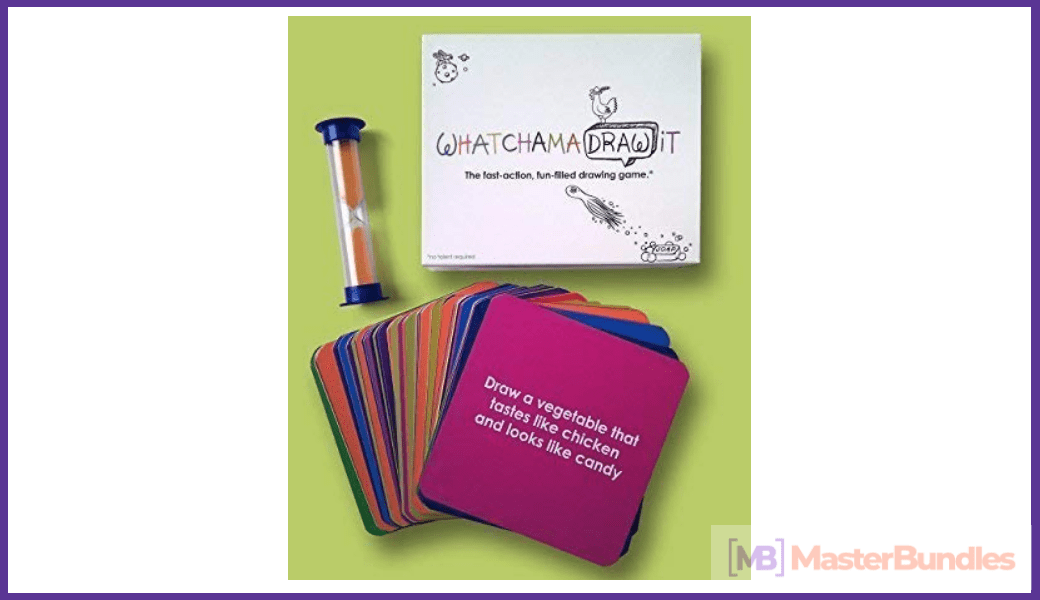 Price: $33.54
Even if your beloved one is an artist and you are not – you can play this game together and become a little closer. It contains cards with tasks to draw. All the tasks should be drawn in a defined period of time. To monitor it the game includes sand watch. This activity is fun and boosts up creativity, so the game will be a nice present for an artist.
Coloring Book for adults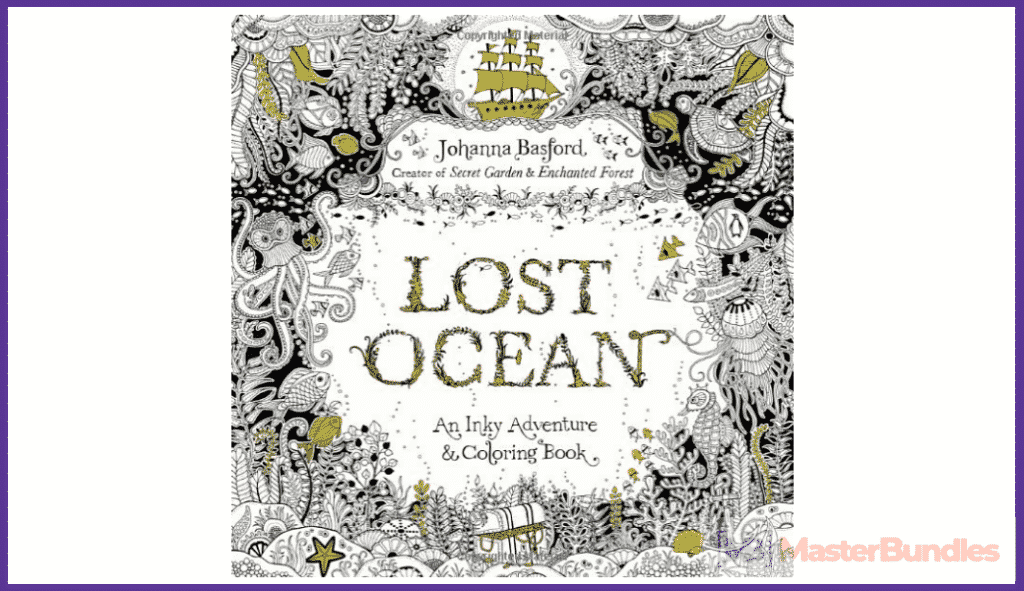 Price: $10.95
Coloring books are a great cure for stress. It is not true they are suitable only for children – it is really pleasurable for adults to color them, and artists are no exception. There are lots of variants of coloring books for adults now – they become popular. The Deep Ocean book is one of the most beautiful I've seen.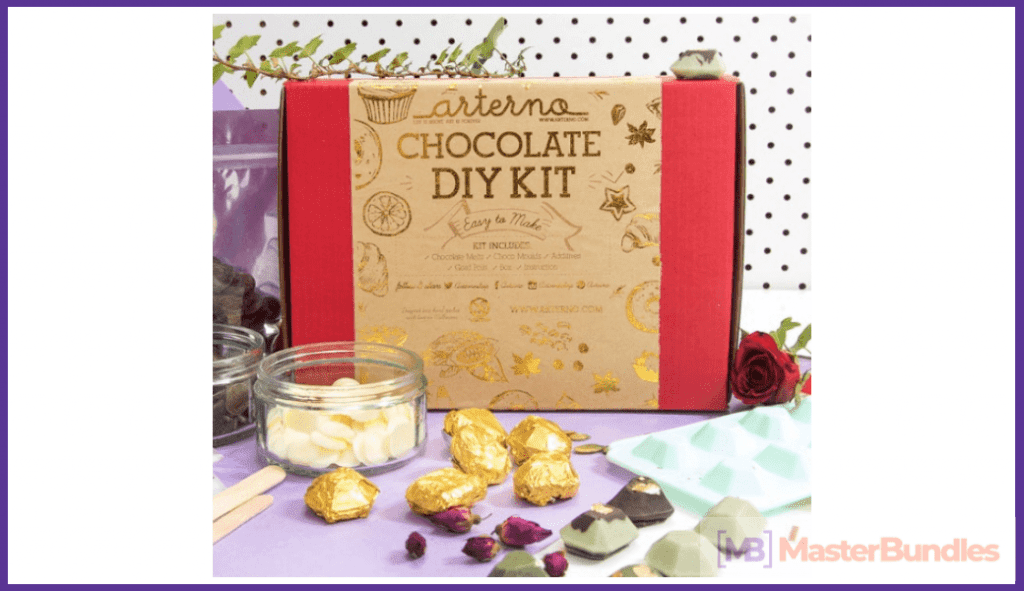 Price: $39.13
Creating chocolates with your couple – what could be more romantic? This DIY kit includes everything you need to make your own unique sweets – chocolate melts, molds, foil, wraps, and box. There's also an instruction that will tell you how to do the sweets with the combination of ingredients are given.
Are artists romantic folk? We can't be 100% sure. Irrespective of that, you can make St. Valentine's Day 2021 a memorable experience. What's the best February 14 gift for an artist? Sweets and gift cards are a good option for colleagues and friends. You can upgrade the gift plan for your family and significant other by ordering something special. MasterBundles editors have collected a few options to make your life easier.
You May Be an Asshole But You're My Asshole Travel Mug
Price: $19.99
Volume: 20 oz.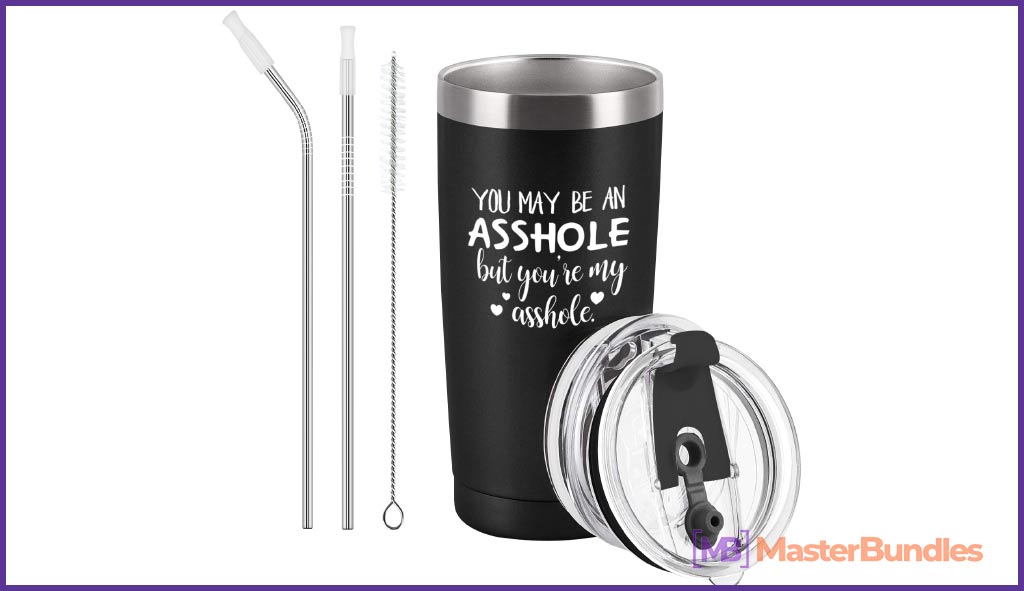 A travel mug with a racy wording is a great gift for your boyfriend, husband, or lover on St. Valentine's Day. The mug comes with a straw lid and a flipping lid sitting tightly to avoid leakage. It's handy to carry around in a bag or use outdoors. The mug is capable of keeping your drinks cold for 9+ hours or hot for 5+ hours.
Fun and Romantic Game for Couples
Price: $21.95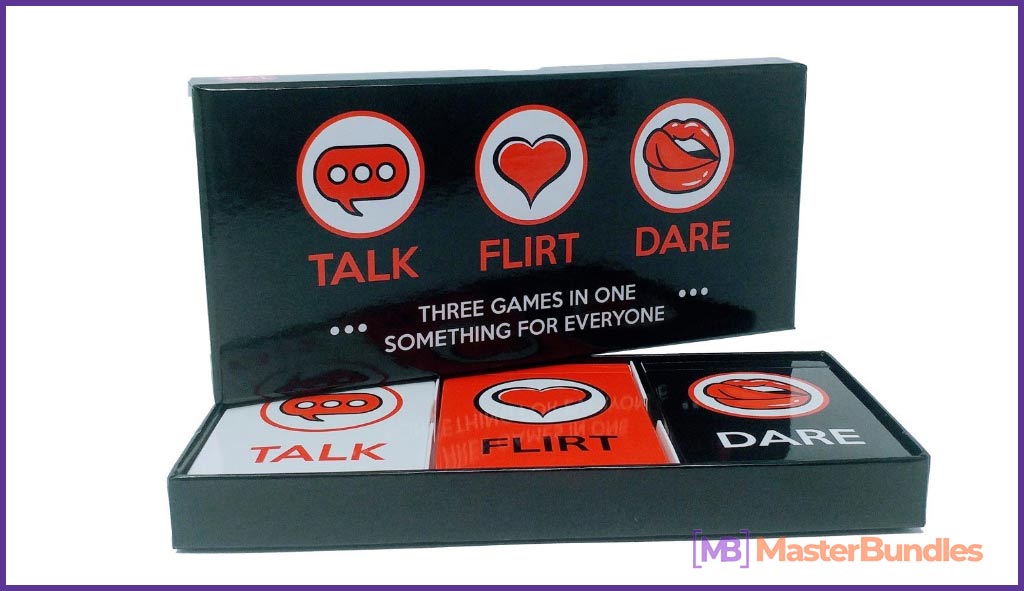 Despite you've been together forever, there still may be a lot to discover about your significant other. Talk Flirt Dare is just the kind of game that can rekindle your feelings. The game has three levels of closeness: 'Talk' being the most decent one… The rules are simple: choose the card & answer the question.
Beard Grooming & Trimming Kit for Men
Price: $34.97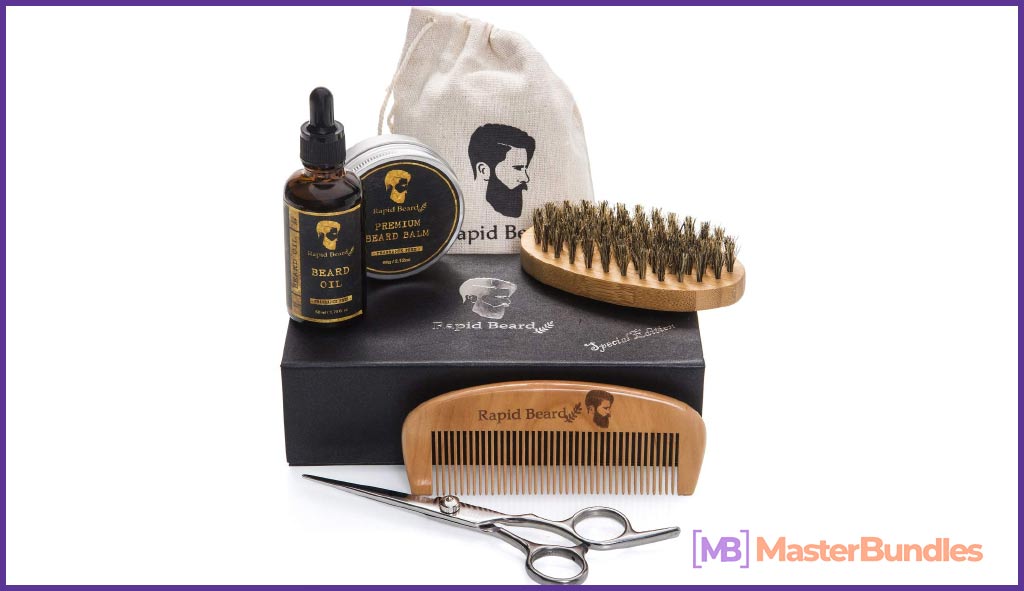 If you're into the lumberjack romance, this beard grooming and trimming kit will be an awesome gift for a boyfriend, husband, lover or even male colleague. In the set, you'll get stainless steel barber beard scissors, boar bristle brush, beard oil and premium beard balm. The perfect formula leaves facial hair and skin hydrated and soft. The grooming set eliminates itching and reduces dandruff.
Date Night In: More than 120 Recipes to Nourish Your Relationship
Price: $25.49 (hardcover), $11.10 (Kindle)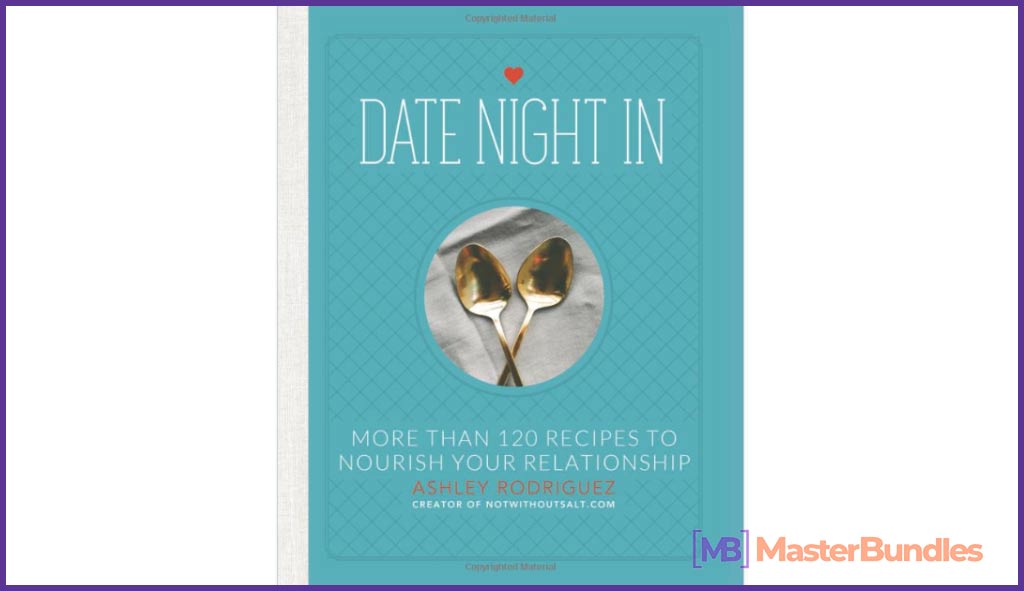 Artists love experiments, so adding a bunch to a regular menu won't hurt your relationship. Written by Ashley and Gabe Rodriguez, a happily married couple, the book will rekindle the connection with your significant other. Cook a delicious meal for two and see for yourself!
Bathtub Tray for Two
Price: $36.99
Size: 30.8" x 9.7" x 2.8"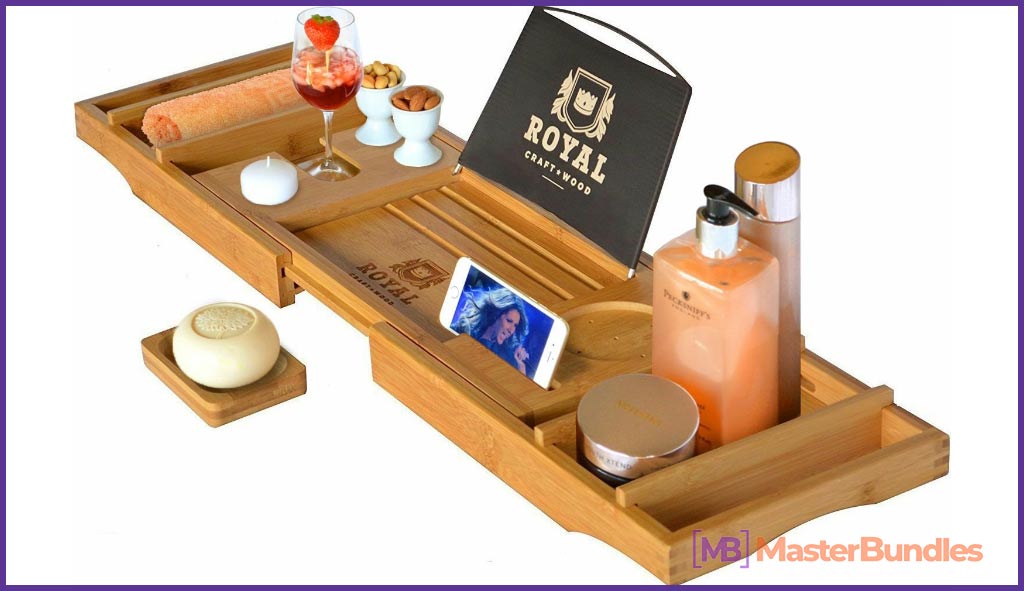 A bathtub tray is the definition of a romantic evening. There's no better way to make your loved one happy than by bringing treats on a tray while they're soaking in a bathtub. Royal Craft Wood is the perfect bath caddy made for couples who love taking a bath together. Perfect option for a romantic date night on February 14 or an anniversary celebration.
💣 Select a Presents for Artists Analyzing Their Instagram Accounts
Service for quick selection of cool gifts
Just enter Instagram nickname and get 9 personal gift ideas
Oh, we can't find a gift for your friend... Let's try for somebody else
Oh, it seems you are trying to choose a gift for a non-existent person
Wrapping up
If a person has no wishlist it is always complicated to choose an appropriate present. However, I gave you a huge list of options. Not each of those items will fit for your artist friend but I hope that they will at least inspire you. I wish you luck in creating a pleasant surprise for your friend or beloved one.
Q&A Session To Sum Up
Please take a moment to pin this post to Pinterest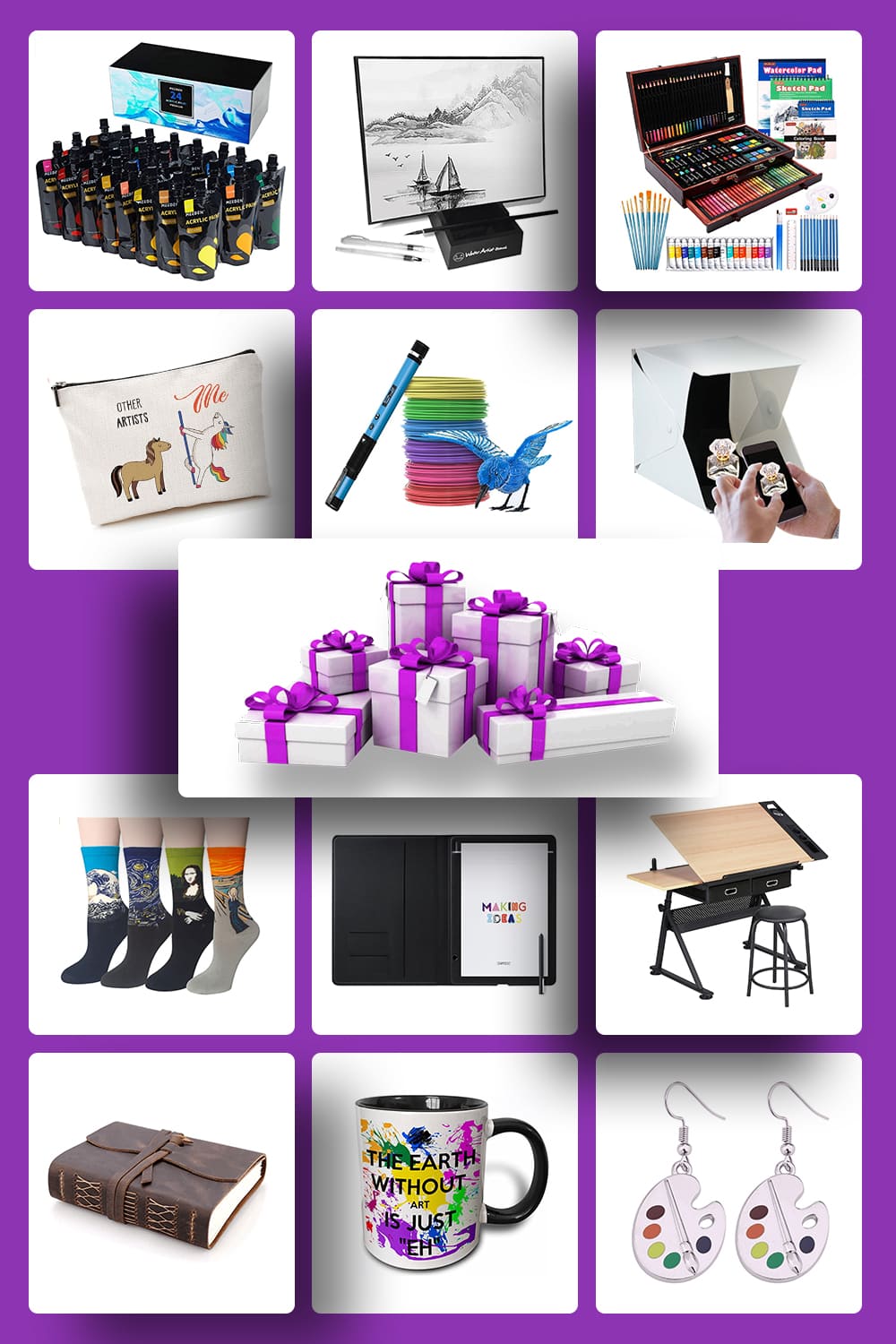 Was this page helpful?
We will be happy if you decide to share this article with your friends on Facebook. Just click on the button and you're done
What are your concerns?
Thanks for your response!
You have already left your review.
Artists are very peculiar people. They see things in their own way. Creative individuals are slightly different from the majority of people and sometimes do not foresee their reaction to one or another action. They are never bored. These people live in an atmosphere of joy and bright colors. The creative person constantly needs to experience new emotions, always be inspired and in love. This feeling inspires and gives new themes for creativity. Therefore, your gift can be a real inspiration to create a work of art. Knowing the preferences of your acquaintance / friend / lover / relative is your real weapon in solving this difficult task.
That is why in order to write this post I have read many articles and understood how special and talented artists really are. All the sources that I used for writing this article are proven and trustworthy.
Who is Artist? (https://en.wikipedia.org/wiki/Artist)
Is Drawing Learned Skill or Natural Talent? (https://medium.com/@myranaito/is-drawing-learned-skill-or-natural-talent-b9021f10d43b)
What is the Artist's Role in Society? (https://www.artworkarchive.com/blog/what-is-the-artist-s-role-in-society)
25 reasons why you should live like an Artist. (https://guttulus.com/25-reasons-live-like-artist/)
David Bayles, Ted Orland. Art & Fear: Observations On the Perils (and Rewards) of Artmaking. Image Continuum Press; 2001.
Sharon Louden. Living and Sustaining a Creative Life: Essays by 40 Working Artists. Intellect Ltd.; 2013.
David Lynch. Catching the Big Fish: Meditation, Consciousness, and Creativity. TarcherPerigee; 2007.
Disclosure: MasterBundles website page may contain advertising materials that may lead to us receiving a commission fee if you purchase a product. However, this does not affect our opinion of the product in any way and we do not receive any bonuses for positive or negative ratings.