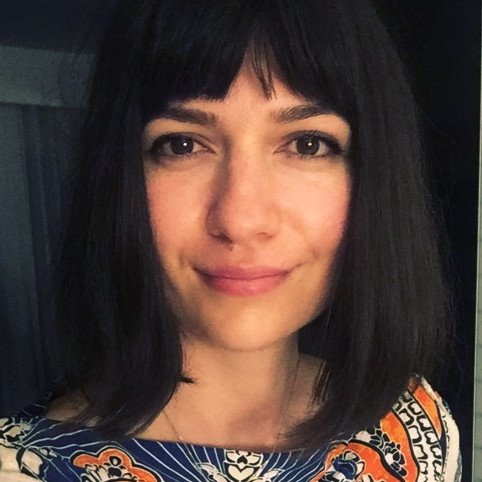 Article reviewed by
on May 08, 2020
I'm the CEO of The Baby Manual - we specialize in educating new mother and fathers on how to be effective as a parent.
Learn about comment
Mother's Day is a marvelous opportunity to show our moms just how much we love and appreciate them and, certainly, one of the best ways to do that is to give your mom a meaningful present. Well, what is a good present for Mother's Day and where can you find one is what we are going to figure out today. So without further ado, let us start.
Mother's Day History
Every year on the second Sunday of May, in the United States as well as many European countries, Africa, Australia, China, and Japan, people celebrate Mother's Day – the day of motherhood celebration and appreciation of all the moms.
This holiday has been officially established over a hundred years old and since then it is one of the most popular holidays in the world. The origins of Mother's Day celebrations are rooted in the spring festivals that Ancient Greeks dedicated to Rhea, the mother of the great god Zeus. Years later, approximately in the 1600s, the tradition of celebrating Mother Sunday appeared in England. On this day, which was the fourth Sunday of Lent, all the mothers were honored. Servants did not work on that day and they had an opportunity to visit their parents.
The story of the modern Mother's Day begins in 1907, when a young American woman from West Virginia, Anna Jarvis, initiated the idea to honor mothers in memory of her own mother who passed away. Anna wrote letters to various government agencies, legislative bodies, as well as influential people with a proposal to devote one day the year to honoring mothers.
Her efforts were crowned with success in 1910 when the state of Virginia was the first American state to recognize Mother's Day as an official holiday. By 1912, the International Mother's Day Association has been created and its main aim was spreading the tradition to celebrate this very holiday. Finally, in 1914, the holiday received an official status in the United States and after World Wat II spread all over the world.
Nowadays, Mother's Day is celebrated all around the globe, and appreciating our moms with breakfast in bed, a lovely bouquet or a meaningful present is perhaps one of the sweetest traditions that our society has ever come up with.
Troubles of Buying Gifts in 2020
Certainly, if you are reading this article, you are one of those people who want to show their moms just how much they mean to them by means of a nice gift. However, considering the current situation, finding a perfect gift is going to be quite a challenge. First of all, your only option is to buy a physical gift, in other words, you cannot give your mom a spa certificate or a concert ticket because everything is closed for who knows how long. So the variety of gift ideas is significantly smaller than it used to be last year. Secondly, your only option is to purchase something online, which means that you might not get the very thing you actually ordered. Finally, because of the quarantine, you have to come up with a gift in advance and order it at least a week before the holiday (which is May 10 by the way), so you will receive it on time.
Well, it seems like you are to face a lot of challenges and there is no much time left to struggle with those. But no worries, this is why I am here. As usual, I am ready to have your back and provide you with lots of great Mother's Day gift ideas. So let us take a look at them, shall we?
TOP 5 Mother's Day Postcards
| Product Image & Rating (Out Of 10) | Product Name | Price |
| --- | --- | --- |
| | Funny Mother's Day Typography Postcards Bundle | |
| | Humor Mother Day Postcard Design | |
| | Funny Mother Day Postcard | |
| | Mother Day Card – Weird Mom | |
| | Google, Feed My Kids Funny Postcard for Mother | |
How To Send A Postcard For Happy Mother's Day

👋 How to stay close to your family and friends during quarantine? Today, when half of the planet is locked in quarantine and is going through one of the most serious human battles of recent decades, more important than ever are simple things: love, warmth, care, and hugs.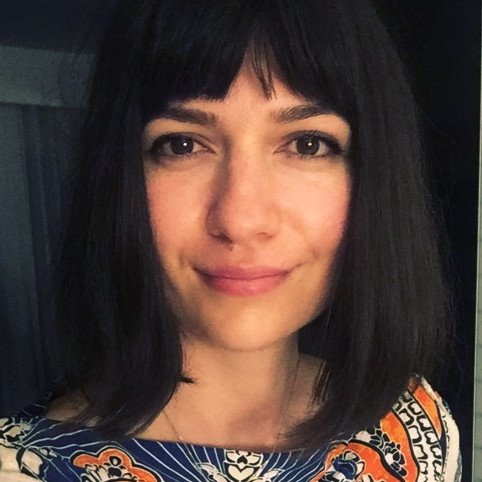 I'm the CEO of The Baby Manual - we specialize in educating new mother and fathers on how to be effective as a parent.
Best Mother's Day Gifts
I would like to start with the ultimate ideas that will work for pretty much anyone. So here they come.
1. Worlds Okayest Mom T-Shirt Funny Mothers Day Tee Gift Sarcastic Hilarious Cute
Price: $9.99 – $24.99
If your mom has a great sense of humor, then this very dope t-shirt is the best way to go for you. So hurry up to order it and surprise your mom with such a hilarious gift this year.
2. Gifts for Mom, Mom Gifts from Daughter/Son for Birthday/Mother's day, 10 oz Funny Coffee Mug/Tea Cup with Lid and Gold Handle, World's Okayest Mom (Gift Card included)-Onebttl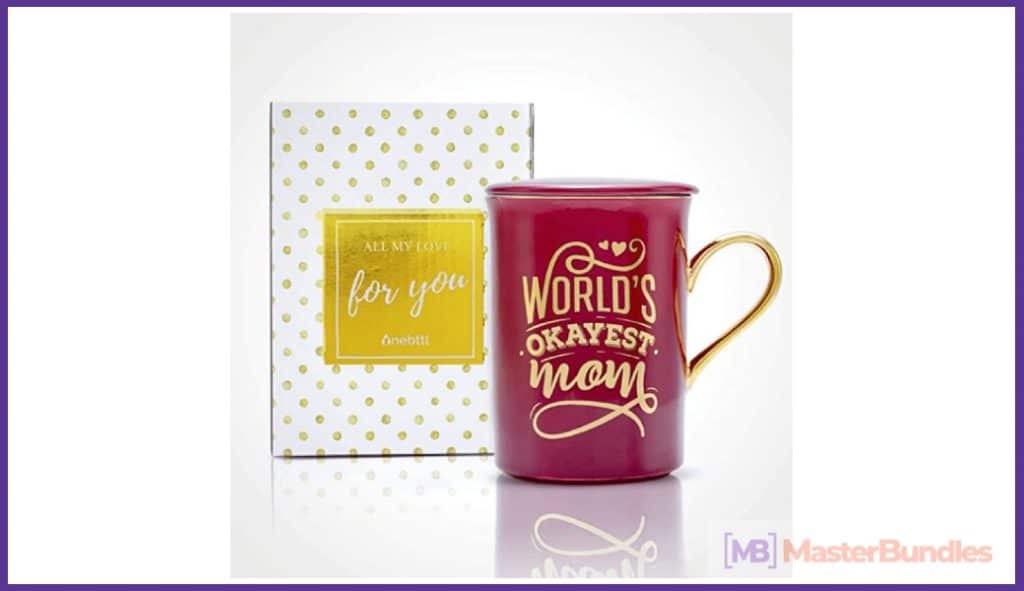 Price: $15.89
If you feel like a t-shirt is not the right thing, then you might want to have a look at this lovely mug.
3. Funny Guy Mugs World's Okayest Mom Wine Glass, 11-Ounce – Unique Gift for Women, Mom, Daughter, Wife, Aunt, Sister, Girlfriend, Teacher or Coworker (Several Styles To Choose From)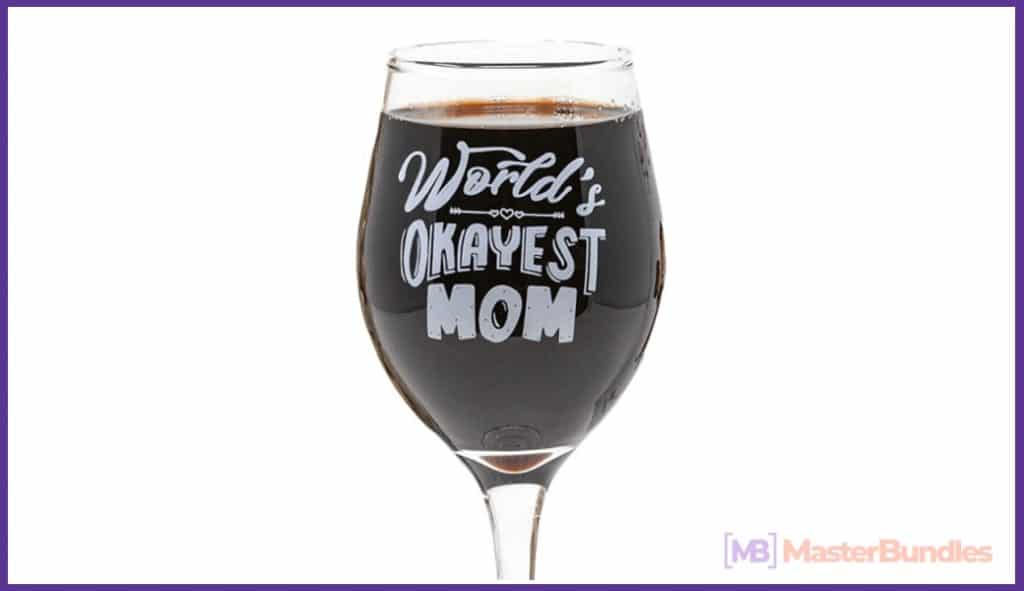 Price: $12.99
Another funny option for all the moms who like to enjoy their glass of wine.
4. Spa Gift Basket, Spa Basket with Lavender Fragrance, Lilac color by Lovestee – Bath and Body Gift Set, Includes Shower Gel, Body Lotion, Hand Lotion, Bath Salt, Flower Bath-Body Sponge and EVA Sponge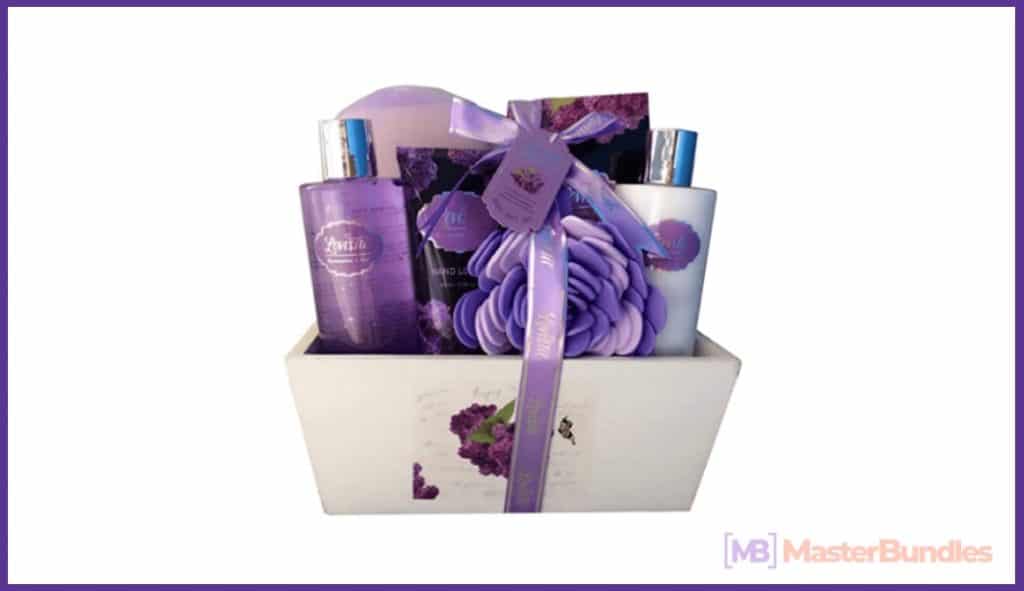 Price: $28.99
Even though you can't give your mom a certificate to a spa just yet, you still can present her this stunning spa basket.
5. Oh! Nuts Chocolate Covered Cookie Gift Baskets, 20 Variety Gourmet Assortment Set Holiday Food Sandwich Cookies, Prime Christmas Elegant Box Gifts, Thanksgiving Valentines Fathers & Mothers Day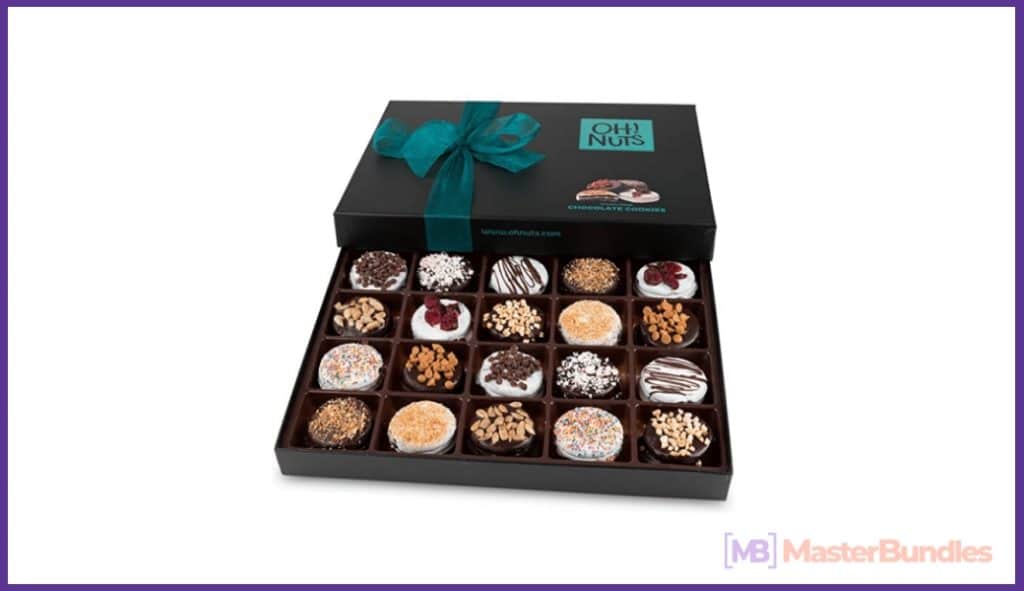 Price: $35.99
A box of fine chocolates is a classic option for all occasions, so go ahead and check it out.
6. Mini Camille Pavé Gold-Tone Watch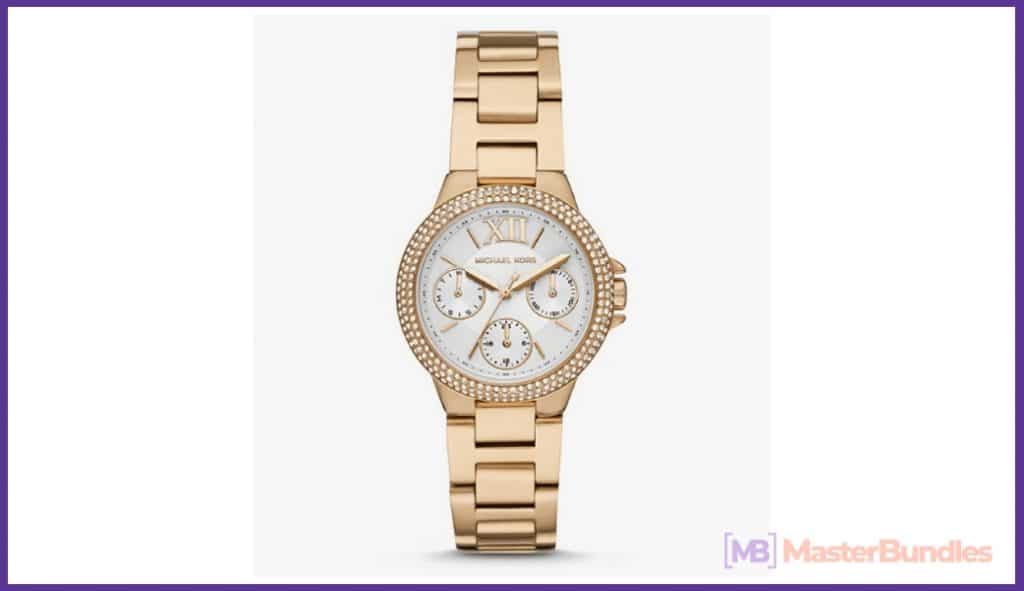 Price: $187
If you feel like you need something luxurious and expensive, then this Michael Kors watch is no doubt the way to go for you.
7. CROC-EMBOSSED LEATHER CROSSOVER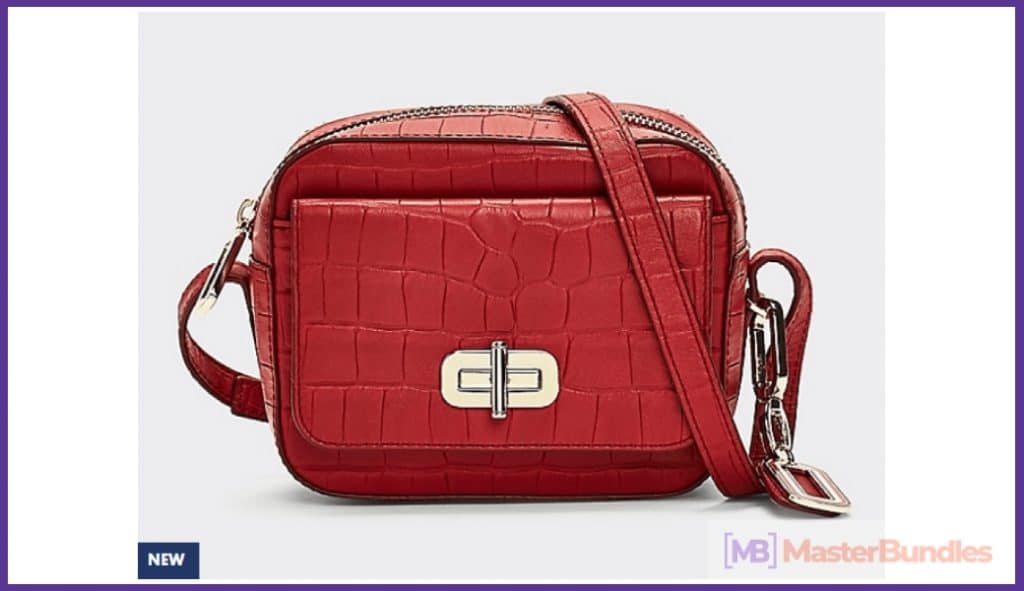 Price: $230
Another cool option for all the fashionista moms, so if your mother is into fashion, go ahead and get her this stylish bag.
8. App Store & iTunes Gift Card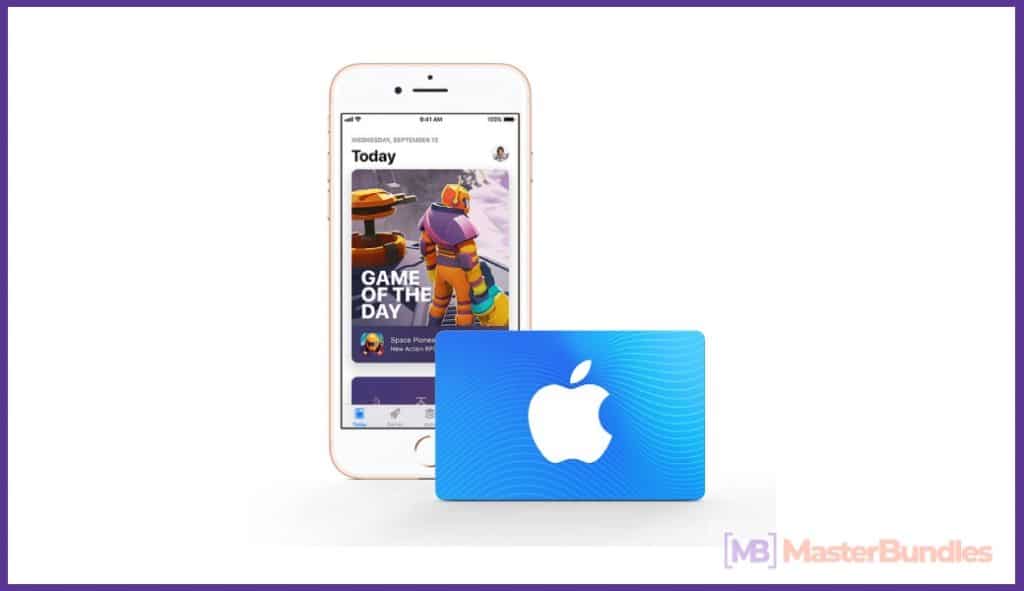 Price: $10 – $200
One more cool option that will definitely make your mom happy.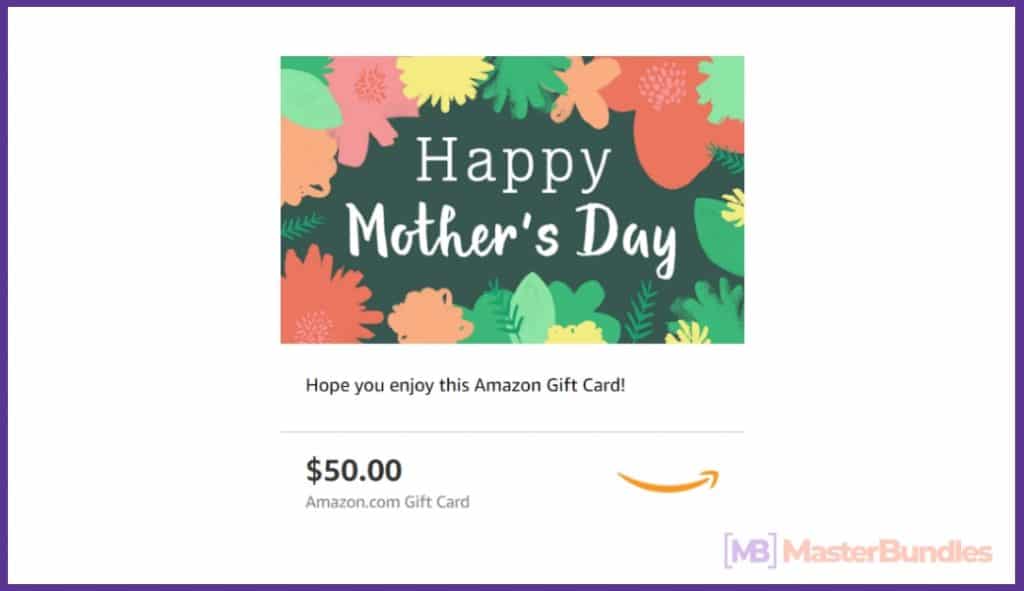 Price: $1 – $2,000
If you are willing to give your mom an opportunity to choose something herself, then go ahead and get one of the Amazon Gift cards for her.
10. Charming Bouquet, No Vase, From Hallmark Flowers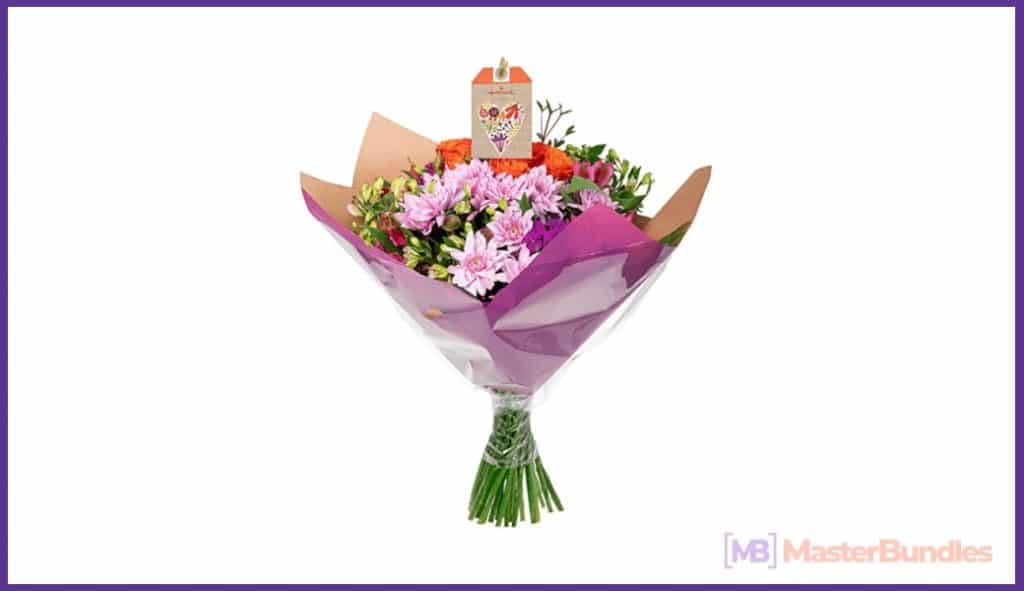 Price: $38.24
A beautiful bouquet is a classic solution for Mother's Day, so go ahead and order one for your one and only mom.
11. California Delicious Crunch Time Sweet Snacks Gift Set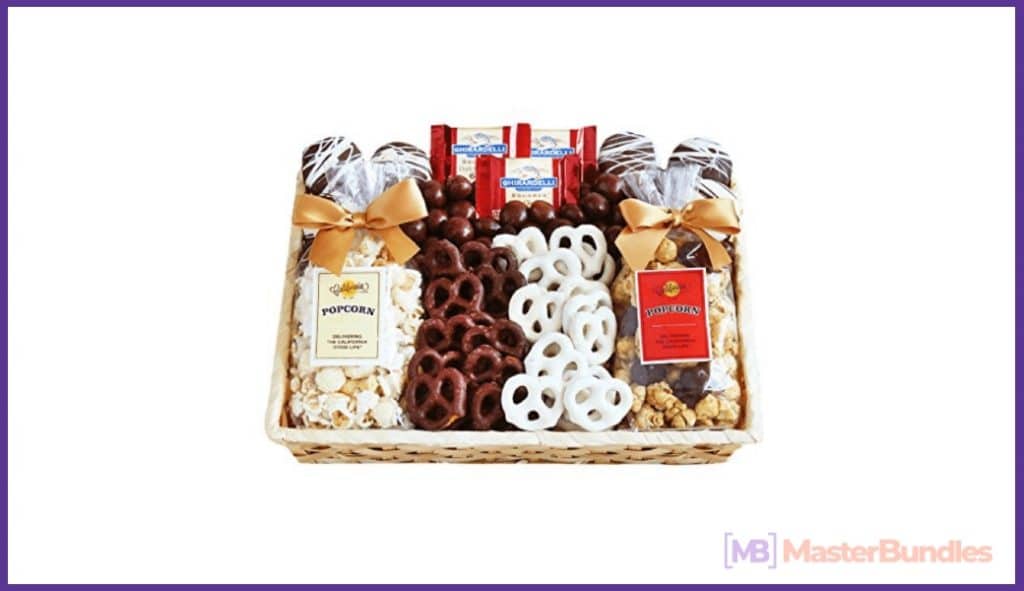 Price: $27.74
A basket with sweets is a simply amazing option for those who have a sweet tooth.
12. Dan the Sausageman's Favorite Gourmet Gift Basket -Featuring Dan's Original Sausage, Seabear Salmon, 100% Wisconsin Cheeses, and Dan's Sweet Hot Mustard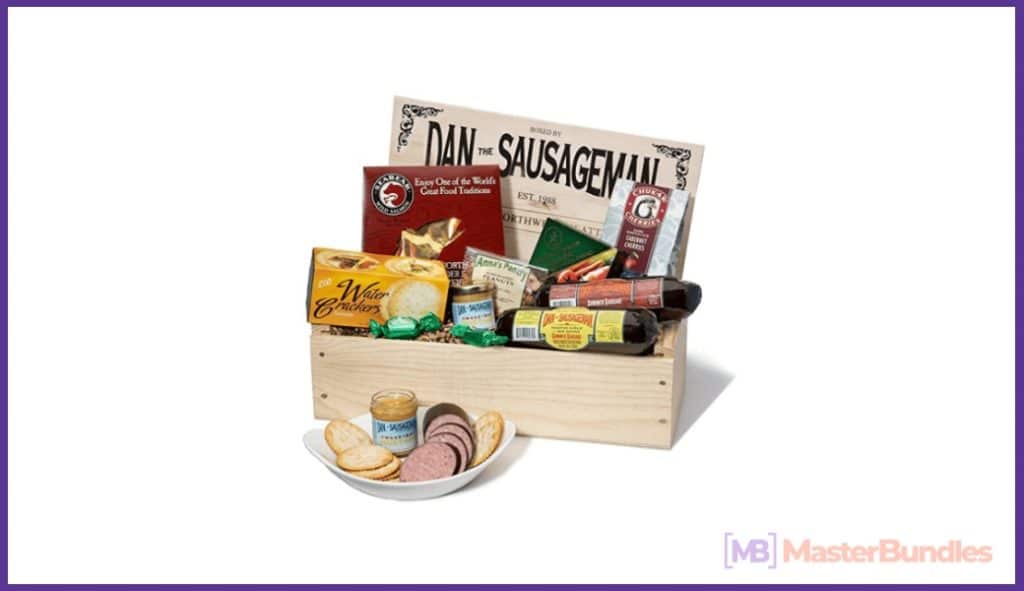 Price: $64.95
In case your mom is not into sweets but you still want to give her a traditional gift basket, this one is a perfect option for you.
13. Bath Bomb Gift Set USA – 6 Vegan Essential Oil Natural Fun Fizzies Spa Kit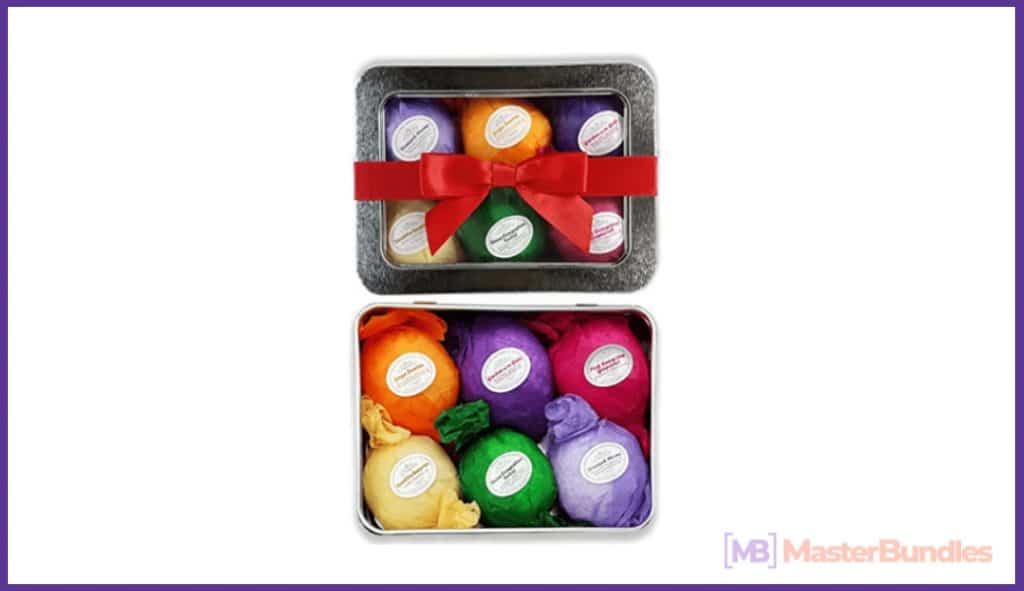 Price: $16.95
A bath bomb is perhaps a perfect gift for any occasion and Mother's Day is not an exception.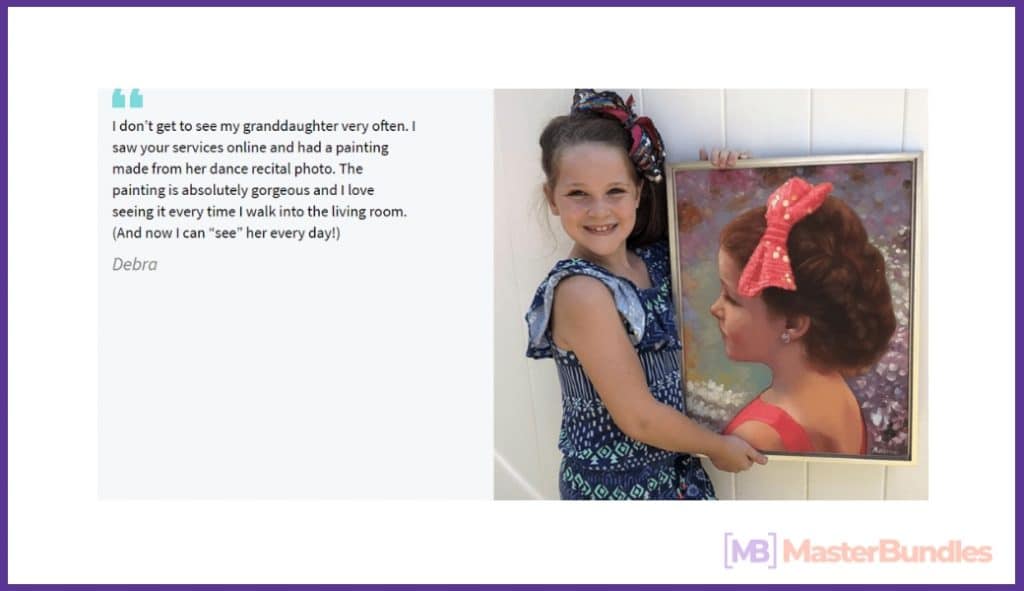 Price: starting at $199
If you really want to give your mother something special and one-of-a-kind, then you might want to use Paint Your Life service, through which you can connect with an artist and order a portrait from a photograph.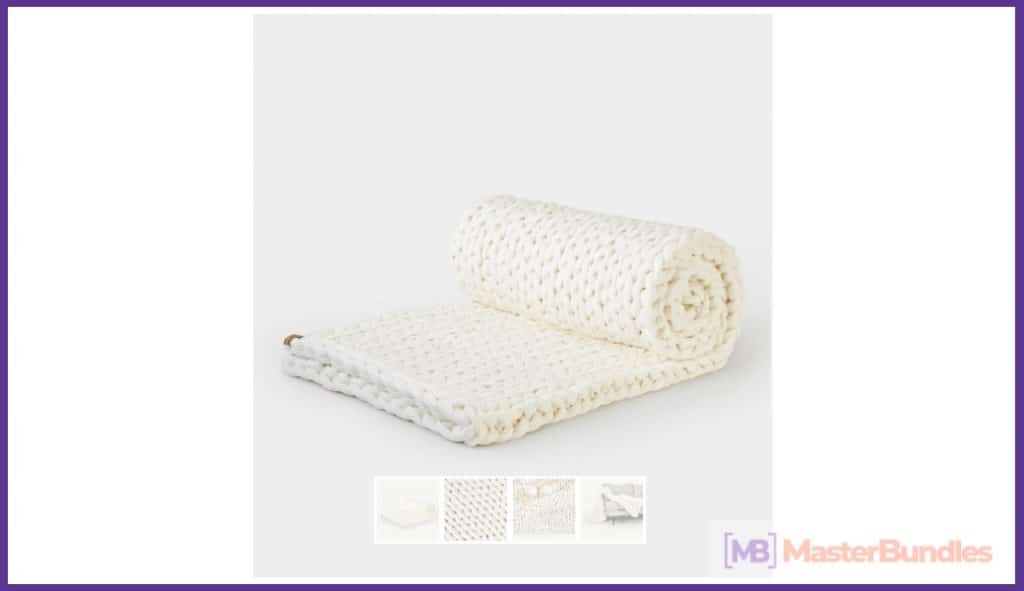 Price: $249
A soft tree napper is going to be a stunning gift for pretty much anyone, so follow the link above and order it right now.
16. Eberjey Women's Gisele Two-Piece Long Sleeve & Pant Pj Set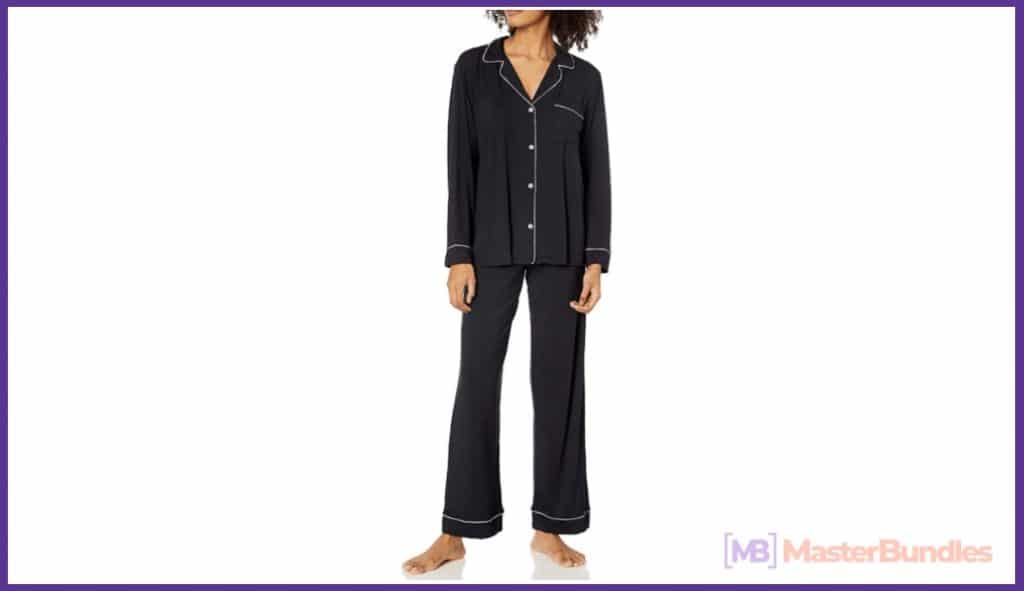 Price: $89 – $120
Lovely and comfy pajamas set is among the best Mother's Day gifts as well, so why don't you give it a shot?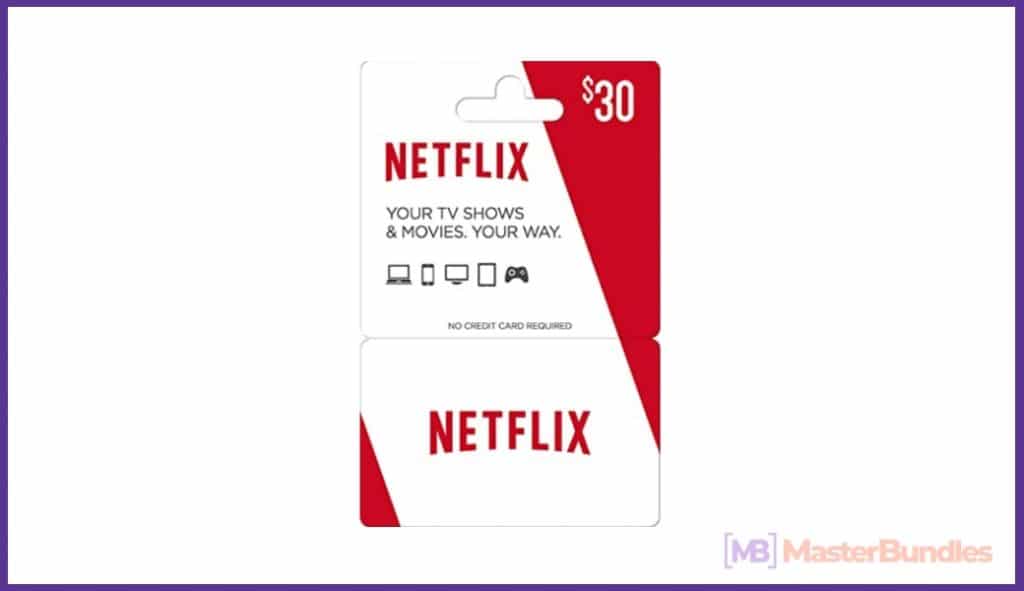 Price: $30
Who doesn't like watching Netflix and doing nothing? That is why the Netflix gift card is a perfect solution for you.
18. NEW Ember Temperature Control Smart Mug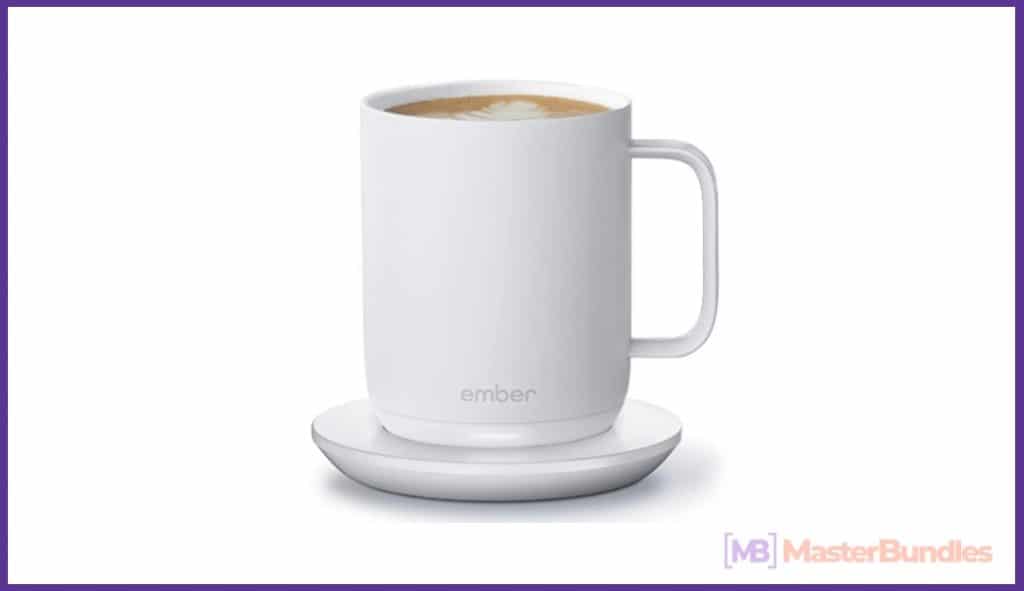 Price: $90.99
If you feel like a regular mug is too simple, then you might want to go with this smart one.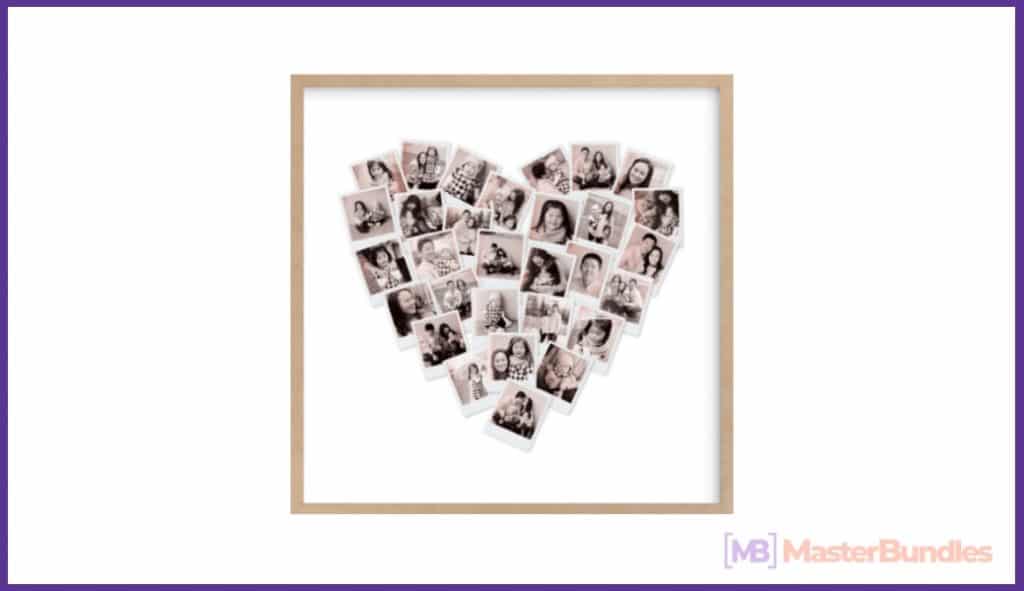 Price: $212
A heart-shaped collection of your photos is perhaps the most adorable option on this list, so follow the link above and take a closer look at it.
20. 12 Cup Drip Coffee Maker with Spiral Showerhead and Programmable Warming Plate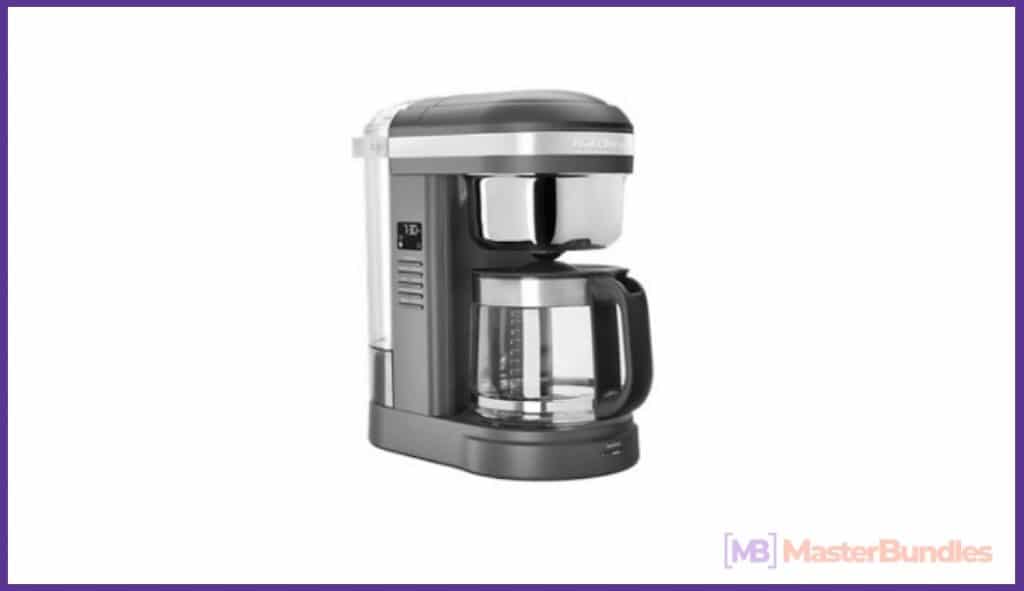 Price: $84.99
If your mom is one of the coffee addicts, then this very coffee maker is perhaps the best present ever for her.
Cheap Mother's Day Gifts
Due to the current events, you might be on a shoestring budget and it's totally understandable. So for those of you who cannot afford expensive gifts just yet, here are some affordable options that will make your mom happy in spite of their price.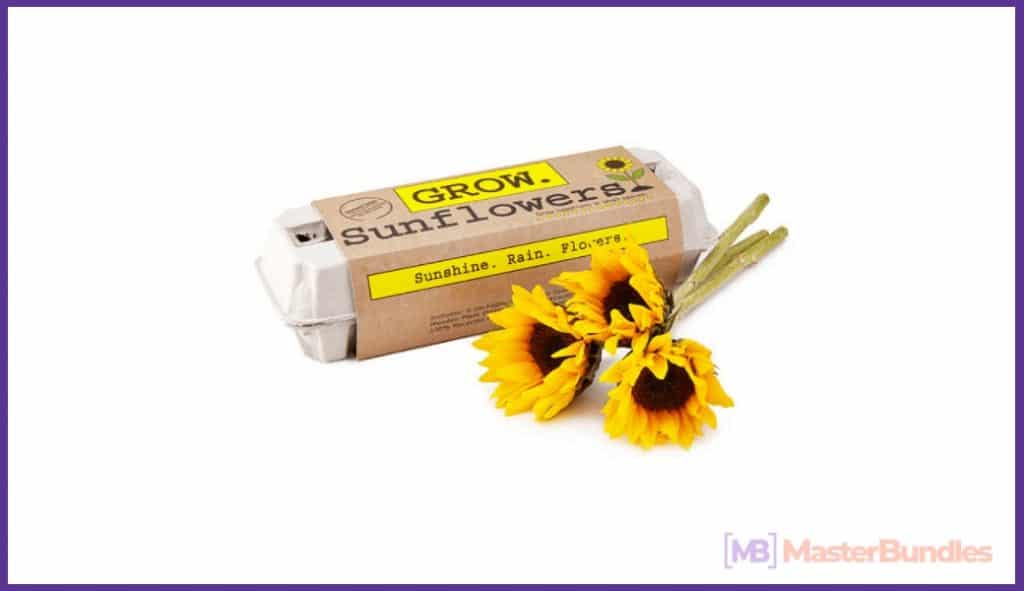 Price: $12
If your mom adores gardening, then this little kit will be a perfect present for her, so go ahead and order it.
22. Funny Wine Socks in Cupcake Gift Package – If You Can Read This, Bring Me Wine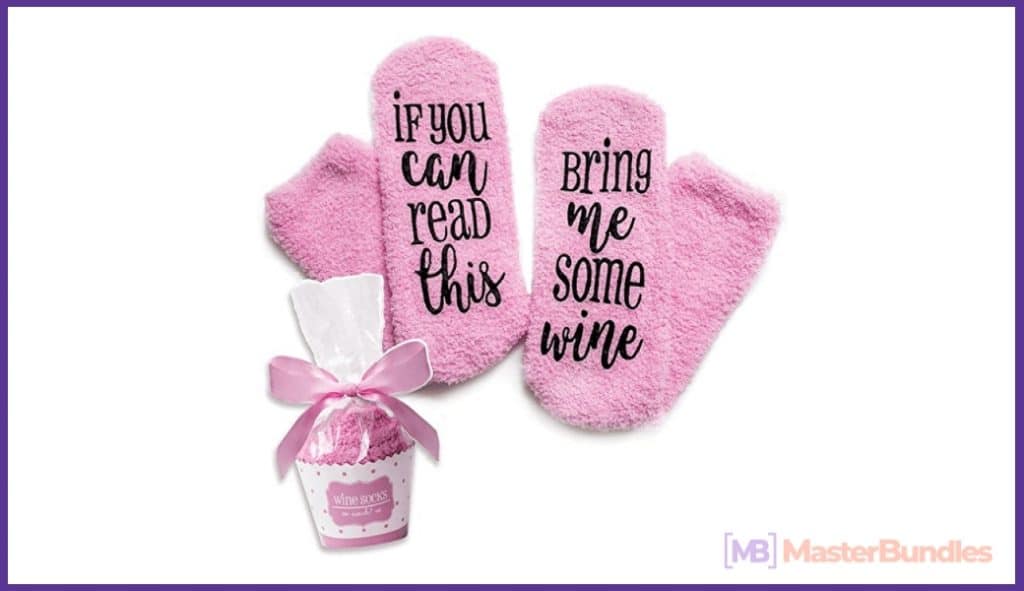 Price: $11.99
A simply hilarious option that you definitely want to take a look at.
23. Seven Apparel Hotel Spa Collection Herringbone Textured Plush Robe, Dark Coral Pink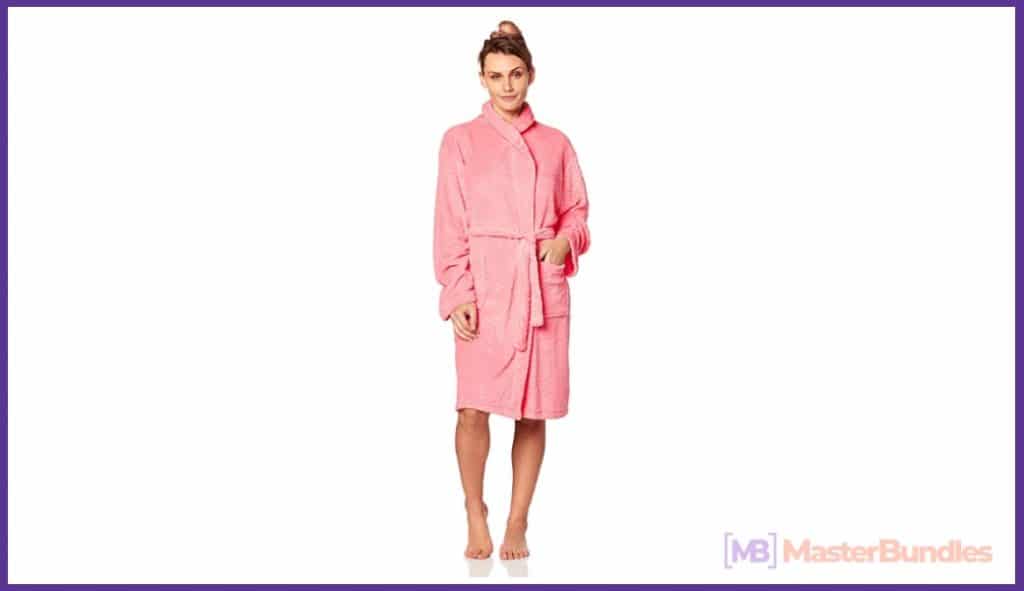 Price: $18.99
A soft and comfortable robe is definitely going to be appreciated by your mom.
24. Lindt Swiss Luxury Selection Boxed Chocolate, Gift Box, Great for Holiday Gifting, 5.1 Ounce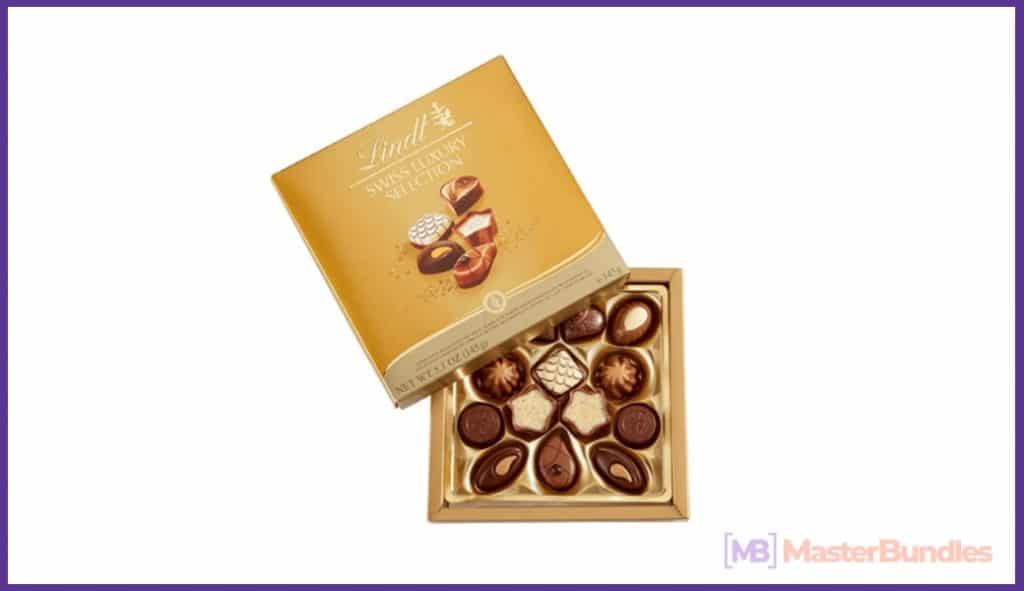 Price: $16.27
A traditional box of chocolates is no doubt going to work for Mother's Day.
25. GMYLE MacBook Air 13 Inch Case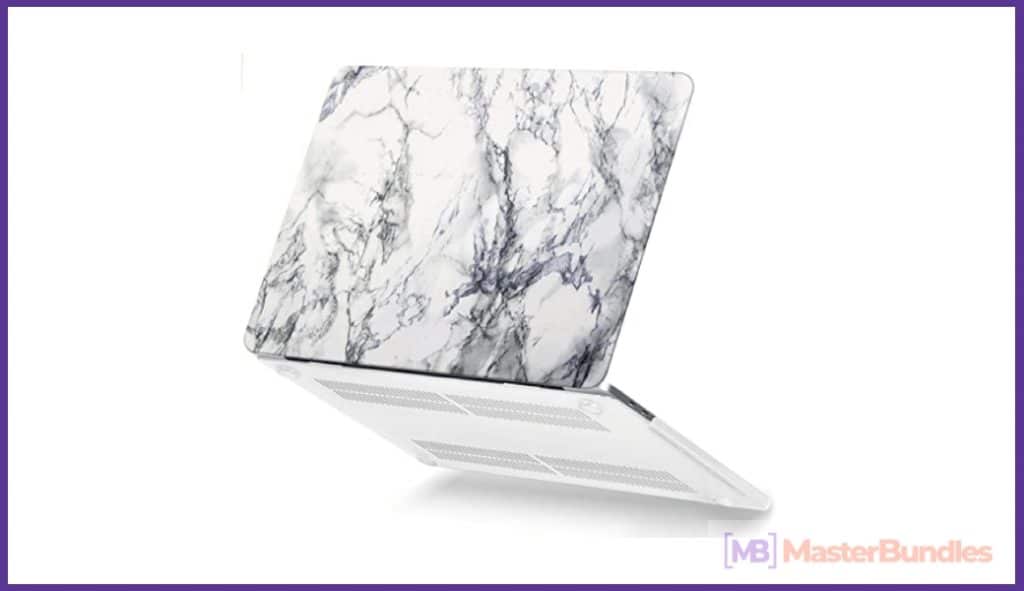 Price: $6.23
A laptop case is always a great way to go.
Price: $20
Of course, I did not forget about good old coffee.
28. Moroccanoil Treatment for Hair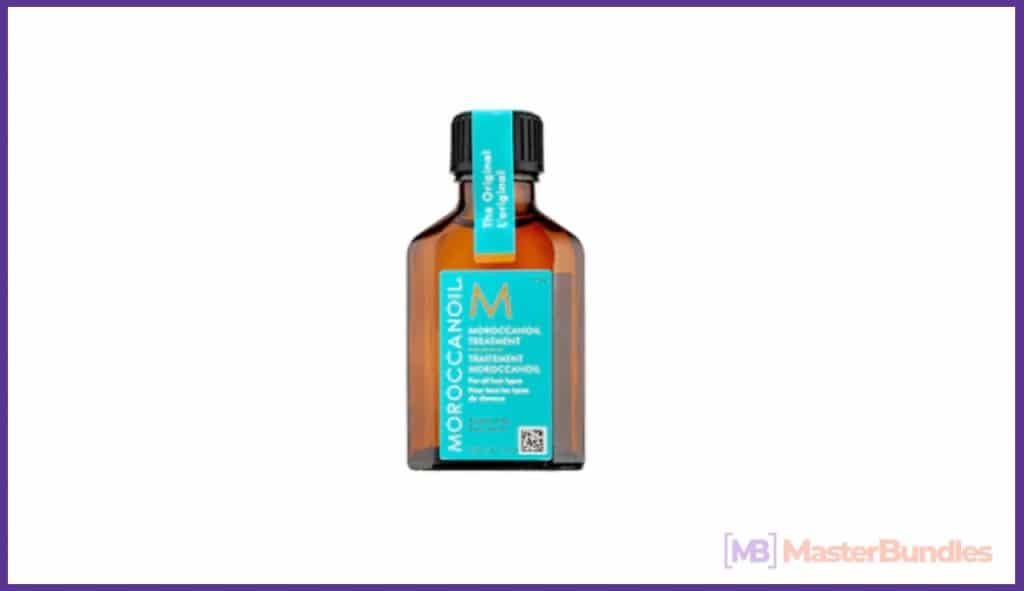 Price: $15
Hair products are too a rather good choice for those of you who are on a budget.
29. 2-Piece Oil & Vinegar Cruet Set
Price: $14.95
Fancy bottles for vinegar and oil will make your mom's kitchen classier and cozier.
30. DIY Gift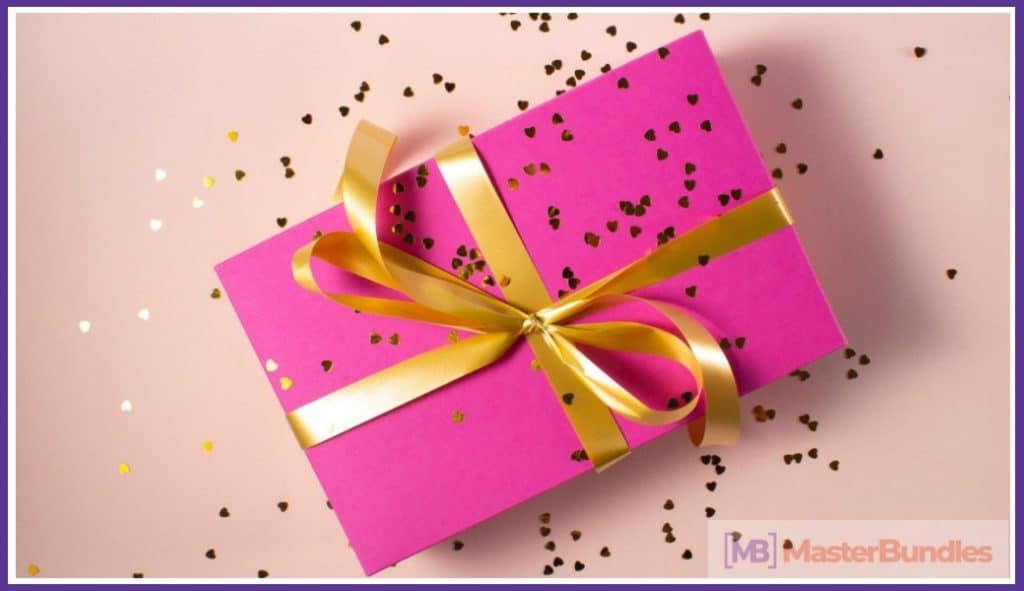 Price: priceless
Finally, the best present is a meaningful one and you don't have to spend money on it at all. So if you cannot buy something nice for your mom, go ahead and do it by yourself especially if you have some artistic skills. Such a present would actually mean so much more to your mom than an expensive watch or fancy bag.
Personalized Mother's Day Gifts
Speaking about meaningful presents, we cannot omit personalized gifts. So here are some ideas for such presents that came to my mind.
31. A Watch with a Personalized Engrave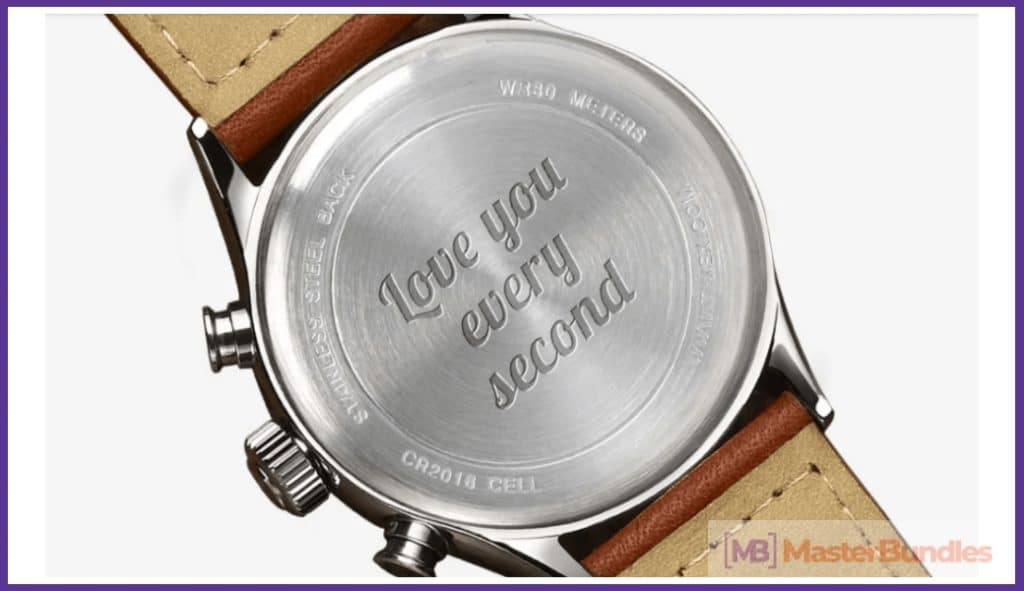 Price: starting at $75
Such a watch is definitely something one-of-a-kind, so you definitely want to consider it.
32. Personalized Sparkling Champagne Water Bottle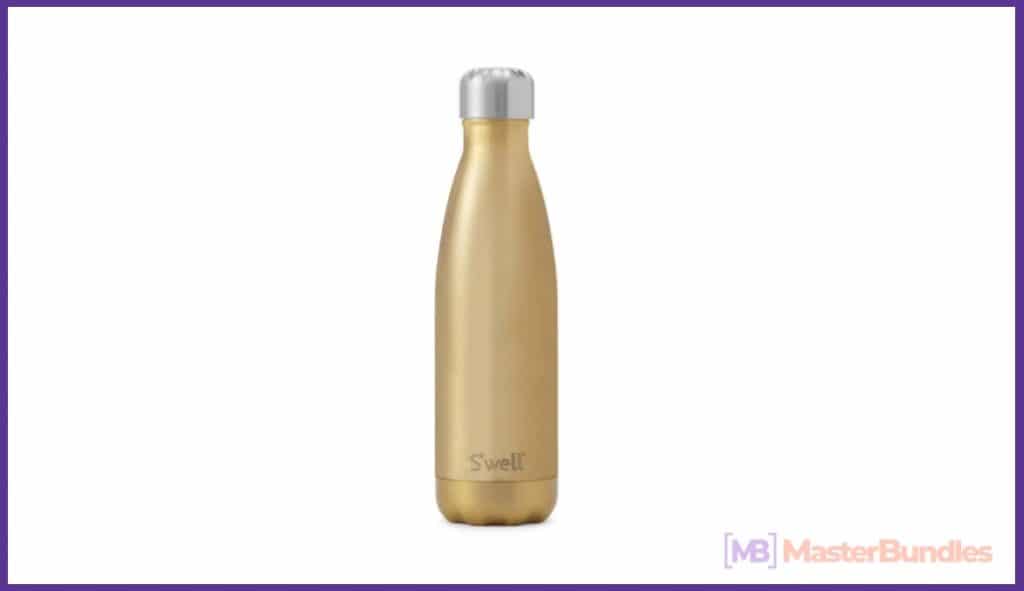 Price: $35
Another unique present that every mom would appreciate.
33. Personalized Mom Gifts for Mom from Daughter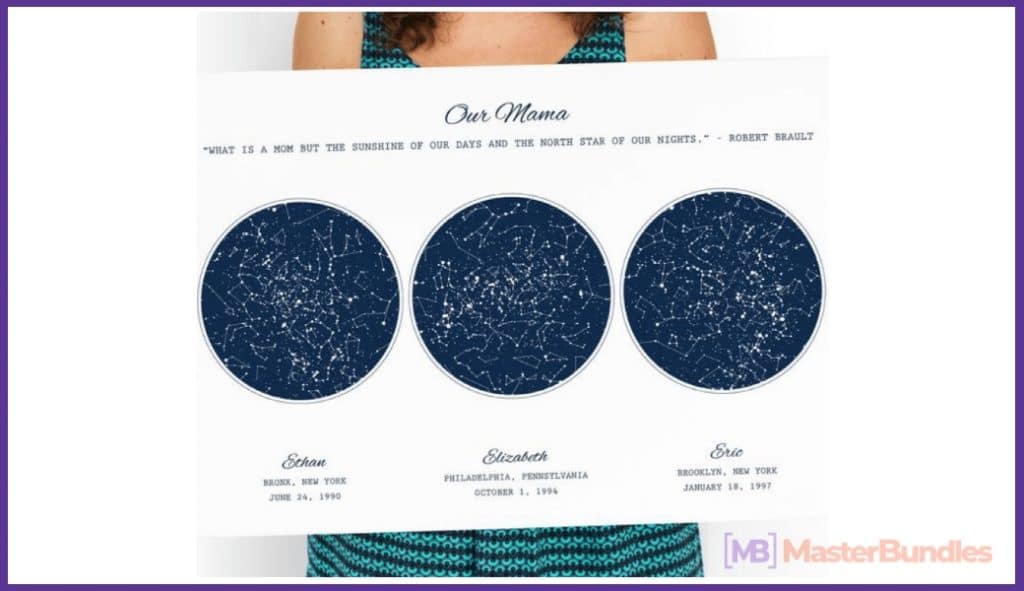 Price: $50
A personalized star map is a great option you definitely must see.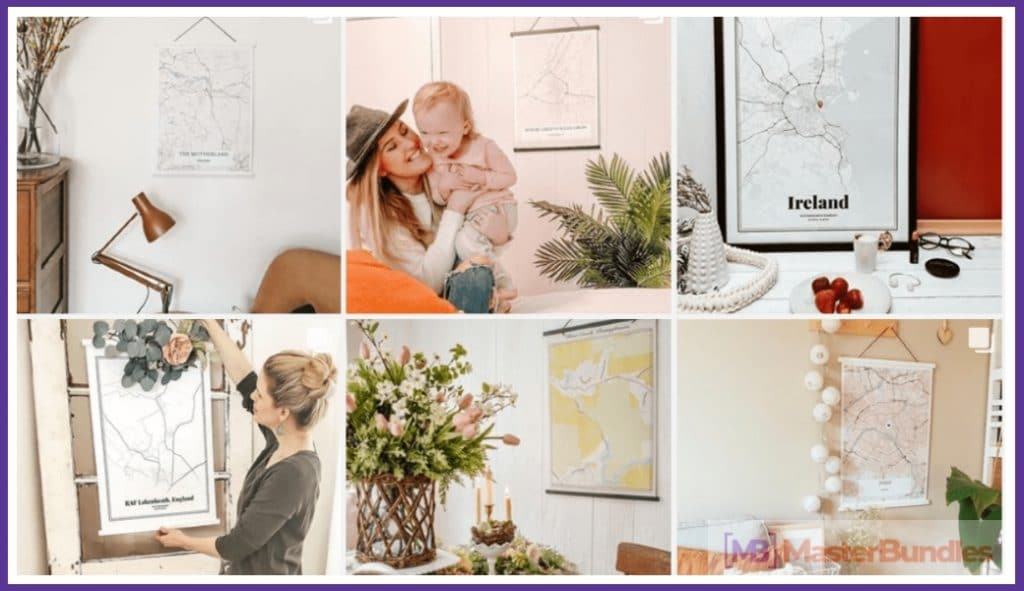 Price: starting at $49
If your mother is a true adventurer, then a custom map for all her travels is something she is going to like.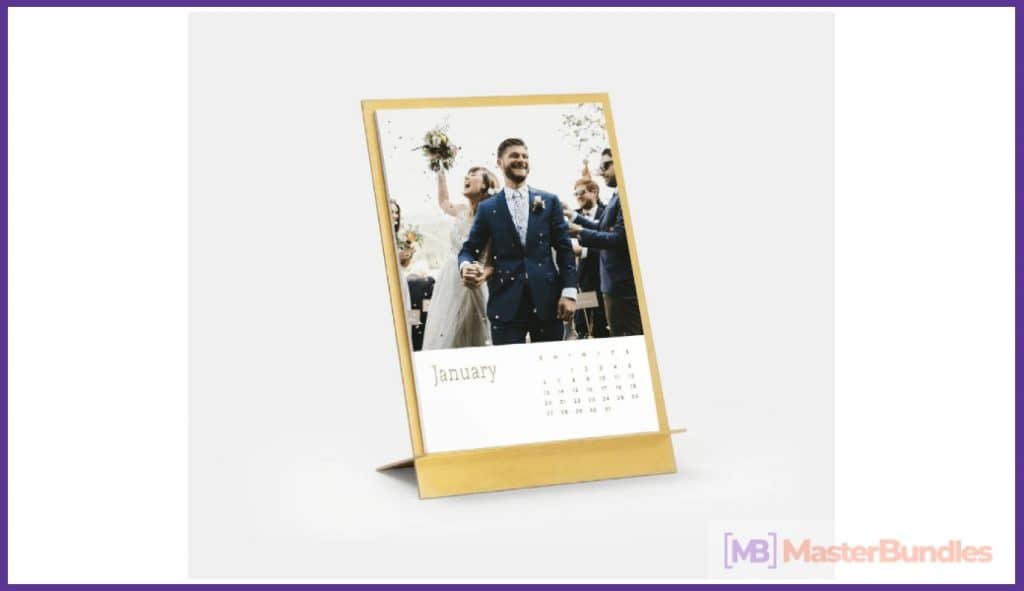 Price: $49
A custom calendar with your family photos is a simply adorable solution.
Mother's Day Gifts for Your Grandma
Your mom is actually not the only person you need to congratulate on Mother's Day. In fact, your granny is also a mom, so you might want to look for a present for her as well. So here are some ideas I have for you.
36. Literary Candles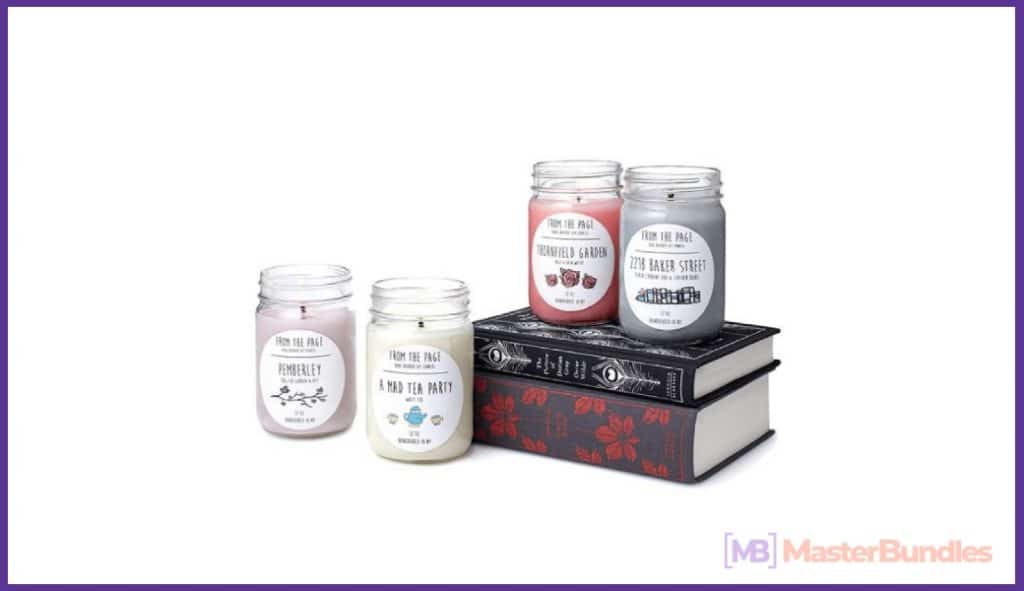 Price: $16
A set of candles for aromatherapy is a marvelous present for your granny, so you surely want to have a look at it.
37. Mason Jar Indoor Flower Garden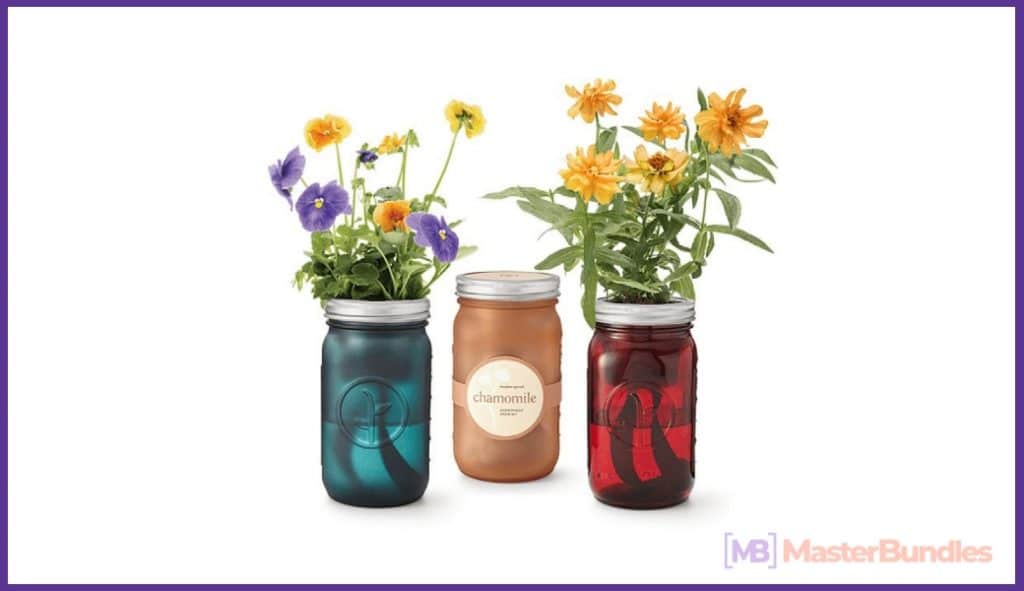 Price: $20
If your granny loves indoor plants, you might want to consider this very lovely option.
38. Womens My Favorite People Call Me Grandma T Shirt Funny Mothers Day Tee Ladies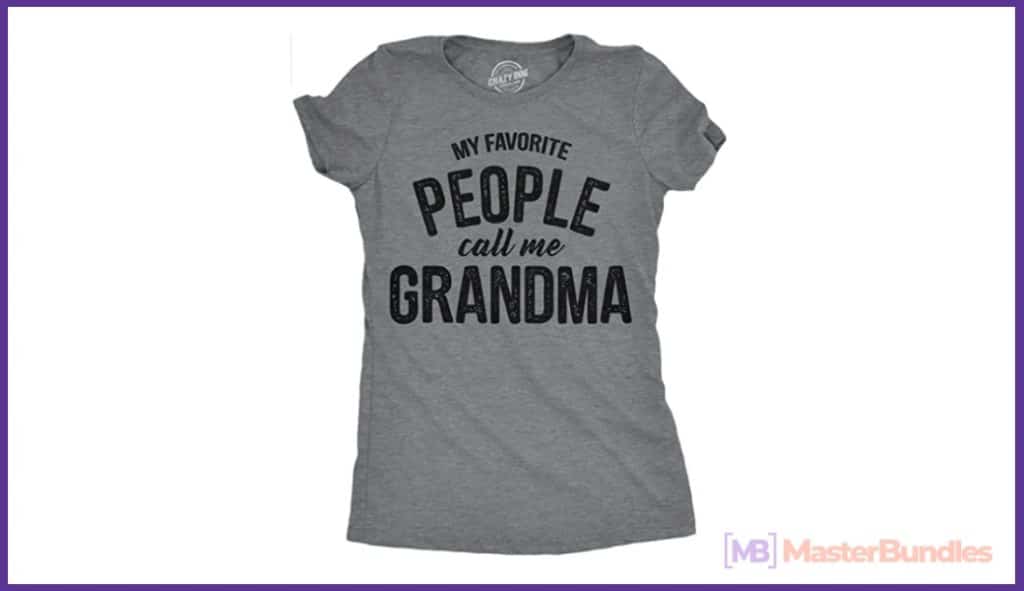 Price: $16.99 – $24.99
A cool tee is always a good present and your grandma is definitely going to like it.
39. VILIGHT Grandma Mug Gifts for Grammy from Granddaughter Grandson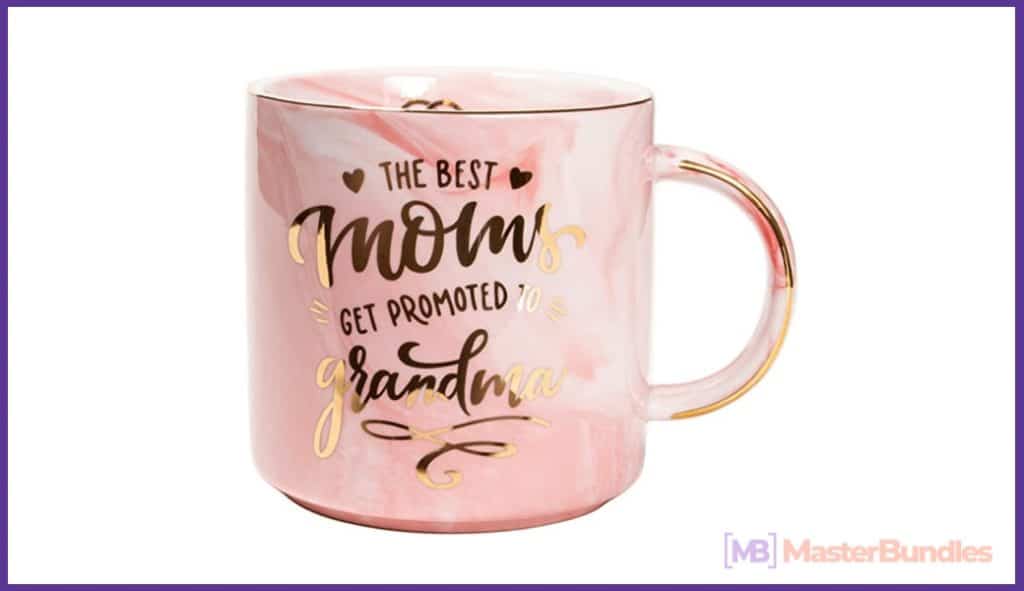 Price: $16.87
A lovely mug, which your granny would surely like.
40. Custom Portrait of Couple, Custom Couple Illustration, Personalized Portrait, Family Illustration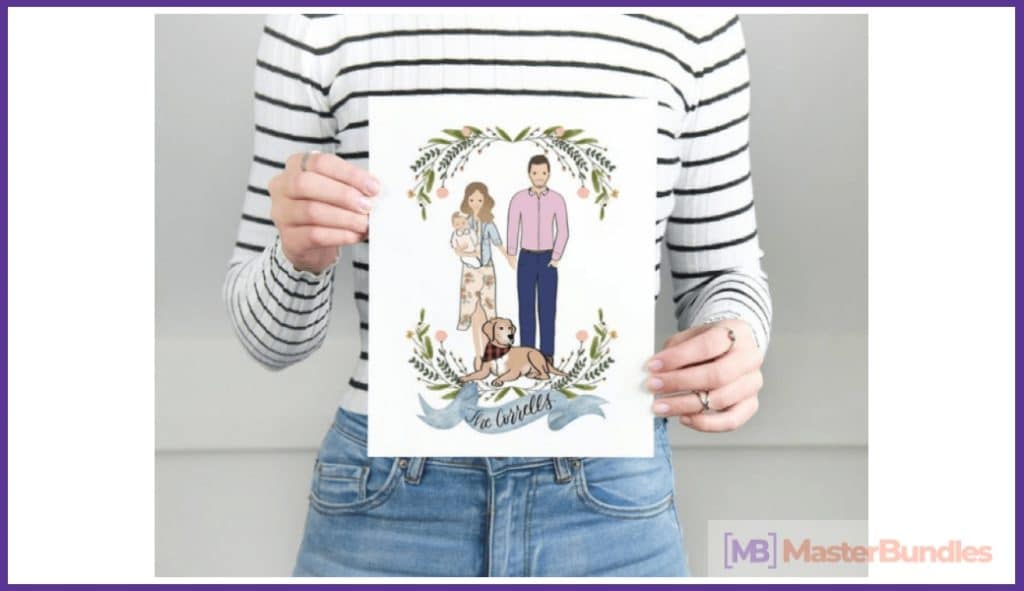 Price: starting at $65
A personalized portrait of your grandma would make a stunning gift for her.
Funny Mother's Day Gifts
If you feel like you need to find something truly hilarious, then you might want to take a look at these funny gift ideas.
41. Custom Face Cookie Cutters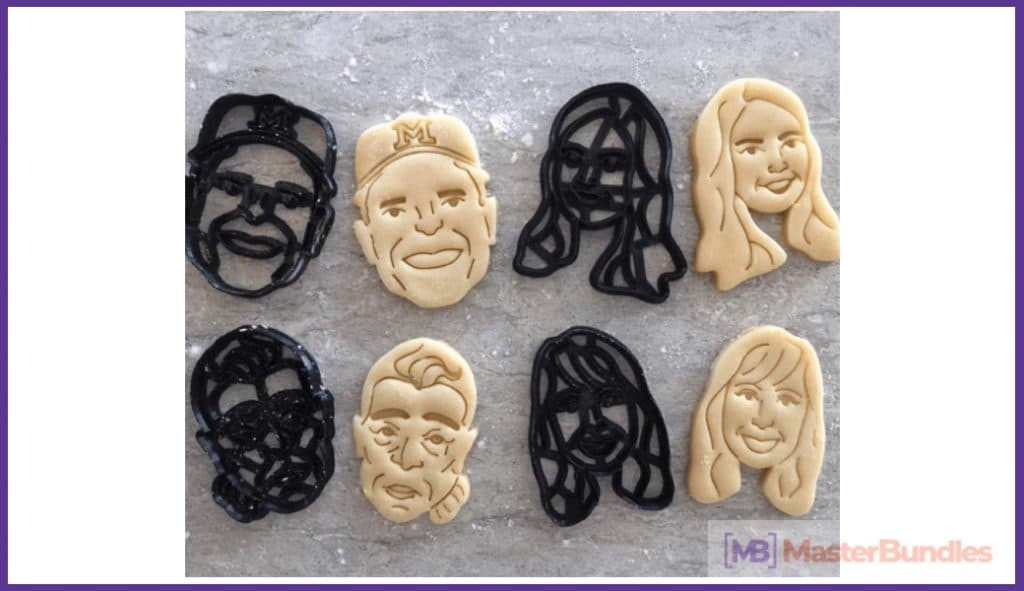 Price: $45
What can be more hilarious than your mom's face shaped cookie cutters?
42. Because I Said So Enamel Pin – Mom Pin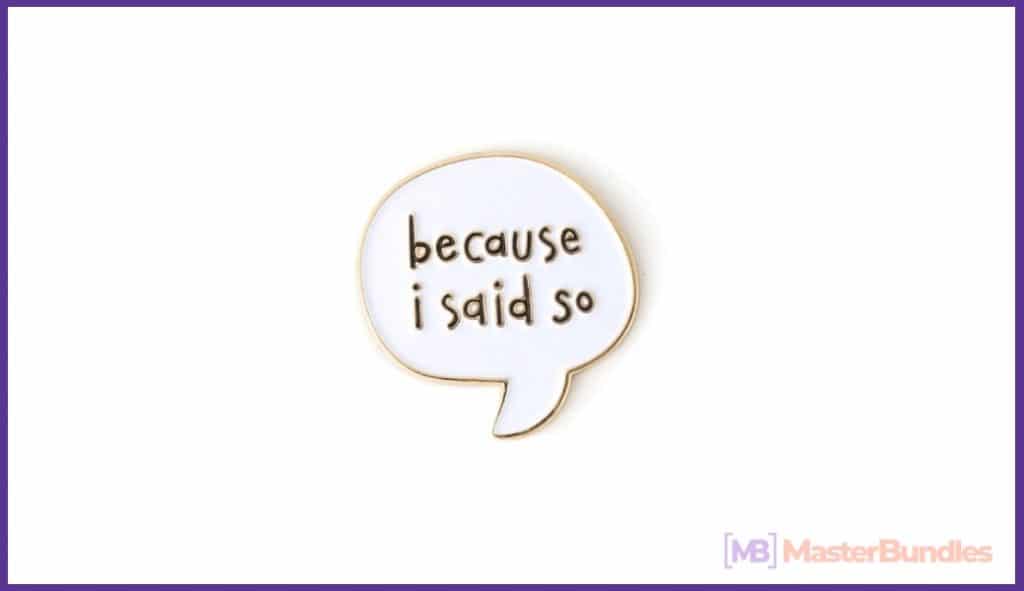 Price: $9.63
Well, we all heard this iconic phrase from our moms multiple times and this is exactly why such a pin will make your mother laugh.
43. Funny Coffee Mug Gift Shh, Almost, Now You May Speak, Never-Mind I Have to Poop 15 Oz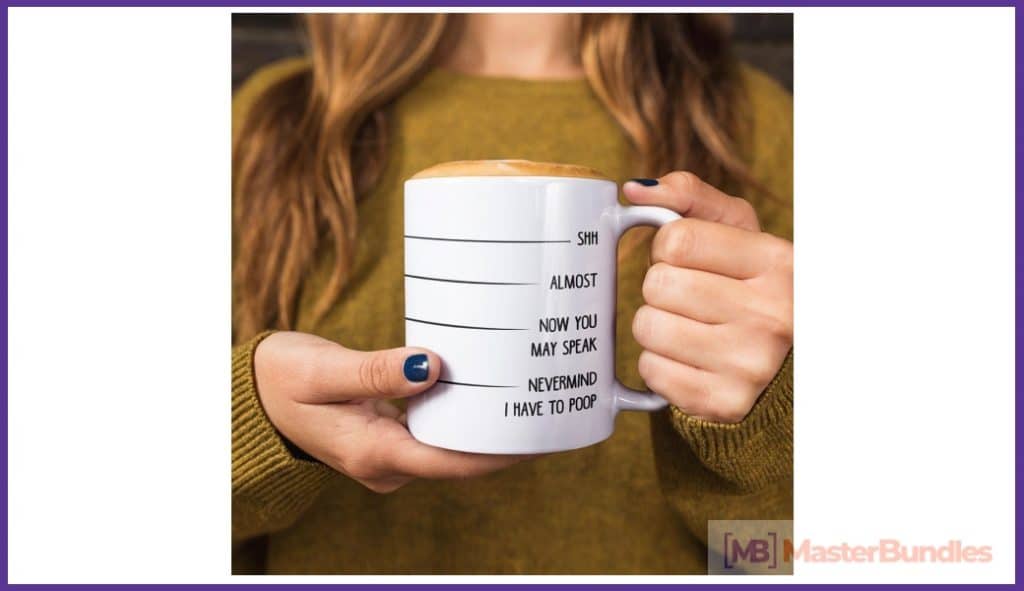 Price: $22.21
A funny mug is always a good way to go.
44. Mom Life: A Snarky Adult Coloring Book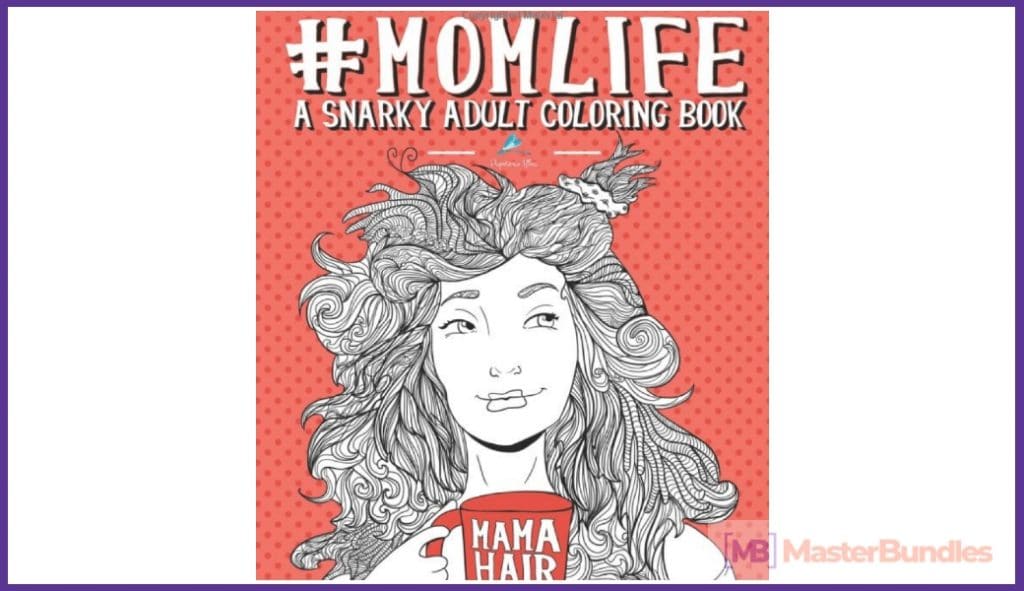 Price: $8.99
A ridiculous coloring book is also a stunning choice for a Mother's Day present.
45. The Cocktail Chart of Film & Literature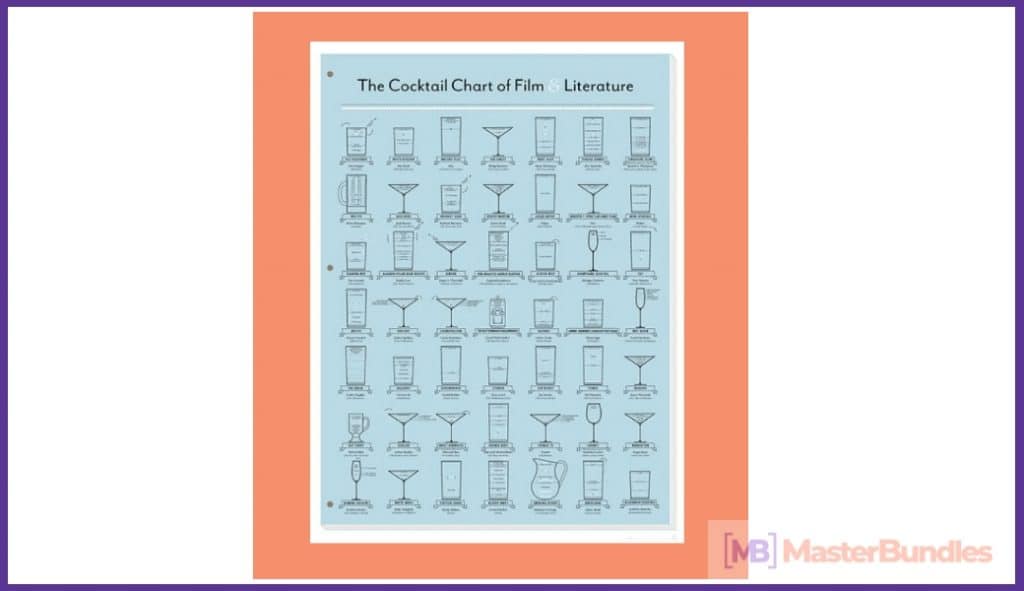 Price: $30
Allow your mom to be fancy with the help of this very popular culture cocktail chart.
Mother's Day Jewelry Gifts
Finally, for all the fanciness admirers out there, Mother's Day jewelry gift ideas. Well, get ready, here they come.
46. Pandora Moments Family Tree Heart Clasp Snake Chain Bracelet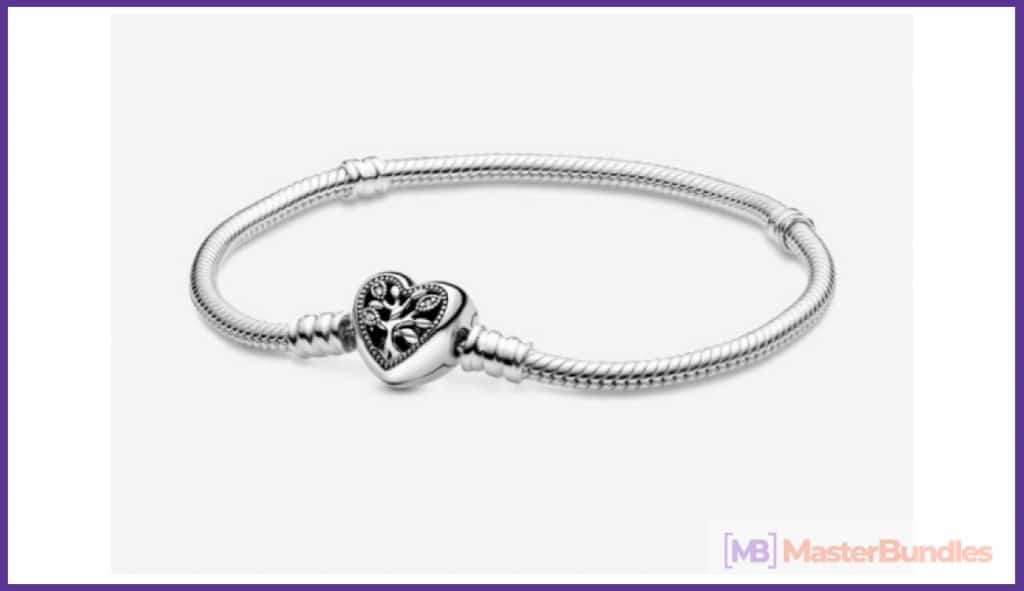 Price: $75
A lovely charms bracelet with the family tree will help you tell your mom just how much you love her.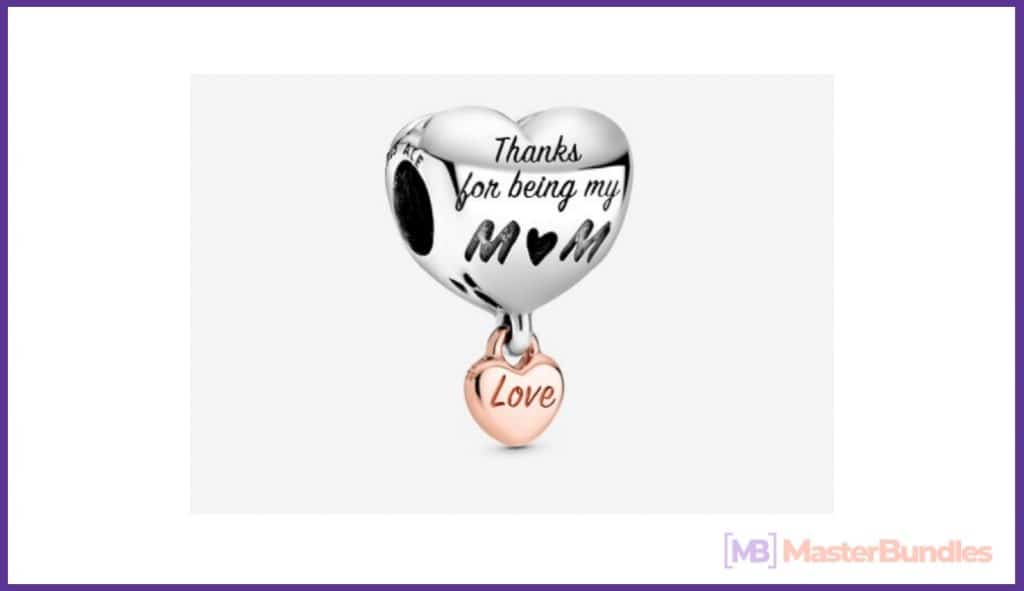 Price: $45
A sweet "Thanks for being my mom" bracelet charm is a great way to show your mom that you appreciate her above all the others.
48. Kate Spade Silver-Tone Disc Initials 18″ Pendant Necklace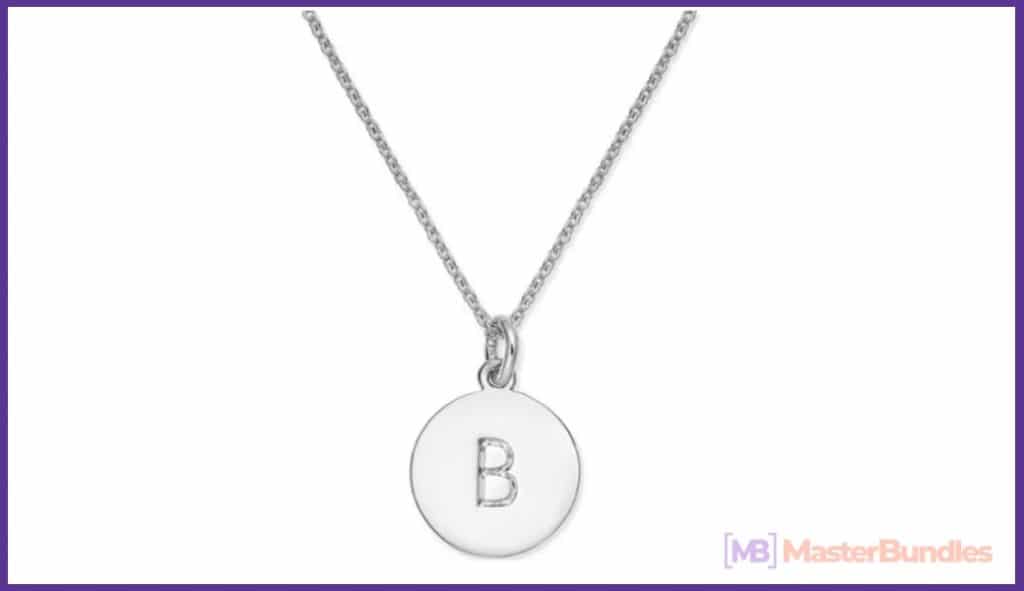 Price: $58
A gorgeous necklace with your mom's initials is among the best possible solutions ever.
49. Swarovski Rose Gold-Tone Crystal Evil-Eye 14-7/8″ Pendant Necklace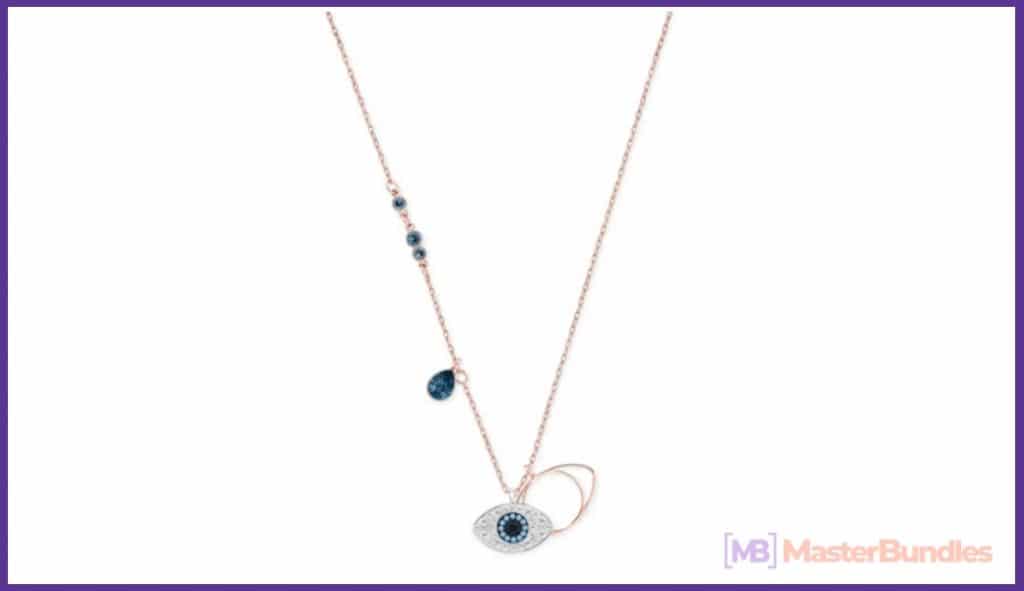 Price: $99
A beautiful necklace, which will make your mother feel loved and appreciated.
50. Belle de Mer Cultured Freshwater Pearl Stud Earrings (7mm) in 14k Gold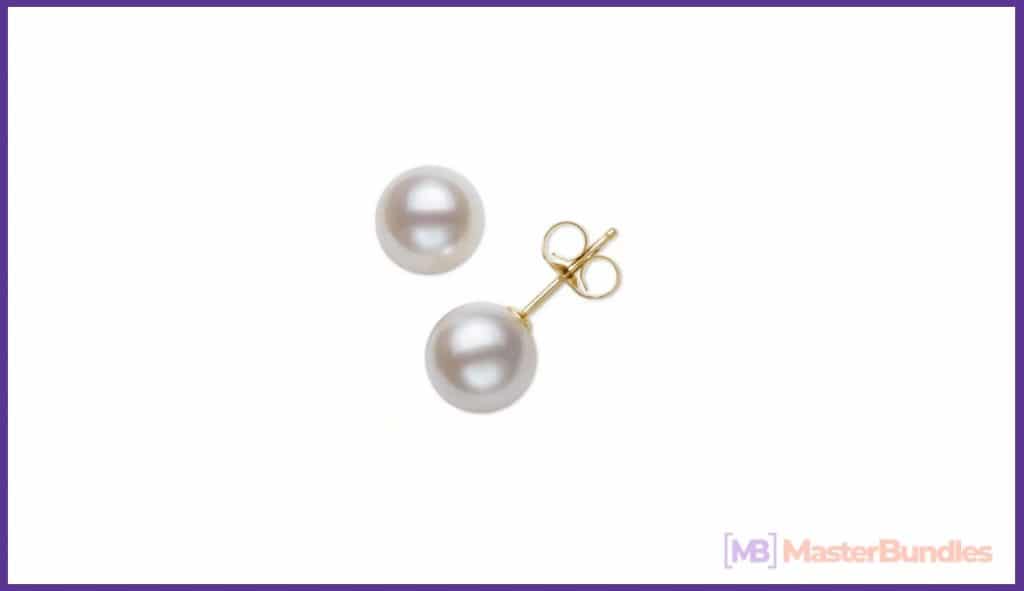 Price: $150
Finally, classy pearl earrings, which will make any mother happy.
Select Gifts For Mother, Based On Her Instagram Account
Service for quick selection of cool gifts
Just enter Instagram nickname and get 9 personal gift ideas
publications
subscribers
subscriptions
Oh, we can't find a gift for your friend... Let's try for somebody else
Oh, it seems you are trying to choose a gift for a non-existent person
Final Thoughts
Mother's Day is one of the most popular holidays all over the world. In fact, this relatively new holiday is celebrated on every continent and in pretty much all the countries. So don't forget to congratulate your mom this year and against all the odds make her feel special and loved this day. Order her something nice online, send it by mail, and have a video chat with her. Despite the fact that we currently live in a crazy time, take a moment to appreciate your mom and show her how much you love her.
Have you already got a present for your mom? What is it? Feel free to share with our friendly community in the comment section down below!
Mother's Day Designs FAQ
🌺 When is Mother's Day celebrated this year?
The dates vary all over the world, yet most countries celebrate this holiday in May. In the US, Mother's day is celebrated on the second Sunday of May, that being said, in 2020, it's May 10.
🌻 What is a good Mother's Day present?
A good present for any occasion is the one that means something to a person you are going to give it to. So you have to find the very thing that your mom would love. Well, since you are the very person who knows your mom the best, it shouldn't be that difficult for you.
🌹 How can I find a good gift during the quarantine?
Because of the quarantine, you can only purchase a gift online and then send it by mail. On one hand, it is sort of bad because you might end up receiving not quite what you expected. On the other hand, it's much easier to find something cool online. Moreover, you can order fancy packaging right away and send the present directly to your mother. Thus, go ahead and look for something meaningful and lovely for your mommy on such marketplaces as Amazon, Etsy, or any other online store you like because it seems that it's the only way to find a present now. However, note that due to the quarantine delivery takes more time than usual, so hurry up to order your presents so that you will receive them in time.
🌷 Where can a look for affordable gift options?
If you are on a budget (and this is totally normal, considering the conditions we are living in right now), you might want to look for some cheaper options on Amazon.
Please take a moment to pin this post to Pinterest
Was this page helpful?
We will be happy if you decide to share this article with your friends on Facebook. Just click on the button and you're done
Thanks for your response!
You have already left your review.
Article References
Writing articles is not only about inspiration. It is also about the references you use and data you analyze. Thus, for this very article I utilized the following recourses:
Goodyear, Lucille. The History of Mother's Day: How Mother's Day Started. Almanac, 2019, www.almanac.com/content/history-mothers-day. Accessed 28 Apr 2020.
"Mother's Day." Wikipedia, en.wikipedia.org/wiki/Mother%27s_Day. Accessed 28 Apr 2020.
"Mother's Day Holiday." Encyclopaedia Britannica, 2019, www.britannica.com/topic/Mothers-Day. Accessed 28 Apr 2020.
"Mother's Day 2020." History, 2020, www.history.com/topics/holidays/mothers-day. Accessed 28 Apr 2020.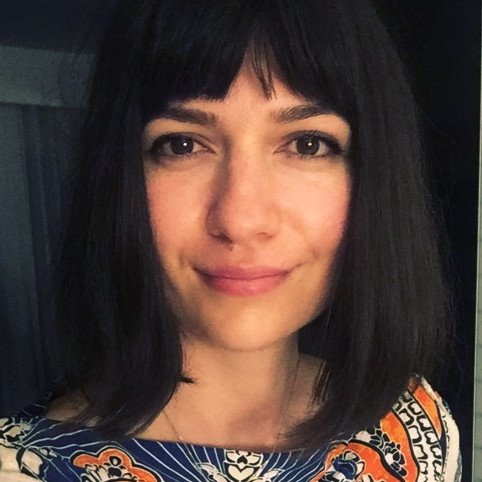 Article reviewed by
on May 08, 2020
I'm the CEO of The Baby Manual - we specialize in educating new mother and fathers on how to be effective as a parent.
Learn about comment