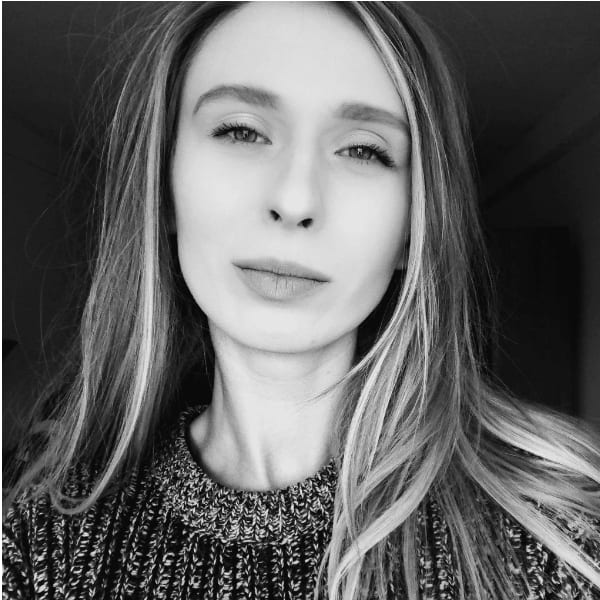 Article reviewed by
on January 04, 2021
With more than ten years of professional experience in this field, she successfully executed fashion, fine art, and documentary photography. She published in Chasseur, Fashionisto, Flanellemag, Paperonfire, etc. At present, she works as a Content Curator at Depositphotos.com and manages personal commercial and creative photoshoots.
Learn about comment
Graphic Design Trends. Modern web design brings many possibilities and can make a brand leader out of the simplest online store, which only due to its appearance, will be known and will begin to bring customers. Especially design trends in 2021 will bring us lots of fresh ideas and creativity.
Few people change the web design on the site every year, following the trends and innovations. It's not even advisable, let alone expensive. Plus, if you make any adjustments, you have a chance to lose your top positions in search engines temporarily.
However, in 2021 there will be many changes, and design now plays an important role in the site's quality metrics and customer focus. Therefore, it is time to tell you what is fashionable this year in web design. I would recommend starting by putting at least a few ideas into practice.
So, let's go to my compiled a quick guide to trends for the current 2020 and a forecast for the upcoming 2021.
Graphic Design Trends in 2021
Since 2020, along with minimalism, the brightest and most saturated colors have become popular. According to the Graphic Design Trends 2021, bold colors will help your brand stand out from the competition because, over the past couple of years, many companies have chosen only soft neutral tones.
Briefly, we can safely say that 2020 and 2021 are years of stylistic eclecticism. That is, mixing opposites subordinate to a common idea: Old and New, ancient Greek sculptures and neural network art, nostalgic atmosphere of the 90s and futuristic minimalism, high renaissance and high technologies.
Blurple
Linear gradients have evolved over time to be more complex. Color mixing and the Color Blur effect are trending now. Most often, as background. This gives the interface depth and dimension. As a rule, these are some kind of "colored spots."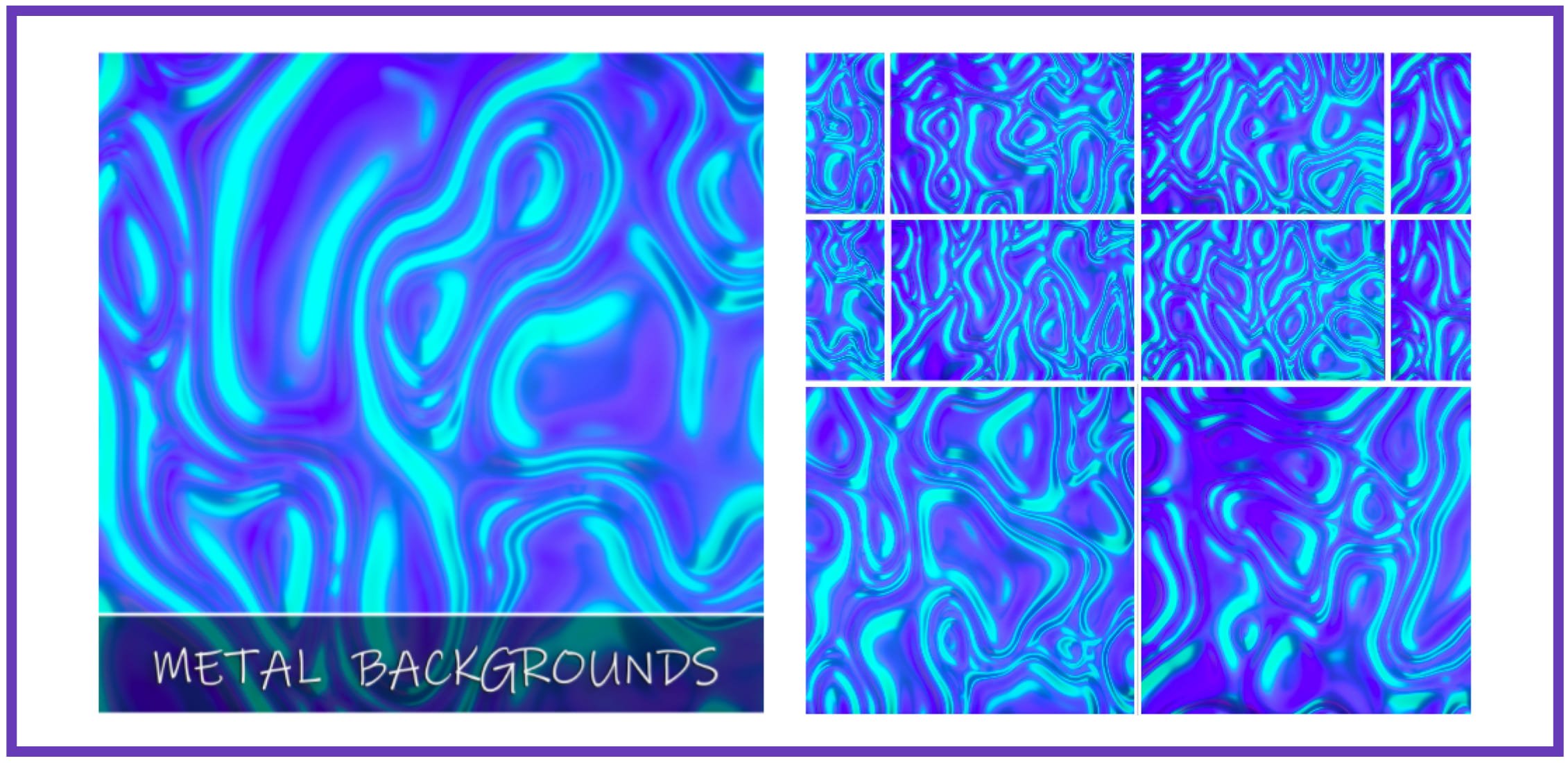 Rendering with shadows and gradients was in the past, but it remains relevant to this day. The only thing that has changed in it is the appearance of greater airiness, lightness, and volume. All this is mixed with pastel gradients and new trending 3d icons. In fact, this is the same minimalism, only more voluminous.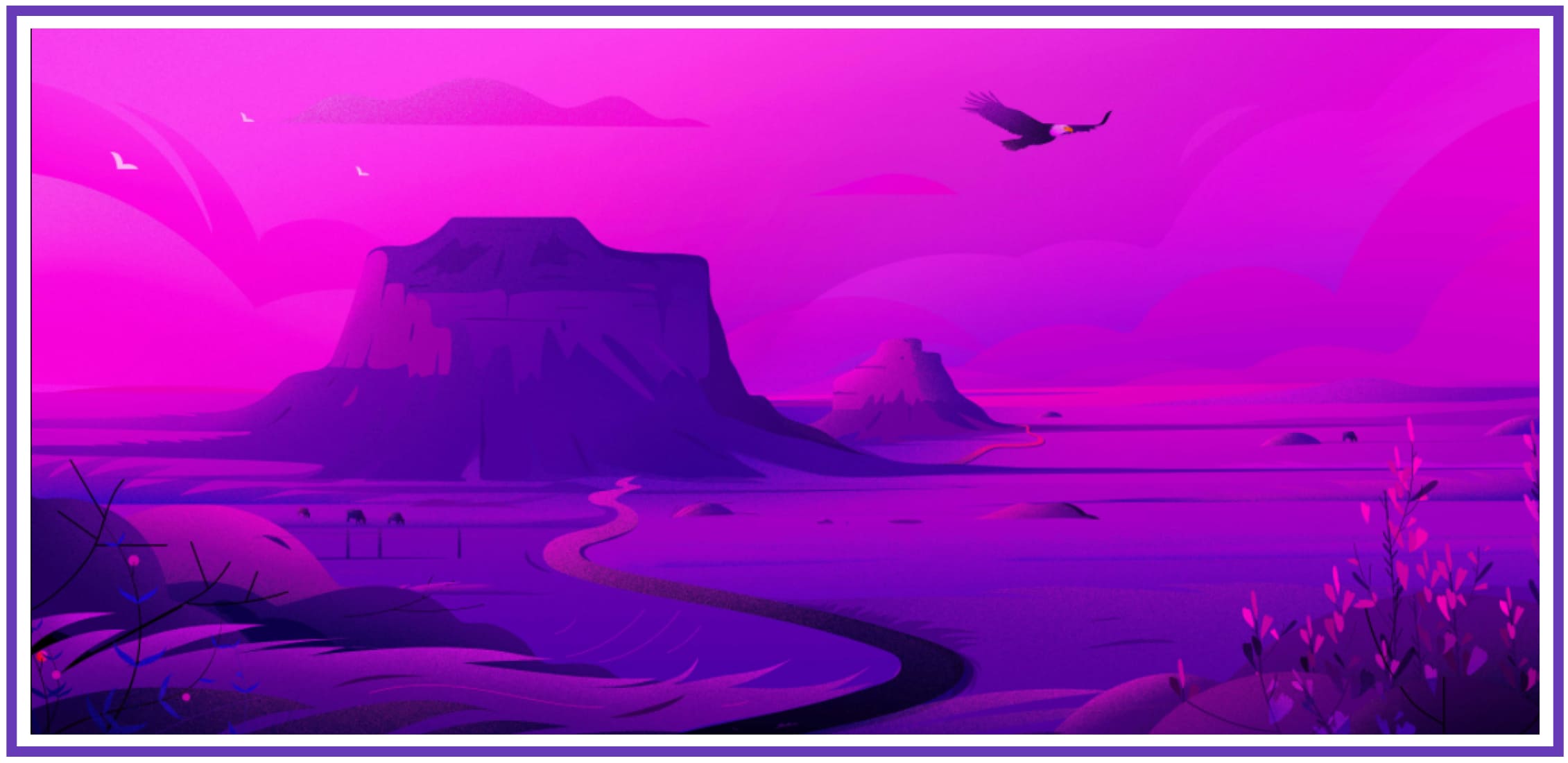 By Febin Raj
The one-color trend that stands out is the combination of violet with a bluish tint. They can often be found in a variety of colors, such as orange or pink. This color trend will bring depth to any creative project. You can find more Blurple examples in this collection. Among them, you will find the popular alphabet from Mathieu L.B. be creative. For some inspiration, use a gradient generator.
Restorative Escapes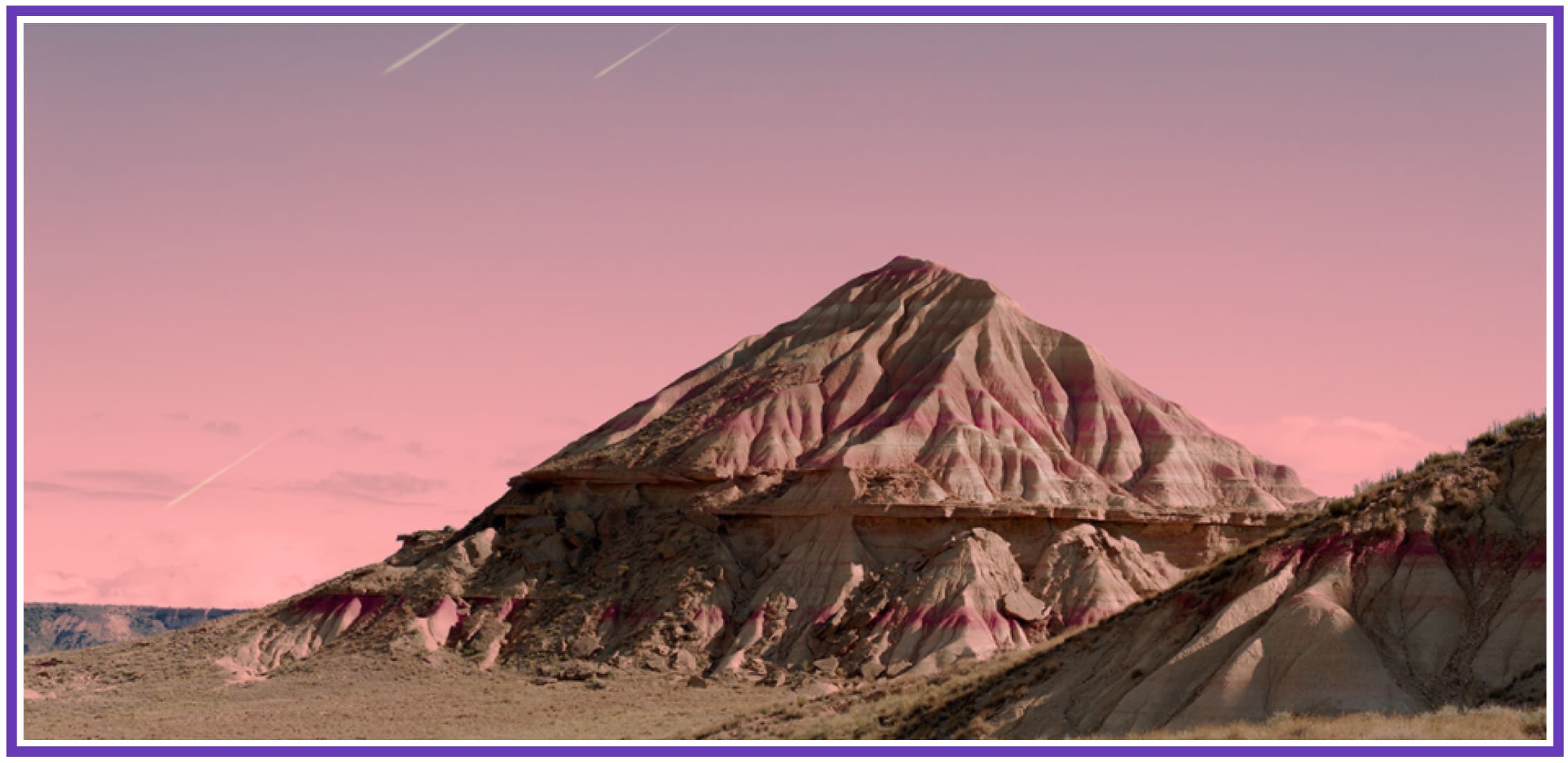 By Al Mefer
The Restorative Escapes trend is a cry from the heart of 2020. This year was too difficult for many. Hence, the trend of finding a way out of this situation followed.
This can be observed in the illustrations of the dawn, doors, probable future, and so on. Most often, the work is done in pastel colors. For example, in illustrator Xuan Loc Xuan's works, this trend of Restorative Escapes can be observed in his works on nature, where there is a hint of freedom and practicality. A world where there are no modern problems.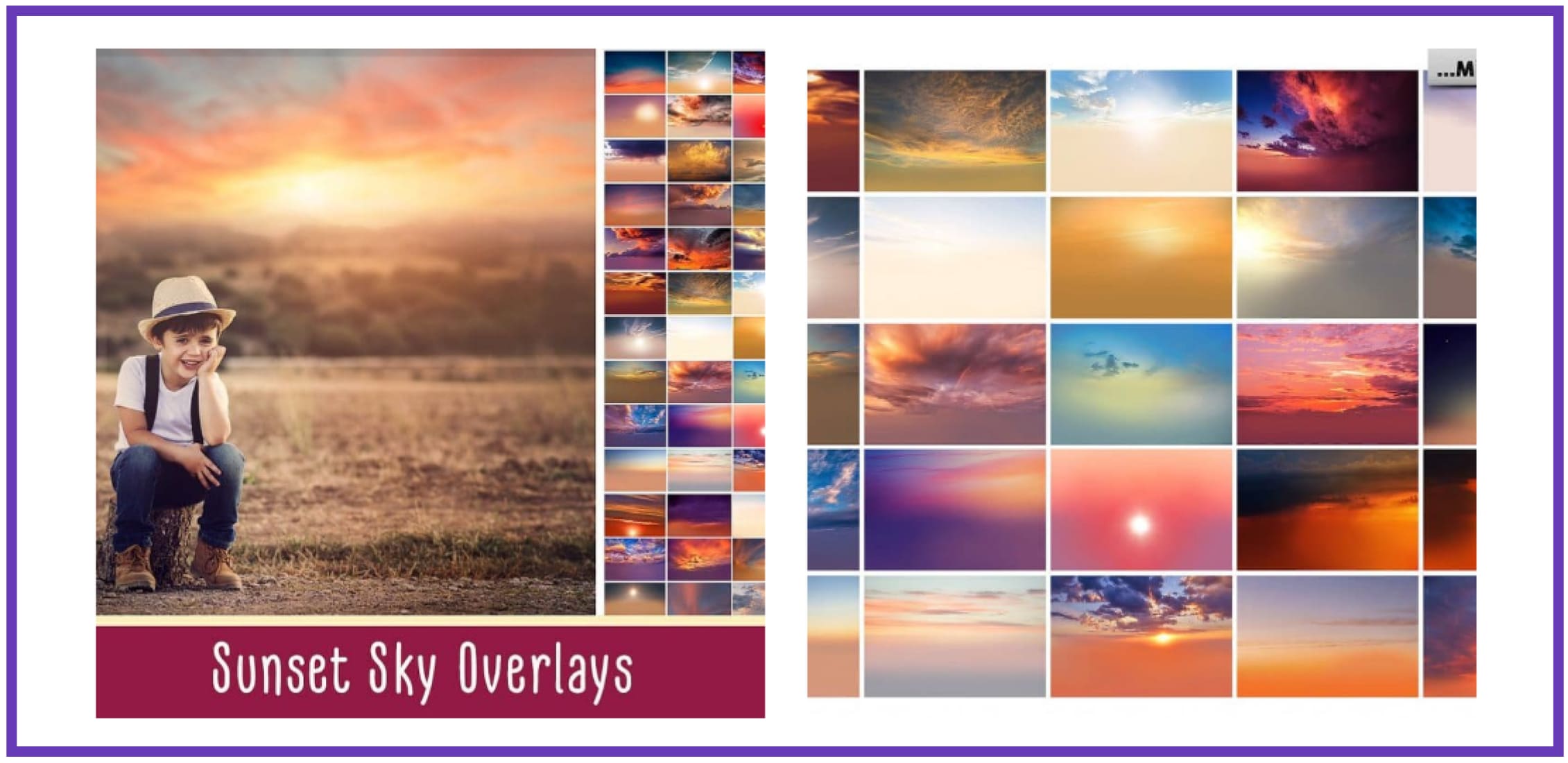 Back in the 80s and 90s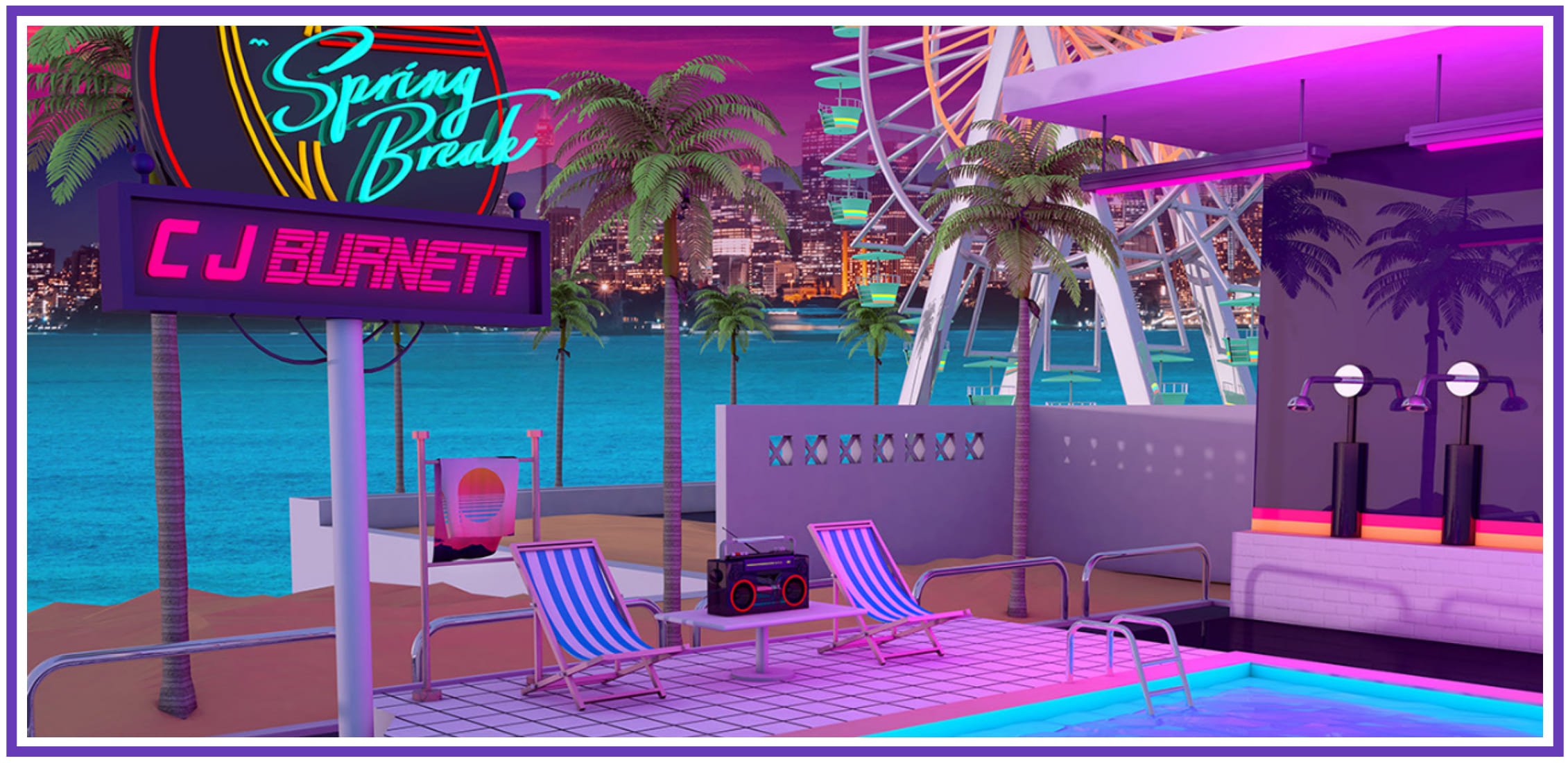 By Denny Busyet
Times of uncertainty like 2020 often lead to a thirst for nostalgia. I would like to remember the old days when everything was cool. While not exactly vintage, the 90s are definitely the days of the advent of computers and Windows and just a time of constant change.
Integrating 80s and 90s style into web design may be one of the most innovative trends of the day.
The younger generation may find something cool and whimsically alien about it. In contrast, this will simply cause an understanding smile in the older generation. The most optimal way to express this trend is to combine the simple and stylish structures of the time with the present's ingenious technologies.
3D Design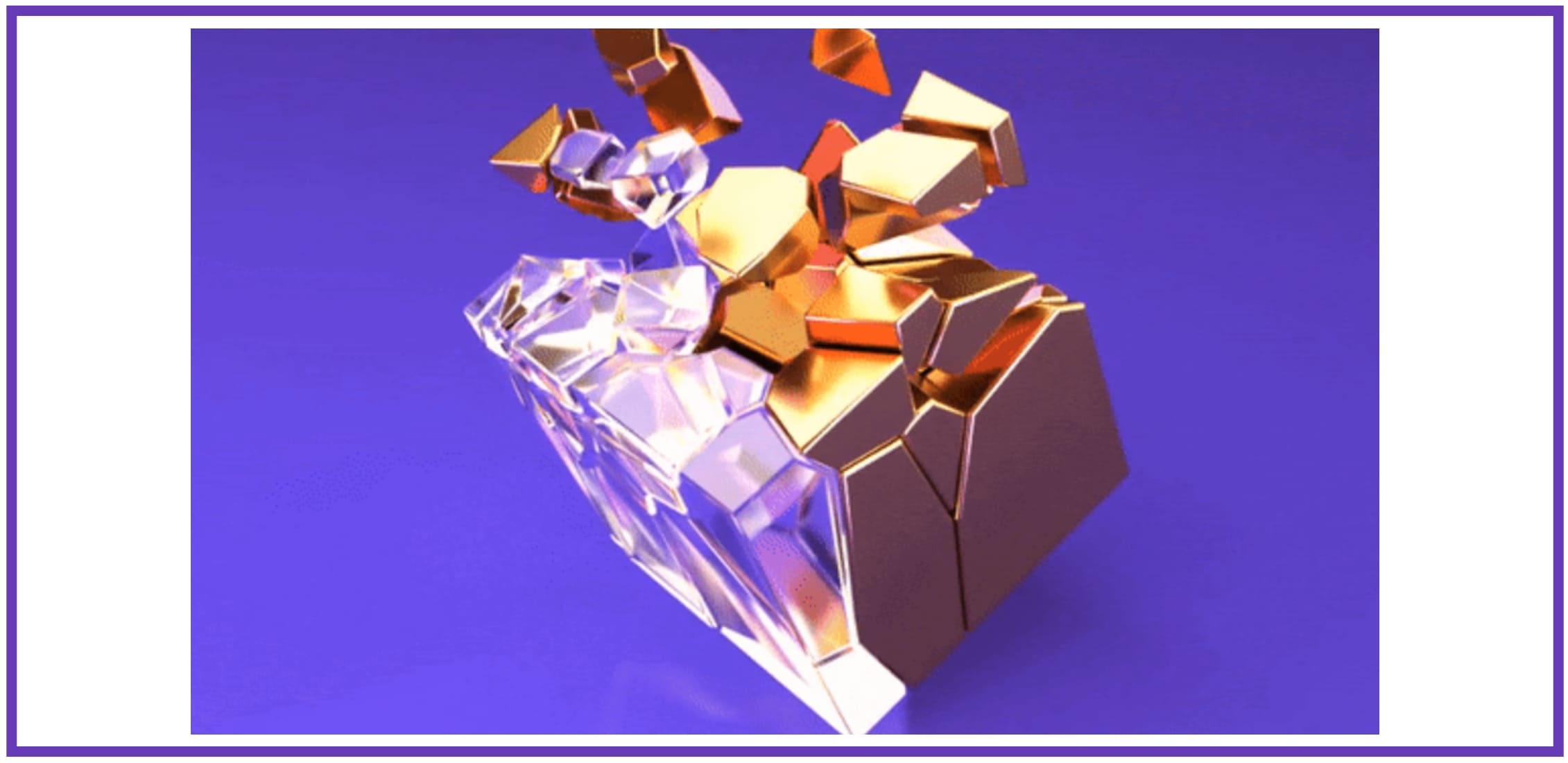 By Constantin Calcatinge
The web design trend is looking more and more like 2021, which will be the year of 3D. More advanced design software helped create this trend by being a true example of the interplay of design and technology.
It is imperative that you only use this tool if you are confident that your site is optimized enough to display the most often heavy 3d animation. Otherwise, users will constantly encounter lags and freezing of pages.
The re-interpretation of 3D has brought 3D icons and illustrations into trends. Designers have started to create many 3D libraries and premium 3D resources for personal and commercial projects. 3D icons and graphics are honestly used in combination with gradients and shadows.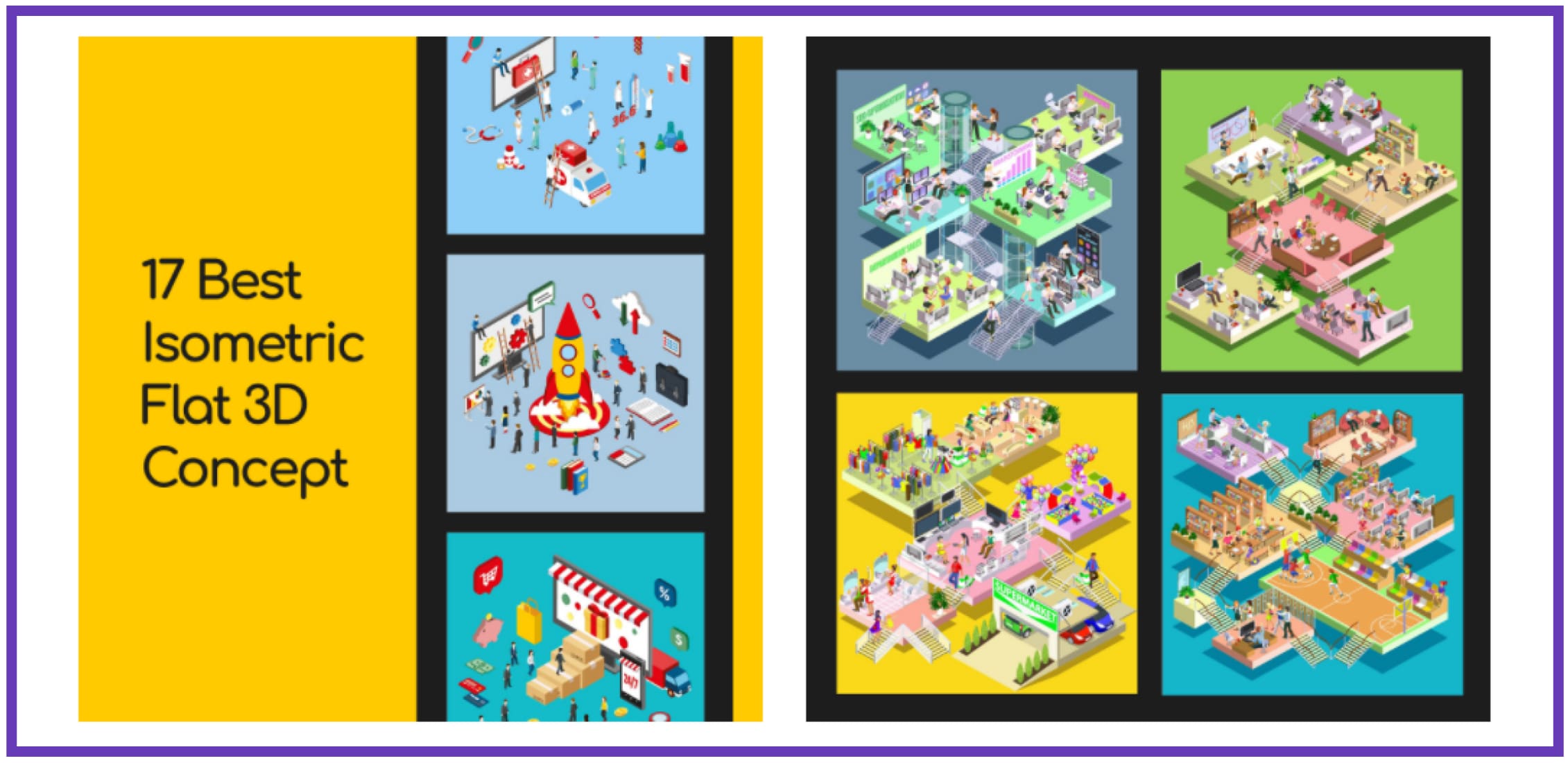 The re-interpretation of 3D has brought 3D icons and illustrations into trends. Designers have started to create many 3D libraries and premium 3D resources for personal and commercial projects. 3D icons and graphics are honestly used in combination with gradients and shadows.
Elements of Nature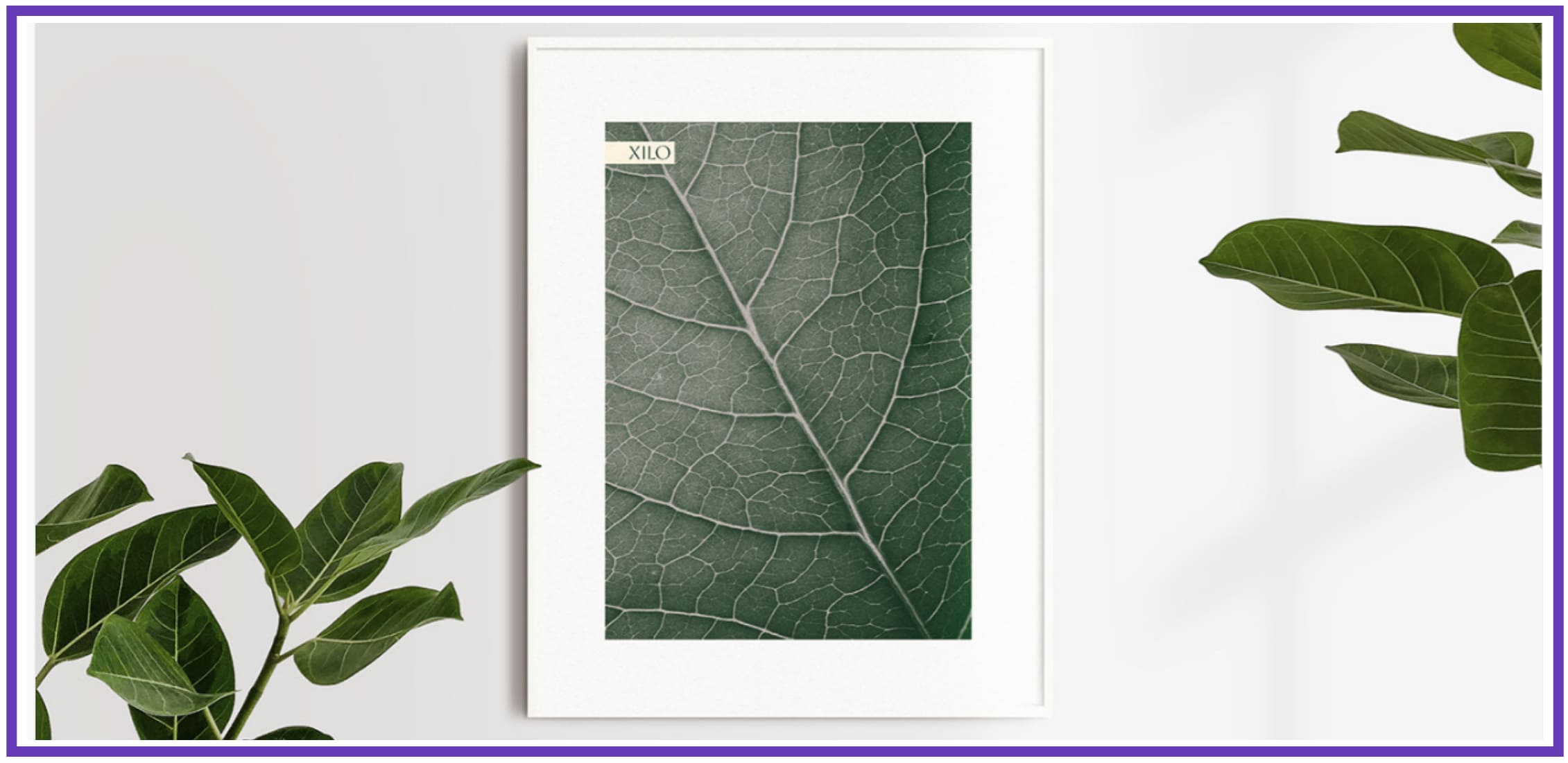 Behance: Xilo collection
Organic, soft, natural design trends have slowly evolved away from mainstream trends over the past 10 years. The idea of ​​imitating nature, natural light, earthy colors and tones, natural gradients in color schemes, and flowing lines comes back into fashion. It follows minimalism trends, muted color palettes, illustrations, color filters designed to create a natural atmosphere, textures depicting wood, stone, etc.
The need of people in a pandemic situation is a thirst for nature. It is not surprising that people who have not been allowed to be on the street have a sudden desire to leave the city for a long time.
Flower Clipart Black and White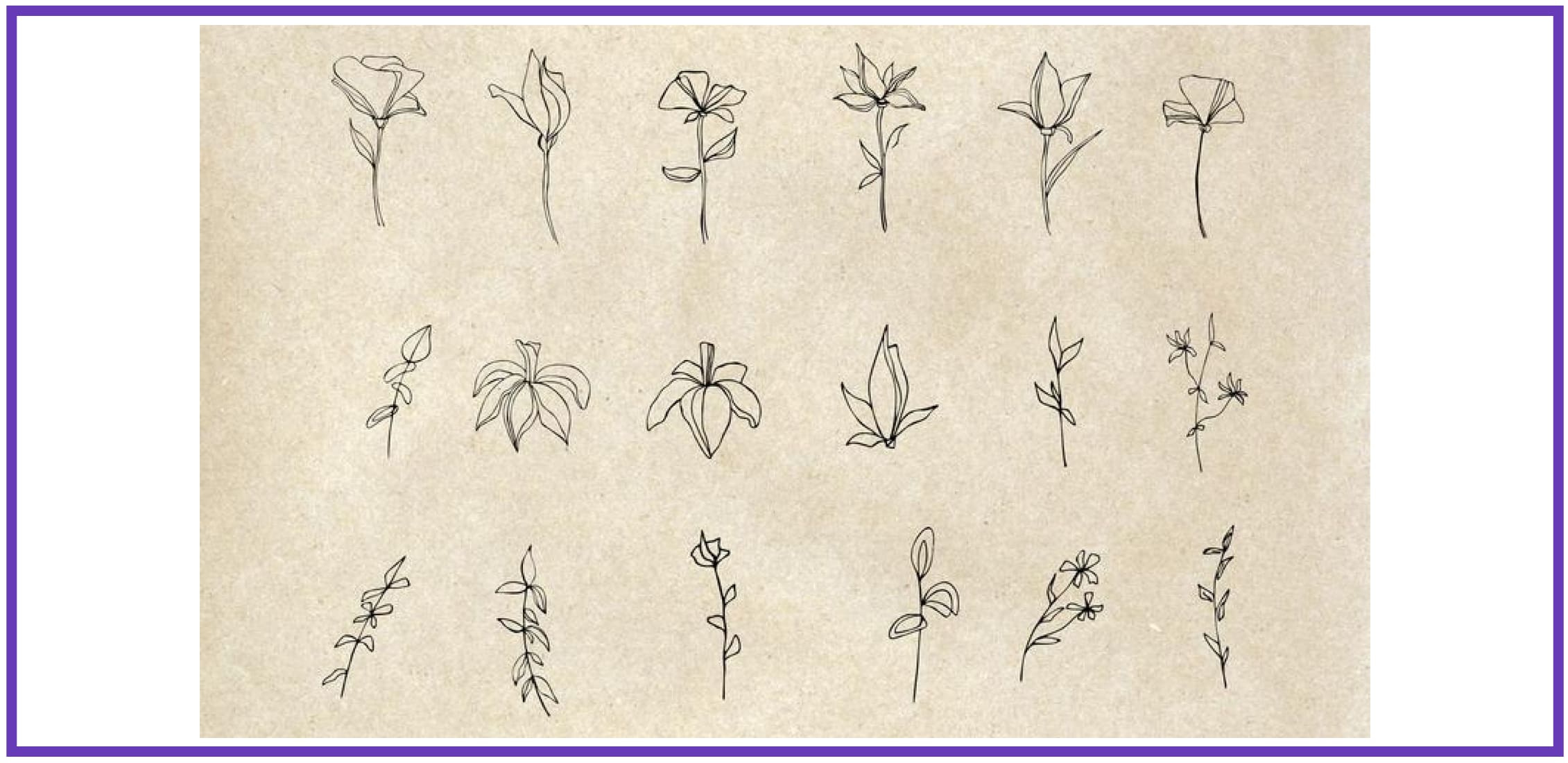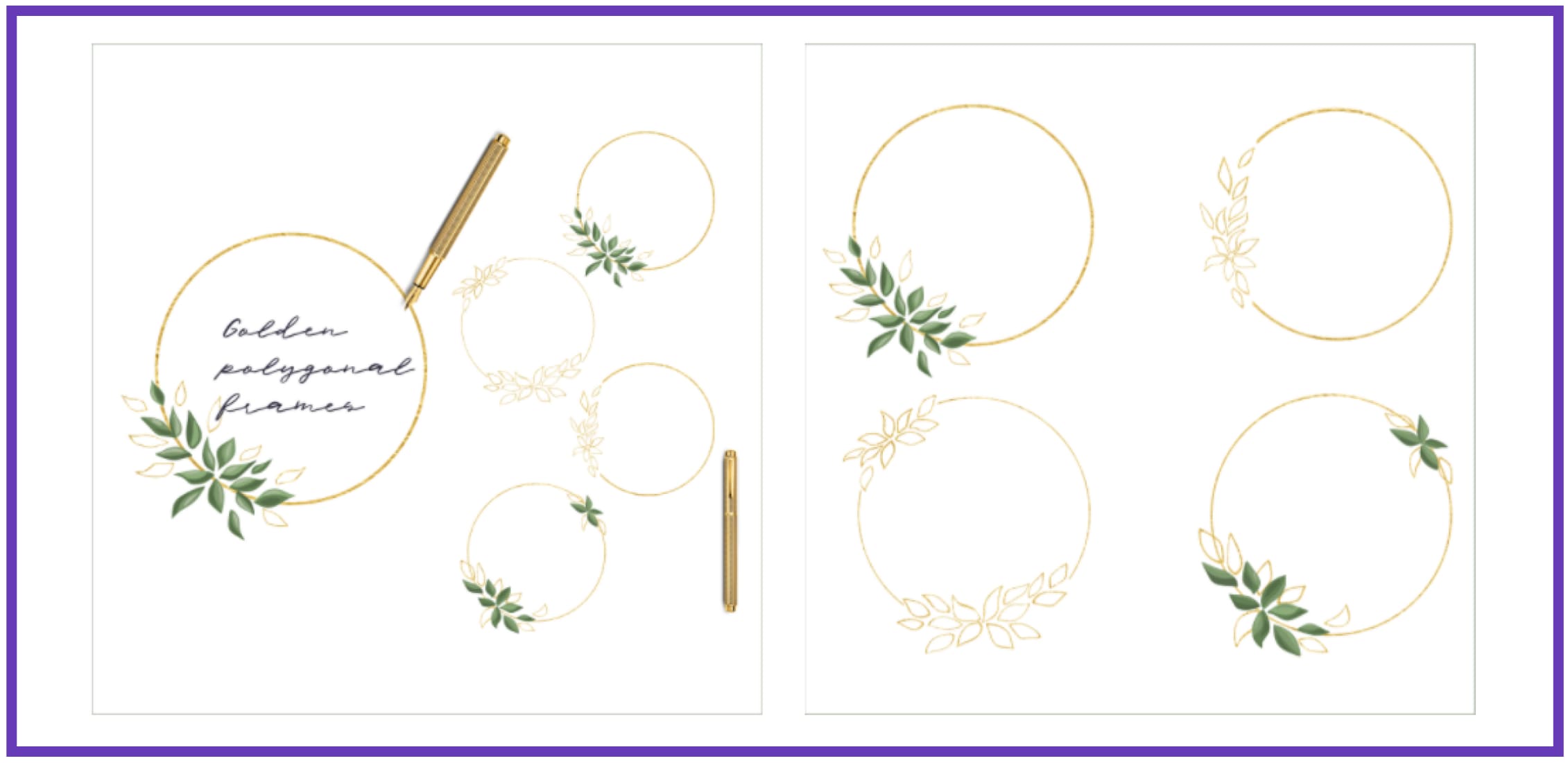 Natural materials and shades are suitable for any design and any commercial area.
Colors on White Surface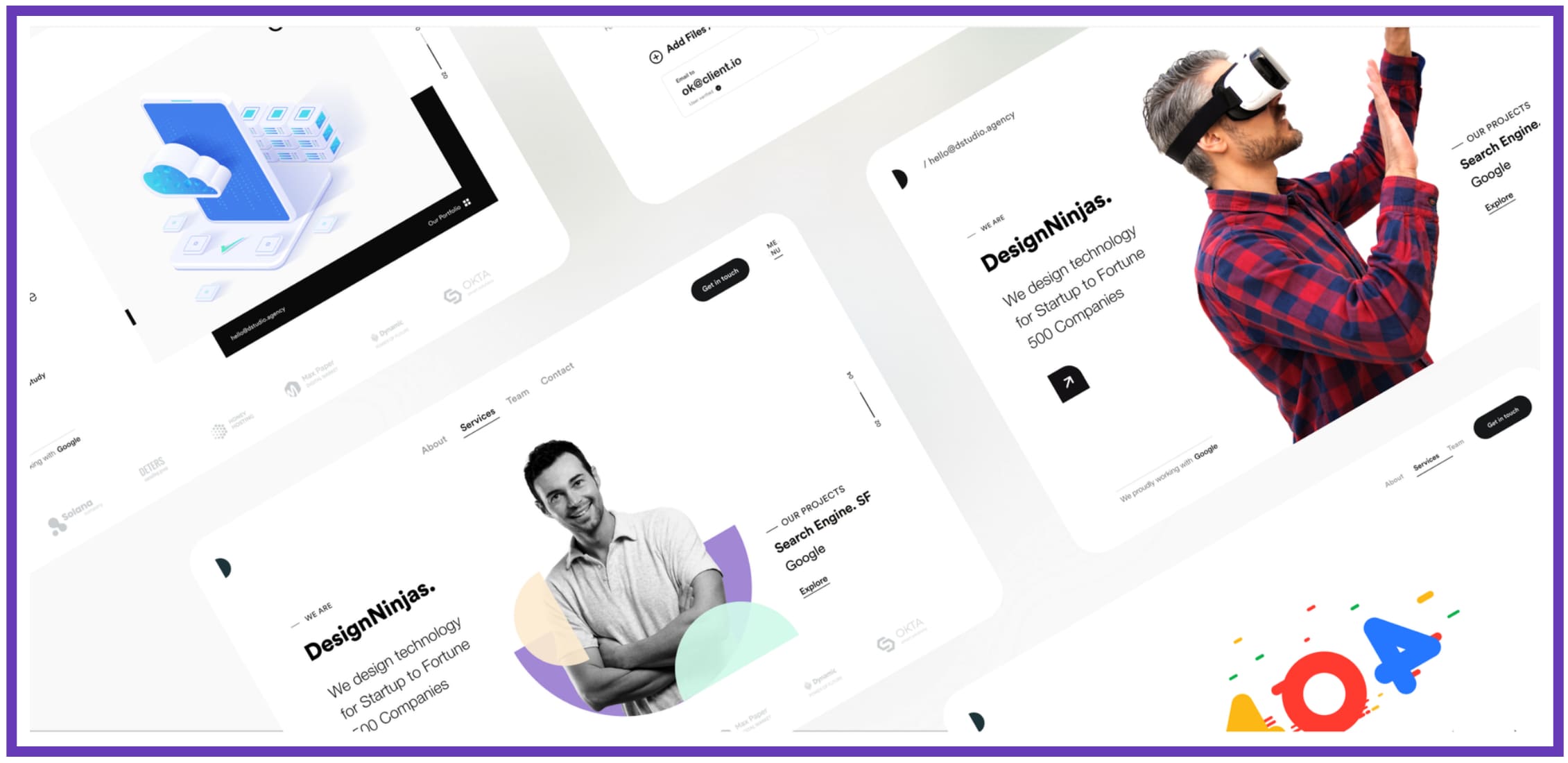 Behance by DStudio
Black and white color combinations are classics that will never go out of style. In 2021, it will be more popular to use other colors to highlight information on a white background. I could safely recommend using such colors on a white background.
Silver.
Grey.
Blush pink.
Mango.
Turquoise.
Lavender.
Mint.
Navy.
Geometric Shapes Design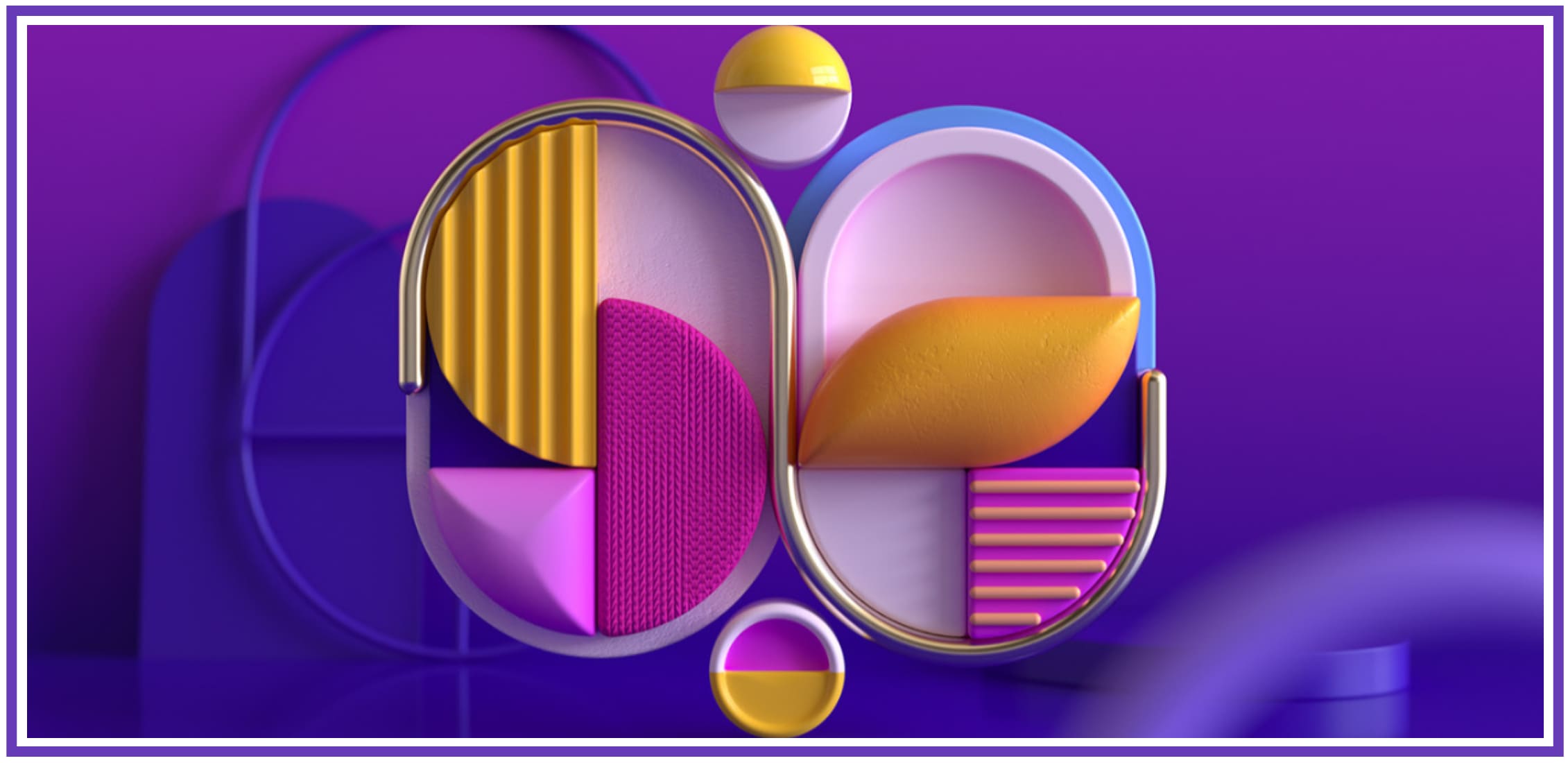 Behance by Phillip van Heerden
Geometric shapes, as shown above, can add order, consistency, and structure to visuals. And this is so lacking now, at a time of general chaos and disorder. Geometric shapes trend especially popular with 3D and flat elements. Mostly you will see them in prints, brand identity and posters.
Geometric Animal Logo Templates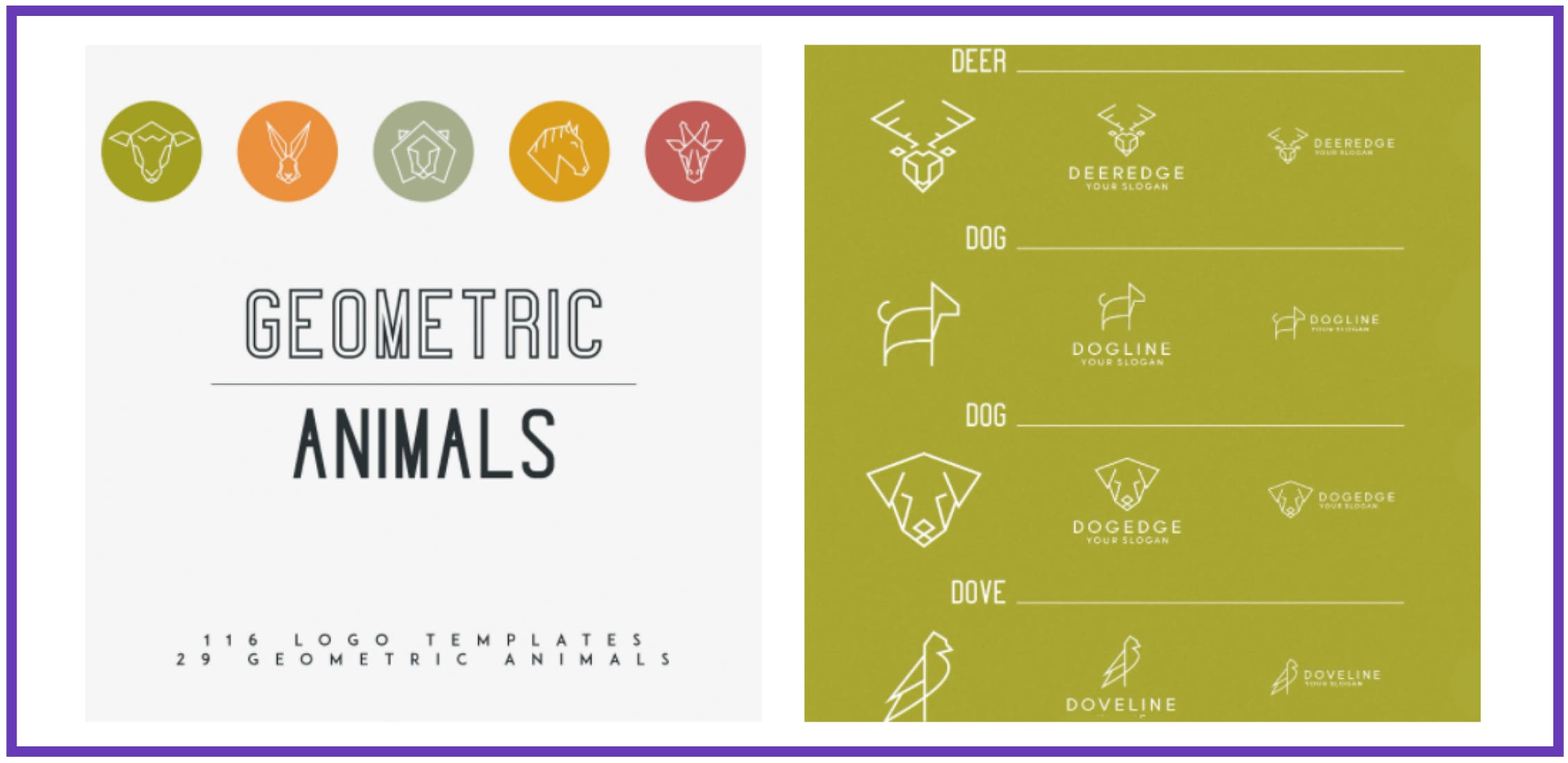 Duo Tone Design

Behance by Athabaski
The whole idea of this tendency is mixing two contrasting colors. It is quite simple to achieve this design. Just play a little bit with contrast in Photoshop.
Double Exposure Photoshop Actions Bundle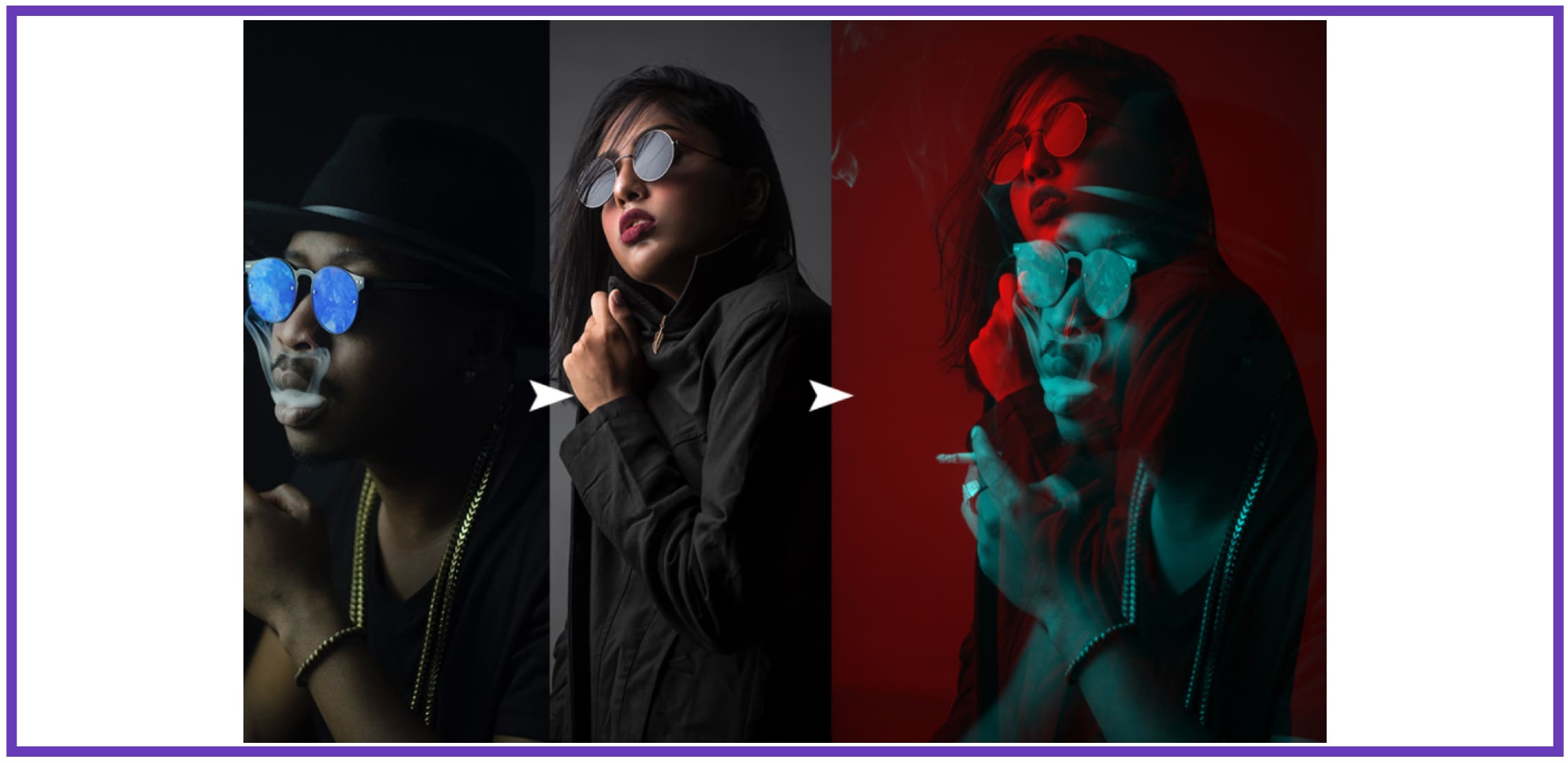 Optical Illusion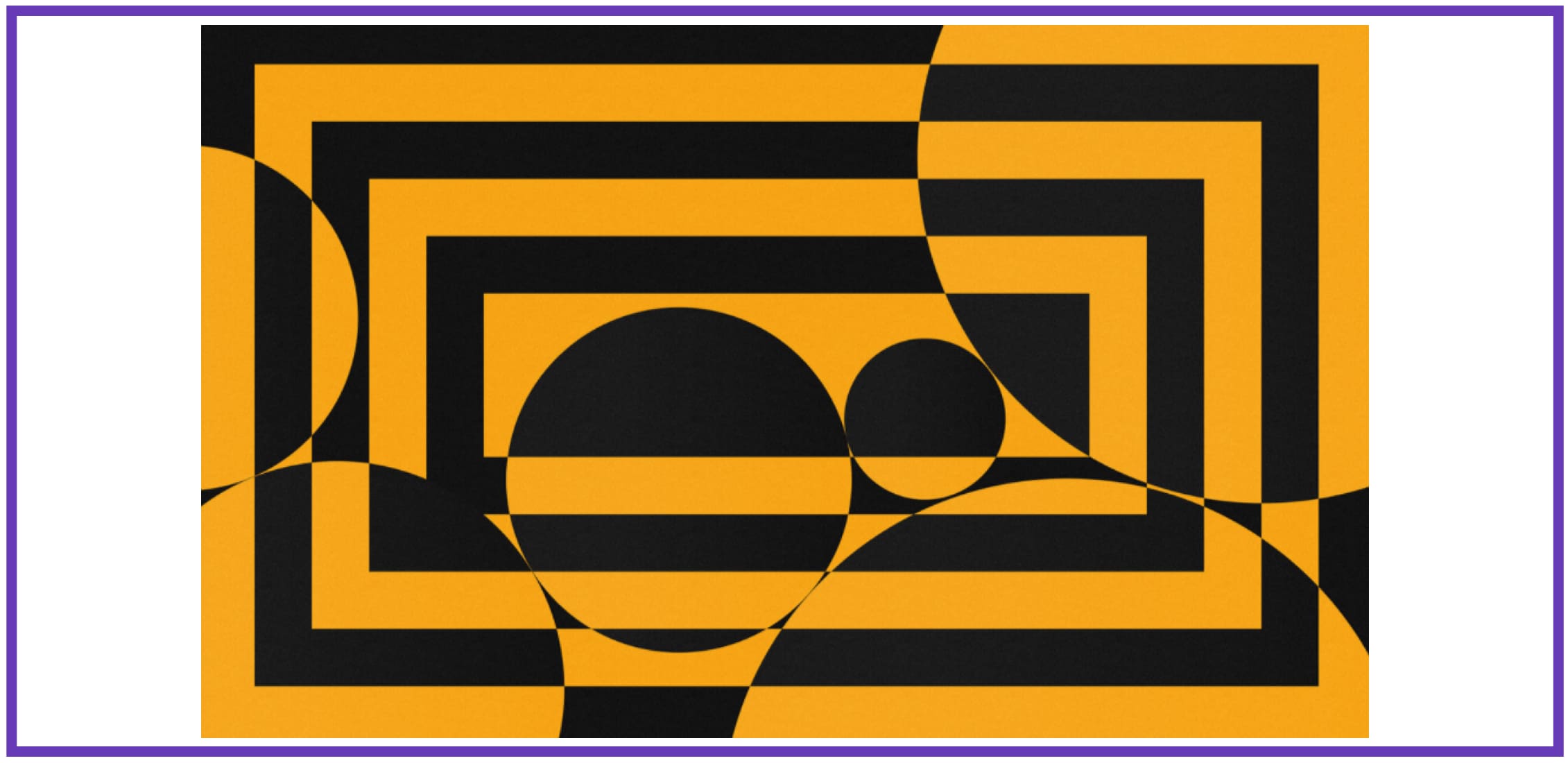 By Lucy Be
Create hypnotic designs in 2021. The wow effect is especially important if the brand is associated with an idea of ​​movement, fantasy, or spirituality. The optical illusion is the very thing to hypnotize users a little.
The optical illusion looks beautiful on letterpress business cards. Such products will turn out to be embossed, tactilely more pleasant than in the form of conventional digital printing. Patterns look especially beautiful on such business cards.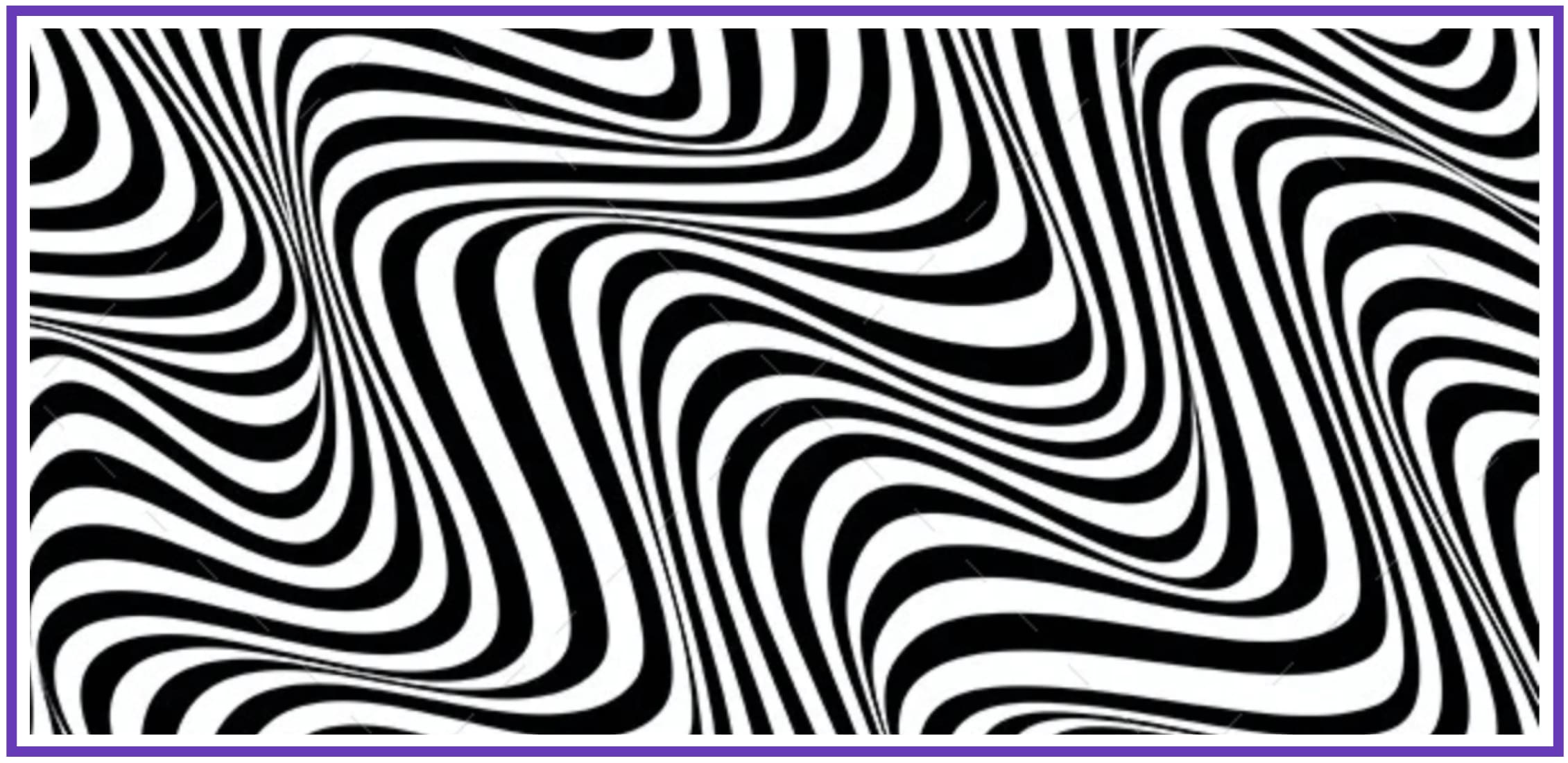 Zebrine – Black and White Striped Waves Vector Background Set
It's not just a black and white optical illusion that grabs attention. Try different color combinations for an effective design.
Voxel Art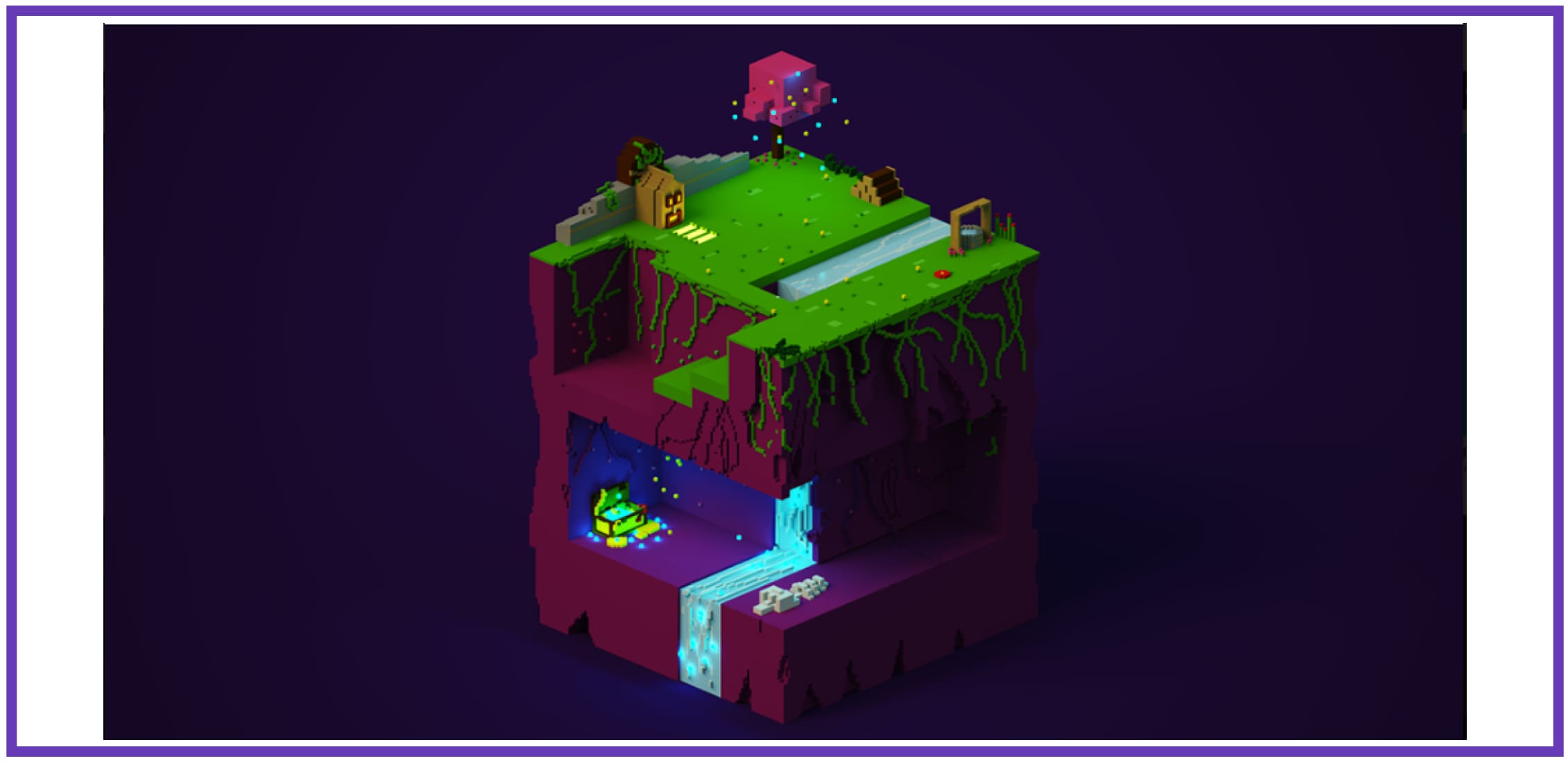 Behance by Ani Kurghinyan
A voxel is a 3D cube. You've seen it in many video games, such as Minecraft, and it has an instantly recognizable style, almost like Lego blocks. 3D is the main favorite. It's a visual technique, a bit childish simplicity, and retro appeal, but incredibly modern and entertaining.
"All Goldy and Shiny" Trend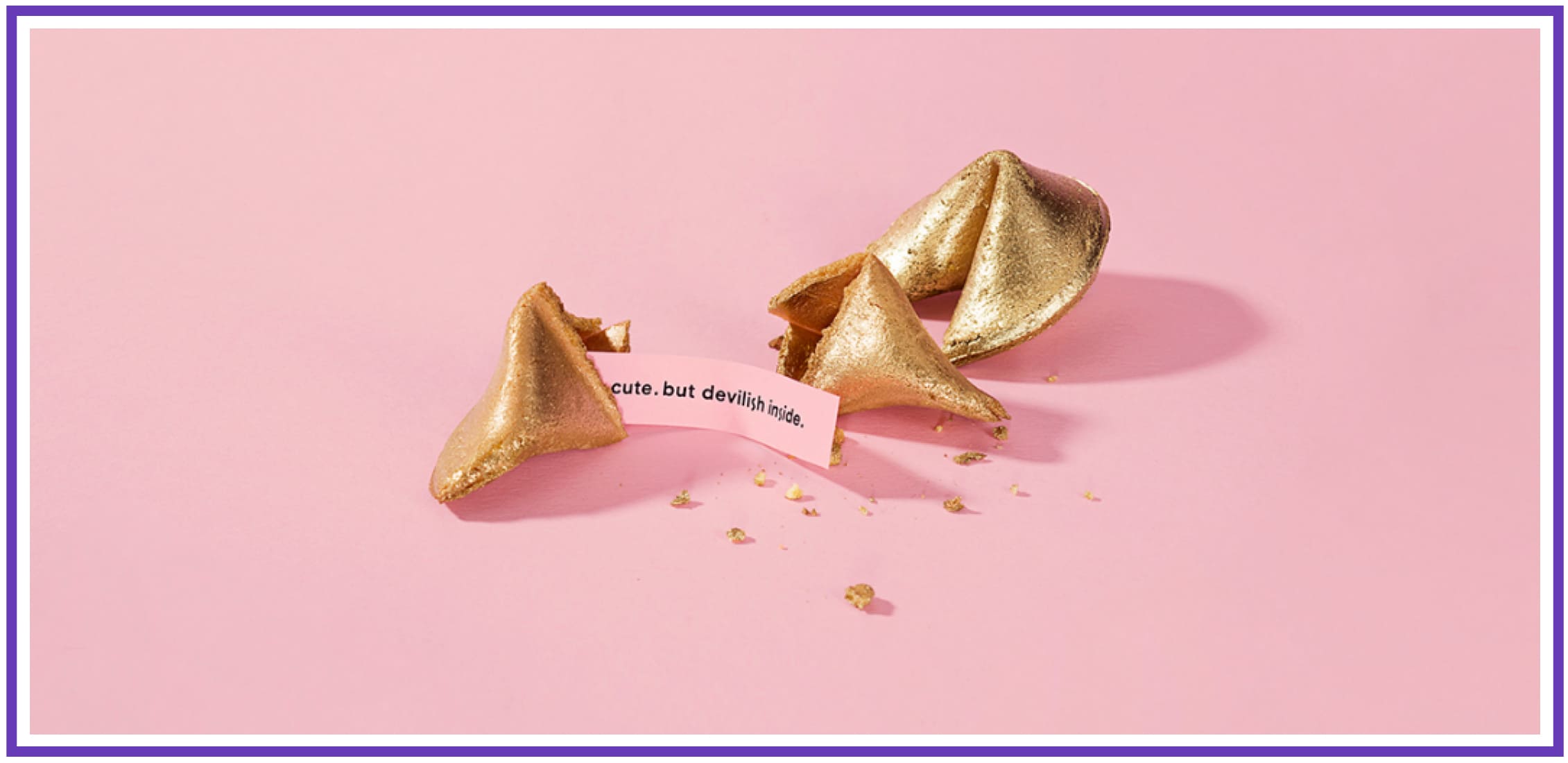 Behance by F61 Agency
Along with pleasing natural hues and retro designs, gold, highlights, and metallic will be trendy in 2021. Back in 2020, designers started experimenting with various metal elements. But in 2021, a real "gold rush" could occur!
Use any metallic design: matte and glossy surfaces, reflective lighting effects, embossed, and scratched textures.
Golden Patina Photo Effect for Photoshop

TOOLKIT Gold Paint Effect Photoshop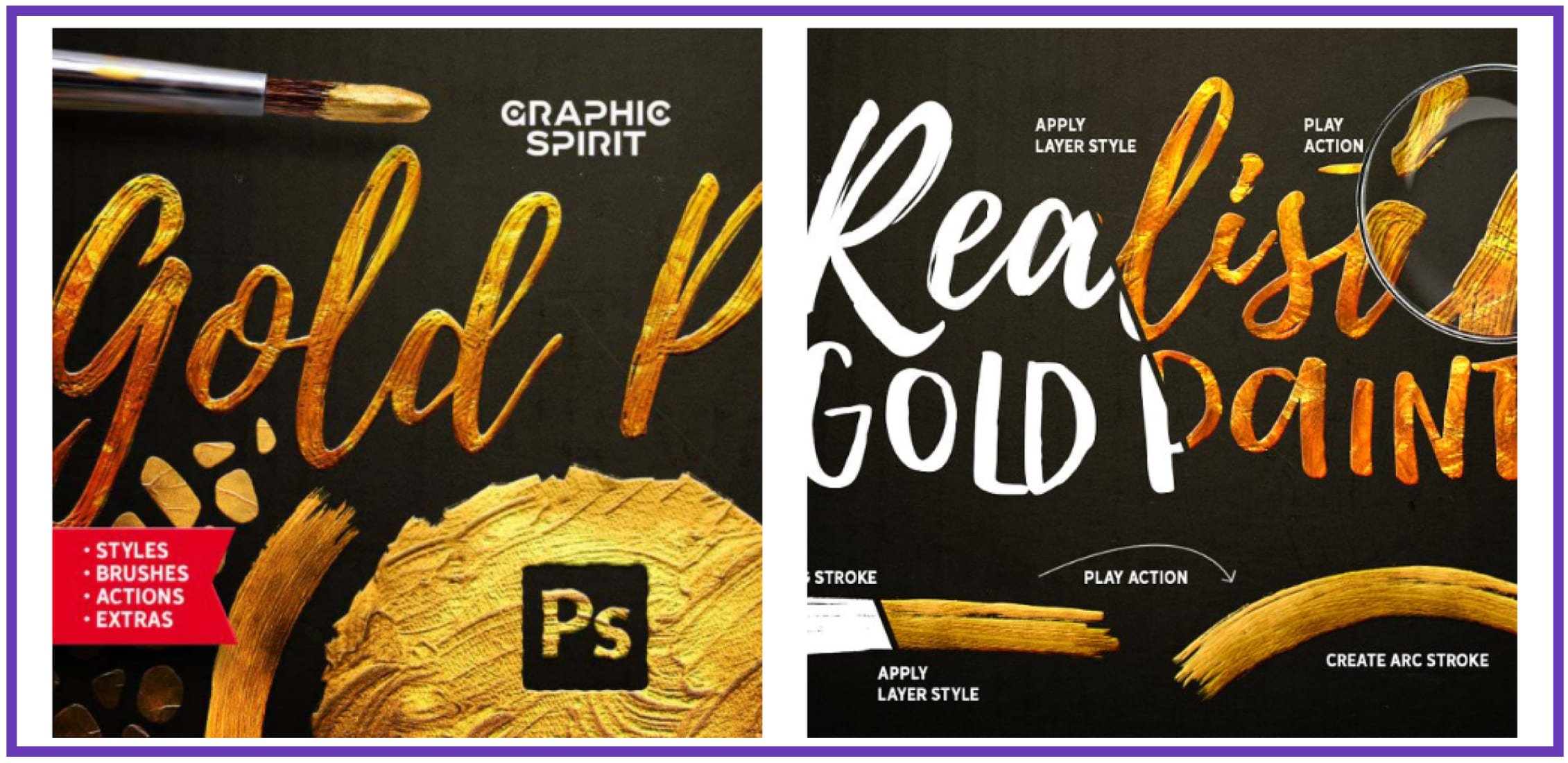 Retrofuturism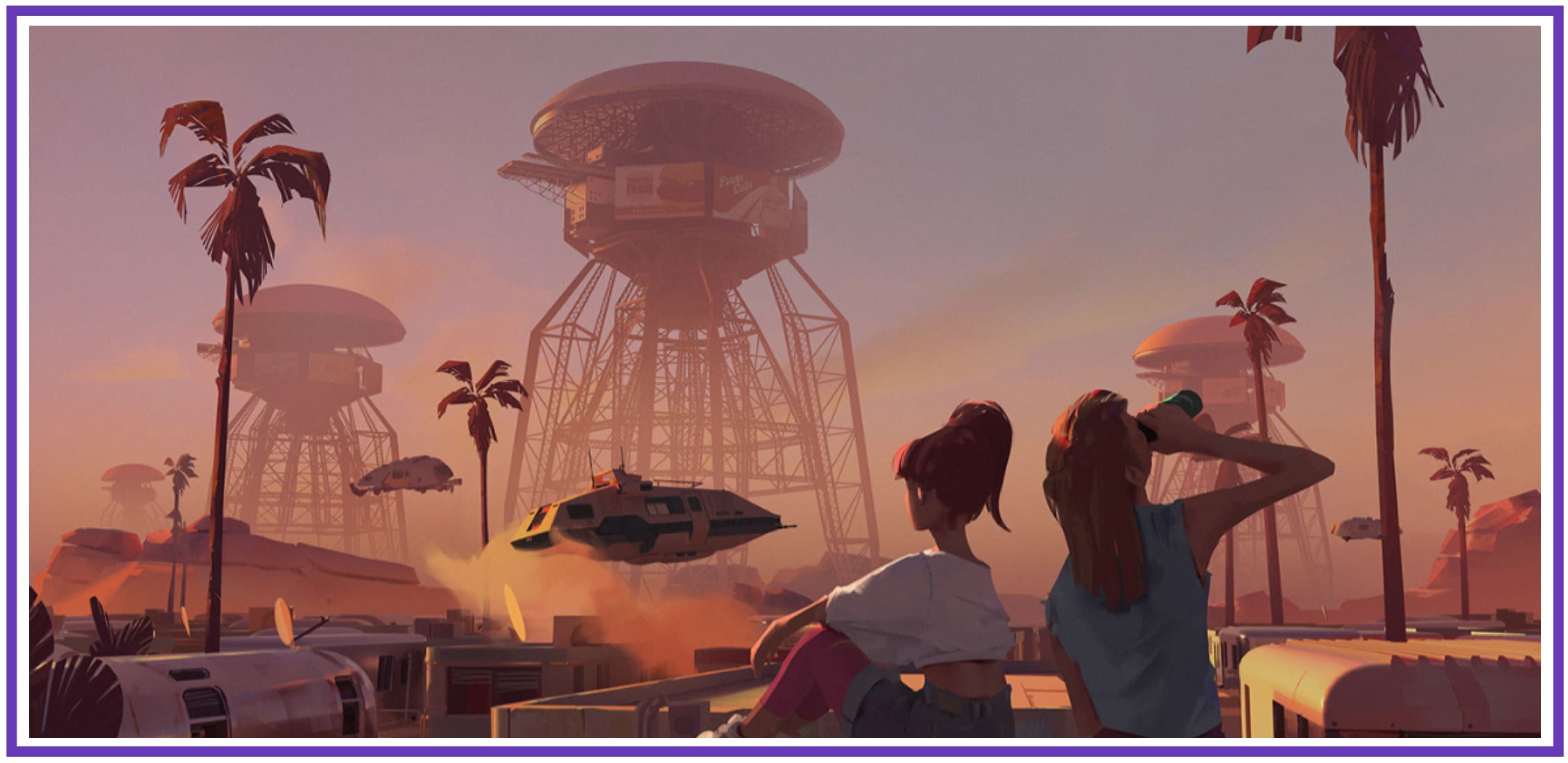 By Maarten Hermans
The last couple of years have been successful for remakes and TV series such as Blade Runner 2049, Ghost in the Shell, etc. who launched a new visual wave of retro-futurism and cyberpunk. Whether this is driven by films or nostalgia for the old days is hard to know. Still, it's one fact: you can see memories of retro-futuristic style everywhere, from movies to product design and fashion trends.
This style evokes nostalgia when people dreamed of a fully automated future with flying machines and exploration of distant galaxies. The popularity of retro-futuristic design in 2021 will help bring back an optimistic outlook on the future.
Emoji Design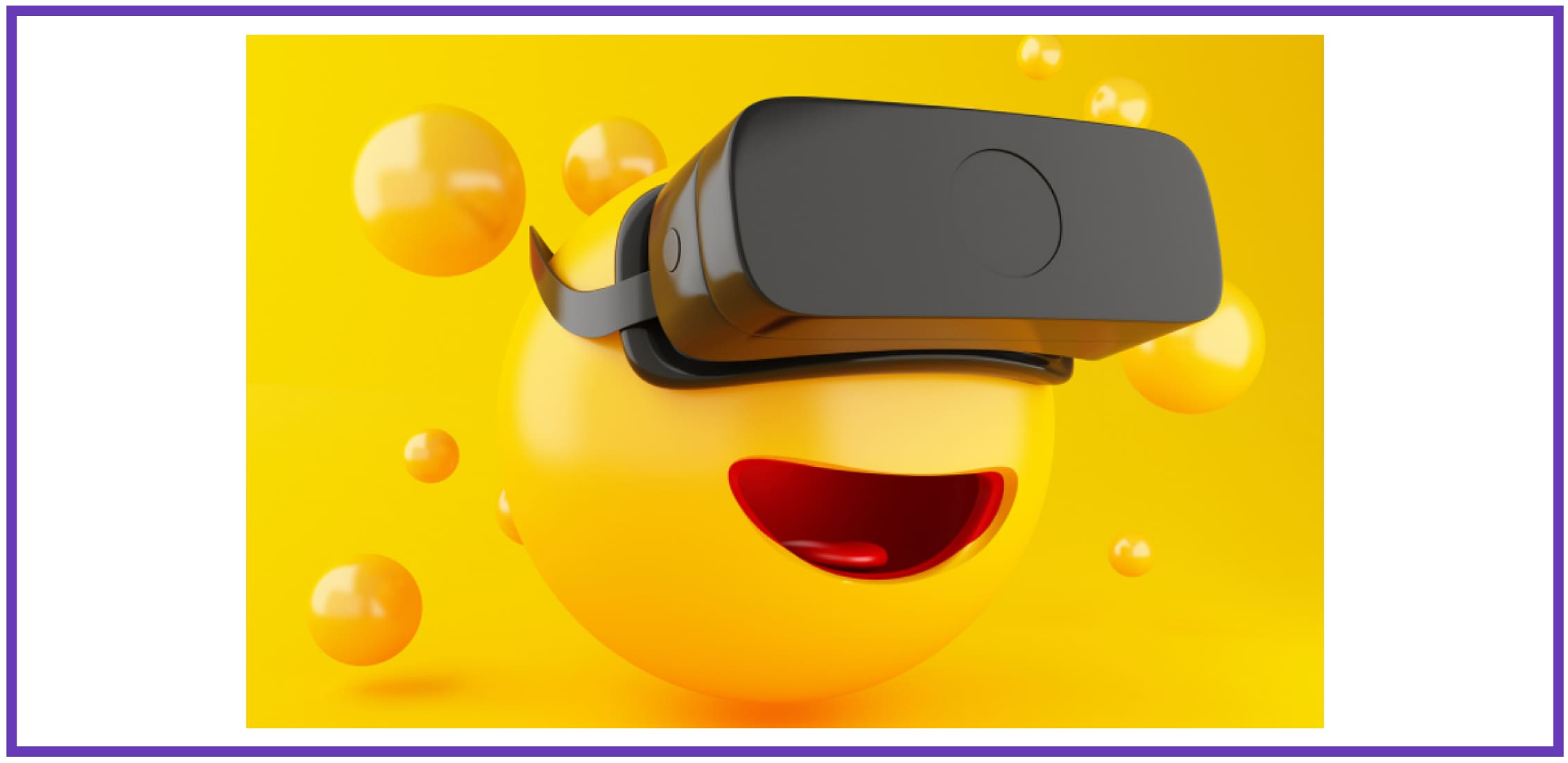 Behance By Mego Studio
Social media influences not only our daily life but also graphic design trends. Since emoji are a popular way to visualize emotions and state of mind, designers have started using them in website design and product packaging.
Emoji allows designers to add emotion to statements, websites, or print media. The same can be said for all of your projects. Using emojis evokes reactions and responses. They lift the mood (which we all need) and express basic feelings.
Cartoon Illustrations In Design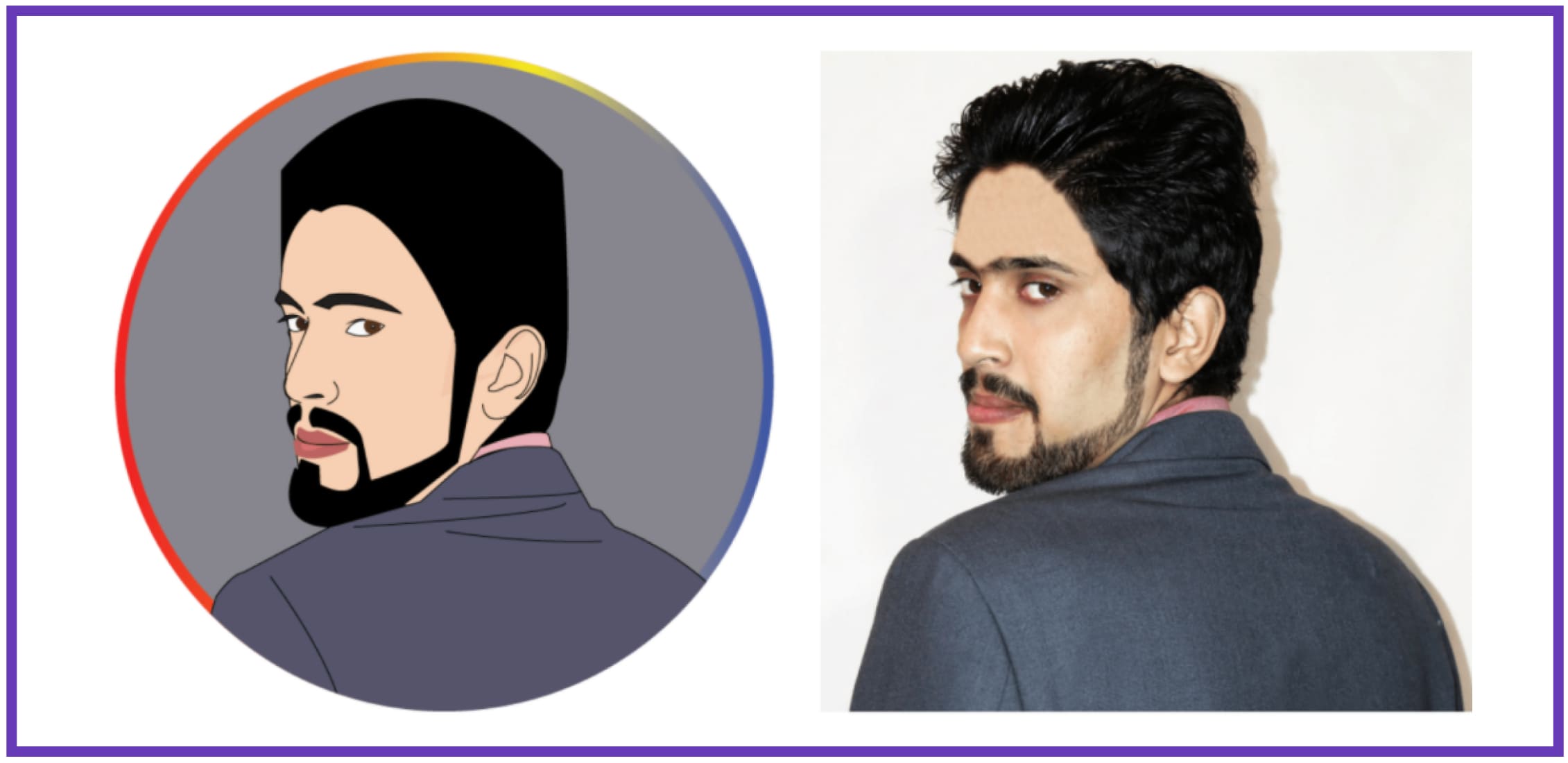 Behance by Art Minds
Cartoon illustrations have become a great way to make your designs stand out. Illustrations are more varied and interesting than ever before and can improve designs while still being relevant and in line with the spirit you want to represent.
A format that preserves variety is adaptable, creative but adds playfulness and lightness, ideal for memorable branding, to create a product or website atmosphere. A great example is the work of Art Minds. You can use your character on the website, business cards, posters, presentation materials, and there are no restrictions. Everyone, without exception, loves cartoons.
Cartoon Character Woman: Business Edition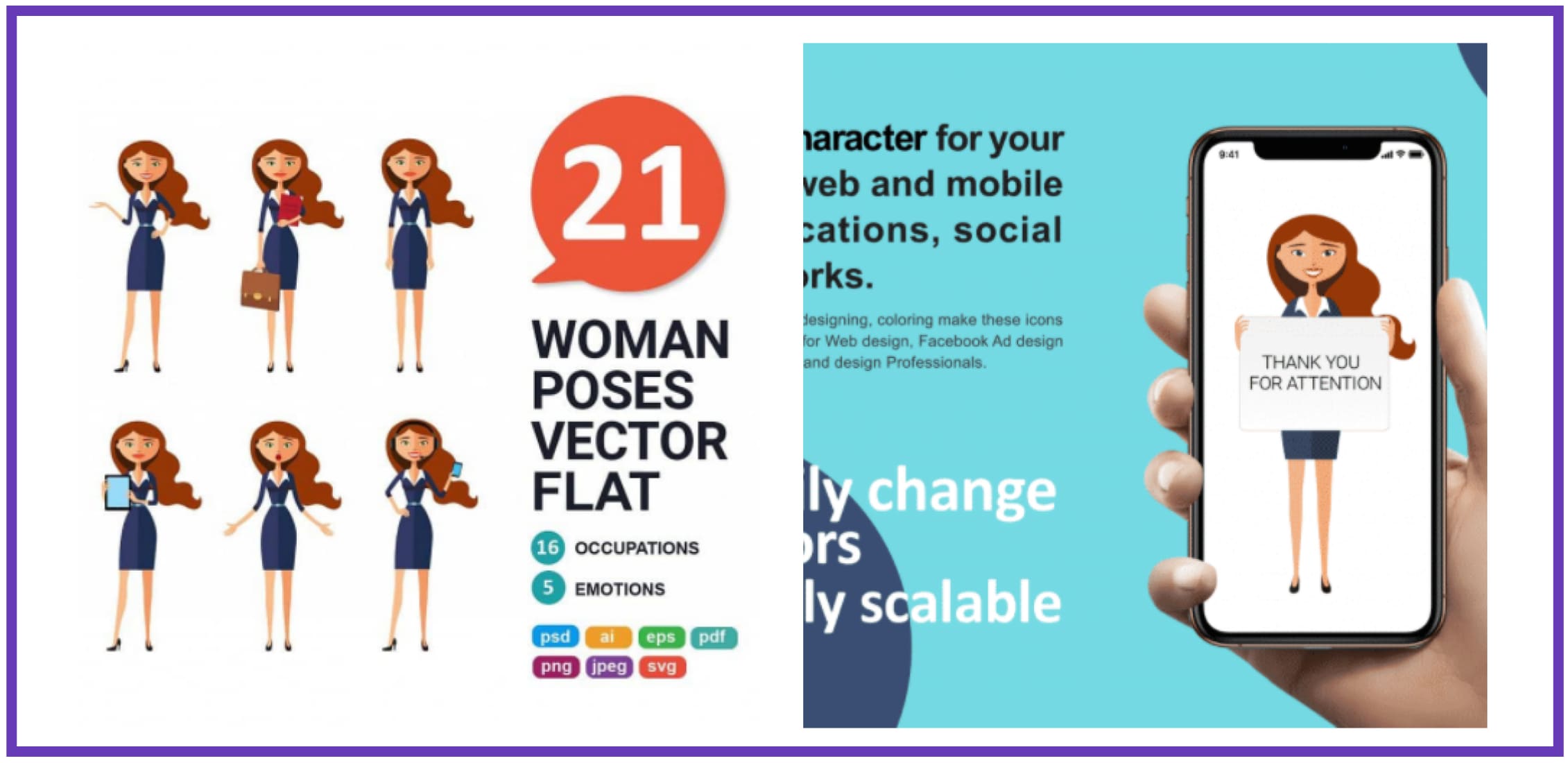 Mix of Photos and Graphics
Overlaying graphics on top of a photo is another popular trend in web design.
This tool is similar to the usual collage, convenient in that it suits all brands and is easy to use. By the way, for iPhone designers, there are a huge number of apps like Glitche and Bazaart that quickly transform images by adding or removing any elements.
Each image with graphics is completely unique and better reflects your personality on the site.
Skull PNG: Skull Textured Effect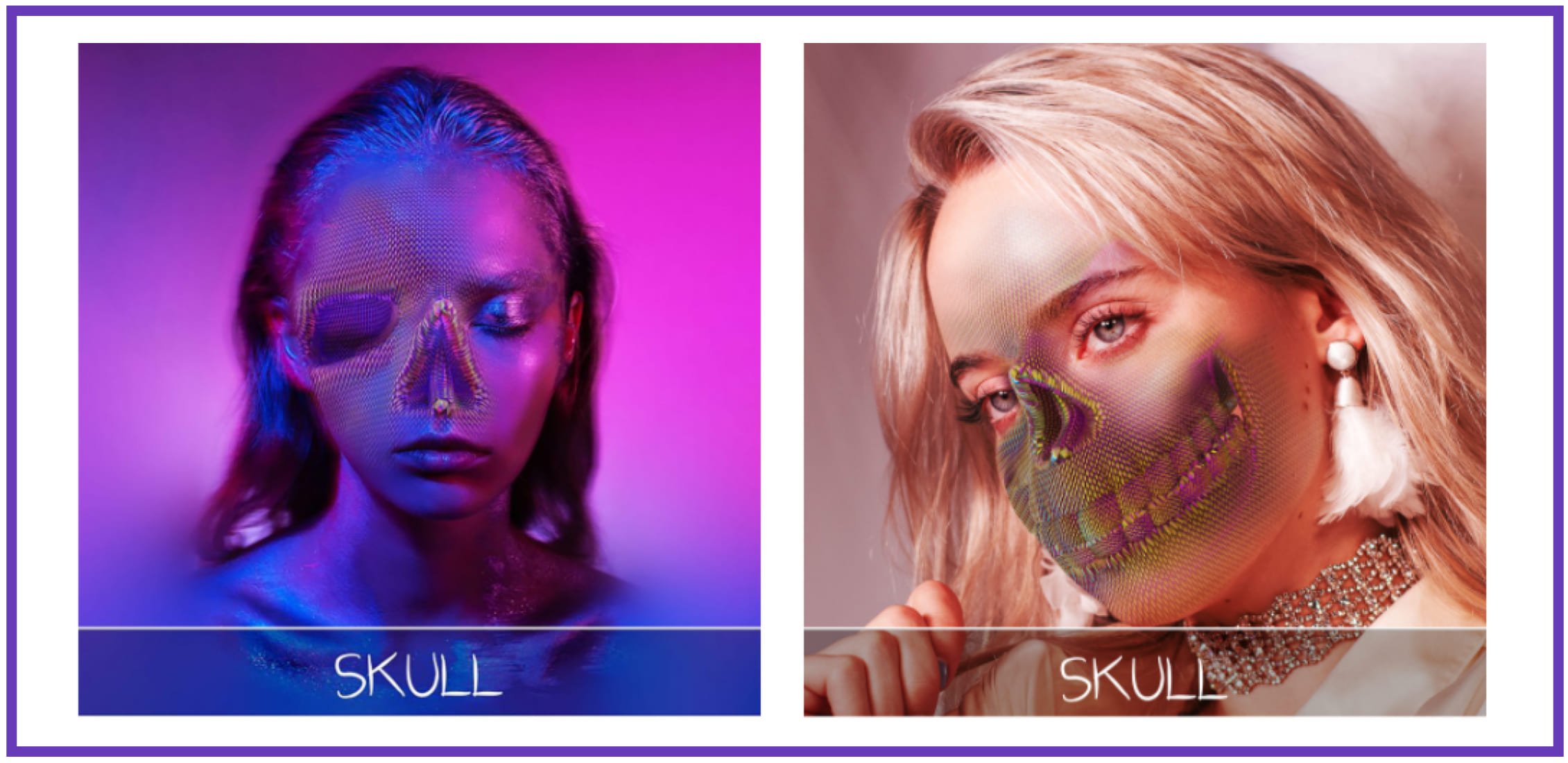 Psychedelic Design 60s and Pop Art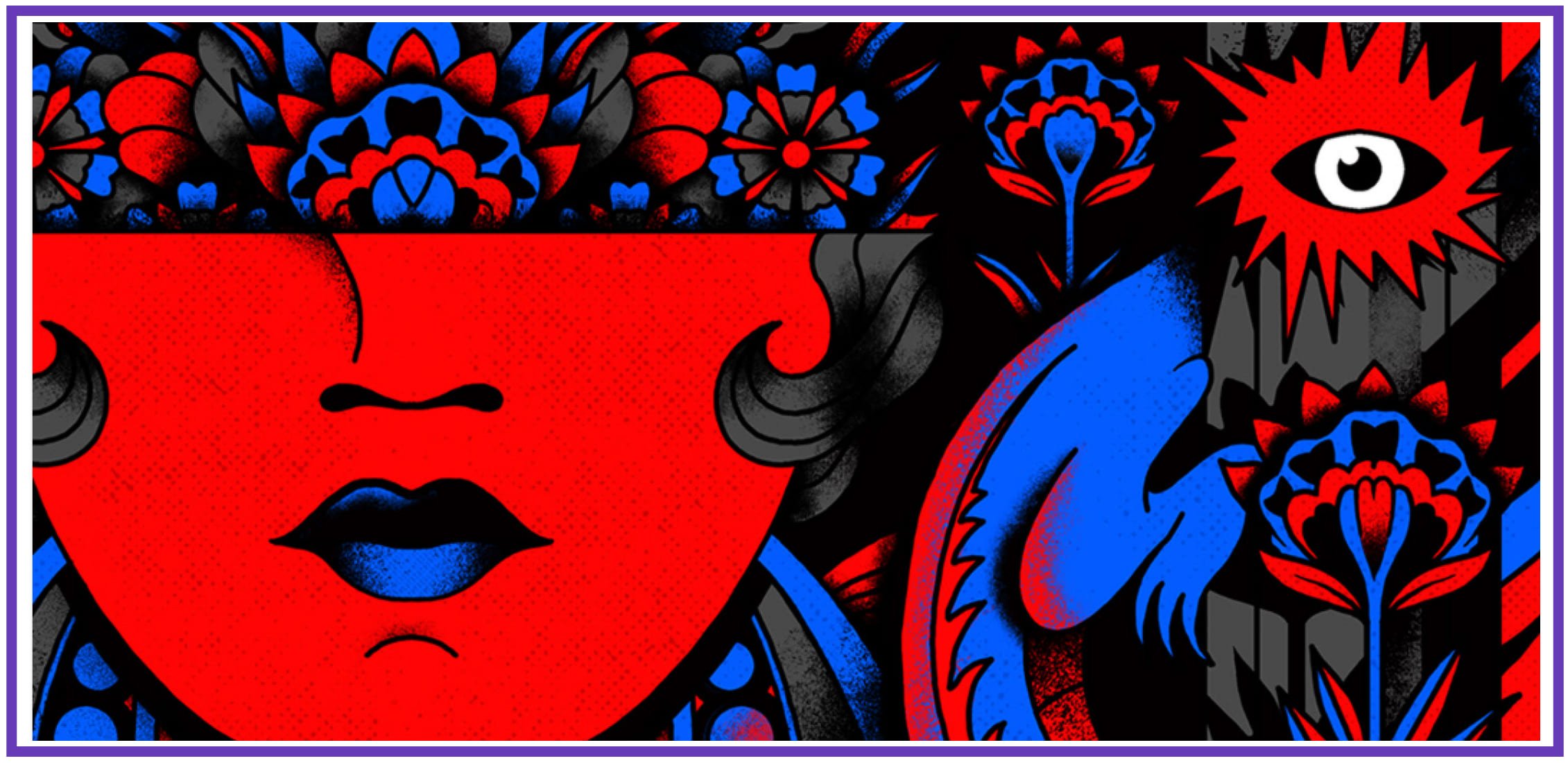 Behance by Jack Mitchell
We see a growing trend towards a psychedelic style that reminds us of the 60s and 70s album covers and the hippie movement. The main attributes of the psychedelic style are acidic fluorescent colors and smooth flowing abstract shapes.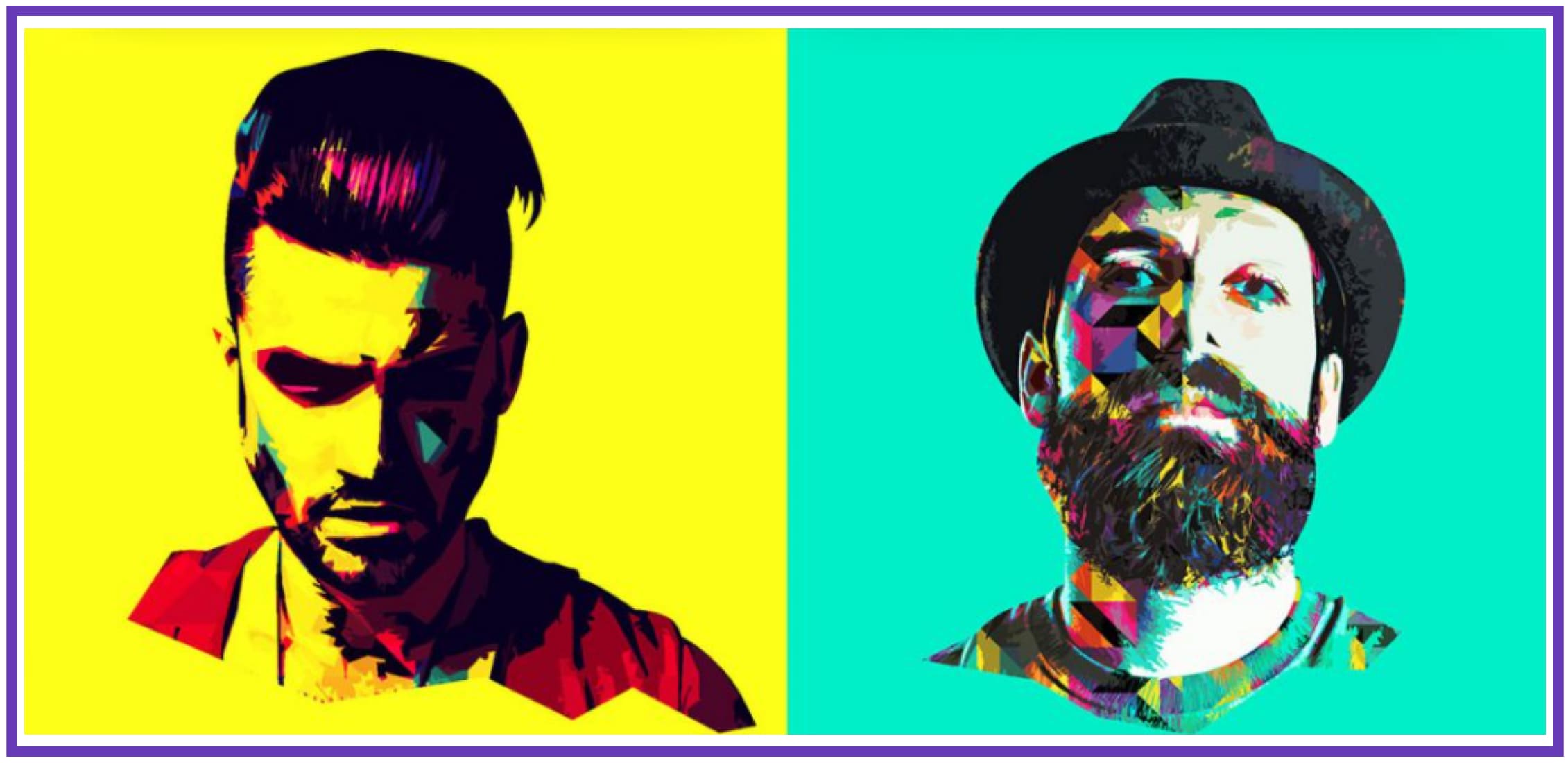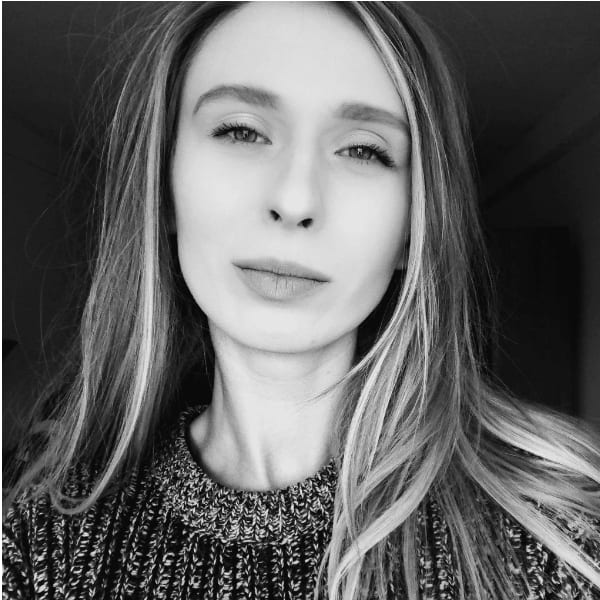 With more than ten years of professional experience in this field, she successfully executed fashion, fine art, and documentary photography. She published in Chasseur, Fashionisto, Flanellemag, Paperonfire, etc. At present, she works as a Content Curator at Depositphotos.com and manages personal commercial and creative photoshoots.
Typography Trends in 2021
2021 is going to be a year of eye-catching fonts. In the past few years, bold type fonts have become increasingly popular as they grab attention. But at the same time, minimalist fonts are still popular in which there are no corners and other features.
What fonts are trending in 2021?
Work Sans
Chaney
Ambit
Futura PT
Gilroy extra bold
IBM plex sans
Knile black italic
Archivo bold
Chivo black
Helvetica
What is the least popular font in 2020?
Souvenir.
Gill Sans.
Arial.
Courier.
Grunge Fonts.
Rotis.
Comic Sans.
Avant Garde.
Vintage Fonts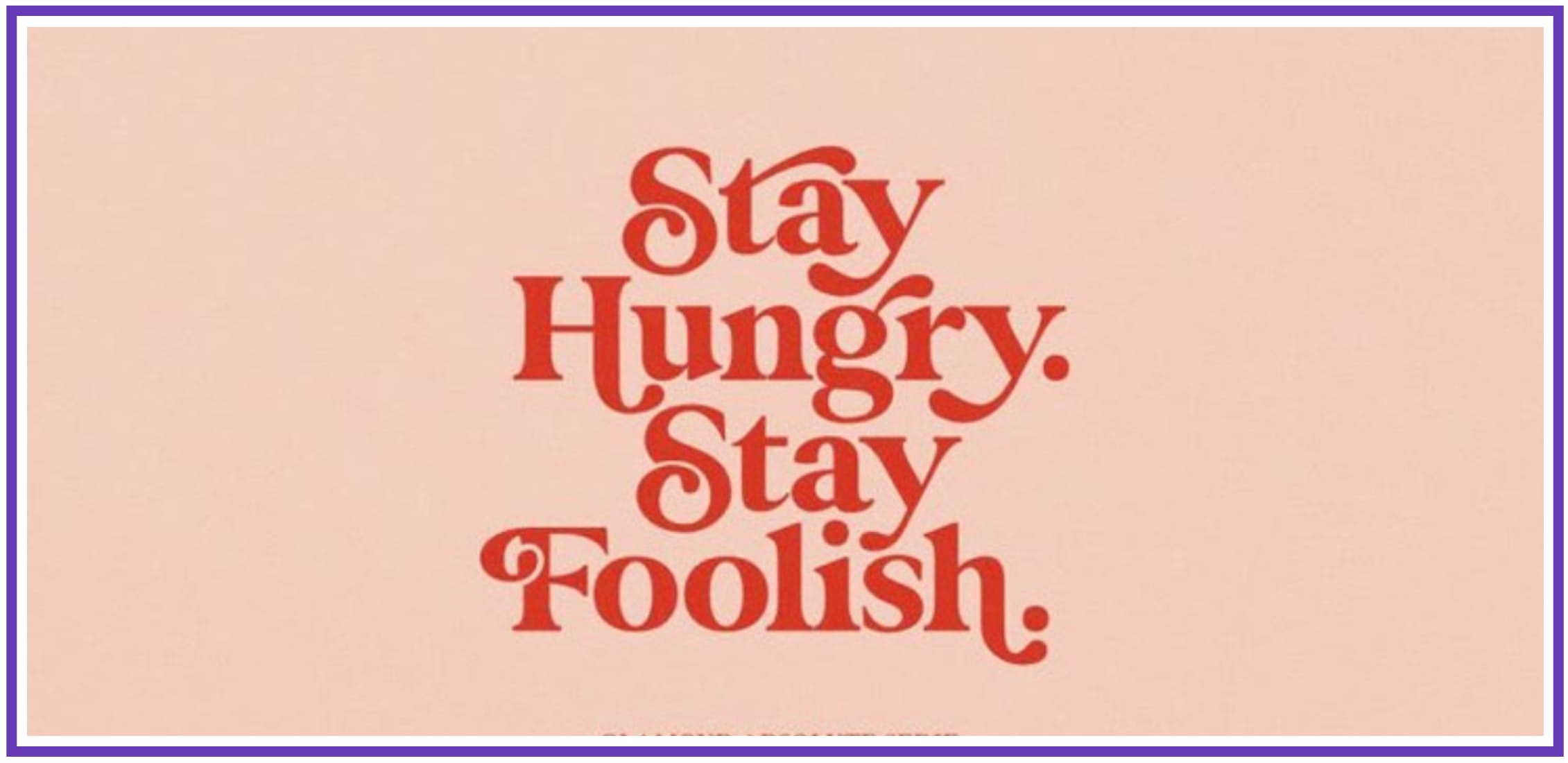 By: Nicky Laatz
More and more elegant, vintage-style fonts have been released lately, for example, Glamor Absolute, which is suitable for various projects. These fonts add a nice vintage feel to your designs. This retro trend was still rooted in the 70s and 80s in trendy and vibrant type design.
Vintage Monoline Font: Gillnord Script (4 Fonts with Extras ) + 24 Vintage Illustrations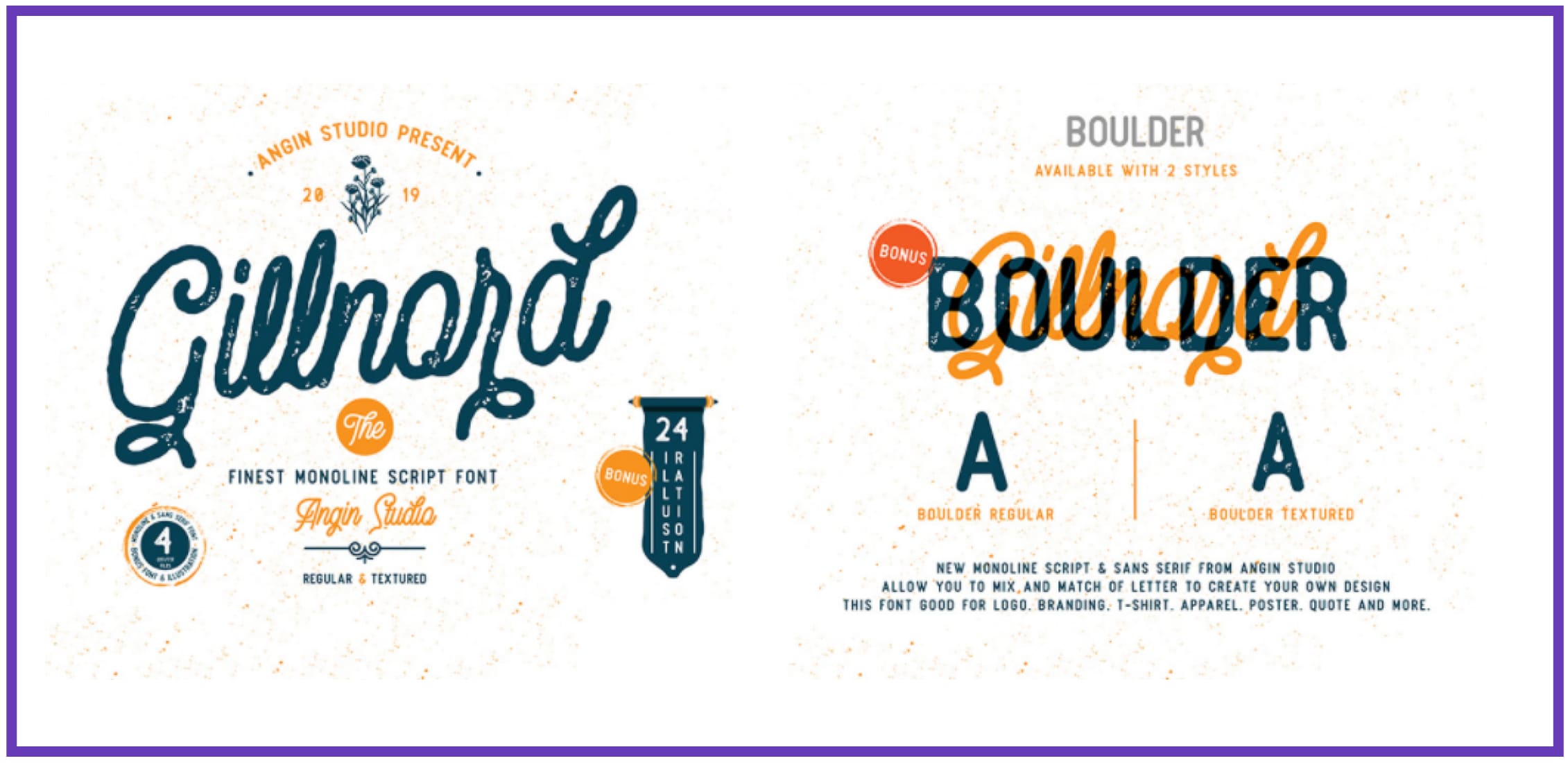 Voltury American Vintage Font Duo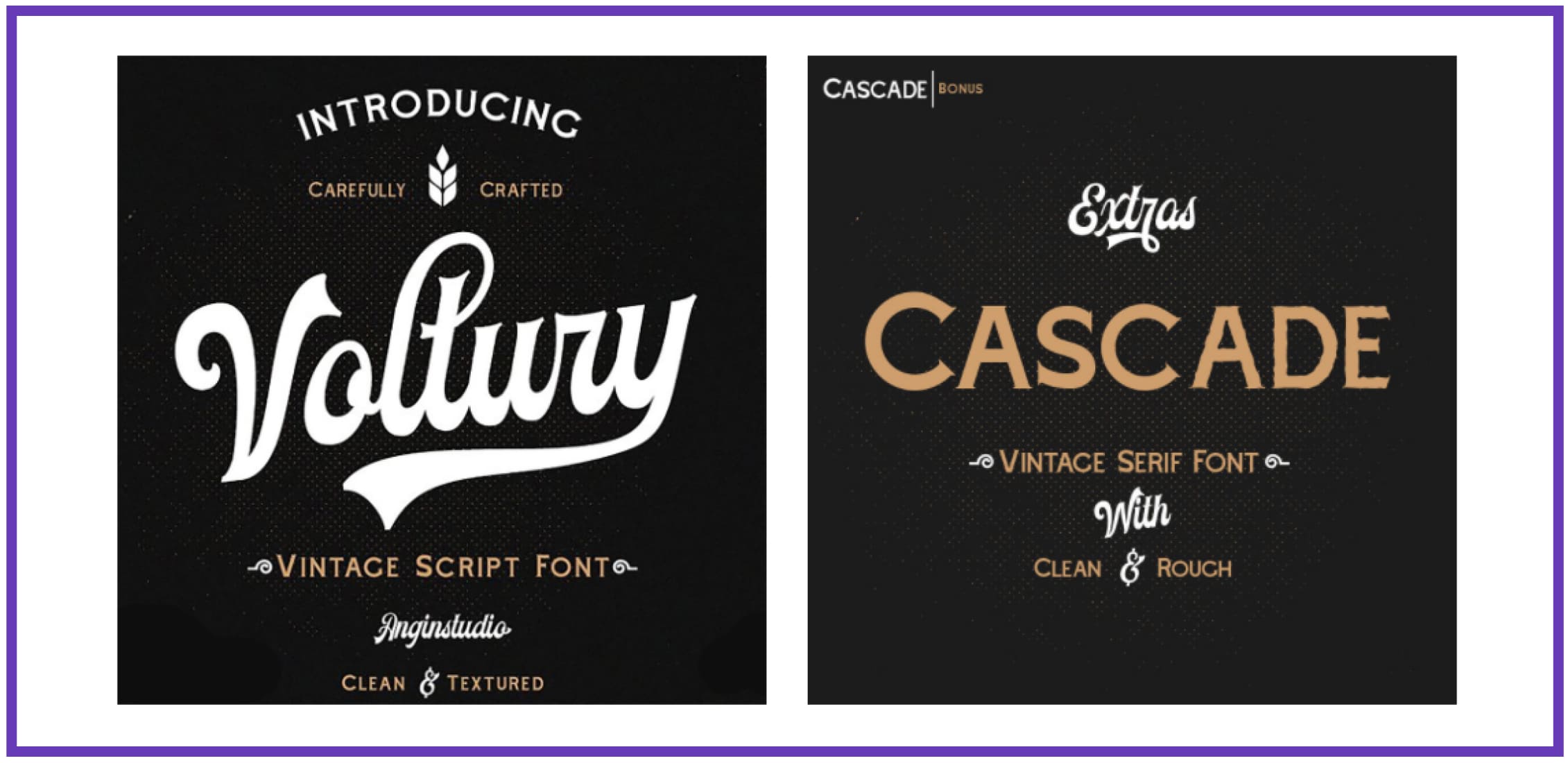 Benford Layered Vintage Industrial Font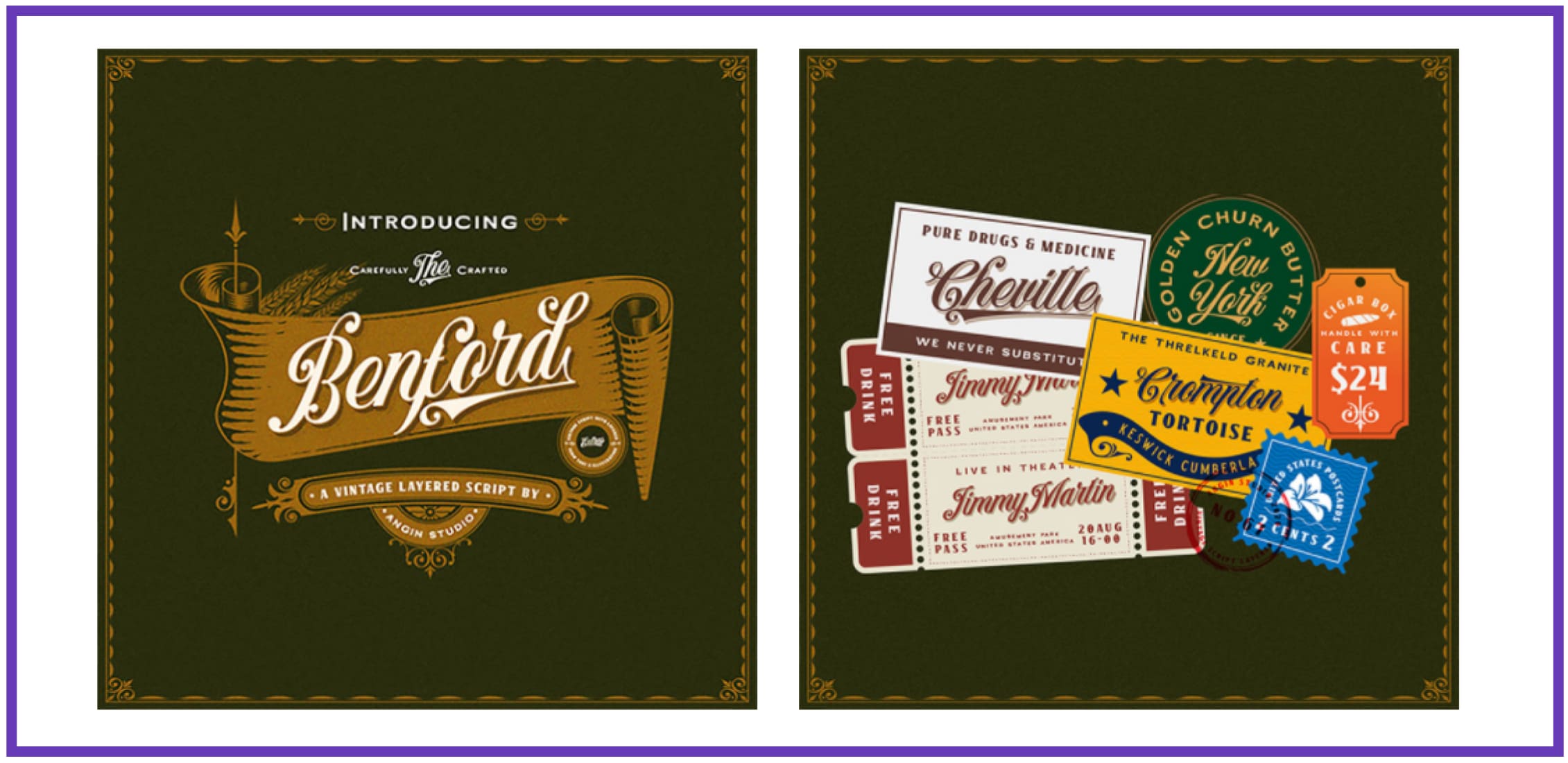 60s-90s Nostalgia Fonts
To get the 60s-90s effect, you can use bold typography and add a chrome effect to your text, add a neon glow, or create 8-bit pixel art.
Neon Blue Text Unturned Layer Styles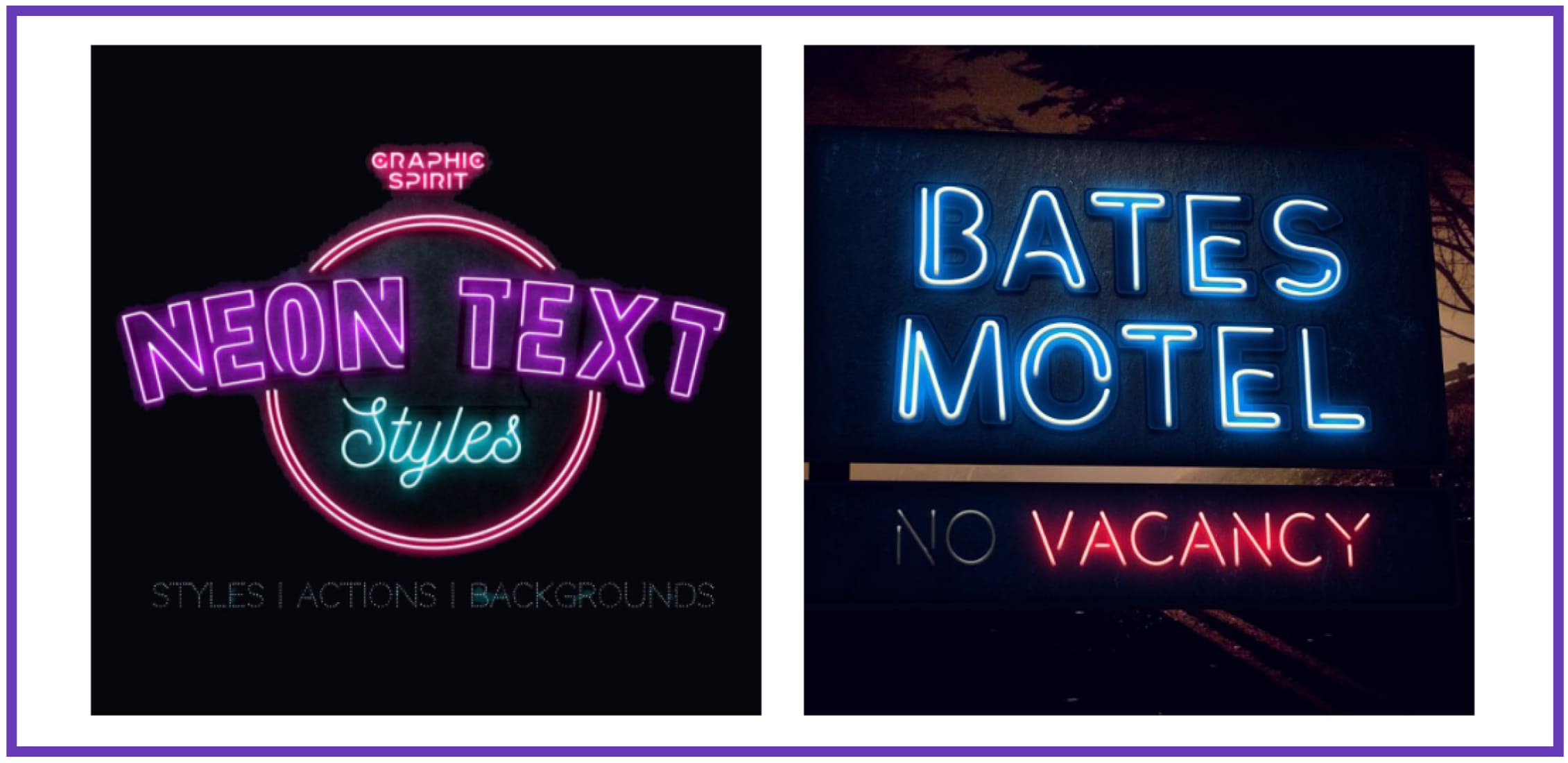 60's Retro Font | Free for Personal Use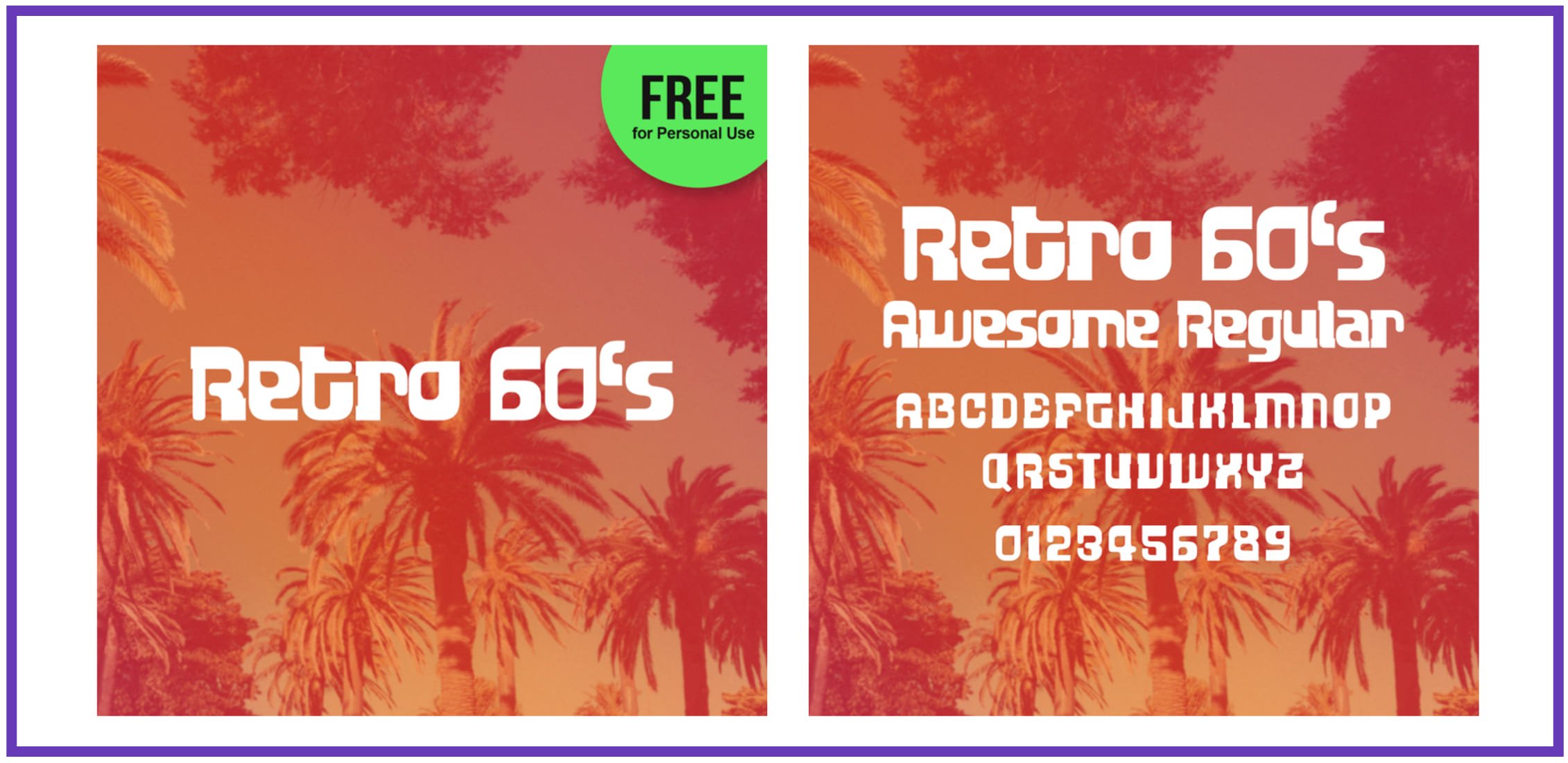 Free 70's Retro Font | Personal Use Only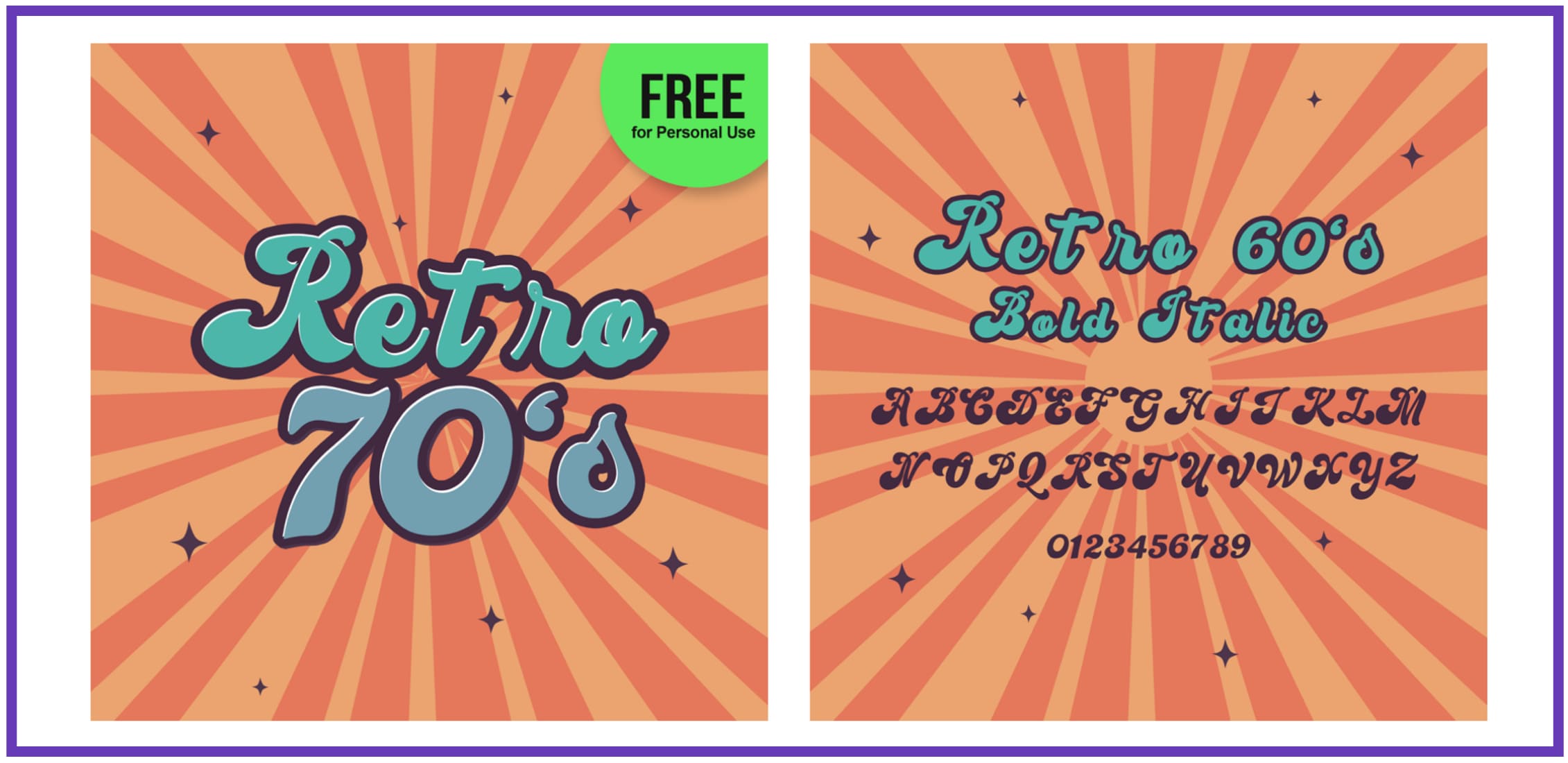 80's Retro Font | Free for Personal Use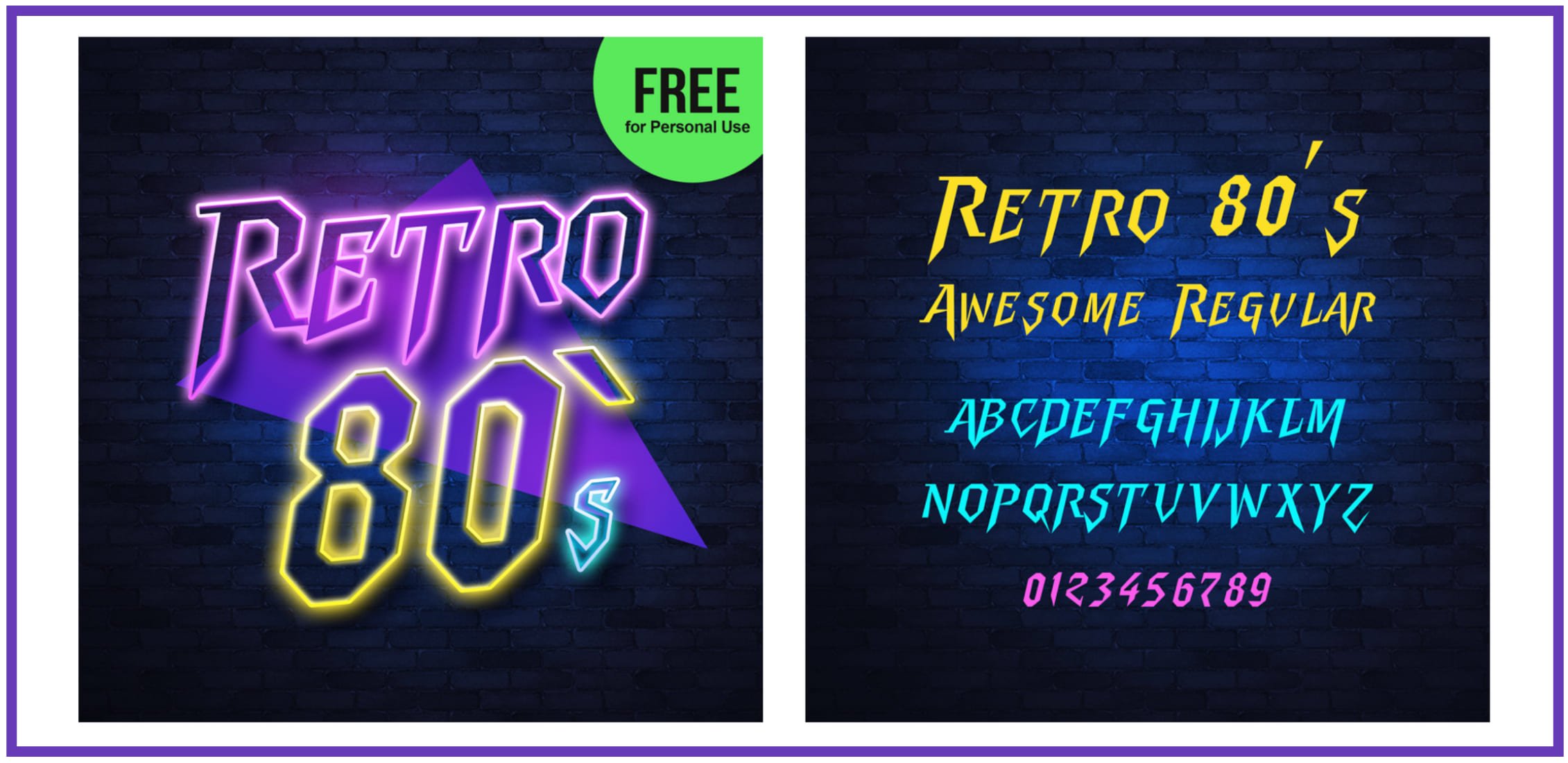 3D Typography Design
According to the forecast for 2021, popular typographic designs of 2020 will be converted to 3D. Ultra-realistic lettering that makes it feel like you can touch it.
Along with the 3D design, there are elements of animation, texture, and pattern. In fact, the typographic design is fast becoming a great symbol of innovation in graphic design that uses all of the trendiest, most popular techniques.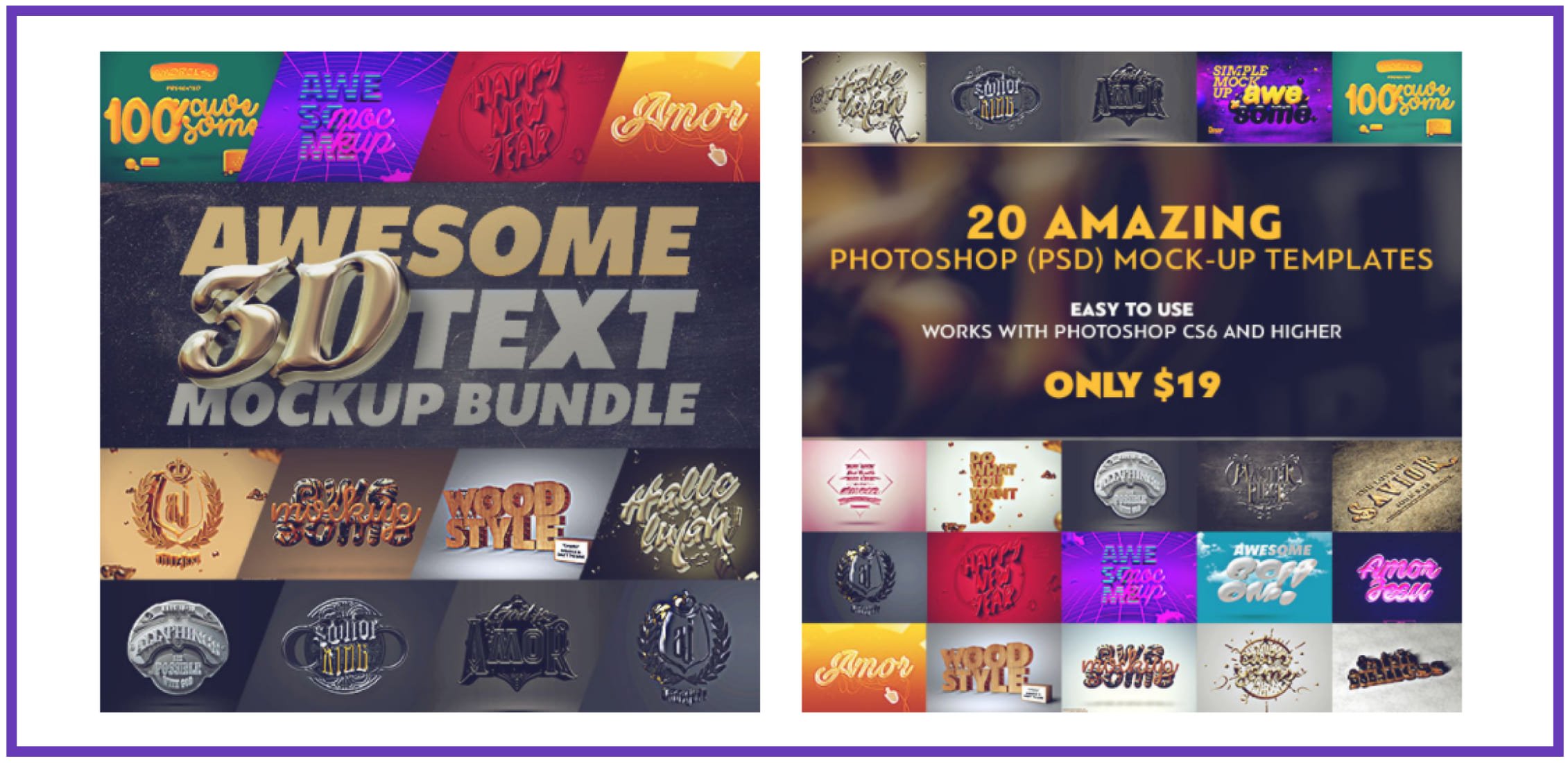 We see the rise of 3D technology in everything from typography to imagery. The 3D depth and total immersion draw the viewer into the design. Gradient coloring, shading, and drop shadow effects create great clarity and lots of fun to keep the browser on the page. When added to other trends such as motion and animation, sites become more and more hypnotic.
Chaotic Typography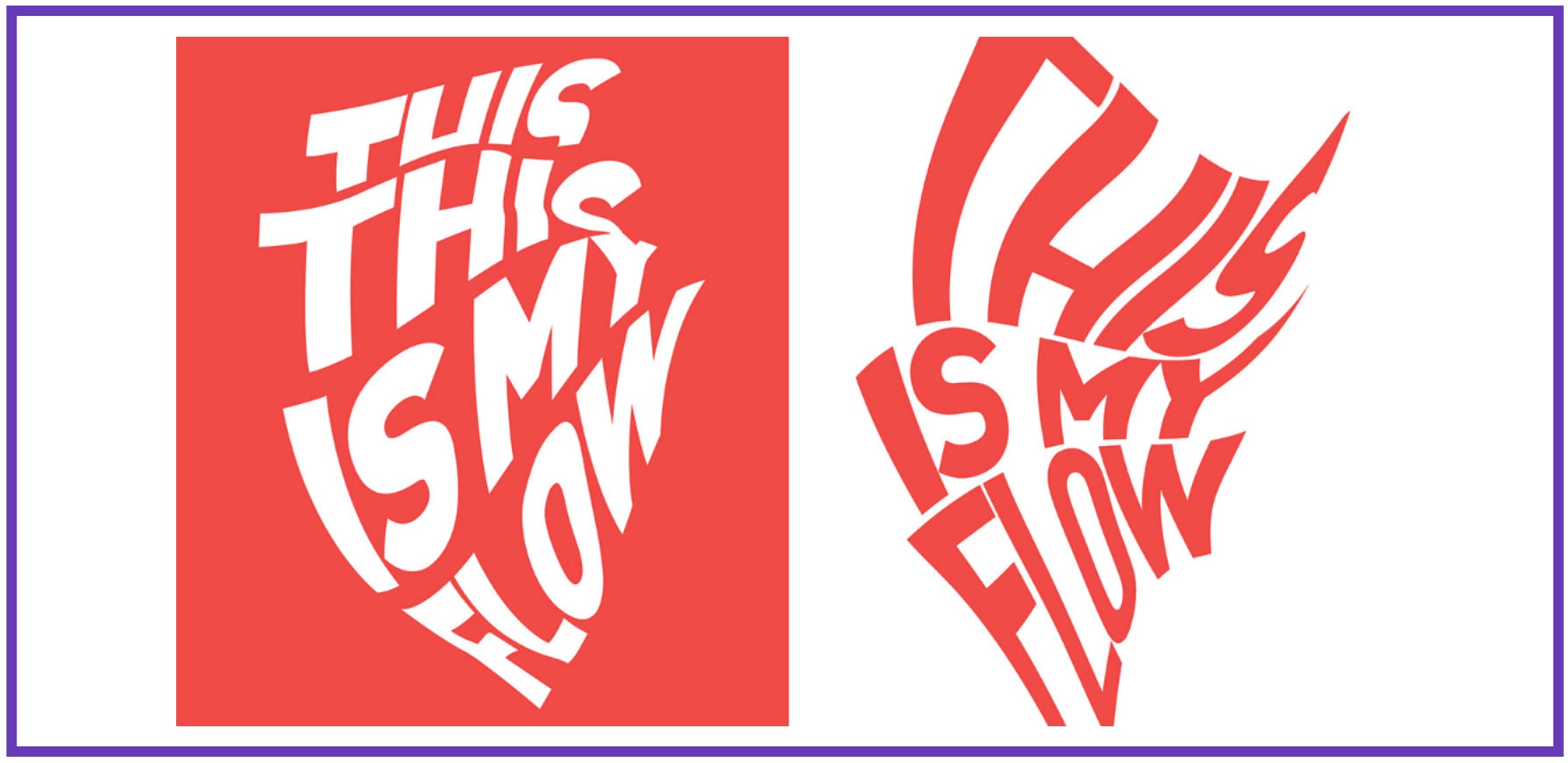 Behance Puma
Chaotic typography is the way of creativity for designers. The creation of such a font is characterized by a violation of the alignment and order of letters and words.
The great example is the Puma campaign — This is my flow.
Kinetic Typography
Kinetic typography (so-called text animation) — is still used in design today, but it has a slightly different look.
Designers try to make a person consider all the elements, immerse themselves in the picture. The thing is that our brain is largely built on templates, and one of them is an easier perception of symmetrical, direct images. If something gets out of the ordinary picture or does not go according to plan, the brain cannot pass by and wants to figure it out – which means that it is more likely that the viewer will not only watch the video to the end but also return to it more than once.
For more inspiration, take a look at kinetic typography experiments animation.
Artisanal Type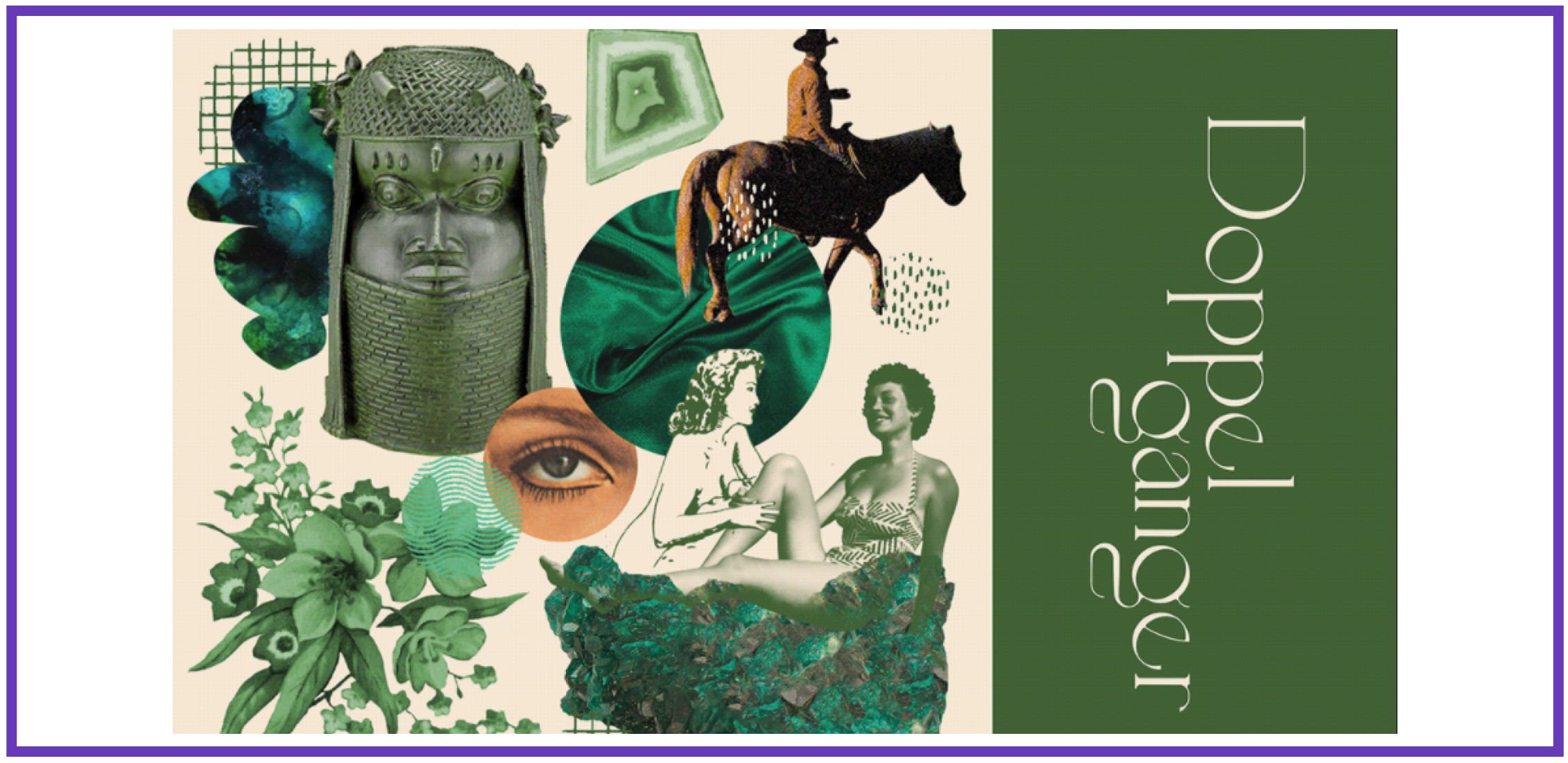 Behance by DOPPELGANGER
The next trend is artisanal typography. These whimsical new sophisticated fonts emphasize rounded lines and add whimsical touches to your graphic design projects. You can find a selection of Artisanal Type fonts here.
Such fonts are very aesthetic and readable. Thanks to their style, you don't need anything else to become memorable.
APP Design Trends in 2021
Along with visual trends, we also present technological ones, keeping in mind that design is design, in fact, engineering work, and not just the selection of gradients. We value things first of all not for the color, but for how well they solve their problems. The teapot handle, its shape, material is part of the design. If there is no handle or it gets very hot, the kettle is not a kettle. Mobile and web designers who are familiar with technology will offer holographic calls instead of chatting through instant messengers where appropriate.
The Virtual Reality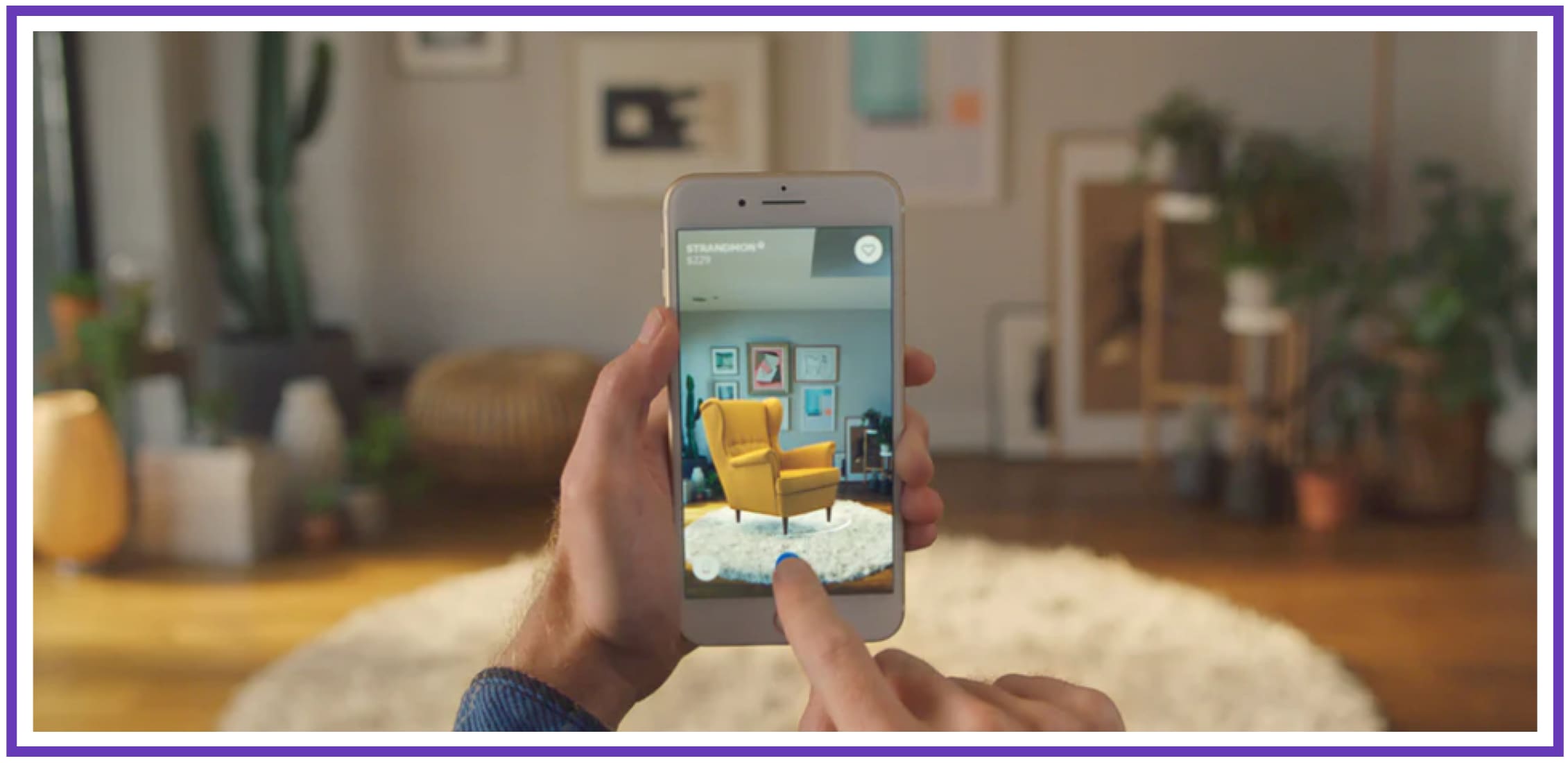 IKEA
Virtual reality has become more valuable in 2020 during the quarantine period. And now, virtual reality is a hit for user interface design on both iOS and Android. Accordingly, this trend will not lose its relevance in 2021. This interactive and immersive experience is only available on a mobile device.
With subtle yet eye-catching design elements, we feel like we are inside the application. For many, it's like a virtual game.
For example, the IKEA mobile app allows us to see how the furniture will look in your home, eliminating the unnecessary risks of buying it wrong.
Interaction with virtual reality in an application has been proven to increase user confidence in the product.
No Boring Data Visualization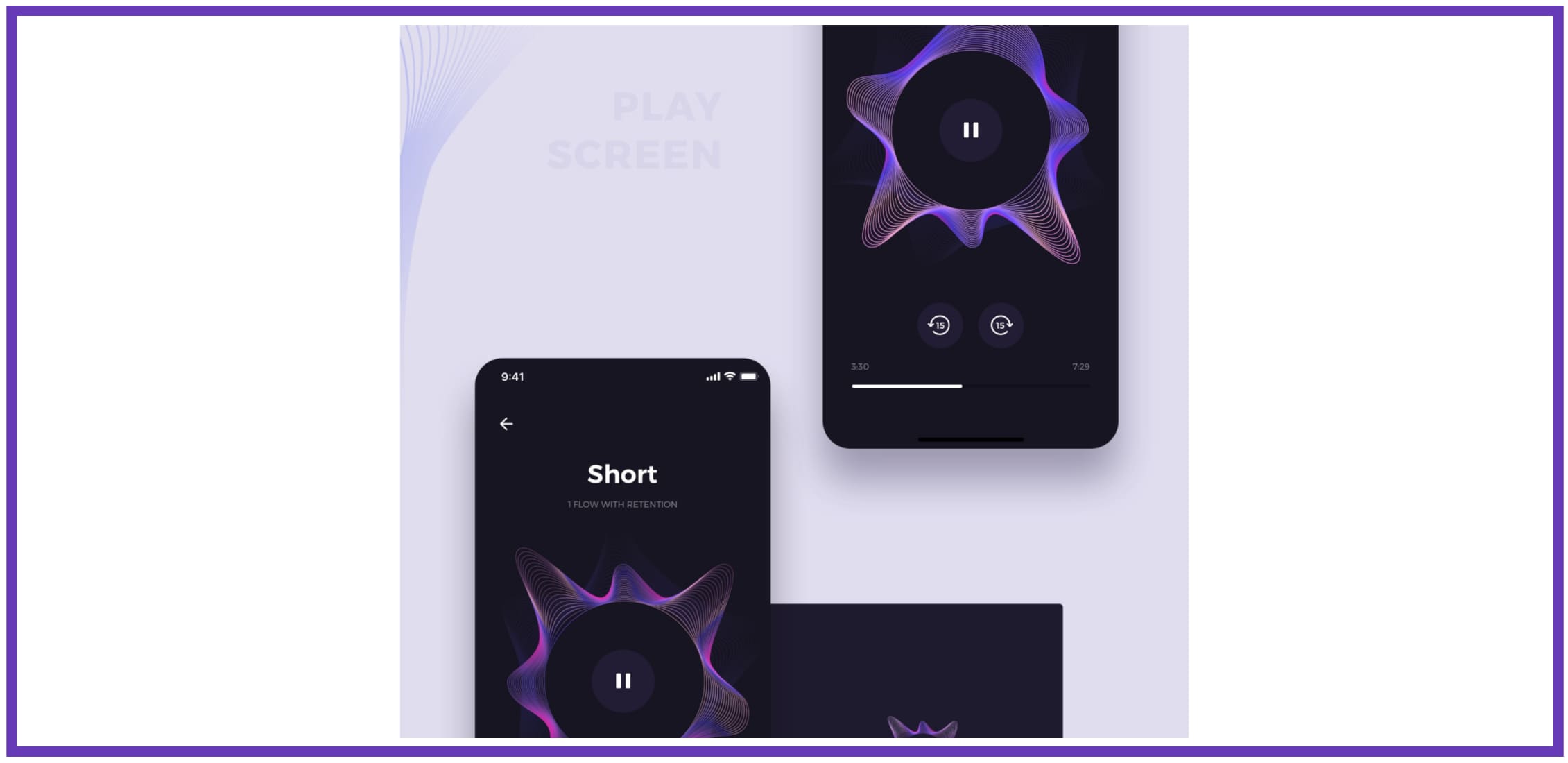 Typelab D
Data visualization can add a little creativity to the development of a data presentation application or general presentation.
Use a variety of animations, graphics types, and colors. This will give your data a more interesting presentation. For example, wave patterns create a subtle hypnotic effect that makes you want to watch.
Shadows and Layering
Kama iOS UI Kit for Sketch & Photoshop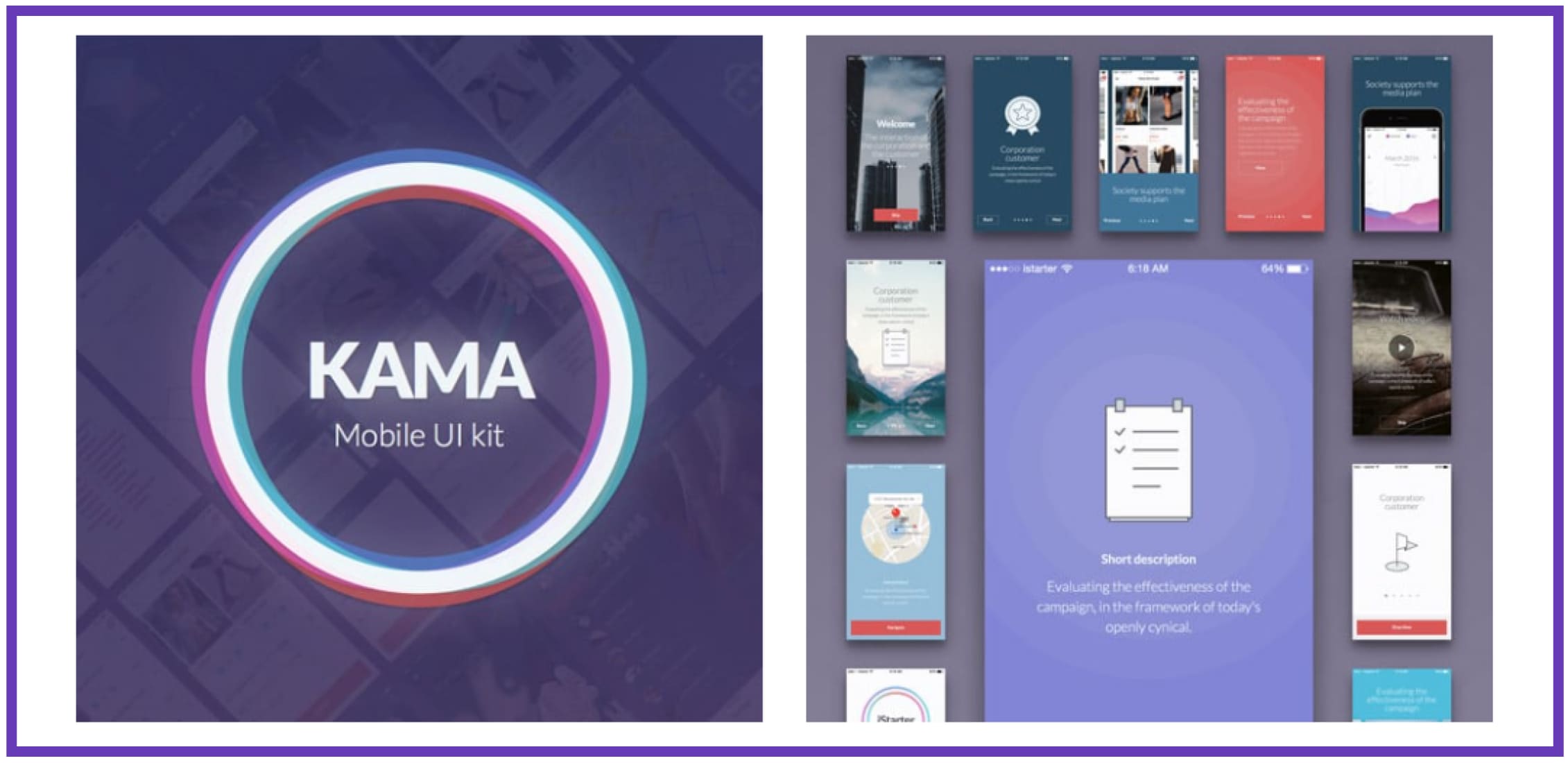 Create visual depth by adding strong shadows and contrast to graphics, photographs, and other design elements. This path is the fastest and easiest.
Shadows and layering are one of the most popular trends in app design. The creators rely on bold dark shadows, layering of elements, and light internal hierarchy.
Neumorphism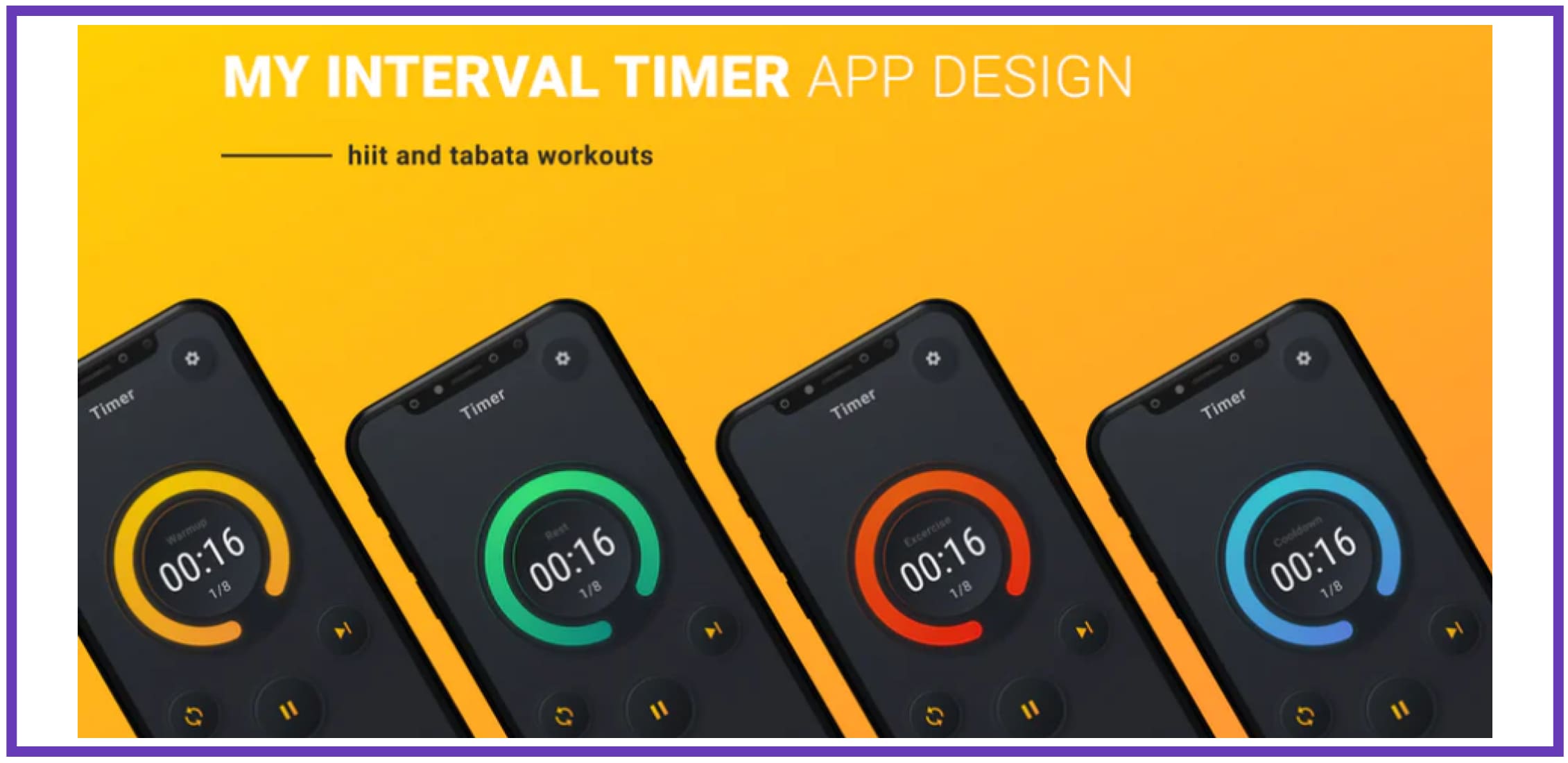 Design by ODarka
This trend concerns icons and buttons. It appeared to diversify the monotonous minimalism.
Neumorphism usually uses flat icons and buttons. This effect gives the buttons a volumetric look. It's like sweeping away simplicity and realism at the same time, thanks to this tactile effect.
Web Design Trends in 2021
Minimalism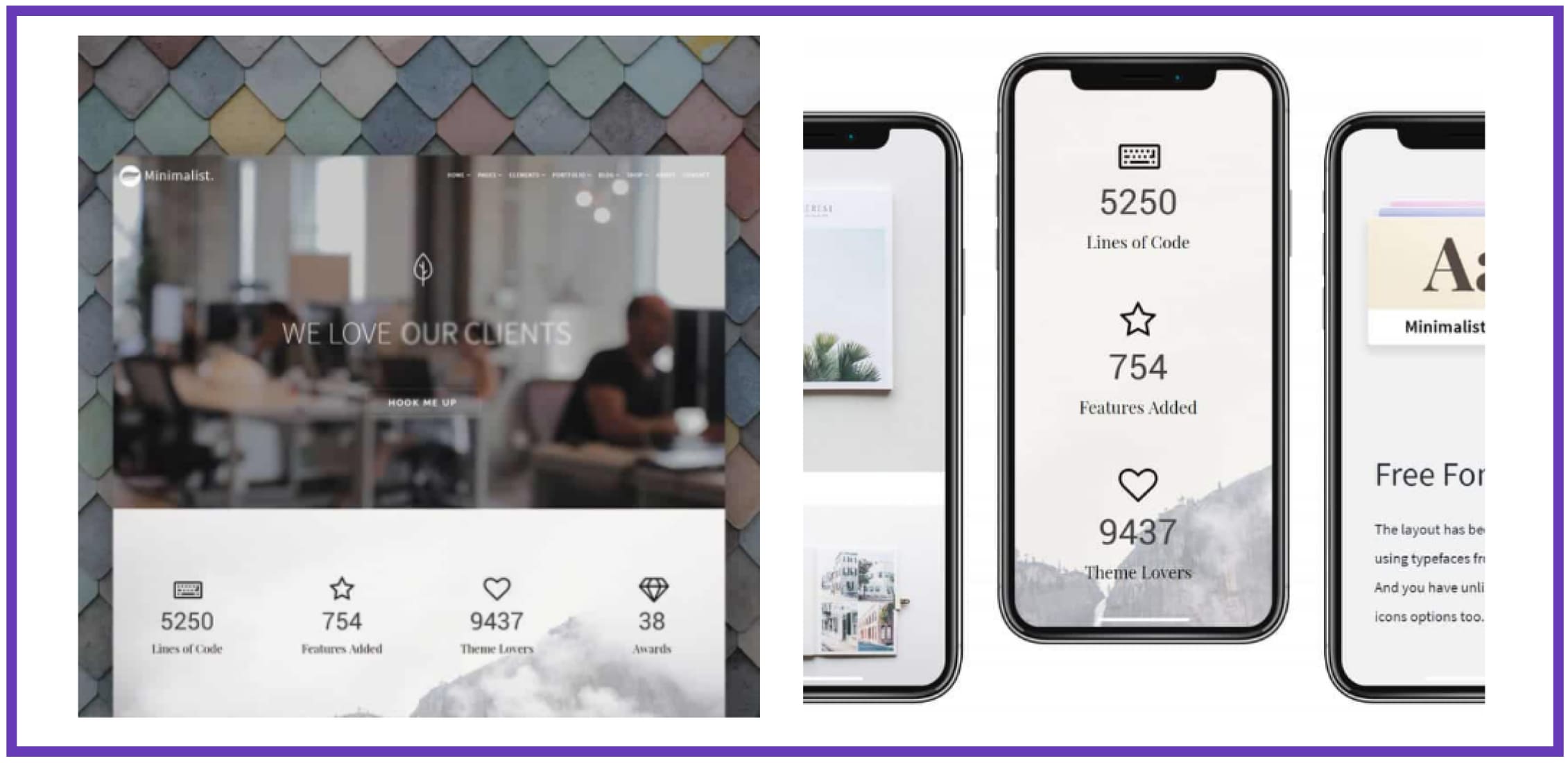 Minimalism is a design trend that has not lost ground over the past few years. This design principle assumes only the use of basic elements, clean text, and white space. This design is simple, memorable, and functional.
Today, minimalism is gaining momentum in both graphic and web design. Simple fonts, block colors, and bright backgrounds, and other minimal design elements are used. This simplistic design provides usability, which is why this trend is unlikely to cease to be relevant soon.
Parallax Scroll Animations
Parallax scrolling effects have fascinated many for a long time. In 2021, parallax scrolling effects reach the next level — animation. Of course, you need to consider how voluminous the animation will turn out so that the site does not hang for visitors.
It is also important that visitors are not distracted from important information. Alternatively, limit the parallax effect within the site.
In any case, your site will be dynamic and memorable if you only use it on the main page of the site.
Dark Theme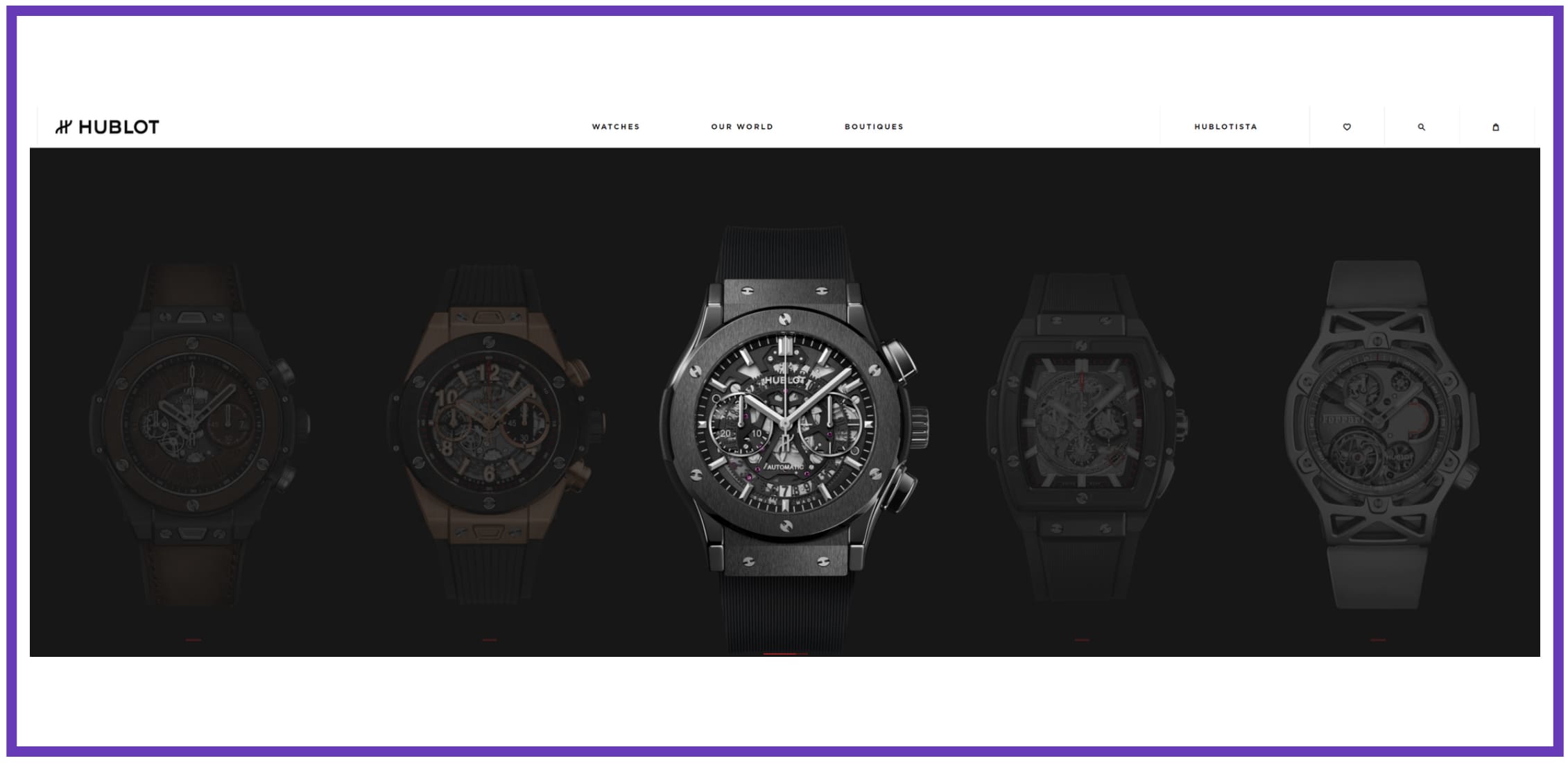 Hublot/a>
It is worth paying attention to the design of the landing pages of big brands. Let's take as an example Hublot website, etc. We got just a color change: more noticeable design elements, high contrast ratio, less strain on the eyes, elegance. Besides, dark shades allow the neon glow effect, which is also one of the new trends.
Black color has become widely used, and more and more sites began to acquire this color because according to the studies carried out, it turned out that black elements have the following advantages:
make design elements visible;
create contrast;
give the resource elegance and conciseness;
does not overload the vision.
Asymmetric Layouts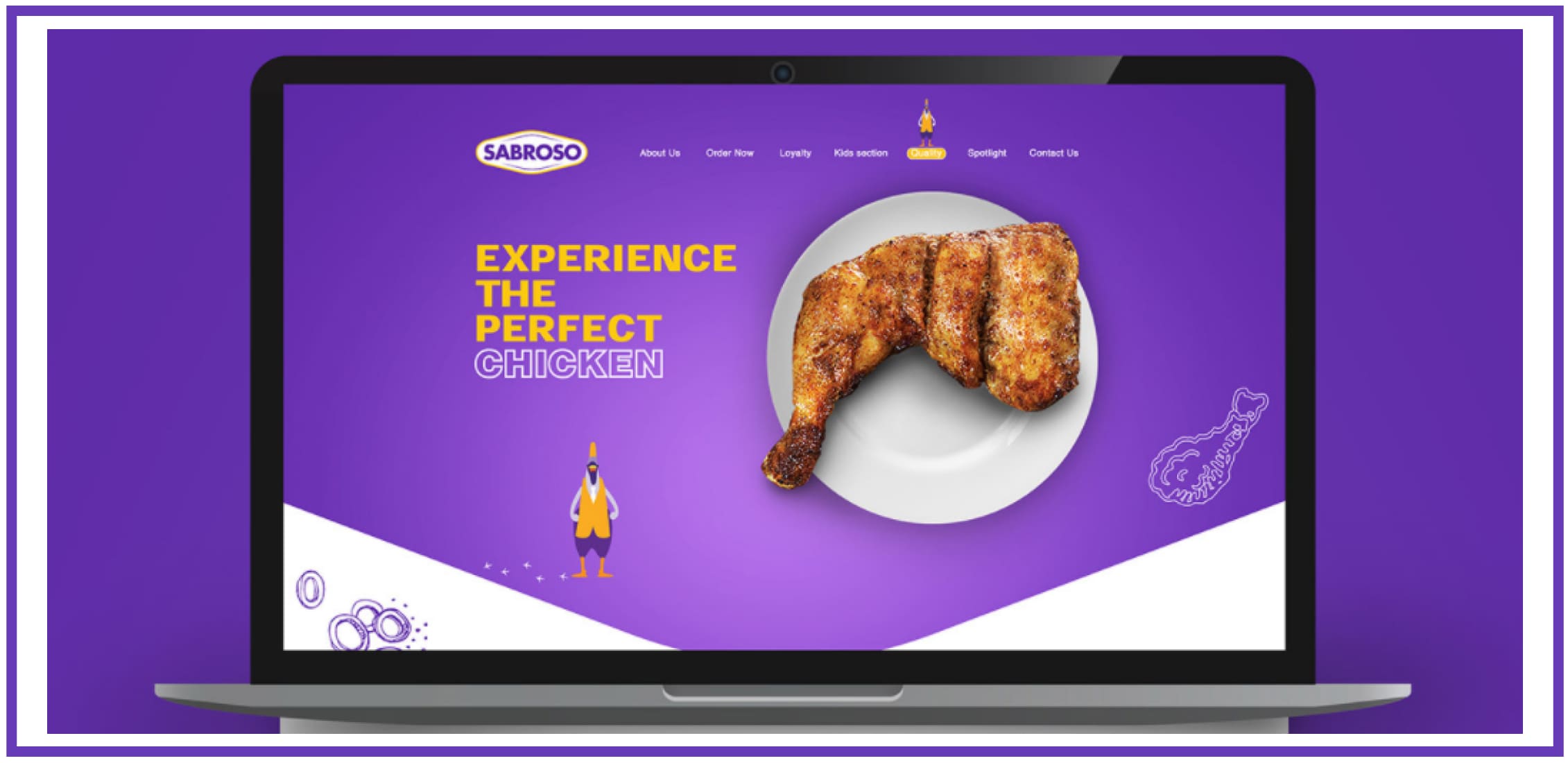 Cheerful, interesting, moderately brutal, and unique web design entered the trends of 2021. All these characteristics can be realized using asymmetry. For a long time, all sites were created according to a certain grid. This made the structure clear, pleasing and emphasized important aspects. Today, such a model is already considered outdated and unoriginal.
In this case, when using asymmetry in web design, it is important to consider balance. For this, special testing is carried out to determine the ease of page weight for search engines and the client's perception.
To draw attention to certain things on the site, the elements must grab attention visually. This is possible by creating a site and increasing the blocks' size that you want to draw the user's attention.
Custom Cursor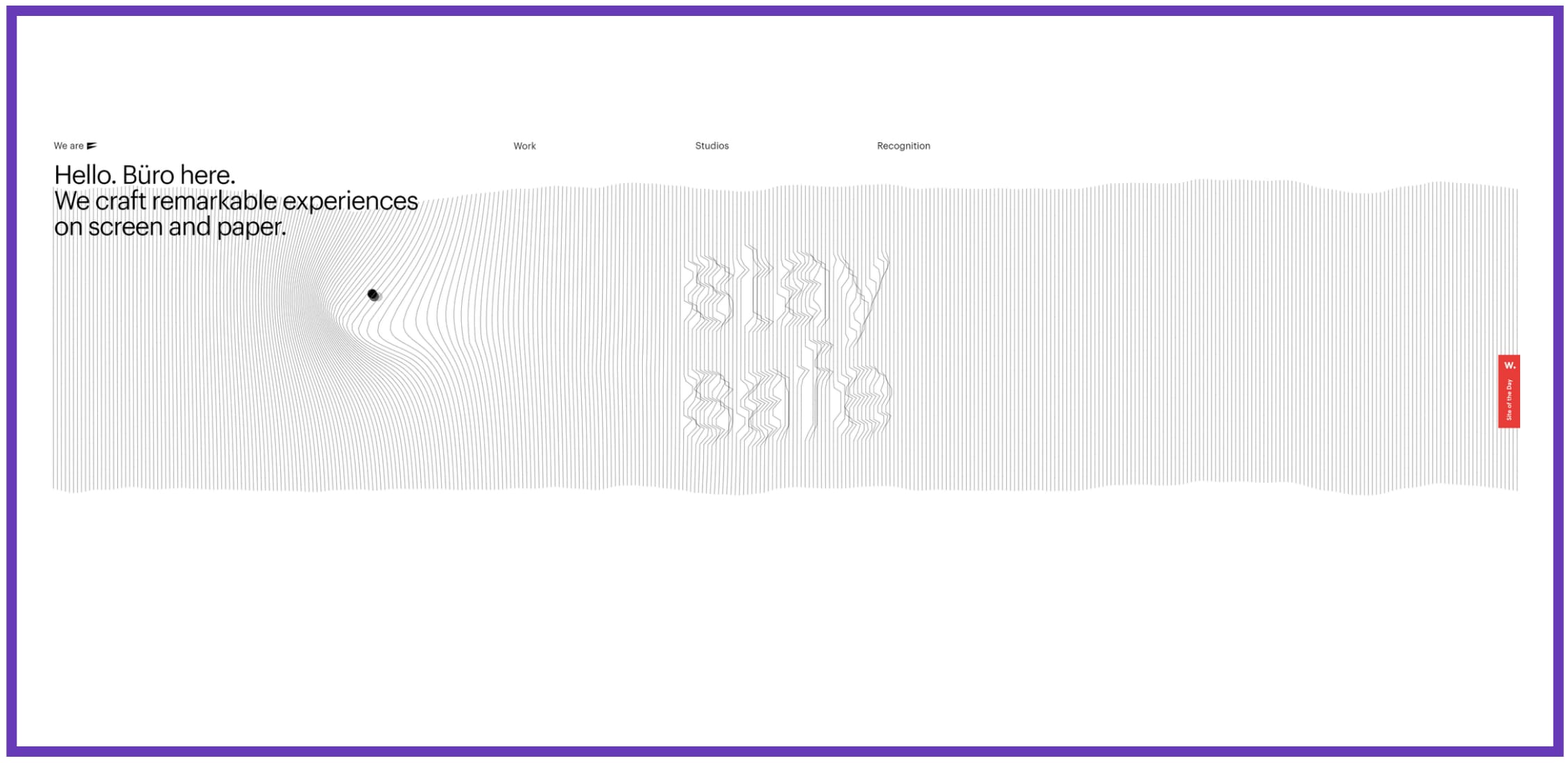 Burocratik/a>
For some reason, most designers are content with a simple old arrow.
And what if you take that part and turn it into something cool, that's a real achievement.
Logo Trends in 2021
Everything in our world is changing rapidly. Others are replacing some current trends. Companies that want to keep up with the times need to follow them to be in demand. This topic even applies to logos that brands are improving and modernizing.
It is not correct to think that it should not be changed once you have created a logo. This is confirmed by the big brands, whose logo history can be read.
What will be relevant when it is issued in 2021, we will tell below.
Hand-drawn Logos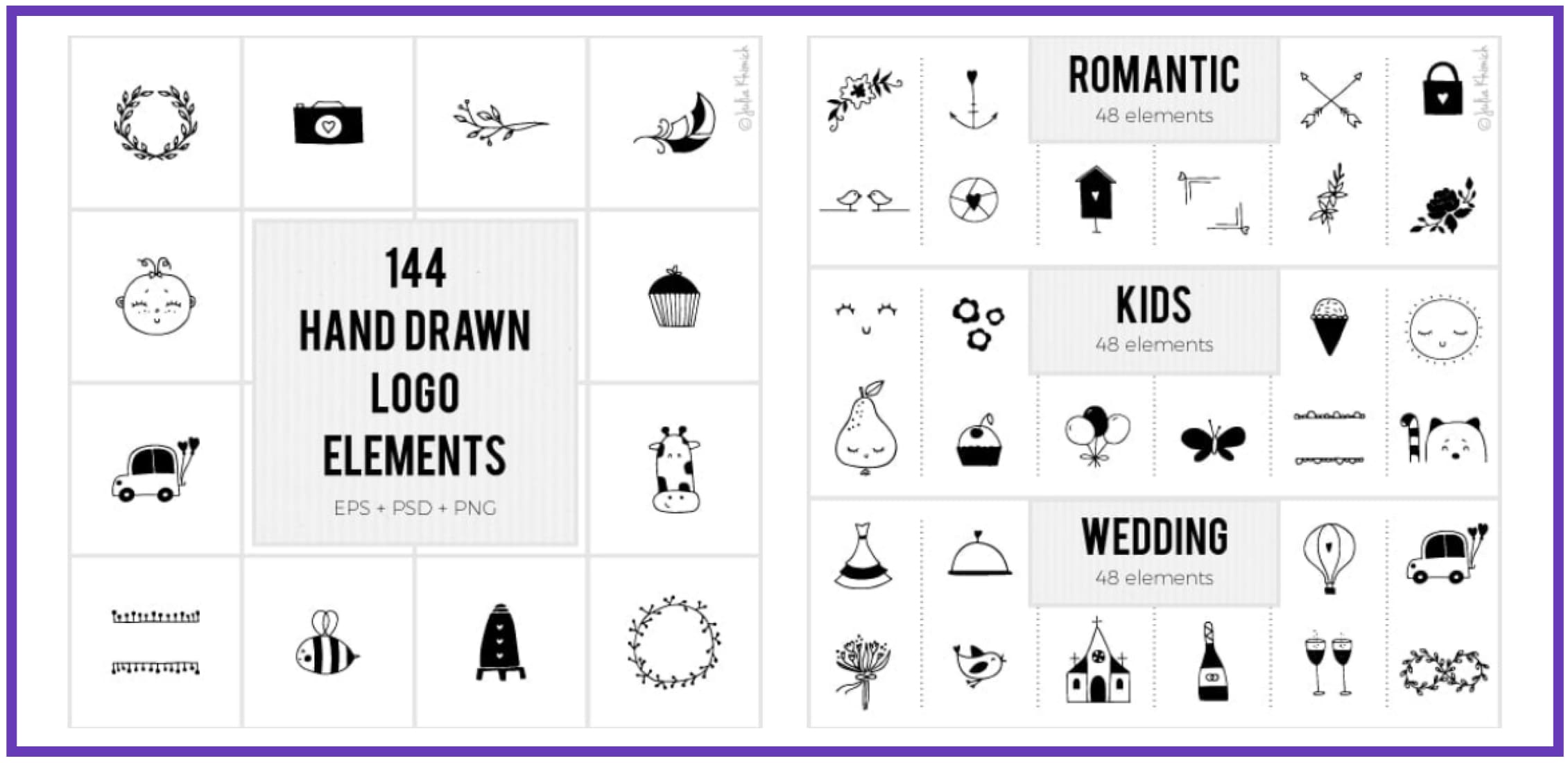 Recently there has been a tendency to simplify the logo's appearance, which has led to the creation of many identical signs with typical text elements. As a result, the recognition of companies has significantly decreased.
This encourages brand owners to think about their unique style to differentiate themselves from the competition. Hand-drawn logos, in this case, are a successful start, which helps to highlight the distinctive mark and characterize the brand, emphasizing its individuality.
Minimalism and Thin Lines
Minimal Typography Logos Bundle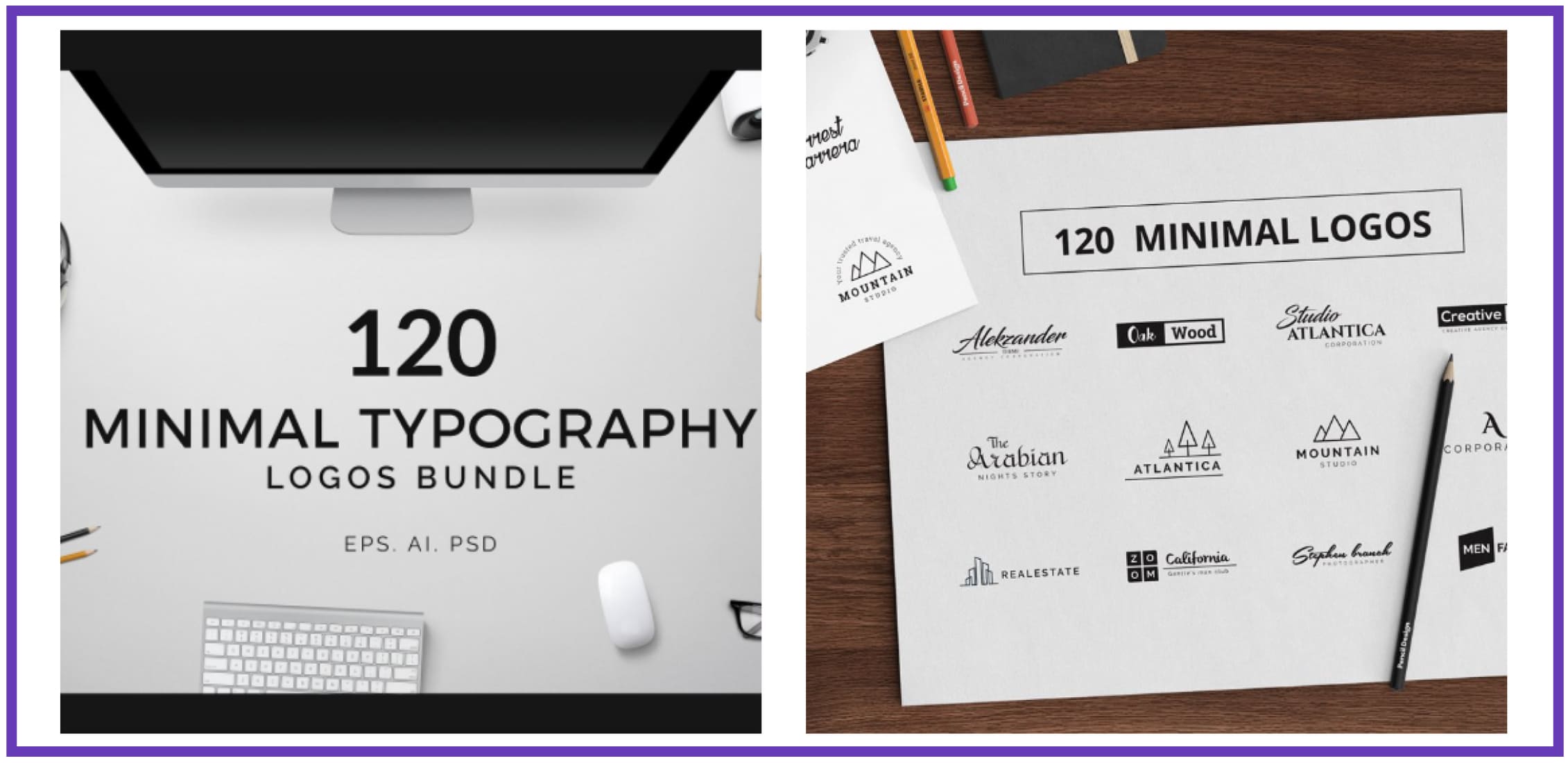 According to forecasts, in 2021, minimalism will find a new vector of its development. Pay more attention to linear shapes and elements. Thin lines will become relevant, look more aesthetically pleasing and stylish, and help direct a person's attention. So the picture is better remembered and leaves a pleasant impression.
Gradient Logos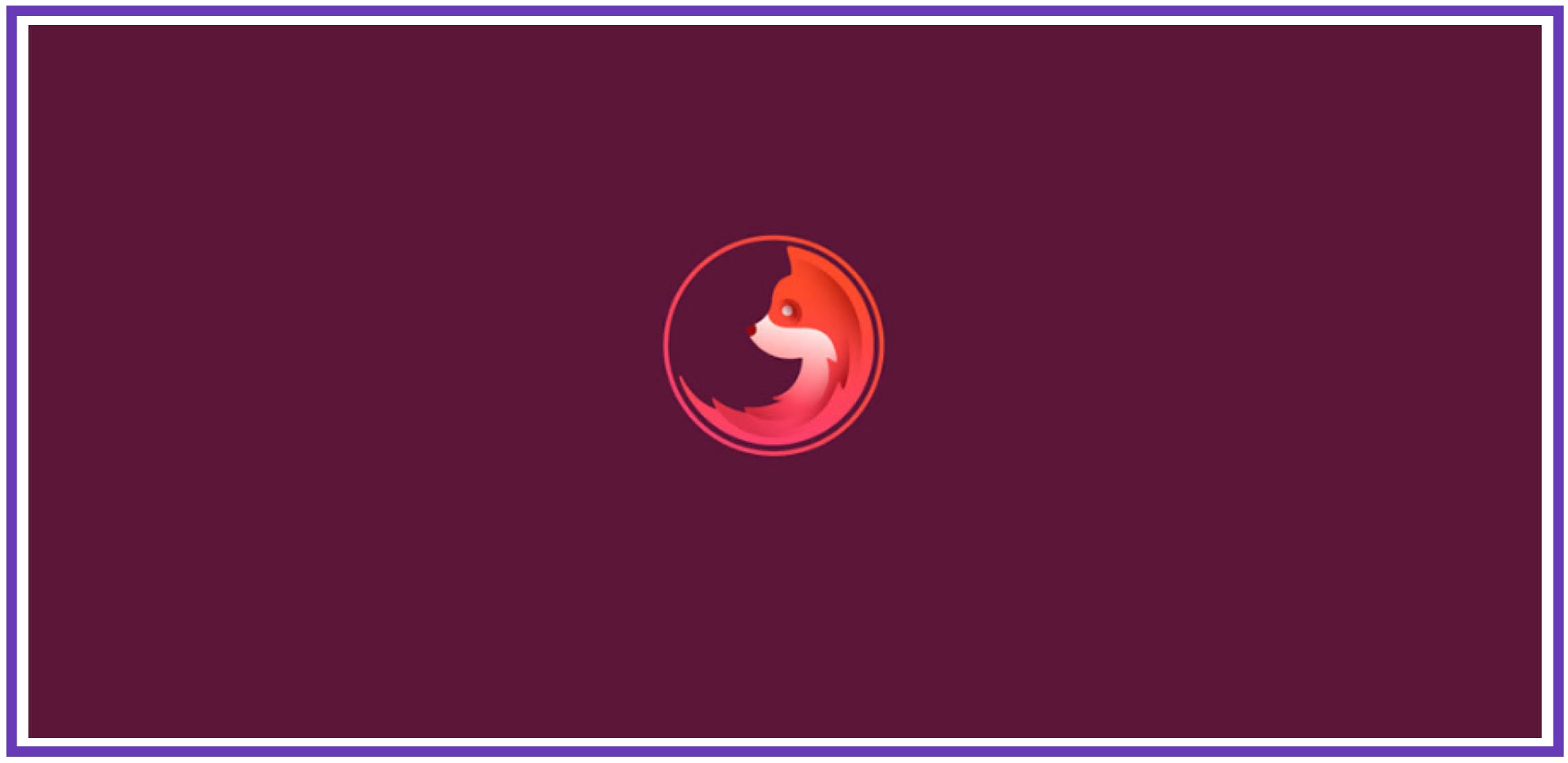 Gradients will continue to be relevant next year, so you shouldn't give up on them when creating logos. Think of your favorite social network Instagram icon. Color transitions add novelty, a sense of lightness.
You can mix two or more shades, and also practically not be limited in application methods. For example, switch them between each other or increase the saturation of a particular hue.
The gradient will give an interesting visual effect, as well as emphasize originality and depth.
Vintage Style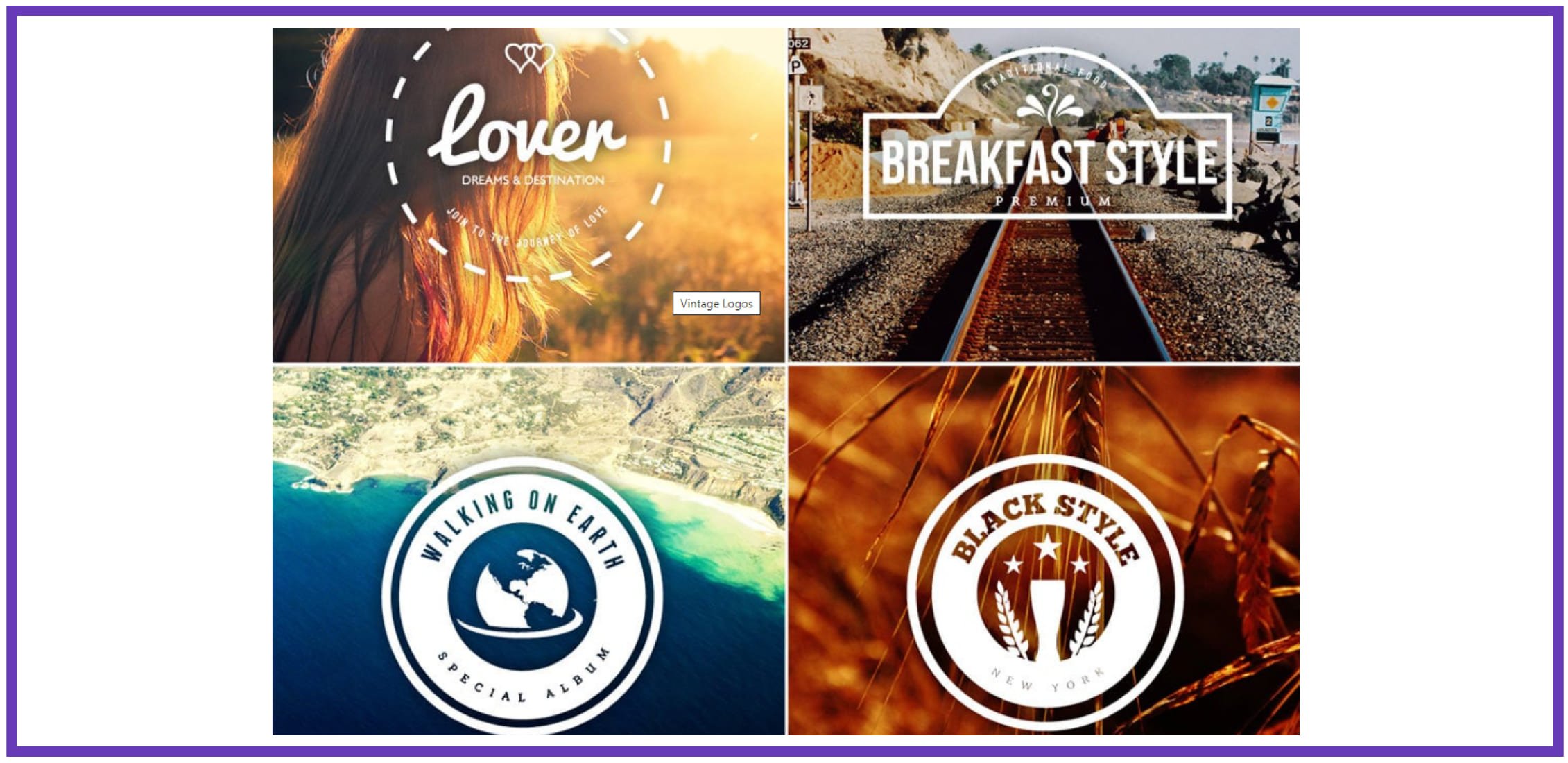 Despite the word vintage, we are talking about a trendy style that makes a confident comeback. And in all spheres of life. It is also relevant in branding. For example, in logos, the simplicity of forms, muted shades, and, of course, a touch of nostalgia are welcomed. All this, according to forecasts, will not lose its relevance in 2021.
The combination of retro art and innovative solutions is relevant. Such a logo will delight customers. And the demonstration of the old days will give a maximum of warm feelings.
UI Design trends in 2021
Today UI / UX designers use this technique and create a layered structure for stacking elements on top of each other. You can also use soft shadows to show more depth. Thus, a feeling of lightness and airiness of the entire image of the site is created.
Glassmorphism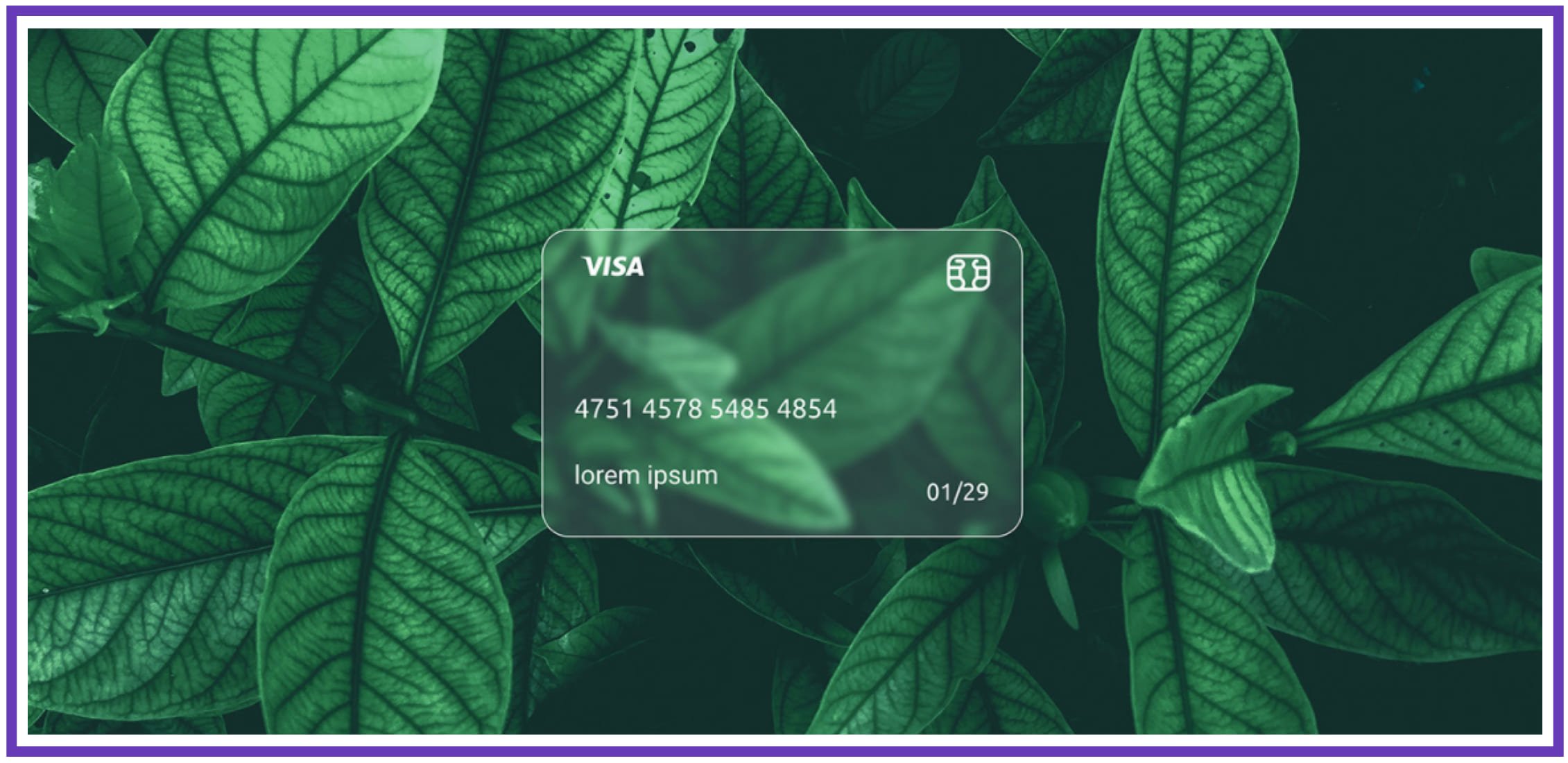 By Siddharth Shrivastava
Have you heard of the newest trend called glassmorphism? This UI design trend is based on an effect called background blur. Thanks to him, you seem to be looking at the elements "through glass".
We can remember him from the days of Windows Vista, and then in iOS7. Today, this thread is gaining popularity in an updated form. If you want to experiment and make sure that the glass morphism trend is close to you, try this Glassmorphism Generator tool.
Voice Interface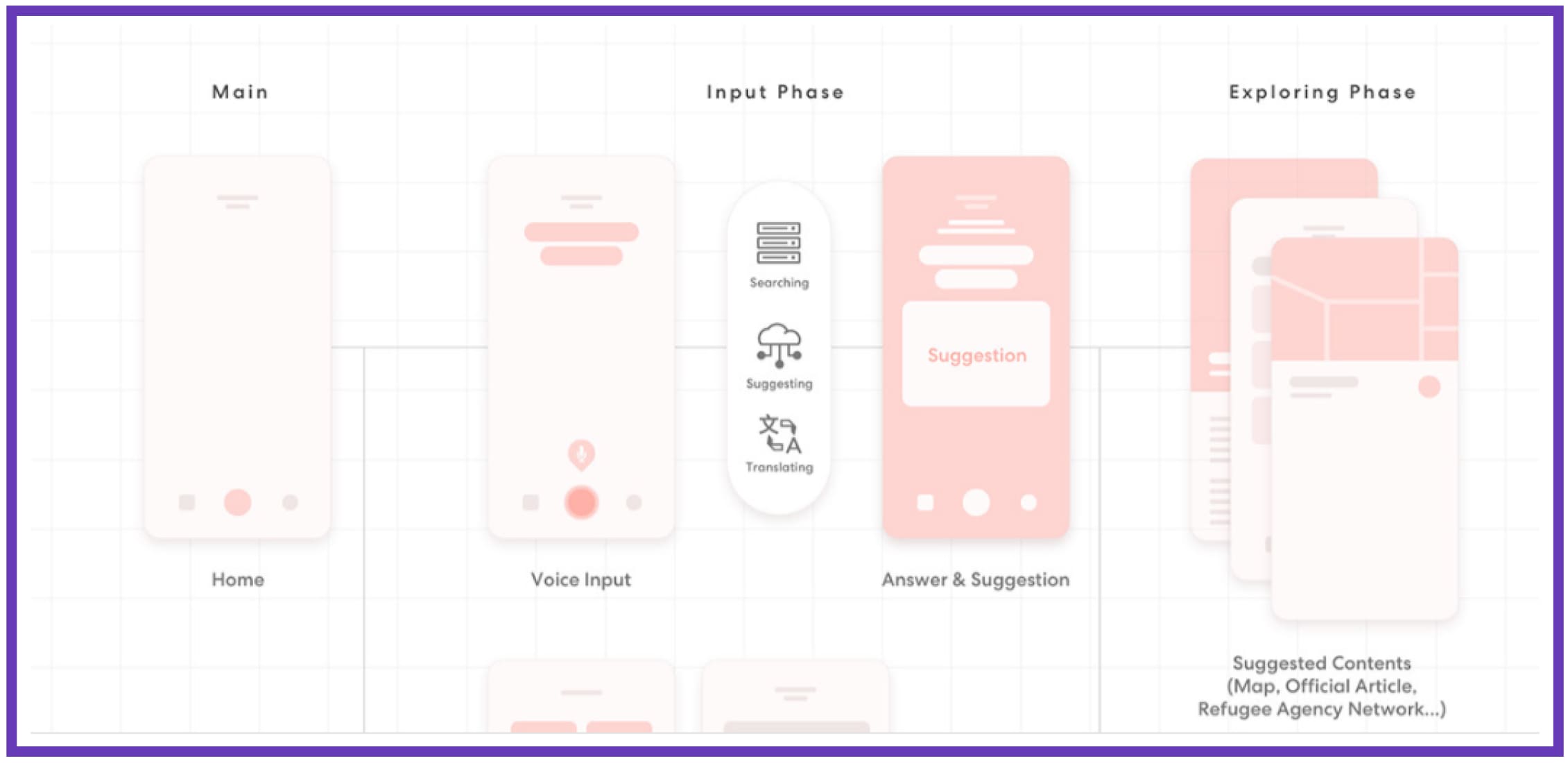 Behance by Junpyo Hong
Chatbots and virtual assistants are definitely technological trends of 2020 and the future. They are changing the way we look for and receive information, record and purchase information. For example, Apple, Android and Google are already using this technology to the full and have received positive reviews from users.
Soft Shadows and Floating Elements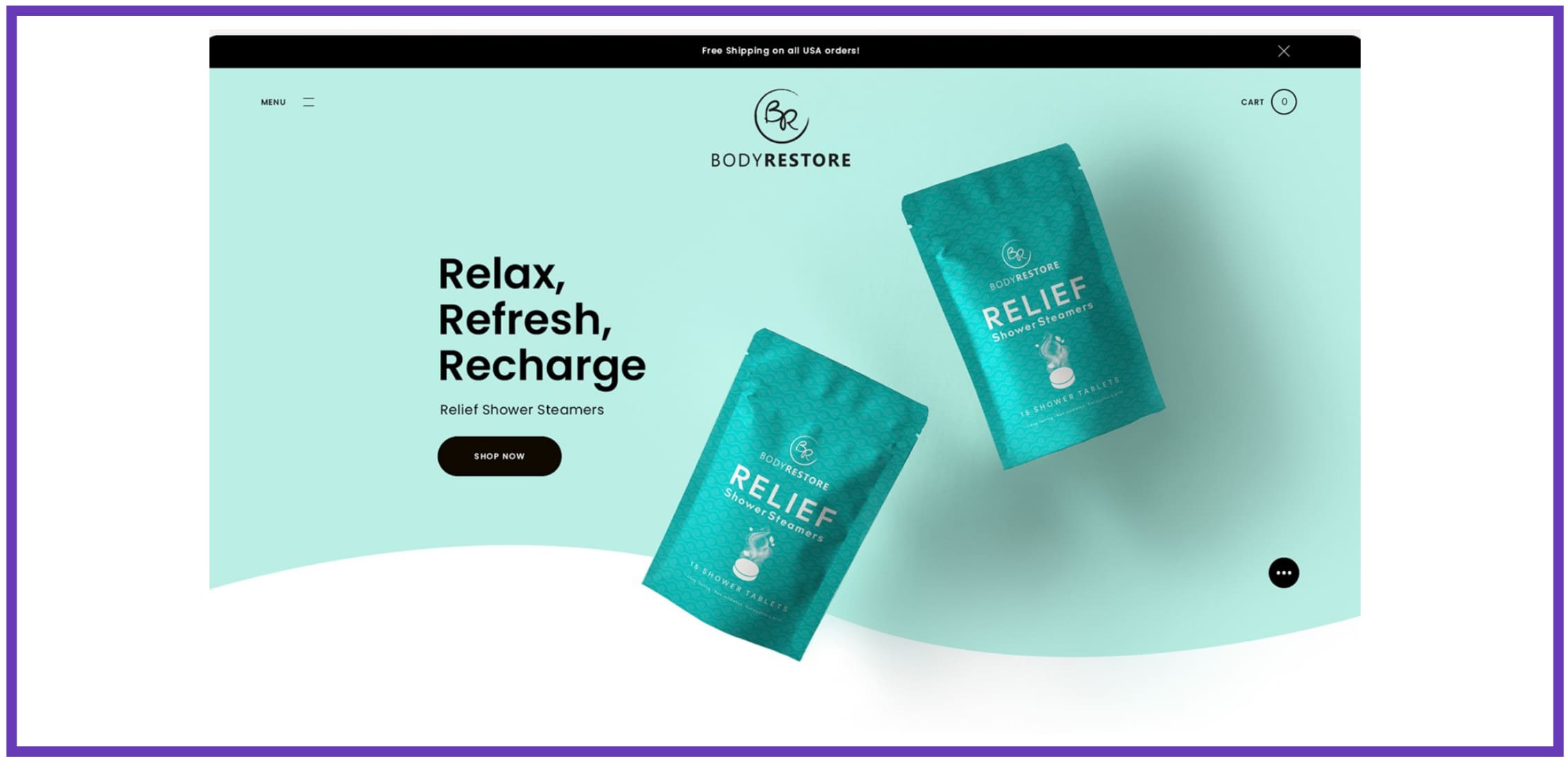 JPSDesign
Using new technologies for high page loads, such as soft shadows and floating elements, will provide three-dimensional images. They will add layers and make the design more interesting. You can add a shadow to any elements. The main thing is that the site does not become oversaturated and too visually heavy. Thanks to such innovations, designers have the opportunity to create unique complex sites.
Such effects are popular for:
headers;
buttons;
panels;
main text;
images.
Simplification of UX / UI processes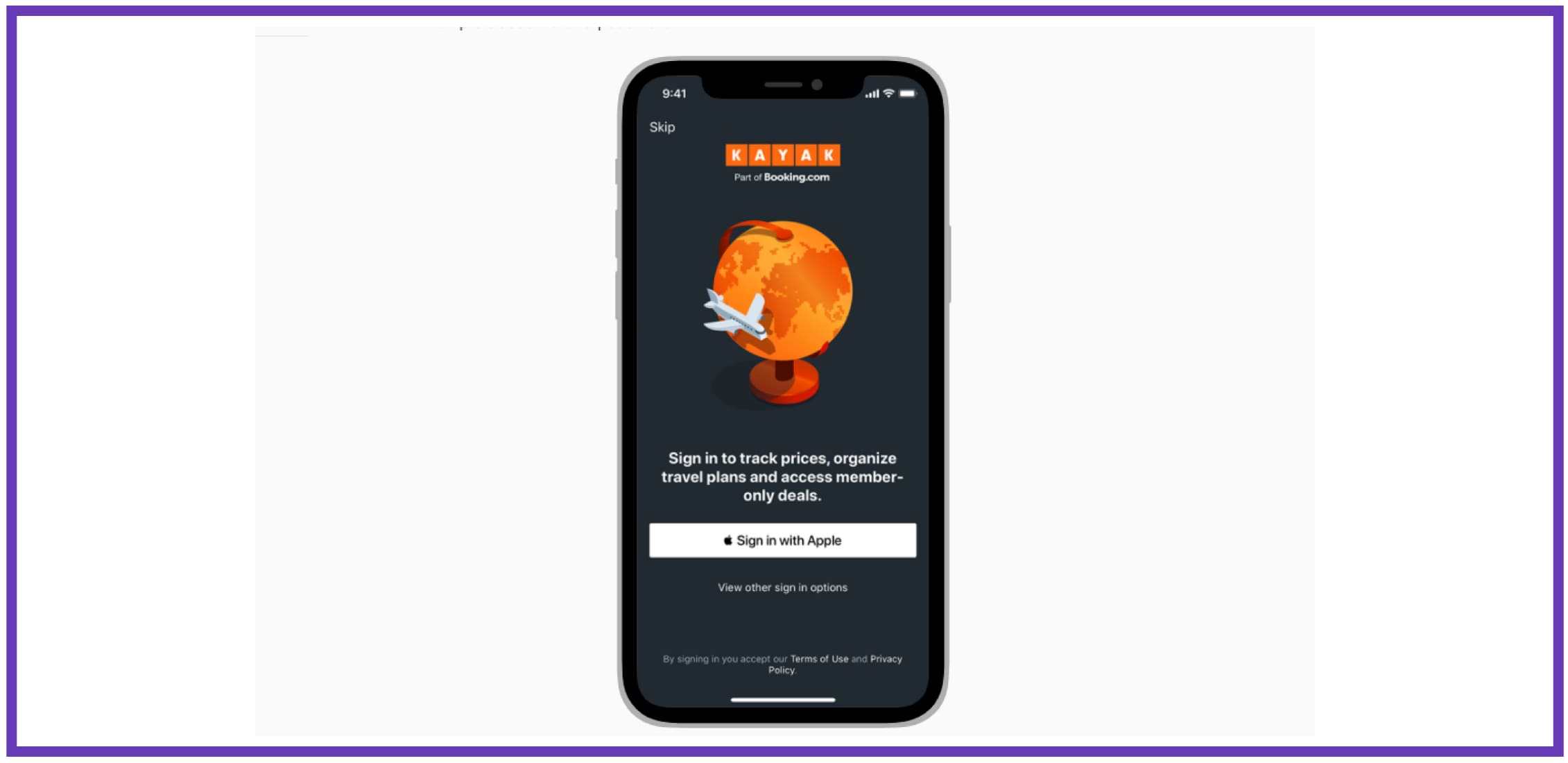 Apple
This trend is different from others – it is by no means visual.
I see more and more people in the industry, realizing that many product design processes have become extremely complex. This trend is about to cut down the elements and fields. It is also necessary to short the number of steps a user has to take to reach the desired result. For instance, use a phone number or biometric data as a personal identifier to login.
Video
Get inspired by more examples of design trends in 2021 in the video below.
Graphic Design Trends 2021

Hello guys!
Today we brought to you a new video about "Graphic design trends in 2021"

The world of graphic design is experiencing unprecedented growth and what the next year will depend on you. Get inspired by the top design trends of 2021. Let's make it colorful, interesting, emotional, and enjoyable!
What Design Trends Will "Shoot" in the Near Future?
Design and graphics have long ceased to be just geometric elements. The more dynamics and closeness to art in them, the higher the likelihood that the viewer's eye will "catch on." Perhaps this is because people are tired of simplified images and forms, which attract so many artistic styles. Thanks to new technologies, the classic no longer seems boring and intended only for the "elite." Culture is spreading to the masses, and companies are actively using this trend.
We expect a rise in 3D projects in the near future and further attempts to combine video with graphics. The path of motion picture design is somewhat reminiscent of the development of fine art. The most avant-garde works are already using an increasing amount of abstraction. Probably soon, we will see a black square in the world of animation design.
Many viewers are nostalgic for the past, and special filters are used when creating videos with reference to it. Burnt-out illustrations, retro, and accessories all grab attention and evoke nostalgia in the older generation, building their loyalty. Simultaneously, the development of technology simply requires the use of virtual space in its multidimensionality and fullness of images. The trend towards maximum engagement through these tools will appear more in the future in VR projects. Unfortunately, there are not many yet.
Thus, if you want to follow the trends and create a truly catchy web design in 2021:
focus on bright,
use unusual images,
create perception illusions,
use photorealistic 3D,
but also do not forget about the classics.
Of course, don't forget the simplicity and sincerity in the plots because even the most beautiful picture will not become memorable without a good idea.
Sell Your Deal
Today we recommend to download products on the following topics:
Script Fonts
Unicorn Clipart
Pitch Deck Presentations
Top 4 Popular Questions About Design Trends
🎨 What is artisanal type?
What does artisanal mean?
This product is supplied in small quantities. It is characterized by high quality, usually made by hand or using traditional methods.
An artisan (from French: artisan) is a skilled worker who creates his products partially or completely by hand.
Handicraft fonts are prized precisely for their uniqueness, and the direct hand made a contribution of the artisan to their creation.
This year artisanal typography is especially popular. Handicraft fonts look playful but sophisticated. Such unusual fonts emphasize rounded lines and ornaments. An artisanal font will be a highlight in any web design.
🎨 What design trends will be popular in 2021?
2021 is full of creativity and experiments. Here is a list of the most popular and worthy design trends in 2021:
Minimalistic UI design;
Simple and personalized fonts. Attention is paid to the bold type since it focuses attention.
Color combinations and preference for muted shades.
Gradients. They create sensations of movement. It is recommended to use the colors of nature here.
Simple, hand-drawn illustrations are better than stock images of the same type.
Vintage effects. Awake a sense of nostalgia.
Liquid forms offer creativity. Most importantly, they create a movement effect. The absence of strict curves helps to achieve a smooth, and soft appearance.
Animation is one of the most powerful ways to bring a brand to life.
Data visualizations. You will save a potential client from long scrolling of pages, by conveyiNG information more gracefully. So users will remember you.
Glassmorphic interfaces. I would advise paying attention to this trend at first.
🎨 What were design trends for 2020?
Most of these trends will still be important in 2021 too.
Dark mode
Black & white colors
Neon-colored elements in web design
Bold typography
Hand-drawn elements
Eye-catching animation that calls to action
3D elements
🎨 Neon or pastel — What colors prefer design trends in 2021?
Bold neon shades, stylish contrast, and bold combinations are the kings in 2021. The trend of combining incongruous, using bright colors, exaggerated approaches, and bizarre shapes will continue to gain momentum in graphic design. Such visual solutions will ideally suit the buzzers – a more liberated and free generation.
But there is also an opposite trend — peaceful visual solutions and pastel shades. It is perfect for those looking to avoid the kitsch and acid colors, especially after the crazy 2020.
Please take a moment to pin this post to Pinterest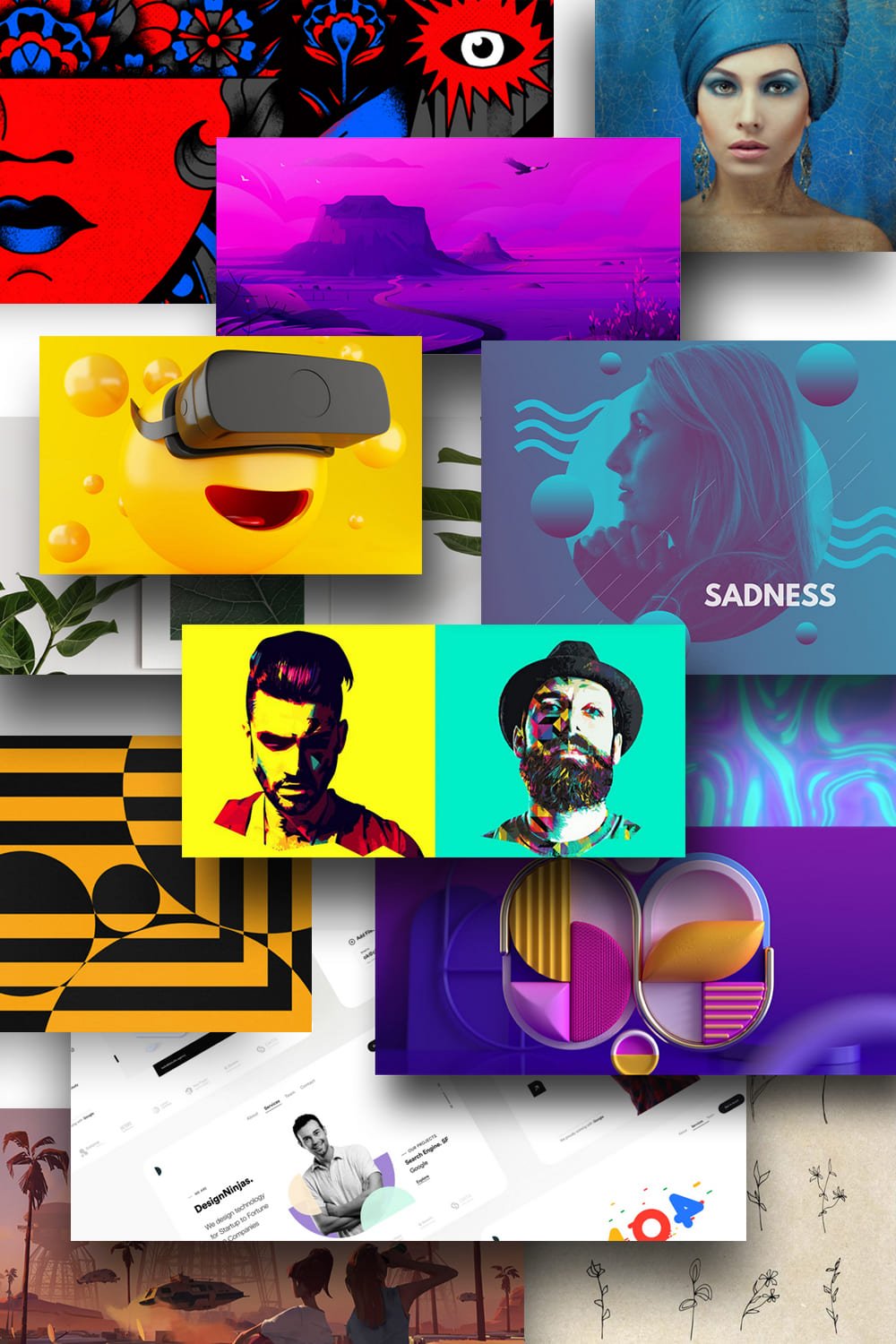 Was this page helpful?
We will be happy if you decide to share this article with your friends on Facebook. Just click on the button and you're done
Thanks for your response!
You have already left your review.
Article References
This article is inspired by and relies on the following sources:
Behance.net
Dribble.com
99designs.com
YouTube
Apple.com
Disclosure: MasterBundles website page may contain advertising materials that may lead to us receiving a commission fee if you purchase a product. However, this does not affect our opinion of the product in any way and we do not receive any bonuses for positive or negative ratings.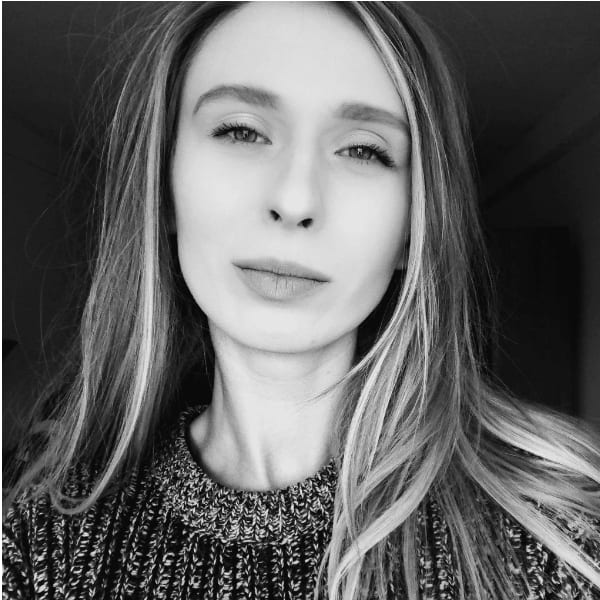 Article reviewed by
on January 04, 2021
With more than ten years of professional experience in this field, she successfully executed fashion, fine art, and documentary photography. She published in Chasseur, Fashionisto, Flanellemag, Paperonfire, etc. At present, she works as a Content Curator at Depositphotos.com and manages personal commercial and creative photoshoots.
Learn about comment