How to Create a Logo in Illustrator in 8 Minutes [Step-by-Step Tutorial]
Looking for a comprehensive tutorial on how to make a logo in Illustrator? Great! The MasterBundles team always has your back 🙂
Yes, many of us will agree that the logo is the most important element of a company's corporate identity. It serves primarily to identify the company in the market, making a visual image of the brand before getting acquainted with a product or service. No one can present this message to the world better than you because you know your company and brand the best!
Whether you're new to Illustrator or you're a seasoned professional, this tutorial is here to help you easily create a logo in Illustrator using a step-by-step method.
Logo Design Process From Start To Selling | Creating & Uploading Logo Design To Masterbundles

Are you looking for Professional Modern Minimalist Logo Design for your company or brand then are at right place!
Your logo is often your first point of contact with your audience – better make an EPIC first impression! I hand craft each one to fit the client's specific needs and expand them into a system that will ensure success in the real world. I believe there should be built to last.
"A logo is not communication, it's identification" – Sagi Haviv
 
By the way, GraphicHunters has a lot of interesting stuff connected to Illustrator and several tips for graphic designers on his channel. 😉
So, open your Illustrator app, and let's get started!
How to Use Adobe Illustrator to Create a Logo
When starting to create your own logo, you need to identify a few key points for yourself. It's worth asking yourself the following questions before you start creating a logo:
What style will your logo be made in?
Will it have a pattern and lettering, or just a pattern, or just lettering?
Here is an article that may help you to identify which logo style you need to create for your brand.
Perhaps you want to create a recognizable image, as well as separate lettering that will be designed in a common theme with your outline.
You can also look for more logos right here. MasterBundles has many examples of cool logos and patterns that you can use in creating your own amazing logo.
How to create a logo in Adobe Illustrator
In this tutorial, we will create a simple logo design in Illustrator. Eventually, this is what it will look like: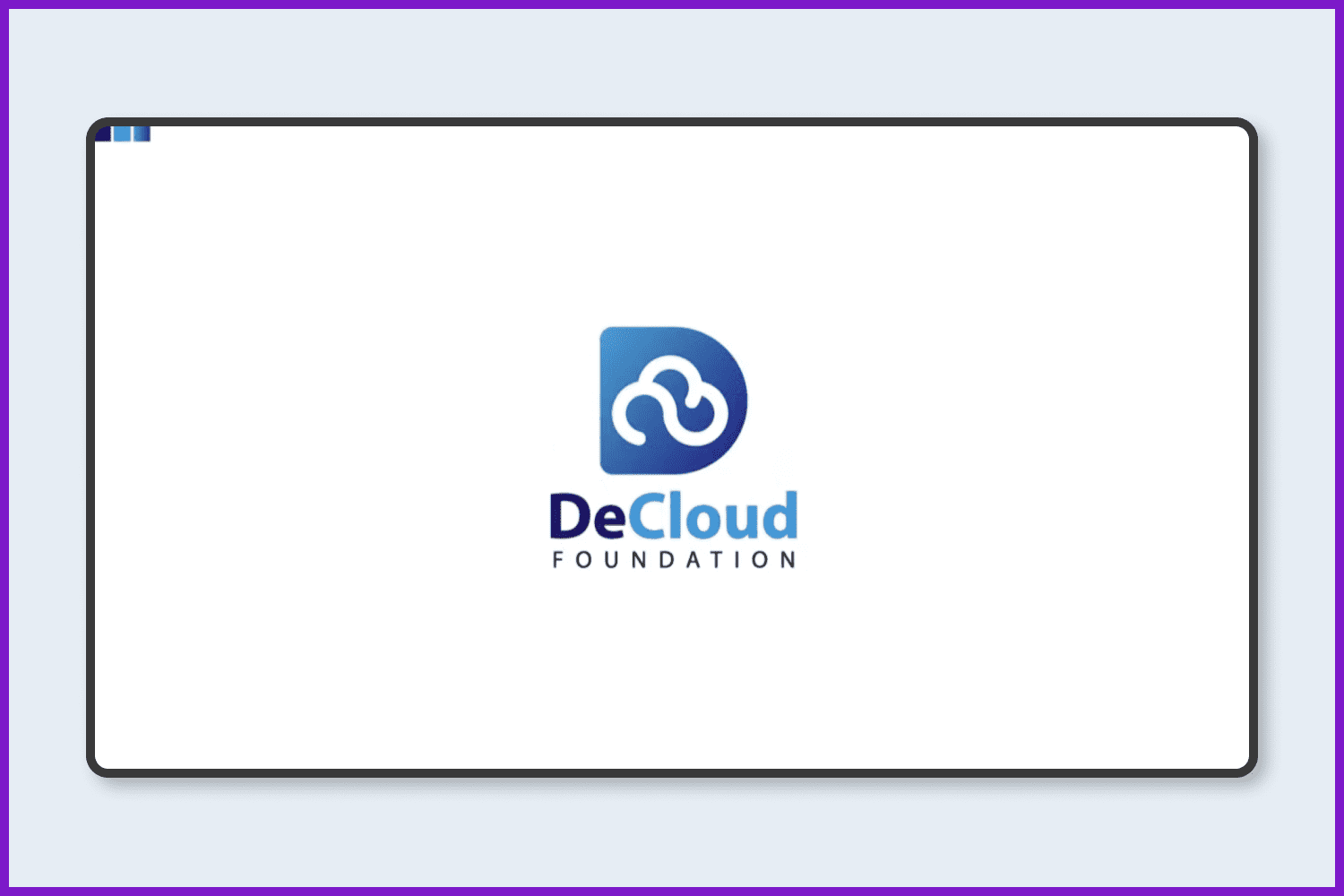 First, take the Ellipse tool and draw a circle.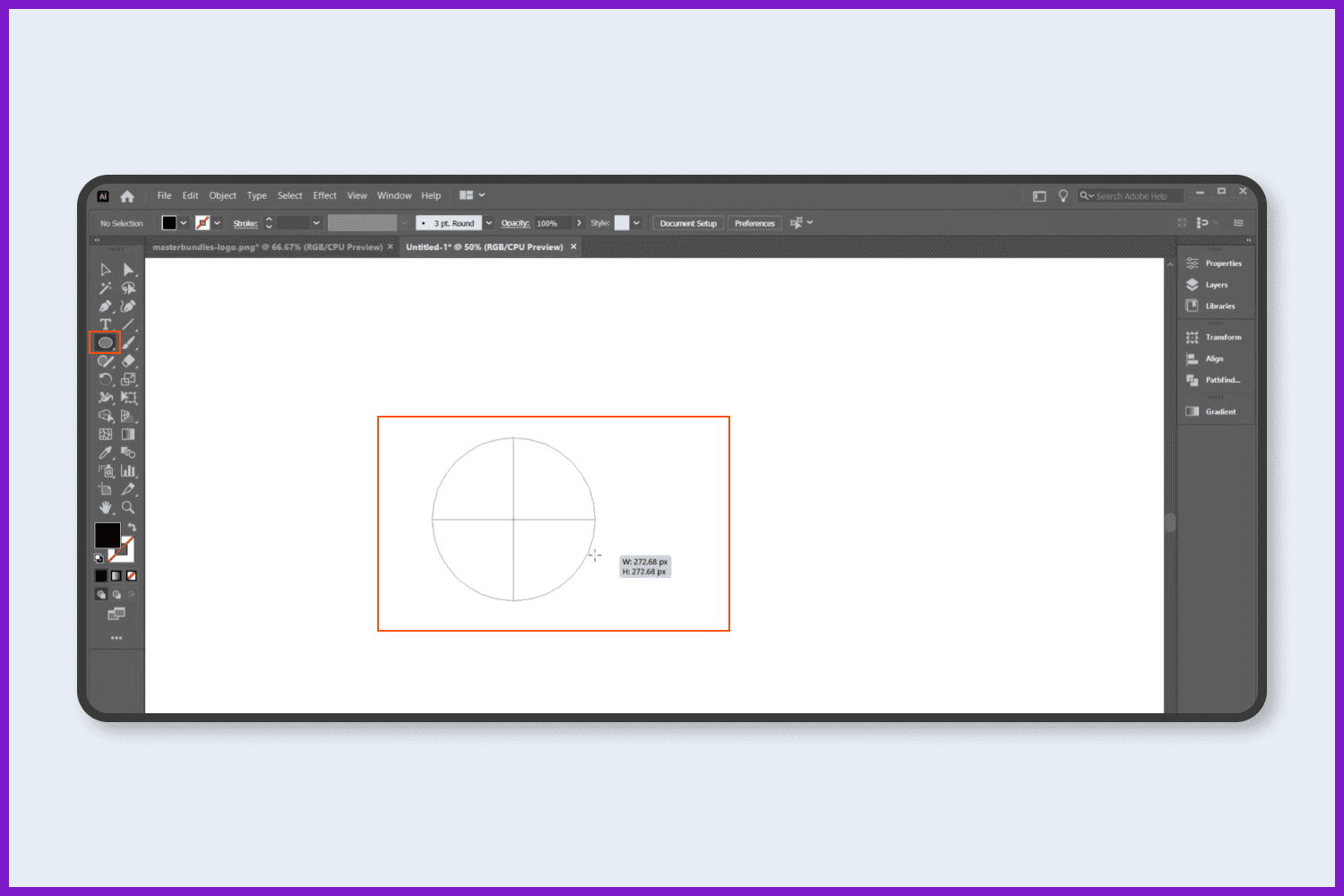 Copy the circle by holding Alt and placing it on one side of the circle.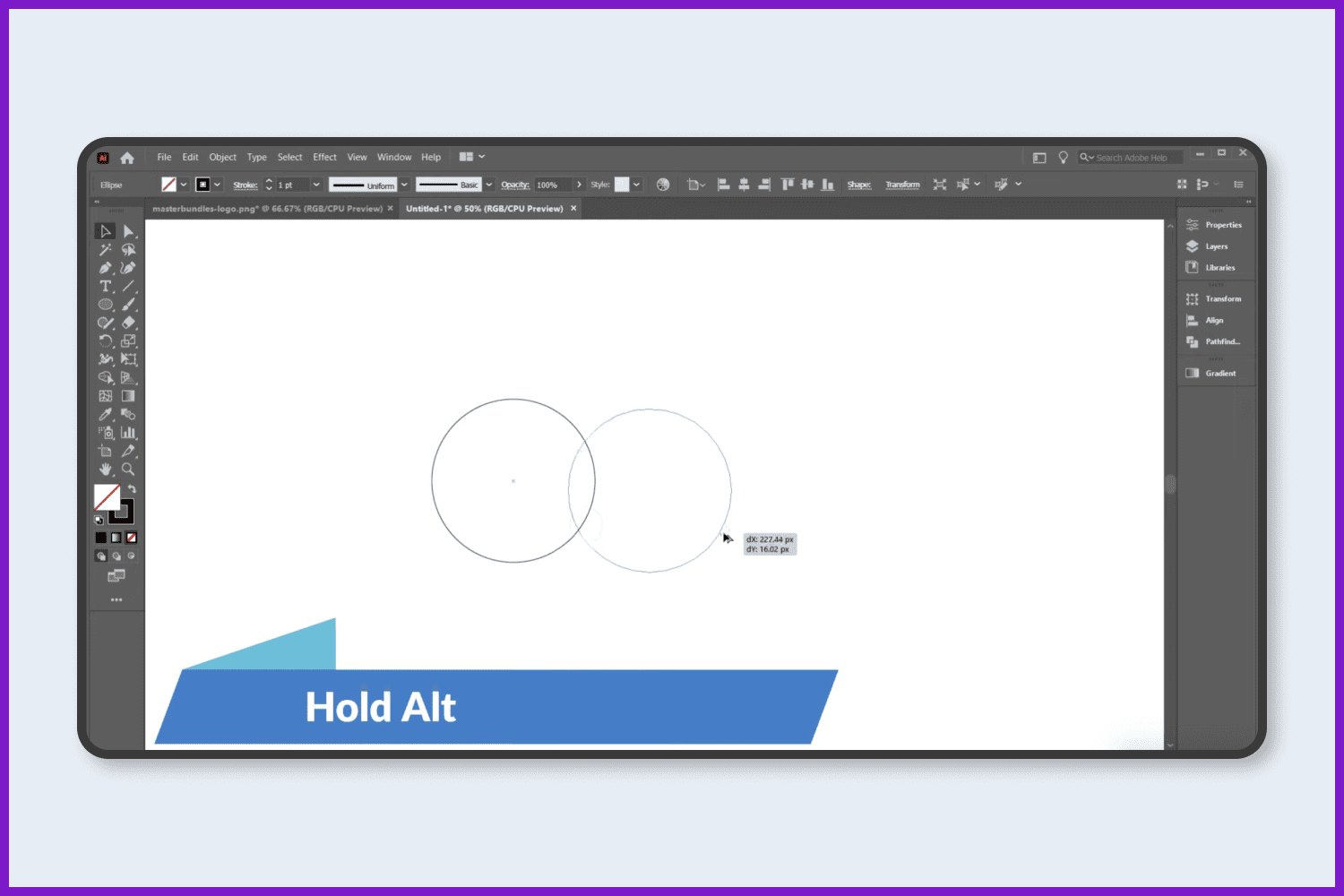 Again, copy the circle by holding Alt and place it up in the middle of the two circles.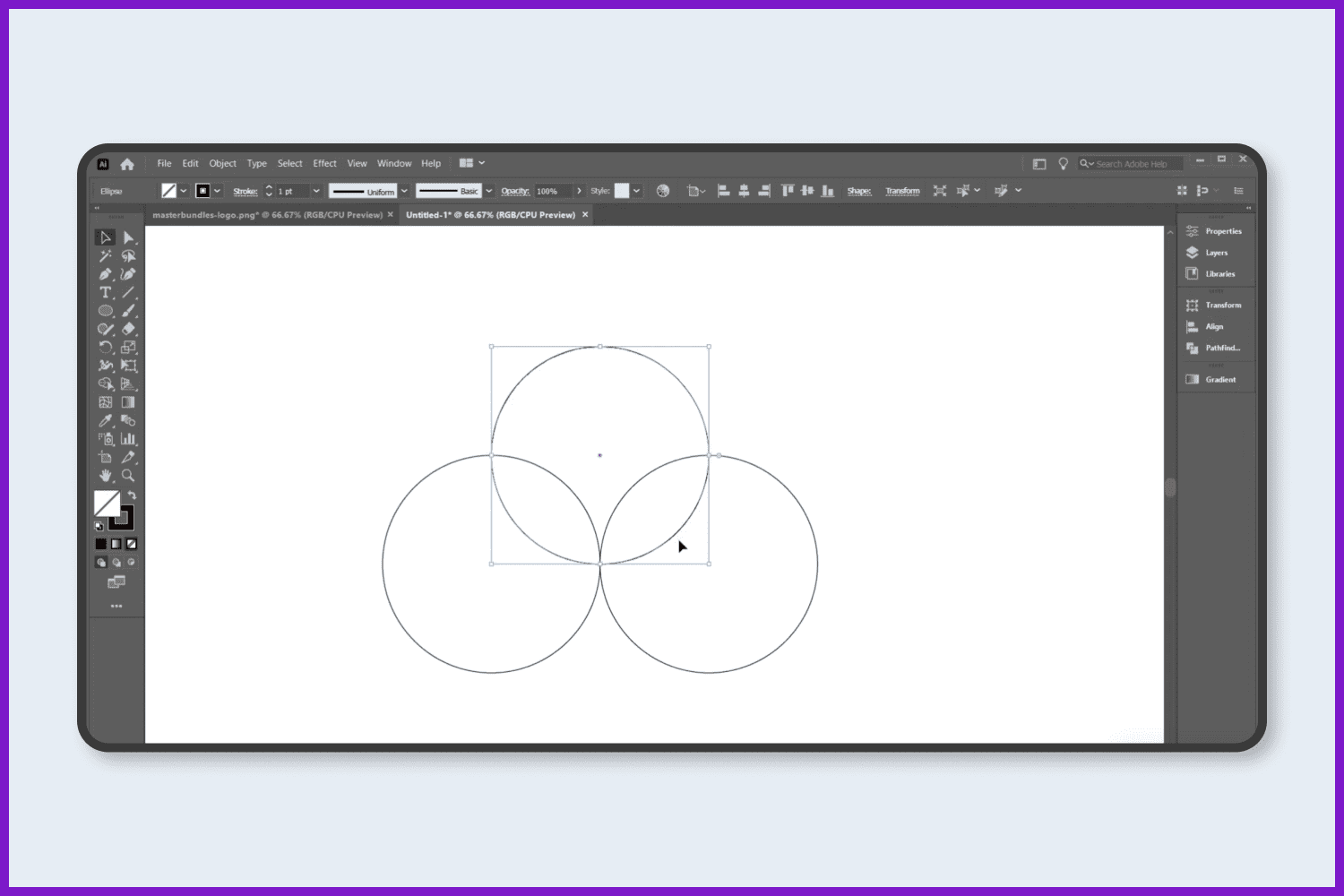 Now select everything and increase the stroke color (up to 60pt).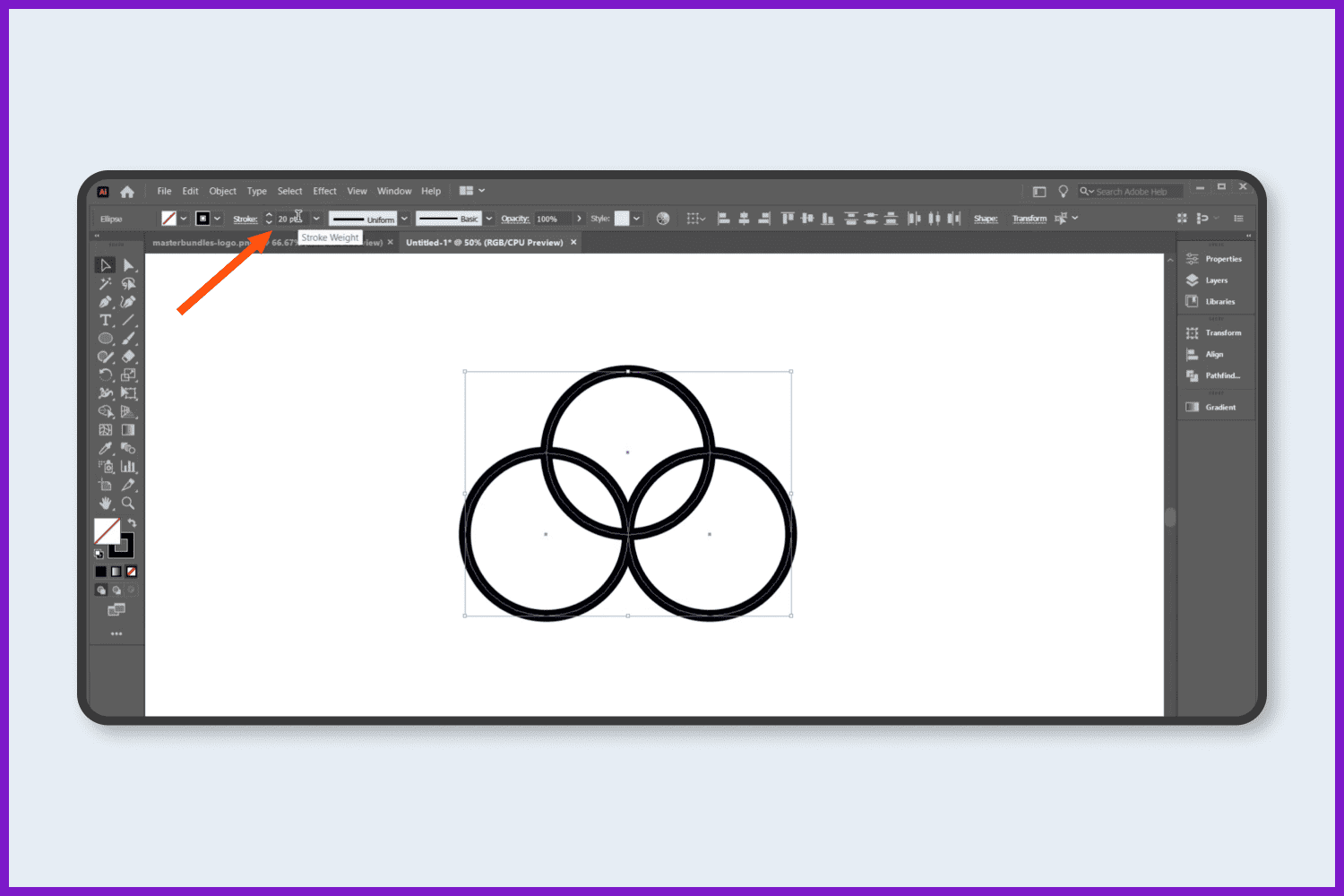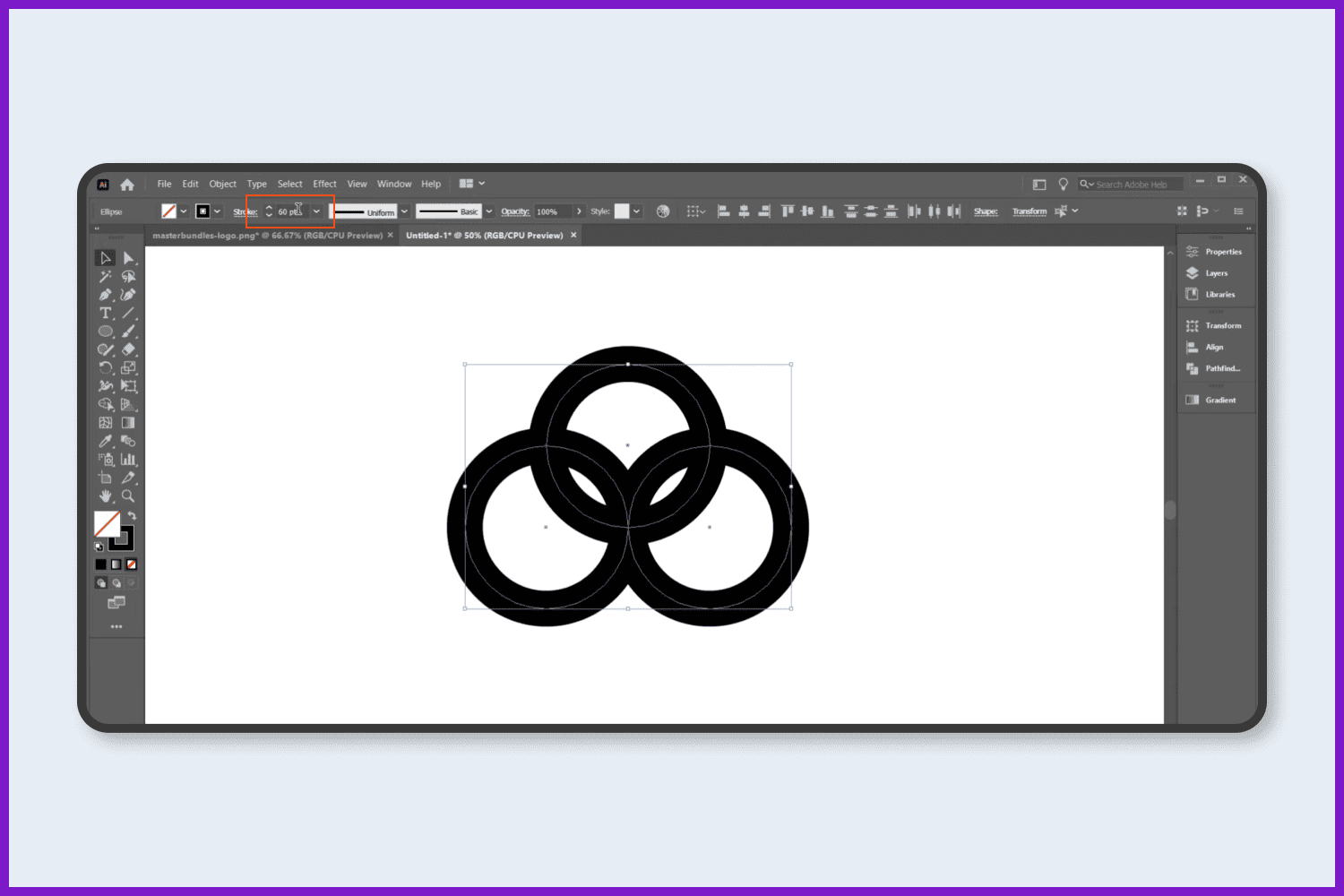 Select everything and make it expand. Go to Object and select Expand.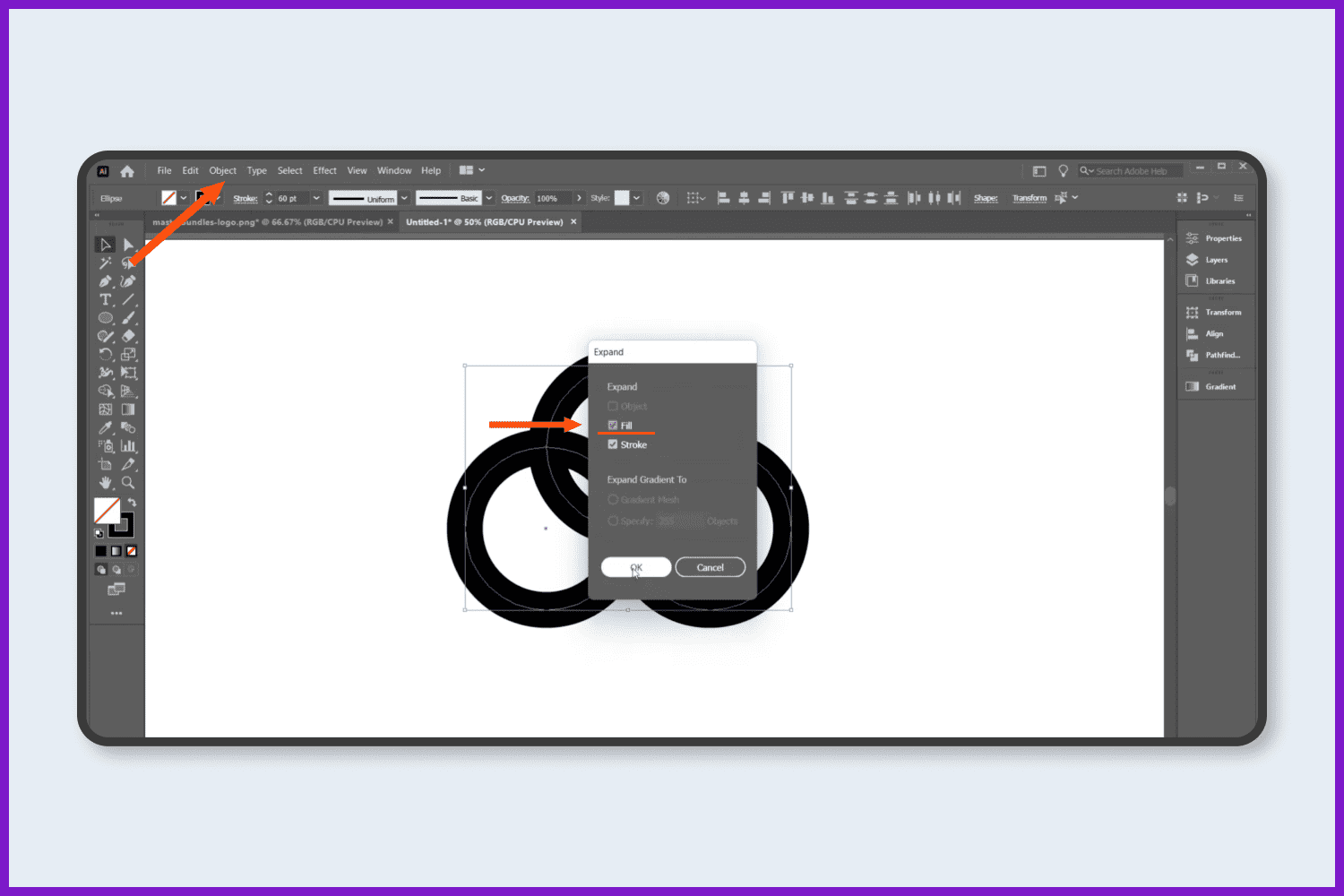 Now take the Line Segment tool and draw a line in the middle of the circle as shown in the picture below.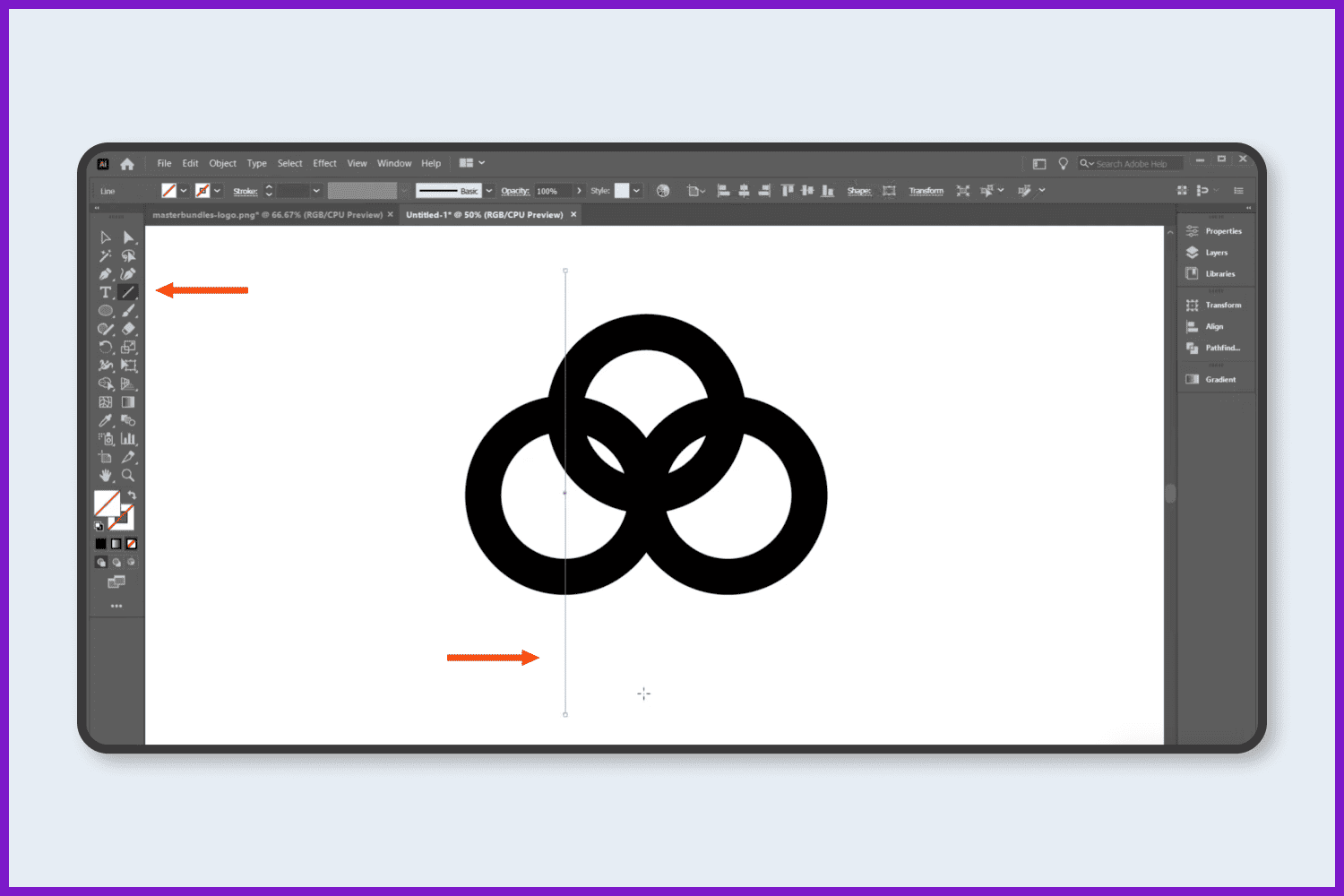 Select everything and take the Shape Builder tool and remove the parts shown in the screencap.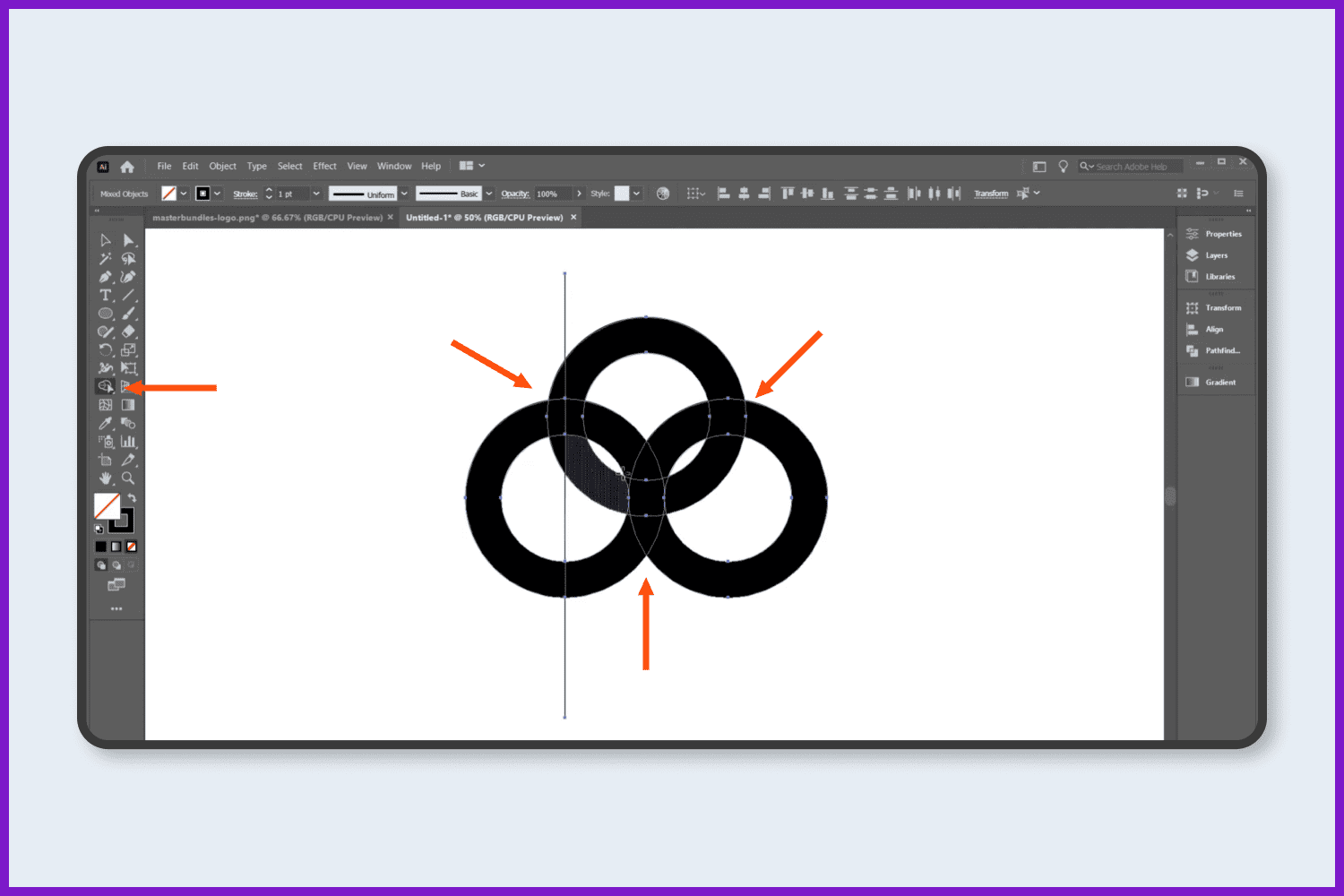 Take another line and draw a line in the middle of the center circle.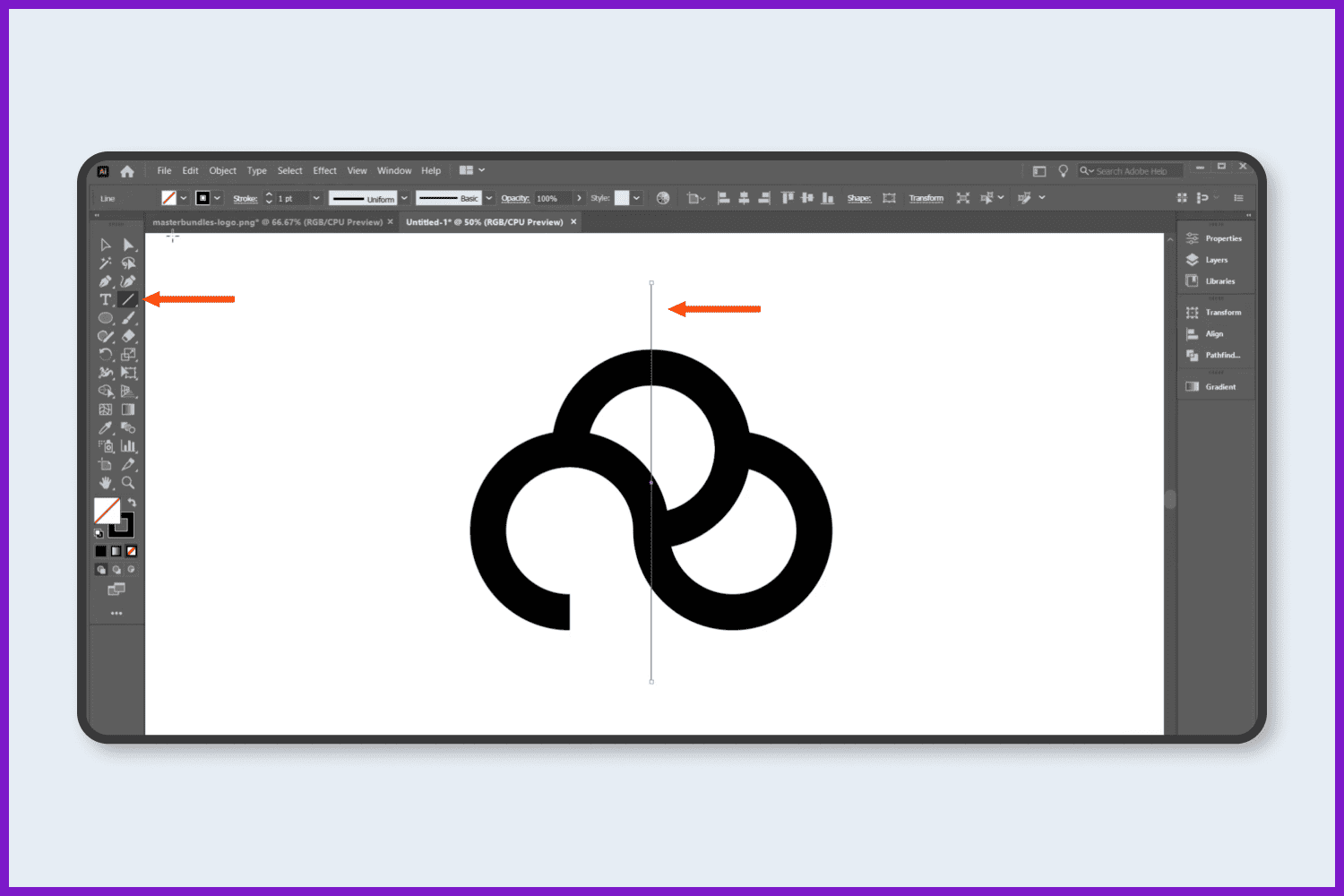 Rotate the circle 4-5 degrees and place the line in the middle point of the circle.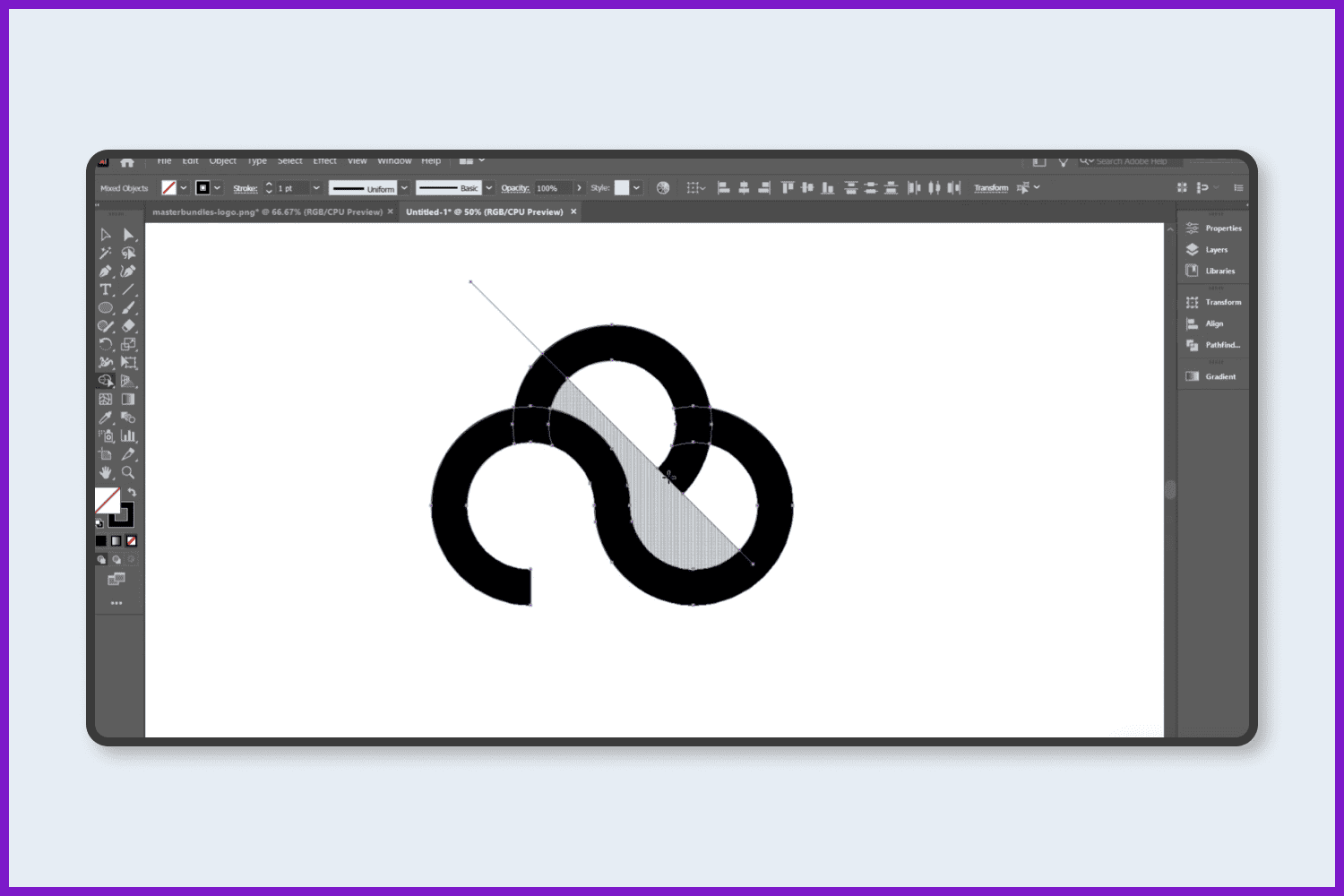 Select everything, take the Shape Builder tool, and delete some parts as shown on the slide: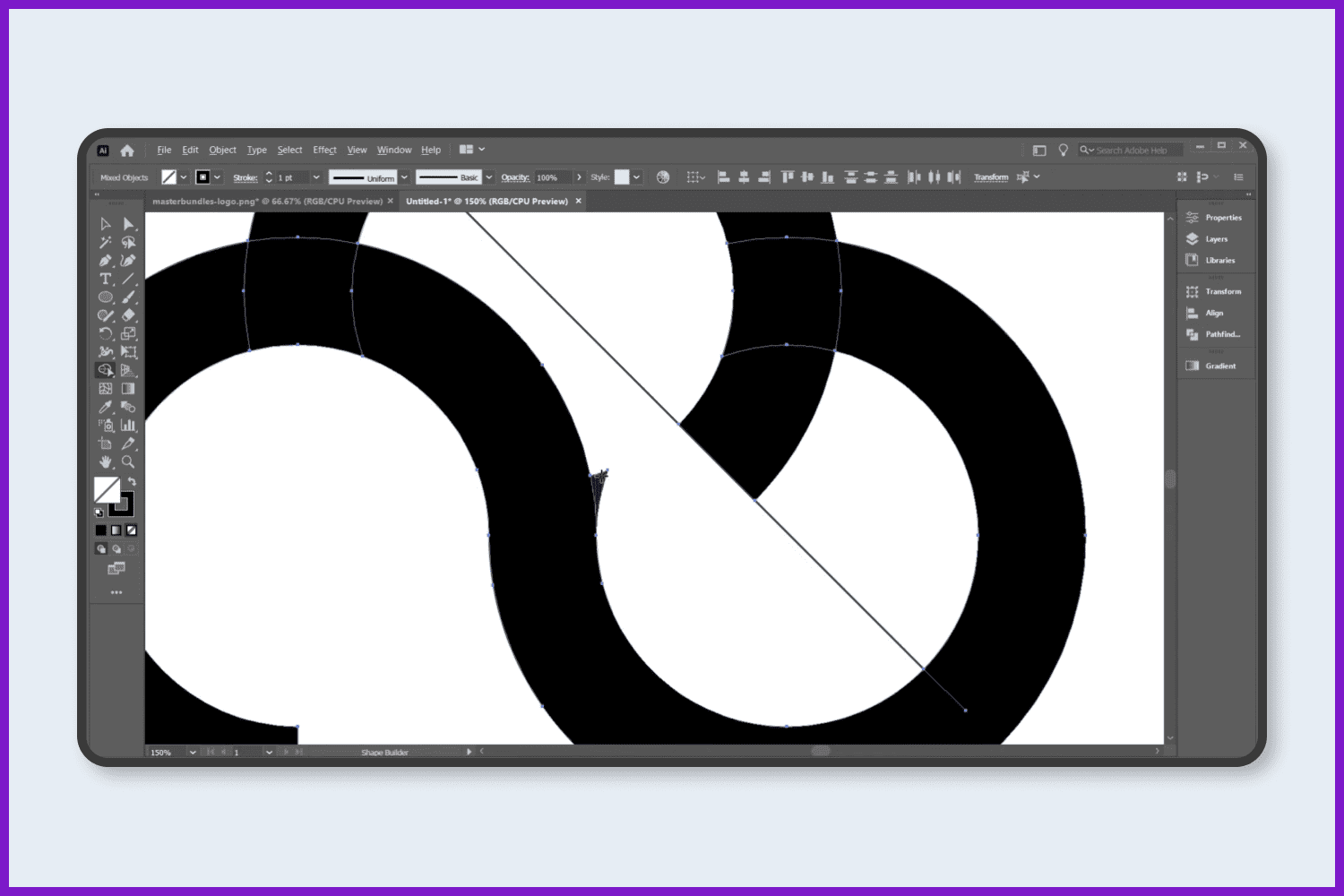 Select everything and make it united.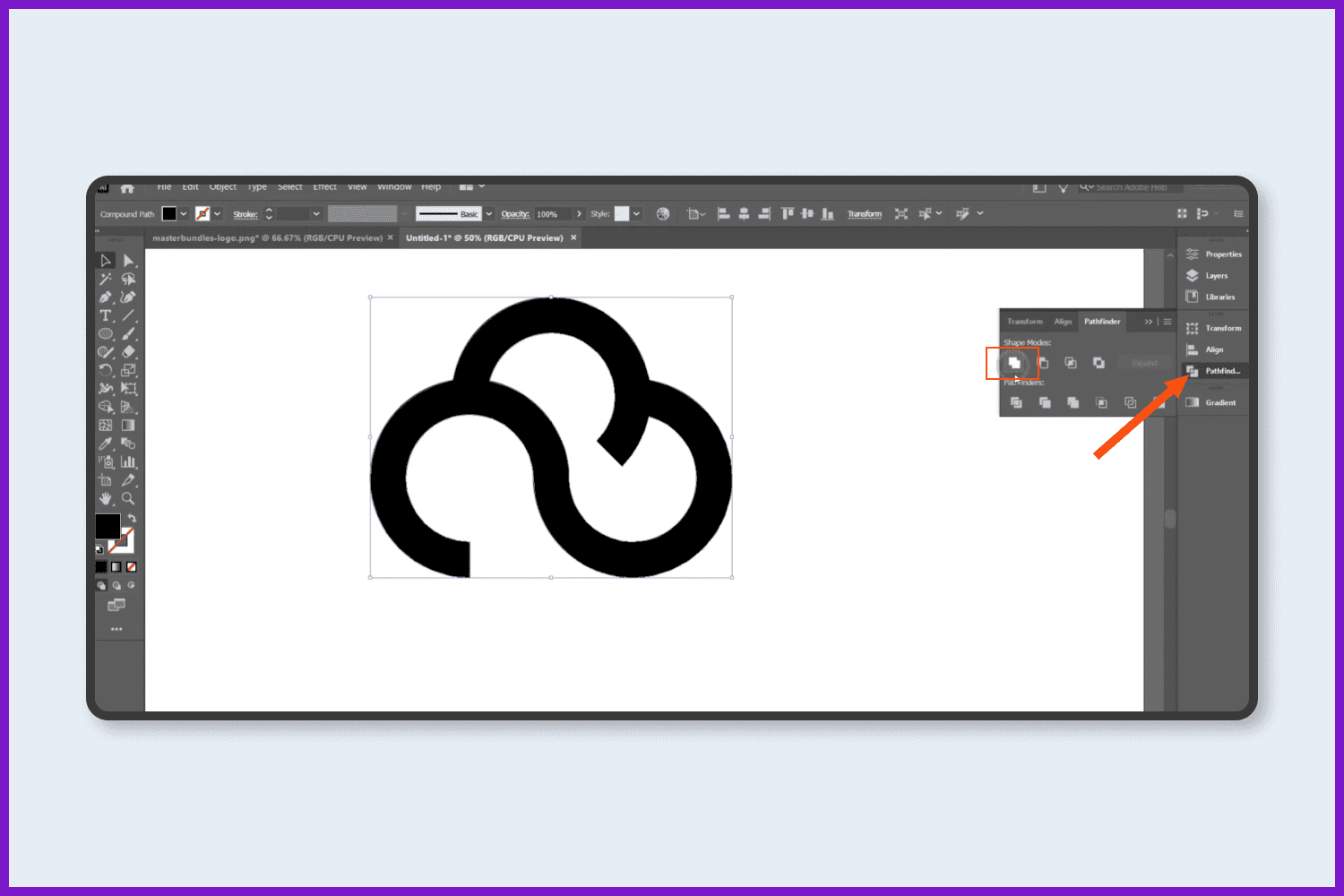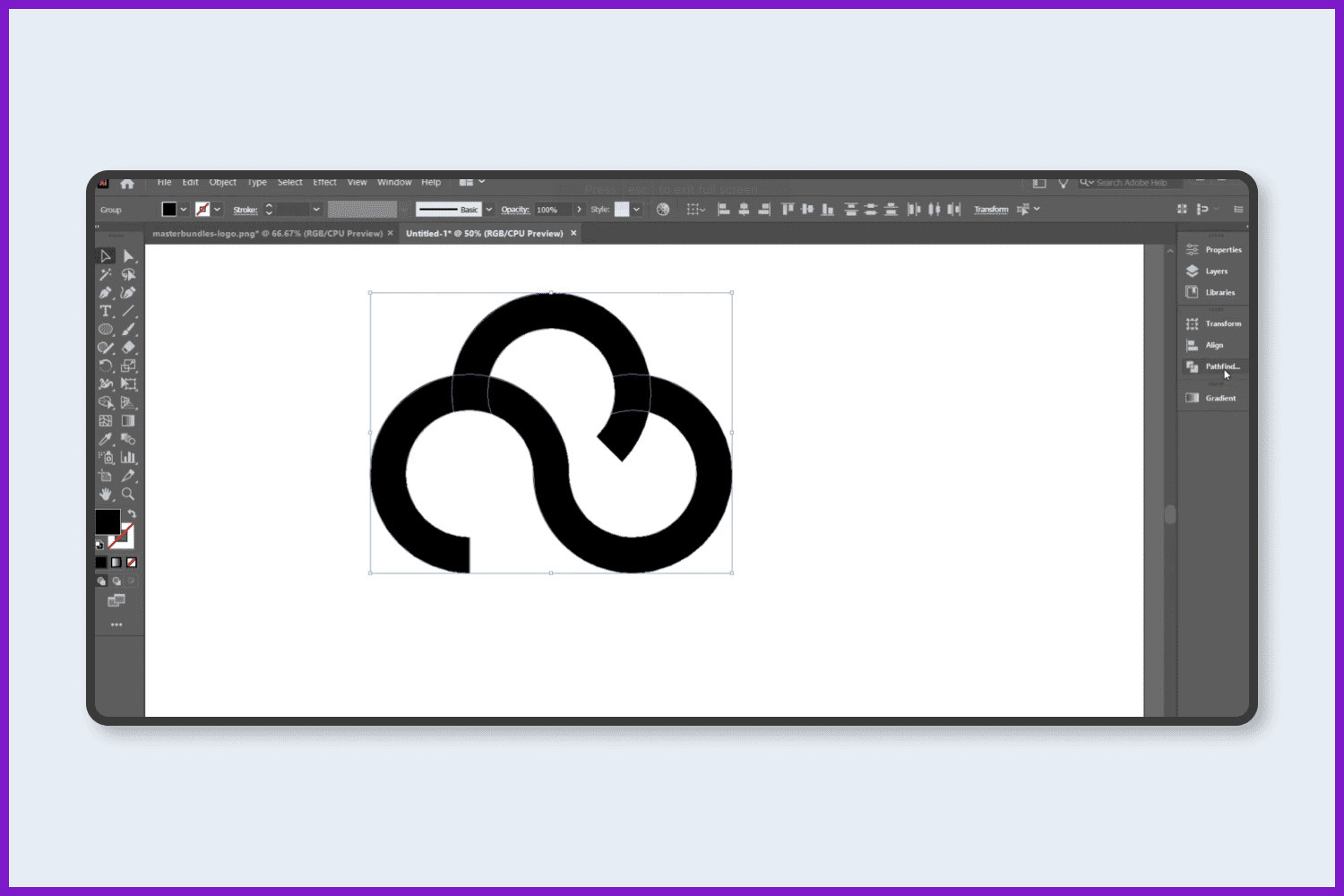 Now take the Move tool and curve these parts as shown: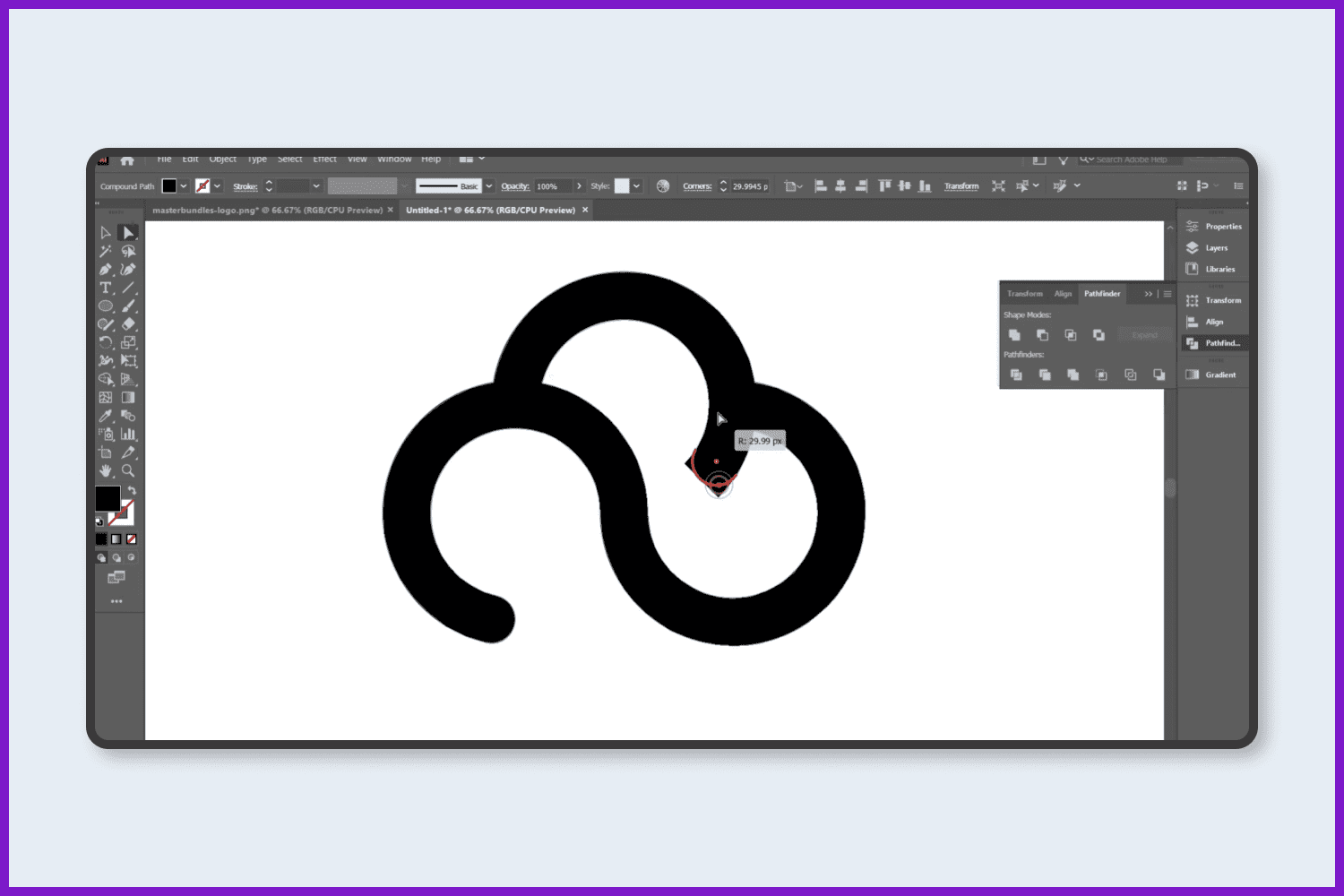 So, we have designed the Cloud icon.
Now let's draw the D letter. For this, take the Rectangular tool and draw a square.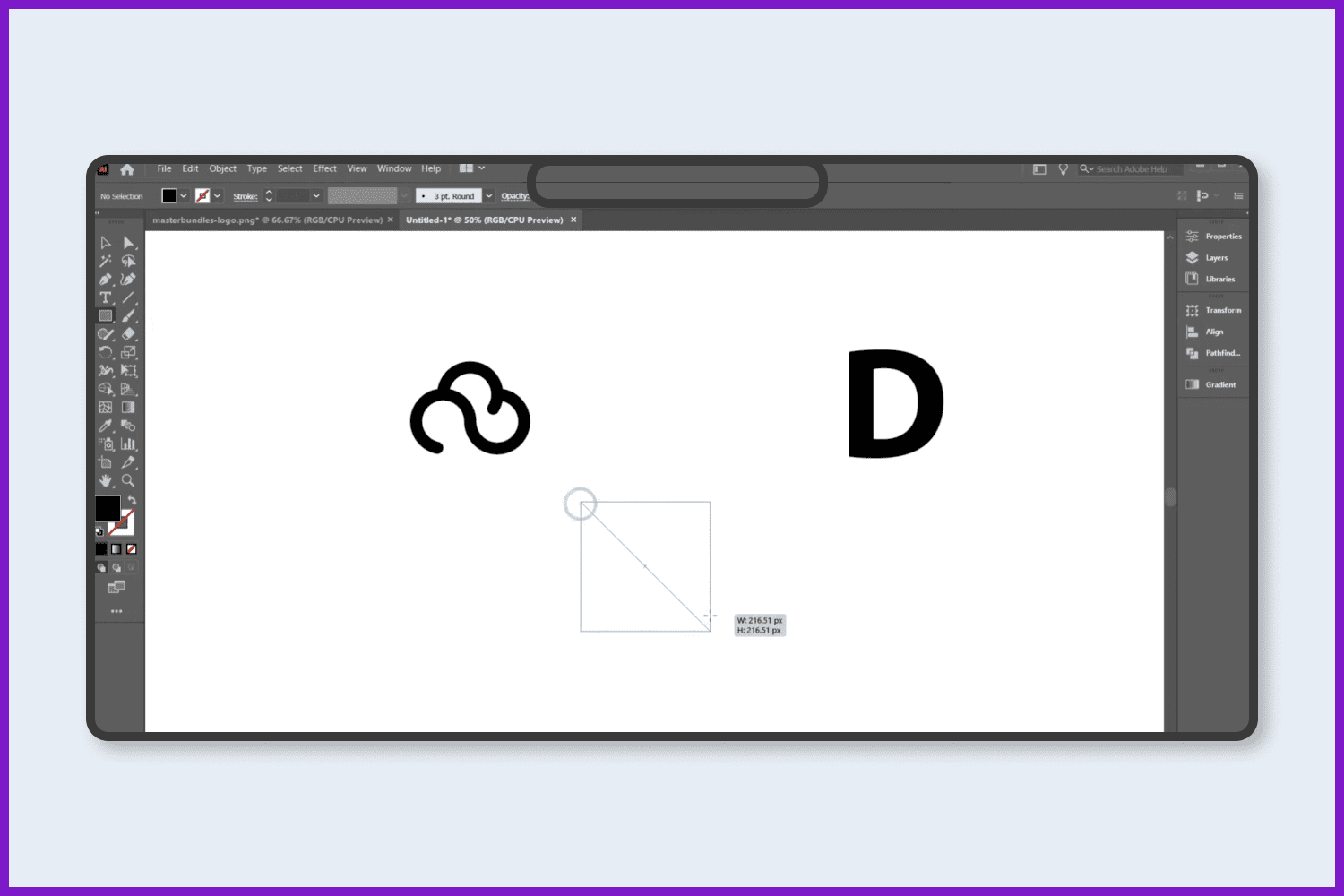 Curve one side of the square as shown on the screencap.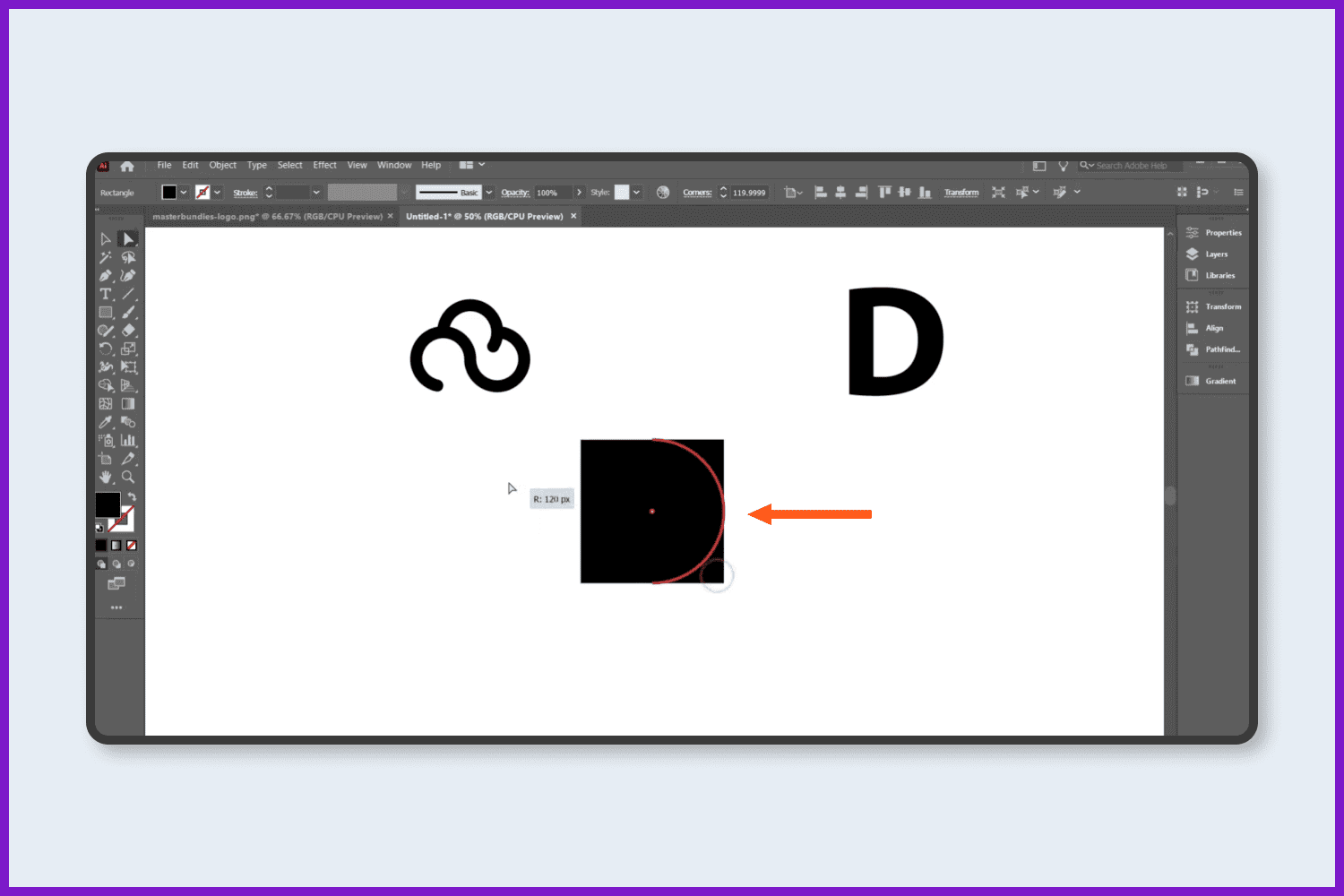 Select the cloud icon and bring it to the front.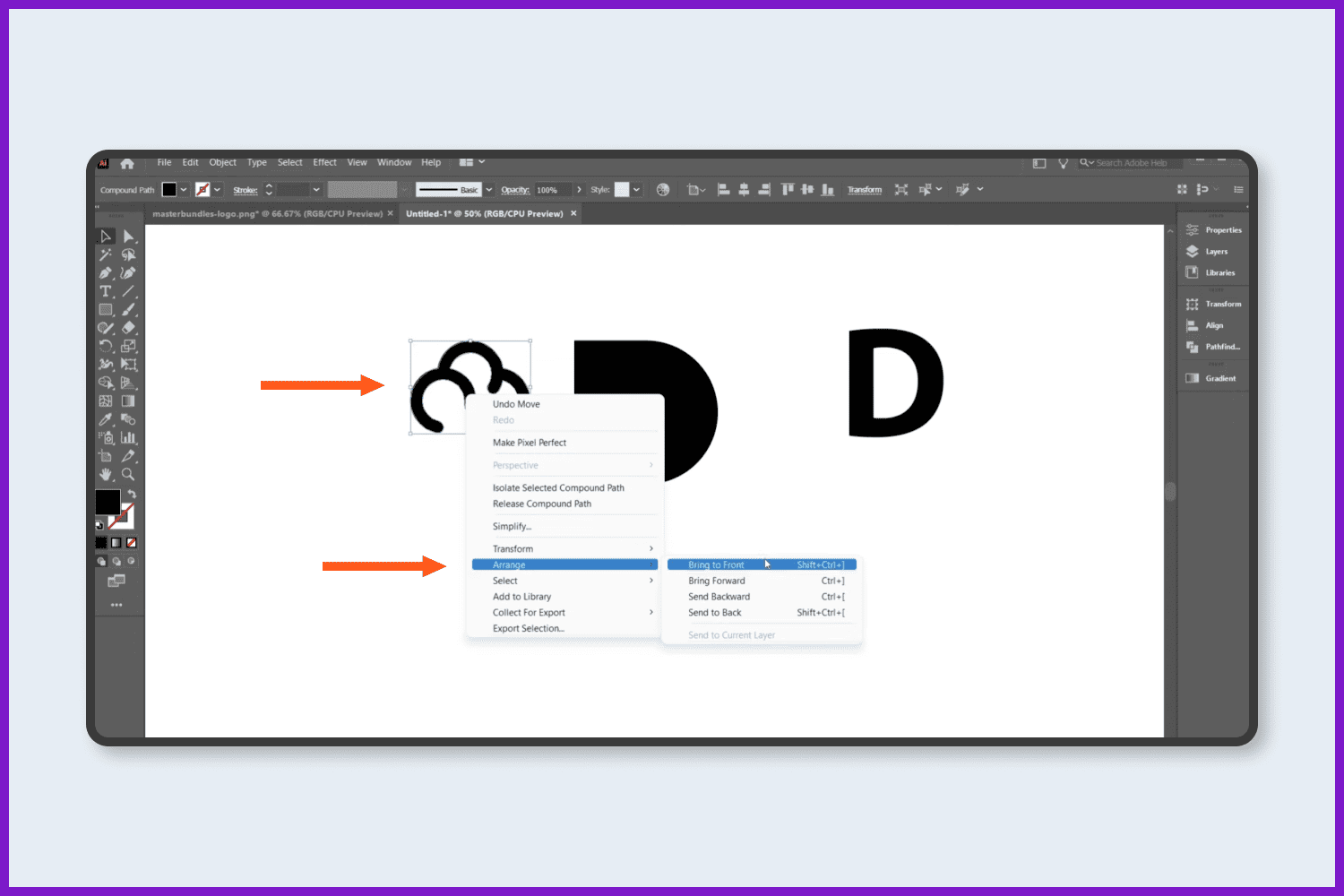 Also, change the color of the cloud icon.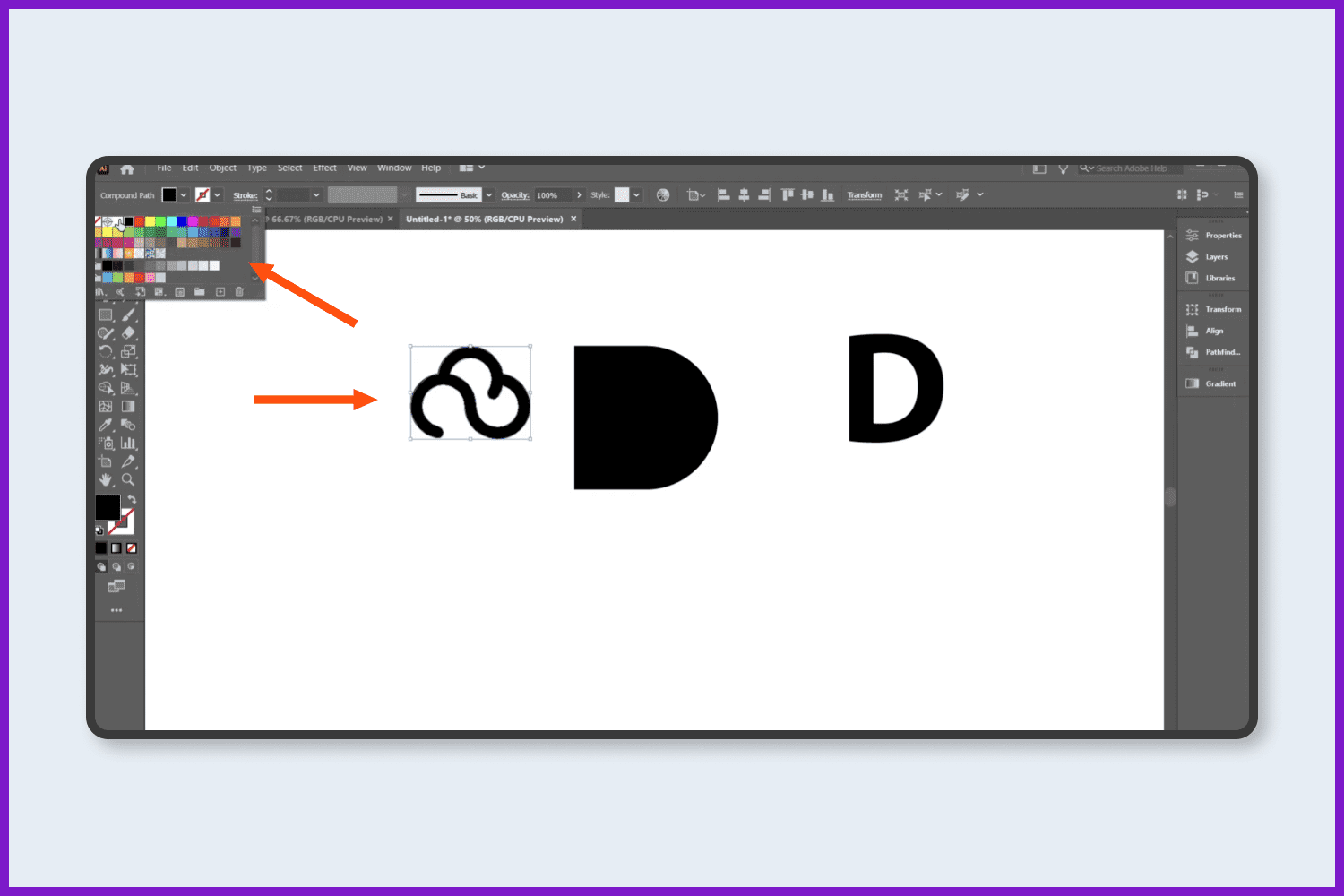 Select everything and make it align middle and center.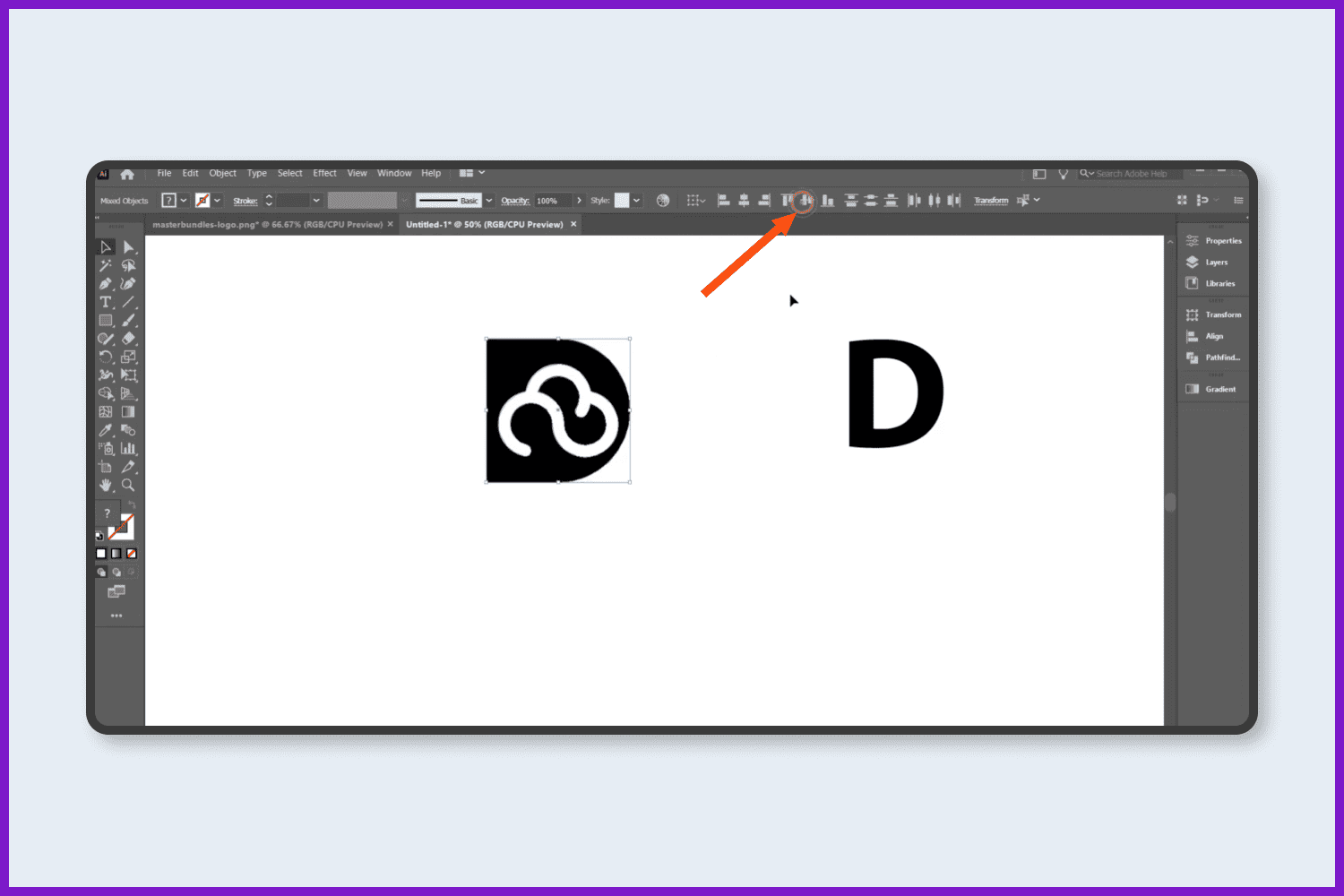 Place the cloud-icon in the perfect position as it will look better.
You can also increase the stroke color of the icon to make it look more beautiful.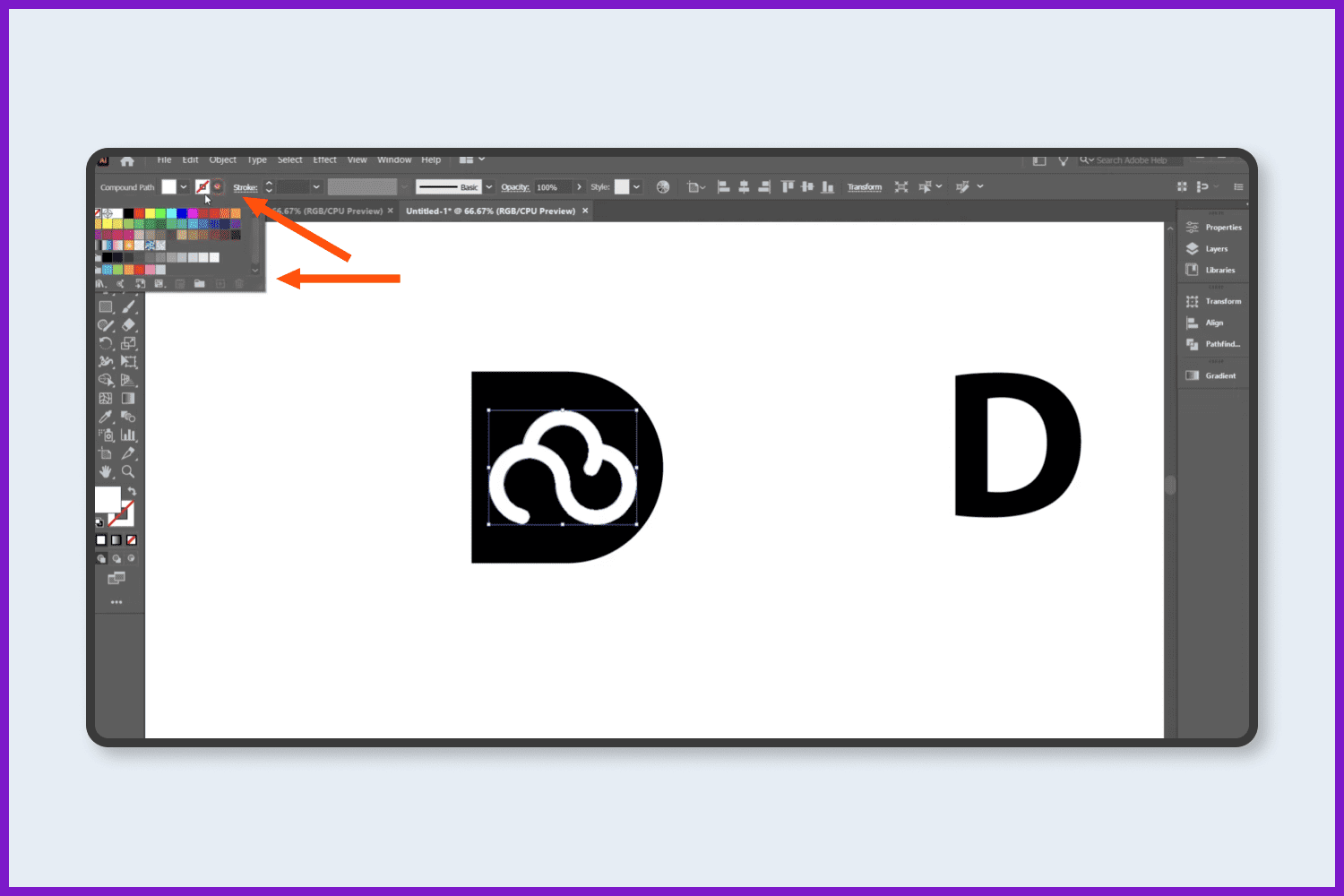 Now use some color on this logo.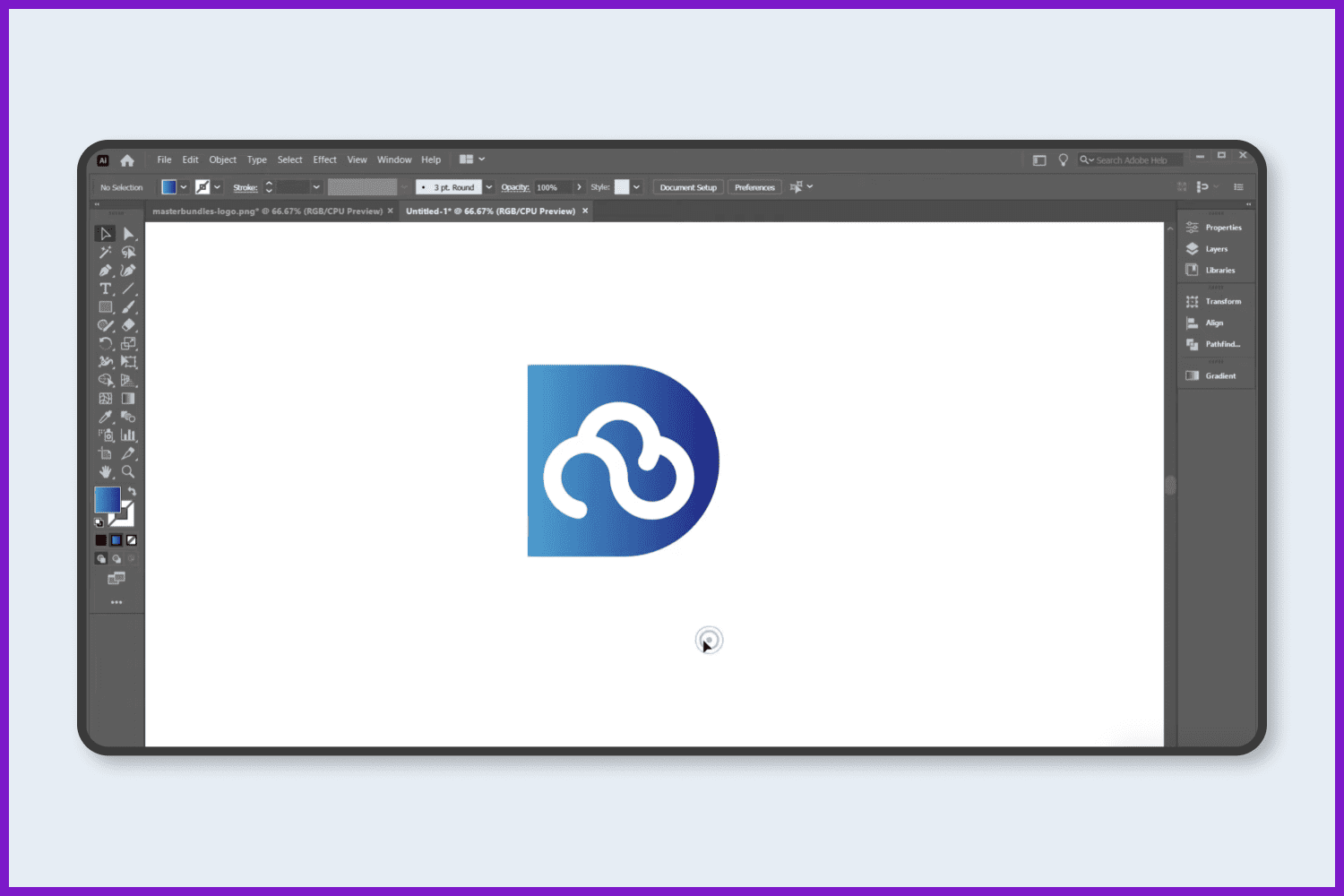 Also, you can curve the D-corners to make them look better.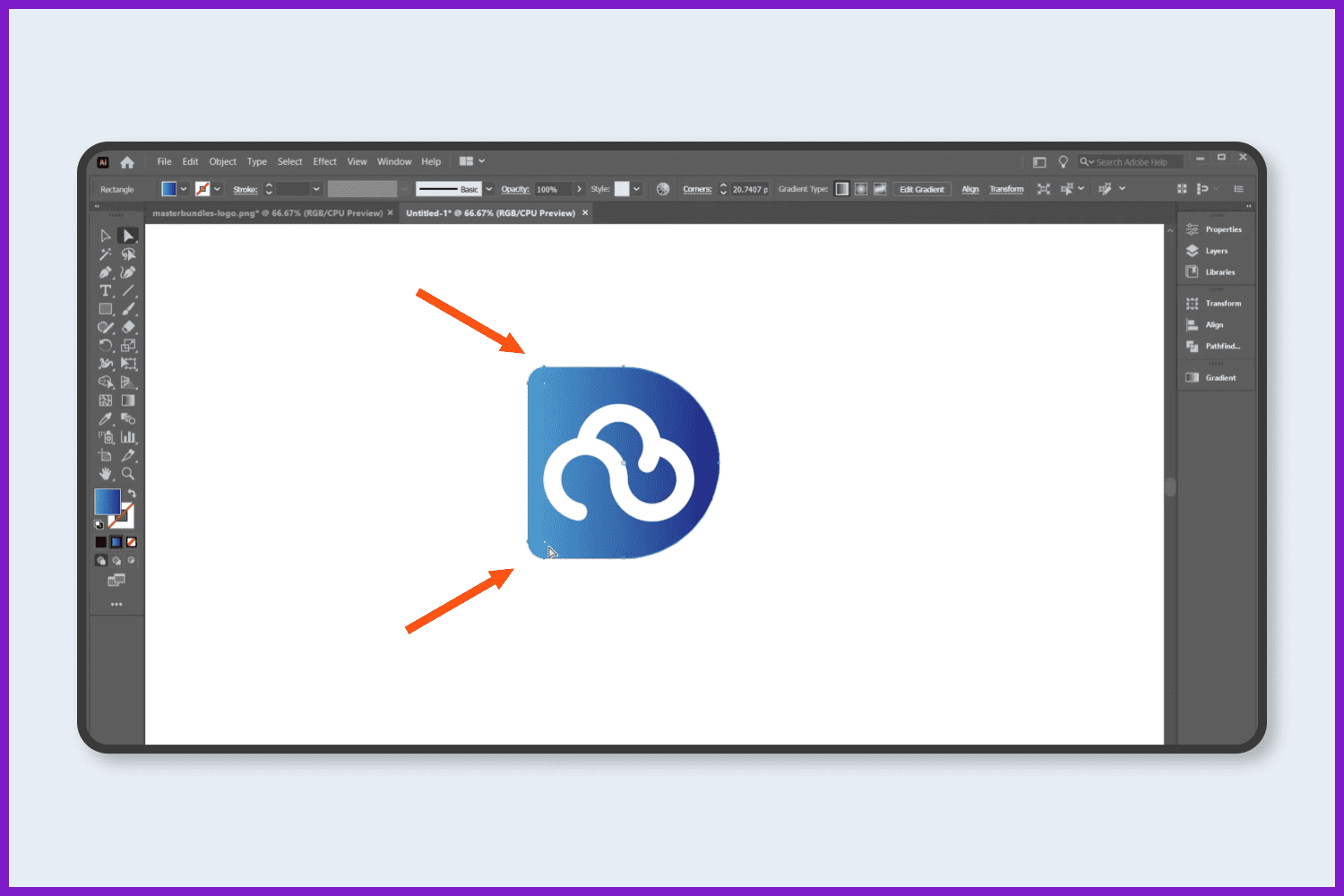 Use the gradient color perfectly.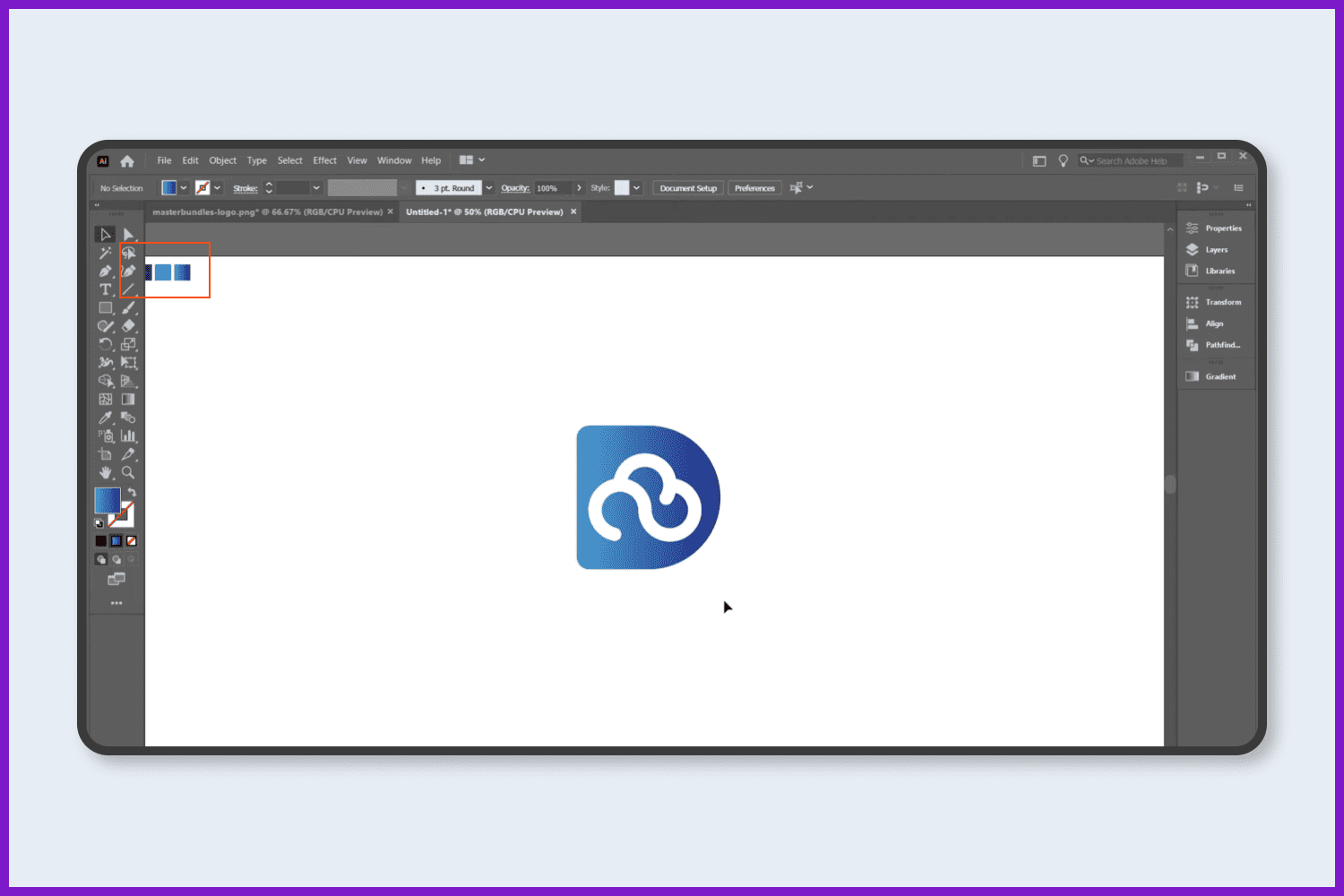 Write the logo name. You can choose any font you like. If you haven't found a font you like from the local ones, you may look for more amazing fonts on this page. The logo name is DeCloud.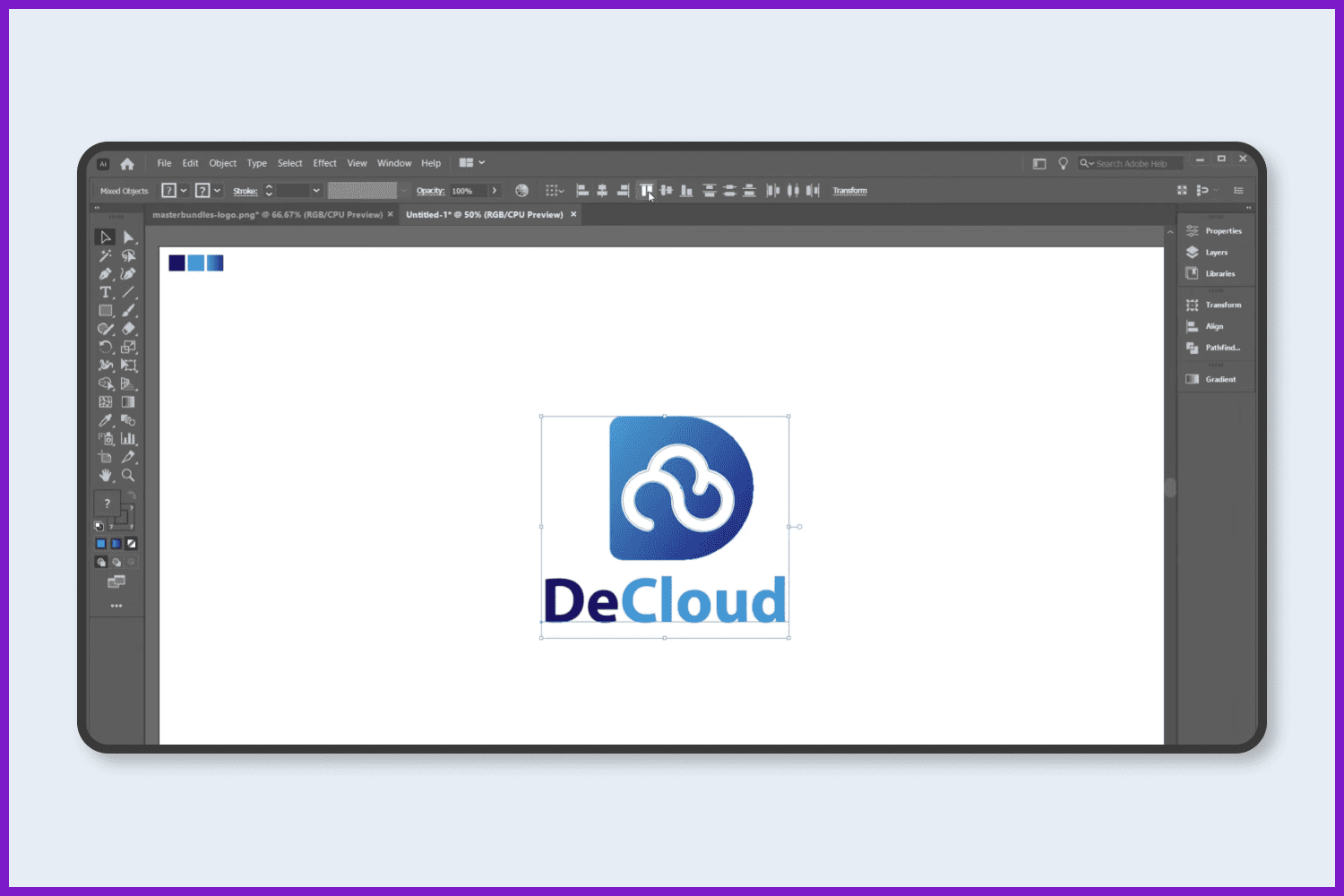 You can add a slogan or tag for the company or brand.
Increase the tag space to make it more professional.
Finally, we have a perfect logo. You can save your Adobe Illustratorlogo in png format.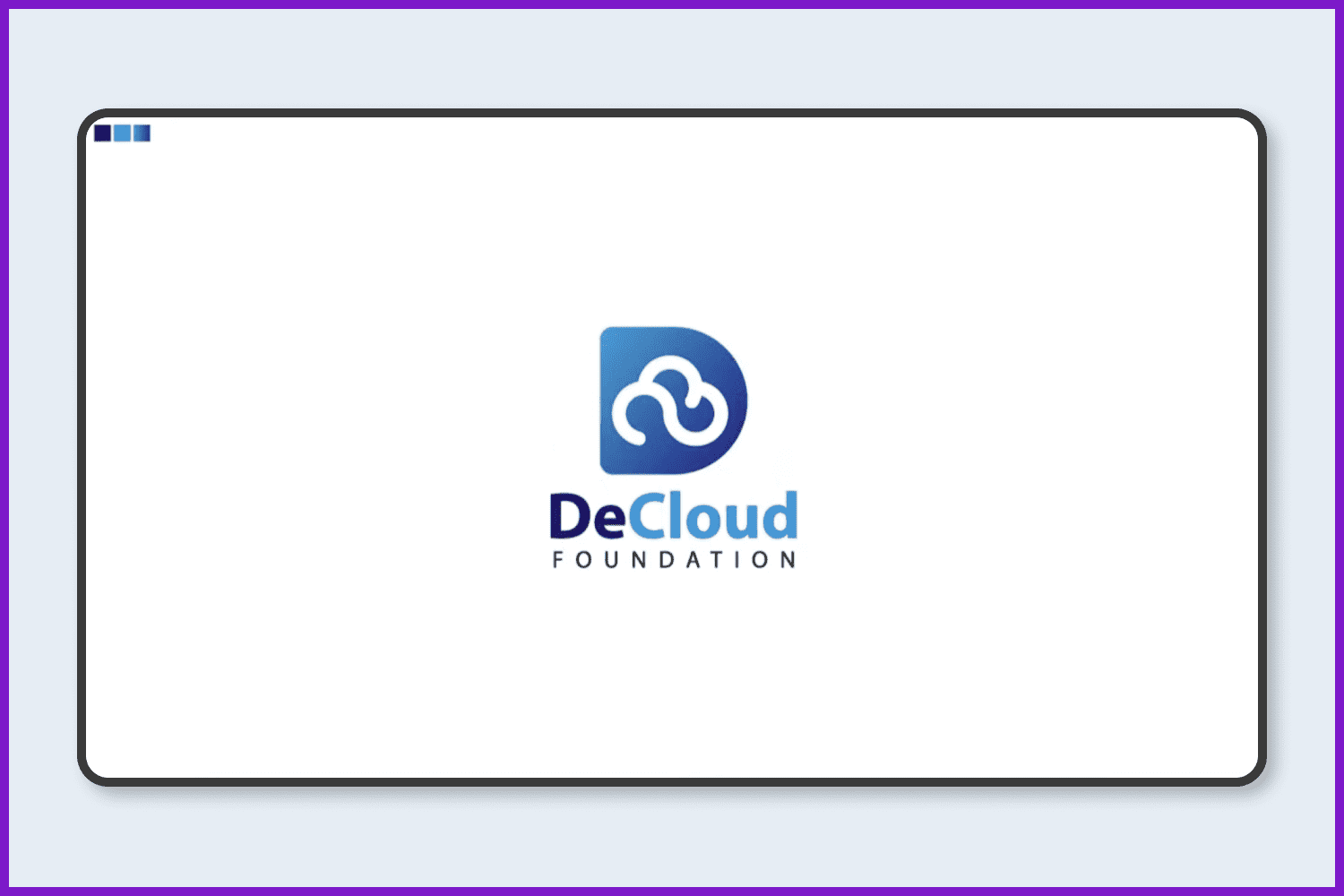 Where Can You Find Inspiration For Logo Design?
Finding inspiration for a logo design can be very difficult. Imagine the situation. You've just received an assignment from a new client and are sitting at your desk waiting for inspiration. Are you really hoping that the perfect logo design will appear in your mind all by itself? If it does, you're going to have to wait a very long time.
You have to make an effort to find inspiration. Allow a variety of ideas to come together in your mind and gradually combine to create the logo you are looking for. First and foremost, you need to know where to look for inspiration.
Below, you will find resources for finding inspiration. Remember that this is not an exhaustive list because inspiration can come from anywhere and anytime.
Logospire
Logospire uses the simple infinite vertical scroll format and offers the logo itself and a link to the designer's website. Logospire allows you to highlight your favorite logos without any distractions.
LogoLounge
LogoLounge offers a huge number — 380,000+ in fact — of different logo designs for your inspiration. The site was created for designers as an alternative to an effective reference library. You can share ideas and concepts with colleagues and clients. You can also participate in discussions on related topics and even find a job on the site.
Logo Moose
Logo Moose has a funny name and the same funny logo. Nevertheless, it is a very useful community for logo designers that showcases the work of professionals from different countries. Designers can submit their own logos. In addition, one can use the platform to get feedback on your designs and you can critique the work of other designers.
Logo Design Love
Logo Design Love is a website and book by graphic designer David Airy. Unlike some inspirational sites, the platform showcases new work alongside classic designs from talented creators such as Adrian Frutiger, Cruz Novillo, and Paul Rand. It has a very attractive minimalistic interface and thoughtful content that offers opinions, ideas, and news about all that is related to the logo.
Dribbble
Dribble is where many professionals post their portfolios, which means you'll find a huge variety of styles and approaches. Dribbble is a community of designers where they can get feedback and constructive criticism on their work.
99Designs
99 Designs is a marketplace where clients can hire freelance designers. What many people don't realize, however, is that it's also a great source of inspiration for logo design 😉
Pinterest
And what would inspiration be without one of the main platforms for creative people? Yes, there's a place for logos, too, with lots of ideas and examples from various designers presented on Pinterest!
If you want to make the most of your activity on Pinterest, check out our guide and free checklist that will help you to organize it efficiently!

By the way, some notes about the history of creating the greatest logos may also be very inspirational. For example, you can read more about the History Behind The Gucci Logo.
As you can see, creating a logo can be a very interesting and involved process. You can do it in quite a short period of time. However, it is best to have some particular ideas in your mind and a simple sketch before you get started on the digital work. Having so many resources available today, it is not hard to find the inspiration for your creative process.
May the inspiration be with you! 🙂
FAQ
How do I create a professional logo in Illustrator?
Often, the creation of a professional logo begins with sketching it on paper. Once all points have been taken into account, the outline of your logo is scanned into the computer and you can start redrawing it in Illustrator.
How can I learn Illustrator to design awesome logos?
You should read some of the useful guides that are published in MasterBundles blog as well as visit Graphic Hunters' YouTube channel to learn more about Illustrator.
Is Adobe Illustrator good for making logos?
Adobe Illustrator is very convenient, quite simple to learn, as well as has all the tools needed to create an awesome design. Learn and practice it to be great 🙂
How do I start learning to design a logo?
You can look for some tutorials and video-guides on YouTube as well as visit graphic designer courses to learn how to design a logo.
Some Awesome Videos About Logos in Adobe Illustrator
How to design a logo with golden Ratio | Adobe Illustrator Tutorial

How to design a logo with golden Ratio | Adobe Illustrator Tutorial.
Many designers search for a good tutorial about golden ratio and how to use it in logo design, I was searching for it before and I found a hard time to find good resources but there is never the good explained video.
So, today, I tried my best to explain how to use the golden ratio in logo design and how to make a logo using golden circles.
I will make many other videos related to this topic and I will explain how to use the different golden ratio method, like the golden spiral.
In this tutorial I will show you:
How to make the golden rectangle.
How to extract the golden circles from it.
How to use the golden ratio to design a logo directly on illustrator.
How to use the golden ratio to grid a sketch and make a perfect logo design. 
Please Take a Moment to Pin This Post to Pinterest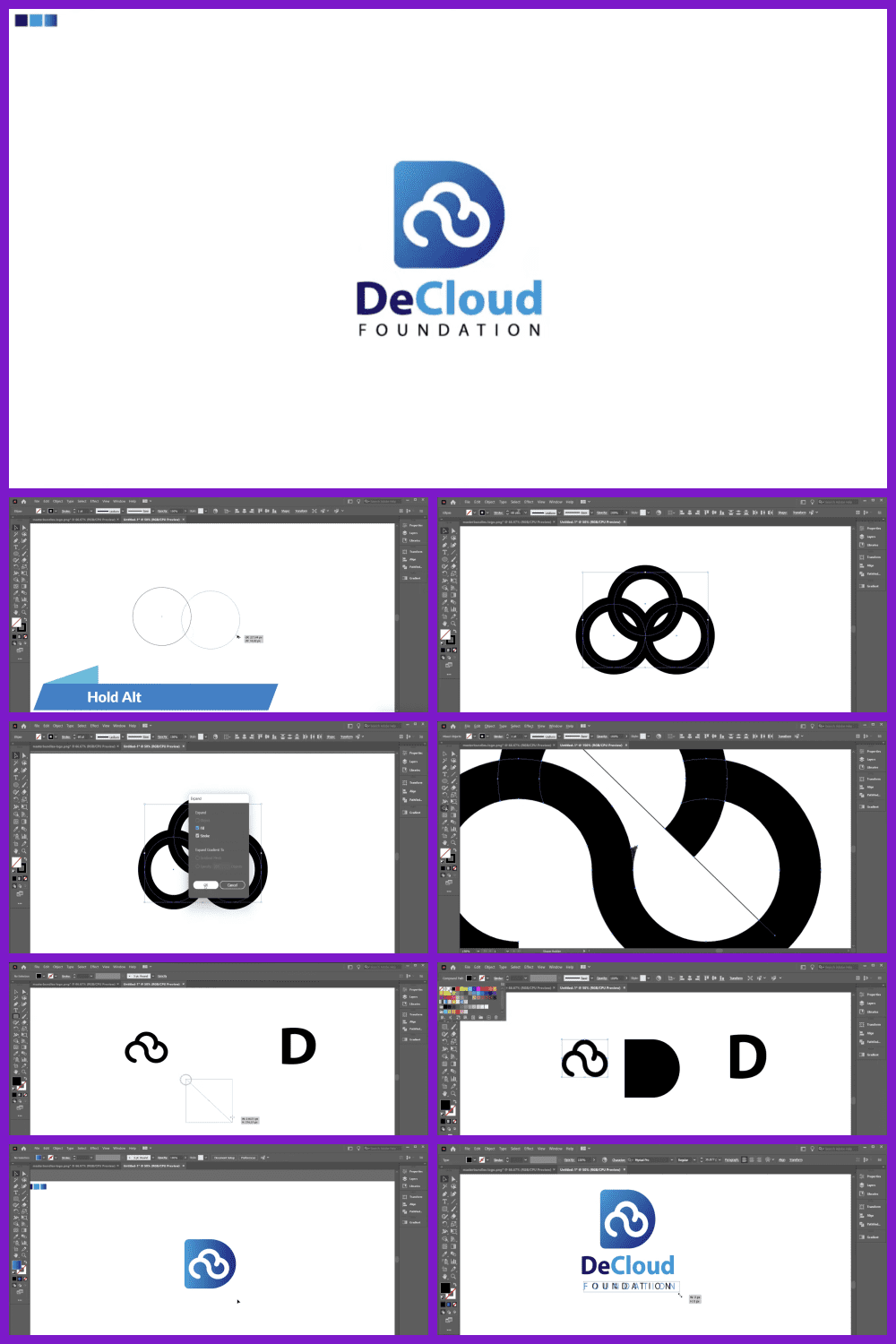 Was this page helpful?
We will be happy if you decide to share this article with your friends on Facebook. Just click on the button and you're done
What are your concerns?
Thanks for your response!
You have already left your review.
Disclosure: MasterBundles website page may contain advertising materials that may lead to us receiving a commission fee if you purchase a product. However, this does not affect our opinion of the product in any way and we do not receive any bonuses for positive or negative ratings.