31 Best Psychedelic Fonts for Printing, Websites, Logos, and Applications
Psychedelic makes designs full of whimsical and new forms. Get the benefit of ready-to-use web solutions to make your online and offline projects evocative. We offer stylish and mesmerizing psychedelic fonts, one of the top trends of 2023. Their key features are modernist style, kaleidoscopic shapes, and great forms. Web solutions add vintage, brightness, and boldness to your logos, presentations, prints, and websites.
Flip through a selection of the 30+ best trippy fonts to suit any idea. Check out the collection and start designing incredible visuals!
Best Premium Psychedelic Fonts
Welcome to a selection of the highest quality and most stylish psychedelic fonts. Make your projects special with our premium offerings!
Best Trippy Fonts
Quirky fonts have a unique charm. They are a spectacular part of any project and sometimes become its true highlight. Browse through our selection of the best trippy fonts and safely choose the top ones for your collection!
Peculiar People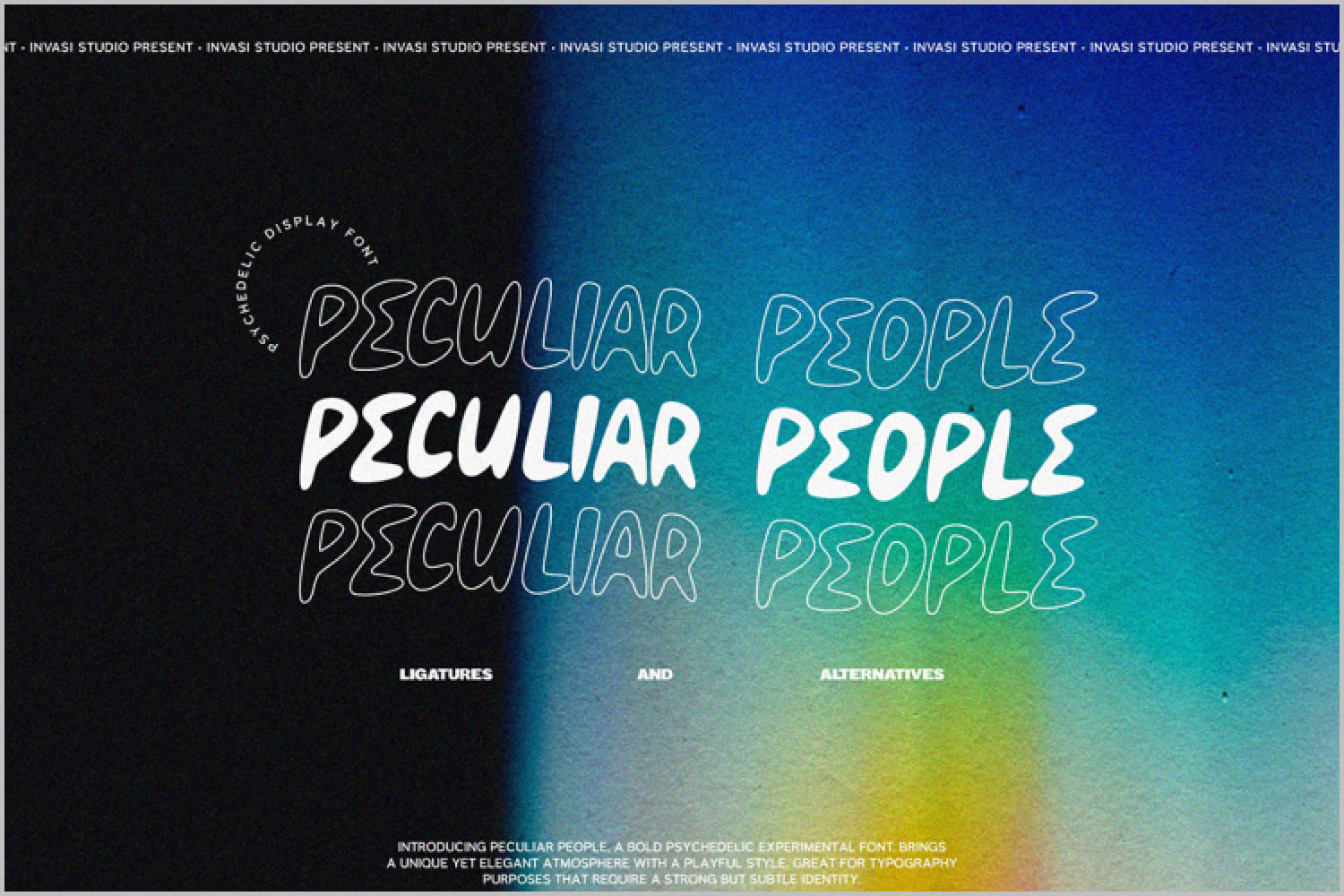 This vintage trippy letter font is also perfect for implementing your ideas. It looks awesome on prints on t-shirts, sweatshirts, eco bags, and other stuff. The set contains all the characters and symbols to create lettering. Also, it is multilingual.
Grand Haven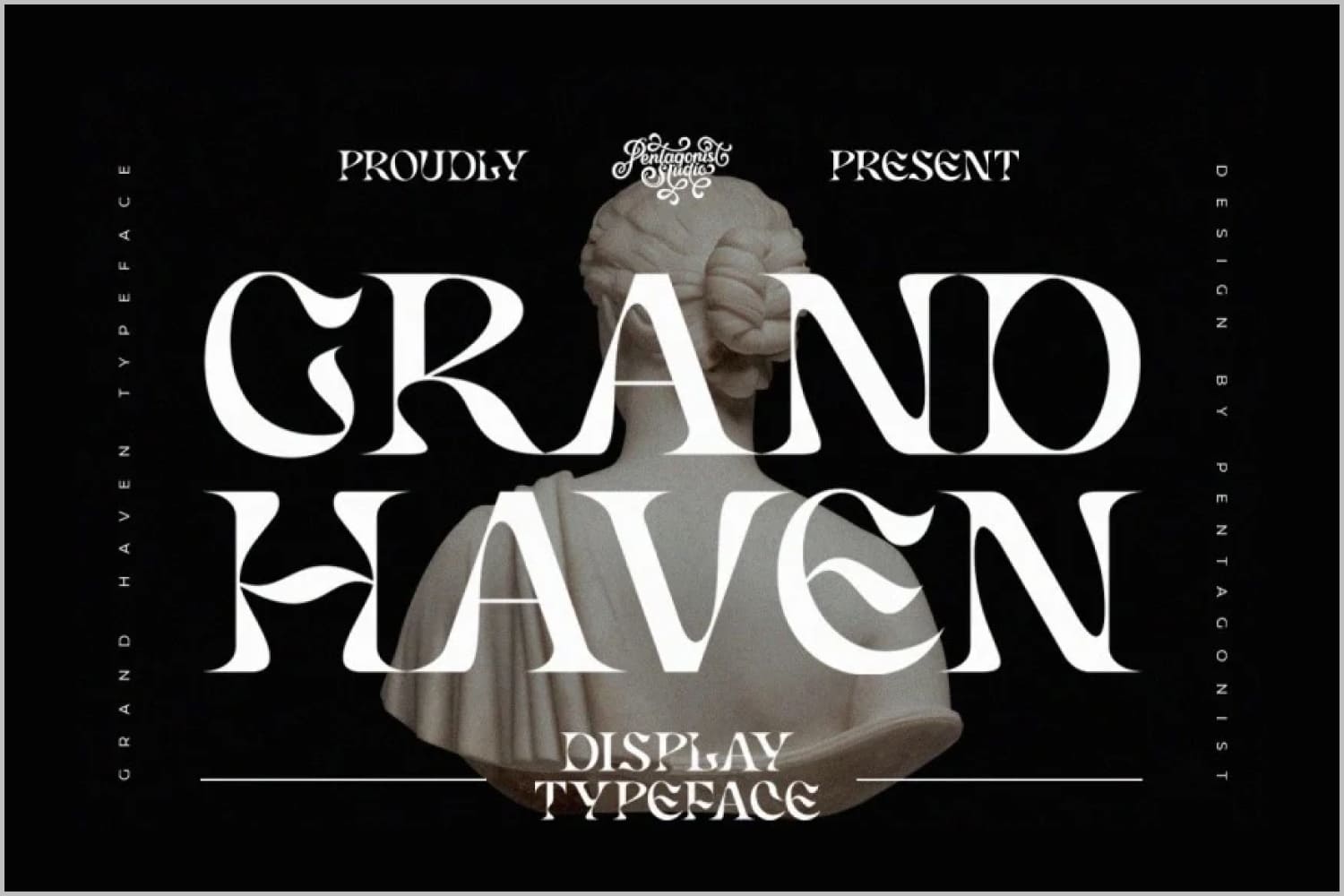 Use this massive typeface for posters, book covers, logos, and packaging. Trippy letters font is easy to edit in Adobe Illustrator, Adobe Photoshop, Corel Draw, and other tools of your choice. It is available in 3 formats and is flexible in settings.
Wow Man Font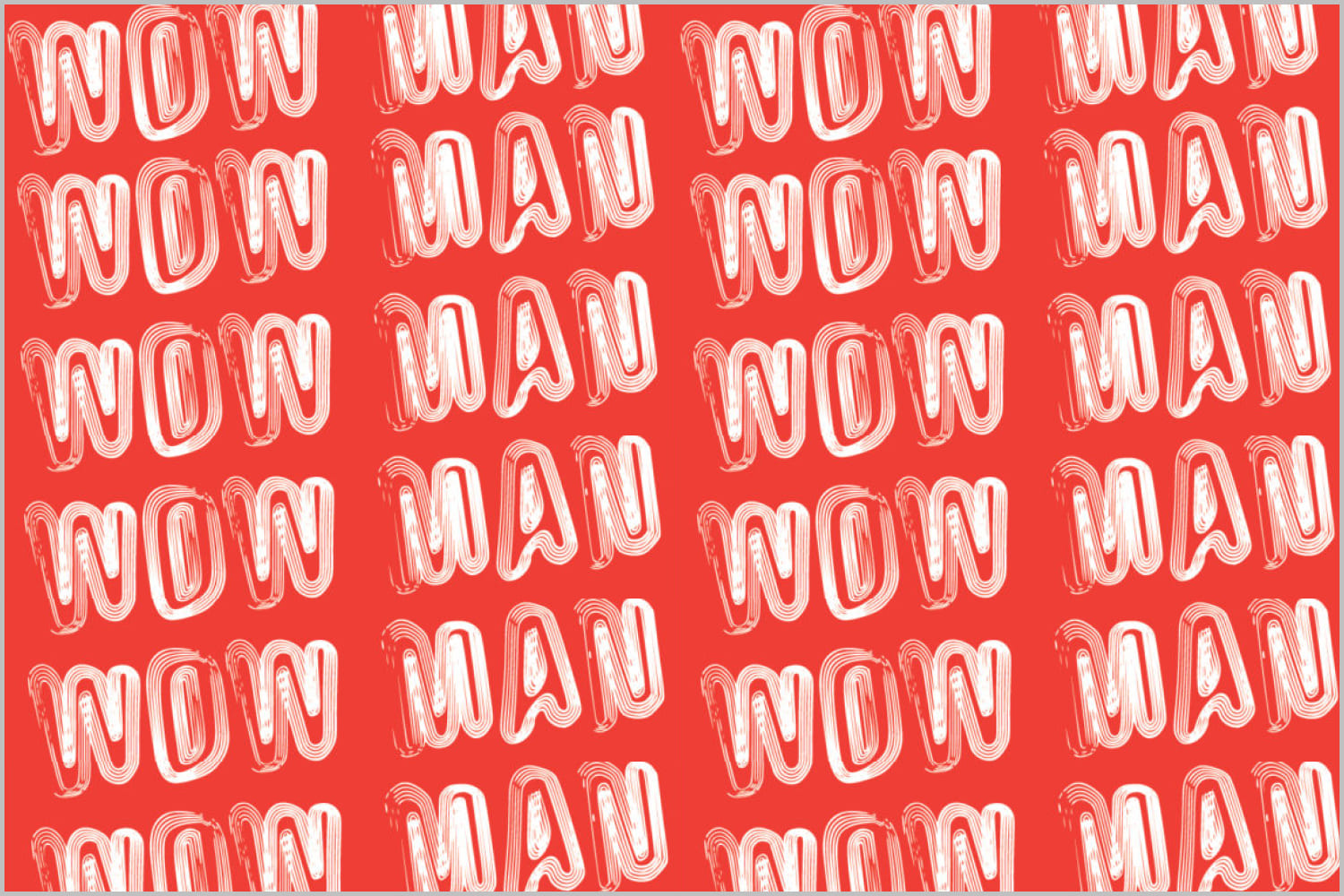 This script perfectly creates a wow effect with your audience and clients. Use it for websites, presentations, posters, banners, prints, and other digital projects. This solution takes the main focus of the design to itself. The product is excellent for brands that prefer to avoid extra design details.
Free Psychedelic Fonts
Can't believe there are worthy options among the free ones? We are ready to dispel this myth! Check out our selection of impressive and completely royalty-free products for your personal goal! Here you will find options for every taste and purpose!
Latchboy Font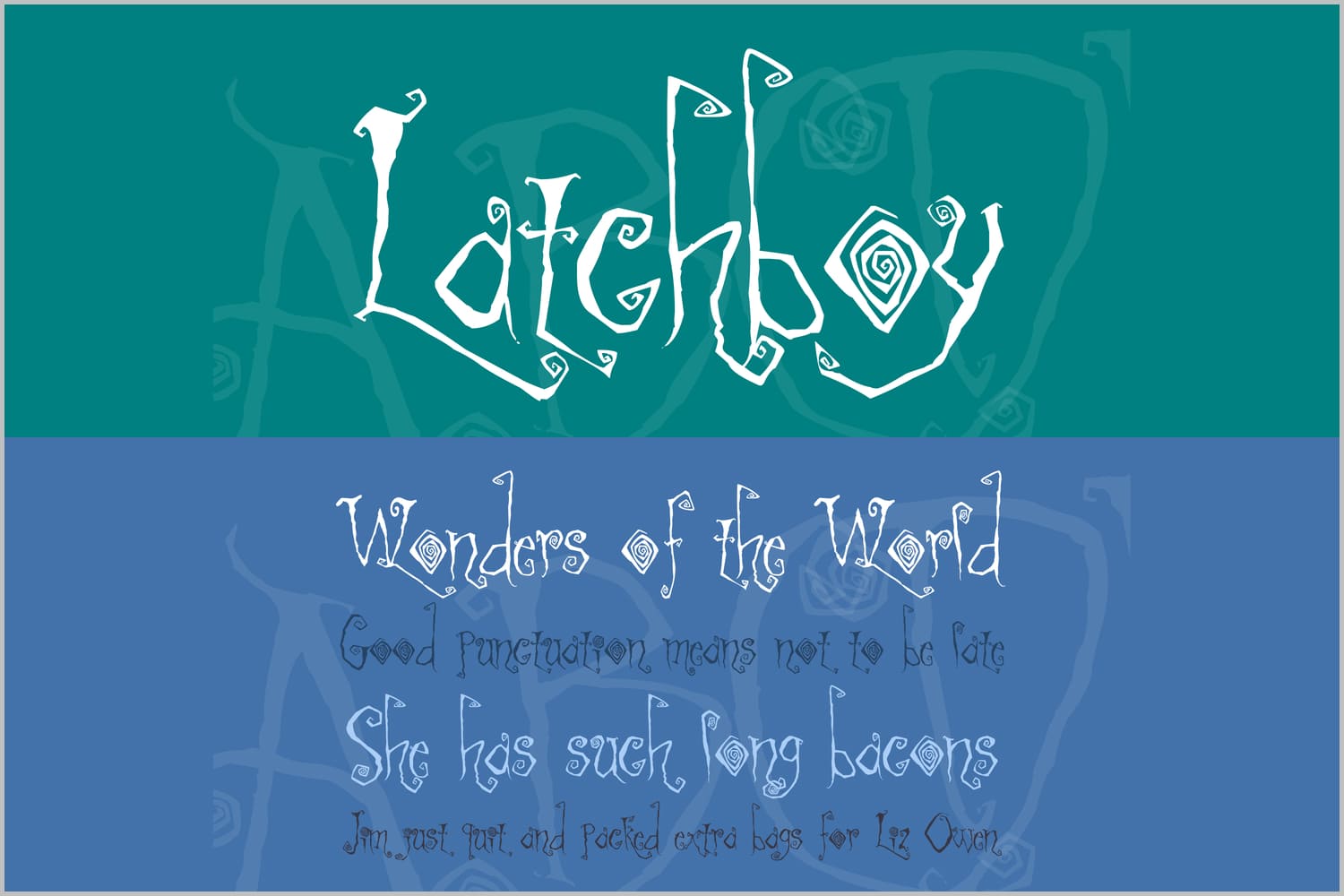 It's an actual psychedelic font. Curls on thin letters and bumps are the main features. It somehow resembles inscriptions in Alice in Wonderland. Latchboy comes in 1 style and includes 654 characters. The font can ideally complement entertainment websites, quest room ads, and the like.
Beigly Font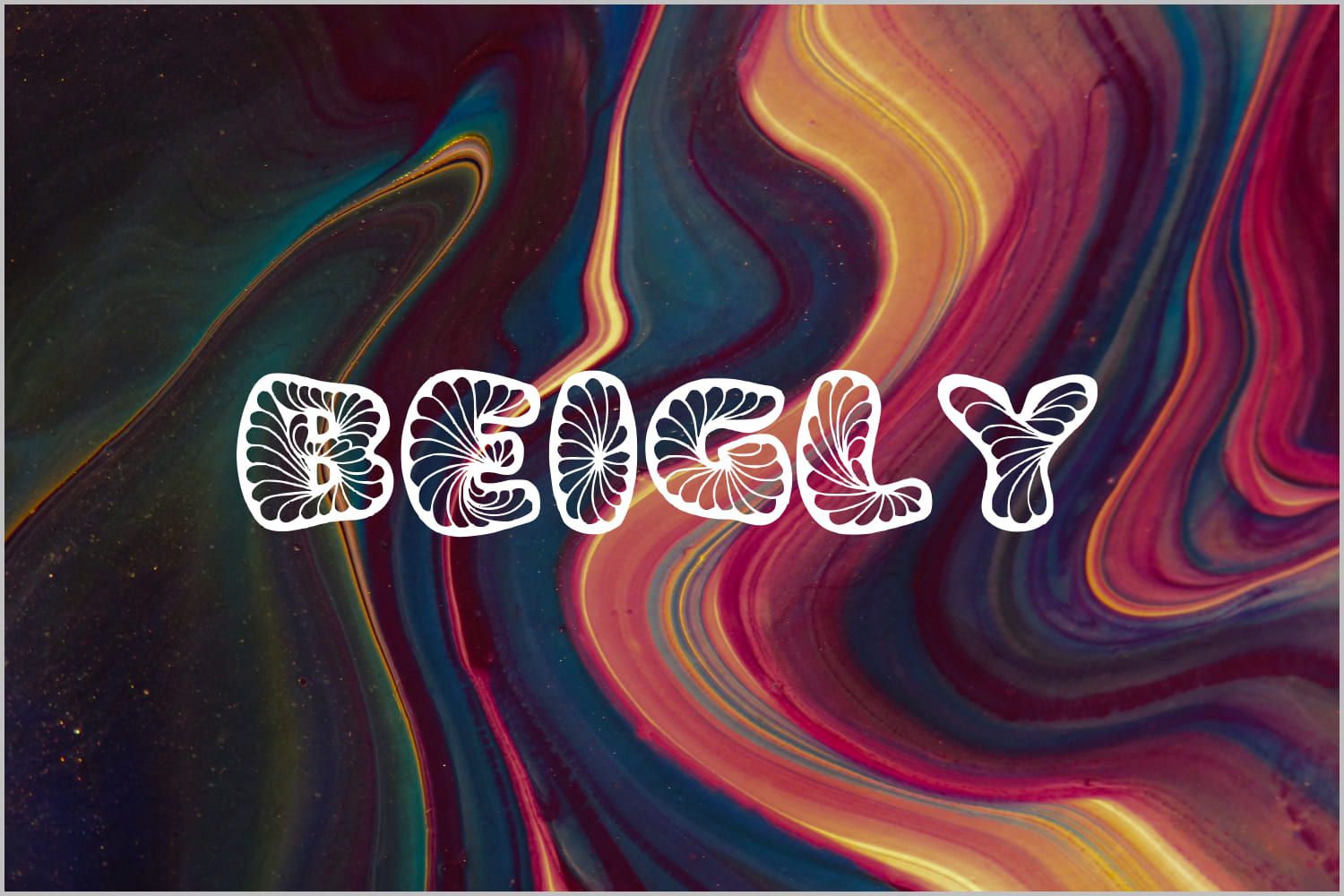 Each letter of Beigly Font is unique and filled with drawn petals. The typeface creates bright, lively inscriptions that help attract an audience. It can also be used for different projects: from newspaper headlines to prints on T-shirts, sweatshirts, bags, and office supplies.
Candy Pop! Font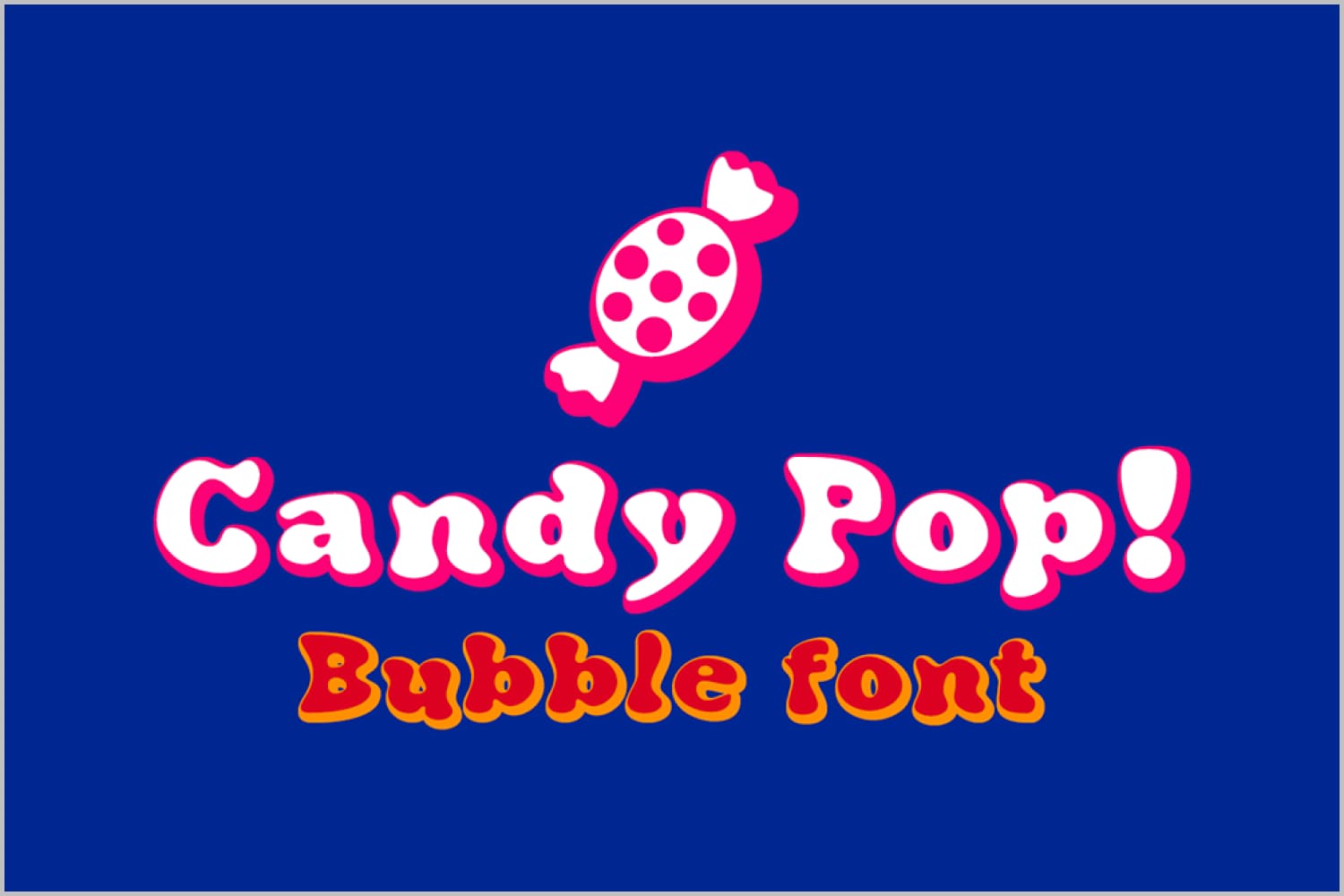 The very soft letters of this font are ideal for stylish and creative projects. Smooth corners create a friendly and pleasant effect. Candy Pop includes 228 symbols, some of which are candy. Perfect for magazine titles, web pages, photo inscriptions on Instagram, prints, etc.
KR Shroom Font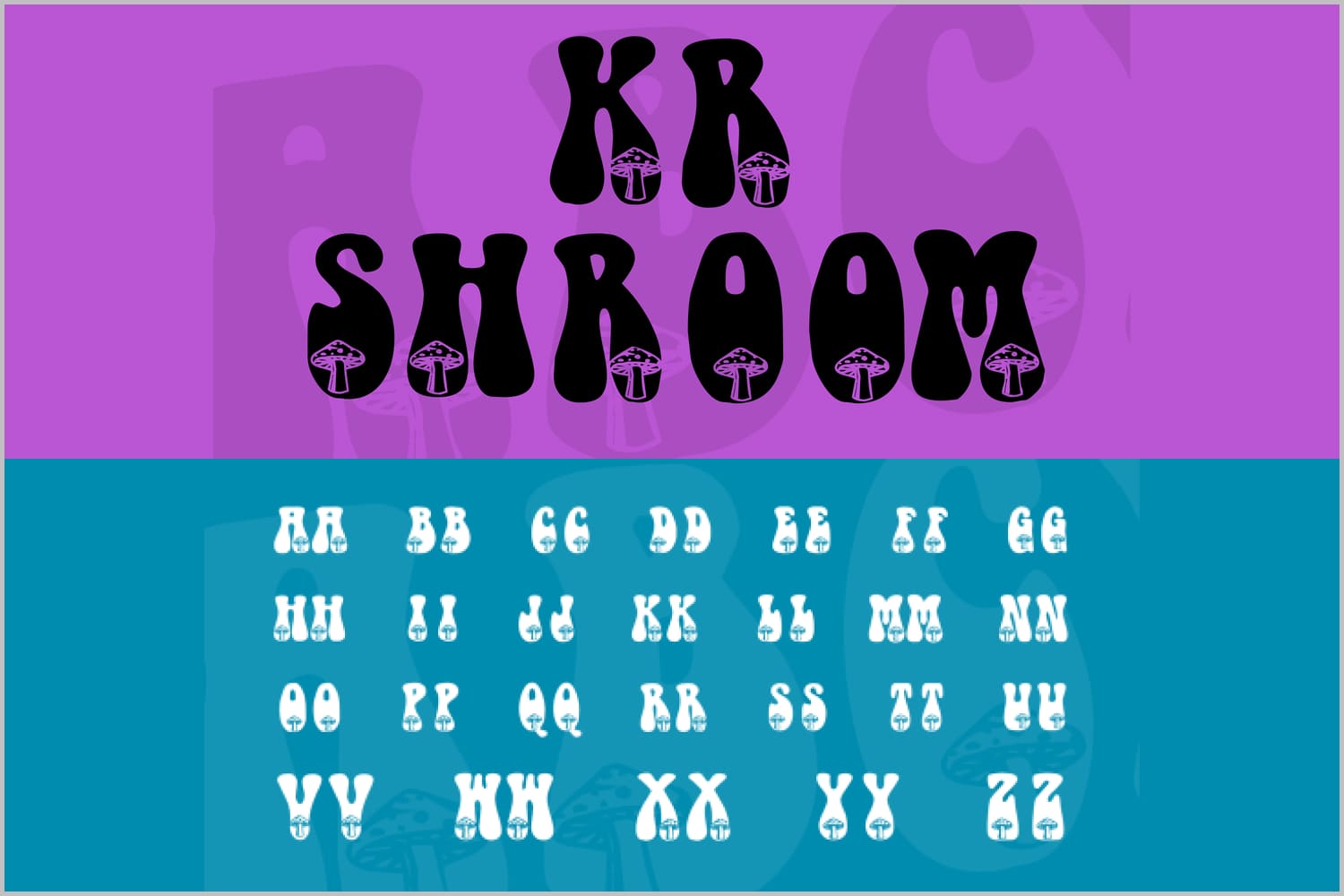 Do you want trippy fonts for free? Try this unique psychedelic bold font. Each letter of the KR Shroom font is curved in the middle, which creates an elegant effect. Another font feature is the mushrooms at the bottom of each letter. The font comes in 1 style and includes 52 characters.
The Meshroom Font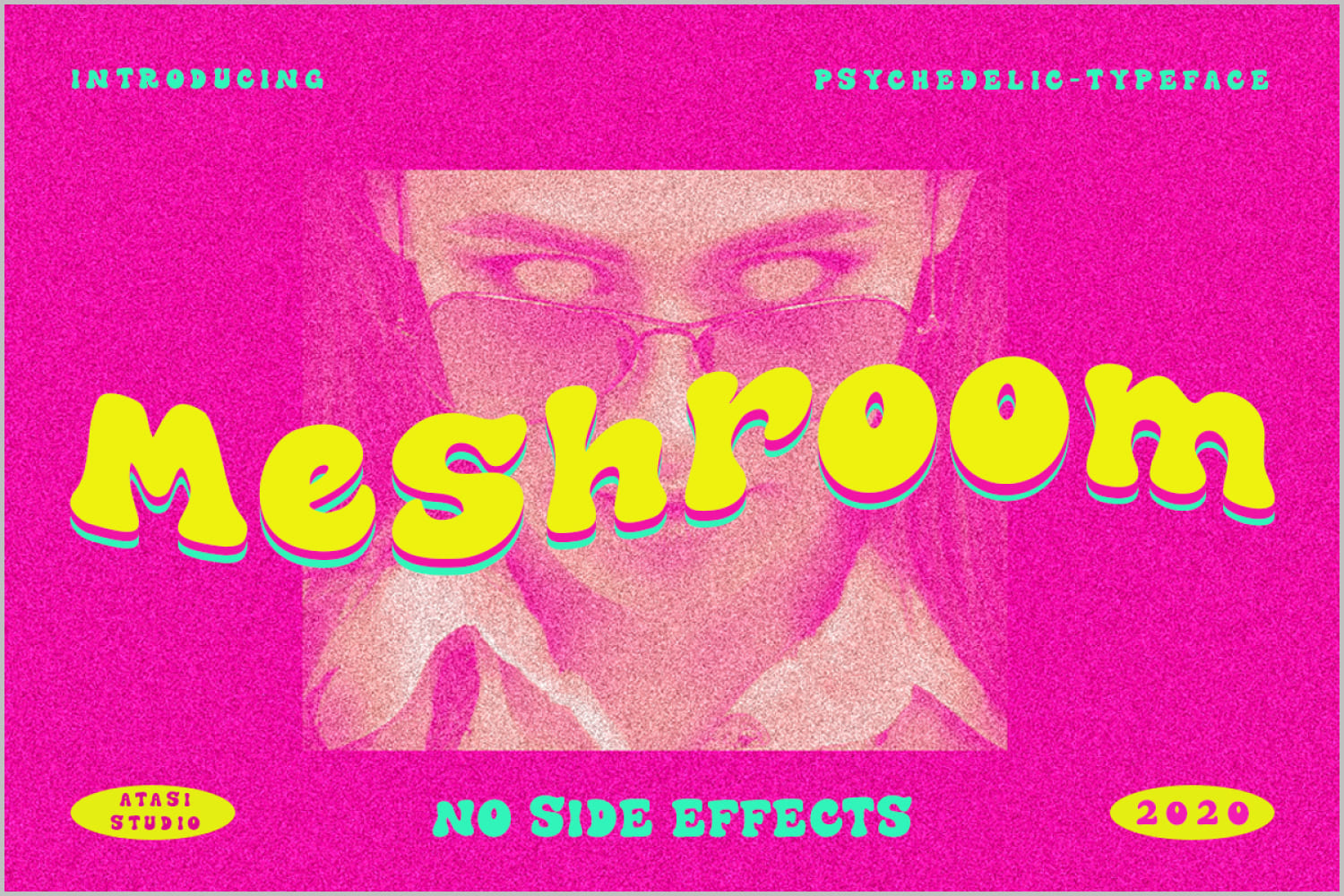 This font includes 186 bold, massive characters. This psychedelic font is ideal for presentations, large banners, bright logos, and huge headings. You can also use The Meshroom on websites, which will help to make the typography original and memorable.
Victor Moscoso Font The font from the design studio K-Type includes 279 characters, consisting of thin letters on top and bold letters at the bottom. Victor Moscoso is suitable for any task and project and will complement its originality and freshness.
JMH Psychedelic CAPS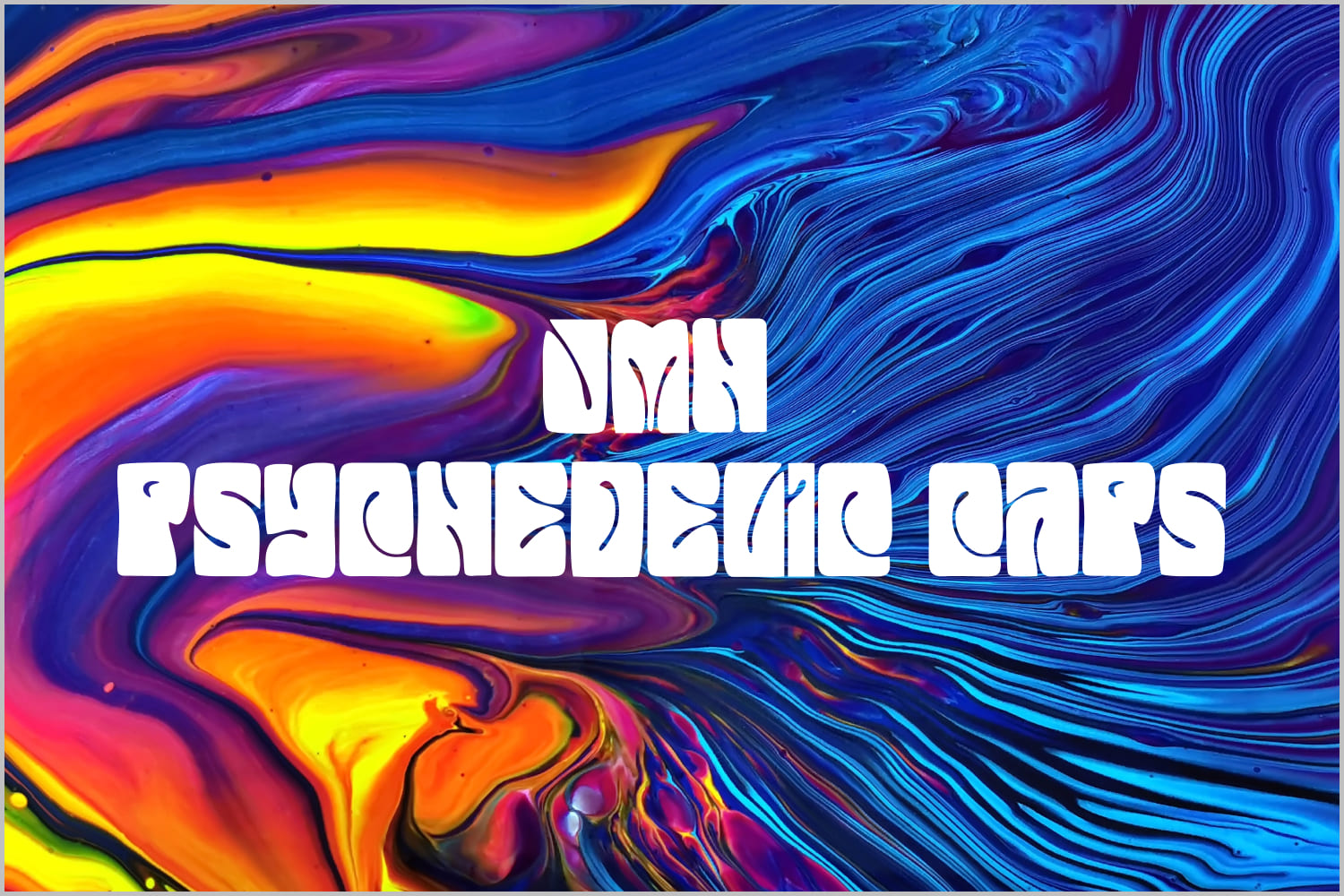 This psychedelic font is distinguished by its smooth and almost identical letters, which makes JMH Psychedelic challenging to read. But you can use this product to revolutionize any boring standard typography. After all, each font letter is bold, with small curls, and like a thin "waist." Due to this, the font seems a little feminine and elegant.
Psychedelic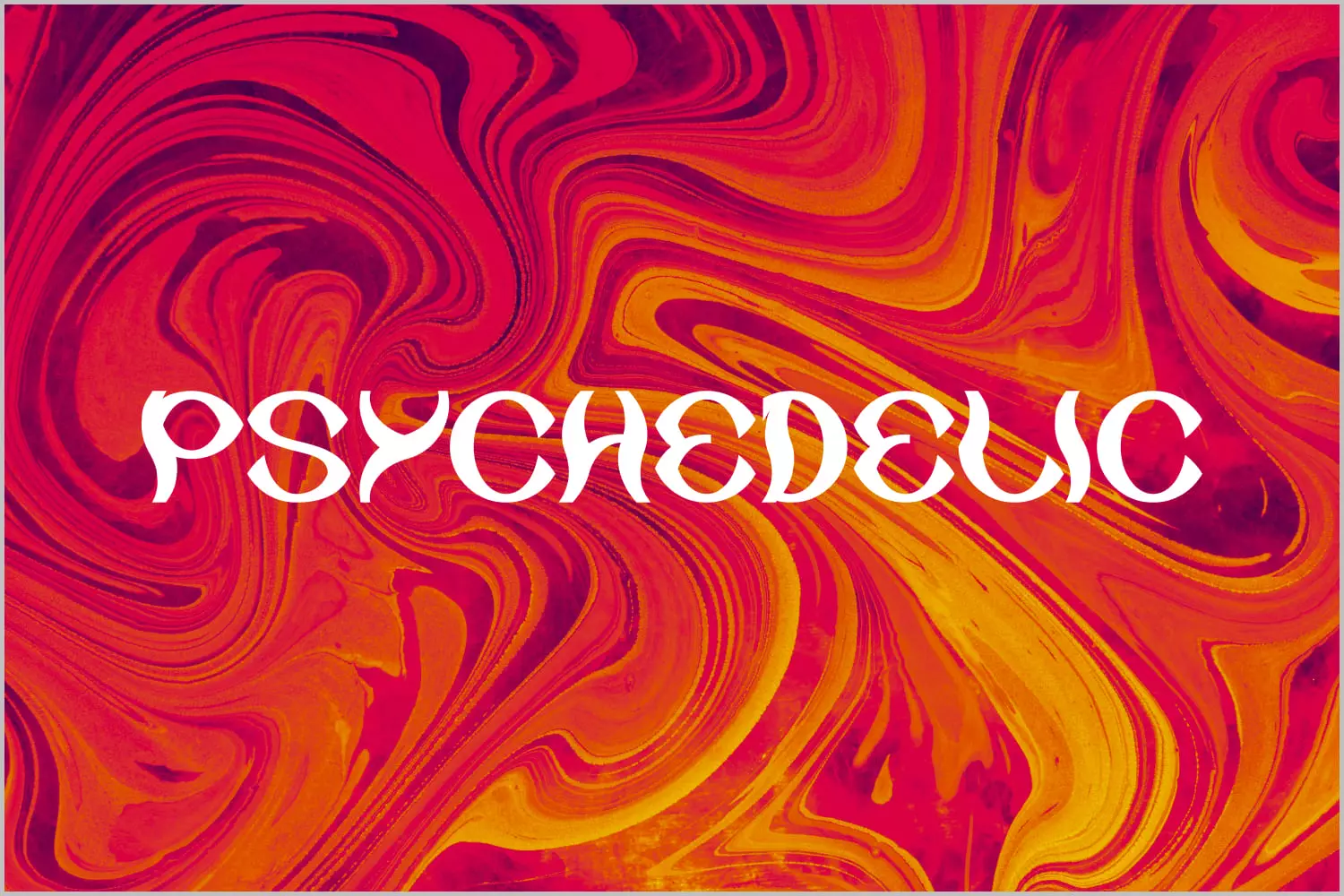 This is a rather original font; each letter is vague and wavy. You can download it in 7 formats, from regular to bold, with white contoured letters on a black background. It will look amazing on banners, logos, and especially on prints because nowadays, the unusual inscription on clothes is the fashion boom.
First Attempt Font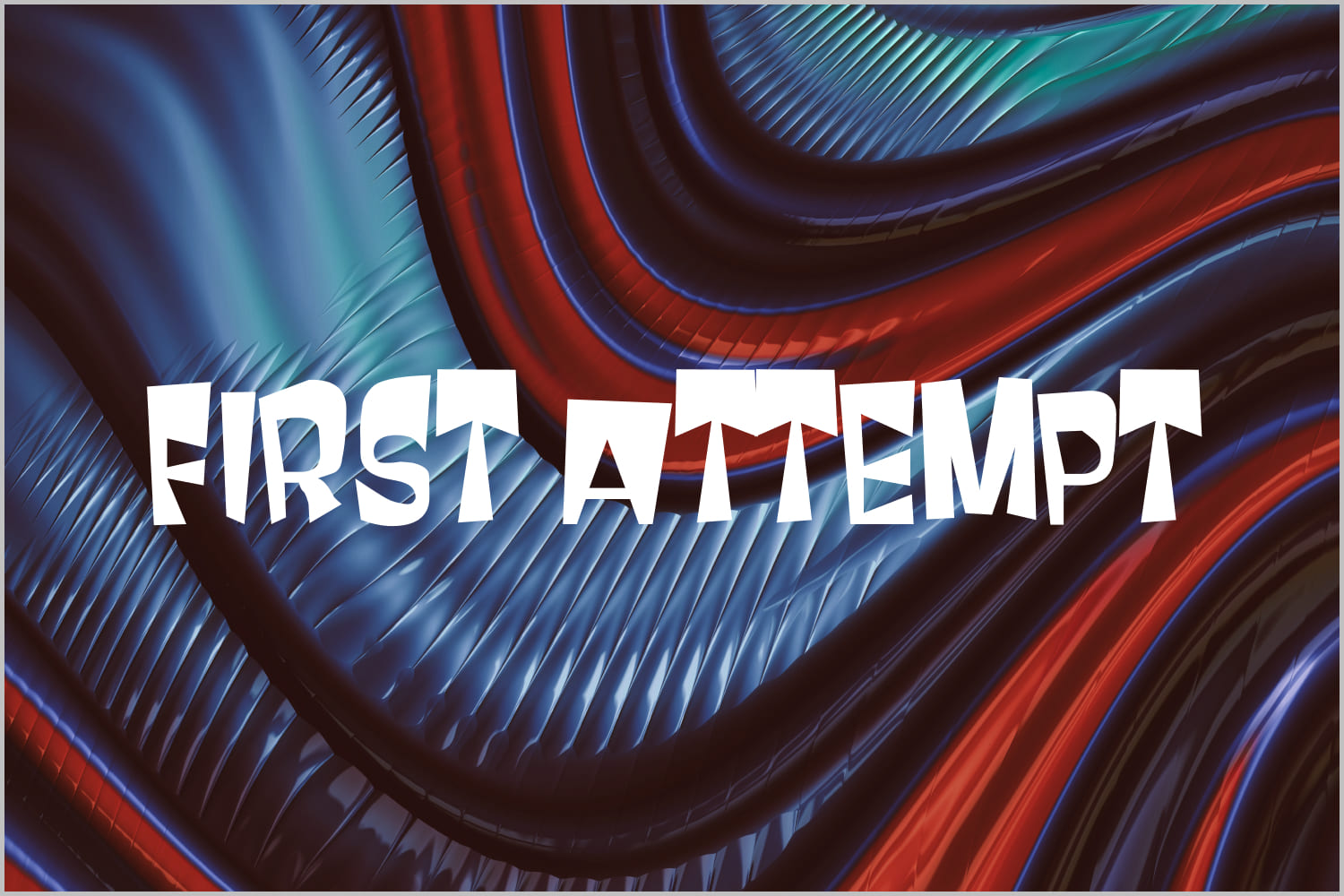 First Attempt includes 114 symbols so that you can create a unique typography. In addition, the font is similar to the typography of the famous SpongeBob SquarePants cartoon. And it will allow you to use it for entertainment sites, logos, headlines, and advertising banners.
We hope you'll find the best psychedelic fonts for your projects in our meticulous selection. Get inspired by unusual shapes and create impressive logos and app designs, websites and presentations, banners, and posters. By the way, we have an excellent offer for font creators. Want to show your talent to the world? Become a vendor on our marketplace and send us your trendy products through the Sell Your Deal form. Start successful sales now!
Some Awesome Videos about Psychedelic Typography:
FAQ
Here are a few frequently asked questions about the best psychedelic fonts
What font is good for psychedelics?
How to choose a quality psychedelic font?
When choosing a font, much more important is the usefulness and relevance of the font to the method of use and the tasks given to it. If you work with fonts, you must understand how it works and what technologies are used. Look for more information about the selected font and check out examples of work with it.
What formats should a psychedelic font be in?
If you use web fonts, you need to choose the format depending on your browser. If they are not, then use the standard TTF or OTF formats.
Where can I find reliable and perfect psychedelic fonts?
You can use our selection. Moreover, there are many high-quality premium and free fonts. We also advise you to look for fonts on MasterBundles. You can find not only single fonts but also font bundles. Besides there are special discounts on MasterBundles.
Disclosure: MasterBundles website page may contain advertising materials that may lead to us receiving a commission fee if you purchase a product. However, this does not affect our opinion of the product in any way and we do not receive any bonuses for positive or negative ratings.