35 Best Fonts for Logo in 2023: Free and Premium
When it comes to logo design, choosing the right font is crucial. A well-chosen font can make a logo stand out, convey the right message, and connect emotionally with the audience. On the other hand, a poor script choice can have the opposite effect and harm the brand's reputation.
In this listicle, we've curated a collection of the best fonts for logo that are suitable for various industries – from elegant and modern typography for fashion and beauty brands to bold and edgy options for tech and sports companies. Whether you're a graphic designer or a business owner, these scripts will help you create a memorable and impactful logo that reflects your brand's personality. Keep reading to discover the top logo fonts and find the perfect one for your brand.
6 Best Fonts for Logos
With the help of high-quality and interesting fonts, you can make a stunner logo, which will attract the eye. In this section, you will find such products that will help you to implement your design ideas into reality.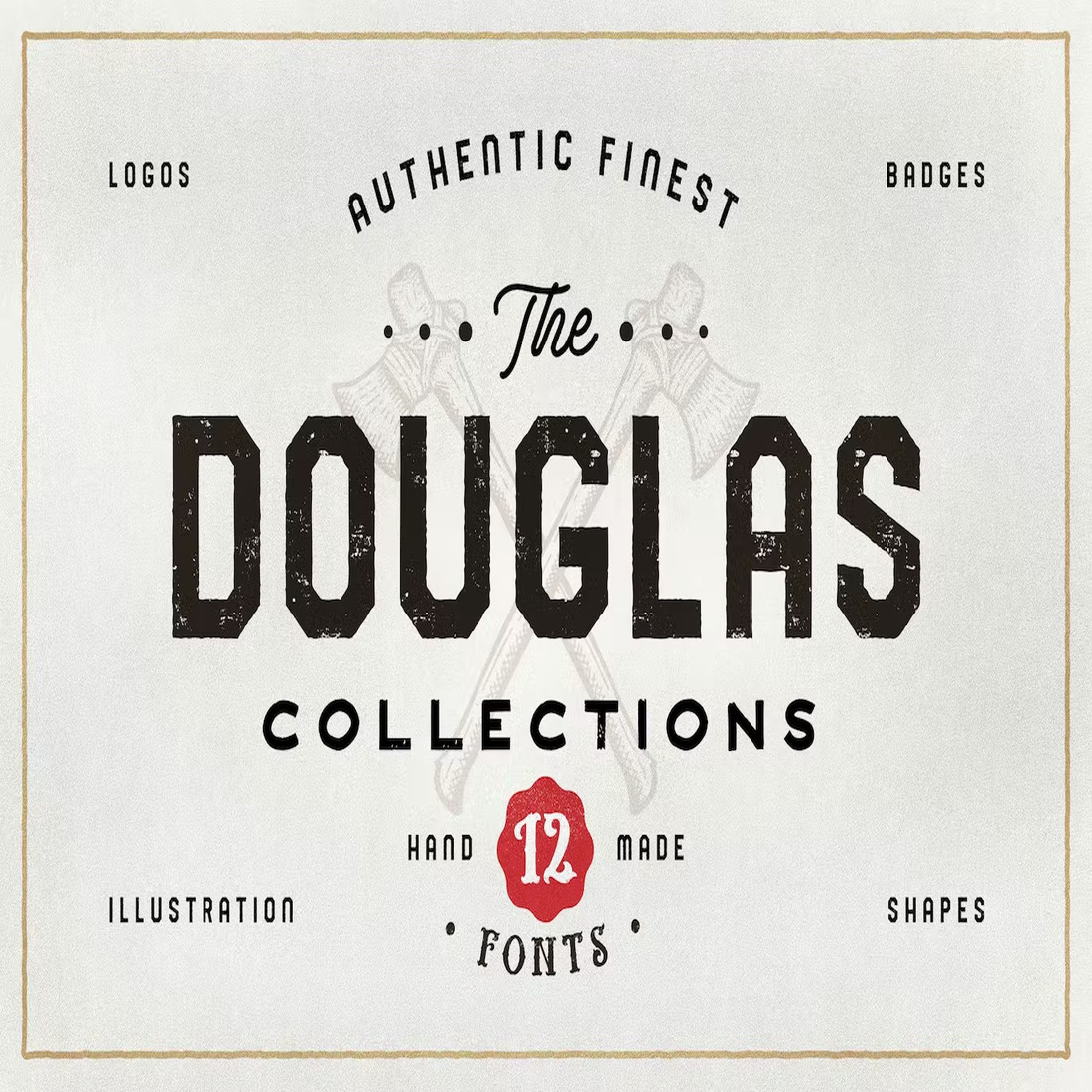 The Douglas Bundle – Badges, Fonts, Illustrations, Logos
| | |
| --- | --- |
| Price | $17 |
| File type | AI, EPS, JPG, OTF, PDF, PNG, PSD |
| Date | March 5 2023 |
| Colors | |
| Rating | |
If you need a beautiful font for logo, then you will find it 100% in this bundle, because it has absolutely everything! In addition, you also get illustrations, editable text logos, and even shape icons.
Show More
Must-Use Modern Fonts for Logos
If you want to create an awesome logo that is up-to-date, you should use these products. They will allow you to start creating real works of art as soon as possible.
Akido Modern Edgy Font for Logotype and Wordmark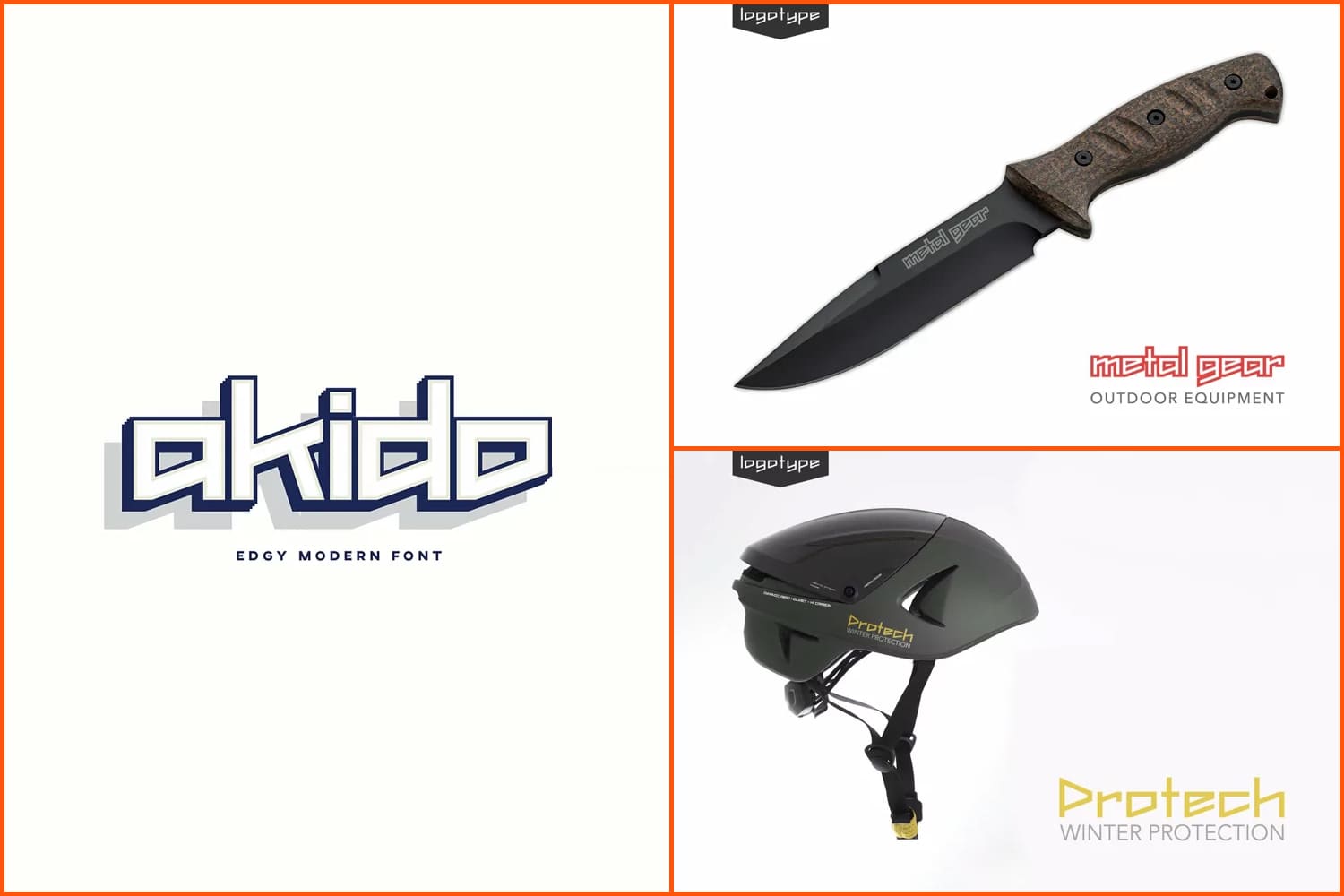 Akido is a modern, minimal, and aggressive font family that is perfect for branding. If you want to create a cool and memorable logotype, then this typeface is what you need.
Nevan – The Logo Fonts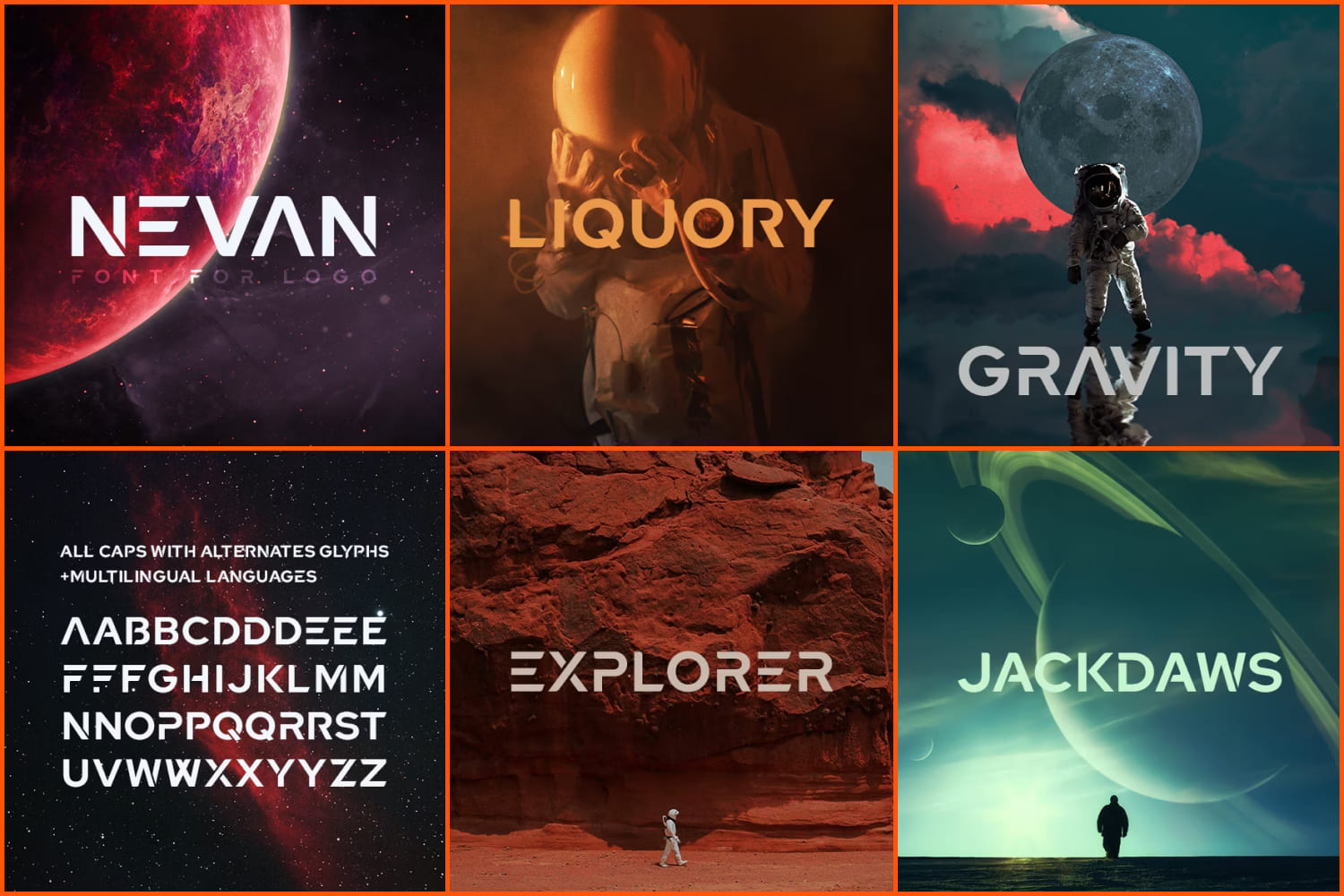 Nevan is a modern font with a sans serif font for logos in which minimalism prevails. It is ideal for many logos, headings, and titles. The files are available in OTF, TTF, and WOFF formats.
Connect – Font For Logos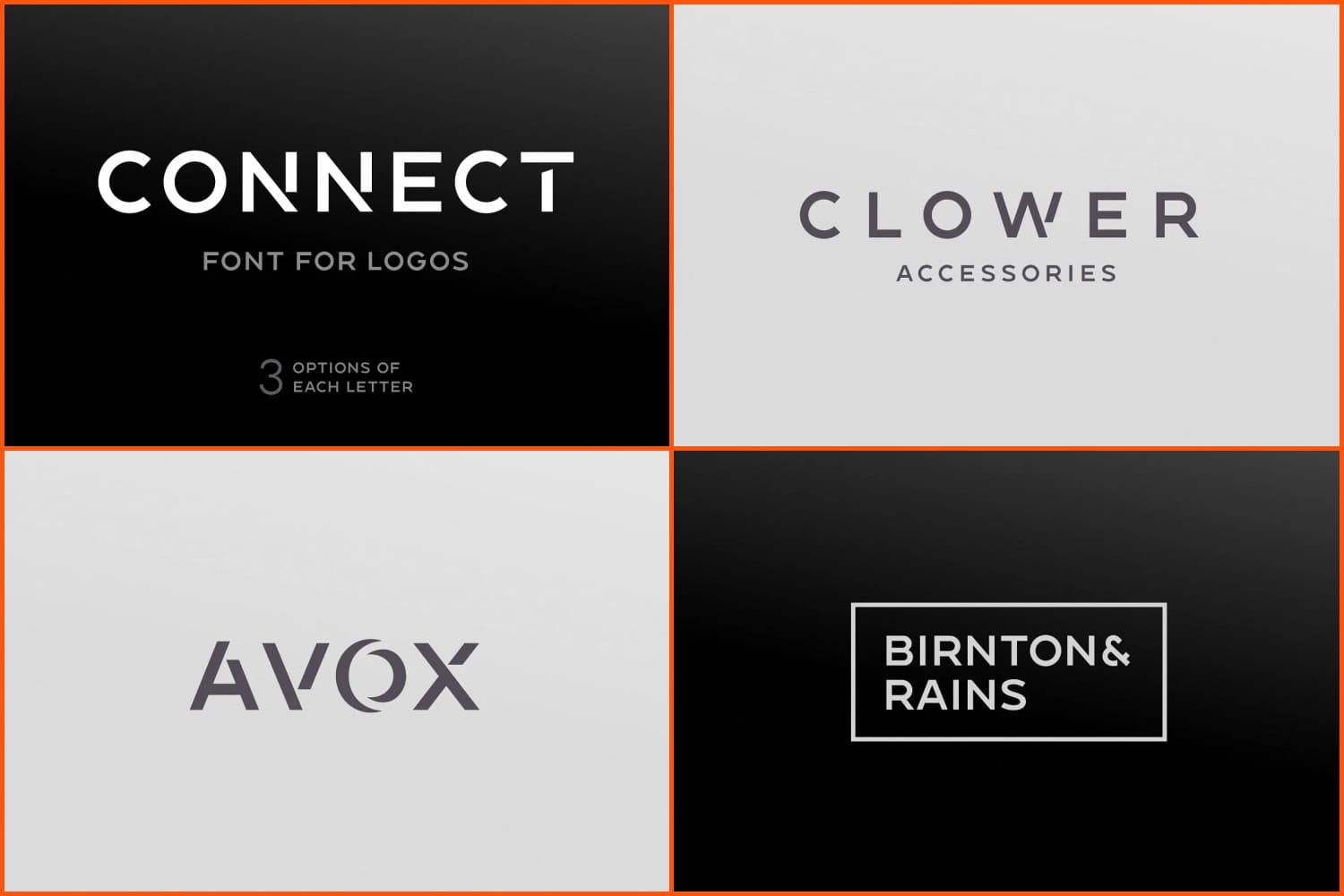 Connect is a modern font for the design of minimalist logos of all kinds. To emphasize its particularity in the form of individual letters, you can use interleaving. You can use alternates in most major graphic editors.
Best Elegant Fonts for Logos
With these typefaces, you can create masterpiece logotypes for any brand, especially when it comes to the fashion industry.
Glamour Absolute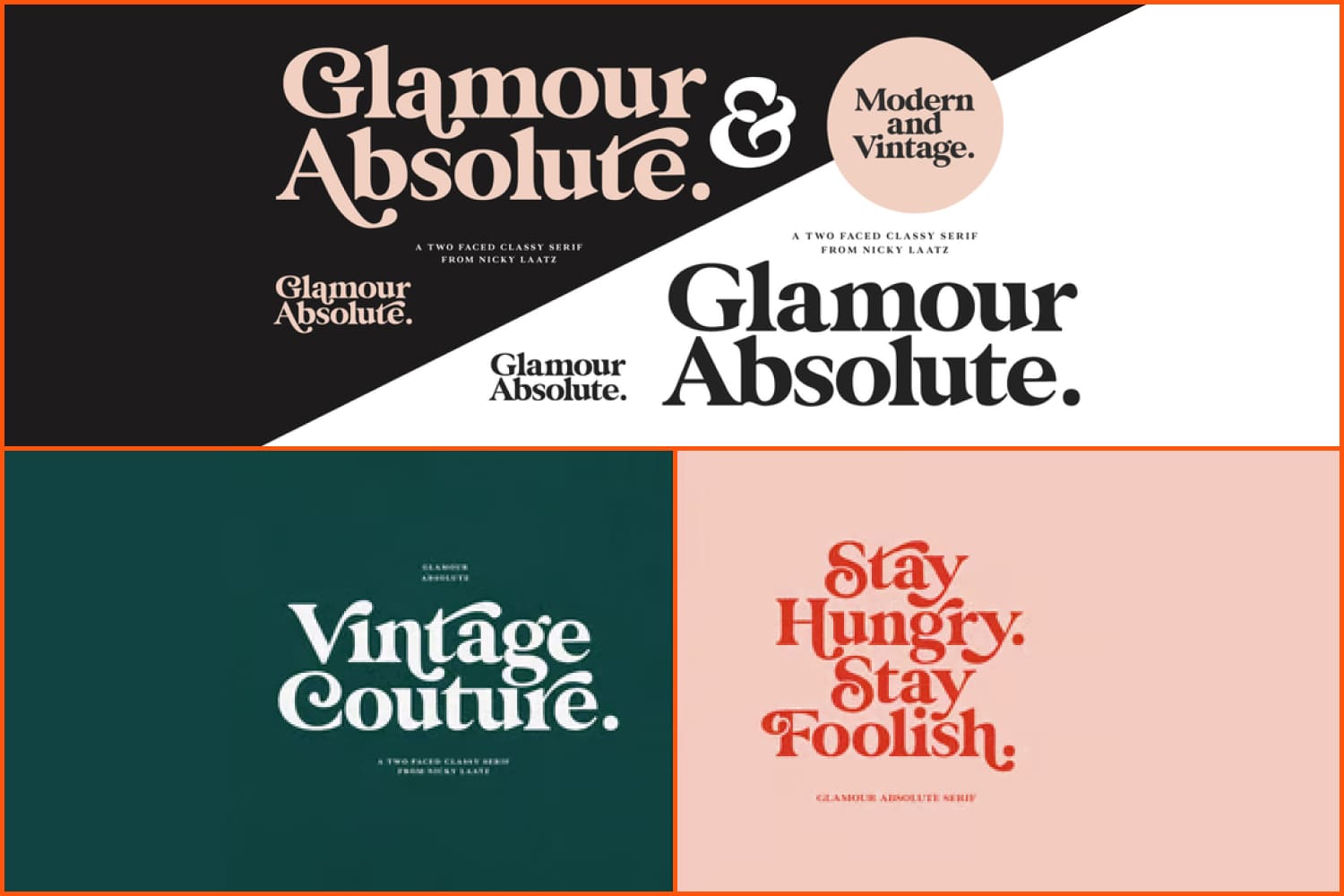 Glamour Absolute is an opportunity for choice and action. You can vary between light and heavy vintage styles, as well as play with the spacing of the letters. It is universally versatile and can be used absolutely everywhere.
Freight Display Pro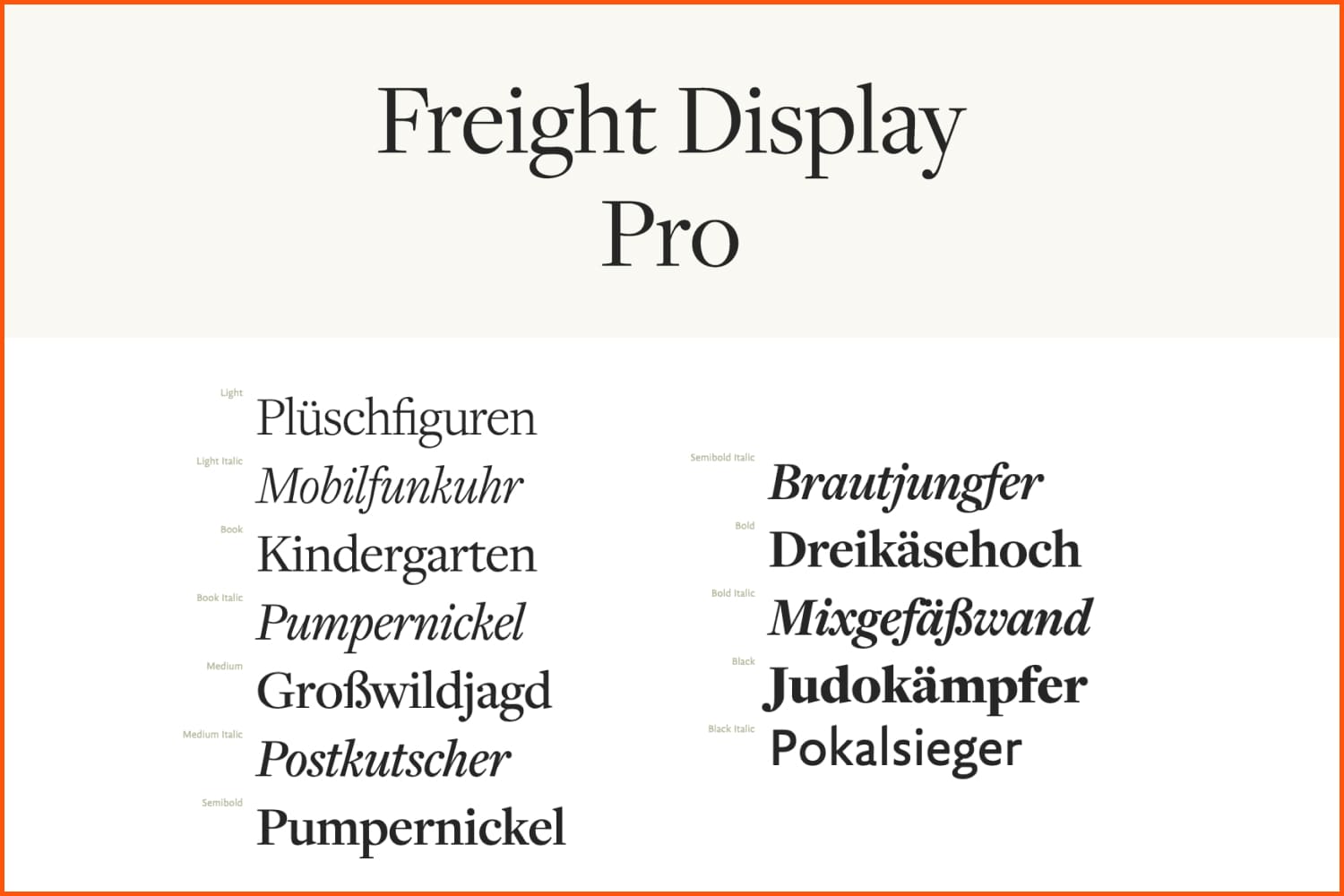 Freight Display Pro is a harmonious contrast between thick and thin strokes that allows you to experiment and create something interesting. It is available in 12 weight variants with matching italics.
Duffish – Logo Font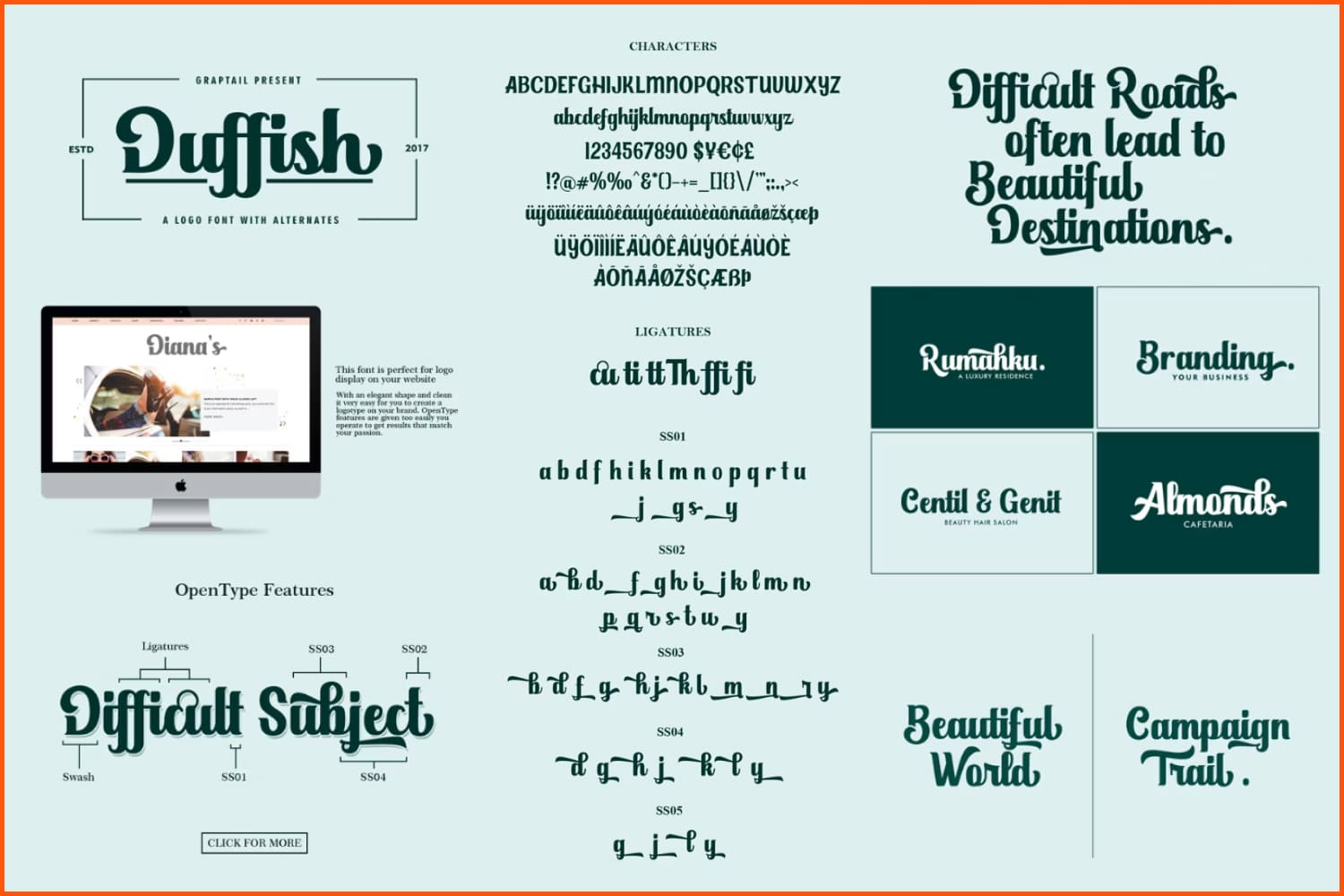 Duffish is a great solution for creating cool fashion logos. This typeface supports PUA encoding and has multilingual support. It comes in OTF and TTF formats.
Bold Fonts for Logos You Don't Want to Miss
Bold lettering is one of the trends in typography in 2023. So you should definitely try this style. Here are the best bold fonts for logos that will make your brand resound to the world.
HERBI | A Chunky Sans Serif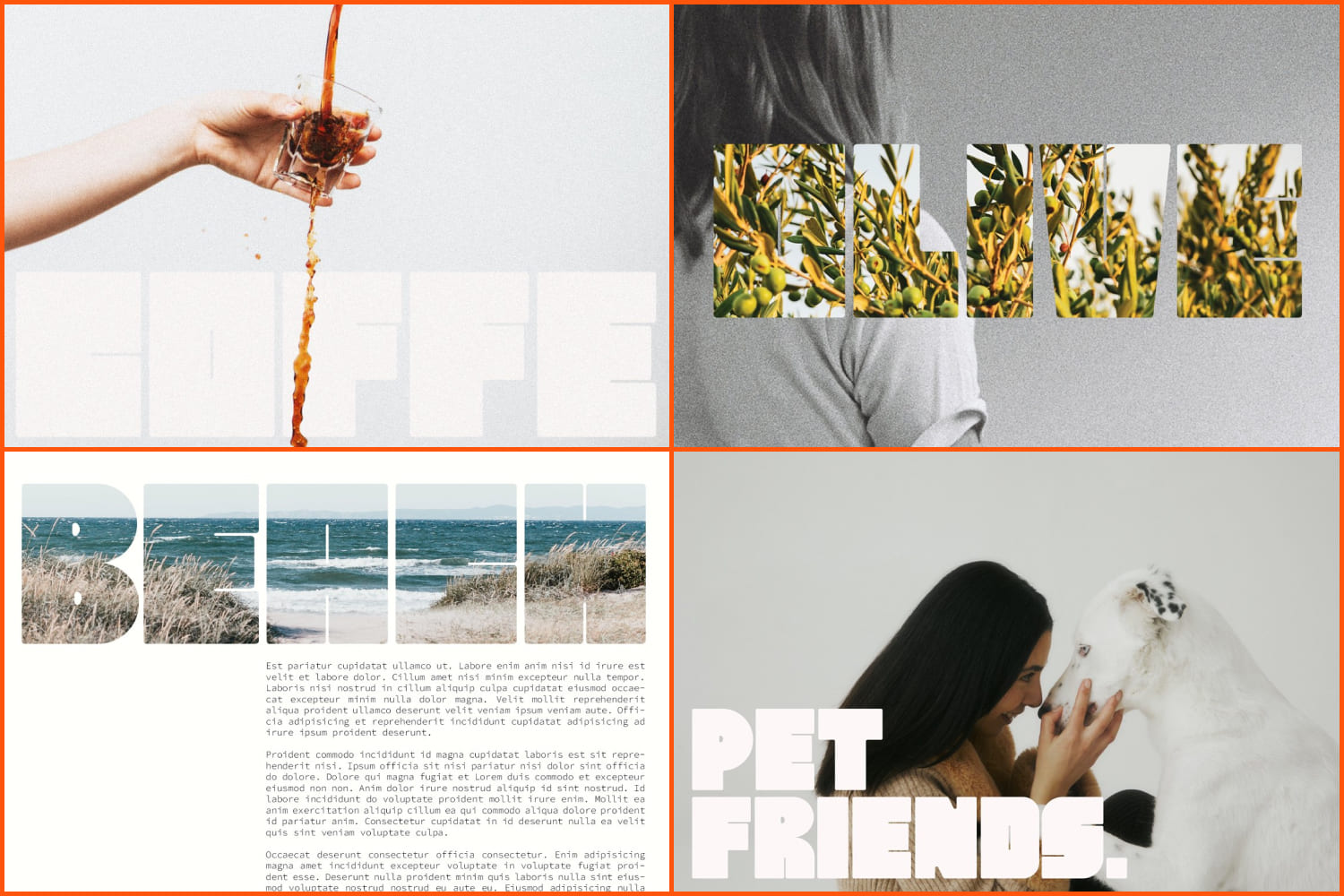 Herbi has elegance, solidity, and multicellularity. It's great for prints on clothing, posters, websites, and of course logos. This web sentence will truly scream about your brand and its features.
Impala Display | Fonts ~ Creative Market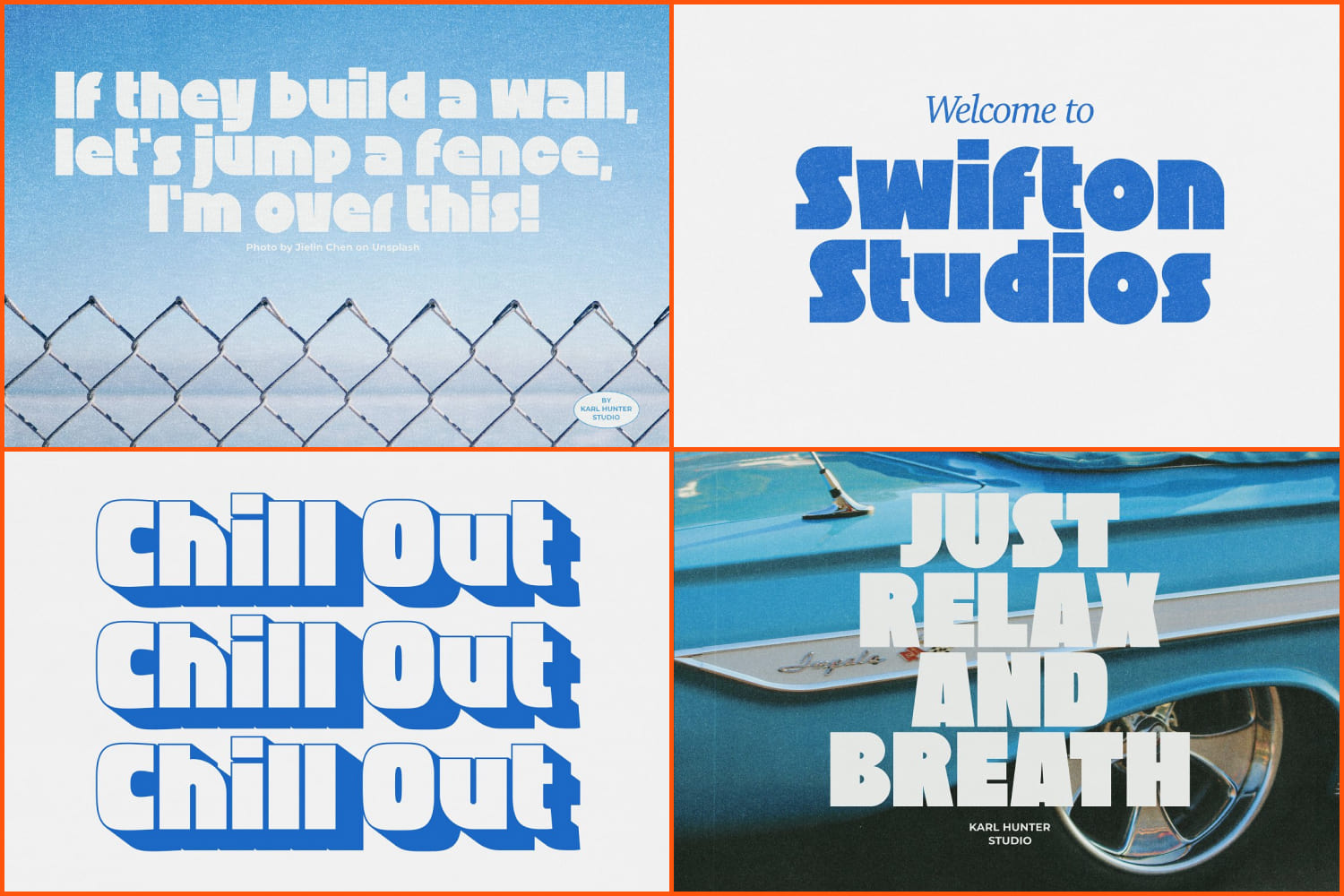 Impala will change the way you think about logo design. This is a simple but rich font with a vintage feel. It is available in OTF and WOFF formats and comes in desktop, e-pub, and app licenses.
Omniface – Bold Textured Calligraphy Font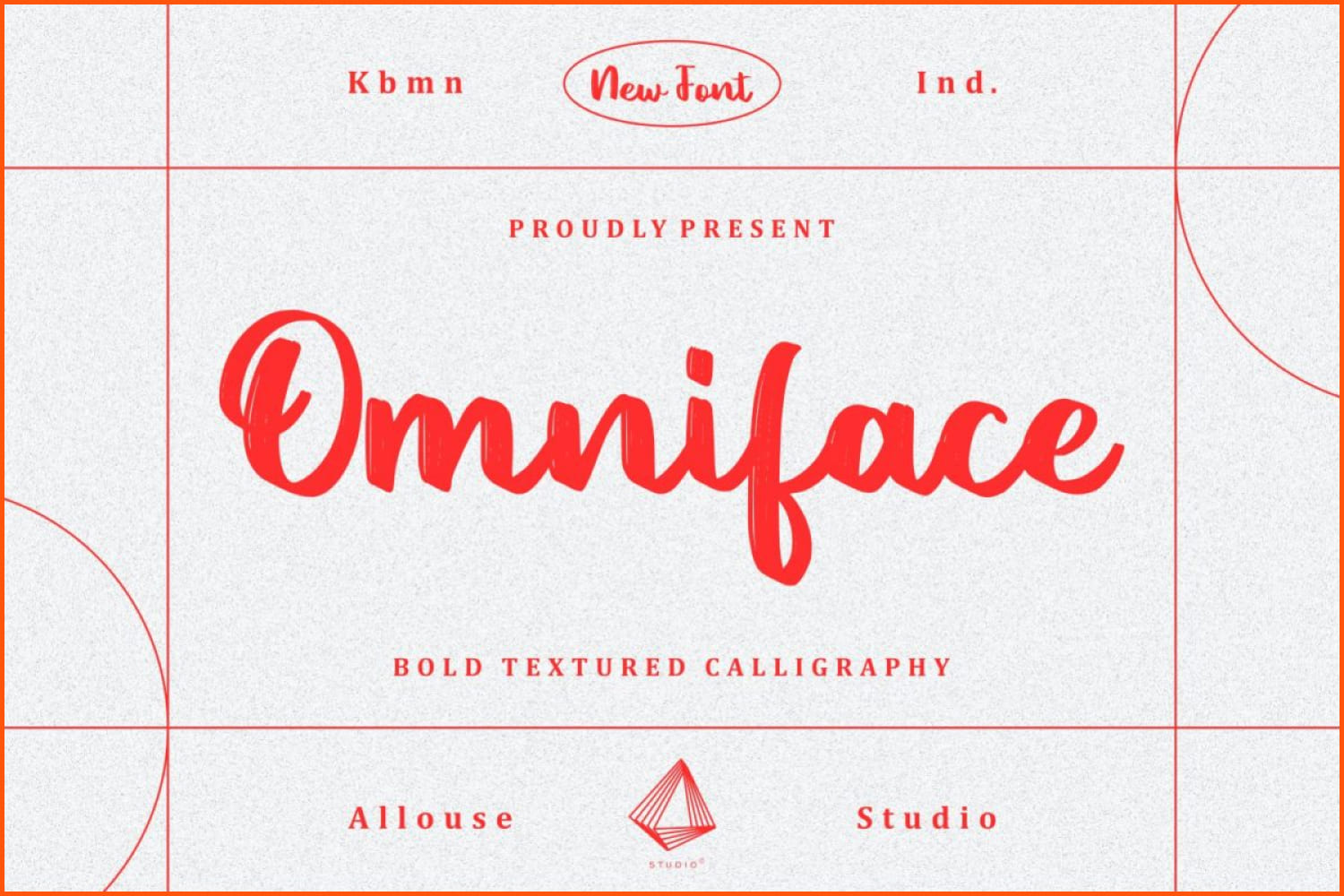 This one of the best bold fonts is available in a commercial license, which means you can create unlimited web designs. Make it part of your logo, and add it to business cards and banners. Thanks to the handwritten style the product is suitable for wedding themes, antique stores, wine brands, advertising agencies, etc. It supports translations and is flexible in customization.
Irresistible Luxury Fonts for Logos
To create an unbeatable logo you only need the best fonts. In this section, we have collected for you some luxury scripts for the same logos.
Elegant Luxury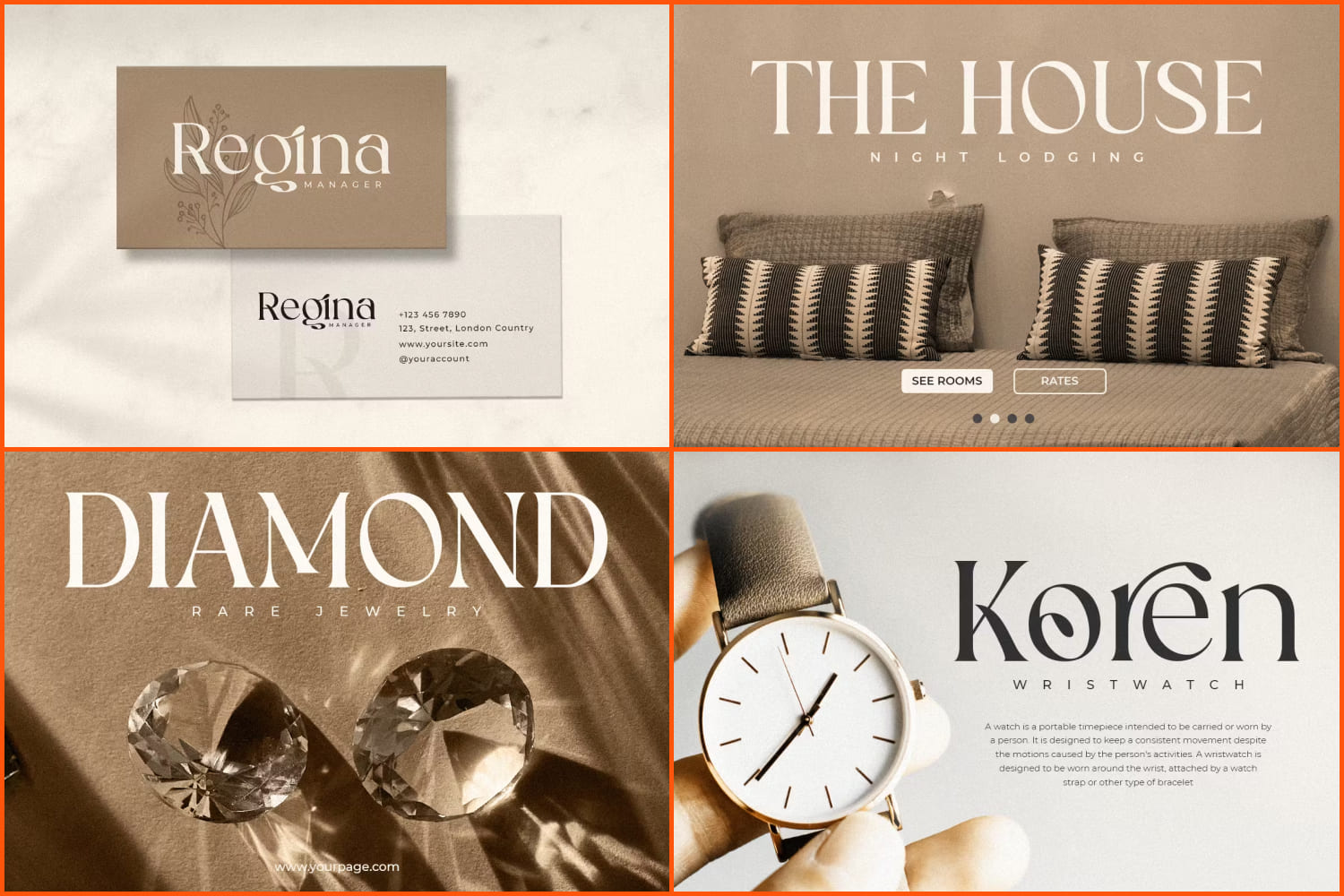 If you are looking for business fonts for logos, then take a look at this option. This typeface is designed specifically to give special value to your brand. In addition, it also has multilingual support.
The Seasons Serif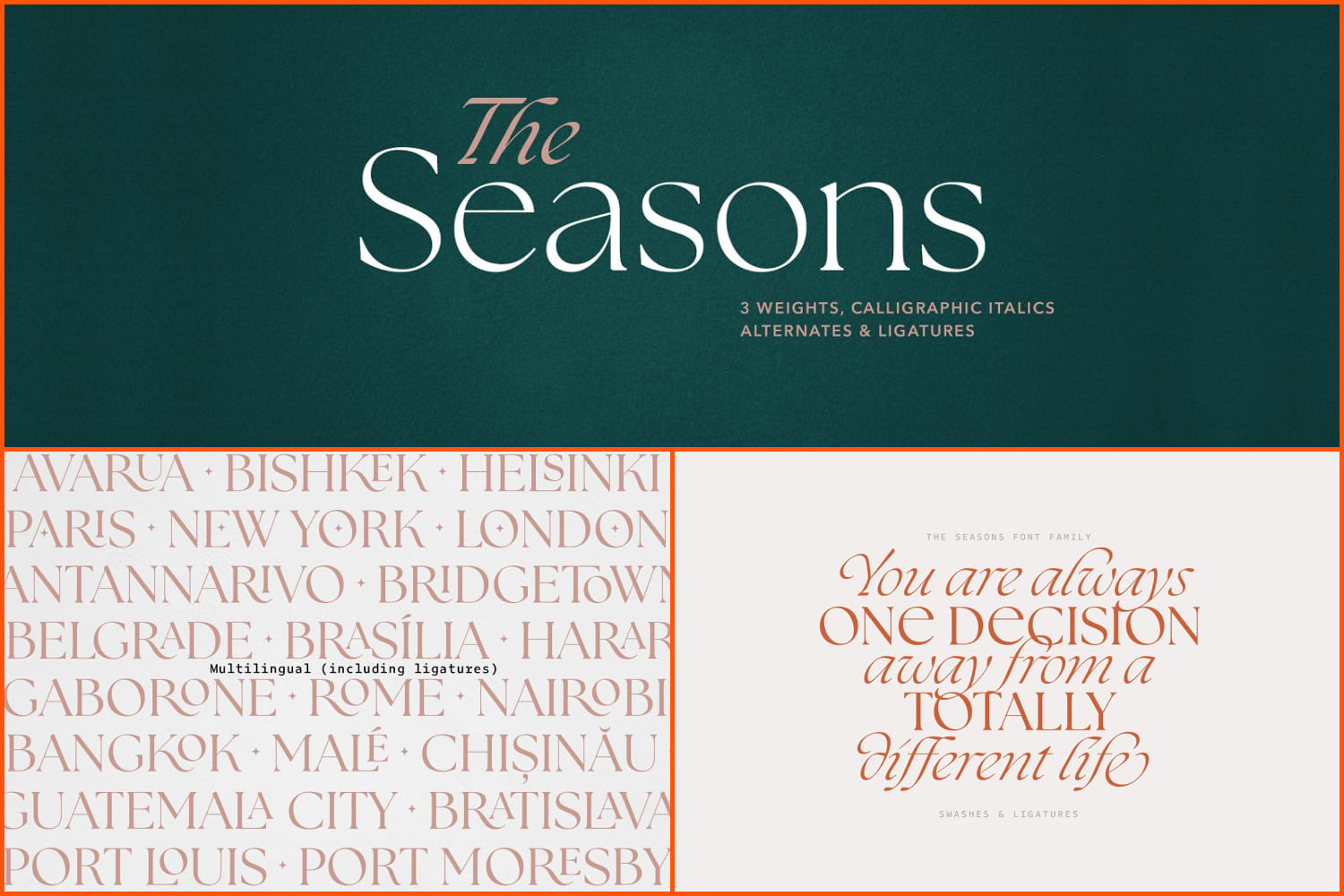 This is an elegant serif font that is considered one of the best serif fonts for logos. It has a vintage style that will allow you to make high-class logos.
Raisa Script – Logo Font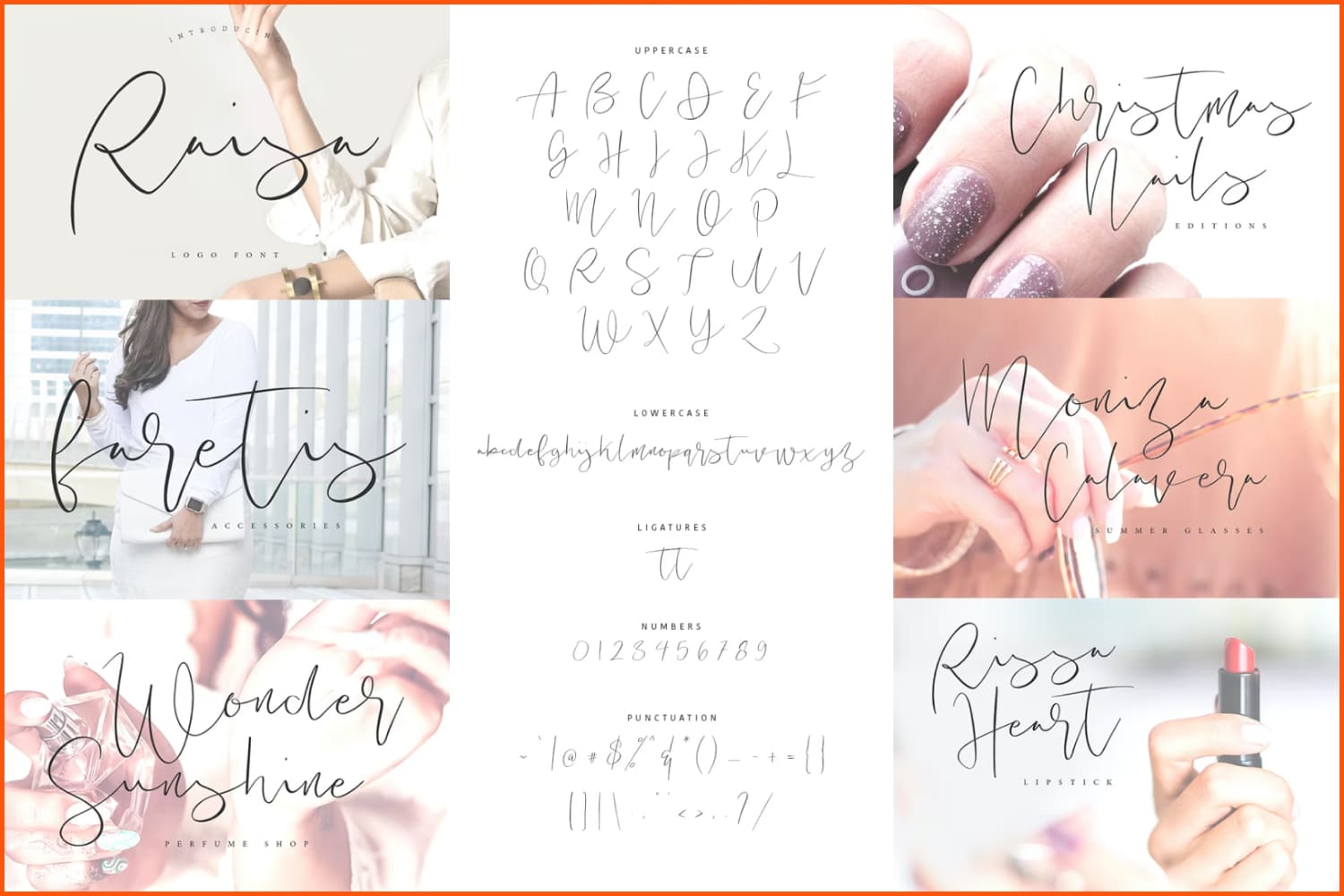 If you want to bring something elegant and smooth to your design projects, then the Raisa script is your choice. Its style can vary depending on the letters you choose, so you can combine interesting solutions.
Creative Fonts for Logos
If you want to get creative and bring something new to your design projects, then you'll need the right tool for that. With the products below you can do something new and different.
Layer – Layered Logo Modern Font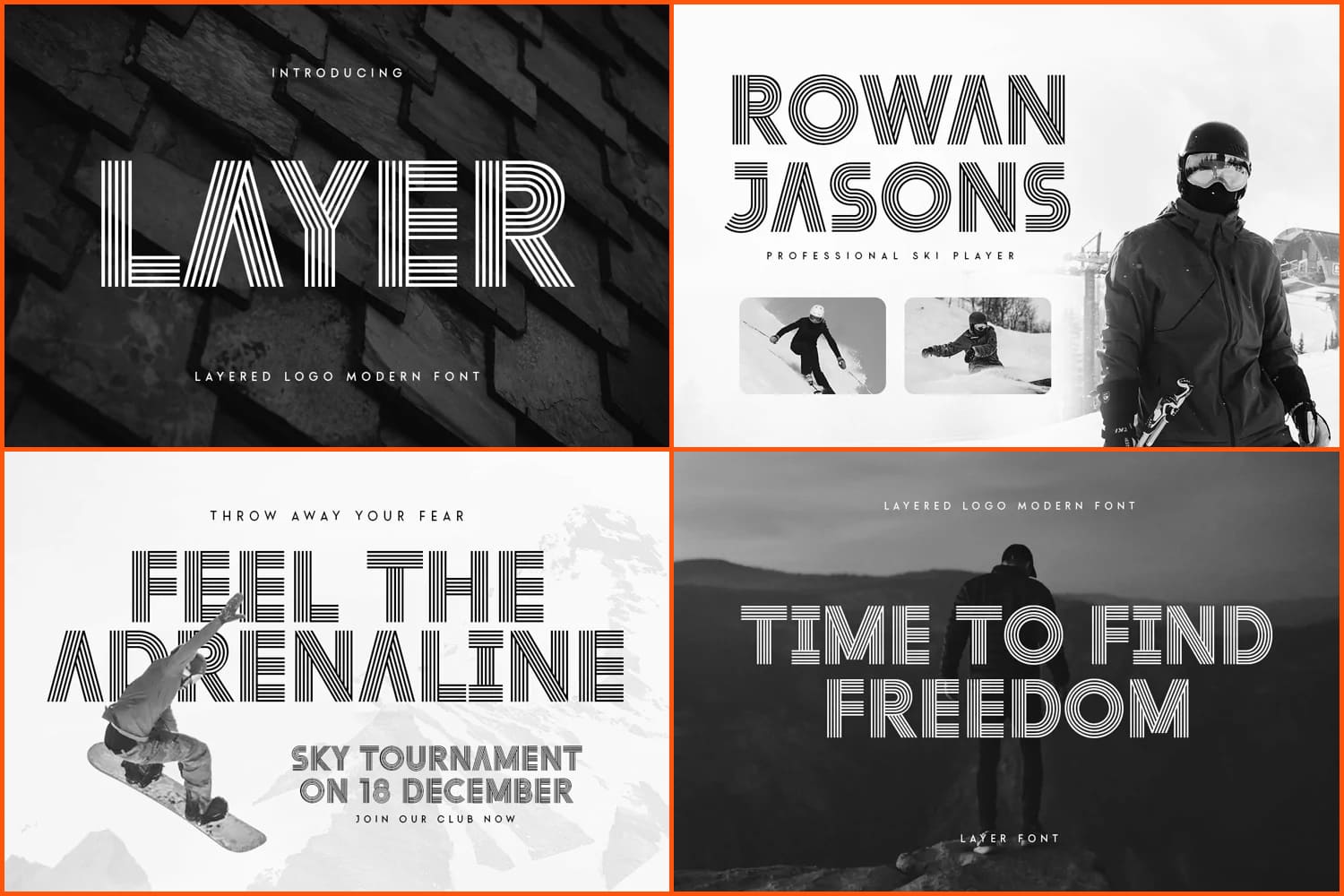 This multi-layered modern font is a godsend for cool logo design because it was created specifically for branding. It has multilingual support, a commercial license, and comes in OTF, TTF, WOFF, and WOFF2 formats.
Bageo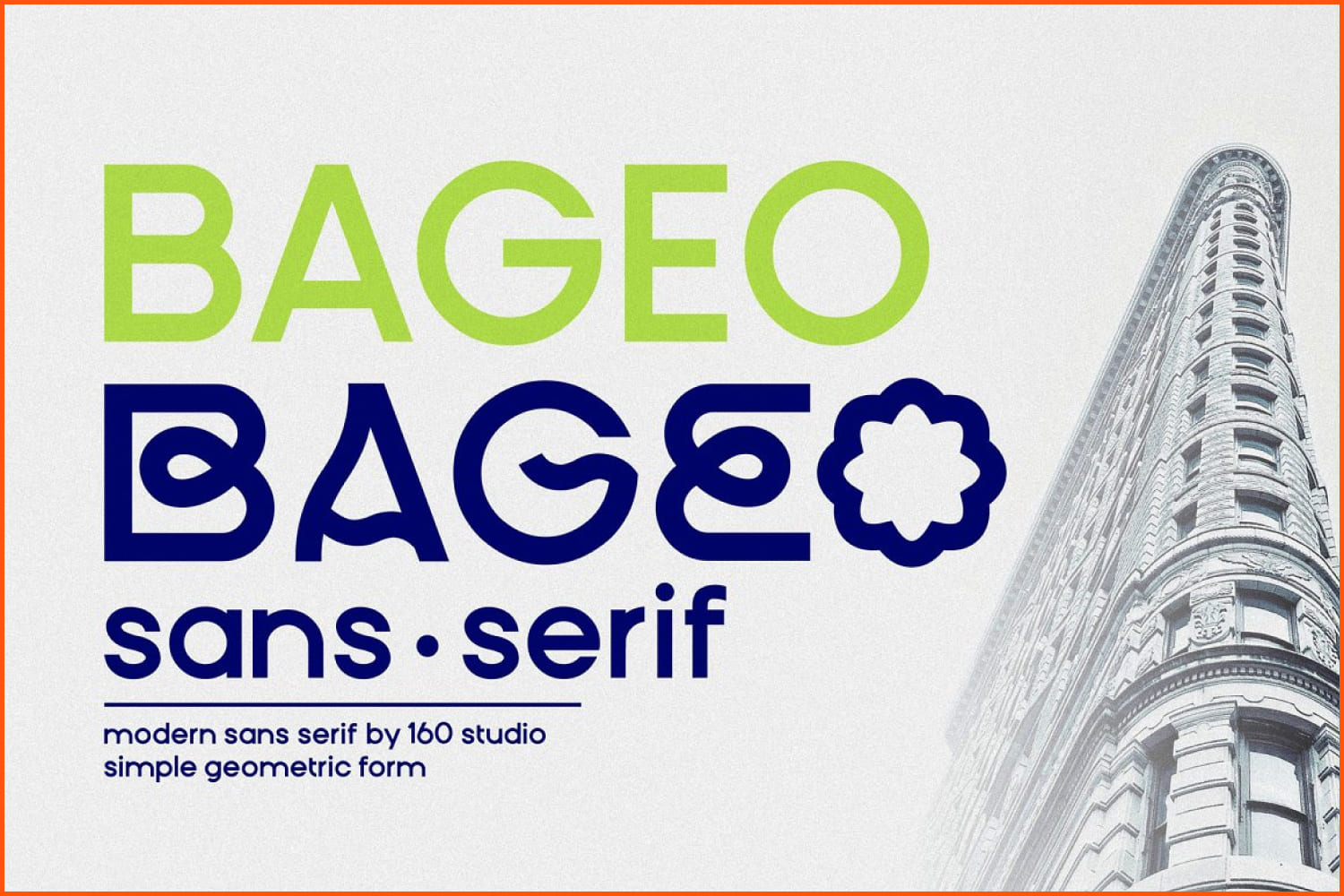 Bageo can be called the best font for logos in the creative aspect. Its geometric lowercase letters emphasize modernity and purity. It has an extended commercial license, so you can use it without restrictions.
Natasya Logotype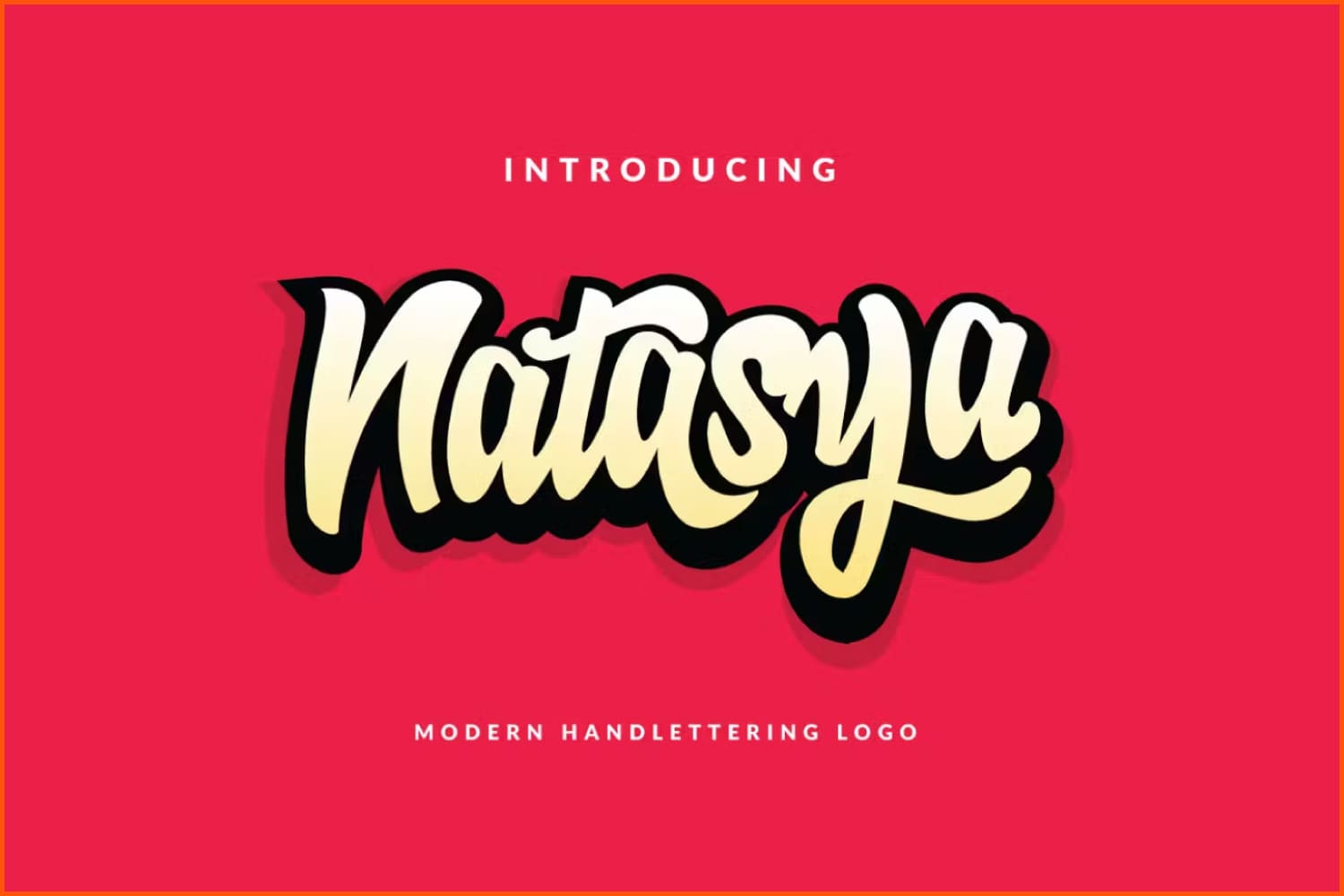 If you need good fonts for logos, then Natasya is perfect for you. With 401 glyphs and 191 alternate characters, you can combine and match this typeface to suit your design. They can be accessed using OpenType supporting programs such as Adobe Illustrator and Adobe InDesign.
Best Free Logo Fonts
Do you want to experiment or are you a novice designer? Then there's no need to splurge on something, just try free logo fonts from our selection, which are as good as the premium options.
Deftone Stylus Font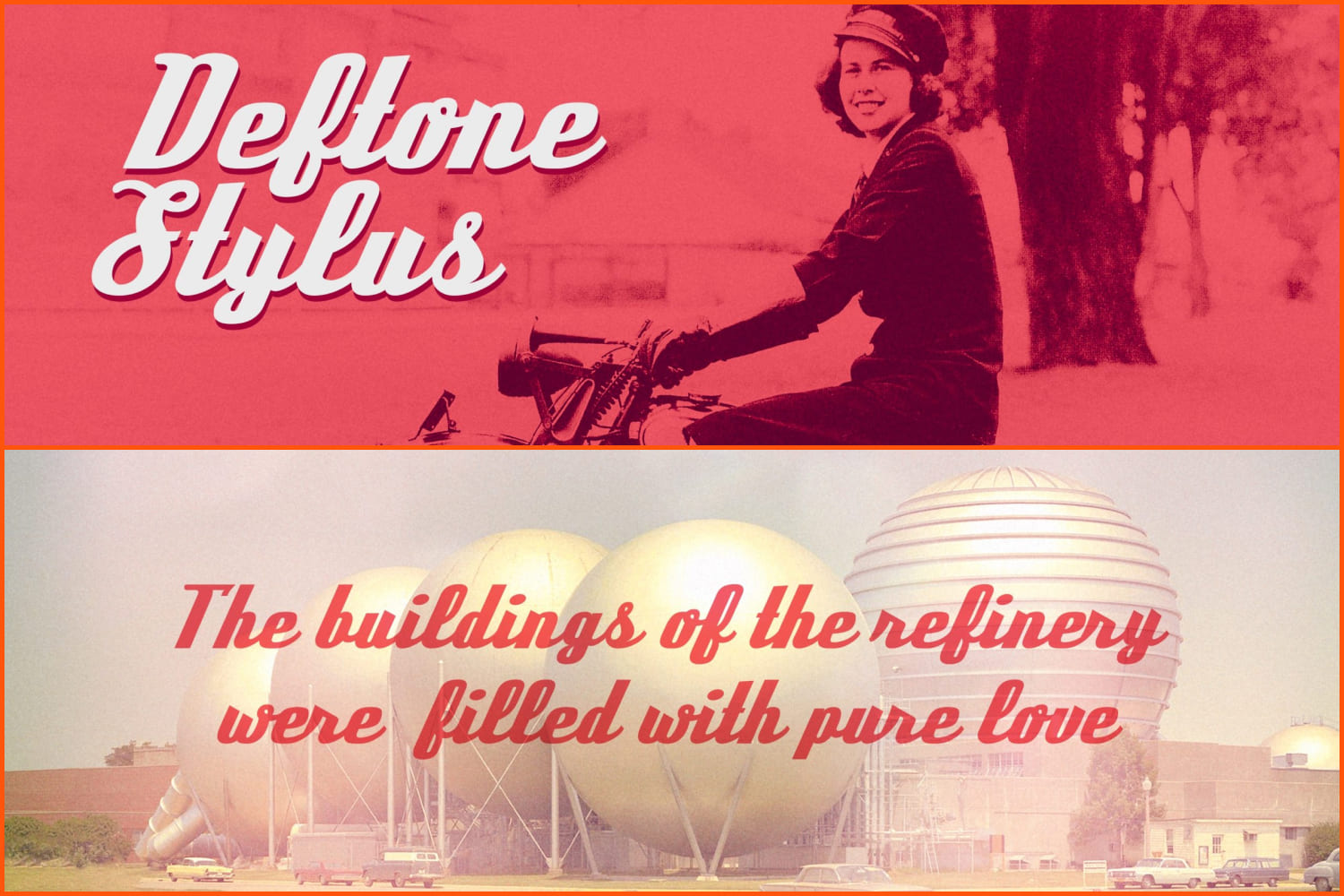 Note also this italicized offer. The typeface is easy enough to read. It will add elegance to the project. Use it for the logo of a translation agency, a wedding salon, an accessories store. You can also use it to create postcards, business cards and banners for your company. The set contains glyphs, all letters of the alphabet, punctuation marks and numbering.
Asimone Brush Font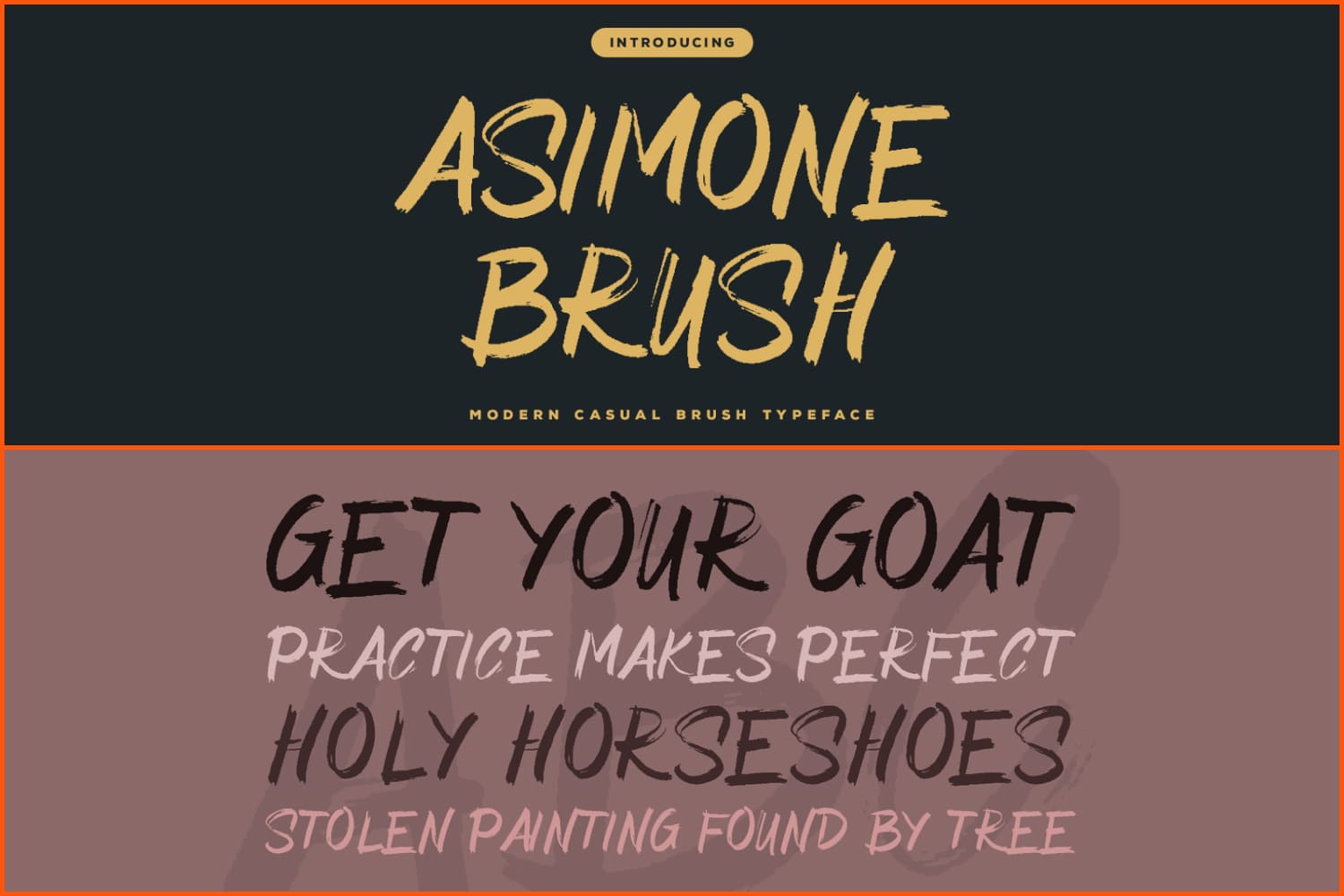 This typeface is reminiscent of an artist's neat brushstroke. It will make your logo more sophisticated and refined. Try it for a sportswear store, stationery, handbag brand, etc. The product is free for personal use only.
Why Choosing Good Fonts for Logos Makes Sense
The logo is the most important feature of your brand. We want to say that, even if the quality and price of the product will be stunning – inappropriate logo could completely ruin the whole client's impression about it. For example, you probably know the story with the redesign of the Pepsi logo, which turned out to be a real failure. The new logo cost $1 million but most of the users associated it with fat and clumsy human figure. Instead of growing sales the company started to lose audience. What we want to say here – you need to choose the logo really carefully.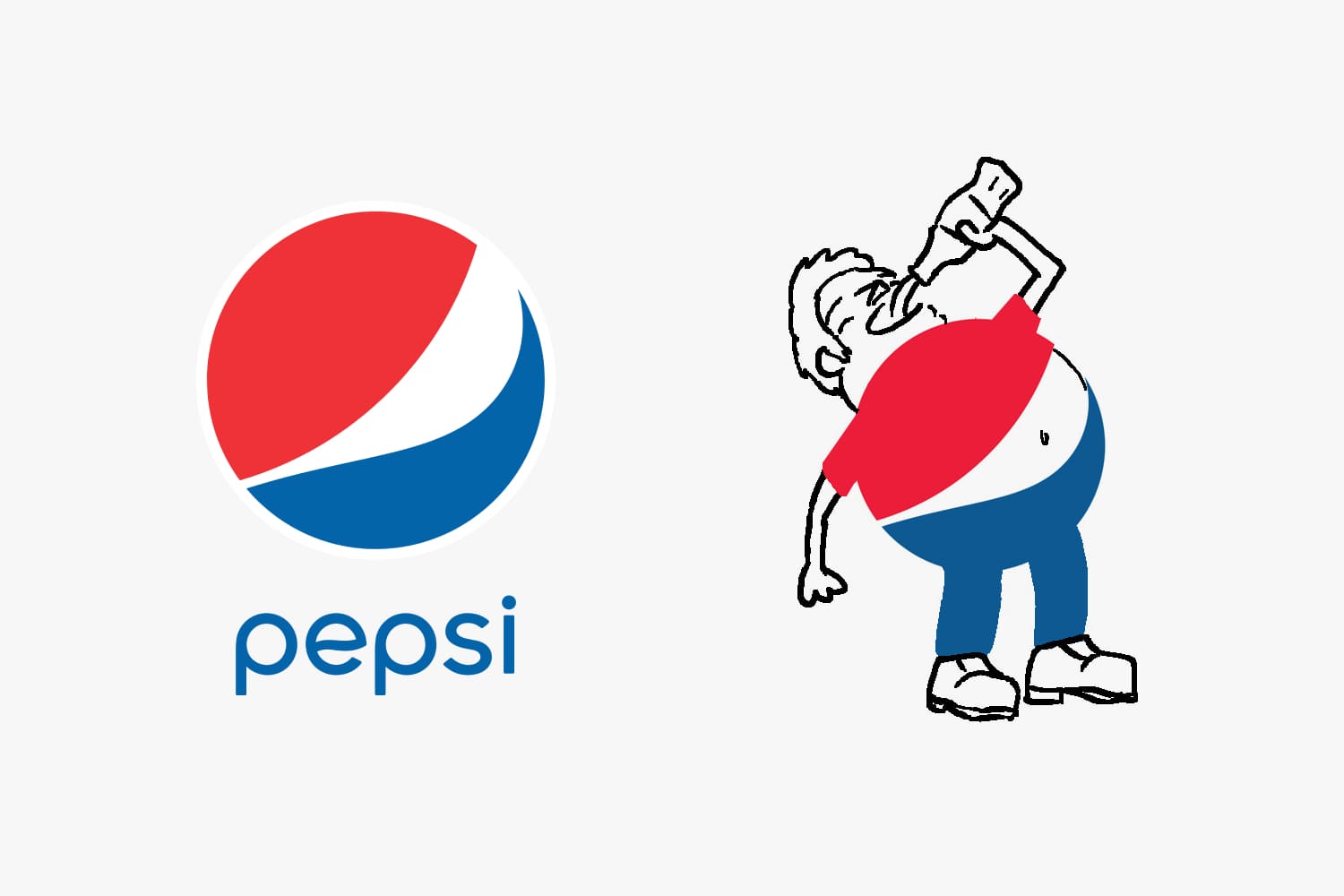 Lots of companies choose to make a logo of the firm name. If the designer uses the right logo font for it the result could be really astonishing. The used typeface could even be tightly linked to the brand by users – when you see the font of Coca-Cola brand you can recognize it even if the letters are user to write something else.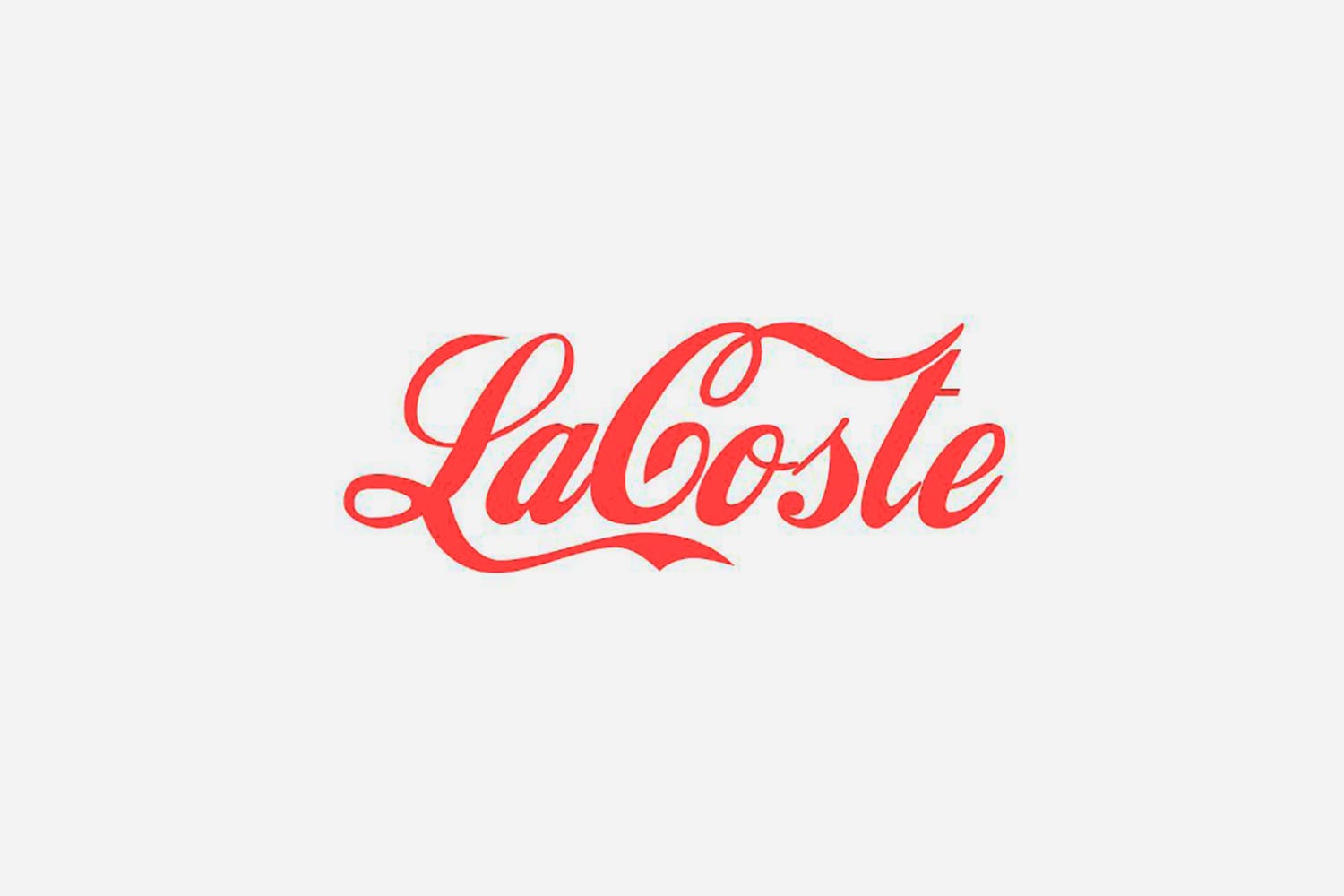 Nowadays logos made of words are quite popular. Lots of brands change their iconic logos to names written with interesting fonts for logo. Logos are the most frequently seen picture on every firm website and products packages, so using a company name helps to create a tighter connection with the brand in customer consciousness. For example, Uber company made a rebranding decision and changed the picture which wasn't really understandable to a laconic and accurate brand name logo.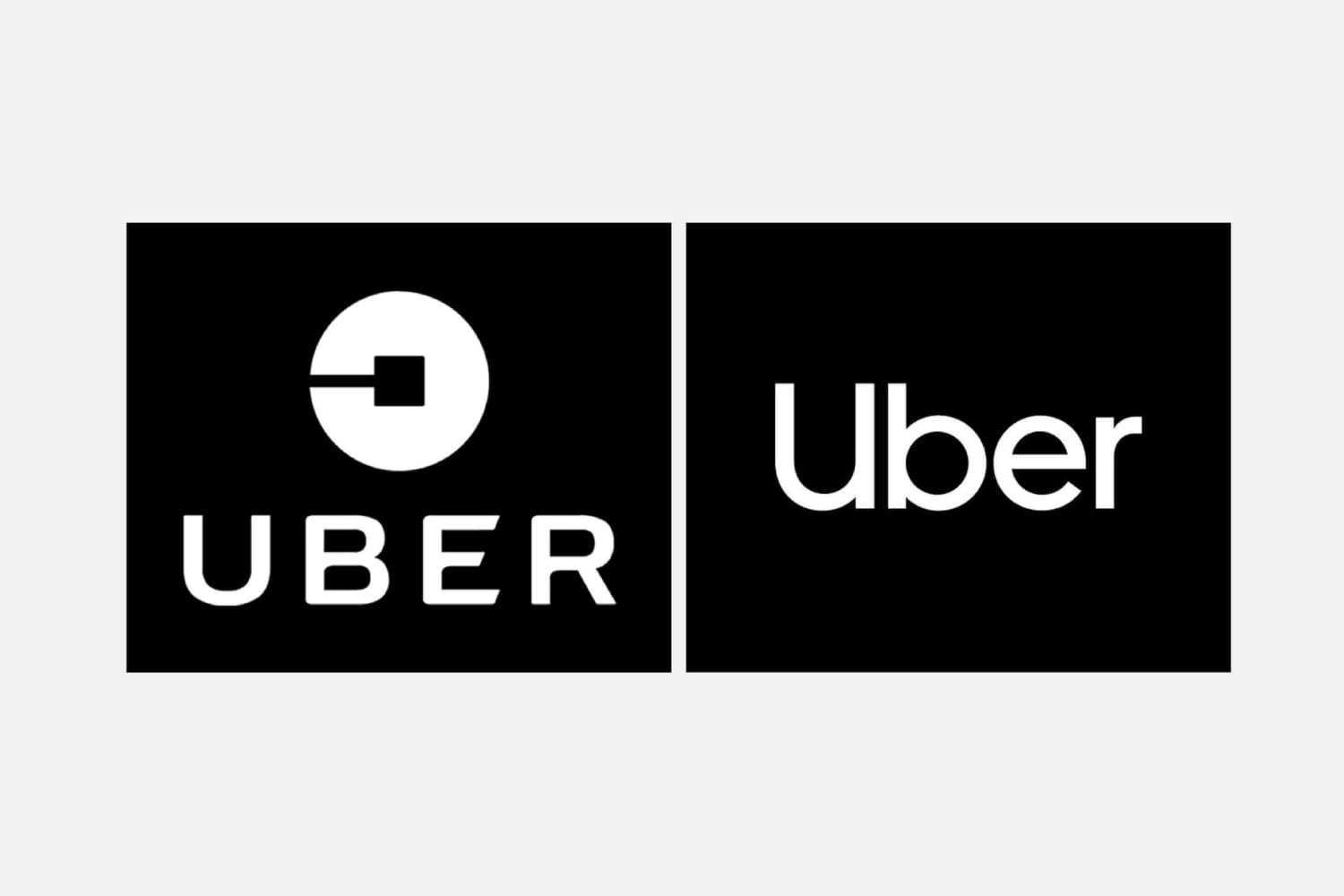 How Should a Perfect Logo Look Like?
If you want to make a really perfect logo, you should always remember that it must be unique and one of a kind. Don't forget that it should also reflect the value of your brand, otherwise, the whole thing could fail.
Here are a few more tips we found that will help you with designing your logo:
You need to choose a suitable font that will reflect the style of your brand. Try to use only high-quality and recognizable variants that will be easy to read.
Try to make your logo as minimalistic and easily recognizable as possible. Don't try to confuse yourself and complicate your work. After all, if the logo is hard to read and difficult to grasp, you obviously won't benefit from it.
Under no circumstances try to repeat someone and use templates, which will only make the result worse. Try to create something original to stand out from the others.
Keep in mind that you are likely to improve or change your logo in the future. So be guided by this so you don't have to change it completely beyond recognition.
A quality logo should be adaptable to everything. You need to consider where it will be used so it doesn't look ridiculous, such as on clothing, and it adapts to all platforms and devices.
2023 Font Trends
Design trends come and go pretty much every season, which makes it difficult to keep up with the latest tendencies. But certainly, it's not impossible. So let us have a brief look at the most popular 2023 font trends.
Creative and Unconventional Fonts
Have you ever seen those fancy yet completely unreadable scripts? The ones where the letters look like some actual objects such as animals, various foods, etc.? Well, these crazy fonts might perfectly work for logos. Though you have to be extremely careful with those, too much creativity might not be a great idea and definitely doesn't work for all the projects.
Style Combinations
Another interesting trend is combining several different types of fonts. For example, a handwritten typeface with something as conventional as Times New Roman. These bold combinations look cool though you have to be careful with those so your logo doesn't look cheap.
Serifs
A serif will add significance and charm to the inscriptions. They reinforce the aesthetic of the design that is both straightforward and great in using space. In terms of logos, such a font will help you come up with something truly special and eye-catching, so do not hesitate and give it a shot.
Geometric Fonts
These fonts left the top of the trends for a while, but now they're back. Now quite a few new logos use these typefaces with geometric shapes and clear lines. Because of their modern, minimalist look, they are very popular for showing a progressive and technologically advanced brand image.
Handwritten Scripts
What about handwritten fonts, do you think they are still not used in logos? Thanks to their style, you can show a personal human character that will catch any eye. If you want to give your brand a personality, then this typeface is a great way to create a logo.
To make your logo really unique and memorable you can use some little icons with the words. Flowers in the logo of a flower shop will look vivid and candies in the sweets shop store logo will be a great match. Add a little individuality to your business logo – and it will shine brightly. I'm completely sure that you will be able to choose the best font for the logo and make your business recognizable and profitable.
If you create your own cool and attractive fonts and other products, you can easily sell them on MasterBundles. Just fill out the Sell Your Deal form and wait for the email informing you that your product is published.
Some Awesome Videos about Logo Fonts:
Disclosure: MasterBundles website page may contain advertising materials that may lead to us receiving a commission fee if you purchase a product. However, this does not affect our opinion of the product in any way and we do not receive any bonuses for positive or negative ratings.