Signature Fonts. Communication plays a huge role in design. It is very important to create a powerful relationship between the website and the users themselves and then help them achieve their goals. When we talk about communication in the context of web design, we usually mean text. The font that is used to display the text affects its perception. Font selection can have a real impact on your website performance and conversion rate. Good typography is the key to easily accessible information, while poor typography requires an effort to understand the text.
With new trends in typography, designers are more and more in need of unique font combinations. Knowing and understanding fonts is very important – especially if you are designing a product that will interact with the audience.
There are not many fonts, especially signature fonts. That's why we made a selection of cool, and very stylish signature fonts. Here are the unique typefaces that will help you stand out and make your design extraordinary.
TOP 5 Font Bundles
| Product Image & Rating (Out Of 10) | Product Name | Price |
| --- | --- | --- |
| | Girly Fonts – Best 65 Script and Brush Fonts | |
| | 31 Professional Fonts | |
| | Playful Fonts – Exclusive Font Bundle – 30 Items | |
| | Stylish Calligraphy Fonts – 156 Fonts | |
| | Epic Fonts – Super Font Bundle | |
Top 25 signature fonts: free and premium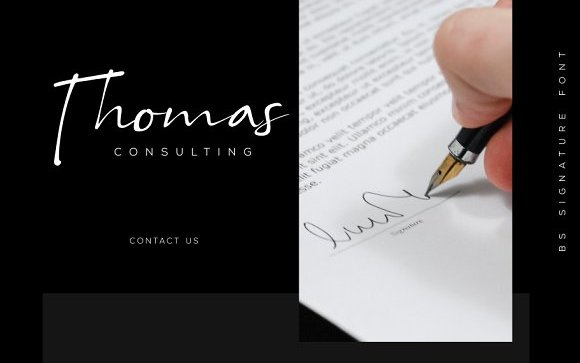 It's a very elegant and delicate font. It gives the effect of handwritten text due to clearly and accurately drawn letters. Bs Signature is ideal for headlines and other signatures that you want to attract attention. Bs Signature was created by Bangun Studio – a team of professionals who design incredibly stylish, fresh and extraordinary fonts.
Lattiefa.otf
High letters with neat fine lines are about elegance and minimalism. The font is perfect for use and implementation in different projects. It can be prints, different logos, even for your own brand.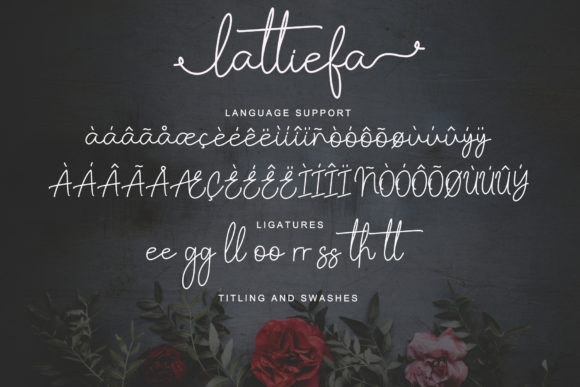 Midnight Signature OTF.otf
Midnight has a really pretty design, and due to the letters of different sizes it looks dynamic. It's a modern minimalist font with a sophisticated letter pattern. It will look good in the design of the restaurant menu, on the website and in the headings, in personal brands and so forth.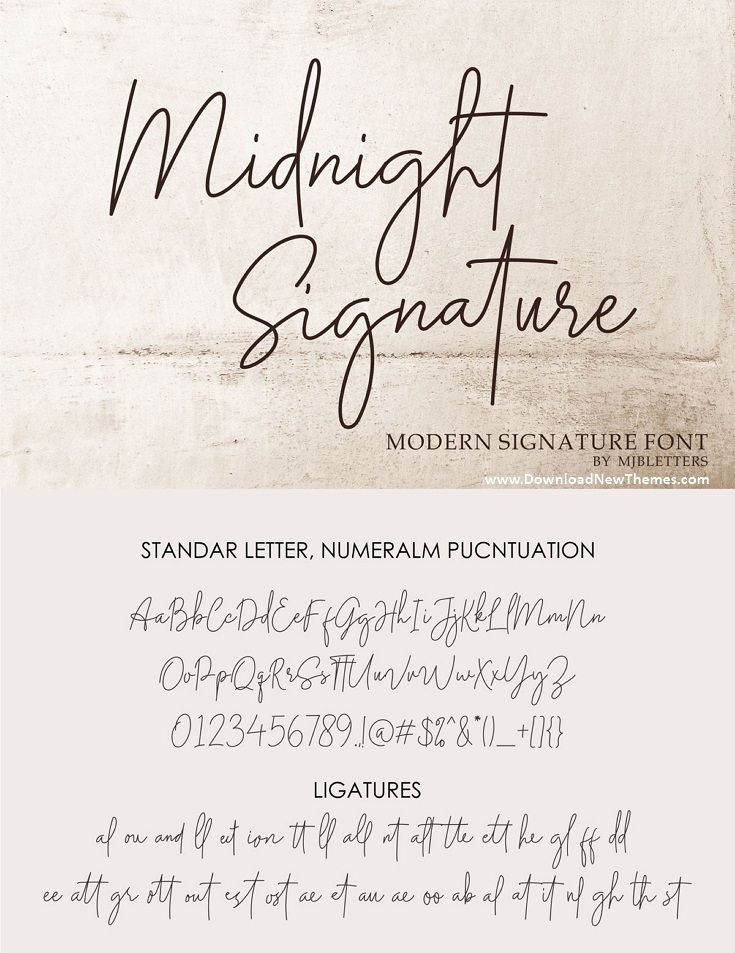 Sandwell(1).otf
This font has bold letters and a curved base. It can make the result of your work sophisticated and elegant. You can use this font for all your purposes and projects. Sandwell can create both a delicate and brilliant atmosphere.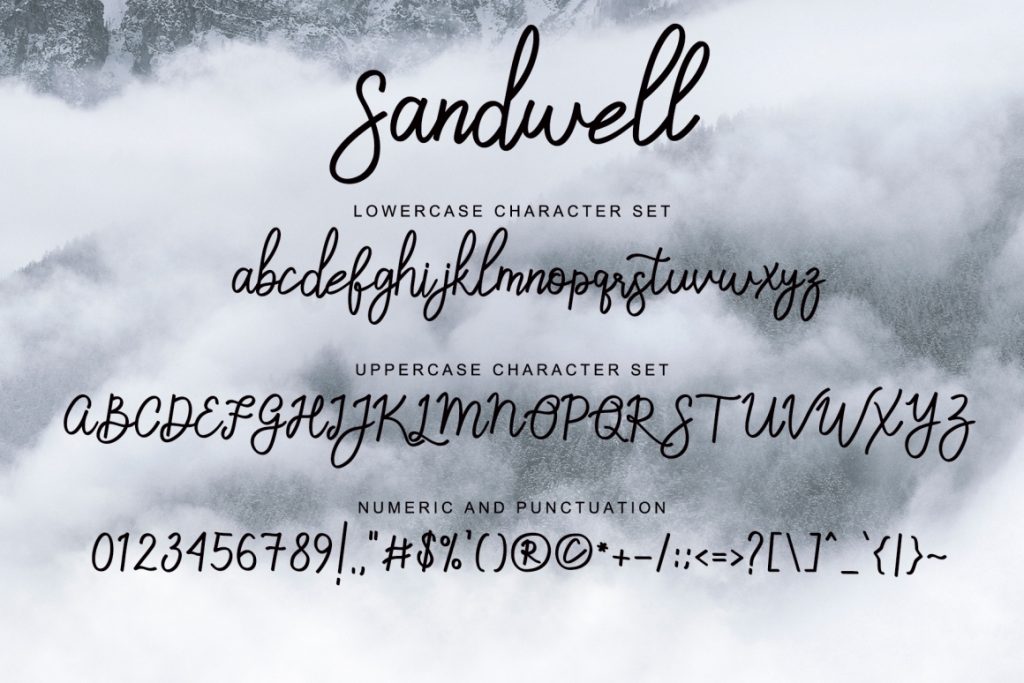 Hamuna.otf
This is a great solution if you are looking for a simple and trendy font. You can use it for banners, logos, your own brand, prints, etc. Use it also for videos, applications and social networking posts.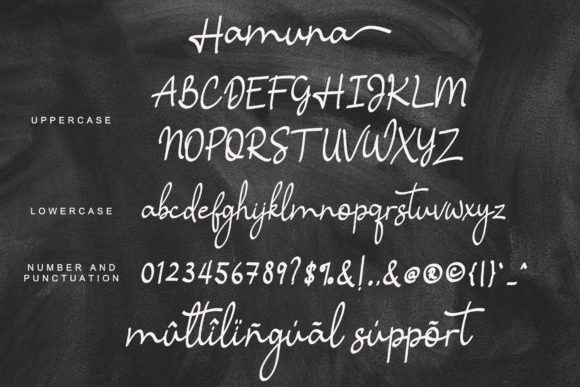 Donatella.otf
Donatella Alt1.otf
Donatella Alt 02.otf
Donatella Alt 03.otf
Donatella Alt 04.otf
Donatella Extra.otf
Sri Kandi.otf
Tristyn Alt 01.otf
Tristyn.otf
Whistle.otf
Whistle alt 01.otf
Whitley.otf
Whitley Alt 01.otf
Whitley Alt 02.otf
Whitley Alt 03.otf
Whitley Alt 04.otf
It's a cool bundle with incredible fonts. Modern Signature includes 5 signature fonts. Each one is unique in its own way. You can combine them in your projects, or use them singly. There are fonts with thin and bold, thick letters with beautiful brush font which is suitable for many projects.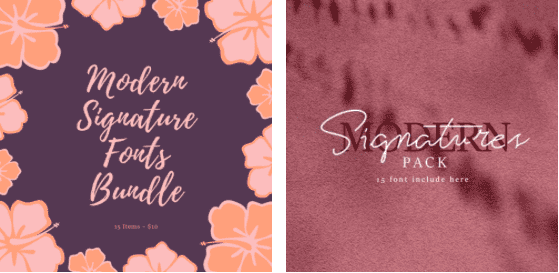 Nadine.ttf
This is a pretty stylish and creative font, which creates the effect of handwritten text. The Nadine Portrait font has an elegant calligraphic design with fine lines and stylish letters. You can create an extraordinary project, and the incredible brand with this font.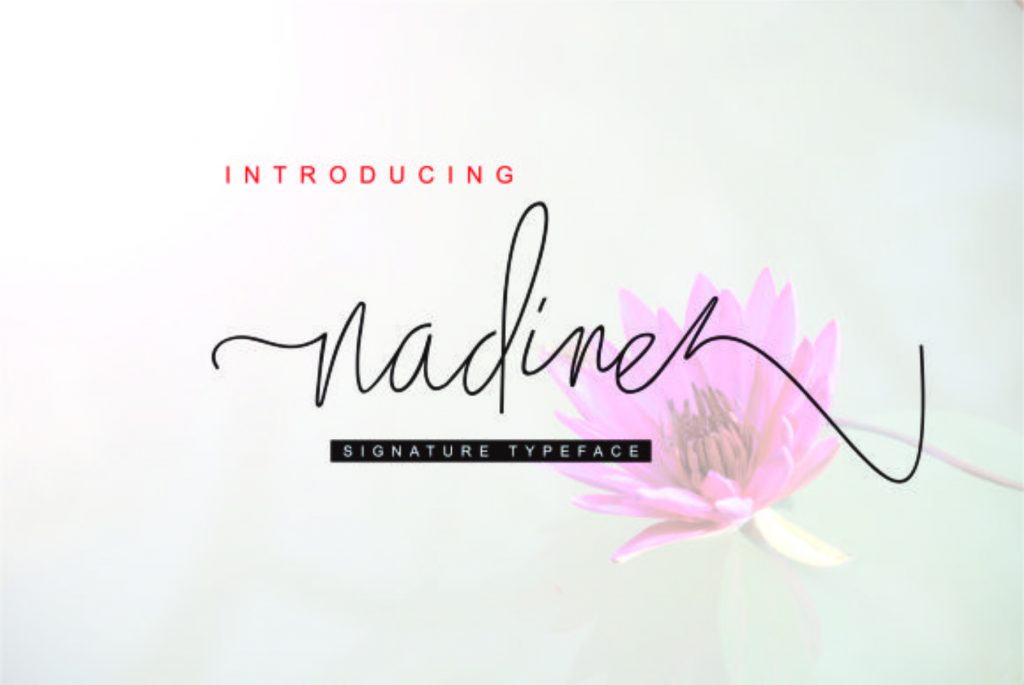 Donna_Lucia-Script.otf
Senorita-script.otf
LadyBoss-Script.otf
Miss_Katherine-Script.otf
Miss_Katherine_symbols-Regular.otf
Sadlyne_script-Script.otf
Sadlyne_symbols-Symbols.otf
Sister_Pamella_script-Script.otf
Sister_Pamella_sans_serif
This is an exclusive bundle which includes a huge number of different stylish fonts. They can be used for any purpose, due to their design. With Calligraphy Font Bundle you can complement your official brand or any goods related to it.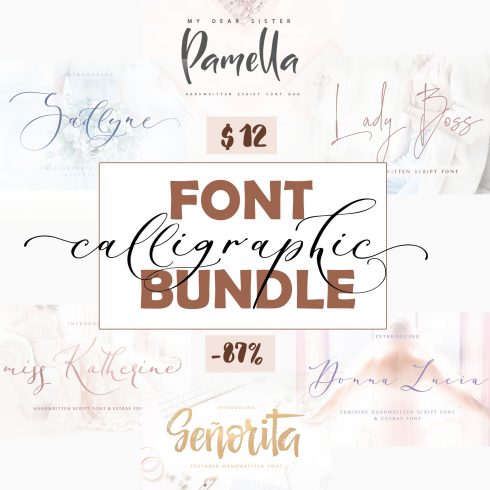 Best Deals Elements.ttf
Best Deals Extra.ttf
Best Deals.ttf
This is a pretty stylish font with the use of which you have to be careful. It looks quite sophisticated, so it attracts many clients. Best Deals can be used for presentations, logos, banners, wedding invitations, business materials, this font will work well for various design needs.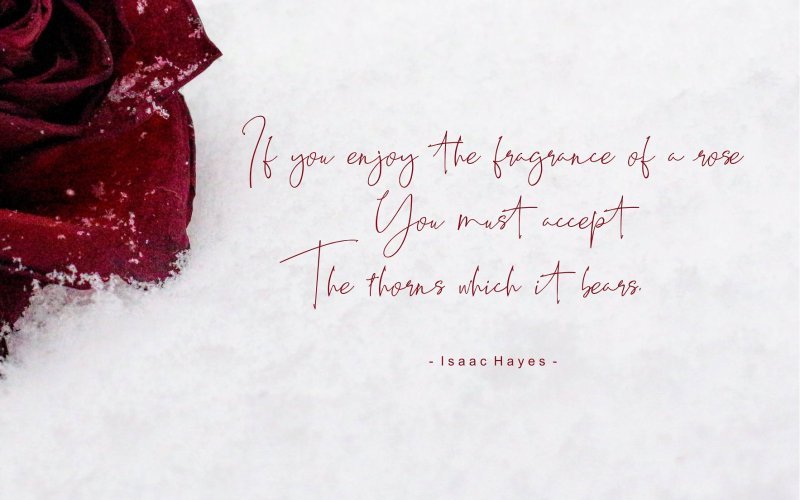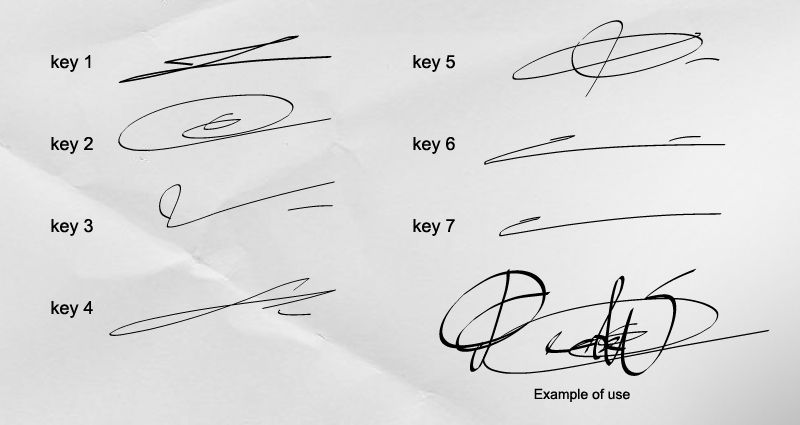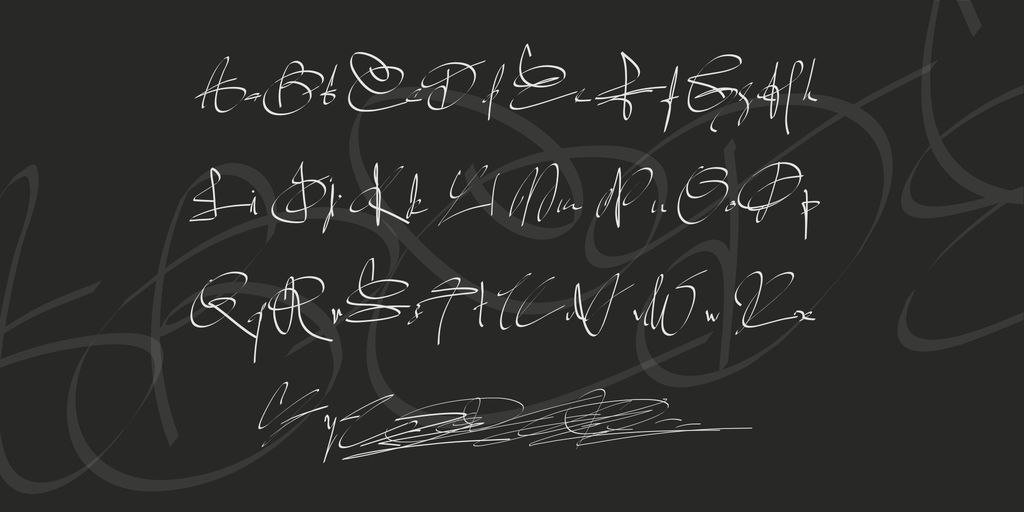 It's an expressive and fantastic font. Each letter is hand drawn. The effect of a fast writing is created, which makes the font difficult to read. But it's also perfect for stylish designs. Peax Webdesign are the developers of this amazing font. In addition, they create quite unique and fascinating fonts for any subject.


This font includes letters, numbers, and most frequently used characters. It can be used not only for signatures, but also for stylish inscriptions and headlines on websites.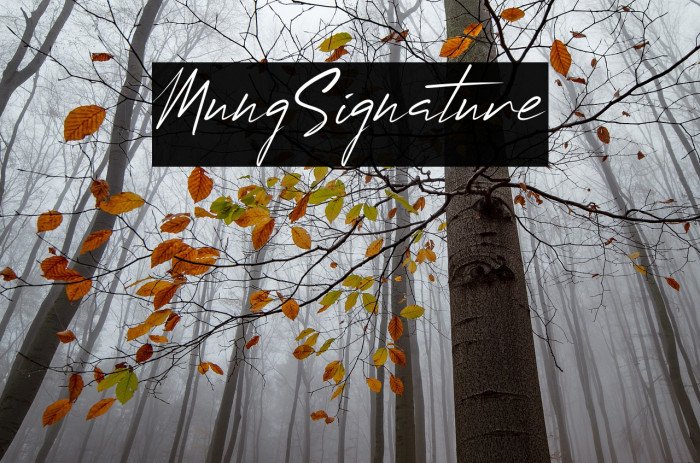 Mung font is another example of high-quality signature font. Its distinguishing feature is its sharpened letters, which helps to create a strong and reliable inscription. It can be used as an overlaid inscription on photos in the social networks, and for bright inscriptions on banners, headlines, etc.
Bright and stylish font is perfect for any project. Emma Signature font gives elegance and freshness. Besides, the font is bold and easy to read. However, practice shows that Emma looks quite elegant in its smaller size too. It is suitable when you need to create a handwritten text effect. Emma Signature is created by the Ink creative team. These professionals are really innovative enough to create fonts. So you can have no doubts about the quality and uniqueness of the font.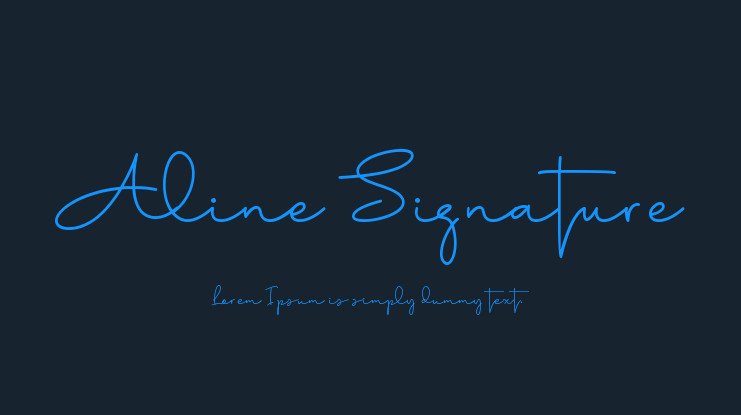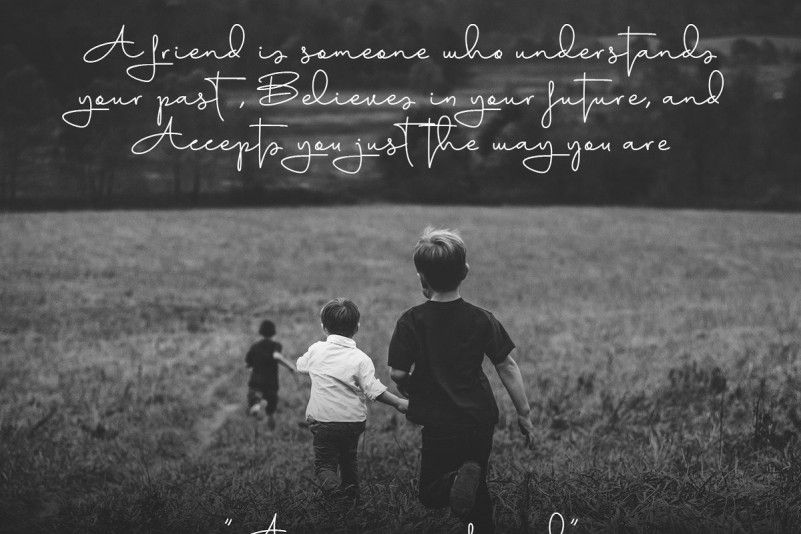 The soft rounded letters are pleasant to look at, and this roundness is what turns a normal font into a fascinating decorative font. The Aline Signature font has been loved by a great many. Try Aline Signature if you want to create comfort on your site. The Kong Font team created this stunning font. The style and originality of the fonts are off the charts, as this creative team creates more and more trendy fonts that surprise with their beauty and uniqueness.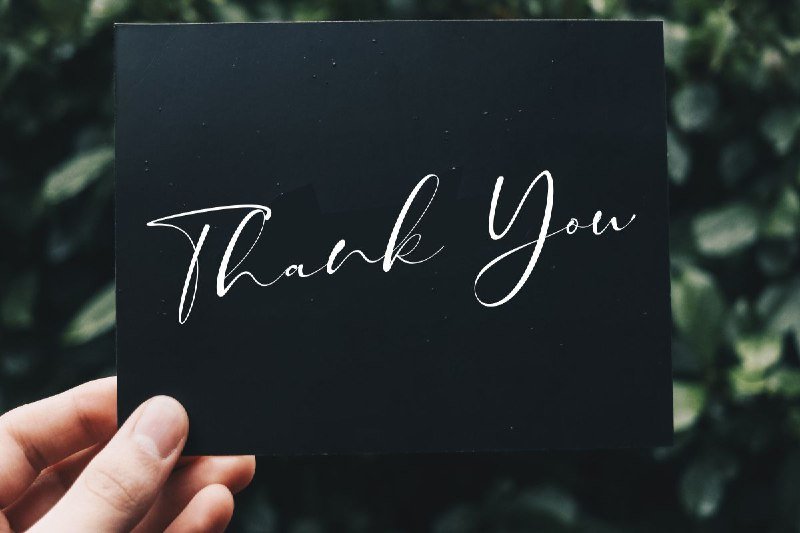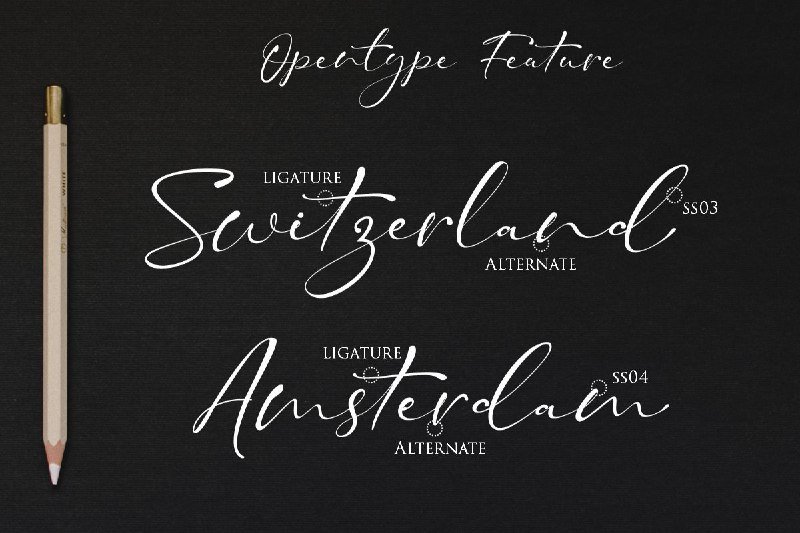 The light loops make any font more womanlike and the fine serifs add a touch of elegance. Taman is great for headlines and eye-catching banners. It is a simple, beautiful font that includes a large number of different characters. Taman Signature was created by Gilar Studio. This font creation studio is well known for a large number of unique solutions for non-standard typography.
Blind font is quite light and looks airy due to the drawing of letters. The font can be used for logos, posters, packaging and T-shirt designs. The Imagex team developed this extraordinary font. Their collection includes many creative and fantastic fonts. In addition, most of them are free, as well as Blind Signature.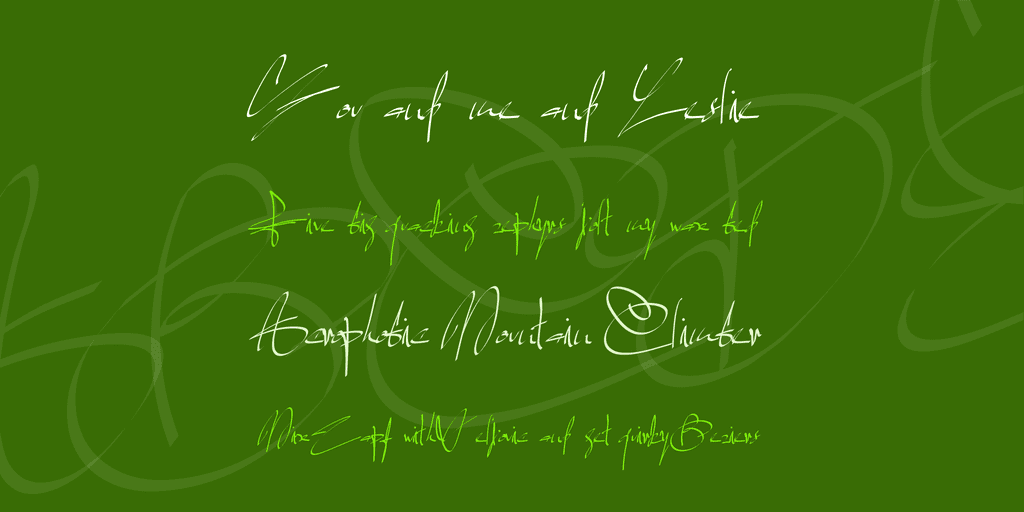 It's a complex font that's not suitable for all projects. Pay attention to the different slope of the letters and how some letters are curled. If you do not use PW signature carefully, you can make the page rather cluttered, and difficult to read.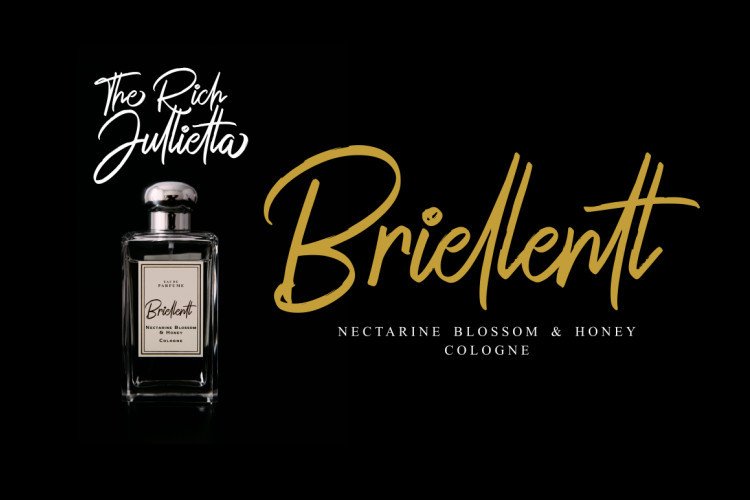 The Rich Jullietta signature font is very elegant and trendy. Its rounded letters make it seem large. This font is perfect for short logos, which makes it kind of a unique font. It can be combined with other more traditional fonts to achieve the expected design effect.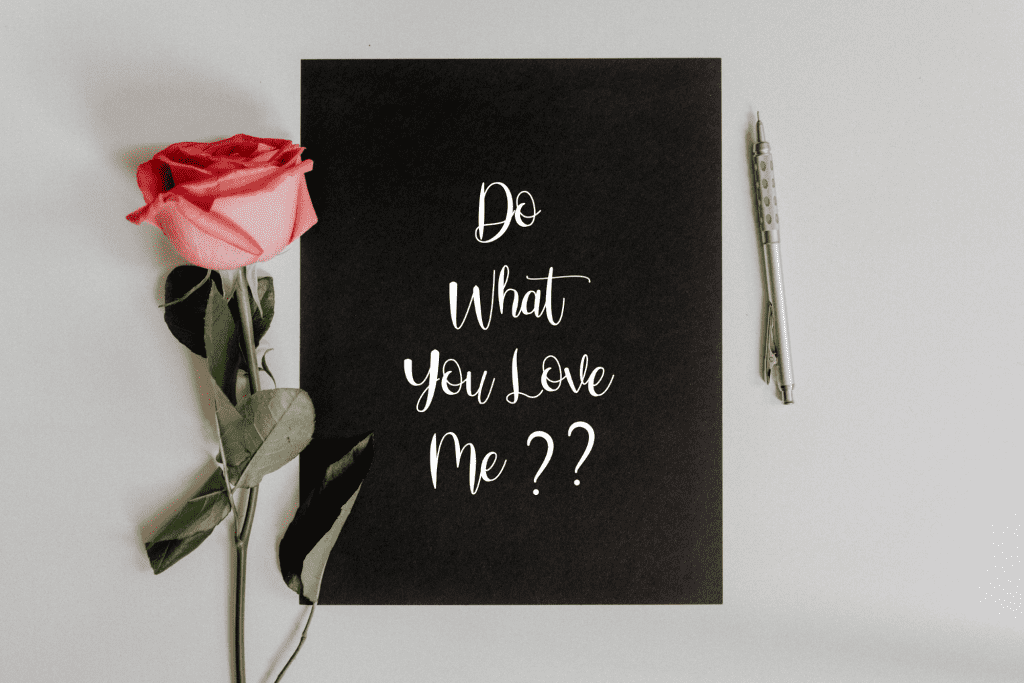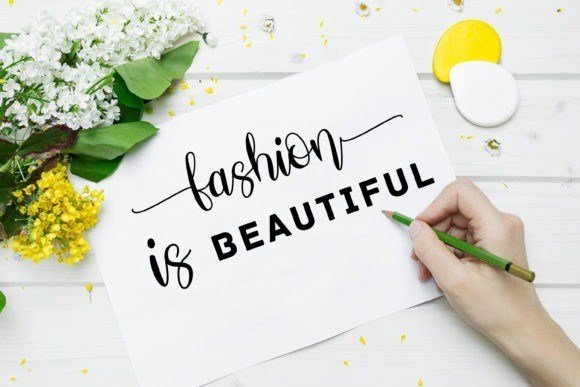 The originality of the font is given by the different size and boldness of the letters. The subtle lines of each character make the font readable enough, but still it is not recommended to overdo it. Type it with a large pin, then small curls will not interfere with reading.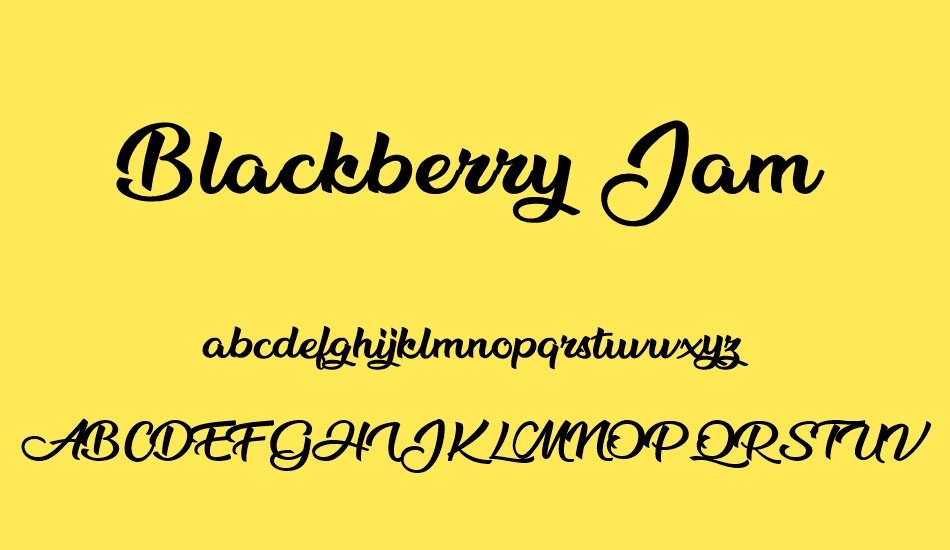 Blackberry Jam is a rather stylish font that is remembered for its rounded and soft letters. It seems that the letters are in motion (as if energizing the design), so you can connect this font with dynamic elements. Blackberry Jam signature font offers many possible uses, including logos, T-shirt designs, letterheads and banners.
A lovely stylish font that can be used for creative purposes. Andi Signature includes letters, numbers, and frequently used characters. With this font you can give your work a perfect, sophisticated look. Besides, this signature font is free!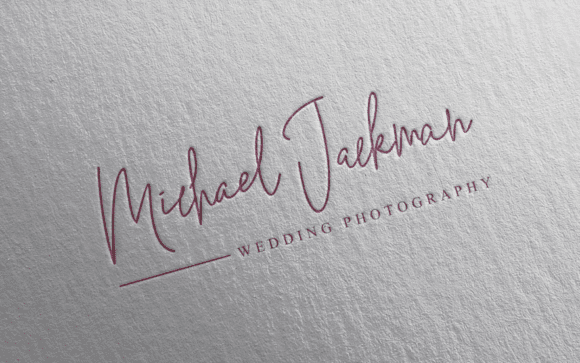 Bottomland Bold OTF.otf
Bottomland OTF.otf
If you are looking for a font that will surprise your audience, then Bottomland is the perfect choice!
Thin lines, sharp jumps, and roundness make this font special and unique. Bottomland will look great on wedding invitations as well as on large banners and business cards.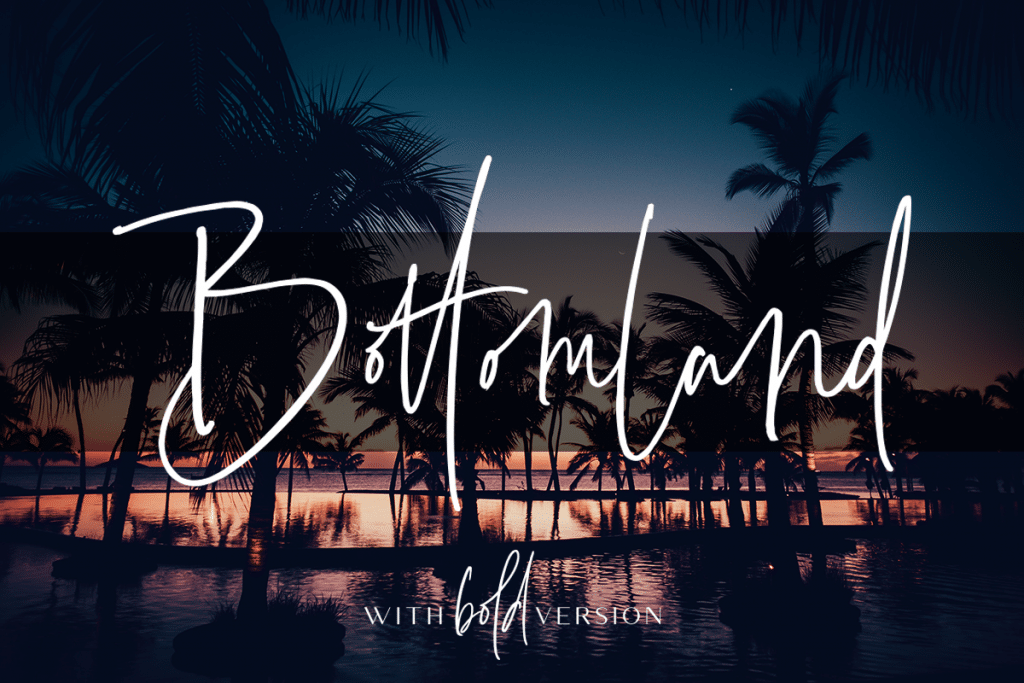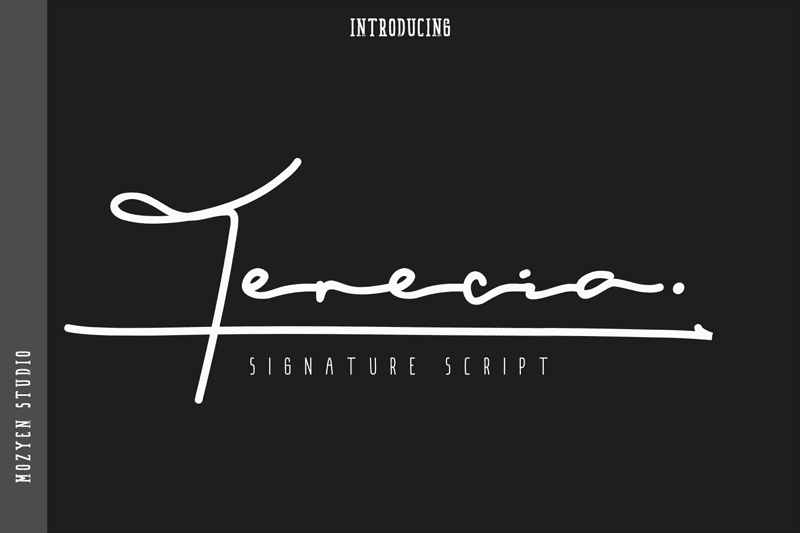 This is a rather unusual and trendy font, which can be easily applied. Terecia is characterised by rounded edges, the same letters' size and interesting protruding elements and is suitable for titles or for highlighting particular components.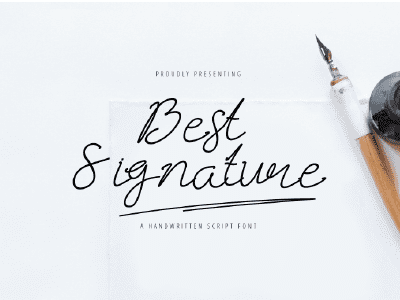 This font is unique in its kind. It includes many signs, letters and symbols. The different size of letters creates an animation effect. It seems that the letters are literally alive. Written by hand, Best Signature font is sure to make a difference in your projects and help you stand out from the rest of the competition. The font is also created by a real team of professionals named Nirmala Graphics. So you don't have to worry about product quality.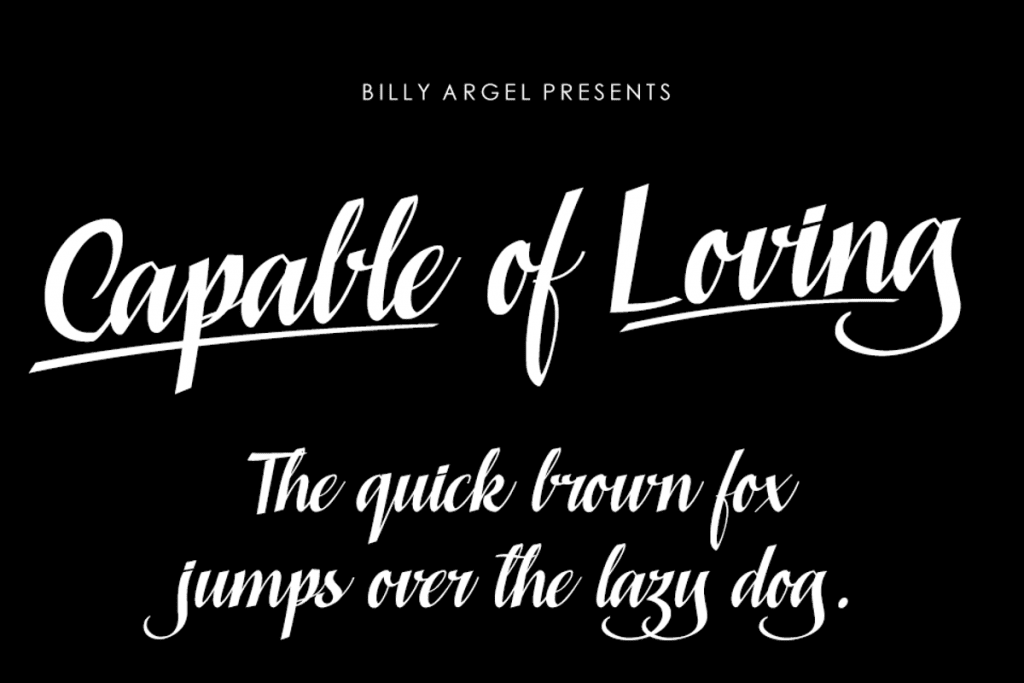 This magnificent font includes 63 characters. The bold outline and the slight curvature of the letters make this font sophisticated and elegant. In addition, the small distance between the letters makes it difficult to read. So you need to be careful with the Caranda signature font. This font will look great on banners, headlines, logos, various paintings on clothing, office supplies, etc.
Our selection is the best fonts, the quality of which is at the highest level. You can choose any of them, considering your goals, project style, and your preferences. Any one of the fonts is fully ready for use, because professional teams of creators have thought everything through and put it into files. All you need is just to download, or buy a font you prefer. We hope that in this selection you have found the ideal font for yourself! Good luck in creating unique projects!)
Signature Fonts FAQ
❓ Which signature font is better to use: premium or free one?
This depends directly on your budget and the project for which you use the font. Of course, the more high-quality, technically and aesthetically designed font – the more it costs. A font designed by a novice developer that supports only the Latin alphabet will cost a little, while fonts from leading developers that support many other languages and formats will, of course, be much more expensive.
❓ How to choose a desirable and best signature font?
The choice of font when creating a brand or design concept of the site depends not only on aesthetics, but also on the tasks to be solved. Thus, for the site of a corporation it is preferable to choose a font that supports the maximum number of languages, rather than the one that just seems more cute. If you choose to create a T-shirt print for example, it is better to use fonts that you visually like.
❓ Can I combine signature font with standard ones?
Sure! And that would be the best solution, given that the main thing is readability. For example, if you look at the design of the site, than signature font can be used for a catchy heading, while all text and posts will be written by Times New Roman. The main thing before the combination is to check whether these fonts will look harmoniously, and whether the high readability of the text.
❓ Where can I find quality signature fonts?
I advise you to use our selection, there are over 20 cool and gorgeous fonts. In addition, the website MasterBundles offers a huge number of high quality fonts packaged in bundles. Moreover, the site has special discounts! It helps you save money and your time looking for a better solution.
Please take a moment to pin this post to Pinterest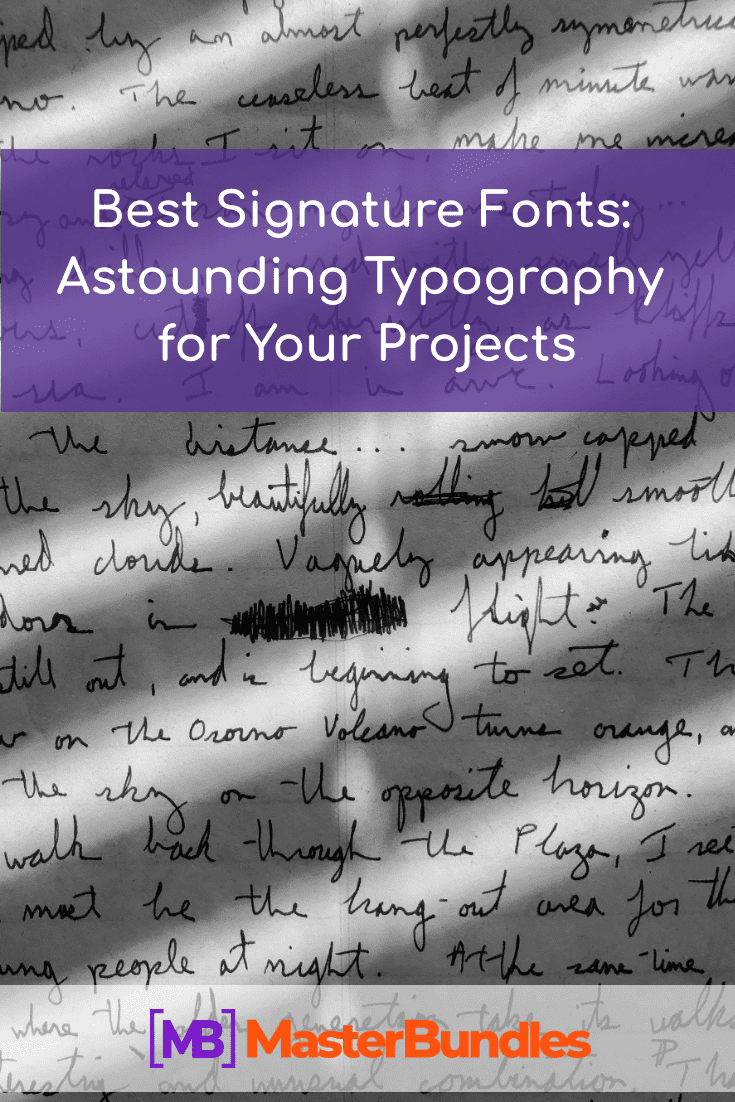 Was this page helpful?
We will be happy if you decide to share this article with your friends on Facebook. Just click on the button and you're done
Thanks for your response!
You have already left your review.
Disclosure: MasterBundles website page may contain advertising materials that may lead to us receiving a commission fee if you purchase a product. However, this does not affect our opinion of the product in any way and we do not receive any bonuses for positive or negative ratings.
This article is inspired by and relies on the following references:
Scripts: Elegant Lettering from Design's Golden Age. Book by Louise Fili and Steven Heller, 2011
Typographic Design: Form and Communication, 1985
Pioneers of Modern Typography,Book by Herbert Spencer 1969
The Anatomy of Type: A Graphic Guide to 100 Typefaces. November 6, 2012
An Essay on Typography. Book by Eric Gill
Typography Workbook. Book by Timothy Samara, 2004