Girly Fonts. Every font is developed for its own purpose. And if you want to create a bright and feminine design then you definitely need a few cute girly fonts. They will be a handy tool for any designer. Especially if you have an order for a design project targeted towards girls and the younger generation.
For example, you can use them to make a web project about cosmetics. Or you can use them to decorate a toy store website. Yet, you can use them at any time for any design project. It all depends on your imagination. You can also make a design for t-shirts and print them. Or you can create an art project with these premium fonts.
Disclosure: MasterBundles website page may contain advertising materials that may lead to us receiving a commission fee if you purchase a product. However, this does not affect our opinion of the product in any way and we do not receive any bonuses for positive or negative ratings.
Best 5 Girly Fonts 2021 💍💋💎💄
| Product Image & Rating (Out Of 10) | Product Name | Price |
| --- | --- | --- |
| | Senoritta – Beautiful Script Font | |
| | Selfilla Handwritten Font | |
| | Modern Sans Serif Font – Rollgates | |
| | Rhoselinna – Handwritten Script Font | |
| | Propaganda Vintage Typeface | |
And this list will be really helpful for you. It includes 50 best cute girly fonts for various purposes. It includes free girly fonts, girly cursive fonts, girly script fonts and so on. It even has girly tattoo fonts. You will definitely find here something worthy of your project. Again, just use your imagination.
All fonts were developed by professionals and can be easily edited in case you want to play with the design. They differ by color and style. You can also check the product page to see all included glyphs and symbols. And if you have any questions about our fonts you can always contact our support team in order to find an answer.
15 Cute Girly Fonts for All Occasions 2021
1. Modern Handwritten Calligraphy Font
Inspiration.otf
2. Lovely Amelya Skinny Handwritten Font
Price: $10
3. Funky Font Bundle: 18 Amazing Modern Calligraphy Fonts
Asnitta.otf
Bottomline.otf
BOUTHFIELD.otf
Coneshia.otf
Darmia.otf
LITTLE STAR.otf
Merry & Bright(1).otf
Moisture ink.otf
Mountiza.otf
Quiche.otf
Regular Queen.otf
Roseblank Black.otf
Salmon.otf
Sienta.otf
Sophie.otf
sweete girl.otf
Wellyfitts.otf
Wollshine.otf
4. Crawley Textured Font Duo + Illustration
Crawley Regular.otf
Crawley Rough.otf
Crawley Textured.otf
Heller Regular.otf
Heller Rough.otf
Heller Round.otf
5. Mellifret French Script Font
Mellifret.otf
6. Brush Script Font Sunderlines and Sanserif
Sunderlines.otf
Sunderlines Sans.otf
7. Land Of Laugh – Clean & Rough Font
LOL_Rough.otf
LOL.otf
8. Hello Wedding Font: Wedding Heart Monogram Font
WeddingHeartMonogram.otf
Price: $12
10. Strandja – Love Doodle Font by DreamONprints
Price: $13
11. Pom Poko Handwritten Font by Nuchylee Photo
Price: $6
12. Très Jolie – Serif Font with Doodles by DreamONprints
Price: $12
13. Amarithe – Elegant Script Font by PutraCetol Studio
Price: $19
Price: $12
15. Malligoe – The Script Branding Font
Price: $14
Wedding Fonts You Cannot Miss
Price: $15
Price: $17
Wonderfebia – Script Wedding Font
Price: $17
Dellima | Wedding Calligraphy Font
Price: $14
Romate Hood – Wedding Script Font
Price: $15
Price: $14
Handwritten Font, Calligraphy Font
Price: $6.14
Price: $5.49
Price: $6
Price: $5.49
Fonts Digital font Swirly Font Script Font Digital
Price: $2.99
Fairytales Typeface | Wedding Font
Price: $4.80
Price: $8
Price: $12
Price: $8
Trendy Girly Fonts for Those Who Want to Stand Out
Meltinghones – Beautiful Script Font
Price: $5
Price: $14
Price: $12
Price: $10
Price: $29
Price: $35 – $175
Price: $8 – $12
Price: $35
Price: $12 – $25
Price: $7.50
Price: available with Graphic Pear premium subscription
Price: available with Graphic Pear premium subscription
Price: available with Graphic Pear premium subscription
Price: available with Graphic Pear premium subscription
Strain Calligraphic Handmade Typeface
Price: available with Graphic Pear premium subscription
Girly Fonts Collection
Modern Sans Serif Girly Font – Rollgates
Adenium Girly Font + Gold & Rose Gold Foil
Hatachi Girly Script Font
Aisyah – Girly Hand-based Typography
Mandalica Calligraphy Handwriting Girly Font
Nadine Signature Girly Font
Morable Modern Girly Hand Based Typeface
Beautiful Dreamer – Girly Handwritten Typeface
Girly Handwriting Font "Balltimore Sans"
Modena Handwriting Girly Font
Merciana Girly Script FONT
Mahligai Girly Script Font
Lenka Brush Caligraphy
Valerissa Script FONT
Escucha Consuela Font Duo
Chalifor Dalsatic SVG FONT
Free Girly Fonts
Free Girly Script Font: Think Music
Girly Fonts Bundles
15 Incredible Girly Handwritten Fonts
Hand Lettered Girly Font Bundle: 5 Fonts
Font pack: 6 Lovely Items
Hand Lettered Bundle: 9 Perfect Girly Fonts
Charming Typography: 10 Hand Drawn Girly Font Scripts
The Handmade Font Bundle
The Sweet Variety Girly Font Bundle
Where Can I Sell My Own Fonts and Other Graphics?
In case you are a designer who is currently looking for a decent marketplace to start selling your graphics, you are going to be particularly interested in the Sell Your Deal service by MasterBundles. Through this very service, you can sell various types of digital products, including WordPress themes, web templates, patterns, clip art, stock images, fonts, postcards, and many more. As a matter of fact, MasterBundles is a perfect place to start since not only does it offer to sell your graphics on a legit marketplace but also promotes your products in order to boost the sales. Therefore, thanks to this very service, designers can concentrate solely on the creative part f their job and, as a result, come up with high-quality products and make more money.
Today we recommend to download products on the following topics:
In terms of money, MasterBundles' vendors get regular payments for every single item that has been sold on the marketplace on their Payoneer accounts. In case a designer urgently needs some cash, he or she can request a payment and receive the money within a couple of hours. Perhaps the coolest thing about collaboration with this marketplace is the fact that you get actual money for your products, not some sort of credits or bonuses that are almost impossible to convert into real cash. However, note that you can only start receiving money for your products once people start purchasing those. Apart from that, the amount of money you receive depends directly on the number of your products' sales. Therefore, you will not get any money for just uploading your goods onto the marketplace. At the same time, if you create unique and high-quality products, you will definitely earn some cash.
In order to start the collaboration with MasterBundles, all you have to do is to create a vendor account and upload your products. You can also easily upload your first product using the form below. So leave all your doubts and fears behind, sign up as a vendor on MasterBundles, and start your freelance career right now!
Some Awesome Videos About Girly Fonts
Cute Girly Fonts | Girly Fonts Quotes – Free, Premium and Bundles | MasterBundles

💄💋💍 Best Cute Girly Fonts for all Occasions…

How To: Calligraphy & Hand Lettering for Beginners! Easy Ways to Change Up Your Writing Style!

Natalies Outlet

Wrapping Up
The font is a crucial element of any project, which is why it is so important to select the right font for every particular project you work on. Luckily, today we have a broad choice of both premium and free options, so finding some lovely fonts is no longer a problem. Therefore, have a look at the cute girly fonts that we mentioned in this article one more time, get the ones you liked the best, and create a stunning project that will mesmerize your clients today!
How often do you use girly fonts in your projects? Share your experience in the comment section down below!
Girly Fonts FAQ
💍 Is it better to use a bundle of fonts or just a separate one?
It's dependent on your demands and desires. If you need to try a lot of fonts and experiment with them, download a set of them of course. But if you need just one font for a heading, and you've chosen a wonderful single girly font, try that one.
💋 What fonts are better: free or premium ones?
Of course, premium fonts look more wonderful than free ones. But if you don't want to spend your savings on them, try to find some good free fonts.
💎 Is it possible to get any discount on girly fonts?
Yes, it's possible because MasterBundle frequently offers some discounts, so visit the main page quite often, and subscribe to the newsletter to know first about them.
Please take a moment to pin this post to Pinterest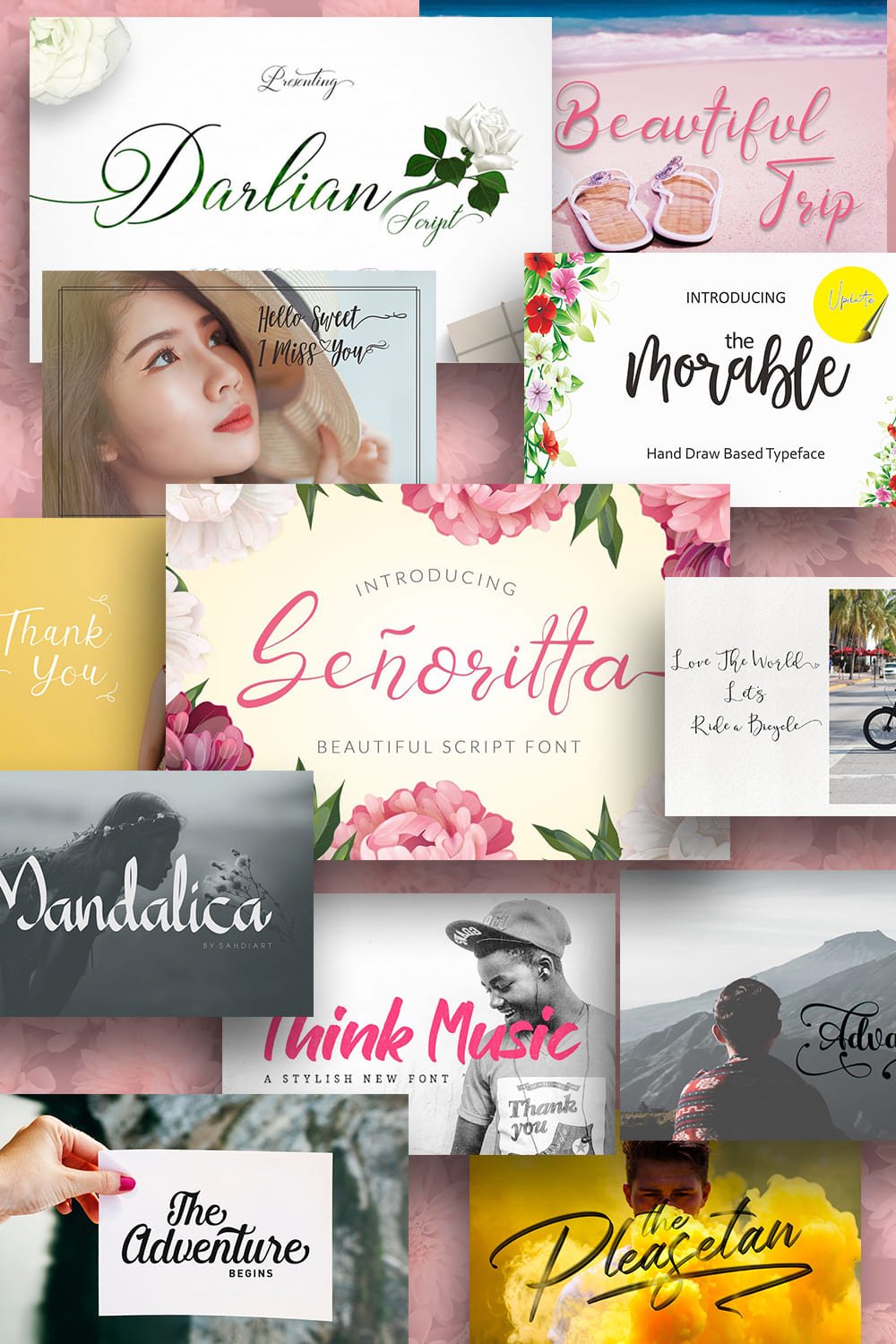 Disclosure: MasterBundles website page may contain advertising materials that may lead to us receiving a commission fee if you purchase a product. However, this does not affect our opinion of the product in any way and we do not receive any bonuses for positive or negative ratings.
Before I start working on any article, I always do my research on the topic that I am going to unveil. So naturally, I have a broad list of references. Thus, this time I was inspired by the following resources:
Bierut, Michael. How to Use Graphic Design to Sell Things, Explain Things, Make Things Look Better, Make People Laugh, Make People Cry, and (Every Once in a While) Change the World. Harper Design, Illustrated Edition, 2015.
Heck, Heidi G. Designing on the Grid: Graphic Patterns for Mosaic Scrapbooking. Independently published, 2020.
Müller, Jens. The History of Graphic Design. Vol. 2, 1960–Today. TASCHEN, 2018.
Müller-Brockmann, Josef. Grid systems in graphic design: A visual communication manual for graphic designers, typographers and three dimensional designers. Niggli Verlag, Bilingual Edition, 1996.
Stevens, Renée. Powered by Design: An Introduction to Problem Solving with Graphic Design. Rocky Nook, 2020.