30+ Best Sharp Fonts for Building a Successful Brand in 2022
With the expansion of digital technologies, design has risen to a new level. It is essential for With the expansion of digital technologies, design has risen to a new level. It is essential for successful branding to listen to the latest innovations and keep up with the trends. To make their products stand out, designers and developers use various tools, among which fonts play a significant role. That is why sharp fonts are now gaining extraordinary popularity. We have selected for you only the best sharp fonts to be found in 2022. Their elegance fits perfectly in almost any style and is suitable for creating websites, logos, design pages in social networks, postcards, and much more. We believe you will be very satisfied with this collection.
It is important to note that sharp fonts are not a separate font group and that this is a characteristic of both Serif and Sans Serif fonts families. Sharp fonts look more futuristic and confident, which is why they are perfect for creating brands for IT companies, scientific communities, game developers, fashion houses, and design companies. Unlike round fonts, these are more restrained and minimalistic, so you can safely opt for such designs and be sure that they will be in trend for many years to come.

The Benefits You Get With Sharp Fonts
When creating a design, professionals pay attention to every detail. Everything must be perfect for the whole picture to come out refined and catchy. Thus, any font can easily complement your logo or corporate design, thereby emphasizing your company's main principles and goals.
Now you do not need to worry about a pig in a poke, and you can see how your texts will look in the online font demo before you buy. Additionally, fonts are universal and can be used in various text editors, including the most popular ones like Microsoft Office and iWork. Also, in this collection, we have selected the best fonts in 2022 for you with the following features:
Affordable price
Latina and Cyrillic options
Regular updates
Professional support
OTF and TTF files
Documentation and guides
Easy customization
By getting any typeface from the list, you can be sure that it will be flexible and straightforward in use. Choose the design you like and implement it in your corporate style with just a few clicks!
Tips on How to Use Sharp Fonts
Here are some recommendations from our designers on how to use sharp fonts in your projects.
Choose several fonts and combine them
If you aim to create a website and use a variety of typefaces, it is necessary to pay attention to the different website parts. The main menu and the main text typos are usually made in a different style. That is why it would help if you try different fonts for the page's various sections. It will help your customer to perceive the information better. Besides website pages, you can apply the same rule to the following:
flyers and business cards;
commercials;
postcards;
articles.
Play with size
Size is a separate tool that you can use to emphasize the primary information on the page. The most critical announcements should be catchy and grab the customer's attention at once.
At the same time, you should be careful – the oversizing might look messy and negatively influence the perception. The optimal difference in size between the main text and heading is up to seven point sizes.
Define the roles
To make it easier to choose fonts, you need to plan how you would like to see this or that text, emphasizing its importance and conveying the main message. If you create a business card, then the primary information will be your name and contact details. You can use the same typeface for them, but highlight the main line with a larger size, or choose two different fonts that will look harmonious.
The main thing is not to be afraid to experiment. You can look at several fonts, try your text on them, save screenshots for comparison, and then decide which one to use.
Express your individuality
Of course, competition is a factor that always drives us. First of all, when creating a brand, we look at other representatives of the niche to see how we compare to them. Remember that by making the same blueprint design, you won't rise any higher than your competitor.
Clients love uniqueness. They are looking for something that they can cling to and attract. Therefore, do not copy others' styles – create your own and implement all your unique bold ideas.
30+ Hottest Sharp Fonts in 2022
Vintage Font Bundle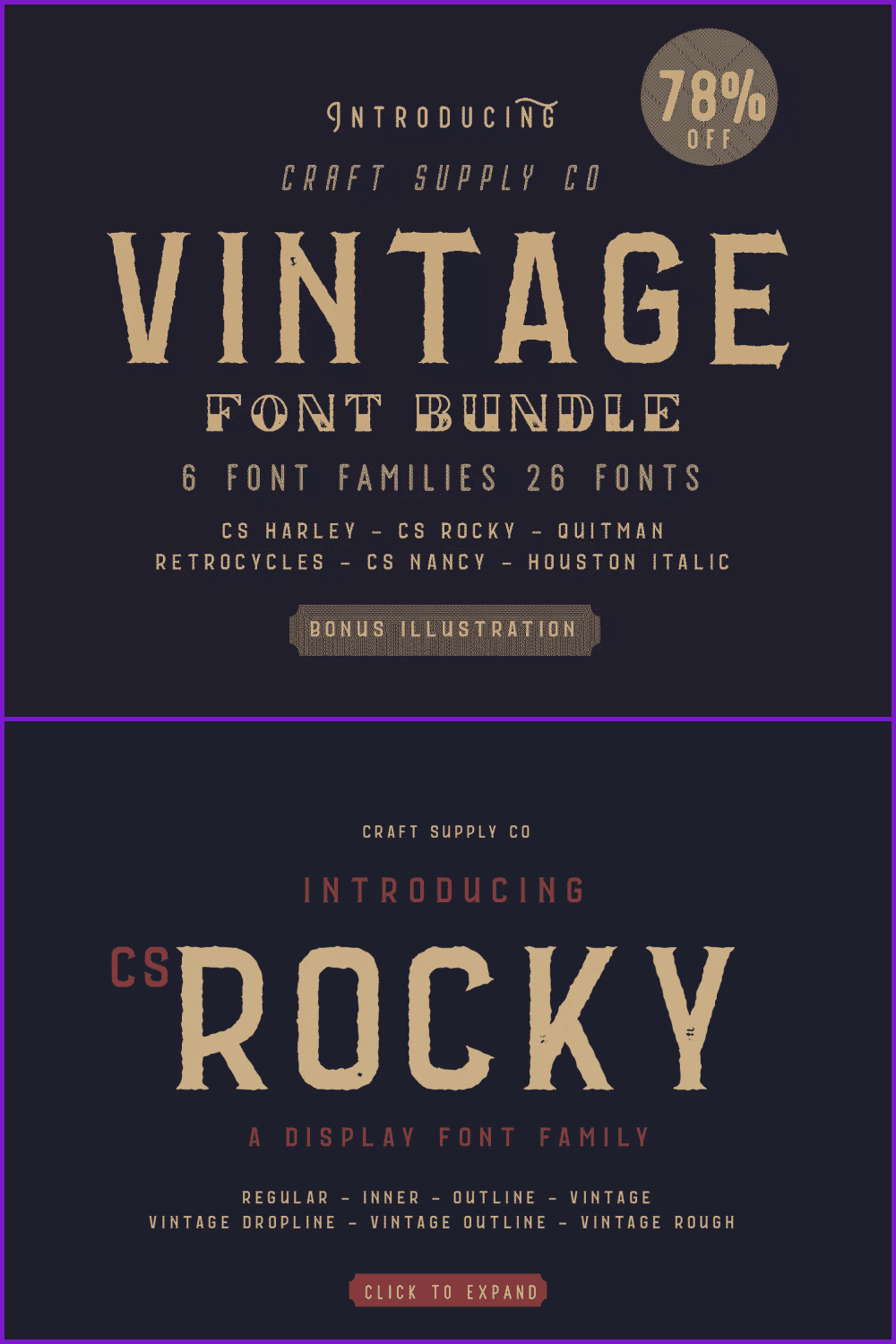 If you've looked through hundreds of sharp serif fonts but still haven't found anything interesting or appropriate, check out this product. This is a whole collection of cool vintage fonts suitable for logos, posters, magazines, books, branding, clothing, and other design purposes, as well as collections
Modern And Stylish Brush Sharp Font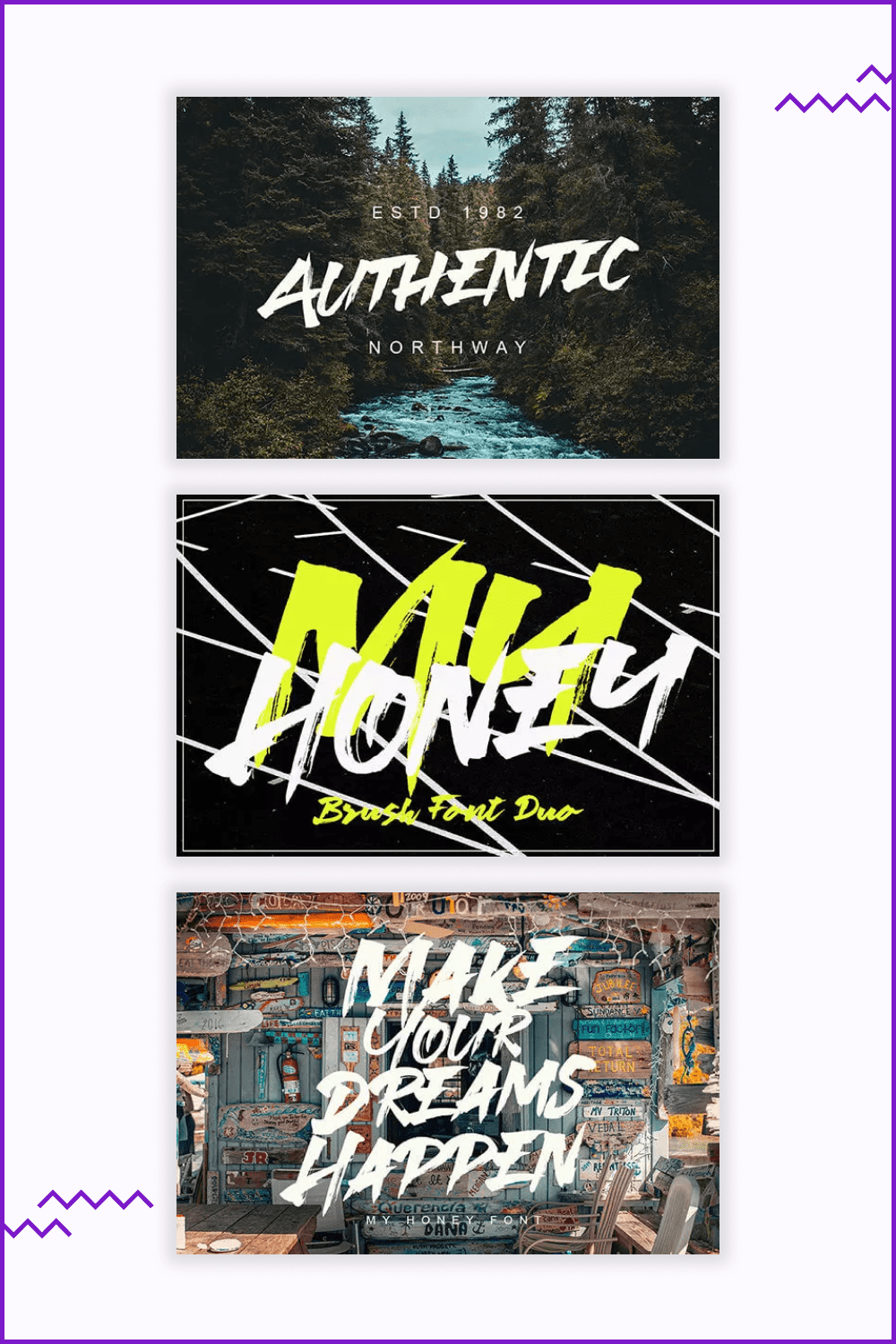 If you are looking for a high-quality and cool product and want to find the best font for logos in 2022, then this exemplar is for you. My Honey is a modern font with a unique style. It will give an urban twist to any design idea!
Playful Fonts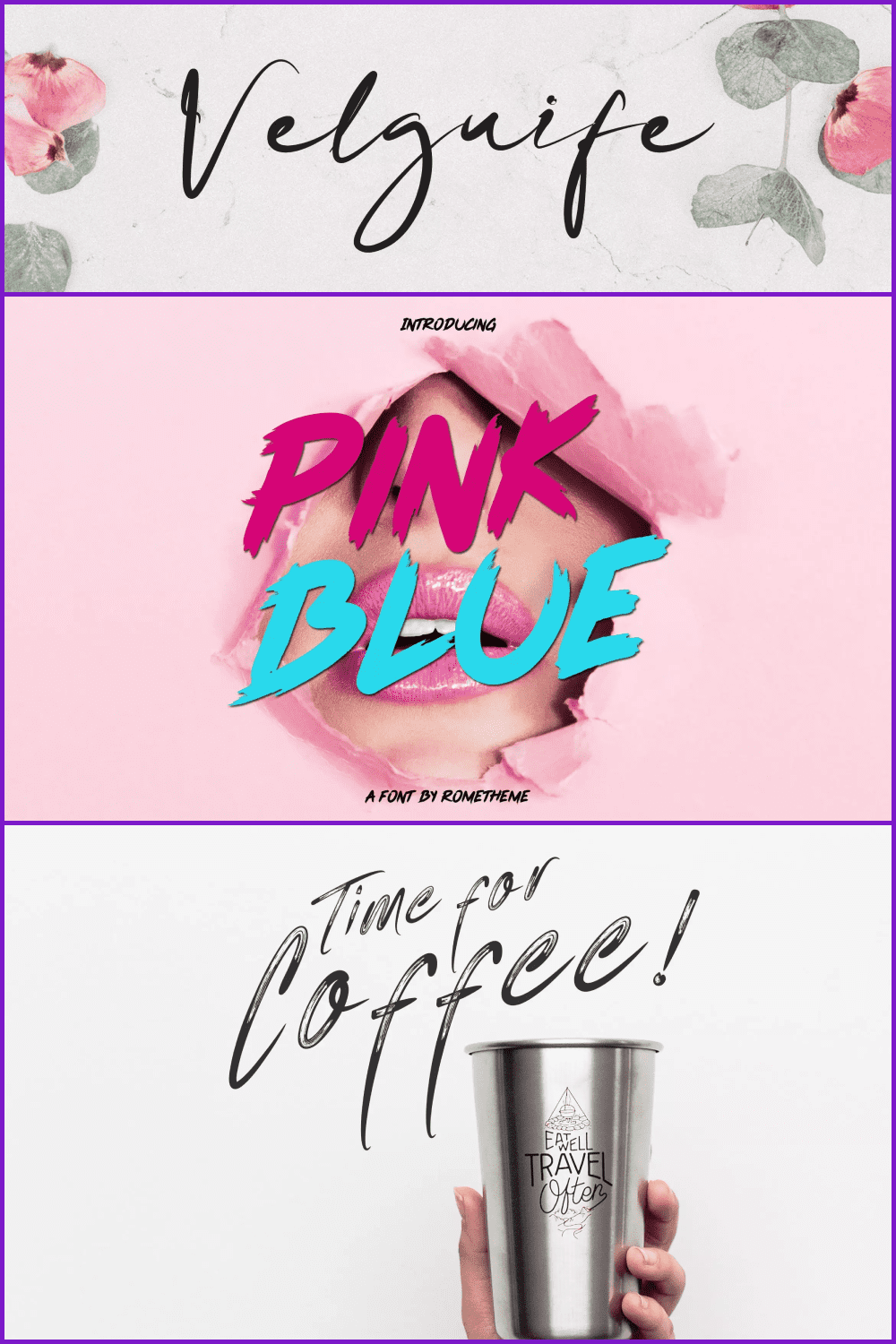 Nowadays, there are times when there is not enough of one font and we have to mix and match, but it is not easy. In this case, you may like this bundle, which will cover all your needs and will be suitable for any project.
Minime Color Font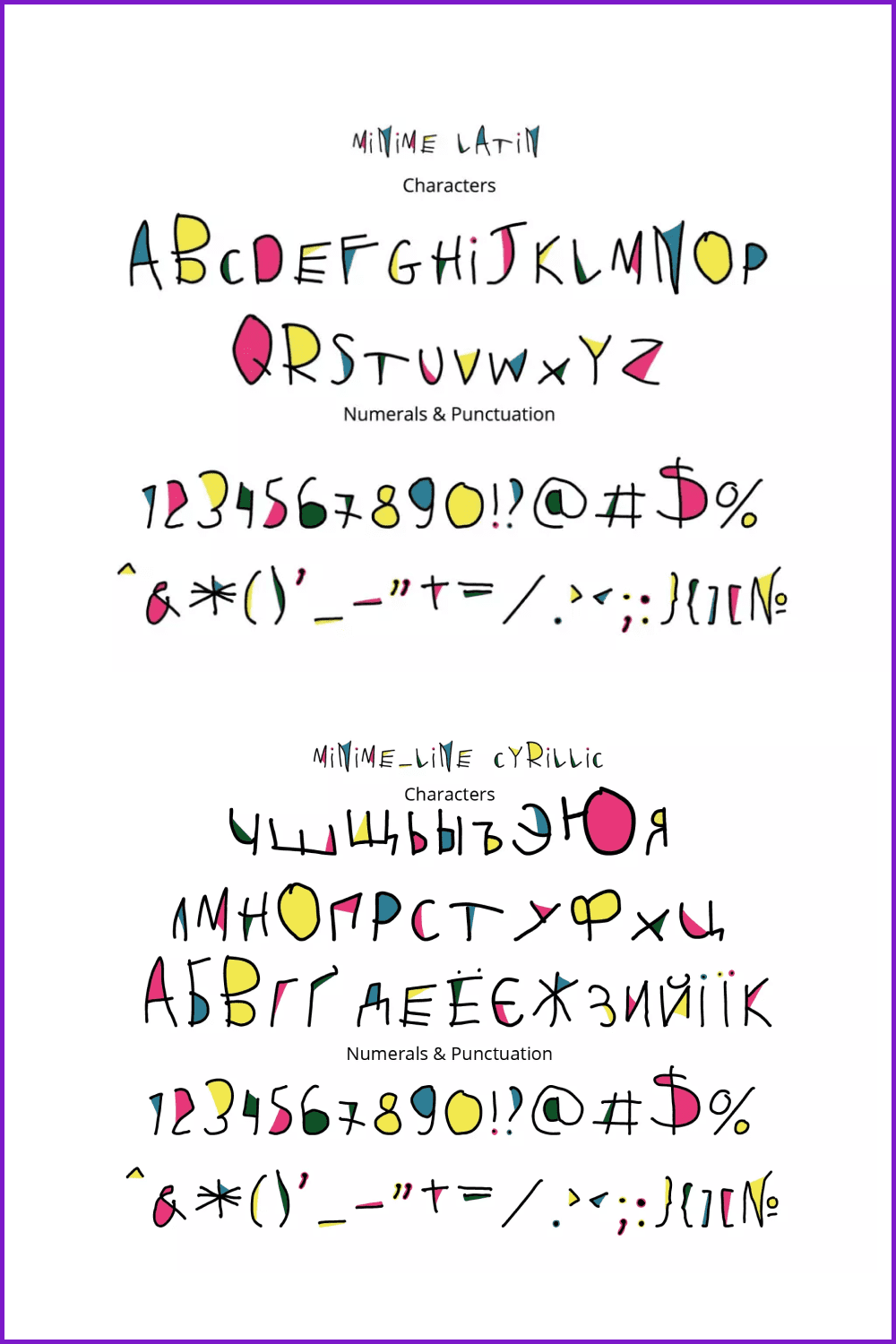 Want to try one of the most unusual cool sharp fonts, then take a look at this one. This is a fun and cute font! This font is great for all kinds of work, including t-shirt design, typography art, social media images, and more!
Vintage Japanese Style Font Tokugawa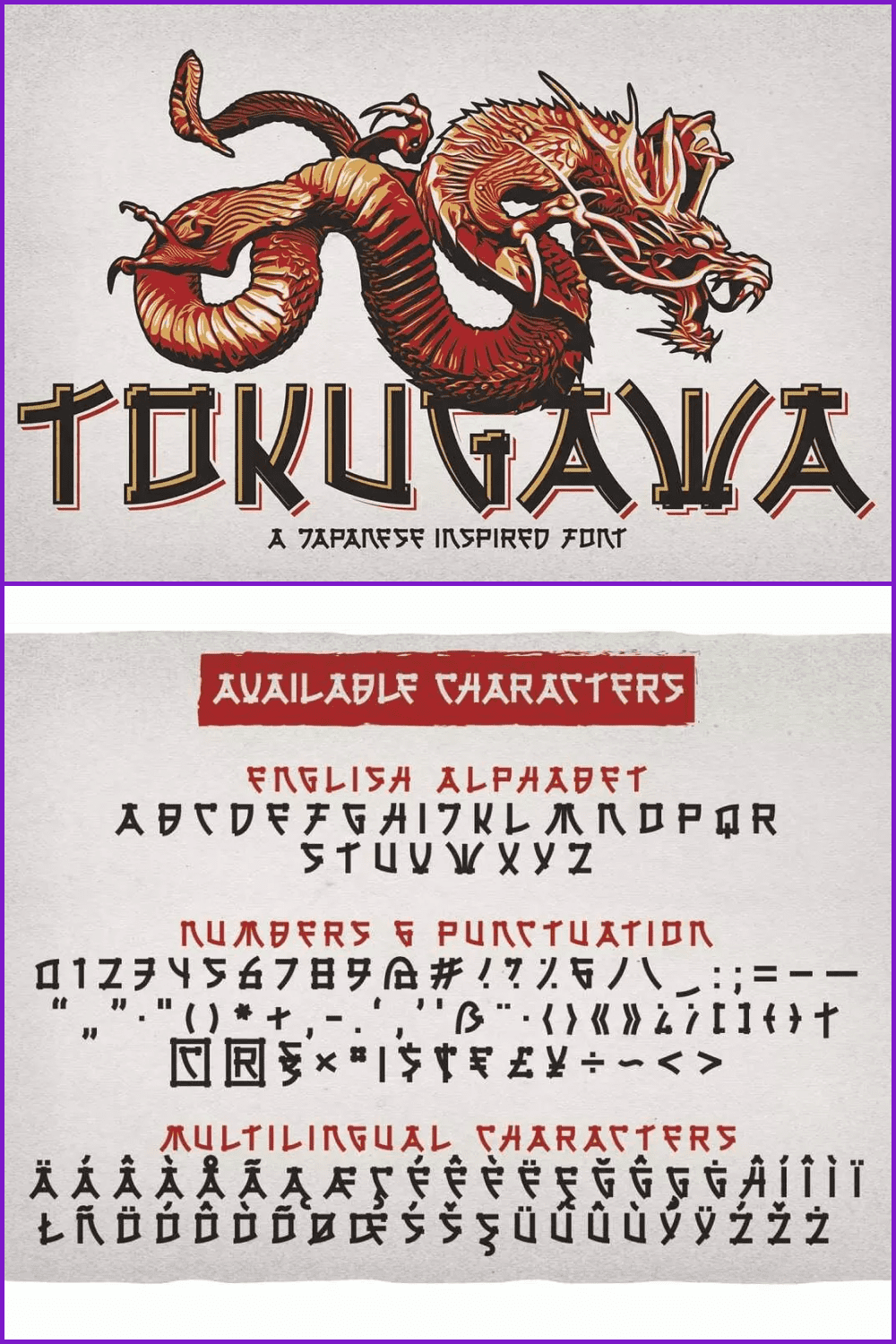 If you are looking for the best fonts in 2022, then you should pay attention to this one. It is just the perfect font for any design decisions that have to do with Japan. It is sure to be popular this year, especially if you put your hand to it.
Clinomania Serif Monospaced Font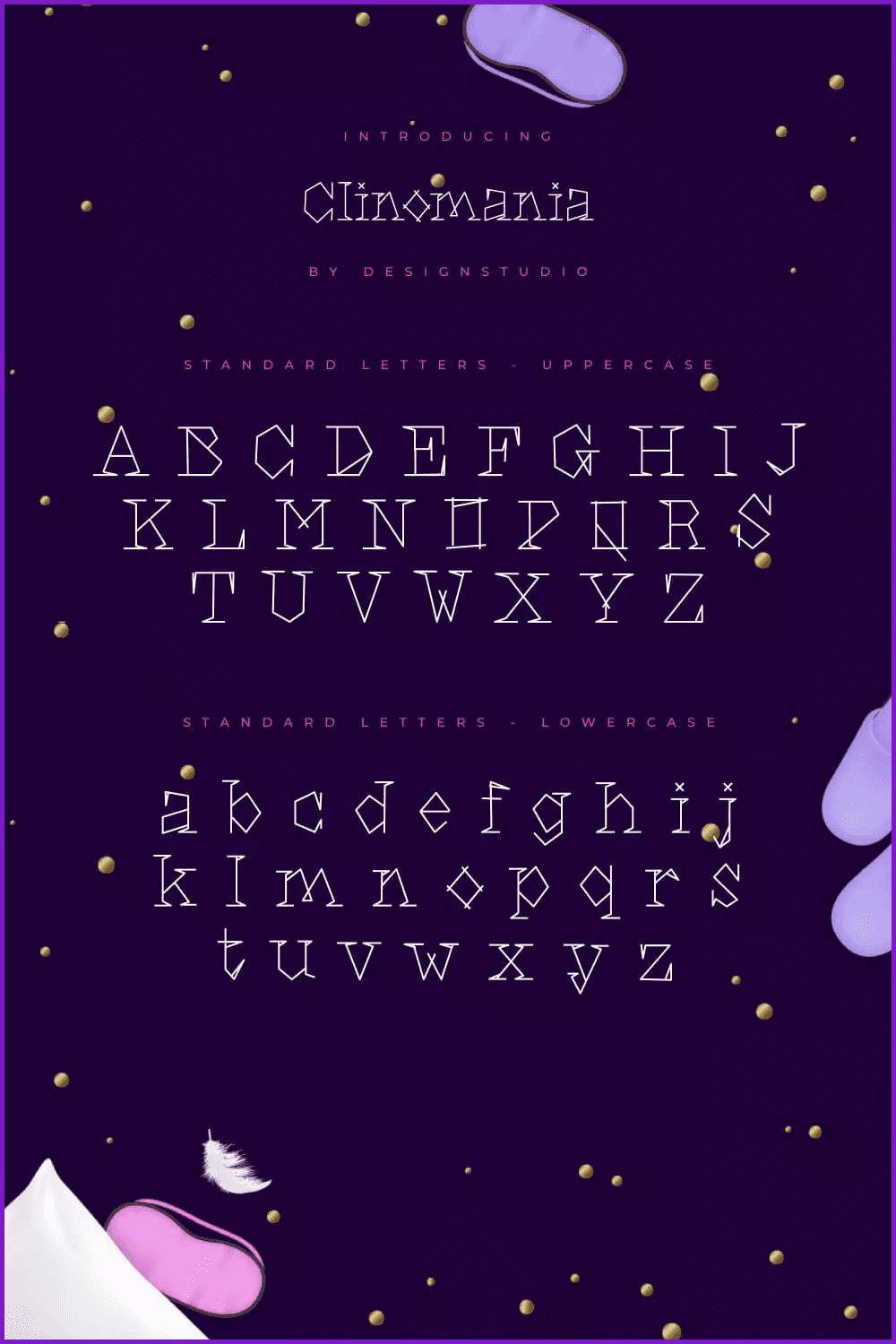 If you are looking for something very special for your projects, then you should pay attention to this product. This is not just a sharp font, it's also a monospaced script that will look very interesting in your various works.
VOLUX Luxury Branding Slab Font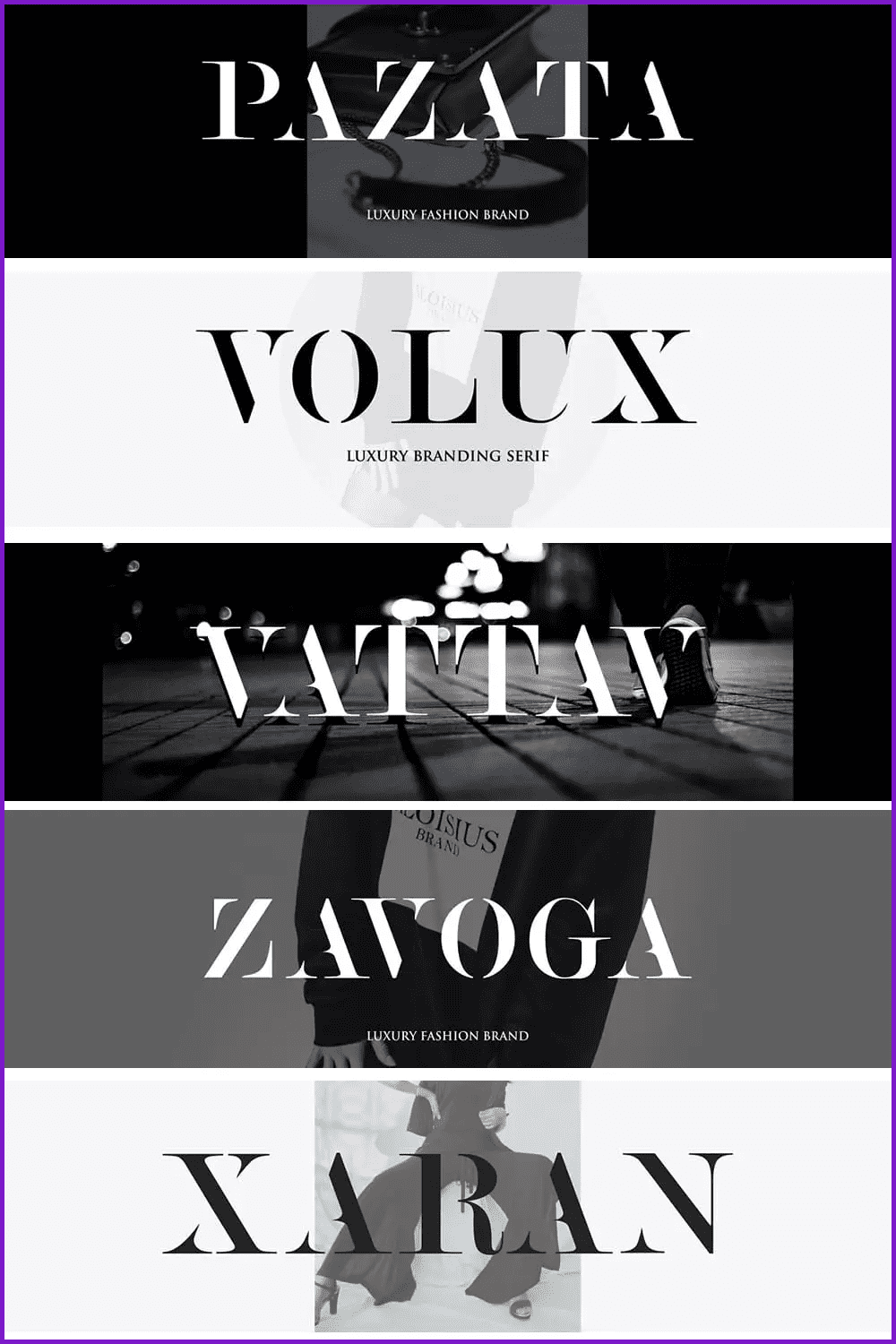 This font is perfect for those who have a unique and minimalistic luxury fashion business. You will no longer need to look for fonts to add luxury to your brand.
Avenger Label Typeface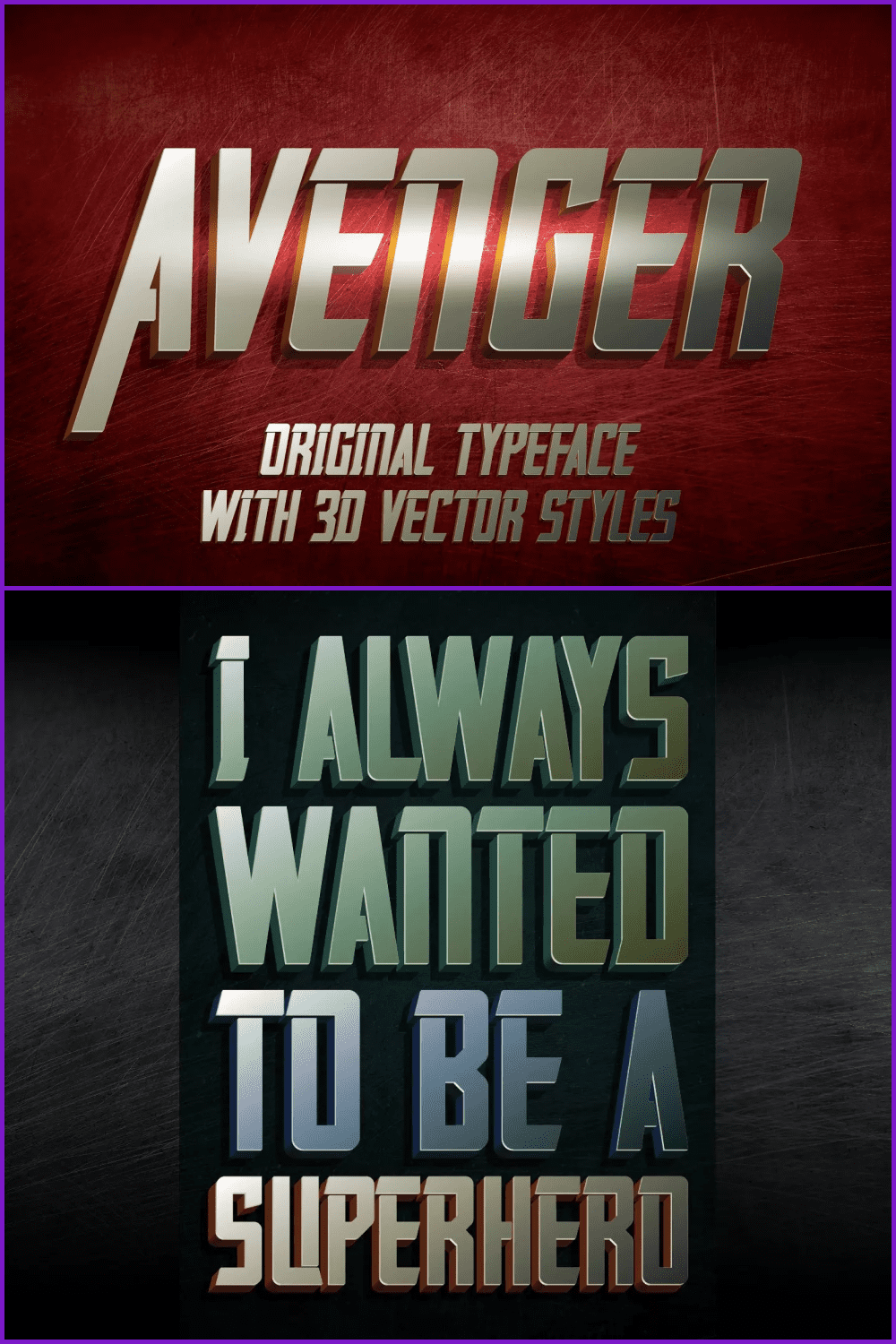 Note this edgy vintage label font called Avenger. This font was inspired by comic book movies. It would look really cool on prints, logos, banners, etc.
Quiet the Thief Outlined Wide Font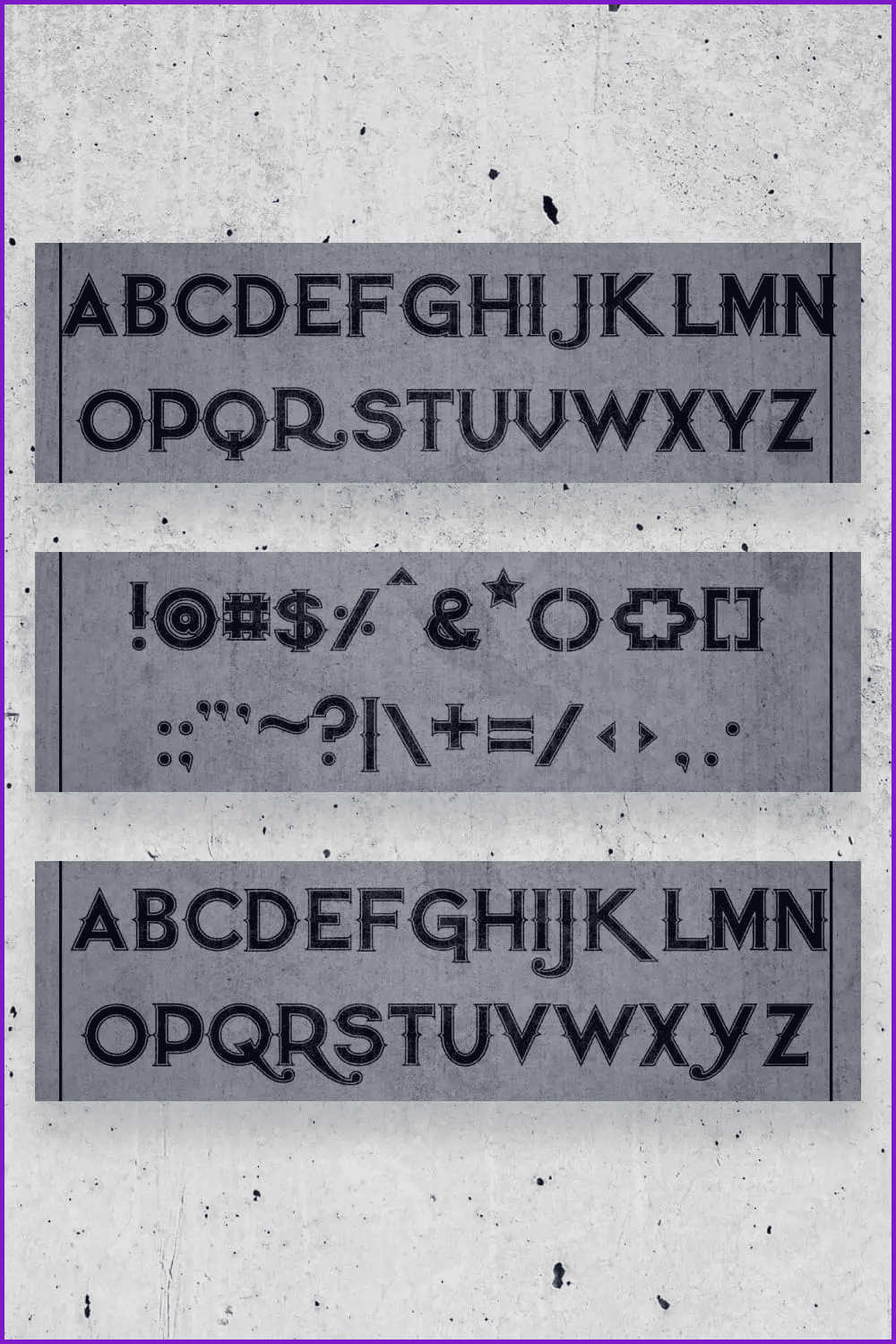 If you can't find a stiff and sharp font for yourself, then try this very interesting option that you're bound to like. It has great lettering and ligatures that make this font incredibly versatile.
Tall Serif Font Daylight Dreams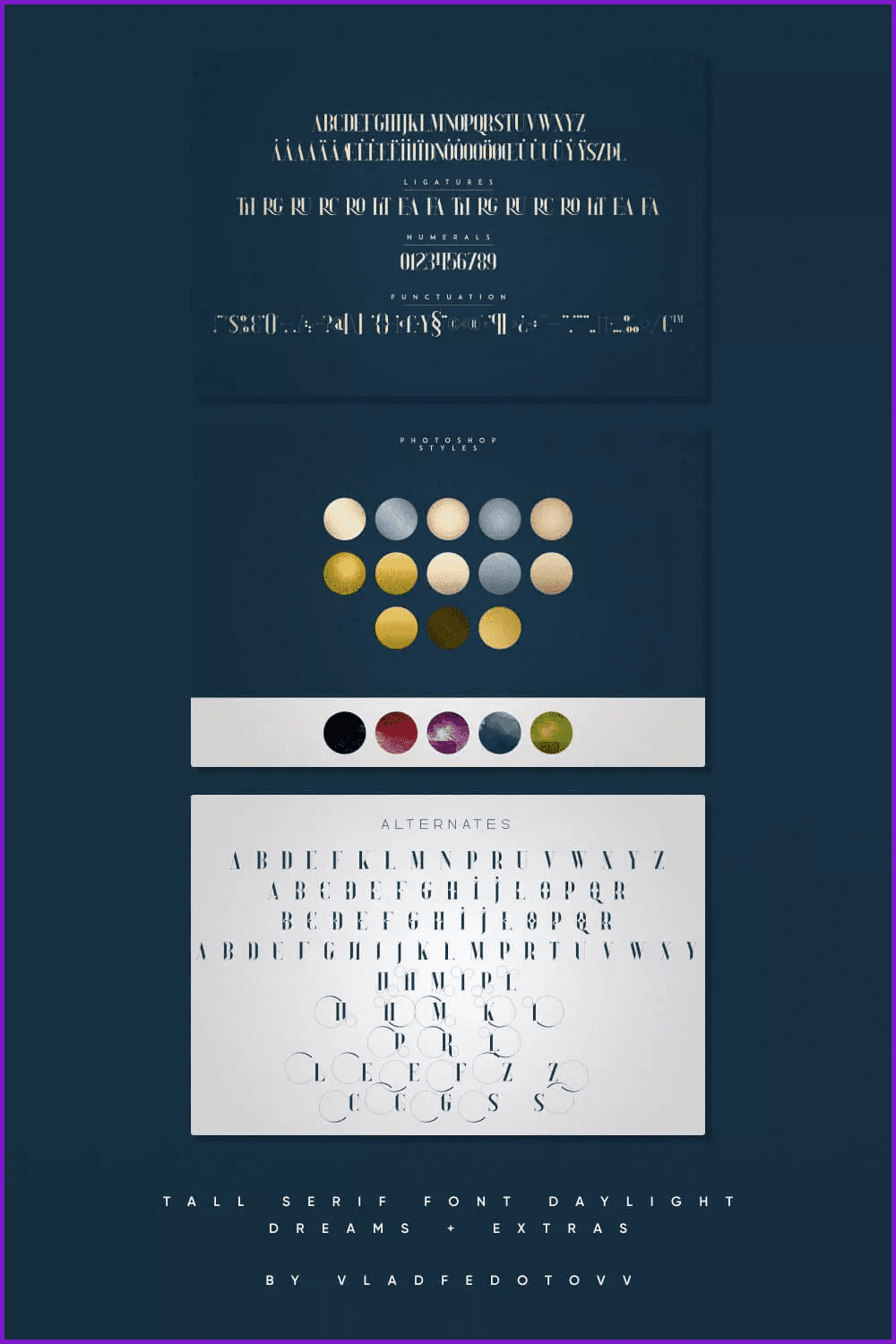 This is a very versatile font that works great in large and small sizes. This font is ideal for branding projects, design homewares, and product packaging.
Calligraphy Fireflight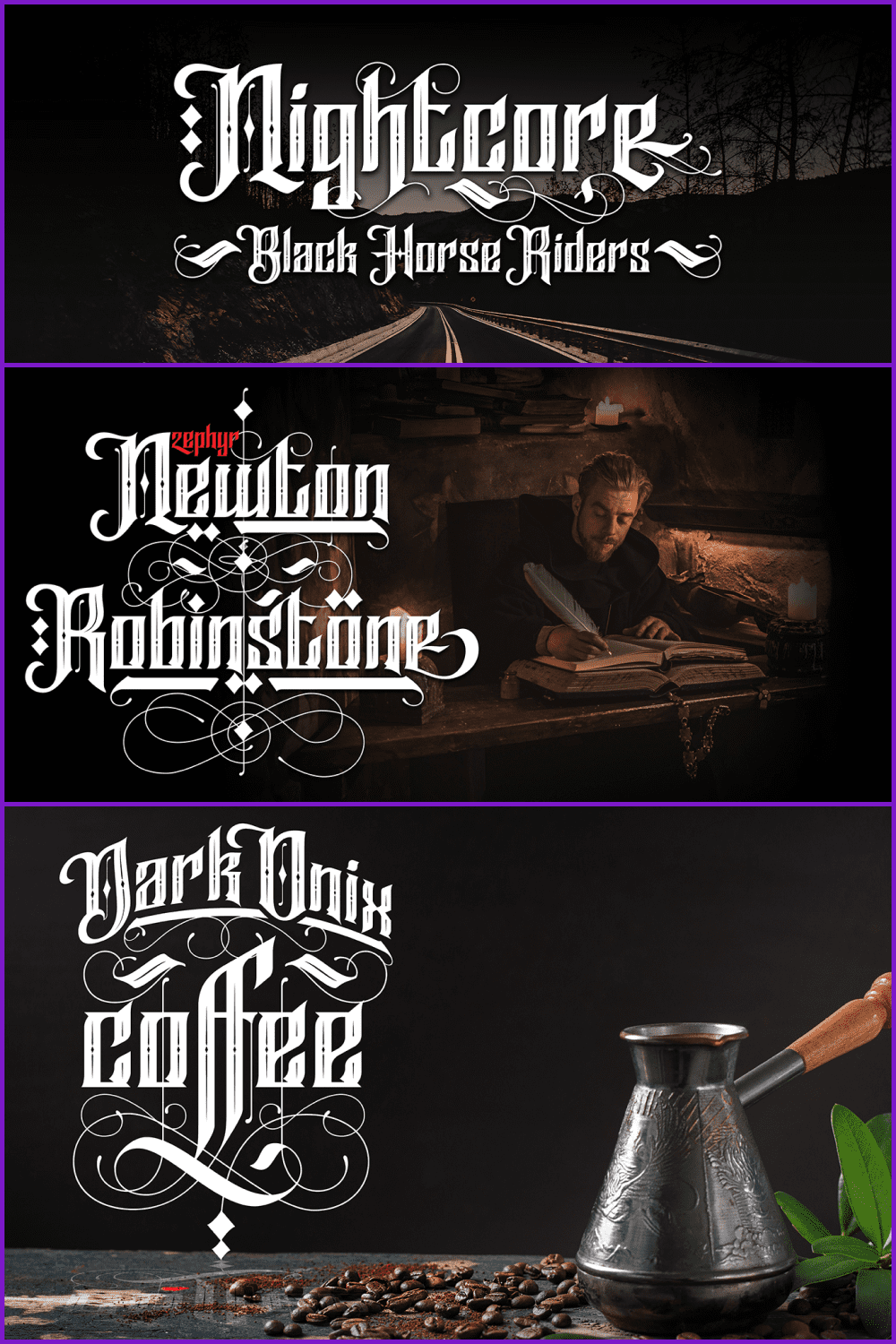 The Fireflight typeface reminds of the gothic design traditions. It has a calligraphy basis, which makes it unique and attractive. Clients often associate this style with bikers and rock concerts, which is why it will be an ideal solution for creating invitations to festivals and subcultural gatherings.
Vintage Cattily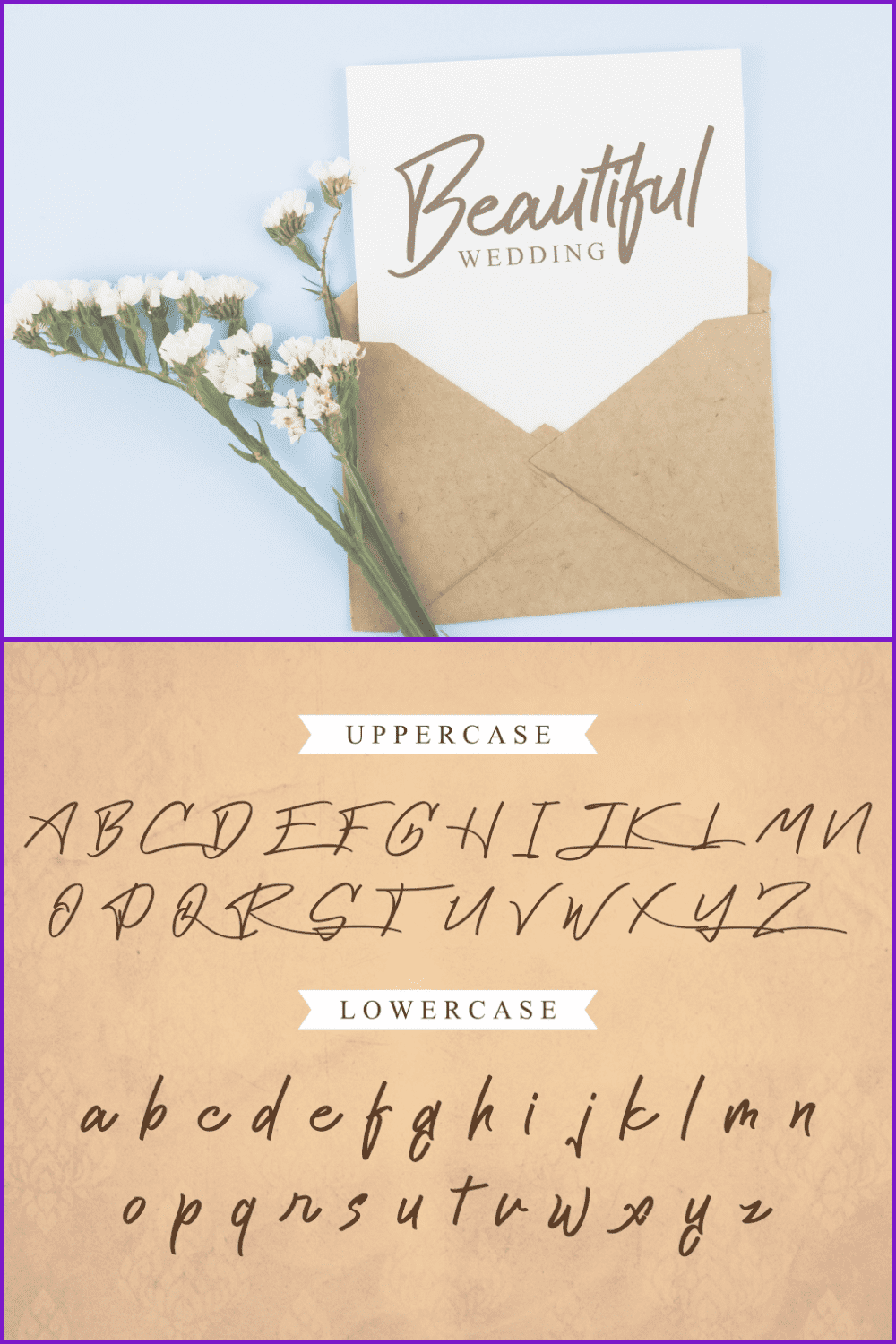 Cattily is a very delicate and soft typeface, despite being sharp in outline. At first glance, it becomes evident that it looks reliable and confident. You can implement it in your articles and blog pages as it is easy to read. Its format allows you to make changes quickly and personalize in a few clicks.
Classic Film Poster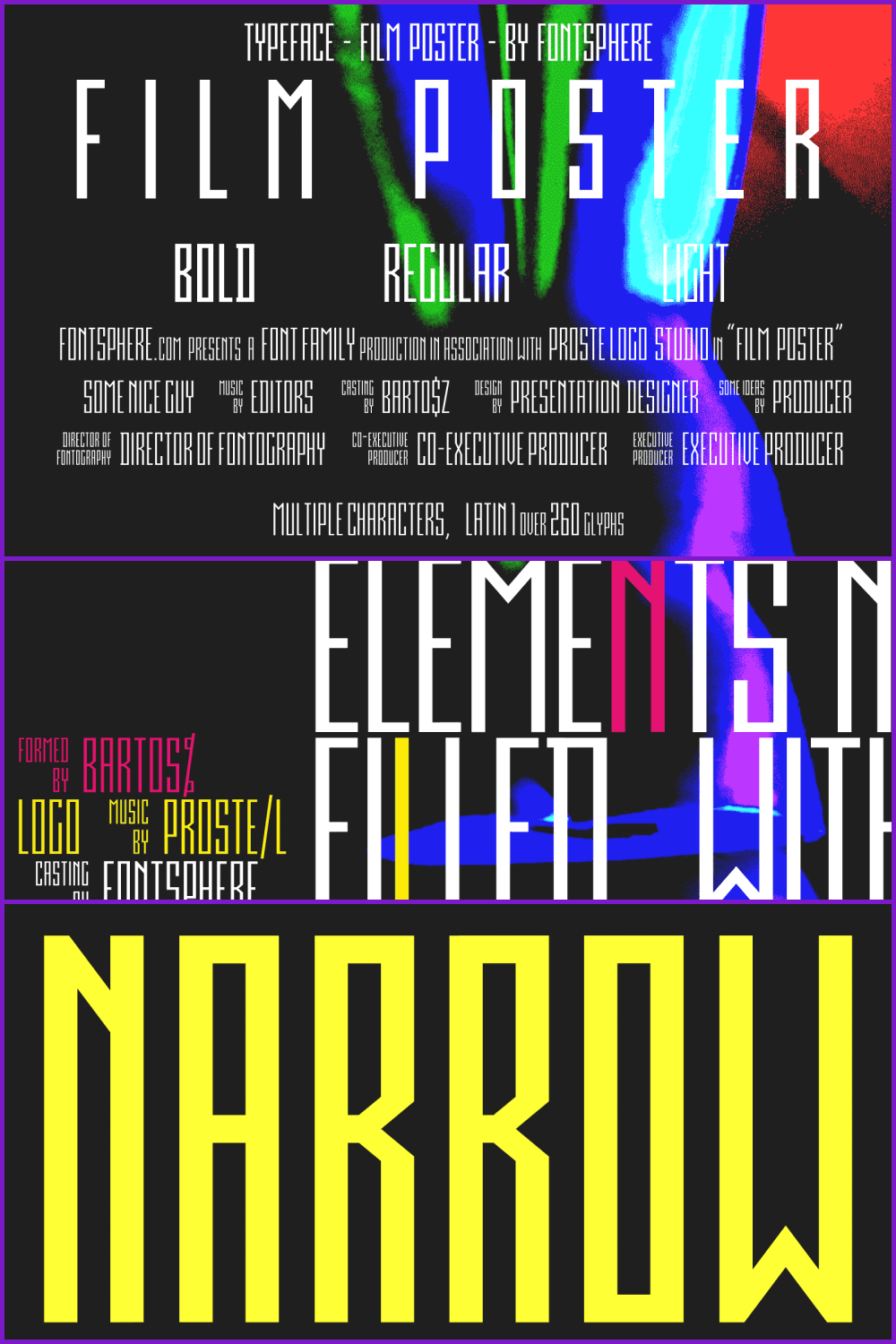 With the Film Poster pack, you will get nine different font styles. It will allow you to vary the design and use the same font family for different headings and menu levels, saving you time looking for new solutions and saving money on purchasing them. The font looks very restrained and resembles classic posters and movie credits.
Epitaph Outlined Typeface
Some projects require special fonts that are very hard to find or pick up, especially when it comes to photos. Epitaph is a strict, delineated font. This fully uppercase alphabet perfectly complements photos and illustrations but is also strong on its own.
Stylish Cufel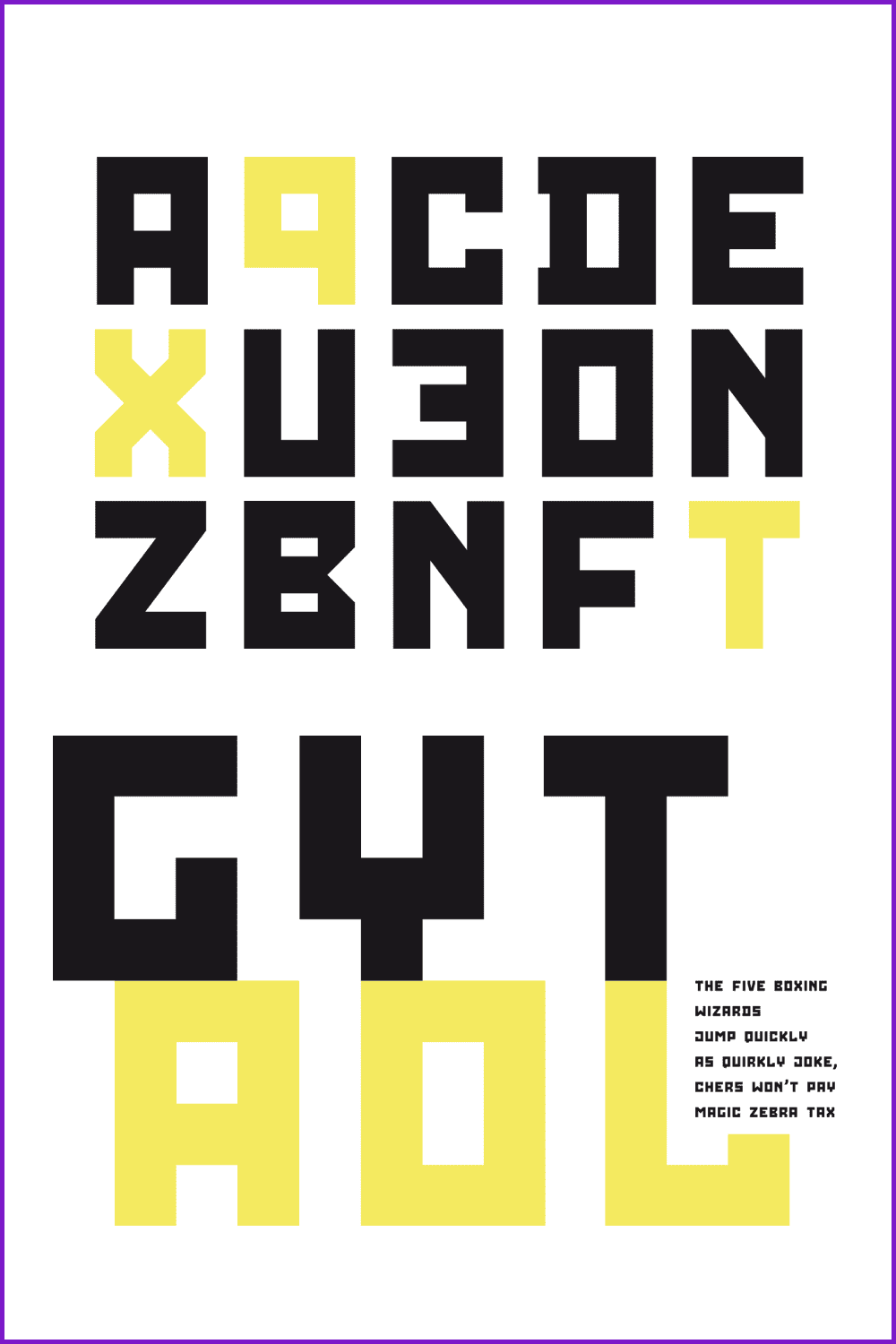 If you want to create a cool pixel art poster, then Cufel font is the best solution. It looks great in bold and caps and has an unusual shape with sharp corners that make it unique. It will look insanely cool on posters, studio logos, and developer business cards.
Newton Howard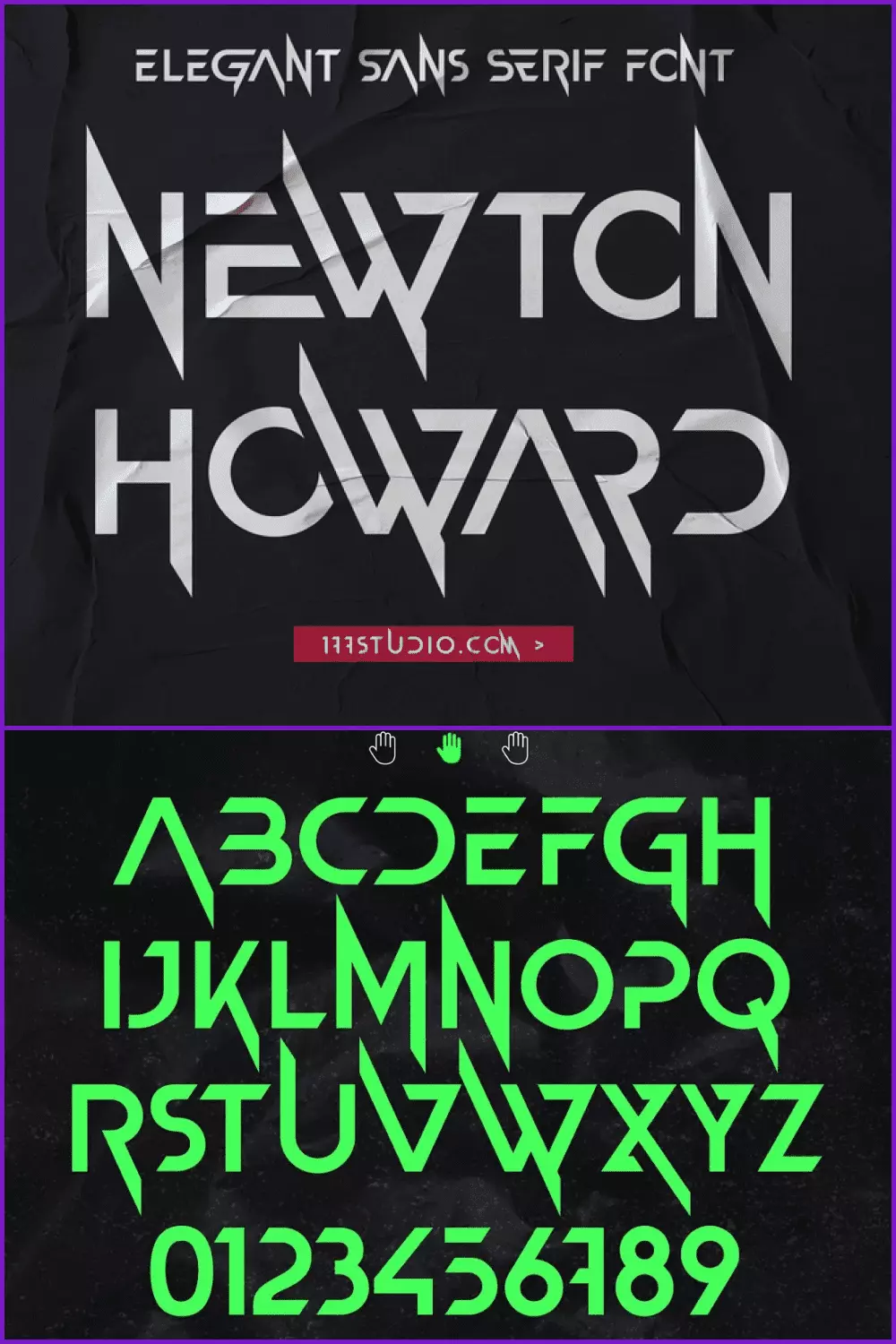 Newton Howard is not only a cool and versatile sharp typeface but also simply a gift for art lovers. With this font, you can easily give a cool style to almost any of your projects.
Sharp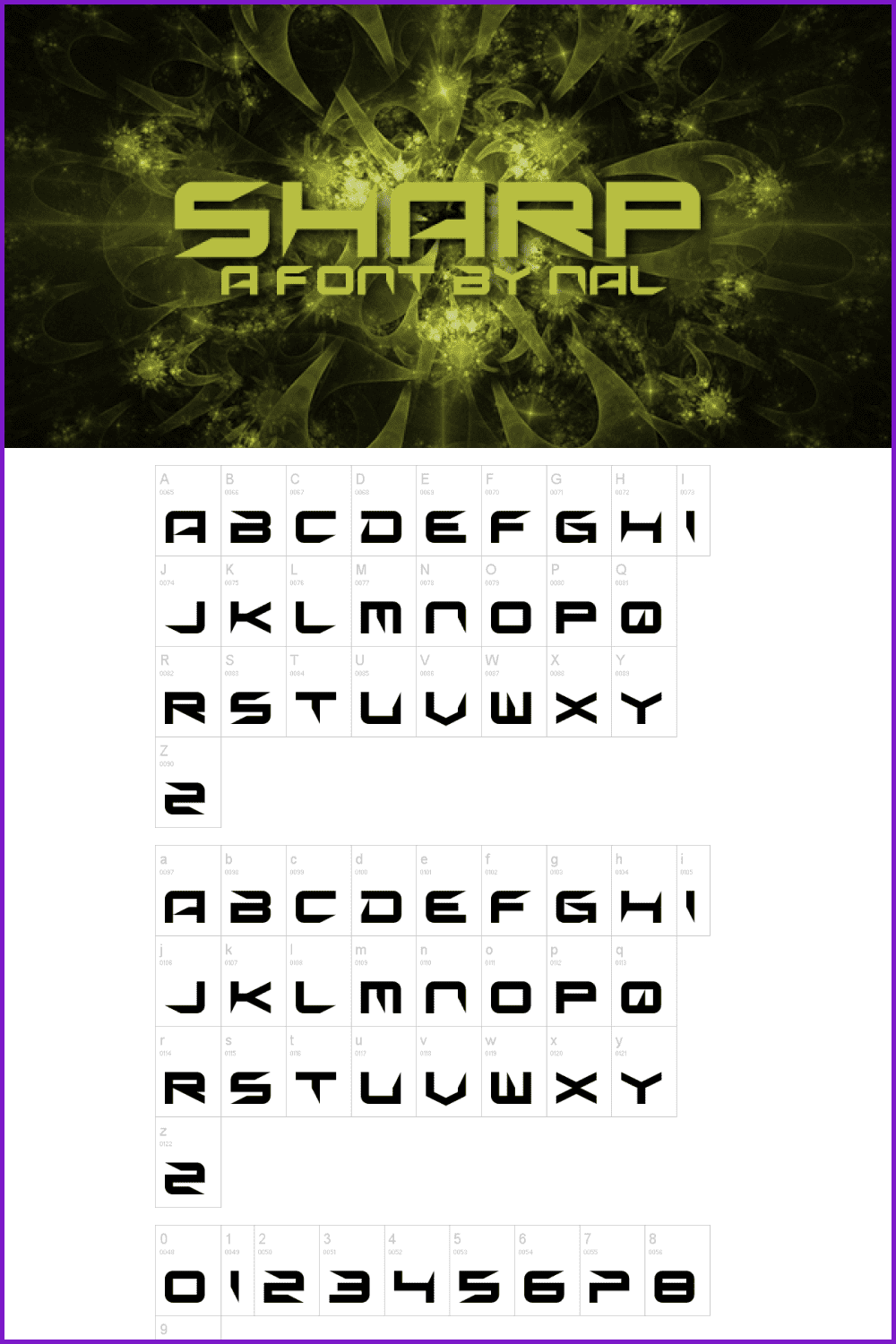 It is safe to say that this typeface is a classic of the genre, it is in some ways even legendary. It is the script that comes to mind for many people when they hear the phrase sharp font. There is no doubt that it was and will be one of the best fonts in its category.
Creative Waverly
This font looks very restrained and minimalistic. It will be the perfect combination with the same overall layout, as it doesn't require much customization. You can play with its color and brightness and implement it into more colorful images.
Armor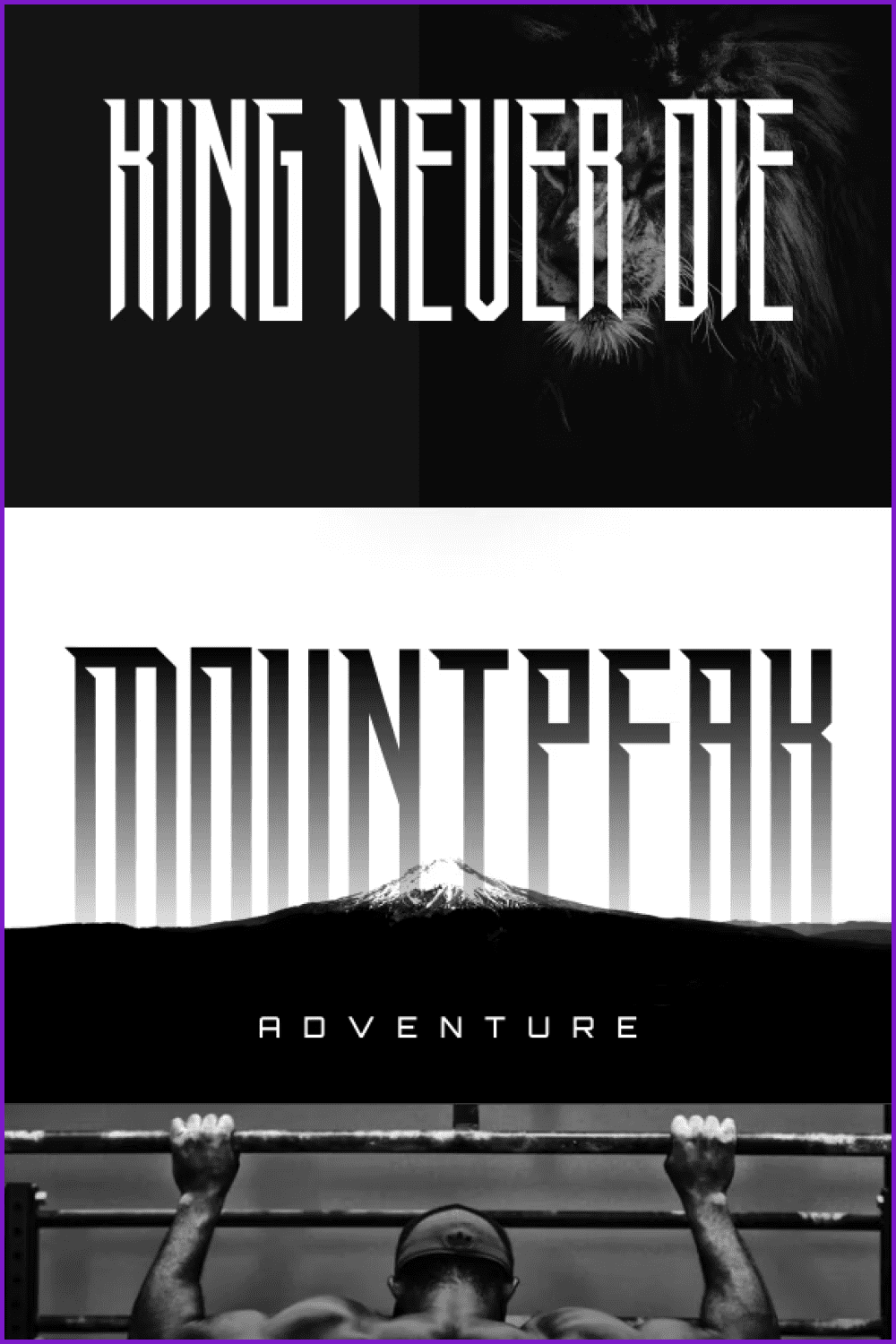 If you're looking for a tough and cool font, then definitely try this one. powerful ARMOR is a condensed font with a sharp end and geometric look. It's best for sports, branding, posters, logos, headlines, clothing design, and more.
Saint Martyr Font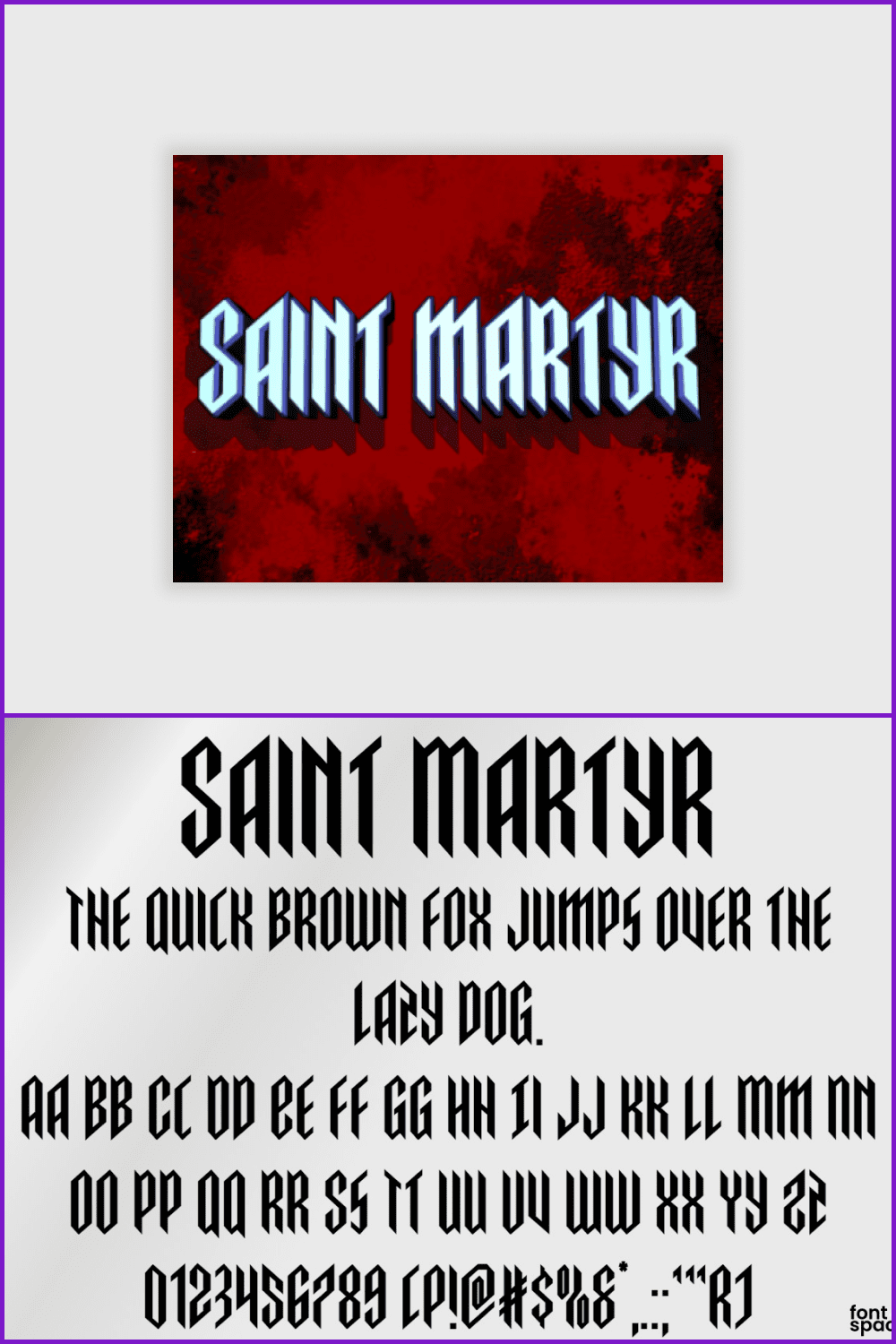 Just look at this font, which is just filled with the spirit of good old heavy metal. If you've been looking for something like this, it's time to use it for your equally cool projects.
BLADE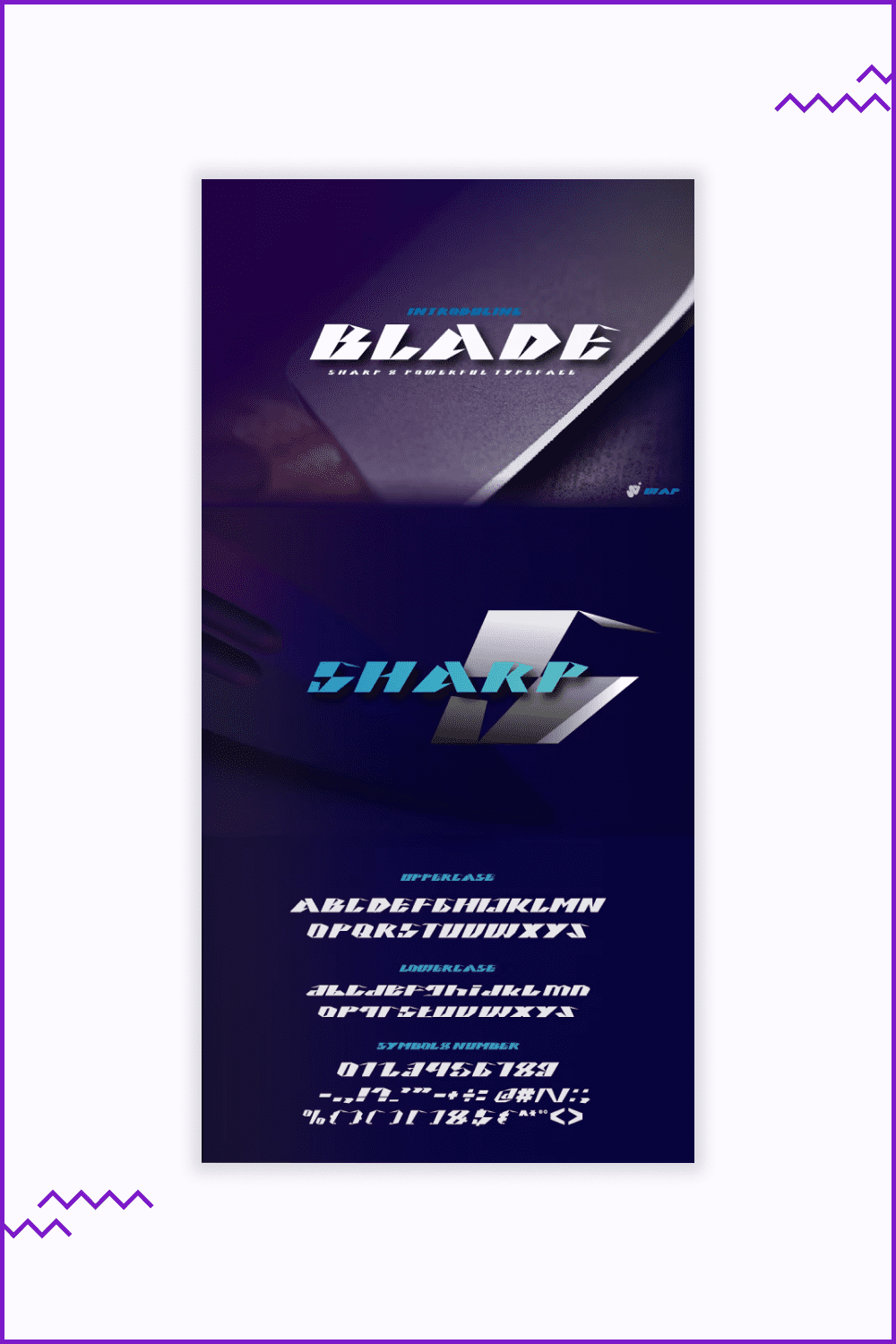 Bold italic typeface is sharp and powerful, it's perfect for logo, word marks, headlines, or kiln large scale artwork. So if you've been looking for something similar for a long time, this might be perfect for you.
ROCK KAPAK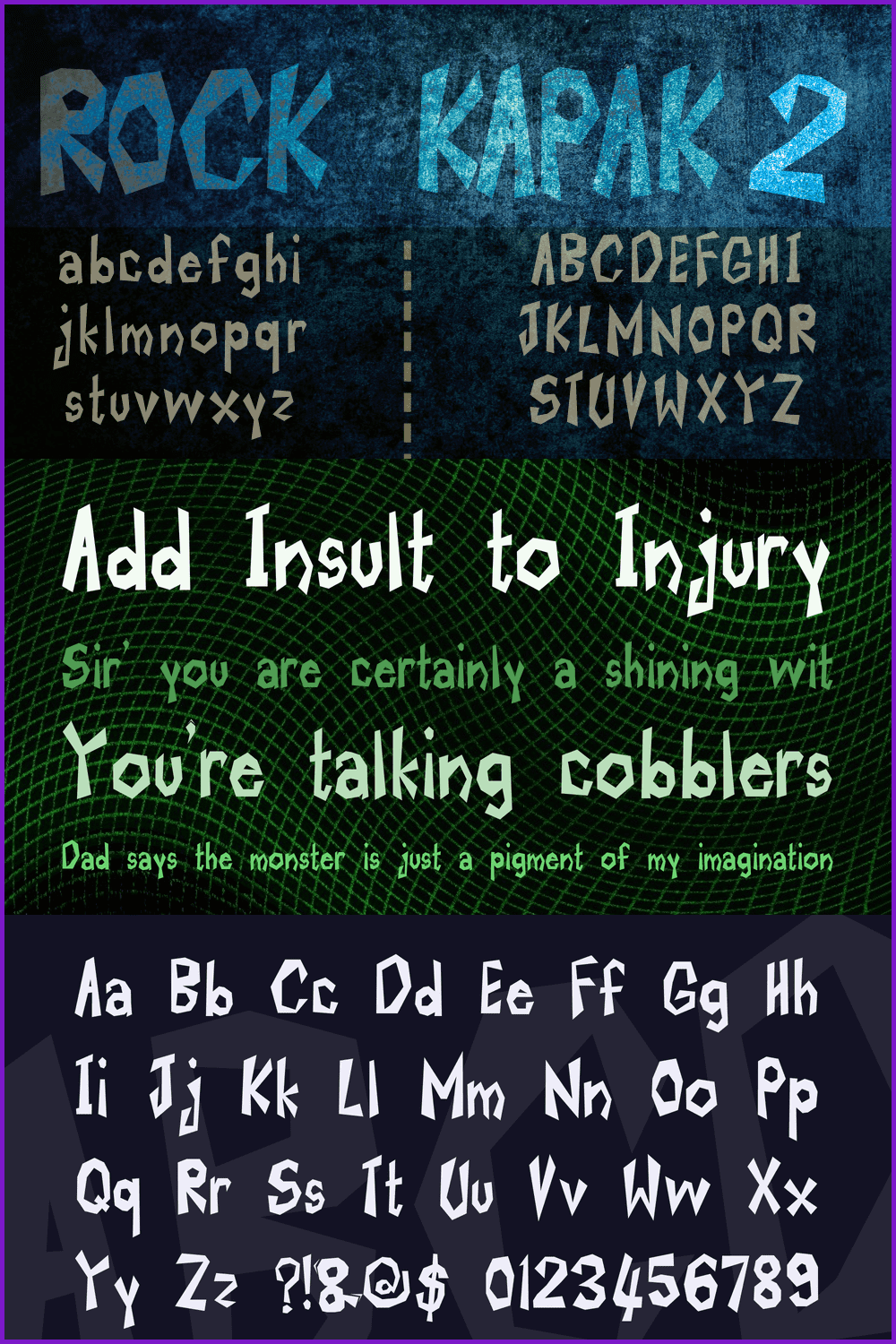 Rock Kapak is a display font that can be used on any device such as PC, Mac, Linux, iOS and Android. It also looks great on logos, banners or signs.
Facon Font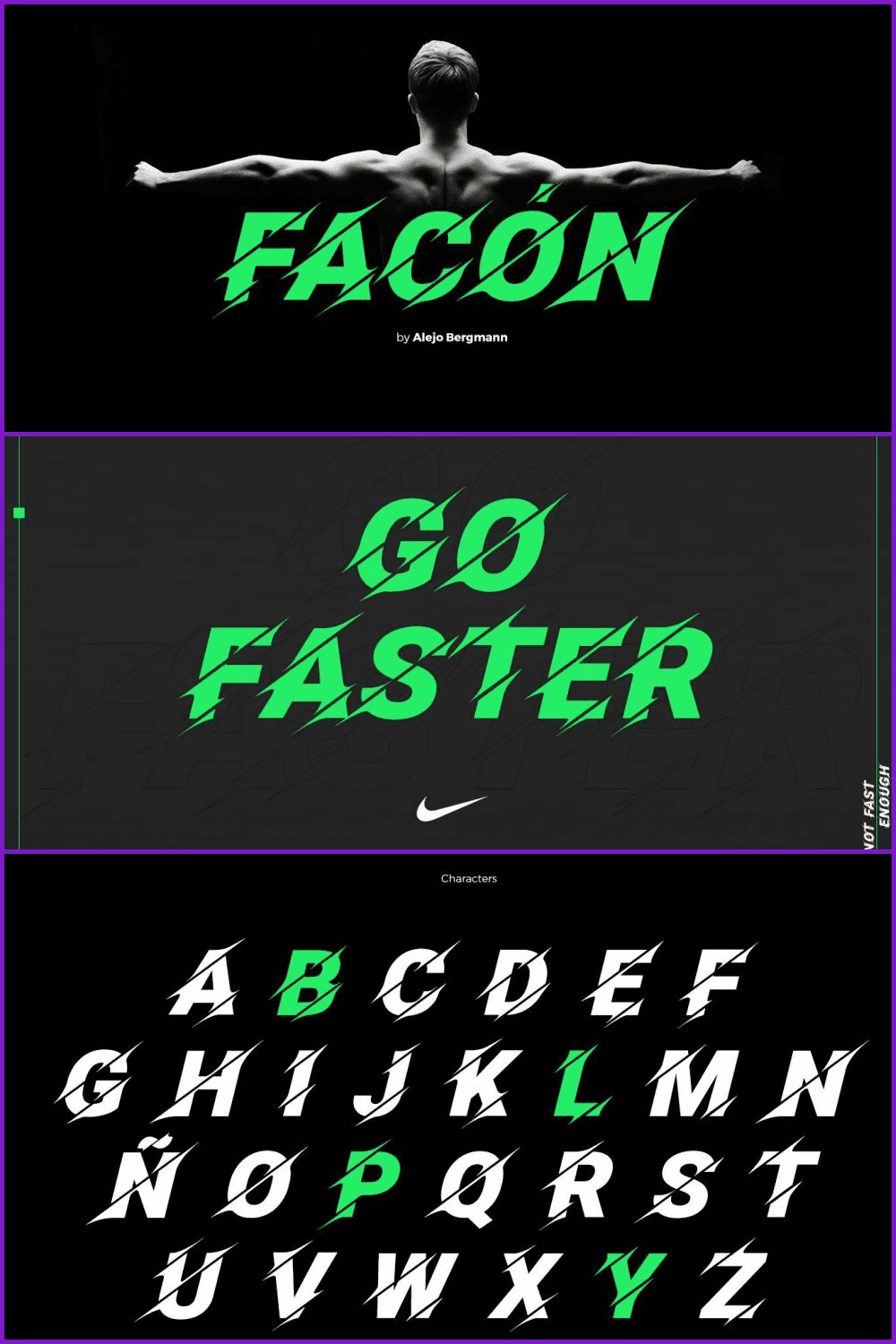 If you are already tired of the usual and boring bold sharp fonts, then pay attention to this unusual font. It is unique in its own way and is suitable for a wide variety of projects. It looks great as a logo or on prints and banners.
Riky Vampdator Normal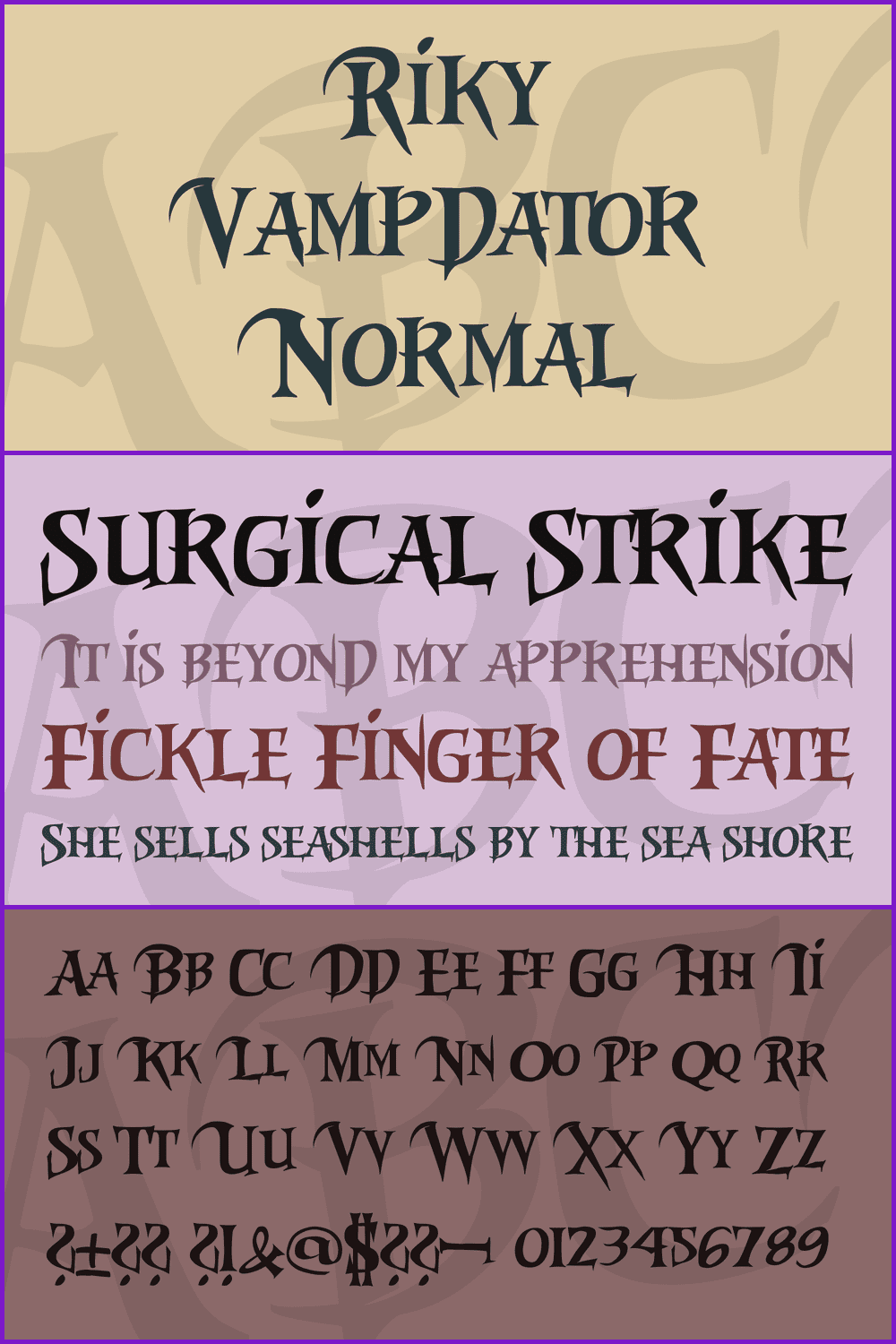 If you're looking for cool pointy fonts, try this one. It belongs to the large family of decorative fonts. Its use is perfect for designers using Photoshop or any other image retouching or editing program, because this font gives documents a very bright hue.
Hooked Up Font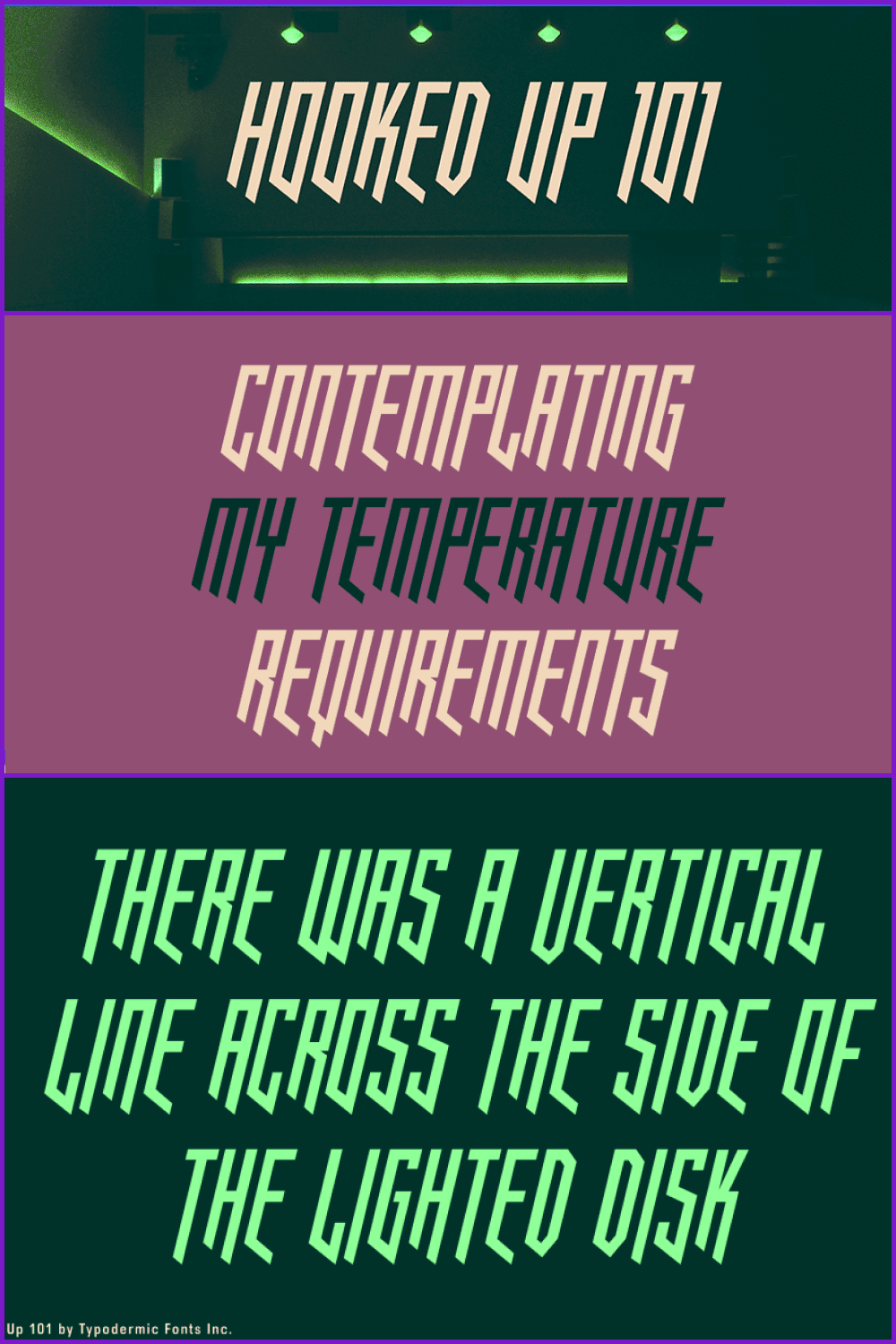 Hooked Up 101 is a sharp-edged, jagged, slanted technicolor font. The peculiarity of this font is that it is just perfect for logos and banners. We can even say that it is probably the best sharp edge font for any project.
WOLF Font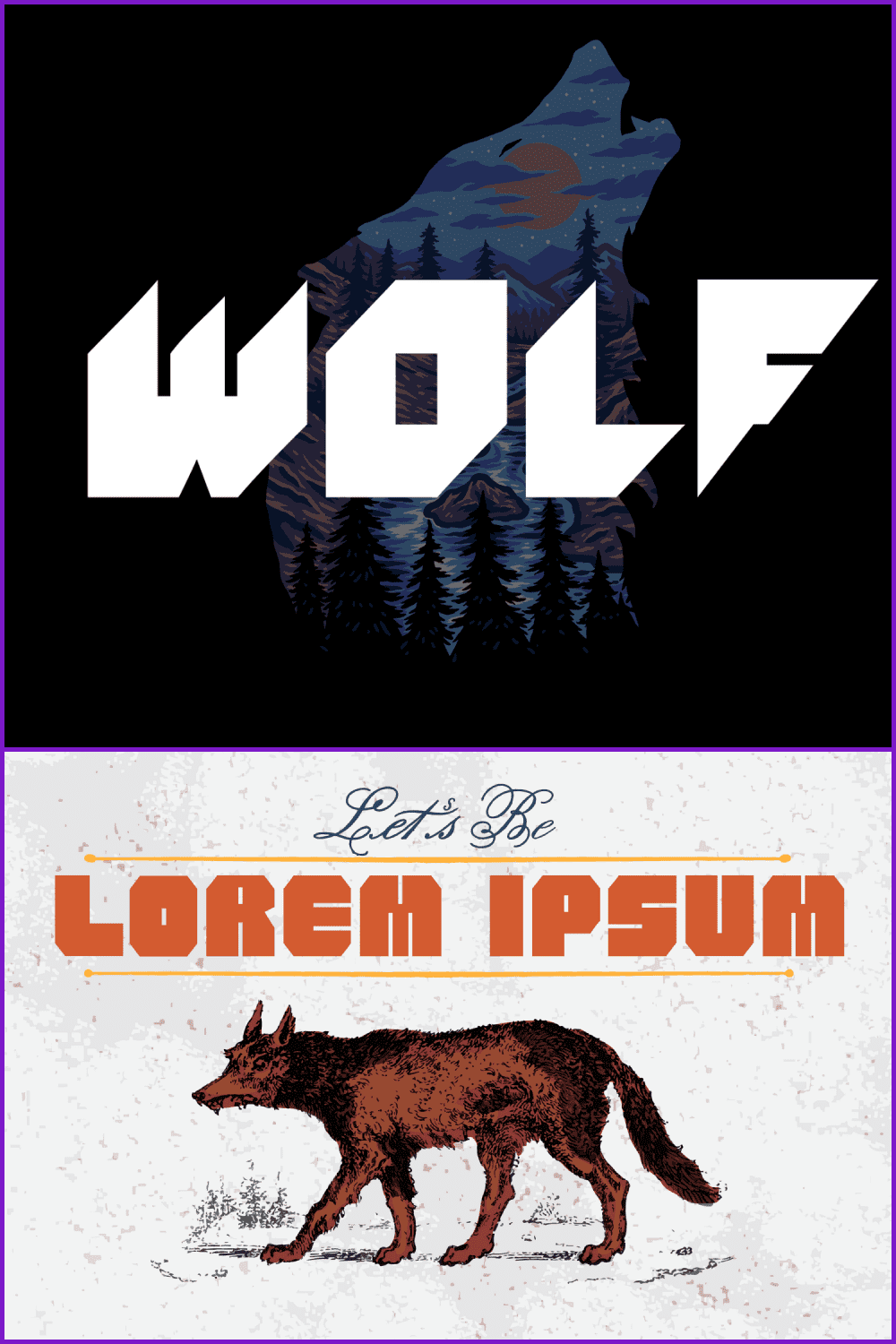 There are quite a few sharp fonts for logos, but many of them are similar to each other and not very unique in their application. But not this one, which is just perfect for a wide variety of logos.
Incisionax Exclusive Display Font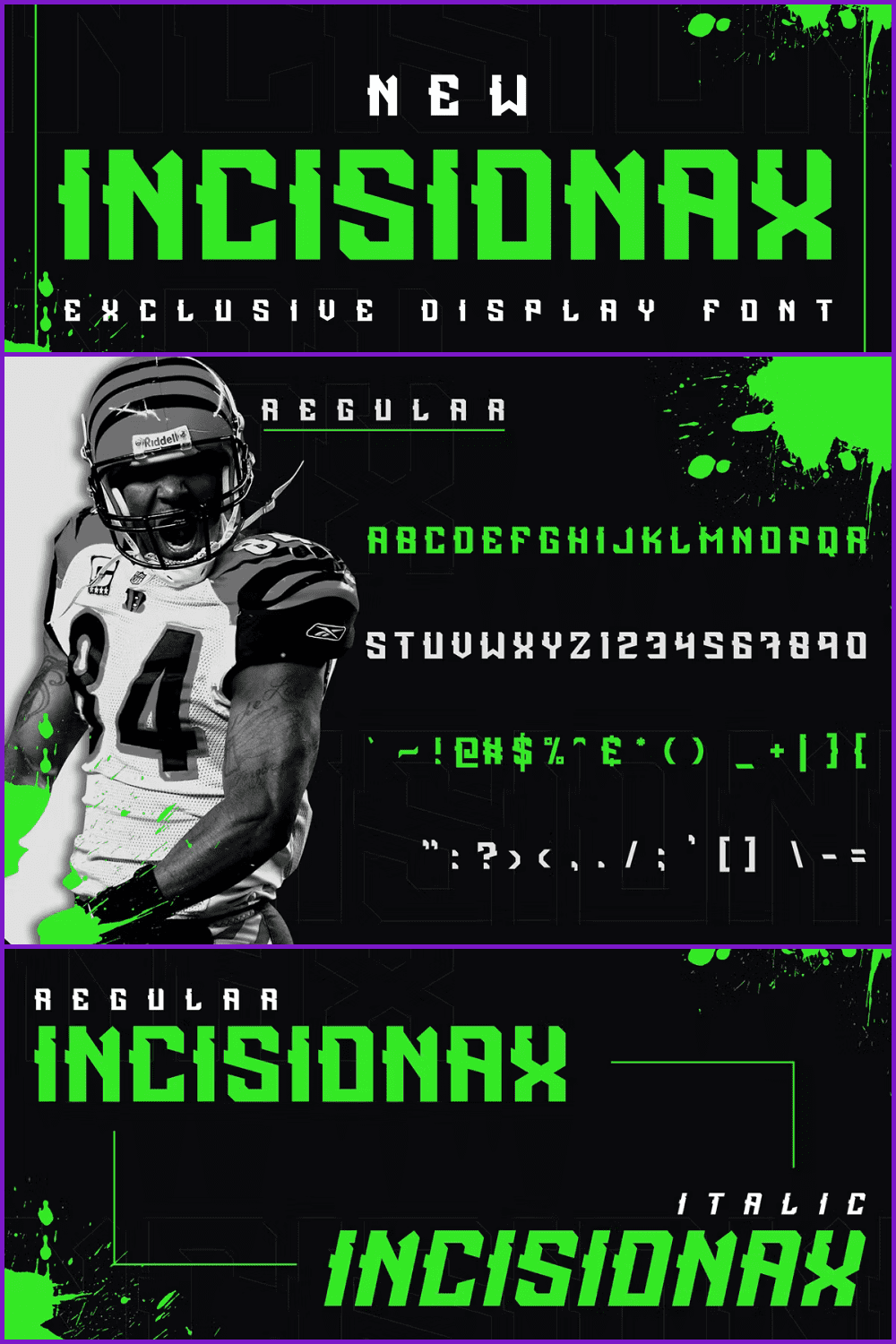 If you are tired of simple fonts with sharp points and you want something unusual, then try this option. It is a very colorful and cool font that would be perfect for a team or community logo.
Batten CPC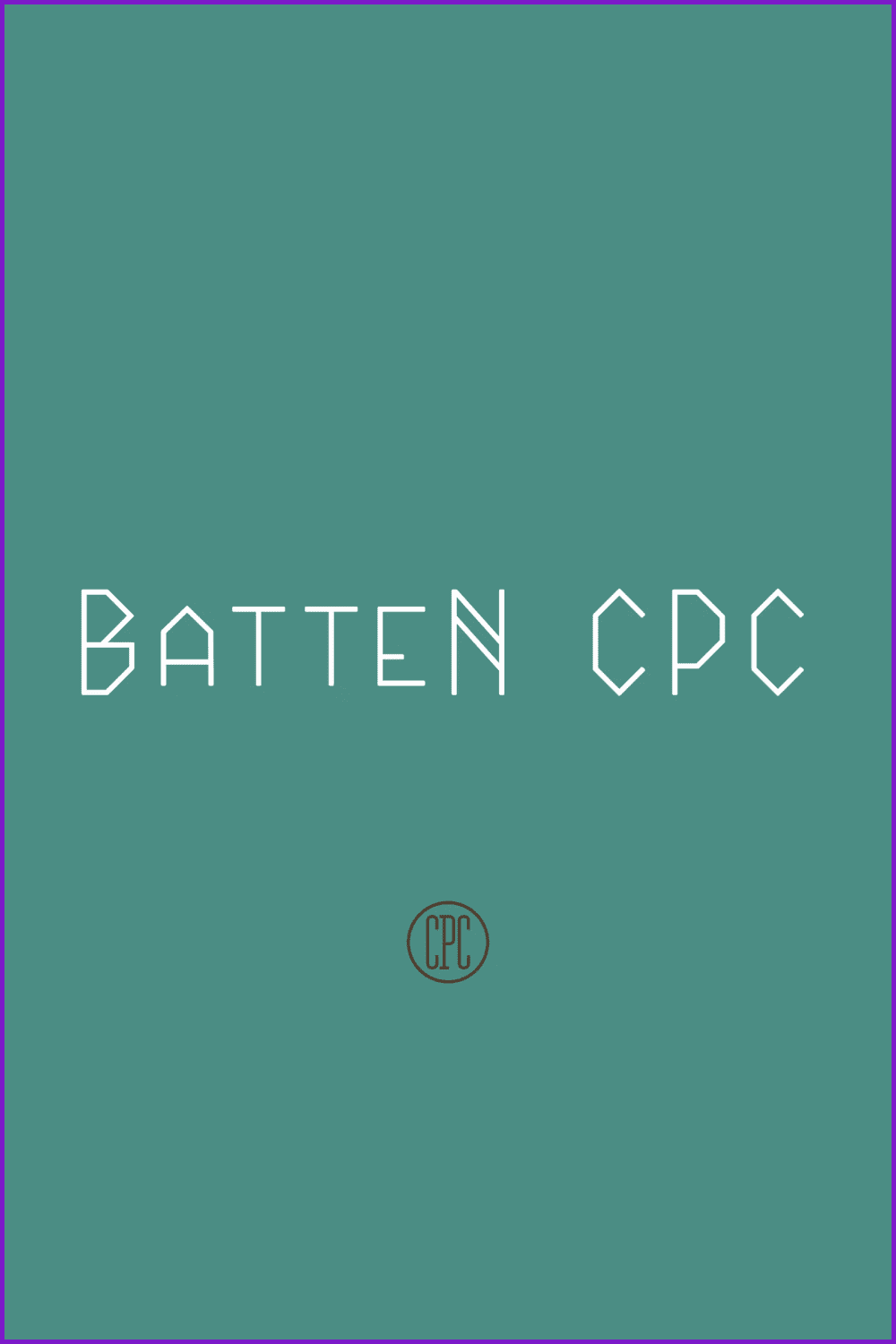 There are many fonts with sharp edges, but most of them are clones of the same type, and they do not stand out. In this case, however, things are very different. This font with sharp edges is unique in its own way and will be suitable for the most extraordinary projects that you want to create. It looks great in large sizes, so you can use it for labels, signs, headers, and posters.
Broken Runes Font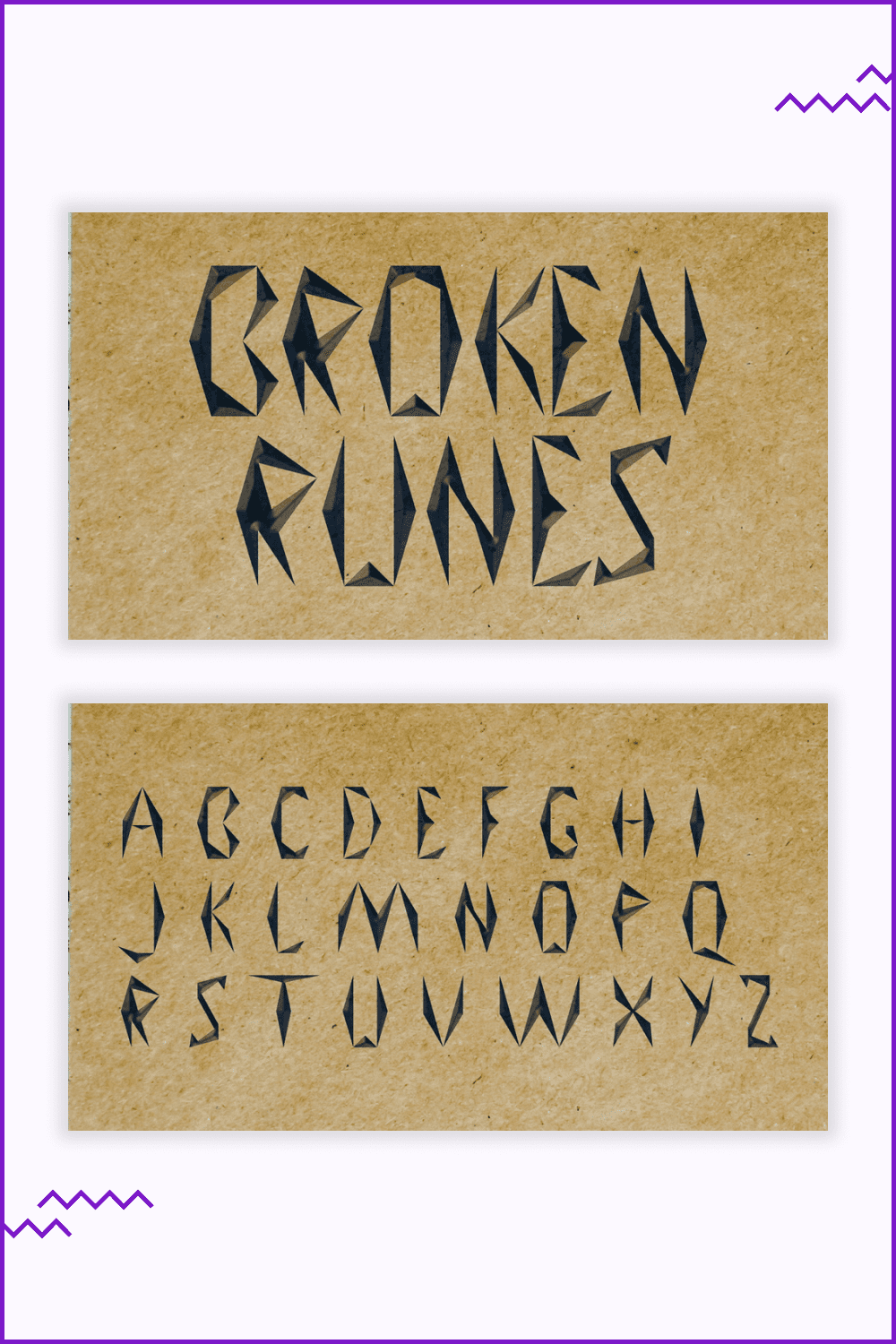 Broken Runes is a bold and edgy font inspired by Celtic runes and mixed with triangles. It will look great in a variety of contexts. So if you want a cool and most unusual sharp letter font, then this one is your best choice.
Athabasca Font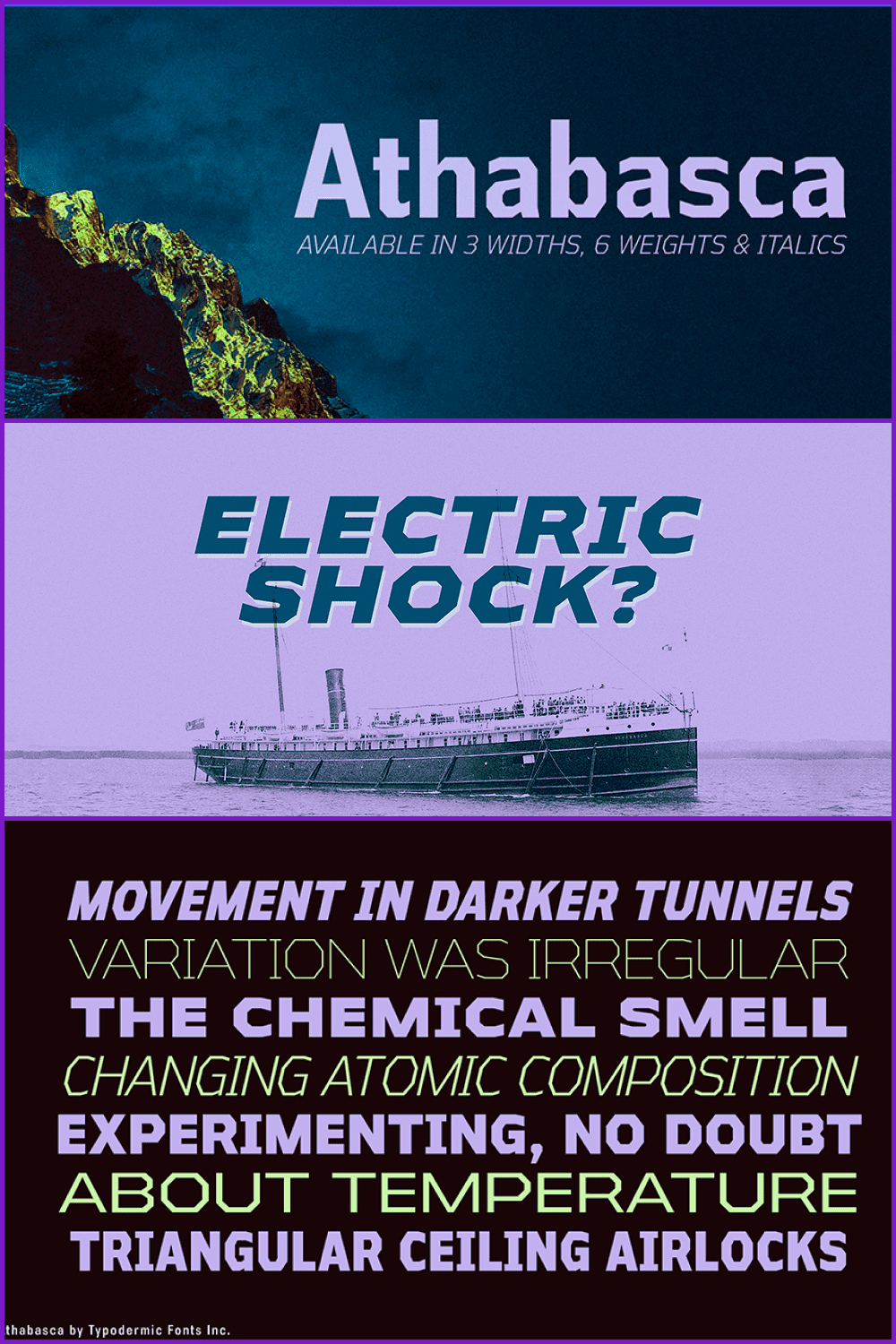 You should pay attention to this Sharp Font called Athabasca. It's perfect for use in a wide variety of projects and for absolutely any work of creativity you can think of.
If you create fonts and are looking for a platform to sell them from, upload them to the MasterBundles marketplace, which has very good profitable conditions for vendors and a cozy atmosphere for customers. Find out more about it here.
Some Awesome Videos About Sharp Fonts
Best Sharp Fonts for Building a Successful Brand

We have selected for you only the best sharp fonts to be found in 2022. Their elegance fits perfectly in almost any style and is suitable for creating websites, logos, design pages in social networks, postcards, and much more. 
Disclosure: MasterBundles website page may contain advertising materials that may lead to us receiving a commission fee if you purchase a product. However, this does not affect our opinion of the product in any way and we do not receive any bonuses for positive or negative ratings.