Best Sharp Fonts. With the expansion of digital technologies, the design has risen to a new level. It is essential for successful branding to listen to the latest innovations and keep up with the trends. To make the product stand out, designers and developers use various tools, among which fonts play a significant role. That is why sharp fonts are now gaining extraordinary popularity. Their sophistication will perfectly fit into any style and are suitable for creating websites, logos, design of social media pages, postcards, and cards.
It is important to note that sharp fonts are not a separate group and that this is a characteristic of both Serif and Sans Serif fonts families. Sharp fonts look more futuristic and confident, which is why they are perfect for creating brands for IT companies, scientific communities, game developers, fashion houses, and design companies. Unlike round fonts, these typos are more restrained and minimalistic, so you can safely opt for such designs and be sure that they will be in trend for many years to come.
The Benefits You Get With Sharp Fonts
When creating a design, professionals pay attention to every detail. Everything must be perfect for the whole picture to come out refined and catchy. Thus, any font can easily complement your logo or corporate design, thereby emphasizing your company's main principles and goals.
Now you do not need to buy a pig in a poke, and you can see how your texts will look in the online font demo. Besides, fonts are universal and can be used in various text editors, including the most popular ones like Microsoft Office and iWork. Also, in this collection, we have selected the best fonts for you with the following features:
Affordable price;
Latina and Cyrillic options;
Regular updates;
Professional support;
OTF and TTF files;
Documentation and guides;
Easy customization.
By getting any typeface of the list, you can be sure that it will be flexible and straightforward in use. Choose the design you like and implement it in your corporate style in a few clicks!
Tips on How to Use Sharp Fonts
Choose several fonts and combine them.
If you aim to create a website and use your typefaces, it is necessary to pay attention to the different website parts. The main menu and the main text typos are usually made in a different style. That is why it would help if you try different fonts for the page's parts. It will help your customer to perceive the information better. Also, you can apply the same rule to the following:
flyers and business cards;
commercials;
postcards;
articles.
Play with size.
Size is a separate tool that you can use to emphasize the primary information on the page. The most critical announcements should be catchy and grab the customer's attention at once.
At the same time, you should be careful – the oversizing might look messy and negatively influence the perception. The optimal difference in size between the main text and heading is up to seven size points.
Define the roles.
To make it easier to choose fonts, you need to plan how you would like to see this or that text, emphasizing its importance and conveying the main message. If you create a business card, then the primary information will be your name and contacts. You can use the same typeface for them, but highlight the main one with the size, or choose two different fonts that will look harmonious.
The main thing is not to be afraid to experiment. You can look at several fonts, try your text on them, save screenshots, and decide which one to use.
Express your individuality.
Of course, competition is a factor that always drives us. First of all, when creating a brand, we look at other representatives of the niche. Remember that by making the same blueprint design, you won't rise higher than your competitor.
Clients love uniqueness. They are looking for something that they can cling to and attract. Therefore, do not copy others' styles – create your own and implement all your bold ideas.
25+ Hottest Sharp Fonts

BadIceCream.ttf
Creepy-Regular.ttf
Dead End.ttf
Dirty Boy.ttf
Scar-Regular.otf
Smoke Damage-Regular.ttf
Wet Brush.ttf
Mouldy Retro.ttf
Now Spiders - Regular.otf
ShadowHorror.otf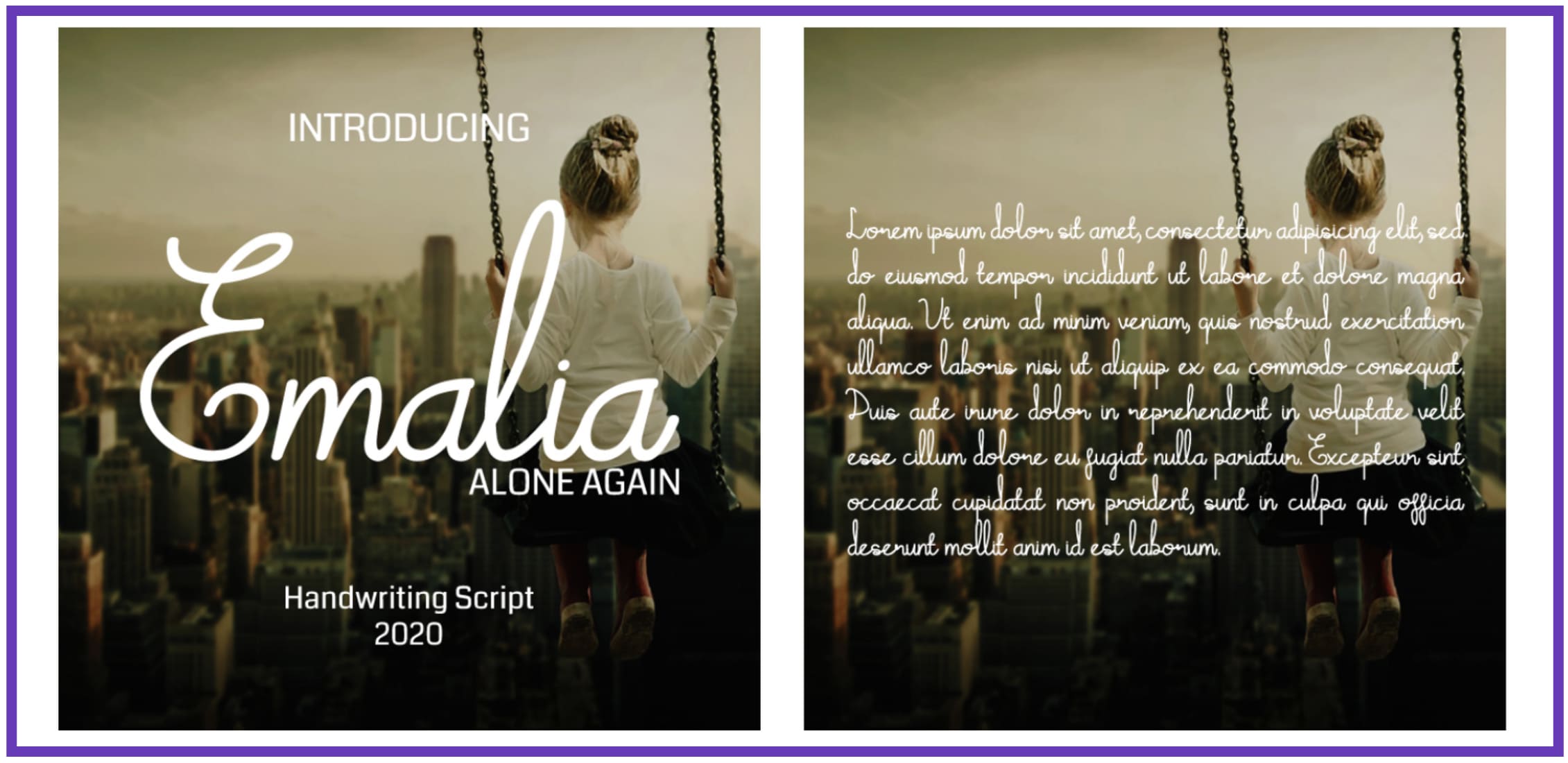 Emalia Bold Italic.otf
Emalia Bold.otf
Emalia Italic.otf
Emalia Regular.otf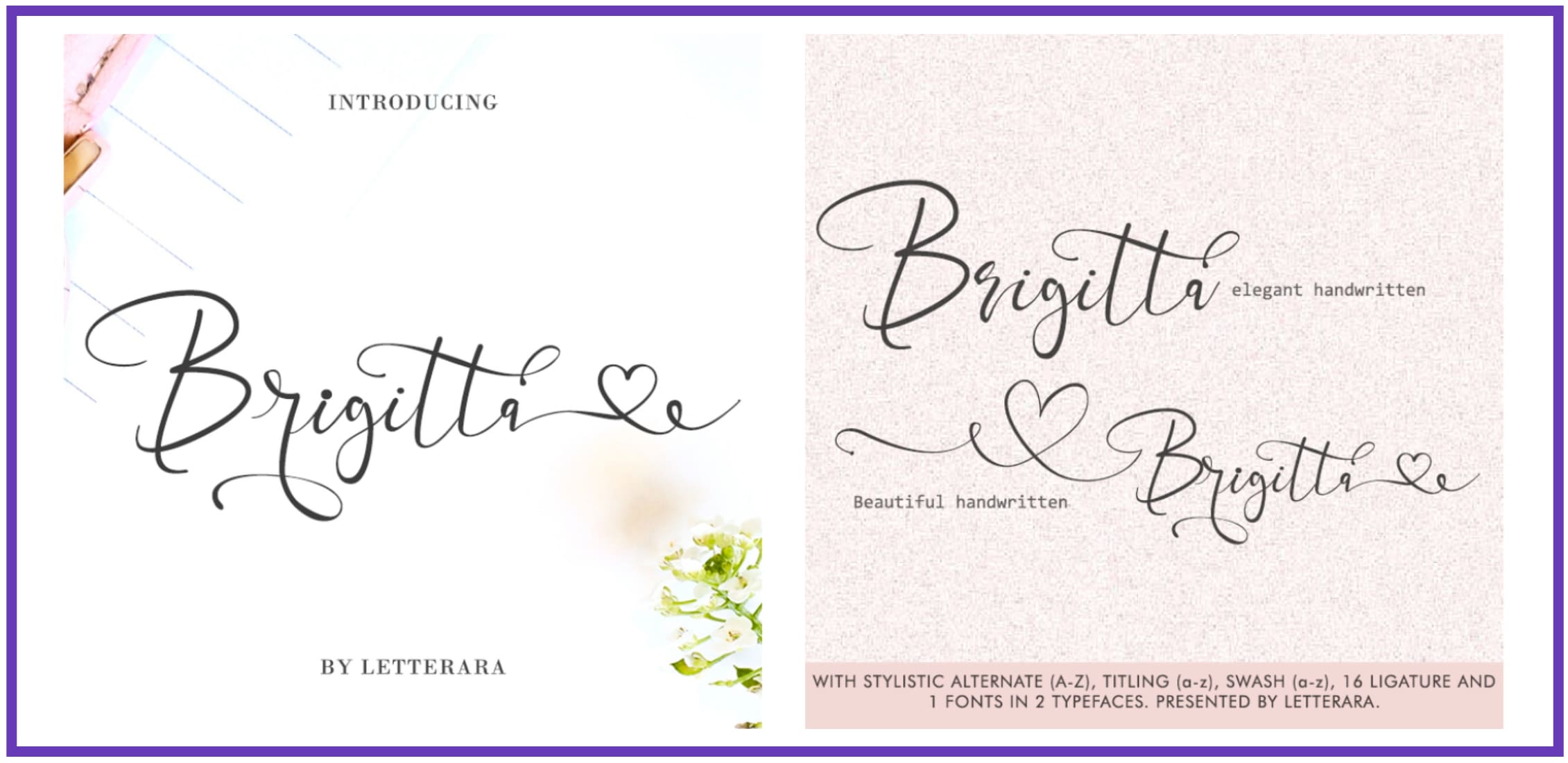 Brigitta.otf
Brigitta Italic.otf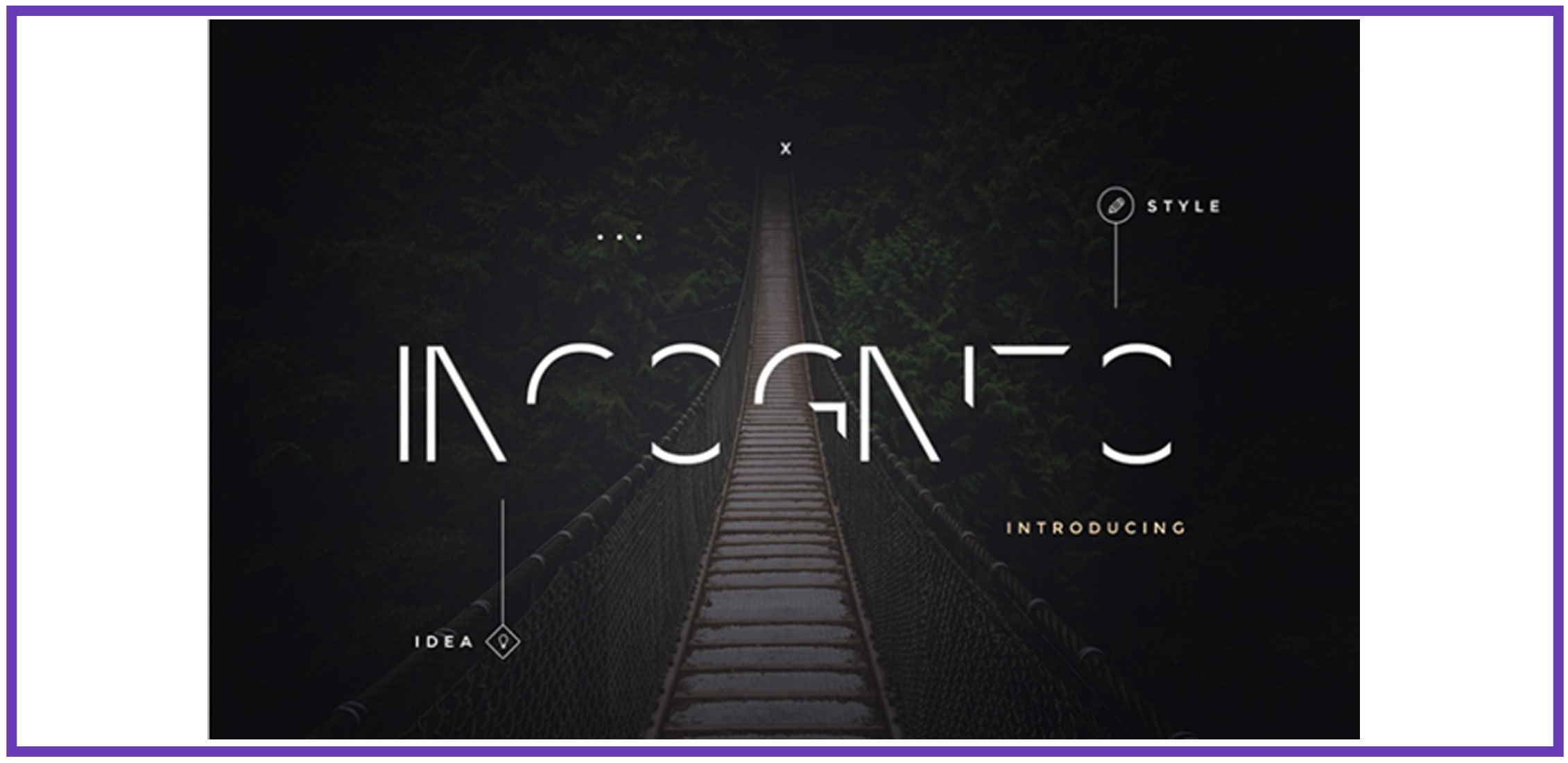 Incognito is made in a minimalistic style and creates a feeling of a mirage – it is about to disappear, and you want to grab onto it. The crisp, crisp lettering combined with the hollowness in the curves makes it truly unique. It will be a great addition to creating your web pages, business cards, logos, and much more. This option is suitable for those who like to experiment with form and general message. Incognito is ideal for:
developers;
designers;
bloggers and reviewers;
fashion industry workers.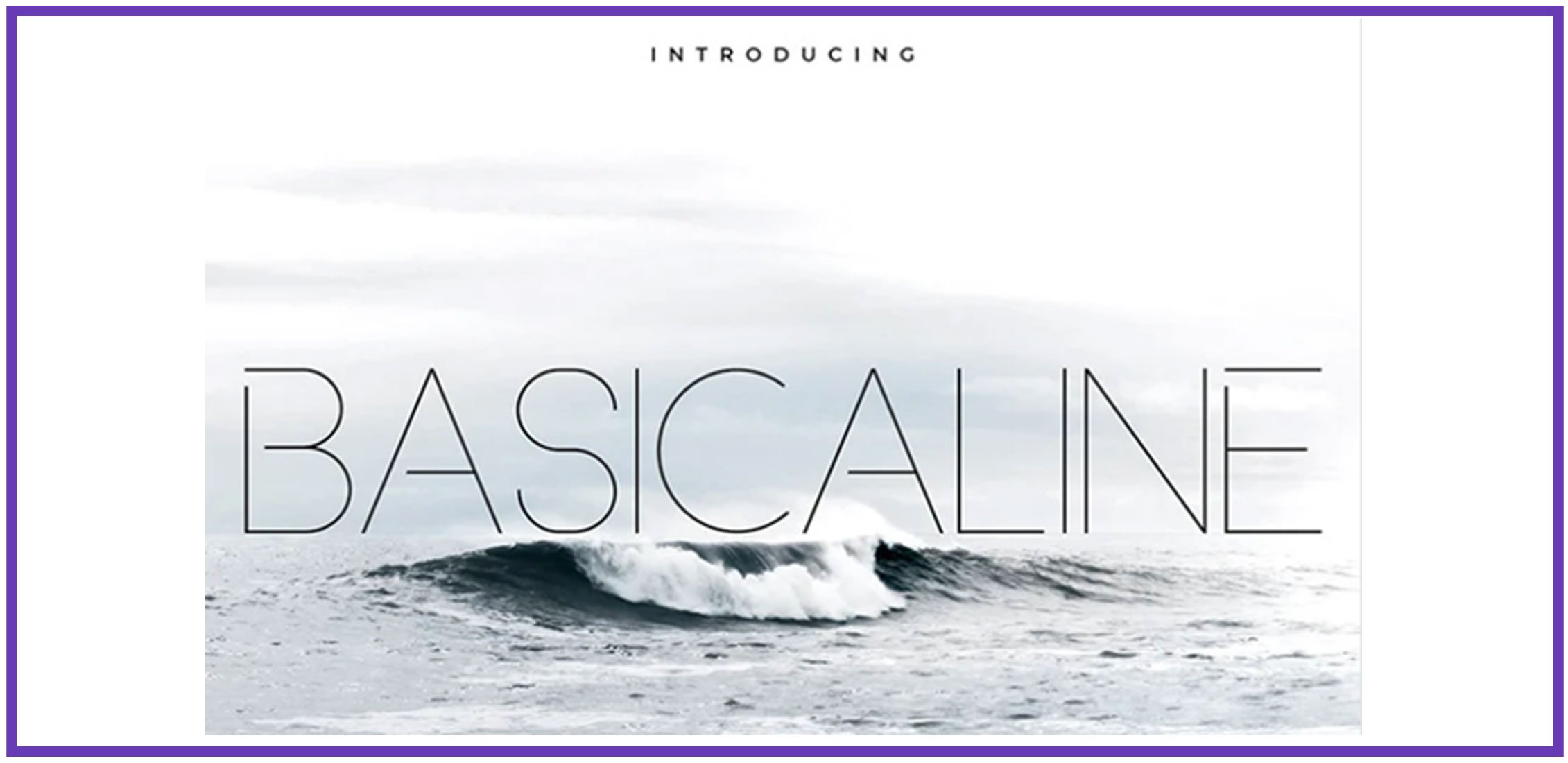 If you aim to create a powerful classic brand, the Basicaline font is a perfect match for you. It has thin lines with sharp angles but round letter shapes, which makes it look eye-catching. You can apply it to your logo, postcards, ads, stationery, signatures, and much more! Basicaline is excellent for any of the following industries:
beauty and fashion;
IT and software development;
luxury brands;
book writing and online blogs.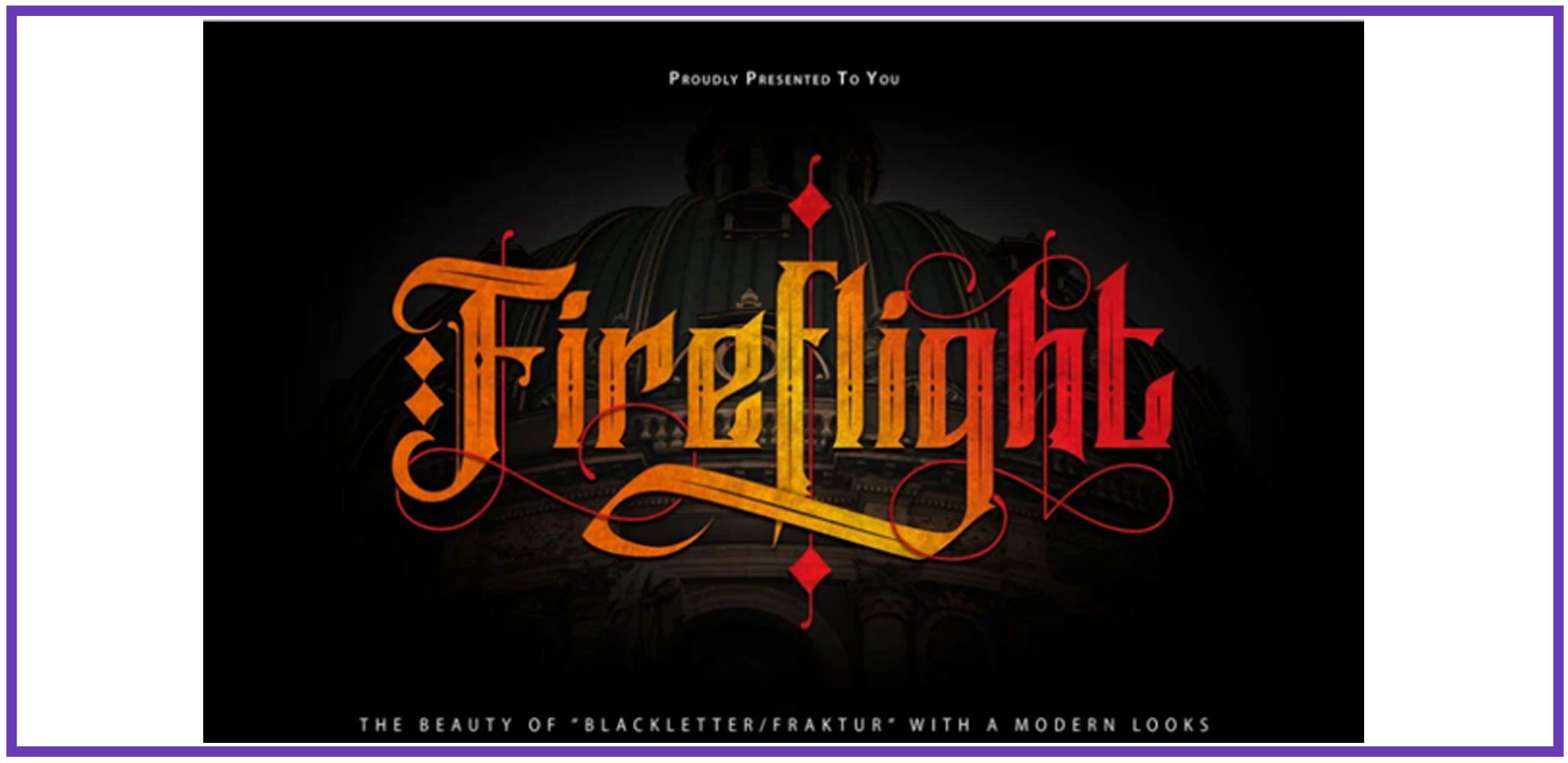 The Fireflight typeface reminds the gothic design traditions. It has a calligraphy basis, which makes it unique and attractive. Clients often associate this style with bikers and rock concerts, which is why it will be an ideal solution for creating invitations to festivals and subcultural gatherings. What benefits will you get:
fast and reliable support;
free updates;
stylish glyphs;
easy customization.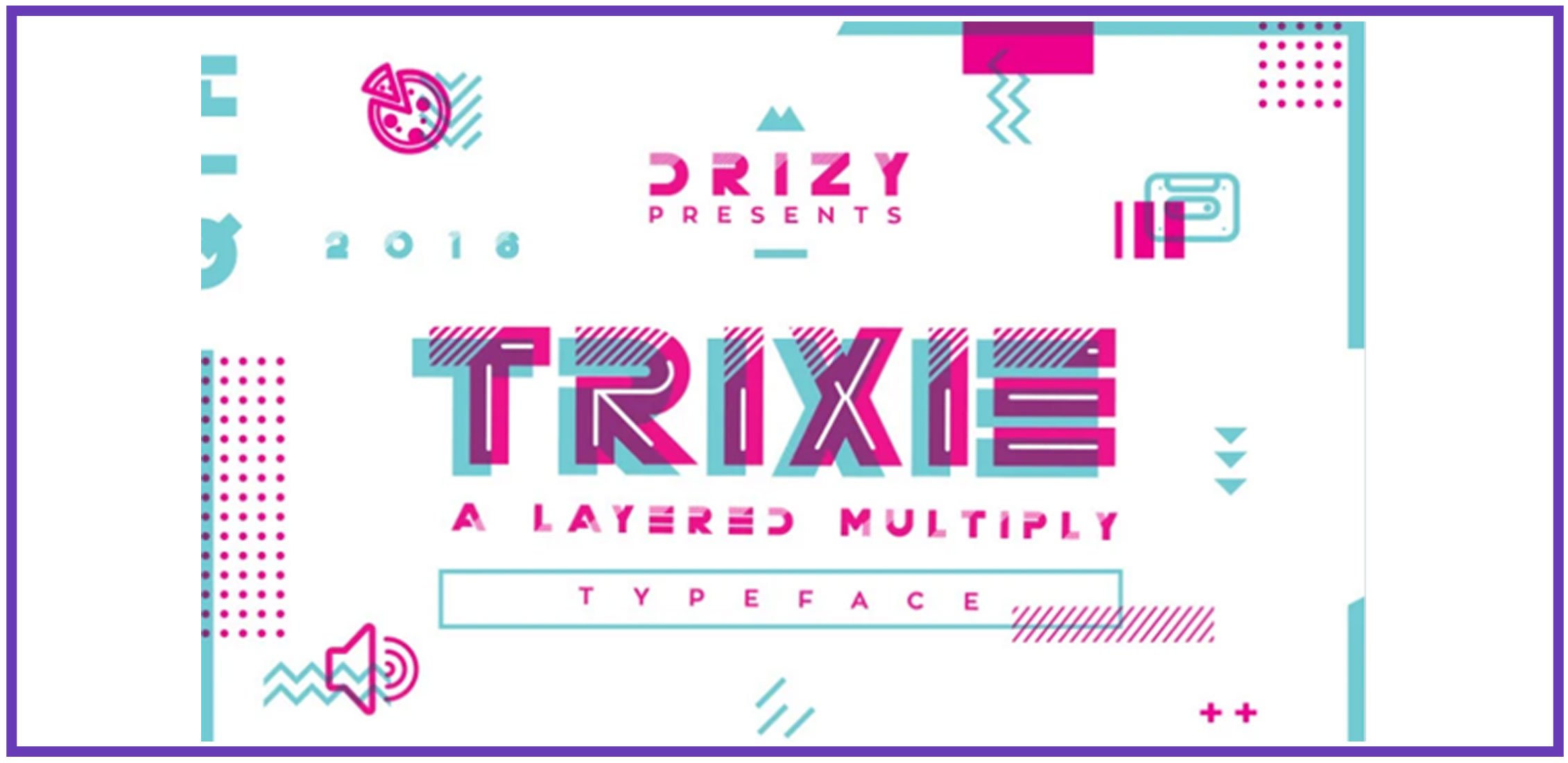 Everyone knows that neon and retro styles are all the rage right now. Although these two directions are not easy to connect, Trixie succeeded. Bright colors with a 2D shadow effect will not leave your client indifferent. This option is suitable for creating:
prints;
logos;
postcards;
article and post titles.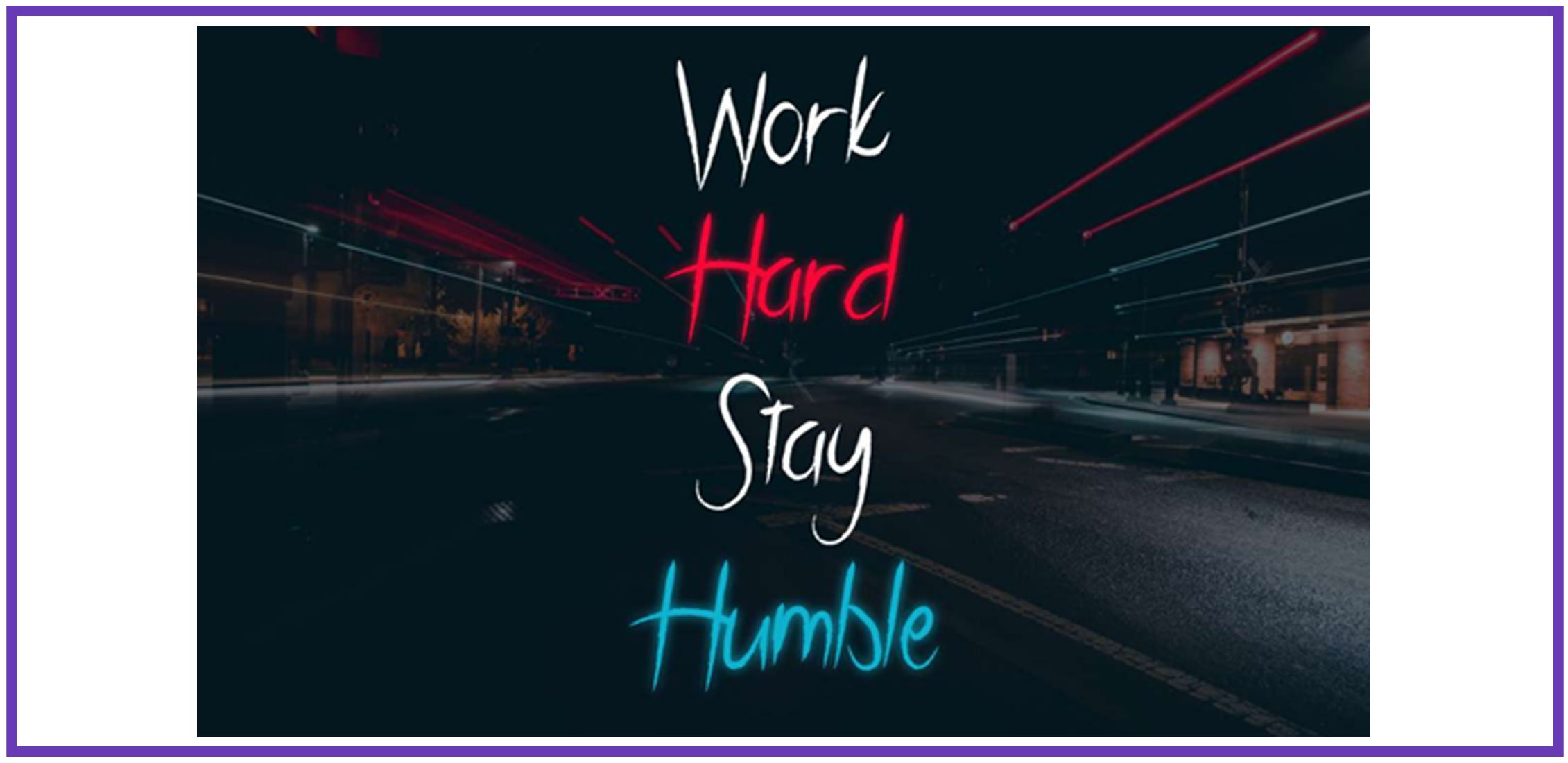 The semi-capital font is trending now. This option is universal in use because it has no specific characteristics and is very flexible. You can choose the style you prefer, choose the size, and feel free to use it to create cards, brochures, signatures, and a web page's main text. With the template, you will receive:
OTF, TTF, and WOFF files;
documentation with tips;
reliable support;
free regular updates.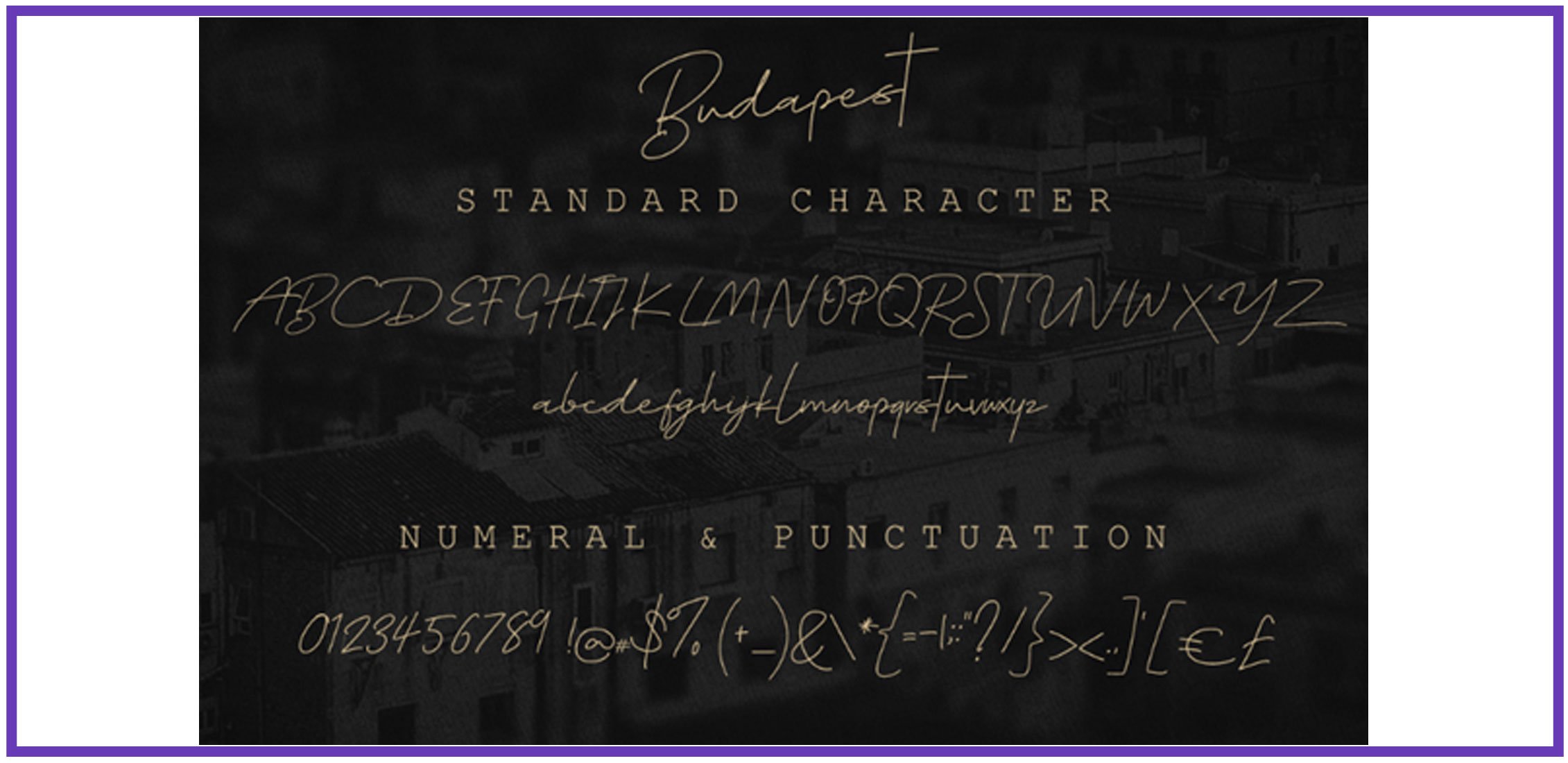 Budapest is an elegant gothic style option. It mimics handwriting with fluid letter connections, but the letter's scraps and high points are sharp, making it outstanding. It is suitable for designing articles, creating logos, and primary content, as it will help emphasize your uniqueness and create the right atmosphere for reading. Who should use this font:
developers and designers;
attorneys and lawyers;
beauty bloggers, stylists;
clothing and jewelry brands.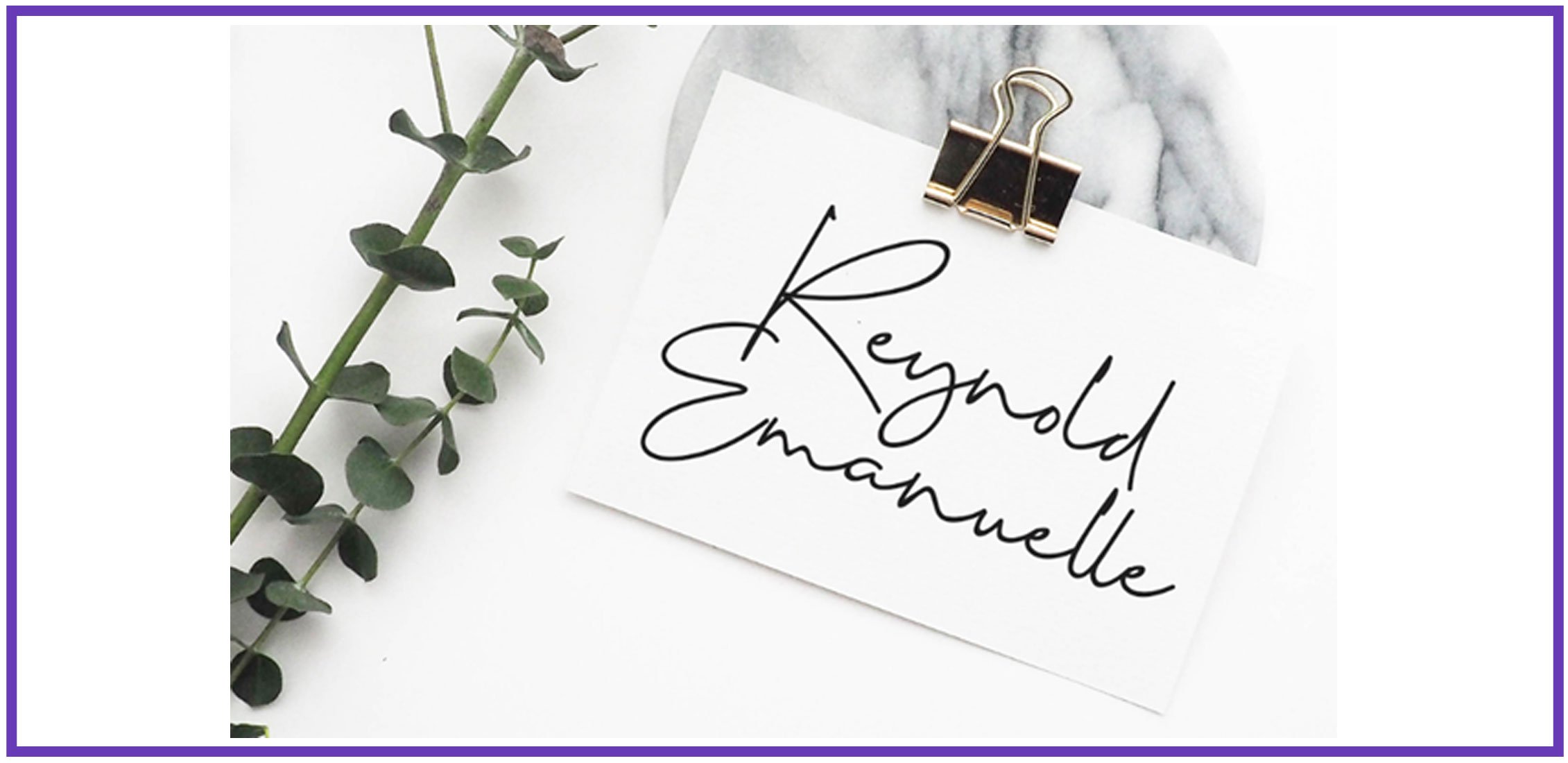 Looking for something special for your postcards? Then you are lucky enough to find this incredible template. This typeface is understated in a minimalist style. Its sharp tails and flowing joints make it too delicate and light. It will be an excellent tool for framing postcards, as the primary font on craft sites and beauty blogs. What do you get in the kit:
quality source files;
uppercase and lowercase letters;
symbols and numbers;
stylish and elegant glyphs.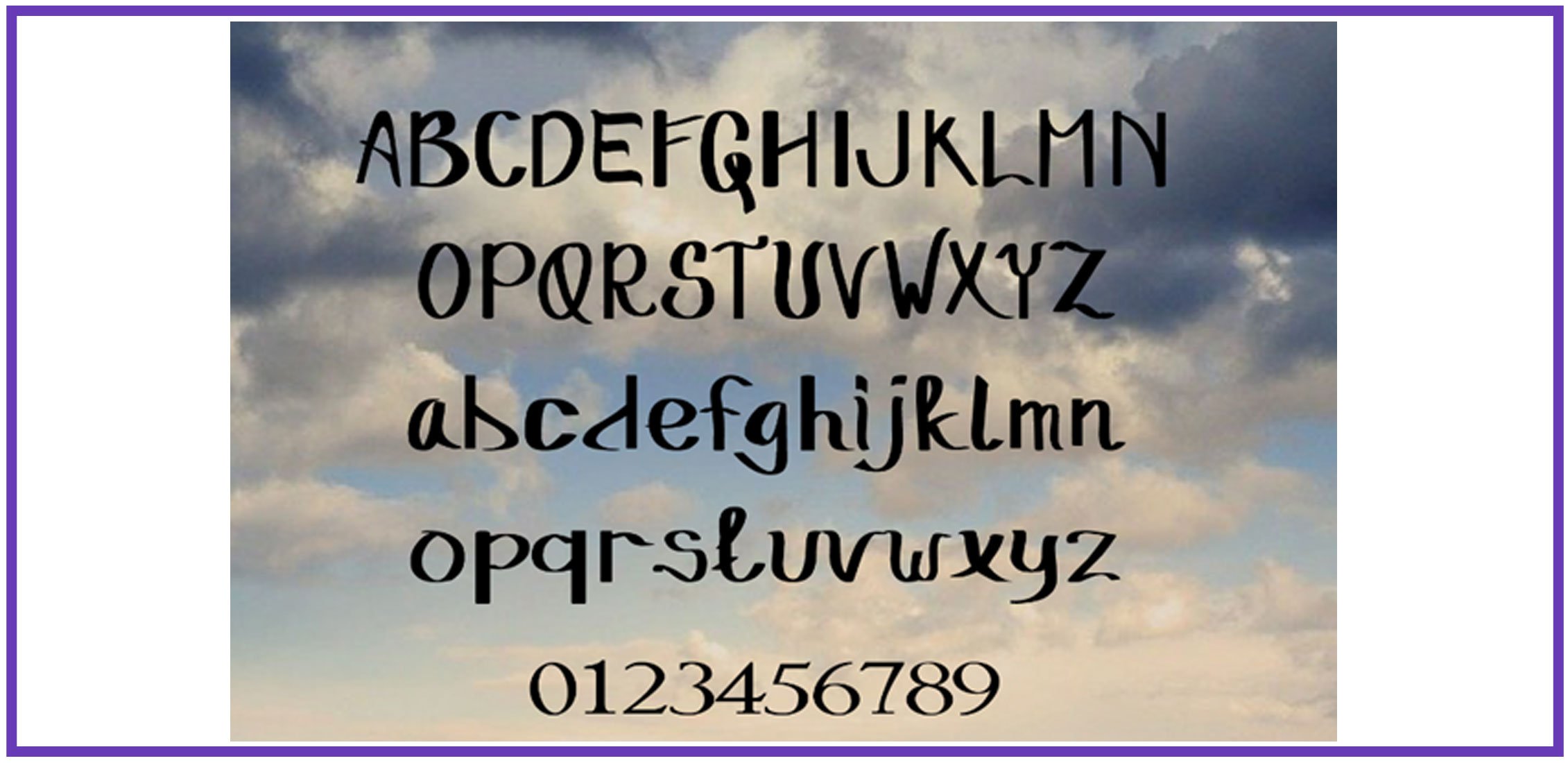 This font comes with many features that make it easy and fast to use. Such a font will be great as the primary font of a website or blog because it is easy to read and perceive. It is a cost-effective solution with which you can create new inspirational texts for your clients. What benefits will you get:
ready-to-use files;
useful documentation;
fast and efficient support;
a fully responsive design.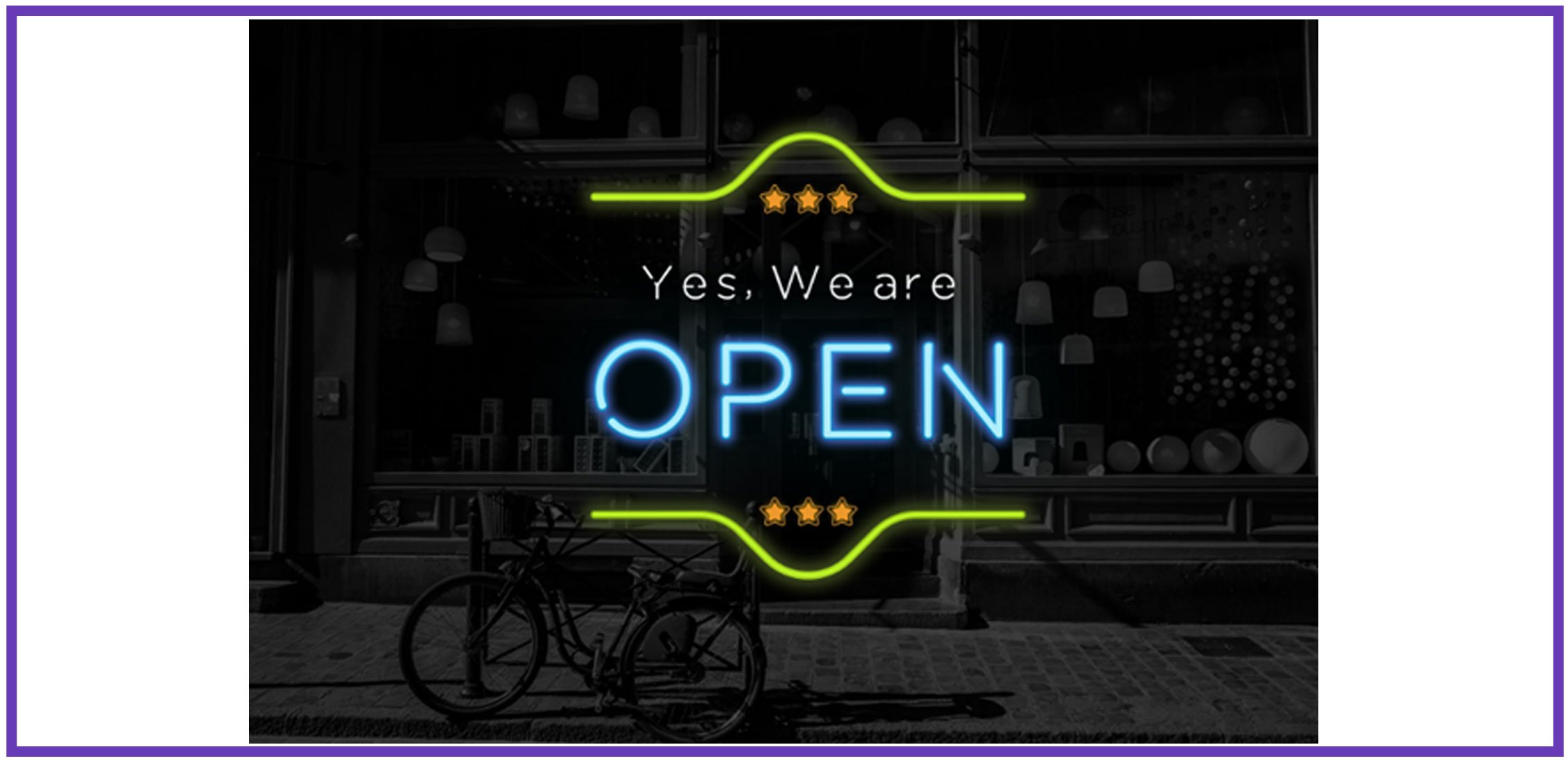 Neon Desmon is made in the classic style of neon signs that you can see on bars and restaurants' doors. If you are the owner of a modern establishment and are ready for bold decisions, this typeface is what you need. You can use it for logos, brochures, signage, business cards, and more! This solution will attract more clients and help you achieve the desired success. This font would be ideal for:
restaurants and bars;
developers and web designers;
indie game makers;
advertisers.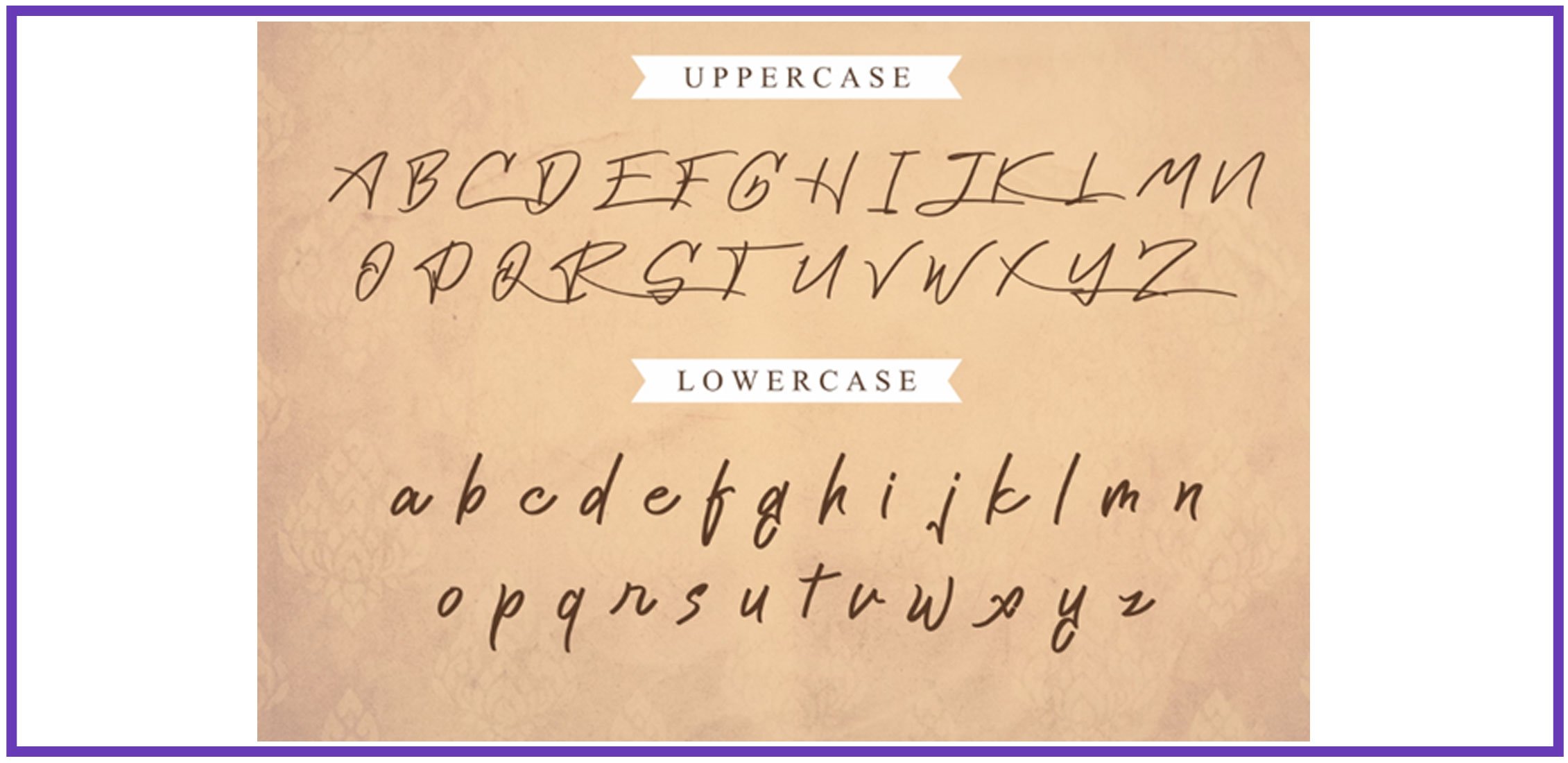 Cattily is a very delicate and soft typeface, despite being sharp in outline. At first glance, it becomes evident that it looks reliable and confident. You can implement it in your articles and blog pages as it is easy to read. Its format allows you to make changes quickly and personalize in a few clicks. Make unique content easy with this feature-rich option! It will be ideal for:
DIY bloggers;
florists;
gift and jewelry stores;
designers and webmasters.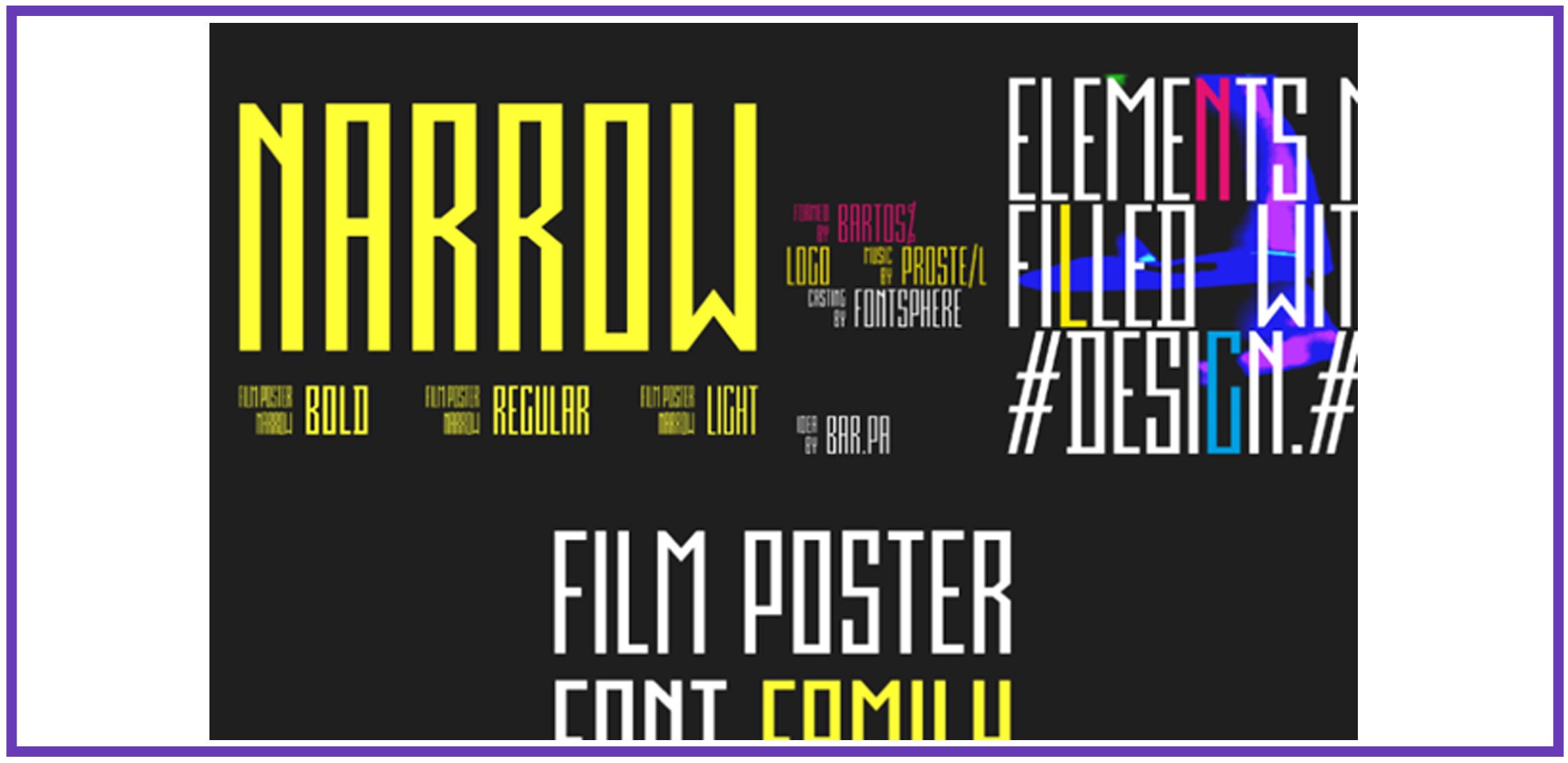 With the Film Poster pack, you will get nine different font styles. It will allow you to vary the design and use the same font family for different headings and menu levels, saving you time looking for new solutions and saving money on purchasing them. The font looks very restrained and resembles classic posters and movie credits. This font is suitable for:
bloggers;
reviewers;
content makers;
moviemakers and editors.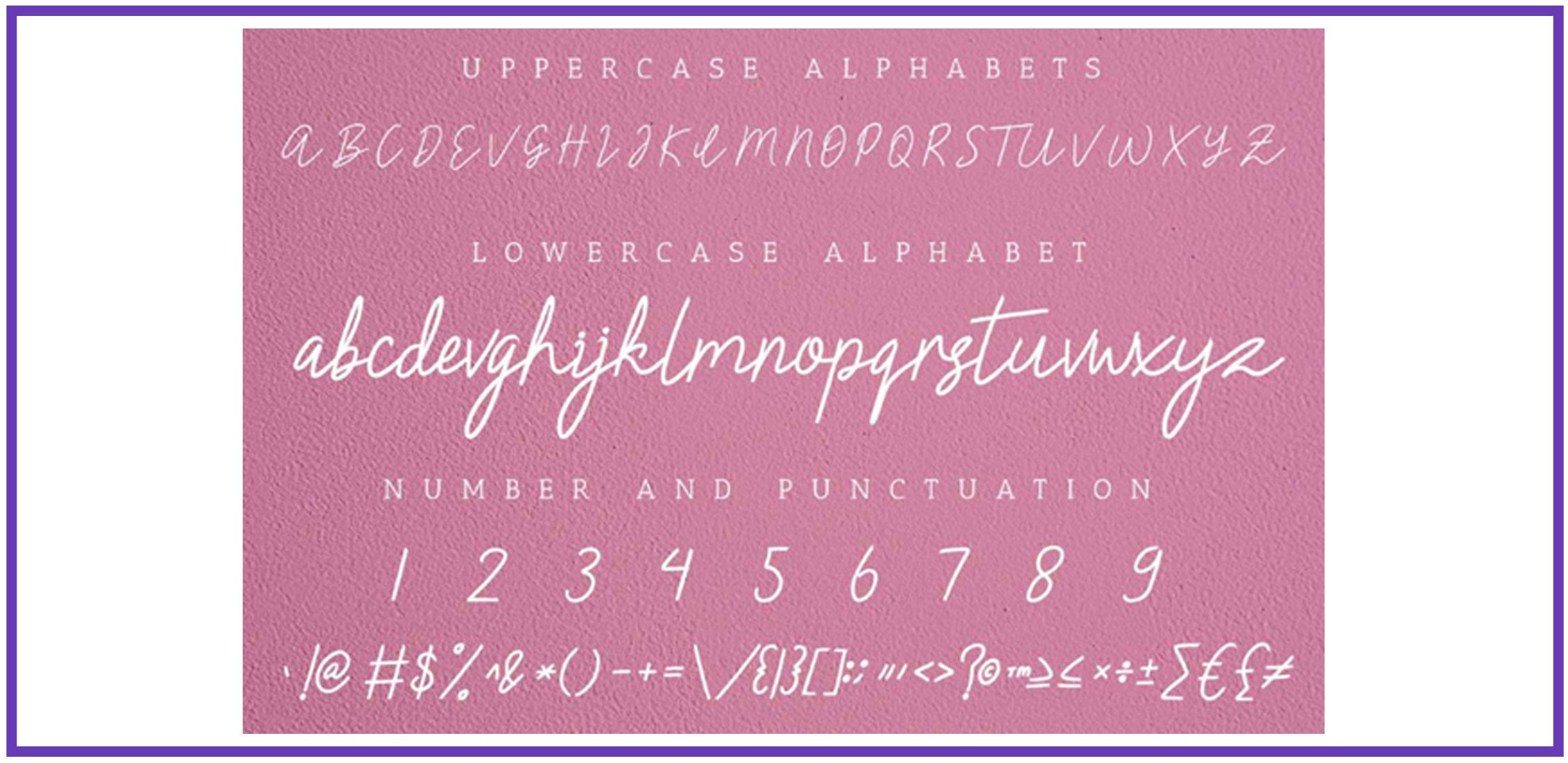 Are you looking for a stunning font for your upcoming website or online project? You are lucky to come across this template! With this handwritten pen font, you will be able to emphasize the most exciting articles effortlessly with a user-friendly multifunctional Claressa design. The features you get with the template:
multilingual support;
cursive style;
numbers and symbols assets;
easy-to-use source files.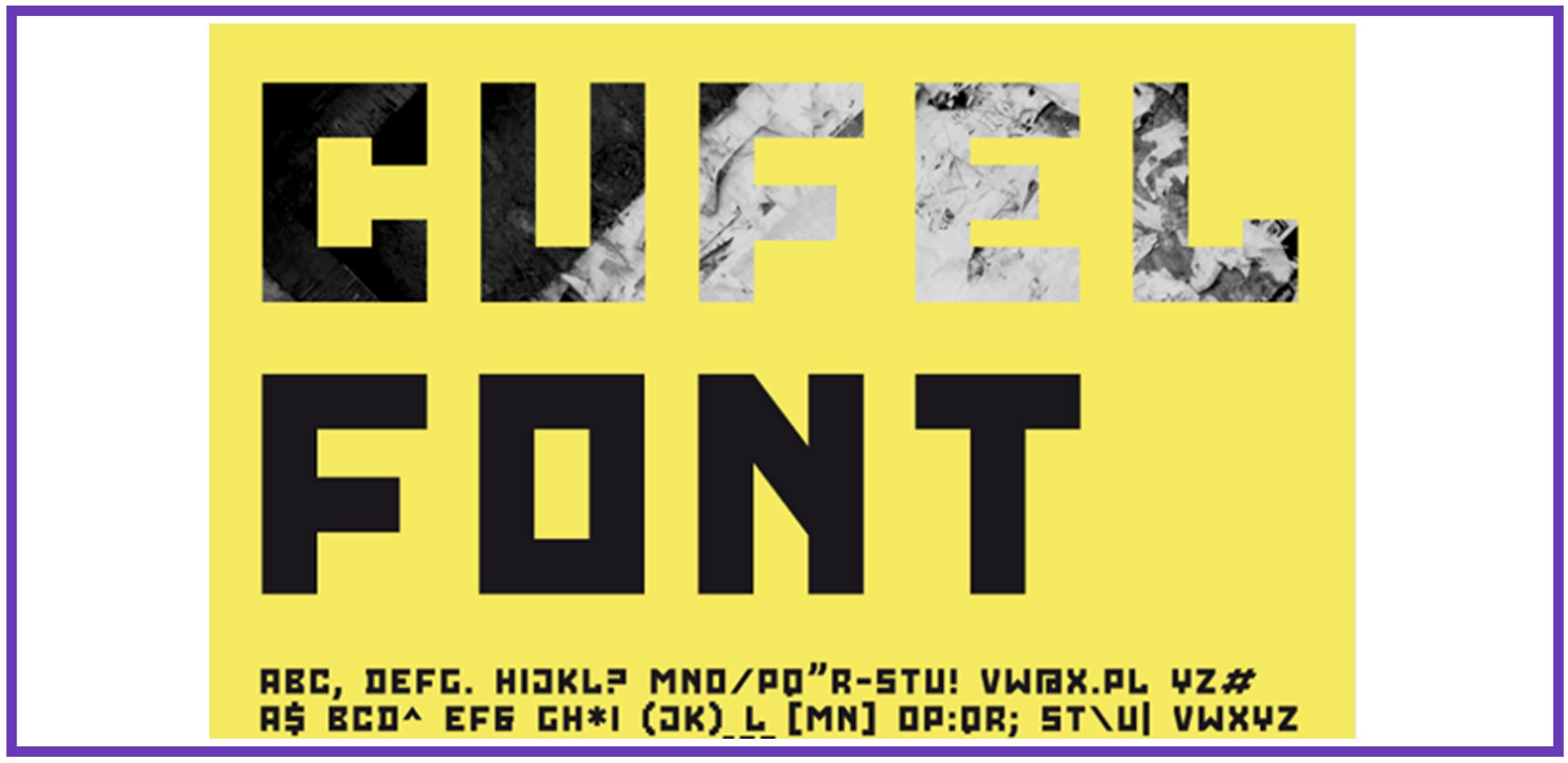 If you want to create a cool pixel art poster, Cufel font is the best solution. It looks great in bold and caps and has an unusual shape with sharp corners that make it unique. It will look insanely cool on posters, studio logos, and developer business cards. With the pack, you will receive:
upper and lower case designs;
symbols;
figures;
easy-to-edit files;
detailed documentation.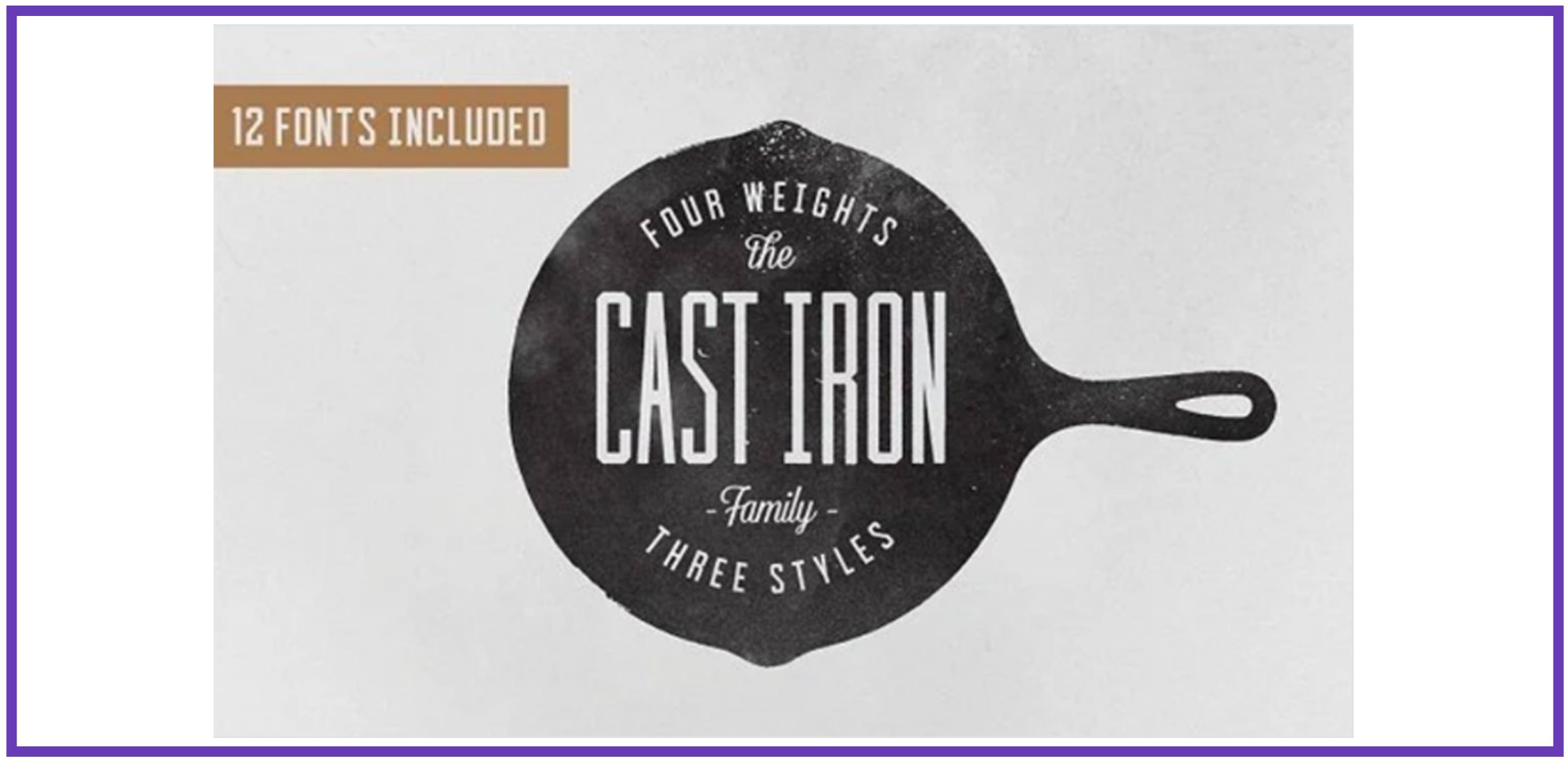 With the Cast Iron font, you will get a 12 fonts pack. Each of the included options has high-quality source OTF files. You can test how your future text will look directly on the theme's page, so you will be sure you are getting the right model. It is a sharp one and looks great in both bold and italic, so it is suitable for the main text body and headings. The benefits you get:
user-friendly templates;
12 styles included;
expert assistance in any issue;
free updates.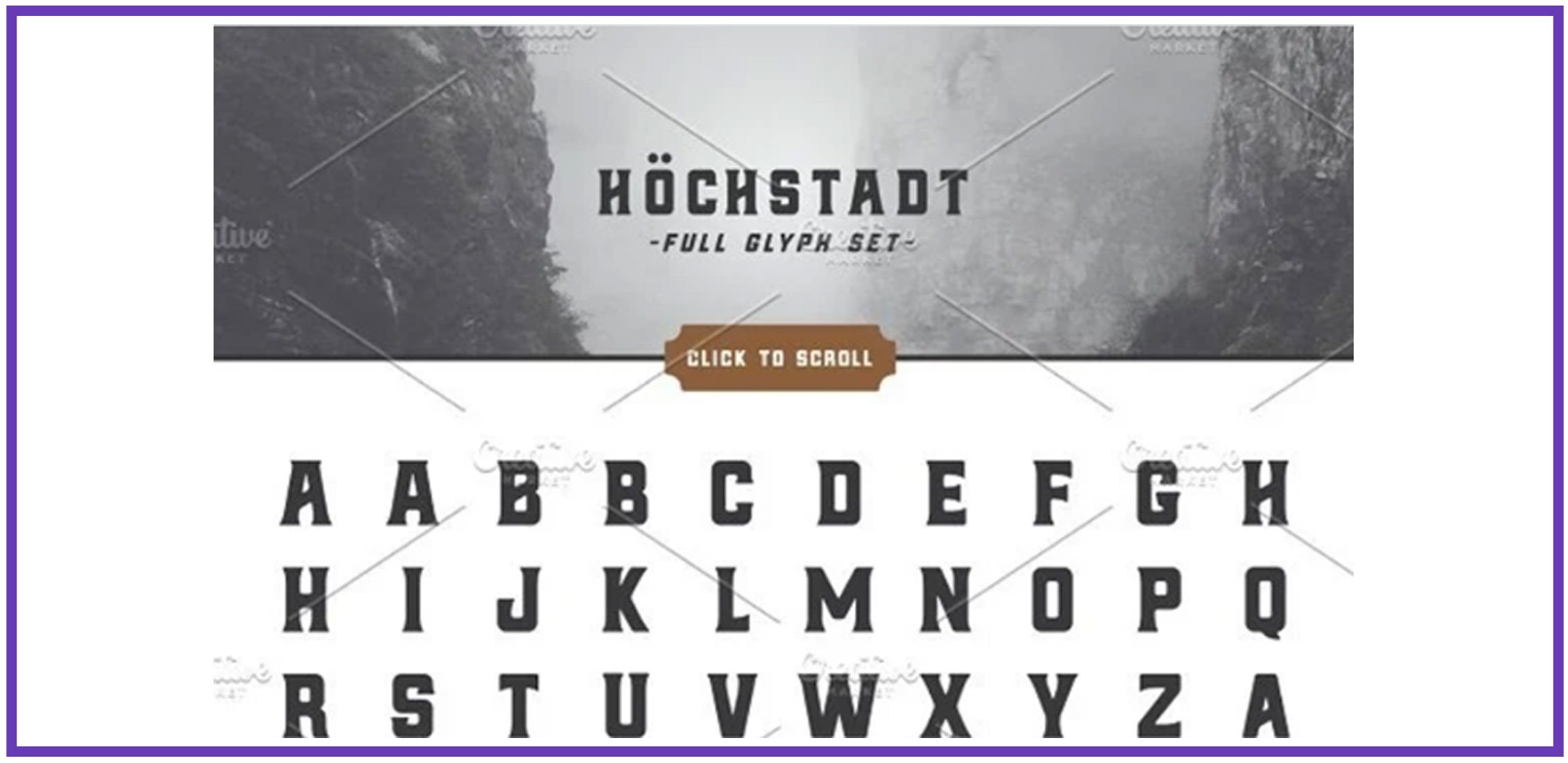 The Hochstadt comes with four different styles and includes CSS web kits for each one. It helps you to upload them to the website and configure them quickly. You can start using it online with just a few clicks and customize it according to your needs. This option is perfect for:
IT studios;
designers;
stylists and brand makers;
advertisers.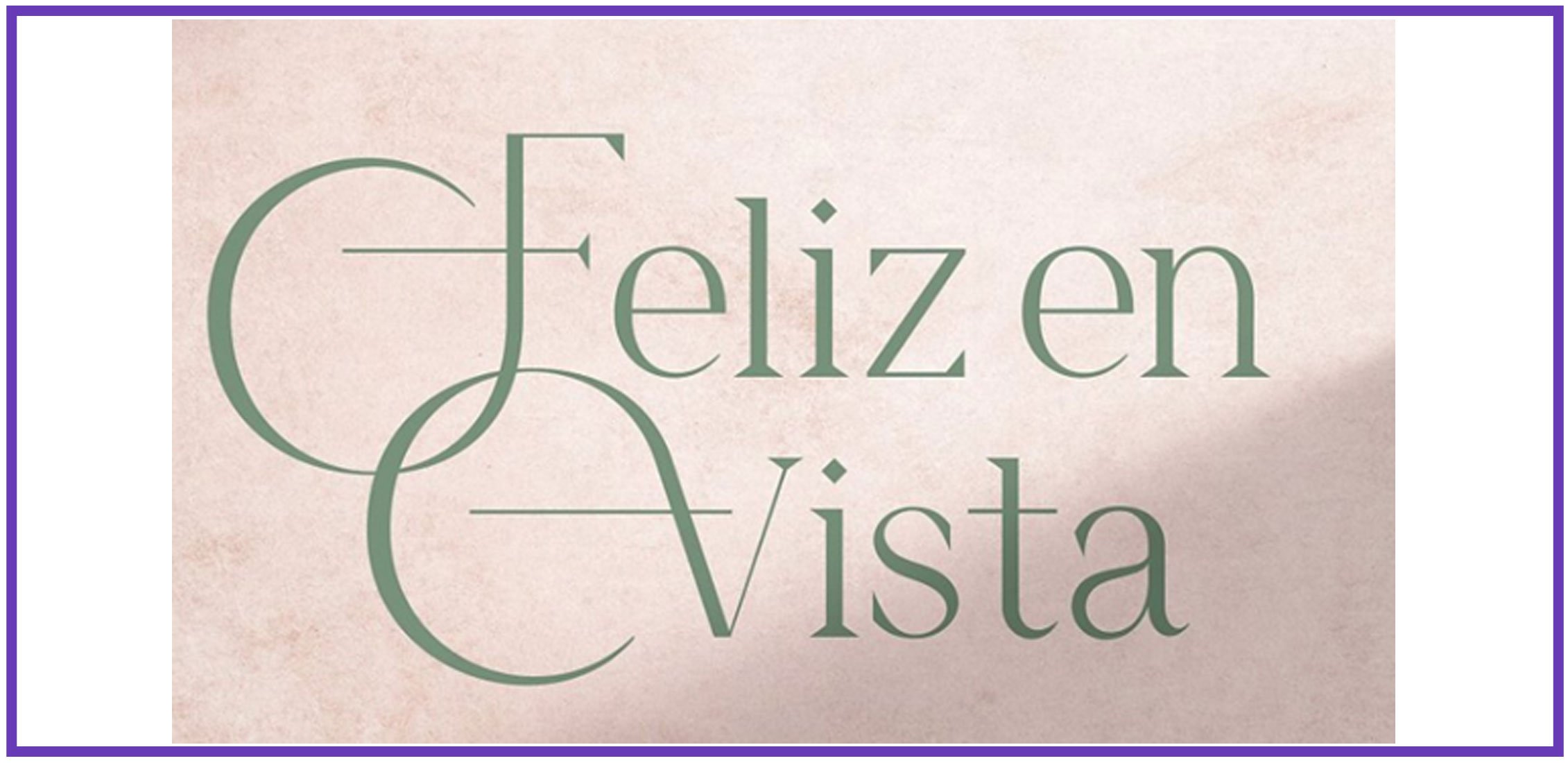 If you are looking for an unusual font that will show your professionalism, then Feliz En Vista is what you need. The font harmoniously combines sharp hooks with rounded tails, making it very delicate and robust at the same time. It will be ideal for creating:
business cards;
logos;
prints;
postcards;
issuance of certificates.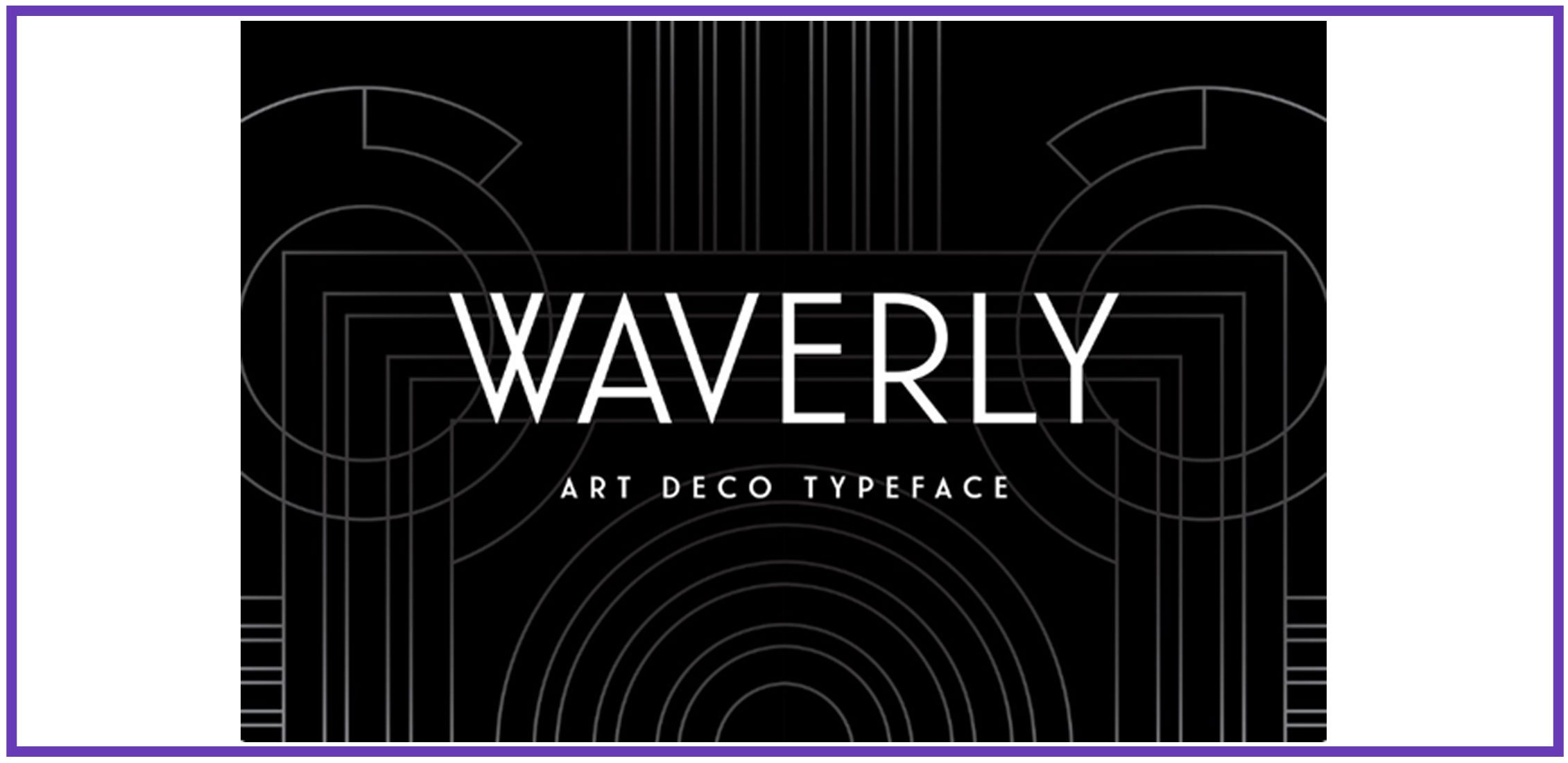 This font looks very restrained and minimalistic. It will be the perfect combination with the same overall layout, as it doesn't require much customization. You can play with its color and brightness and implement it into more colorful images. You can apply it for the branding of the following:
IT companies;
education centers;
presentation;
fashion collections preview;
corporate identity options.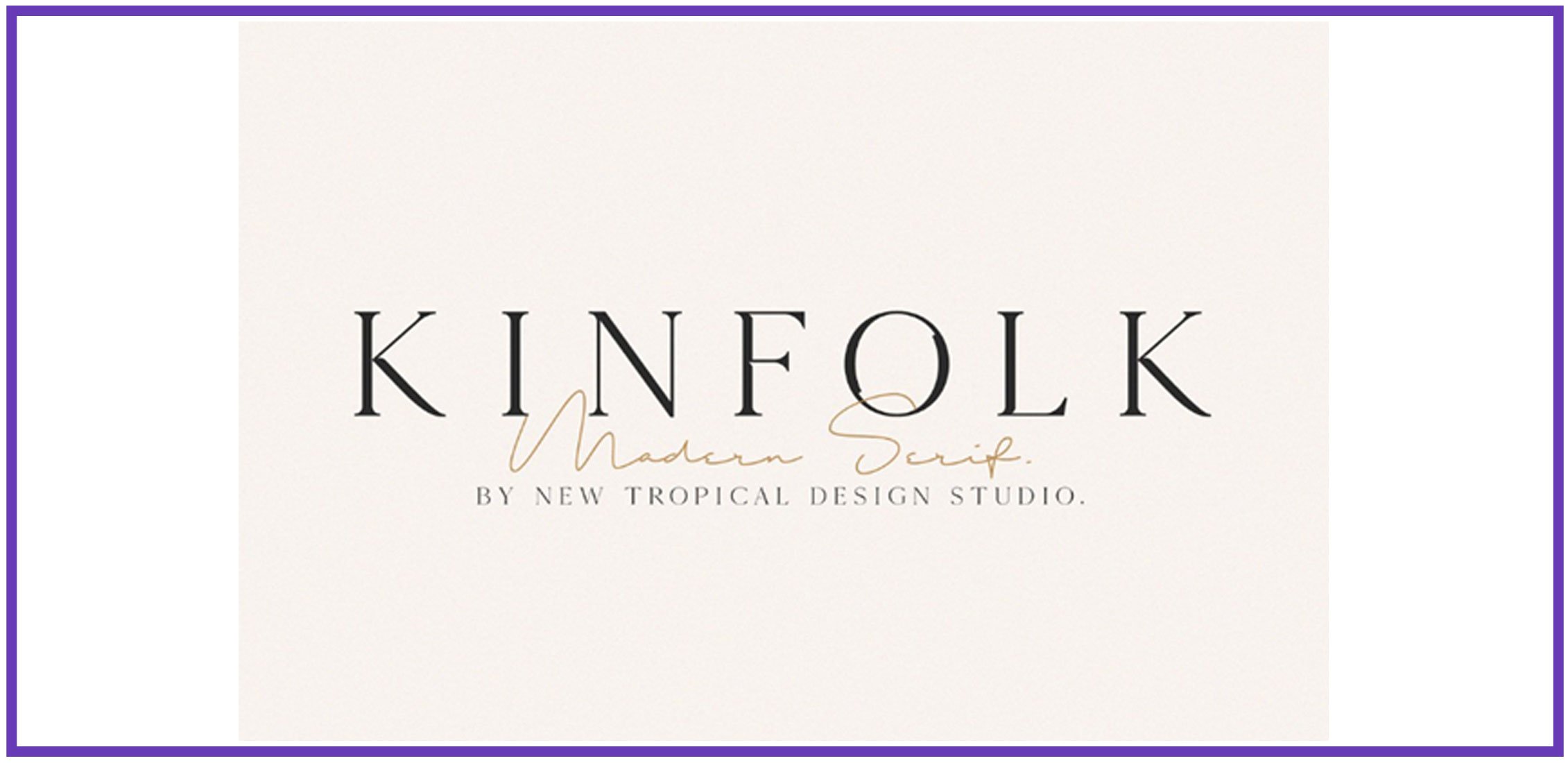 Kinfolk will gracefully decorate any of your solutions. With thin lines and flowing letter tails, it looks exciting and grabs attention at first sight. It is perfect for article titles, the main menu of the site, creating business cards for the beauty industry and jewelry companies. What do you get:
high-quality source files;
documentation;
various size and color options;
reliable support.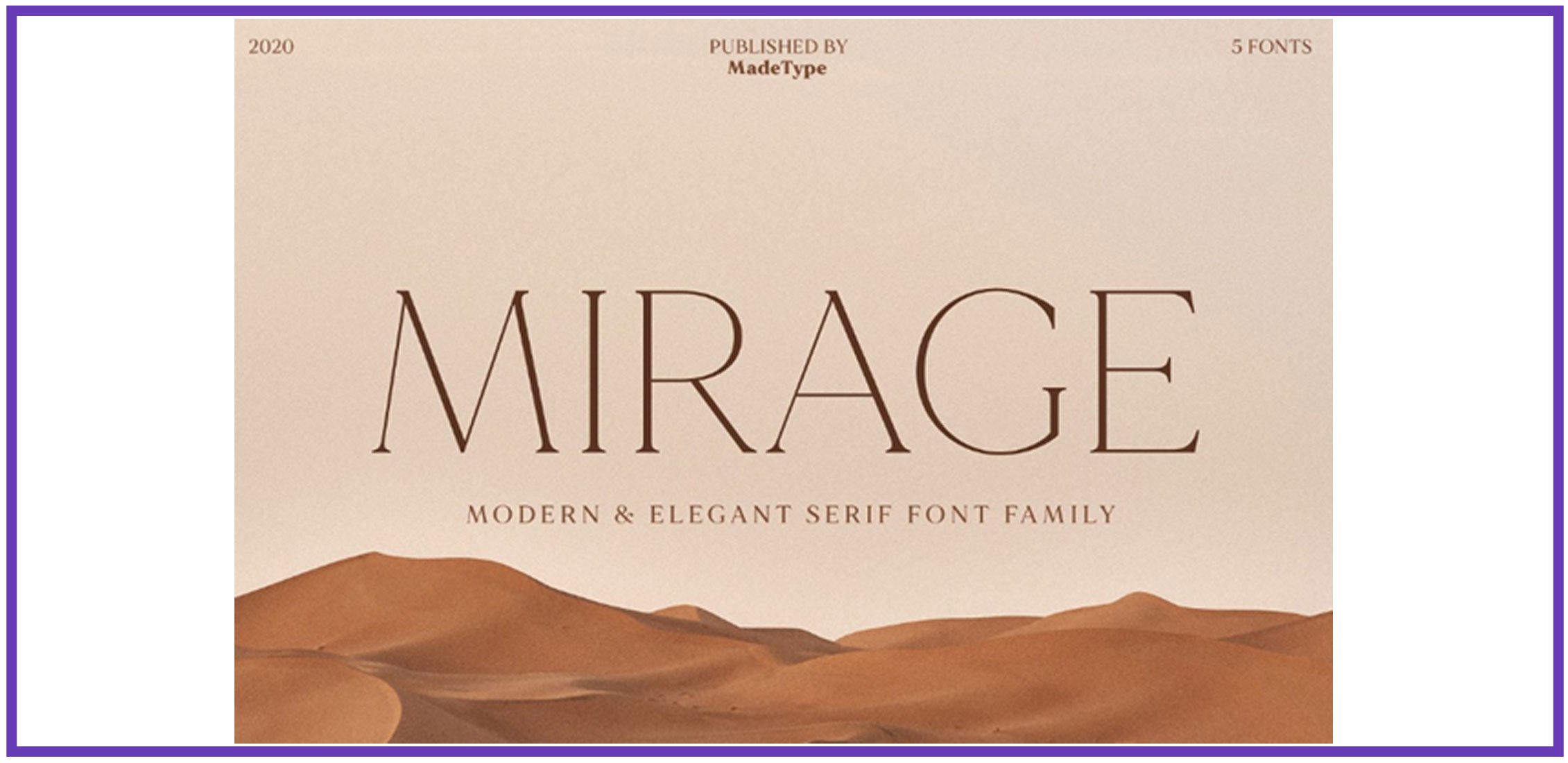 Looking for an elegant font for your layouts? Mirage will be the best solution for you! It is minimalistic, sophisticated, and harmoniously combines pointed tails and rounded letters. It complements the big picture and helps you convey the main message to your customers. With the pack, you will receive the following features:
Alternates & Ligatures set;
Punction;
PUA Unicode;
Free instant updates.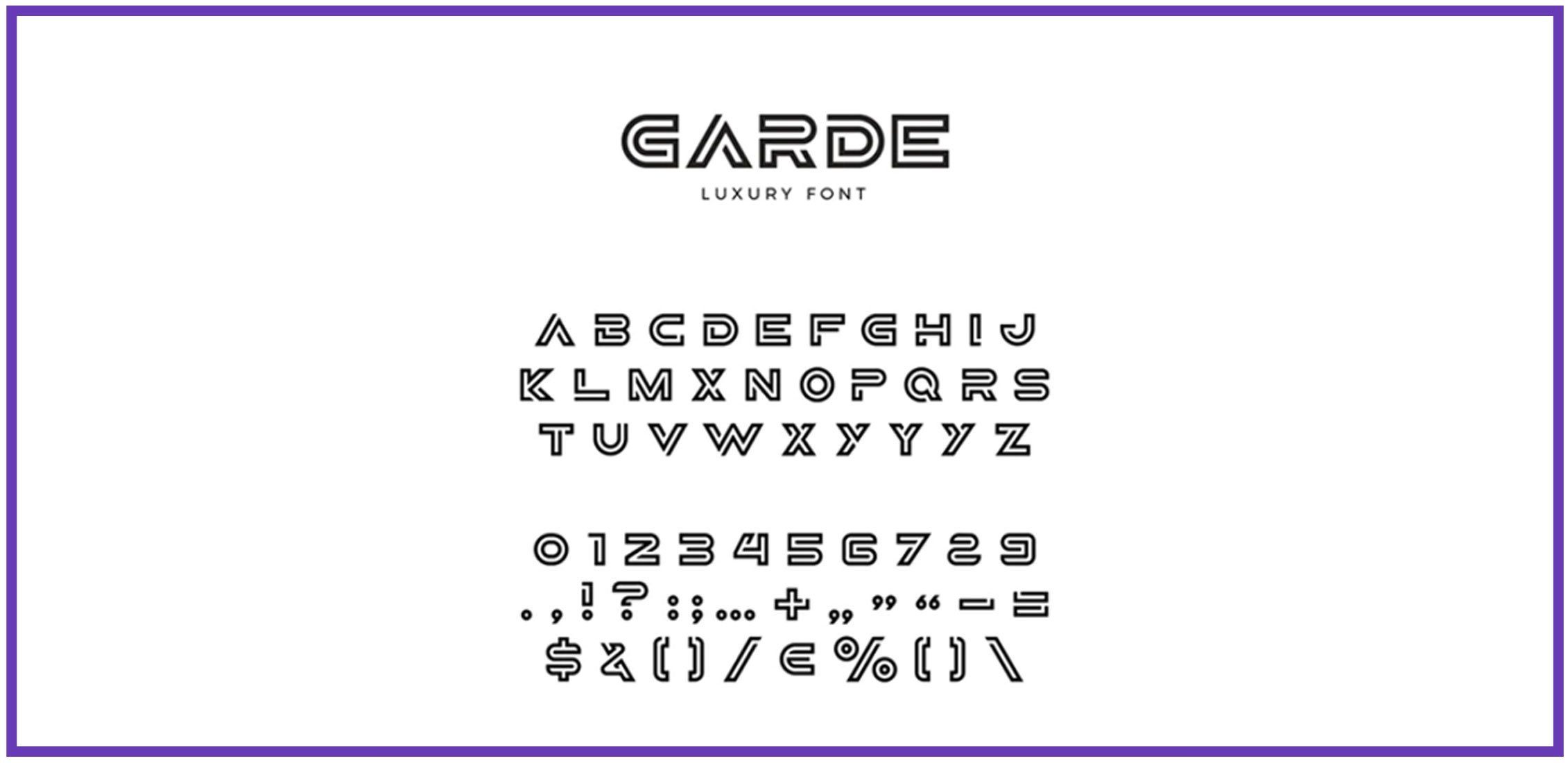 Garde looks very unusual. Dark outline and hollow letters will be a perfect match for luxury beauty, jewelry, and fashion industries. You can use it for creating titles, monograms, websites, logos. Main features of Garde:
stylish graphs;
letters and symbols;
upper and lower cases;
web supportive;
fully responsive.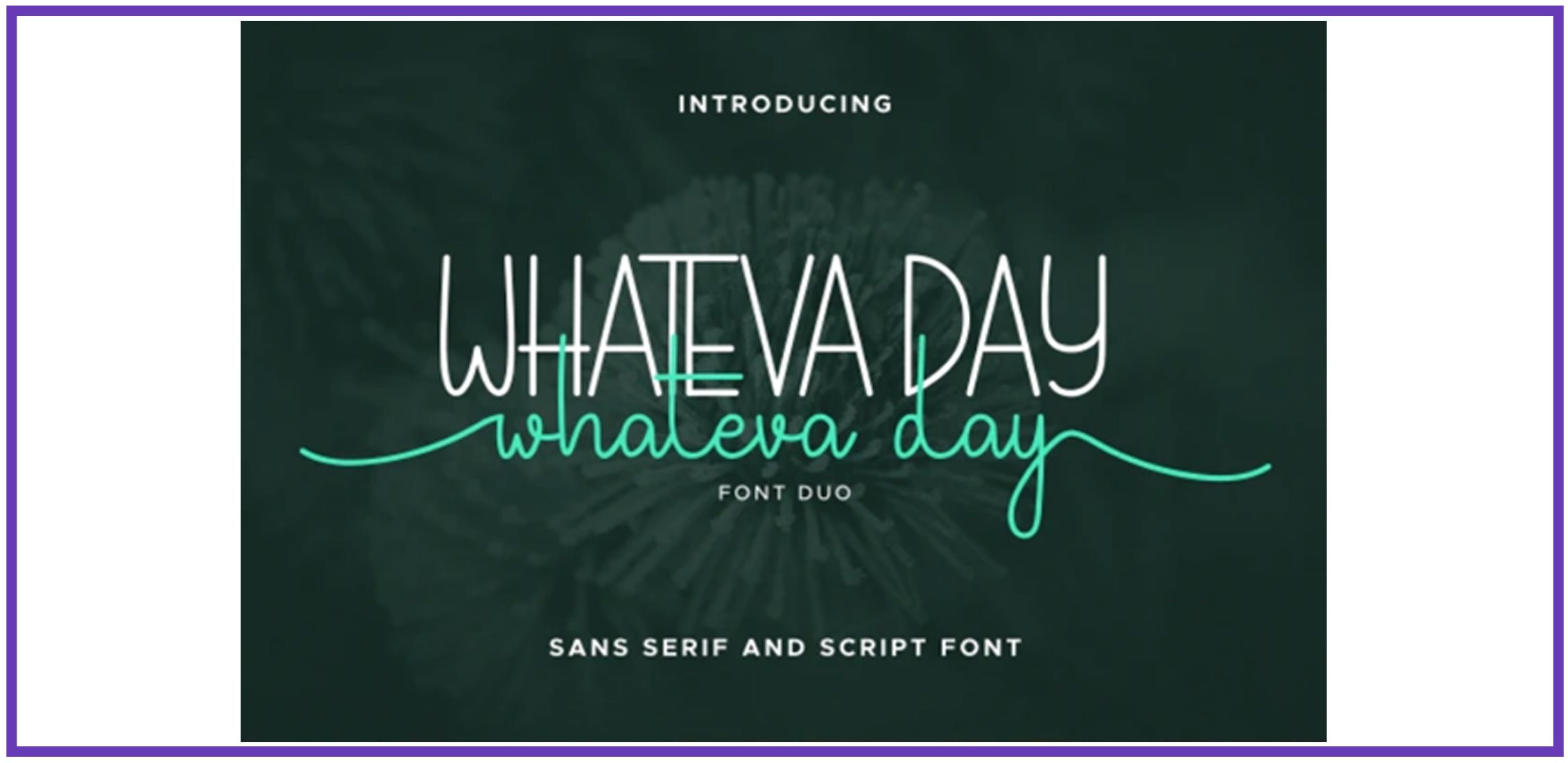 The Whateva Day font has two options – a lower case and a sharp upper. You can only use uppercase letters to create designs with sharp shapes, but you can also use a smooth uppercase version in the refrain style. It will add zest to the overall picture and look spectacular. What do you get with a typeface:
cost-effective solution;
letters and symbols;
print and web implementation;
versatile formats;
easy customization.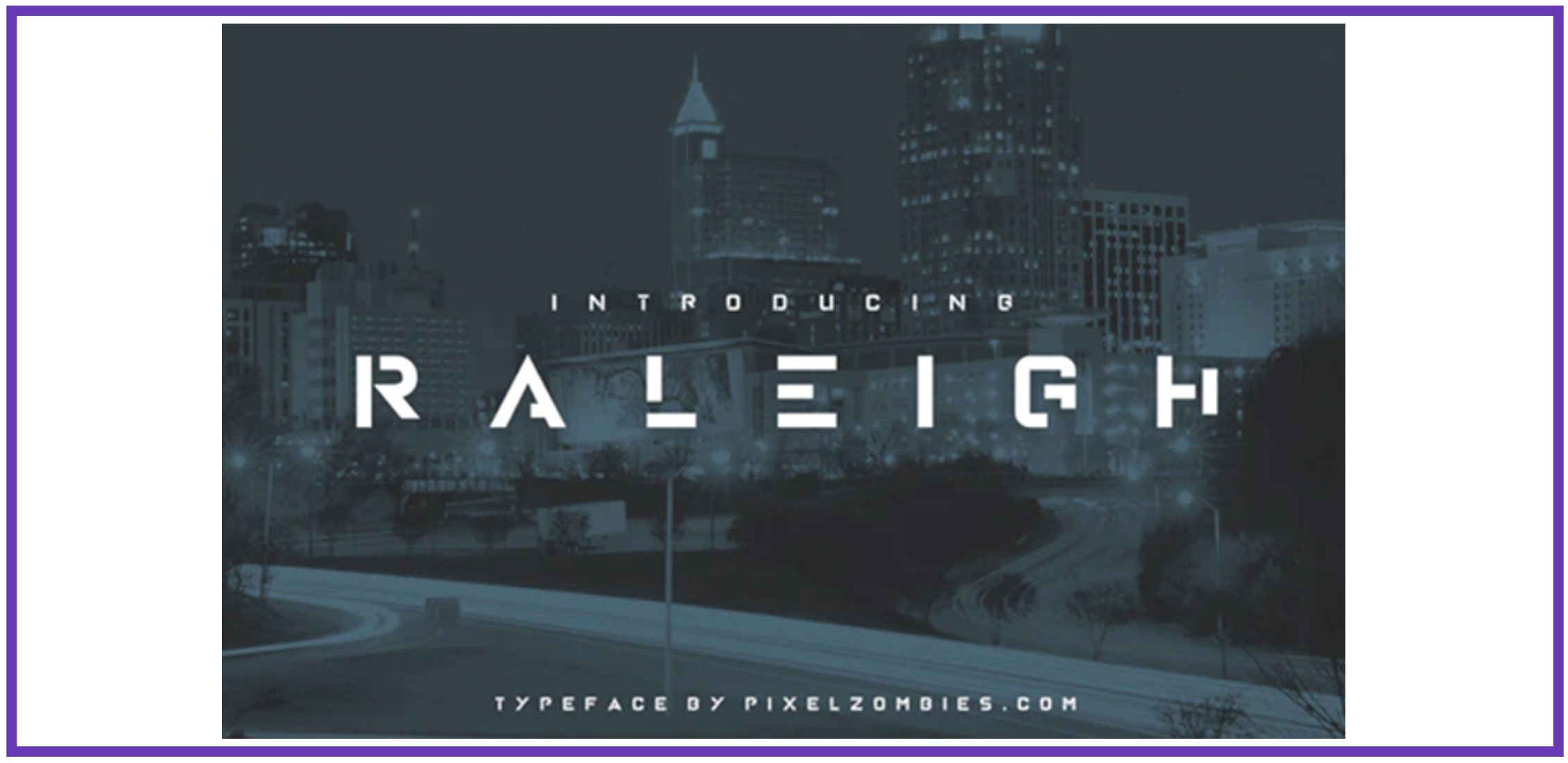 If you are a developer of game portals or indie games, Raleigh is perfect for you. It is designed to make captions eccentric and flamboyant, in the style of some of the finest arcade and adventure games ever. As a bonus, you will also receive a font variation in the lower case for secondary texts. Who can use the font:
web developers and designers;
indie games developers;
commercial makers;
bloggers;
reviewers.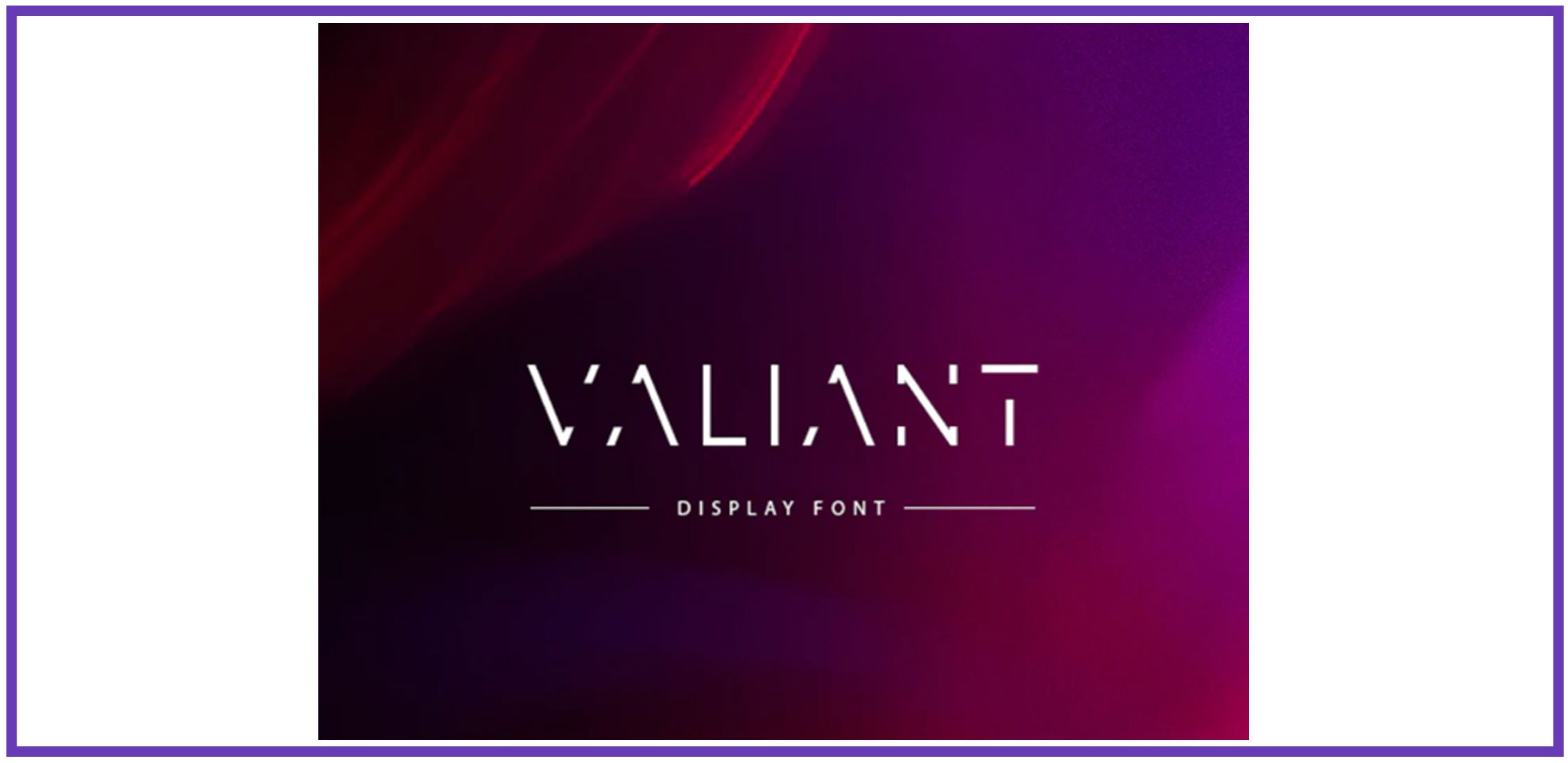 Excite your customers with a stunning design. The asset is easy to use and doesn't require any coding skills. Valiant is extraordinary because of the shapes – it has fluent in-letter spacing. It gives a futuristic atmosphere to the overall layout. And by playing with the background options, you will convey the necessary mood to your customer. It will be a perfect match for:
business cards;
websites and social network pages;
article headings;
game development.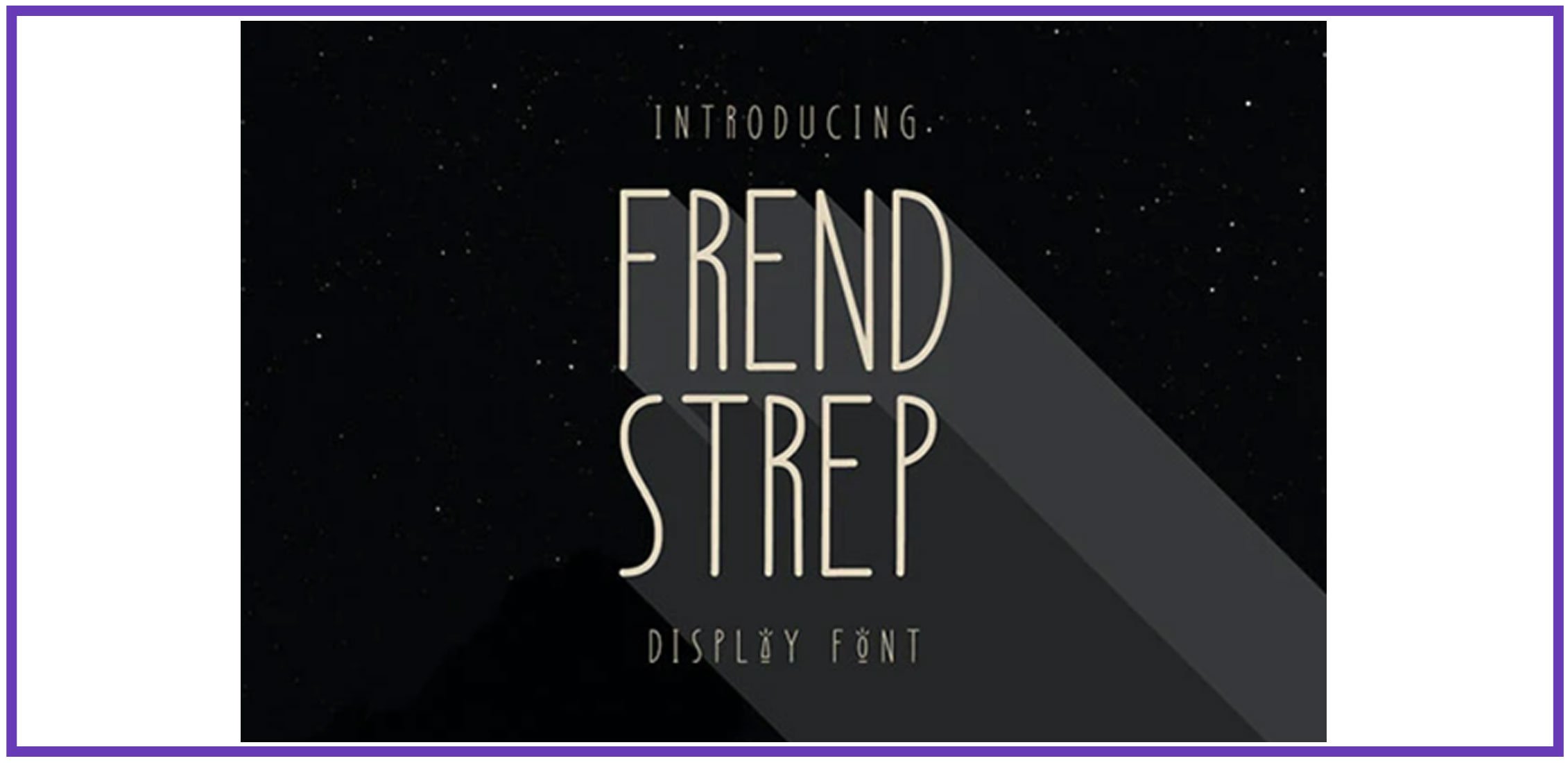 With Frend Strep font, you can quickly transform your content. The font has an unusual underscore style, and the above-letter characters are also made memorably. He will give the text an ethnic feeling, a kind of mysticism, and help you attract the client's photograph to important information. With the package, you will receive:
three great styles;
symbols and letters;
easy to use files;
beautiful graphics options.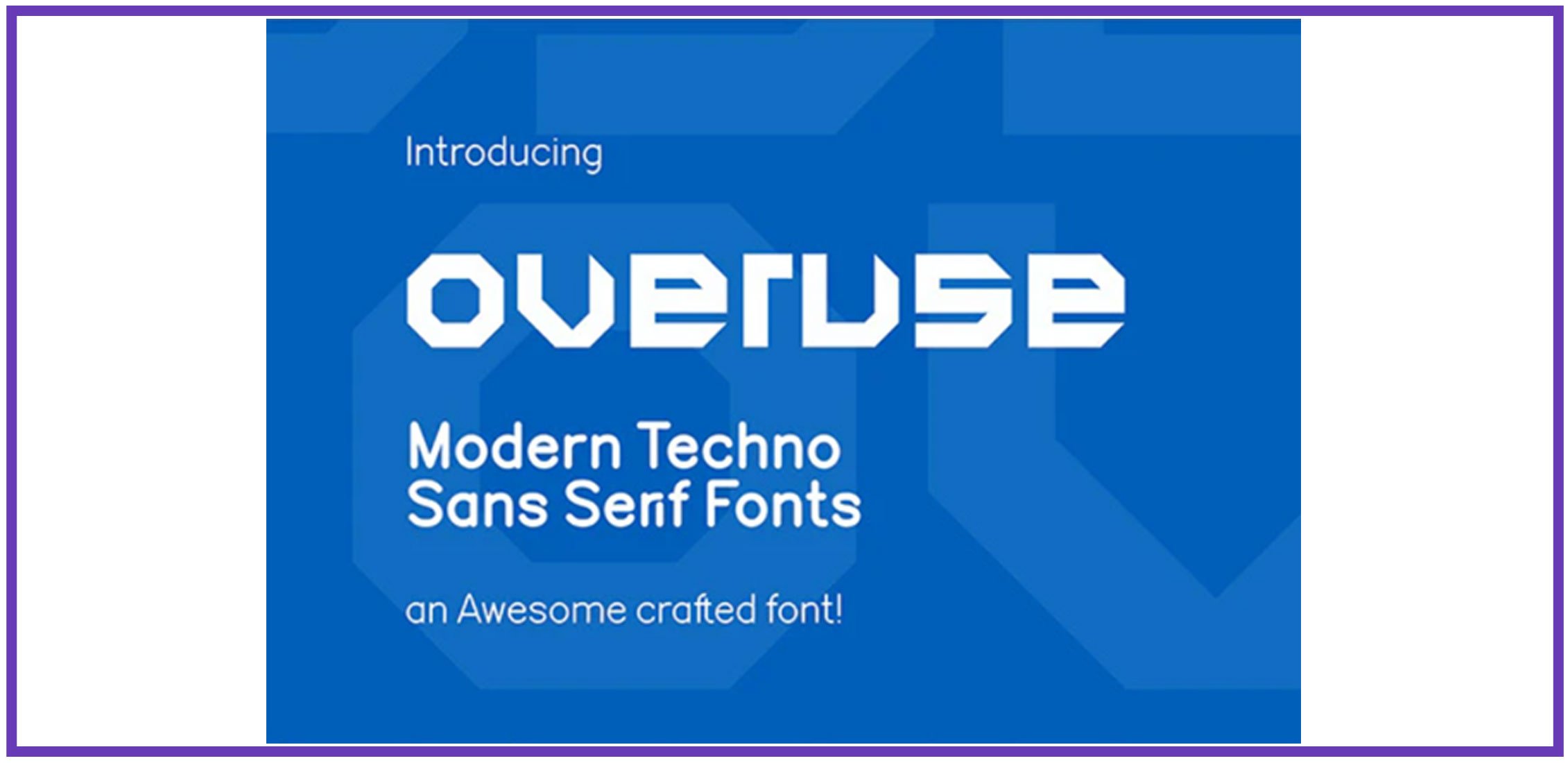 Overuse looks very futuristic and is perfect for developing websites, apps, and ads in this style. It has precise geometric shapes and is made in retro techno trends. It is easy to use and edit. Moreover, in the package, you will receive the principal and alternate spelling. Make your content more technical and exciting quickly and easily! What benefits will you get:
OTF and TTF files;
Ligatures and Alternate Fonts;
numbers and symbols pack;
cross-browser compatibility.
Summing Up
Branding is not an easy process that takes a lot of time and effort. Starting with the main concept and gradually thinking through the details, on the way to the perfect design, you will need to make a difficult choice. Fonts will help you create the right atmosphere and mood of the text since this is the first thing your client pays attention to, and it is essential to hook the customer from the first seconds.
The sharp fonts presented in the collection will inspire you to new solutions and help you choose the desired effect. They are trending now and are one of the most popular options. That is why this option will have a favorable position on your brand's development and will make the design relevant for many years. They are fully editable, easy to use, and unambiguously high quality. Besides, you always have us to whom you can turn for help. Feel free to experiment and choose what you like!
Some Awesome Videos About Best Fonts
7 WAYS to START MAKING your own FONTS!

7 Ways to start making your own Fonts
Font Apps & Software
1. FontStruct
2. FontDrafts
3. Calligraphr
4. iFontMaker
5. Fontself
6. Glyphs App
7. Fontlab

Please take a moment to pin this post to Pinterest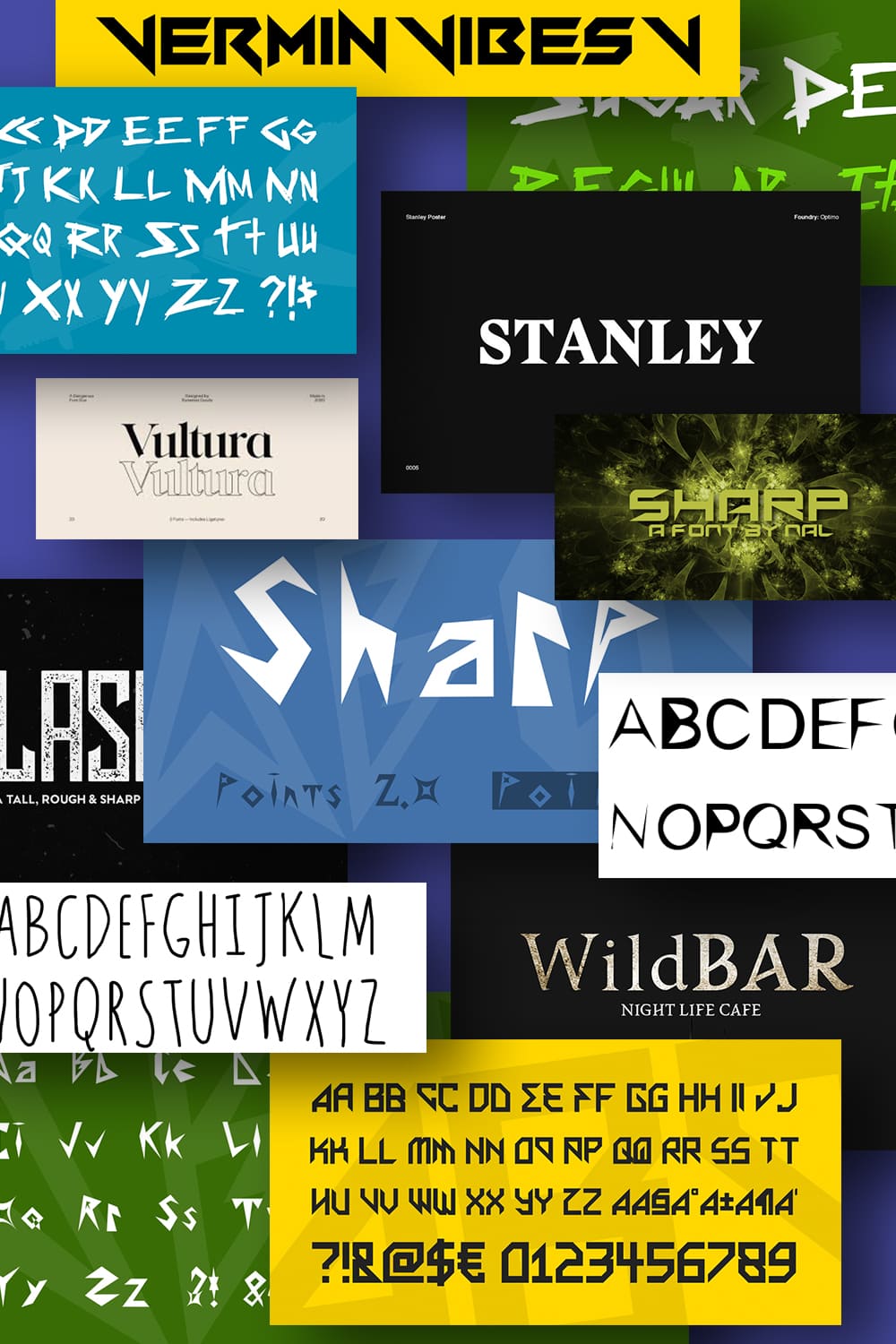 Sharp Fonts FAQs
🔪 Why is it good to use sharp fonts?
The typeface is the tool that will help you create your brand. They can beautify absolutely any project in a few clicks. Sharp fonts are at their peak of popularity right now as they instill confidence in a brand and show its seriousness. Thanks to them, you can quickly boost your brand and achieve success in the shortest possible time!
🔪 How can I be sure that I am choosing the right sharp font?
How can I be sure that I am choosing the right sharp font?
When choosing a sharp typo, pay attention to the main concept of your business. The font should perfectly fit the claims your company has and look modern at the same time. To check if the font is right, try it online and see how your text will look. If you have doubts and are unsure which option is better, please contact us for assistance.
🔪 Who can help me with the editing of my sharp font?
With the fonts, you will get detailed documentation with useful tips. Here you will find the installation and customization instructions. Moreover, if you need extra personalization, you can contact support and get a solution quickly.
Was this page helpful?
We will be happy if you decide to share this article with your friends on Facebook. Just click on the button and you're done
Thanks for your response!
You have already left your review.
This article is inspired by and relies on the following references:
Typographic Design: Form and Communication, 1985
Pioneers of Modern Typography,Book by Herbert Spencer 1969
The Anatomy of Type: A Graphic Guide to 100 Typefaces. November 6, 2012
Templatemonster.com
Masterbundles.com
Creativemarket.com
Typography Workbook. Book by Timothy Samara, 2004
Disclosure: MasterBundles website page may contain advertising materials that may lead to us receiving a commission fee if you purchase a product. However, this does not affect our opinion of the product in any way and we do not receive any bonuses for positive or negative ratings.