How Does Graphic Design Career Path Look Like?
Are you interested in pursuing the graphic design career path and have a passion for design? Do you possess an eye for detail and excel in visual communication? You're in the right place if the answer is yes.
We will cover all the information you require regarding the graphic design career path in this extensive guide, including education and training, employment opportunities, and expected salaries.
The graphic design job path offers a plethora of options to explore branding, advertising, web design, and user experience, whether you are just starting out or looking to further your career. So, let's get going and explore the fascinating realm of graphic design!
Is Graphic Design a Good Career?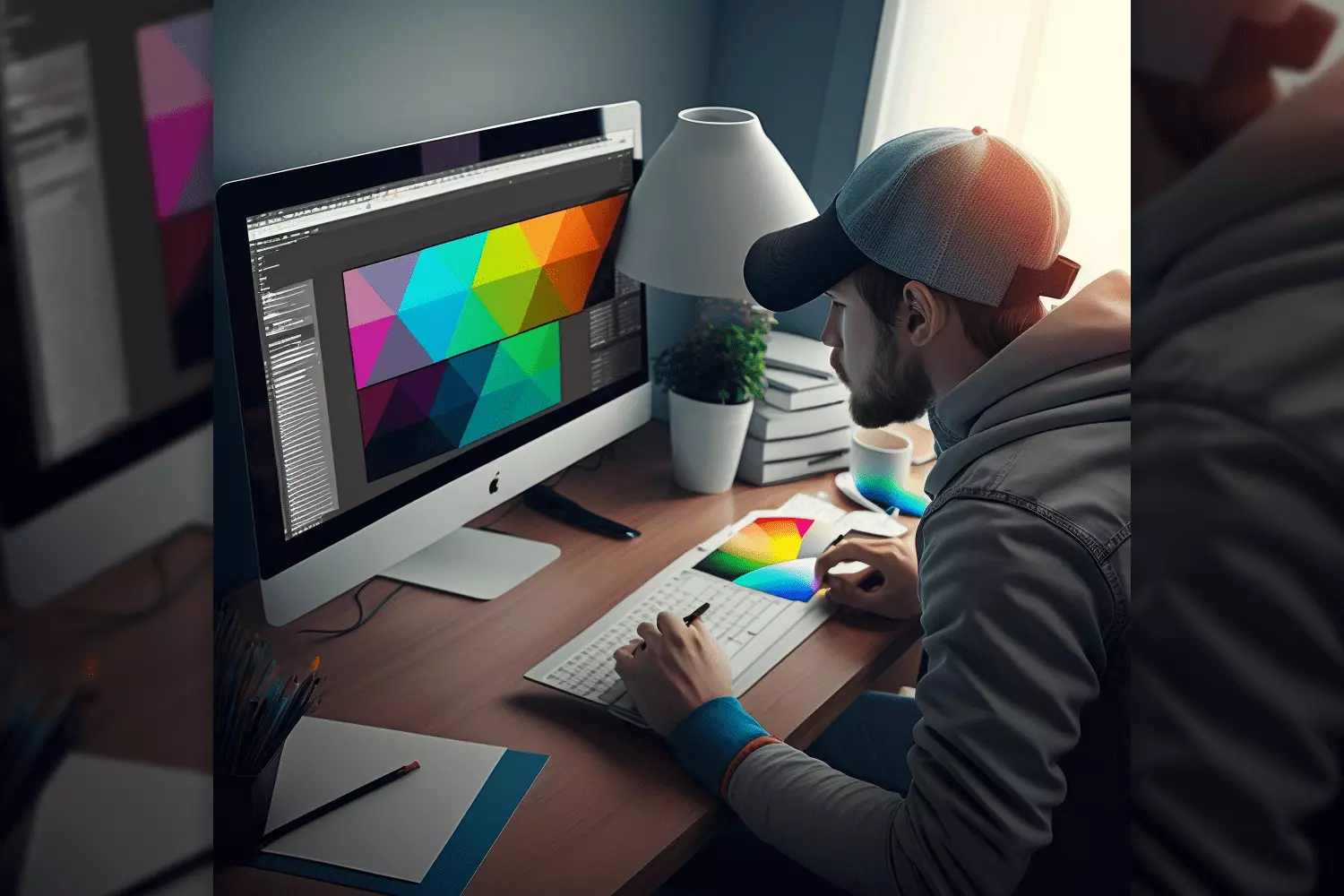 Graphic design is an incredibly diverse field that offers many career opportunities. From working on branding and advertising campaigns to designing websites and creating visual content for social media, graphic designers are responsible for communicating ideas and messages through visual mediums.
But is graphic design a good career choice? The answer is a resounding yes. According to the United States Bureau of Labor Statistics, the demand for graphic designers is expected to grow by 4% from 2019 to 2029, as fast as the average for all occupations. This growth is partly due to the increasing use of digital media, creating graphic design career opportunities across various platforms.
In the United States, there are currently 111,578 graphic designers employed. 50.2% of them are women, and 49.8% are men. Graphic designers in the United States are predominantly white (70.2%), followed by Hispanic or Latino (10.6%), Asian (10.4%), and unknown (5.0%). The city with the highest graphic designer demand in New York, NY.
Additionally, the technology industry offers the highest salaries for graphic designers. On average, women earn 95 cents for every dollar earned by men. For instance, men's average income is $49,902, while women's average income is $47,567.
In the USA, graphic designers typically earn an average salary of $50,068 per year or $24.07 per hour. Starting out, you can expect to make about $39,000 annually, but with experience, you can make up to $75,029 per year.
Another factor actively contributing to the growth of the graphic design industry is the increase in such courses offered at colleges and universities. This has resulted in a larger pool of qualified designers entering the job market, which has led to increased competition for positions.
However, despite the increase in supply, there is still a strong demand for talented designers who can demonstrate a strong portfolio of work and a deep understanding of design principles. This means there are plenty of opportunities for individuals willing to put in the time and effort to develop their skills and build a reputation in the industry.
What Is the Career of a Graphic Designer?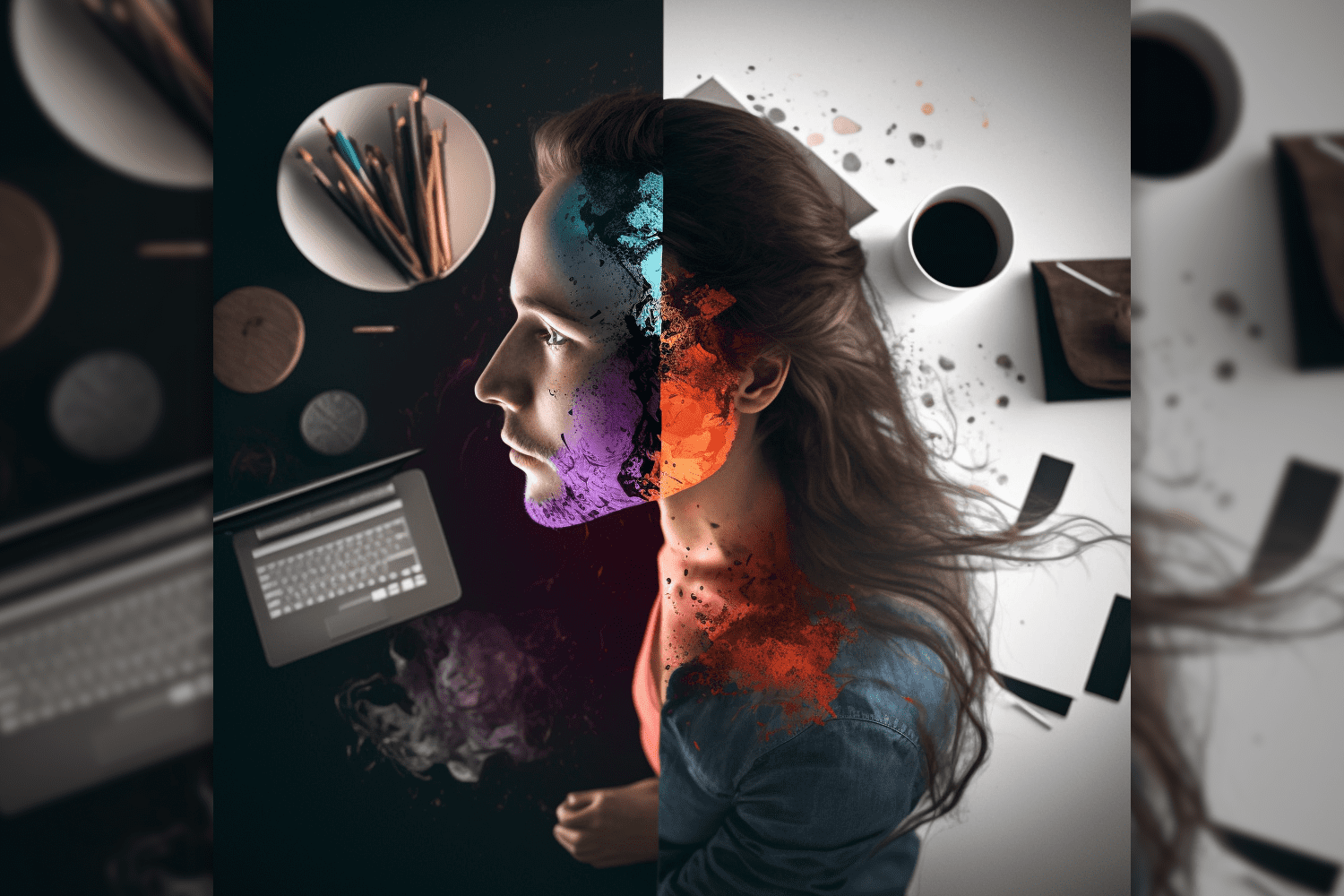 The career of a graphic designer is centered around creating visual designs that communicate a message, evoke emotions, or solve a problem for a client. Graphic designers use their creativity and proper technical skills to produce visual materials for print, digital, and video mediums.
Here are some of the common responsibilities:
Conceptualizing and creating visual designs: Graphic designers use their creativity and technical skills to produce visual designs for various mediums, including print, digital, and video. This includes creating logos, advertising materials, websites, user interfaces, and more.
Communicating complex ideas visually: A primary responsibility of graphic designers is to communicate complex ideas and messages visually in a way that is easy to understand and visually appealing. They must consider the client's objectives, target audience, and the medium in which the design will be displayed.
Adapting designs for different mediums: Graphic designers must ensure that their designs are optimized for the medium in which they will be displayed. For example, a design intended for print must be adapted for digital mediums such as social media or websites.
Collaborating with clients and team members: Often, graphic designers work closely with their clients to understand needs, present ideas, and make revisions to their designs. They may also collaborate with other designers, writers, and developers to create cohesive campaigns and projects.
Ensuring a positive user experience: Graphic designers who work on websites, apps, and user interfaces must consider the user experience, ensuring the design is easy to navigate and visually engaging. They also need to ensure the design is optimized for devices like desktops, tablets, and mobile devices.
Staying up-to-date with design trends and technology: As technology and design trends evolve, graphic designers must stay up-to-date with the latest trends. This includes learning new software, techniques, and design principles to stay competitive in the job market.
A graphic designer career is a dynamic and exciting field that requires creativity, technical skill, and collaboration.
From creating visual designs to ensuring a positive user experience, graphic designers play a critical role in the visual communication industry. By staying up-to-date with the latest trends, they can continue to excel and make a significant impact in their careers.
How Do I Start My Graphic Design Career?
Starting a career in graphic design can seem daunting, but with the right resources and mindset, it is possible to break into the industry.
Here are some tips and advice on how to start your graphic design career, even if you have no experience:
Develop Your Skills
Building a strong foundation in design is key to starting a career in graphic design. Begin by learning design fundamentals, such as color theory, typography, composition, and layout.
Some popular resources for learning design include:
Build a Portfolio
A portfolio is a small collection of your best designs that showcases your skills and abilities. You can start building your portfolio by taking on freelance projects or creating your own personal projects.
Some popular portfolio platforms include:
Prepare a Resume
As a graphic designer, having a well-crafted and professional resume is crucial in order to showcase your skills and experience to potential employers or clients. A great resume can make all the difference in getting noticed and landing your dream job or project.
There are a variety of different resume templates available online, from chronological to functional styles. For those looking for a more traditional approach, the best chronological resume templates can be found on websites like MasterBundles. These templates feature a clean and simple layout, making it easy to highlight your experience and education in a clear and concise manner.
For those looking for a more creative and eye-catching resume, there are also many free resume templates available. MasterBundles offers a collection of the best resume templates, featuring unique designs and layouts that will help you stand out from the crowd.
Network
Networking is crucial in any industry, and graphic design is no exception. Join design groups on social media platforms such as LinkedIn, Behance, and Dribbble. Attend industry events and conferences to meet other designers and potential clients.
Some popular design conferences include:
Gain Experience
Look for internship opportunities or entry-level positions to gain experience in the field. You can also offer your services to local businesses or non-profit organizations to build your portfolio and gain real-world experience.
Some popular job platforms for designers include:
Keep Learning
The graphic design industry is constantly evolving, so staying up-to-date with innovations and technologies is important. Attend workshops, webinars, and conferences to continue learning and expanding your skills.
Some popular resources for continuing education include:
Create a Personal Brand
Creating your personal brand can help to stand out in the competitive world of graphic design. Consider creating a website or social media profile that showcases your work and personal style.
Some popular platforms for creating a personal brand include:
Use Marketplaces
Creating a presence on marketplace platforms can help you expand the reach and connect with potential clients. Consider signing up for popular marketplace platforms that showcase your work and skills.
MasterBundles is a cozy marketplace for designers, developers, and marketers to buy and sell digital products such as graphics, fonts, templates, and more.
With a lower competition than some other marketplaces, it's possible to earn passively by offering high-quality products and implementing effective marketing strategies. MasterBundles provides an easy-to-use interface and a wide range of products to choose from, making it an excellent choice for both buyers and sellers alike.
By utilizing marketplace platforms, you can not only showcase your skills but also gain valuable experience working with a diverse range of clients and projects.
Be Persistent
Breaking into any industry takes time and effort. Don't get discouraged if you face rejection or setbacks. Instead, keep working on your skills, building your portfolio, and networking. Persistence and determination will pay off in the long run.
Starting a career in graphic design requires dedication, hard work, and a willingness to learn.
By developing your skills, building a portfolio, networking, gaining experience, and continuing to learn and grow, you can easily achieve success in the industry. Remember to be persistent and not give up on your dreams of becoming a graphic designer.
Bottom Line
Graphic design is a diverse and exciting career path that offers many opportunities for those with a passion for visual communication. With the demand for skilled workers on the rise and competitive salaries, pursuing a career in graphic design is a great choice for those who enjoy creativity and problem-solving.
As with any career path, developing the necessary skills and staying up-to-date with design trends and technology is essential for success.
By following the advice and tips in this graphic design career outlook, you can confidently start your graphic design career and set yourself up for success in this dynamic and rewarding field.
FAQ
Here are a few frequently asked questions about the career path for a graphic designer
What is the career path for a graphic designer?
The career path for a graphic designer typically involves gaining experience through internships or entry-level positions, building a portfolio, and advancing to higher-level design roles or leadership positions.
Is graphic design a good career path?
Whether or not graphic design is a good career path depends on individual preferences, skills, and job market conditions. It can be a fulfilling and creative career for those who enjoy design and are willing to put in the work to succeed.
Is a graphic design career hard?
The graphic design career can be challenging, especially in competitive job markets. It requires ongoing learning, creativity, and technical skills, but can also be rewarding for those who are passionate about design.
Some Awesome Video about Graphic Design Career Path:
5 Tips To Starting Your Career In Graphic Design
If you want to start your career in graphic design, you'll need to watch this one. The industry is moving fast, and you will want to make sure that you stay ahead of the curve with these 5 tips. There are many things that Adrian has learned over his years in graphic design, so starting with these tips will give you a great head start. 
Career Advice For Graphic Designers!
In this video I thought I would share some career tips and advice for a successful graphic design career! I take some advice from 2 books, and share tips with you like how to interview, being professional, internships, showing your work to as many people possible, and how to freelance! I hope this helps especially if you're just starting to figure out how to be a graphic designer!
 
Was this page helpful?
We will be happy if you decide to share this article with your friends on Facebook. Just click on the button and you're done
What are your concerns?
Thanks for your response!
You have already left your review.
Disclosure: MasterBundles website page may contain advertising materials that may lead to us receiving a commission fee if you purchase a product. However, this does not affect our opinion of the product in any way and we do not receive any bonuses for positive or negative ratings.
This article is inspired by and relies on the following references: