How To Write a Design Brief and Improve Communication with a Client
Any design begins with a discussion of the project and the wishes of the customer. You can write a lot of messages to the client and look for information in the dialogue. Or you can send a design brief that will summarize everything in one place.
You will simplify the client's life because he won't need to figure out what he wants and how to describe it to you. And, you will have all the basic information in one document so you know what work is required. There will be no need to hysterically look for where the message is with the list of desired colors. Better, right?
After reading the article, you will know what a brief is and why it is needed. You will also find convenient templates for working in Notion and a free brief template.
What Is a Brief and how Does It Help a Designer?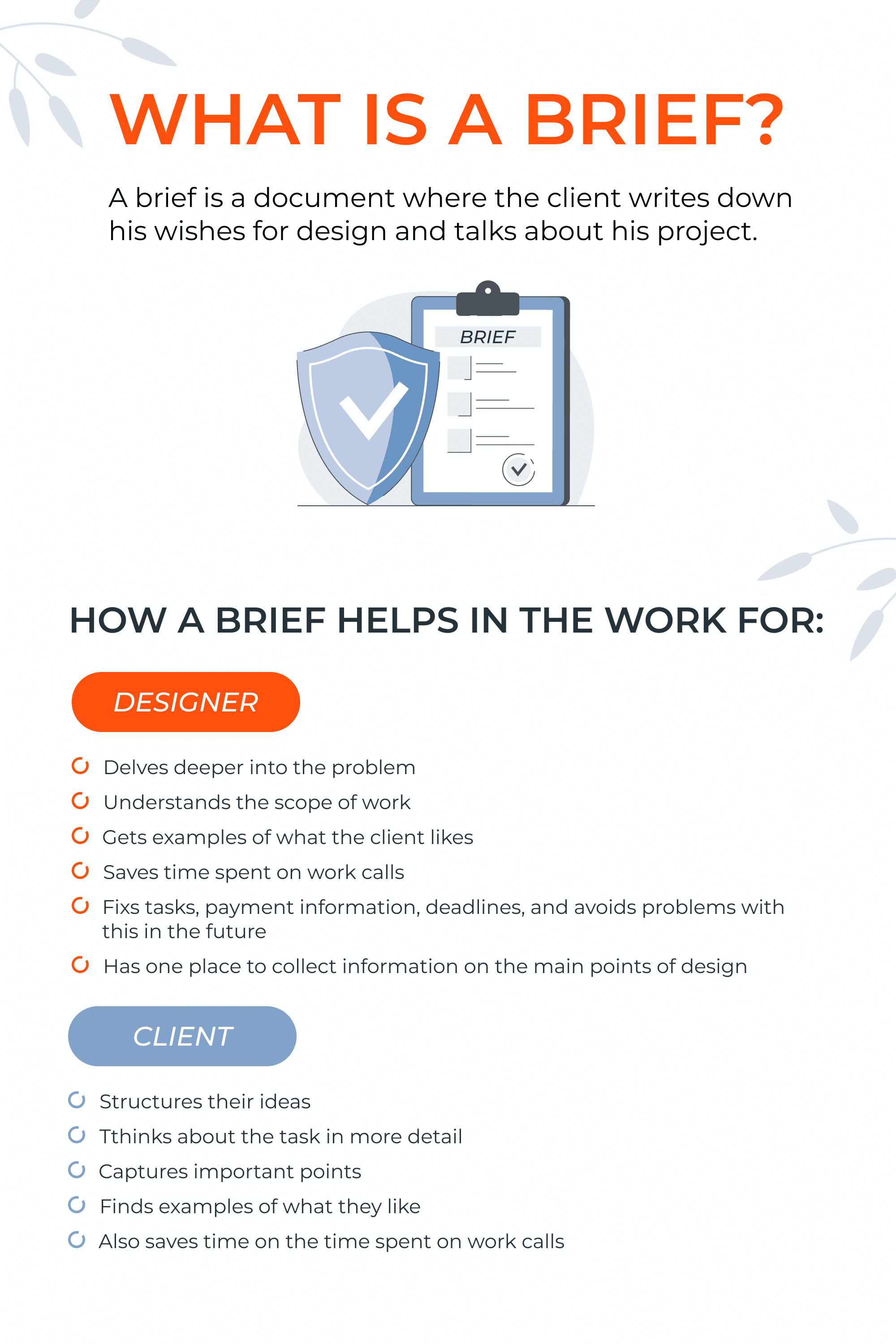 A well-filled brief will speed up your work. You will have more free time and you will be able to do cool jobs for sales on the platforms. For example, you can become a vendor on MasterBundles – we are open to designers of all levels. You can send us your work free of charge – just fill out the form. This is one of the ways to increase your income and briefs are not needed for this easy task 🙂
The best brief will help the client:
structure their ideas
think about the task in more detail
capture important points
find examples of what they like
also save time on the time spent on work calls
The brief is not limited to any one area of ​​design. You can create websites/applications, UI kits, posters, illustrations, postcards, logos, etc. and for this you can adapt a free design brief template.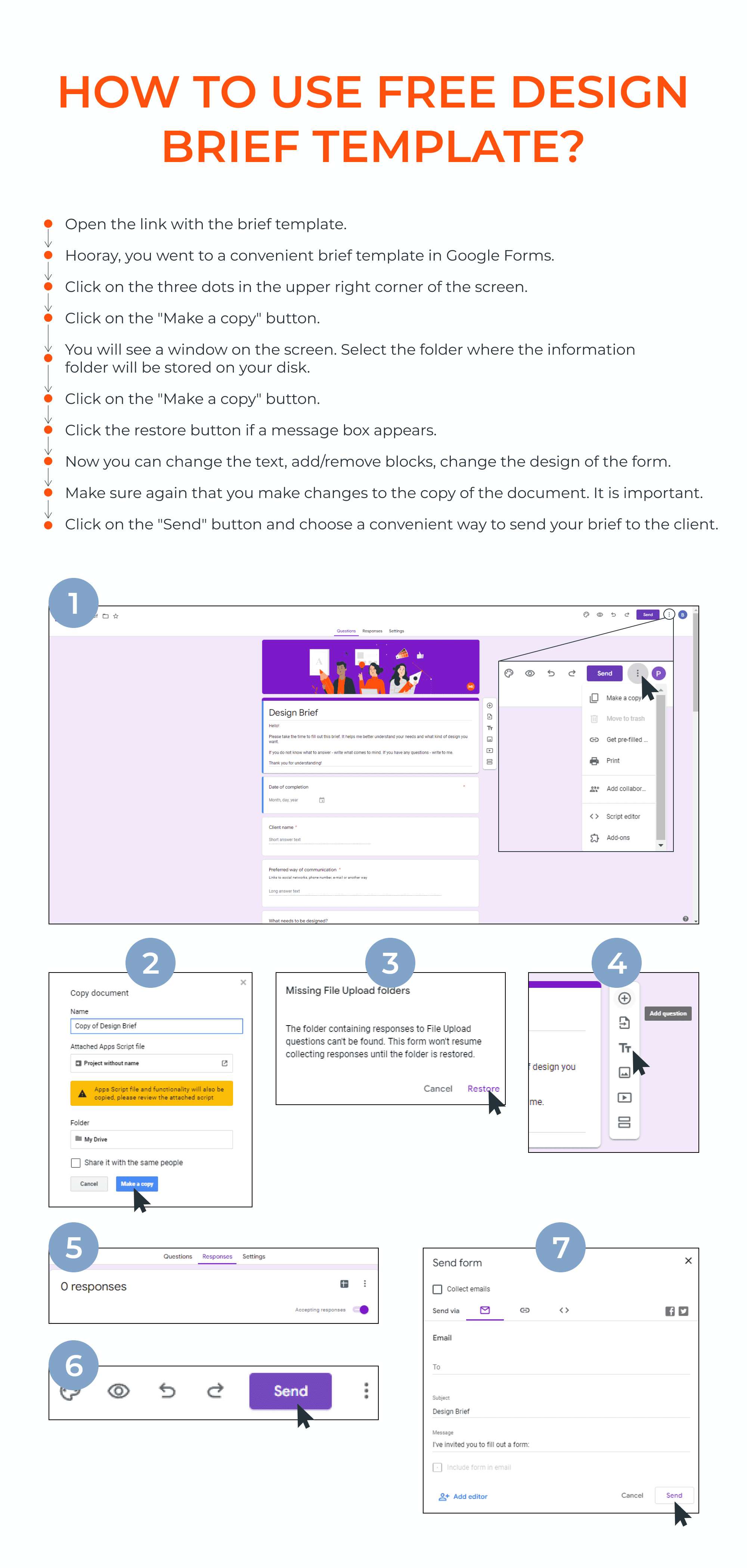 Sometimes clients come with their own brief, but this is rare. You have to be prepared for clients who don't know what a brief is or how to write it properly.
There will be some details that you discussed already in the initial process. This is normal. The brief shouldn't be huge so that the client looks at it and is overwhelmed by it.

How Is a Design Brief Different from a TOR?
If you are confused about the concepts of "BRIEF" and "TOR," then let's figure it out. It will be easier for you to communicate with customers and understand what they send you.
The brief and TOR are created to improve understanding between the customer and the designer. After all, if there is no understanding, then the result will be incomprehensible.
You read about the brief above, so let's quickly talk about TOR. This is a detailed document that describes the technical characteristics of the design. For example, if a customer needs a website, then all the functions of the site, the number of pages, etc. are described.
Now let's fix it with an example.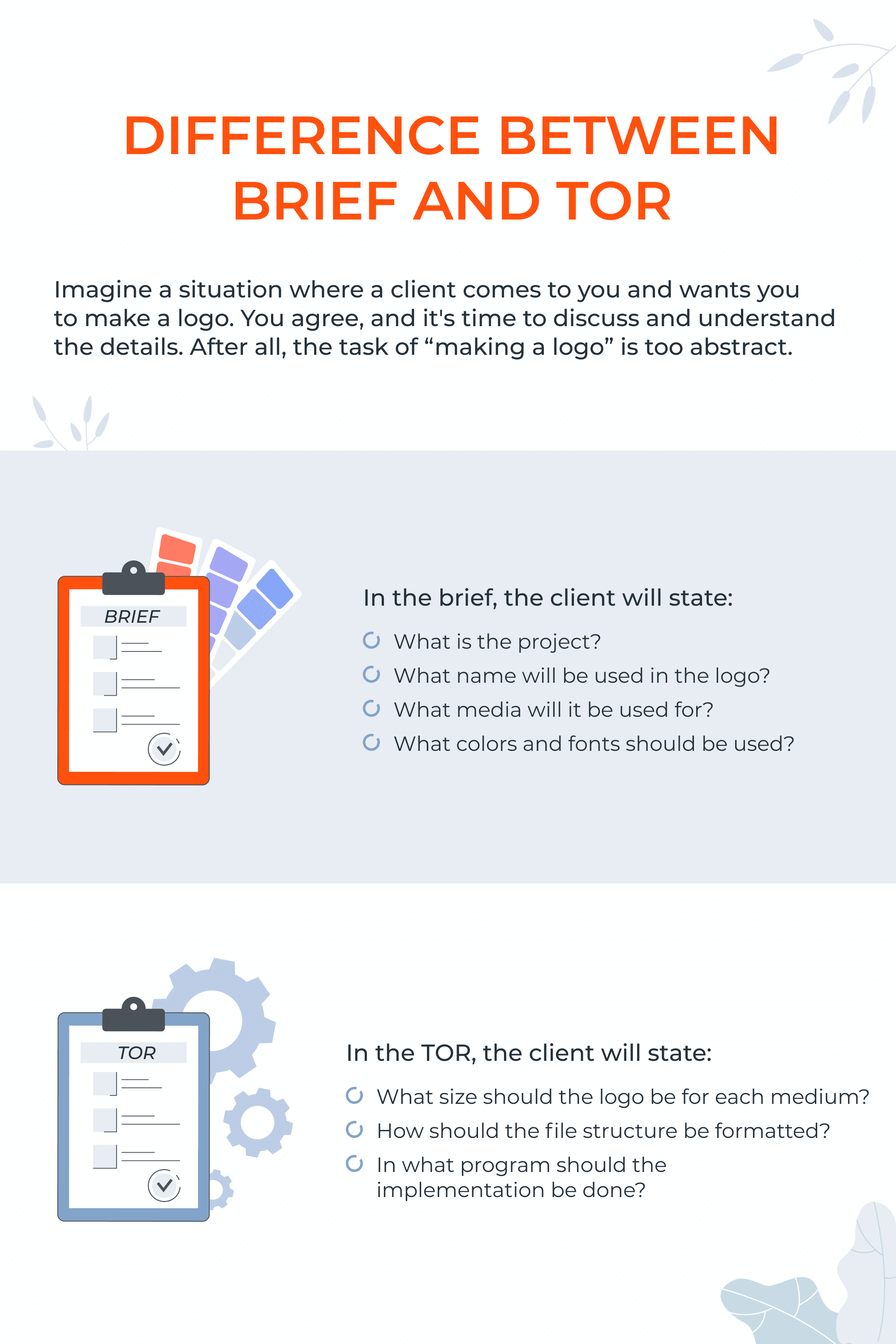 Now you should be able to distinguish the brief from the TOR. So let's figure out how to create an informative and simple brief.
Structure of a Good Brief
It is important to tailor the view for each project. Questions in the website design brief and the graphic design brief may differ. However, there are some basic blocks that should be included.
Detailed Information about the Client
Here we find out what the customer is doing in their business. For example, for a hairdresser, this direction is clear to any designer. Ideas and associations will quickly arise for this sphere in the designer's mind.
And what if the client is engaged in the manufacture of metal structures? If you have not worked in this area, then it will be difficult for you to understand the details without asking for more information.
Details, brand name, brand history, and information about unique features are needed to fully understand the client's work.
The Uniqueness of the Project/Product & its USP
It's useful to know the main competitors and the unique selling proposition (USP) of the company. This will help you make design accents to make your brand stand out from the rest.
For example, pastel colors are more often used in beauty salons. And the client wants something daring and youthful. This is his USP. So, the design can be with neon colors, creative elements, and a friendly tone of voice.
Target Audience
You need to understand who the design should appeal to first. The design should be understandable and interesting for them. For example, retirees are unlikely to trust the TikTok logo, and teenagers will not appreciate the UPS corporate identity.
Description of the target audience includes:
Age
Education
Marital status
Occupation
Their preferences
Their favorite influencers
Income of potential clients
With the right information, you will better understand who these people are, where they go, and what brand designs they interact with.
The Purpose of the Design
If the client himself doesn't understand why he needs a design, then in 99% of cases you have problems. It will be almost impossible to please such a customer, although there is a small chance. But you still need nerves, so don't waste them on this scenario.
For example, here are the most popular reasons for ordering visual brand identity:
lack of corporate identity and the desire to increase their recognition through design
want to update their corporate identity because the current one is outdated
entering new markets and striving to attract new customers
The list can be continued indefinitely. But it's better not to try to guess, but to ask the customer directly. Remember that your inner psychic is off today.
Customer's Dream Design
Some clients don't know exactly what they want from a designer. In this section, you should learn about the style, colors, fonts, and graphic elements that the customer likes.
Ask these leading questions to make it easier for the client to describe their wishes. Add an item where the client can send pictures with examples. Then you will not need to rack your brains and try to guess the style.
We recommend using mood boards — collages of pictures that show the color scheme and mood of the project.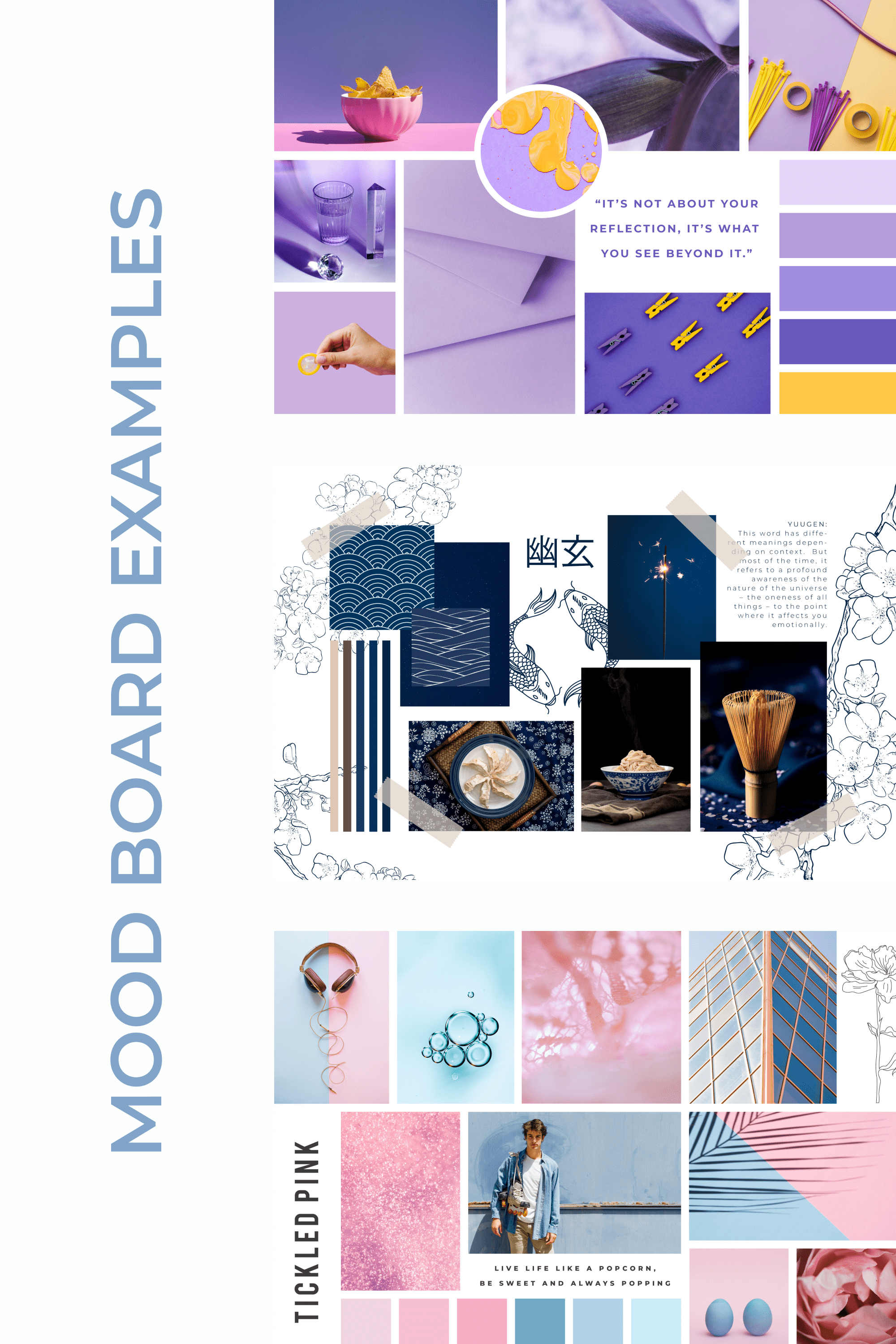 Timeline and Budget
It's important to discuss this to avoid mutual claims later. Here you can find out intermediate and final deadlines, the cost, methods and procedure of payment, and work expectation with edits.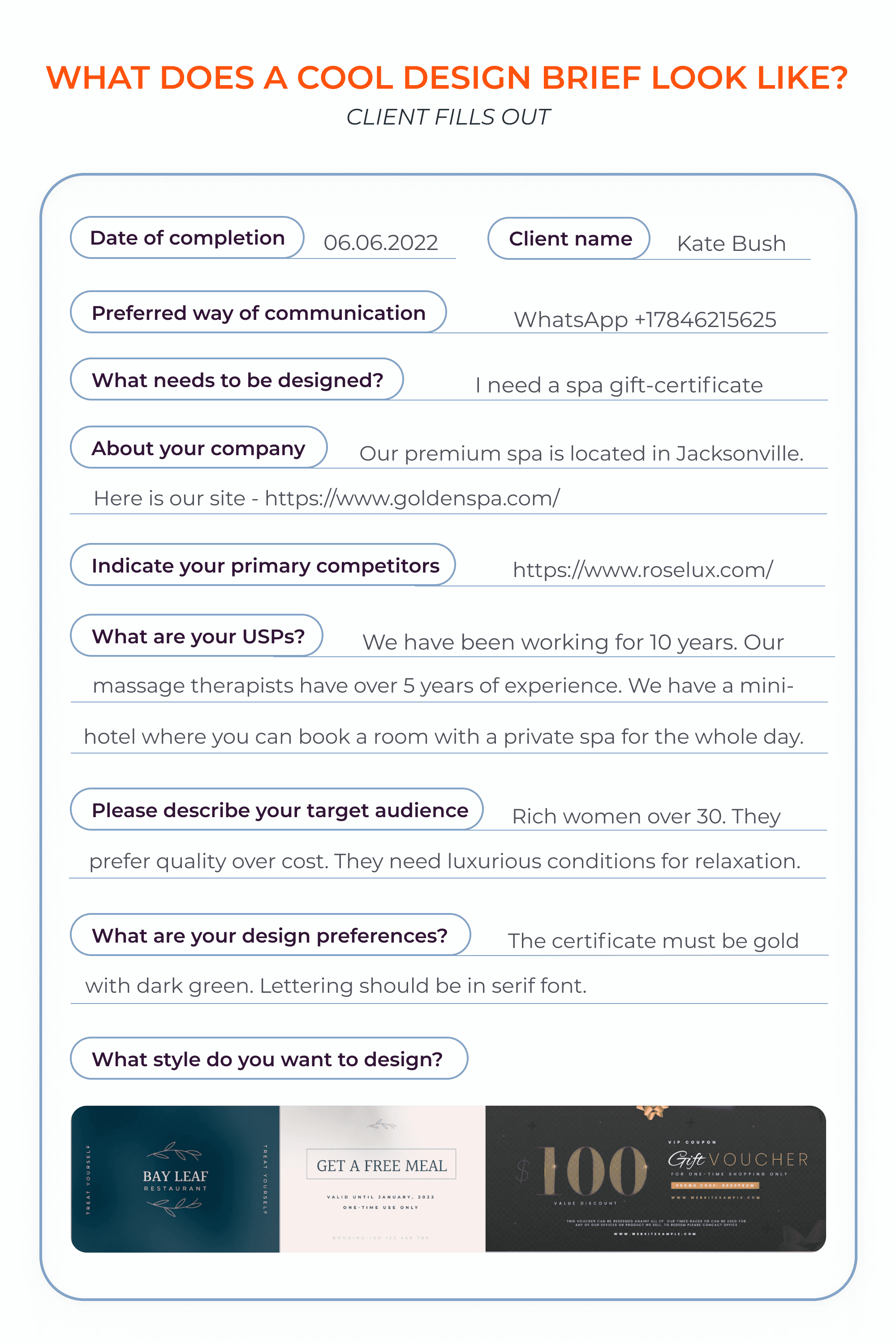 How to Create a Design Brief
You need to highlight questions that will help you in your work. These questions will then be added to the brief. To create a form, you can use Google Forms, Microsoft Word/Excel, and Notion. On MasterBundles, there are plenty of cool templates for Notion – here you can find customizable templates for any purpose at super affordable prices.

Tip: Want to know how to create a design brief for the client to fill out? Design the brief so that the client can answer questions immediately in this same form. Don't send a PDF, even if you've designed it very nicely. Make it in a convenient format and minimize customer dissatisfaction.
What to Do if the Client Refuses to Fill out a Design Brief
For example, he says that he won't fill out any briefs because he doesn't know what it is. Maybe, he doesn't know what he wants and how to answer. Then explain to him that you can make a design, but you cannot get into his head and find answers there without his participation.
But if he doesn't agree in any way, then there is a life hack.
Offer to call the client and prepare references from this conversation. Send them to the client so that he can choose and say what he likes and does not like.
While in the process of communication, ask all the questions, discuss in detail the references, and concentrate on what the client says. Fill out the brief for him and send it for verification.
Conclusion
Try to implement everything you have read in the article and you will realize that working with well-filled briefs saves time on design development. Thanks to this, you will better understand the tasks and requirements of the client. This allows you to complete the project with almost no edits and without lengthy approvals.
The key to the success of the project is the mutual understanding of the designer and the customer, and the best tool for this is competent communication.
The Design Brief (Ep1/4) | Free Example | Design Insights

As designers, when we undertake projects we want to do the best job we can and to do that we need to achieve the right results.
Was this page helpful?
We will be happy if you decide to share this article with your friends on Facebook. Just click on the button and you're done
What are your concerns?
Thanks for your response!
You have already left your review.
Disclosure:
MasterBundles website page may contain advertising materials that may lead to us receiving a commission fee if you purchase a product. However, this does not affect our opinion of the product in any way and we do not receive any bonuses for positive or negative ratings.