In the contemporary world, every written resume has intense competition so that the perfectly done and bright CV is the best way to catch employer's interest among a good deal of other resumes. It doesn't matter if your CV contains appropriate information when it is badly written and moreover poorly presented. One striking, attractive and unusual resume example can save the situation and you become a winner of this race. Do you want to have an extraordinary one? So we provide you with 20 available premium resume templates.
Top 5 Resume bundles form MasterBundles
| Product Image & Rating (Out Of 10) | Product Name | Price |
| --- | --- | --- |
| | 100 Resume Templates with Extended License | |
| | Super Bundle 12 Best Selling Resume Template | |
| | ULTIMATE BUNDLE – Resume Template 10 in 1 | |
| | Digital Resume Bundle. 10 Print-ready CV Templates | |
| | Blank Resume Templates – Print Ready CV Templates | |
Top 40+ Free Resume Templates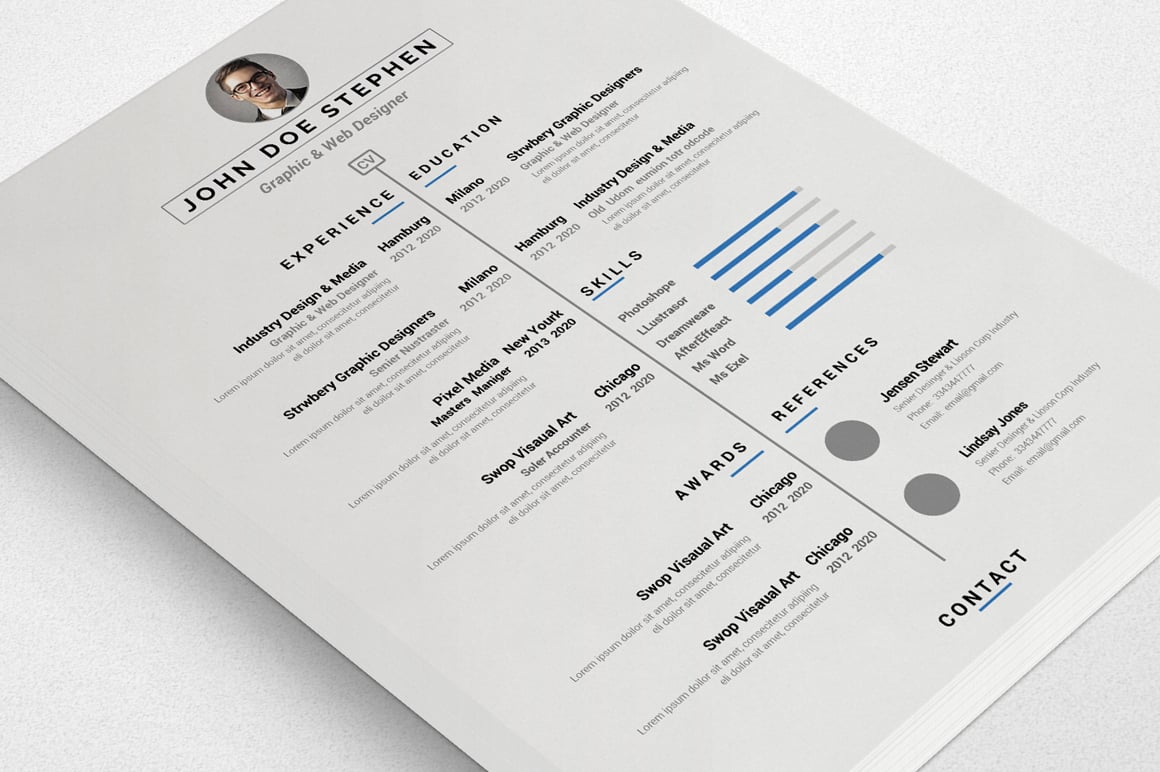 Henry Hayes – Free Web Developer Resume Template
Sometimes it is hard to find a suitable resume template. Especially for such specific profession as a web developer. You may need something special to highlight your skills. Moreover, it is important to highlight your resume among others. This is why we present you a Henry Hayes – Web Developer FREE CV template. This top-notch template has a corporative style design. However, it is bright and eye-catchy. And due to the well-developed structure, you can describe all important information about your skills, education and previous employment places. It also allows you to include personal data and cover letter. Moreover, you can also use included business card template. Henry Hayes is a printable resume template and comes in A4 format. It is fully customizable and you can change all included elements as you wish.
It may take some time to create your own resume. Moreover, if you want to develop an eye-catchy CV template then you need designer skills. It is a time-consuming work. This is why our marketplace includes pre-developed CV templates for various purposes. And Henry Hayes is a perfect choice for any web developer. It is a FREE CV template and you can use it for unlimited employments. It is also well-structured and easy to read. You can fill it with all necessary information about yourself and your skills. You can tell more about your education, skills and previous working experience. Moreover, Henry Hayes includes a business card template. You can also find a bullet for a cover letter. It is also print-ready and you can edit any part of this template. Use it to impress your employer.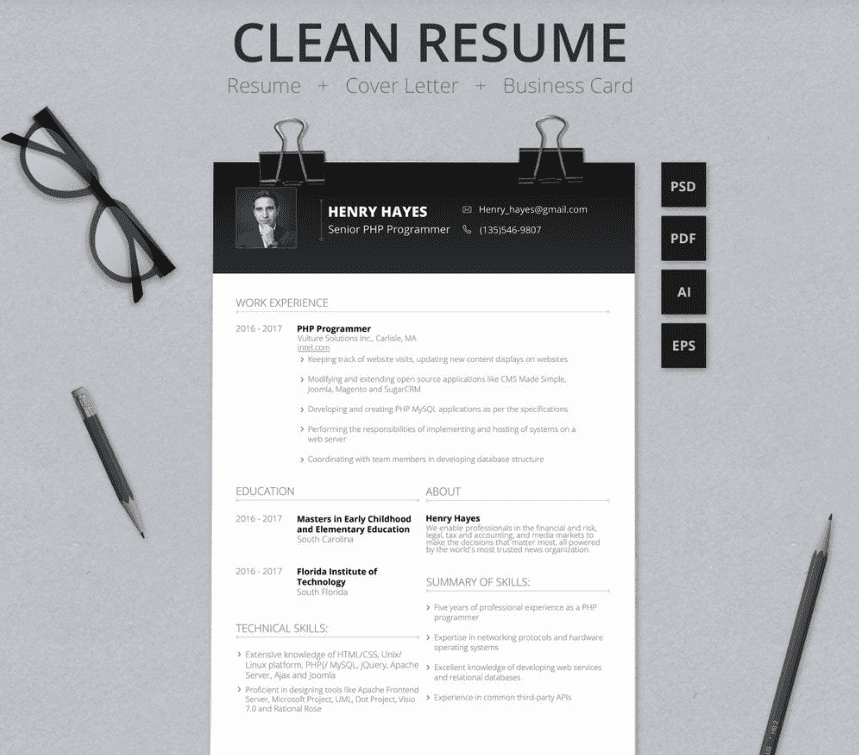 Linda Davis – Waitress & Maid
A resume is an important part of your employment. It is a great way to present yourself in the most preferable way. With a resume, you can tell more about your skills and explain why they are useful. It is important to mention your personal data and previous places of employment. Yet, nowadays it is not enough to create an ordinary resume. If you want to highlight your cv and make it attractive you need something special. You need a Linda Davis – Waitress & Maid resume template. Due to designers hard work, it is attractive and stylish. In the same time, it doesn't have redundant elements. And most importantly it is FREE. All you have to do is to download this cv template and use it. You can simply fill it with your data and send to your employer. And of course, you can play with the design to create something new.
It is important to create a good impression when it comes to a waitress or maid resume. You have to write a resume that creates an atmosphere of trust. Moreover, it has to be eye-catchy. An average resume has 10 seconds to impress the employer. After this period of time, your employment chances drop significantly. This is why you need a professionally developed cv template with eye-catchy design and well-developed structure. And we are here to help you. Our designers developed a Linda Davis Waitress & Maid free cv template specially for your purposes. It includes all the necessary bullets for your personal and professional data. You can describe your skills, education, experience, and other data. With this theme, you can highlight your resume and boost your employment chances. And do not forget that it is free.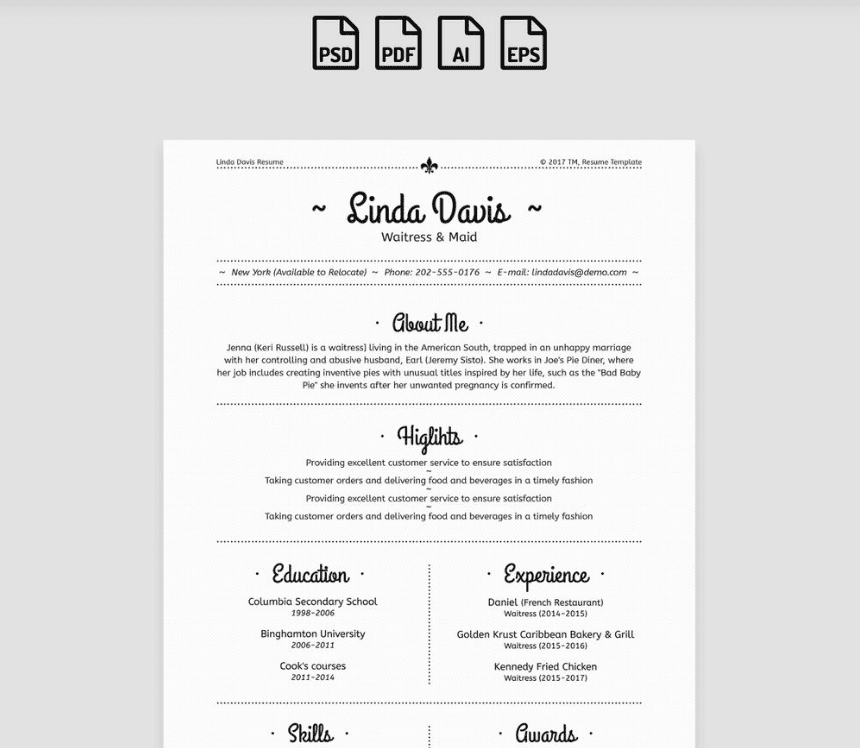 A good-looking and trendy resume template will be good for artist-designers. It can be edited in Illustrator CS6, no difficulties with adding information about educational background, employment history, and language proficiency.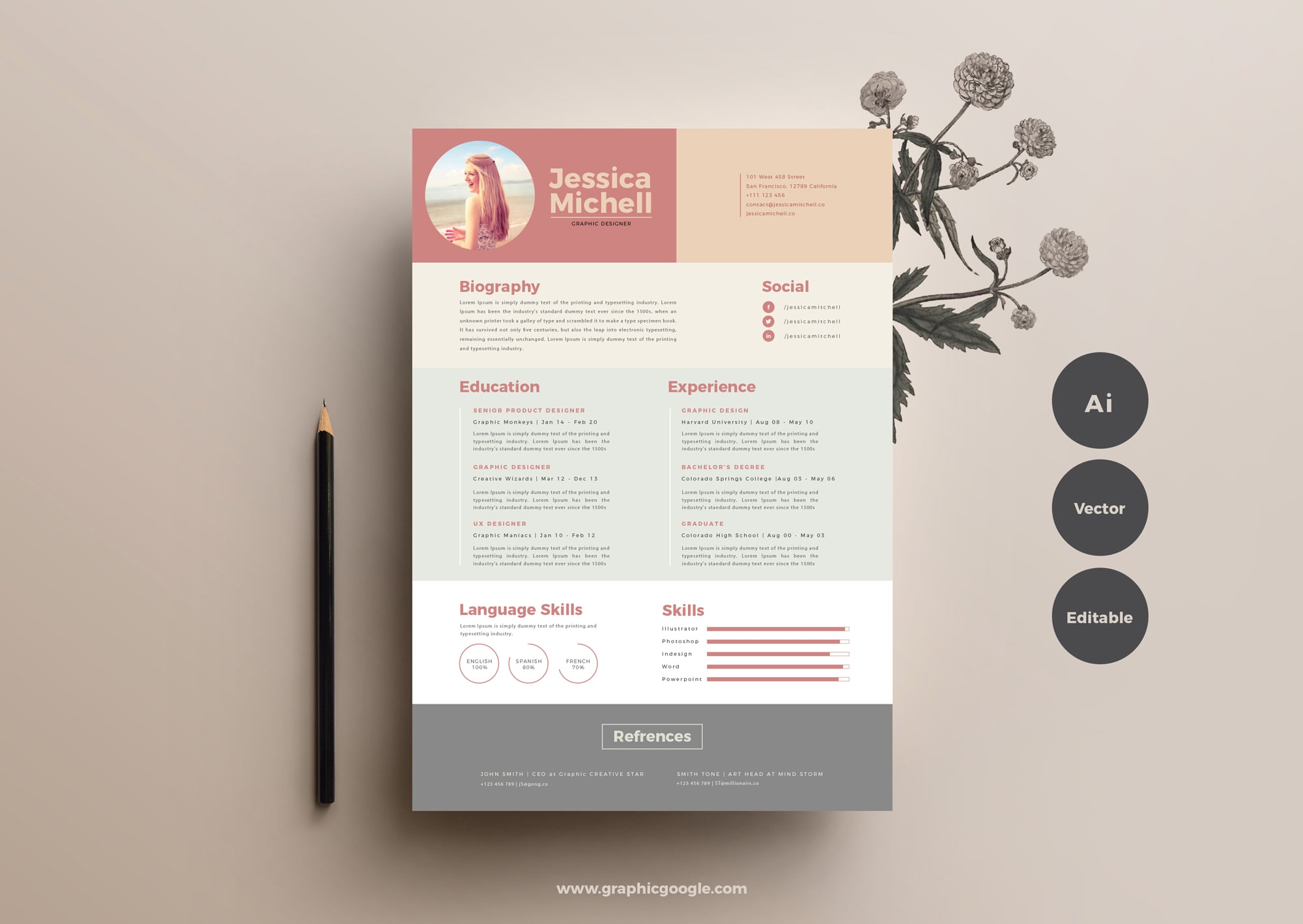 Do you want to be special and remarkable? Bright colors, changeable fonts, and uncommon design which you can quickly edit in Photoshop will be your benefits among other employees.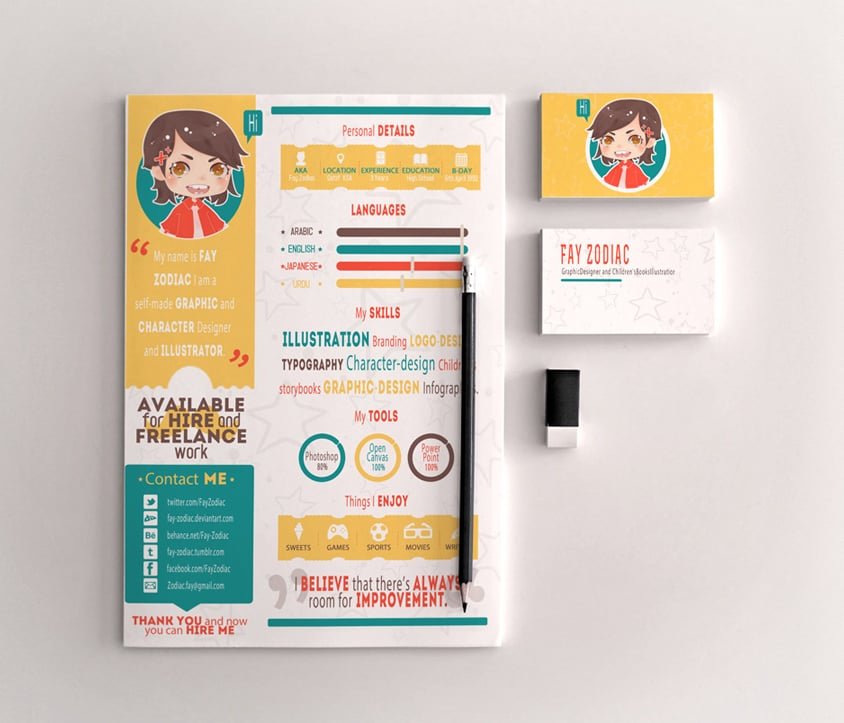 The simple, pleasant and flowery idea of this resume template will make everything for you. You only need to write in your individual data and don't expend a lot of time in editing your CV. Positive emotions for your recruiter are ensured.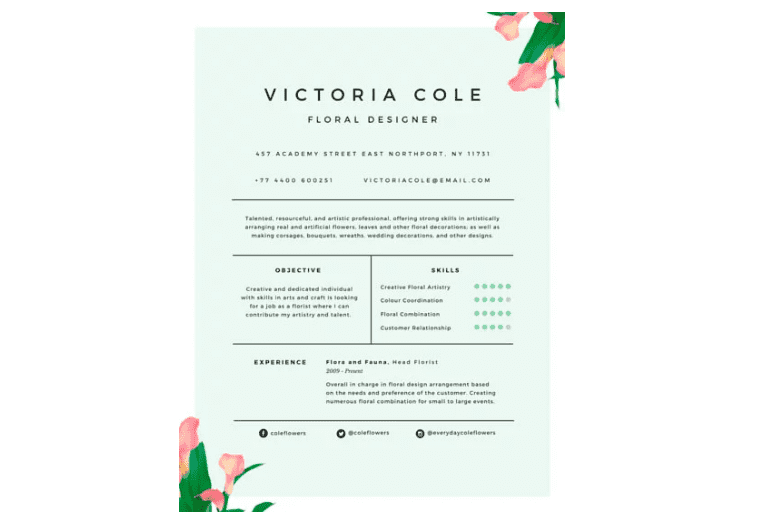 This CV is so bright and unusual so you will be the most ingenious and extraordinary candidate. One page contains all important information that is highlighted. This CV is available in DOC format, choose it and be ready for the new job.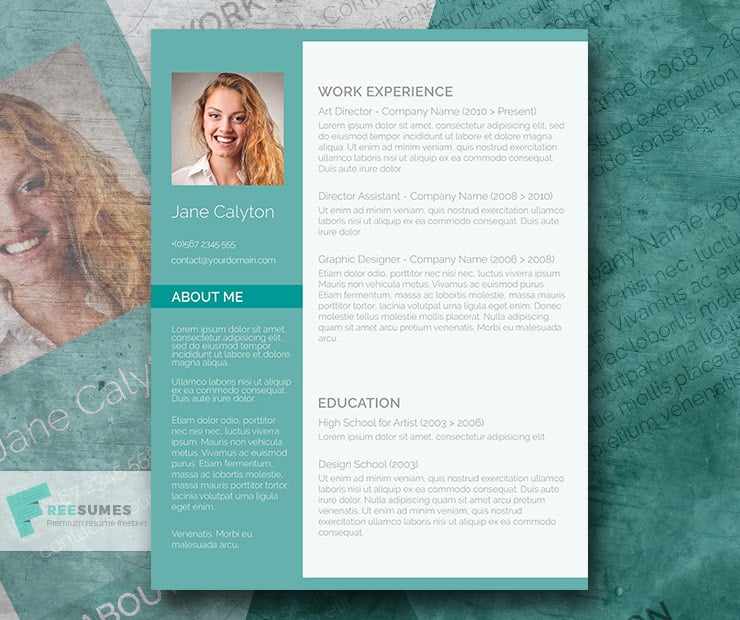 Your CV will not be boring anymore with this vivid yellow resume template. Two columns, simple font, warm brightness, pleasant picture and you are getting closer to the dream post. Just add all you think is necessary about you and be sure this job will be yours.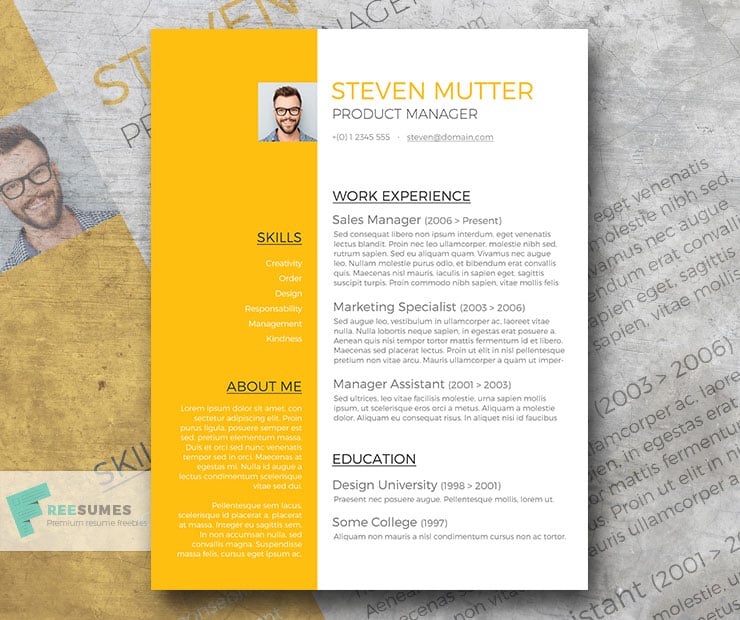 Who says that white is not in vogue today? Minimalism, style, and simplicity are a way to success between your contestants. No wasting time on composing a new CV, simply editing the template in Microsoft Word and winning.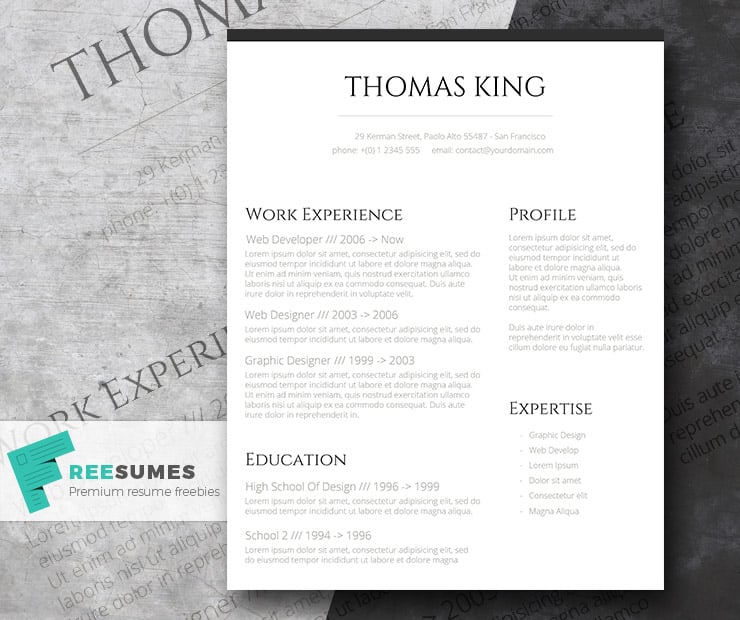 A professional and reserved resume template but with bright, colorful heading will not leave anybody indifferent. You will put your recruiter in a good mood and your odds for the new job will rise immediately.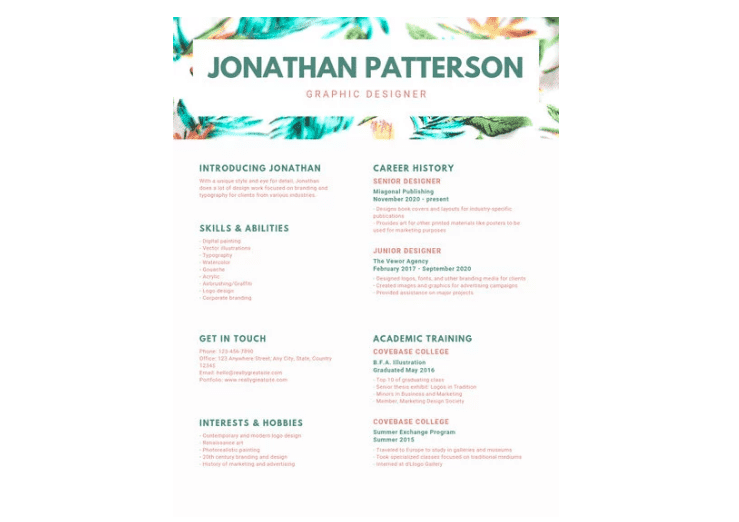 A contemporary example of resume which you are hunting for is here. Chill-out colors, cover letter in Ai file format make your employer never want to away the CV far from his eyes.


Be bright and impressive with this template. It will be suitable for designers and imaginative people, who want to make a memorable impact. The cover letter is added and done in the same style.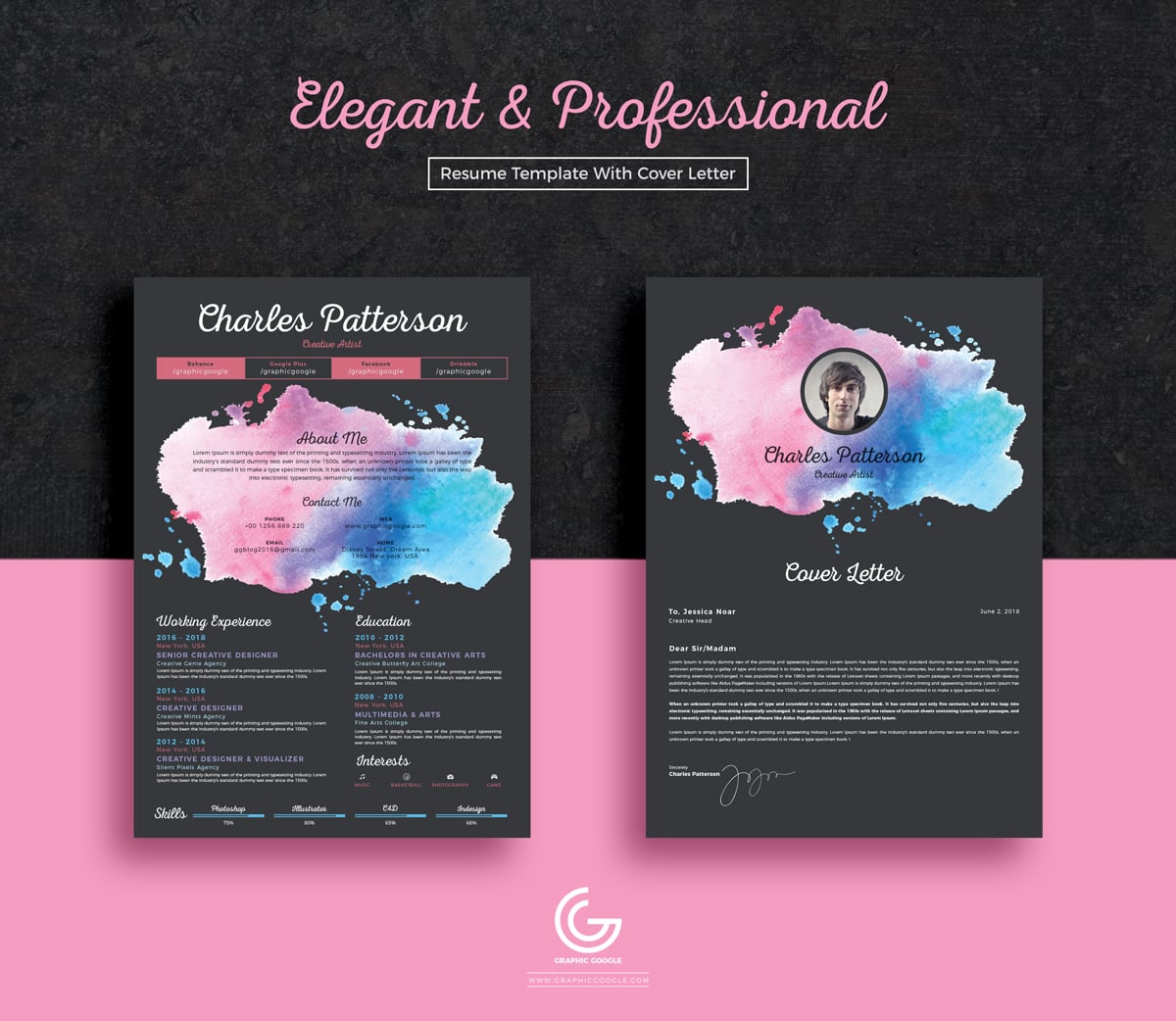 Sometimes all data may not be disposed on one side. Here you can display your main projects or photos, besides the cover letter goes with it so don't worry that you forget something.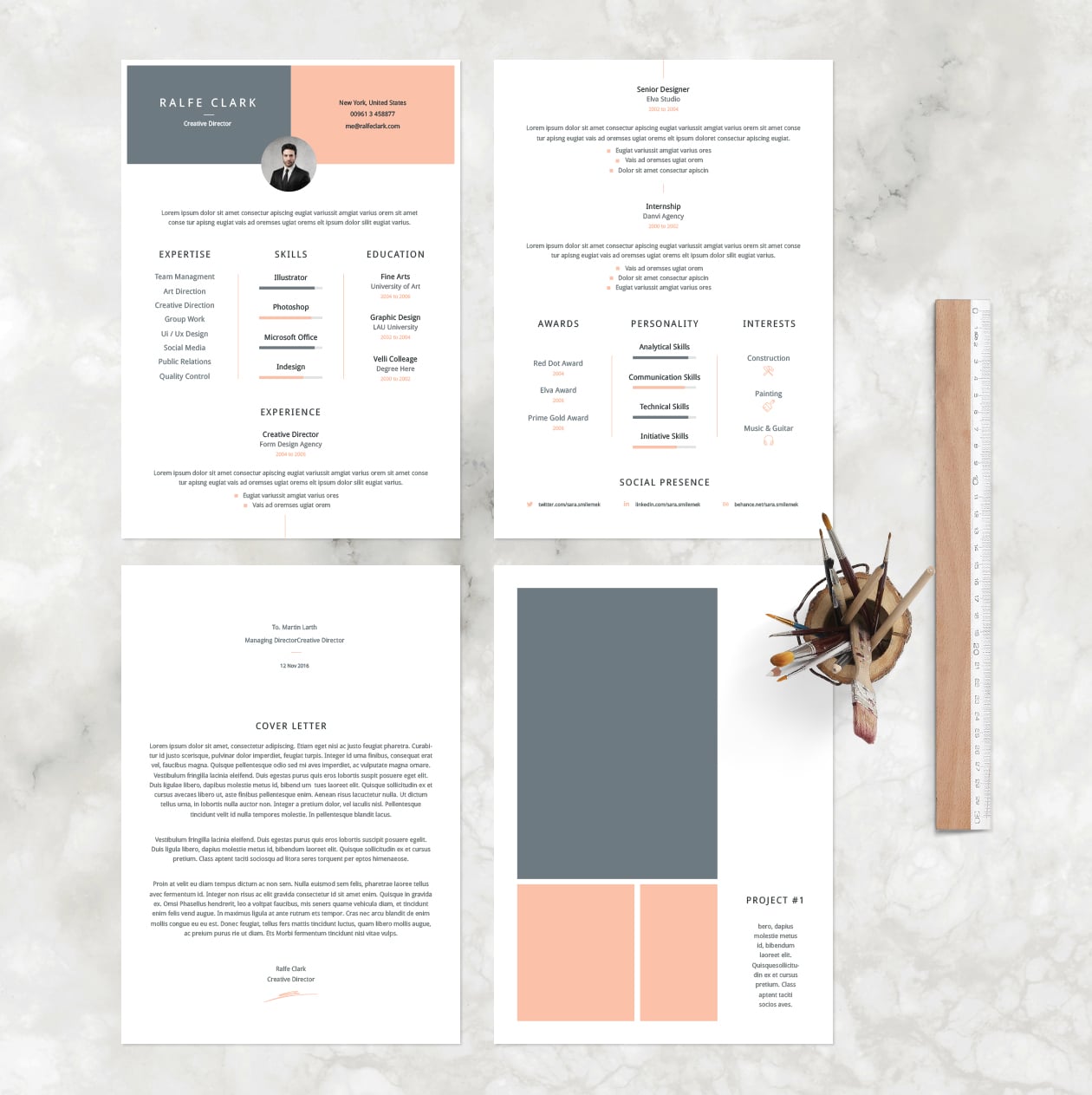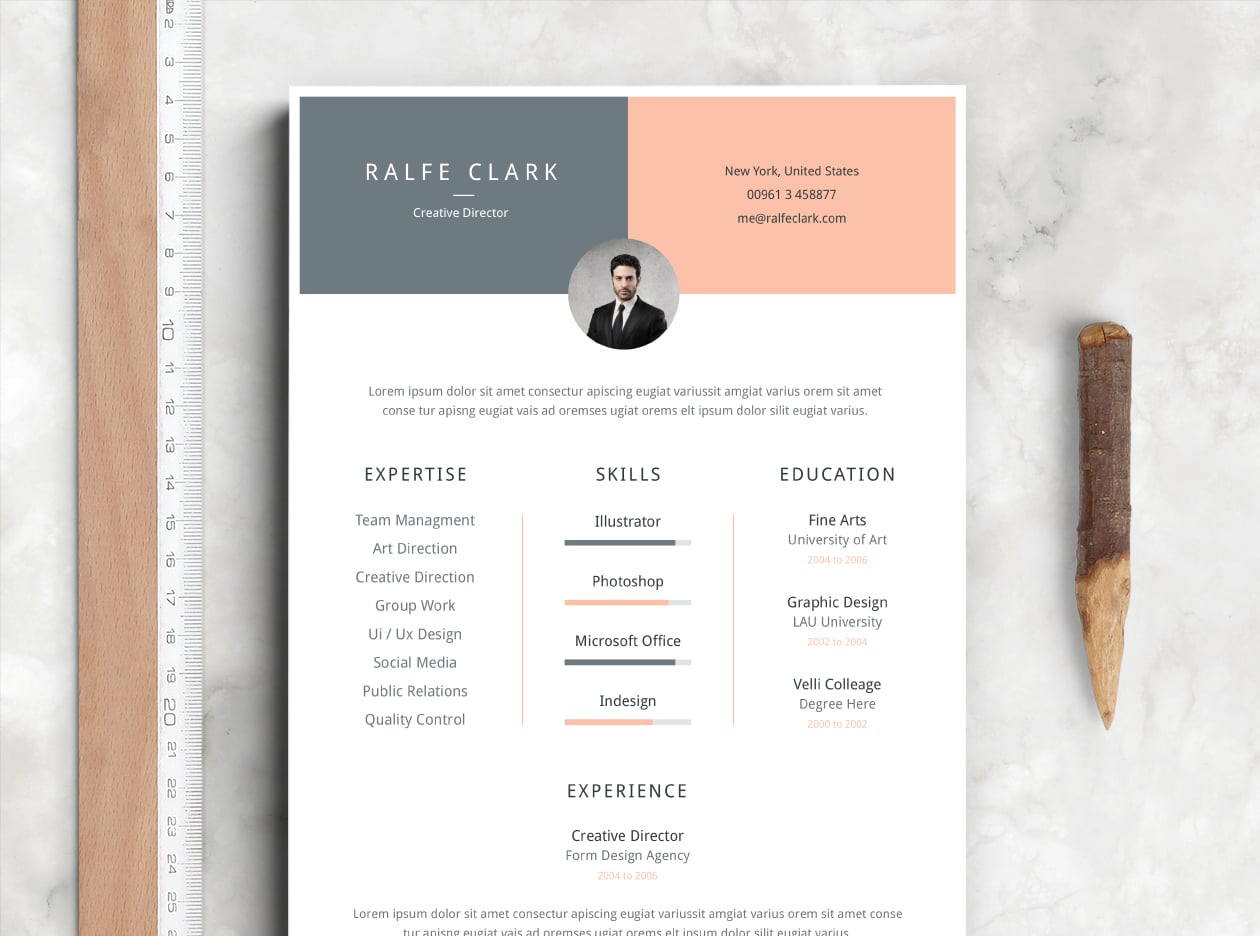 A clean and content-rich resume template will present all your competitive advantages with the help of different icons. Your achievements in colorful pages can make an impression on the employer. The cover letter is also included, just add some text in the template.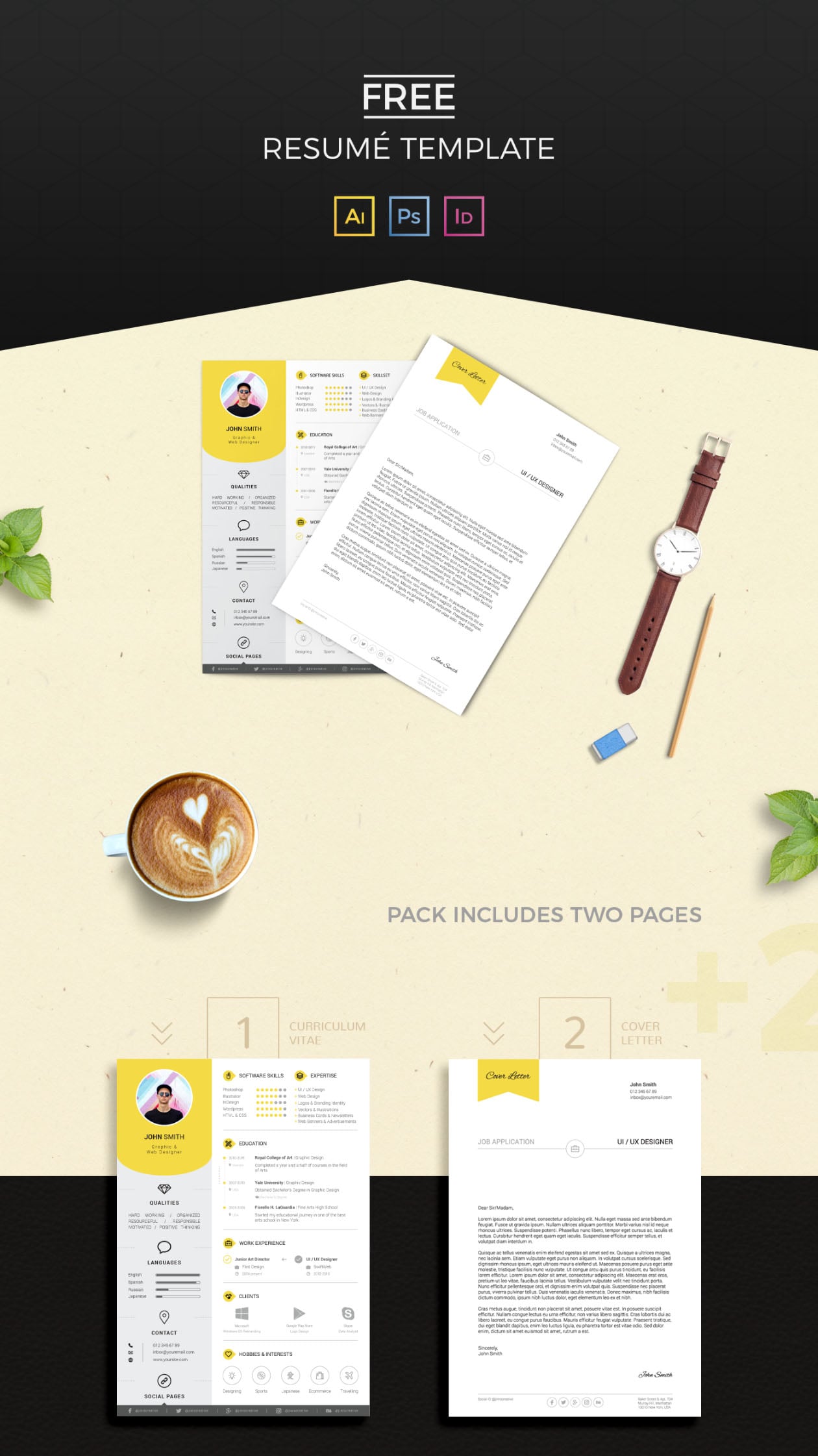 Black pages and white fonts are the keys to success. The main page with 3 columns, the page with cover letter and a projects page with 6 sections, which you can expand if you have more portfolio images – all of these you will get with this template.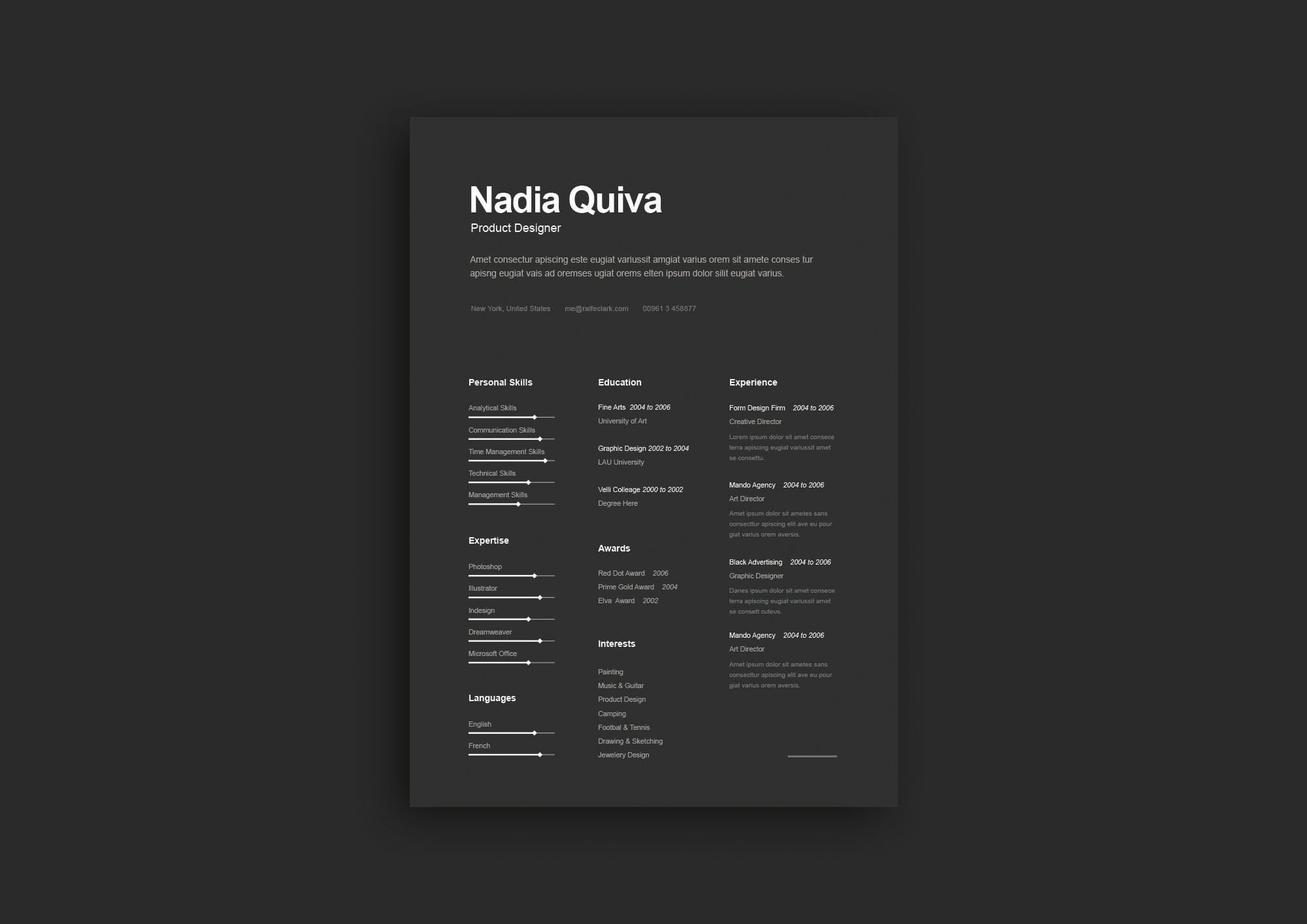 This template is for the creative person in Ai format so that it will be comfortable to edit. You can use unique fonts, but be careful because they are not included in the template so you may download them or use your own.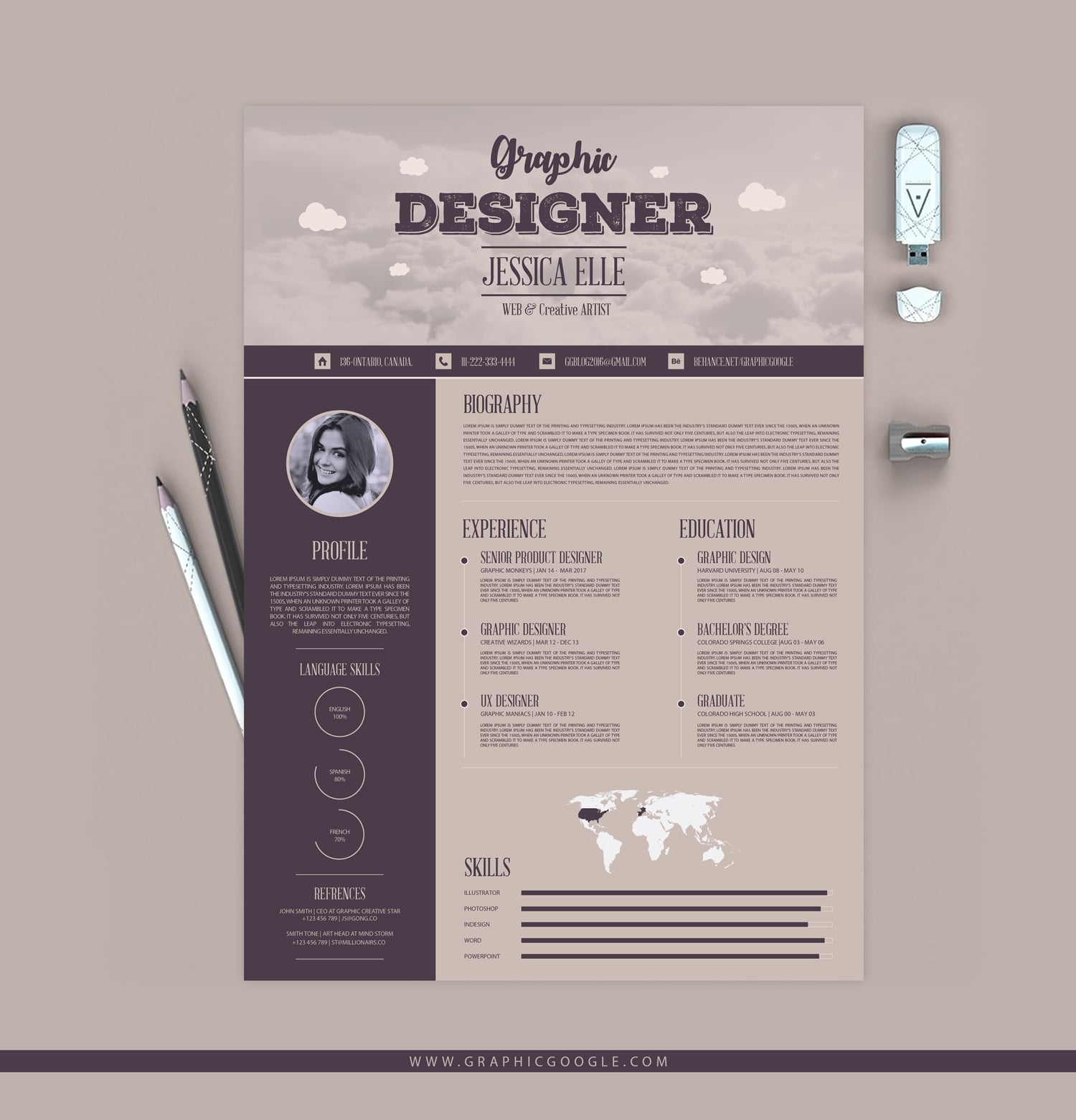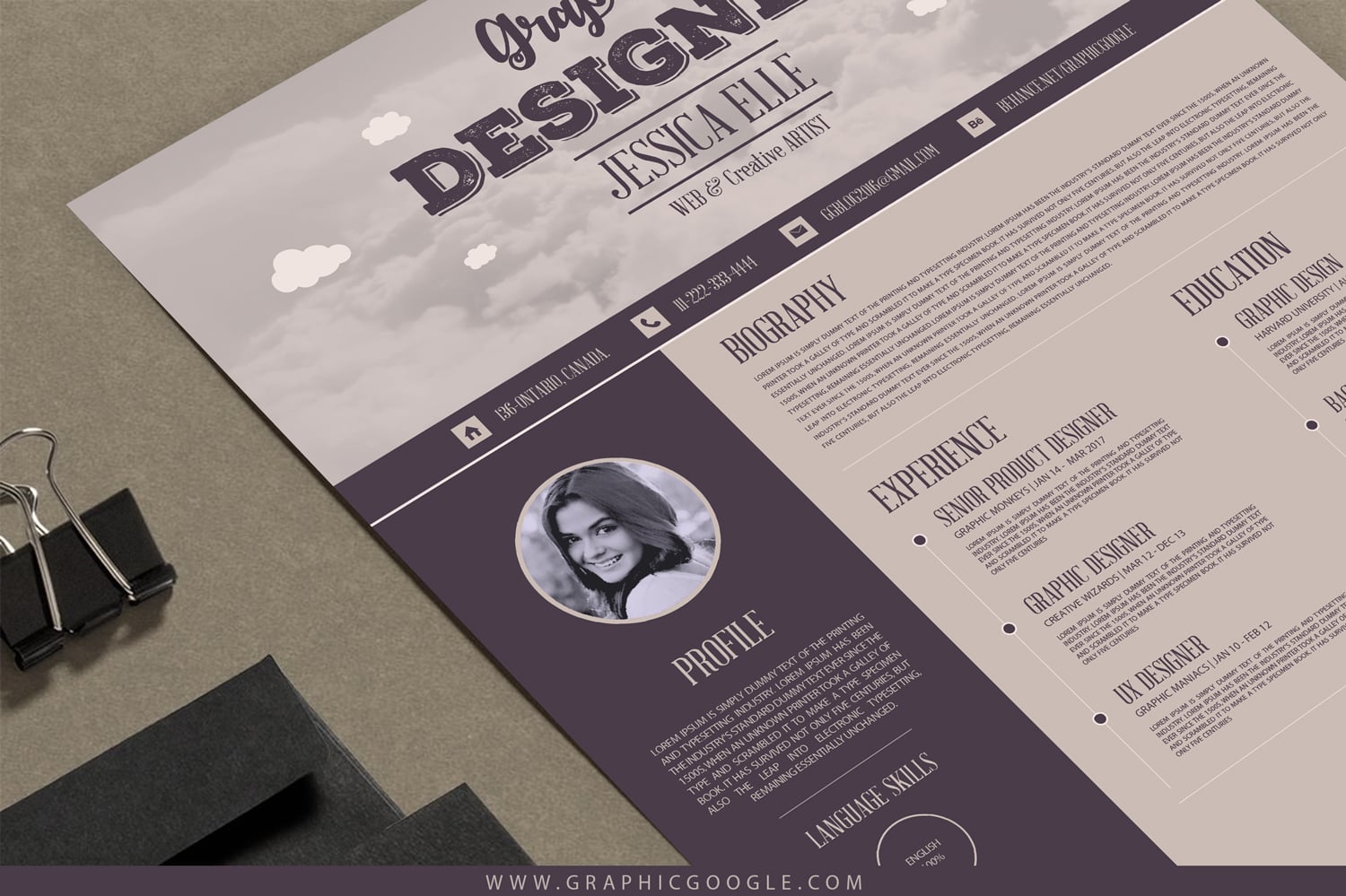 Total white resume template is good for journalists, reporters and other. It is elegant and clean, there is no infographics only word so you can show all your writing skills. It's simple in use and fully editable with Microsoft Word.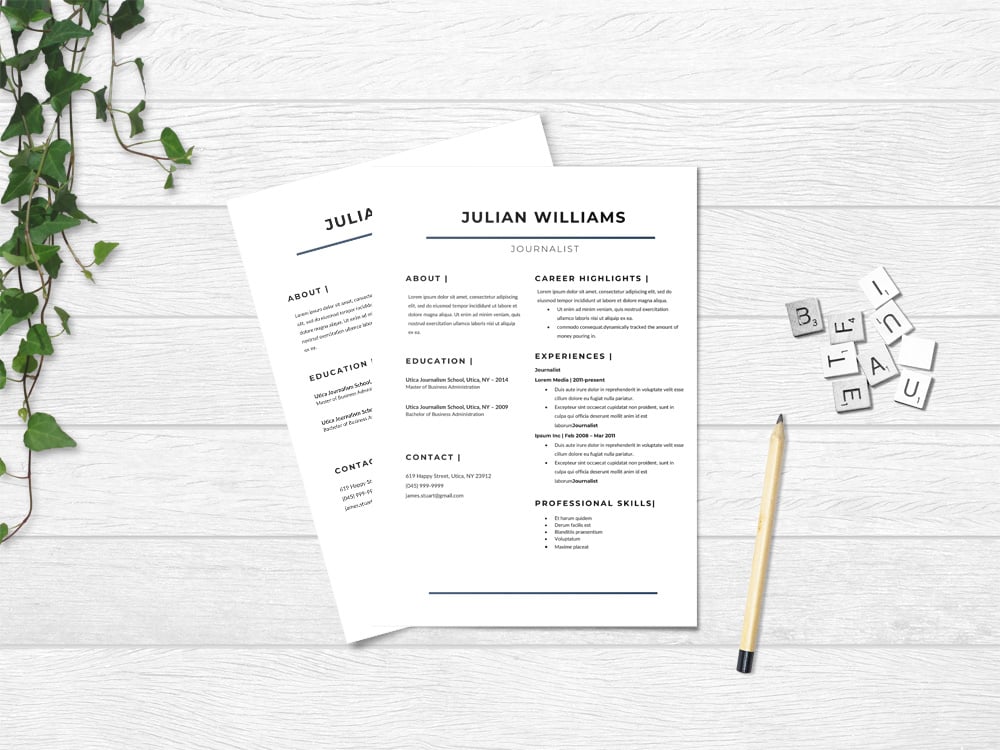 Eternal combination of colors in classic, clean and cool design will be suitable for lovers of minimalism. It has free fonts and is simple to edit in EPS file format.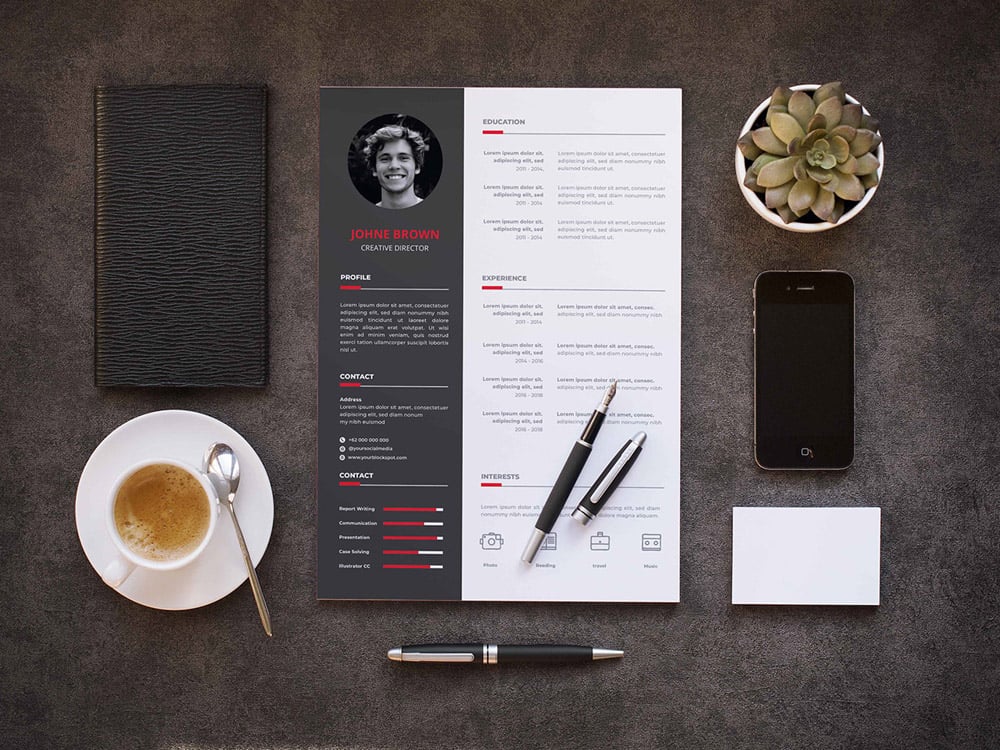 A well organized, eye-catching and voguish resume template is made for job-seekers who exactly aspire to get the best job. Here you can present your specialties, knowledge, language skills and also interests on one page.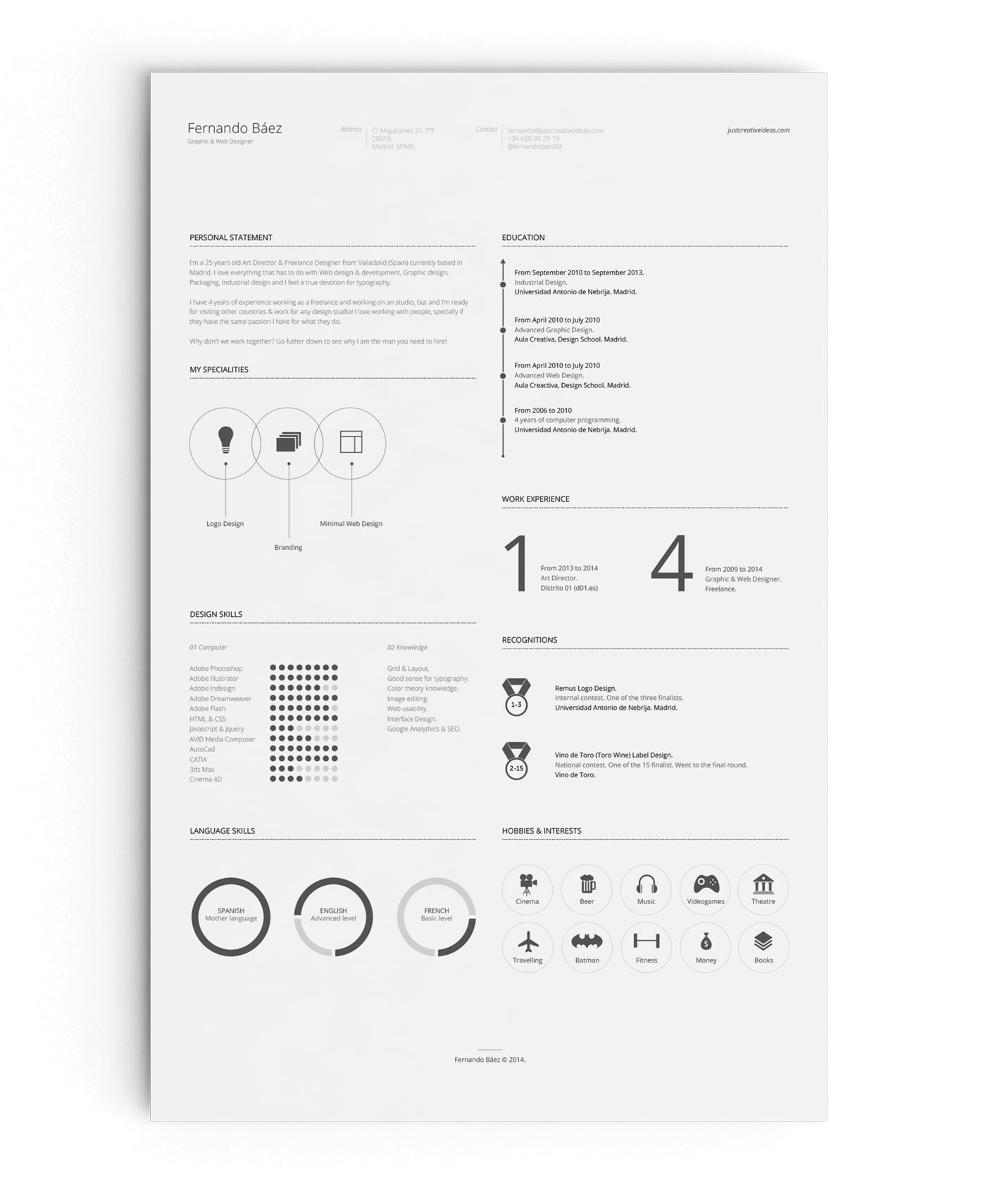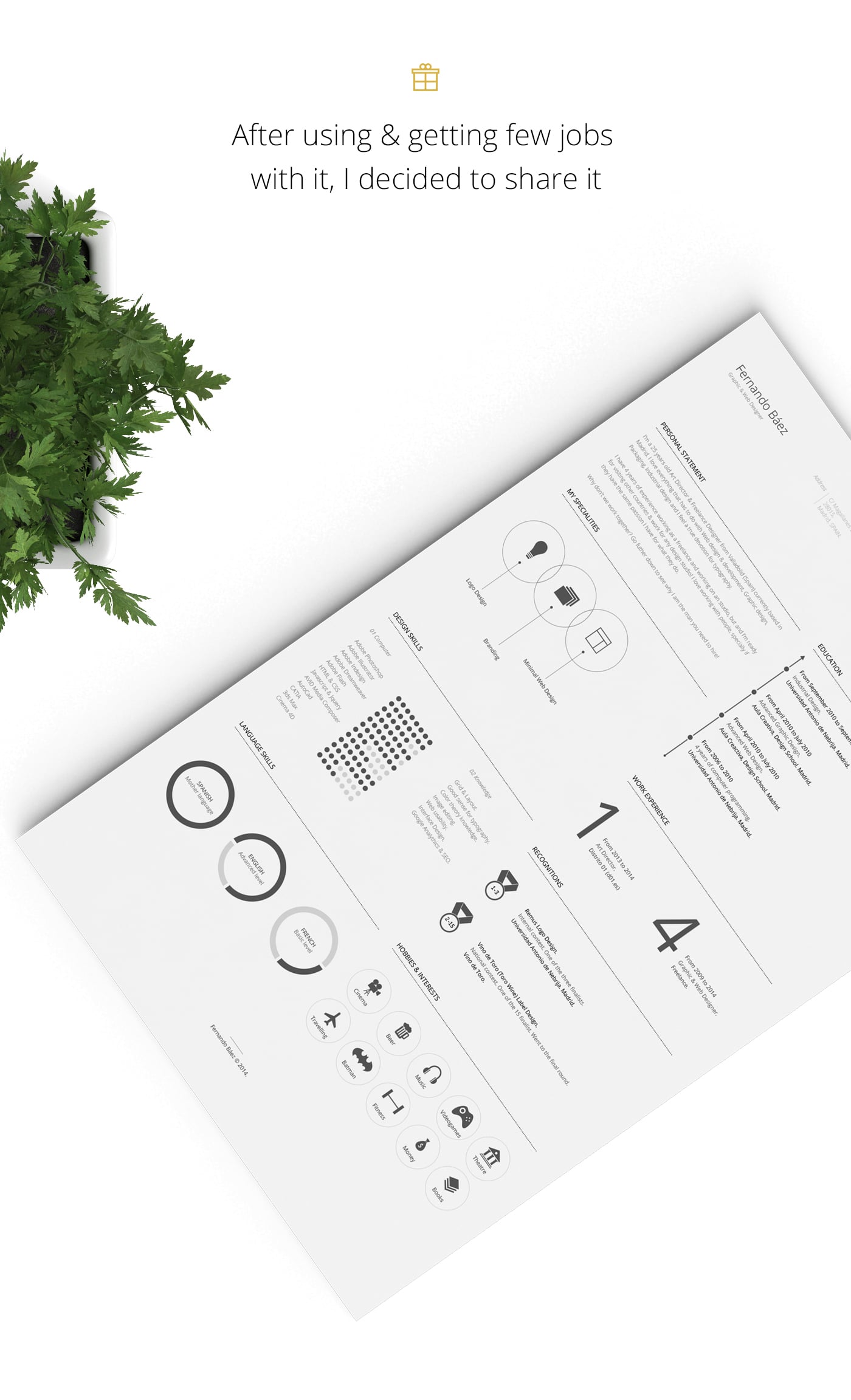 This unusual resume template will meet the eye with its horizontal layout. It's multicolor and in PSD format so you can choose any of 3 colors to be the most original among other incoming employees.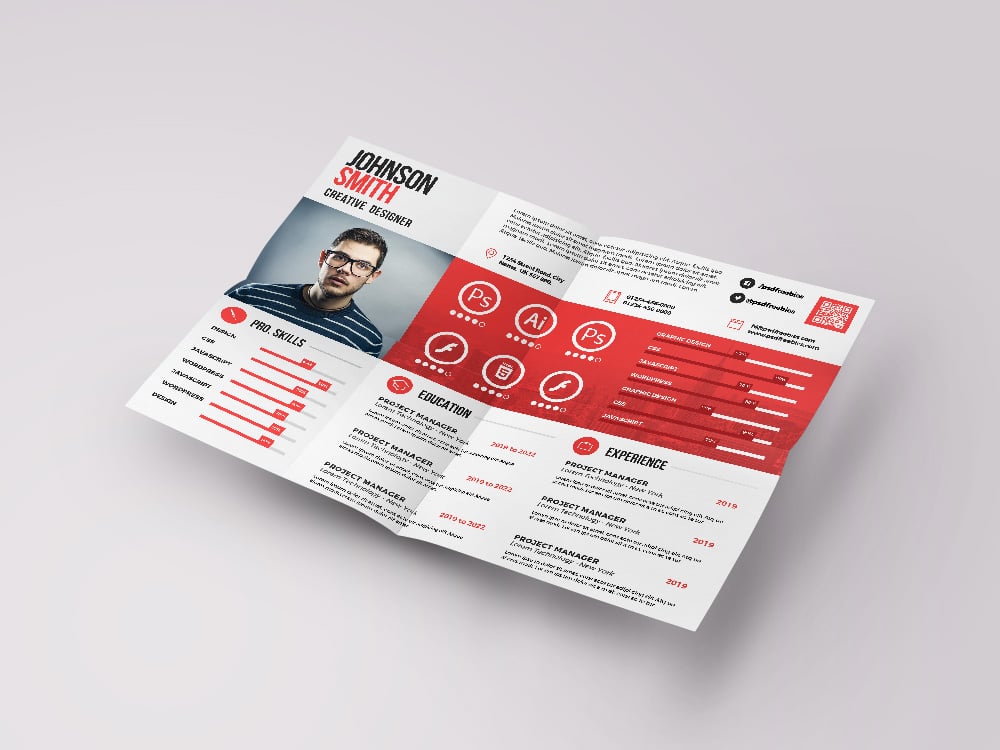 Graphical design and plenty of extraordinary icons are exactly for Bravehearts. You will find resume, amazing fonts, and icons in the free pack that will meet the eye of any employer and makes you a winner.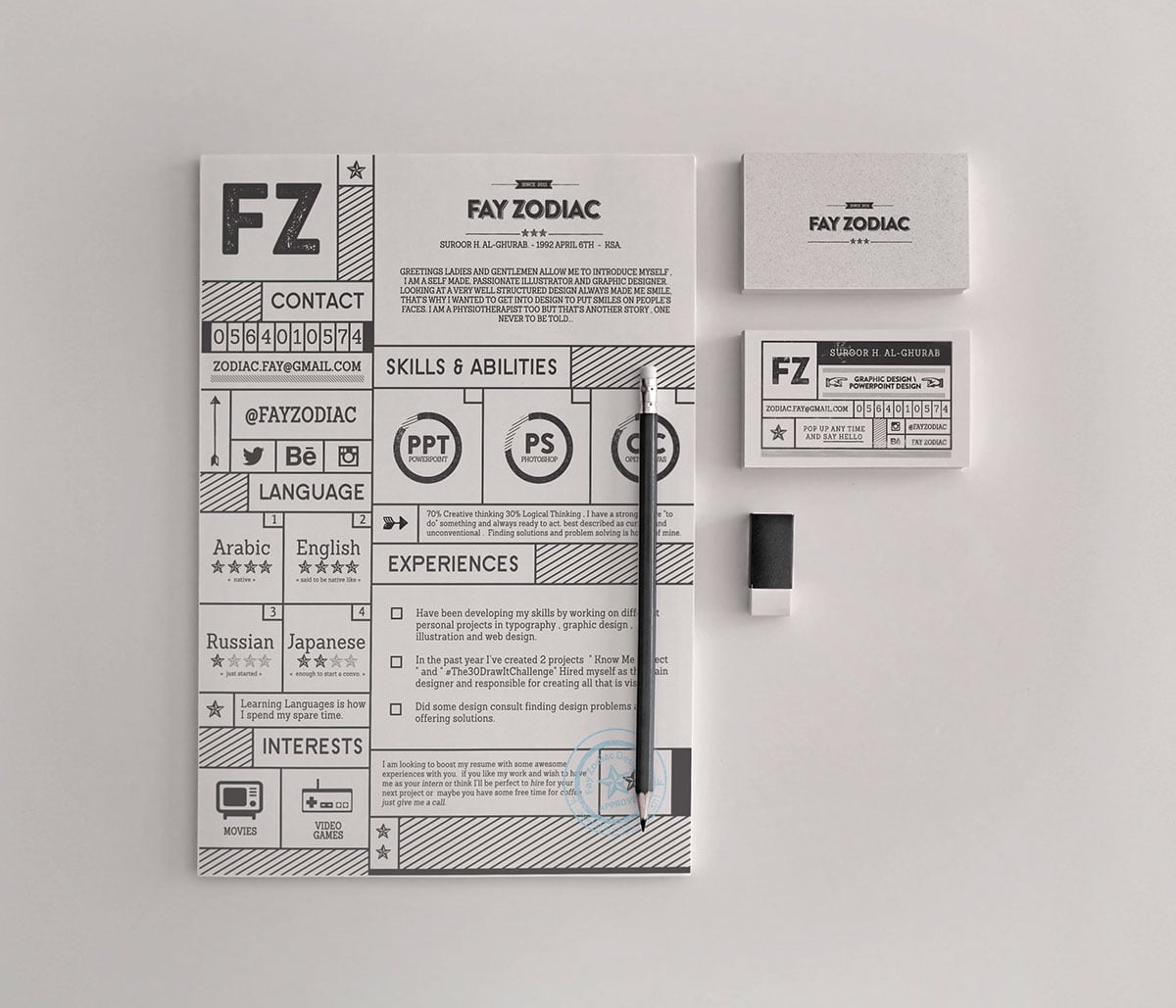 Infographic Resume Template
The period of education and experience are shown in an infographic which makes you noticed if you choose this one. To be more convincing you can get the portfolio page with the cover letter.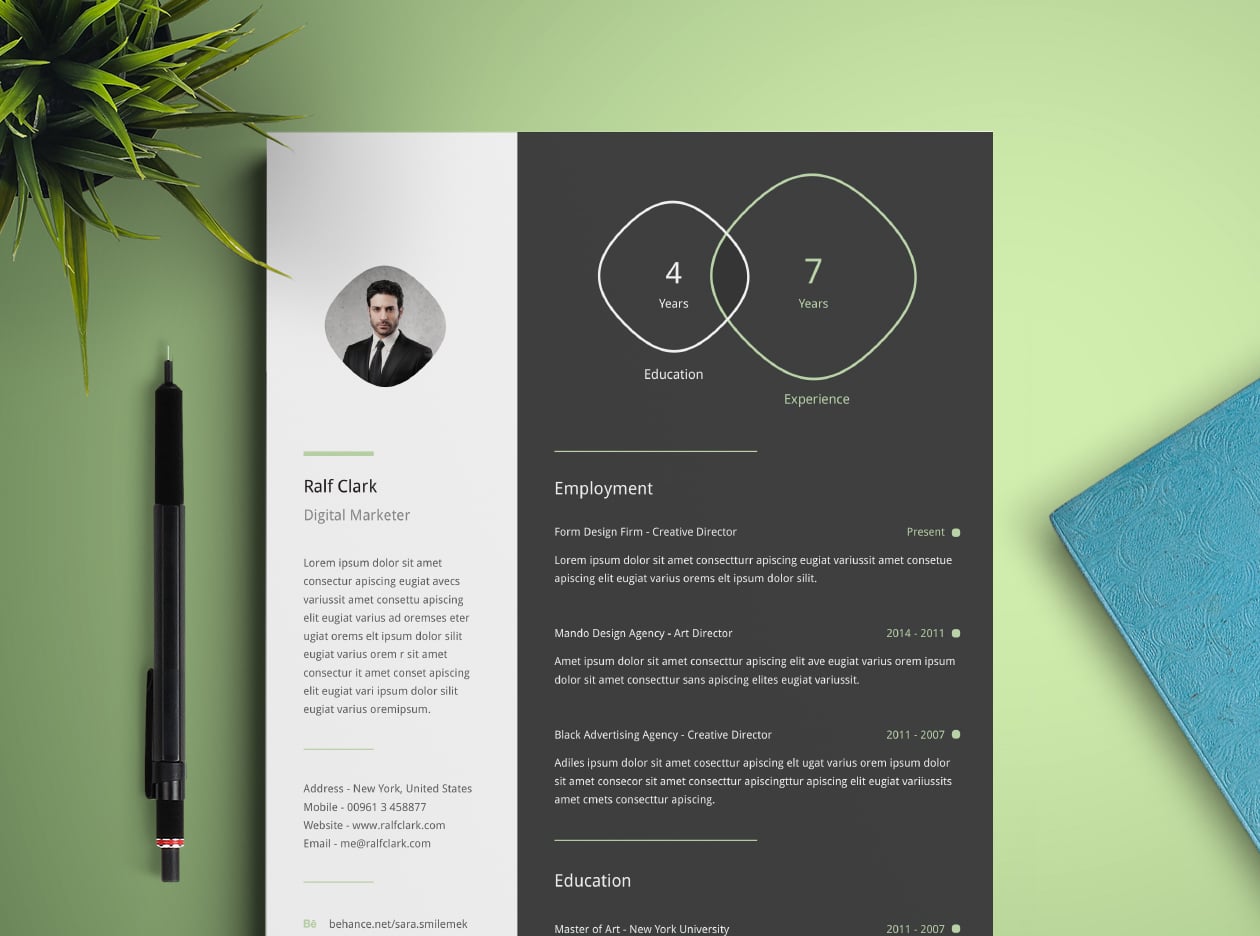 Do you have a desire to write an original but calm resume? This one is all you need to find the dream job. Catchy heading with your name in pleasant colors and photo to be eye-catching which you can edit in Microsoft Word for free.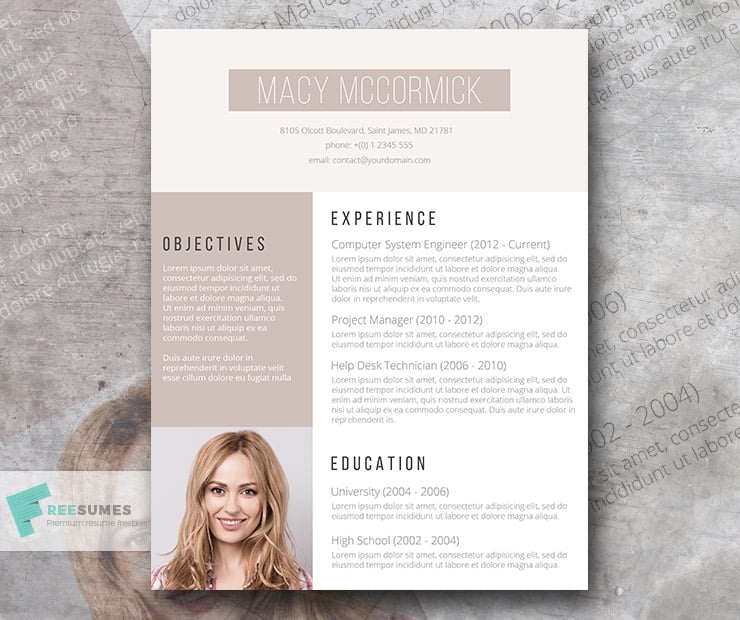 Free Templates by Resume Genius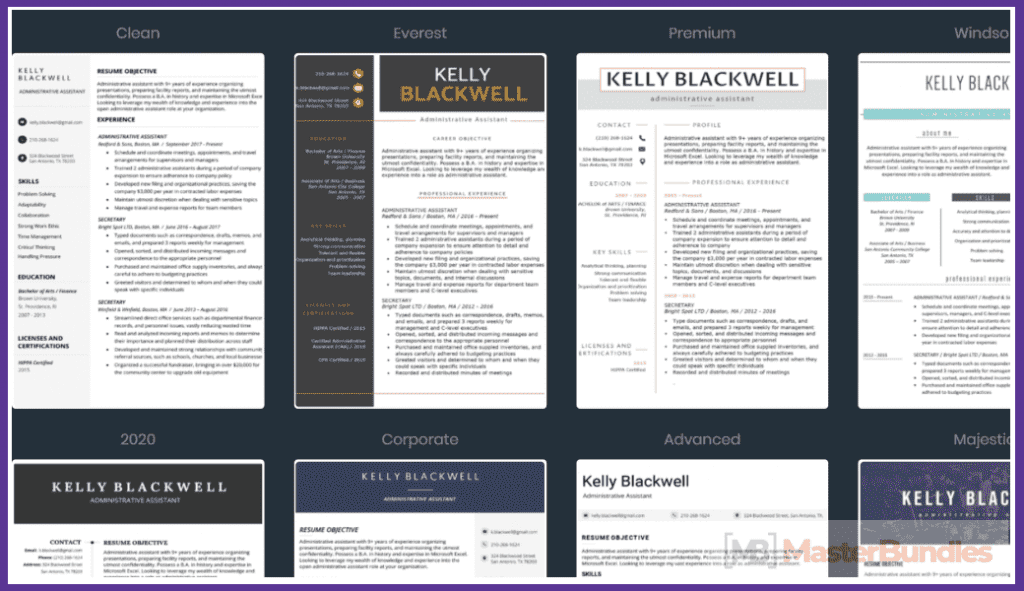 This is a website that will help you easily create a fancy-looking and pro CV in mere seconds. All you have to do is to pick up a template you liked the best and fill some forms and just in a couple of minutes, you'll get a document that will provide you with the very job you have been dreaming of for all this time.
More info
Novoresume Free Online Constructor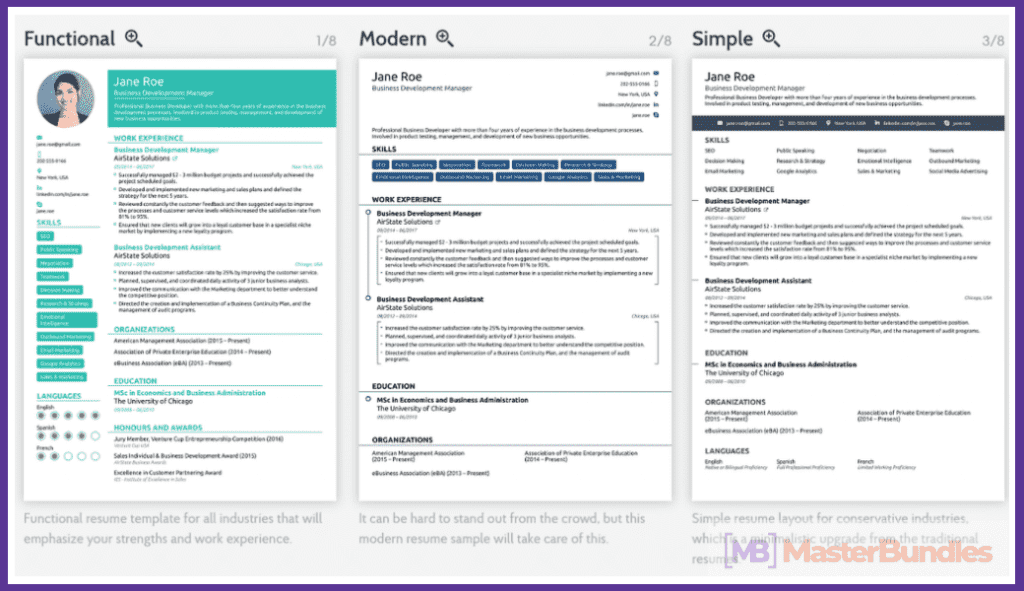 Another online constructor for those of you who would like to create a stunning CV with no efforts involved at all. This online tool is super easy in use, so do not hesitate and give it a shot because it's definitely worth it.
More info
Contrast, The Free Fill In The Blank Resume Design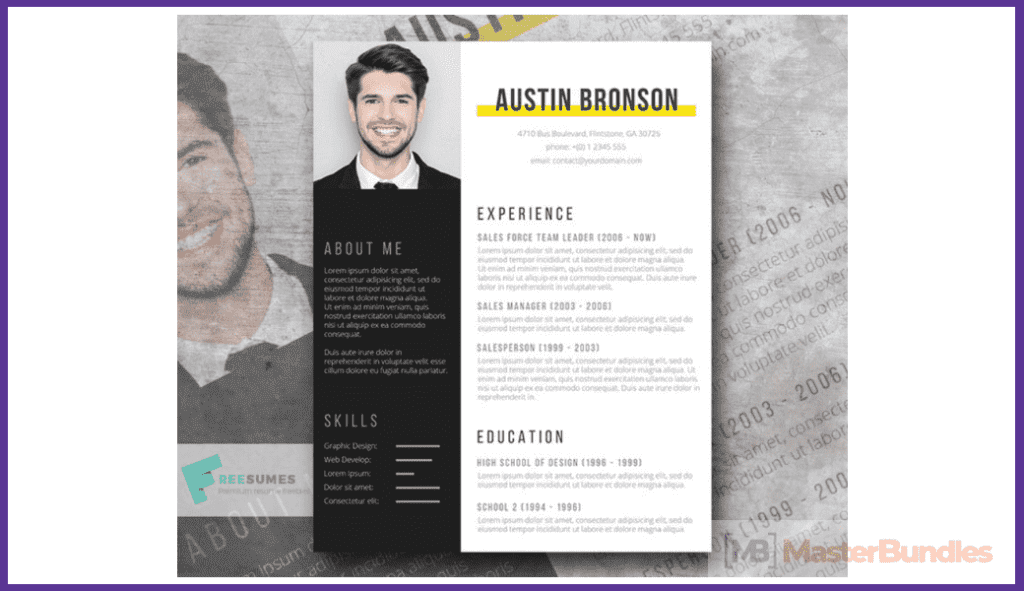 If you want your CV to look like a magazine centerfold, then this very elegant template is the way to go for you. Its clean yet eye-catching design will simply fascinate any HR manager, so go ahead and take a closer look at this modern beauty.
More info
On Point, A Free Resume Template To Help You Stand Out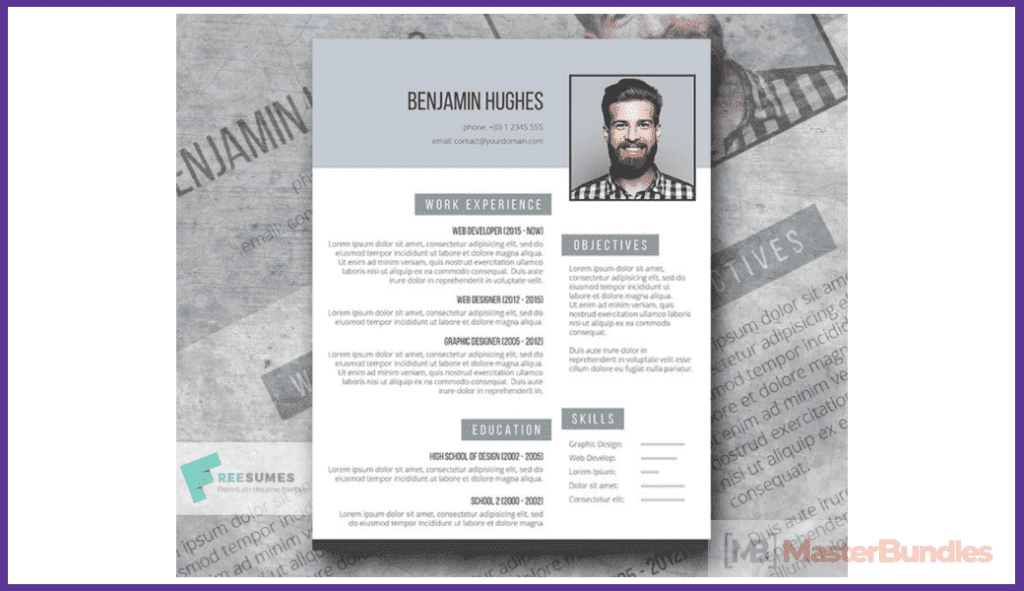 A little bit less sophisticated, yet still beautiful option for those of you who want to stand out. Well, why don't you take a good hard look at this lovely form?
More info
The Feminine Resume, A Free Template For Microsoft Word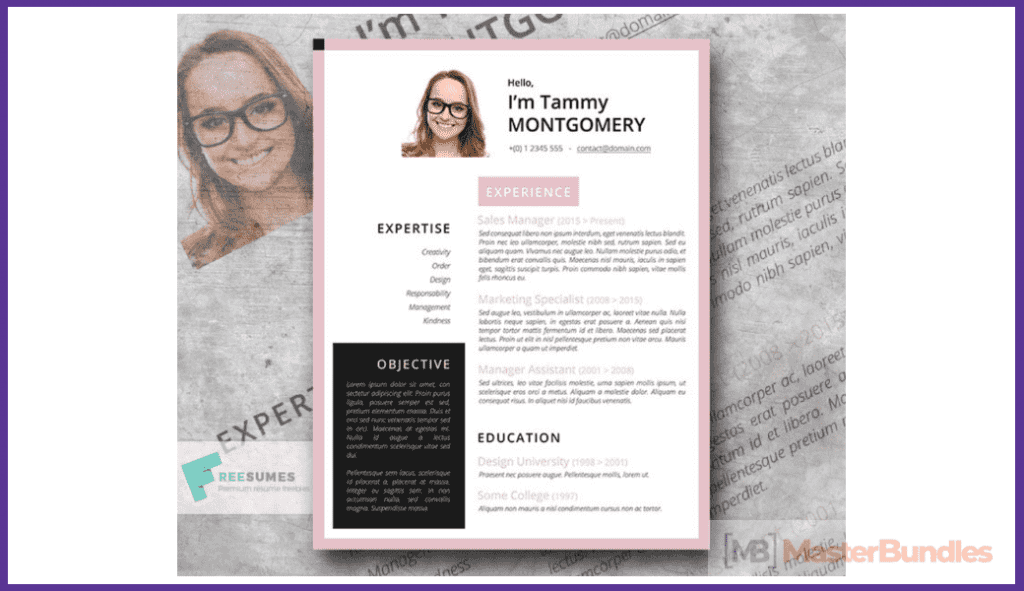 Are you a woman who wants to conquer the business world? Well, in this case, this lovely feminine CV form will help you demonstrate your future employer who you actually are as well as your best qualities and skills.
More info
Smart Freebie Word Resume Template – The Minimalist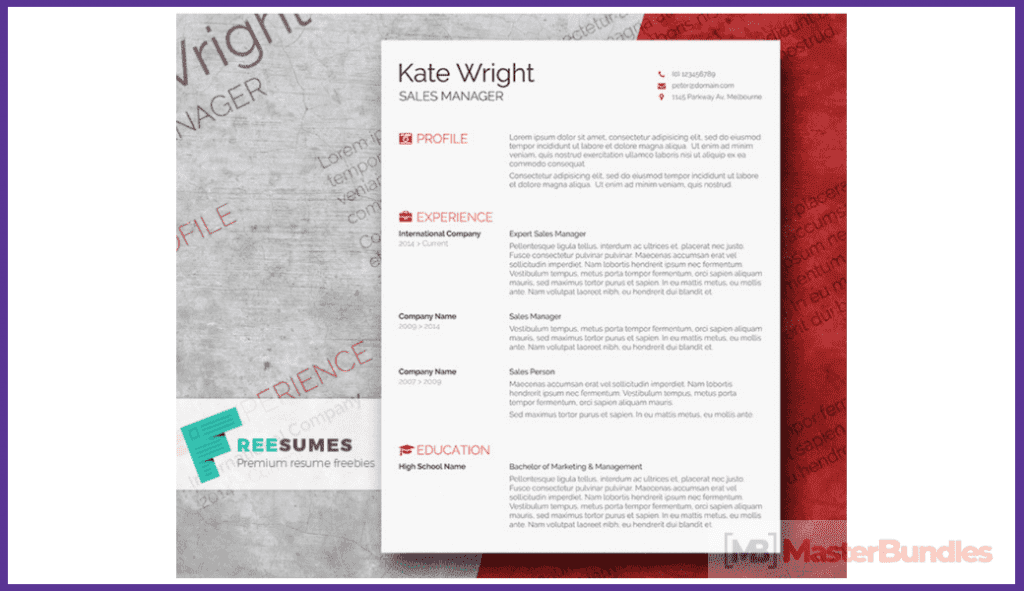 Minimalism is the dominant trend in literally everything, so if you want an HR manager to pay attention solely to your previous work experience as well as all the awesome skills you have, this one is surely for you.
More info
Professional Resume Templates from Indeed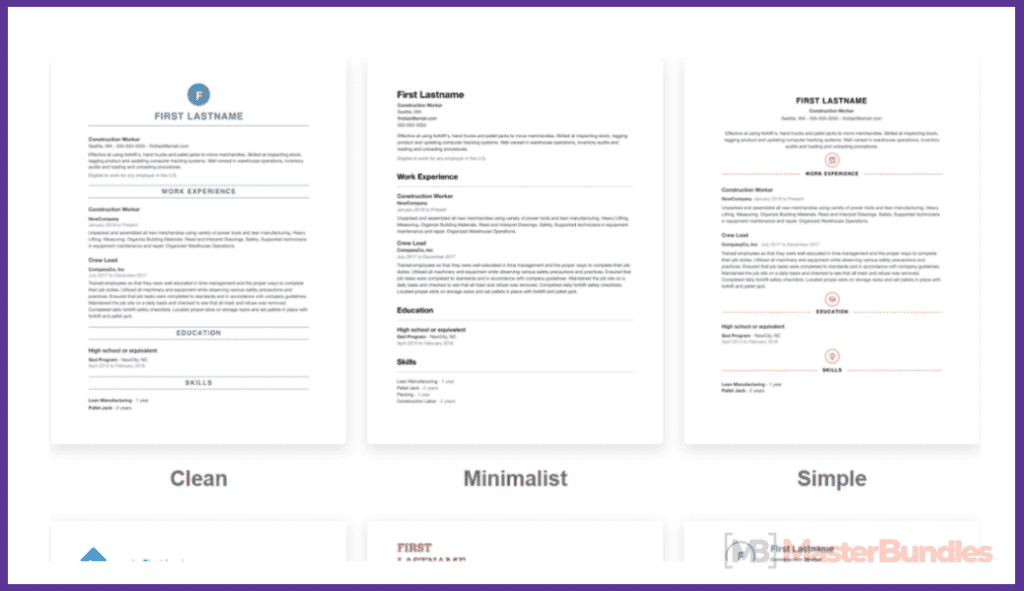 This is another service that will help you create a decent CV online. Using this very constructor, you can easily and quickly make something truly great, so give this baby a chance to prove itself to you.
More info
Blue Black Minimalist Corporate Resume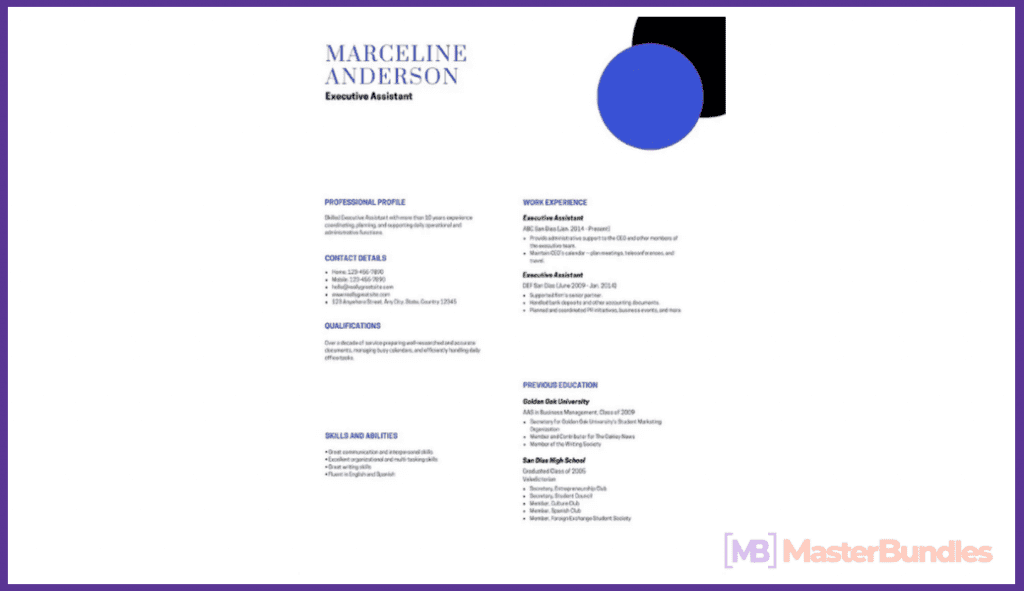 This one is another minimalistic option for those who would like to keep it simple. So use this very simple and functional pattern in order to highlight the skills you would like to show off.
More info
Bright Social Media Manager Resume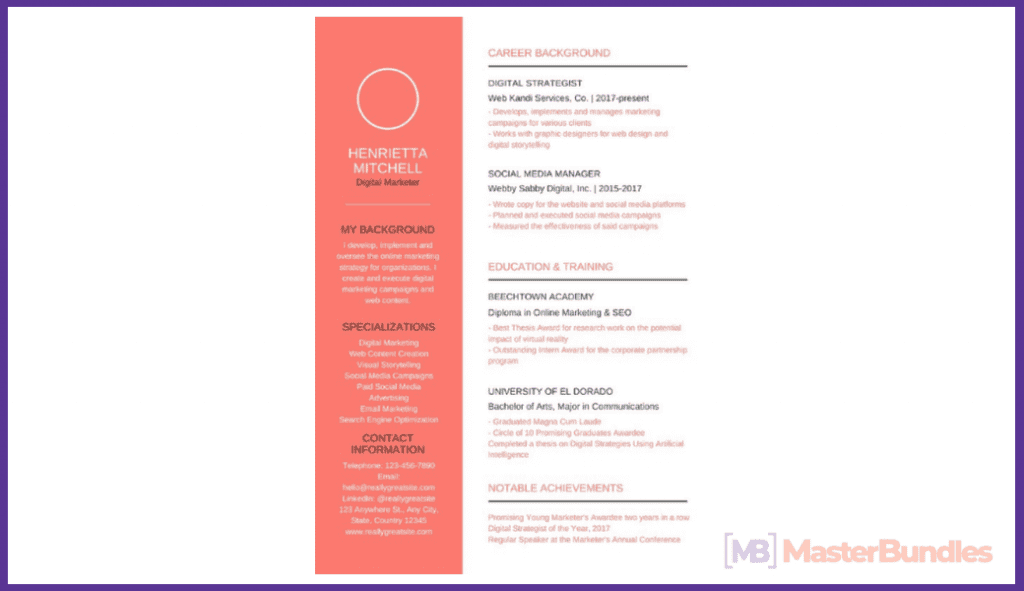 Well, this one is for all the social media managers out there who are currently looking for a new job. This form's modern minimalistic design will surely bring you to the top, so go ahead and download it, it's completely free.
More info
Green Simple Professional Store Manager Resume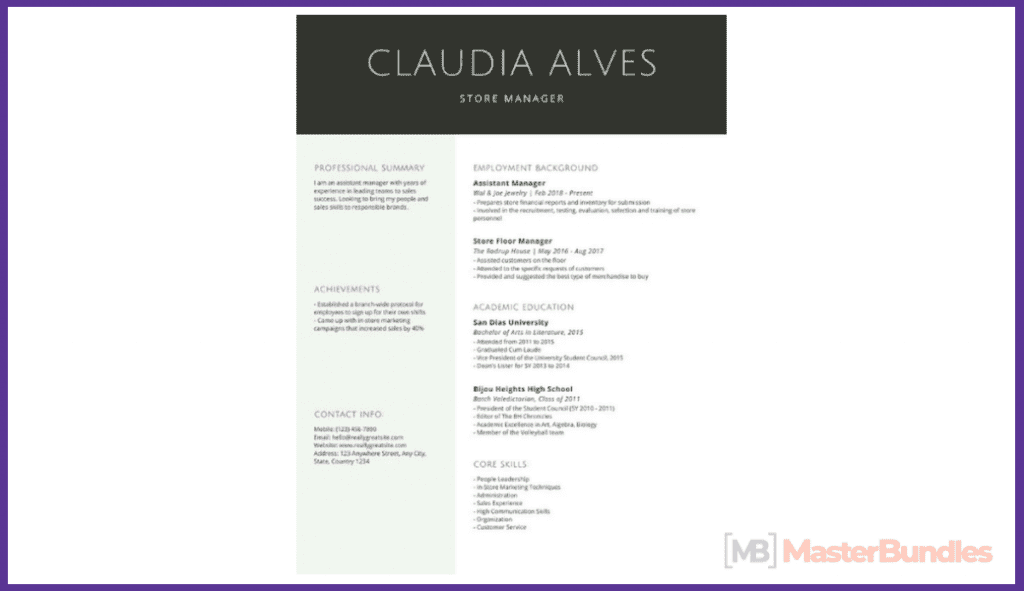 Another futuristic option that will become handy if you want to draw the employers' attention to all the marvelous skills you have. So keep it simple and on point with Green.
More info
Cream and Dark Blue Obstetrician Medical Resume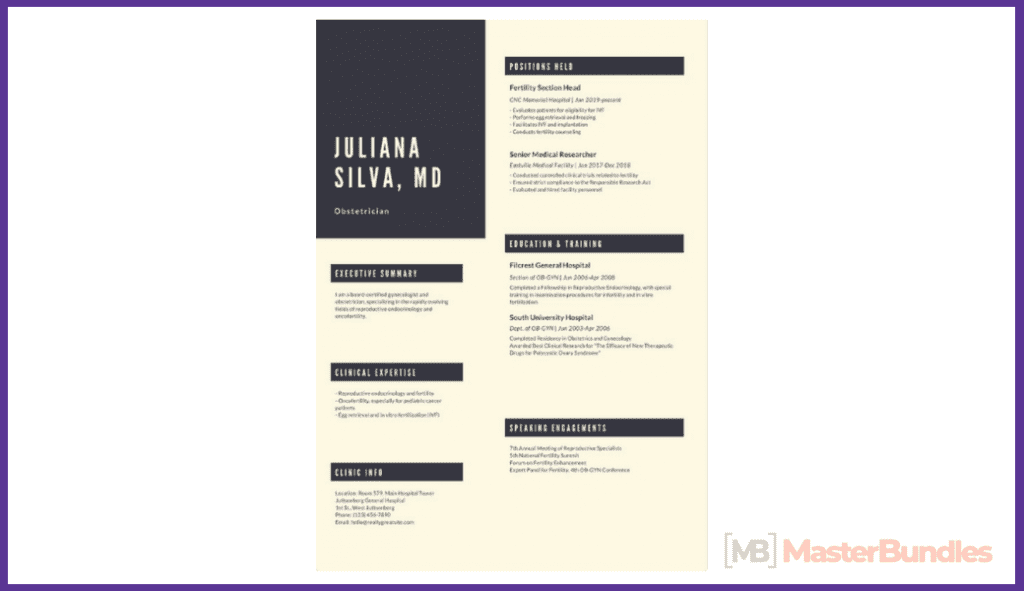 If you are working in healthcare and currently looking for an obstetrician position, then this very pattern is no doubt the way to go for you. Its clean minimalistic design will help you highlight the very things you are proud of, so go ahead and take a closer look at this very form.
More info
Resume Template from Zoki Design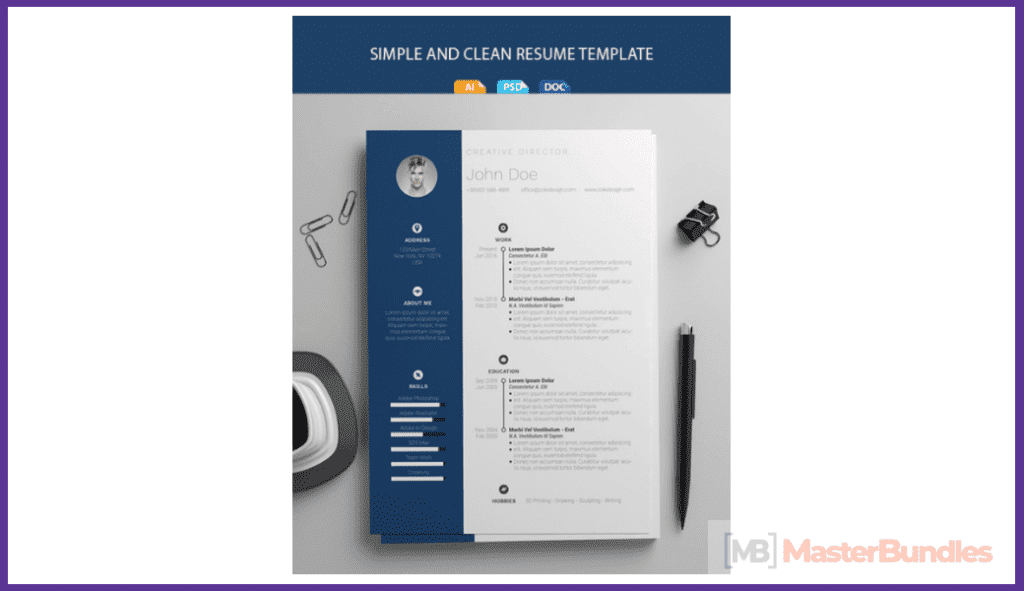 If you want to add some glow to your resume, then this very cutie is surely for you. It has a modern clean design, which is fancy and eye-catching at the same time. So let this outstanding template bring you to the top.
More info
Dark Resume Template Freebie – Elegant Dark Grey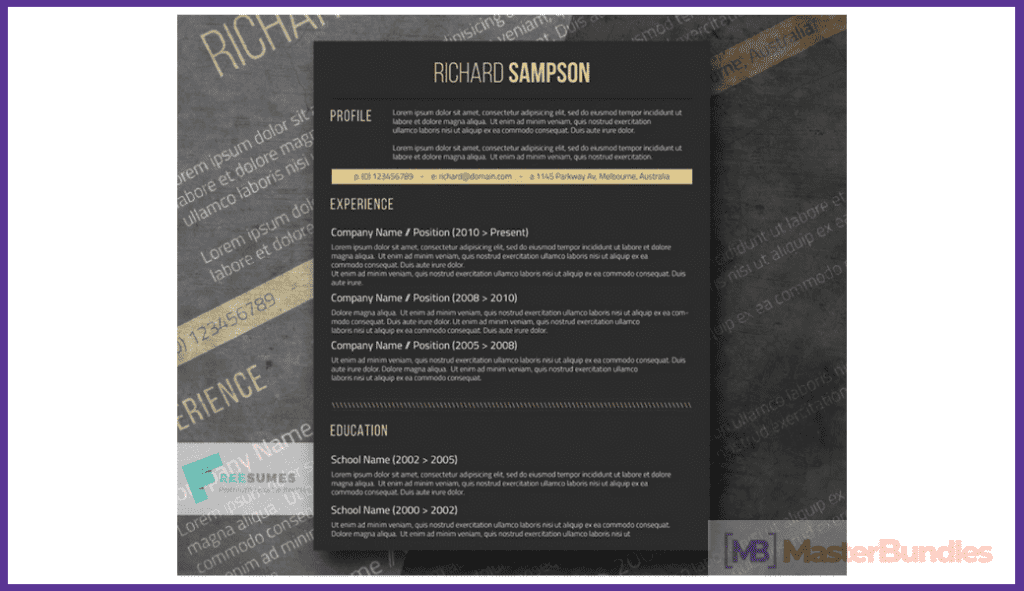 Are you looking for something truly exceptional and fancy? Well, take a look at this elaborate and classy template. Designed in dark colors, it will surely make your CV stand out among the others, so go ahead and download it.
More info
An Unconventional CV Template Giveaway – Avant-Garde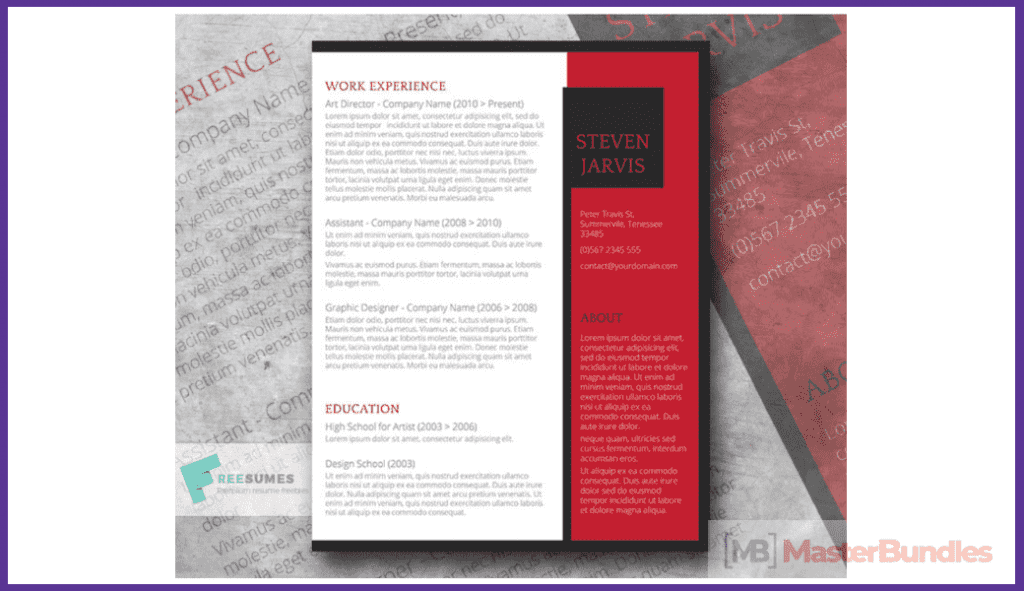 Another with no exaggeration great option that will make your resume look like a centerfold of an expensive magazine. So if you want to fascinate HR managers with a breathtaking layout of your resume, this trendy pattern is definitely the way to go for you.
More info
Template form Resume Companion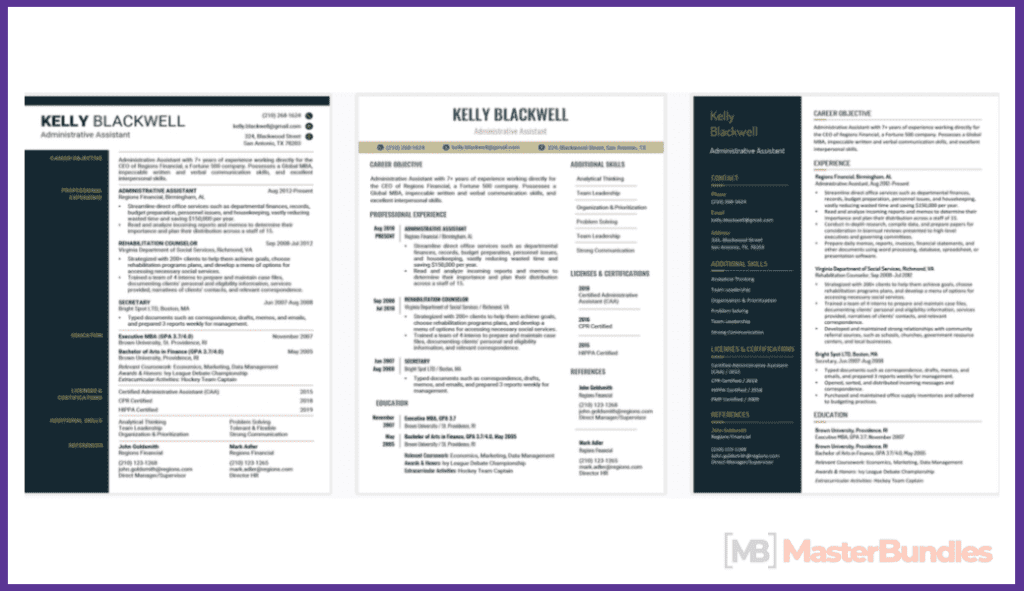 One more online builder that will surely back you up in any sort of CV emergency. The tool is super easy in use, which means that you'll get a stunning end-product just in a couple of minutes. Well, without further ado, go ahead and test this baby.
More info
Pastel Green Yellow Professional Resume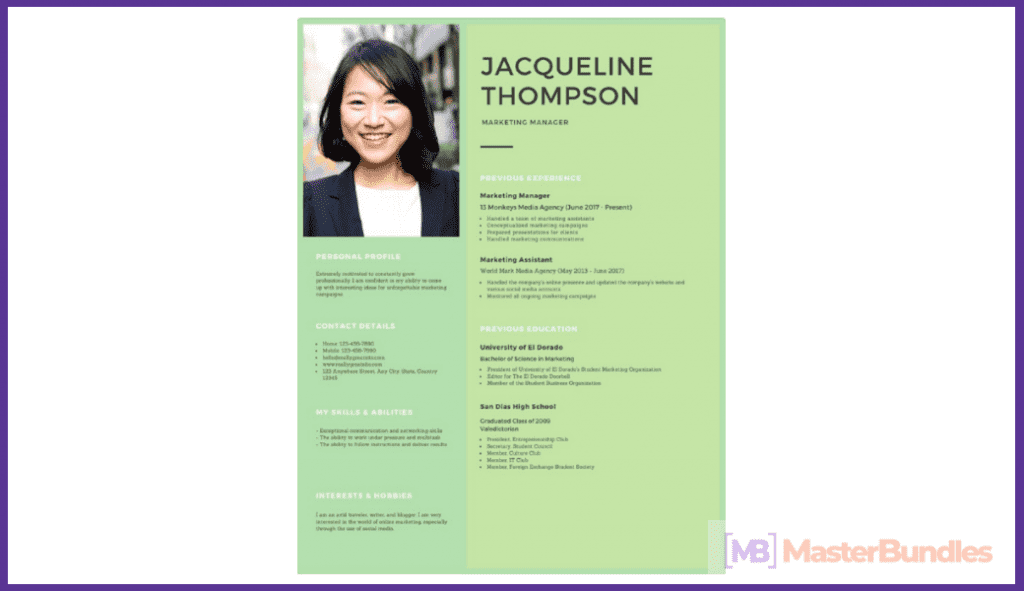 If you would like to add some bright colors, then this one is something you don't want to miss. Bright and fancy, it will surely stand out among the other CVs, so do not hesitate and get it.
More info
Pink Floral Pattern Professional Florist Resume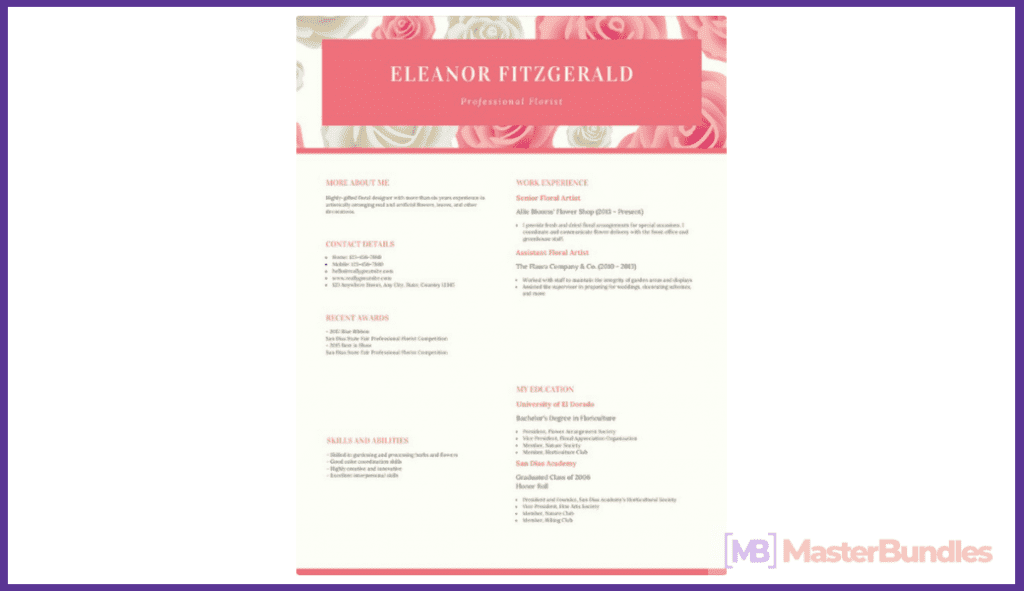 Well, this fancy cutie is perhaps the best possible choice for any florist. So if you are one, stop hesitating and download this free baby that has the magic power to easily find you a decent job.
More info
The Modern Professional – A Free Ultra-Creative CV Template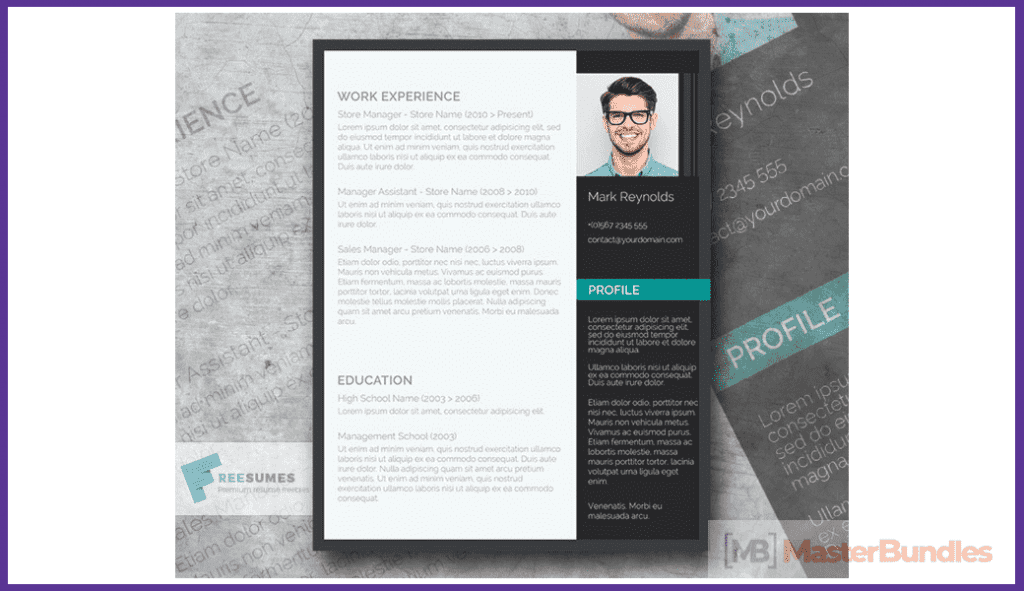 If you belong to the category of people who don't want to distract HR managers from their skills with elaborate layouts or pictures, you might want to consider this minimalistic template. Its simple layout will emphasize your professionalism and serious attitude to work.
More info
Free Straightforward Resume Design – Basic Grey And White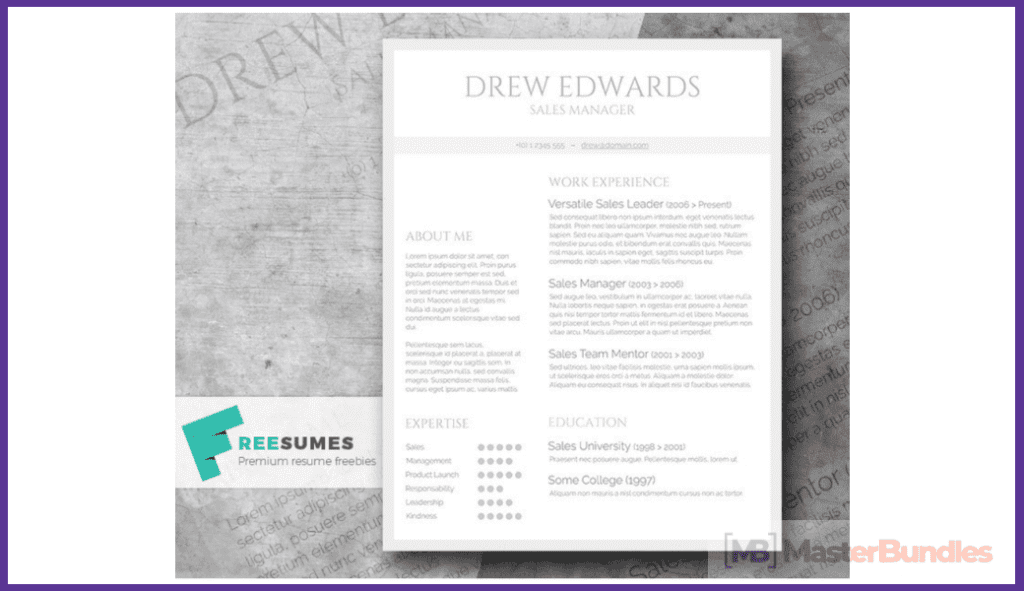 Another simple yet stunning option for those of you who would like to emphasize solely their professional qualities and skills. So go ahead and take a closer look at this very template.
More info
Minimal Multimedia Artist Resume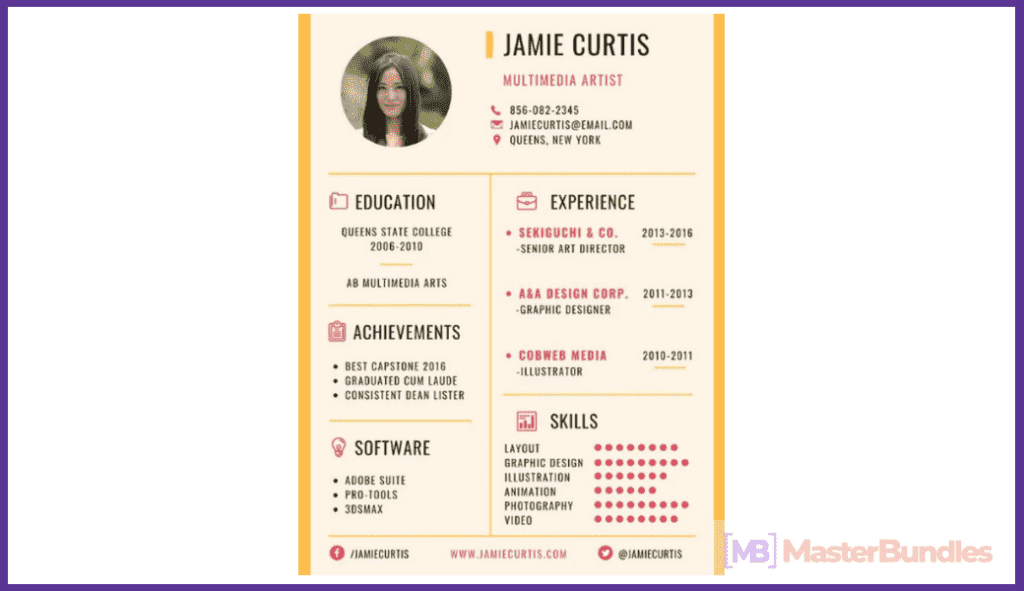 For all of you who want to demonstrate their creativity as well as their unique bright personality, I've got this lovely template. Designed in bright colors, it will surely show your employer that you are a positive and creative person. So if this is your goal, stop hesitating and get this template now.
More info
10 Free Microsoft Word Resume Templates
To prepare a resume for each particular company and position is an art. But it is very important since every employer is unique. So, give him a chance to feel it!
Do not use file formats that require additional effort or software to view. For example, avoid sending a resume in RAR or ZIP archives. Microsoft Word format is the most popular and widely used by HR specialists. DOC files can be viewed without problems in both new and old versions of Microsoft Word. This is still a great solution to represent your professional story and say a few words about your expertise and job-related goals. If you are looking for an easy to print and edit option, stop searching for an ideal template, and take a look at the beautiful collection below. Pick up the most appropriate resume template, make the necessary edits, and apply for a dream job.
Polished Microsoft Resume Template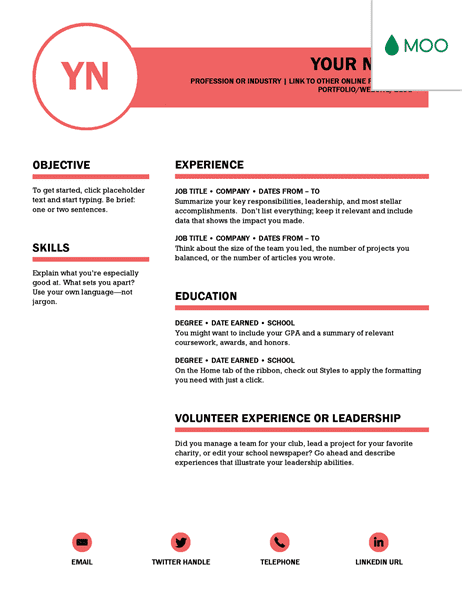 When considering a large number of resumes, an HR specialist is more likely to consider well-structured and noticeable resumes. Red color is used as an example to show how to make your resume impressive with the color. By the way, the color is editable to your preferences.
Black Tie Design Resume Template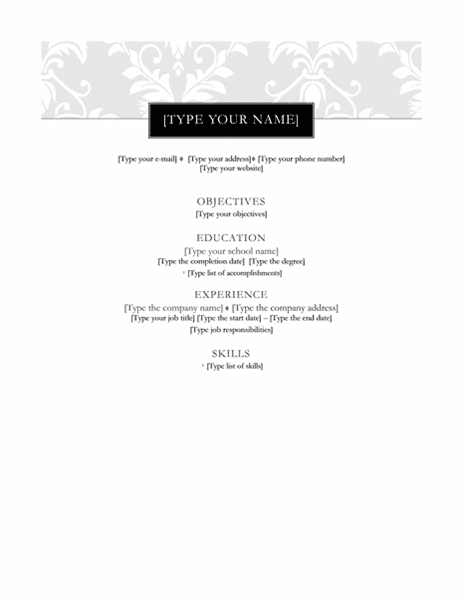 There is nothing complicated in crafting an effective resume. Simple and clean design is always a good choice. Such an approach will highlight the most important in what you were doing and what you have accomplished. As you can see, it includes a header and a Quick Parts menu to add a photo to your resume.
Chronological Resume Template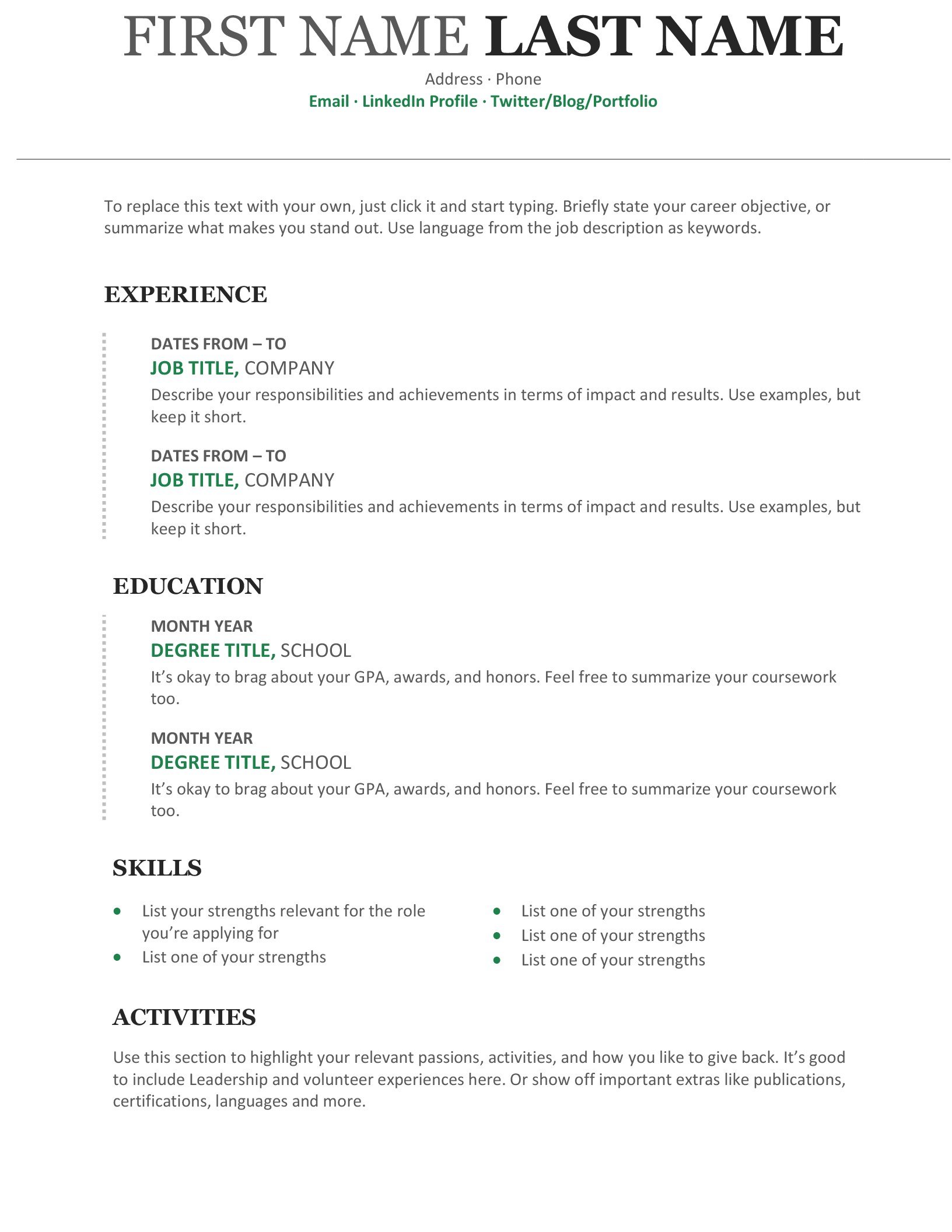 Download
If you are a web guru, doctor, or musician, this resume will definitely dignify you among other applicants. This resume template is suitable in case of stable development of your career when you are constantly climbing the career ladder. Represent your experience chronologically with this solution.
Violet Resume Template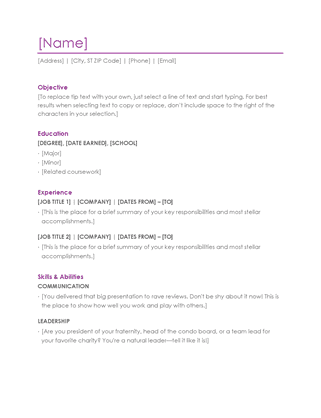 Download
There are several ways to place information in the resume and present it to the employer. This is an example of an elegant, functional resume template. The recruiter does not read every detail of the resume, his gaze jumps on the main blocks in search of keywords that interest him. This template is well-structured and visually attractive.
Extended Resume Template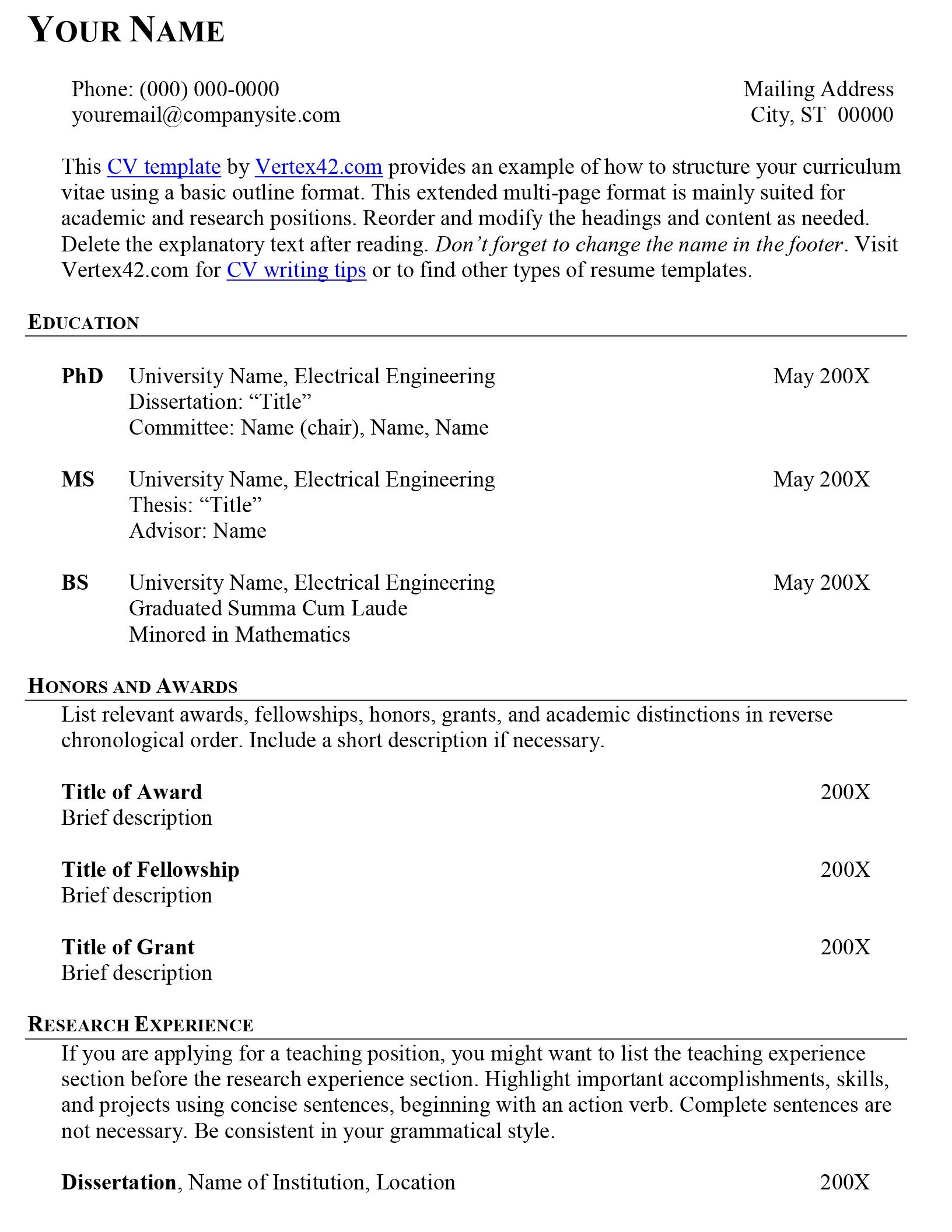 Download
The chance to meet competitors in the fight for the dream job increases and the quality of the resume comes to the fore. Such a template is great for academic and research positions. The sections for publications, research, awards will help you to include more details of your professional story.
Emerald Fancy Word Resume Template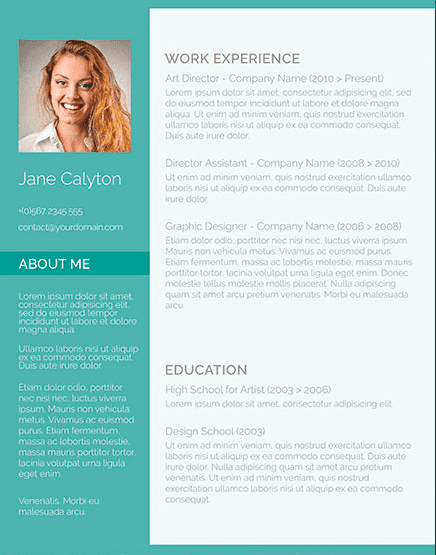 Each resume passes internal scoring among the recruiters. Such an impressive resume will get enough scores to send an invitation to the job interview. Edit its content to your needs and become a step further to your dream job. Remember, a first-class resume is a resume where each phrase adds value to it.
Modern Initials Resume Template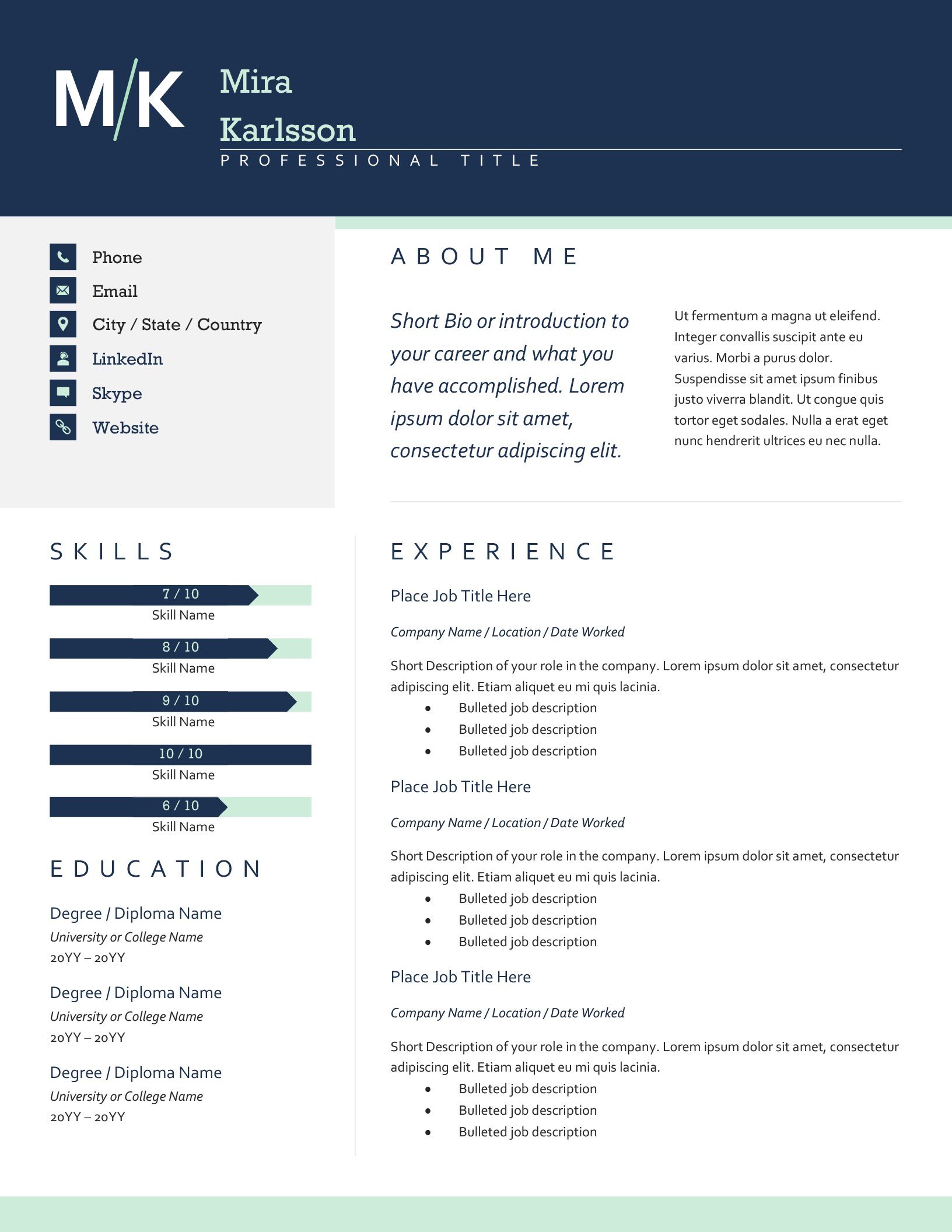 A bold design, clear and understandable areas to include your professional success story will highlight your strongest sides. This modern template is designed to describe your expertise, achievements, and showcase your creative genius. It is very simple and intuitive in navigation.
The Modern-Day Candidate CV Template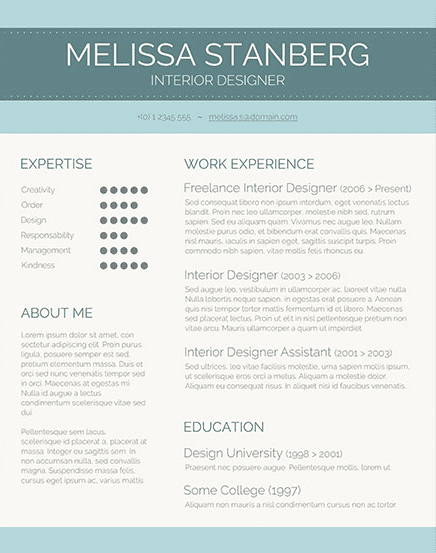 If you are detail-oriented, tech-savvy, and stylish, you should not miss this modern solution.
Beautiful color scheme, intuitive sections, convenient icons to display the level of skills are included. Do not forget to mention your career achievements which are expressed in figures, deadlines, or significant qualitative changes in the company.
Balanced Resume Template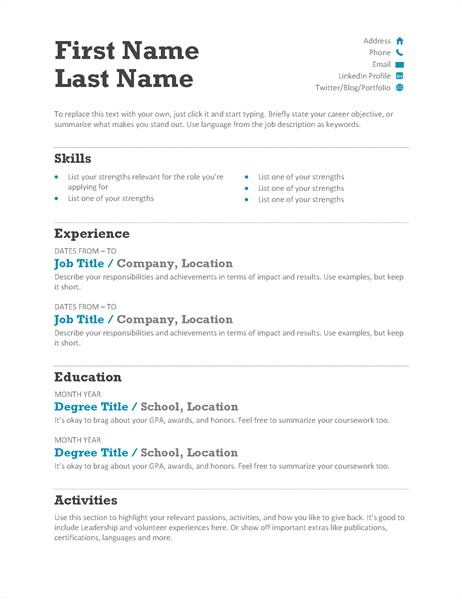 Download
There is no such work, where there are no performance indicators of your work. Think about them and focus on the main facts of your professional biography. Include them in this modern and fully editable resume template.
Professional Resume Template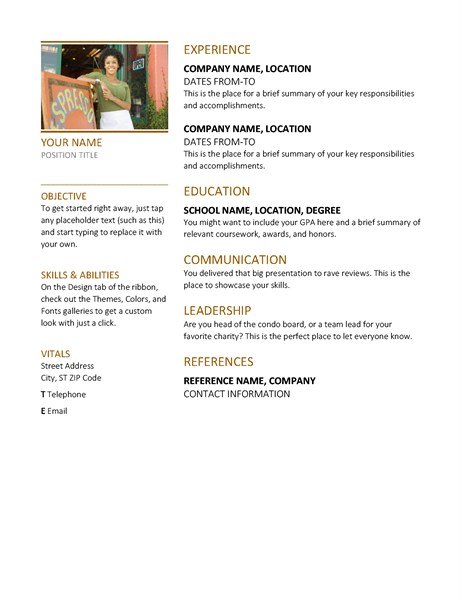 If your resume is not visually readable, the structure of sections is broken, different types and sizes of fonts are used, forget about winning the fight for a dream job. Do not miss this template to create a well-structured career summary and finally receive an offer.
The Best Resume Deals and Bundles
Free Resume Templates FAQ
What resume templates should I use: free or premium ones?
It totally depends on your budget and needs. If you like a premium template because it's well structured, neat and good looking and can afford it, why not buy it? But if you're interested in just any resume template and can use a free one, use it.
Is it better to use a bundle of resumes or just a single one?
Again, it depends on your needs. If you often use these templates and need a variety of them, use bundles. But if you need to bring your single resume to your potential boss on a job interview, you can download just a single resume template.
Is there any difference between a CV and a resume?
Actually, yes. A CV and a resume are two different things but really almost the same. A CV has no limit in length and a resume is often from 1 to 2 pages long. CVs are longer in length because they cover all the details of your career, education, etc. Resumes summarise different kinds of skills you have and show your experience briefly.
Can I use a resume instead of a CV?
It's better not to use a resume and a CV interchangeably because there are some differences between these two things.
Where can I find some more additional resume templates if I haven't found the appropriate one in the article?
Visit MasteBundles for more resume templates. Search for "resume templates" and choose the one that you like the most. Here you can find various resume and CV templates, and a lot more.
Is it possible to get any discounts on MasterBundles?
Yes, of course, it's possible. MasterBundles often offers some discounts on different products. To know about these awesome discounts first, subscribe to the newsletter. You can find the form at the bottom of the main MasteBundles page, on the footer. Just enter your e-mail address and you'll get various notifications.
Are there any kinds of a resume?
Yes, actually there are 3 main kinds of a resume: chronological, functional, and combined. A functional resume concentrates on your skills, not much on your experience. This kind of resume would fit students, and people who don't have much experience but mostly skills. A chronological resume centers on your work experience and would be better for those who have a lot of experience. And finally, a combined resume combines these two types mentioned above.
Should I use a one- or two-page resume?
It's widely believed that most of the employers prefer a one-page resume because the second page can get lost, no one would read your long two-page papers and so on and so forth. But ResumeGo says that employees are 1.4 times as likely to prefer two-page over one-page resumes when it comes to an entry-level job.
What thing makes a resume bad?
One important huge thing makes a resume bad. Most of all, it's bad formatting.
Please take a moment to pin this post to Pinterest.