70+ Best Notion Templates [2023]
Notion is an extremely powerful, database-driven software that can help you organize virtually anything, whether you are a freelancer or part of a big enterprise. As with every powerful tool, you need to learn how to use it. Fortunately, talented people all over the planet have created templates to make your life easier, and we at MasterBundles have selected the best Notion templates for you. Let's dive into it!

Best Notion Templates Trending Now
These are the hottest Notion templates right now, and you can explore all of them here.
There are a lot of Notion-wizards out there, and they constantly come up with new and exciting ways to get our work organized. Not only that, they make it so in a pleasing, design-oriented way. Let's take a look at the latest and greatest Notion templates.
The Book Lover's Journal On Notion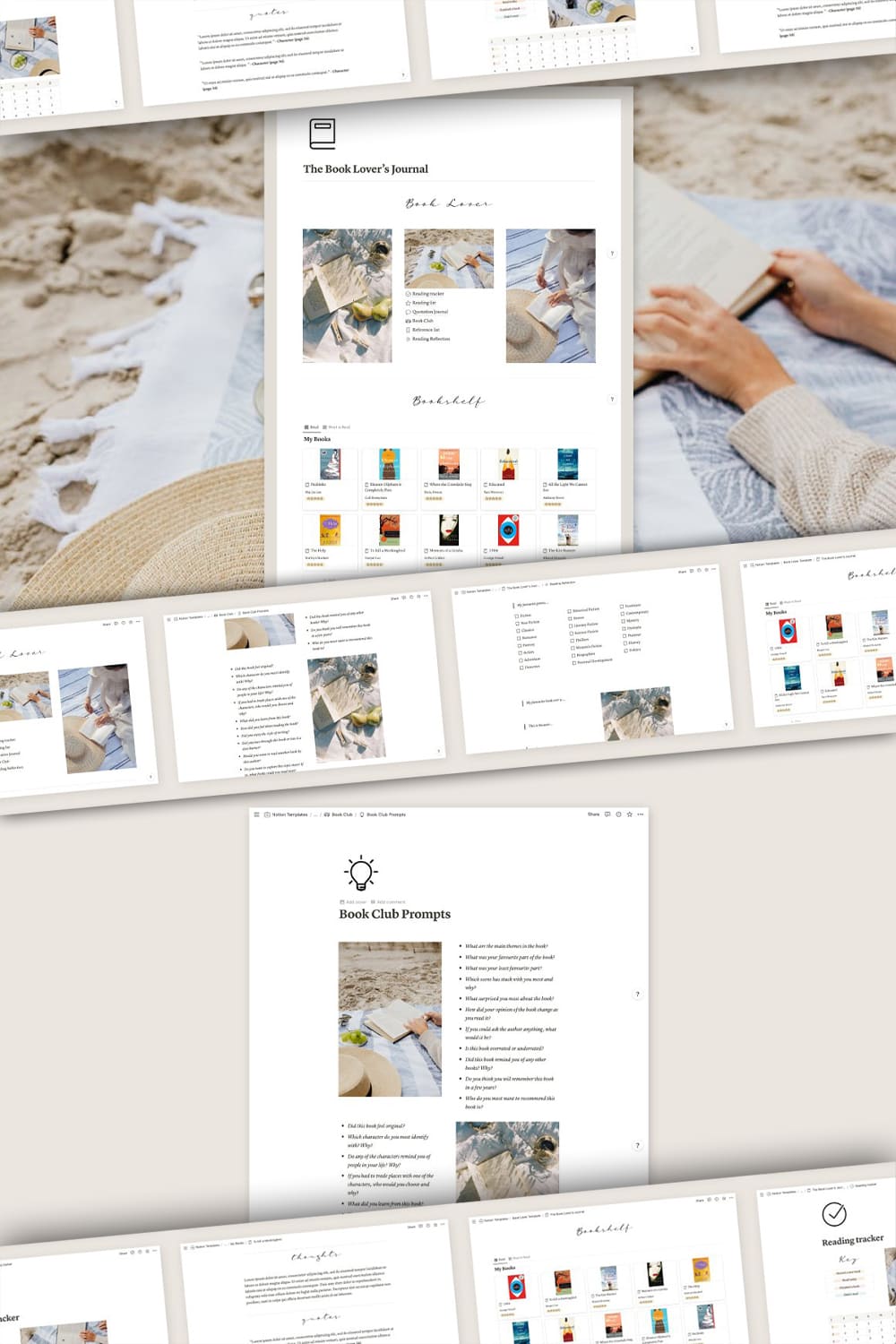 Everyone loves the feeling of getting lost in the pages of a great book, but there's nothing worse than losing track of your favorite reads, recommendations, and reflections. This one is among the top cute Notion templates! This aesthetic template has all the tools you need to record, remember, and leave comments on your book reads and book favorites.
Designer's Business Hub On Notion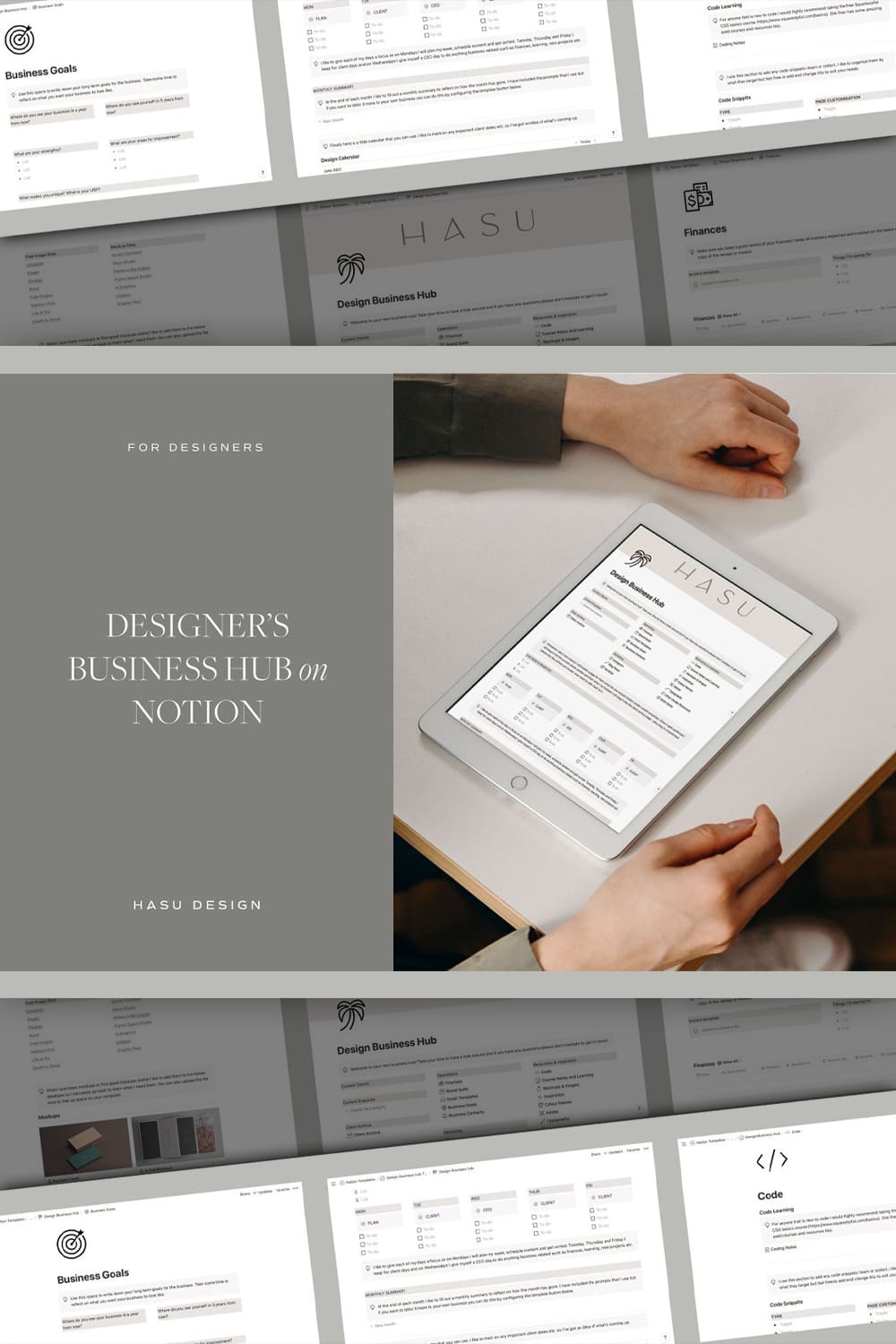 This Designer's Business Hub is the perfect Notion template for work, it has everything you'll need to run a business like a boss. It's packed to the rims with unique ideas, design resources, and scapes to organize your business.
Personal Organization Hub On Notion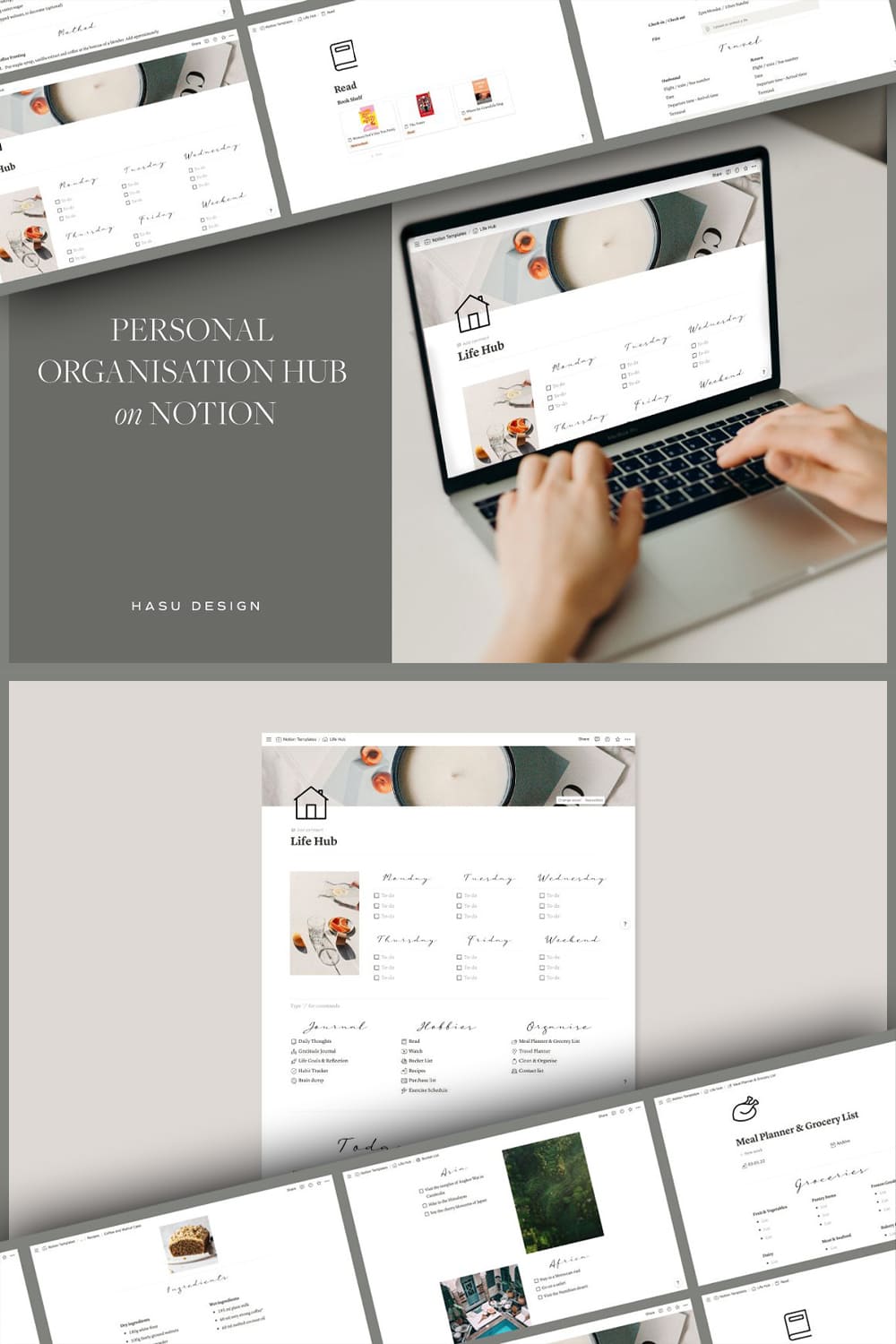 Organize your life with this Notion journaling template that includes tools for you to plan, jot down ideas, and organize notes. It also features over 20 pages of weekly planners, recipes, reading lists, reflective journals, and much more.
Notion Bundle For Designers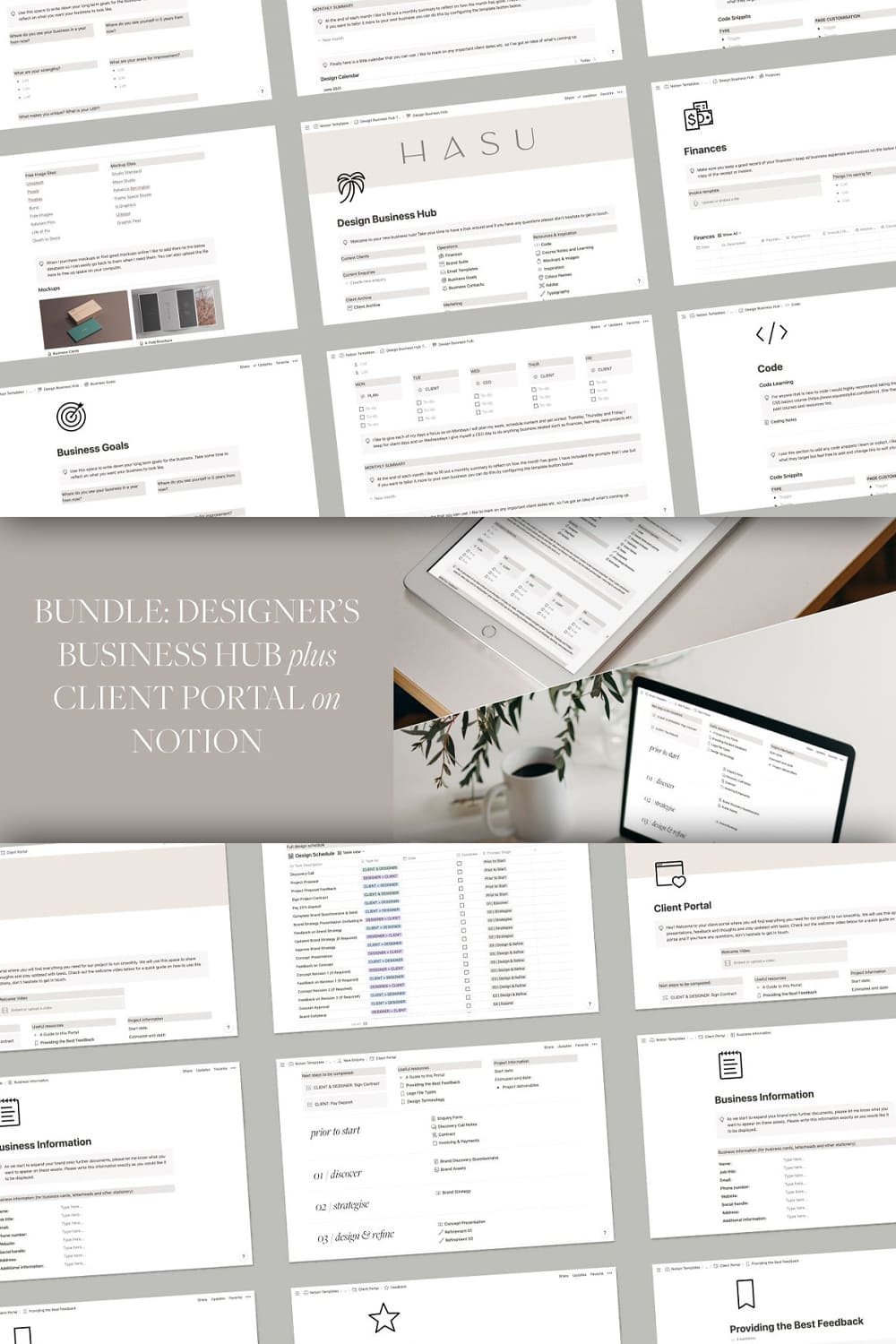 Are you planning to run your business like a boss, use this best Notion dashboard for the best result. It's packed with 40+ fully customizable pages and an awesome Client Portal template which is a great way to streamline your client process.
Client Portal Template On Notion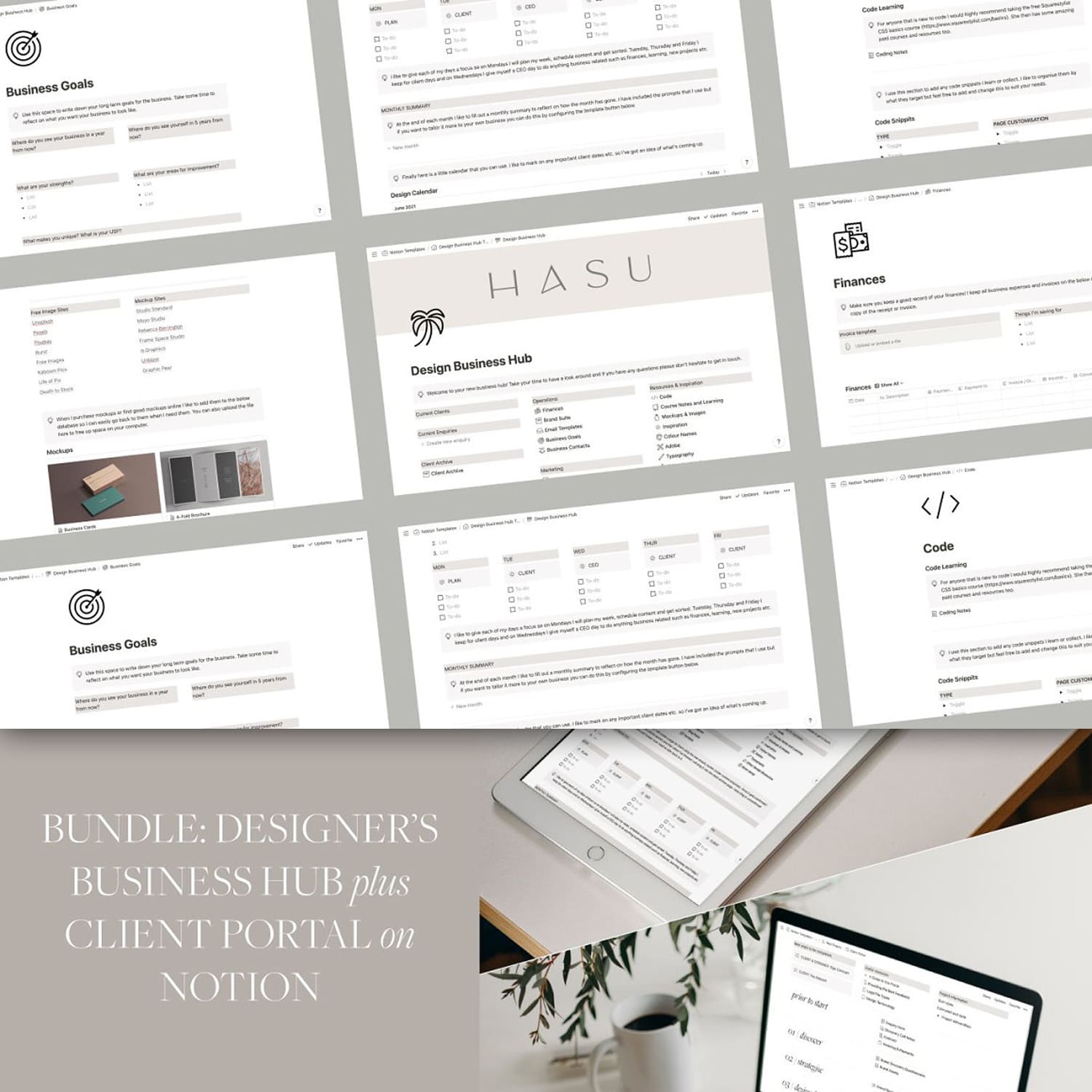 Streamline your client process with this Notion work template. This template provides a step-by-step guide to the branding process with pages to present your work, gather feedback and stay up to date on all the tasks needed in the project.
Meal Planner Notion Template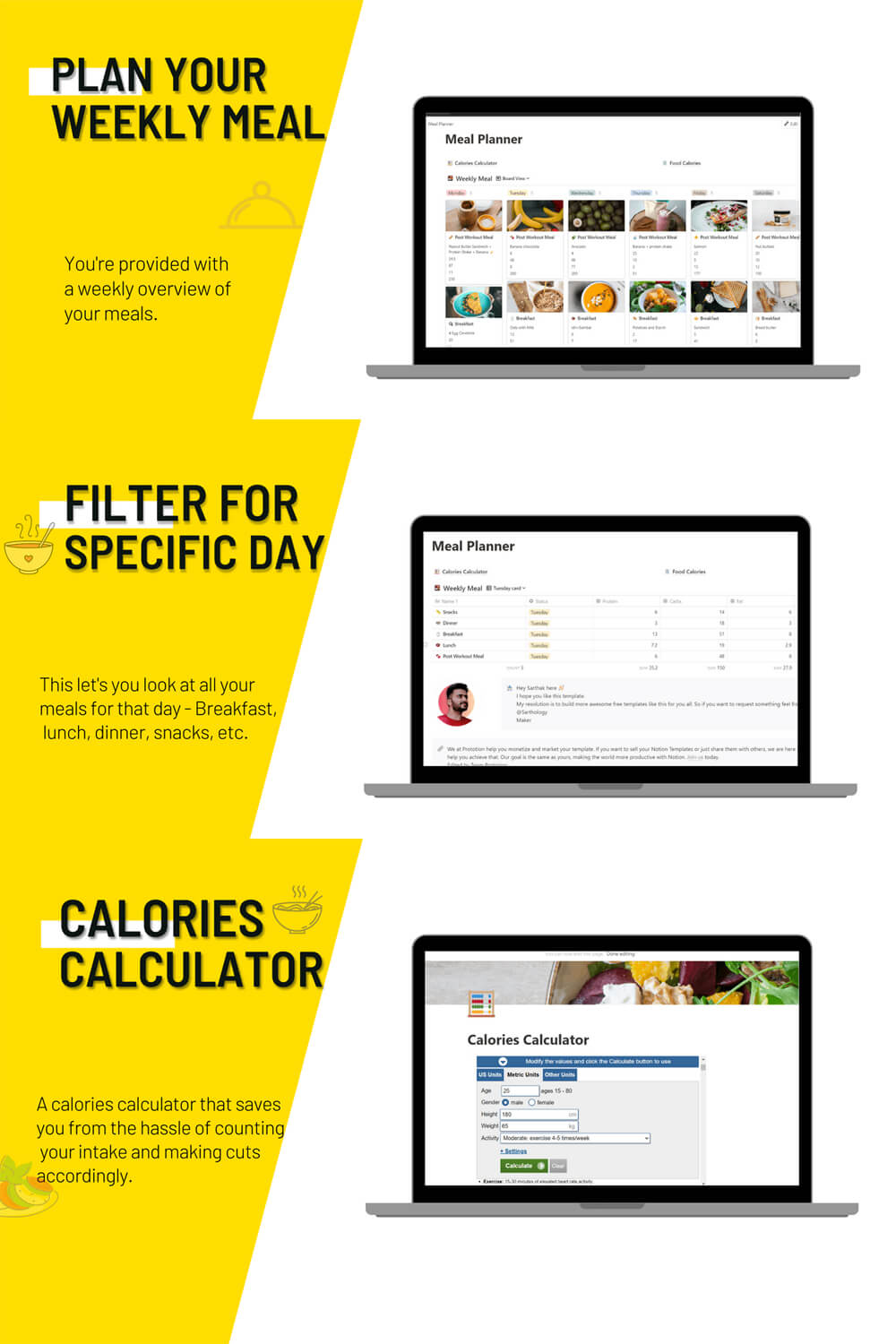 Organize your meals with this cute Notion template that will inspire you to be more organized. The template helps you organize your meals for the day, keep track of the calories and macros present along the freedom to supplement your recipes with pictures.
Modern Resume CV Notion Template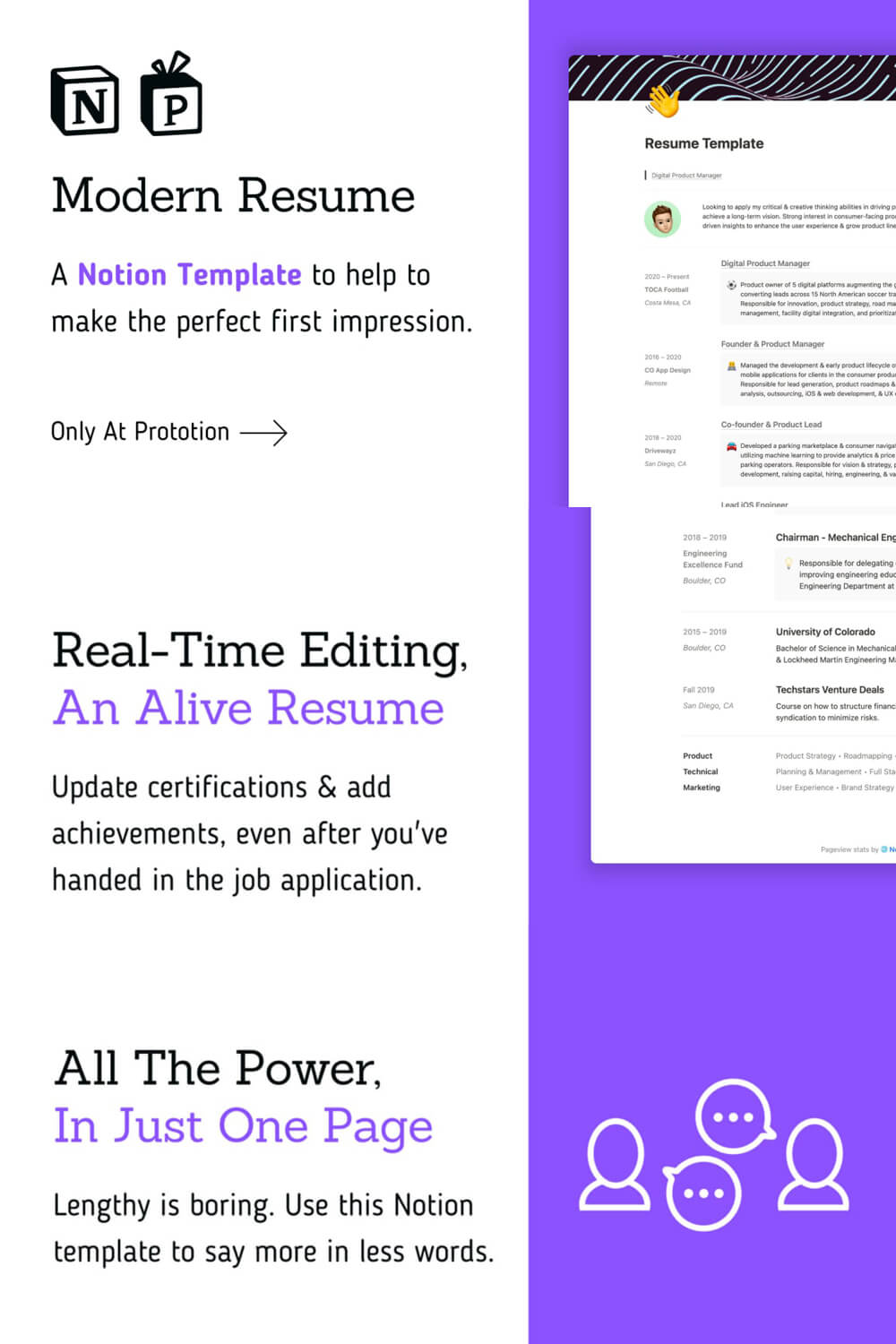 This modern resume is the best Notion template for students who are looking to stand out with their resumes. As many recruiters prefer one-page resumes over lengthy ones this template gives you the ability to show off your achievements on a single page.
E-Commerce Webshop Project Plan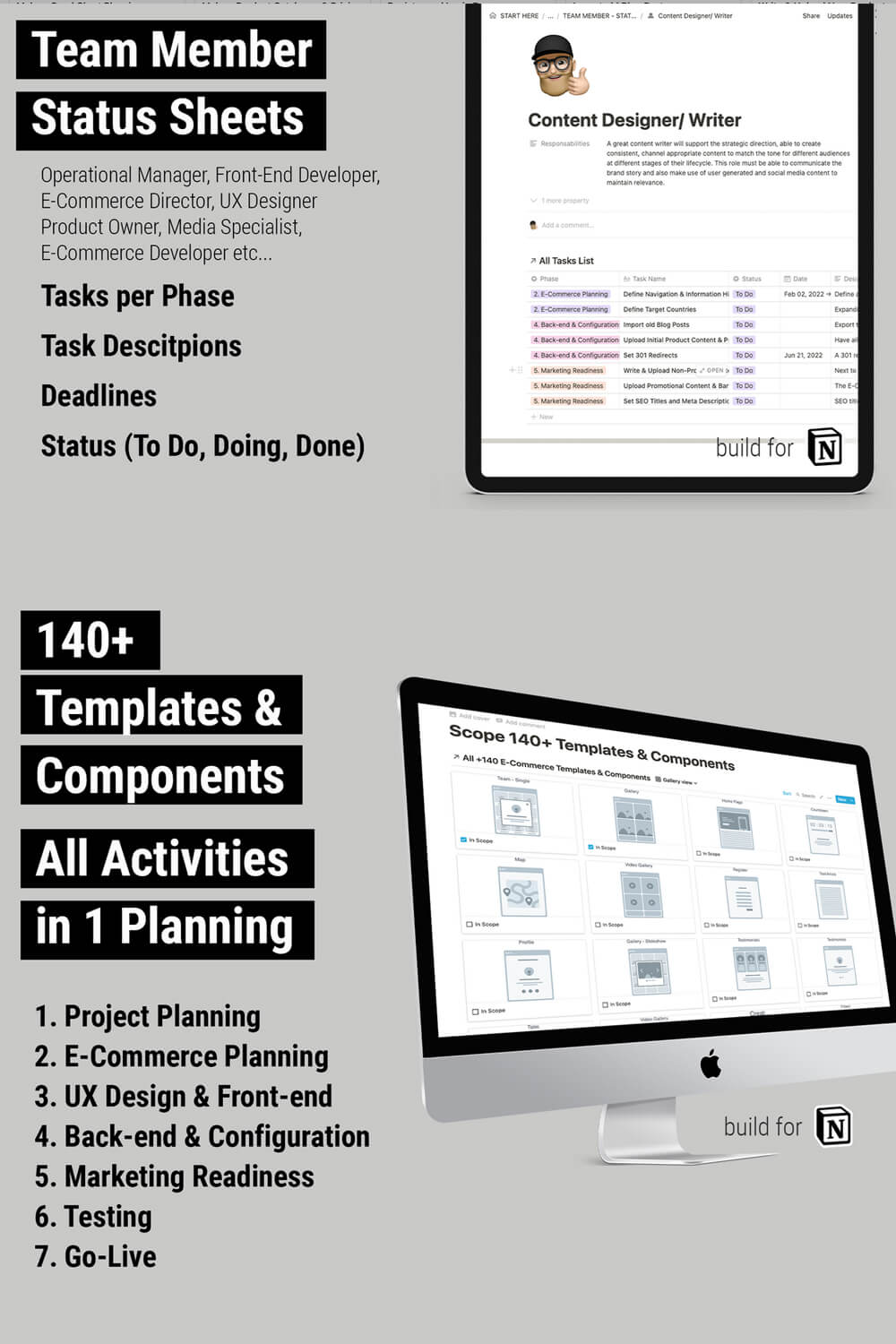 This Notion templates gallery is the ultimate guide to consulting, designing, and building an e-commerce webshop. Don't miss any details in a complex project!
Home Chores Manager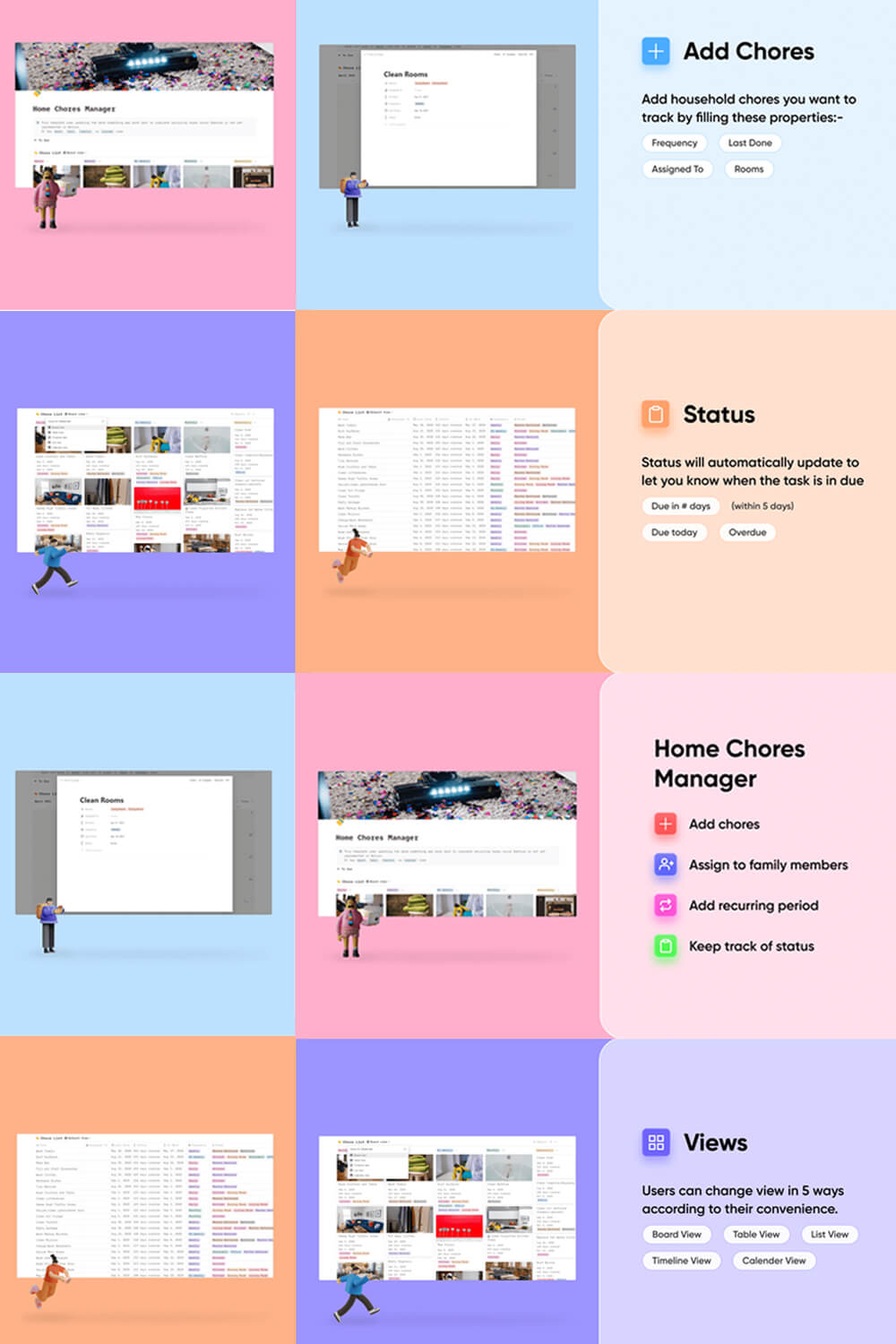 Use this Notion schedule template to stay on top of all chores and tasks. You can make a personal proper chore list that is recurring and that is available to efficiently track online.
Notion Freelance Starter Kit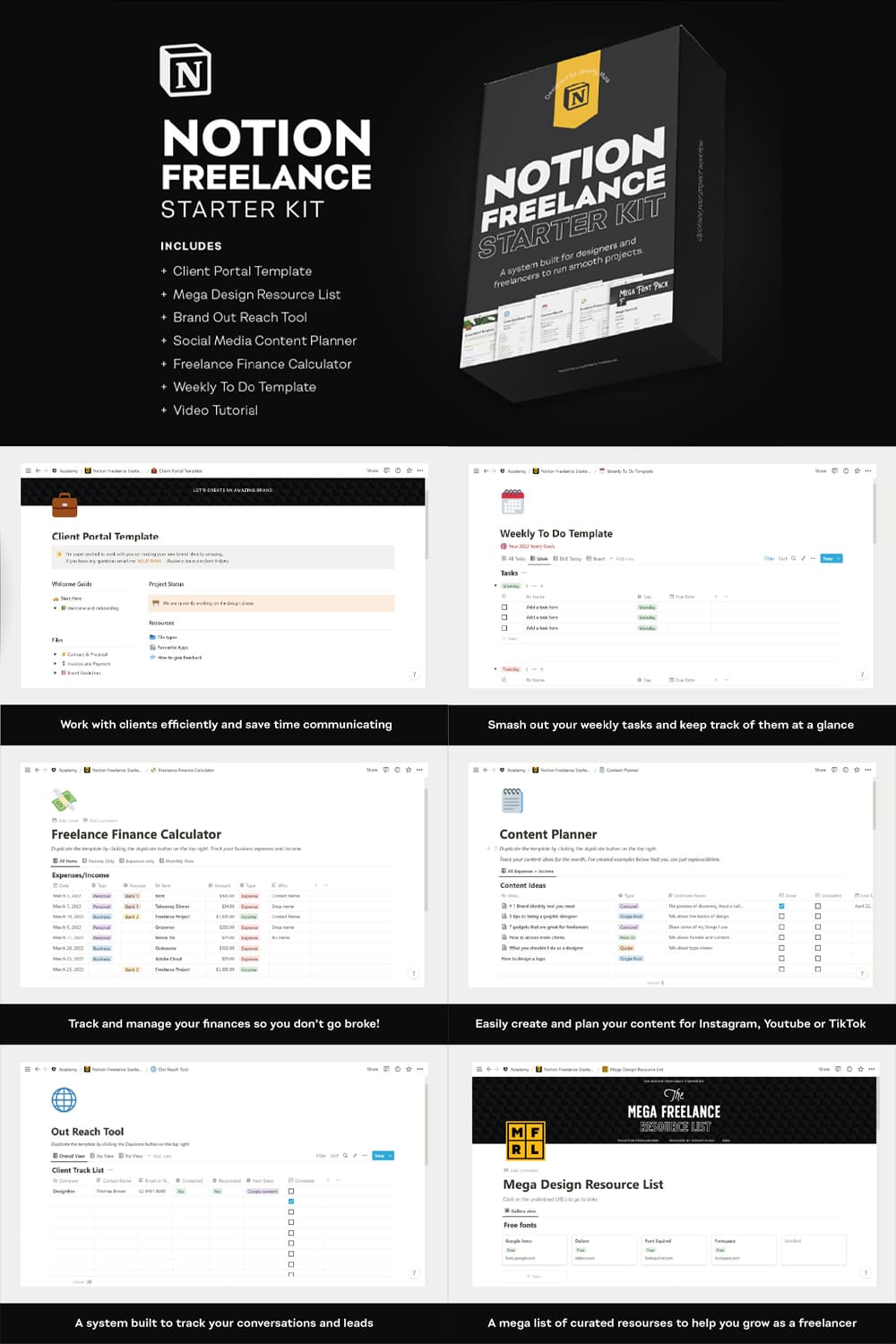 Struggling to manage your client projects and freelance business all at once, this Notion dashboard examples kit was built by a freelancer for you. Use this template daily to run all businesses smoothly.
Finance & Crypto Tracker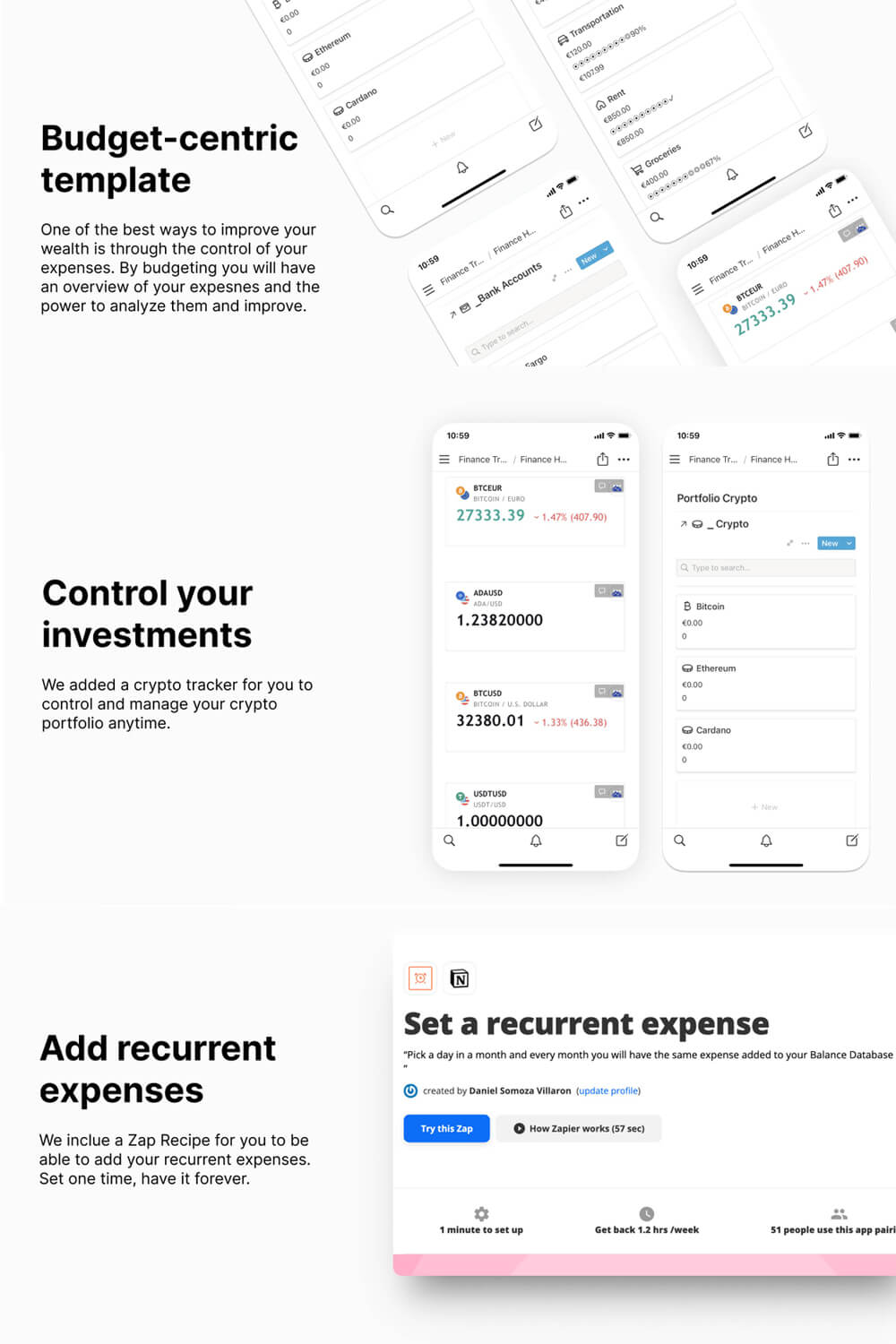 This is an advanced finance tracker that builds your system from the ground up and lets you analyze the process so that you refine it and achieve your aim. With much time spent designing tools, you can be sure they are top-notch.
Custom Journey Map Dashboard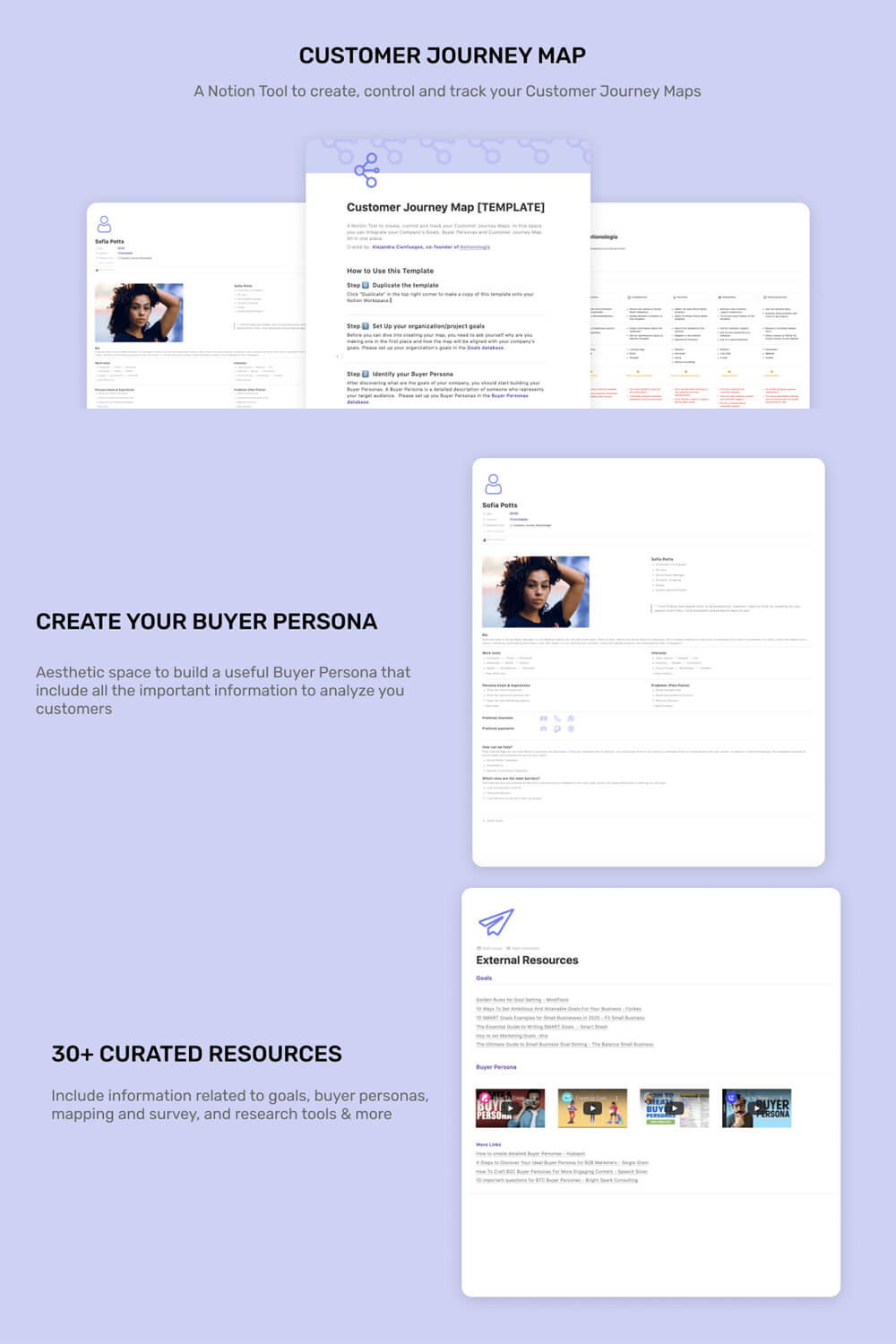 Pay once and have unlimited customized maps for any small businesses and projects. The template outline also allows you to integrate your company's goals, buyers' personas, and customer journey maps, all in one place.
Weekly Study Planner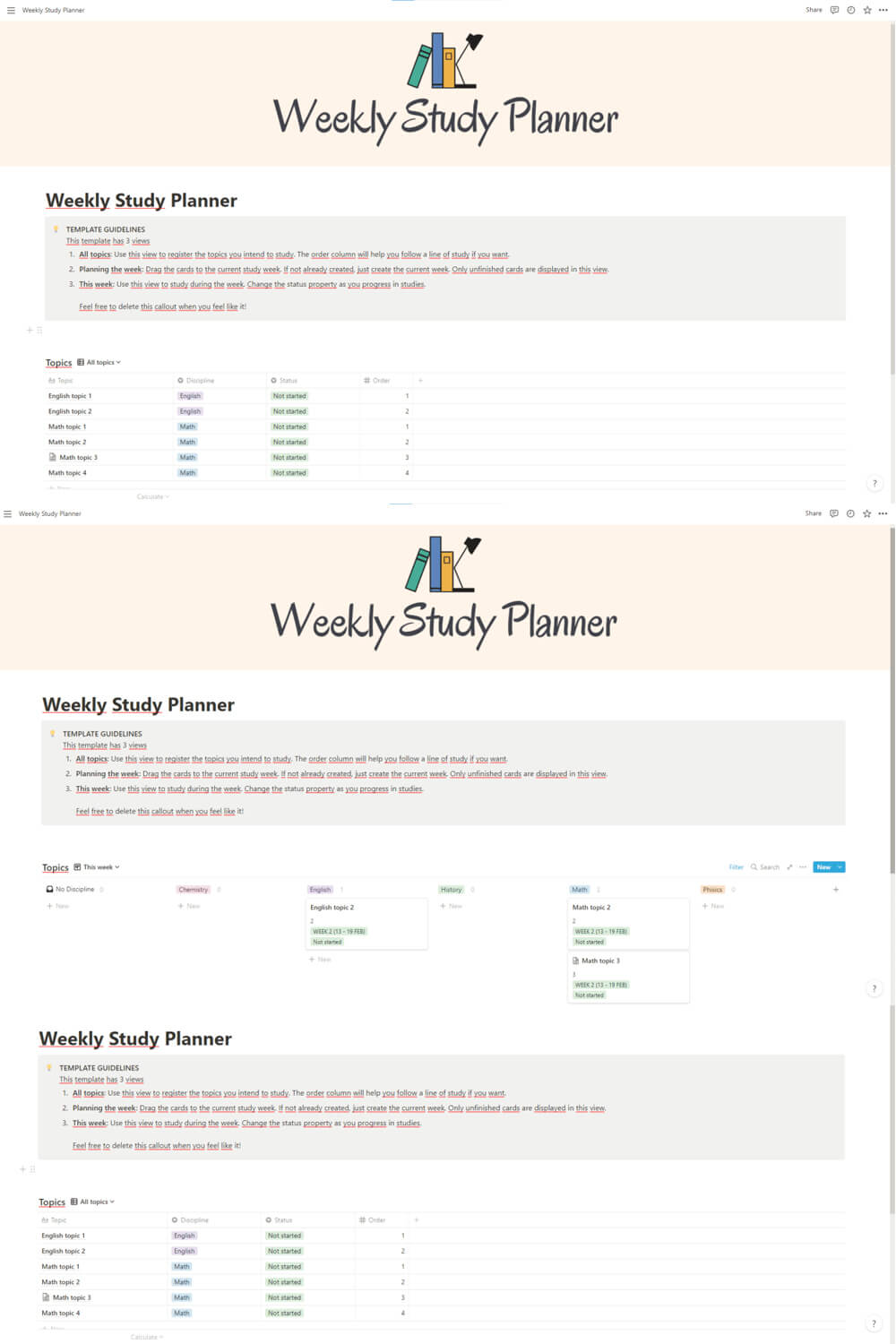 Notion schedule templates are made exclusively to help students plan their studies during the week. It's important to be efficient and practical with your studies or else you can get overwhelmed and behind.
Outfit Hub (Wardrobe Template)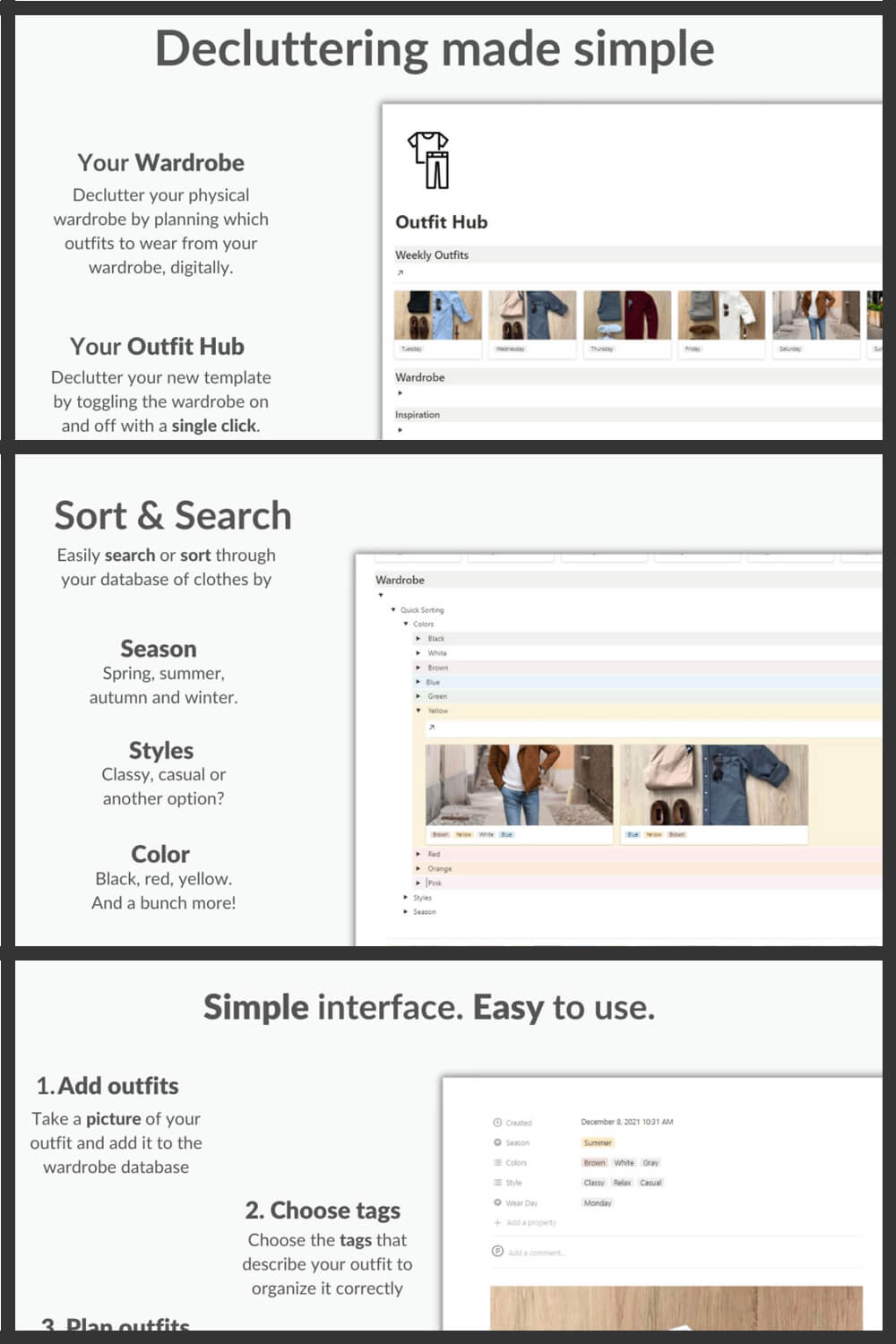 The Outfit Hub is a minimalist template that helps you organize your wardrobe and plan out your outfits from one place, digitally. Organize your closet by outfit inspiration, color, style, and season.
Language Learning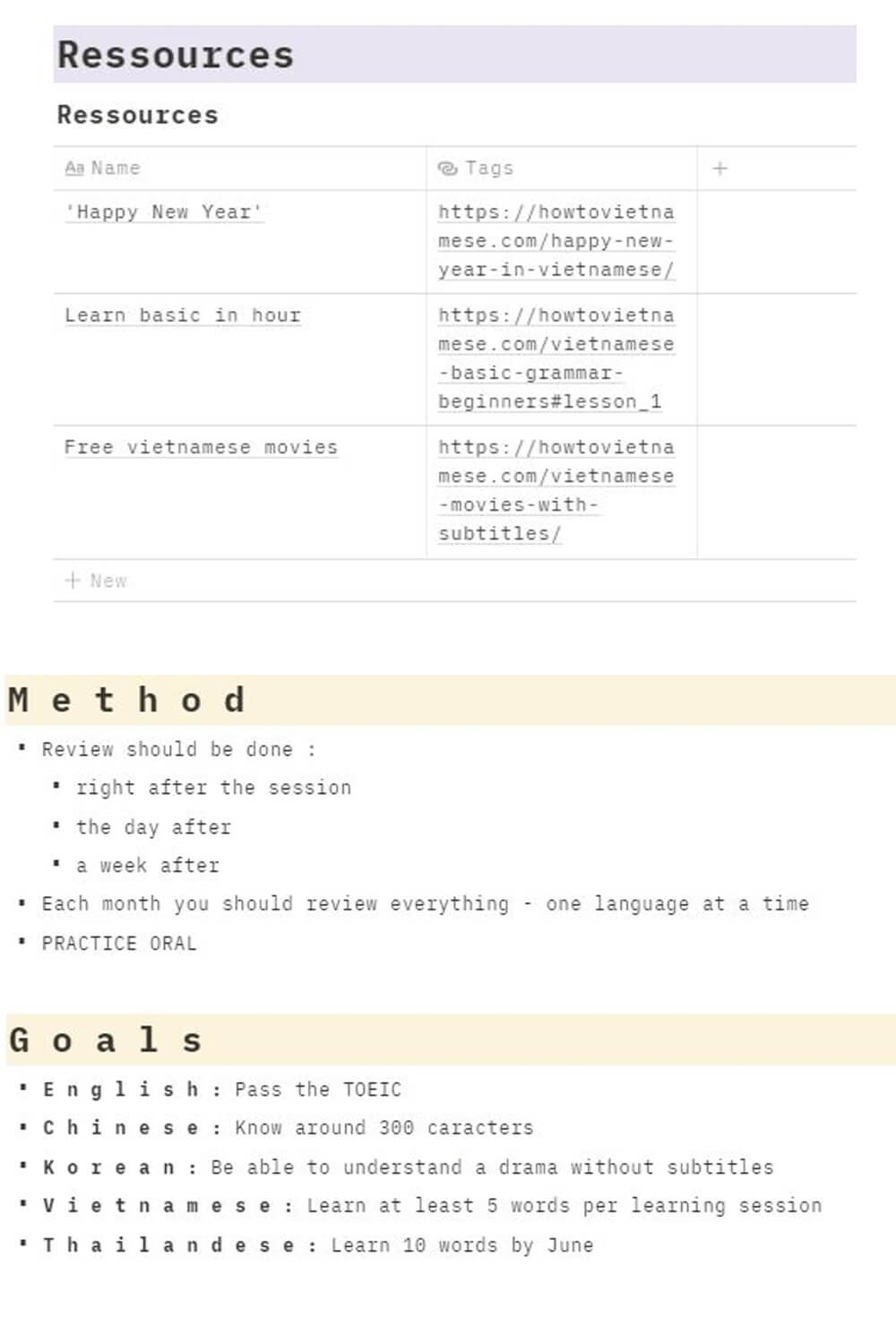 Are you thinking of learning a new language? This Notion template will be your helping hand. Develop an effective method that works for you best and dedicate the template to make notes, and add examples, rules, and resources.
Manifesting Project and Task Management Dashboard (Notion Dashboard Templates)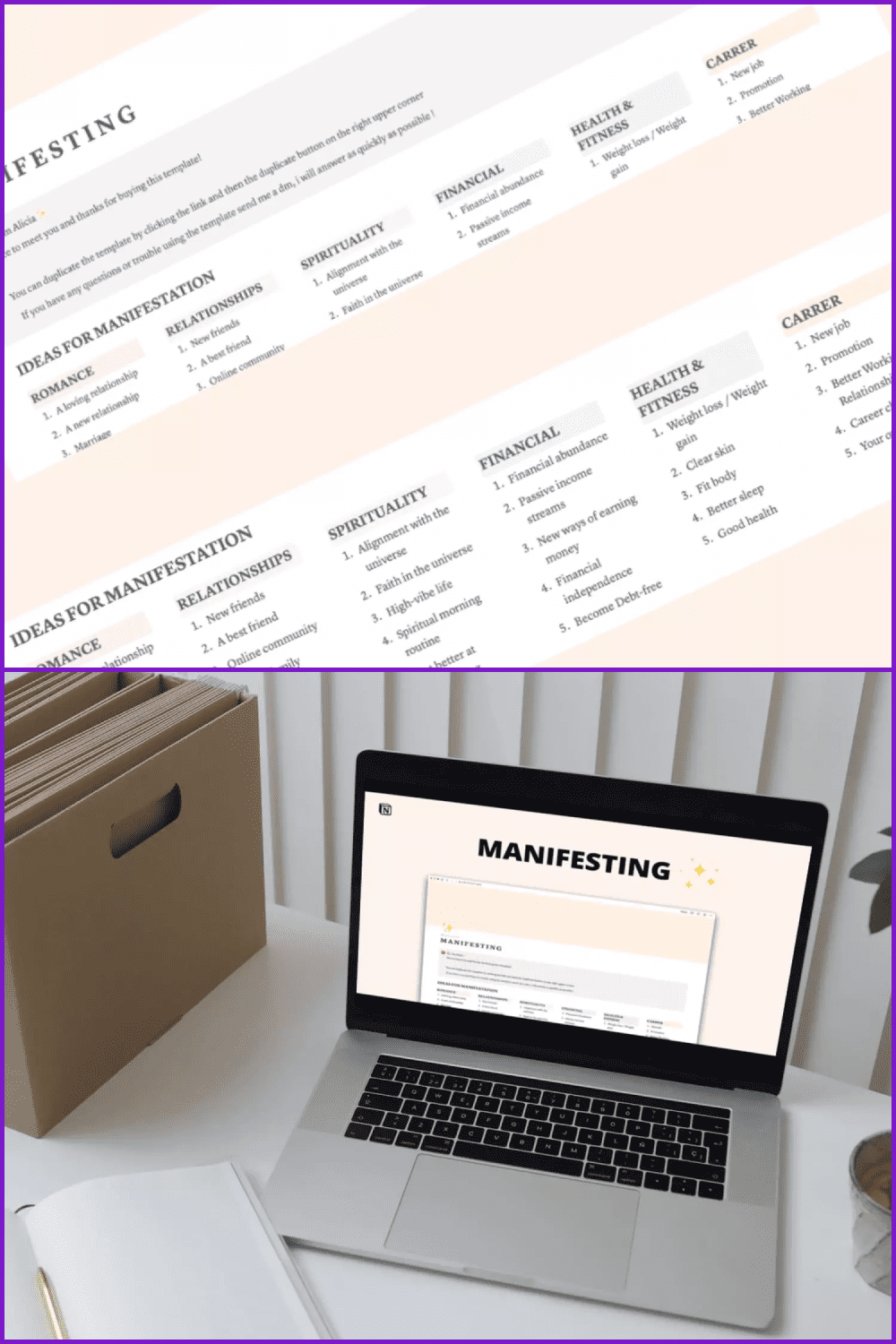 Manifest does exactly what the name says. It's a template to help freelancers with visualizing their tasks, time management, and relationship-building to improve their workflow and get more things done in less time.
Creative Resume Template (Notion templates for students)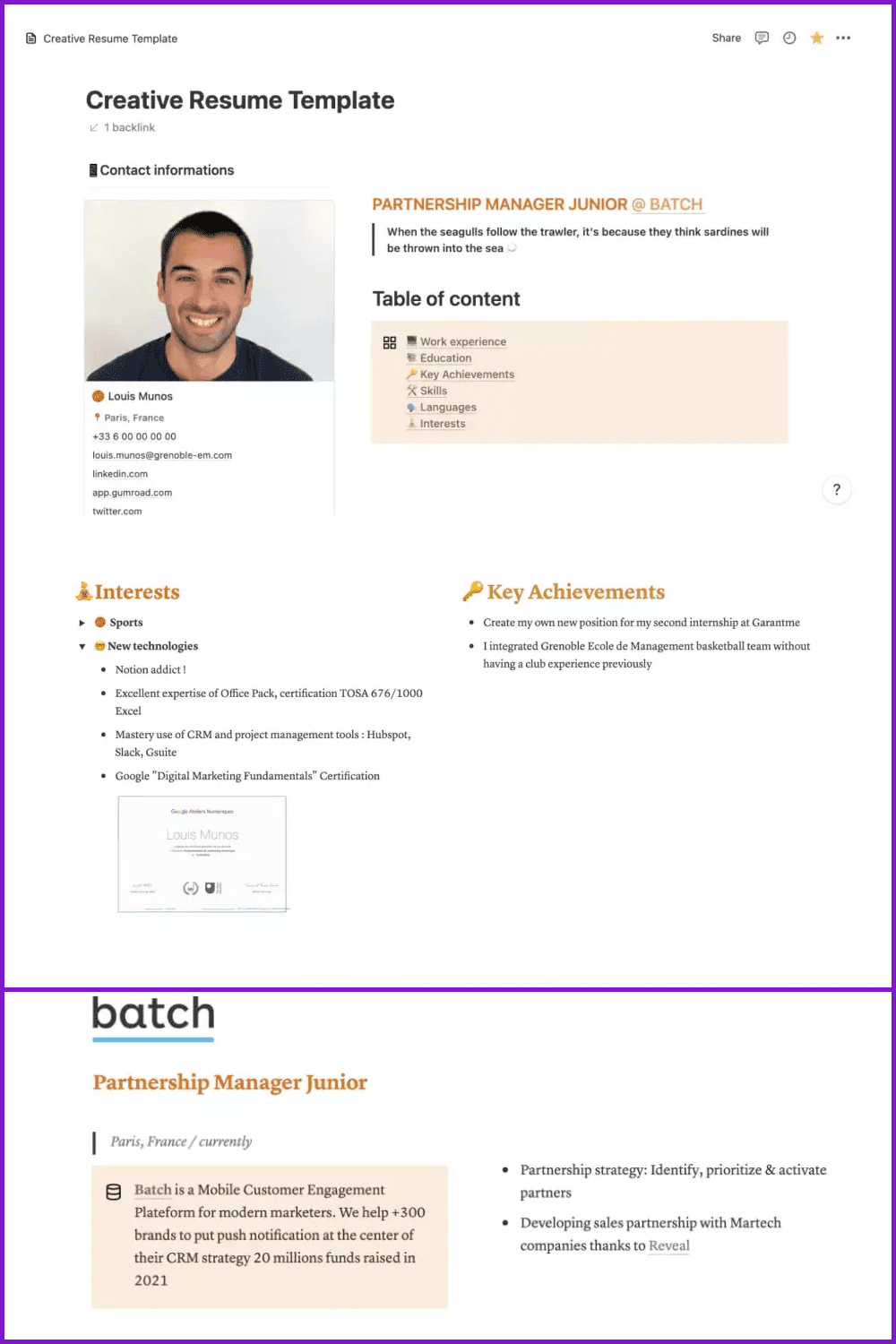 This template will provide you with a great, modern-looking resume wireframe to showcase your amazing skills even better. Pop your info in and share the link to potential employers. Done!
Reader's Template (Notion template for college students)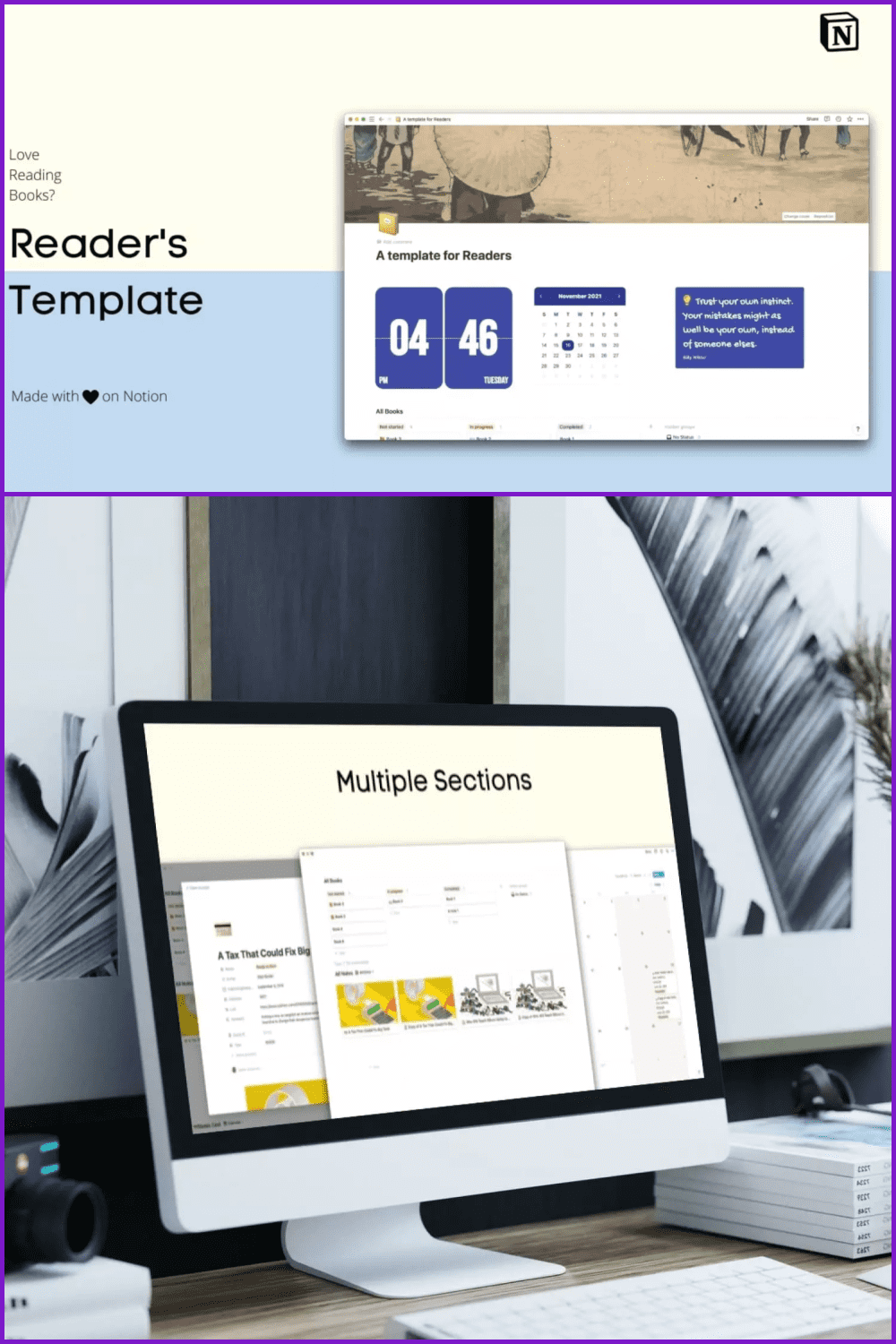 Here's another one that delivers exactly what's promised on the label. Keep track of the books you read, those that you are planning to read, take notes, and improve your reading habits.
Minimalist Weekly Planner (Notion weekly planner templates)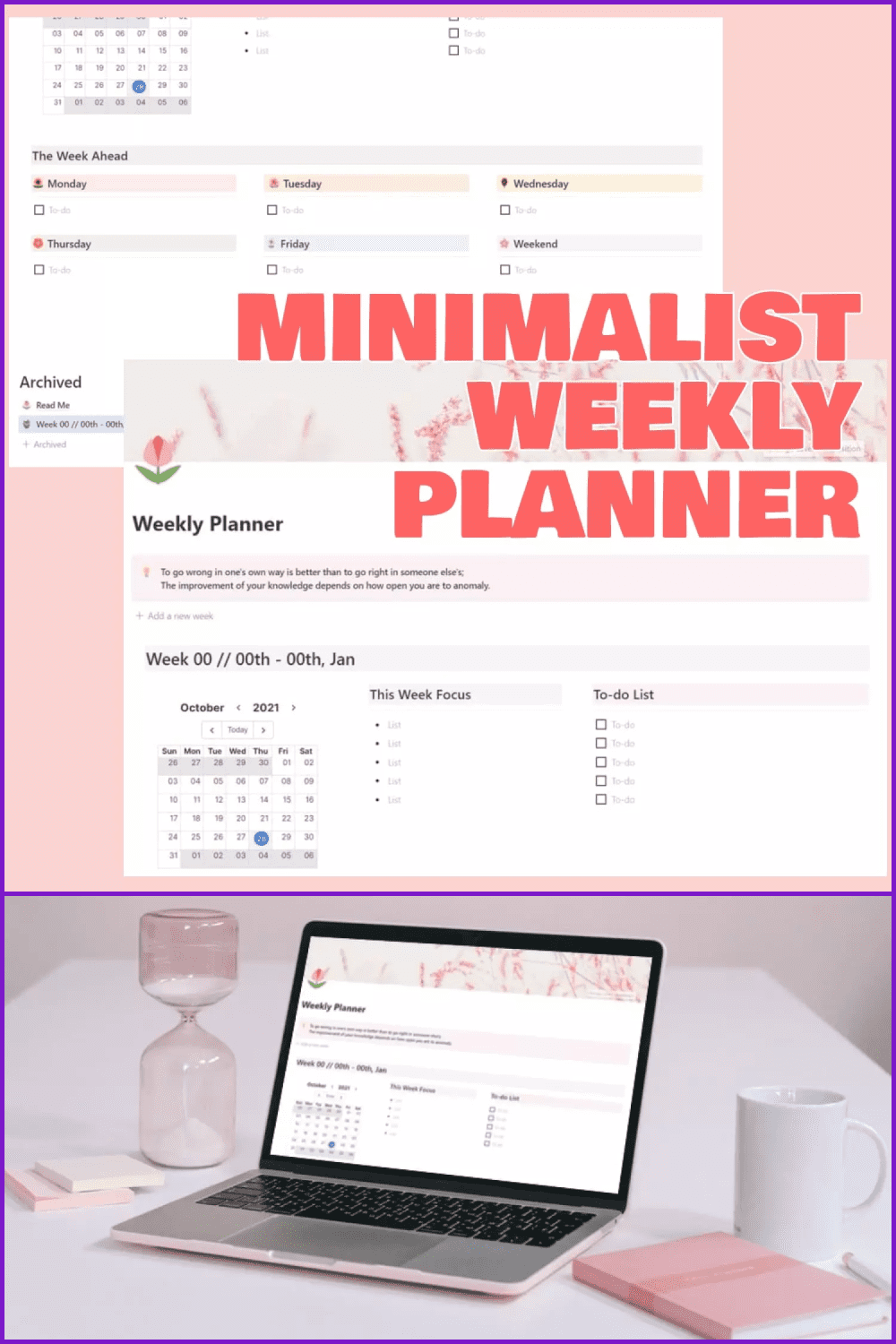 You might already be a neat, organized person, or maybe you just like clutter-free templates. Either way, you'll love this minimal Notion weekly planner template.
Vehicle Maintenance Notion Template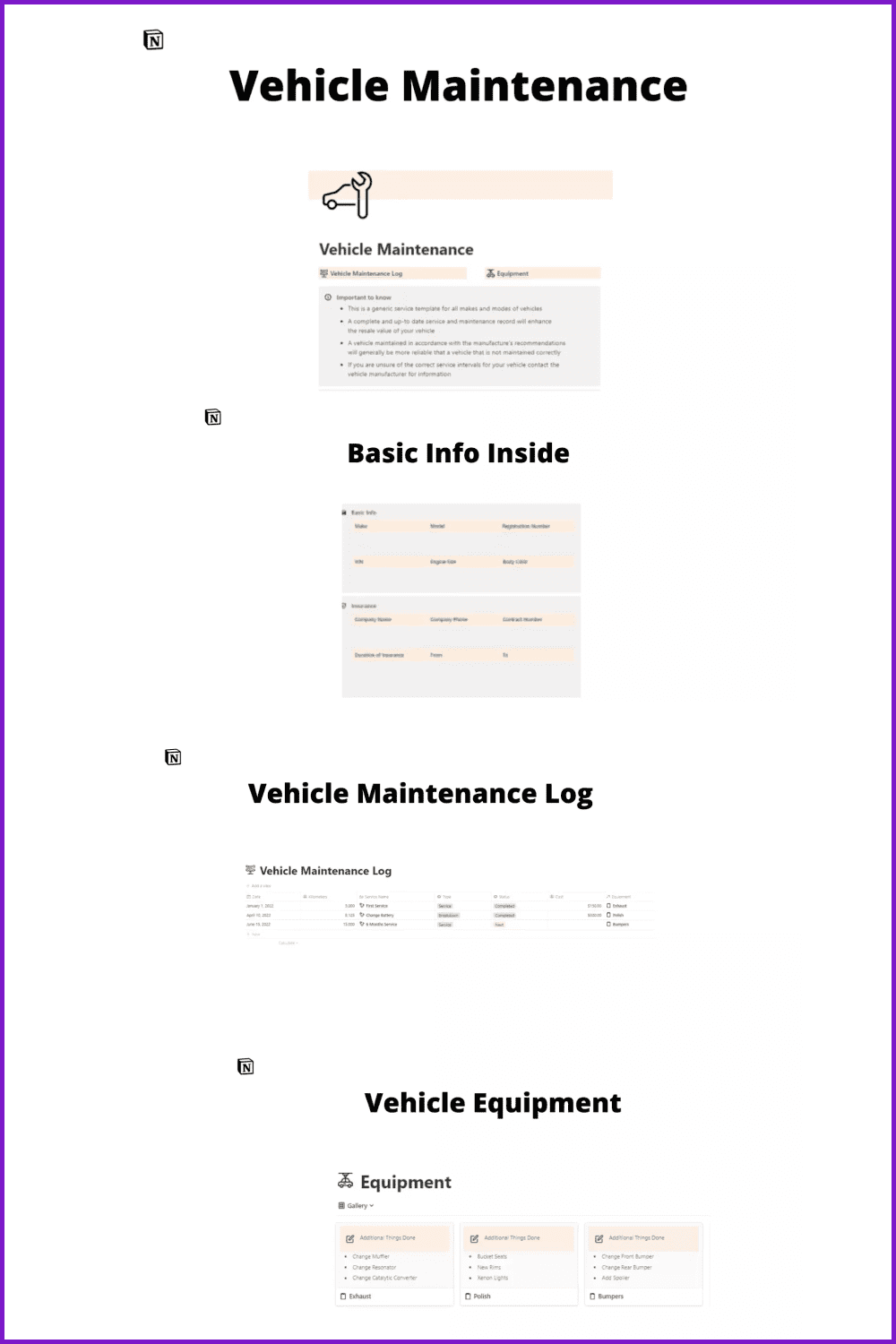 Safety first, always. Good vehicle maintenance is key and will save you a lot of money and heartache. This template will help you keep your vehicle in good running order, even if you really don't care too much about it.
30-Day Mental Health Challenge (Notion planner templates)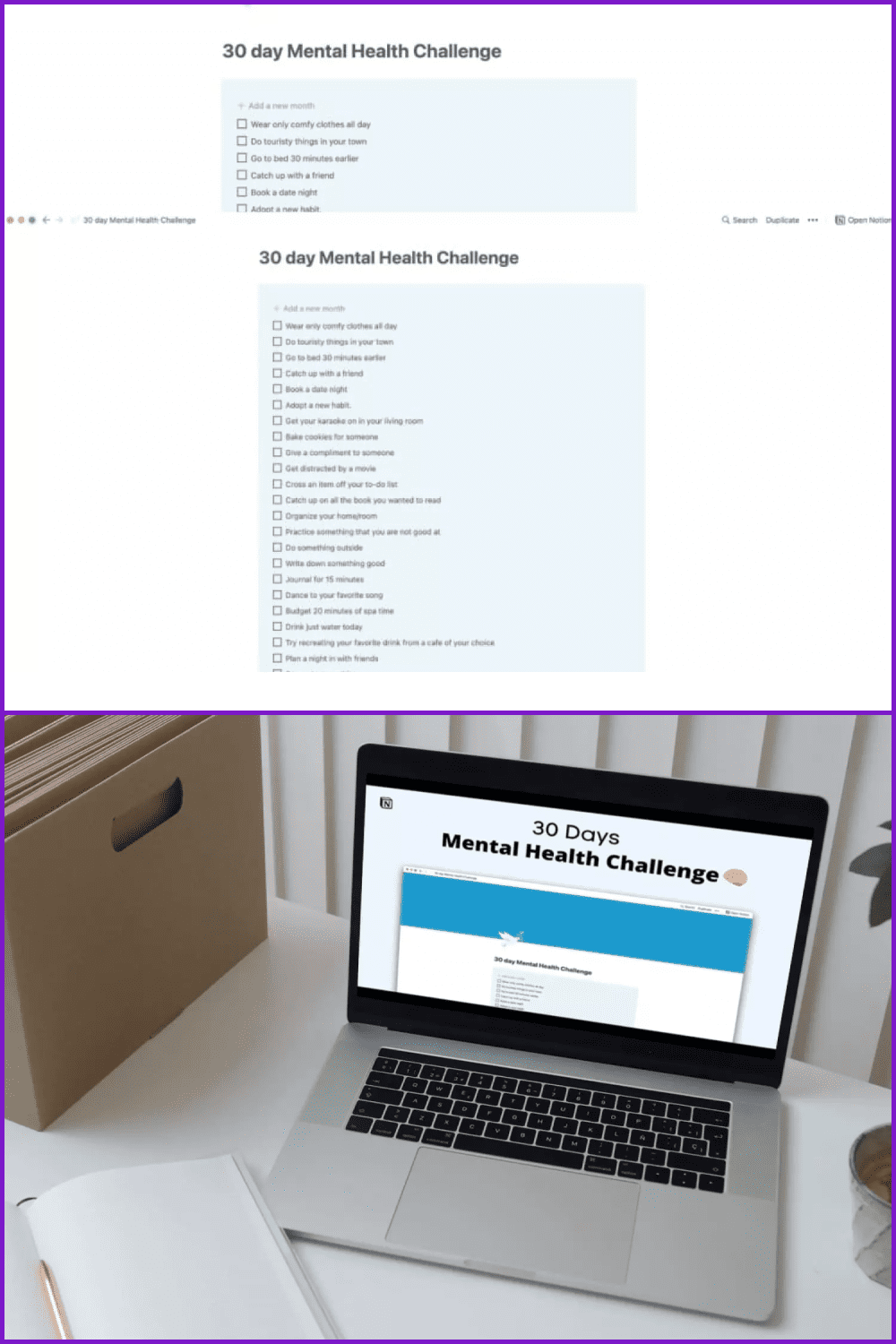 Stop, breathe, and take the time to do something for yourself. This template helps you focus on taking care of your psychological well being, and then kick butt at everything else!
Content Creation Hub (Notion dashboard templates)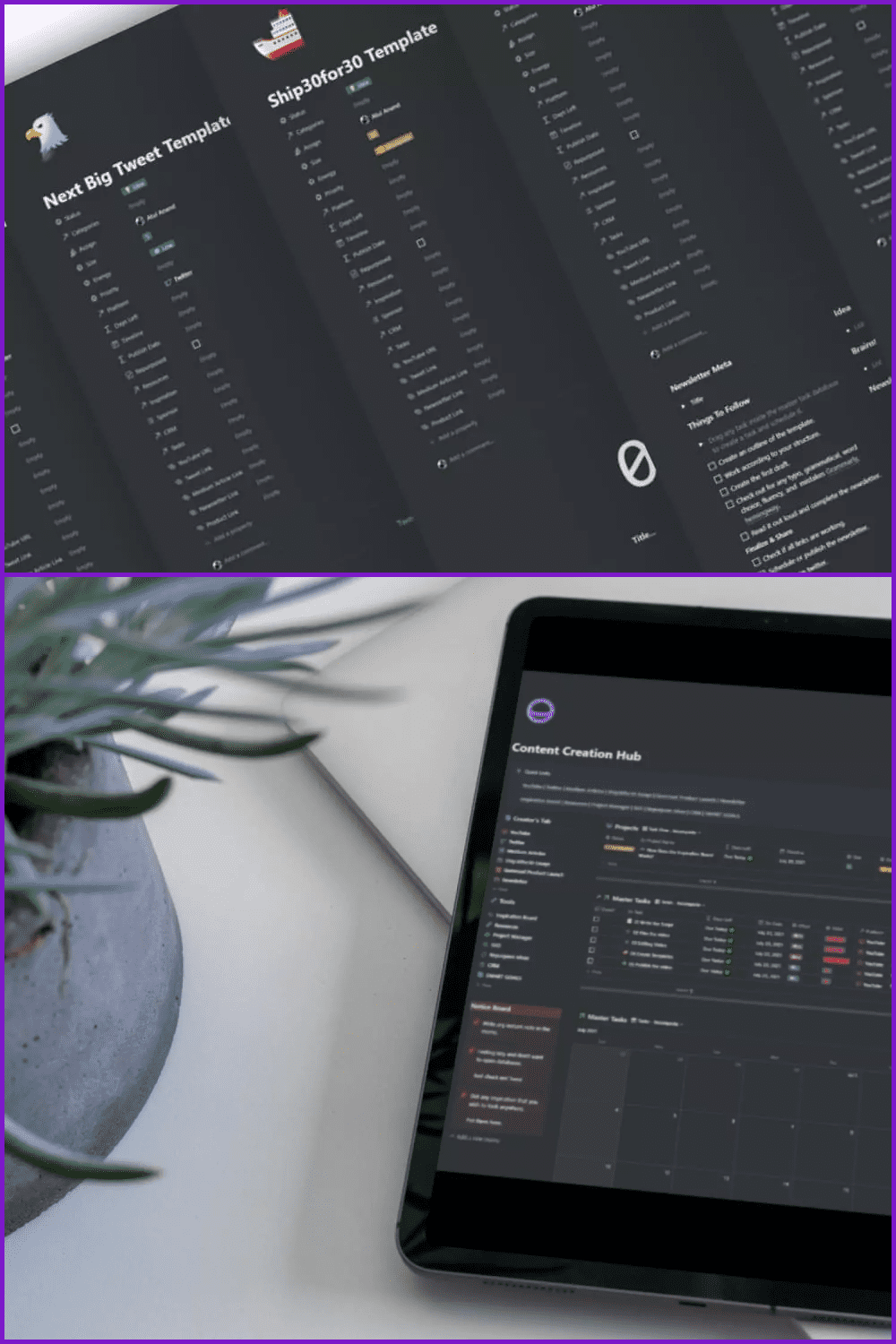 This Notion template provides an amazing tool for designers. Get best practices, tips, tricks, and workflows for creating, repurposing, and marketing your content all in one package.
Twitter BookMarks Manager (Notion templates personal dashboard)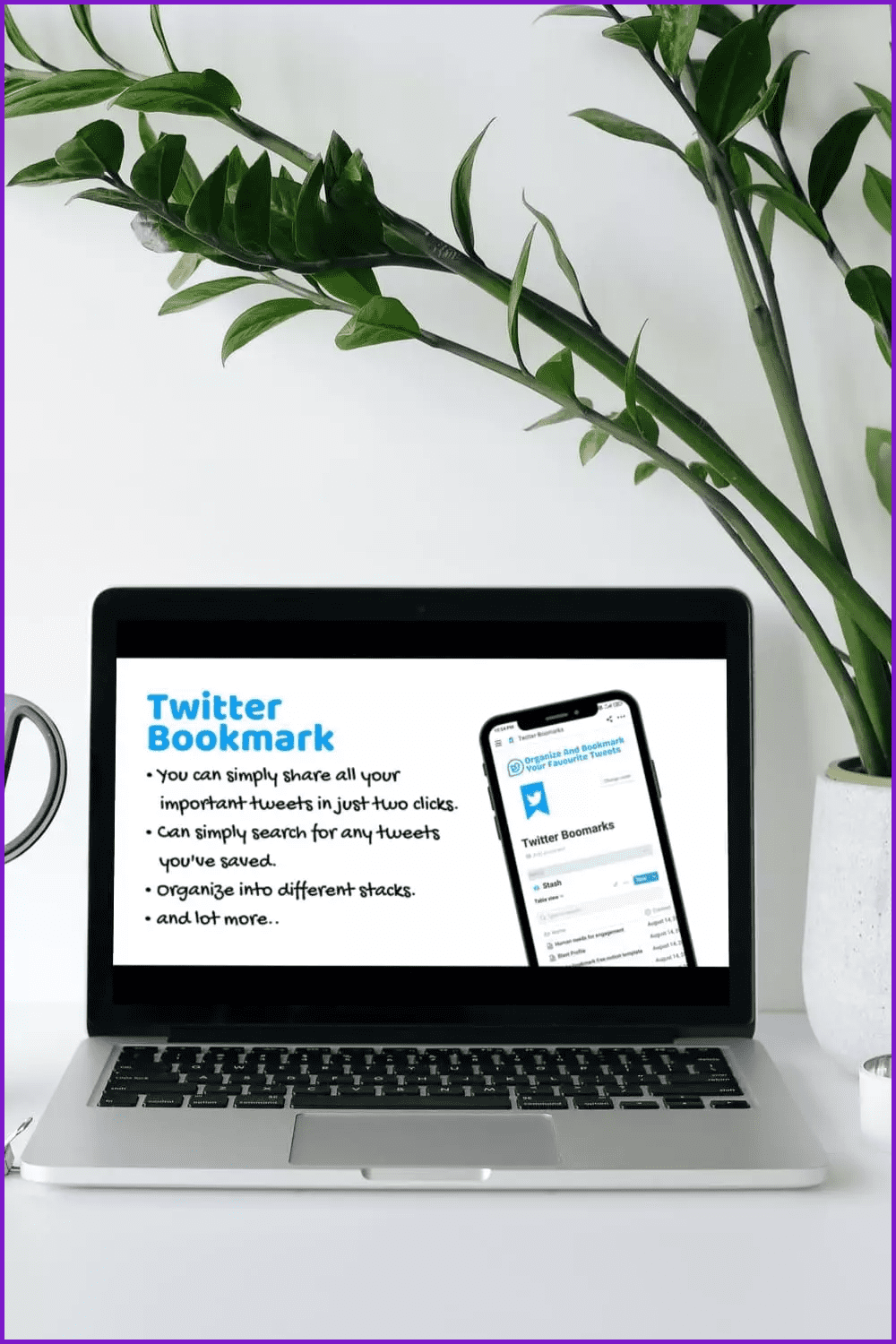 You know that feeling you get when you are sure you are forgetting something, but you can't put your finger on what it is? Well, it's probably a Twitter Bookmark you had saved for later… This template will prevent you from ever forgetting to read a bookmark again. Yay!
Best Notion Templates [Paid and Free]
In this section, we analyze the best Notion templates, independently from their function. Whether you are looking for an all-rounder or something specific like a mood board, we've got you covered! Some of them are even free, so start digging!
All-Purpose Notebook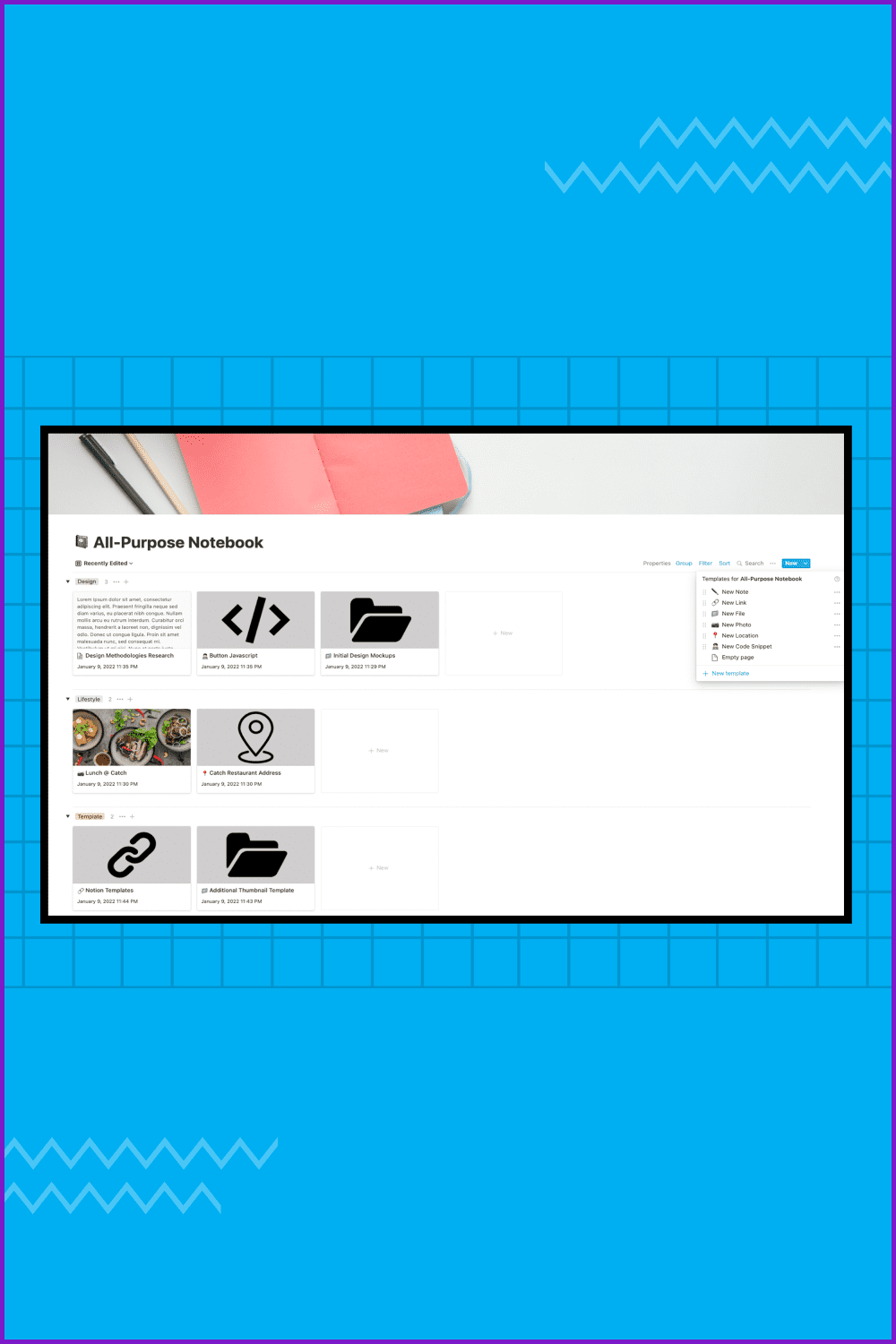 Defined by its creators as the Swiss Army Knife of Notion templates, this template allows you to take notes and save links, videos, images, and even snippets of code in a thoroughly organized manner.
If you are a designer, notes and images can be previewed without opening the page; you can even customize the artwork by modifying the included Photoshop file!
Simple OKR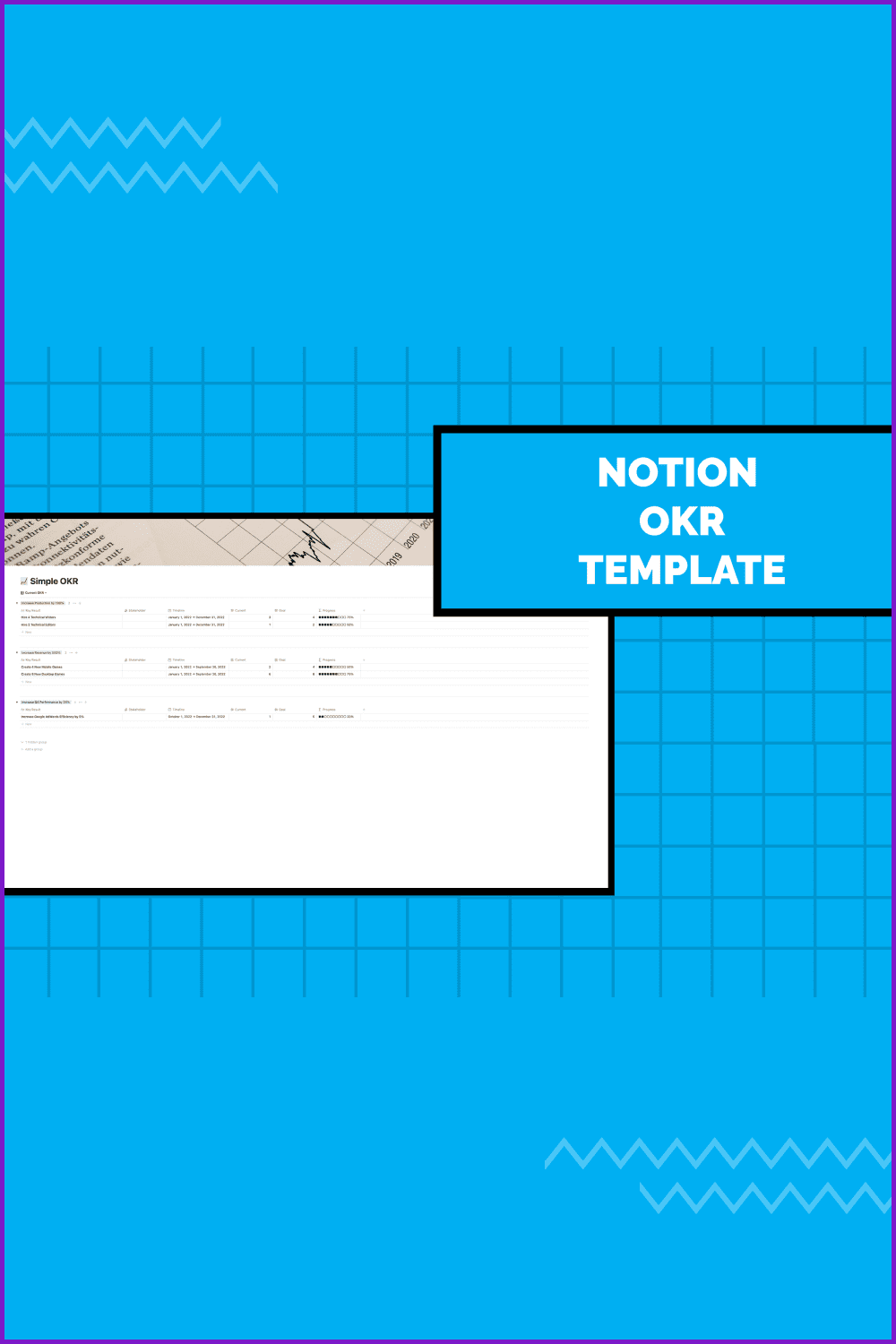 Objectives and Key Results is a fantastic method that divides huge tasks or goals into manageable portions; this way you can visualize progress and get things done quicker. This template does exactly what it says on the box: pop in your tasks and objectives, break them up, and monitor your progress and pipelines. Let's get things done!
Mood Board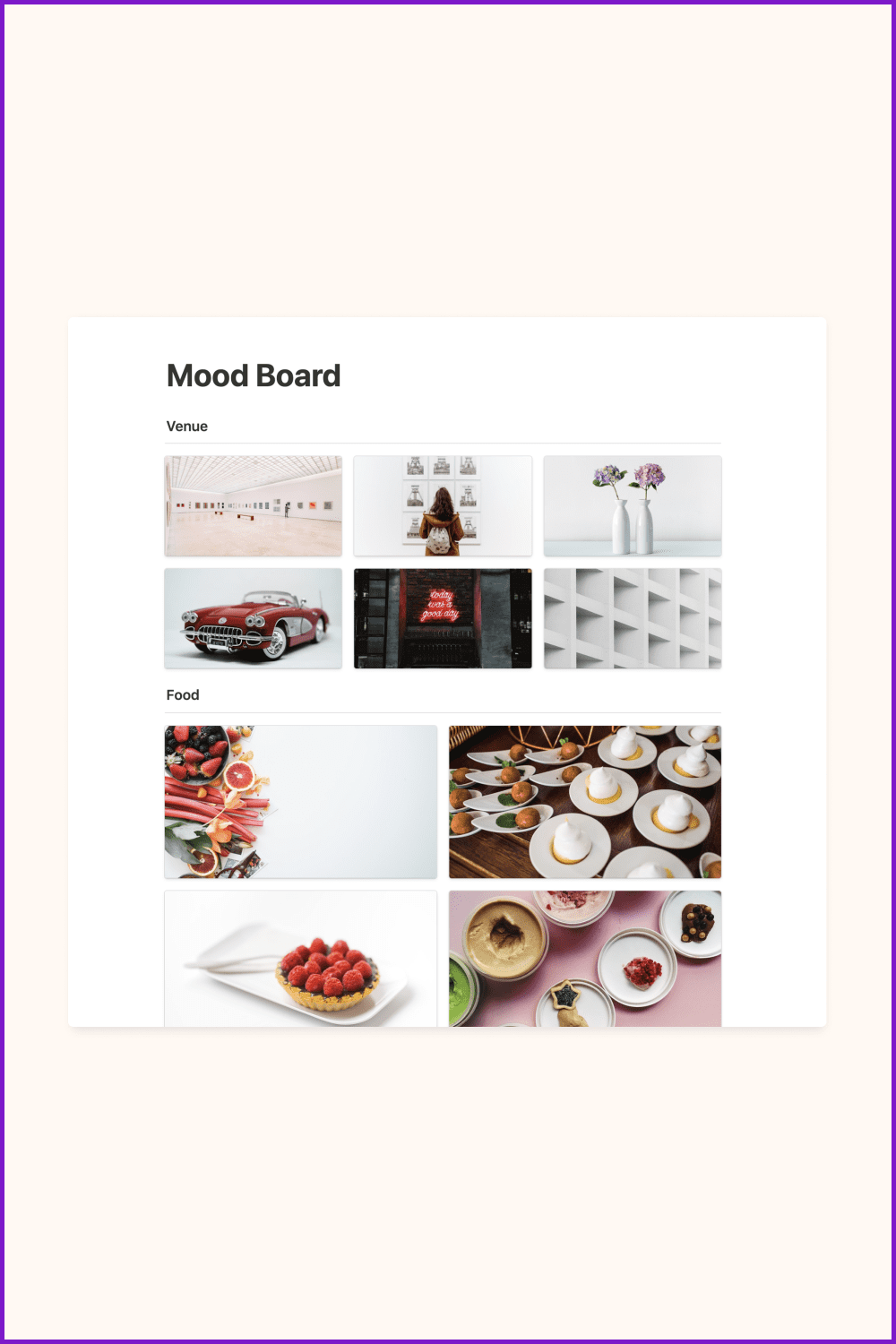 Notion and Unsplash are partners and this makes Notion a great place to build a mood board. Get new ideas rolling with this intuitive template.
Daily Journal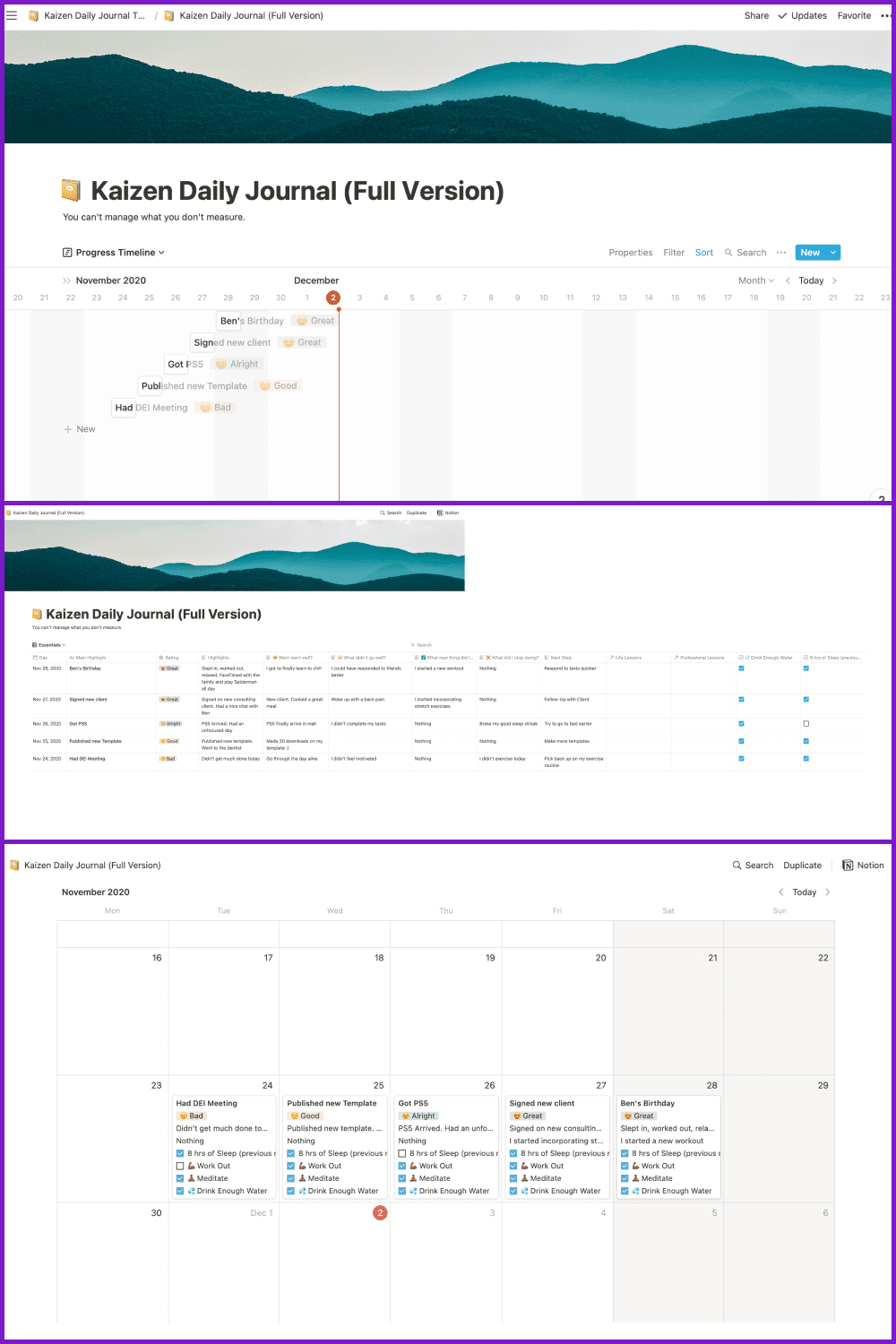 Log in your daily thoughts, what you did well, what you failed to do right, and how to do better next time. If your aim is self-improvement, this template is for you.
Portfolio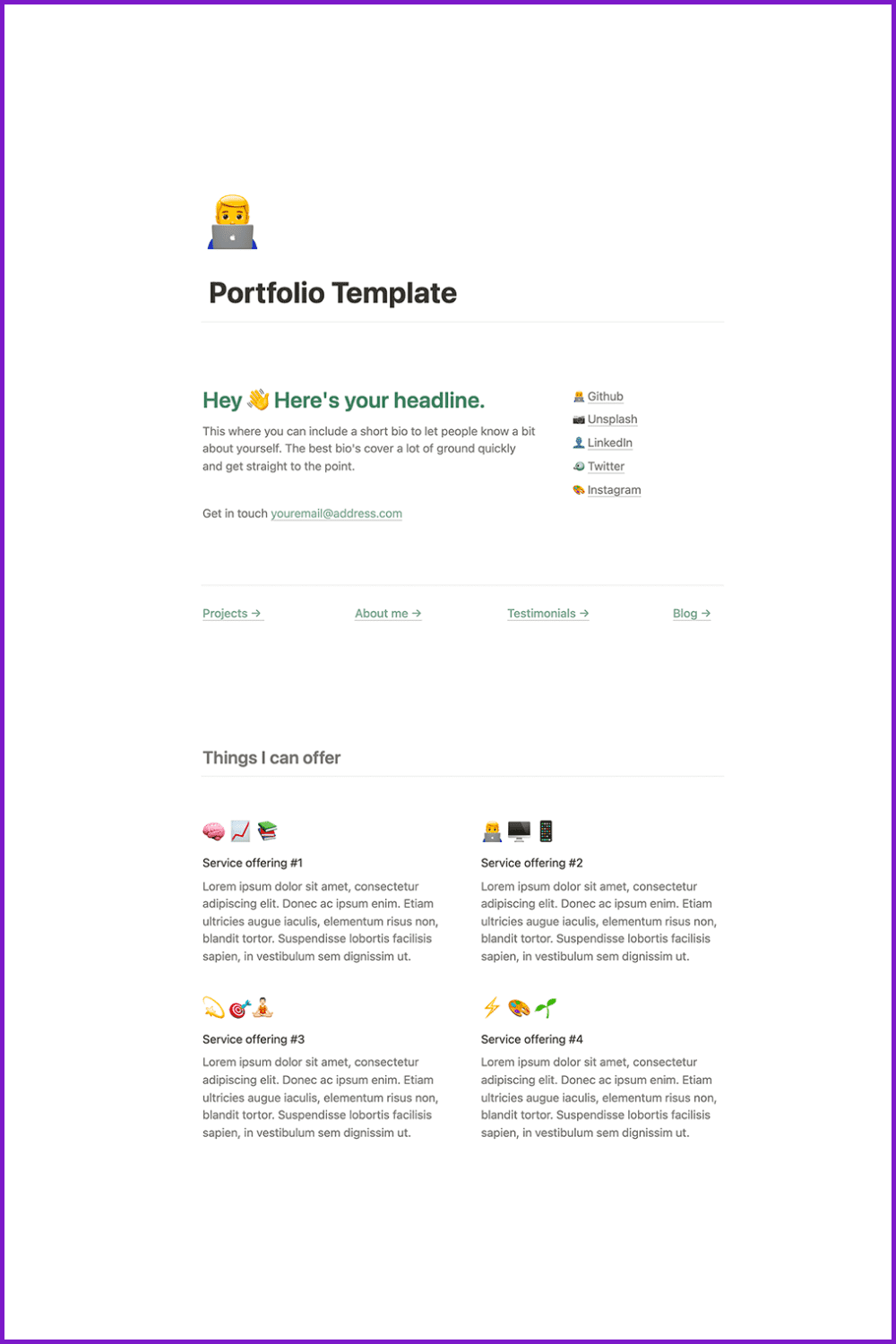 Dribbble, Behance… they are all fine and dandy for creating a portfolio, but they are hard to manage, and almost a chore in themselves (gather followers, update content, stay on top of trends…) This Notion template is much more straightforward, and yet is a nice way to present your work to potential clients.
Subscription Tracker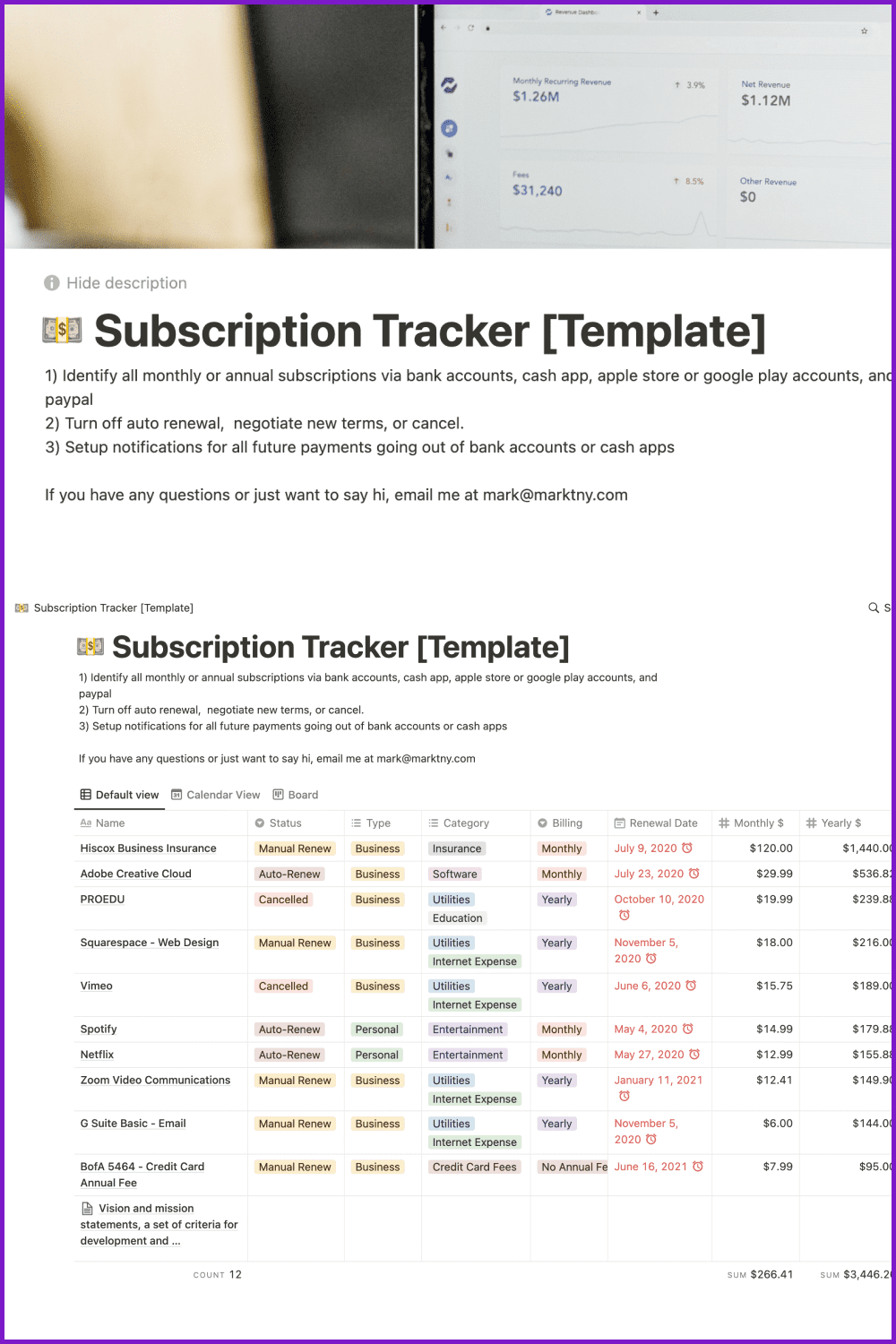 Let's face it, the world runs on subscriptions (unless you are a tiny pirate, and you are not… right?) Anyway, subscriptions can easily pile up and overwhelm your finances. With this template and its alerts, no subscription will catch you unprepared.
Contractor Invoice & Database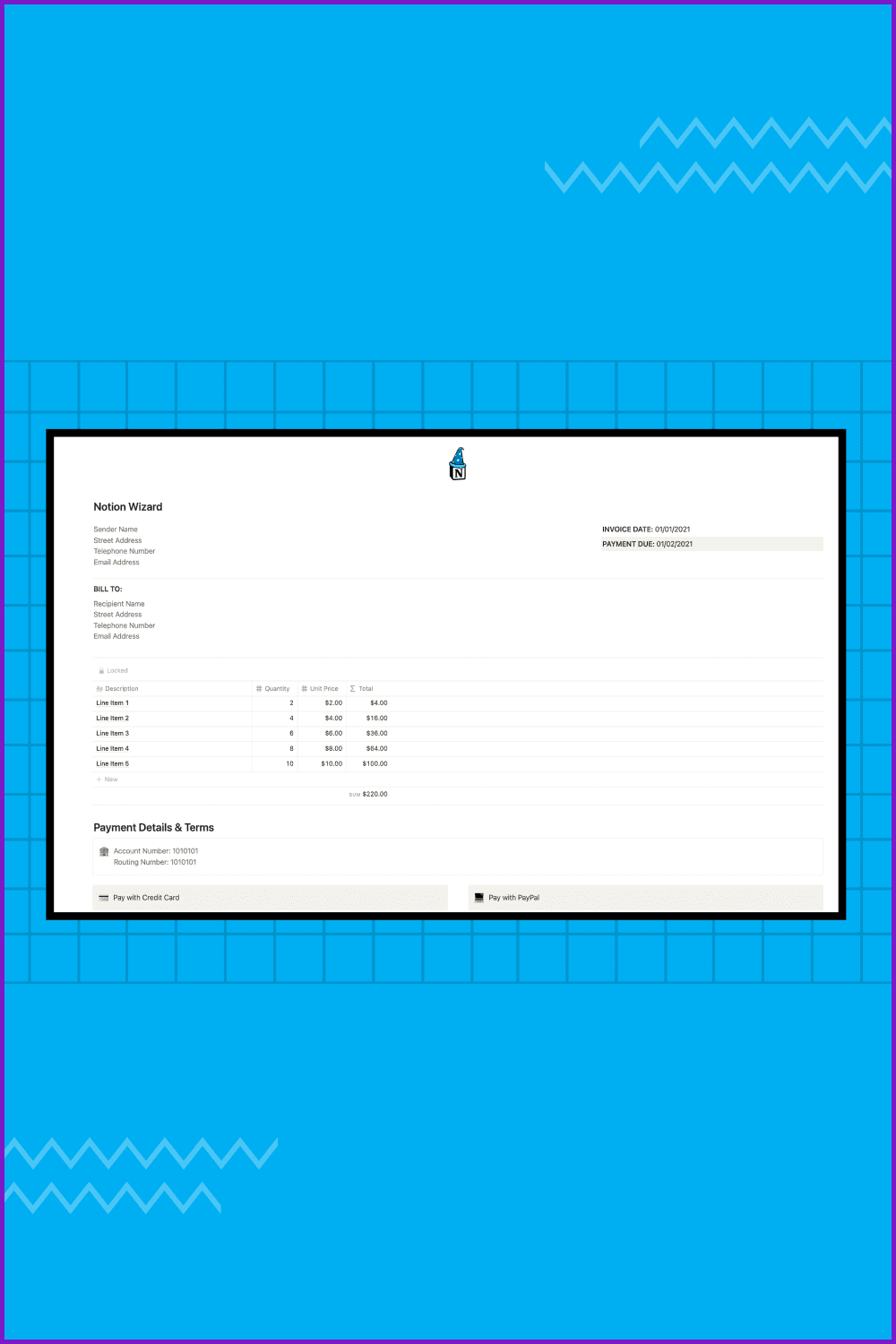 As a freelancer, you know how tedious invoicing is. Sure, there are Notion templates that make it easier, but this invoicing database takes the whole thing to the next level. You can easily create, manage, and share invoices. They are then stored in a database that can be sorted by client, date, and many other parameters. You can even share and password-protect your invoices directly within Notion.
Inventory Management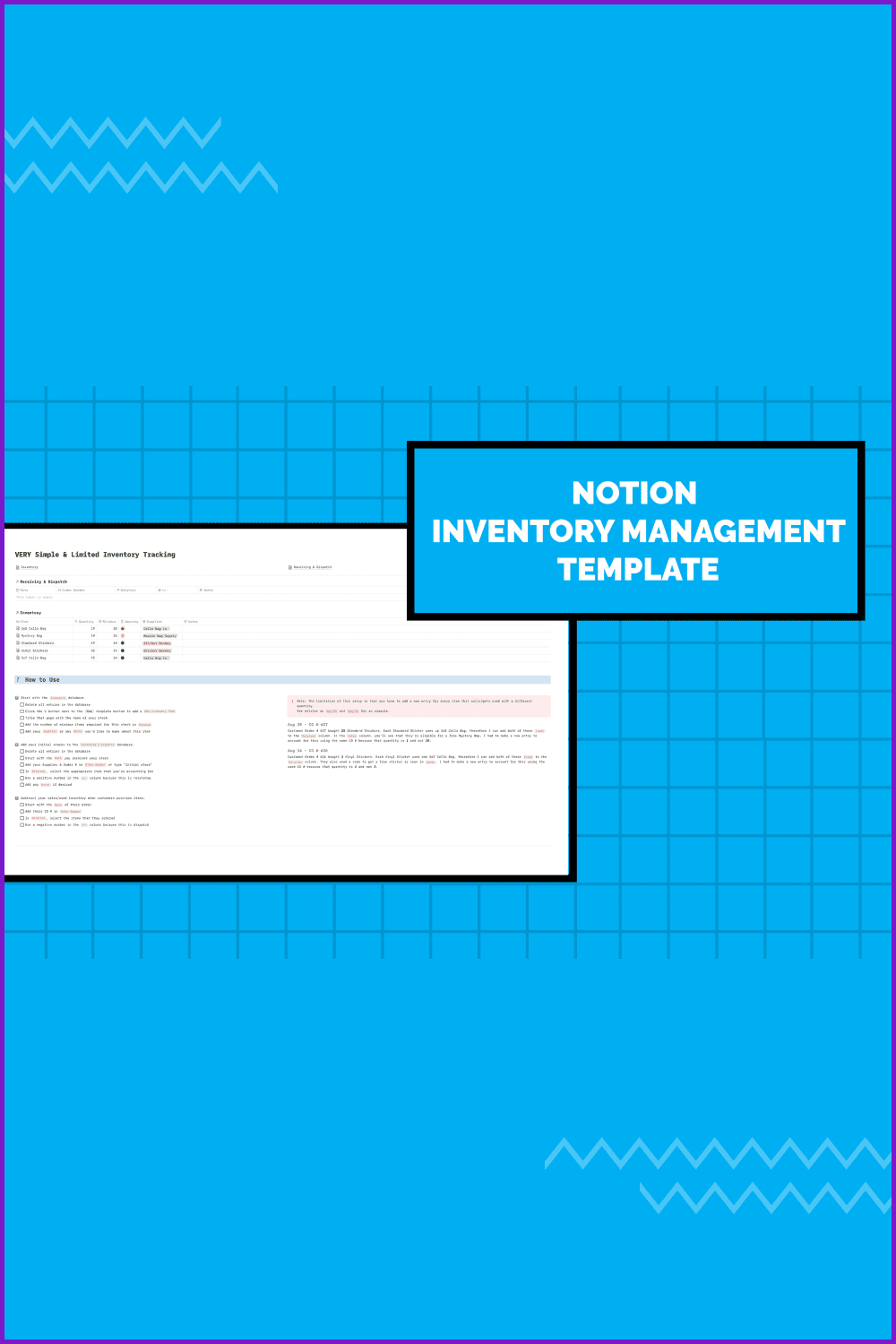 Maybe, as part of your freelancing work, you screen-print merchandise. Or maybe you like to craft things with clay and sell them on Etsy. Whatever you do, if you have physical goods, this template is the easiest way to monitor your stock.
Simple Blog Website Layout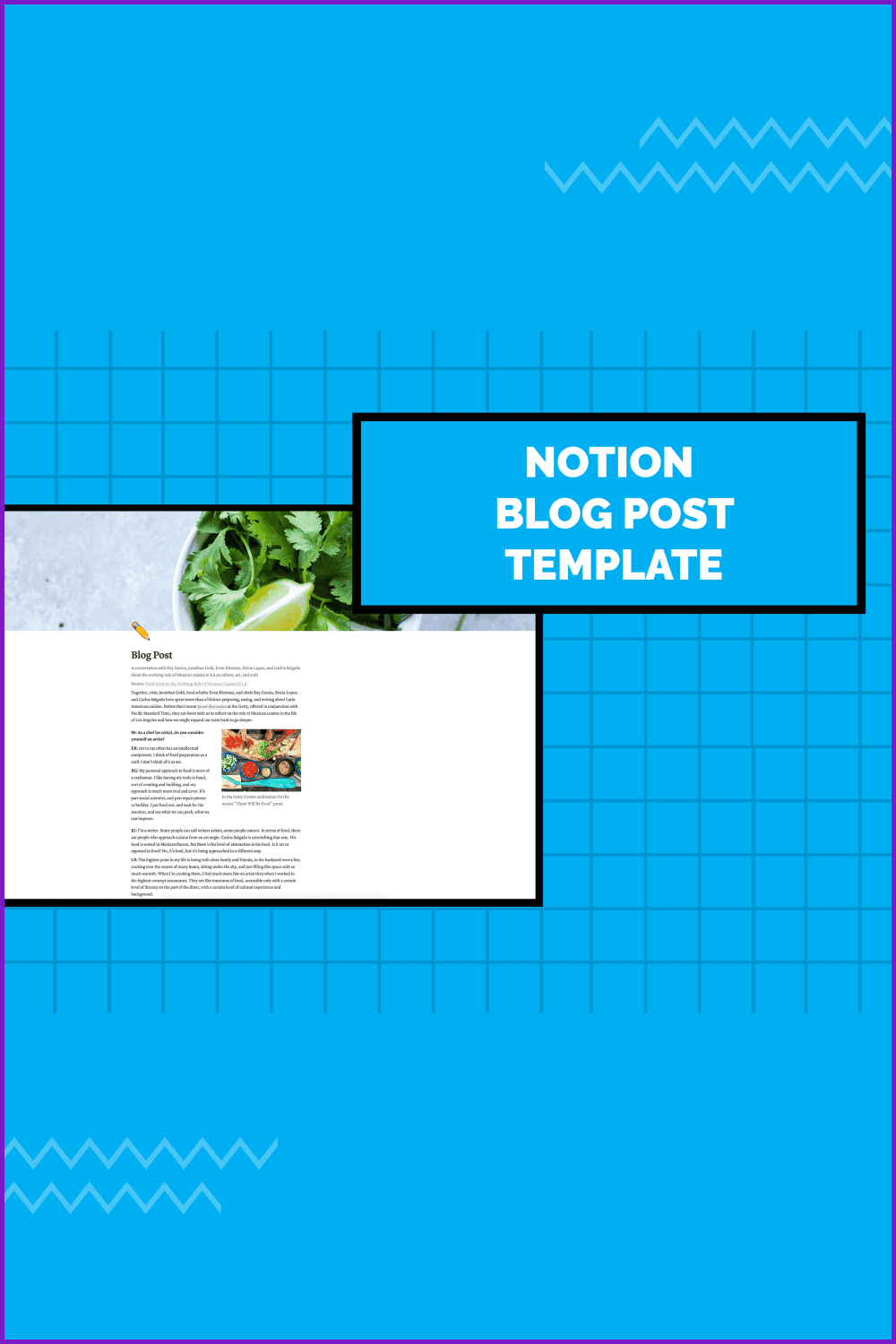 A lot of us like to write, but maybe we can't be bothered with the development of a full-fledged WordPress blog. This template is an excellent alternative, fairly customizable, and easy to navigate. If you hold any of Notion's paid plans, it can even be indexed by Google (time to review your SEO knowledge, my friend!)
Eisenhower Matrix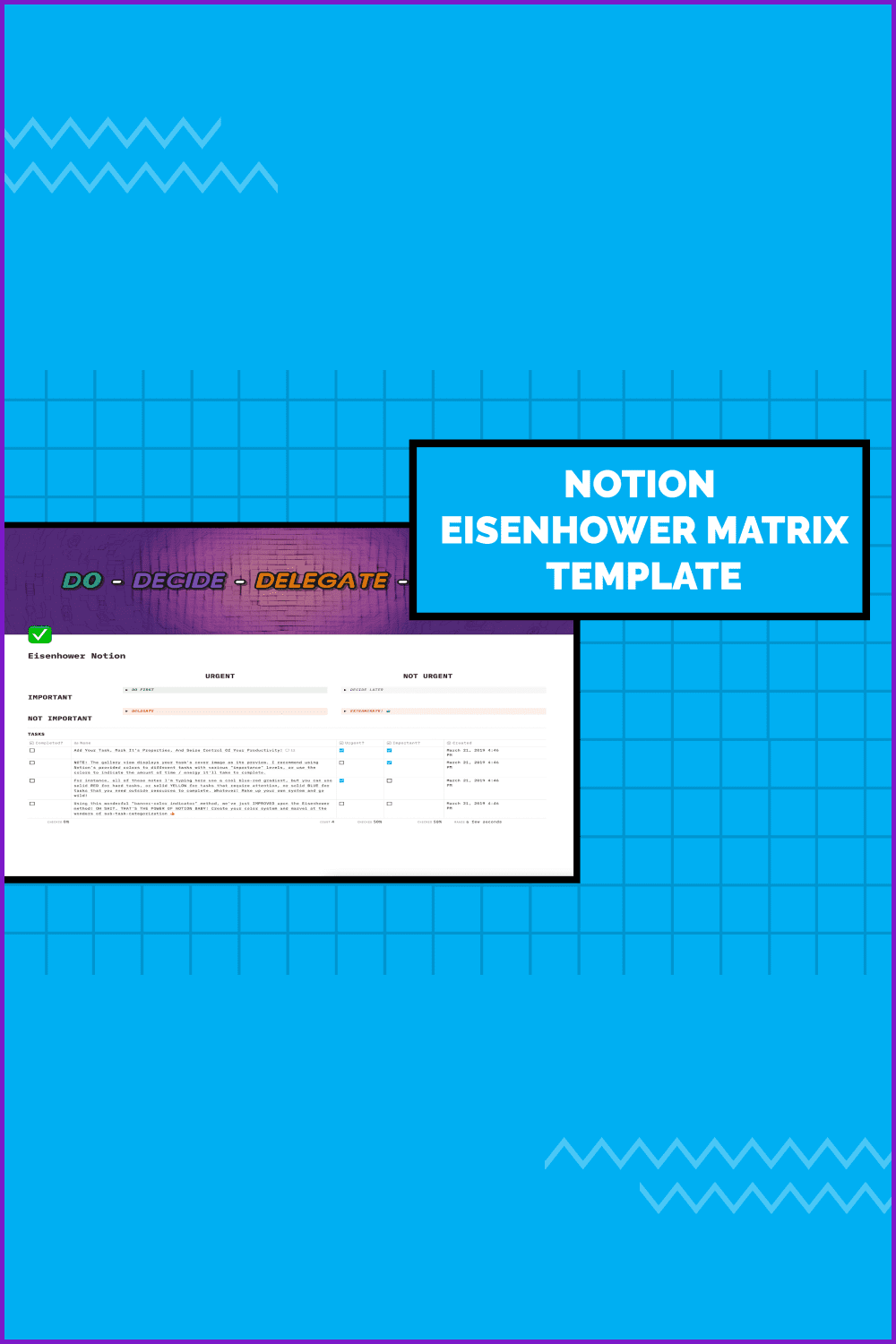 The Eisenhower Matrix is universally recognized as the best prioritization scheme. It allows you to rank tasks by importance, weeding out stuff you can delegate or drop altogether. Man, don't we all love dropping stuff!
Habit Tracker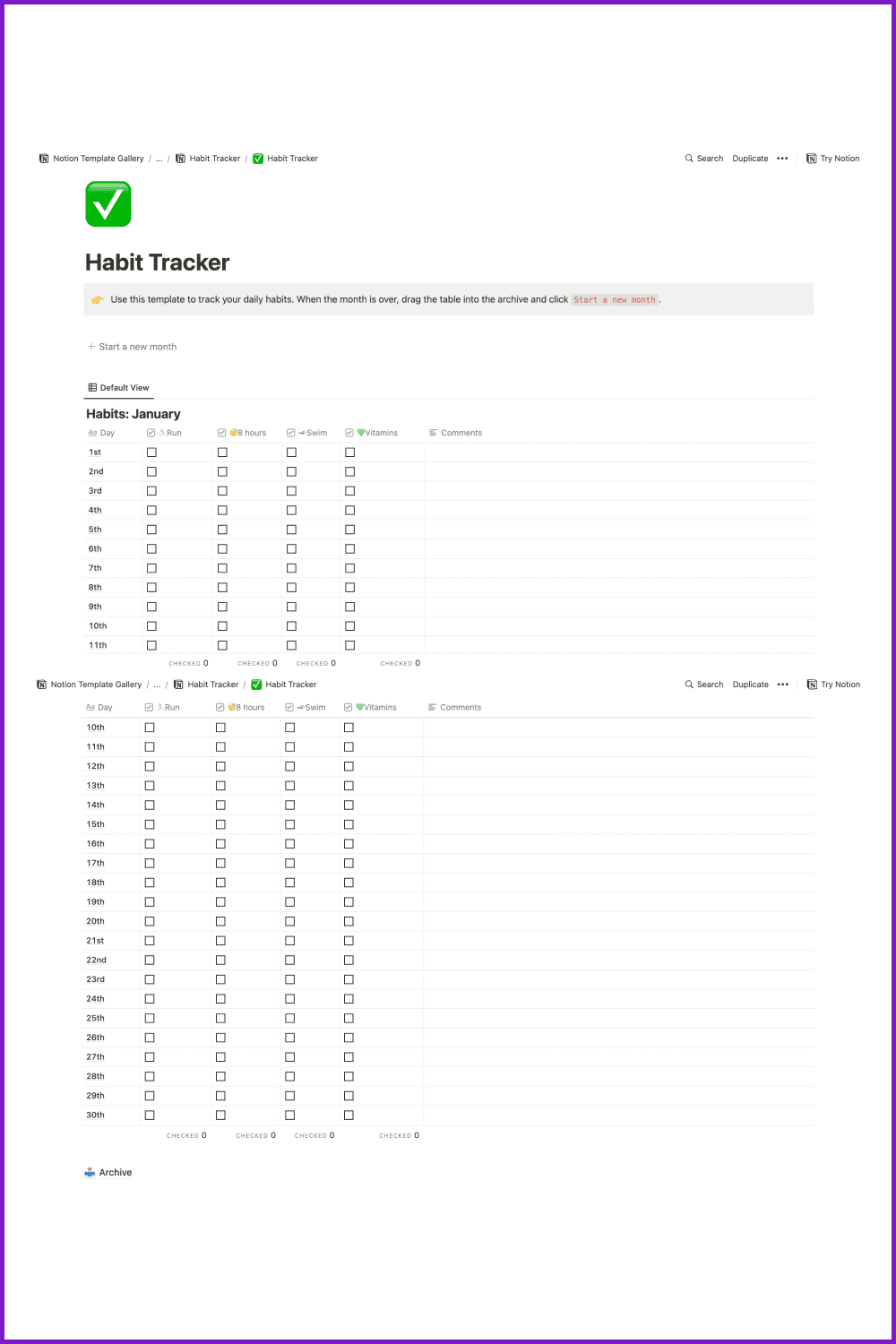 If you have repeating tasks that you do every day (like workout… yeah, sure…), this template is great. You can add a new month just by clicking the button and the template keeps track of how many times you have completed each activity.
Standard Operating Procedure (SOP)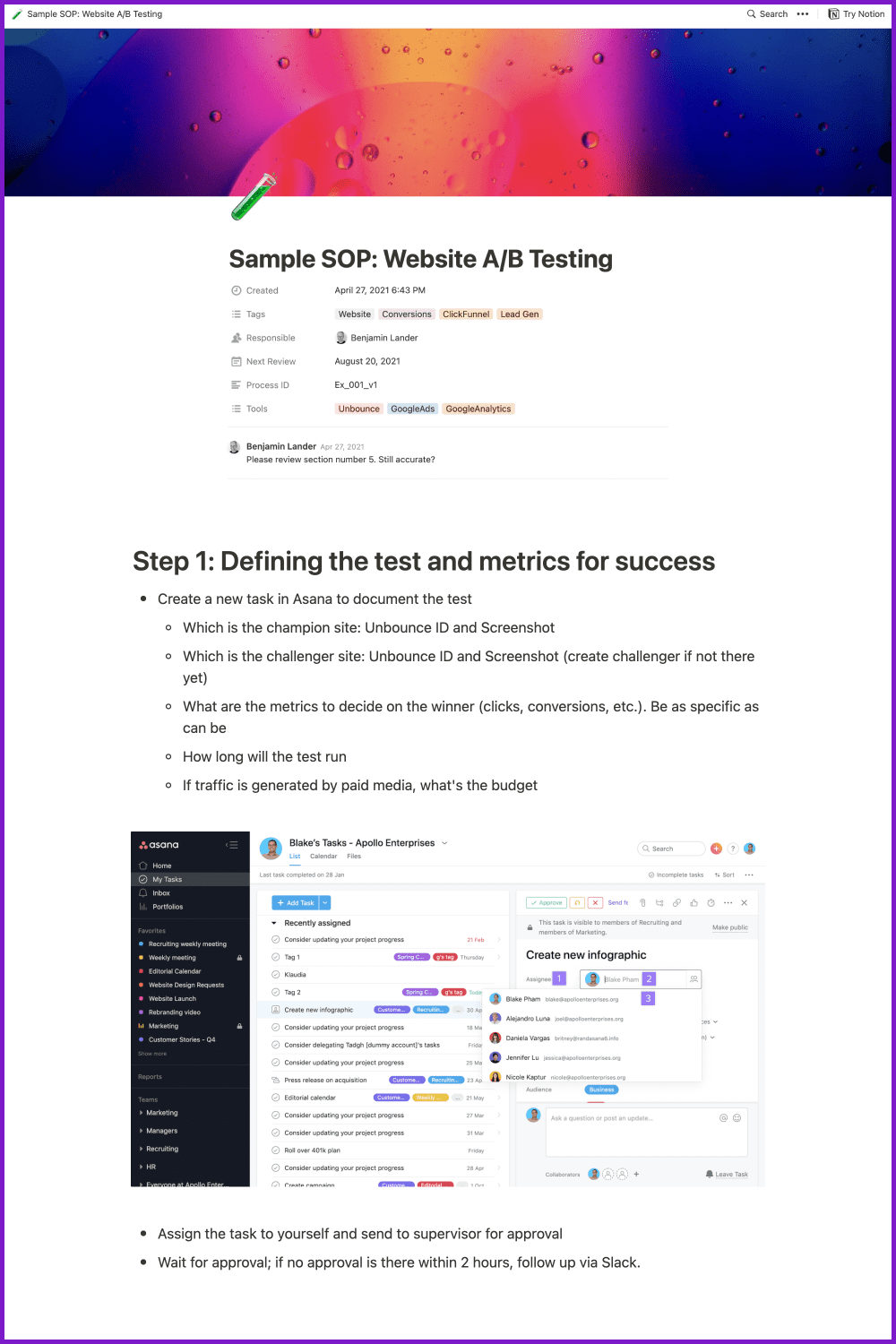 You can copy this template and use it for your own SOPs, it's got everything from tags, to versioning, to date modified. Now you can keep your team in line, with no excuses!
Wikipedia Wiki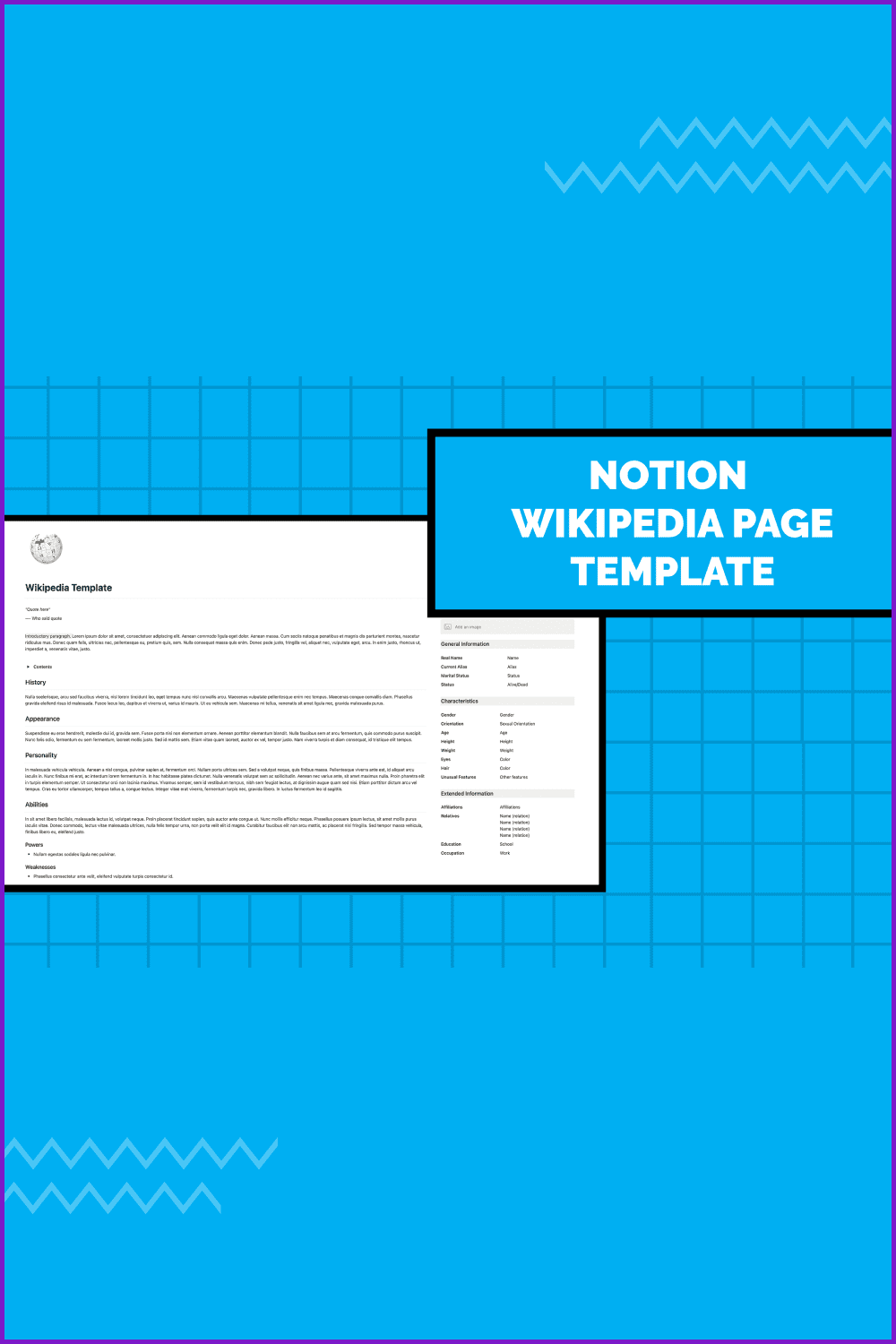 The look and feel of Wikipedia, without the hassle of using MediaWiki formatting? Gimme!
This template allows you to create a wiki (office SOPs, anyone?), easily and with an interface that everyone is familiar with. Win-win!
Aesthetic Notion Templates
Notion is extremely useful, but that doesn't mean it should be boring! Many Notion template creators have an artistic itch they need to scratch… When this happens, practicality and beauty come together. With these templates, you can beautify your tasks… pretty cool!
The Ultimate Notion Student Template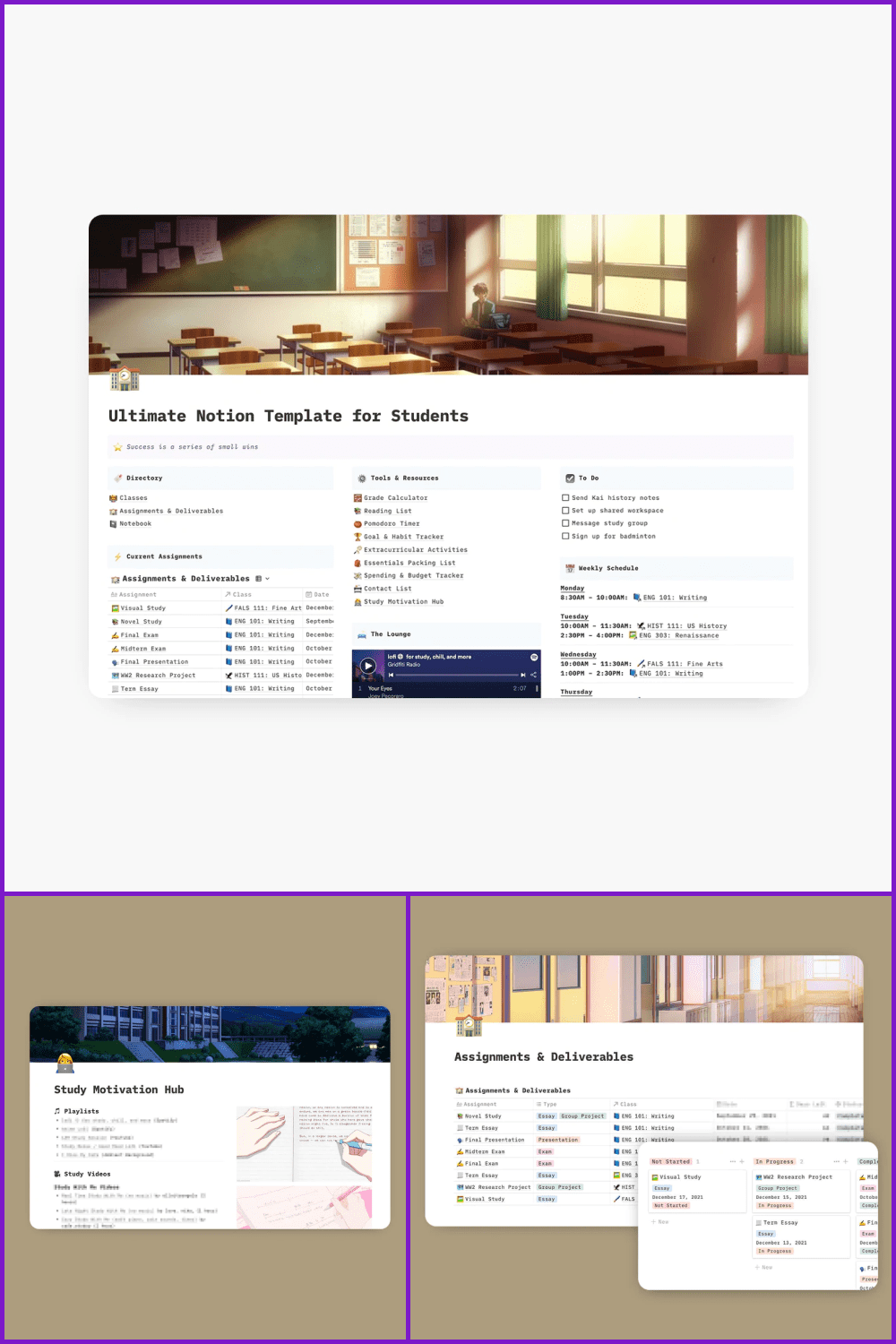 The look and feel of Wikipedia, without the hassle of using MediaWiki formatting? Gimme!
This template allows you to create a wiki (office SOPs, anyone?), easily and with an interface that everyone is familiar with. Win-win!
Aesthetic Movie, TV Show & Anime Watch List Template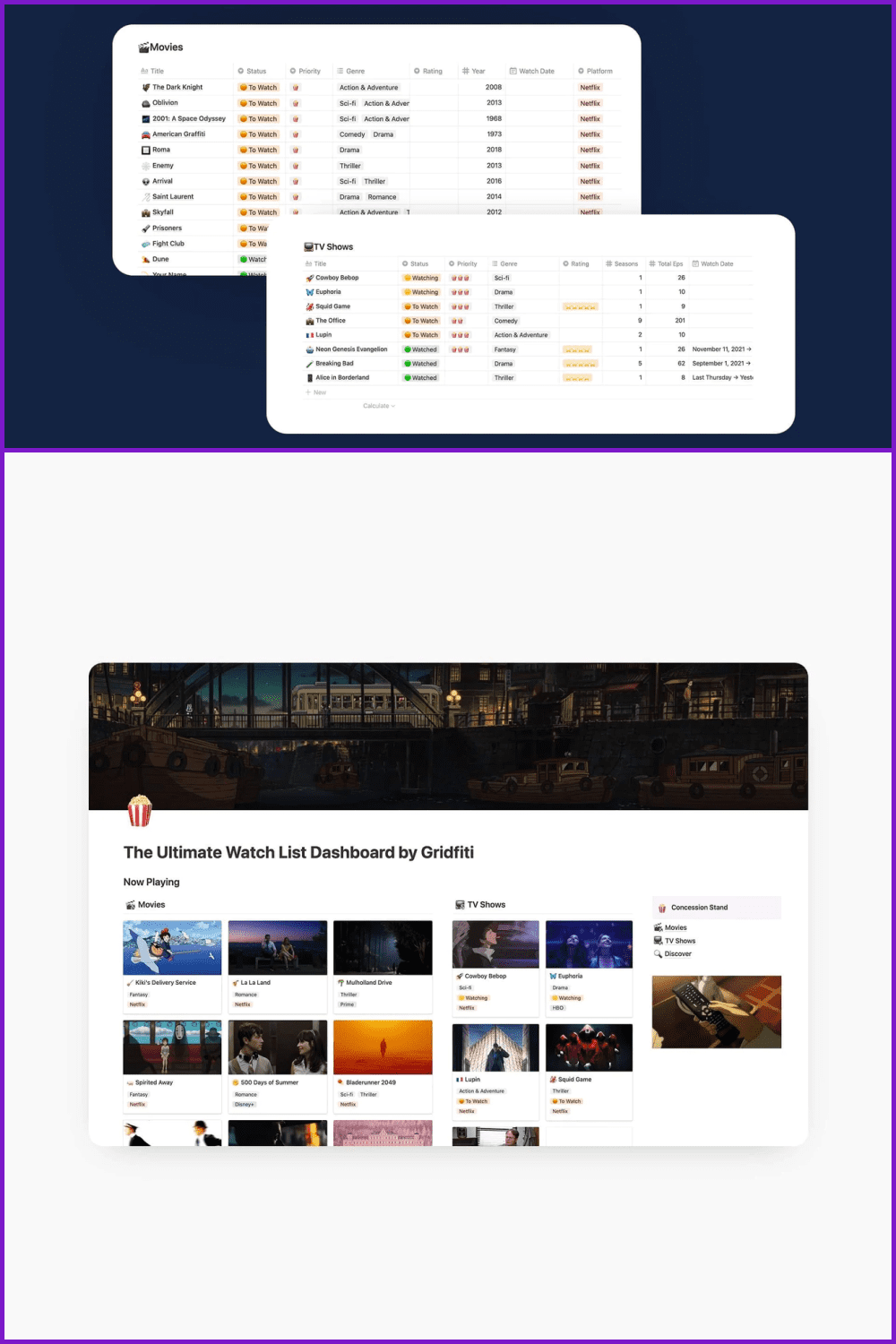 Just input anything you'd like to watch (or have watched, if you are OCD like us!), and this aesthetic Notion template will do the rest, keeping your binge-watching nice and organized!
Tomato: Aesthetic Pomodoro Notion Template
The Pomodoro technique alternates sessions of high-focus to frequent short breaks and periodic longer breaks as well. It's meant to increase productivity and improve time management. This is among the most useful aesthetic Notion templates for college students and it offers an improved Pomodoro layout with a timer, to-do lists, recaps, stats… pretty awesome!
The Happiness Bar – Self Care & Gratitude Journal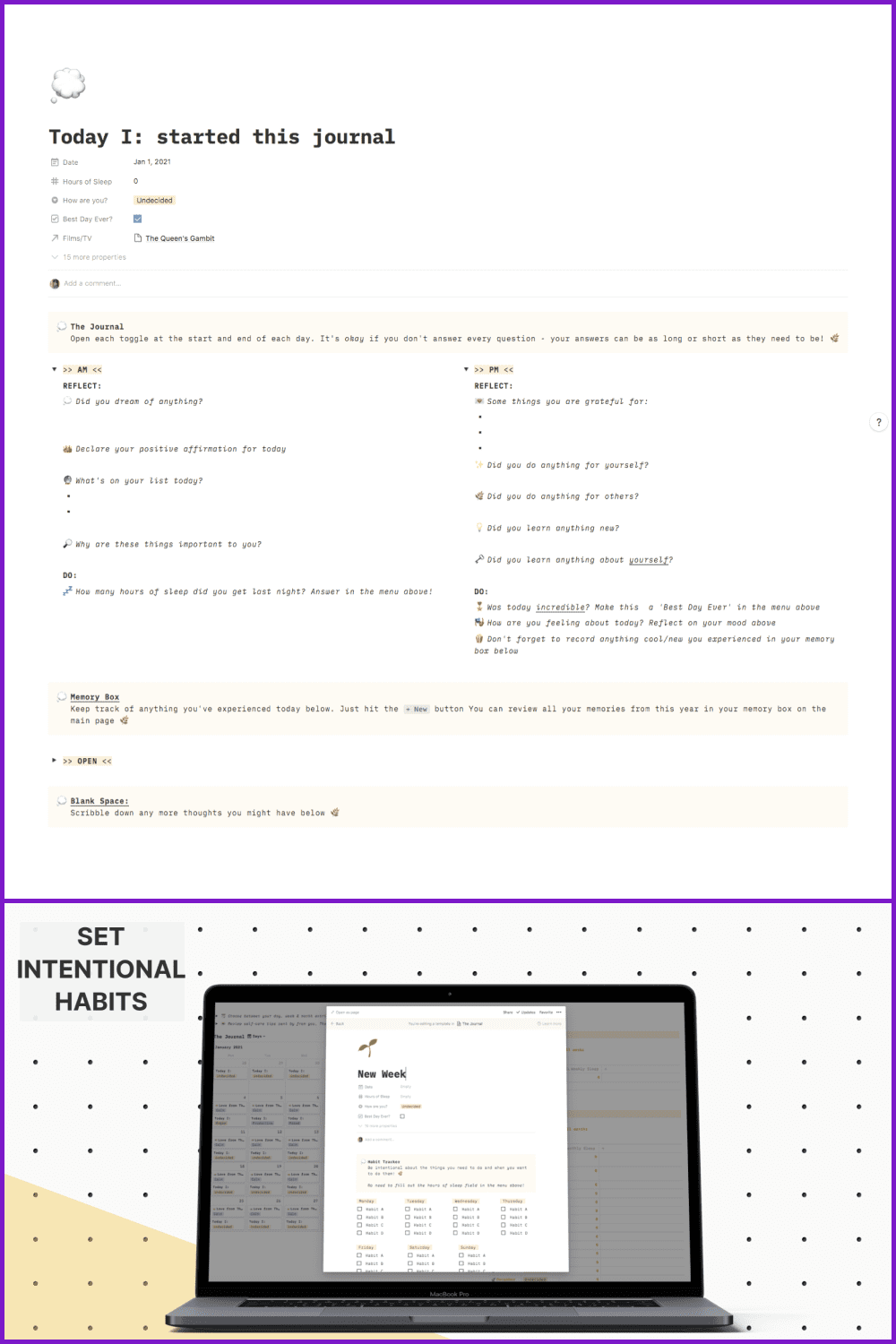 Set goals and track progress, but not for your work… instead, do it for your wellbeing.
Digital Resume & CV Template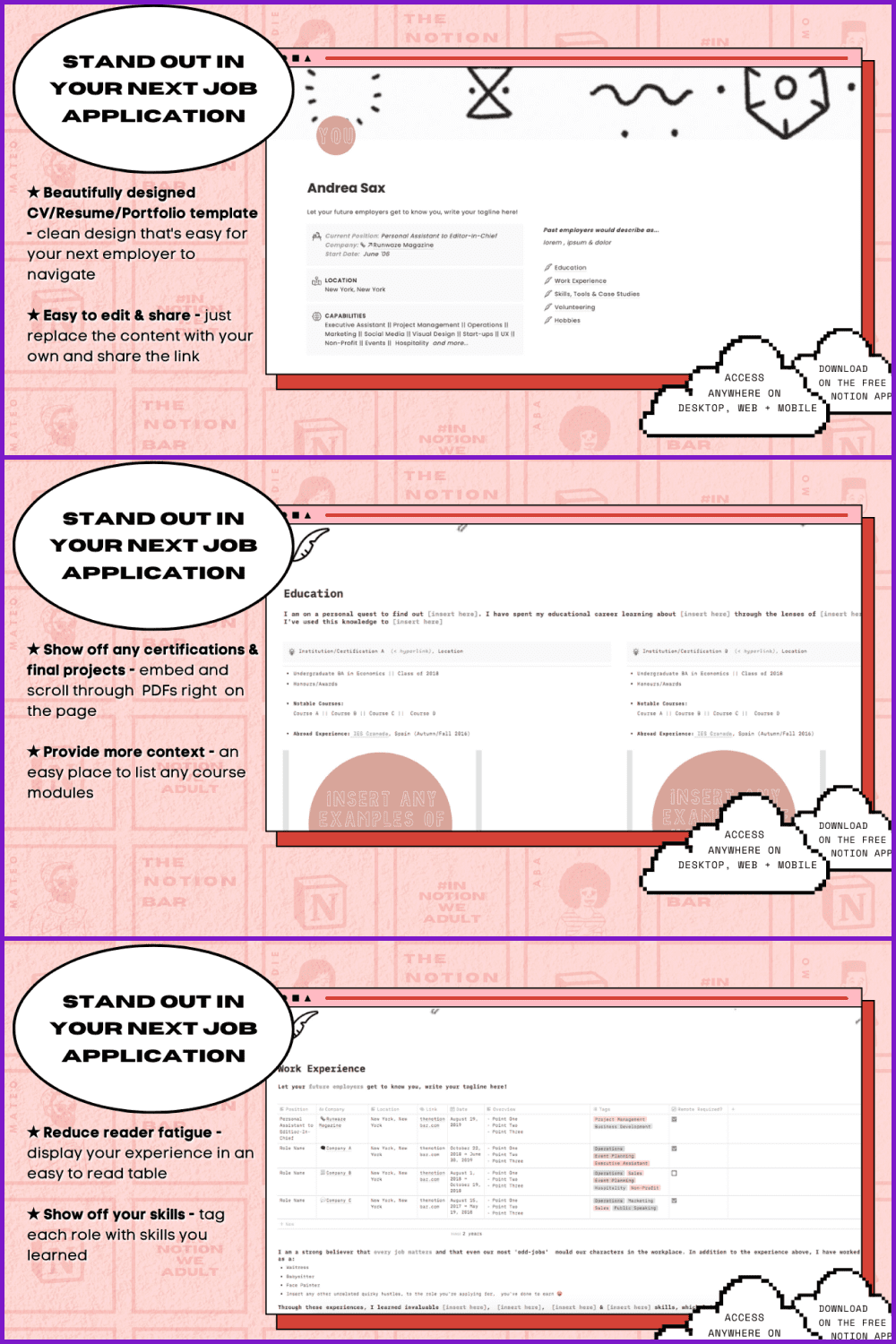 This is a simple, yet impressive, resume template. Share the link with your future employers and get hired (good luck from us!)
Notion Grocery List Template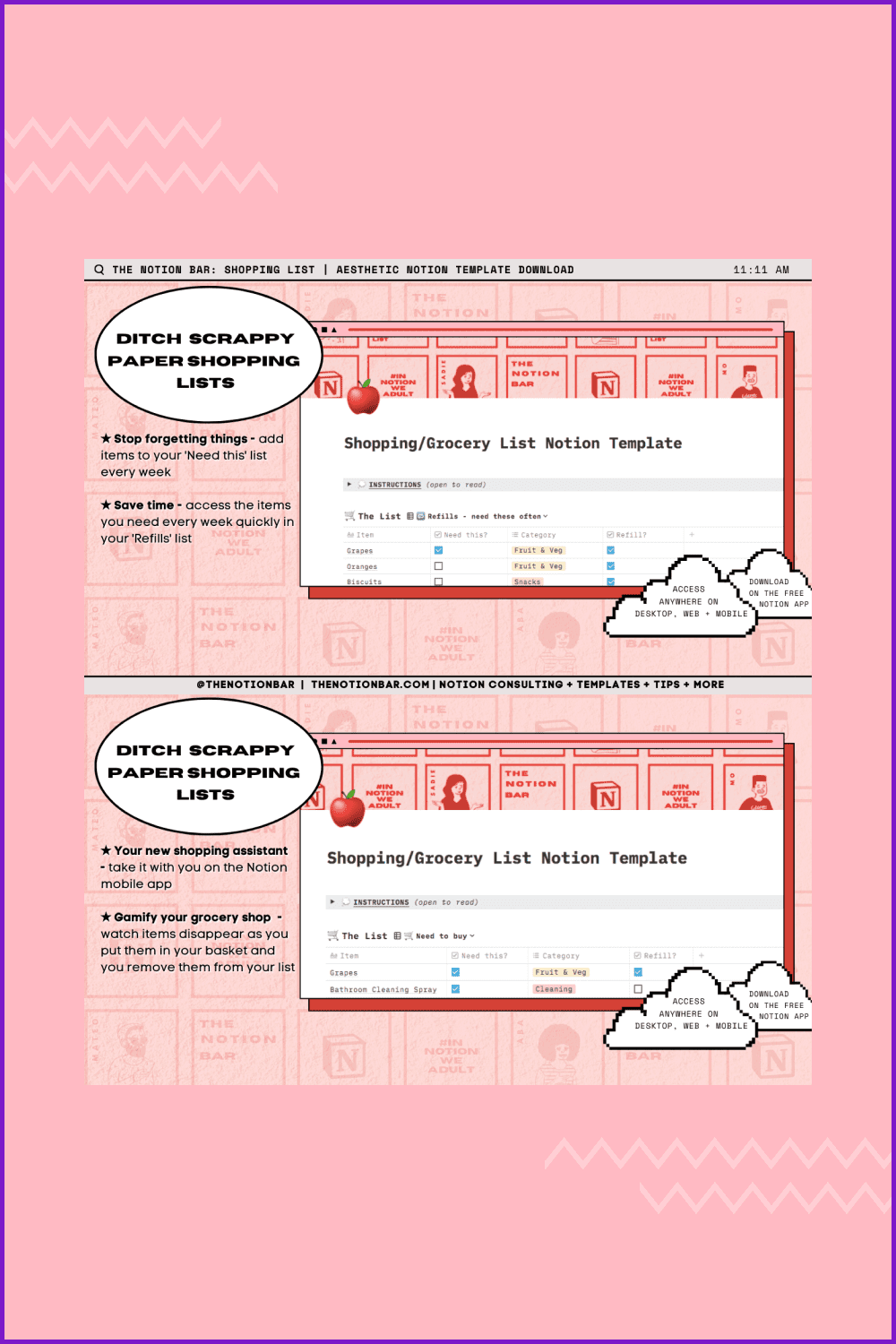 Create your grocery list on your desktop, then tick it off on the fly with the app! Easy-peasy…
Sailor Moon Aesthetic Notion Theme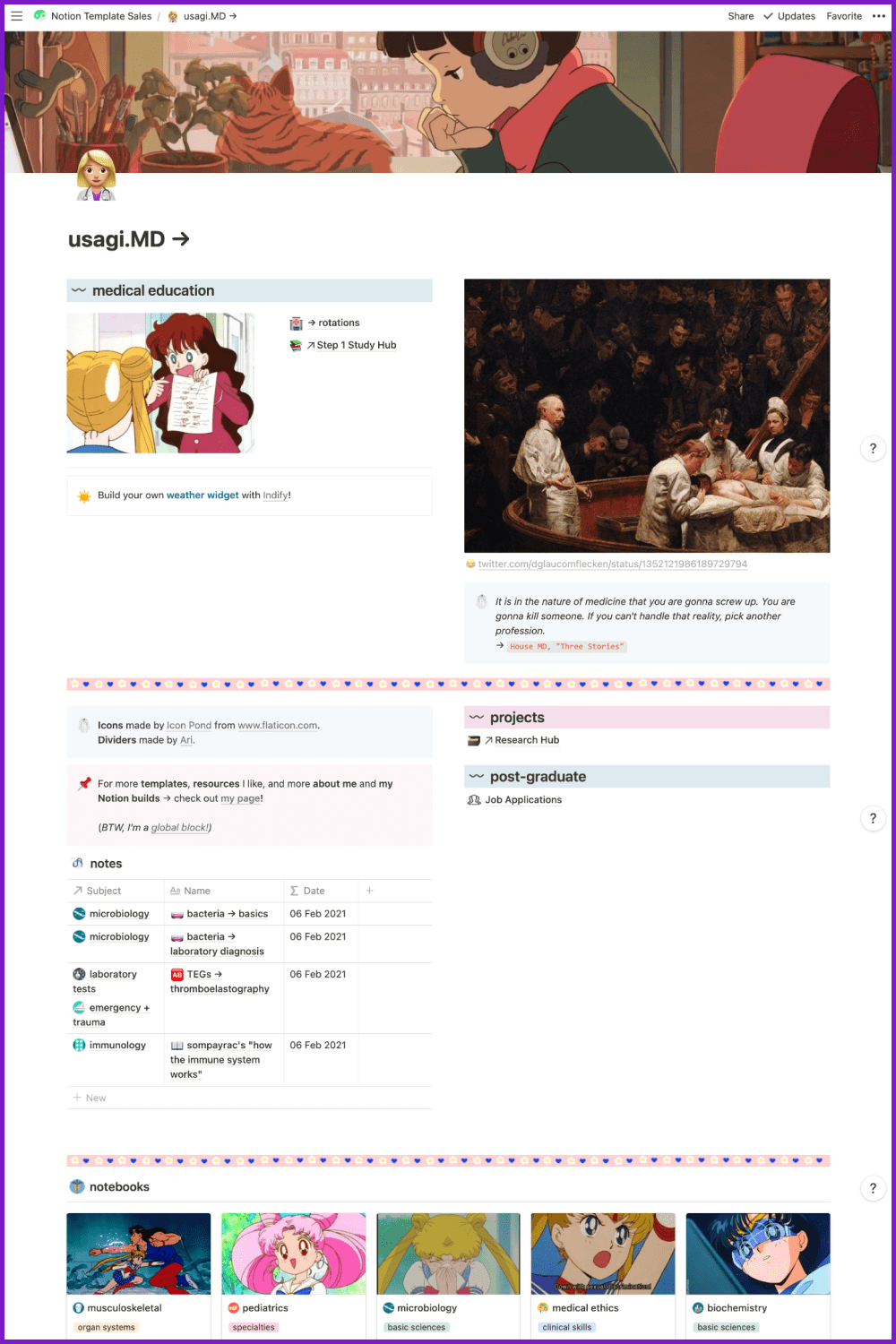 "Moon Prism Power, Make Up!" Come on… who doesn't love a little Sailor Moon nostalgia? Add in the fact that it's actually put to good use… incredible!
Notion Dashboard Templates
Notion dashboard templates, whether personal, aesthetic, or for work, allow you to keep your life under control at a glance. This kind of template is not easy to develop, and it takes careful planning. These are some of the best dashboards we found, so you can start optimizing right away.
Anime Cafe Dashboard – The All-In-One Personal Hub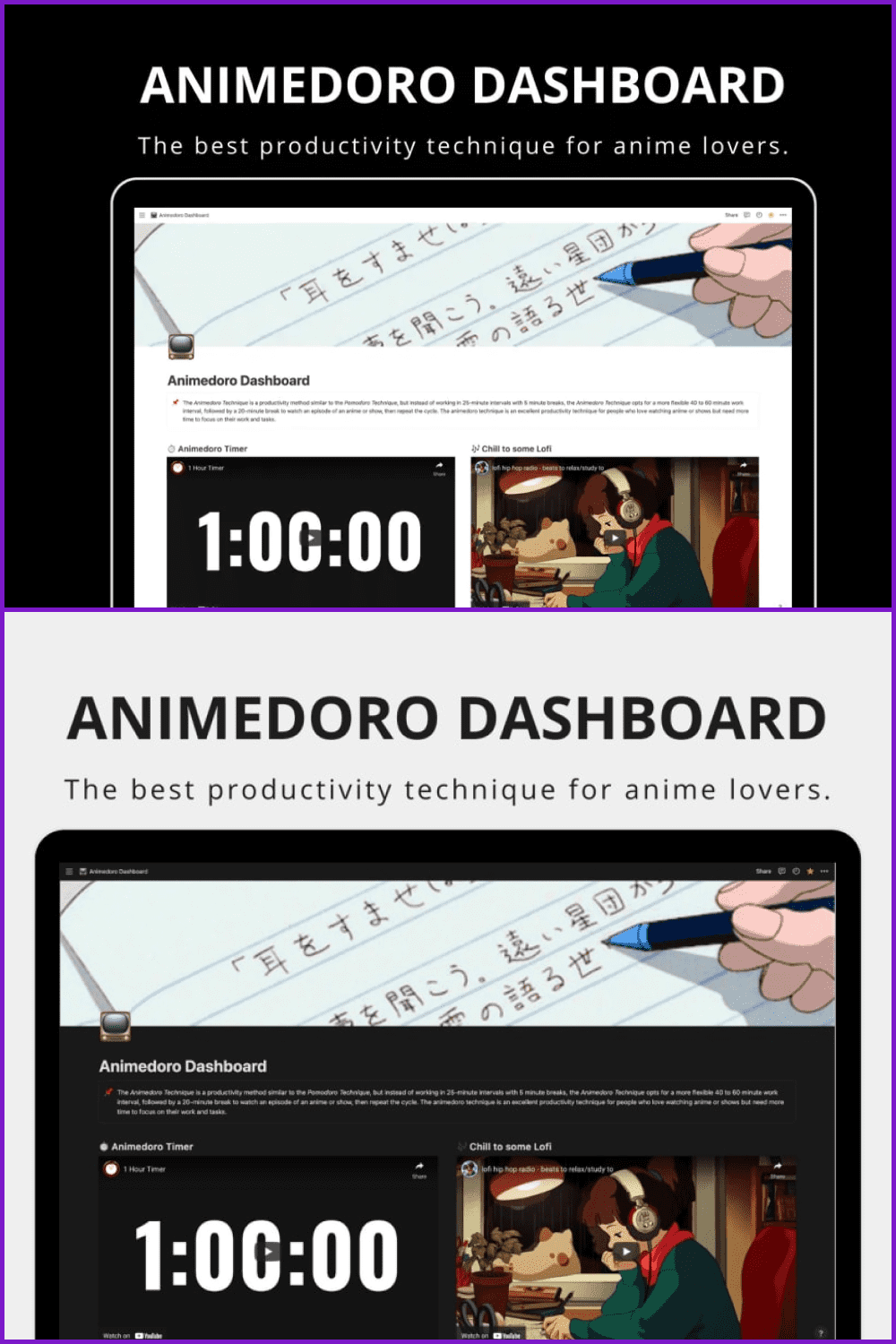 Among Notion templates, personal dashboards are the most requested. This is a truly beautiful dashboard, with over 15 tools to get everything sorted in one place.
Ultimate Personal Finance Dashboard for Notion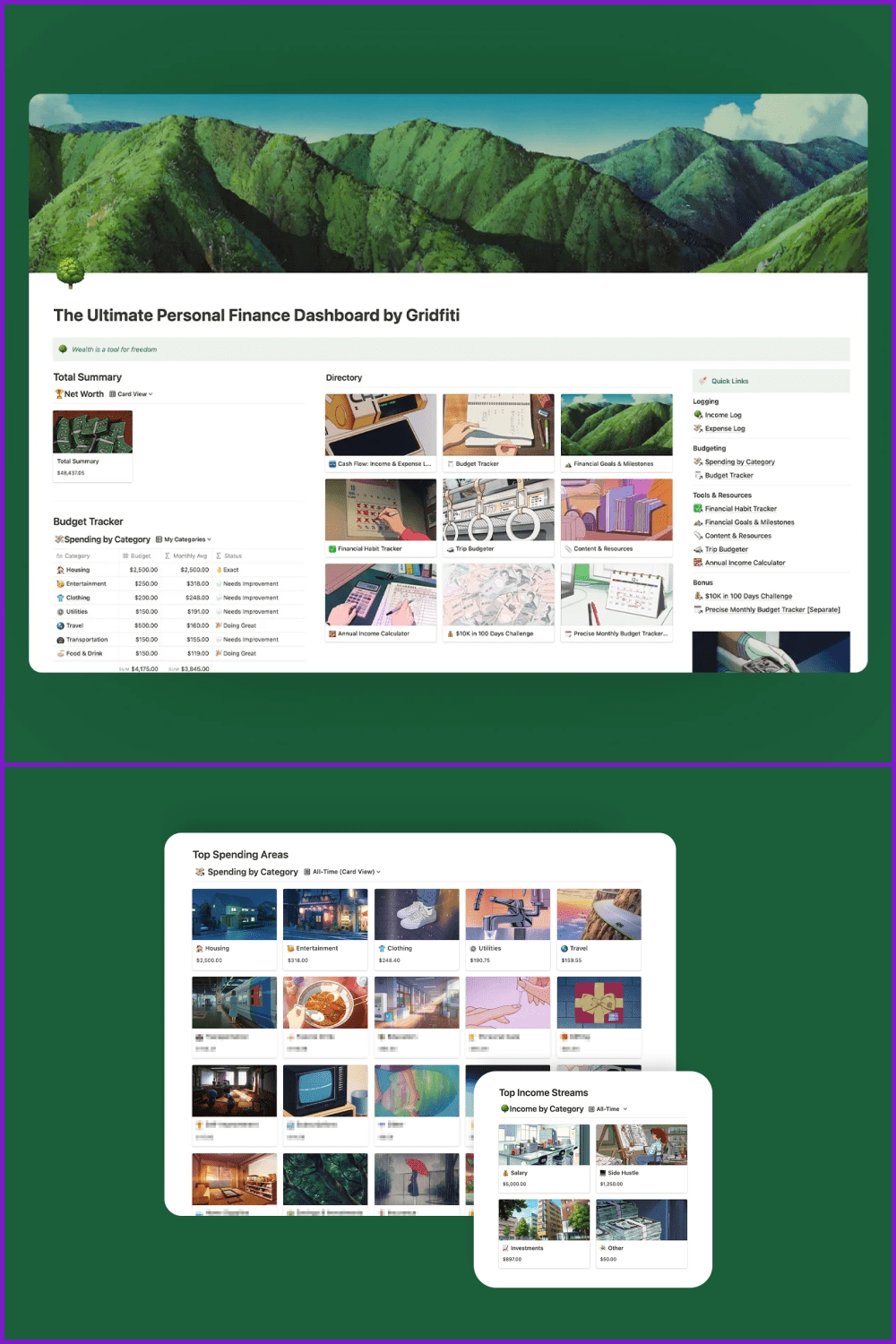 If you are a personal-finance geek, we've got you covered! With this dashboard, you will have at your disposal any tool you can think of. Go nuts!
Aura Gradient All-in-One Notion Dashboard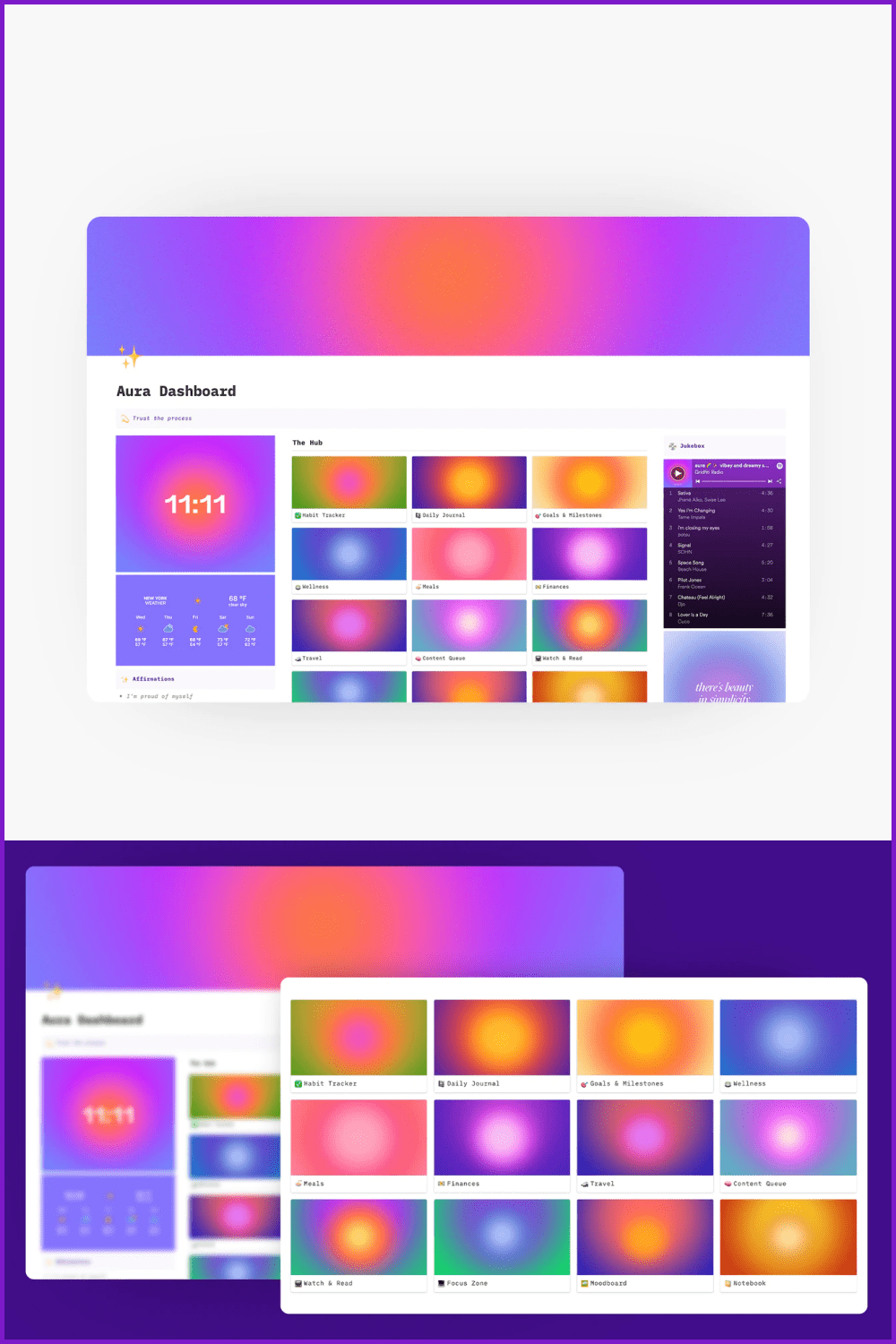 Made famous by TikTok, it landed on this Notion personal dashboard template as well. This is another feature-packed all-in-one dashboard that won't fail you.
Notion Planner Templates
A gazillion words have been written about planning, organizing, streamlining, and getting things done. But how many of us have actually done it? These templates leave no room for excuses when it comes to getting things done.
To-Do List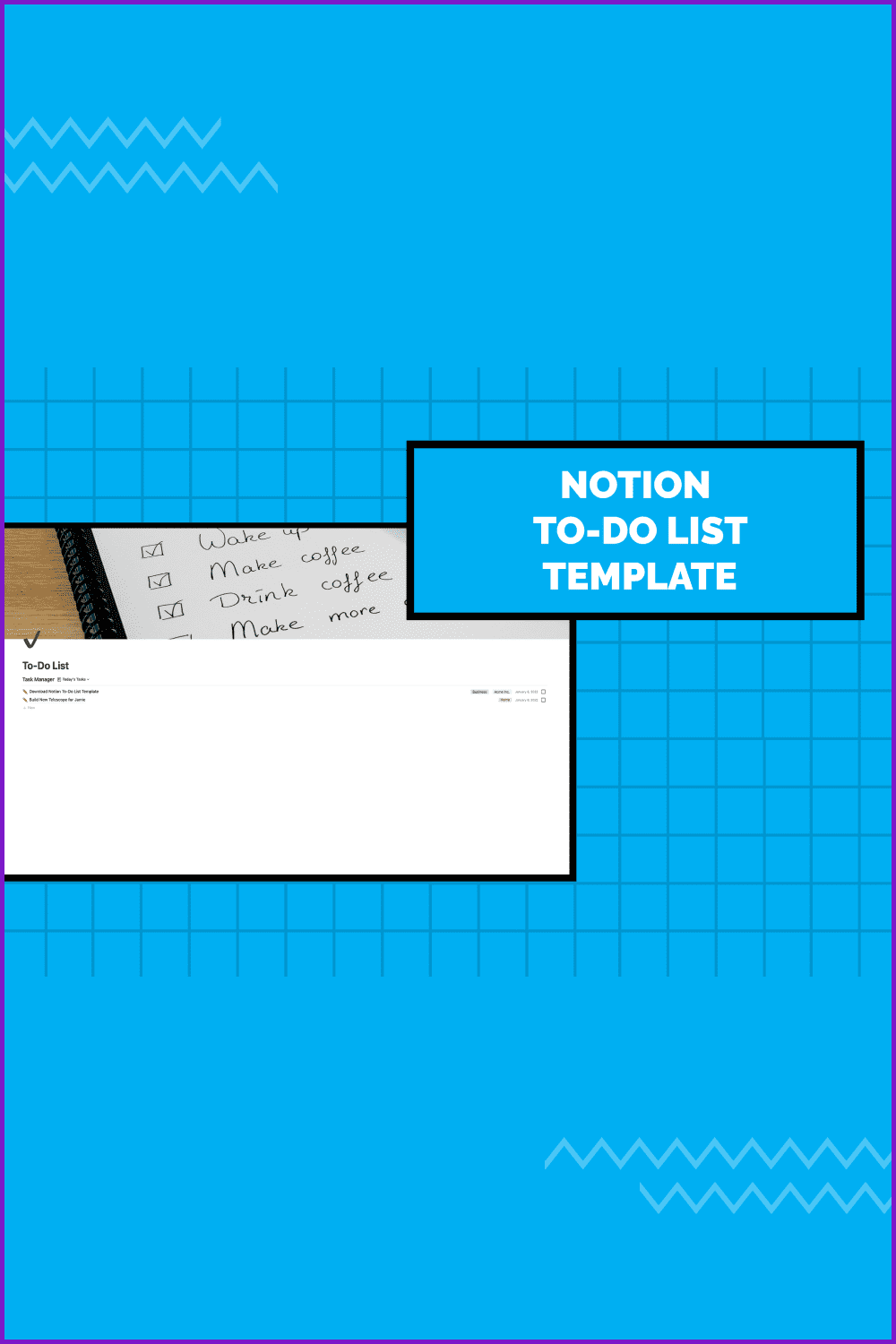 If you don't like Kan-Ban style lists, this template will do it for you. Tasks are organized clearly. You can sort the will filters, with no Kan-Ban mumbo jumbo involved!
Grocery List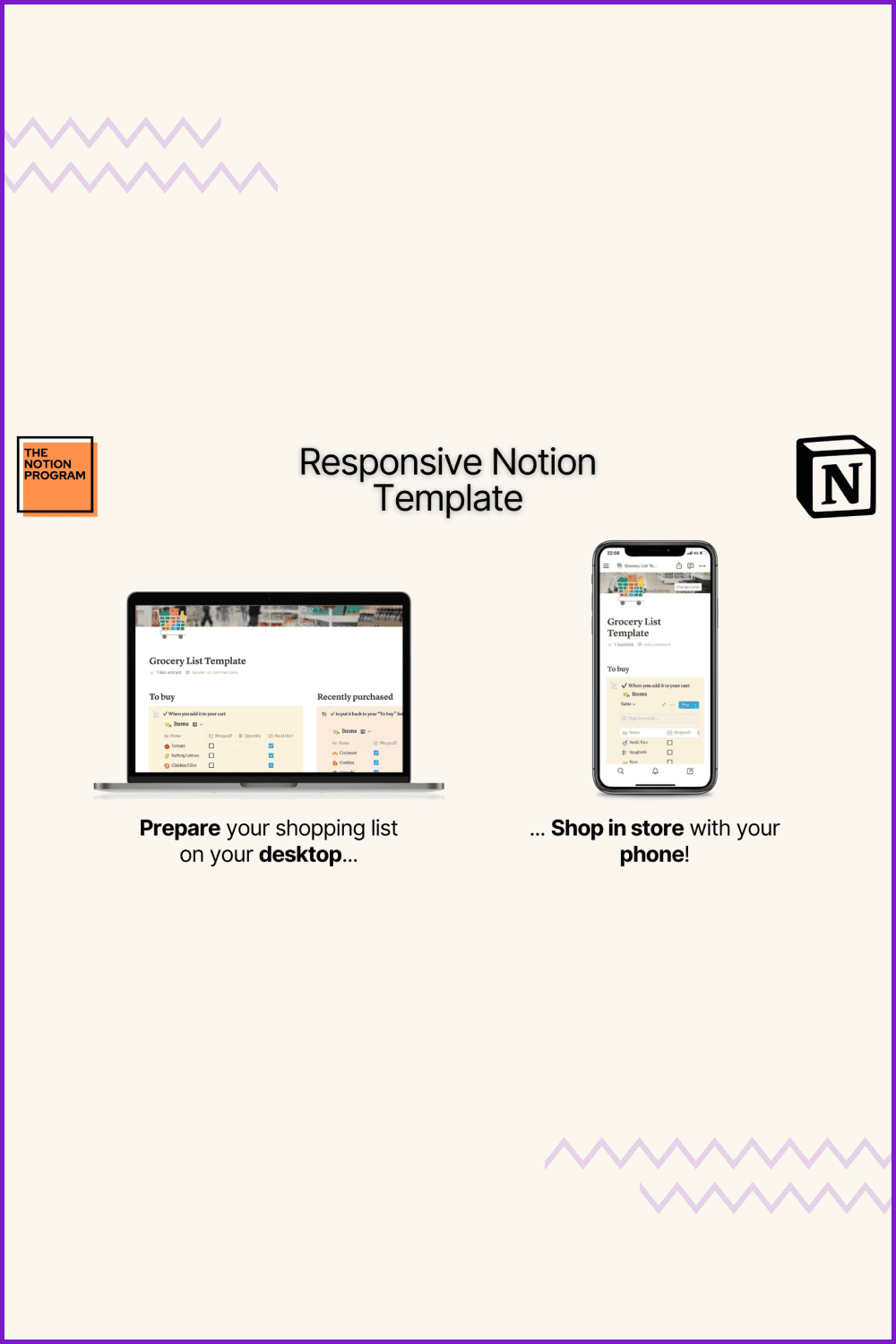 Ever wandered around the aisles of your local supermarket like a zombie? Bring your grocery-shopping self back to life with this template!
Productivity System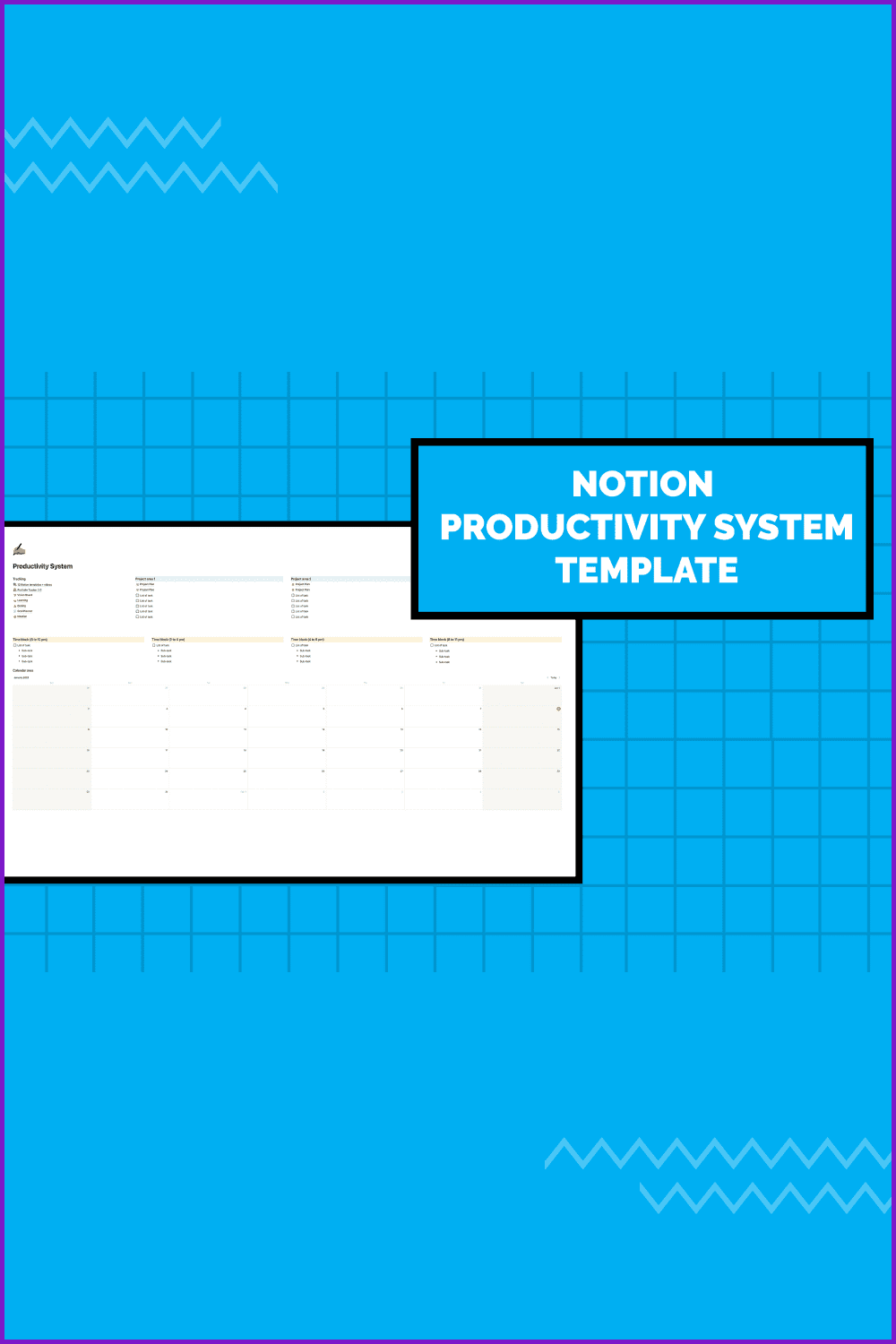 With this template, you can take big tasks, break them down into blocks, assign each block at a time, and attach all relevant assets. It's pretty straightforward and effective.
Daily Schedule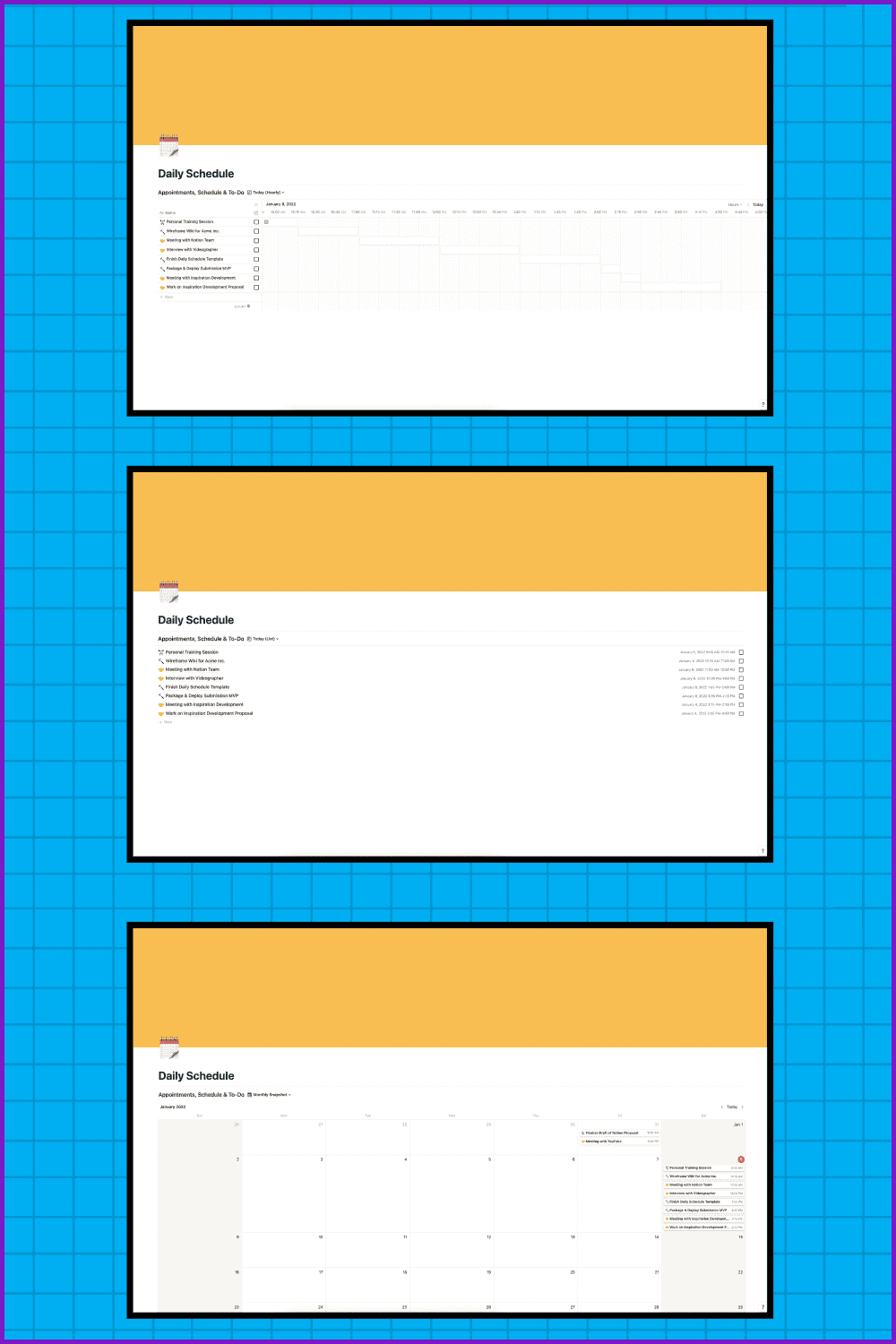 A simple daily planner, with timelines and other useful tools to help you get through your day easily and efficiently.
Job Hunt Tracker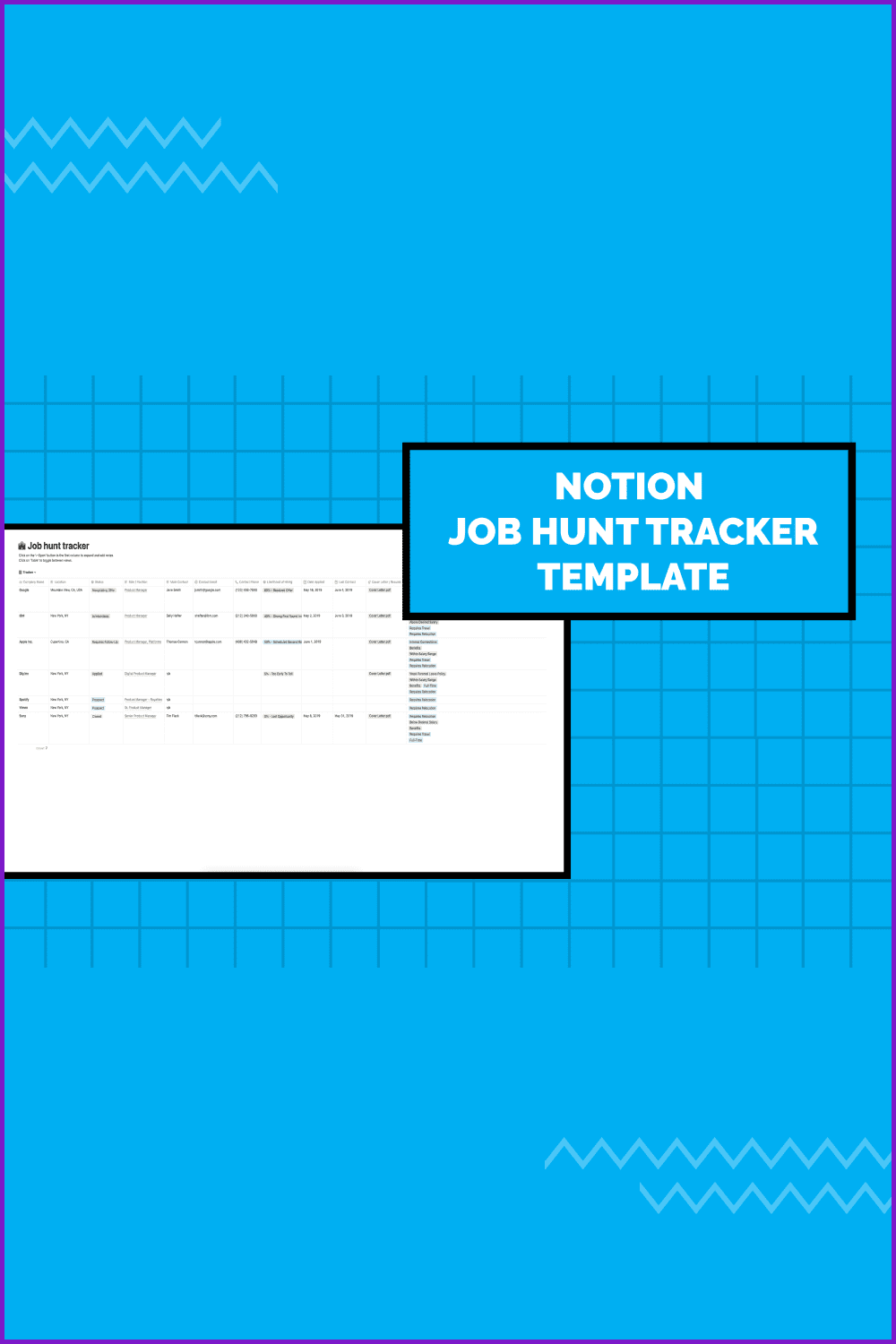 Looking for jobs, keeping track of applications, some of them need a cover letter, some of them don't, wait… did you send that email? Those days are over, and with this template, job-seeking will be enjoyable (or at least bearable… good luck on your search!).
Meal Planner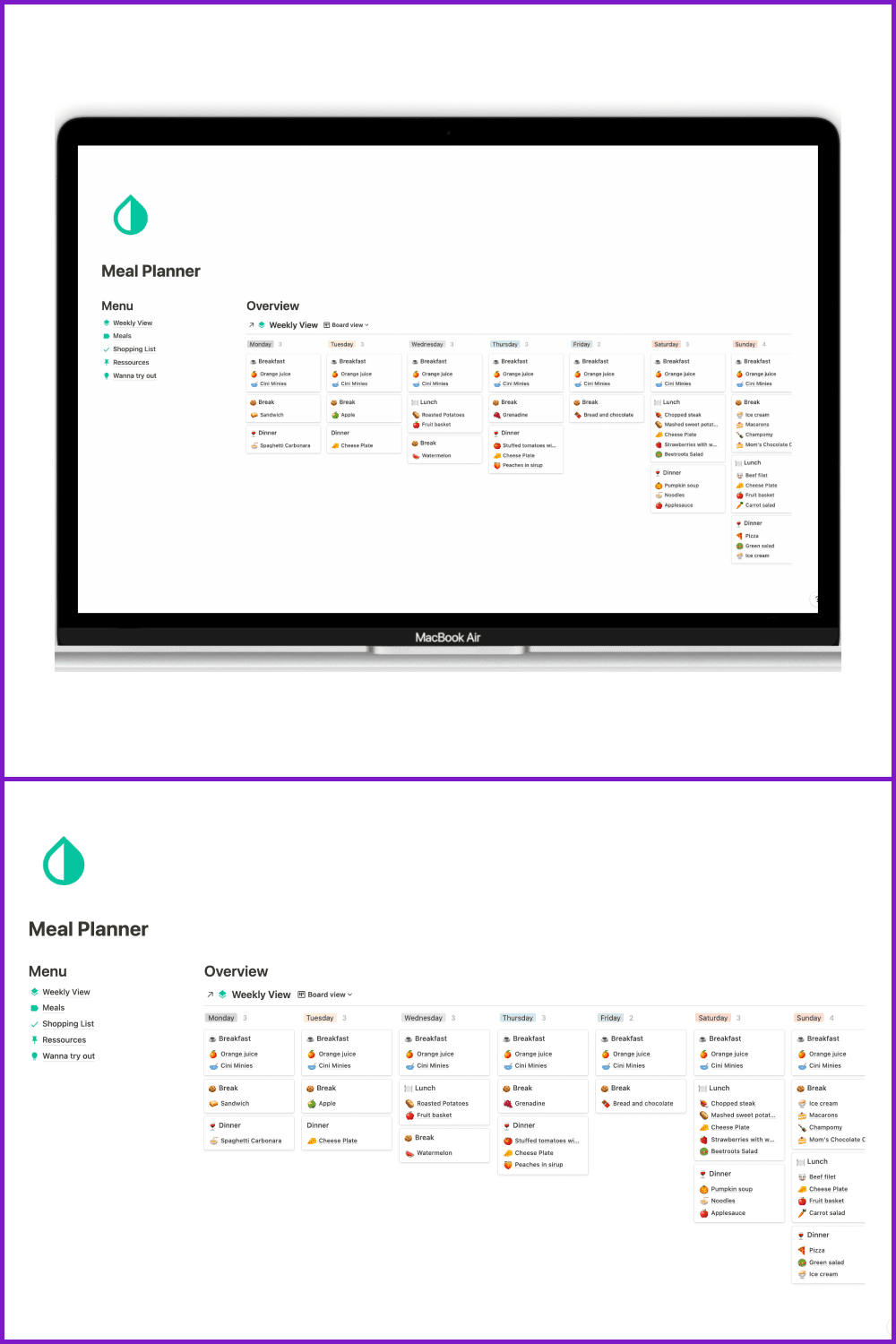 Drop your meals here and sync them with a grocery list template… your healthy-eating planning will get so much better!
Weekly Agenda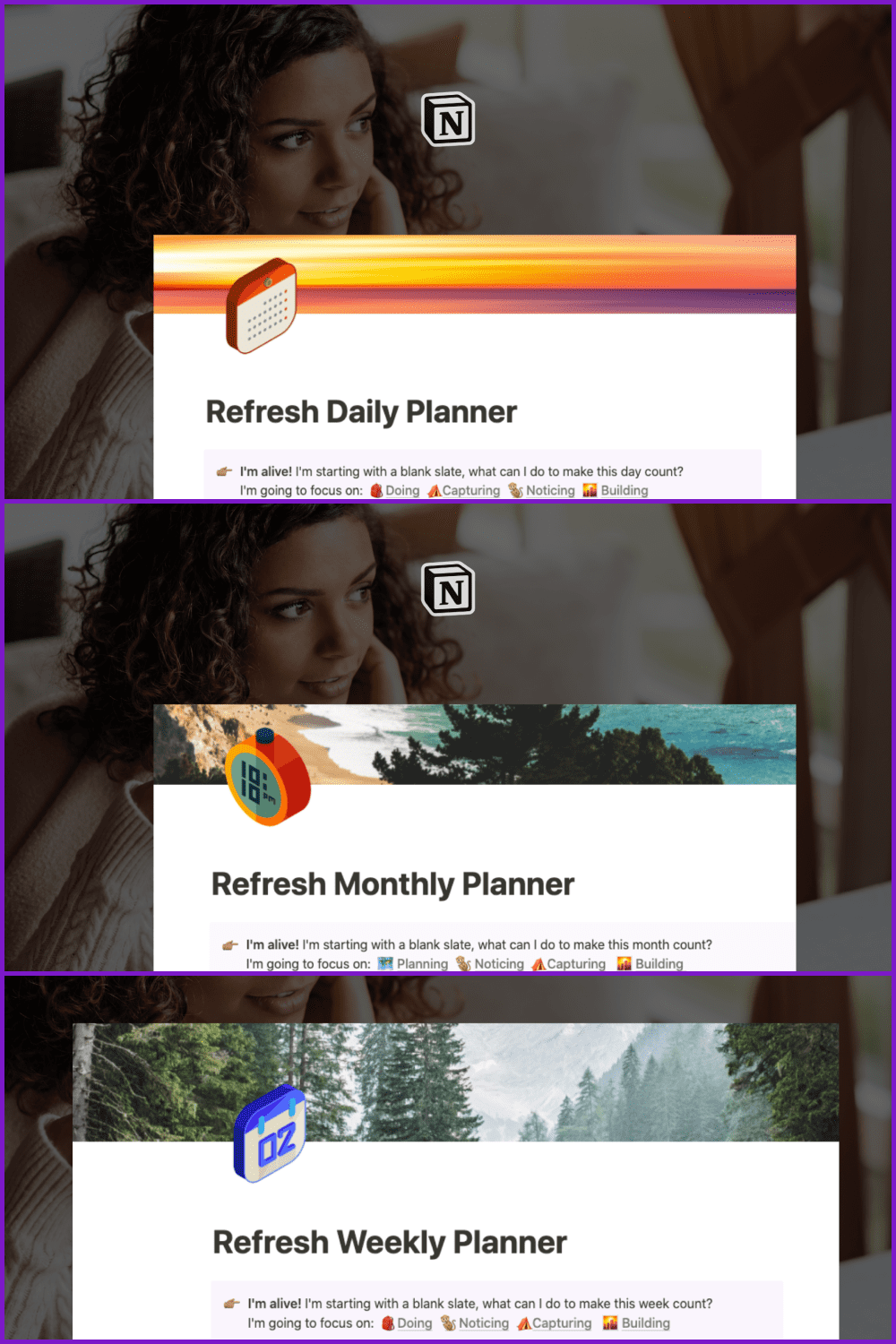 This is one of the best Notion weekly planner templates out there. It will help you get through your week smoothly, and then creates an overview on Sunday, so you can see where you need to improve.
Best Notion Templates for Students
Notion is a god-send for students. You can organize your classes, notes, social life, even the money you have (albeit it's likely to be little, sorry… it will get better). At the same time, who has the time to sit down and create a full-fledged Notion dashboard for students? Some people have, and we collected them all here.
Course Plan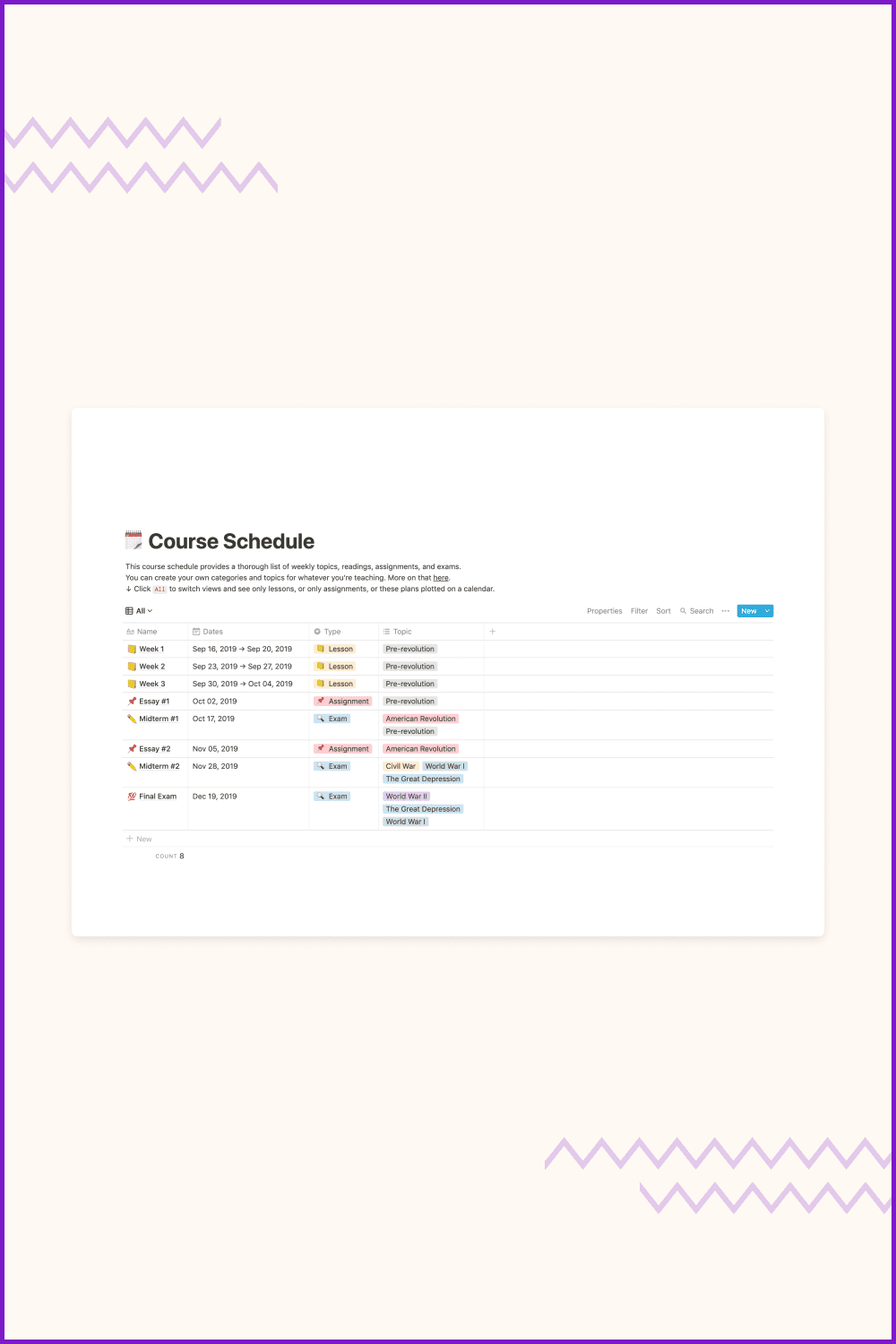 Get all your course descriptions, times, and assets in one place, and have a birds-eye view of your whole workload at a glance.
Campus Life Organizer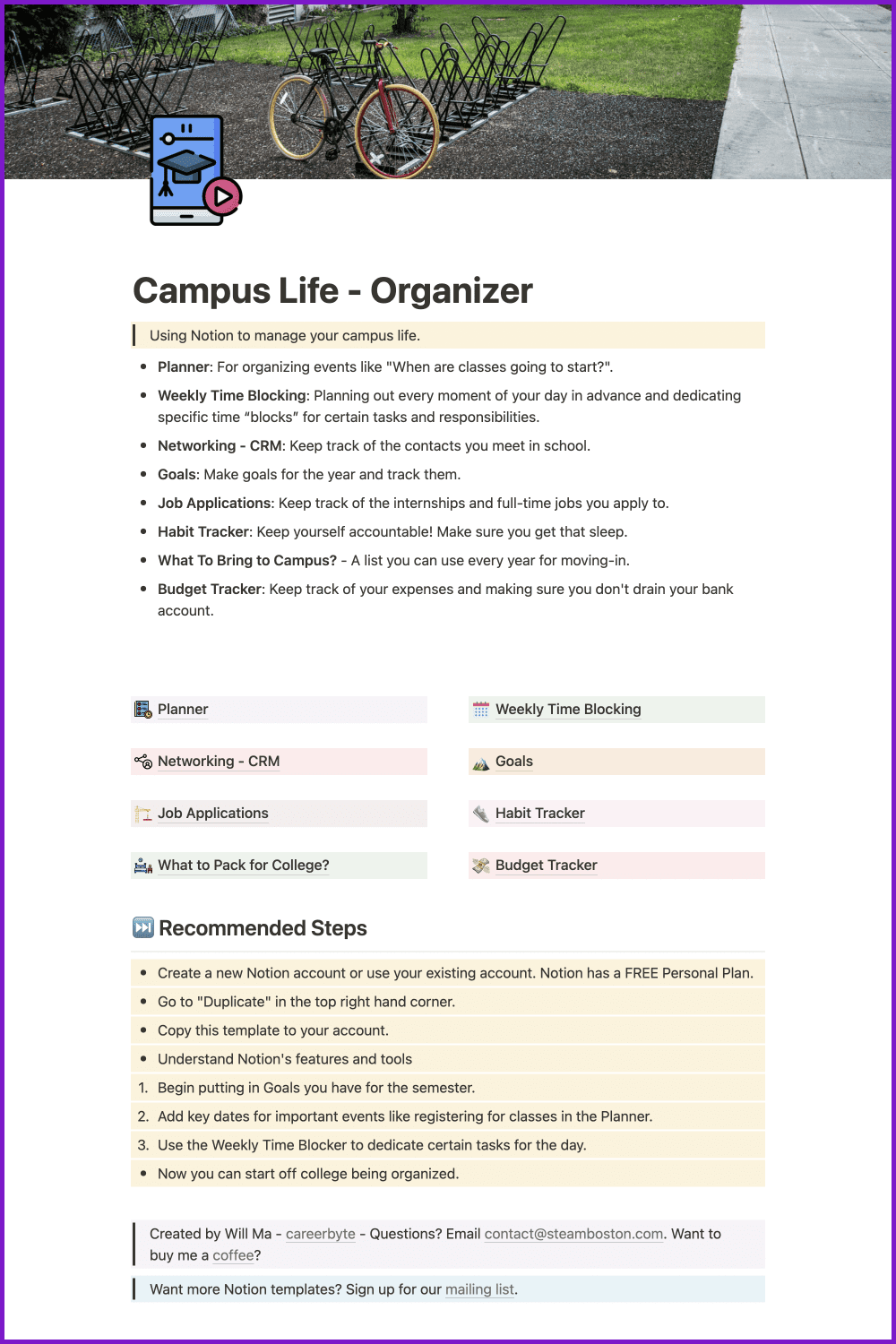 Everything from the weekly planner to a habit tracker, packing list, and a CRM to remember the names of all the people you'll meet. It's all here in one template… school, here we come!
Master Task Tracker for Students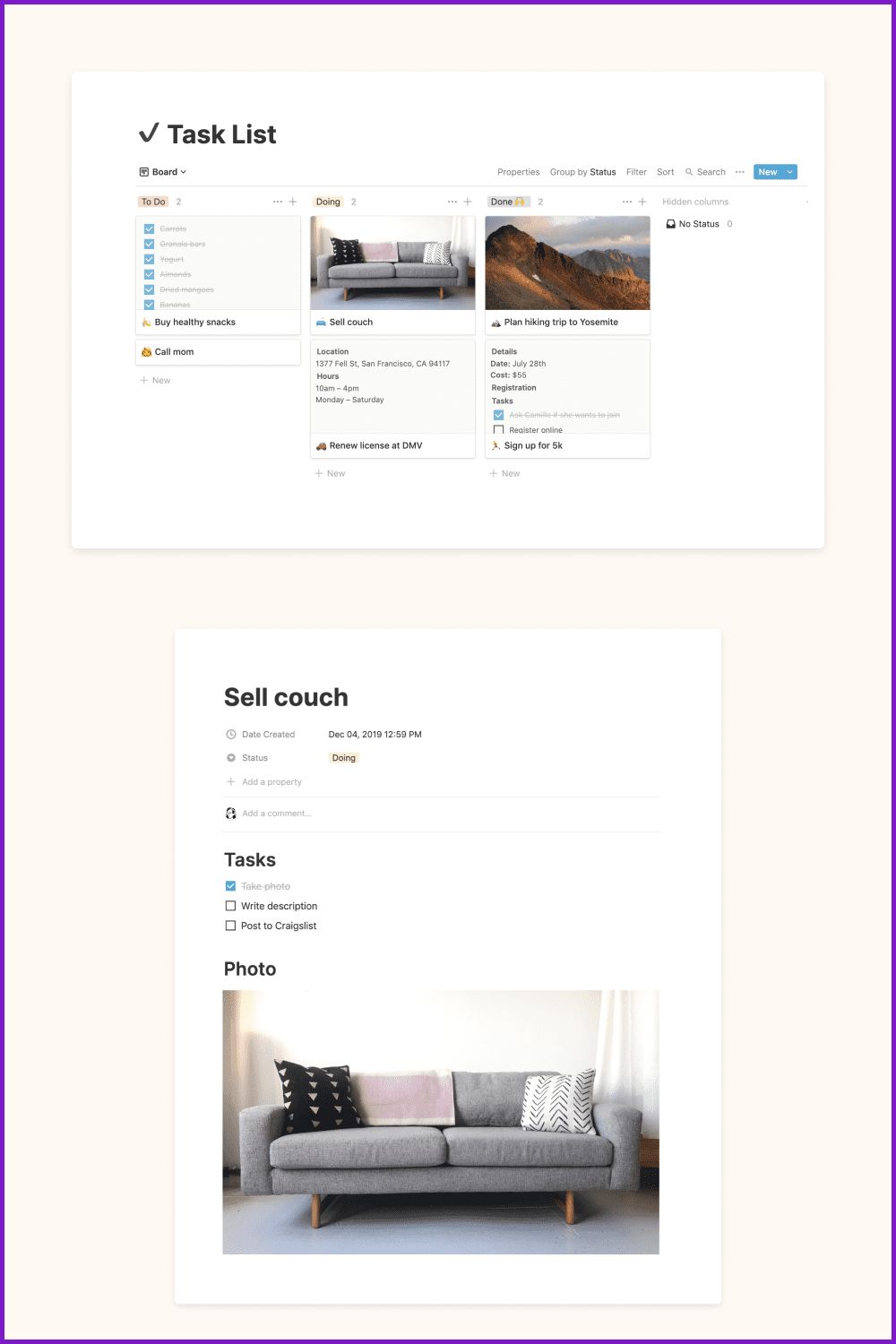 This template offers a comprehensive task-tracking system to make sure that you are on top of everything while enjoying your busy campus life.
Notion for Medical Students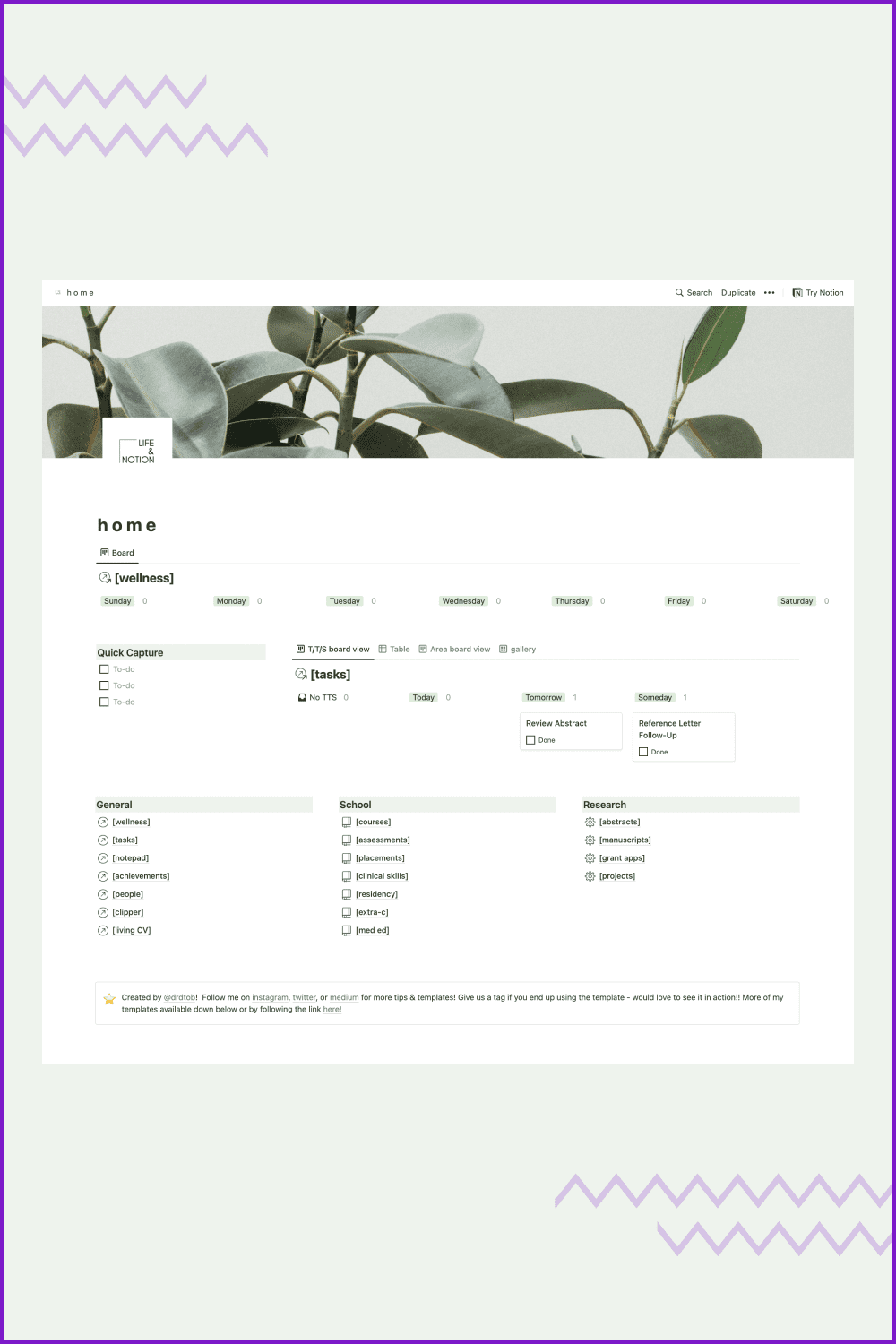 This template is specifically designed for medical students, although, sadly, it can't make up for your sleep deprivation!

College Hub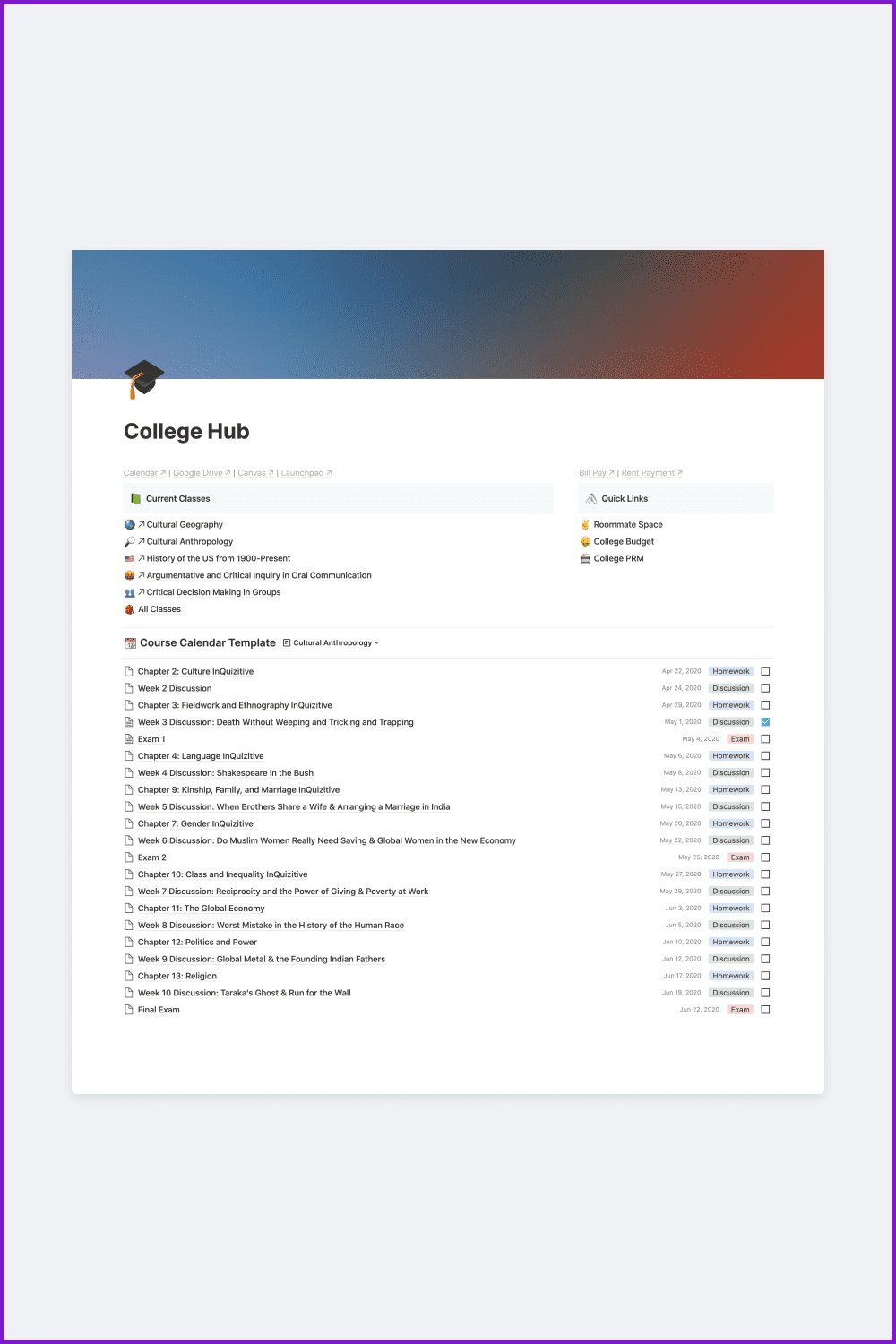 This Notion template for students will help you manage both your academic and personal life as a student. They even have a handy video tutorial.
Best FREE Notion Templates
Luckily, there is always some good soul out there that does something great and then shares it for free. The same goes for this software, as there are a ton of free Notion templates out there. We scavenged some of the very best free Notion templates for students, freelancers, and personal use just for you.
Meal Planner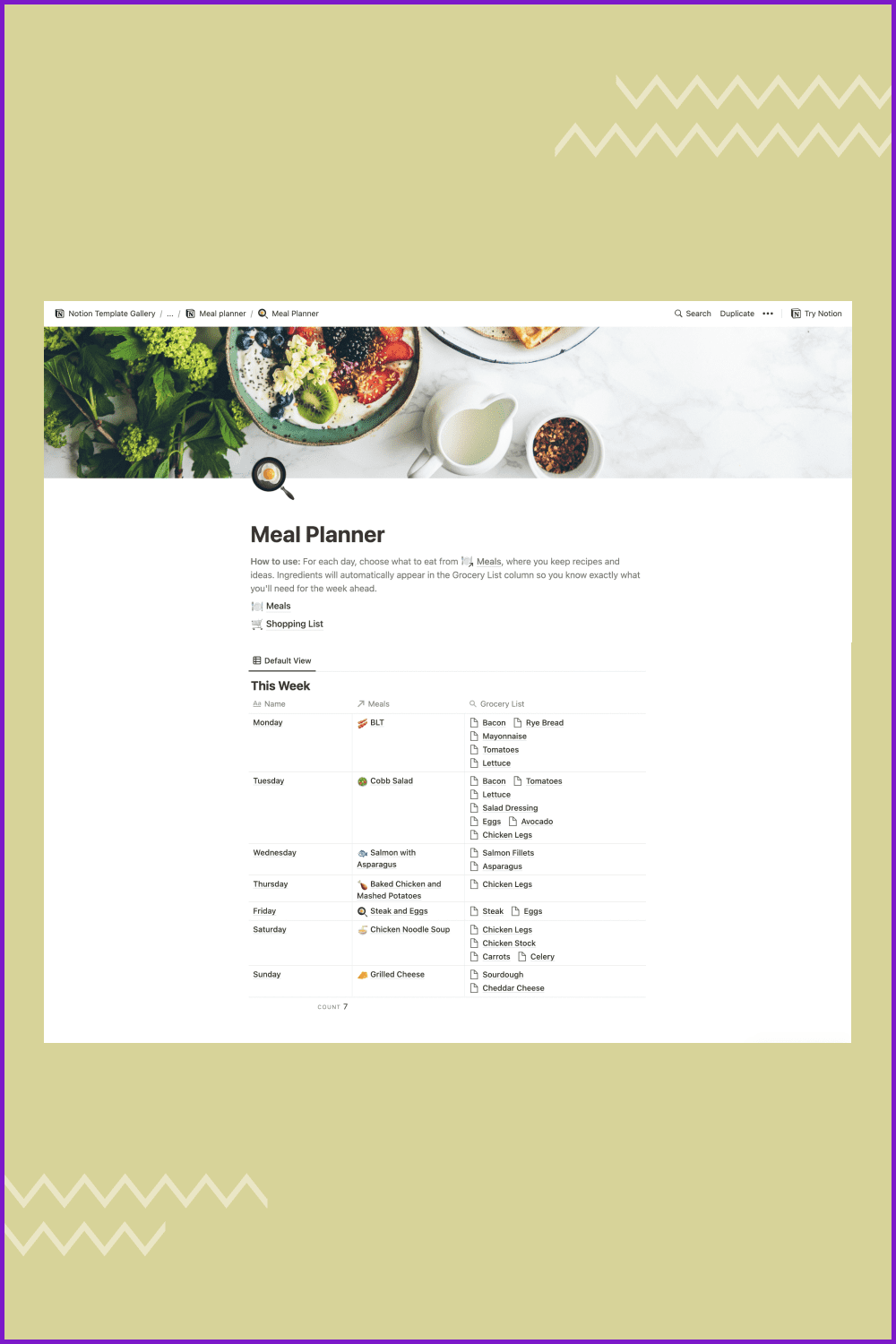 Did someone mention food? Meal planning can be a hassle, but the official Notion team came to our aid with this free template that will also automatically generate a shopping list!
Finance and Budgeting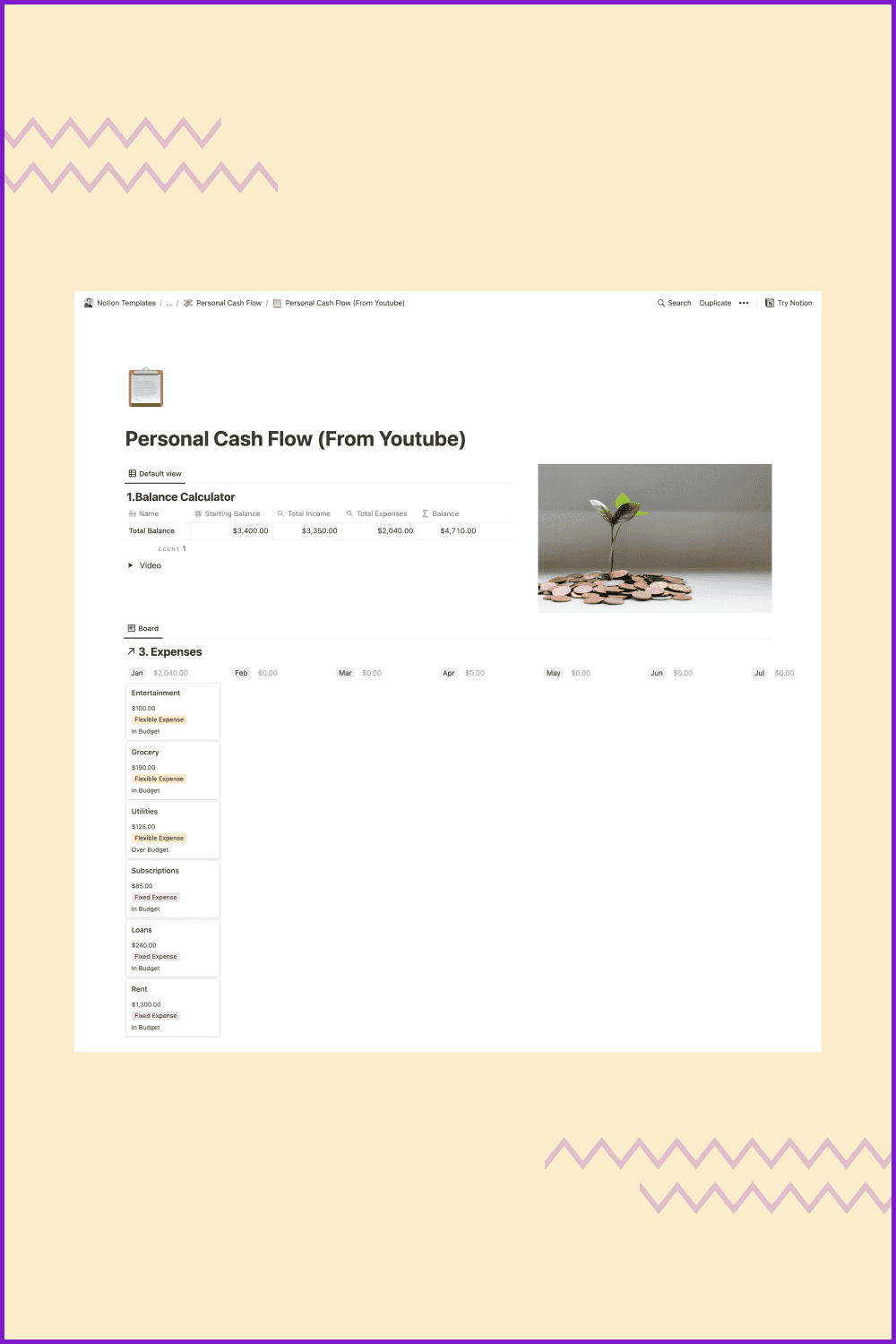 This is probably the most powerful, easy-to-use, personal finances template out there. And it's free! It comes with a spot-on tutorial! We are on fire!
Kanban Board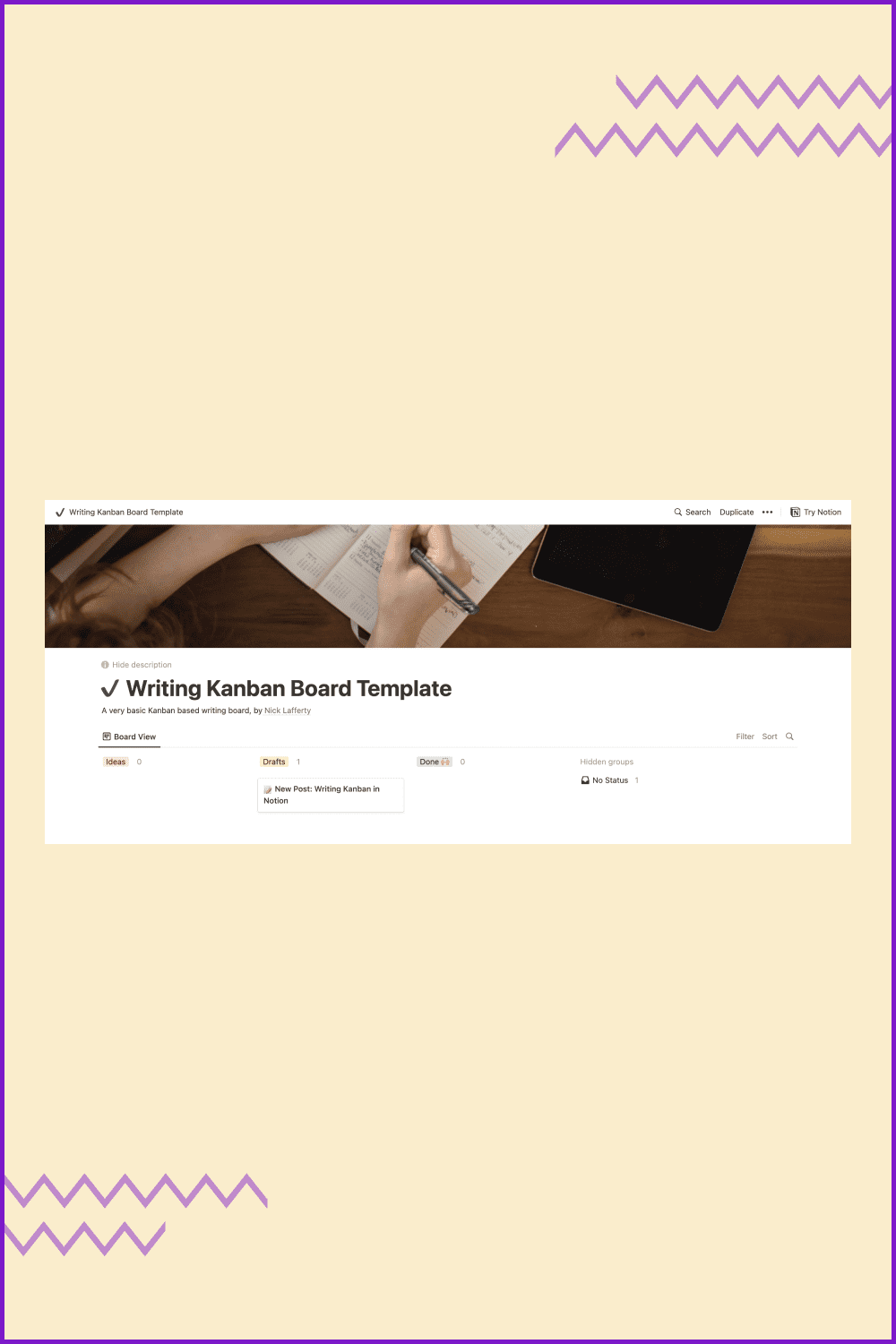 This is the simplest possible Kanban board. Sometimes you just need to go back to the basics. Let this old-school template help you get things done.
Bullet Journal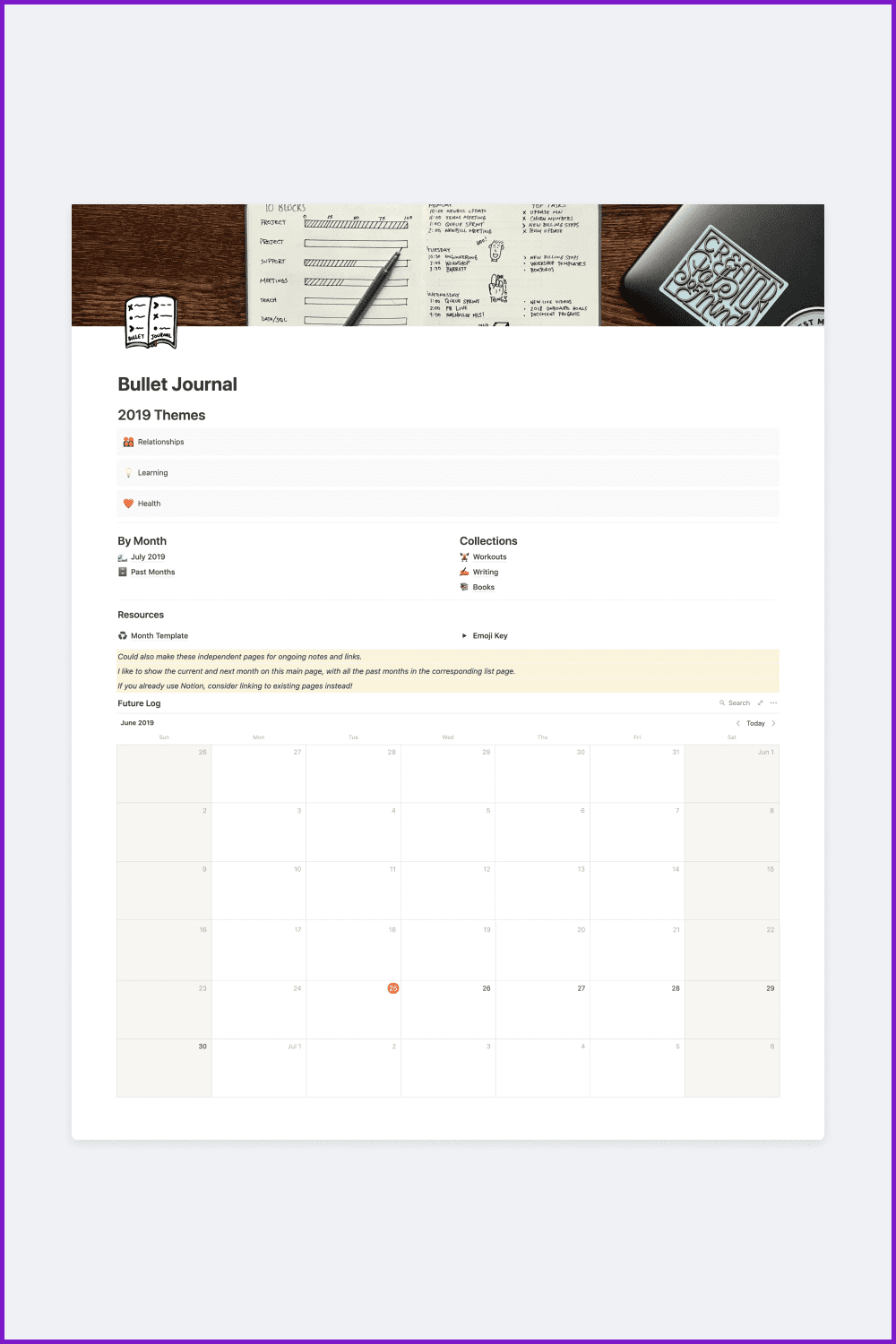 A bullet journal is meant to save you time and energy by monitoring your activities so you can make data-driven decisions to improve your self-management. This template is a great example and it also has a built-in calendar.
Habit Tracker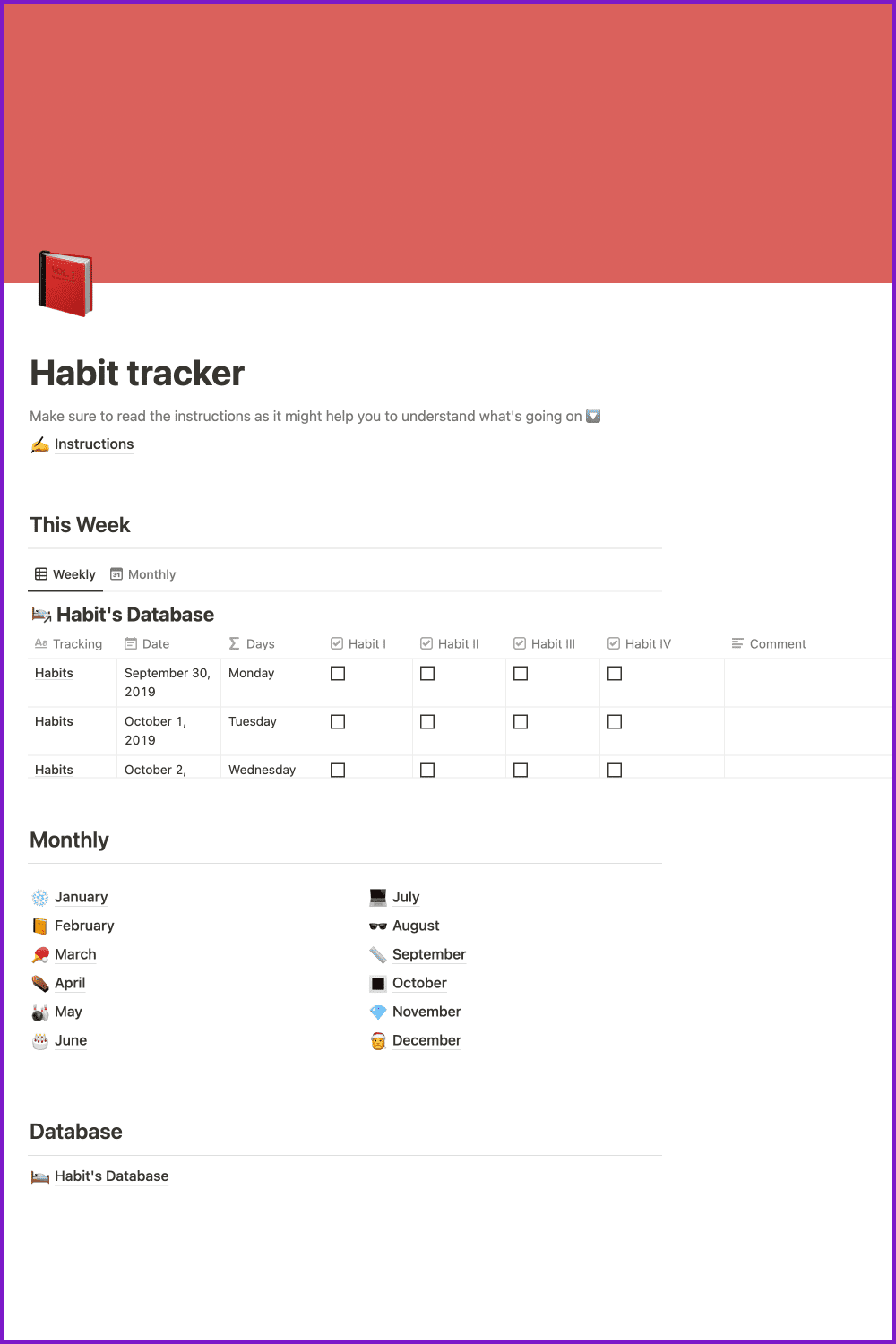 Did you know that it can take anywhere from 15 to 300 days to form a new habit? Speed up the process with this great free Notion template.
Daily Journal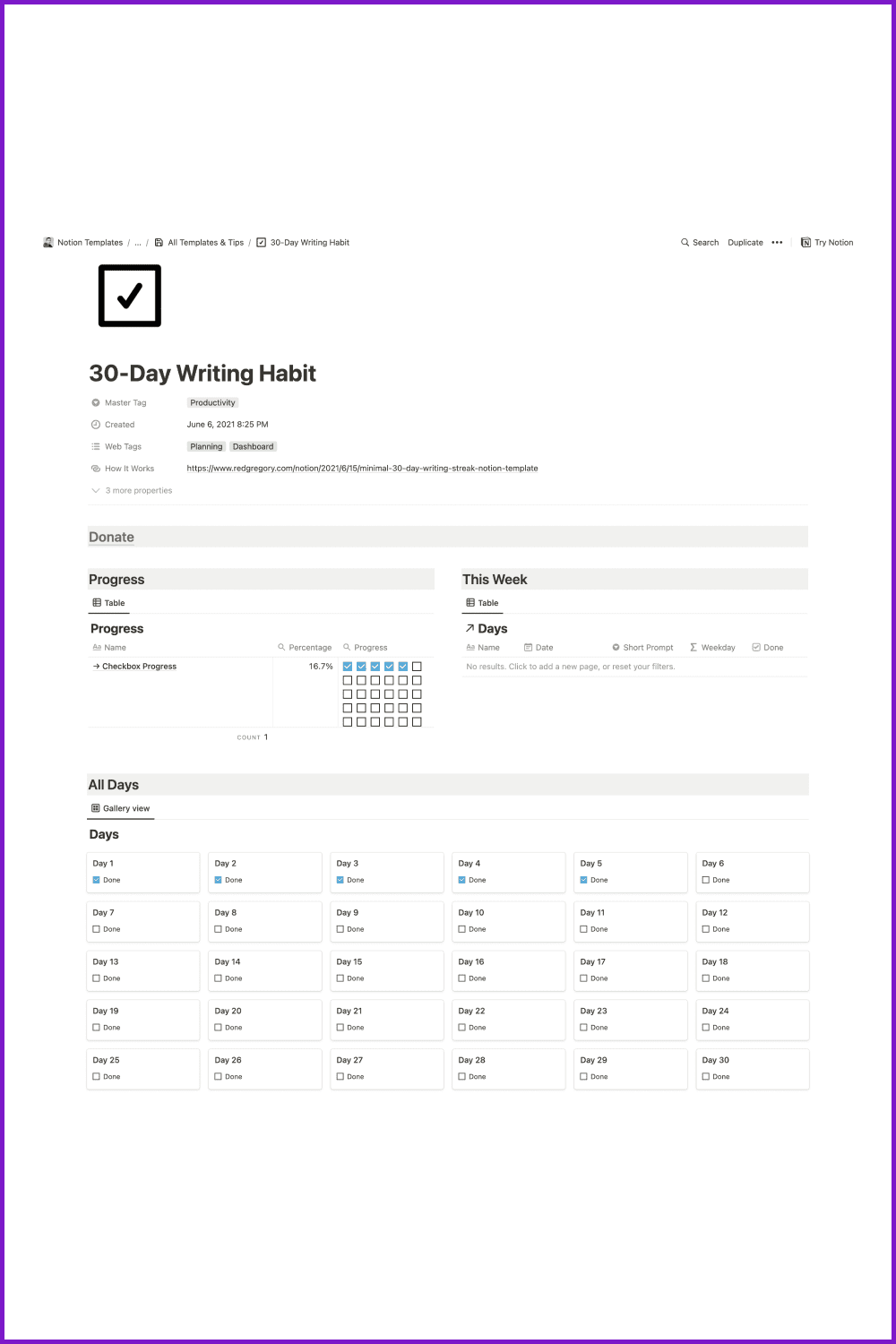 Among all free Notion templates, this is great to jot down ideas you get during the day, or simply as a tool for reflection or to unwind at the end of the day. You can revisit your entries to improve and avoid repeating the same mistake twice. Your future self will thank you!
My Workout Habit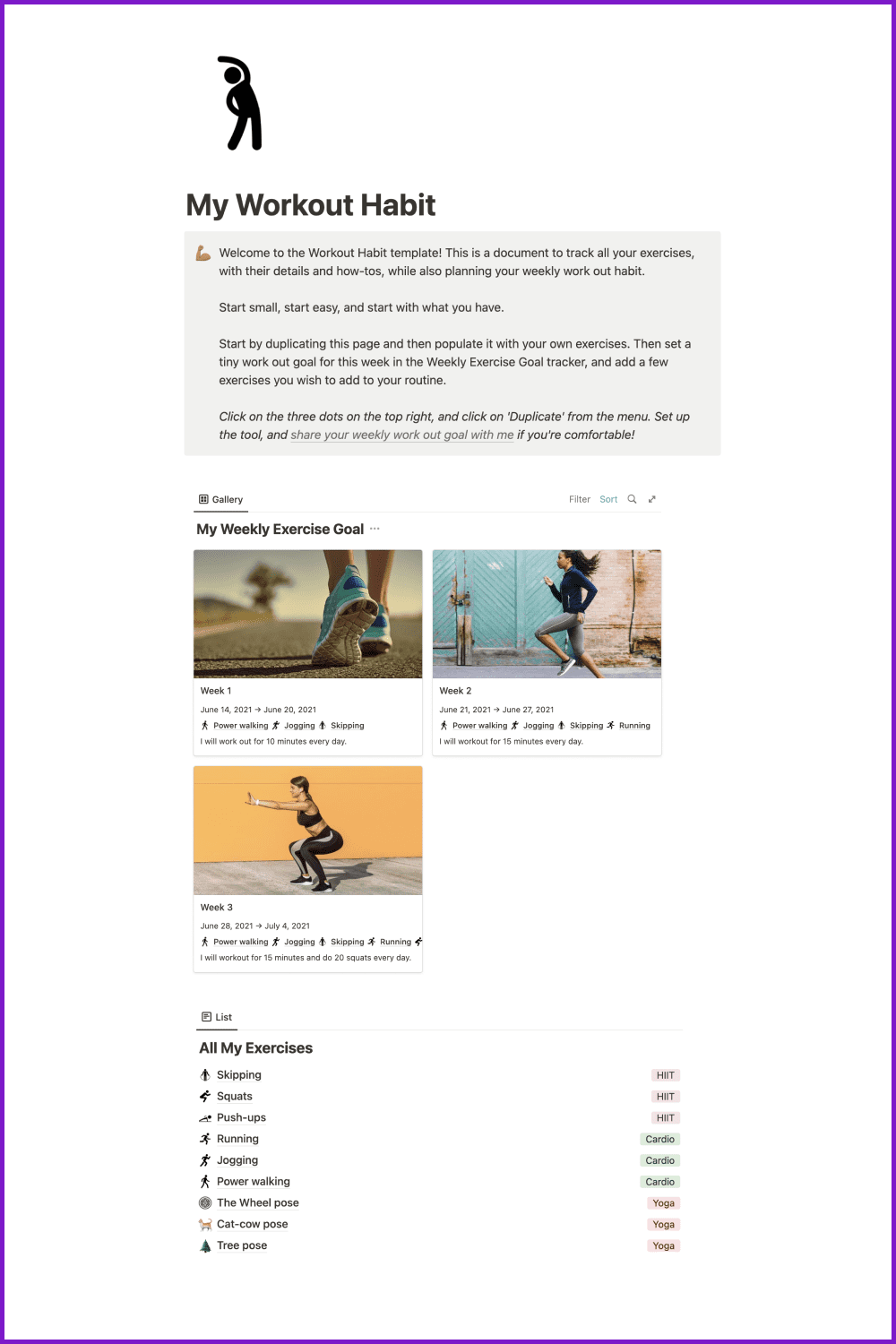 Do you want to get back into shape? Or maybe you are constantly trying to find the best way to keep track of your workouts. This is the template for you. You can record any type of workout and watch yourself get better over time.
The Learning Journal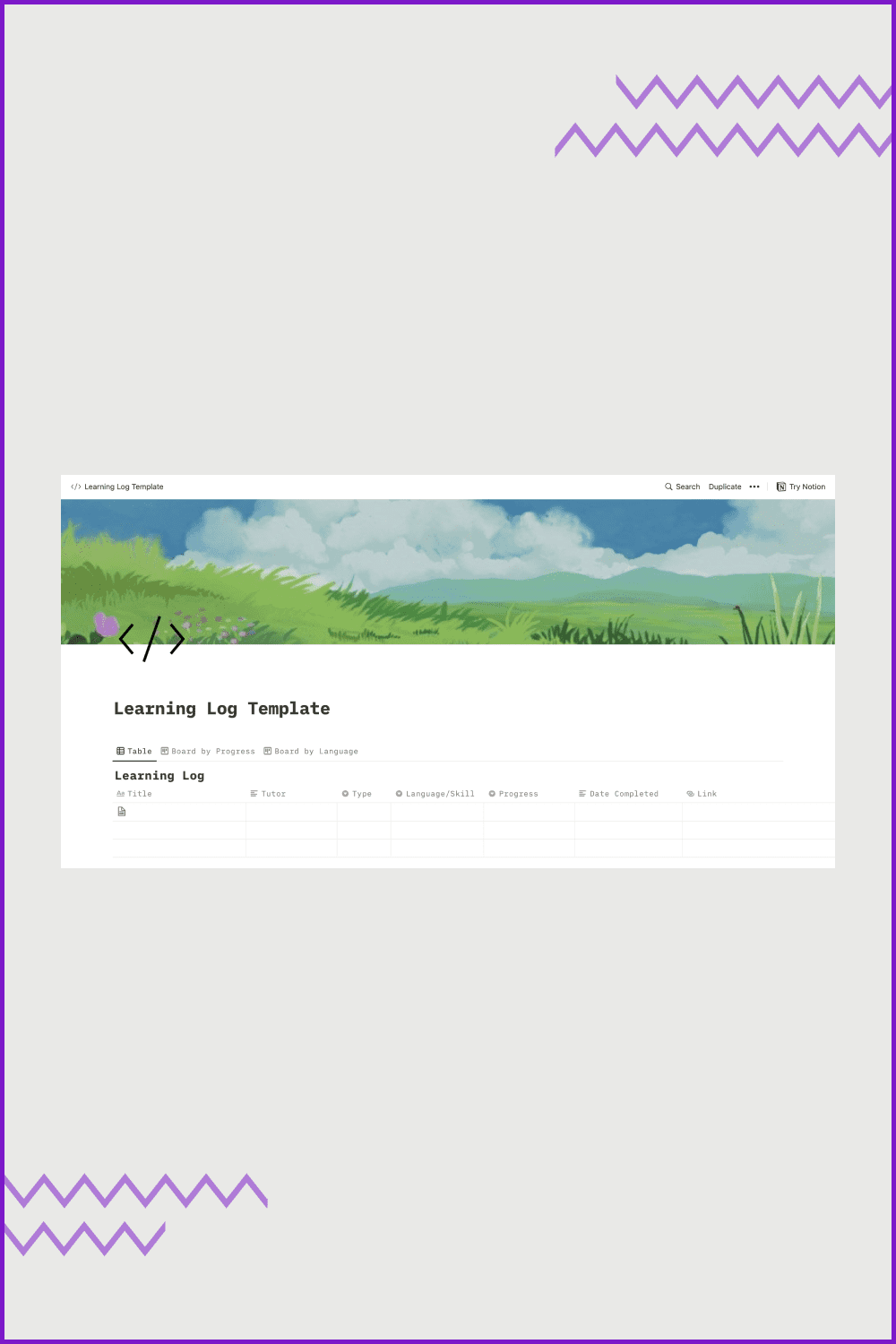 It really should all be about life-long learning. Having a tool that keeps track of what you learn and lets you go back to it and review the information when you need it is a great way to keep learning, improving, and being awesome. This can be counted among the best free Notion templates for students, but it's not just for them.
Side Hustle Template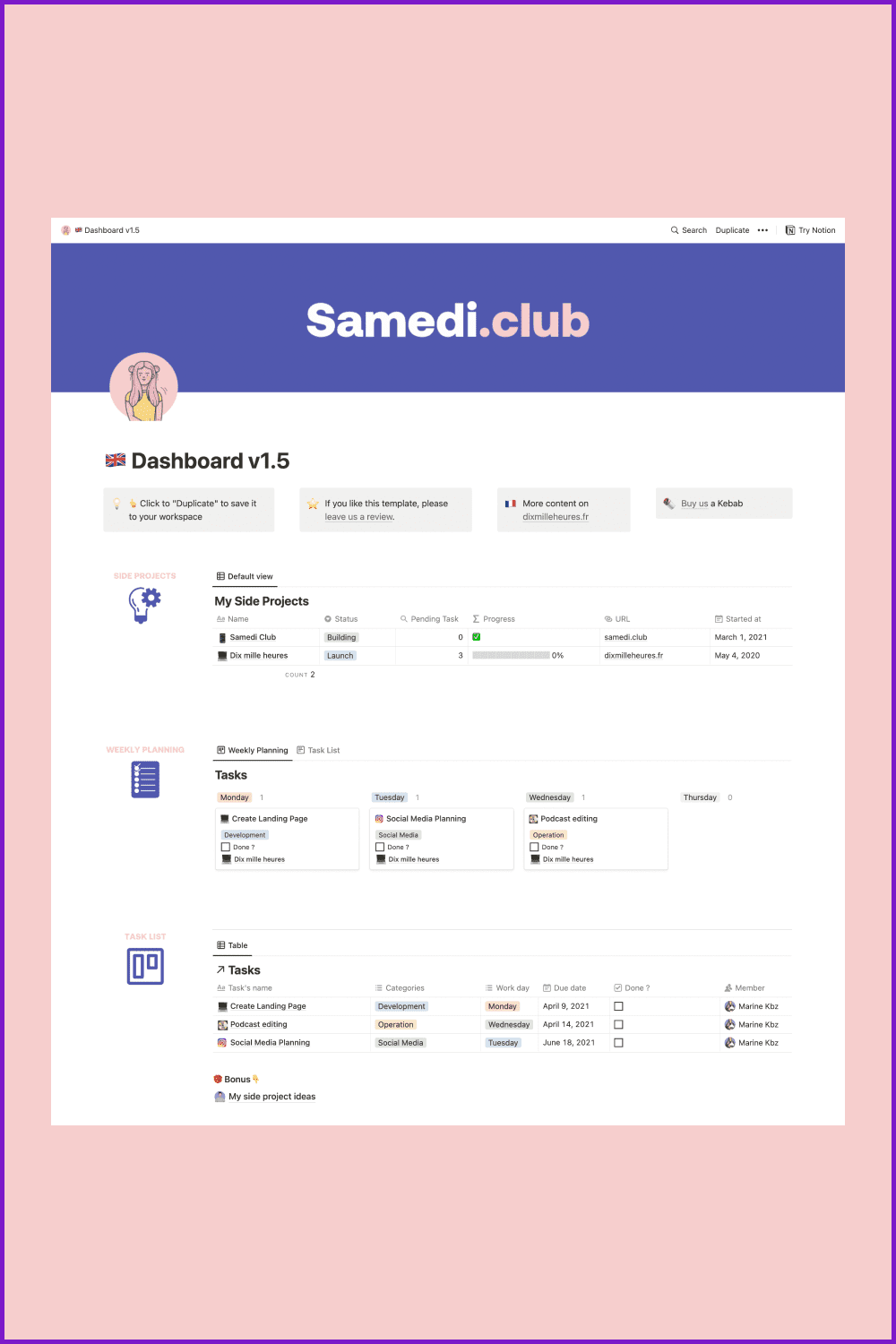 Designers are going to love this one. Nowadays, who doesn't have a little thing going on the side? Keep track of everything with this free template.
Reading List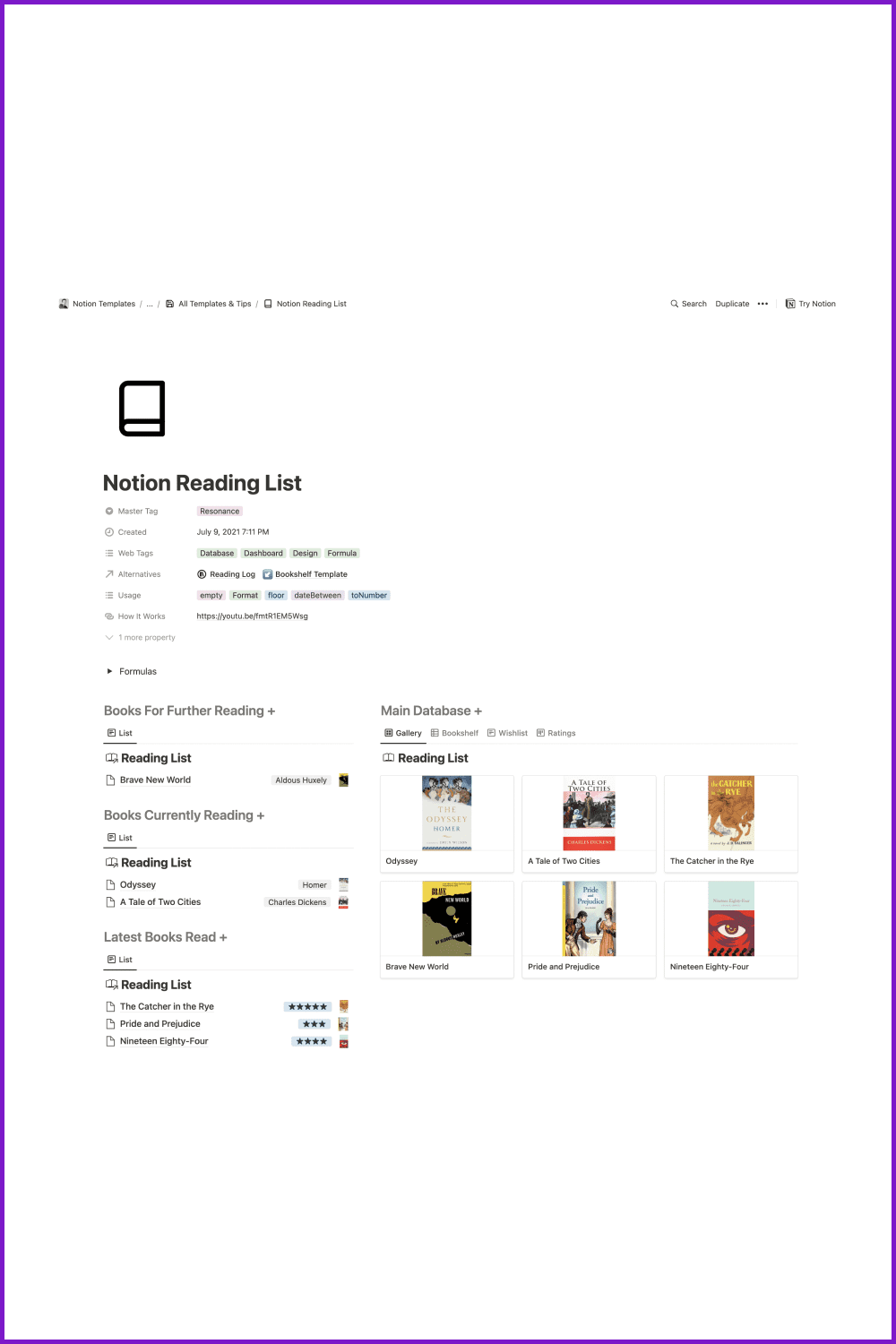 Keep track of the books you have read, those you want to read, make notes, and set goals to read more.
Work Management Dashboard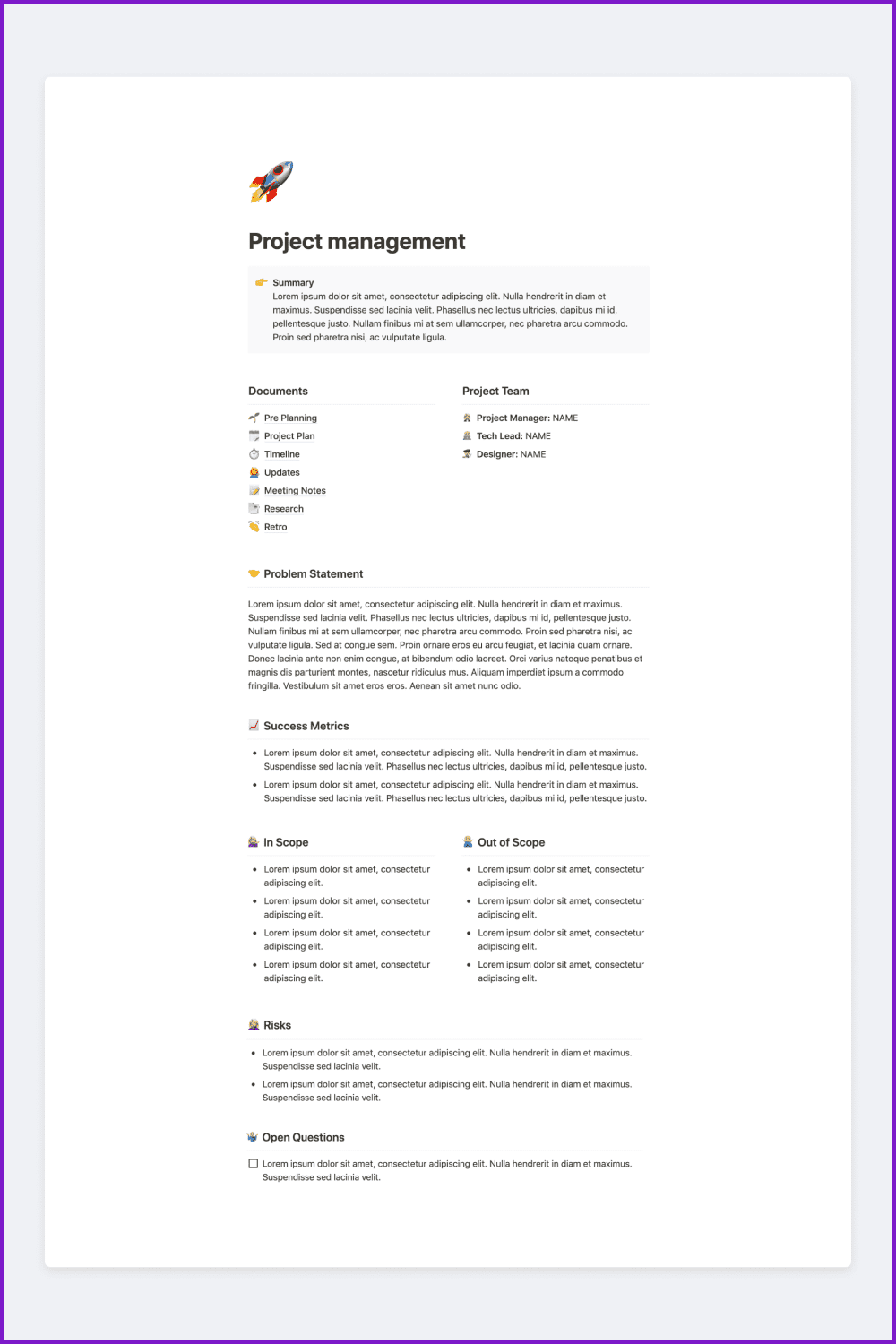 This is a state-of-the-art work management dashboard. Keep track of everything and smash every deadline with this template!
How to Use Notion Templates
Okay, now that you've seen the offer and picked the best Notion templates for your needs, it's time to learn how to use them. Don't fret, it's pretty straightforward and you'll be up and running in no time!
How to Use a Notion Template from the Template Gallery
The Notion team is continually pumping out awesome templates with detailed guides and how-tos, so getting started is a breeze. Notion's Reddit community is also packed with great advice and great people.
This is how to use Notion templates in your workspace:
Log into Notion.
Click on "Templates" in the bottom-left.
Browse and select the template you want to use.
Click on "use this template."
You will find the template in your workspace, ready to make your life easier!
How to Share Your Notion Templates with Other People
If you created an awesome Notion template and you want to share it with the world, follow these steps:
Open the Notion page you want to use as a template.
Click on "Share" in the top-right.
Toggle "Share to the web" and "Allow duplicate as template."
Copy the automatically-generated link and share it on your preferred channels!
How to Use a Notion Template from an External Source
Found some pretty cool template kindly created by someone else? Maybe here in our article? Follow these simple steps to copy it to your Notion workspace:
Open the template you want to start using.
Click "Duplicate" in the top-right.
You'll find the template in your workspace. Sweet!
A Few Words about Notion in Infographic

So there you have it, a complete rundown of our favorite and most useful Notion templates.
Now you can get out there and be sure that you are as efficient as possible with your brand new second brain! If you want to be even more effective, check out this cool selection of free web design software.
As you start using Notion more and creating your own templates, remember you can upload them and sell them on MasterBundles with our convenient Sell Your Deal form.

Disclosure: MasterBundles website page may contain advertising materials that may lead to us receiving a commission fee if you purchase a product. However, this does not affect our opinion of the product in any way and we do not receive any bonuses for positive or negative ratings.