Contest
Graphics designers are constantly looking for ways to make their workflow as smooth as possible. This is especially important when you're involved in promo materials design. Working out the concept and layouts for corporate calendars, posters, and other point-of-sales materials might take up plenty of time and effort. So, editable calendar templates can be a real timesaver.
How To Find The Best Editable Calendar Template?
Creative process is not easy, as designers have to play with all kinds of options to find what suits best for their clients. Branded calendars must reflect the message a business wants to convey to its target audience. Finding a business calendar template that can be easily customized for one's need, is crucial. Credible graphic resources providers like MasterBundles can offer a variety of templates and design elements for any budget.
Looking for a niche item? A workout calendar template or an event calendar template? Or maybe, you're a marketer searching for a social media calendar template or a marketing calendar template? Purchasing a multipurpose calendar template is a clever investment no matter the purpose. To make the task a bit easier, we've taken the time to put together a collection of editable calendar templates 2020. Check them out!
Editable Calendar Templates 2020
Free February 2020 Printable Calendar & Wallpapers – Spread The Love!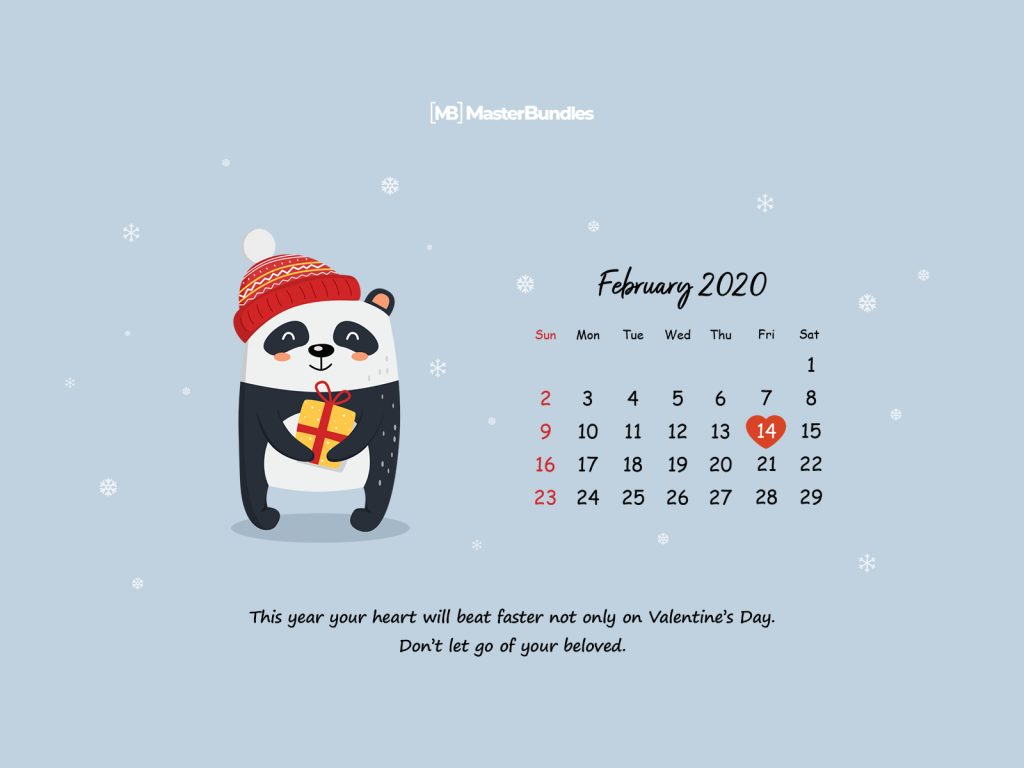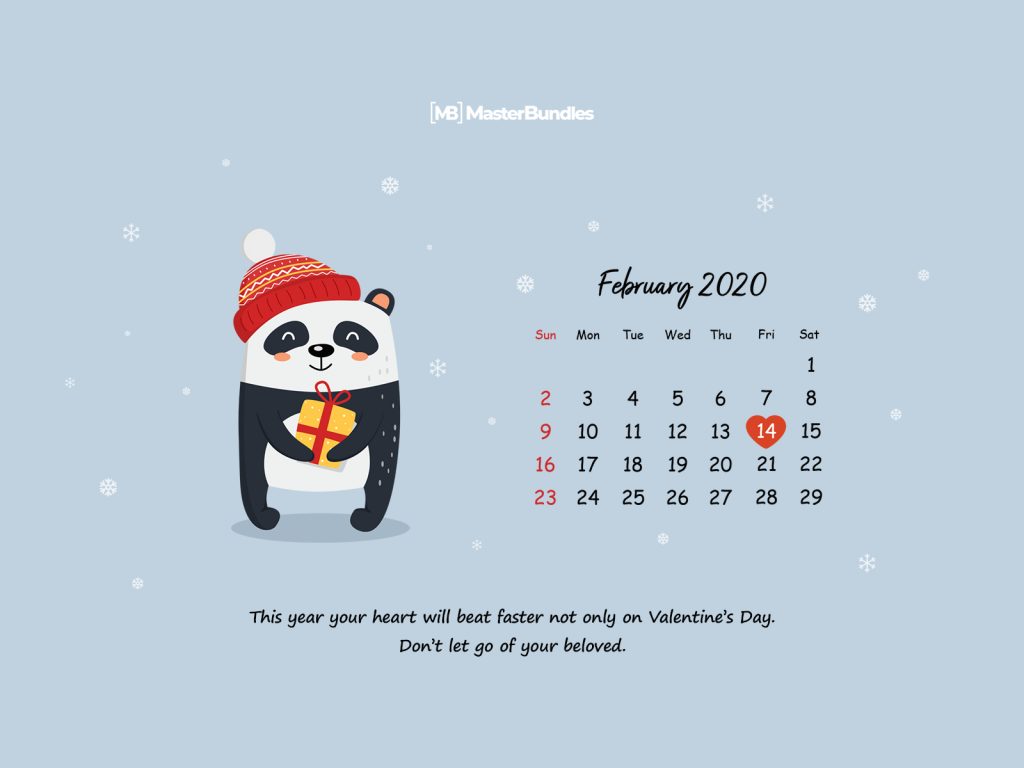 Christmas Advent Calendar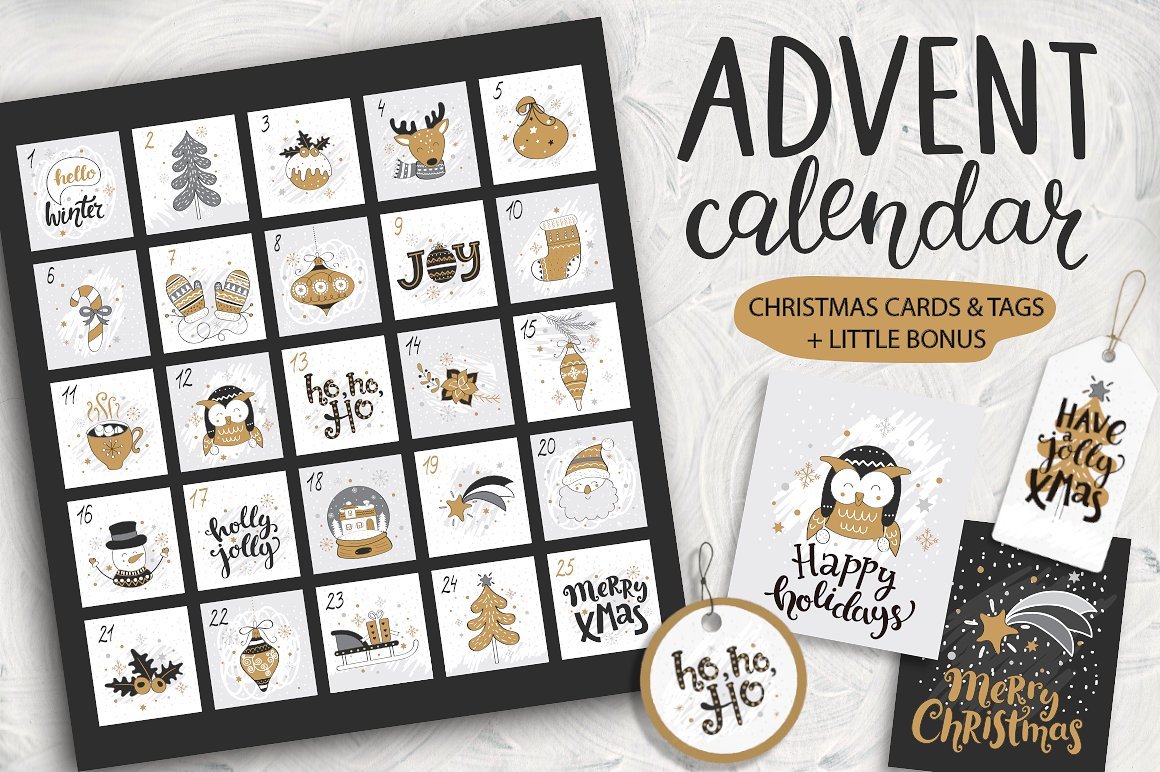 Price: $5
If you are looking for something truly unique for keeping a track of all the important events throughout the year, then you might want to take a look at this very calendar template. The template has an eye-catching design as well as some essential features such as 12 pre-made cards (EPS, AI, JPG), 3 patterns, and 10 templates of tags (EPS, AI, JPG, PNG). Moreover, it is a super affordable option, so why don't you give it a try?
Holiday Wall Calendar Template for 2020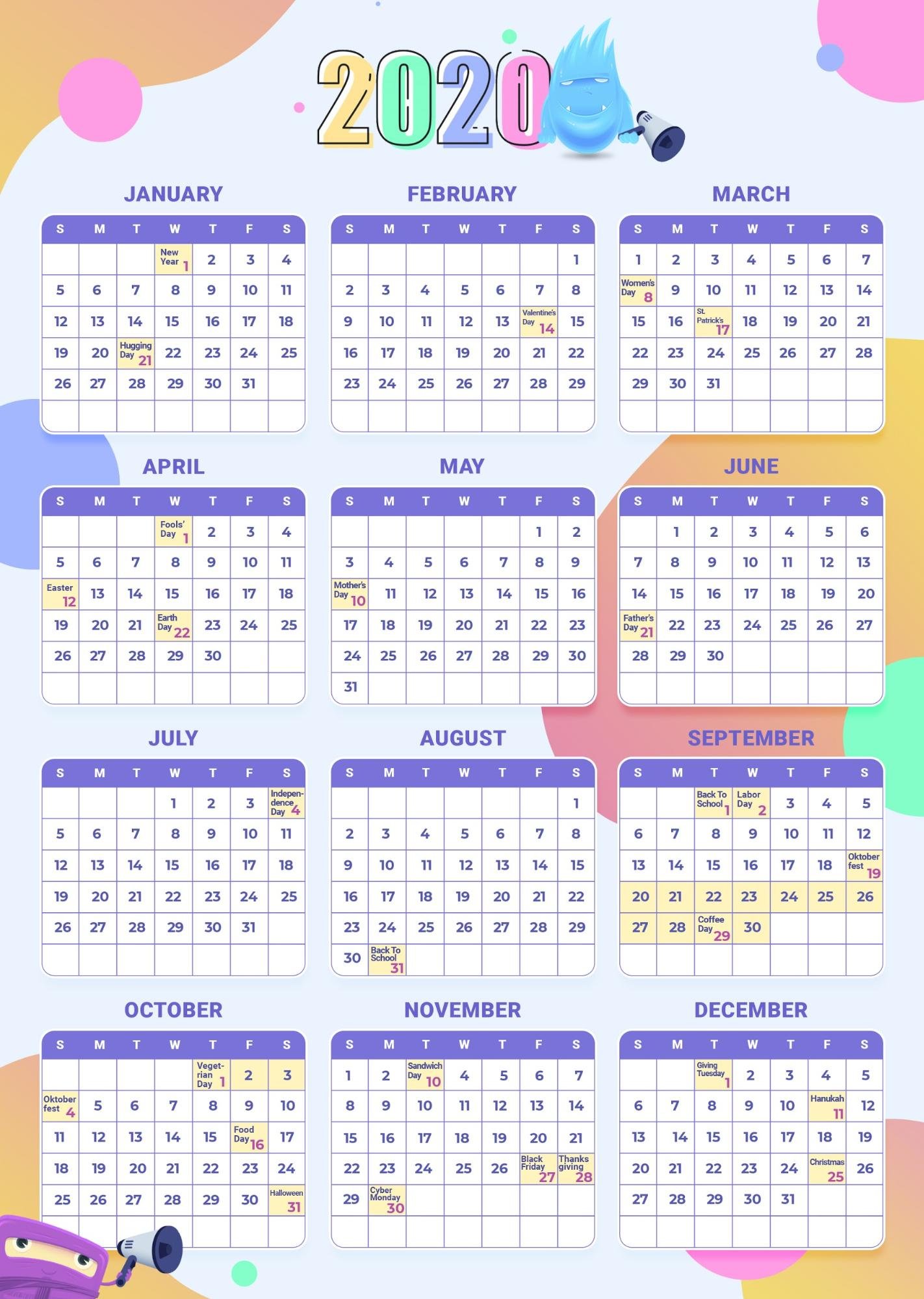 Price: free
Are you this kind of person who always forgets about your friends' birthdays, holidays, or any other significant events? Well, I got something particularly useful for you. This with no exaggeration fancy calendar will help you remember all the important dates. The template has a unique layout as well as supports PSD and tiff formats. So do not hesitate, get this baby, and be that friend who remembers all the important dates in 2020.
2020 Yearly Calendar Template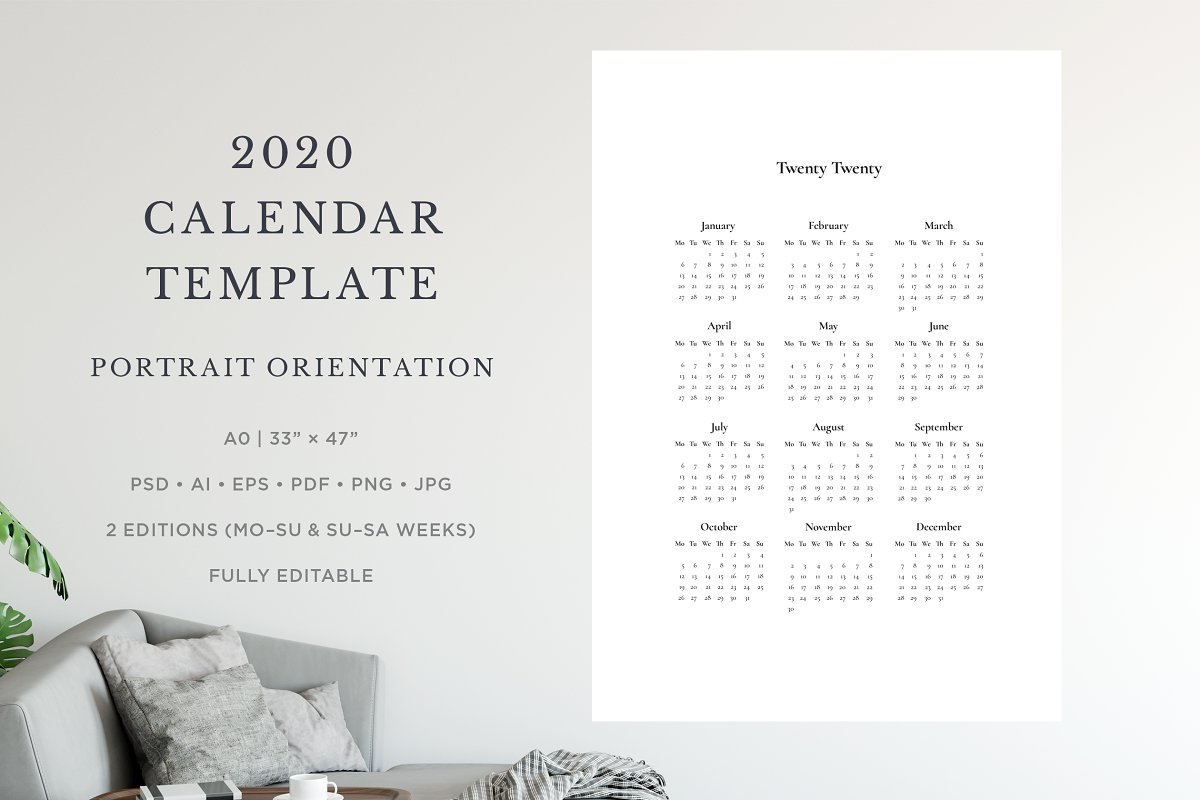 Price: $11
Classy, stylish, and simply breathtaking are the three words that describe this very template. Not only is this baby pretty but also quite useful too. This calendar will decorate your apartment or office as well as help you keep the count of time. The template is fully editable and comes in A0 size (33" × 47"). Well, stop being the one who doesn't remember what day it is with the help of this lovely template.
2020 Calendar Templates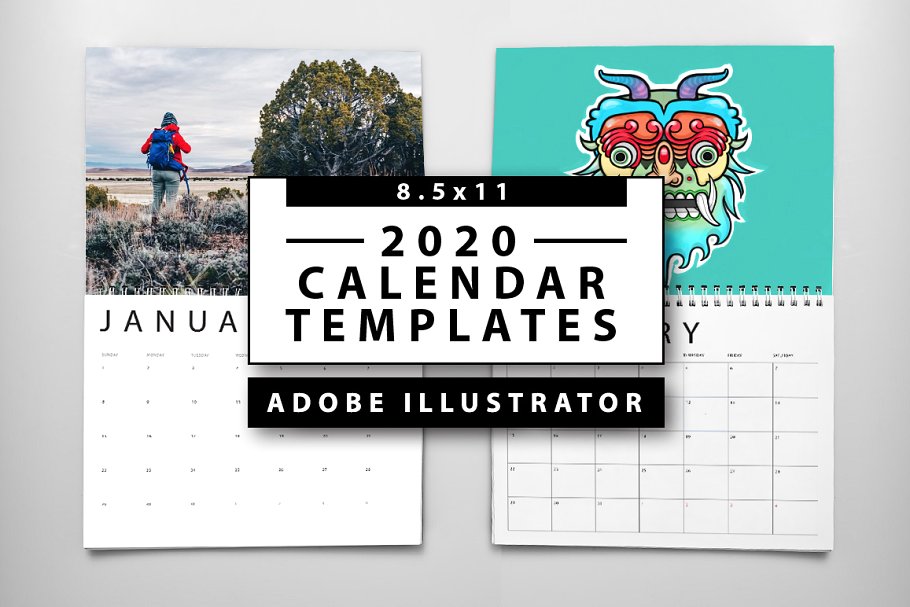 Price: $18
If you are looking for something truly unconventional and extraordinary, then this one is definitely for you. The template has a unique fancy design that will no doubt make you fall in love with it. Besides, it is compatible with Adobe Illustrator, easy to customize according to all your needs and desires, and comes with lots of cool fonts. So stop hesitating and go ahead and get this lovely calendar.
Coloring book – Calendar 2020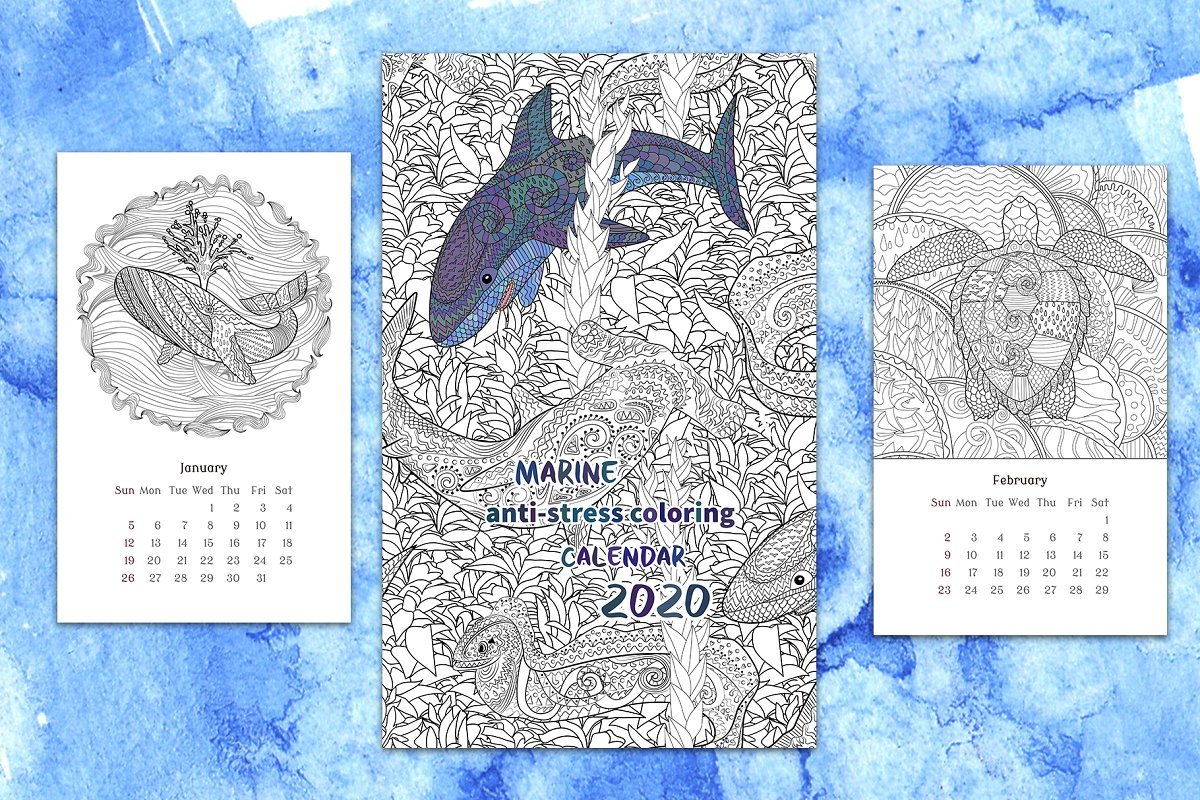 Price: $14
Well, it seems like pretty much all the calendars have the same (and the only) purpose, which is keeping a track of time. All except this one. This very template is not only a calendar but also a coloring book. So you can color its pages in order to make it truly unique and special as well as relieve you stress a little bit while doing it. Well, personally, I see no valid reason against getting this multifunctional baby, so if you want a really unique calendar and you need to relieve your stress, go ahead and get this template now.
Price: $14
If you are looking for something classic and practical, then this template is a perfect option for you. The calendar will perfectly suit your office or house's interior and certainly will help you keep the count of time as well as remember all the significant events. So why don't you take a good hard look at this template? Because it is really worth it.
Moon Calendar 2020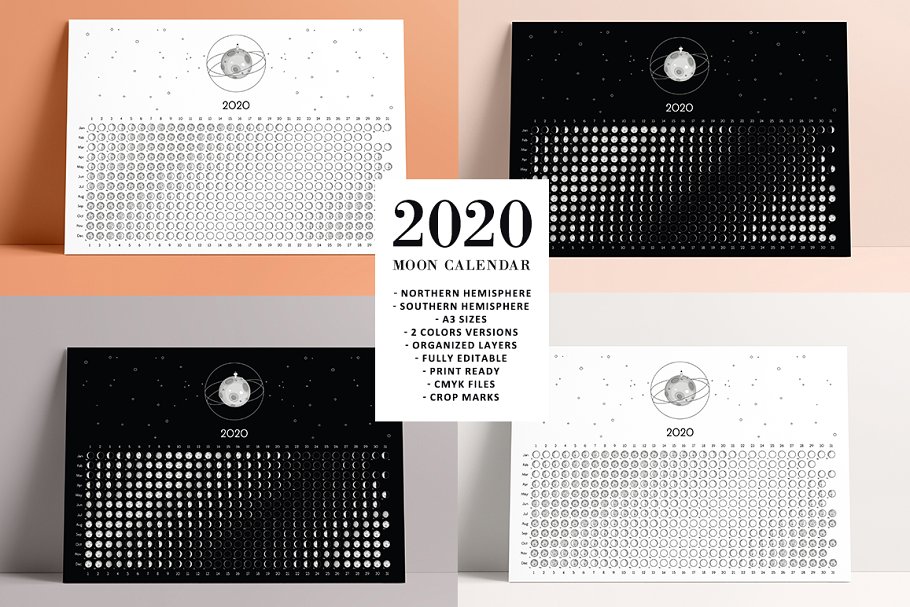 Price: $100
All right, let's face it, calendars are a little bit boring, but not this one. Not only is this moon calendar look good but also it is quite magical and mysterious. Well, if you feel like you need some magic in your life, then this template is definitely for you. The template comes in A3 size, it has 2 color options (light and dark), and, certainly, it is print-ready. So make 2020 truly magical with this marvelous template.
2020 Forest Calendar Template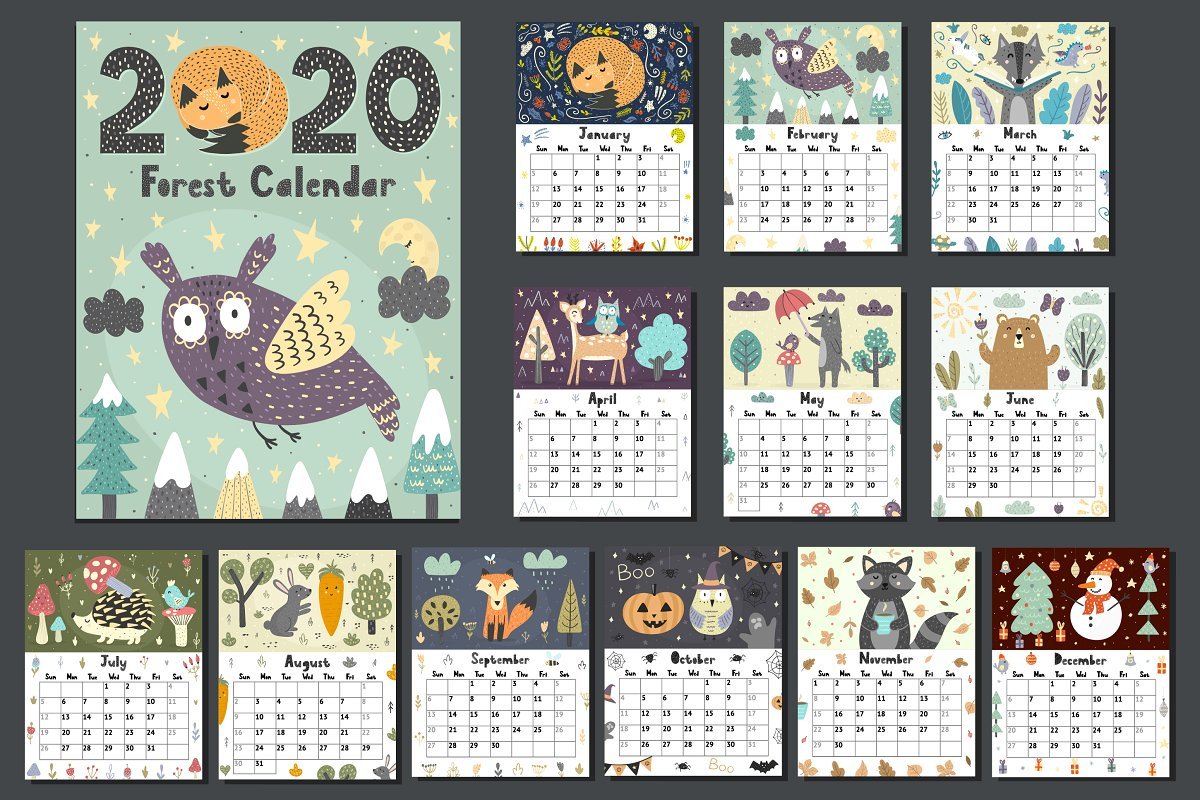 Price: $21
Forest is a super fancy, lovely, and simply amazing calendar template that will no doubt win your heart. The template is ready to print, comes in 8.5″ x 11″ format and with a whole bunch of Ai, JPG, EPS, PDF, and PSD files. In addition to all of these, this very template has an insanely cute design. So go ahead and get Forest in order to never lose the count of time.
Photo Calendar 2020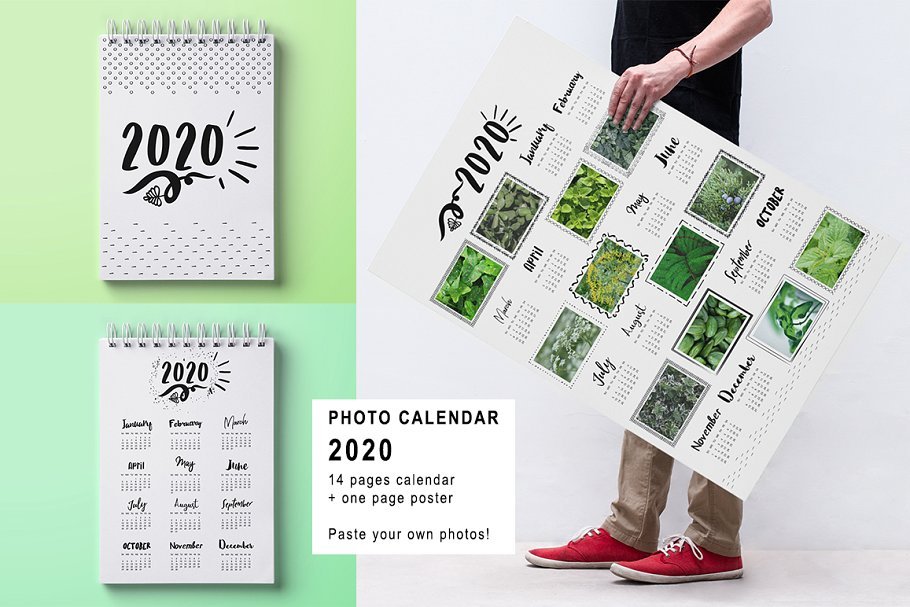 Price: $120
Another classic option on our list that will ideally fit your apartment or office. The template has a lovely layout as well as some essential features such as 14 pages in A4 format, one A1 poster, AI and EPS vectors, organized layers, JPG files, and many more. Besides, it is fully editable and ready to print. So keep in mind all the important dates with this lovely photo calendar.
Calendars Kit 2019-2020 + Elements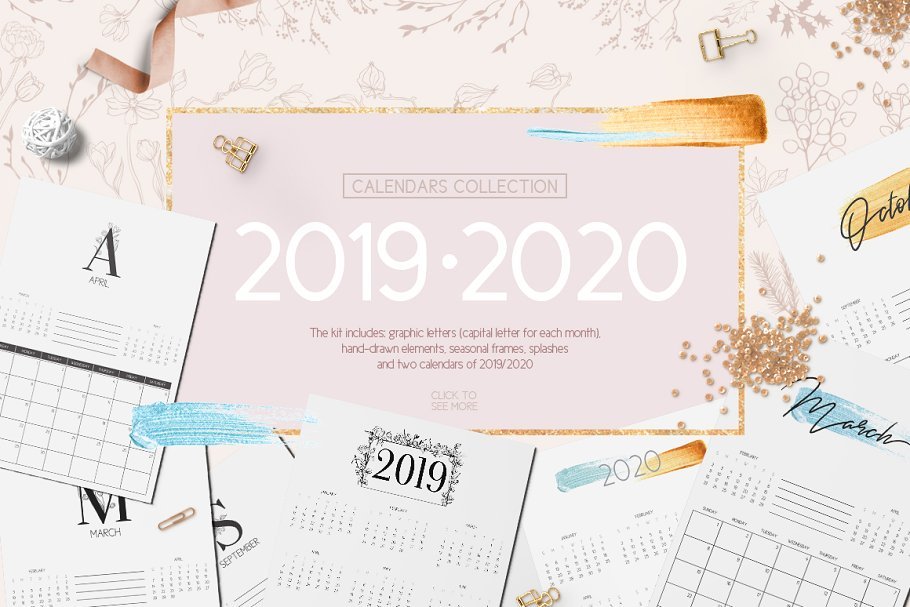 Price: $20
Last, but surely not least, this with no exaggeration cool kit. Using this very set, you can create your very own unique and special calendar for the upcoming year. The set comes with several graphic letters, seasonal frames, hand-drawn elements, splashes, as well as over 100 graphic outline elements. So get this ultimate kit and stop being that person who forgets about the important events all the time.
2020 Printable Business Calendar Template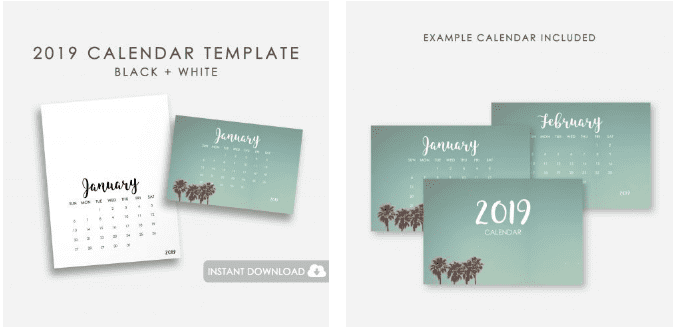 If you're searching for an attractive business calendar template to turn it into a full-blown promo material for our venture, this item might be exactly what you need. This calendar mockup will perfectly fit the needs of photographers, designers, bloggers, and online entrepreneurs. So, creating an attractive promo material to sell or present to clients won't be a problem. This 2020 printable business calendar template arrives with an extended license. Feel free to use it for both personal and commercial purposes without limit.
Owing to an impressive discount, this item costs only $9. Still, for this money, you will get a bundle of high-resolution JPG and PNG files supplied with PDF previews. This business calendar template allows inserting images, artwork, and design elements. All in all, this template is a multipurpose option for business projects of all kinds.
8.5×11" – US letter;
Editable to any preferable size;
Two font options (black and white);
Monday and Sunday week start versions;
Calendar contains 12 months (January to December 2020).
Price: 64% OFF – $9 only
Academic Planner School Calendar Template
If you need a multipage school calendar template, you might want to take a closer look at Academic Planner. Please mind, this item may not suit people with little experience with Adobe InDesign. However, if you know your way around InDesign, customizing the template won't be an issue.
This is a bit more than basic school calendar template, but rather an organizer to help students arrange their academic and social life. The download package contains page templates for organizing assignments, group projects, tests, and grades. Month and week layouts have been added. Feel free to modify the styles, change fonts, alter the text, play with the default layout, etc. In the package, you get:
137 school calendar page layouts;
Syllabus Information;
Weekly Class Schedule;
Trackers (study buddies, group projects, assignments, grades);
Worksheets (important dates, best week ever);
Price: $19
2020 Event Calendar Template + Planner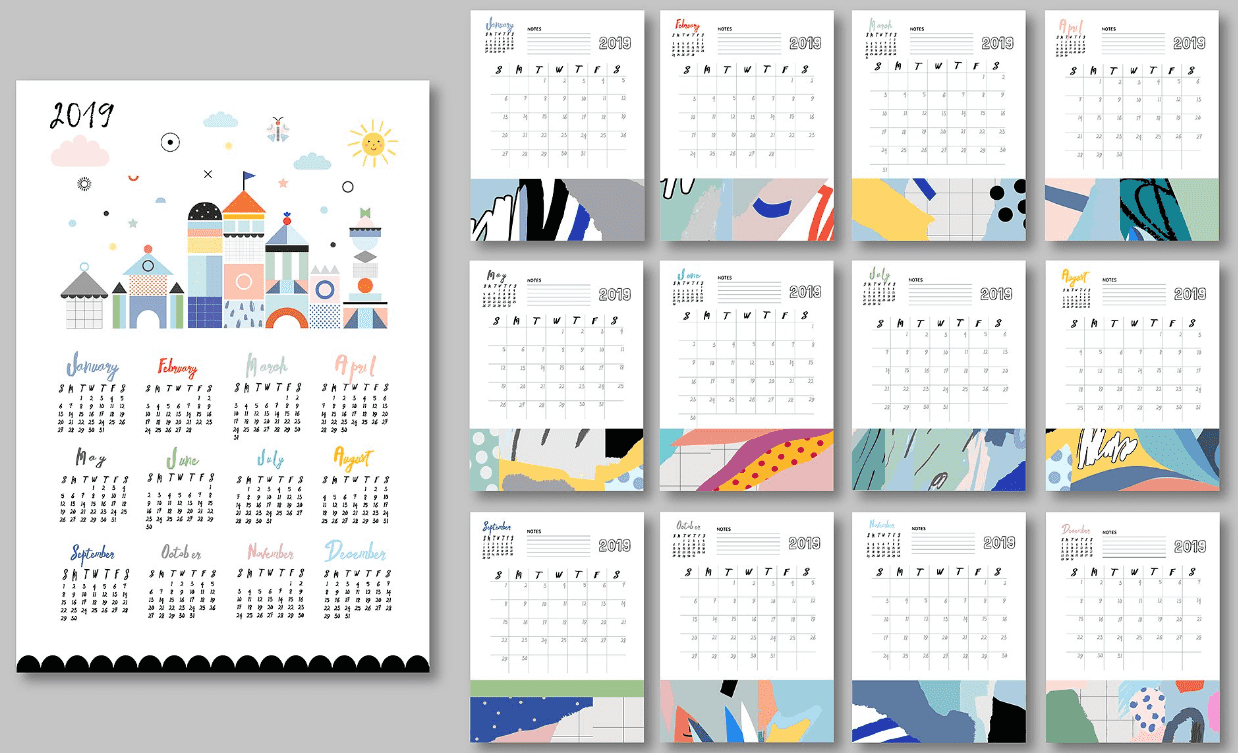 Looking for an event calendar template or an event planner? Take a look at this bundle including 12 calendar templates, 12 weekly planners and 12 monthly planners for 2020. In the download package, you get artsy pocket, desk, and wall calendar page layouts decorated with trendy patterns. This item can come in handy for taking notes, writing reminders and planning events. Also, the printouts can serve as a catchy design element. This bundle includes 36 eps10 files and 77 PDF files (print-ready, 300 dpi).
Price: $18
Year Wall Planner Event Calendar Template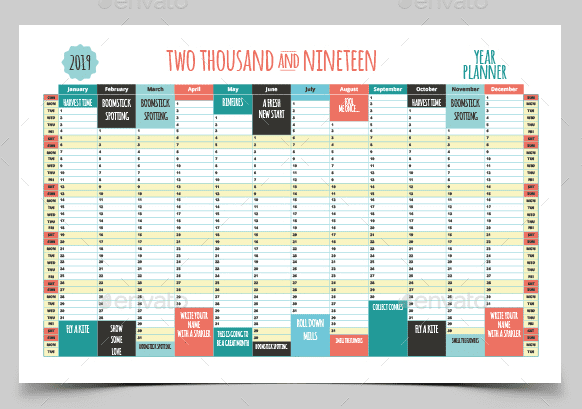 Are you one of those people who like keeping information in front of their eyes? Then, this Year Wall Planner will serve as a great event calendar template for 2020. It will help to keep track of all important dates and events, as it has a well-thought layout. You can use vacant spaces to make reminders about birthdays, anniversaries, special dates, and appointments. All months are arranged in horizontal columns, so having the whole year on one page is extremely handy. In the download package, you get:
Spectacular wall calendar layout in A3 format;
100% customizable Adobe Illustrator & Photoshop files;
High resolution InDesign files, 300dpi;
Free fonts (Open Sans, Amatic);
Take note, this 2020 event calendar template pdf file is print-ready, so you can put in on paper at a print shop. Feel free to customize the initial design for any need and purpose.
Price: $9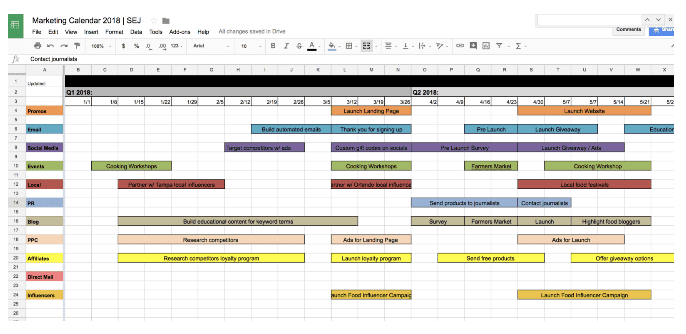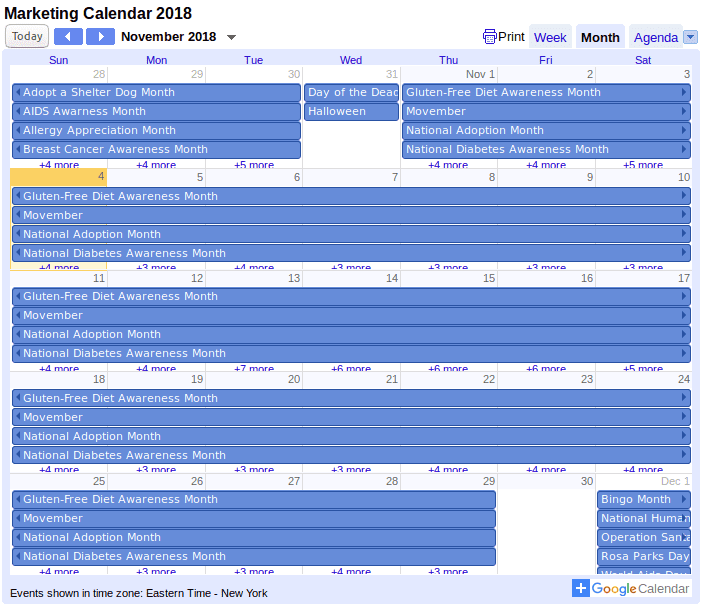 Most marketing professionals base their work on a calendar. So, a free editable marketing calendar template from SearchEngineJournal will come in handy. It contains all the dates to plan your marketing activities ahead of time. You will find a Google spreadsheet and Google calendar template with dates and events for each quarter. All you need is make a copy to your drive to add or delete the events that don't fit your marketing strategy. This tool will suit marketers with little experience and experienced professionals likewise.
Price: FREE
2020 Social Media Calendar Template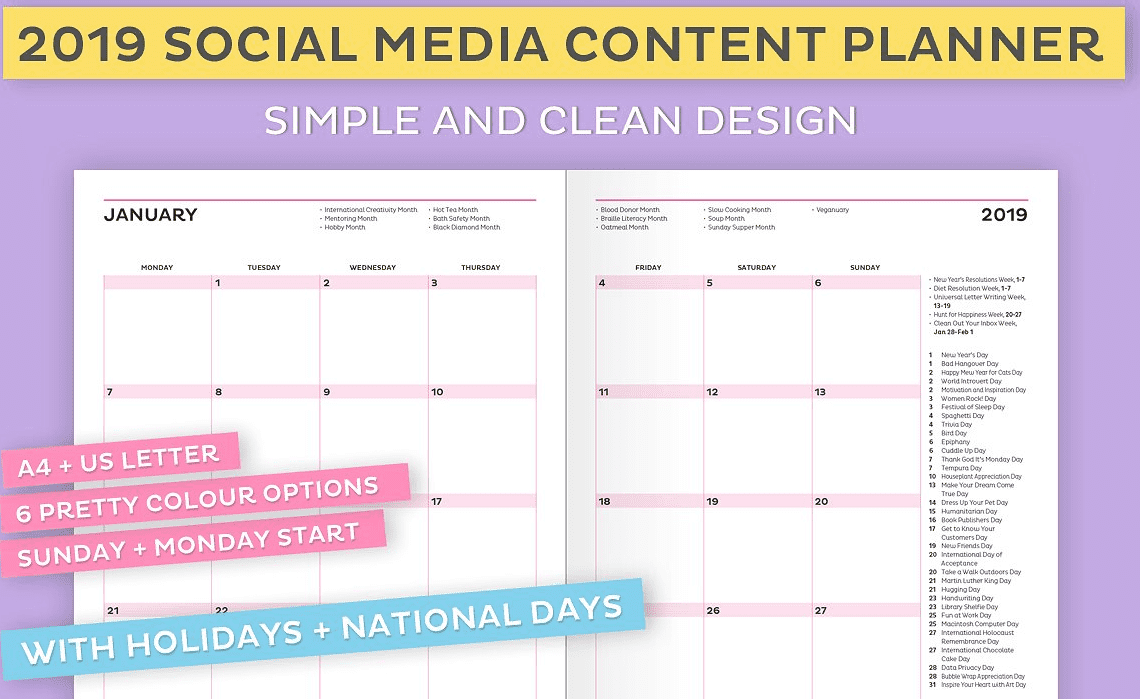 Working out a social media marketing strategy is impossible without a detailed calendar of your social network activities. Bloggers and web-based business owners will find this tool extremely useful for planning their posts across multiple social networks. This social media calendar template includes popular holidays and observances celebrated worldwide. It focuses on topics like small business, creativity, food, wellness. The template is geared for storing your content ideas as well as providing you with the new ones. See the HubSpot tutorial if you want to learn how to make social media calendar template. In the bundle, you'll get:
2020 monthly planner;
2 page templates per month + space for daily content plan;
24 print-ready monthly planner pages;
Popular holidays & observances;
Scalable size (A4, US letter);
Monday (A4) and Sunday (US letter) week start;
6 color schemes;
Price: $9
Lazybones know how hard going to the gym can be. Still, by logging your workout progress using a workout calendar template, you can get motivated to continue exercising and keeping fit. This exercise and workout calendar template is pretty basic. It has the goals section plus and a weekly planner for making notes. It also has before/after section to help you track the progress. Grab this fitness calendar template for free and make workout logs with pleasure!
Price: FREE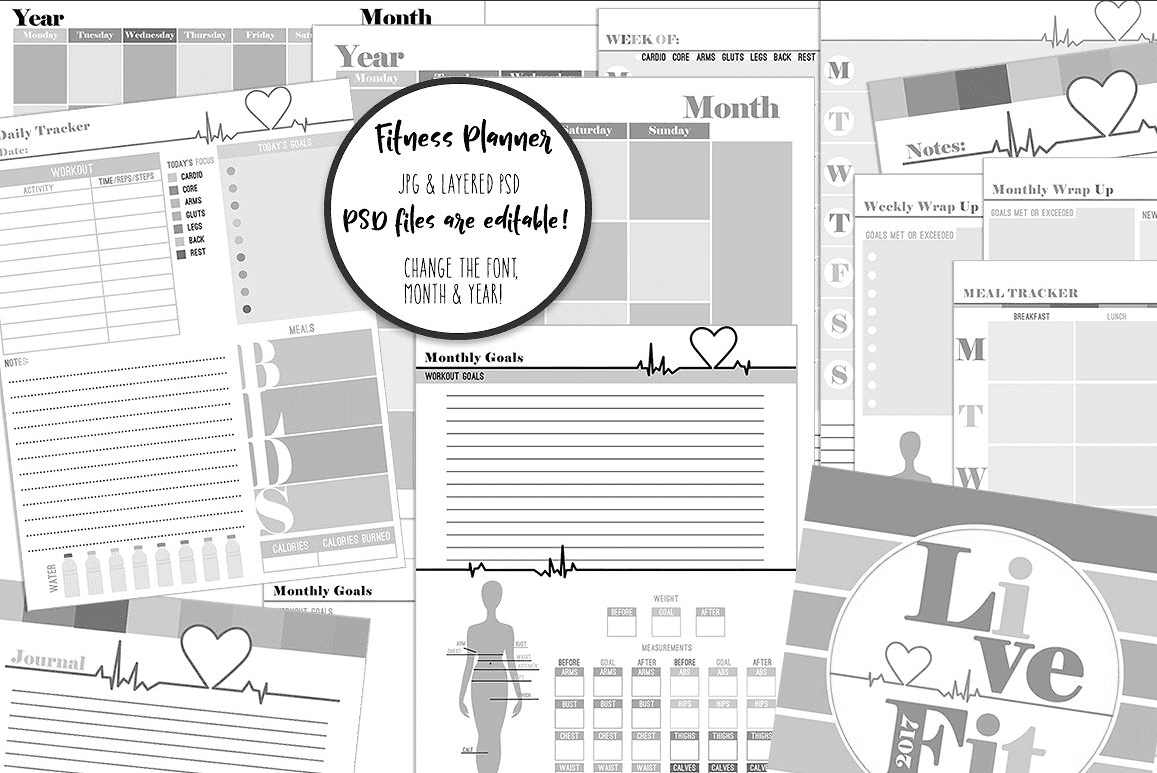 If you're a designer looking for a customizable workout calendar template compatible with Adobe Photoshop, pay attention to this item. This fitness planner calendar template will help you track workouts, weight, and measurements. With its help, you can put together a menu and set your fitness goals. The bundle contains well-layered PSD files alongside with JPG and PNG mock-ups. They come in 8.5×11" format, completely print-ready. Please mind, these templates are compatible with Adobe Photoshop, so you must be quite apt at using this graphics software. Below you will find the types of files included in the bundle:
daily, weekly, and monthly workout calendar templates;
to-do lists and goals pages;
journal;
meal tracker;
weekly and monthly results pages;
divider and/or cover page
Price: $5
Video About 8 Editable Calendar Templates To Keep Track Of Important Dates and Events
Editable Calendar Templates FAQ
💣 Where can I get a decent calendar template?
Many modern digital marketplaces offer various templates and calendars are not an exception. You can try and look for some of these templates at MasterBundles or CreativeMarket.
💣 Premium or free, which one to choose?
When it comes to choosing between premium and free templates, many people get really confused. However, in fact, this choice is pretty simple. There is a huge variety of decent free templates, so if you need one just for yourself, then it is the right way to go for you. At the same time, if you are involved in some sort of a serious project, you might want to get a premium one.
💣 Where can I get a template on a discount?
Many modern marketplaces offer regular special deals and discounts, so finding a template on a discount is not a problem at all. Check out MasterBundles marketplace, since they always have some special offers for both their loyal customers and new ones.