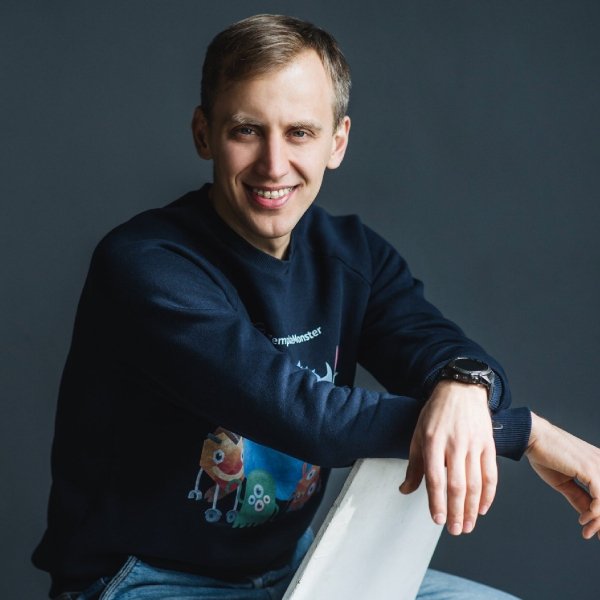 Article Reviewed by
on May 17, 2020
CEO at TemplateMonster, Founder at MotoCMS, MotoPress and Co-founder at Crocoblock.
Learn about comment
WordPress Gutenberg Themes. Gutenberg, the a relatively new WordPress editor it was announced as the whole new way one can create content with WordPress. It's built for media-rich pages and posts.
Gutenberg delivers lots of content blocks and provides flexibility, simplicity, and enjoyable user experience. Of course, it called a lot of discussions, got its fans and haters (for sure). To understand what this editor really is, let's have a look at the real essence of this being, at its major pros and cons, and finally, we'll learn if there are any plugins or extensions worth the play.
Let's start!
Guten….What?
This editor is named after Johannes Gutenberg, the person who started printing revolution in Europe around 500 years ago. He invented the first mechanical printing machine and thus made information accessible to masses.
Similarly, WordPress decided to make the advanced layouts accessible to the average users. The idea was to make this CMS a simple platform to use.
Gutenberg. The Simplicity Is
From the very beginning, the work with WordPress required the knowledge of HTML or CSS. It was ok for developers, but not for average users. The new times brought the increased popularity for content block style of writing.
WordPress reacted to these changes with the launch of different visual editors like Elementor, Beaver Builder, and some others. Today the new generation of editors replace the previous ones, and WordPress introduces the Gutenberg with a block concept at its core.
Block Concept
From now, no HTML or CSS is required to get two blocks of content side-by-side. Gutenberg WordPress plugin makes complex layouts a lot more accessible to an average user. The magic is made by blocks that are the fundamental elements of the Gutenberg editor. They are really a great new tool for building a content. Thanks to these blocks, you can insert, rearrange, and style the content even with no technical knowledge.
Just imagine that to get the desired layout you have to click "align left", "align right", or insert a pre-made block with up to 4 side-by-side columns. And that's all! No HTML or a CSS headache at all, just moving blocks up and down the document. As the WordPress defines, the main goal of Gutenberg editor is to create a post/page building experience aimed at seamless generating of rich post layouts.
Main points
Blocks everywhere

. Text, images, galleries, widgets, shortcodes are seen as block in WordPress Gutenberg. Consequently, you can work with this multimedia as you work with blocks.

Equivalence

. All blocks are created equal for the ease of use.

Placeholders

.

Their usage predefined editable layouts. Image and text placeholders save you time and point out places where you havу to fill in the blanks.

Direct manipulation

. It can be done directly on the page. Gutenberg offers users a WYSIWYG environment for creating on the web.

Customization

. From now it's easy and intuitive. A developer determines a specific portion of the layout which every block renders, and what type of changes a user can perform. It means that an end-user will be able to edit the layout as he needs without fearing that he can break the whole system.
Gutenberg documentation gives a detailed description of how to use its blocks. To find its coding guidelines, testing overview or read some frequently asked questions, a user just needs to visit its official site.

Along with a block concept Gutenberg builder pays attention to "mystery meat", and there is nothing mysterious in this term. Hard-to-find features that are hidden from the user are called mysterious meat, and Gutenberg makes them more discoverable. The editor already supports a large number of blocks and 34 embeds all of which are easily available. It means that embedding external content is easier.
What you need, is just to enter the URL you want to embed, and the editor will do the rest. Using specific options for adding:
YouTube videos;

Tweets;

Reddit posts;

Spotify links;

etc.
All these manipulations are done it in a hassle free way. As you know, this process usually requires a plugin or generating specific embed code on the website you're embedding, and Gutenberg simplifies everything.
Installation
Gutenberg editor is currently a plugin to any WordPress site.
Its current version is 3.5.0. It is compatible with WordPress version 4.9.8. There are two ways how you can get it. It is available via the WordPress Plugin Repository and needs manual installation or you can install it as any other plugin via the admin control panel.
Still, it is in beta version and it is recommended to install this on a test site.
Now let's have a look at the pros and cons of this page builder.
Pros / Cons
Pros

Cons

Ease of use

.

The main idea of Gutenberg is to streamline the writing process and facilitate the creation of layout.

Beta version

.

Since it's beta software, it's not ready for production websites. It can cause certain problems, that's why it's wise to try it on a test site at first.

Visual part

.

It left behind HTML / CSS and becamу a visual editor where content is seen as blocks.

Poor reviews

.

The overall rating is poor – 2.3 out of 5.

No HTML / CSS.

As it was already mentioned, it's the huge breakthrough in the direction of seamless content editing. Building even complex layouts with little knowledge is cool.

Bugs

.

Here are some of them:

no support for responsive columns. Hopefully, it's a temporary problem, 'cause more features are added to it on a daily basis.

partial support for meta boxes. Hiding page titles, unique options for each page are not available for today.

Quick embedding.

Gutenberg supports content embedding from 34 websites.

Not for beginners

.

Some people complain that the work with it can cause some problems, especially when the user hasn't worked with a page builder before.

Clean design.

Gutenberg doesn't mislead and shows relevant tools at the right time you need to use them.

Accessibility.

It's a main concern of developers, 'cause Gutenberg APIs are still under development phase.

Mobile friendly.

Functionality and work are now supported on various mobile devices.

Big question

.

WordPress supports tons of various plugins. Will all of them work properly with Gutenberg?
Gutenberg Plugins & Extensions
With Gutenberg editor, one can create content via a predefined set of blocks. The number of blocks can be increased with the help of some third-party extensions.
Let's have a look at plugins and extension that are available for Gutenberg editor.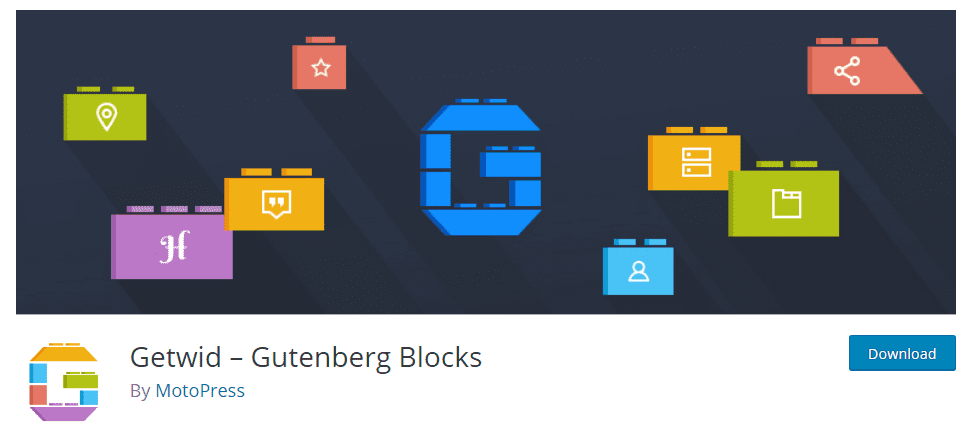 Getwid Blocks is currently the biggest free library of custom 40 + blocks crafted specifically for Gutenberg WordPress editor. Each block is powered by multiple editing settings which help you create the most unique layouts for a website. Furthermore, Getwid provides you with a Template Library which comprises 38 professionally designed templates.
Among Getwid Blocks you will find such unique blocks like:
– Banner Block
– Slider Block
– Media & Text Slider Block
– Instagram Block
– Price Box Block
– Custom Post Type Block
– Image Hotspot Block
– Video Popup Block
– and many other handy blocks to use for creating a website.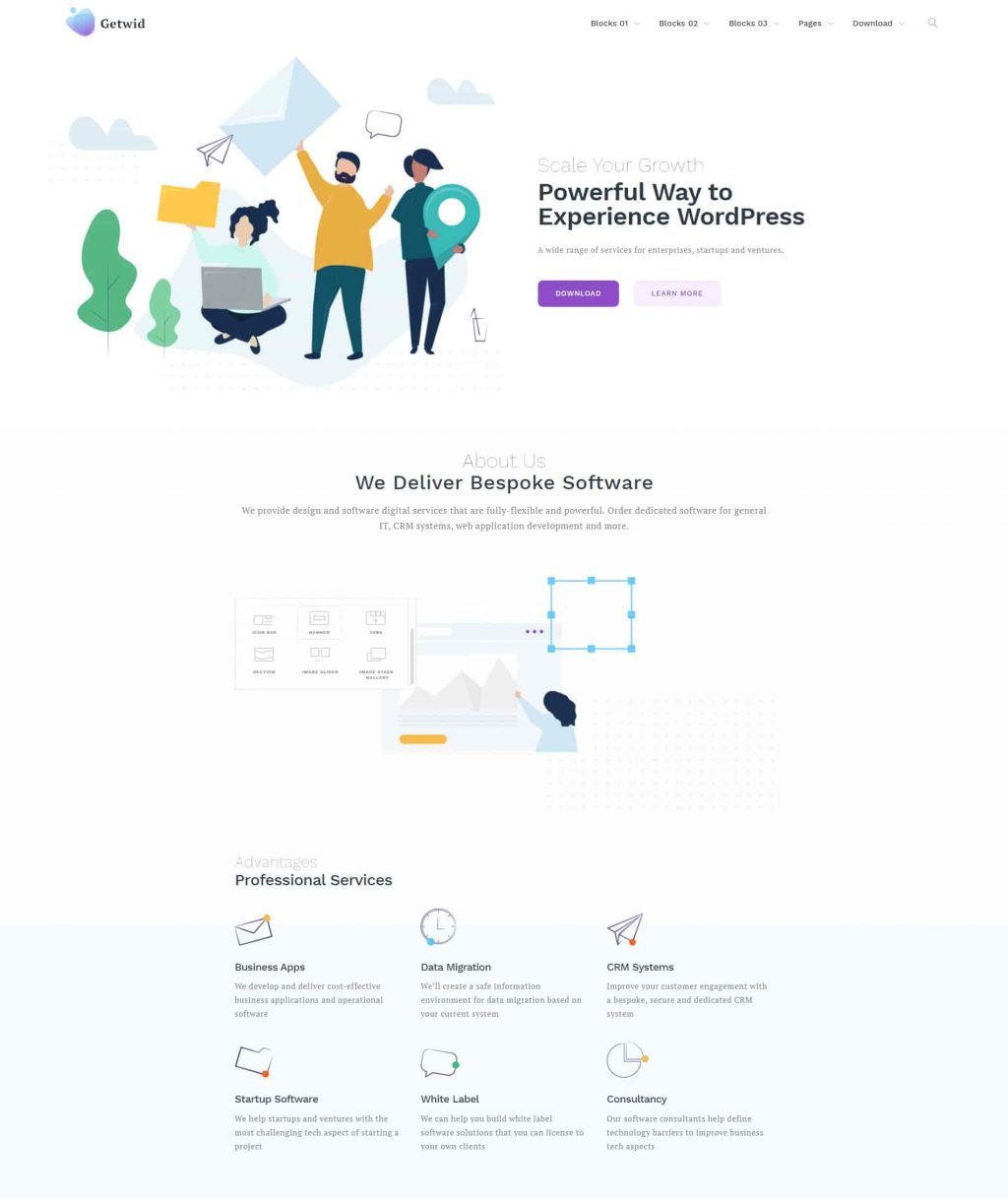 Getwid Base is a free multipurpose WordPress theme built fully on Gutenberg. It is perfectly suitable for representing any type of business activities starting from leading a simple blog website to some corporate sites. Minimalistic design, harmonious color palette, and simplicity of the theme create elegant and universal pages layouts.
Built on Gutenberg, the Getwid Base theme can be easily edited by any-level WordPress users. Thanks to Getwid Blocks integrated into the theme, improving theme elements becomes very easy and intuitive.
Features:
– 40+ Additional Gutenberg Blocks (Getwid)
– Exceptionally fast-loading
– SEO optimized markup
– Integration with social media
– GDPR compliant
– and more useful and interesting features for enhancing your website.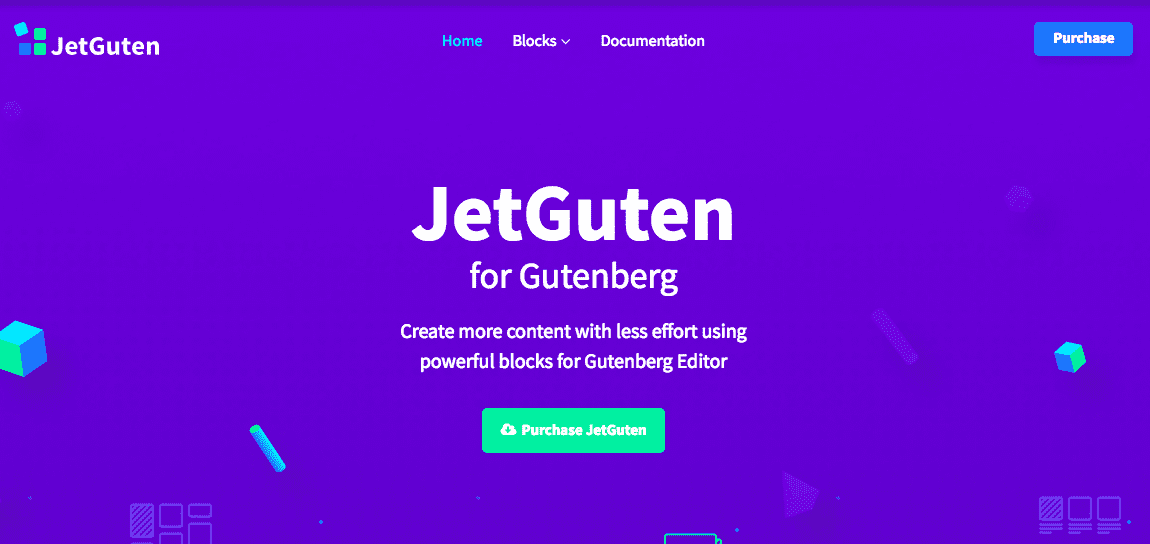 JetGuten plugin is developed by the oldest web templates provider Zemez. The WordPress team developed a premium extension for the functionalities of the Gutenberg editor. The set of blocks includes the following items:
Banner

Pricing Table

Circle Progress

Countdown Timer

Advanced Map

Animated Box

Progress Bar

Inline SVG

Image Comparison
If the question is why would anyone need a premium plugin for Gutenberg editor, the answer is quite simple. Other items in this compilation don't include dedicated support for their items, whereas this plugin is backed by chat, ticket and email support.
This means that if anything happens to your website Zemez team will be ready to assist you. With JetGuten you can alter styles, layouts, set animation effects and create more astonishingly beautiful content using an intuitively clear interface!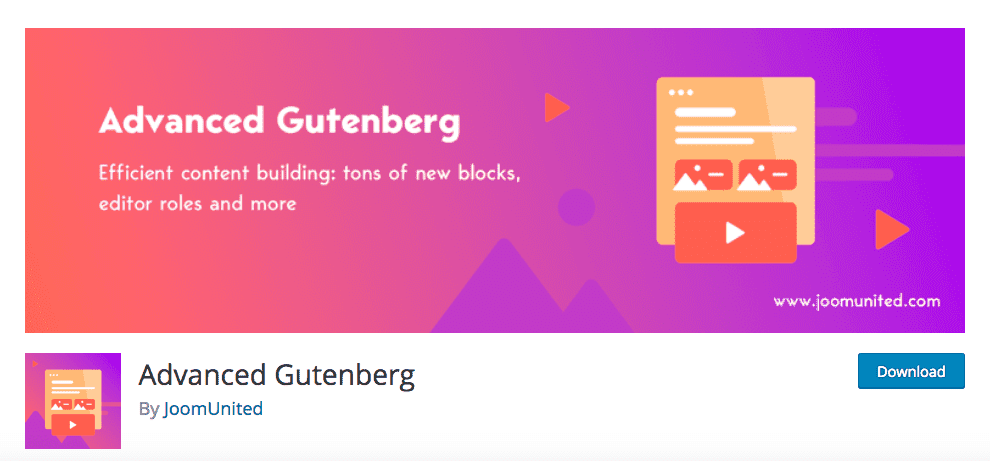 Advanced Gutenberg plugin is installed over the Gutenberg plugin thus extending its functionalities and content creation capabilities.
With Advanced Gutenberg plugin you'll be able to:
create user profiles with different level of access to the blocks of Advanced Gutenberg plugin

select different editing tool for every profile

add lightbox to Gutenberg galleries

display ALTs and captions in gallery lightboxes

create custom CSS styles and apply them to various blocks

insert Gutenberg post summaries

create advanced button blocks that will have additional styles like hovers, borders, padding, etc.

create advanced list blocks with extended styles and formatting

create advanced table block with extended styles and formatting

create an accordion block: display content in a fully configurable accordion

create tabs block: display content in a fully tabbed UX

create testimonial block, add user avatar, testimonial text, change colors.

create counter block thus display the numbers in a dynamic way

create advanced video and image blocks

create separator and tweak their styles

create custom social links block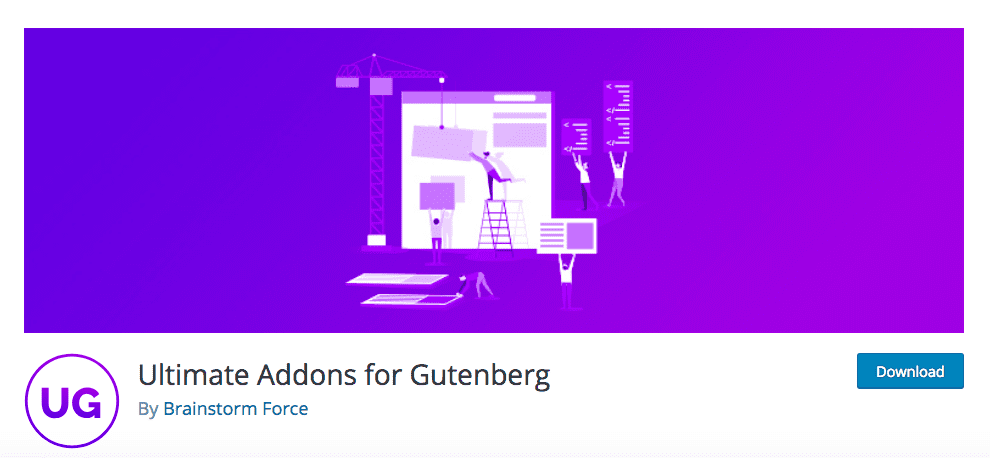 This plugin can help you add a bunch of custom blocks to Gutenberg editor. To make use of this plugin you need to have Gutenberg editor activated on your website.
Since Gutenberg editor is in the beta development stage Ultimate Addons plugin is also in early stage and it's not recommended to use any of these plugins on production websites.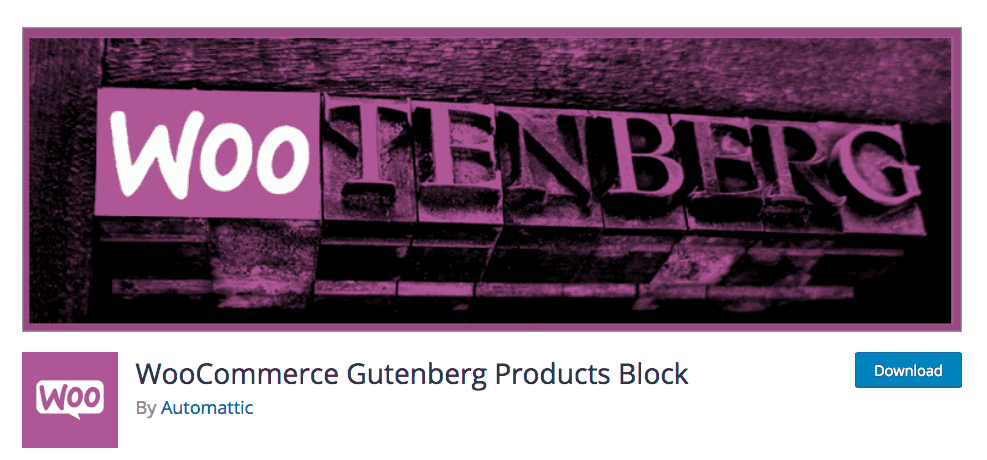 In case resent Elementor PRO update didn't make you happy probably this plugin will make you smile. Here comes the WooCommerce block for your Gutenberg posts editor. With its help, you can add WooCommerce products as a single block to any (part of the) page via Gutenberg editor.
You'll be able to filter products via a bunch of values including categories, sale statuses, and so on.
Basically, the WooCommerce Products block is the easiest and the most flexible way to add any of your products to posts or pages. Please note that Gutenberg editor is still in the development stage, this means that it's not recommended to be used on production websites.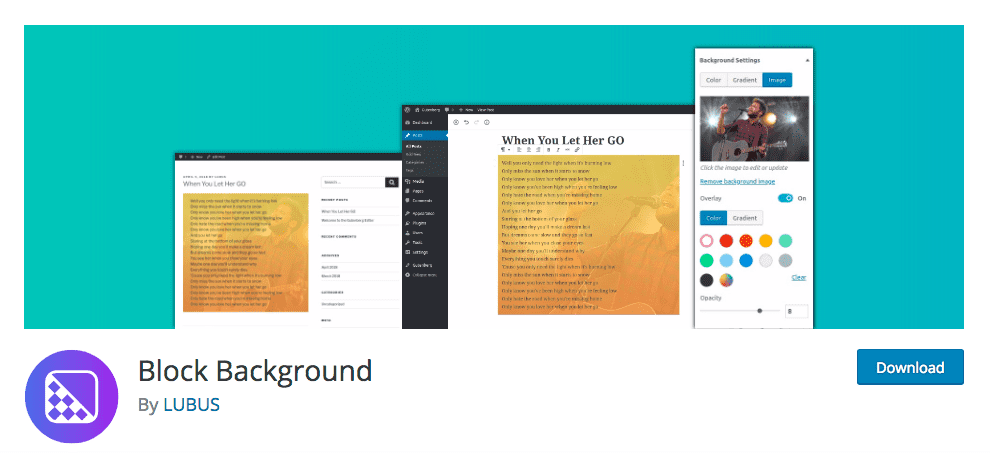 The Block Background plugin allows you to extend your Gutenberg editor with additional background customization options. With its help, you can add colors, gradients or images to the background of any block. The plugin developer does not recommend using the plugin in a production website since it's an add-on for Gutenberg, which is still in the development stage.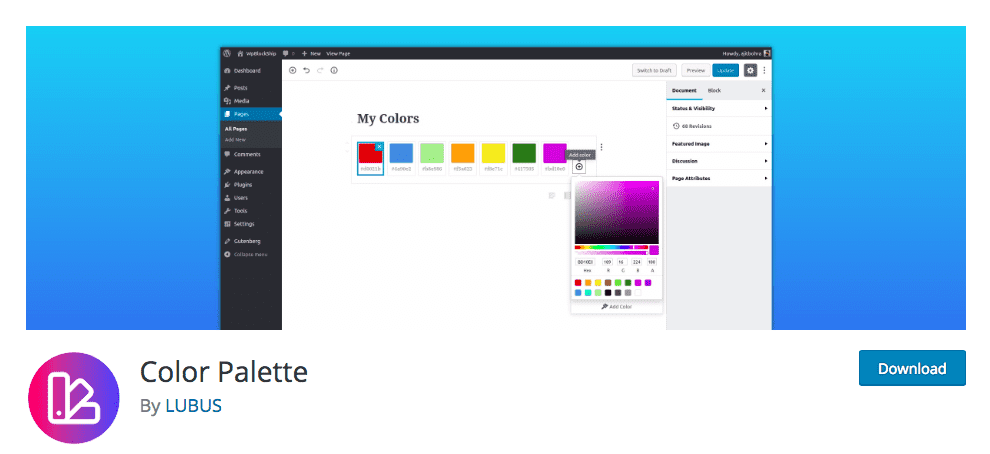 With Color Palette plugin you can create and share color palettes on your website. After you install and activate this plugin a new block called Color Palette will be added to the block inserter, after adding a block to your page you'll be able to add new colors and preview them via the editor.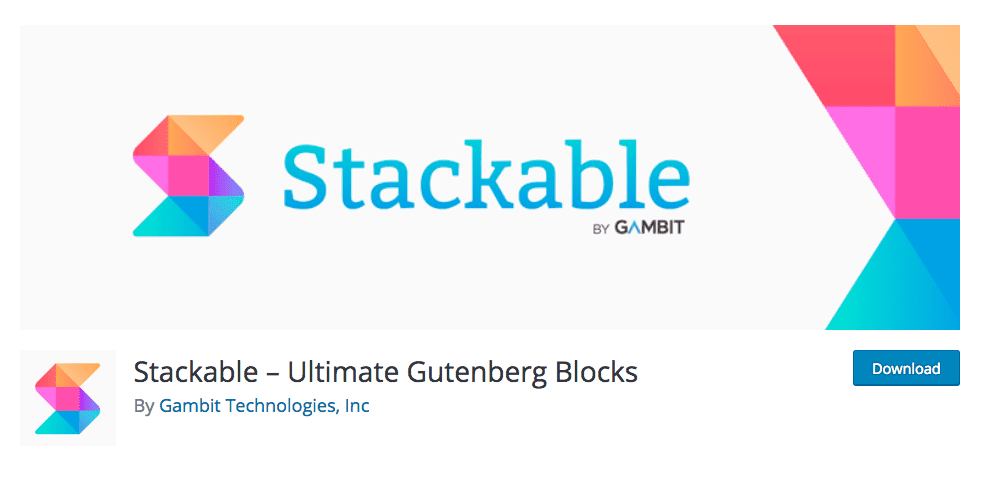 Stackable Ultimate Gutenberg Blocks adds a bunch of design blocks and options to the Gutenberg editor. Currently, there are available 17 blocks.
The plugin will be in the alpha stage until the Gutenberg editor will be merged into the core.
The Stackable plugin delivers a lot more customization options to the Gutenberg blocks thus enhancing the content editing capabilities.
Card

Pricing box

Header

Count up

Video Popup

Testimonials

Team Members

Call to Action

Notification

Blockquote (Improved!)

Pullquote

Number box

Button (Improved!)

Ghost Button

Expand / Show more

Divider (Improved!)

Spacer
Every block from the Stackable set a bunch of features one can easily modify, including change of colors, text sizes, adding background images, adding hover animations, etc.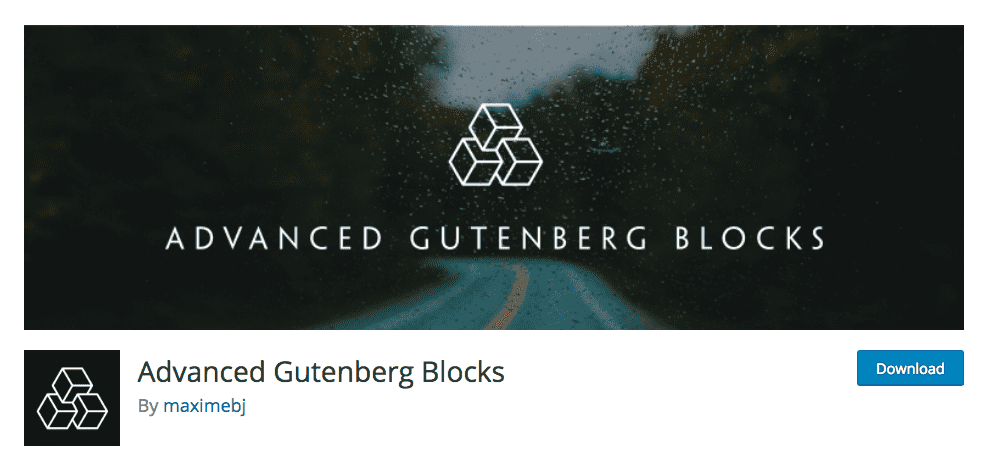 In case you want to experience a real WYSIWYG experience Advanced Gutenberg Blocks plugin is exactly what you need. Currently, the set of blocks is quite limited by when the Gutenberg editor will be injected into the core the blocks-set will be increased substantially. Go check out the video review of the plugin.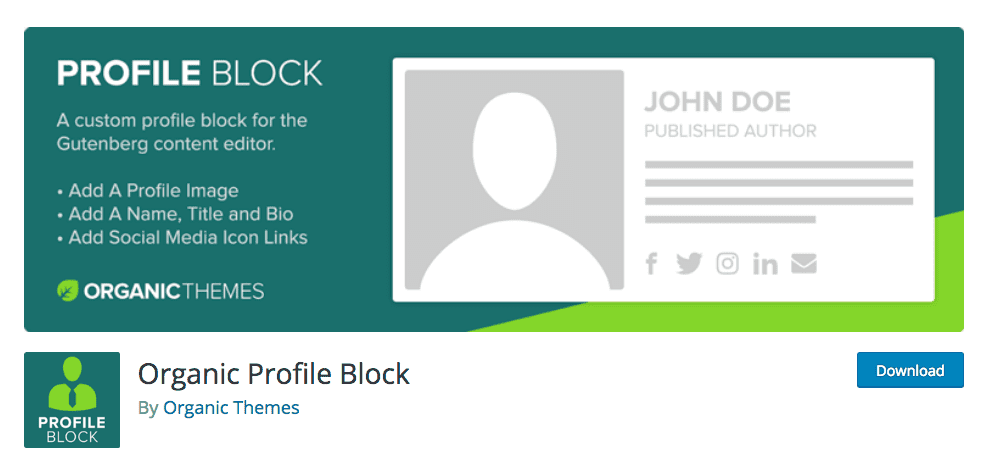 In case you need to display personal profiles on your WordPress website page this plugin will come in handy. The Organic Profile Block includes options to add a profile image, name, title, biography, and social media links. Also, you can add links to a user's social media accounts, and email. The profile block is an excellent solution for creating author profiles on posts, staff or employee pages, and testimonials.

The last item on this list is the Gutenberg block presentation of the so-popular contact form CF7. All you need is to install this plugin and you'll be able to inject any contact form to any part of your website.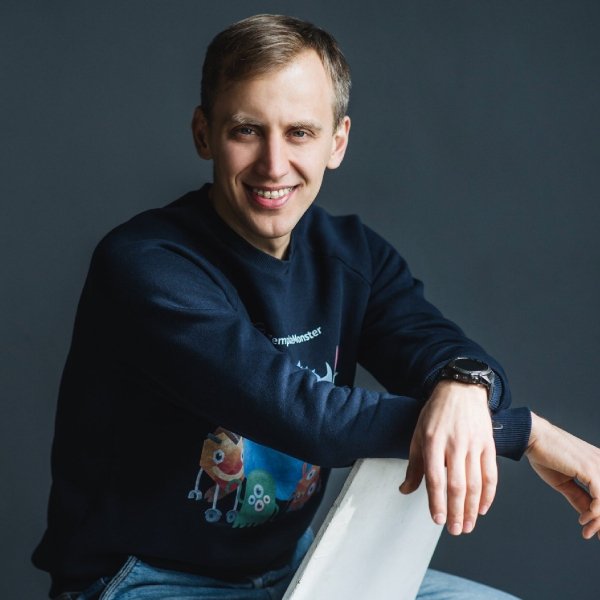 CEO at TemplateMonster, Founder at MotoCMS, MotoPress and Co-founder at Crocoblock.
30+ WordPress 5.0 Ready Website Templates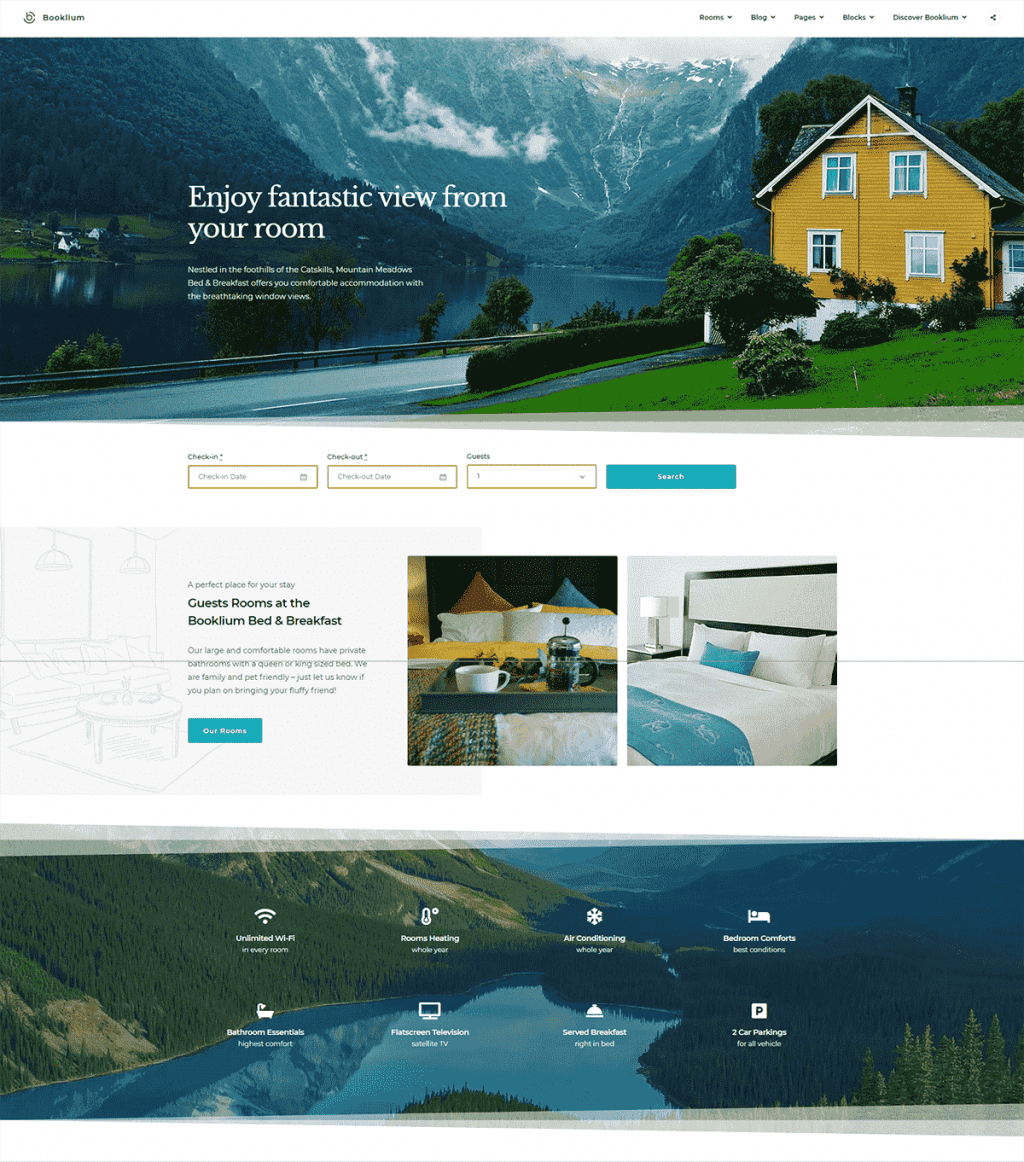 Booklium is a multipurpose WordPress rental theme that aims at featuring multiple accommodations and growing the number of direct website bookings. Booklium has 5+ pre-made demos for hotels, villas, single accommodation, hostel, B&B, and, depending on your needs, you can choose any of these for your rental business website.
Features:
– 5+ unique demos
– Gutenberg compatible
– Built with 40+ custom Getwid Blocks
– 3+ individual menu styles
– One-click demo import
– Premium Hotel Booking plugin integrated for free
– Multiple payment gateways for online transactions
– Smart management system
– Various property layouts
– Diverse blog post listings
– Fully customizable footer
and more other rich features.
Booklium comes bundled with Hotel Booking plugin at absolutely no cost, and with it, you can run a fully-fledged online rental business right from the admin dashboard. Hotel Booking plugin allows you to create custom rates, booking rules, variable pricing, conducts OTAs synchronization, provides you with constant booking email notifications, payment history etc.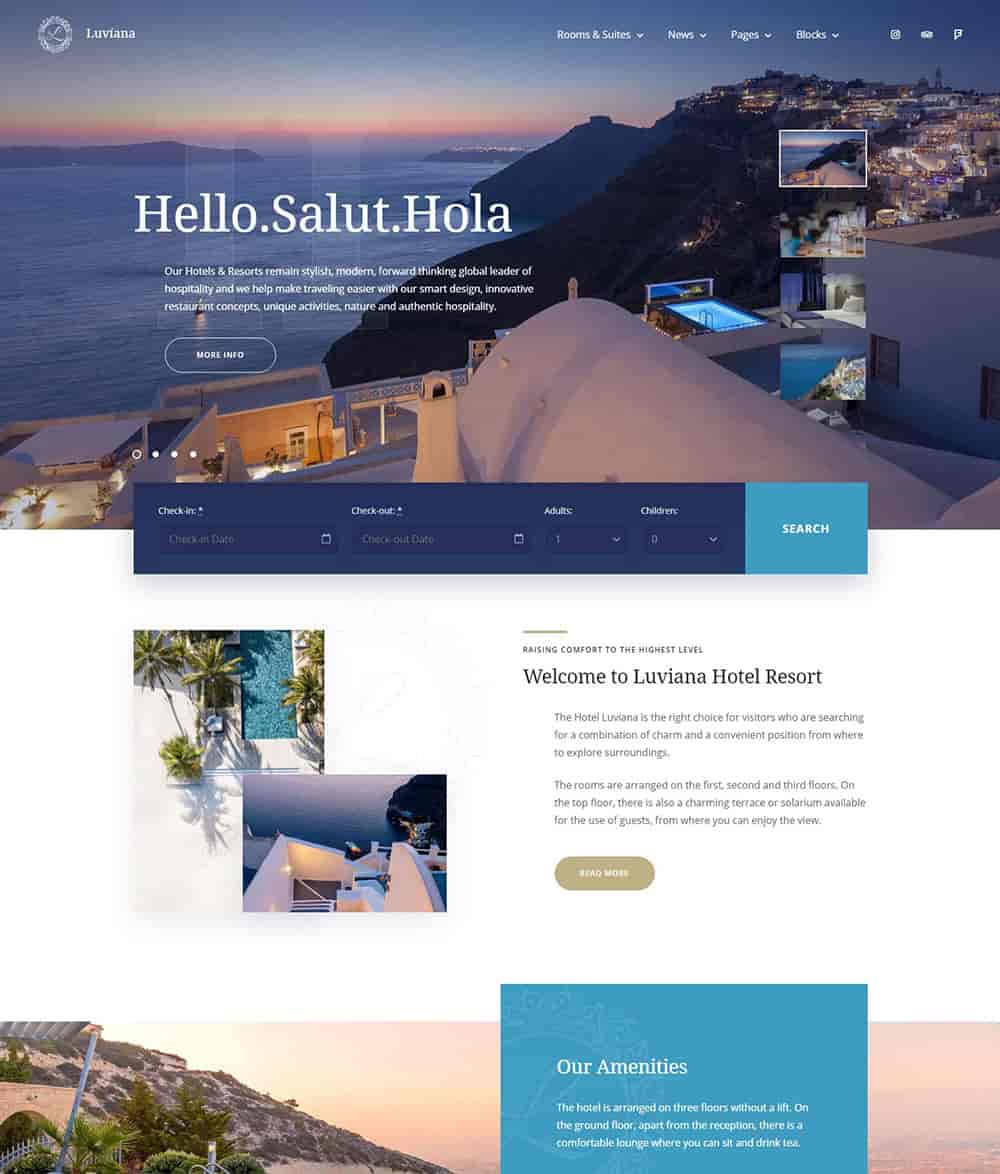 Luviana is a hotel WordPress theme that will suit perfectly for featuring hostel, resort, guest house, B&B, and any other type of rental properties. Bright and modern design, accompanied by structured layouts creates an impression of a luxurious property website.
On the homepage, you see search availability form with always up-to-date info. If you want to display your accommodations not only on your website but on other OTAs, you may do this as well. Thanks to Hotel Booking plugin integrated for free, you can feature properties on such sites like Booking.com, Airbnb, TripAdvisor etc.
Features:
– fancy design
– one-click demo import
– Gutenberg compatible
– created with Getwid blocks for Gutenberg
– the built-in Hotel Booking plugin
– different rooms layouts
– variable website width
– real-time search availability form
– back to top button
– responsive and retina ready
– ability to sell extra services
– and many other interesting features to promote your business.


Price: $75
Enginex is the very theme that will perfectly suit your car services website. The template is equipped with all the must-have features and it is easy in use even for the beginners. So make your car repair service website truly special with Enginex.
Main Features:
JetGuten and Gutenberg Editor
Variety of Pages
One-click Installation
Effective Support Service
Admin Panel


Price: $75
Kreeti is a simply ideal choice for your news website or blog. The theme has a neat design that will surely attract more subscribers to your blog as well as lots of fancy features that will make it the one and only. Well, why not let Kreeti make your site outstanding and unique?
Main Features:
Several Posts Layouts
Pre-designed Demos
Live Customizer
Wide Set of Widgets
Various Header, Footer, and Banner Options


Price: $72
If you are going to launch a website for your fitness club or a news blog dedicated to sports, Giner undoubtedly is the way to go for you. Not only is this very theme drop-dead beautiful but also pretty functional. So stop hesitating and launch your website with the one and only Giner.
Main Features:
Slider Revolution
WP GDPR Compliance
Facebook Messenger Chat
Yoast SEO Ready
Contact Form 7


Price: $80
Authentik is a modern minimalistic theme that will greatly work for your creative blog. This template is quite simple in use, which means that you can totally build your website by yourself. Besides, Authentik has a simply breathtaking design. So why don't you give it a shot?
Main Features:
Front Page Builder
Mailchimp Newsletter
WooCommerce Ready
Sidebar Support
Article Layouts


Price: $94
Are you looking for a nice and neat theme for your kids' clothing online store? Well, then you definitely do not want to miss this baby. Sukids is a stunningly designed theme that will perfectly fit your store. Besides, it has pretty much all the features you might ever need for building a decent online shop. So go ahead and take a closer look at Sukids.
Main Features:
Visual Composer
WooCommerce Compatible
Unlimited Layouts
CSS3 Animations
Bootstrap Grid System


Price: 72
If you are thinking about launching a travel blog (or maybe updating the one you already have), you might want to take a look at this very theme. Advertex is incredibly beautiful and super functional at the same time, which means that it is definitely a decent choice for your website. So give Advertex a try.
Main Features:
Smart Slider 3
Translation Ready
Advanced Typography
Social Links
Different Post Formats


Price: $75
You probably know how helpful a digital portfolio is, but how do you create one? Well, Gratify will gladly solve this problem. This very theme will help you create the portfolio website of your dreams in mere hours and completely on your own. So if you want to create such a website, go ahead and get Gratify.
Main Features:
Easy-to-Use Powerful Admin Interface
Layer Slider WordPress Plugin Included
Animation Holder
Pricing Table
Customizable Menu


Price: $75
GutenBerg is simply the perfect choice for your pub or bar. The theme has a lovely design, friendly interface, as well as some fancy features. Well, if you want to create a really dope website for your ambient inn, then GutenBerg is no doubt the very theme for you.
Main Features:
Testimonials
Social Options
Multiple Layouts
Content Modules
Appointment Manager


Price: $69
Well, it is pretty clear that every company or organization needs a professional business website and Openlane is the very theme that will help you launch one. The theme has all the essential features and is pretty easy to work with, so you definitely want to give it a shot.
Main Features:
Excellent Support Service
Documentation
Openlane Blocks Plugin
Google Maps Block
Quick Installation


Price: $59
Cesa is a stunning solution for your online fashion store. The template is beautifully designed and WooCommerce compatible. Besides, in order to work with it, no coding skills are required. So go ahead and check out Cesa.
Main Features:
Shop Page Layout
Product Quick View
Live Search and Suggestion
Over 2000 Adobe Fonts
Lifetime Updates


Price: $59
Skylith is a multipurpose template that has this ultimate power to fit any type of site. The theme has an eye-catching design and some unique features as well. So no matter what particular kind of a website you need, Skylith will surely back you up.
Main Features:
Over 30 Pre-designed Demos
High-Speed Performance
Gallery
Video
Hover Effects


Price: $49
Carrino is definitely the right choice for all the creative bloggers out there. The theme's bright design will guarantee you lots of new readers and its cool features will help you create a truly unique blog. So why are you still hesitating? Go ahead and try Carrino out!
Main Features:
Featured Posts
Homepage Post Blocks
Customizable Color Scheme
3FortyMedia Plugins and Widgets Included
Sticky Header Menu


Price: $79
Charity is the very theme that will make your non-profit organization's website functional and fancy. The template has a wide list of features to show off as well as a lovely design. So let Charity bring you site to the top.
Main Features:
Multilingual Template
Unlimited Color Options
24/7 Customer Support
15 Custom Widgets


Price: $39
Marissa is another great solution for your blog. The theme will perfectly suit your style and personality, so don't be afraid and give Marissa a chance to prove herself to you.
Main Features:
Google Web Fonts
5 slider Styles
Over 20 Layouts
Social Icon Widgets
Social Media Posts Sharing


Price: $29
If you need to build a decent website for your creative agency, then Niroon is no doubt the way to go for you. This very template has a modern design as well as all the must-have features, so go ahead and build the website of your dreams with Niroon.
Main Features:
6 Inner Pages
Responsive Layout
Unyson Framework
WordPress 5 Compatible
Sticky Sidebar


Price: $39
Another cool option for your personal website or blog is Ginny. This pretty girl definitely will never let you down since it has a decent pack of features, an amazing design, and it is super easy in use. So make the fanciest website in the world with Ginny.
Main Features:
Widgetized Sidebar
Immediate Download
Social Media Posts Sharing Option
Fully Customizable


Price: free
Do you need a website for your restaurant, food delivery service, or cooking blog? Well, Bloguten is here to help you out, so why don't you give it a shot?
Main Features:
Custom Background
Sticky Post
Translation Ready
Custom Menu
Flexible Header


Price: free
CGS Travel Agency is a cool free option for those of you who would like to launch a website for their travel agency. Well, do not hesitate and take a closer look at this very template.
Main Features:
Custom Logo
Gutenberg Compatible
Threaded Comments


Price: free
Wishlist is a great free template for your online shop, so don't miss your chance and get this baby now.
Main Features:
Responsive Design
SEO Optimized
Crossbrowser Compatible


Price: free
Are you a wedding photographer who still doesn't have a website? Well, why don't you try and establish one with Photoway?
Main Features:
Thin Font Icons
Post Gallery
SEO Friendly
RTL Language Support
Softtech – IT Education Multipurpose Creative Elementor WordPress Theme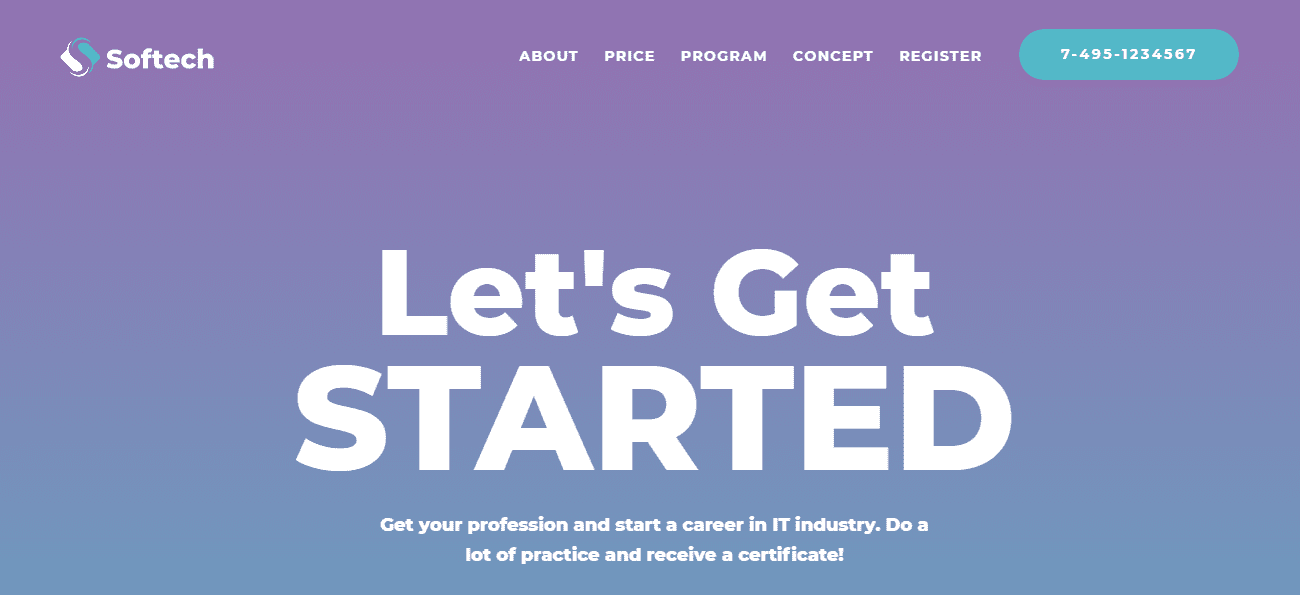 Let's start with WordPress theme specifically developed for IT education websites. It has everything needed for creating a modern and informative resource and advertise your services online. It is compatible with WP 5.0, includes Elementor Page Builder and Jet plugins, offers a neat Contact Form 7 etc. Besides, Softtech features 4 blog layouts which will help you design your blog in the way you like.
Clear Mind – Psychological Center Multipurpose Classic Elementor WordPress Theme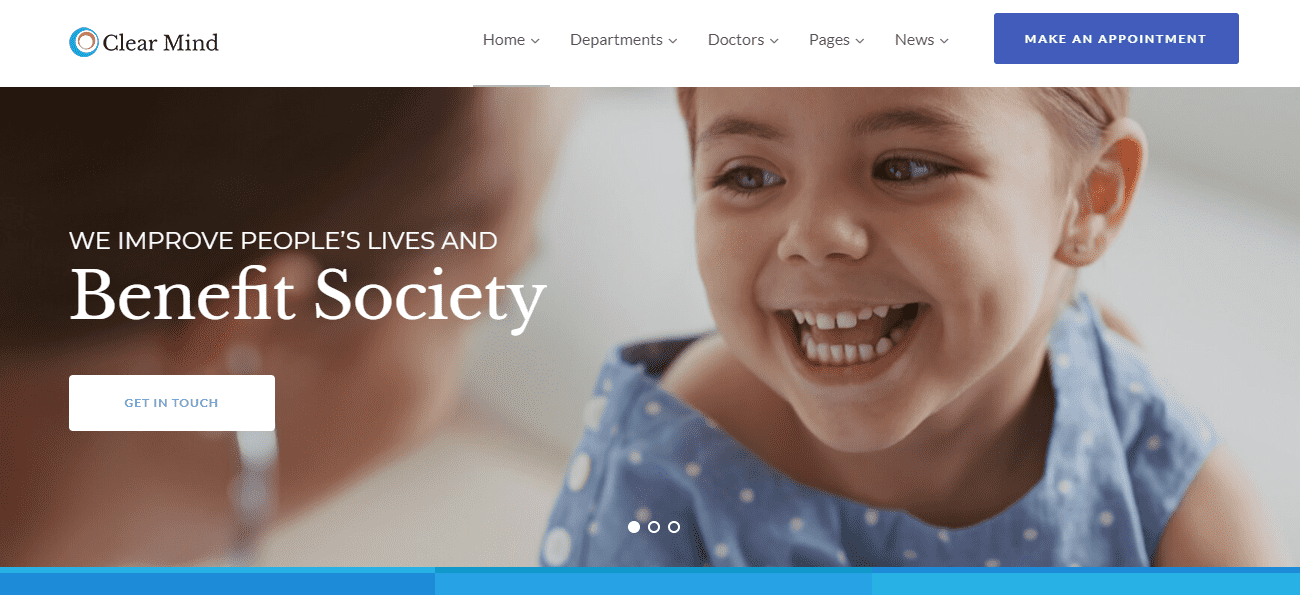 This theme is must-have if you want to provide a professional and reliable presentation of your psychological center services online. Clear Mind is compatible with WordPress 5.0 which means you get advanced performance and a wider range of features. Besides, the layout is clean and minimalist which will let you focus on the most important data on your site. Try Clear Mind to let your visitors trust you and seek your psychological help.
Brainex – Creative Studio Multipurpose Minimal Elementor WordPress Theme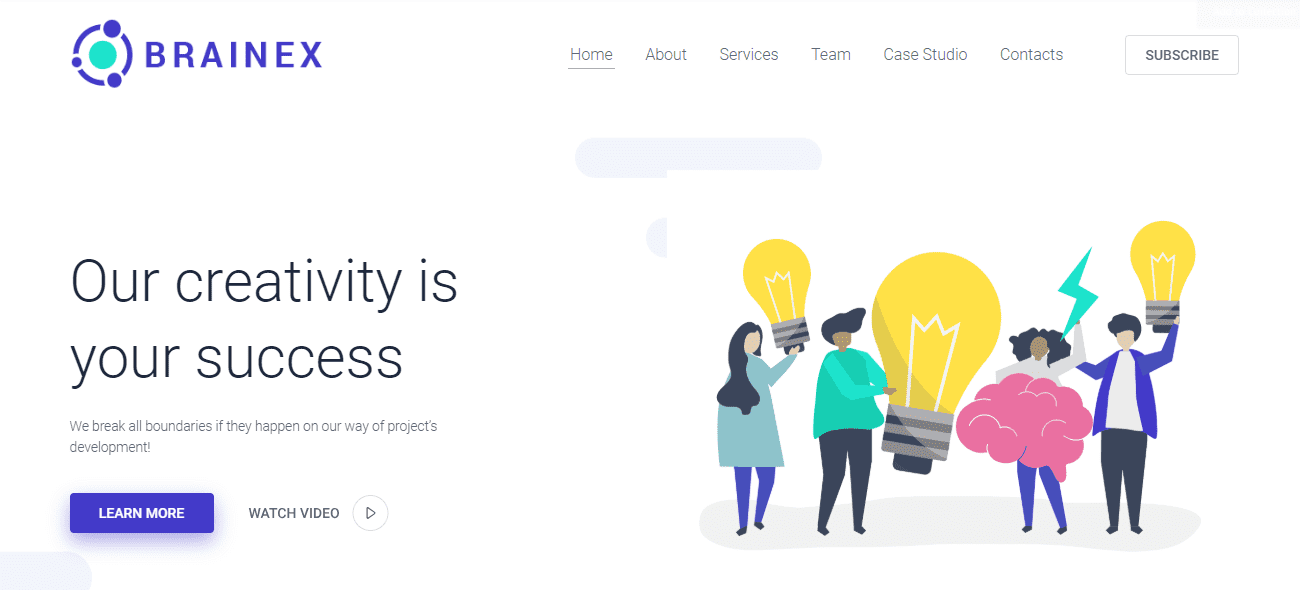 Spread a word about your creative agency online by means of Brainex Elementor theme. Being compatible with WordPress 5.0 it contains a minimalist layout, different elegant pages for any purpose, and other components. Meanwhile, using embedded Elementor Page Builder with Jet plugins you can customize your site without any coding skills. In case you want to establish an online store right on your site, try built-in Ecwid plugin. In general, looking into Brainex you'll find the entire set of tools required for building a fully-fledged, responsive website.
Brandom – Advertising Agency Multipurpose Minimal Elementor WordPress Theme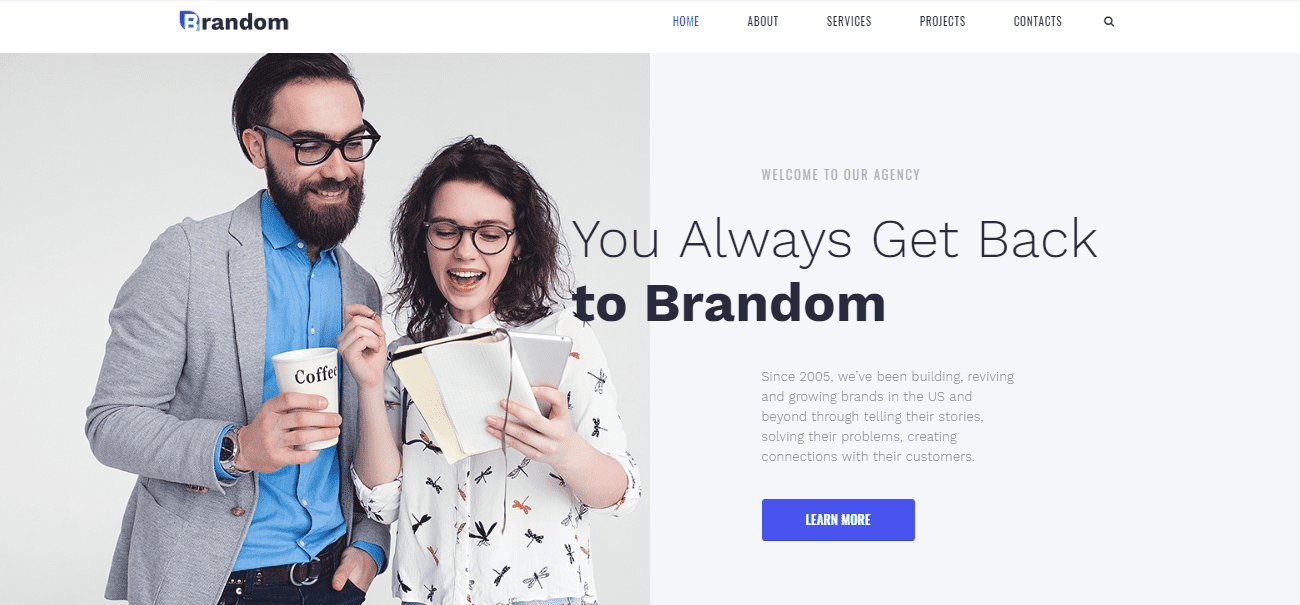 Show that you take care of your clients with this multipurpose minimal Elementor WordPress theme. Provide all the necessary information using a variety of stylish pages including homepage, about, services, projects, team, and contact page. Meanwhile, building content has become even easier with Elementor Page Builder that features a drag-n-drop functionality. Additionally, you'll get Jet add-ons, bonus images on different business topics, Ecwid plugin etc. to tell about your advertising agency.
Brightex – Painting Services Multipurpose Classic Elementor WordPress Theme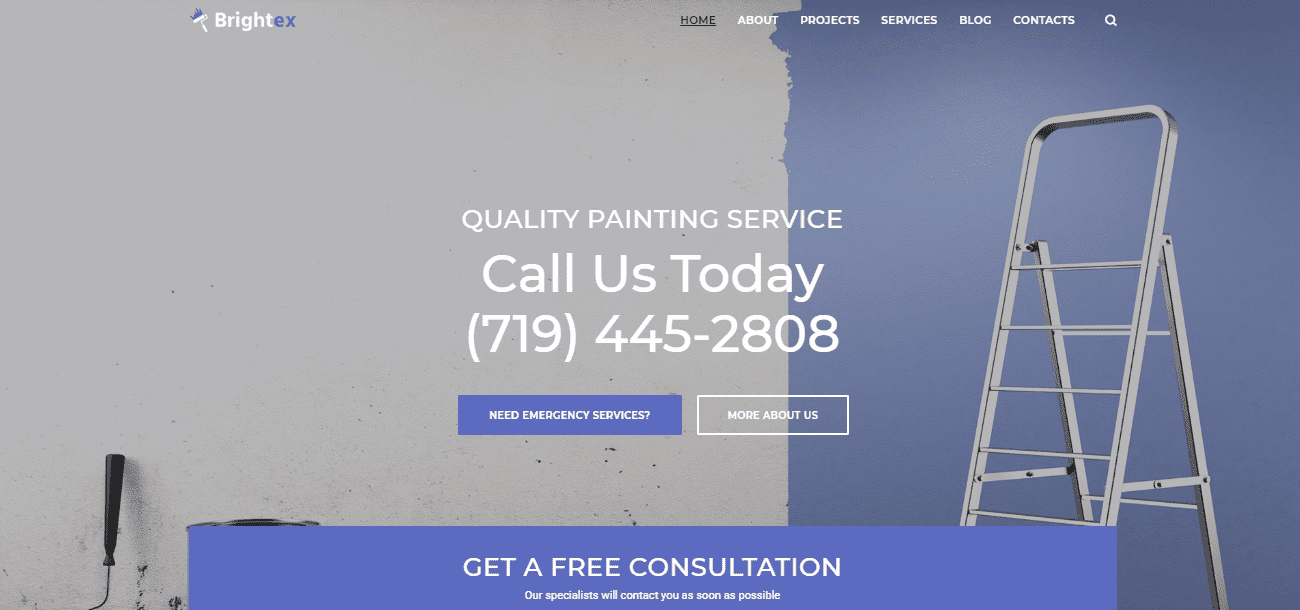 Do you want a professional-looking theme that would be compatible with WordPress 5.0 and have no extra details? Then, you've come to the right place. Here, you'll find Brightex aimed to present your painting services online. Discover a set of pages for all occasions, Elementor Page Builder, Jet add-ons, and other elements right out of the box.
Snohimi Exotic Hotel WordPress Theme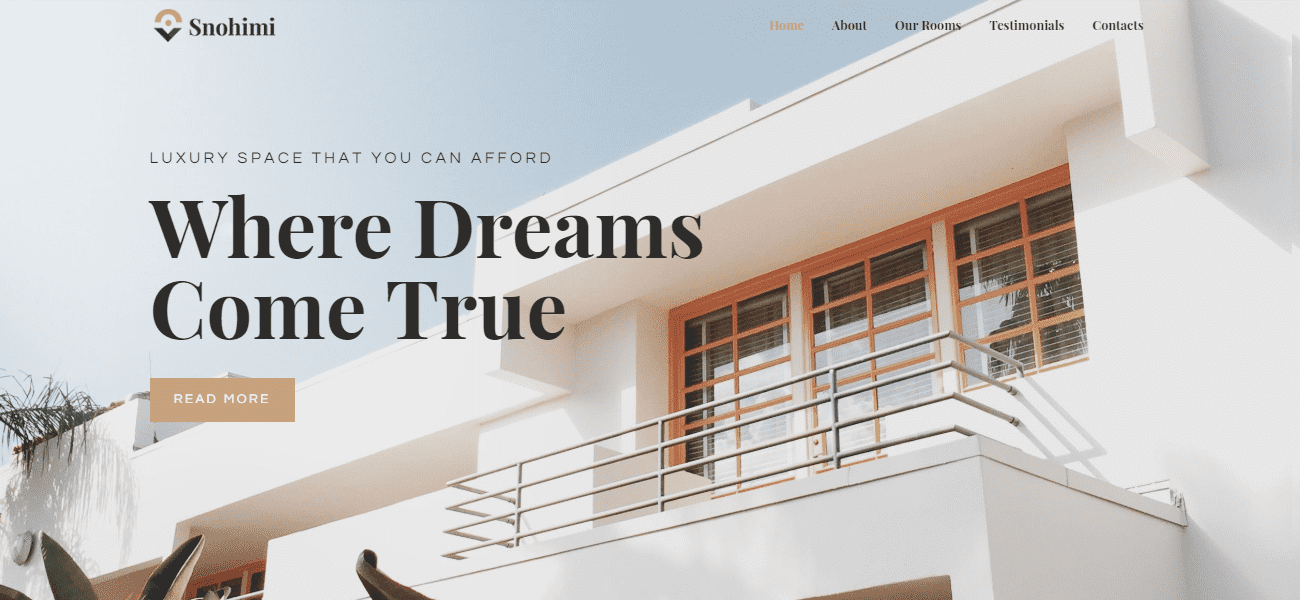 Snohimi provides unlimited solutions for advertising hotel or vacation rental place online. It features an engaging layout with the soft and calm color palette. Additionally, you'll find a variety of pre-designed pages for all occasions, Elementor Page Builder, and Jet add-ons out of the box. Using all available web elements you'll get a chance to establish a fully-fledged website without touching a single line of code.
Structer – Business One Page Classic Elementor WordPress Theme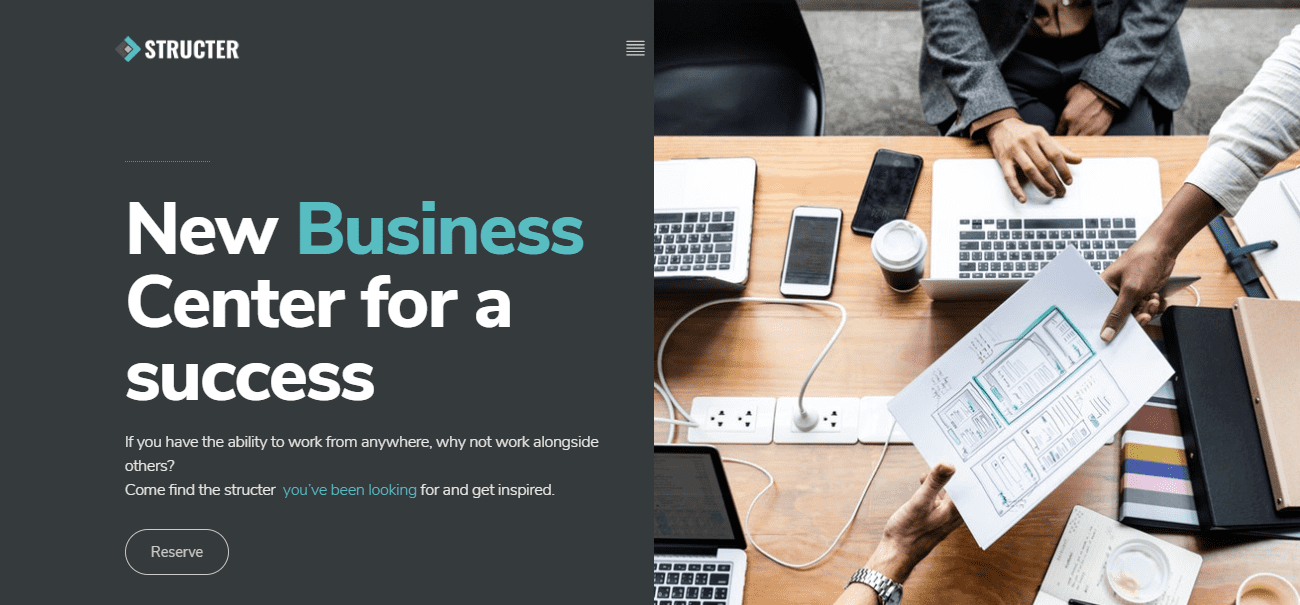 If you want to create an attractively-looking one-page website for your business, try Structer for this purpose. With the help of integrated Elementor Page Builder, you can easily arrange the content across the layout. Besides, with the drag-n-drop editor, you don't even have to experience coding to establish a website. Meanwhile, using Ecwid plugin you have a chance to develop an online store right on the site. As you may see, Structer provides everything needed for easy and fast website customization.
Projex – Business Mobile App Multipurpose Clean Elementor WordPress Theme
Have you just developed a steep business application and want to advertise it online? Projex multipurpose WordPress template will help you implement the project on the web. It comes with pre-designed pages for any purpose, mobile-first layout, and bonus images on different business topics. Besides, the template makes the customization process easier offering Elementor Page Builder and Jet plugins for your services. Take a closer look at this theme and make sure that website building may be as easy as a pie.
Manufax – Construction Multipurpose Creative Elementor WordPress Theme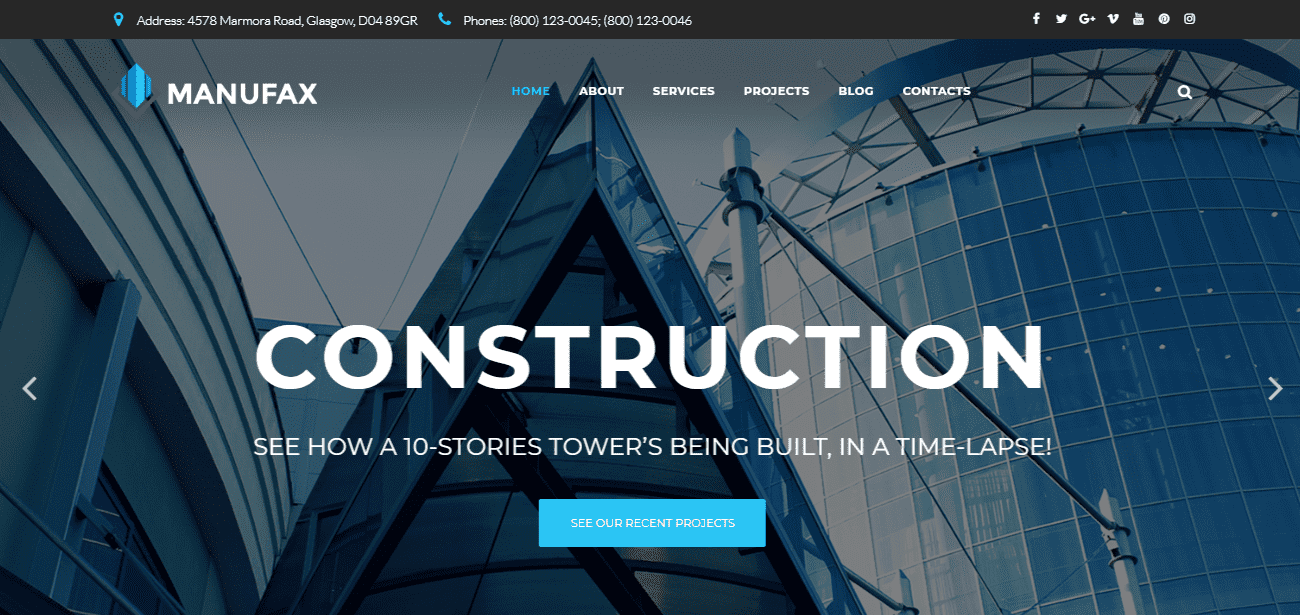 Get this multipurpose Elementor WordPress theme for your construction company website. Featuring a drop-down menu, social media integration, and live search it will help you provide a top-notch user experience. In the meantime, such modules like Services and Projects will help you show what you are offering in your project. Implement a blog page to your site to increase the traffic and look more reliable for your consumers.
Catch Co – Photo Studio Multipurpose Creative Elementor WordPress Theme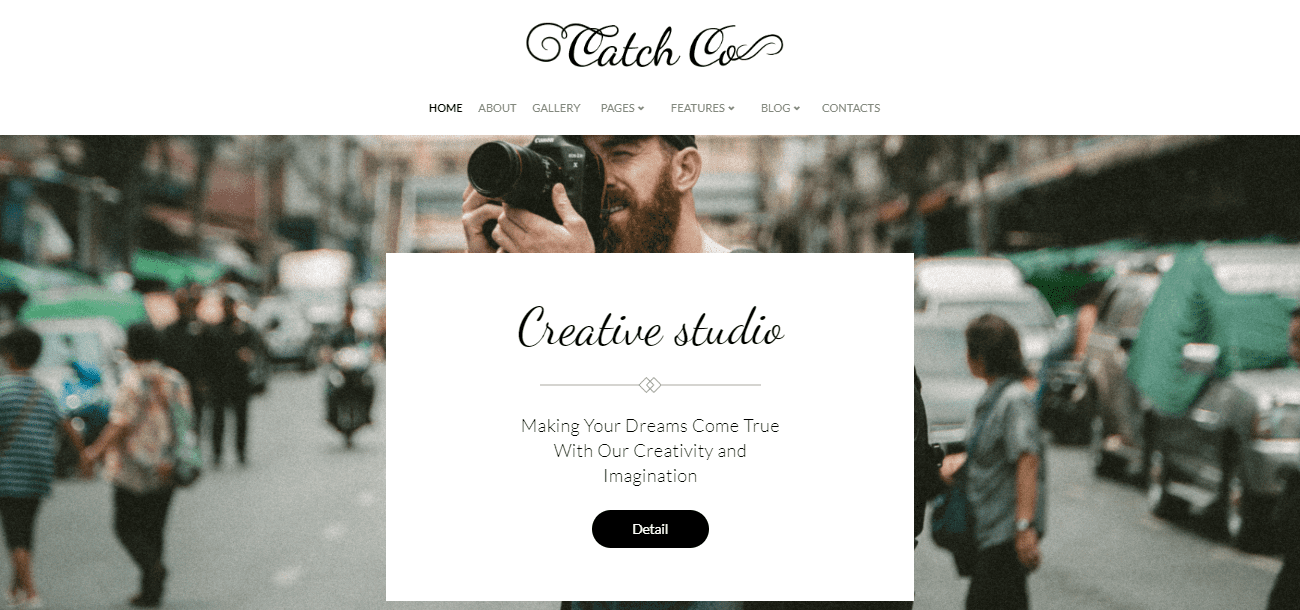 You'll be glad to know that Catch Co Elementor theme has become compatible with WordPress 5.0. It offers a wider range of features that will help you design your photo studio website. Equipped with Elementor Page Builder Catch Co allows you to drag and drop the elements throughout the layout without touching code. In total, this template is a perfect solution for creating a user-friendly and professional-looking photography resource.
Over to You
Honestly saying, it's too early to decide what is the future of WordPress. It's definitely a milestone of WordPress evolution, and it's a huge one. This plugin has enough features to offer and shows good potential. Still, it needs further development to be ready for the WordPress ecosystem.

Today there is a variety of even better 3rd party editors, and it's a good question whether Gutenberg WordPress plugin will be able to stand on an equal footing with them. Developers seem to try their best to improve it. Its stable release with the WordPress v5.0 will show the results of their work.
If you can't wait for this release and want to try this editor, it's recommended to perform it on your test site. If everything feels right, then go forward. Don't forget to tell us about your Gutenberg experience.
Best 5 WordPress Bundles in MasteBundles
| Product Image & Rating (Out Of 10) | Product Name | Price |
| --- | --- | --- |
| | 29 Premium Responsive WordPress Theme Mega Bundle | |
| | Free WordPress Landing Theme | |
| | Mega Web Design Bundle with Extended License | |
| | 12 Modern and Responsive WordPress Themes | |
| | 15 WordPress Themes Bundle with Extended License | |
Please take a moment to pin this post to Pinterest
Gutenberg WordPress Themes FAQ
How to choose the right Gutenberg ready theme?
Picking up a decent theme is not that difficult at all, so here are some tips you might want to use:
Make sure that you purchase it from a certified marketplace (such as MasterBundles);
Check the theme's features list in order to find out whether it would work for you;
Choose the theme that complies with your site's type (e.g. a WooCommerce theme for an online store).
How much does a Gutenberg theme cost?
As you can see from our list, such themes on average cost about $30-$70. Besides, you can find a free one as well.
Where can I get a template on a discount?
offers on a regular basis. One of these marketplaces is MasterBundles so go ahead and check out their special deals.
There is a vast variety of marketplaces that offer discounts and special
Premium or free?
If you need a template for a serious project, then a premium theme is the only way to go for you. However, if you want to launch a personal website, portfolio, or blog, you can totally use a free one.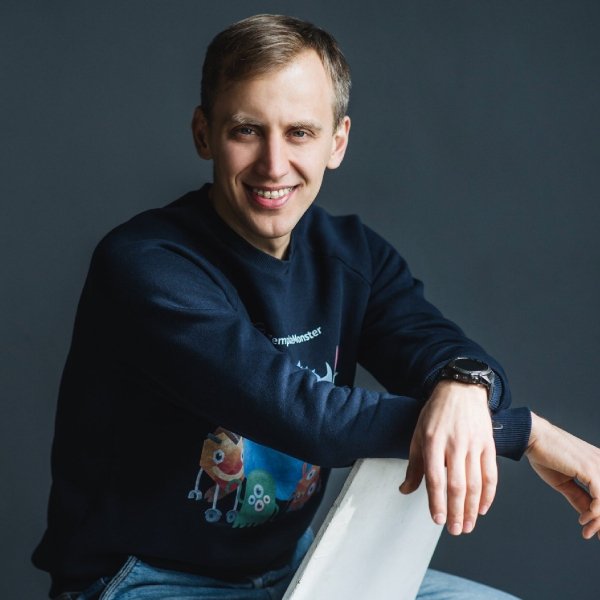 Article Reviewed by
on May 17, 2020
CEO at TemplateMonster, Founder at MotoCMS, MotoPress and Co-founder at Crocoblock.
Learn about comment