What is CrockoBlock?
CrockoBlock is a toolbox. You can take it and don't worry you will lack some instruments – this toolset will be enough to build a great website. It makes the website creation more convenient.
CrockoBlock is a website building materials warehouse. After you buy a subscription you can come here, take a look at the available ready-made building elements, take the ones you like and compile your astounding website from blocks without creating them from the ground up. It makes the website creation faster and easier.
CrockoBlock is a gemstones crate. It provides you with unique items that can't be found in any other place and those items are valuable and useful to the users. It makes the website creation more variable.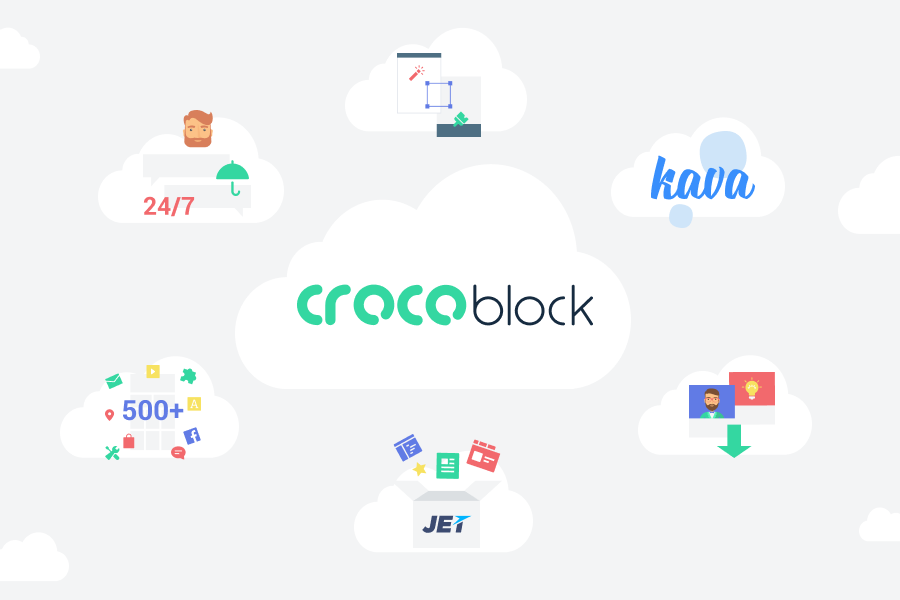 So, let's sum up. CrockoBlock is a service, that you can subscribe to and get access to a set of convenient and useful website building instruments. A professionally created and high-quality website theme Kava Pro, Elementor Page Builder, a set of Jet plugins for Elementor, a variety of ready-made templates for Elementor and a few extras – you subscribe once and can use all of those without any limits. Besides that, if you don't like bulk purchases you can still buy any of the plugins, templates or other products separately. Let's take a closer look at every available product.
Kava Pro theme
This multipurpose WordPress theme is the only one you will ever need for your website. You can say: "Come on, different people like a different design, how could one theme possibly match all the requirements of all the clients?". The answer is easy, Kava Pro success stands on two whales – versatile design and marvelous demos.
Original Kava Pro is simple and universal. It is a perfect base for any customization you would like to make. Every template you download from the internet needs further work to fit it to your requirements. Kava Pro is an ideal white piece of paper, tabula rasa, completely ready for you to shape it according to your taste, creativity, and needs. Personal portfolio, business platform, catchy blog or online shop – you will be able to create any of it with Kava Pro.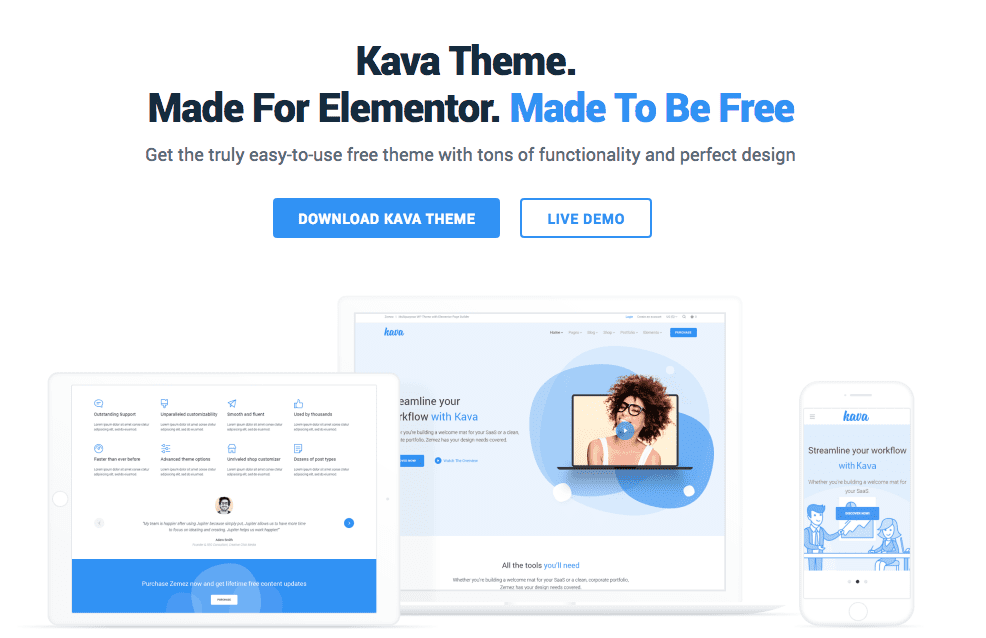 In the beginning, WordPress was created for blogging and to this very day is the best platform for blog creation. Of course, by now it provides users with a sufficiently wider amount of options, but still, blogging was first. Kava Pro, as a theme for WordPress, is perfectly suited for any type of blog. It includes a set of blog layouts you can freely choose from. And even if there won't be a layout of your dream you can always use JetBlog plugin to create just the look you want.
If managed properly, the online business could be more profitable than the offline one. If at some point you would like to create an online store, Kava Pro will be right there to assist you. The WooCommerce plugin is included to the theme package and will help you to organize the shop and deal with shipping and taxes issues. Besides that, Kava Pro has a few pre-made shop page layouts, so you won't need to create it from scratch.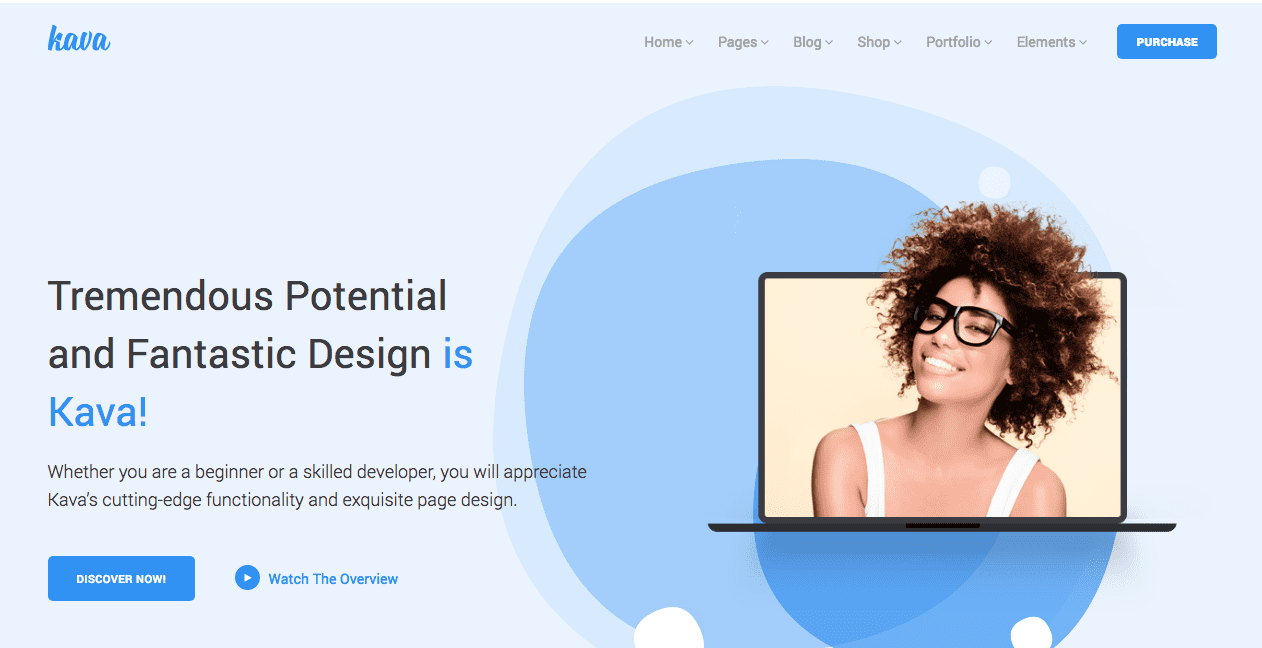 Kava theme could be purchased separately, but in that case, you will get a sufficiently lesser amount of advantages. CrockoBlock subscription offers you a huge bunch of goodies, so think carefully. There's even a free version of Kava theme, however, its functionality is reduced. You can download it to take a look at the general appearance and get a Pro version if you liked it.
| | | |
| --- | --- | --- |
| | KAVA free | KAVA Pro |
| Elementor-Compatible | + | + |
| Multiple Blog Variations | + | + |
| Fully Responsive | + | + |
| Lots Of Style Settings | + | + |
| Perfect For E-Commerce | + | + |
| WooCommerce-Ready | + | + |
| Immaculate Typography | + | + |
| Premium Support | – | + |
| +30 Demos | – | + |
| +500 Pre-Styled Sections | – | + |
| +300 Unique Pages | – | + |
| 8 Gallery Layouts | – | + |
| Modular Functionality | – | + |
| Fast Updates | – | + |
| One-Click Installation | – | + |
| Header & Footer Builder | – | + |
| Pre-Made Headers & Footers | – | + |
| JetElements Plugin | – | + |
| JetMenu Plugin | – | + |
| JetBlog Plugin | – | + |
| JetTabs Plugin | – | + |
| JetReviews Plugin | – | + |
| JetWooBuilder Plugin | – | + |
| JetTricks Plugin | – | + |
| JetBlocks Plugin | – | + |
| JetThemeCore Plugin | – | + |
| Images Included | – | + |
Kava Pro templates
There is a difference between Elementor theme and Elementor template. Kava Pro a theme, thus it is completely compatible with Elementor and was created to be customized by it, it still can be used and shaped without the page builder. You can install it to your WordPress website and start working with it right after that. On the other hand, Elementor template is a page, constructed from Elementor blocks and customized in one style. This means, that such kind of templates can't be used without Elementor page builder. Templates are created as a set of blocks, that makes website creation faster – their main advantage is that all necessary blocks are already placed to the page, so you don't need to check if haven't forgotten something.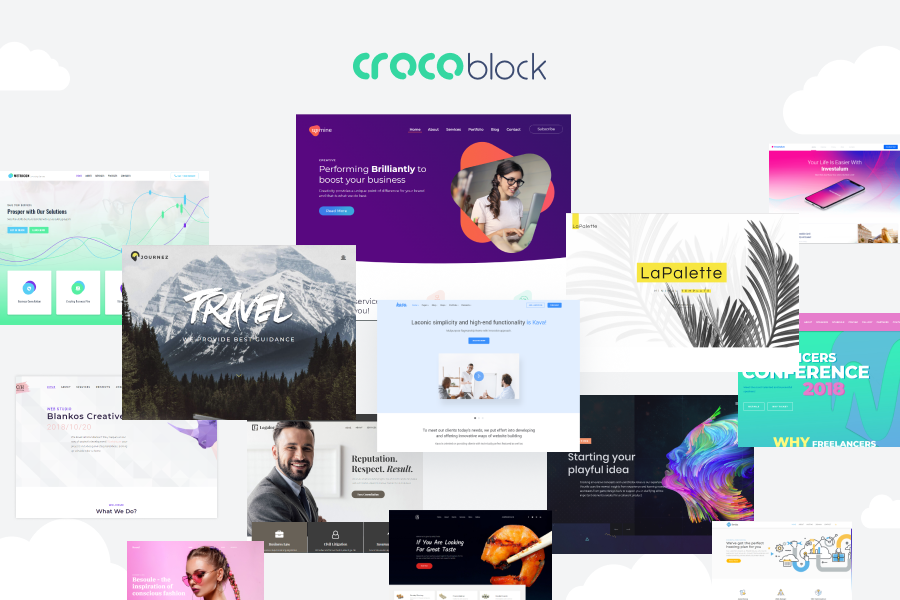 CrockoBlock demos and templates are available only to subscribers. They can't be bought separately – only in the set with other CrockoBlock goodies. And there's a huge pile of them. More than 30 main page templates, more than 40 blog pages, 6 WooCommerce pages and about 20 "About Us", Pricing and "Team members" pages. After downloading and installing, any of those pages could be added to your website, no matter either you use Kava Pro (we really recommend you to) or not. All the CrockoBlock templates are perfectly compatible with other themes that you customize with Elementor page builder.
Why do we use Elementor?
The CrockoBlock team loves Elementor. We are sincere fans of this cool page builder and consider it to be the best. We believe Elementor has a great future and so the products we create for Elementor will also have big success. We created Kava Pro theme concretely for that page builder and the set of Jet elements also expand the options presented by it.
Let's tell a few words about why we love Elementor so much:
Intuitively understandable interface. When you look at the Elementor interface it is quite obvious what to do to achieve the goal. Ann drag-and-drop builders are cool, but Elementor is so well-thought-out that for simple manipulations you won't need a tutorial and after watching a couple of videos you will master it completely.
Enormous community. The CrockoBlock team are not the only guys who love Elementor, there are thousands of them. There are forums, chats and Facebook group, where anyone can ask a question or discuss some topic. Even if there are no explanations about some functionality in documentation (or you can't understand it thought it is in documentation), you can get some tips very fast just asking the community.
Regular and frequent updates. The Elementor team constantly tries their best to make their product better. They launch updates every two weeks, add new features and fix rare bugs. They really do care to make the customer happier and every problem users report is solved really fast.
CrockoBlock Jet plugins for Elementor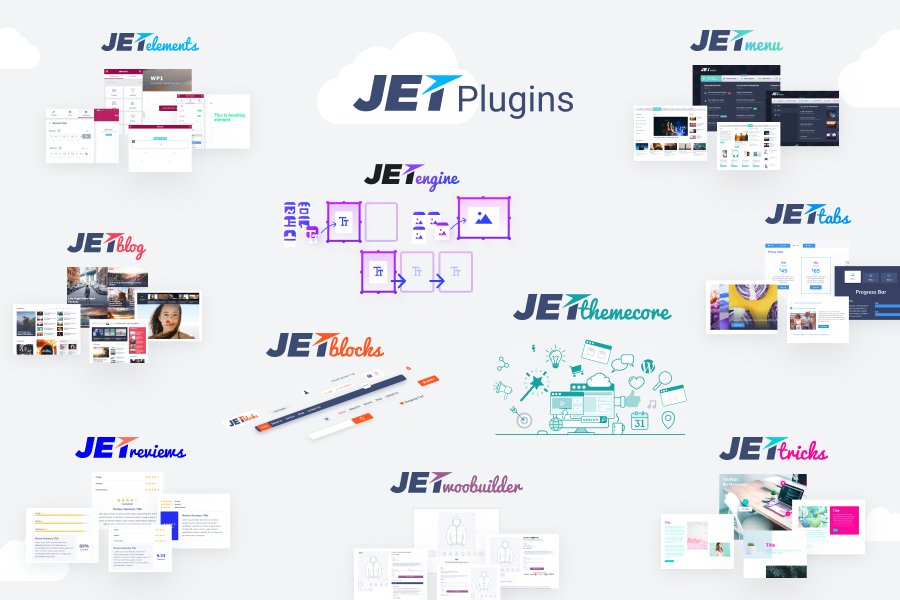 Now, when you understand why we are passionate fans of Elementor, the fact we already created twelve plugins expanding its abilities won't surprise you. Basic Elementor plugin has all the tools a web designer would need for website creation, but additional instruments won't do any harm, will they? It's like you had a screwdriver and we gave you a handful of different tips for it – you can work without them, but it is much easier and faster with them. So, let's list the plugins CrockoBlock can offer. Anyone can buy them separately or get a subscription and have access to all of them.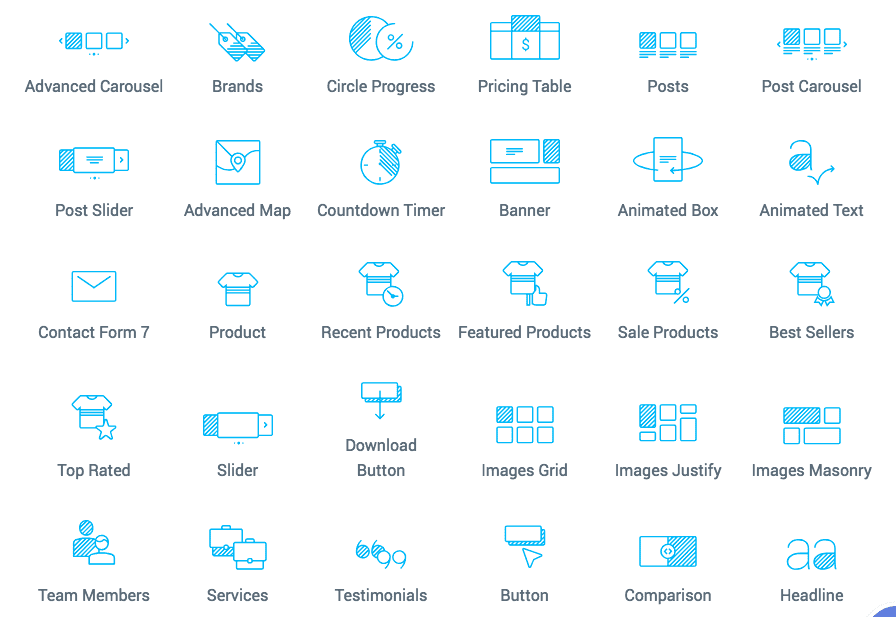 This is one the "biggest" of Jet plugins, it adds more than 40 widgets and expands Elementor functionality a lot. With its help, you will be able to add to your pages pricing tables, post carousels, countdown timers, images grids, parallax effects and much more.
JetMenu. Do you want to make navigation through your website easier for your clients and add an impressive mega menu? This plugin will help you to create and customize it according to your liking. It contains a big toolbox, full of fonts, badges, icons and animation effects to make your menu really impressive.
Most users don't like big texts and huge amounts of information. To make the content more readable and improve the user experience you should organize the texts into convenient tabs and accordions. And that is what JetTabs will help you to accomplish.
JetBlog.

If you decided to build a blog – you will definitely need this plugin. It will add a Smart List, Smart Tiles, Video Playlist and Text Ticker widgets to the Elementor customization panel. Any of them will spice up your blog's appearance and make it more up-to-date.
JetRewies. Reviews, comments, and testimonials left by customers sufficiently increase the other users' trust for your website. This plugin will give you an opportunity to drag-and-drop testimonials module to the page and shape it whatever way you would like to.
JetWooBuilder. Nineteen widgets that this plugin will add to the Elementor panel will come in handy to customize your online store page. Along with the WooCommerce plugin, JetWooBuilder will help you to create a good-looking and profitable shop page.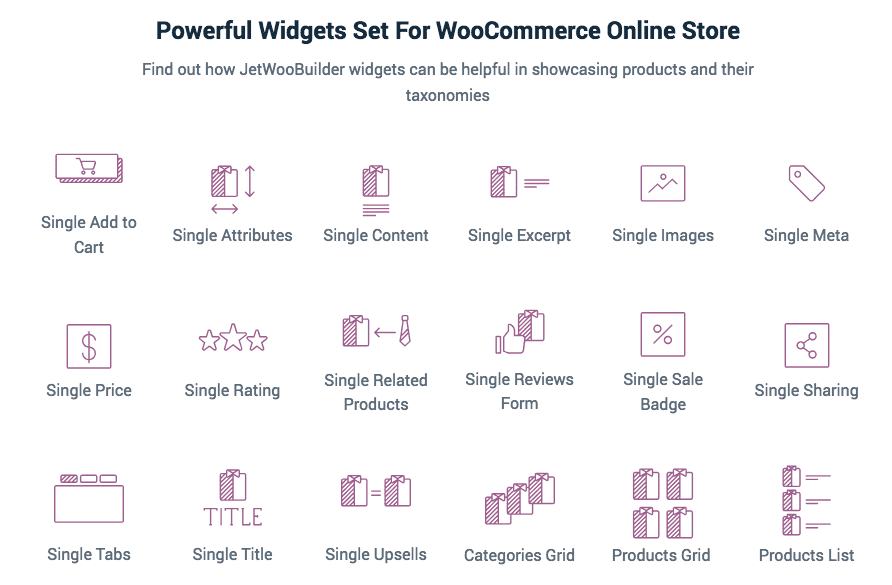 How to create Single Product Page with JetWooBuilder Widget
JetTricks. Need your website to be more dynamic – then use this plugin and add a few smoothly working animation effects. Sticky elements, unfolding columns, satellite elements, and other tricks will add a necessary "raisin" to your site.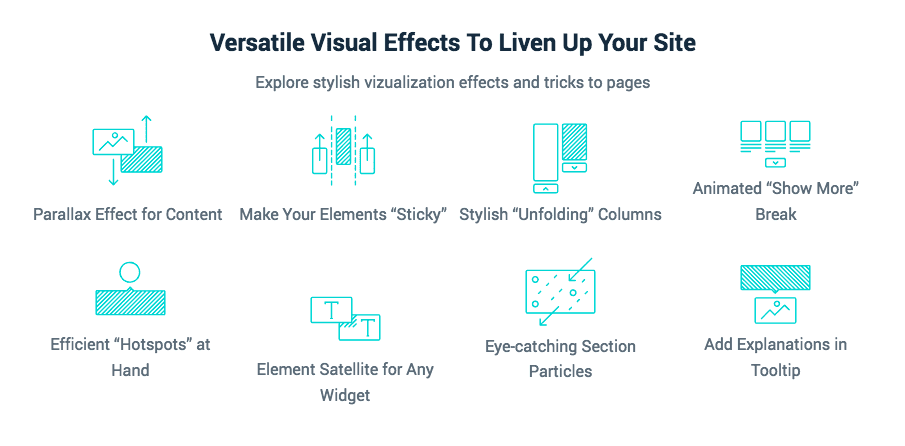 JetThemeCore. This plugin will add a "Magic Button" to the Elementor work field. This button gives you access to the huge library of ready-made pages, templates, and page elements. You can just choose what you like and use it for your website, which makes site building even faster.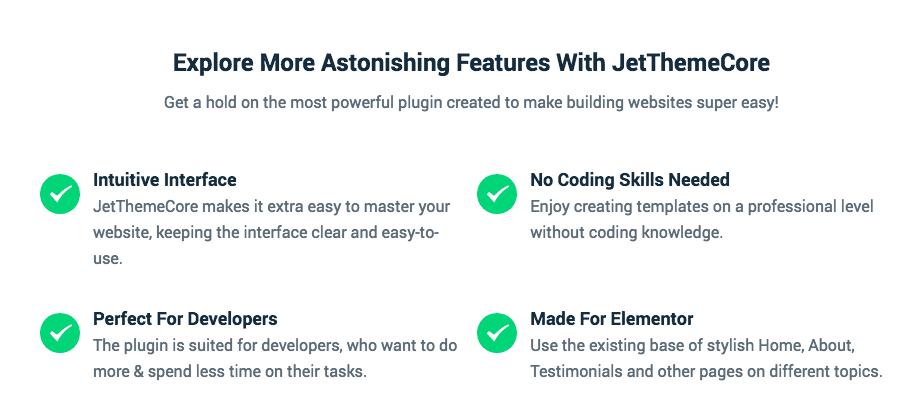 Magic Button. Overview
Have you ever dreamt about the button, with the help of which you could design your site in any way you want? Well, it is possible now! I'd like to introduce a Magic Button!
Now you need just one click to open a wide spectrum of functions for your site's customization. Isn't it something which everyone who launches a website dream about? Want to know how it works? Keep reading.
Total overview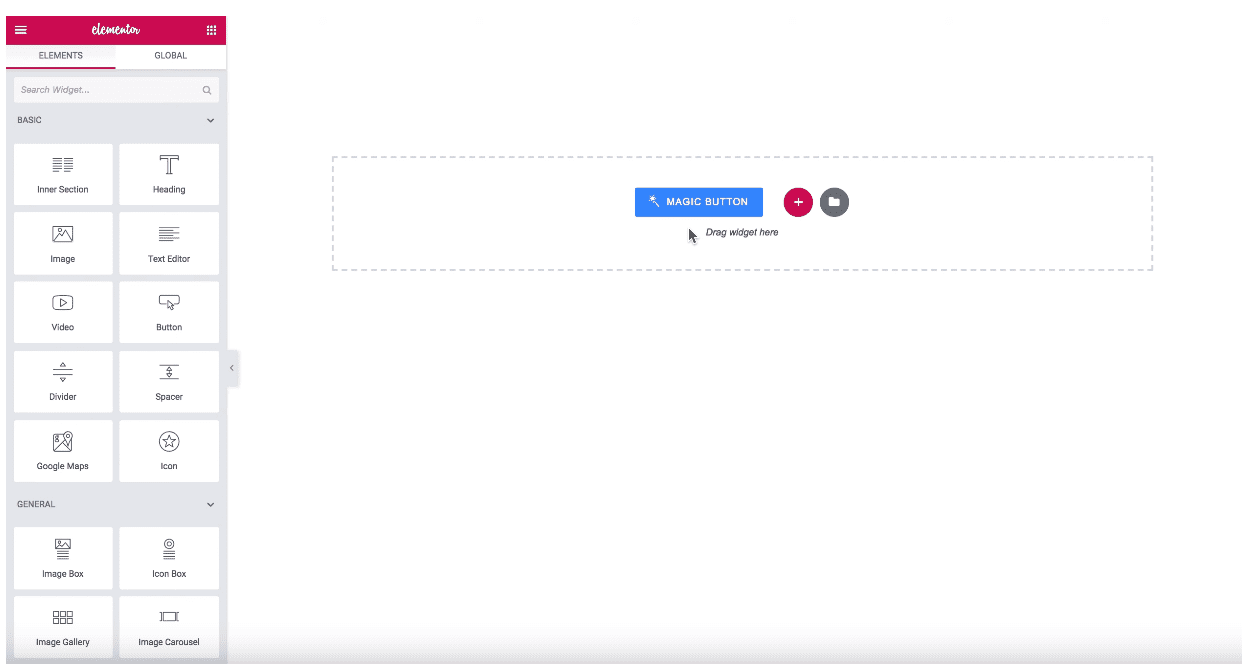 Once you clicked the Magic Button, you get access to the library with the hundreds of premade pages, sections, headers, footers and so on. Quite simply for now. So after you clicked you see this: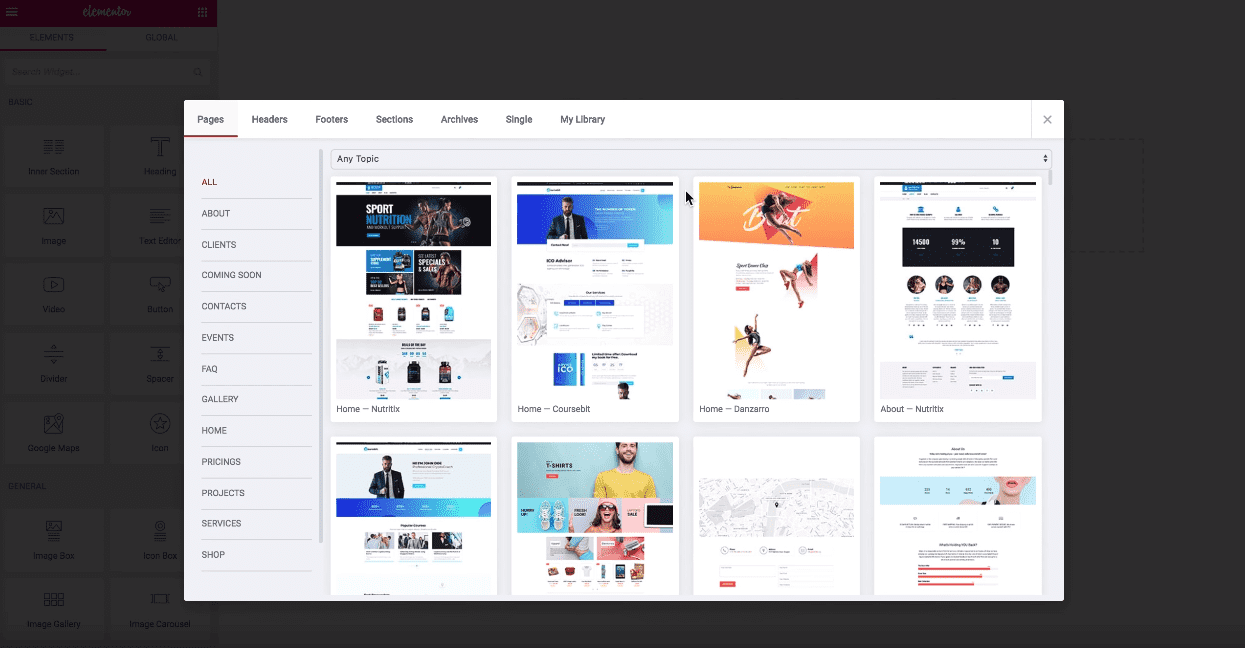 You can see the two lines of tabs: the horizontal one in the upper part of the library and the vertical one on the left.
First, you choose what part of your site you now want to customize:
Pages
Headers
Footers
Sections
Archives
Single
My library
On the left, there's the filter which will help you to narrow the search down.
Now let's move on to the adding process. But before this, one more thing though:
There's one more additional filter which helps you to look for the needed design by topic.
That means you can select your niche topic and save time for the search only among suitable designs picked exceptionally for your needs. You'll definitely like this tool if you value the time.
Applying the Adjustments
Prior to applying anything on your site, for instance, a skin for a web page, you want to look at it closer, right? For this, you just click on a preview picture which you liked.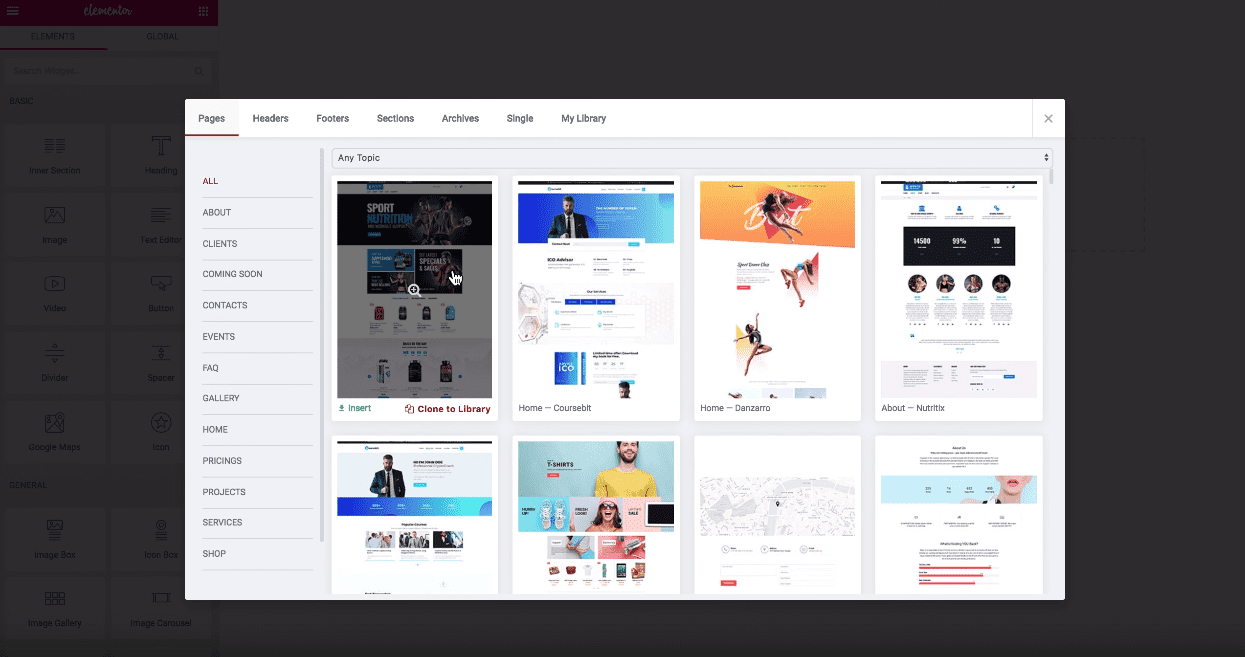 After that, the chosen preview is opened. And now you can scroll and look through the page more carefully. If you like the result, you can apply this design by clicking the Insert button on the right upper corner.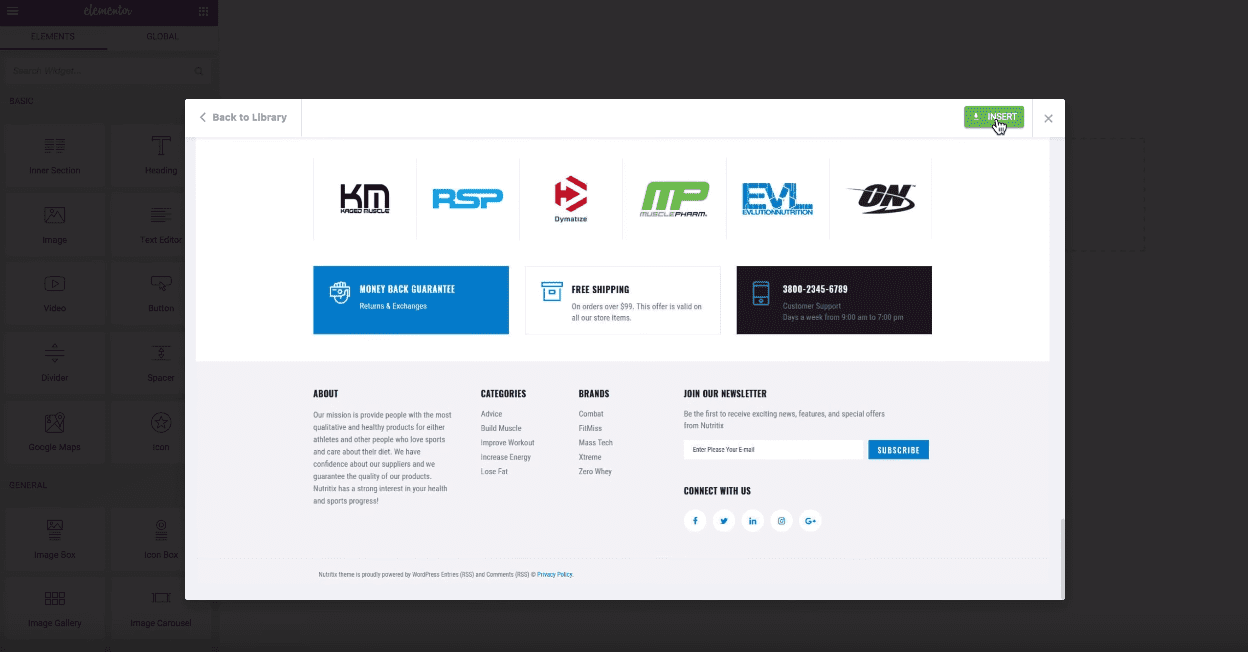 If you don't like it or if you want to keep searching or see the rest of the skins, just go Back to Library.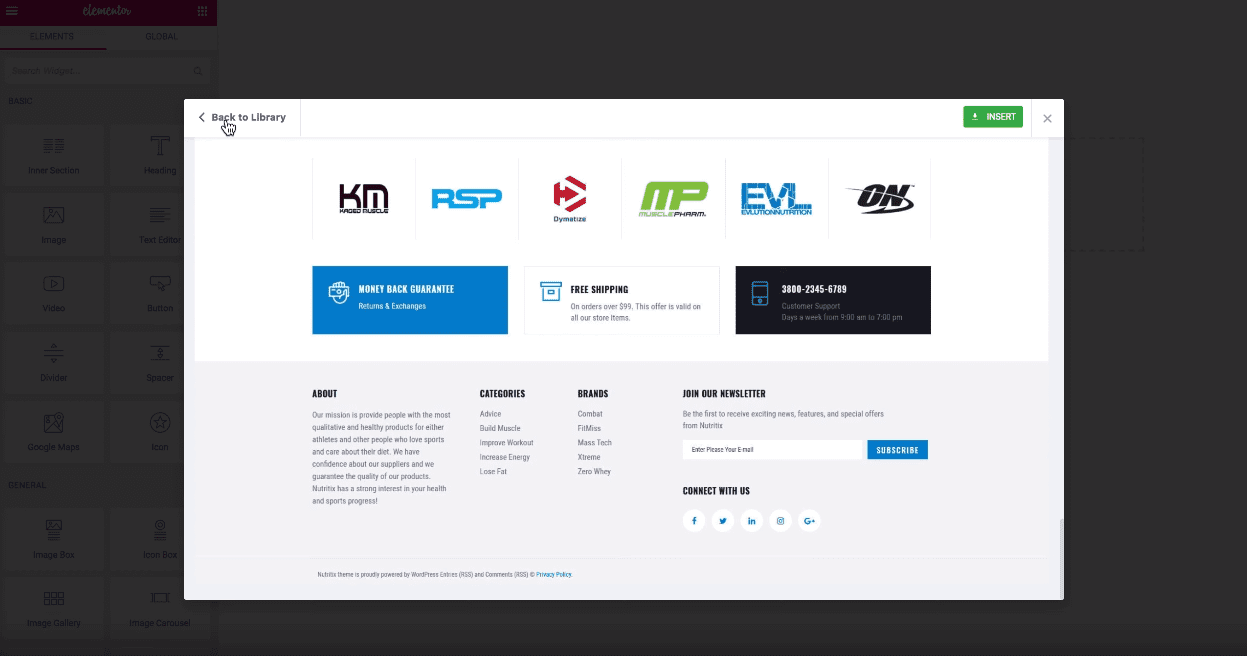 There also is a simpler way to insert the element you liked. Just hover over it and click Insert.
Where the Magic Happen
Let's consume why this Magic Button is so good.
First of all, it gives you access to the widest alternatives for your site design. Thousands of elements are picked by topics and sections. They'll fit you regardless of your niche. You'll definitely find something you'll be excited with (and I'm pretty sure there will be even more than one thing).
Secondly, it greatly saves your time. You don't need to waste your time searching for the elements for your site's design. Now you have everything here, and you can customize everything right in your Elementor builder.
The last thing I'll mention is how easy it is to build your site with the ready-made templates you have in abundance! You've just seen how simple and intuitive the navigation is.
Try it and see yourself!
JetBlocks. Don't like the header and the footer of your current theme? This plugin will help to fix the situation. Nine useful widgets will give you the opportunity to add a logo, subscription form, drop-down menu, and other features and shape the header so it will fit your taste ideally.
Dynamic fields, links, images, repeaters, terms, and meta – all of them will be fairly easy to add to your website with this plugin. It will give you a helpful hand at creating vivid content.
JetPopup. It is obvious from the title, that this plugin will come in handy when you would like to create some pop-up messages. You will be able to choose any type of users actions to trigger the pop-up and style it any way you need and like.
JetSmartFilters. Smart searching filters sufficiently improve the user experience and make the navigation process easier for the visitor of your website.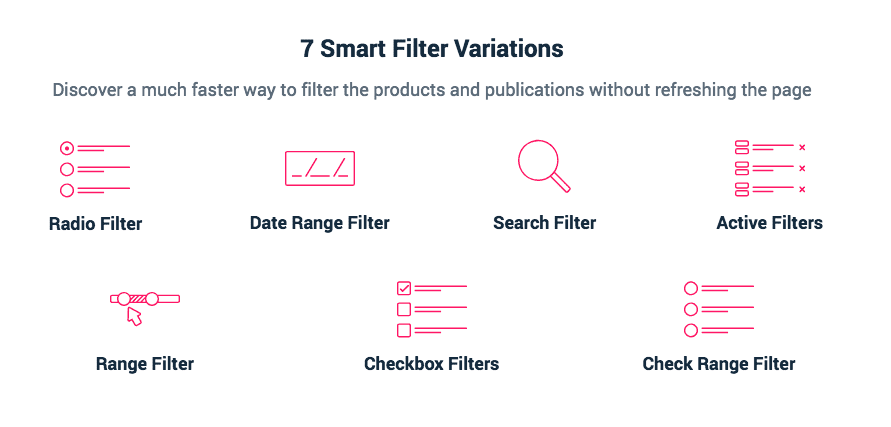 JetSmartFilters will give you seven great AJAX filters of a different look to make the searching simpler and more fun.
CrockoBlock pricing plans
In fact, there are two types of subscription and three pricing plans for CrockoBlock. You can choose a lifetime subscription and an annual one. If you want to pay once a year there are options to buy it for one website or for an unlimited number of websites. Let's take a closer look at what is offered and who do those proposals fit to.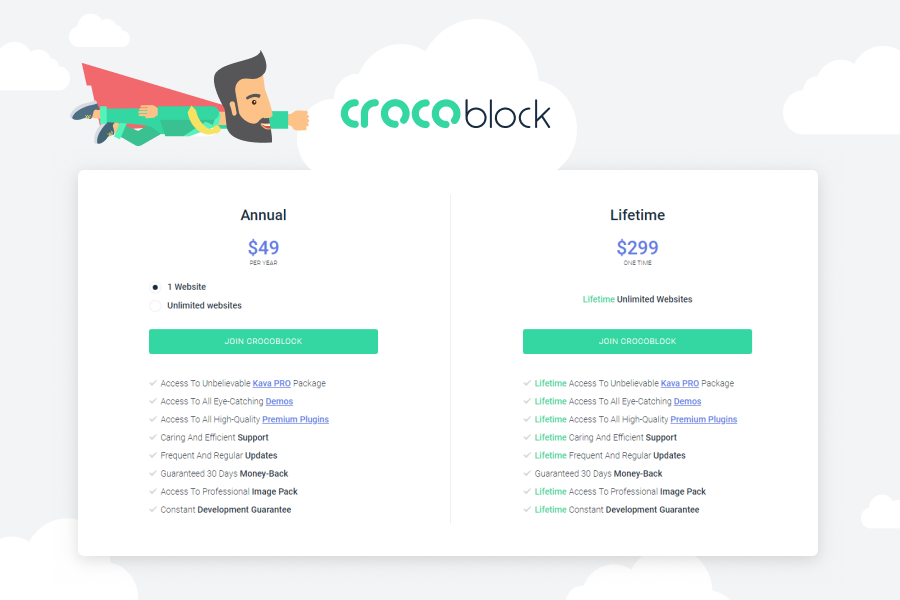 Annual subscription for a single website
What do you get? Access to all CrockoBlock goodies for one year. Kava Pro theme, all the demos, all plugins, professional image pack – you can use them all, but for only one website. Besides the products, CrockoBlock guarantees you high-quality tech support, regular items updates, and constant development of the products. If something goes wrong, you can have your money back during the 30 days. In plain language – you get everything CrockoBlock can offer, use it during a year and for a single website.
Whom this offer fits to? Beginner website owners, who want to launch one website and don't have plans to go further. This plan will also be a good decision for developers who are not sure if they like working with Elementor but are ready to give it a try.
Annual subscription for an unlimited number of websites
What do you get? Everything a previous subscription plan offers, but for a bigger number of purposes. This plan gives you access to all the products and services of CrockoBlock and you can use it for any websites you want to without any limitations.
Whom this offer fits to? Professional developers who make for a living creating a website and prefer to do it with the help of Elementor, but are not sure about the CrockoBlock. It is an ideal subscription form for cautious web designers, who want to try the product before buying it.
Lifetime subscription
What do you get? If you purchase this subscription you get everything and forever. All the CrockoBlock stuff is available for you till the company exists and you can use it any way you would like to and as many times as you need it.
Whom this offer fits to? Guys who love Elementor, create a website with its aid and liked the CrockoBlock plugins for it. Also, website development agencies and small marketing companies will find this kind of pricing plan the most profitable.
The list of developers to hire
If you don't really feel you have enough passion or time to create a website by your own hands – the CrockoBlock could also help you with that. Take a look at the list of professional and high-skilled web developers who participated in the creation of CrockoBlock plugins or Elementor Page Builder. A brief description will introduce the developer and help you to make the first decision. Attached portfolio and a stack of known technologies will show if the person could complete the task. And of course, there are contacts for you to communicate with the developer you liked the most.
Elementor + CrockoBlock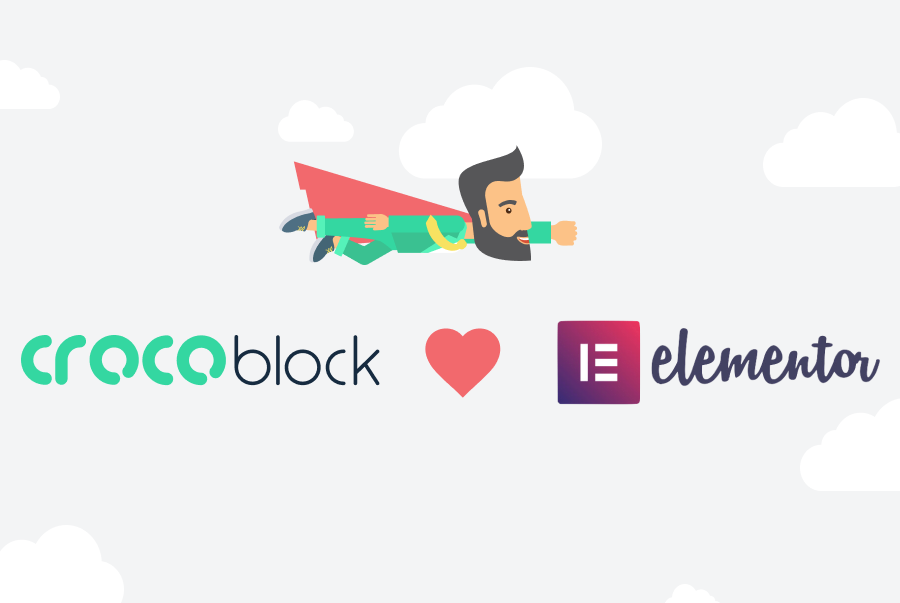 Either you are a beginner and took your first steps on the road of website creation or a professional developer that has dozens of successfully finished websites – Elementor Page Builder and CrockoBlock products are the tools that will make your life sufficiently easier. So why spend more time and efforts for things that could be done with the help of CrockoBlock? Spend spare time to rest or learn something new!
Video About CrocoBlock for Elementor: All-in-one Service for Building WordPress Website
Read More: Elementor WordPress Page Builder: 5 Reasons to Try It by Yourself