What is Crocoblock?
Crocoblock Review. Crocoblock is an ultimate toolkit for building websites with Elementor: from personal portfolios to e-commerce shops and marketplaces. Crocoblock star products are JetPlugins — drag and drop based tools that allow creating complex websites with no coding skills.
Crocoblock is a toolbox. You can take it and don't worry you will lack some instruments – this toolset will be enough to build a great website. It makes the website creation more convenient.
Crocoblock is a website building materials warehouse. After you buy a subscription you can come here, take a look at the available ready-made building elements, take the ones you like and compile your astounding website from blocks without creating them from the ground up. It makes the website creation faster and easier.
Crocoblock is a gemstones crate. It provides you with unique items that can't be found in any other place and those items are valuable and useful to the users. It makes the website creation more variable.
Within a toolkit you will find:
18 JetPlugins
150+ widgets
64 popups
47 templates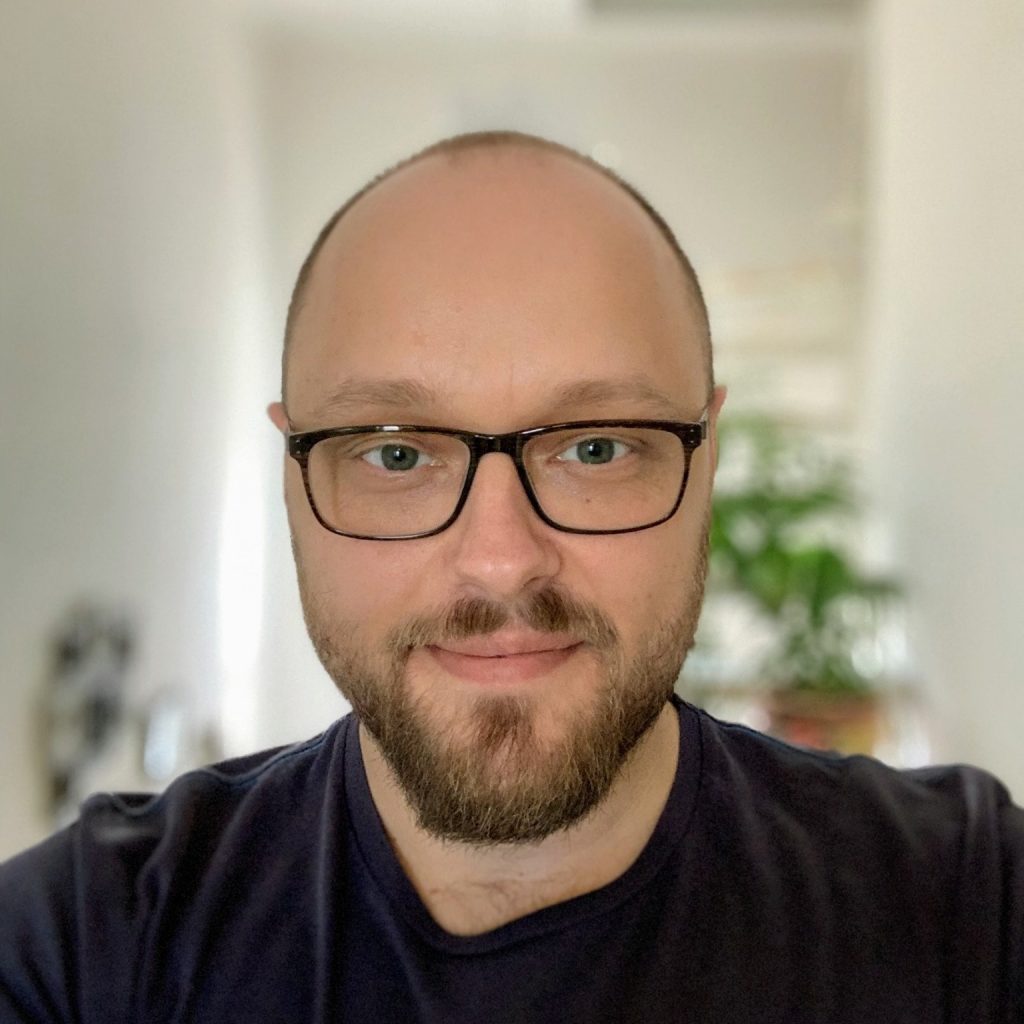 CEO & Father of Everything
Disclosure: MasterBundles website page may contain advertising materials that may lead to us receiving a commission fee if you purchase a product. However, this does not affect our opinion of the product in any way and we do not receive any bonuses for positive or negative ratings.
JetPlugins by Crocoblock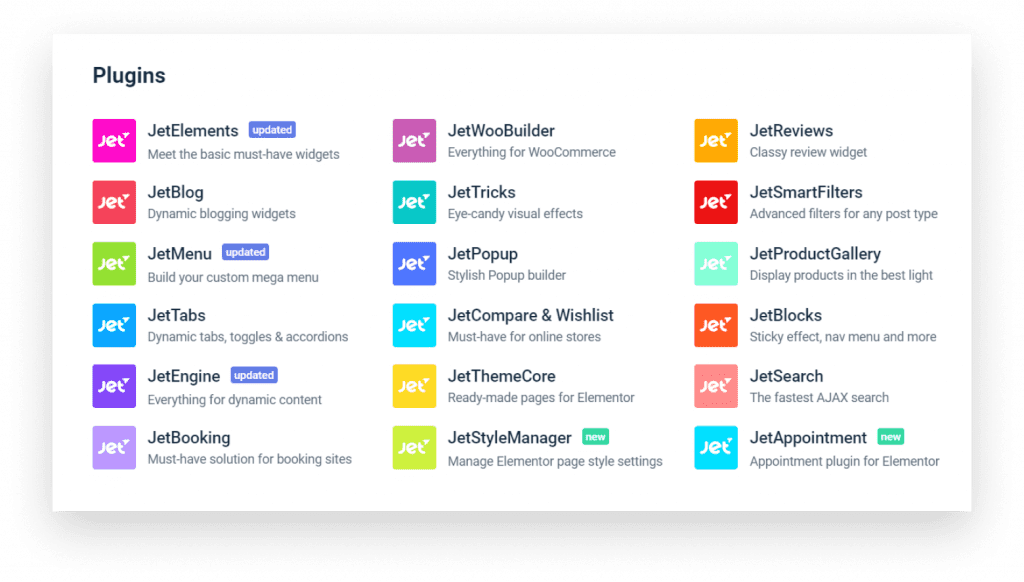 18 JetPlugins extremely extend Elementor functionality and let you develop professional websites much easier and faster. Below are listed the most popular plugins in Crocoblock's arsenal. They can be purchased separately or within a subscription plan.
This one is a top-selling Crocoblock plugin. JetElements includes 44 elementor widgets that neatly organize website's content. With JetElements, you will create pricing tables, post carousels, countdown timers, images grids, parallax effects, and much more.
Serves to work with elementor dynamic content. Dynamic fields, links, images, repeaters, terms, and meta – all the back-end settings will be immediately displayed on the site's front-end. This plugin is a real helpful hand while building web pages with complex functionality.
JetEngine 2.3 Version Overview
🚀 Check out the most recent features of JetEngine 2.3 update. Boost up your website with the help of new useful options:
Multi-functional solution for websites with rental and booking services. The main plugin's features are the ability to select the check-in/check-out period, filter options, and book an item or residence. Also, you can set up automatic notifications for customers who made a booking.
JetBooking plugin for Elementor | Quick overview
🚀 A must-watch video for anyone who creates or manages websites built with Elementor for booking or renting services. Check out how easy your customers can submit booking orders on your site ✔️ User-friendly client interface + easy to manage order base on the backend is now possible with JetBooking plugin.
Helps to build websites with multiple service providers and bookings on an hourly basis. The site users create an appointment right from the provider's page for a certain date and time slot. Working with this plugin, you can choose all payment systems available from WooCommerce whether it's PayPal or cash on delivery method.
JetAppointment 1.1 Version Overview
🚀 Enjoy the most recent features of our Elementor appointment plugin. Play with the upgraded functions to make the appointment booking experience smooth and easy for your customers.
Provides 9 AJAX-based product filters to find the desired items in a few clicks. With this plugin, you can combine several similar filters in one hierarchy or allow users to apply multiple filters, showcase necessary search results and hide unnecessary ones.
JetSmartFilters for Elementor | Plugin Overview
🚀 In this video, you will discover the powerful functionality of JetSmartFilters plugin by Crocoblock. This is a multifunctional filter plugin for Elementor which makes the life of online creators much easier ✔️
This plugin includes 40 widgets to create a professionally-looking elementor WooCommerce shop page. Versatile customization options of JetWooBuilder will help to make your store truly unique. In your disposal: product grids, carousels, item ratings, review forms, etc.
Choose among Horizontal, Vertical and Hamburger Menus. The plugin allows extending mobile menu with header, breadcrumbs, footer areas. You can also play with animated menu layouts: slide out, drop down and push effects are at your fingertips. One of the useful settings incorporated to JetMenu is a Preset manager which allows to create and save different menu style templates to be used later on.
JetMenu for Elementor | Plugin Overview
🚀 With this video, you'll go over the main features of the JetMenu plugin by Crocoblock. See what content you can add to your Elementor mega menu, what styling settings are available and more.
Serves for creating popups in a drag-and-drop way. Alter the pop-up triggers to make your messages display whenever you want: at the time the user scrolls down, tries to exit the page or even clicks on a certain page area. Any popup can be animated and customized according to your site style.
If you decided to build a blog, you would definitely need this plugin. Add blog post layouts, stylish elementor video playlists, clear pagination, and more. JetBlog functionality will spice up your blog's appearance and make the web page look extremely up-to-date.
Takes care of the visual content on your website. Sticky elements, unfolding columns, satellite elements, parallax scrolling effect, and other tricks will enrich your website's appearance.
We listed just a couple of JetPlugins. Visit Crocoblock official website to find the detailed information about 18 plugins and see them in action https://crocoblock.com/plugins/
Website templates by Crocoblock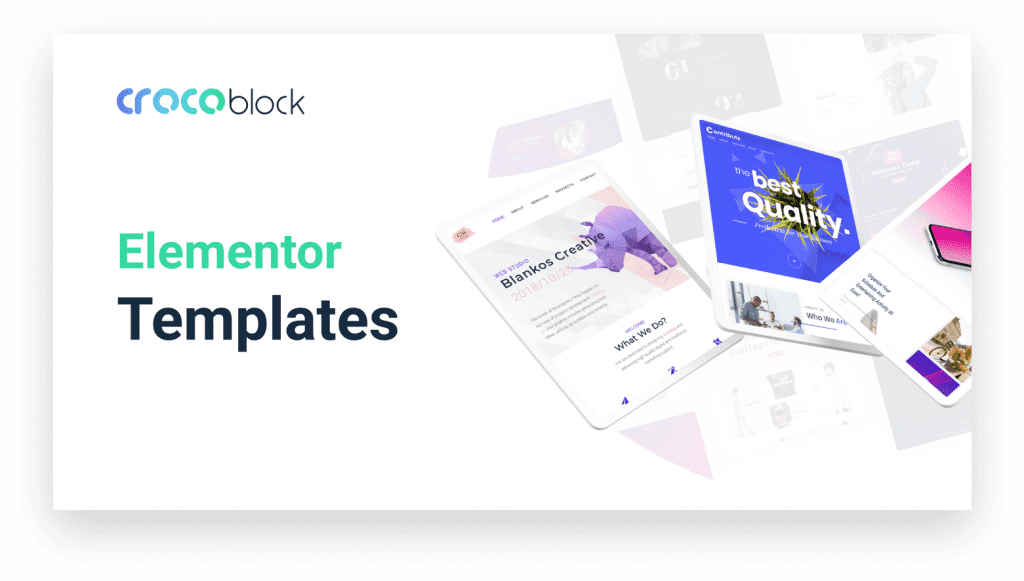 40+ Crocoblock templates for Elementor are available within the subscription. The template designs cover all popular business niches from an online cakery shop to travelling agency website. Crocoblock templates are perfectly compatible with the most popular WordPress themes such as Hello, Astra, Ocean WP, and others.
Kava Theme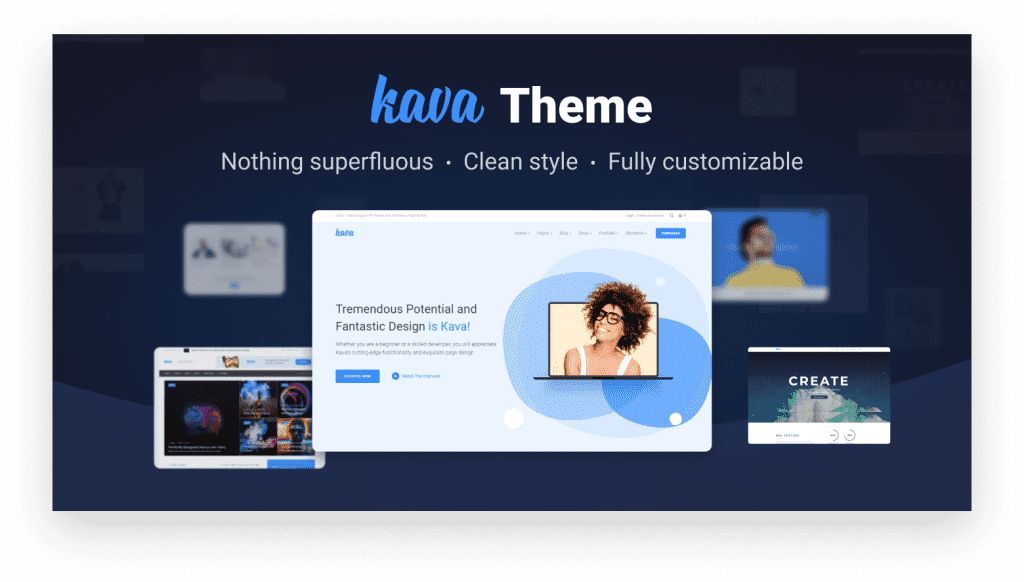 Kava theme is an ideal white piece of paper, completely ready to be shaped according to your taste, creativity, and needs. Personal portfolio, business platform, or WooCommerce shop – you will be able to create any of this with Kava. Besides, Kava theme supports RTL languages and can be translated into any language you want.
Kava includes 50 layouts, 10 single post templates, and over 200 customization options. Its simple settings allow switching between options and tailor the theme directly from the dashboard in a few clicks.
As Kava is made for Elementor, no coding skills are required. However, for advanced developers there is an option to add your own code.
Crocoblock pricing plans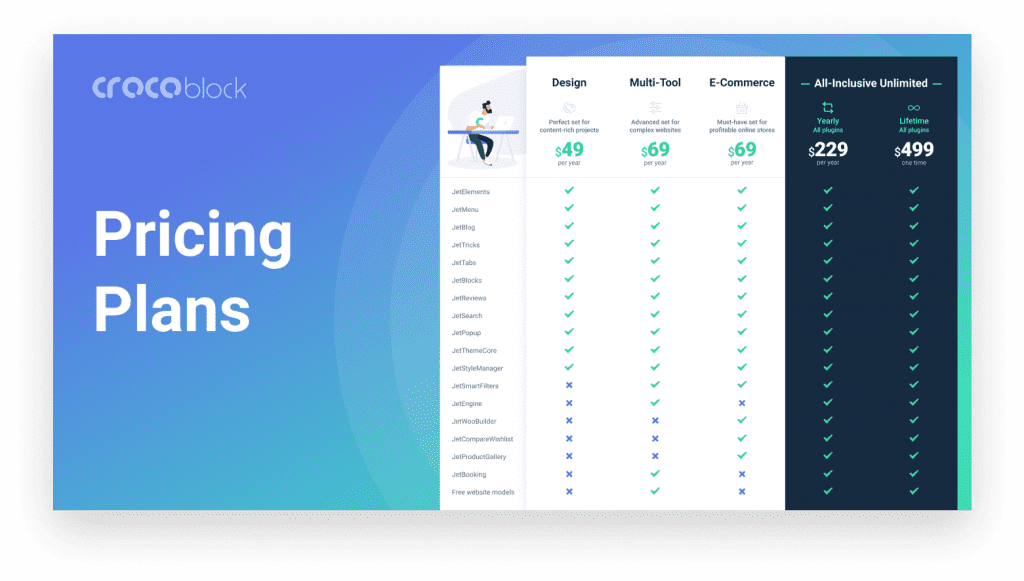 You can choose from 4 Crocoblock plugin sets:
Design
Multi-Tool
E-Commerce
All-Inclusive Yearly/Lifetime
The Design set includes plugins that work perfectly for content-rich projects. You will be able to create unique content blocks and fill them with images, texts, appealing animation, parallax effects, popups, and more.
The Multi-Tool set has everything to develop complex websites with dynamic content. Fill in your site with booking and appointment functionality, custom calendars, and this is not the full list.
E-Commerce set serves perfectly for WooCommerce sites. It includes a variety of plugins that will help to create wishlists, product comparison tables, pre-made popups, product grids, combination of Ajax-based filters, etc.
All-Inclusive Yearly/Lifetime works for those who don't like the limits. This set is packed with all 18 plugins with no exceptions.
Best 5 WordPress Bundles in MasteBundles
| Product Image & Rating (Out Of 10) | Product Name | Price |
| --- | --- | --- |
| | 29 Premium Responsive WordPress Theme Mega Bundle | |
| | Free WordPress Landing Theme | |
| | Mega Web Design Bundle with Extended License | |
| | 12 Modern and Responsive WordPress Themes | |
| | 15 WordPress Themes Bundle with Extended License | |
Top 5 Popular Questions About Crocoblock
🛠 What is Crocoblock used for?
It is a tool, which is used for creating websites. It makes the process of launching a site significantly faster and easier without losing its quality and functionality. Basically, the tool is aimed to enable you to build your own website even though you might not have any coding skills.
🛠 How can I benefit from having it?
This very service is not only a useful tool that will help you build a site in no time and with minimum efforts involved, it is also a collection of professional templates and a whole bunch of JetPlugins. So I guess you see how can you benefit from having it.
🛠 How many ready-made web templates would I get with Crocoblock?
As I have already mentioned in the previous question, you will get 47 templates, which you can use in multiple projects.
🛠 What about the prices?
In terms of pricing, the minimum fee for this very tool is $49 per year. In case you would like to get more options and premium features, you might be interested in all-inclusive plans, which are represented in two types of subscription – yearly membership for $229 per year as well as lifetime subscription for $499.
🛠 What do I get with this very tool?
With this very service, you will get the following items: more than 150 unique widgets, 18 JetPlugins, 47 one-of-a-kind templates, and 64 popups. Well, leave all you doubts behind and give it a shot, it will not disappoint you.
Please take a moment to pin this post to Pinterest
Article Sources
Interested in Crocoblock? They are active in all popular social media, subscribe to get the freshest news and support:
YouTube Channel — explore r detailed plugin tutorials and overviews.
Corporate Facebook page — to be aware of the latest company updates and special offers.
Facebook Community — to become a real Croco community member, share experience and talk directly to Crocoblock support and tech team.
Was this page helpful?
We will be happy if you decide to share this article with your friends on Facebook. Just click on the button and you're done
Thanks for your response!
You have already left your review.
Disclosure: MasterBundles website page may contain advertising materials that may lead to us receiving a commission fee if you purchase a product. However, this does not affect our opinion of the product in any way and we do not receive any bonuses for positive or negative ratings.