Contents
Introduction
This showcase will supply you with a library of unique Elementor plugin to add more functionality and flexibility to your favorite page builder.
JetPlugins for Elementor Builder make the process of website creation funand easy.
Don't miss the possibility to enhance the existing Elementor with a collection of creative and unique plugins that are extremely useful.
Elementor add-ons are lightweight & fast thanks to the high coding standards and modular architecture.
Browse ultimate Add-ons for Elementor showcase developed to enable:
Endless Design Combinations

Building with top UX Approaches

Creating Stunning Websites & Landing Pages Within
Minutes

etc.
You'll love the features added by WordPress Elementor plugins.
Table
Are you too busy to read the entire article? We decided to shorten and
organize the main info in the table for you. Here you will find the list of
plugins showcased in the compilation, their prices and main features. Though,
we still recommend taking your time and browsing the whole blog post.

Add-ons for Elementor Page Builder

Plugin
Name

Price

Main
features

JetBlog

$15

Great Content

Text Ticker

Smart List

Smart Tiles

JetReviews

$15

Completely Responsive

Elegant Design

Easy-to-customize
Appearance

Immaculate Typography

JetElements

$15

High-Class Modules

WooCommerce Elements
Integrated

RTL Supported

WPML-Compatible

JetParallax

$15

Immense Parallax
Layers Usage

Animation Speed

Mouse Move and Scroll
Behavior Type
Custom Position
Settings

JetTabs

$15

Classic Accordion

Image Accordion

Vertical &
Horizontal Layouts
Wide Selection of
Style Settings

JetMenu

$15

User-friendly

Rich Content

Fully Responsive

Exquisite Badges

JetWooBuilder

$15

Widgets Set for
WooCommerce Online Store
Possibility to Build
Your Own Single Product Page Layouts

Made for Elementor

Clear Documentation

JetBlocks

$15

Widgets for Creating
Headers & Footers

Site Logo

Login Form

Registration Form

JetTricks

$15

Lots of Visual Effects

Parallax Element

Sticky Column

Easy to Use &
Customize

JetEngine

$15

Add Custom Fields on
the Fly
Create Custom
Taxonomies
Set of Widgets for
Dynamic Content

Detailed Documentation
Please view the video below to know more about add-ons for Elementor Page
Builder.
Best Add-On Plugins for Elementor | Top 9 Best Elementor Add-Ons
Best Add-ons for Elementor Page Builder
JetBlog – Blogging Package for Elementor Page Builder WordPress Plugin
JetBlog plugin was developed to create outstanding widgets and showcase your posts in the most attractive way. You are able to create and easily customize text tickers, smart tiles, and smart lists.
Main features:
You'll be excited about how easy it is to drag and drop
content sections and then customize and style them up. You'll get your
widget in a few moves.
Share news with your audience in a simple and engaging
way. Enjoy creating a constant animated feed of your publications with
Text Ticker content module.
Create classy blog posts and showcase them in the most
appealing way. Your visitors will like how you used the Smart List module,
as it gives ample opportunities to make different layouts.
Truly stunning and outstanding Smart Tiles module will
make your blog stand out from your competitors thanks to its great
settings and a rich selection of style options.
Use the Video Playlist module and use all its
advantages and style settings to create absolutely notable content, which
will brighten your website.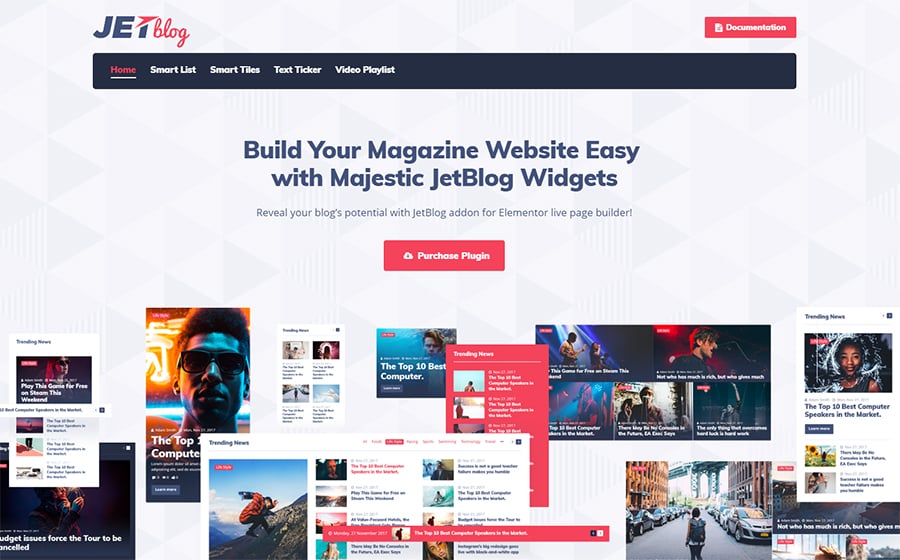 JetElements – Addon for Elementor Page Builder WordPress Plugin
This plugin will enhance your Elementor bundle with a rich variety of modules, which will be extremely useful in your web building. Loads of powerful modules in JetElements addon was specially created to be embedded in Elementor functionality and provide you with versatile decisions and stylish elements.
Main features:
Find tons of useful modules, containing great numerous
style options, functional settings, and absolutely customizable elements.
You are able to enhance your content with animation effects, gradient
backgrounds, custom fonts, and much more.
JetElements has everything needed to start your online
store. You will be able to create your shop anytime, as now you'll have a
great kit of needed elements.
The plugin supports RTL, so you are free to change the
text direction from left-to-right and vice versa. RTL option is easy to
use for any language.
JetElements works great with WPML plugin and will give
you the opportunity to use it in your native language with no boundaries.
JetElements contains amazing Contact Form 7 module,
which allows to add your pre-made contact forms and
embed them on your website.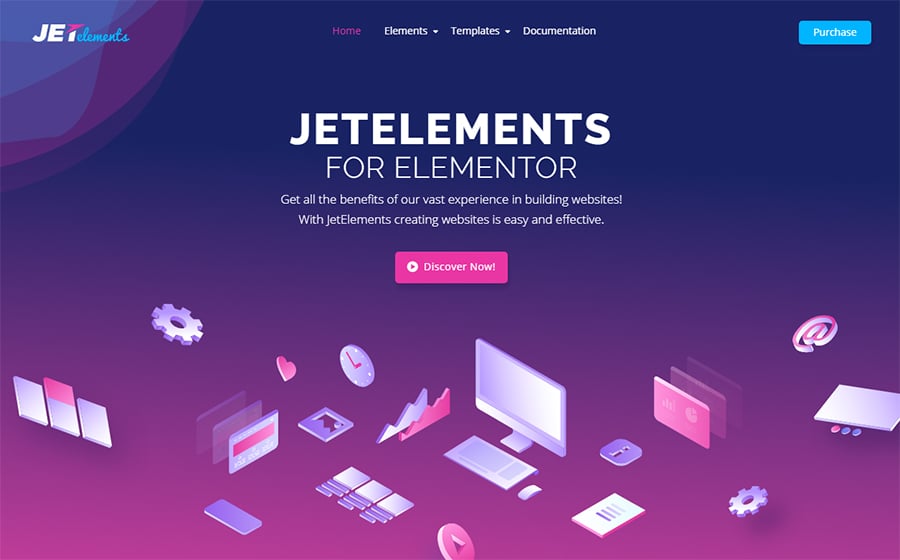 JetMenu – Mega Menu for Elementor Page Builder WordPress Plugin
JetMenu is a highly functional plugin, which allows creating Mega menus with dropdown items being at the same time easy to use. This plugin doesn't limit your imagination and has the rich potential of creating astonishing menus and styling them according to your vision and needs.
Main features:
You don't need to bother about learning HTML coding to
create attractive menus which will make your website stand out from your
competitors. Plugin's rich functionality perfectly combines with its
simplicity and clearness.
Discover a great selection of content modules,
specially developed to help you in your menu building. You are free to
create eye-catching menu items, enhance them with nice elements and add

various multimedia content

.
Everything you create with the help of JetMenu will
look perfect on any device. This plugin is fully responsive and greatly
displayed either on a mobile phone, tablet or desktop.
Make your menus more attractive thanks to nice badges.
Mark your menu items as trending, hot or new – this way you'll help your
visitors to navigate through your website and engage a new audience.
Want to make your menu truly good-looking? Select your
perfect colors from this magnificent palette and spice up your Mega menu.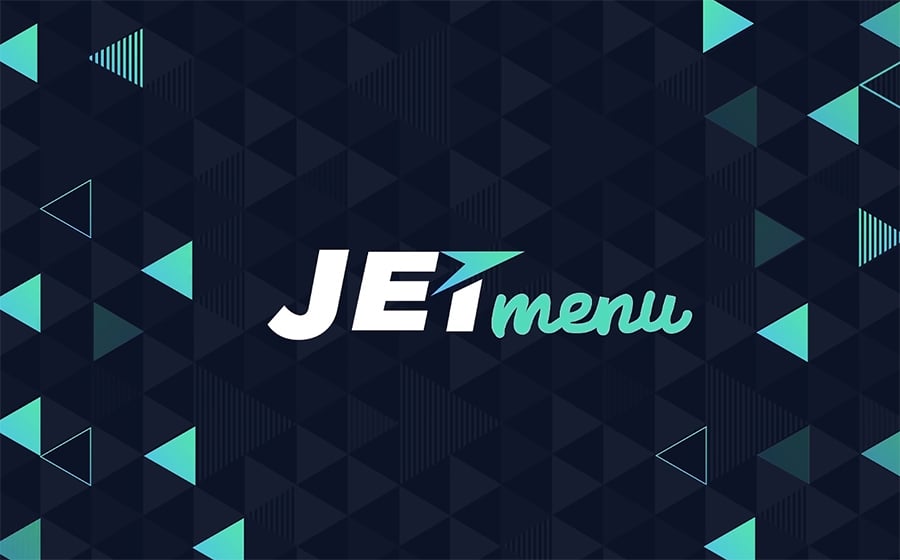 JetReviews – Reviews Widget for Elementor Page Builder WordPress Plugin
JetReviews plugin helps to create review blocks and rating bars. It's very easy to use and full of multiple styles, layouts and customizable elements for rating and review blocks.
Main features:
Review widget is perfect to display stars, percents and
other elements in order to evaluate the rating or add review. This module
contains everything you might need to create an eye-catching widget and
embed it on your website.
JetReviews is fully responsive and will render your
widget correctly on any device.
This plugin contains rich options to create an
attractive and classy design. Your widget will look perfect with all those
settings and nice elements JetReviews is equipped with.
JetReviews plugin is simple in customization and
creating your own unique style with all those addon settings.
Discover rich typography options available in
JetReviews plugin. Here you are free to select fonts from the list, choose
the size, font weight, and select decoration. You are able to set any text
color you wish and work more on your widget's individuality.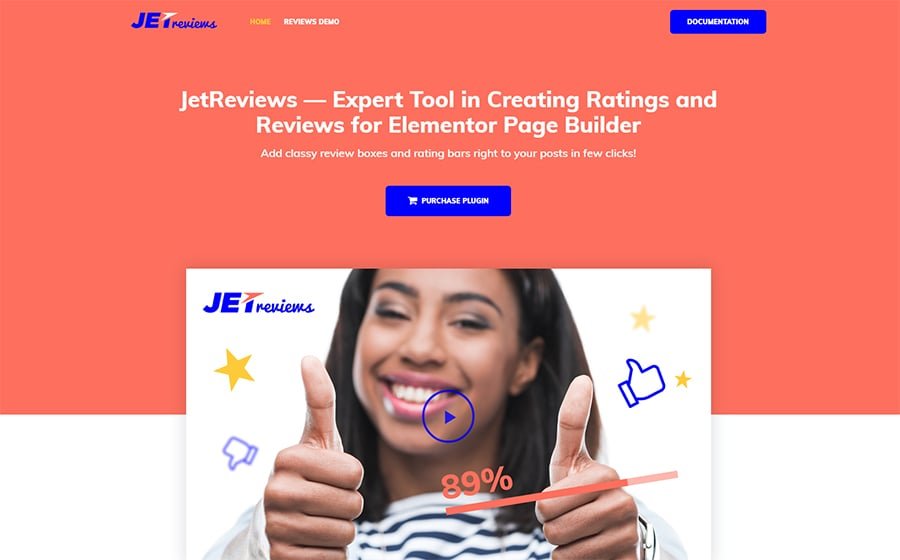 JetParallax – Addon for Elementor Page Builder WordPress Plugin
JetParallax addon allows creating eye-catching pages by applying parallax effect to backgrounds of different sections. The plugin creates multi-layered parallax with a variety of behavior triggers, speed, animation effects and custom positioning.
Main features:
Discover creating limitless layers with dazzling
parallax effects using the plugin's rich functionality. Apply engaging
animation properties, enrich it with behavior triggers and positioning,
and enjoy the 3D effect on your page.
Let your parallax effect move up to your wish with
flexible animation speed options. Choose whether your objects will move
faster or slower when the parallax effect is on. Build your own appearance
with 3D depth.
Apply behavior trigger to layers according to your
vision. Select between two behavior types, and see how objects move either
when mouse moves or the page is scrolled up and down.
Place the objects on the reference of axes either

X,

Y or Z and choose the most suitable place for them
on your page to showcase parallax effect more spectacular way.
The plugin is equipped with everything needed to create
eye-catching parallax effect on multiple layers, with absolutely customizable
effects, triggers, and settings.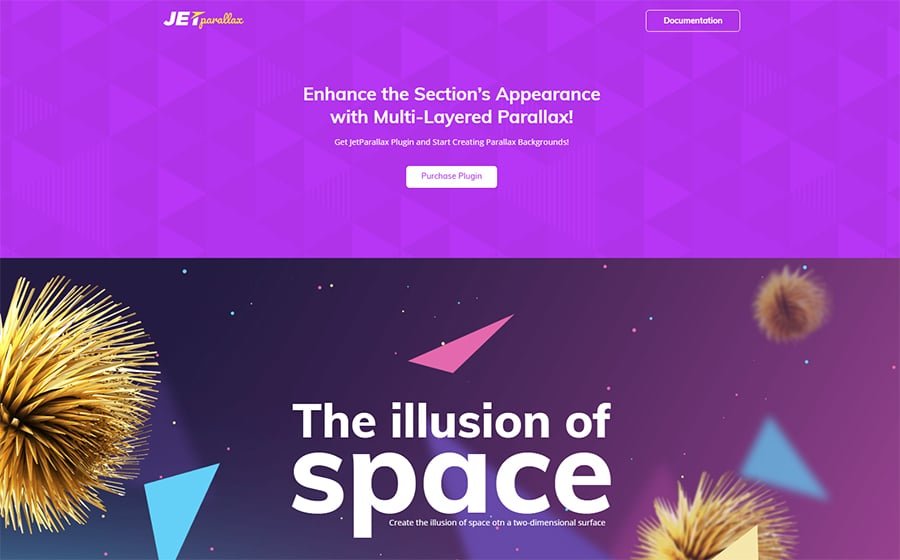 JetTabs – Tabs and
Accordions for Elementor Page Builder WordPress Plugin
JetTabs allows creating and implementing outstanding tabs and accordion blocks to your website. Enjoy creating breathtaking tabs, accordion blocks and image accordion widgets and embed them in your web pages, create either horizontal or vertical tabs layouts and play around with JetTabs options to get the appearance you like.
Main features:
Use your chance to create awesome vertical or
horizontal tabs, enrich them with dazzling images, select the color
matching your website and you'll get an elegant widget with the
well-organized layout and nice look.
Need to create an attractive widget with unfolding
content? Classic Accordion module of JetTabs addon will help you to create
it at ease and enhance with notable details.
Add some creativity to your widget by embedding
astounding imagery. This JetTabs module contains everything needed to
brighten your content and entire webpage appearance in one place.
Find your perfect solution by selecting either vertical
or horizontal widget layout. With JetTabs you have the opportunity to find
the best way of showcasing your widget. Discover how engaging and dazzling
your content layout could be!
Everybody who likes style will appreciate JetTabs
numerous options to style up the widget. You are free to select typography
options, choose color or create a gradient, add a border and many others.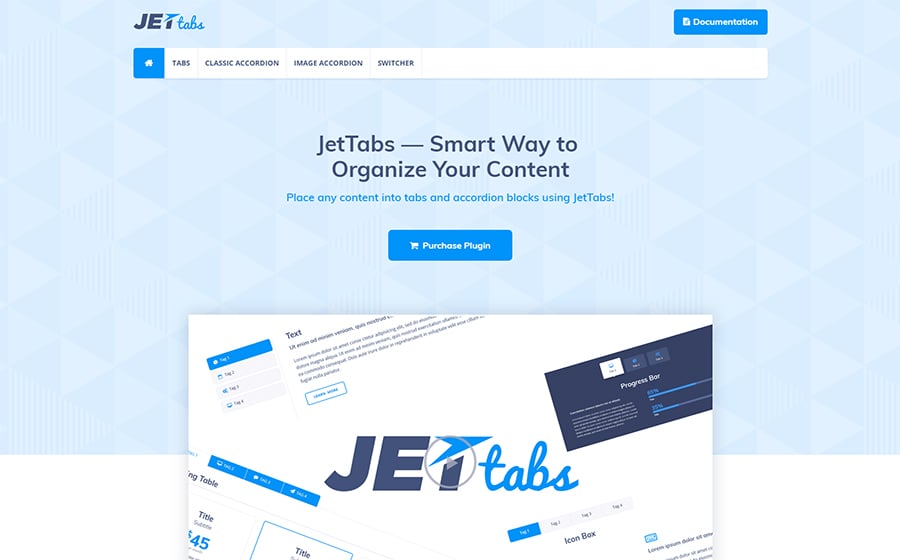 JetWooBuilder – WooCommerce Page Builder Addon for Elementor WordPress Plugin
JetWooBuilder is a must-have addon allowing to add fully-fledged WooCommerce product pages built with Elementor, use them as templates, and create loads of attractive WooCommerce content with versatile WooCommerce widgets.
Main features:
JetWooBuilder allows creating unique Product page
templates and implementing them to the existing products in a matter of
several clicks, all the process simple and clear.
The plugin provides everything needed for creating
WooCommerce product pages, allowing to set the unique
page layouts and use versatile content widgets.
Enjoy the opportunity to choose from loads of
eye-catching content widgets, such as Add to Cart, Excerpt, Image, Rating,
Related, and many others.
Implement different page layouts for the product pages
to create your unique stylish

templates, that


will perfectly suit your purpose.
Display the products and product taxonomies in the form
of attractive layouts on any page built with Elementor you need.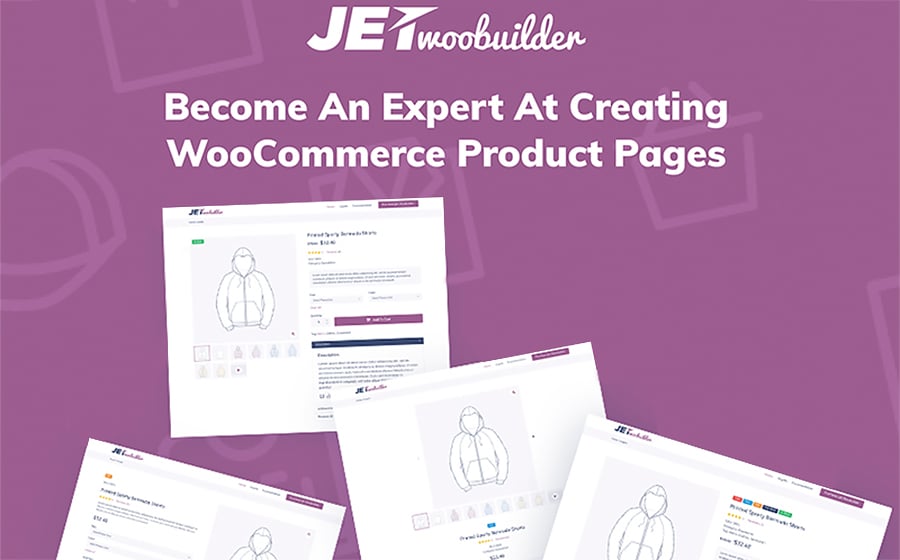 JetTricks – Visual Effects Addon for Elementor WordPress Plugin
JetTricks is an addon perfect for adding visual effects to the web pages without any coding skills, using the extended functionality and extra widgets for Elementor live page builder. The plugin allows using parallax effects for the content, adding sticky elements, creating the unfolded columns effect, adding the hotspot makers and creating a "View More" button.
Main features:
With JetTricks you'll be able to add lots of
astonishing animation and visual tricks and effect to make the page look
even more stylish and creative. The visual effects will make it look
professional, enhancing its appearance.
With JetTricks you'll be able to add lots of
astonishing animation and visual tricks and effect to make the page look
even more stylish and creative. The visual effects will make it look
professional, enhancing its appearance.
The plugin is really easy to use for everyone, and one
doesn't need to learn coding skills in order to add animation effects to
the page. Everything can be done using JetTricks functionality, which is
intuitive and clear.
While using JetTricks You'll be delighted with how easy
the effects can be added to the content, making it more eye-catching. And
lots of customization options will allow changing the behavior of the
effect whenever you need to do it.
The stylish parallax effect is now available not only
for the section backgrounds but also for one's unique columns. Just apply
it for the needed content and your page will become alive with animation,
looking even more creative.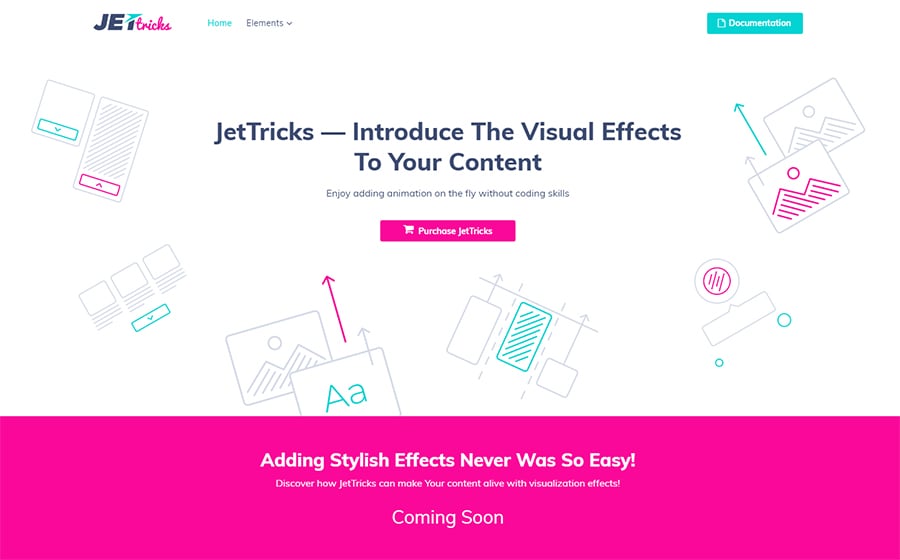 JetBlocks –
Elementor Header & Footer Widgets WordPress Plugin
Enjoy how easy you can create headers and footers with your own logo, nav menu and hamburger menu, WooCommerce cart, login forms and other unbelievable content adding more powerful features to the existing functionality. JetBlocks allows creating headers and footers on a professional level without ever needing to acquire coding skills. It also adds Sticky Header functionality, providing the ability to create sticky headers and make regular sections sticky when needed.
Main features:
Meet the much-needed high-end sticky header
functionality. It provides the ability to make the header stay fixed to
the side of the screen when the page is scrolled. You'll be also able to
make sticky practically any section and change its appearance when it is
made sticky.
This widget makes it extra easy to add and customize
textual and visual logo to the header or footer. It ensures that the
website will have the retina and simple logo. You'll also be able to make
it linked, change its alignment, or typography in the case it is a textual
logo.
Enjoy the perfect tool for adding and customizing a
login form with Elementor. It allows changing both content settings, set
labels for username, password field, add a redirect after the defined
event, and change the form's styles, including the field and label text
styles.
Get a hold on the powerful widget which allows creating
and adding registration forms with specific fields. Registration Form
widget makes it easy for everyone to set the field labels, as well as
provides profound styles customization.
Use this widget in order to add a login link to the
header or footer to make it simple for the visitors to log in or register
on the website. It allows adding a login and logout, as well as

register

links, and set the icons, link texts, add
prefixes to the links. There is also a huge amount of the links styles.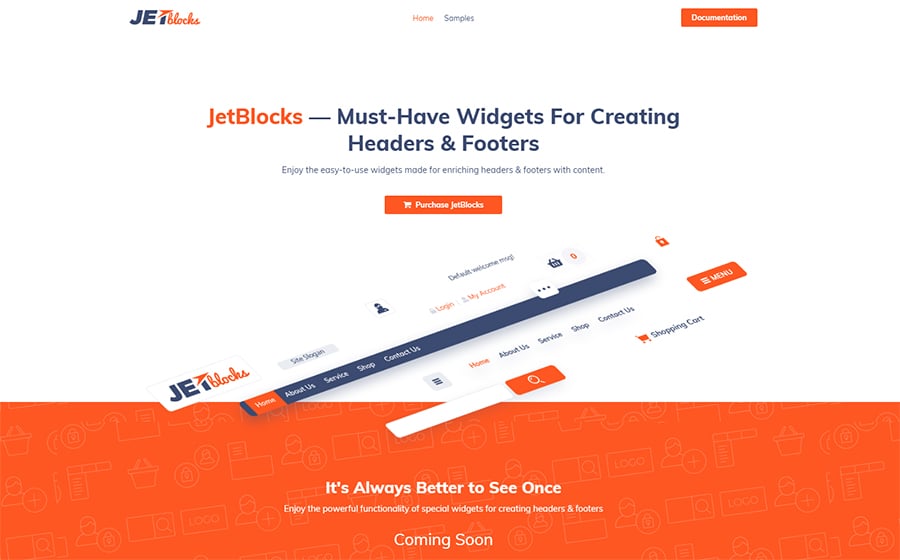 JetEngine – Adding & Editing Dynamic Content with Elementor WordPress Plugin
JetEngine is a must have plugin for Elementor allowing to create custom post types, custom taxonomy, add Elementor-built templates for the custom post type or taxonomy terms. It provides the set of dynamic listing widgets for displaying dynamic content and allows to build grid and listing layouts for the custom posts and terms using the most complex query methods.
Main features:
Every module has a variety of content and style
customization options, allowing anyone to improve performance and create
unique content with vivid animation effects, gradient backgrounds, and
custom fonts. And there are tons of other useful options for practically
every JetElements module.
Planning to run an online store? You'll be astonished
how simple it is to add products to the page and sort them when building
pages with Elementor! JetElements plugin introduces WooCommerce to your
pages in several clicks in the form of modules.
It is important to us that everyone could use JetEleements
regardless of the language and its specifics! That's why JetElements
supports RTL, so if one needs to change the text direction into
right-to-left, it is quite possible with this amazing addon.
JetElements is a multilingual-ready plugin,
that is really easy-to-use for people all over the world! Use
JetElelements together with WPML plugin to enjoy it in

Your


native language.
Delivering existing contact forms to your website pages
never was

so

easy as now, with JetElements! Meet
Contact Form 7 module, that pulls up your ready-made contact forms and
adds them to the page built with Elementor.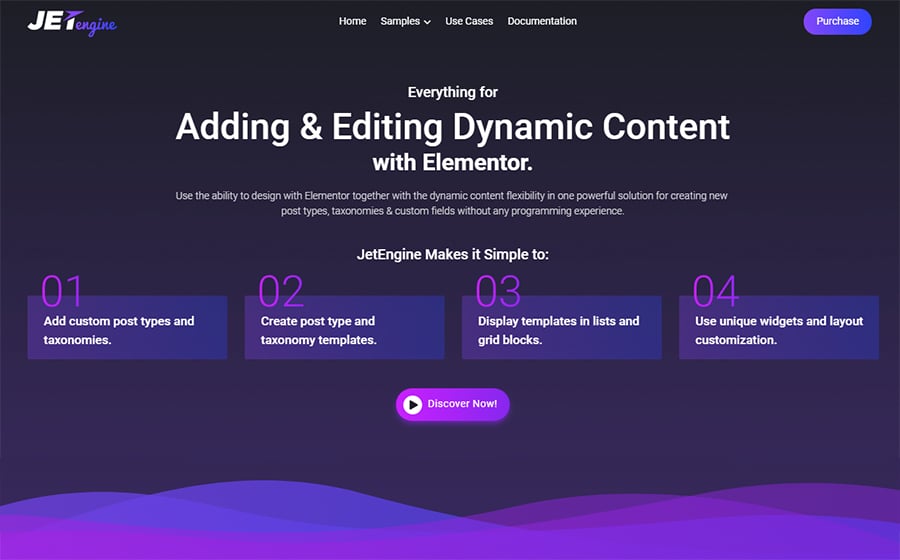 JetGuten – Blocks Set Addon for Gutenberg Editor WordPress Plugin
JetGuten will be very helpful if you want to add blocks to your website. This Addon allows you to decorate a website and increase functionality. You can easily add various block. Blocks set contains Banners, Progressive Bars, Pricing Bars and many other.
Main features:
It is easy to edit and customize with advanced drag and drop.
You can add blocks in a few clicks and you can remove
or replace them in a simple manner.
With JetGuten you can provide customers with additional possibilities.
For example, you can add Pricing Bars to inform customers about prices
or Countdown Timer to inform clients about sales and discounts.
JetGuten was developed with Gutenberg editor that includes many useful features.
It is user-friendly, easy-to-use, flexible and contains many features.
Moreover, there are new updates coming soon
and you will get even more content eventually.
And your website will get more features.
You can fill blocks with various types of content.
You can insert texts, images, videos, links, widgets or quotes.
It also has Block menu.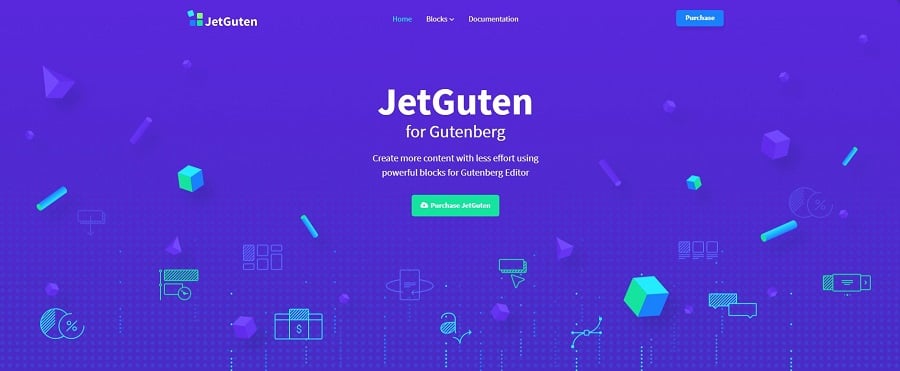 JetPopup – Popup Addon for Elementor WordPress Plugin
Do you like pop-ups? Everyone likes pop-ups! This is why we present you a JetPopup Addon for Elementor WordPress Plugin. It is a great Addon that allows you to create your own pop-up and fill it with your content.
Main features:
You can place a pop-up on any side of the website.
You can place it in Classic position, Slide-in, Bar, Bordering and full view.
Or you can simply customize the location and form of a pop-up.
With JetPopup you can use animation effects for your pop-ups.
You can customize it to fade, move up, slide left, rotate and flip.
It suits perfectly for various purposes.
This Addon allows you to create any pop-up you need with fully customizable widgets.
You can make a Discount pop-up, Countdown pop-up or Newsletter pop-up.
You can use JetPopup to choose an event trigger for popups.
It can appear on the website during website scrolling, opening or before the user leaves your website.
It is easy to use and customize, has full documentation
and provides you with 24/7 support team service.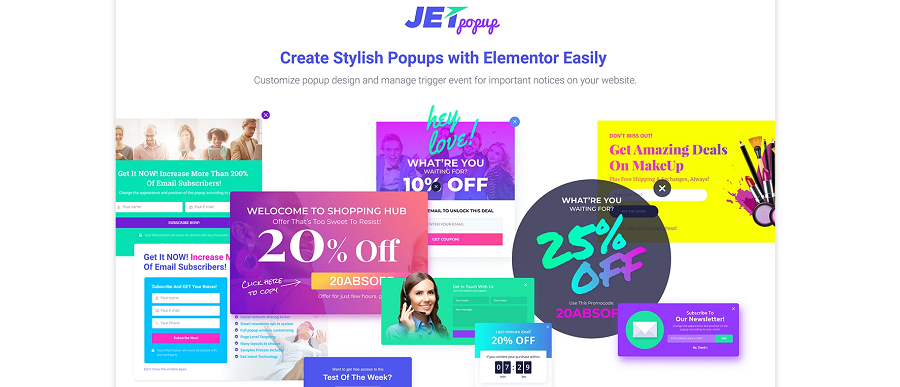 JetSearch – An ultra-fast AJAX Search widget for Elementor WordPress Plugin
Search is important for any type of website. It allows users to find information and if a website has a good search feature it creates intuitive navigation. This is why the JetSearch AJAX Search widget Plugin will be a powerful tool for any website.
Main features:
With JetSearch search results will be displayed by relevance.
It has search results dropdown and relies on a keyword for search.
You can customize search to work only
for the specific set custom page type you have created.
It is fast due to AJAX technology
and provides users with the highest search speed.
JetSearch allows your visitors to add category option
to narrow down the search results.
This Addon provides you with decorating options.
You can customize search result dropdown and add thumbnails,
pagination and other kinds of search result preview.
You can check how JetSearch works at the product page
via introduction video.
It has full documentation and you can always address your question
to 24/7 support team service.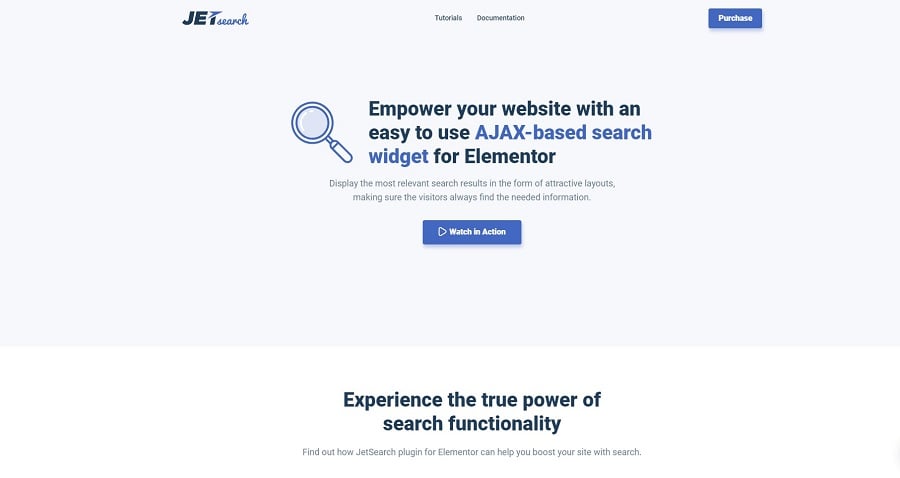 Wrapping up
That's it. Did you like our gathering of best add-ons for Elementor Page Builder? We hope you did. We included only the most awesome of them. Are you going to use or already using any of the listed plugins? Maybe you have the favorite ones and are ready to share this info with us? If you think that we have missed some cool plugin, your additions are welcome in the comments section.
P.S. Do you have a decent Elementor theme for building your new project? In case you are looking for the one, click the banner below and search no more.
Crocoblock.com – Elementor wordpress themes and plugins. Create site Fast & Easy!