20+ Tools for Instagram Fonts in 2021. Awesome and Customize!
Intro
Instagram fonts. On the way of creating a unique style of the Instagram profile and attracting more subscribers, bloggers, business owners, and random users try different approaches and techniques.
One of the easiest ways to diversify activity on Instagram and add some original look to the account lies in using unusual fonts. You can implement them in stories, in bio, in comments, or in the post captions. In all cases, your message will become catchy and visible.
Obviously, there are multiple tools and apps to generate new fonts but not all of them worth your attention. Some of them have a tricky interface, while others have nothing special to offer or are paid.
This ultimate collection contains only worthy tools and services for the new fonts for Instagram. Furthermore, you will discover some Instagram secrets you might not know before. Check them out, get inspired, and make your account stand out!
How to Customize Font for Instagram Bio
Regardless of the specifics of your account, bio is one of those things that drive visitor's attention right when (s)he opens your profile. A brief but informative bio with keywords, hashtags, and a relevant link is the perfect recipe for a catchy self-explanatory bio.
If you also want to make it appealing, it makes sense to change a common font. For this purpose, you can use one of those Instagram font generators listed below. Here is a standard scheme of implementing a font in your biography:
firstly, type the text in the special field, see how it looks in different variations and choose the one that suits the best;
copy the new text;
then, open your Instagram account, go to Edit Profile, and paste in the text;
click Submit and enjoy the result.
Here is an example of how the profile that contains a non-standard font in a bio looks: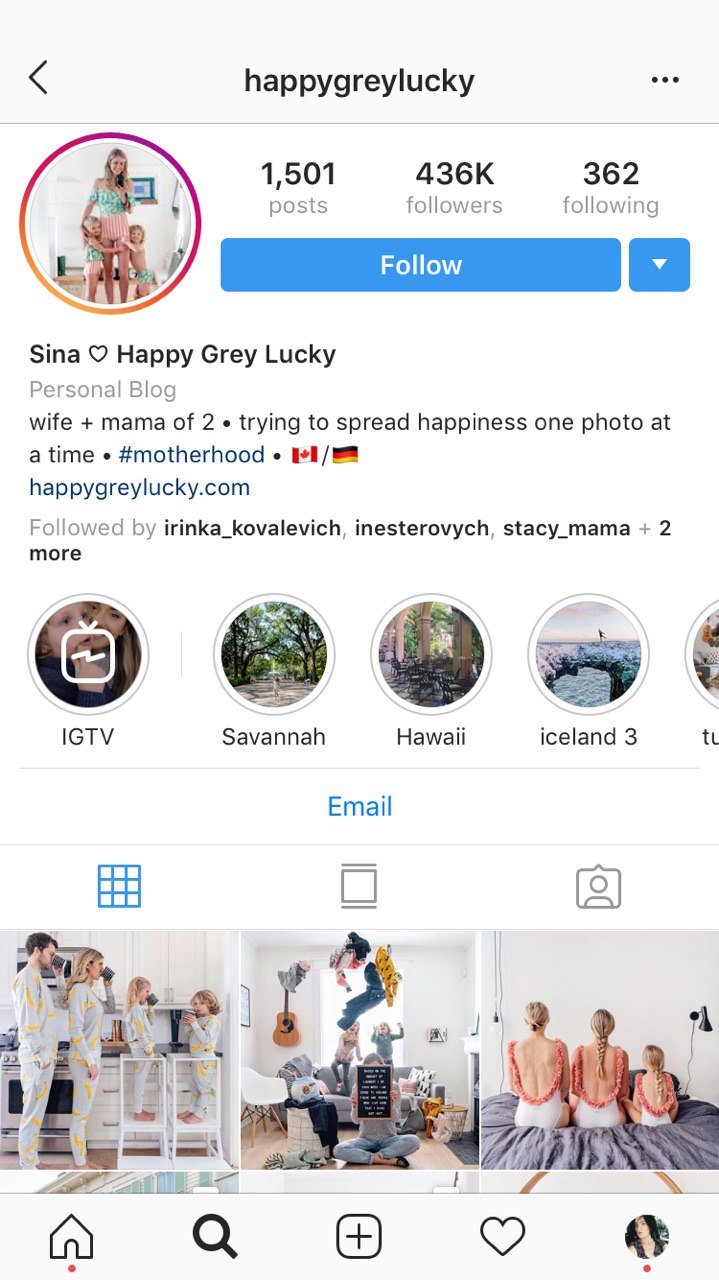 Trying to adjust the profile to a certain visual style and attract new followers, the users might overdo with the efforts. The wrong choice and high concentration of different Instagram bio fonts can play against you and, vice versa, scare the potential subscribers off.
Therefore, make sure that after the editing process, your bio still looks attractive and readable.
How to Change Font on Instagram Story
Initially, you get access to 5 common Instagram story fonts: classic, modern, neon, typewriter, and strong. Still, with the help of certain services and tricks, it is possible to diversify the collection with fonts and craft appealing and unique fonts independently.
In order to add a text with an unusual font to the Instagram story, you only need to use one of the following Instagram font generator services that, basically, work using the same principle.
Just copy the new text from the generator and paste it to the story by clicking the Aa button at the right corner of the screen.
Besides Instagram font generators, there are a couple of other options that we will consider.
If you want to perform the same procedure but with the video story only, you can use one of these apps (still, there are tons of similar ones):
Their working principles are almost the same.
Firstly, you should download the app and sign up (if necessary).
Then, choose the video you want to edit or record the new one. In Hype Type, you simply swipe up and choose the content from your gallery. Speaking of the Hype Type, you just click the T button at the bottom of the page to write a text: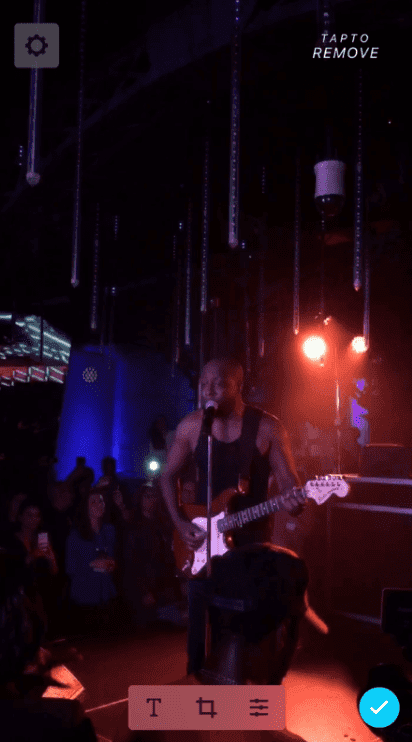 Afterward, choose the font from the collection of the animated and non-animated texts: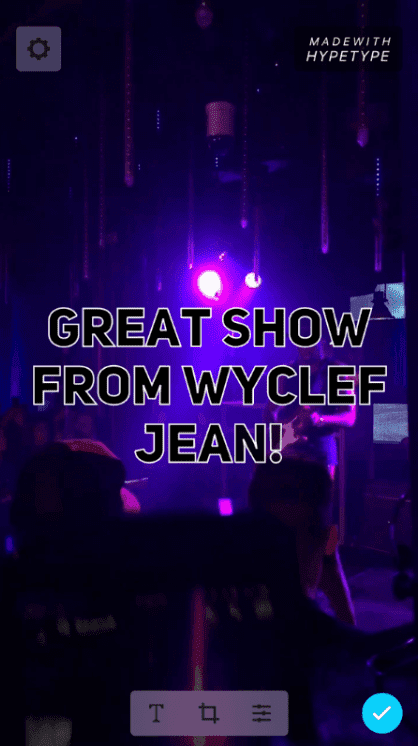 Source: https://later.com/blog/instagram-fonts/
Once you are done, you can download the video to your camera roll and then publish on Instagram.
In this app, it is also possible to work with images and GIFs.
Gradually, we have moved to the selection of the best services to change font on Instagram. Let's take a look together!
10+ Instagram Fonts Tools
The variety of services and techniques to change Instagram fonts is wide indeed. There are copy & paste tools with a rich collection of fonts, creative free and paid templates, apps and Instagram tricks that are hidden from the sight of the regular user.
The first representatives of the collection are font generators that stand out with the simplicity in use and a large selection of fonts.
Font Generators
The working principles of the most font generation are the same. Important to say that there are both mobile and desktop versions.
So, you just open the website, write a text you want to have in an unusual font, and choose the font from the collection: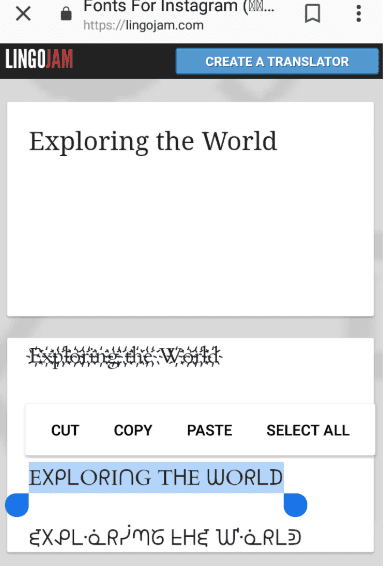 As it was mentioned before, after you get satisfied with the result, you just copy and paste the text to your story: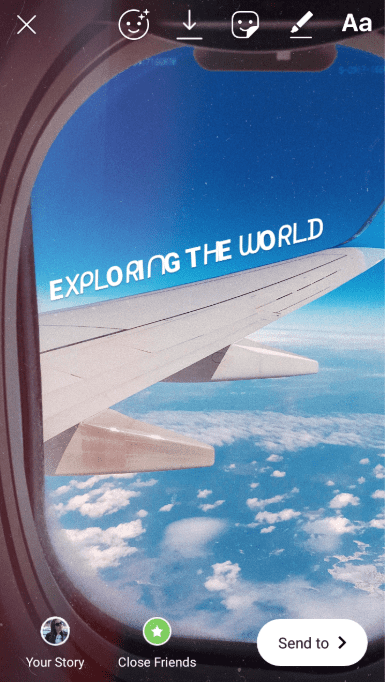 There are tons of font generators on the Interner but these variants are one of the most popular and convenient:
The major advantage of this option is the simplicity in use and the price – they all are free.
Templates for Instagram Stories
If you are looking for creativity, then this option is a suitable one. There are ready-made templates for Instagram stories. The next two bundles contain fully customizable and layered files.
Working with them is also simple. After purchase and download, you just select a template and stuff it with text and visual content. The fact that each template is customizable is awesome for those, who carefully adjust their posts and stories to a certain style.
25 Animation Instagram Stories and PowerPoint Templates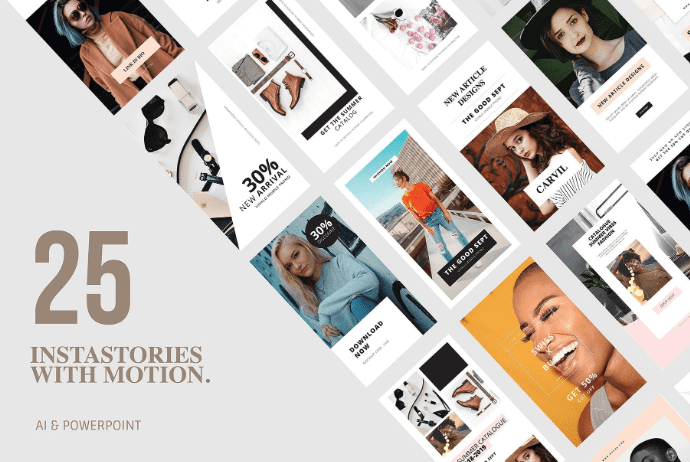 Along with the PowerPoint templates, there are 25 Instagram stories templates in motion. The bundle includes 25 Ai and 25 Eps files that are already optimized for Instagram stories formats. By the way, all fonts are also included.
The drag and drop nature allows crafting outstanding stories in a matter of several minutes.
640 Templates for Facebook, Instagram, Twitter, Pinterest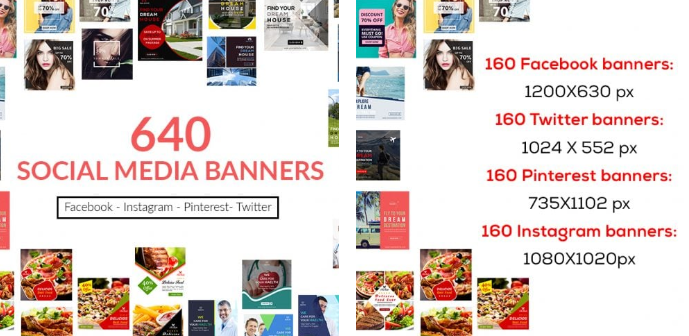 Another generous offer consists of 160 banners templates for Instagram. Good news is that the subject focus of your profile doesn't really matter as there are banners for different occasions:
business
medical
travel
blog
beauty
fashion
real estate
food
Even if you didn't find anything suitable but still want to get this bundle, it is still possible as ALL files are fully customizable. Just change the image, add another text and a catchy Instagram story is ready.
Animated Fonts for Stories
You learned how to add different fonts on Instagram but did you know they can be animated? For this purpose, you can use the aforementioned app Hype Type as with its help, you will manage to add an animated font to the image in a couple of clicks.
After a download of the app, you choose the image from your gallery and follow these steps:
double tap to the animated piece of text to edit;
type your text;
choose the place on the screen where the text will be placed;
now you are done – just click the blue icon in the top right corner of the screen.
For more options, just click on the "T" icon.
Afterward, just save your new masterpiece to the camera roll and download it to Instagram.
Here is a short tutorial on how to create animated stories on Instagram with the help of Hype Type.
Note, that the free version contains a unique app's watermark. If you want to remove it, you can purchase a subscription ($20 per month).
Graphic Design Tools
Another simple in use option is a bunch of graphic design tools. There are plenty of them but these ones are indeed convenient and offer a rich selection of the styling options:
If you choose Canva, for instance, you should go to Instagram Story: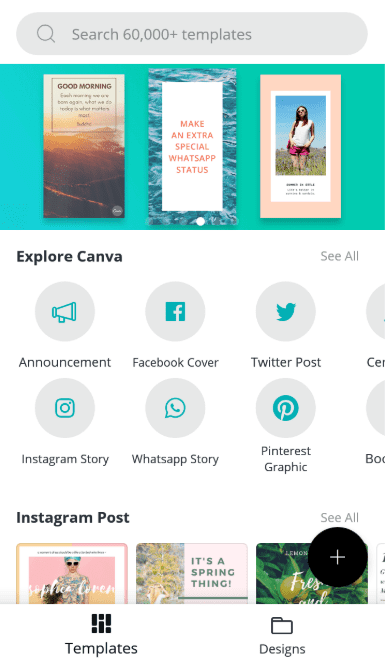 and examine Canva's Instagram Stories templates: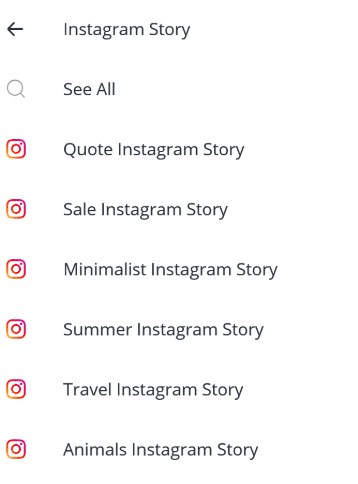 The collection of templates is wide indeed. Furthermore, all of them are super customizable meaning you can change its size, color, alignment, line height, spacing, add and edit text, and more. In addition, Canva has a wide choice of fonts but you can download more with a paid account.
When you are done, just click the blue button to download the image to your camera roll and then to an Instagram story.
Canva's collection of templates and its styling options make it one of the most progressive graphic design tools for beginners. Advanced users might find something special as well.
4 Tricks to Craft Outstanding Instagram Fonts in a Couple of Clicks
Along with the aforementioned tools, there are a couple of awesome Instagram options and combinations that lie hidden from the public sight. Nonetheless, these unusual effects will help to create catchy content and will definitely bring distinctiveness to your stories.
Further, you will find out how to create a splendid rainbow effect, craft three-dimensional fonts, and add a unique background to each letter to make a text look lively and playful.
Pick up Additional Colors from the Selection
Initially, Instagram offers a basic 27-color palette. Still, you can have more if you:
click the drawing pen icon;
click on any color and hold your finger to get access to a wider palette of colors;
keep the finger on the screen and move left, right, up and down to find the best suit.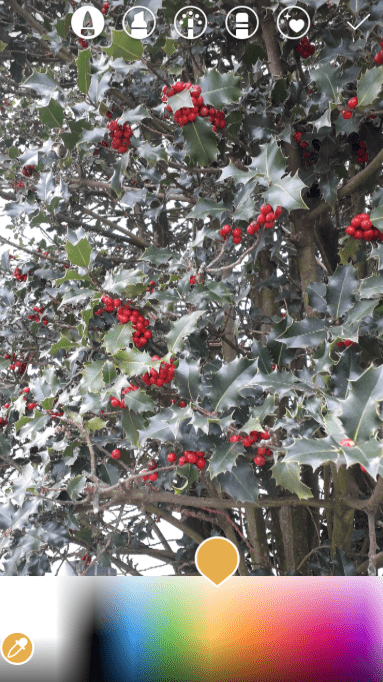 By the way, the same trick can be used to change the background behind the fonts.
Create a Three-Dimensional Effect
In fact, there is no three-dimensional effect for Instagram stories but you can create it as it's easier than you think.
For this purpose:
click on the drawing pen icon;
type the word or a sentence with one of the offered fonts;
select the color and place the text where you expect it to be;
write the same word with the same font, the same size but in a different color;
place it on the previous word slightly in the side to see a little piece of the original text.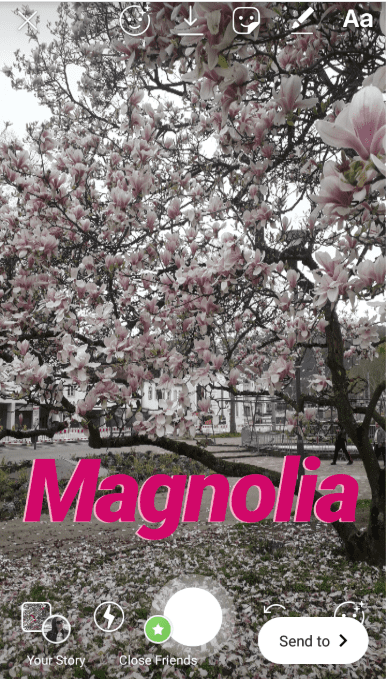 Enjoy the result!
Add a Unique Font for each Letter in Stories
If you want to make your text look playful and lively, you can add a unique background to each letter. It is one of the best ways to add dynamics to the Instagram story. So, to create one, you should:
select the picture you want to post the text on;
click the text icon "Aa" in the top right corner of the screen;
type the first letter of the word or sentence (note, that only classic, strong, and
typewriter are supposed to have a background);
add the background by clicking the icon in the top left corner of the page (you can change the background by clicking the drawing pen button).
Once you perform this procedure with one letter, you can move to another one. A nice idea would be to change the position of the letters and move them slightly up, down, right and left.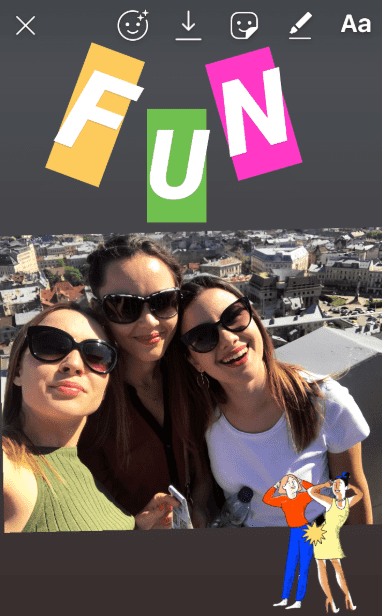 Use an Ombre/Rainbow Effect
Probably, you did see the stories with an ombre text. If you wonder whether a human did it, my answer is "Yes, the human did it and you can do it too". Here are a couple of steps:
type a text;
select the whole text;
choose a color and hold one finger on it;
hold another finger in the blue text cursor;
slide both fingers simultaneously to the left and watch the letters changing their colors.
Beautiful?
First of all, you need to know who your readers are. People of the age 28+ just don't have time to read 3 posts per day, like, comment and view 10500 stories. And there is no surprise of their being busy. That's why it's more difficult to impress them and really hard bring to the dialogue.
Students and school leavers (teens if they're also your auditory) are just a big difference. Very often they go crazy about bloggers and even consider them opinion leaders. They watch every story and every post, like, comment, etc. However, dealing with such a young generation, you have always to maintain their interest. Otherwise, they can find what they like on some other account.
Do you know this annoying feeling when commercial profiles spam the Instagram tape? Firstly, you like some store, then you subscribe, and after understand that because of the countless advertisements you literally can't find posts from people you enjoy. So, remember, 3 posts per day for a store are enough. Plus, nobody denies that you can use Stories, carousel, and invite users to visit the official website of your service. Tens and thousands of fake "sweet" comments are also not obligatory.
The frequency of publications directly dependents on the life stage of your project on Instagram. If you've managed to build a personal brand and have devoted loyal audience, then relax a little. But if you are just at the beginning, you need to attract people. Give something useful and interesting to them. Wikipedia articles and information from the first link in Google are definitely not appropriate. Look for something that will hold the attention of igers for a long time, make them come back. It's recommended to make at least 4-5 good posts a week. Also, take 5-7 stories daily.
Be open and show your personality! Your own opinion and lifestyle are at any way unique and Instagram values the original author's content. If you can create such one post a day you'll get faster on your feet. If you spam people with nonsense – they will leave your page. So, pay attention to quality, not quantity.
So, experiment! That is the only right way to find out what is better for your target audience. Don't forget, as well, to value their time, try to put yourself in the position of others.
Check our eBook How to Use Instagram: The Definitive Guide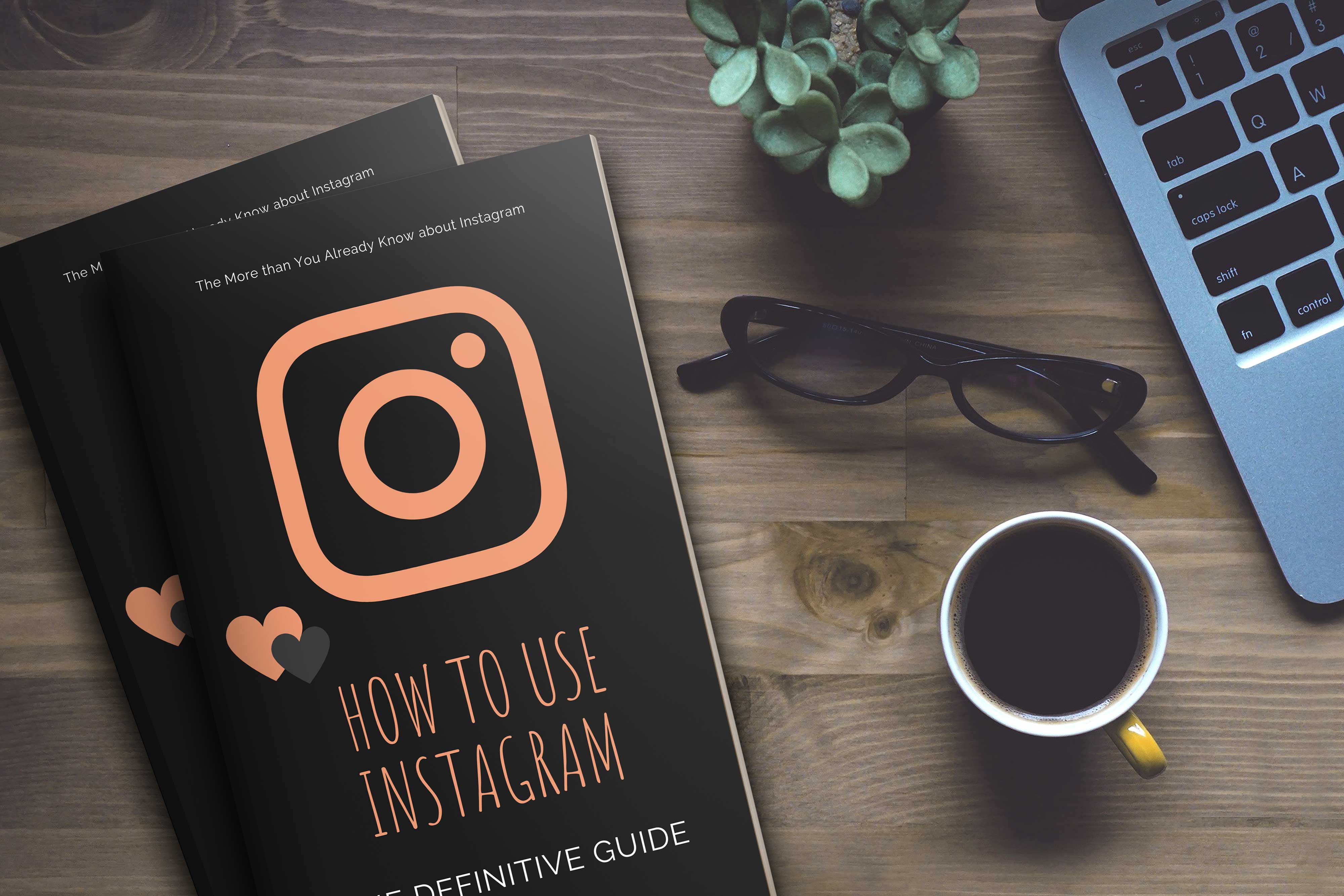 Also if you're curious to know how to start monetizing your audience, check out this guide – How to Make Money on Instagram by GettingGrowth.
Fonts in Stories and Best Apps to Create Custom Fonts
Fancy custom fonts are perhaps the most important for your Instagram stories. Since you literally put little text passages on your image, you have to make sure that everything looks lovely. Certainly, Instagram has several pre-made font options, but they might not work for all occasions. So let's have a brief look at the examples that prove that original Instagram stories fonts don't always work out.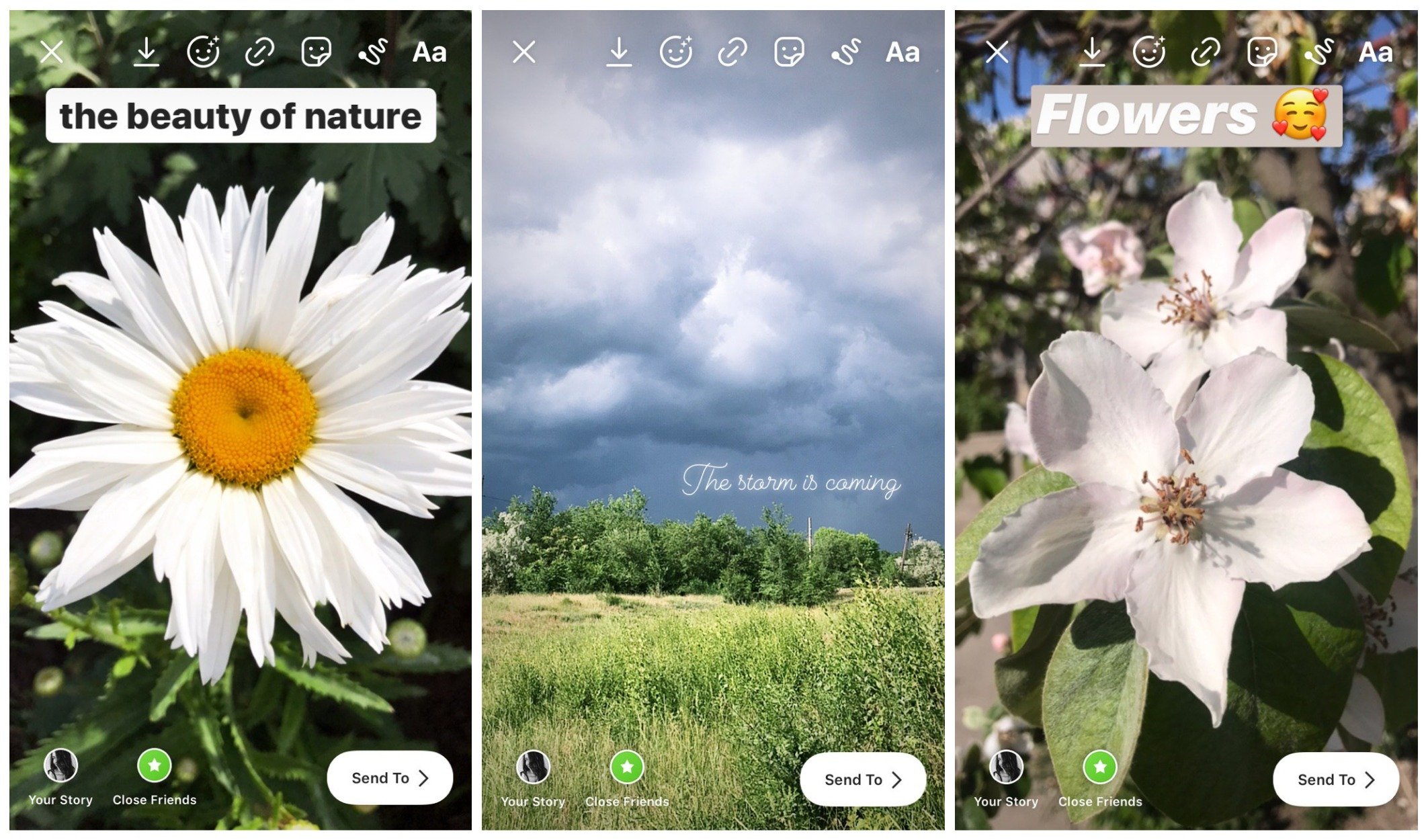 Well, these standard fonts do not look that bad but if you want to stand out among all the other users, you might want to use something fancier. So I'll show you how these same stories can look with custom fonts.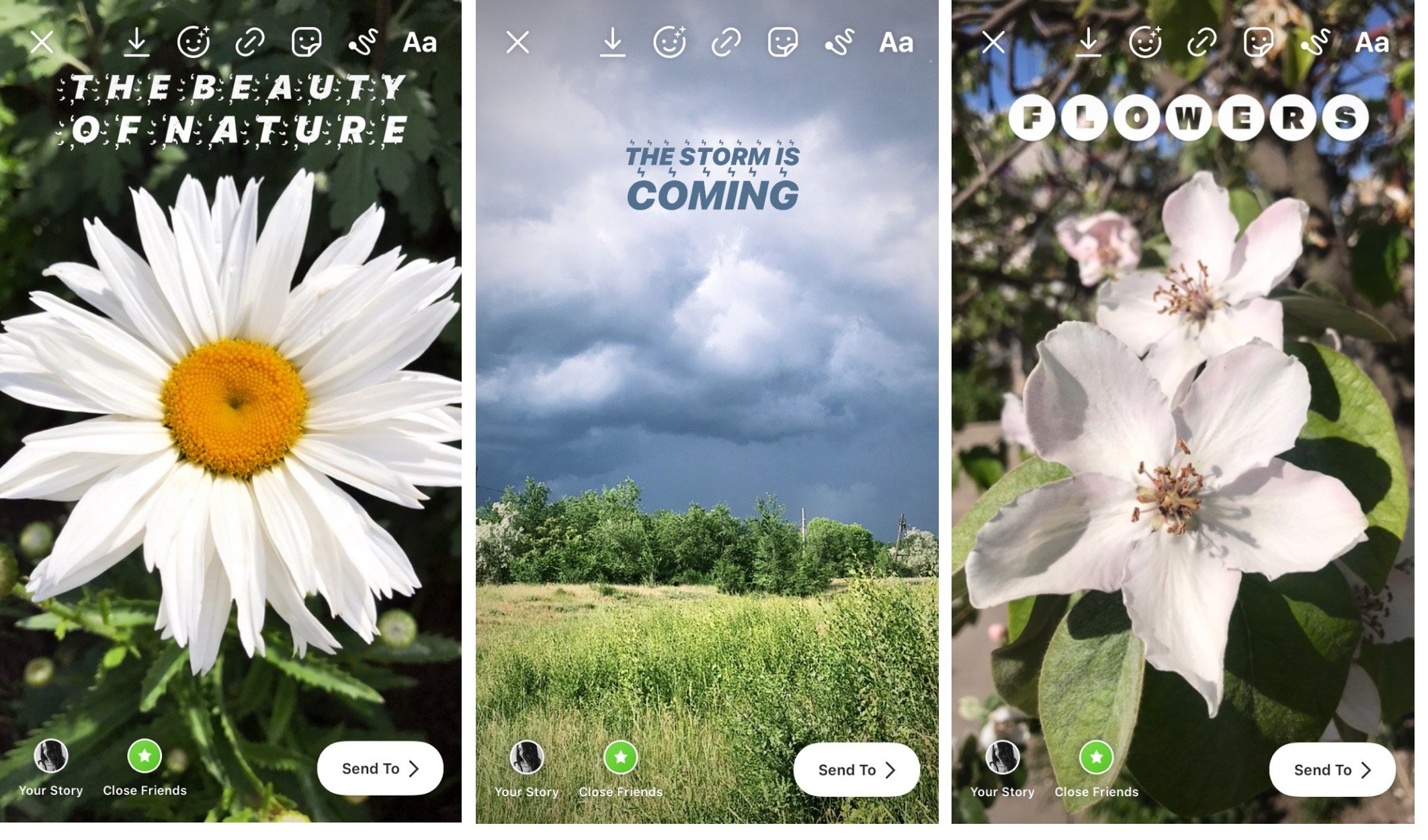 As you can see, my stories look much better, aren't they? And I didn't even spend a penny since I used a free app. Certainly, the app I utilized has premium fonts that look even better than the ones I used, which means that your stories might look way fancier than mine. Thus, I came up with a list of top mobile applications for making stunning fonts. So without further ado, here they come.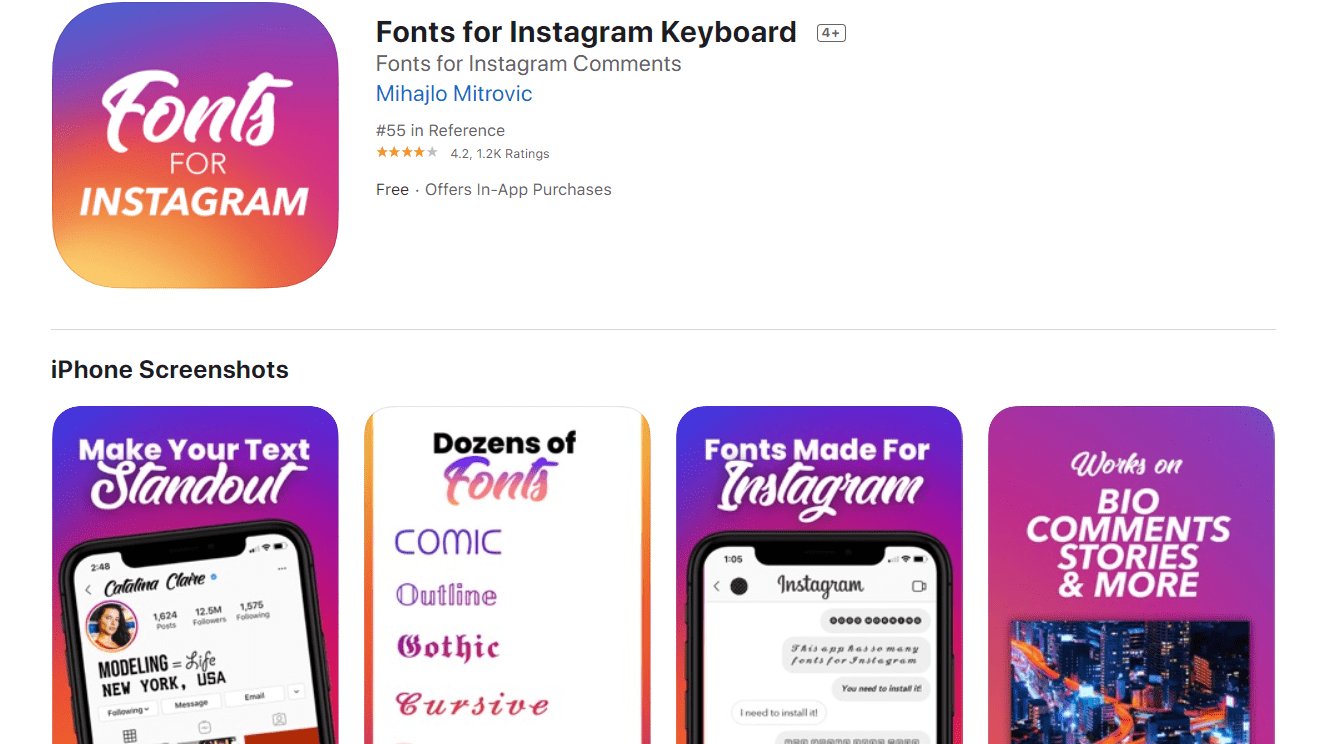 This is the application that doesn't even require you to copy and paste anything since it works directly on your keyboard. Super easy and fun to use, this very app will help you create stunning stories and posts.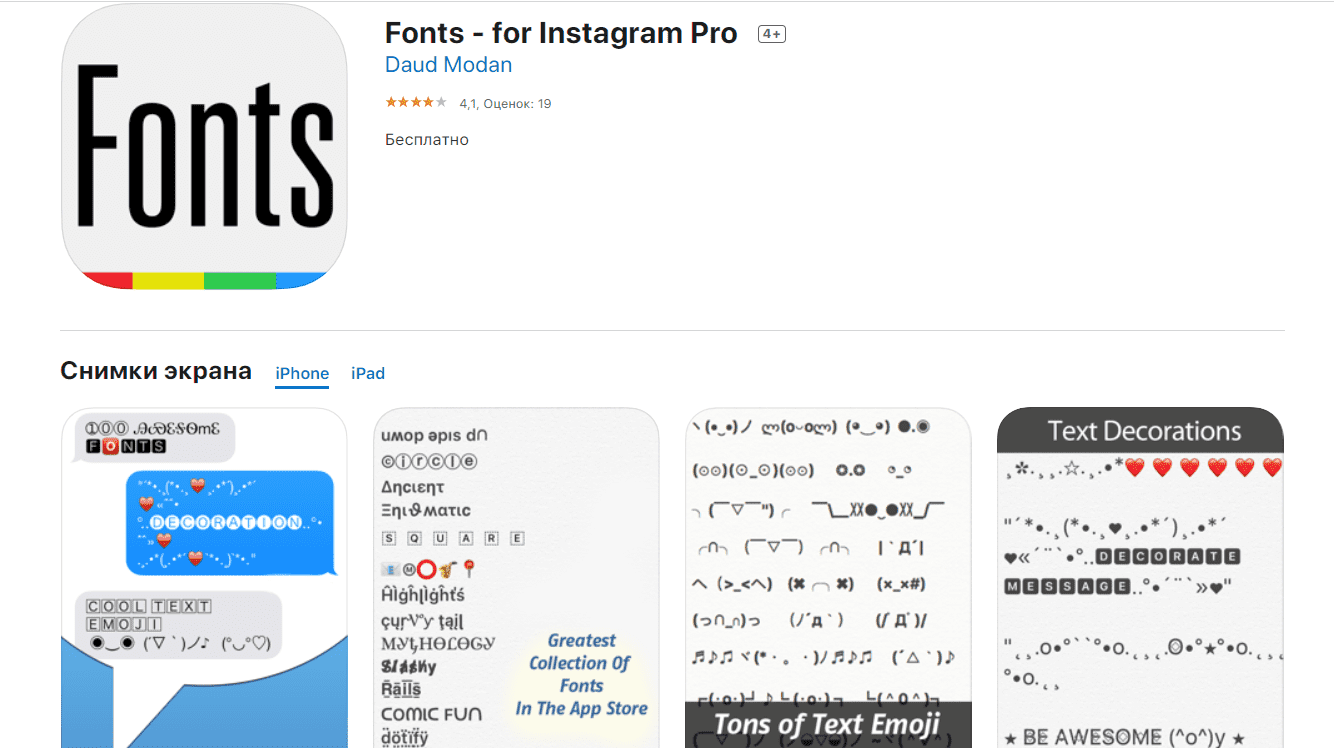 A cool app that allows you to use advanced typography on your Instagram. It is the ultimate tool for all bloggers and SMMs. However, notice that it's only available in the App Store, which means that those who use Android devices, unfortunately, aren't able to use it.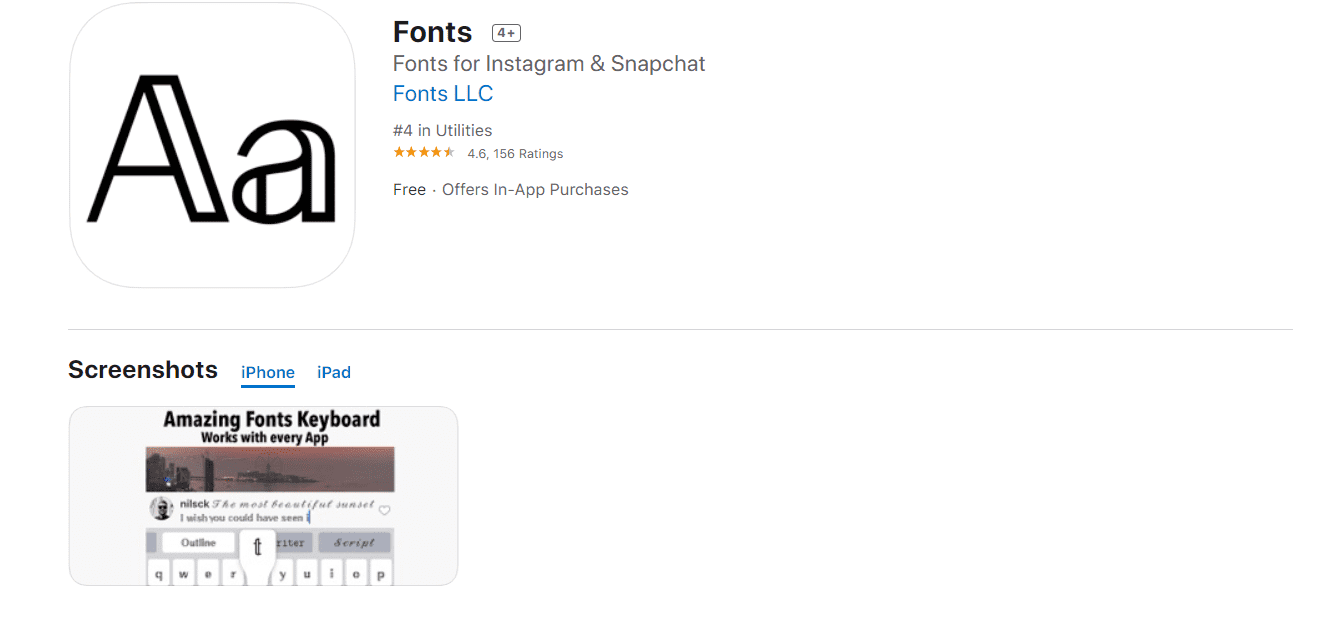 Another option for those of you who strive to make their stories fancy and eye-catching, so leave all your doubts behind and give it a try today.
Fonts for Instagram – Fontfull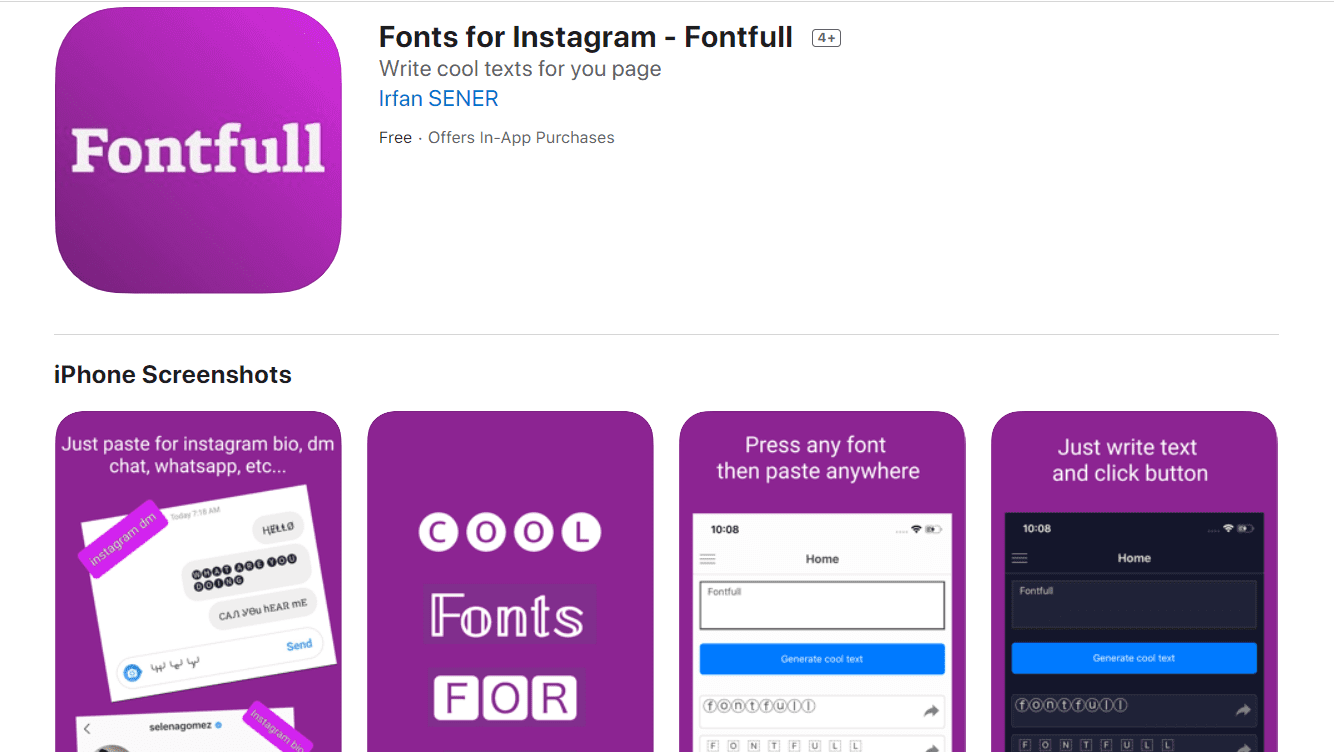 One more awesome option that will help you create stunning posts and stories that will draw millions of users to your account. So no matter whether you are a professional blogger, manager, or a regular user, such an app is definitely going to be useful for you.
FancyKey Keyboard – Cool Fonts, Emoji, GIF, Sticker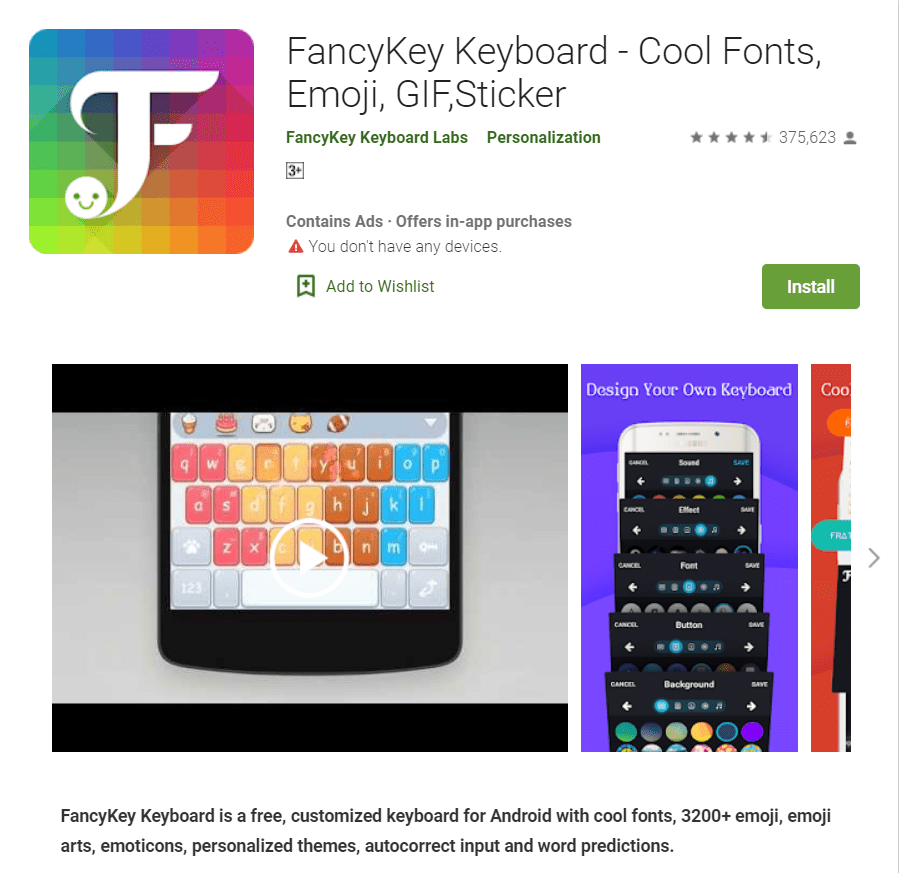 This one will equip you with hundreds of lovely fonts, emojis, GIFs, and stickers, which will no doubt help you create unique content for your feed and stories. Well, stop hesitating and get FancyKey.
FontBoard – Font & Emoji Keyboard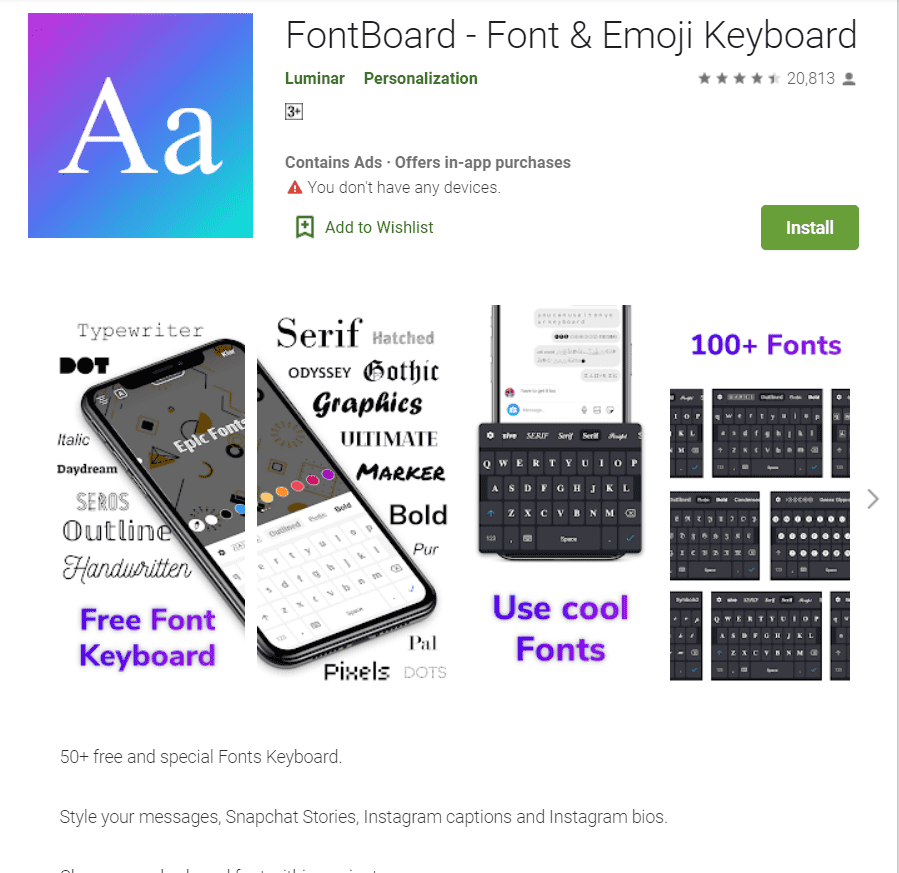 Another cool option that will help you create the posts of your dreams. FontBoard is designed for keyboard, which means that you will be able to easily send fancy messages with its help. So follow the link above in order to find out more details and get FontBoard today.
Fonts – fancy cool fonts & emoji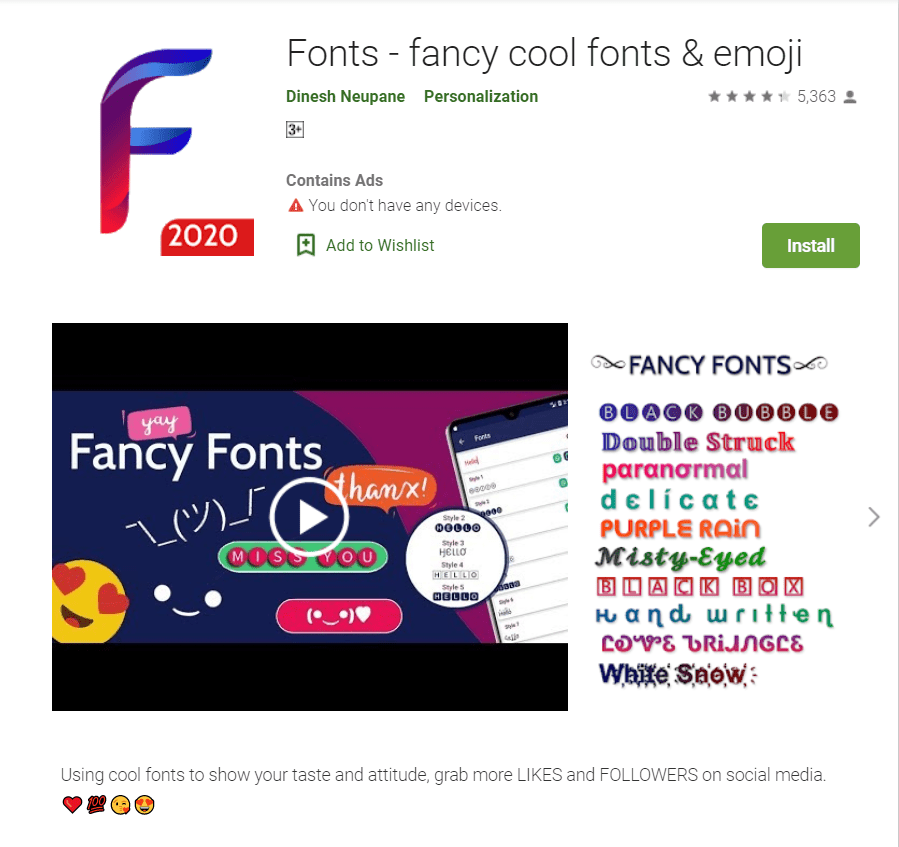 A free option that will back you up in any situation, so don't think too much and at least give it a shot.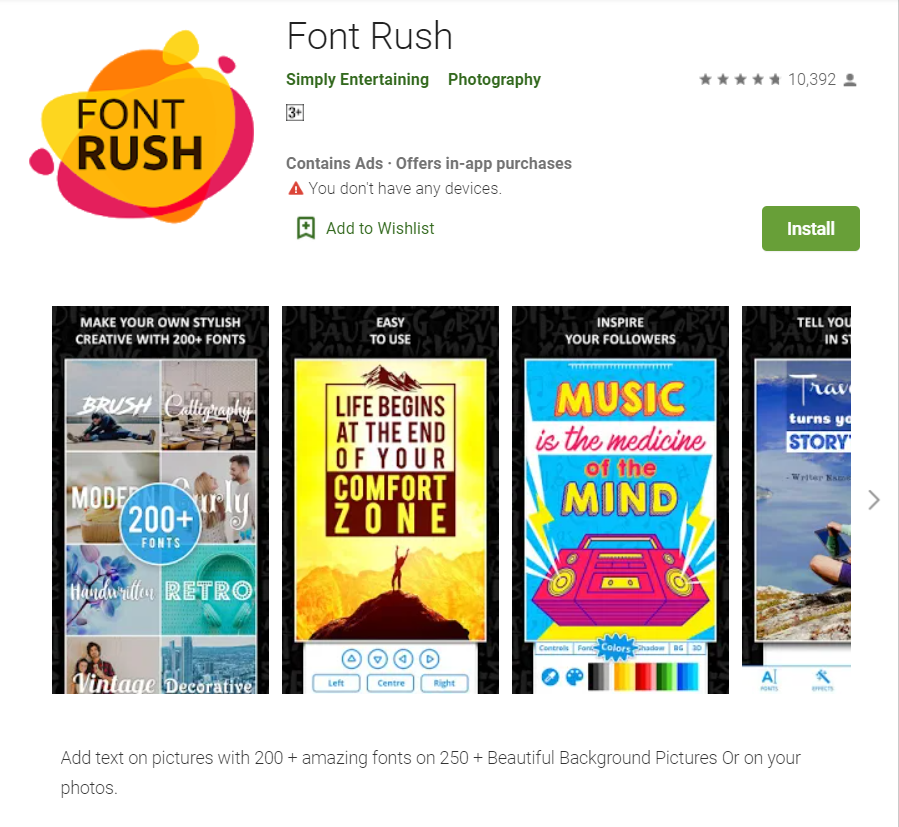 Over 200 unique fonts and more than 250 background images will enable you to create eye-catching posts and stories. So make sure to check this one out, it's surely worth a shot.
Font Changer – Keyboard Themes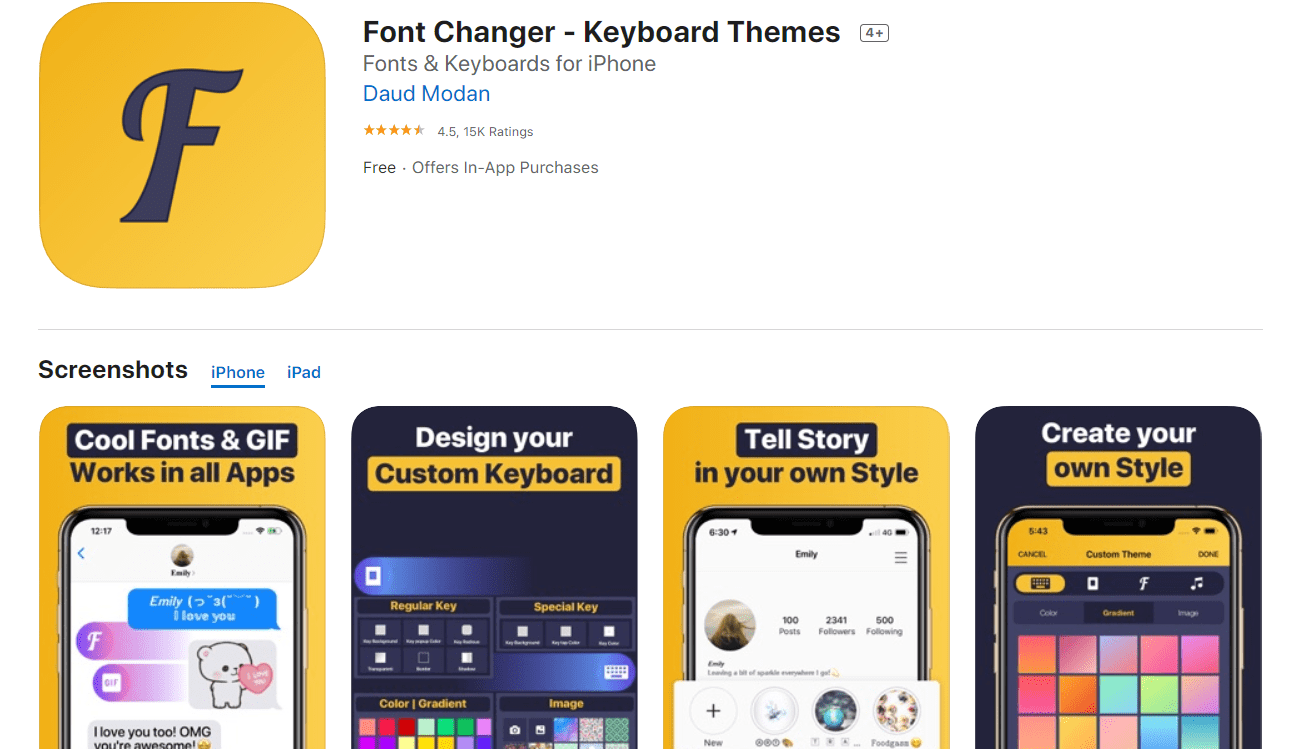 This very app will enable you to fully customize your fonts according to your needs, so just download it and experience all the advantages of having it.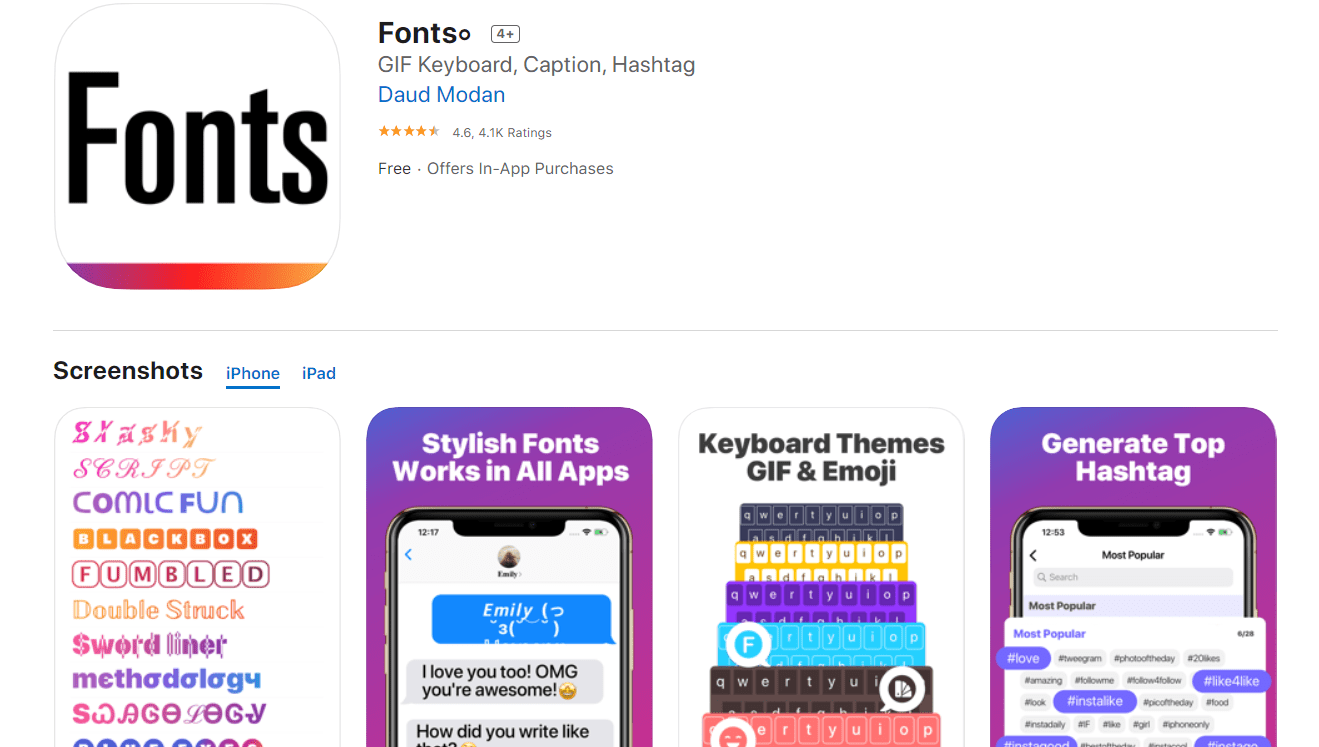 Last, but not least, the application for those of you who like everything bright and fancy, so if you are such a person, make sure to check it out.
Custom fonts do make your stories, posts, as well as your entire profile info look way more elaborate and sophisticated. So I guess it is needless to say that at least a couple of these applications is a must for any blogger or social media manager. Even though you are neither blogger nor SMM, you still will have a lot of fun experimenting with fonts, and maybe, to your surprise, your account will gain popularity and, as a result, you'll become a blogger. Thus, do not hesitate to try out these apps, they are free to download and definitely worth a shot.
The Bottom Line: Cool Fonts for Instagram Indeed Deserve some Place in Your Account
As you see, there are tons of options for copy and paste fonts on Instagram. Using at least a couple of them will definitely diversify your account. It's easier to become memorable and attract new followers with the help of the unusual fonts.
At the end of the day, on your way to getting new followers and creating a unique style of the profile, this option can be super handy. Just make sure you use it wisely and don't overdo with different fonts as too many of them can be irritating for your subscribers.
Top 6 Awesome Instagram Bundles
| Product Image & Rating (Out Of 10) | Product Name | Price |
| --- | --- | --- |
| | Sport Instagram Bundle: Stories, Posts & Icons | Social Media Template PSD | |
| | #StayAtHome 10 Lightroom Presets for Instagram | |
| | 14 Vegan Cafe Instagram Story Templates | |
| | Gold Foil Instagram Post Templates | |
| | 55+ Editable Instagram Templates. Wagga Wagga Collection | |
| | 4 Pack of Pink & Blonde Instagram Highlights Covers | |
Recommended Posts For You
Tools for Instagram Fonts FAQ
📸 Who needs custom Instagram fonts?
As I have already mentioned, elaborate fonts are a must for SMMs and bloggers. At the same time, if you are just a regular user who doesn't care how many followers or likes you have but who is also a true aesthete, then you might be particularly interested in getting some font tools as well as some other graphics for your profile.
📸 Are font tools and apps free to use?
Pretty much all of them are free but, as you might have already guessed, almost all of those apps have premium features. However, you can totally do without those features and utilize only free fonts. In case you still want to get fancy premium options, they are rather affordable and in-app purchases would cost you about 5 bucks.
📸 What else do I need in order to make my profile and feed look lovely?
If you are a true aesthete who wants to make his or her profile spotless and simply breathtaking, then you might be interested in getting some templates for your stories and posts as well as some icons for your highlights.
📸 How to promote my Instagram account?
In order to become more popular on Instagram, you might want to use up-to-date hashtags and various geolocations, collaborate with popular bloggers, arrange target advertisements, like and comment on other users' posts, organize giveaways, and simply make new posts every day. So feel free to experiment with all these methods and you'll see that they actually work.
Please take a moment to pin this post to Pinterest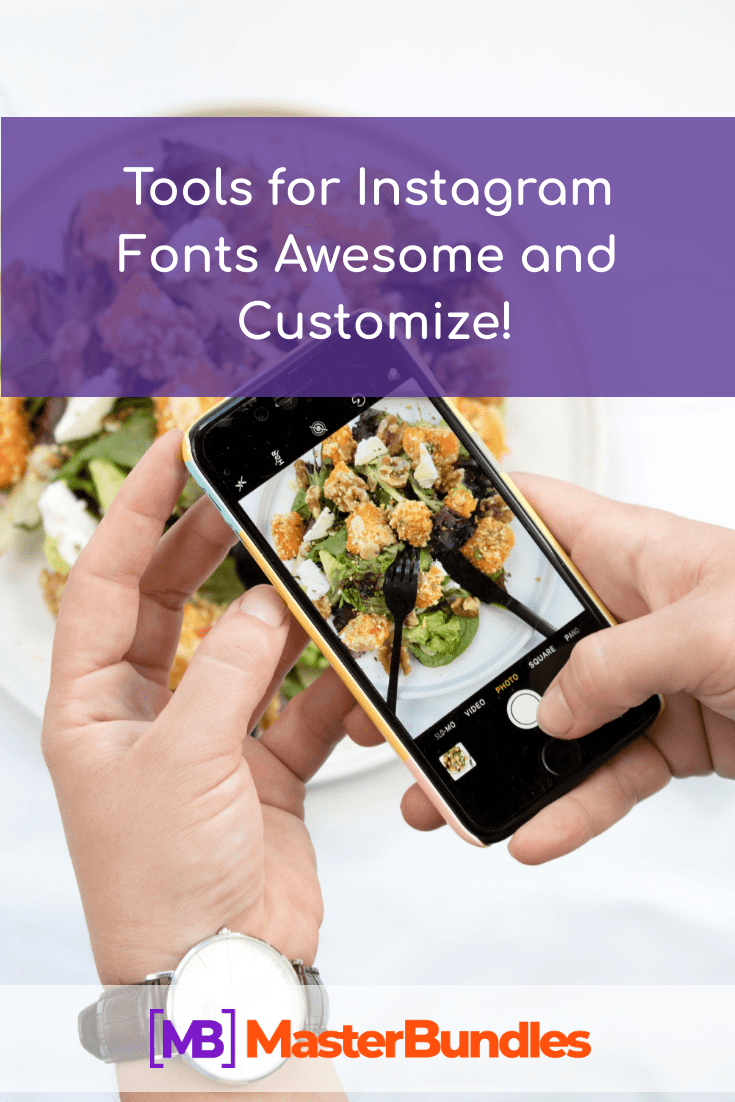 Was this page helpful?
We will be happy if you decide to share this article with your friends on Facebook. Just click on the button and you're done
What are your concerns?
Thanks for your response!
You have already left your review.
Disclosure: MasterBundles website page may contain advertising materials that may lead to us receiving a commission fee if you purchase a product. However, this does not affect our opinion of the product in any way and we do not receive any bonuses for positive or negative ratings.
I was scrolling my Instagram feed when I realized that most people I follow have one thing in common and this thing is perfectly designed profile. So, I decided to make my research and figure out how to make such an account. Thus, these are the references I used in my article:
Barton, Tessa. InstaStyle: Curate Your Life, Create Stunning Photos, and Elevate Your Instagram Influence. Alpha, 2018.
Cooper, Steven. Social Media Marketing: The 2020's Ultimate Best Strategies to Become an Expert and Create Your Personal Brand Using Facebook, Twitter, Youtube & Instagram (+ 7 Tricks to Grow Your Business). Independently published, 2020.
Frier, Sarah. No Filter: The Inside Story of Instagram. Simon & Schuster, 2020.
Miles, Jason. Instagram Power, Second Edition: Build Your Brand and Reach More Customers with Visual Influence. McGraw-Hill Education, 2019.