90+ Free Merry Christmas Images 2023
Christmas is the most popular and beloved holiday that brings goodness, hope, and light. In anticipation of the holiday, businesses want to make attractive storefronts, bright website designs, enticing flyers, posters, and banners. To make your search less time-consuming we offer quality Merry Christmas images. These festive Christmas illustrations will be useful for any of your thematic projects. Use photos and illustrations for digital, and print projects and enjoy impressive designs.
In addition to high-quality illustrations and stock photos, we can also please you with other design products – clipart, patterns, textures! Just browse our collection to find your perfect fit!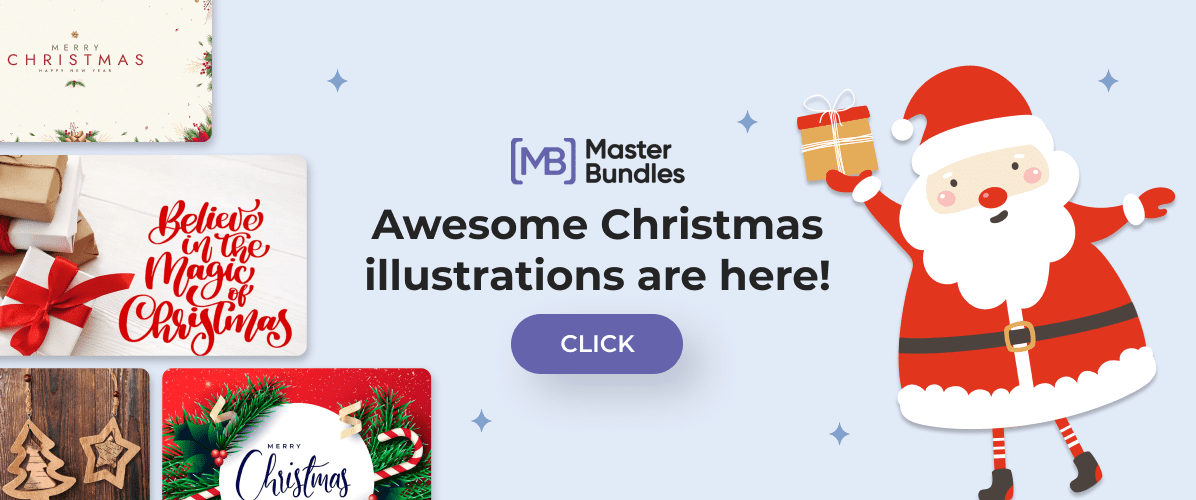 New Year and Christmas Stock Photos
It can be quite difficult to find professional Christmas-themed photos. In this case, it was done for you and we chose the best of the best. Here you can find for yourself entire bundles of Christmas photos or some unique single products.
Christmas Tree Painted on Flour Green Background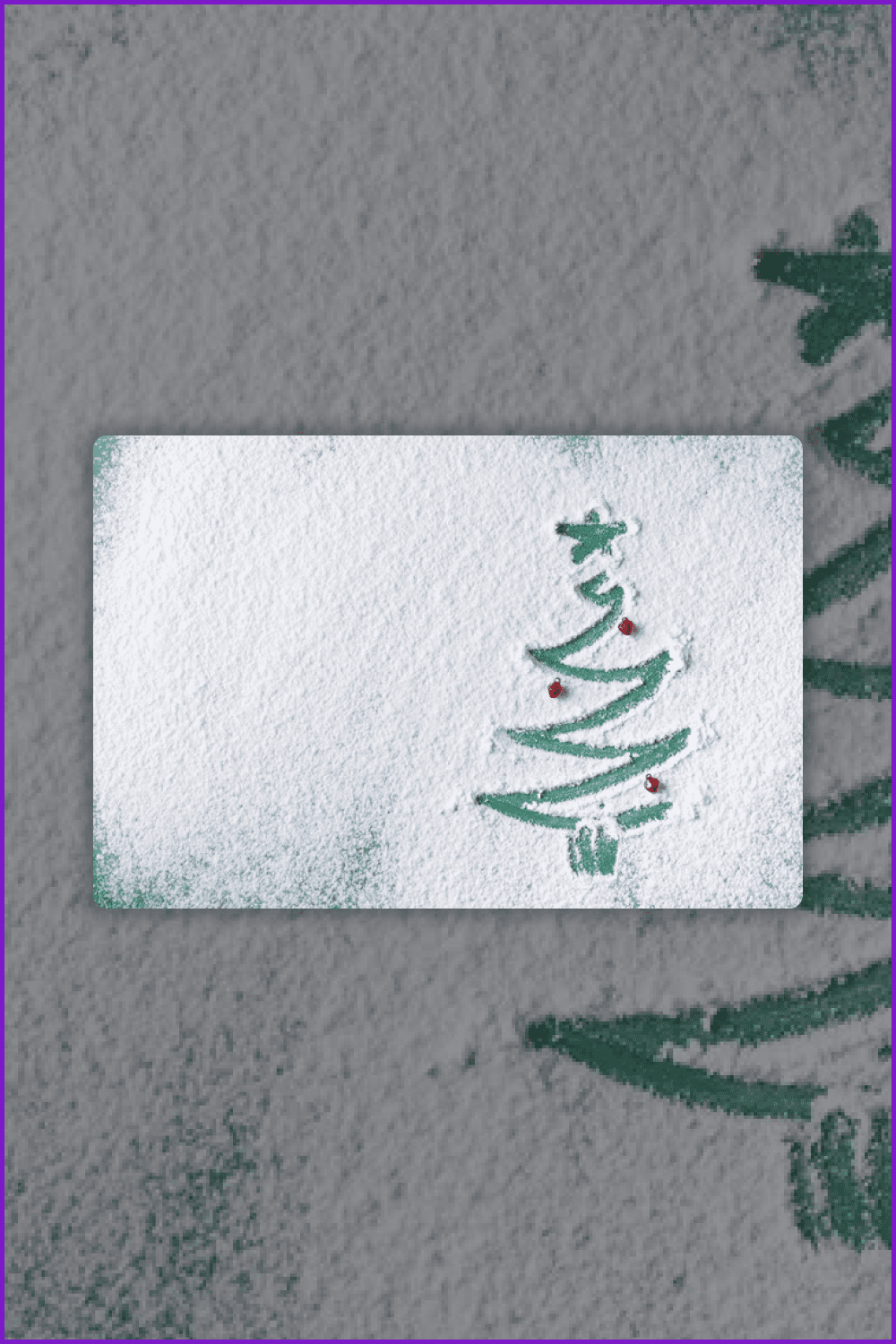 Here's a great one from the Christmas tree photos collection. A minimalistic photo that would be great to use for storefront designs, posters, or flyers.
Christmas Cat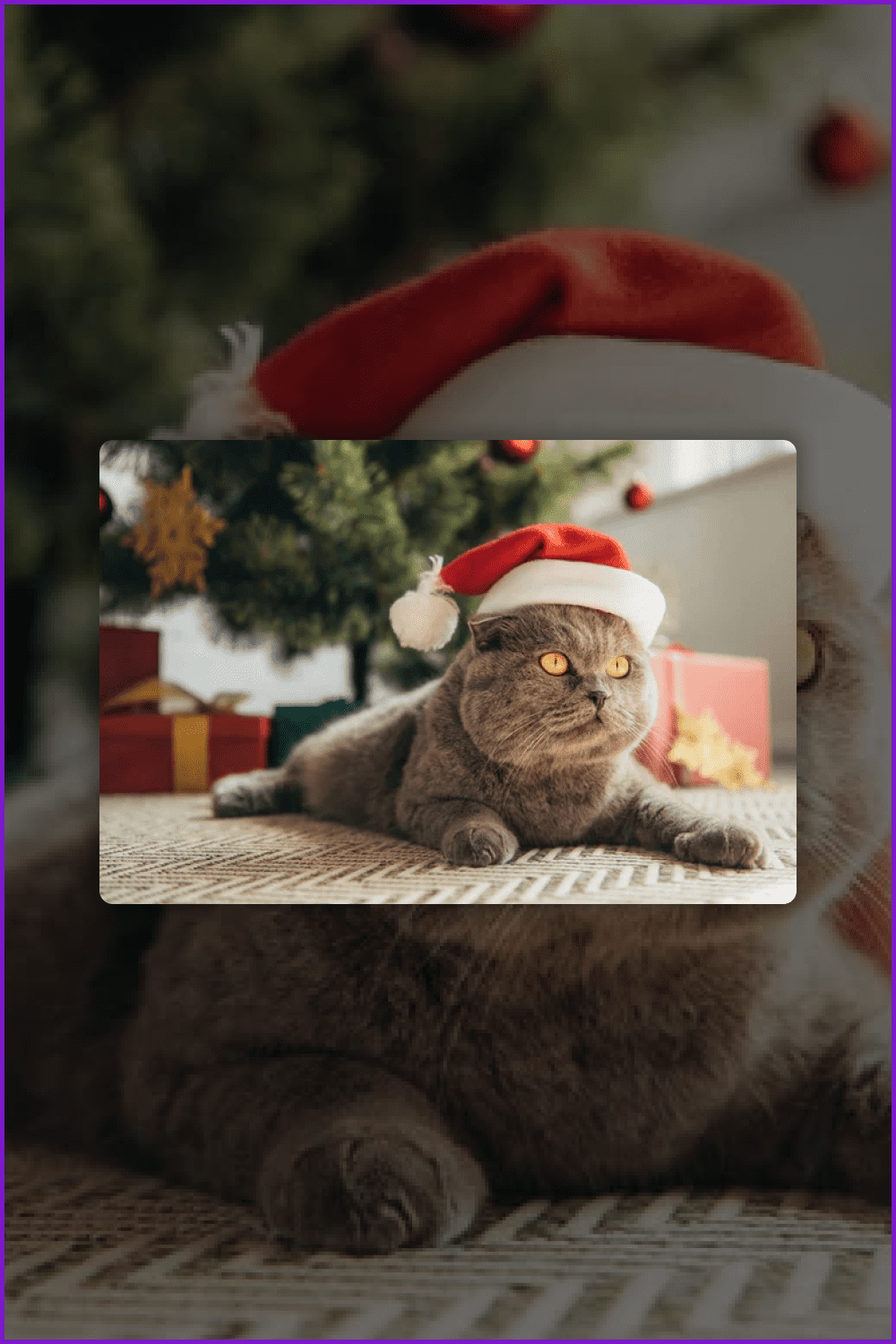 If you're looking for funny photos, then this cat in a beanie is sure to please you. This product is available in a variety of resolutions, so you can use it for even the most high-profile projects.
Christmas Decorations on Fireplace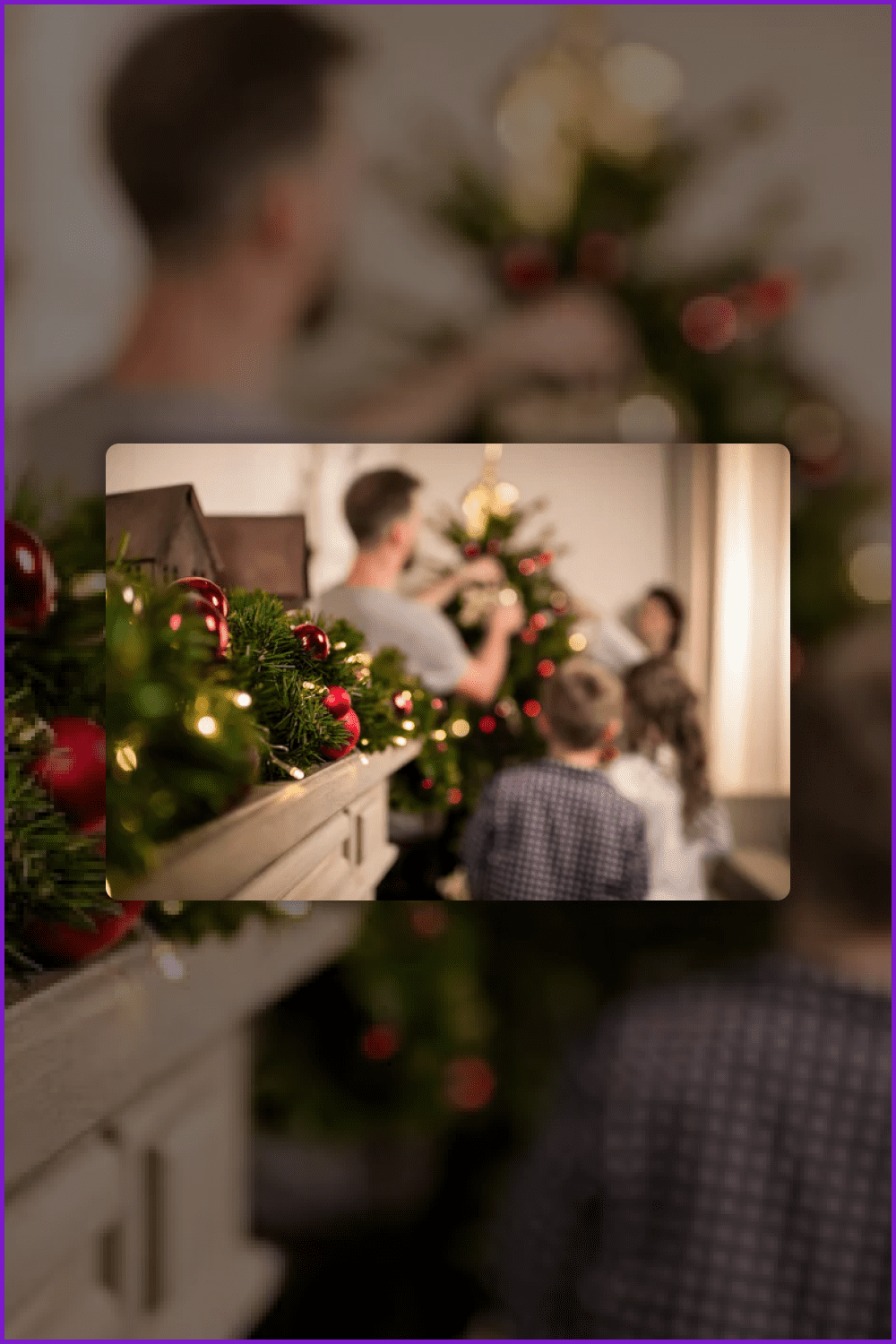 This is a great example from a selection of family photos that will serve you well in your design work. You can choose any resolution of this photo for yourself, and it also has a commercial license.
Gift Box With Golden Ribbon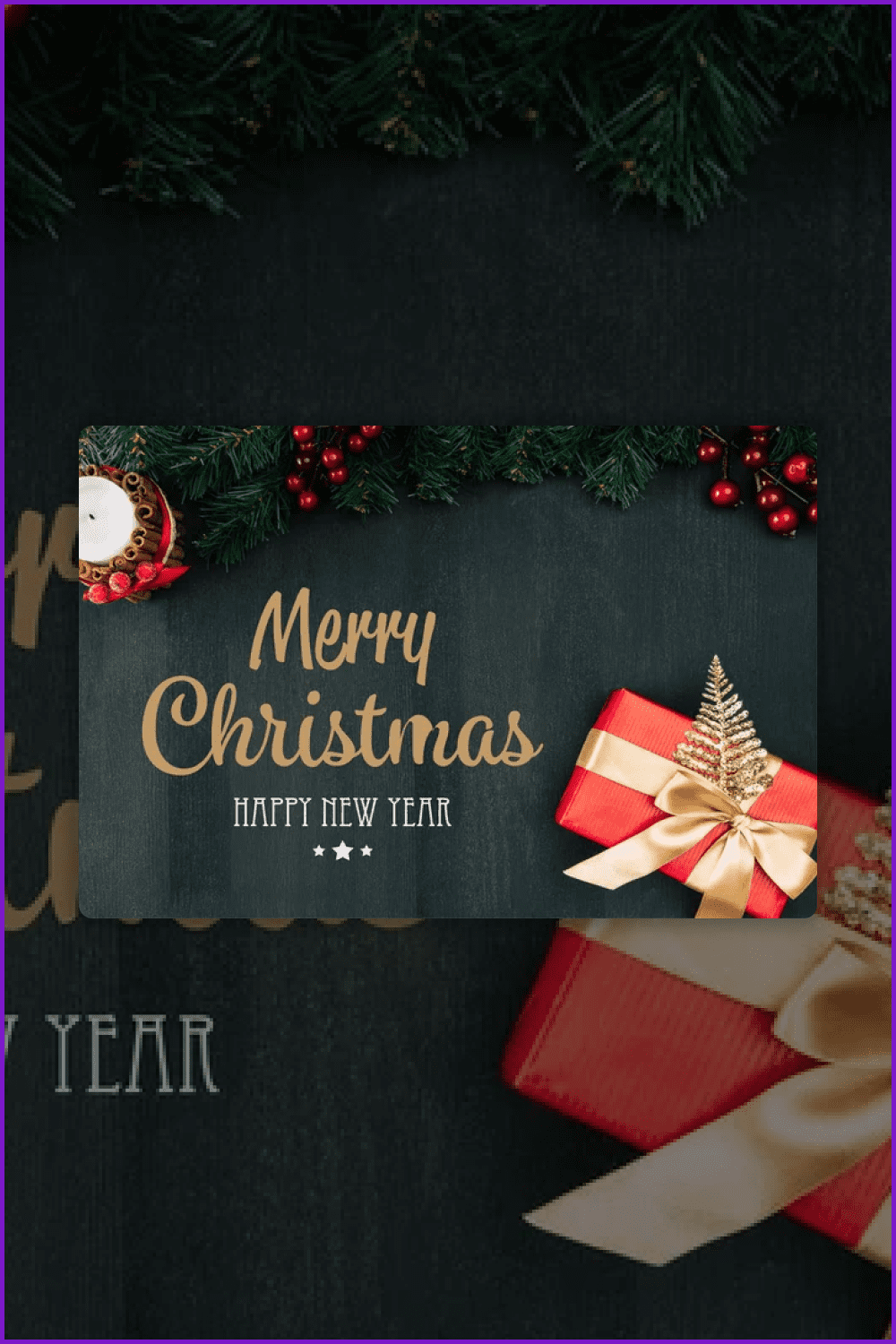 If you have been looking for Merry Christmas Eve images for your projects, then this option will definitely suit you. The photo is professionally made and available in a variety of resolutions, which expands its range of design applications.
New Year Family Photo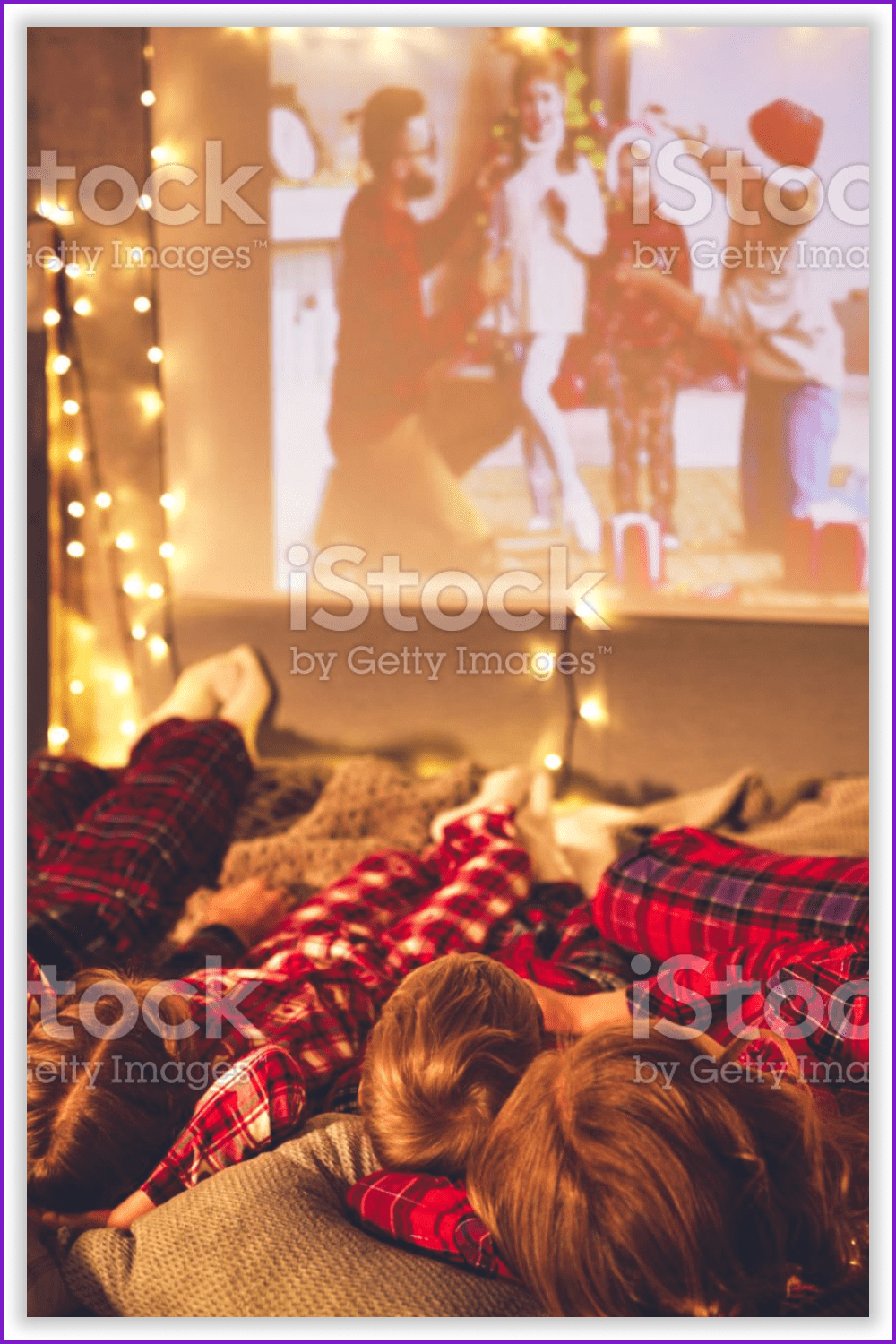 This is a great option out of many family photos that you are sure to love. This product is available in many resolutions, and the maximum is 8192 x 5464 px at 300 dpi. It is also commercially licensed.
View from above of fork and knife in Santa sock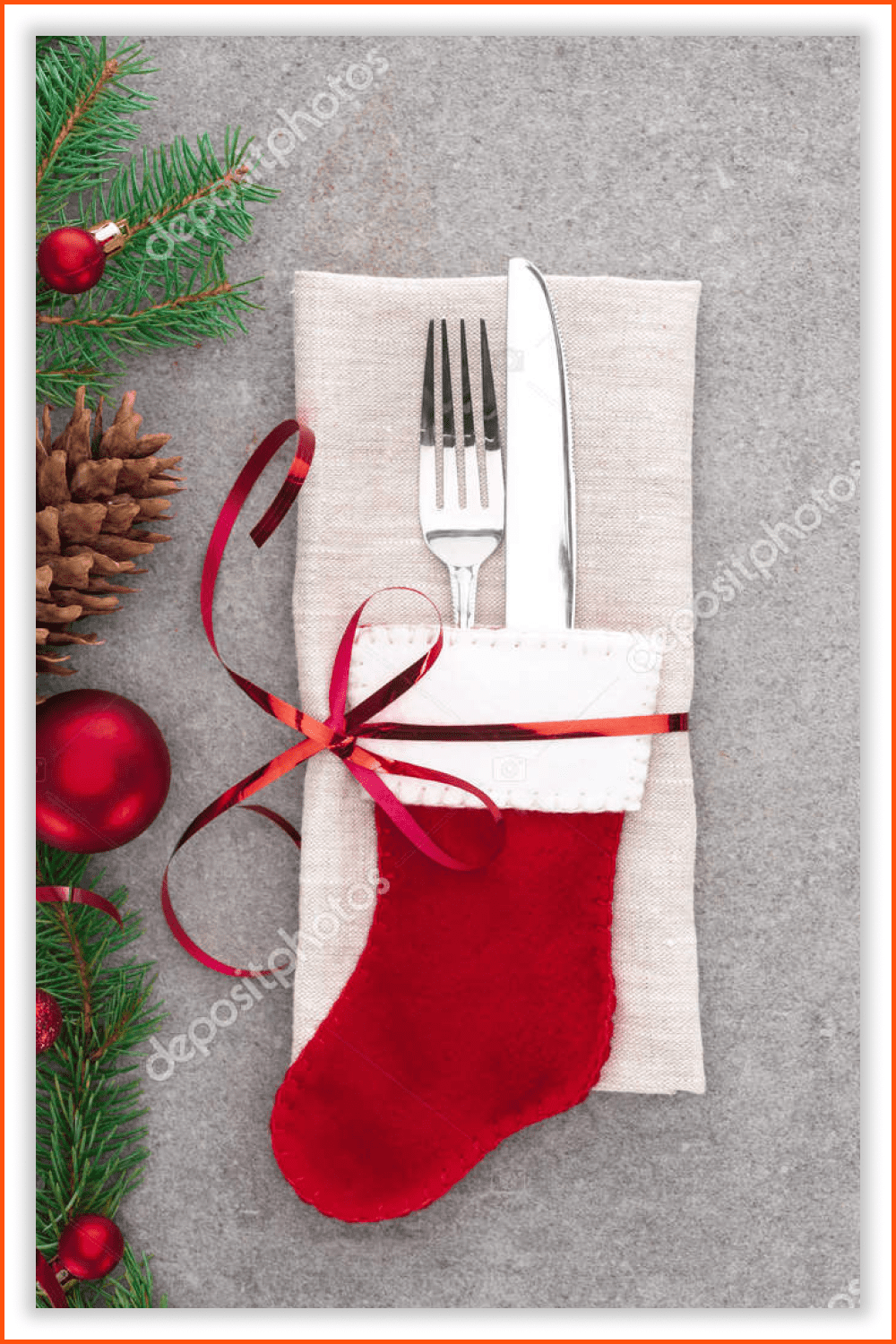 This is a simple photo with cutlery in one Santa sock. You can see pine cones, some baubles, and branches near them.
Beautiful colorful shiny baubles and gift boxes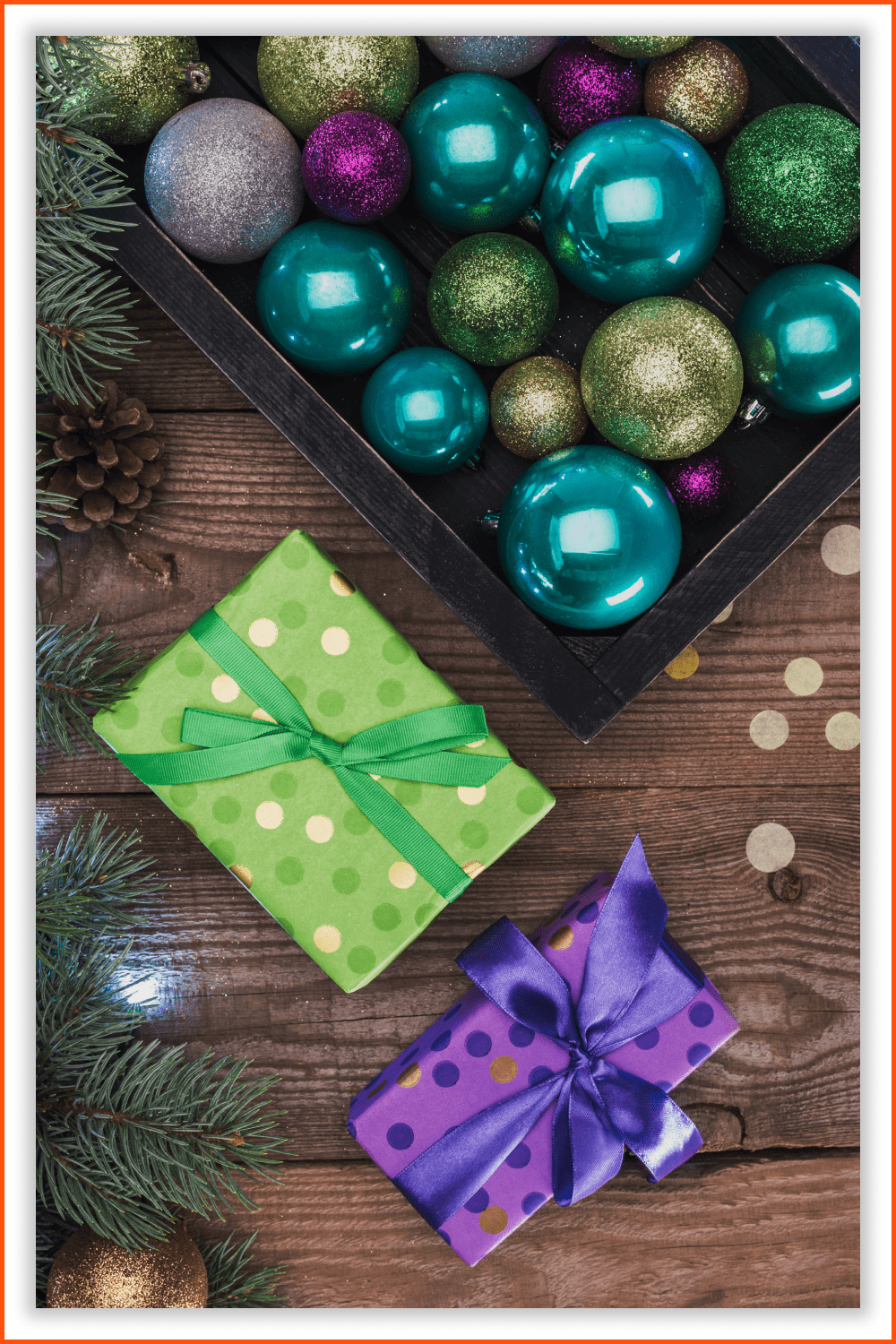 This is an excellent example of free Merry Christmas images that you can use for greeting cards. There are shiny toys, pine cones, and gifts in light green and purple wrapping paper.
Christmas balls ornament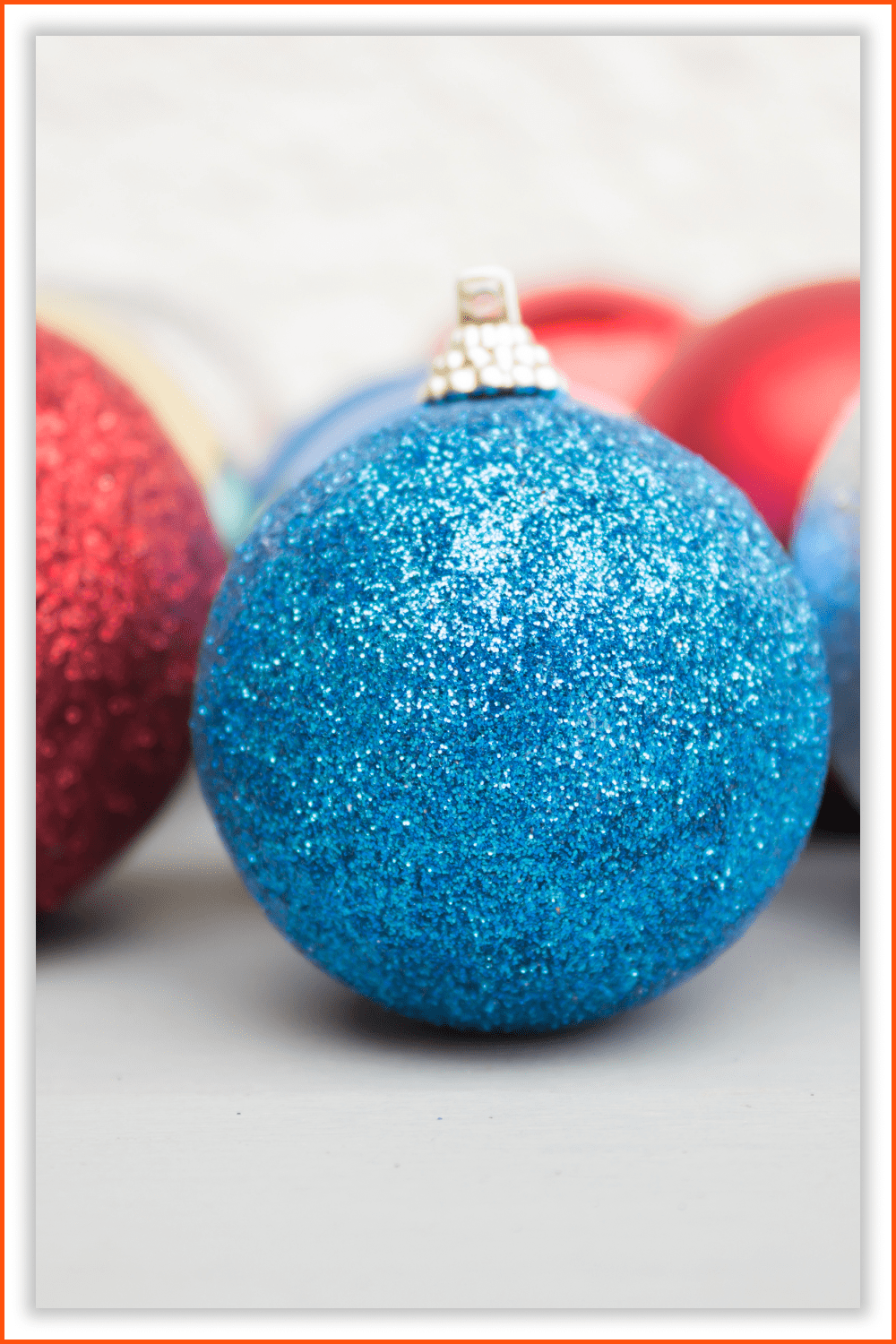 There are brilliant close-up Christmas balls in blue, red, silver, and gold tones.
Santa Claus reading wishlist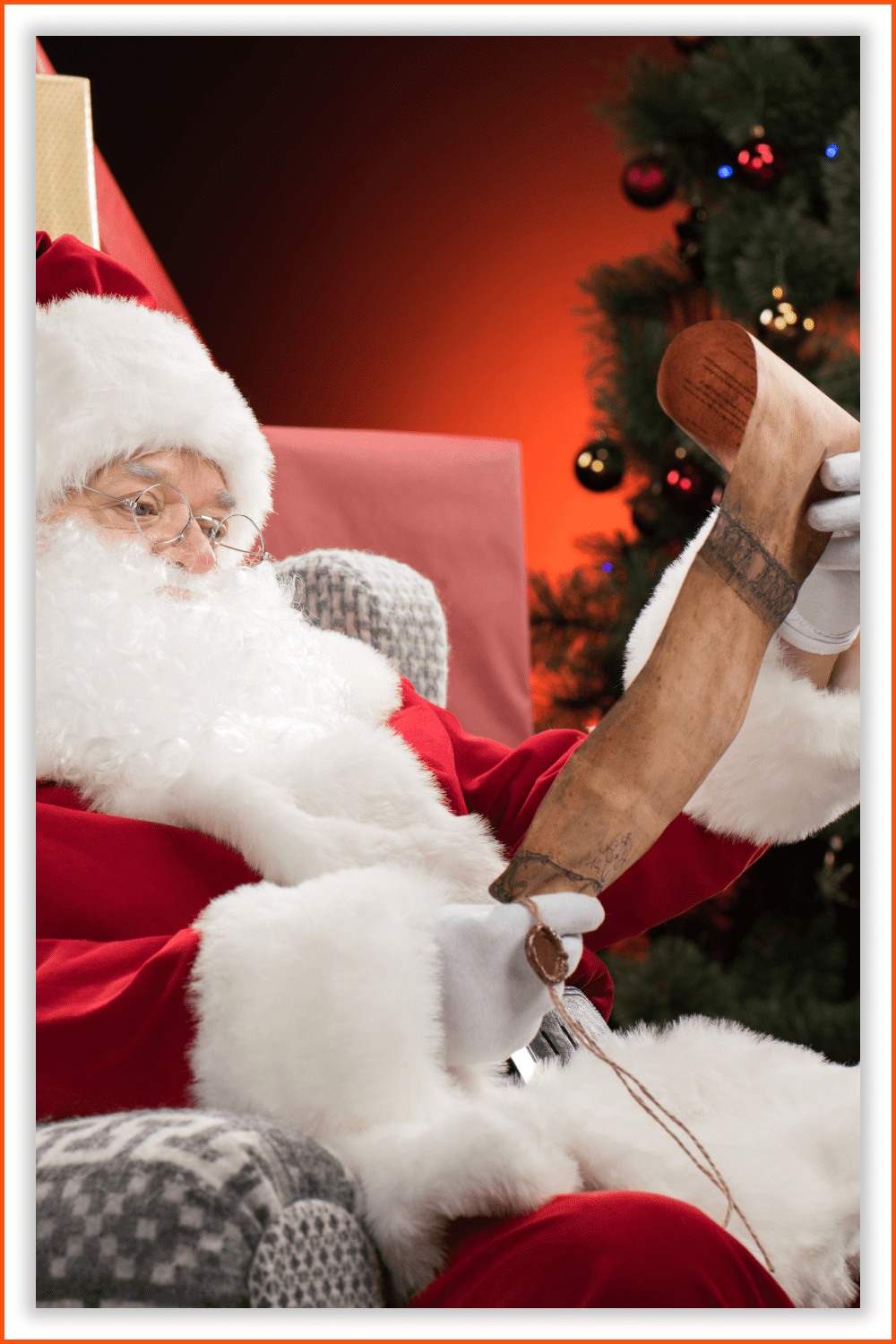 There is an option of a nice picture for a kids' holiday greeting by parents or relatives. Santa reads the children's wishes among the presents and a big tree with decorations.
Present with tag and ribbon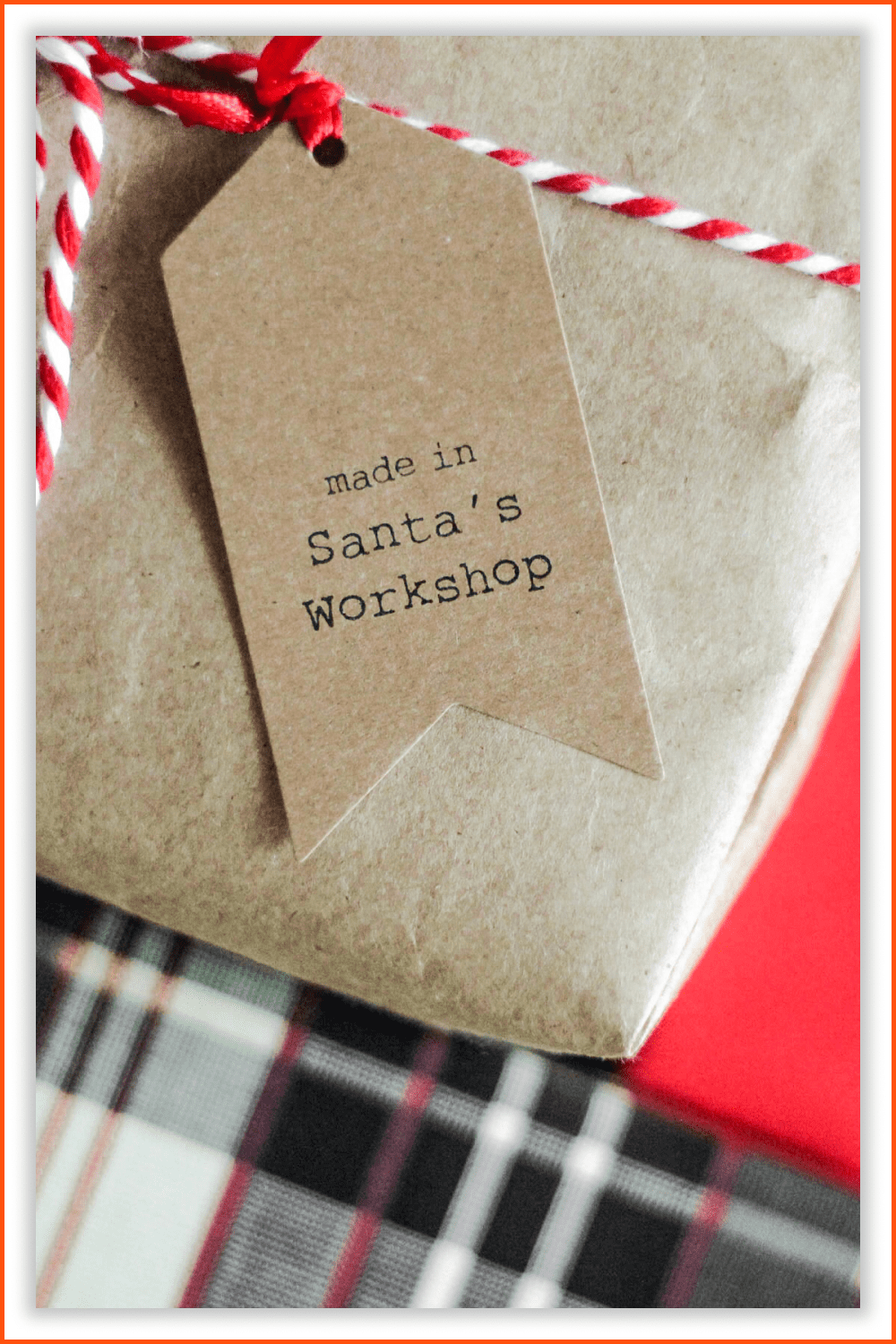 This is a picture of a present with a white and red ribbon and a tag with the inscription "Made in Santa's workshop."
Branches of the Christmas tree with New Year's toys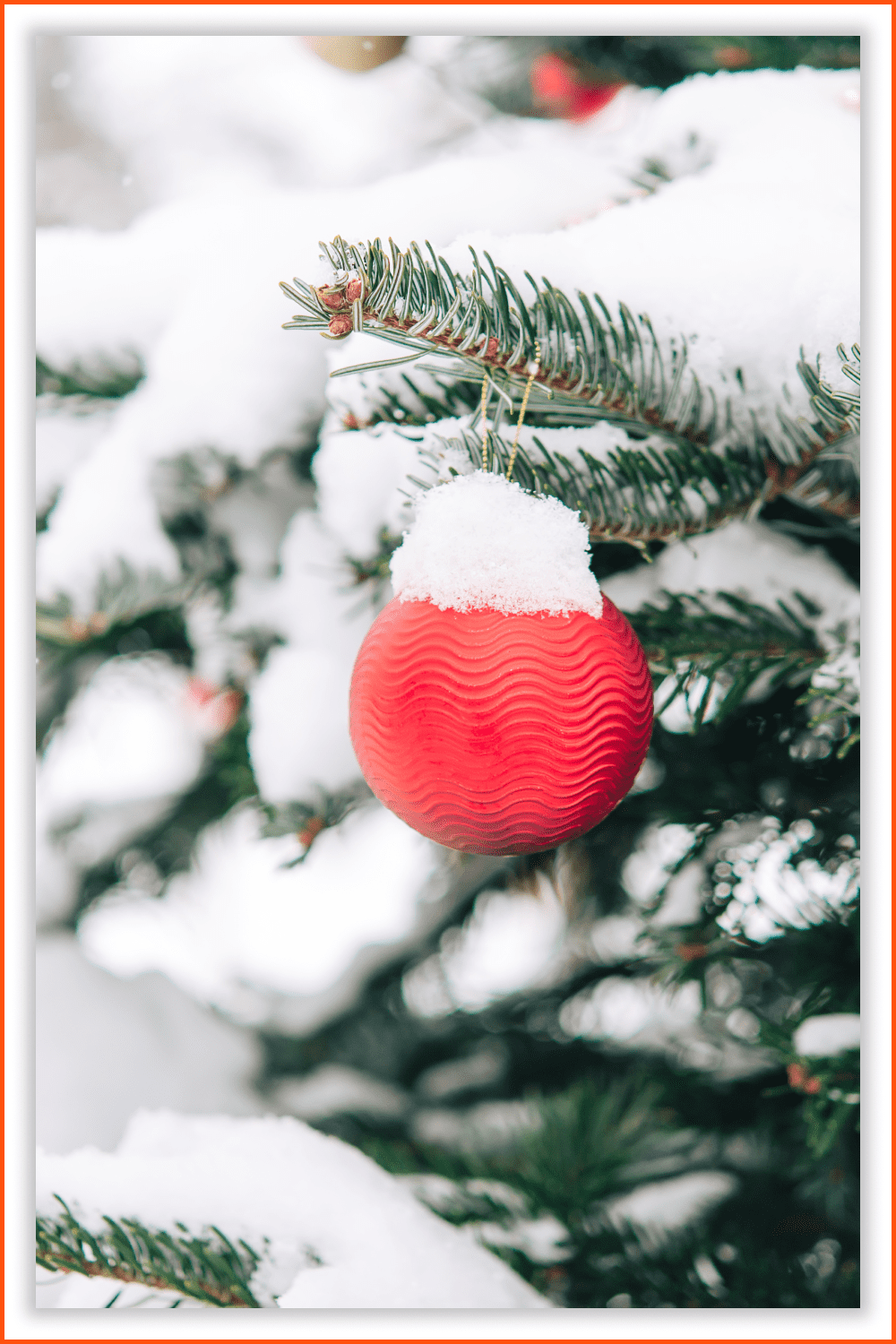 All the normal festive elements are in this picture: a green tree, red and gold baubles, and snow.
Dogs in Christmas costumes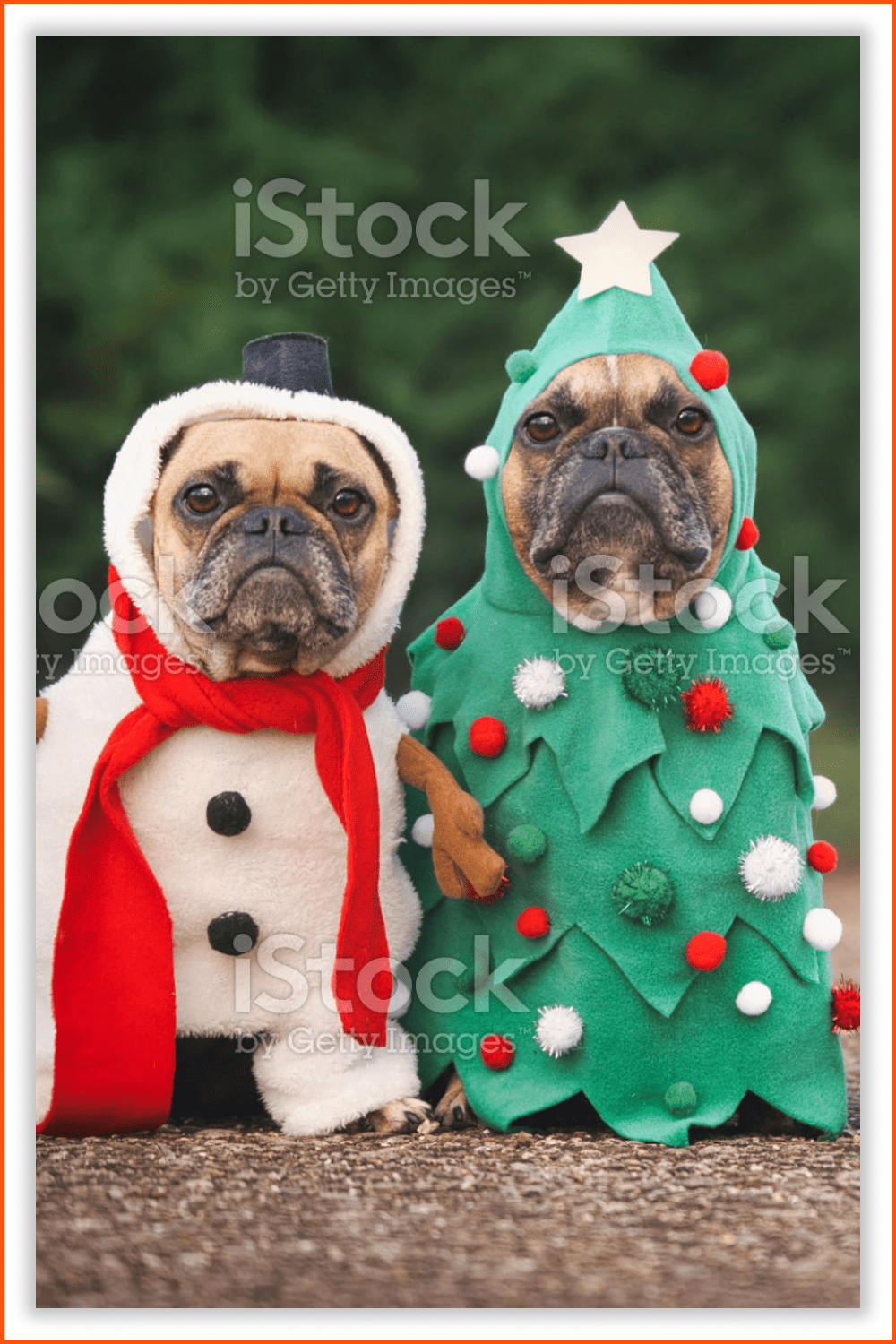 Merry Christmas funny images are always associated with Santa, but there are also other funny themes. Just look at these hilarious pugs in snowman and tree costumes. Also, near them are a bunch of presents in red wrapping paper.
Girl in Christmas hat with gingerbreads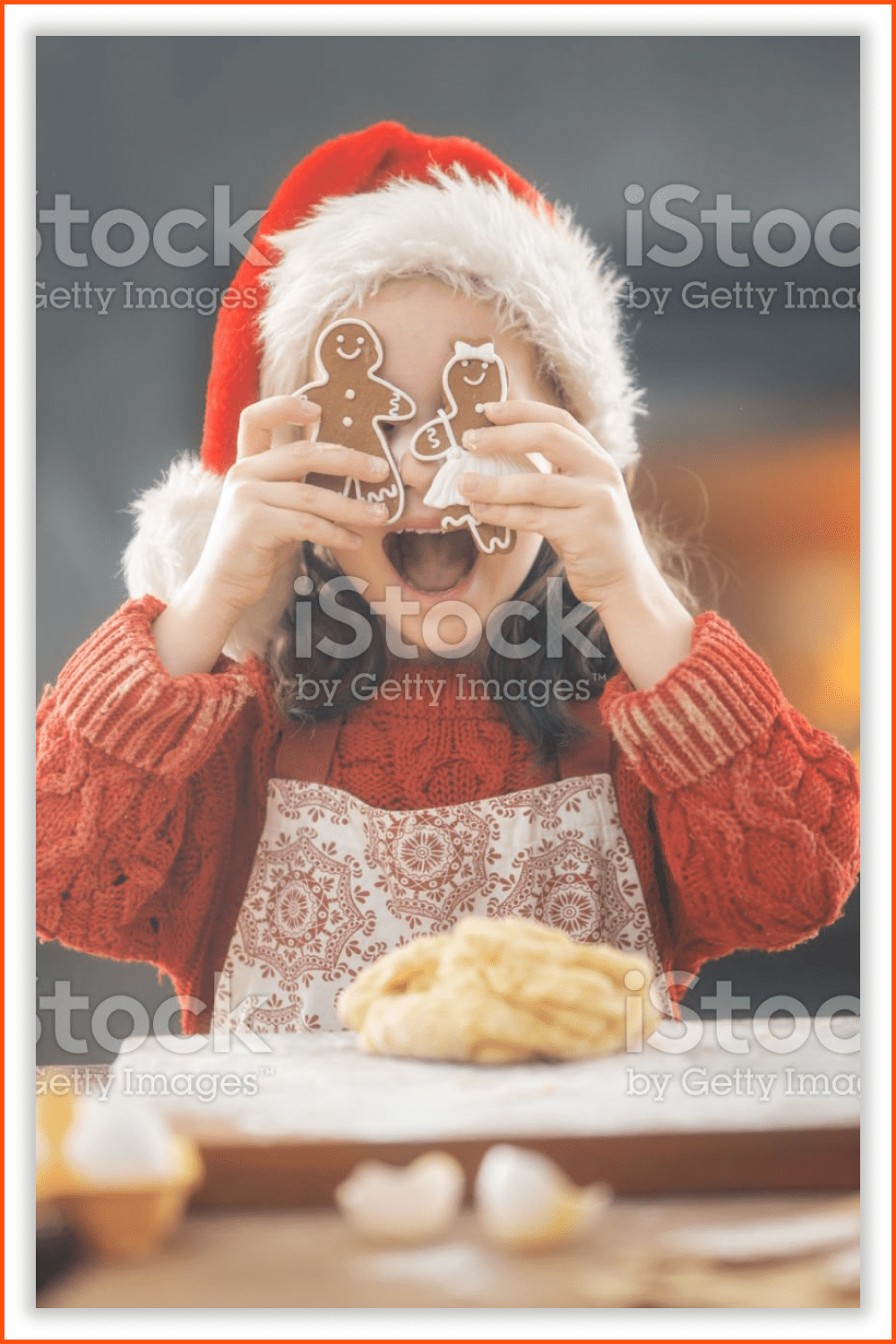 Let's start the theme with kids. There is a little girl in a Santa hat with freshly baked gingerbreads.
Christmas cookies with ribbons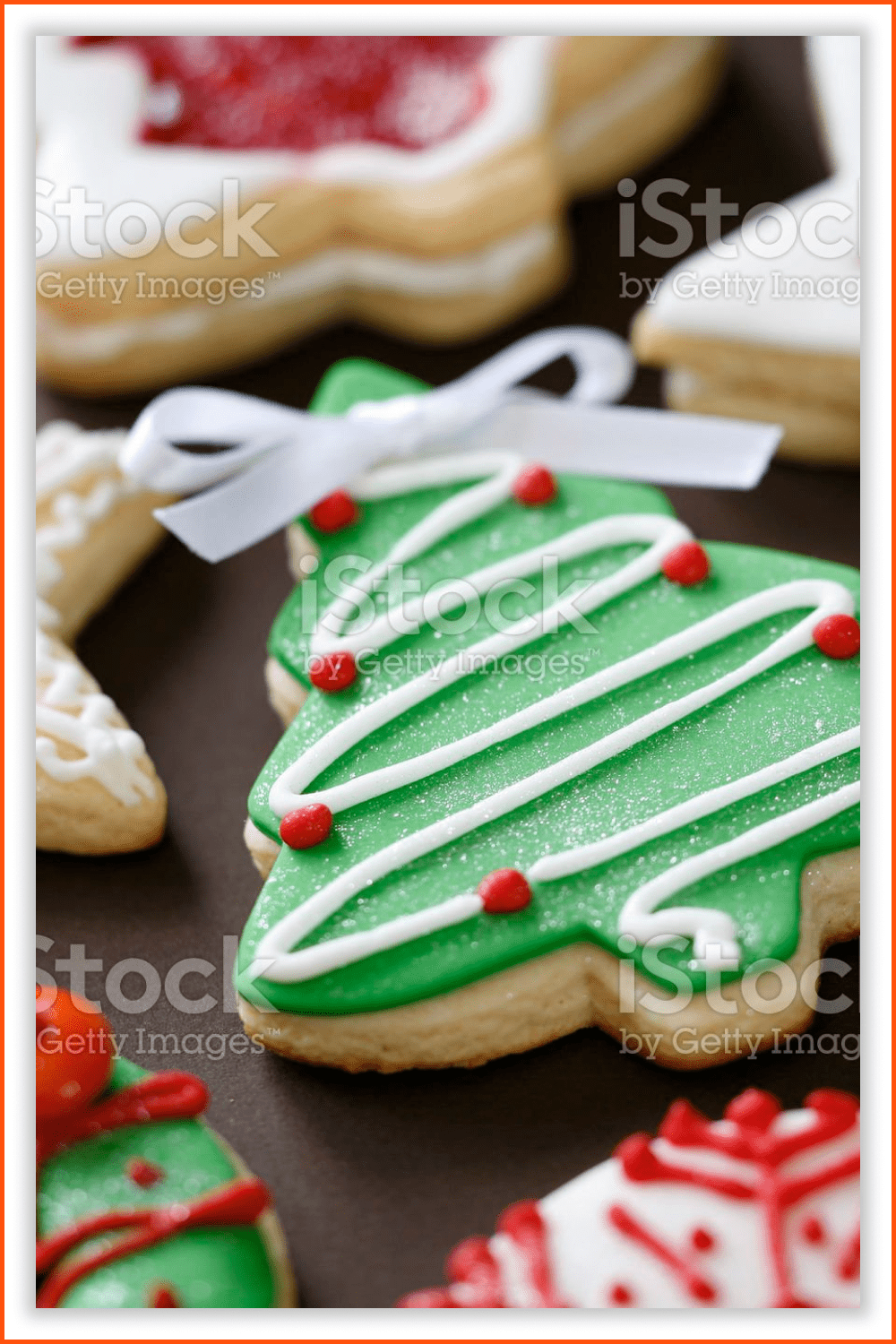 There are cookies in different shapes of Christmas trees, wreaths, and stars. Each of them has a unique design made with colorful icing.
Cup of homemade mulled wine with cinnamon sticks on a wooden tabletop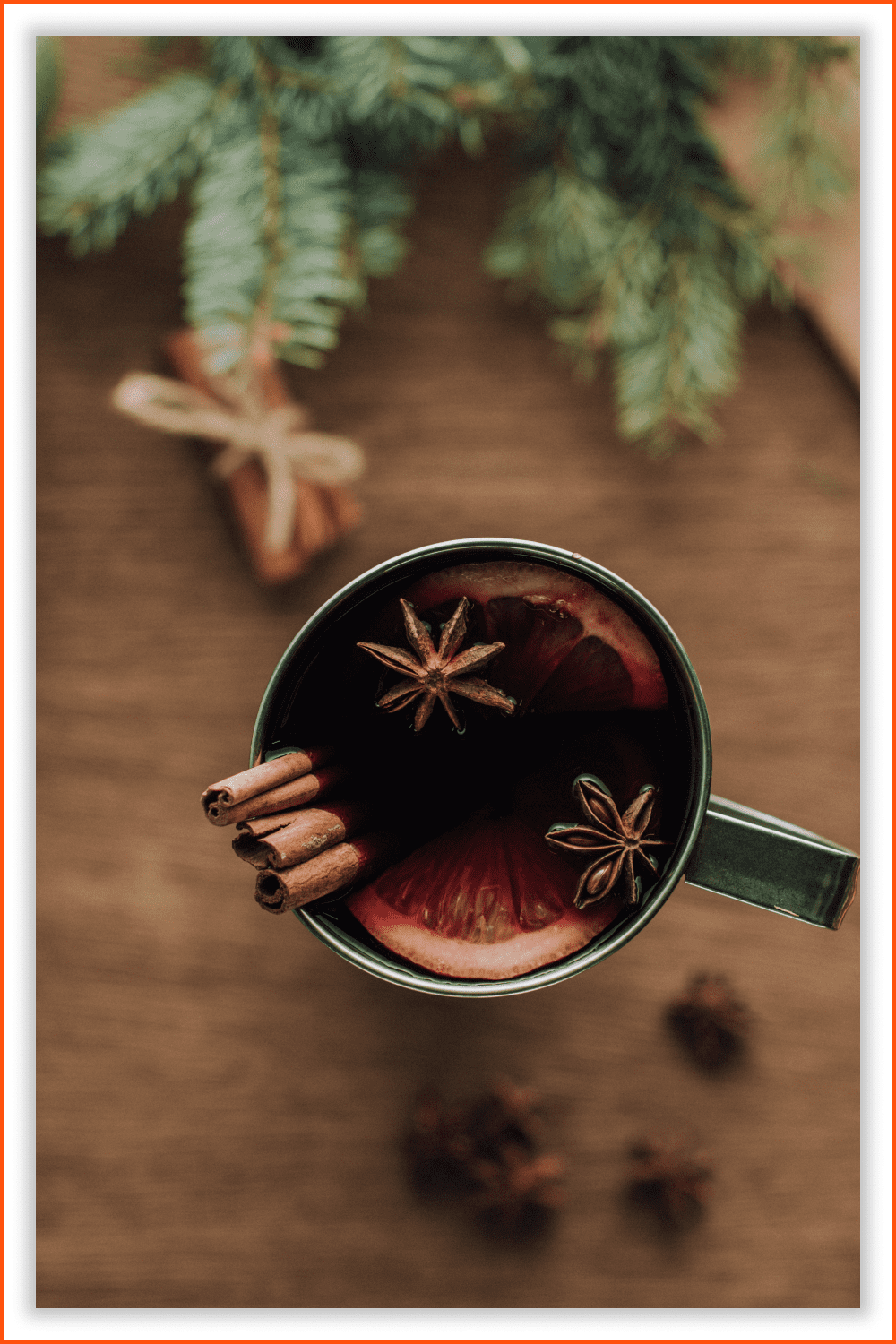 How can we forget about beautiful Merry Christmas images with winter drinks? This picture shows a glass of mulled wine, tree branches, baubles, cinnamon, and slices of lemons and oranges.
Merry Christmas inscription in flour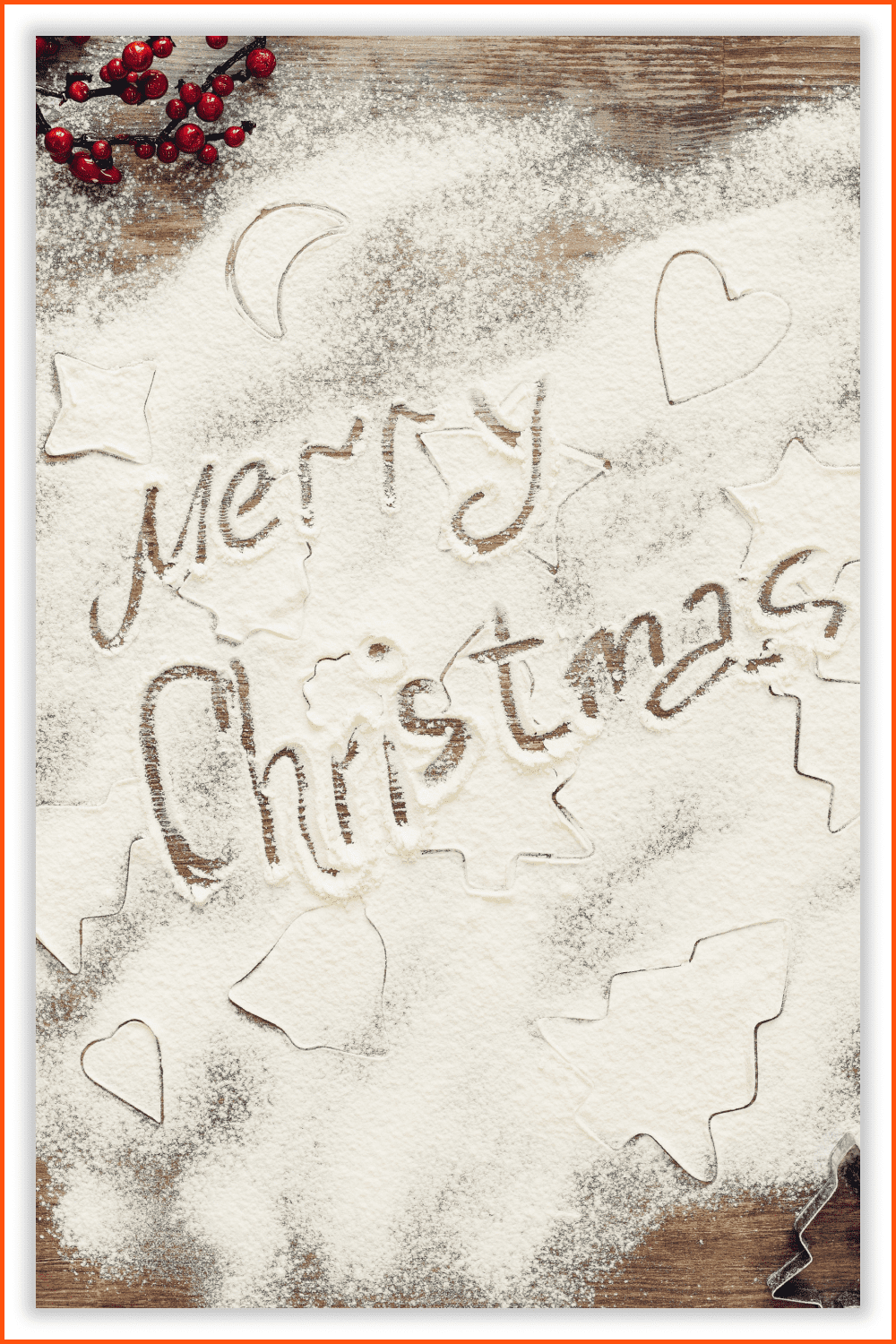 Baking is always associated with the winter holidays. There is an inscription in flour on the table. Also, you can find baking wares, eggs, and candy canes.
Pine cones, gift box decorated with Christmas tree toys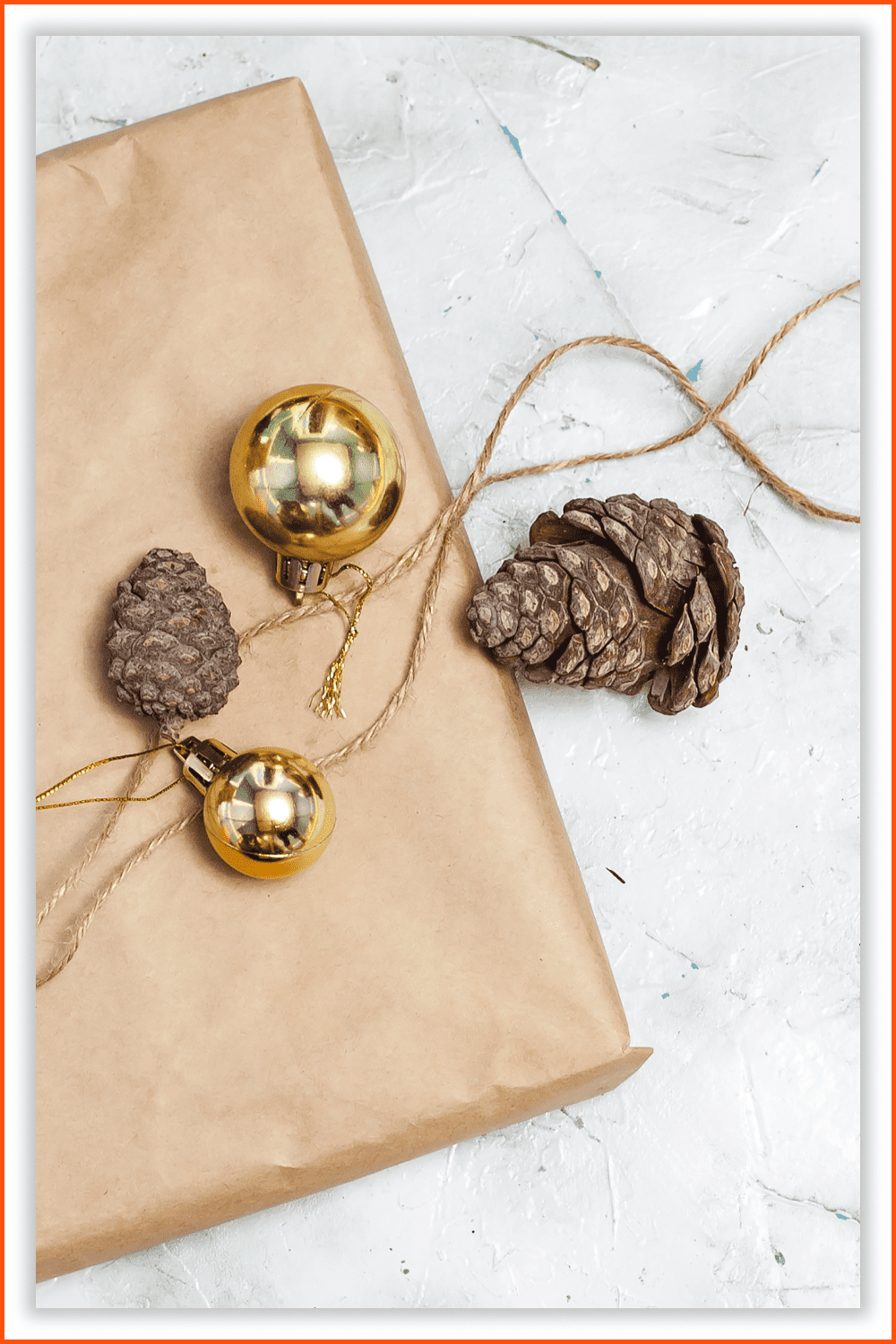 One more example of a simple picture with a gift, pine cones, and golden baubles.
Christmas decorations on wooden background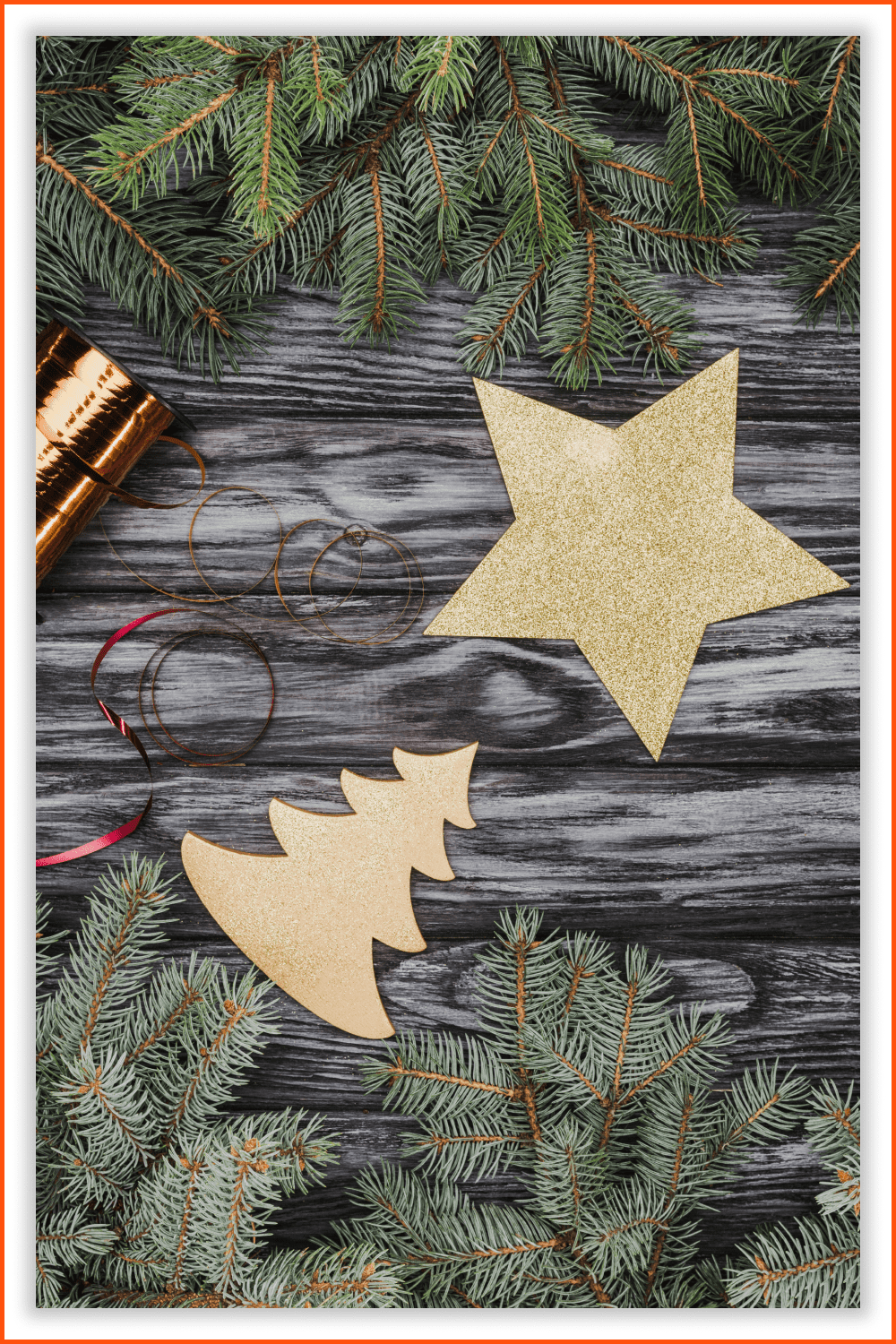 There are typical Christmas decor items: branches, paper stars and trees, gifts, and bright ribbons.
Roasted Christmas chicken with oranges, rosemary, and cranberries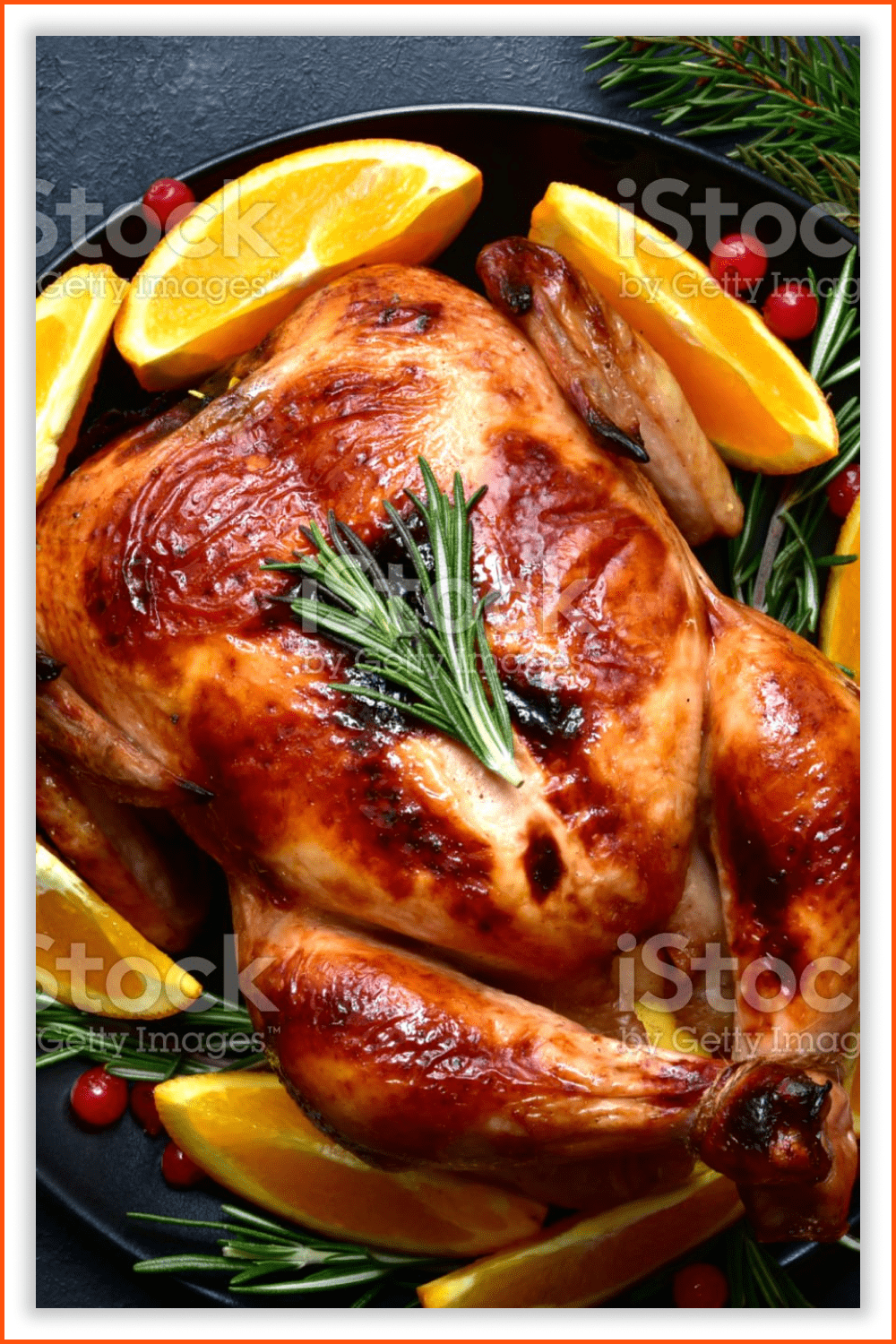 How could we not add a food photo to the Merry Christmas Eve images list? There is juicy roasted chicken with oranges on a black background with pine cones.
Eggnog homemade with cinnamon and cacao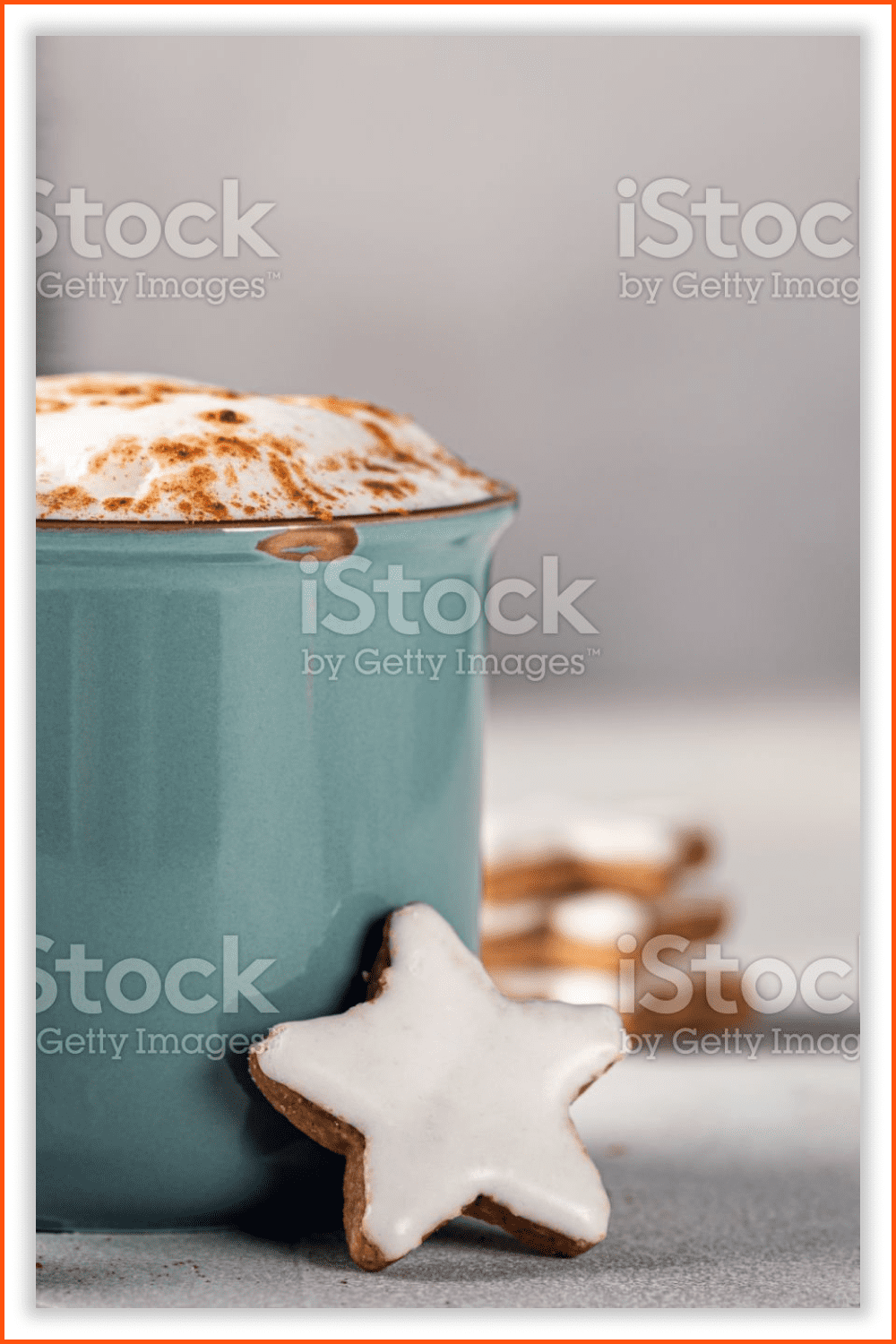 Now let's look at the best Christmas pictures with a popular holiday drink – eggnog. The picture is made in blue and white tones. You can see in this photo a cinnamon stick, star-shaped cookies, a small glass bottle, and a pine tree in the background.
Dog wearing reindeer antlers at Christmas time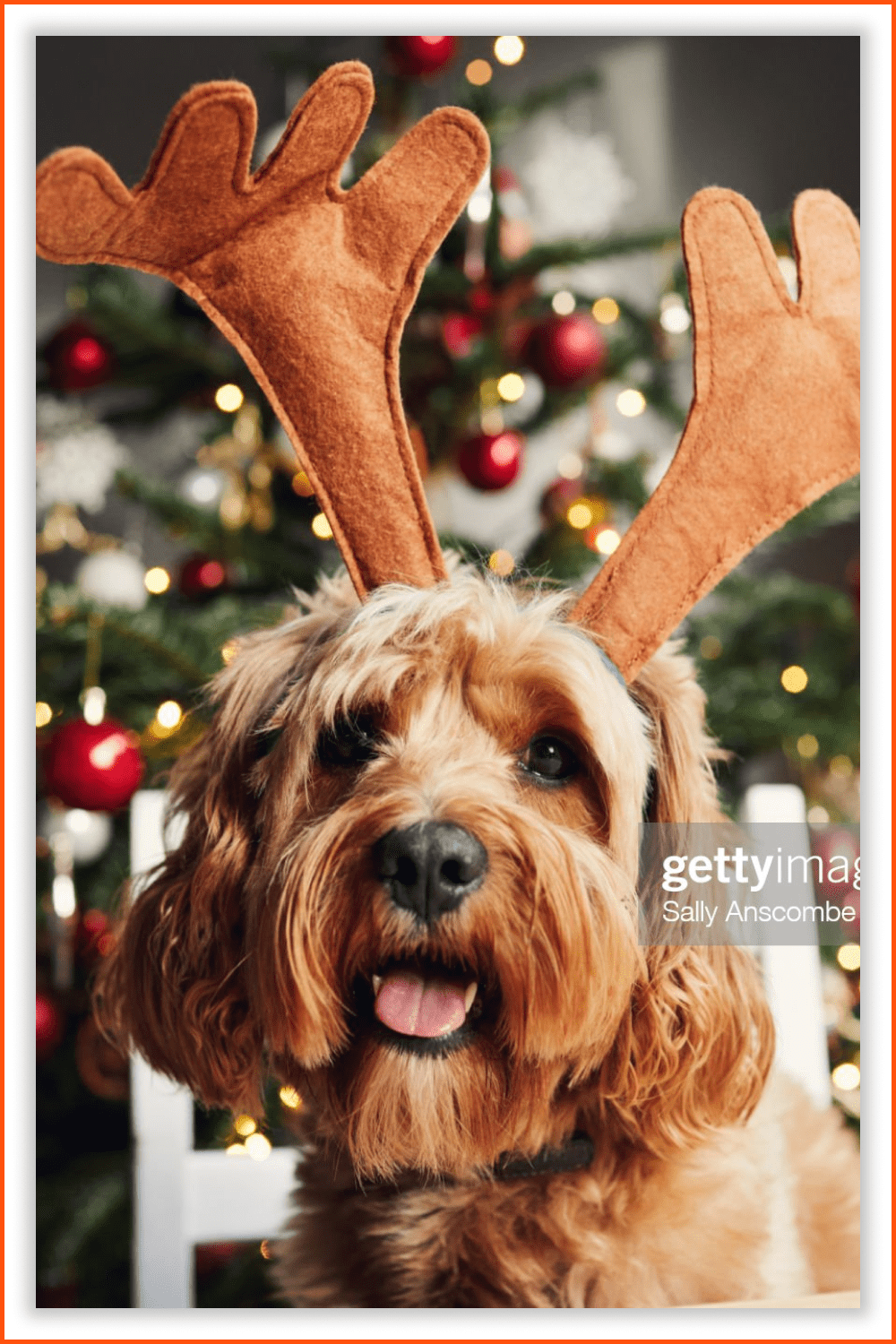 What about one more cute dog in deer antlers with a bright Christmas tree in the background?
Friends pray before eating holiday dinner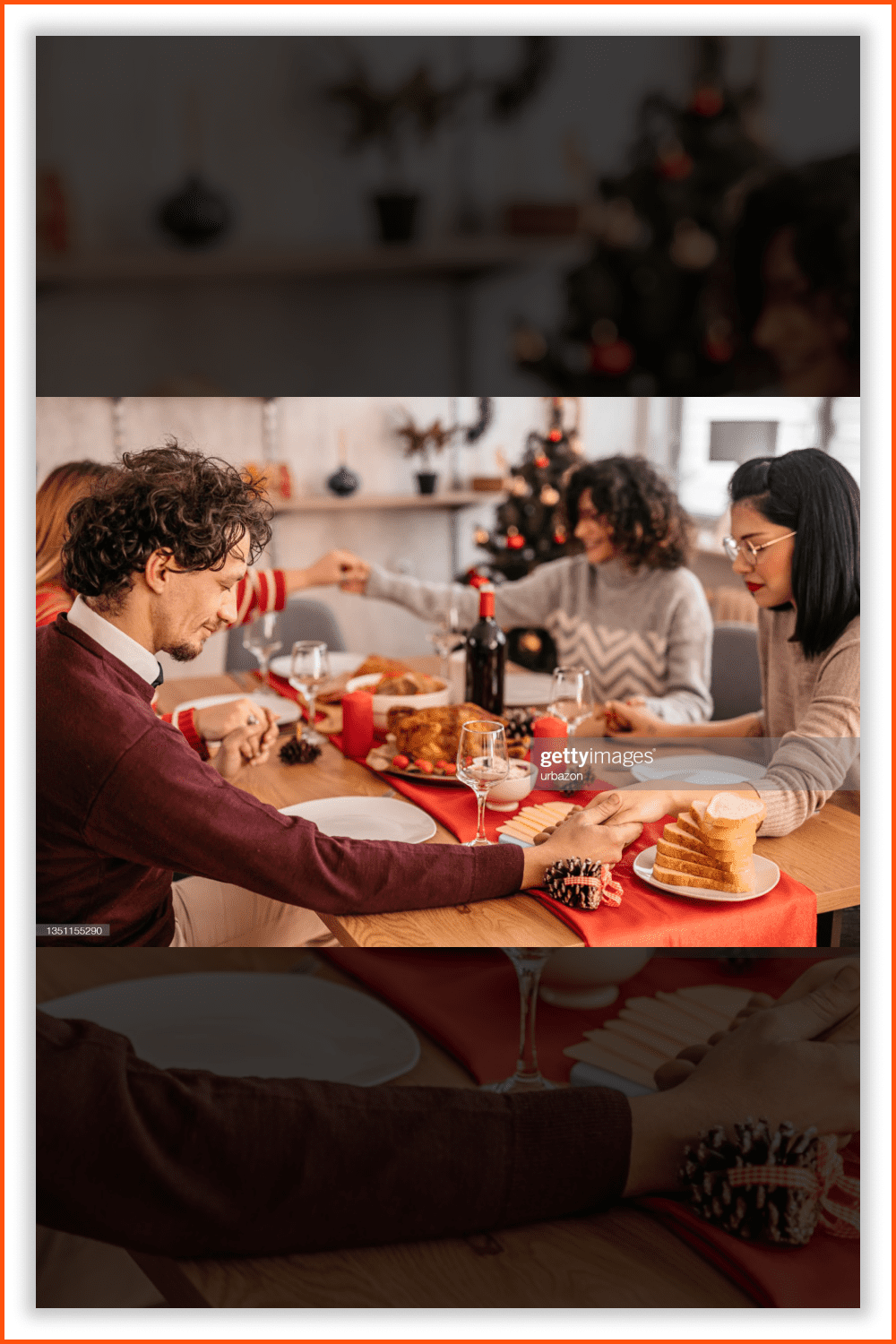 This is an excellent example of religious images. The big company of friends is praying during the festive supper. The primary picture tones are grey, beige, and red.
Christmas cards with watercolors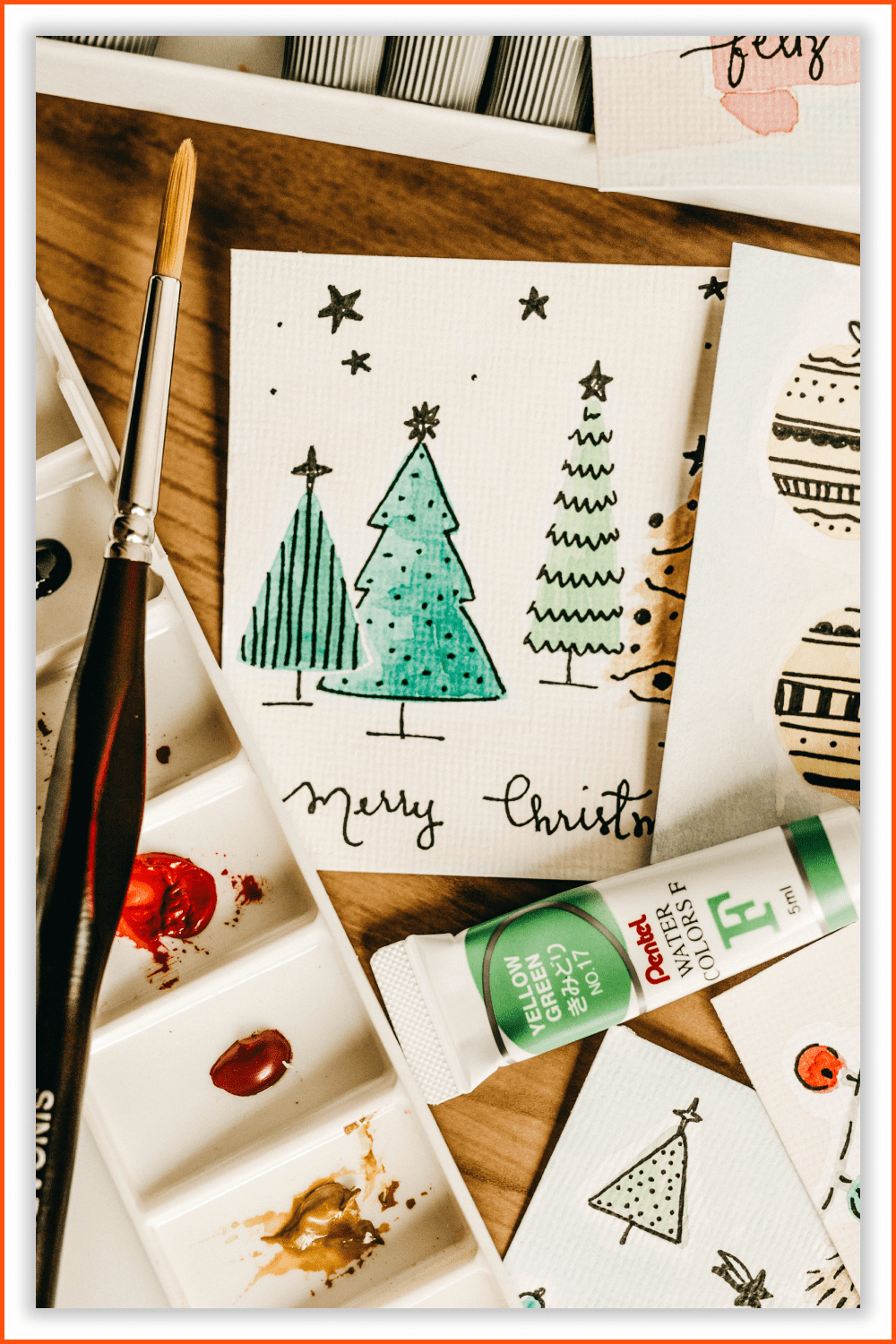 Here's a stunning photo that you can take some design ideas from. There are cards with simple festive designs and painting stuff.
Christmas gifts with candy canes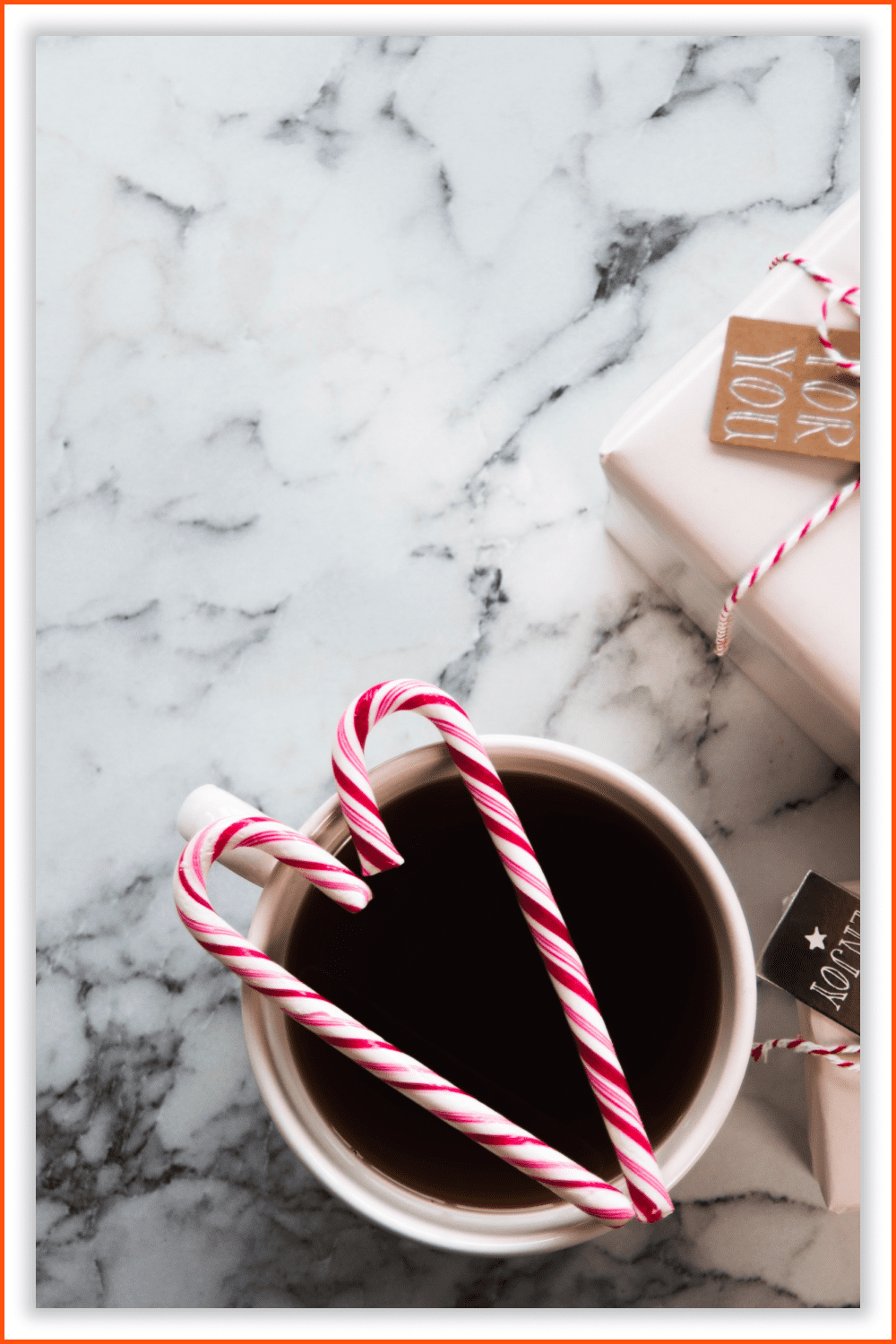 A top view of the two gifts and coffee cup with candy canes in a heart shape.
The bulldog with deer antlers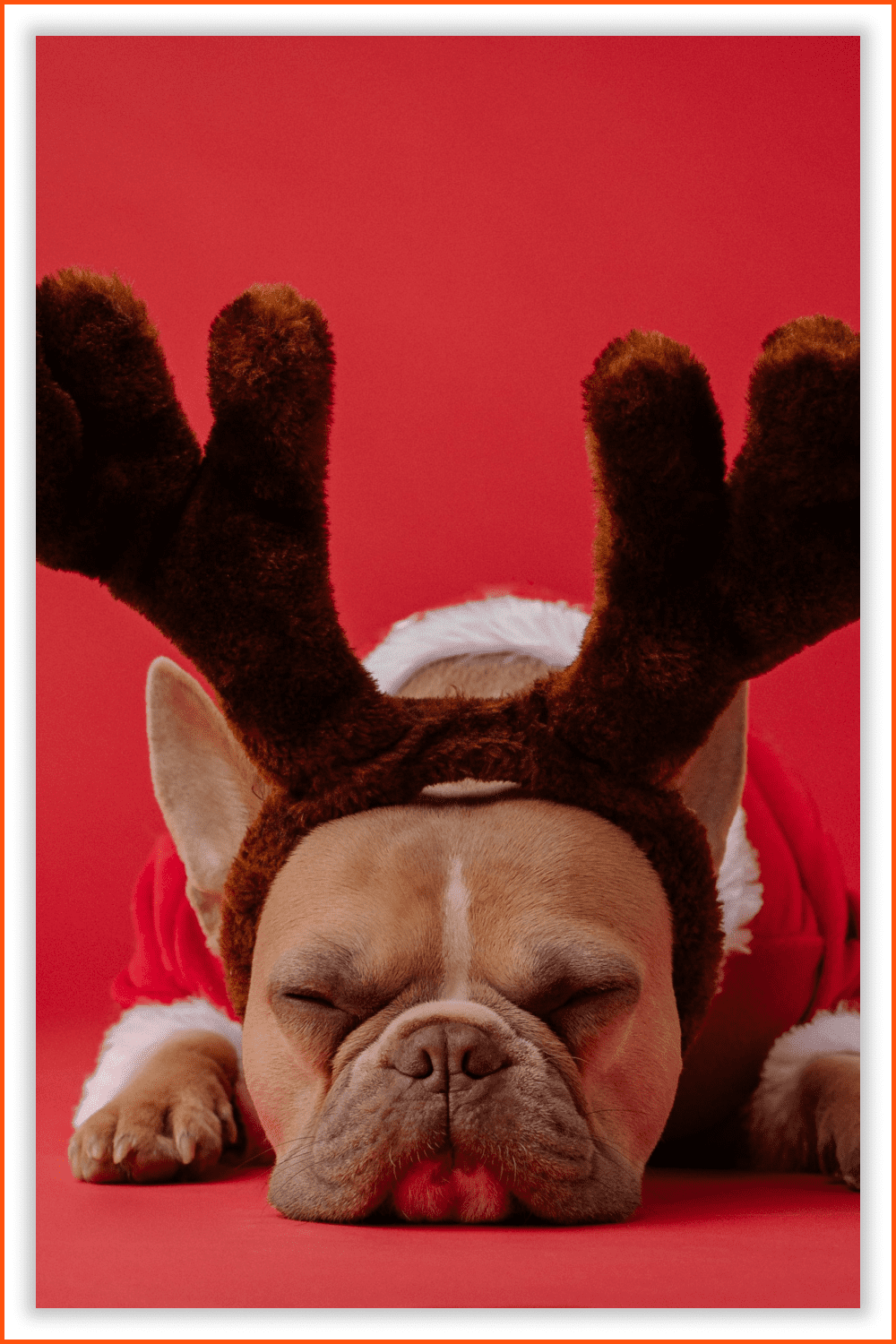 There is a French bulldog with antlers on its head. The red background attracts readers, so you can use this photo for online materials or banners.
Girl in red sweater with camera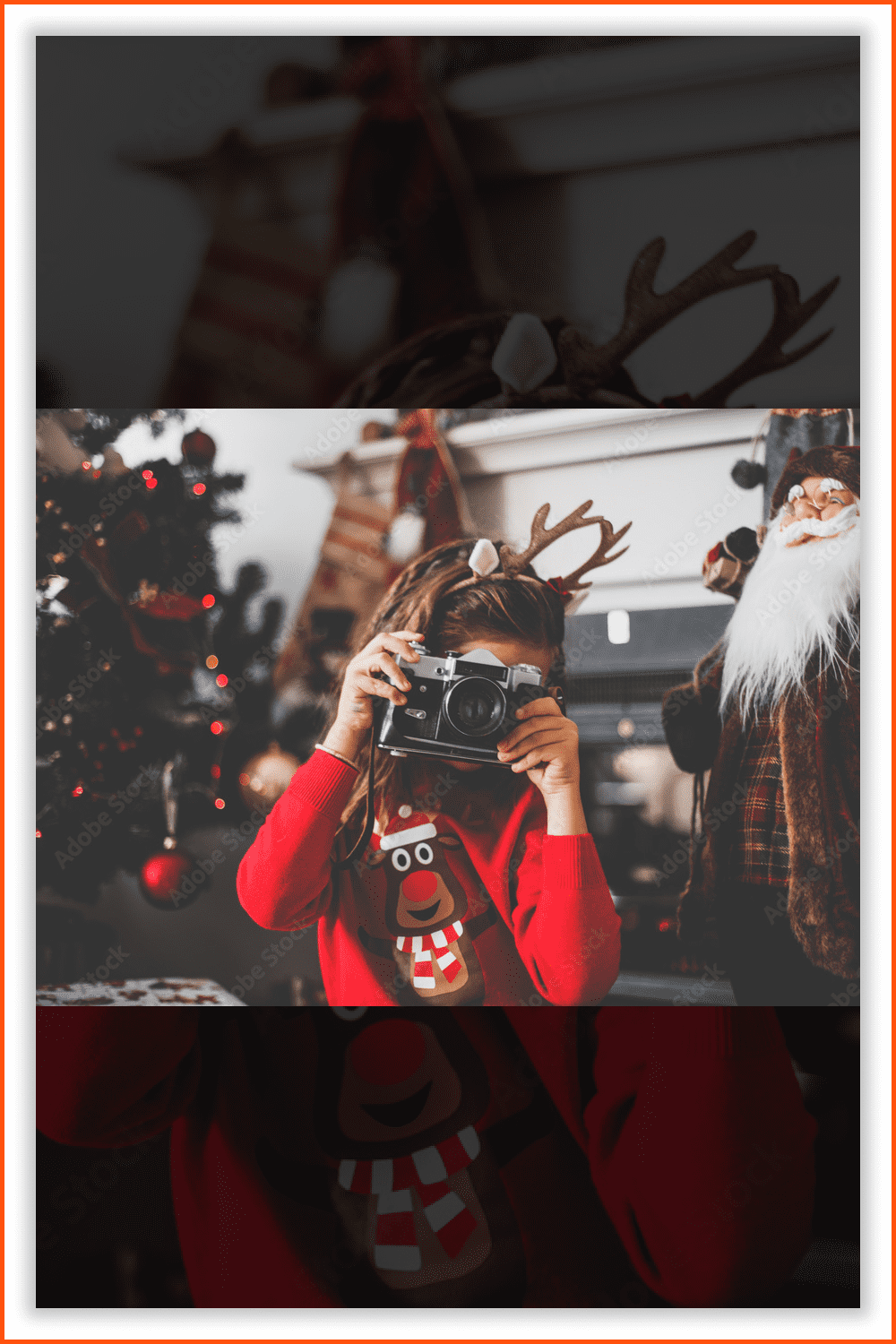 It's a free Merry Christmas image with a cute little girl in a red sweatshirt and camera. She wears clothes with a happy deer in a Santa hat.
Christmas decoration with a candle and a nutcracker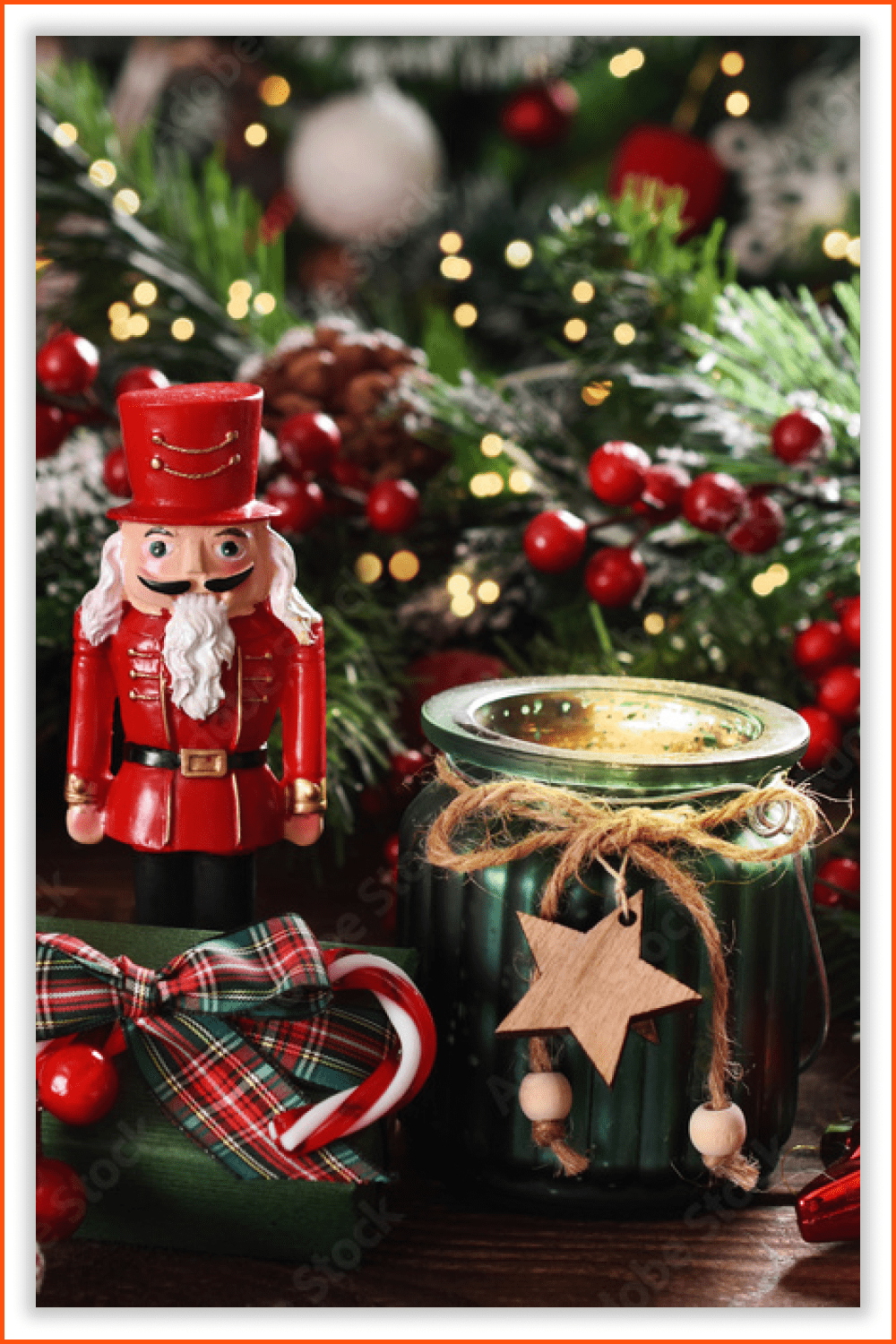 It's a free image of Merry Christmas 2023 in traditional festive shades – red, green, and white. There is a nutcracker, pine cones, cranberries, branches, one candle, and yellow lights.
Christmas cup with books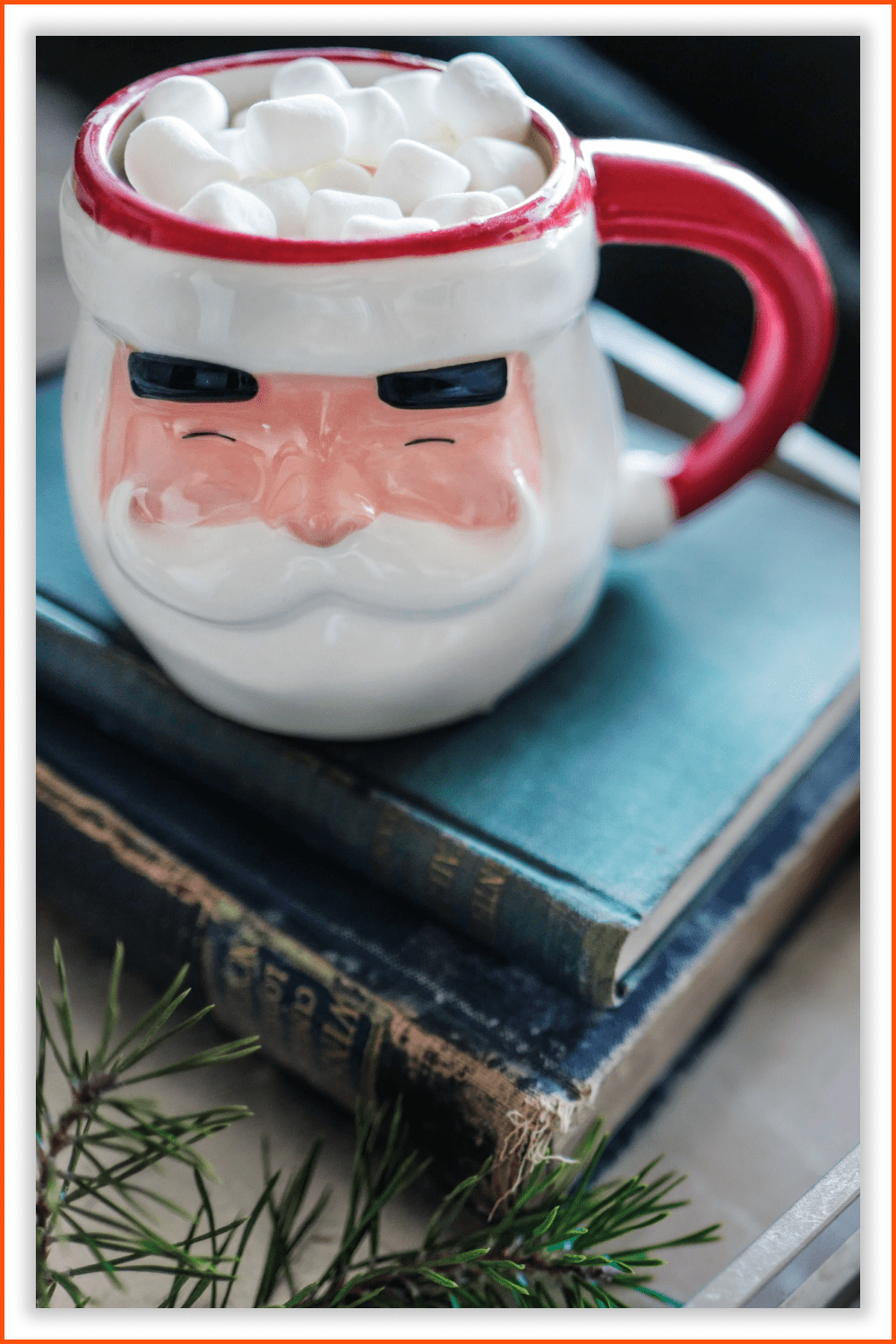 A big cup with Santa Claus's face is sitting on the books. In the background, you can find a woman in high socks on the bed.
Bright Christmas baubles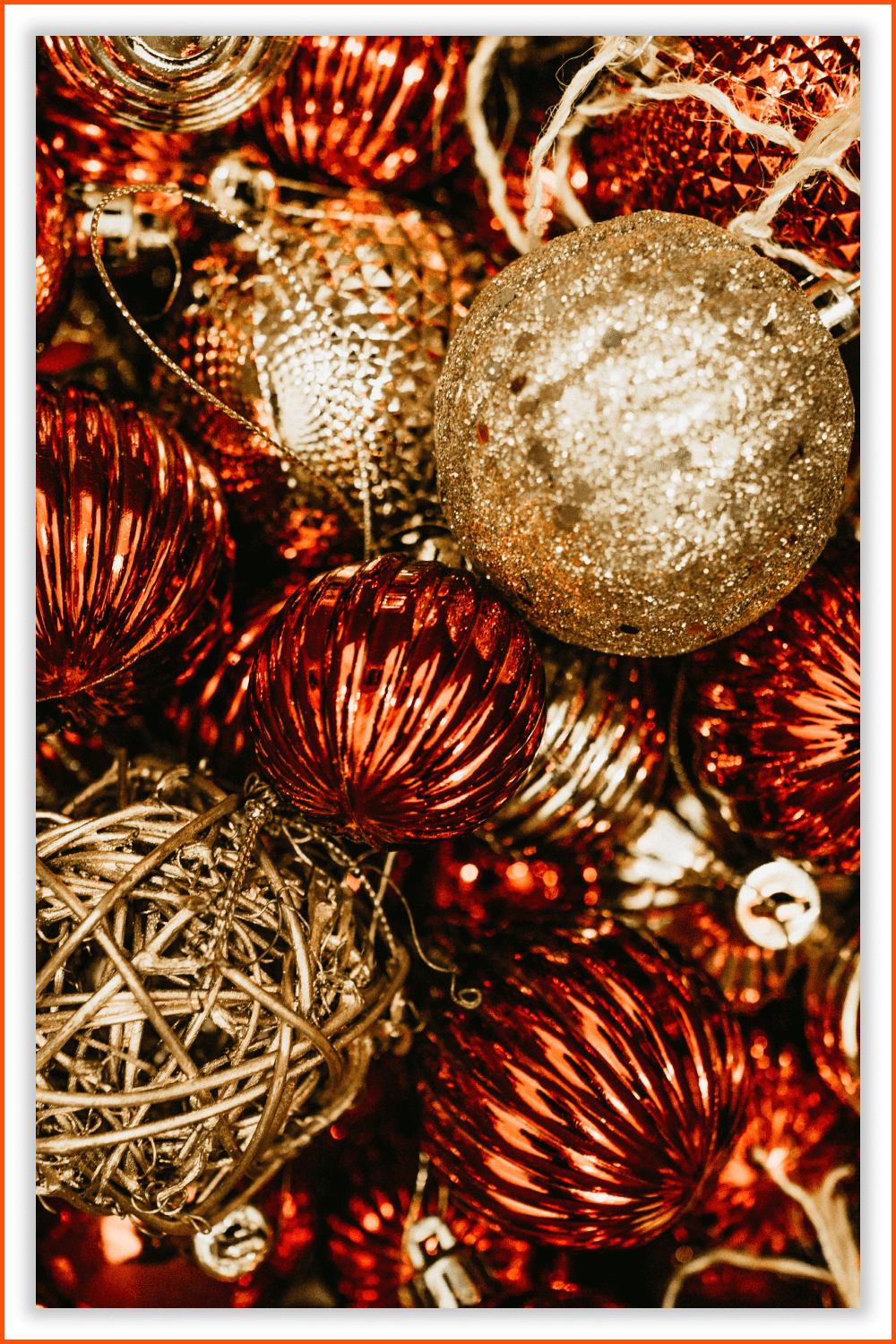 Just look at this Merry Christmas image! There are many baubles of different shapes in red and golden colors. Some of them have bright glitter.
Woman near Christmas tree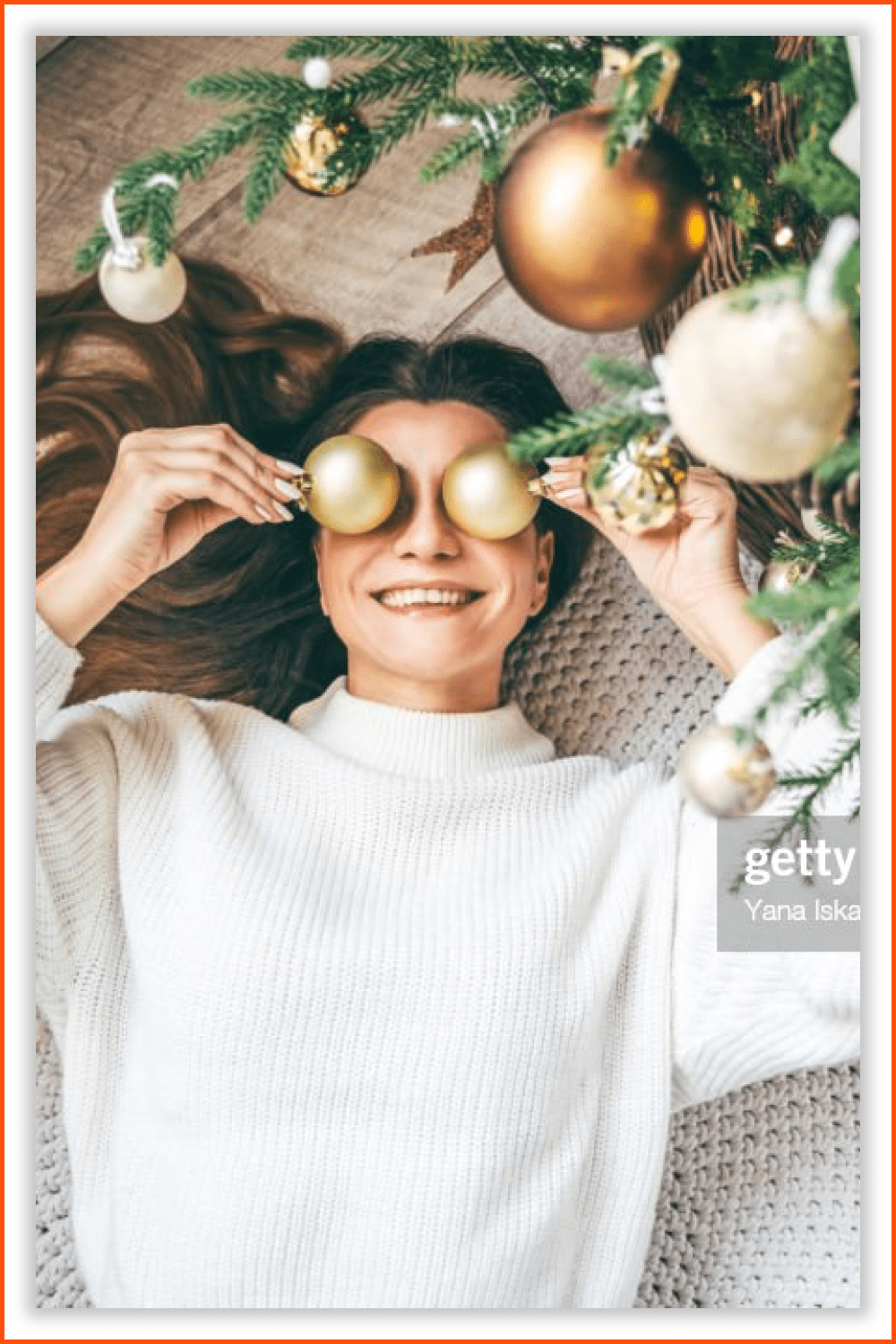 There is a smiling woman in a white sweater with toys above her eyes near a decorated tree.
Happy family on Christmas Eve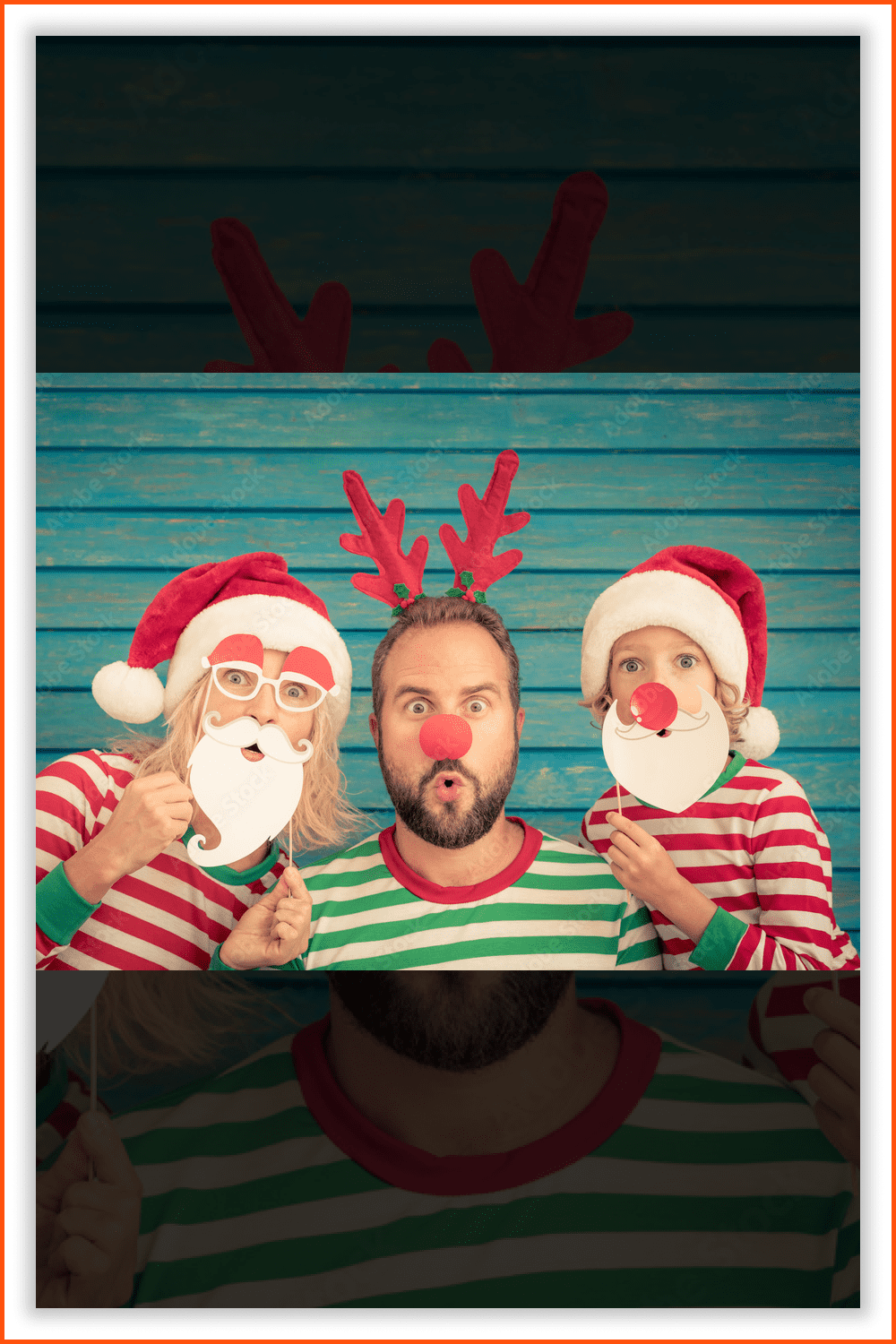 Our list of Merry Christmas and Happy Holidays images has an example of a smiling family. People wear Santa hats and deer antlers and hold paper beards in their hands.
Christmas holiday homemade festive reindeer cookies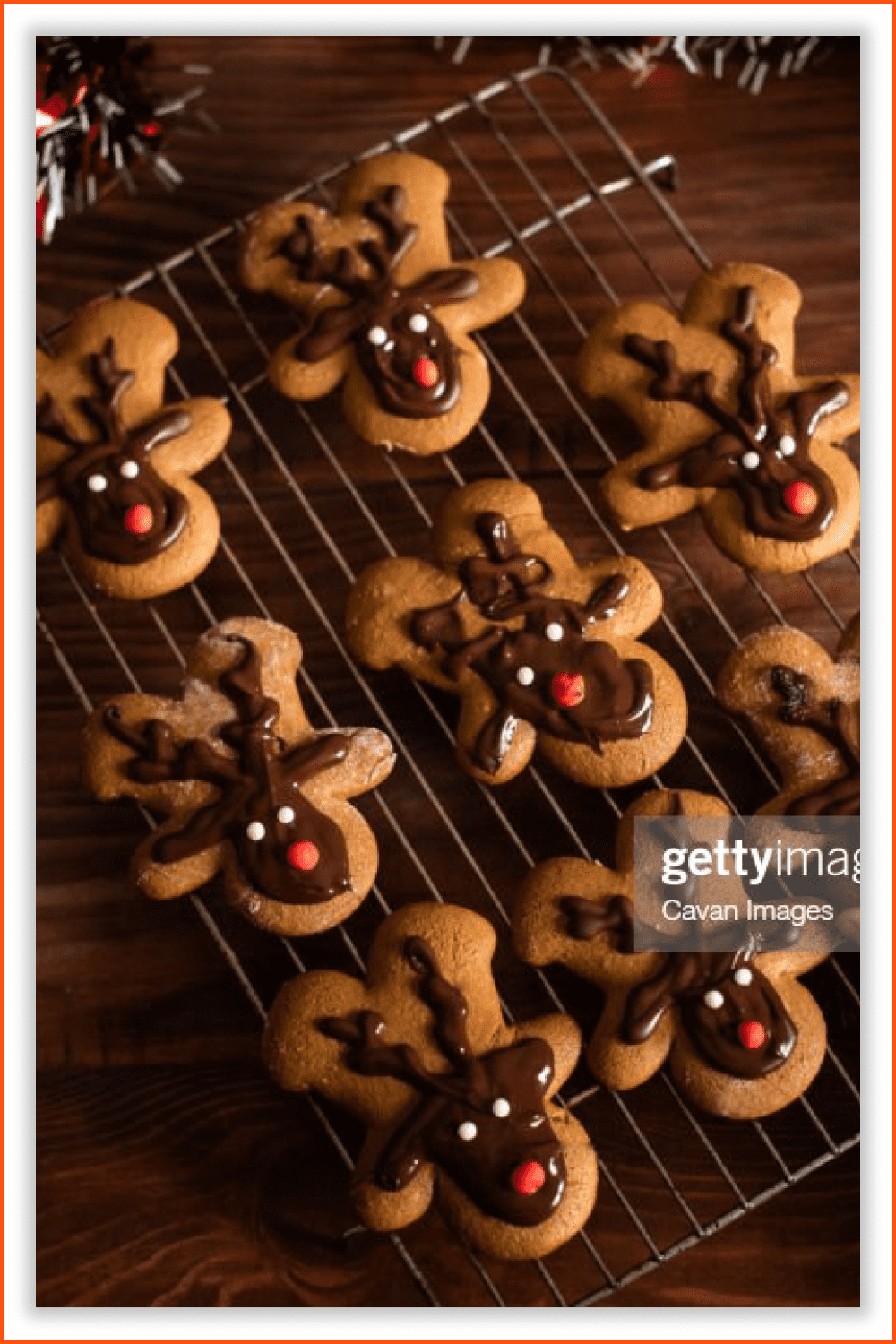 Another photo of festive cookies, but these have an interesting shape of deer with chocolate on the top.
Gifts with candy canes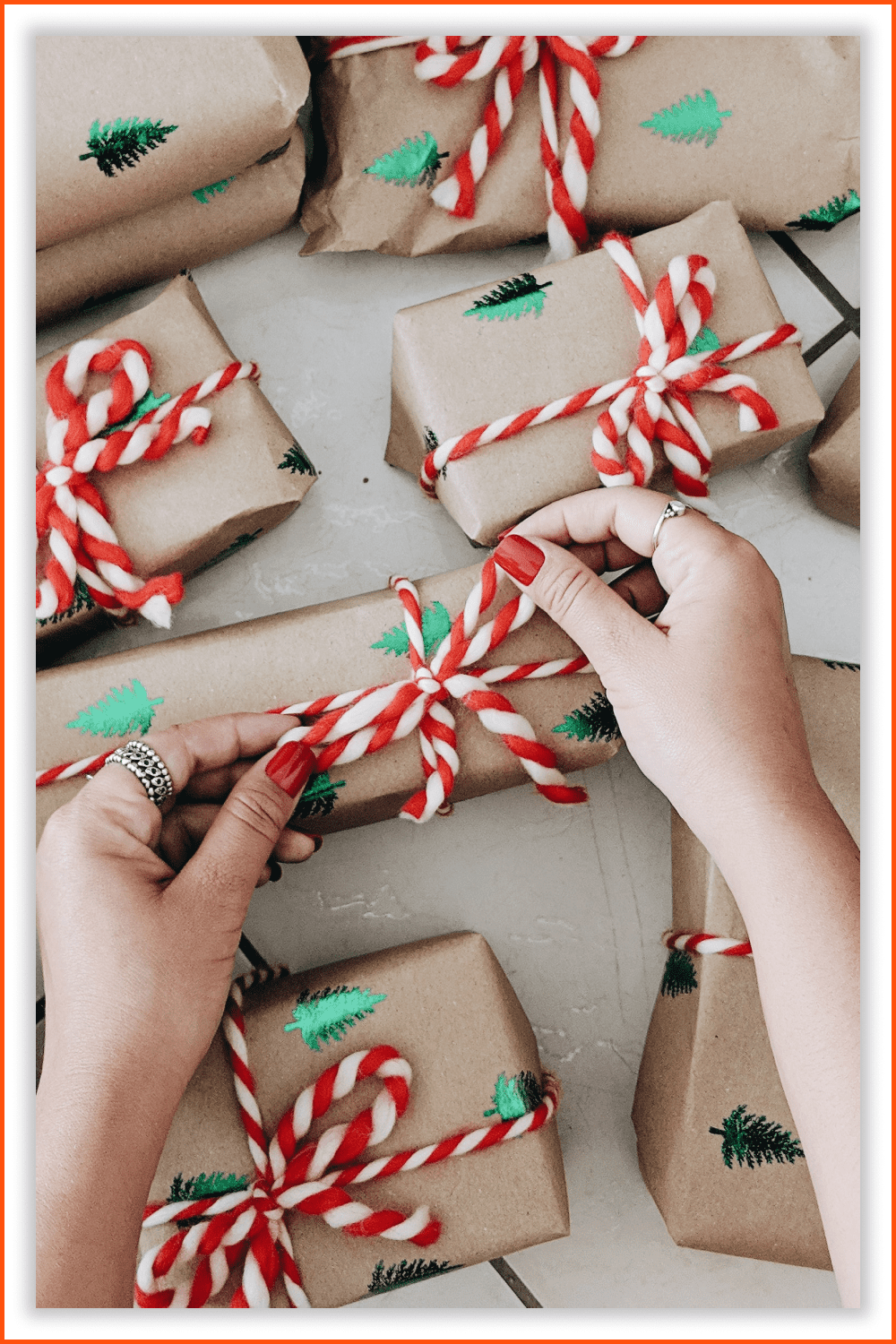 This stylish image displays many gift boxes with Christmas tree stamps and a rope in the style of candy canes.
Simple Christmas wreath with bow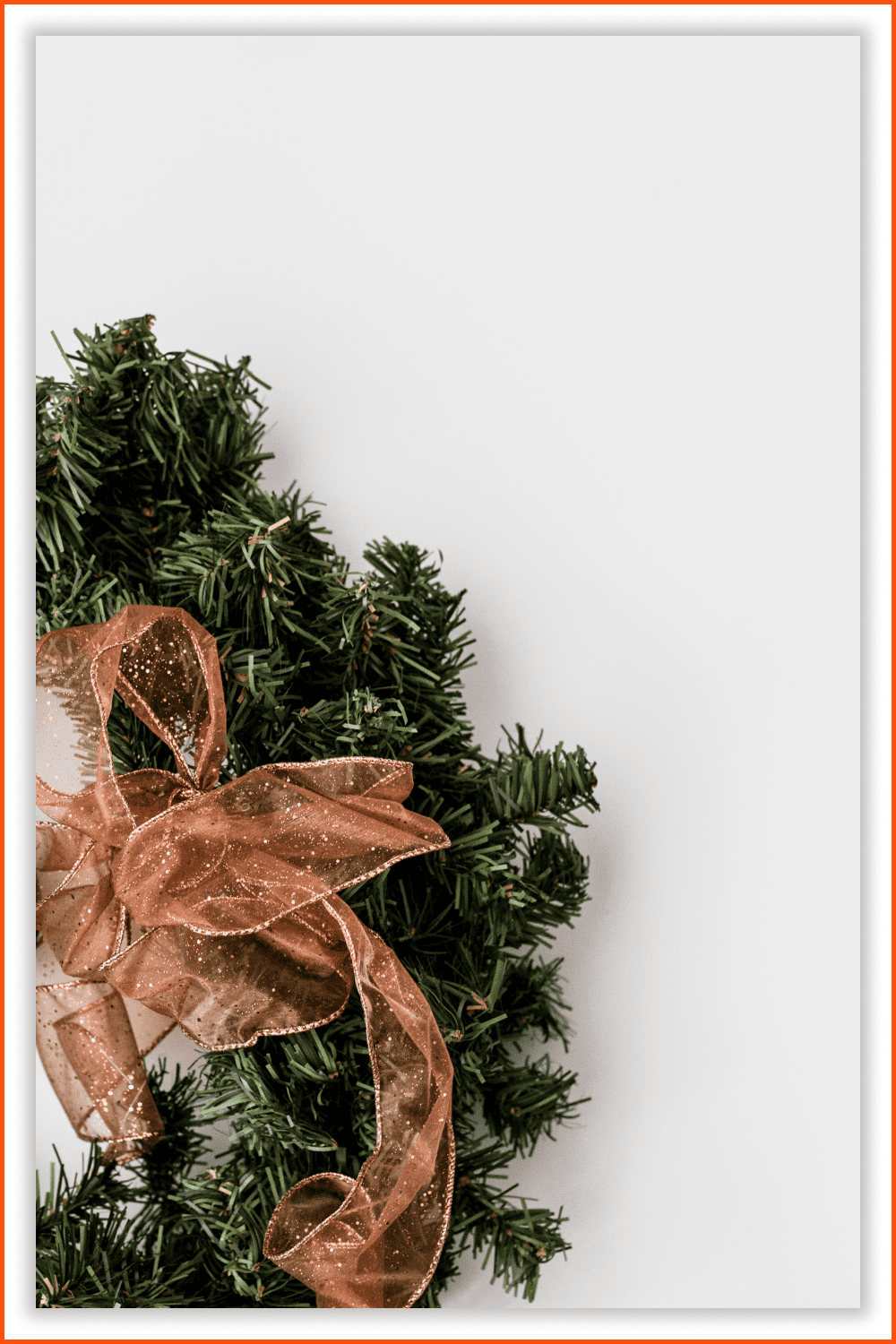 A light photo of a Christmas wreath without bright toys. There is only one bow made from organza fabric and a metal vintage bauble.
Adorable toddler in Santa hat with gifts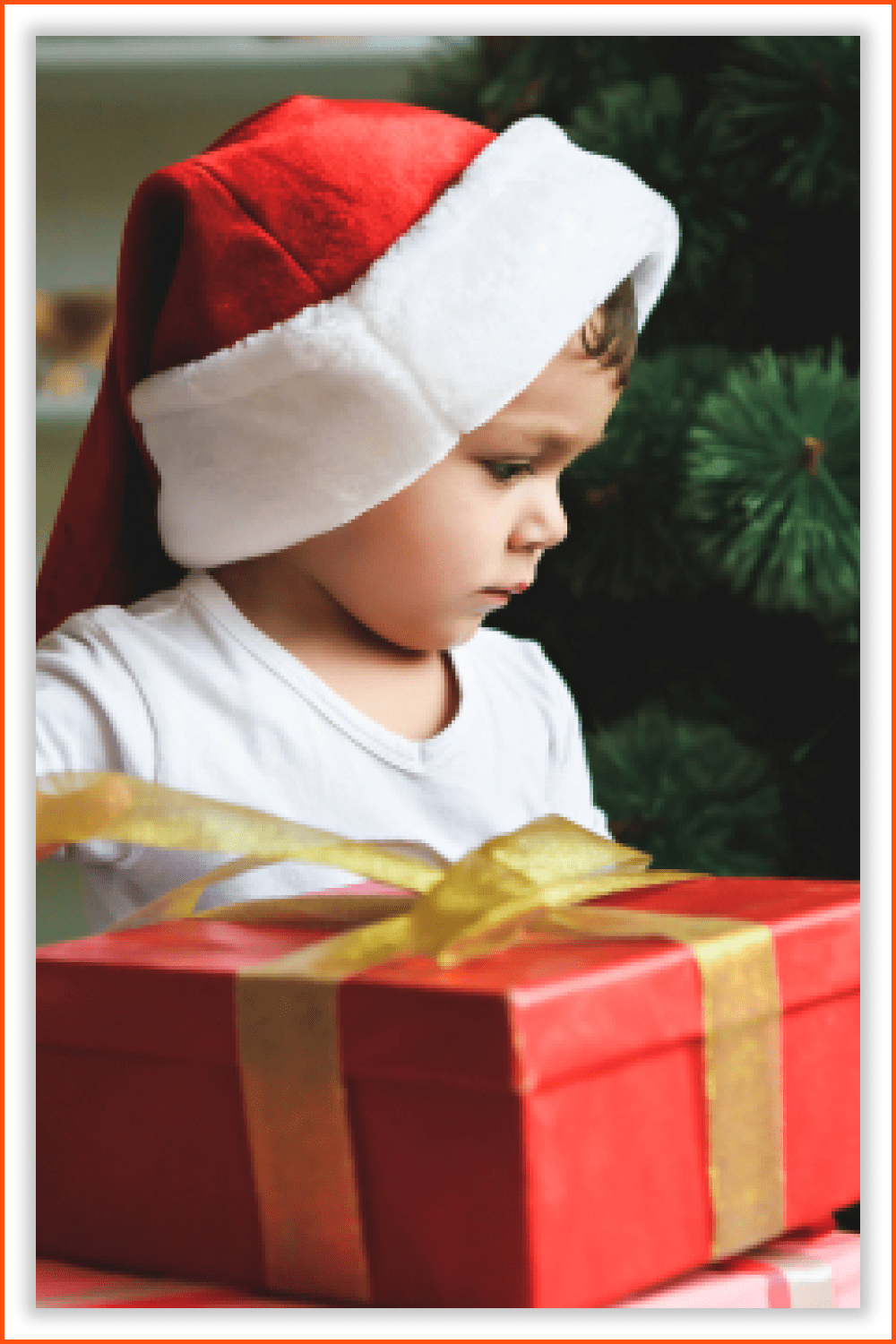 If you want cute Merry Christmas images, search for pictures with toddlers. This one shows a small boy in a Santa hat with a big red gift and a green tree in the background.
Candy cane heart with Christmas tree lights bokeh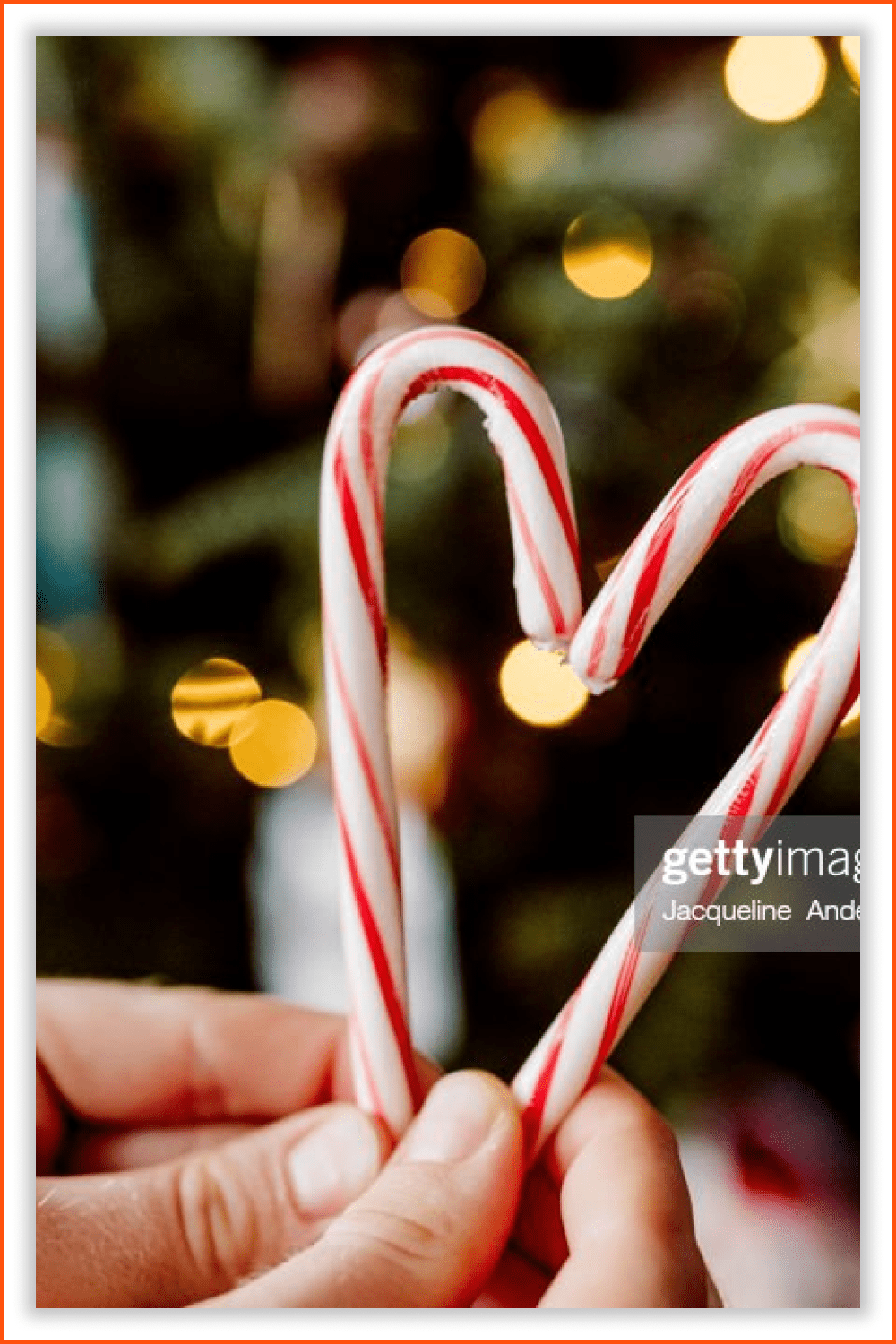 A candy cane is a trendy winter holiday attribute. There are close-ups of two candies in heart-shaped form and a tree with lights in the background.
Man with Christmas toys in beard
Here's a stylish man with red and golden baubles in his beard.
Merry Christmas bauble on tree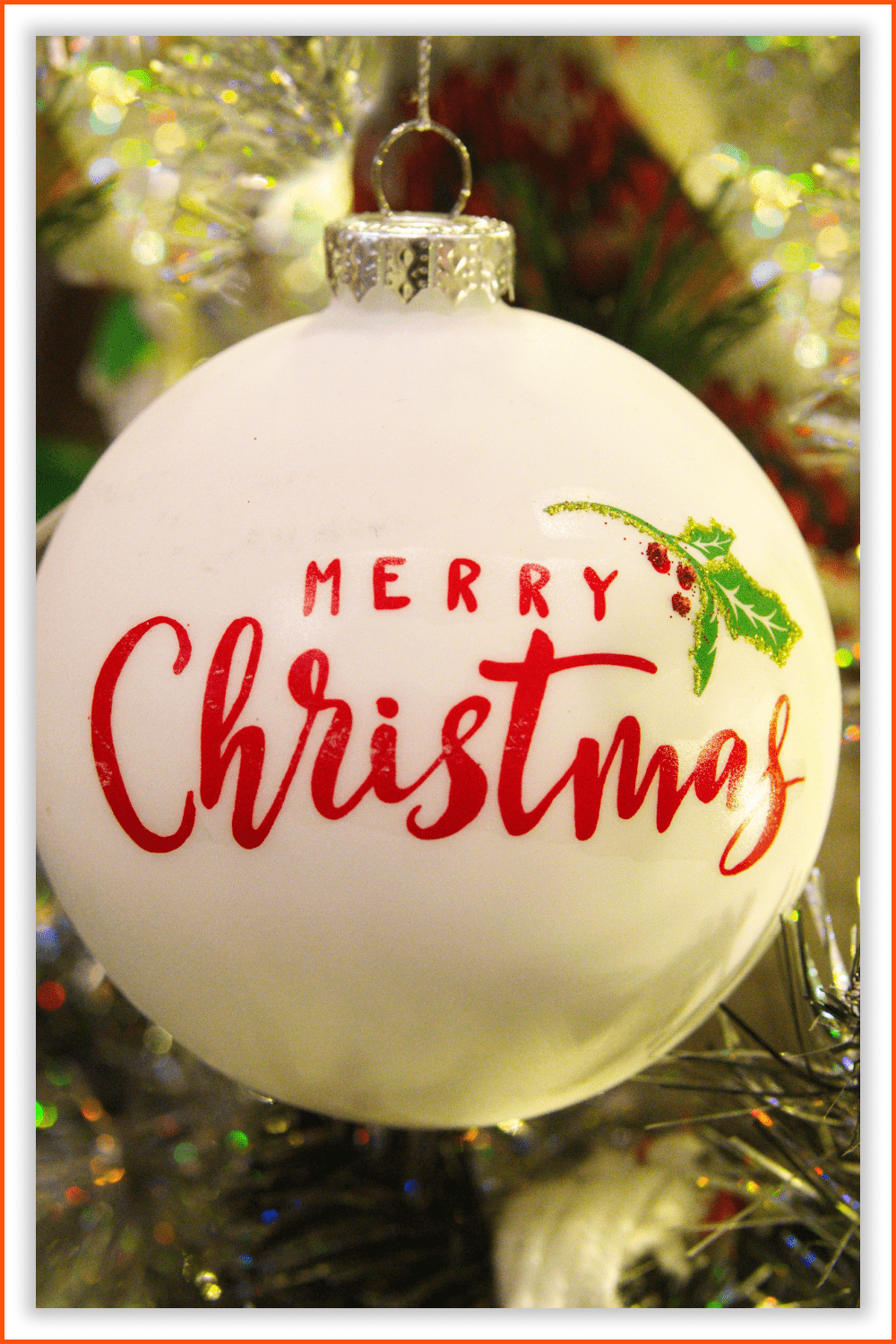 It's hard to imagine this article without a big white toy with the red inscription "Merry Christmas" on the green tree.
Present with cookie and candy cane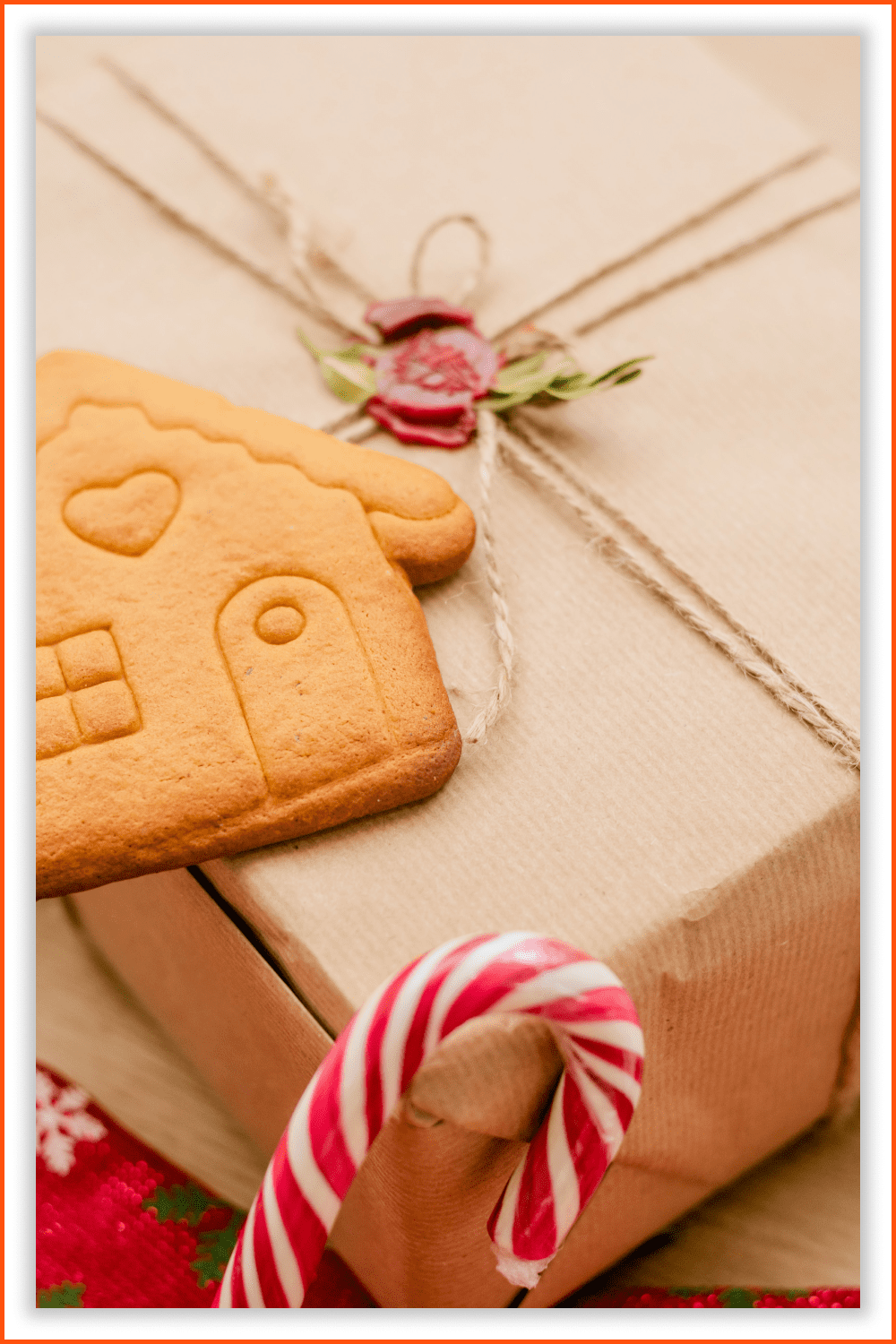 There cannot be too many images of Merry Christmas gifts. This one has a cookie in a house shape, a candy cane, and a big red sock.
Woman's hand takes a mobile photo of Christmas composition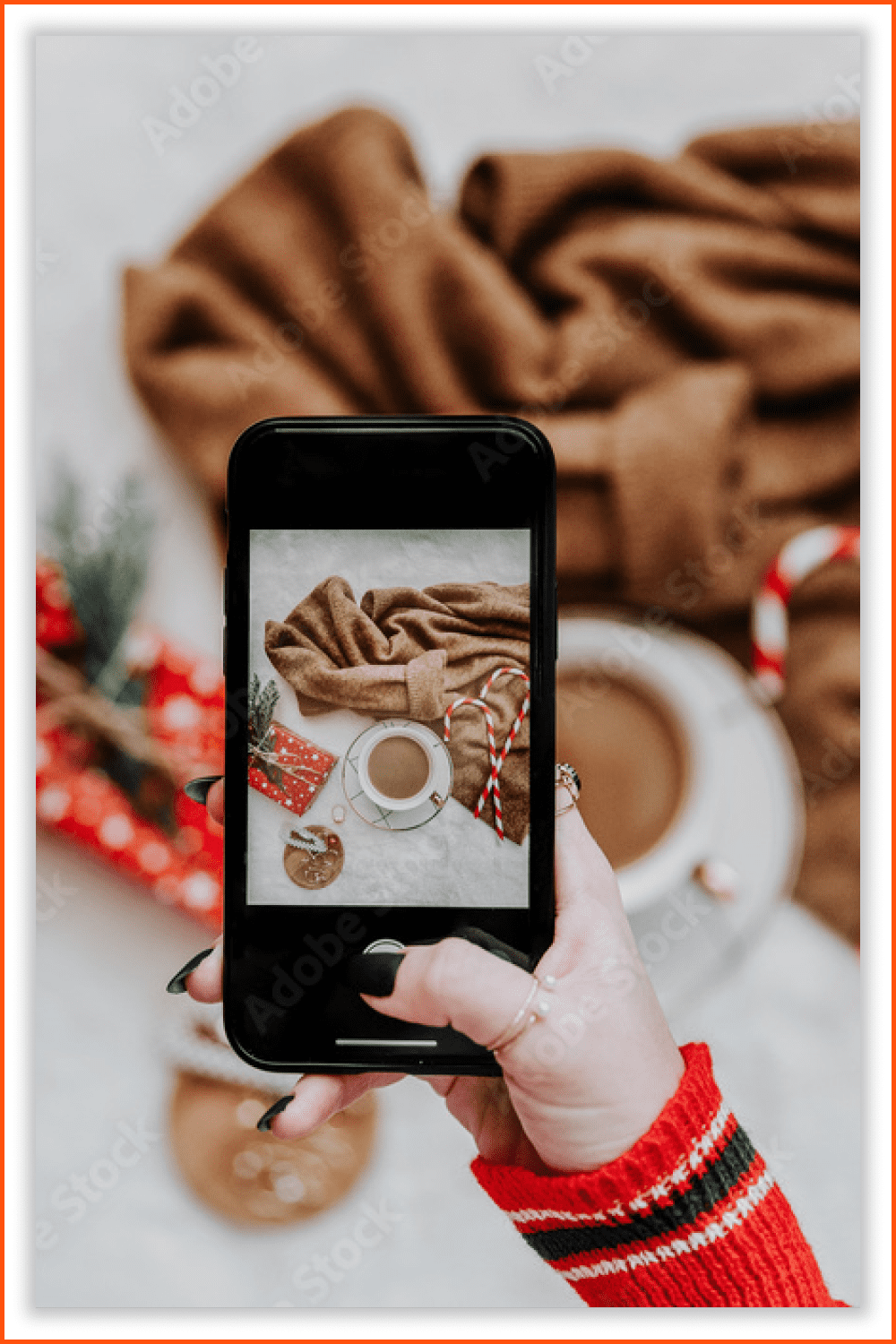 Our modern life is connected to smartphones. A woman is holding a phone and taking a picture of coffee, a gift, candies, and a blanket.
Christmas tree decorations on a Christmas tree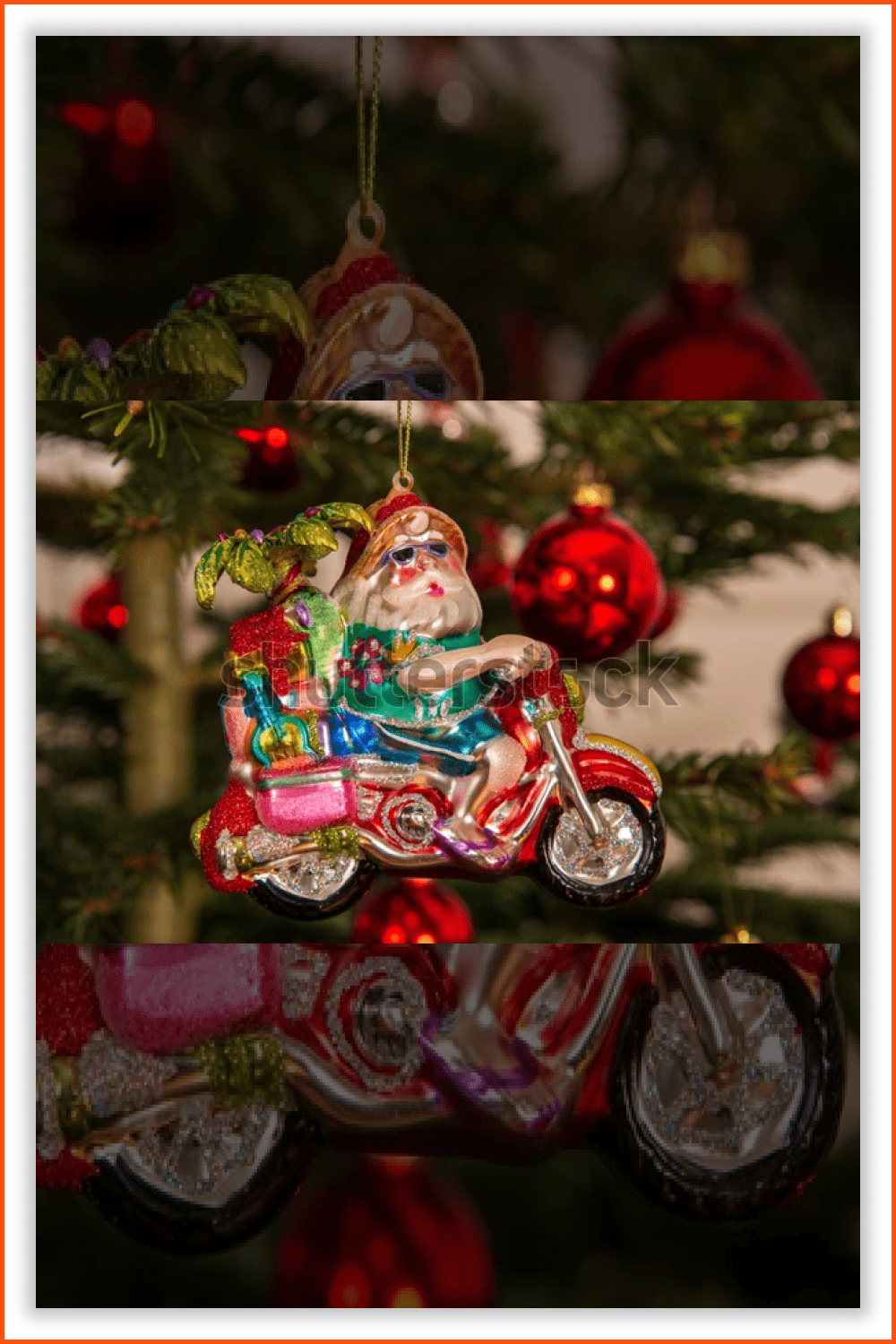 An attractive photo of a toy in the shape of Santa Claus in summer clothes on a motorcycle.
Happy family is having dinner at home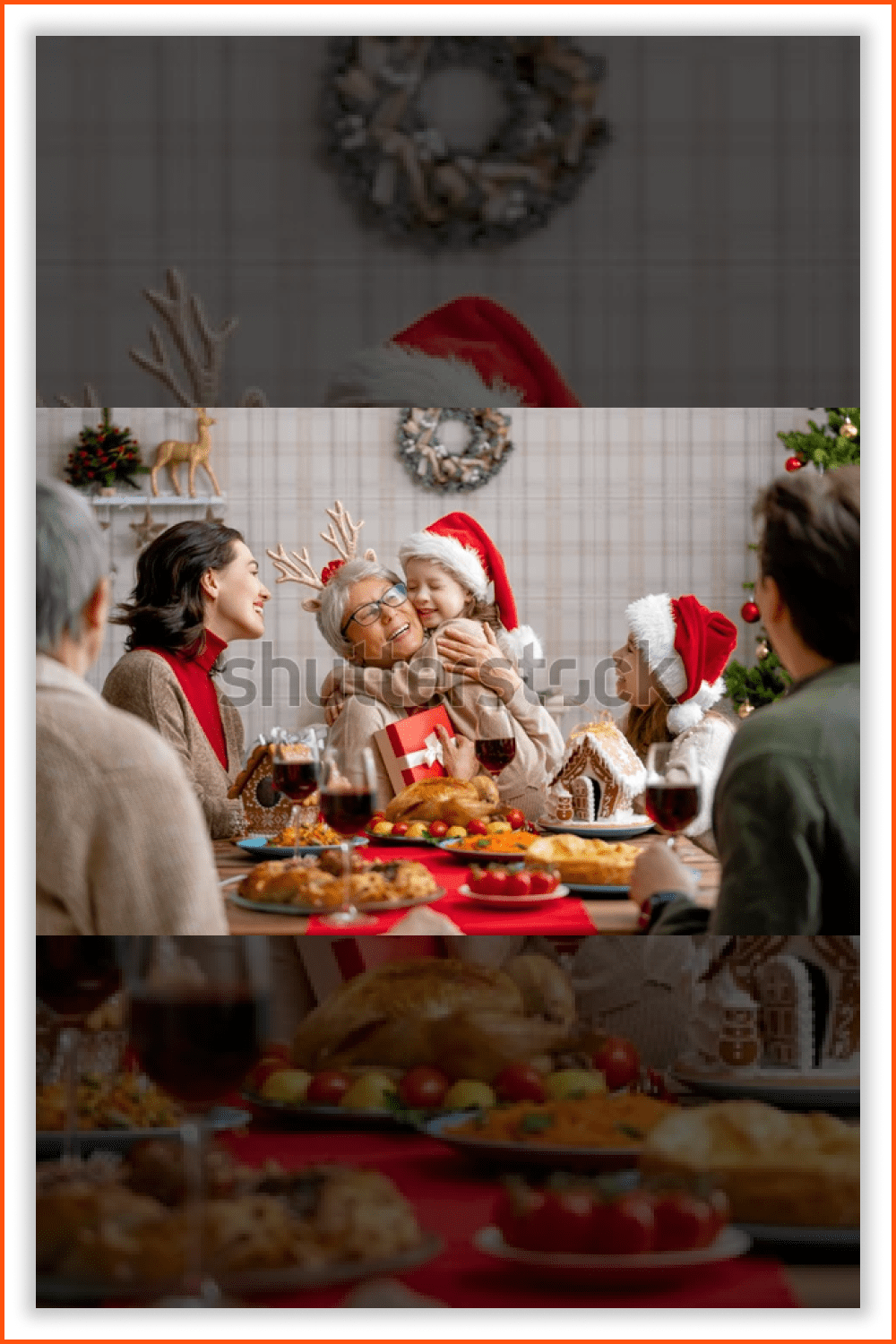 If you are looking for a Merry Christmas Eve image, this is a good one. First, there is a happy family and the granddaughter is hugging her granny. You can find roasted chicken, pie, and a gingerbread house on the table.
Christmas tree made from flour on a black background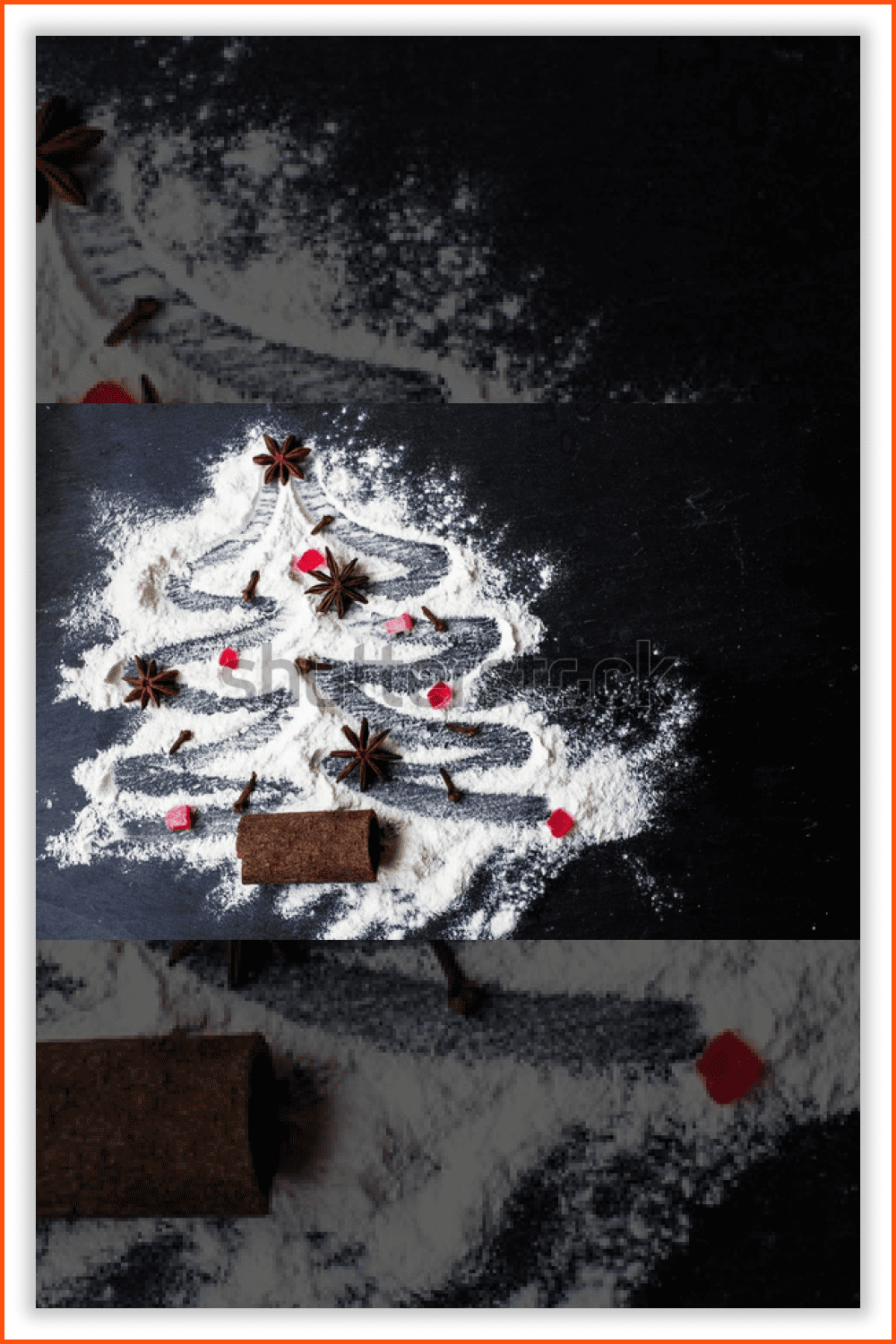 Another picture with baking ingredients. There is a tree shape in the flour with cinnamon, candied fruits, and star anise.
Jack Russell terrier dog with Santa Claus hat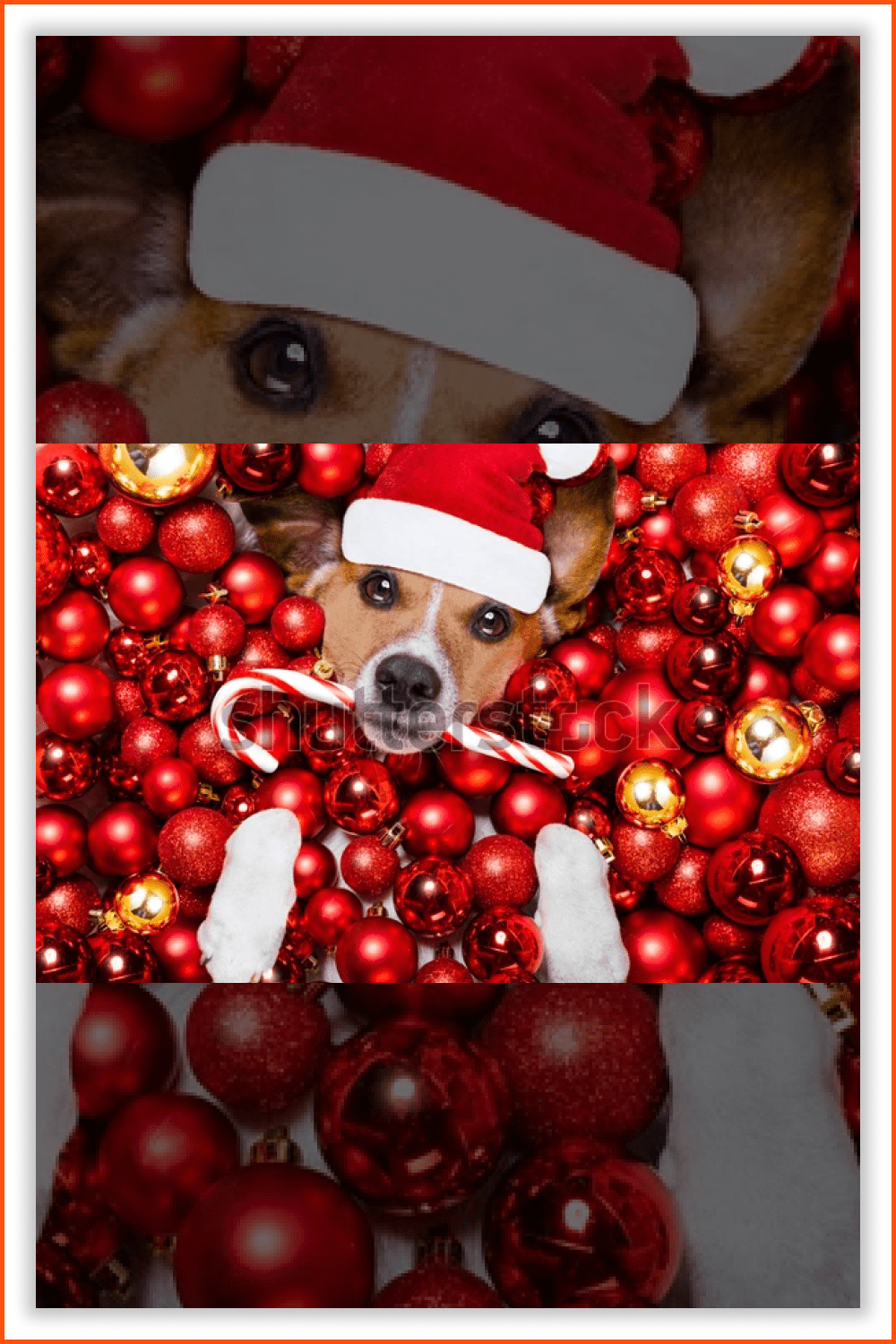 We can't leave you without one more stunning photo with a dog. It's a Jack Russel with a candy cane in his teeth. The pet is sitting in the swimming pool with hundreds of red baubles.
Christmas fruit cake, pudding on a white plate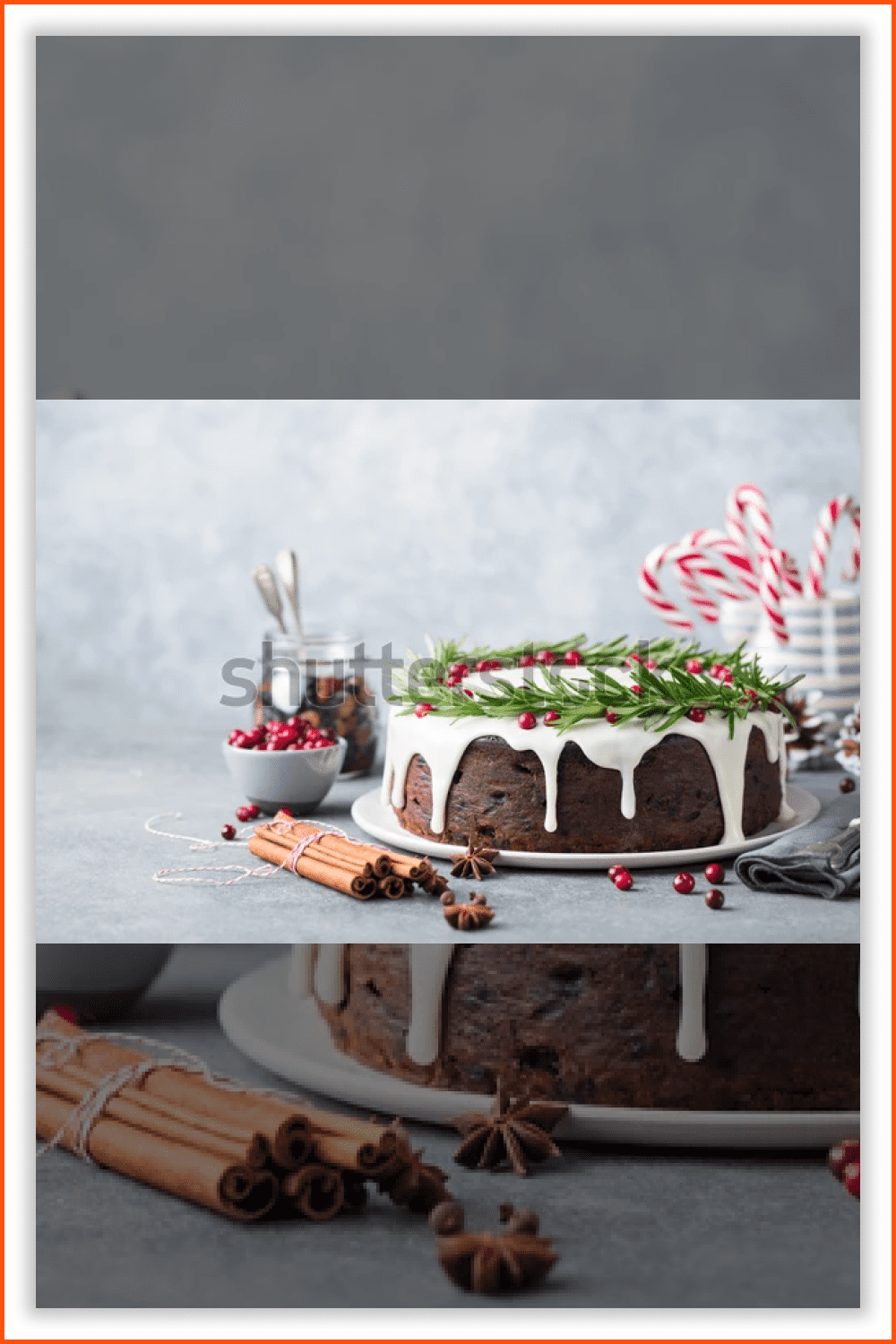 Merry Christmas and Happy New Year images have to include cakes. There is a tasty chocolate cake with icing and cranberries. Also, there are many other elements.
Best New Year and Christmas Mockups
Do you need mockups for your design projects? Don't worry, we've taken care of that and only put together the highest quality and best products for you. Here you'll also find animations that you can use for greetings or presentations.
Free Merry Christmas Images 2023
You don't yet know what you want or are not sure what suits you best for design work, and do not want to spend a lot of money? We understand you as no one else and especially for this occasion, we have collected free Christmas pics 2023. You can be sure they will look great in your work.
Merry Christmas Pick Up Truck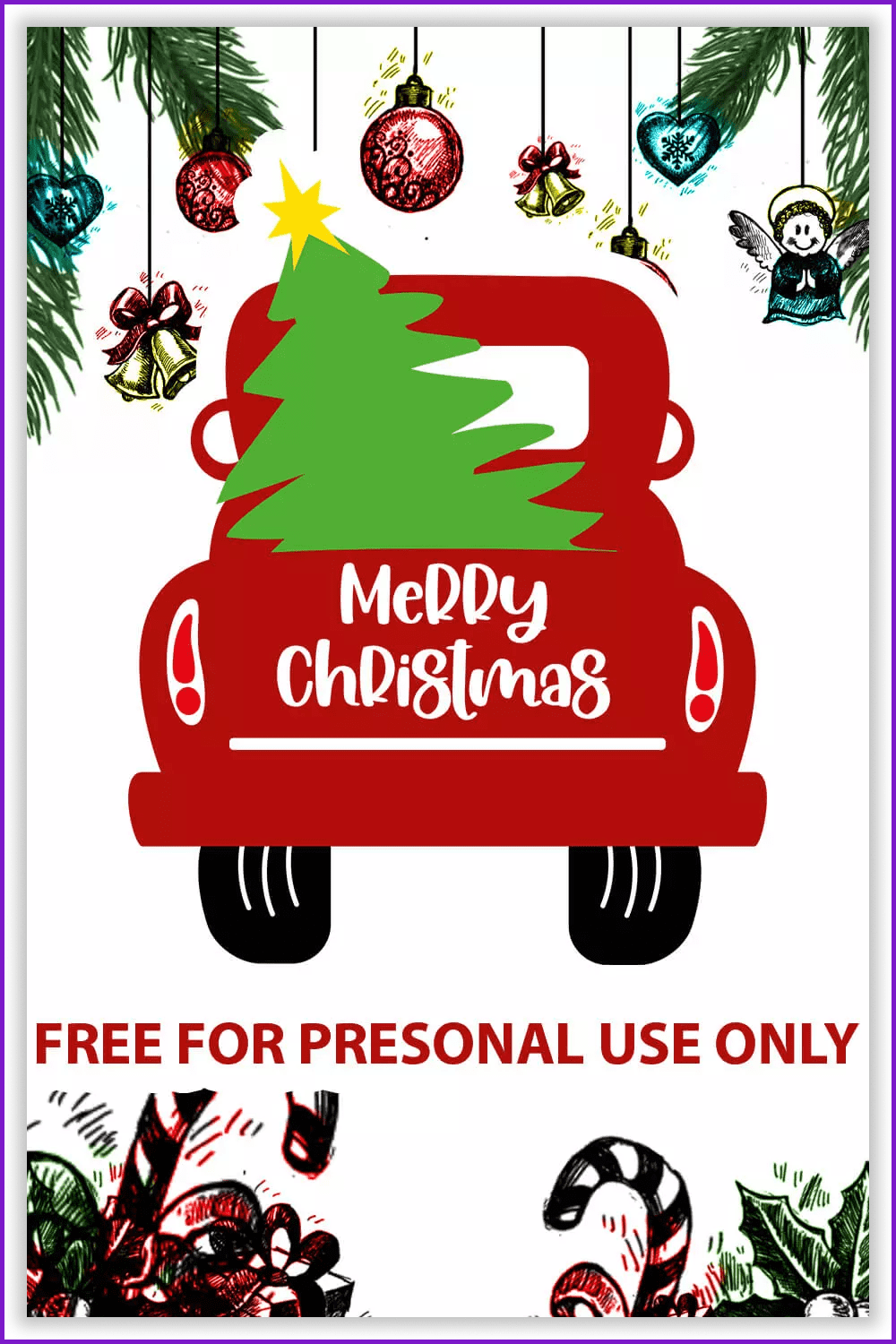 This is a great product from the Merry Christmas images free printable collection. You can use it for prints on any clothing, prints, interior design, signs, and posters.
Flat Christmas background Free Vector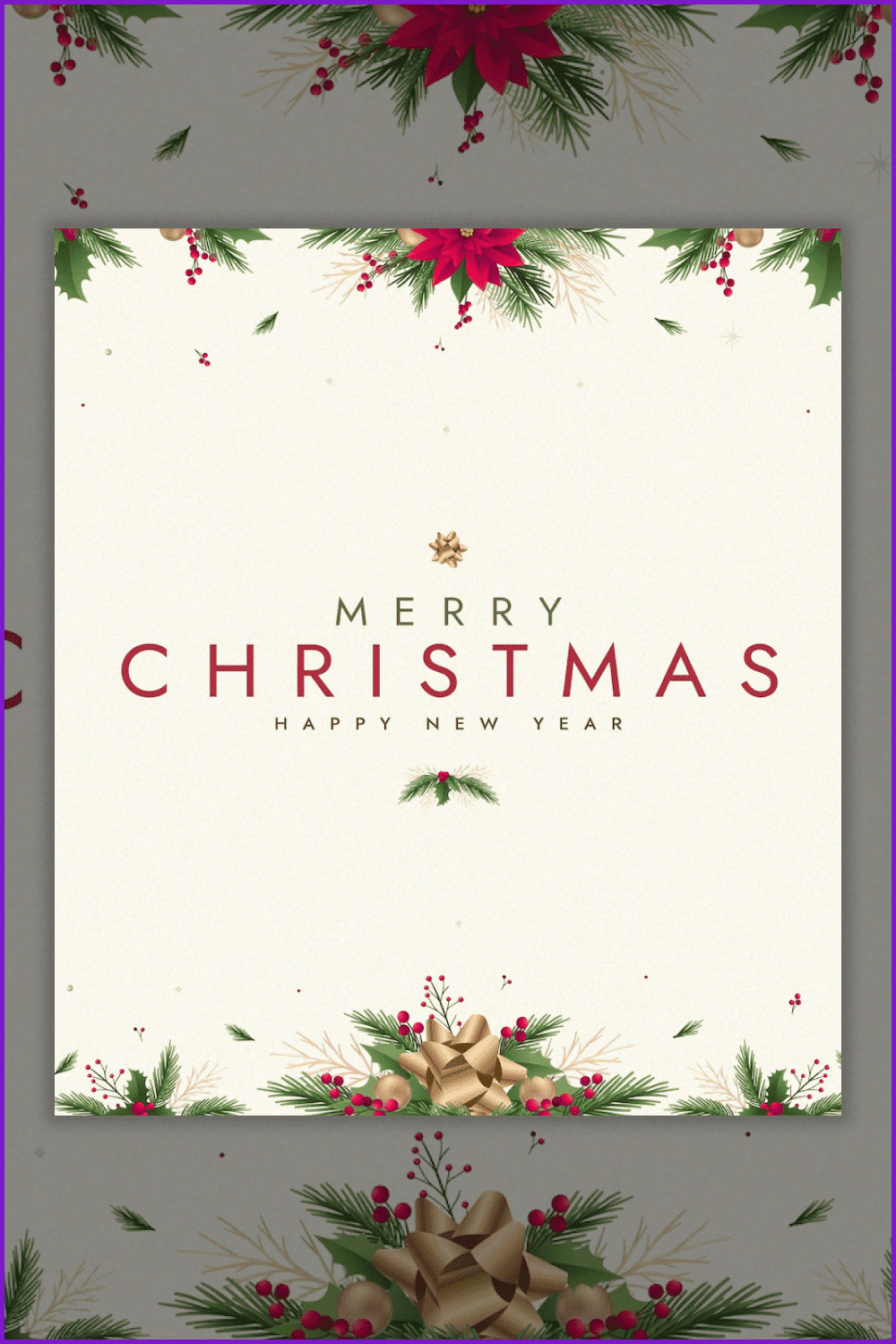 This is an impressive Merry Christmas free image that you should use in your projects. It's great for signs, banners, posters, and presentations. The image can be processed in a handy program and adjusted to the style of your project.
Realistic Christmas banner with white and gold decoration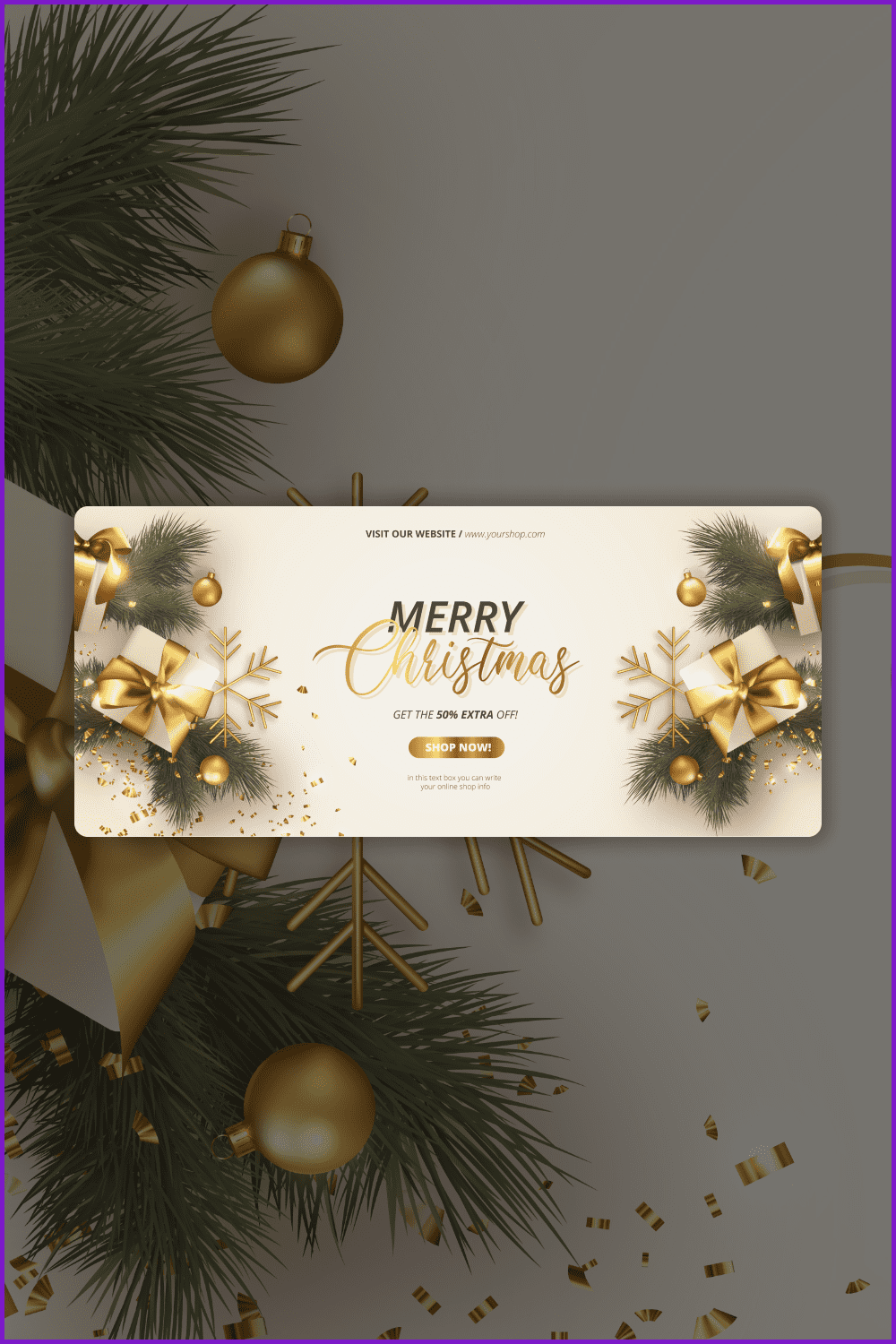 Gifts, garlands, bright lights, and of course discounts are the perfect combination for the holiday season. Try this impressive offer for a storefront. It's high quality and lends itself to all kinds of adjustments. The image is also great for brochures and flyers.
Christmas lettering badge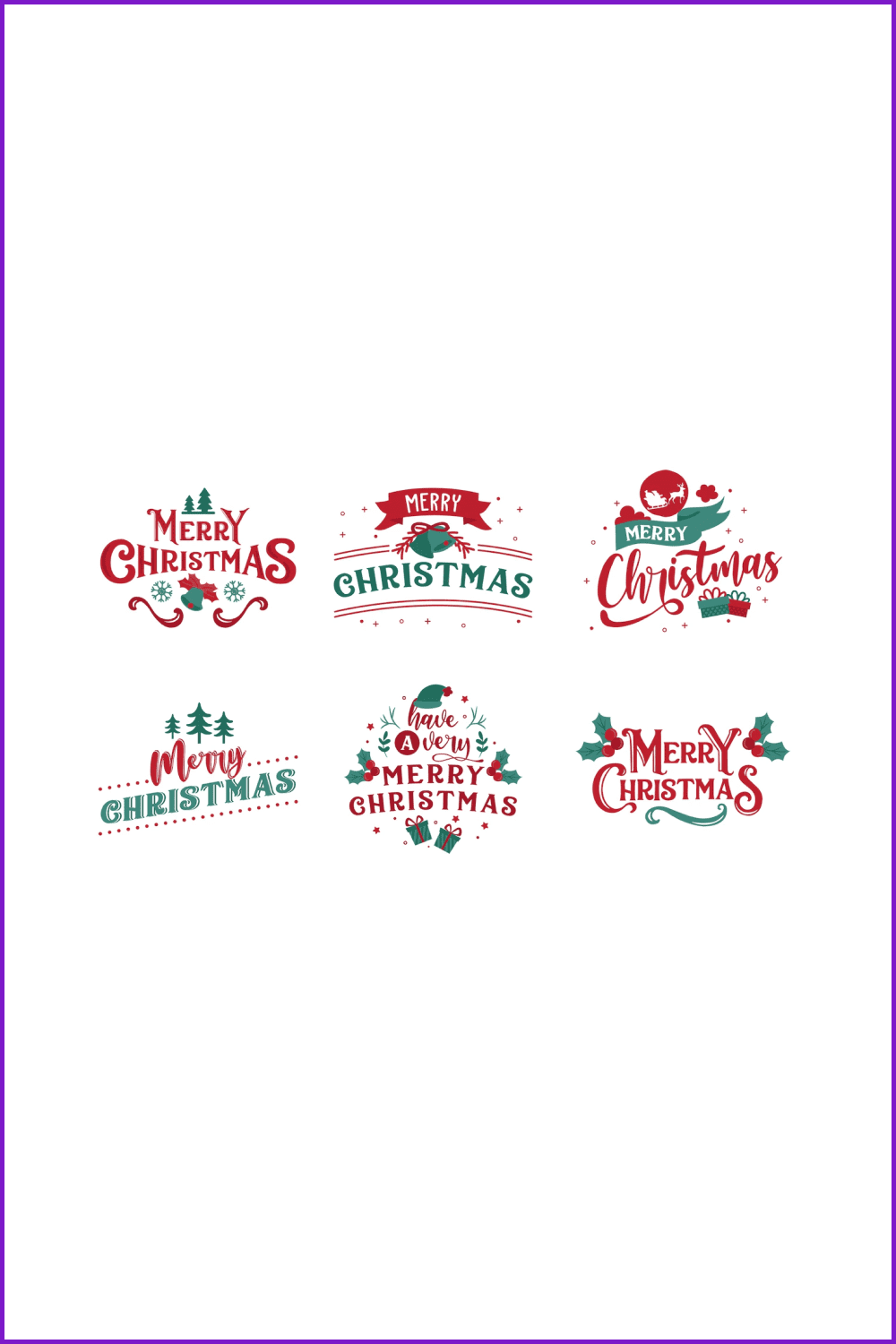 This set of Merry Christmas and Happy New Year 2022 images should be in your collection. The 6 brightly colored products will work for stickers, badges, flyers, posters, and advertisements. Also, take this for social media posts. Such items are sure to catch the attention of your customers.
Realistic Christmas banner with branches and red background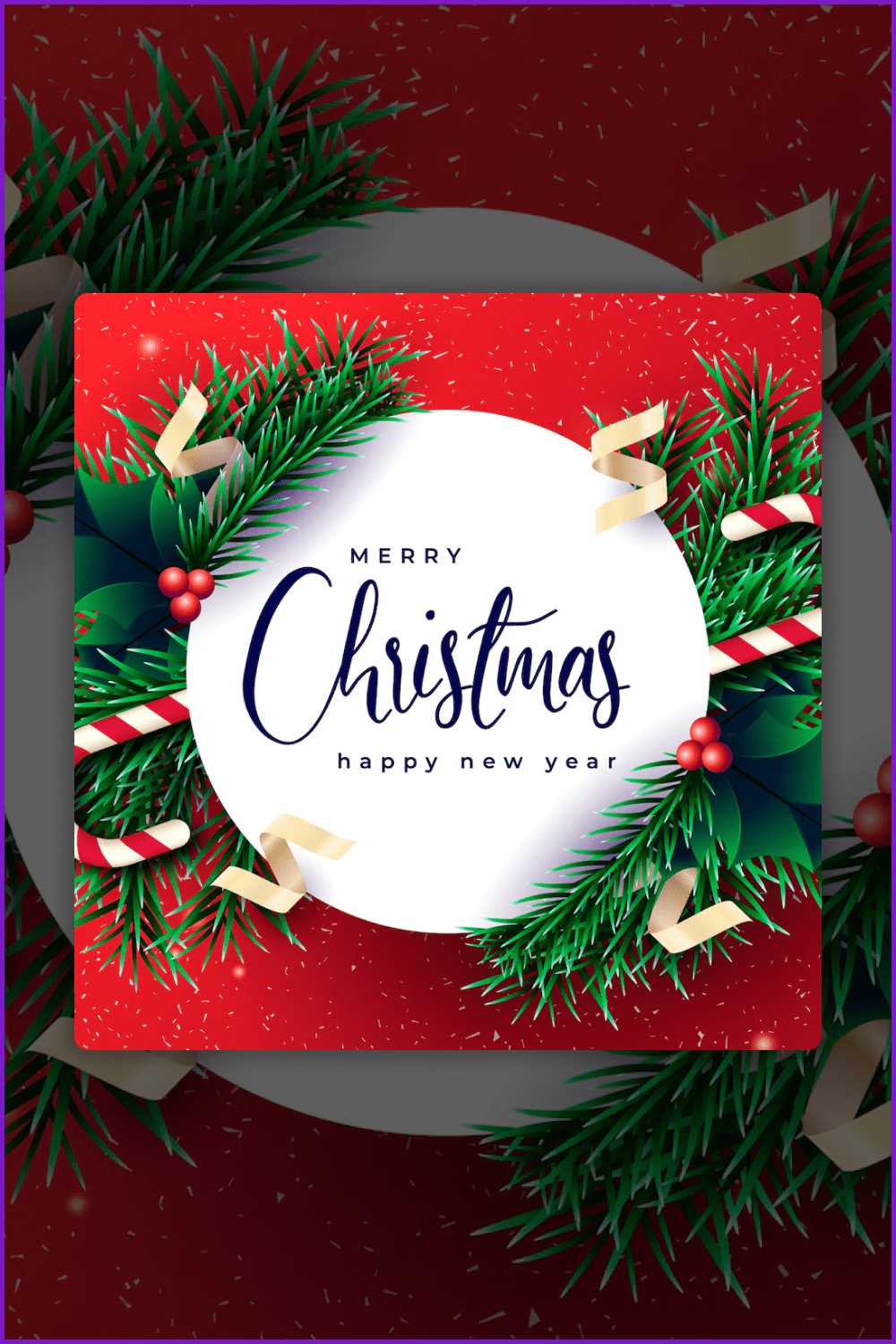 Wish your customers a Merry Christmas with this image. Add it to your website, and make the image part of social media. This Merry Christmas image free is suitable for banners, gift wrapping, flyers, brochures, and web projects.
Merry Christmas card with Santa must ride a sleigh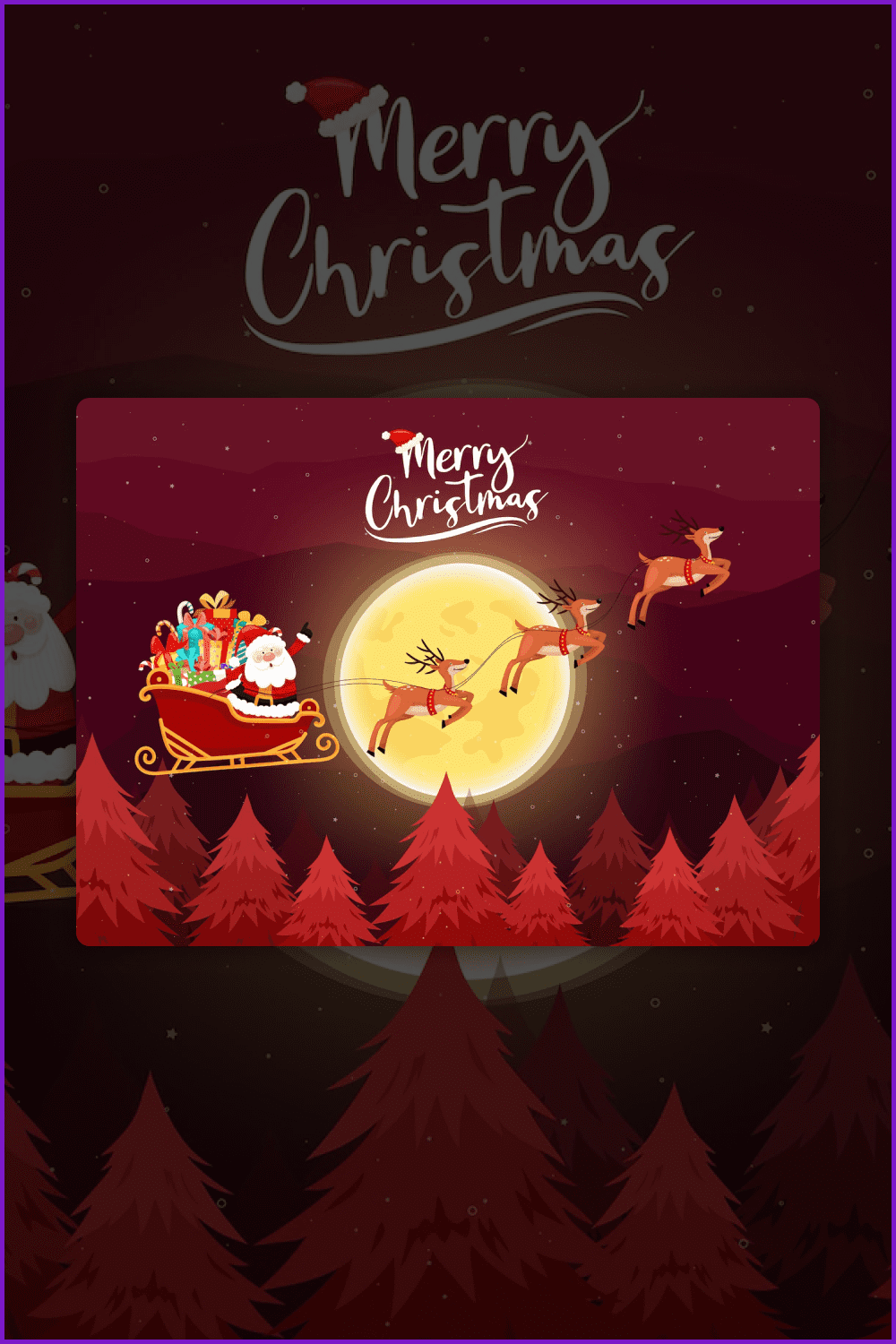 Christmas is always about the home atmosphere, gifts, and coziness. This image is ideal for presentations, posters, advertisements, and websites. The product is flexible in settings and ready for any changes.
Merry Christmas web template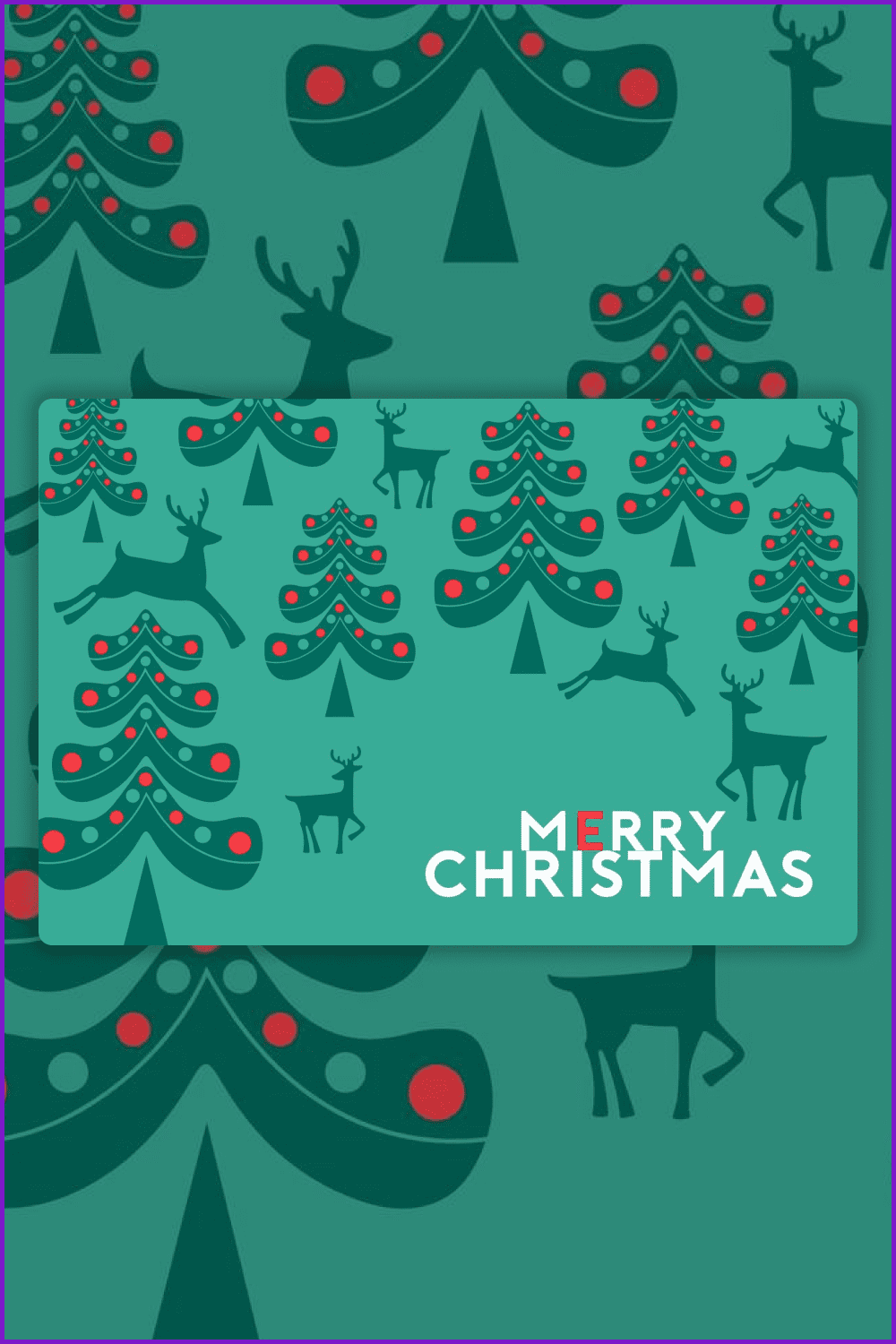 This is a wonderful high-quality illustration of Christmas with a picture of one of the symbols of the holiday, namely the reindeer. You can use this product for signs, posters, scrapbooking, and many other things.
Red Merry Christmas greeting card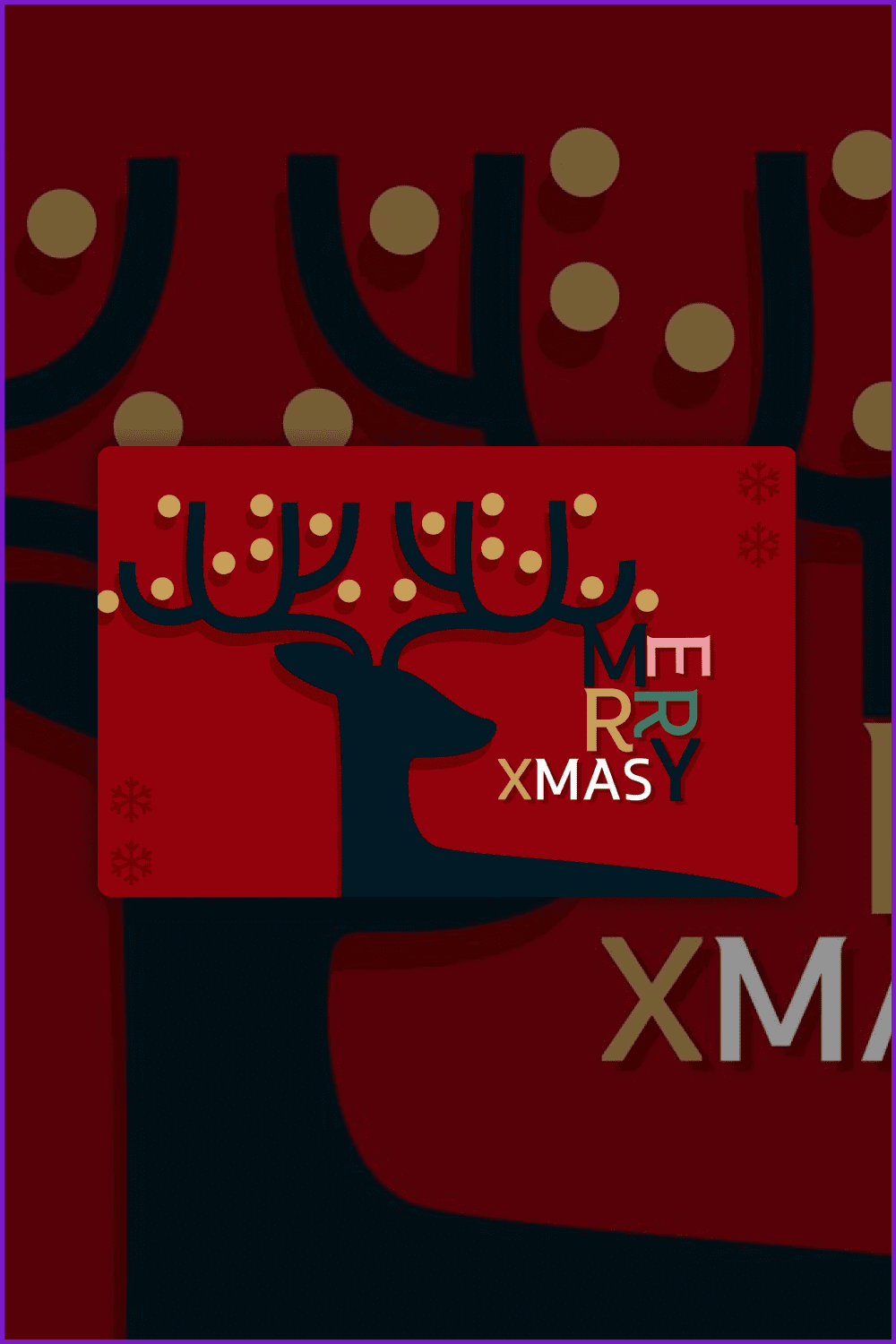 Enjoy the unusual design of this funny Merry Christmas image. Use it for ads, presentations, websites, social media, signs, billboards, posters, etc. It's completely free, yet it's high quality and ready to print.
Merry Christmas Text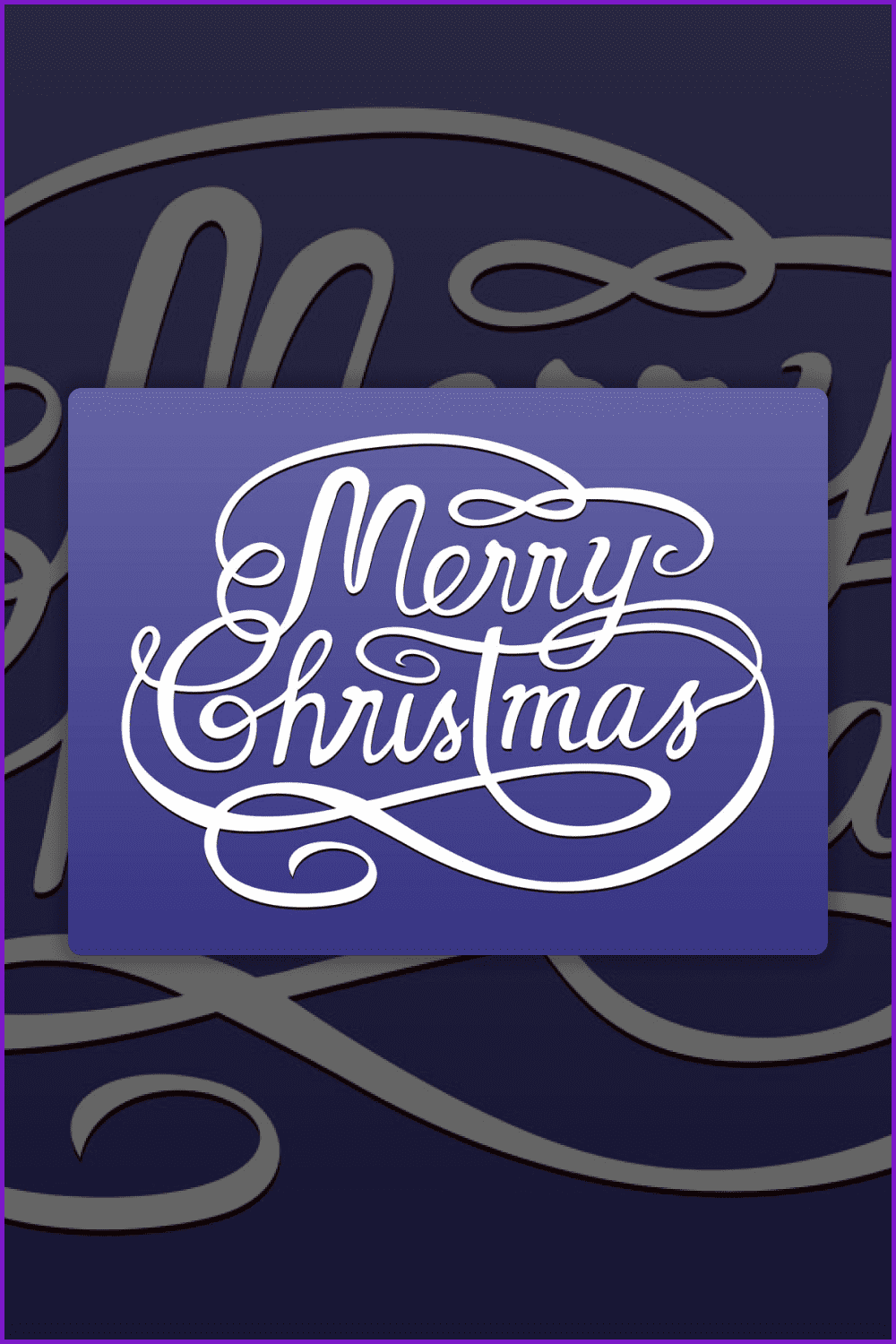 This is an attractive image with calligraphic lettering. It's simple enough, yet suitable for a variety of projects. Use it for postcards, posters, banners, flyers, advertisements, signs, creative work, and social media. It's perfectly editable, so the style of the images depends on your design preferences.
Christmas Greetings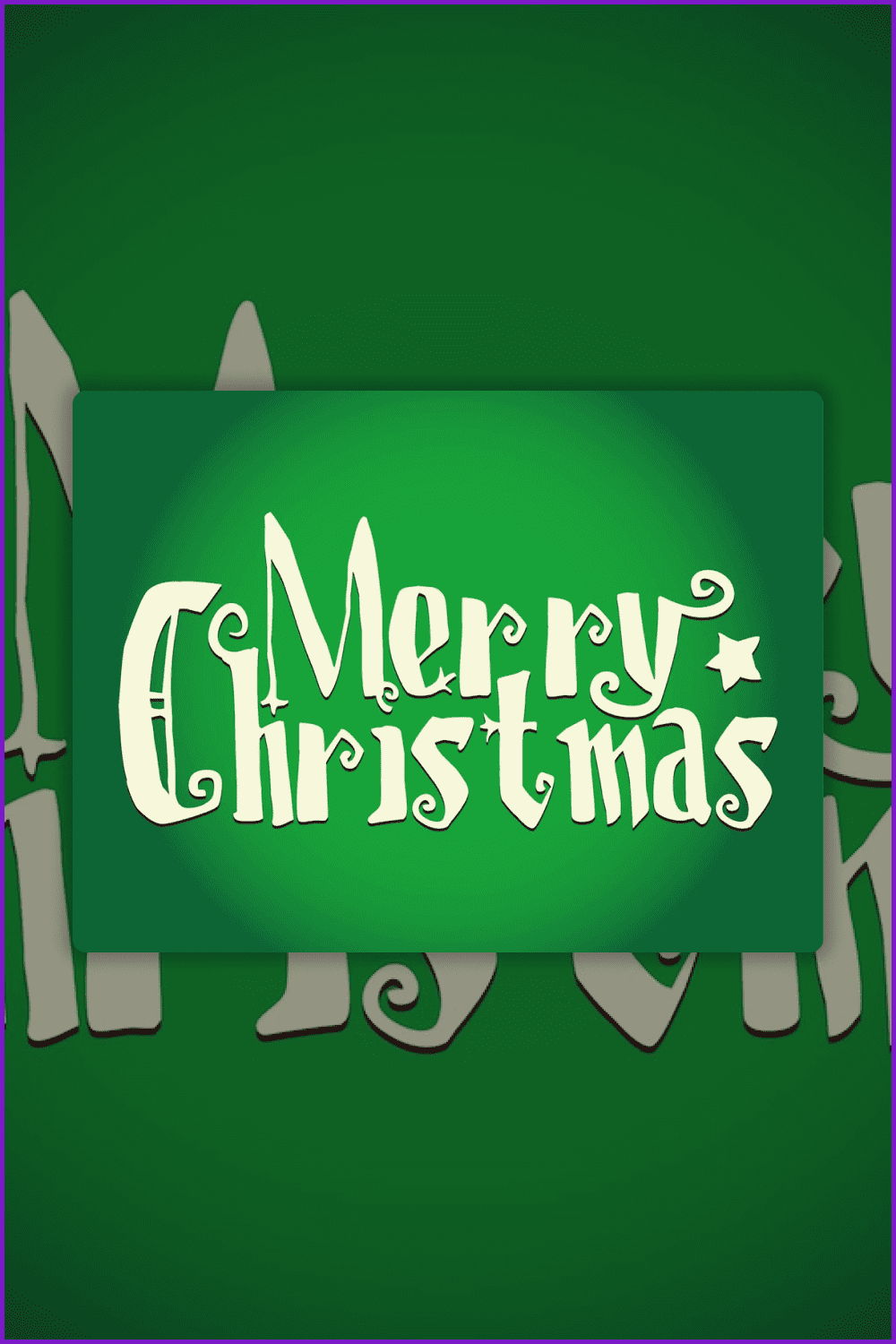 Another beautiful image with which you will create incredible artwork. It's reminiscent of the Grinch in style, with a nice and festive atmosphere. Try it for presentations, social media, advertising, and print projects.
Happy New Year Hand Lettering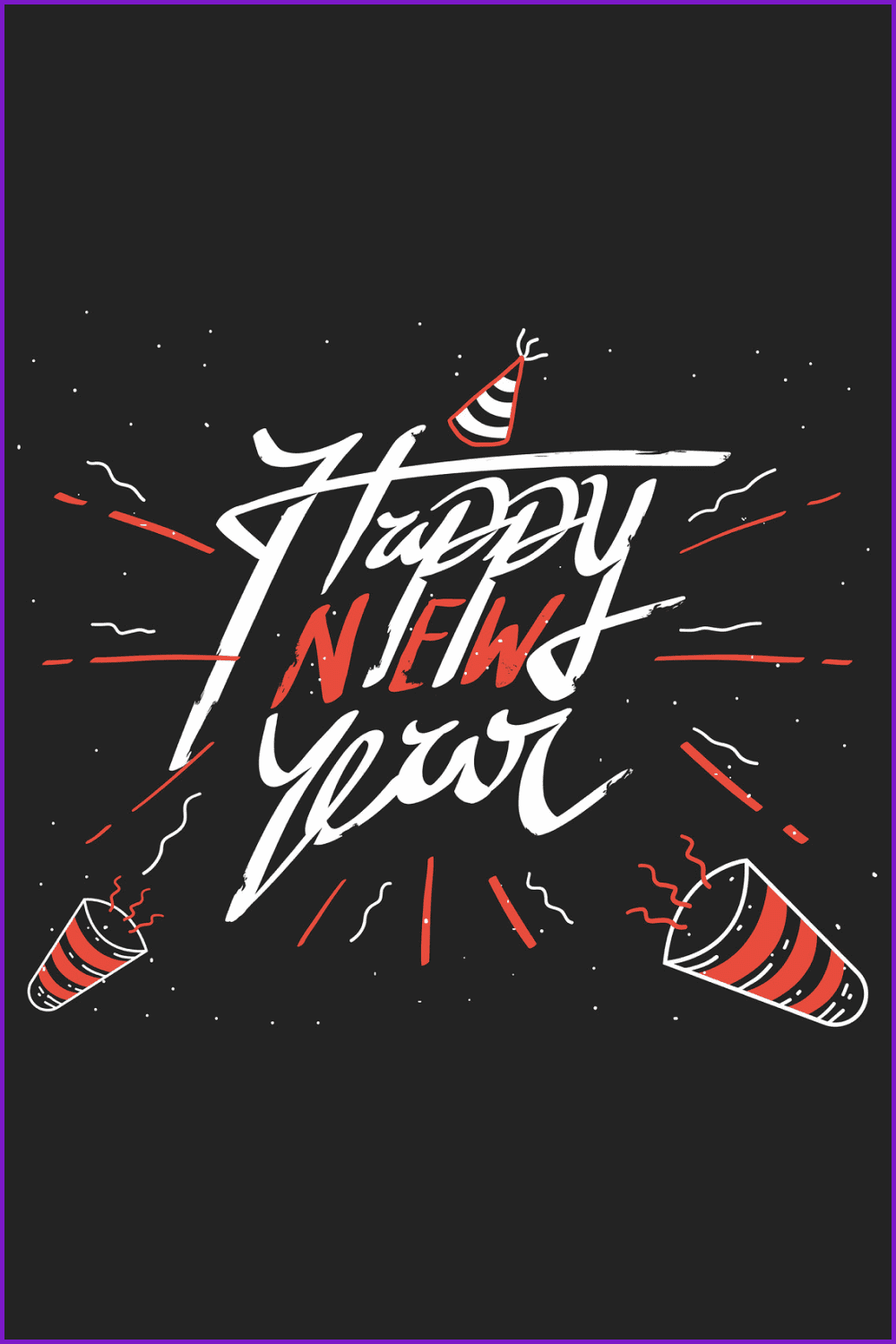 This is a cool product from the Merry Christmas free images 2023 collection. It's great for posters, ads, flyers, and banners. Also, fill web projects with it. Have your website filled with a nice and festive atmosphere.
Free Inspirational Christmas Images
Christmas Is Not So Much About Opening Our Presents As Opening Our Hearts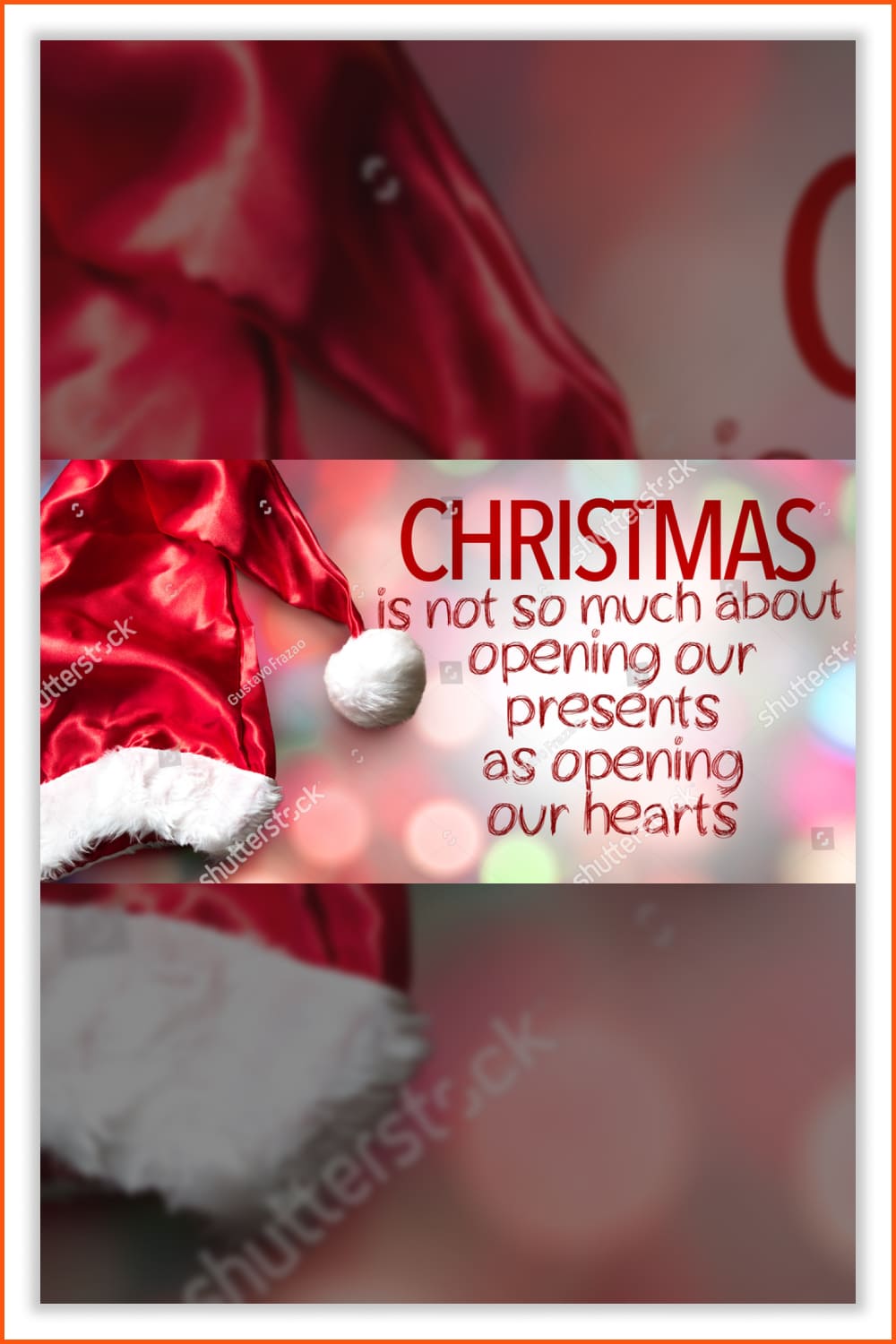 This inspirational 2023 Christmas image is free, so you can bring joy to friends and family at no cost. It will add to your Christmas invitations or greeting.
Christmas Quotes Inspiration: The Santa Clause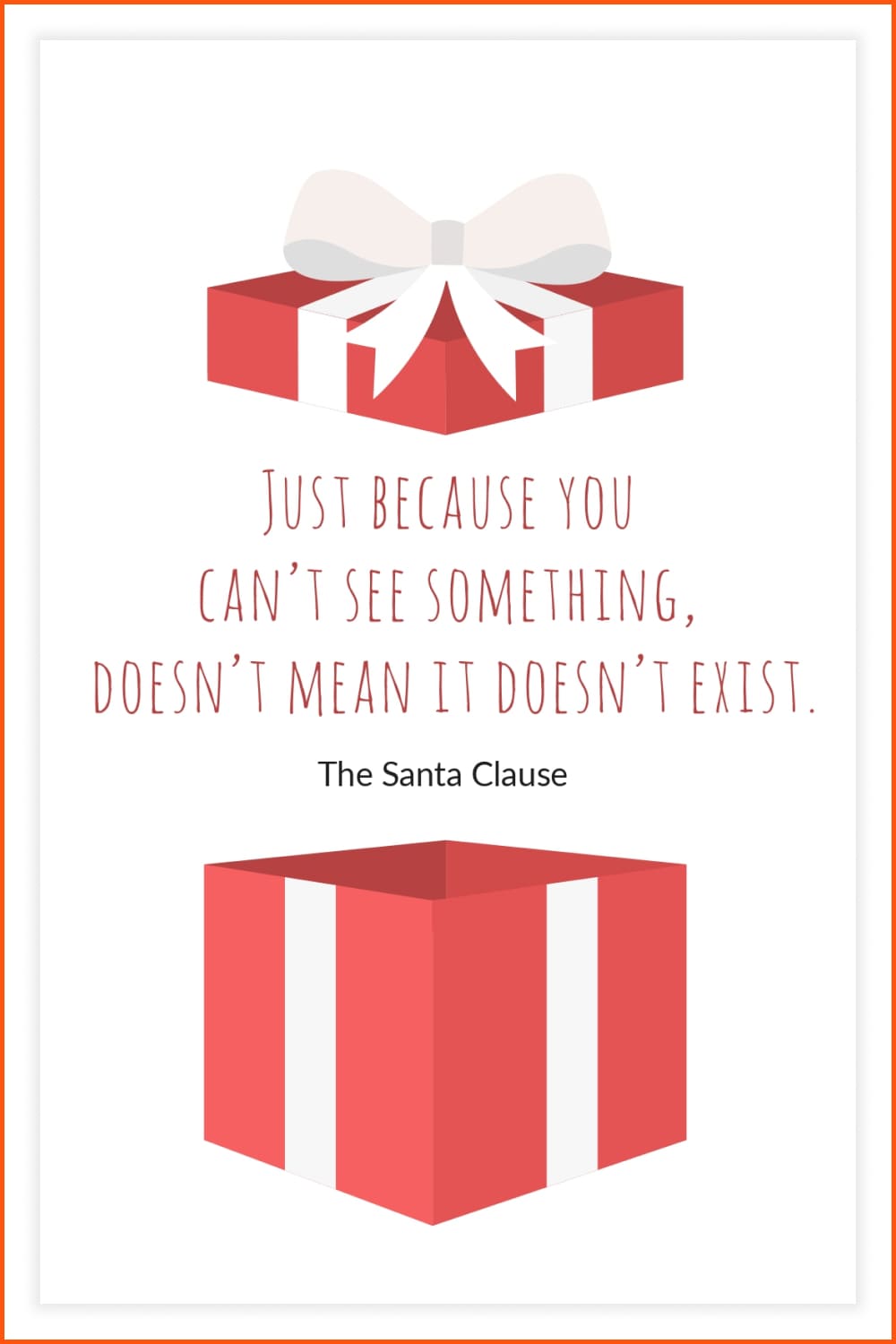 "Just because you can't see something, doesn't mean it doesn't exist" free Xmas image 2023. Talk about an inspiring short quote! This is a great inspiring image for kids who are starting to question Santa Clause.
Free Vector Happy Holiday Facebook Post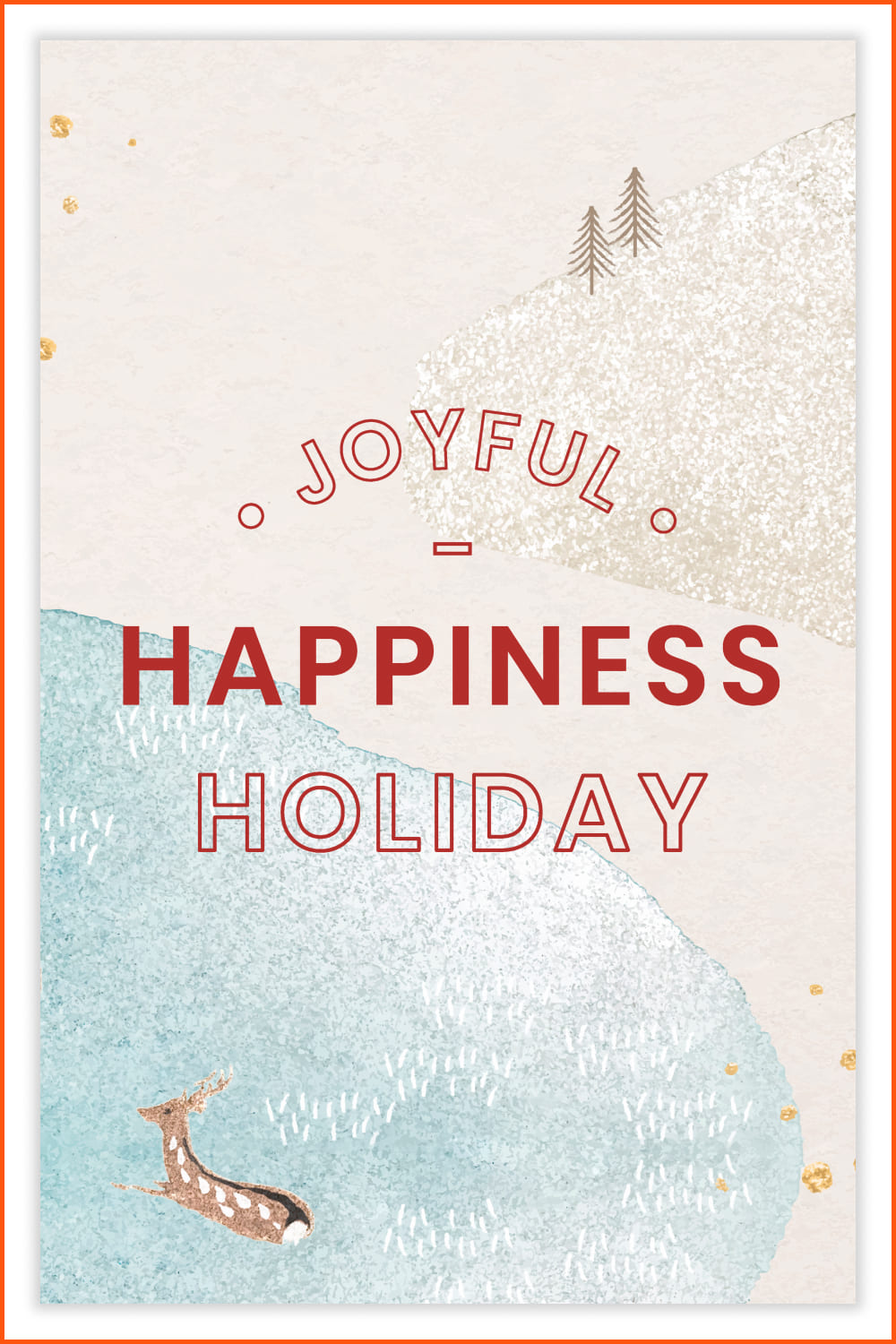 Check out this beautiful free holiday image 2023 with stylish typography and simple elegant design.
Free Vector Minimal Holiday iPhone Wallpaper, Ink Greeting Typography Vector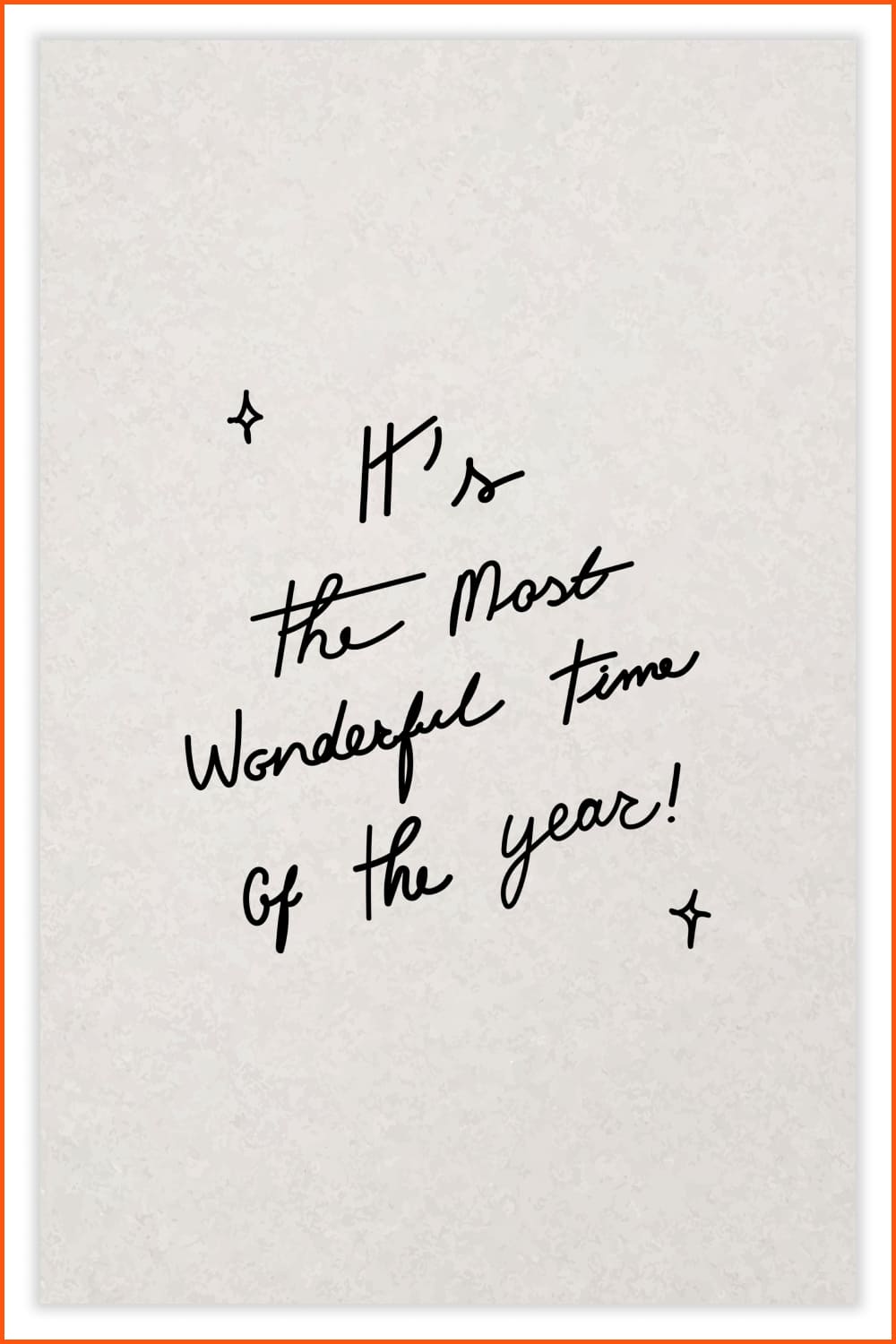 If you like minimal and inspiring Christmas season pictures, this typography text image is just right for you!
Free Vector Winter Aesthetic Desktop Wallpaper Template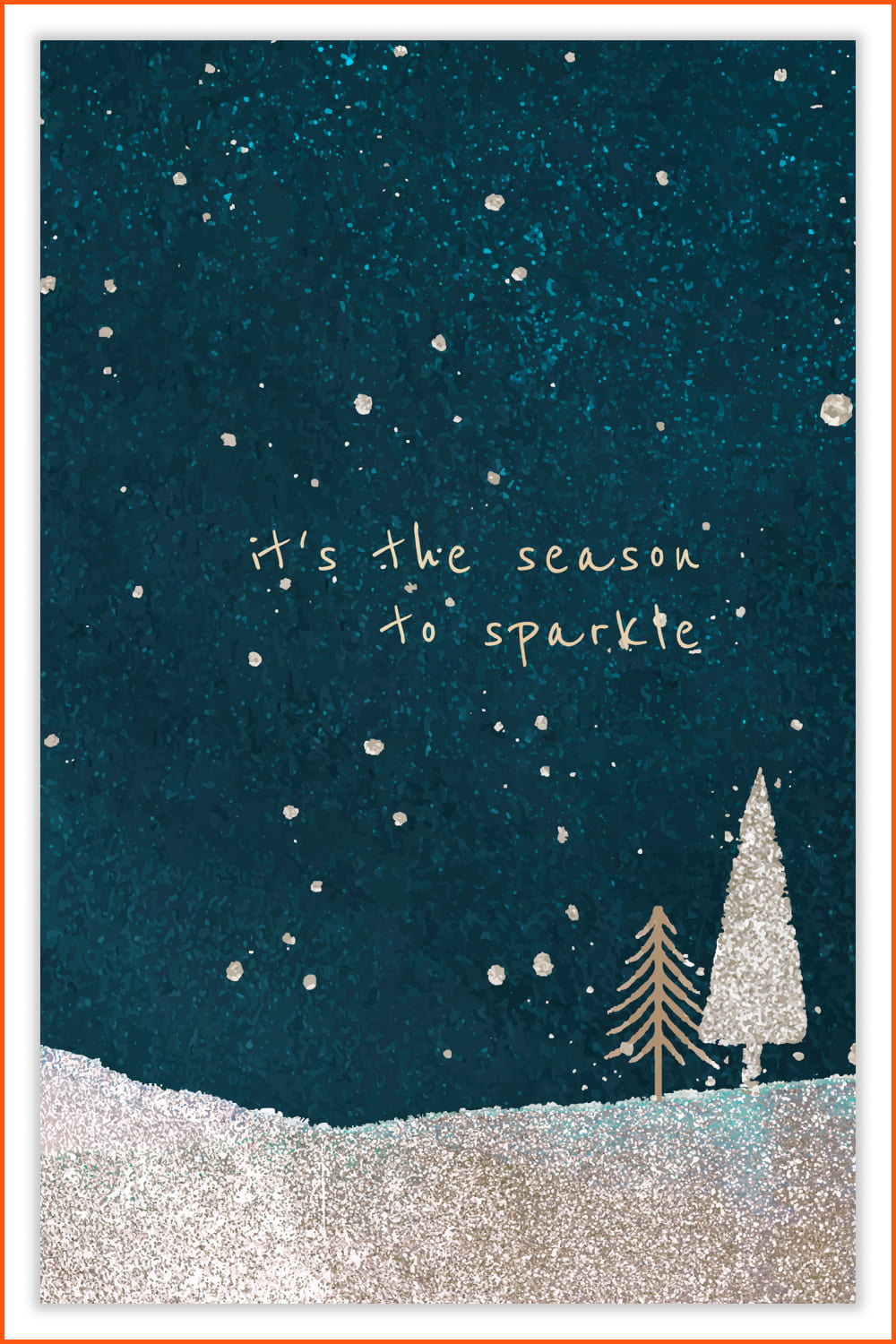 Merry Christmas jpg free images are very stylish. This modern image will be perfect for your various projects, whether that's printing them on shirts, mugs, or totes for great presents.
African American Merry Christmas Images Free
Merry Christmas 2023 Image Free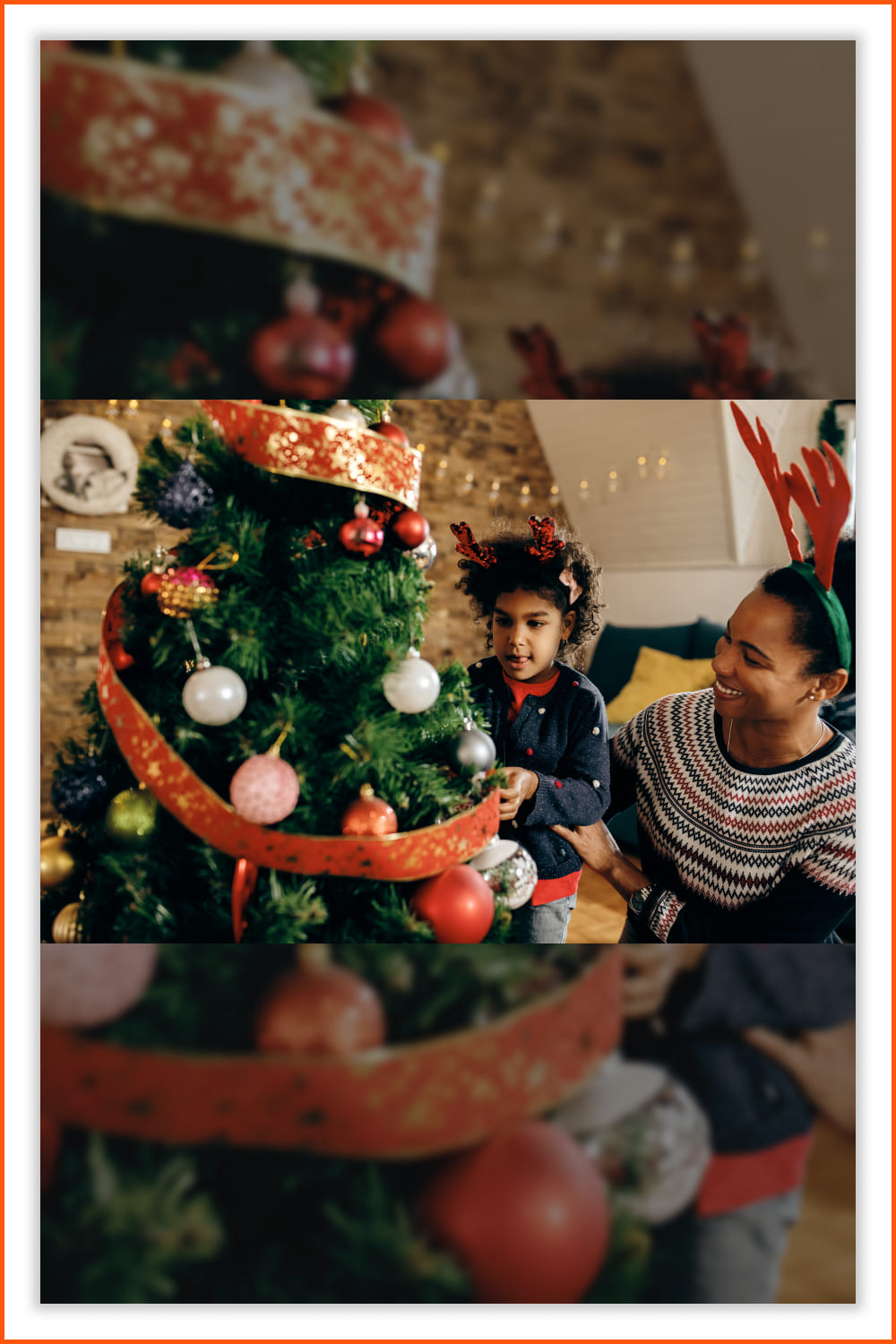 This free Christmas image illustrates an African American woman together with her child decorating the Christmas tree. A perfect picture to use for cards or collages with cute wishes, which you can then send to friends and family.
African American Black Santa Claus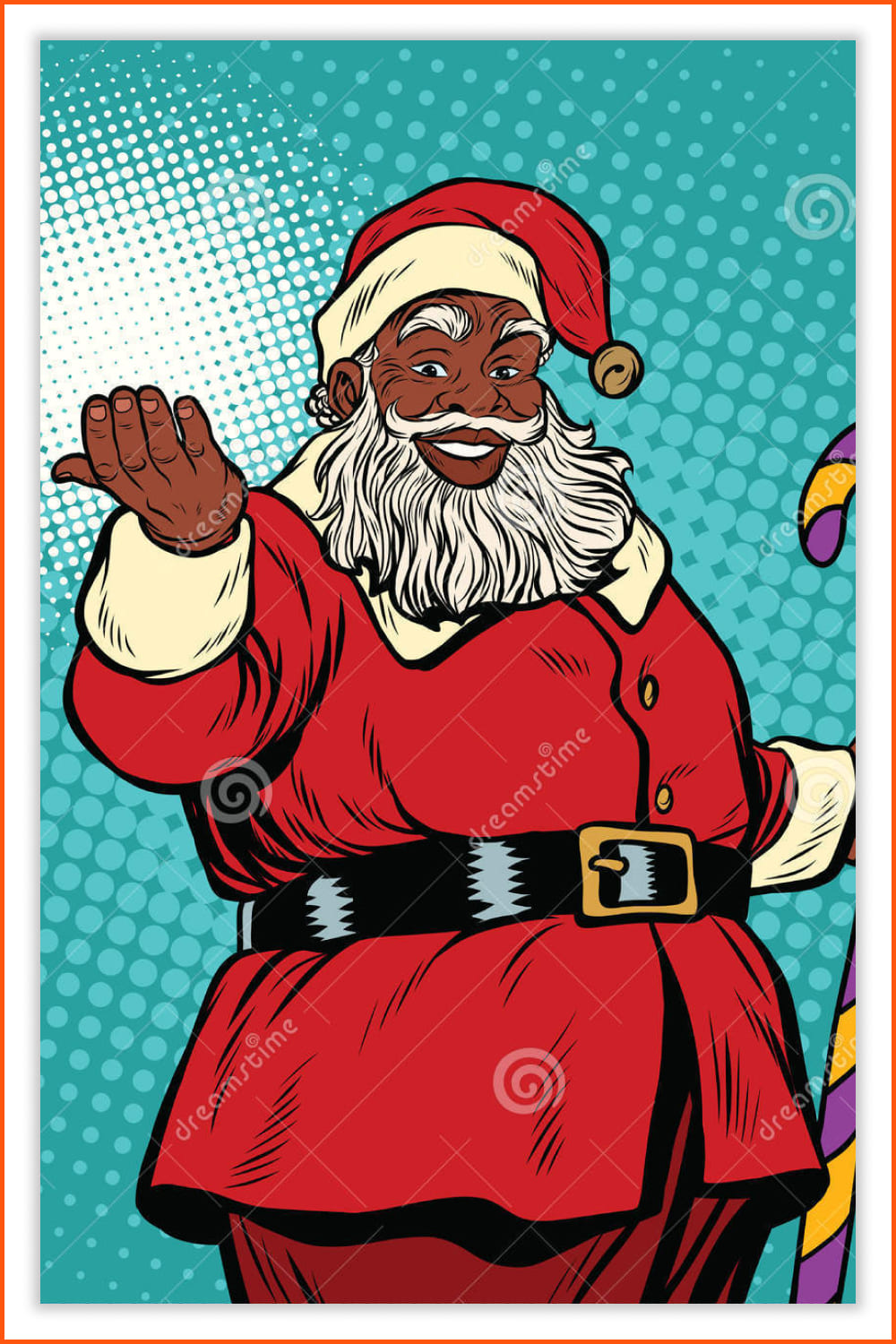 A fun pop art retro vector illustration from the Merry Christmas images 2023 free download collection.
Merry and Safe Home Christmas Greeting Vector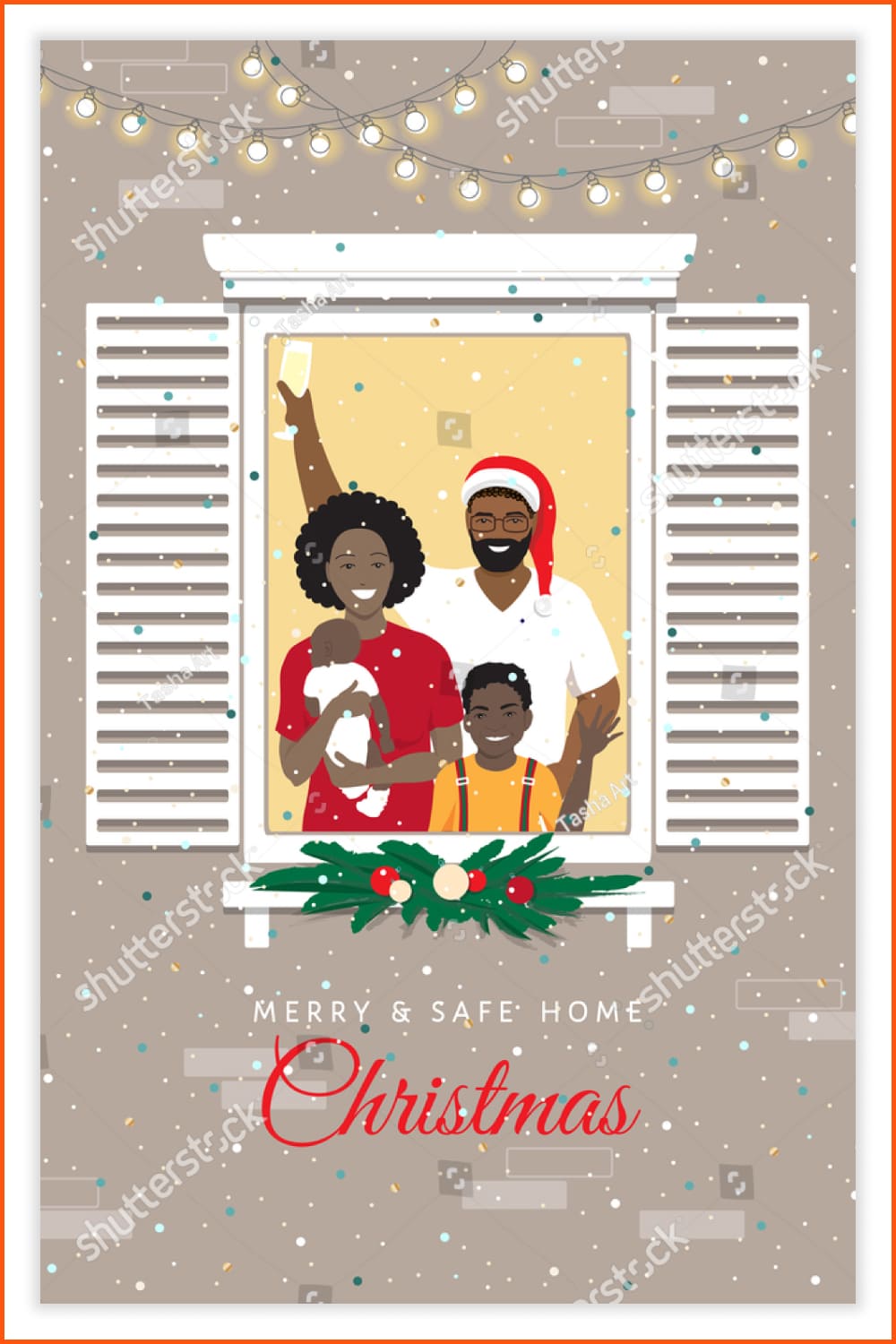 A happy cheerful African American family of parents and young children at a window from the collection of merry Christmas family images free. The vector will look great on websites, greeting cards, billboards, or business cards.
African American Family at Christmas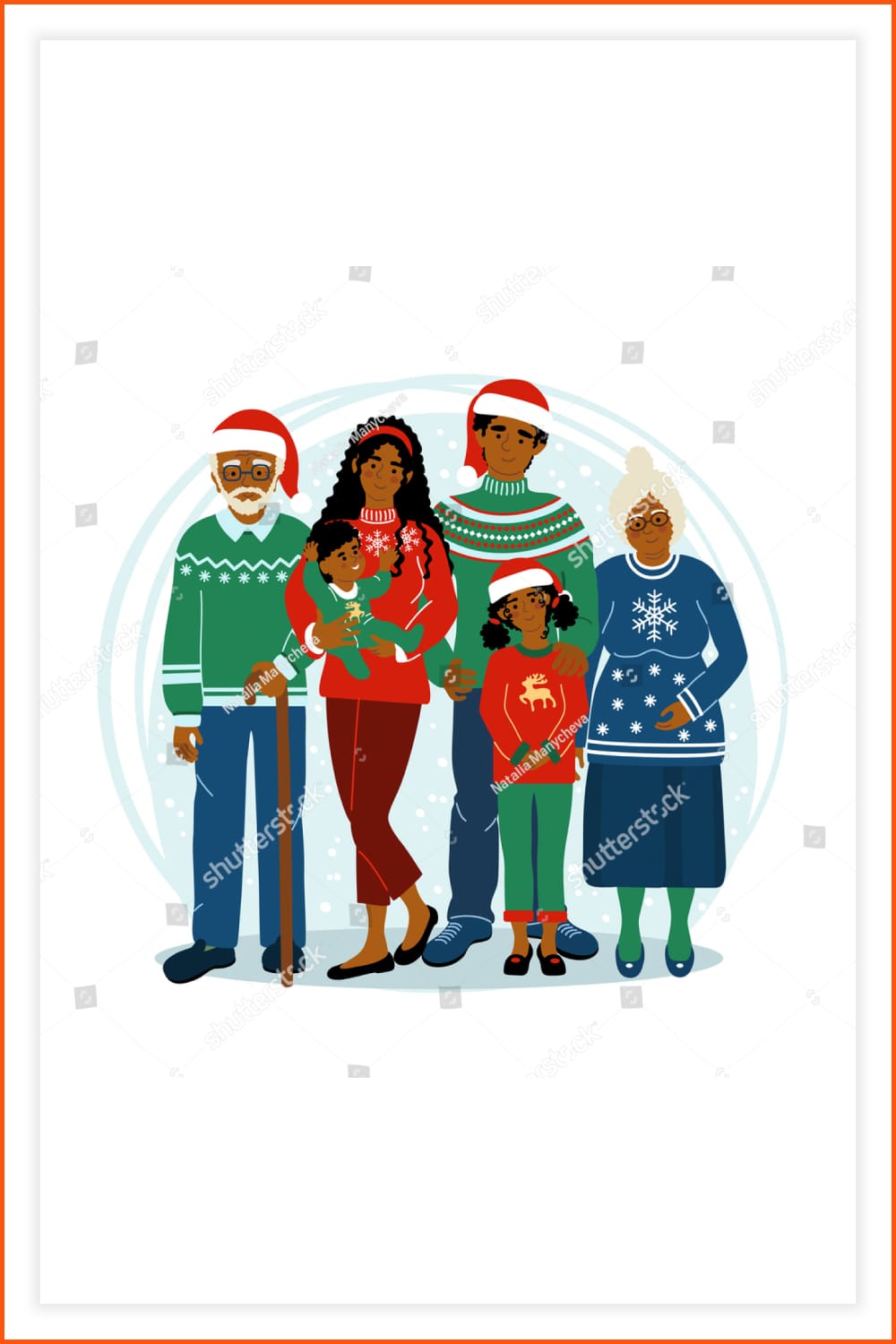 An all-age family image with kids, parents, and grandparents is as cozy as it can get. A very cute image to use for the Christmas season pictures and ads to represent a beautiful happy family.
Happy Santa Claus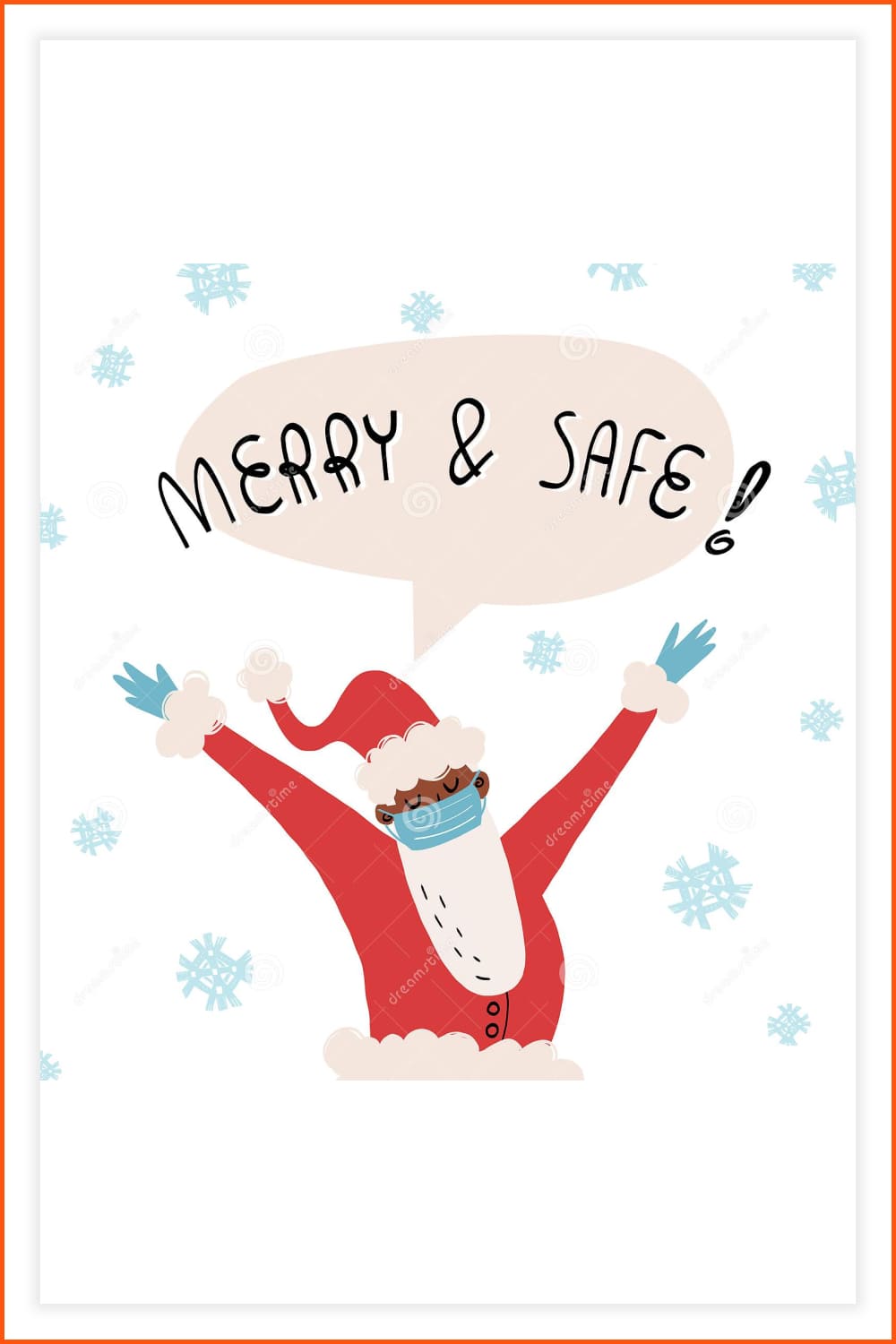 Even though the holiday season is about getting together, you should not forget about staying safe, as a great reminder to use this African American Santa Claus image to send out to your loved ones.
Elegant Merry Christmas Images
Dark Blue Christmas Vector Image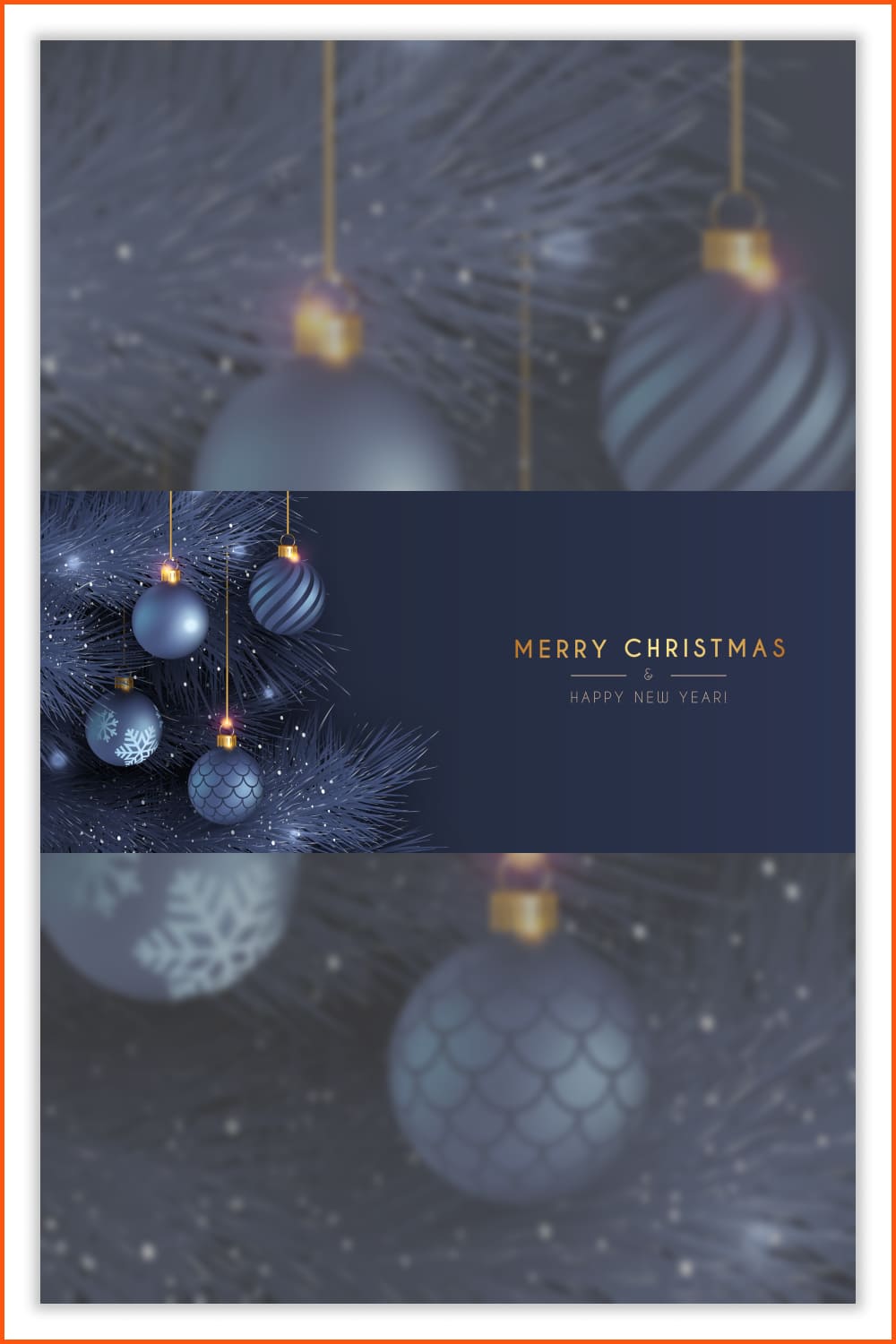 Download this elegant Xmas image 2023 and use it for decorations or for various festive projects. The image is high quality and will look good after you resize it or after you print it on posters.
Elegant Christmas Vector Image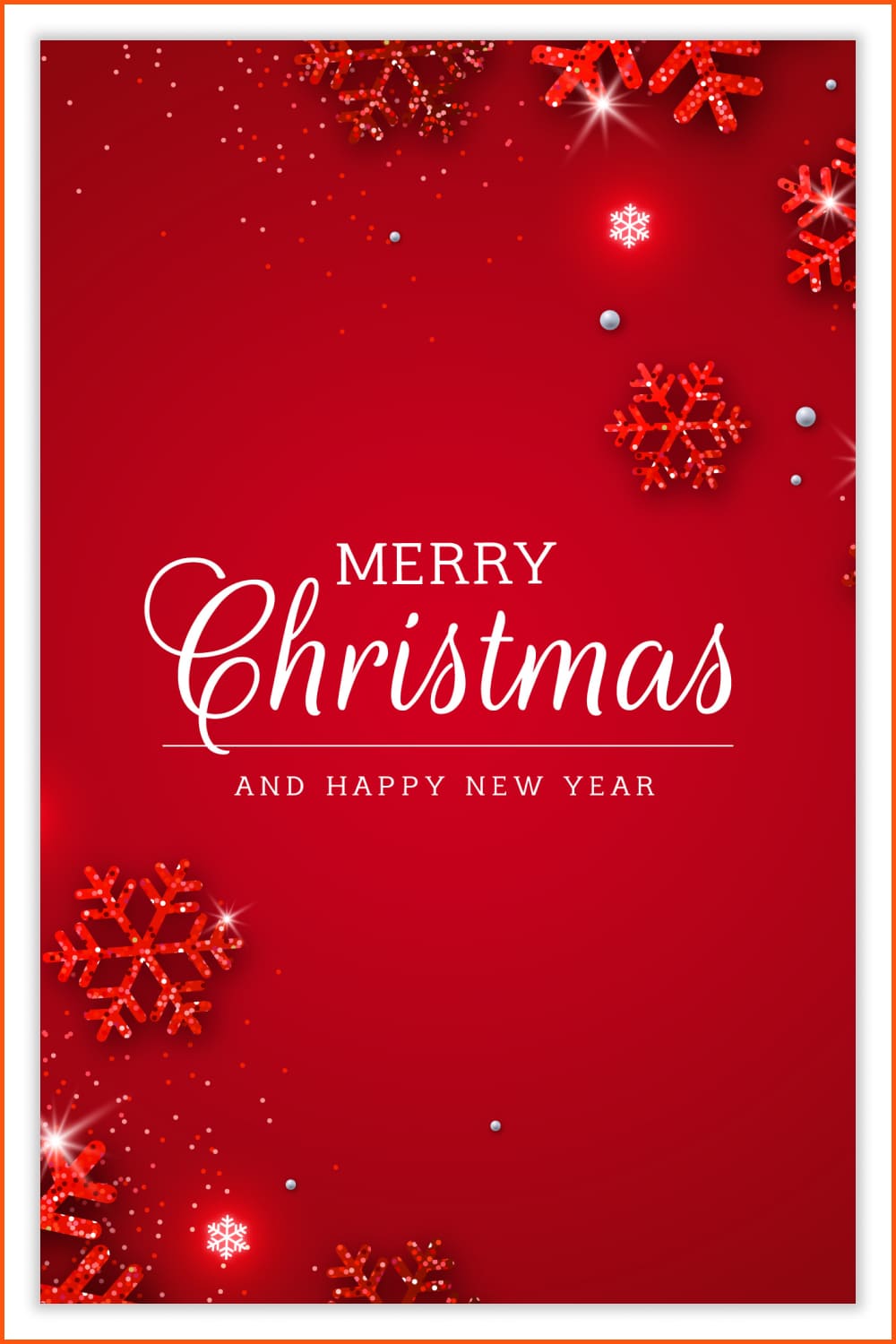 Check out one of these Merry Christmas pics 2023, made in festive colors, stylish typography, and elegant details. Simple, but suitable for various presents or cards.
Gold Christmas and New Year Image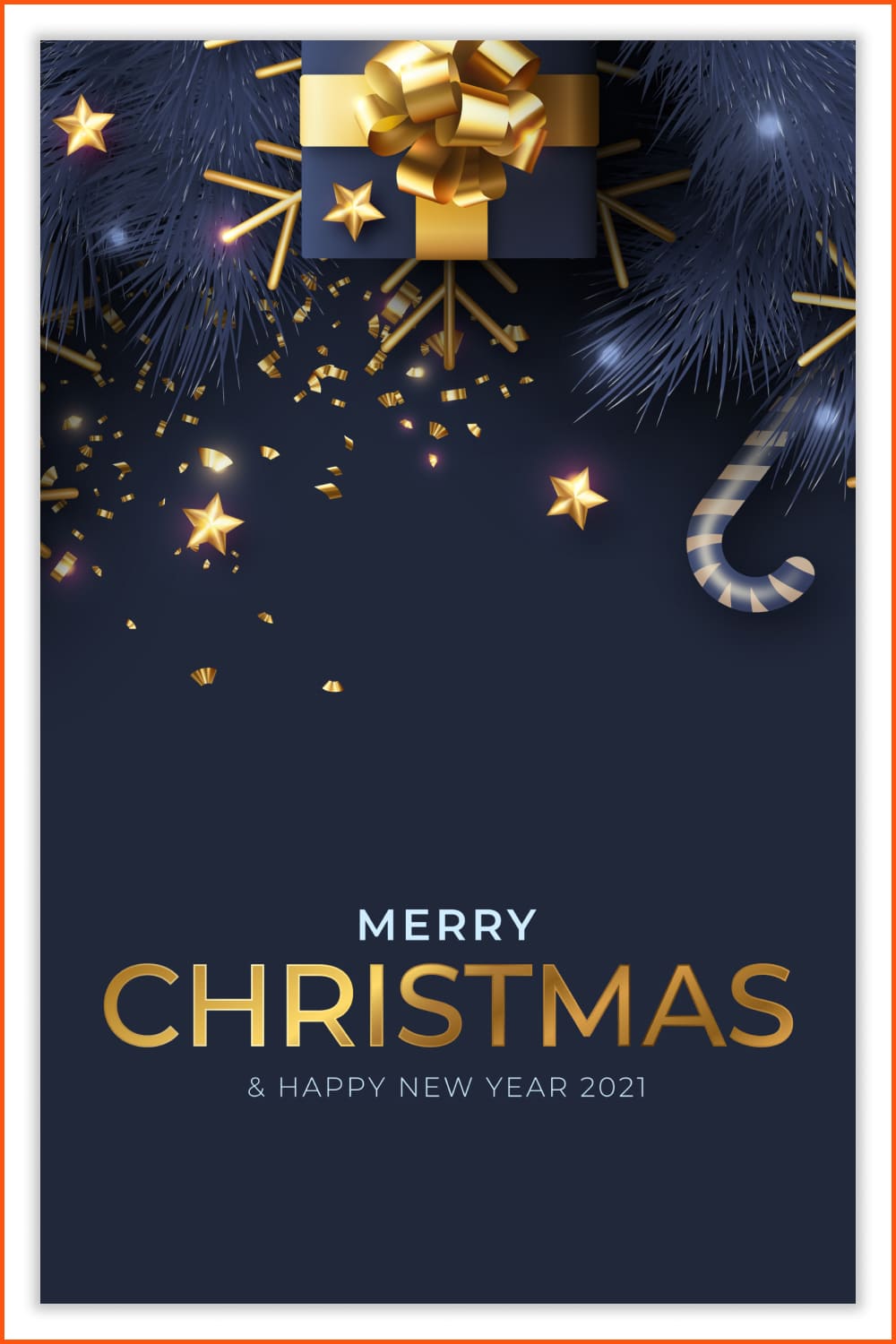 A deep blue image with golden details is absolutely stunning. The gold paired with a dark blue color gives it elegance, combined with white elements and beautiful typography.
Merry Christmas Vector Image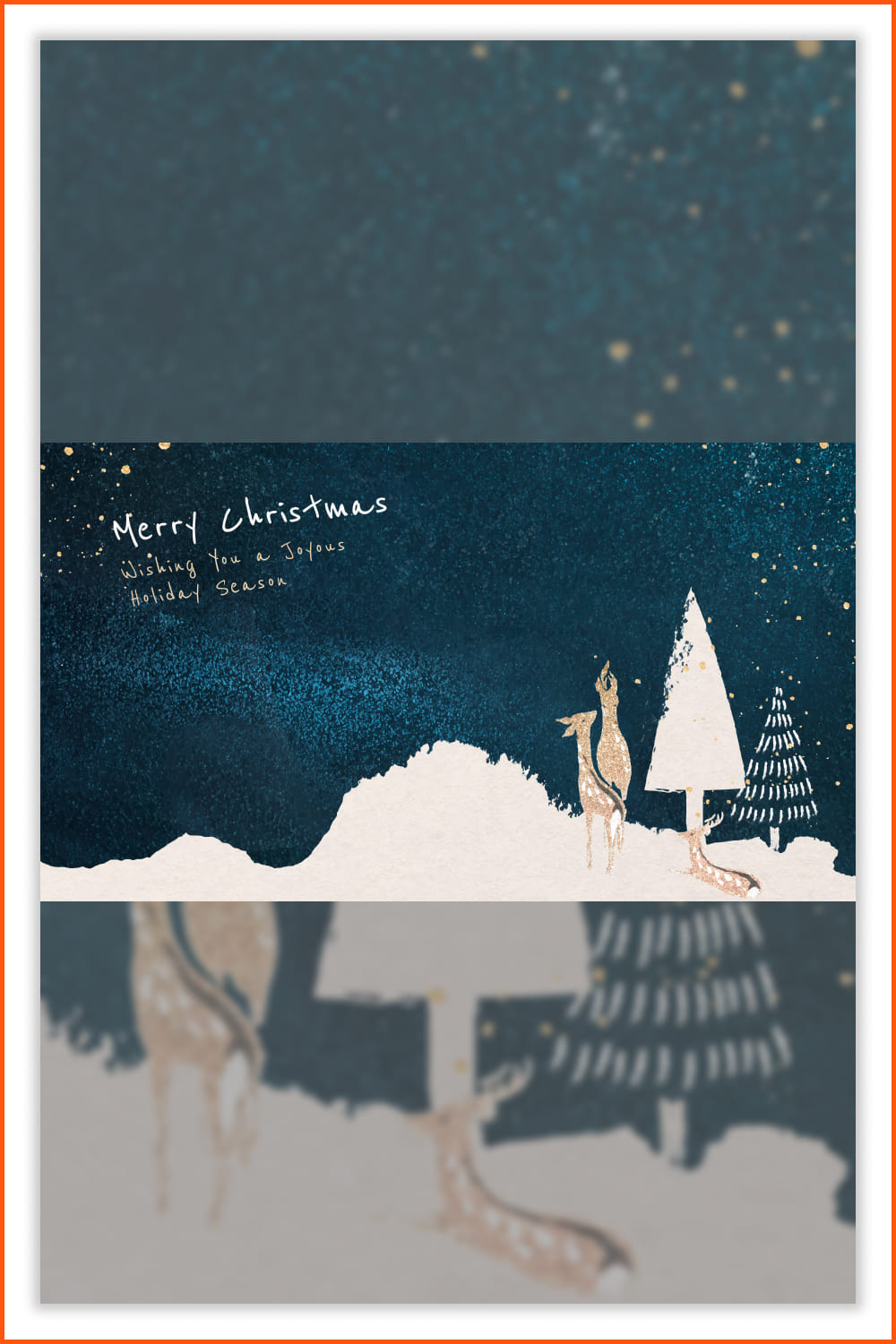 Stylish image that features dark blue colors and various small details that make the picture stand out. The wishes are written in the way it seems like you've written on it, which makes it look more personal.
Christmas Banners – Stock Illustration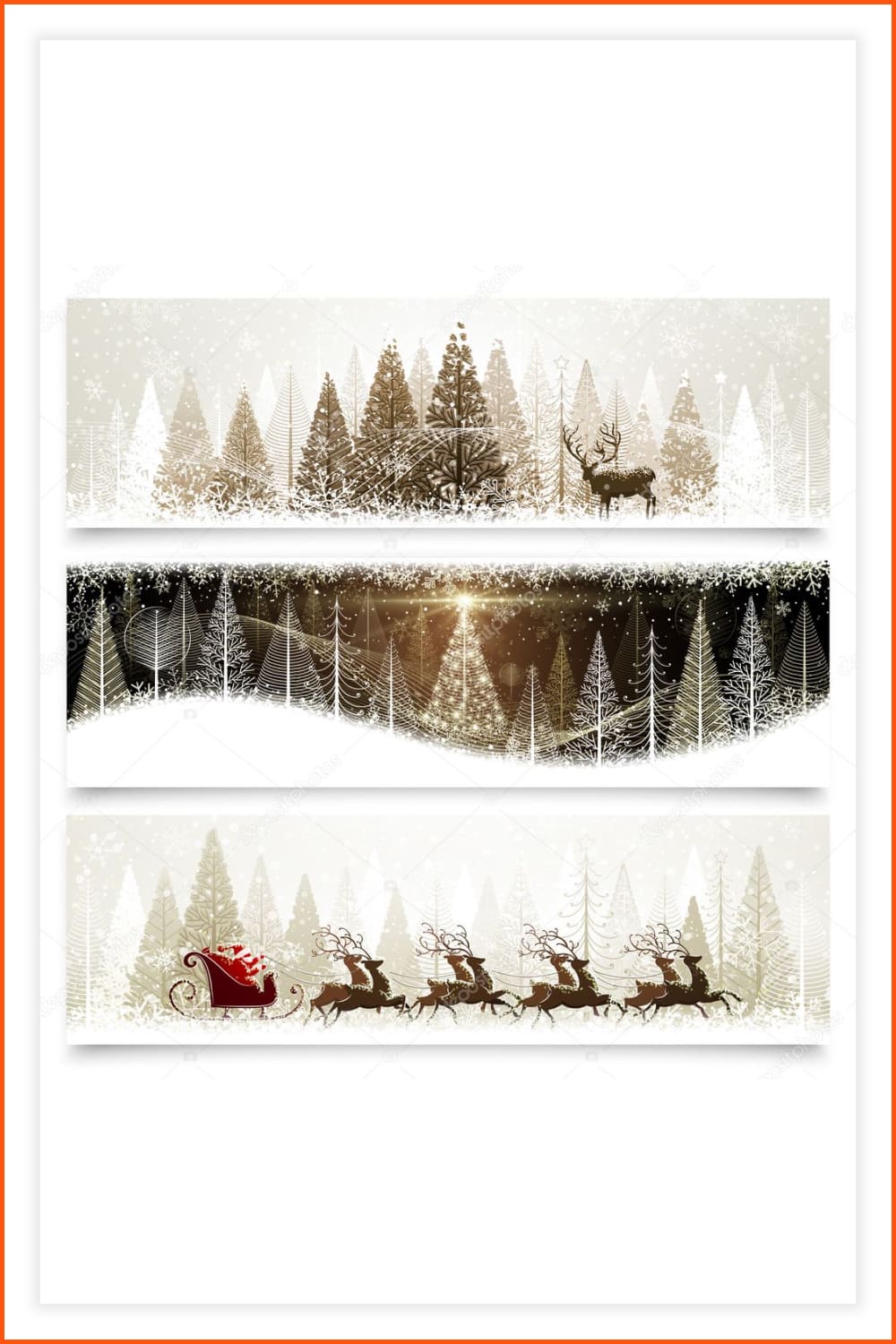 These elegant Christmas banners will be perfect for those holiday studio photos. They will look amazing as backgrounds for family photos, solo photoshoots, and party backdrops.
Merry Christmas High-Resolution Pictures
Beautifully Christmas Decorated Home Interior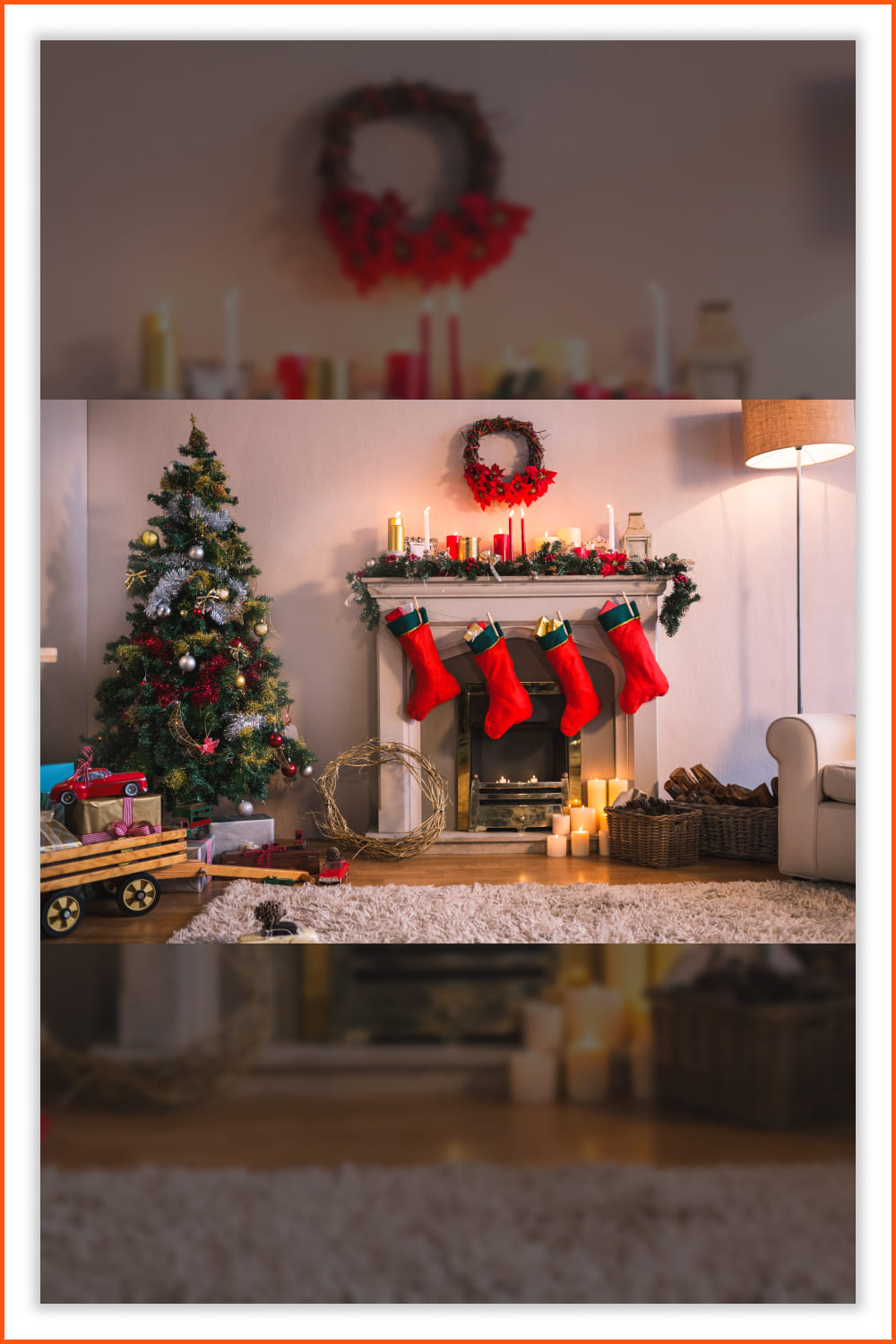 This Merry Xmas image 2023 has a high-resolution quality, meaning you can resize your vector, print it on various materials, and it will stay super high quality.
Family on Christmas Dinner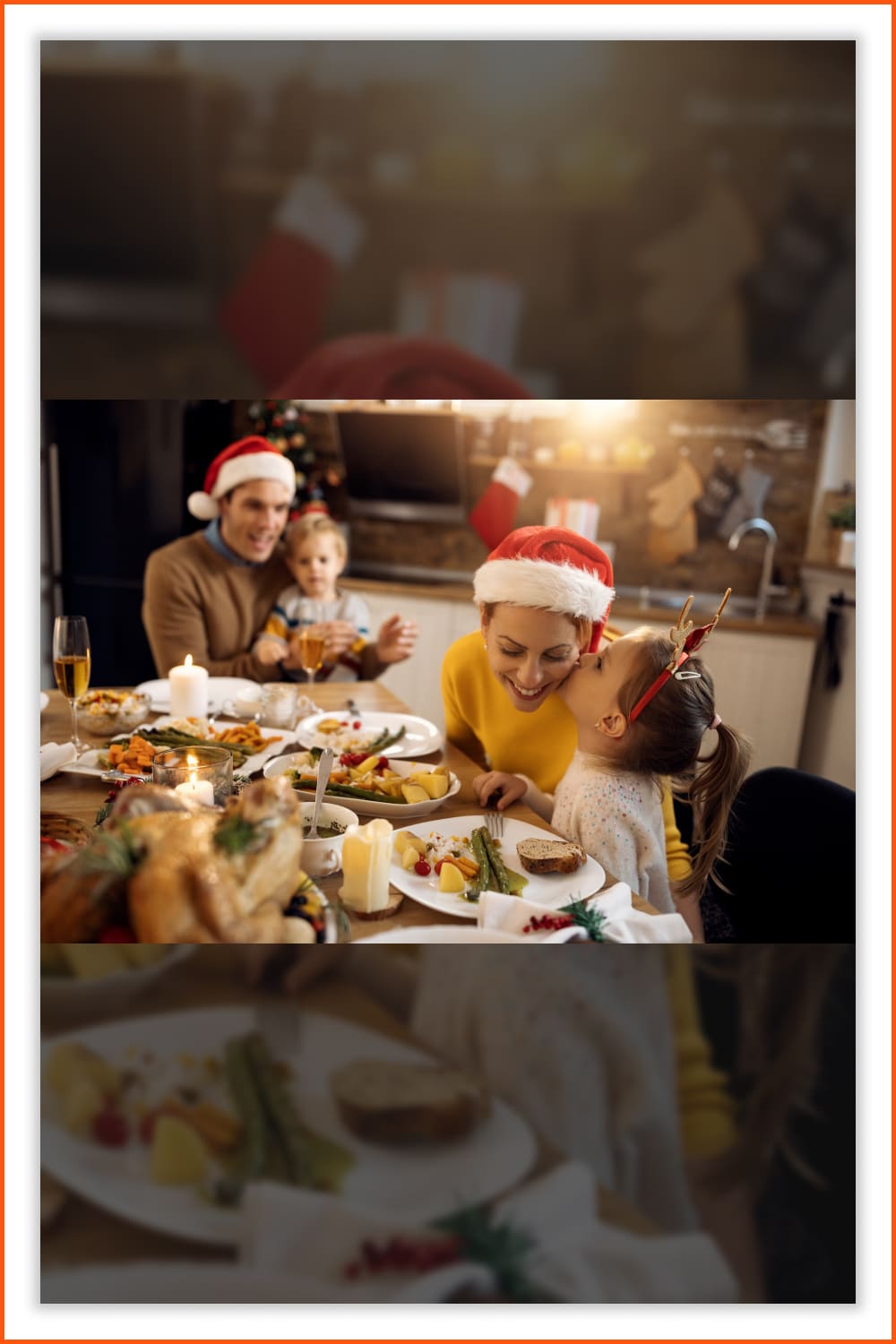 Need a high-quality image of a happy family hosting Christmas? With a beautiful setup, bright lights, and a full table of food this image is perfect to display what Christmas is about.
Assortment of Christmas Ornaments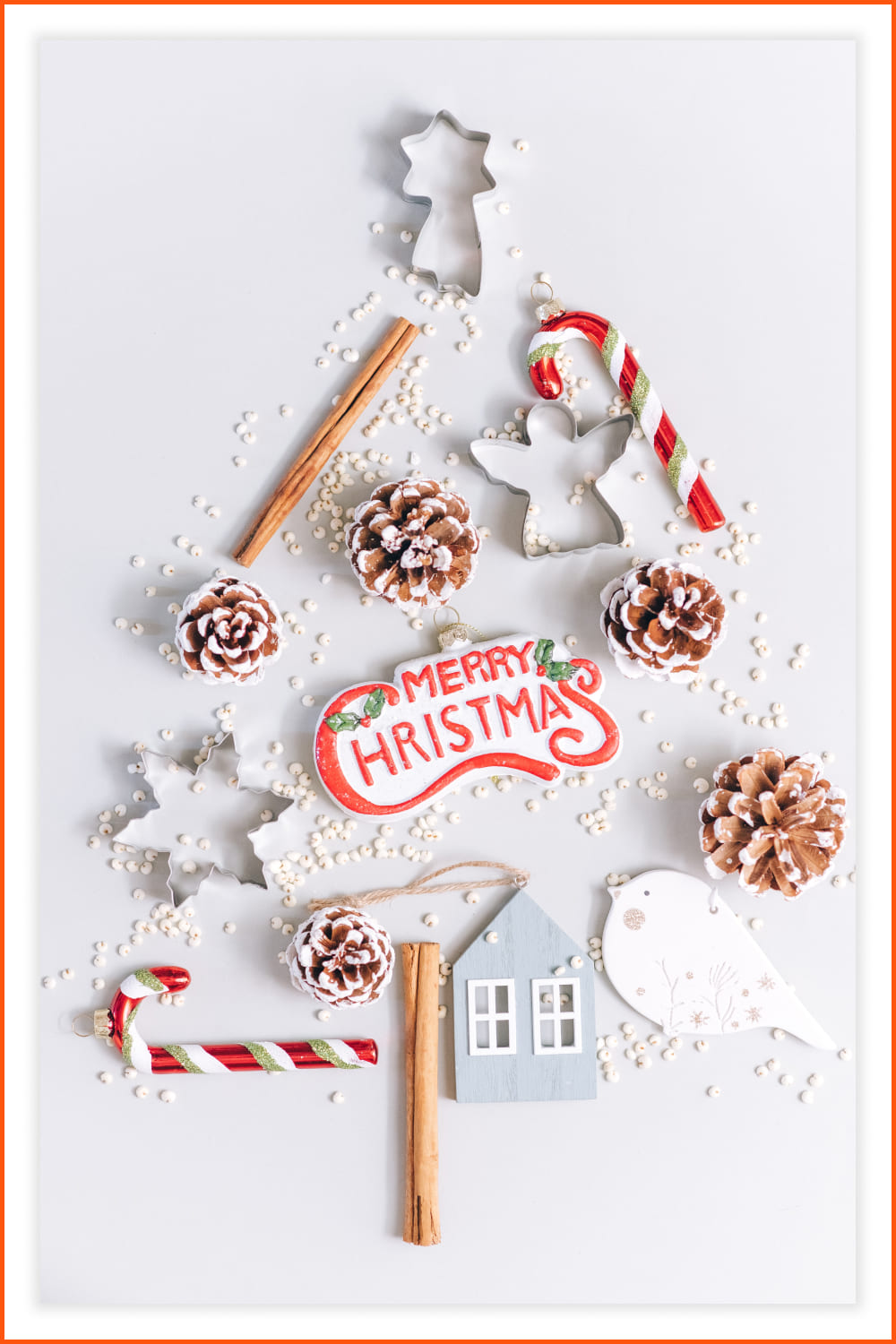 This beautiful assortment of ornaments is displayed in a way that it builds out a Christmas tree, you can find snowflakes, pine cones, cookies, cinnamon sticks, and others with high quality in the image.
A Christmas Tree During Winter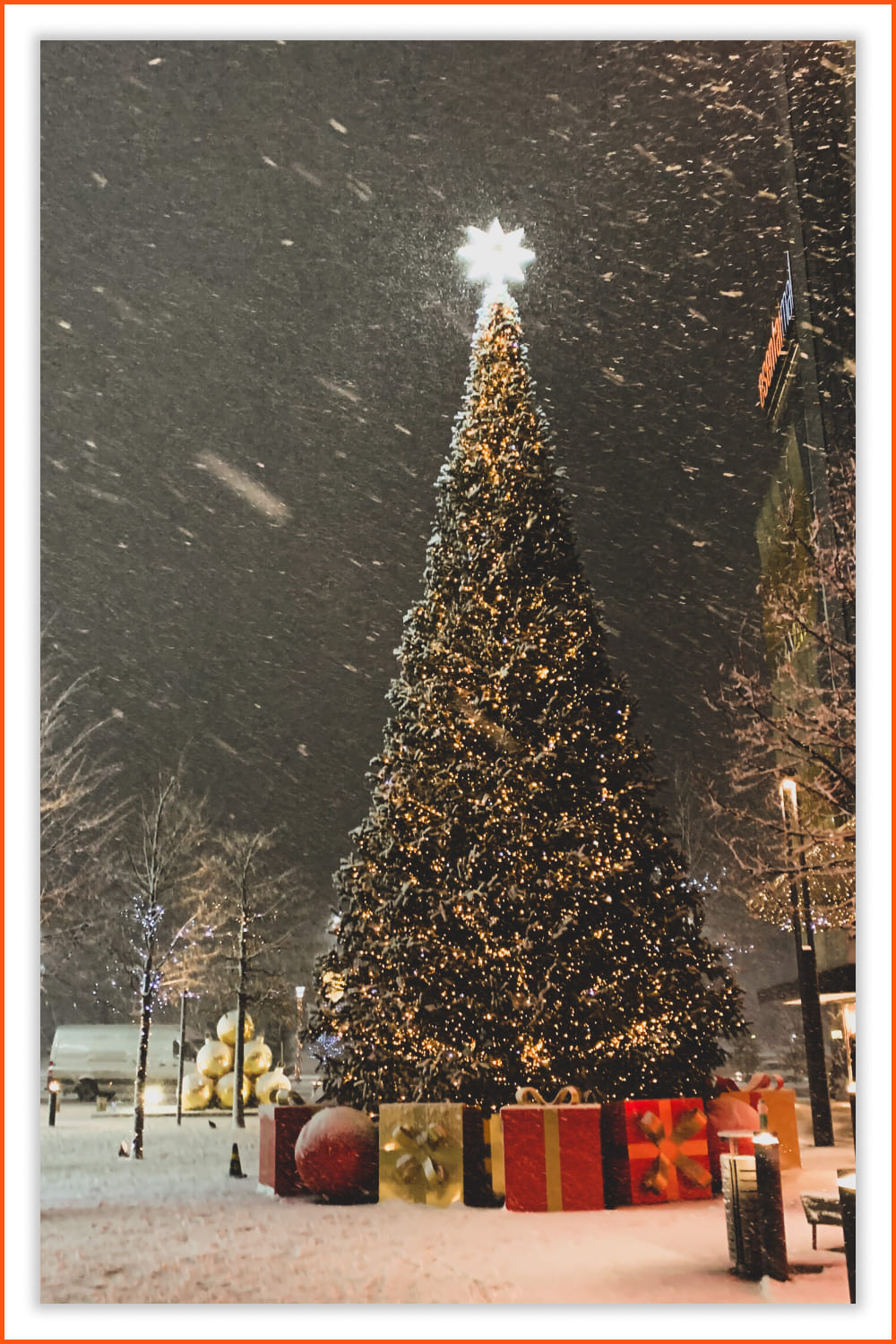 A snowy day, a bright Christmas tree, and big presents are what everyone dreams of when they imagine the holidays. Choose this high-resolution pic of Christmas for your project and get the holiday joy going.
Snowy Merry Christmas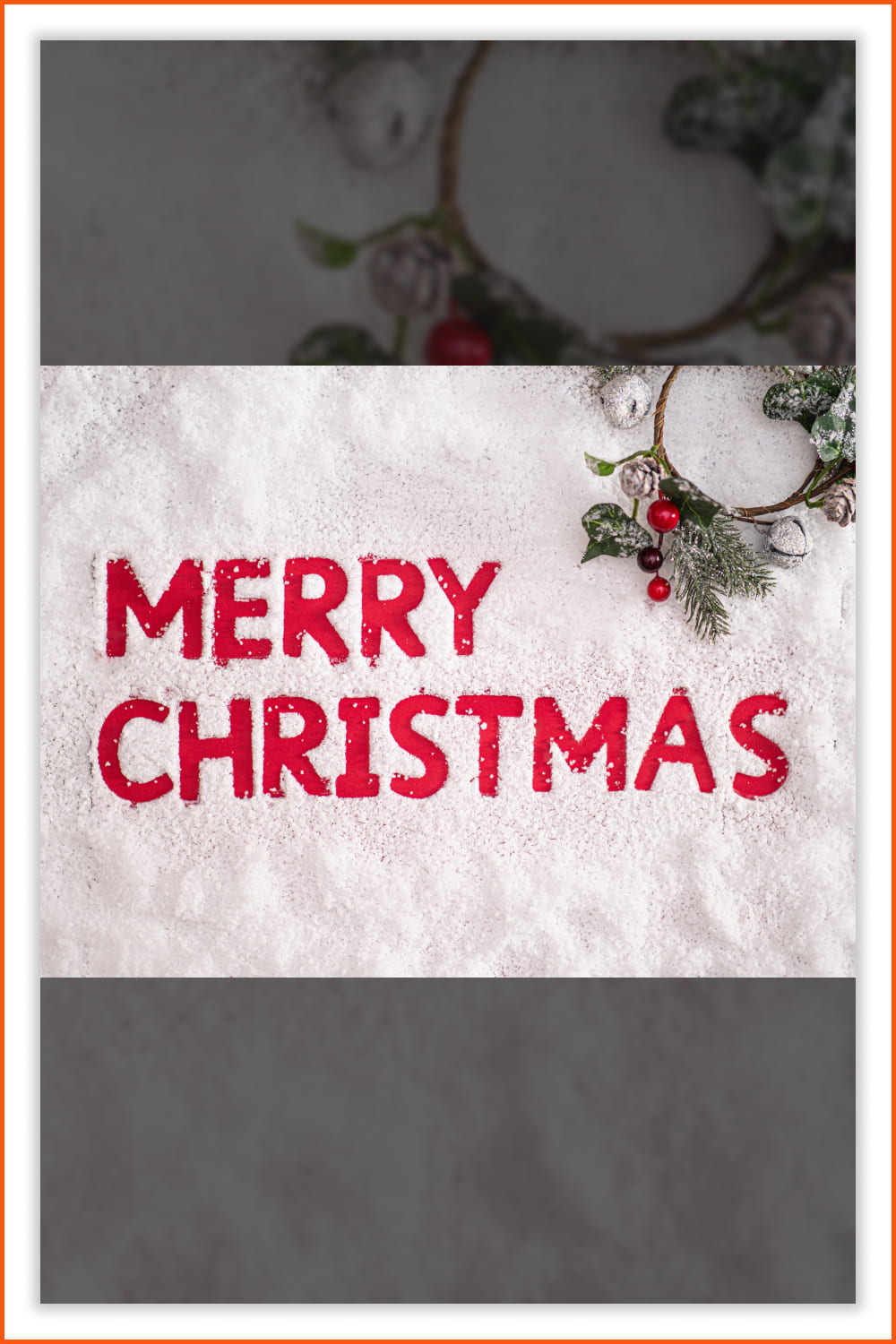 This image with a snowy background and a Merry Christmas pressed-out text is of such high quality and resolution that you can see every snowflake on it.
Conclusion
Do you like the idea of Christmas pictures, and on top of that, you are also a cool designer? If so, you may be interested in earning good money from your artwork. All you have to do is go to the Sell Your Deal page, fill out the form and upload your product. You are a MasterBundles vendor now! Everyone is sure to love your work, and you could easily become our vendor. We offer only favorable conditions, fast moderation, and of course timely payments.
These were the final words of our selection. We hope that you found a suitable image to add a pinch of festive atmosphere to your design & already feel a Christmas spirit. The festive season is just around the corner 😉
Some Awesome Video About Christmas Images
FAQ
Here are a few frequently asked questions about the best Christmas images
How can I use Merry Christmas images?
There is a lot of ways to use these images. For instance, you can use them as background images on your computer, tablet, or phone, you can decorate your house using these images, you can use these pictures for making custom Christmas cards, and you can utilize them in your Christmas design projects.
Can I set up a Merry Christmas background on my PC?
Yes, you can, just download the image you like and use this guide to set it.
Where can I get premium Merry Christmas and Happy New Year images?
In case you would like to go with a fancier premium product, you can look for premium images at such marketplaces as MasterBundles, Freepik, Vecteezy, Shutterstock, and many more.
How to install a Merry Christmas wallpaper on my phone?
Disclosure: MasterBundles website page may contain advertising materials that may lead to us receiving a commission fee if you purchase a product. However, this does not affect our opinion of the product in any way and we do not receive any bonuses for positive or negative ratings.