35+ Merry Christmas Clipart for 2022: Premium & Free Collection
December 25. What comes to your mind when you think about this date? A Christmas tree, family gatherings, and delicious food? Friends, a warm atmosphere, and a fireplace? Many people enjoy the time they spend preparing presents for their loved ones. If you have a fierce desire to create some awesome and brilliant gifts but still have no ideas, use cute Christmas clipart from our collection! These are great web solutions for different projects. With them, you can make bright, trendy, and high-quality designs.
Top 14 Amazing MasterBundles Christmas Deals
Christmas is a cute family holiday. Both grown-ups and children look forward to Christmas and, of course, opening gifts!
There are many variations of gifts, different ways to present these gifts, decorate cards, diversify the photos, and so forth. You can easily find what you need with our selection of Christmas illustrations, vector images, photo overlays, backgrounds, patterns, and other elements.
Christmas Bundle: 65 Amazing Templates + 26 Elements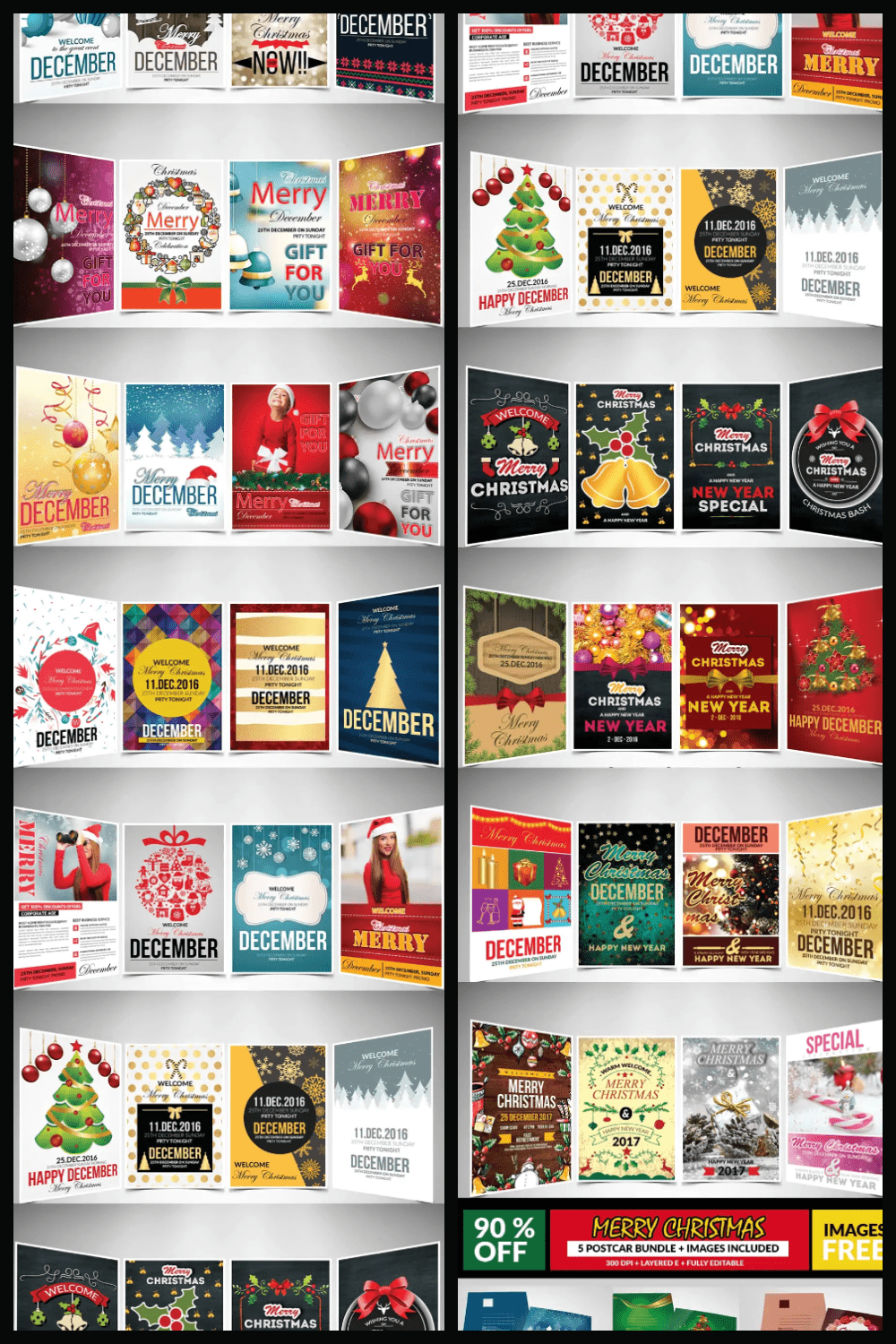 Here is another great solution for creating Christmas designs. Using this package of graphic items you can create web and print projects. You can design flyers, cards, invitations, advertisements, brochures, etc.
This Christmas bundle comes with:
eye-catching Christmas elements
postcard templates
flyers, vouchers
Snowflakes Clipart & Backgrounds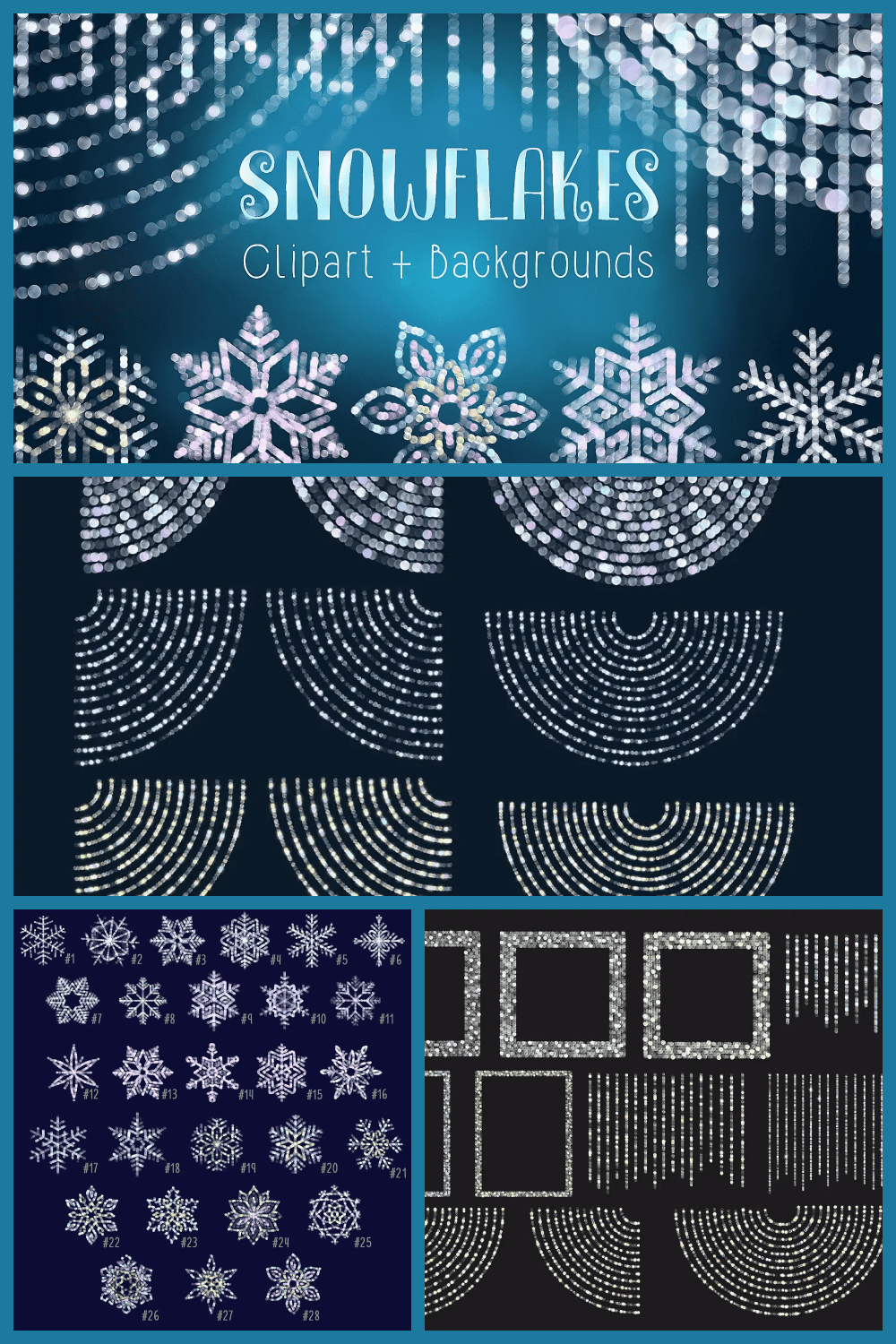 This is a nice collection with a large number of backgrounds, textures, beautiful snowflakes, and various elements formed from snowflakes. Here you can find variations of backgrounds for photos, and funny decorations for images.
The bundle contains:
28 snowflake cliparts
26 illustrations
12 frames
18 backgrounds
All of these elements are available in different sizes and resolutions. They look very nice and calming.
34 Christmas & New Retro Flyers and Postcards Collection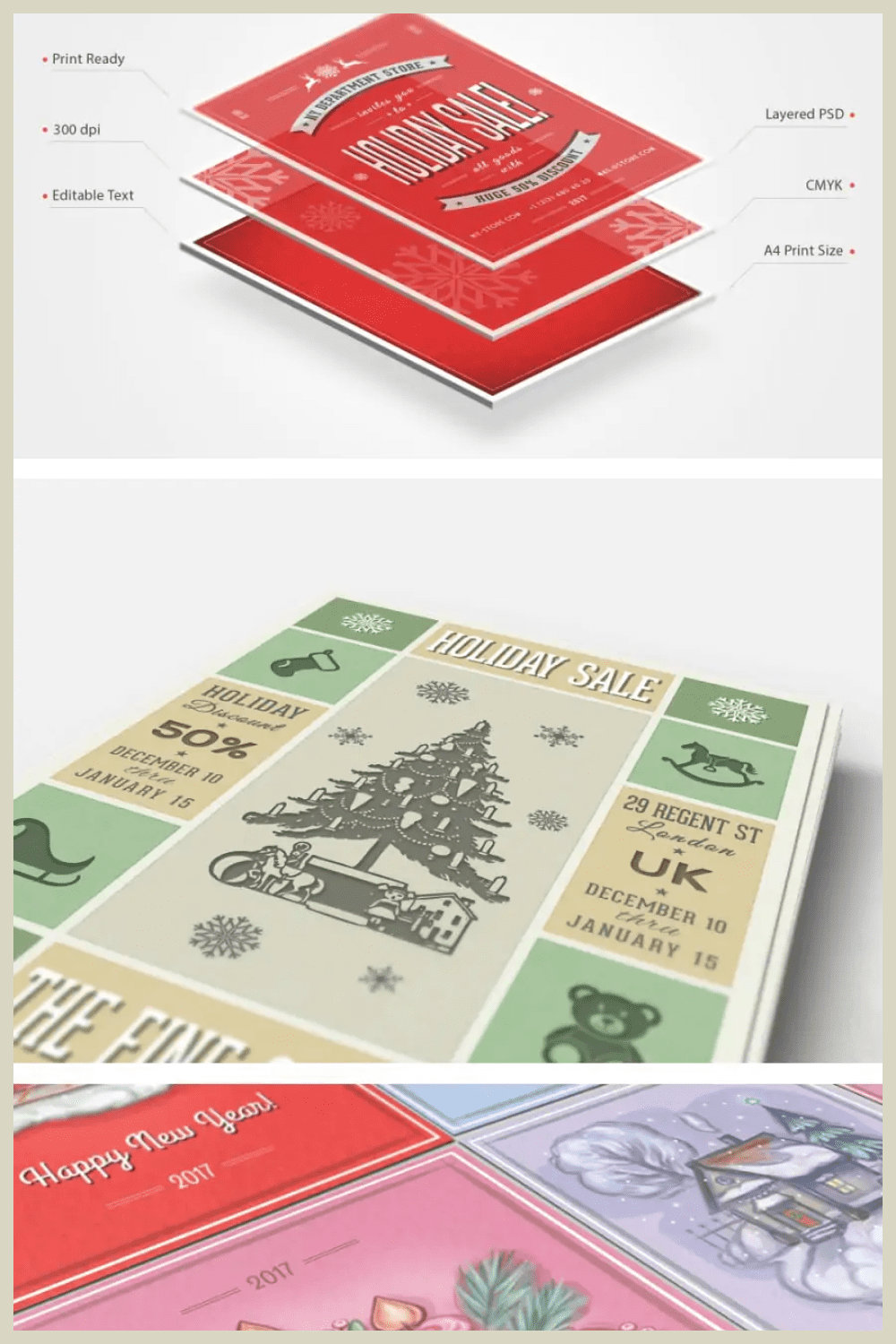 This incredible Christmas bundle, which includes all the necessary components to create outstanding holiday postcards, invitations, and greeting cards. The products in the set are fully customizable and ready to print.
This bundle comes with:
34 unique postcard and flyer templates
high quality images
ready-to-use PSD files
full content customization
Magical Winter Clipart: 14 Christmas Watercolor Clipart Bundles in 1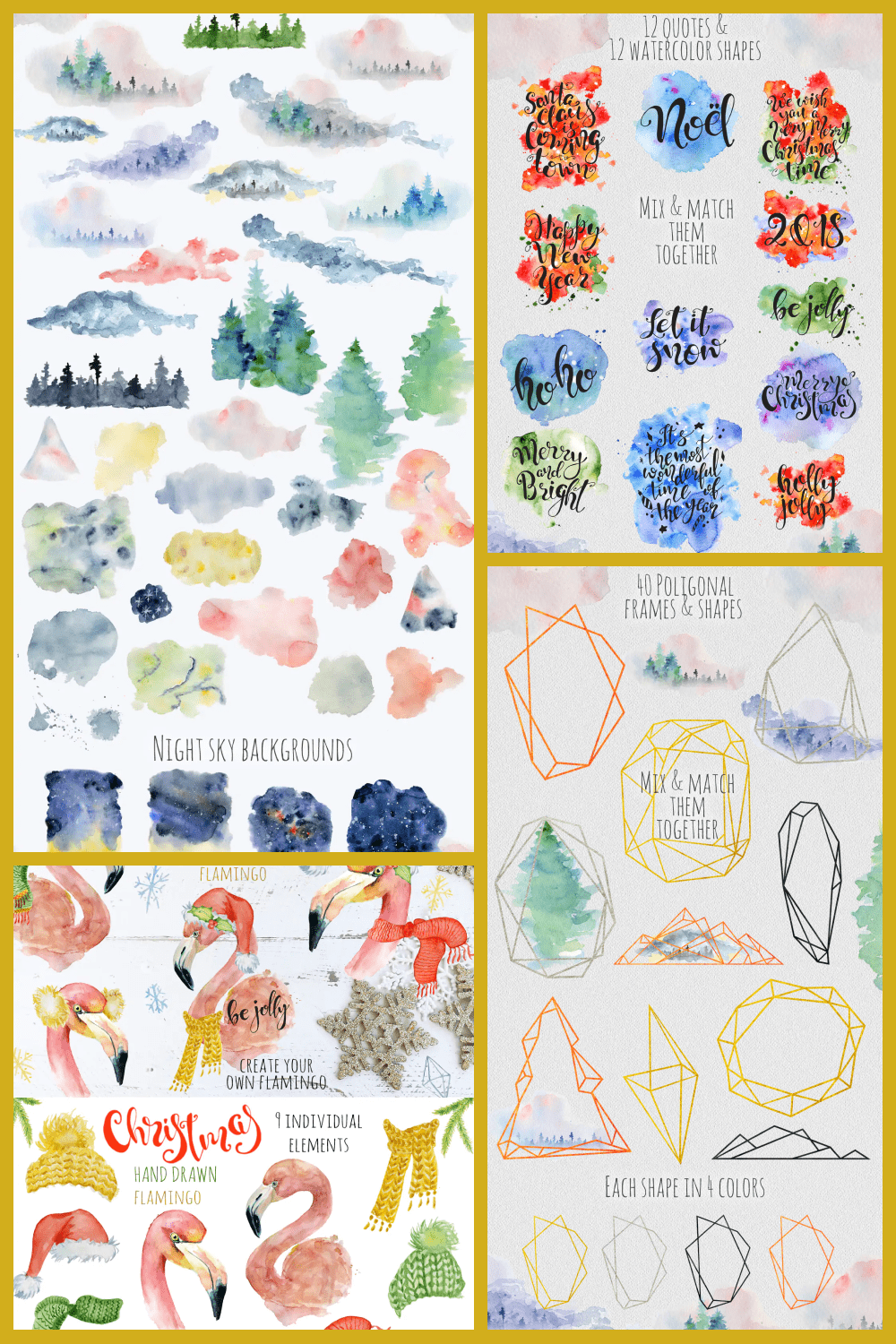 This Magical Winter Clipart includes:
10 watercolor backgrounds and textures. They have different colors and shapes and look very magical. Slight blur is a very original and stylish addition
36 watercolor washes and ambre
12 quotes and 12 watercolor shapes. Quotes include Let it Snow, Merry Christmas, Happy New Year, Be Jolly, Holly Jolly, Merry and Bright, etc
40 poligonal frames and shapes. Each shape is available in 4 different colors, including yellow, grey, black, and orange
45 individual elements (Christmas cap, light bulbs, branches, diamonds, envelopes, leaves, gifts, etc)
4 bouquets
5 variants of wreaths
hand-drawn Christmas flamingos, deers, lamas, unicorns, and much more
Christmas Patterns & Postcards: Merry X-Mas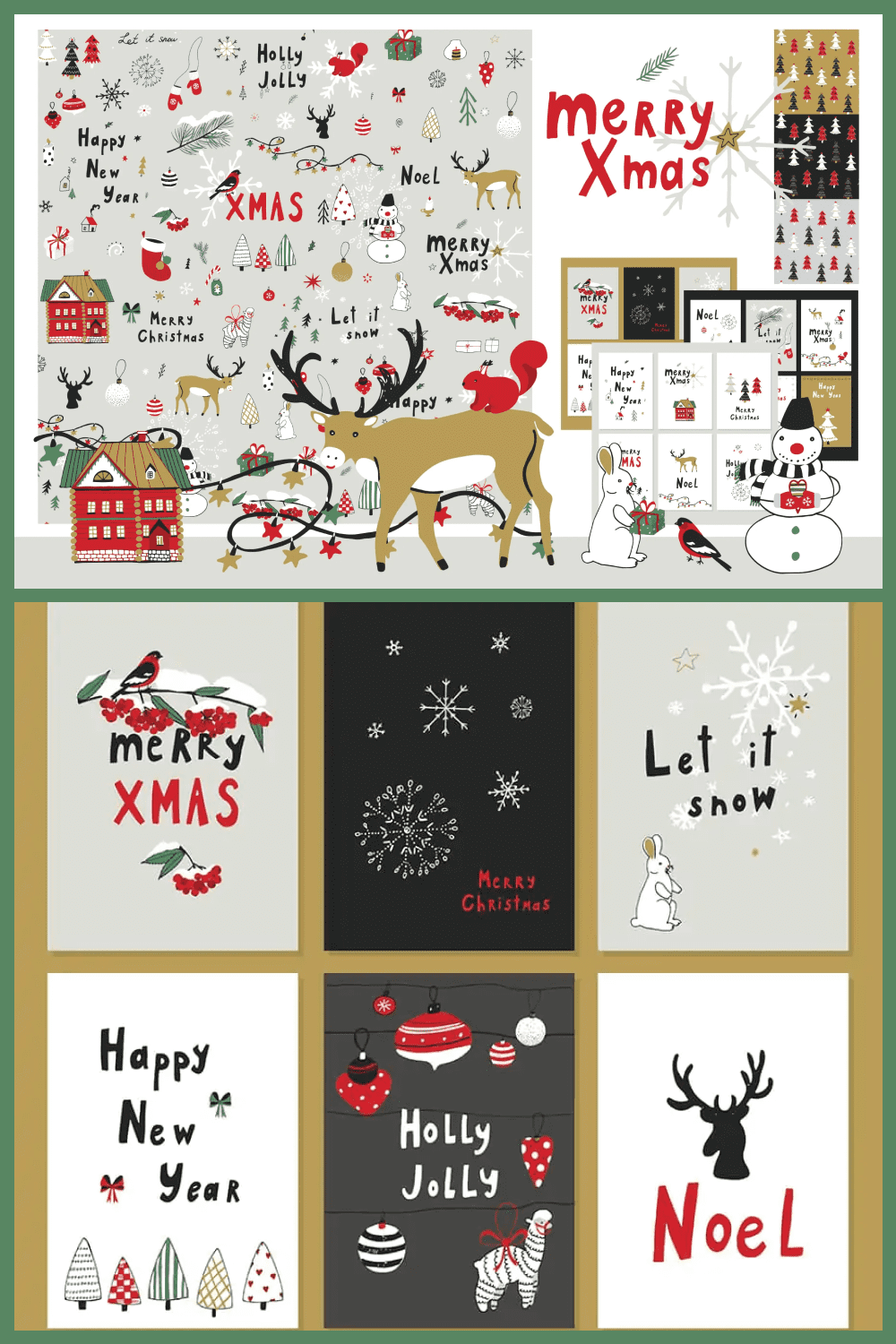 If you are looking for a unique postcard solution, or if you want to make an eye-catching design for any holiday project, then you should check out this MasterBundles offering.
These templates are great for a variety of tasks. You can also use them for printable versions of projects. Plus, there are hot discounts during the holidays.
The Merry X-Mas offer includes:
different product formats: PNG, EPS, JPG, PSD
18 different sized greeting card templates
16 seamless patterns
100+ illustrations
45+ Merry Christmas Lettering and Elements. Best Scandinavian Xmas Bundle in 2021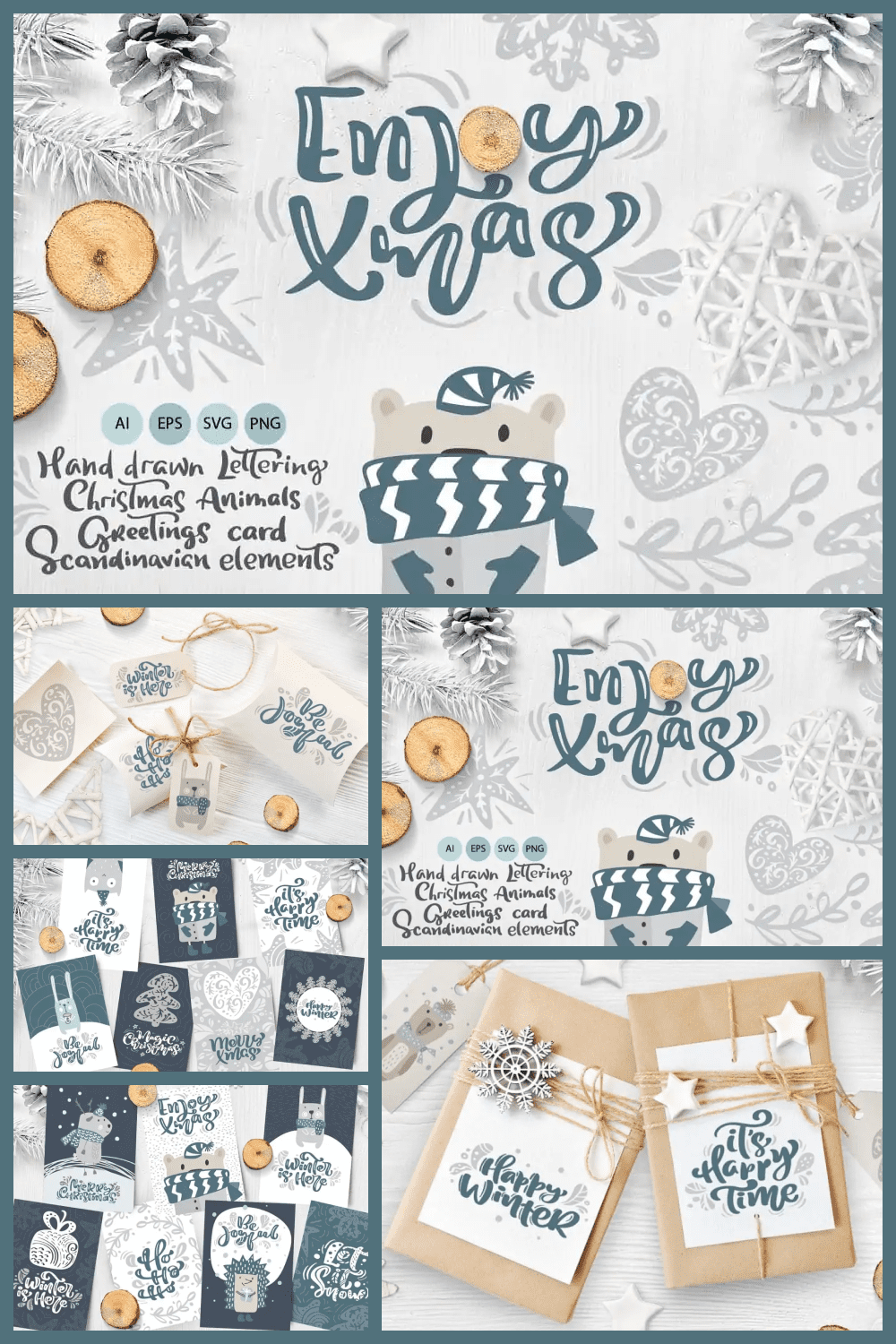 This collection will allow you to create original invitations, postcards, and greeting cards. All elements in the bundle are available in EPS, AI, SVG, and PNG formats.
This wonderful set includes:
10 handwritten calligraphy Christmas quotes
9 Christmas cute animals
14 greeting cards
13 Scandinavian elements
These elements will also help you make cool stickers and dashboards.
Christmas Unicorn Creator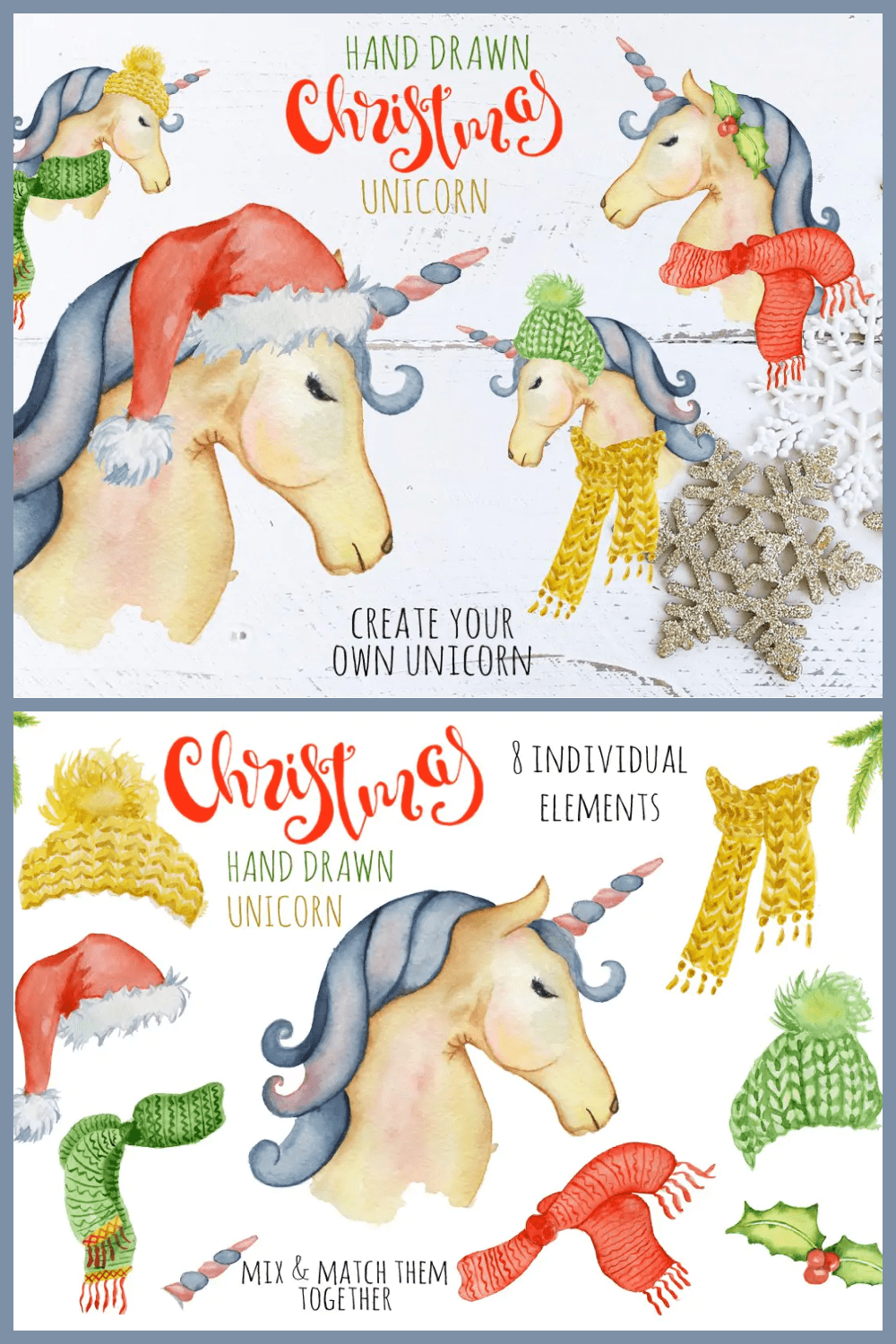 Well, this is a very nice and cute set. All the elements in the bundle are well-drawn and look so stylish. Christmas Unicorn Creator includes:
8 individual elements and 21 ready-made compositions with a transparent background
the individual elements include colorful scarves and hats that you can easily change
This bundle is perfect for children's postcards, greeting cards, stickers, posters, banners, and so forth.
Christmas Happy Holiday PNG Watercolor Set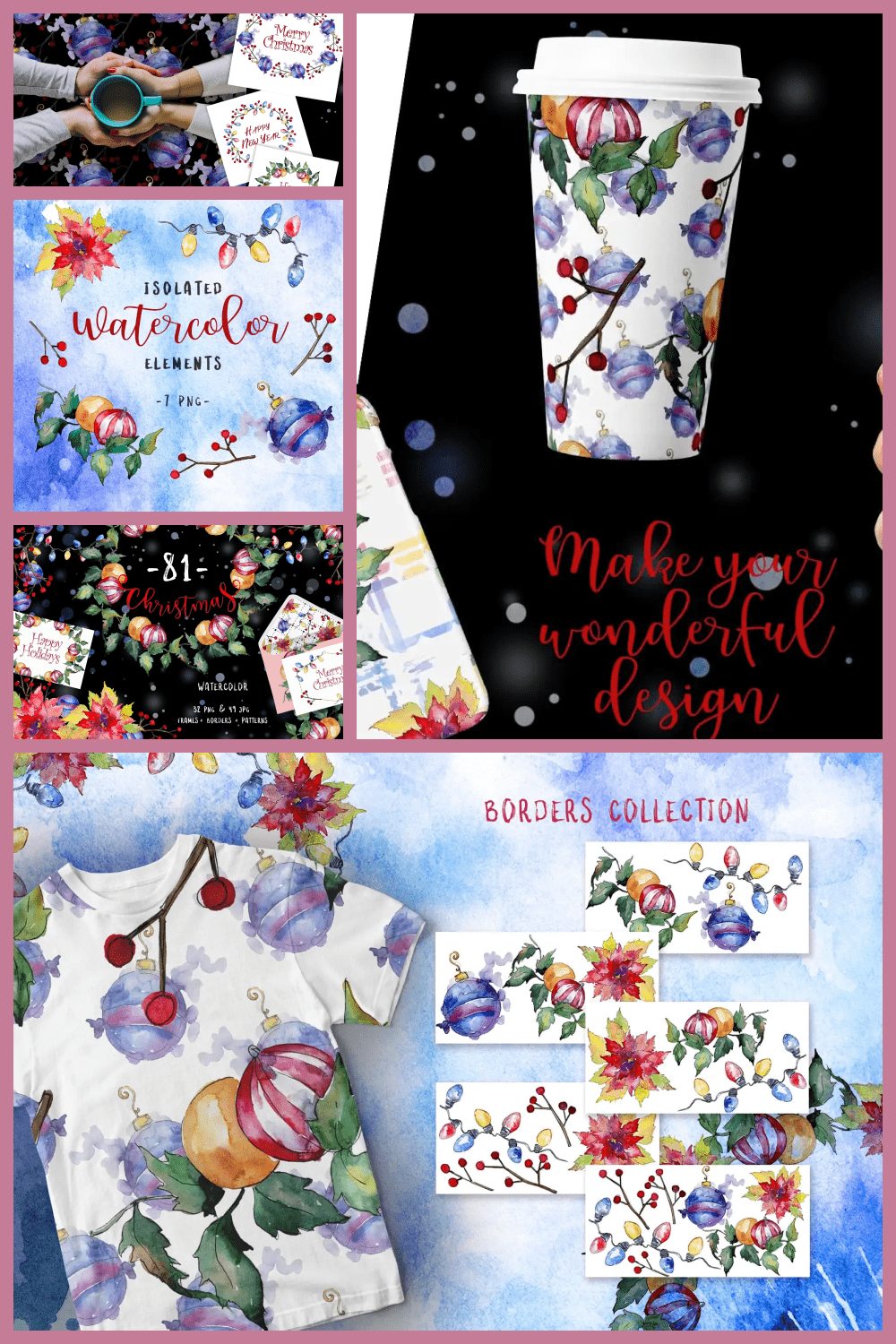 Christmas Happy Holiday Set includes photo frames, borders, different patterns and textures, and isolated watercolor elements. The graphics are provided as PNG files, 300 dpi, with transparent background.
Each element of the bundle, and all the images you get, are organized as separate files.
Christmas Watercolor Clipart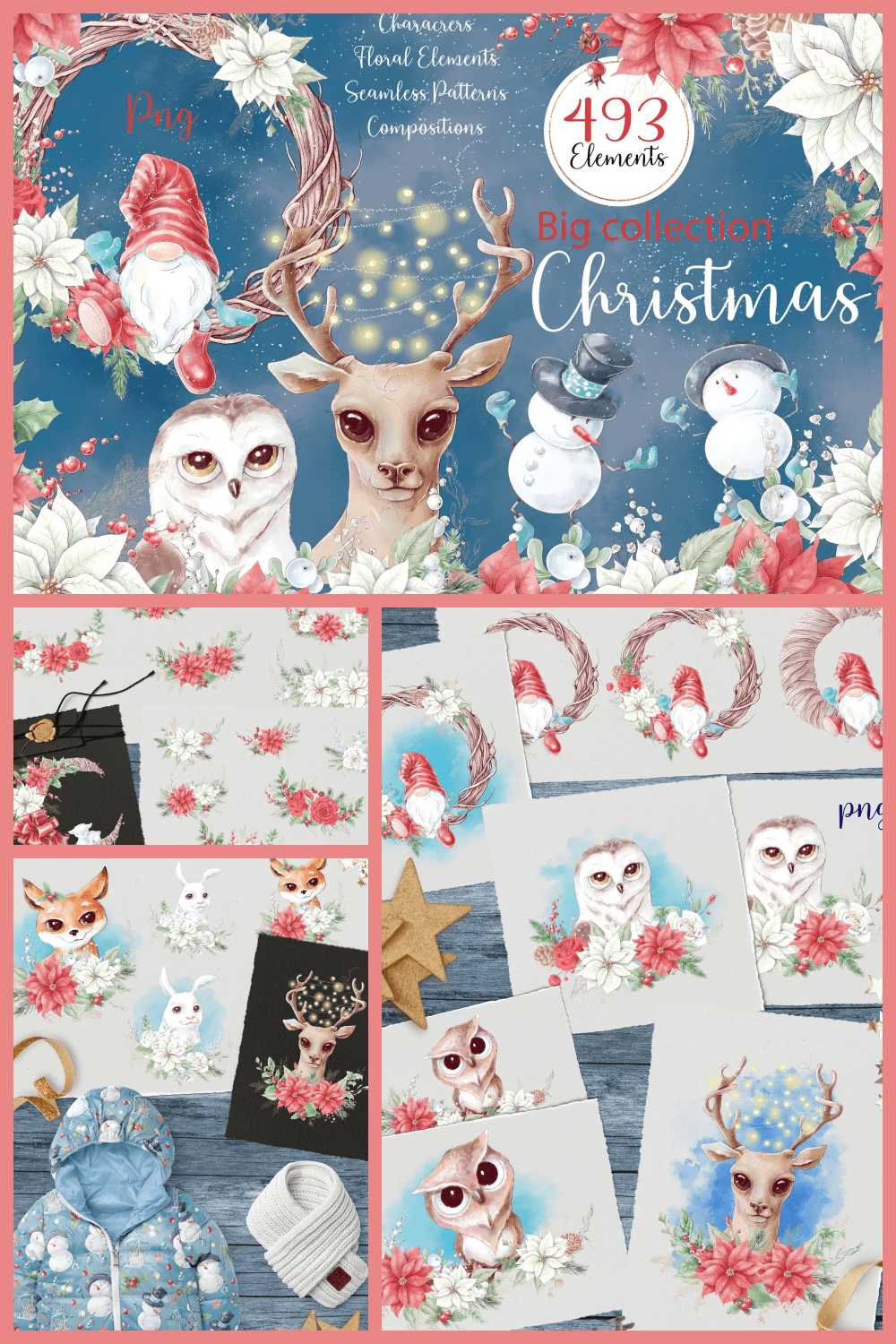 This collection contains more than 493 elements among which are floral frames, Christmas wreath clipart, seamless patterns, bright figures, and vivid cliparts with different components. The products come in PNG format.
And if you are the creative soul who makes winter or Christmas art, or any other clipart, patterns, vector illustration collections and so on, you are welcome to upload your designs through this super-convenient Sell Your Deal form.
Premium Non-MasterBundles Christmas Clipart 2023
Now let's take a dive into a selection of the best Christmas images for 2023 that can become an adornment for your holiday projects. Bring your amazing ideas to life with fascinating and stylish web solutions.
Christmas gnome family clip art set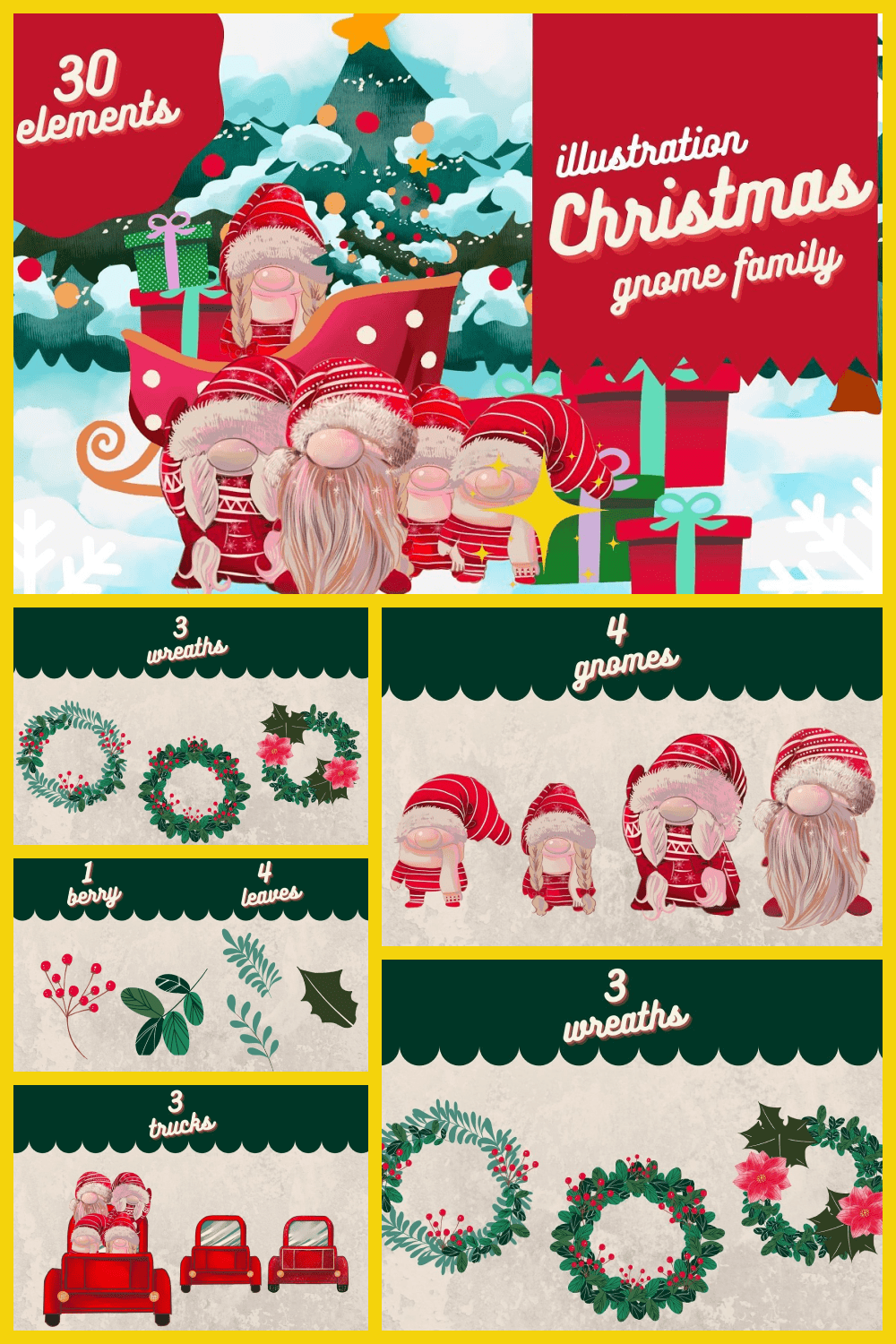 You can use this set of Merry Christmas cliparts for all of your holiday projects. The bundle includes gnomes, frames, and more. The items are completely ready to print.
Donuts are Christmas, New Year By Olgaart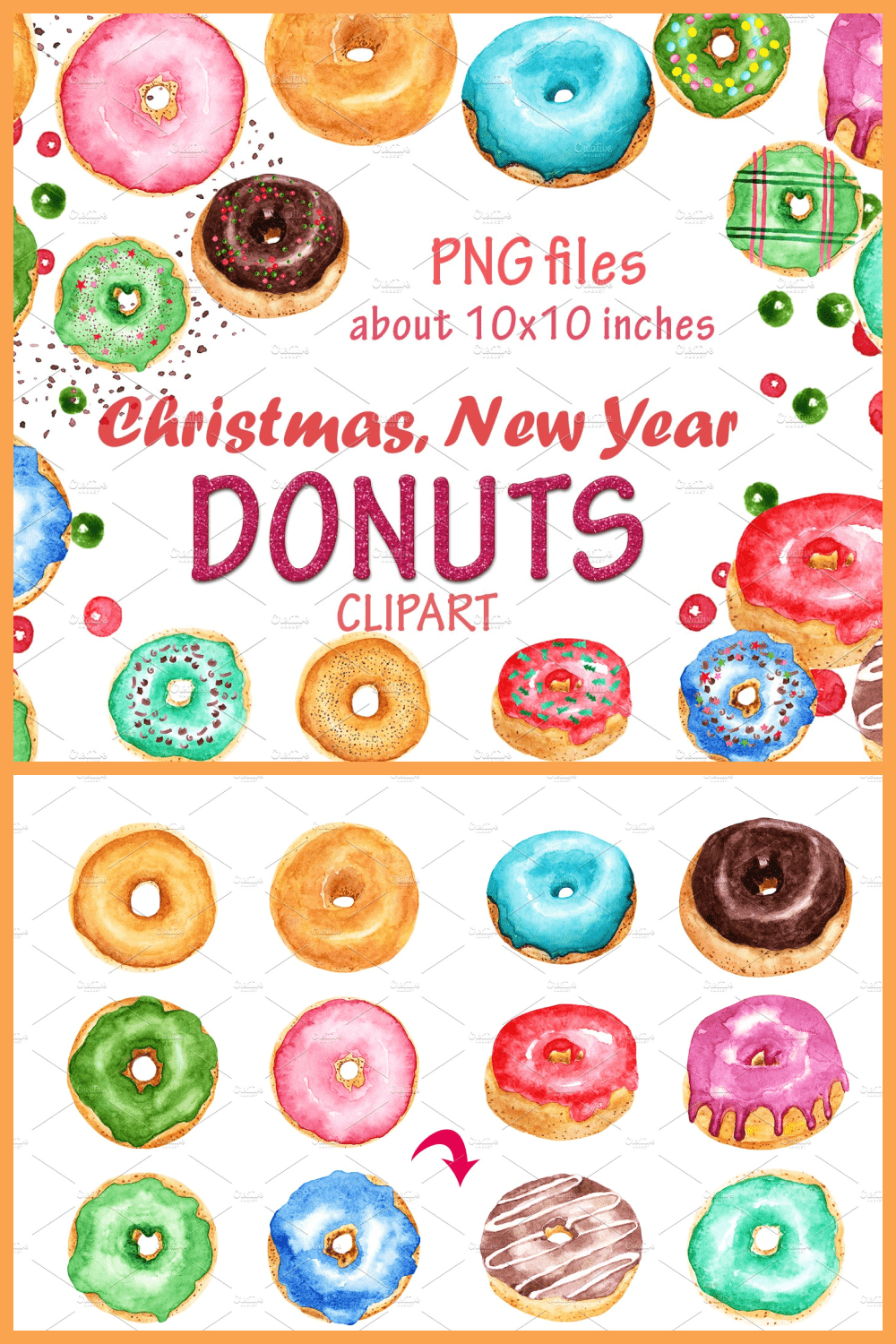 This is an amazing and unique solution for any project. Christmas donuts can be edited in Photoshop and other programs. There are 38 elements in the package.
Christmas carousel clipart By DarinaDigital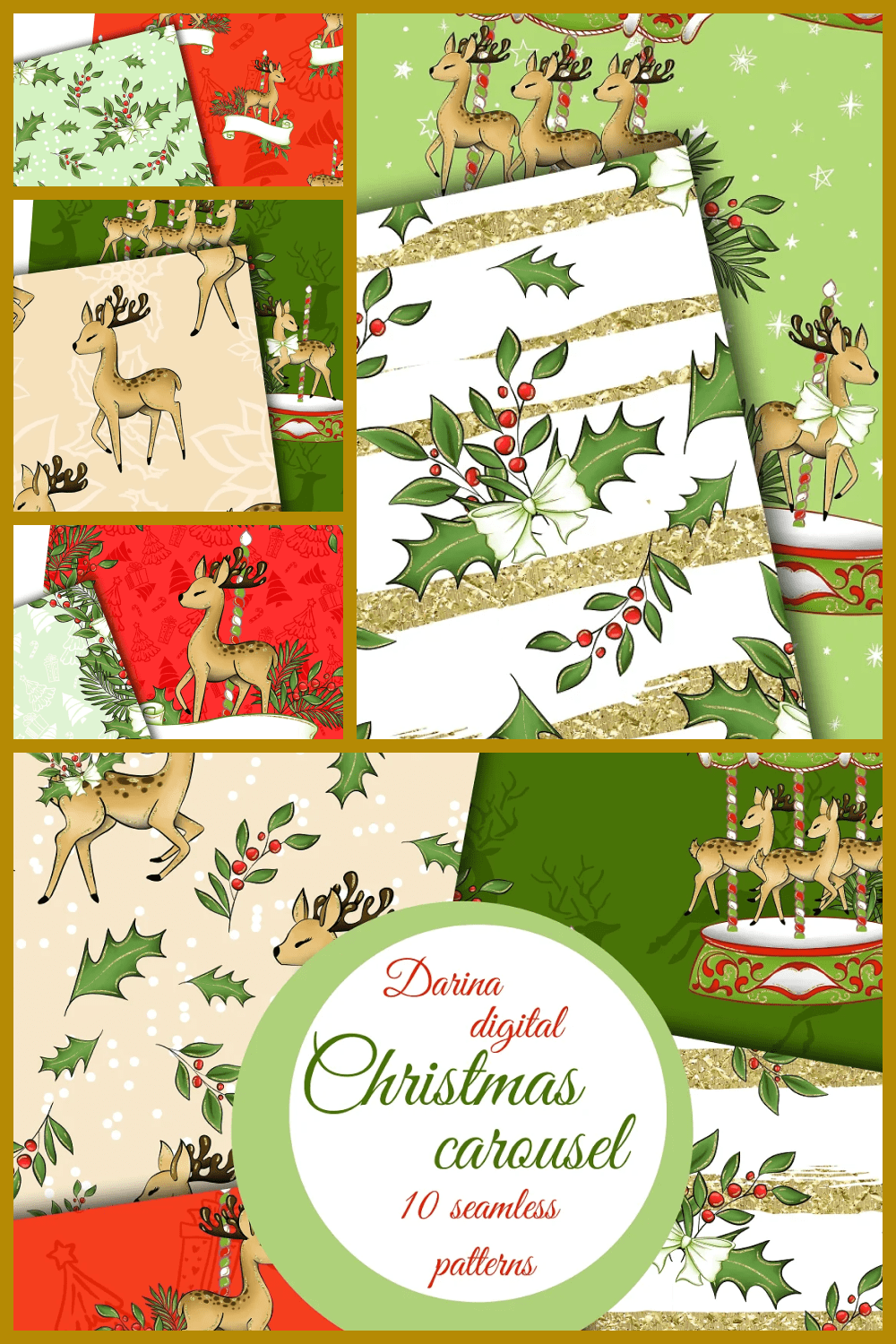 If you are looking for a unique holiday clipart, then you can benefit from this offer. Use eye-catching Christmas templates for gift wrapping, prints, and backgrounds for other holiday projects.
Rustic Christmas by Eisfrei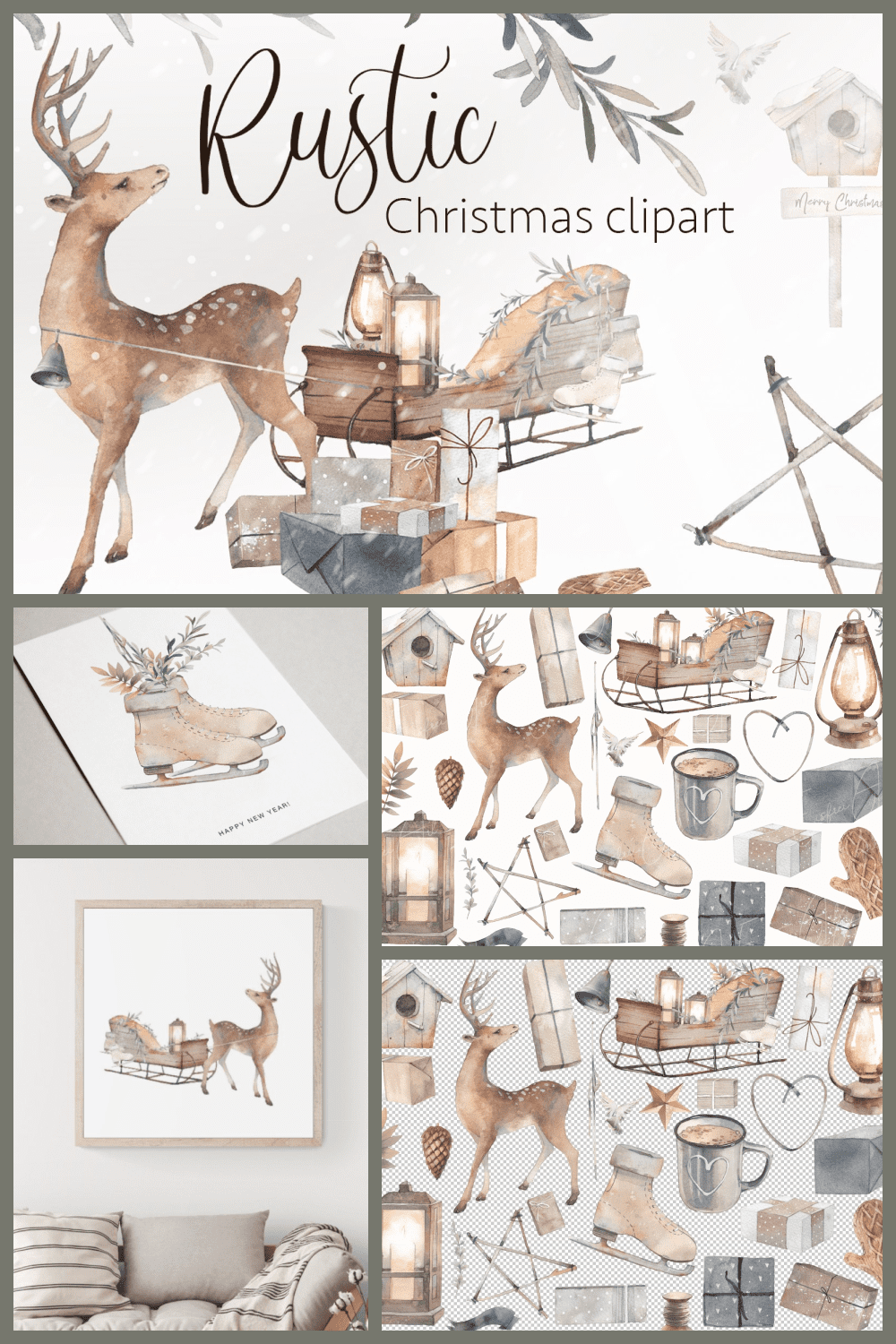 This is a great Christmas PNG that is designed in a rustic style. It includes many components that come with backgrounds in a seamless form. The collection has 30 elements that you can customize to suit your needs. The product is great for designing postcards, invitations, covers, banners, labels, prints, and websites.
Christmas and New Year Kids Clipart Premium Vector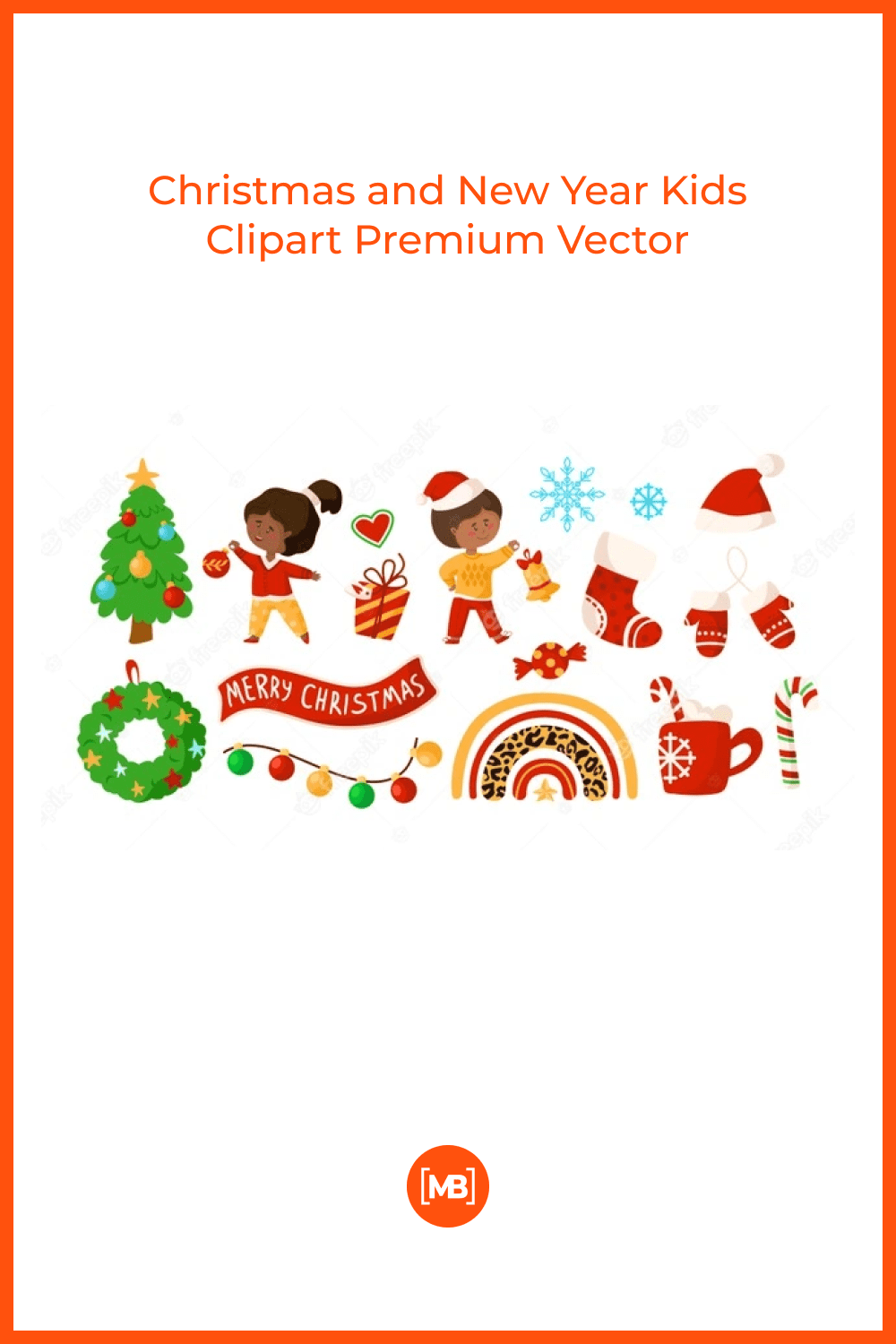 Here is a stunning and whimsical children's Christmas present clipart set that can be edited in different versions of Adobe Photoshop. It contains more than 15 elements. Using this offering you can create a festive mood in any project.
Cute animals for Christmas decoration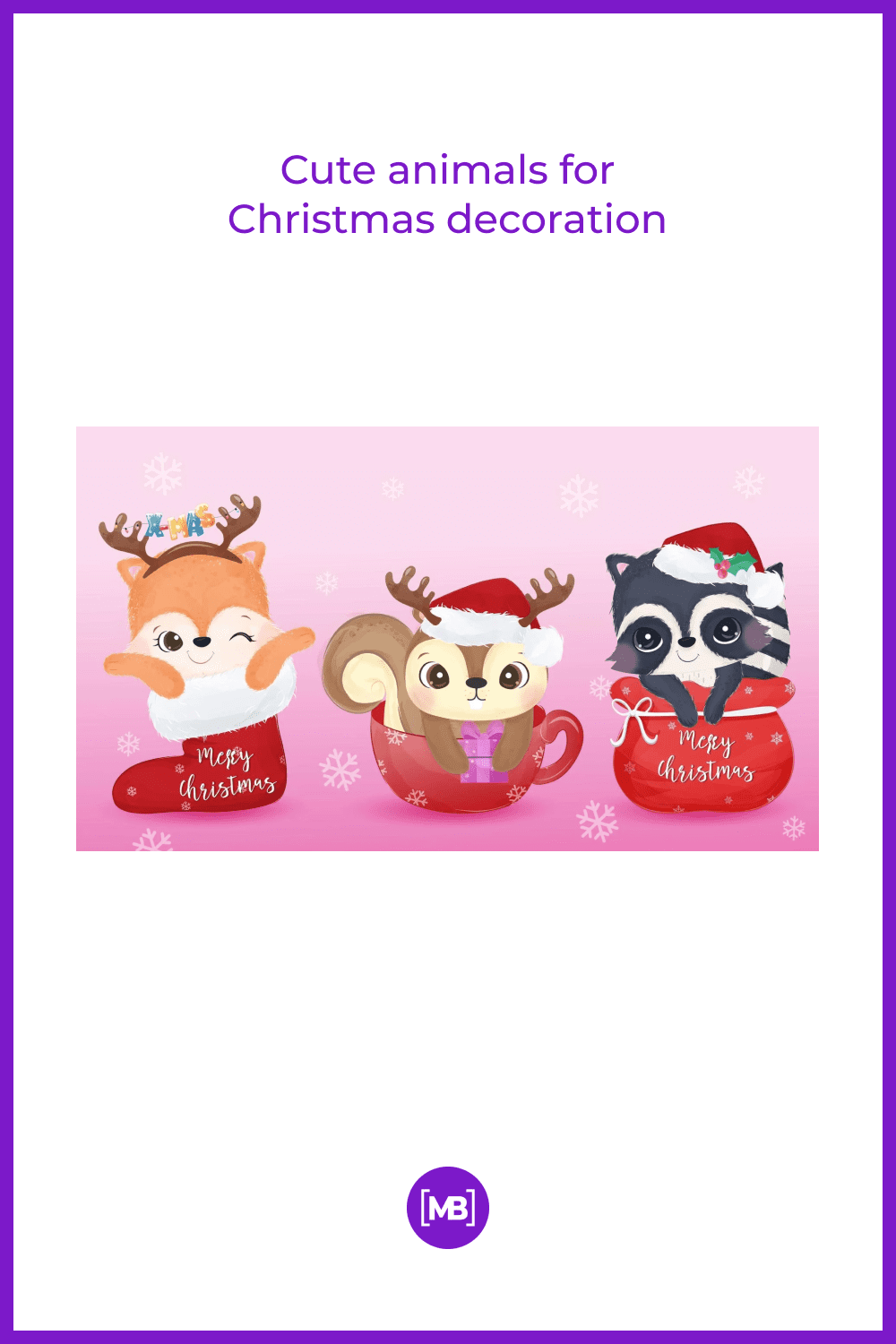 This is a premium Merry Christmas clipart which has 3 images of cute animals. They can be applied for a variety of purposes including the design of cards, invitations, gift wrapping, advertisements, book covers, banners, etc.
Sweet Christmas watercolor clipart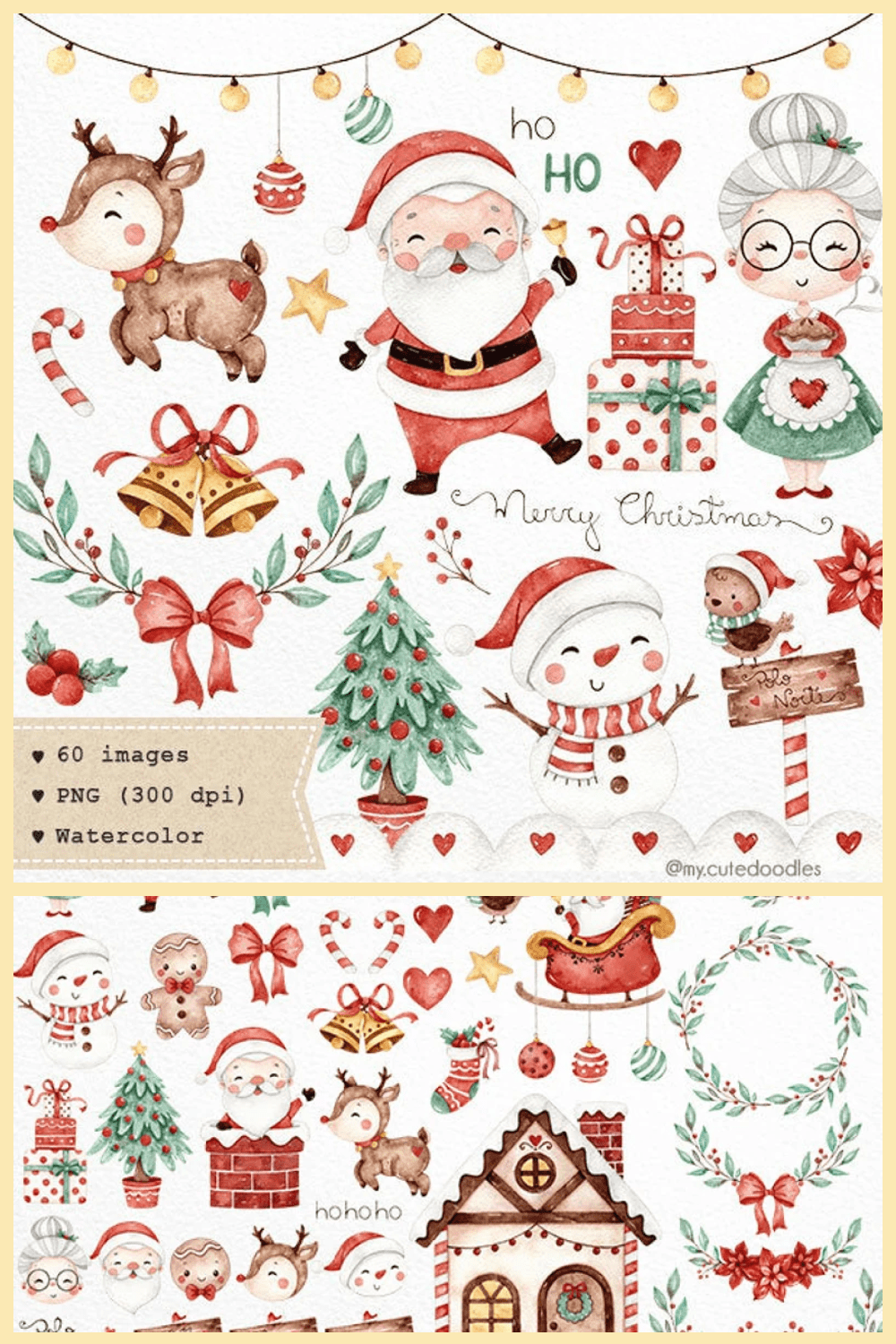 This is a cute hand-drawn Christmas clipart that is sure to fit the festive mood. The package comes with more than 60 different items. The components are easy to modify and customize. Thanks to the watercolor style, these products will make your designs stylish and unique.
Christmas Tree Clipart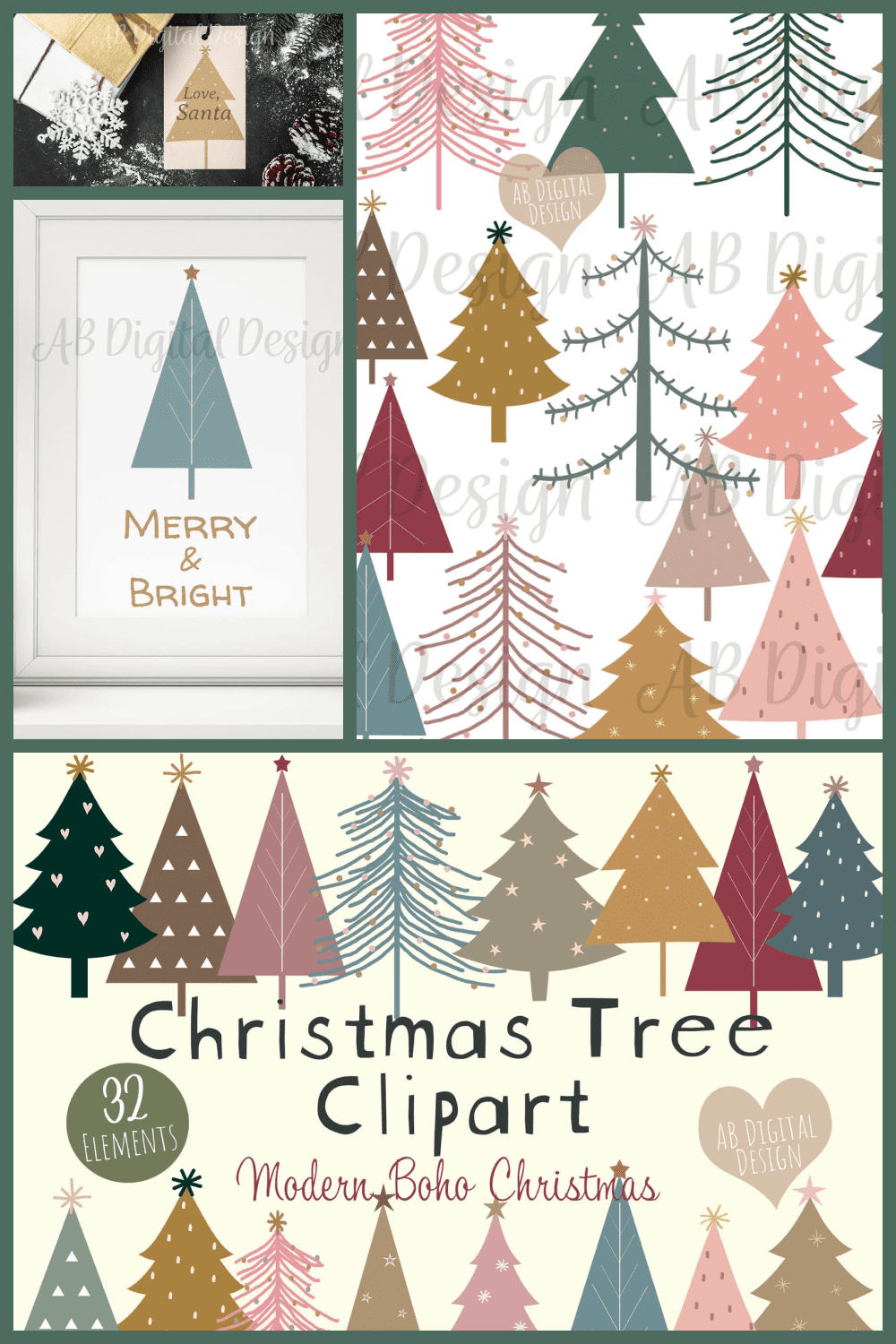 What do you associate the New Year with? It is probably a Christmas tree, so this clipart set of 32 elements is perfect for your different purposes. They come in PNG format on a transparent background.
9 Best Free Christmas Pictures Clipart
Here is a collection of free Christmas clipart that is as good as some of the premium versions. You may choose any product and adapt it to any purpose. Plus, you can get even more unusual and colorful free SVG Christmas pictures from MasterBundles.
Quote Cookies for Santa Free SVG Files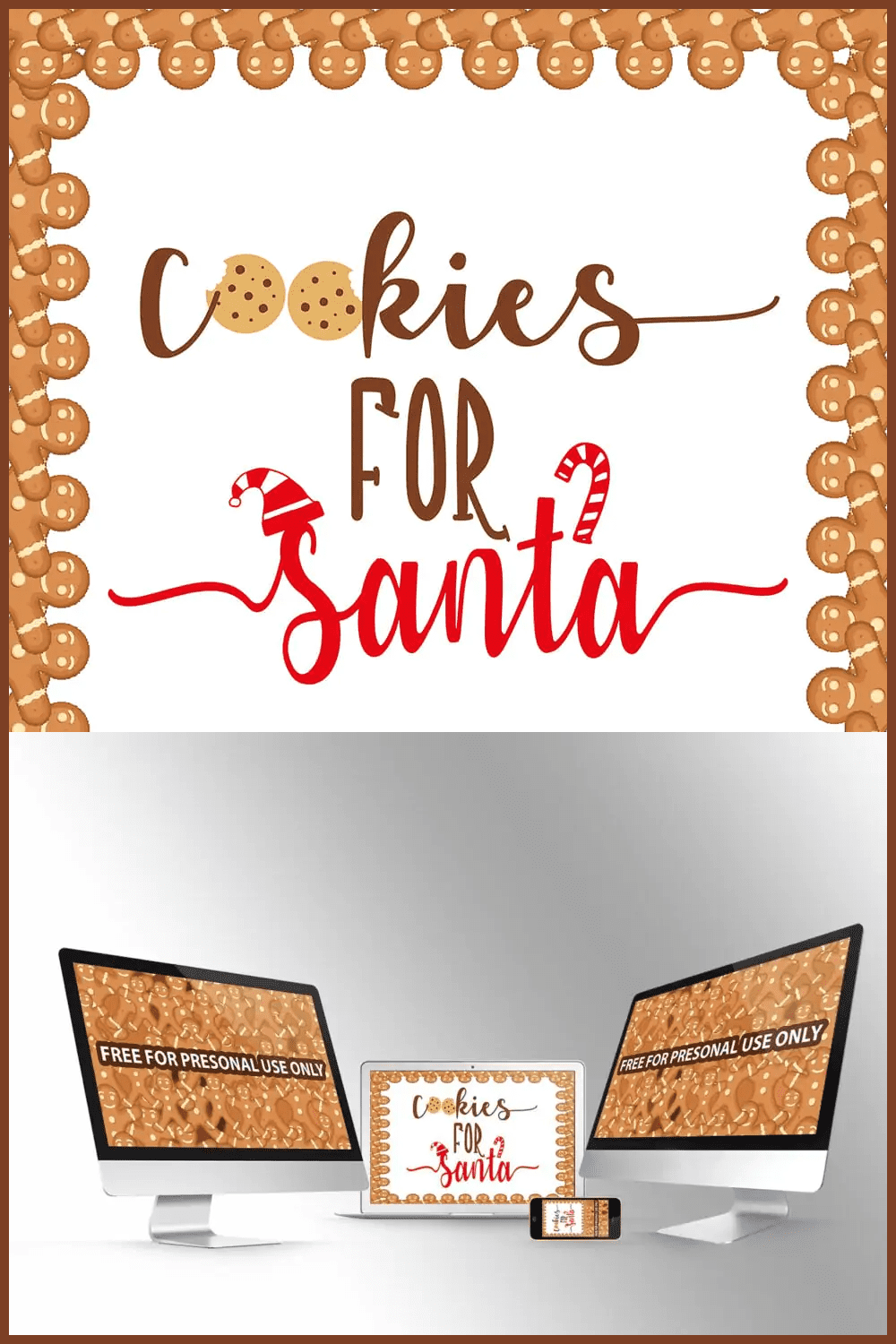 Here is a great web solution for designing Christmas letters. These products come in SVG, PNG, EPS, and DXS formats. By the way, these cool cookies remind us of the Gingerbread Man from Shrek, so they will be good for fans of this cartoon.
Merry Christmas Pick Up Truck Tree Free SVG Files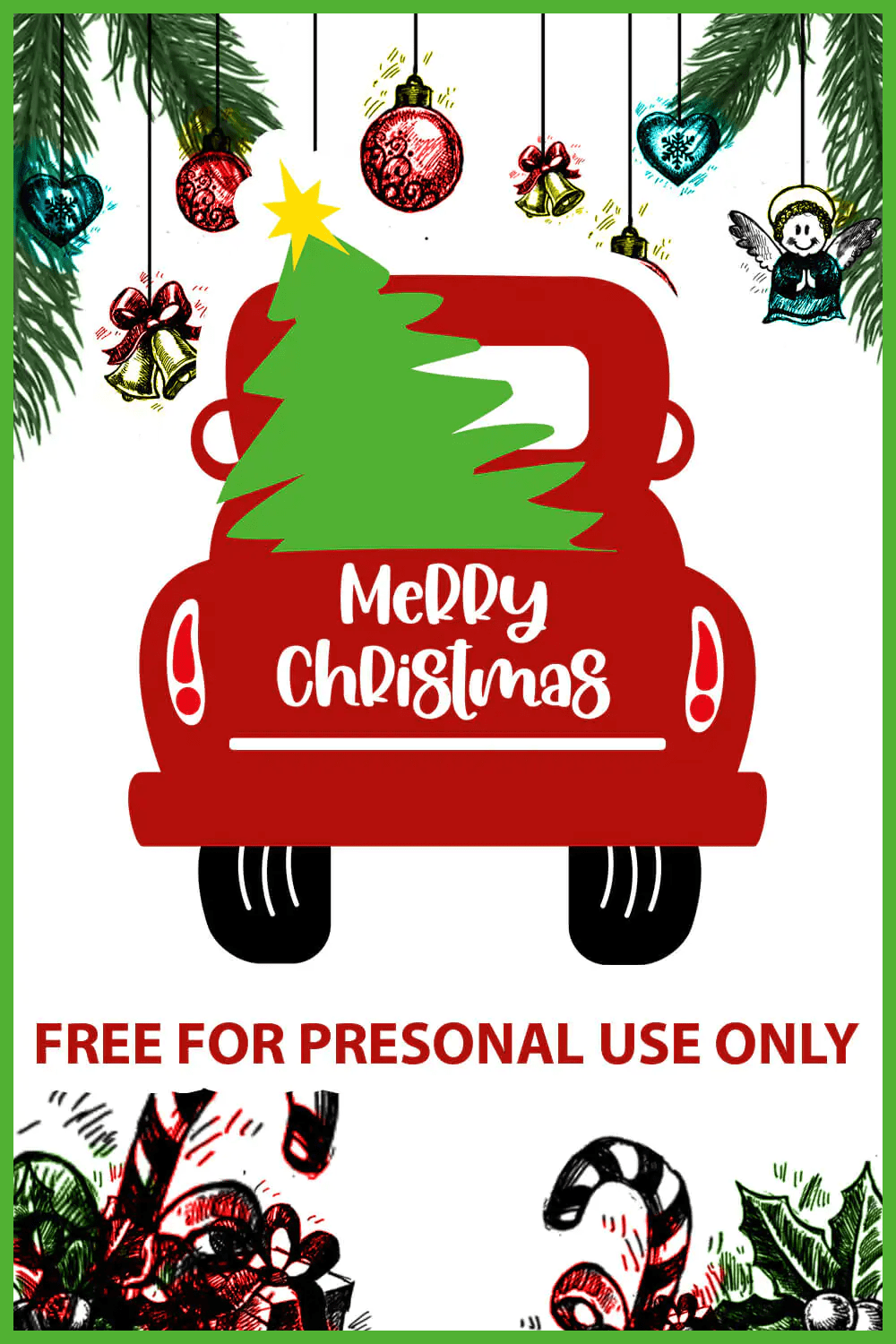 This is an awesome best free christmas clip art clipart for holiday projects. The items will be great for different screen extensions. Also, the items are ready to print and available in SVG format.
Merry Christmas Free SVG Files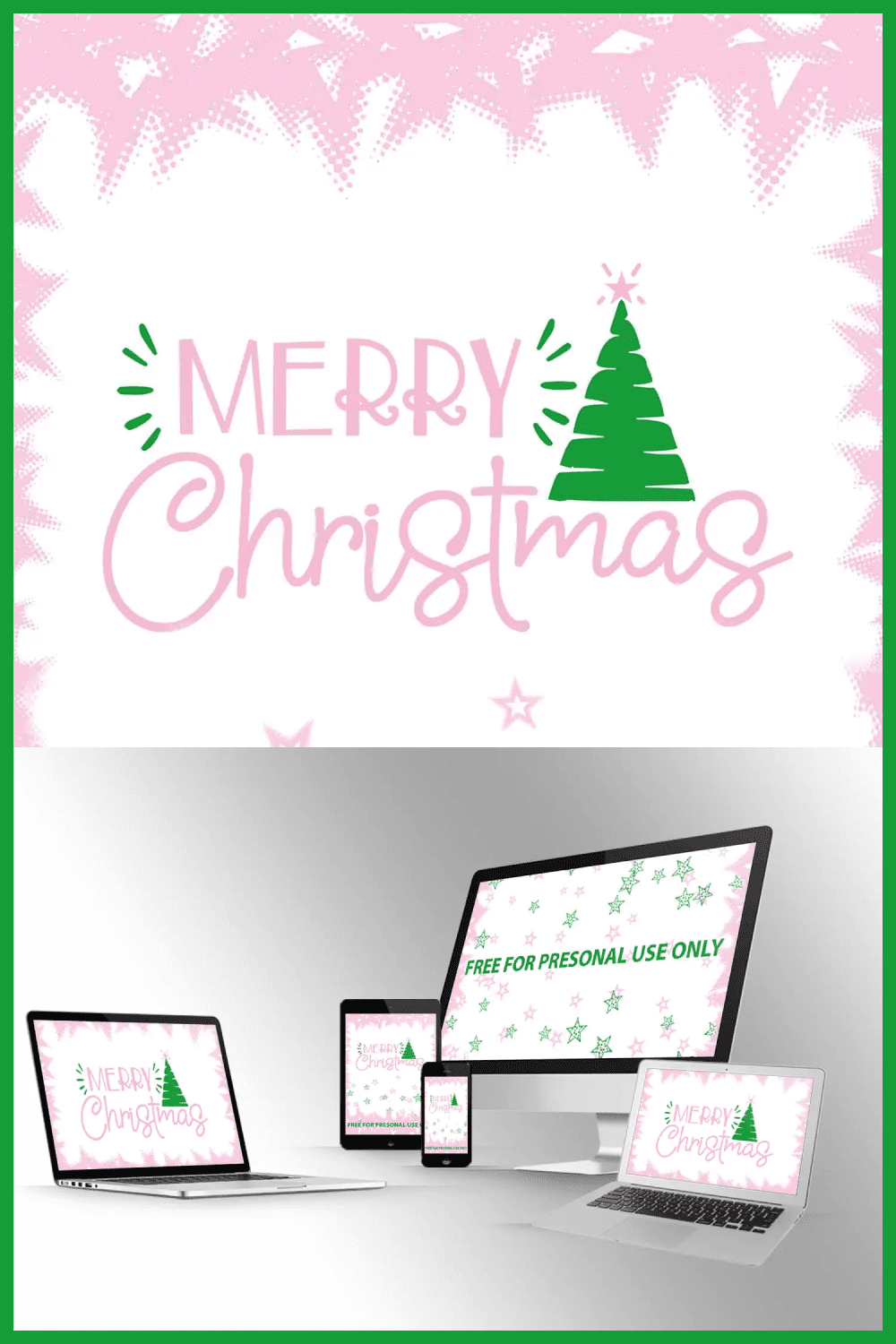 This is a very cute Christmas decorations clipart set that you can apply for various needs. They are available in SVG, PNG, EPS, and DXS formats. You can use the products for website backgrounds, presentations, banners, ads, business cards, postcards, greeting cards, etc.
Happy Christmas Card with Santa and Object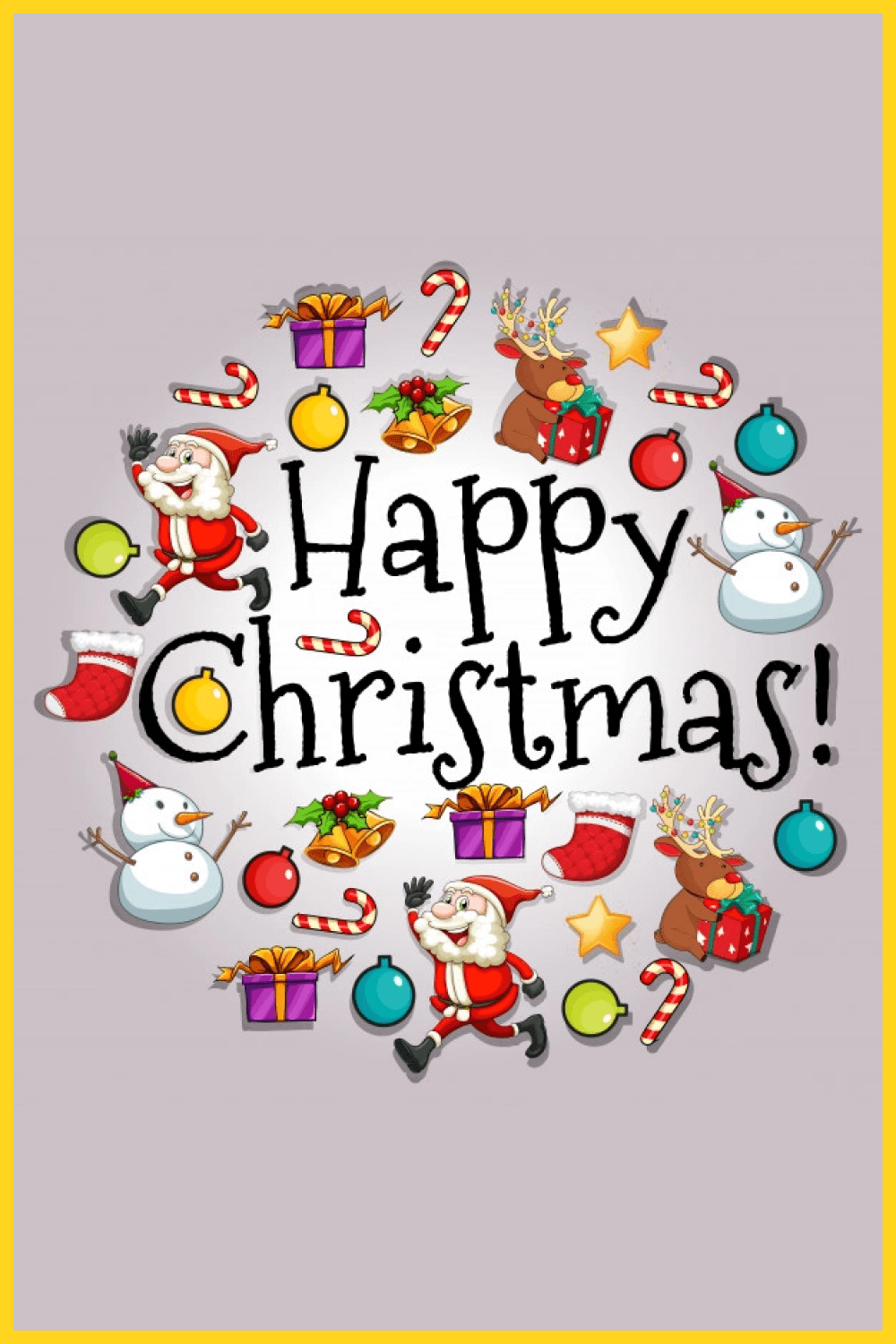 This pack consists of more than 10 original components that can be applied to postcards, wrapping cards, banners, business cards, signboards, etc. These cliparts are available in EPS format. You can edit them in any version of Adobe Photoshop.
Border Template with Christmas Elves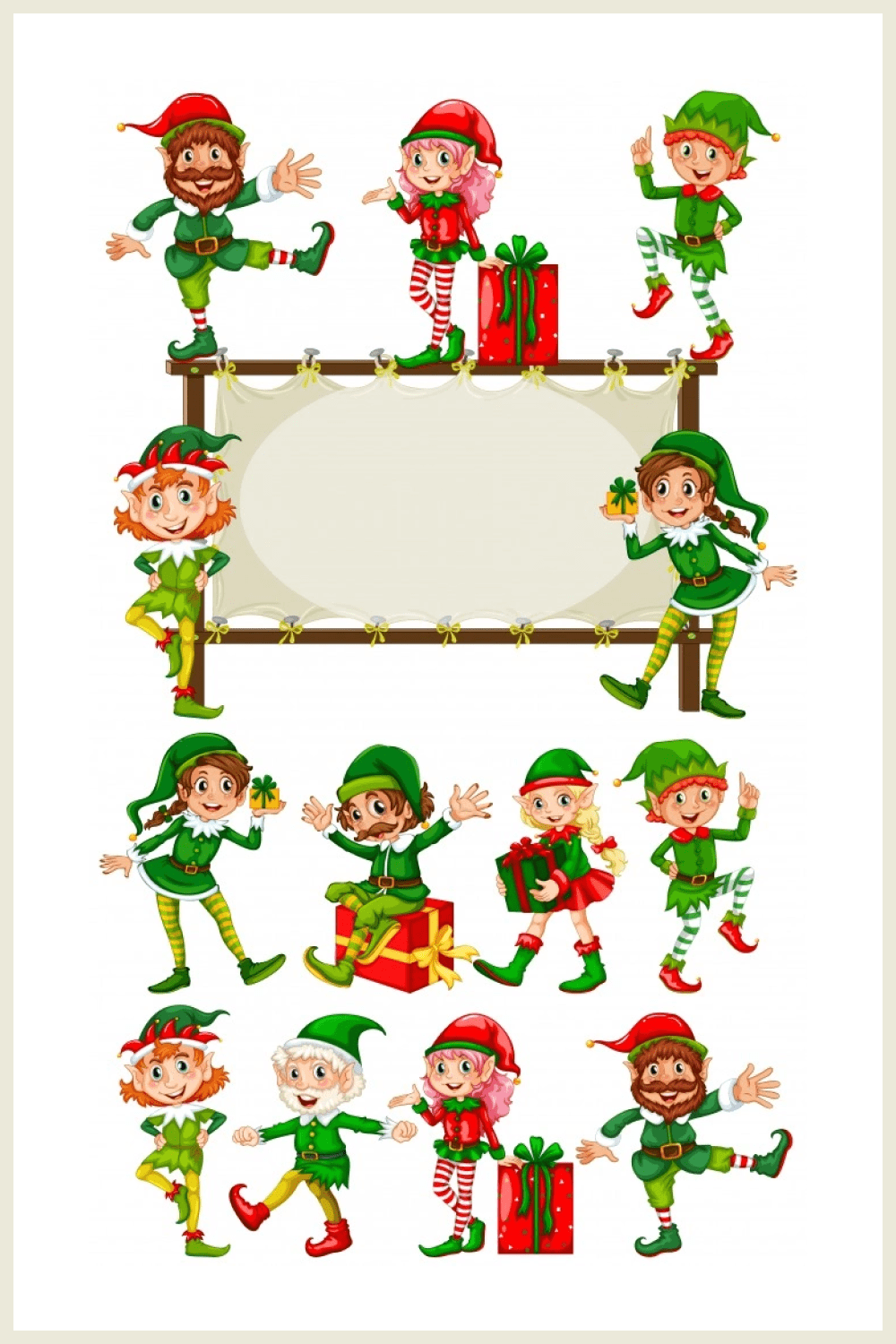 Here is another great free Merry Christmas clip art for creating colorful holiday projects. There are 10+ gnomes in the package that hold a caption frame. You can place any text you want there.
Christmas Icons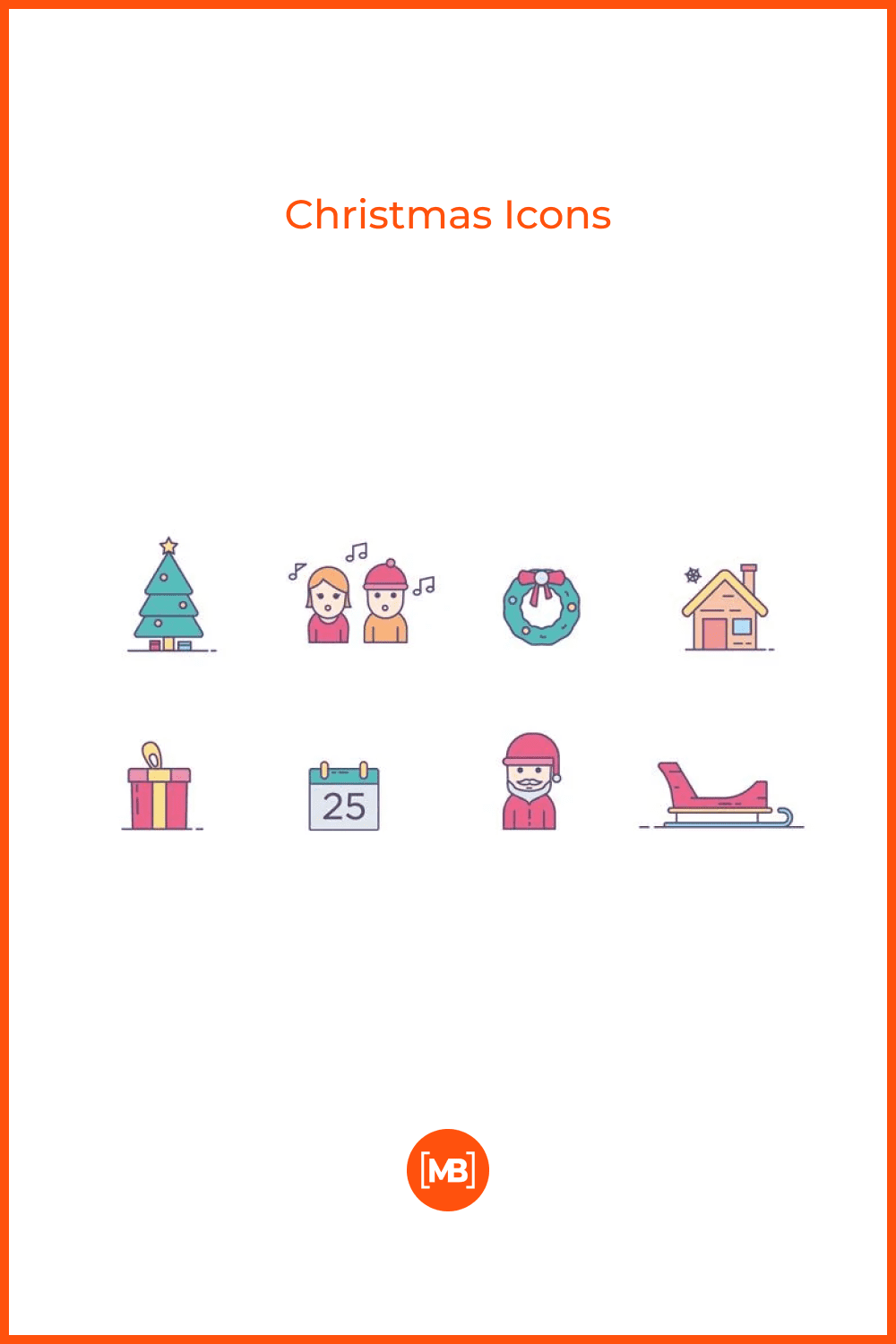 Here is a bundle with 6 free Christmas icons. You may apply them for any presentation and website design. Also, they will look cool in blogs. You can easily add some festive atmosphere to your projects with this offering.
Santas Elves Christmas Pack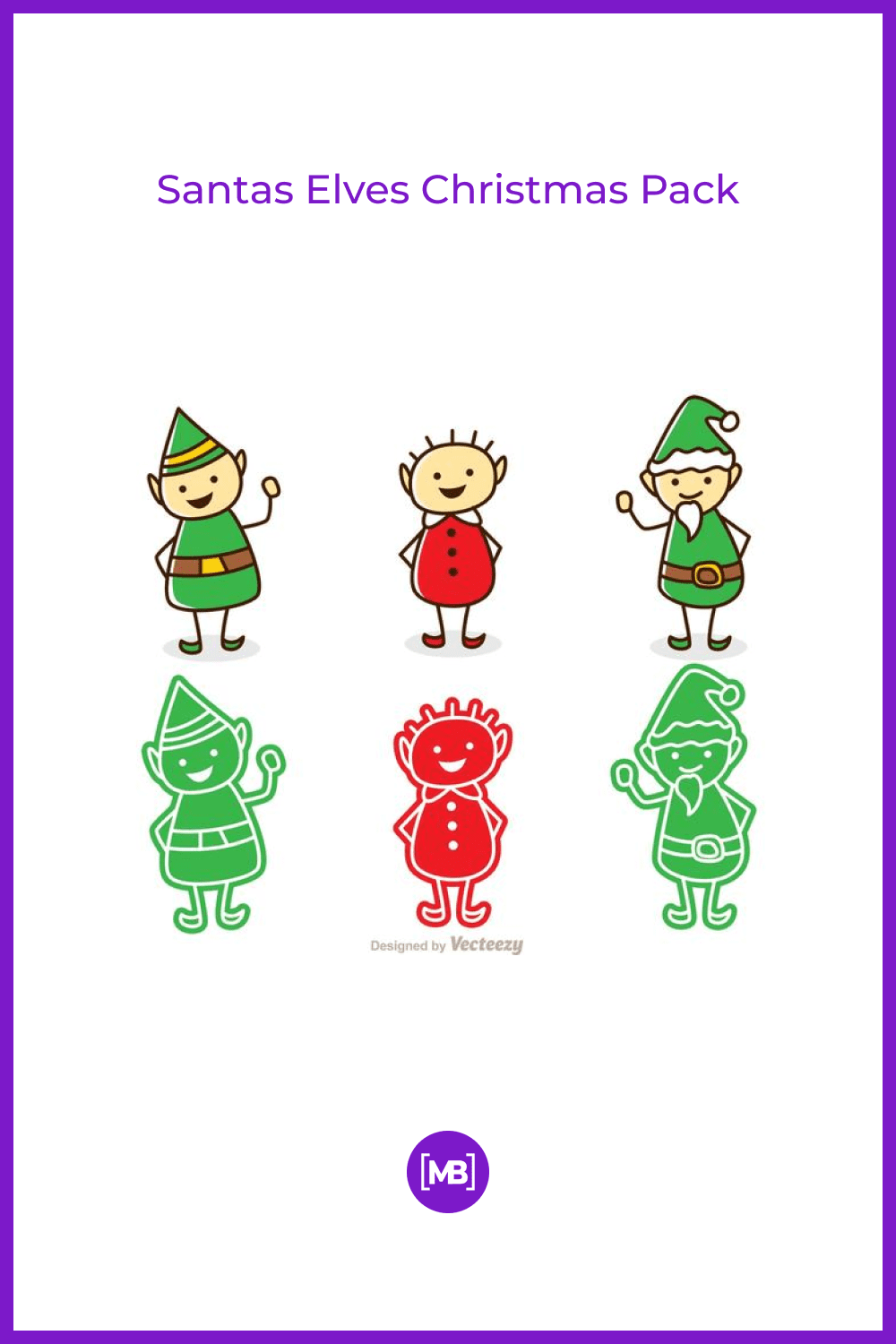 There are different Santa cliparts in this bundle. The products come in colored and transparent formats. That means you are free to make any adjustments to suit your purposes by simply changing the colors.
Cute Deer Smiling with Christmas Lights In Antlers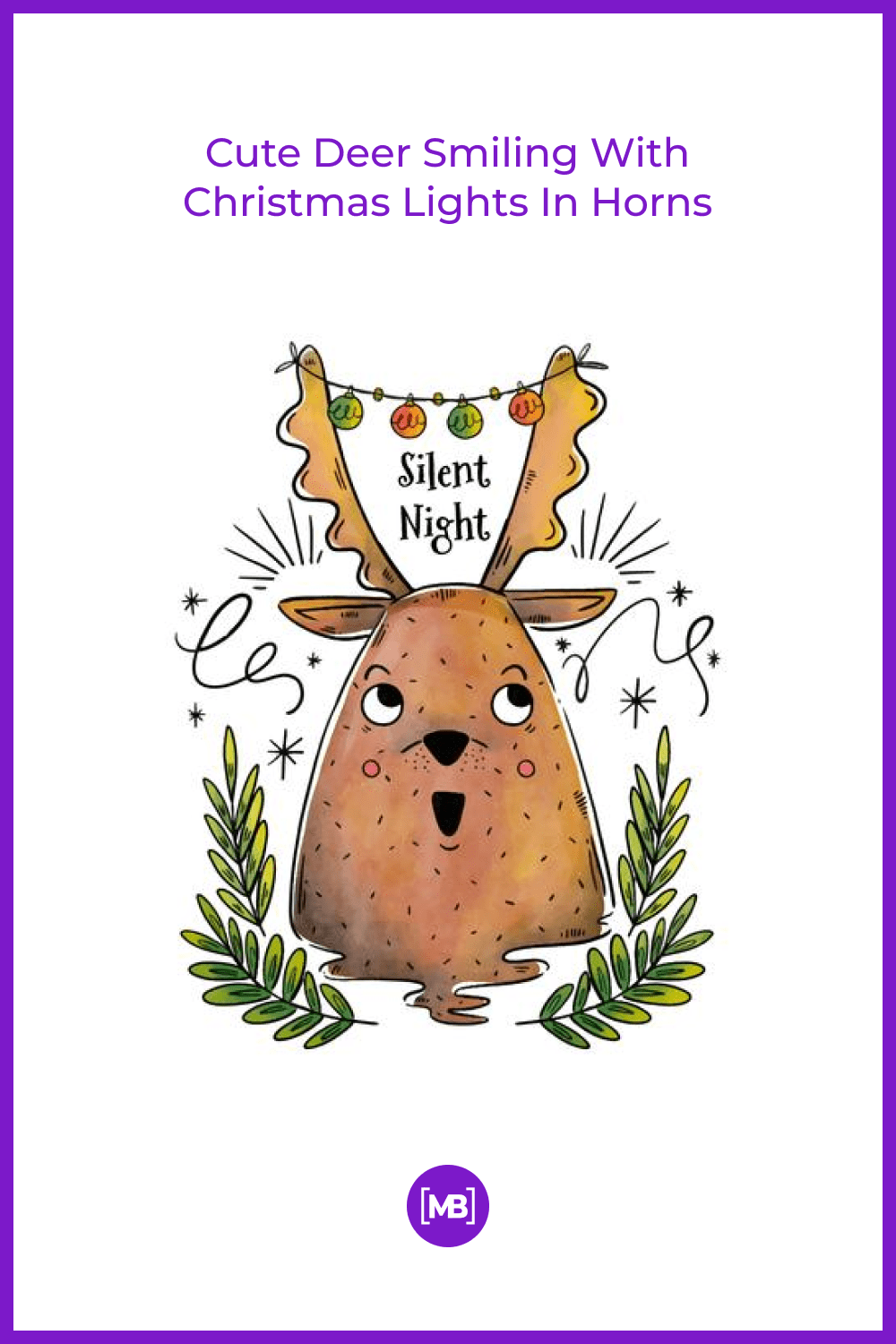 If you are looking for a cute Christmas image that you can add to a postcard, banner, or business card, as well as other holiday projects, then you are wise to choose this offering. You can edit it in whatever programs you like and use it for different purposes.
Cute Elf Legs with Snow and Christmas Sweets and Leaves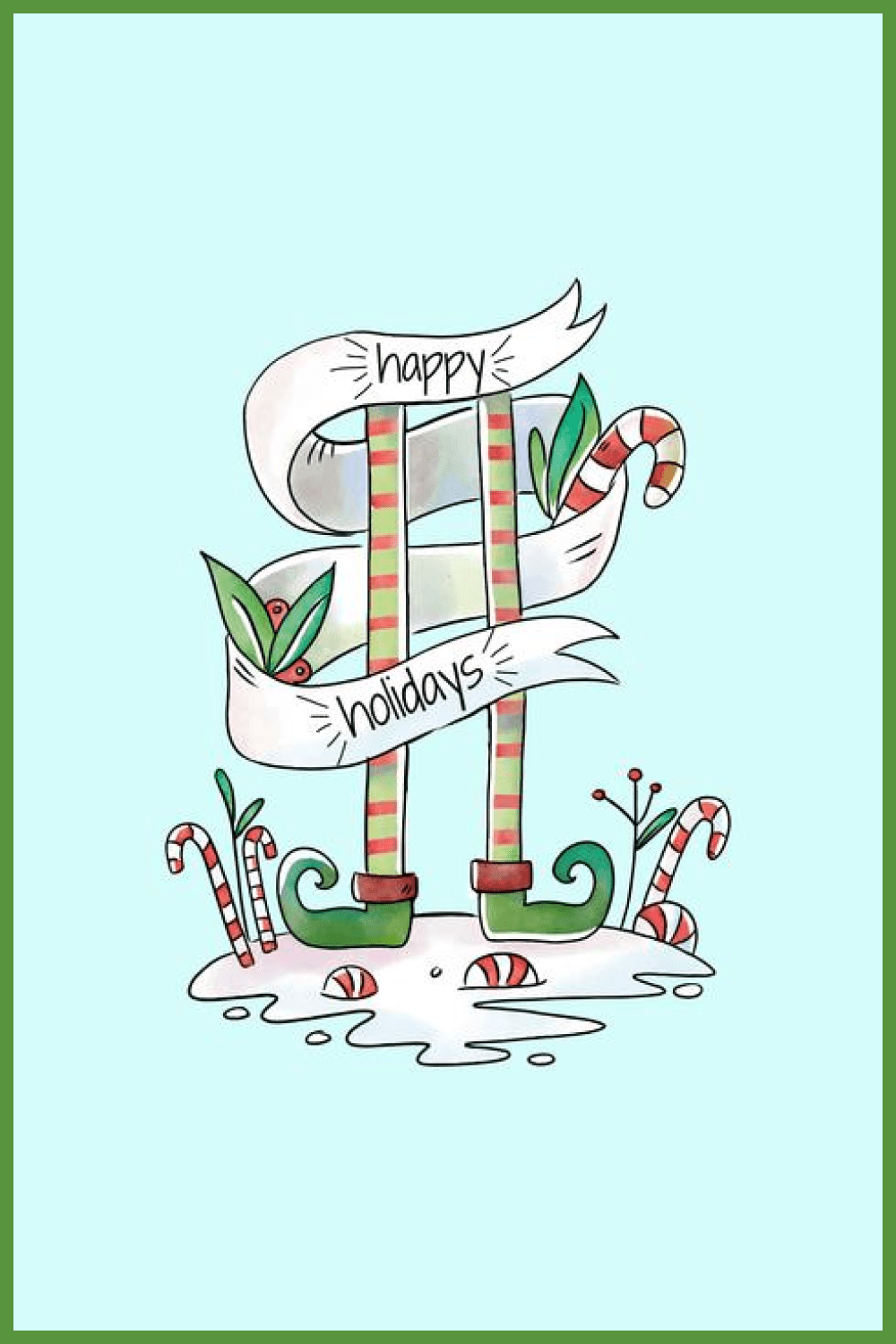 Meet an unusual and awesome solution for the realization of different ideas! The picture has a nice design and is suitable for greeting cards, invitations, and letter design.
A Few Final Words
Christmas is the most magical time of the year as well as the most profitable period for graphic designers since the number of orders a designer receives during the Holiday Season skyrockets. Therefore, make sure you are fully equipped and prepared for the amount of work you are about to get and download some of the lovely clipart that we looked at in this article.
Are you going to celebrate Christmas this year? Tell us about your plans in the comment section down below!
Some Awesome Video About Cute Christmas Clipart
Disclosure: MasterBundles website page may contain advertising materials that may lead to us receiving a commission fee if you purchase a product. However, this does not affect our opinion of the product in any way and we do not receive any bonuses for positive or negative ratings.