December 25.
What is up in your mind when you think about this date? A Christmas tree, family gatherings and delicious food? Friends, warm atmosphere and a fireplace?
Many people enjoy the time they spend to prepare presents for their beloved ones. Who doesn't decorate their houses with the Christmas lights, homes with the trees, and fireplaces with the socks?
And that's no Christmas without presents, right? Grab beautiful Christmas picture clipart freebies for your website decoration, since not only our houses should look festive!
The selection of Christmas Bundles
Christmas is a cute family holiday. Both grown-ups and children are looking forward to Christmas.
People enjoy preparing for the holiday, buy and decorate Christmas trees, meet with their loved ones and prepare different Christmas gifts. For many, this is probably the most lovely part of Christmas. After all, it is always a great pleasure to receive gifts. And it is even more pleasant to present them and please your relatives, friends and beloved ones.
There are many variations of gifts, different ways to present these gifts, options to decorate cards, make them, as well as fun to diversify the photos, and so forth. All this you can easily find and make with our selection. Here you will find Christmas images, photo overlays, backgrounds, textures, postcards, and other.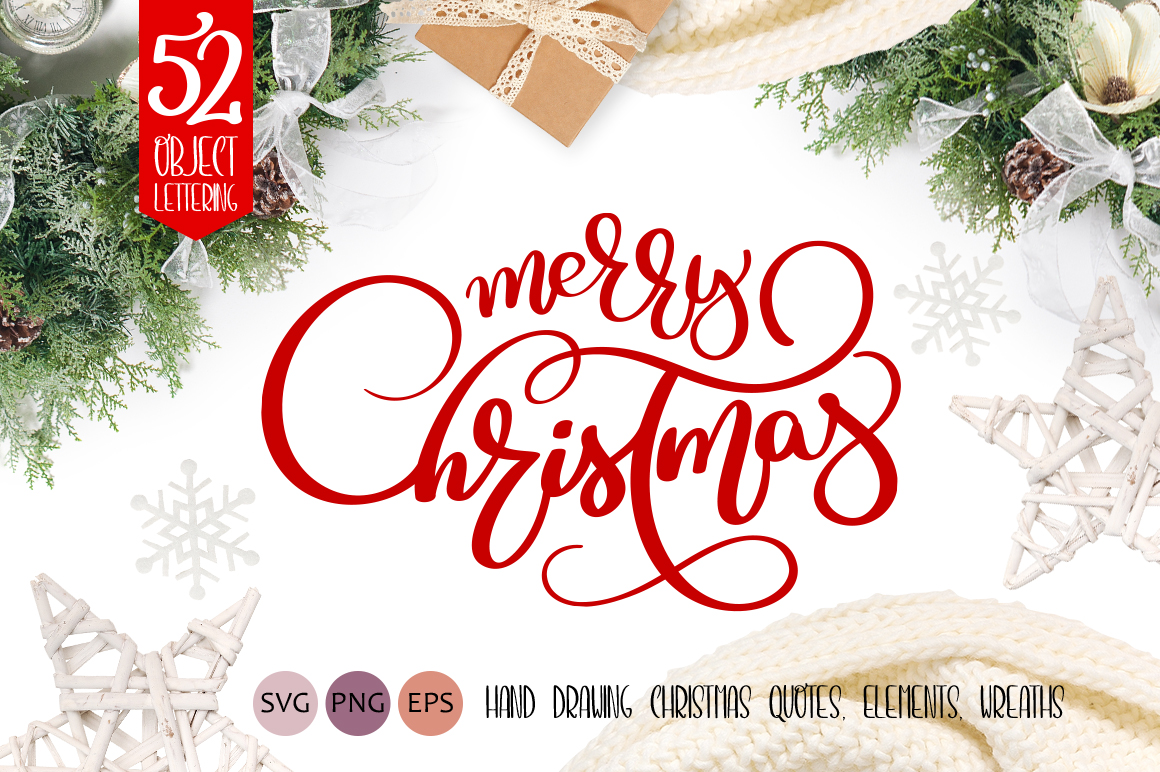 This is a cool and cute bundle with which you can create memorable postcards, funny posters, invitations, greeting cards, etc. With the help of Merry Christmas you will be able to create cool inscriptions, unusually decorate or complement your gift, and surprise your loved one or relative. Merry Christmas collection includes 52 objects lettering, of which:
10 hand drawn letter quotes in different colors and shapes. there are also different types of inscriptions available (Merry Christmas, Happy New Year, Let it snow, Hello Winter);
11 hand drawn wreaths (look very refined, beautiful and cute);
31 doodle elements.
All 52 elements are available in EPS, AI, SVG and PNG formats. All these components are made by professional designers and are of very high quality, bright and rich. They will be an excellent decoration of any postcard, and an addition to any letter, poster, and more.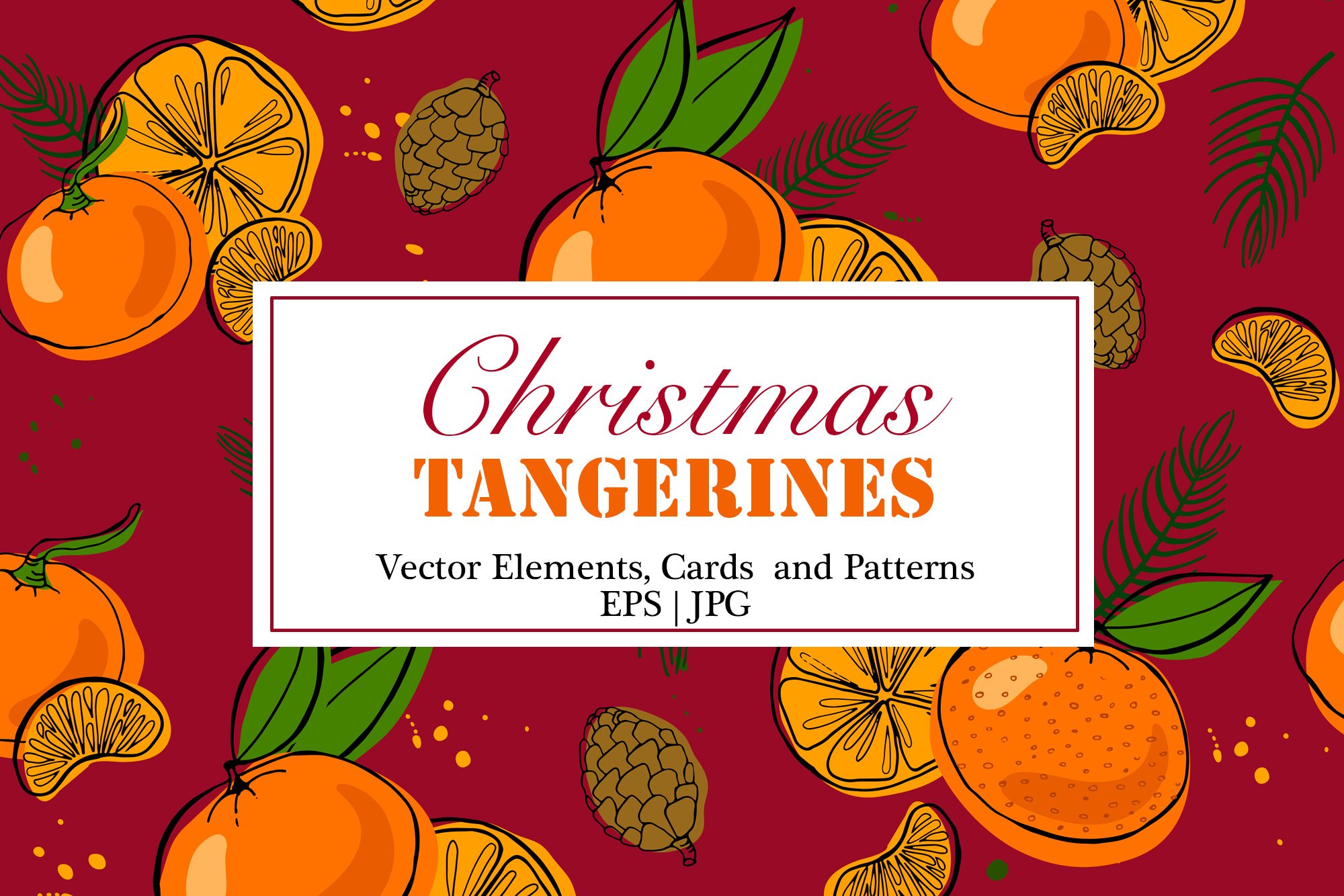 This bundle is a real find for creative projects. You will be able to decorate any postcard, and add a little bit of magic to it. All the elements really look very original, bright, beautiful, cute and of good quality.
This beautiful Christmas Clipart includes a large number of different elements. And namely:
13 individual elements. This includes images of tangerines, bumps, twigs, berries, Christmas tree toys, orange slices. You can compose these elements and create your own trendy design;
1 wreath illustration. This is a very bright wreath, and this Christmas wreath is a great addition to the card design;
24 seamless elements. They are available in EPS and JPG formats;
28 card templates. They are still available in different sizes and formats. Such as EPS and JPG.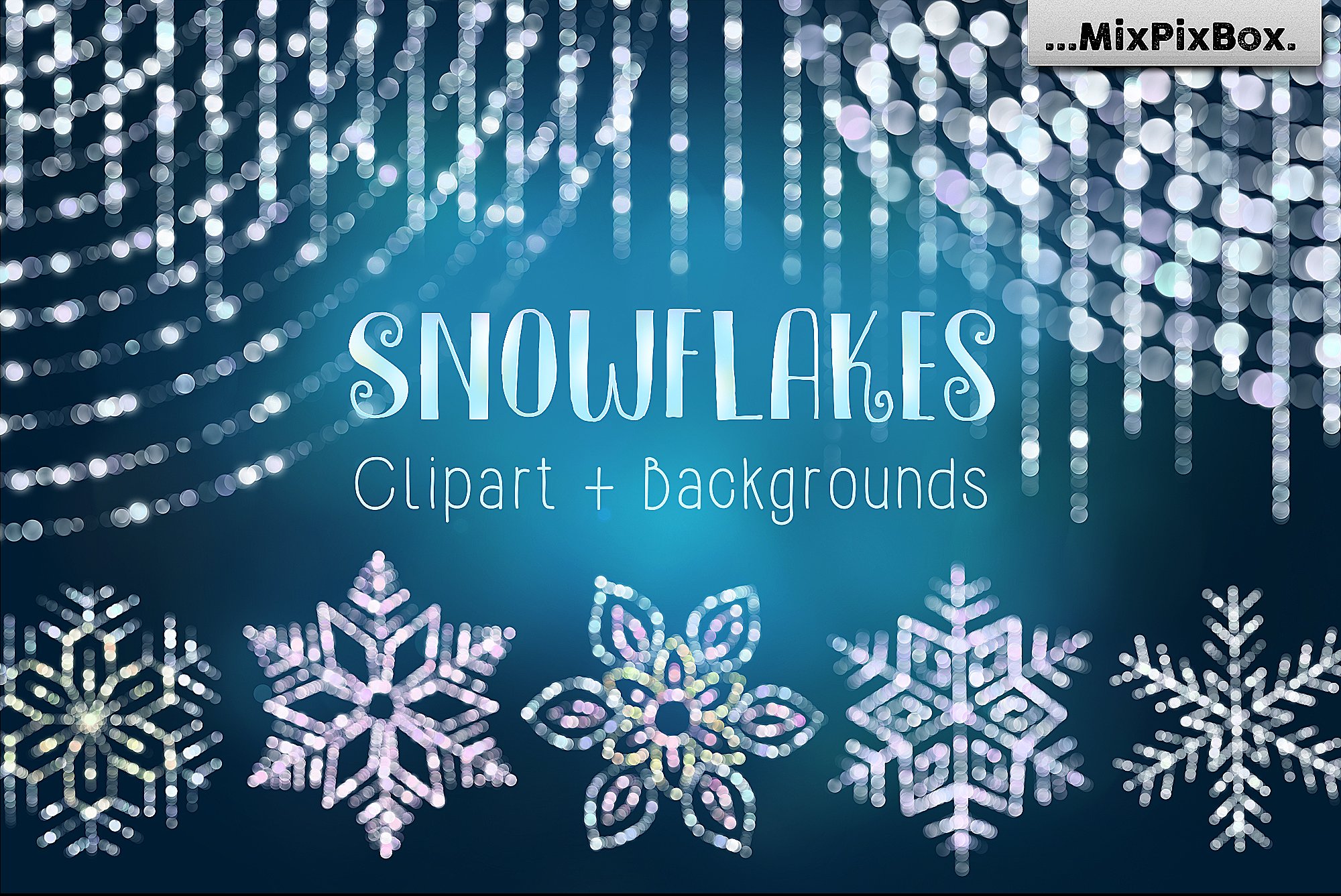 This is a collection of a huge number of backgrounds, textures, beautiful snowflakes, various elements formed from snowflakes. Here you can find variations of backgrounds for photos, and funny decorations for images. It really can diversify the usual postcards and give originality to the pictures, and so on.
Snowflakes Clipart & Backgrounds contains:
28 snowflake cliparts;
26 illustrations;
12 frames;
18 backgrounds.
All these elements are of different sizes and resolutions. They look very nice and gentle.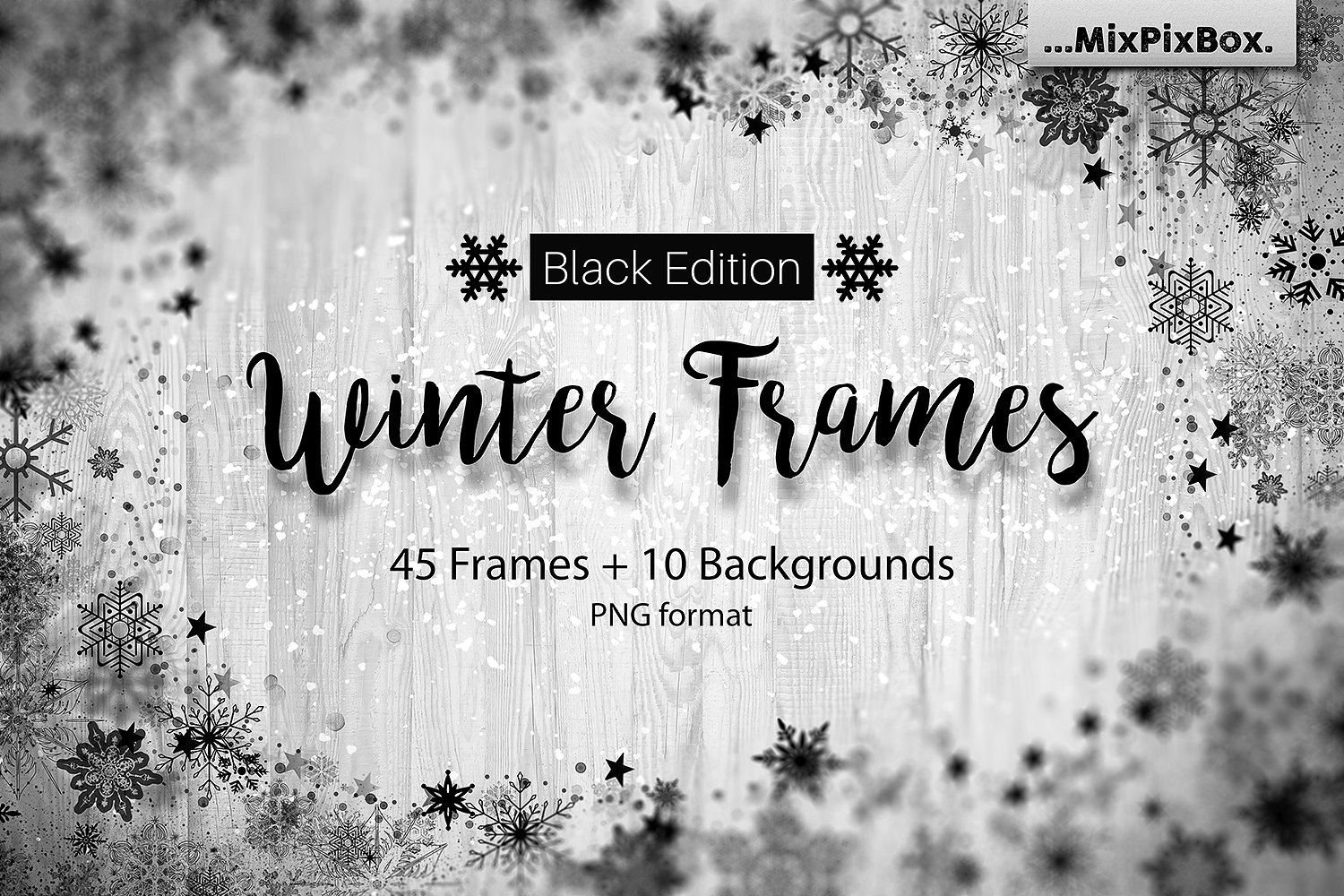 This is another wonderful bundle that offers a wide range of backgrounds, textures and frames to choose from.
These chic elements you can easily be used and edited. Backgrounds and image frames are available in PNG and JPG formats. All elements are very high quality and clearly drawn.
The collection includes:
10 Backgrounds in 5100 x 3400 px resolution. These backgrounds look very gentle, original and stylish. The light tones are very well combined with the wood texture, stars and snowflakes.
40 Frames in 5100 x 3400 px resolution. These frames also have a transparent background to simplify your work. They also have different intensities. There are frames with a thin frame, and wider ones. This helps to expand the range of choices, and to find the ideal frame for the image.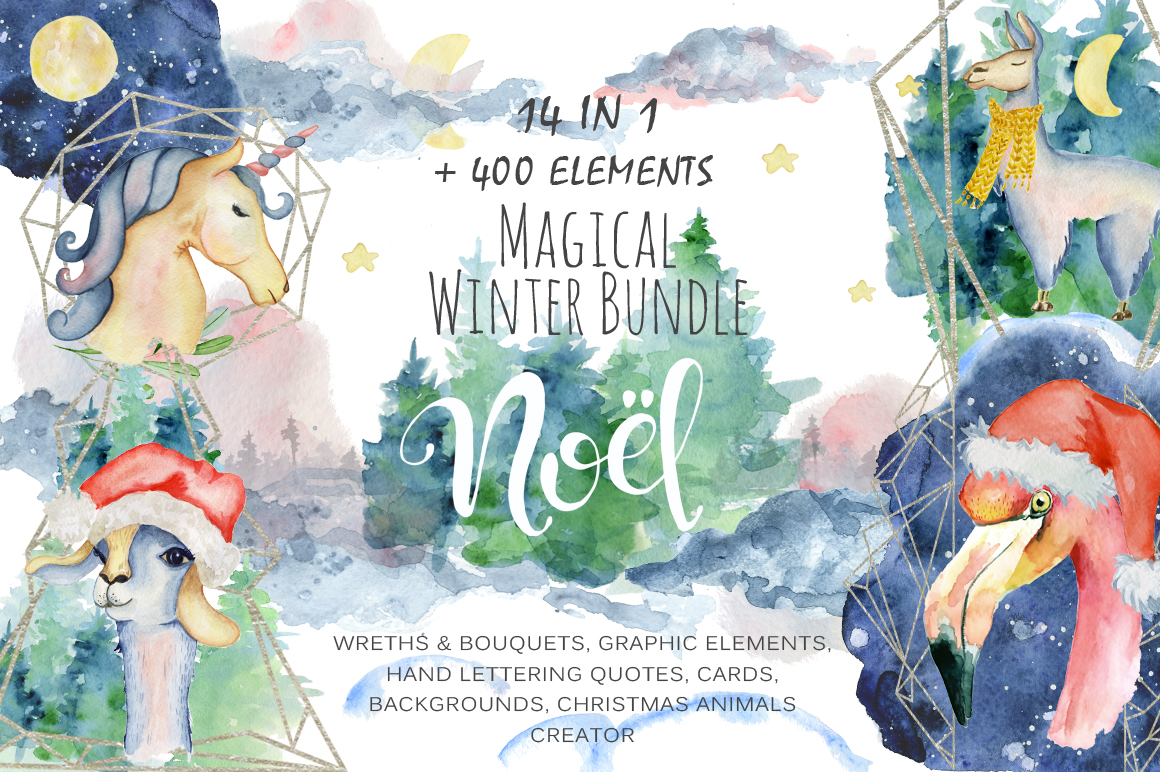 This collection is a real find for any Christmas project! These 14 clipart you will get in 1 set. Really awesome!
With this bundle you will get a lot of decorative elements, and individual elements that can be combined with different images, and so on.
Magical Winter Clipart includes:
10 watercolor backgrounds and textures. They have different colors, shapes, and look very magical. Slight blur is a very original and stylish addition.
36 watercolor washes and ambre.
12 quotes and 12 watercolor shapes. Quotes include "Let it snow, Merry Christmas, Happy New Year, Be jolly, Holly Jolly, Merry and Bright" , etc.
40 poligonal frames and shapes. Each shape is available in 4 different colors, including yellow, grey, black and orange.
45 individual elements (Christmas cap, light bulbs, branches, diamonds, envelopes, leaves, gifts, etc).
4 bouquets. These are cool and unusual bouquets created with individual elements.
5 variants of wreaths.
hand drawn Christmas flamingos, deers, lamas, unicorns, and much more.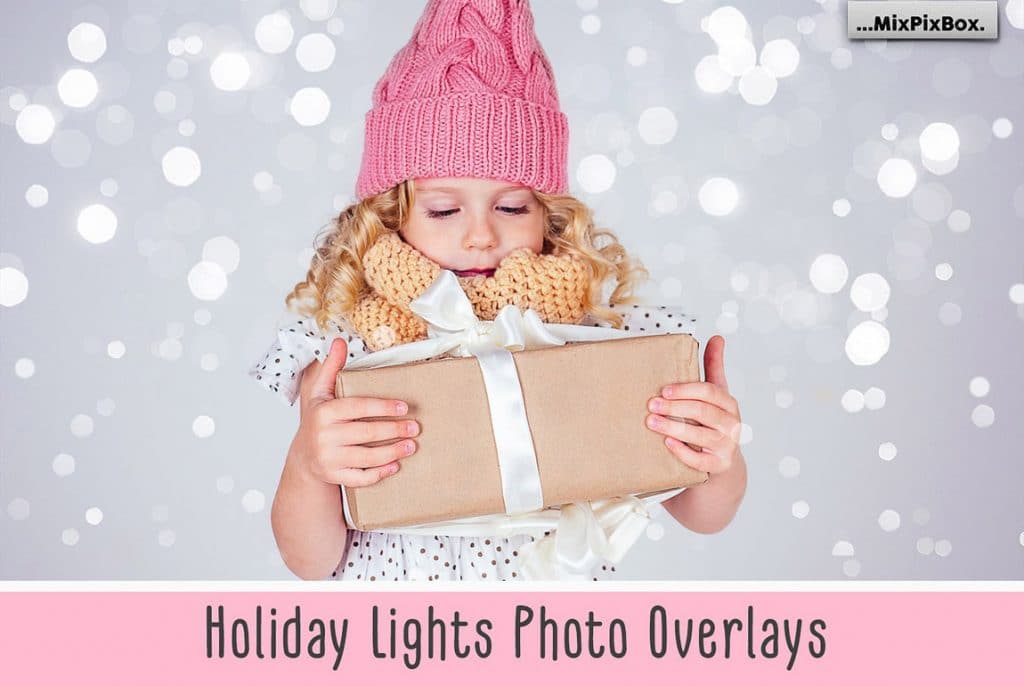 With this bundle you can make memorable, original and unusual greetings. The overlay on the photo can make your photos bright, stylish and unusual. This will really stand out from the rest of the images. Christmas Holiday is the 20 brightest overlays that you can easily use and edit. To do this, you can use Photoshop, Photoshop Elements, Paint Shop Pro, as all elements of the bundle are easily compatible with these programs.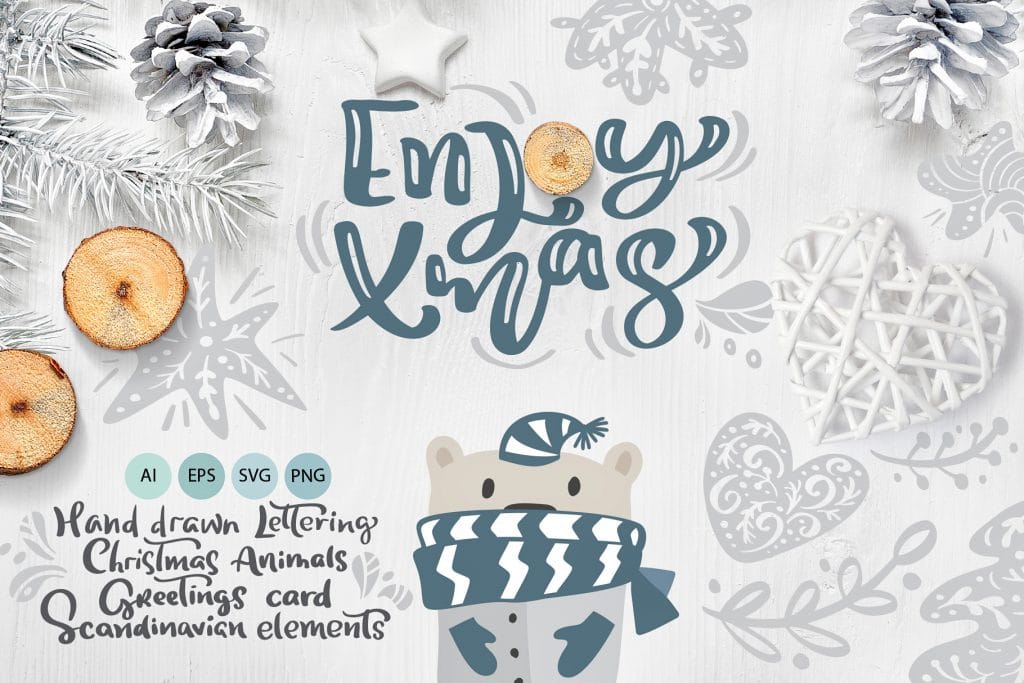 This is a collection that will allow you to create original invitations, postcards, and greetings cards. All elements in the bundle are available in EPS, AI, SVG and PNG.
This wonderful set includes:
10 handwritten calligraphy Christmas quotes. This includes different quotes of various fonts. And it is really very cool!
9 Christmas cute animals.
14 greeting cards.
13 Scandinavian elements.
These elements will also help you to make cool stickers and dashboards.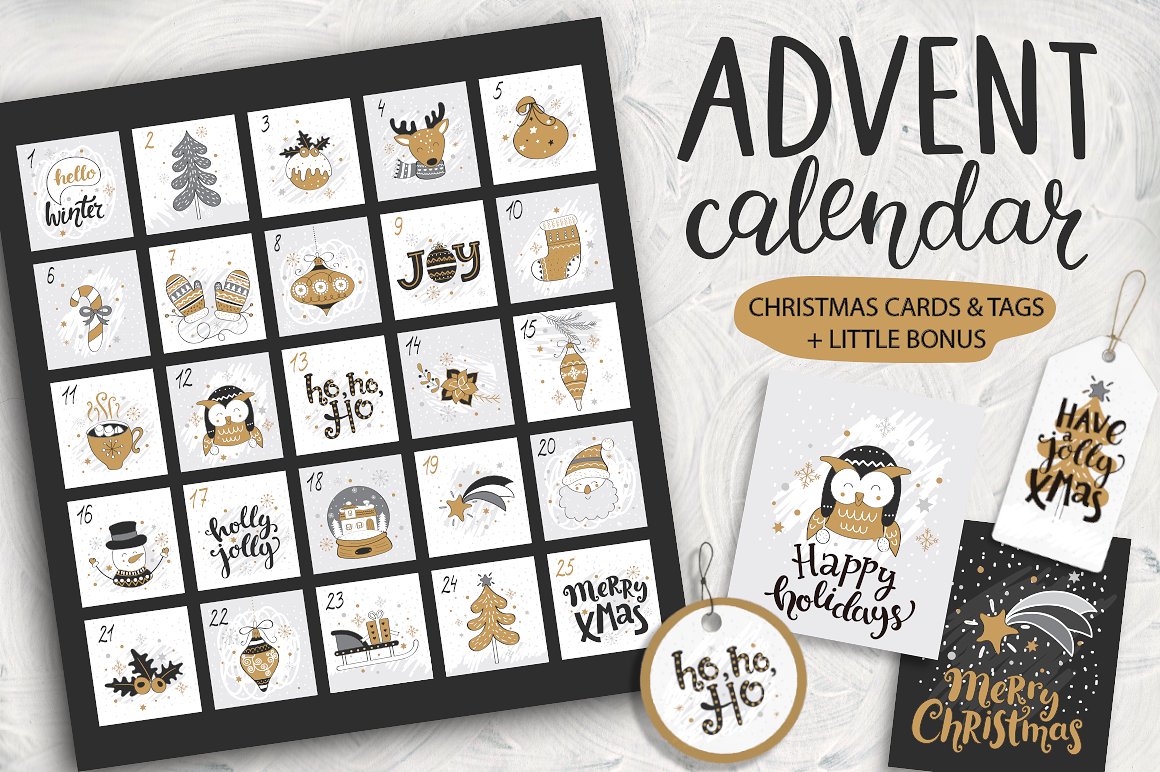 For you there is a really good calendar prepared, which will help to make every day before Christmas festive, special and memorable. Together with this wonderful bundle you will get 3 additional seamless patterns. Christmas Advent Calendar includes:
12 pre-made cards,
10 templates of tags,
3 patterns.
All these elements are available in EPS, AI, JPG, PNG formats.
Bright and stylish images are in harmony and complement each other. The combination of colors is also very original. This calendar will be a great addition to the design, and the decoration of the apartment!
Looking for a set where you can find the best elements to add postcards, invitees? Or photo overlays? Then this bundle is for you!
Xmas Meadow Collection is more than 100 high quality, bright elements and images.
Xmas Meadow Collection includes the following components:
2 layered font duo. These in turn are really unusual, and original fonts, which will be a cool decoration of any postcards, posters, and so on.
48 Christmas meadow ornaments. Among them are Christmas trees, Christmas tree toys, flowers, snowflakes, hills, and a backgrounds. All these elements are available in different colors. That's why you'll find the one that's right for you.
16 poster templates, which you can use for Instagram posts, etc.
8 story templates that can decorate your story in Instagram.
14 post templates, which you can also use for fun and stylish posts.
12 photo overlay, which will make your photos original and unusual. These overlays can be easily edited and added to.
Do you still have doubts about your choice?
This is a set of images, textures and backgrounds that you can easily use. Beer Mockup Bundle includes:
layered and Grouped PSD;
high quality mock-up;
beautiful photo filters;
25 PSD-file, which you can edit and change using different editing programs. For example, using Photoshop, and Photoshop Elements.

Using this bundle will help to do everything at the highest level, and save time!


Well, this is a very nice and cute set. All the elements in the bundle are well-drawn and look so stylish. Christmas Unicorn Creator includes:

8 individual elements. You can easily combine them, experiment and get a cool result.
21 ready-made compositions with a transparent background.
The individual elements include colorful scarves and hats that you can easily change.

This bundle is perfect for children's postcards, greeting cards, stickers, posters, banners, and so forth.


By the name you probably already realized that in that bundle you will find a huge number of elements you need. You can also combine them in an interesting way and get a wonderful result. This bundle includes 10 different sets. This in turn is more than 600 watercolor files. The graphics are a PNG file, 300 dpi, with transparent background.
You can easily use all these elements for posters, postcards, invitations, greeting cards. You can also improve your Instagram posts with these files.
This is a real find, as you get more than 10 sets for a small price.

With this set you have a great opportunity to create unique postcards, invitations, posters, photos, etc.
ALL-in-One Winter Graphics Bundle includes a large number of presets, photo overlays, illustrations with transparent backgrounds, snowflakes with transparent backgrounds, vectors, and so on.
All bundle elements are available in different colors. You can easily combine each of them and edit. To do this, you can use Lightroom, and PhotoShop.
All the snowflakes will be able to complement any of your projects, they are of different shapes, sizes and colors. Different overlays on the photo look very magical and original. They will be able to make your photo stand out among many others. Also, you can access golden overlays of different shapes and much more.


This set is perfect for all your ideas. You can easily use each item and edit it. Christmas Happy Holiday Set includes photo frames, borders, different patterns and textures, and isolated watercolor elements. The graphics are a PNG file, 300 dpi, with transparent background.
Each element of the bundle, and all the images you get as a separate file. All drawings are of high quality. They are clearly designed, look very bright and very nice.


This is a cool and unusual font that you can use for a variety of postcards, invitations, greetings, posters, ads, banners, etc. You can use this font for any project, and for any purpose. This font is available in TTF, OTF and WOFF formats. You can use this font in Photoshop, Illustrator, InDesign, and Word programs. This is a really cool way to diversify your regular projects.

Top-50 Christmas Pictures Clipart Freebies

Video About Top-50 Christmas Pictures Clipart Freebies