Christmas Fonts. Hey guys! Christmas is getting closer. You can see the first pretty snowflakes dancing in the air. Very soon Christmas carols will be heard everywhere. People craft, buy or take off the shelves Christmas decorations that will turn their houses into the warm, cozy huts waiting for the Santa Claus, presents, and holiday miracles.
Oh, sorry if we were carried away by the Christmas spirit. We know you came here for business. No worries, 40+ free and paid Christmas font bundles are waiting for you right down below.
Why is it beneficial to download font bundles and not separate fonts?
It's all about convenience and cost-efficiency. Bundles are kinds of discounted items bringing multiple advantages to both businesses and customers.
Just agree that there is a difference between wholesale and retail prices of the items. The former is noticeably lower. Thus, it can be said that bundling two or more items together adds value to the offer, enhances it, and attracts us, buyers, customers, artists, creatives, designers, developers, whoever we call ourselves. All of us want to get more awesome stuff for a basic rate.
Bundling is not a new marketing tactic. It can take many forms aka many names: gifts sets, package deals, collections. The idea of bundling is based upon the fact that consumers usually save from 7 to 15 percent on the grouped package price than when they purchase individual items.
Do you compare prices before buying them? I do because I love choices. It gives me the feeling that I keep my budget under control.
Bundles are especially beneficial for single, value-oriented purchase of complementary offerings, like these ones. (We need festive fonts for our Christmas designs). Bundles let the consumers get multiple solutions using one single source.
If you are the buyer who is looking for deals, convenience, advice on items that complement each other, bundles are exactly what you need.
6 Premium Christmas Fonts Bundles
| Product Image & Rating (Out Of 10) | Product Name | Price |
| --- | --- | --- |
| | Christmas Animated Typeface | |
| | Best Christmas Fonts – Lettering for Christmas Cards | |
| | Merry Christmas Monoline | |
| | Christmas Snow Hand Drawn Font | |
| | Christmas Mock Up Photos Collection | |
| | Christmas Lettering Phrases | |
Bundles allow you to get a cluster of satisfaction with one purchase. You buy products to solve problems or address specific needs. In our case, we need Christmas fonts. However, the bundles below can address multiple needs if you have a number of them. This is really comfy as you can make one stop instead of many.
Furthermore, you can take advantage of economies of scale when buying a bundle of products (some of them are available even free of charge). Are you interested in the individual components in the bundle? It's not a problem as the total price is lower when the products are purchased as a bundle.
Premium Christmas Fonts
Hepatica-Regular.otf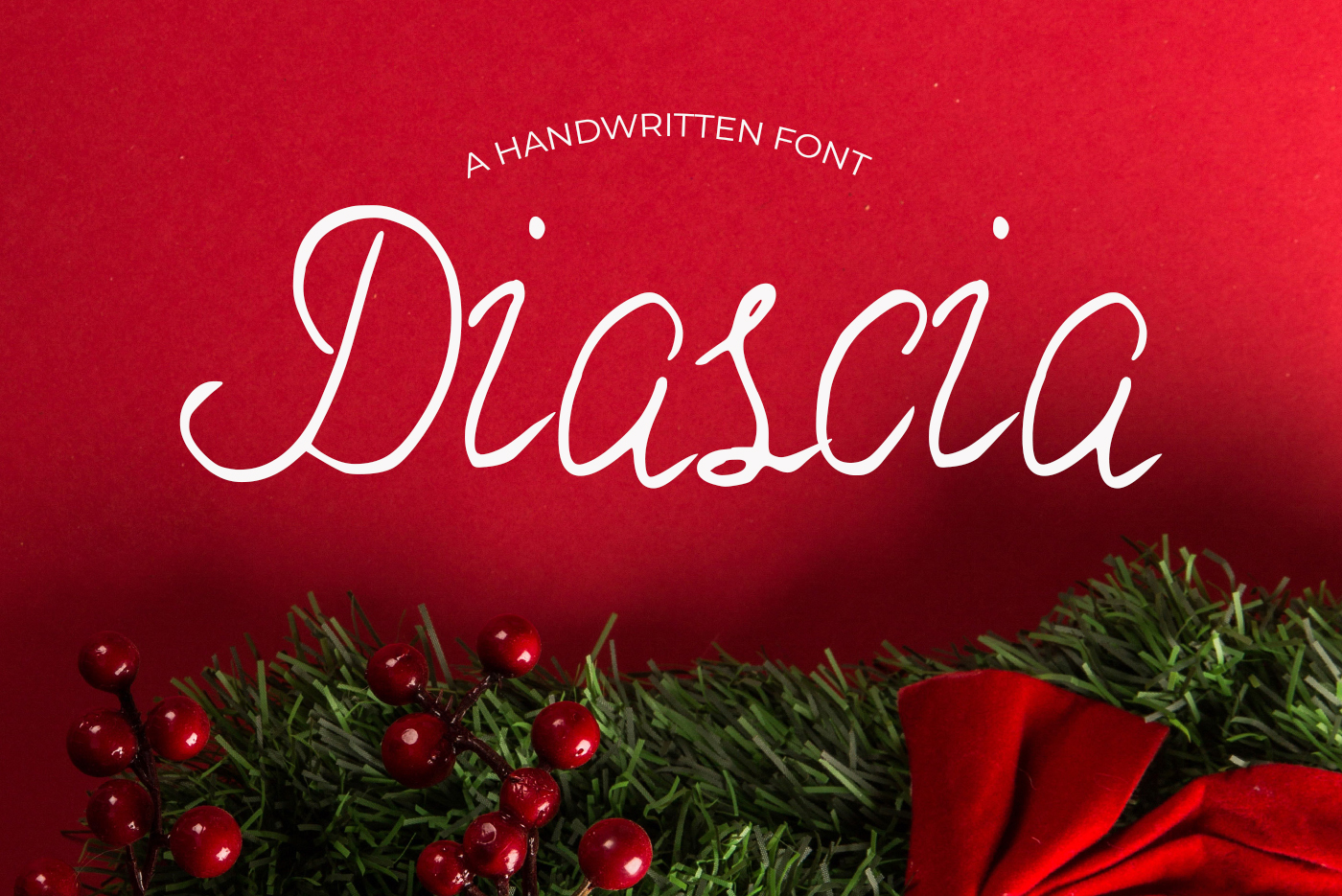 Diascia-Regular.otf
Miraculous Christmas Font Dianella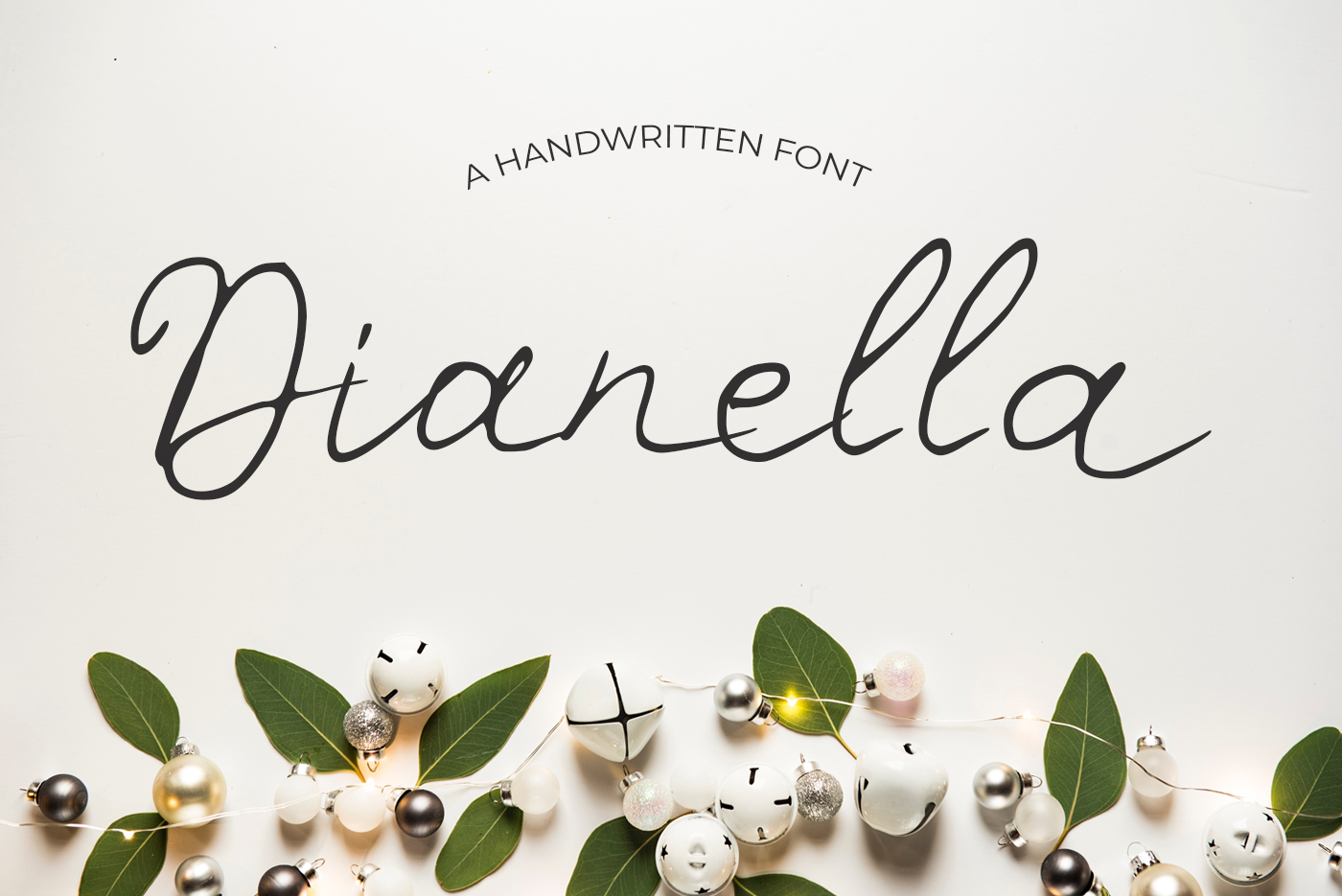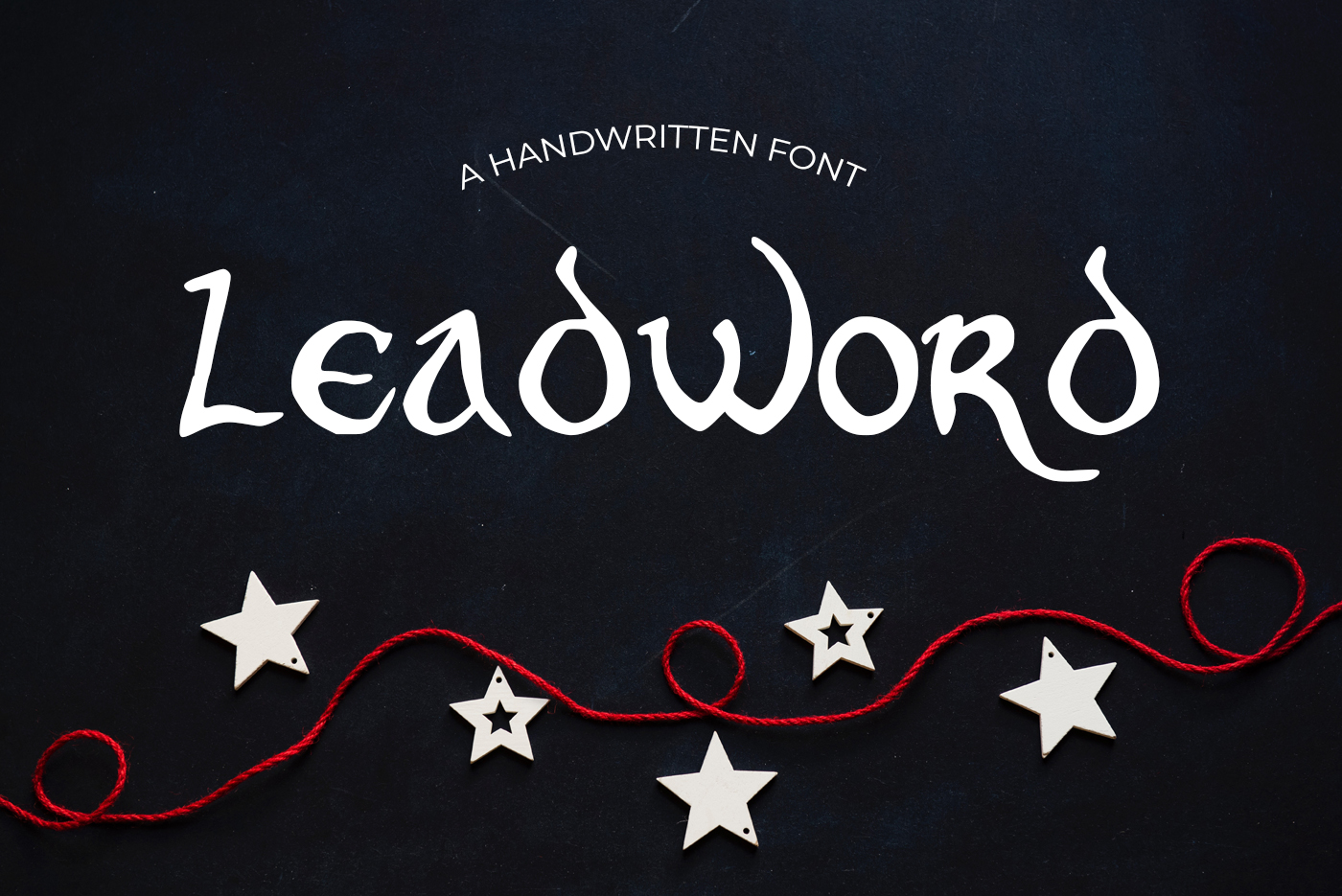 Leadword-Regular.otf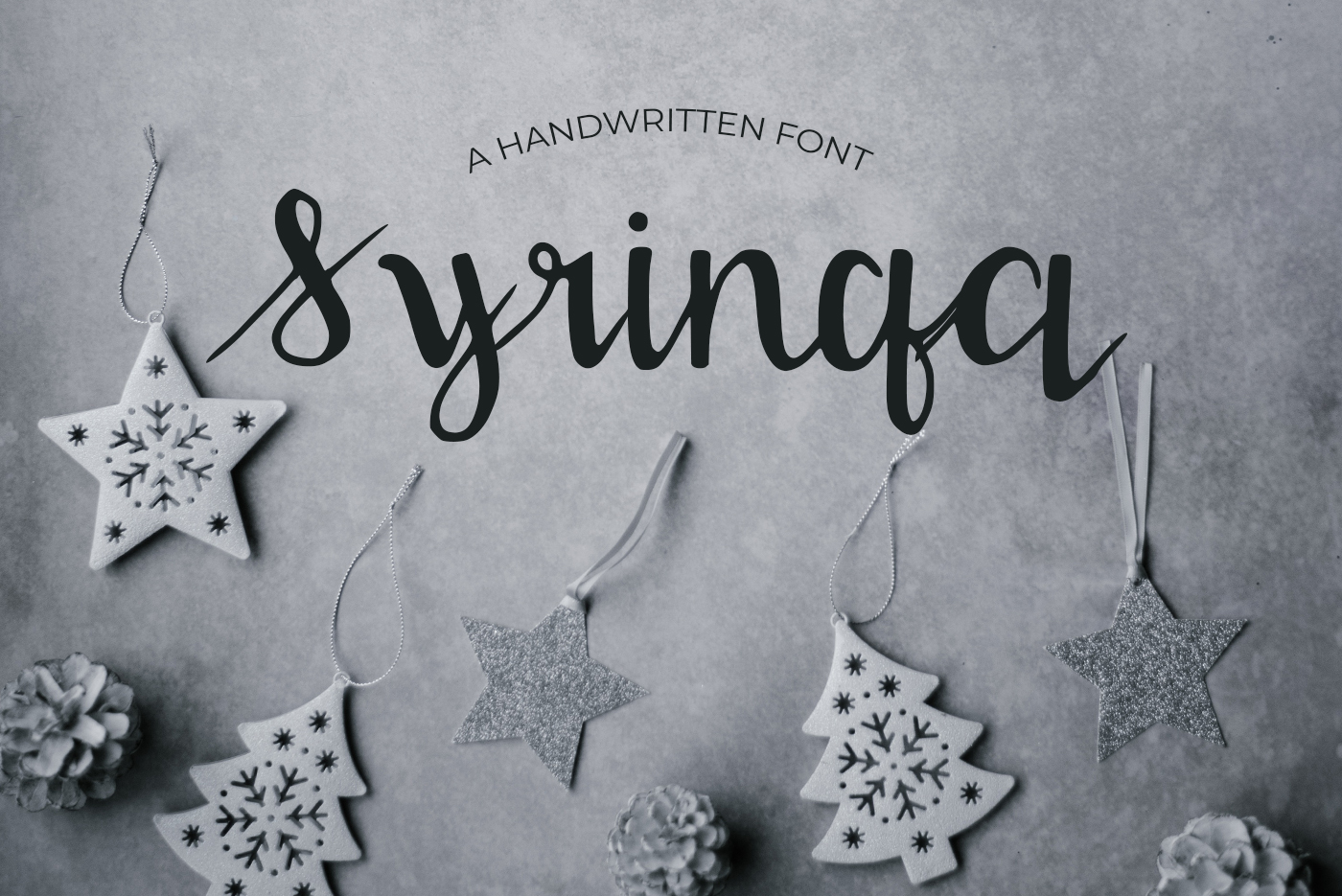 Syringa-Regular.otf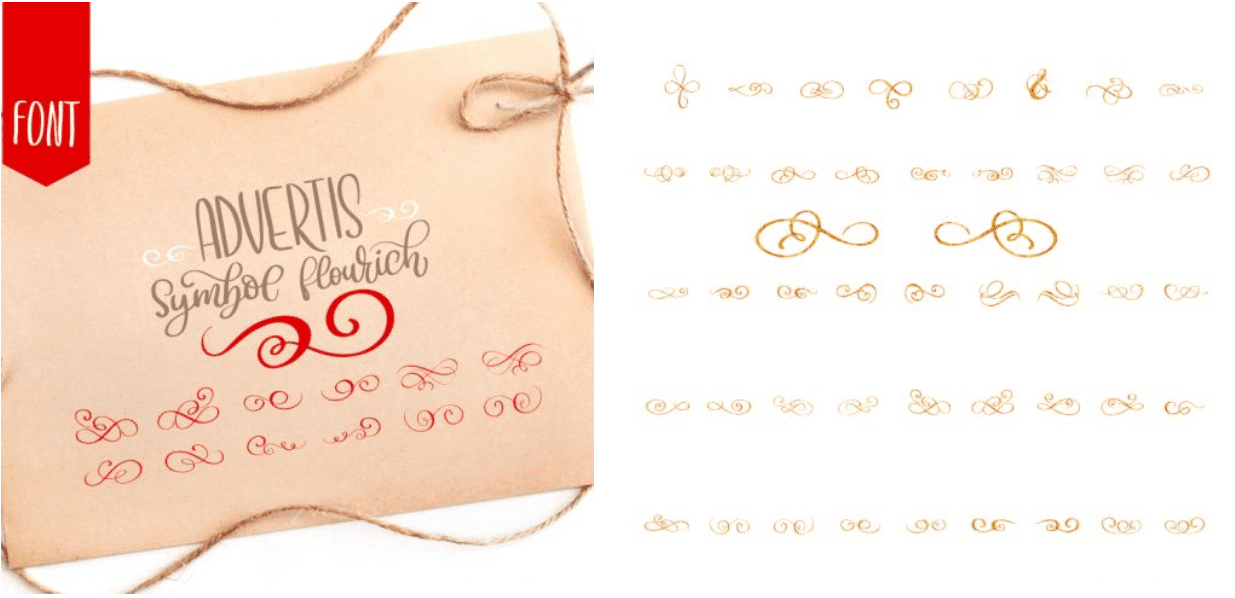 Advertis.ttf
Price: $13
This is a bundle that includes awesome ornament fonts for creating stunning Christmas postcards. This very font is easy in use, so after you download it, you don't need any additional programs to work with it. So why not create some lovely and unique Christmas cards with Christmas Advertise Ornament Font?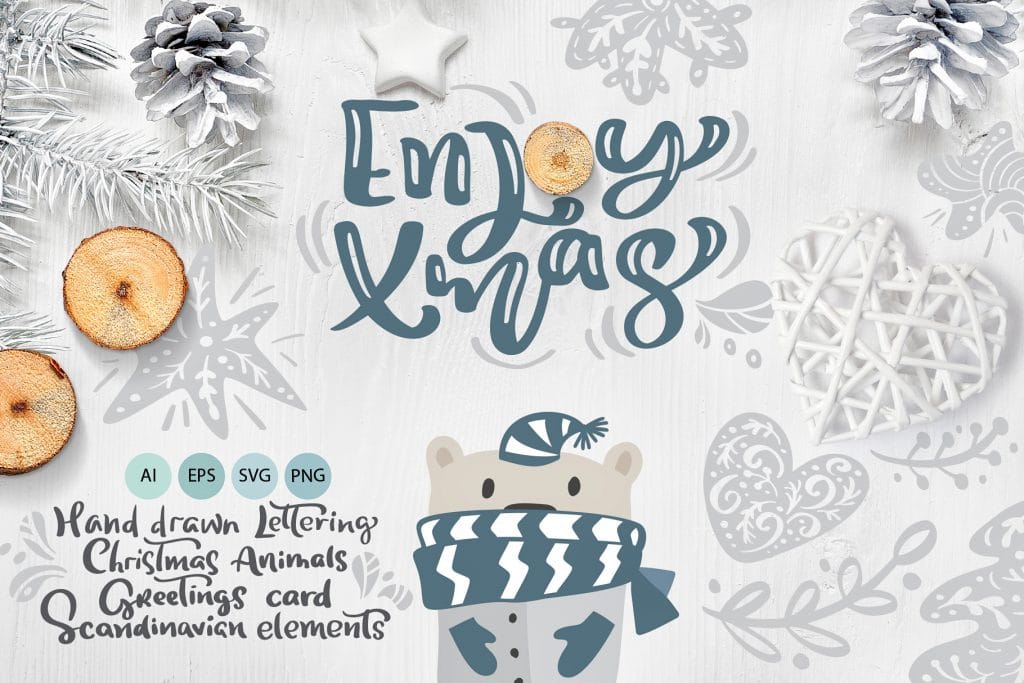 Price: $15
45+ Merry Christmas Lettering and Elements is not just a bundle of fonts, it is the ultimate Christmas bundle with over 45 various elements for your holiday projects. In particular, you will get 10 Christmas Hand Draw Lettering in EPS, AI, SVG, and PNG formats as well as lots of other useful elements such as images and greeting cards. So go ahead and check out this very Christmas bundle!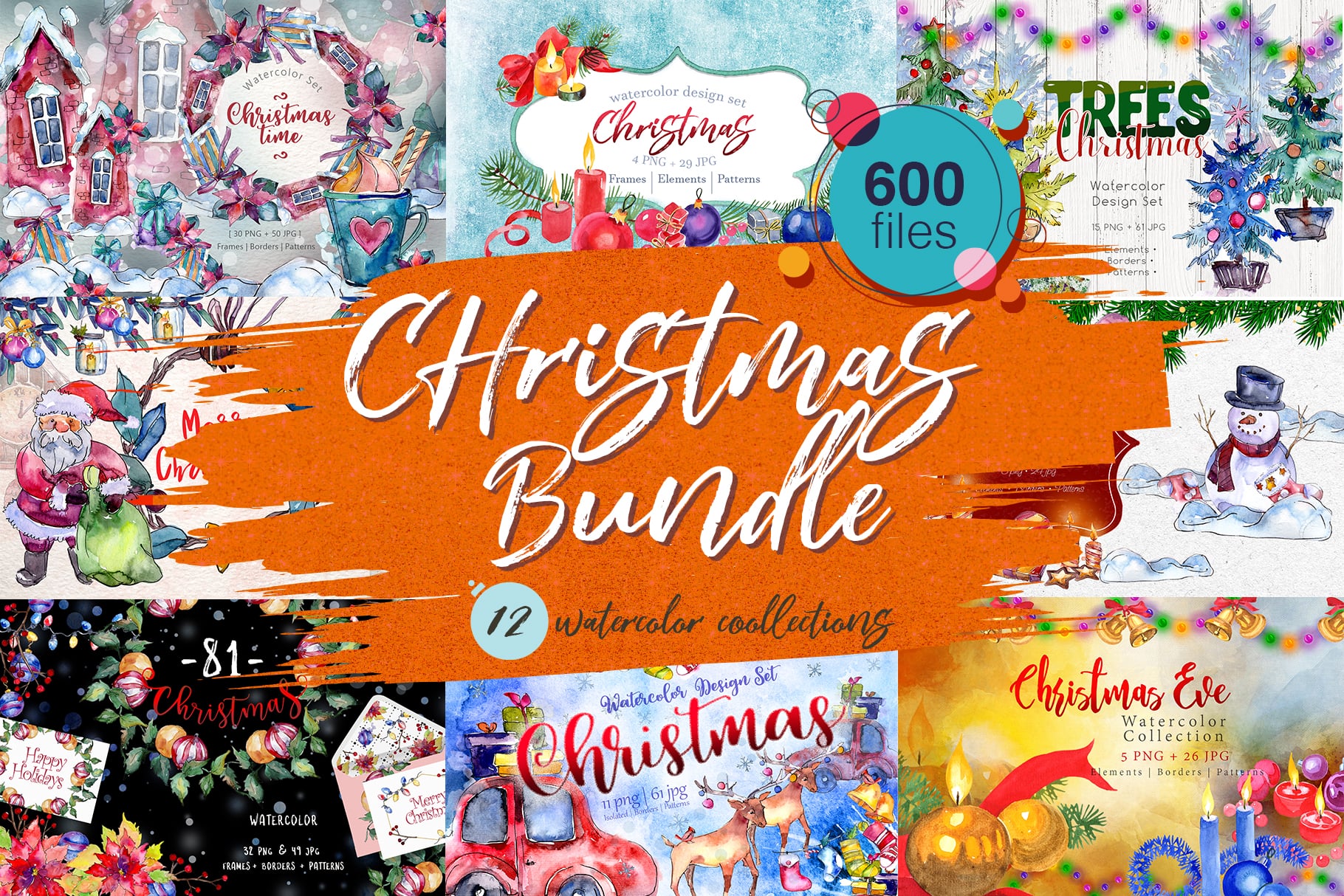 Price: $19
This is another cool bundle that includes some great Christmas fonts and not only, so why don't you give it a shot?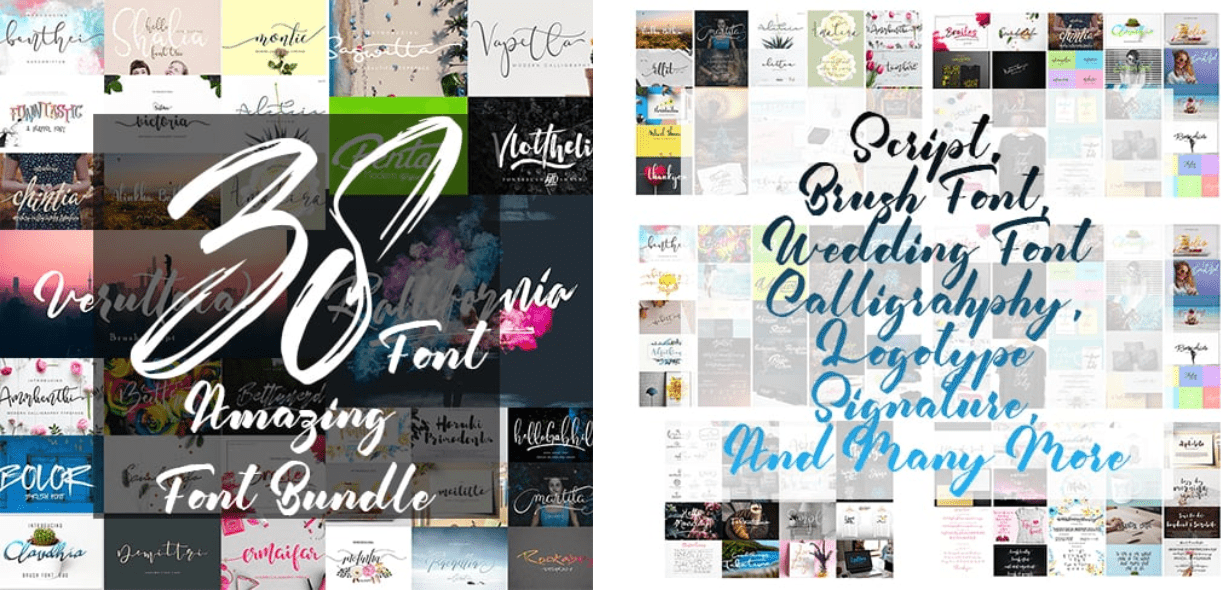 Aletcia.ttf
Alinkha Bothine.ttf
Amatira.ttf
Ammhenthi.ttf
Banthei.ttf
Beettrot.otf
Battlunerd.otf
Bentoh Stylistic One.otf
Bentoh Stylistic Two.ttf
Bentoh.ttf
Bettlunerd Swash.ttf
Bettlunerd.ttf
BOLOR.ttf
Brailes Signature.ttf
Brailes Swash Splatter.ttf
Brailes.ttf
Chintia.ttf
Claudhia.ttf
Demittri.otf
Ermaifar.ttf
Fanttikha.ttf
Price: $19
With this very package, you will get 38 unique fonts for literally all occasions. The bundle holds five main font types including Serif, Sans-Serif, Slab-Serif, as well as handwriting fonts. Such a package will come in handy for all the web designers who want to find some truly dope elements for their projects, so you definitely want to check it out.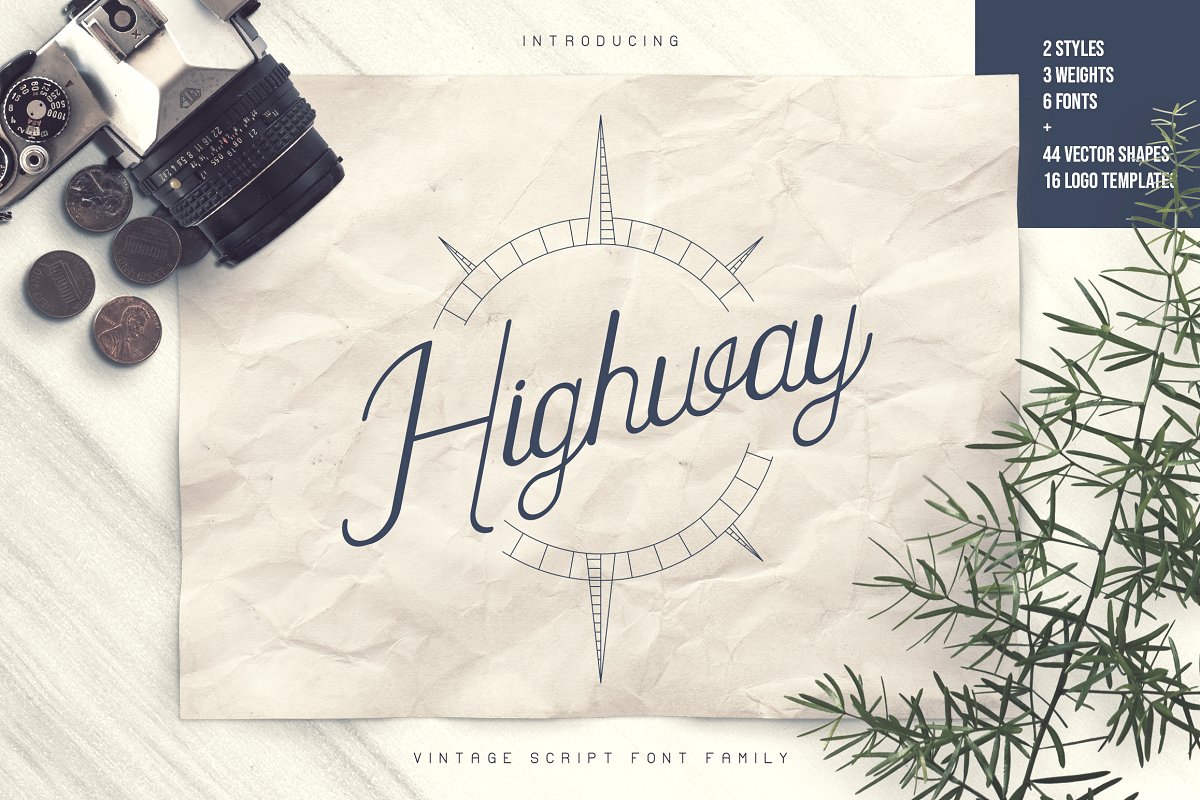 Contraband.otf
Highway-Bold(1).otf
Highway-BoldItalic(1).otf
Highway-Italic(1).otf
Highway-Light(1).otf
Highway-LightItalic(1).otf
Highway(1).otf
Price: $21
Highway Contraband Bundle not only will equip you with dozens of lovely Christmas fonts but also with pretty much everything you might ever need for your design projects. So do not waste your precious time and go ahead and check out this very bundle right now.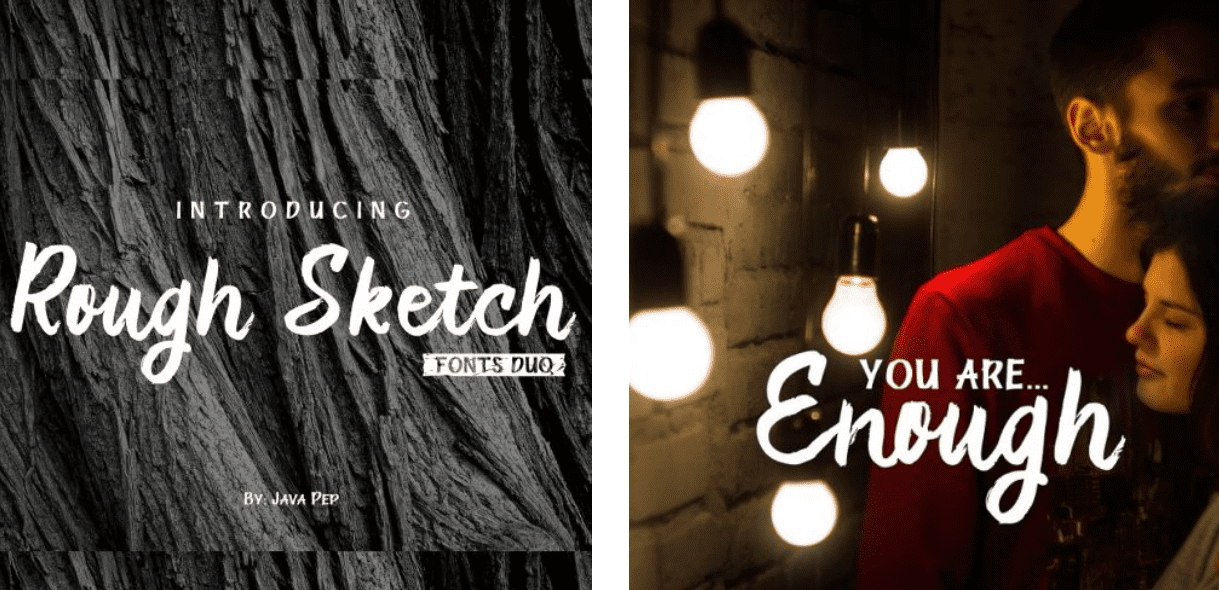 Price: $5

ROUGHDUO.otf
RoughSketch.otf
This is another affordable, yet great, option on our list. The font is multilingual and works on such languages as French, Spanish, Portuguese, English, Finnish, Norwegian, Polish, as well as many more. Besides, the license allows you to use it in commercial projects. Well, do we have to say something else in order to convince you that Handwritten Brush is simply awesome?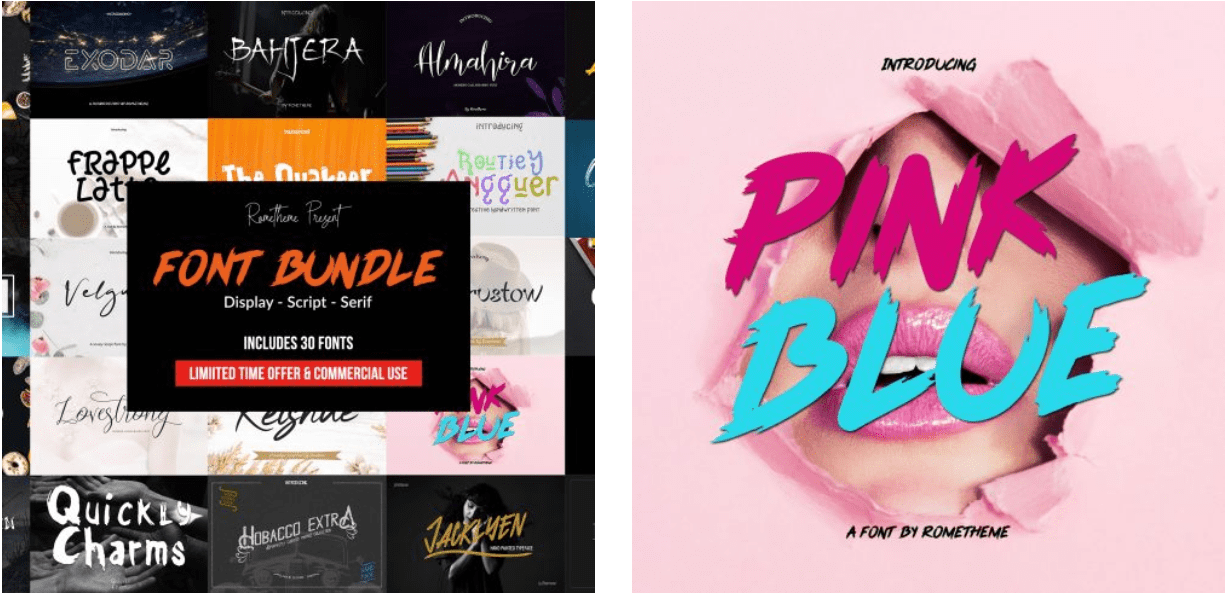 Price: $15

Alestraza.otf
Almahira Script.otf
Bajhera.otf
Brotherhood.otf
Cardust.otf
Casiopeia.otf
Chendolle.otf
Dark Monk.otf
Donkey.otf
Exodar.otf
Frappe Latte.otf
Grizzly Attack.otf
Hegorustow.otf
Hobacco Extra.otf
Indesign Signature.otf
Jacklyen Swash.otf
Keishue.ttf
Lovestrong.otf
Mafieso.otf
Another simply stunning bundle on our list. Playful Fonts will perfectly work for Christmas postcards or any other design project you are currently working on. So do not hesitate and get this very bundle today.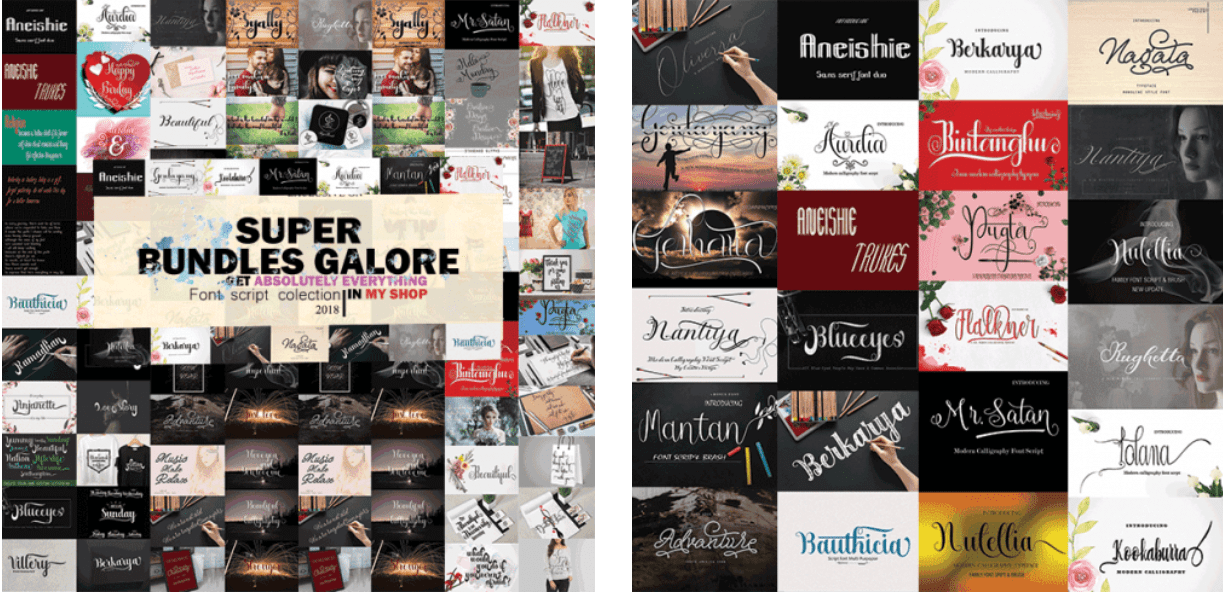 Price: $15

Aneishie.otf
Aurelia italic.otf
Bauthicia.otf
Berkarya Brush.otf
Bintanghu.otf
Flalkner.otf
Gerhana.otf
Geulayang.otf
Iolana.otf
Kookaburra.otf
This one is a truly epic bundle that holds more than 50 different fonts for all occasions and Christmas cards, banners, or advertising leaflets are not an exception. Well, why don't you find something truly special in this bundle's rich collection?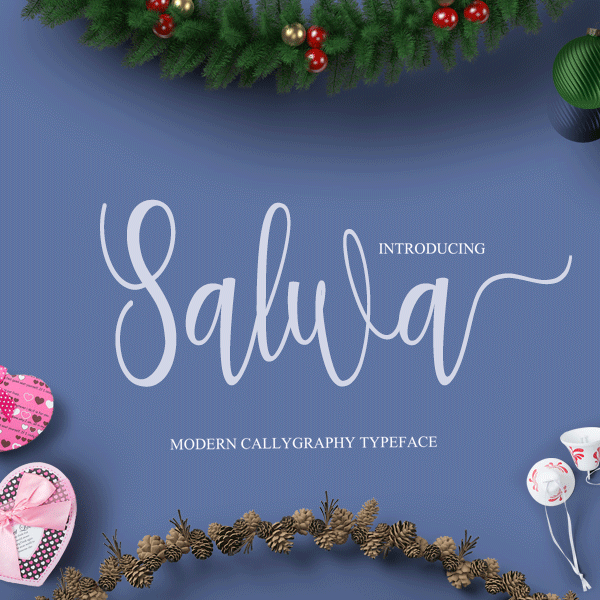 Price: $18

Songstar.otf
Songstar ligature.otf
Scooter.otf
Salwa Baru1.otf
Nighty.otf
Margarita.otf
Magdalen Font.otf
Lovellyana Elegant.otf
Cakradonya.otf
Glorious.otf
Handwritten fonts will always be in trend and that is exactly why this very package is worth your attention. So go ahead and have a closer look at the 15 lovely handwritten fonts from this package in order to understand why you need to buy it.
12 Best Fonts for Vinyl Lettering in 2021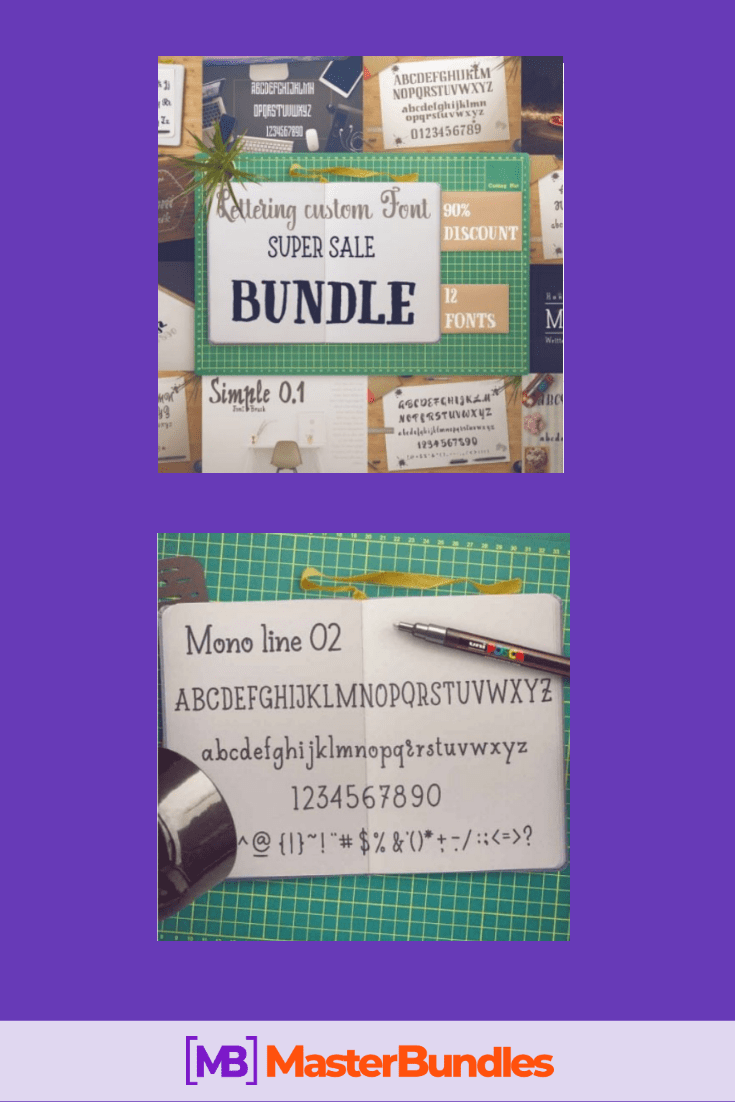 Price: $15
Bakinskay.otf
brushtim.ttf
Direct step 0.1.otf
Evening rain.otf
Evening type.otf
Fast Brush.otf
Mac Mono line 01.otf
macOS Mono line 02.otf
Mono line 01.otf
Mono line 02.otf
Panda_0.1.otf
Simple 0.1.otf
zao4nik_001.otf
zao4nik_brush001.ttf
zao4nik001.otf
Another great source to find some dope Christmas fonts is 12 Best Fonts for Vinyl Lettering in 2021 bundle. Well, do not think for too long and hurry to get this very incredible package.
Font Trends 2021
2021 is almost over (thank God), which means that it's the very time to get acquainted with the font trends of the upcoming year. First things first, I would like to say that the main tendencies are similar to the ones that were popular in 2021. That means that editing your 2021 projects so they fit the new trends is not necessary. However, you definitely want to use these trends in the projects you are currently working on as well as your future ones. Therefore, without further ado, let us take a look at the hottest 2021 font trends.
Uneven sizing. Yep, in 2021 uneven letters are going to rock, especially on titles or logos.
Dynamic lettering. Mesmerizing dynamic titles are a huge trend in 2021, so do not hesitate and at least give it a try.
Disco vibes. A huge 2021 trend, the seventies styled fonts, is going to be quite popular in 2021 as well, so don't be afraid to experiment with bright colors and disco vibes.
Sharp angles. Daring and provocative, fonts with sharp angles are expected to be frequently used in 2021.
Solid shadows. Don't be afraid of using solid shadows that are almost as big as or even bigger than the actual letters because it's going to be a huge thing in design in the upcoming year.
Standout letters. Using a symbol instead of a letter, placing a letter upside down, or using a different font for a single letter is going to be a huge trend in the upcoming year plus it looks dope, so make sure to use this trend in your future projects.
Rounded block fonts. Simple yet eye-catching, these fonts are going to rock in 2021.
Classic typewriter fonts. Sophisticated in their simplicity, typewriter fonts are making their comeback into design trends.
As you can see, there is a whole bunch of cool font trends that you definitely want to give a try in 2021. So what are you still waiting for? Get some trendy fonts and give them a shot now.
Merry Christmas Font. 25 Awesome Christmas Fonts in 2021
Every designer needs some trendy Christmas fonts during the Holiday Season, which is why I found some lovely options for you. So without further ado, let us have a closer look at the trendy premium fonts that you simply cannot miss.
1. Winttra Wonsy by HandletterYean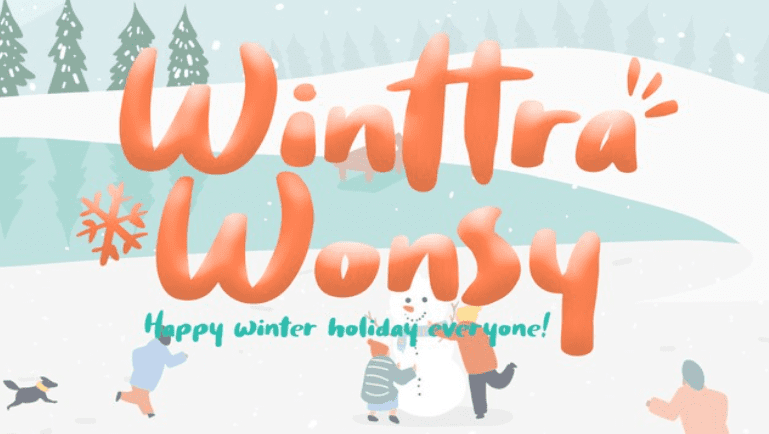 Price: $10 – $12
2. Christmas Eve by Seemly Fonts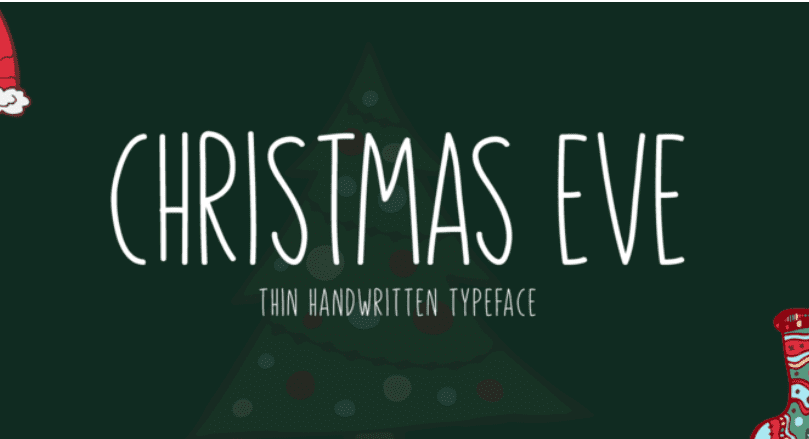 Price: $12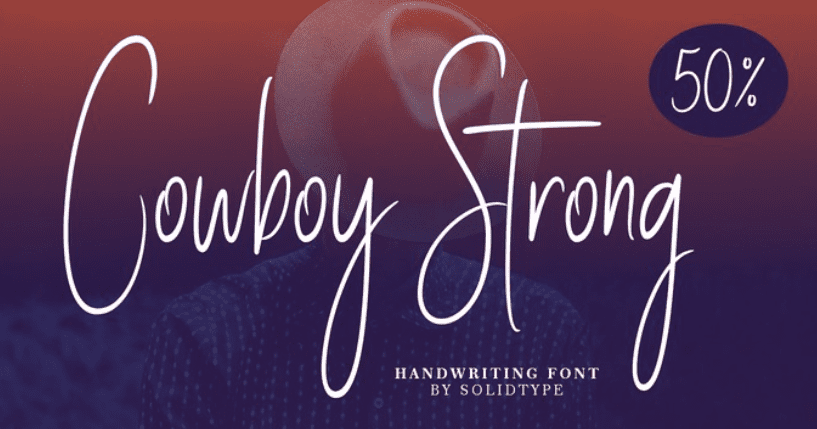 Price: $4.80 – $7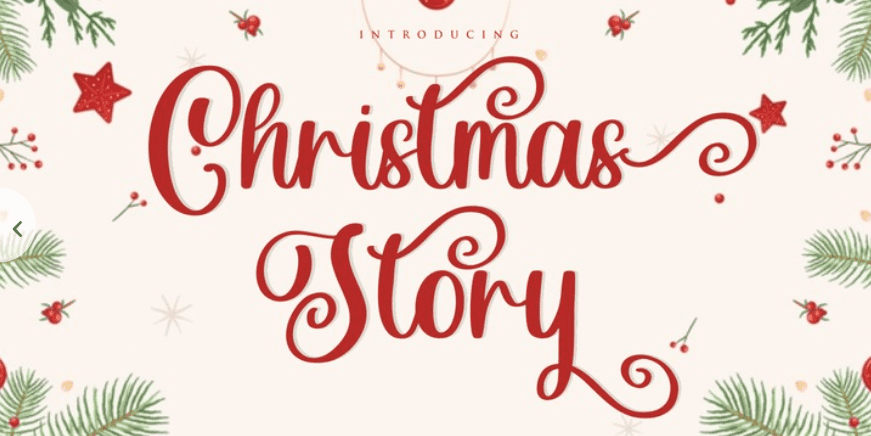 Price: $7.50
5. Astrantia Christmas Sweater Font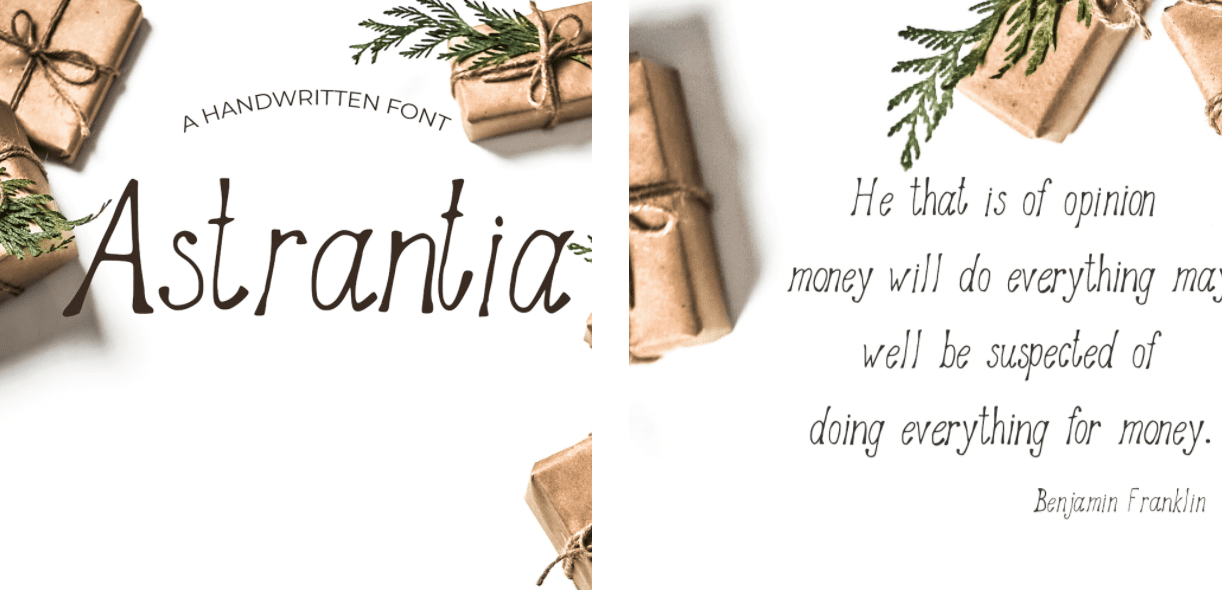 Astrantia-Regular(2).otf

Price: $9
6. Christmas Snow Hand Drawn Font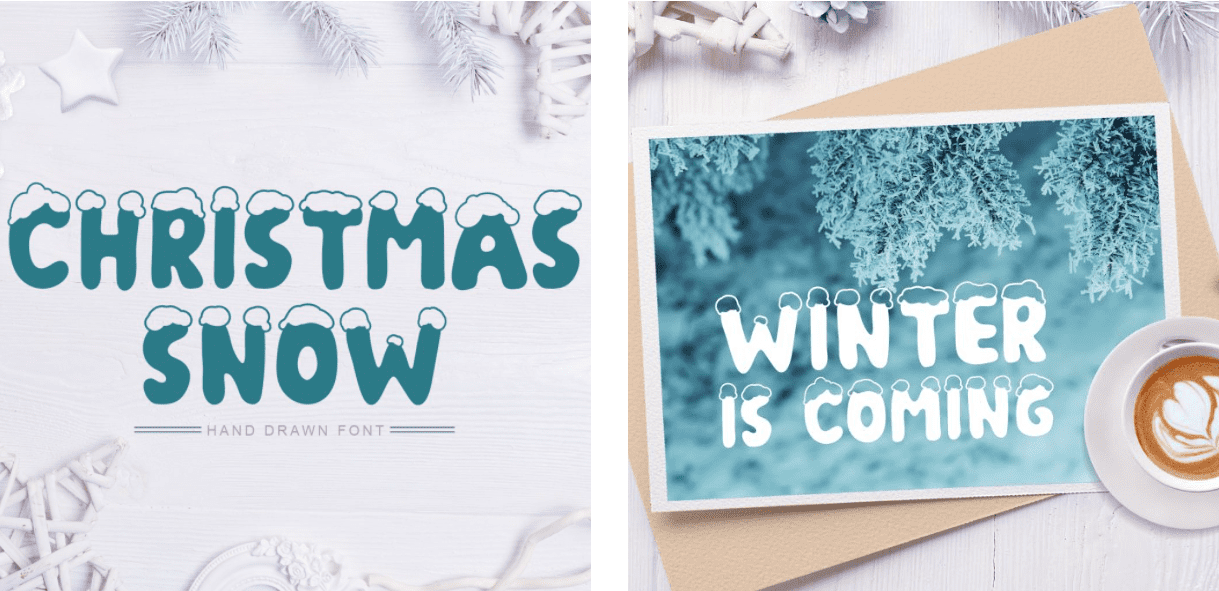 ChristmasSnow.otf

Price: $9
7. Carols Night Christmas Theme Font By Maulana Creative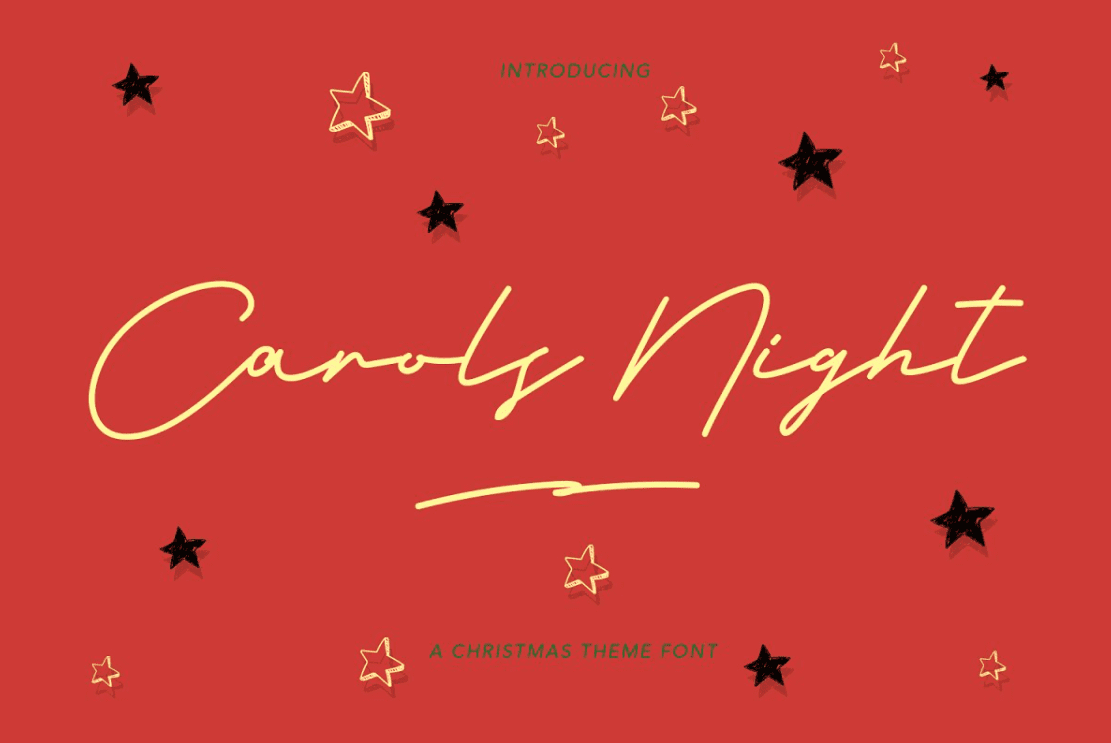 Price: $13
8. Happy Christmas By Authentic Studio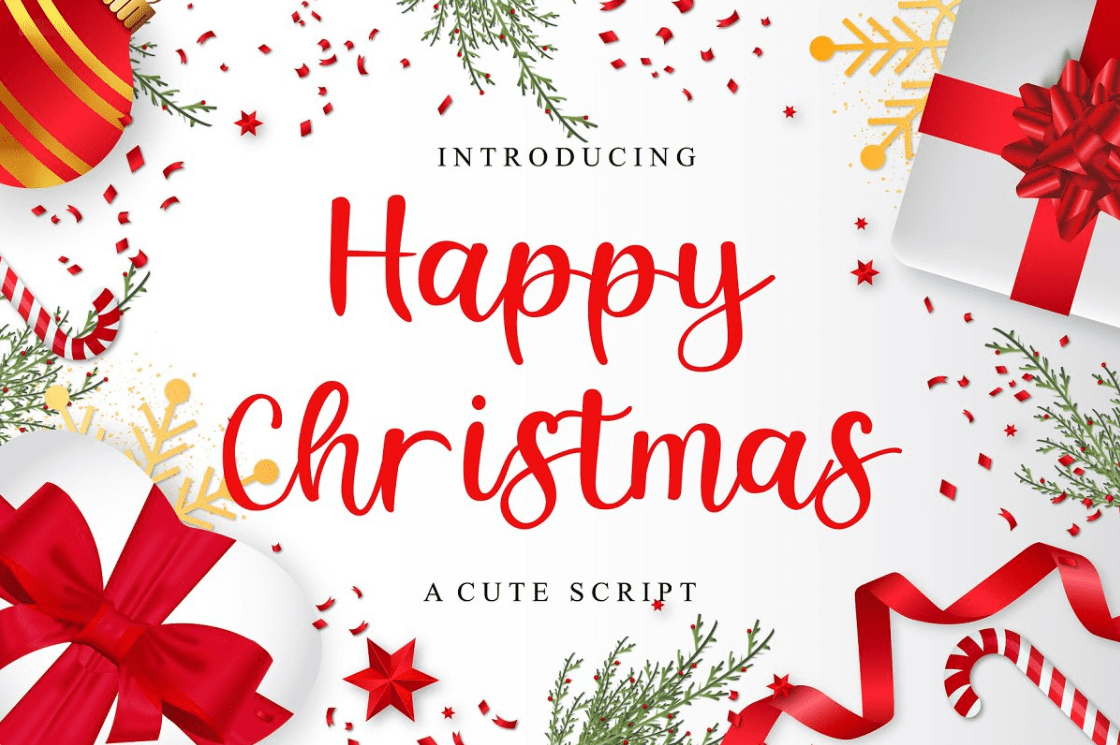 Price: $10
9. Snowman – Handwritten Fun Font By Fype Co.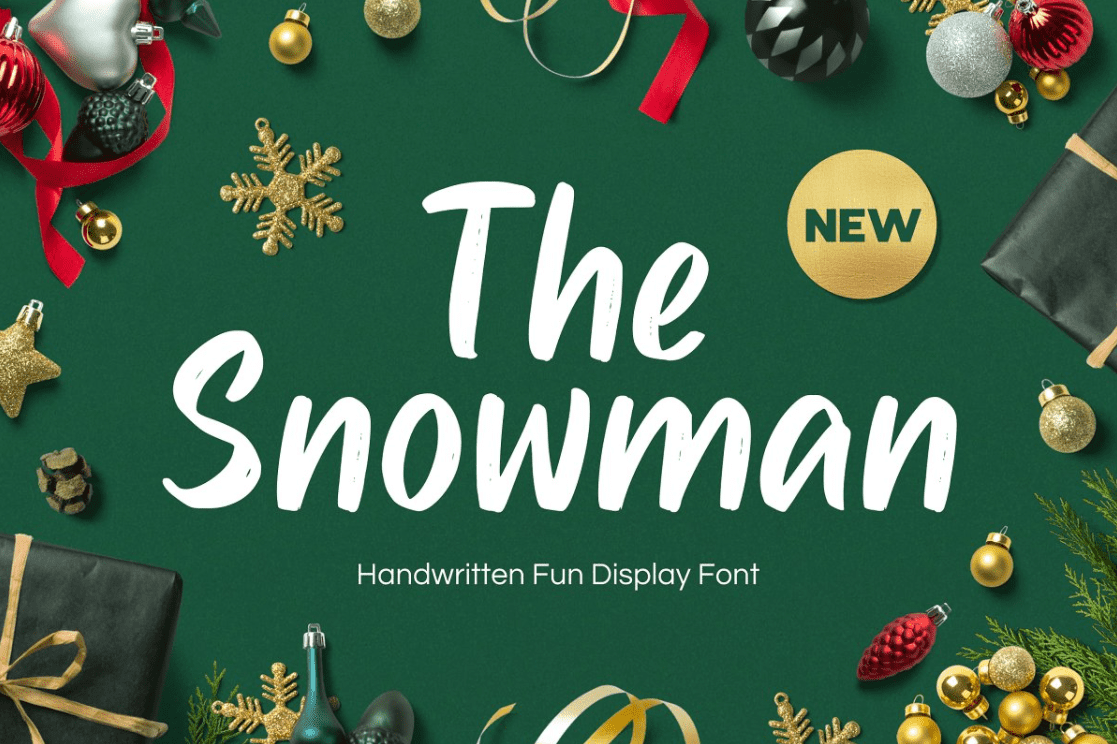 Price: $14
10. Christmas Colors Monogram Font By Leah Design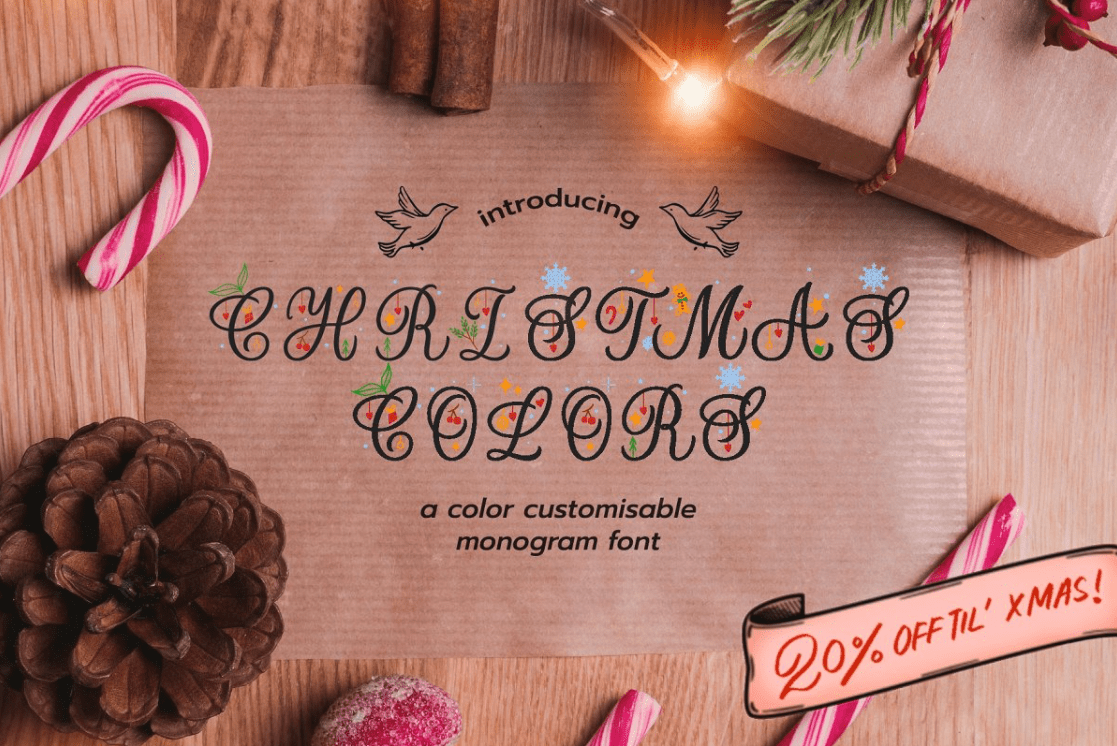 Price: $11
11. December Holidays By Good Java Studio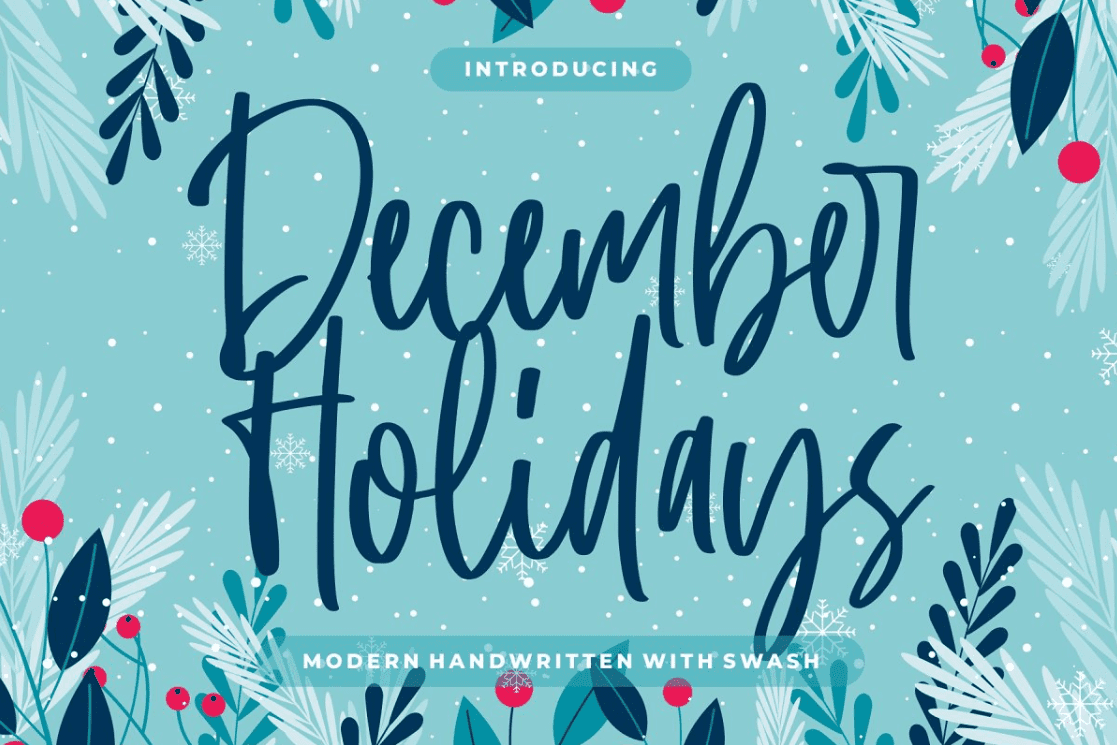 Price: $19
12. Christmas Font Holly-Days By Nonceni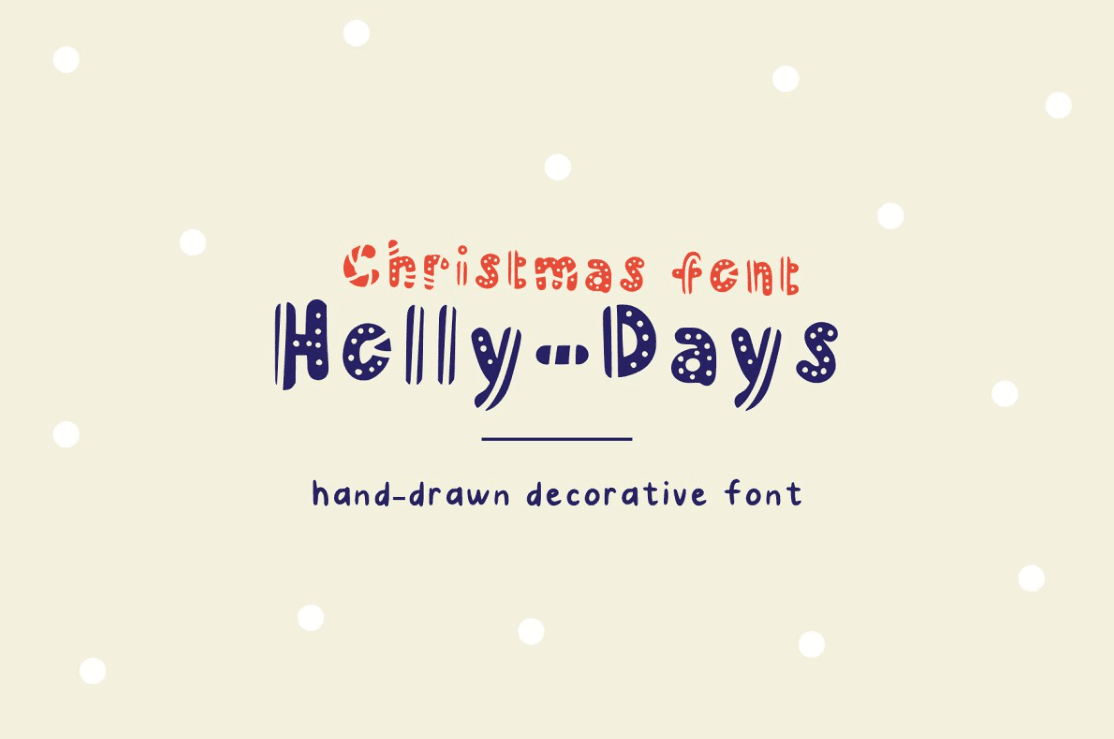 Price: $11
13. Winter Song Font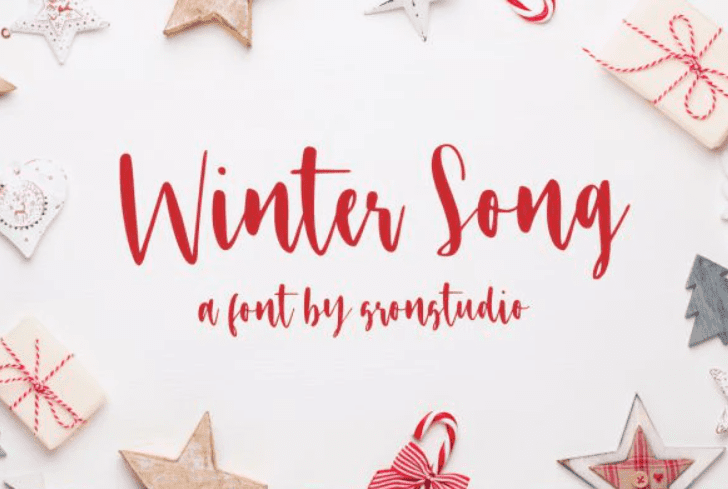 Price: $18
14. Christina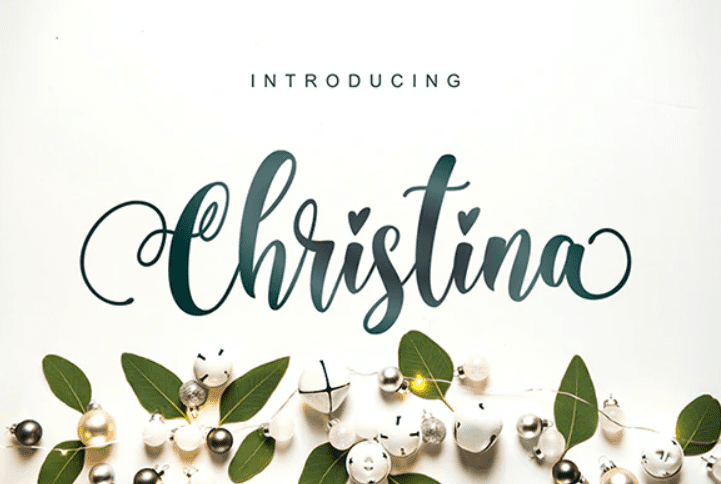 Price: $12
15. Winter Bells – Christmas Font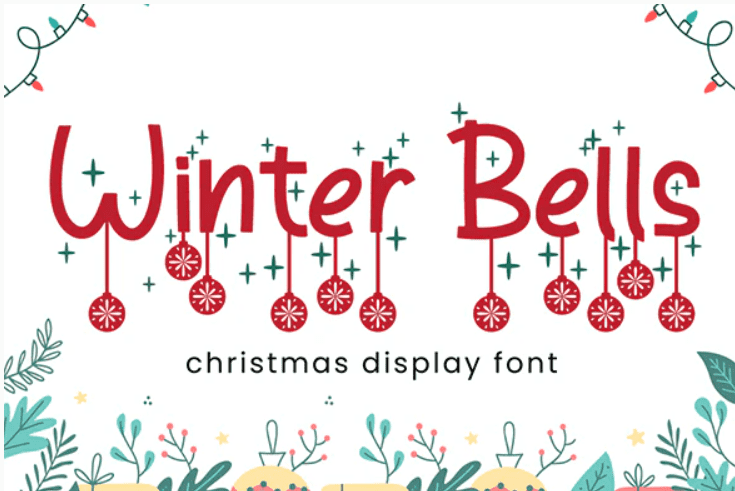 Price: $16
16. Seventeen Winter

Price: $14
17. Sunday Snow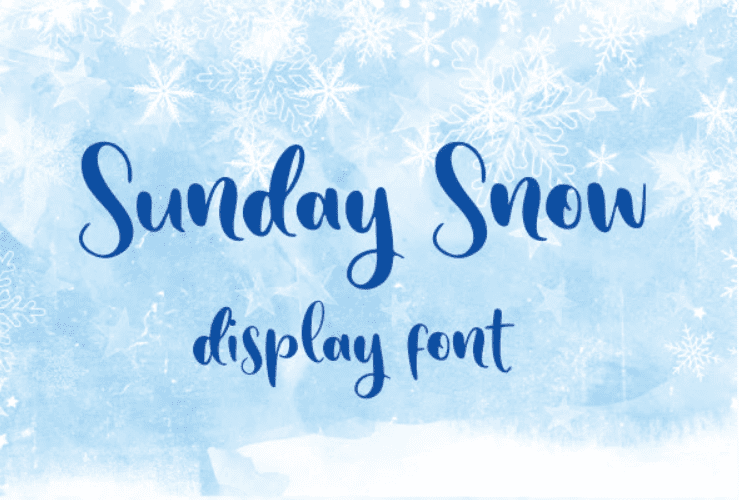 Price: $15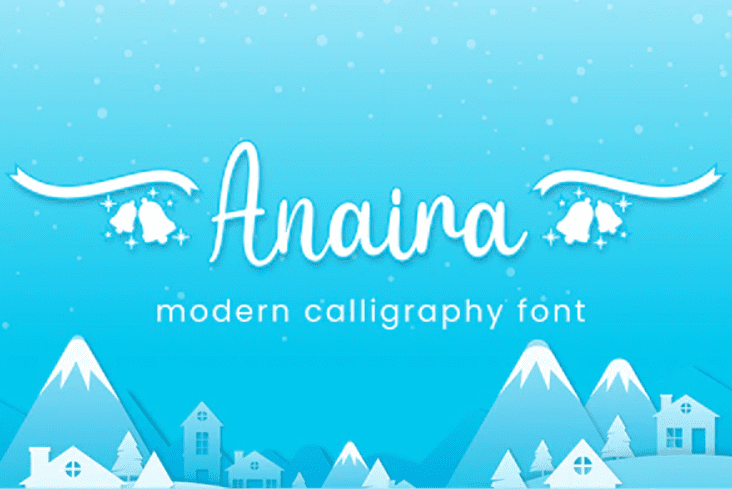 Price: $16
19. Christmas Moments – Holiday Handwritten Font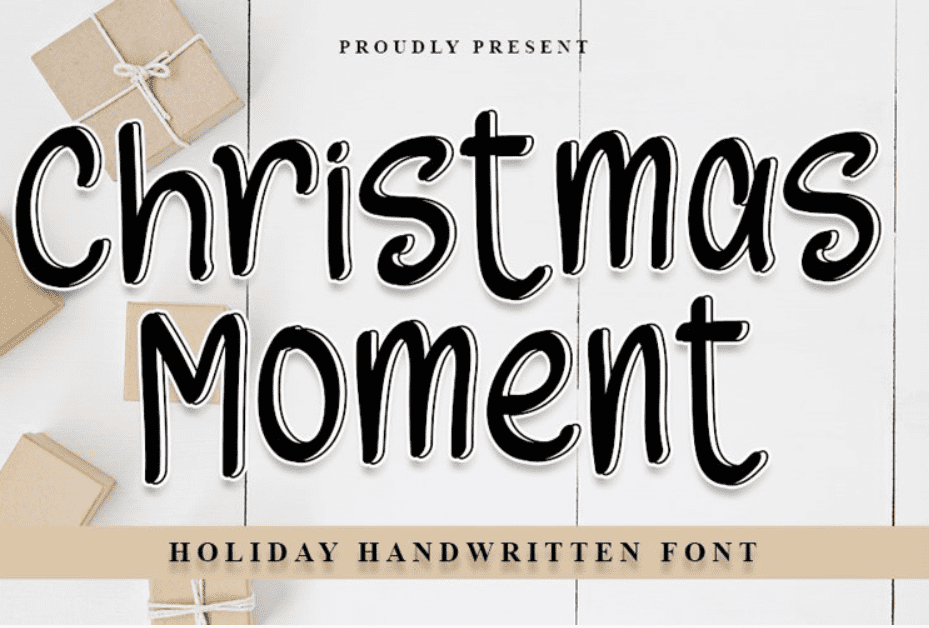 Price: $7
20. Christmas Font | Whimsical Christmas Vibes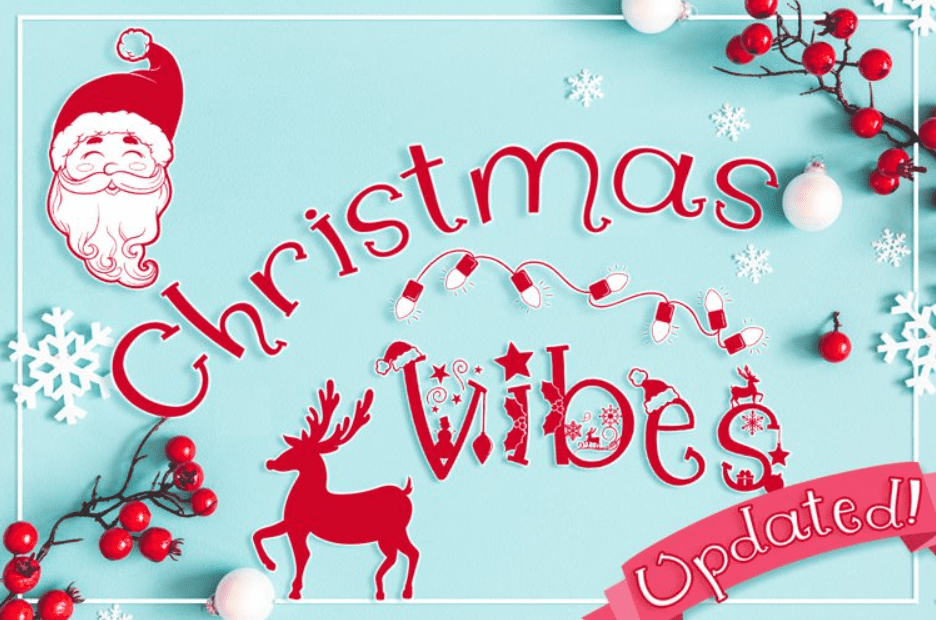 Price: $5
21. Christmas Font | Penguins Doodle Font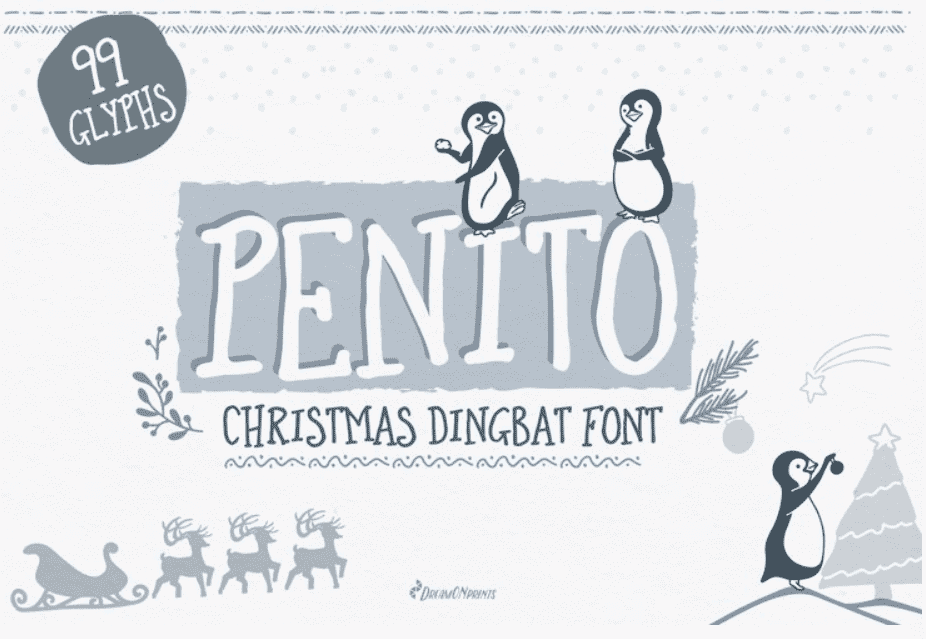 Price: $5.50
22. Master Christmas | Christmas Script Font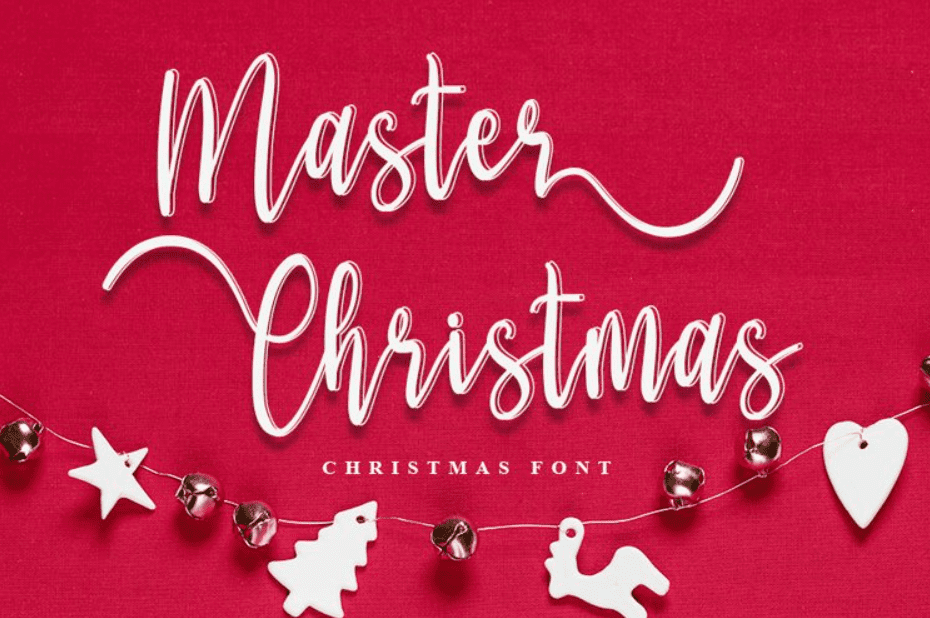 Price: $8.25
23. Winter Snowing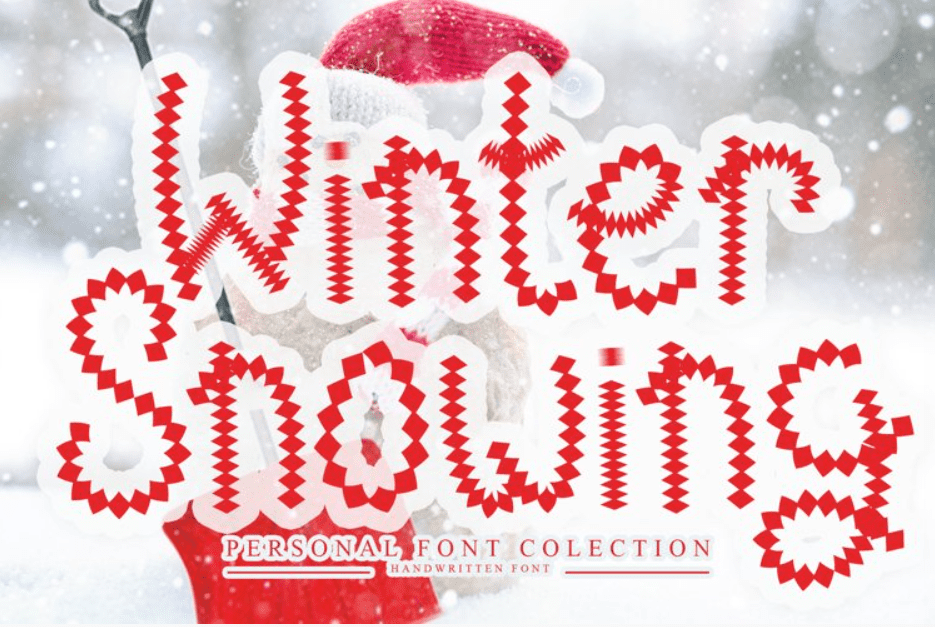 Price: $10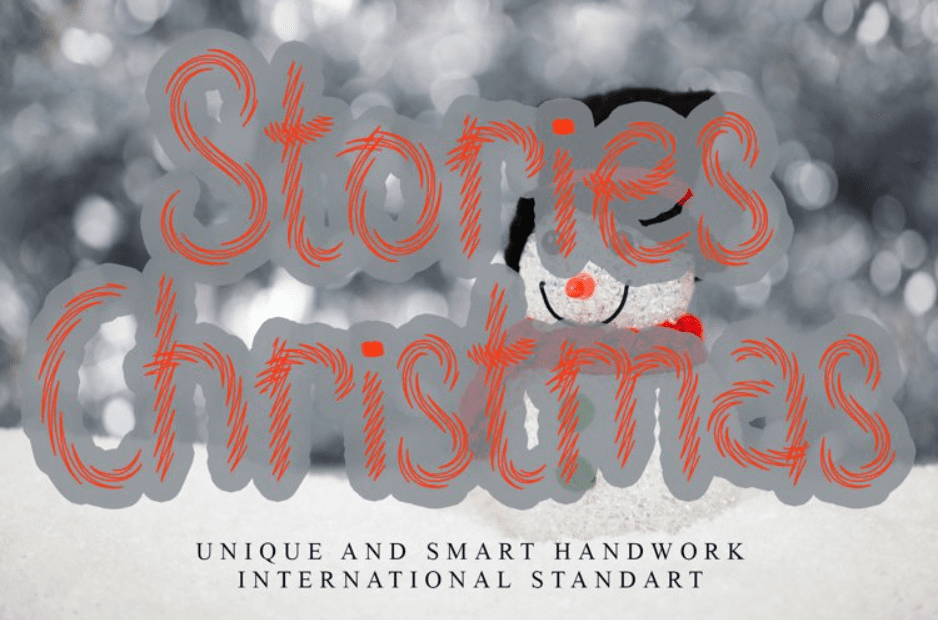 Price: $10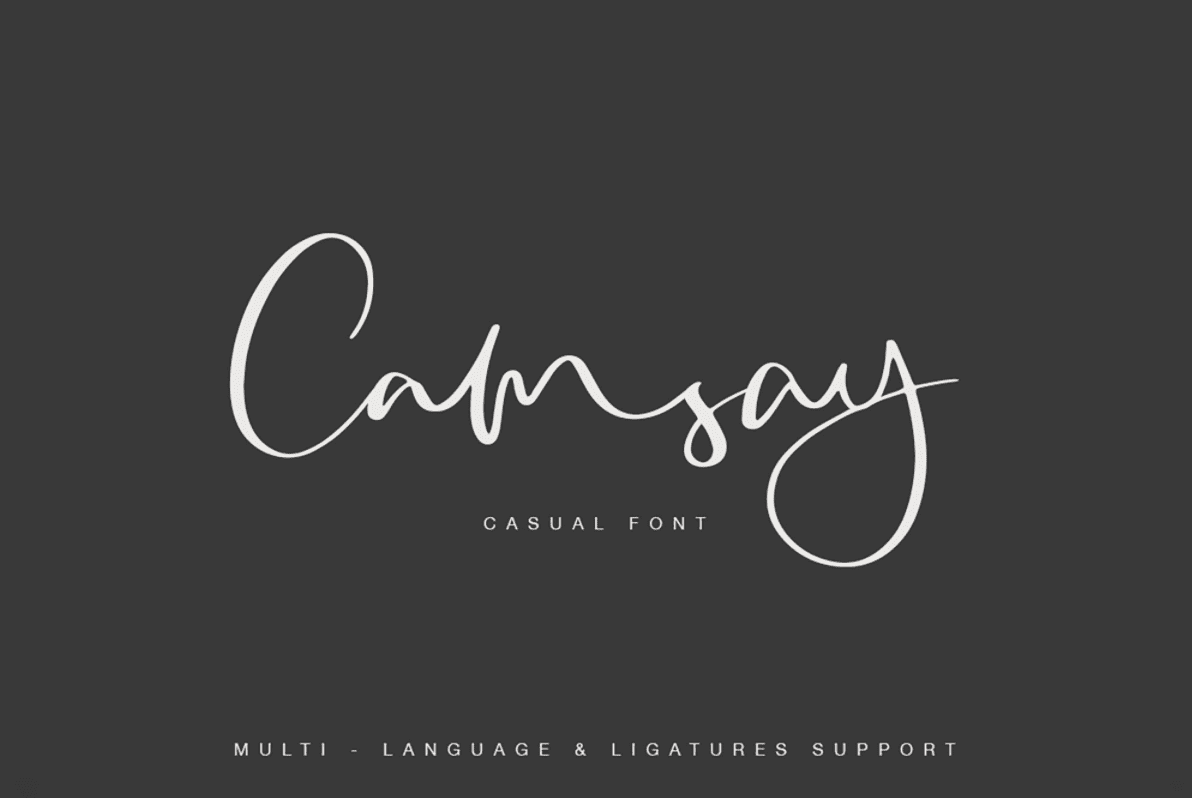 Price: available with Graphic Pear premium membership
Best Christmas Fonts 2021
2021 is no doubt the year of surprises and so far most of those surprises have not been good at all. It is a pretty tough year indeed, which surely influences pretty much every sphere of our life. The world economy, the system of education, healthcare, the life we are used to, as well as fashion and design – 2021 has changed all these spheres. It is needless to say that this unstable and, frankly speaking, crazy year has its own unique impact on the graphic design too. Well, in order to learn all the 2021 Christmas font trends in the best possible way, let us just take a look at the best Christmas fonts for 2021.
Best Christmas Fonts – Lettering for Christmas Cards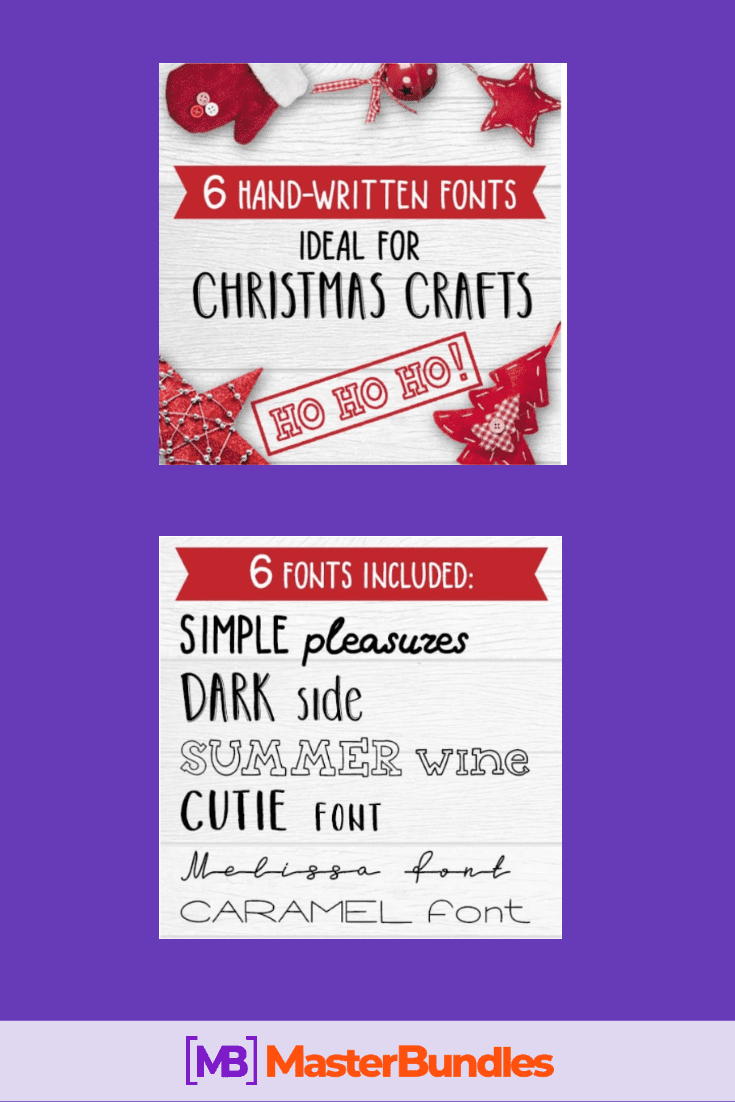 Price: $12

Caramel.ttf
Cutie.ttf
Darkside.ttf
Melissa.ttf
Simplepleasures.ttf
Summerwine.ttf
A fancy collection that will no doubt mesmerize you with its beauty as well as put into Christmas mood, so do not hesitate and take a closer look at it.
Web-safe Fonts – $14 for 14 Fonts Bundle – Best Deal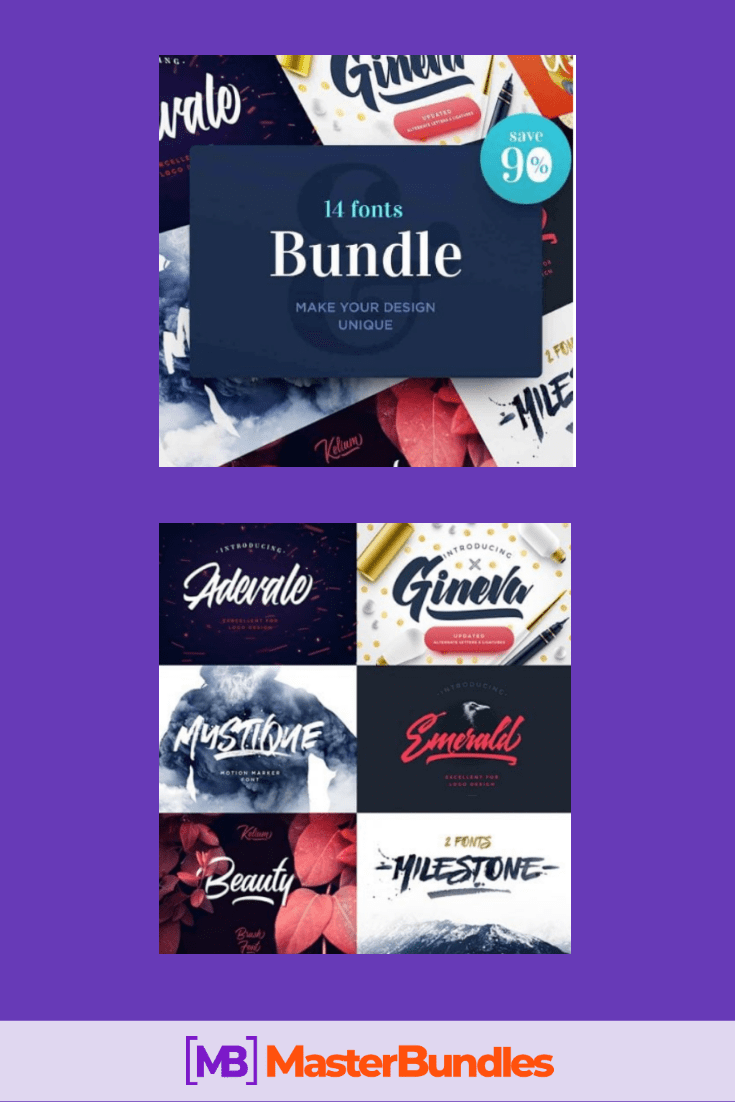 Price: $14
A bundle for literally all occasions, so leave all your doubts behind and try this one out this Holiday season.
Photoshop Elements Text Effects – 40 Different Styles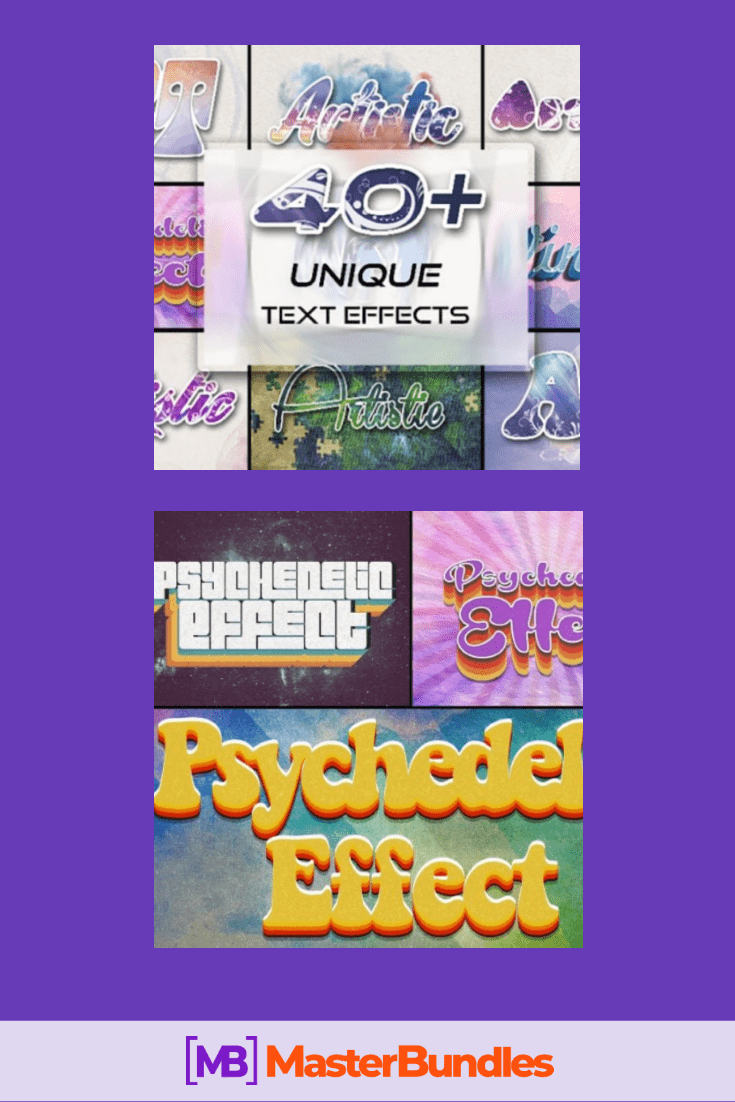 Price: $15
Another marvelous solution that will make your holidays truly special. Well, follow the link above and take a close look at this very font.
Pretty Fonts – 11 Hadlettered Fonts – 6 Typefaces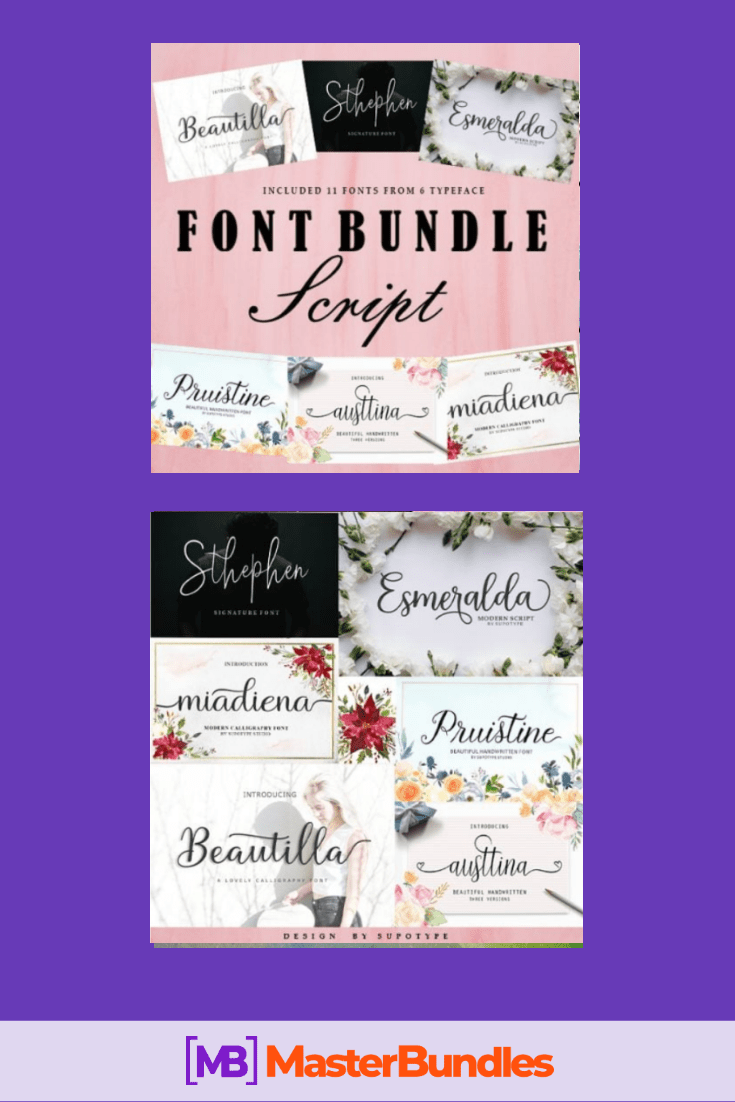 Price: $12
Elegant and sophisticated, this very option will suit multiple Christmas projects and not only, so take a good hard look.
Simple Fonts – 33 Fonts in 13 Families Bundle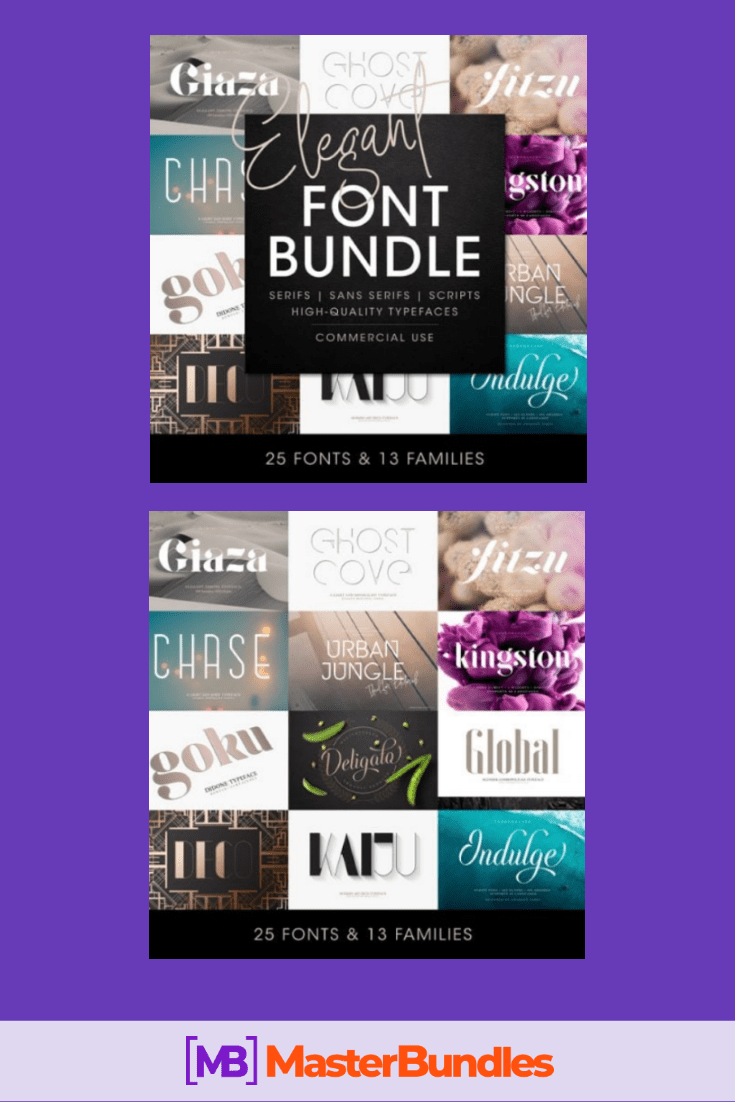 Price: $20
Another multipurpose solution that will for sure back you up in any type of emergency during the Holiday season.
Fun Fonts – 40 Creative Fonts – 160 Files – Just $15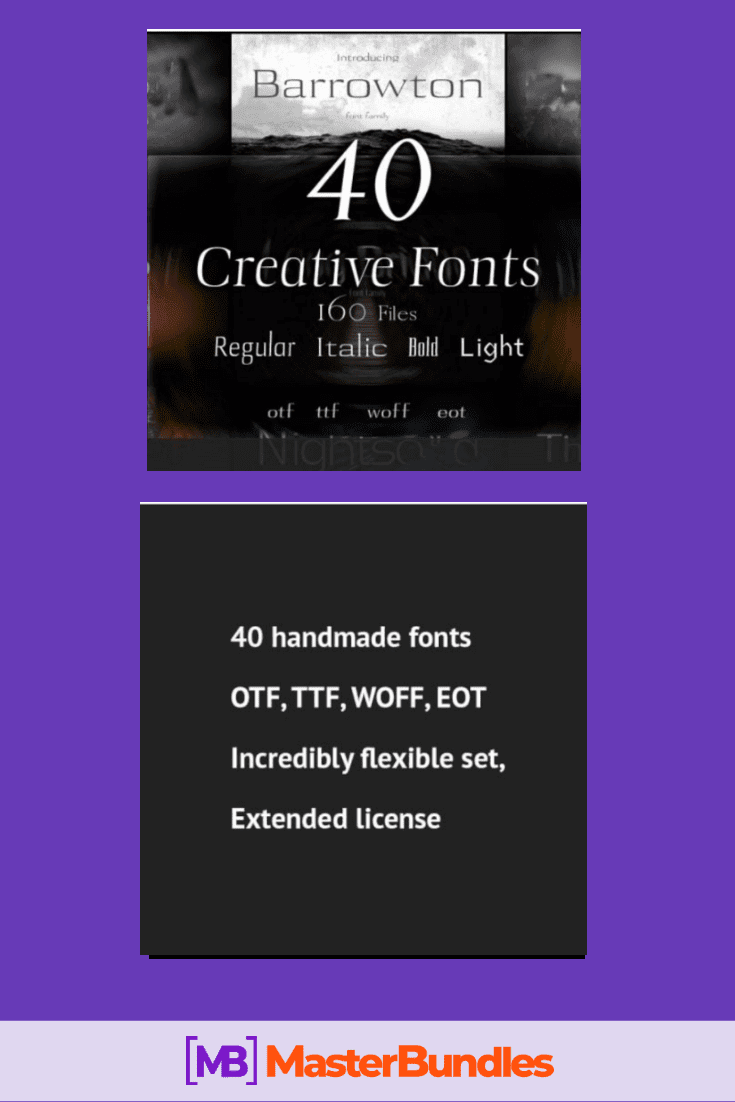 Price: $15
One more elegant option for those of you who always strive to find something gorgeous in its uniqueness.
Hand Lettered Bundle: 9 Perfect Fonts – $12 ONLY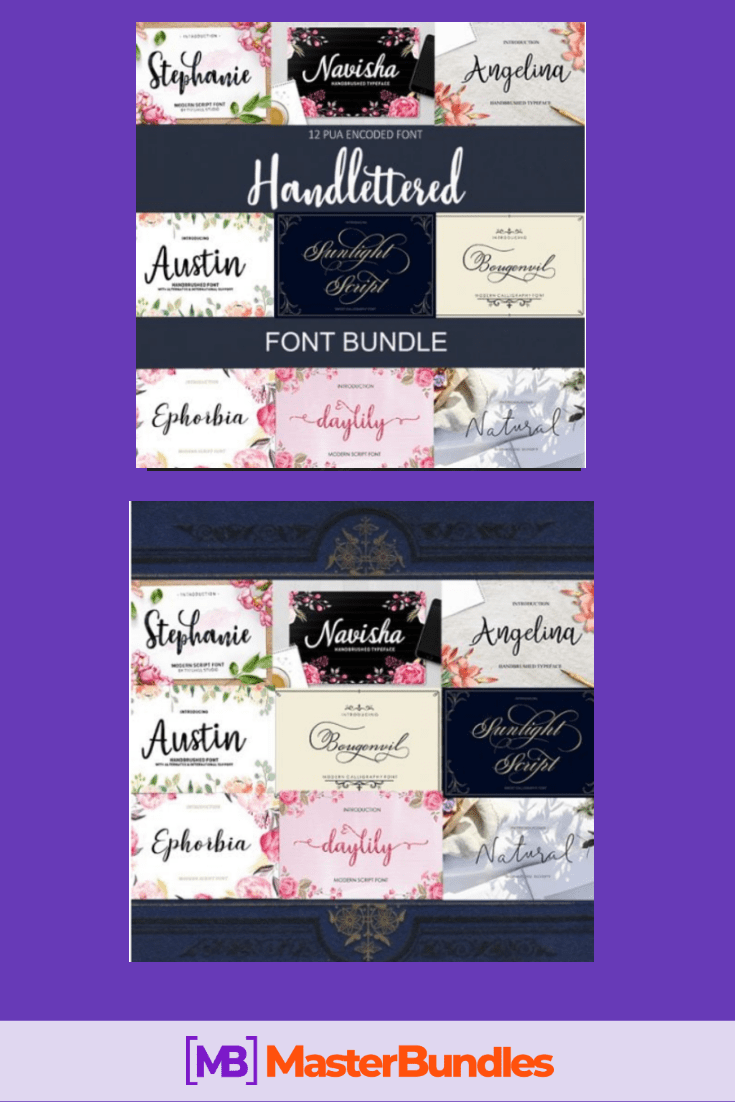 Price: $12
Mesmerizing handwritten letters is definitely one of the best ways to go for your Christmas project, so do not hesitate and get this one, it's worth a shot.
10 Versatile Simple Clean Fonts to Give Your Designs a Unique Touch – Only $9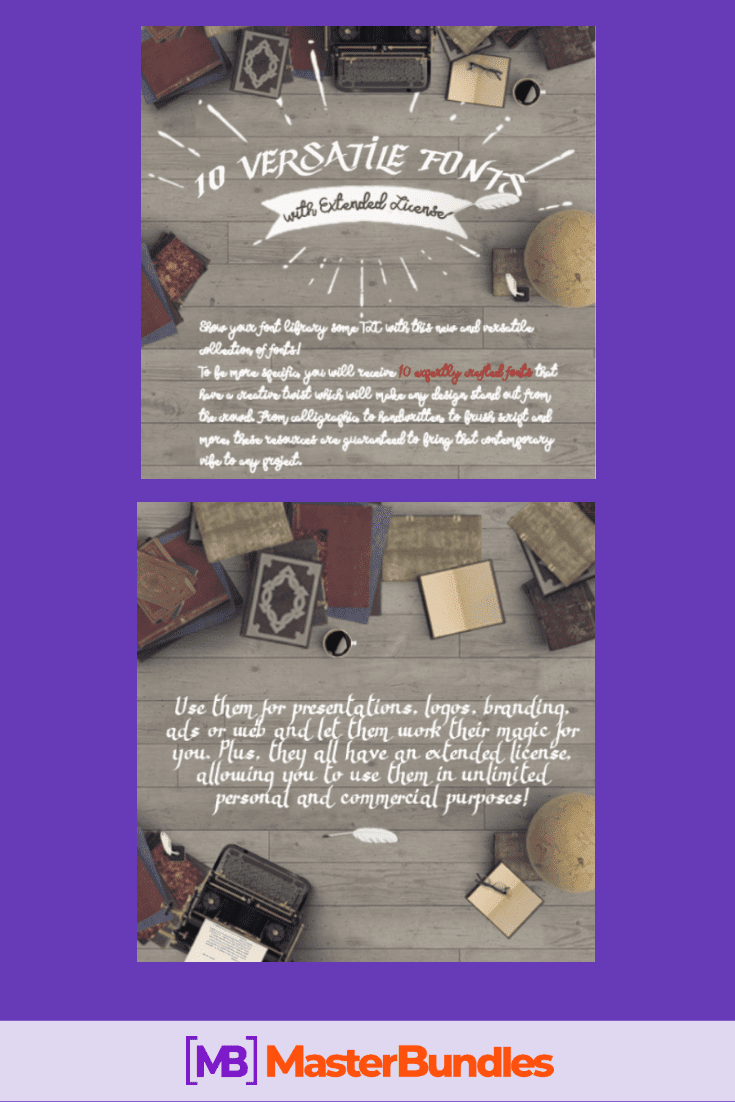 Price: $9
The very option that will make your projects truly magical.
Charming Typography: 10 Hand Drawn Font Scripts – just $12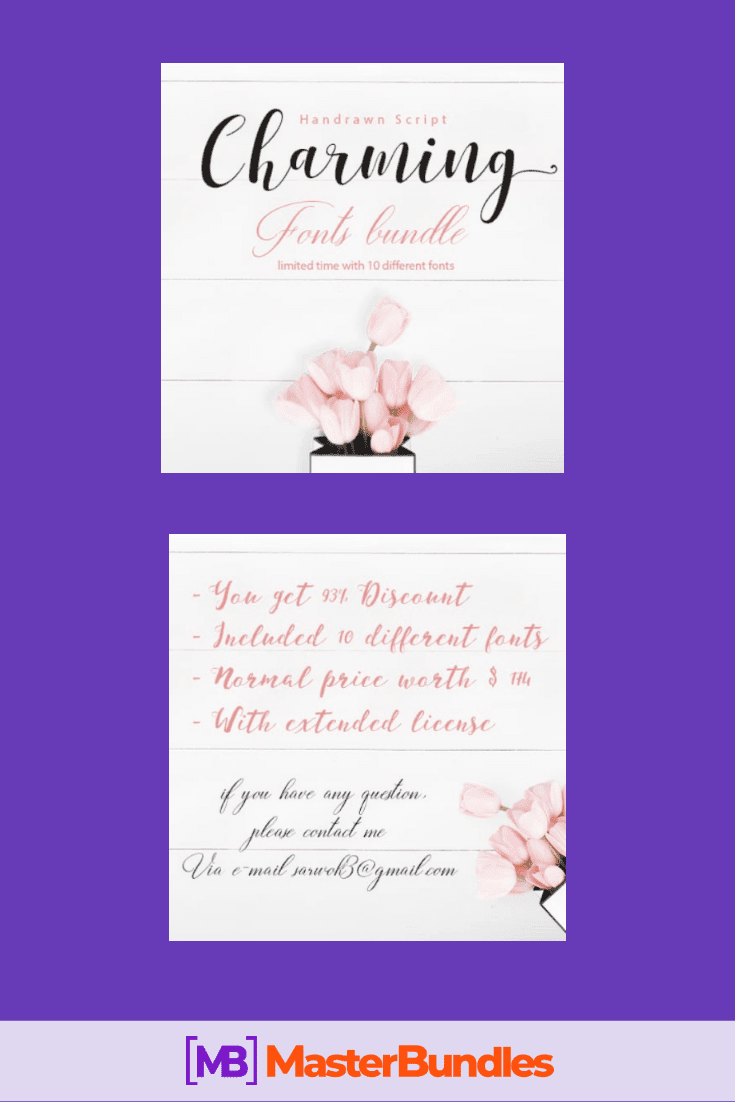 Price: $12
Another warm and cozy handwritten font that will simply win your heart.
Typolicious Font Bundle Third Storey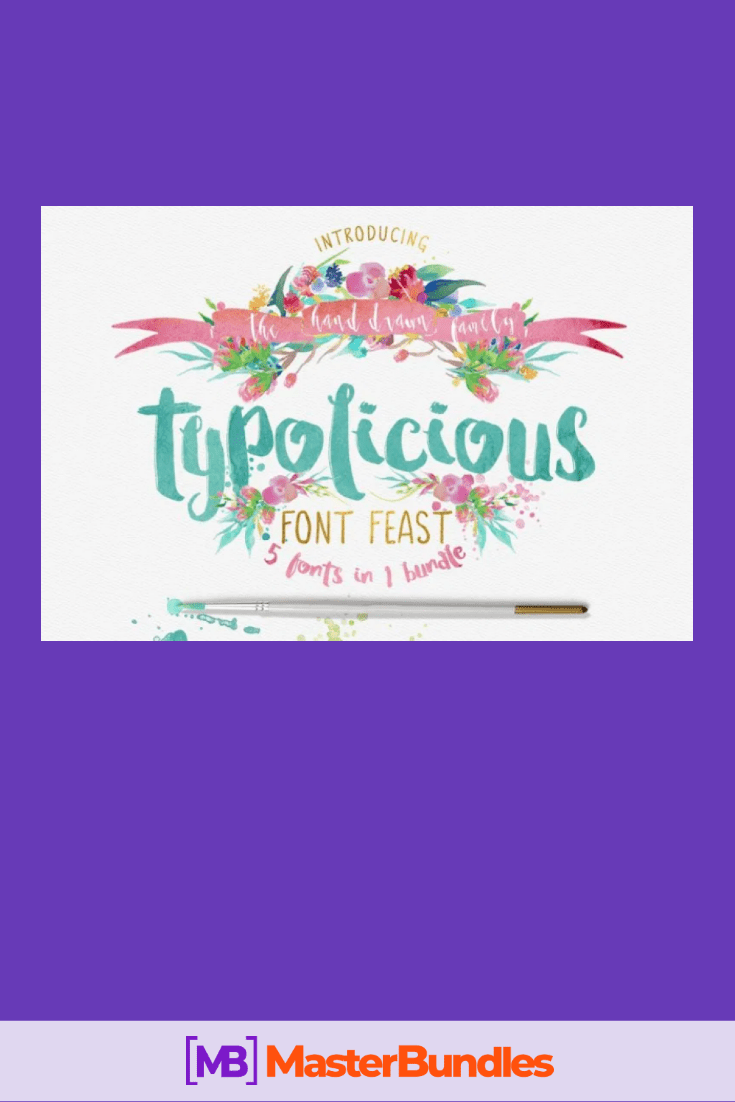 Price: free
Creative and one-of-a-kind, this very font is definitely the way to go for multiple projects of yours.
What Fonts Are Good for Christmas? Free Christmas Fonts
As you might have already noticed, not all good fonts that perfectly work for Christmas projects are labeled as a "Christmas font." That being said, there is a vast variety of fonts that you can utilize for such a project. Certainly, most of them are handwritten, which is explained by the fact that those fonts create a warm and cozy atmosphere, which people are drawn to during the Holiday season. So hand-drawn fonts are perhaps the best solution ever for such a project. Luckily for many designers, there is a huge variety of free fonts that perfectly work for winter projects. Well, let us have a brief look at some freebies that will be the ultimate solution for Christmas projects.
Certainly, premium fonts might not be an option for many of you simply because they are pretty expensive, especially for young beginners who are on a shoestring budget. Luckily, there is a pretty wide choice of free options, which are almost as good as premium ones. Of course, some of these fonts are free for personal use only. But if you need a font for your personal project, you can totally go with a free one. At the same time, there are some freebies that you can use in your commercial projects as well, just read the licensing properly before using those. Therefore, without further ado, here come the best free Christmas fonts you'll need this Holiday Season.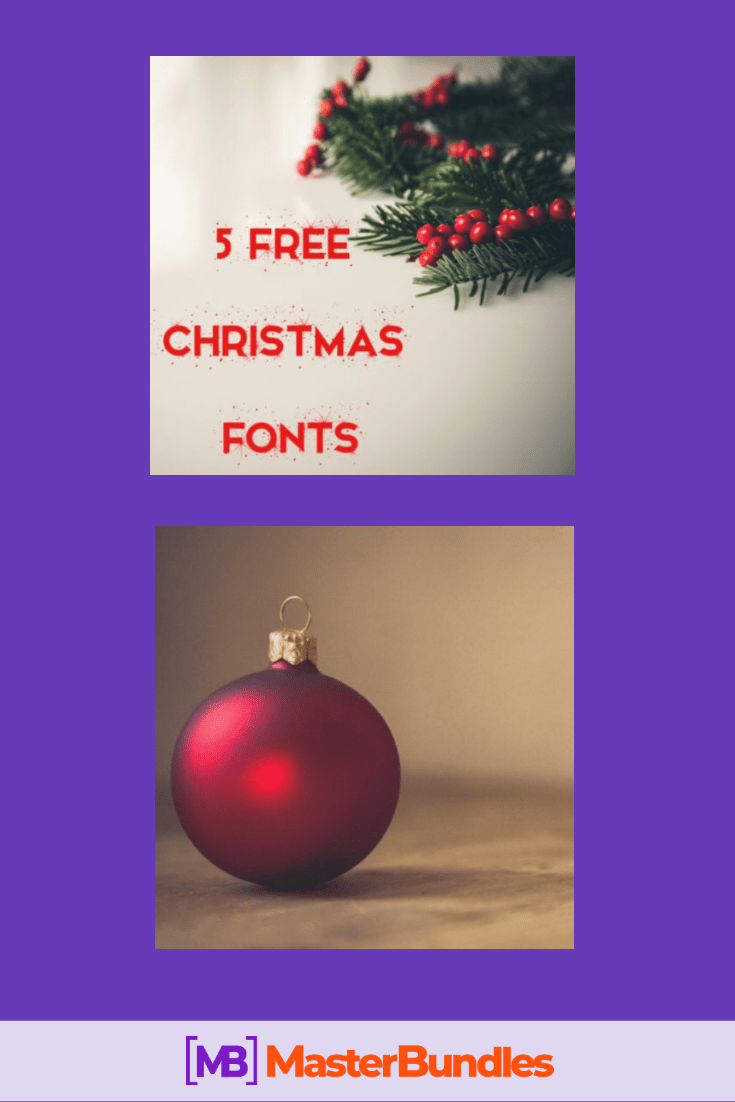 A collection of five lovely fonts is surely something you want to have this winter.
Austie Bost Christmas Doodles Font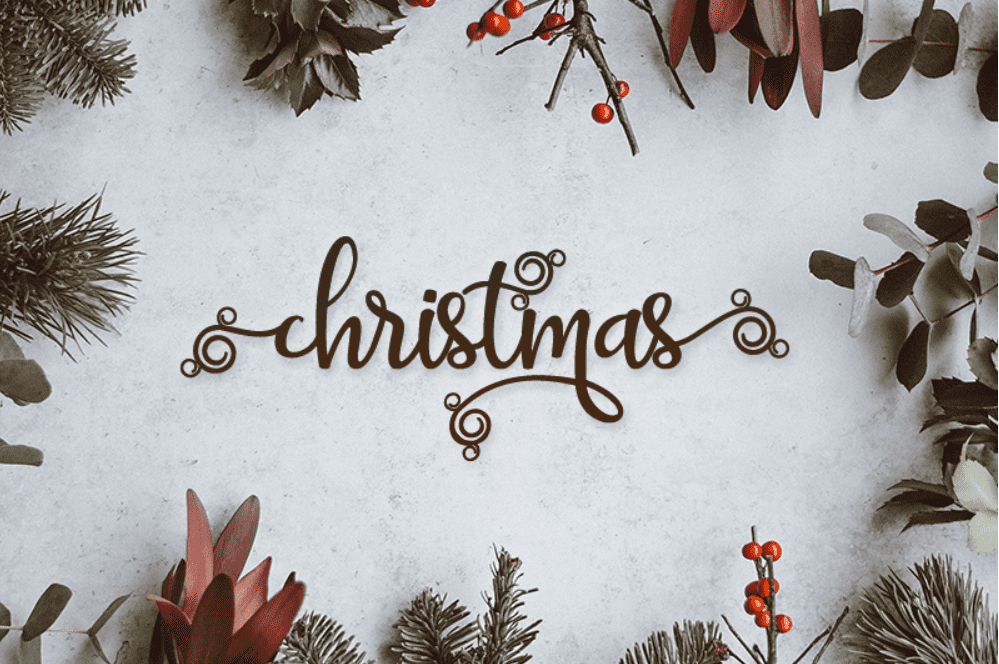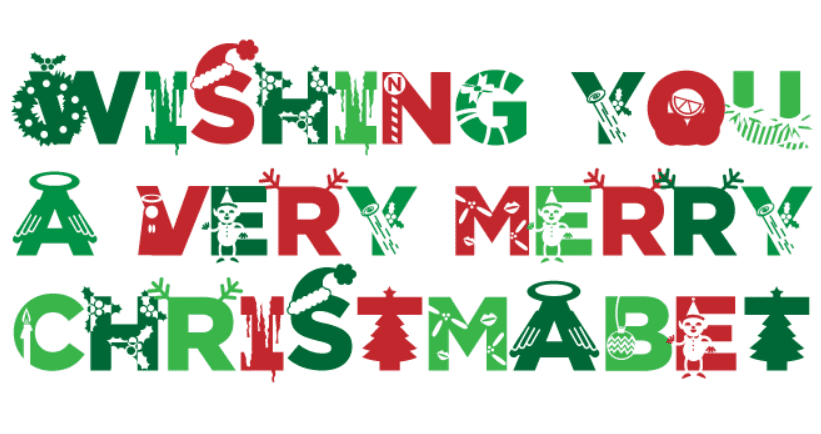 PW Christmas by Peax Webdesign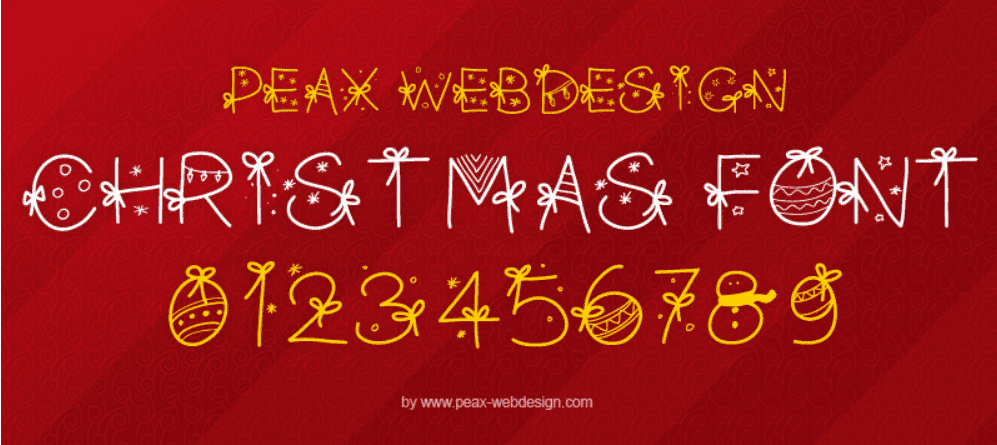 Christmas Go by Jamel E. Robin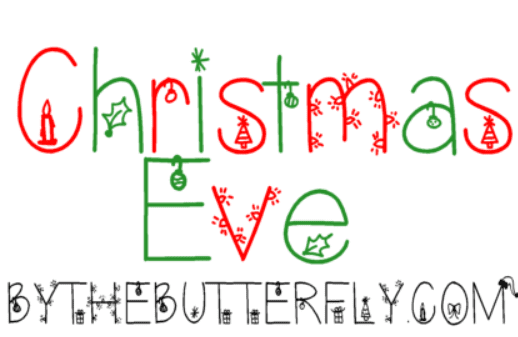 Mountains of Christmas Designed by Tart Workshop

Christmas Express by We Are Social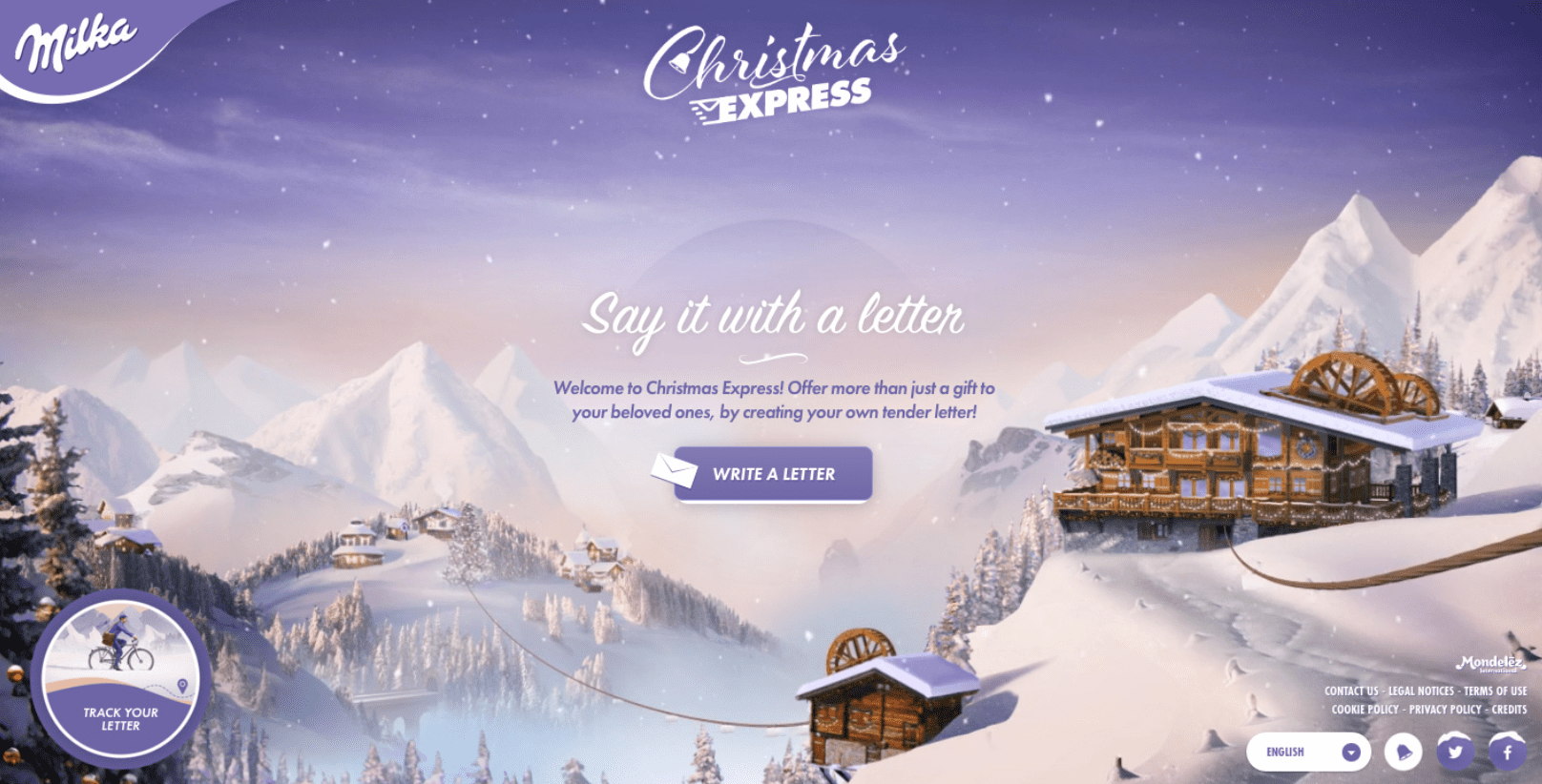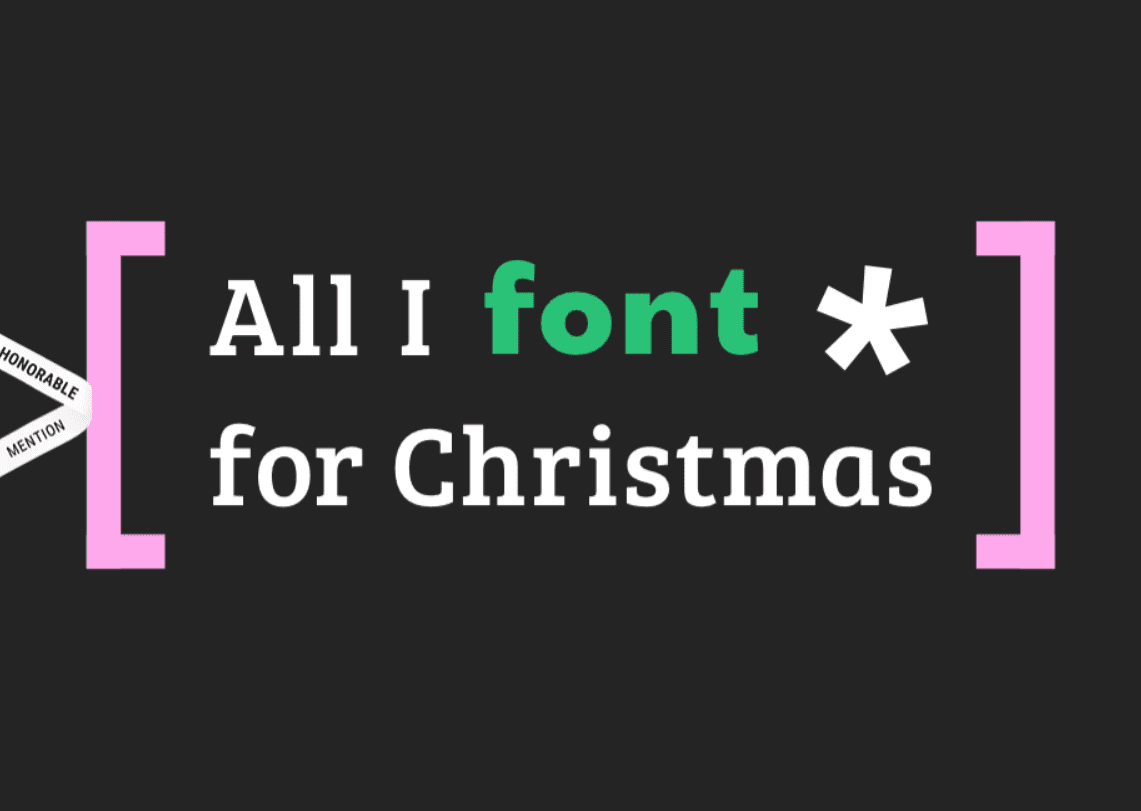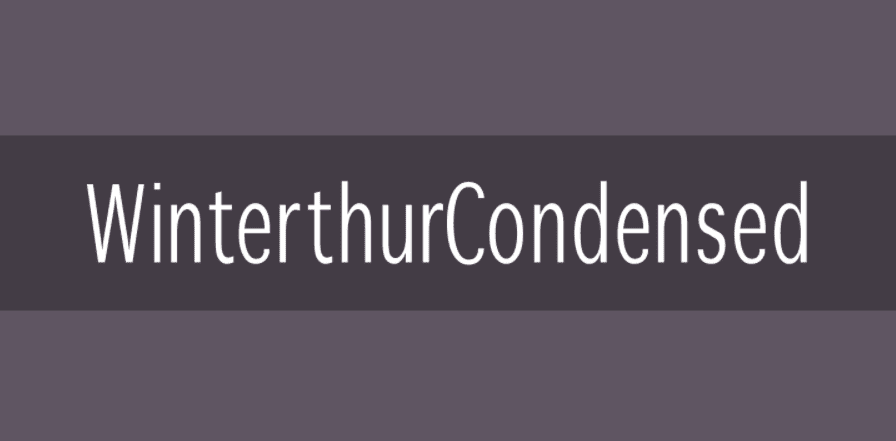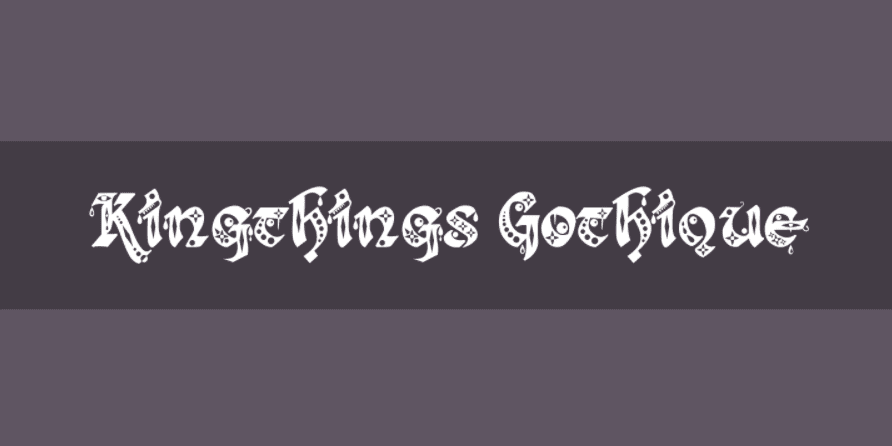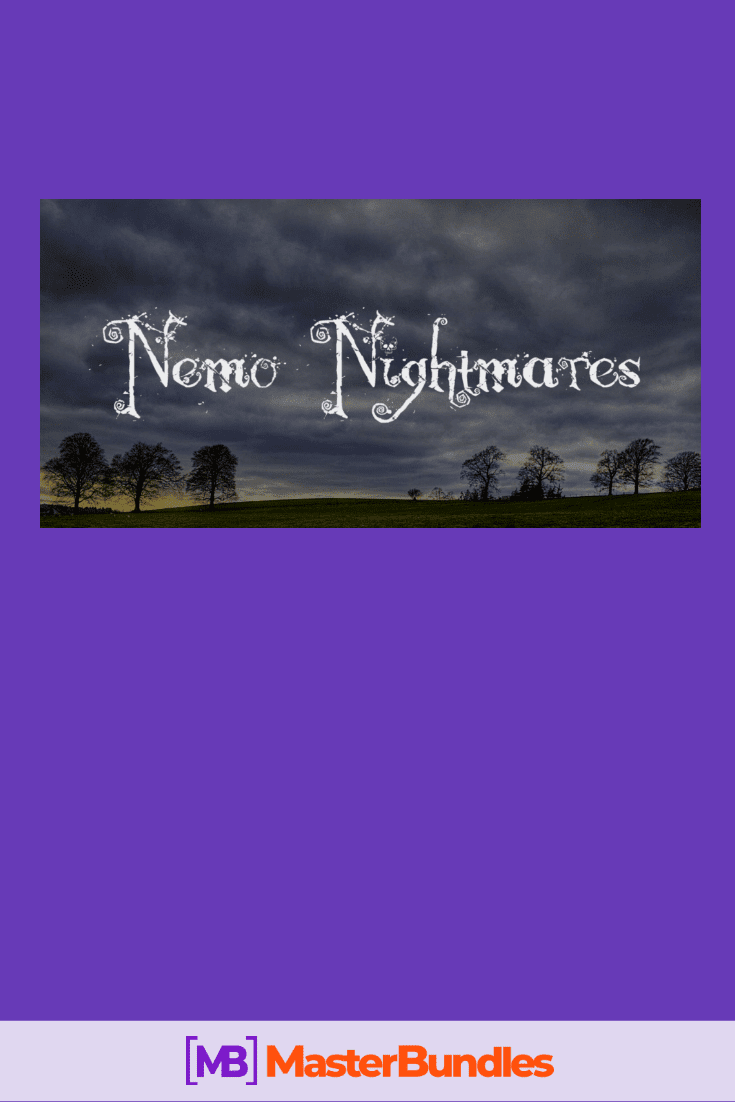 Well, if 5 fonts are not enough for you? Then you surely want to have a look at these lovely freebies.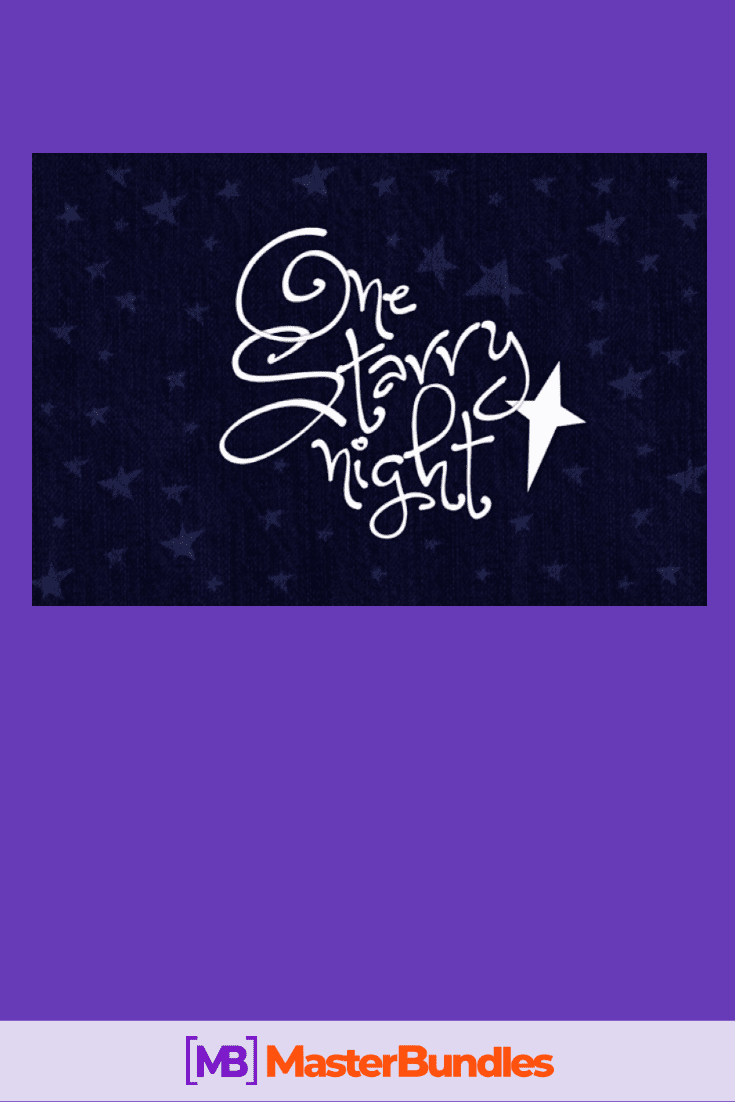 A magical option for those of you who believe in miracles.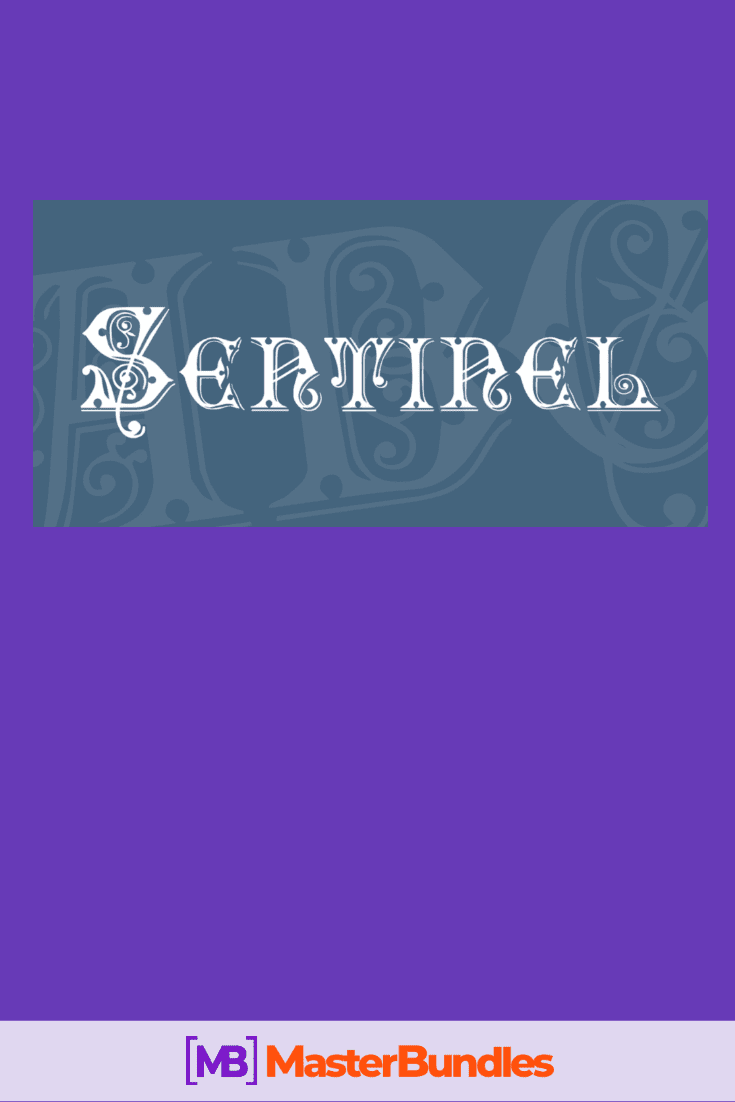 Elaborate letters and gothic vibes make this very freebie the ultimate solution for you.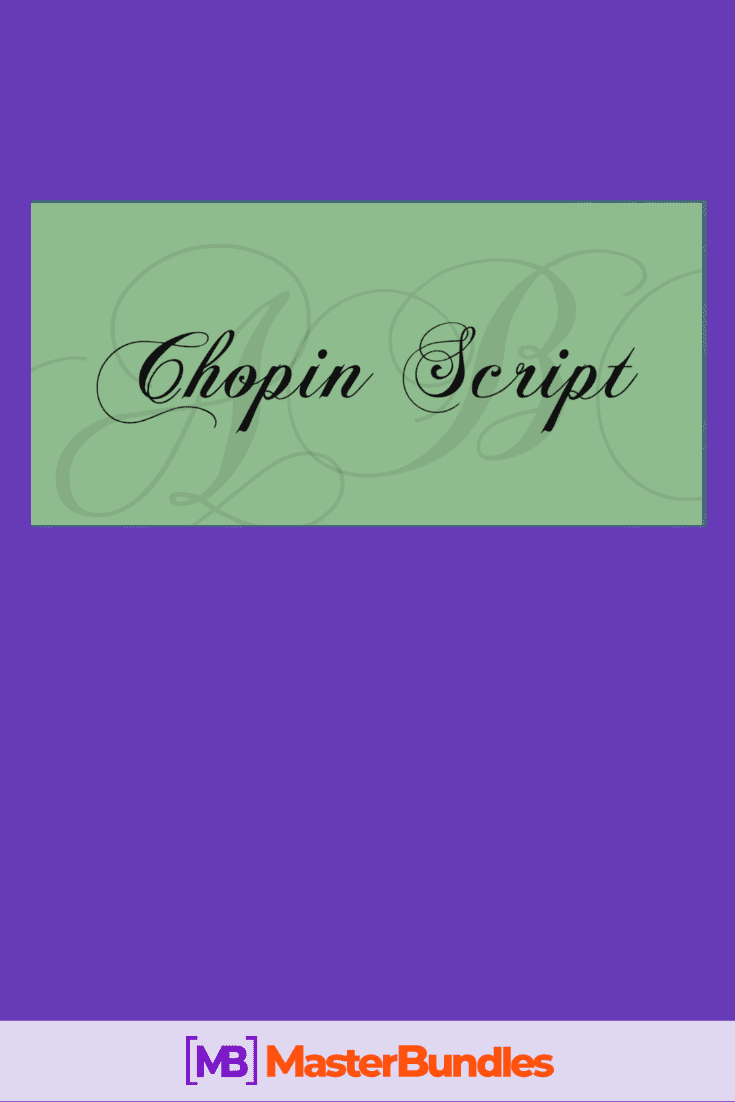 Elegant and elaborate letters, what else can you possibly need?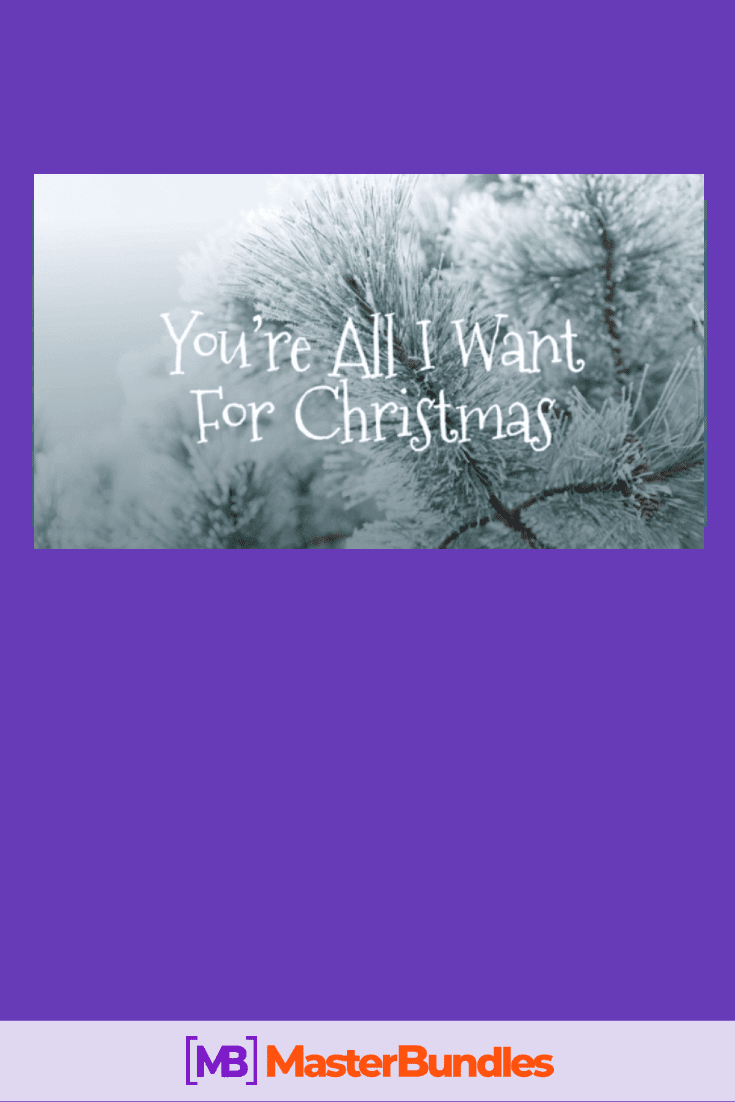 The one that will help you create a true winter fairytale.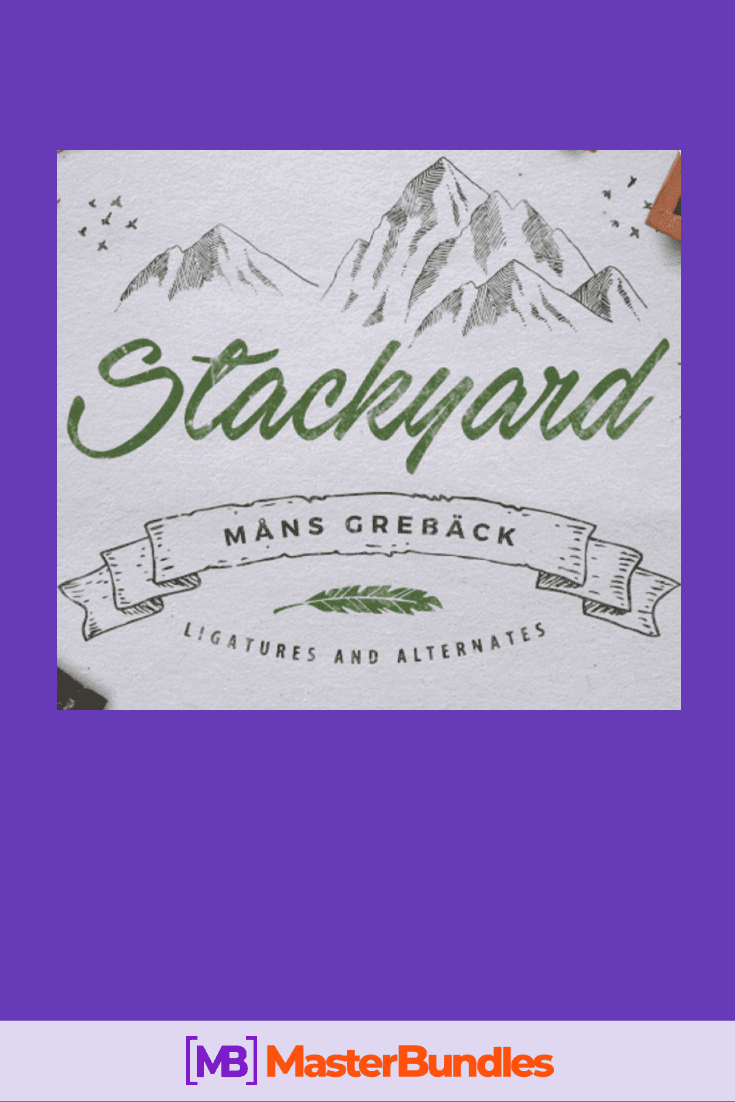 Warm, cozy, and simply adorable, this one is definitely something you don't want to miss.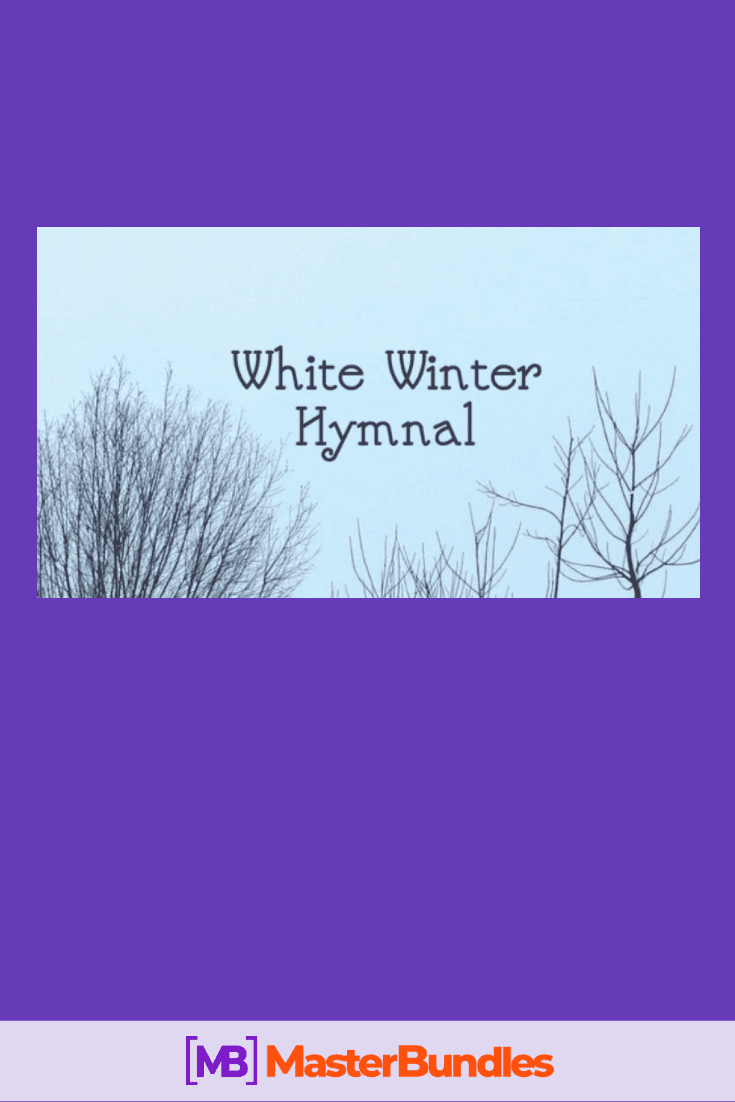 Because there is cannot be enough adorable winter fonts.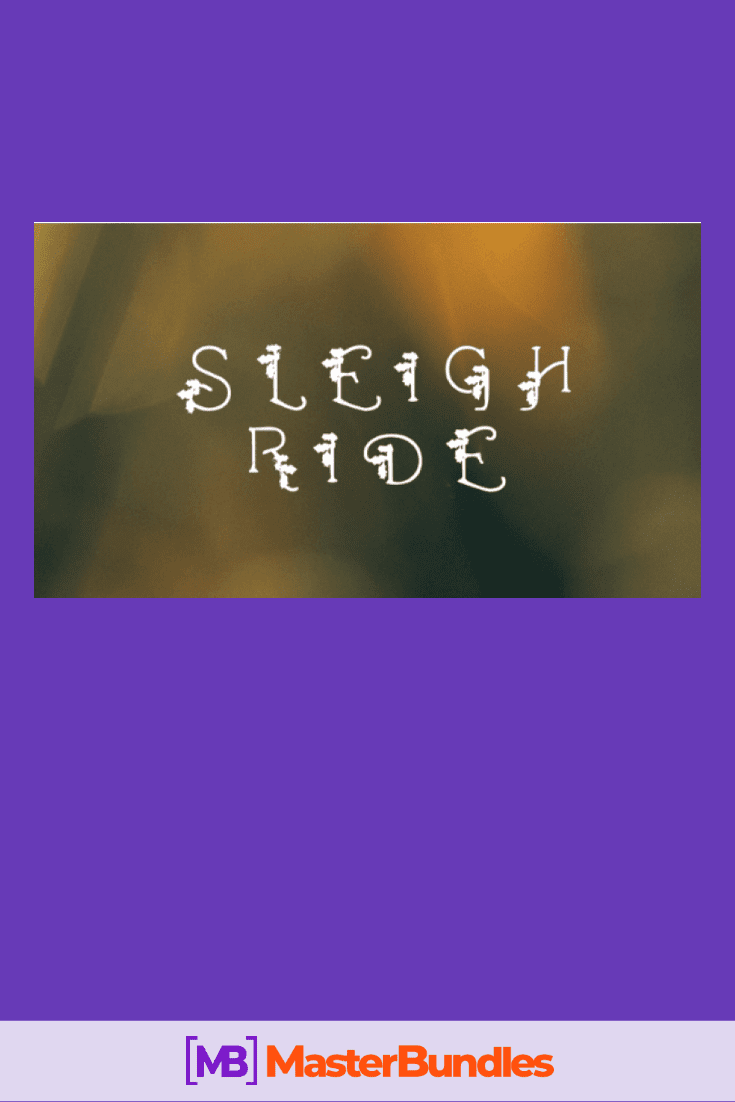 The very option for those of you who like everything to be fancy.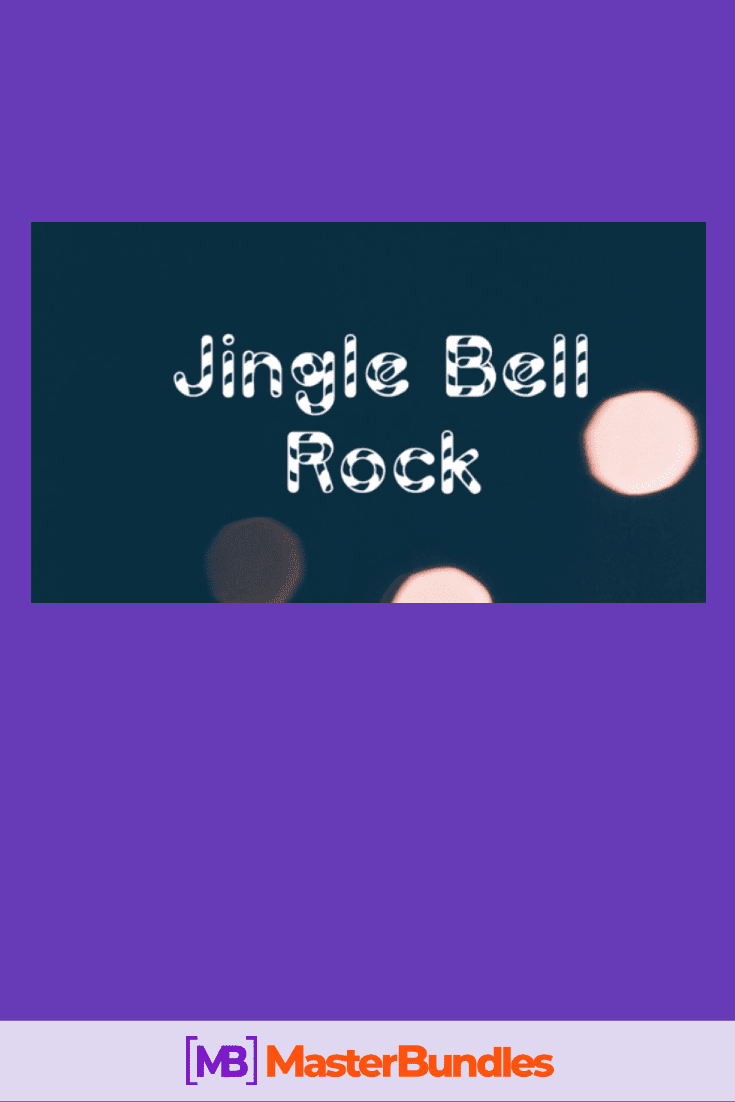 A sweet solution that will warm your heart.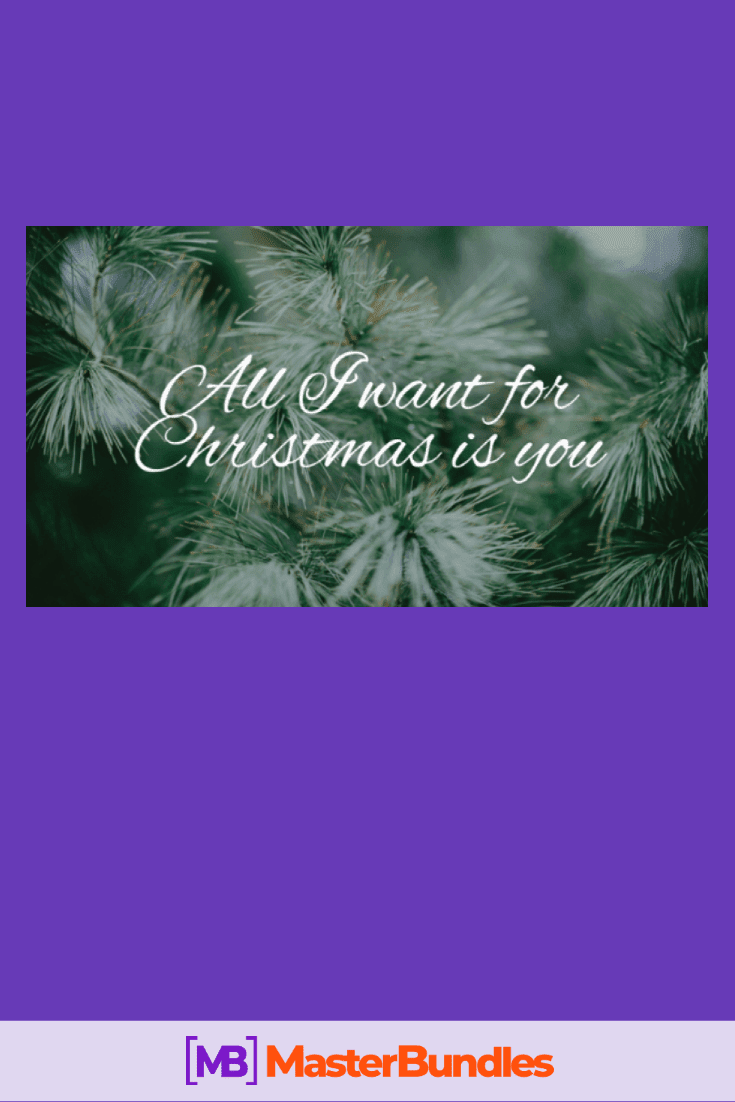 Minimalist, elegant, and stylish are the three words that perfectly describe this very font.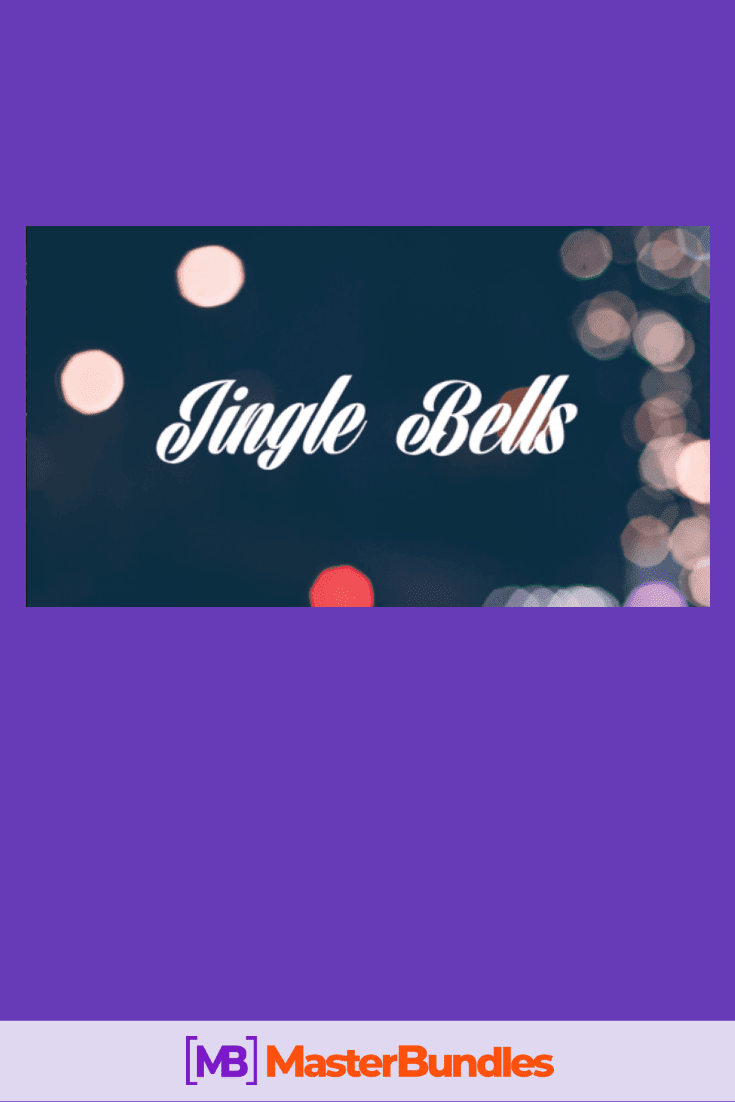 A classic option that works pretty much all the time.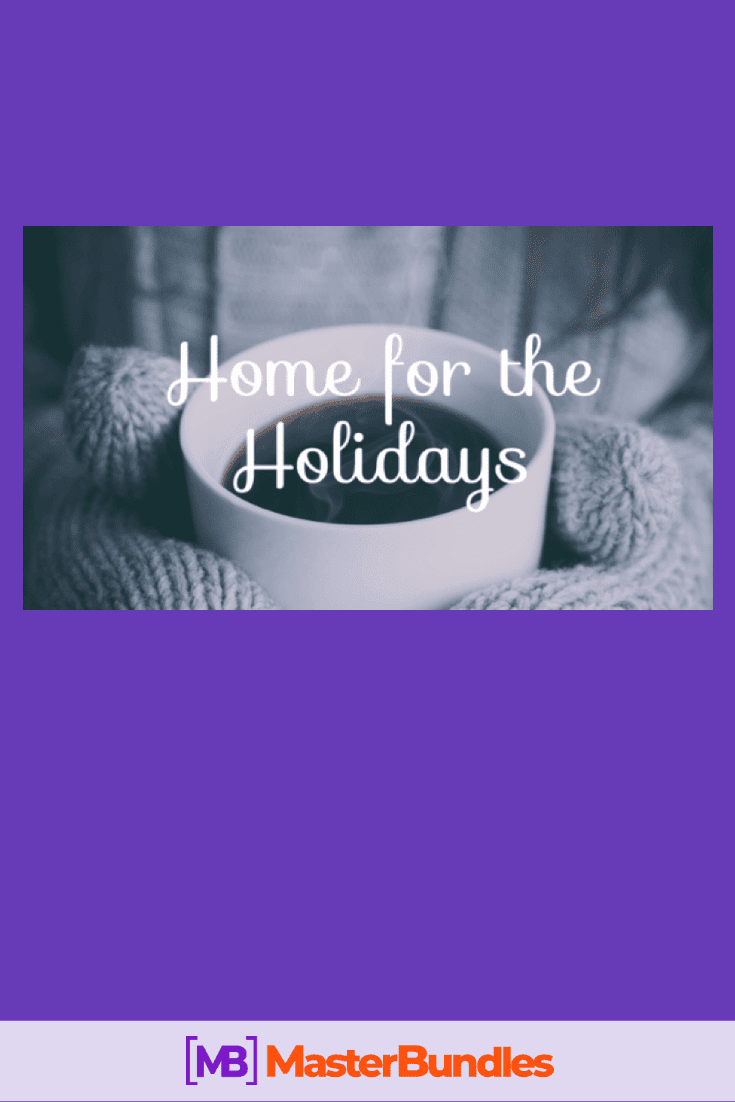 Another lovely solution for many of your projects.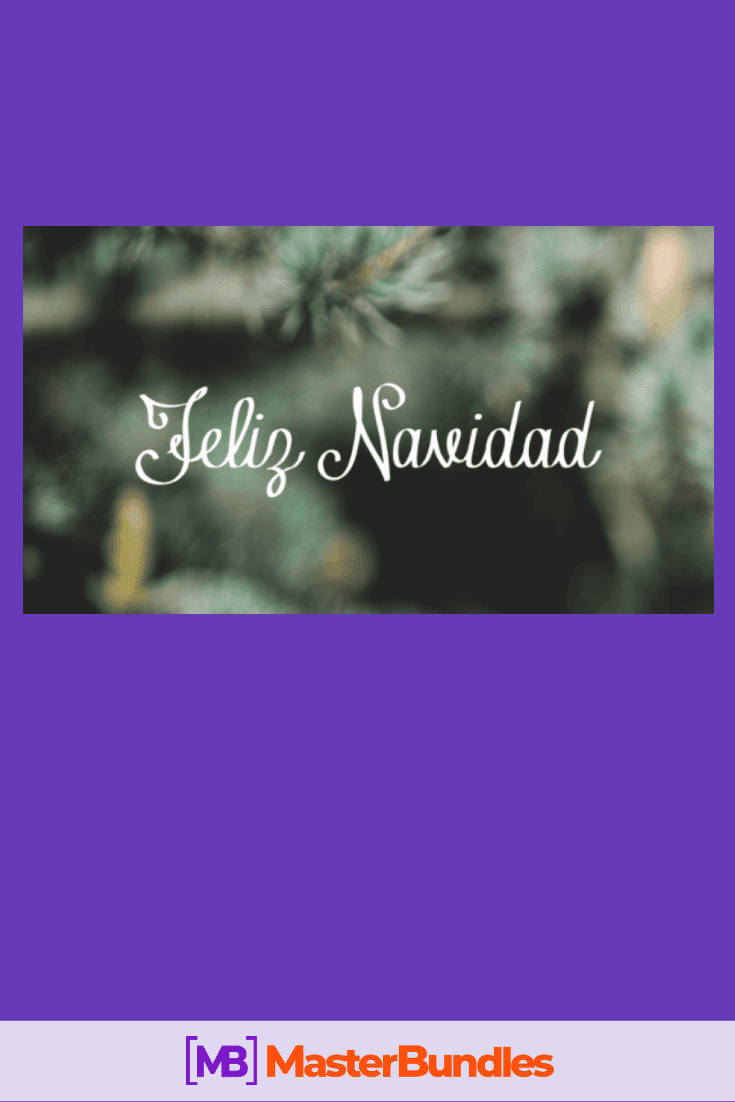 The one that will be your love at first sight.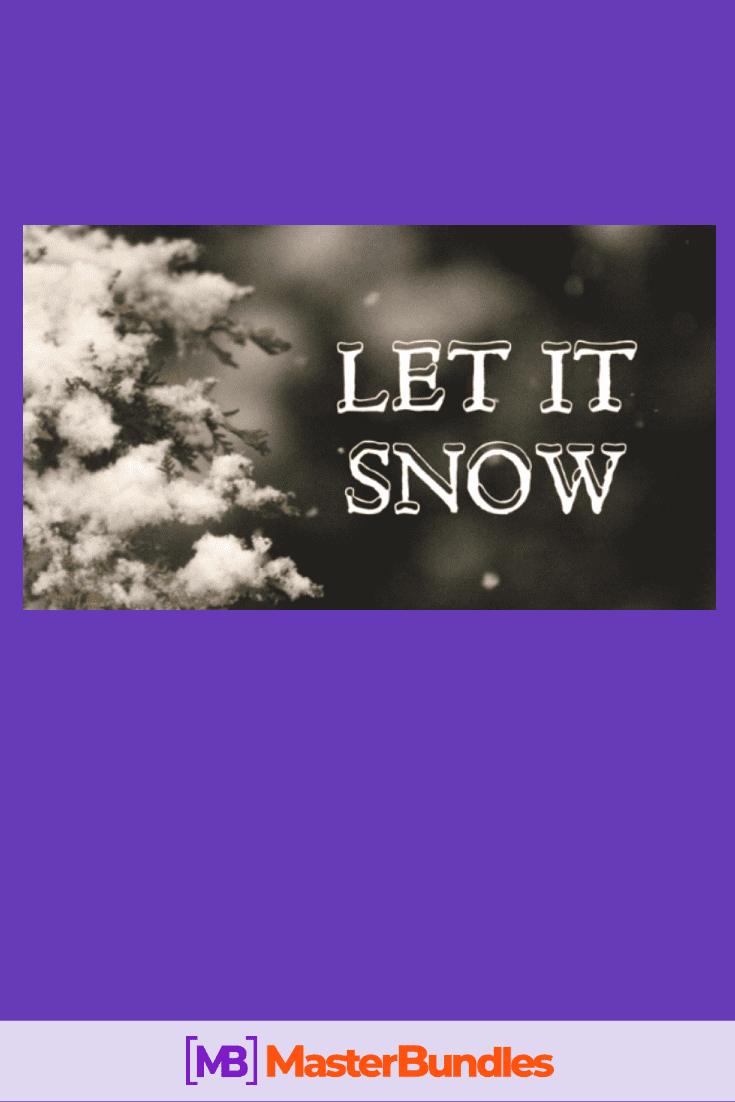 Fancy and festive, this very font is a great choice for any project.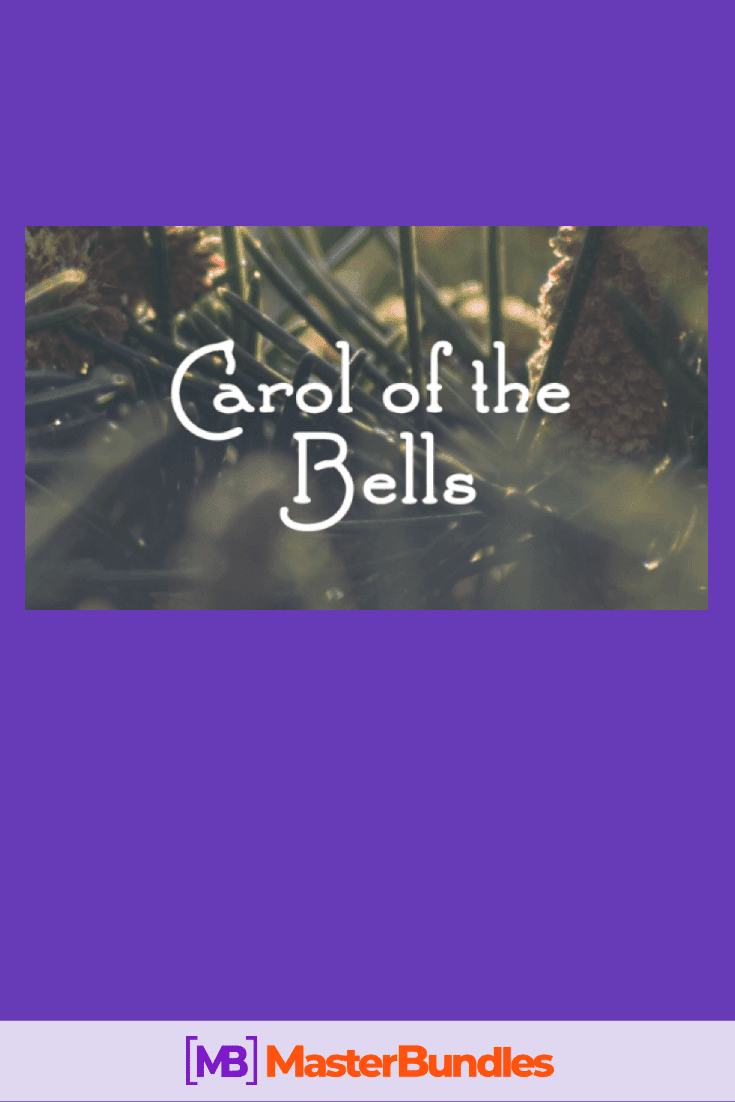 Readable yet still fancy, this one is surely a must in your collection.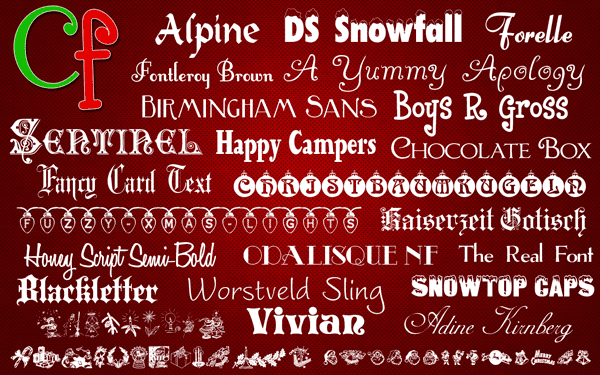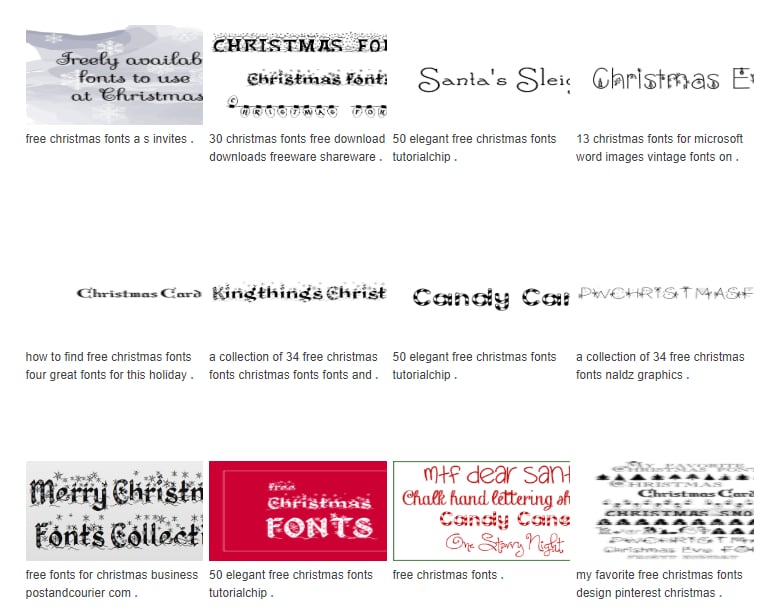 Coneria Script by Måns Grebäck



Riesling by Bright Ideas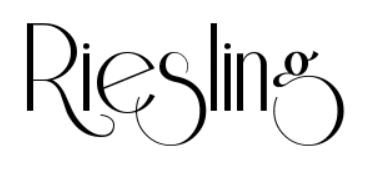 Before The Rain by Måns Grebäck



National Cartoon by Jonathan S. Harris



Schaeffer by Vladimir Nikolic

Christmas Cards Fonts
What is Christmas without fancy Christmas cards? Both sending out and receiving those cards is pleasant and just try to prove me wrong. So you might be interested in taking a family photo this year and finally sending out some of those fancy cards in order to wish a Merry Christmas to all your relatives and friends. Well, in case you are actually planning on doing so, here are some lovely fonts that will no doubt help you create some stunning cards.
Holiday Cookies, A Christmas Script by Leslie Ray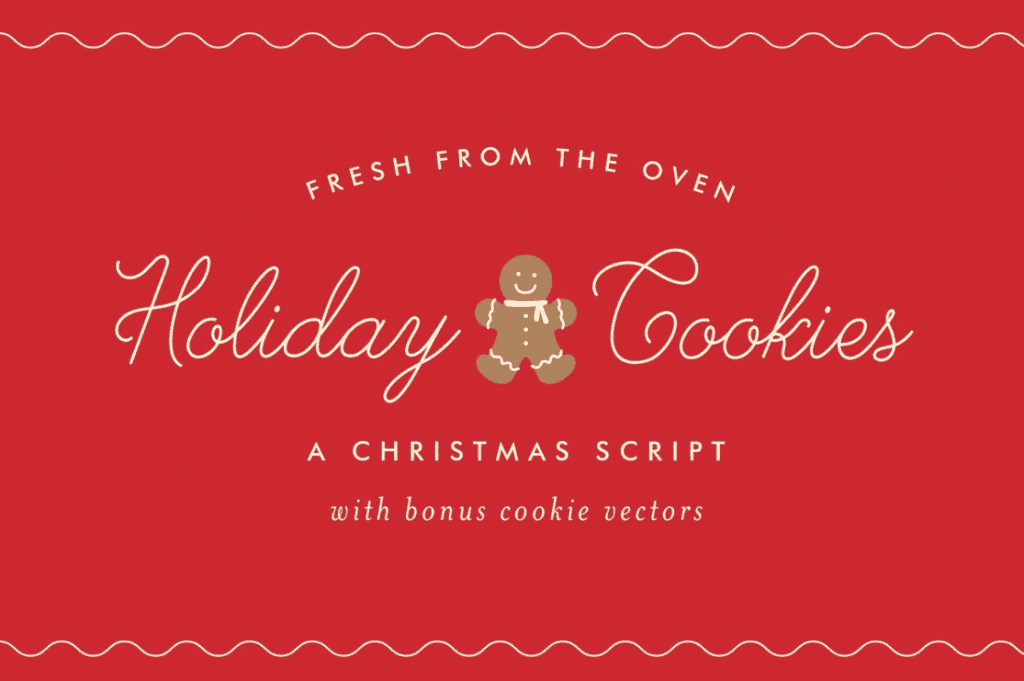 Price: $15
Modern, stylish yet sweet and warm at the same time, this is the very option that will make your cards simply stunning.
The Holidays – A Christmas Typeface by Leslie Ray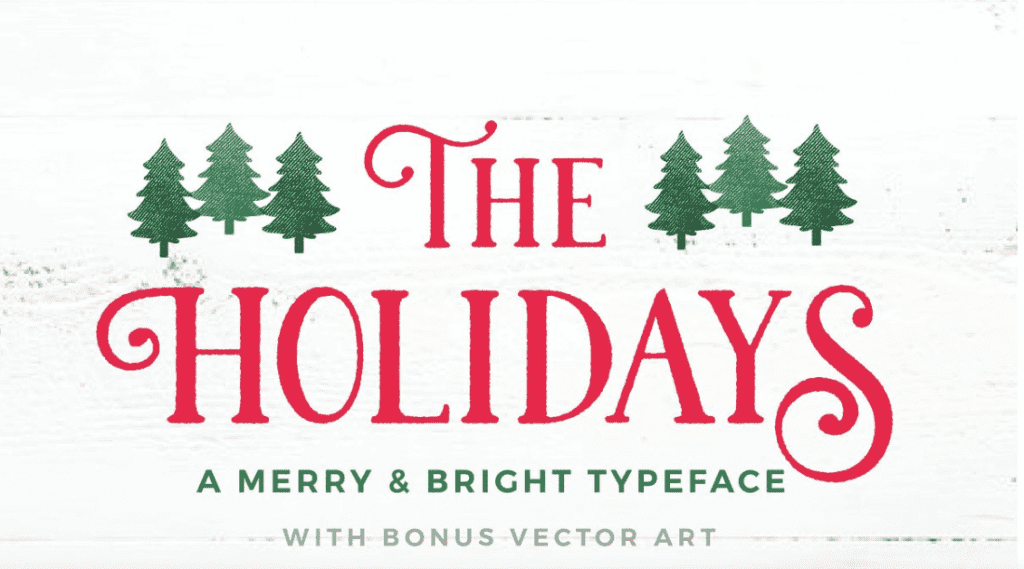 Price: $15
Another bright and eye-catching option that will simply take your breath away, so do not hesitate and take a look at it.
Funny Christmas Typeface! by Qilli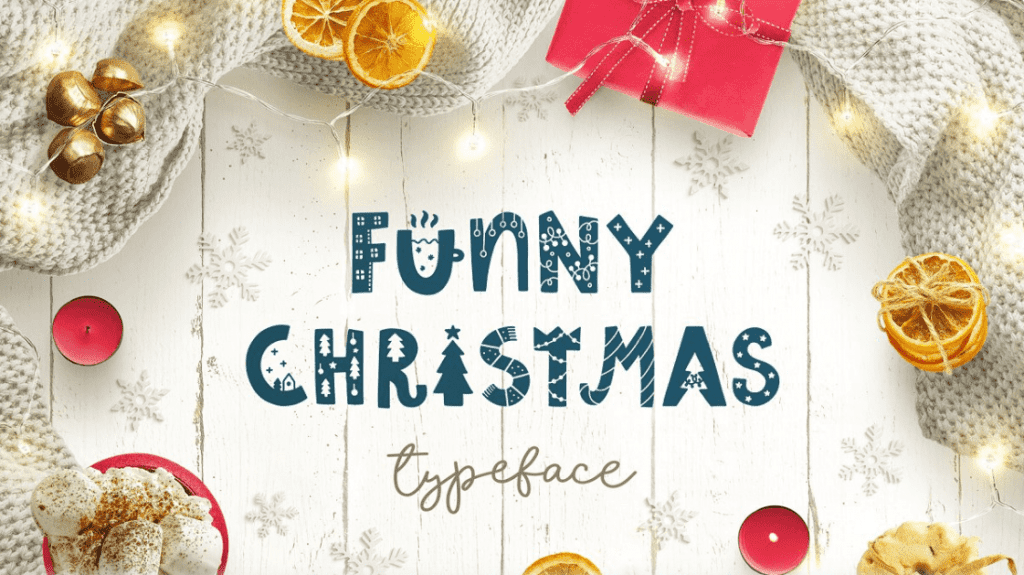 Price: $18
If you are looking for some fun vibes, then you definitely don't want to miss this one, so follow the link above and check it out.
Snowy Christmas script font & logos by Tabita's shop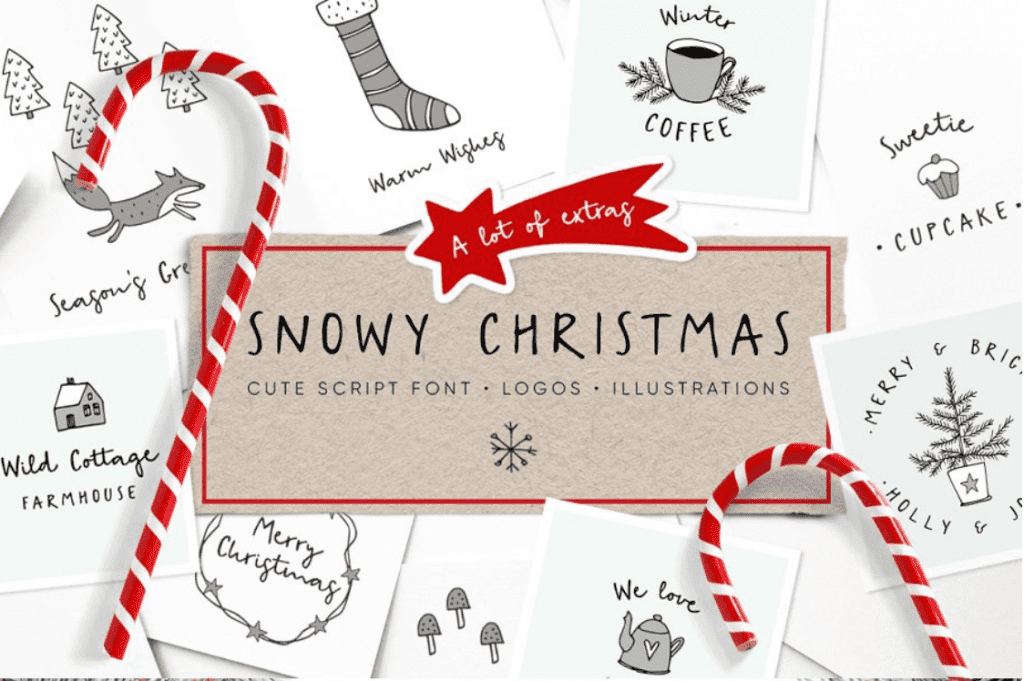 Price: $18
Well, this one is actually my personal favorite, so make sure to have a closer look at it.
Christmas Mystery by Larin Type Co.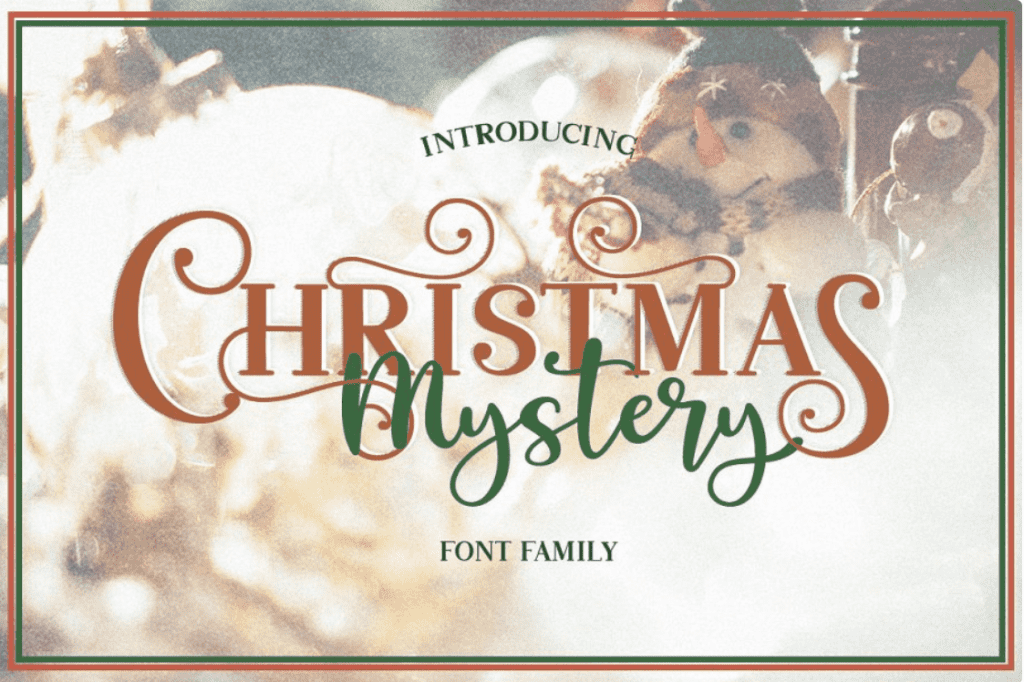 Price: $16
One more elaborate option that will no doubt win your heart.
Christmas Story by Larin Type Co.
Price: $16
Another classic solution that definitely will not let you down, so find some time to take a closer look at this very gorgeous option.
Christmas Beauty Font Dou+Swashes by Typica Studio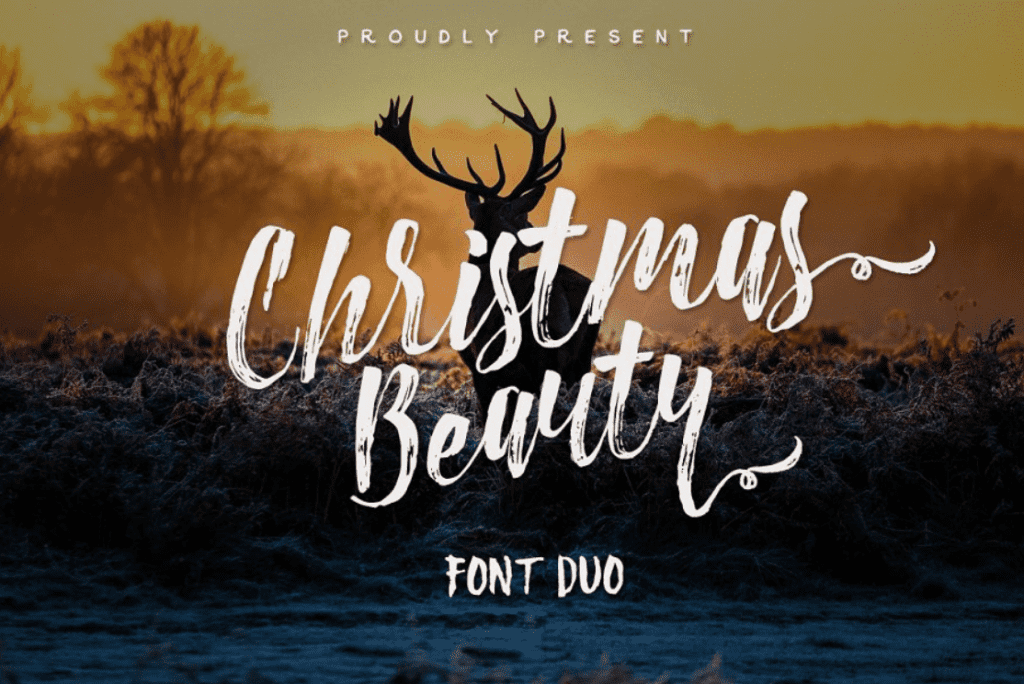 Price: $13
A marvelous solution that will surely bring some magic into your life.
Christmas Town | A Jolly Serif by Jen Wagner Co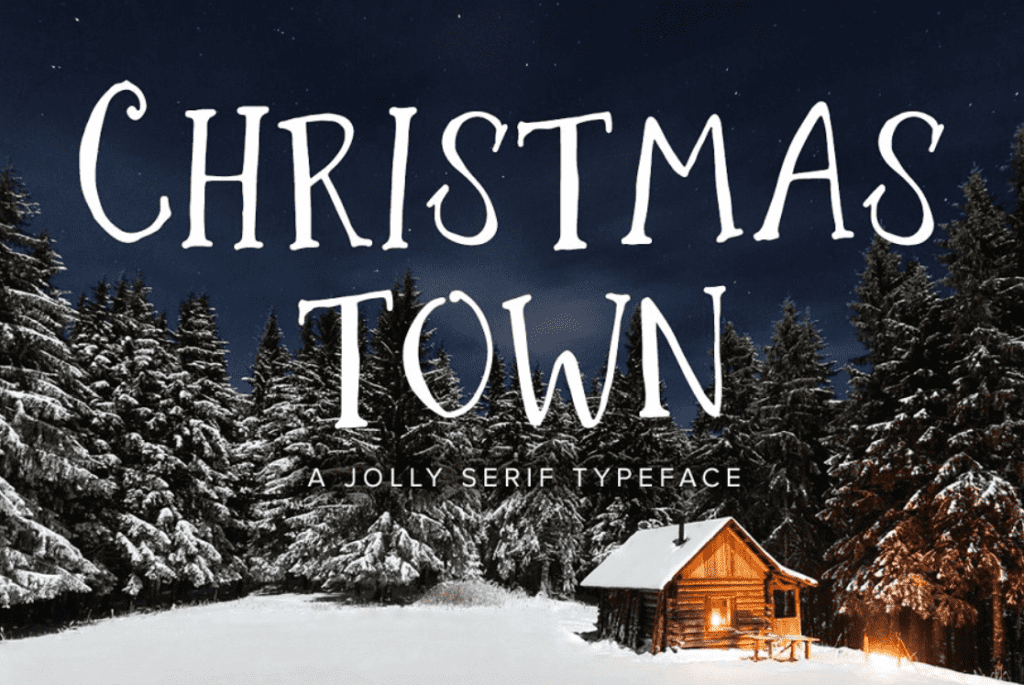 Price: $9
The one that will surely create a holiday mood even in the darkest times.
Christmas Workshop Font by Tu Neuwin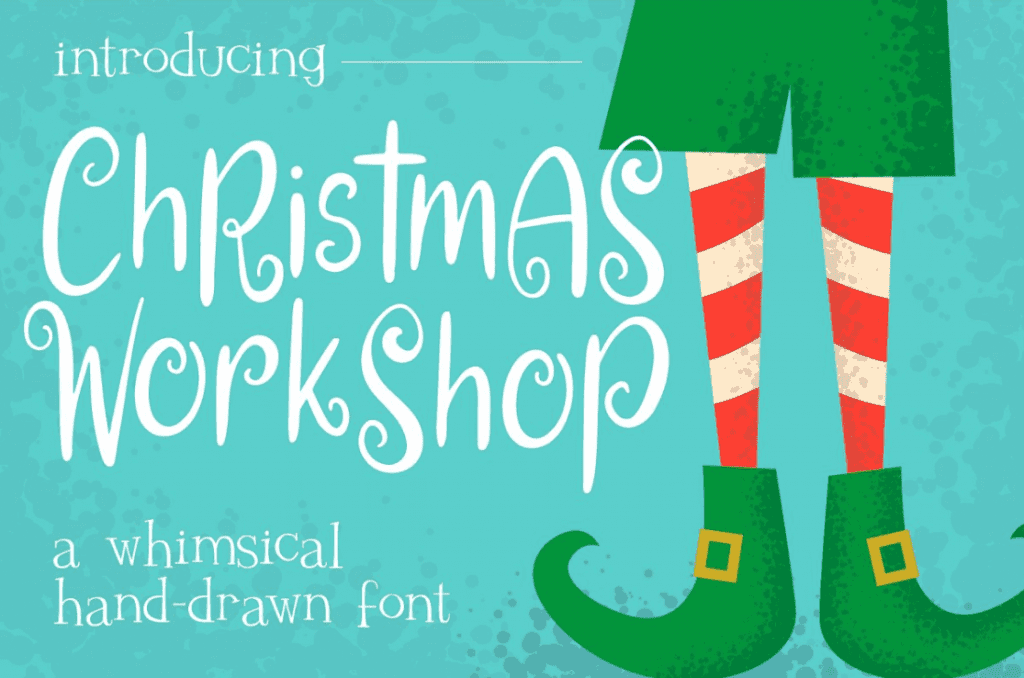 Price: $10
A super cute option for those of you who want to come up with something truly adorable and sweet.
WINTER HOLIDAYS & Christmas Freebies by Vintage Voyage D.S.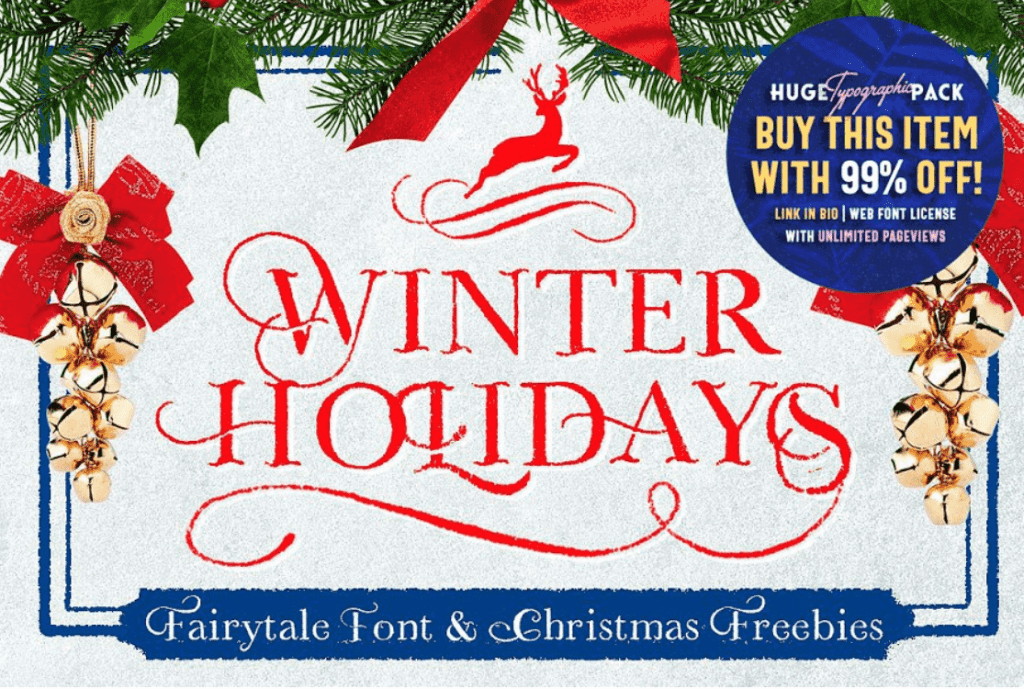 Price: $10
One more solution for all occasions, so why don't you give it a shot?
Christmas Symbols Font by Dansie Design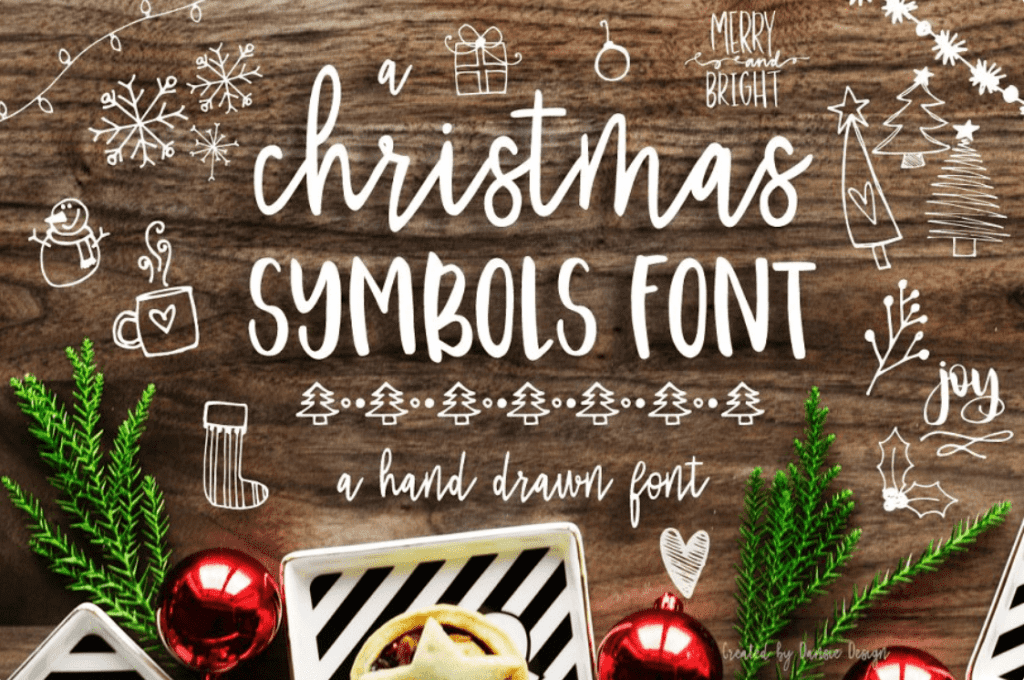 Price: $10
A lovely option for those of you who love fancy stuff.
North by Night, A Christmas Font by Leslie Ray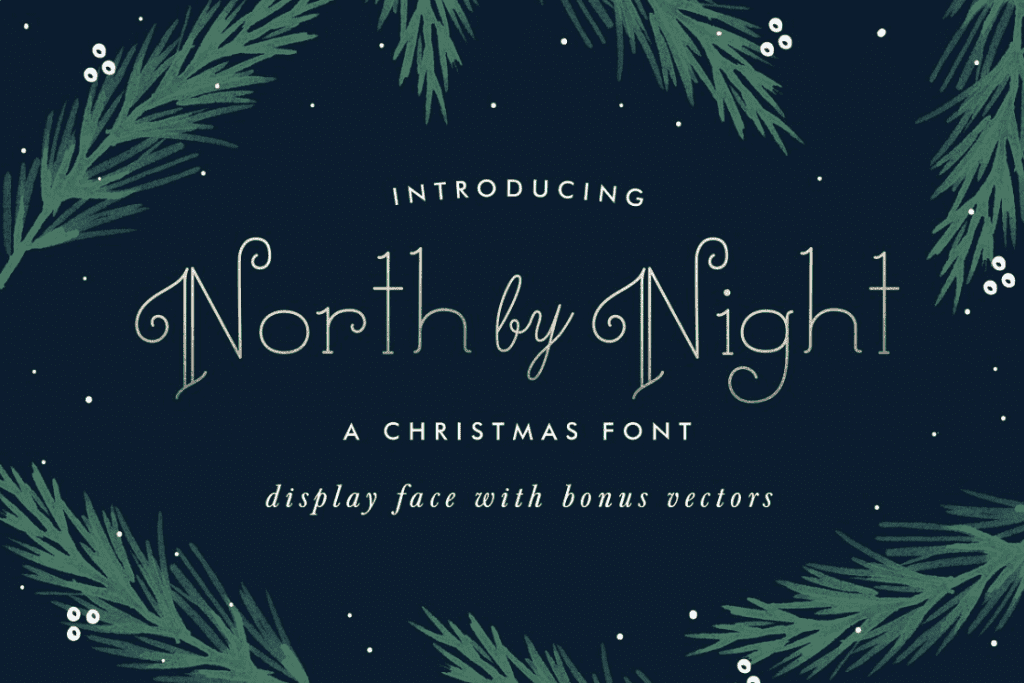 Price: $15
A mesmerizing font that will be a great choice for pretty much any project.
Natale Christmas Font & Bonus Gift by Graphic Dash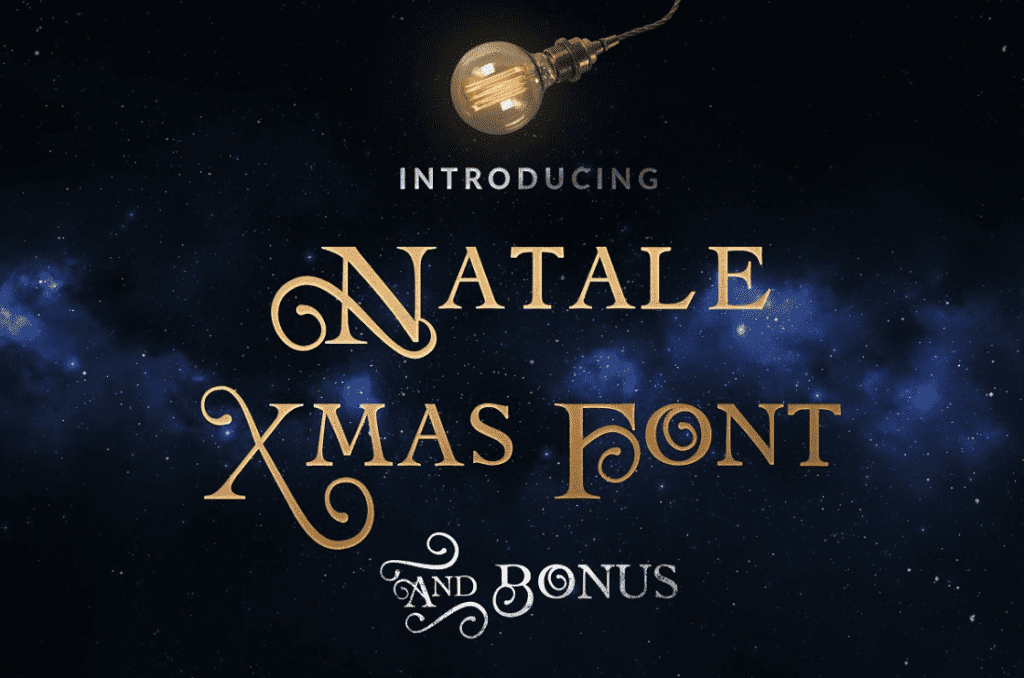 Price: $13
Another hypnotizing variant, which you surely want to have in your collection.
KG Christmas Trees by Kimberly Geswein Fonts
Price: $5
The one that will make your holiday cards one-of-a-kind.
Merry Christmas Fonts
Finally, it's time to have a look at some multipurpose Merry Christmas fonts, so without further ado, here they come.
Christmas Wish by Roland Huse Design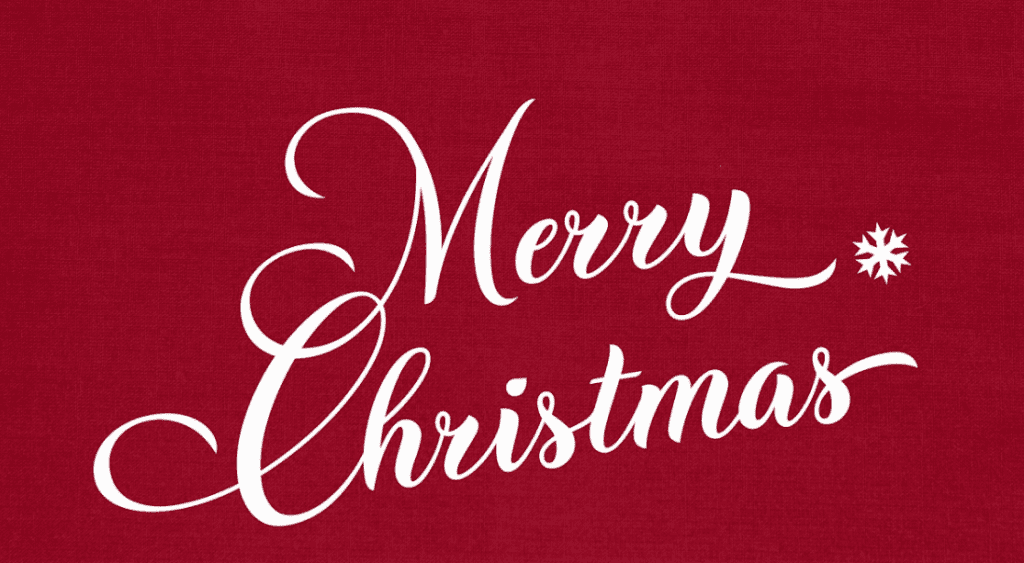 Price: $18
Simple and minimalist, this one is a multipurpose option for all occasions.
Merry Christmas [2 fonts]+Free Goods by Julia Dreams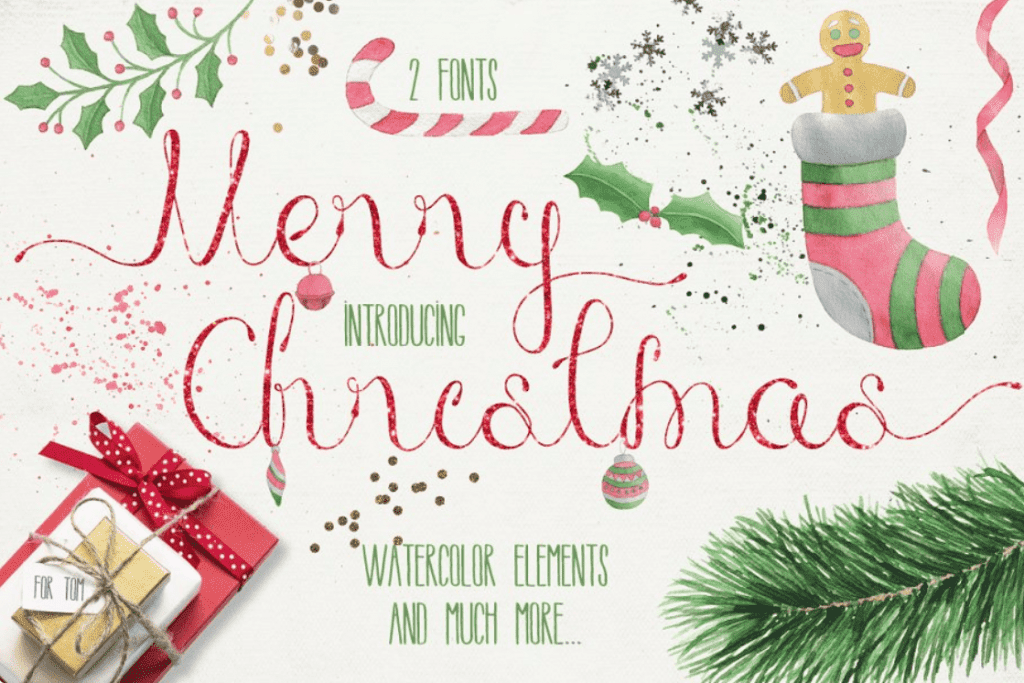 Price: $12
A classic option, which is going to be a great solution for many projects of yours.
Xmas Wishes Font by Rsz Type Foundry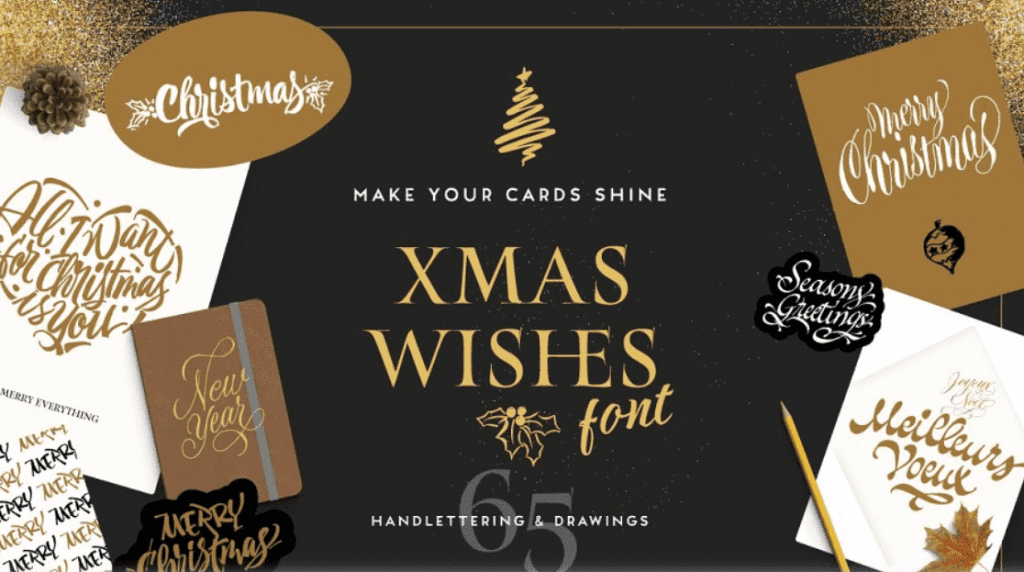 Price: $25
A sophisticated option that you will fall in love with.
Merry Christmas Font – with sparkles by Leslie Ray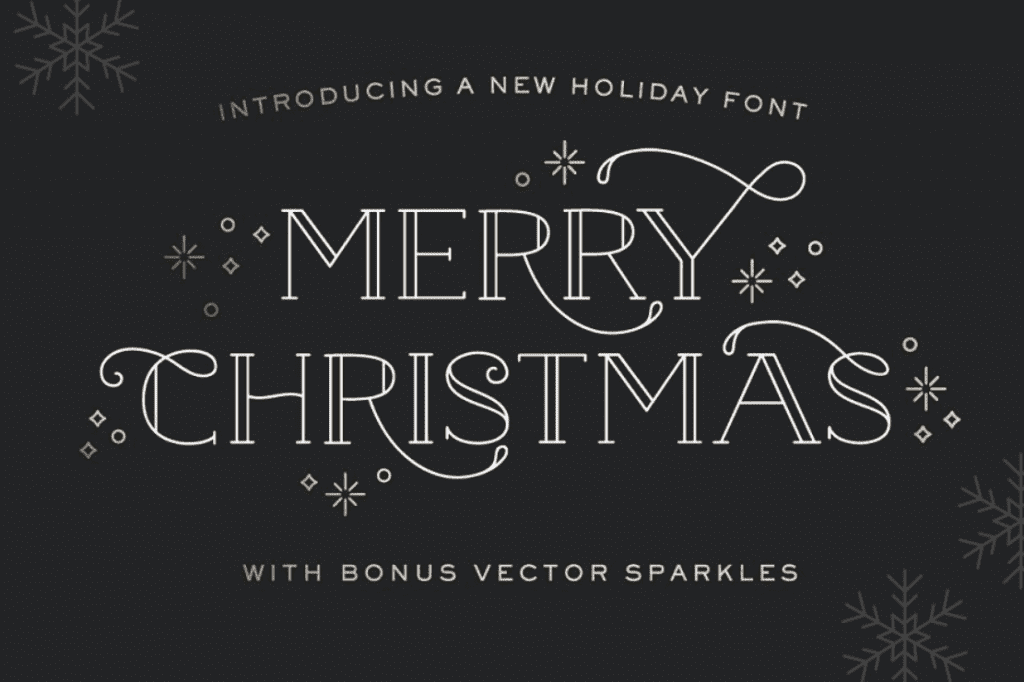 Price: $14
One more elaborate and classy option for you.
Christmas Stars by Kristy Hatswell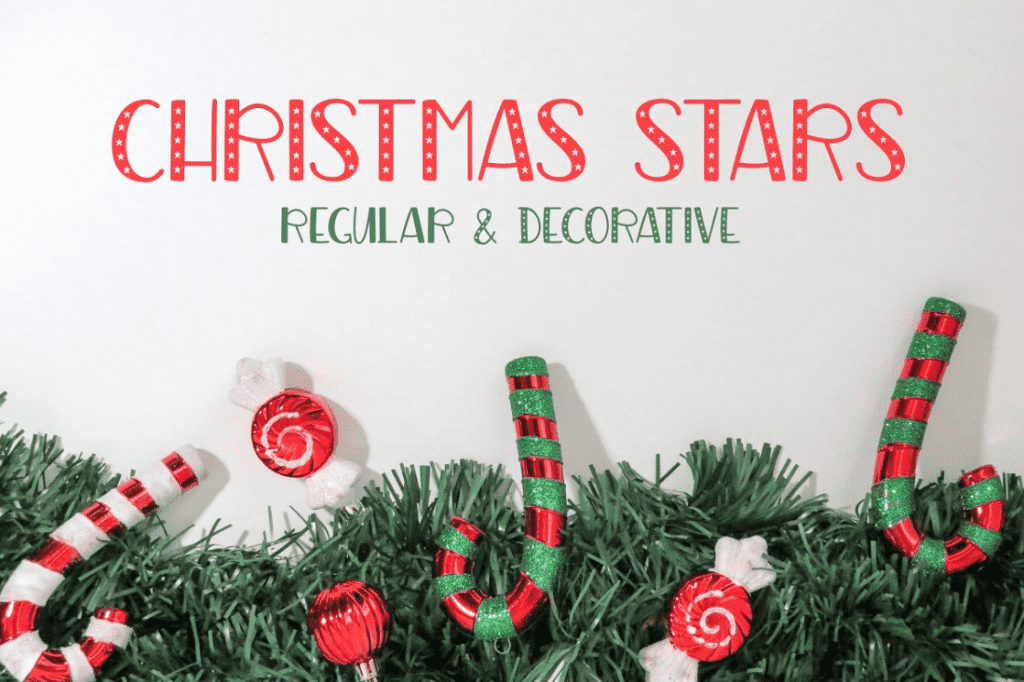 Price: $10
A magical solution for your magical projects.
PEPPERMINTY CandyCane Christmas Font by Dixie Type Co.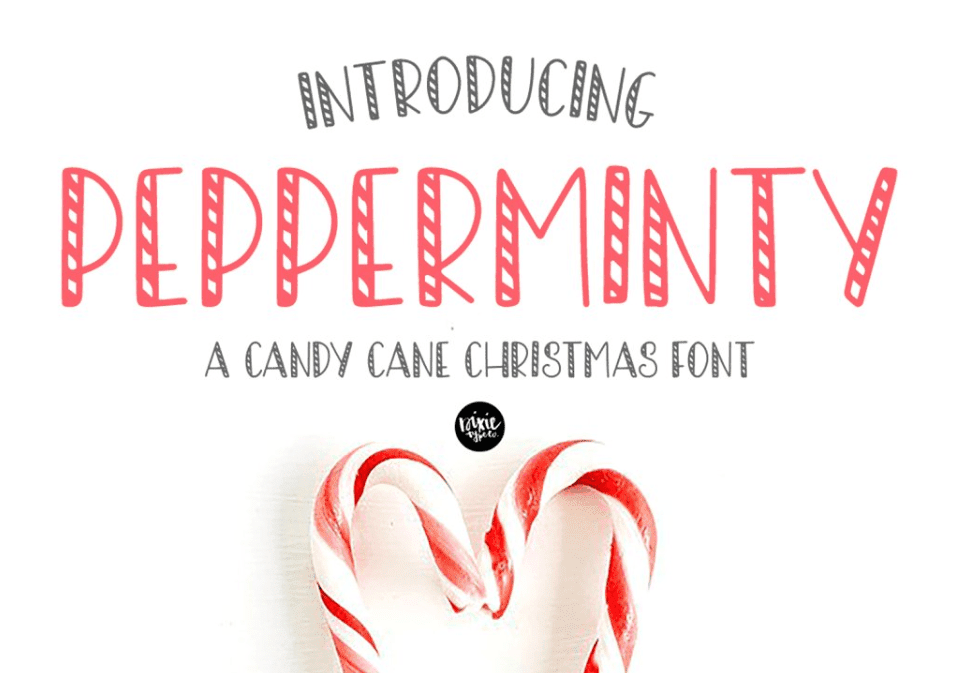 Price: $10
The one for those of you who have a sweet tooth.
Magic Snow – Christmas Typeface by Qilli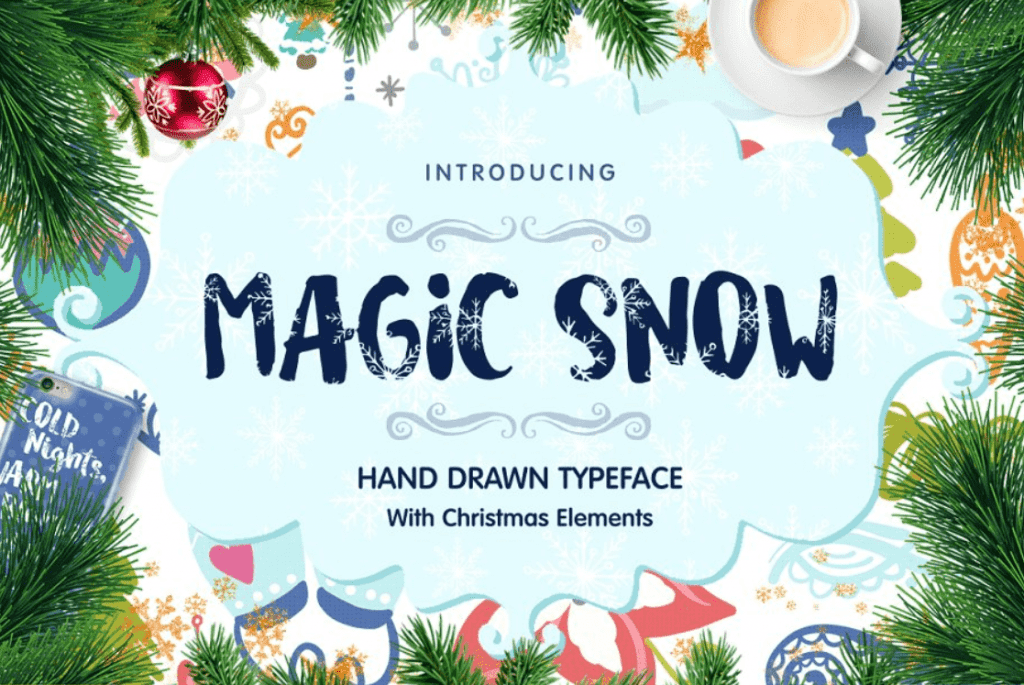 Price: $18
Another magical option that will simply mesmerize you with its unique beauty.
Over to you
Well, looks like you have just viewed the last Christmas fonts bundle. Do you think any of them fit your holiday projects the most? Which bundles do you consider the most awesome and why? Are you going to use them to beautify your festive designs?
Please leave your feedback in the comments section and don't forget to share this compilation with your friends and colleagues.
Some Awesome Videos About Christmas Fonts
Video About Christmas Fonts Bundles: 30+ Free & Paid Deals. Best Holiday!

Hey guys! Christmas is getting closer. You can see the first pretty snowflakes dancing in the air. Very soon Christmas carols will be heard everywhere.

MY FAVORITE FREE CHRISTMAS/HOLIDAY FONTS FROM DAFONT

In this video I'm sharing my favorite FREE Christmas/Holiday fonts from Dafont.com.
These fonts are for personal use. To use them commercially, you would need to purchase the commercial license from the designer.

AESTHETIC Christmas Fonts To Use!! | Milkxzy

I hope you are having a great day 🙂 in today's video I am giving you free Christmas fonts that you can use by going to dafont.com! you can show your support by subscribing and leaving a like!

Since the holiday season has officially begun, it's the very time to look for some dope Christmas fonts bundles for your upcoming projects. We have already figured out that the best way to get cool fonts is getting a bundle because it is quite affordable especially for those of you who have plenty of orders and projects to work on. So let us take a closer look at some of the fanciest Christmas fonts bundles we managed to find for you.
How to Sell Your Fonts and Other Graphics
In case you are one of those designers who create beautiful graphics on their own, you can sell your goodies in our marketplace and quickly earn some extra pocket money. As a matter of fact, MasterBundles helps young designers sell their fonts, web templates, WordPress themes, patterns, clip art, illustrations, stock images, and many more. Our vendors receive the money for their products on their Payoneer accounts as soon as their products are being sold. In fact, we give you an excellent opportunity to sell your graphics legally and in a trustworthy marketplace, which guarantees you good sales. Moreover, we promote our vendors' products for free, which is an option, not every marketplace offers.
Registration Vendor
Please note: after registration, you will be redirected to Submit Your Deal page. IMPORTANT. You need to press the submit button again to upload your product.
Thank you!
Thank you for your bundle. It has been sent.
Therefore, if you want to start making money on your gorgeous graphics, sign up on MasterBundles using the form below, upload your products, and start making money now.
Q&A Session to Sum Up
🎄 Premium or free: which font to use?
As you might have already noticed, there is a huge variety of decent free fonts, which means that you can totally come up with something professional and cool using free elements and free fonts in particular. However, if you don't want to utilize something that has been already used by thousands of other designers all over the world and you desire to create something truly unique and special, then you definitely want to consider some of the paid options. Well, to pay or not to pay is a question, which is completely up to you, but keep in mind that pretty much everybody uses free design elements, so do you want to be among them?
🎄 How much does a decent premium font cost and are they expensive?
Well, in general, fonts are not expensive. Moreover, you can get a bundle with dozens of fancy fonts for approximately $10-$20. Is it expensive? Well, a cup of coffee at Starbucks costs about 6 bucks, so I guess the answer to this question is pretty clear.
🎄 Where can I get a nice font from?
If you are looking for a premium package, you can find some great offers on such platforms as MasterBundles. In addition to that, you can download some free fonts from 1001 Free Fonts, Urban Fonts, or MasterBundles because they offer some free options as well.
🎄 Bundle or Single Font?
When it comes to choosing between a bundle and a single font, many people get really confused and even frustrated. Yet the answer to this very question is pretty simple: get a bundle if you have lots of projects, purchase a single font if you need it just for one project. At the same time, if you are struggling with this very question because you are on a budget, then check out some of the MasterBundles' discounts and special offers.
Please take a moment to pin this post to Pinterest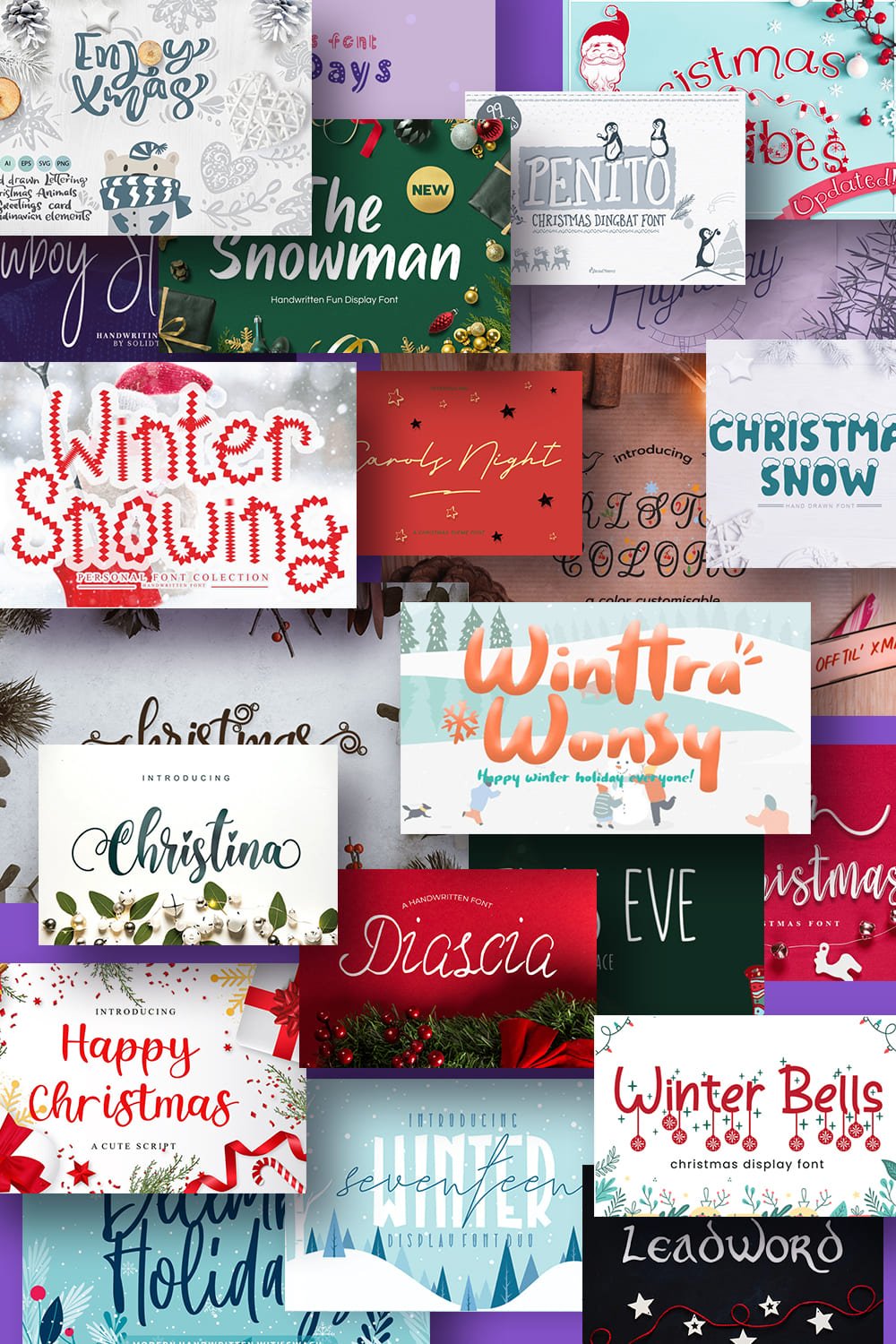 The Holiday Season is the most exciting time of the year that inspires me to create lots of interesting content for you. However, the Christmas spirit is not the only thing that inspired me to write this article. Therefore, the article is based on the following resources:
Bierut, Michael. How to Use Graphic Design to Sell Things, Explain Things, Make Things Look Better, Make People Laugh, Make People Cry, and (Every Once in a While) Change the World. Harper Design, 2015.
Lefebvre, Heather. The History of Christmas: 2,000 Years of Faith, Fable and Festivity. CF4Kids, 2019.
Müller, Jens, Julius Wiedemann. The History of Graphic Design. Vol. 2, 1960–Today. TASCHEN, 2020.
Oliver. "Font Trends 2020: The 15 Best Fonts to Use This Year." Looka, 2020, looka.com/blog/font-trends-2020/. Accessed 29 May 2020.
Sherwin, David. Creative Workshop: 80 Challenges to Sharpen Your Design Skills. HOW Books, 2010.
"8 fabulous font trends for 2021." 99 Designs Team. Nov 25, 2020, 99designs.com/blog/trends/font-trends/. Accessed Dec 1, 2020.
Disclosure: MasterBundles website page may contain advertising materials that may lead to us receiving a commission fee if you purchase a product. However, this does not affect our opinion of the product in any way and we do not receive any bonuses for positive or negative ratings.