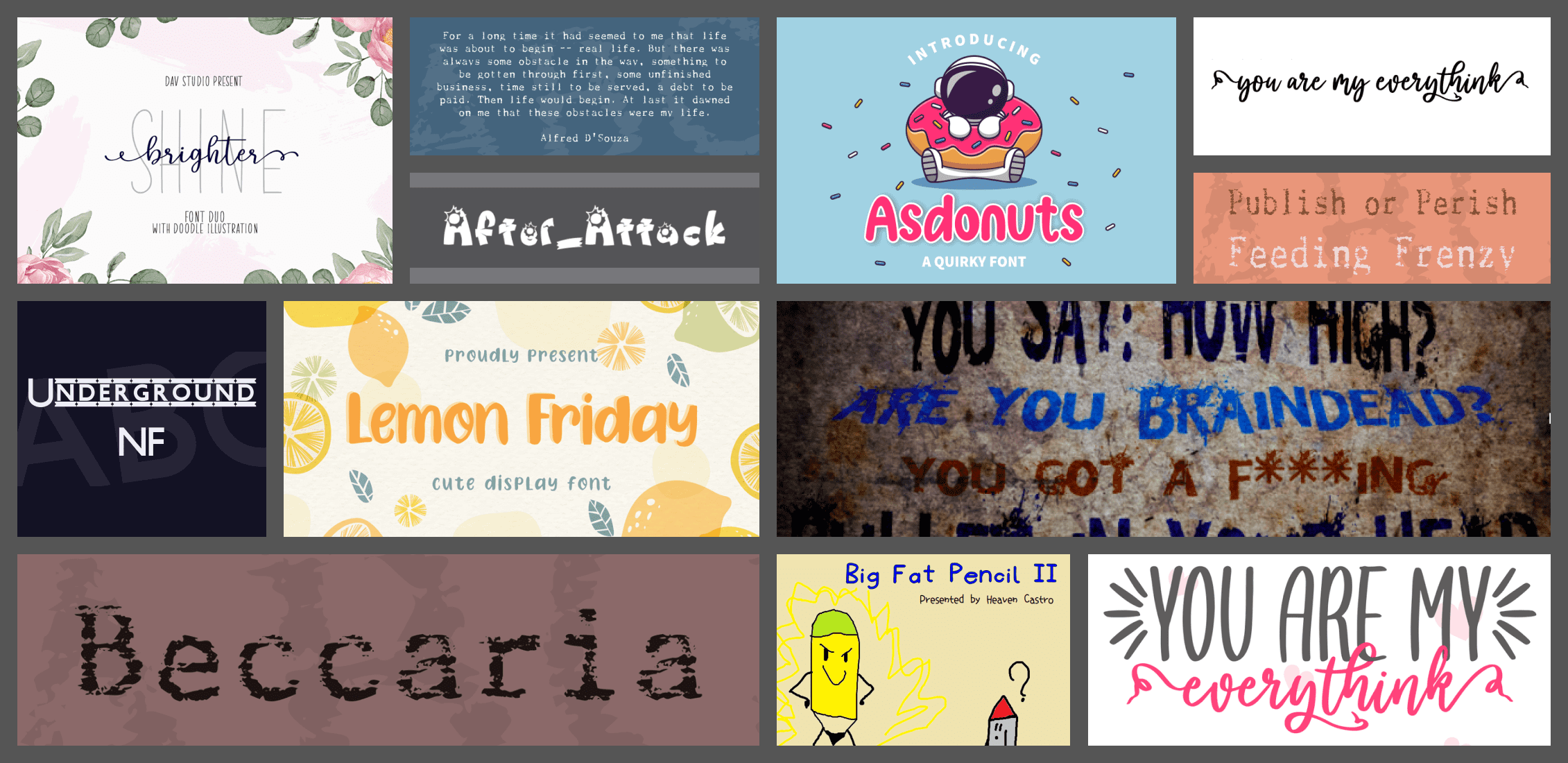 70+ Bullet Journal Fonts to Make Your BuJo Fancy in 2021
May 6, 2021
March 12, 2022
14 min
Bullet Journal Fonts. It seems that all around are keeping their bullet journals. I am sure you have already heard about this system to streamline goals, plans, daily tasks, and quickly record important information.
A bullet-journaling was created by Ryder Carroll, a designer from New York. He found it rather difficult to concentrate on one topic and wanted to find a way to record the thoughts and get back to them later. So, the whole system that combines a diary, a list of goals, and a notebook for thoughts and ideas was created.
While some people prefer to keep their bullet journals quite simple, others want to add some creativity and jazz it up a bit. Creative approach to the design and keeping of the bullet journal will turn the necessary planning process into an exciting experience throughout the year.
According to the latest psychologists' research, the right font sets the mood of a person while reading the text. The design of the bullet journal may differ both inside and outside. This tool should be as convenient and comfortable as possible for you.
Sometimes, when we begin to fill out a bullet journal, we come across the so-called creativity crisis. No worries, today we will talk about a beautiful collection of ready-made fonts for your bullet journal.
What is a Bullet Journal?
The personalized "bullet journal" is a flexible and fast system that helps you keep track of short- and long-term goals. You set up a notebook into subdivisions by month and week. From there, you monitor what has to be done. You can also add important events and dates to the bookmarks. Writing a bullet journal may be confusing at first, but through persistence and effort, you'll find that it's a wonderful way to organize your life. Moreover, by using the best fonts, you will have more inspiration to start planning your days, weeks, and months.
Who is a Bullet Journal suitable for?
Organizational skills are (unfortunately) not a great skill that everyone has. That's why American designer Ryder Carroll created this journal system. This method of arranging is simple to follow. All you need is a sketchbook and a pen. A bullet journal is ideal for people who find it difficult to complete all their daily tasks due to significant stress or fatigue, or a lack of concentration. It is an original and effective alternative to traditional to-do lists and other productivity tools.
Therefore, it is an excellent tool for:
project creators;
freelancers;
ordinary users;
successful entrepreneurs who need a simple tool to plan their tasks and structure their organization.
Tips for Creating a Bullet Journal
It is very easy to create such an organizing instrument! Start by choosing a notebook of your preferred size, color, and material.
Choose an appropriate type of sketchbook. You don't have to buy an expensive scratch pad or notebook, just choose something you can easily carry with you. Books with leather covers are the most appropriate. A notebook with ready layout is not required, as you will design it yourself.
Create a table of contents. You should number each page. Contents will help you determine which page each item goes too. You may write in pen or pencil and choose any color you like. Ink is easier to see and dark colors are easier to read.
Planning for the future. In the next section of the journal you will keep track of the tasks you need to accomplish over the next 5-6 months. These will be schedules and goals for specific months. Create a chapter for each month and start with the month you buy the notebook. It does not have to be January.
Plan every day. The bullet journal is supposed to be short, so use brief and simple sentences.
Use of signs. Draw a red circle around important dates. Add a checkmark next to any tasks that need to be completed. Highlight important events with a specific color such as bright yellow or green.
A bullet journal allows people to organize themselves according to the goals they have set. With this system, they can optimize their time and increase their productivity while letting their imagination run wild. Unlike a to-do list or a standard diary, this method does NOT focus on daily to-do's. It includes a schedule by week, month, and year. This arrangement may seem complicated at first, but as you get used to it, you'll notice that you have a lot more free time. Everything will be on paper so you don't have to keep it all in mind and rush through it.
Top 5 Bullet Journal Fonts
| Product Image & Rating (Out Of 10) | Product Name | Price |
| --- | --- | --- |
| | 10 Versatile Simple Clean Fonts to Give Your Designs a Unique Touch | |
| | 8 Professional Fonts | |
| | Hand Drawn Fonts – 7 High Quality Fonts | |
| | The Super Premium Vector Alphabets Set | |
| | Font Bundle Best my Collection | |
Font Trends 2021
Many 2021 font trends will be still relevant in future, so let us take a brief look at some of the current font trends that will be still popular in the upcoming year.
Kinetic fonts.
Humanizing serifs.
Retro fonts.
Round san serifs.
Pixel art fonts.
Rustic fonts.
Minimalism.
Huge fonts and bright colors.
As you can see, in 2021 both minimalist and extravagant bright fonts are going to be popular, which opens more opportunities for creativity. In general, experimenting with fonts is going to be a big deal in 2021, which is why every self-respecting designer has to make sure that they have a decent and upgraded font collection. Well, in case you aren't sure whether you have enough fonts, you might want to take a look at some of these lovely bullet journal fonts as well as consider getting some of these cuties for your collection.
TOP 15 Journal Fonts for All Occasions
Hipster Script Fonts: LAROSH Sithal Duo + Extra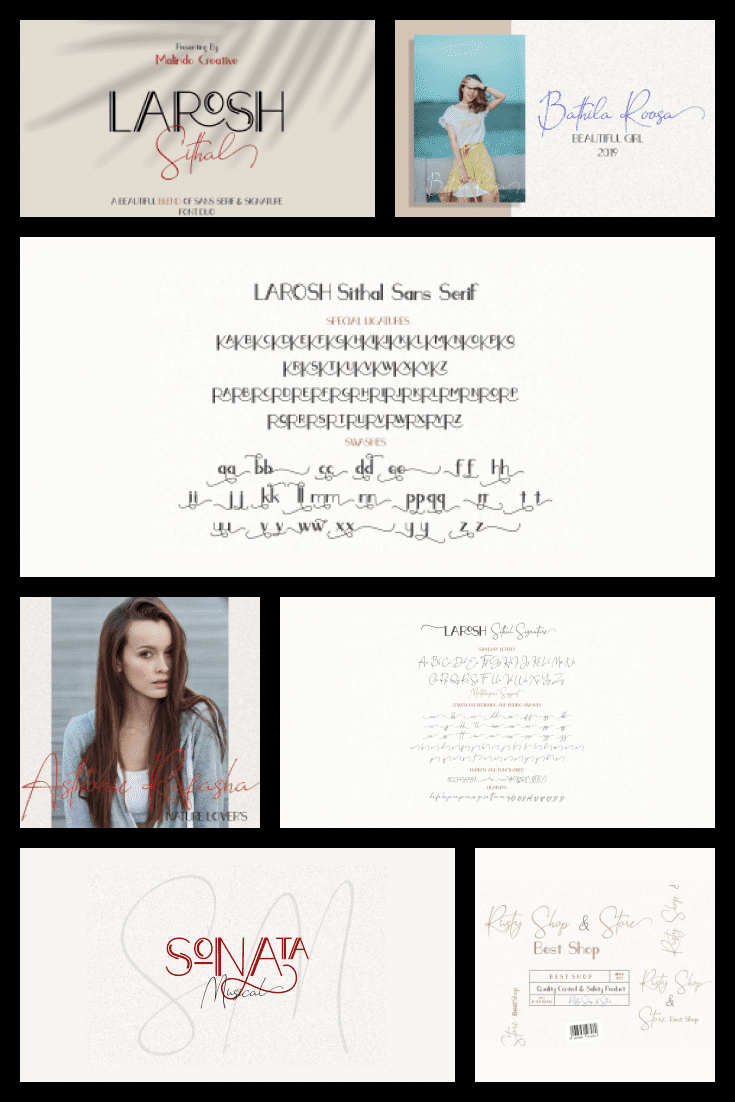 Price: $10
Benford Layered Vintage Industrial Font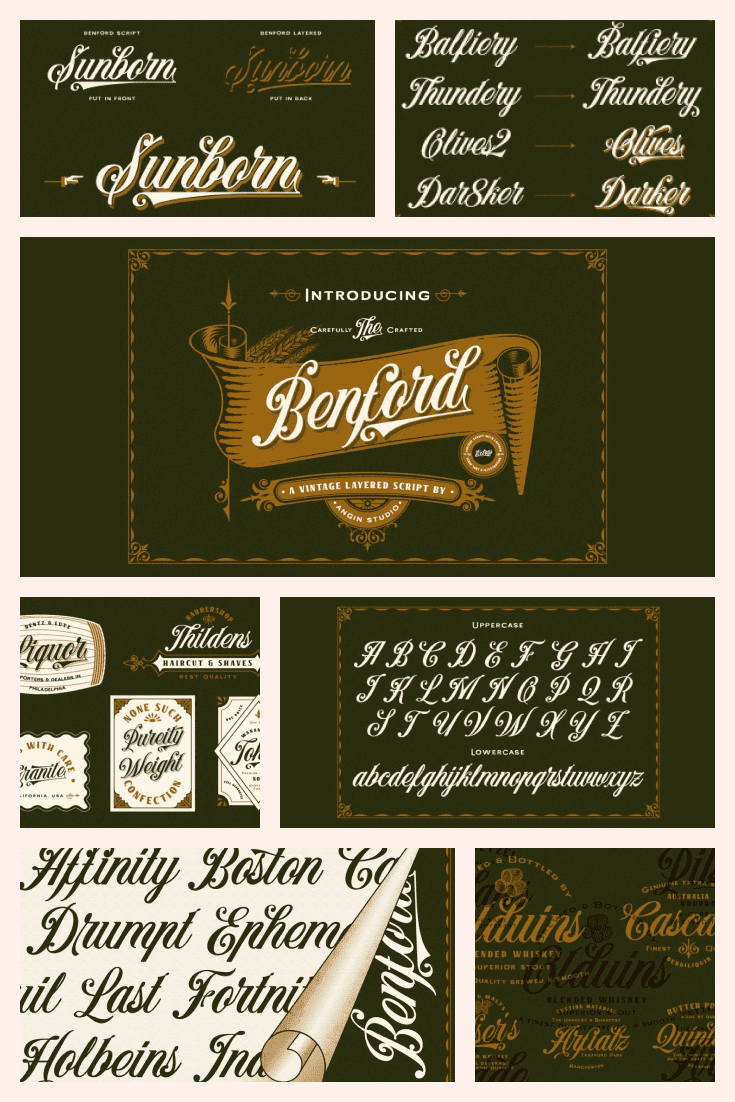 Northern Retro Future Font Bundle: 5 fonts with extras
Masculine Font Humienly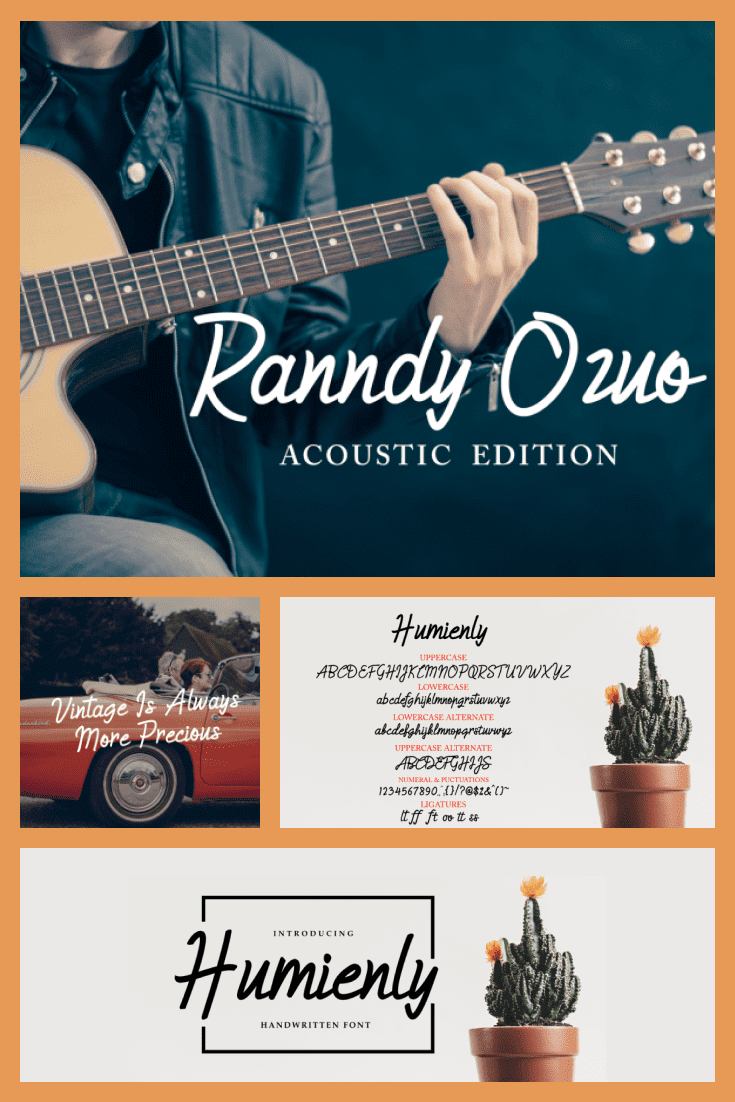 Voltury American Vintage Font Duo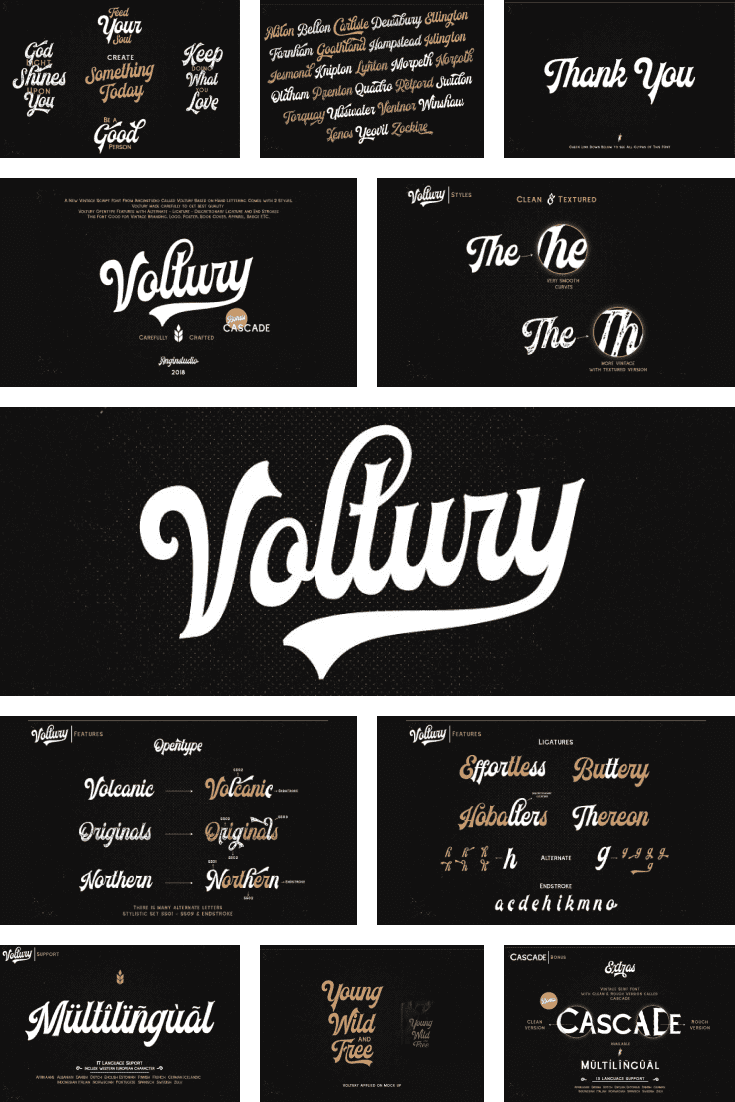 Hand Strike Handwritten Pen Font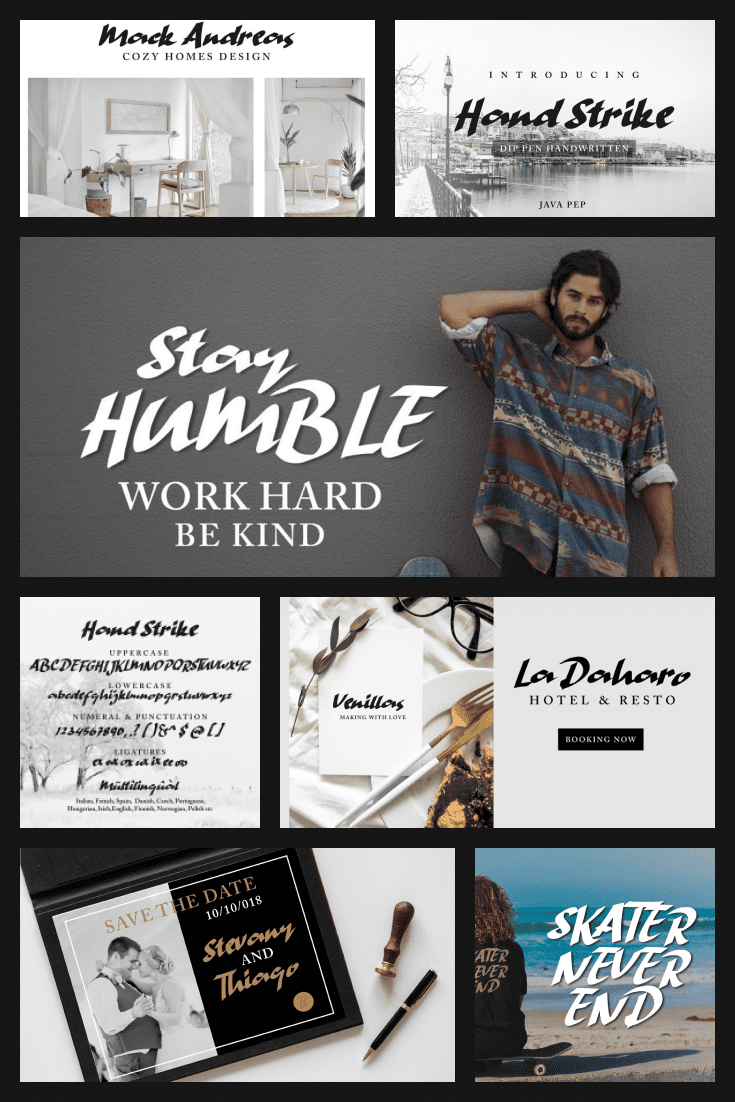 Price: $10
Lily – Cute Simple Handlettered Font by Minna May Design
Price: $10
Magick Journal – Hand Drawn Font by MoodyPapers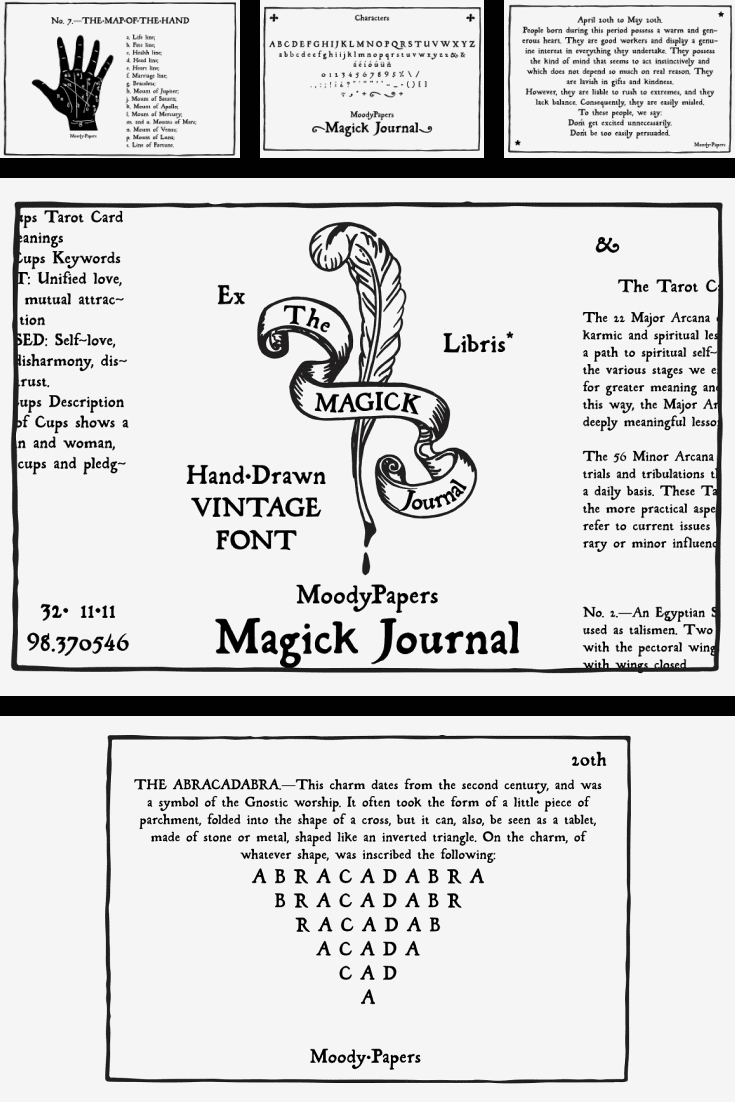 Price: $6
Just Saying Handwritten Font by Nicky Laatz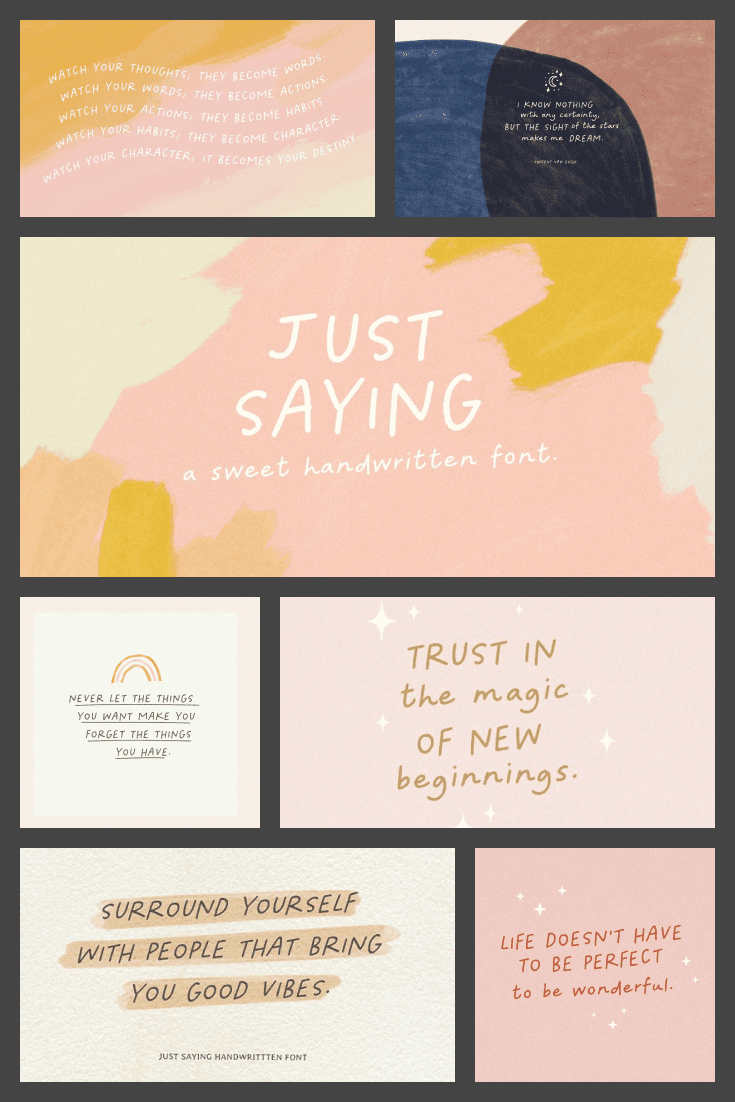 Price: $15
Tangerine – Cute Handwritten Font by Minna May Design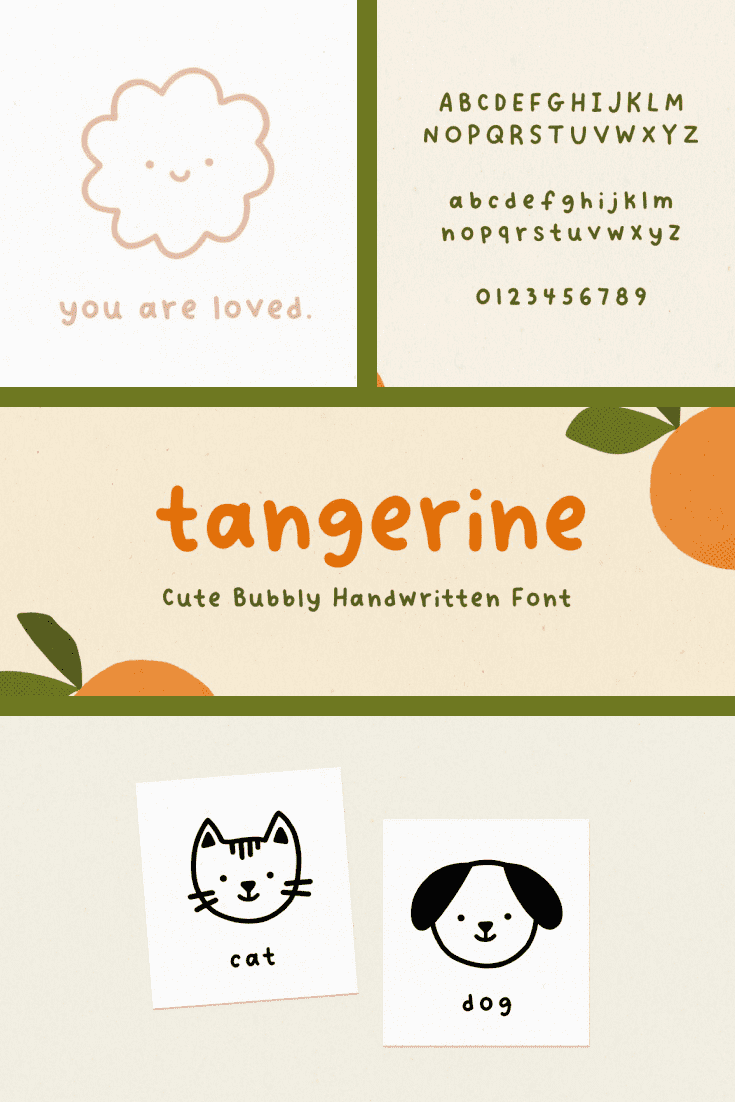 Price: $10
Chaitea Font Family by Wilde Mae Studio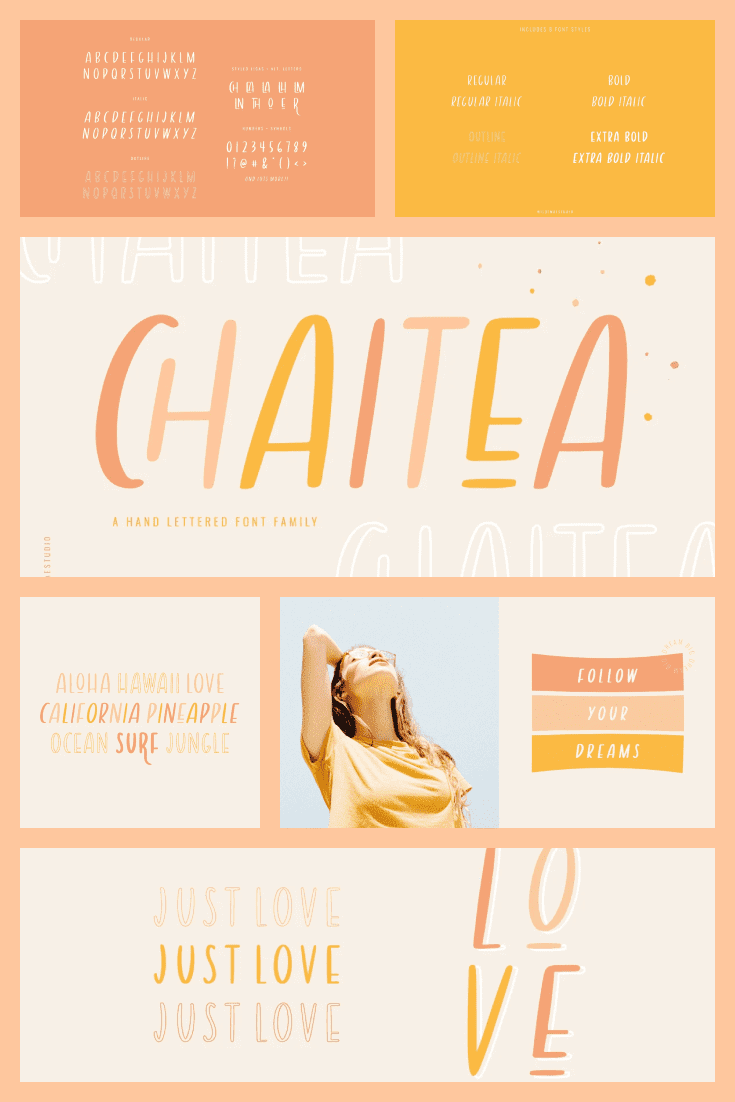 Price: $14
The Telegraph Font Family by Vintage Voyage D.S.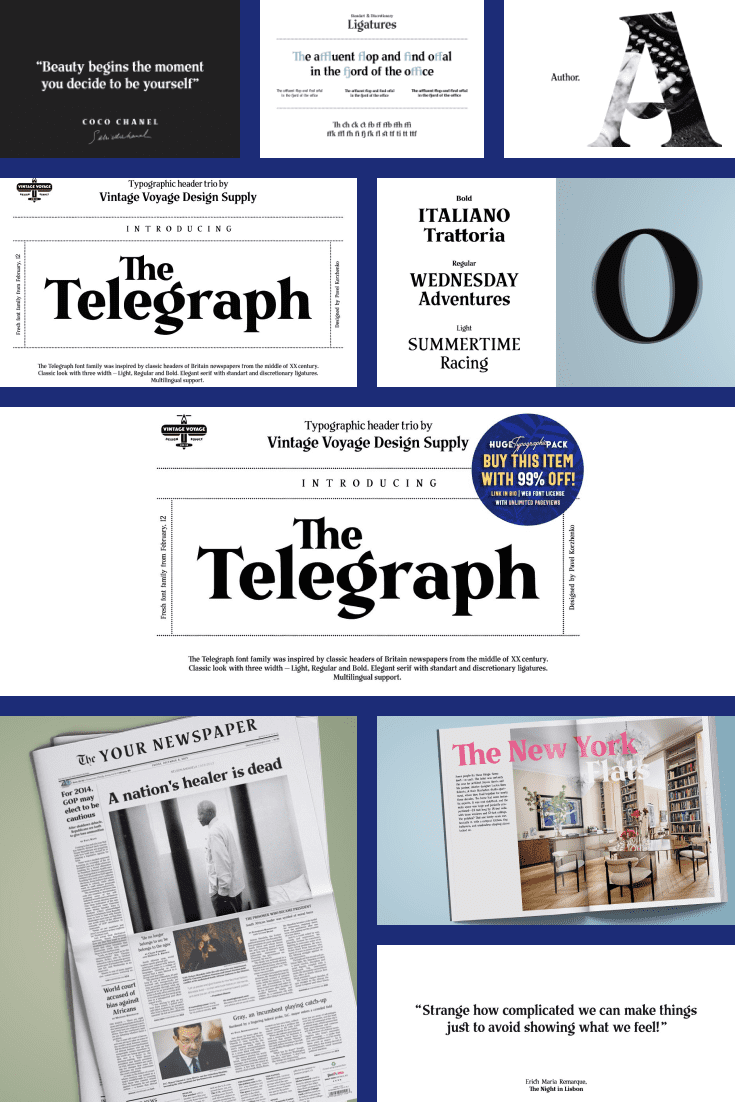 Price: $14
Goodselves Handwriting Font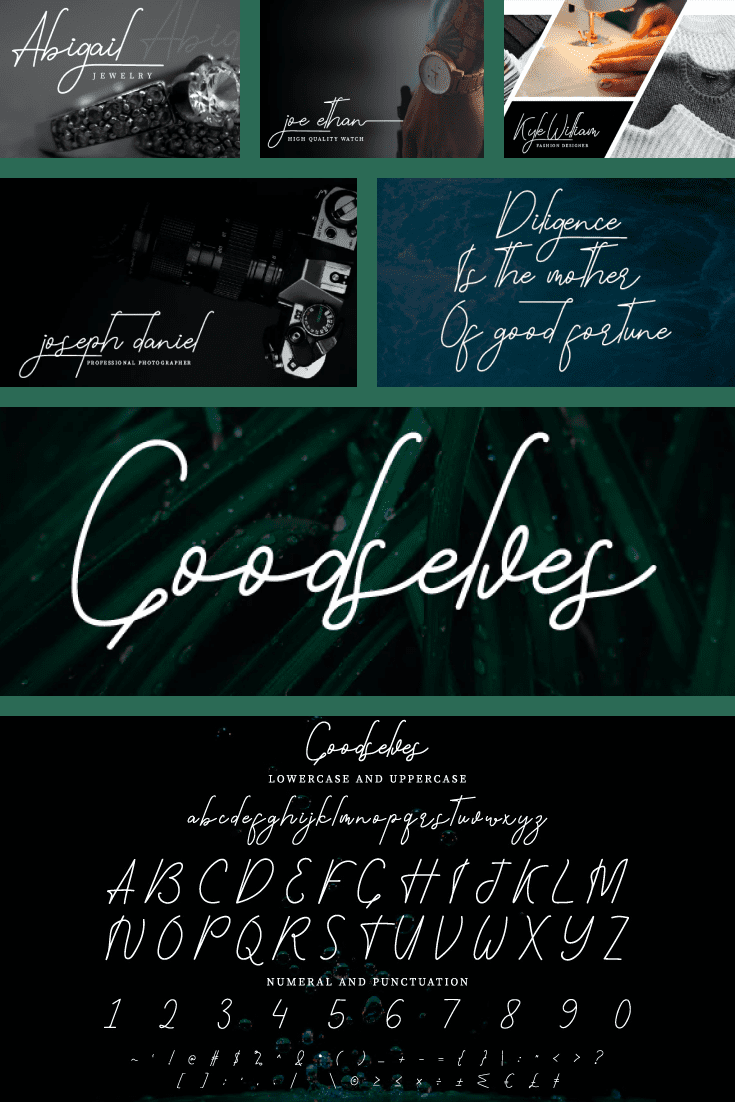 Price: $10
Ninabell Font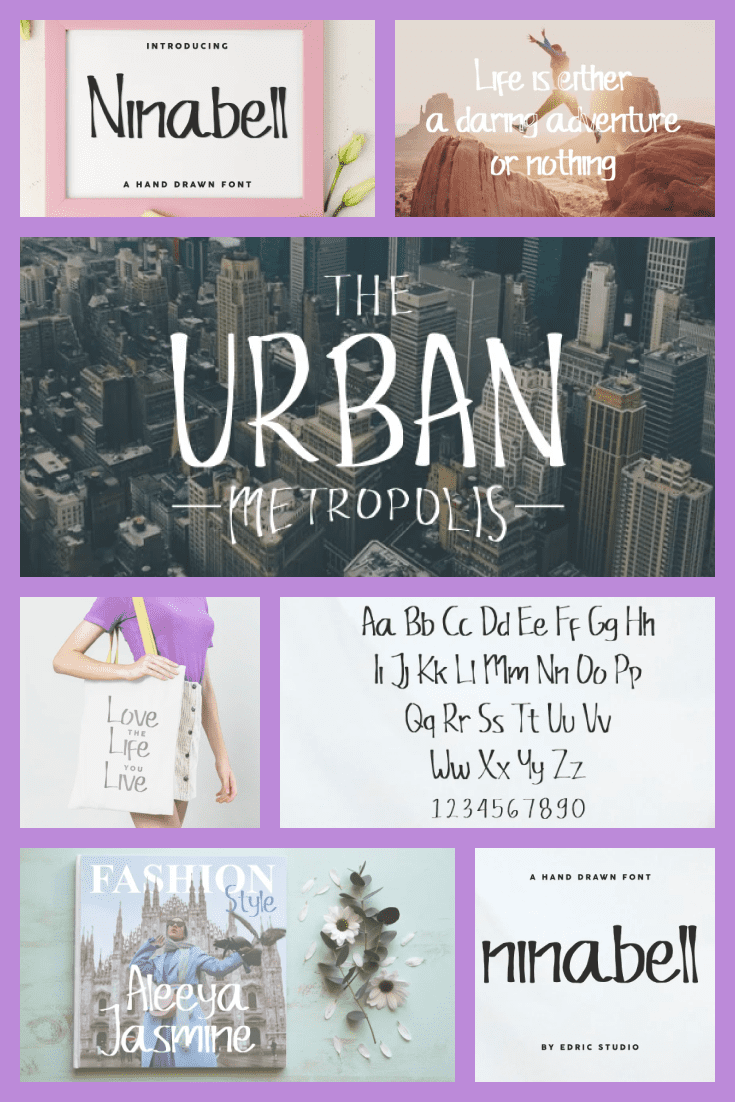 Price: $7
Cloverist Font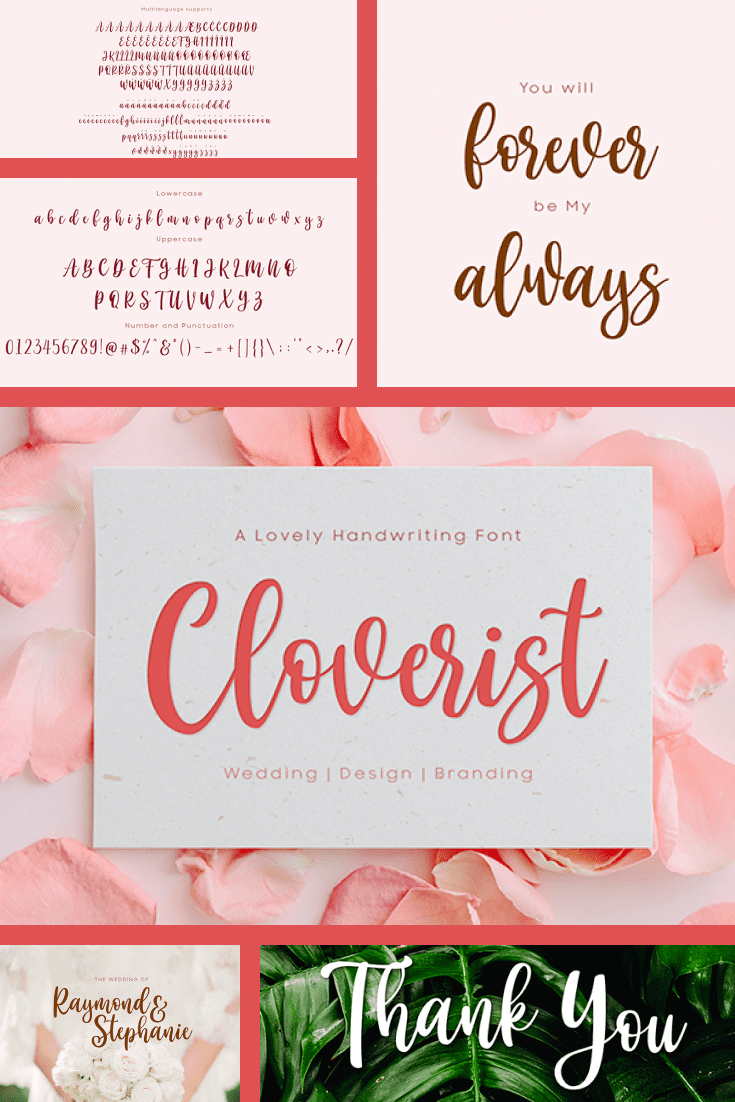 Price: $19
Molliare font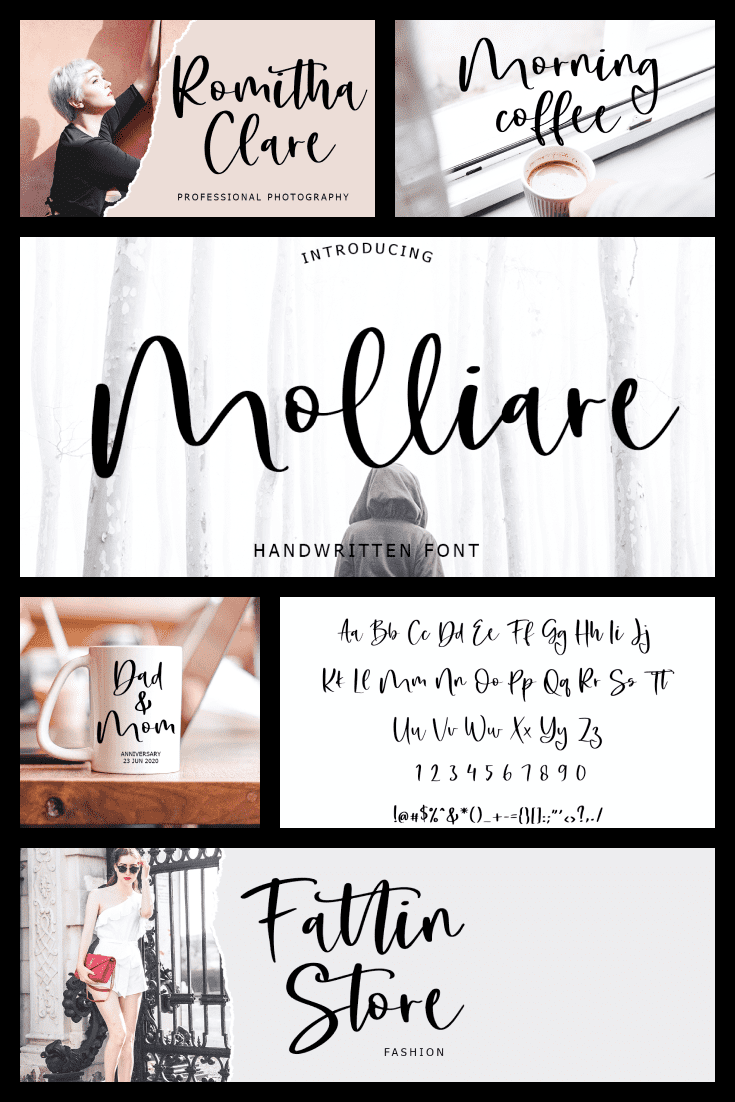 Price: $9
Cute Bullet Journal Fonts You Cannot Miss
Crawley Textured Font Duo + Illustration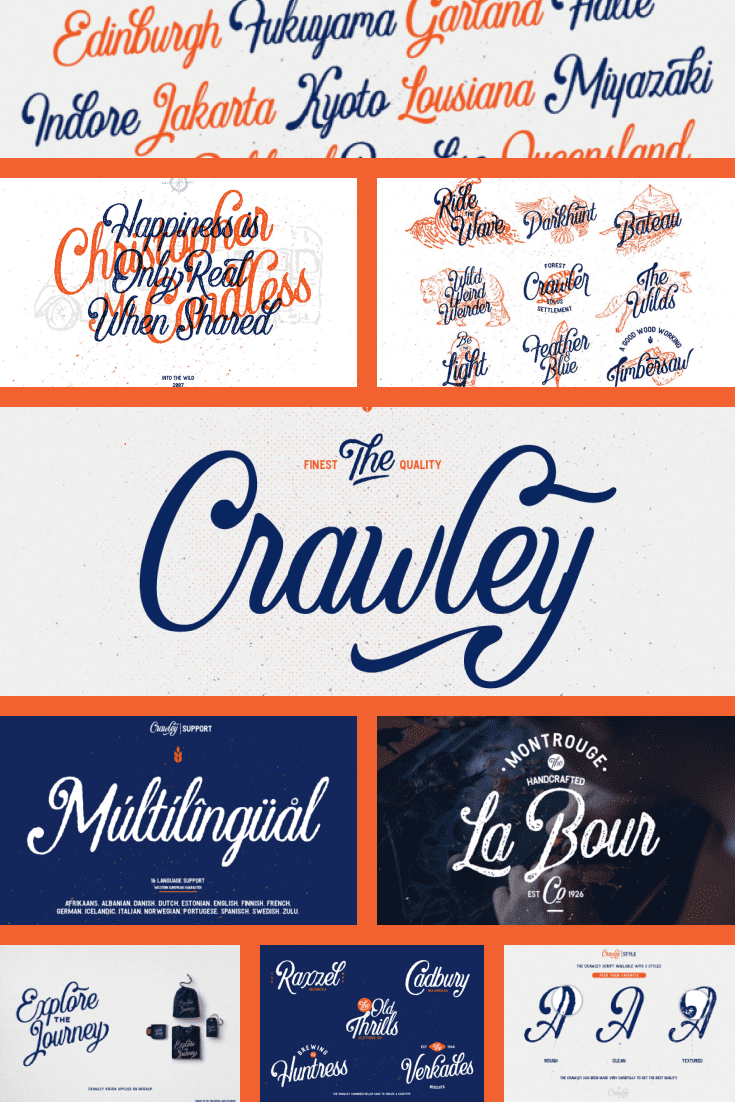 Price: $8
Great March Font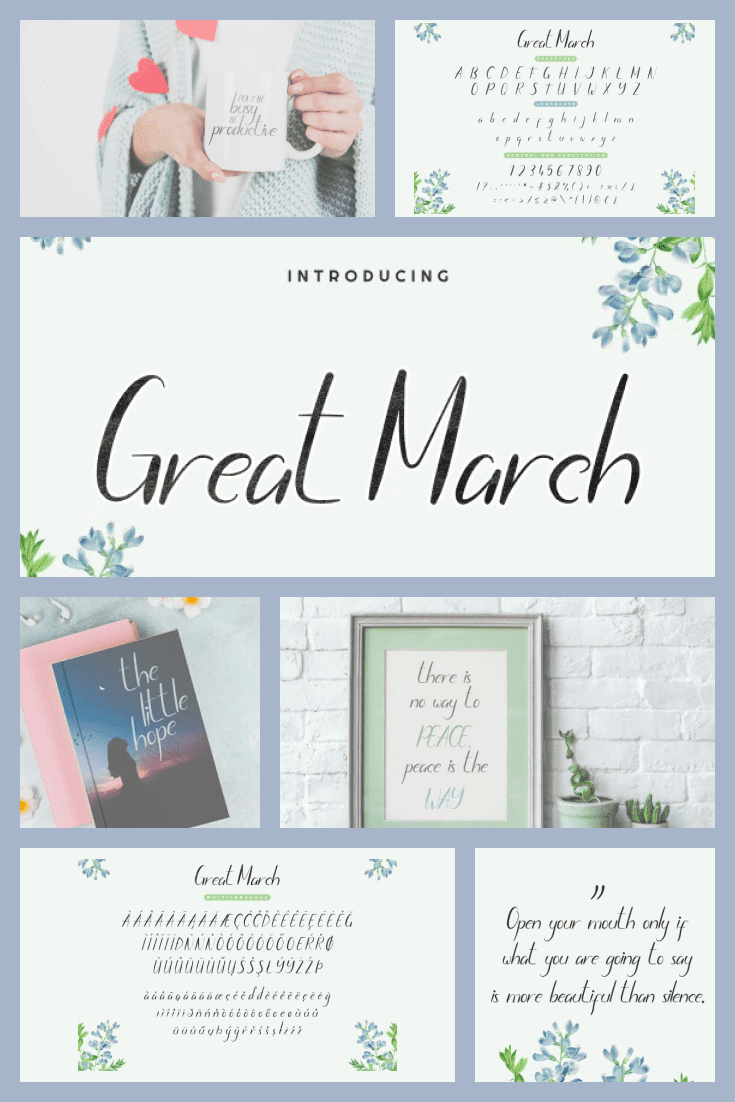 Price: $9
October Font – Bold and Bouncy Handwritten Script Font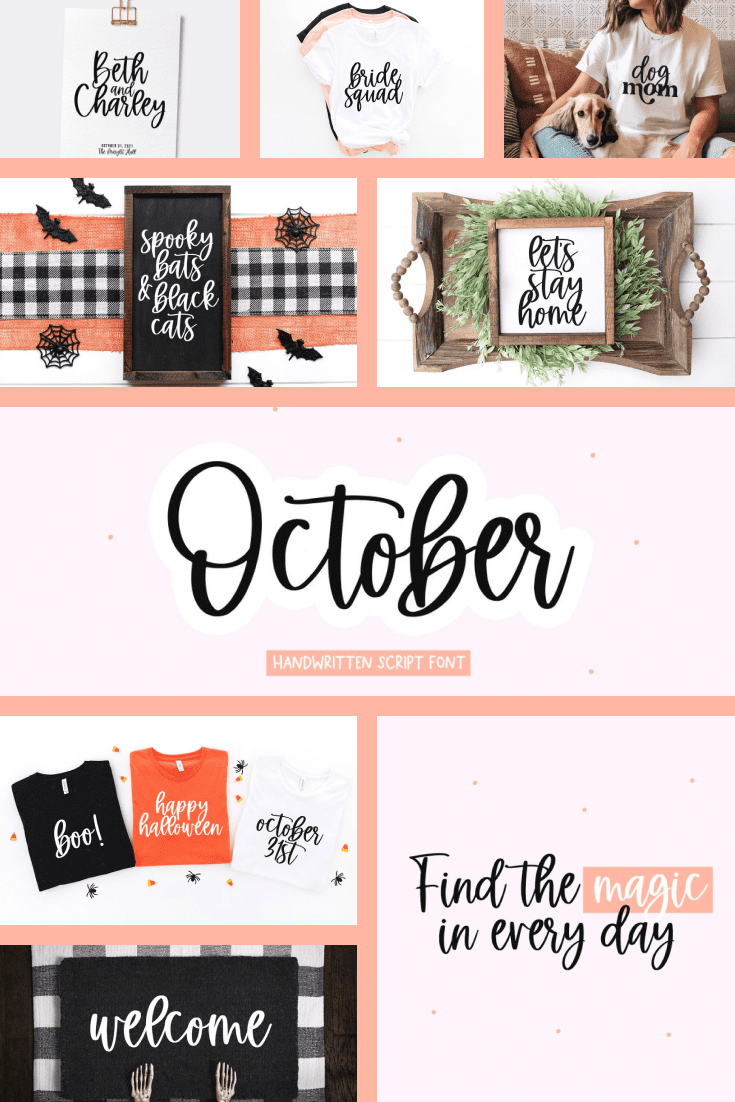 Price: $5.50
Rae Dunn Font Svg, FARMHOUSE FONT SVG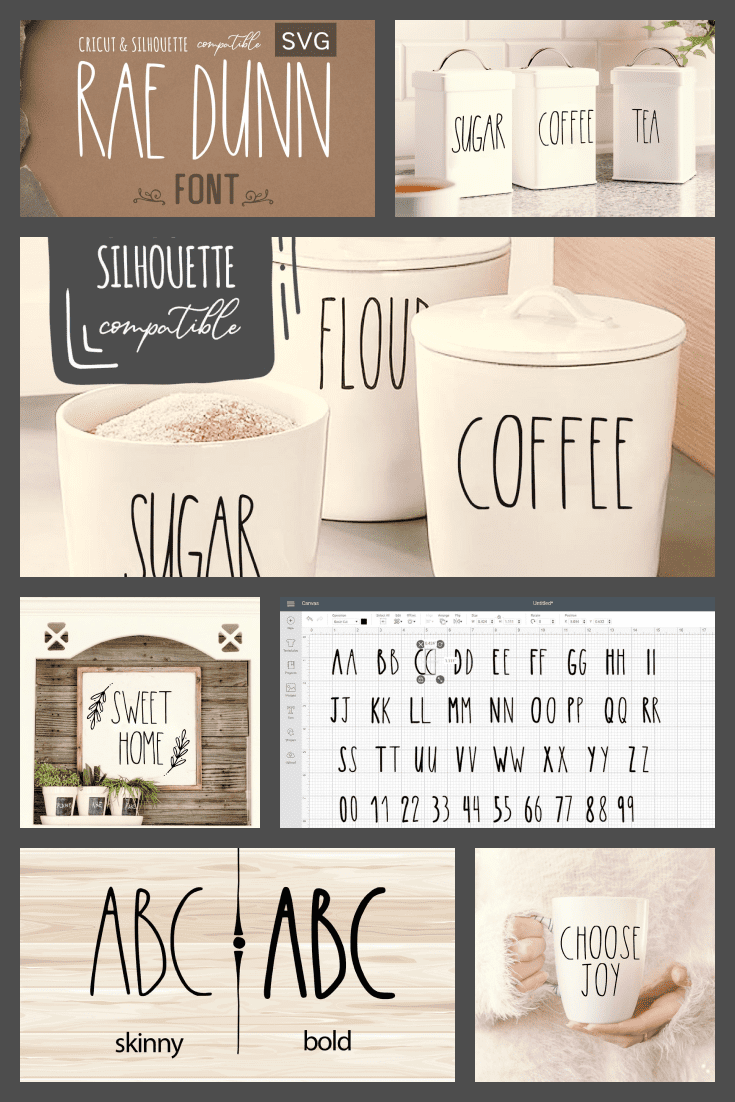 Price: $2.55
Bouncy belle – a Handwritten font duo with Print Uppercase and Script Lowercase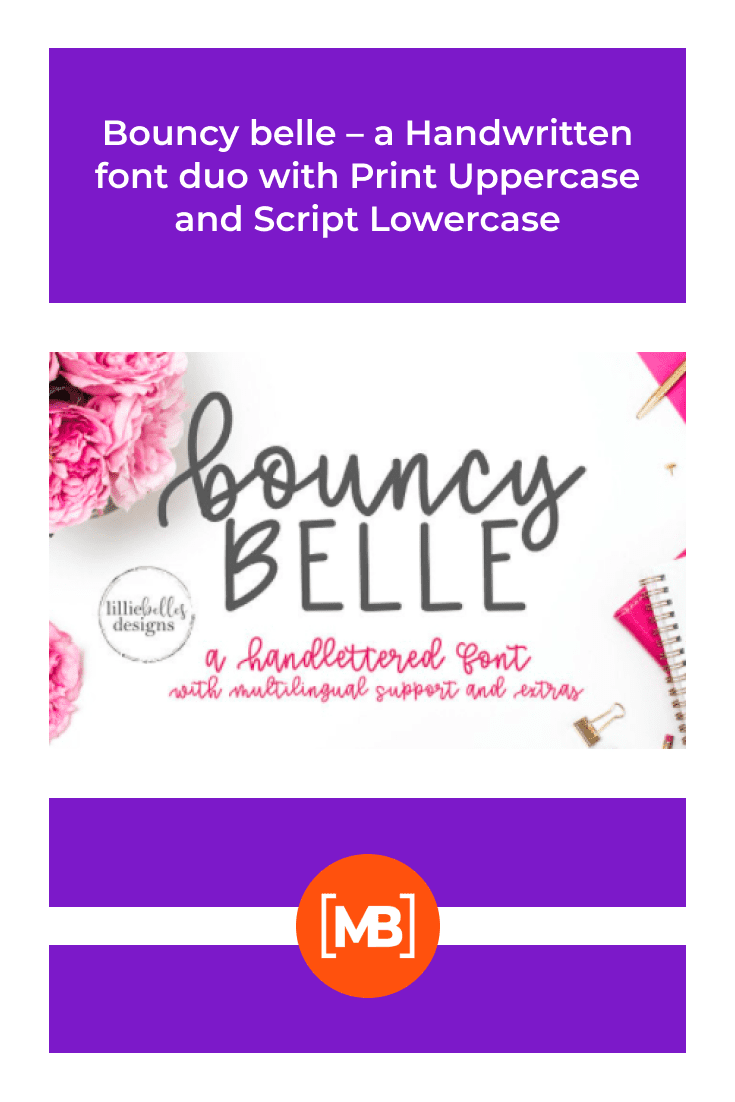 Price: $12
Handwritten font, Calligraphy font, Script font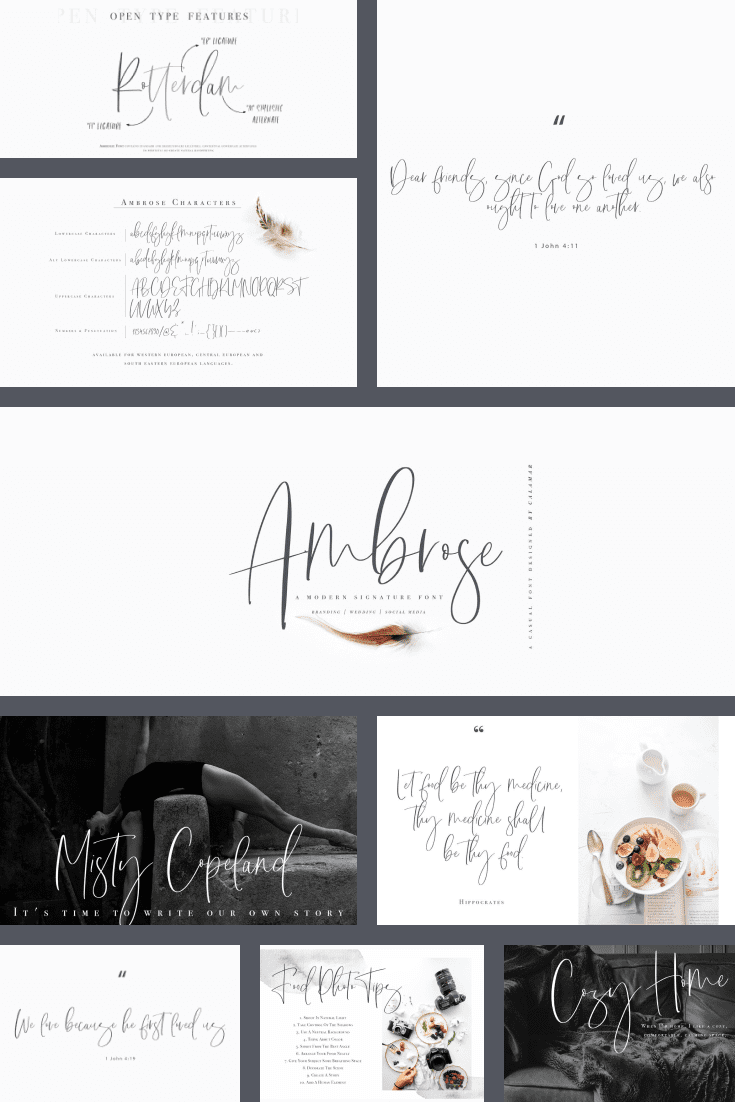 Price: $9
Khatija Calligraphy by 38-lineart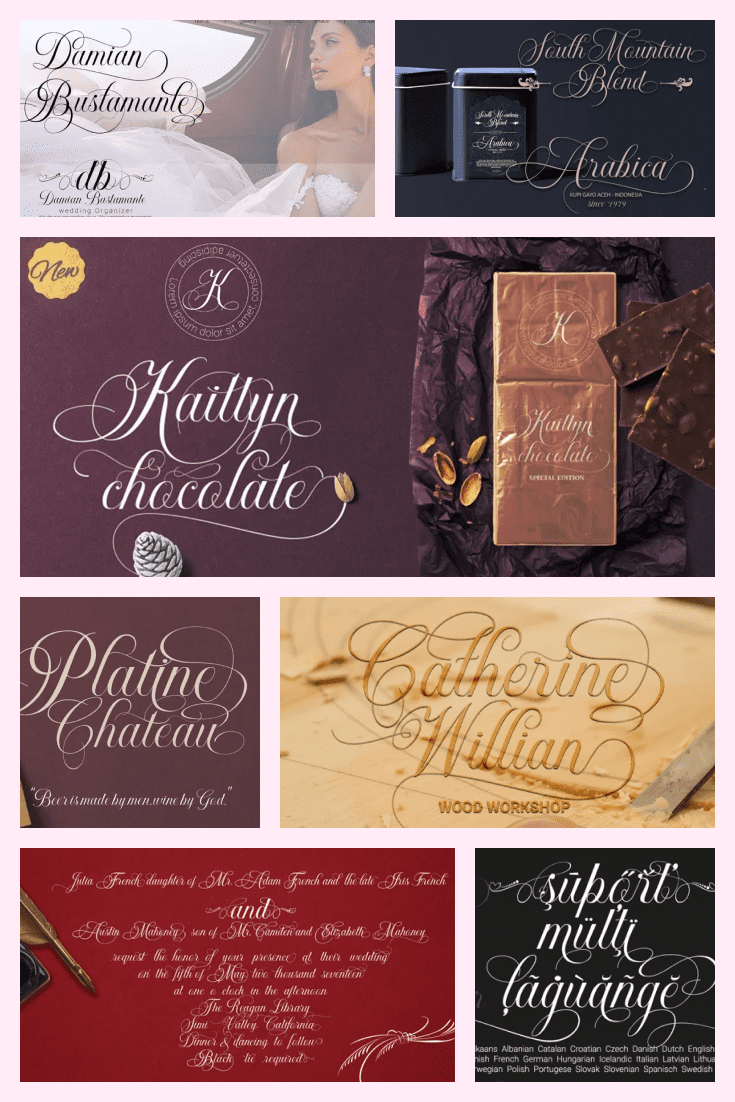 Price: $16.80
Desirable Calligraphy by Alcode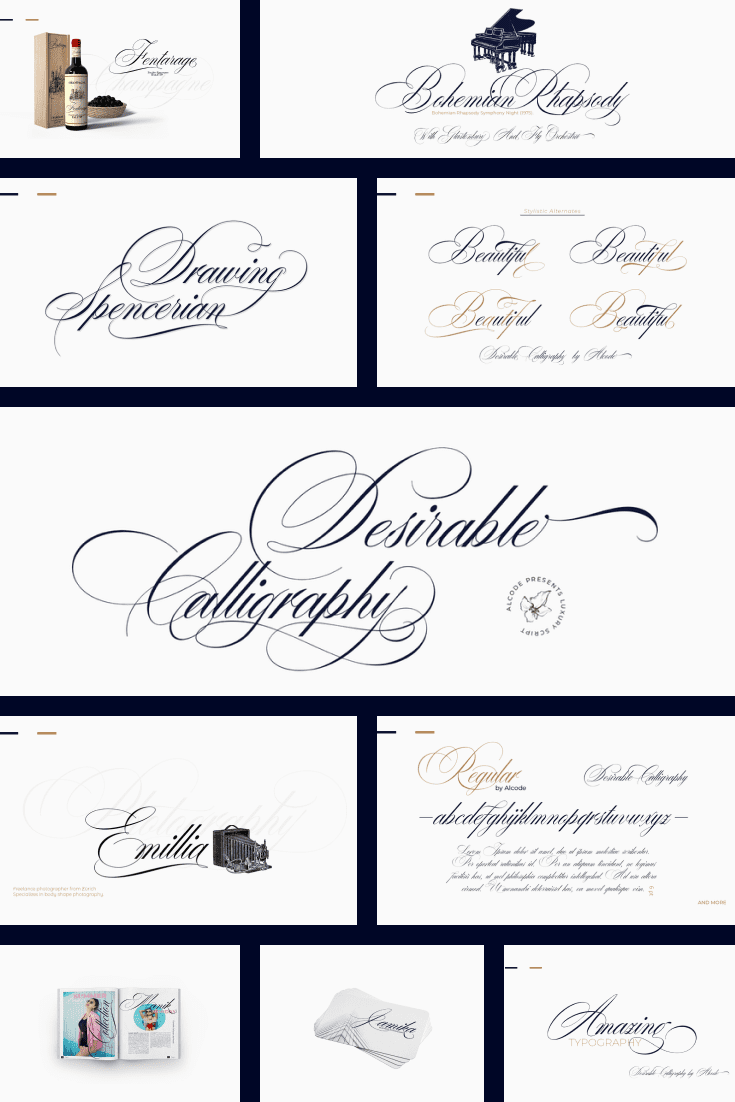 Price: $23
Seila by Papermode Co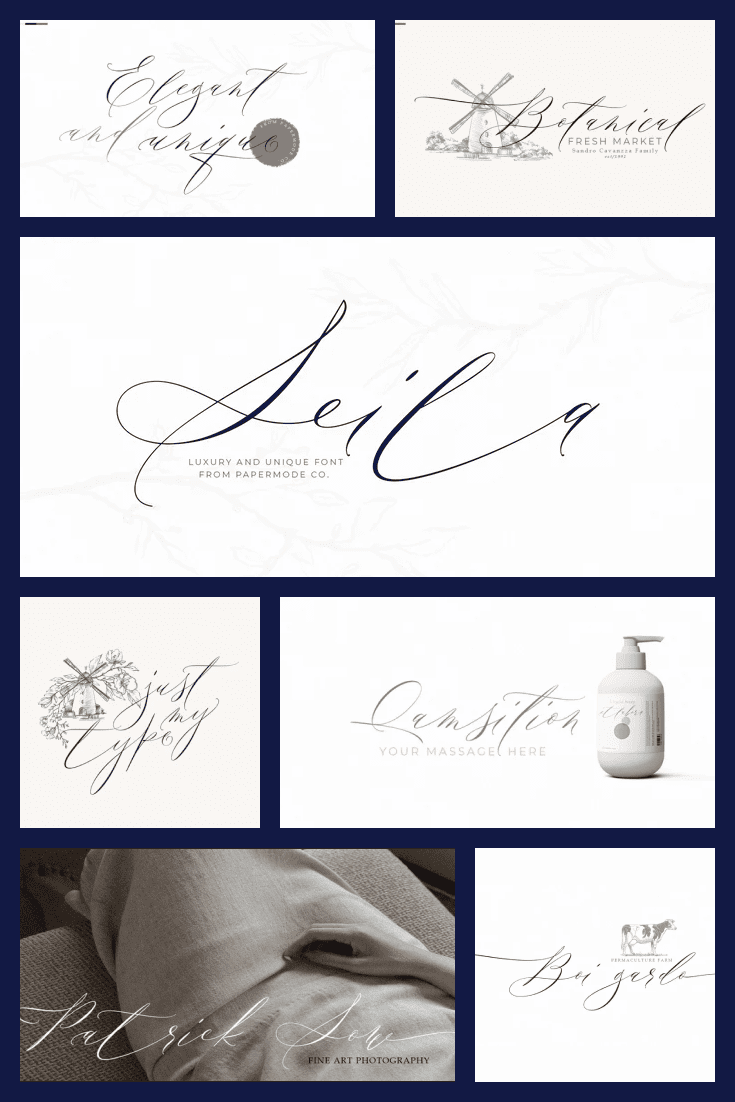 Price: $20
Intro Rust™ by Fontfabric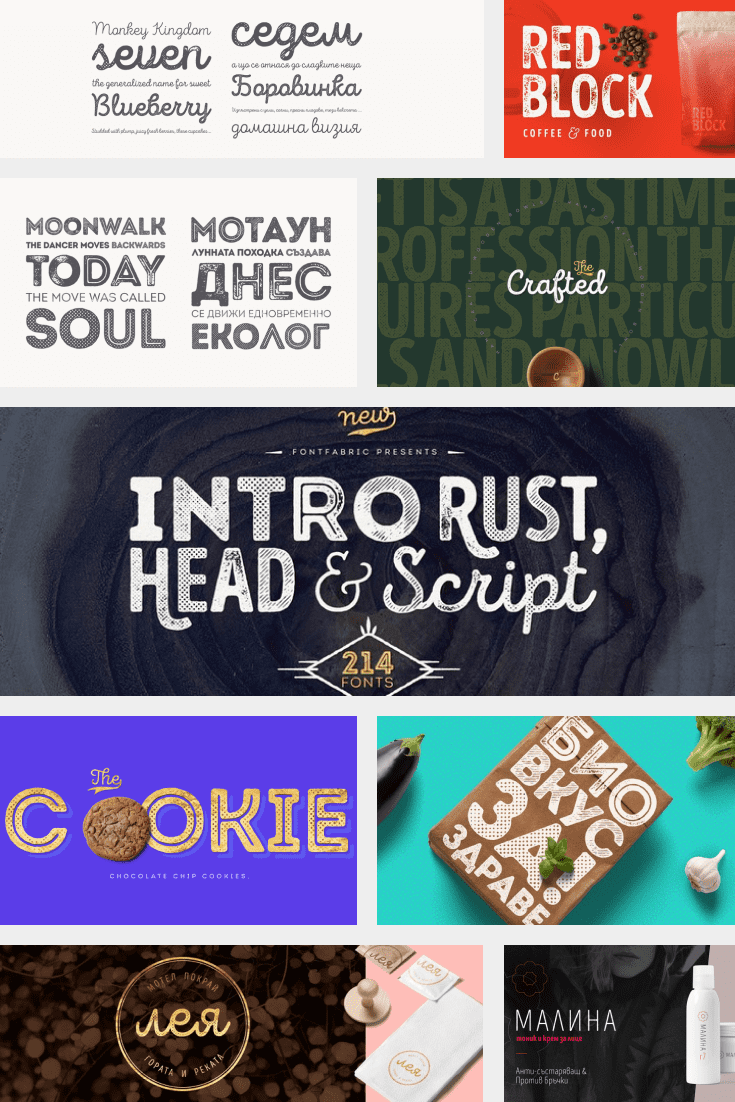 Price: $29 – $279
All Round Gothic by Dharma Type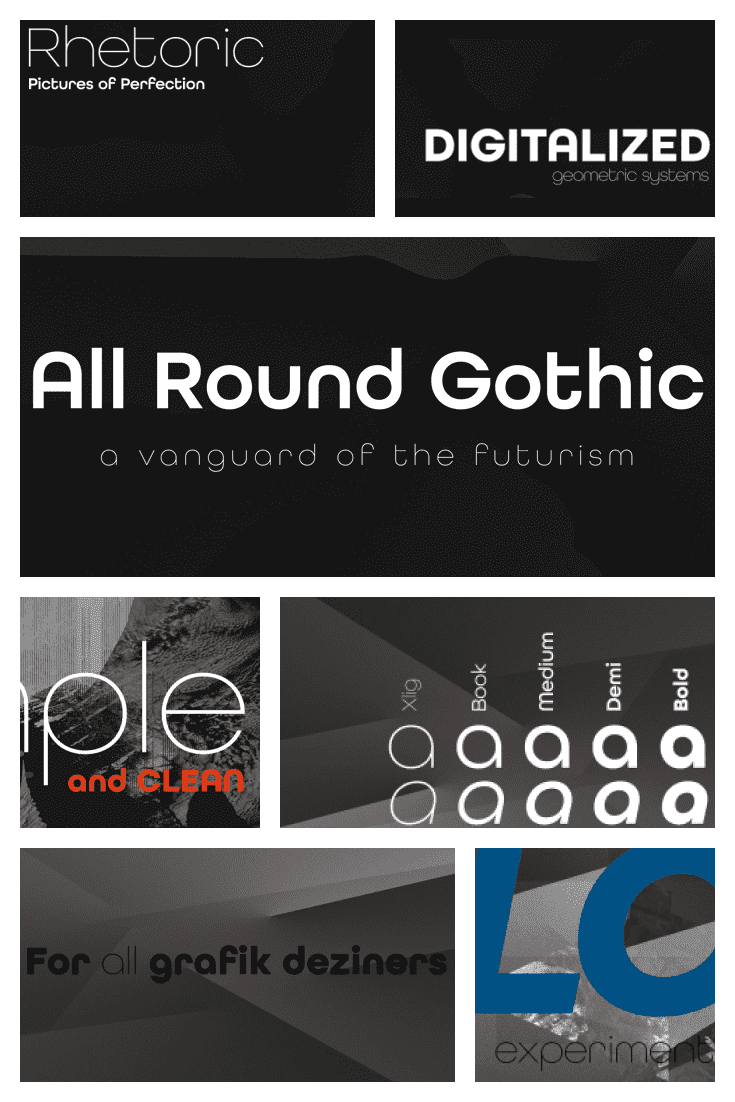 Price: $24.99 – $199
Strain Calligraphic Handmade Typeface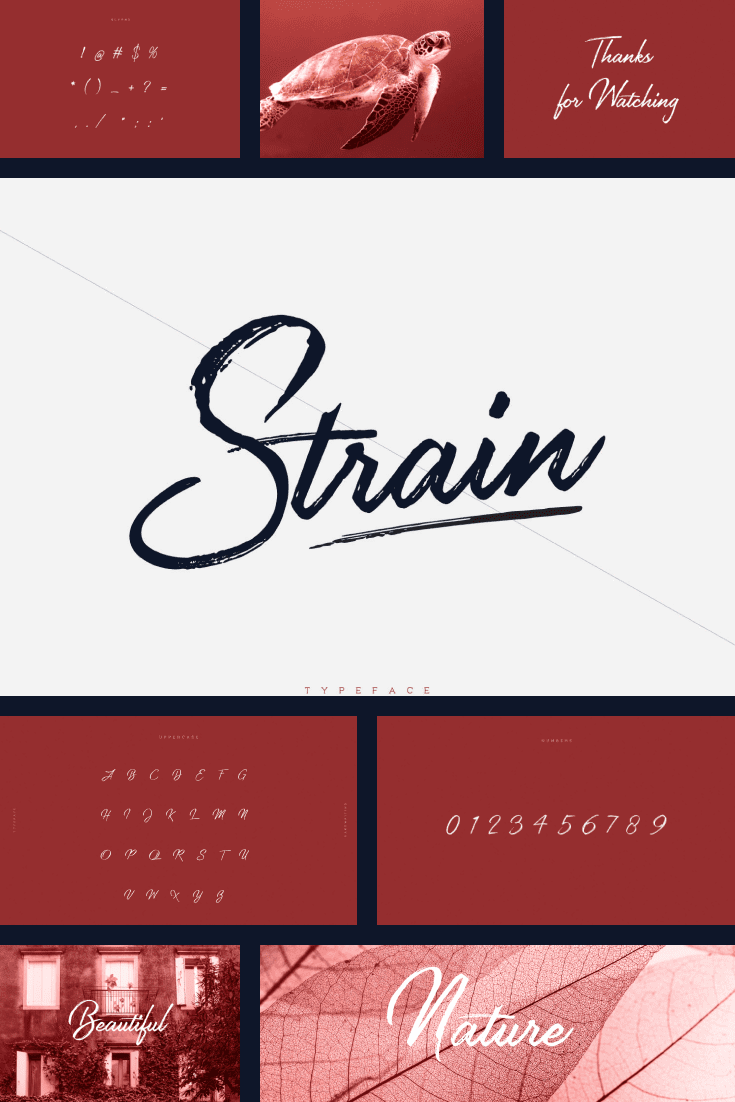 Price: available with Graphic Pear premium subscription
Flow Brush Font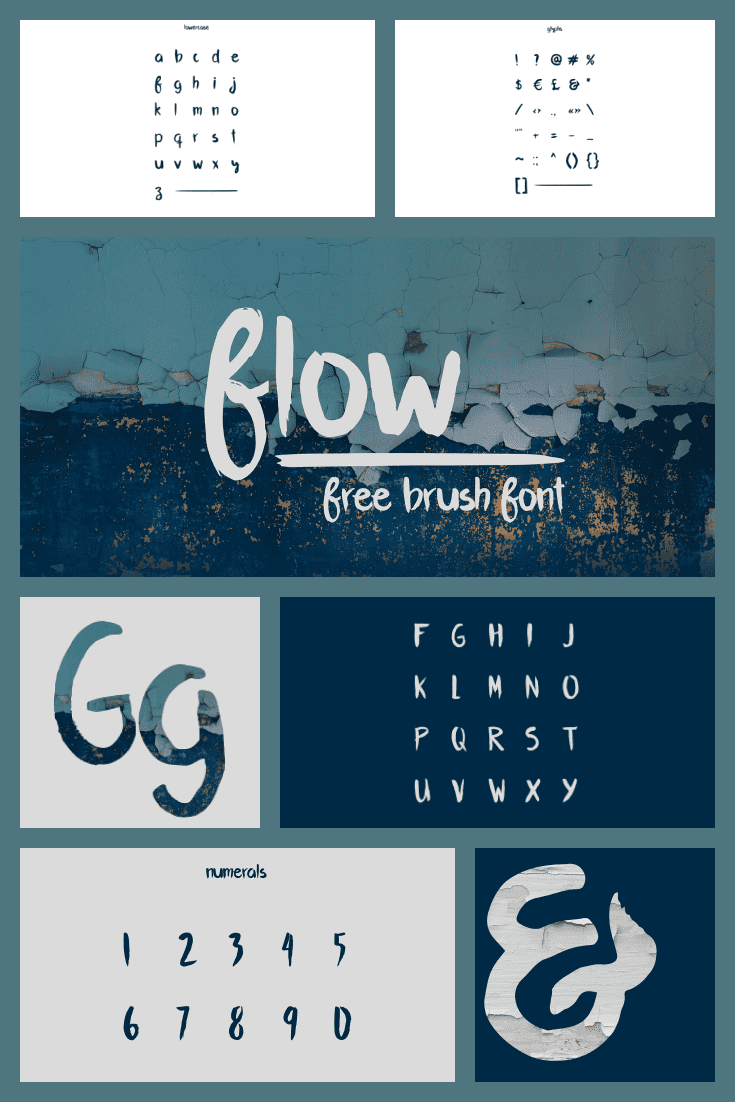 Price: available with Graphic Pear premium subscription
Hamillton Signature Script Typeface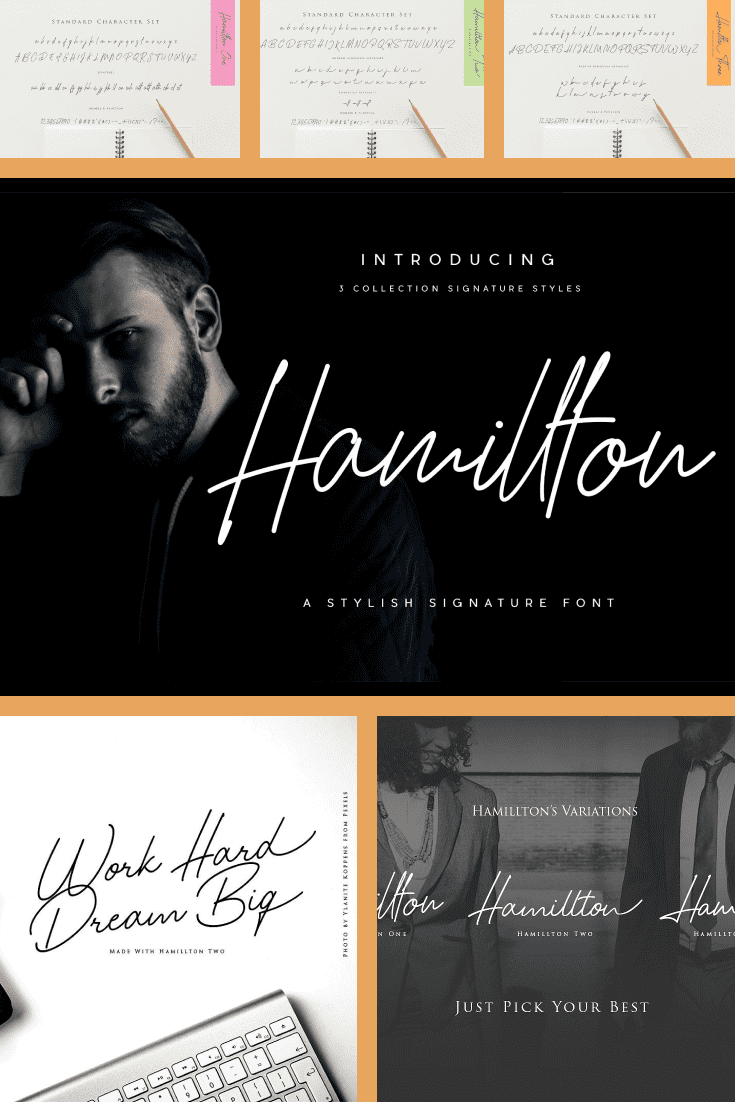 Price: available with Graphic Pear premium subscription
StayRock Script Font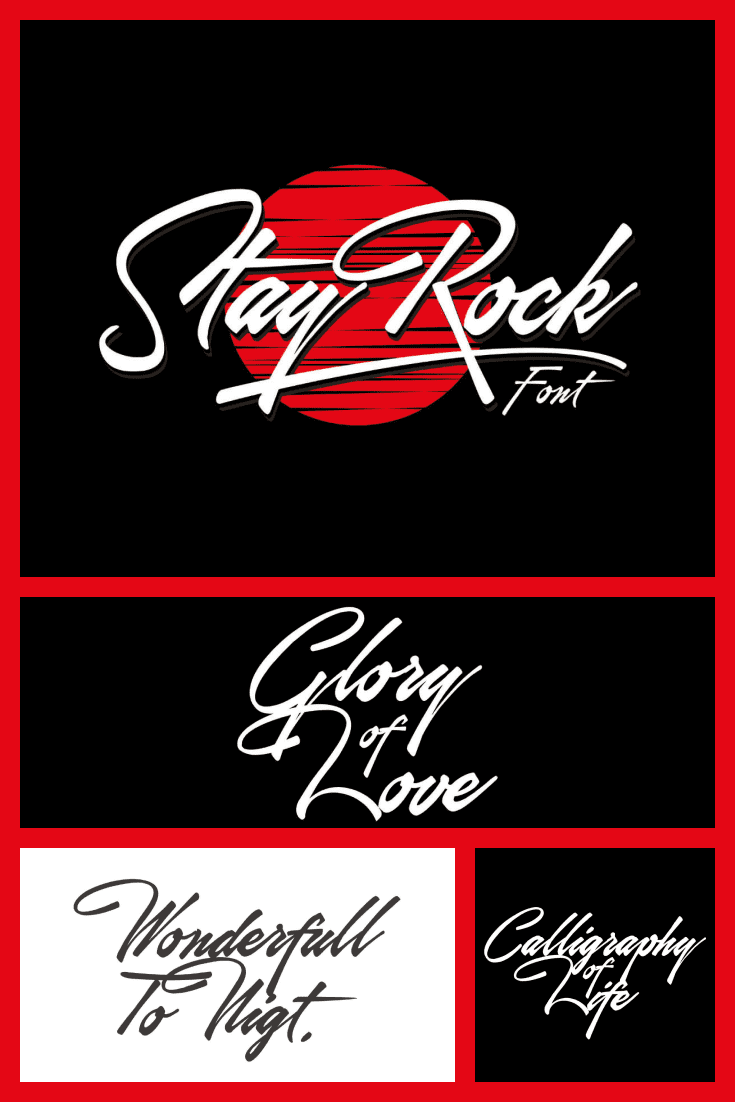 Price: available with Graphic Pear premium subscription
Whestley Line Hand-lettering Signature Typeface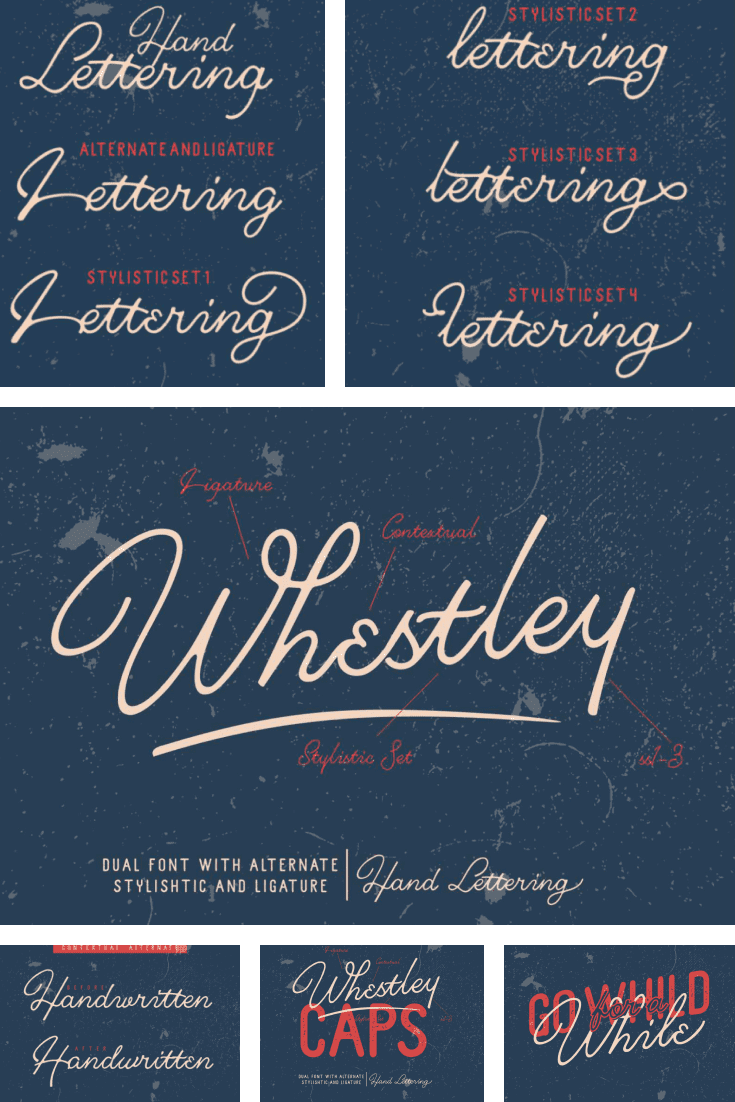 Price: available with Graphic Pear premium subscription
Review of 35 Beautiful Bullet Journal Fonts for Your Inspiration
Typography is the strongest tool for expressing your ideas, messages, and mood. Choose your favorite bullet journal title fonts to add live emotions to your writing.
This very font duo has the superpower to make any website super fancy and memorable. Both fonts within this little bundle are elaborate and minimalistic at the same time, so if you are looking for such a combo, just stop and take a closer look at this baby.
The package includes:
Stylistic Set.
Swashes.
Alternates.
Ligatures.
Bonus Ornament.
Modena Handwriting Font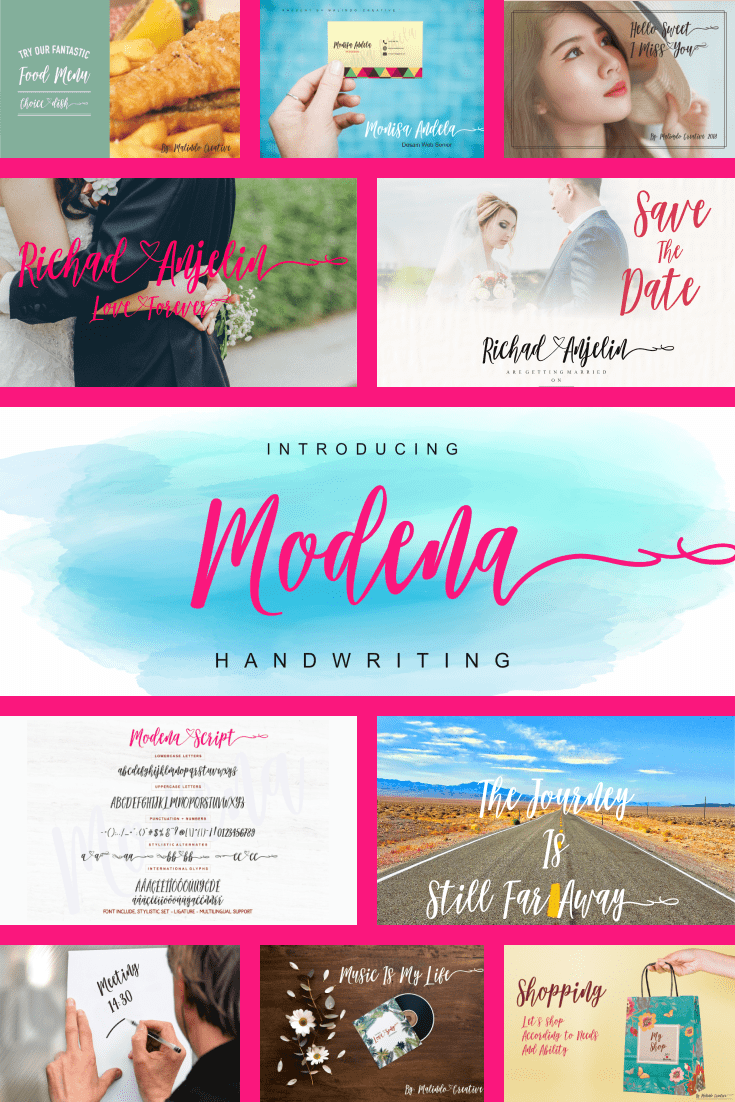 Price: $5
Modena is another lovely option on our list. The font will work great for a vast variety of websites from personal blogs to online stores. Modena is a great handwriting option that will no doubt make any site shine bright, so without further ado, stop whatever you are doing now and check out this cutie.
The package includes:
Language Support.
Stylistic Alternatives.
Figures & Punctuation.
Handwriting Font "Balltimore Sans"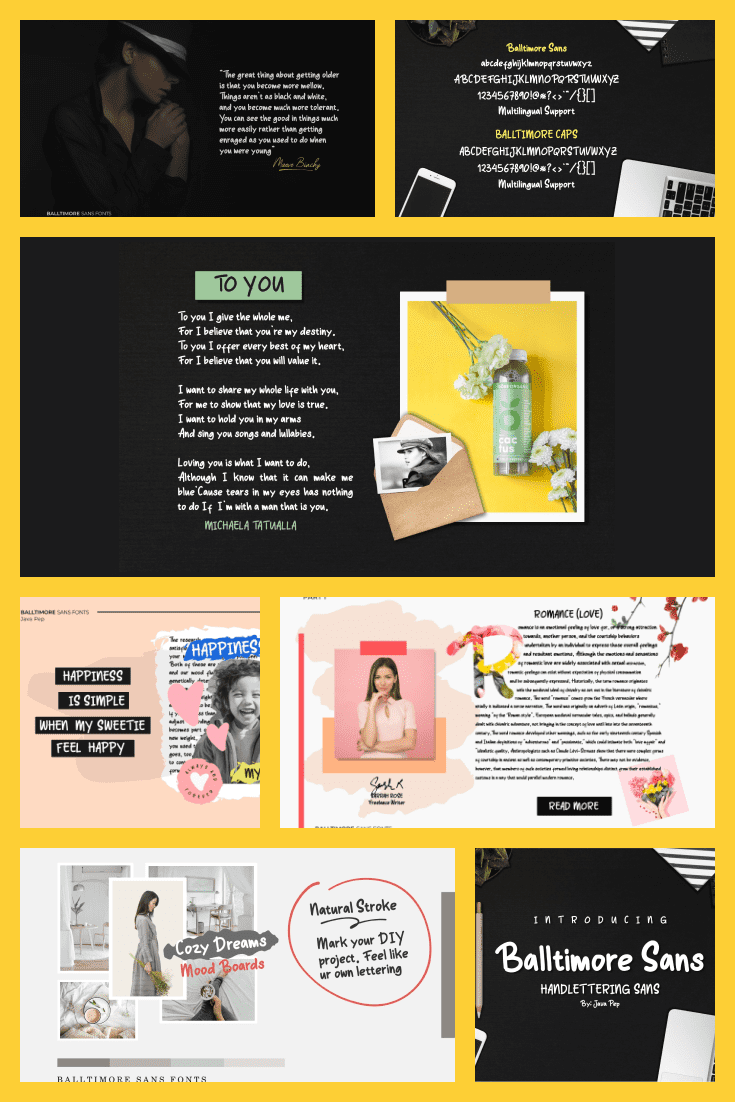 Price: $3
Balltimore Sans is a perfect option for the websites with a cute DIY vibe. The font is simply adorable and will fit your blog or personal website. Besides, it has two variations – Balltimore Sans and Balltimore Caps, which gives you more opportunities to use it in your projects. Well, stop hesitating and give this beauty a chance to prove itself to you.
The package includes:
Multilingual Support.
Numeral.
Punctuation.
Uppercase.
Rounded Sans Serif Font Bosnia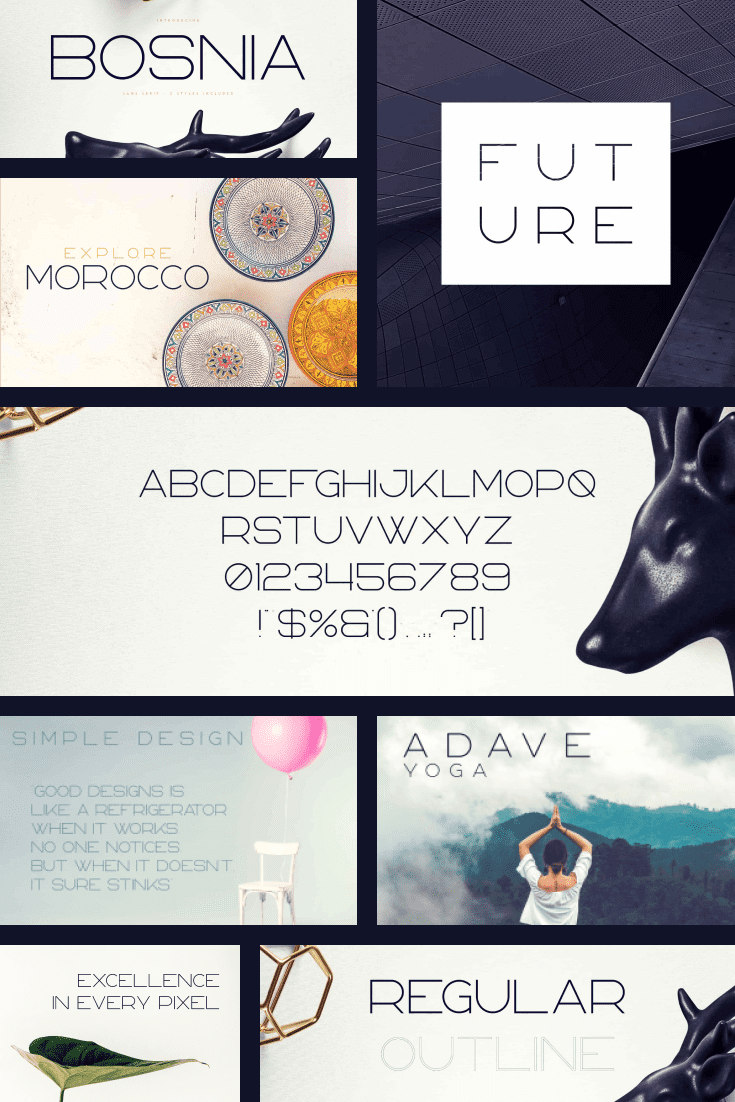 Price: $15
If you are looking for something truly special and out of the ordinary, then Rounded Sans Serif Font Bosnia is the perfect font for you. The font is designed according to the latest trends and will flawlessly look on pretty much any website. Well, just go ahead and take a closer look at it.
The package includes:
Outline.
Regular.
Punctuation and Symbols.
Explorers Serif Font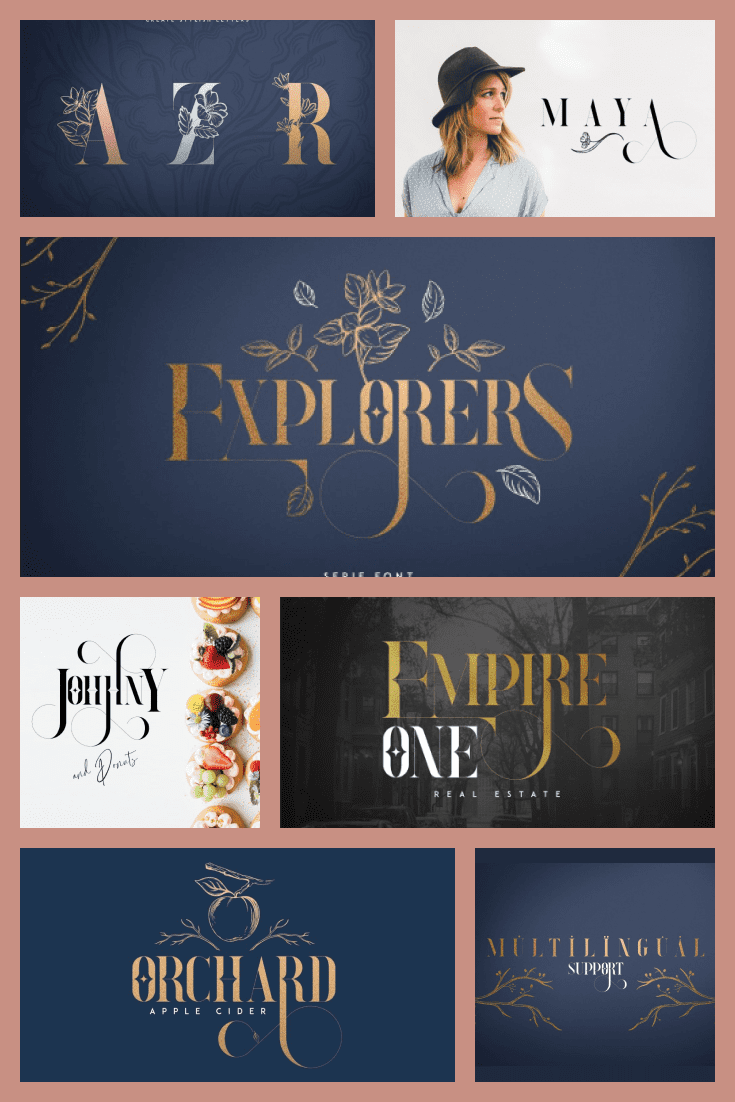 Price: $19
Another great and super trendy option on our list is this very font. Explorers Serif is an elegant and classy choice for a corporate website, jewelry store, or personal blog. The font is eye-catching and will guarantee that your site will stand out. So go ahead and take a good hard look at this truly royal and sophisticated font.
The package includes:
Alternative Glyphs.
24 Nature Elements.
20 Photoshop styles in asl format.
Northwell Font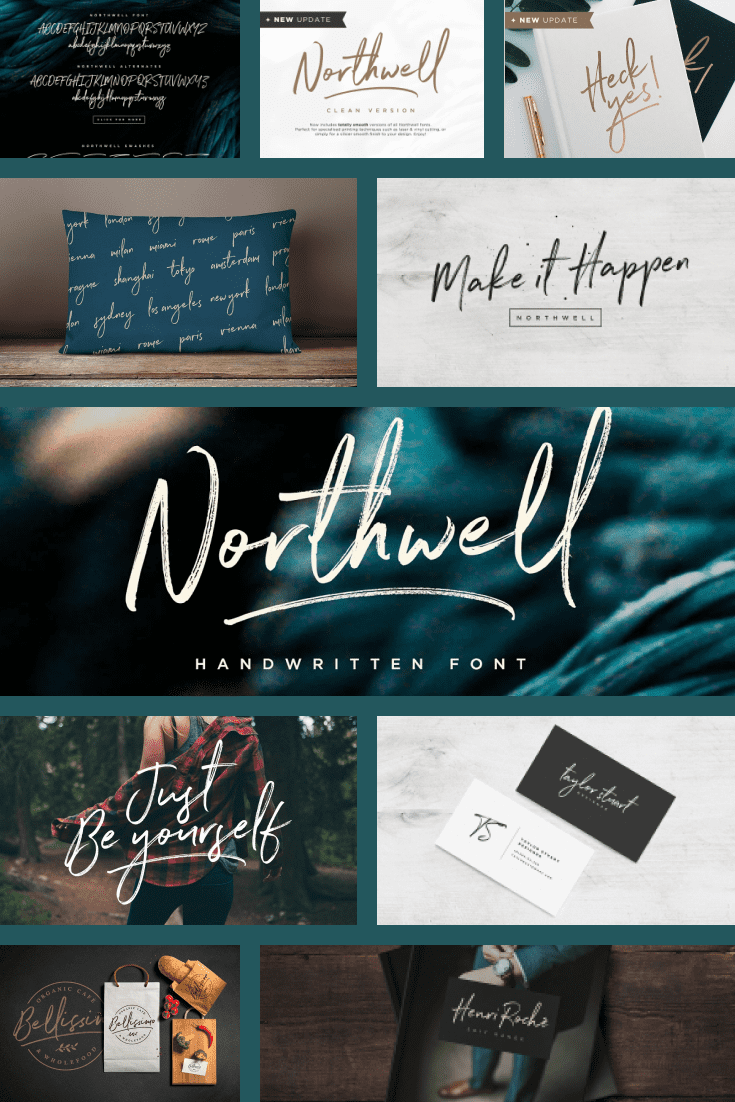 Price: $18
One more lovely font that I'm going to share with you is this gorgeous queen. Northwell is perhaps the best choice for a stylish clothing online store or fashion blog. Its simple yet fascinating design will just mesmerize you and your website's visitors. Well, why don't you give it a shot then?
The package includes:
6 Font Files.
Multiple Languages Compatibility.
Ligatures.
Madina Script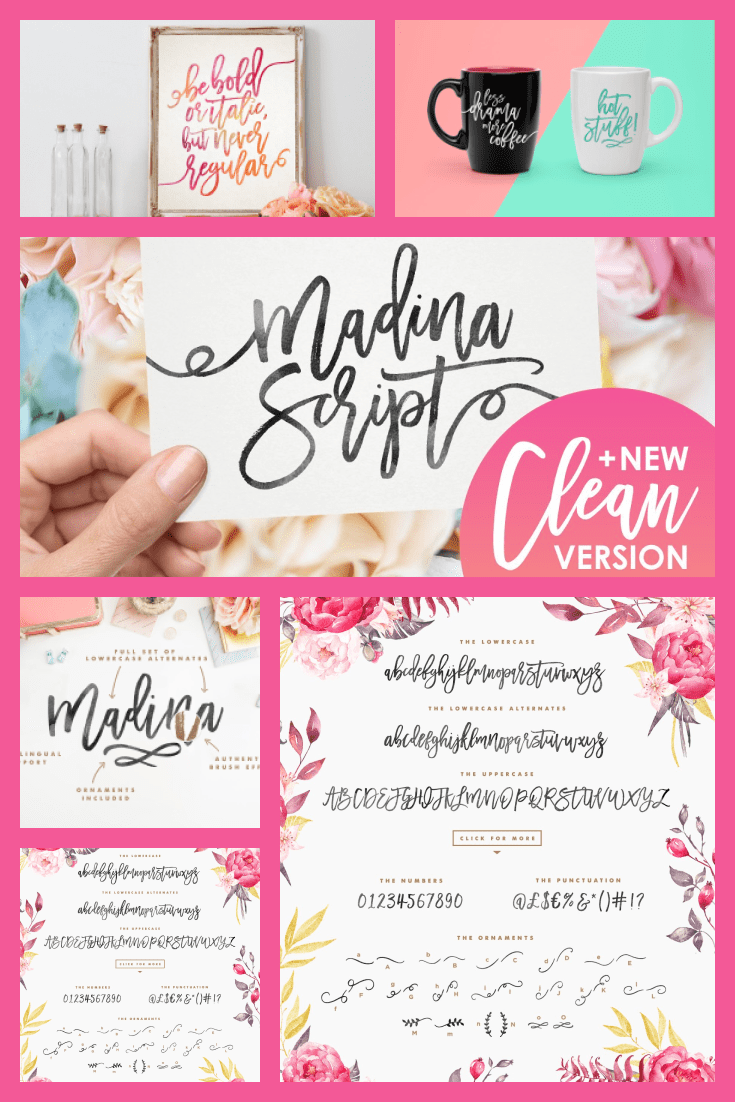 Price: $18
Madina Script is another elaborate and flawless handwriting font on our list. Such a lovely script will work the best for feminine blogs about makeup or fashion, a variety of online stores, and even some corporate sites. The font will give a website a cute vibe and will no doubt attract more visitors to it. So you definitely want to consider getting Madina Script.
The package includes:
Madina Clean, Madina Clean Alt & Madina Clean Ornaments.
TTF & OTF Formats.
Multilingual Support.
ALEX BRUSH from FontSquirrel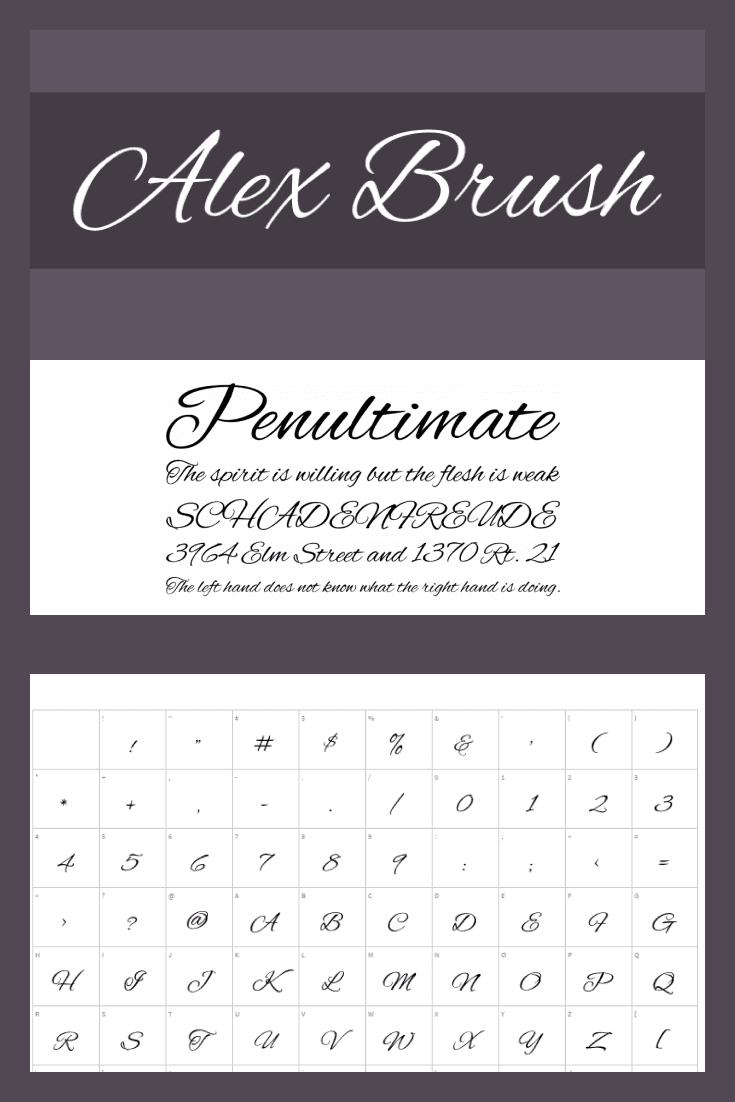 Price: free
ALEX BRUSH is a cool free option that will work perfectly for those of you who would like to get a lovely font for their projects for free. ALEX BRUSH is a comprehensive handwriting font that will decorate any type of website. So why don't you actually give it a try? It's definitely worth a shot.
Vogue from DaFont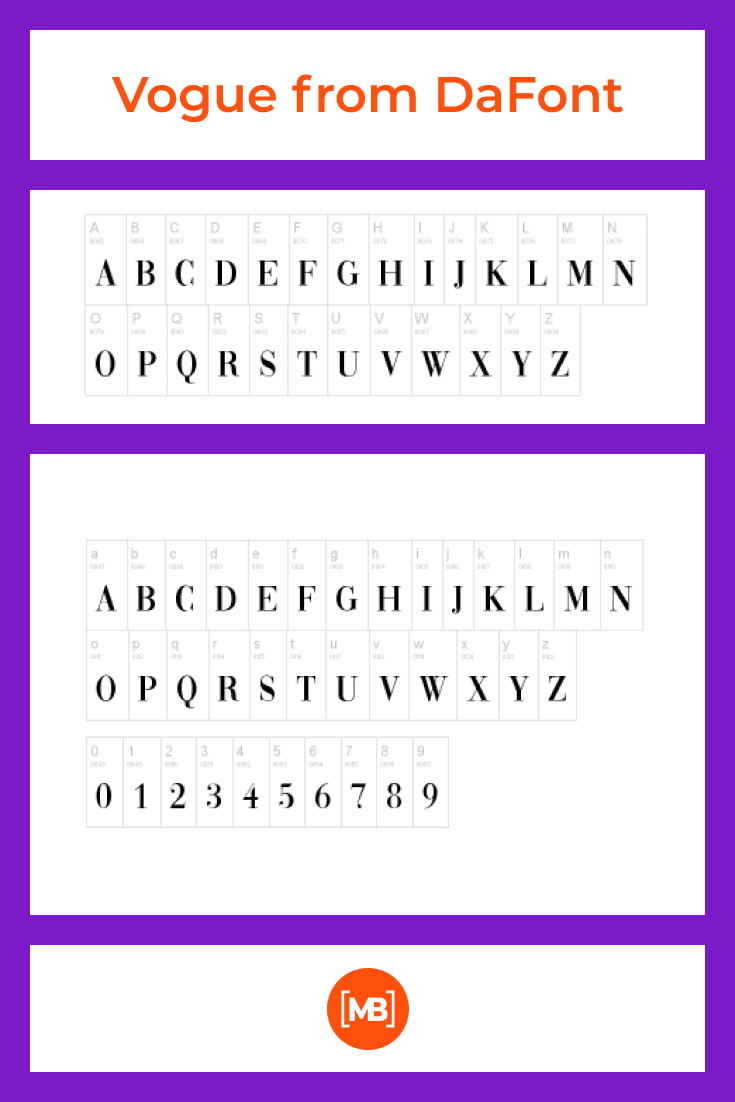 Price: free
Another free yet super classy and sophisticated choice is Vogue from DaFont. Such a trendy and mesmerizing script will surely make your news blog, corporate website, or online shop the one and only. Well, just go ahead and get this gorgeous baby.
36 Days from FontFabric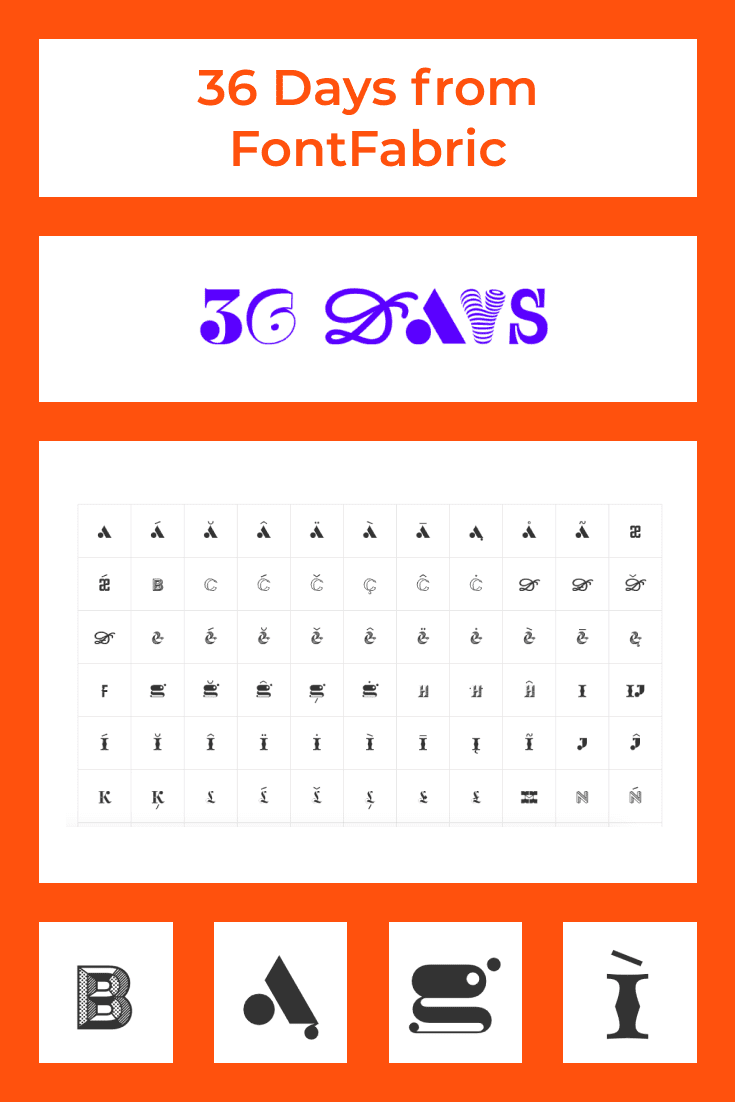 Price: free
One more stunning free option that you will definitely fall in love with – 36 Days is the very font that will bring your website to the top. So follow the link above and download this cutie because it's totally worth it.
Presley Slab from Adobe Fonts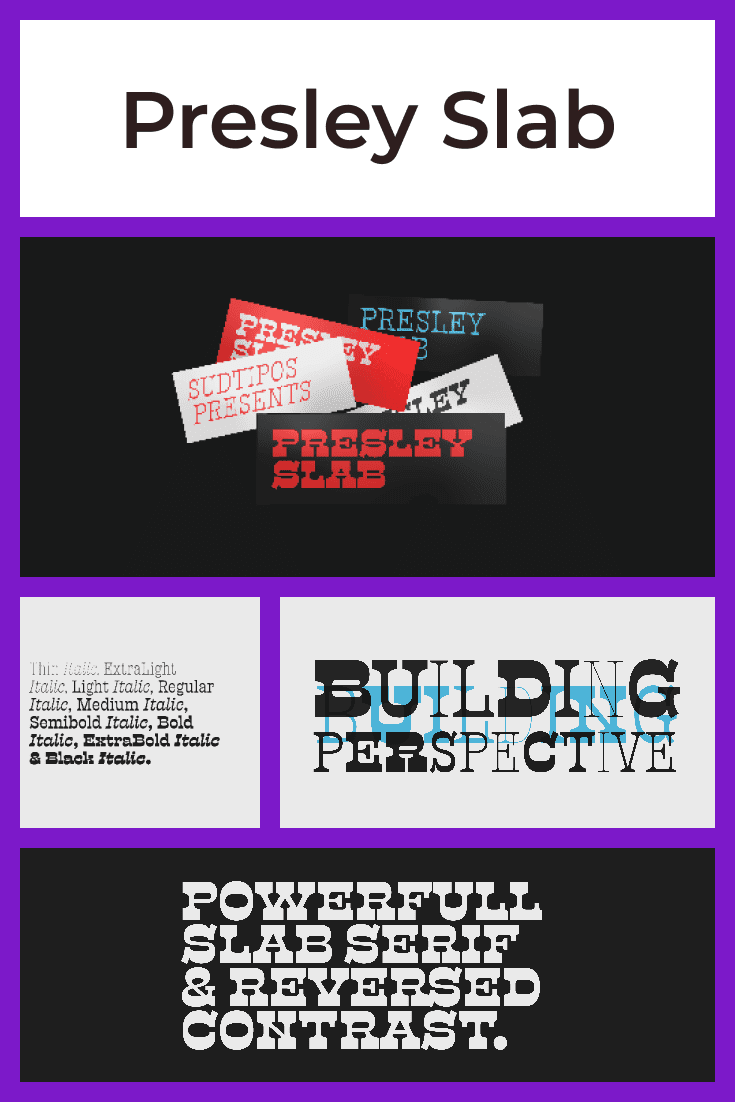 Price: free
Presley Slab is a simple, minimalistic but at the same time eye-catching and even hypnotizing font, which has that magic power to turn a simple website into a stunning one. The font is completely free and has lots of variations, among which you will surely find the one you need. Well, just go and grab it.
Devie Regular, Italic & Bold Font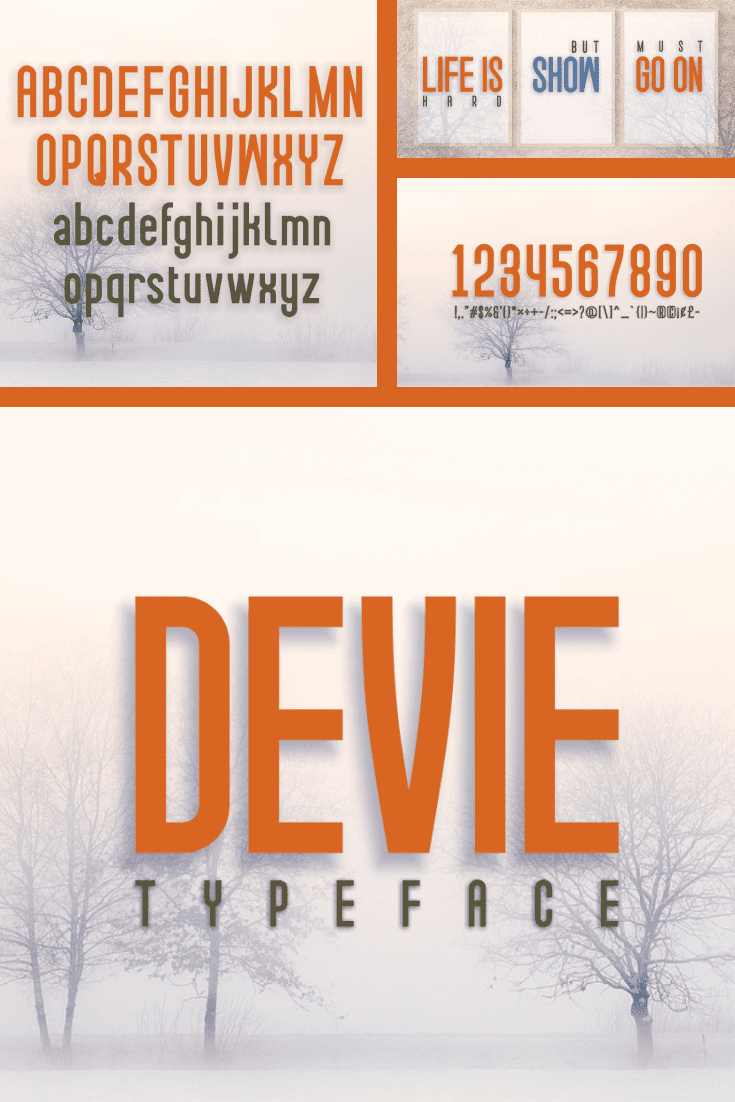 Devie is modern and multipurpose font and you can use it for various texts, signs, and decorations. Due to its neutral and elegant form, Devie is able to adopt the style of background. Moreover, according to the color tones, it can create a design mood by itself.
This package includes:
Uppercase.
Lowercase.
Figures and punctuation.
Steampunk Alphabet Font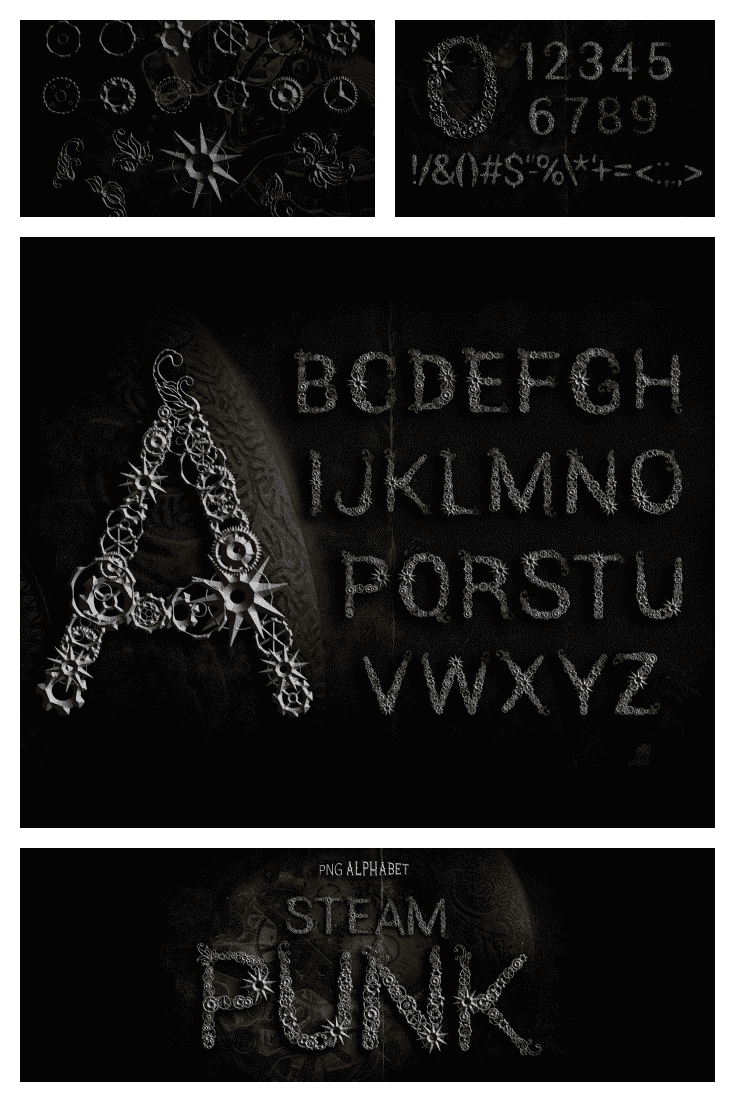 Steampunk will be a great option in case you need something original with metal in it. It is eye-catchy and due to this feature, you can make more users read your texts. You can also use it for various banners, advertising signs and even decoration of a fairytale story. Just use your imagination and boost your traffic with Steampunk font.
This package includes:
Uppercase.
Lowercase.
Figures and punctuation.
57 .Png files.
+ Bonus 18 Photoshop Brushes.
Older Historica Signature Type Font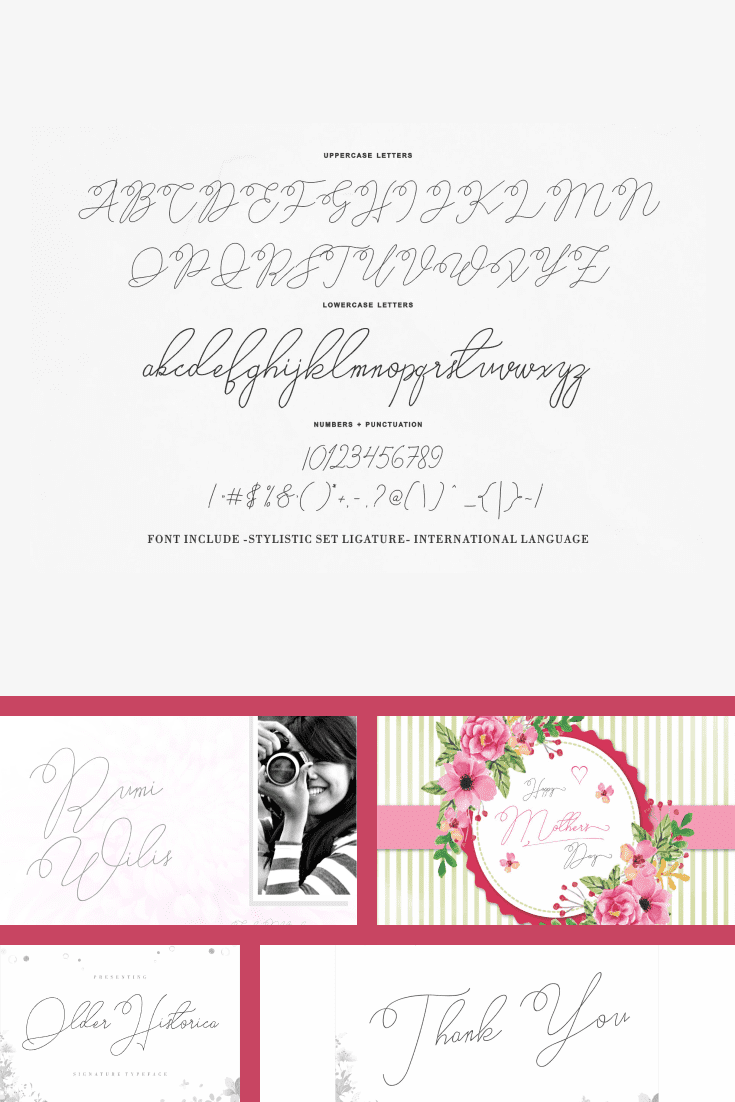 We also have a signature fonts. Designed to be eye-catchy and elegant Older Historica will be a perfect addition to any text. It looks great as a sign at the end of the text, as a heading of text or as a banner element. Yet, you can also make a full text to make it a design feature.
This package includes:
349 symbols.
Uppercase.
Lowercase.
Figures & Punctuation.
Stylistic Alternatives.
Ligatures.
Language Support.
Mandalica Calligraphy Handwriting Font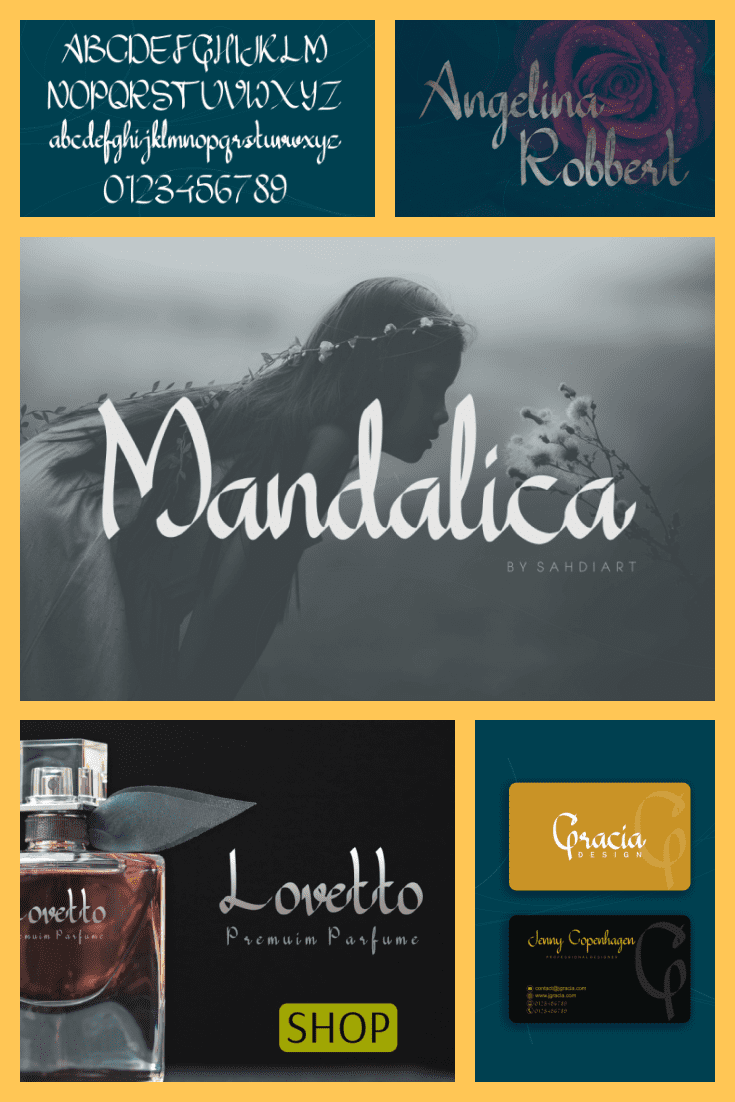 Inspired by the ancient fonts of Europe Mandalica became an original and multipurpose font. It has unique forms and suits noir style, nature backgrounds and many other elements and projects. You can use this theme for logo branding, poster headline, mockups, magazines, book titles, business cards and so on.
This product includes:
Basic character sets.
Uppercase.
Lowercase.
Numbers and punctuation.
Retro Vintage Font Handy Script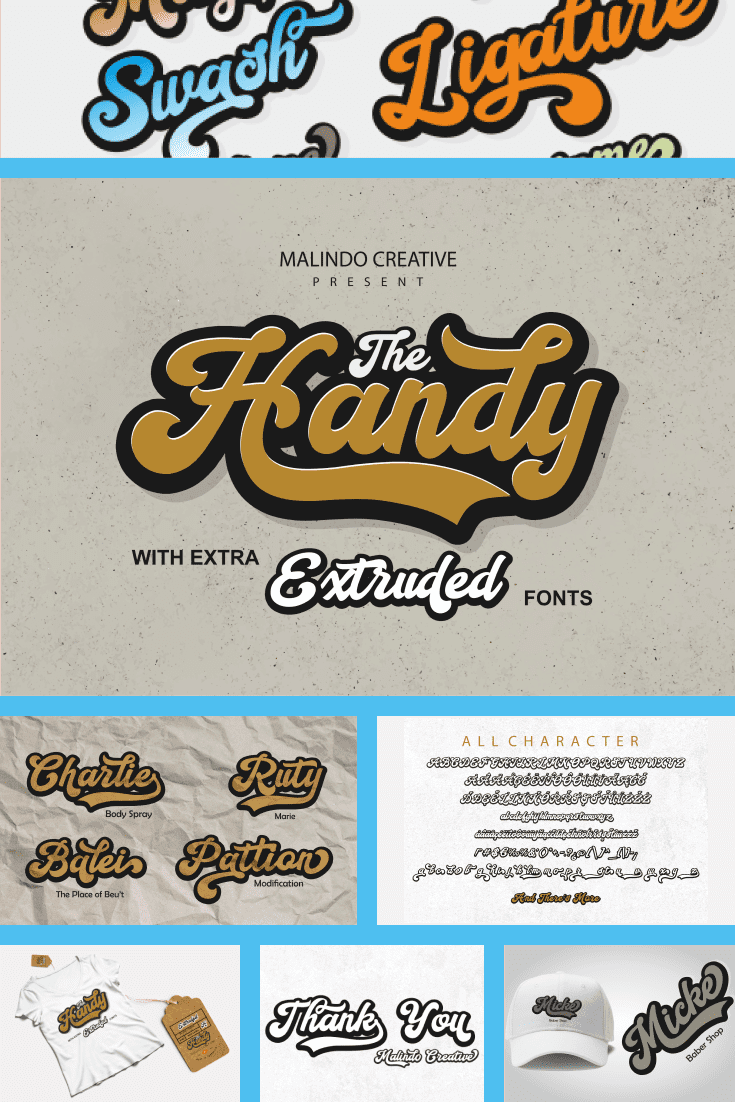 If you need a vintage font then this product will be your multipurpose for many projects. It is stylish and perfectly suits various styles. It can suit a hip-hop style of the 90s, Disney cartoons or even a hippie style. It is easy to use and comes at a fair price. Retro Vintage Font Handy Scriptis a great addition to any design.
This package includes:
406 Glyphs.
Stylistic Alternates.
Swashes.
Ligatures.
Stylistic Set Handy Script. TTF.
Handy Script. OTF.
Handy Script Extrude. TTF.
Handy Script Extrude. OTF.
Handy Script has given PUA encoded (fonts with special code).
Love Amsterdam – Modern Handwritten Typeface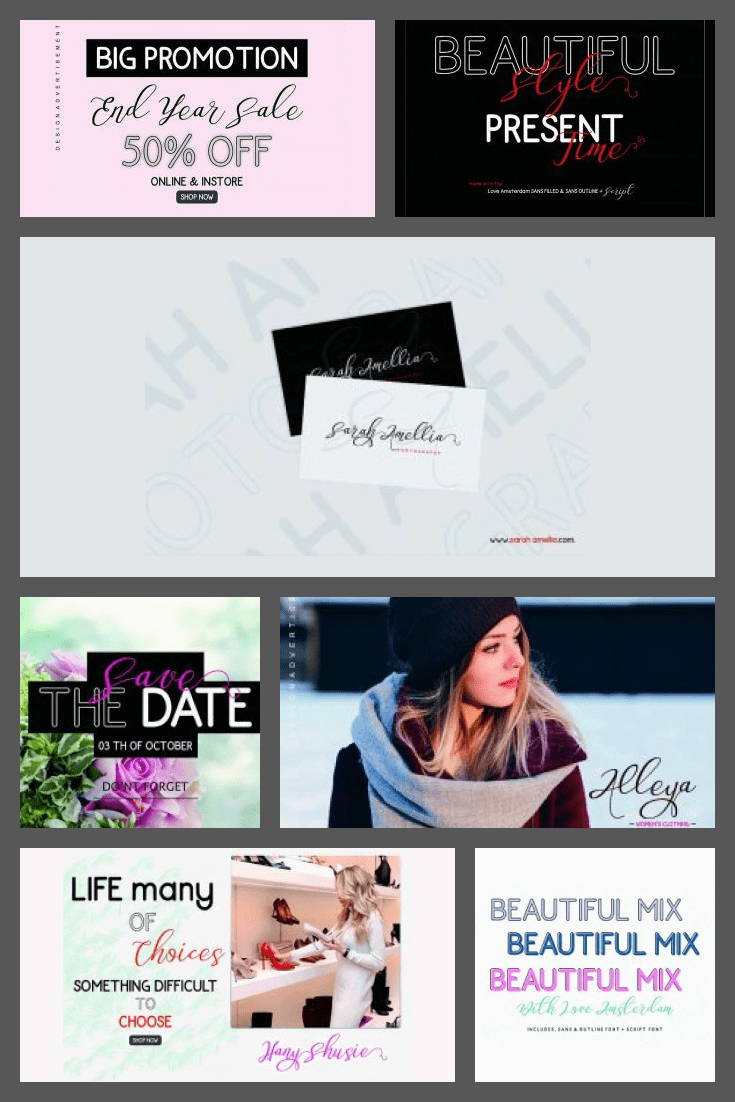 Inspired by the beauty of Amsterdam this font looks astonishingly beautiful and well-designed. When you look at it you can say that the designer took care of every detail. It is a modern handwritten font with a charming dancing look. And if you want to see how it looks then go to the product page. It includes images with examples of design variations.
This package includes:
Uppercase.
Lowercase.
Figures & Punctuation.
Stylistic Alternatives.
Ligatures.
Contextual Alternates.
Multilingual Support.
Kids Zone – Playful Layered Font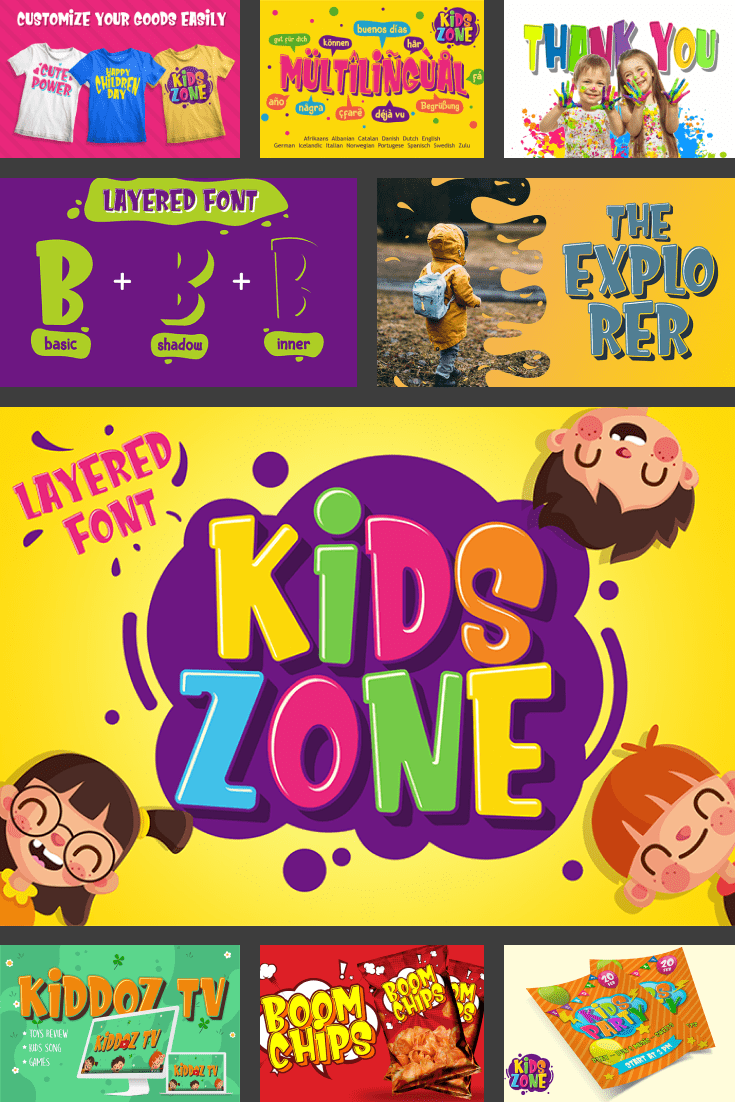 As the name implies this font was developed specially for projects related to kids thematic. You can use this font to make a sign for your toy store, write a fairytale, advertise kids store or make your banners eye-catchy. Such a product is a must-have for any designer. In addition, you can use this product to create a design not only for kids products. For example, you can use it to print t-shirts with the original design too.
This package includes:
Kids Zone Basic.
Kids Zone Shadow.
Kids Zone Inner.
Belinda Tamira – Font duo + 20 Logos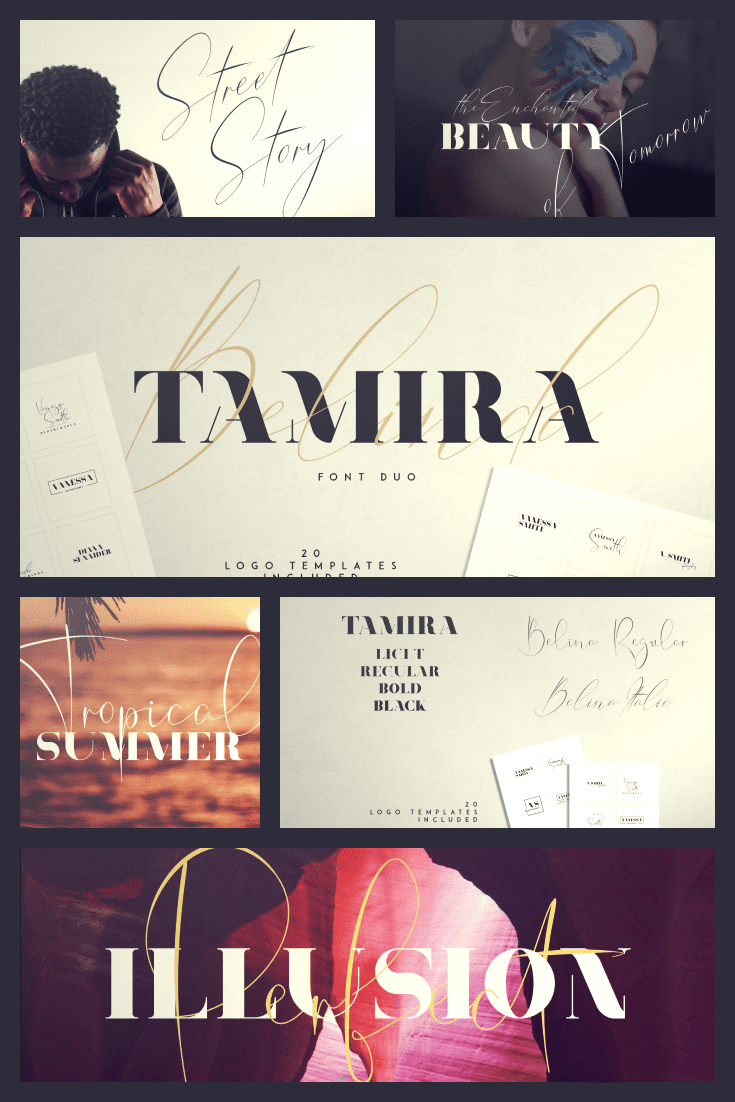 Need something hot and tropical in your projects? Then use a Belinda Tamira. This pack includes six font styles. It creates an atmosphere of luxury and can be used for various purposes. It is a good option for branding projects, home-ware designs, product packaging, magazine headers or printing. Just check the product page and you will see all about Belinda Tamira design.
This package includes:
Uppercase.
Lowercase.
Numeral.
Punctuation.
Figures.
Clean style.
Belinda – Regular, Italic.
Tamira – Light, Regular, Bold, Black20 Premade Logo Templates.
Multilingual support.
Raven MX Display Font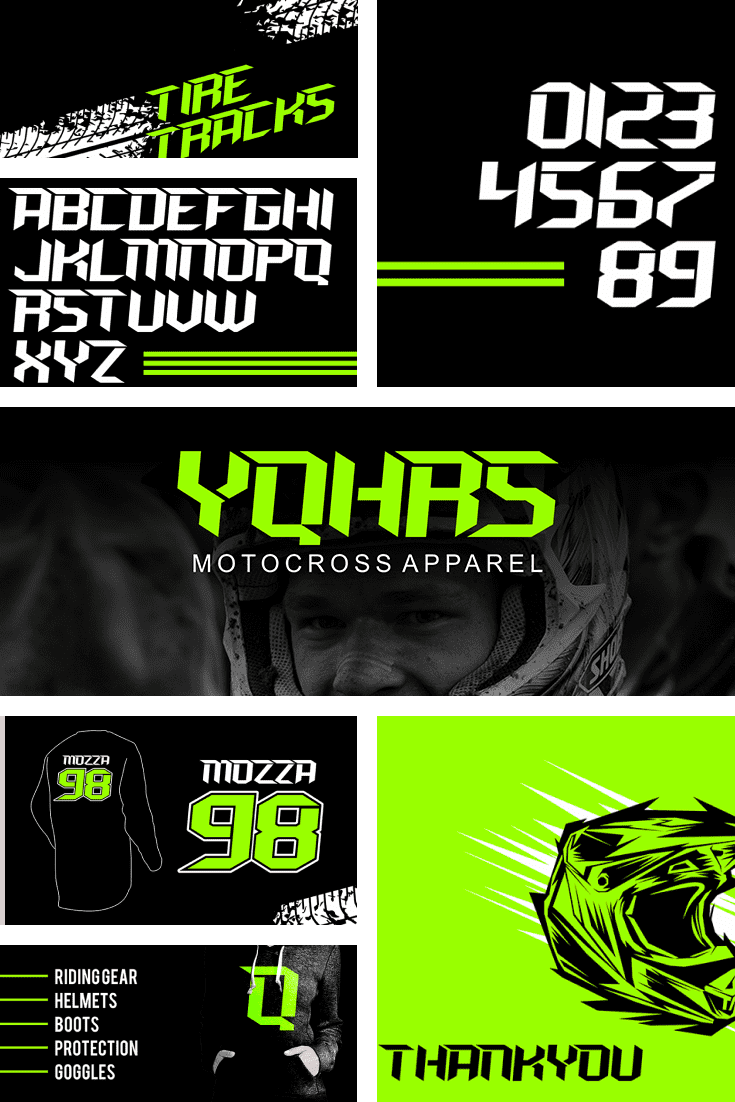 Designer developed this font for various purposes. Yet, we have to admit that it is a great option for sports and everything dynamic. It may be a great font for motorcycle sports signs, energy drink advertising logos or blog post about the next electro-music festival. But, of course, it all depends and a background and color tones. You can play with design and create something new.
This package includes:
Royal Creation Kit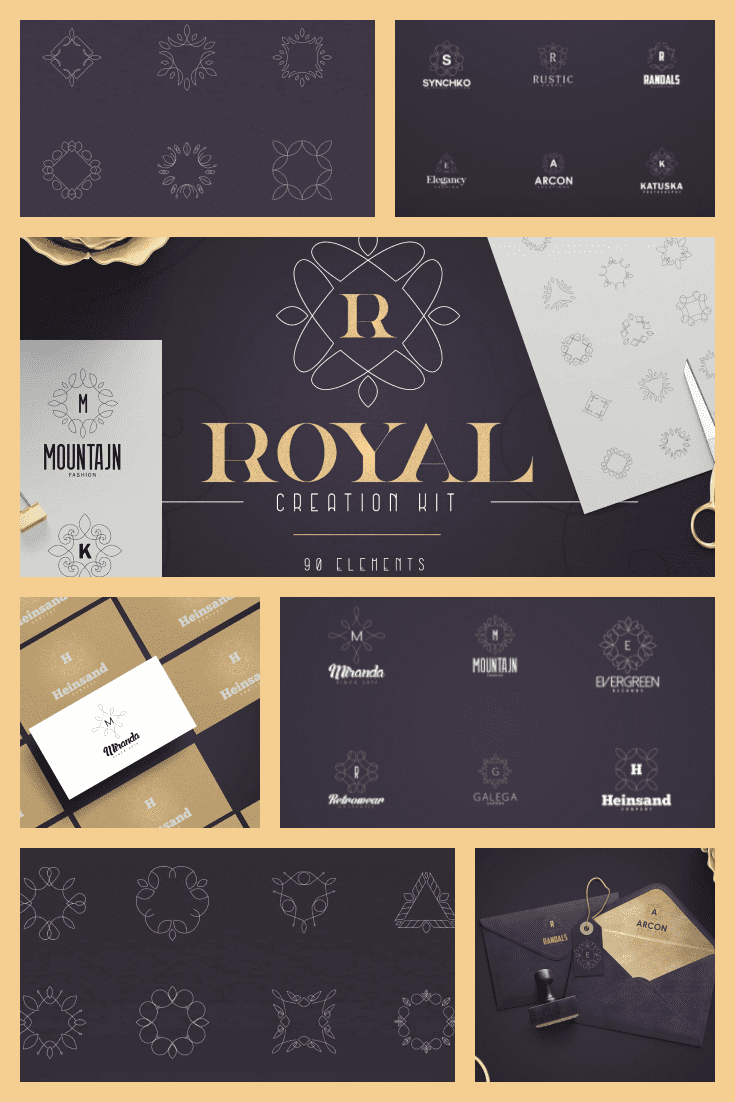 A Royal Creation Kit is a great option for various types of design. It includes many useful elements and pre-made logo templates. It is a great design tool, especially in case you need to create a luxury atmosphere for your project. In addition, you can always edit them to suit your business even better.
This package includes:
90 Elements.
15 Premade Logo Templates.
15 Font Combinations.
Help file.
Chalifor Dalsatic SVG FONT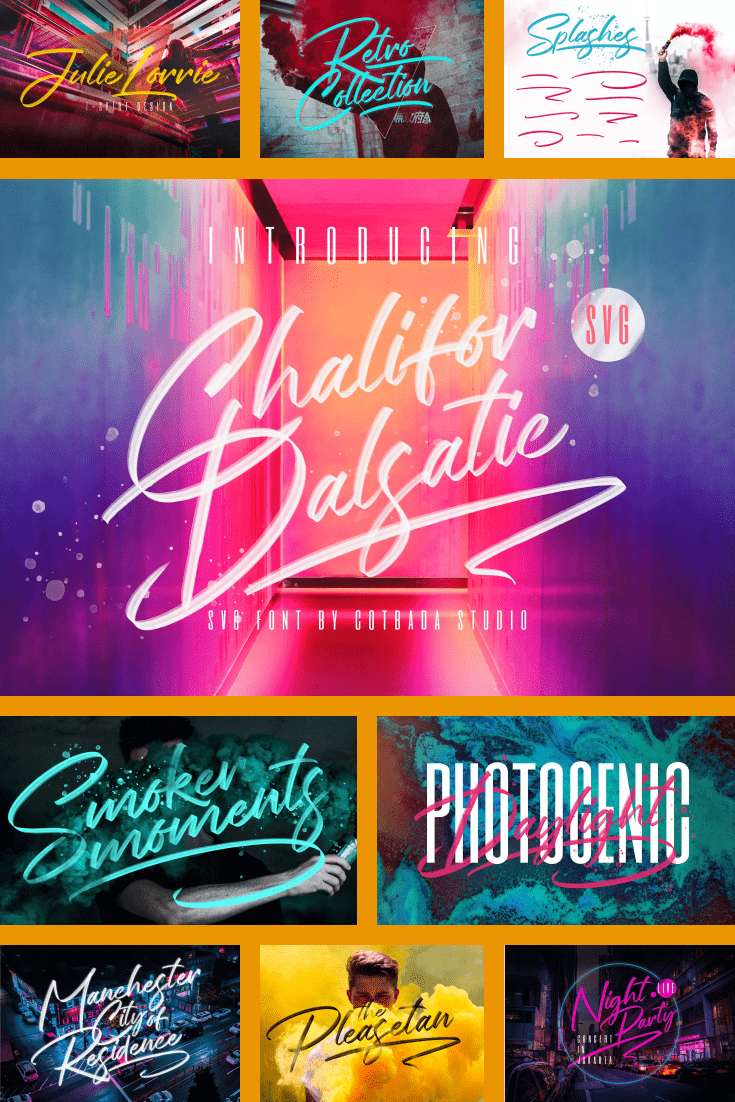 This font is all about soft and eye-catchy lines. And it is only up to you how to use it. It looks like a design theme from the 80s and you can create something in disco style. Though it looks like a retro product, you can use it for modern advertising campaigns too. It is a great product for logos, labels, packaging design, blog headlines, posters, banners and so on.
This package includes:
Chalifor Dalsatic SVG.
Chalifor Dalsatic VEKTOR.
Opentype .otf.
Truetype .ttf.
Download Teiqulato Script Font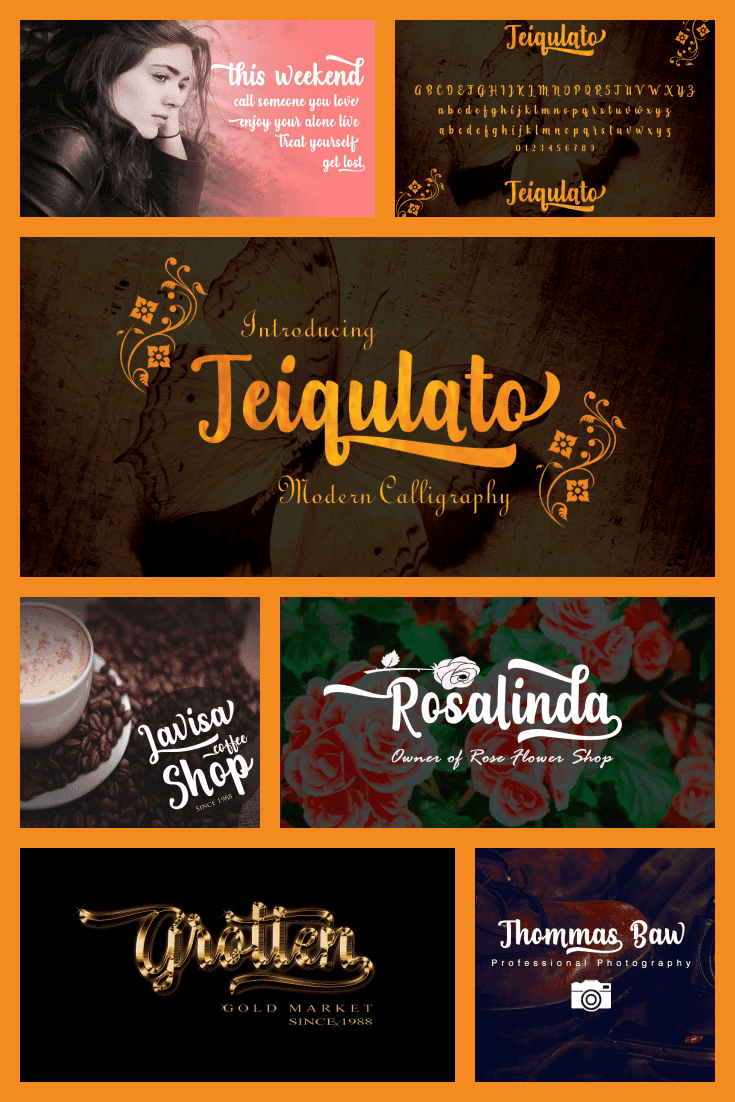 Looking for a soft style font product for your design project? Then you definitely have to check the Teiqulato Script font. It is highly attractive and easy to use. IT is also very emotional and can help you to deliver not only the design concept, yet certain feelings too. Perfect choice for advertising banners, wedding cards, photo decoration and so on.
This package includes:
Teiqulato OTF.
Teiqulato TTF.
Teiqulato EOT, SVG, WOFF.
10 Premium HandMade Fonts Bundle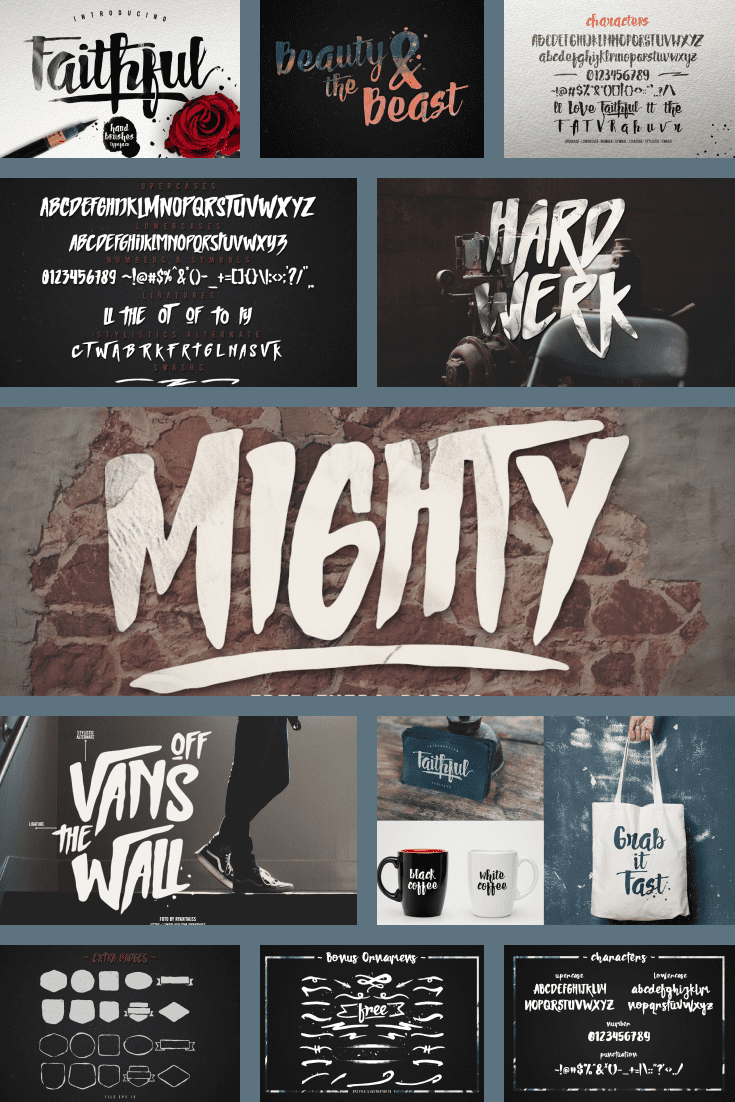 This fonts pack is ready to present you with 10 perfect choices for any design purposes. It is multitool and suits advertisings, photo design, blogs, and other products. It also suits printed t-shirts and you can diverse design of any product with Premium HandMade Fonts Bundle. Just check the product page and you will see all included fonts.
This package includes:
Faithful Typeface.
Artur Script.
Lonsdale Typeface.
DAMNRIGHT Typeface.
MIGHTY Typeface.
And other great fonts.
Brainik Font Family: a Typeface You'll Love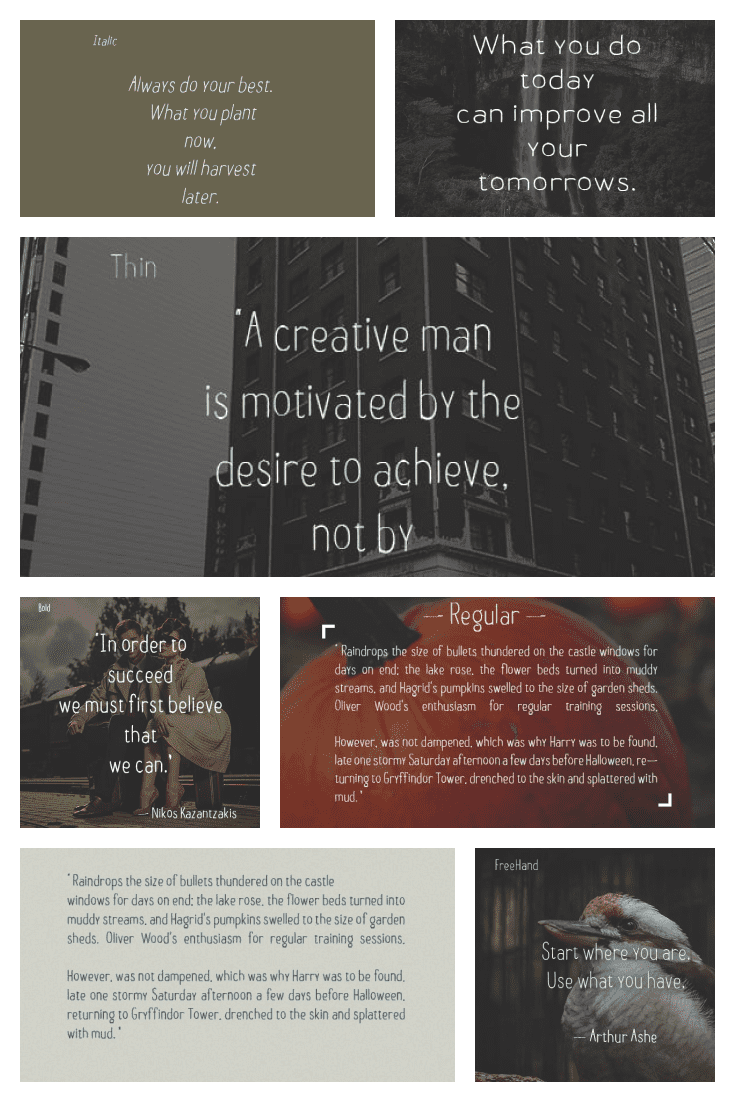 Braink is highly unique and multipurpose. It may highlight your design projects or photos. Moreover, it can be printed too. You can print t-shirts, banners, posters and so on. And if you need online advertising then you can use this font for blogs, website design, and banners. Braink is a typeface family and will be a great choice if you want to bring something new into your design projects.
This package includes:
Uppercase letters.
Lowercase letters.
Italic, Thin, Bold, FreeHand and 6 more font styles.
Handwritten brush font "Rough Sketch – fonts duo"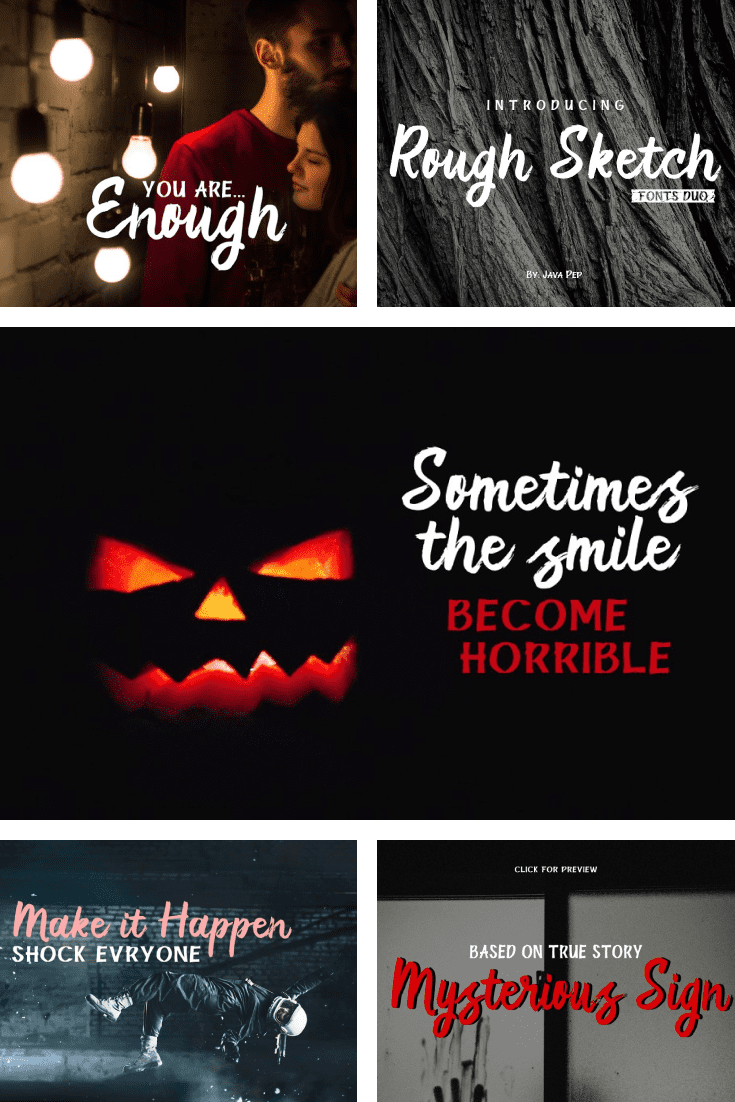 As the name implies the Rough Sketch looks "rough". Yet, it is also very elegant. Such combination made Rough Sketch and Rough Duo unique and eye-catchy design elements. It is user-friendly and due to care for all details, it will be a great addition to any design project. It is a perfect choice for any logo, web subtitle, poster, quote, book or other design product.
This package includes:
A perfect collaboration of Rough Sketch and Rough Duo.
Includes 3 files in ttf, otf, and woff formats.
Multilingual Support and ligature set.
Allowed to commercial use.
Retro Font Hadsut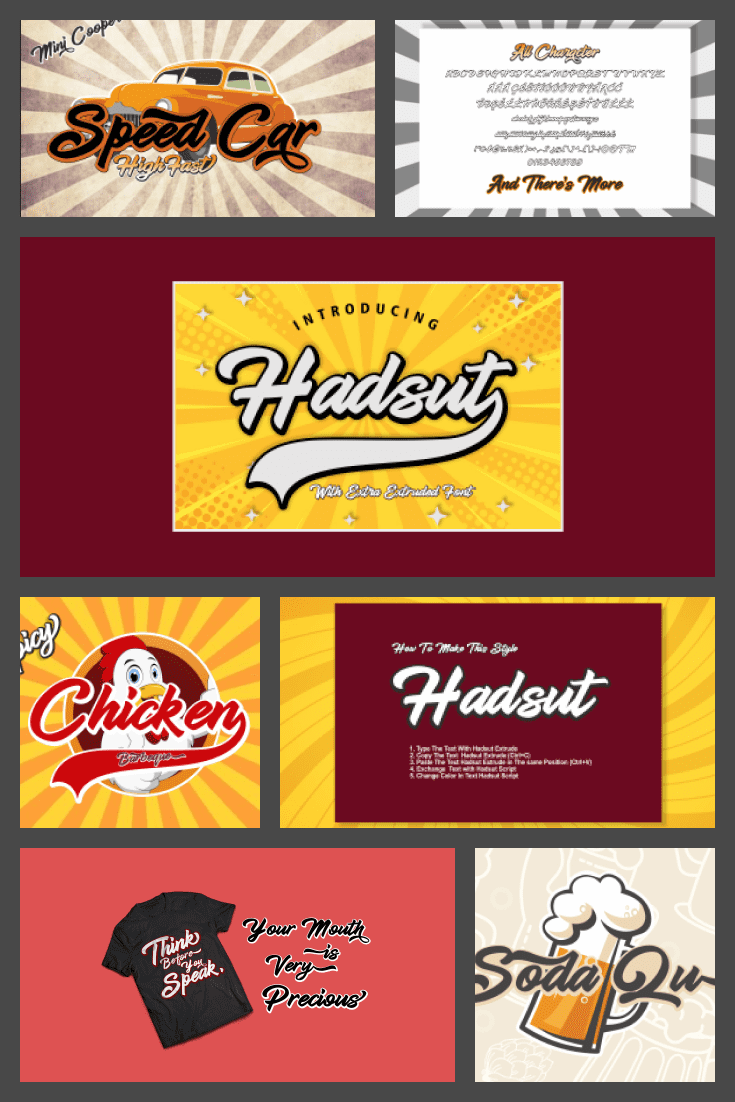 Vintage is a very popular trend in art, which is also reflected in typography. If you use vintage bujo fonts, you will undoubtedly add brightness and ingenuity to your bullet journal. Do not hesitate to try this bundle, which is distinguished by warm, accessible aesthetics, inspired by the adventurous life of Ernest Hemingway.
The package includes:
Extra Extruded Font version.
360 Glyphs and OpenType features.
Stylistic alternates.
Swashes.
Ligatures.
Language support.
Stylistic set.
The files include:
Hadsut Script. TTF.
Hadsut Script. OTF.
Hadsut Extrude. TTF.
Hadsut Extrude. OTF.
Calligraphic Font Bundle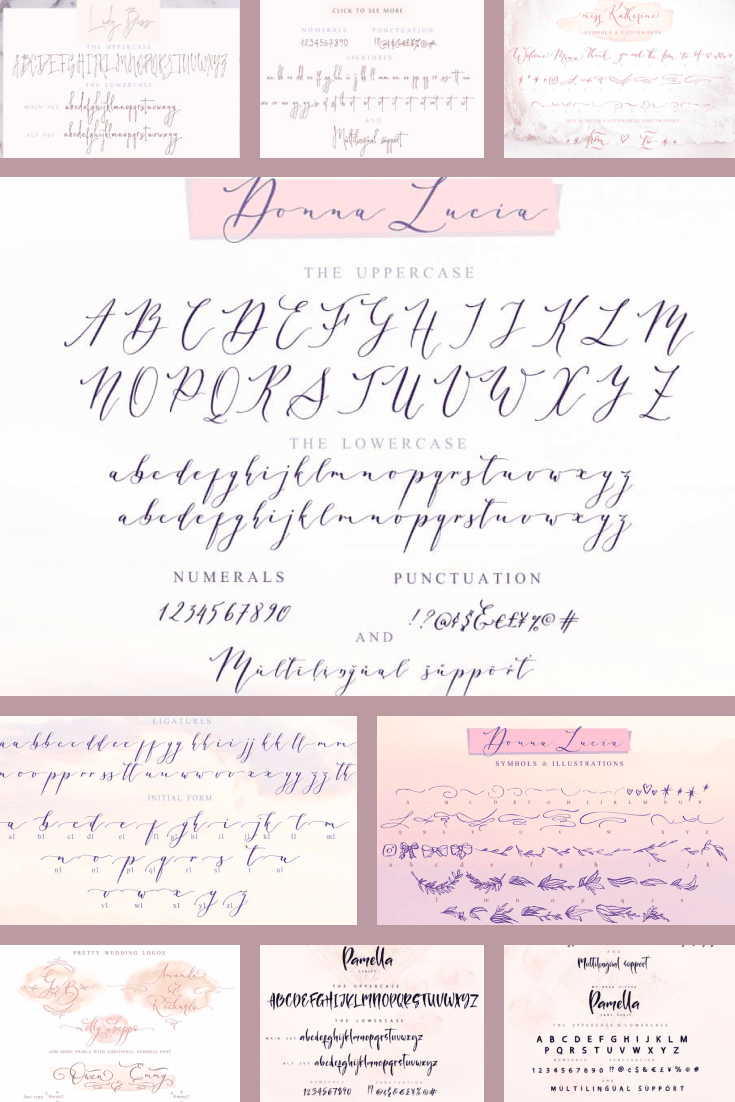 This format resembles the style of beautiful handwriting, and it will work just great for your bullet journal as well as for invitation cards, inspirational quotes, posters, and etc. Extensive language support is guaranteed.
The package includes:
Sadlyne calligraphic font.
Sadlyne elements & extras font.
Miss Katherine font.
Miss Katherine elements & extras font.
Miss Katherine Wedding Logo.
Donna Lucia font.
Donna Lucia font elements & extras font.
Donna Lucia PRE made Logo.
Lady Boss script font.
Lady Boss elements & extras font.
My Sister Pamella Script font.
My Sister Pamella Sans Serif font.
Senorita Handwritten Textured Font.
Aisyah – Modern Hand-based Typography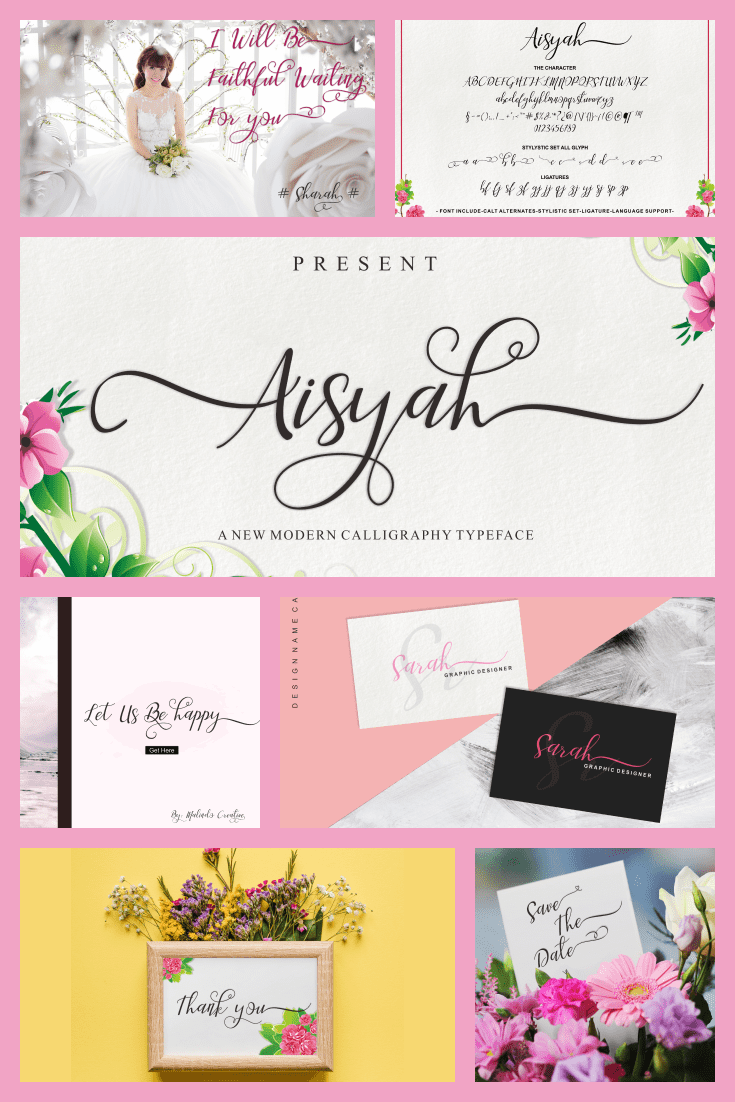 Modern fonts make it possible to turn a simple title into a work of art. Aisyah is one of the best solutions of bullet journal fonts. Slight negligence gives the impression of handwriting, not a computer text. Do not be afraid to experiment with this font to create wow-headings. The set comes with Aisyah ttf and Aisyah otf files.
The package includes:
Uppercase.
Lowercase.
Figures and punctuation.
Stylistic alternatives.
Ligatures.
Language support.
Nadine Signature Font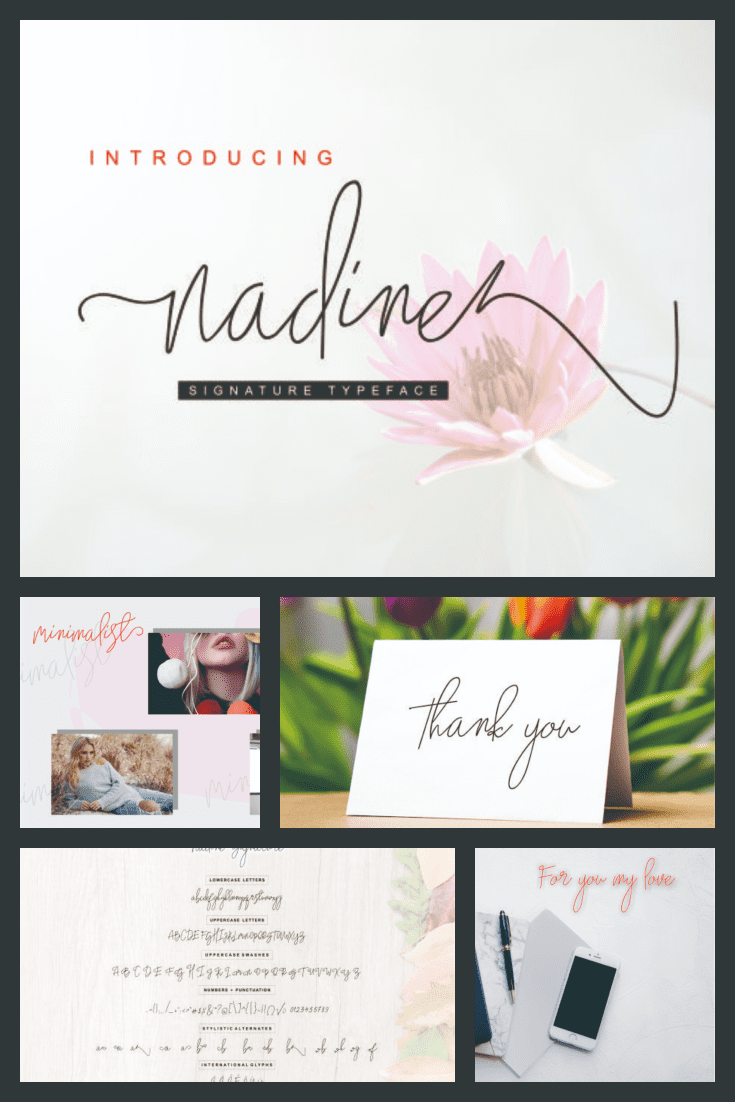 Nadine font is created with an exceptional quality and looks very chic. Choose this option if you want to add a friendly and polished feel to your signatures. The bundle comes with a nadine.ttf file. In order to work with OpenType Stylistic alternates, make sure that one of the following programs is installed on your machine – Adobe Indesign, Adobe Illustrator CS, CorelDraw X6-X7, Microsoft Word 2010 or later versions.
The package includes:
Uppercase.
Lowercase.
Figures and punctuation.
Stylistic alternatives.
Ligatures.
Contextual alternates.
Multilingual support.
Beautiful Dreamer – Modern Handwritten Typeface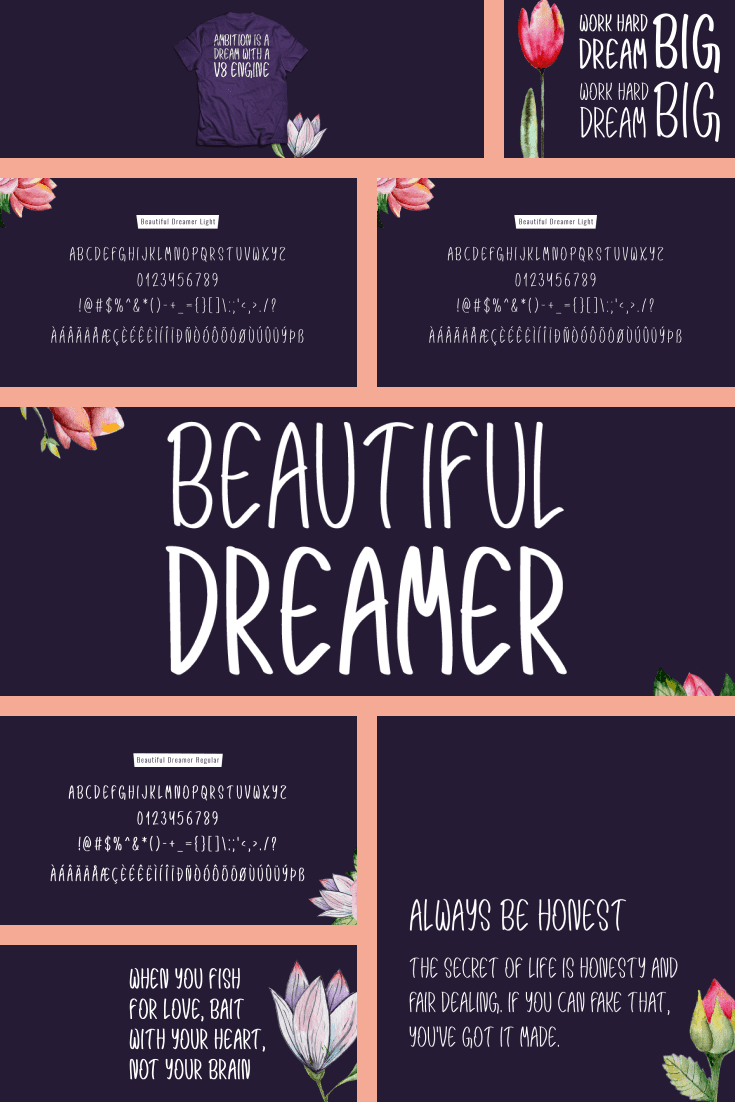 Without exaggeration, modern typography is currently going through an exciting period of its life. Recent technological leaps have brought us one step closer to typographic nirvana on the web. Beautiful Dreamer is another perfect example of a modern bullet journal handwriting fonts.
The package includes:
Uppercase.
Lowercase.
Stylistic alternatives.
Figures and punctuation.
Contextual alternates.
Ligatures.
Multilingual support.
The files include:
Beautiful Dreamer. OTF.
Beautiful Dreamer. TTF.
Anchou – Beautiful Handwriting Font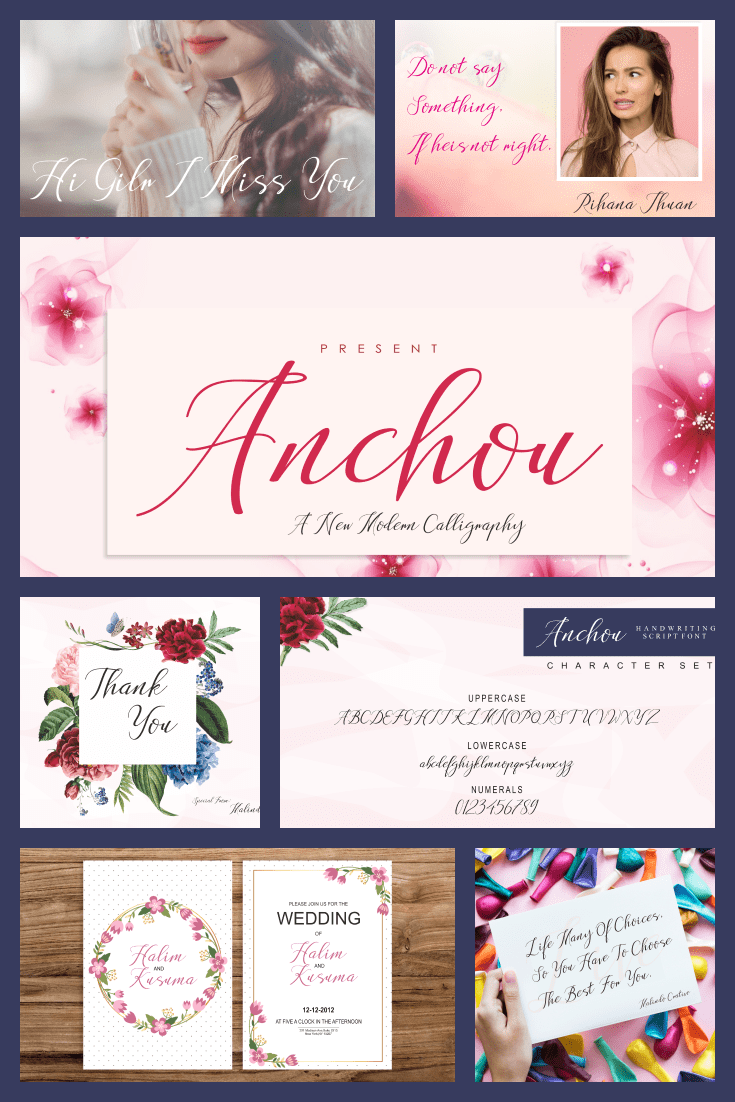 Play with your bullet journal fonts alphabet with the help of a beautiful handwritten typeface, Anchou. As you may notice, this font offers an irregular baseline of the upper and lowercase when you use both in a word. This creative approach is an excellent choice not only for bullet journals but also invitations, calendars, and etc.
The package includes:
Uppercase.
Lowercase.
Stylistic alternatives.
Figures and punctuation.
Contextual alternates.
Ligatures.
Multilingual support.
Exclusive Mega Bundle of 30 Fonts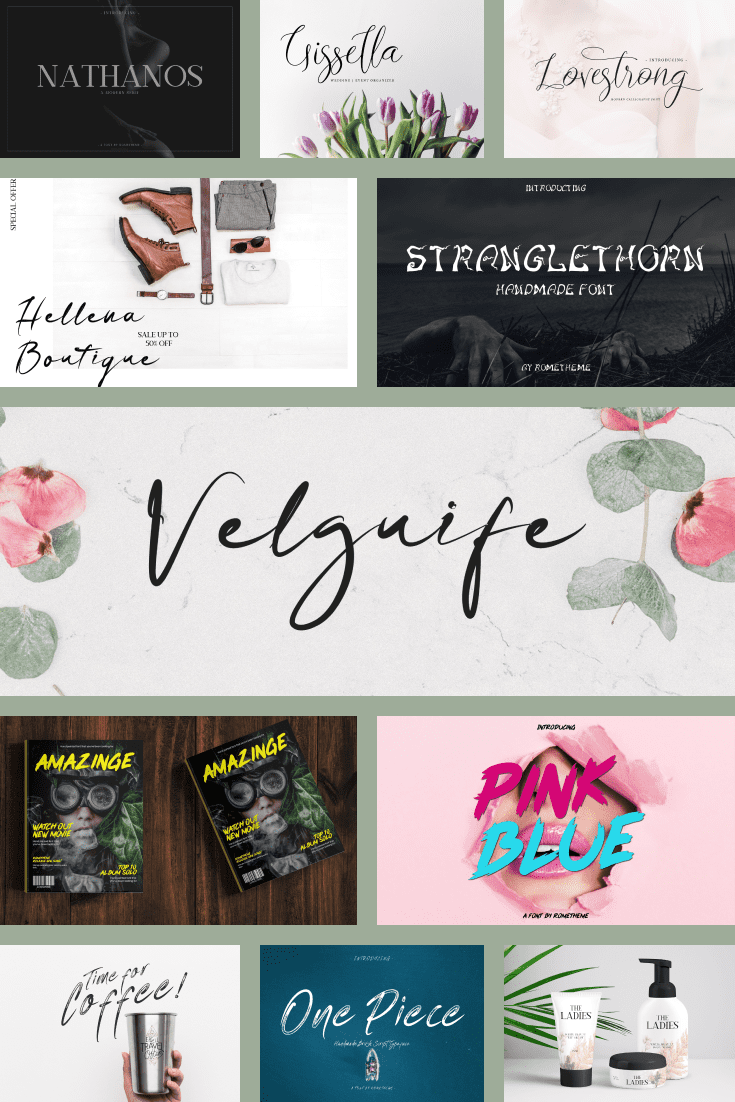 Enjoy unlimited creativity with a great bundle of 30 beautiful fonts. You can easily mix them to achieve the best results. The fonts are provided in OTF, TTF, & WOFF formats. No specific software to work with the fonts is required. This is a great solution for personal and commercial projects.
The package includes:
Alestraza – Script Font.
Almahira – Script Font.
Bahjera – Brush.
Brotherhood – Brush Font.
Cardust – Fun Font.
Dark Monk – Brush Font.
Exodar – Futuristic Font.
Frappe Latte – Playful Font.
Grizzly Attack – Brush Font.
Hegorustow Font and much more.
Searchlight Font Trio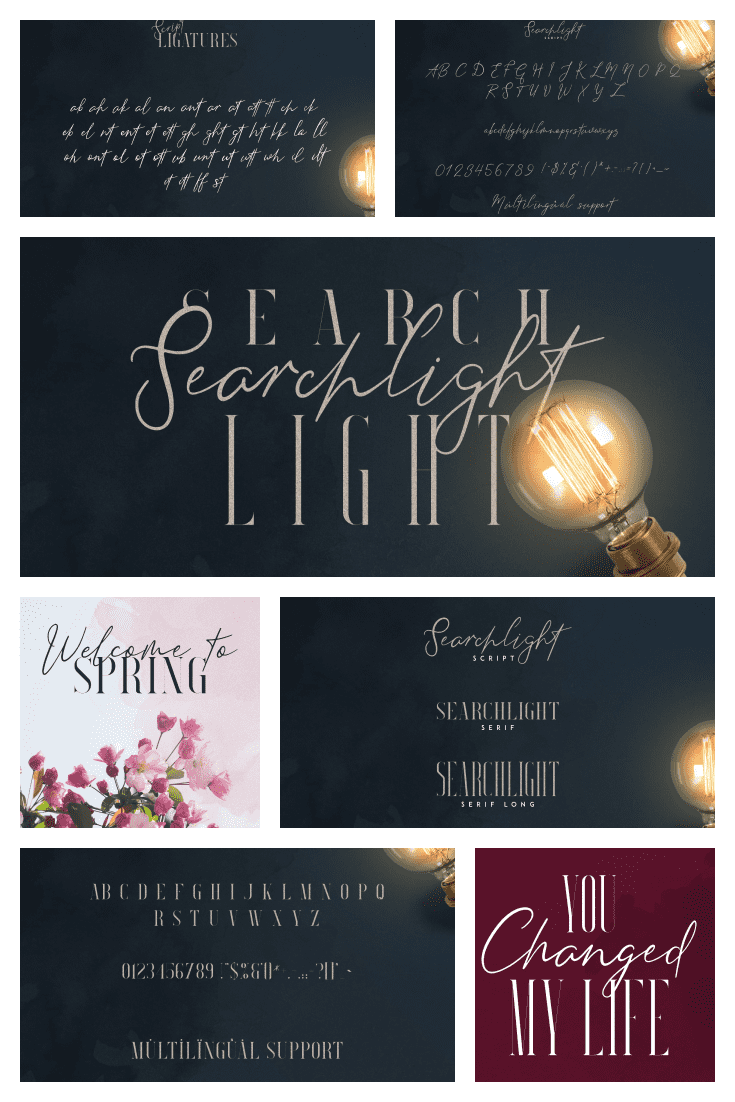 The next clean and classy font comes in 3 font styles and works absolutely great in any size. Vintage look and unusual serifs are the latest trends in design typography. So you can use it for any creative project. Moreover, ligatures and multilingual support are supported for your convenience.
The package includes:
Uppercase.
Lowercase.
Numerals.
Punctuation and symbols.
Searchlight Script.
Ligatures for natural feel.
Searchlight Serif.
Searchlight Serif Long.
Gardhen Modern Script font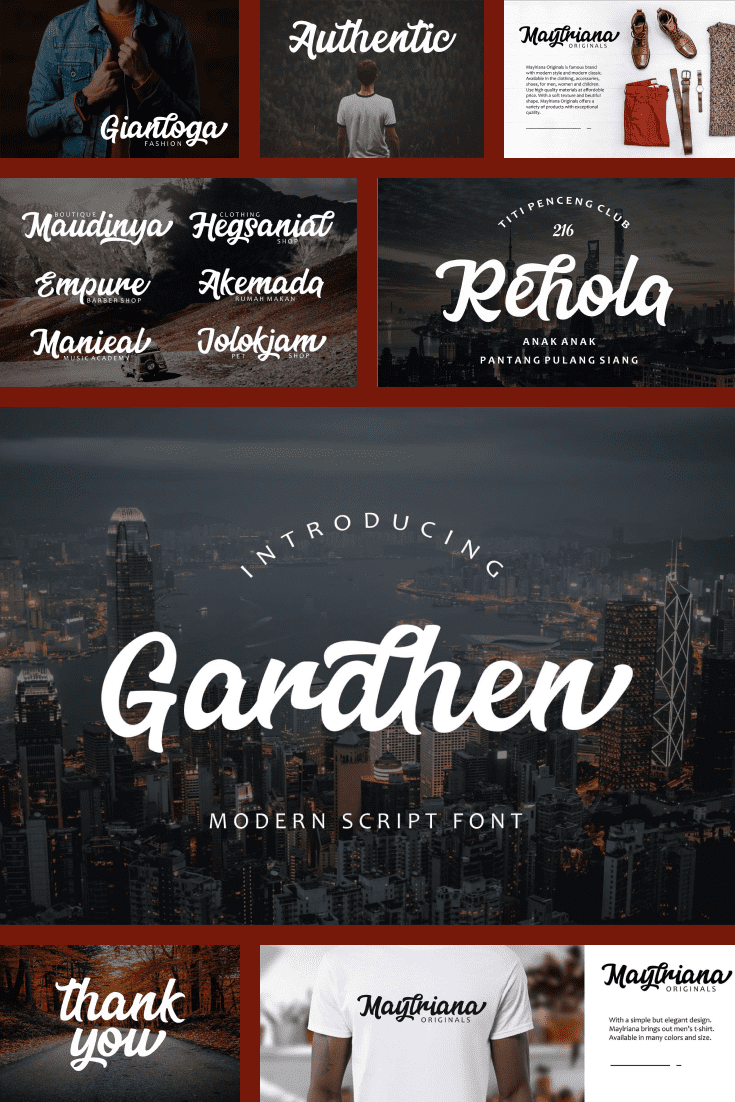 Perfect for logotype, bullet journals, and apparel design, this font was created due to the latest typography trends. Gardhen Modern Script font is your good catch if you wish to change the meaning of words and the whole perception of your text.
The package includes:
Uppercase.
Lowercase.
Numerals.
Punctuations.
Contextual alternates.
Adenium Font + Gold & Rose Gold Foil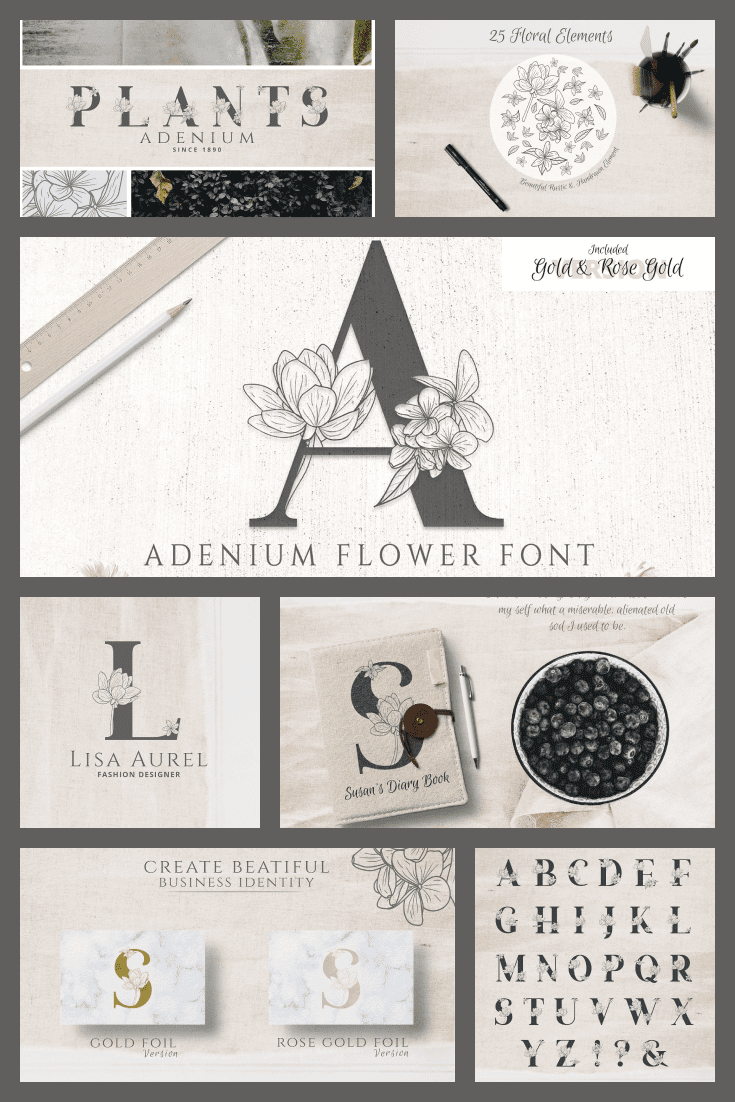 Inspired by beautiful flowers, this font will help you to deliver the right mood and message. Your mood and the floral mood of the typography are combined to create a common perception of the text. The font includes two versions of each character except numbers and signs. Also, you will find different versions between uppercase and lowercase.
The package includes:
26 Alphabet in a gold & rose gold foil effect (PNG).
10 Numbers from 0 – 9 (PNG).
Ampersand (&) Exclamation (!) and Question Mark (?) (PNG).
Adenium Flower Element:

2 Flower (Ai, Eps, Svg).
5 Small Flower (Ai, Eps, Svg).
7 Leaf Combination (Ai, Eps, Svg).
5 Leaf with Flower (Ai, Eps, Svg).
6 Leaf (Ai, Eps, Svg).
The files include:
Adenium Font OTF.
Adenium Font TTF.
15 Best Free Bullet Font 2021
Bullet journals require inspiration. Do not do the usual boring way of filling and planning tasks. Use cool bullet journal fonts, add bright elements, and experiment with awesome planner designs.
Holz Typeface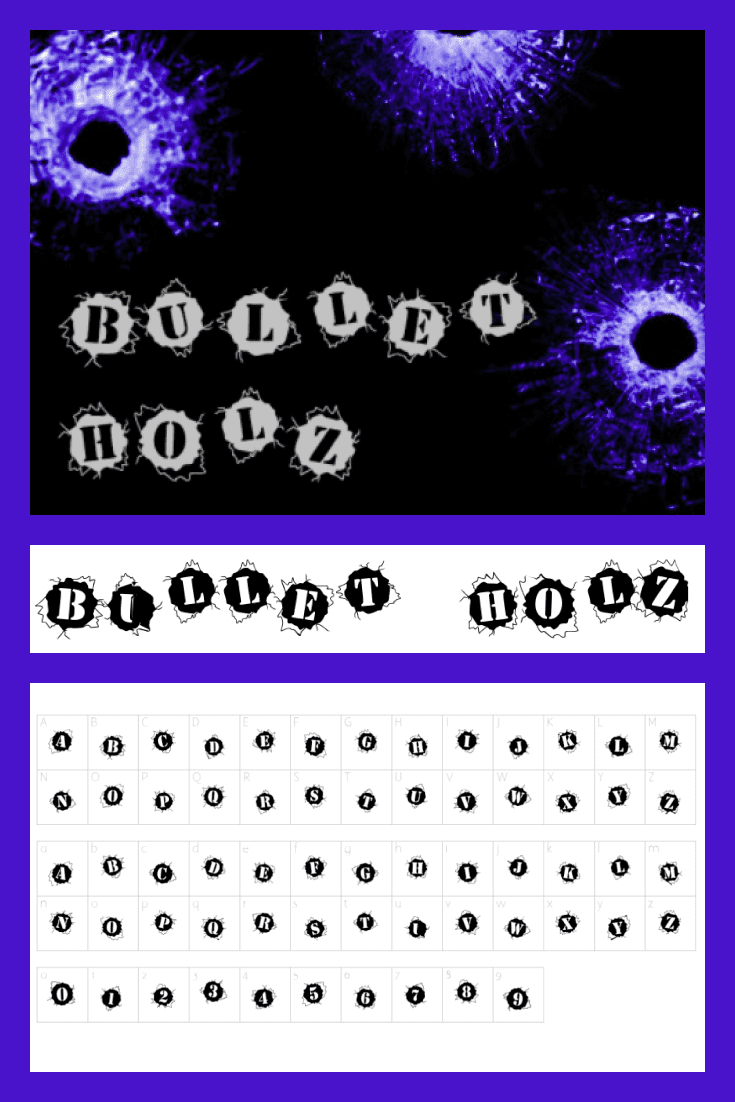 If you are looking for more creativity, then this is the perfect choice for you. It is one of the most impressive bujo fonts. Its most striking feature is the letters in a frame that looks like a torn piece of paper. This typeface can be easily redrawn, or you can just download it because it is free for personal use.
Bullet in Your Head Font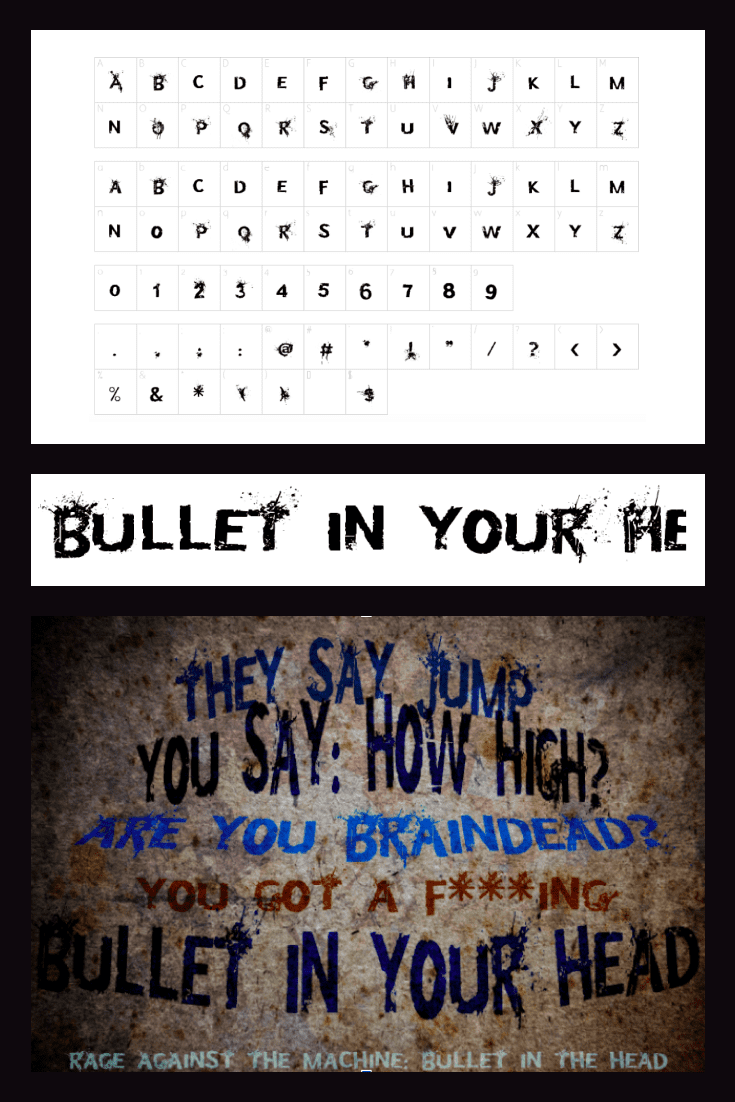 This is a bursting product for creating an eye-catching bullet journal header design. It is quite easy to read. The font is available in 3 formats (PNG, PDF, TTF). It includes letters, numbers, and signs. It differs from the others with random spots on some of the characters, as if a smudge was left behind when it was drawn.
NeoBulletin Beveled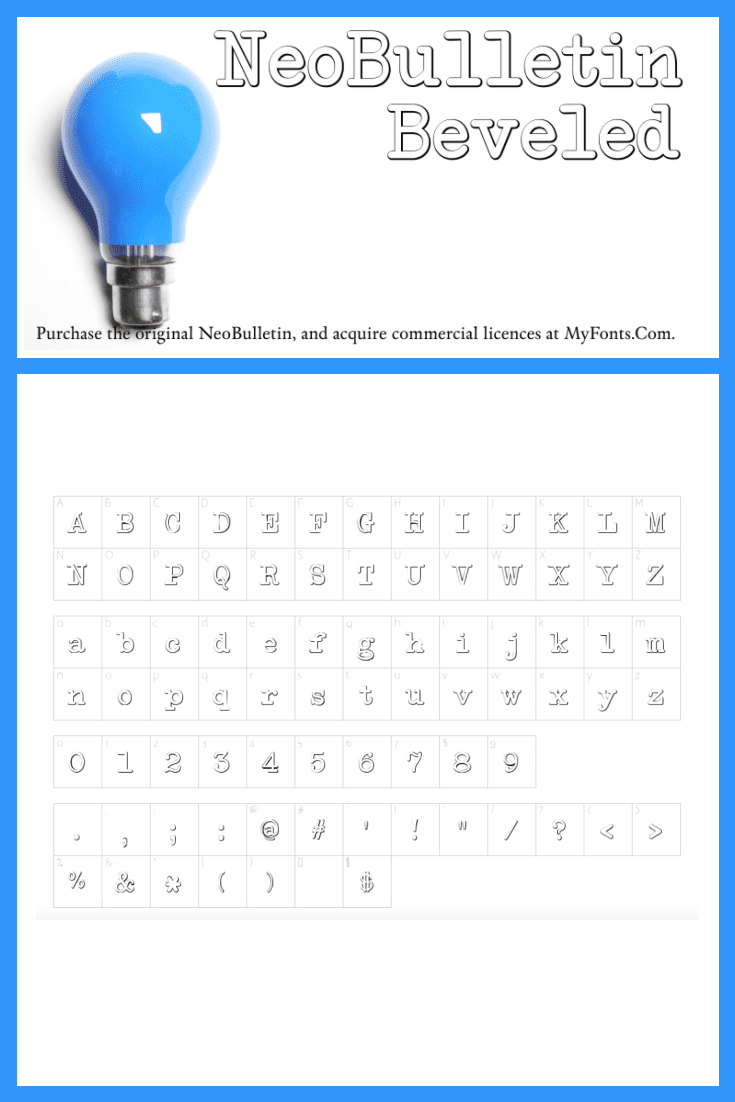 This font allows you to create interesting combinations with other components of the journal notes. It would be awesome for making the month's titles. The lettering has a slight 3D effect. It features bold outlines, and you may choose the color to fill in the letters.
Lemon Friday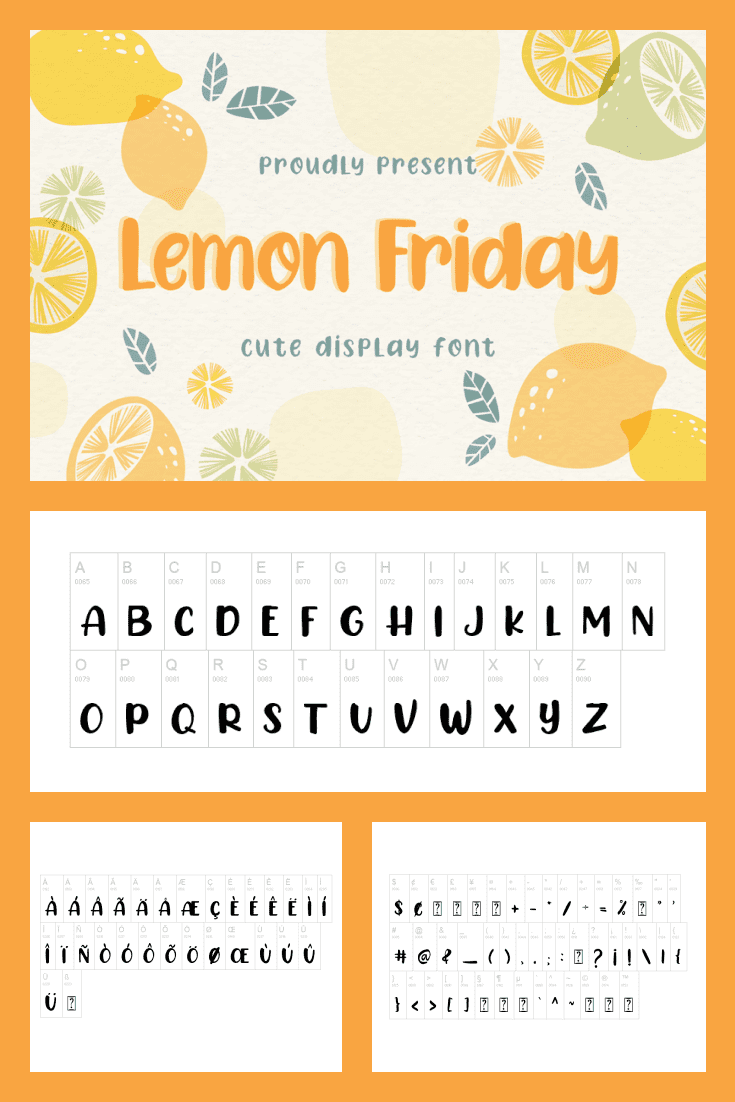 Lemon Friday is a vivid and intense bullet journal font perfect for the goal of organizing yourself. This calligraphy will help to diversify the boring design due to its extraordinary appearance. Each letter has a bold style. It is completely free for personal use.
You are My Everything Script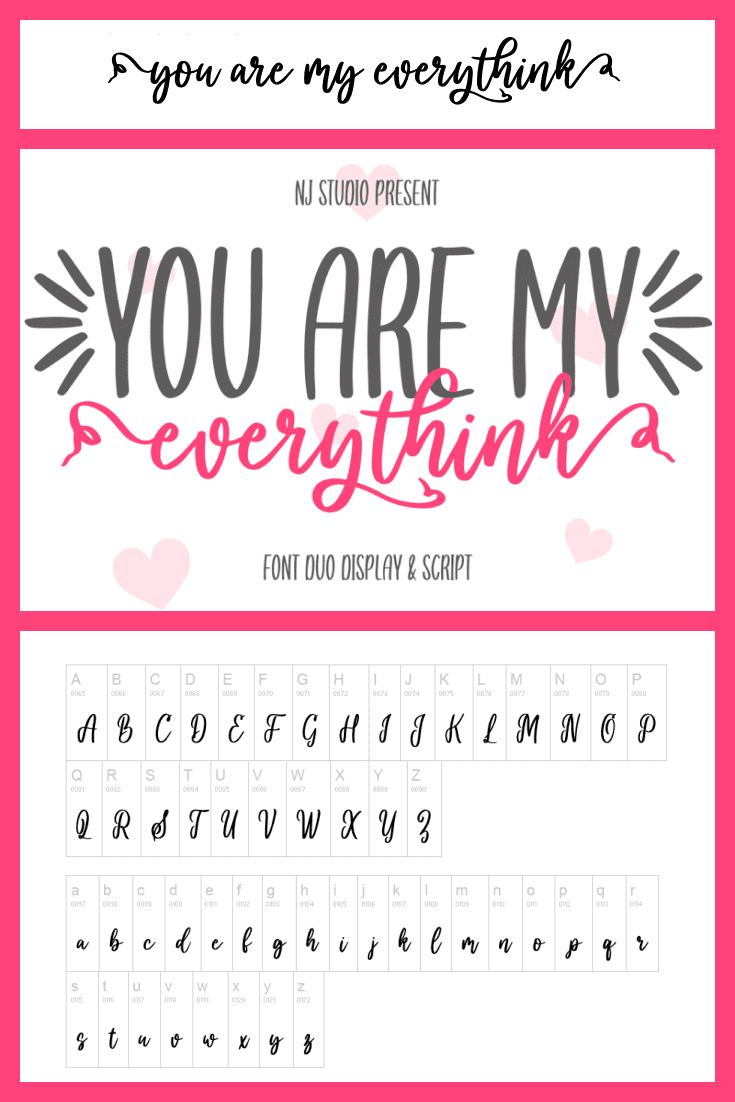 This is an attractive handwritten lettering. The ending elements on some of the characters are twisted. These quirky, individual strokes give the headlines a unique feel. It is suitable for notebooks of any theme.
Shine Brighter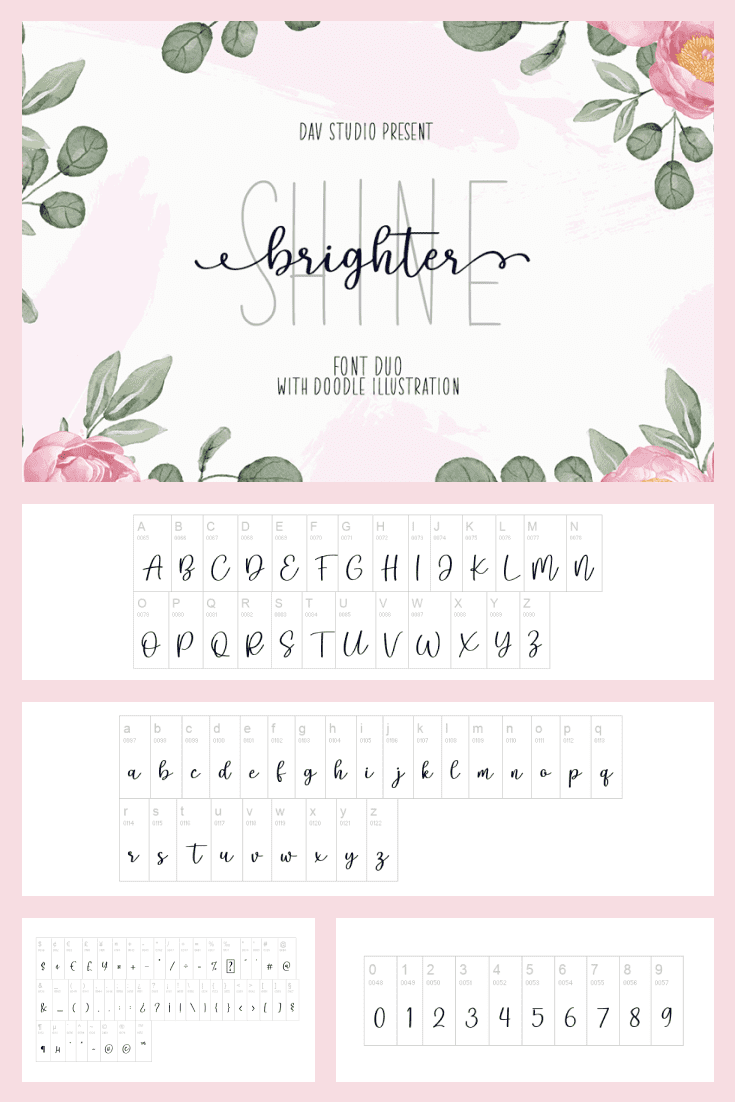 This bullet journal font can be used for different tasks. It is available in TTF format. You can edit the lettering in any program. It goes well with other classical typefaces. Each letter is neatly handwritten. Along with this bujo font, you also get doodle illustrations.
Asdonuts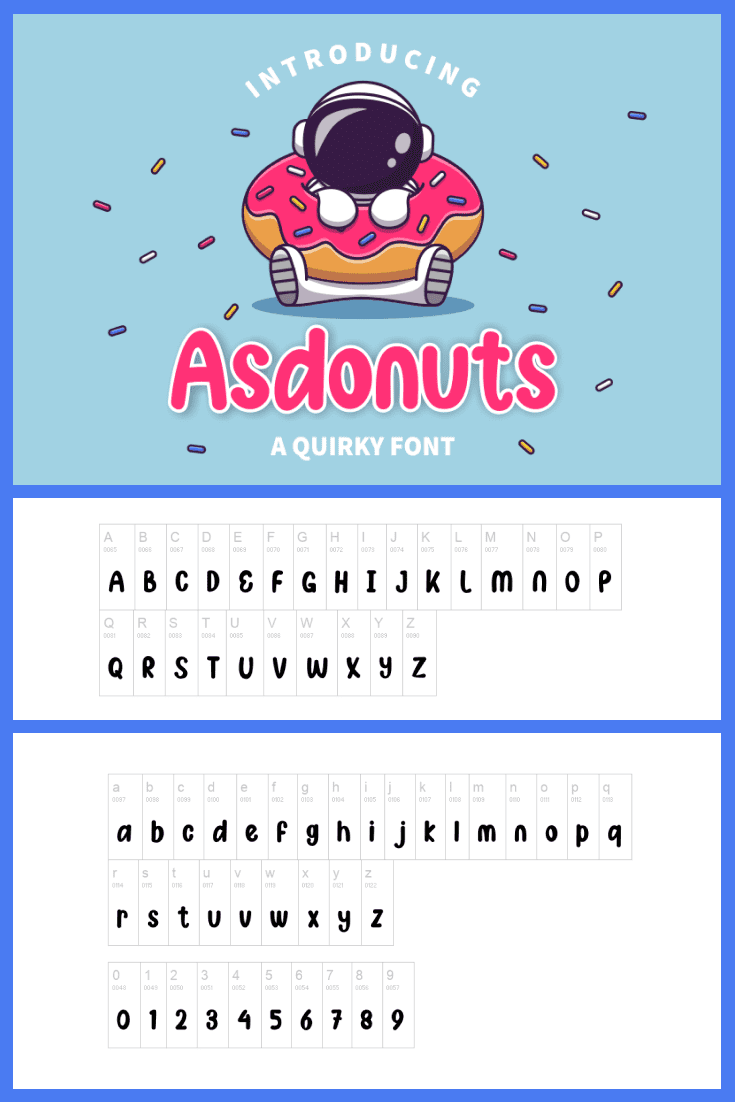 Asdonuts draws inspiration from other bullet journal fonts. That is why you may use it for your own purposes. It has a bold style. The letters are soft and there are no sharp angles. It includes upper- and lower-case letters, numbers, and punctuation marks.
Angel Arms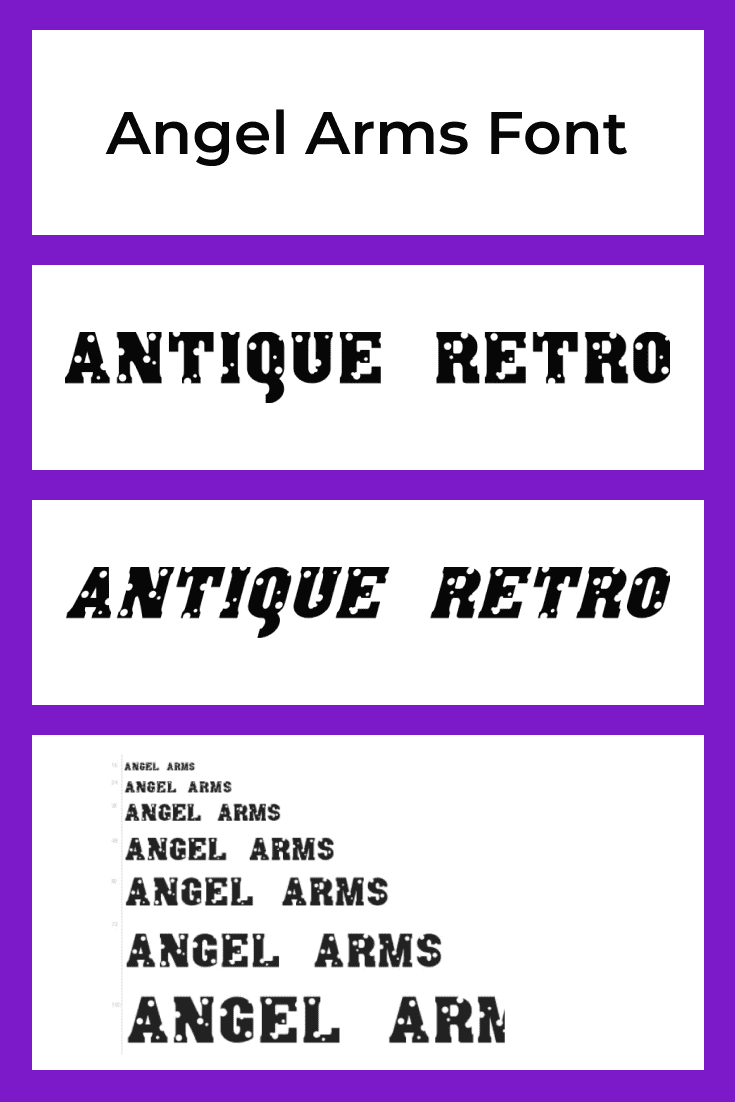 This is a wide and bold bullet journal font that contains 96 characters. The script has a bold outline with embedded white dots. It is the perfect font for bullet journals. Its height and unusual shapes provide elegance and express the spirit of creativity and experimentation. The product is completely free.
After Attack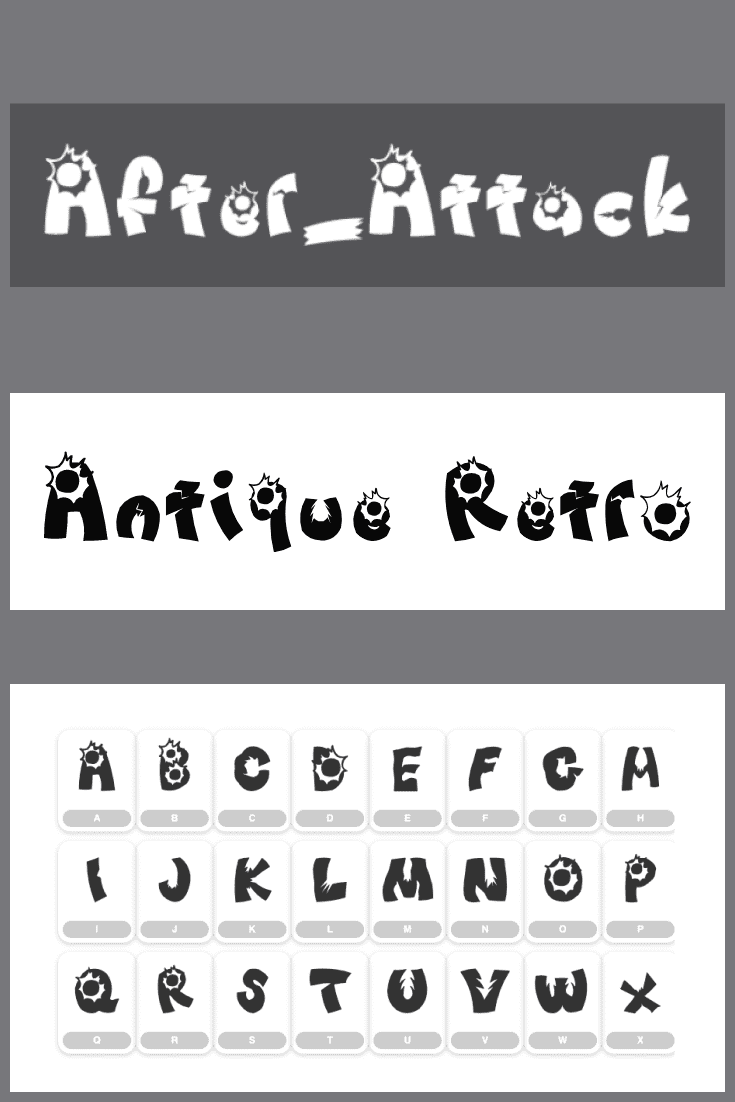 The style of this bujo font reminds us of brightly colored comic books. Some of the letters are characterized by unique blast marks. The letters are uneven and have a slight slant to the right. It is available for a broad range of uses. It can be expressive for headlines that combine spectacularly with standard lettering fonts.
Zombie Slayer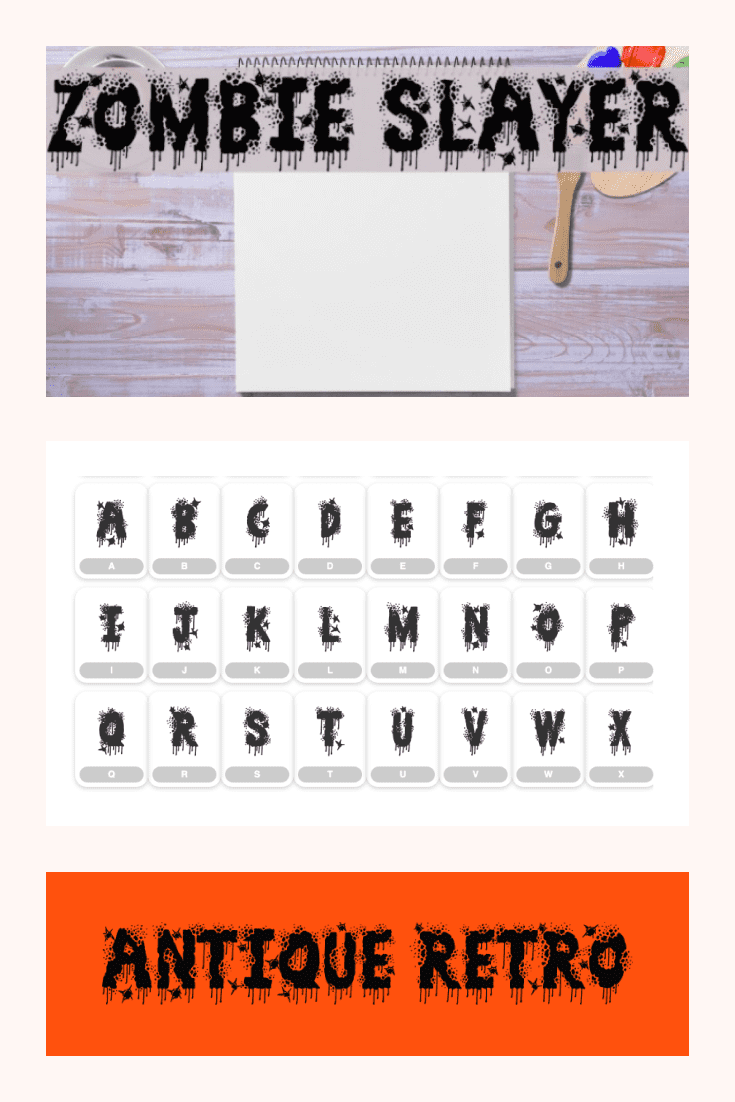 Zombie is an extremely expressive font. Each single element of its 240 characters is neatly drawn. The distinctive features of this bullet journal font include thin streaks, bold lettering, and bubbles. These extra elements make the font a bit difficult to read, so it is best used for large headlines or titles.
Big Fat Pencil 2
This attractive bullet journal font is quite readable, due to its smooth and clear letters. It has soft transitions and includes 123 glyphs. It includes everything you need to work with: currency symbols, basic punctuation, Latin supplementary and basic.
ADF Font Family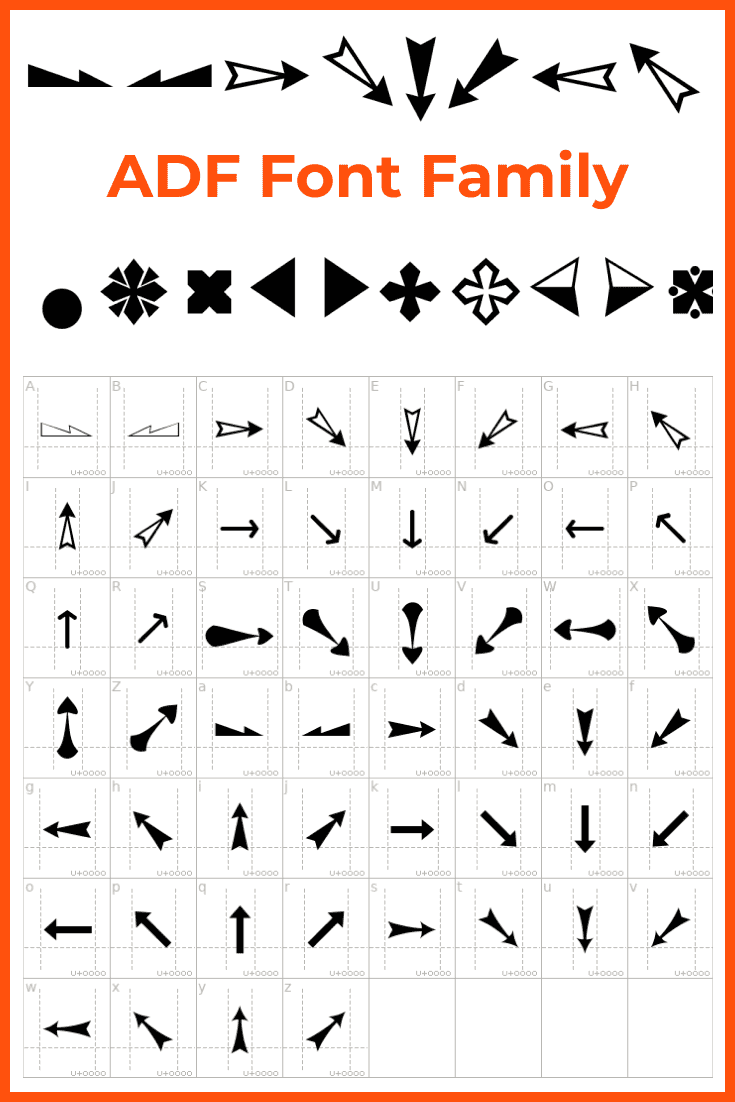 The typeface is not only letters. This family is made up of different symbols, which makes it awesome to use for designing your plans. This font family includes ADF Arrow and Bullet. These bujo fonts are available in 2 formats: TTF and OTF. Each one has 52 characters.
Beccaria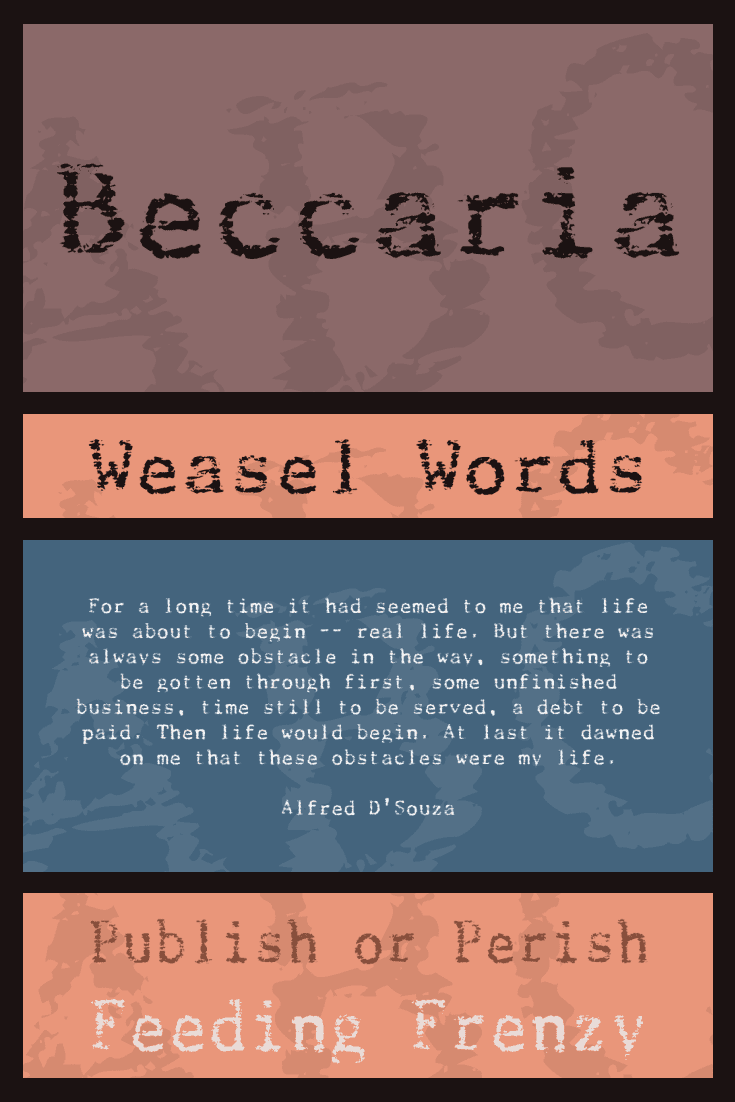 This one is a slightly irregular bullet journal font that looks quite interesting. It is available in TTF format and is easy enough to edit in any program. The font is completely free and is great for a variety of needs. It will look perfect in larger sizes, making Beccaria better if not used as the main typeface for the journal pages.
Mastodon Family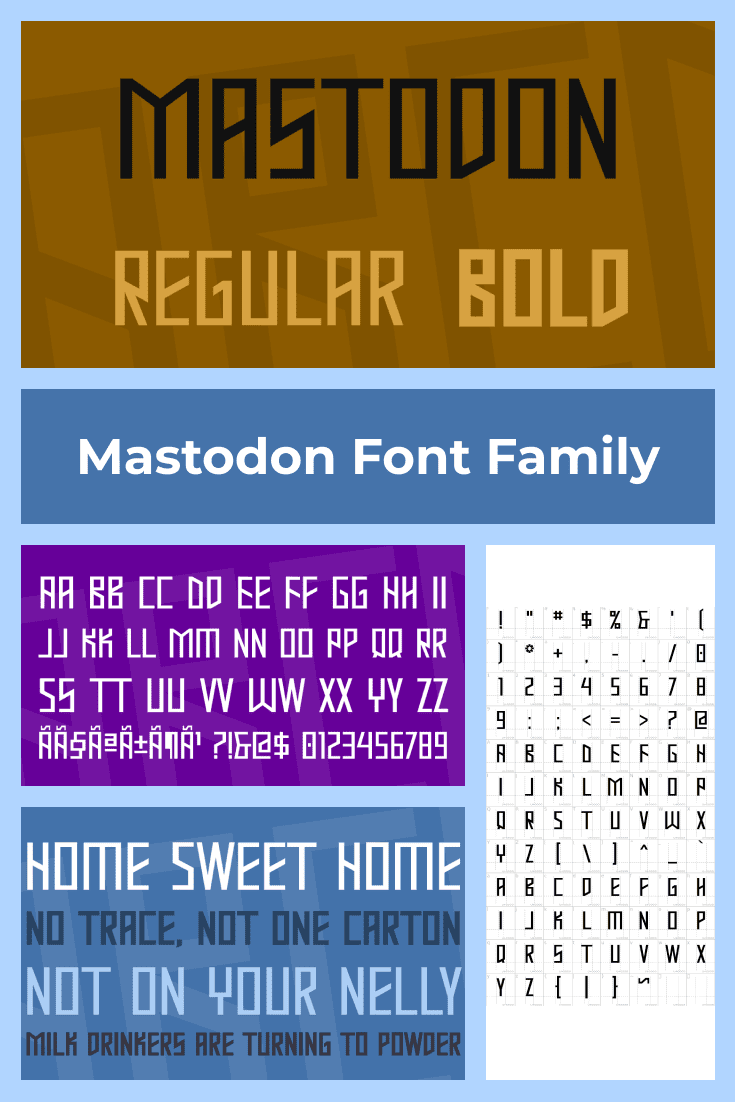 Looking for a simple font that is easy to work with? Then Mastodon is a great option for you. It's best used for headlines or in large size texts (posters). This journaling font is available in regular and bold styles. It includes 216 characters.
Underground NF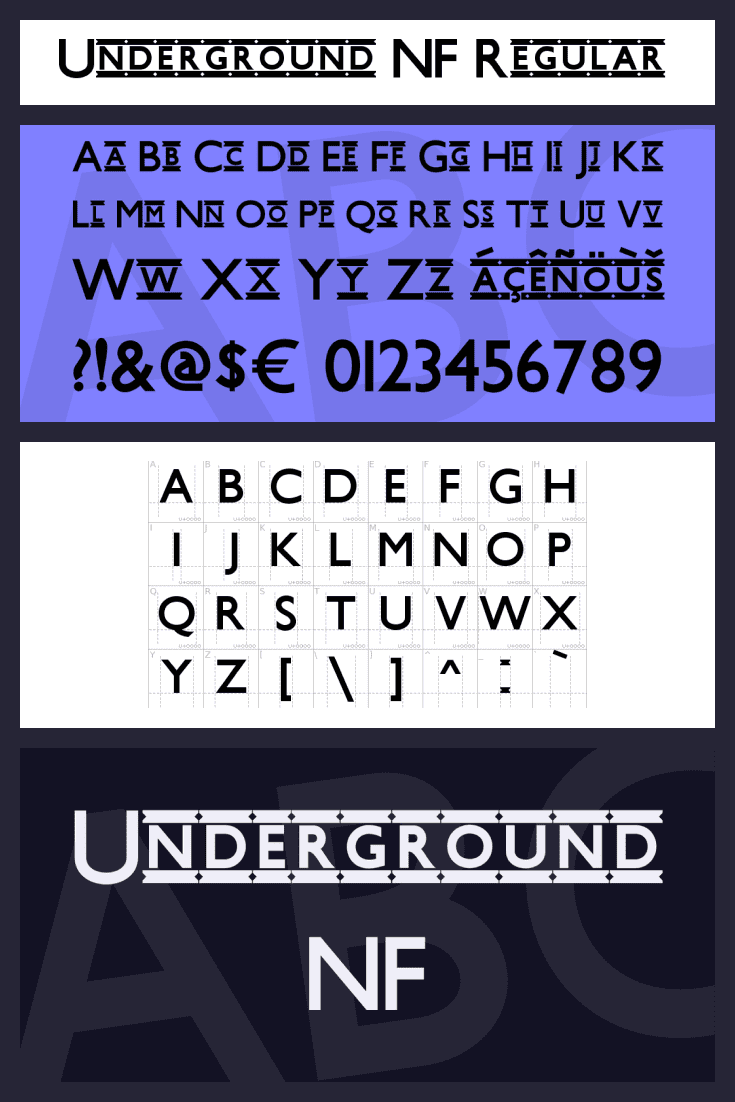 Here is an extremely restrained, but elegant typeface. Underground evokes a calm mood. Each letter is framed by a trim or "box" at the top and bottom, creating a unique style when words and sentences are put together.
Bullet journal fonts will help you coolly design a customized planner, and create a comfortable sketchbook full of your essential tasks and dreams. You may combine them with other typefaces. For example, these can be industrial fonts or stunning girly fonts with lots of handwritten products.
Where to Sell Your Fonts and Other Graphics
If you are a designer who makes beautiful fonts yourself, you might be particularly interested in the marketplaces where you can sell your masterpieces and make some extra pocket money. MasterBundles' Sell Your Deal service is the very tool that will help you achieve this goal. Sell Your Deal is a service that would be useful for both experienced independent designers and beginners since it allows you to legally sell your graphics on a legit marketplace. The service is rather simple in use, for instance, all you have to do in order to start using it is to create a vendor account and upload your products onto the marketplace. Simple as it is.