25 Punk Fonts to Break the Rules of Typography in Your Designs
Looking for fonts that reflect your rebellious attitude? Look no further than punk fonts! These edgy and bold typefaces are perfect for adding a touch of attitude to your graphic design projects. Whether you're working on posters, album covers, t-shirts, or any other project that needs a little extra edge, punk typography can help you stand out from the crowd.
In this listicle, we've rounded up 25 of the best punk fonts for your next design project. From classic grunge to modern punk, these fonts are perfect for expressing your unique style and adding some extra oomph to your designs.
So, if you're ready to take your designs to the next level, keep reading! Find your perfect punk typography and start creating designs that truly reflect your rebellious spirit!
Key Features of Punk Fonts
With our punk typefaces, you can easily tell the world your powerful message. Besides, using the assets offered will make your platform or any other offline project look recognizable and memorable. In this post, we've selected the best typefaces you should consider for your enterprise's flyer, advertising brochure, banner, or event invitation.
If you want to be sure what you are about to select, you should try the font online beforehand. There is a great opportunity to preview any style on the platform. All you have to do is type the words you would like to customize, and you will see the final result momentarily. Moreover, the items we offer pose many useful features, such as:
Come in OTF and TTF files.
Express punk movement.
Premium assets include a detailed and informative guide file.
All items have straightforward customization.
Top-quality products come with regular updates.
Best Punk Fonts for Rebellious Designs
If you want to create an unusual and authorial design, then pay attention to the fonts in this collection. They are very modern and authorial and will add a rebellious mood to your project.
Premium Rougher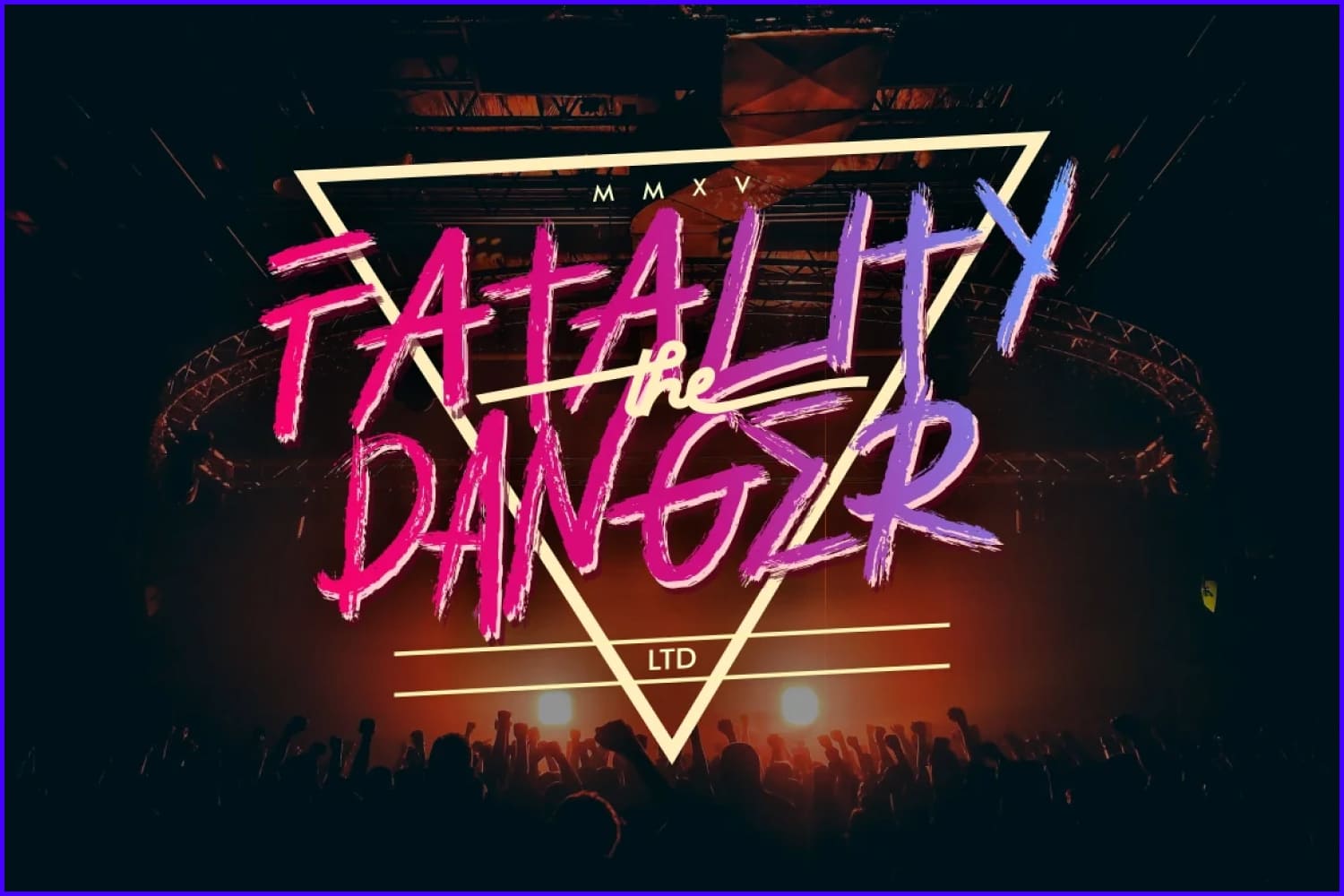 Let us show you our brush handwriting font which is an excellent choice for any of your projects. Performed in urban style and natural stroke, it includes all the essential options for creating a top-class webspace and attracting the users' attention. Install our product right now and compose an unlimited number of schemes! Rougher is the best suitable for:
Logotypes for business companies.
Creative flyers and posters.
Webpage headings and magazine titles.
Printing on apparels.
Record covers, and much more.
Eye-catching Lakeshore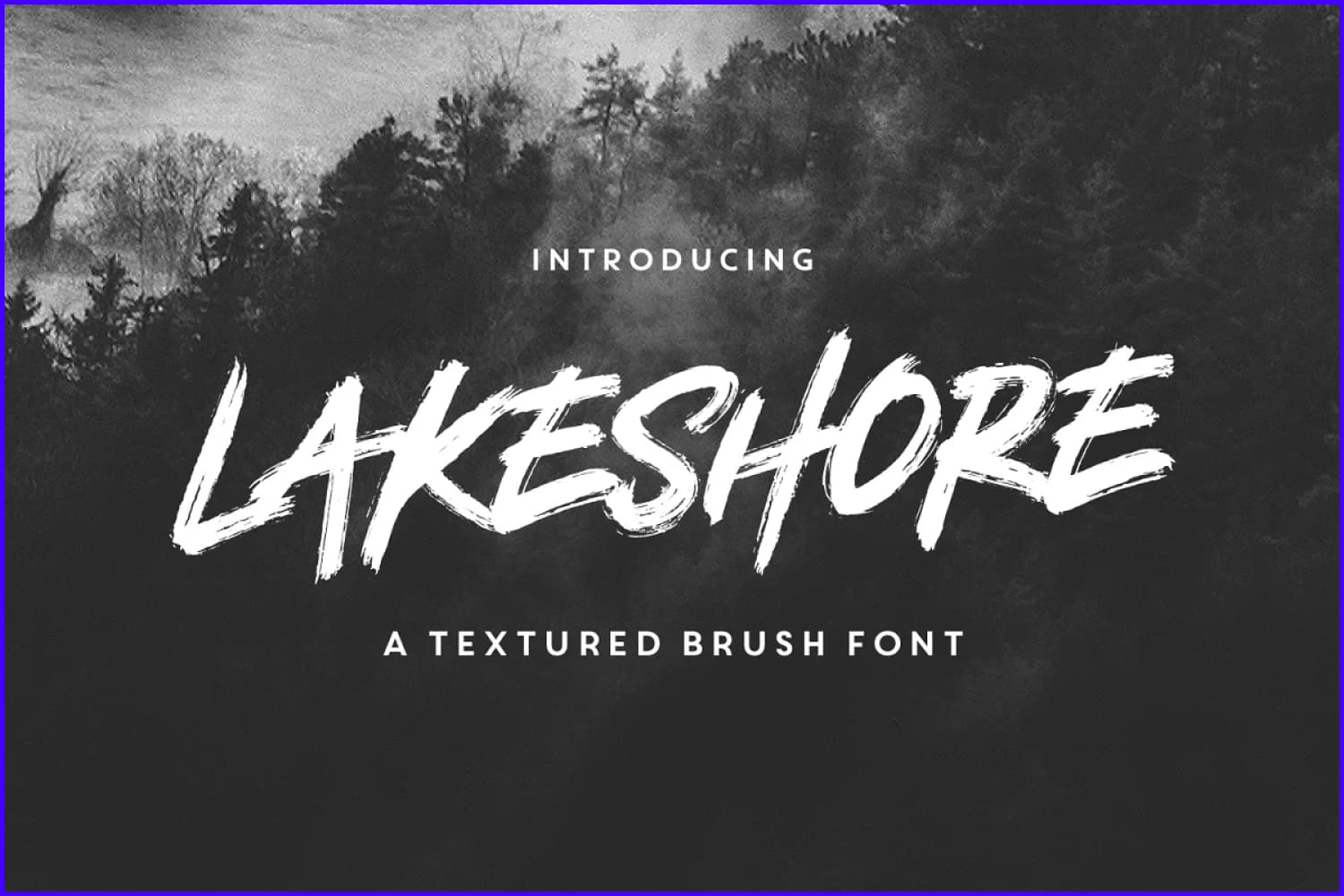 A modern textured font is waiting for you! All the characters, carefully painted by hand, are entirely digitized so that you may resolve them without losing the high quality. Besides, the following product comes in three different variations, including Regular, Italic, and Swash. Any of these versions support multiple languages and feature a 100% responsive layout and flexible customization. Alongside this, Lakeshore is perfect for:
Various company logos.
Titles and creative headings.
Letterhead and branding.
Underline text blocks for both printed and digital versions.
Top-notch Manticore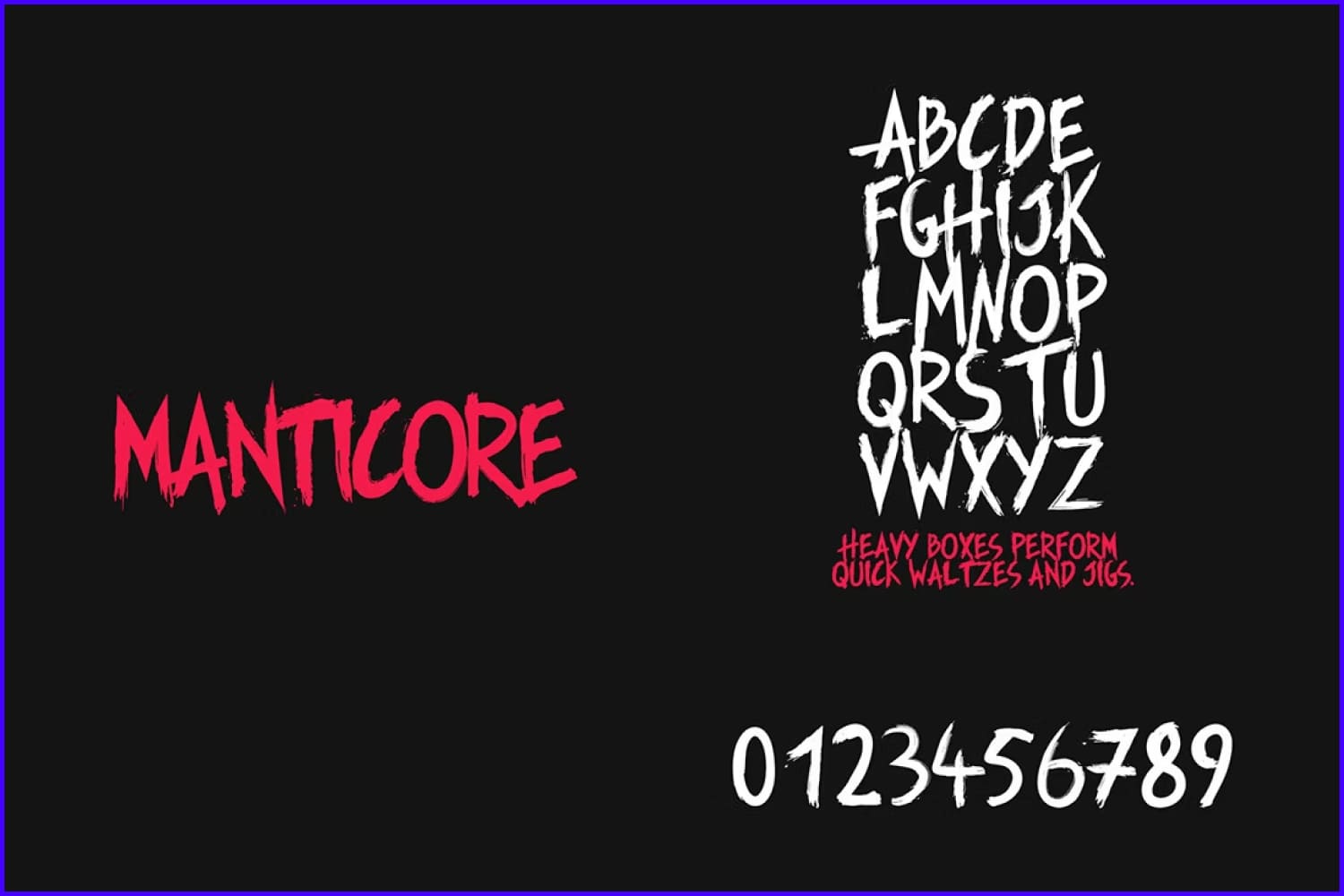 Create a grunge atmosphere with our terrific bold typeface. It has a modernized layout and excellently complies with any punk or urban-themed graphics. It is also a perfect choice for various '80s style prints and any issues related to horror stories. Manticore possesses many essential characteristics, and alongside numerals and punctuation, it includes extra glyphs and a set of trendy alternates. If you decide to download it from us, you will explore the prominent features we furnish:
Reliable framework & quality control.
Top-class specialists.
24/7 online chat for technical questions.
Rock-inspired Rebel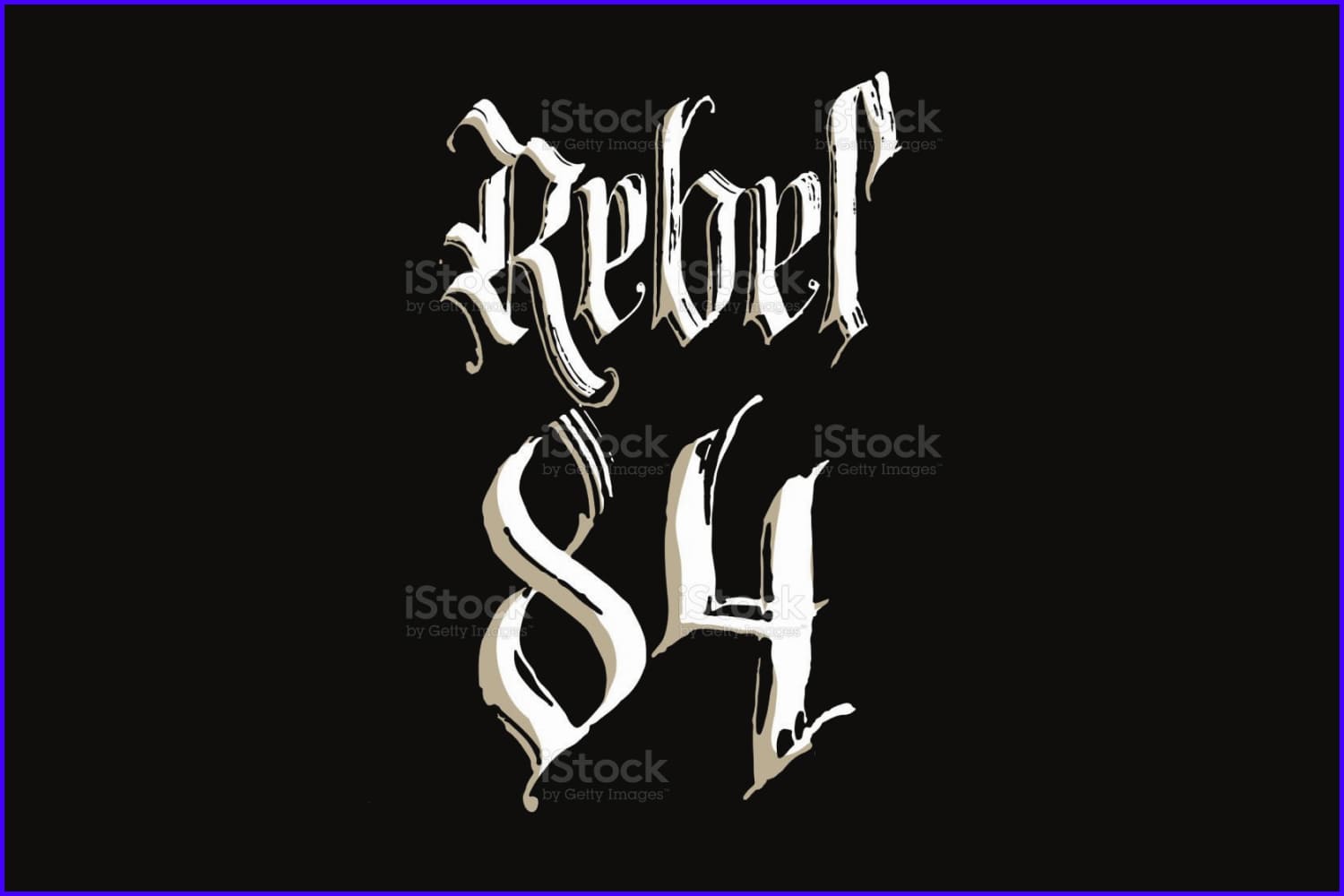 Rebel is a unique typeface that comes with gothic calligraphy lettering and sketchy skin. It looks similar to medieval blackletter scripts and is perfect for any scheme related to steampunk, hard rock, and death metal. You may use it for various occasions, starting from printing your text on T-shirts and bags to creating impressive posters and banners. Rebel is also suitable for different rock band covers or album titles. Alongside its extended scope of use, the following typeface is:
User-friendly.
Easy to install and customize.
Print-ready.
Flexible and reliable.
Unique Rose Thorns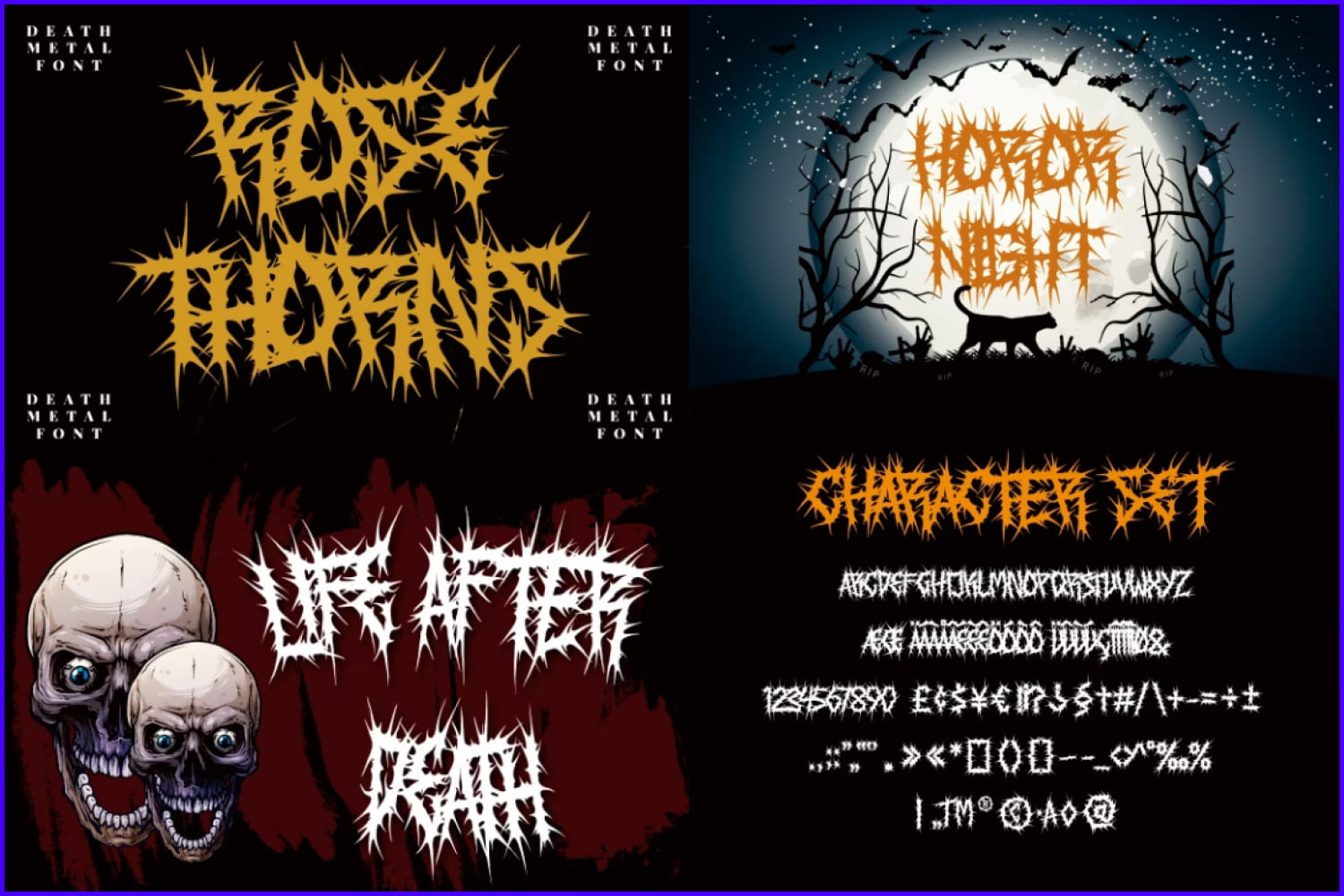 Do you run a project inspired by heavy metal and underground music? Then you should select a corresponding font that will reflect your personality and main ideas. Atmospheric Rose Thorns is an excellent choice for this purpose. Alongside its flexible skin and digital friendliness, it contains all the essential items in OTF, TTF, and WOFF formats. The following asset will suit different functionalities. You can easily apply it to:
Logotypes for death metal music bands.
Covers for hardcore music albums.
Creative posters and banners.
Blackletters.
Any other death metal-themed designs.
Atmospheric Heavy Metal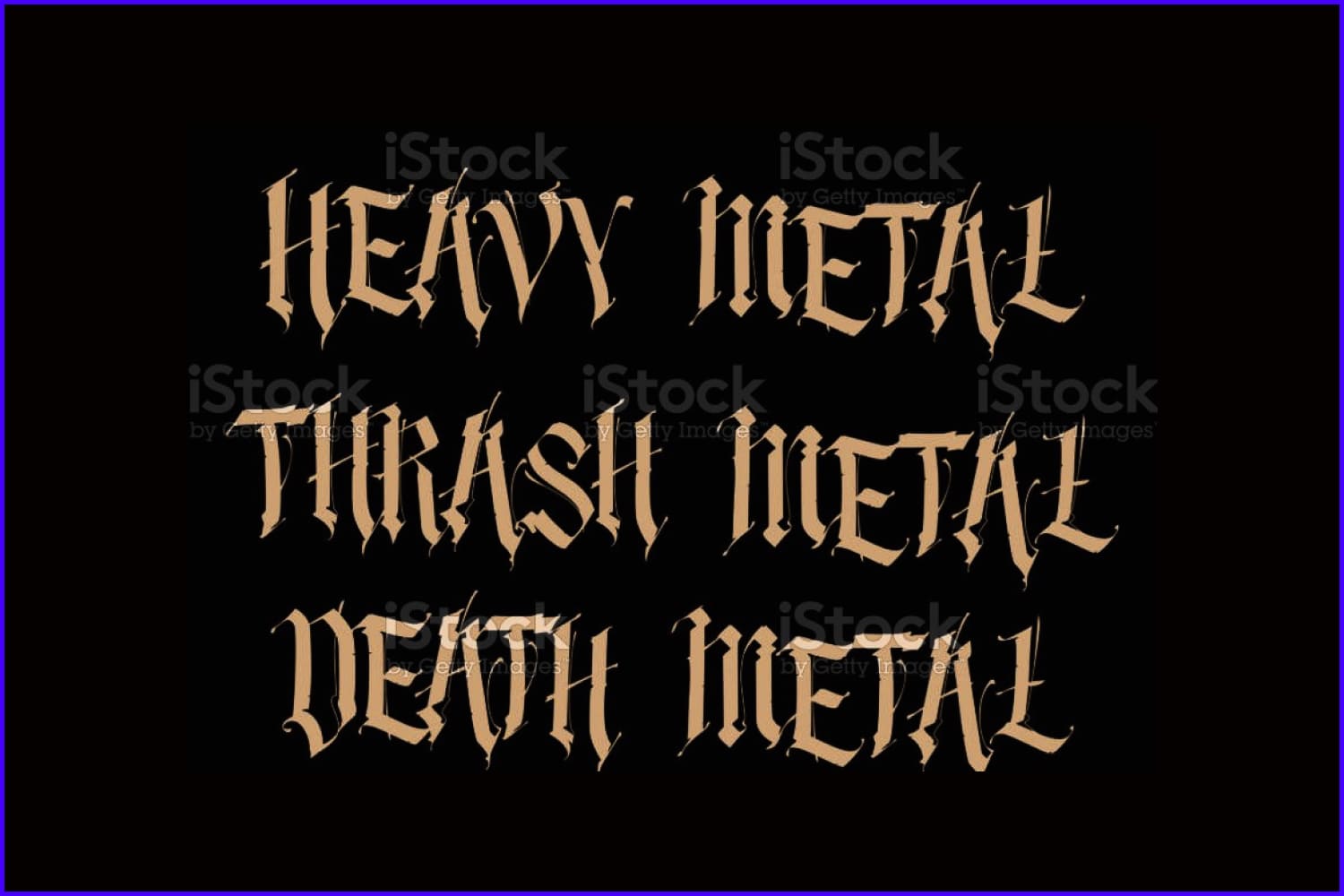 Are you fond of death metal and rock music? Or do you have a project related to these issues? Anyway, if you want to share your preferences with your audience, you may try to deliver your message across the corresponding typeface layout. With our terrific product, you are free to compose multiple projects and turn any of your ideas into reality. What do we offer to you?
Premium quality of any letter.
Ready-to-print layout.
Online support.
Easy customization with no additional software.
Best Free Punk Fonts
Here you'll find cool and stylish free punk fonts. They are high quality, attractive, and will perfectly complement any punk-style design project.
Hit me, punk!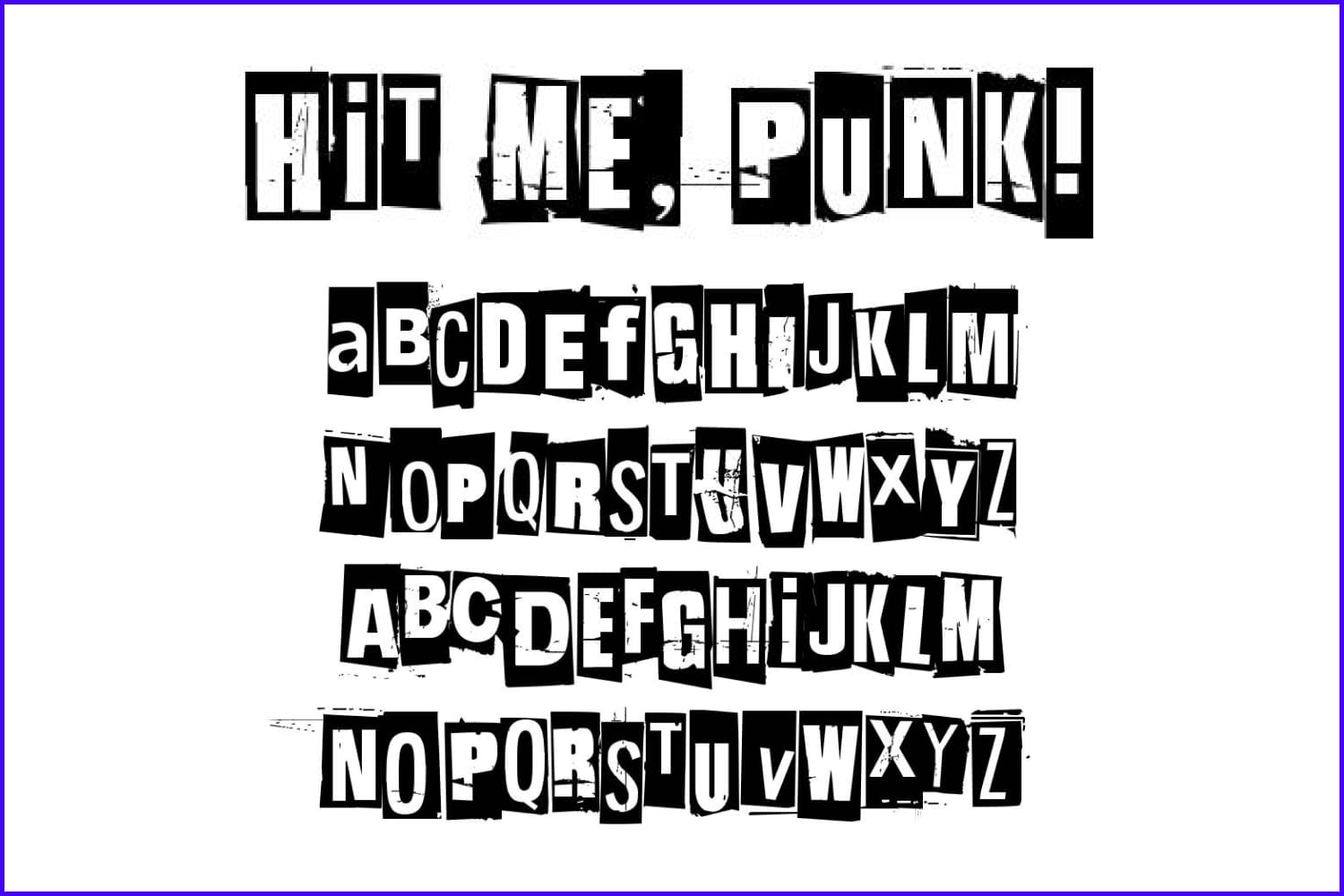 A cool free punk style font that will perfectly create a grunge vibe. It is very bright and unusual, which attracts the attention of both punk fans and ordinary people who have not heard of the punk style before. So if you want your project to go viral and become popular, choose this font. It's free, so you can just download and use it. Also, the font is very vintage and will be perfect for themed projects about the music of the last century. What you will get:
Fast customization.
Free access.
Easy to use.
Punk Is Dead Font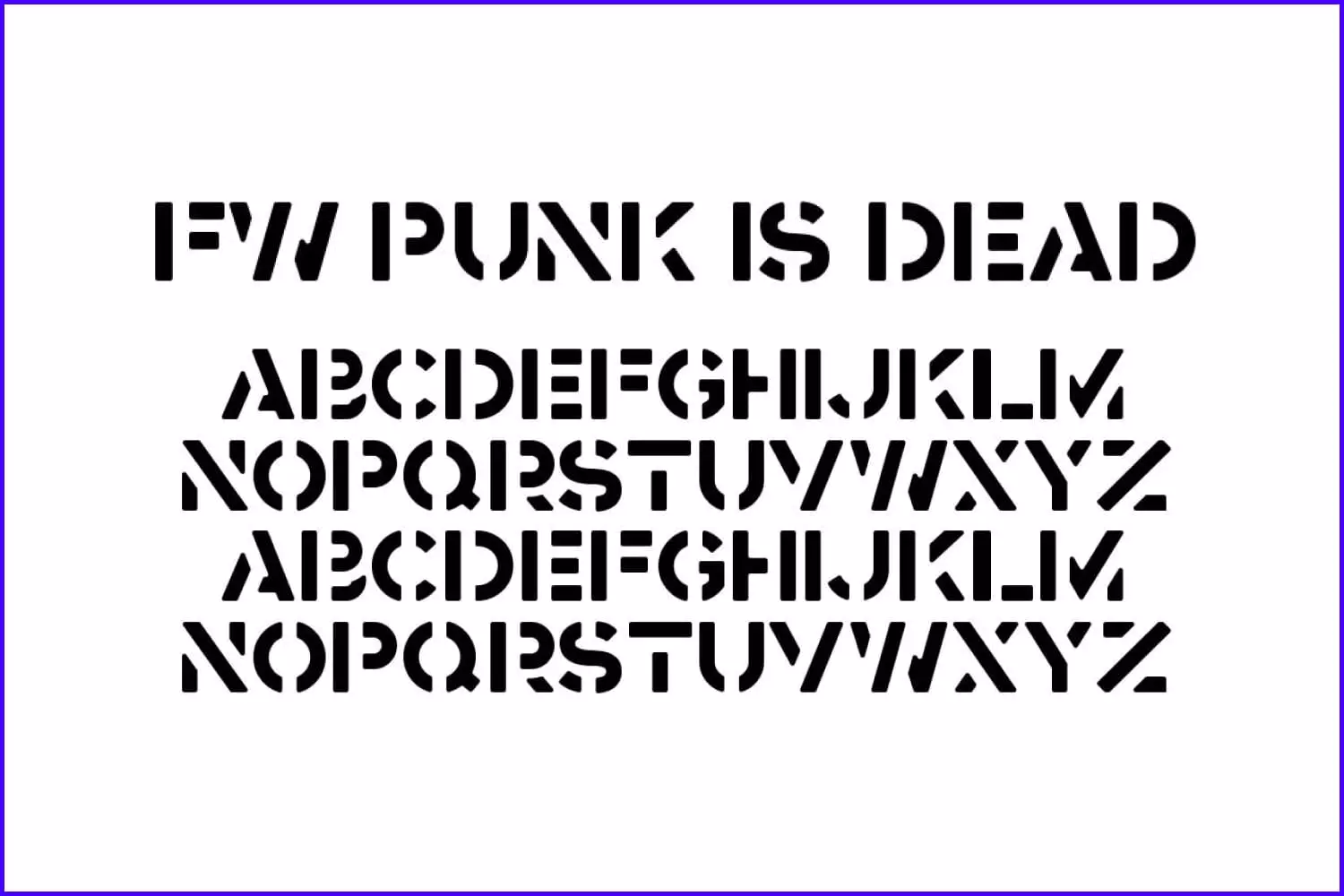 This is a stylish and modern font fit that looks great in Rock, Grunge, and Punk themed projects. But it's also a good complement to projects with any other theme. After all, it is basic and stylish, which means it will perfectly complement a website, application, presentation, or certificate. So choose it if you want to have a stylish and versatile design that will appeal to a wide audience, and especially fans of Punk culture. Check and choose it for:
Absolutely free font.
User-friendliness.
Fast customization.
Punk Typewriter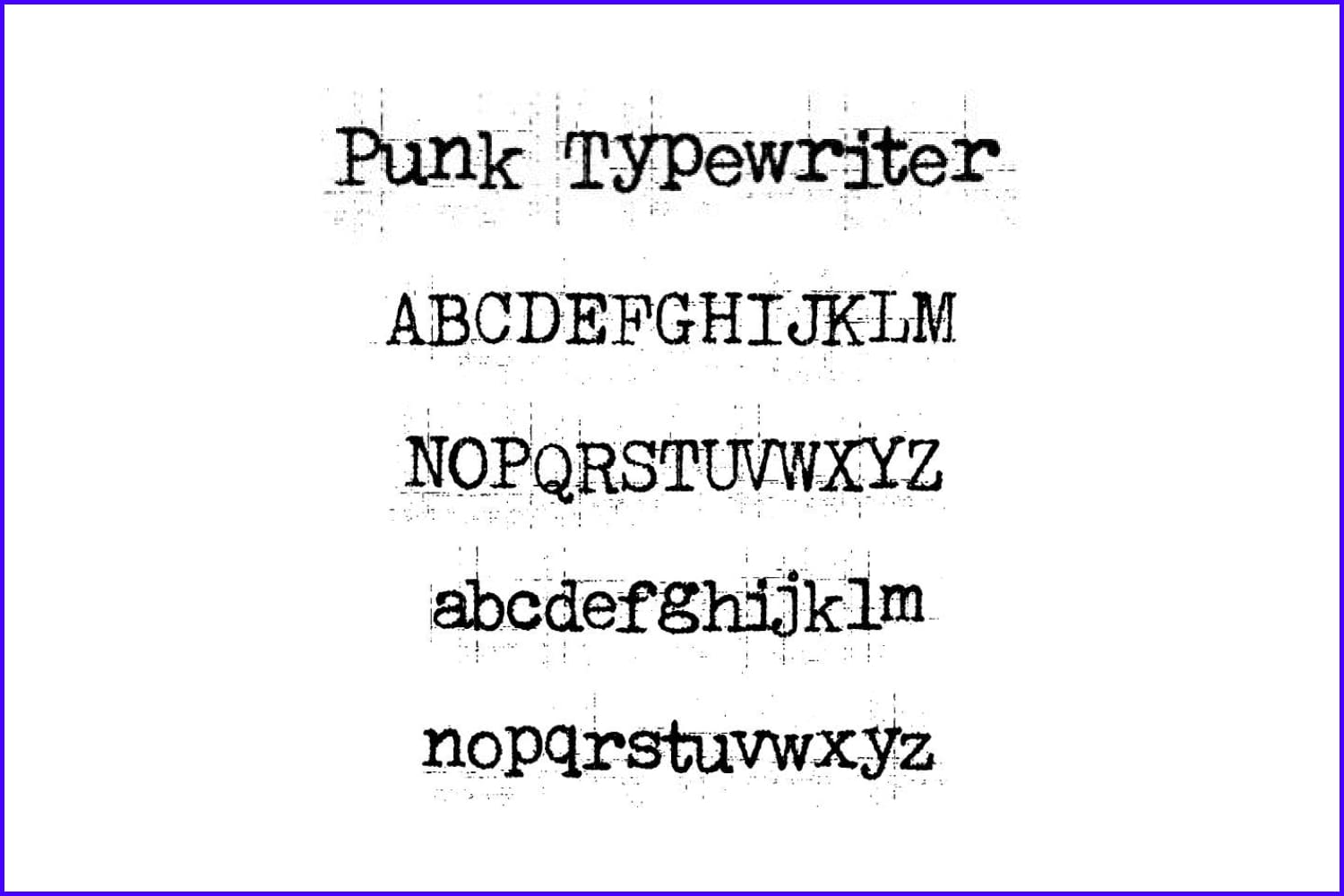 A concise, simple yet modern, and eye-catching font will perfectly complement your design project. It is very stylish and bright, so it can attract the attention of the audience and add traffic to your site. You can use it as the main text, as well as easily make it a header. The font is absolutely free and available for use. So you can download it and add it to your designs. It's worth choosing this one to get:
Free access.
User-friendliness.
TTF font file.
Steam Punk Fonts for Futuristic Designs
If you decided to create an unusual and modern project, these fonts will definitely help you with that. Steam punk fonts has an unusual shape and style, which means they are sure to attract the attention of a wide audience.
Black Spot Vintage Decorative Font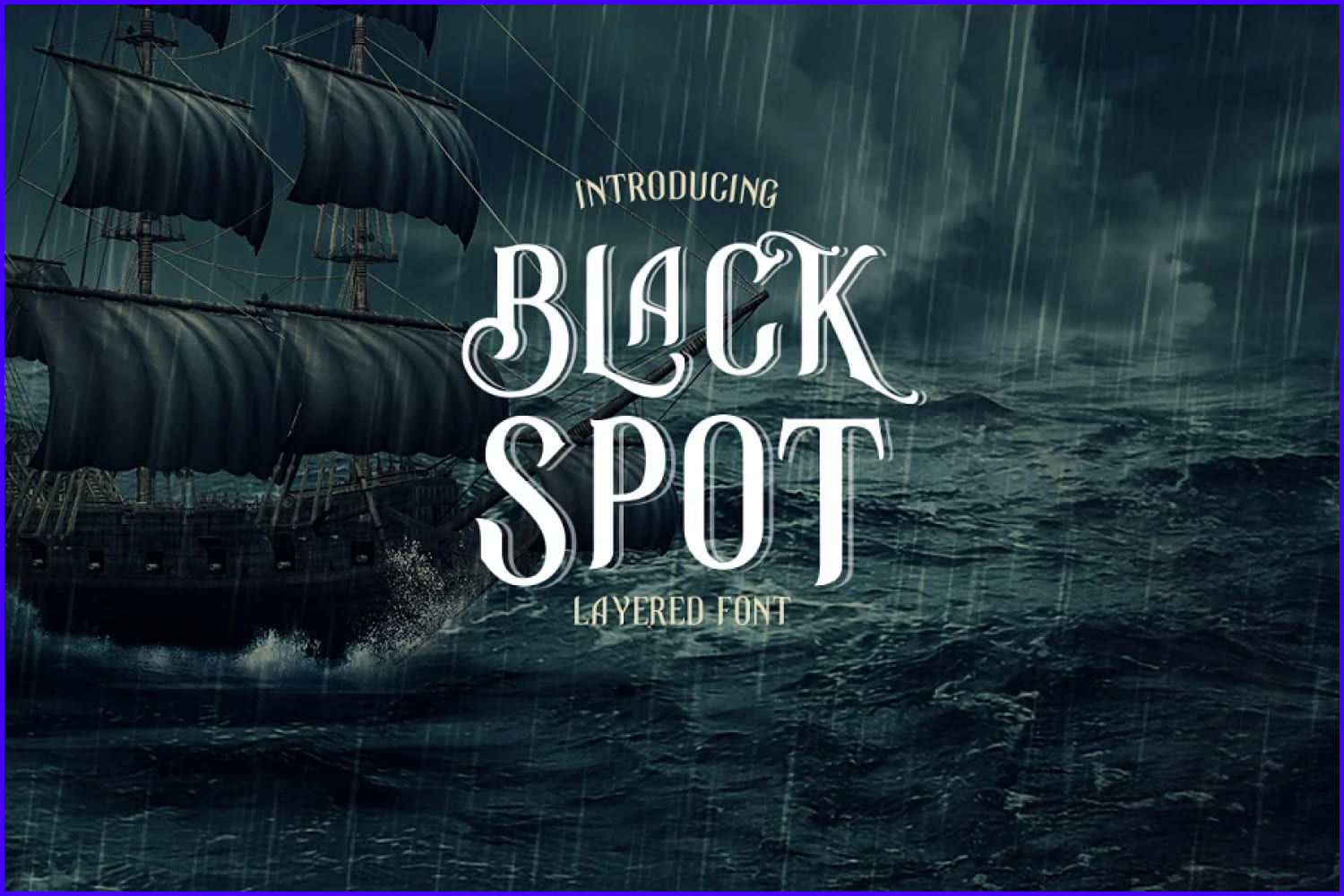 This elegant and stylish font has a vintage feel, but it can also be considered basic. It can be used to design labels, stickers, posters that are stylized for the past. Each letter has an interesting shape, making your project unique. It is worth choosing this font to get:
Font files in ttf and .otf formats.
Bonus flourishes in .ai and .psd formats.
Stay Alive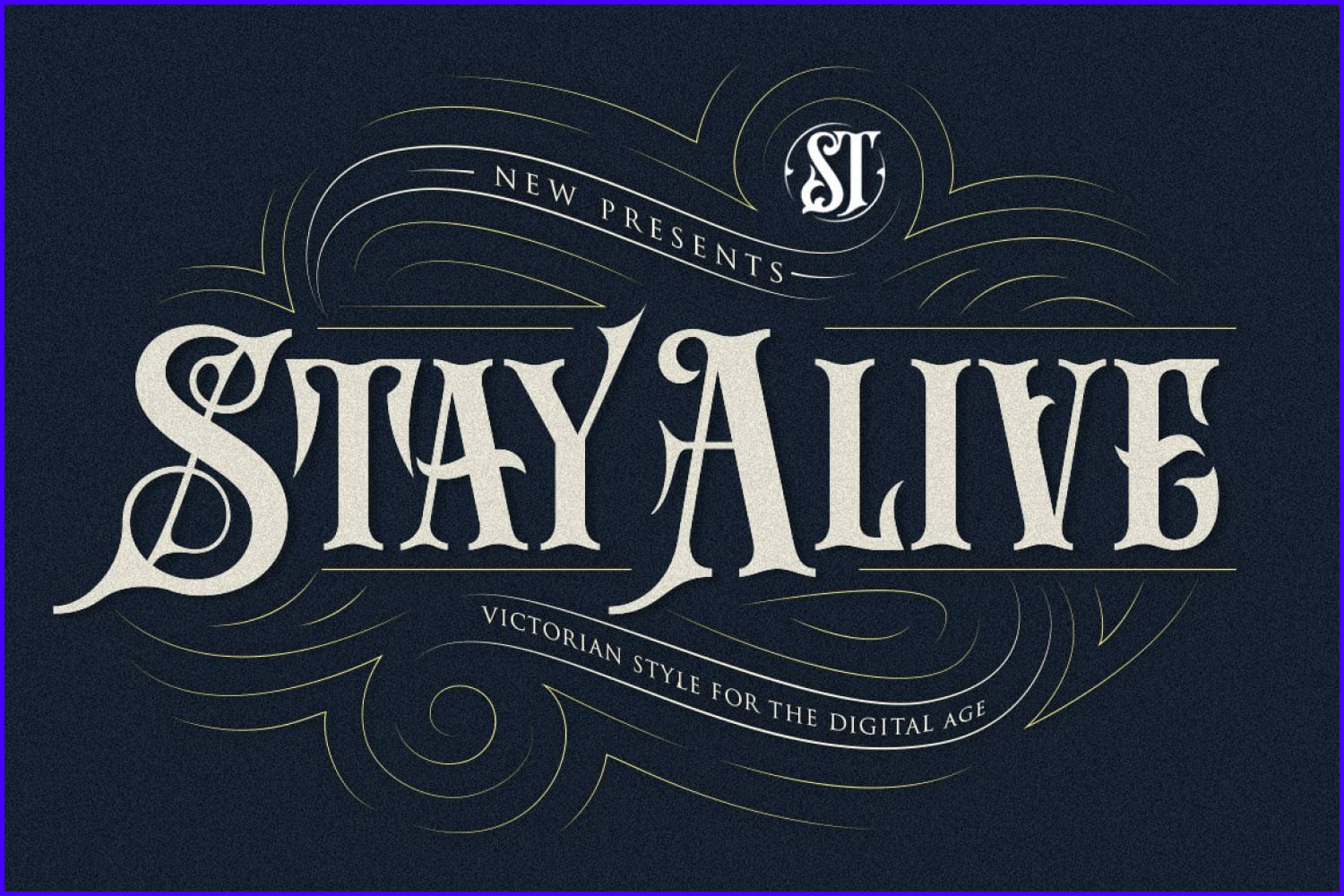 If you're into vintage and want to create a cool project in this style, then this font is definitely for you. It is created in the aesthetics of the 1800s and perfectly conveys the atmosphere of the past. The letters have strong and curvy shapes, which makes it unusual and unconventional. By choosing this font, you can get:
Font file.
Fast customization.
Numerals & Punctuations.
Atlantis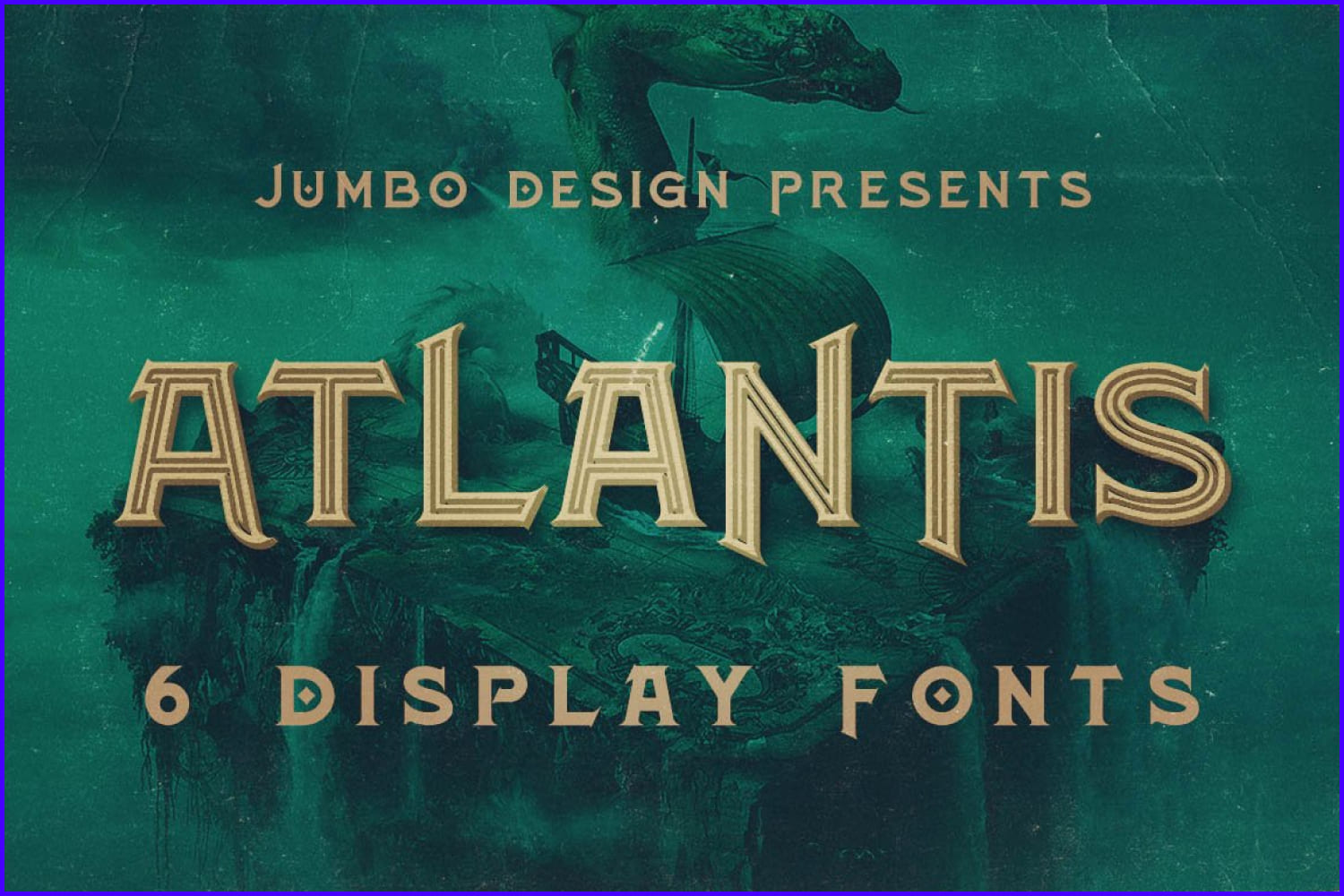 The unusual vintage steampunk font catches the eye from the first seconds. Because each letter has an unusual shape and curves. Using it in your project, you can attract a lot of new audiences and show your product to the world. Choose this font to get:
TTF, OTF formats.
Easy customization.
User-friendliness.
Inspiring Examples of Punk Typography
Punk- and rock-style fonts have a vintage feel and look great in projects that celebrate the musical past. But modern designers also often use them in their work to add freedom, uniqueness, and uniqueness to a project. Here's an example of a few such pieces:
Conclusion
Now you have a whole collection of punk rock fonts to complement your designs. Each of the fonts in this collection has a unique and modern design and will make your project unusual and stylish. If you are a fan of punk or your audience loves grunge, then feel free to choose one of these fonts and use it.
If you like the MasterBundles platform, you can not only find useful products on it, but also earn money. Upload your works through the Sell Your Deal form and sell your fonts, logos, templates, and other graphic design goodies.
Some Awesome Videos about Punk Fonts:
Disclosure: MasterBundles website page may contain advertising materials that may lead to us receiving a commission fee if you purchase a product. However, this does not affect our opinion of the product in any way and we do not receive any bonuses for positive or negative ratings.