7 Best Pinterest Accounts Every Graphic Designer Should Follow in 2023
Pinterest is a visual pinning service with integrated social features. It is convenient for storing both images and videos, collecting recommendations, and posting wishlists. It also has a social component: you can view your friends' boards and share your own materials. Like any other social network, you can like, share, and add friends.
Use Pinterest to promote your work, sell products, and drive users to your websites and social networks. Get inspiration for your designs, experiment with new techniques, and develop skills. Now we provide you with 10 of the most motivational and the best Pinterest accounts that you will definitely follow!
MasterBundles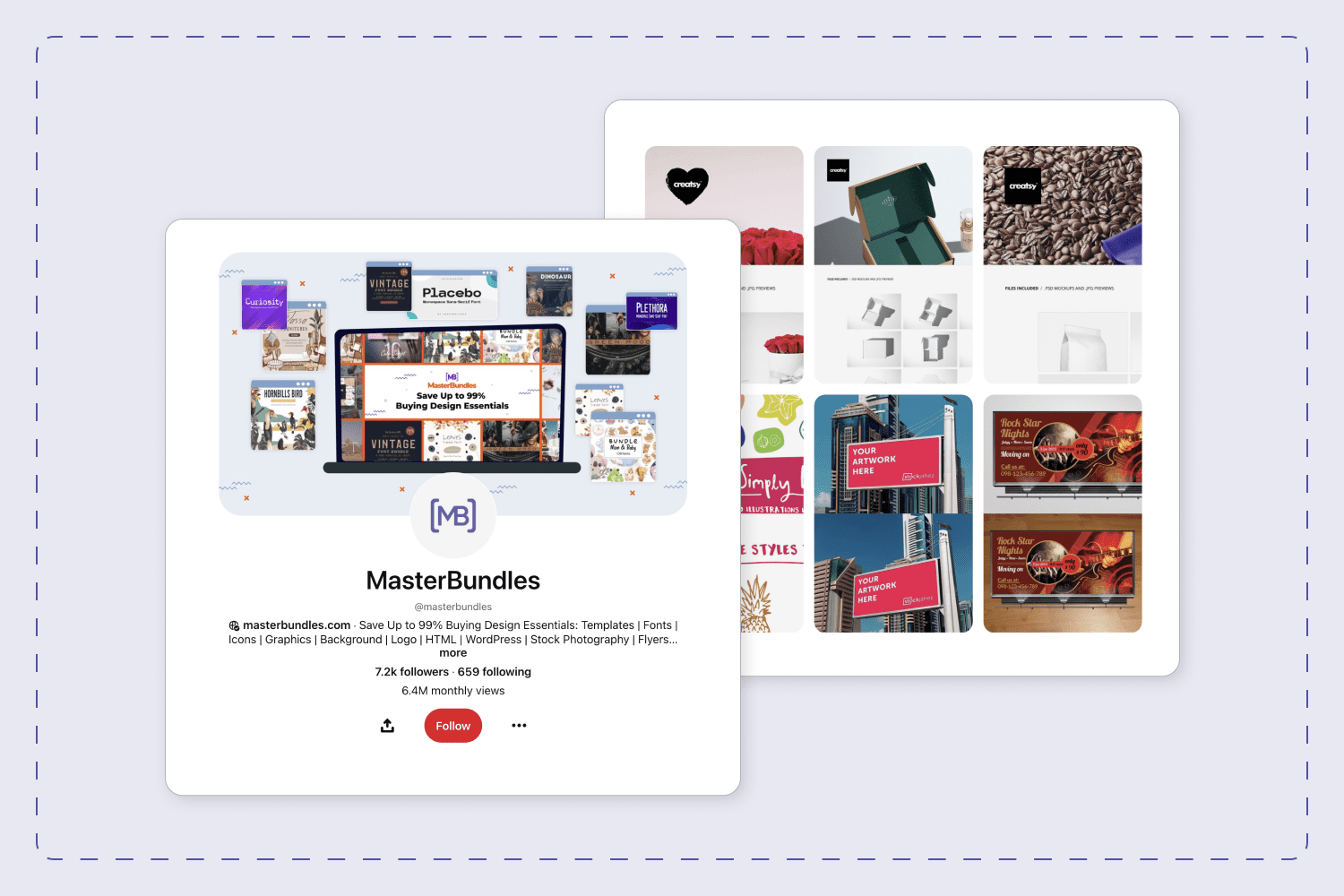 We are a revolutionary online marketplace that offers graphics, fonts, templates, illustrations, website themes and the like. The great thing is that these products are available in bundles, that is, users save money by buying our awesome products at once. Our Pinterest account is about web and graphic design, social media templates, branding, typography, illustrations and more.
The MasterBundles Pinterest account features boards dedicated to specific design projects and themes, such as Design Bundles, Best Number Fonts, Happy Easter Clipart, Best WordPress Photography Themes, Academic PowerPoint Templates and the like. Follow our account, stay up to trends and get inspired to create your unique designs.
Creative Market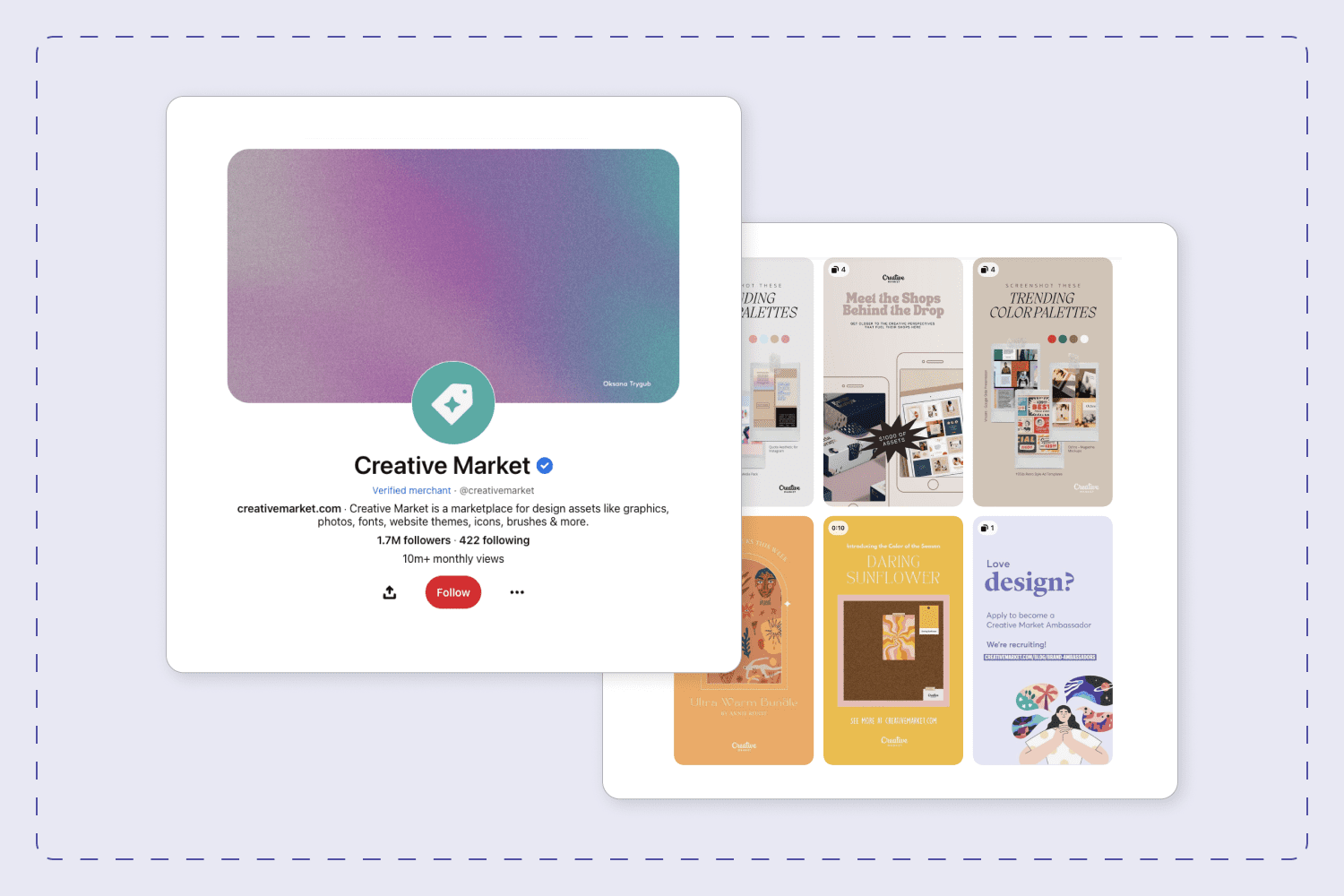 Creative Market is a popular online marketplace that offers a wide range of design resources, including graphics, fonts, templates, and themes. Their inspirational graphic designer Pinterest account is a fantastic resource, as it showcases their latest design products, shares tips on working with colors, social media templates, themes and website typography.
The Creative Market regularly updates their boards, making it easy for artists to find fresh inspiration and stay up to date with the latest trends. One of the unique features of Creative Market's Pinterest account is their "Free Goods of the Week" board, where they feature a selection of design resources that are available for free for a limited time. This board is a valuable resource for designers who are looking for high-quality design assets but are on a budget.
Behance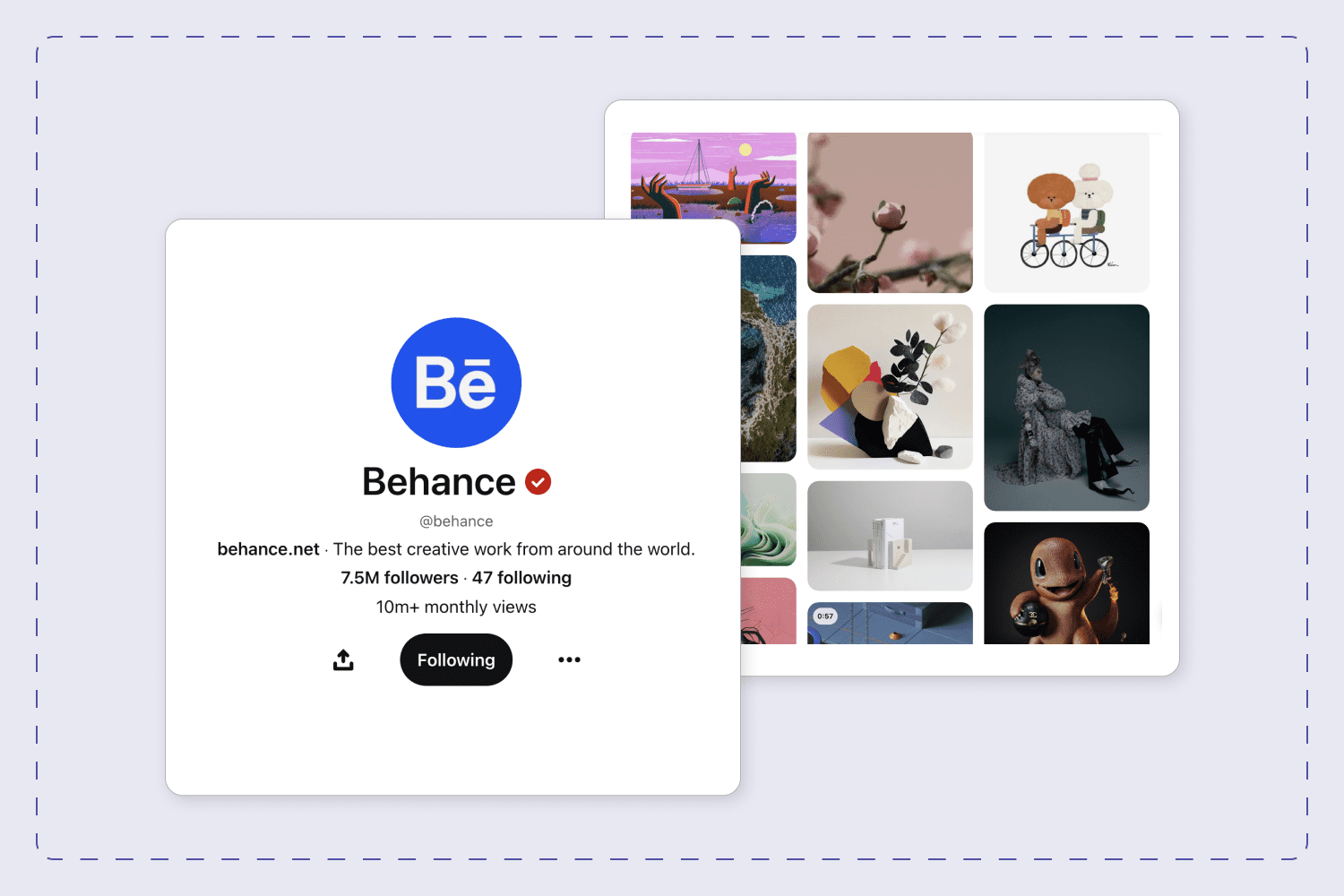 It is among the top Pinterest accounts to follow in 2023. Behance is a well-known platform for designers to showcase their work, connect with other artists, and find inspiration. Their account is a great resource for graphic developers, as it features a variety of design categories, including branding, web design, typography, and illustration. Each board is curated with a variety of high-quality design work from Behance's community of talented designers.
One of the unique features of Behance's account is their "Student Showcase" board, where they feature the work of talented students. This board is a valuable resource for those who are looking to connect with the next generation of designers and stay up to date with emerging trends.
Smashing Magazine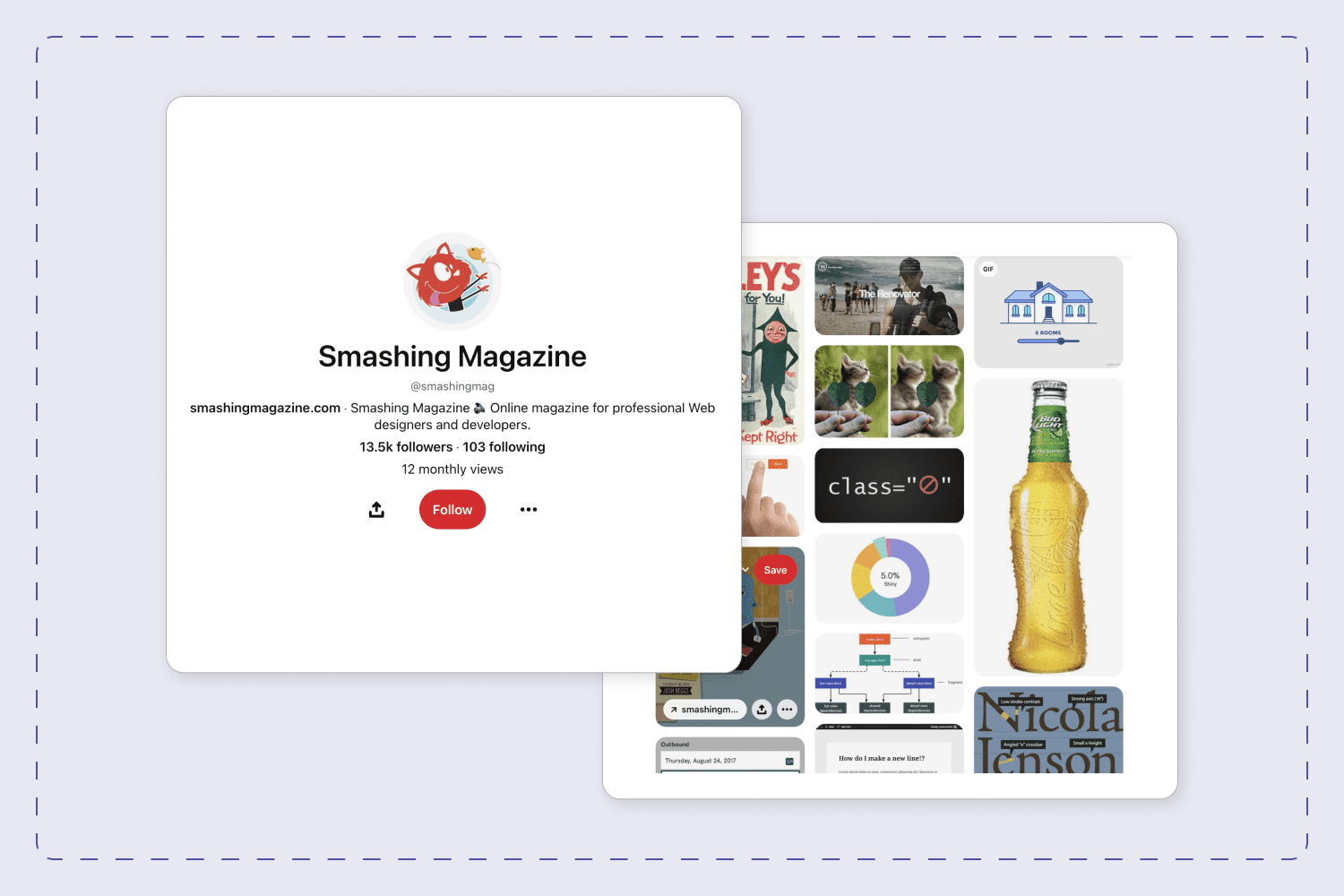 Smashing Magazine is a popular online publication with a wealth of information and resources for designers and developers. The account covers web design, UX/UI design, and graphic design topics. Each board is curated with a variety of high-quality work from Smashing Magazine's community, providing examples of exceptional work.
Here you can learn more about typefaces, icons, color schemes and combinations, and read interesting posts that will change the way you think about project development.
Designspiration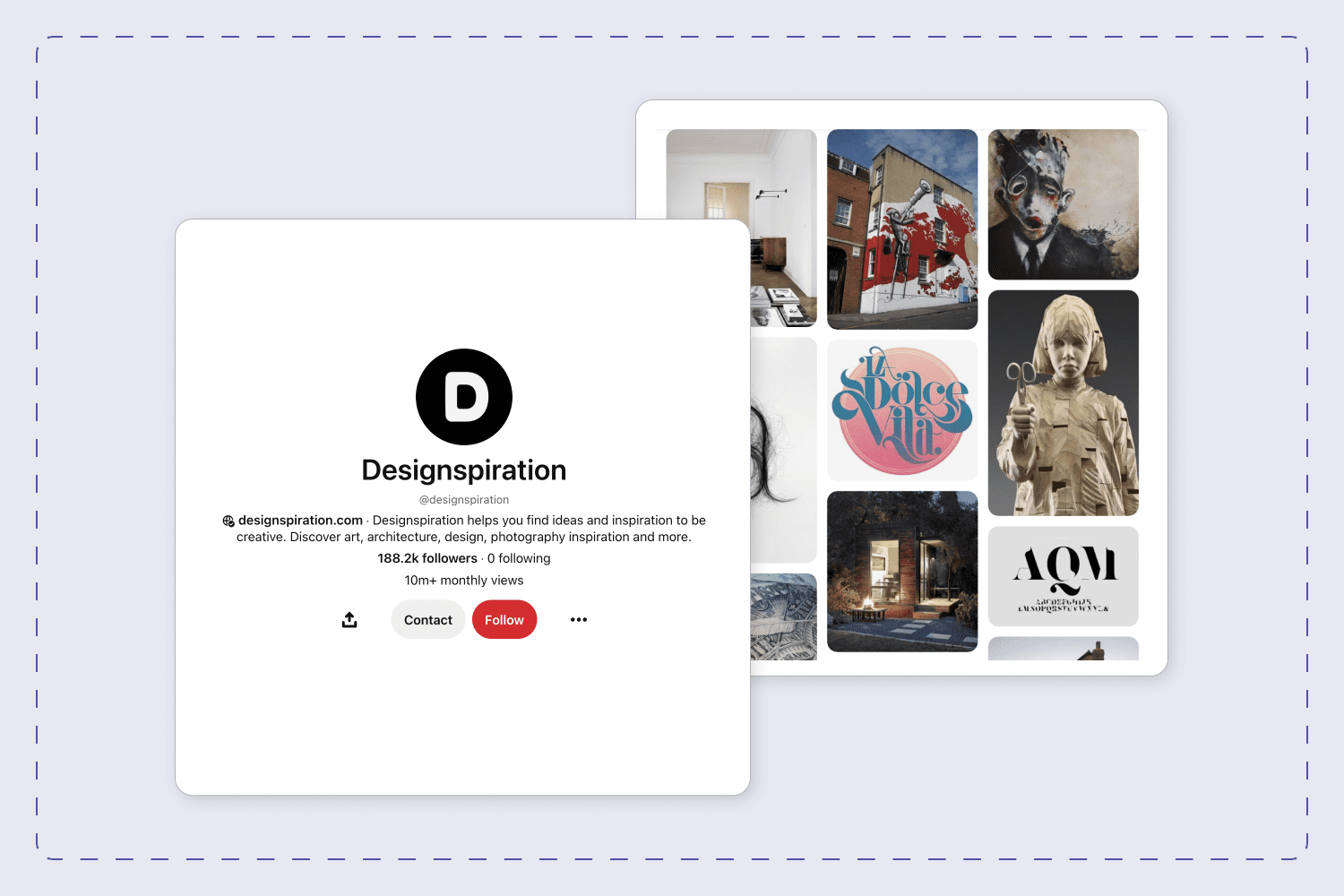 If you look on Pinterest for designers, then check Designspiration platform. It serves as a source of inspiration for artists across a variety of fields – graphic and web design, and typography. Their account features a wide range of design categories and styles.
It is designed very professionally. You can be inspired by incredible typographic ideas, posters, illustrations and even street art. It's a great place of motivation for photographers, architects and artists.
Freepik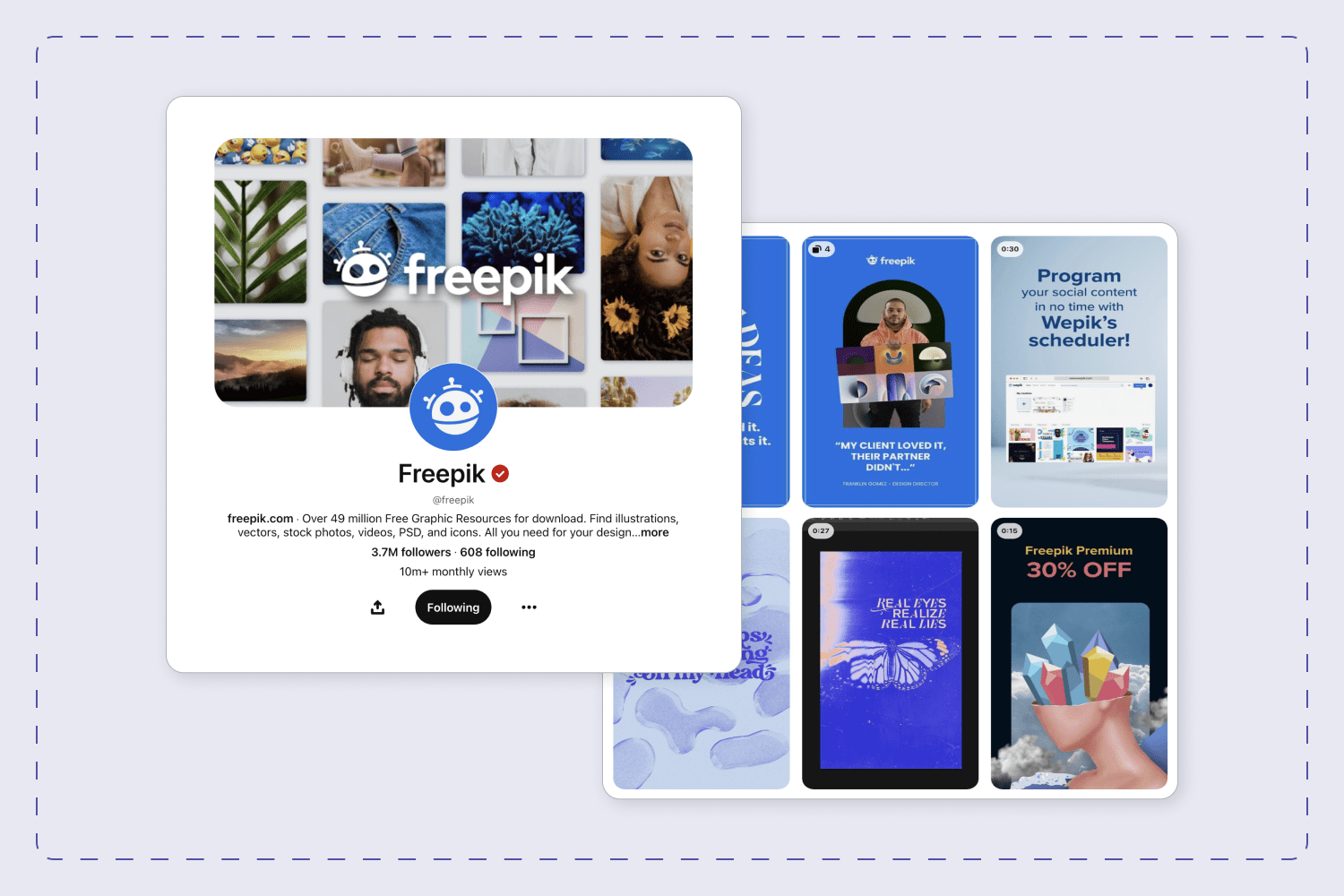 Freepik platform provides access to amazing graphics, icons, vectors, and templates. Their account features a wide range of design categories and styles. The Freepik Pinterest account highlights impressive color schemes solutions, tools for graphic designers, typographic ideas that amaze with the balance of lines and styles.
One of the unique features of Freepik's account is their "Tutorials" board, where they feature a selection of design tutorials and tips. There they show short videos on how to create effects or use individual tools.
Canva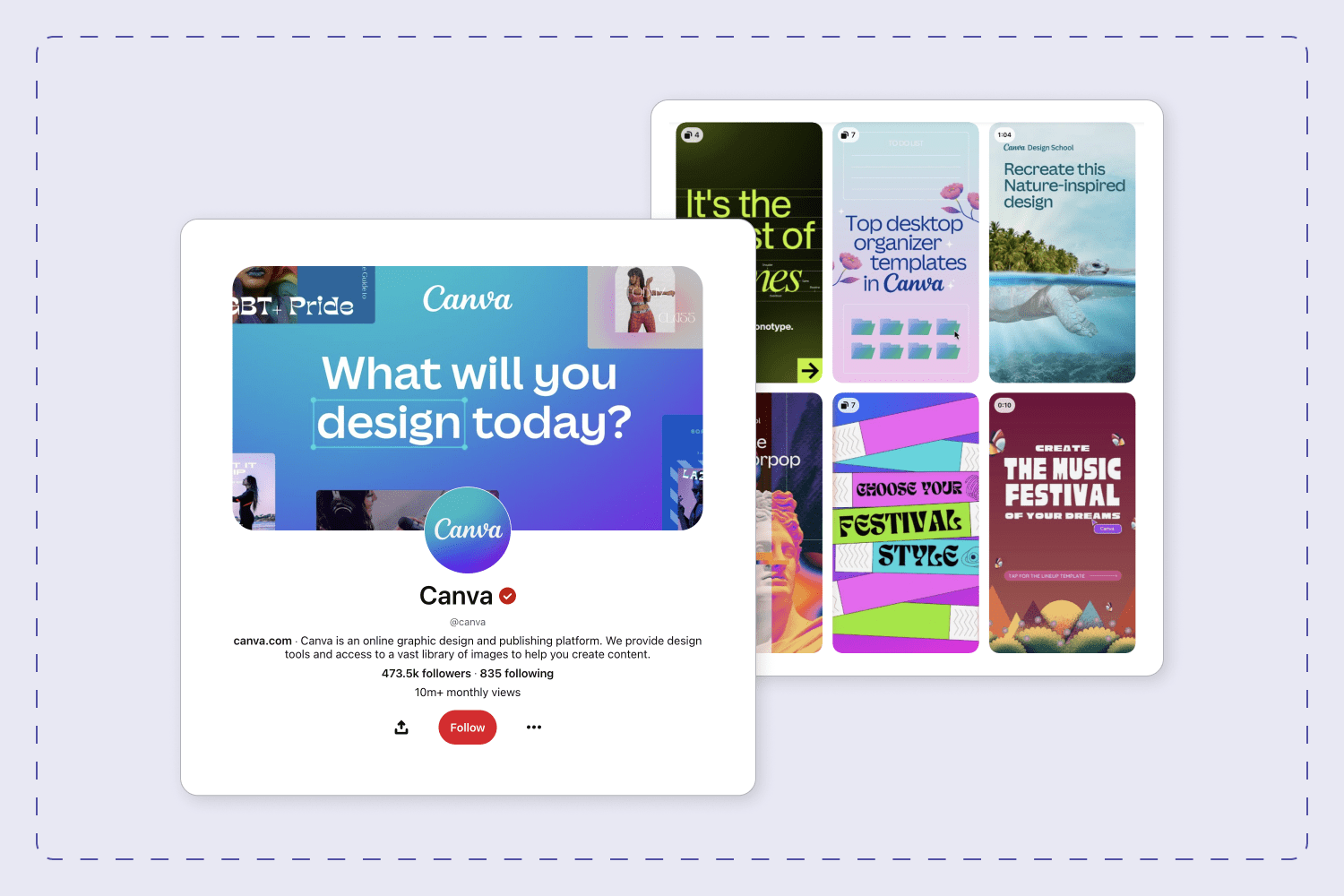 Canva allows users to create awesome designs, from social media graphics to presentations and marketing materials. Their Pinterest account is a valuable resource for graphic designers, as it features a wide range of design categories and styles. The Canva Pinterest account features boards dedicated to "Social Media Design," "Infographics," and "Branding."
The key highlight is the video tutorials that basically fill this account on Pinterest for graphic designers. They are about trendy techniques in graphic design, working with layouts and creating effects. Plus, you can easily repeat these guides.
These accounts are the best for creative people to follow on Pinterest. They are filled with ideas, trends and designs that not everyone would think of. Also look for great ideas on Instagram and other social media. Besides that, you can follow these platforms' websites. And there you can buy goods, benefit from collaborations and become a true professional.
FAQ
How do I find the best Pinterest boards?
Look at the best Pinterest accounts saved boards. Or, when you're making a topic-based query, go straight to searching for boards.
What makes a good Pinterest account?
It's impressive visuals and great information value.
Is Pinterest good for graphic designers?
Yes! It's a huge source of inspiration, interesting pages, and motivation for every creator.
Why do designers use Pinterest?
This platform helps to present your artwork, show your professionalism, share your best designs with users and lead them to your platforms.
Was this page helpful?
We will be happy if you decide to share this article with your friends on Facebook. Just click on the button and you're done
What are your concerns?
Thanks for your response!
You have already left your review.
Disclosure: MasterBundles website page may contain advertising materials that may lead to us receiving a commission fee if you purchase a product. However, this does not affect our opinion of the product in any way and we do not receive any bonuses for positive or negative ratings.