The essence of the illustrator's work is to create drawings and ready-made works for customers. Illustrators must have a great number of different drawing techniques. Any illustrator must be able to master each of techniques, because different customers have absolutely different requirements to the work performed.
The scope of the illustration is quite wide. This art is in demand in the following areas:
literature and the press;
banners, posters – printing;
animation – storytelling;
Internet banners consisting of illustrations;
advertising production.
illustrator – one of the constantly in demand professions.
And our guest today is Aleksei Kruhlenia.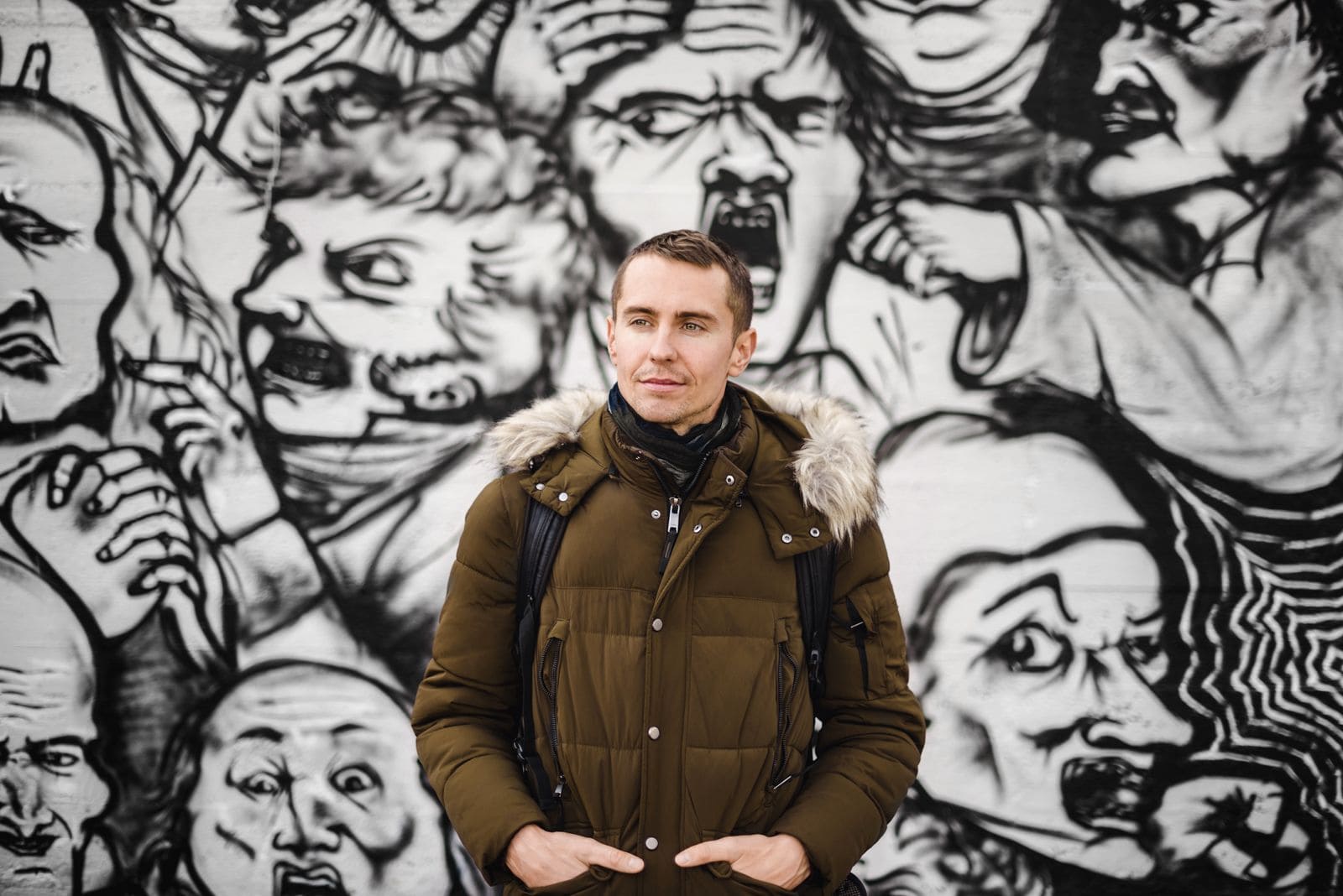 It is already a quite famous illustrator, who creates impressive works. They certainly will not leave anyone unaffected. You can find Aleksei's works at Behance, Dribbble, CreativeMarket. And of course subscribe to his Instagram, there you will be the first to see the extremely beautiful projects that make you wonder.
Just look at what projects Aleksei creates. It's just incredible!
Belarus Freedom Movement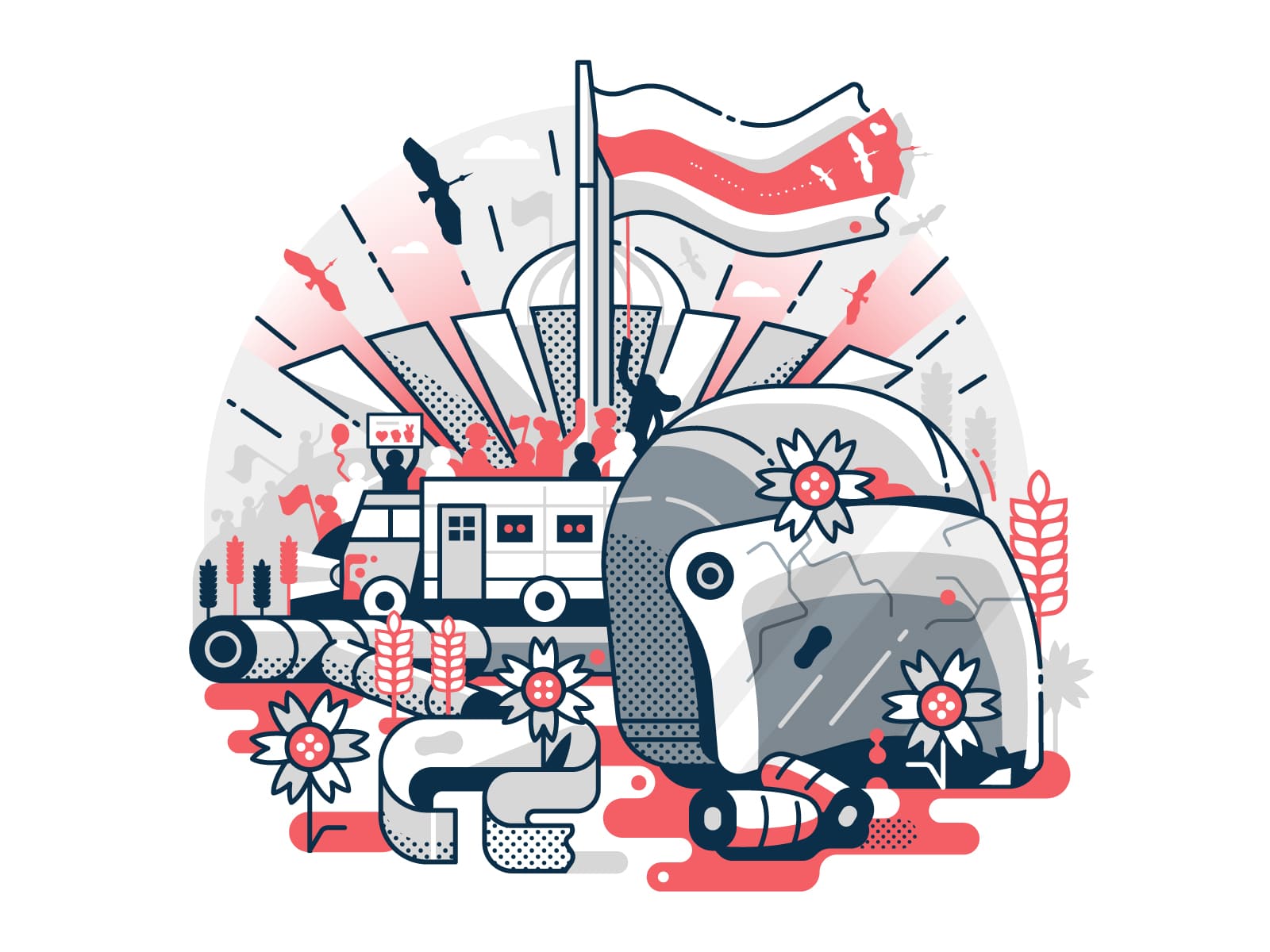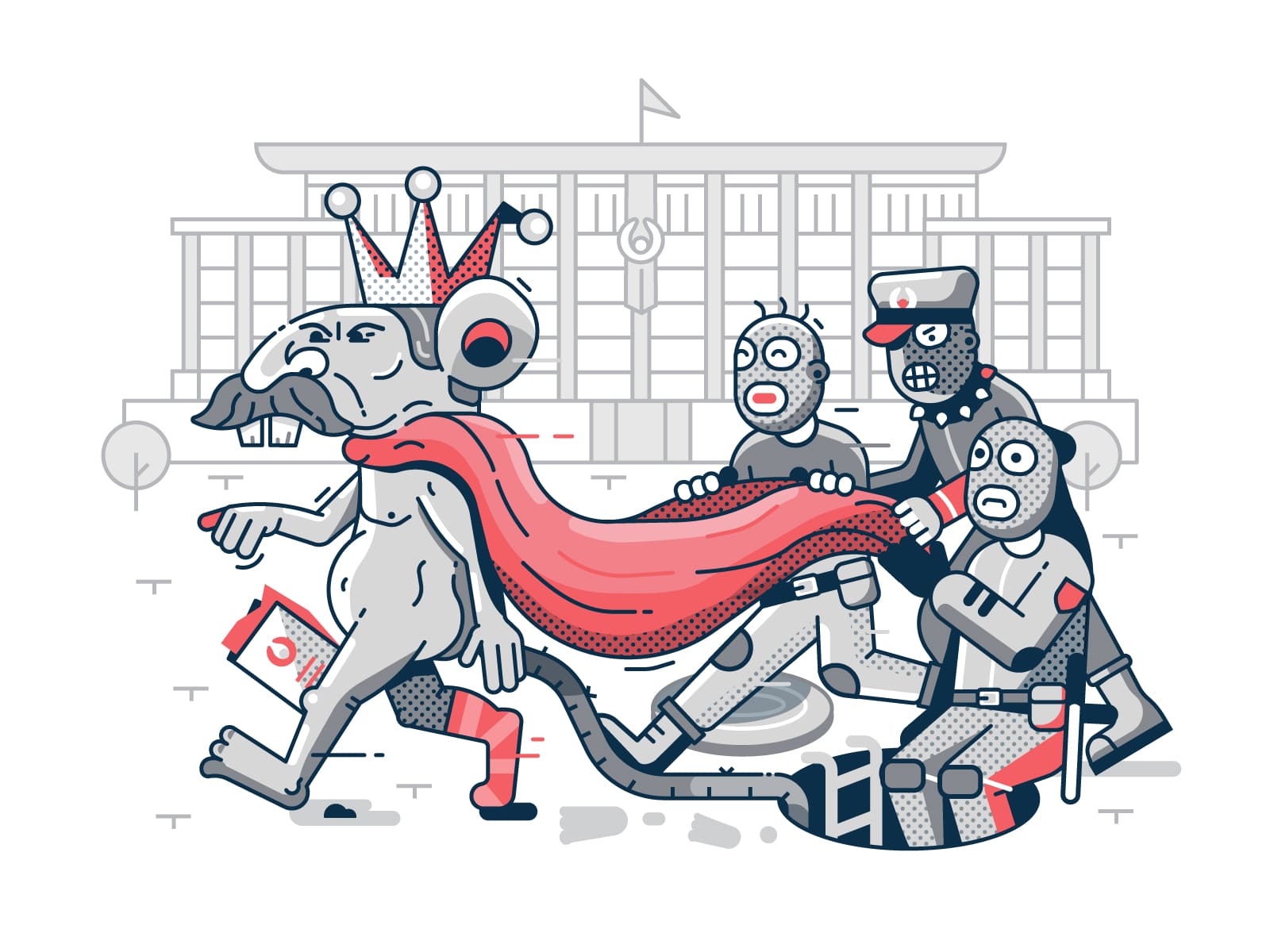 Serbian Adventure Stories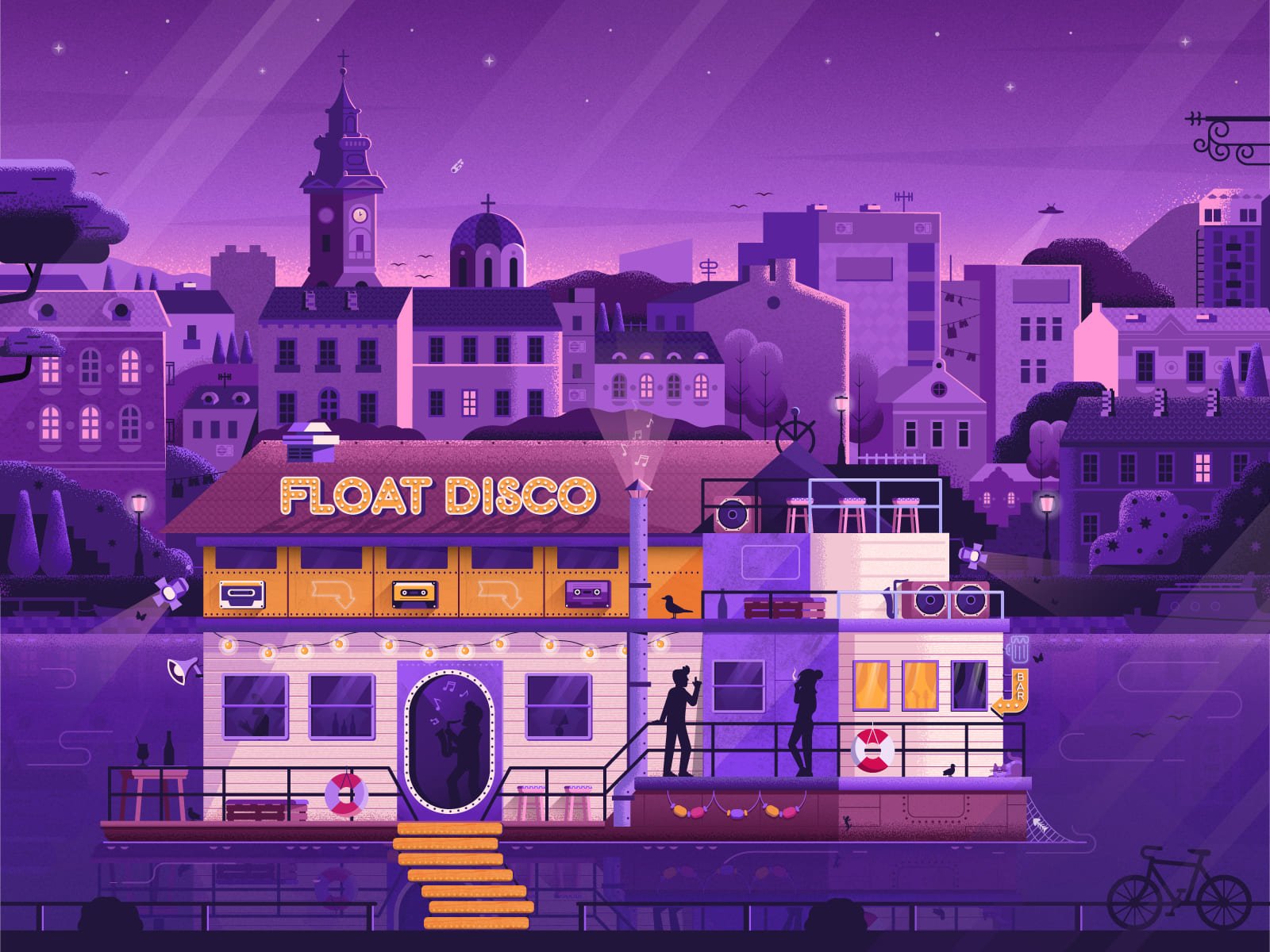 World Travel Posters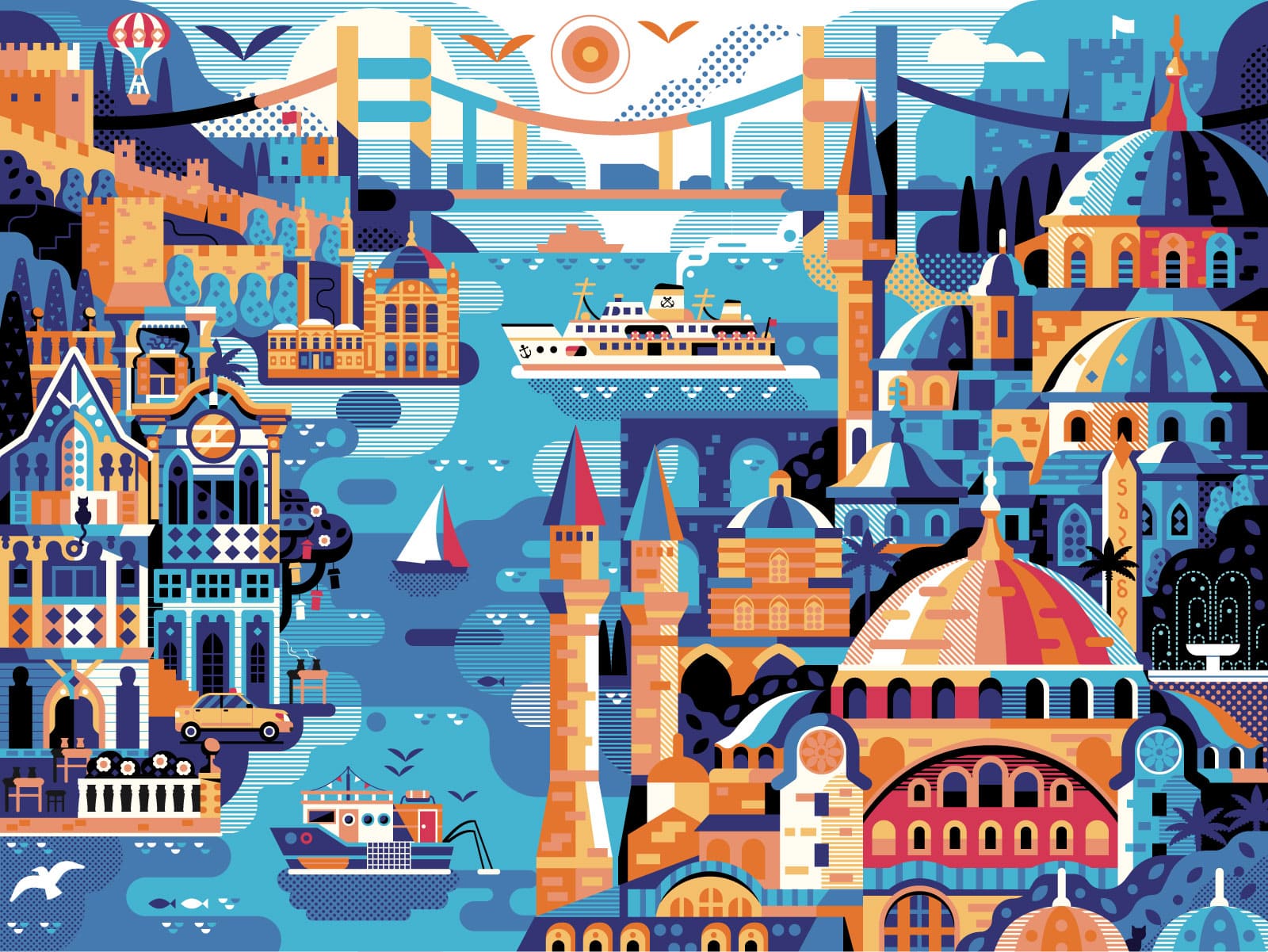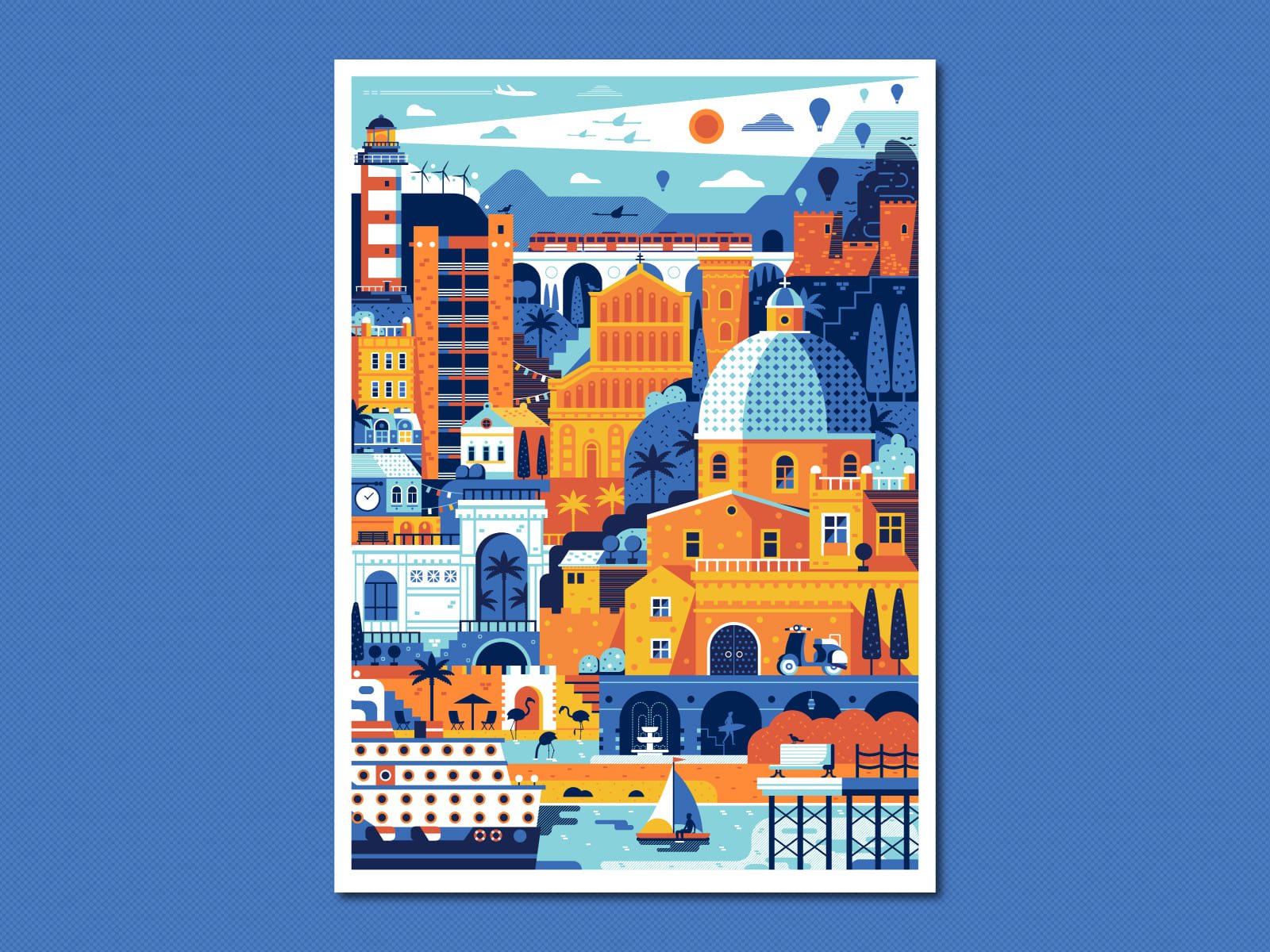 The Best Nine of 2019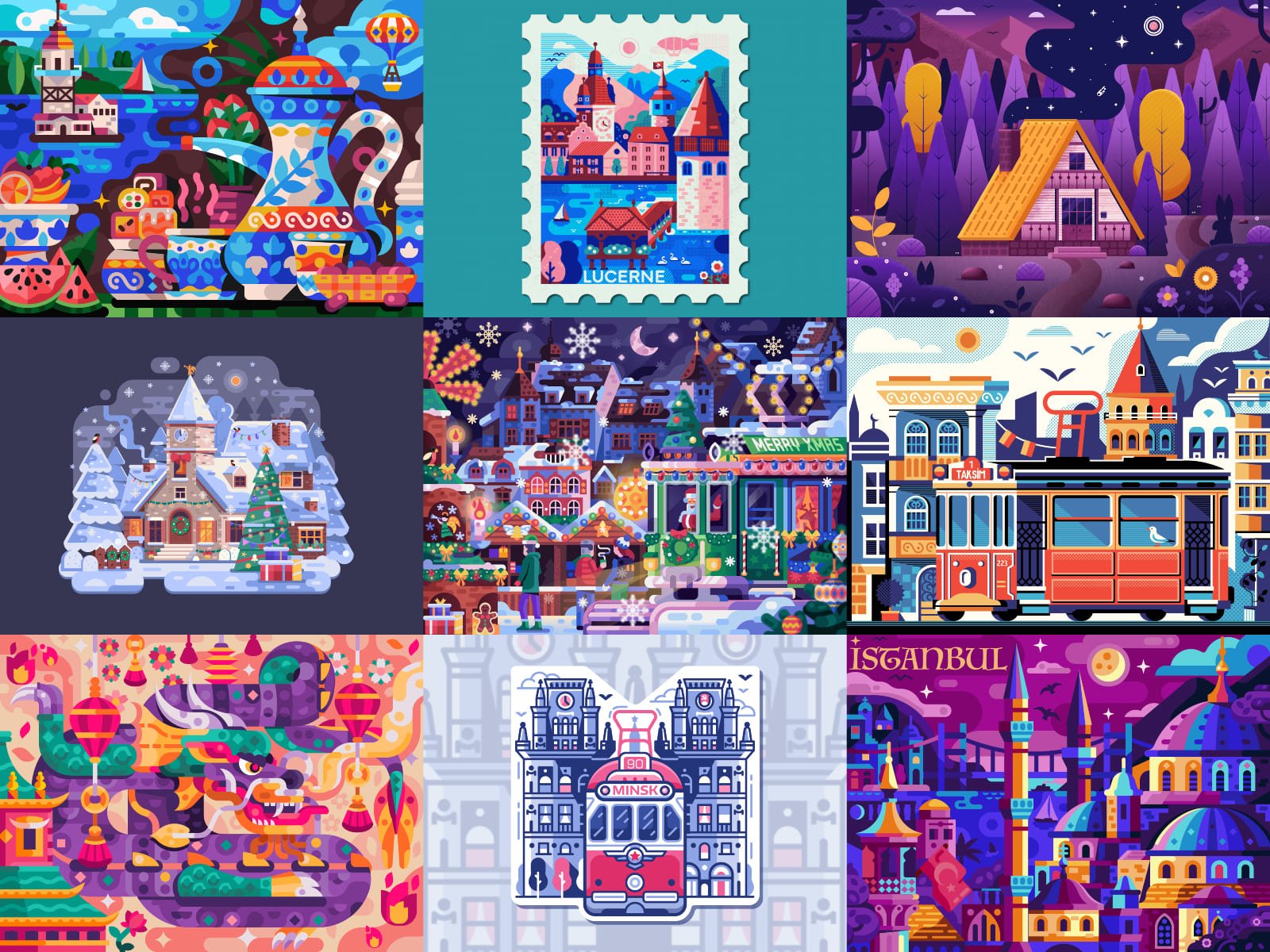 Alex does his work as carefully as possible, drawing each line, and paying attention to all the details.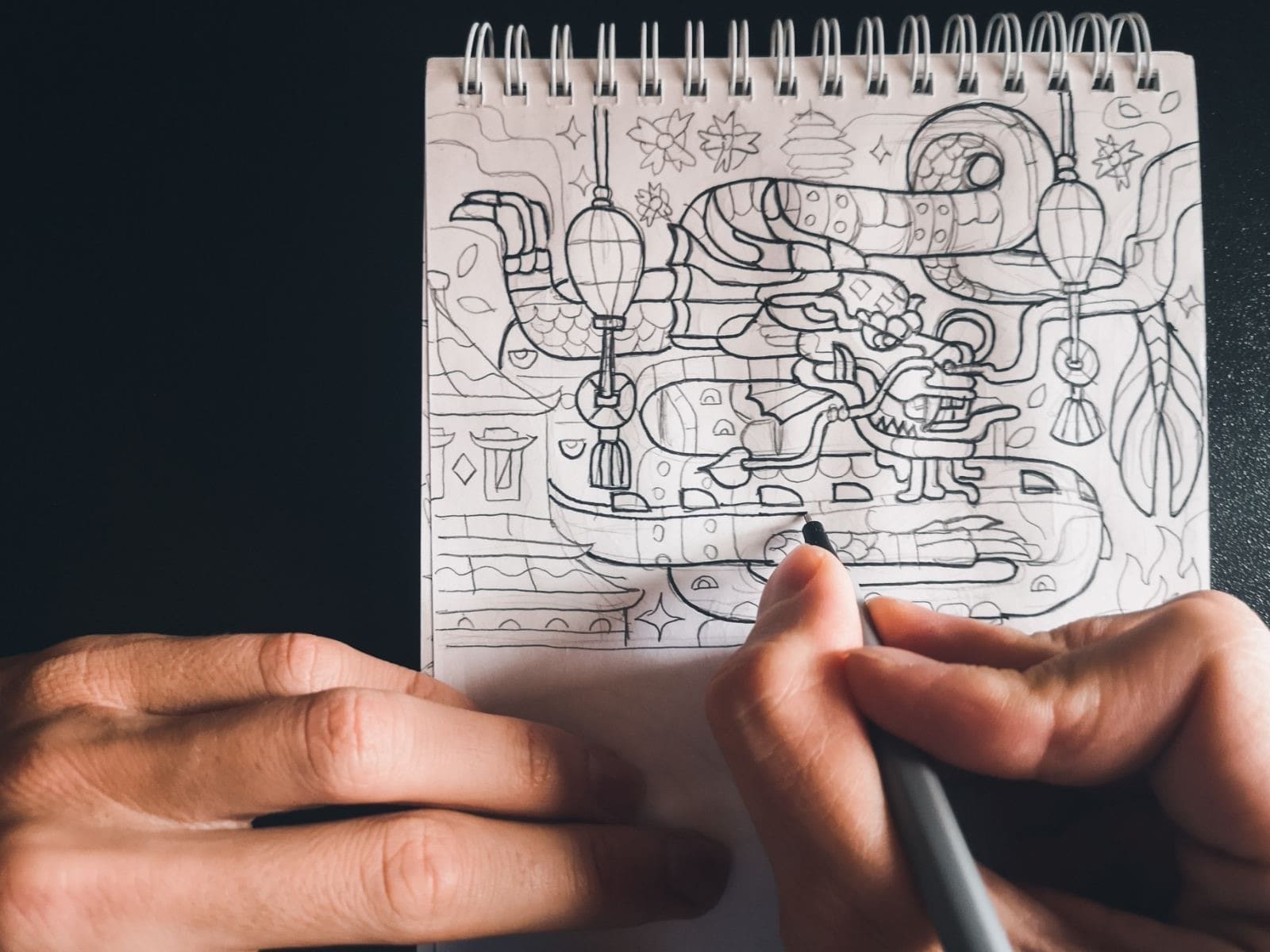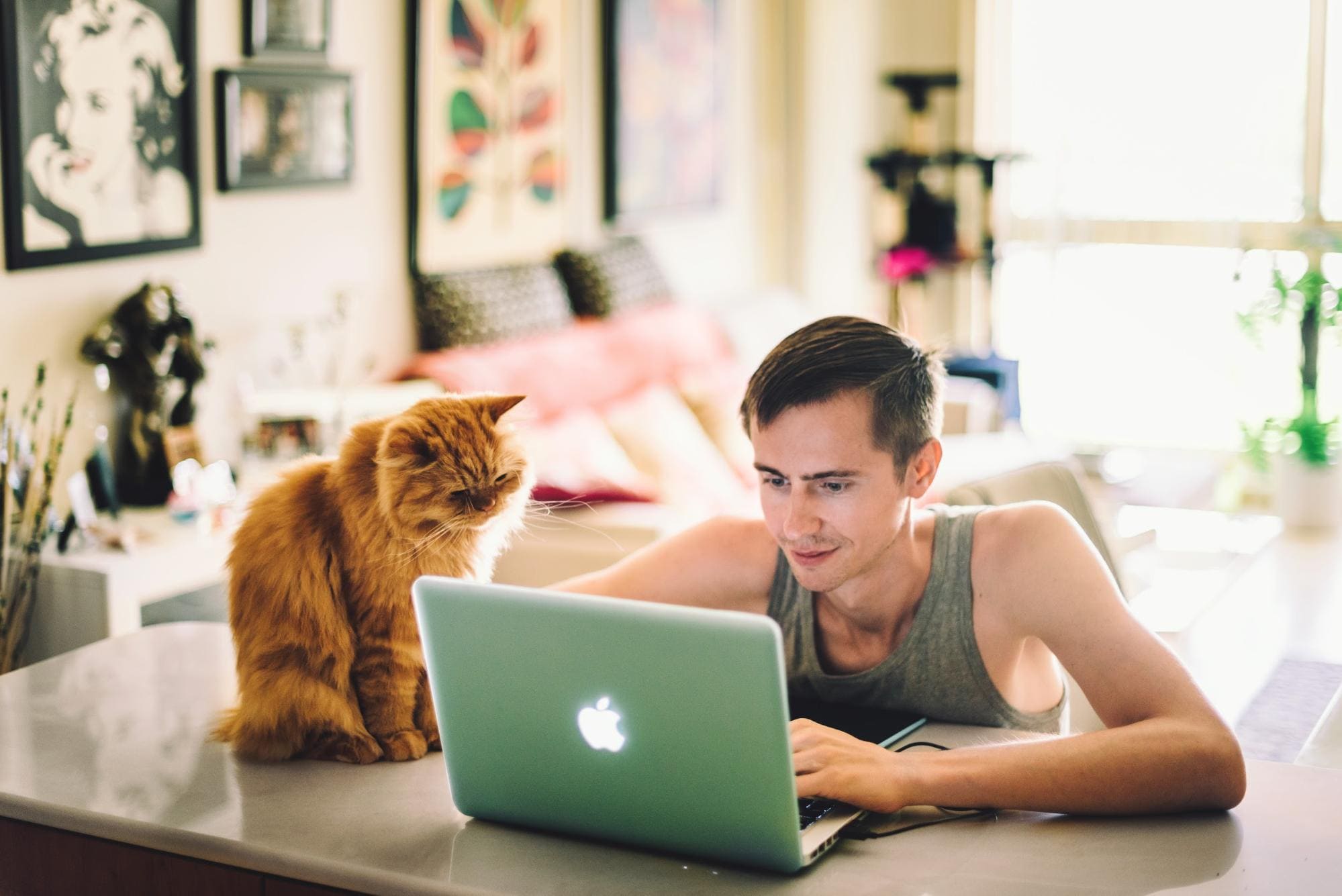 And now let's move on to the interview. Have a nice reading)
Tell us a little about yourself. Where you come from, where you studied.
I am from Minsk, the capital of Belarus. I grew up here and spent most of my life, but for three years now I have been living and working in Serbia, in the city of Novi Sad.
In Minsk, I finished an ordinary secondary school, and after that I studied at the Belarus National Technical University. I have had an interest in drawing since junior high school. I liked to draw illustrations from books, and at an older age I drew cartoons of teachers and classmates.
I left my studies at the University after three years and during the next 5 years worked as an industrial climber. And only then, after searching and self-study on the Internet, I found myself in the profession of an illustrator.
Cartoons of the teachers are very funny. Have any of them saved? And can you share them?
Unfortunately, nothing has been saved at all since then. I am very sorry about that myself).
And what prompted you to leave the university? And do you regret it?
At some point, I just didn't understand why I study there. I go to endless monotonous lectures, which are conducted by people who have no understanding how things are in the modern world. If I could go back in time, I would either get higher education in Poland or Lithuania (many Belarusians go there to get a European diploma), or even earlier I would have left the university to do illustration or design.
What is your hobby and why?
I love to travel and live in different places. Travel helps to better understand yourself, the world and people around you. It is also the best way to "reload" and gain inspiration. Another hobby is board games. We already have more than 30 boxes and every year there are more and more 🙂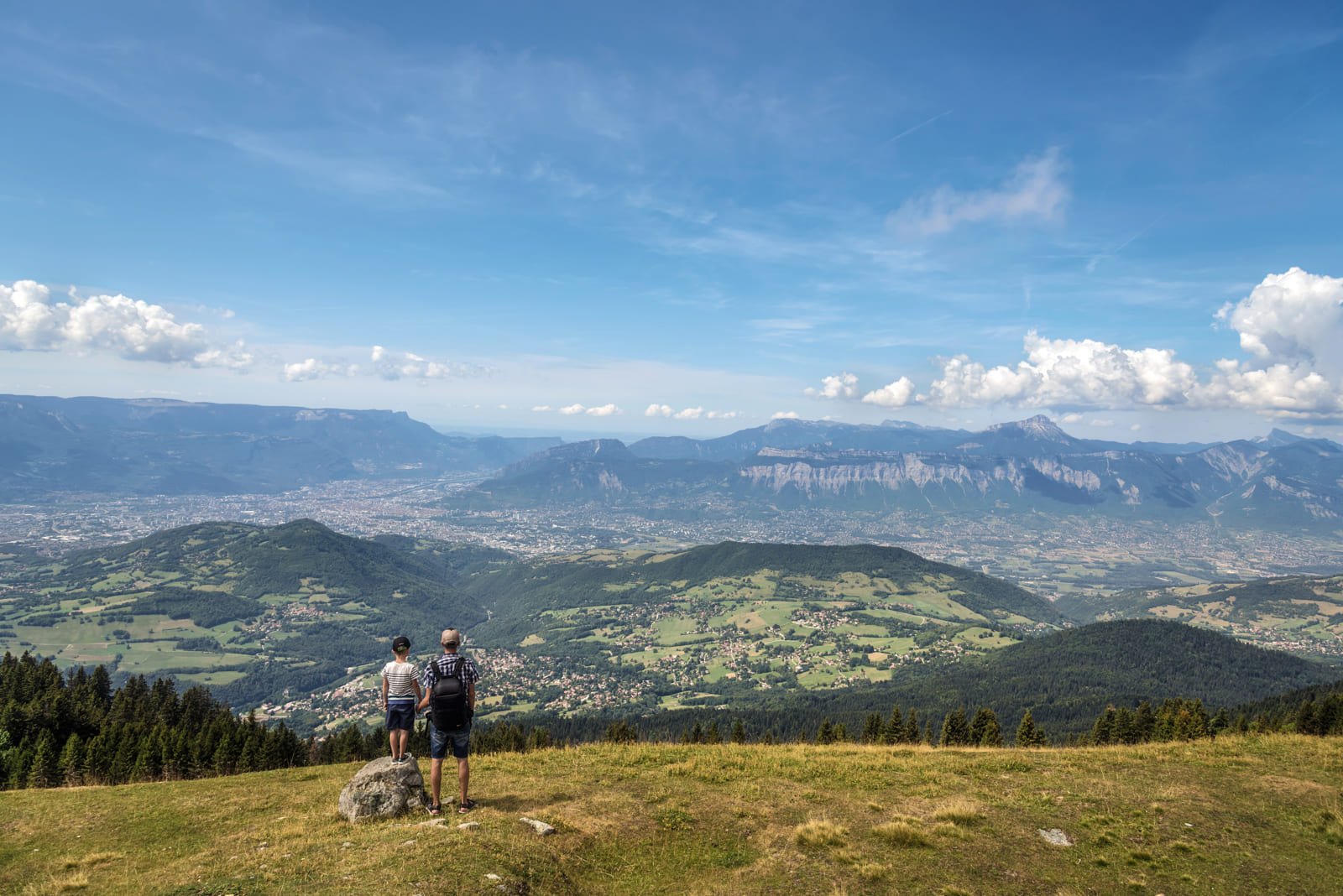 I am a bit interested in art and design, I try to get out together with my wife to museums and thematic exhibitions.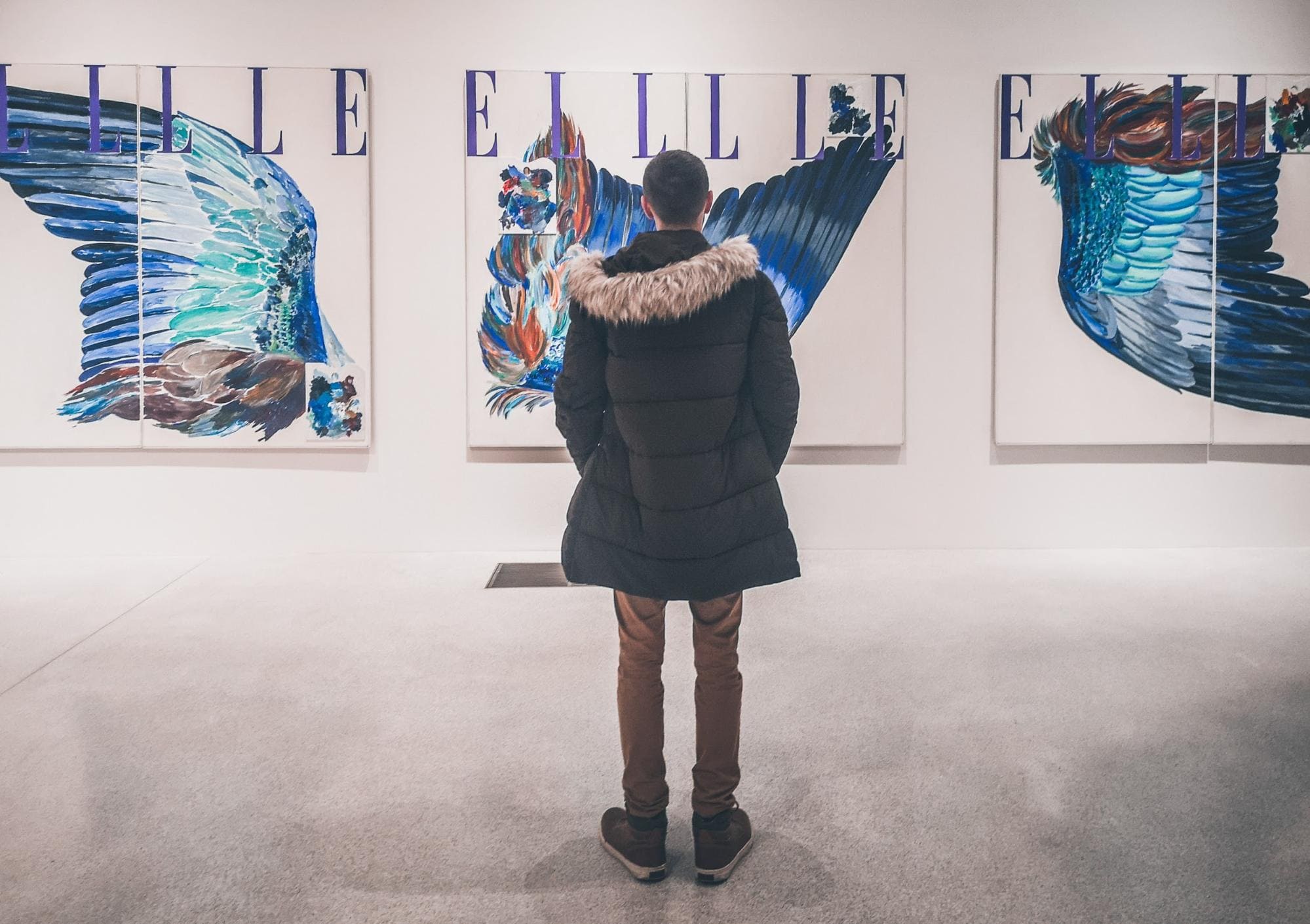 Do you create thematic illustrations after each journey?
It does not work after each one, but after some illustrations are born. This poster, for example, is inspired by a trip to Cagliari, the next one – a trip to Istanbul, and this postcard was drawn under the impression of the Christmas Fair in Basel.
What kind of music do you listen to? And do you combine listening to music with creating works?
I love rock, now due to events in Belarus I started to discover more and more Belarusian bands like Nizkiz or Tor Band. And so I grew up on Linkin Park, the System of a Down, Offspring, Greenday and so on.
During the process of work I more often listen to the channels on Youtube, recently more often political or economic. Sometimes audiobooks.
How do you spend your free time?
We walk a lot with our family – we have a 10-year-old son, we ride bikes, we try to get out into nature and generally spend time actively. Since childhood I have loved books – it's a pity that there is less time for reading.
In the cold season I like to lay out a long board game with my family and spend a couple of hours.
Tell us about your three favorite books. Why did you choose them?
It is difficult for me to limit myself to three favorite books. Some books at different times made a strong impression on me, although it is difficult to call them my favorite. For example, "1984" by Orwell.
This year I read "The Outcasts" by Victor Hugo and this is definitely one of the strongest books I have ever read. It contains so much depth and reflection on processes in society and the human soul – all of this is still relevant today.
One of my favorite authors is Archibald Kronin. His "Citadel" and "Crusader's Tomb" would definitely be among my favorite books, if I took up such a list. Many of his books are about the search for yourself in life, the clash of ideals with the real world and the shortcomings of society. I have a great response to many topics raised in these books.
"Flowers for Algernon" by Daniel Keyes, "The Book Thief" by Markus Zusak, "Lust for Life" by Irving Stone – any of these books I can also add to the list of "three favorites".
Well, in addition to the classics, I am very fond of fantasy and mystical thrillers. Stephen King, Neil Gaiman, George Martin, Terry Pratchett, Brandon Sanderson, Robin Hobb, etc., and so on.
Can you call your occupation a hobby that has become a way to earn money?
Yes, we can. Initially, everything started as a hobby. Only in the process the hobby grew into something more.
What do you mean by "art"?
I am close to one of the definitions of "art" as a translation of your own vision of the world, events and feelings. It is one of the important forms of communication and expression of reality through various artistic images or actions.
Which personal traits should prevail for an illustrator?
Besides interest in drawing or other similar techniques, curiosity and openness to the world, as well as discipline. Willingness to learn new things: be it new software, drawing techniques or skills to promote themselves in social networks. The world is constantly changing and it is important to keep up with it.
What affects your creativity?
Everything that happens in my life, one way or another affects my creativity. Books read, films watched, new places and countries from travels, events in the world.
Travel motivates me the most, often when I return home, and I want to process what I see in a new illustration. The last month and a half is very strongly influenced by political events in my homeland Belarus. I was just in Minsk with my family in the period before and after the elections. I have also published my personal feelings as a reaction to events in the installation as a series of illustrations.
Do you think that an illustration can help spread more information about the situation in Belarus? And does this method work at all?
Yes. I am sure of it. After I started writing about events in Belarus and showing protest illustrations in social networks, some subscribers started to get interested and ask questions about what was really going on. It is one thing to watch and read the news, and quite another to find out the personal position of the person involved in what is happening. After all, despite the fact that I now live in Serbia, I came to Belarus in summer for a month and a half, went to the elections and saw a lot with my own eyes.
For me personally, these illustrations are a way to process negative experiences into something constructive and contribute to the overall movement for change. Many subscribers from Belarus love this political series, and some pictures are then dispersed by thematic public and among people. For example, an illustration of the 100th anniversary of the recently repressed Kupala Theater is painted as a mural in one of Minsk courtyards.
What Youtube channels relate to your activity do you watch?
I watch Skillshare more often. Sometimes I listen to podcasts from Adobe. I read the mailing list from Dribbble and the website Digitalartsonline.co.uk.
Are you the only creative person in your family?
My wife is an even more creative person than me. Now she is mastering beading embroidery. She designs patterns and illustrations and works with me on our microstock portfolio. Before that she had been professionally engaged in portrait and wedding photography for 5 years.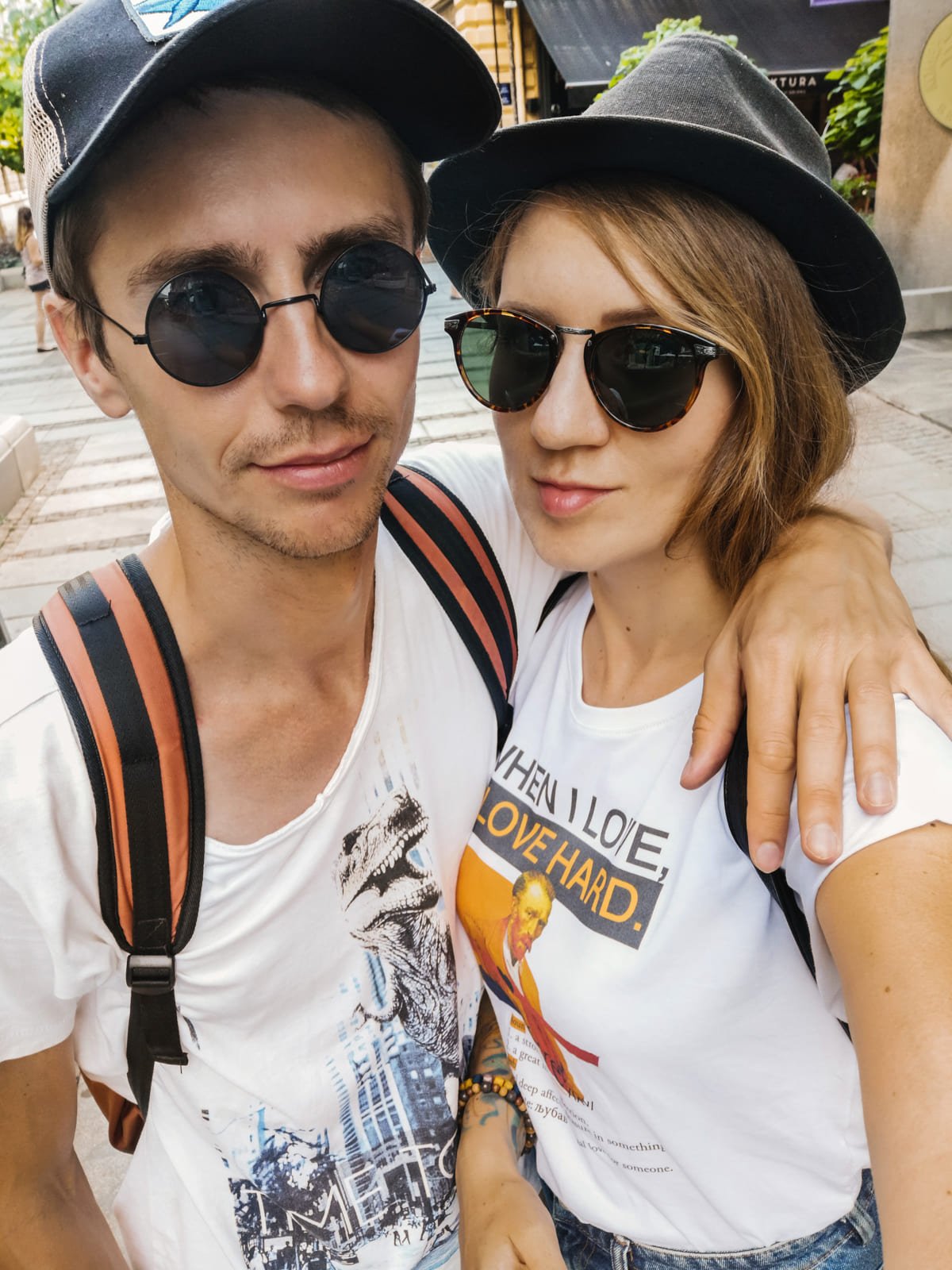 Do you work for yourself, or do you also take private orders?
Together with my wife we sell works on microstocks. Besides, I have been drawing illustrations for Beresnev Games gaming studio for a year and I spend a lot of time working with other private customers. As a rule, they address me for illustrations for sites, mobile games and applications, but I managed to draw and for books and even puzzles.
What programs do you use for drawing?
Mostly, Adobe Illustrator. Sometimes I use Photoshop for textures. And I do all the sketches now in Procreate on the Ipad.
And how long does it take you to create 1 illustration?
I can work on one illustration for several hours or weeks. Everything depends on the complexity of the project.
Does it happen that you draw without inspiration?
Of course. Orders can be different – some are not very interesting. The work on an illustration itself consists of several stages and not all of these stages are equally fascinating. Sometimes you just don't feel like it. Inspiration comes and goes, and the work process should continue.
Did quarantine affect your work somehow? Maybe the direction of your work has changed?
During the covide situation, Shutterstock, the main selling stock, decided to completely change the model of deductions for authors. As a result of his monetary policy, I, like many authors, had a 30-40 percent reduction in interest deductions. But most importantly, there is no trust in the largest site and in the stock industry as a whole – it devalues authors' work more and more quickly. Although Adobe Stock still inspires optimism.
That is why I now give more preference to working with customers and marketplaces like Creative Market.
Where is the best place to sell your works?
I would like to know the answer) For some people microstocks are better suited. Some people prefer marketplaces like Creativity Market or DesignBundles. Others devote all their time to print shops or the development of a store on Etsy.
Probably if you get a large audience in different social networks, it would be best to sell the illustrations through your own website. I am still in search of the most convenient option for me.
How to fight against competition in 2020? What can you advise?
The same as in any other year. To explore the market, to train your skills, to improve your professionalism and to learn to use your strengths to the maximum extent possible. And also to work hard and be responsible.
Has your work ever been misappropriated? And what to do in this case?
Several times I found on microstocks either my own repainted illustrations, or illustrations made from my lessons and added to the sale (at one time I wrote text tutorials for tutsplus). Usually I would ask the intruders via mail to delete the works and explain why they shouldn't do it. That was the end of it.
There was also an episode when I and the other authors of tutsplus wrote a collective complaint about a Youtube channel where our text tutorials were taken and videos for Youtube were shot on them, taking authorship. The channel was eventually blocked.
What can you advise to beginner designers?
I think the right surroundings play a huge role for beginners. Communicating with people with similar interests and aspirations. From whom you can learn or with whom you can discuss your successes and failures. In the age of social networks it is not so difficult to do it.
It is important to look at and analyze other people's works often. Try to understand what they hold you, what experience you can learn and use for yourself.
What do you think about the MasterBundles project? Could it be a good start for beginner designers?
As far as I understand, the emphasis here is on sales of large products with many elements. It is better to come to such sites having in your luggage a stock of old works, sales of which can be refreshed. I think this option is more suitable for more advanced designers than for beginners.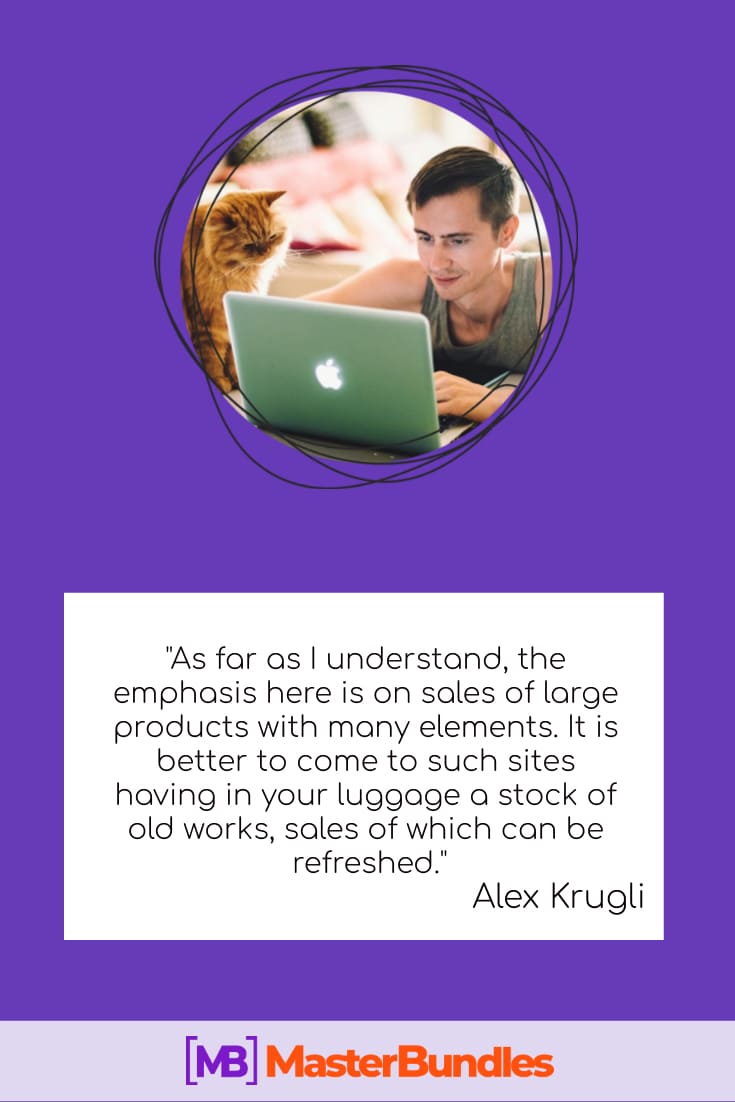 A fascinating interview with the amazing Alex has come to an end. I hope you are inspired by his experience and will be able to take useful advice for yourself!).
Recommended Posts For You
Was this page helpful?
We will be happy if you decide to share this article with your friends on Facebook. Just click on the button and you're done
Thanks for your response!
You have already left your review.
Disclosure: MasterBundles website page may contain advertising materials that may lead to us receiving a commission fee if you purchase a product. However, this does not affect our opinion of the product in any way and we do not receive any bonuses for positive or negative ratings.