7 Font Trends You Can't Ignore in 2022
If you are into web design, then you are always on the lookout for trending fonts and unique lettering styles. Unfortunately, with the constant changes in the design universe, it's hard to stay up-to-date with everything. Good news though! You are in luck, as we've got you covered with the top font trends for 2022. Remember that you can always find the most unique fonts on our dedicated page here.
On a different note, this guide will also be useful to those of you who want to create trending fonts and sell them.
In case you're in a hurry, check out our infographic at the end of an article or an audio version of the post!
Thick Fonts Are Going Strong
If you were to type "trending fonts 2022" in your browser, chances are you'd end up downloading a super thick font. Why? Because fat fonts grab the attention and the eye, commanding the viewer to focus on the message. You can also check out this article to get the latest on design trends and get the best out of your next work.
Handwriting Fonts for the Spirit
Among the creative font styles, handwriting fonts have definitely been abused in the past. Now, with the surge for both candid content and products and services that are more green and mindful, hand-style lettering is bouncing back.
Serious Serif
Just like thick strokes, solemn serif fonts are seeing some serious action. Some businesses need to let the world know that they are no joke, and the right font can really make the statement that much more effective.

Nostalgic Fonts for Modern Minds
Font trends, like all trends, often look at the past for inspiration. These 2022 fonts are no different, and we are seeing a large number of classic-styled types surfacing everywhere. This should not surprise you, as some type of vintage product is always coming back into fashion.

Funny and Quirky Fonts
Typography is a craft that involves a lot of creativity, so we are inevitably bound to run into some designs that are just funny looking. Luckily, there is a place in every designer's work for those fonts as well.
Soothing Round Fonts
Sometimes we browse the internet to find something to take our minds away from the stress of our day-to-day life. These are the moments when we don't want to be bombarded by sharp-angled visuals. Round fonts are coming back, for the joy of those who feel like most logos poke them in the eyes.
Experimental Fonts to Widen Your Horizon
The usual advice is to use fonts that are readable and non-intrusive. Sometimes creative fonts are a little out there, and we just feel like going: "What the heck, let's do something wacky." These fonts are for those moments. Go nuts!
Thanks for getting all the way to the end of this article. We can pretty much guarantee that these trending fonts will get you all the way to the end of 2022. Did you read this because you are talented at creating fonts? Upload them to MasterBundles using our super convenient form and earn, earn, earn!
In addition, we would like to give you a top tip. Steer clear of these three fonts:
Times New Roman
Comic Sans
Roboto
Moreover, here is an infographic that covers all important information!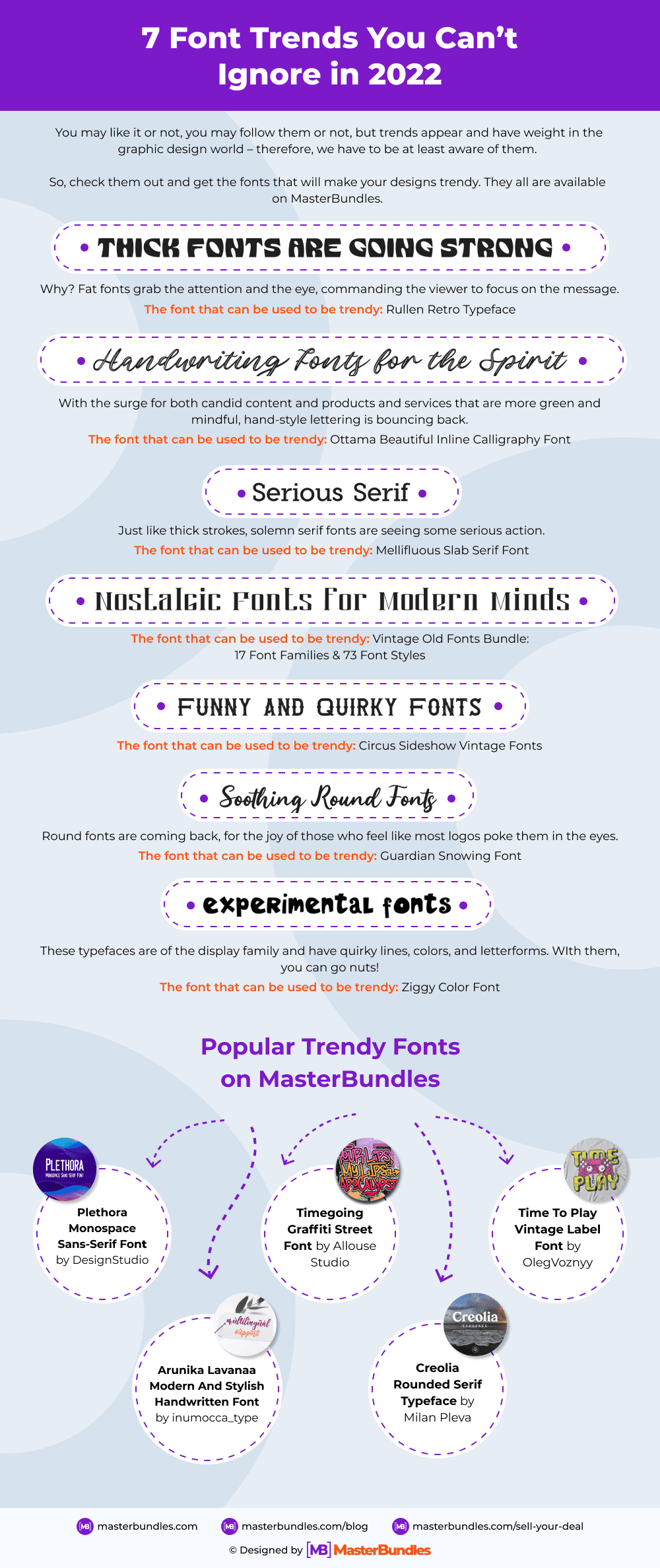 Seriously… avoid them like the plague.
Some Awesome Videos About Typography Trends
Disclosure: MasterBundles website page may contain advertising materials that may lead to us receiving a commission fee if you purchase a product. However, this does not affect our opinion of the product in any way and we do not receive any bonuses for positive or negative ratings.