1980's Retro Graphics Design Trends
In design, as in fashion, the principle "new is well forgotten old" applies. This explains the growing popularity of retro graphic design, which is inspired by examples of work from the 70s, 80s, and 90s.
Many new brands use this style to create logos and brand visuals. While some companies chase innovation and technology in their corporate identity, you can easily achieve recognition by betting on an interesting retro design.
Further in the article, you will find information on how to use the retro style, what projects it is suitable for and what features it has. If you have no time to read the whole article, you can check out our infographic at the end of the post 🙂 Send it to your designer friends so they know about it too.
What is the retro style in graphic design?
The concept of retro style originated in Europe in 1972, when it was required to describe new items designed based on the past. In English, this word came from Latin and in translation, it means "back."
It is generally accepted that the style originated in the 1920s in fashion. From this point on, you can conditionally divide the retro style into 4 periods:
20–30s — the period of women's emancipation. Cropped dresses and skirts, sleeveless clothes, black and purple, jazz, cinema, and airplanes were in fashion.
40–50s — post-war period. It was characterized by calmness, neutral shades, and a lack of decor. But even in the 50s, bright colors, catchy outfits, flared skirts, and pearls were coming into fashion.
60–70s — lightness, femininity, and ease prevailed in clothes. Bright prints and colors were considered fashionable.
80s — in full use of geometric shapes and different patterns.
In the 1980s, the concept of retro goes far beyond clothing and household items. It began to be used in advertising and art. Now we are inspired by the vintage design and use them for modern projects.
How do you know that you have a design in retro style? Read these distinctive features and compare it with your project:
musical themes (jazz, records, old players)
images of people (photos may be blurry and faded)
rich warm and muted colors
geometric shapes and lines
ornaments
handwritten or decorative font styles
textures of different materials (paper, wood, dense fabric, etc.)
Knowing these features, you will be able to see the retro style in the designs that surround you. If you create such trendy fonts, textures, illustrations, and other designs, then you can become a MasterBundles vendor. Add your work to the platform using this simple form. You will be pleasantly surprised by the speed of exhibiting the work and the conditions of sale.

Why have retro aesthetics been so popular these years?
The retro style is now better known as "modern retro design." People liked it so much because they like to remember the good old days and it gives them pleasant associations.
This style is used to create posters, postcards, advertising and illustrations, logos, corporate identity, and packaging design.
But it is important to understand that this is not a magic pill. It should be noted that vintage retro design is characterized by light and positive style. It is not always suitable for brand design, so it is important that the target audience feel fundamental and secure.
You can, by the way, find suitable ready-made design solutions for apps for these spheres here.
Retro style is more suitable for creative companies and entertainment venues (designers, artists, cafes, photo studios, organizers of various events, etc.). It can also be used to design creative blogs or portfolios.
70s Graphic Design Trends
The 1970s were filled with many social movements and cultural trends that greatly influenced graphic design. People wanted to express themselves as extravagantly as possible through music, fashion, and art. Hippie, disco, and punk are just some of the trends that defined this iconic decade and influenced the visual world.
In this period, there was still a psychedelic style, but the main 70s aesthetic is inspired by nature. The designs featured flowers, mushrooms, sunsets, earthy browns, reds, yellows, and greens.
Fonts have been a big part of this decade, as designers have moved away from the dominant international style of typography. The hand-drawn retro fonts were fluid and free. The Disco fonts of the 70s were inspired by the iconic neon lights.
Let's look at what trends of the 70s are still used today.
Simple Shapes & Bold Colors
---
Unique 70s graphic design showcased simple, flat shapes, often arranged into recurring patterns and used as background art, or in fabric design for fashion and home decor. This trend is back in vogue this year, as you can see in plenty of branding, packaging, and 70s-inspired designs.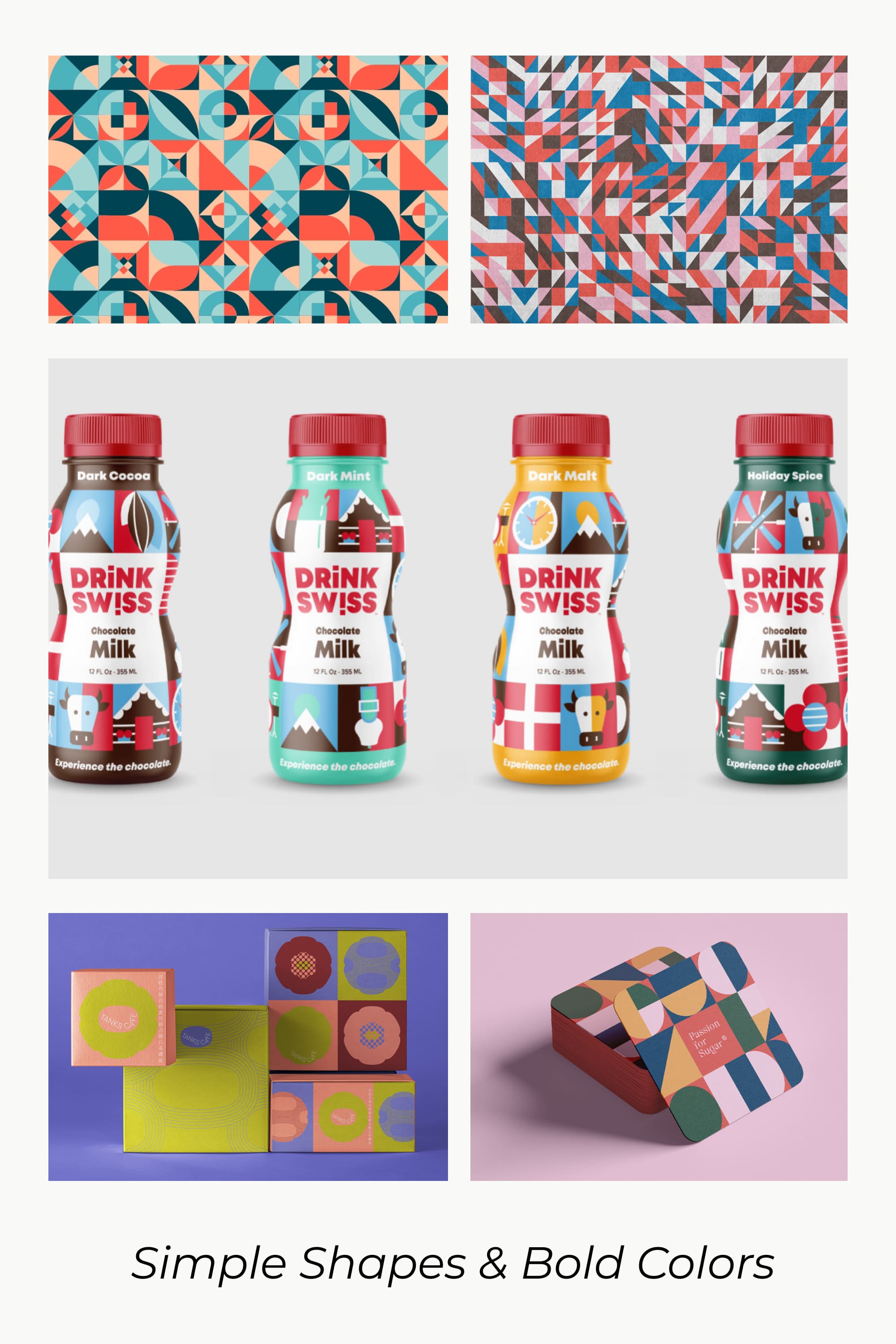 Floral Patterns and Hippie Motifs
---
The 1970s were filled with many social movements and cultural trends that greatly influenced graphic design, but we will focus on the hippie culture.
Hippies brought with them a wide range of patterns, motifs, and themes that are iconic of the style of the decade — flowers, peace signs, mandalas, and paisley patterns, just to name a few. And these motifs are back in fashion this year!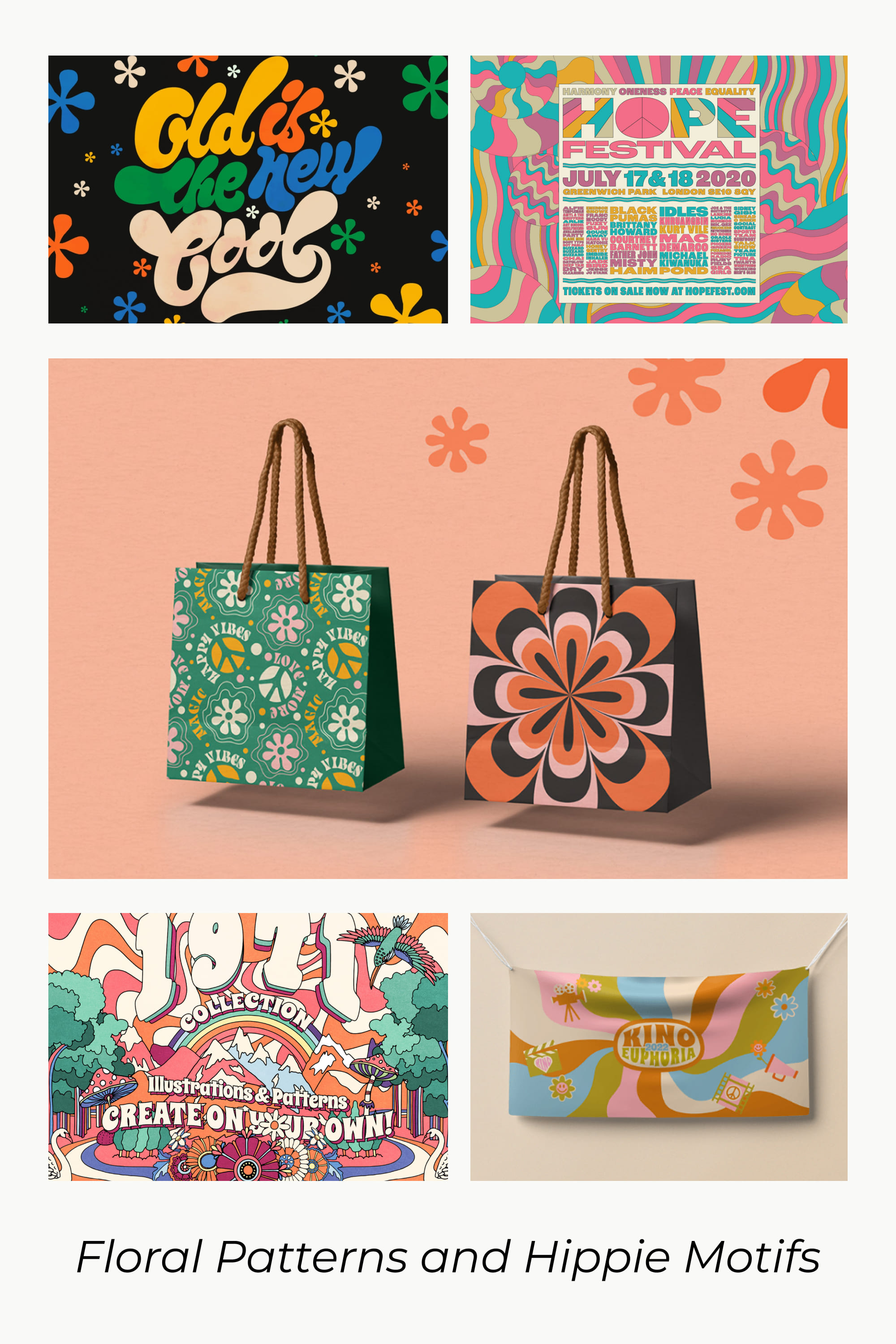 Freeform Typography
---
In the 70s, the trend of free typography began. Typography became more irregular and varied. The fonts began to have flowing free-form strokes with curly ends and rounded edges, to bubble shapes and neon-inspired lines.
Breaking with the conventions of traditional typography, this style is becoming increasingly popular today, especially in advertising, memes, and personal branding. Here you can find some cool examples of fonts from the 70s typography style.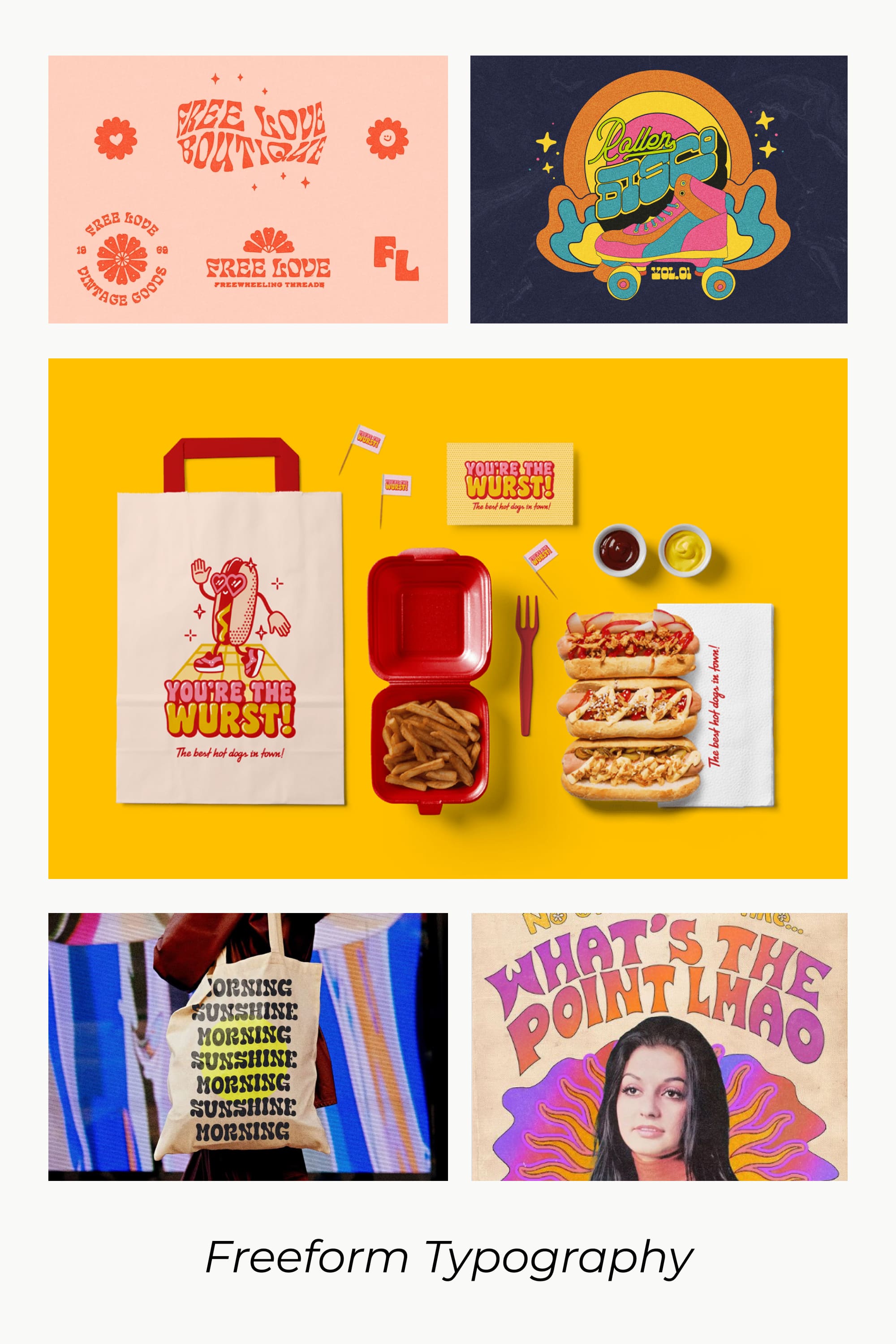 MasterBundles Products that Will Help You Be Trendy
Pay attention to this collection, because the products in it will help you create a cool design in the style of the 70s.

Feeling Groovy Positive Retro Sublimation

---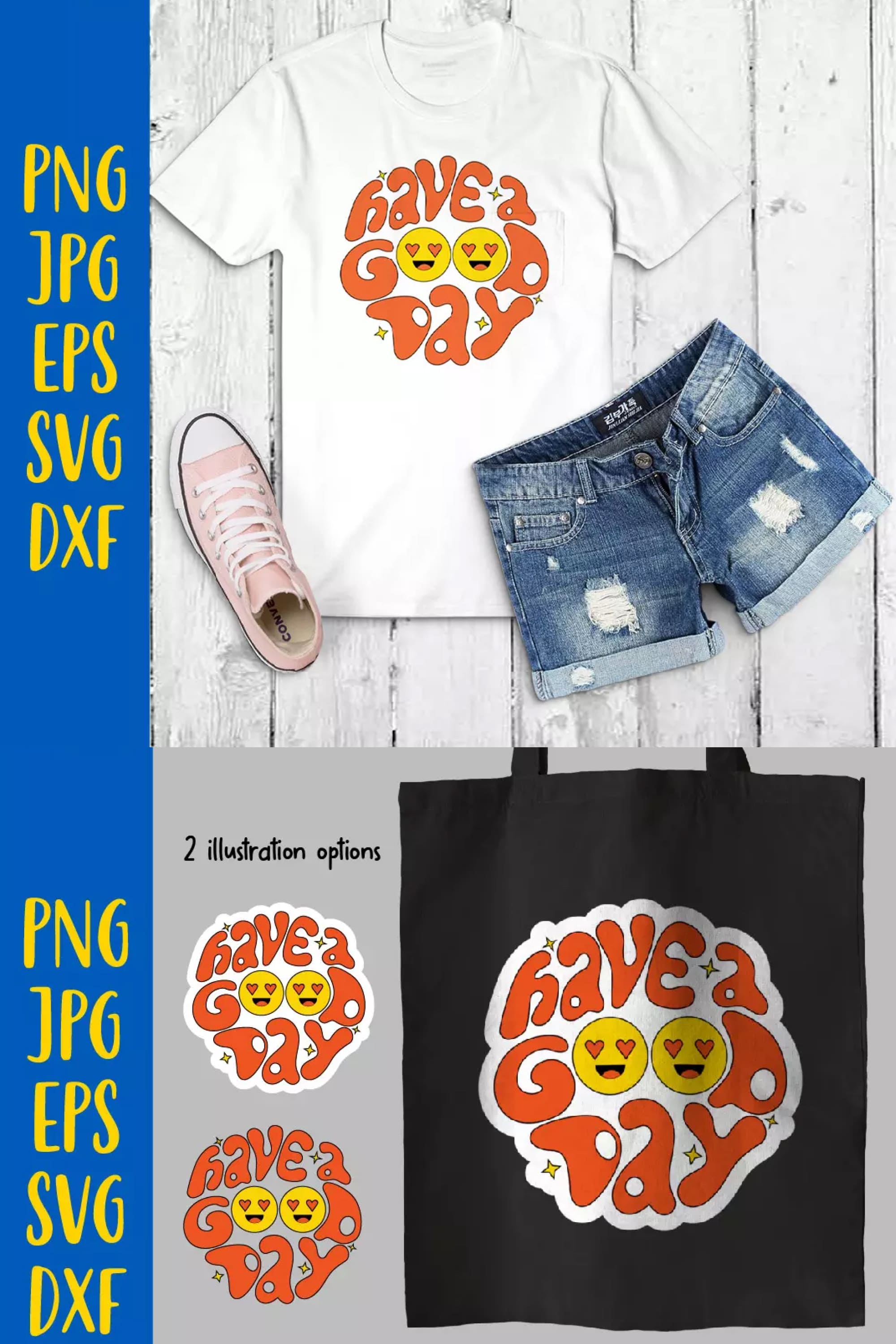 This is template lettering of the "Have a good day" quote with a retro style formed in a circular shape. You can make it as a heat transfer design on T-shirts, bags, mugs, pillows, stickers, posters, phone cases, and other items.
Rullen Retro Typeface
---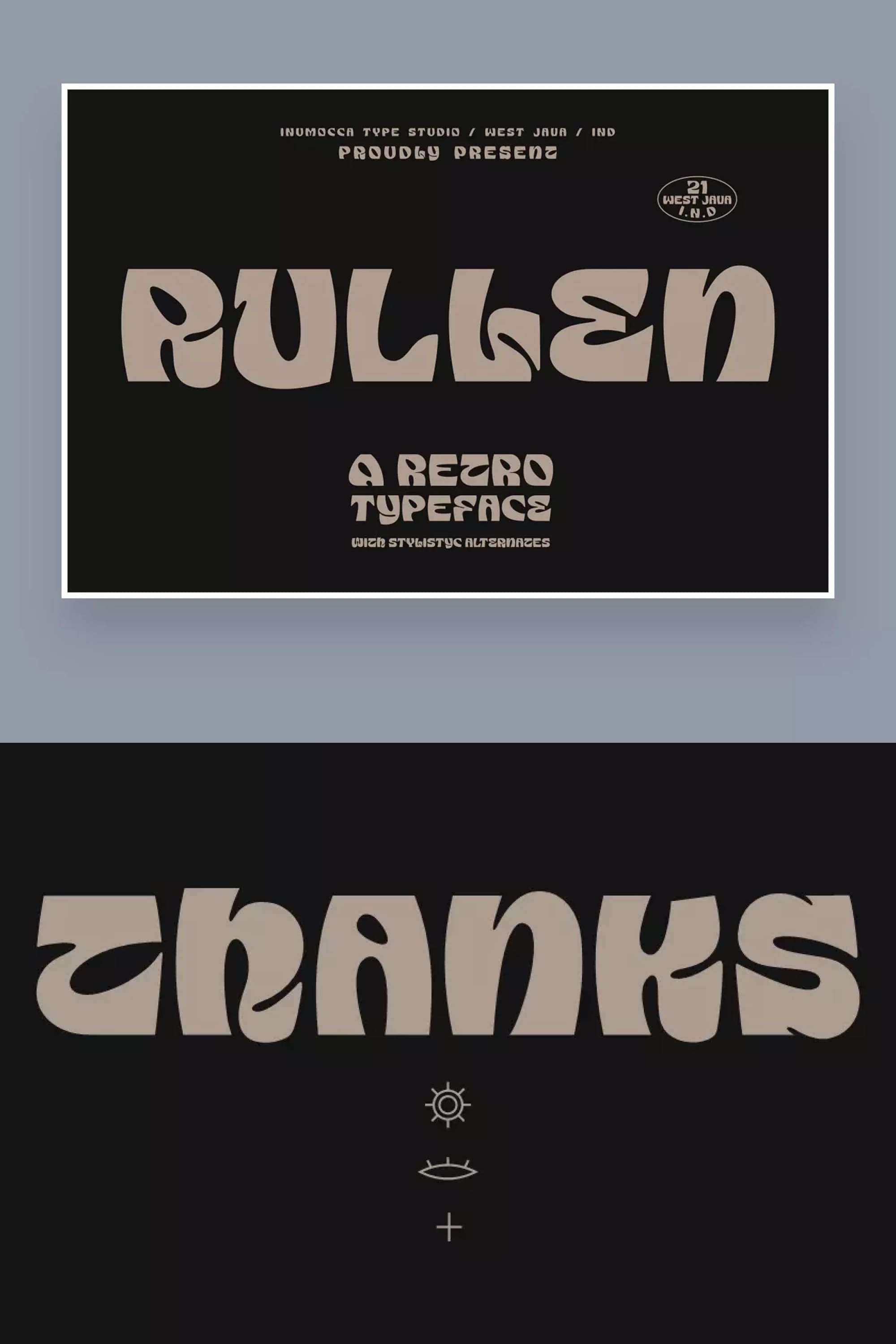 This is a Retro typeface for the 70s font style, a great choice for expressing summer. You can use this typeface for creating branding, movie titles, book covers or content, magazine covers, posters, and more for your custom project design.
Retro Icons, Primitive Icons & Regal Vector Pack
---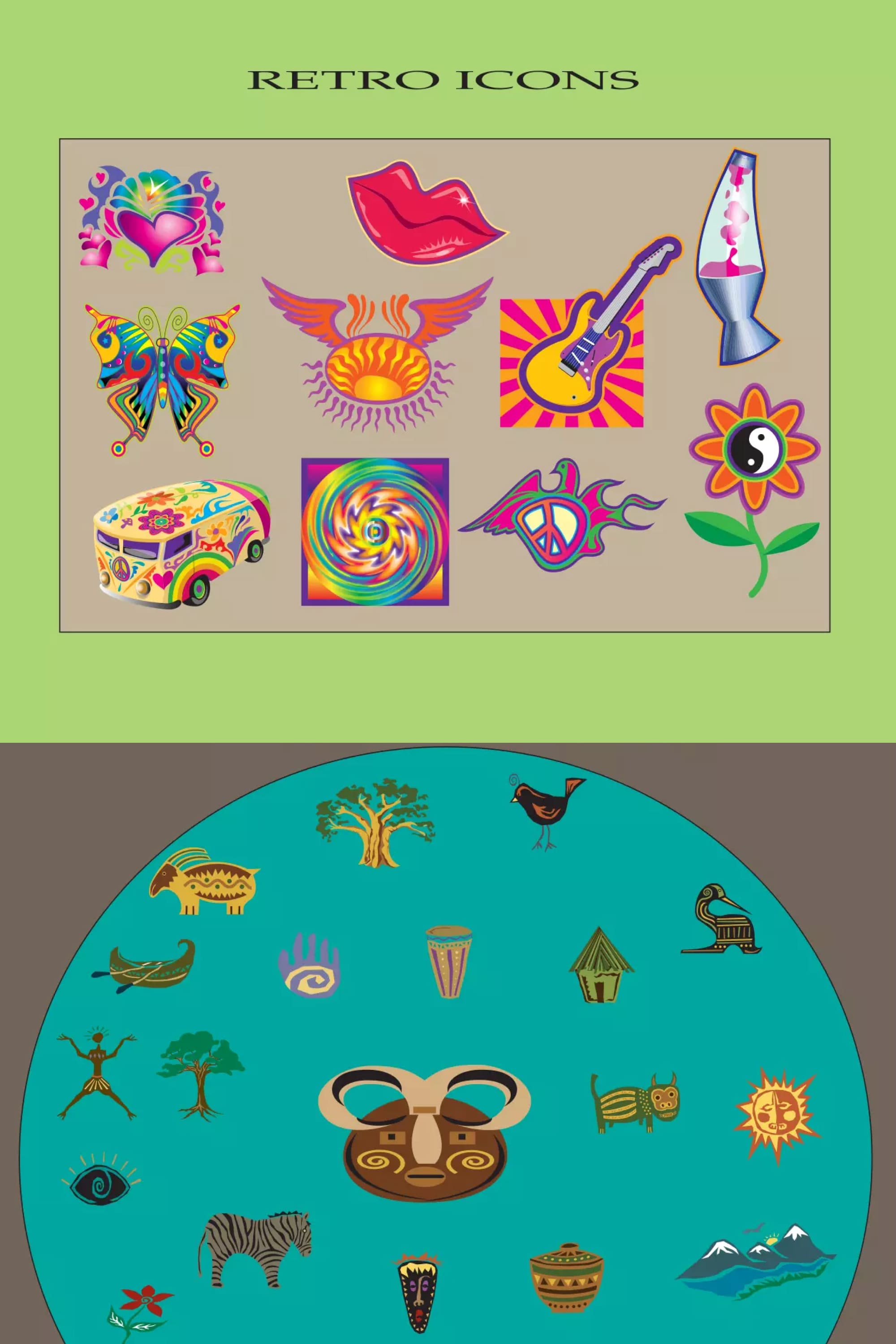 You can use these stickers in combination with a bright solid background color. They will also help to add a bright accent to a minimalist design.
80s Graphic Design Trends
Bright colors, crazy patterns, geometric postmodern design styles, lycra leggings, and fabulous hairstyles — there's no denying that the 80s was an eye-catching era. This is the decade of technology. The 1980s brought bright neon colors, interesting fonts, futuristic typefaces, angular patterns, and explosive pop culture to the masses.
More than 40 years later, the 80s aesthetic is used in the design of various projects: from movie posters and music flyers to social media design. What trends of this style can a designer use for work?
Neon & Cyberpunk
---
As a result of the proliferation of personal technologies such as cell phones and personal computers, the 1980s were all about technology and cyberspace.
Now we can see that this style is adapting to the metaverse, NFT, and crypto projects. The designs for these niches are often futuristic, with neon glows and bright elements.
The 80s cyberpunk trend is also making a comeback this year. The impetus for increased interest in this style was the release of the famous game Cyberpunk 2077.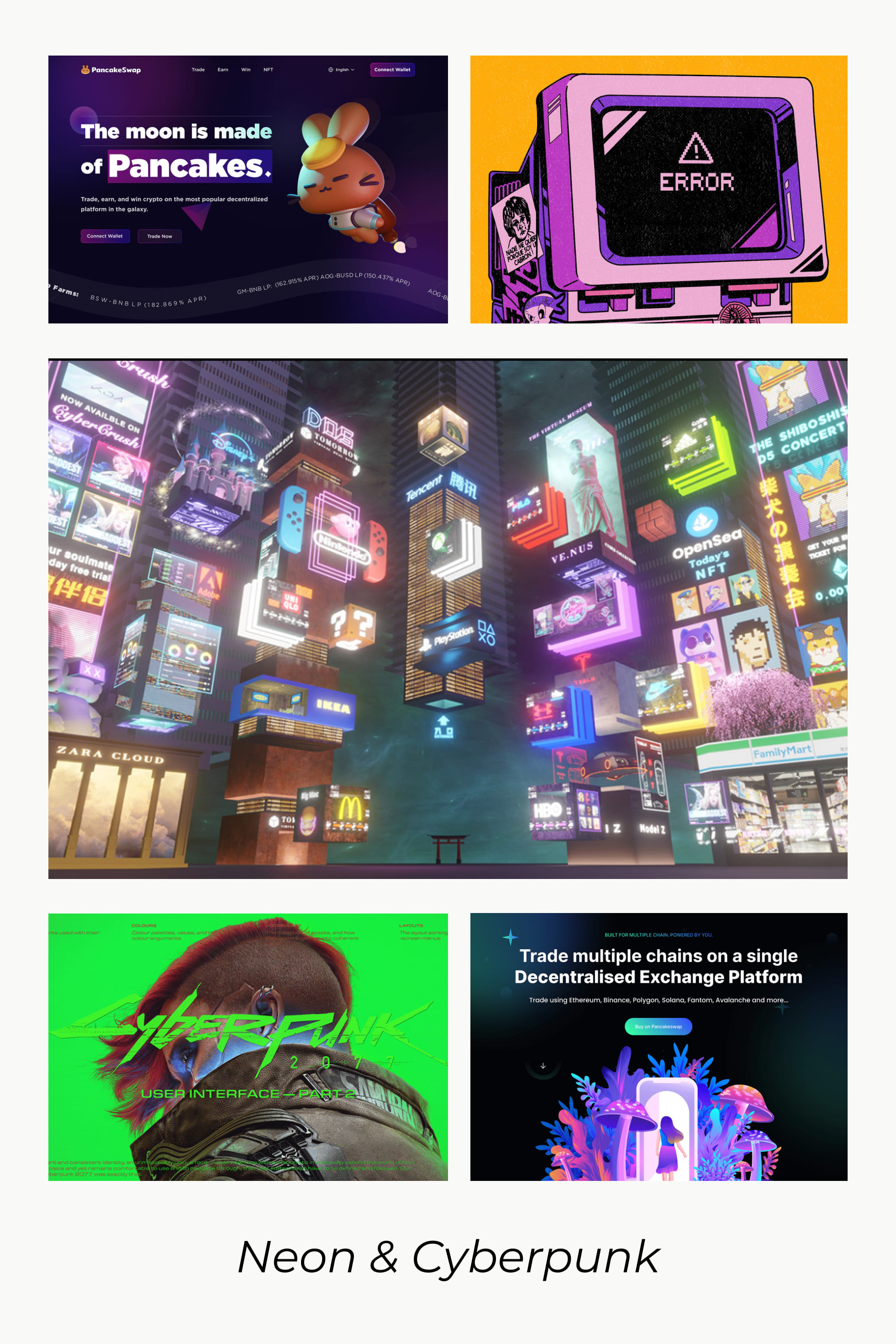 Tropical & 80s Deco
---
The retro summer aesthetic developed rapidly in the 80s. Palm trees, sunsets, neon, and pastels were everywhere, from T-shirt prints to illustrations and posters for popular films. One of its full-fledged representatives is the instantly recognizable works of Yoko Honda.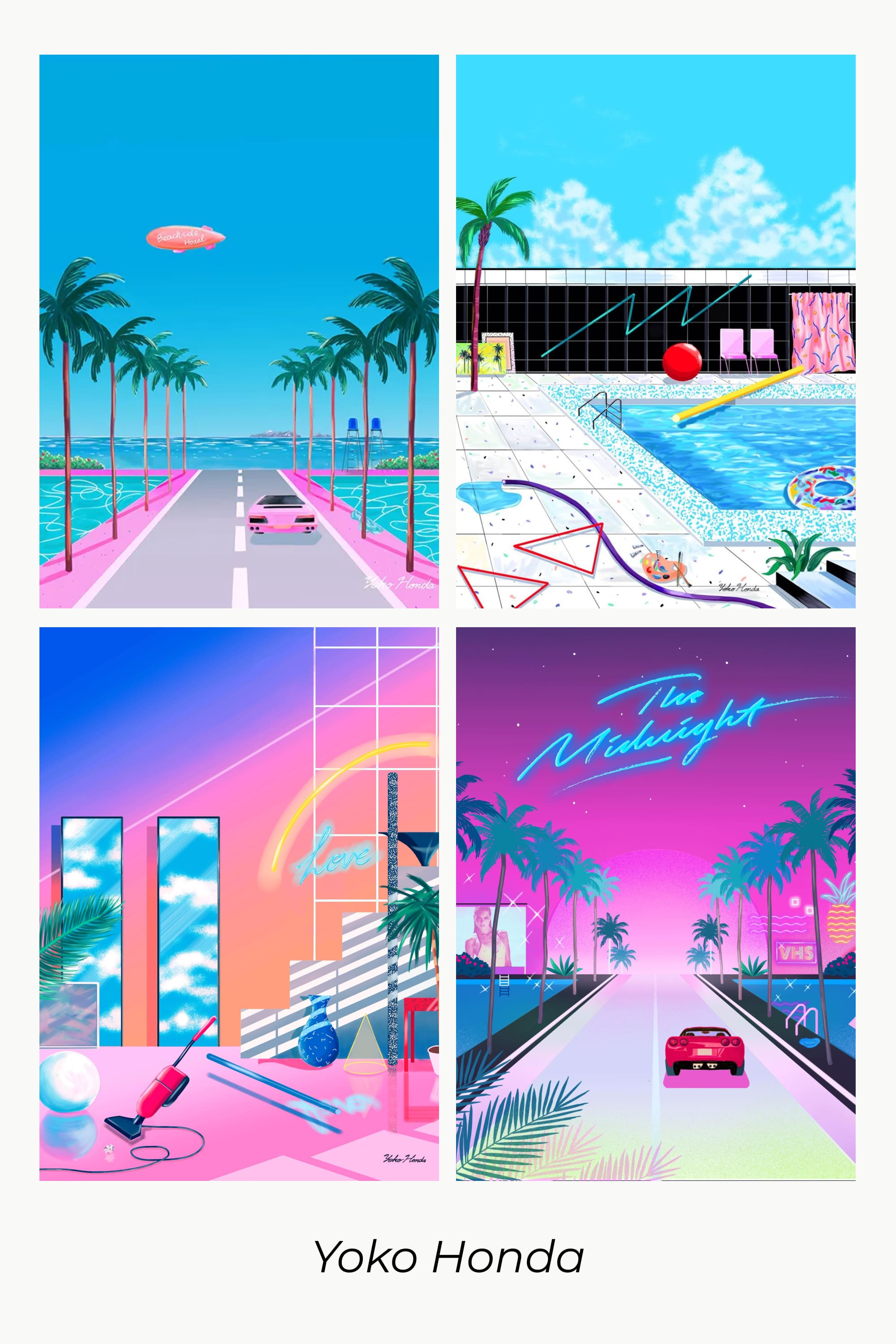 Designers have begun to express themselves with unusual colors and angular shapes, embodying a colorful tropical style.
Often incorporating the same pastel colors and tropical motifs, 80s deco was also a popular design trend, often consisting of bright neon colors, shadows, clean sans-serif typefaces, and pronounced angles and curves.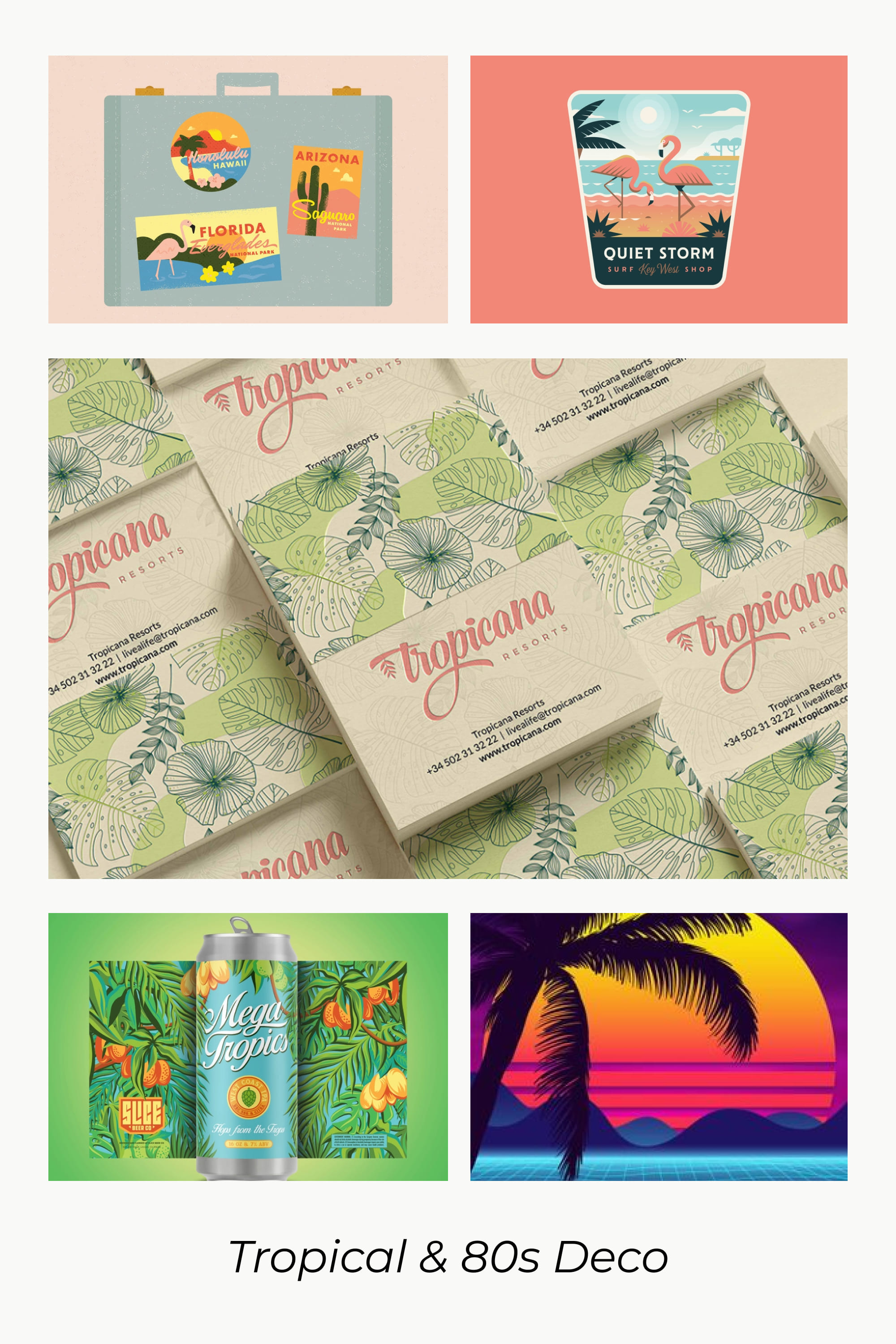 Pop Culture
---
Movies, music, games, TV shows – there's no denying that pop culture had a huge impact on 80s design trends. We saw the return of 80s pop culture with the introduction of Stranger Things on Netflix in 2017.
Many still remember the cult movies of the 1980s like ET, Back to the Future, and Blade Runner. They are reflected in the design with gradients, 3D text effects, and space fonts from the 80s.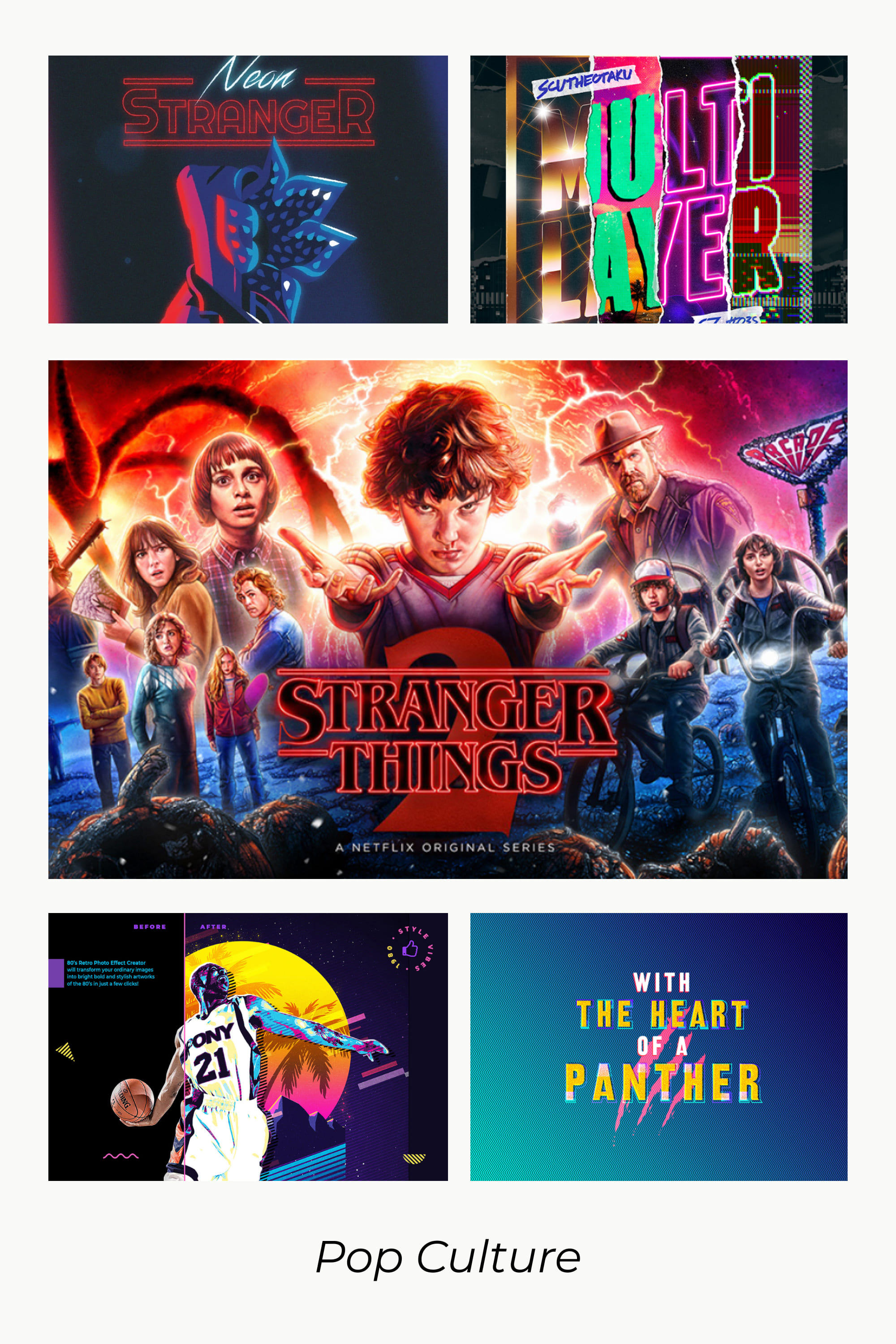 MasterBundles Products that Will Help You Be Trendy
The elements from this collection will help you create a cool design in the 80s style.
Retro Sunsets Vintage Background Bundle – 5 PNG
---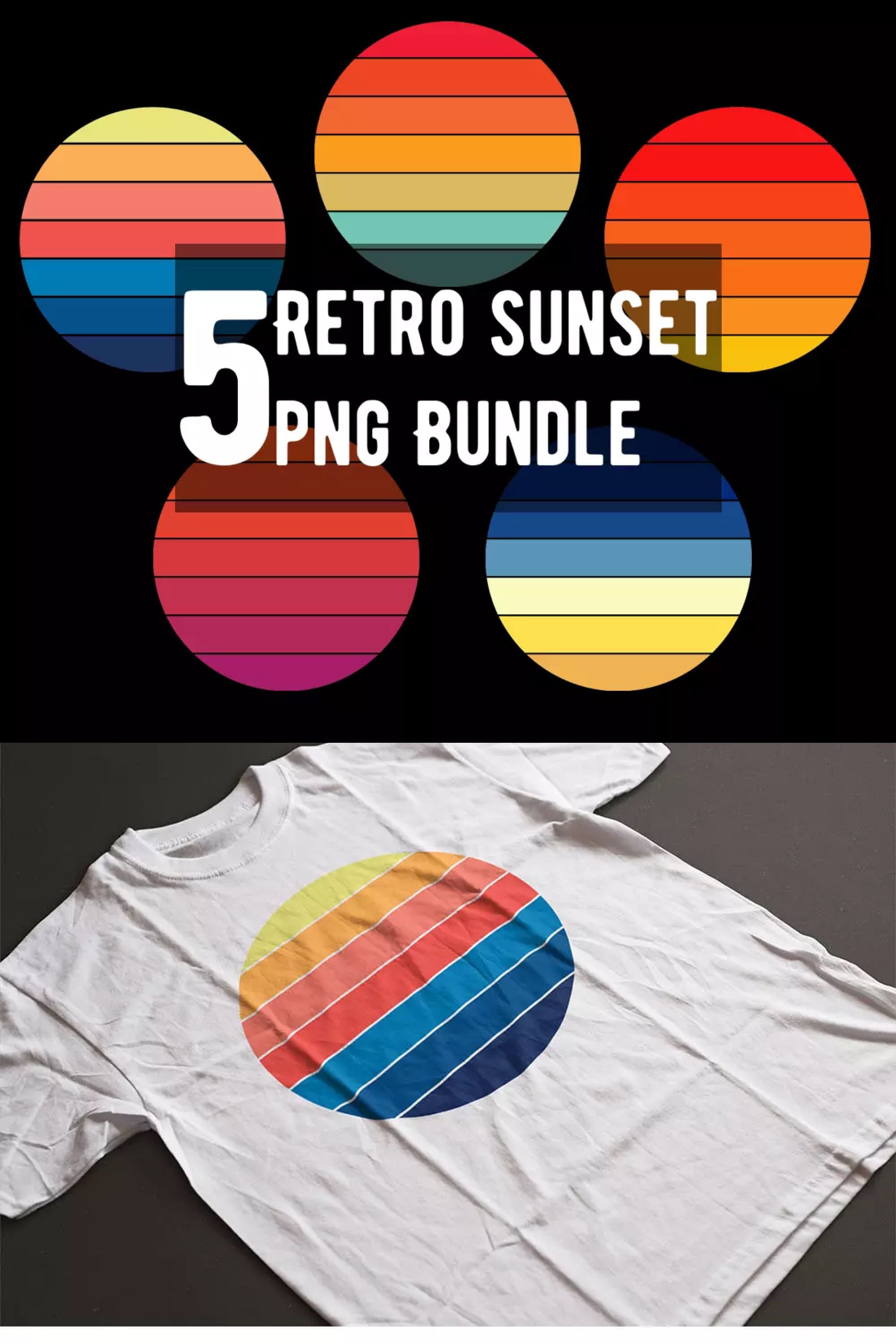 This is a must-have retro sunset pack for your tropical design. These vintage colors will help you convey the mood of that period.
Neon Blue Text Unturned Layer Styles
---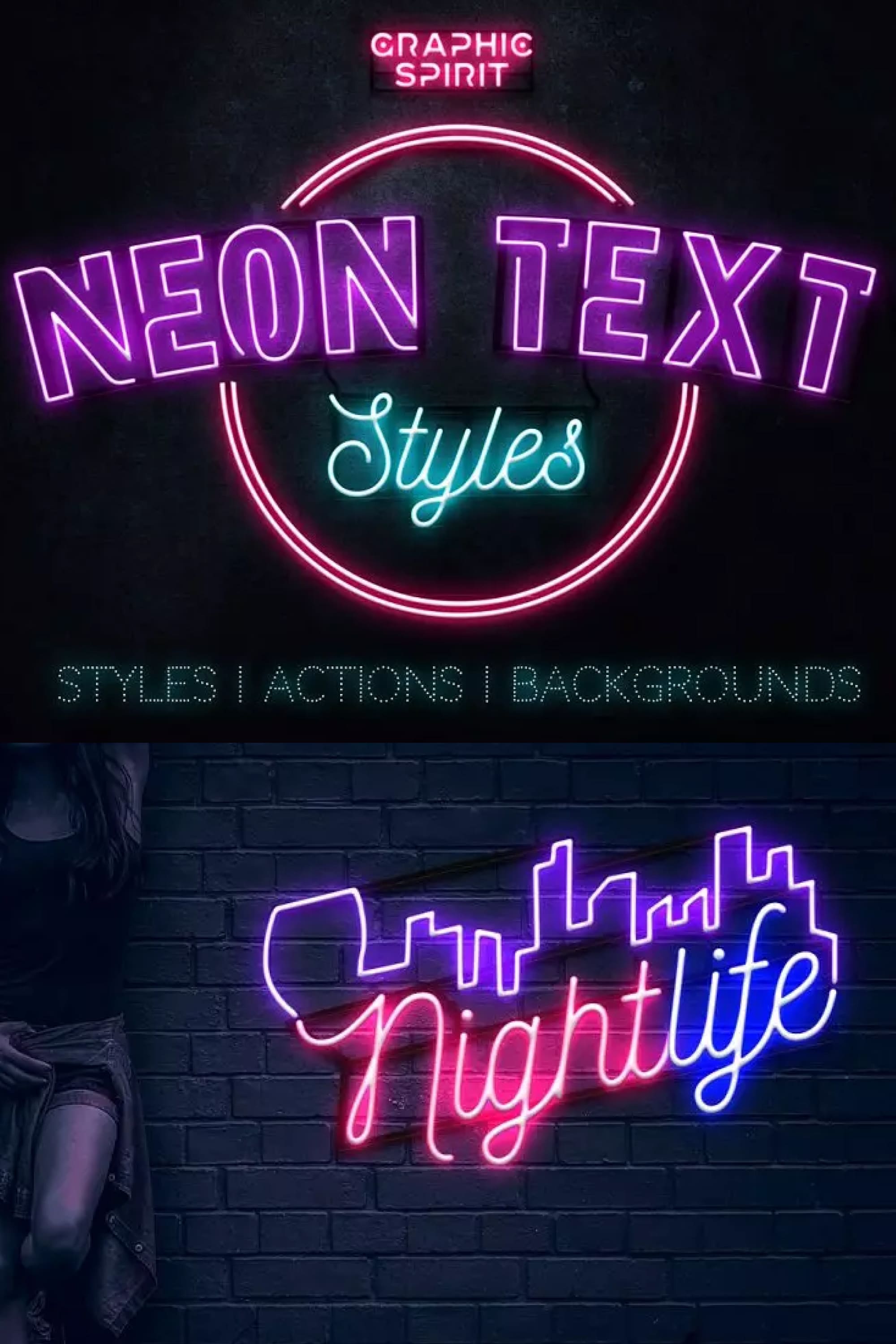 The kit is ready for a realistic design on posters, cards, images for social networks, and sketches for a real neon sign.
Cyberpunk Photoshop Actions 2021
---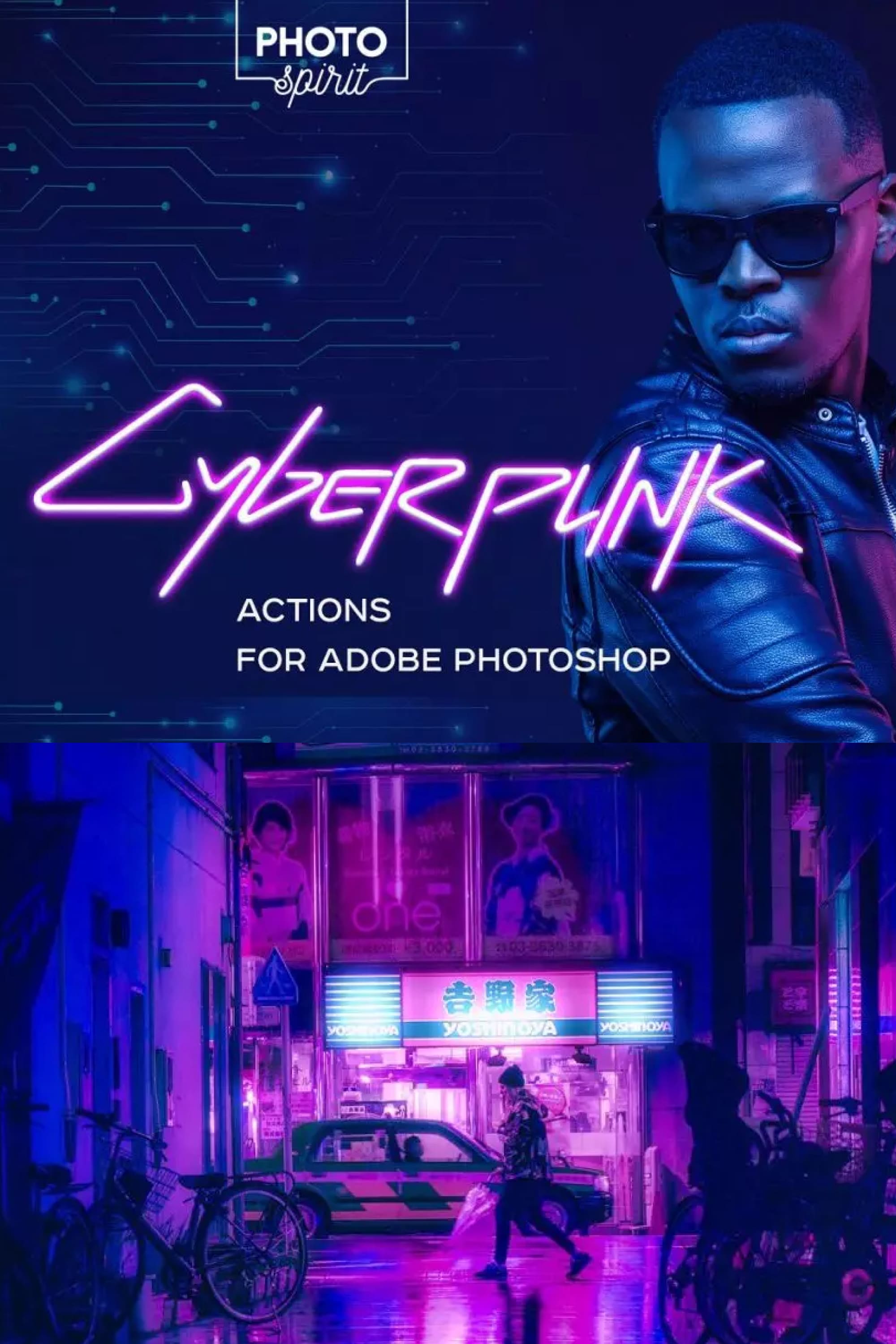 This tool will help you decorate your Cyberpunk 2077-style photo! Instant effect photo editing action for Adobe Photoshop. Three photo-tinted color options are inspired by a dark, dystopian future.
90s Graphic Design Trends
The designs of the 90s are a paradise for millennials. This period was a significant point in time for people who were just beginning their young lives. Baggy, comfortable, casual clothes were all the rage, along with fun typography and a bright color palette.
This decade is different from all the others in many different genres and styles. From underground punk, grunge, and rave to pop culture moments like Clueless and Tamagotchis, it was truly a decade of its own.
The most unusual thing is that there is no one specific genre that people can associate with the 90s. The way you remember the 90s is probably very different from how your peers remember it. This may be due to your age but it is most likely due to the wide range of styles that came available during this time.
Consider what areas of this aesthetics are relevant now.
Innovative Typography
---
All modern designers know the unspoken rule that you don't ever consider using the Comic Sans font 🙂 Did you know that it appeared in the 90s and was very, very popular at the time?
Comic Sans style fonts were used primarily for 1990s pop-style graphic design. Handwritten fonts can be seen as prominent examples in the series Clueless, Jurassic Park, Friends, and Oh Those Kids.
For more effect, compressed sans-serifs were applied to the grunge style and rave posters of the 90s. You can find cool fonts from this period here.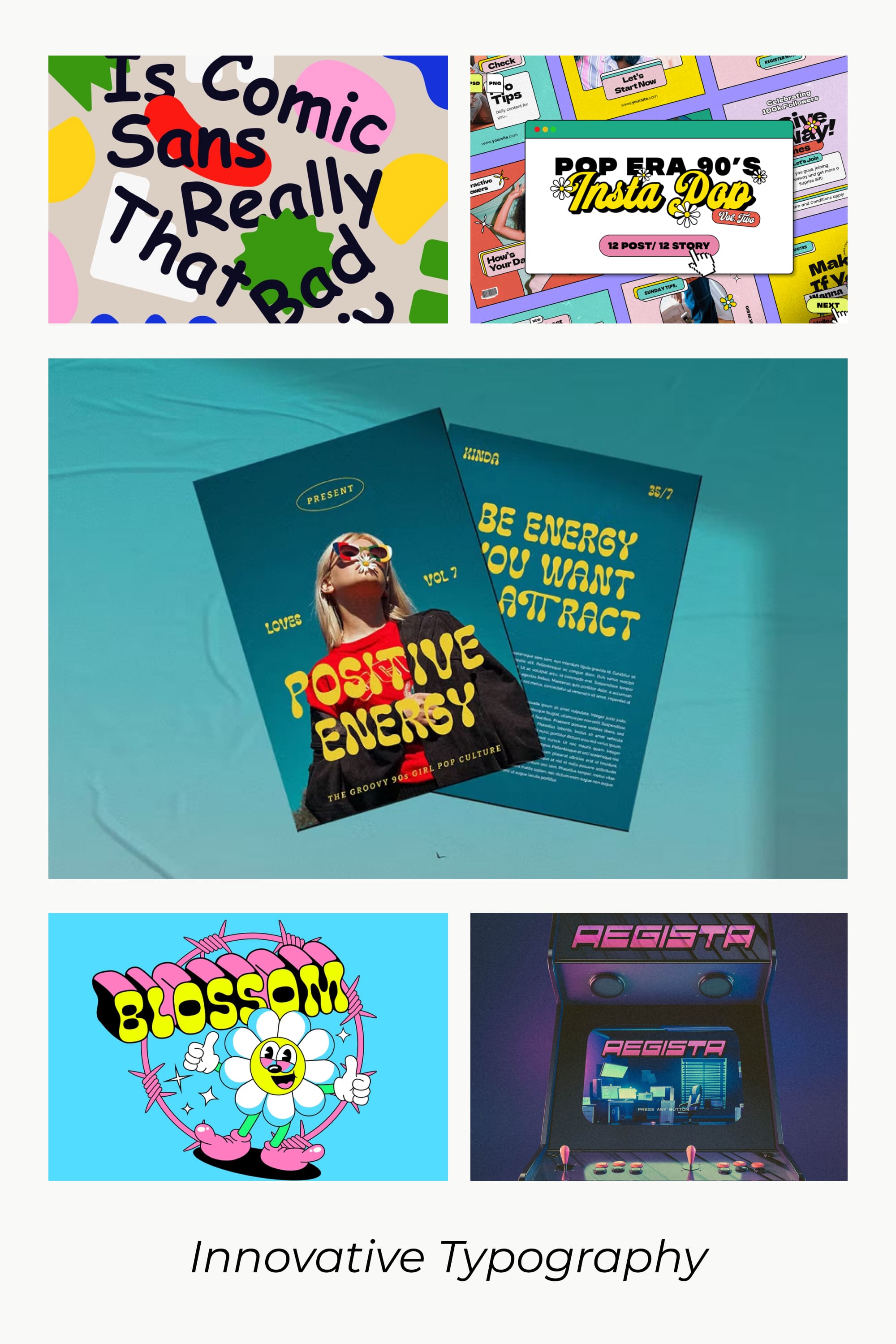 90s Grunge
---
The grunge trend of the early 90s originated in the punk music scene, graffiti, and skateboarding culture. In design, it was reflected in the emergence of more experimental and less refined design styles. Fans of Nirvana's grunge aesthetic will appreciate the design in this style.
This style can be recognized by the following elements:
Dirty backgrounds
Distressed Textures
Torn edges
Hand-drawn doodles
Problem fonts
Real pictures and clippings
Designing with this trend looks like a rebellion against traditional design rules.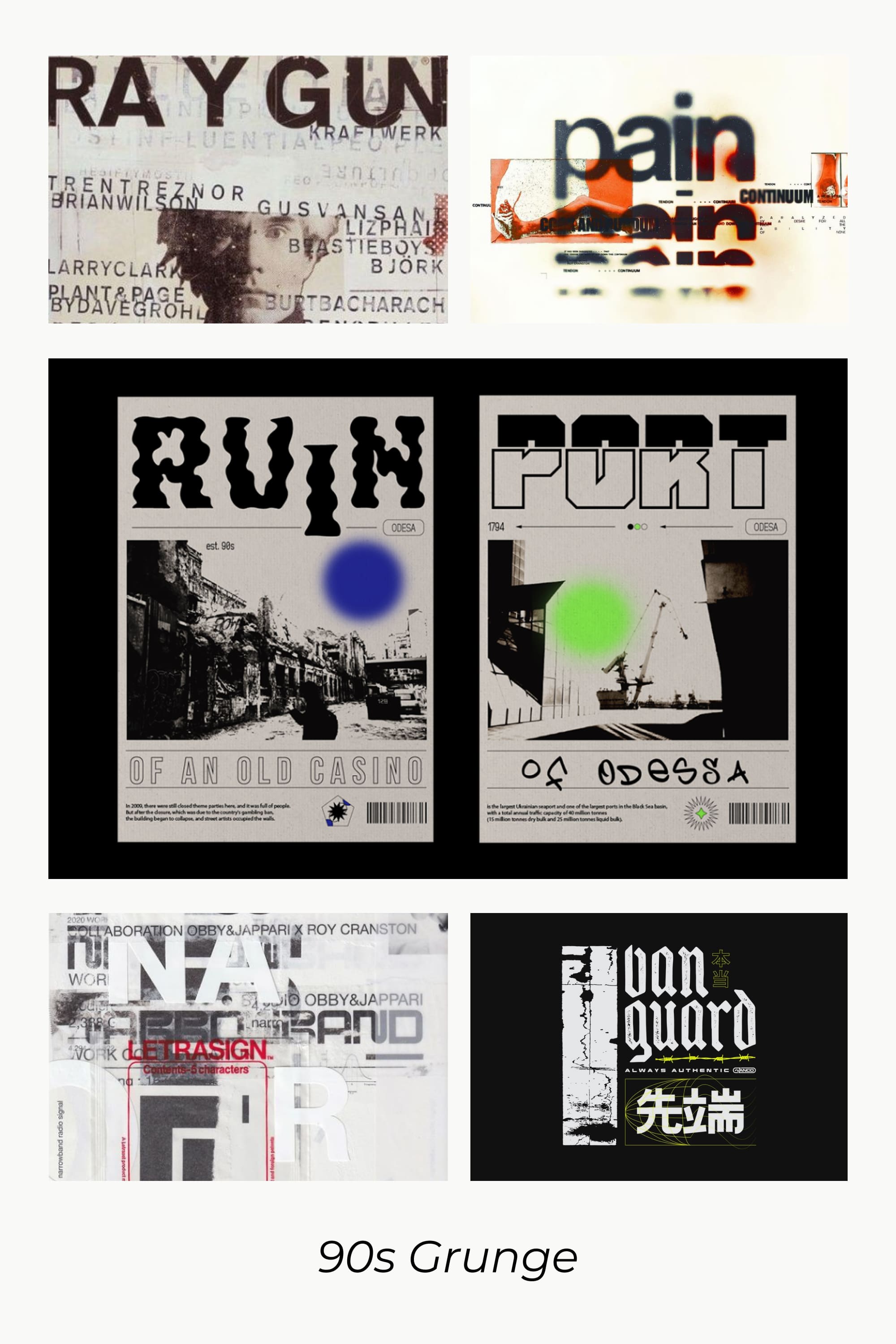 Minimalism
---
At the end of this decade, the global minimalist movement began. Influenced by Calvin Klein, one of the leaders of the fashion industry, the designs of the late 90s were composed of straight lines, neutral colors, and overall simplicity.
This trend has captured all spheres from interior design to graphic design. But at some point, everything became so monotonous that designers started making crazy designs.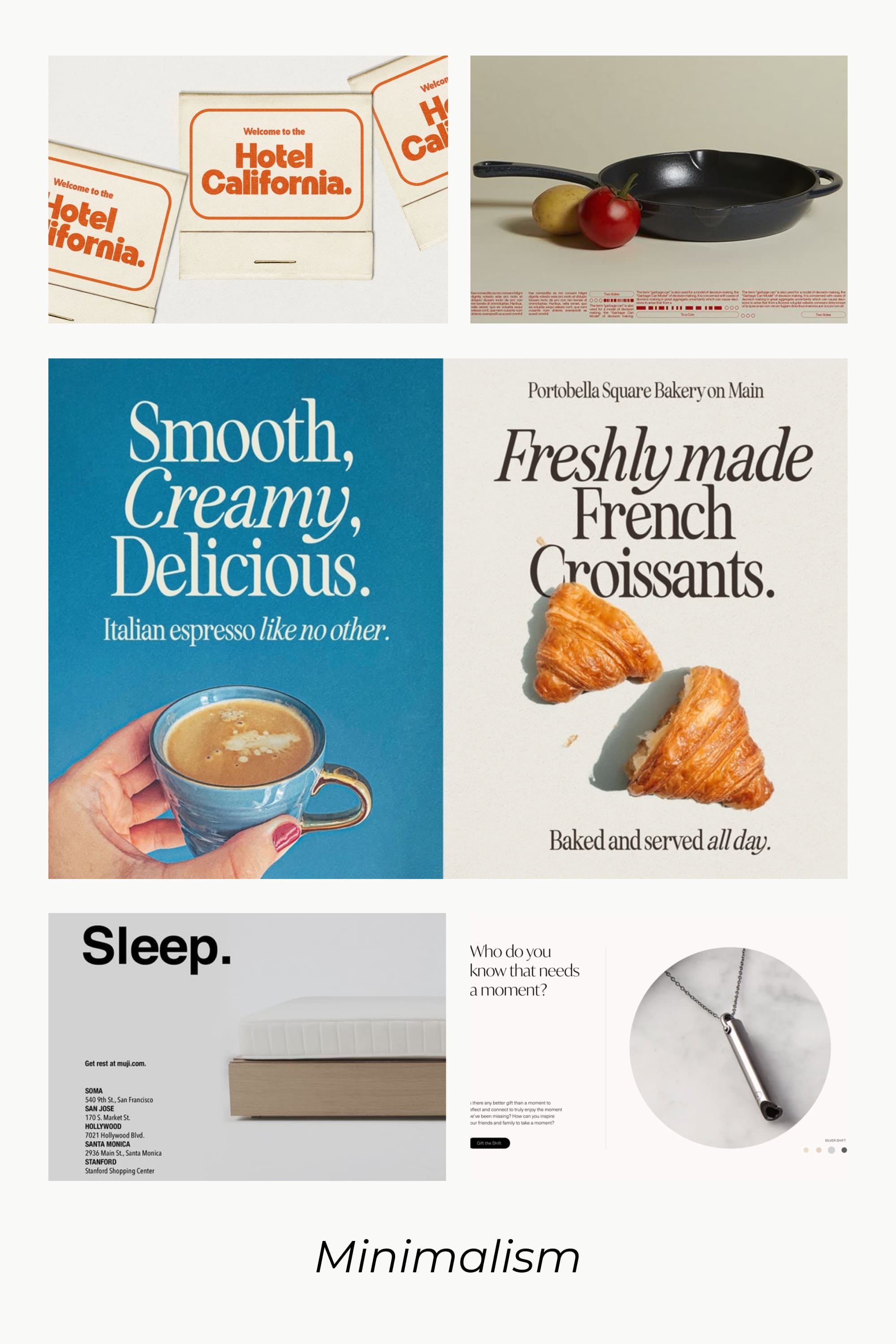 MasterBundles Products that Will Help You Be Trendy
This collection will help you convey the aesthetics and atmosphere of the 90s style. Choose what you need for your next project!
Grunge Clipart: Bebop Pro Design System – just $25
---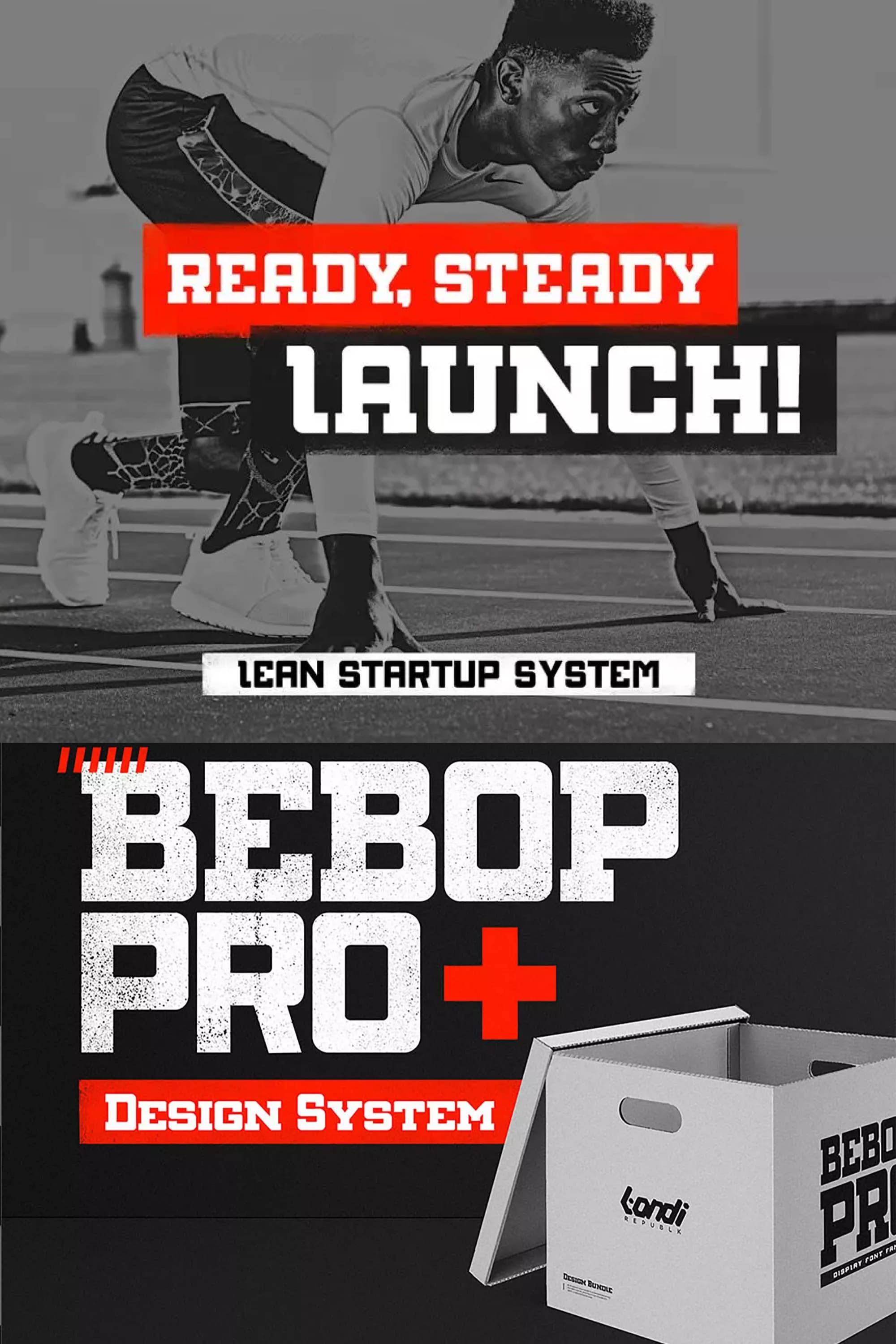 This pack is a collection of fonts, textures, and graphic shapes for creating high-quality designs with the rough and rugged appeal.
90s Retro Watercolor Clipart
---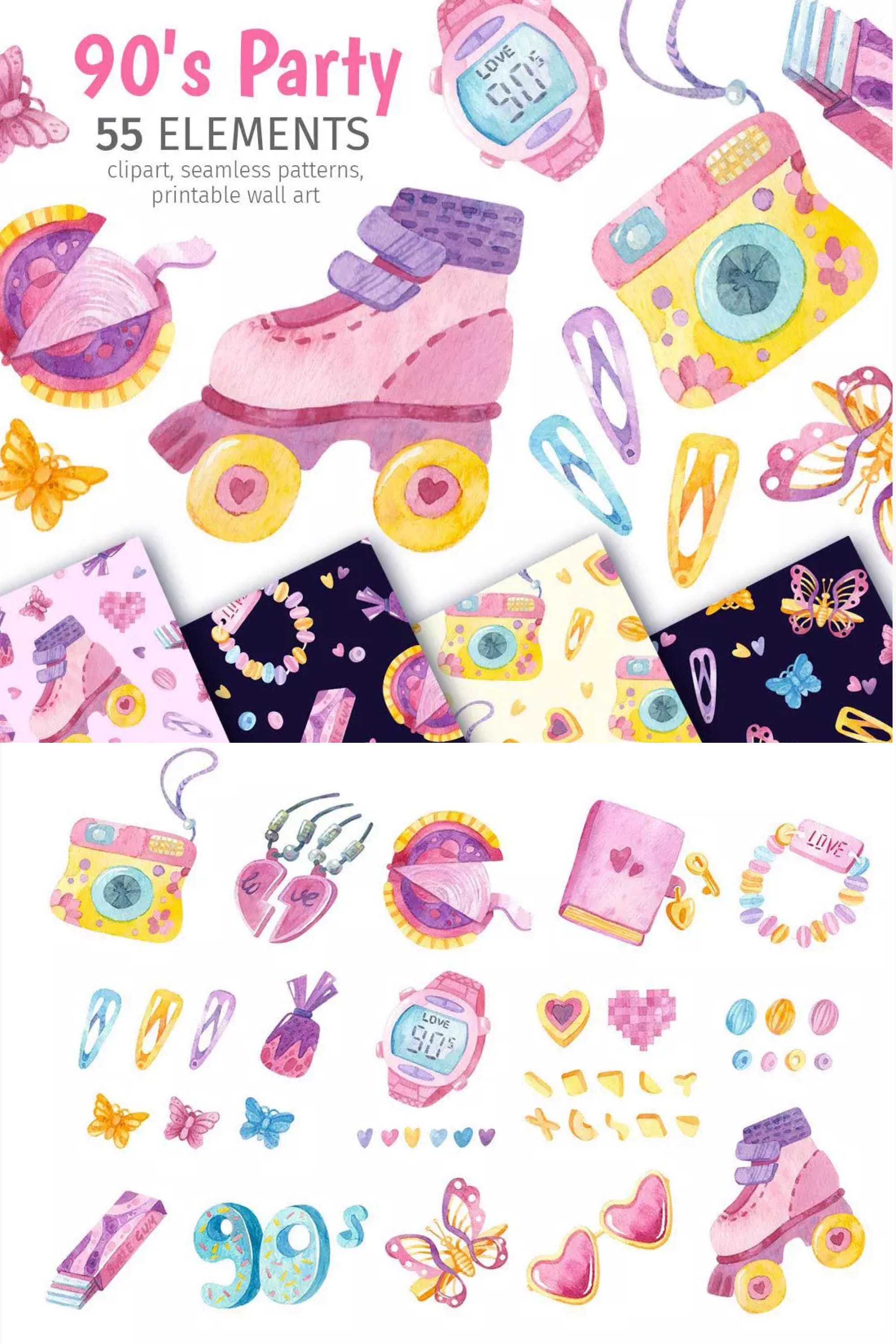 This watercolor clipart is great for retro invitations, baby backgrounds, souvenirs, birthday cards for girls, and posters.
Collection of Retro Photo Frames
---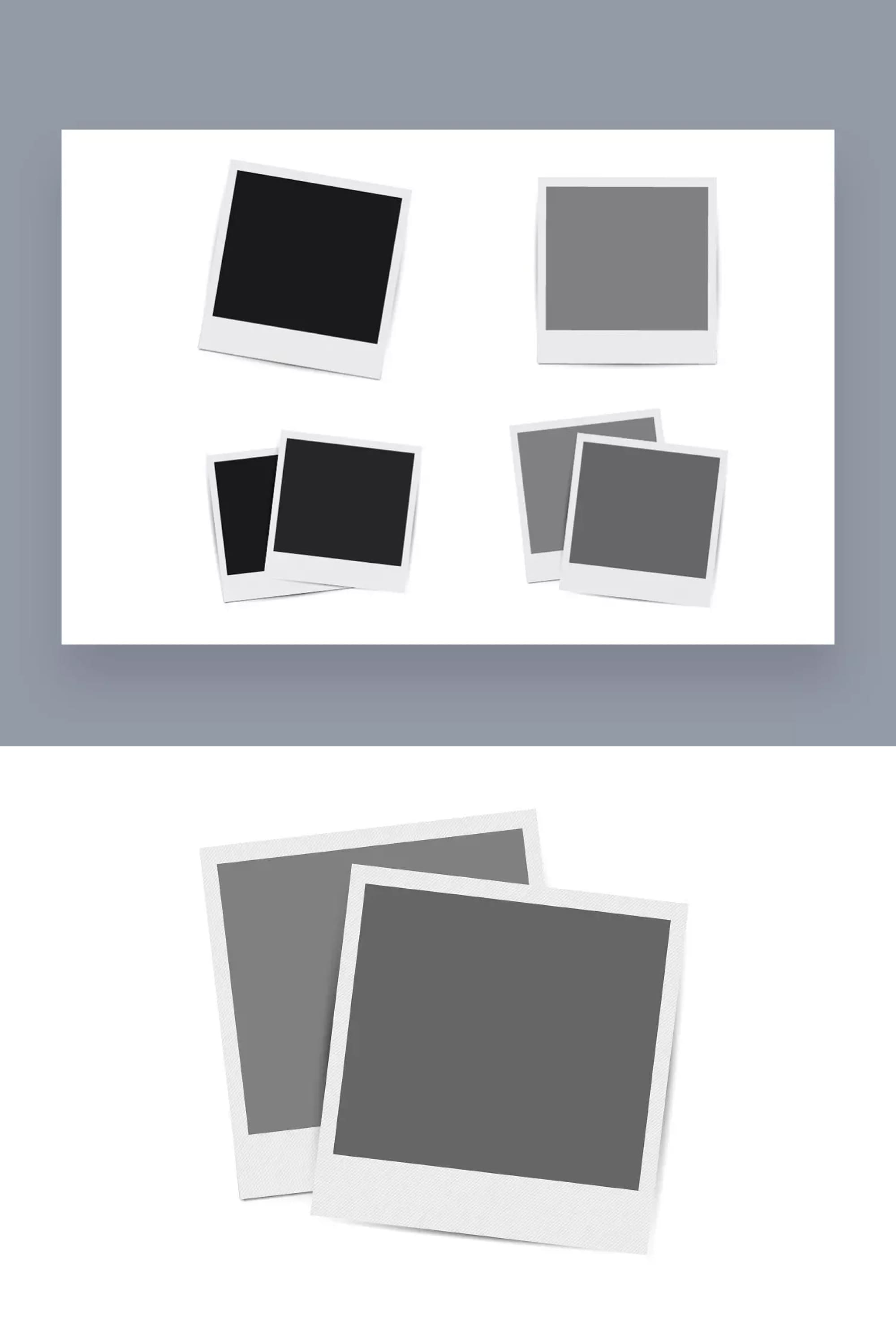 This is a collection of retro Polaroid photo frames. You can use these frames for your designs and ideas, such as cards, banners, badges, logos, and stickers.
Retro Design Trend in Infographic

Conclusion
Now you know what retro style is and why people are talking about it. Use the examples you saw in the article for inspiration and create some cool new designs. Don't forget to follow all the links, because you will find cool fonts and materials for your work. Good luck!
FAQ
Here are a few frequently asked questions about design trends
What is retro style in graphic design?
Retro design is a new design that utilizes trends and characteristics of the past. It could be inspired by features of an older design style or it could be an updated version of it.
Why is retro design popular?
The vintage graphic design style is popular because it evokes pleasant nostalgia and associations with certain time periods for people. Thanks to this style, you can make an eye-catching brand visual or a website for a company.
What are the elements of retro design?
The elements that characterize the retro style include:
musical themes (jazz, records, old players)
image of people (photos may be blurry and faded)
rich warm and muted colors
geometric shapes and lines
ornaments
handwritten or decorated font styles
textures of different materials (paper, wood, dense fabric, etc.)
What is an 80s graphic design called?
Memphis Design is a 1980s design aesthetic characterized by scattered, brightly colored shapes and lines. It typically combines circles and triangles with black-and-white graphic patterns such as dots and squiggly lines.
What type of graphic design was popular in the 90s?
The 90s are characterized by a large number of directions and associations among people. The most memorable are grunge underground culture, minimalism, and rave style.
Related Product Categories
Was this page helpful?
We will be happy if you decide to share this article with your friends on Facebook. Just click on the button and you're done
What are your concerns?
Thanks for your response!
You have already left your review.
Disclosure: MasterBundles website page may contain advertising materials that may lead to us receiving a commission fee if you purchase a product. However, this does not affect our opinion of the product in any way and we do not receive any bonuses for positive or negative ratings.