Best Gangsta Fonts. Any website, presentation, flyers, banners, advertisements and other projects in the final form impress and provoke us to do something. This is caused by all the components that designers use to create a perfect visual appearance. And fonts play a key role here. You've probably often seen ads that hit you right in the heart and make people pause and think, but they were made as minimalist as possible. It is the main idea of typefaces. Correctly chosen text elements can completely change the attitude of the audience to you. Original gangsta font is an impressive graphic element that stands out from the others with its boldness, sharpness and effectiveness.
Don't know where and how to find the right product? MasterBundles is here to help you. We've prepared a selection of the best fonts you can apply to the boldest projects. Hurry up, look and choose the perfect one for your purposes.
Well, that's pretty much it, you did it. Congratulations! All jokes aside, installing a background is not difficult at all and it will take less than a minute of your precious time, so why don't you give it a shot?
4 Best Fonts Bundles
| Product Image & Rating (Out Of 10) | Product Name | Price |
| --- | --- | --- |
| | 20 Stunning Fonts Bundle – $20 | |
| | 14 Fantastic Fonts – Only $5 | |
| | 29 Fonts for Commercial Use. – Only $10 | |
| | 57 Epic Fonts – Super Font Bundle | |
How to Choose and Use the Perfect Gangster Fonts?
Before you go into the search and choice, you need to answer the following questions:
What should it be? Analyze the project for which you choose the item. Decide what mood you want to convey. A font is basically the voice of the idea you're trying to achieve. Try to make it loud and bright.
Where is it? You need to understand what topics relate to your message. If it is entertainment — you need to choose eye-catching and unusual elements. If it is a business sphere — then the cute lettering with curls are not relevant, and you need to search for more discreet options.
How to combine them? At first, you should choose 2-3 typefaces for the project. And it would be more correct if two of them will be similar to each other. Make the main one for titles impressive, and the rest of the more restrained, to make the content easy to read
What is the main task? If you decide what purposes the typography should perform, then it finally becomes clear how it should look.
Gangster fonts have a wide range of possible applications. They are especially commonly used for prints on clothing, cases, backpacks, hoodies, office accessories, etc. Also, for projects in web design, you can use gangsta fonts in combination with the simpler variants. For example, try urban ones, they are really spectacular.
🏆 Top 3 MasterBundles Gangsta Fonts
🥇 BlackCabin Digital Display Font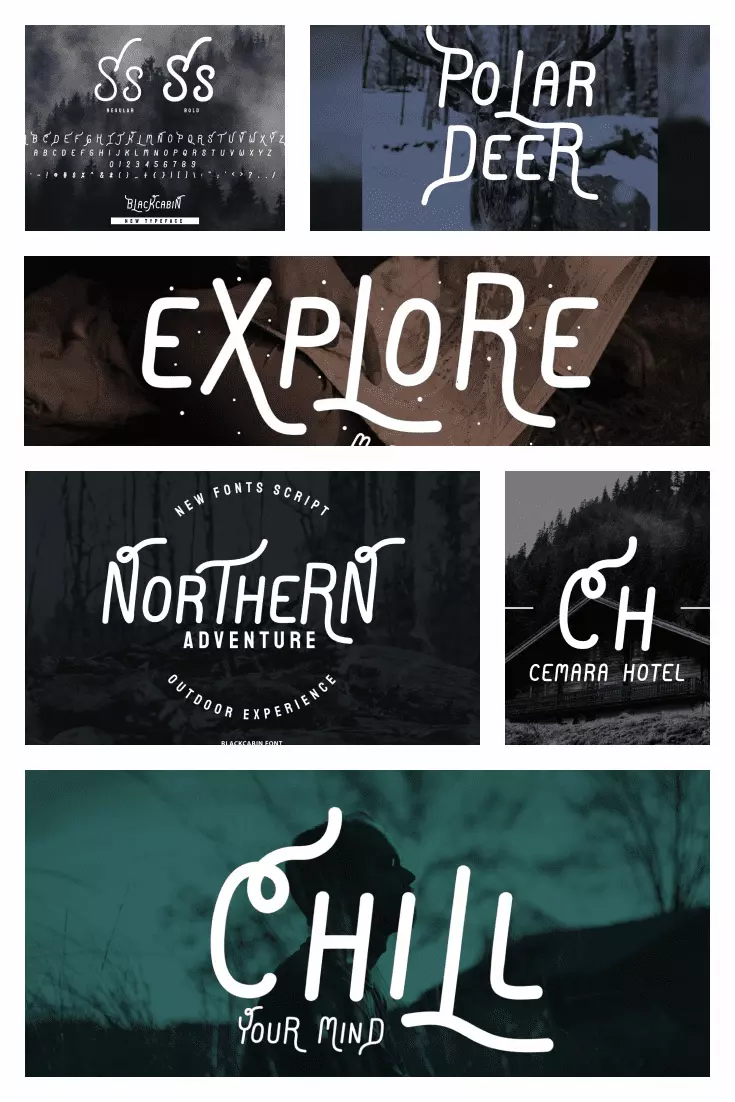 🥈 Blackpaper – 1st Negative Space Font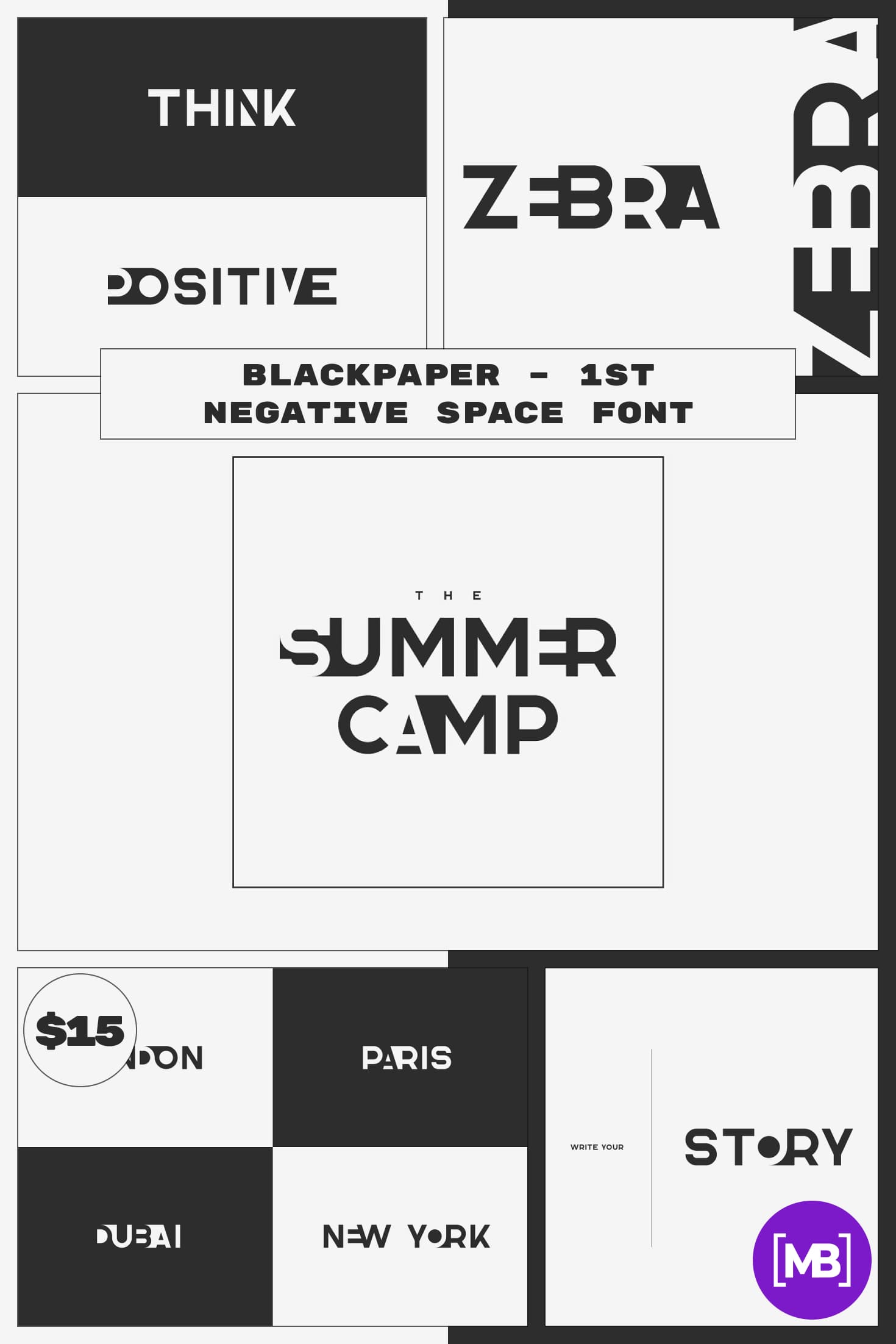 🥉 Rhino Interstate Bold Font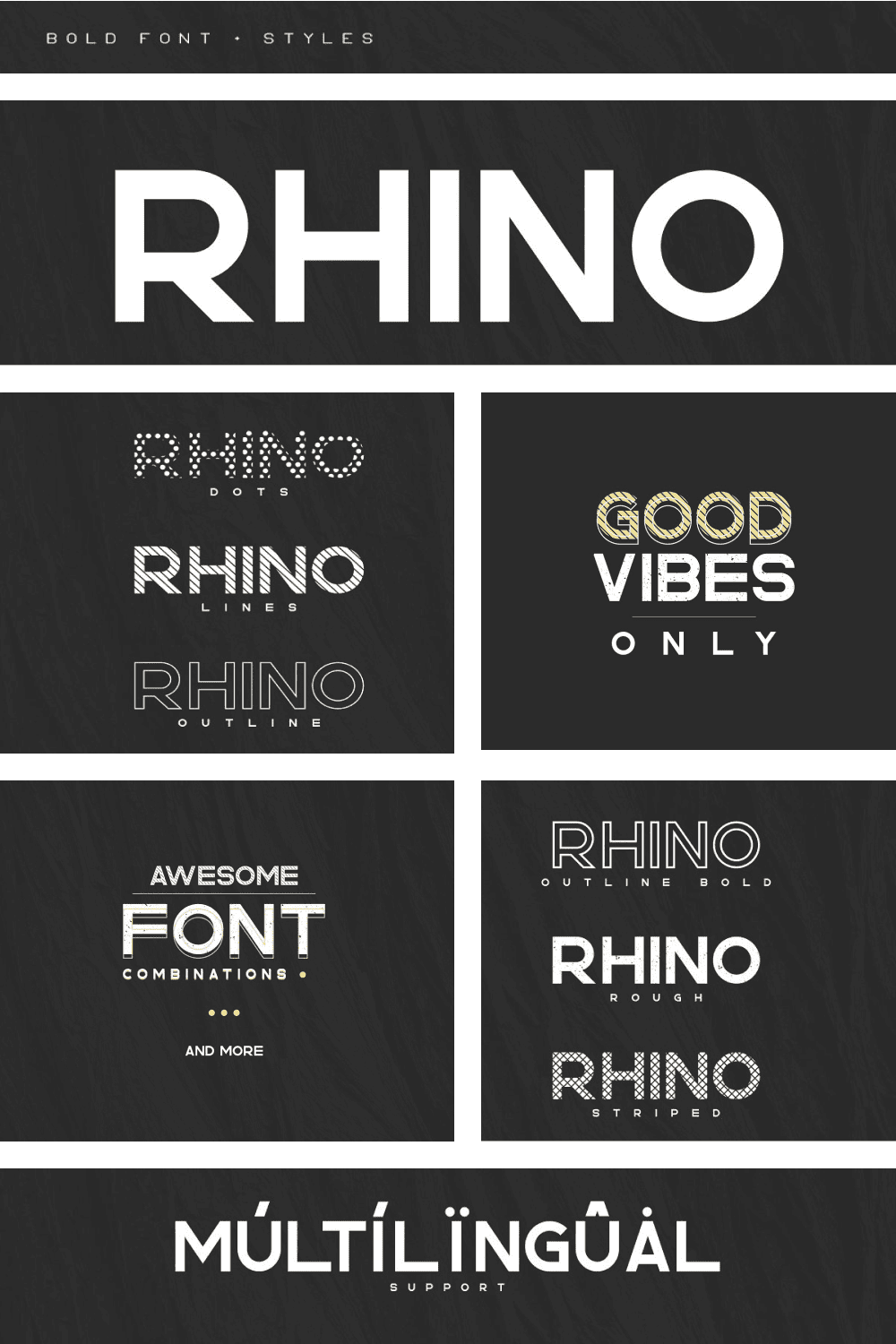 Best Gangster Fonts to Bring Bold Ideas to Life
Kickcore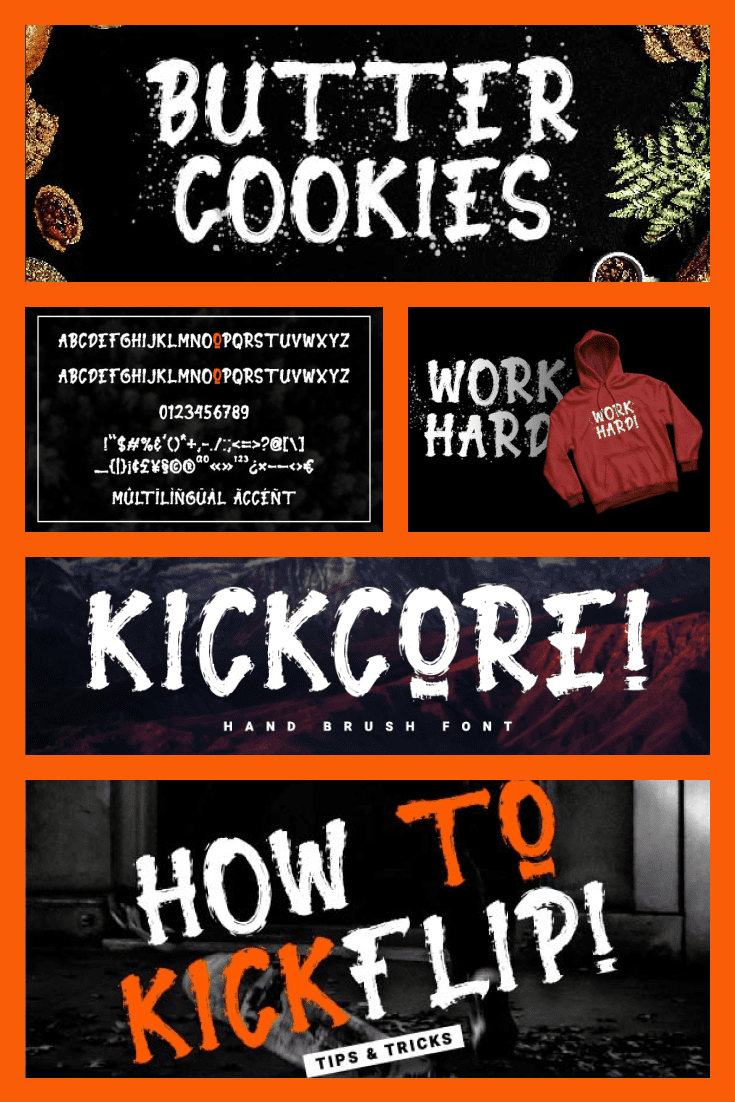 Kickcore is a very impressive product that has an attractive design. The main feature is the letters' blotchiness. There are no clear outlines. The typeface is perfectly suited for designing banners or creating logos for entertainment companies. It is fully editable in many programs.
Keetano ATL My Gangsta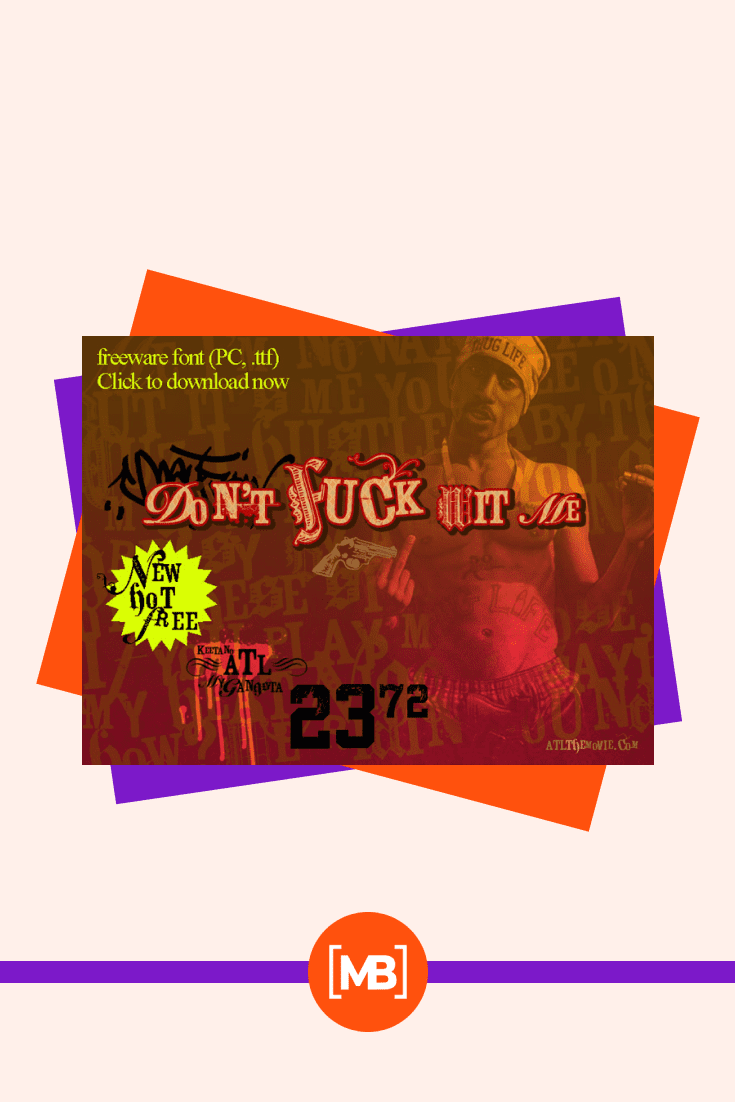 Give your project a touch of confidence. Apply this awesome typographic font to impress. It will be a great complement to flyers, advertisements, invitations for themed parties, etc. Each letter is unique and you won't find any similar ones in the set. One is uppercase, another is huge and vintage, the third is a smooth type with thin lines. If you're ready to experiment, check out this design.
Street Toxic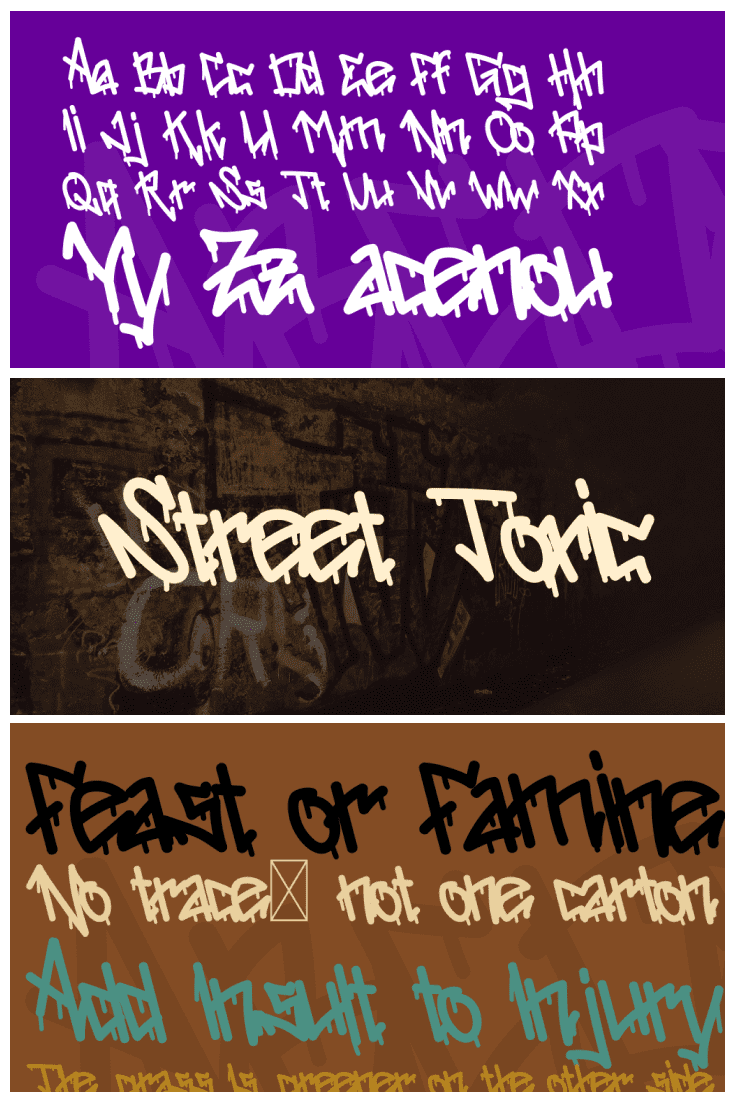 This graphic product is fully editable. Its style is quite free and provocative. You can customize it not only for web projects, but also for advertising and artistic projects. If you like drawing, you can try this style for your own works. The font is completely free for personal use.
Freight Train Gangsta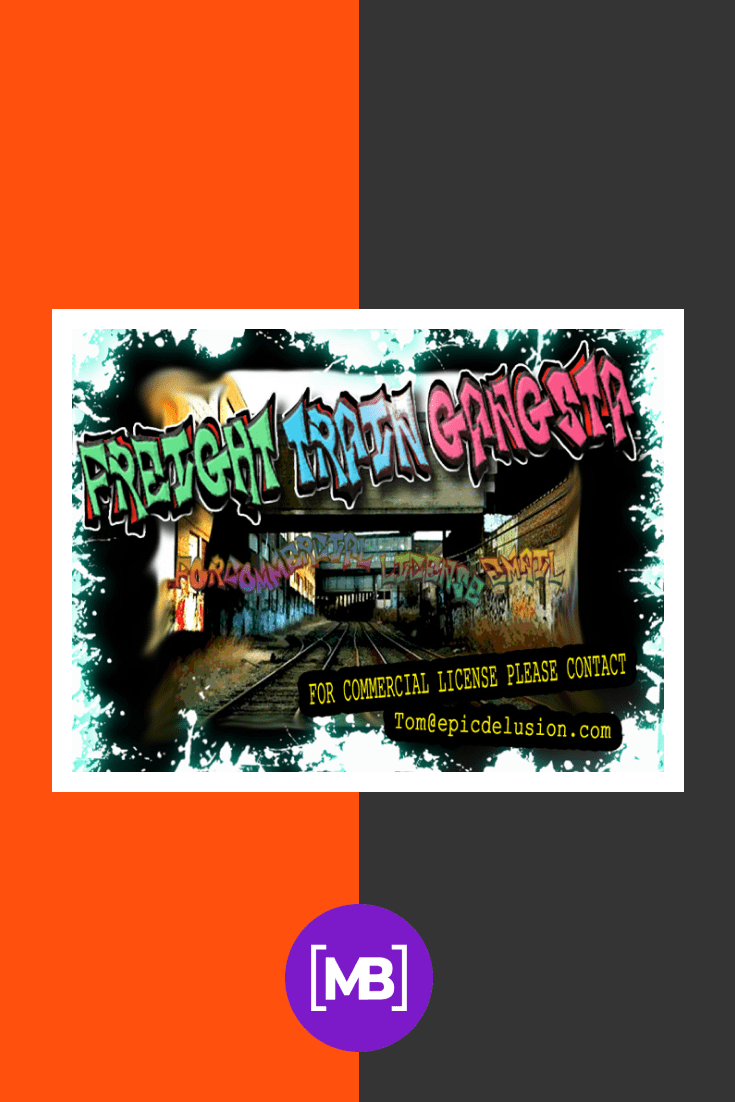 Boldness is the soul of this typeface. The free lines and sharp transitions speak of a challenge. This product is suitable for logos and advertising banners. It is certain to attract attention and be remembered by customers.
Gangsta by Richie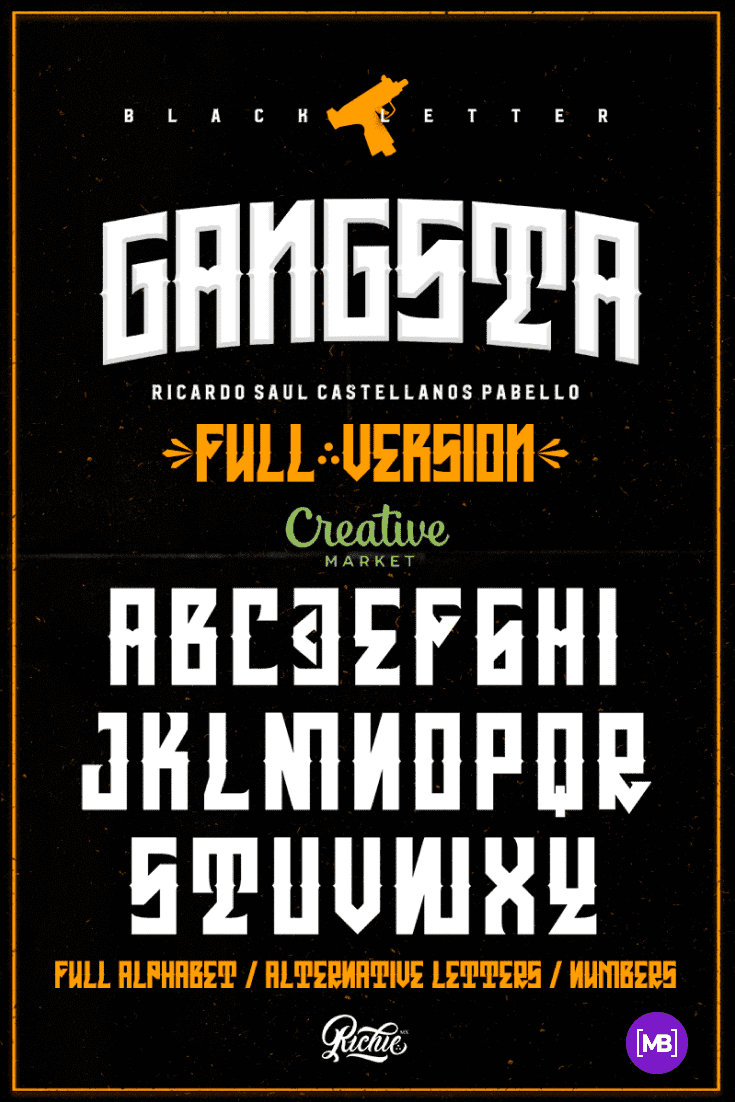 This font is ready for any purpose. It is easy enough to read and includes more than 100 symbols. You can easily customize it in any program you use. The font style corresponds to street and gangsta themes.
Original Gangsta Font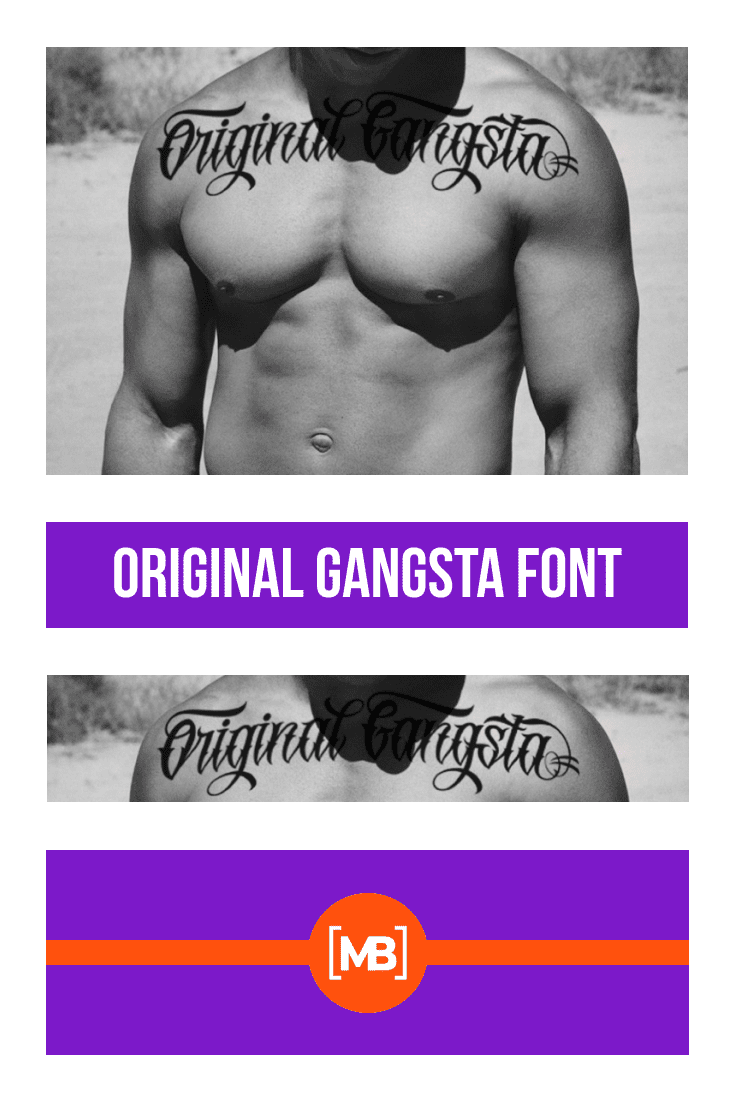 Add confidence to your project with this cool solution. The font looks great both in print and on display. Its distinctive feature is the wavy lines on the letters. We advise to use it only for eye-catching headings or inscriptions, as it is better not to use it for the main text.
Batik Gangster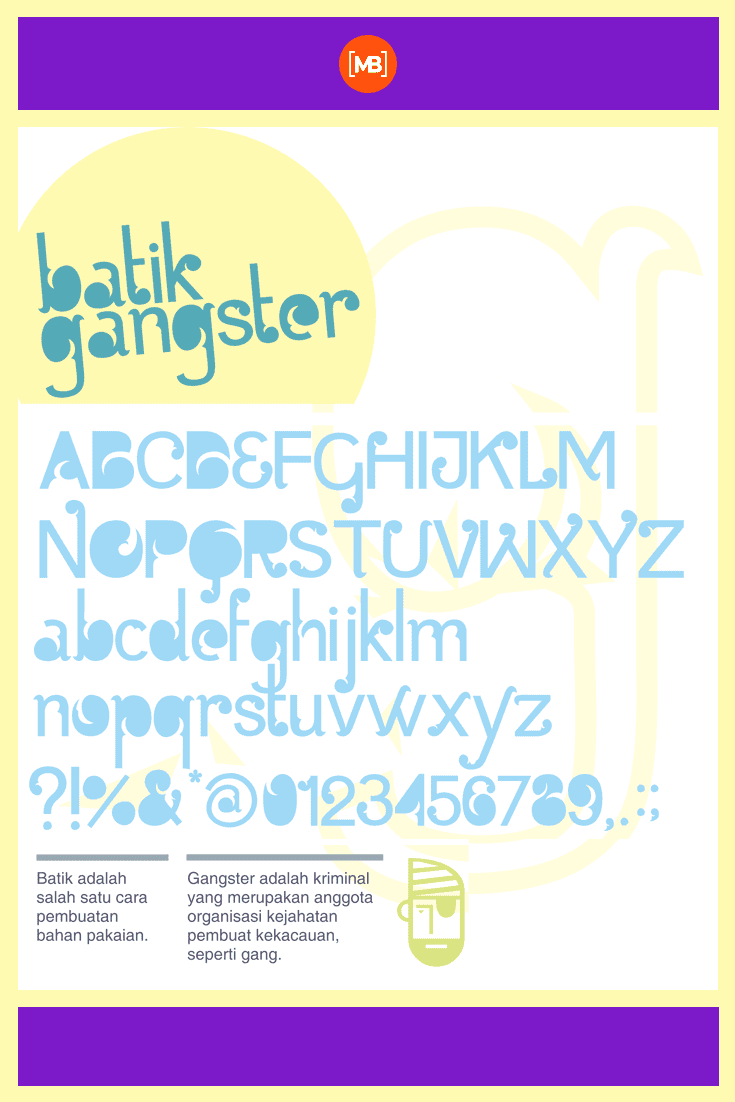 This criminal font is ideal for any creative projects. Each letter is special. Some are clearly readable because they consist of thin lines. Others, on the contrary, are full of colors and look like some strange symbols. It is completely free for personal use.
Gangsters by Weknow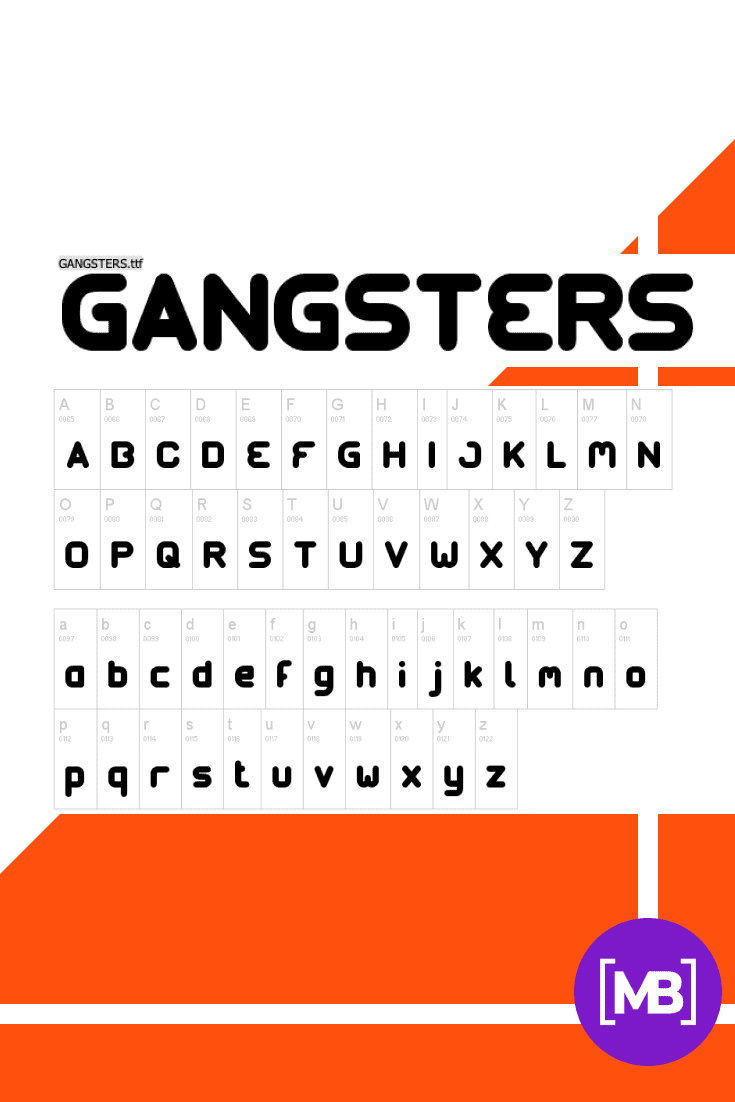 If you're looking for a restrained style, but want to convey sassiness with it, then this one is perfect. It's done neatly and differs from the others with thick, bold lines. The font is quite easy to read. It's suitable for advertisements, newspaper headlines, announcements, websites, and presentations.
LoOse Gangster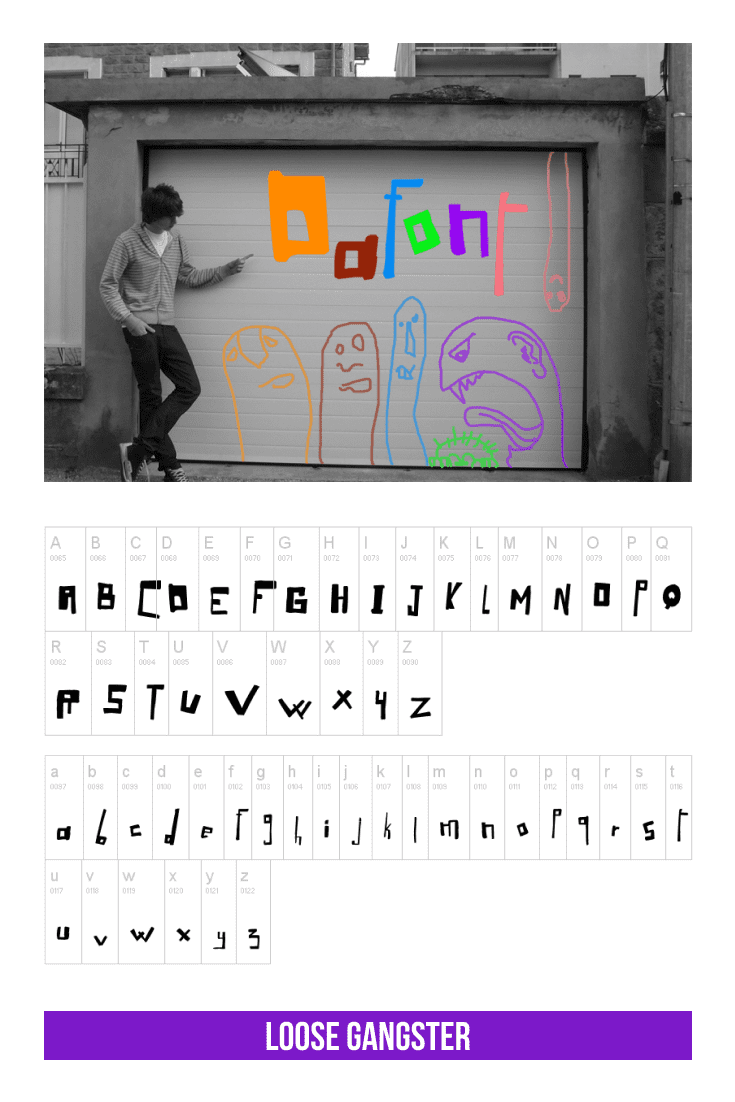 Gangsters are always provocateurs. And that's what this font represents. There are no straight lines, only unpredictability. The style of each letter resembles the uncertain handwriting of children, and that is its peculiarity. Cartoon objects and incomprehensible signs also refer to some of the characters.
KG GANGSTER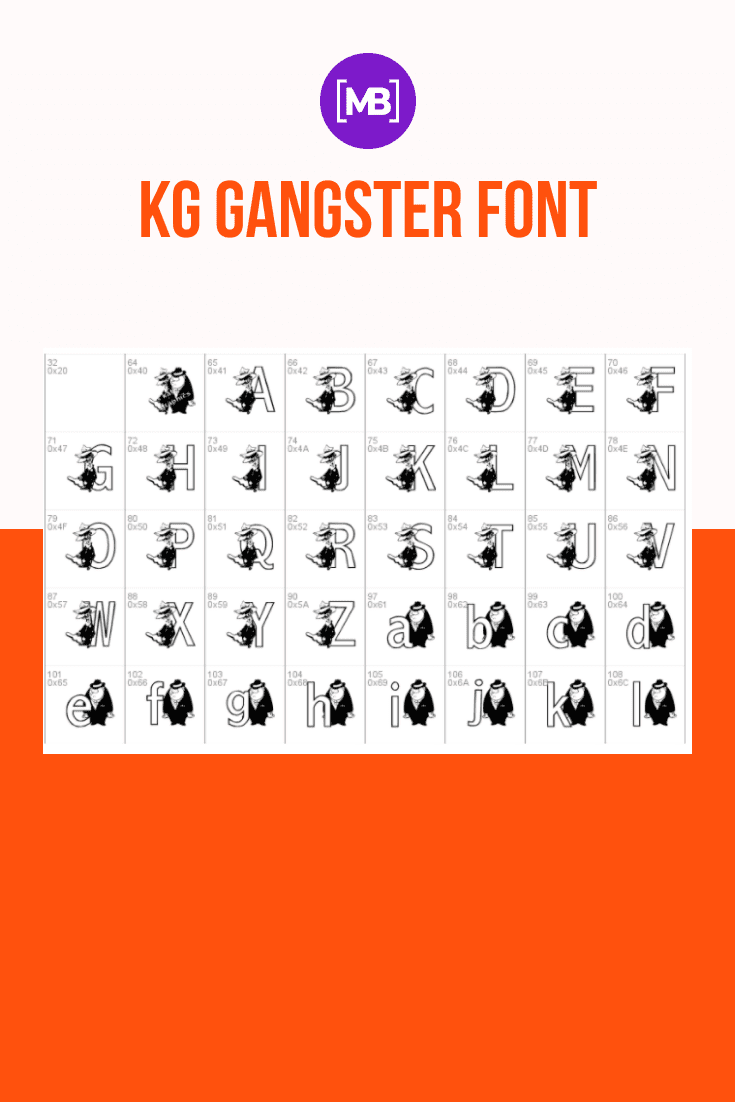 If your project is of an entertaining nature, then feel free to choose this typeface. It includes 54 characters, each of them drawn with a cartoon gangster. This offering is completely free, and you may even copy letters before downloading to make sure that's the item you want.
Dripping Marker by Wickhop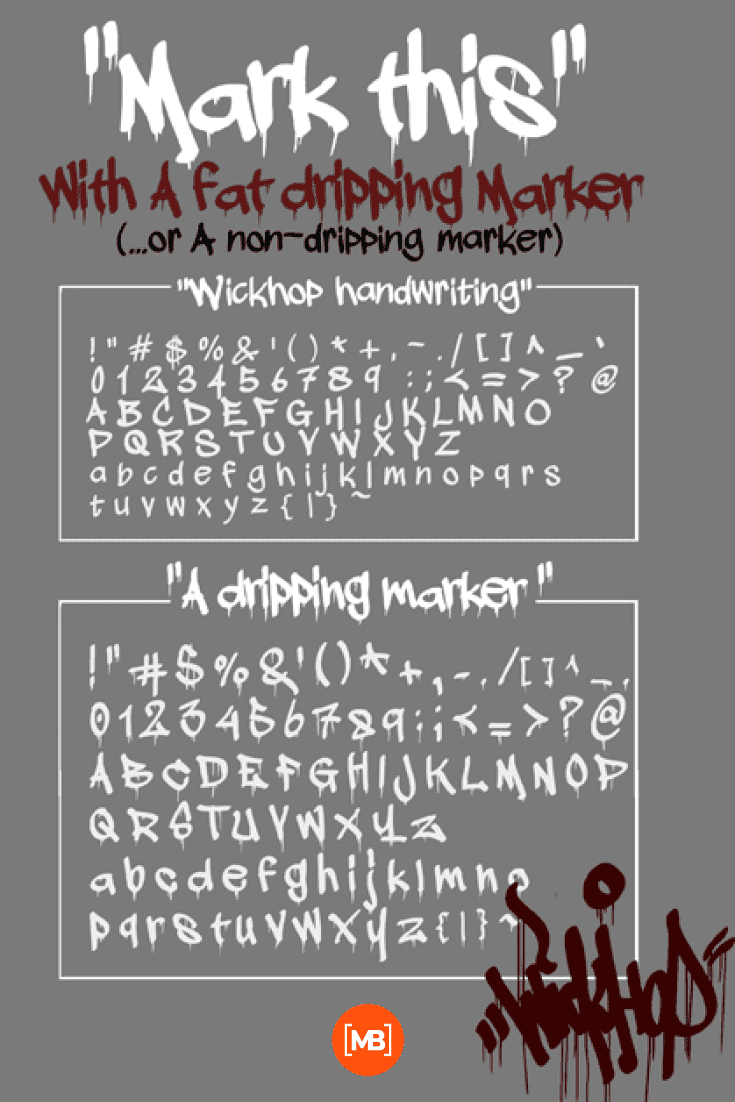 This font has a rather criminal and even a bit terrifying lettering style. Its distinctive feature is the "dripping" effect on the characters. This style is quite popular, because it combines urban graffiti and gangster design. It is suitable for themed banners or advertising from the design agency.
Street 2 Art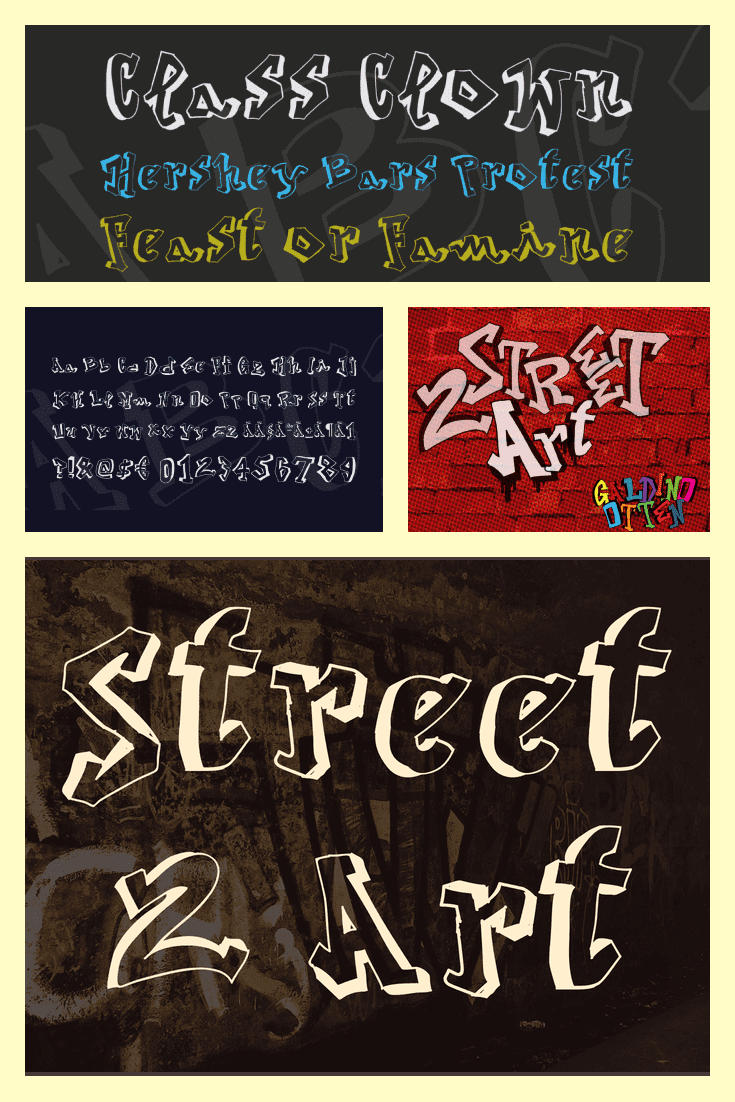 This is quite a powerful graffiti style script. It includes more than 200 characters. The product is available freely for personal use. The font is characterized by the randomness of the letters and the bold outline. You can edit it by changing the fill color and, of course, the outline style.
The Godfather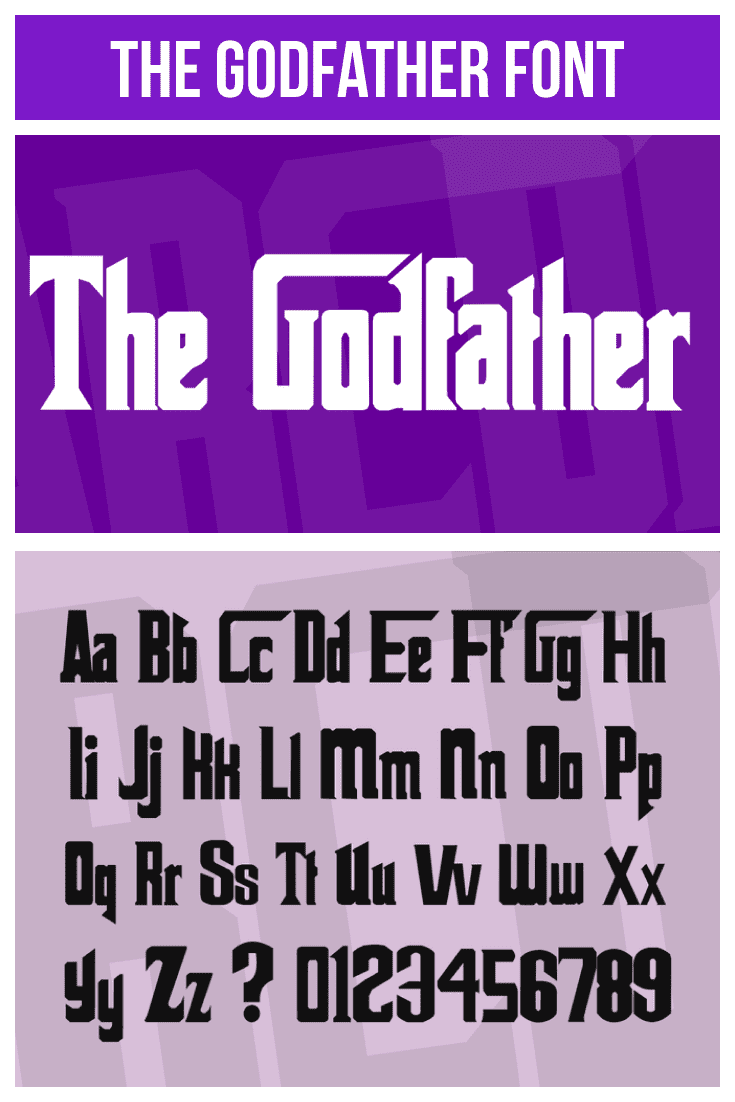 Here is an example of a good readable display typeface. Each symbol is neatly drawn. The letters are close to each other as they are written making it less ideal for main text, but perfect for titles and logos. So, make sure the lettering is brief. It also contains additional alphabet alternate characters and a few ligatures.
Cook County Jailhouse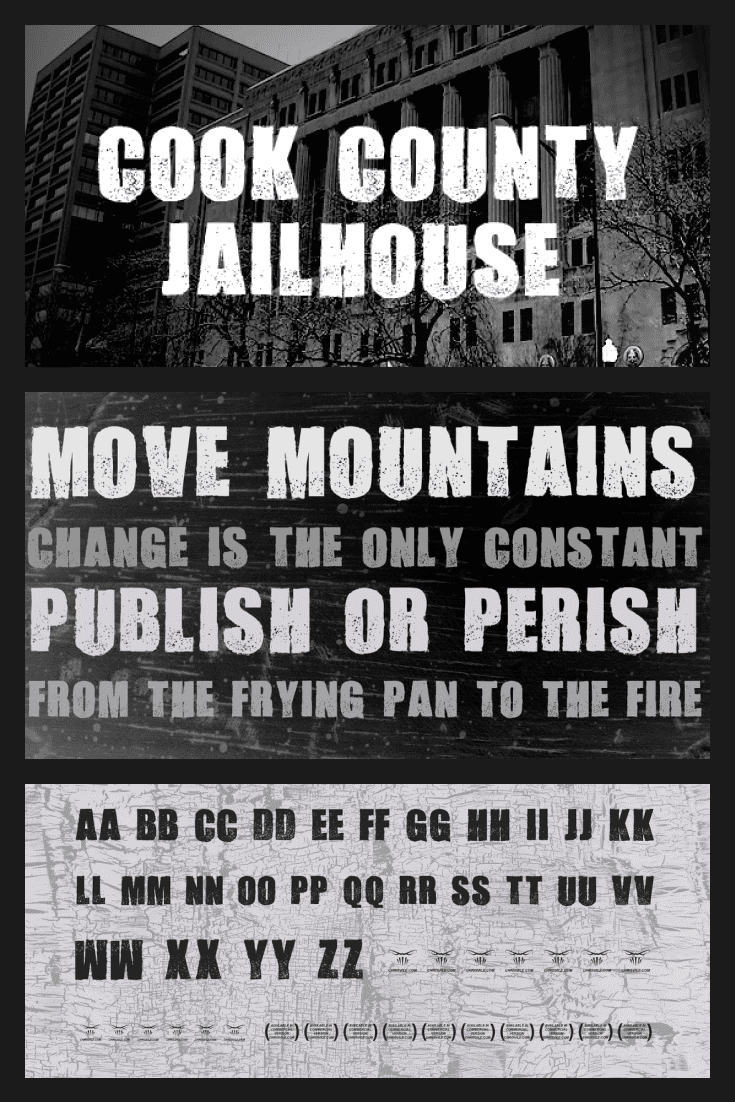 Looking for a mafia font? Well, here's a ready-made solution with an extremely awesome design. Its peculiarity is the fuzziness of the lines, especially at the bottom. Each symbol looks like it's been erased or scuffed. It will create a mysterious and weird effect on the reader. It's great for logos and book covers.
GANGLAND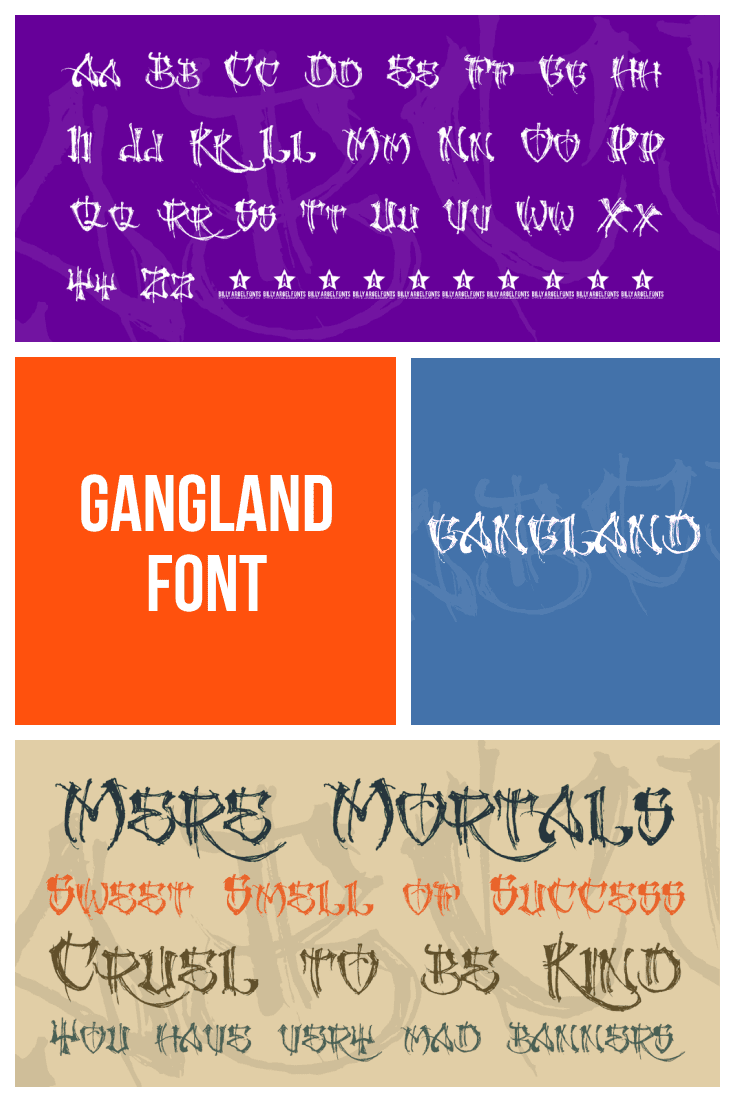 The design of this item combines features of Chinese scripture and knightly courage. It is suitable for menu design, newspaper headlines, logos, and prints. This brush lettering looks so impressive due to carefully handwritten elements.
Some Awesome Video About Gangster Font
Please take a moment to pin this post to Pinterest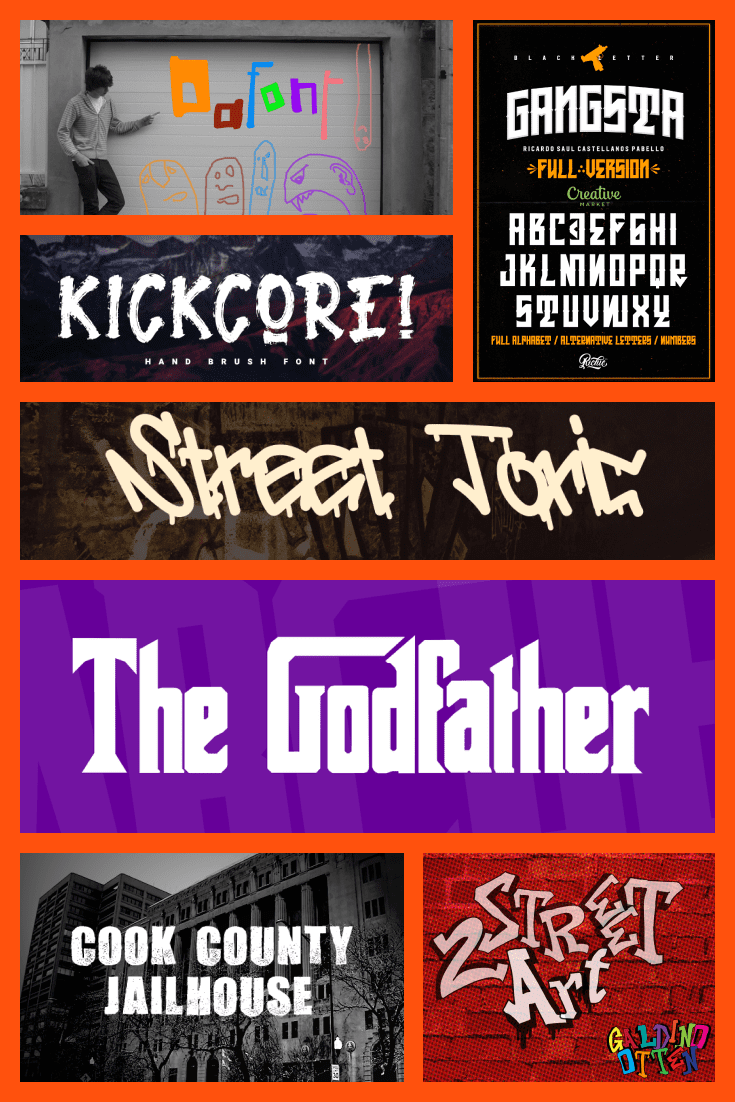 Disclosure: MasterBundles website page may contain advertising materials that may lead to us receiving a commission fee if you purchase a product. However, this does not affect our opinion of the product in any way and we do not receive any bonuses for positive or negative ratings.