Trying to get Instagram followers fast, bloggers and brands come up with twisted means. Still, growing an audience has become more complicated and time-consuming in recent years. After a former Facebook vice president, Adam Mosseri took up the position of the head of Instagram, this social media started working according to the new algorithms and now has so much in common with Facebook, doesn't it?
These substantial changes influenced a head-down Instagram lifestyle and now the beginning blogger knows the price of every loyal subscriber.
Indeed, getting free Instagram followers is a time-consuming process that also requires significant efforts, patience, and money. Unfortunately, there is no exact secret of how to get followers on Instagram in a matter of days. Still, there are some working strategies and steps that can move you closer to the cherished number.
In this article, you will find out the major steps (black and white) to grow an Instagram audience with and without financial investments. Furthermore, you will figure out how to cope with its algorithms and limitations on your way to Instagram popularity.
So, let's start!
Ruthless Instagram Algorithms in 2019: How to Cope with them?
Without a doubt, in order to get more followers on Instagram, it is crucial to be visible. This social media works according to certain algorithms that take into account:
The more likes and comments the post receives, the better place it will occupy in the feed and the more frequent it will appear on the Popular page.
Relevance is one of the most important factors that influence the visibility of the post. Instagram tracks the interests of its users with the help of their likes, views, followings, hashtags, etc.
If your post is relevant to a specific audience, Instagram will show it.
Your Facebook friends and accounts that get in touch with you on Instagram more often than others usually appear in your feed on the forefront. Therefore, pay particular attention to your connections.
For the record, as Instagram as a Facebook's younger brother, it makes sense to grow a target audience on Facebook as well.
Instagram takes into account time that your subscribers spend looking at and reading the post. Thus, the more engaging the post is, the more valuable it will seem to the machine.
In addition, it is important to share content in the time of the maximal activity of your subscribers. It depends on the target audience. For instance, if you live in NYC but your Instagram store is mostly focused on the Korean consumers, you should publish a post or something at 20 p.m. if you want to reach the potential clients at 9 a.m. when most people check out the feed.
In this case, a built-in analytical tool from Instagram is super handy: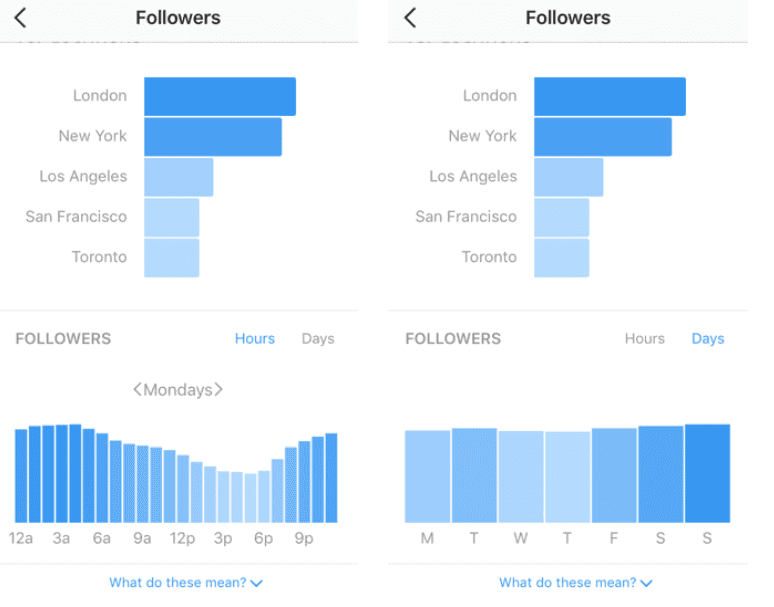 You can check out this guideline to find out how to set up Instagram Insights om your business account.
In sum, on Instagram, you become visible not because of coincidence. There are strict algorithms and combinations of certain factors. Following these rules will help you to become buddies with Instagram and be ranked higher in the feed.
Still, it's not enough. Gradually, we are coming closer to two strategies of getting more followers and Instagram likes.
How to Get Free Instagram Followers [No Financial Investments needed]
Even the most thought-out promotion strategy won't help if the profile is not aesthetically appealing or has no well-considered goal. Therefore:
it's crucial to make the blog first and then start its promotion.
In other words, it is important to understand:
who are you and what are you doing on Instagram;
how you can be useful to your audience.
The exact answers to these questions are the powerful toolkit that will help to build a certain conception of your blog, which is super valuable for people. A profile with a clear message and idea will attract ORGANIC followers.
Everything is clear when you are a brand or a fitness coach but what to do with lifestyle bloggers?
In this case, think about the specific spheres of your life you would like to cover. For instance, if you travel a lot, you can focus on the gastronomic tourism or tips for budget traveling. If you are crazy about the beauty industry, start making reviews on the bestsellers, exclusive or, vice versa, budget products.
Dude, even if you are a bookworm or a person obsessed with Netflix series, you can start making bomb reviews and recommendations for those, who always don't know what to watch or read.
Just focus on the sphere you are crazy about or good at.
Create an Appealing and Memorable Profile
After you defined the specifics of your blog, you can move forward and work on the content.
Your feed is the first thing people see when they visit your profile. Therefore, it is impossible to overestimate the role of the pictures.
Without a doubt, in this case, there are also certain trends and unwritten rules that help to attract more followers on Instagram.
For instance, recently, people were obsessed with one-style profiles. White, dark, or pinky profiles with the same filters were super trendy. People purchased presets like crazy.
For instance, Mary Lawless Lee used to stick to the grey and bold color scheme: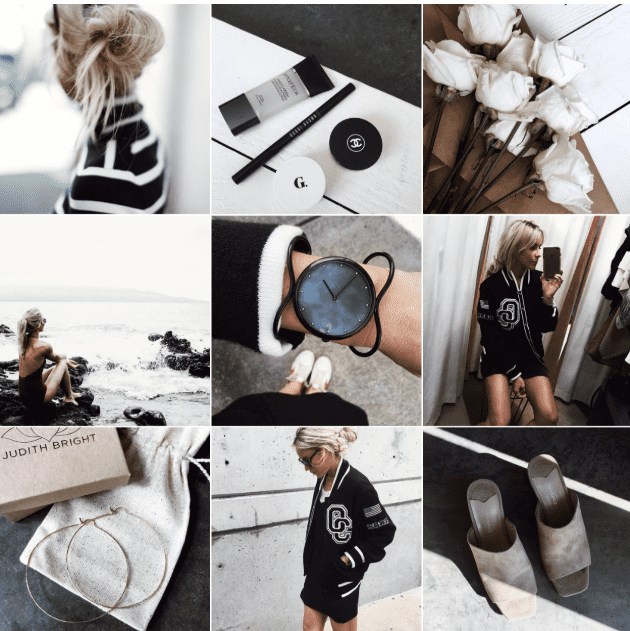 Still, 2019 changes the rules. Now, naturalness and imperfection are the trends. The profiles with a certain color scheme look boring and unnatural. One of the best examples of the bold vivacity is an Instagram of @vogueitalia: lack of aggressive colors, a lot of soft black-and-white content, freckles, bruises, imperfect shots but it still looks aesthetically appealing: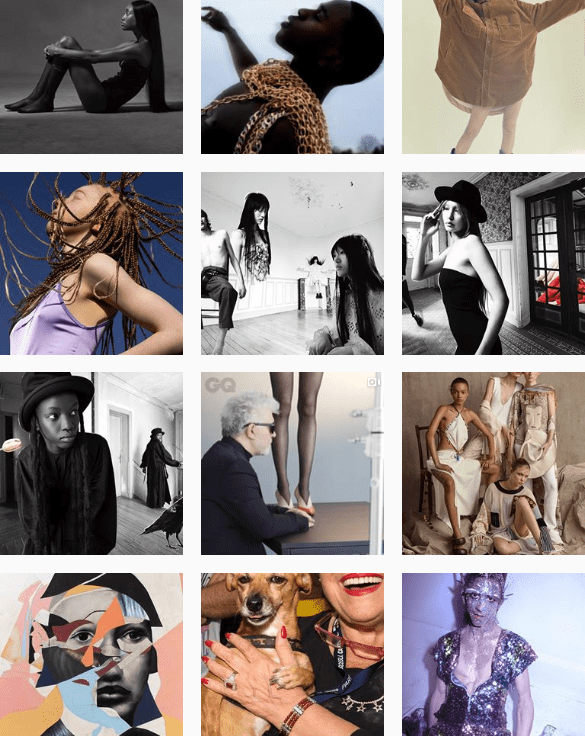 The next part that requires particular attention is text. If you establish a parallel with the relationship, you will understand that it is possible to attract the person with a stunning look but then you start reading the soul… 🙂
The same happens on Instagram. The visitors might get attracted with photos but if you want them to stay, it is important to interest them. Captions are one of the best ways to convey the idea of your profile, to tell more about yourself and build trust.
A win-win situation is the combination of the picture and the text.
How long should the caption be? It depends on your audience. Big celebrities might right no caption at all. Bloggers and influencers with a million audience usually use all provided 2,200 characters.
The research from Quantly found out that more than 30% of accounts use 300+ characters considering it to be an optimal length for a caption.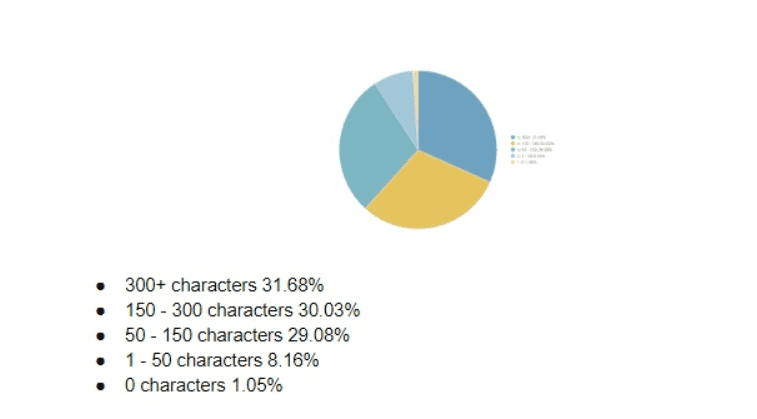 Source: https://www.socialmediatoday.com/news/new-study-looks-at-latest-instagram-best-practices-including-hashtag-use-a/543067/
Still, don't chase the stats blindly – test different variants.
The next super important part of the Instagram profile is bio. In a brief form, it tells your visitors who you are and what they will find on this page.
Writing a short, catchy but informative bio might be challenging. In this case, you should try a couple of variants, Make sure your bio reflects the conception of your page and contains key points of your microblog.
Another important tip lies in mentioning your area of interests, your job, or niche of your brand right after the name. You need this to become more visible to the potential followers. Those, who don't know your name, might type "Rehabilitating Fitness Coach" and your high-profile will appear in the first positions.
This was a tip from Vanessa Lau, a millennial business coach. In practice, she shows then if typed just Vanessa, her profile appears in the second position, which is, actually, not bad.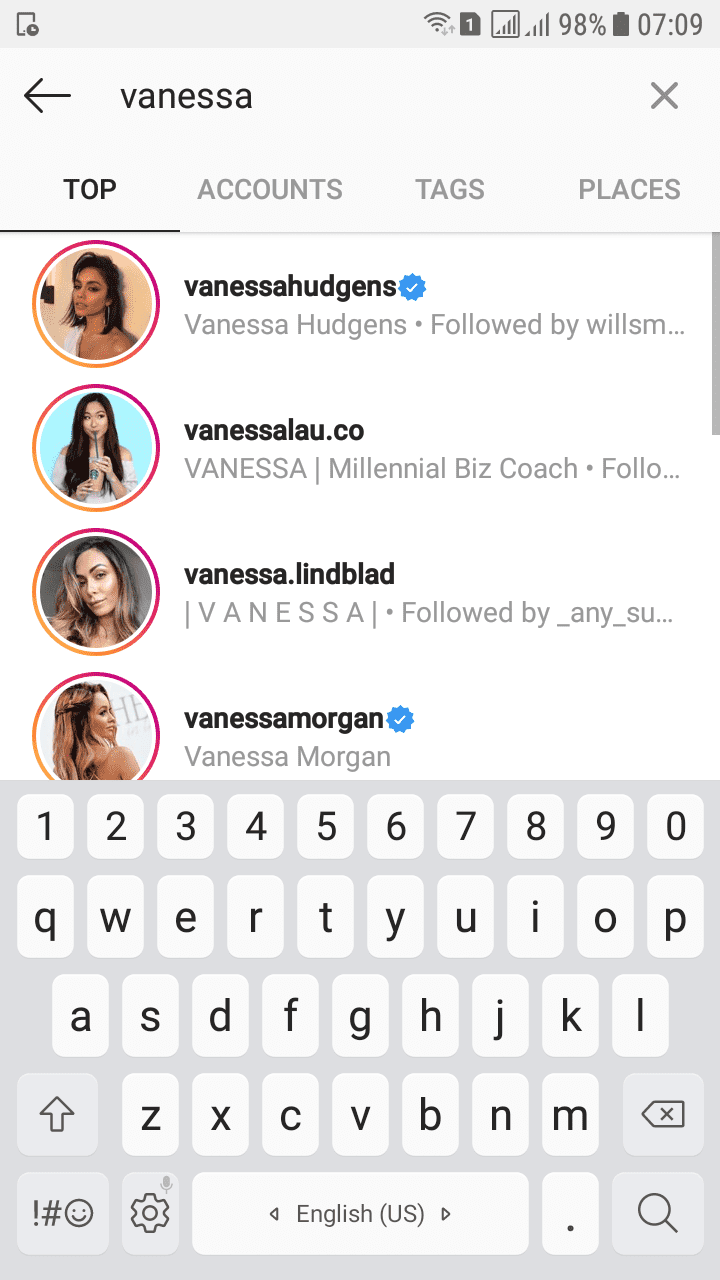 Still, if someone will search for a profile exactly for millennials, which is more plausible, (s)he will see Vanessa's account first.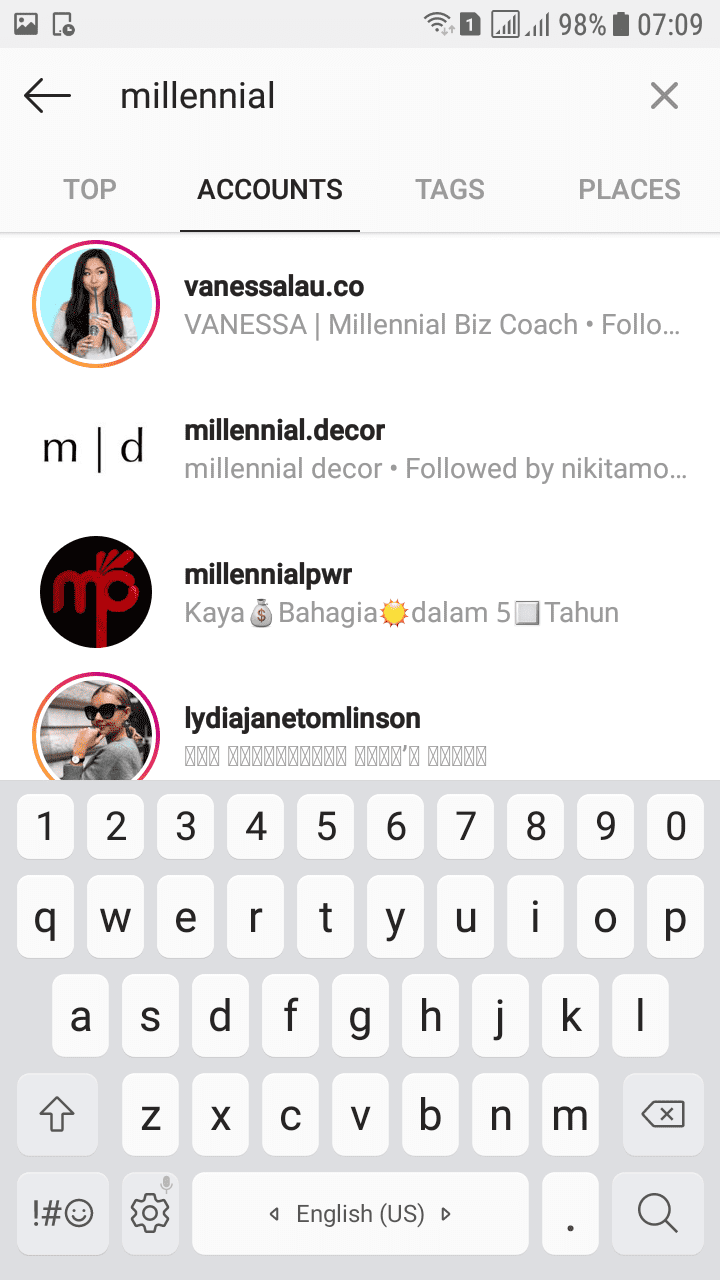 By the way, this cheerful girl made a super informative video on how to grow an Instagram audience organically in 2019. It contains a couple of working tips worth your attention.
Another thing that will help to make your profile look completed and attractive is story highlights.
Firstly, it contributes to easy navigation, which is a user-friendly thing.
Secondly, it, again, tells more about you as a person, about your life, hobbies, and interests. This helps to build trust between you and your subscribers. Here is a sample of how Mary Lawless Lee used her Instagram story highlights smart: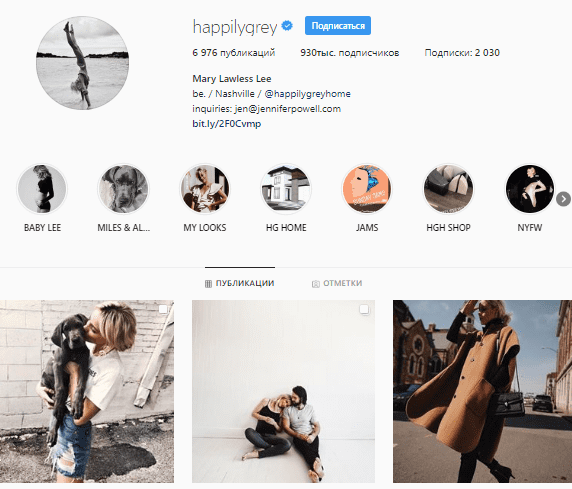 In order to create a single conception of the profile, it is better to use Instagram story highlights icons that reflect the content of each highlight.
Show up Systematically
My experience shows that posts get bigger engagement when I make publications more often. While it might seem controversial, the practice proves that the subscribers do love regular posts and stories.
A certain system of your publications (e.g. 5-10 stories a day with one of them always appearing in the morning + one post a day with 4-5 informative posts and 2-3 "relaxing" or vice versa engaging posts per week) helps to understand that you are always in touch and keep up with your subscribers.
The easiest way to keep in touch with subscribers is to post stories. They have already become an Instagram trend in the previous year saving the positions in 2019. They are a powerful promotional tool as people do love this format and the stats prove that fact.
In 2018, stories had more than 400 million daily active users with 1 billion of active Instagram users, in general: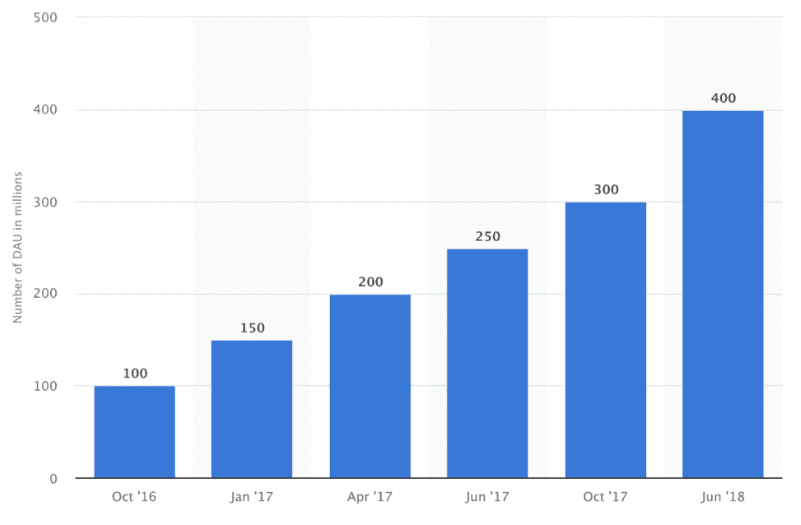 Source: https://www.oberlo.com/blog/instagram-stats-every-marketer-should-know
As you see, these 15-seconds babies managed to increase overall engagement four times for the past 2 years!
In addition, they managed to increase the overall time spent on Instagram. As estimated, people under 25 years old started spending on average 32 minutes more on Instagram, while older ones – 24 minutes more.
Therefore, with exciting and involving Instagram stories, it is possible to increase the engagement of your personal account as well. Questions, surveys and other interactive elements are must-have.
Get in Touch with Bloggers: #SFS or Shoutout for Shoutout
Actually, all bloggers are in the same boat. They all want to promote their Instagram accounts and most of them want someone with an audience to spread a word about their blog. Why don't to benefit from each other's service mutually?
For instance, you can find blogs with a similar number of followers and ask a blogger to spread a word about your account in stories and do the same for him/her. This is a so-called #SFS or a shoutout for a shoutout. #SFS is a sort of an Instagram blogging etiquette. It contributes to growing an audience in an organic way significantly. New subscribers that come after #SFSs are:
real ones;
a part of your target audience (otherwise, the shoutout wouldn't appeal to them);
have a true interest in your blog as no one made, asked, or paid them to subscribe.
Nohow, it is important to be a part of the blogging community. That's a working way to get free Instagram likes at least 🙂
Mass Following: Does It still Work in 2019?
Another super popular strategy that is gradually falling behind is a mass following. There are many variations of this way of the promotion: you can mass follow manually on your own, pay someone to do it for you, or use special apps and services.
Still, mass following and mass liking have substantial drawbacks.
Firstly, it is a violation of Instagram's Terms of Use, which can't go unnoticed.
Secondly, mass following and mass liking have low conversion rates (fewer than 10%). Taking into account the fact that Instagram has daily limitations in the number of accounts you can follow or like, this is a super time-consuming process.
Thirdly, mass following is a risky thing. Since November 19, every suspicious activity on Instagram will be tracked. This social media uses machine learning that will send notifications to all accounts that mass follow or mass like: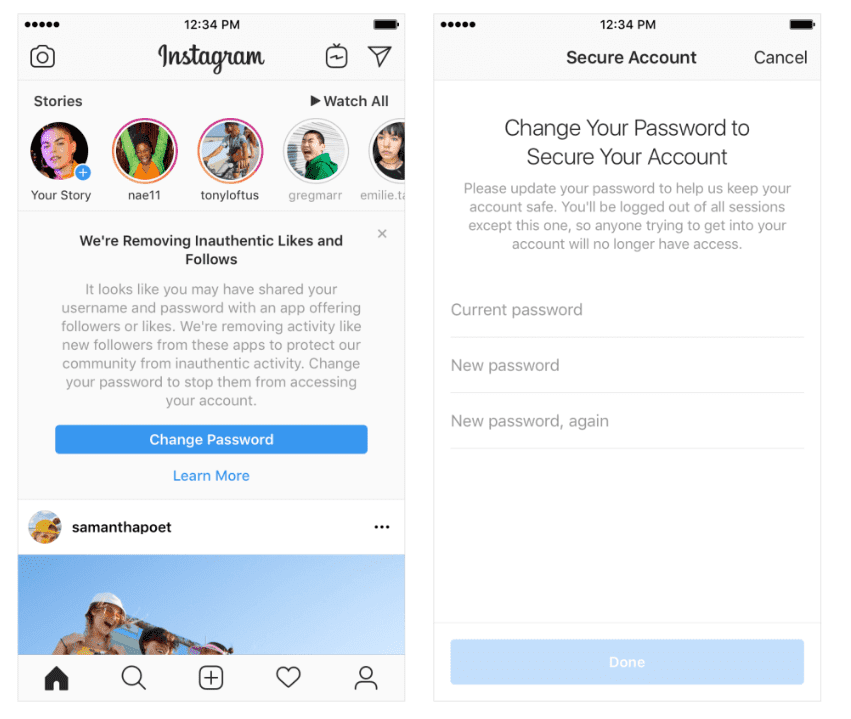 The strictest measure is a ban, which is serious for bloggers that promote their accounts actively.
Therefore, the mass following is definitely not the most efficient way of promotion on this platform. Yes, it is not as "dirty" as when bloggers buy Instagram followers but it still can hurt the reputation of your microblogs.
Nowadays, there are programs that identify followers-bots. Furthermore, the mass following activity is visible – people aren't morons. Thus, think several times before using this strategy.
Running a page on Instagram you can earn a round sum. If this is what you aim for, from now Instagram is not just your social network page. Of course, no one can forbid you to share the news with friends. Still, when we talk about "commercial" blogging mainly it's supposed to be interesting for people you don't know.
How does it work? As a rule, such accounts should be created with a premeditated story. Start with an idea. Even if it's difficult to decide which one to choose, try to focus on some specific topic. Culinary blogs, body positive, dancing, clothes, visage – yes, Instagram already covers it. But you can present it in your own way because everyone has a chance to find his audience. Of course, if your idea is absorbing or even relatively new, it will be easier to move forward. Next, make a content plan and post photos that involve instagramers to visit your page.
Usually, when the promotion is successful, users subscribe to such account. And advertising is always there where visitors are. Marketing specialists or private businessmen always look for crowded pages and offer money to their owners for advertising their products. Plus, the more subscribers, the higher the cost.
And what about corporate blogs? In this case, you also need a concept. Concentrate on the brand and pick up a tone of "voice". Make an analysis of your target auditory and determine their values.
Sometimes, made to this purpose accounts are organized as business cards of real companies. Thus, they expand the possibilities of attracting potential customers and get a good online promotion.
Check our eBook How to Use Instagram: The Definitive Guide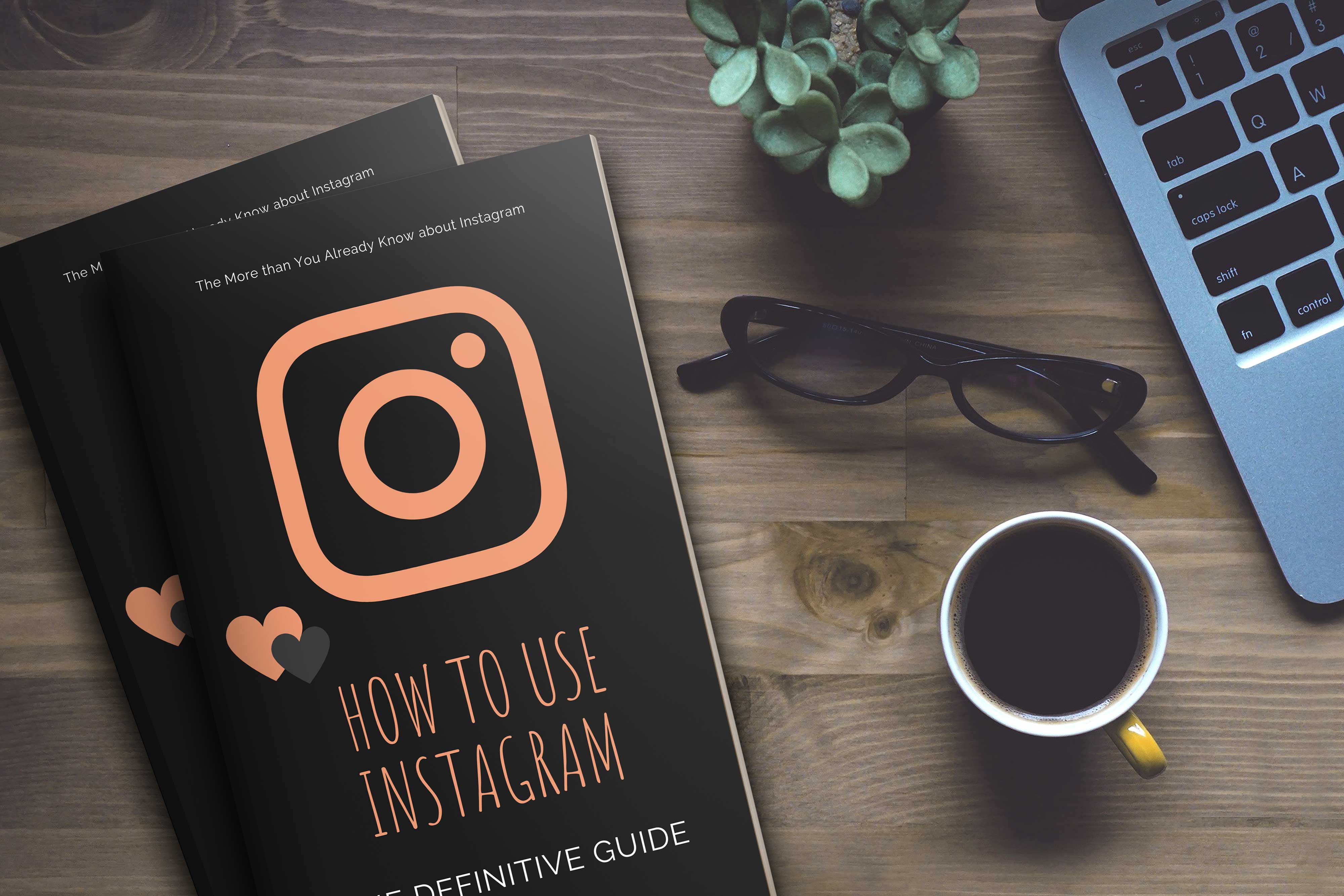 How to invest in Instagram Promotion smart
After you invest your time and efforts into creating an appealing and informative microblog, it makes sense to invest money in its promotion. Unfortunately, reality shows that promoting an Instagram account without paid ad is difficult.
Obviously, the budgets differ – the prices start with a couple of dollars and end with thousands of bucks. Still, if you invest smart, you will definitely enjoy the result.
Let's review a couple of worthy ways to promote an Instagram account with paid ads.
Paid Ad from Celebrities, Bloggers and Influencers
This is a paid version of the #SFS. The chances that a reputable blogger or influencer will make an ad for free are miserable. Therefore, if your account has an audience of more than 20-30k (otherwise paying for the ad is pointless) and you have the means, it makes sense to try this option.
Though, it's important to find blogs with a similar subject matter. It increases chances that its audience will be interested in your account.
Target Advertisement from Instagram
Instagram target advertisement is a powerful thing. If you figure out how to target it to the right audience, you will manage to reach worthy conversions. A good thing about the advertisement from Instagram is that it allows clarifying those micro-audiences that will more likely to become loyal subscribers or customers. Therefore, you get ultimate control over those accounts that will see the ad.
I should definitely write a huge guideline about how to set up an Instagram target advertisement but for now, you have Margot da Cunha, who did it for me. Her complete guideline on the advertisement on Instagram worth your attention, indeed.
Ad in Stories
According to Statista, Instagram ad revenue reached $6.84 billion in 2018. This is a $5 billion increase that the platform managed to show in just two years!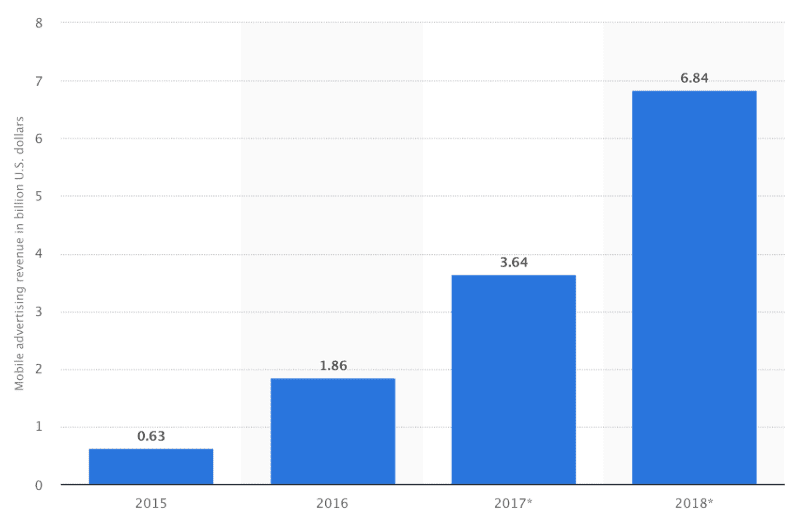 I can assume that the launch of Instagram stories and Instagram Stories ads contributed substantially to this growth. Therefore, considering this option is the right decision (taking into account that the popularity of the stories format will only rise).
Giveaways
Giveaways are the last paid way of getting Instagram followers fast that we will consider in this article.
In this case, you become a sponsor of a giveaway where the winner receives a prize. Usually, there are several thousands of participants (depending on the scale of the giveaway). The main requirement lies in a subscription to ALL of the sponsors. This way, you automatically receive a couple of thousands of new followers in a short time period.
Of course, as a giveaway ends, half of the followers will unsubscribe but there will be those, who stay. Either they will like your microblog or they will simply forget to click this horrible button and leave your blog.
Thus, this is a working alternative to the paid ads and it is extremely popular nowadays. Still, make sure that the giveaway is fair. Otherwise, it can spoil your reputation.
The Bottom Line
So, if you expect to get free Instagram followers in a matter of several days, you will definitely reach your goal. For this purpose, people buy Instagram likes and subscribers, mass follow like crazy, pay thousands of bucks for the ads from celebrities and famous bloggers, etc.
Unfortunately, the results of such methods aren't long-lasting. Plus, the audience that will come is "dead".
If you want to take a long-perspective and grow a loyal Instagram audience that will give feedback, then it is important to:
create an appealing and interesting blog with informative and interactive content and specific idea and conception;
start promoting it smart (interacting with accounts and platforms that resonate with your subject matter).
And remember: no matter how many followers will come to you after another promotional step, there should be something that will make them stay 🙂
30+ Premium Instagram Templates in 2019. Posts, Storys and Highlights Templates Bundles