Autumn is the time to start new projects. What can be more beautiful than creating something new, cool on a warm autumn evening and implementing new ideas.
Halloween holiday is also around the corner. That's why we have prepared unique, fresh and absolutely new halloween cliparts for you. With their help you can realize any project, create any products and surprise your customers!
Clipart is a very important element that is used in the development of graphic design. It is a set of thematic pictures, or some separate image. Clipart can use specialists who are engaged in graphic design, or ordinary people to create an unusual picture. Clipart is a great solution that will facilitate the work of the designer and save the time!
Halloween cliparts are themed holiday sets. These are various cool and sometimes creepy images that will be very useful in your autumn projects. Halloween cliparts can be used for:
banners;
headlines;
logos;
greeting cards;
invitation cards;
products packaging;
images on the products;
posters;
advertisements and etc.
It can also be a fantastic happy halloween cliparts that can be used for children's parties.
Halloween Photo Bundle
Halloween clipart you can also use as a background. For example, it can be a background for banners, posters, invitations, etc. You might ask "where can I get such clipart and sets? The answer is very simple! MasterBundles has prepared a great set of photos for Halloween. Halloween Photo Deal: 100 Royalty-free Photos & Vectors is selected photos that you can use as a background for your project. There you will find images to suit all tastes! These are both cute images and scary images!
Here are their examples: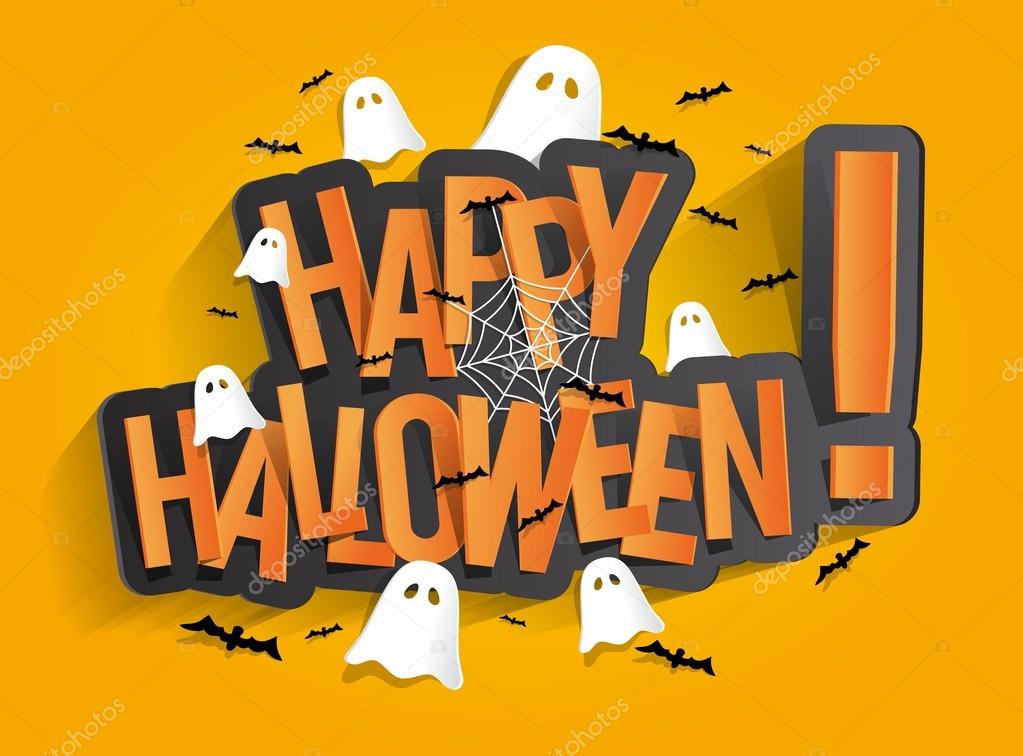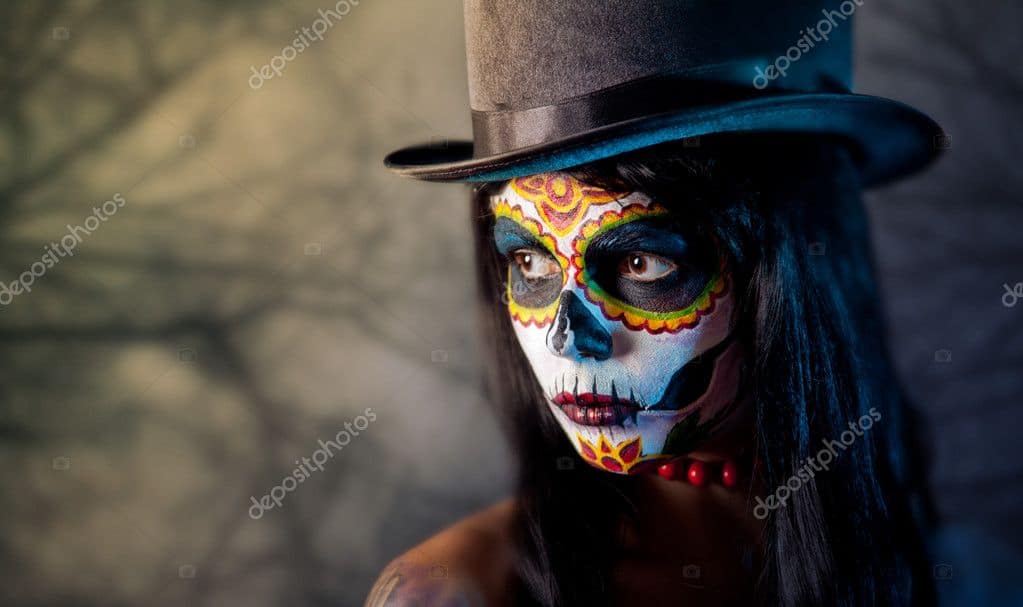 Halloween Photo Deal is 100 high resolution photos that you can download at any time! It is also an access to the database for downloading any images. There you can choose from over 60 million images. For such a small fee it is the ideal solution for your project!
Halloween Postcards and Greeting Cards
You can also find wonderful postcards on MasterBundles. Their design is specially made for Halloween. As this holiday becomes more and more popular, people need small postcards for a gift!
Postcards on Halloween are very different. You can use them for a cool friend's greeting or for a children's party. It all depends on your goals, and on your sense of humor.
Halloween Cards Collection is a wonderful set of 6 postcards. They look nice enough. These are bright postcards with cool images and inscriptions. For example, "get the taste of magic, lick a witch", "eat, drink and be scary". These inscriptions are quite funny and look very stylish against the general background of the postcard. Postcards in this set are available in .jpg, .psd, .tiff formats. Also, you can surprise your friends, parents, classmates, and someone else by sending a postcard by real postal mail! Nowadays, this is really very unusual and funny. You can also sign the card. We think it's time to buy these cards, especially for this price!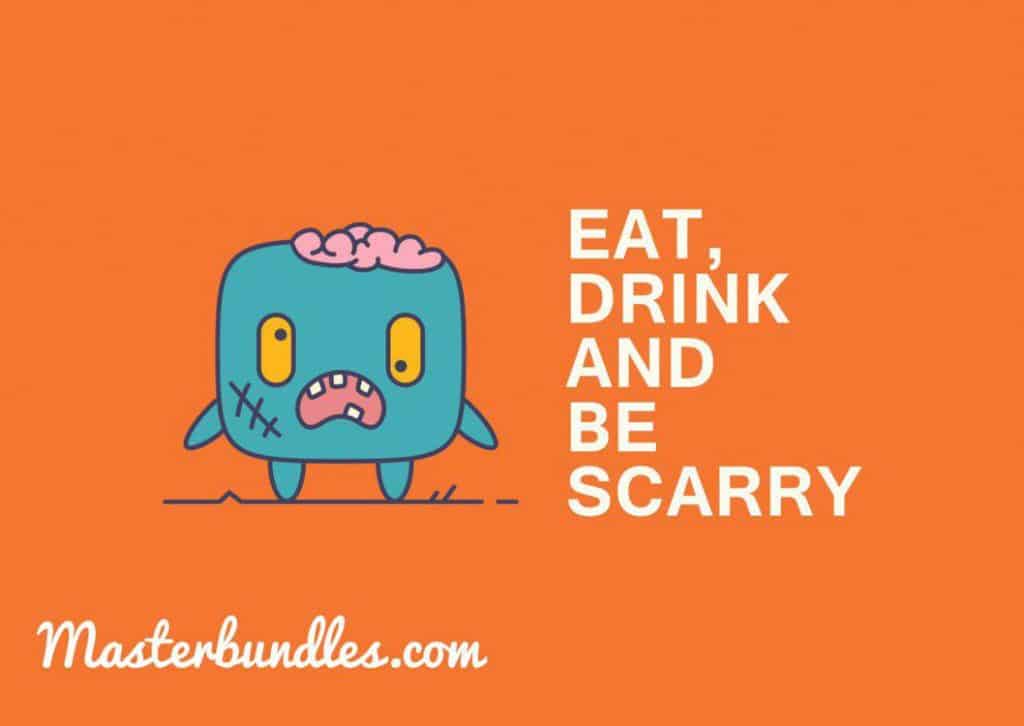 Also soon at MasterBundles you can find the original greeting cards. A cool and fun design is exactly what you can expect from them! You can also sign them by yourself and send them by real postal mail! Isn't that great? You can also use these greetings for a children's party at Halloween. They will be very nice and funny.
If you wish, you can create postcards with the help of clipart. But it certainly takes time and a good imagination to do it! We offer you to look at the Halloween clipart variants.
Vintage Halloween Postcard


Halloween Postcard Pin-up Witch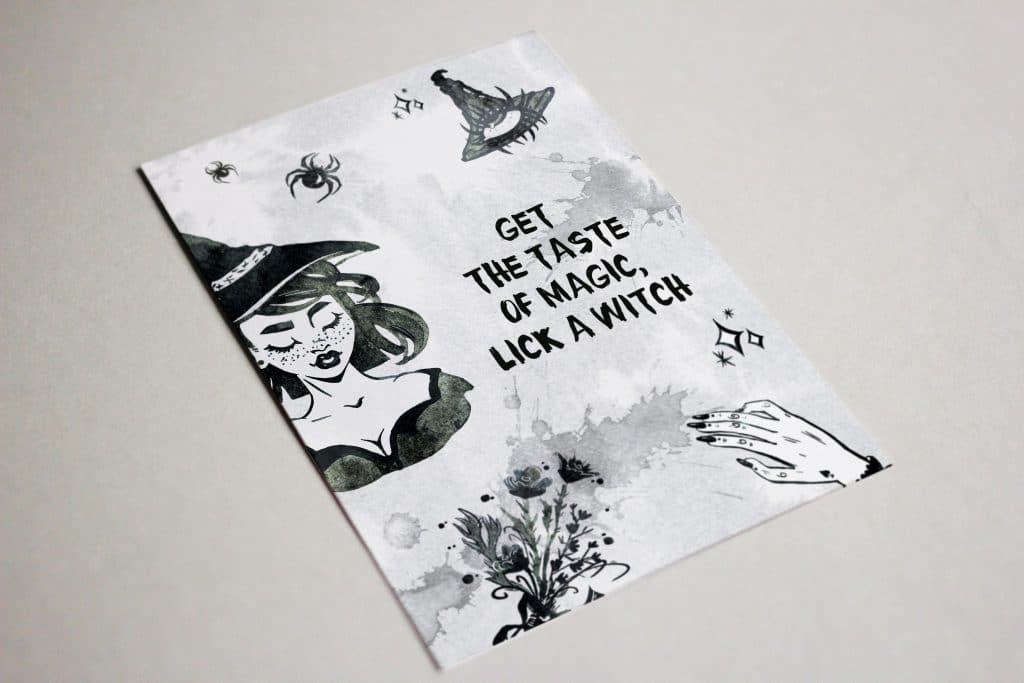 Halloween Clipart
Halloween Watercolor Clipart is an excellent clipart that contains 50 individual elements. Let's start with the fact that these are watercolor images that are available in PNG and JPG formats. There you will find a variety of pictures. For example, various ghosts (funny and terrible), halloween pumpkin clipart with different emotions, leaves, trees of different unusual shapes, blurry effects, wreaths (with ghosts, pumpkins, houses, leaves). This halloween clipart is bright, professionally painted and very cool. It will fit any project. With the help of a ready-made set of images you will do everything as quickly as possible, and perfectly!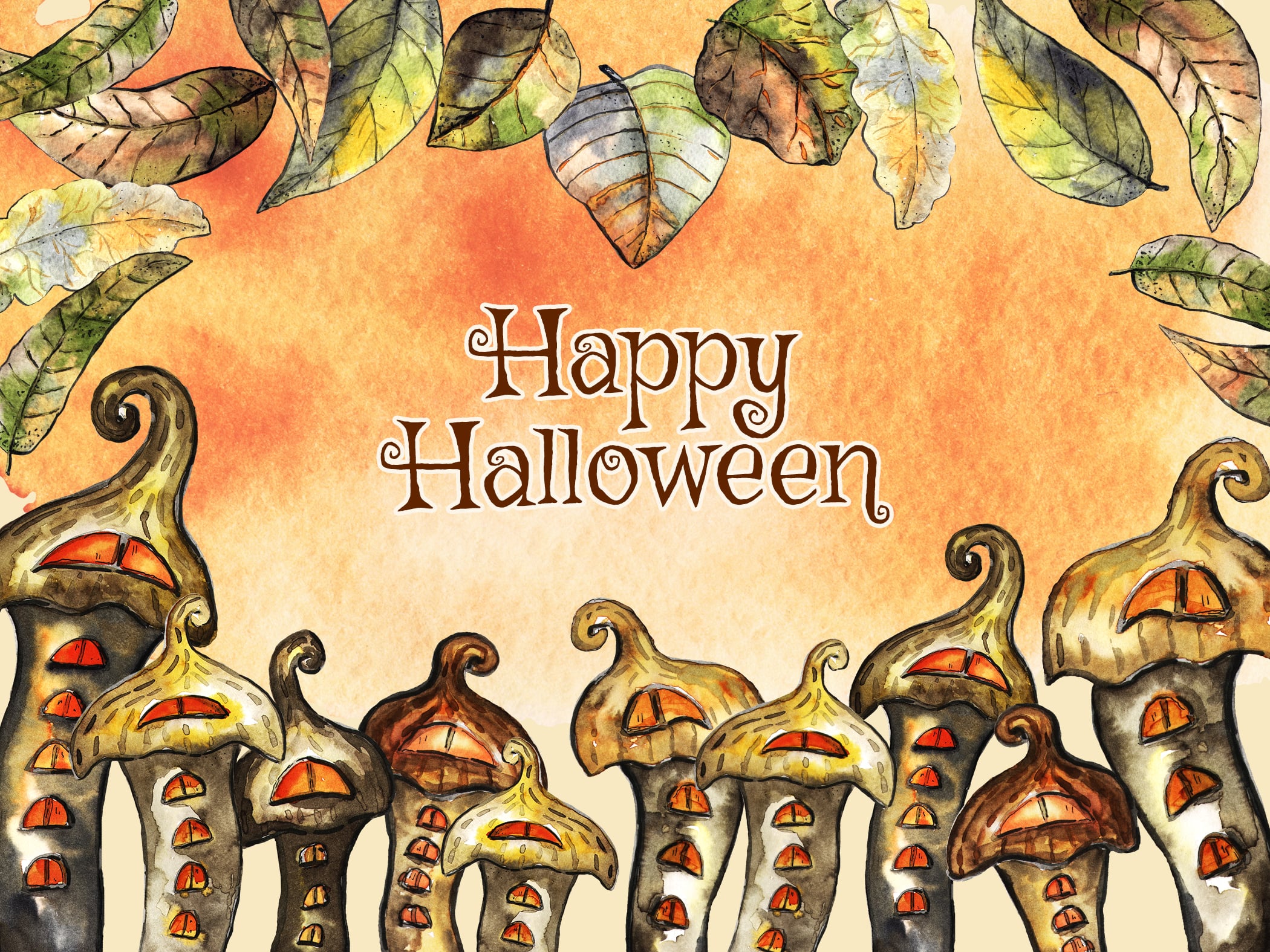 Merry Halloween 11 Patterns is a set with an incredible number of chic halloween patterns! Where else would you find a cool set with high resolution images and in PSD (adjustable color fill), PNG (transparent background) and JPG formats? If you want to run a project related to Halloween, this is a perfect find! Here you will also find both bright and black and white patterns. For example, the patterns have ghosts, unusual trees, and pumpkins. This set you can use to create a package of goods, cool background, wallpaper, bed linen, etc. Lovers of such a holiday will really enjoy it! You can easily change the size and adjust the patterns to suit you!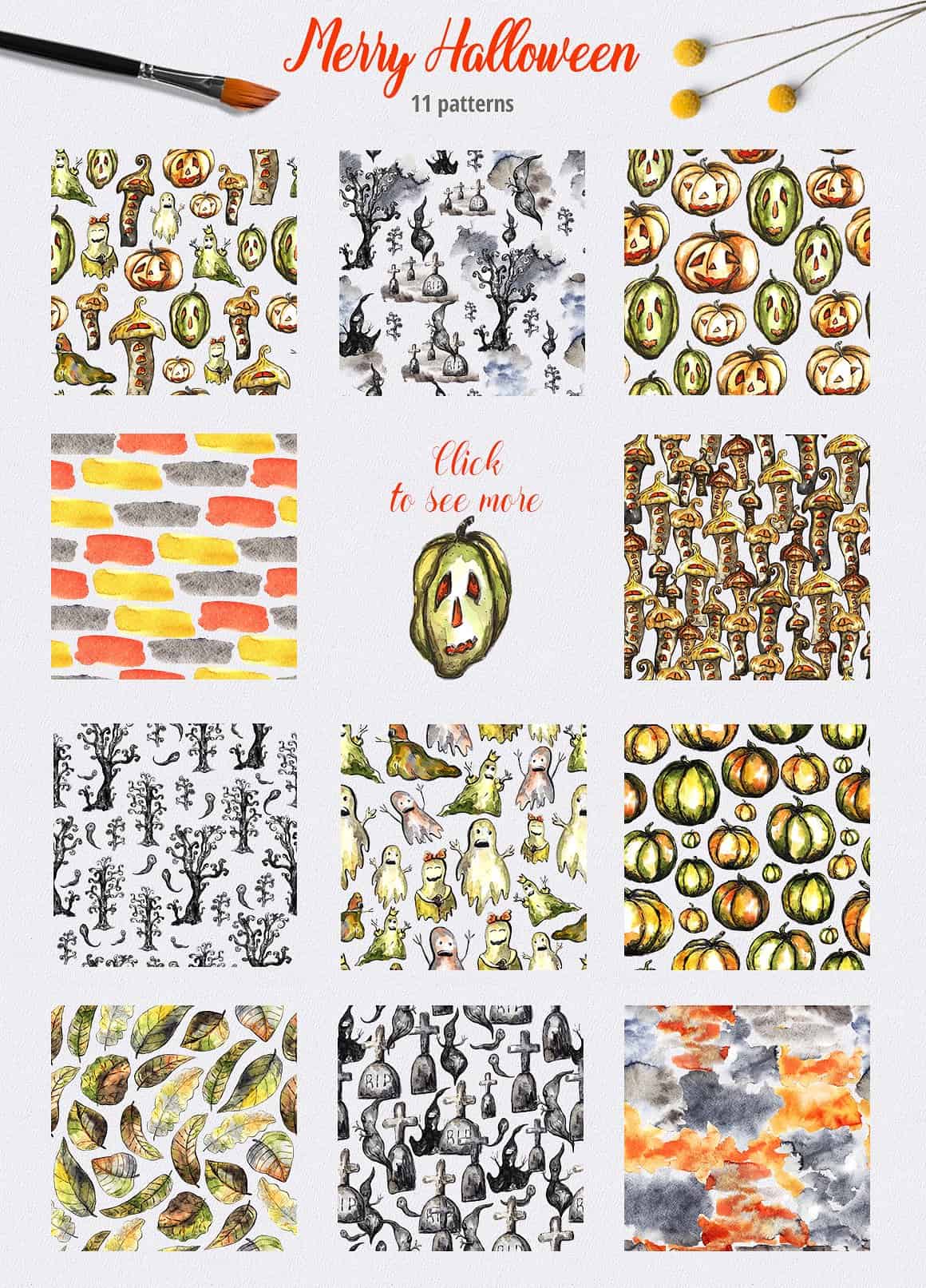 Looking for unusual overlays, images and effects? Then it's definitely a great solution for you. MEGA Halloween Graphic Bundle is a set with more than 4000 different pictures and overlays. Here you will find the effects literally for everything! You can change eyes, face, clothes, background buildings, add any effects, sky, clouds, smoke, fog, rain, dust, spiders, snakes, unusual pumpkins, blood droplets, etc. You can also adjust the color of the image yourself. You can edit them with any programs. Also with this set you can add different textures, and change them. For a small fee it is a really cool set. All elements of MEGA Halloween Graphic Bundle are available in high resolution! With its help you will surprise your customers or joke with your friends!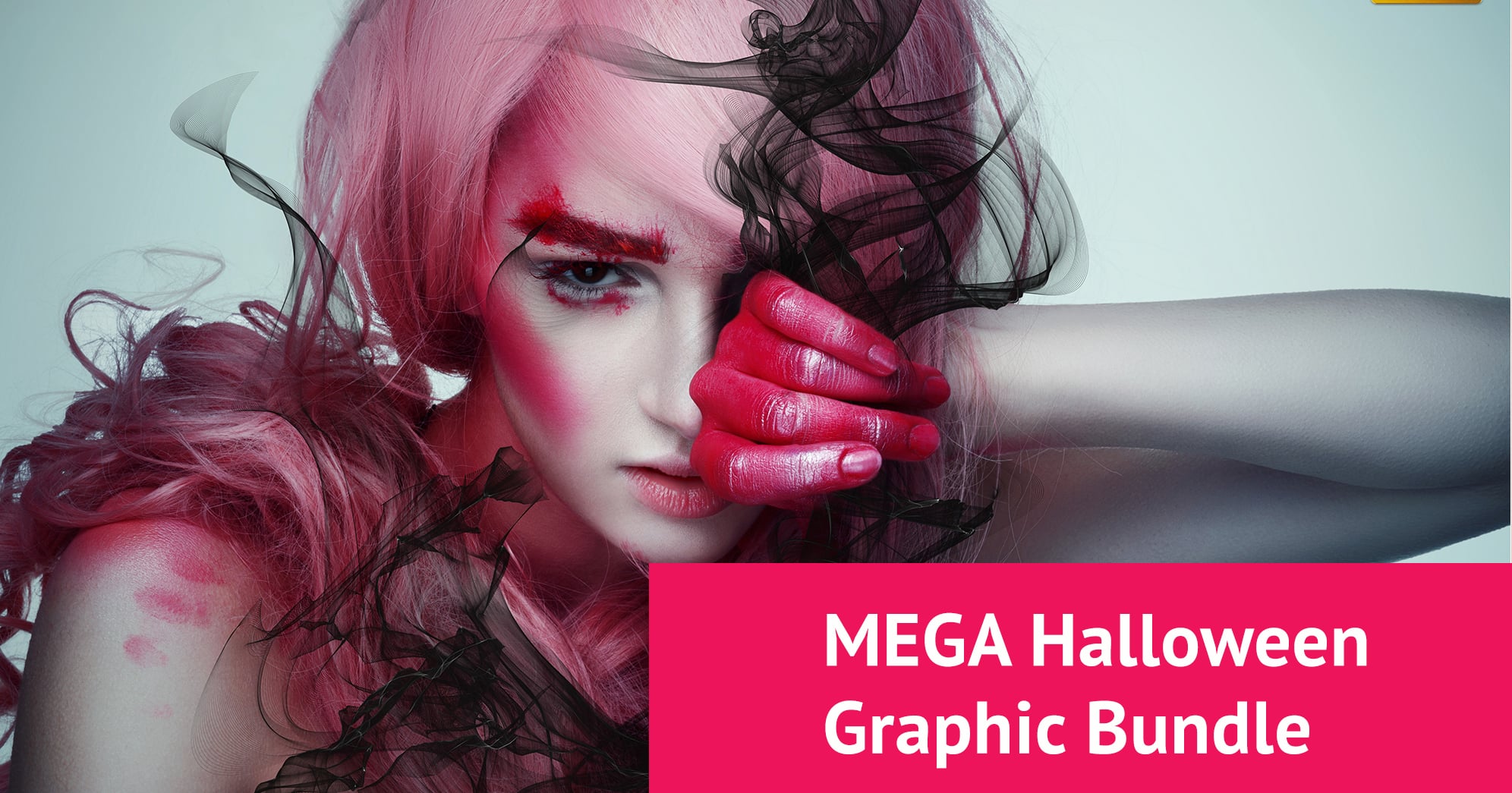 270 Horror Overlays+ 4 actions – Halloween Bundle is a terrible, horrifying, and fascinating set. It really gives you the creeps! It's a set of 270 terrible overlays that you can use for any purpose. For example, you can add vampire eyes to the photo, change the color of your eyes, and apply different effects. These can be spiders, snakes, scratches, cut wounds with blood, blood drops on any photo, scars. You can also add fog, smoke, black bees, etc. It looks rather mysterious and very unusual! Again, all of these elements will be in perfect quality and it will be difficult to notice the transitions to the photo with them. You can edit with any program!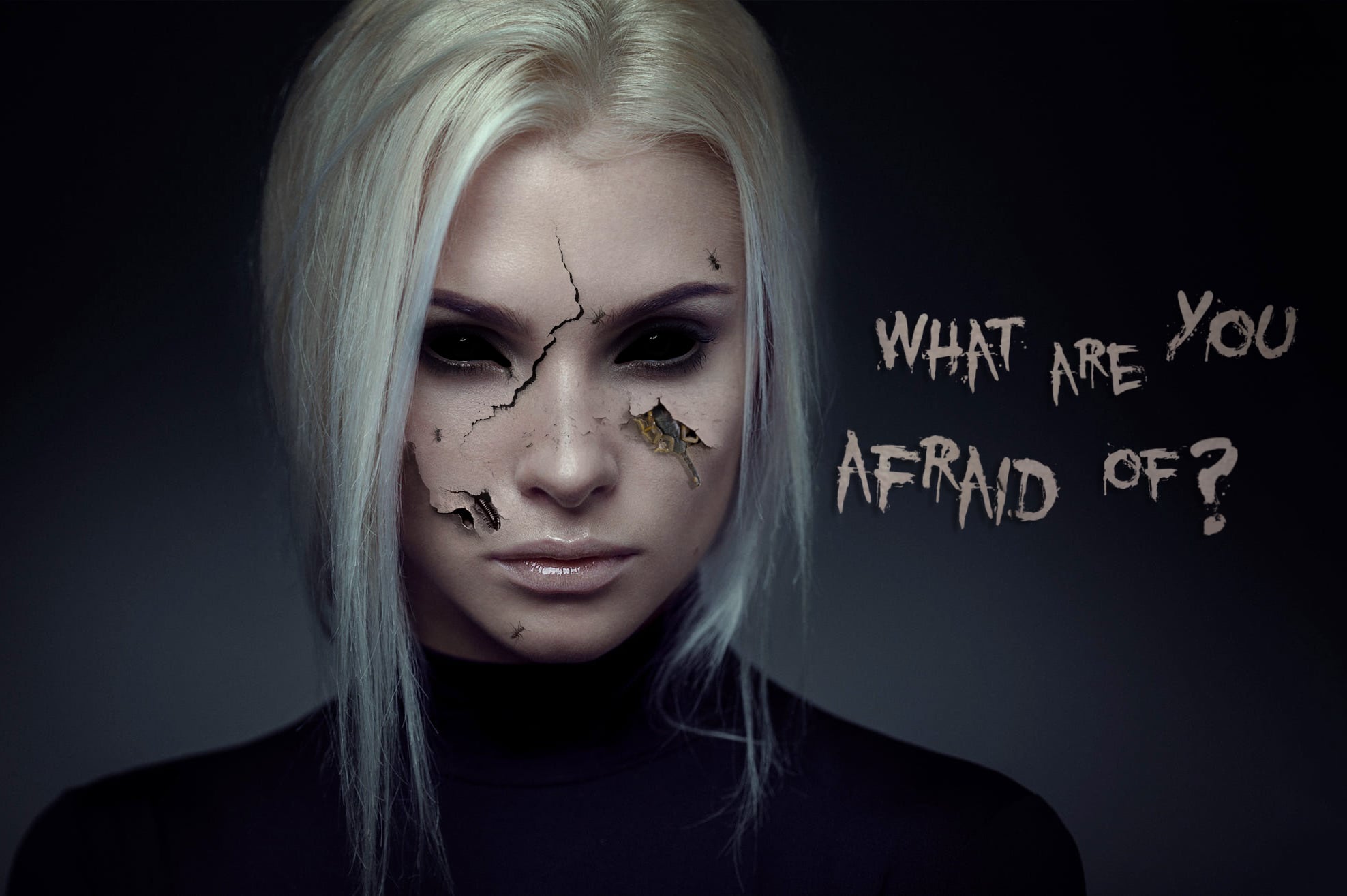 Tricks no Treat: 40+ Hand Drawn Halloween Illustrations is a cool set that offers an unrealistically cool clipart. Probably difficult to find such a set where there will be both cute and scary elements. But Tricks no Treat is exactly what you need! With the purchase of Tricks no Treat you get more than 40 different fun illustrations drawn by hand. From them 21 illustrations drawn by hand (hats, skeletons, candles, pumpkins, ghosts, bones, spider webs, etc.), 6 watercolor swashes, 9 master tiles, 6 ready-made patterns, etc. So you understand that this is a great set, right? All the elements are painted professionally and clearly enough. A lot of images look realistic and amaze with their brightness. For this price, it's really the perfect offer!

Bright, fabulous and high quality Happy Halloween Bundle is a great solution for you. This set is suitable for creating banners, posters, advertisements, book illustrations, product packages, etc. That is, any project can be implemented with the help of this beautiful Halloween set. It includes 29 high-resolution illustrations. All these pictures are available in PNG format. Each element has a transparent background. That is, you can change them yourself, supplement and improve them. All the images of witches, hats, bats, ghosts, magic books, magic potions, candy, feathers, enchanted home look very fairy and bright. We think it's a great option for Halloween project! The price of this Happy Halloween Bundle is also very good!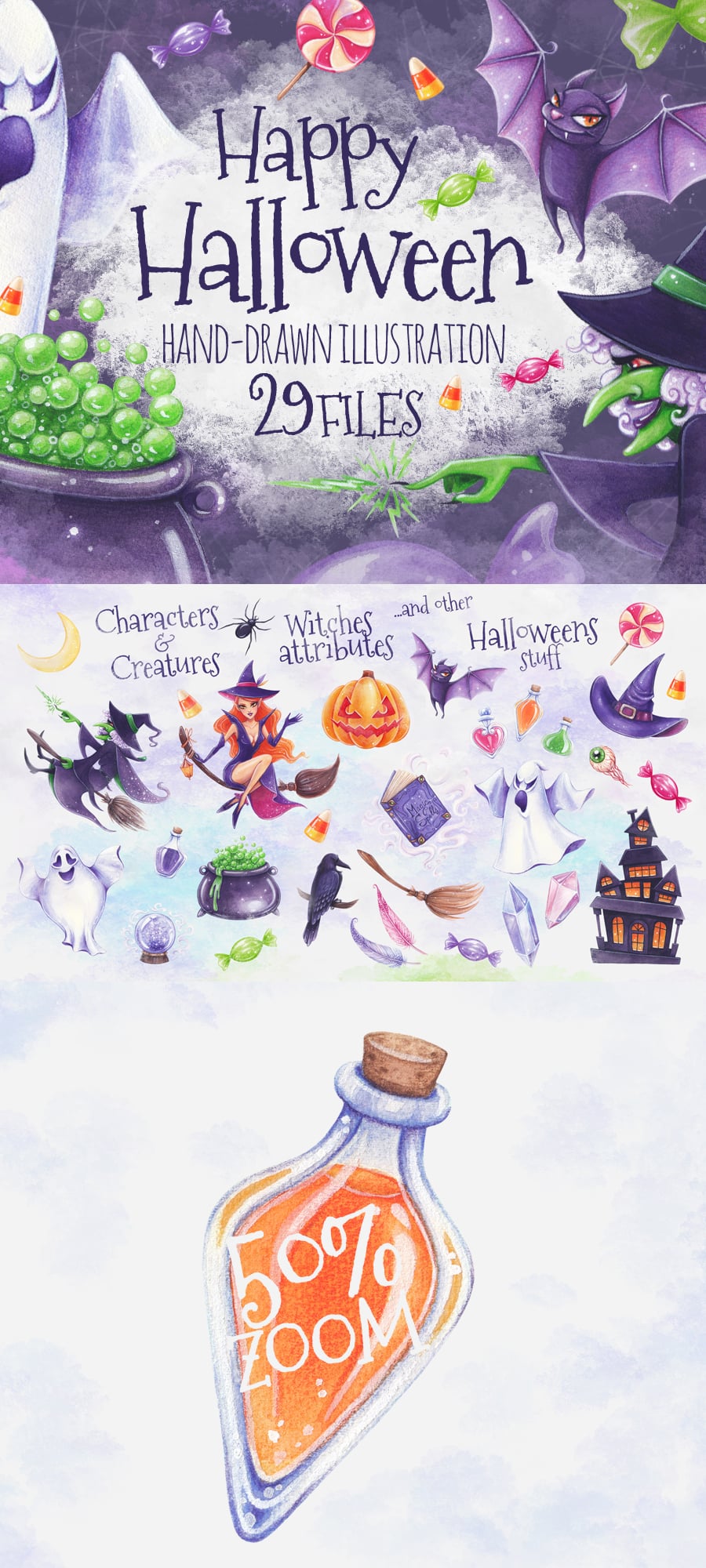 Spooky Icons Free is a really cool set for free! All of these icons will have a transparent background. There are also a couple of bonuses. For example, these icons are available in 4 sizes (32×32, 48×48, 64×64, 128×128). This is done specially for your convenience. These items are also available in AI, EPS, PSD and PNG formats. It also helps you to improve your work with icons. All icons drawn by hand, the images are very high quality. Among the 12 icons you will find a ghost, skeleton, pumpkin (with different emotions), wolf, candy, bats, etc. These images are suitable not only for the implementation of projects, but also for the improvement of your page in the Instagram to Halloween.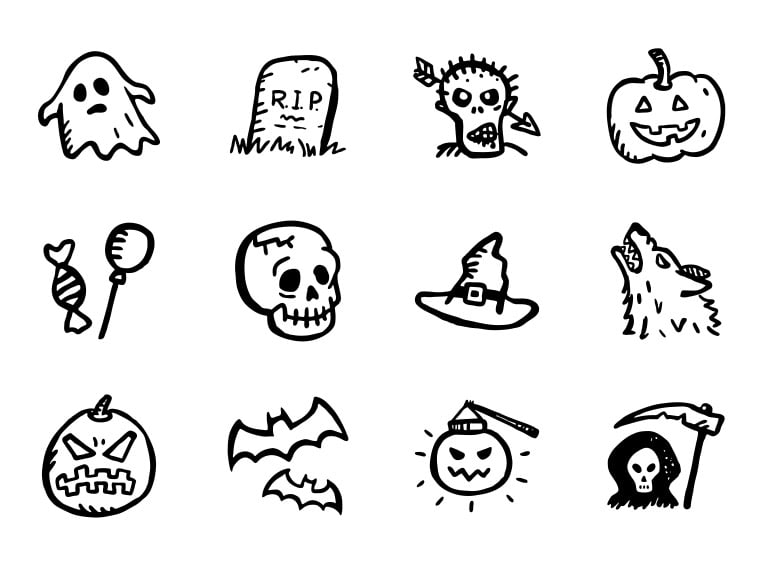 Looking for patterns about Halloween? You don't know where to find a great variety of these patterns? Then MasterBundles will help you. 23 Halloween Patterns is the perfect solution for your ideas! With this set you get 23 PNG and JPG images. All of them are in high resolution. These patterns aren't horrible at all, but look pretty and fabulous enough. With them you will be able to create various covers for products, labels, cool banners, and backgrounds. Halloween Patterns are patterns with cool ghosts, funny pumpkins, hats, trees, spider webs, funny spiders, bats, and patterns with combinations of these elements. This is an unreal find for any designer! As a bonus you will get separate AI CS and EPS10 file with 18 halloween objects.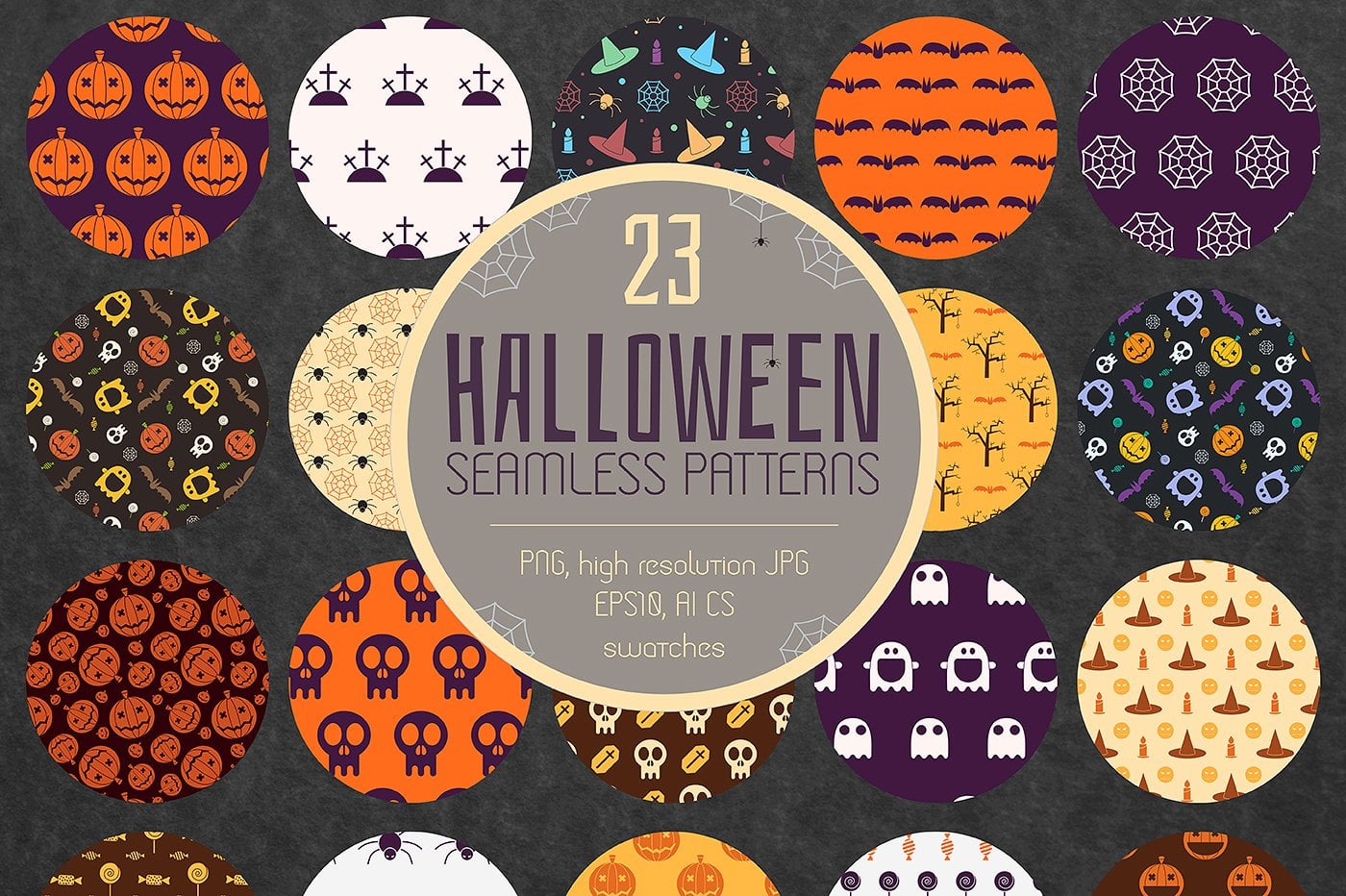 42 SPOOKY HALLOWEEN ELEMENTS Illustration is a clipart provided by TemplateMonster. They are very fabulous and bright. We think that with such Halloween clipart your projects will be quite memorable. Each image is included as EPS, AI and PNG files. This set includes 42 elements. These are different pictures drawn by hand. These are bones, cats, webs, spiders, brooms, ghosts, lanterns, tombstones, dark woods, pumpkins, candles, moons. And these elements are presented in high resolution and in different variations. For example, pumpkins with various emotions. You can add or change images in any program. By the way, this set is available for a small price.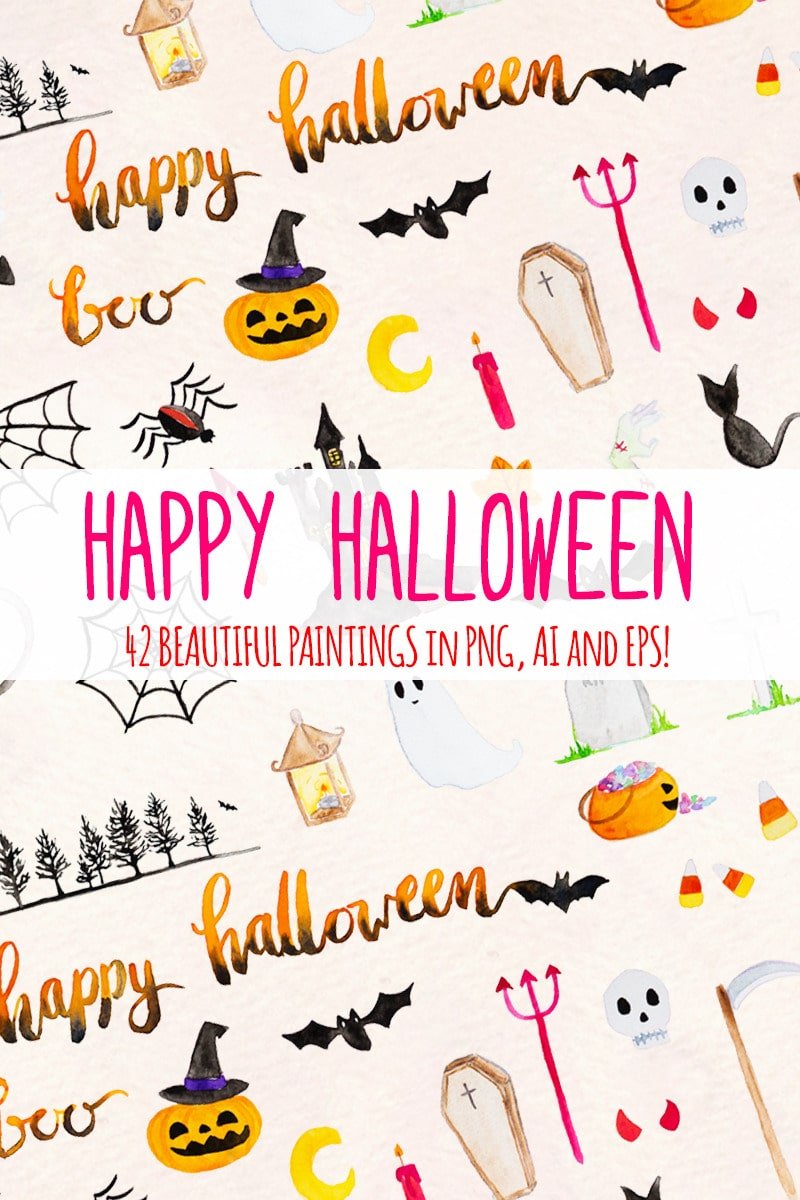 Watercolor Halloween Village is a great lovely set that is available almost for free! Its theme is variations of mystical and cryptic houses in the village. Everything is created in the style of Halloween. Fancy houses, trees, and forests are what you'll find in this set. Watercolor Halloween Village includes 50 hand-drawn village variations. These are different houses, moon, clouds, trees, cats, pumpkins, hills, etc. With this set you will be able to add highlights to your projects. Also Halloween Village includes 2 ready-made scenes. Really cool set for Halloween projects.