Best Halloween Clipart. Autumn is the time to start new projects. What can be more beautiful than creating something new, cool on a warm autumn evening and implementing new ideas.
Halloween holiday is also around the corner. That's why we have prepared unique, fresh and absolutely new halloween cliparts for you. With their help you can realize any project, create any products and surprise your customers!
Clipart is a very important element that is used in the development of graphic design. It is a set of thematic pictures, or some separate image. Clipart can use specialists who are engaged in graphic design, or ordinary people to create an unusual picture. Clipart is a great solution that will facilitate the work of the designer and save the time!
Halloween cliparts are themed holiday sets. These are various cool and sometimes creepy images that will be very useful in your autumn projects. Halloween cliparts can be used for:
banners;
headlines;
logos;
greeting cards;
invitation cards;
products packaging;
images on the products;
posters;
advertisements and etc.
It can also be a fantastic happy halloween cliparts that can be used for children's parties.
TOP 10 Happy Halloween Bundles in MasterBundles
| Product Image & Rating (Out Of 10) | Product Name | Price |
| --- | --- | --- |
| | 12 Scary Halloween Patterns | |
| | Halloween Scene and Mockup Creator | |
| | Halloween Graphics and Mockups | |
| | Halloween Сards Collection | |
| | 4491 Halloween Photo Effects in 2021. MEGA Halloween Photo Bundle | |
| | 1260+ Halloween Overlays | |
| | Halloween Graphics Bundle – 2046 Elements | |
| | Happy Halloween Bundle: 29 illustrations | |
| | Unbelievable Halloween Offer from InkThemes | |
| | 200 Free Halloween Icons PNG & SVG | |
Halloween Clipart Black and White
Halloween Clipart Halloween Doodles Digital Clip Art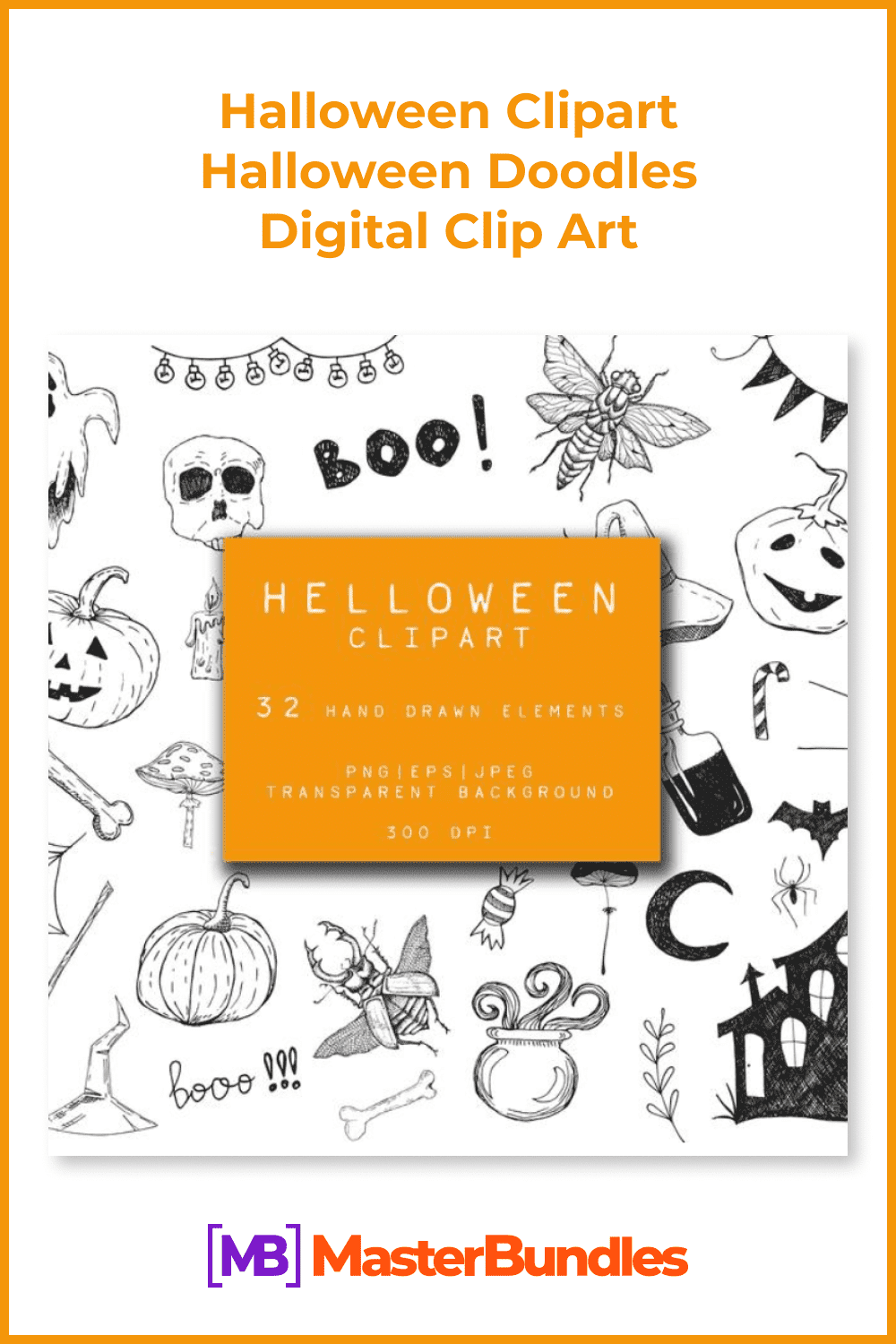 Price: $4.80
Halloween Party Clipart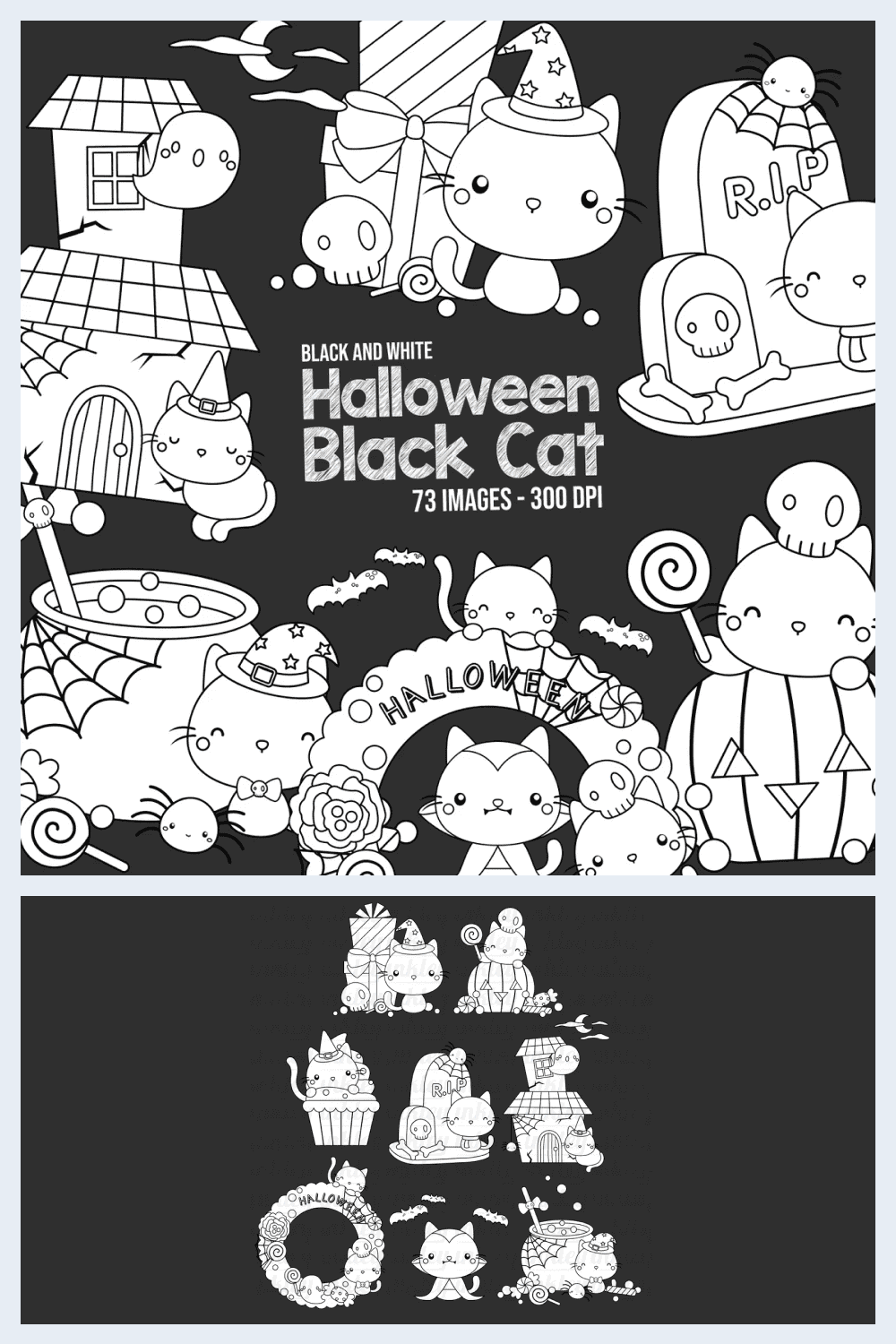 Price: $3
Trick or treat Halloween SVG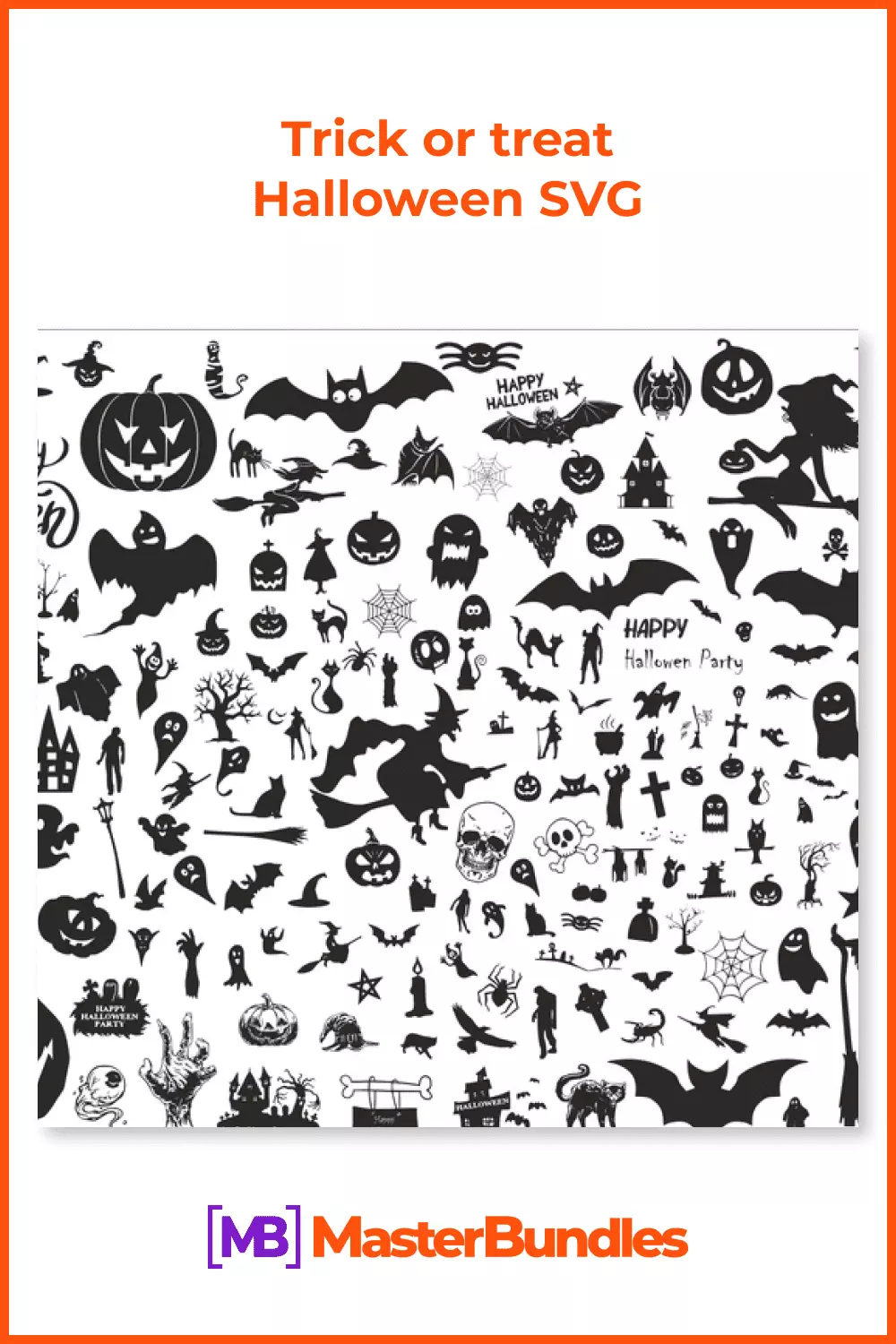 Price: $2.98
Kawaii Halloween Digital Stamp Pack – Black and White Clipart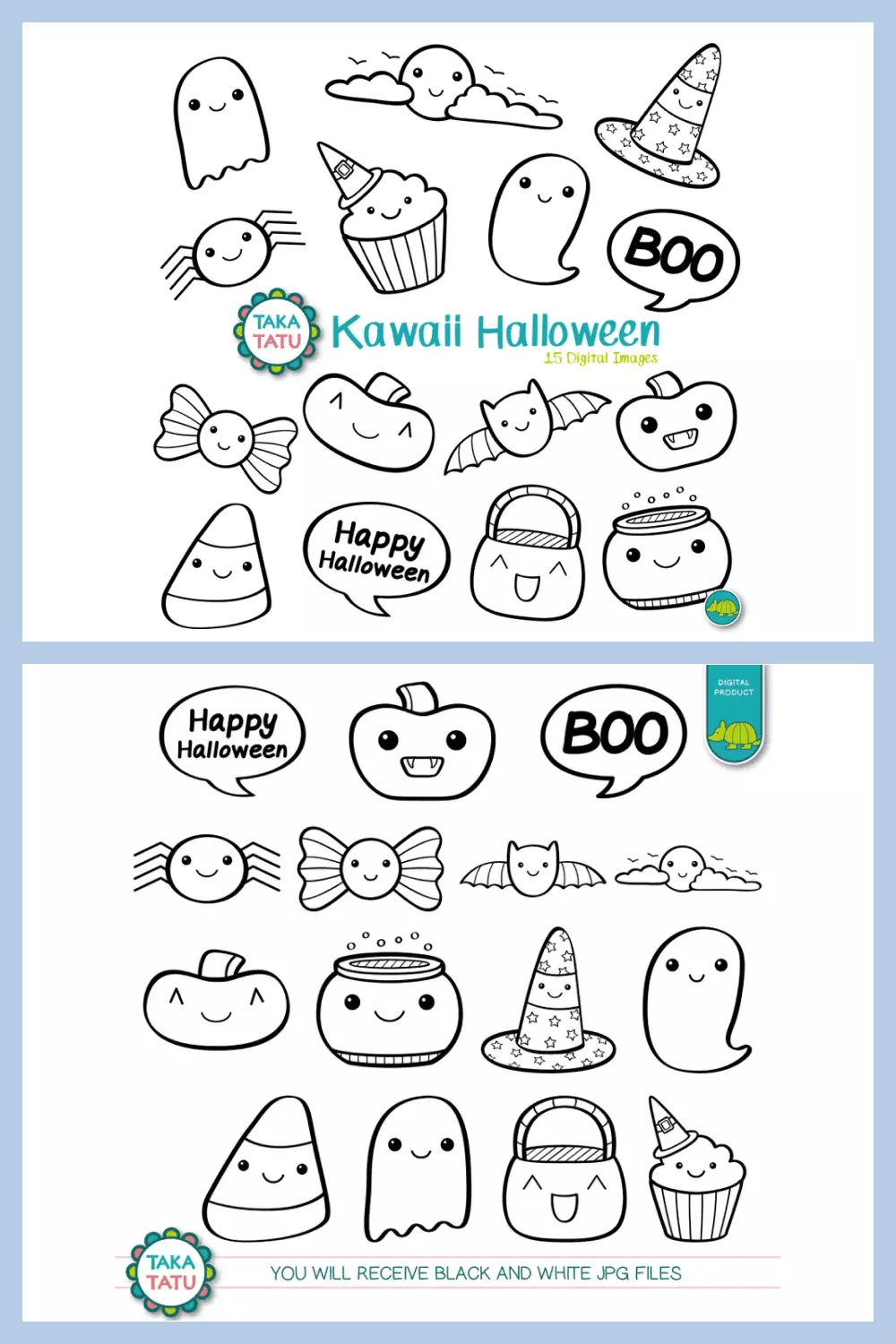 Price: $1.99
Collection of Halloween Images Black And White (61)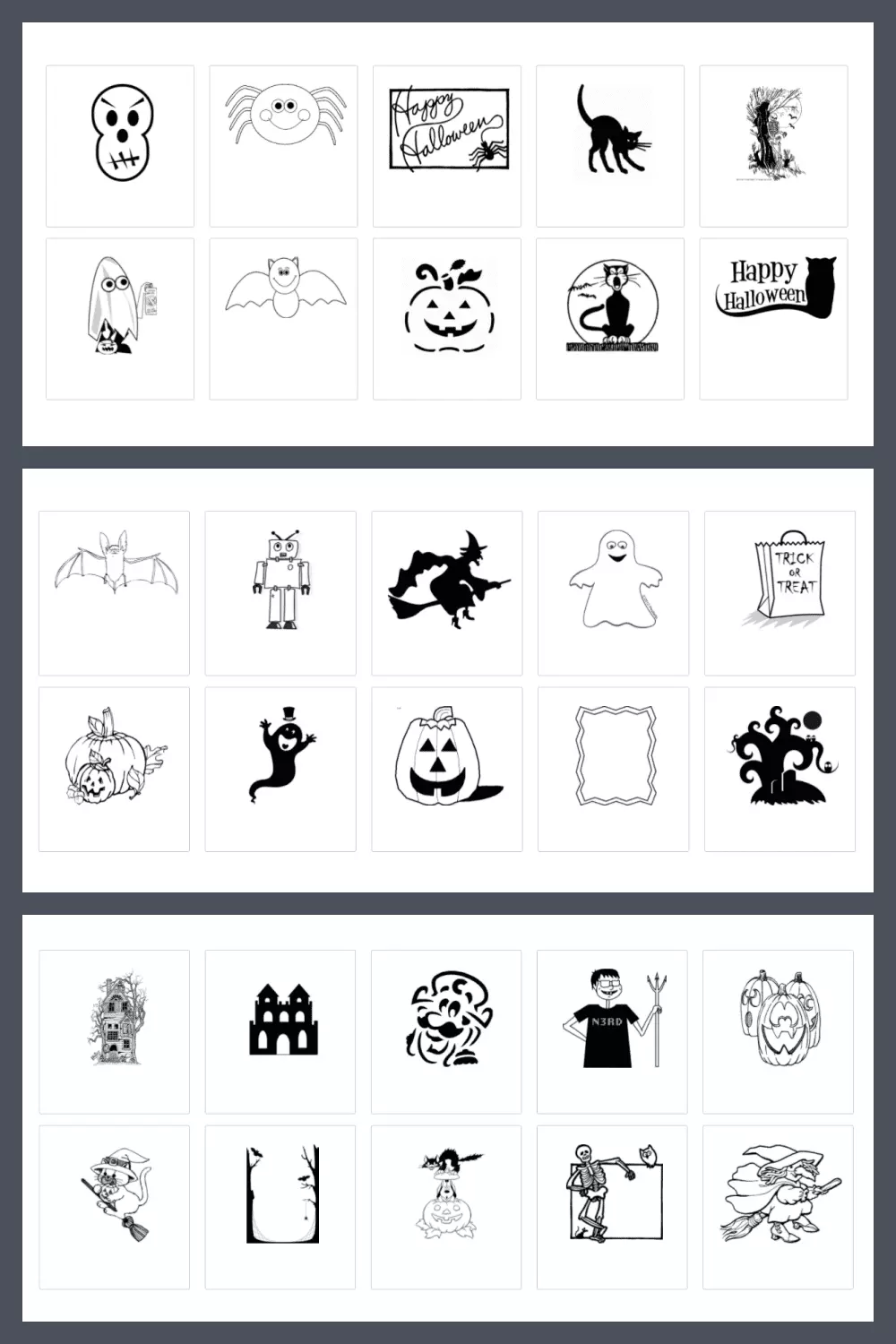 Price: free
Collection of Black And White Halloween Clipart (58)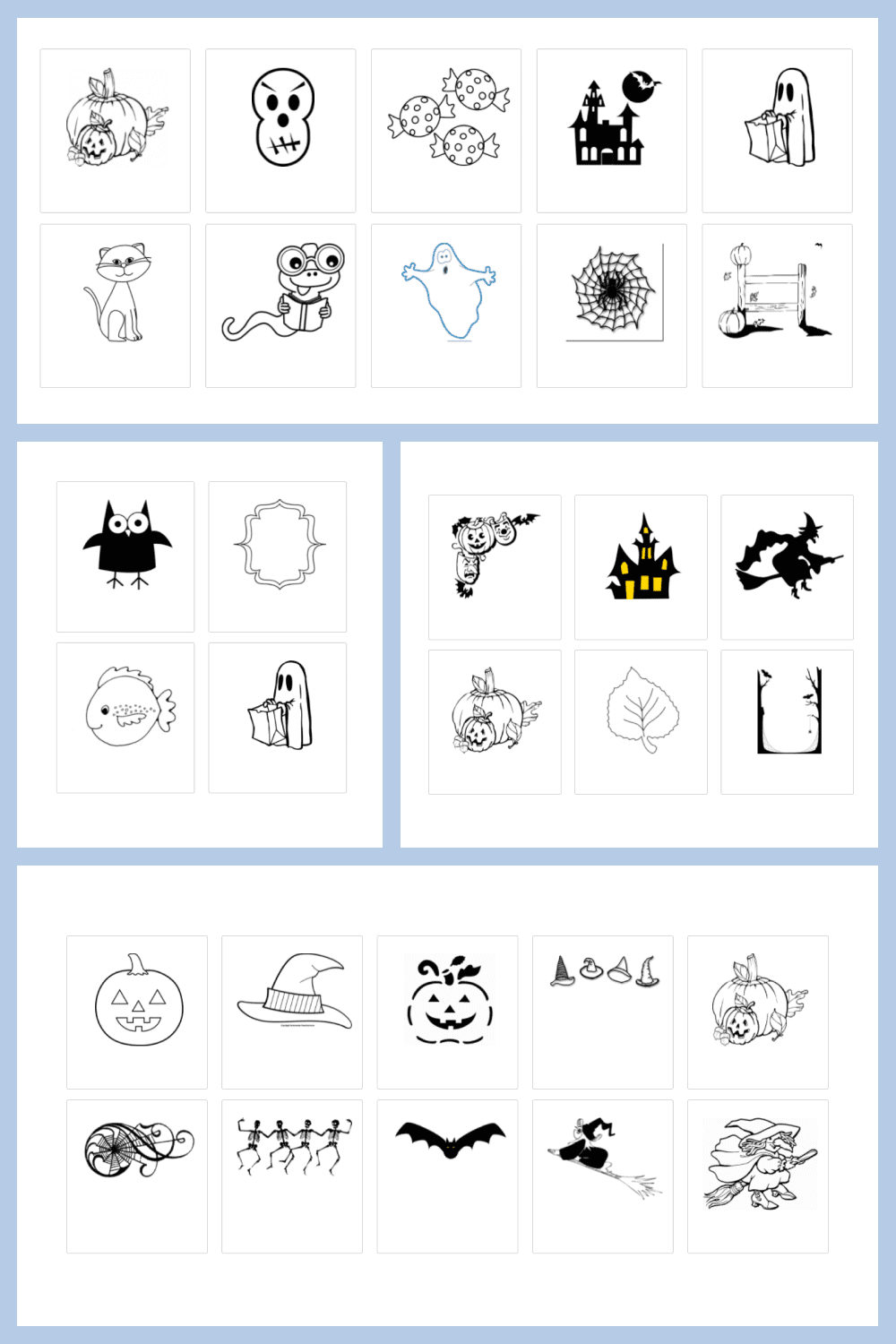 Price: free
Halloween Clipart Black And White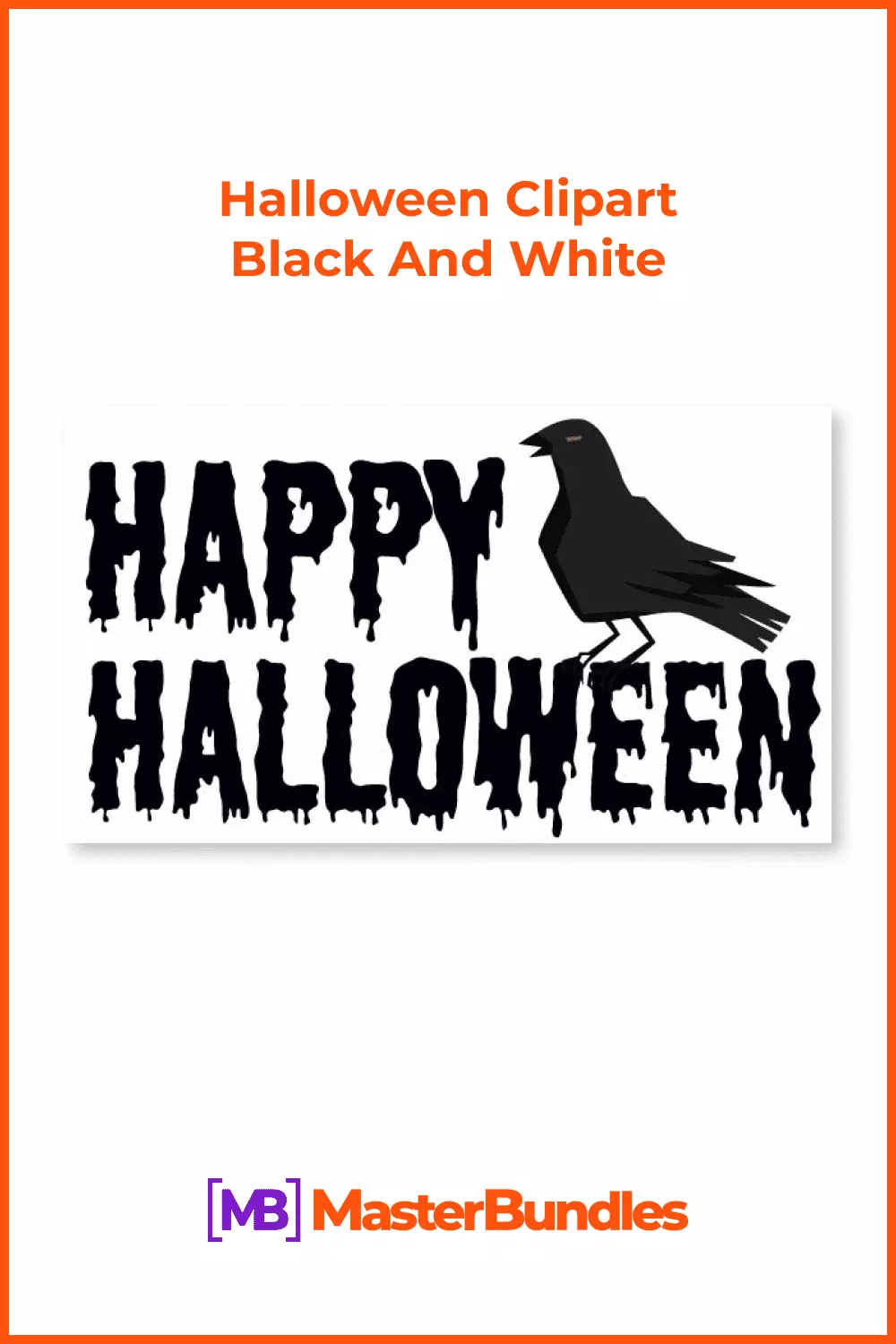 Price: free
Halloween Ghost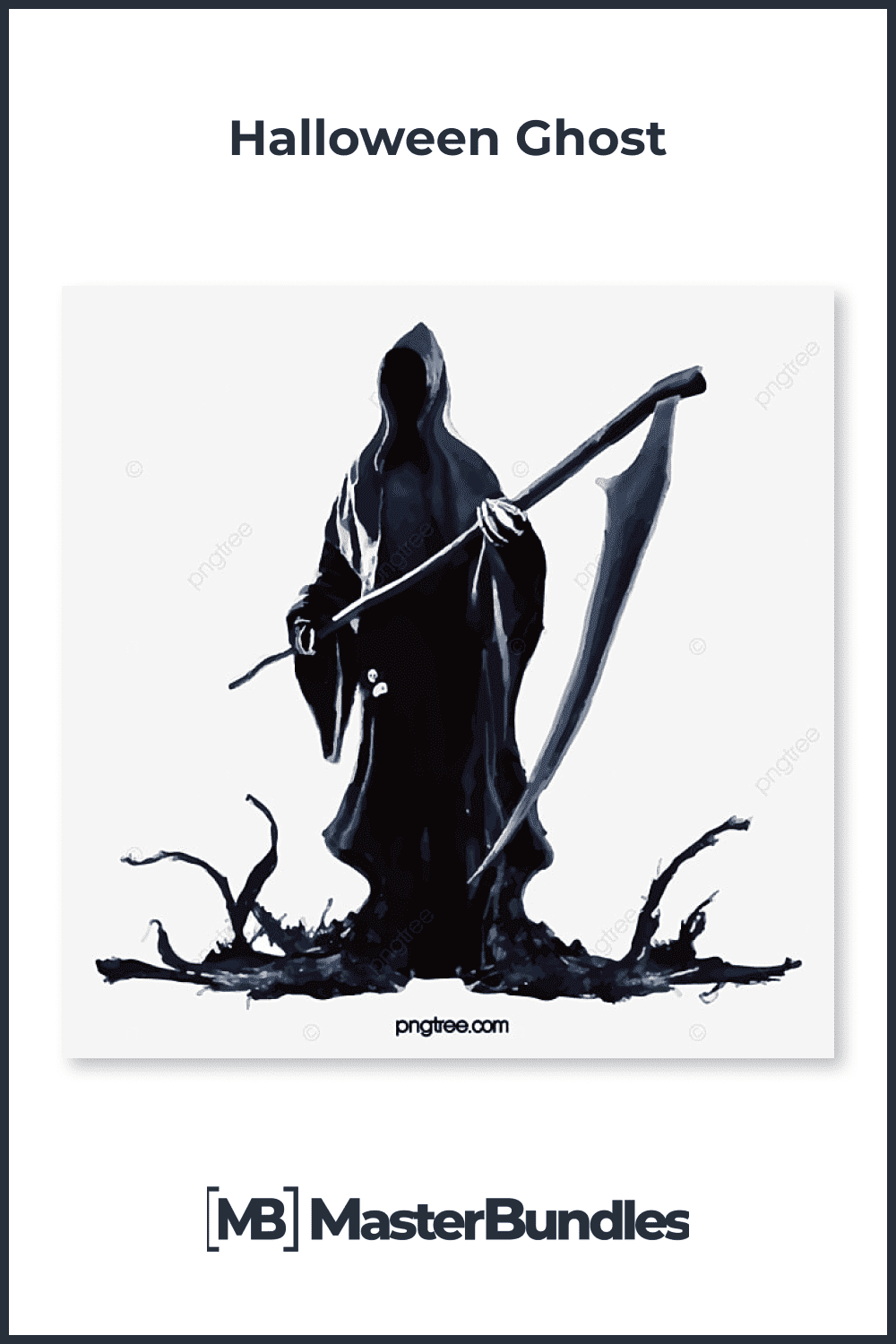 Price: available with PNG Tree Premium Subscription
Black Flying Bats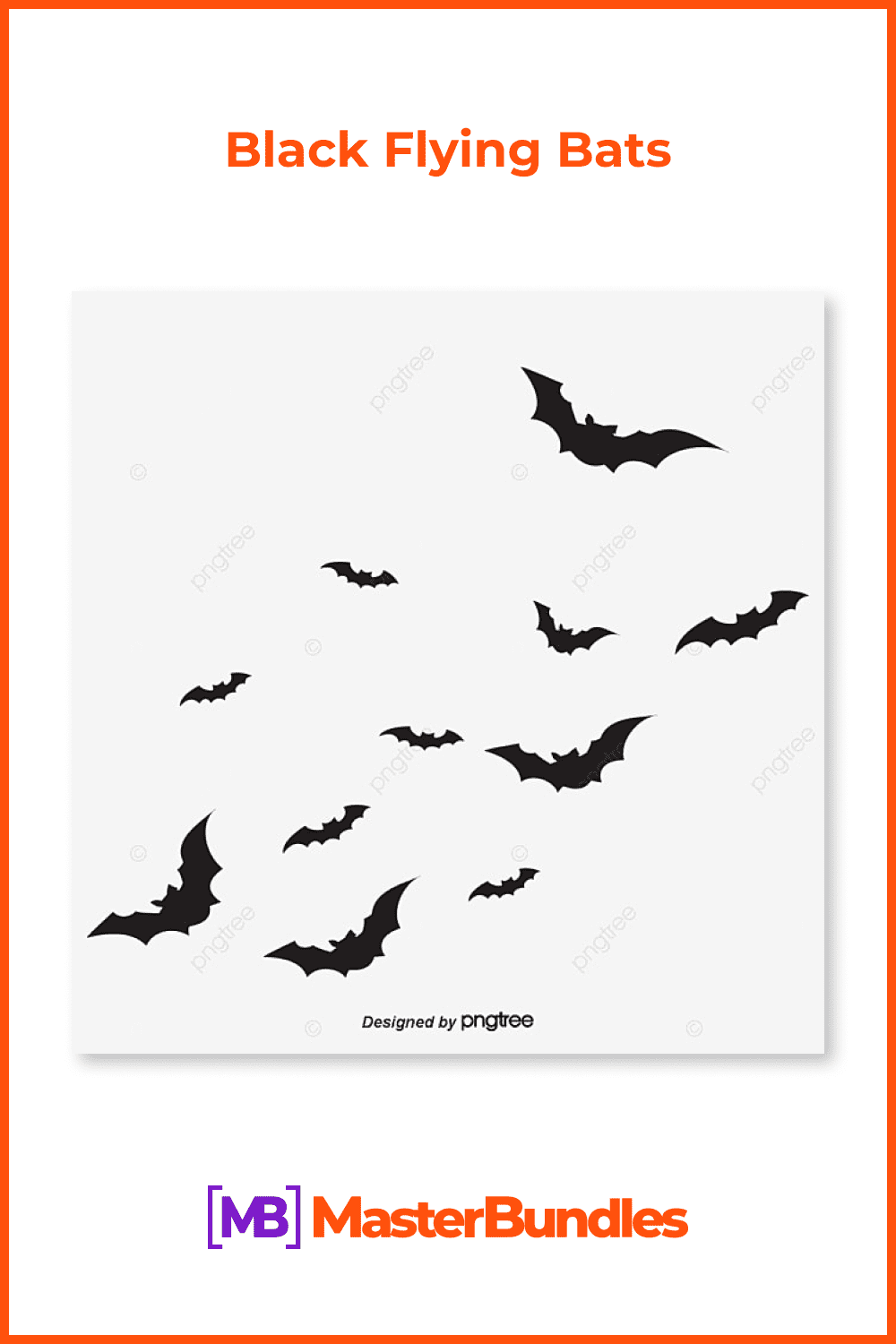 Price: available with PNG Tree Premium Subscription
Halloween Digital Stamps Clipart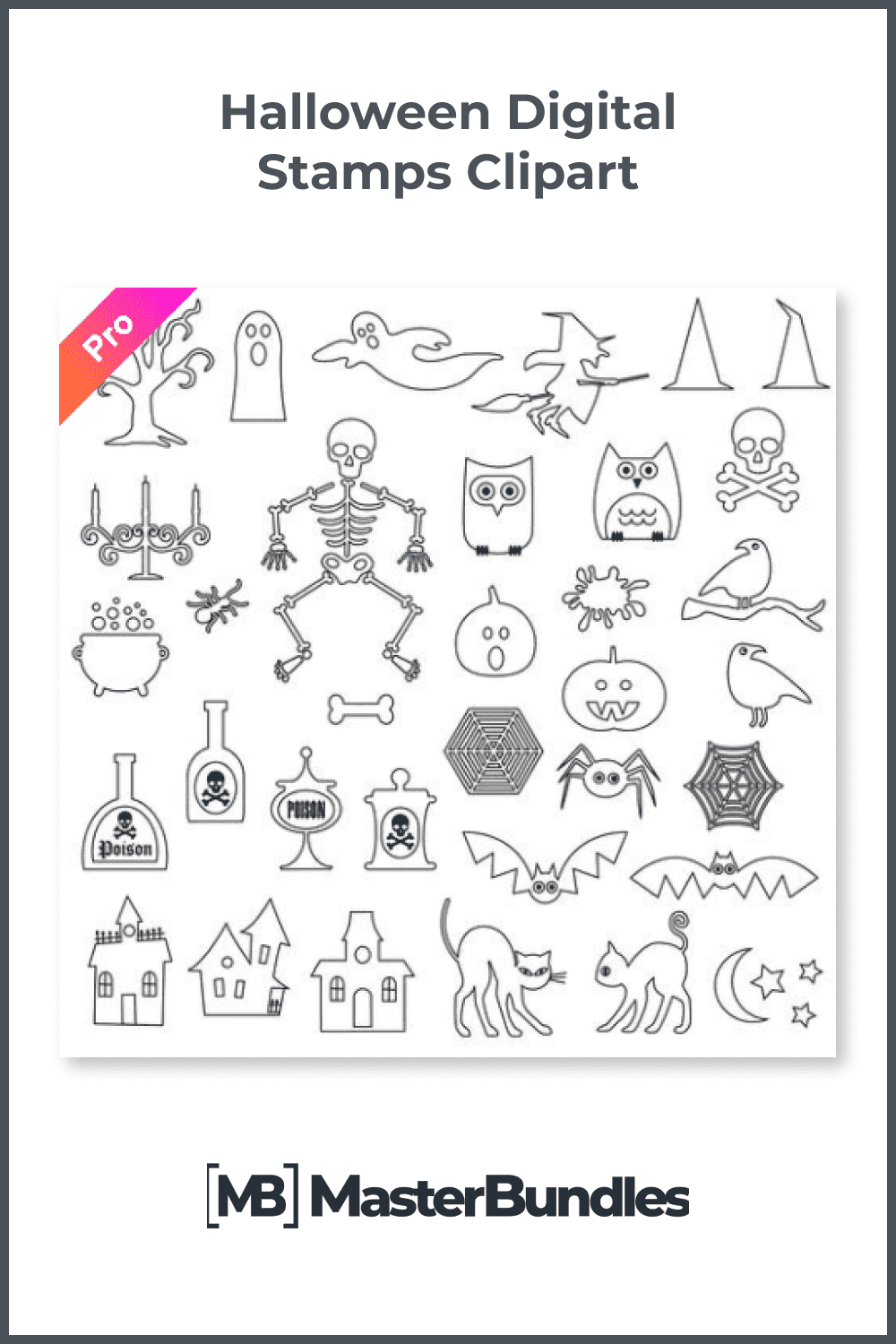 Price: available with Vecteezy Pro License
Halloween Candy Clipart
Ghost with Halloween accessories Premium Vector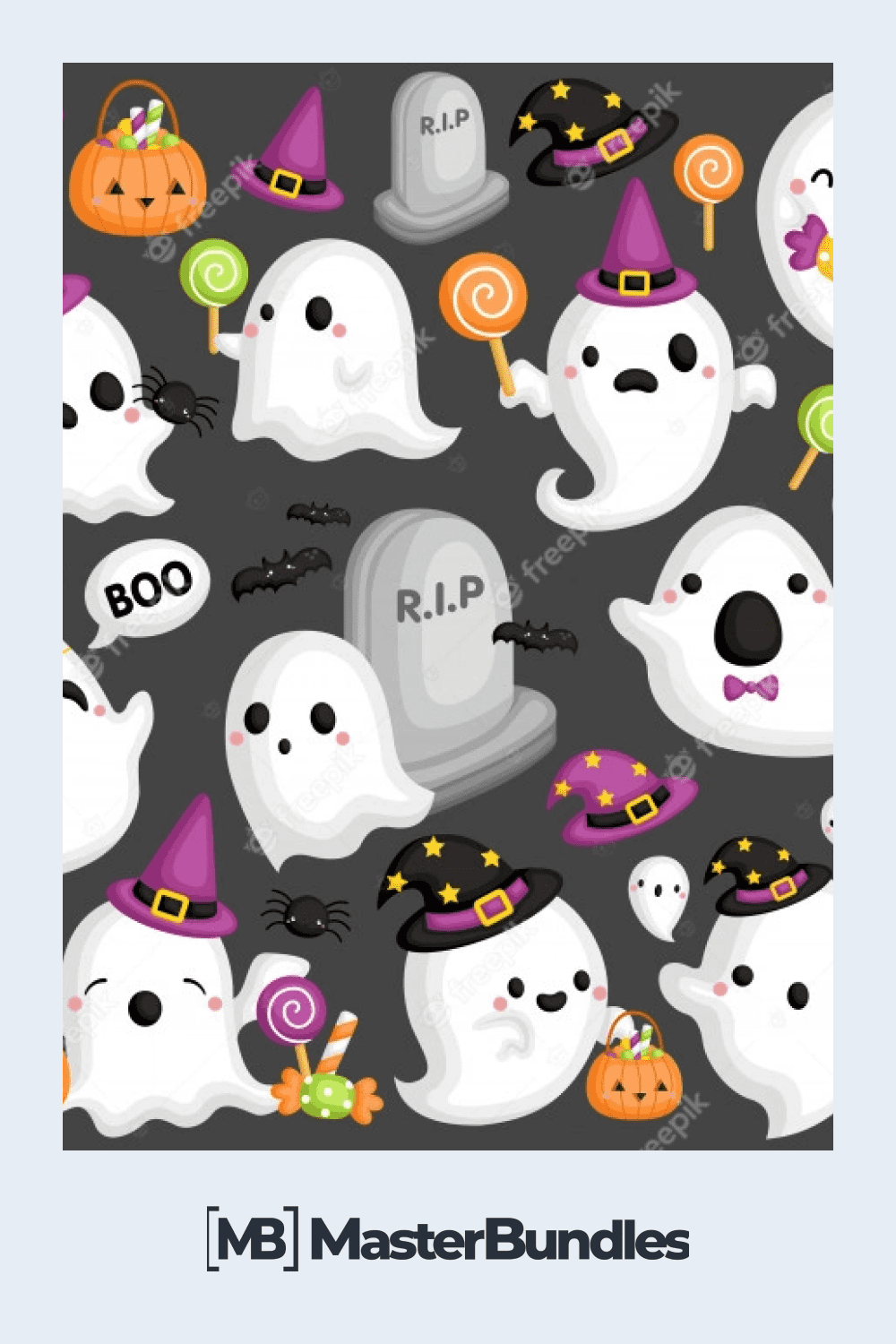 Price: available with Freepik Pro License
Party Halloween set in purple and orange hand painted in watercolor and isolated Premium Vector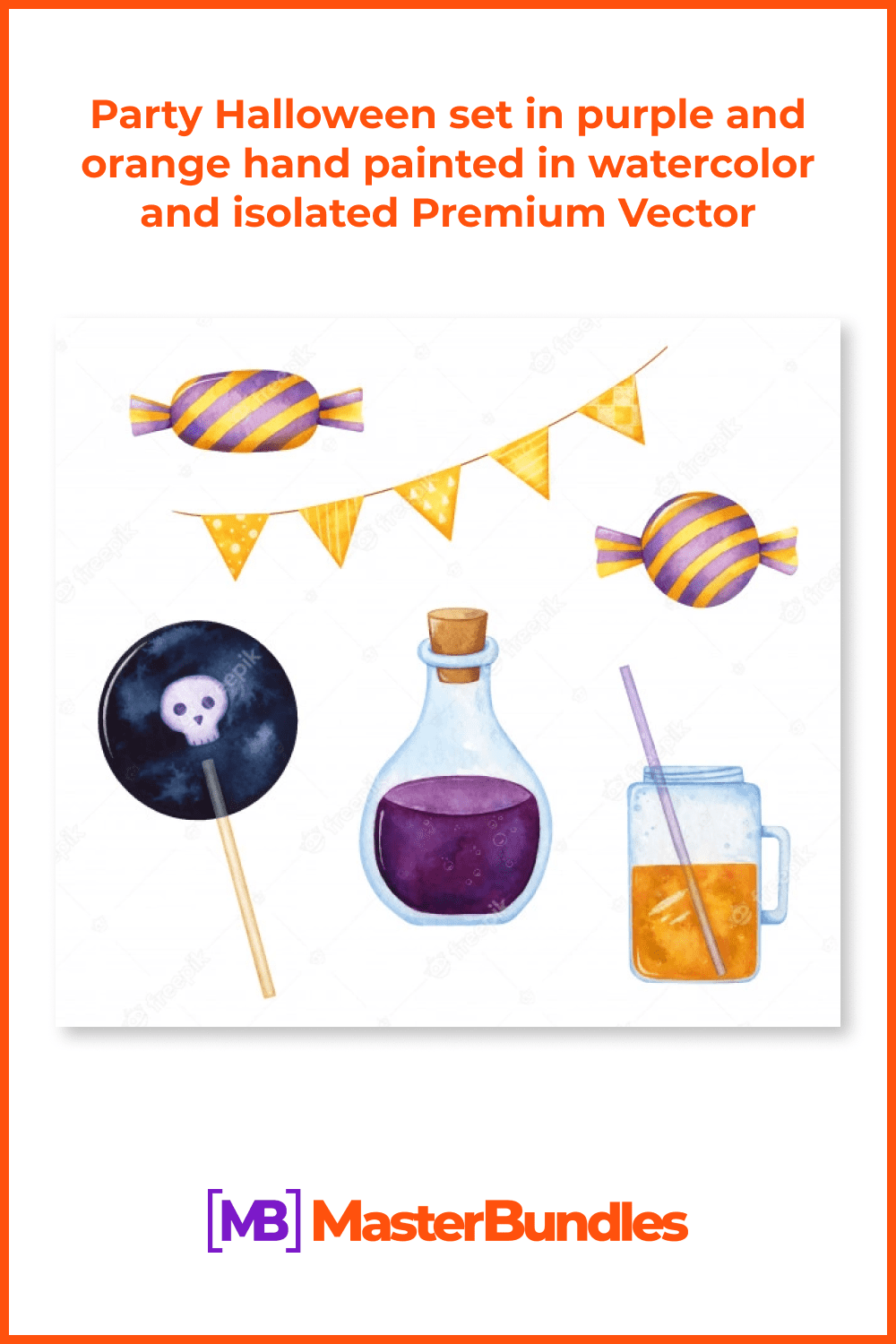 Price: available with Freepik Pro License
Watercolor clipart of Halloween black and orange sweets and candies isolated Premium Photo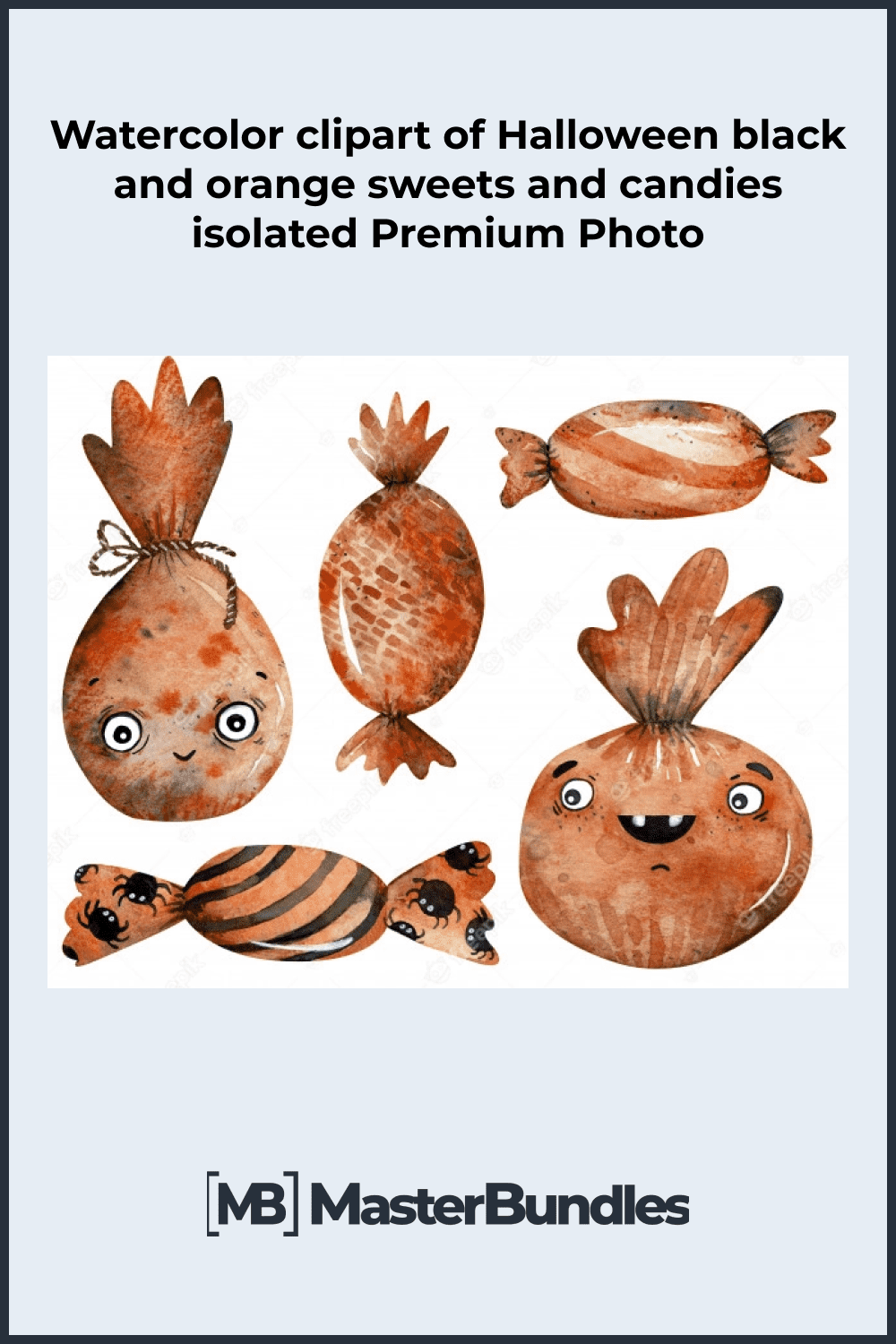 Price: available with Freepik Pro License
Halloween Cute Sweet Candy Collection Isolated on White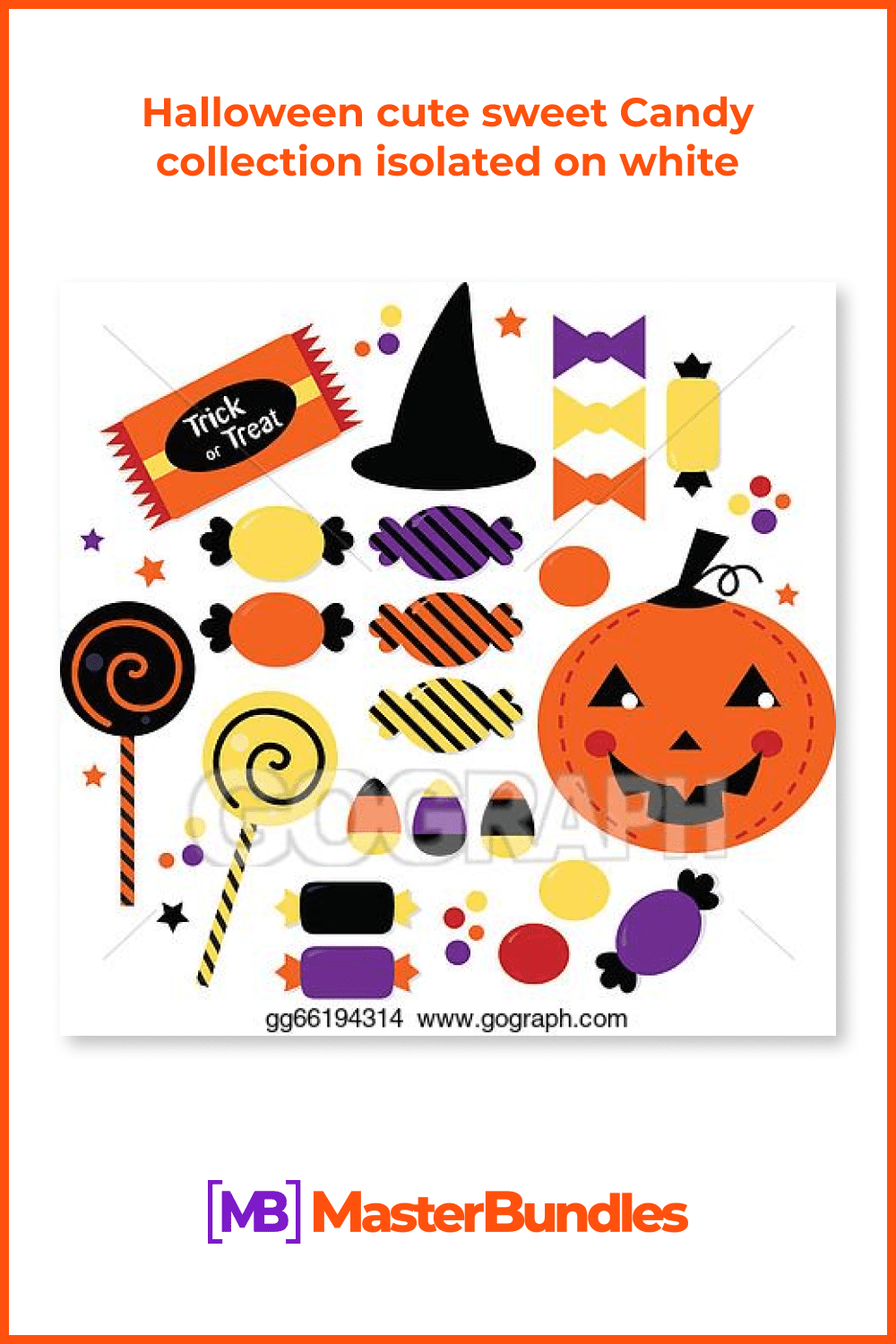 Price: $3 – $12
Halloween Candy Icon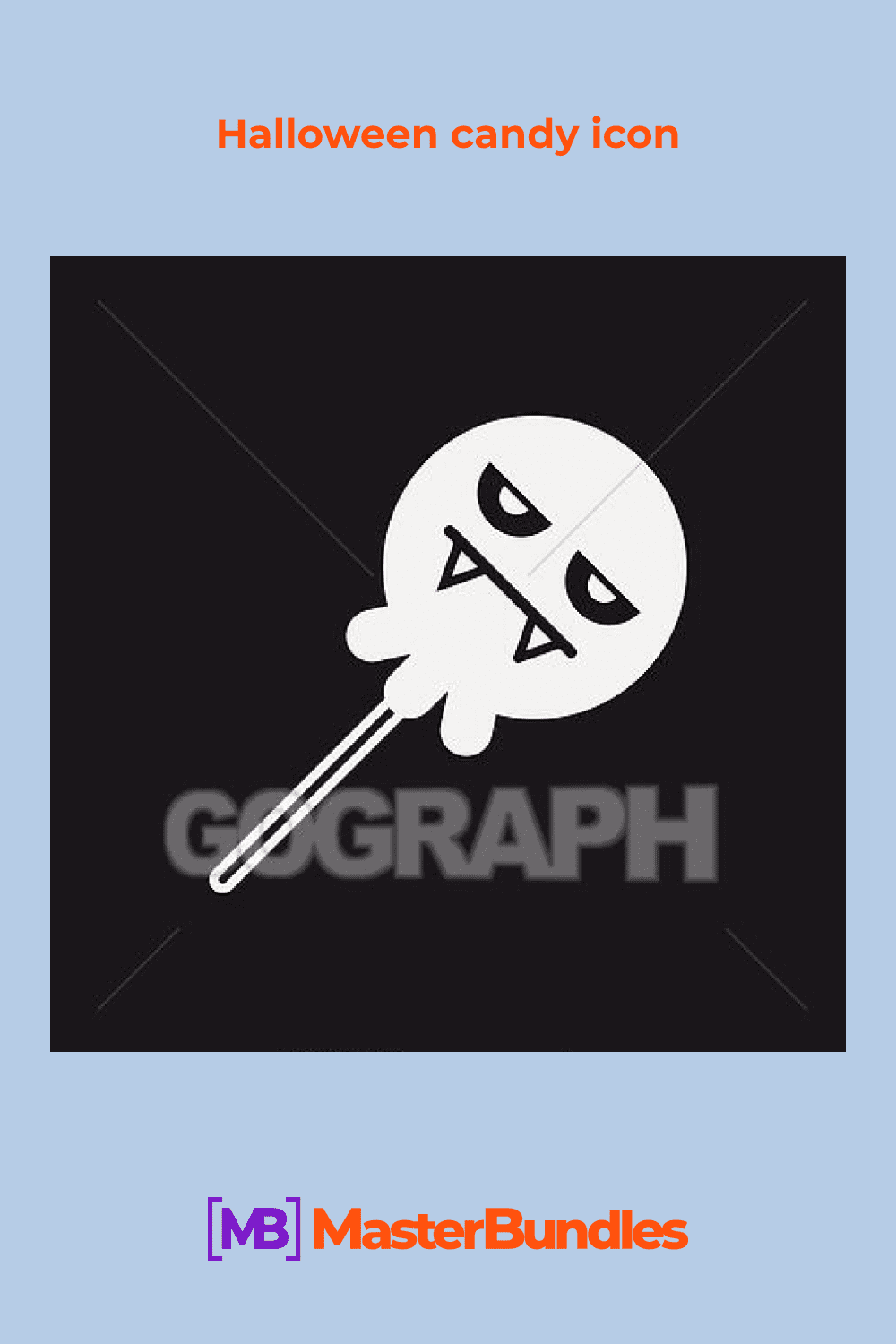 Price: $3 – $12
Halloween trick or treat black cauldron bucket full of candy vector cartoon illustration isolated on white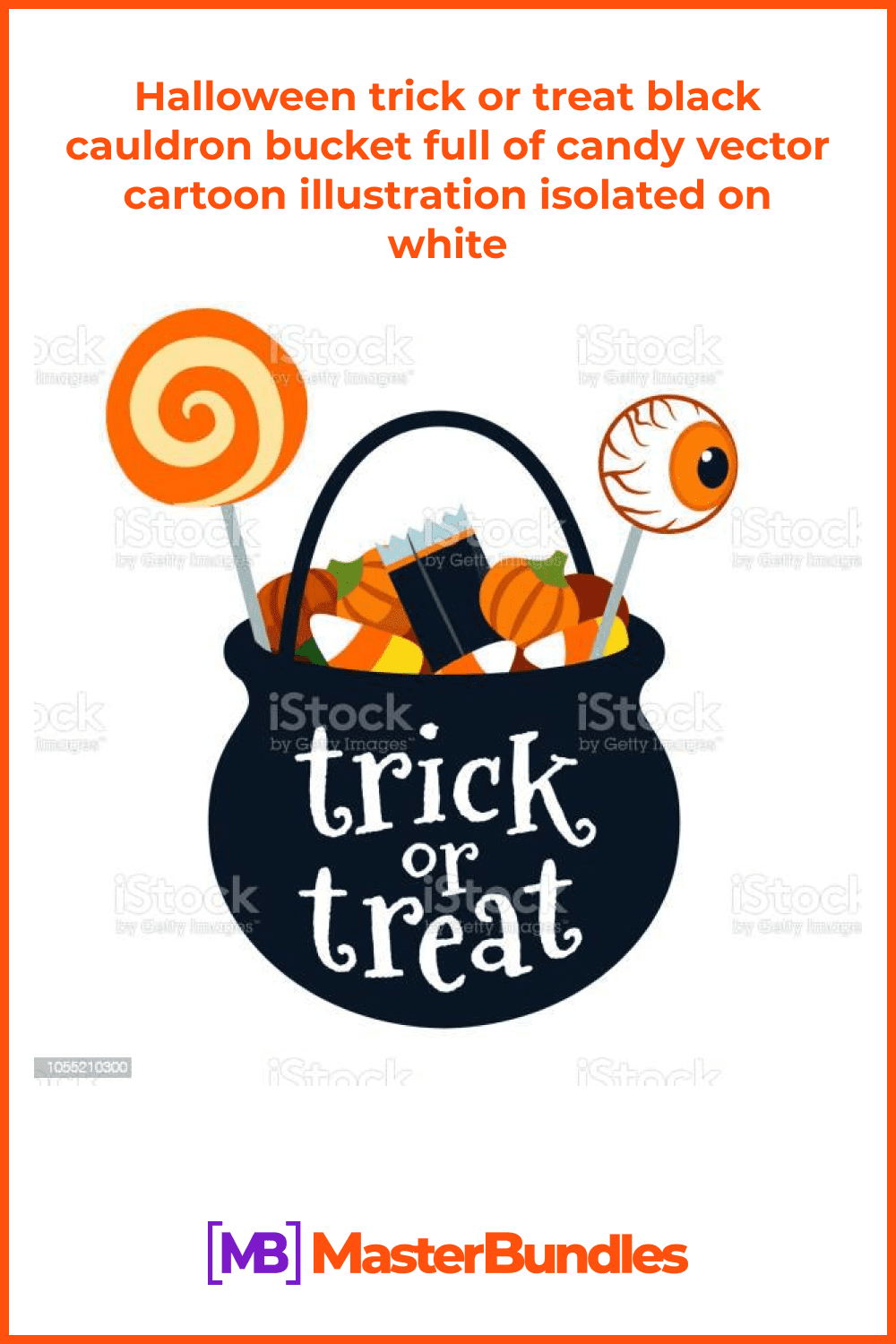 Price: $9.99
Set of Halloween candies stock illustration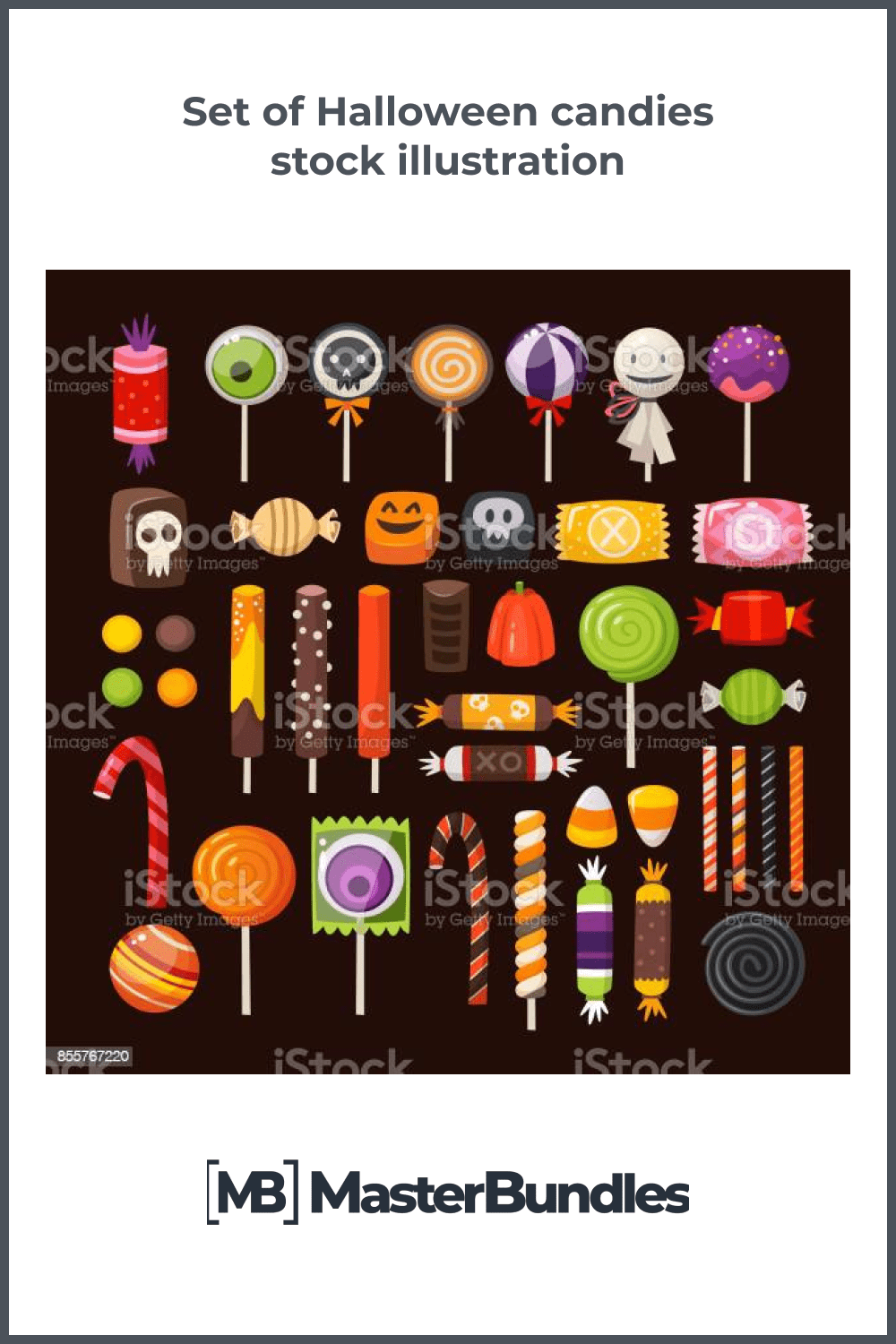 Price: $9.99
Halloween buckets of different shapes full of sweets, candies and desserts
Price: $9.99
Assorted fun size Halloween candy – stock vector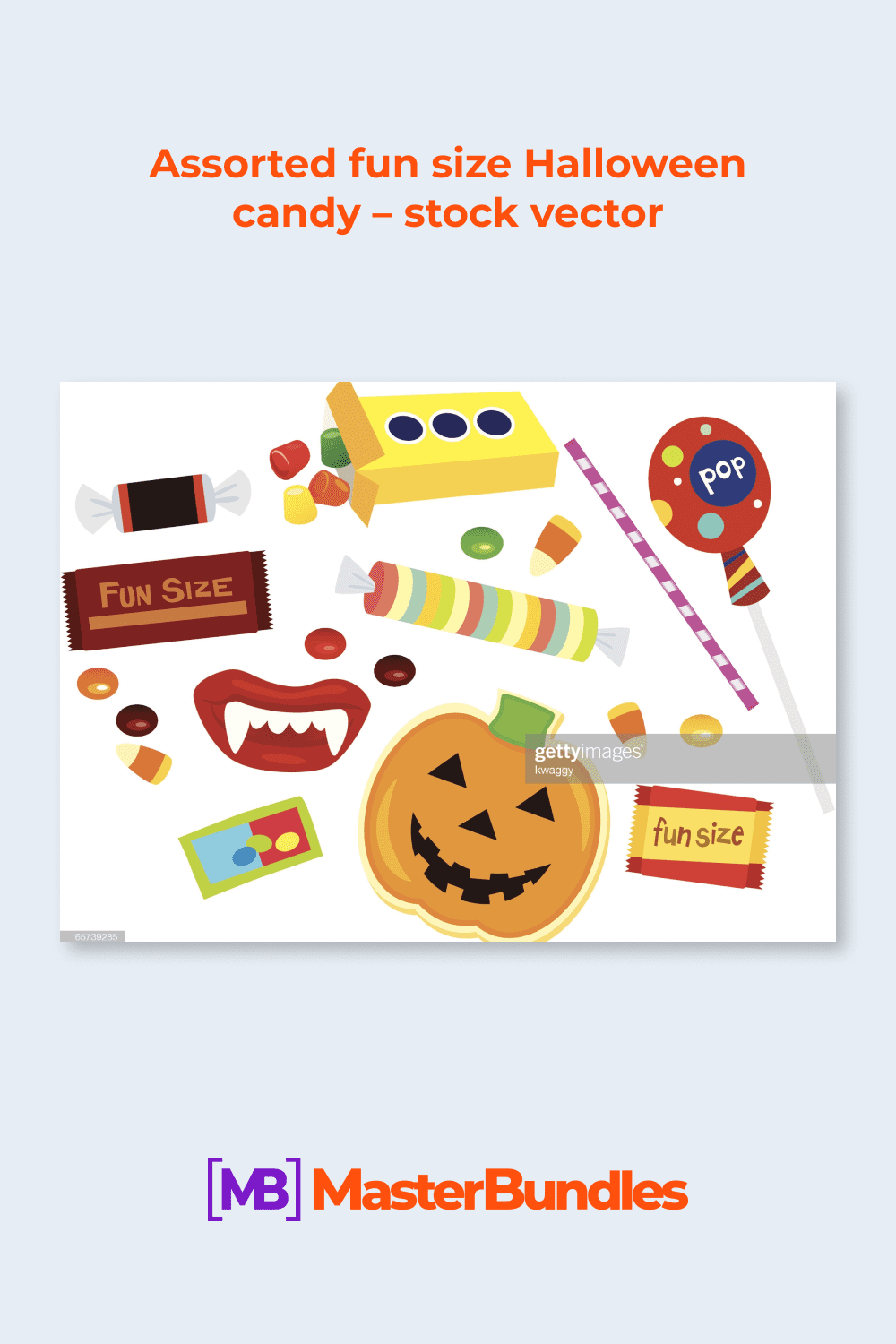 Price: $50 – $499
Candy Flat Design Halloween Icon with Side Shadow – stock vector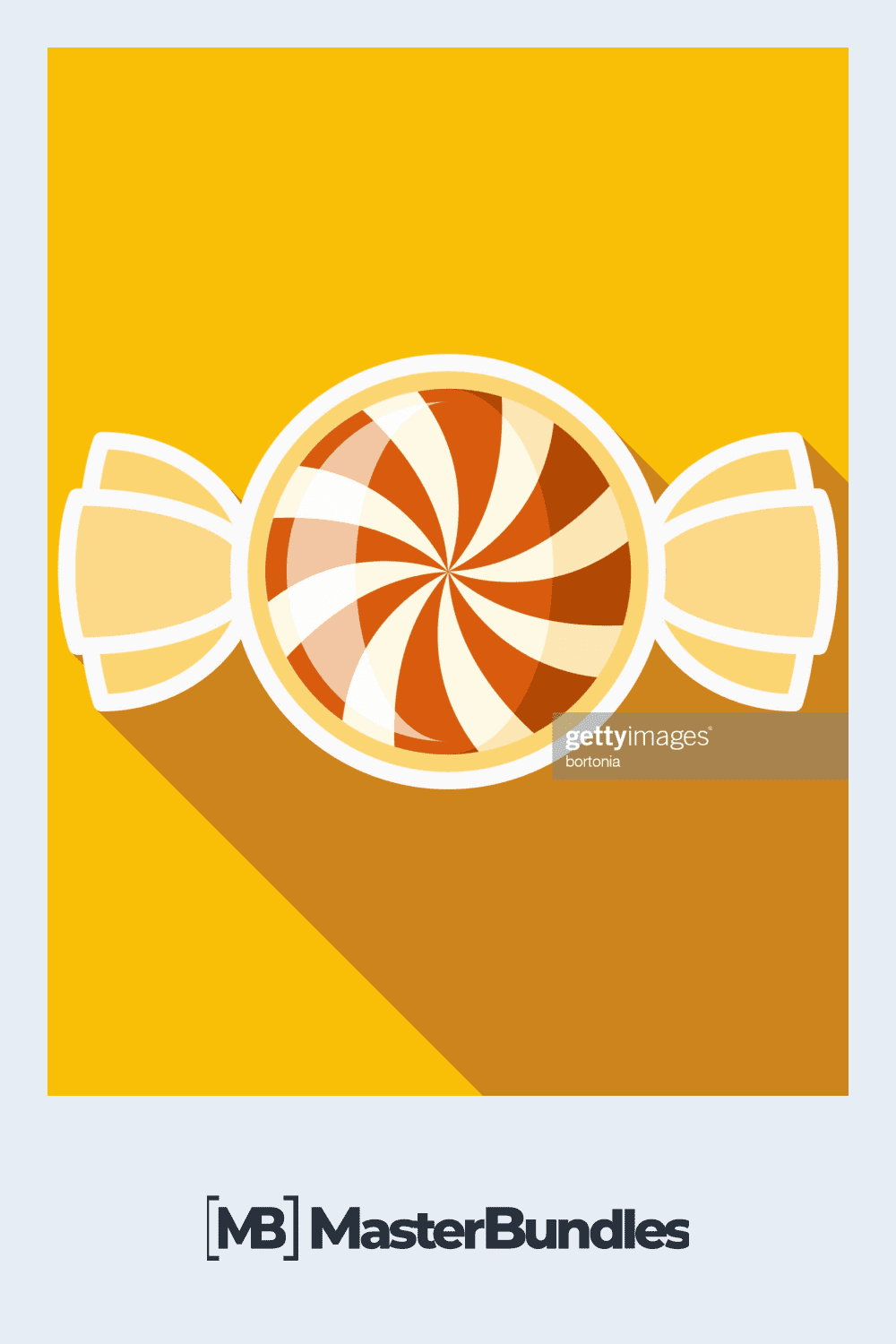 Price: $50 – $499
Halloween Border Clipart
Collection of Free Halloween Borders (69)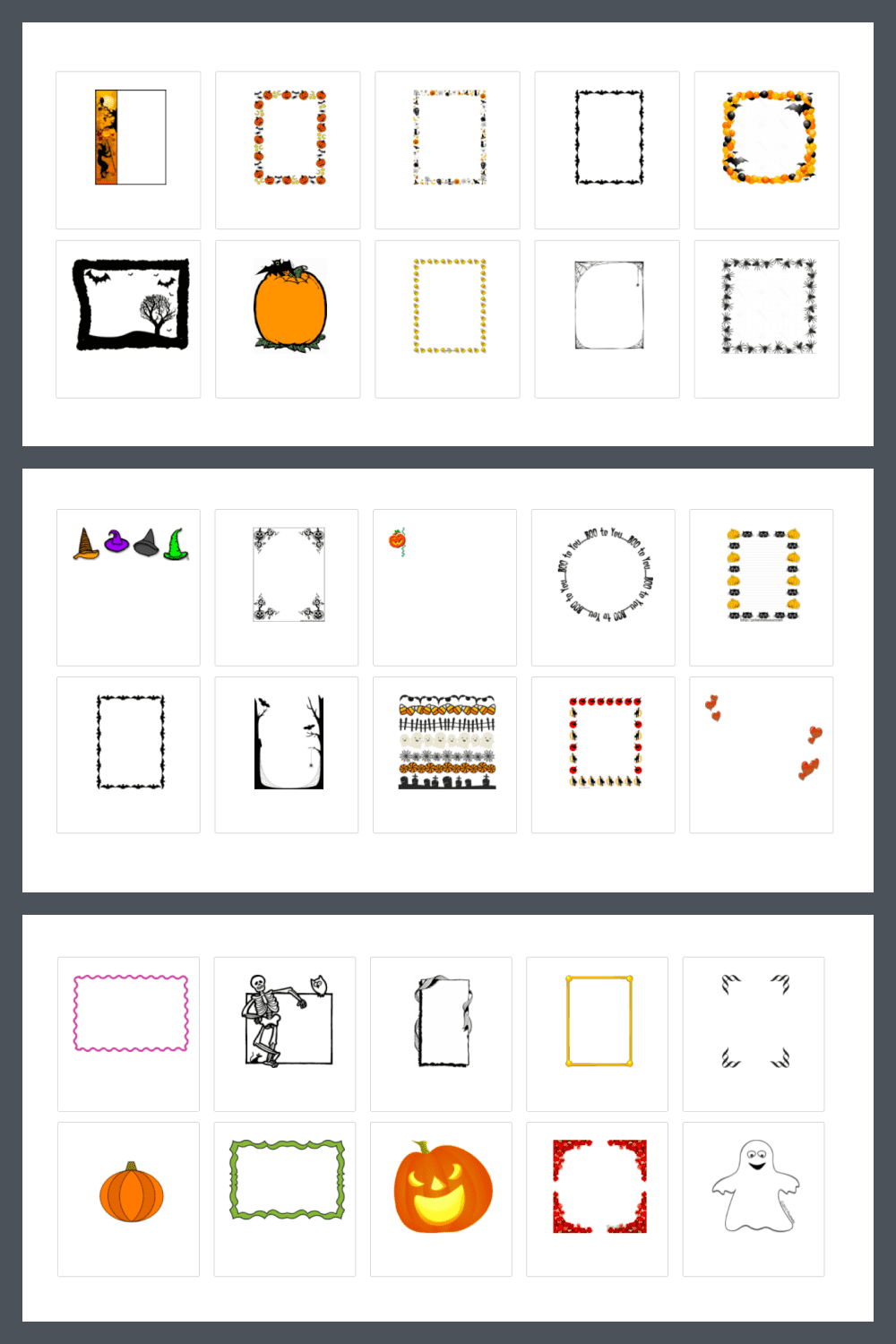 Price: free
Collection of Free Halloween Border (77)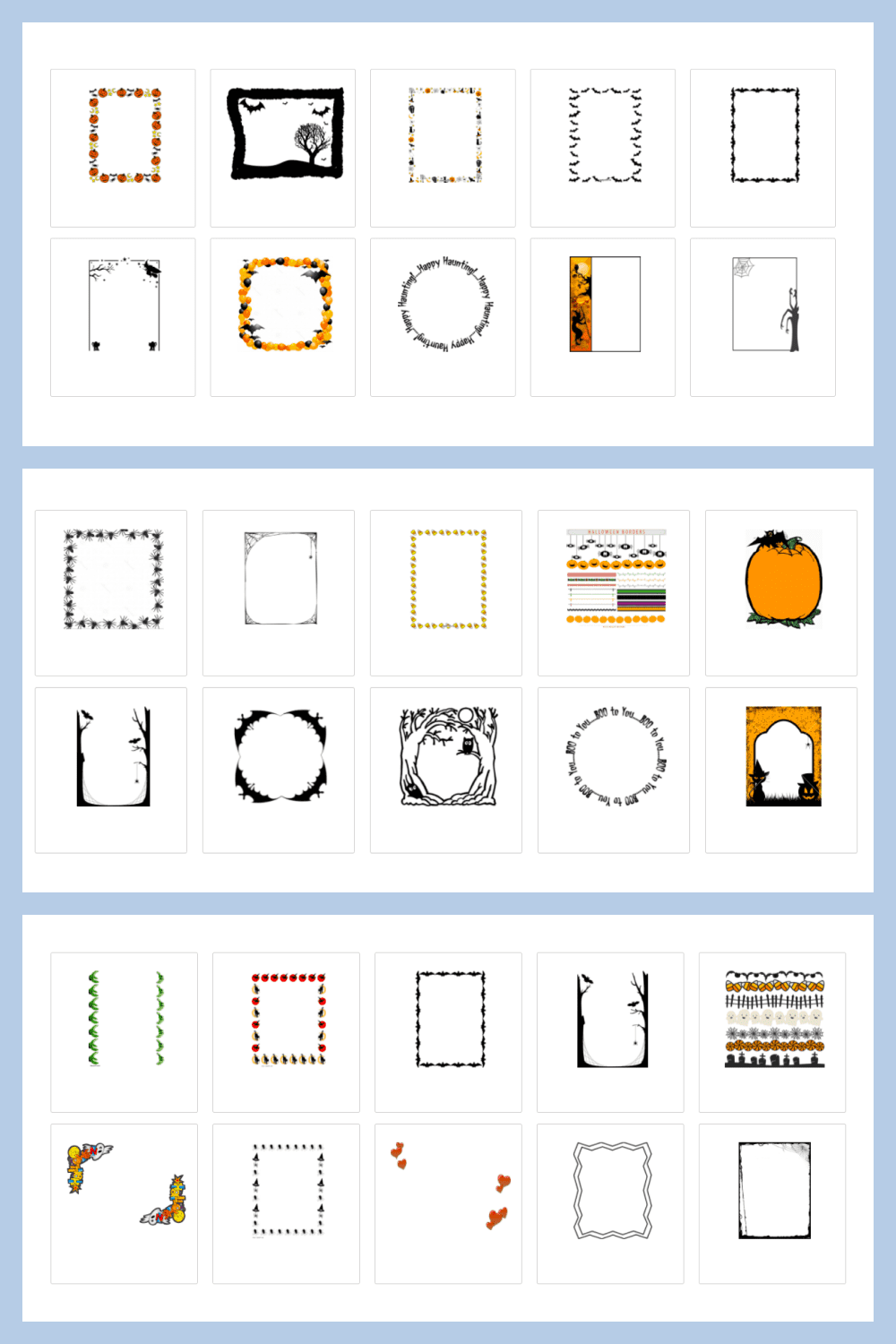 Price: free
Cute Halloween Border Frame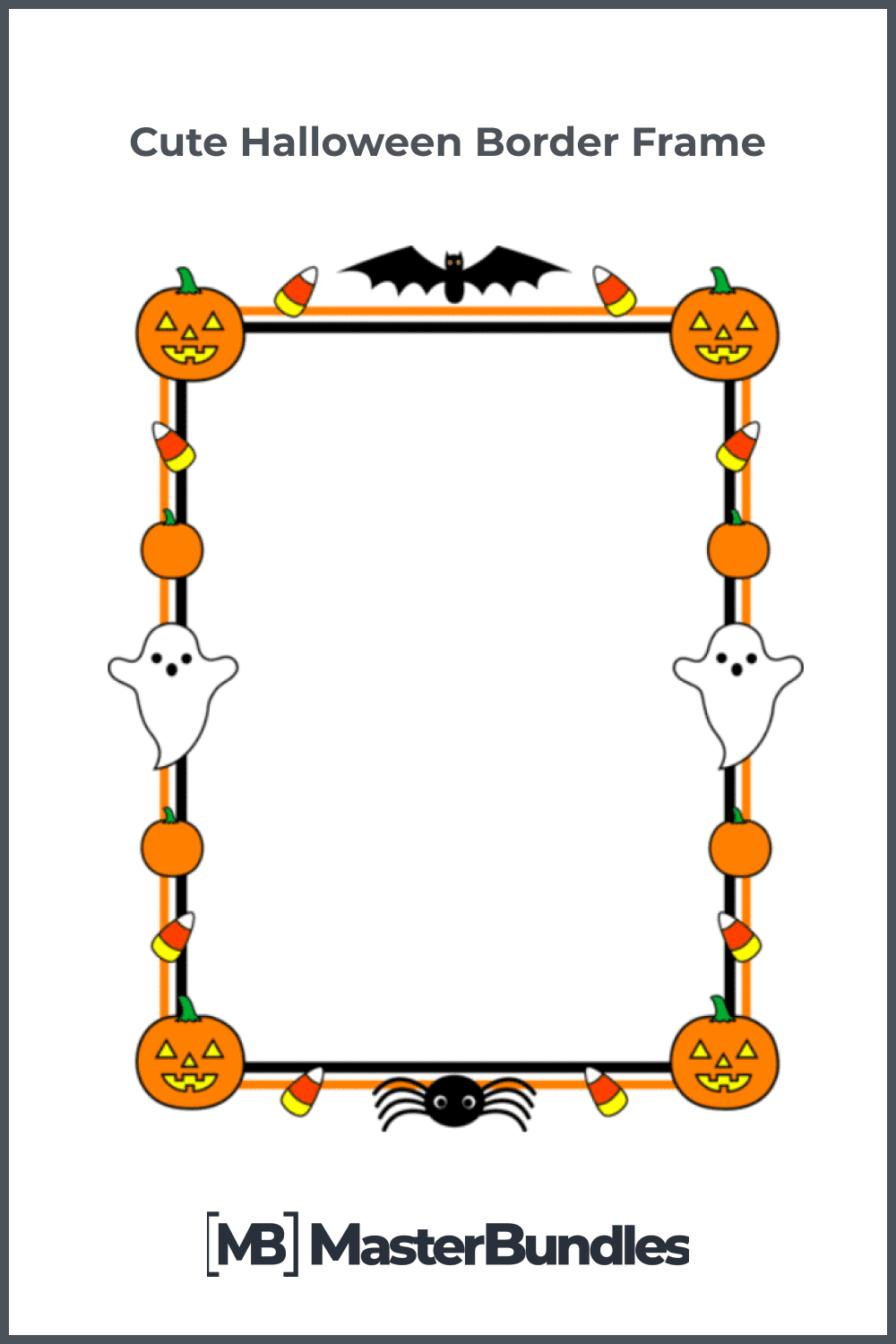 Price: free
Kawaii Halloween horizontal borders vector image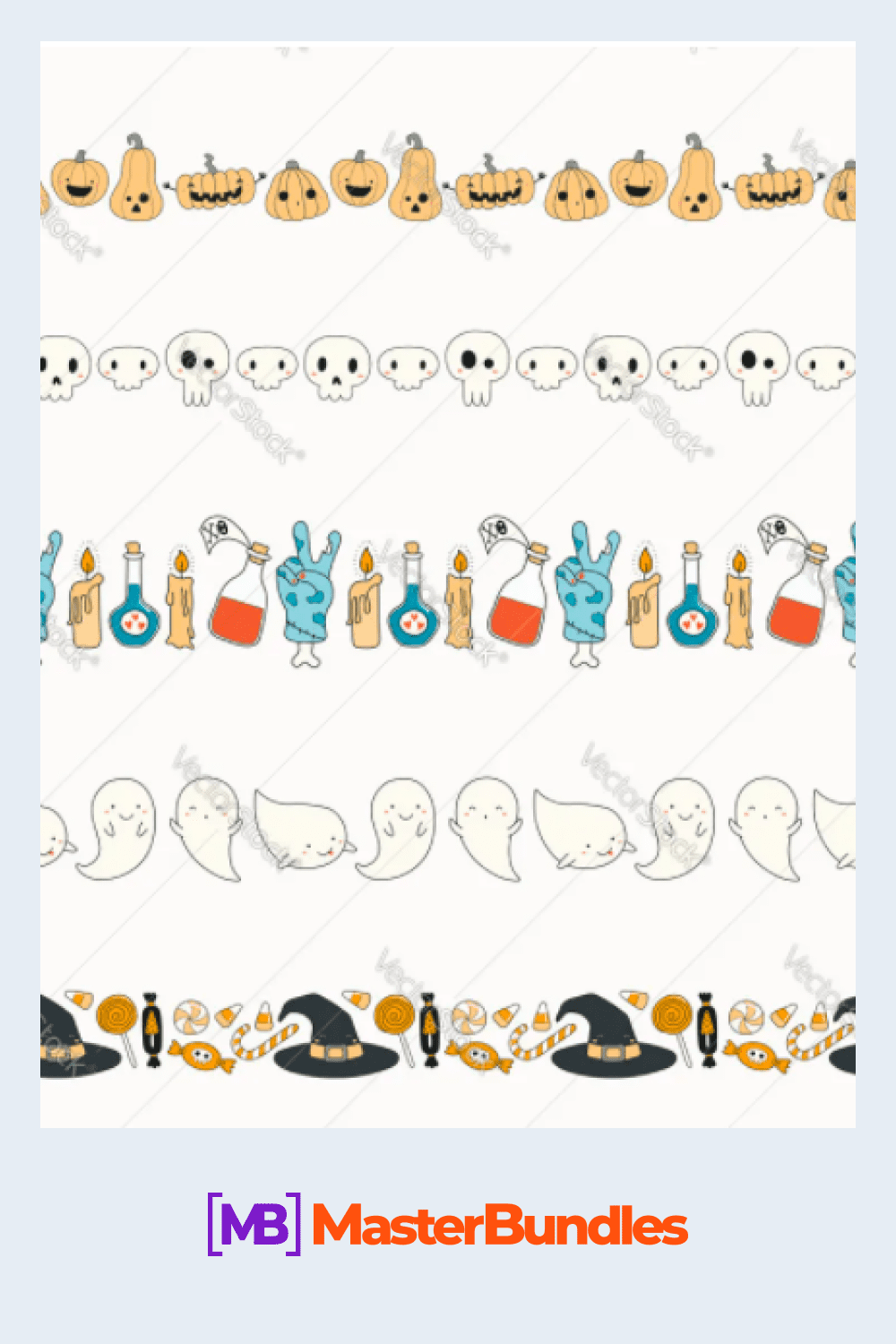 Price: $14.99
Halloween Flying Bats Border Background Creepy Vector Image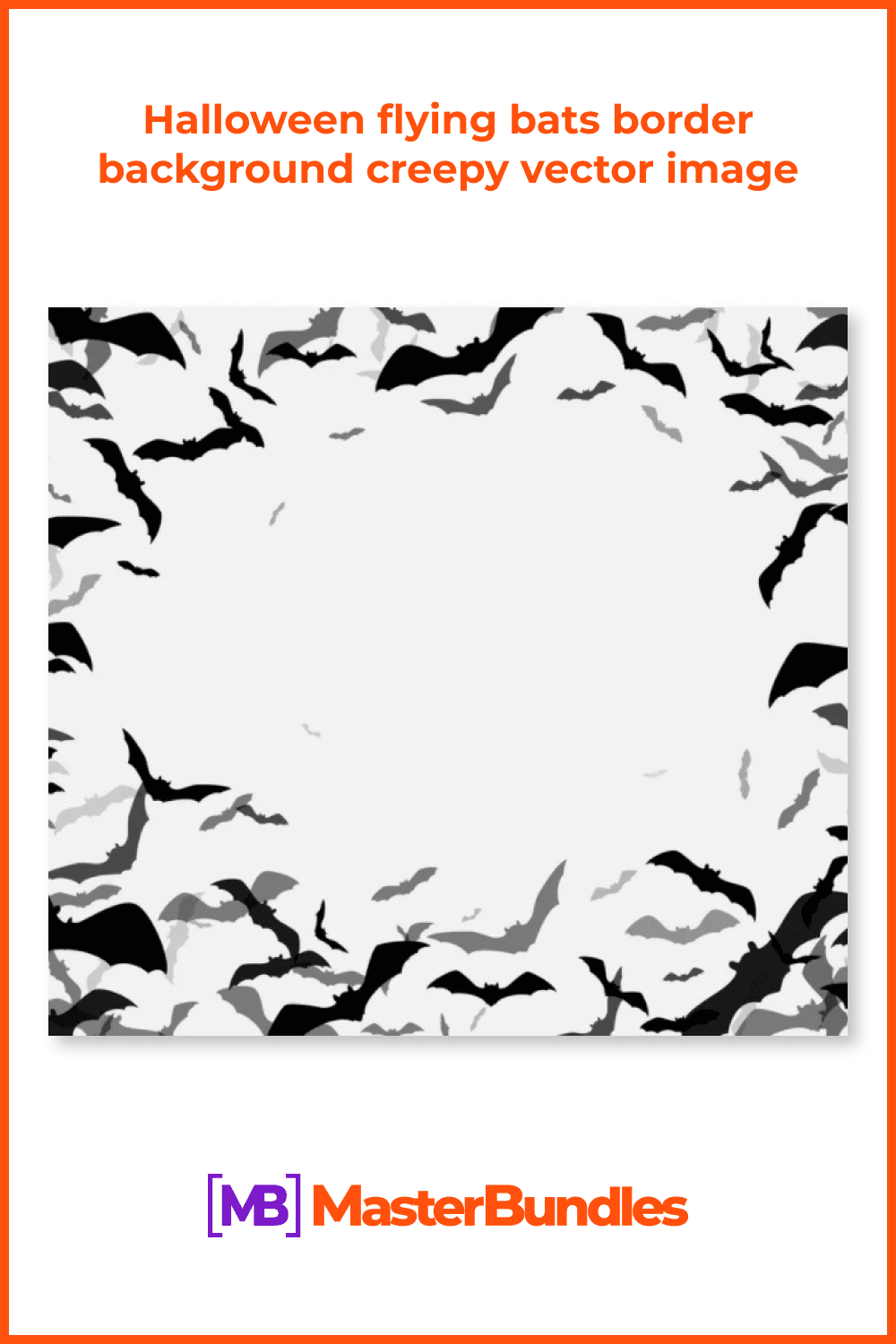 Price: $14.99
Halloween Layout with Kawaii Characters Vector Image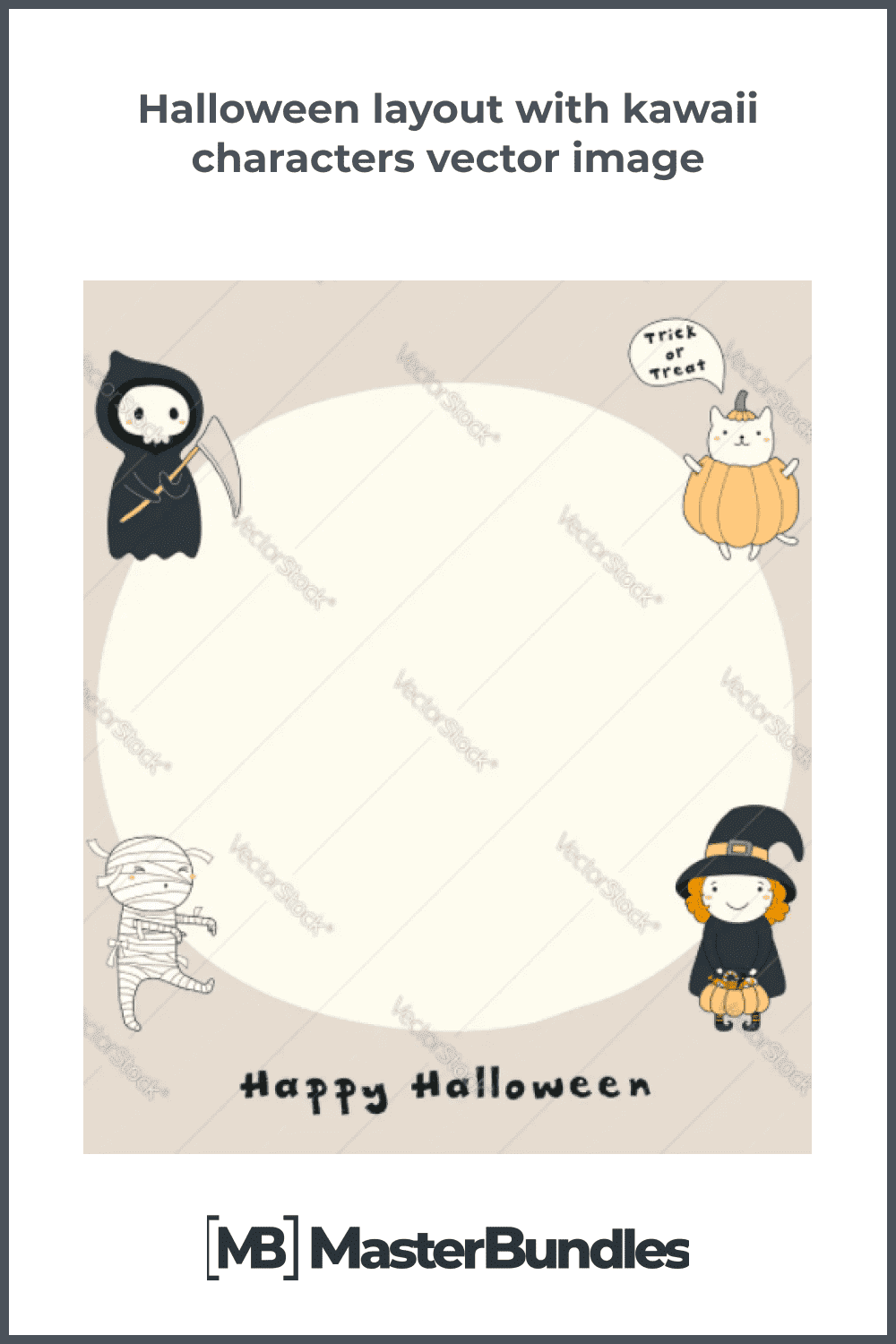 Price: $14.99
Halloween Borders & Brushes by Melissa Held Designs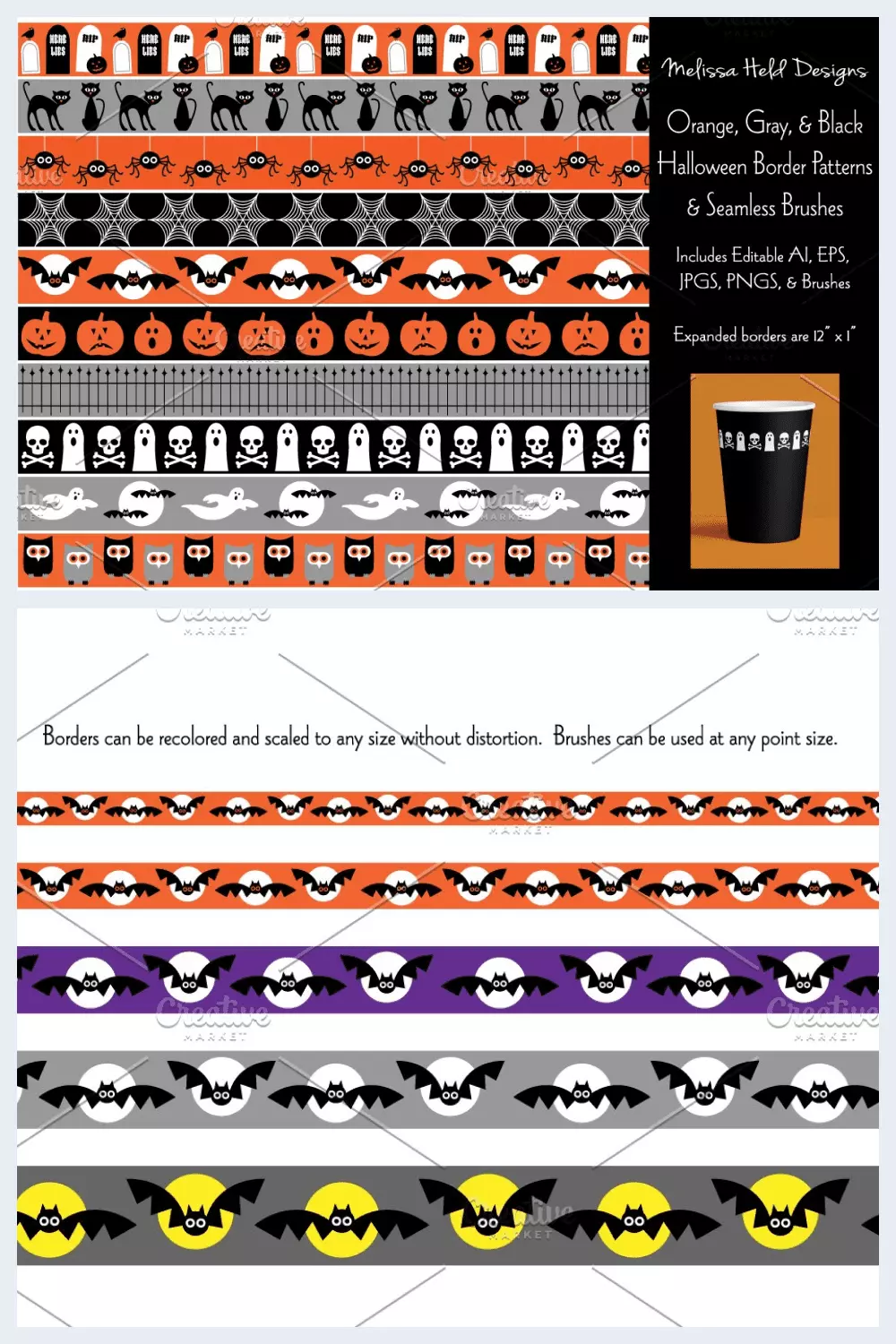 Price: $10
Watercolor Gothic Halloween border by WonderWonder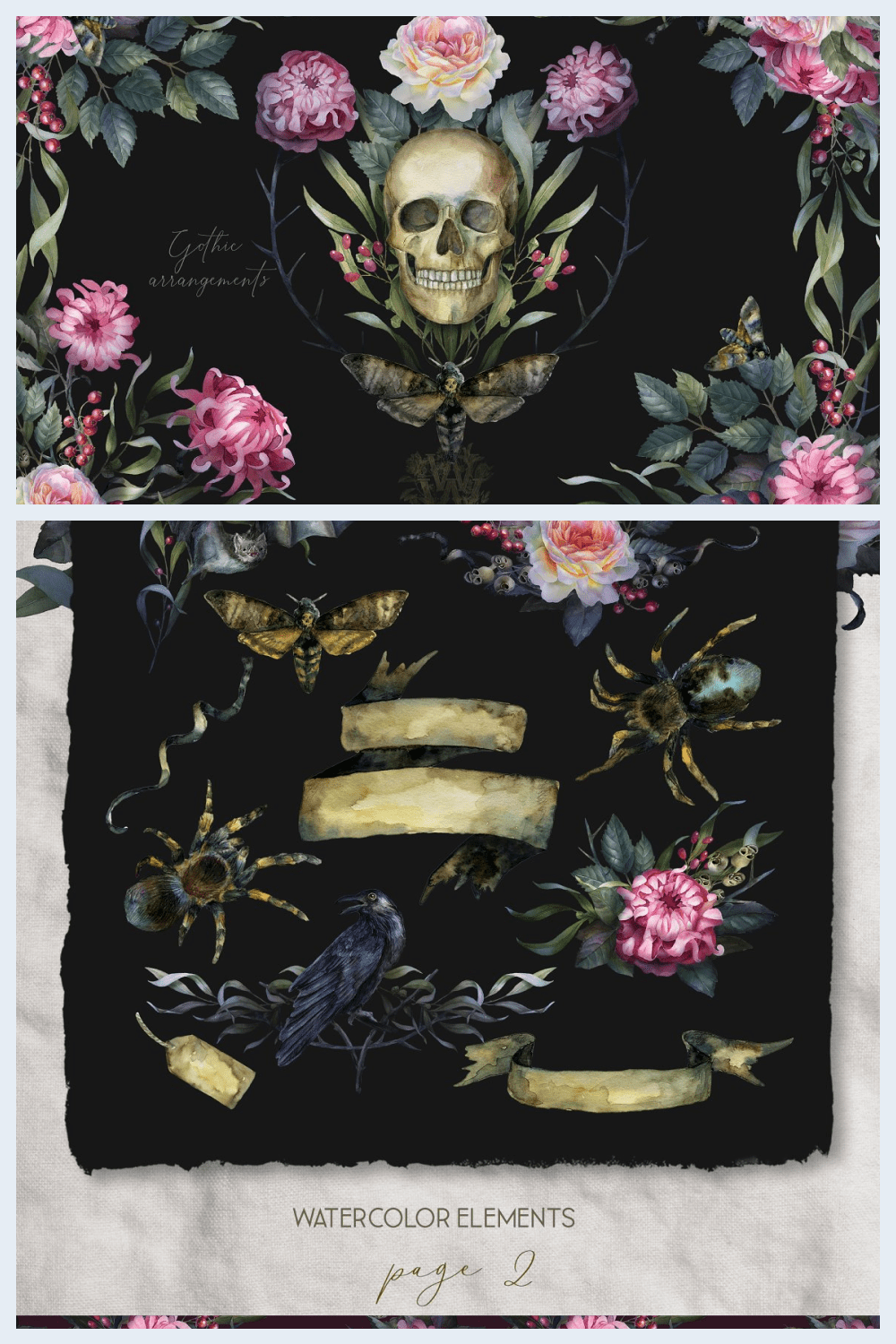 Price: $15
Halloween Bunting/Borders AI EPS PNG by FrankiesDaughtersDesign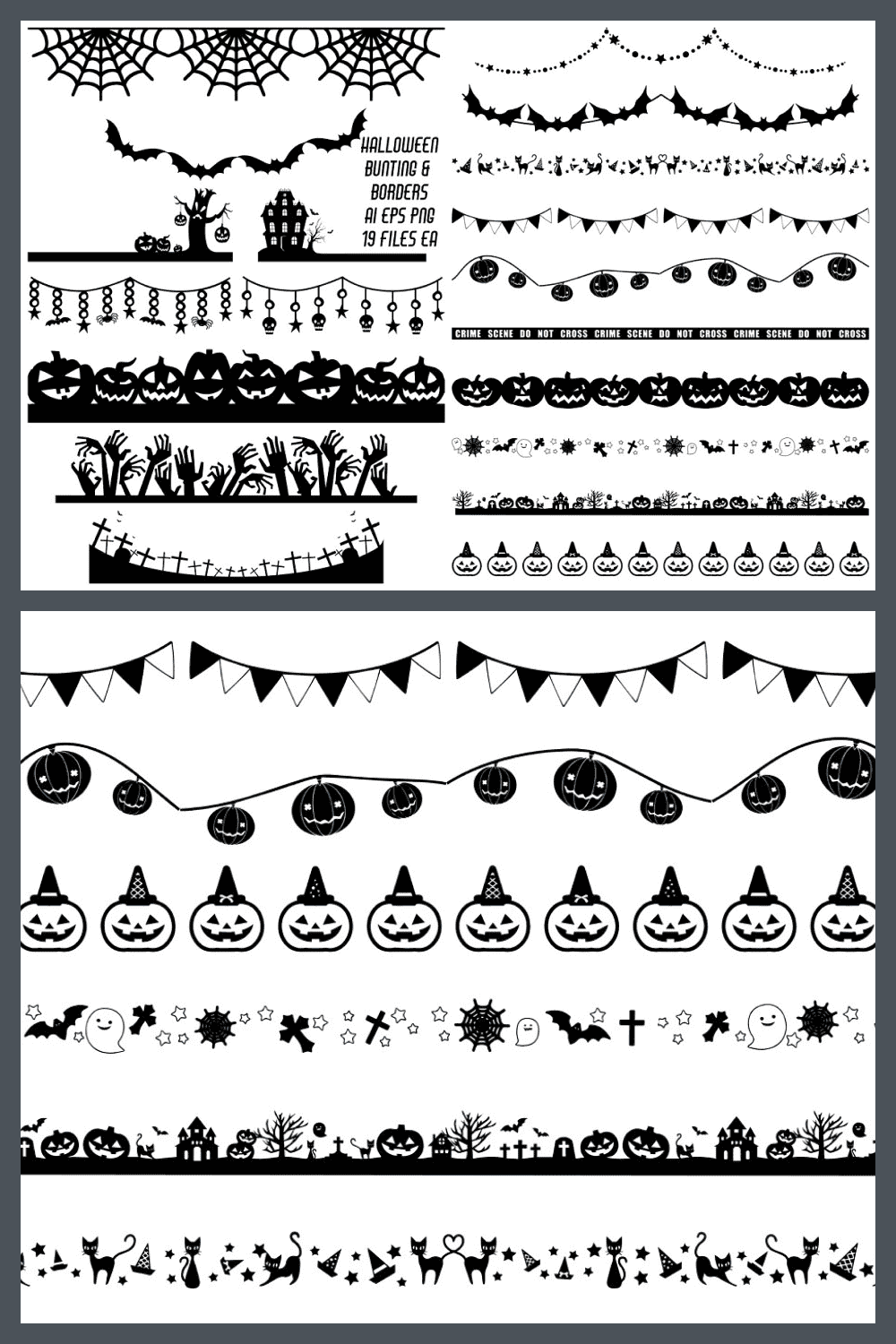 Price: $10
Grunge Halloween border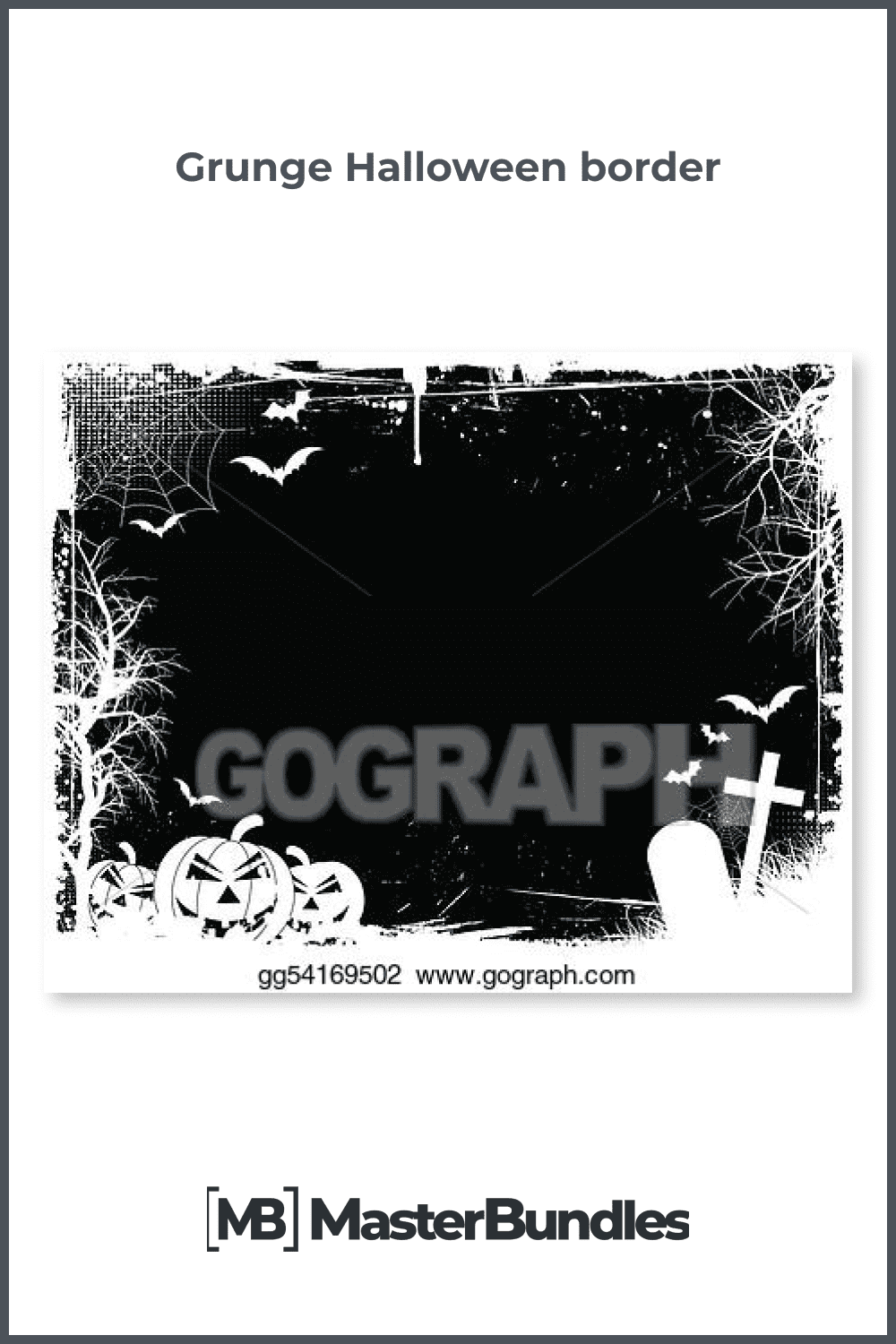 Price: $3 – $12
Best Halloween Clipart in 2021: Photos, Pumpkins, Greeting Cards…
Halloween is the very holiday that pretty much everyone loves. No matter whether you are religious or not, you still like dressing up, partying, and sometimes even yelling "trick or treat" at your neighbors. This very holiday has a huge impact on our culture, traditions, and society, which means that Halloween designs are going to be in demand pretty much forever. So Halloween clipart is something every self-respecting graphic designer should have in his or her graphic elements collection.
Well, we all know that design trends change every season, which means that the elements that perfectly worked for your Halloween projects last year might not work quite well this year. So how does a Halloween clipart look in 2021? The main thing that you have to keep in mind is that it has to be minimalist and simple. Yes, simplicity in everything and minimalism have been on trend for a while, but in 2021 these tendencies only strengthen their positions, so you have to make sure that the elements you pick for your future projects are minimalist, simple, and elegant.
I understand how hard sometimes it is to find something decent and trendy and at the same time affordable, so I decided to help you with that at least a little bit. Thus, here come some spooky yet still beautiful Halloween clipart collections that you need to get.
Luxury Witchcraft: 109 Graphic Element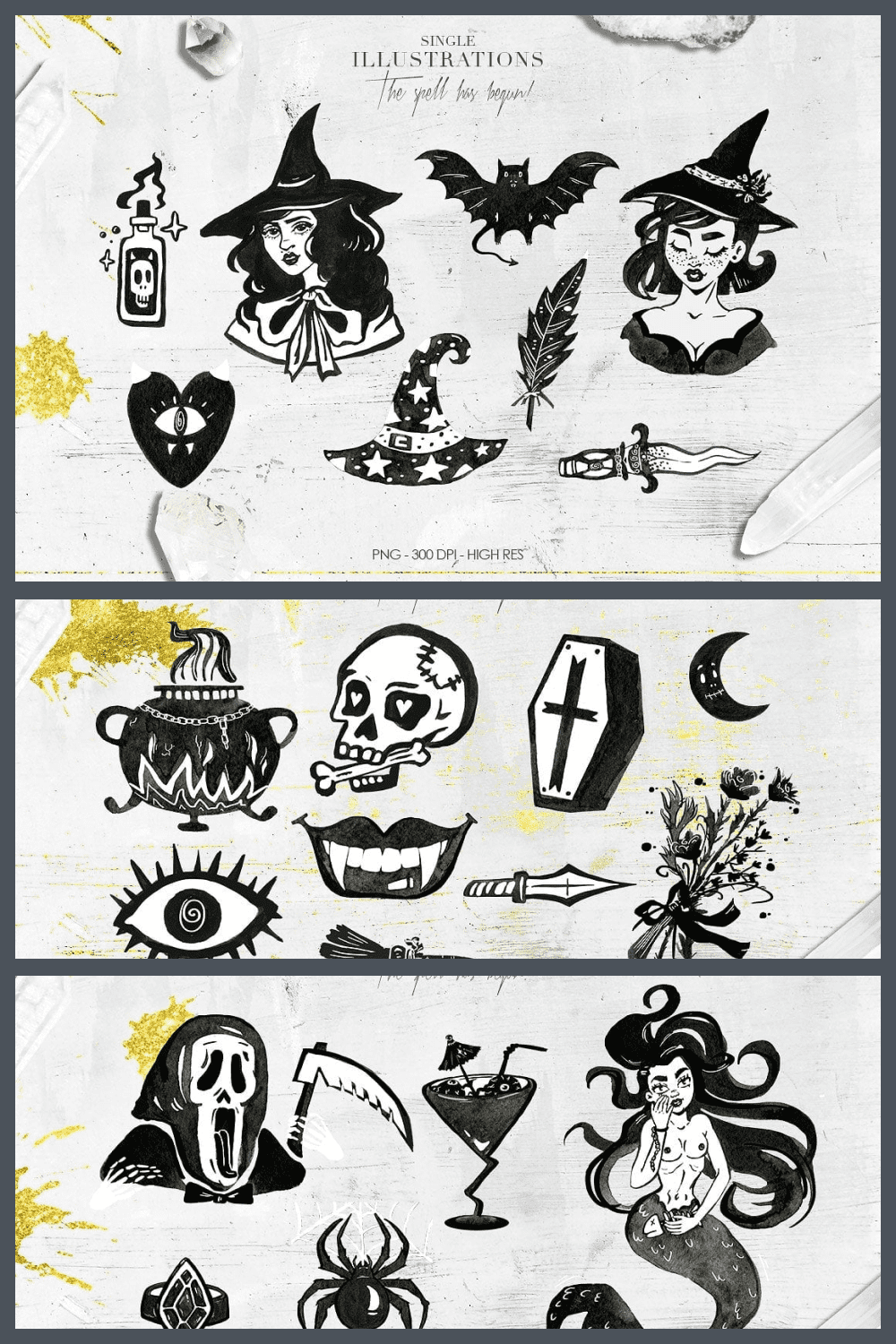 Price: $12
A magical bundle for all the witches out there, so if you are proud to call yourself a witch, go ahead and get this marvelous collection.
Harry Potter Clipart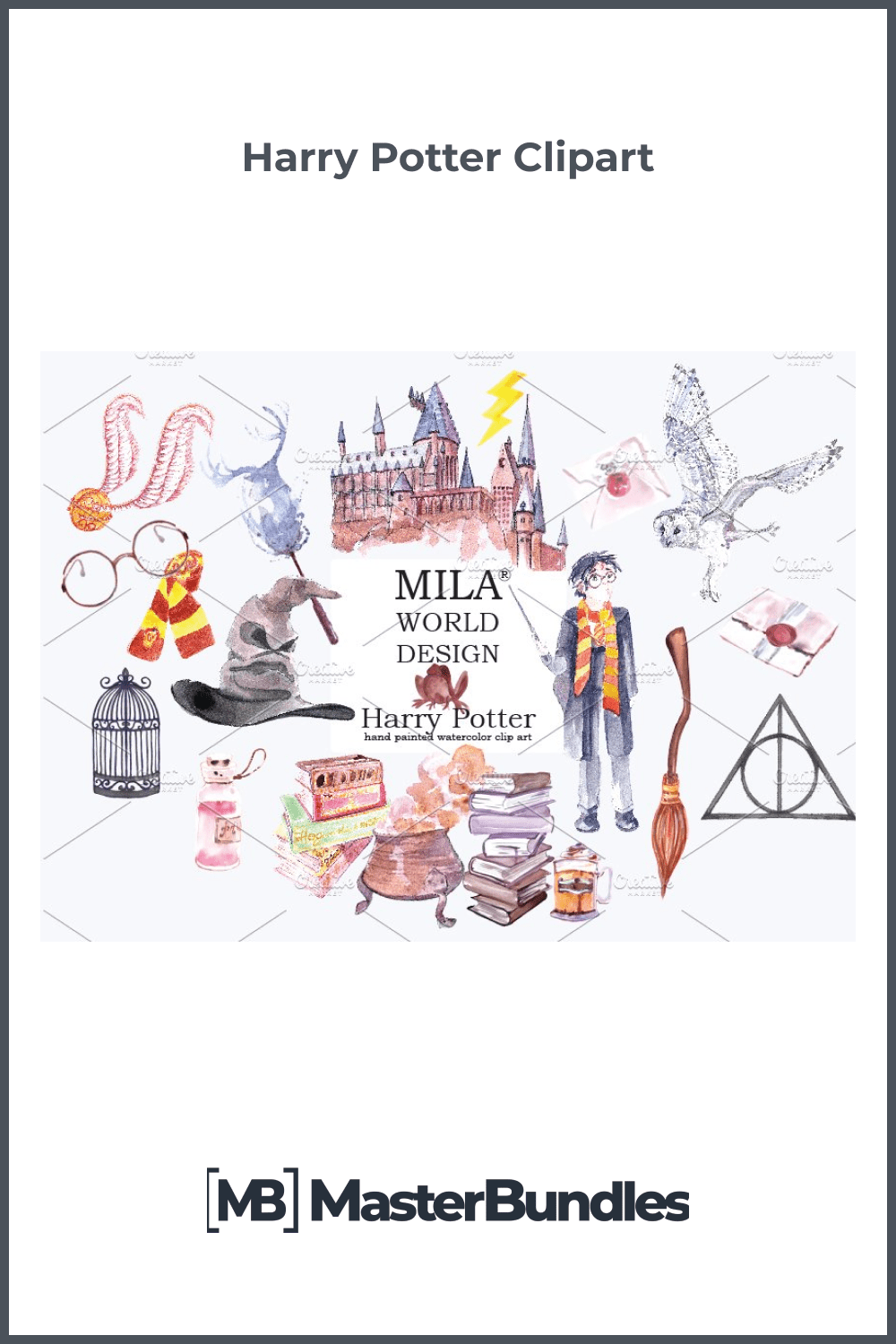 Price: $15
Can you imagine Halloween without dressing up as one of the Harry Potter characters and playing Quidditch? Well, in that case, you definitely need this very Harry Potter clipart collection.
Watercolor Gothic Halloween Border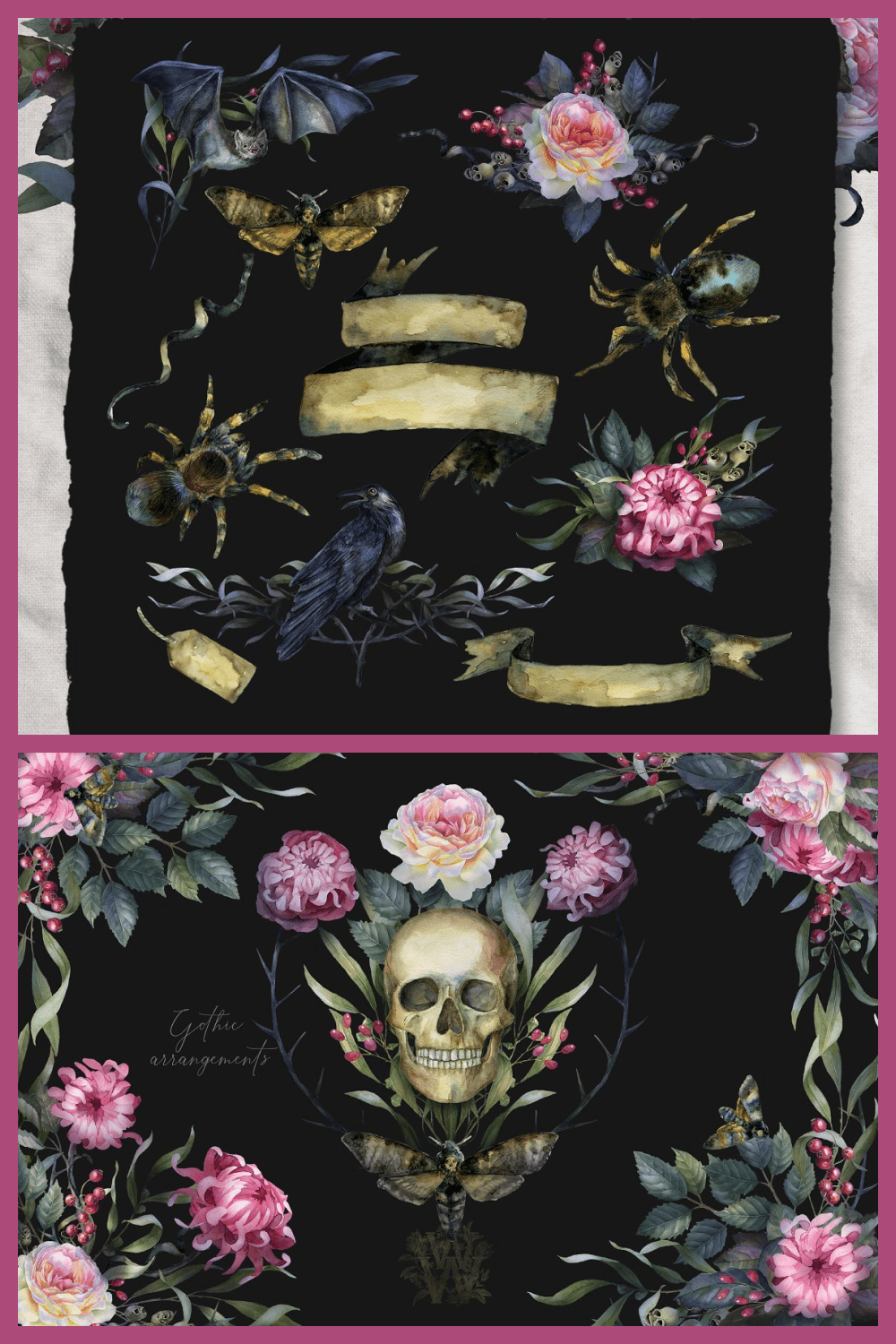 Price: $15
A luxurious and sophisticated gothic collection is no doubt the ultimate must-have for pretty much every designer.
Halloween Clipart Set Spooky Nature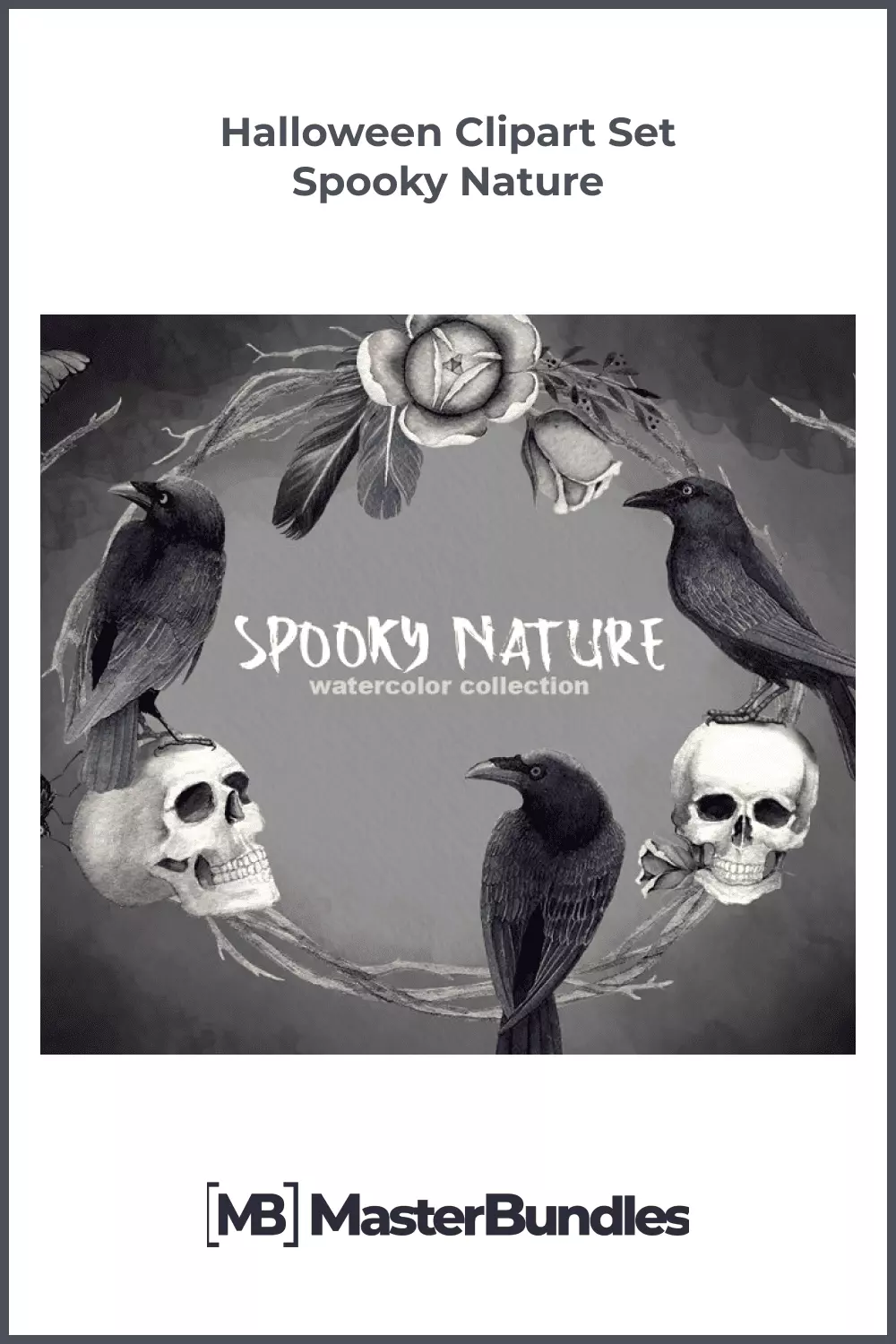 Price: $17
If you feel like you need some spooky watercolor graphic elements, then this very elaborate bundle is surely the best way to go for you.
Halloween Clipart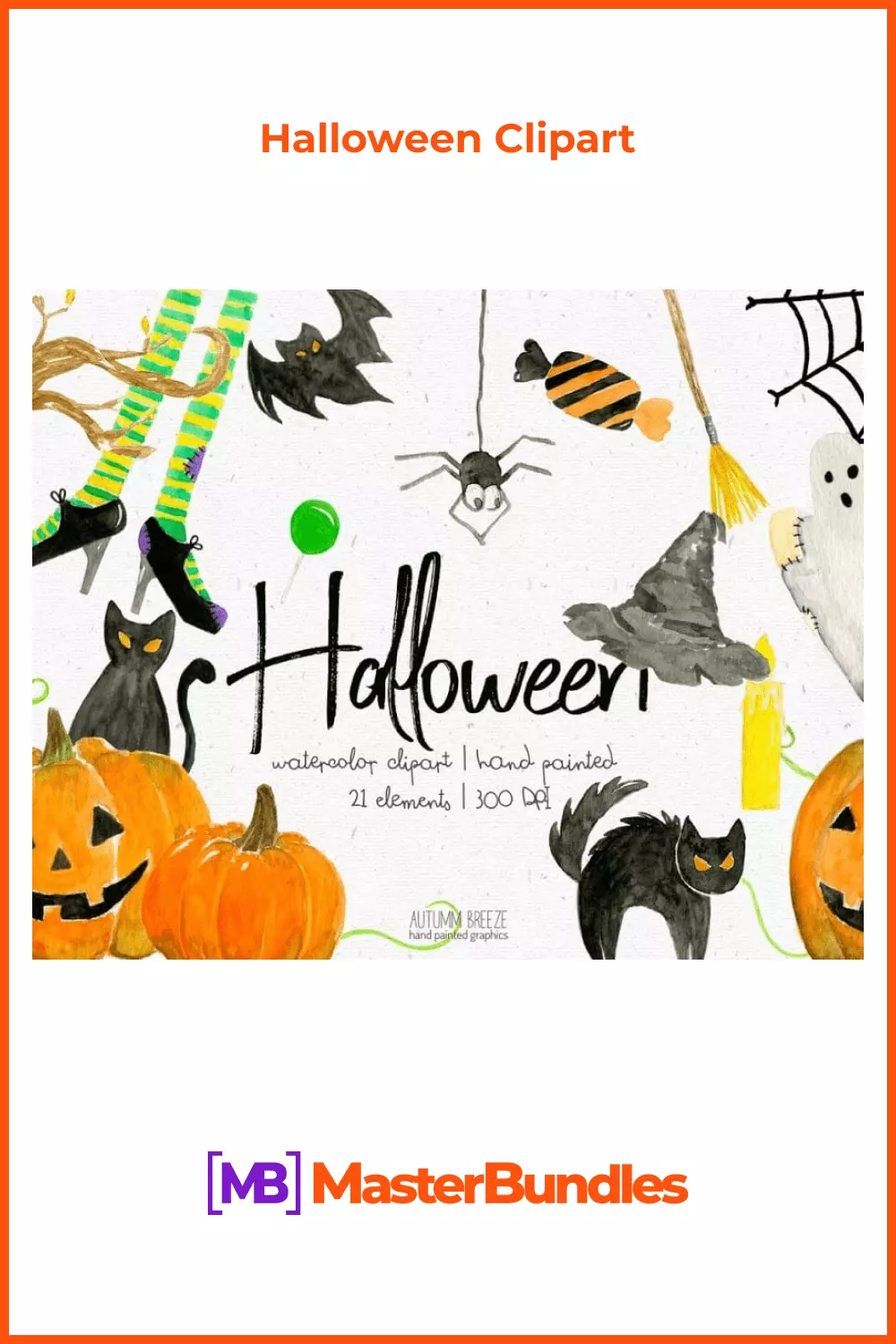 Price: $8
A lovely option for those of you who need something sweet and absolutely adorable. Well, if this is what you want, then go ahead and get it.
Halloween Clipart by Melissa Held Designs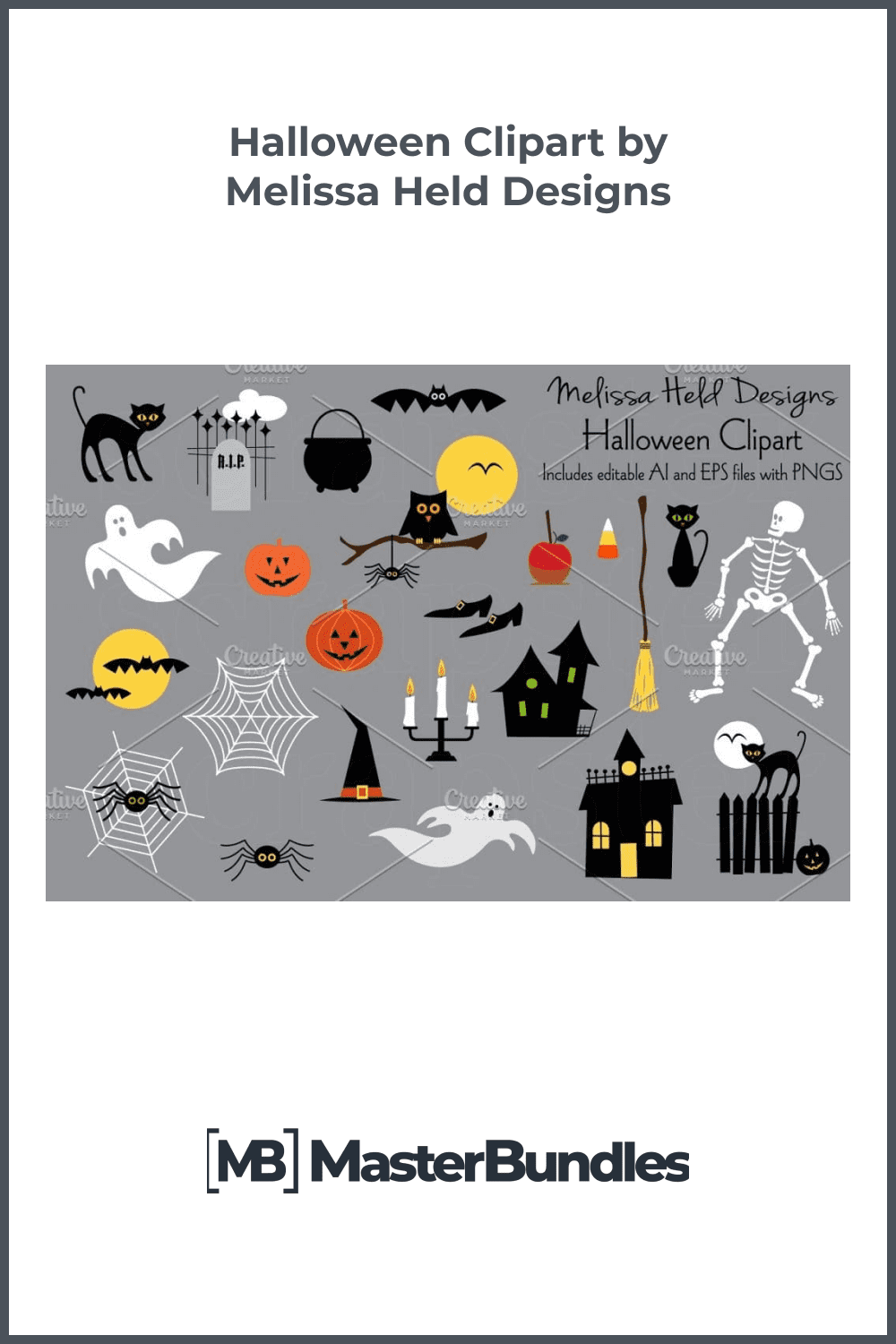 Price: $12
A classic cartoonish option that will back you up in any situation, so if you need a multipurpose option, make sure to check it out.
Witchy Halloween Clip Art by Lilla Bölecz
Price: $12
Spooky, elaborate, and mesmerizing are the three words that perfectly describe this magical bundle, so go ahead and take a closer look at it, you definitely need such a masterpiece.
Vintage Halloween Clipart by Digital Curio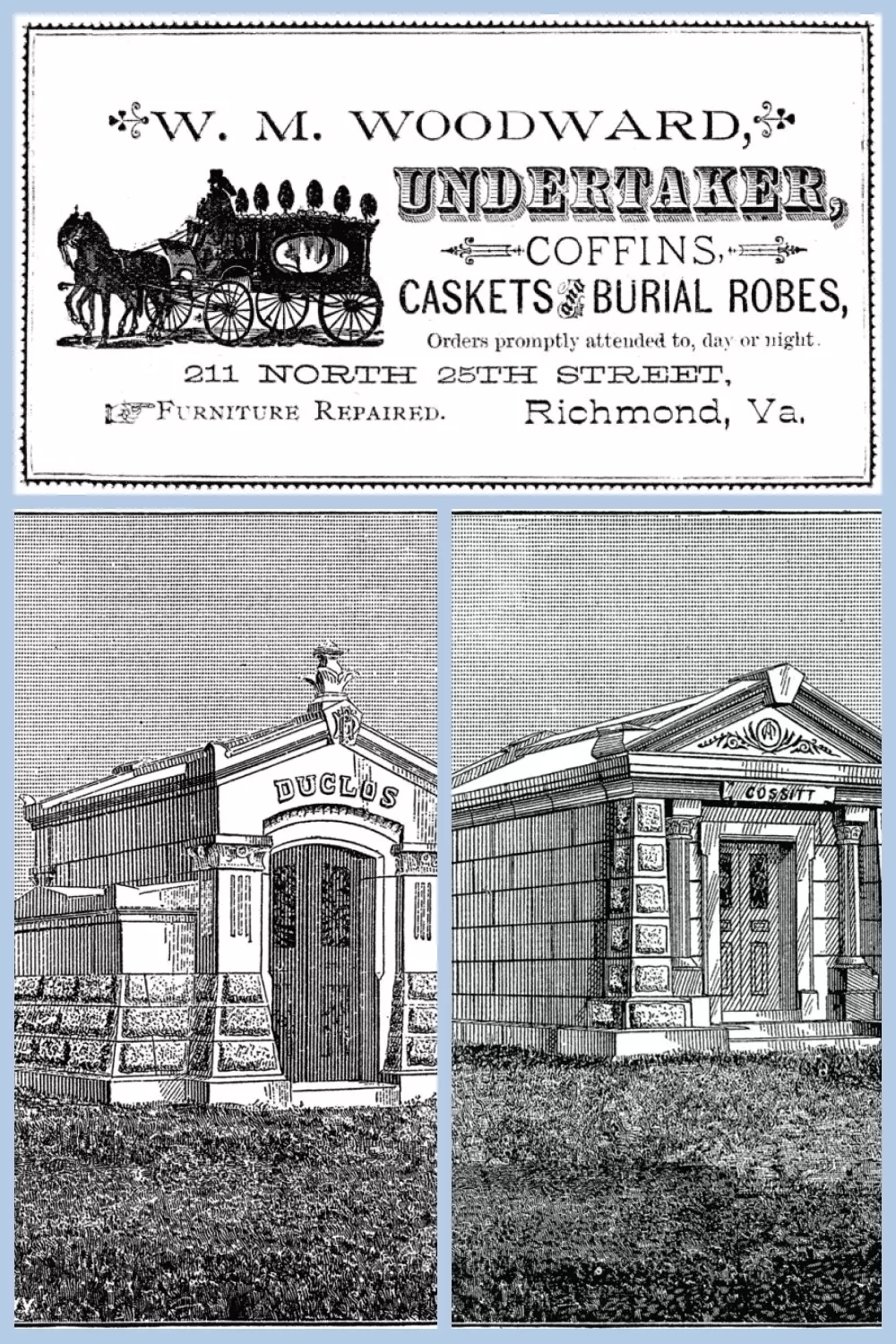 Price: $6
What can be more hypnotizing, fabulous and at the same time terrifying than a good old vintage collection? Well, follow the link above in order to get a closer look at this one, you definitely will not regret that.
18 HALLOWEEN KIDS WITH PUMPKINS CLIPART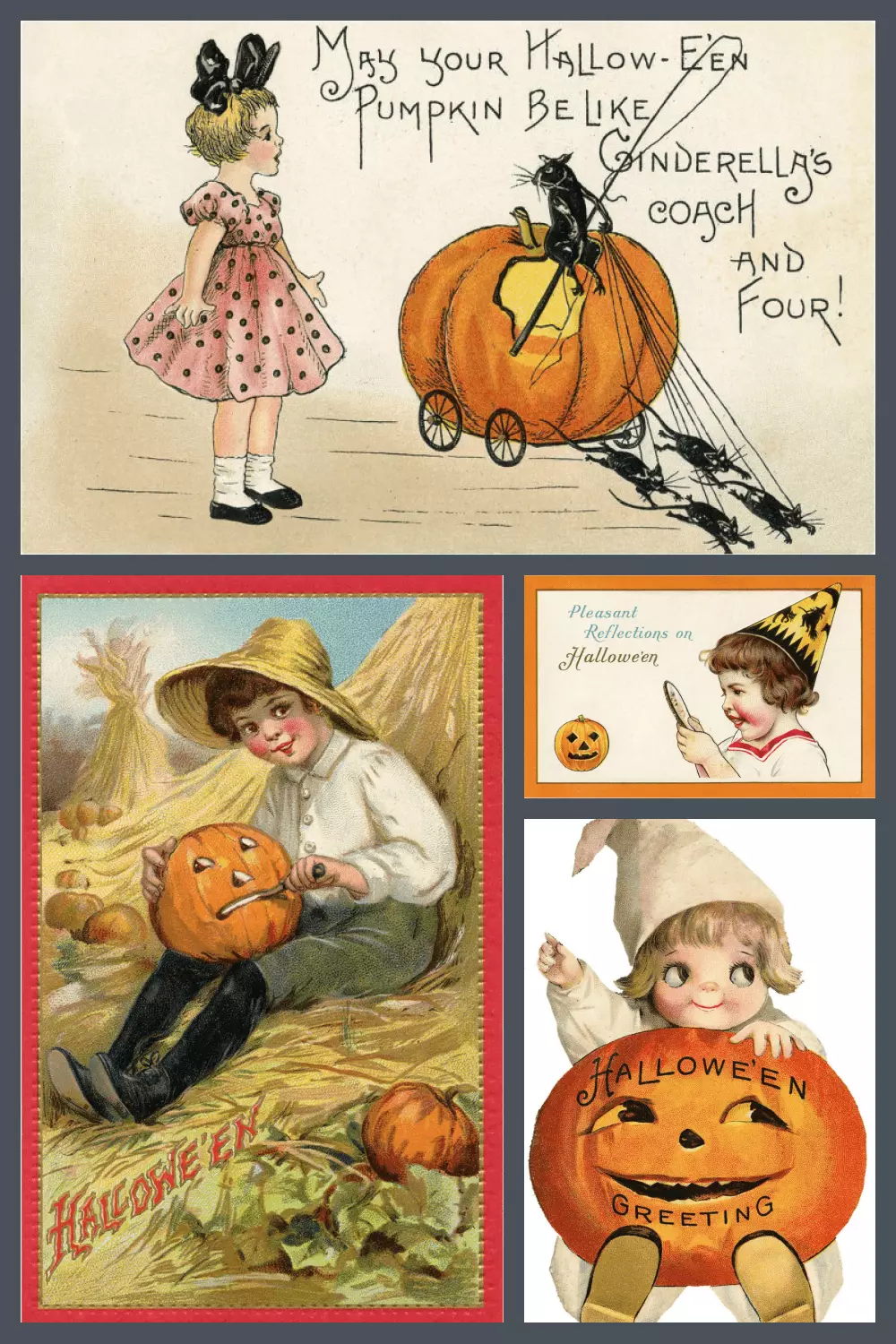 Price: free
Another vintage collection that will definitely help you add some spooky vibes to any project you would ever work on.
9 HAUNTED HOUSES & FURNISHINGS CLIPART – HALLOWEEN-ISH
Price: free
A haunted house is one of the classic Halloween symbols, so why don't you have a look at this very collection?
Zombie Clipart Image Man And Woman Halloween Costumes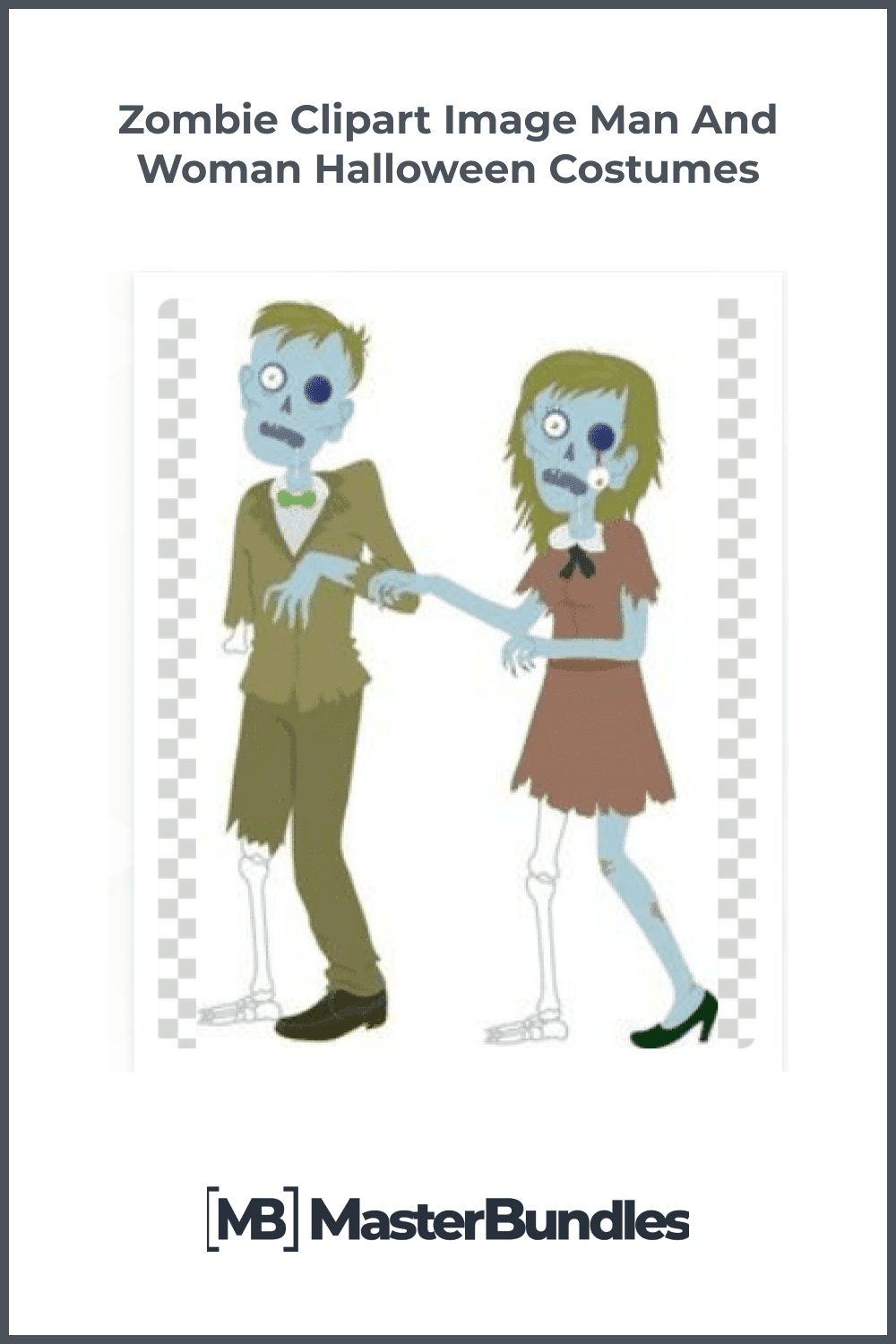 Price: free
Another fancy and pretty multipurpose freebie that you need in your collection, so follow the link above and download it.
Halloween Clipart Set Spooky Pumpkin Icons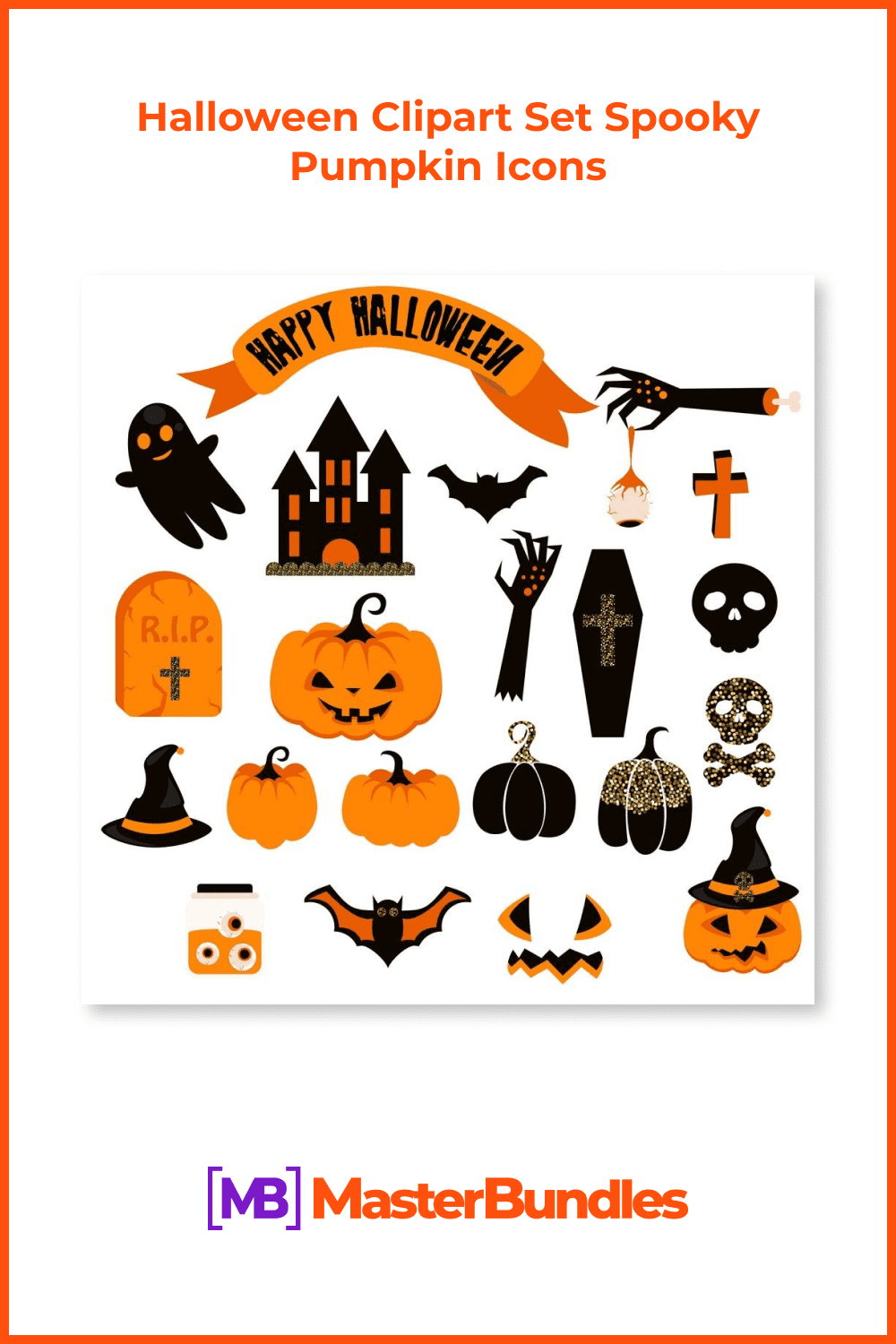 Price: free
A free collection of classic Halloween icons for all occasions, so make sure to download it.
Halloween Clipart Bundle Set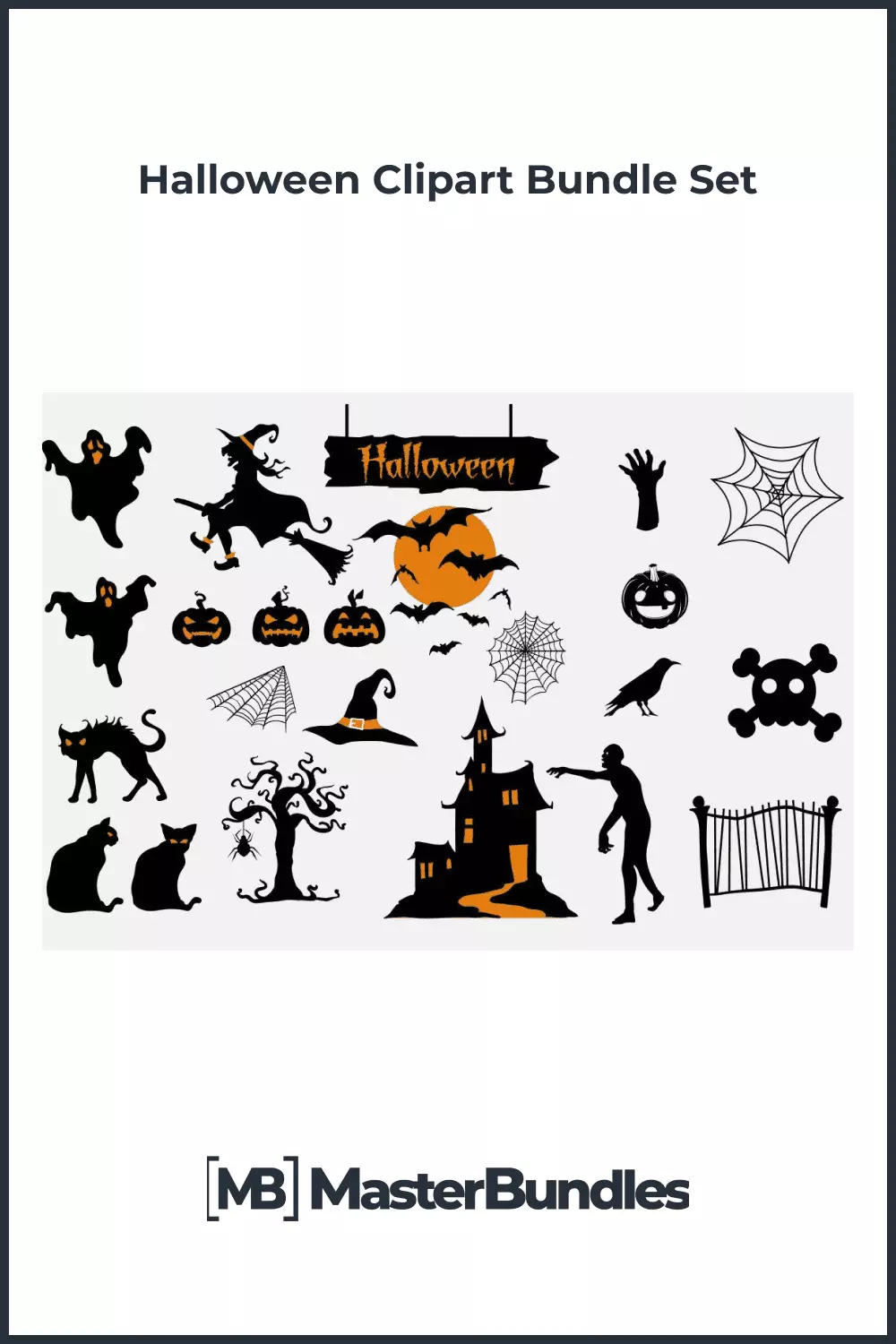 Price: free
Another multifunctional bundle that will stunningly work for multiple projects of yours.
Free Halloween Clipart Free Clipart Images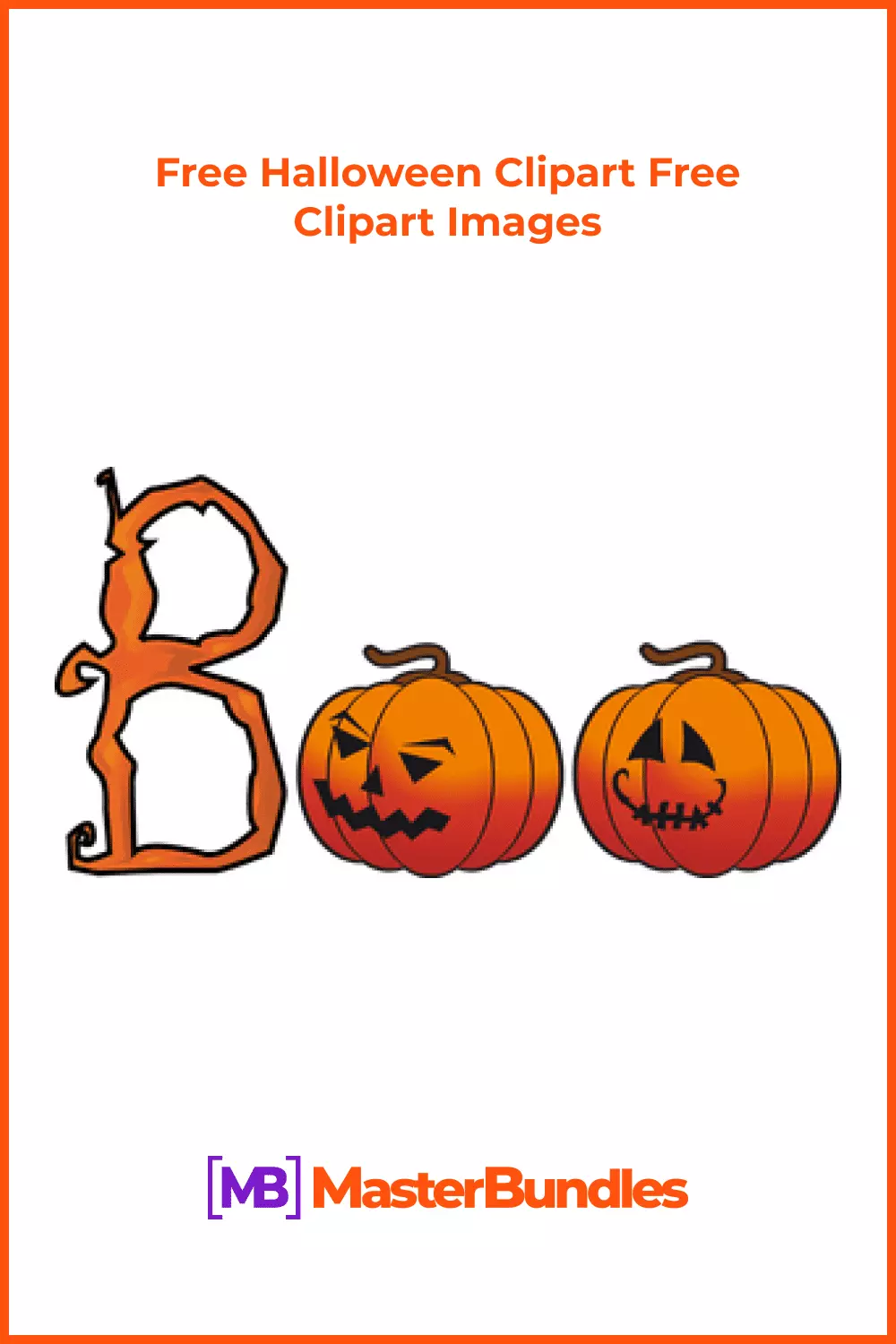 Price: free
A classic Halloween "boo" with a couple of spooky Jack-o'-lanterns is surely among the cliparts you want to have in your collection.
Halloween Cliparts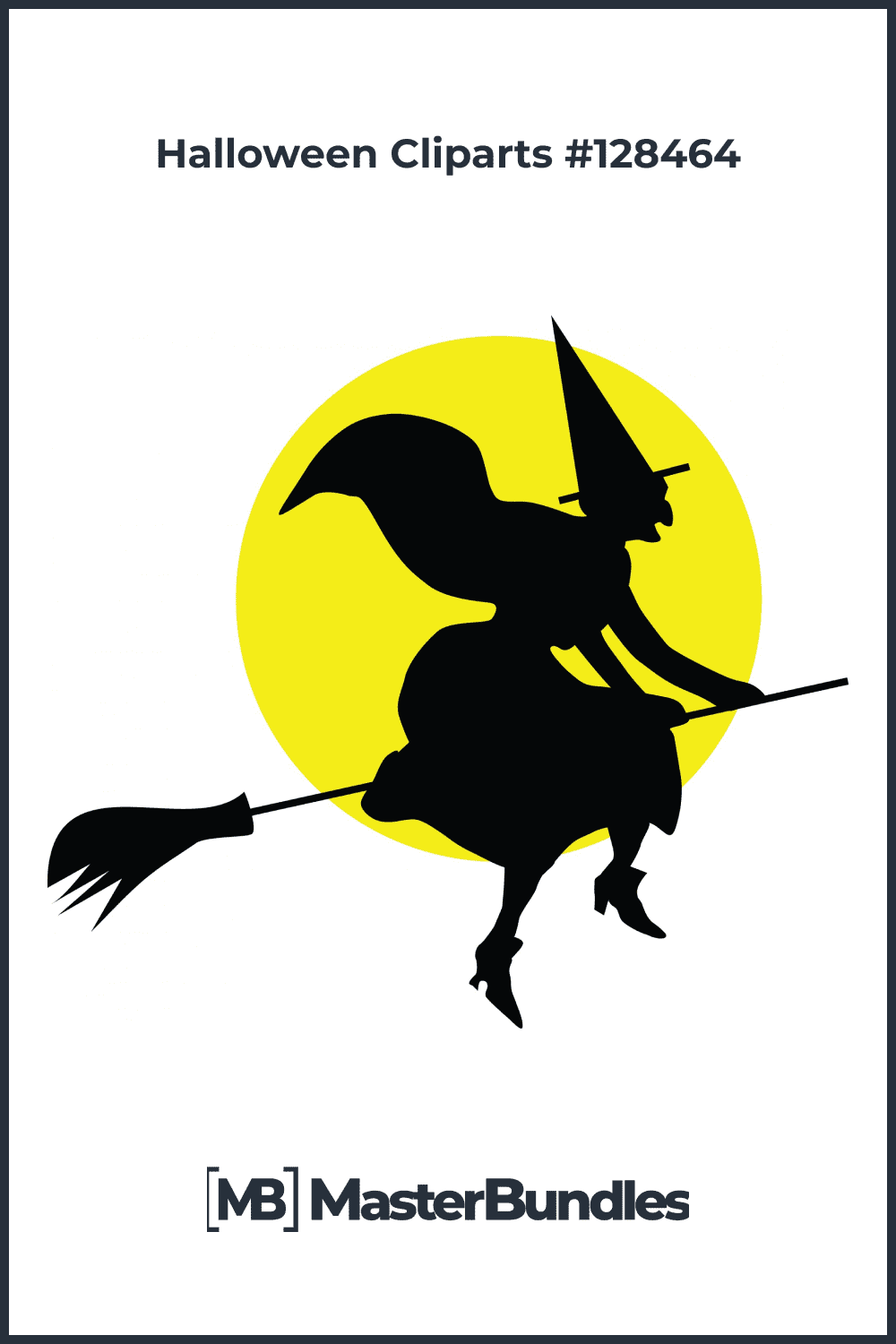 Price: free
What can be possibly more Halloween-ish than a witch on a broom? Well, do not hesitate and get it, it's totally free.
Halloween Cliparts #128456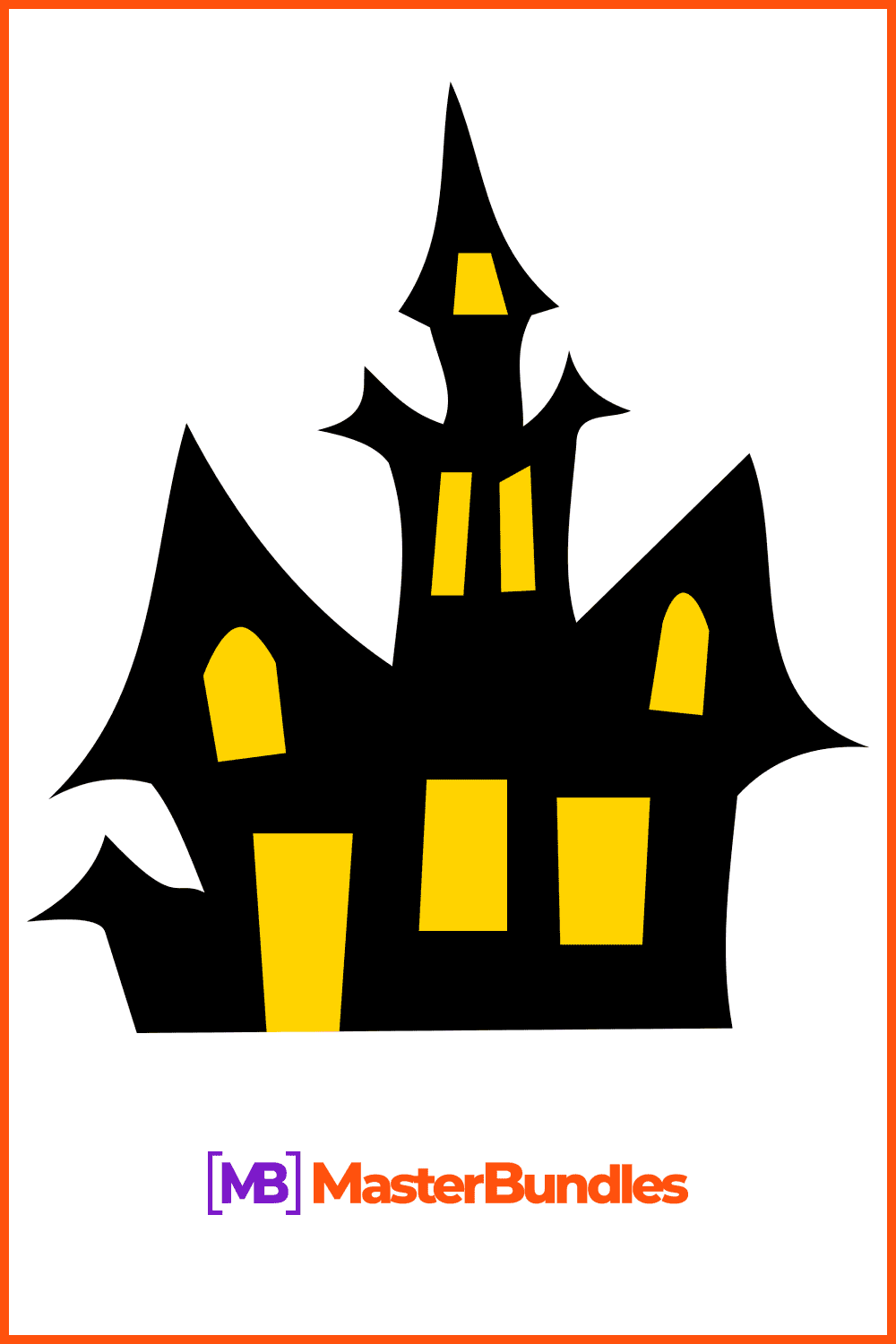 Price: free
A minimalist option for those of you who are looking for something simple and elegant.
Halloween Cliparts #128457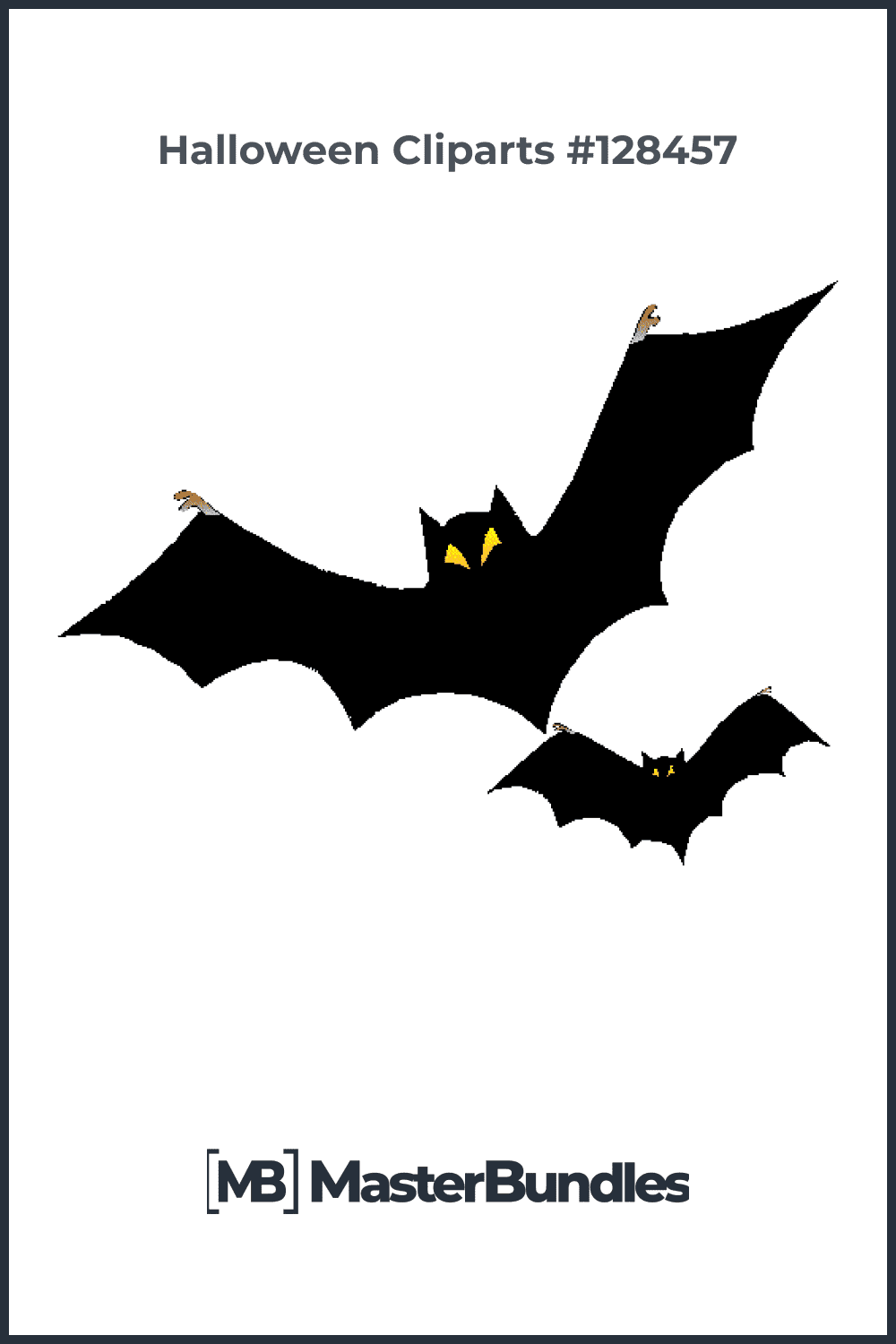 Price: free
Classic bats are among the items you will surely need, so take a closer look at these cuties.
Black Cat Behind Jack-O-Lantern Image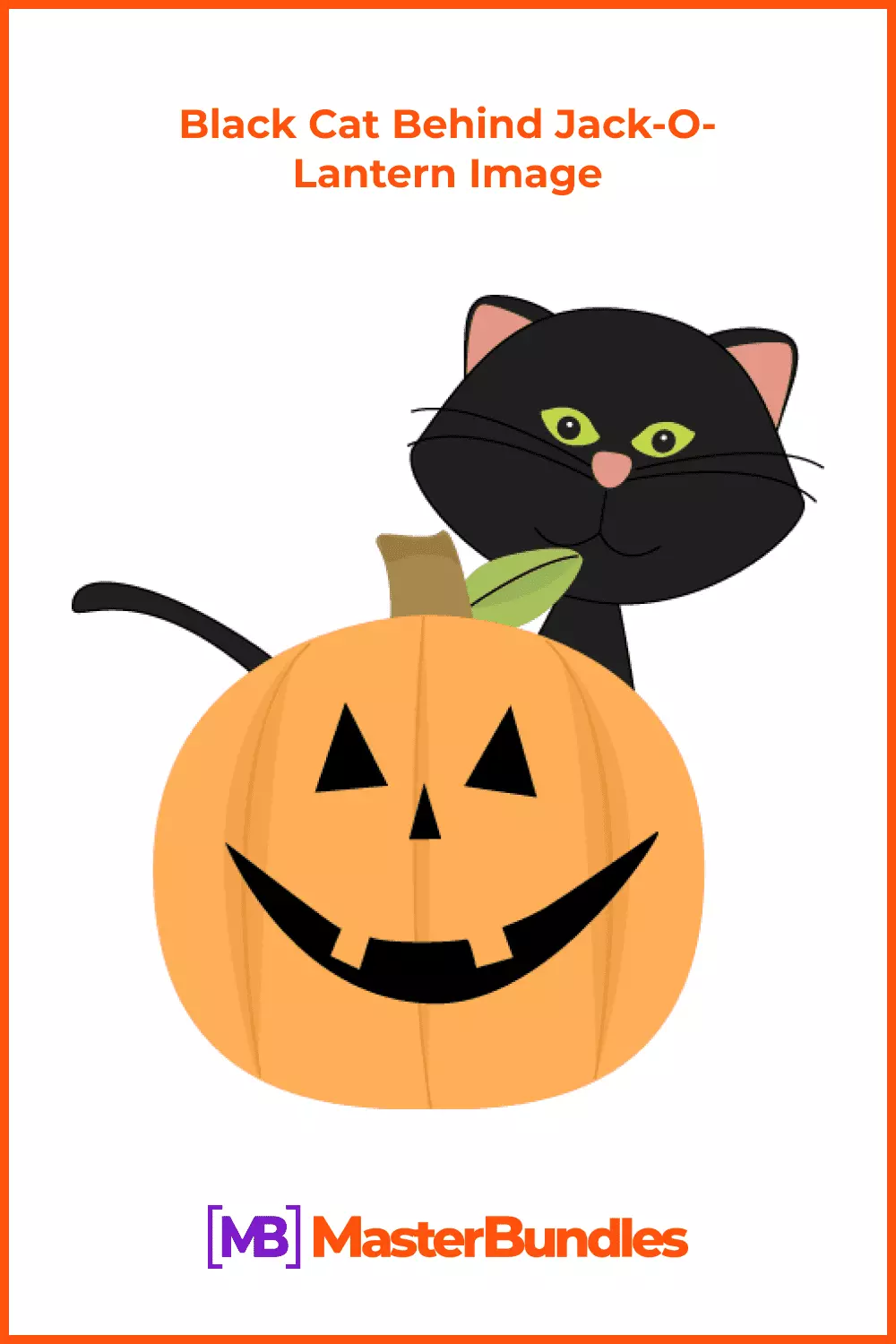 Price: free
What kind of Halloween is it without traditional black cats? So hurry up to download this lovely freebie.
Bats Flying Over Graveyard Clip Art Image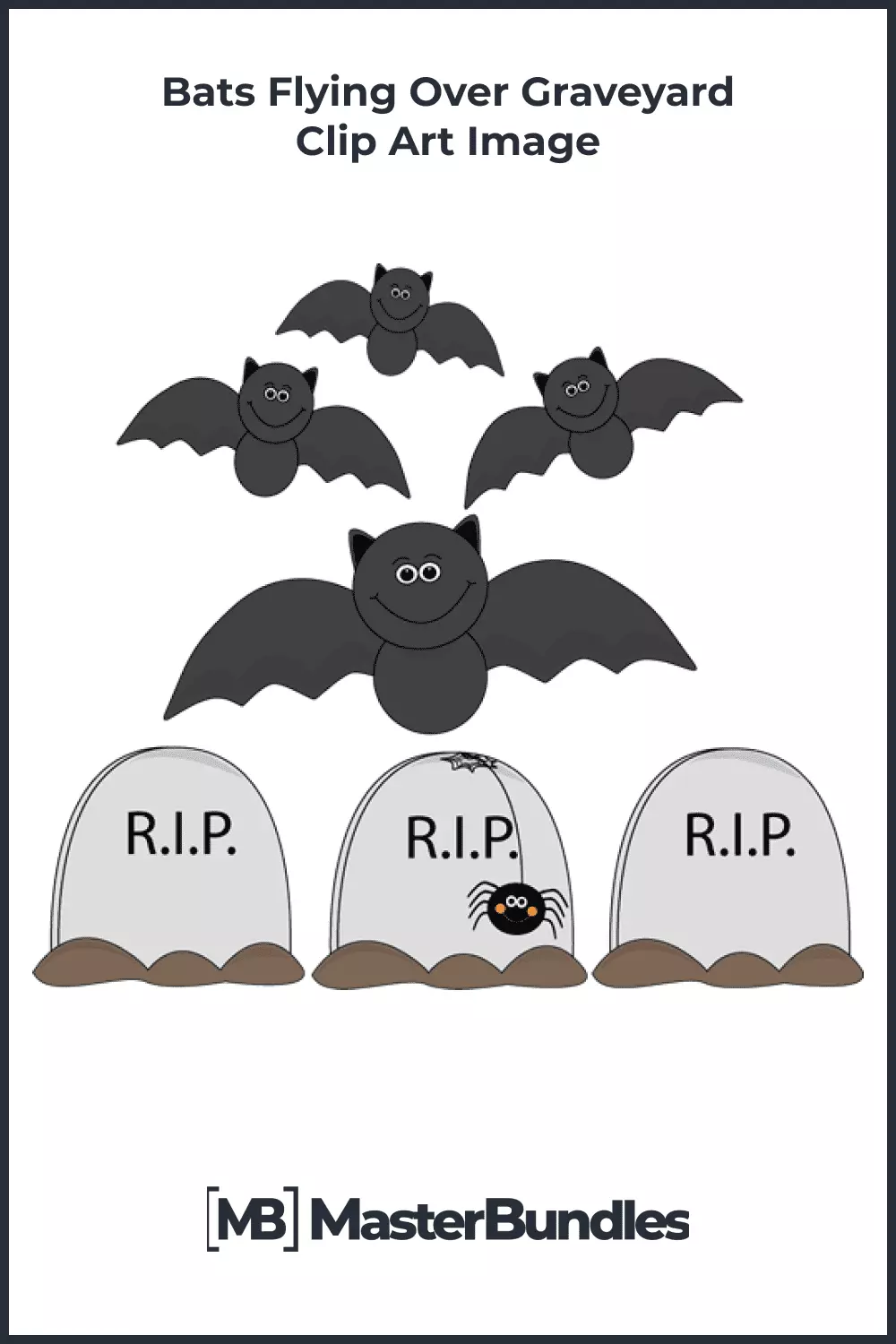 Price: free
Bats, tombstones, and spiders will help you create a perfect festive atmosphere.
Best Ideas for Halloween
Want to throw a memorable Halloween 2021 party? We've picked up the best ideas for Halloween. Posters to decorate the room, design invitations, and greeting cards to celebrate the scariest night of the year in all its glory.
Print Out an Atmospheric Poster
The first thing you need to do for Halloween is to decorate your walls beautifully, in this case, horribly beautifully. Choose posters from the collection below: from creepy zombies, elegant witches to cute cats and pumpkins.
Halloween Decoration Background Stock Photo Containing Halloween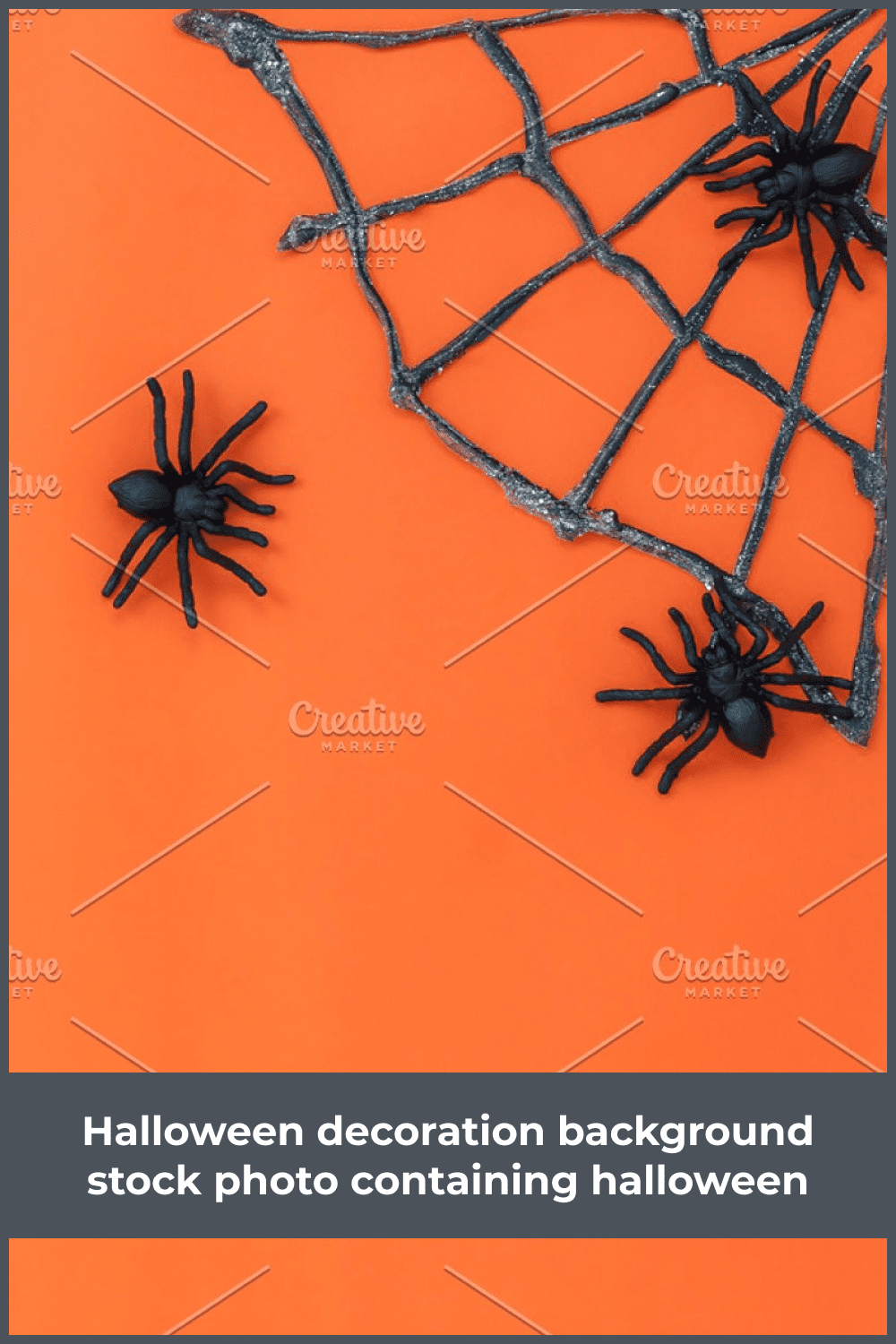 Price: $9
Monster Silhouette Shape at Window B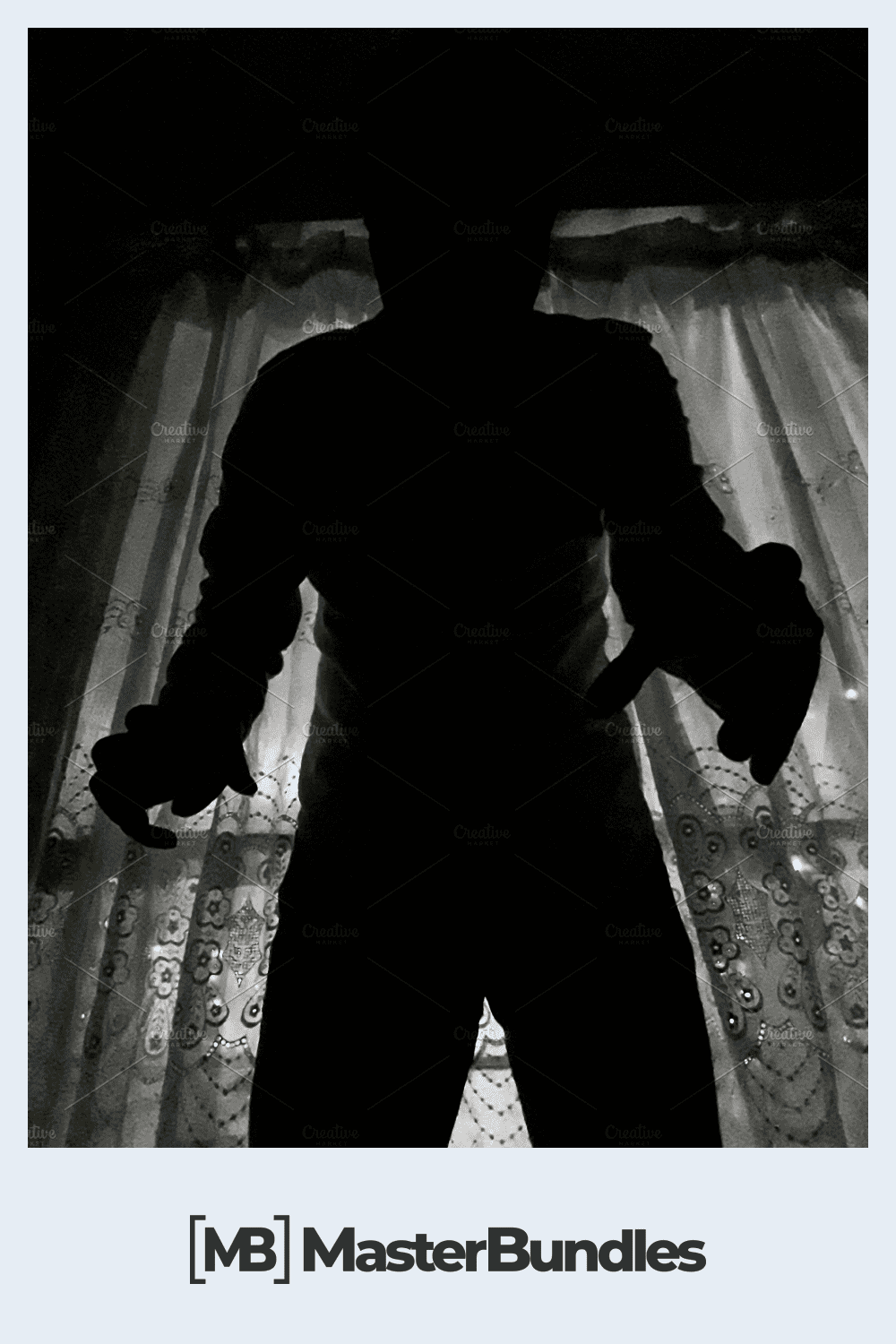 Price: $17
Halloween Horror Movie Concept Featuring Halloween, Film, and Movie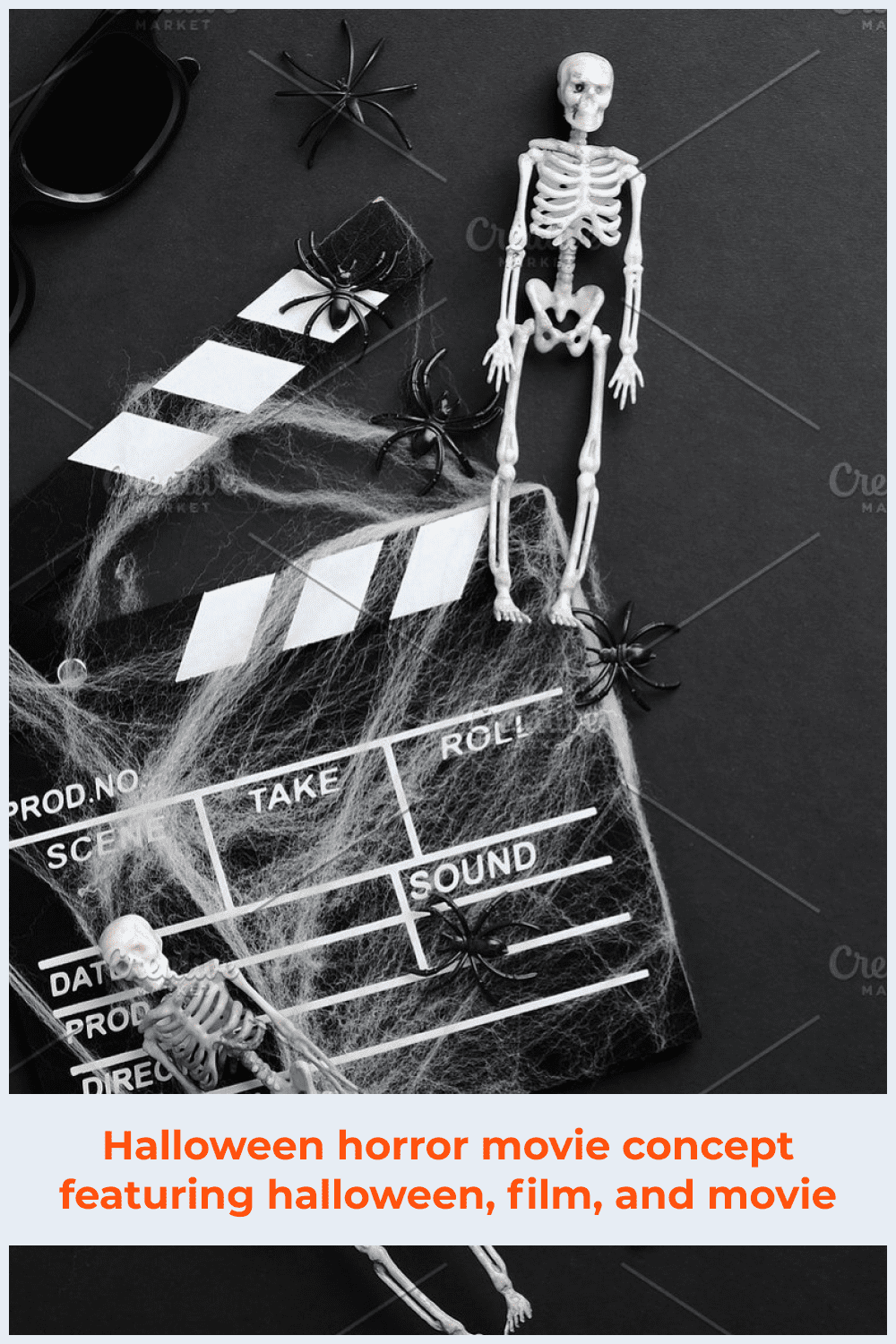 Price: $15
Watercolor Baby Werewolf on Halloween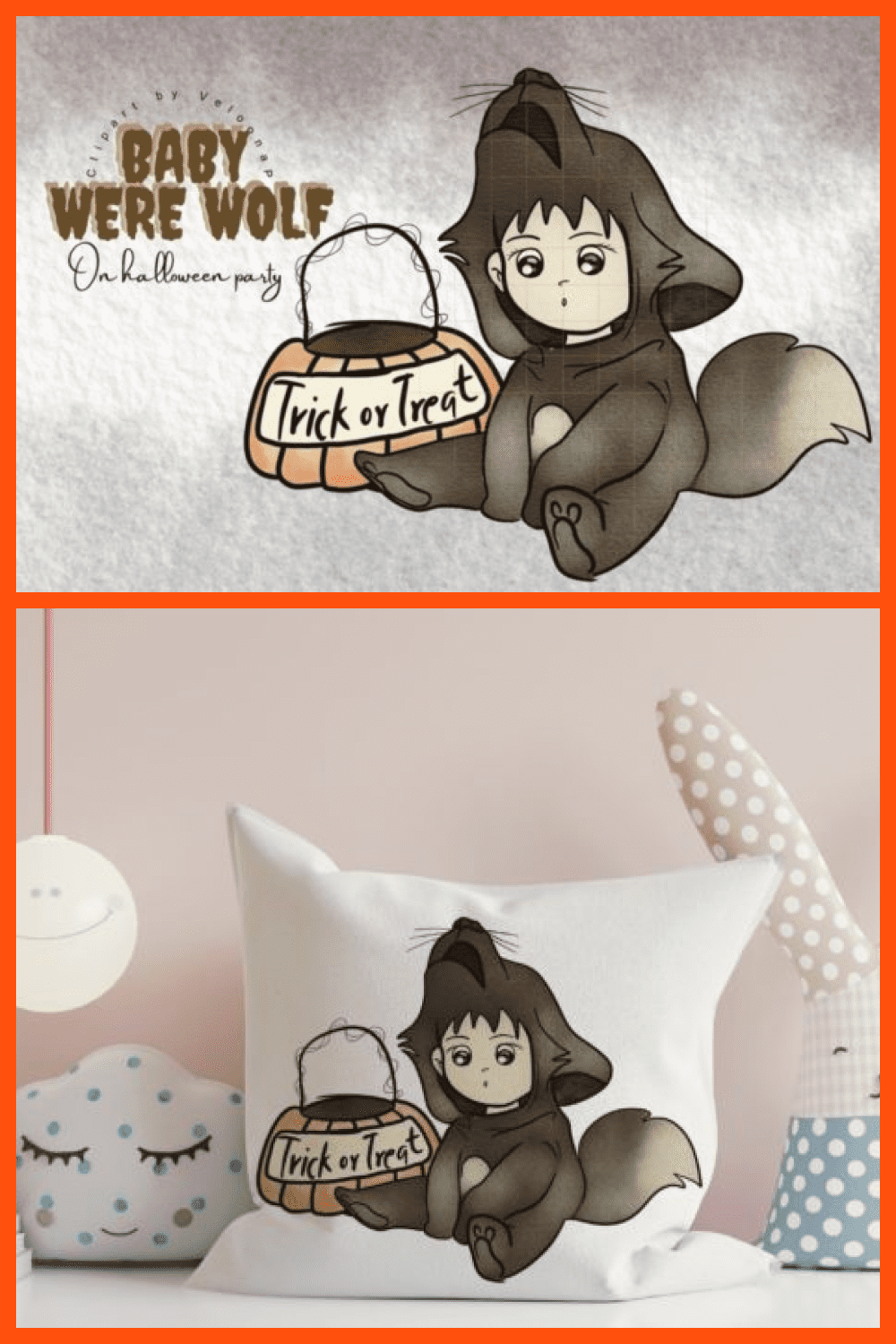 Price: $3.50
Watercolor Baby Witch on Halloween Party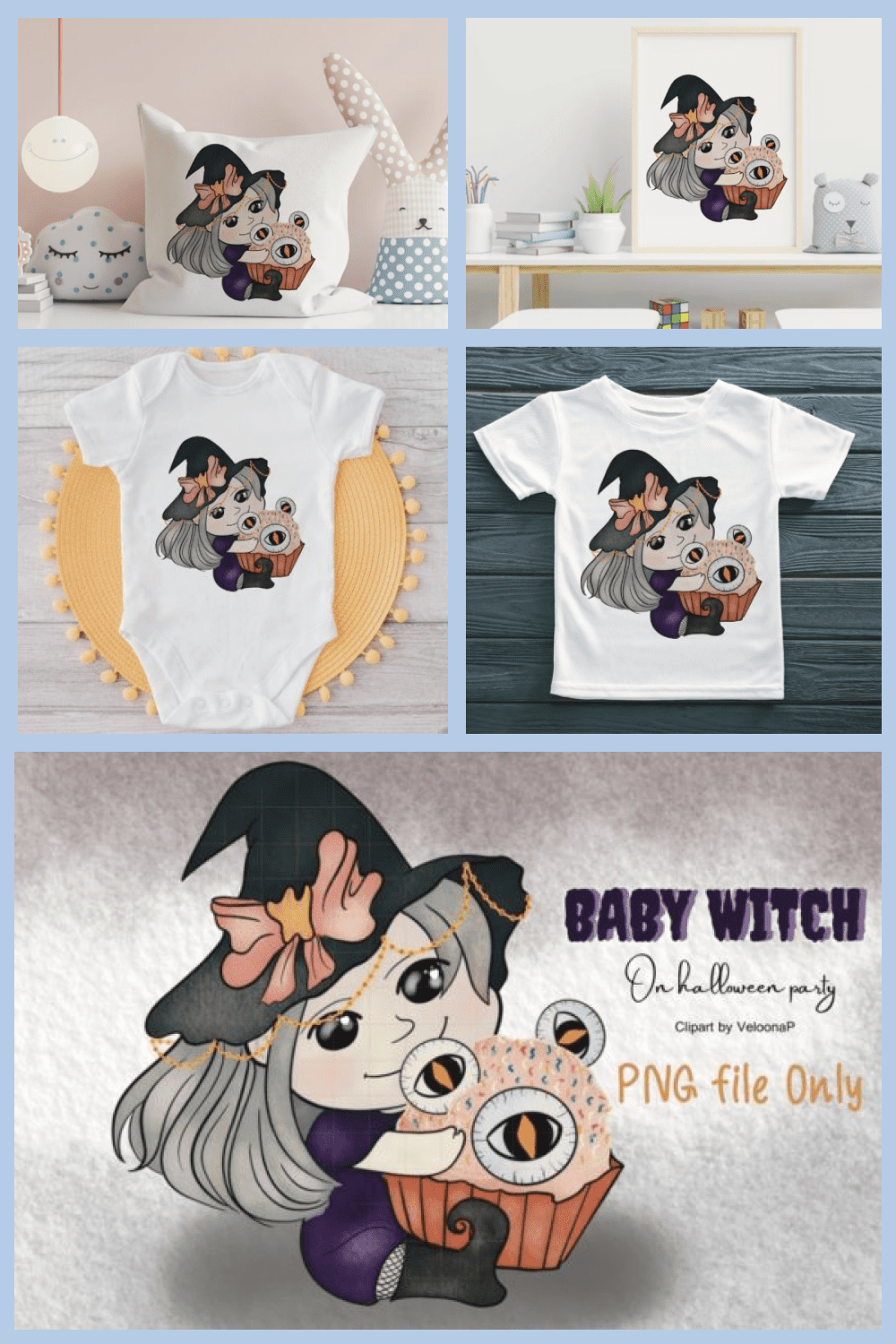 Price: $3.50
Halloween Carnival Cliparts Poster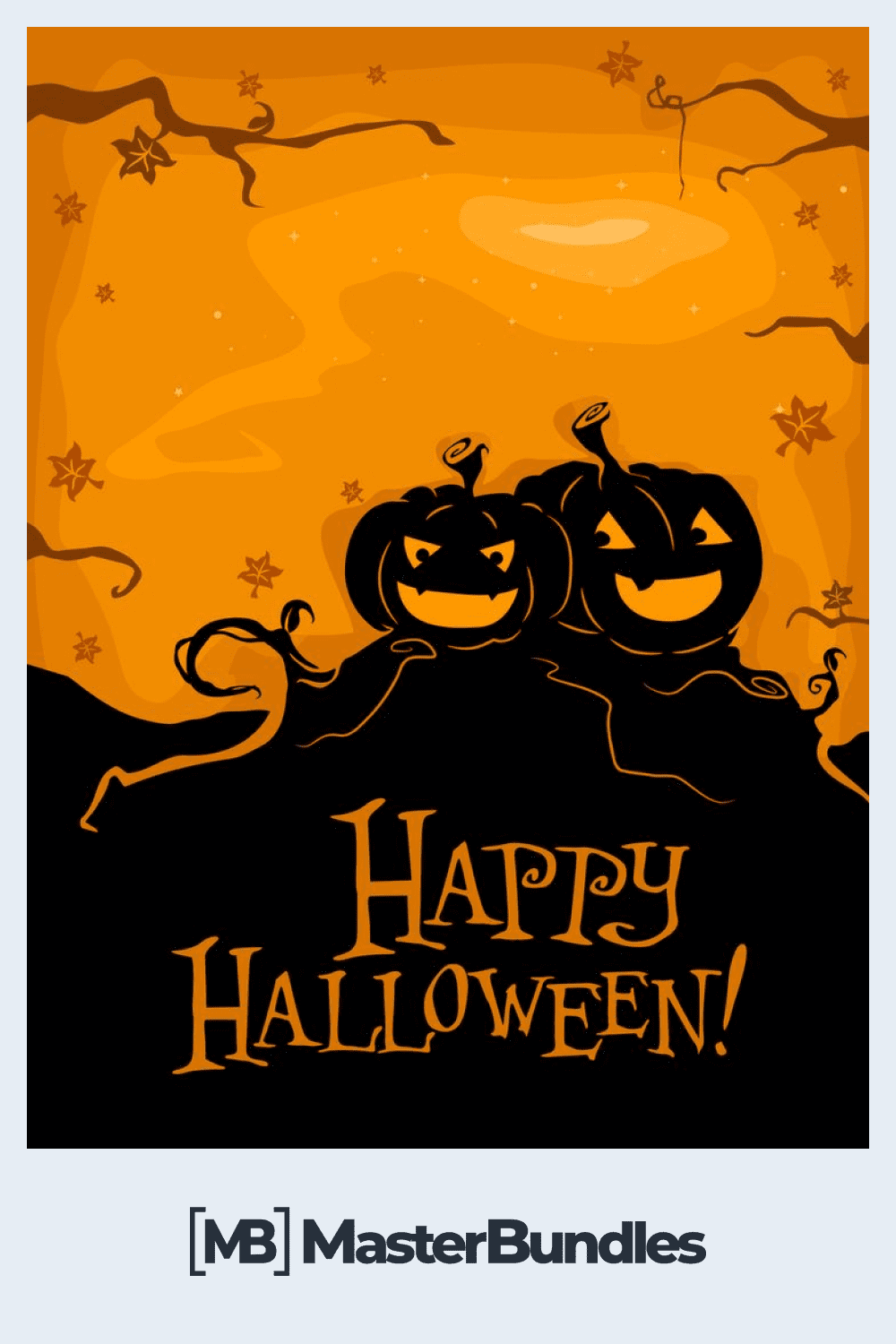 Price: Free
Don't Forget the Spiders
A Halloween party is impossible without spiders. These cliparts are perfect for decorating anything you want inside and outside your house.
Spiders Silhouettes, Seamless Wallpaper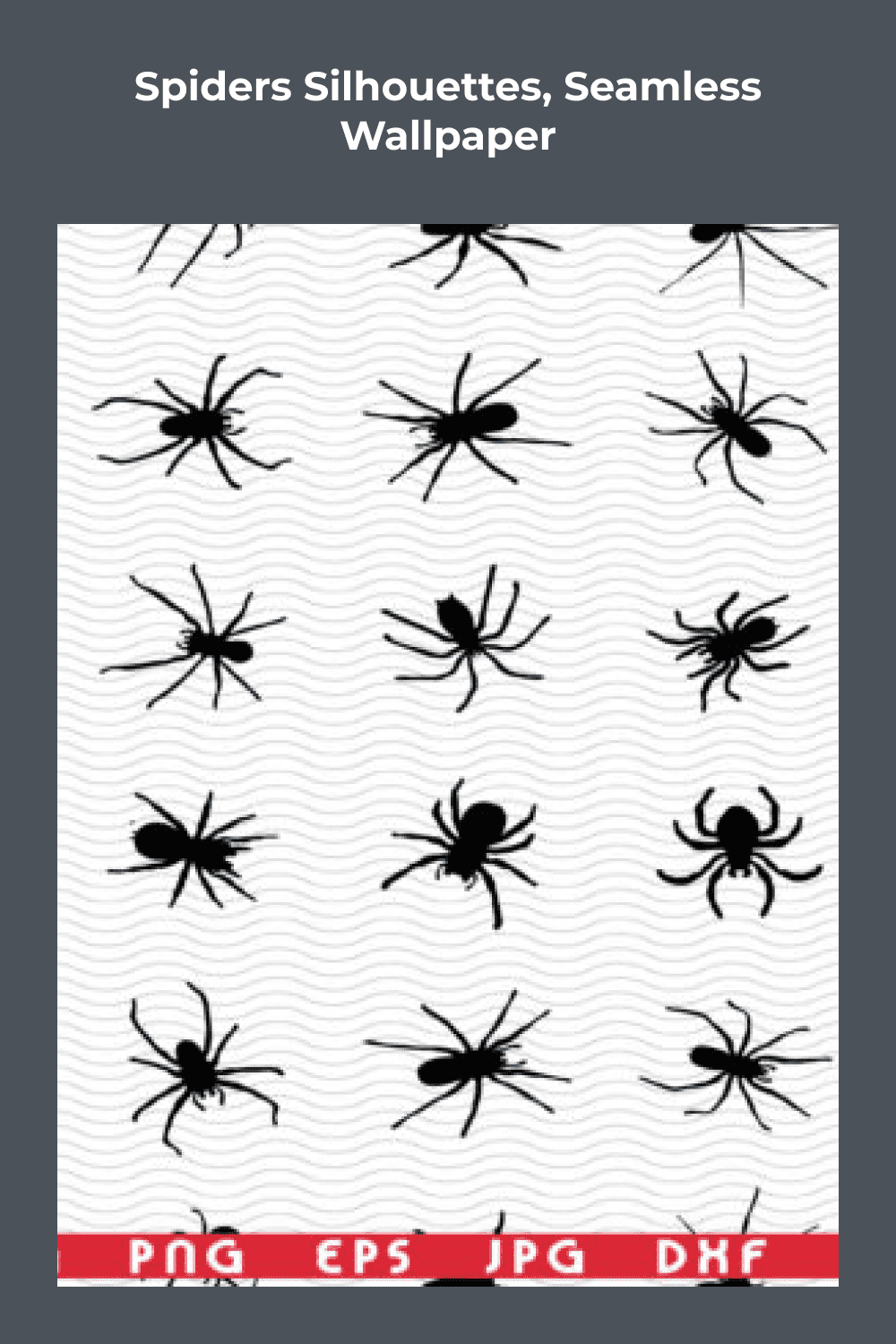 Price: $3
Spiders Frame Circle Clipart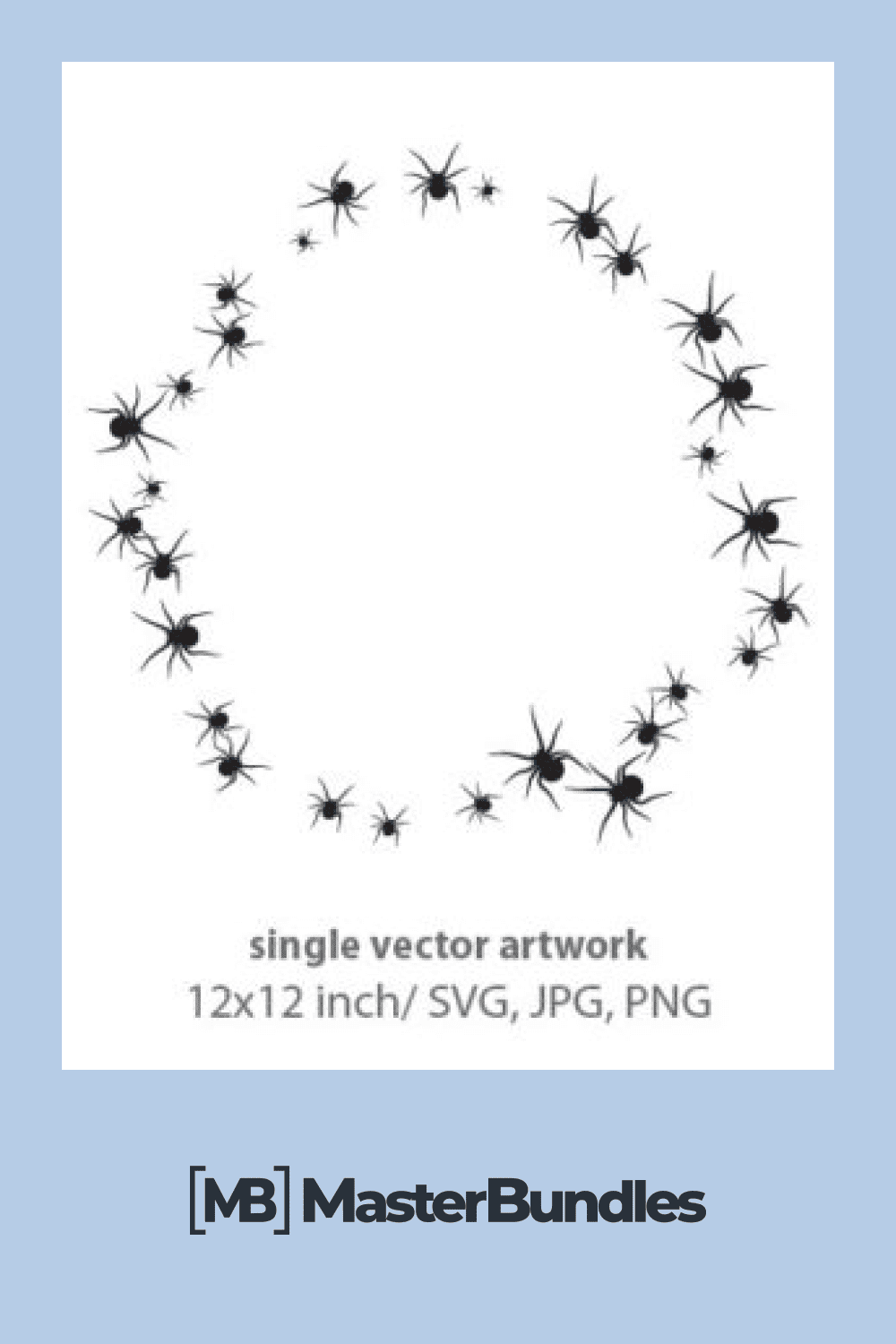 Price: $2
Halloween Badges & Symbols Pack. Vol 3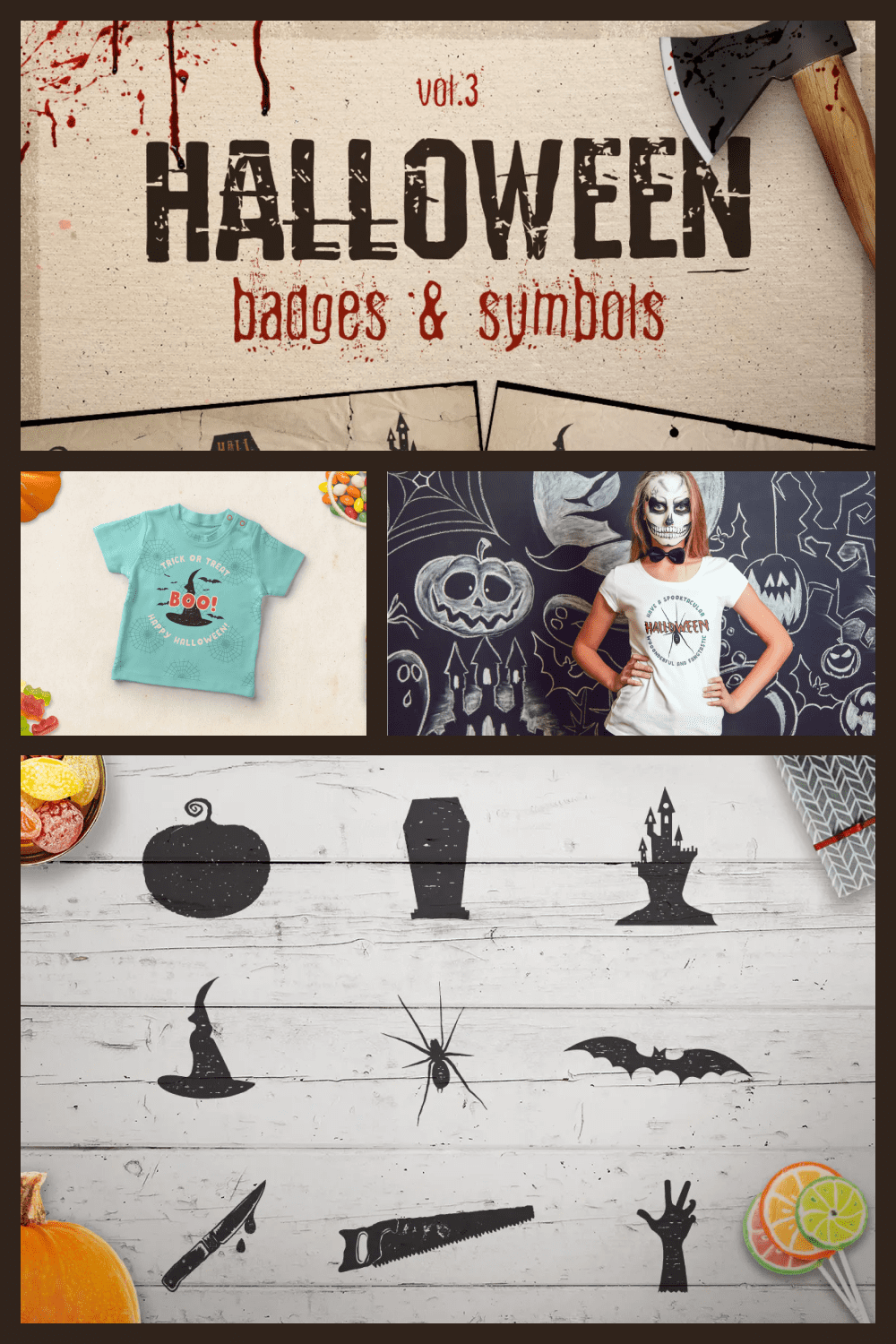 Price: available with EnvatoElements subscription
Halloween Scary Doodle Clipart Pack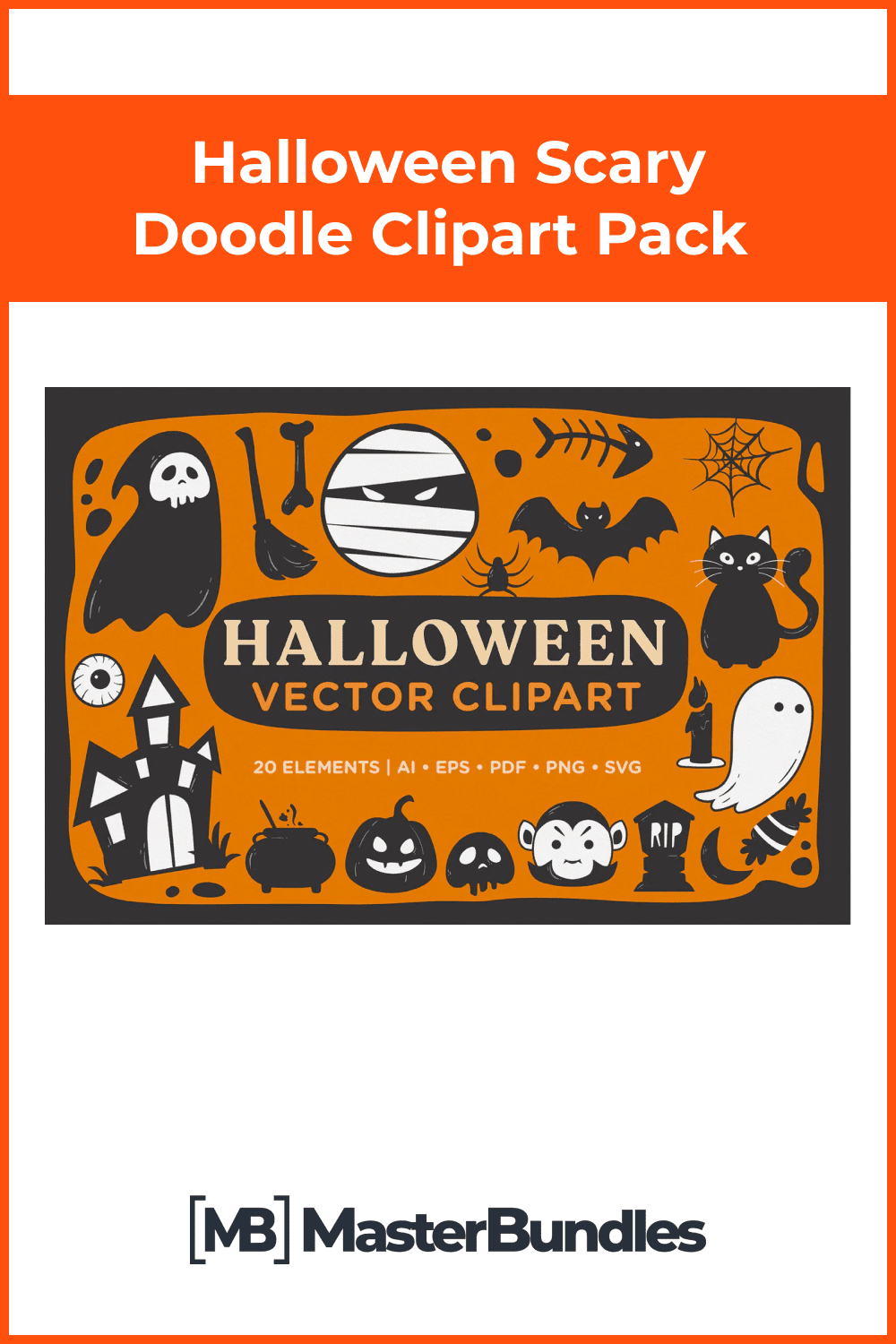 Price: available with EnvatoElements subscription
Halloween Clipart Set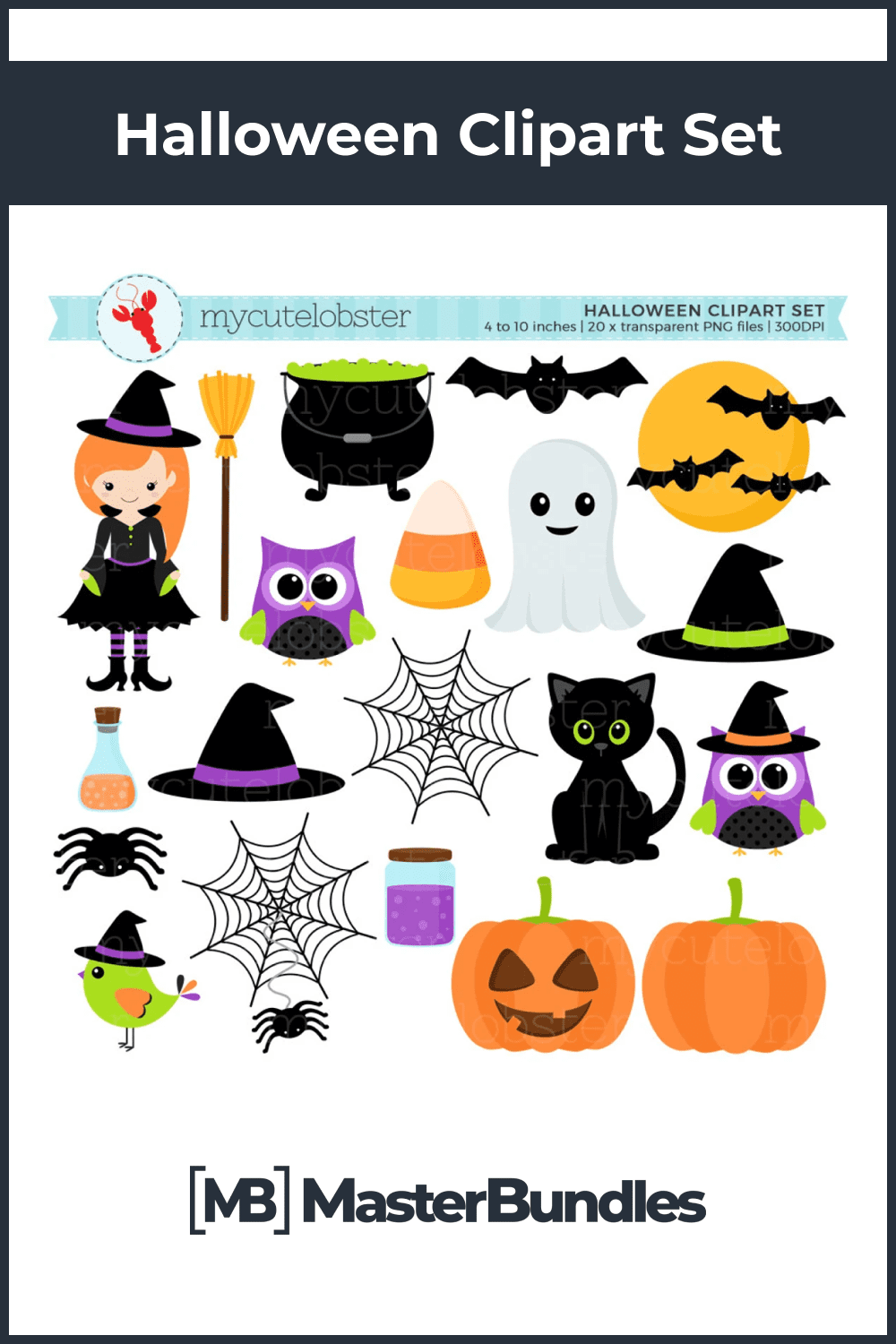 Price: $1.20
Halloween-cobwebs-cliparts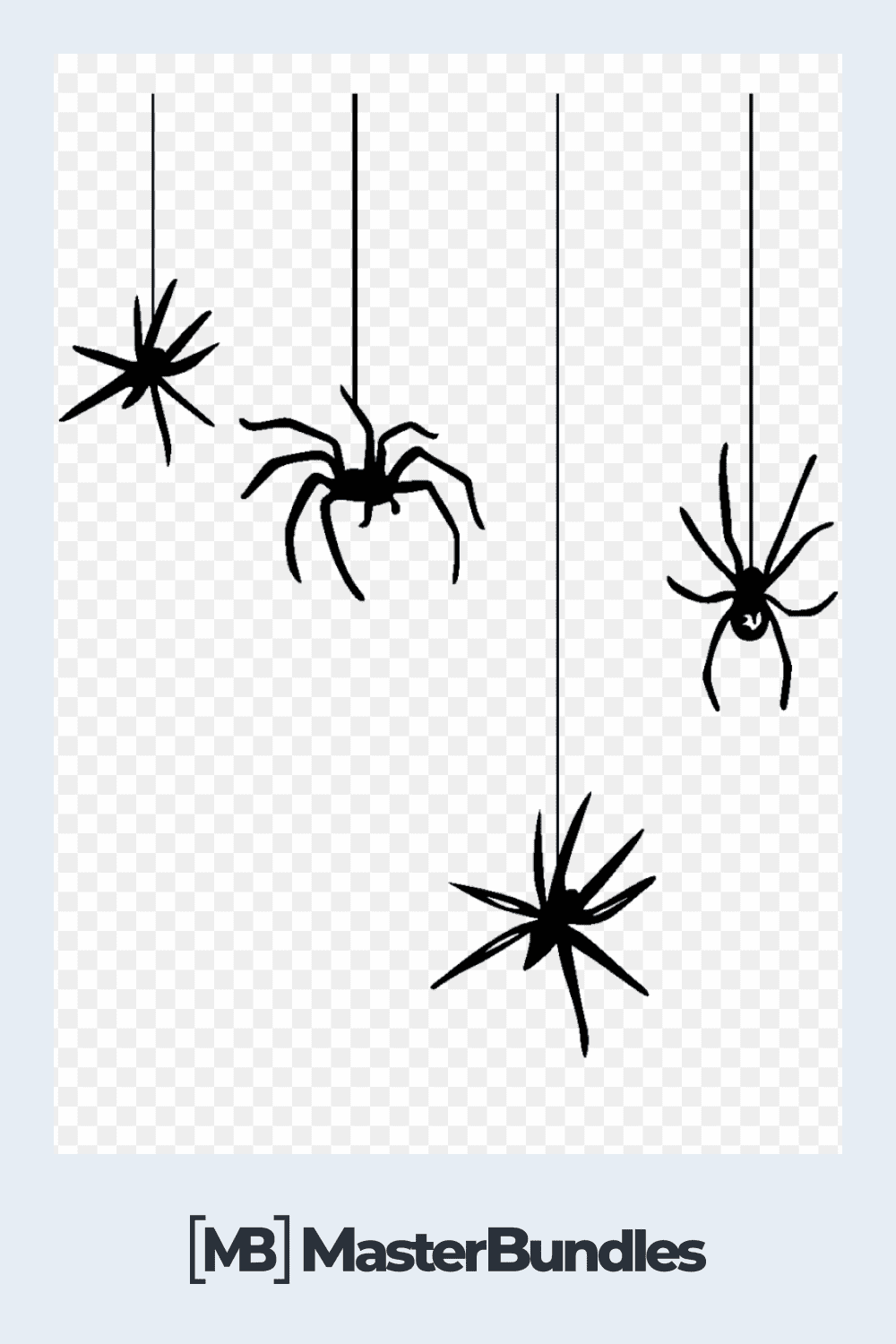 Price: Free
Invite your Favorite Neighbors/Colleagues for Cocktails
This will bring a little drop of decadence for your guests on Halloween night. You can not only use these cards to invite your neighbors, but also post it at work or university.
Modern Web Halloween Party Invitation | Printable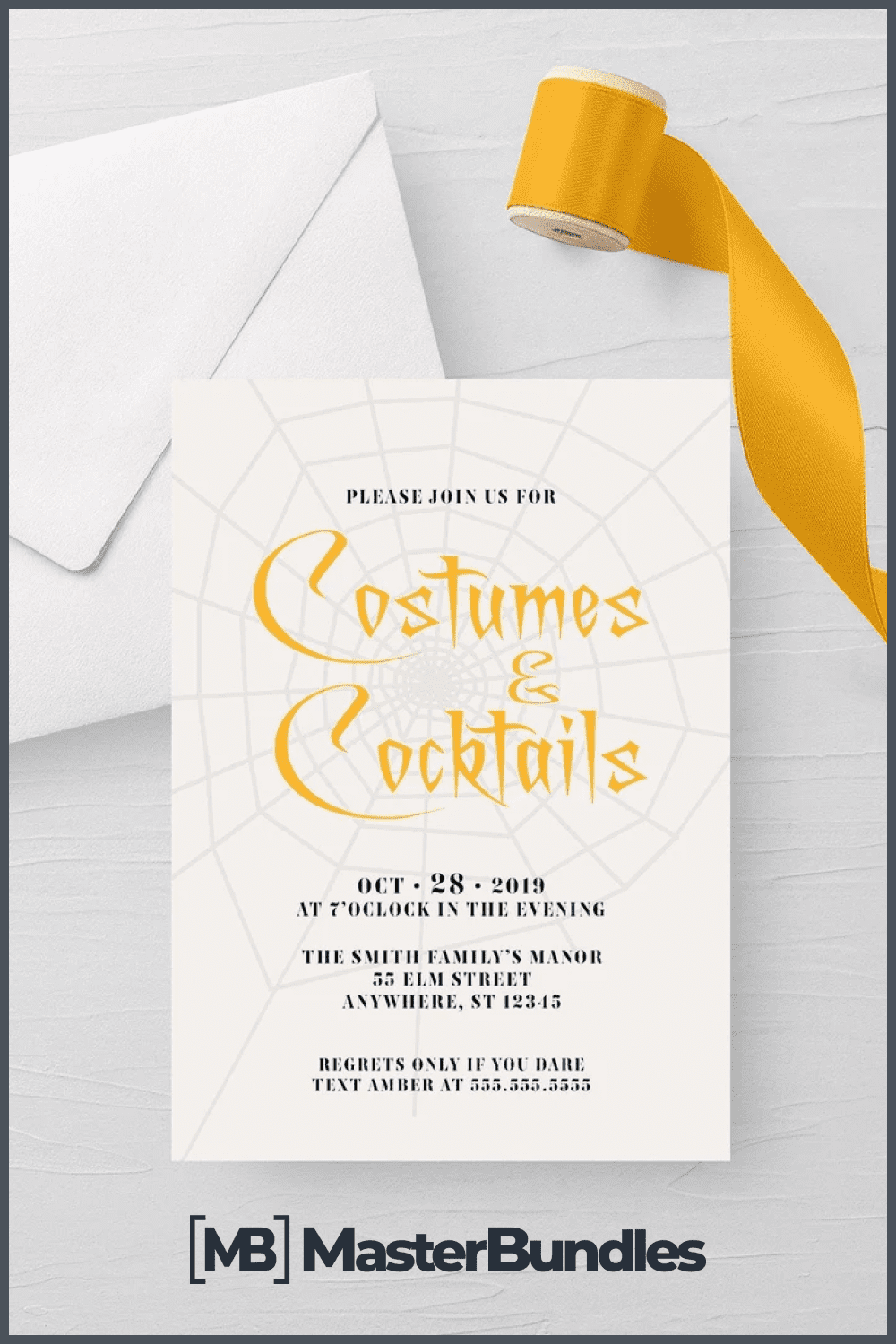 Price: $35
Vintage Skull Halloween Party Invitation Template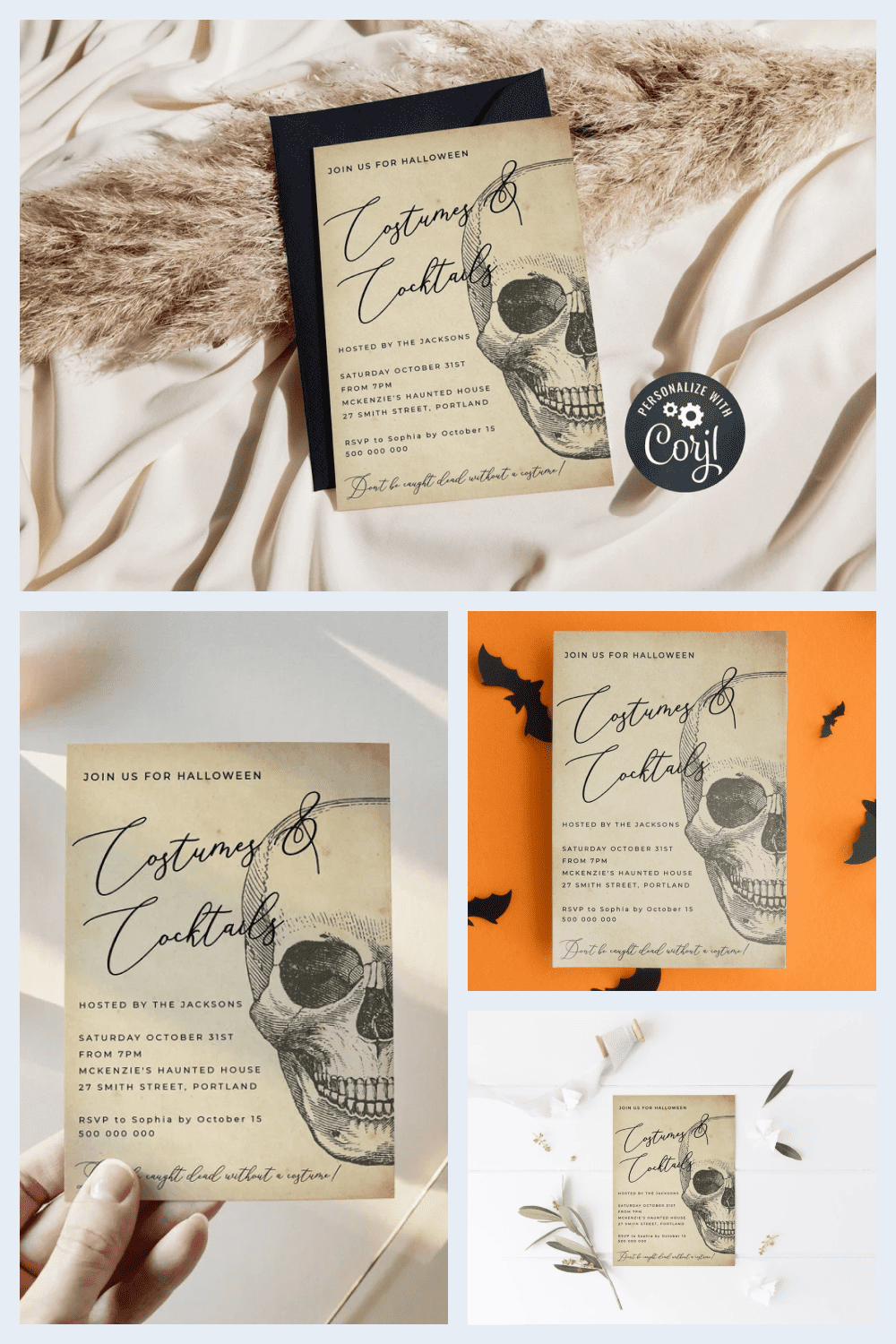 Price: $7.86
Retro Halloween Party Flyer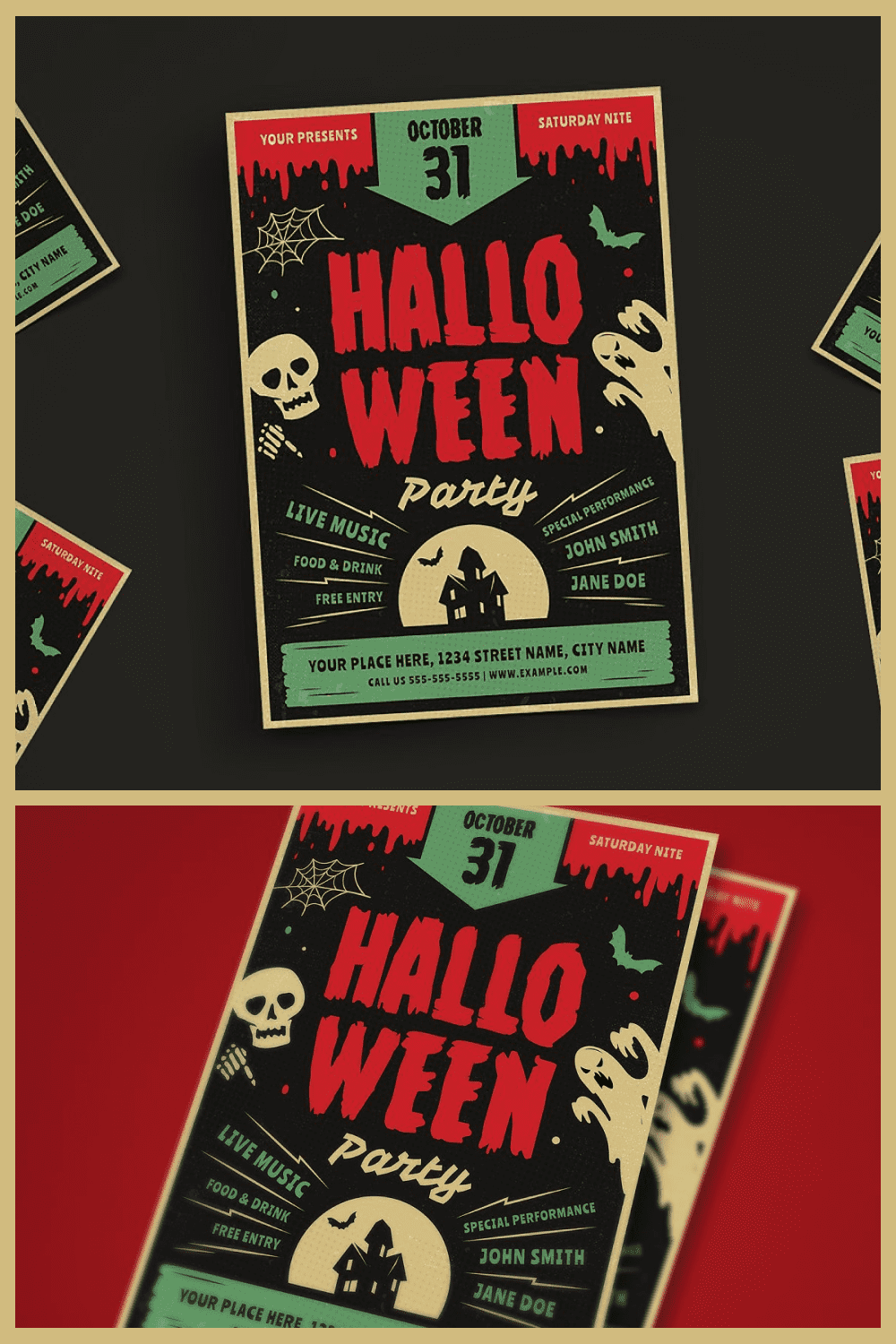 Price: $14
21-Halloween Party Flyers Bundle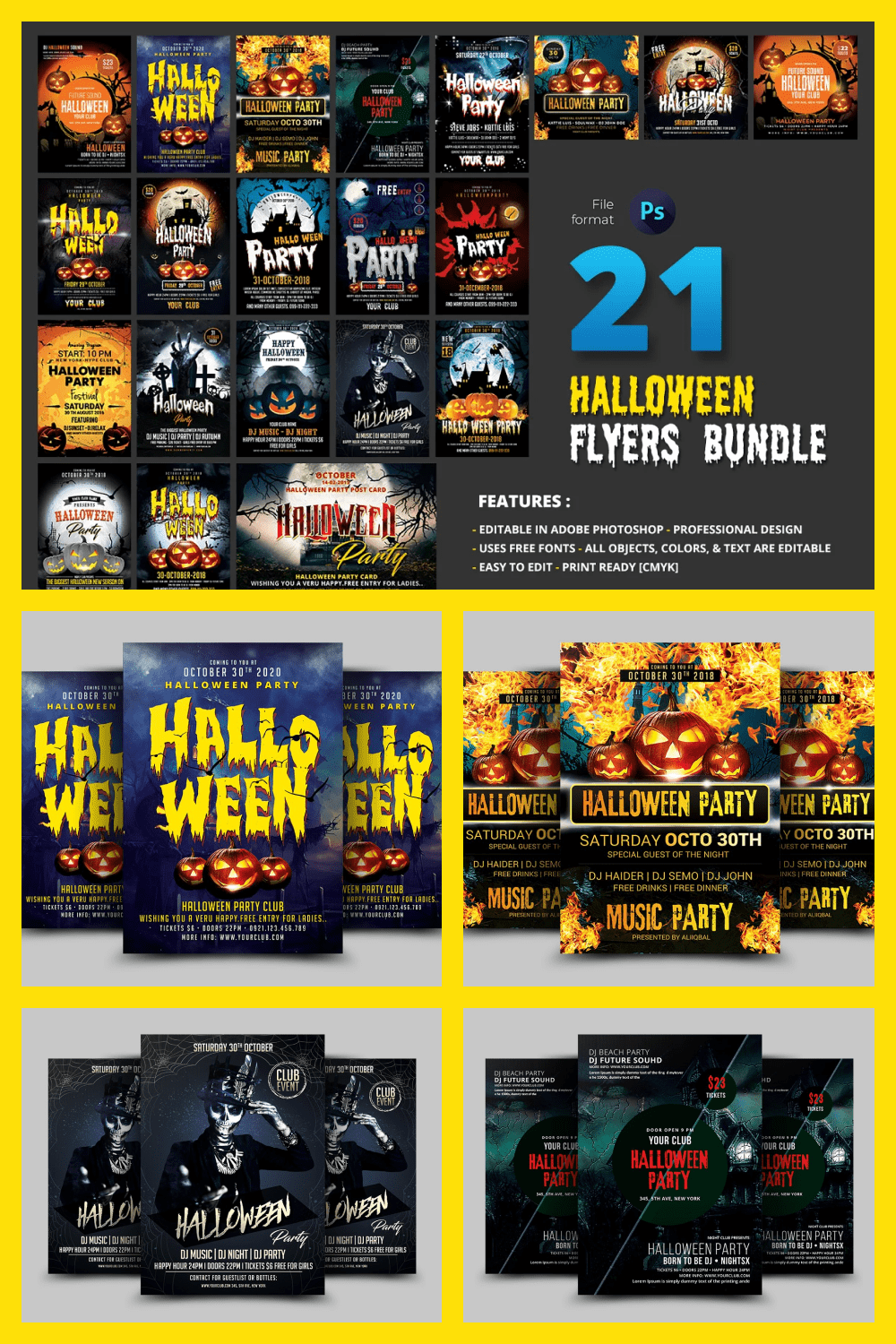 Price: $29
Halloween Costume Party Invitation Flyer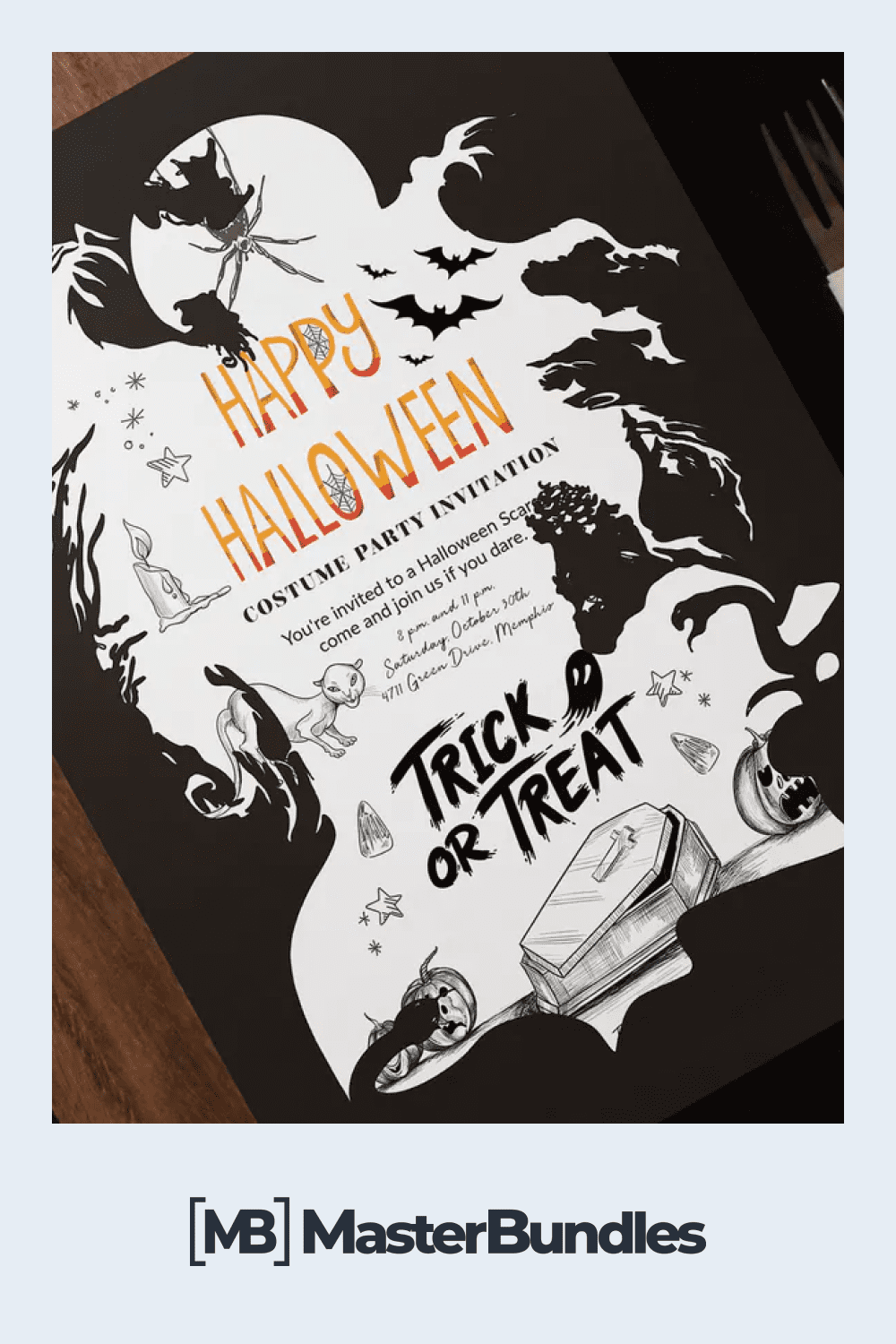 Price: available with EnvatoElements subscription
Halloween Invitation Cliparts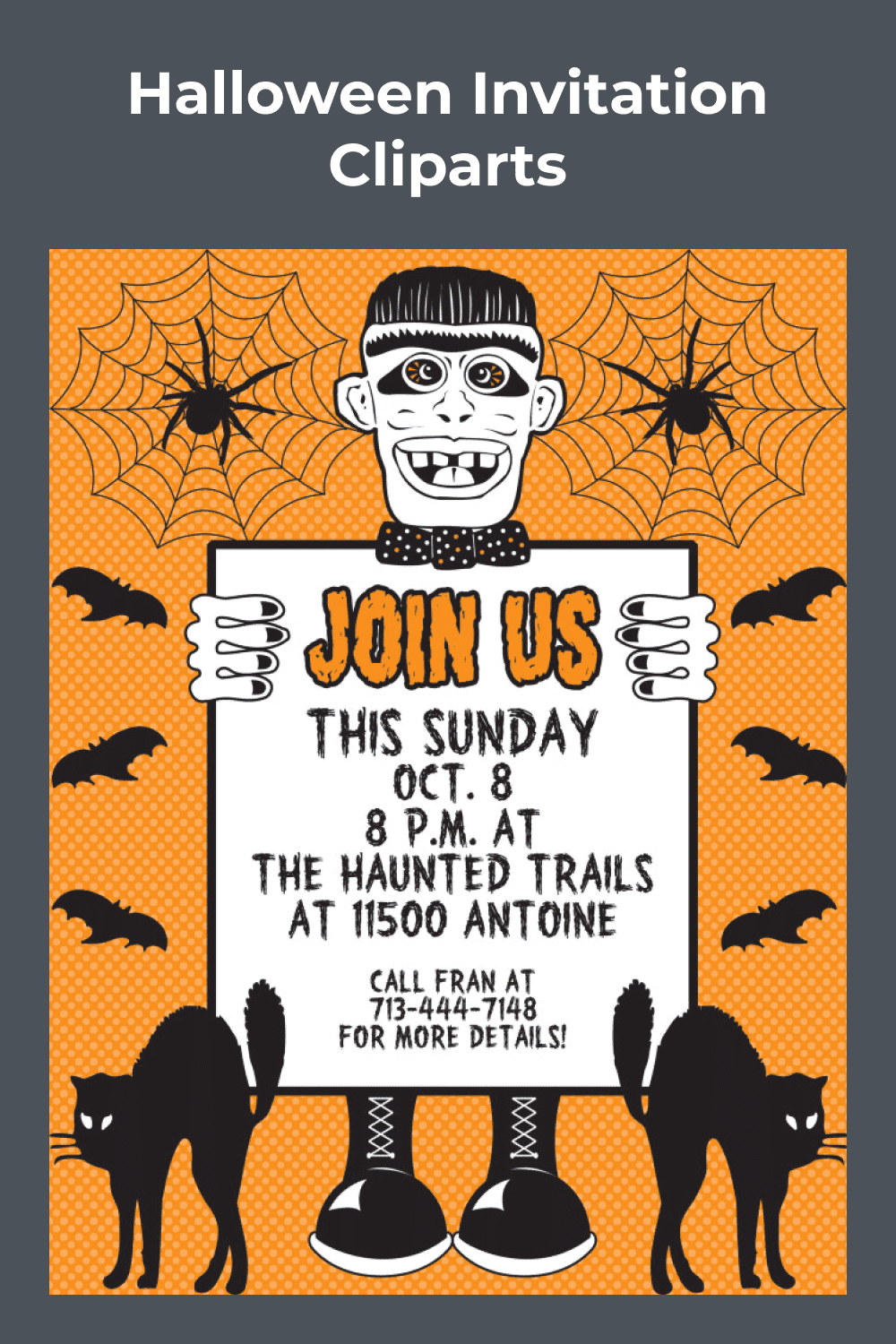 Price: Free
Early 1900s Halloween Postcard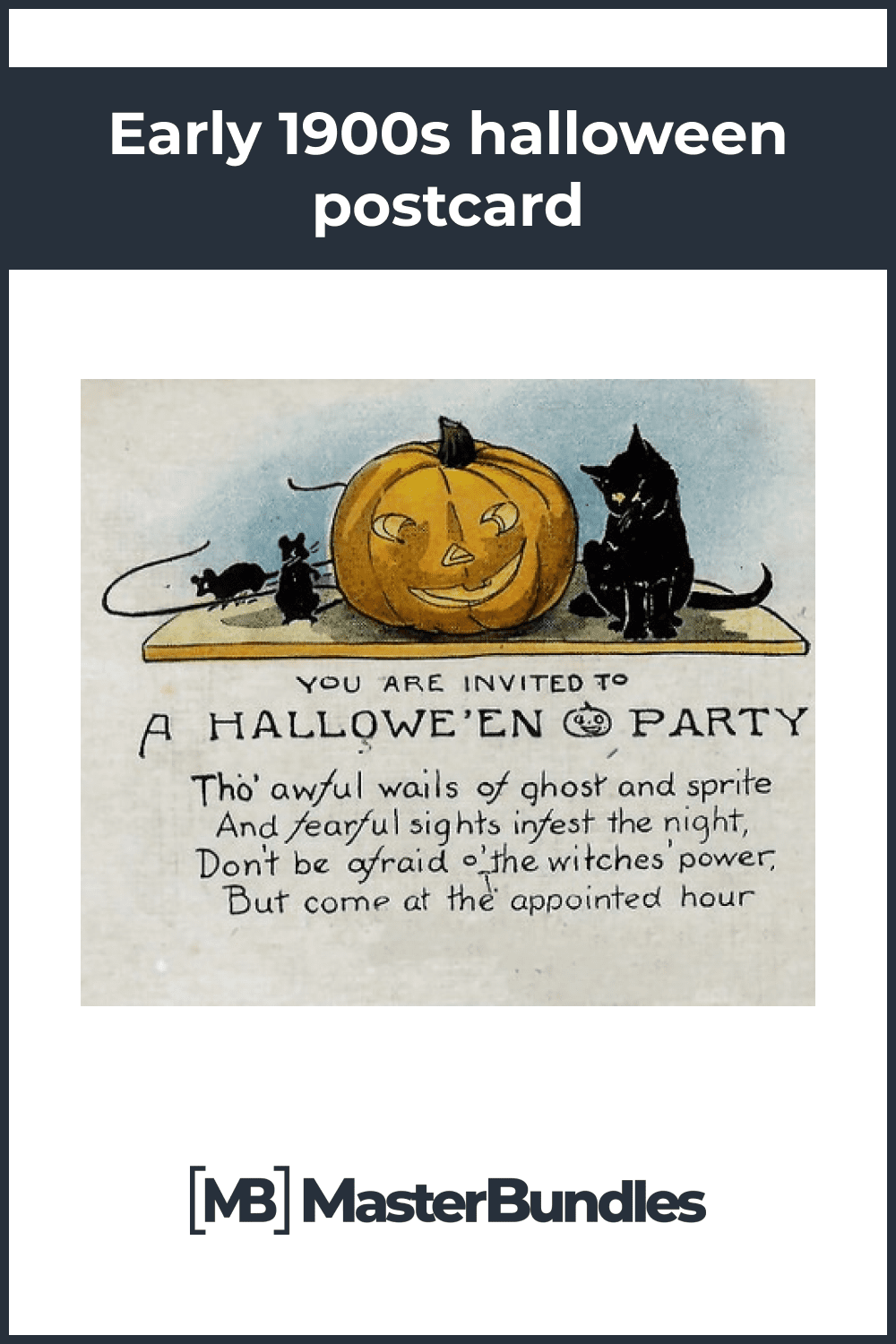 Price: Free
Make Paper Garlands in the Shape of Pumpkins, Ghosts, and Bats
Generally, you can order the garlands on AlieXpress, but it's better to make them yourself and not wait for a long delivery. All you need are just thick paper, rope, patterns, and scissors. You can easily download one of these awesome patterns of pumpkins, ghosts, bats, etc. and make your own beautiful festive garland.
Vintage Halloween Clipart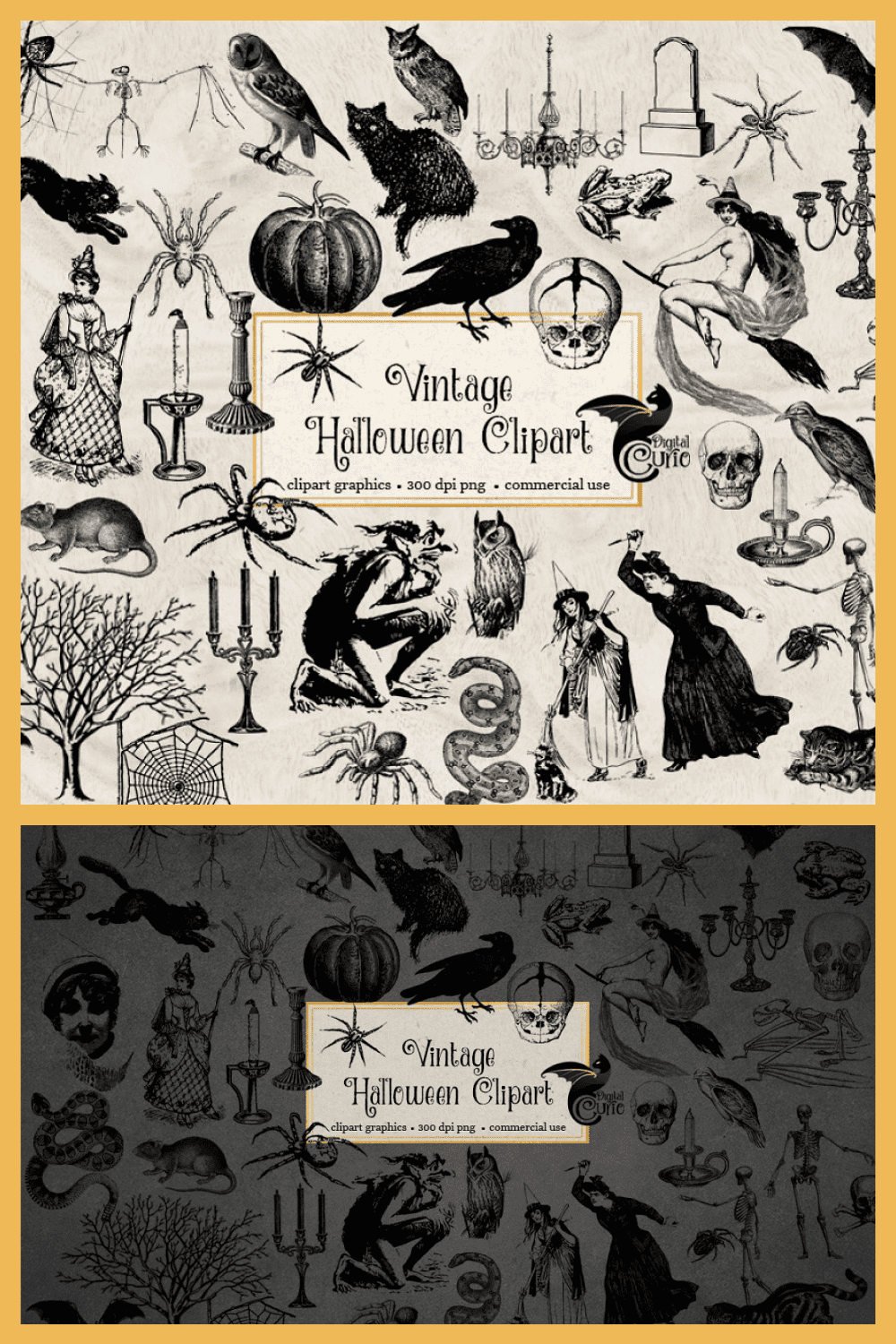 Price: $9
Halloween. Jack-o'-lantern. Pumpkins. Watercolor Hand-painted Clip Art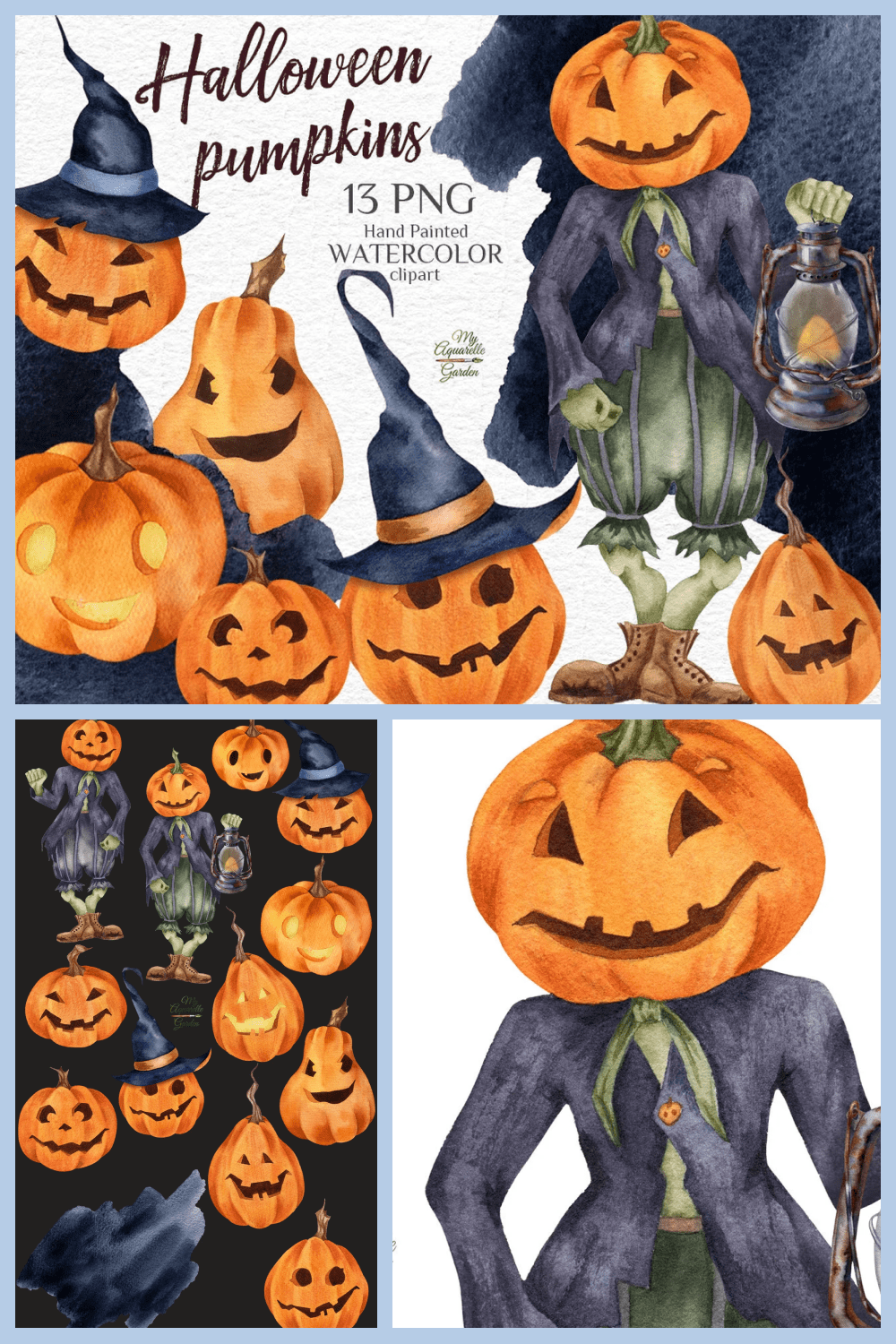 Price: $5.50
Bats Silhouettes Set Stock Illustration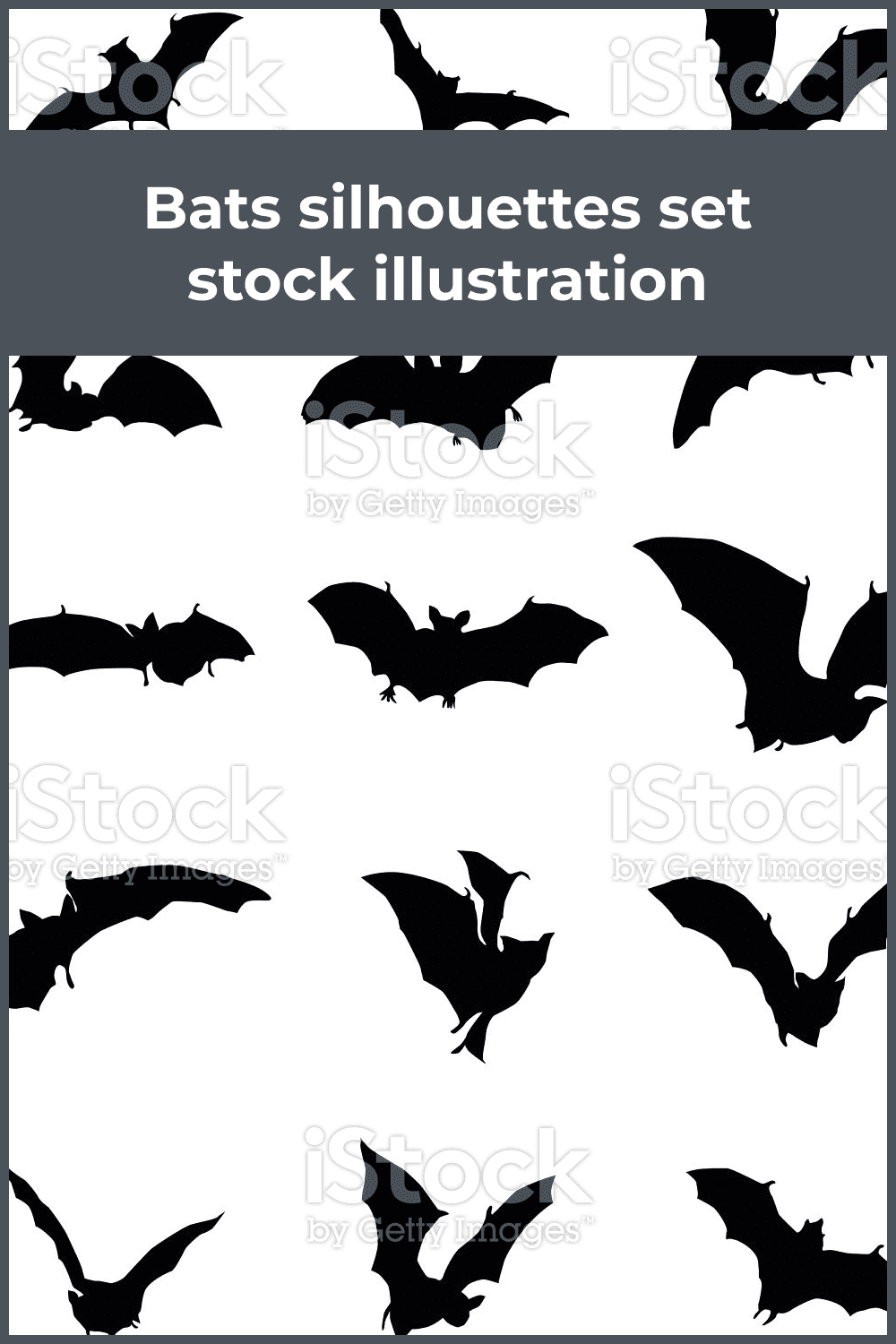 Price: available with iStock subscription
Halloween Linocut Clipart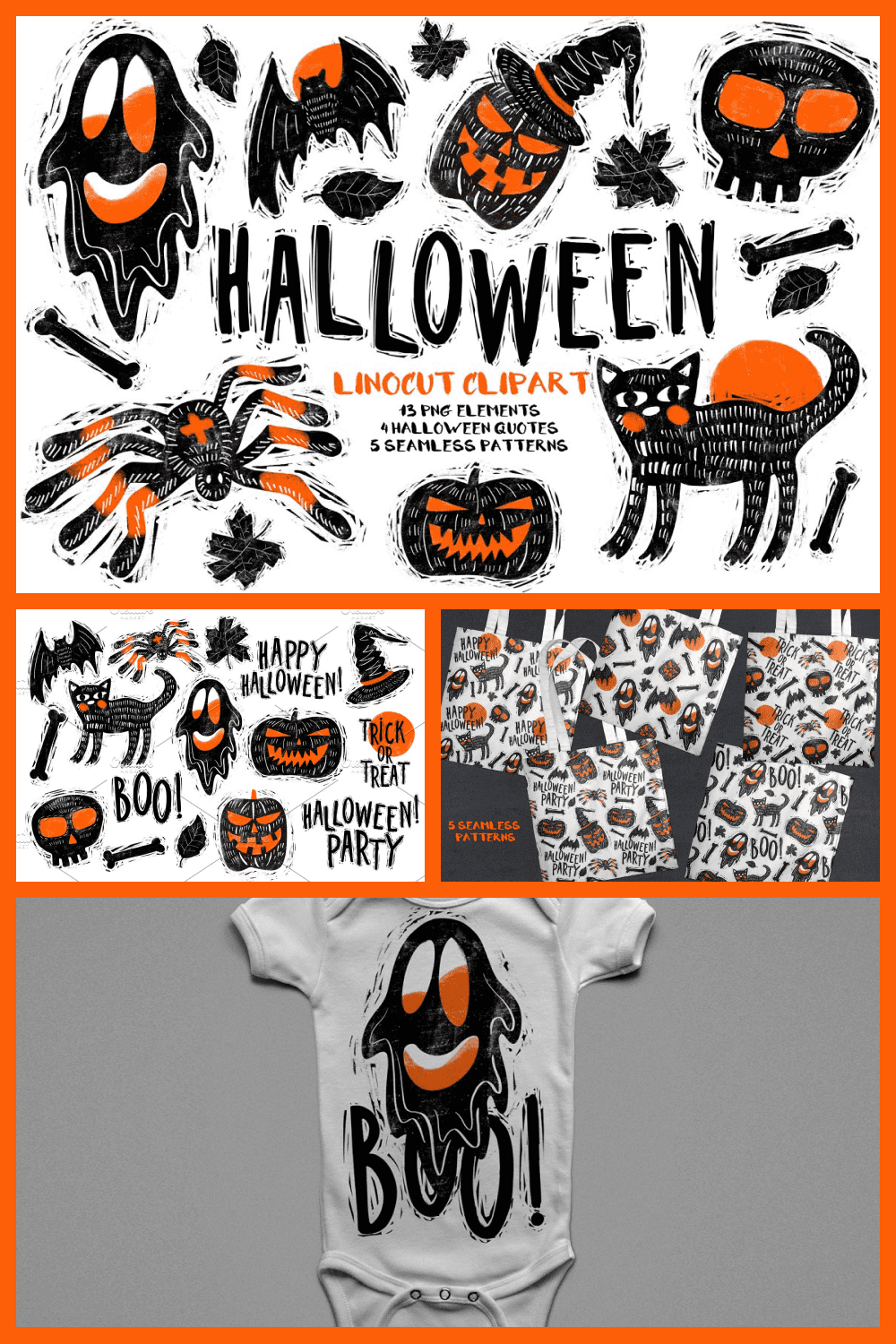 Price: $20
Ghost SVG Bundle | SVG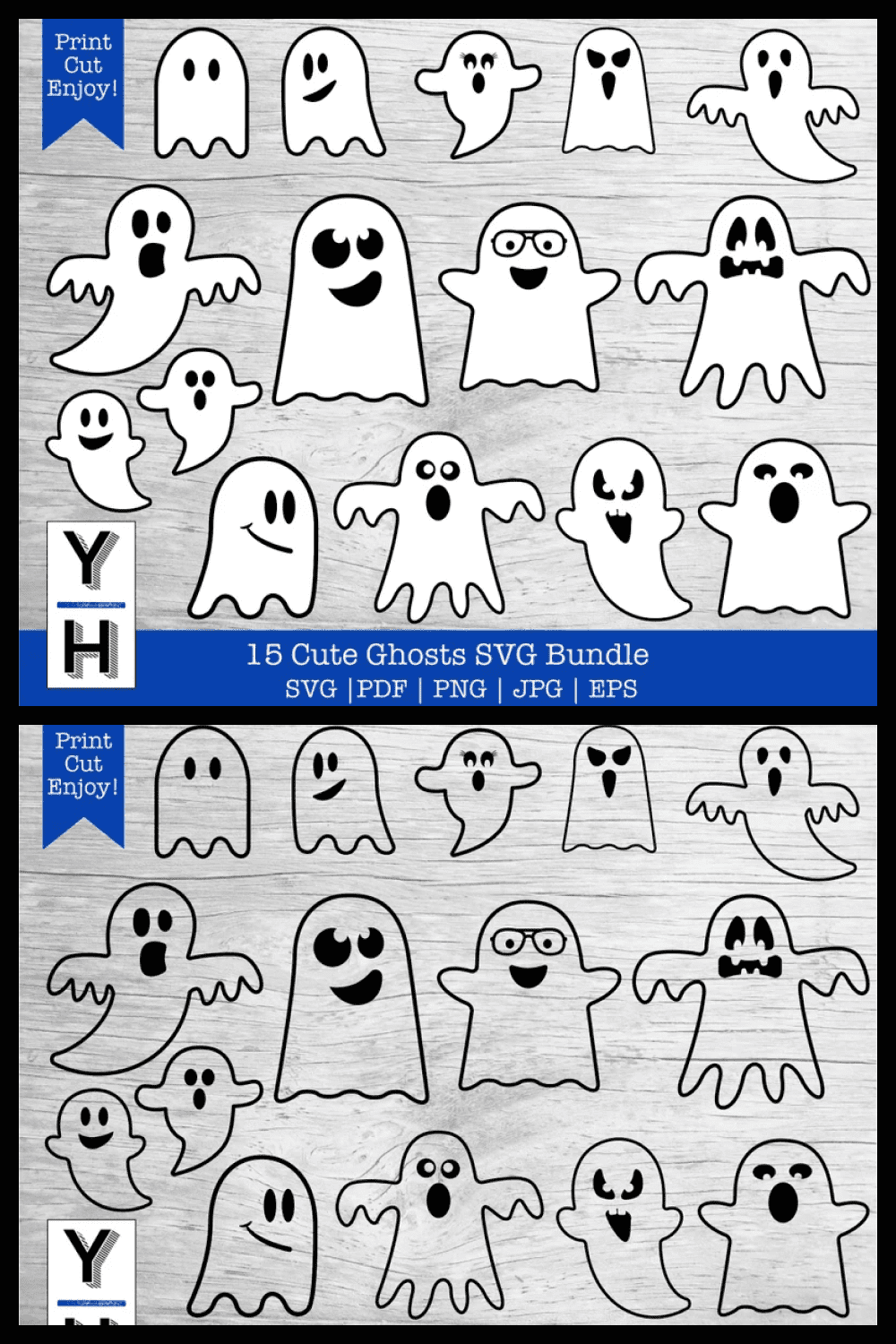 Price: $1.35
Happy Halloween Black Shapes Clipart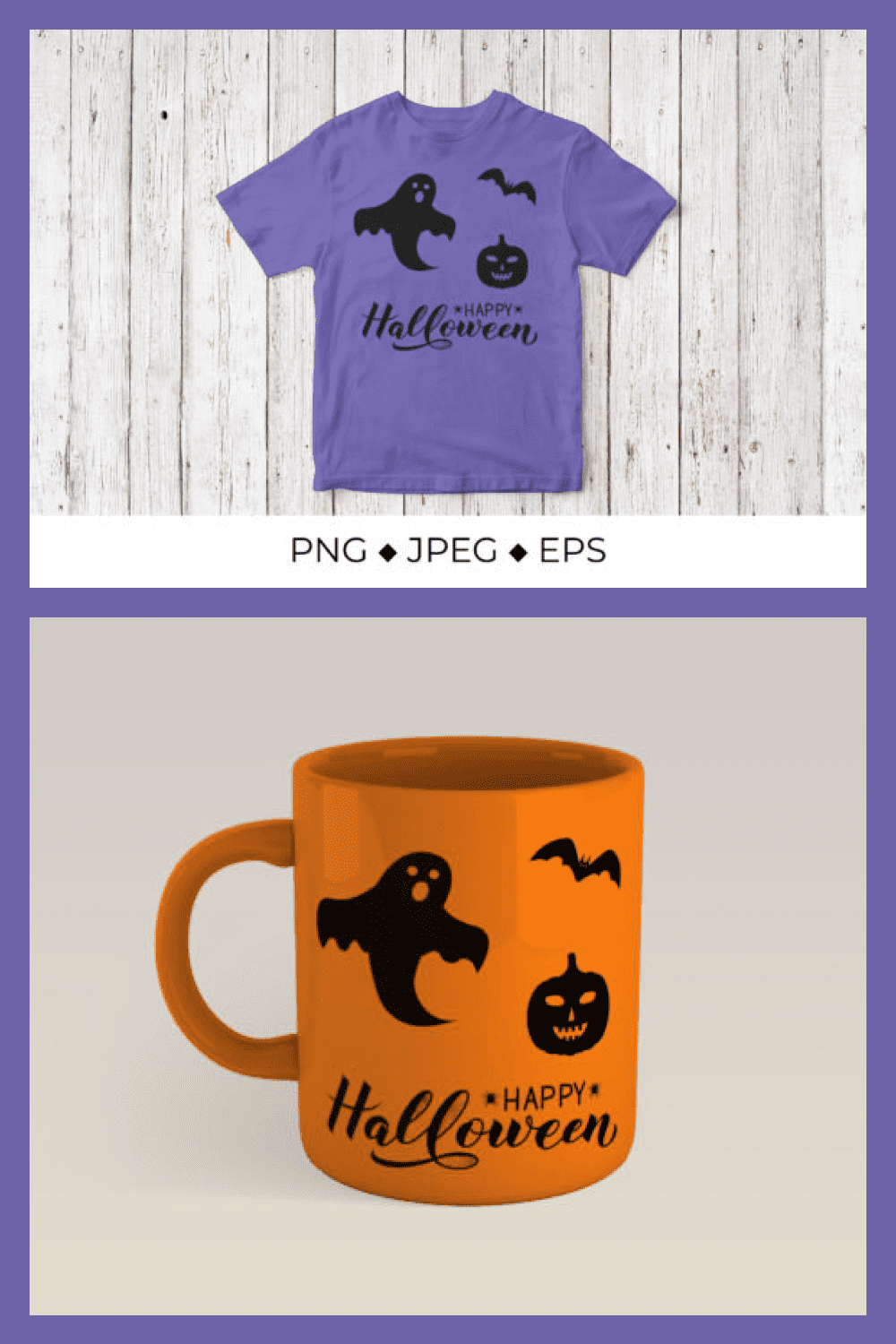 Price: $4
Halloween Bat Silhouette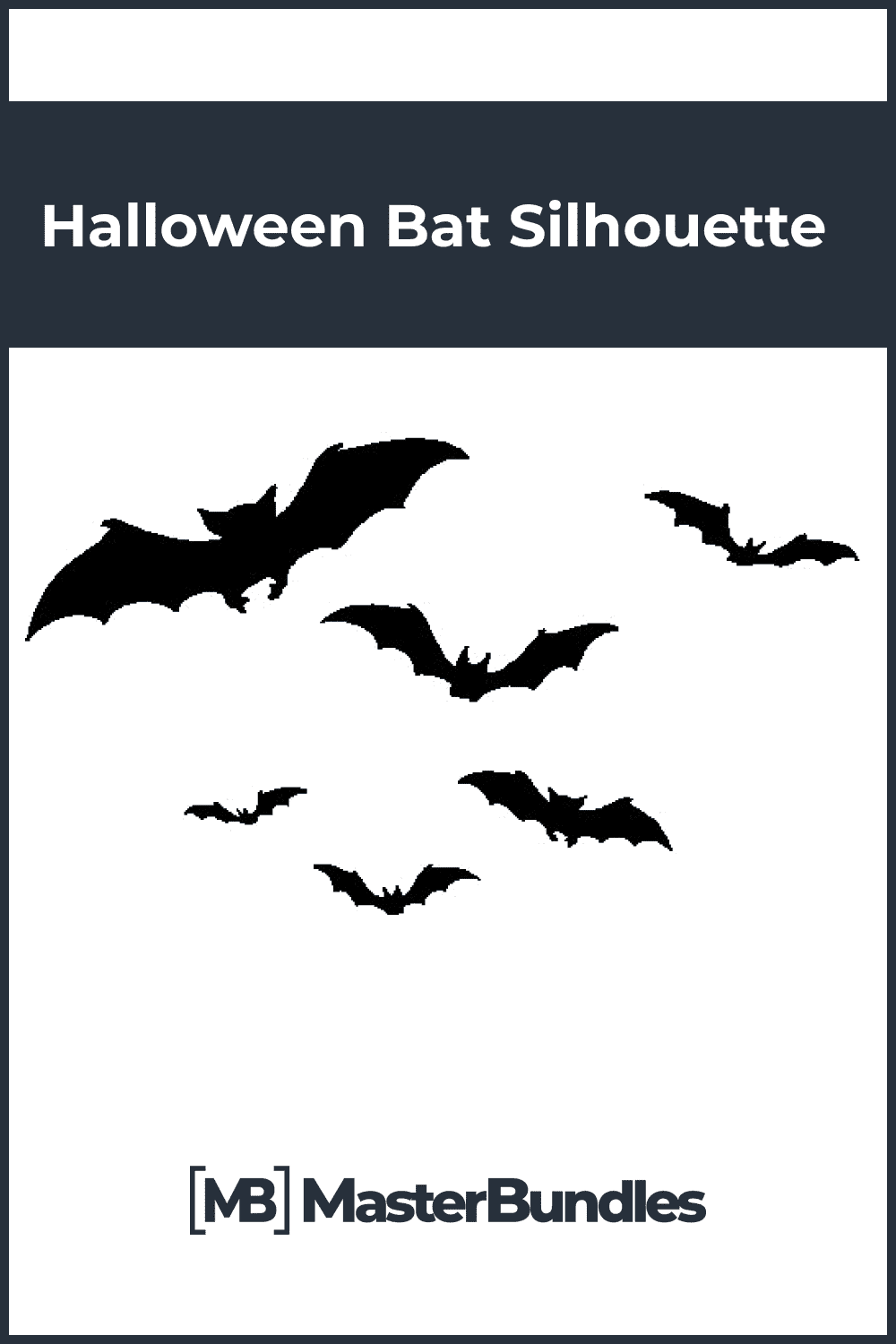 Price: Free
Cartoon Clipart Halloween Pumpkin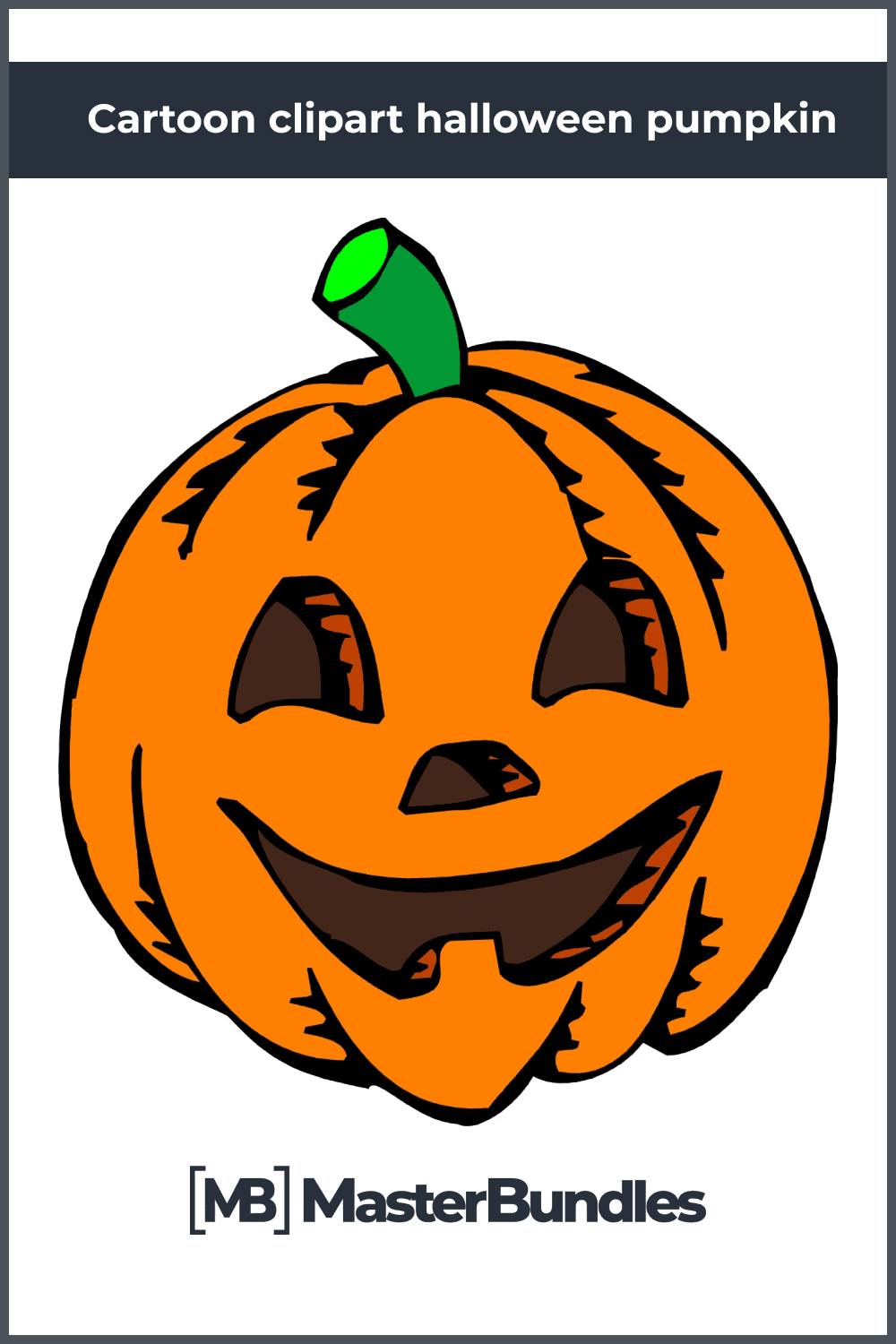 Price: Free
Some More Fantasic Halloween Bundles
Aesthetic Halloween Bundle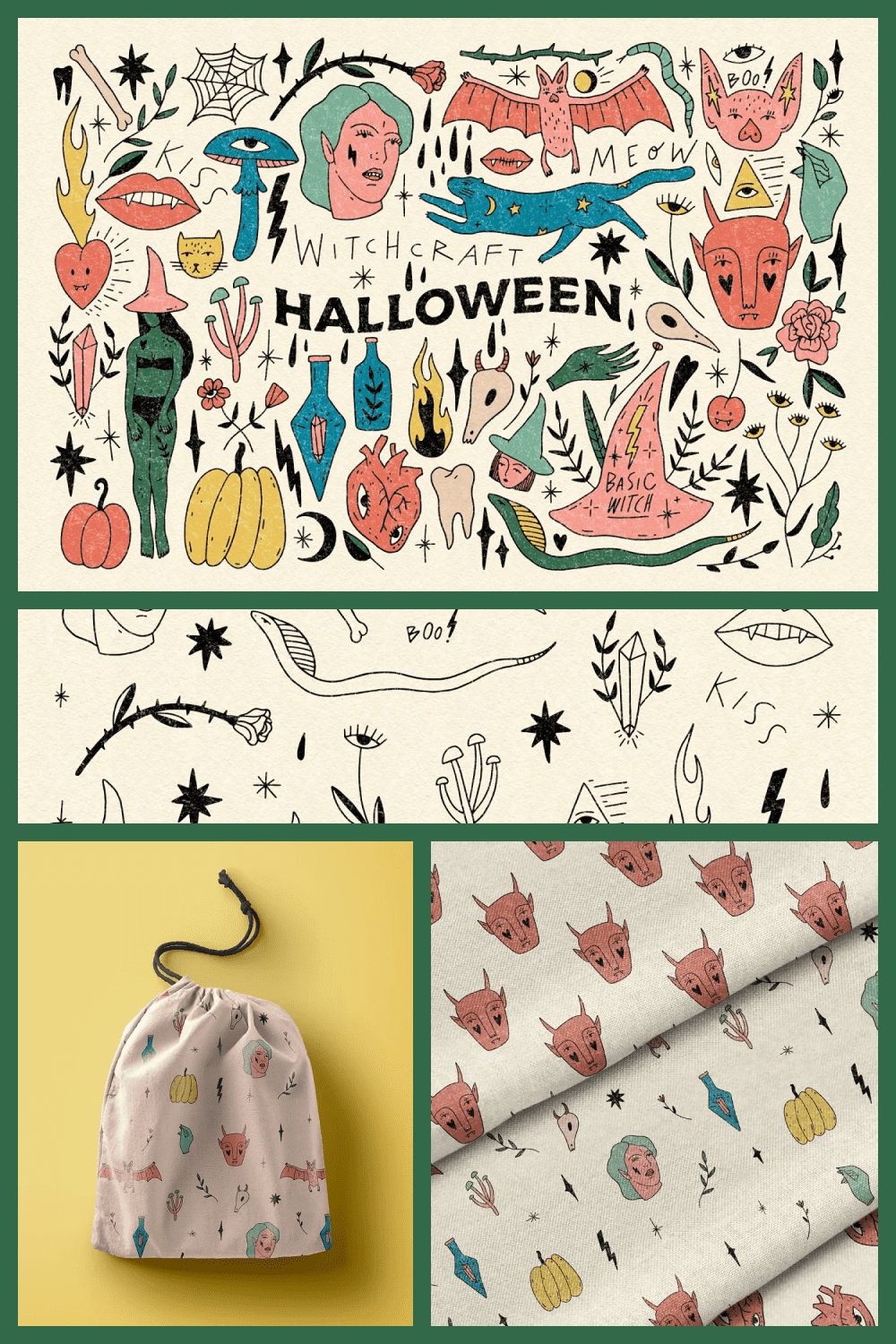 Price: $24
Fall Clipart, Pumpkin Wreath, Watercolor Fall Clipart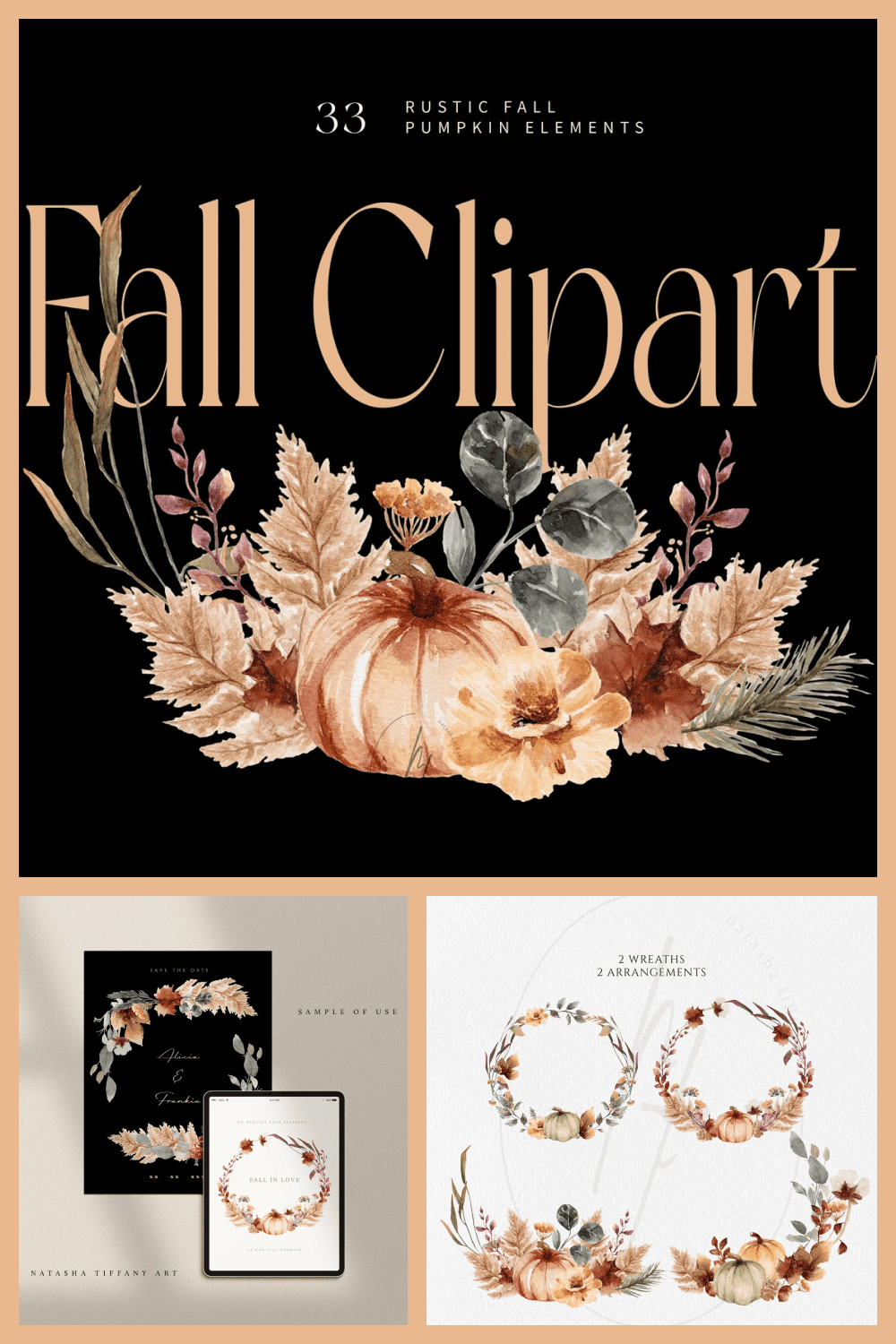 Price: $9.41
Halloween SVG T-Shirt Design Bundle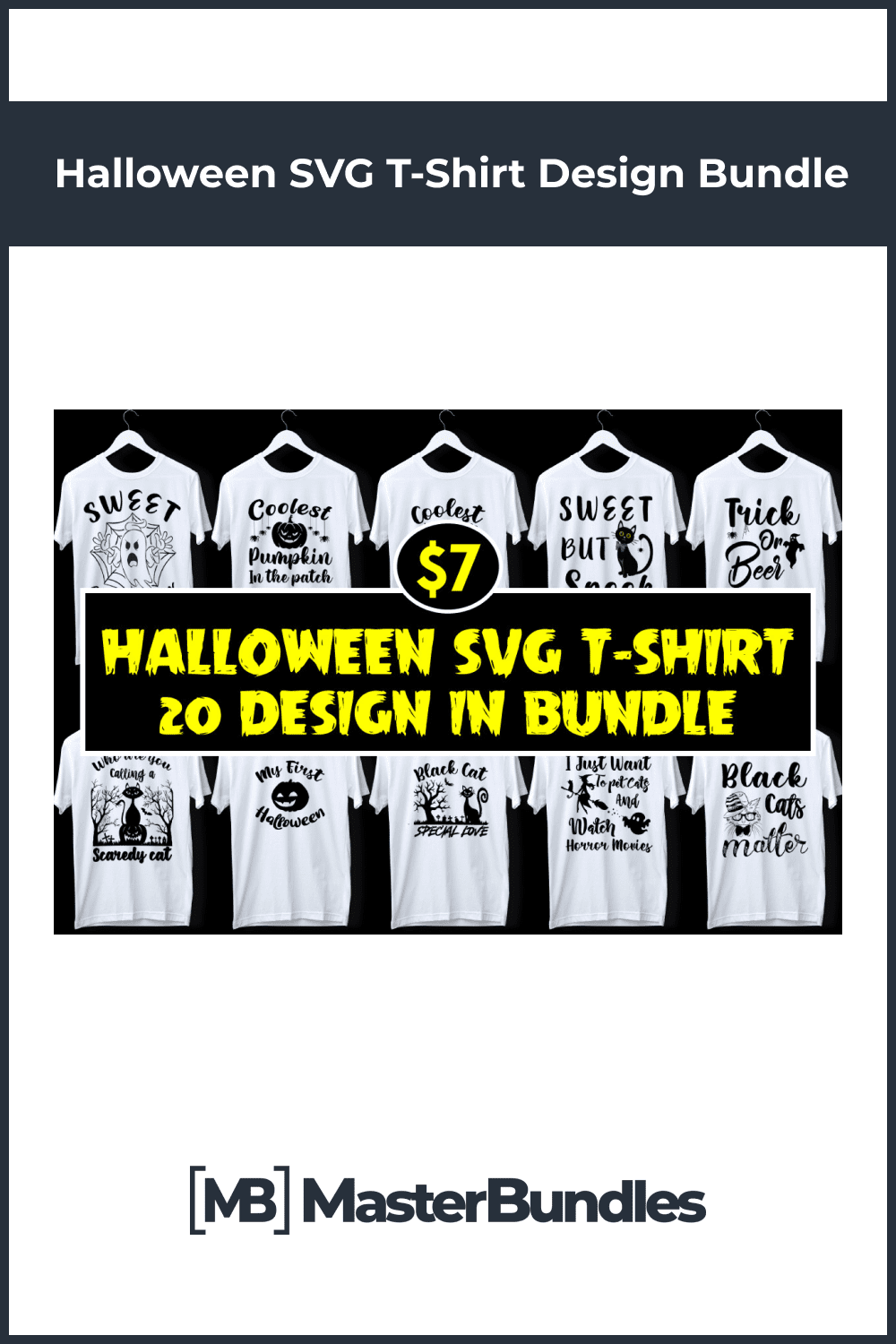 Price: $7
Halloween Clipart Illustrations Bundle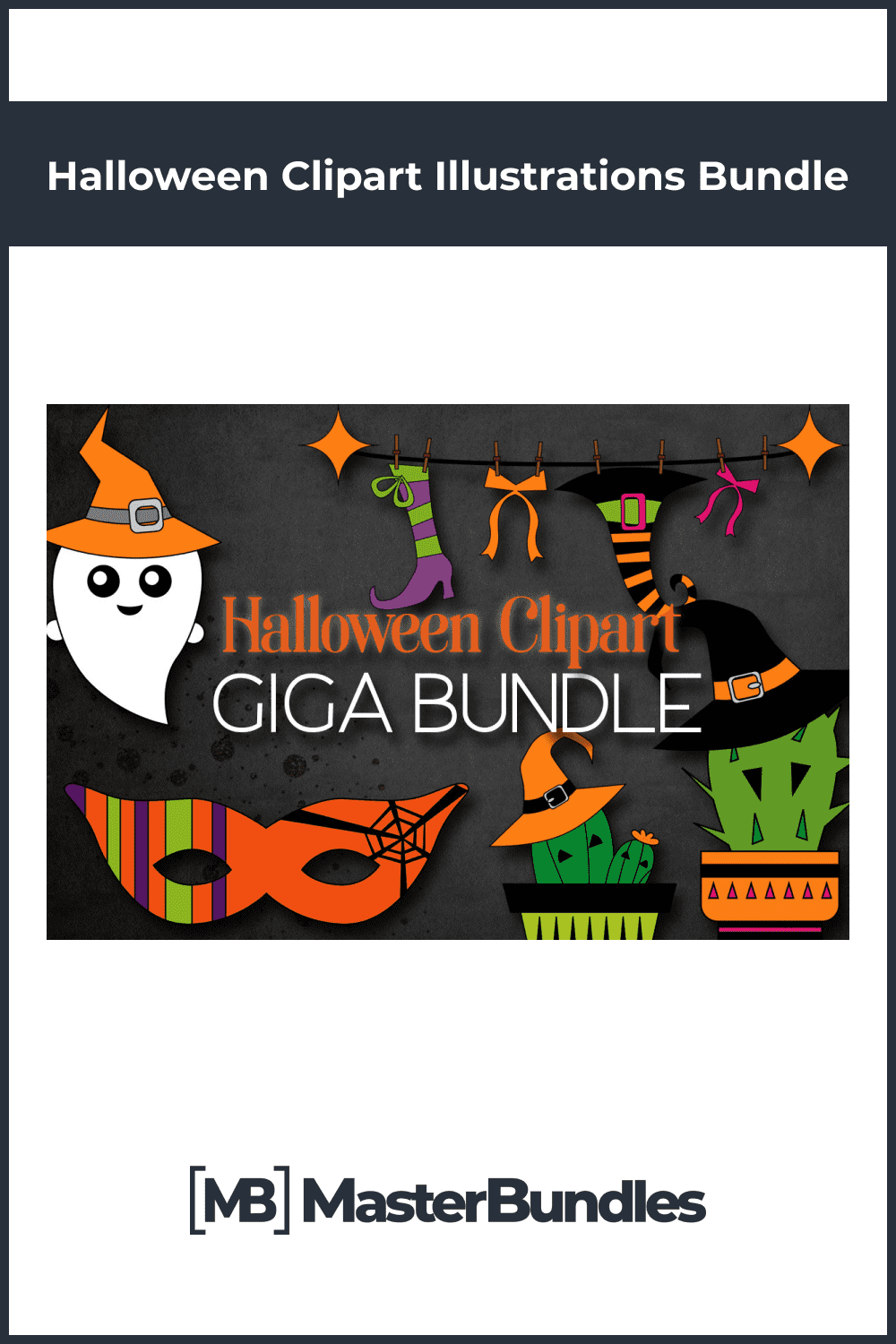 Price: $19
Halloween Photo Bundle
Halloween clipart you can also use as a background. For example, it can be a background for banners, posters, invitations, etc. You might ask "where can I get such clipart and sets? The answer is very simple! MasterBundles has prepared a great set of photos for Halloween. Halloween Photo Deal: 100 Royalty-free Photos & Vectors is selected photos that you can use as a background for your project. There you will find images to suit all tastes! These are both cute images and scary images!
Halloween Photo Deal: 100 Royalty-free Photos & Vectors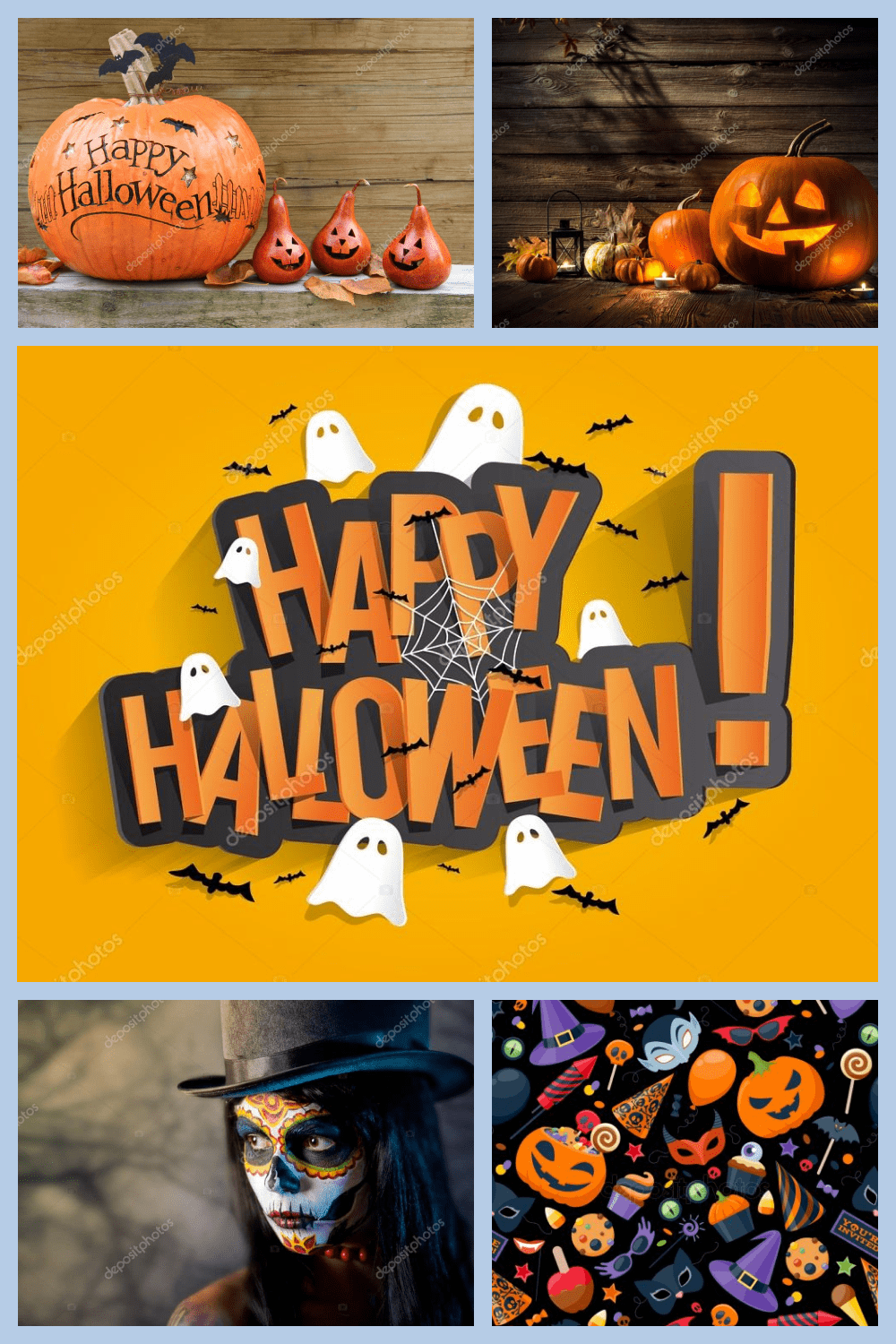 Halloween Photo Deal is 100 high resolution photos that you can download at any time! It is also an access to the database for downloading any images. There you can choose from over 60 million images. For such a small fee it is the ideal solution for your project!
Halloween Postcards and Greeting Cards
You can also find wonderful postcards on MasterBundles. Their design is specially made for Halloween. As this holiday becomes more and more popular, people need small postcards for a gift!
Postcards on Halloween are very different. You can use them for a cool friend's greeting or for a children's party. It all depends on your goals, and on your sense of humor.
Halloween Cards Collection
Halloween Cards Collection is a wonderful set of 6 postcards. They look nice enough. These are bright postcards with cool images and inscriptions. For example, "get the taste of magic, lick a witch", "eat, drink and be scary". These inscriptions are quite funny and look very stylish against the general background of the postcard. Postcards in this set are available in .jpg, .psd, .tiff formats. Also, you can surprise your friends, parents, classmates, and someone else by sending a postcard by real postal mail! Nowadays, this is really very unusual and funny. You can also sign the card. We think it's time to buy these cards, especially for this price!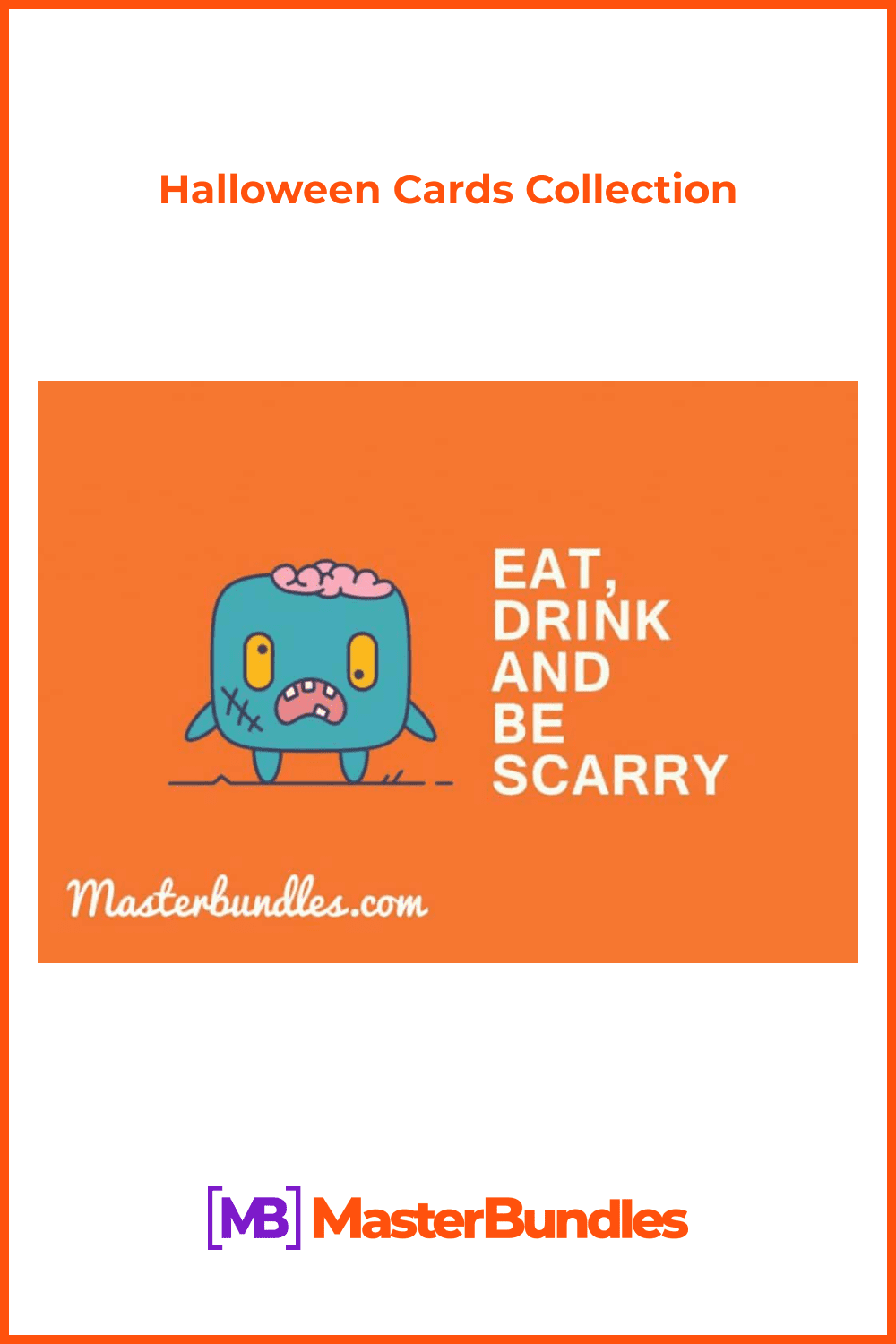 Also soon at MasterBundles you can find the original greeting cards. A cool and fun design is exactly what you can expect from them! You can also sign them by yourself and send them by real postal mail! Isn't that great? You can also use these greetings for a children's party at Halloween. They will be very nice and funny.
If you wish, you can create postcards with the help of clipart. But it certainly takes time and a good imagination to do it! We offer you to look at the Halloween clipart variants.
Vintage Halloween Postcard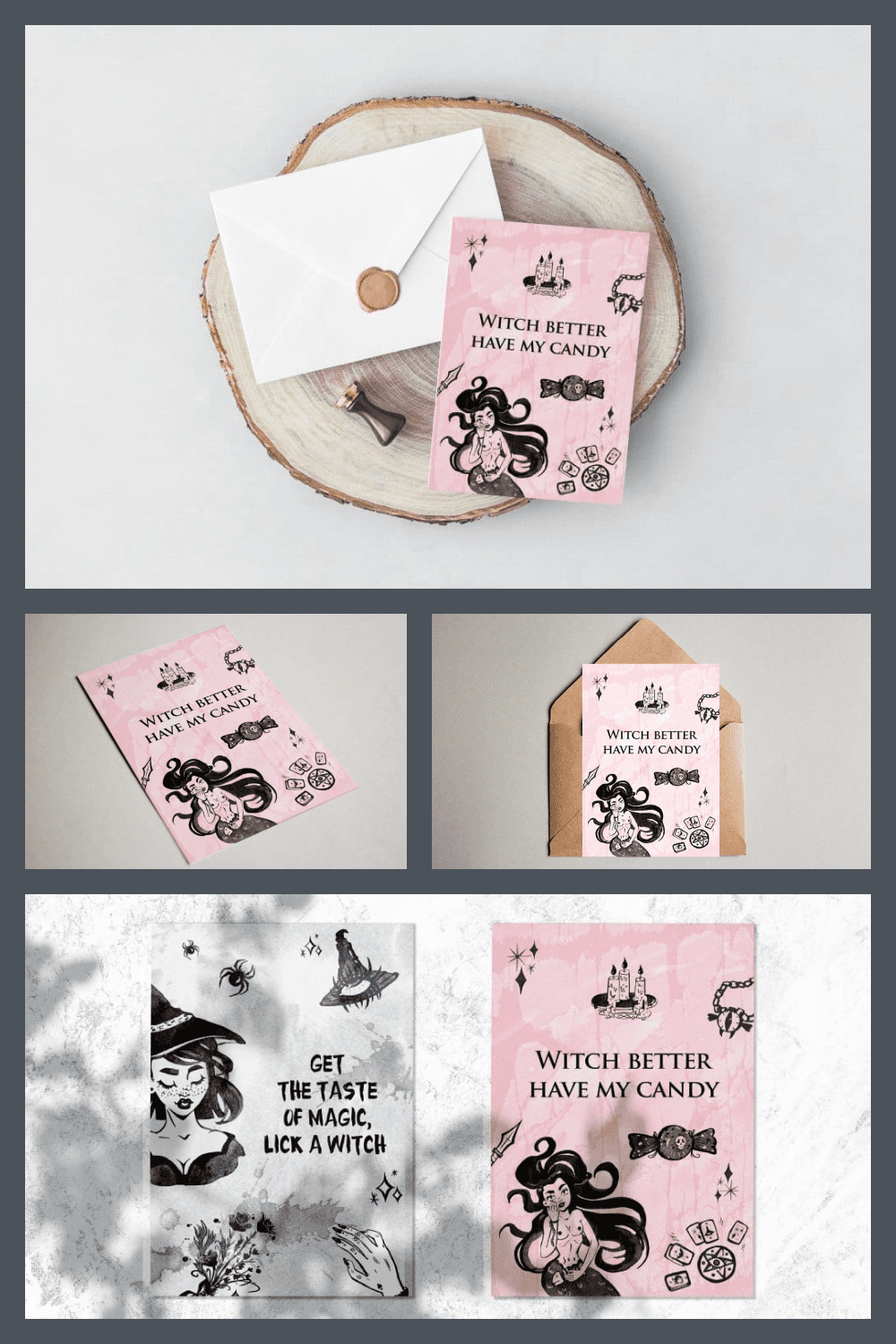 Halloween Postcard Pin-up Witch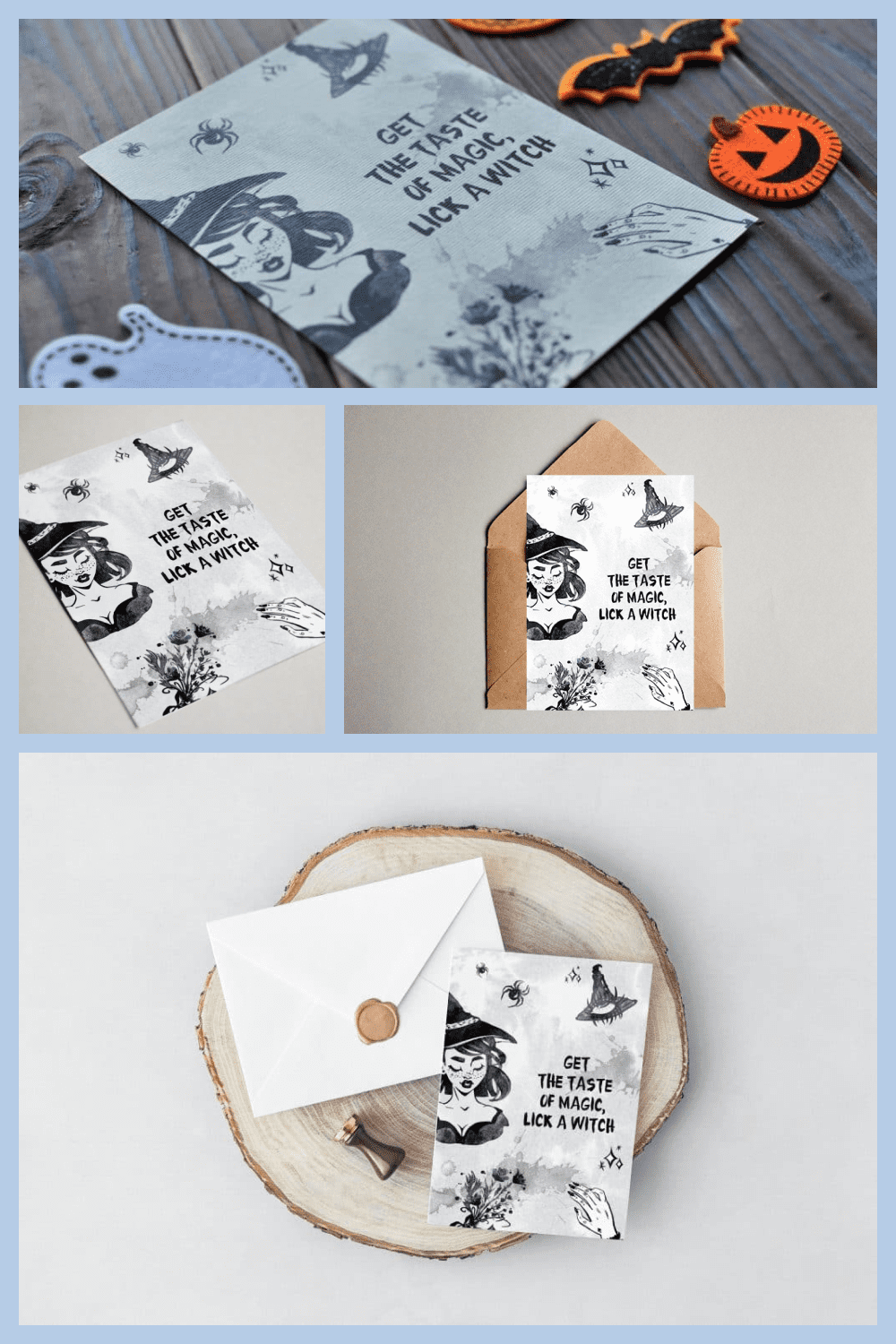 Halloween Clipart
Halloween Watercolor Clipart
Halloween Watercolor Clipart is an excellent clipart that contains 50 individual elements. Let's start with the fact that these are watercolor images that are available in PNG and JPG formats. There you will find a variety of pictures. For example, various ghosts (funny and terrible), halloween pumpkin clipart with different emotions, leaves, trees of different unusual shapes, blurry effects, wreaths (with ghosts, pumpkins, houses, leaves).
This halloween clipart is bright, professionally painted and very cool. It will fit any project. With the help of a ready-made set of images you will do everything as quickly as possible, and perfectly!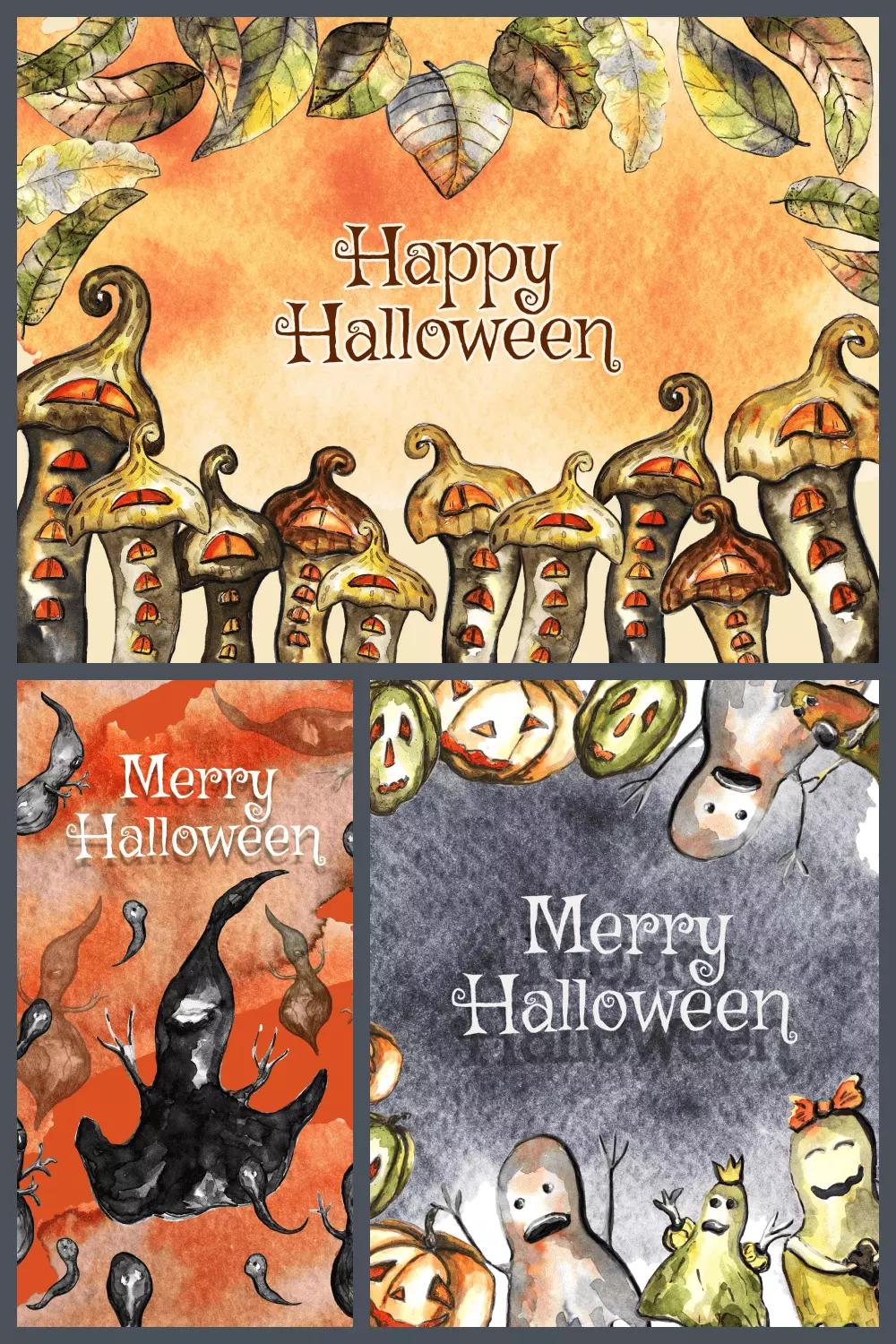 Merry Halloween 11 Patterns
Merry Halloween 11 Patterns is a set with an incredible number of chic halloween patterns! Where else would you find a cool set with high resolution images and in PSD (adjustable color fill), PNG (transparent background) and JPG formats? If you want to run a project related to Halloween, this is a perfect find! Here you will also find both bright and black and white patterns. For example, the patterns have ghosts, unusual trees, and pumpkins.
This set you can use to create a package of goods, cool background, wallpaper, bed linen, etc. Lovers of such a holiday will really enjoy it! You can easily change the size and adjust the patterns to suit you!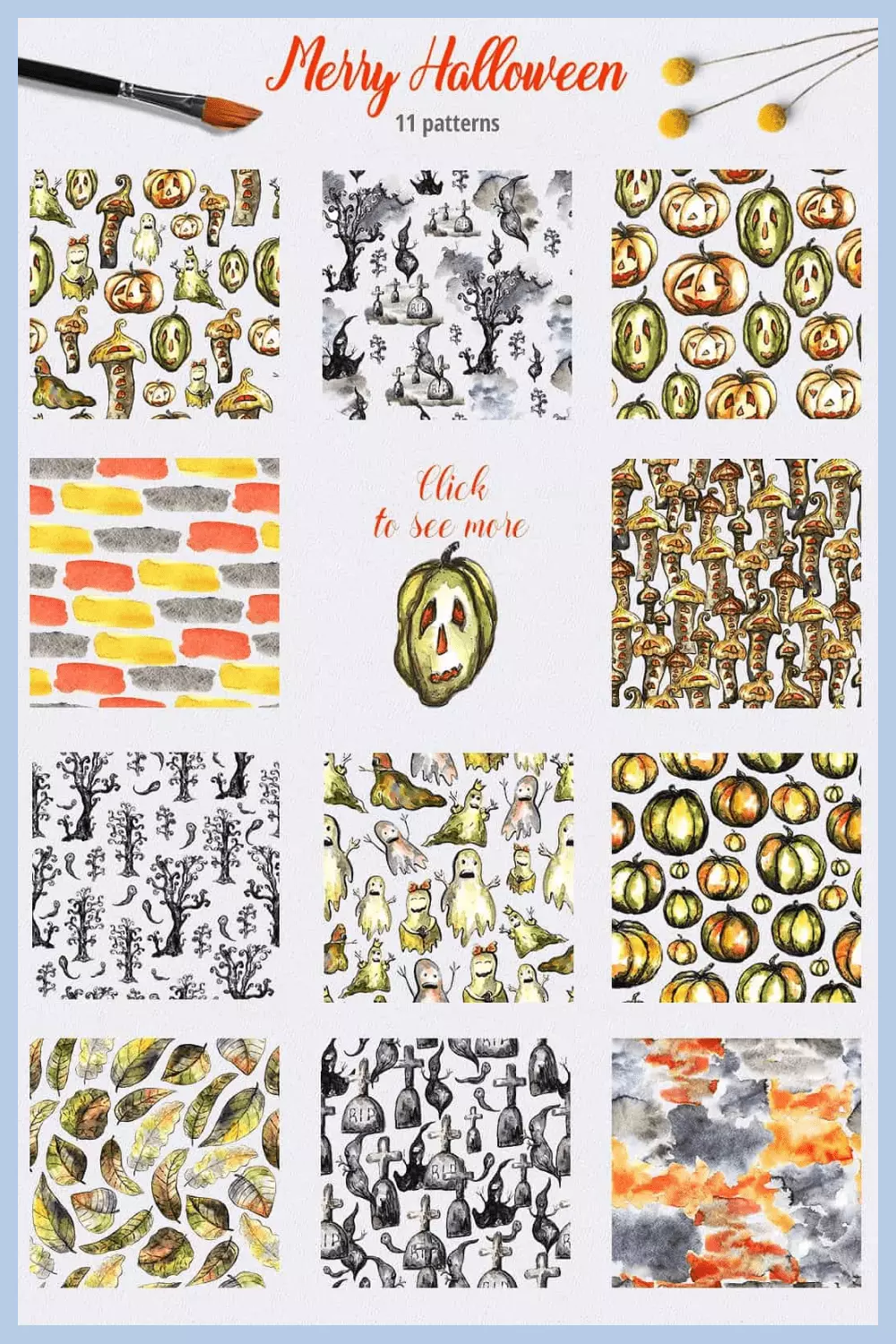 MEGA Halloween Graphic Bundle
Looking for unusual overlays, images and effects? Then it's definitely a great solution for you. MEGA Halloween Graphic Bundle is a set with more than 4000 different pictures and overlays. Here you will find the effects literally for everything! You can change eyes, face, clothes, background buildings, add any effects, sky, clouds, smoke, fog, rain, dust, spiders, snakes, unusual pumpkins, blood droplets, etc. You can also adjust the color of the image yourself.
You can edit them with any programs. Also with this set you can add different textures, and change them. For a small fee it is a really cool set. All elements of MEGA Halloween Graphic Bundle are available in high resolution! With its help you will surprise your customers or joke with your friends!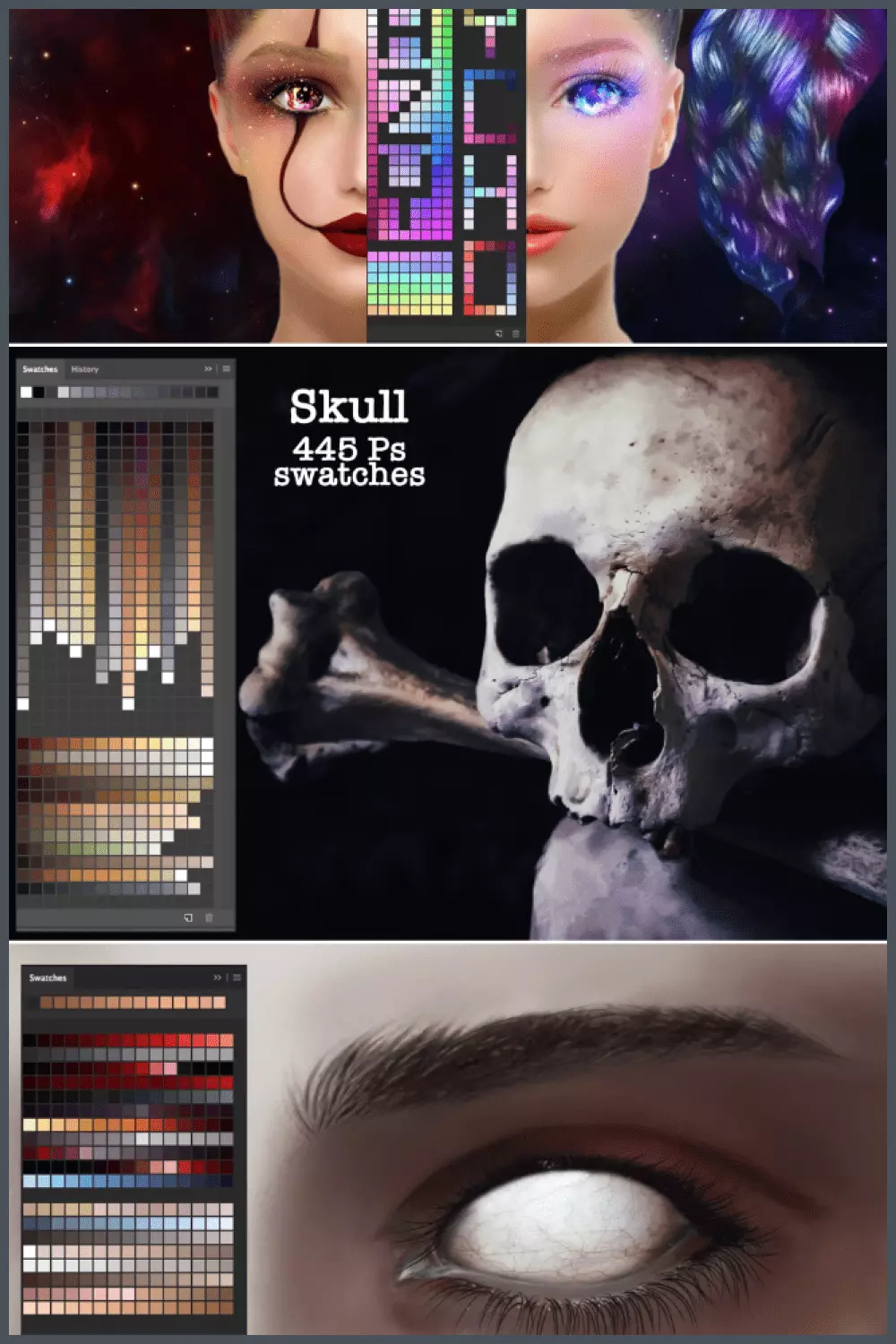 270 Horror Overlays+ 4 actions – Halloween Bundle
270 Horror Overlays+ 4 actions – Halloween Bundle is a terrible, horrifying, and fascinating set. It really gives you the creeps! It's a set of 270 terrible overlays that you can use for any purpose. For example, you can add vampire eyes to the photo, change the color of your eyes, and apply different effects.
These can be spiders, snakes, scratches, cut wounds with blood, blood drops on any photo, scars. You can also add fog, smoke, black bees, etc. It looks rather mysterious and very unusual! Again, all of these elements will be in perfect quality and it will be difficult to notice the transitions to the photo with them. You can edit with any program!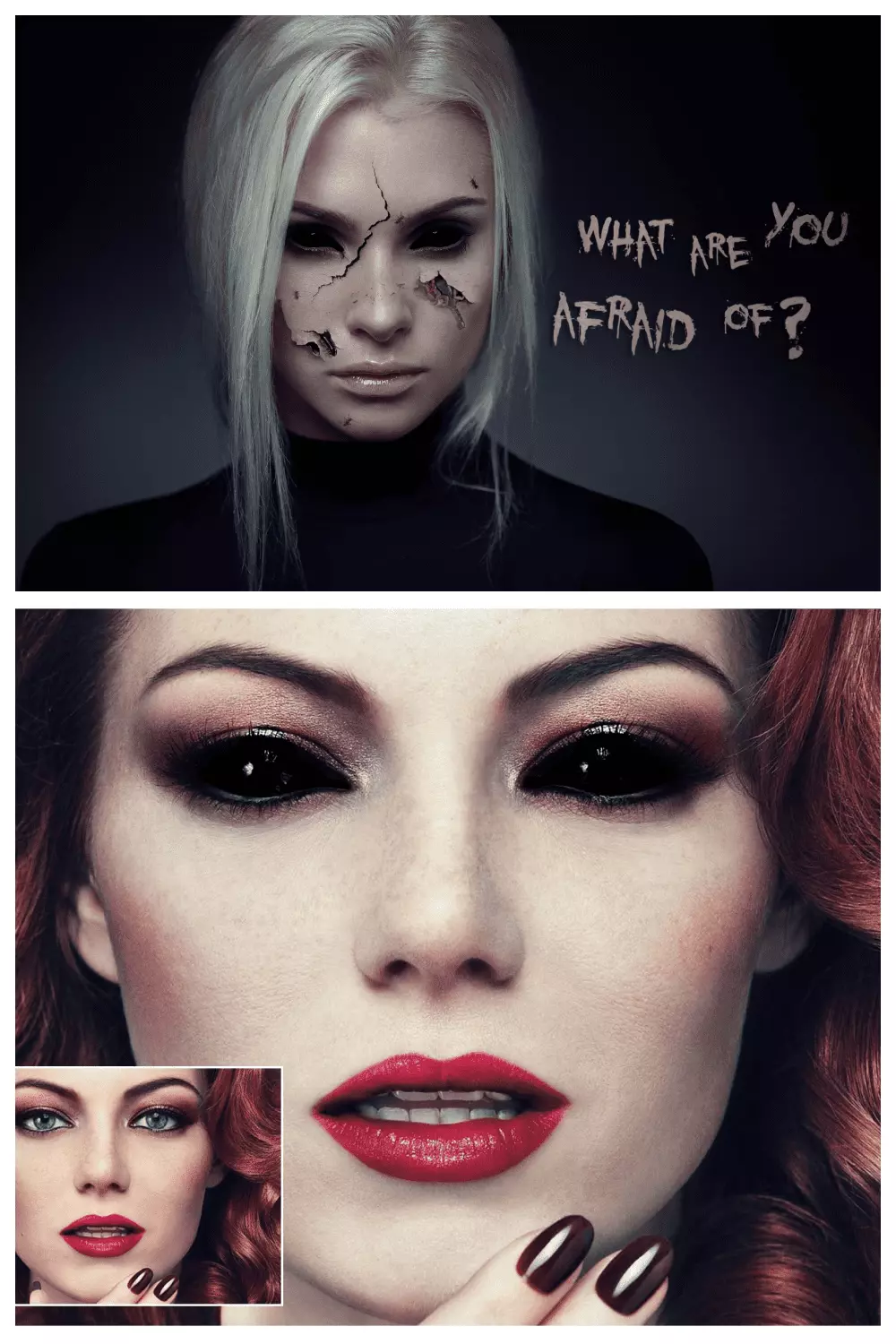 Tricks no Treat: 40+ Hand Drawn Halloween Illustrations
Tricks no Treat: 40+ Hand Drawn Halloween IllustrationsTricks no Treat: 40+ Hand Drawn Halloween Illustrations is a cool set that offers an unrealistically cool clipart. Probably difficult to find such a set where there will be both cute and scary elements. But Tricks no Treat is exactly what you need!
With the purchase of Tricks no Treat you get more than 40 different fun illustrations drawn by hand. From them 21 illustrations drawn by hand (hats, skeletons, candles, pumpkins, ghosts, bones, spider webs, etc.), 6 watercolor swashes, 9 master tiles, 6 ready-made patterns, etc. So you understand that this is a great set, right? All the elements are painted professionally and clearly enough. A lot of images look realistic and amaze with their brightness. For this price, it's really the perfect offer!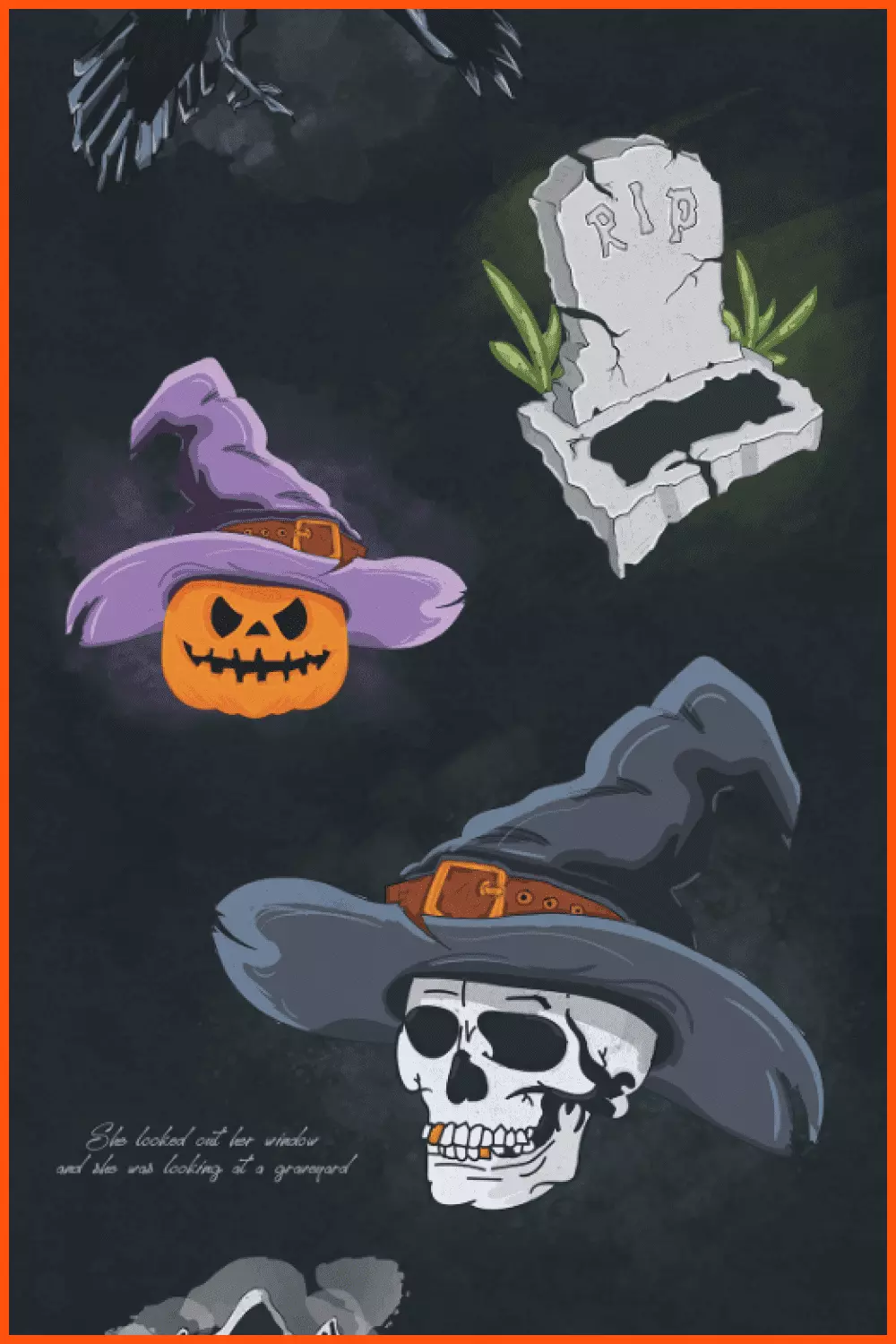 Happy Halloween Bundle
Bright, fabulous and high quality Happy Halloween Bundle is a great solution for you. This set is suitable for creating banners, posters, advertisements, book illustrations, product packages, etc. That is, any project can be implemented with the help of this beautiful Halloween set. It includes 29 high-resolution illustrations. All these pictures are available in PNG format. Each element has a transparent background. That is, you can change them yourself, supplement and improve them.
All the images of witches, hats, bats, ghosts, magic books, magic potions, candy, feathers, enchanted home look very fairy and bright. We think it's a great option for Halloween project! The price of this Happy Halloween Bundle is also very good!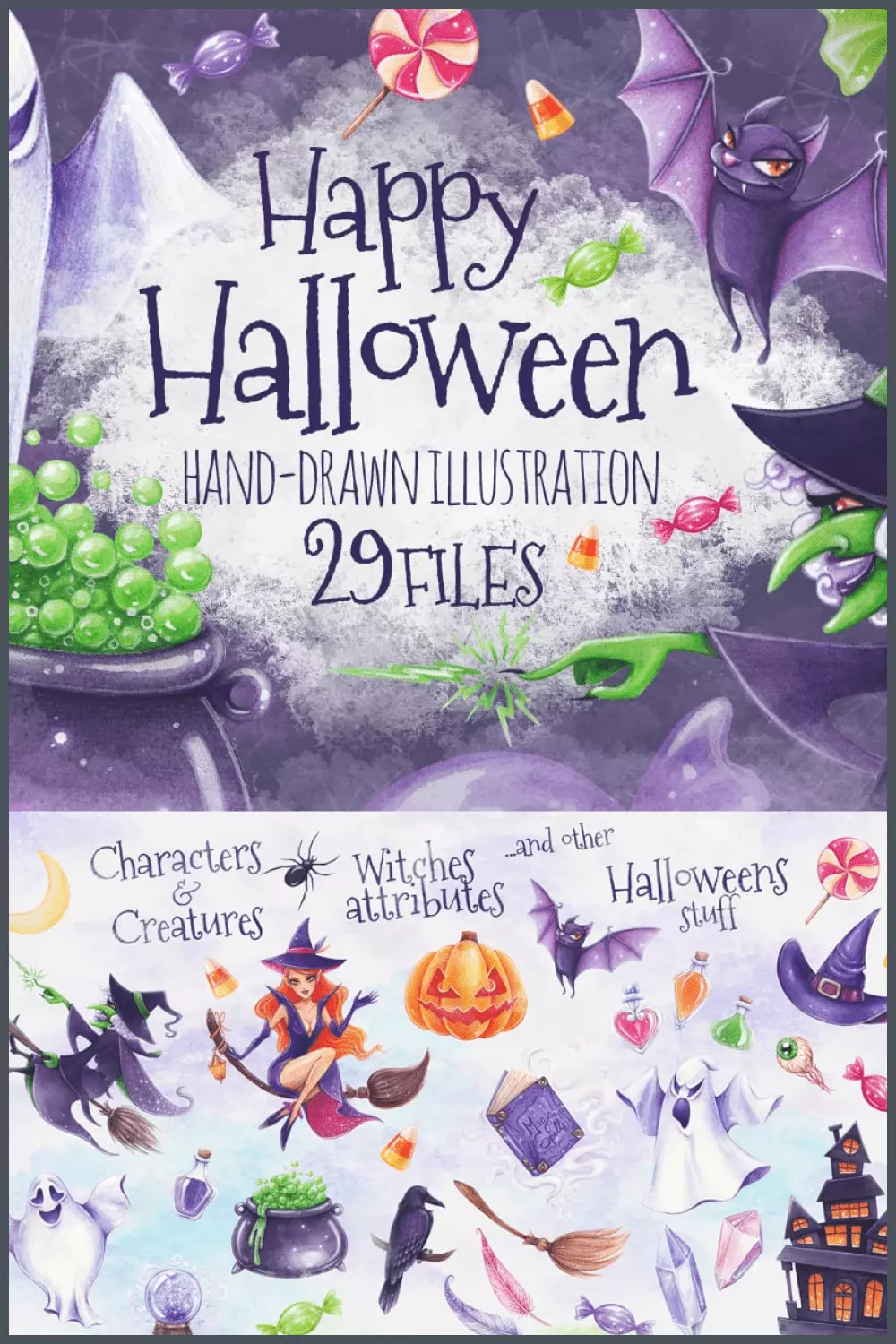 Spooky Icons Free
Spooky Icons Free is a really cool set for free! All of these icons will have a transparent background. There are also a couple of bonuses. For example, these icons are available in 4 sizes (32×32, 48×48, 64×64, 128×128). This is done specially for your convenience. These items are also available in AI, EPS, PSD and PNG formats.
It also helps you to improve your work with icons. All icons drawn by hand, the images are very high quality. Among the 12 icons you will find a ghost, skeleton, pumpkin (with different emotions), wolf, candy, bats, etc. These images are suitable not only for the implementation of projects, but also for the improvement of your page in the Instagram to Halloween.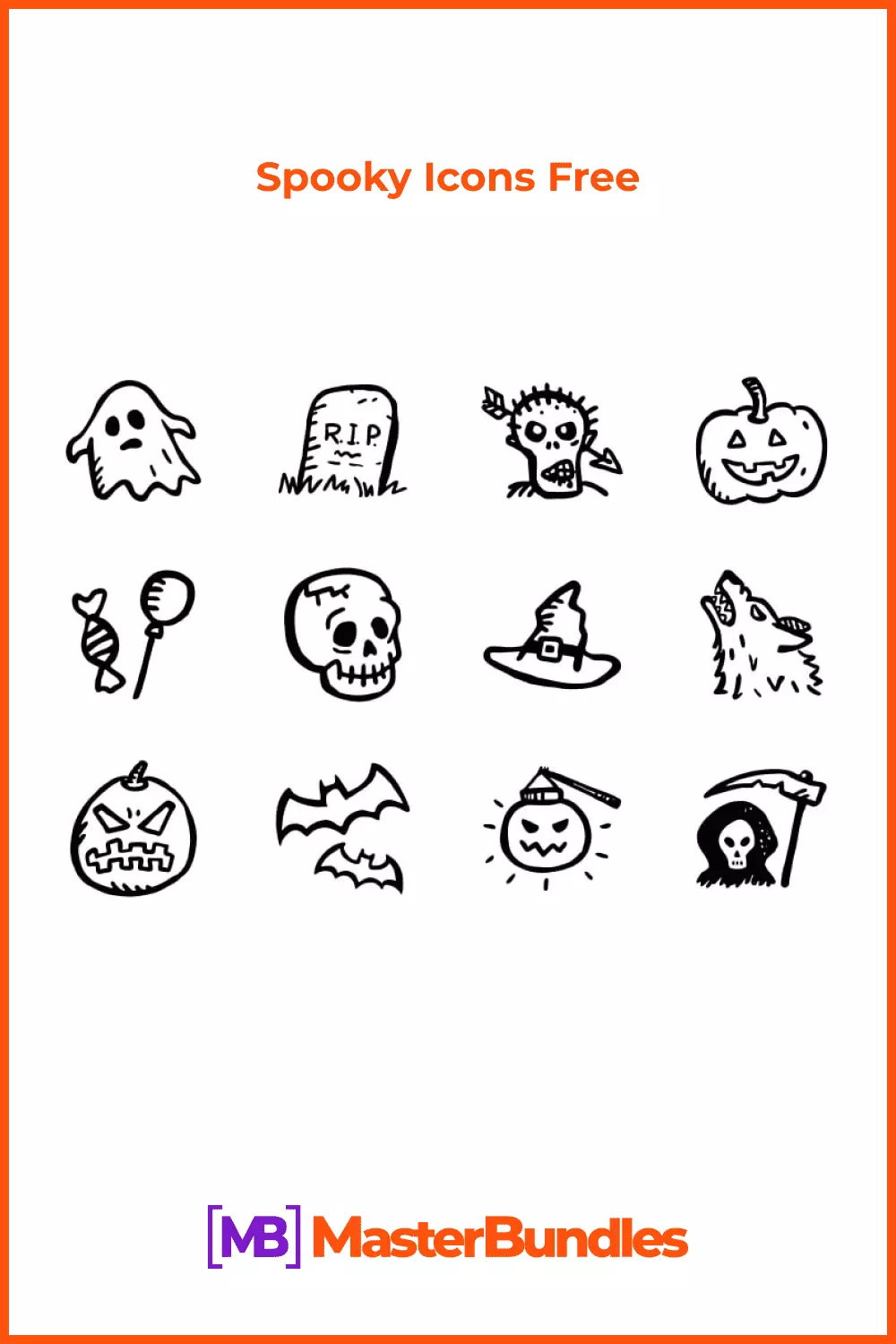 23 Halloween Patterns
Looking for patterns about Halloween? You don't know where to find a great variety of these patterns? Then MasterBundles will help you. 23 Halloween Patterns is the perfect solution for your ideas! With this set you get 23 PNG and JPG images. All of them are in high resolution. These patterns aren't horrible at all, but look pretty and fabulous enough.
With them you will be able to create various covers for products, labels, cool banners, and backgrounds. Halloween Patterns are patterns with cool ghosts, funny pumpkins, hats, trees, spider webs, funny spiders, bats, and patterns with combinations of these elements. This is an unreal find for any designer! As a bonus you will get separate AI CS and EPS10 file with 18 halloween objects.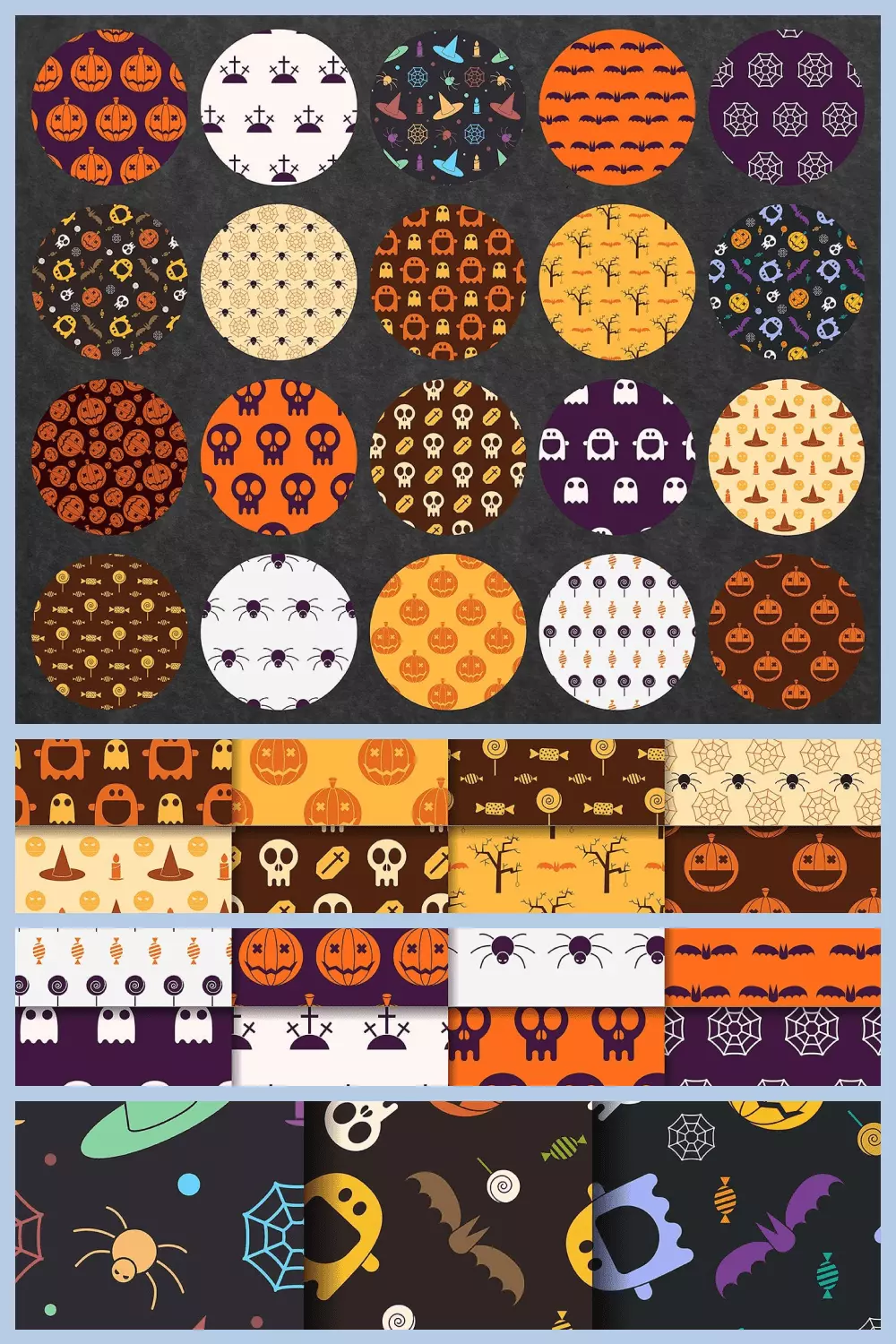 42 SPOOKY HALLOWEEN ELEMENTS
Illustration is a clipart provided by TemplateMonster. They are very fabulous and bright. We think that with such Halloween clipart your projects will be quite memorable. Each image is included as EPS, AI and PNG files.
This set includes 42 elements. These are different pictures drawn by hand. These are bones, cats, webs, spiders, brooms, ghosts, lanterns, tombstones, dark woods, pumpkins, candles, moons. And these elements are presented in high resolution and in different variations. For example, pumpkins with various emotions. You can add or change images in any program. By the way, this set is available for a small price.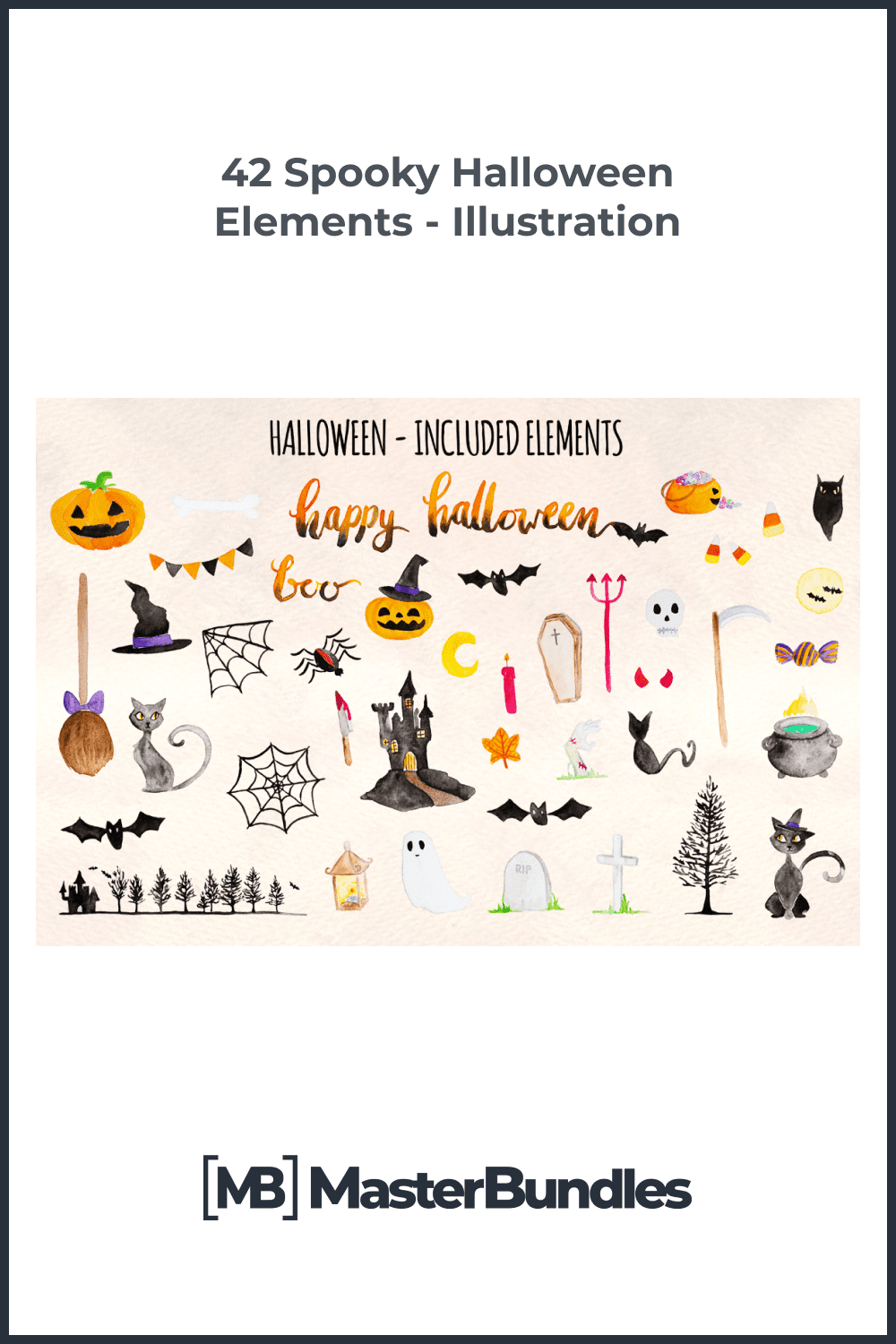 Watercolor Halloween Village
Watercolor Halloween Village is a great lovely set that is available almost for free! Its theme is variations of mystical and cryptic houses in the village. Everything is created in the style of Halloween. Fancy houses, trees, and forests are what you'll find in this set. Watercolor Halloween Village includes 50 hand-drawn village variations.
These are different houses, moon, clouds, trees, cats, pumpkins, hills, etc. With this set you will be able to add highlights to your projects. Also Halloween Village includes 2 ready-made scenes. Really cool set for Halloween projects.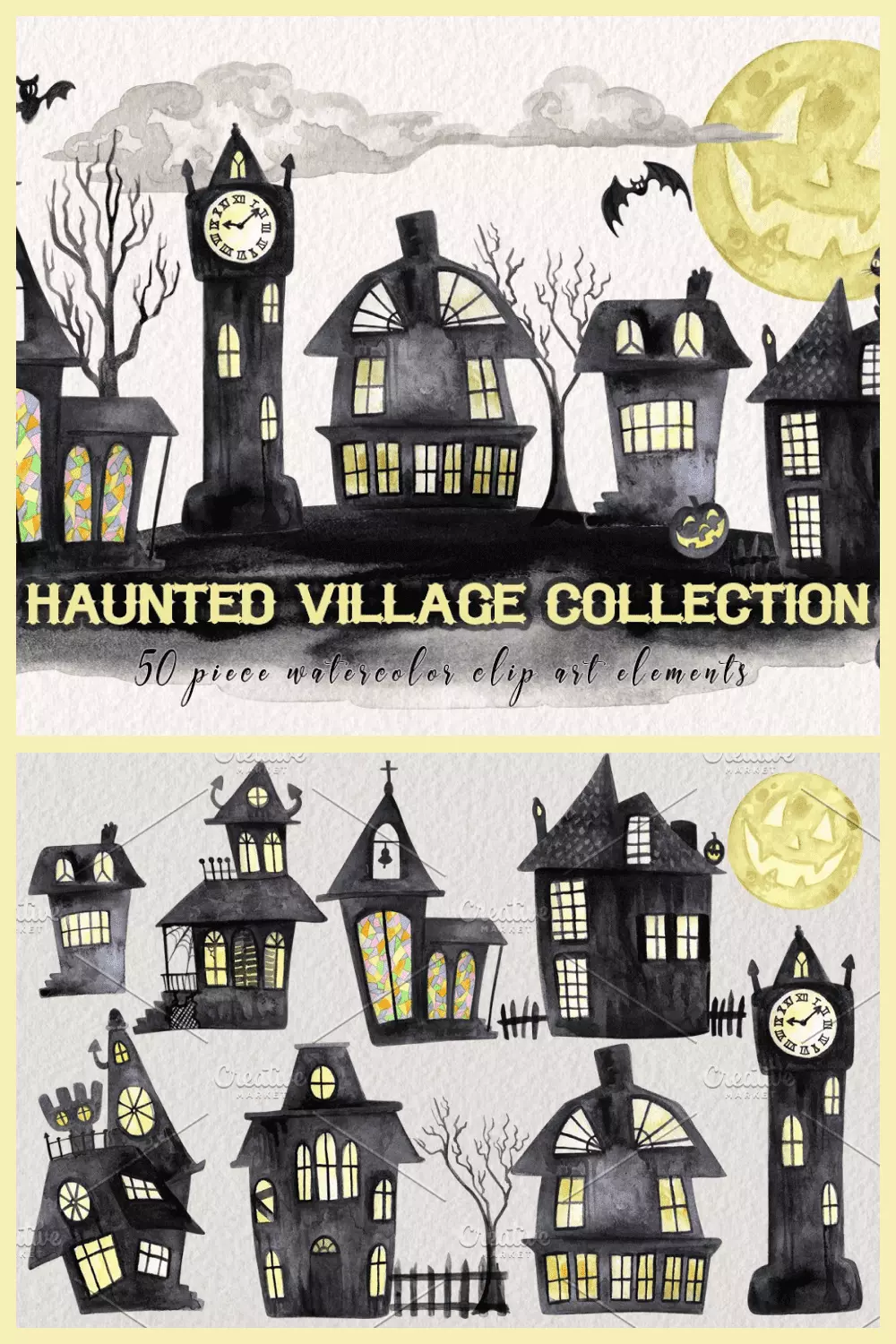 Some Awesome Video About Halloween Clipart
Please take a moment to pin this post to Pinterest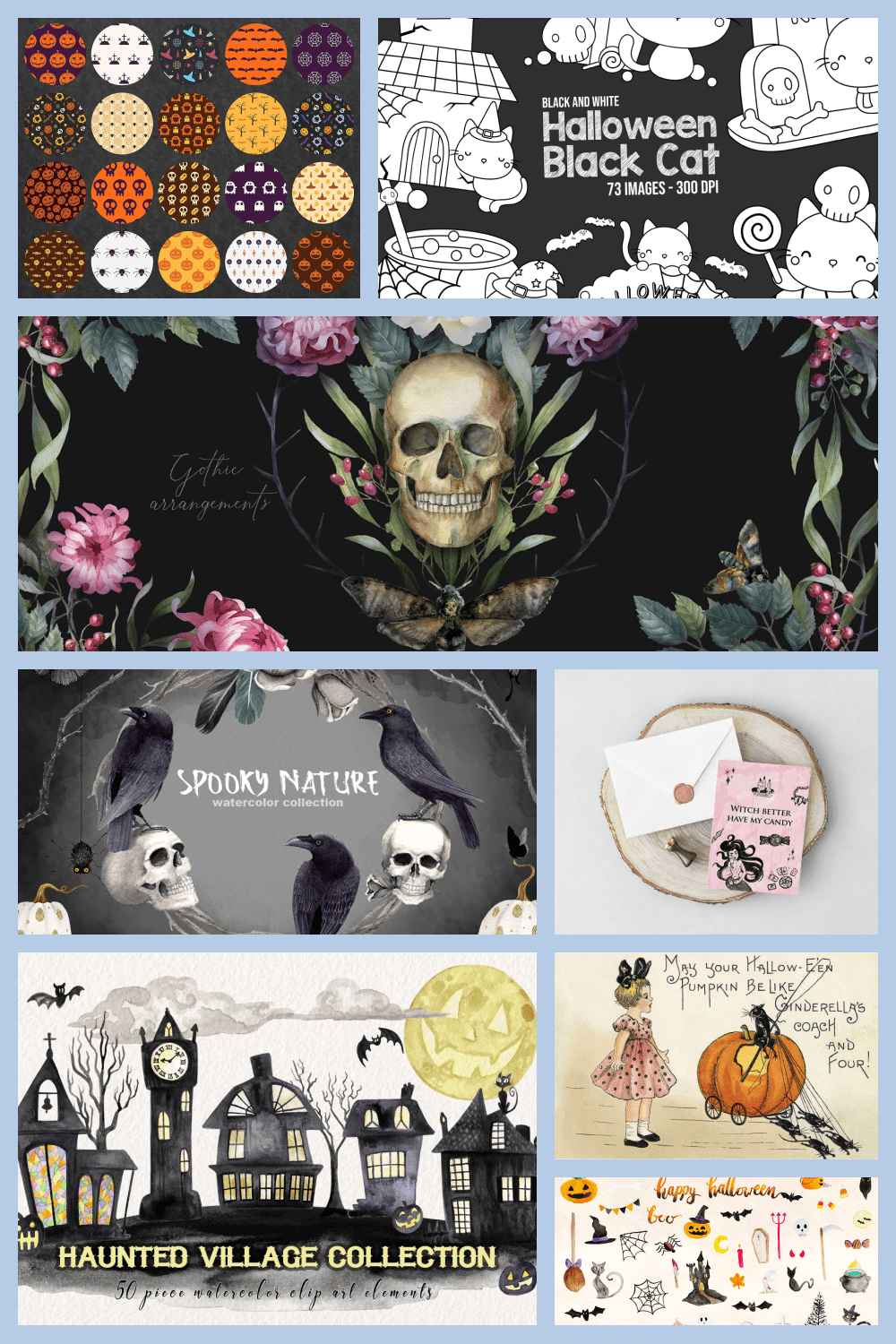 Disclosure: MasterBundles website page may contain advertising materials that may lead to us receiving a commission fee if you purchase a product. However, this does not affect our opinion of the product in any way and we do not receive any bonuses for positive or negative ratings